27
min read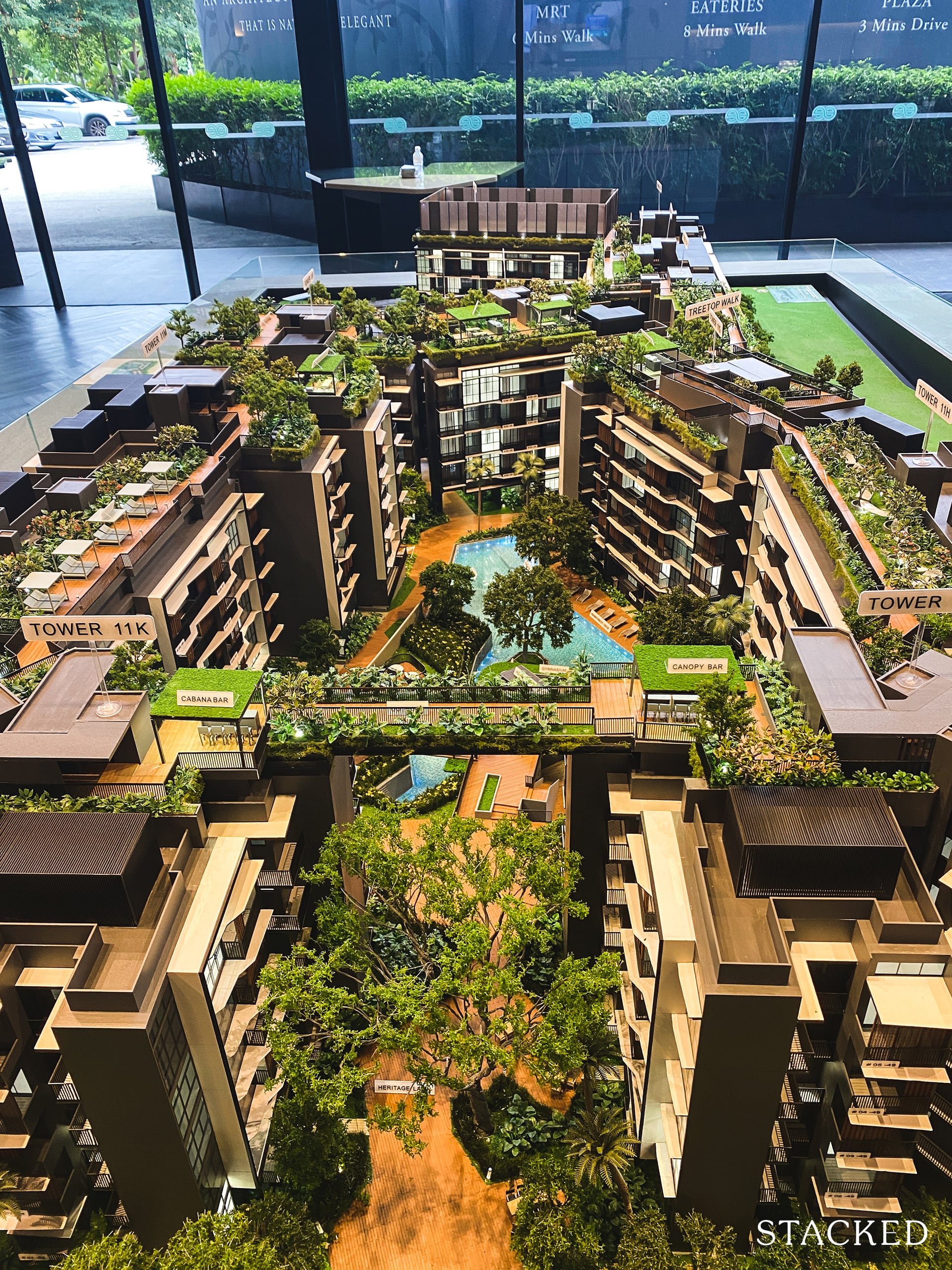 Close proximity to F&B outlets
Residents at Daintree Residence can rejoice knowing how convenient it is drop by Bukit Timah Market & Food Centre or the popular food chain belt further down Upper Bukit Timah Road. It's also great for those who want a relatively tranquil lifestyle given it's surrounded by low-rise buildings, save for the occassional noise disturbances along Toh Tuck Road.
| | |
| --- | --- |
| Project: | Daintree Residence |
| District: | 21 |
| Address: | Toh Tuck Road |
| Tenure: | 99-Year Leasehold |
| No. of Units: | 327 |
| Site Area: | 201,510 sqft |
| Developer: | S P Setia |
| TOP: | 2022 |
The Daintree Residence was the first condo to launch just after the cooling measures in July 2018.

It actually did quite well, all things considered, going on to sell 50 units out of the 80 launched on its opening weekend..

But as of July 2020, its take-up rate seems to have stagnated at 40% – a relatively unsurprising outcome considering the amount that was forked out during the initial land purchase (which eventually translated into hefty psf-values for buyers here).

There's also the possibility that an investment in Daintree Residence may not bring forth the best returns given its exorbitant amounts and surrounding competition. View at Kismis, Mayfair Gardens/Modern, Ki Residences, Linq, Verdale, and the upcoming Jalan Anak Bukit site – it is quite a fair number of incoming supply – a factor that seems to have put off prospective buyers.

Of course, there are also a number of positives regarding the development's appreciation potential, but we'll tackle all that in just a bit.

For now though, here's a little showroom tour for you to enjoy!
Daintree Residence Insider Tour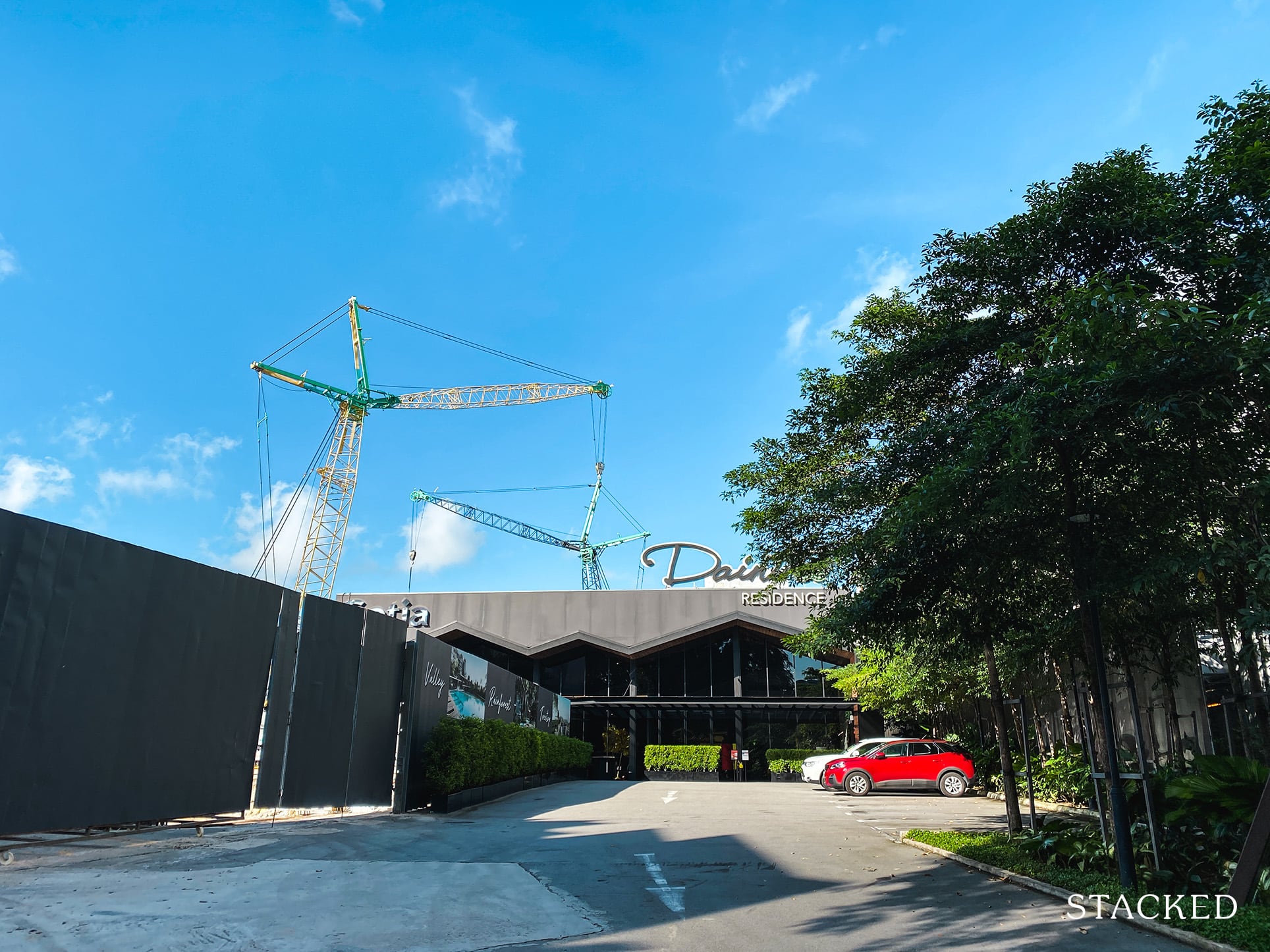 The showflat of the Daintree Residence is located on the actual site itself – something that is always welcome as it gives you the opportunity to have a better feel for the neighbourhood as well as the traffic conditions.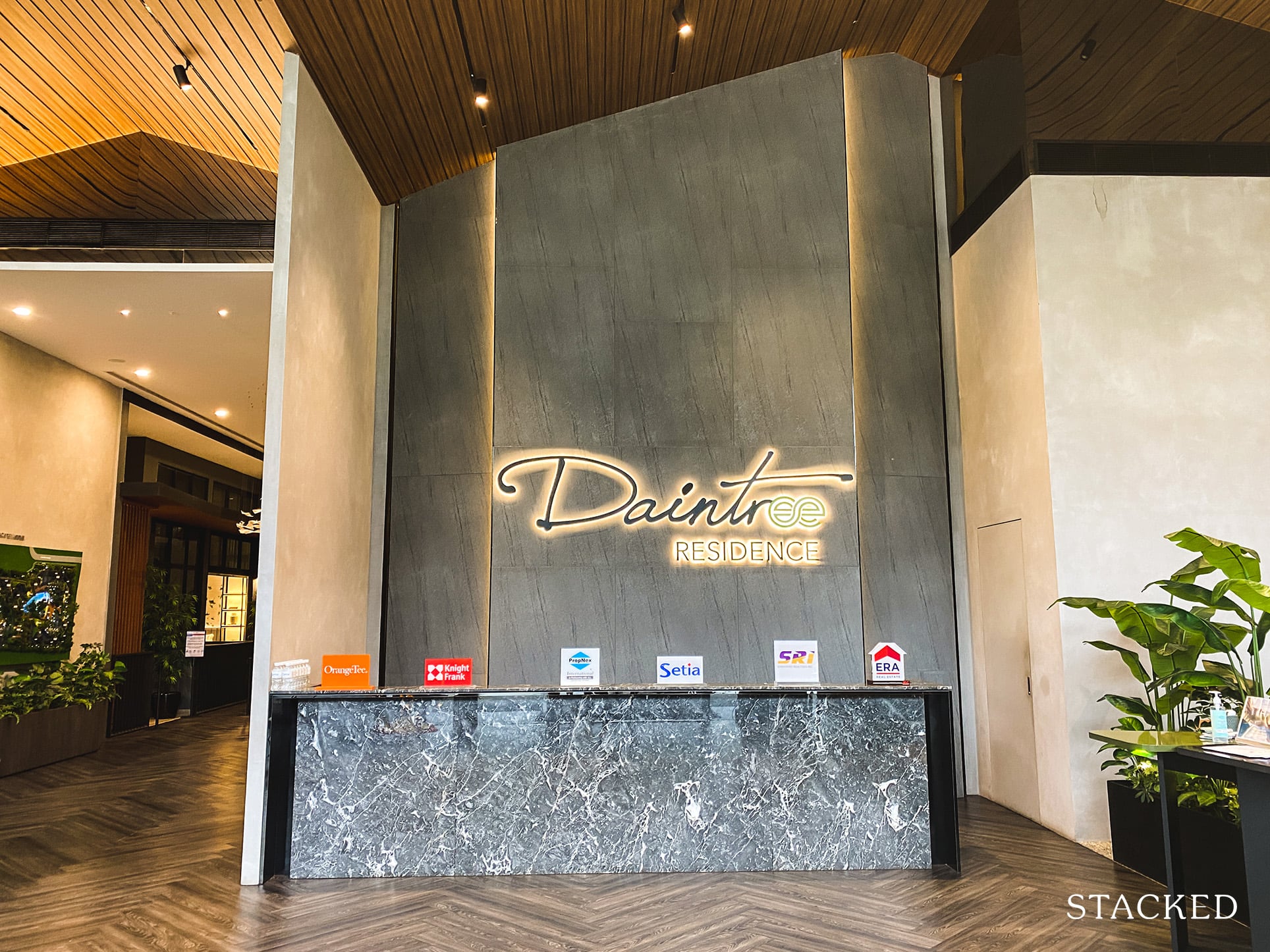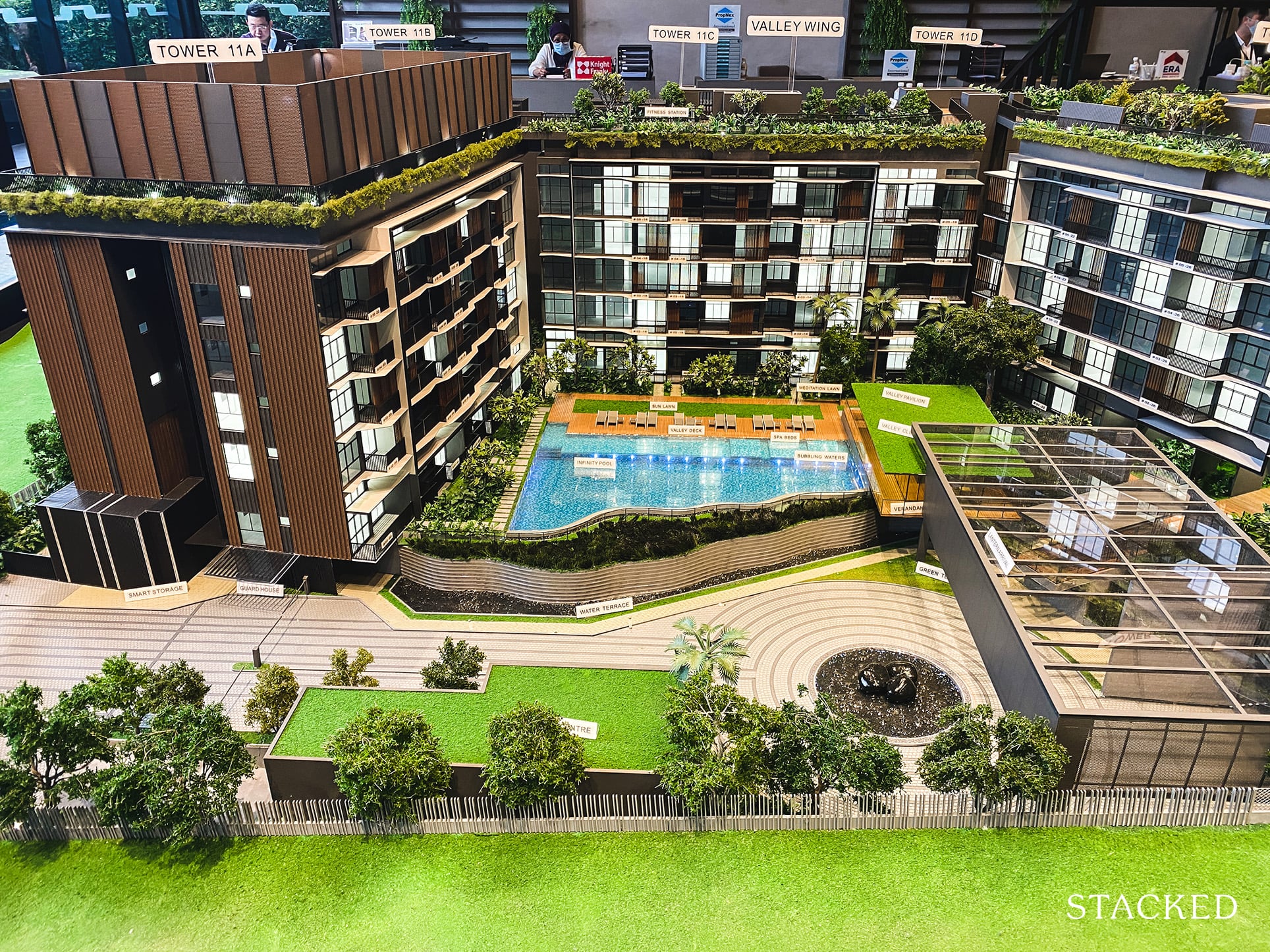 Daintree Residence was actually the first new launch in the area in July 2018, with the last two being its immediate neighbour, the Creek @ Bukit and the 60 year leasehold Hillford just a few blocks away.
As someone that has seen many new launch developments, I have to say that initial first impressions are really positive – the general design and layout is quite a fresh take and something different from the usual that you'd see.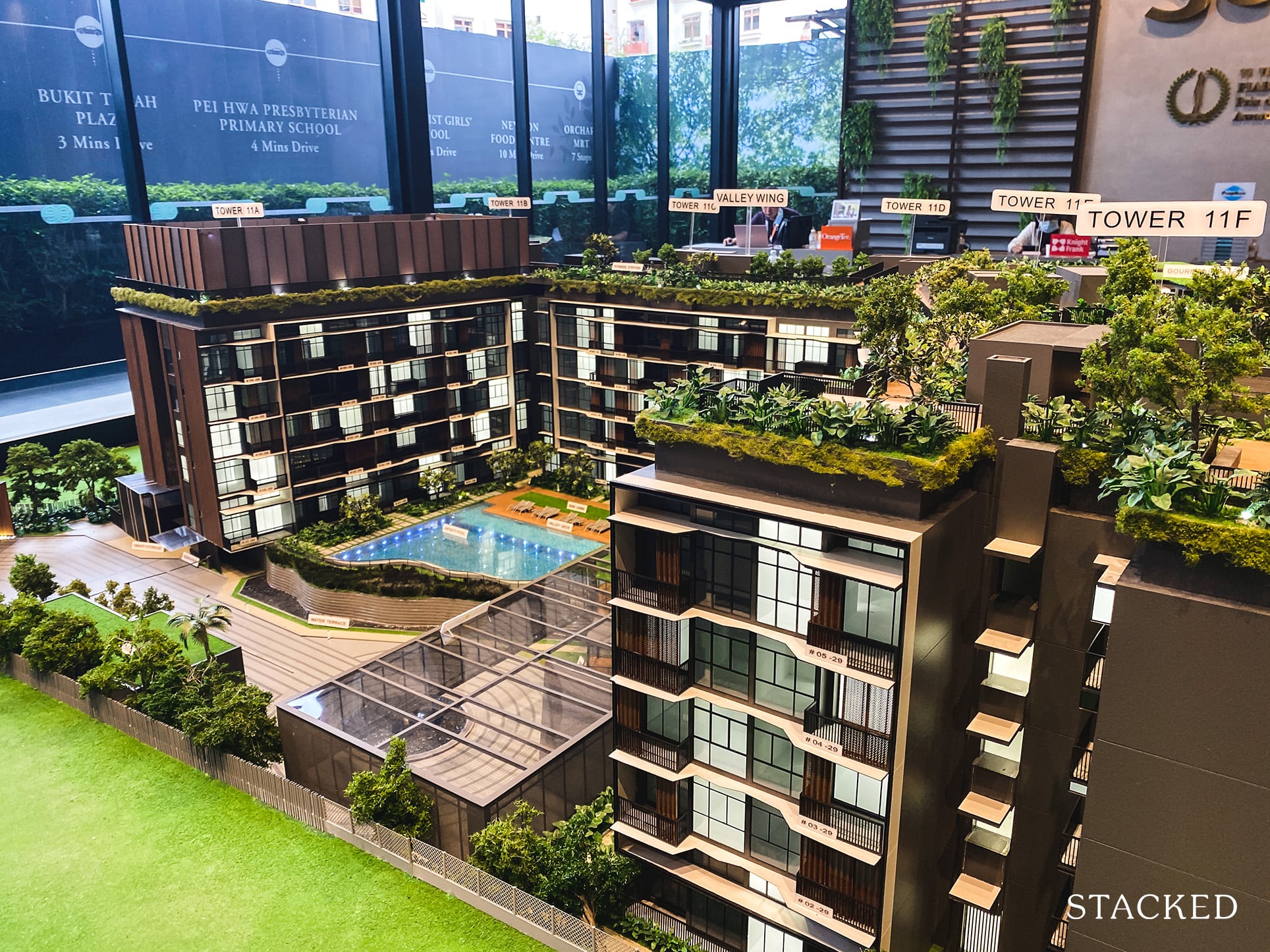 As its location in Upper Bukit Timah is synonymous with verdant greenery and a tree-filled landscape, it's practically a given that any new launch project there will have some slant towards a nature theme.
Not that there's anything wrong with that. After all, many people enjoy the Bukit Timah area for its more serene environment and some respite from the concreteness that is the city centre.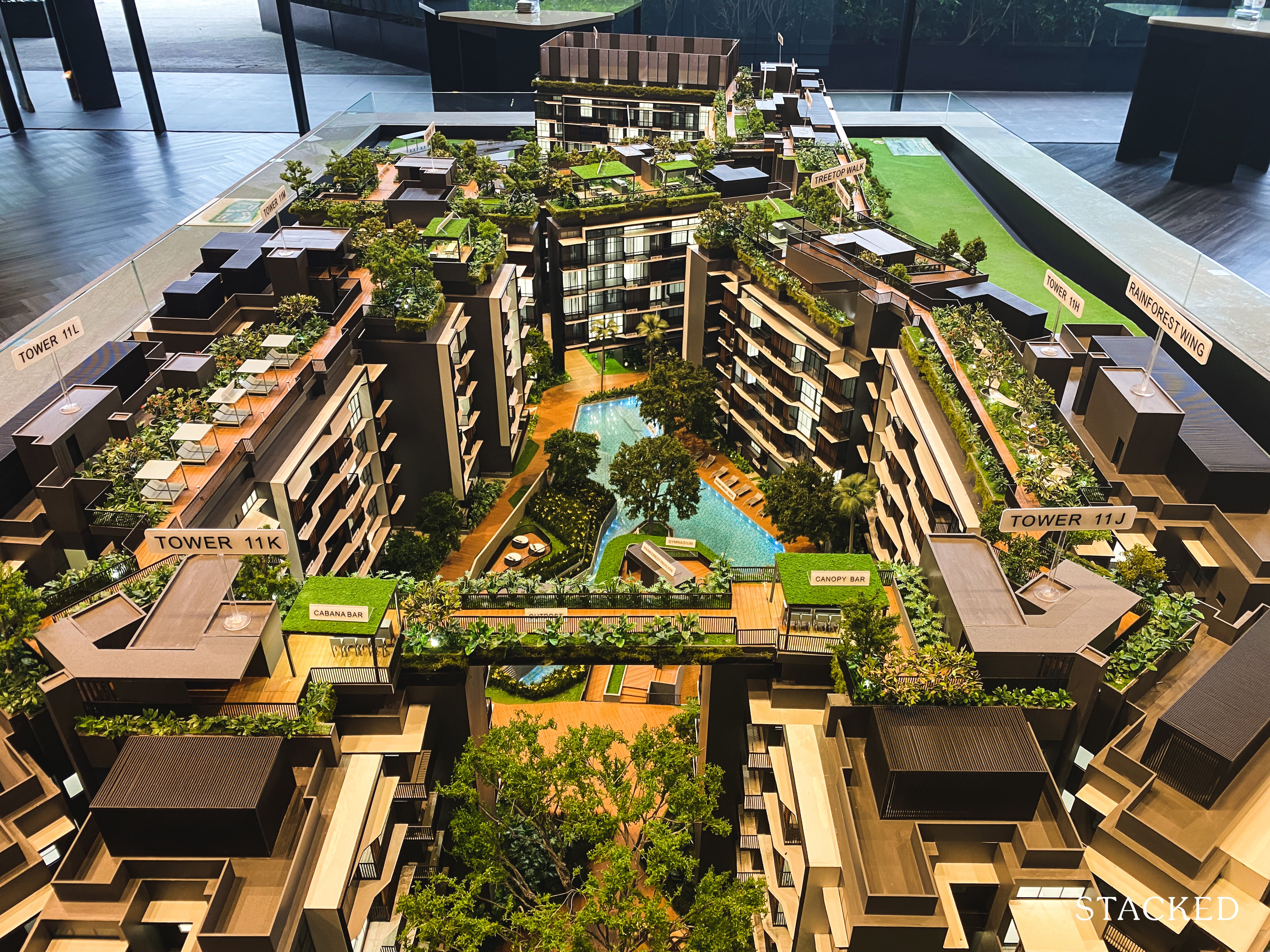 But what really sets Daintree Residence apart from most other new launches thus far is its planned usage of its rooftops. Instead of the usual penthouses that you'll see, this has been replaced with treetop walkways, lush greenery, and various dining amenities.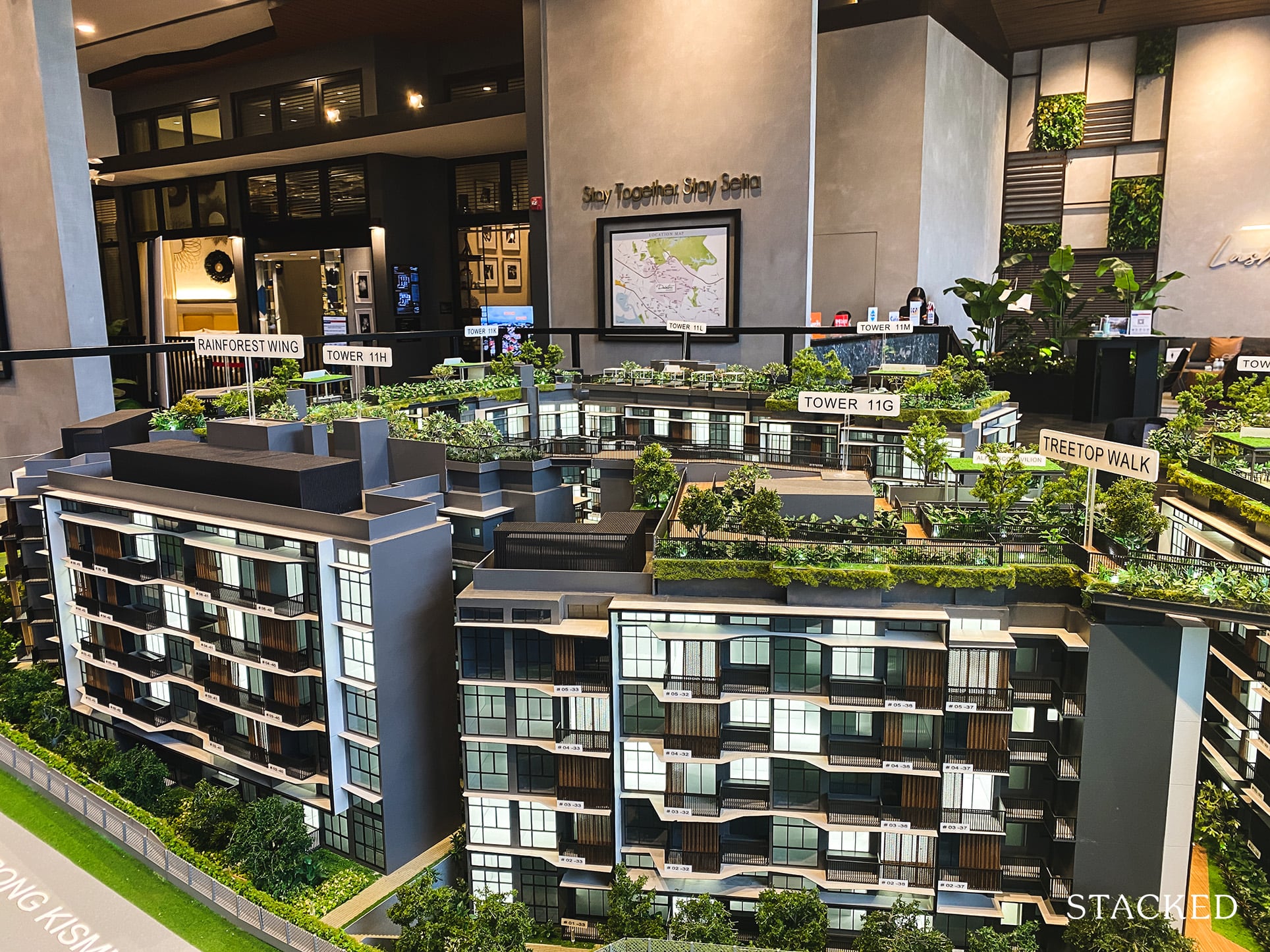 Of course, this isn't exactly a new concept. Over in the East, the rooftop extravaganza at Amber Park is arguably even more eye-catching – perhaps because of its much higher elevation. Another similar concept is at the RoyalGreen – but frankly, I much prefer this one – it looks luscious and more fully featured.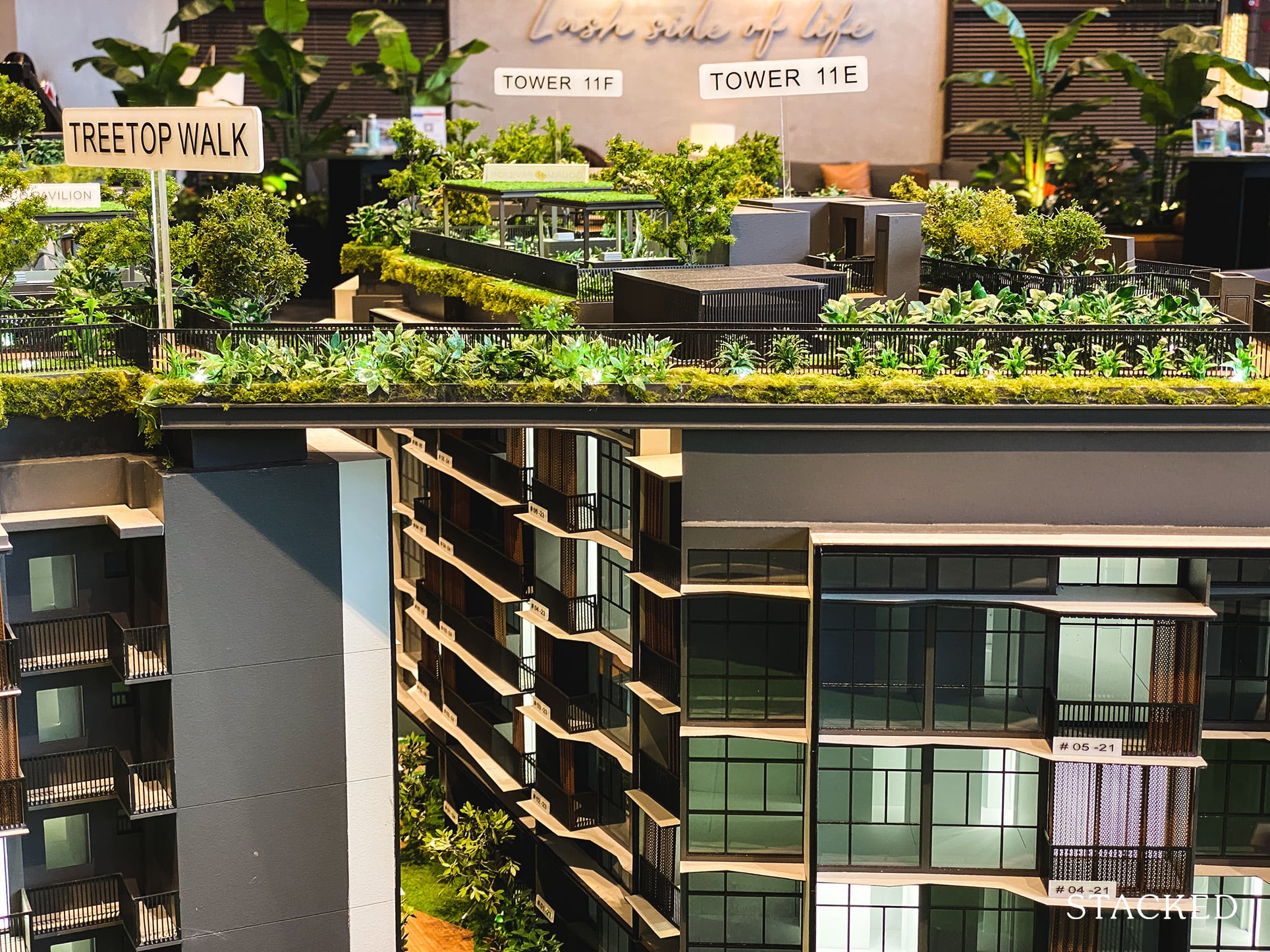 At a land size of 201,510 square feet for 327 units, overcrowding shouldn't really be an issue to be worried about. Although with 12 blocks of 5 storey units, most of the land will definitely be taken up by the residential blocks itself.
So it is a smart move to utilise the rooftops here – it gives residents additional space to move around plus a different perspective because of the elevated view.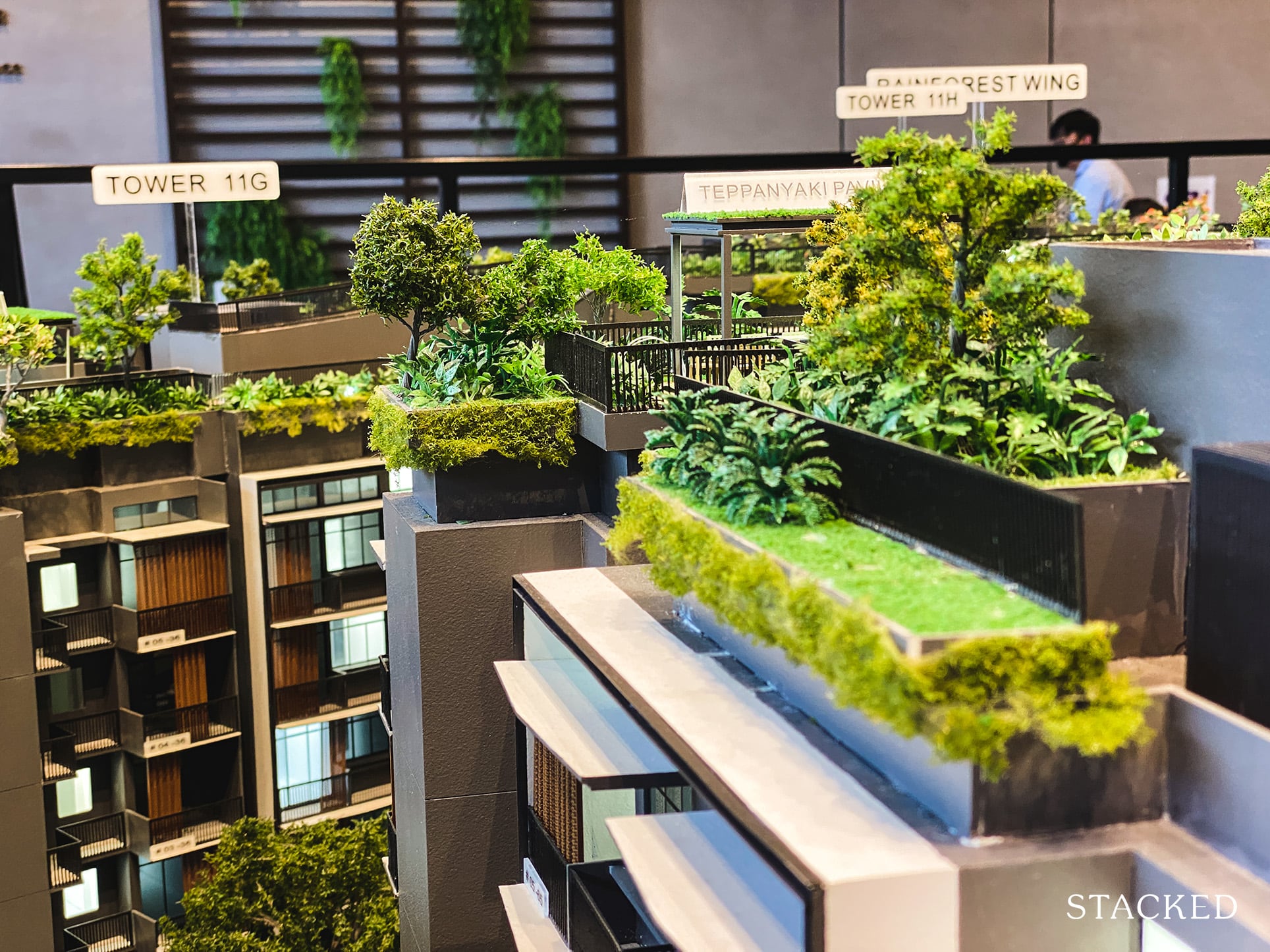 While there aren't any penthouse units because of this, the additional space and practicalities of the design are bigger benefits in my opinion. Not that penthouses will be missed much either, after all, it's really only 5 storeys high.
Perhaps the only thing worth mentioning would be the additional sound that might be generated from the facilities like the Teppanyaki Pavilion or the Alfresco Pavilion – those looking at top floor units take note.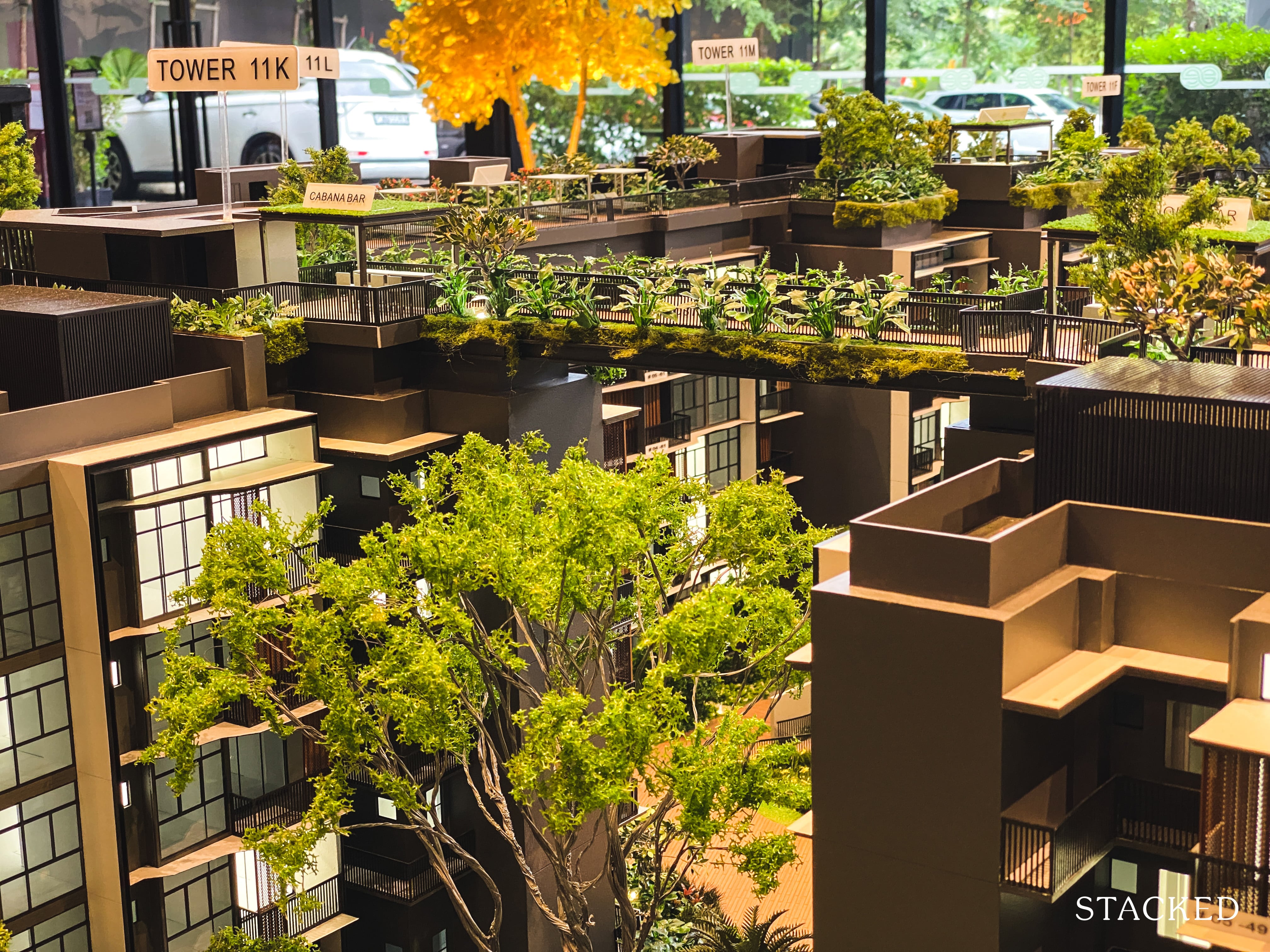 Other features worth pointing out would be the sky bridges cabana bars. Because everything is interlinked, you could essentially use the rooftop deck as a very refreshing place to get in your morning or evening walks.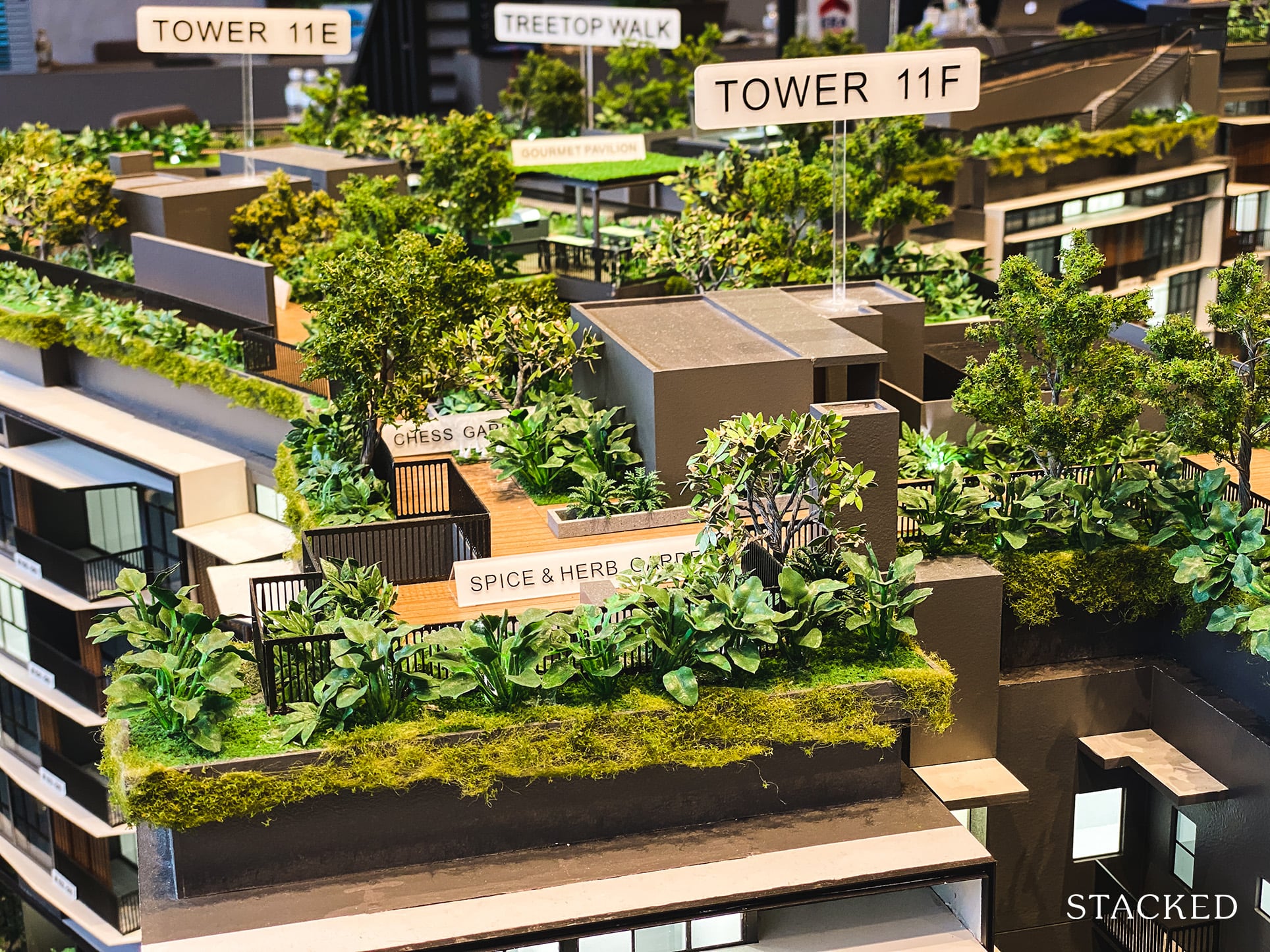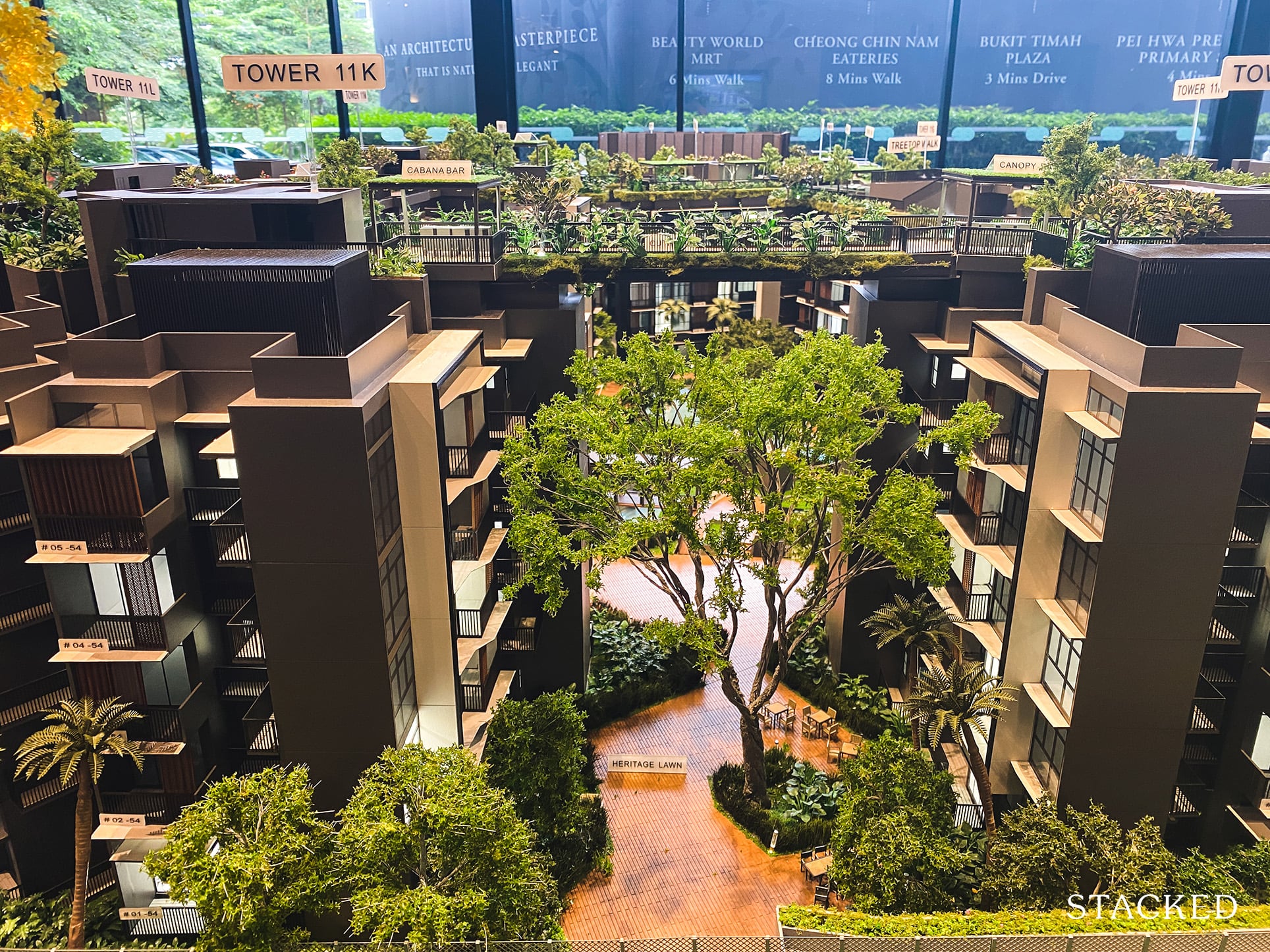 It definitely helps that the general landscaping looks to be done to quite a high standard here – I especially like the heritage lawn with the giant tree here getting all the attention.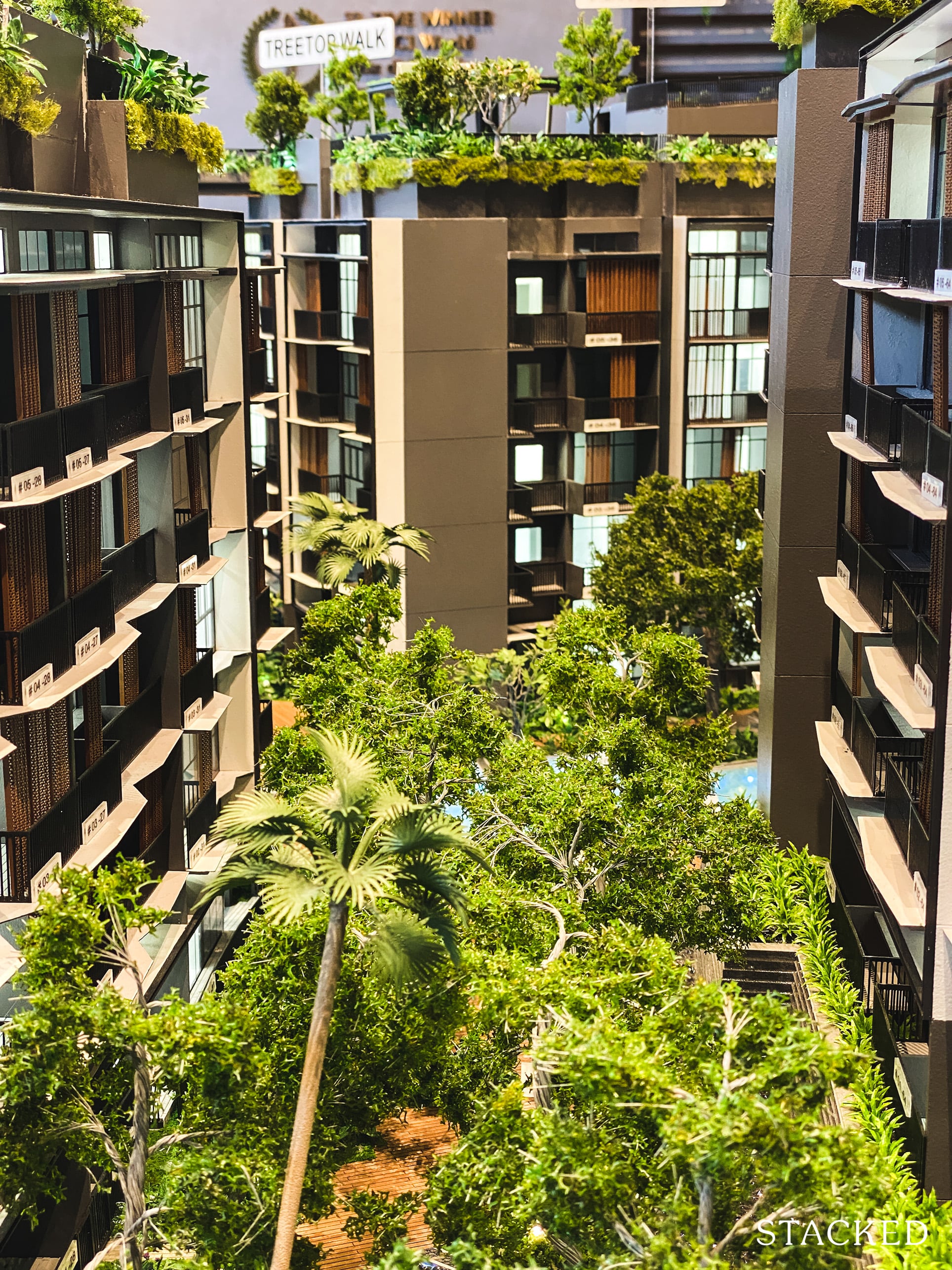 In certain sections of the development it does look like it is set in a valley of sorts – particularly also because it is on a bit of an incline.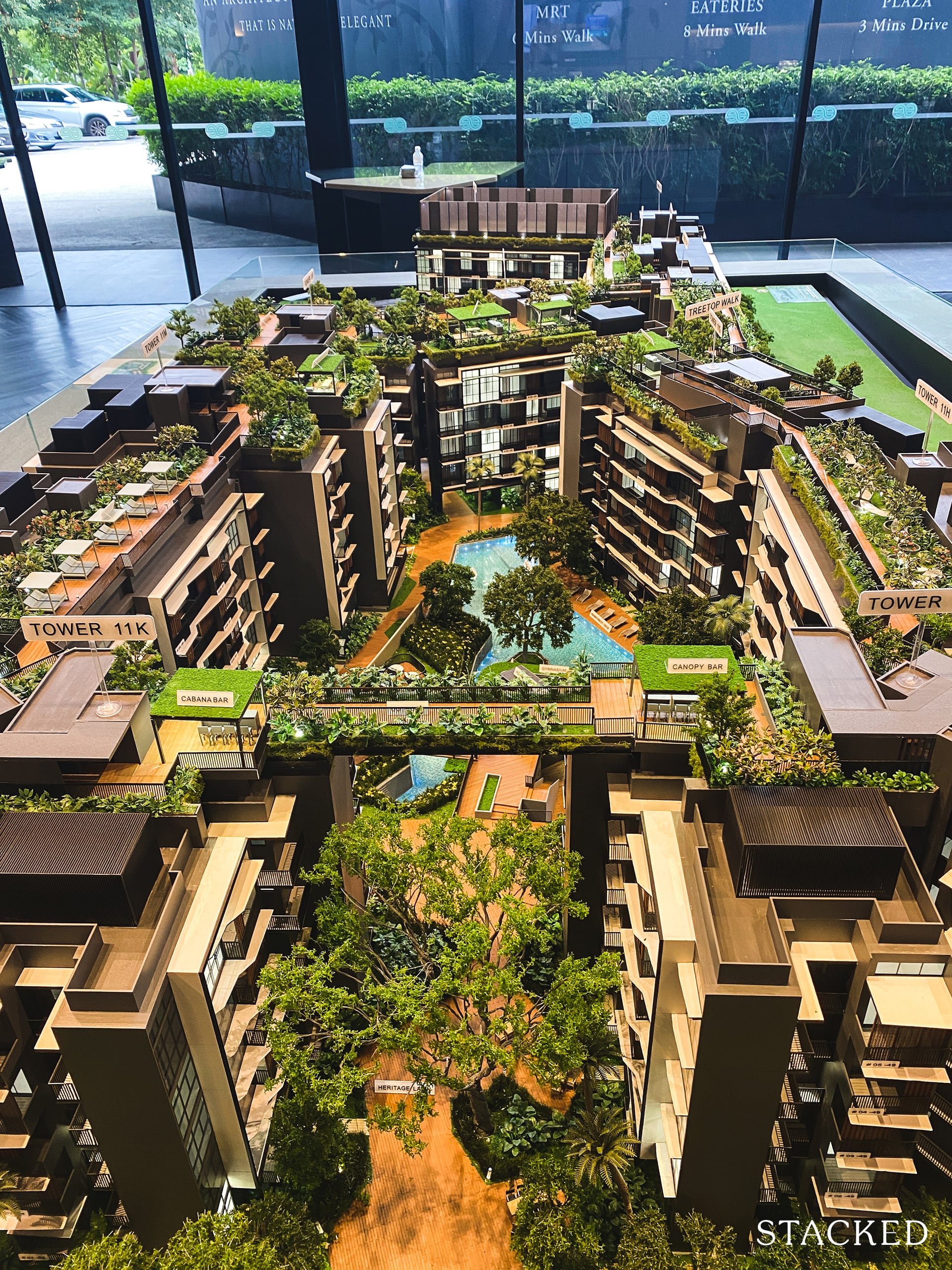 And it's even more apparent when viewed from a high vantage point such as this.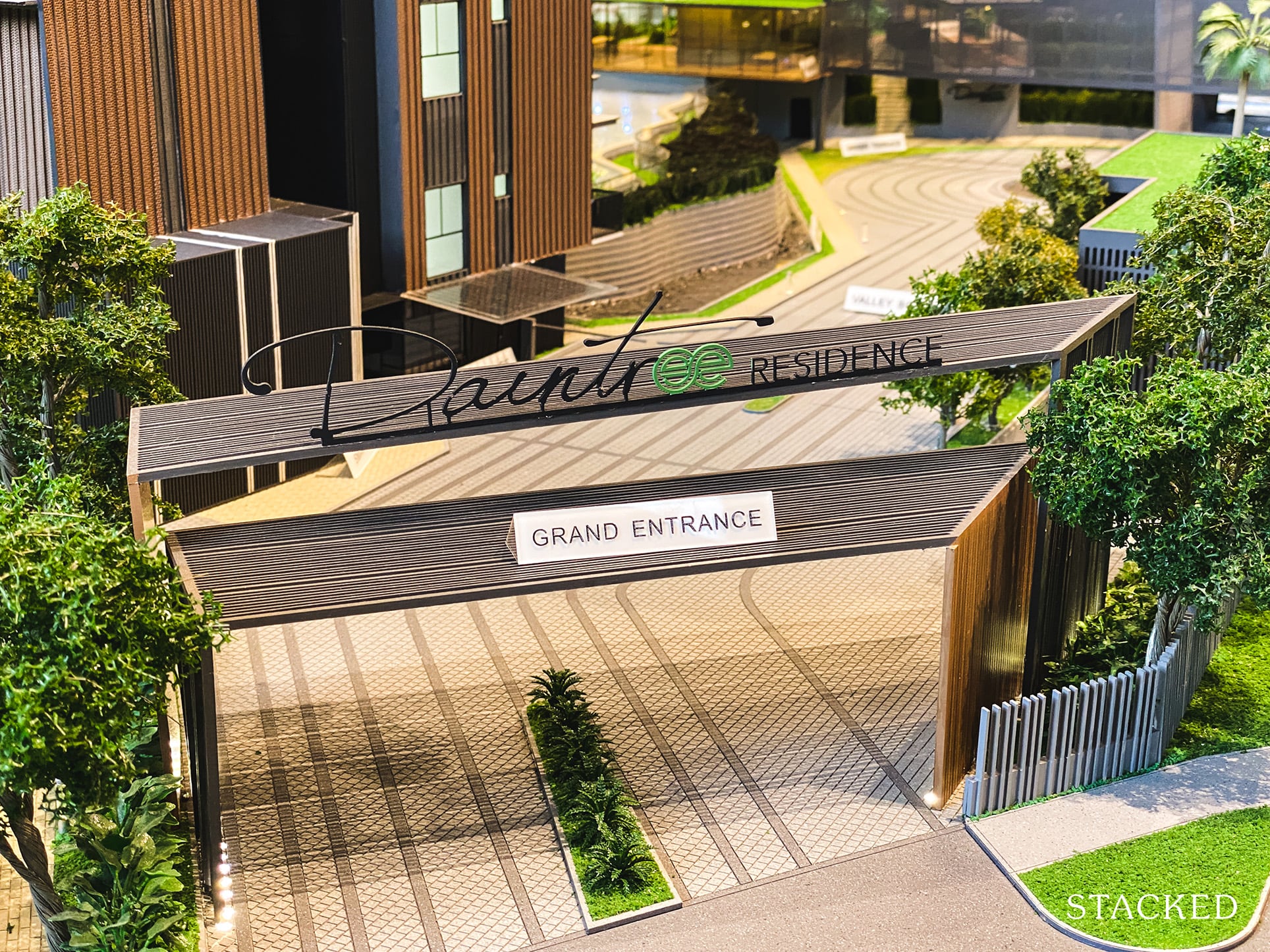 There's only one entrance by road to the development along Toh Tuck Road. It is a bit of a drive in, but it does add some semblance of a drive-in to a mountainous resort. It creates a sense of anticipation – more so if it's your first time.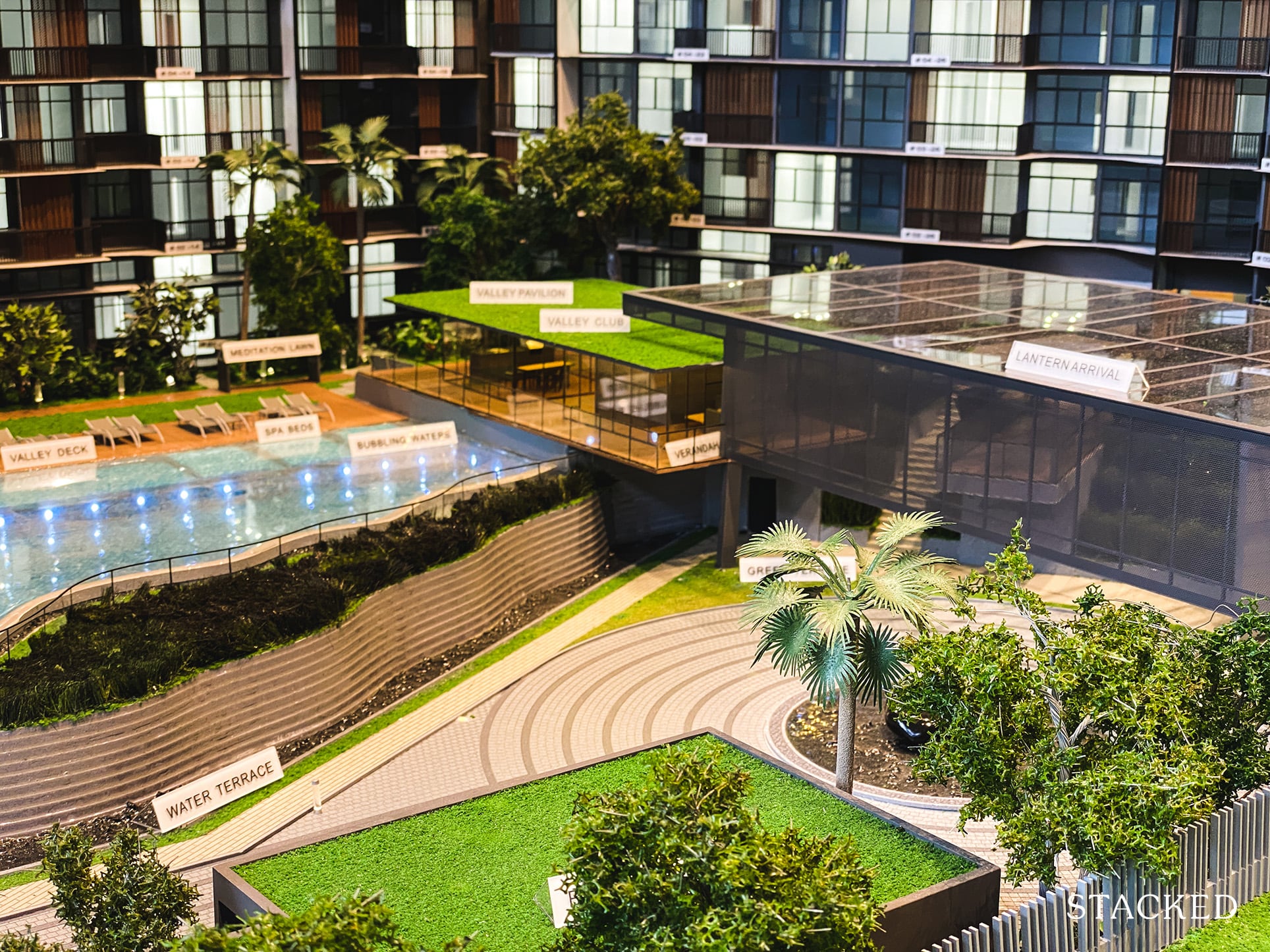 The drive-in would take you past the first swimming pool, along with a roundabout that is termed as the "Lantern Arrival".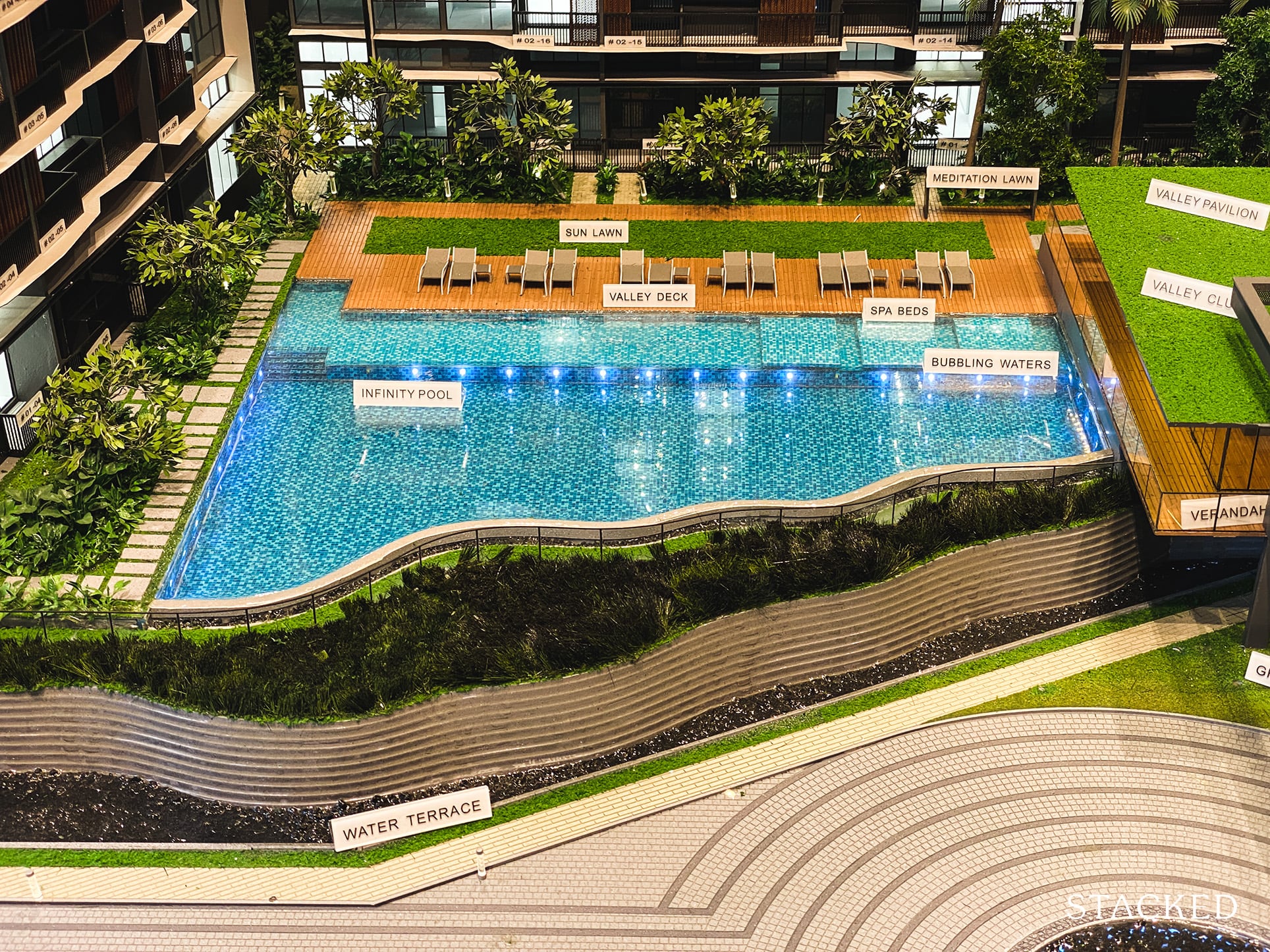 It's a good thing as well that the driveway was placed here as it gives a good setback away from the neighbouring Creek @ Bukit. So while the infinity swimming pool does face the opposite condo, the distance does give it slightly more privacy.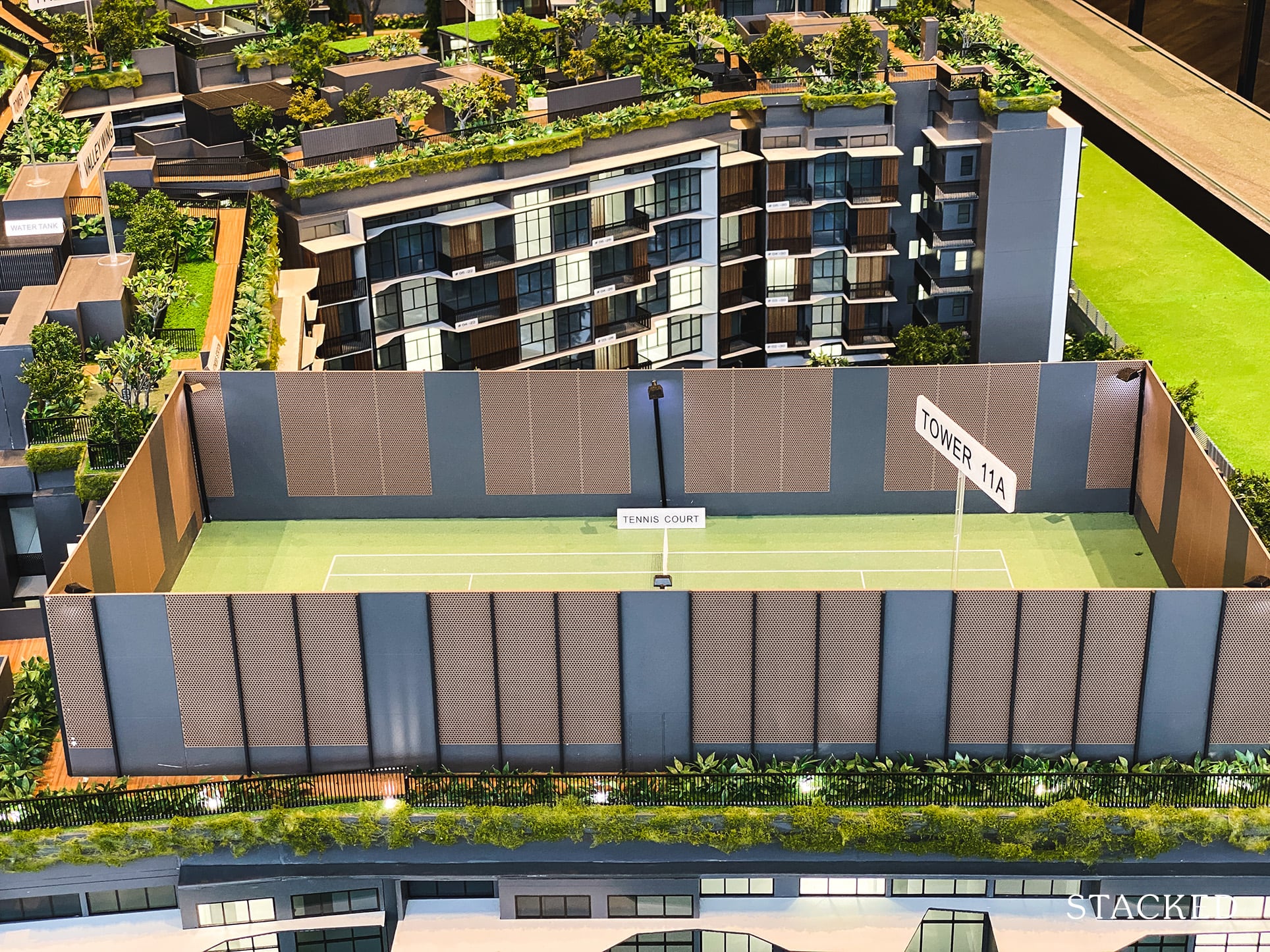 As with most of the other facilities, the tennis court is placed on the rooftop as well. This one is set right at the entrance – which is a good move given the proximity to the main road as there's less of a need to account for road noise compared to the other facilities.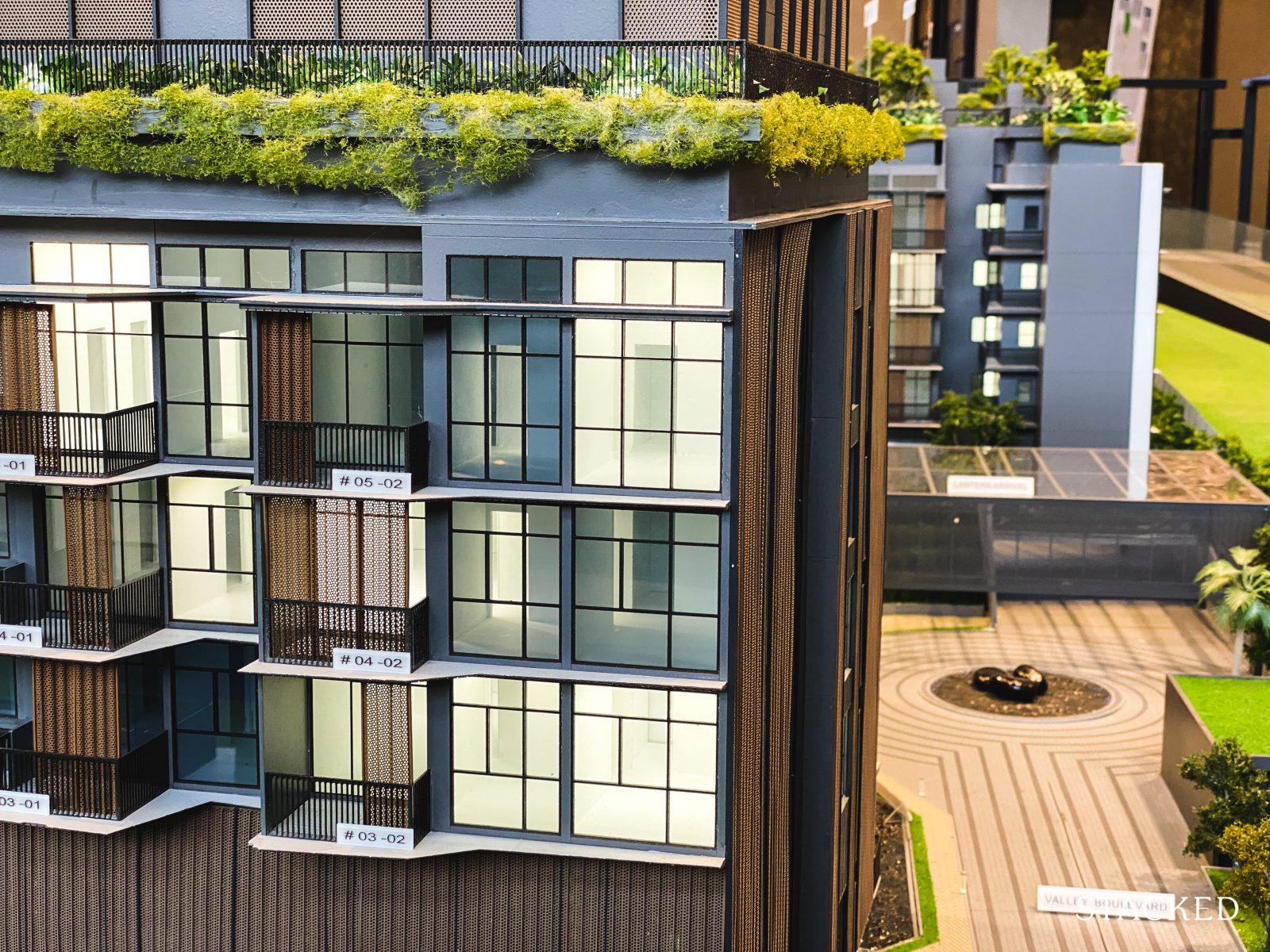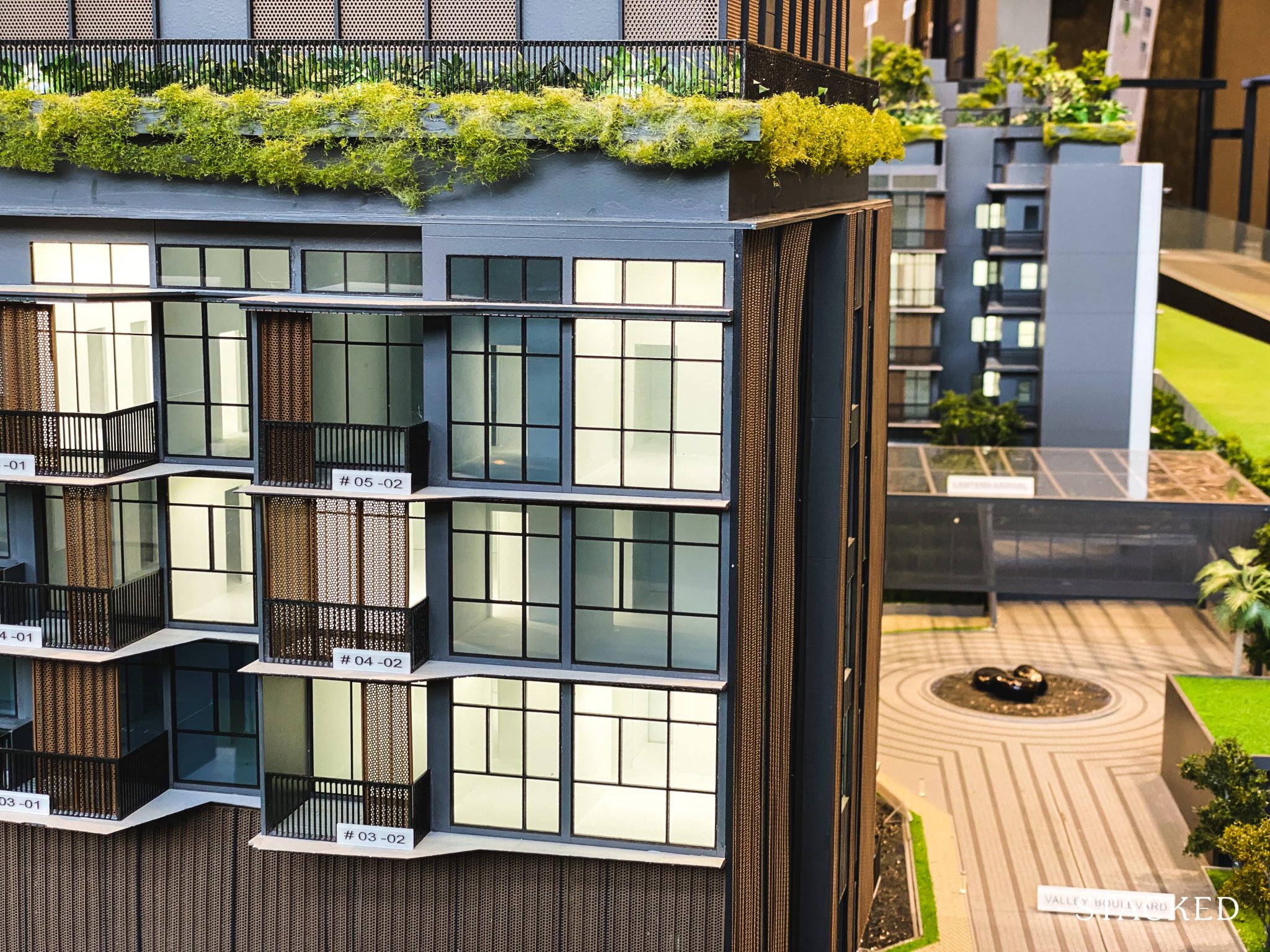 The design of the Daintree Residence consists mainly of a dark palette, which the heavy emphasis on the green rooftop landscaping really helps to soften the look.
Daintree Residence 2 Bedroom Review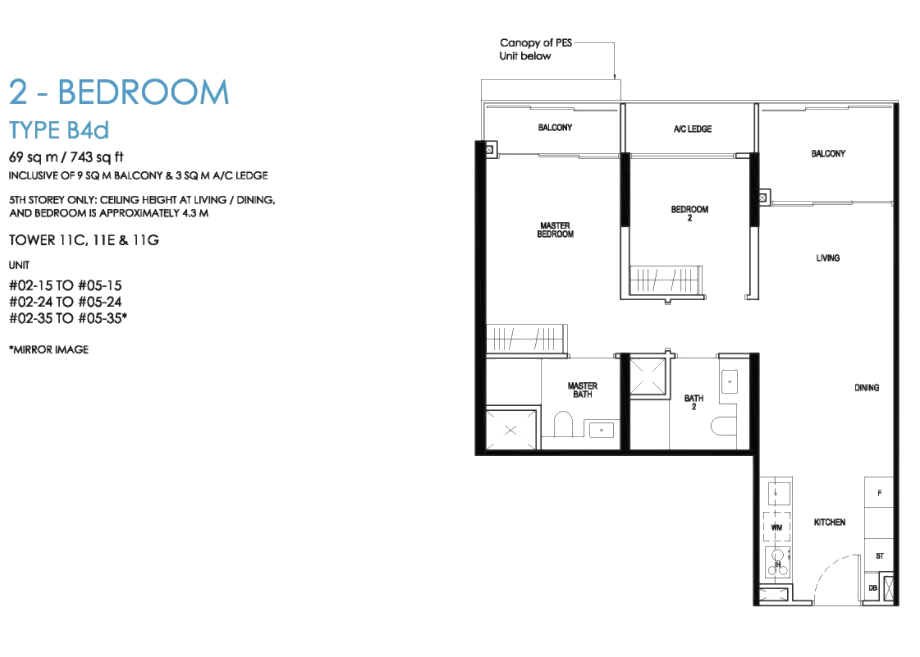 At a total unit size of 743 square feet, the 2 bedroom unit at Daintree Residence falls somewhere in the middle of most new launch 2 bedroom units in terms of size. If you've seen enough new launches by now, you'd know that this layout is a popular one, with perhaps the only difference here being the availability of a balcony for the master bedroom as well.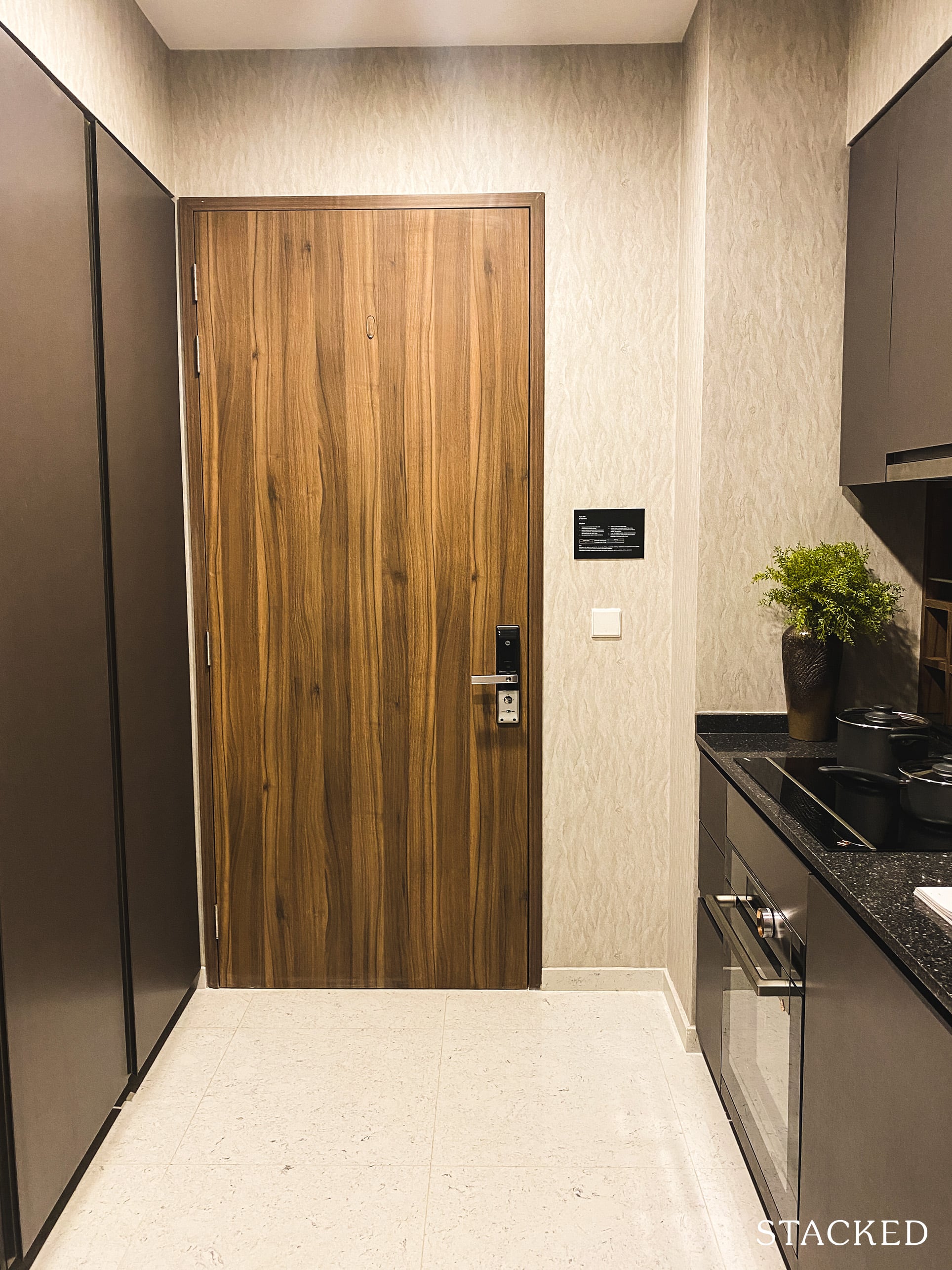 As with most 2 bedroom units that you'd see, the main entrance opens straight into the kitchen. For some people, they might not like the lack of privacy but I think it is the lesser of two evils when you take into account shrinking unit sizes.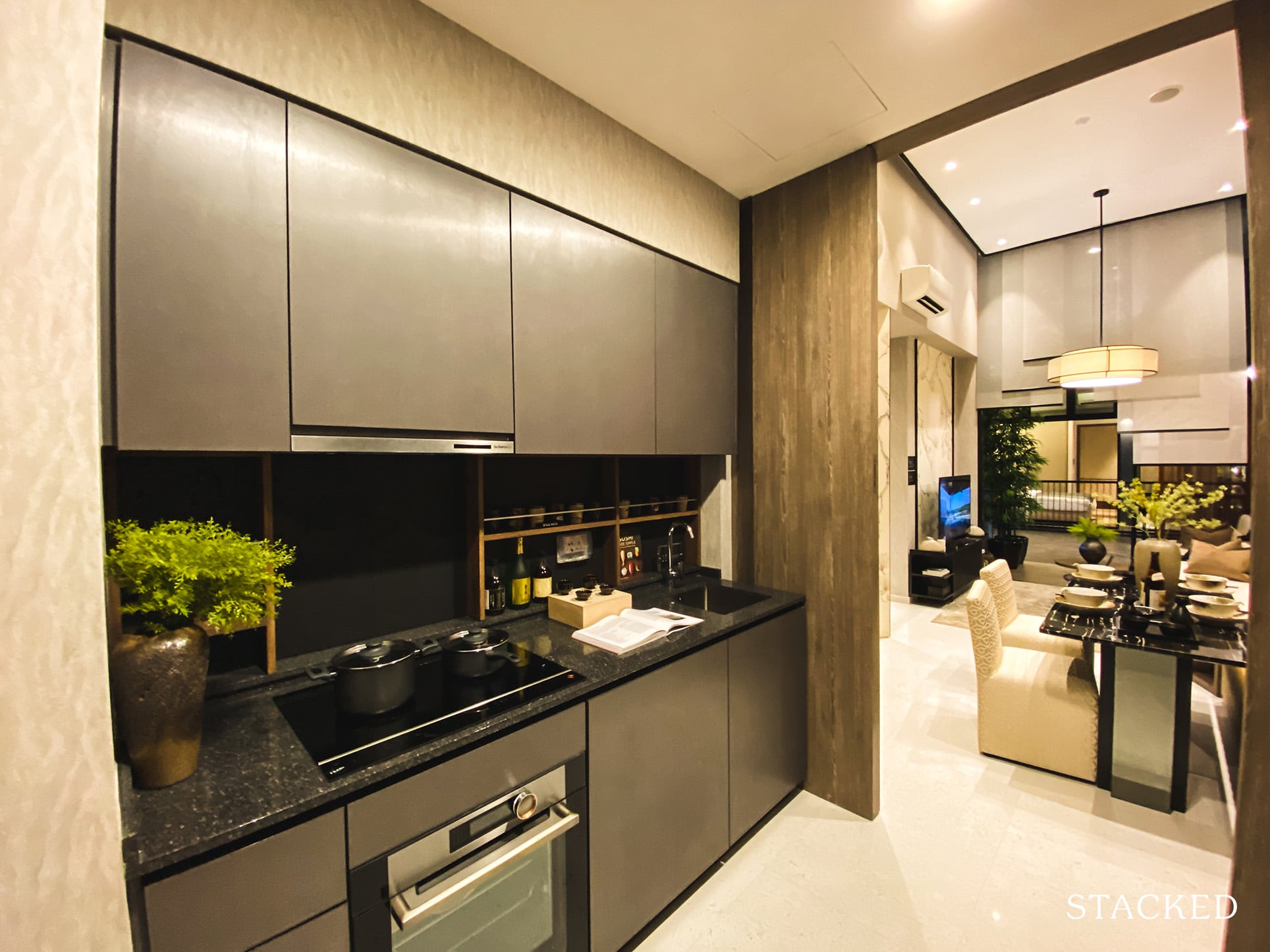 Compared to the behemoth ceiling height on the outside, the kitchen looks relatively tame in comparison. If you're wondering – it's a normal ceiling height of 2.8 metres.
Size wise there is absolutely nothing to complain about – it's a good size for 2 people to move around comfortably. There is sufficient countertop space and storage that would satisfy most people.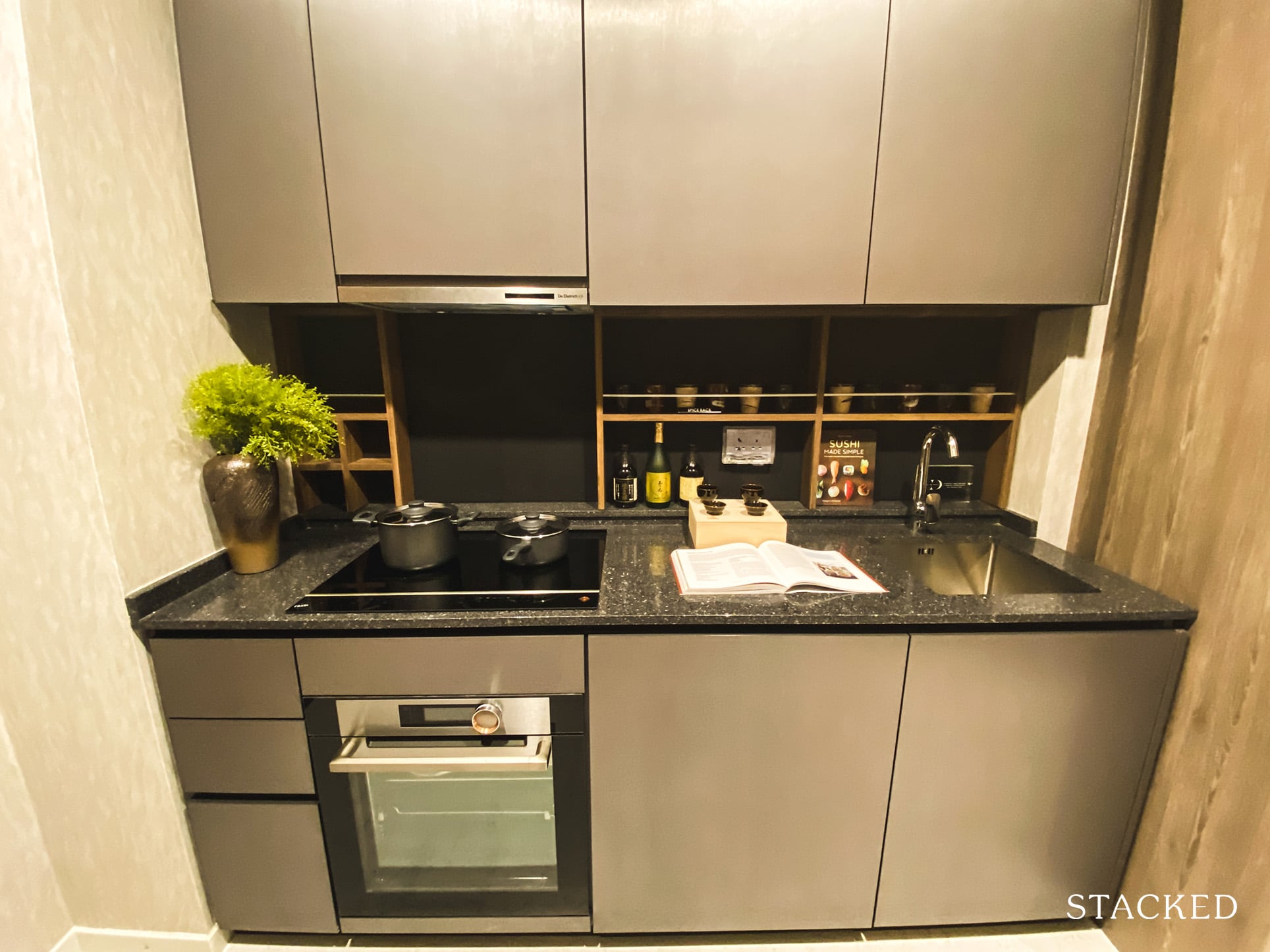 Kitchen appliances here are supplied by De Dietrich, and it comes with the usual few that you'd expect. The kitchen floor will be marble, which you do have the option of it being either compressed or polished marble (the one shown right here is compressed).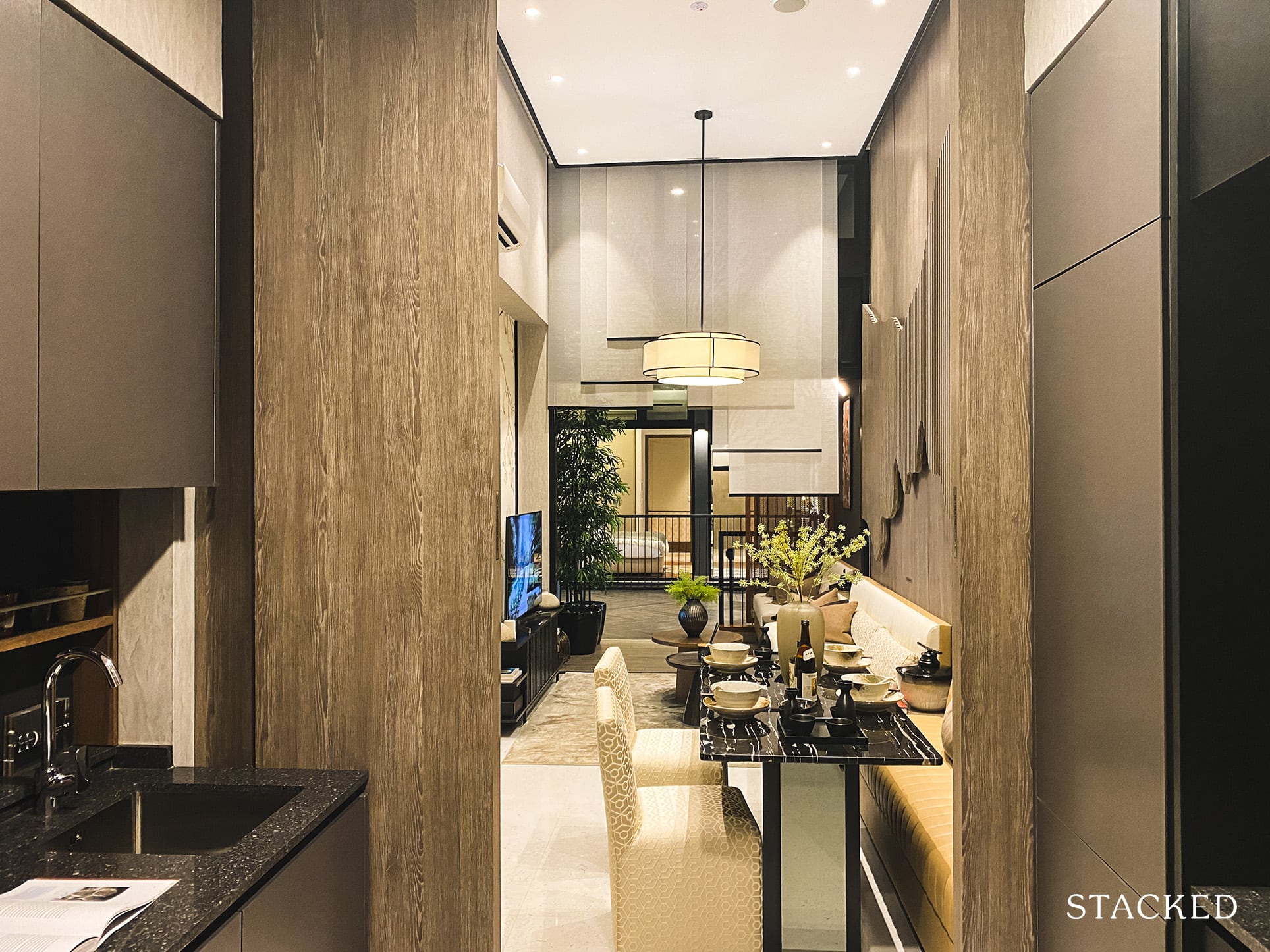 You could also install sliding doors to keep the kitchen enclosed instead, but a bigger problem would be the lack of proper ventilation.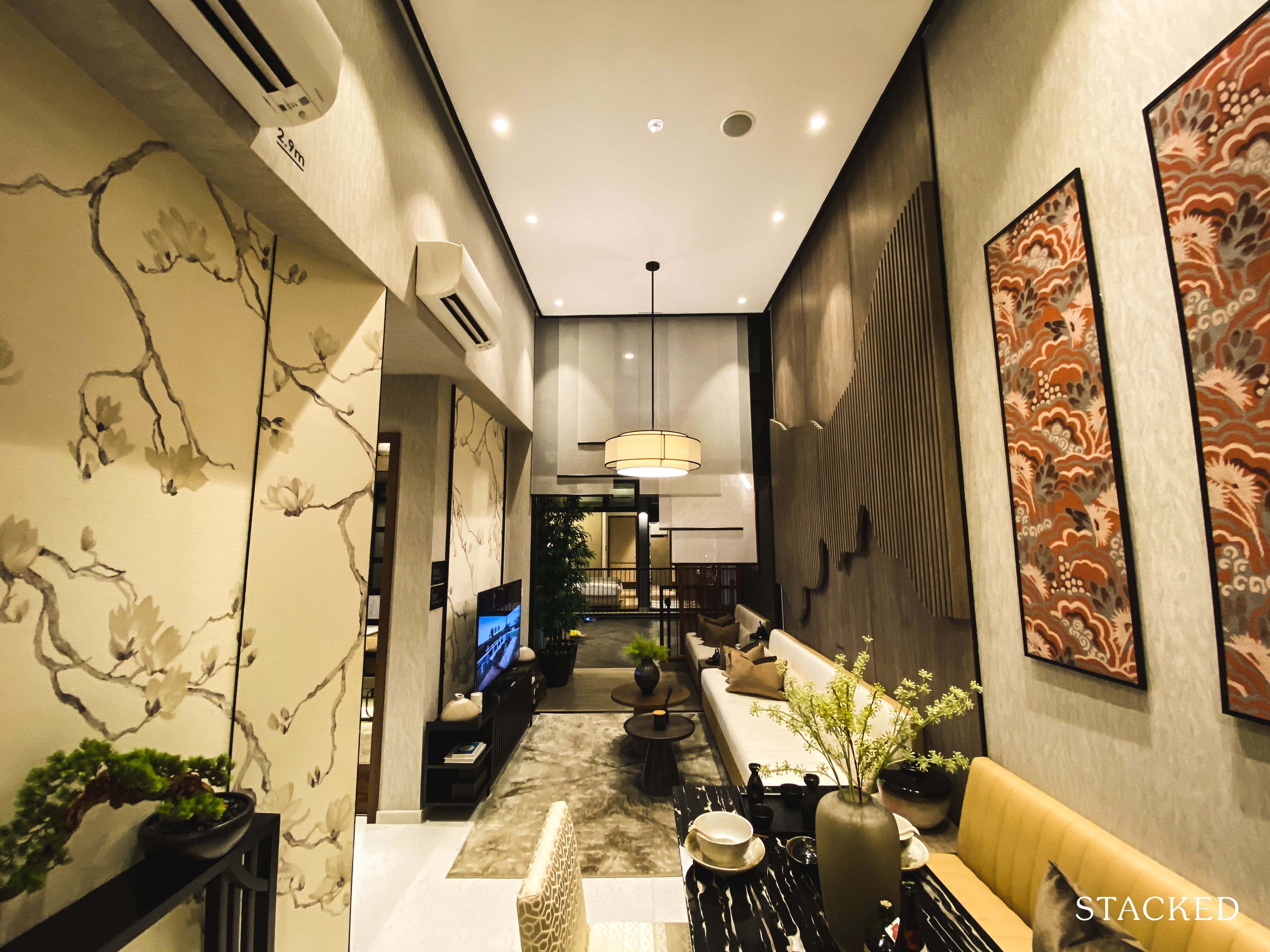 Moving into the dining and living areas, what immediately hits you is the height of the ceiling. At 4.3 metres high, it is absolutely voluminous and has a knock on effect of making the space feel a lot bigger than it actually is.
What I especially like about it is that it is a properly high high ceiling. In other words, it is still very much usable space should you decide to build a platform to fully make use of the "extra" space. Unless you are extra blessed in the height department, most people should be able to fully stand even on the added platform.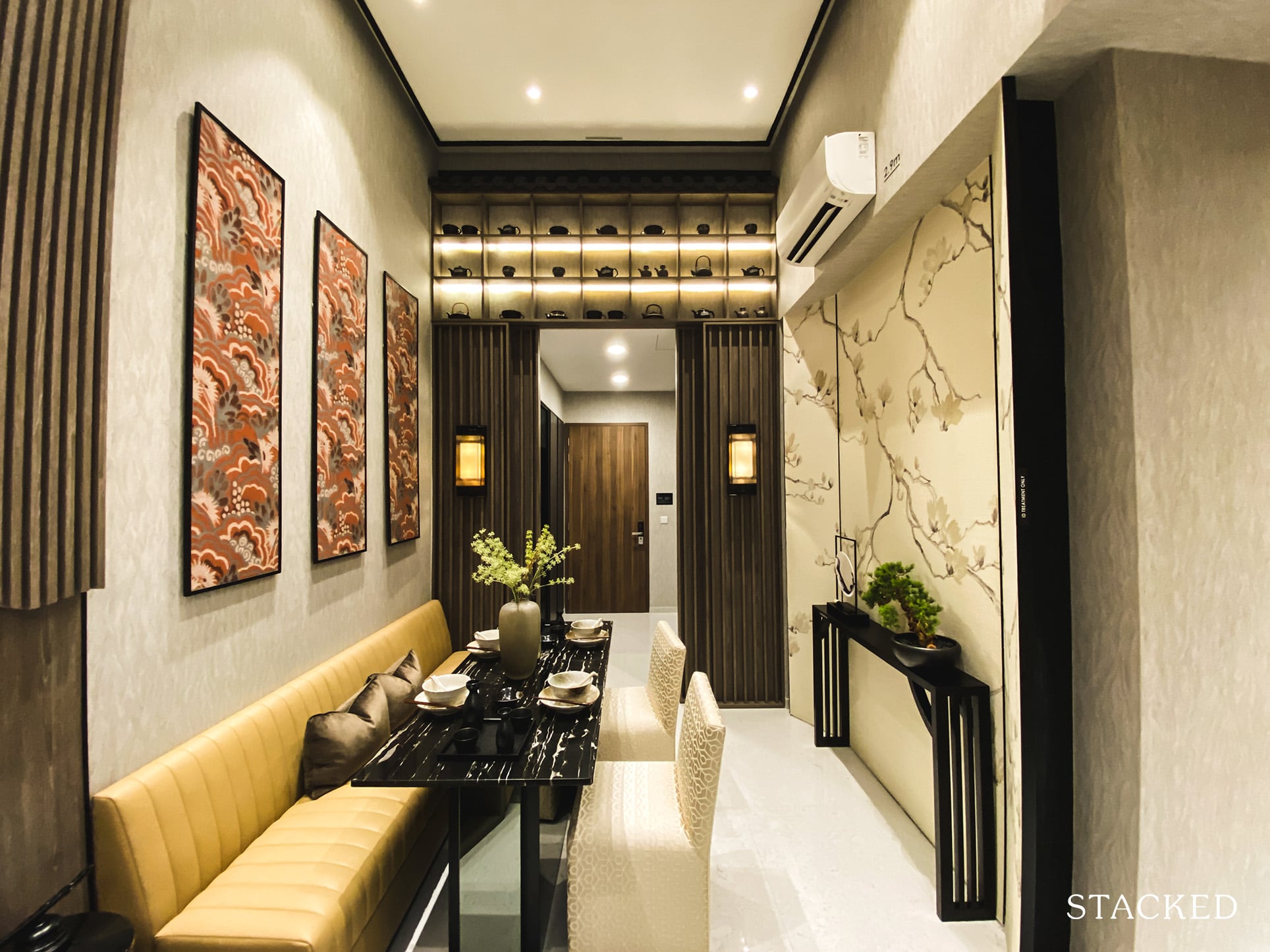 Sad to say, this high ceiling is only available for the top and bottom level units. As mentioned above, for those considering the top floor, you should watch out for the dining facilities above on the rooftop – more so if you are sensitive to noise.
The dining area is adequately sized, you do have to watch out for the size of the dining table as there has to be an allowance for the walkway as well.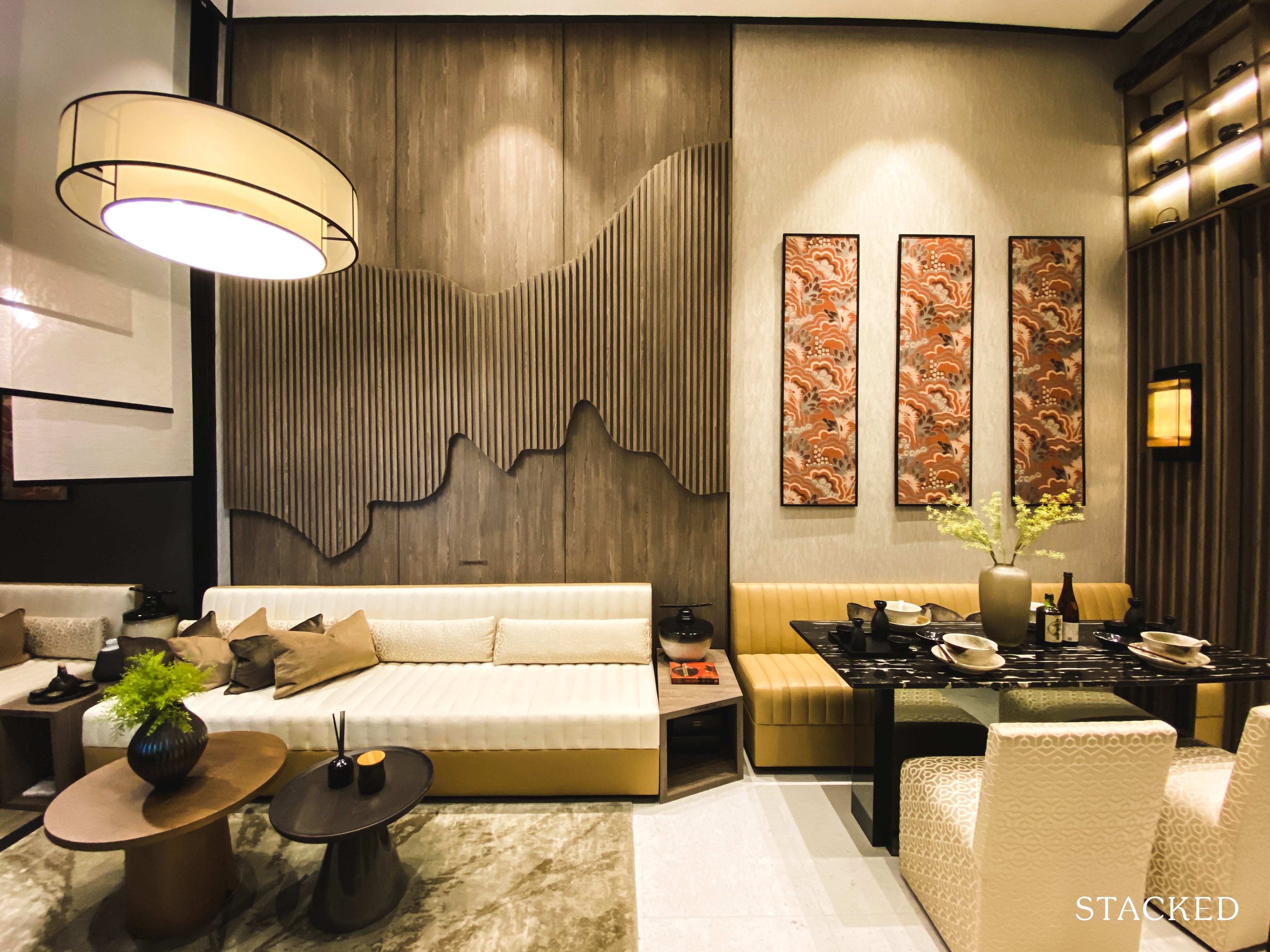 I do wished that they showcased a regular unit as well, as both showroom units were showcasing the high ceiling option – it's much harder to get an accurate feel of the space if you're intending to get the regular units.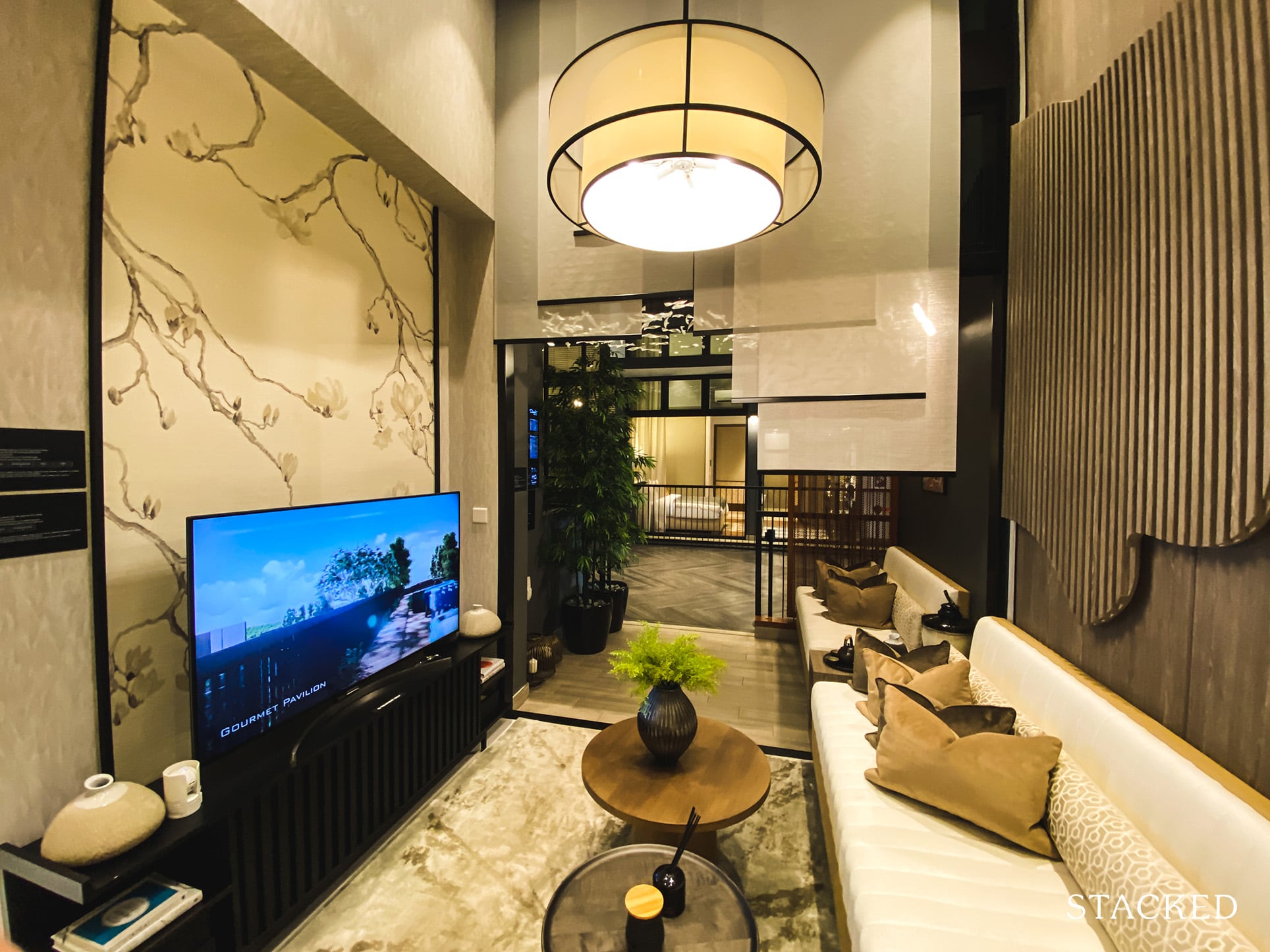 It's hard to see from the carpet here, but the marble flooring will be extended all the way from the kitchen to the living/dining areas as well.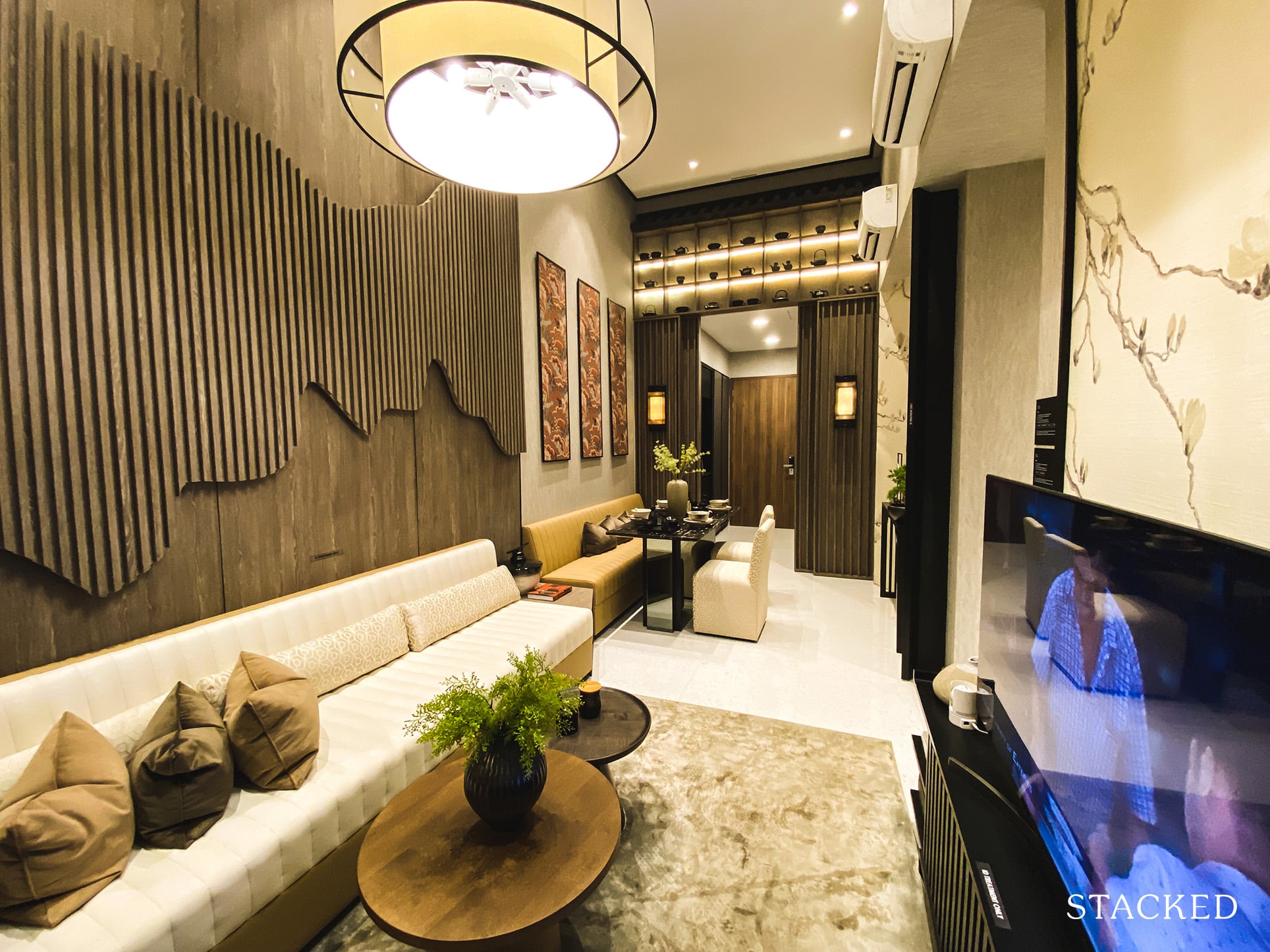 Honestly speaking, I'm not big on the interior design. It's a bit too messy and over-styled for my tastes, making the space feel a tad cramped despite its high ceilings.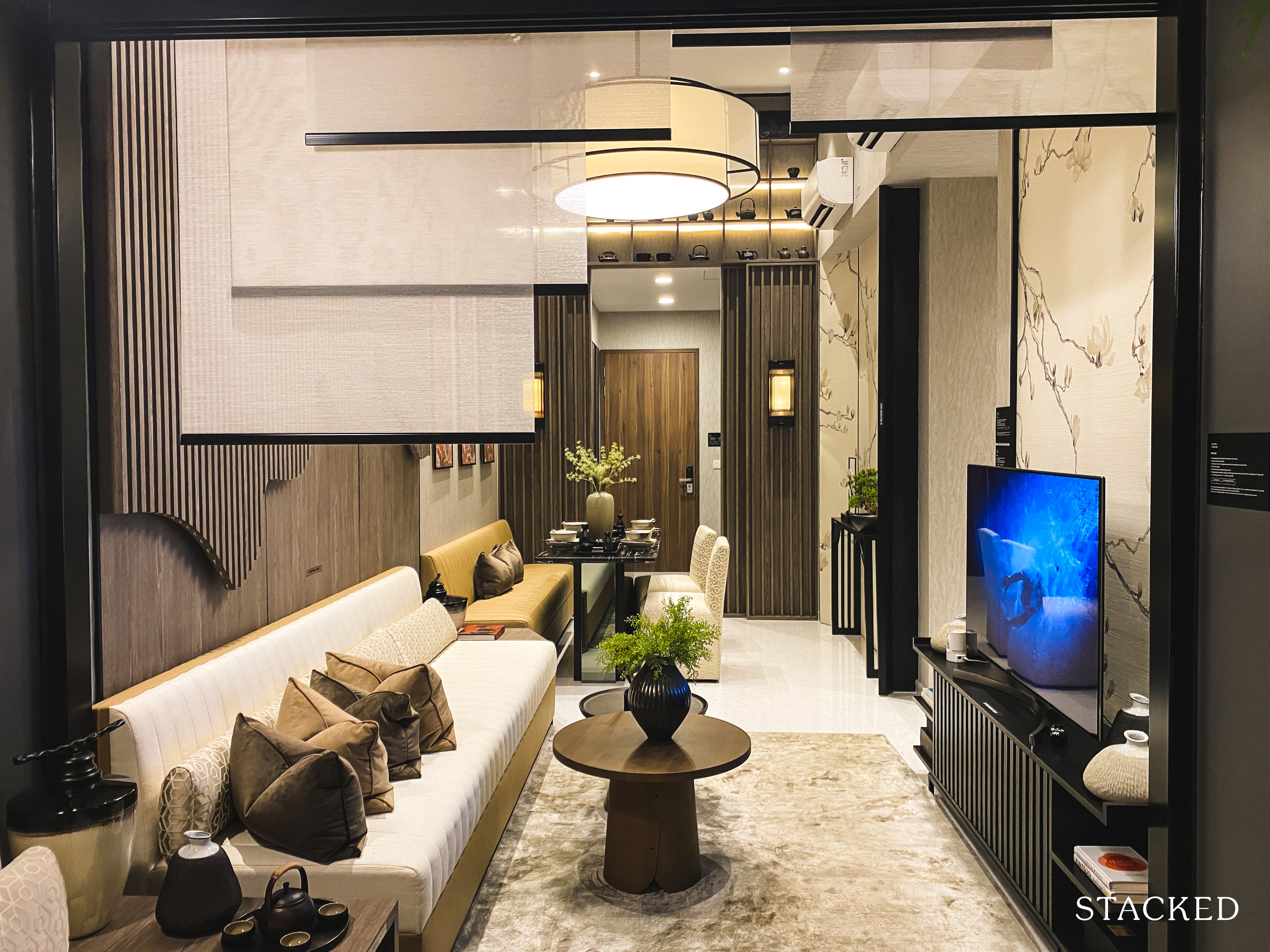 The living room is decent in length, but it is quite narrow. The bench seating couch here does make it look more roomy as it is pressed right up to the wall. For those looking to put in a regular sofa – do note that you will be quite limited in the size of it.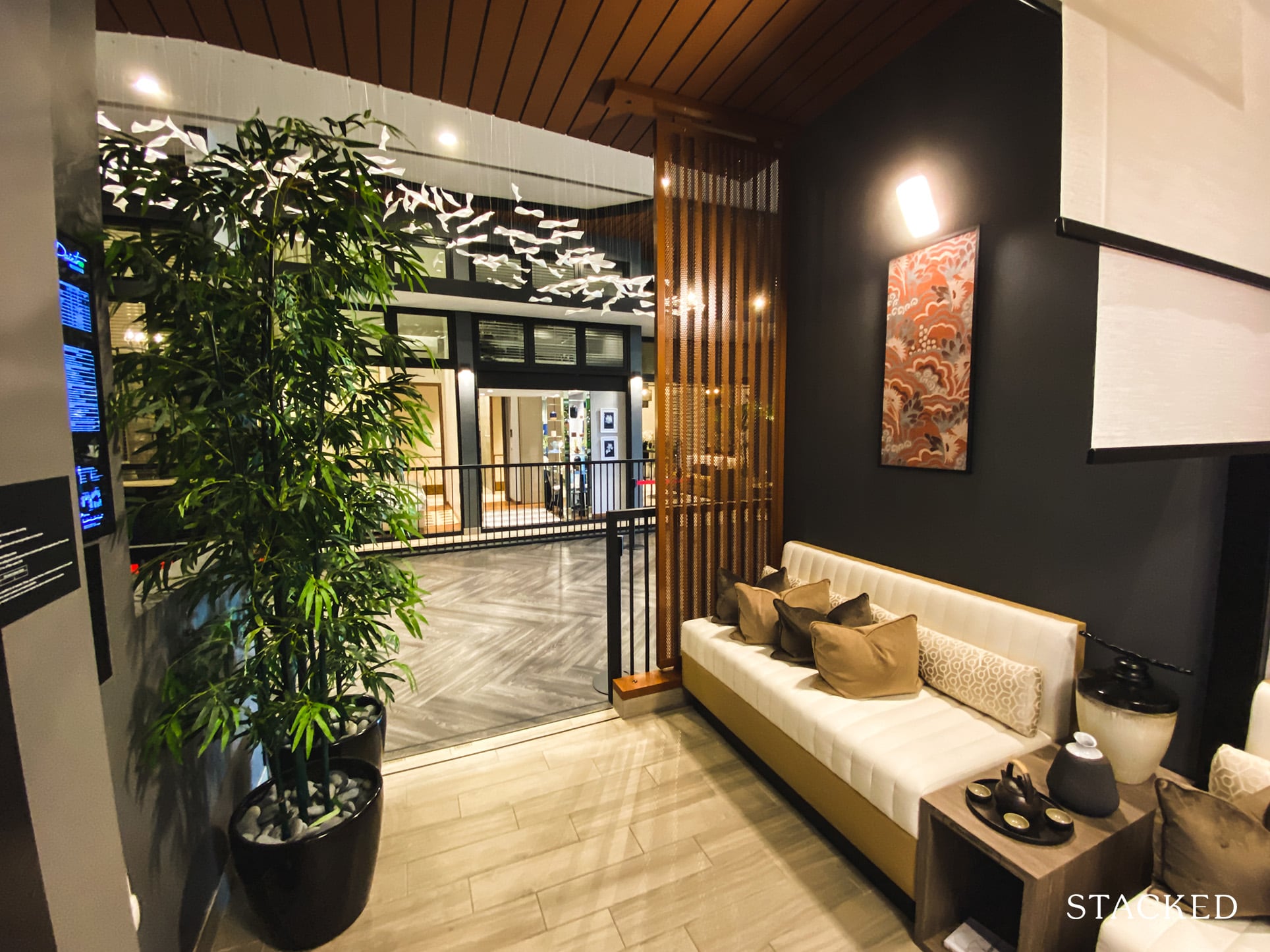 The balcony is an average size, but couple this with the balcony outside the master bedroom and the external spaces do take up quite a sizeable portion of the unit size. That said, if the lush landscaping does turn out as well as the renders have shown, sitting out here for a meal could prove to be an even better experience.
The balcony flooring comes with homogenous tiles – typical of what you'd see in every other new launch development.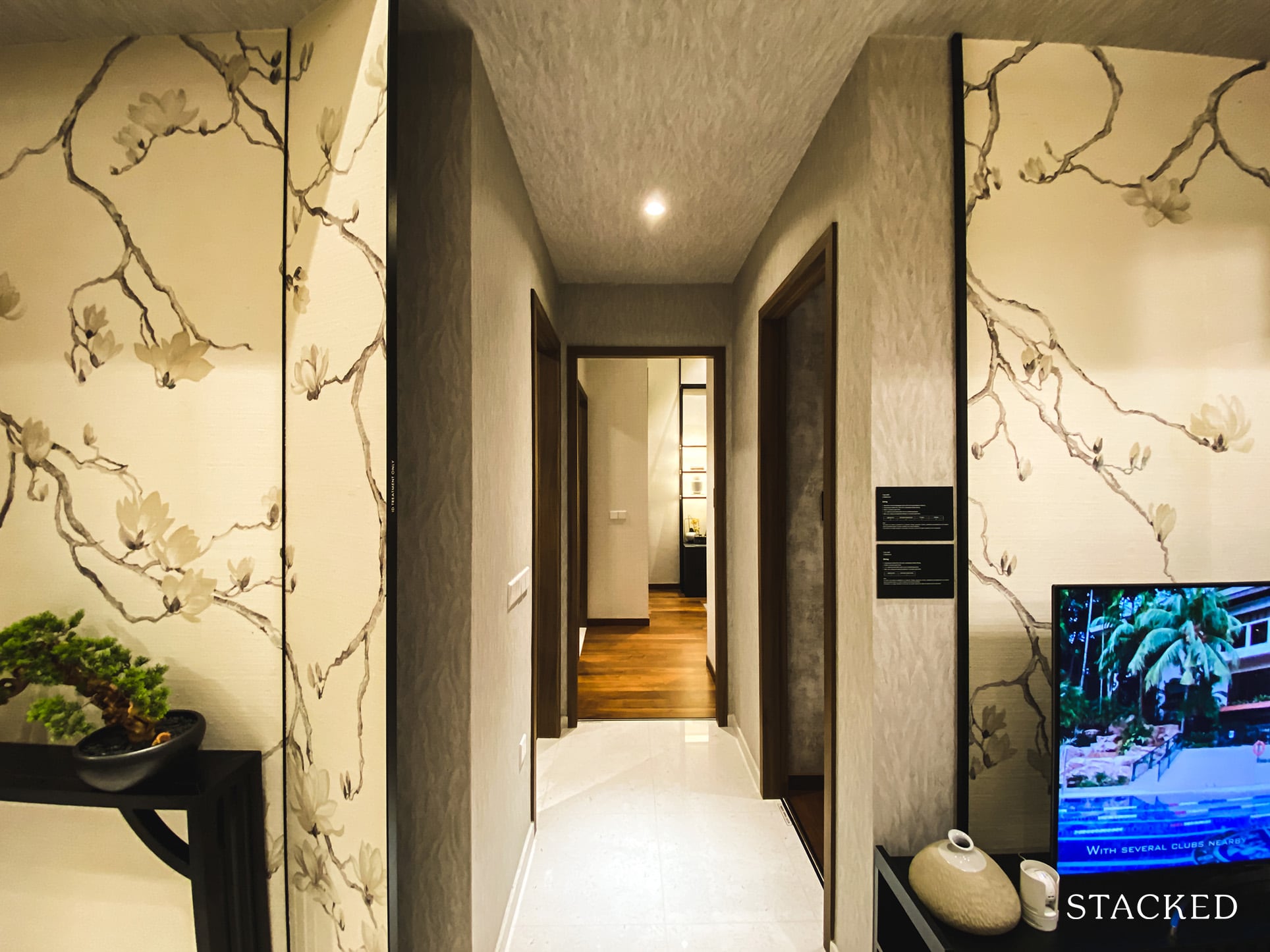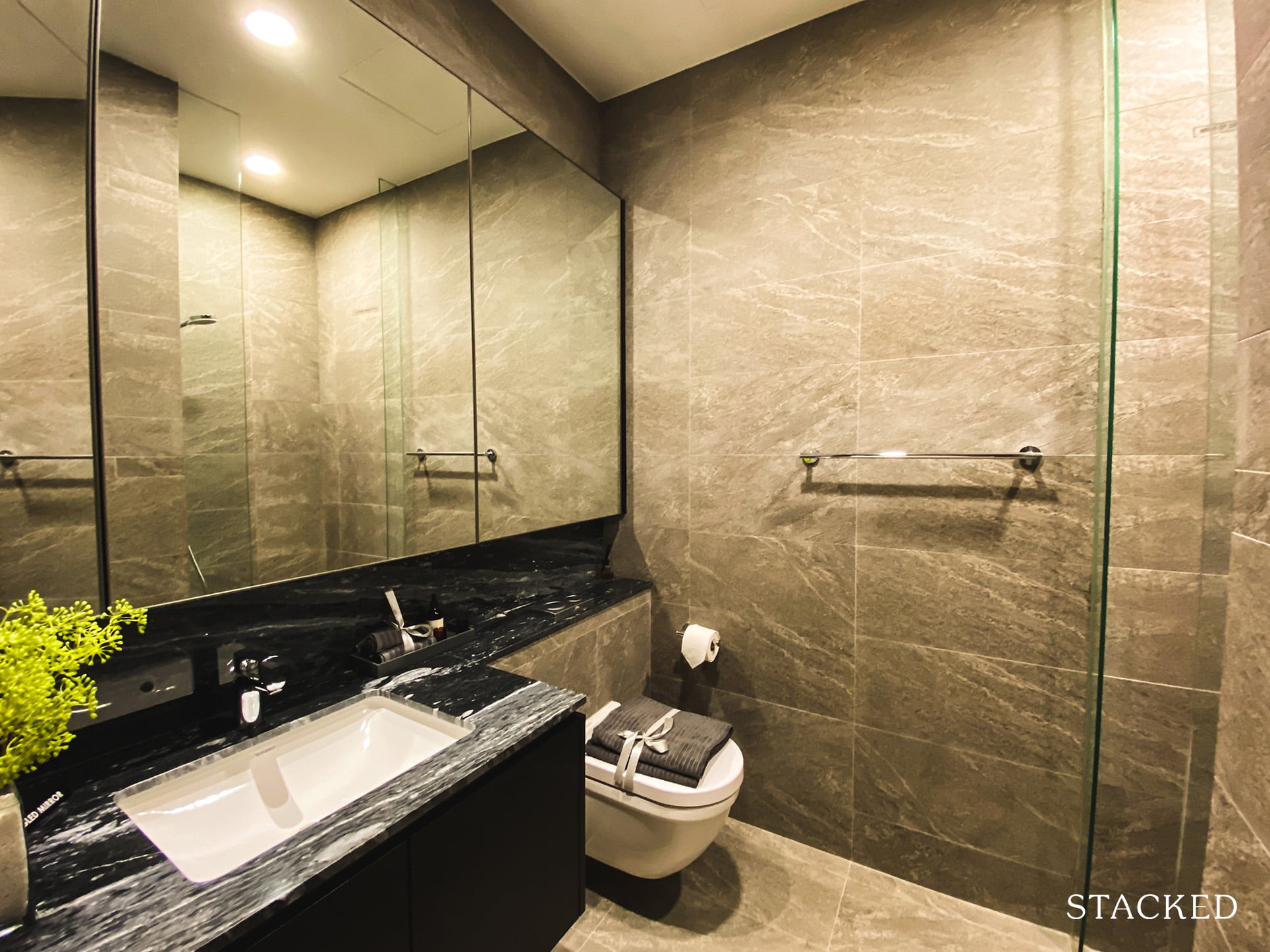 Clearly, the high ceiling doesn't extend to the bathrooms, but I'm sure most people aren't going to be too bothered about that. The bathroom is actually fairly spacious, and comes equipped with homogenous tiles for the flooring.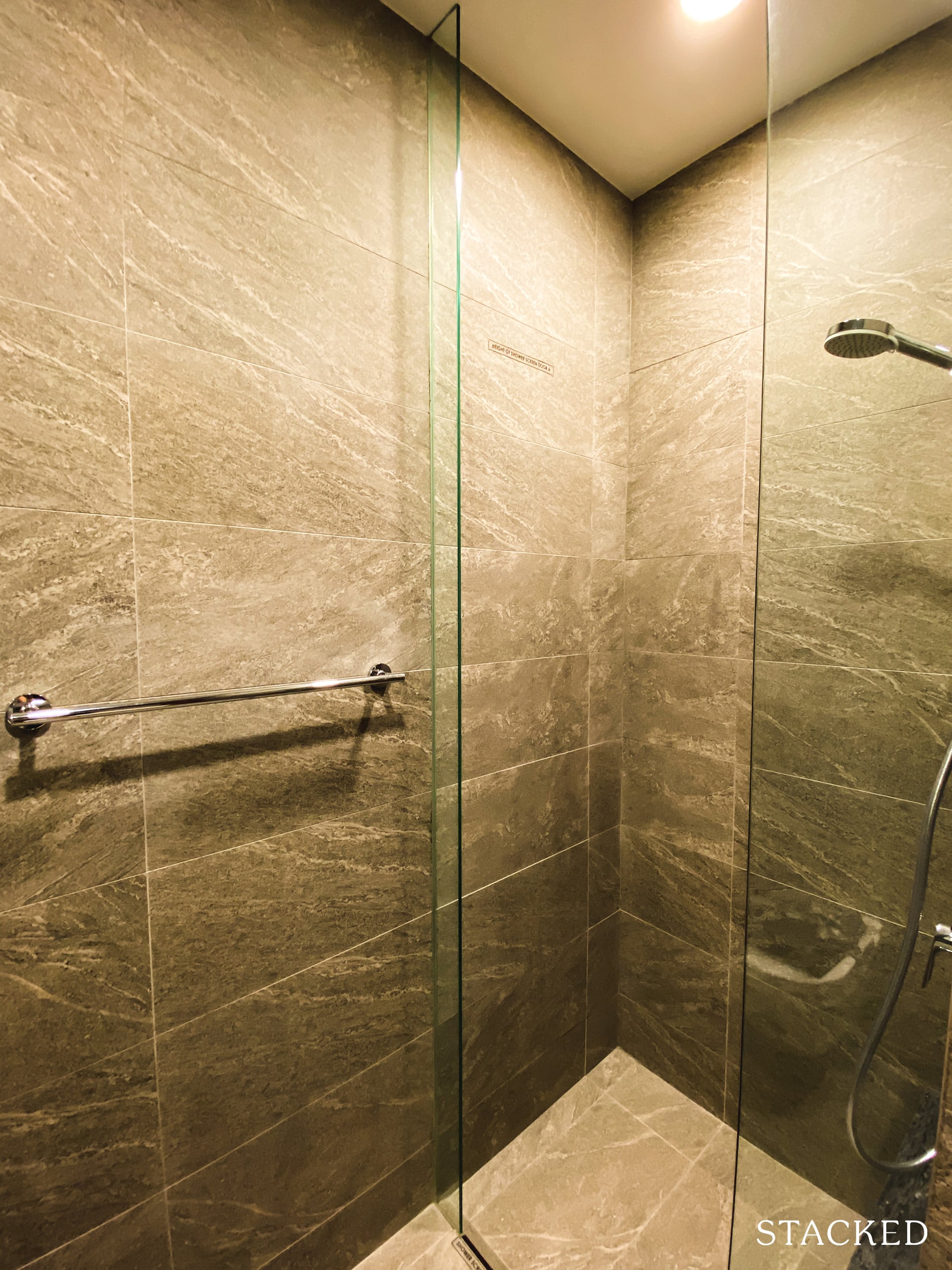 The bathroom fittings are provided by Hansgrohe and Duravit, which are pretty much household names in Singapore by now.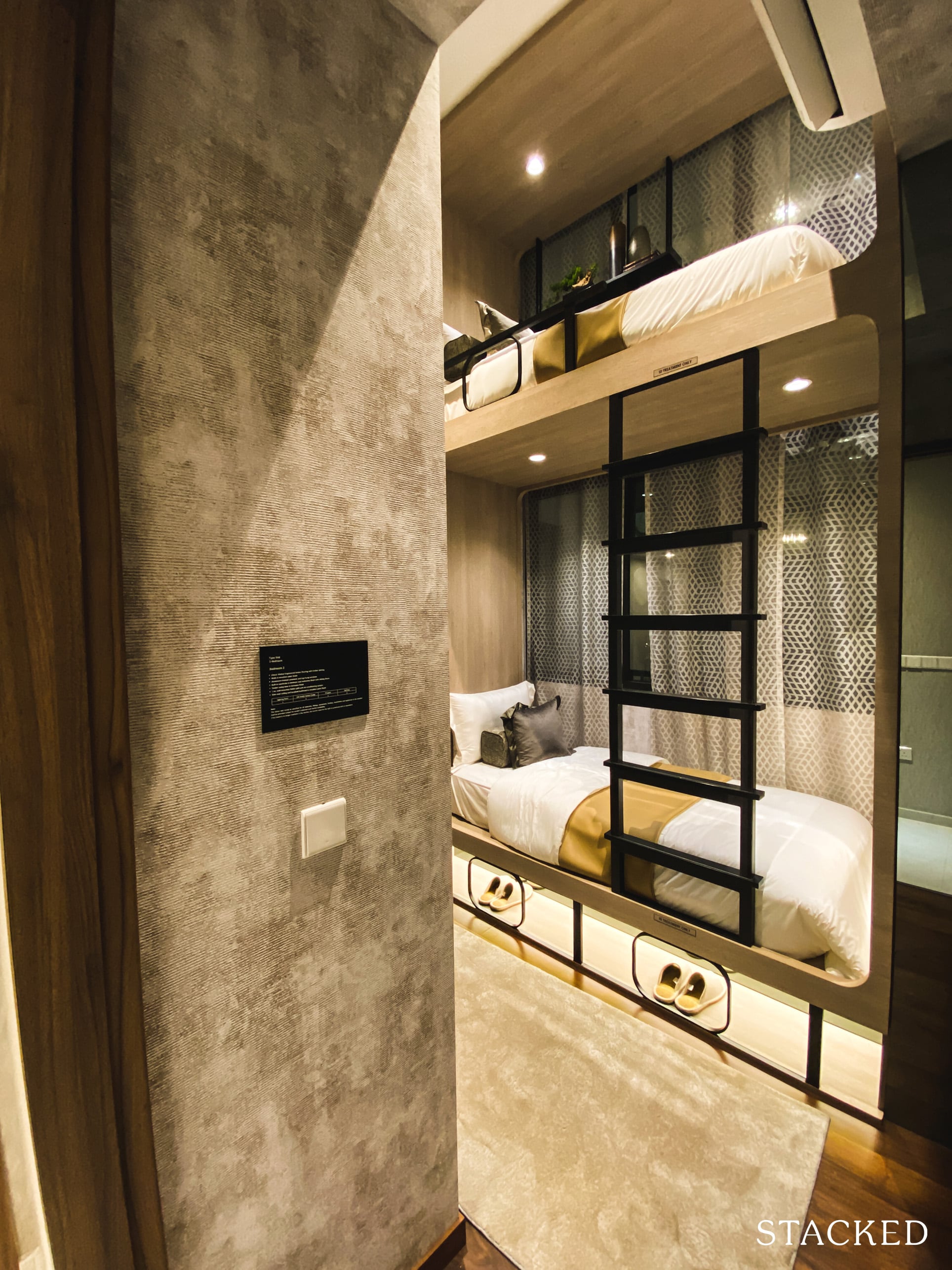 For those looking at the regular units, the common bedroom is actually on the small side.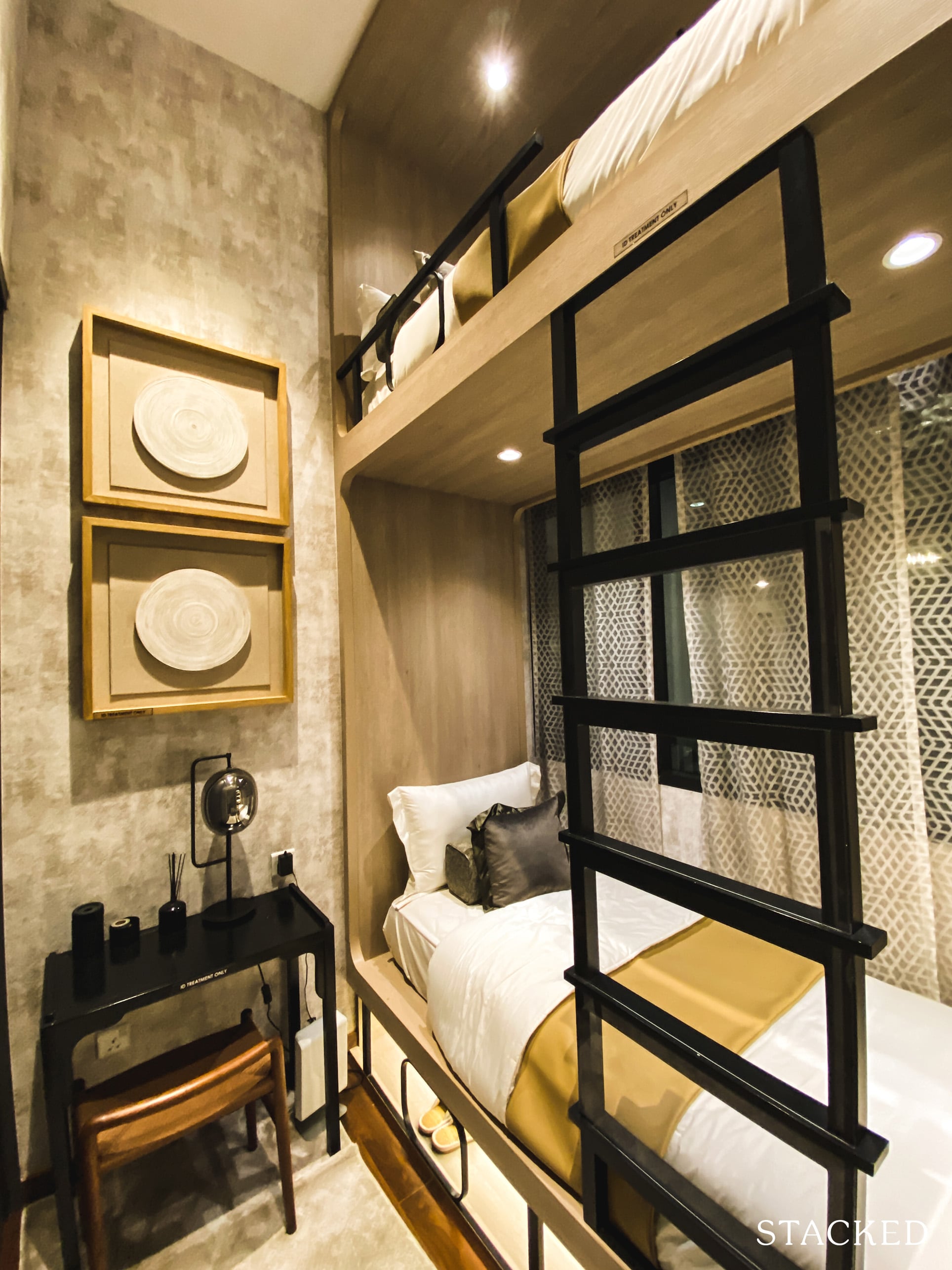 You could do it in a bunk bed style as shown to make better use of the space – which young kids would probably be thrilled by. Some parents might find the height a little precarious though, so you might want to be more careful with that.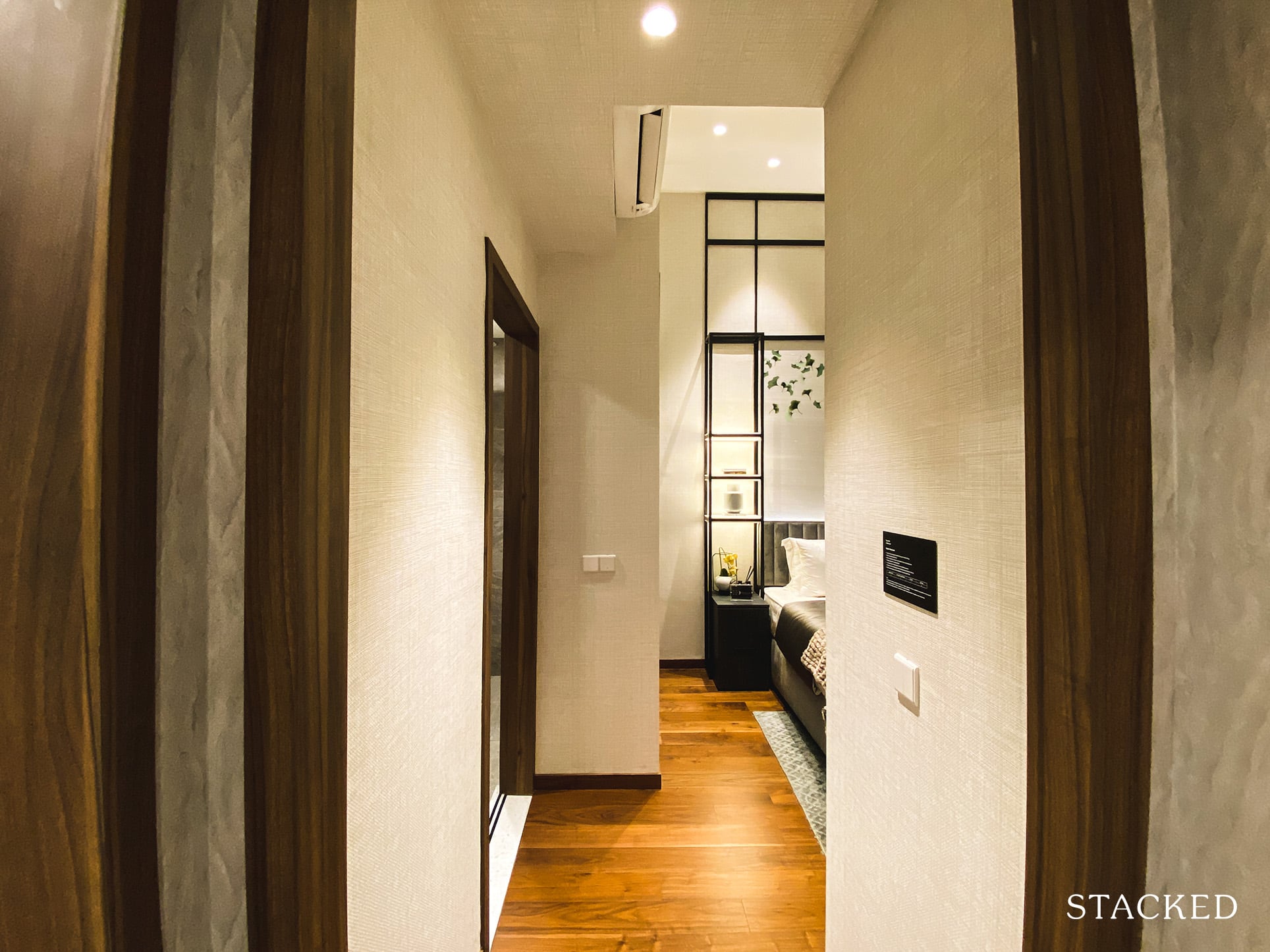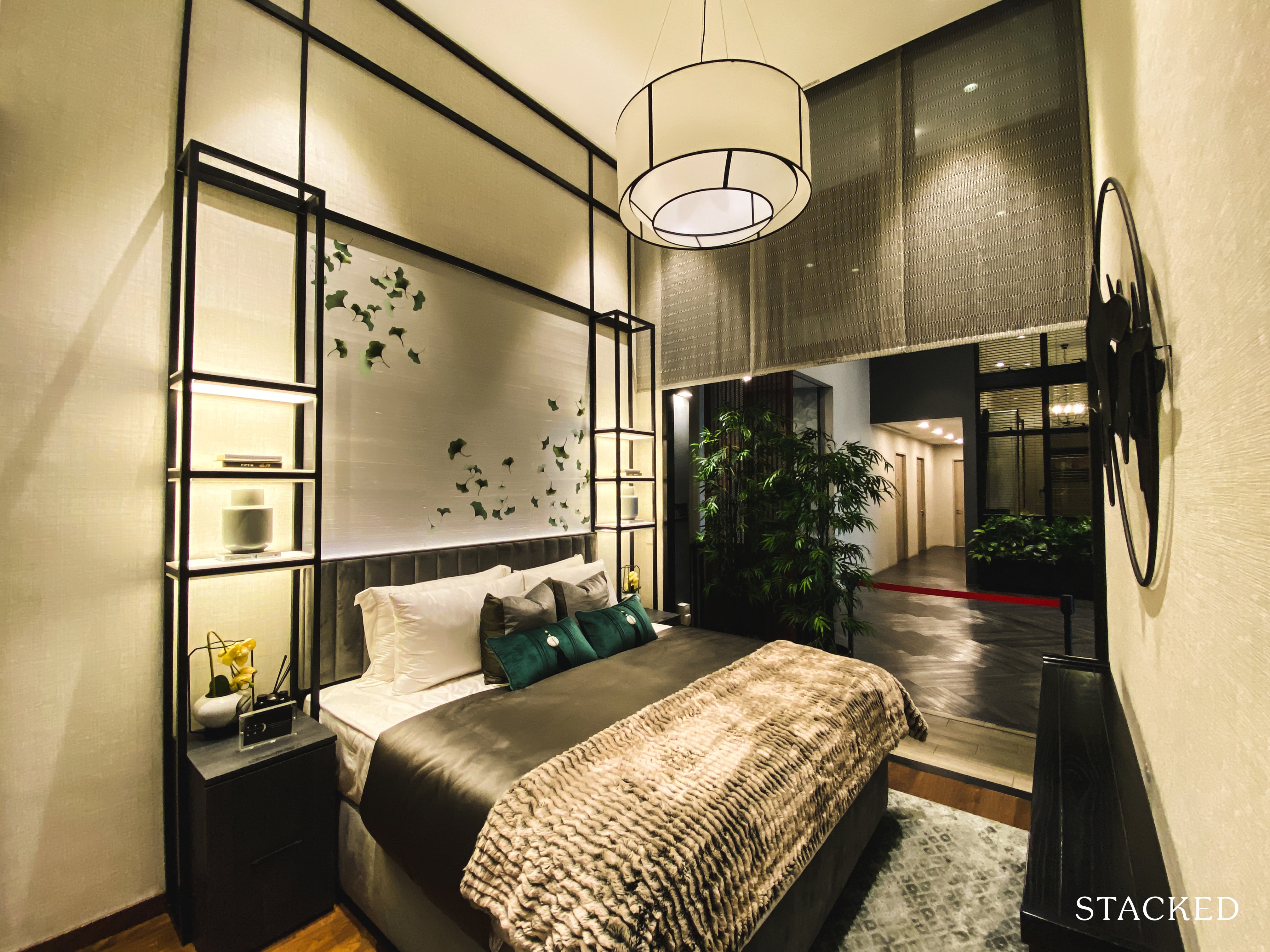 The master bedroom is adequately sized – again, it looks more spacious here because of the high ceilings. Do note that the rooms are slightly shorter, coming in at 4.15 metres.
As mentioned earlier, the master bedroom does come with a balcony. It's not a big one by any means, with just enough space for one or two chairs to relax on the evenings/early mornings.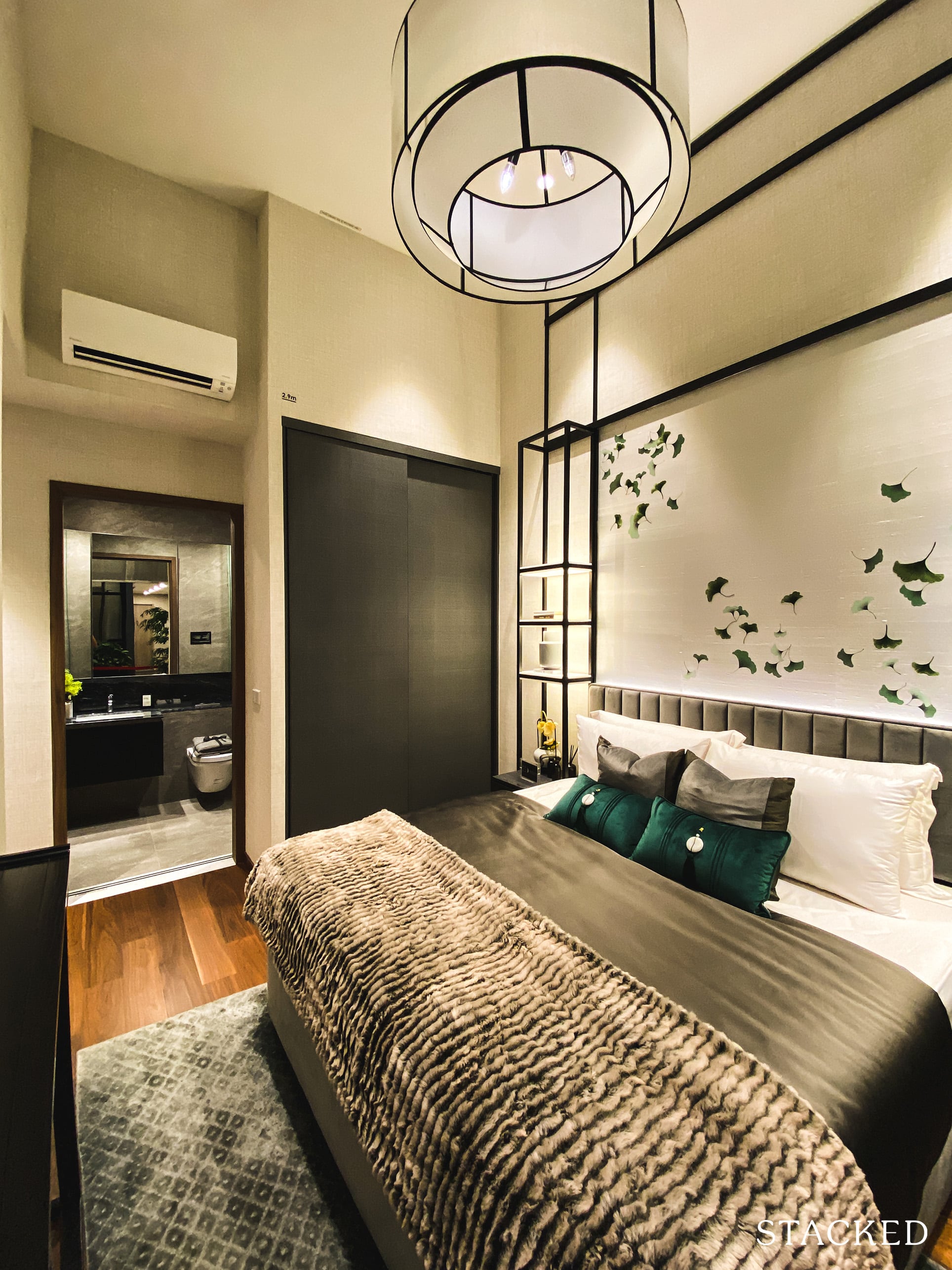 Both bedrooms come with engineered wood flooring (again, typical of what you'd normally see). In this case, the storage doesn't go as high as the ceiling itself – which is quite a waste.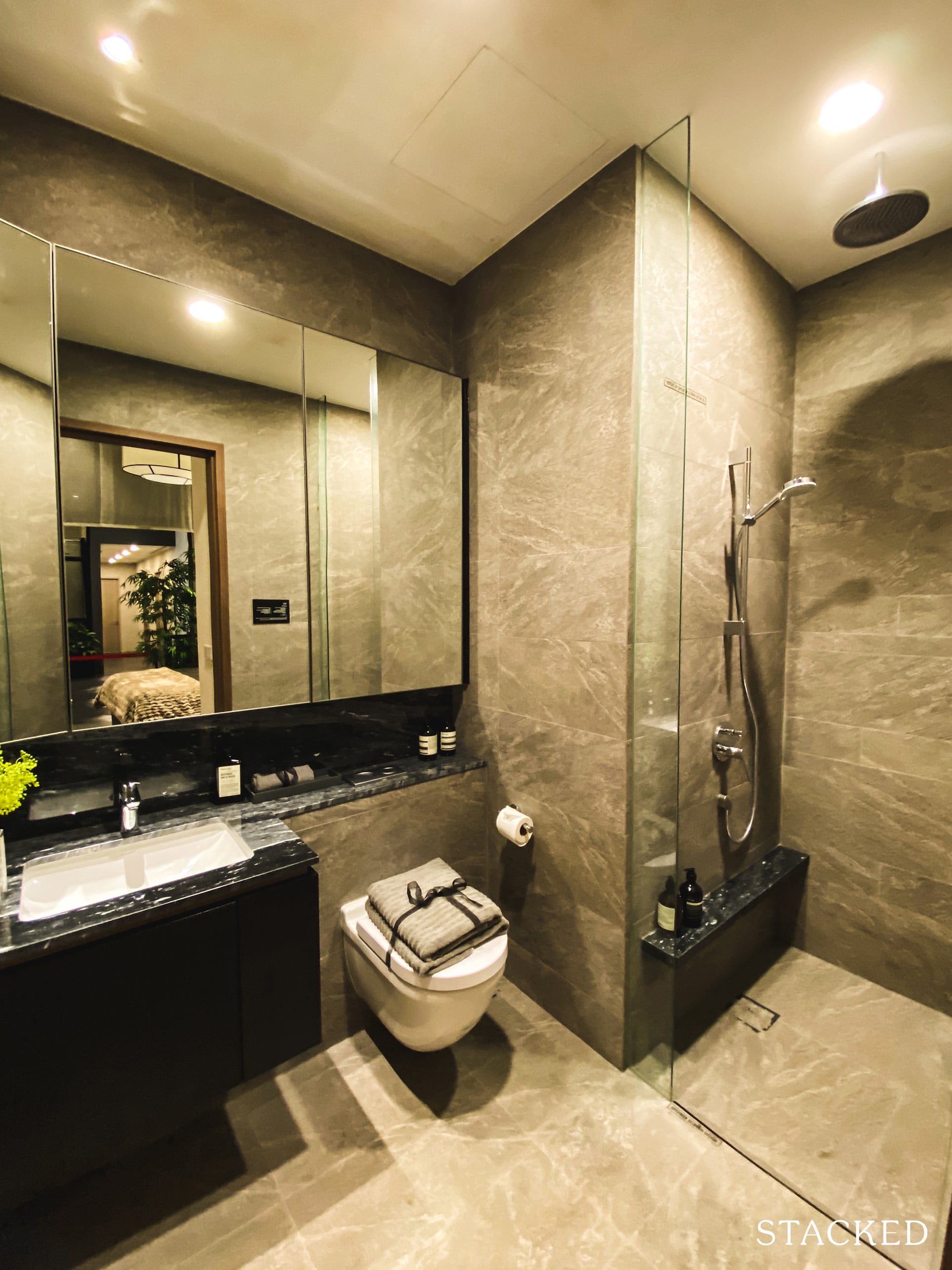 The master bathroom is ever so slightly bigger than the common bathroom. So as far as master bathrooms go, this one is on the smaller side. Flooring and fittings are the same, with the main addition here being the rain shower.
Read this next
Daintree Residence 3 Bedroom Floorplan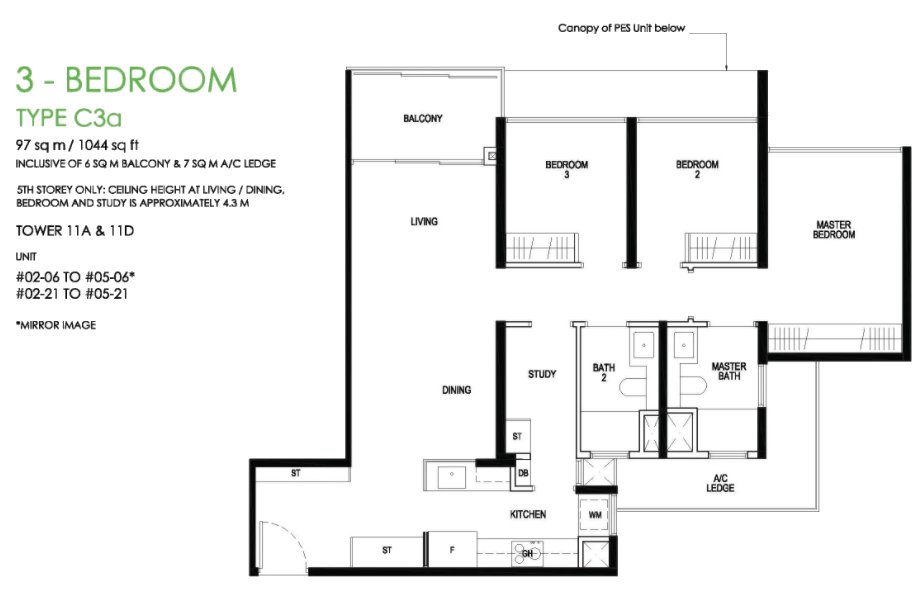 At 1,044 square feet of space for a 3 bedroom unit, it scores a very average mark in the size department. It is mostly efficient, with the usual wasted spaces such as the entranceway and the hallway.
There are those who prefer an entranceway for the additional privacy, so that remains entirely dependant on your lifestyle.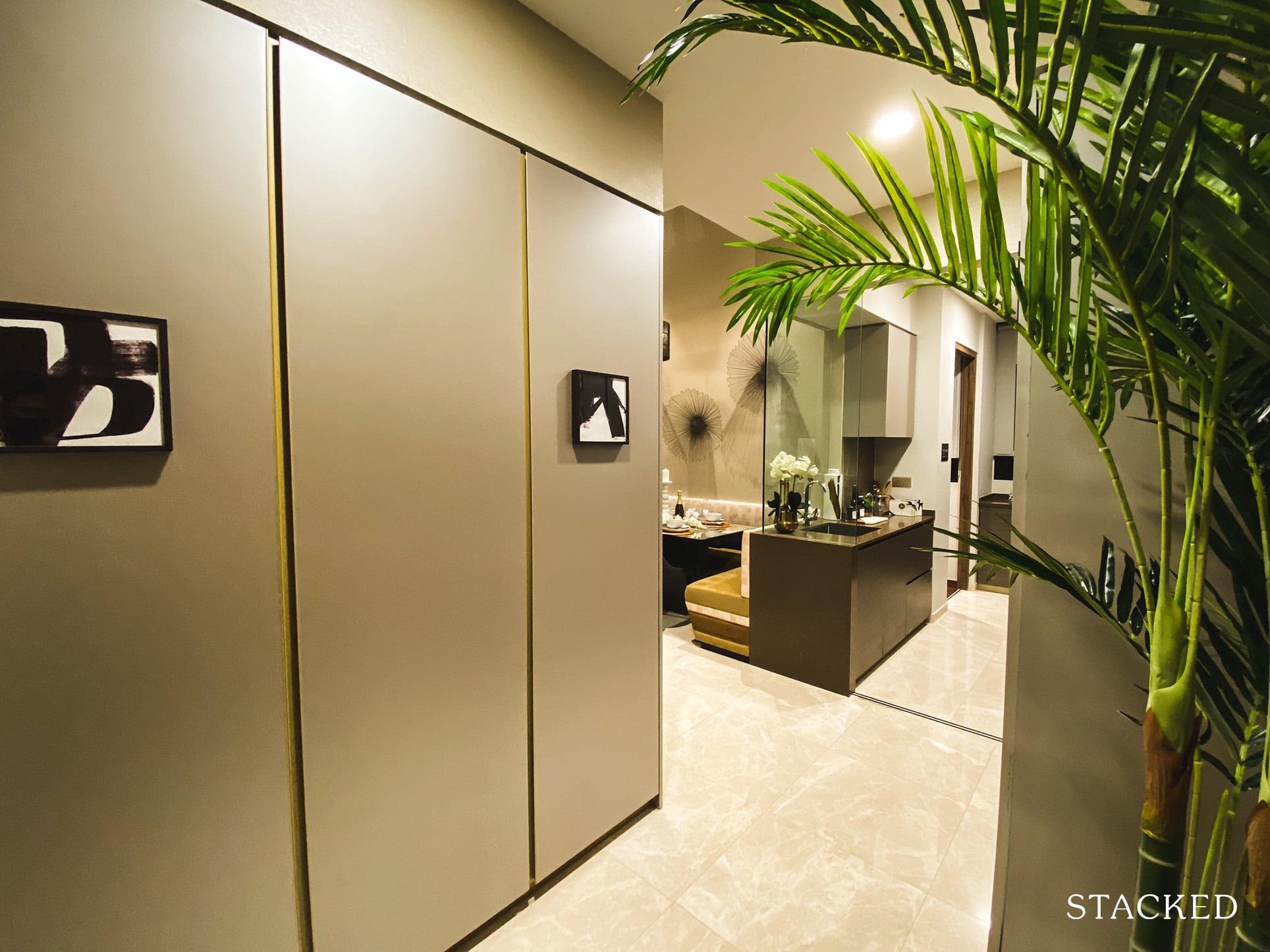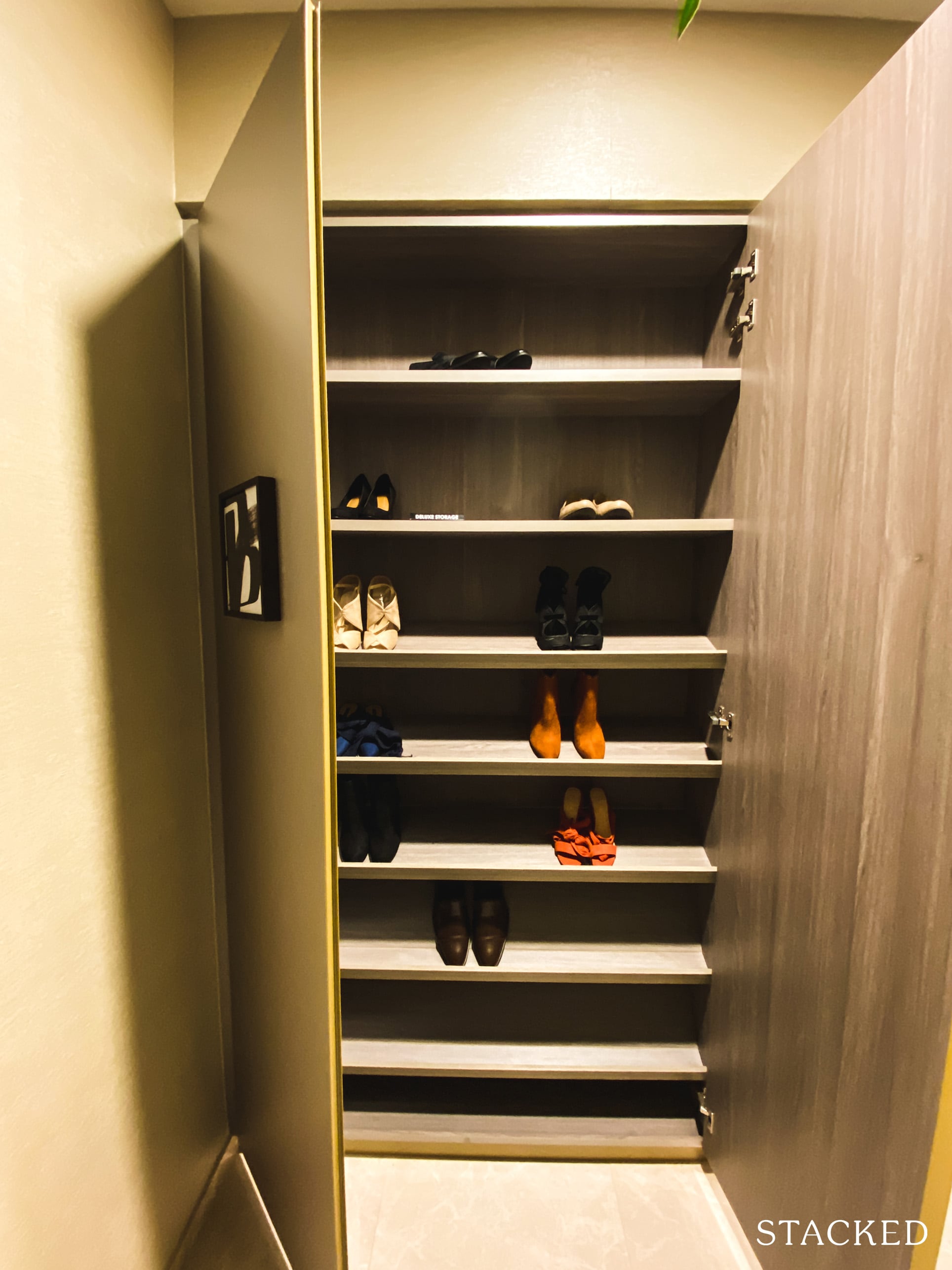 At the very least, the entrance does include storage for shoes on one side, and on the adjacent end as well. For those planning to put in a console table instead, you will have to move it to the side.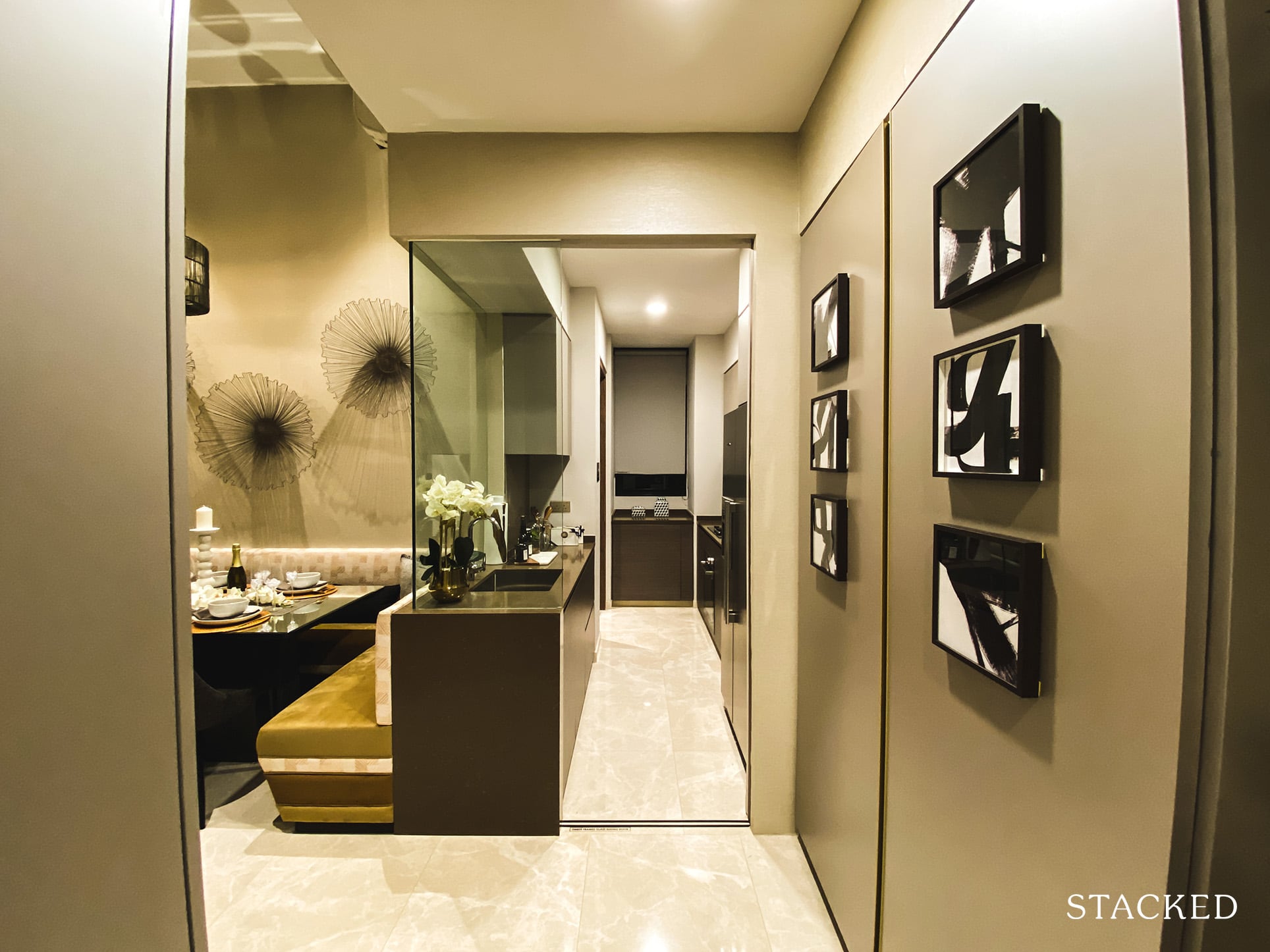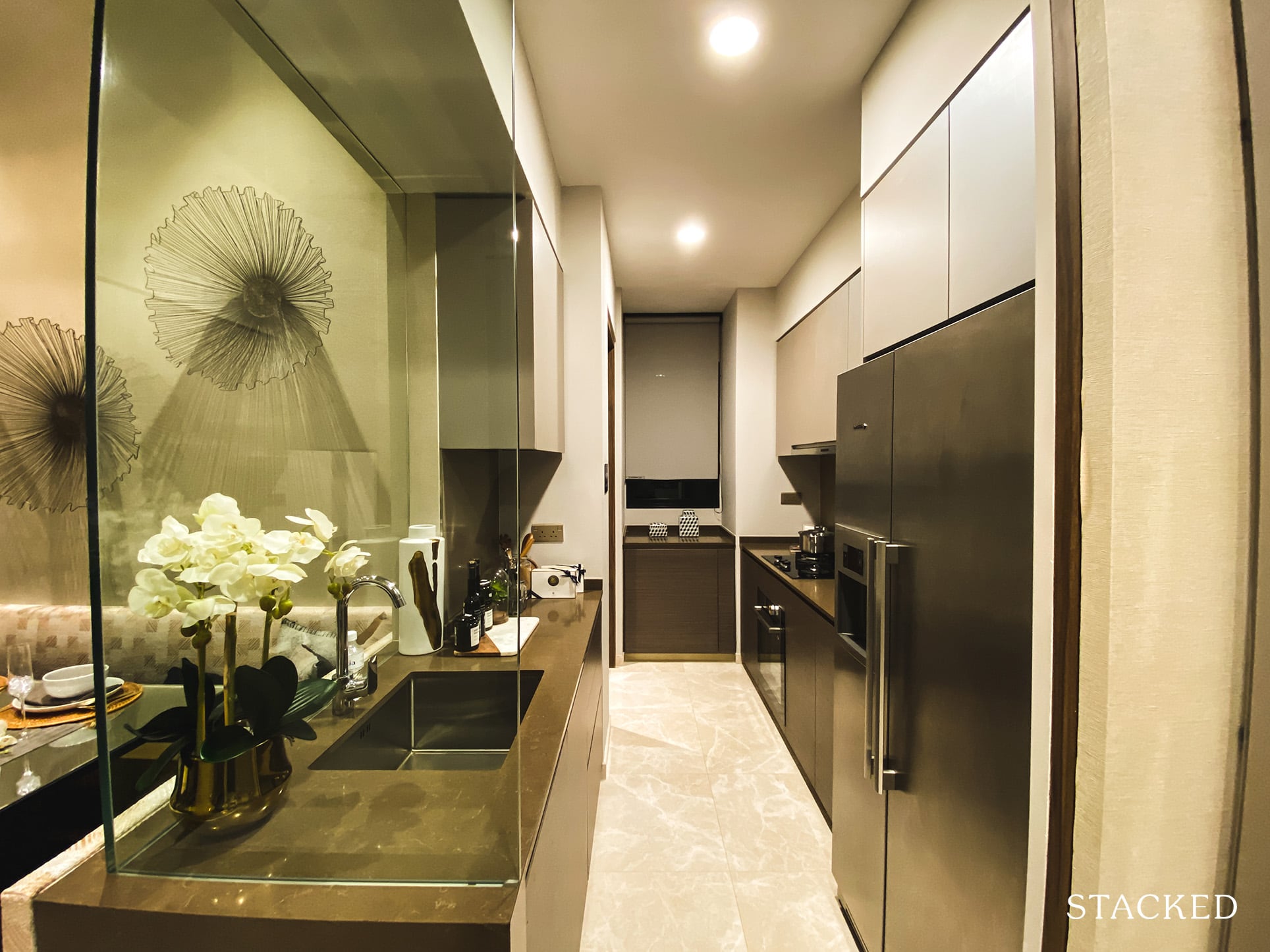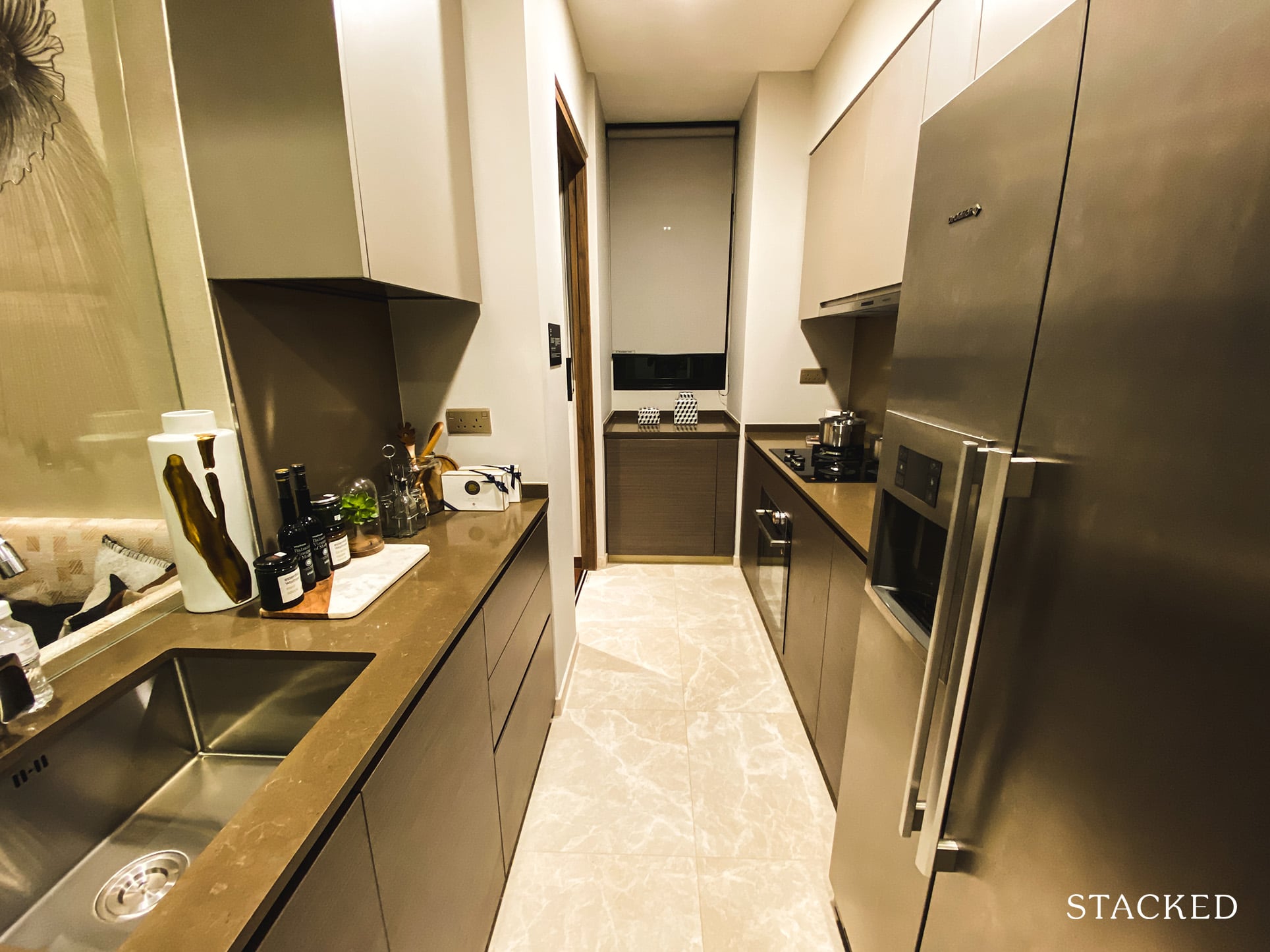 The kitchen is a decent size, with long countertops and a good amount of storage. It is just a tad narrow. Kitchen appliances are supplied by De Dietrich as well.
Likewise to the 2 bedroom, the kitchen and living/dining areas are laid out in marble – of which you can choose from a compress or polished marble finish. By default, however, it would be polished marble.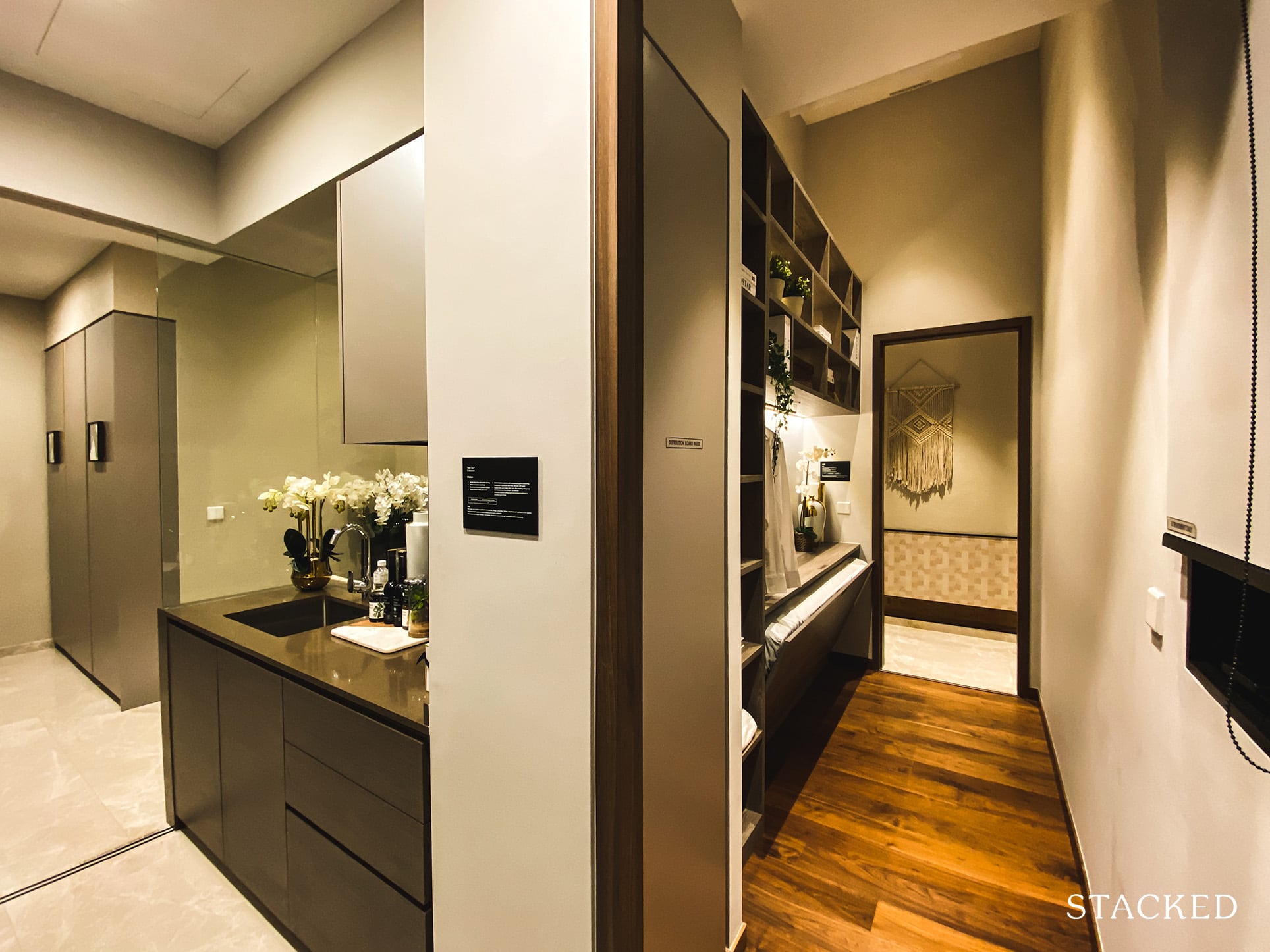 Down the end of the kitchen, it actually has an opening that leads to the utility room. This can be used as a study/office/store/helper's room – depending on your needs.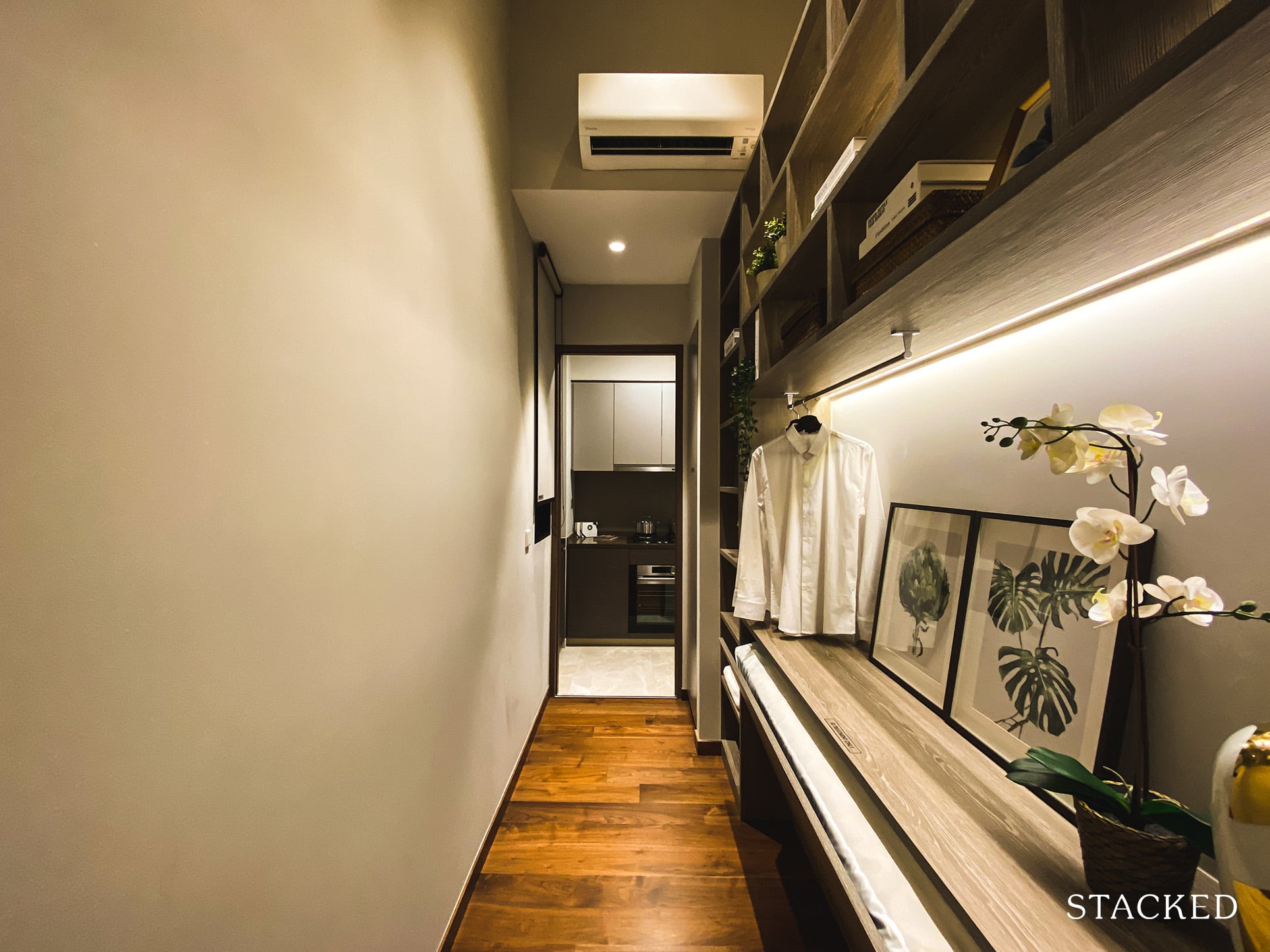 If you are planning to use it as a room for your helper, it actually is not a bad size – albeit a little narrow. For those intending to use as a study/office area, you could find it a tad claustrophobic given the lack of windows.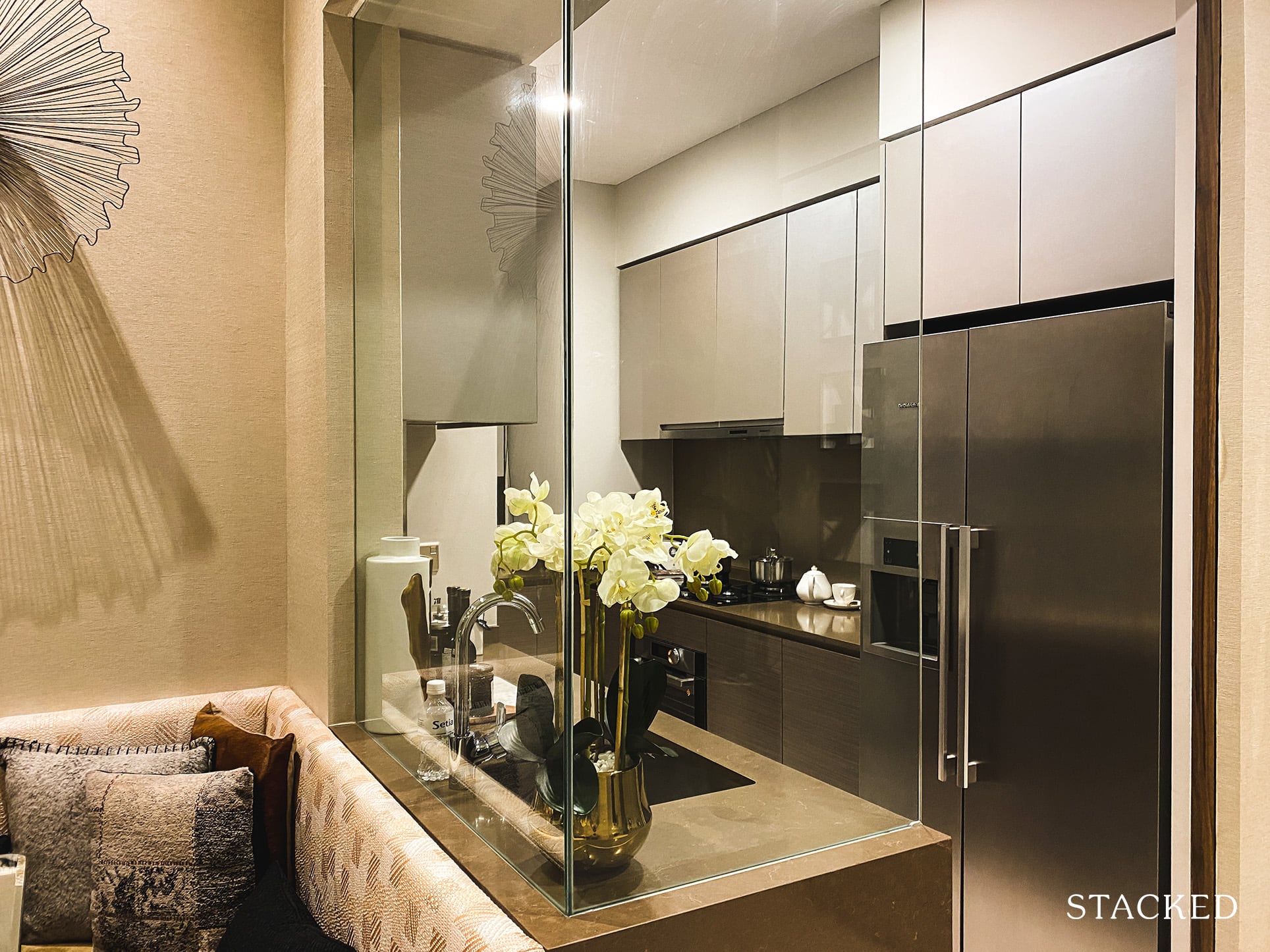 Moving back to the front of the kitchen, the walls have been replaced by glass panels instead. This look is getting more popular as it does being in more light into the kitchen, thereby allowing the space to look airy and more spacious too.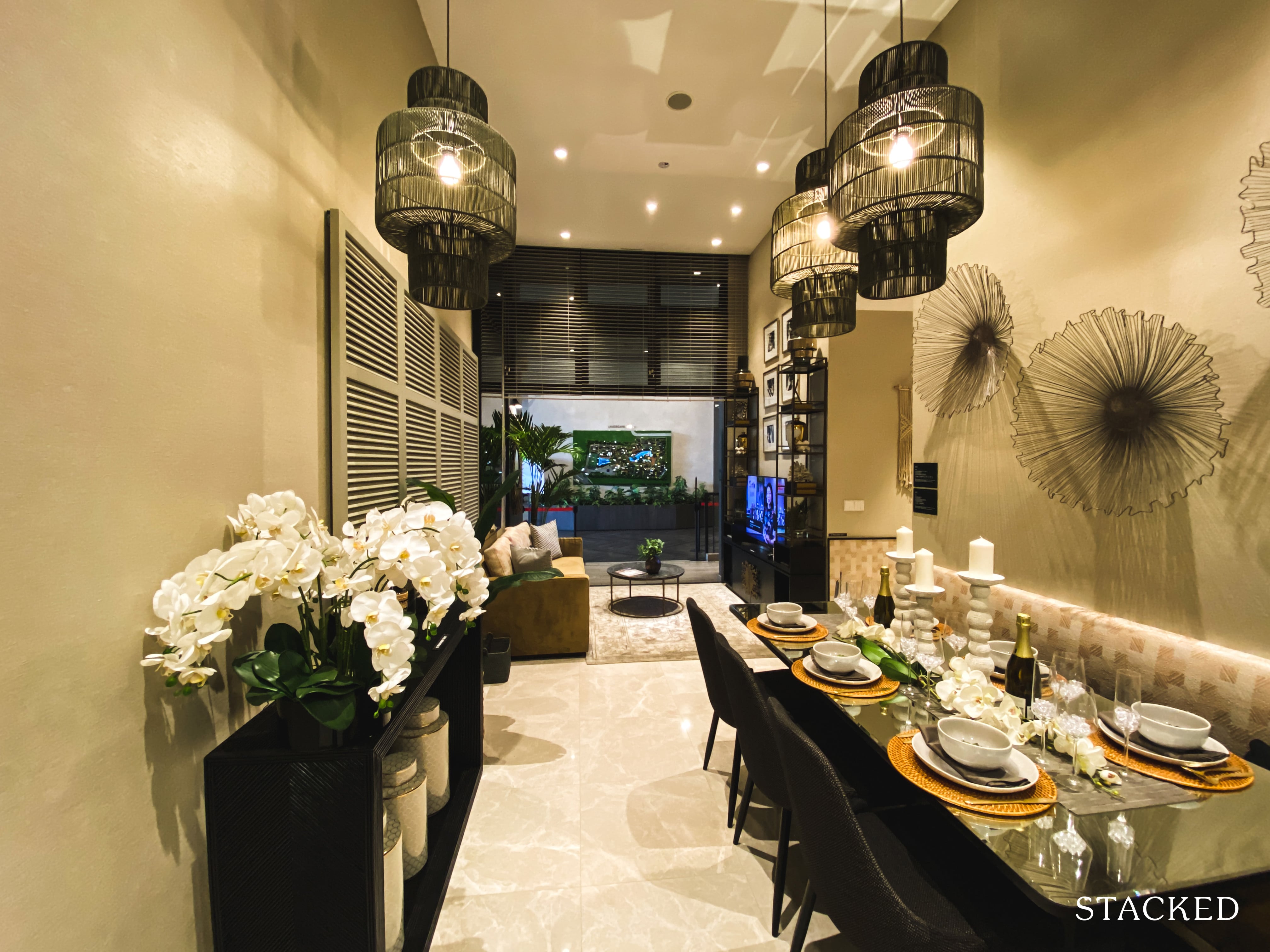 All ground level and top level units will come with a 4.3 metre high ceiling. There's no question about it, it really adds so much more to the space. And as mentioned in the 2 bedroom review, that extra height allows you the flexibility to add in a platform if you'd like.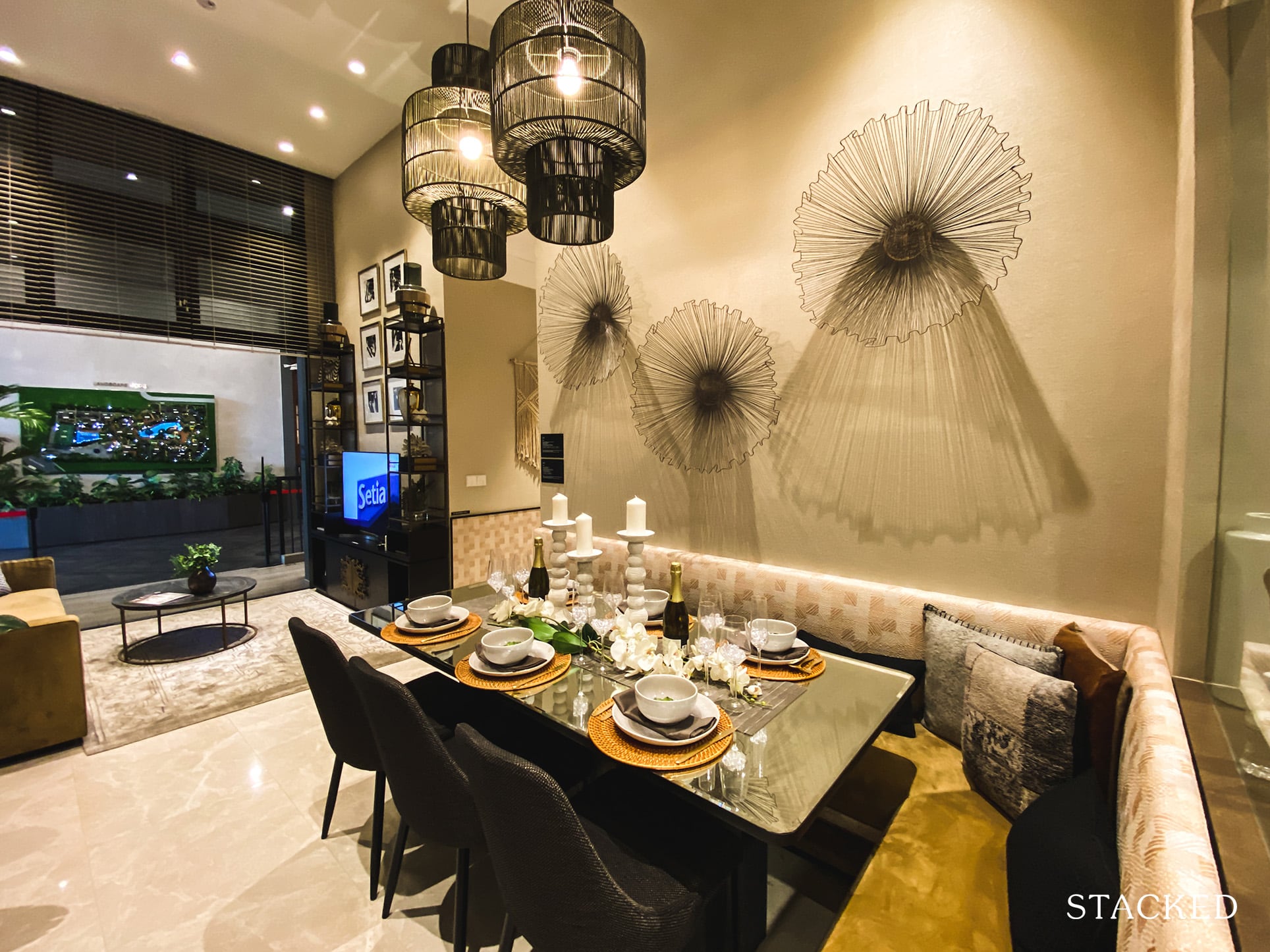 The dining area is decently sized, more so if you employ the same L-shaped flushed to the wall tactic to create more space at the walkway.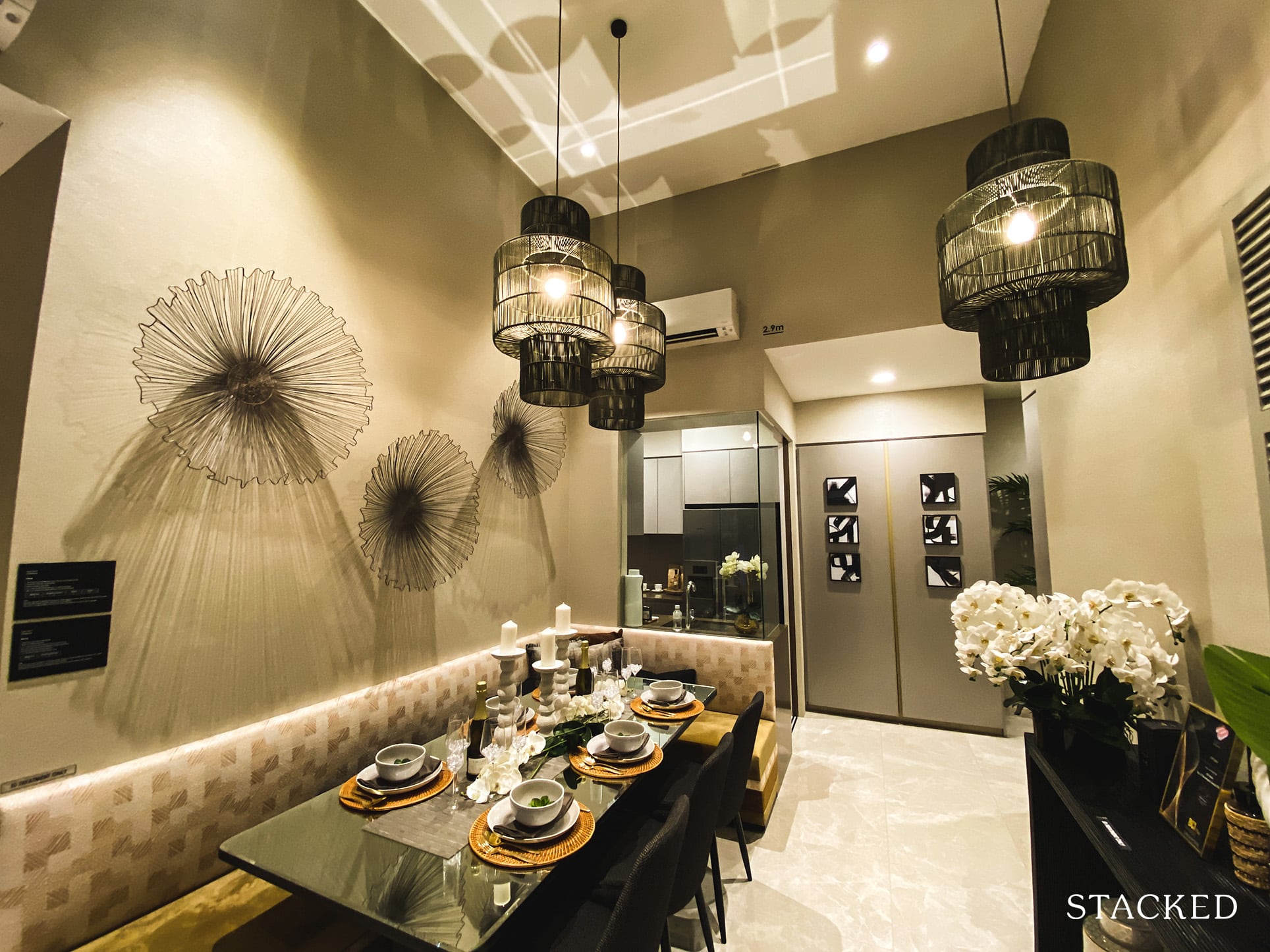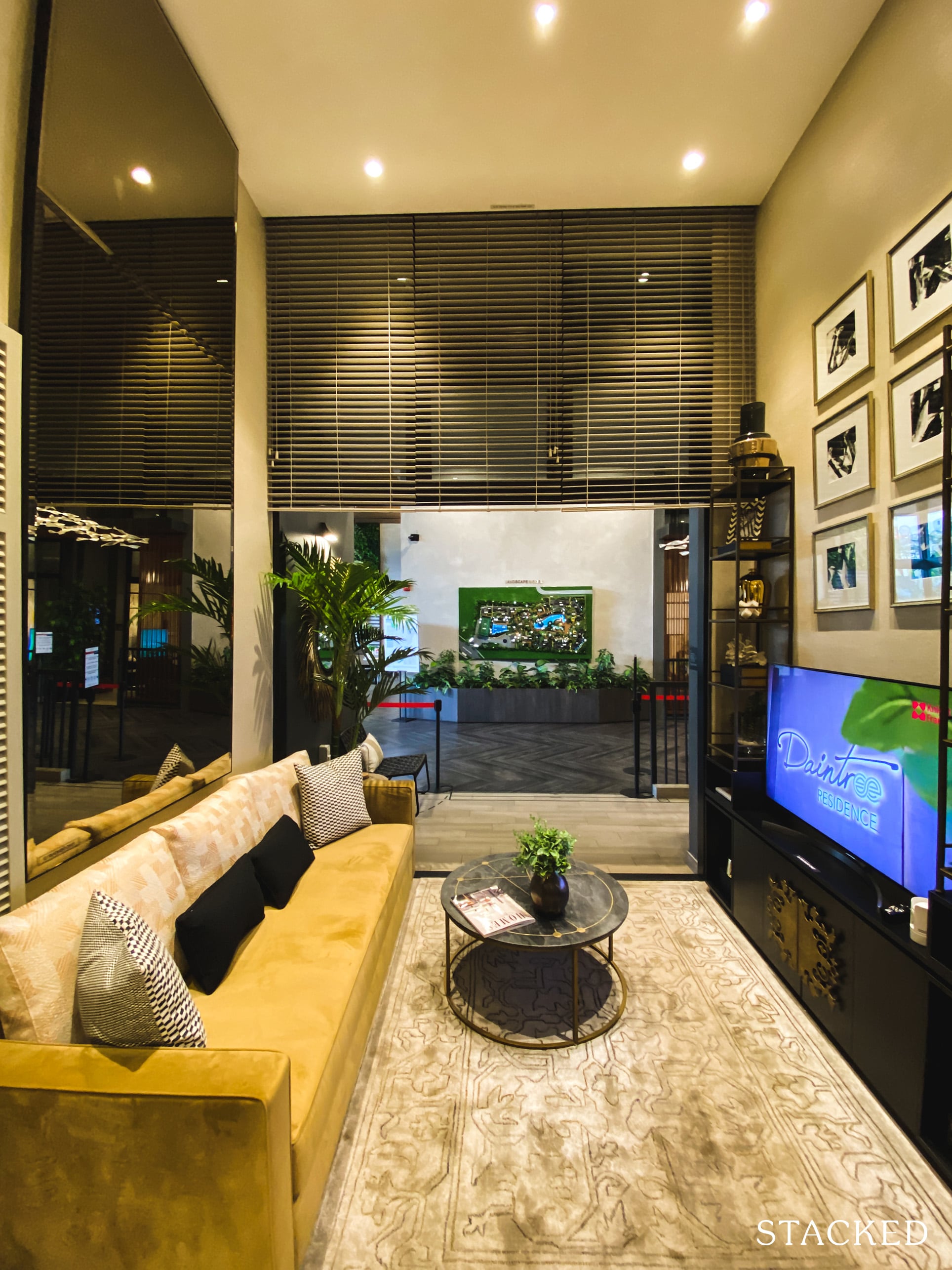 On the other hand, the living room doesn't fare as well. Again, the ceiling height here doesn't really help those who are looking at the regular units.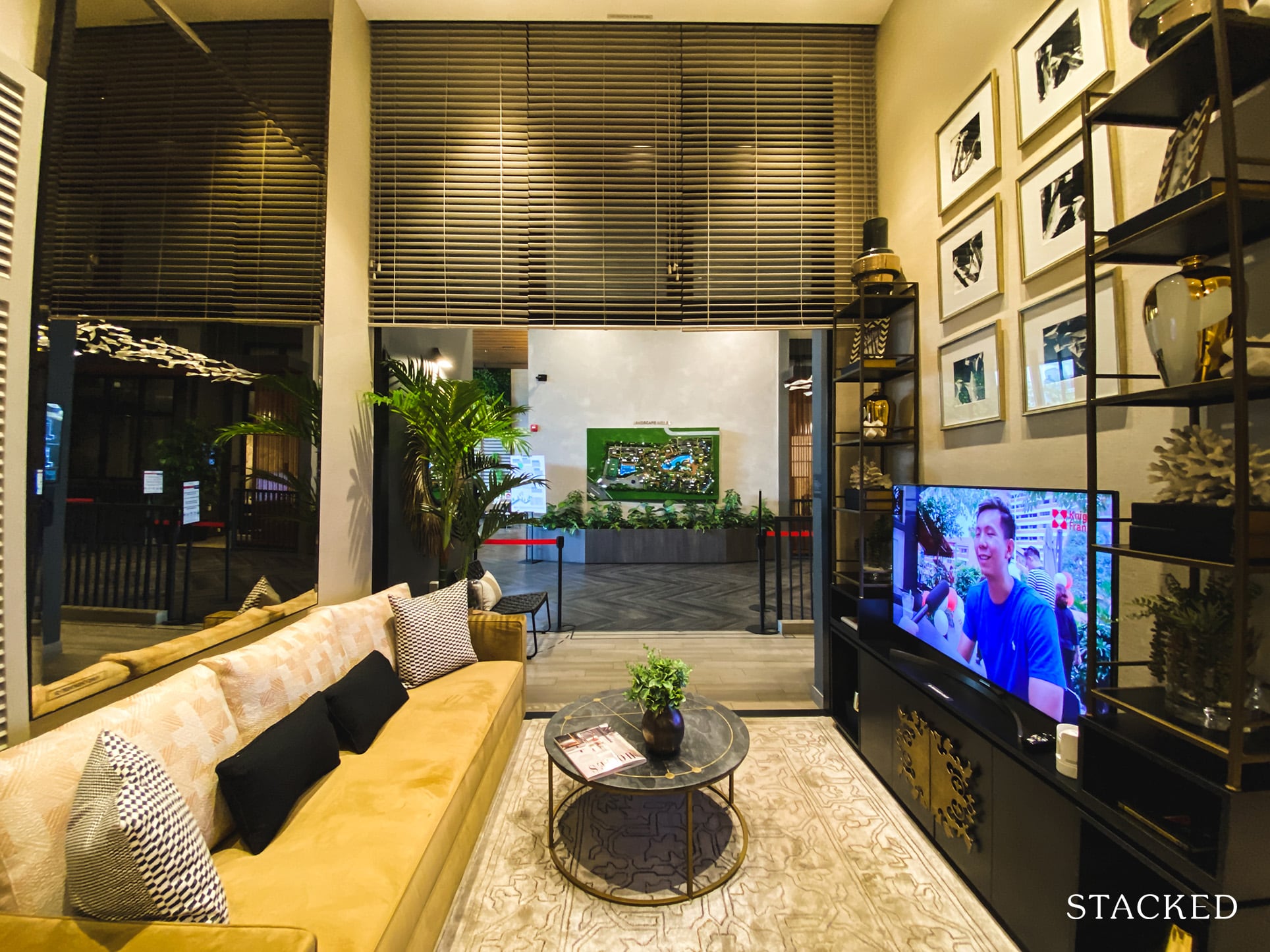 It's not a big space, especially for a 3 bedroom unit. You can just about fit the usual suspects (sofa, coffee table, TV console), but for a family of 5 – 6 people it could be a bit of a squeeze.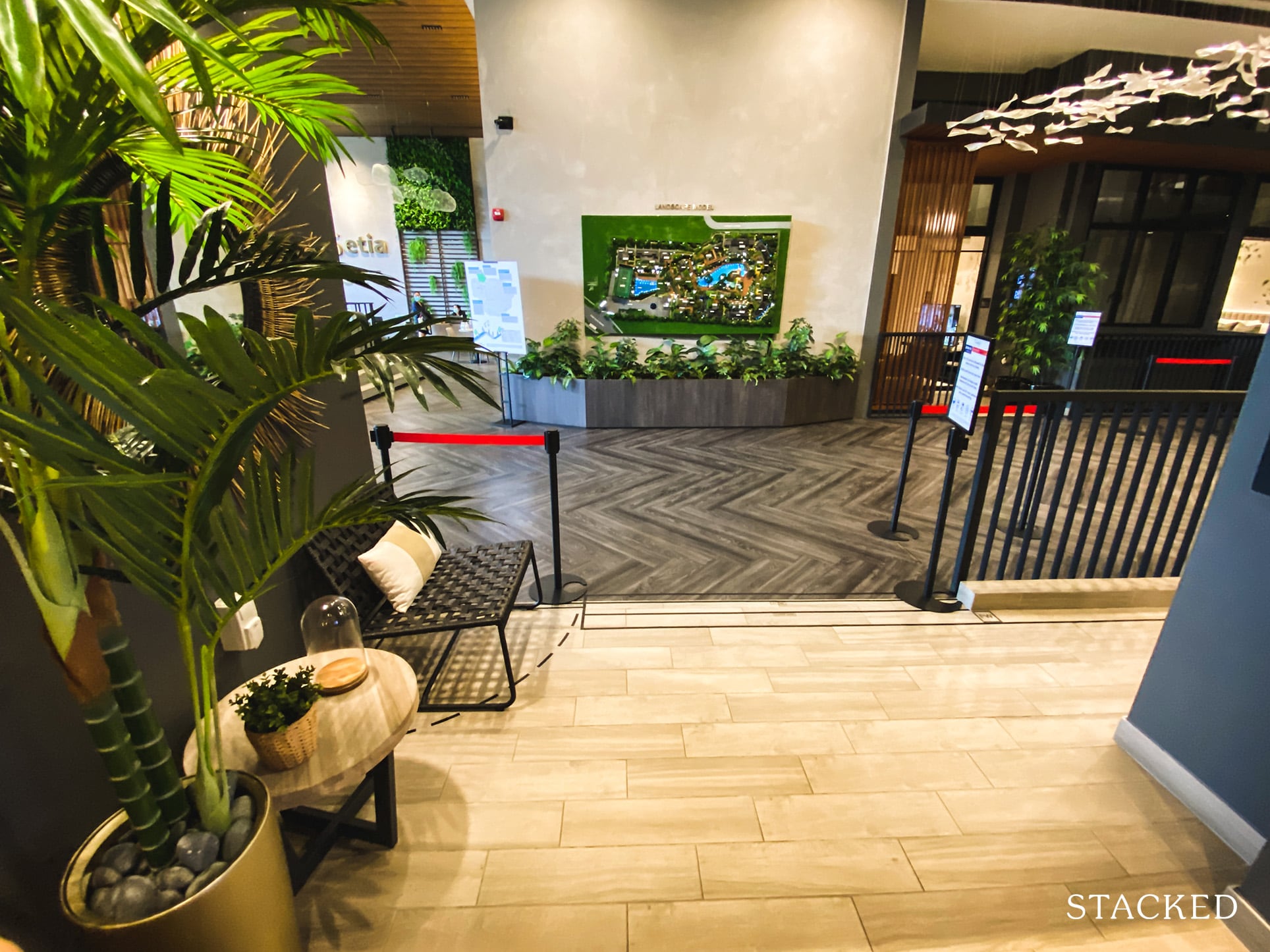 Given the space constraints indoors, some people might not like the excessive space given to the outdoor balcony. It's really only wide outside the living area, the space outside the bedrooms are lot more narrow.
As you can see, the space outside the bedrooms is really more of an outdoor space to take a breather or to display some plants – as opposed to a proper balcony with space for seats.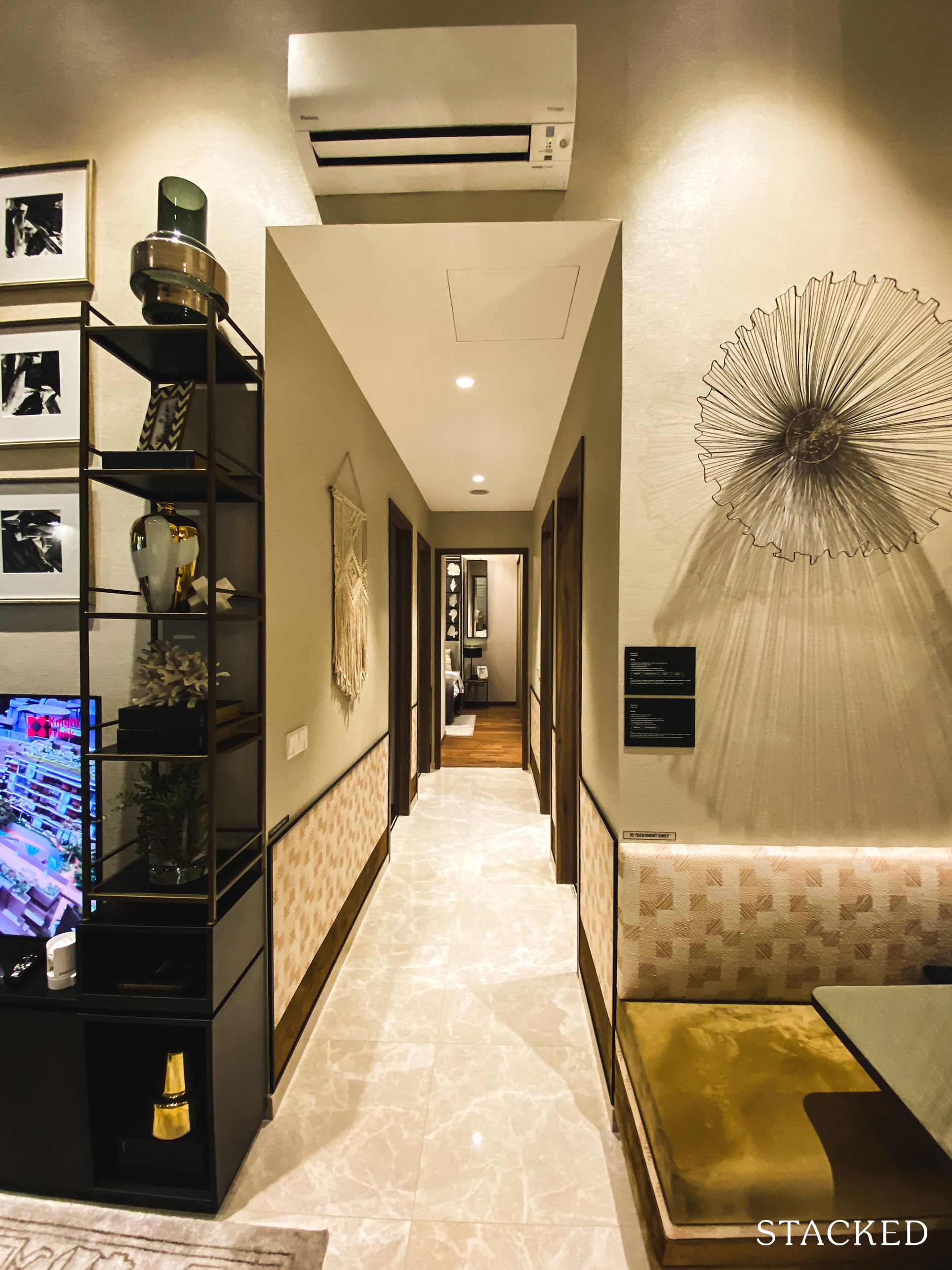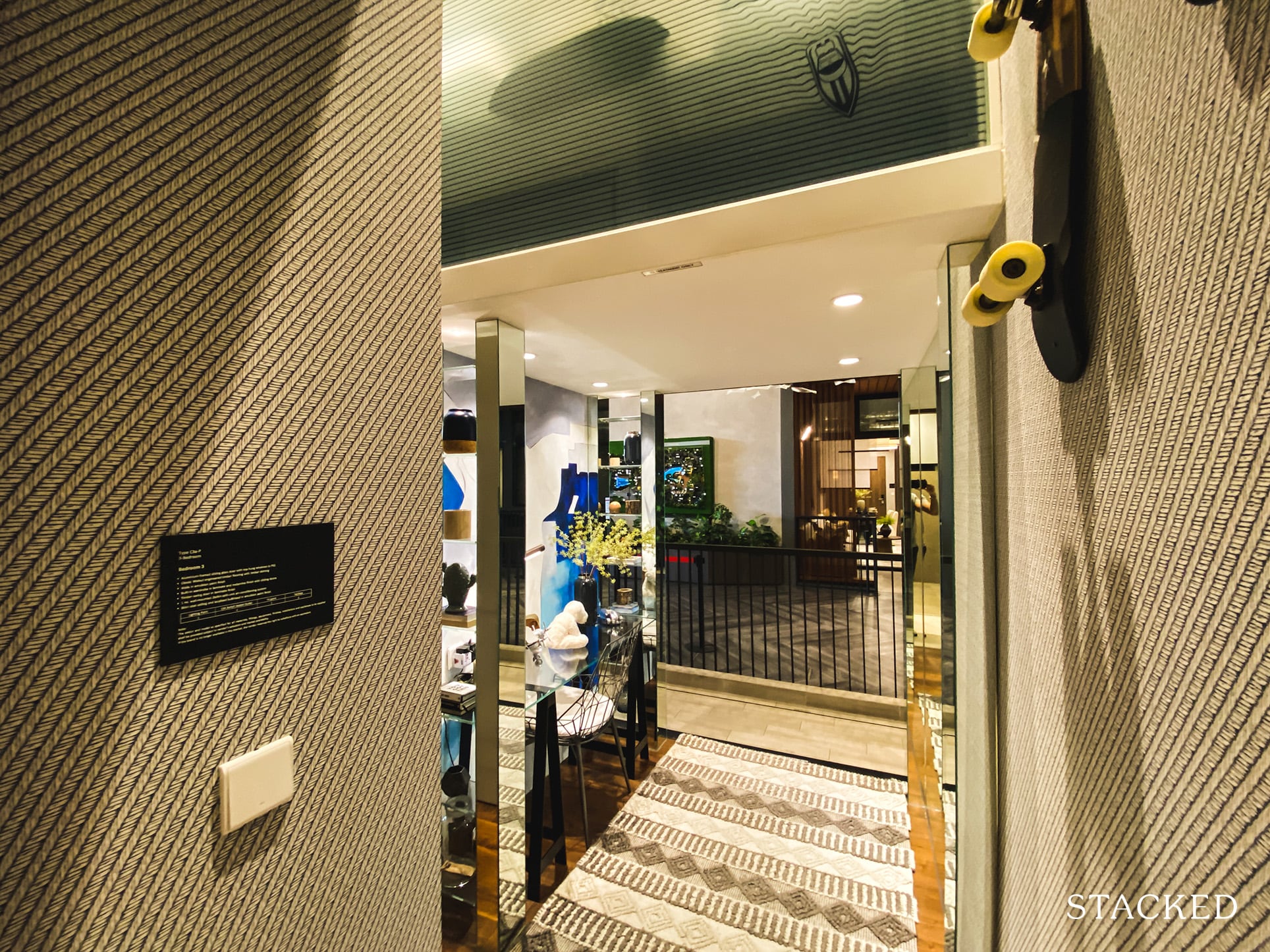 Both common bedrooms are small, but again, this particular one looks more spacious purely because of the high ceiling and the open entry to the balcony.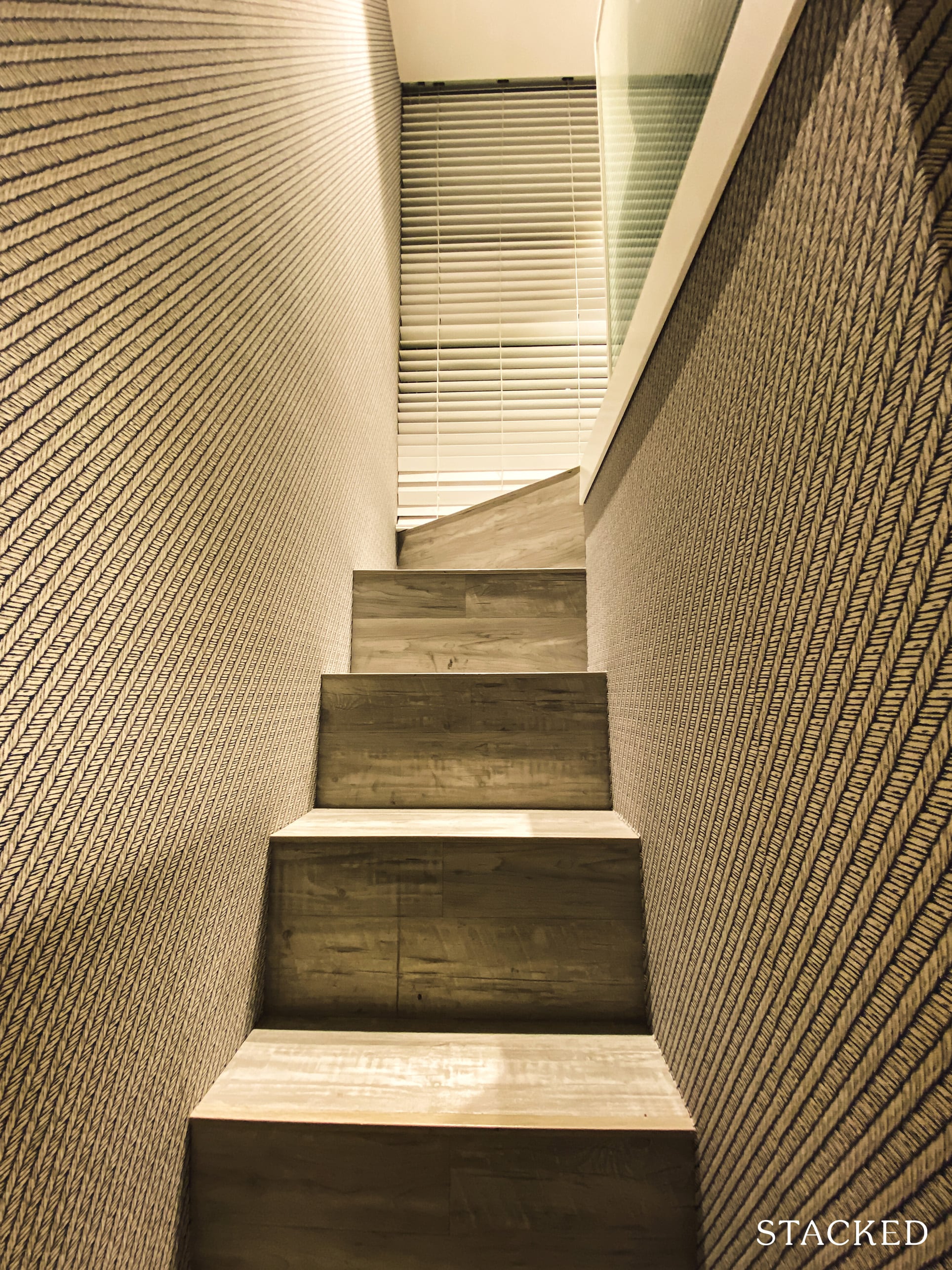 Due to the lack of space, the stairs up to the platform is incredibly narrow and quite steep. For adults above a certain age, mobility will definitely be an issue here and not recommended at all.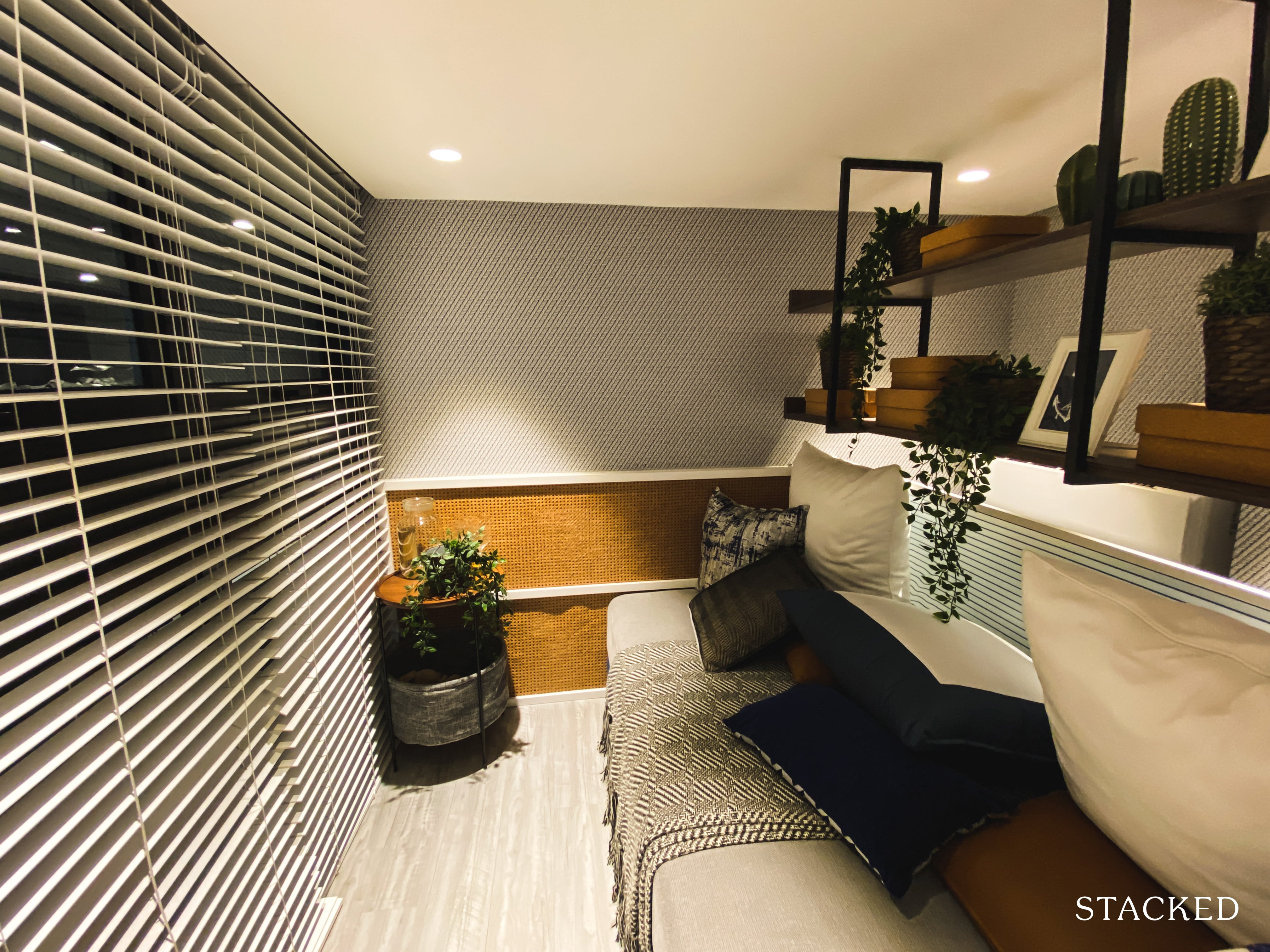 The height of the bedrooms are a little shorter at 4.15 metres, but it is still high enough for children to stand up on the platform without bumping their heads on the ceiling.
As with most platform beds of this size, the space always feels a lot more cosy.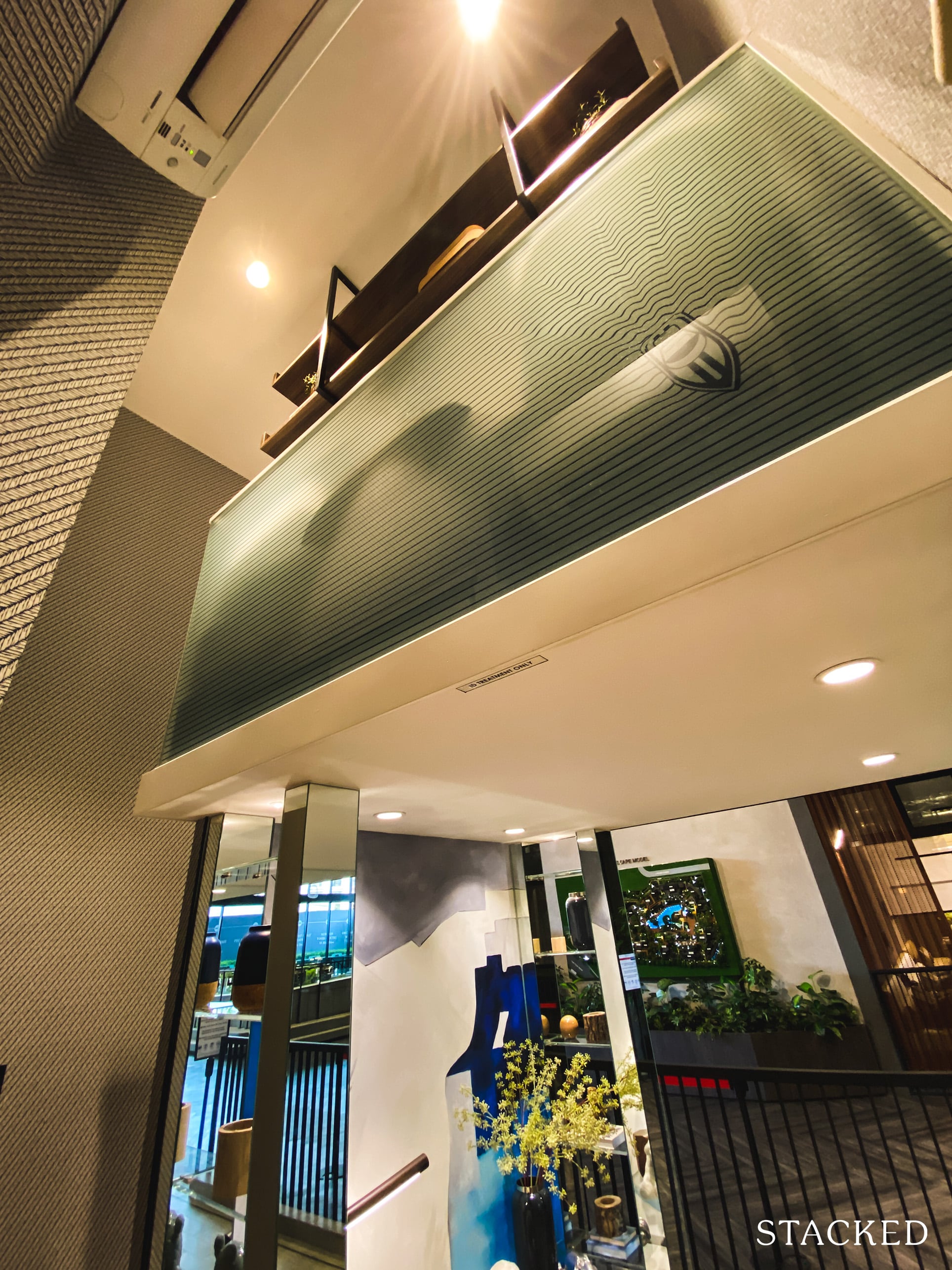 It's tough to give you a better perspective of the height here, but incorporating a platform like this does make the space feel quite cramped because of the size of the room.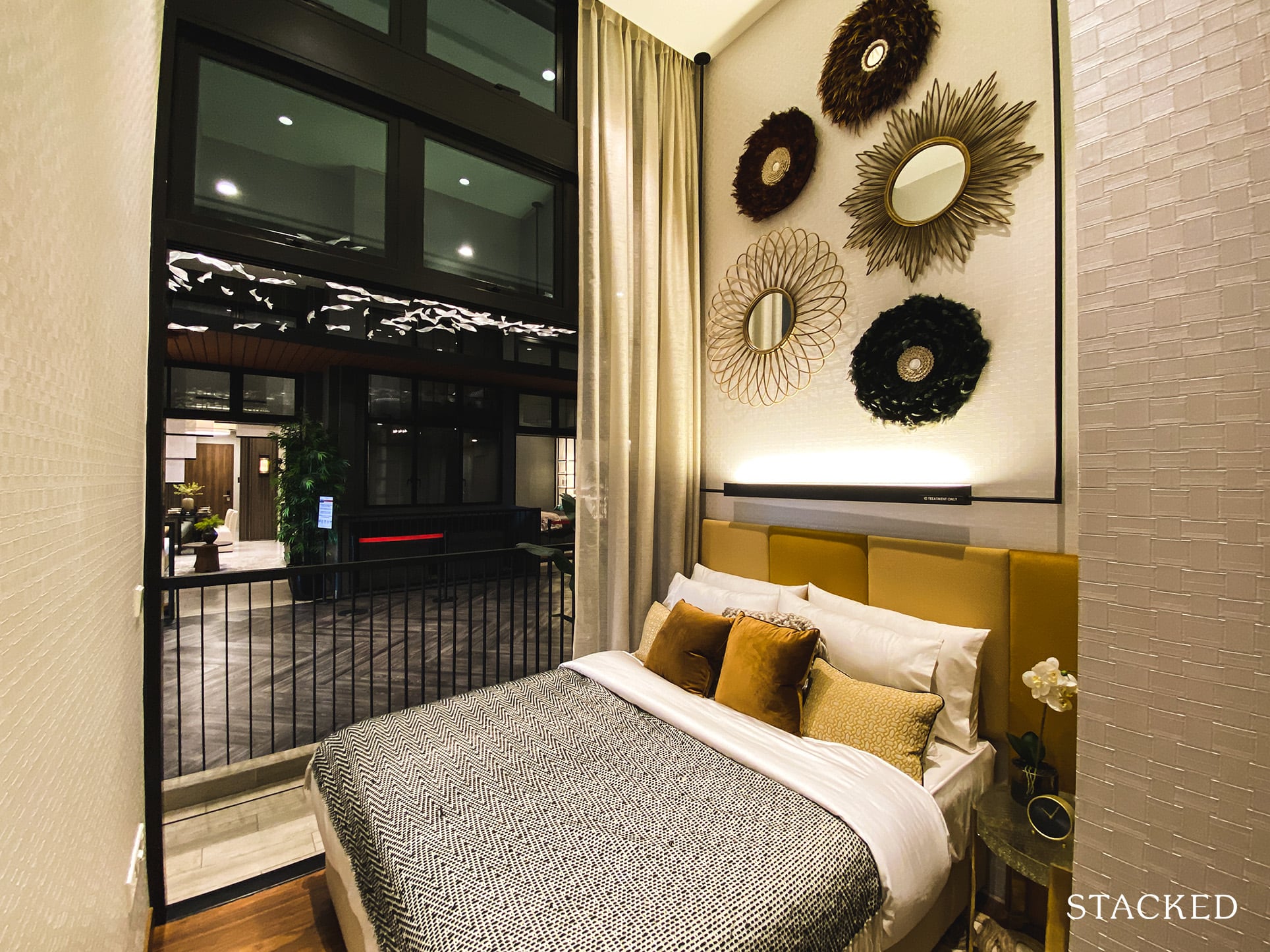 The second common bedroom suffers from the same size issues, but it definitely looks a ton more spacious due to the high ceiling again. As with all the bedrooms here, you do get direct access to the balcony.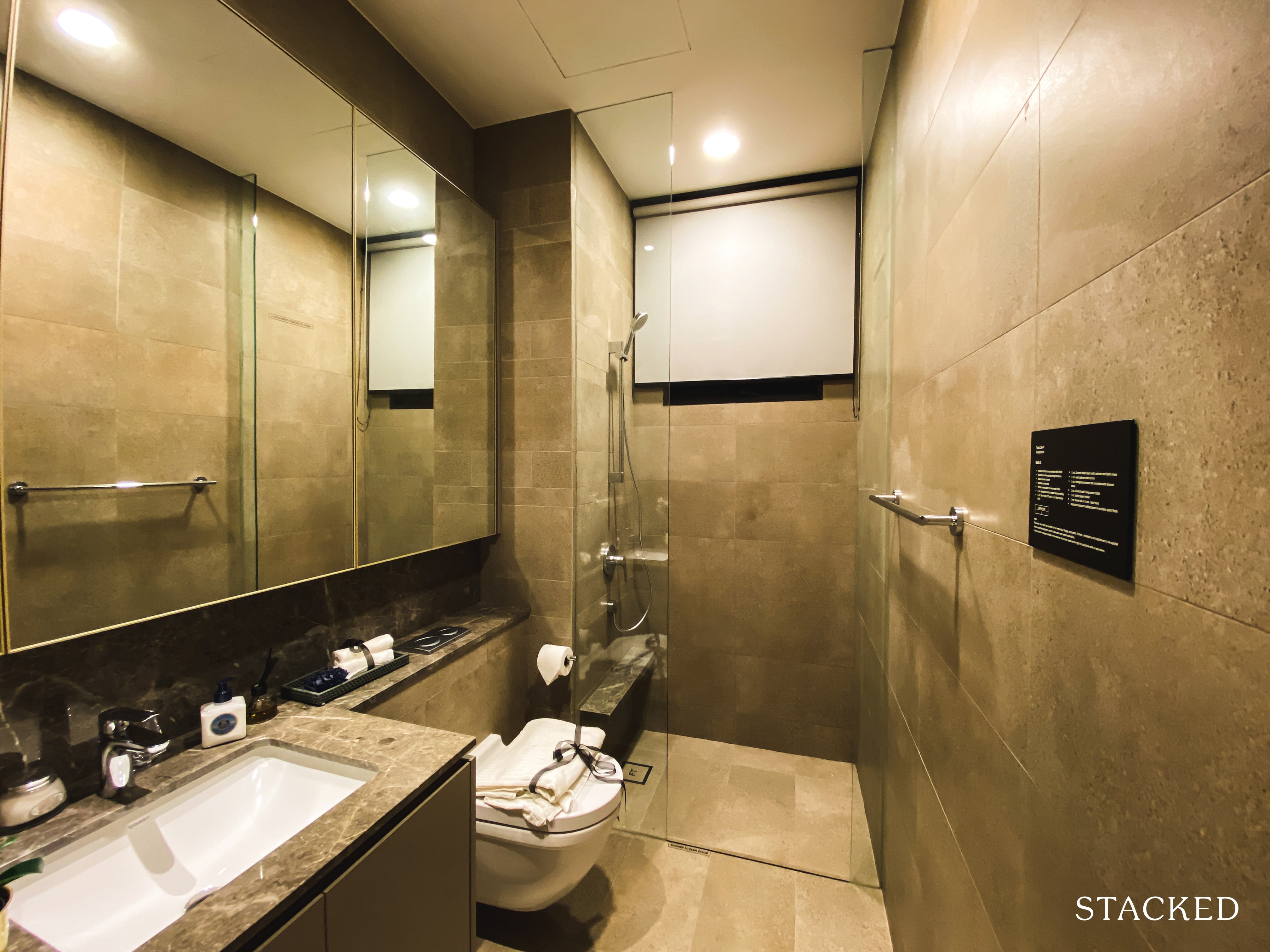 The common bathroom is shared between both common bedrooms, as well as for any guest that might visit. It is quite a good size, and features the usual bathroom fittings from Hansgrohe and Duravit.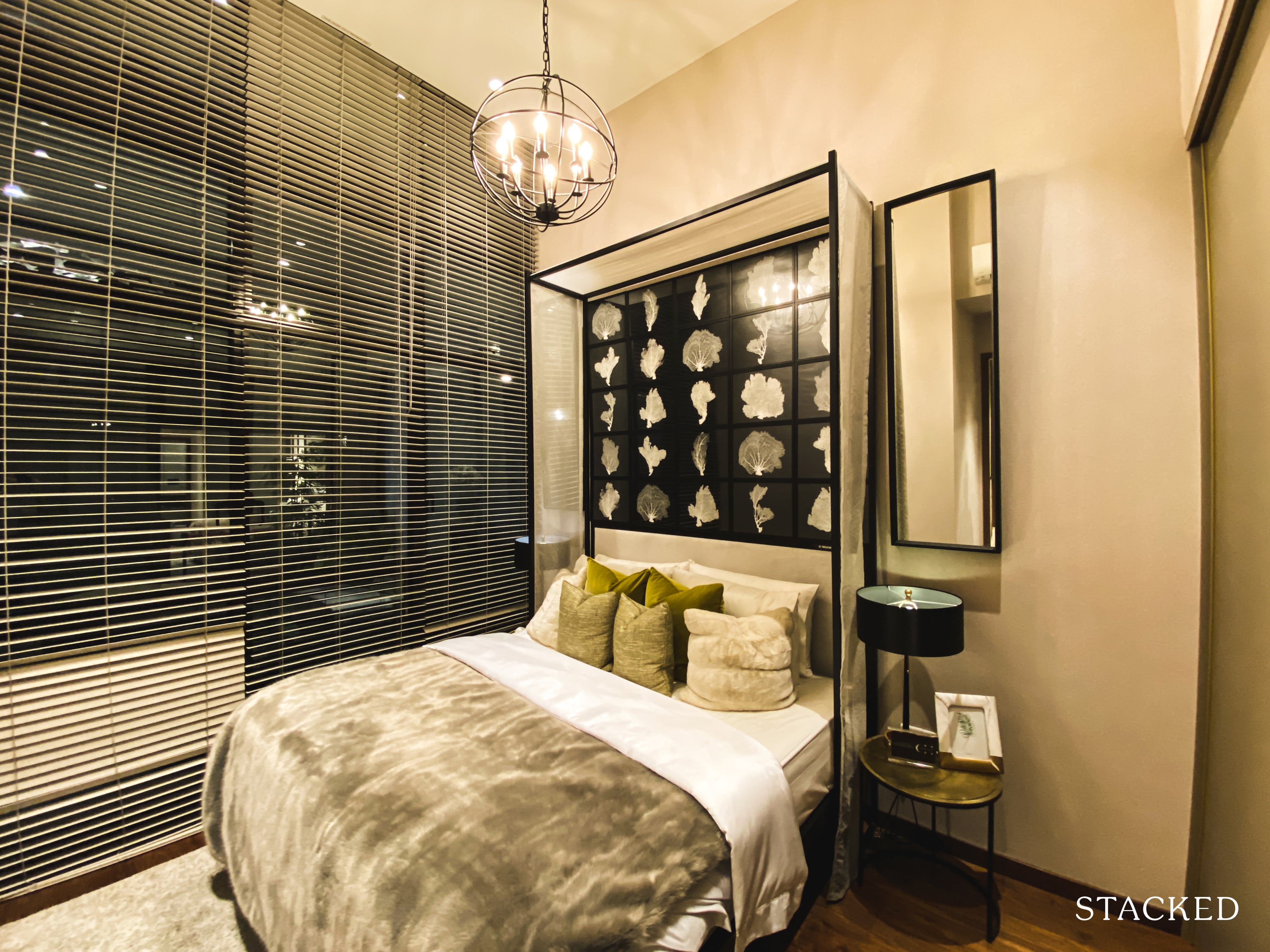 The master bedroom here is fairly large, there is a good space between the sides as well as the front of the bed.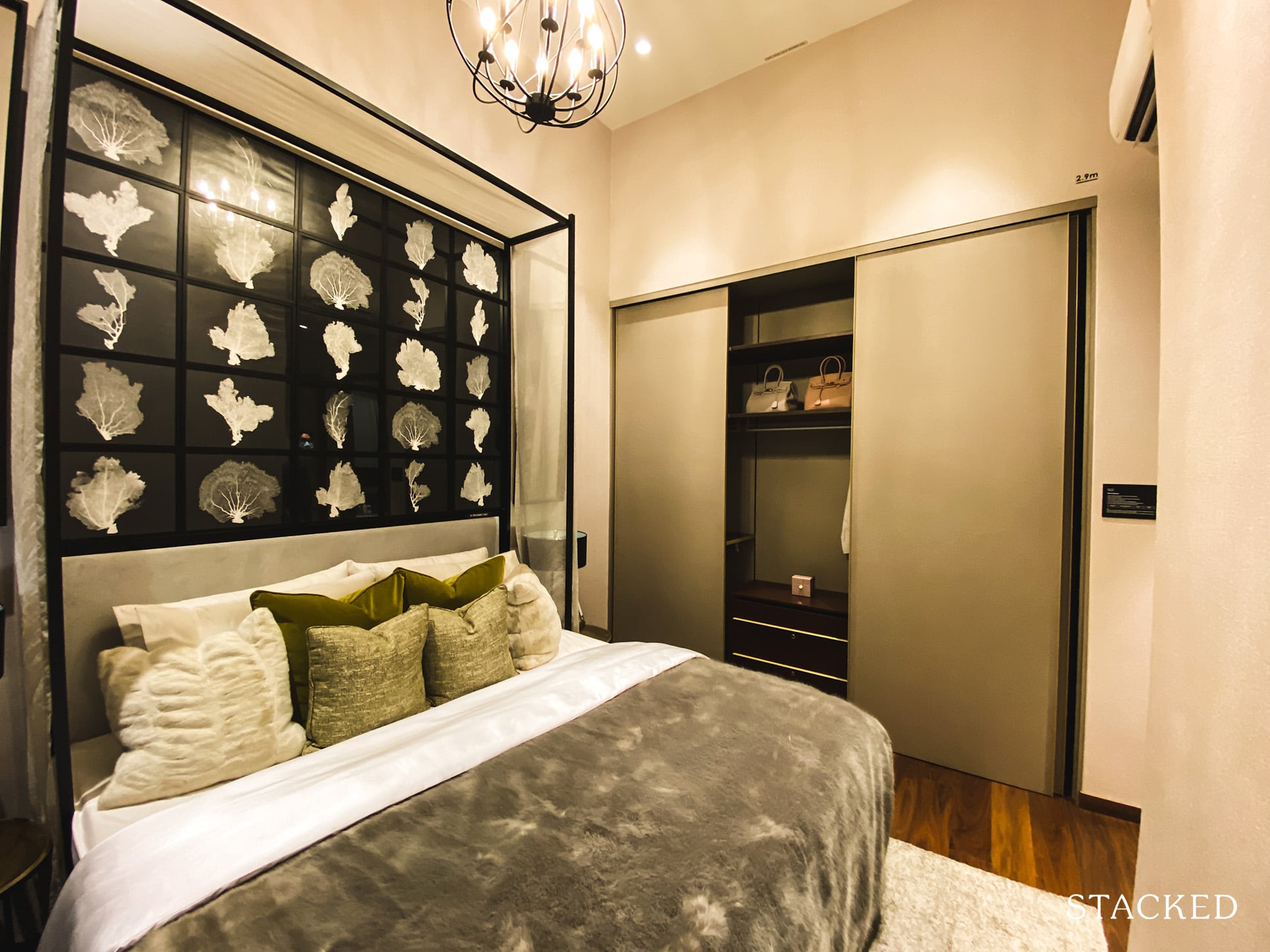 Storage wise is actually pretty decent, with a bigger space than most other master bedrooms I've seen. Again, it's a pity it doesn't extend all the way for the units with a higher ceiling.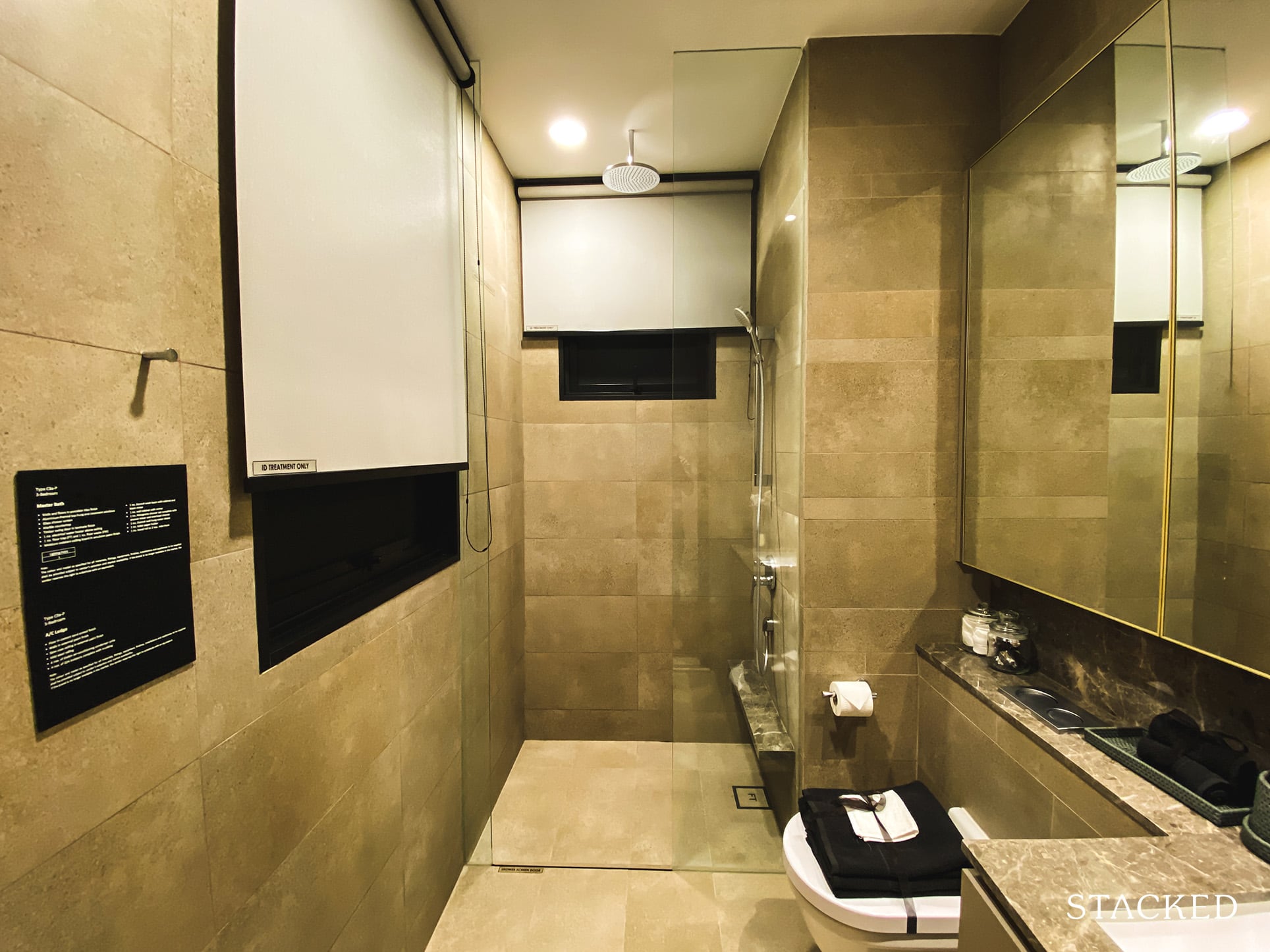 Given the size of the overall unit, I'm sure no one would be expecting a bathtub. It does come with a rain shower, which seems to be the bare minimum for new launches nowadays.
Daintree Residence Location Review
District 21 – home to the Clementi Park/Ulu Pandan/Upper Bukit Timah area, and in more recent times, the Daintree Residence.

(I find it almost hard to believe that a little more than 150 years ago, you'd probably end up face to face with tigers here if you were heading out on a nice morning stroll)

On a slightly more serious note though, Daintree Residence is set in a private low-rise residential enclave and is surrounded by an abundance of nearby F&B outlets and bars.

This is coupled with close proximity to a decent number of educational institutes across all levels.

A few renowned ones that pop to mind include Pei Hwa Presbyterian Primary School and Ngee Ann Polytechnic – both within a 5-min walk from the condo.

For my fellow former/existing Ngee Ann Polytechnic students, you'd find that the presence of Bukit Timah Plaza and the Beauty World/Centre food district rings a familiar (and heartwarming) bell.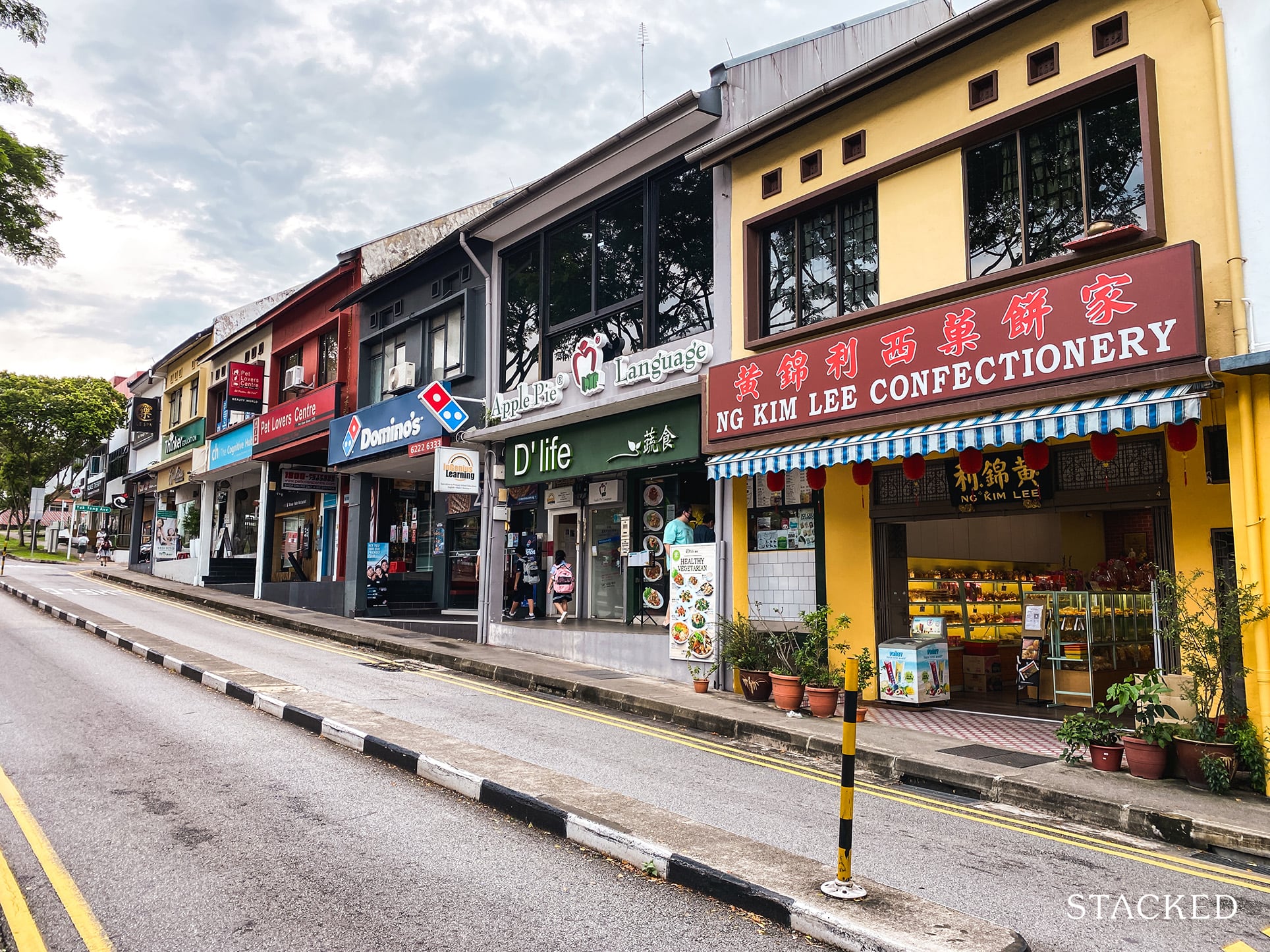 Last but not least, if you're a fitness enthusiast or simply feeling adventurous, there's always time for a great hike in the nearby Bukit Timah Nature Reserve – a quick 4-min bus ride away!

Public Transport

| | | |
| --- | --- | --- |
| Bus Station | Buses Serviced | Distance From Condo (& Est. Walking Time) |
| 'Bef Jln Jurong Kechil' | 41, 77, 173 | 100m, 2-min walk |
| 'Aft Jln Jurong Kechil' | 41, 77, 173 | 110m, 2-min walk |
| 'Blk 18' | 3N, 41, 61, 66, 77, 157, 173, 174, 174e, 970, 985 | 200m, 3-min walk |
| 'Aft Chun Tin Rd' | 61, 66, 66B, 157, 174, 174e, 970, 985 | 260m, 3-min walk |
Closest MRT: Beauty World MRT Exit C – 400m, 5-min walk

Ever since its completion back in August 2017, the Downtown Line MRT route has enhanced connectivity between, and across Eastern and Western Singapore – with a future extension in the works.

Residents of Daintree Residence can count themselves fortunate to be within walking distance to Beauty World MRT Station, especially for those who work in the CBD.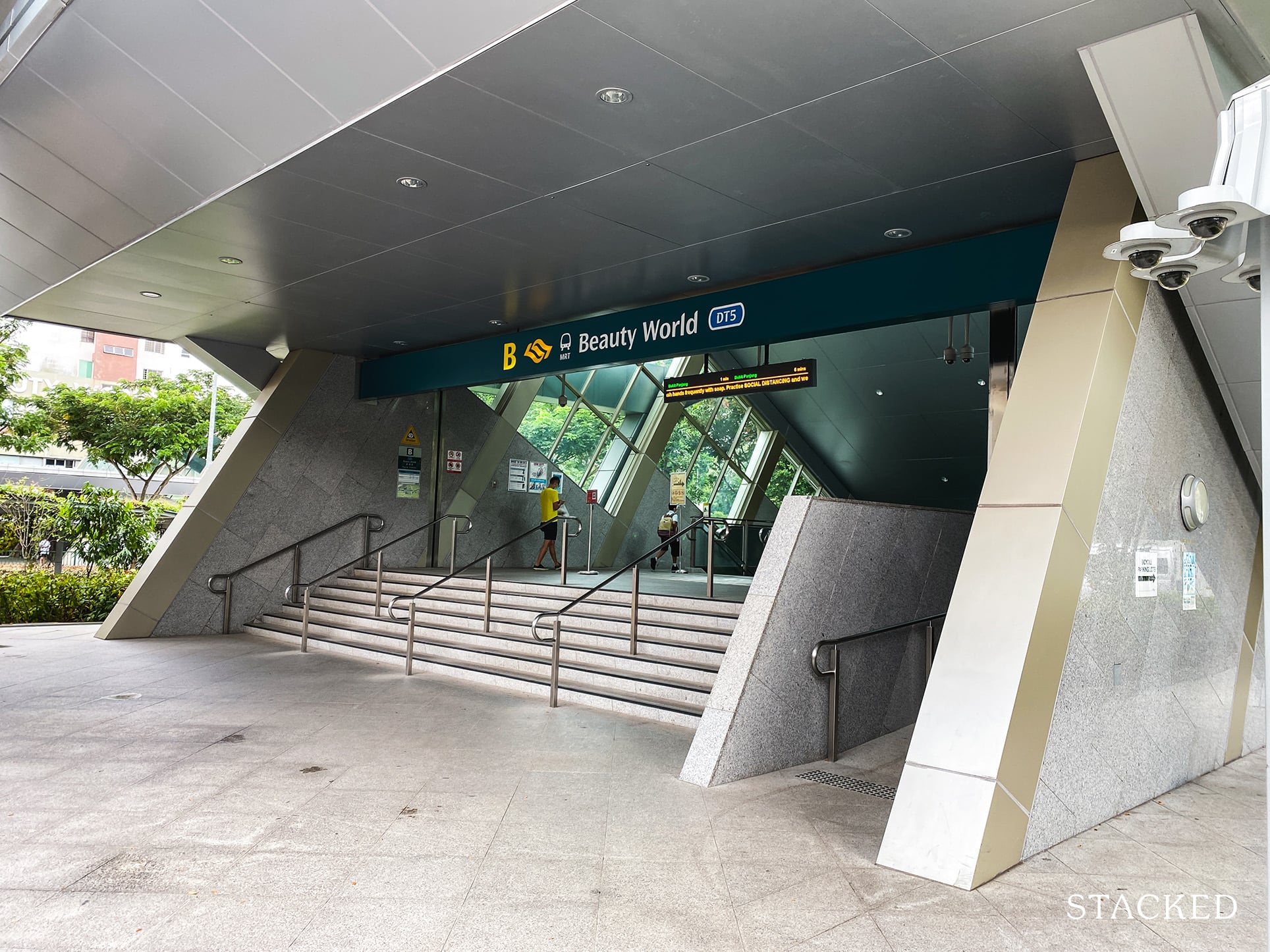 (Note that there are a number of exits at Beauty World Station – I've popped in the closest one here to best fit residents at the Daintree Residence)

What's more, the nearby bus services aren't too bad either – Buses 41 and 66 will take you to and around the Jurong cluster, including key areas like Jcube and Jurong MRT station.

For those heading in the direction of the CBD/Raffles Place MRT, you can board the train toward Telok Ayer Station (13 stops, 25-minute ride), before exiting and walking a few minutes to your destination.

As for our Orchard lovers, hop onto the train toward Newton MRT station before making a change to Orchard MRT. The total ride time should span 14 minutes across 7 stops with a singular line change.

Private Transport
| | |
| --- | --- |
| Key Destinations | Distance From Condo (& Est. Peak Hour Drive Time) |
| CBD (Raffles Place) | 17.6km, 21-min drive |
| Orchard Road | 11.4km, 16-min drive |
| Suntec City | 15.9km, 20-min drive |
| Changi Airport | 29.6km, 32-min drive |
| Tuas Port (By 2040) | 25.9km, 30-min drive |
| Paya Lebar Quarters/Airbase (By 2030) | 22.1km, 25-min drive |
| Mediapolis (and surroundings) | 8.7km, 14-min drive |
| Mapletree Business City | 11.2km, 16-min drive |
| Tuas Checkpoint | 19.3km, 22-min drive |
| Woodlands Checkpoint | 14.3km, 18-min drive |
| Jurong Cluster (JCube) | 4.5km, 8-min drive |
| Woodlands Cluster (Causeway Point) | 15.1km, 19-min drive |
| HarbourFront Cluster (Vivo City) | 14.6km, 19-min drive |
| Punggol Cluster (Waterway Point) | 25.2km, 29-min drive |
*Note that Drive Times are calculated during Peak Hours

Immediate Road Exit(s): 1 Exit along Toh Tuck Road (double-laned)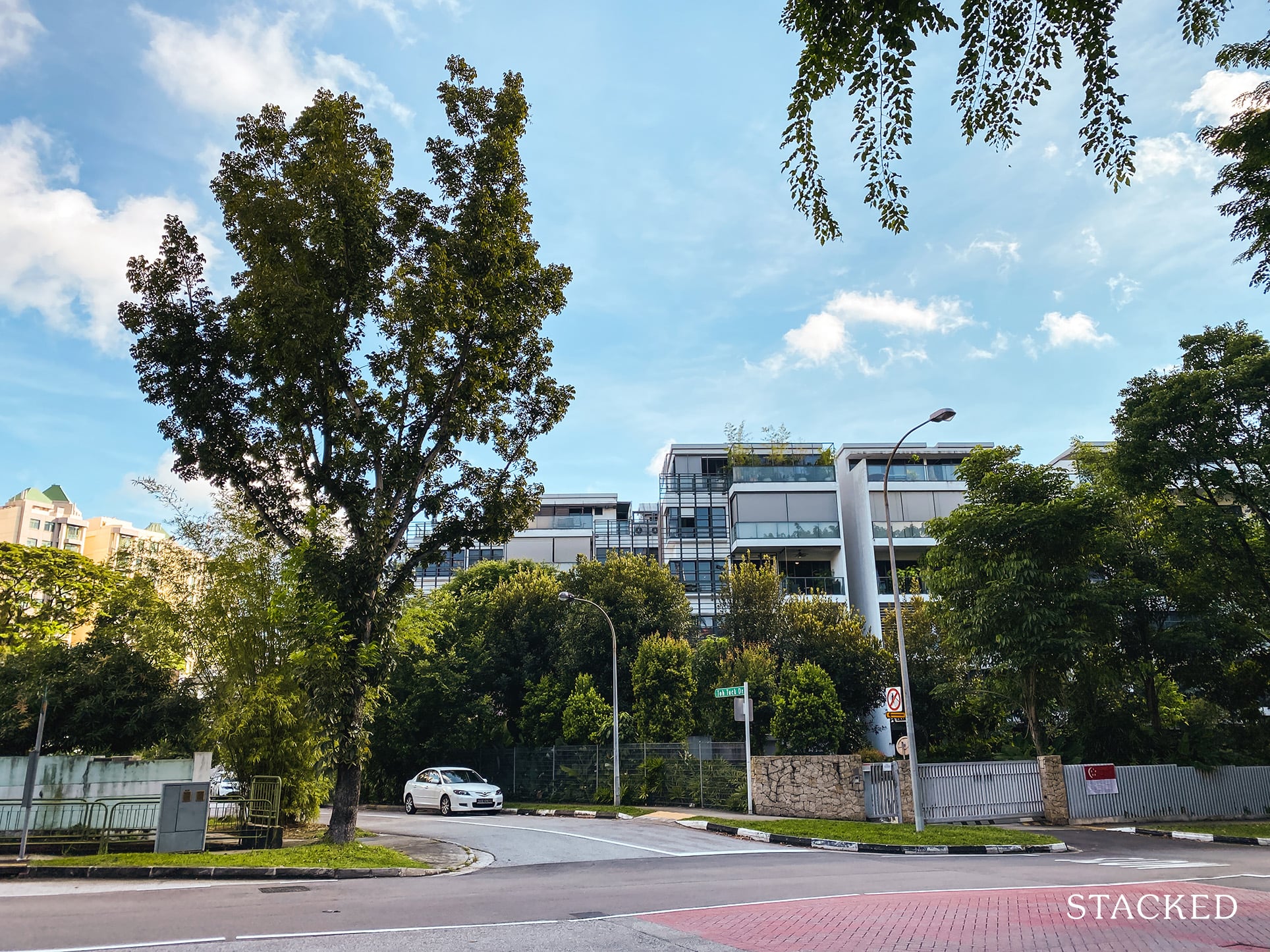 Summary: Apart from the slightly longer drive times, getting to key areas in central Singapore is really quite accessible, thanks to Daintree Residence's close proximity to the PIE and subsequently the AYE. A note to drivers though, Jalan Jurong Kechil tends to experience heavy traffic flow during peak hours the closer you get to the exit onto the nearby PIE.

Groceries

| | |
| --- | --- |
| Name of Grocery Shop | Distance From Condo (& Est. Walk Time) |
| Giant Supermarket – Upper Bukit Timah Road | 680m, 8-min walk OR 1.1km, 3-min drive |
| FairPrice Finest – Bukit Timah Plaza | 860m, 10-min walk OR 1.7km, 5-min drive |
Schools

| | |
| --- | --- |
| Educational Tier | Number of Institutes |
| Preschool (within 1km walk) | 4 |
| Primary (3km-drive) | 4 |
| Secondary (3km-drive) | 1 |
| International School (3km-drive) | 2 |
| Junior College (5km-drive) | 2 |
| University (5km-drive) | 2 |
| Polytechnic (10km-drive) | 2 |
Additional Pointers

Technology, together with money, has certainly played a huge part in making the modern world go round.

In the case of Daintree Residence, developer S P Setia has clearly made painstaking efforts to enter the Smart Home technology scene that we see coming up with the numerous New Launch condos of today.

Every unit has a built-in Smart Home Security system – featuring a biometric door lock, Smart Doorbell with a built-in camera, and a Smart IP Camera equipped for day/night surveillance within the home.

Even the lift lobby to your respective block has its own security system – an interactive device on the wall enables you to verify any visiting guests through an audio/video call.

On top of all that, there are two impressive mobile apps available to enhance efficiency during your stay at Daintree Residence.

iPlusLiving, by tech company FERMAX, allows you to book slots for facility usage, view condo notices, make MSCT payments, and even control your Smart Home system!

The second, VIDA (also by FERMAX), not only offers similar features to iPlusLiving, but also allows for integration with Amazon Alexa voice control.

It's simply remarkable how much of a difference technology could potentially make in one's residential lifestyle.

Something's Slightly Different About the Facilities Here.. (or is there?)
I'll admit that we've been seeing an increasing number of marketing teams up-selling their developments' facilities in recent years, with numerous 'specialised' themes and fancy names often taking precedence in these endeavours.

That said, some might argue that the case is slightly different for Daintree Residence. You'd find an extensive range of rather unique facilities here.

For starters, besides the typical gymnasium, basement car park and pavilions for private events, residents can enjoy a drink or two at either the Canopy or Cabana Bar.

Water activities-wise, Daintree Residence has 2 large swimming pools – featuring an infinity pool, jacuzzi, spa beds, and an aqua gym.

I'll stop here for a second and play the devil's advocate.

Have I seen these facilities before?

Definitely.

So what really stands out for me the most about the facilities?

Personally, it would boil down to the Daintree Rensidence's enchanting rainforest-like theme.

Cliche as it might be beginning to sound, the multitude of gardens throughout the premises, a treetop walk, and the iconic Heritage Raintree (which I'll elaborate on in just a moment) all come together to paint a picture of tranquility for me.

Yes, maintenance (mostly mosquito-related I would assume) might be a pain, but if the condo team can overcome the hurdle, and present the themes and facilities live as they have promised, then I do have high hopes for the condo's nature-etched USP.

Besides, how many condos can you name that have a whole tennis court on the rooftop (…sound familiar?)
Daintree Residence Development Site Review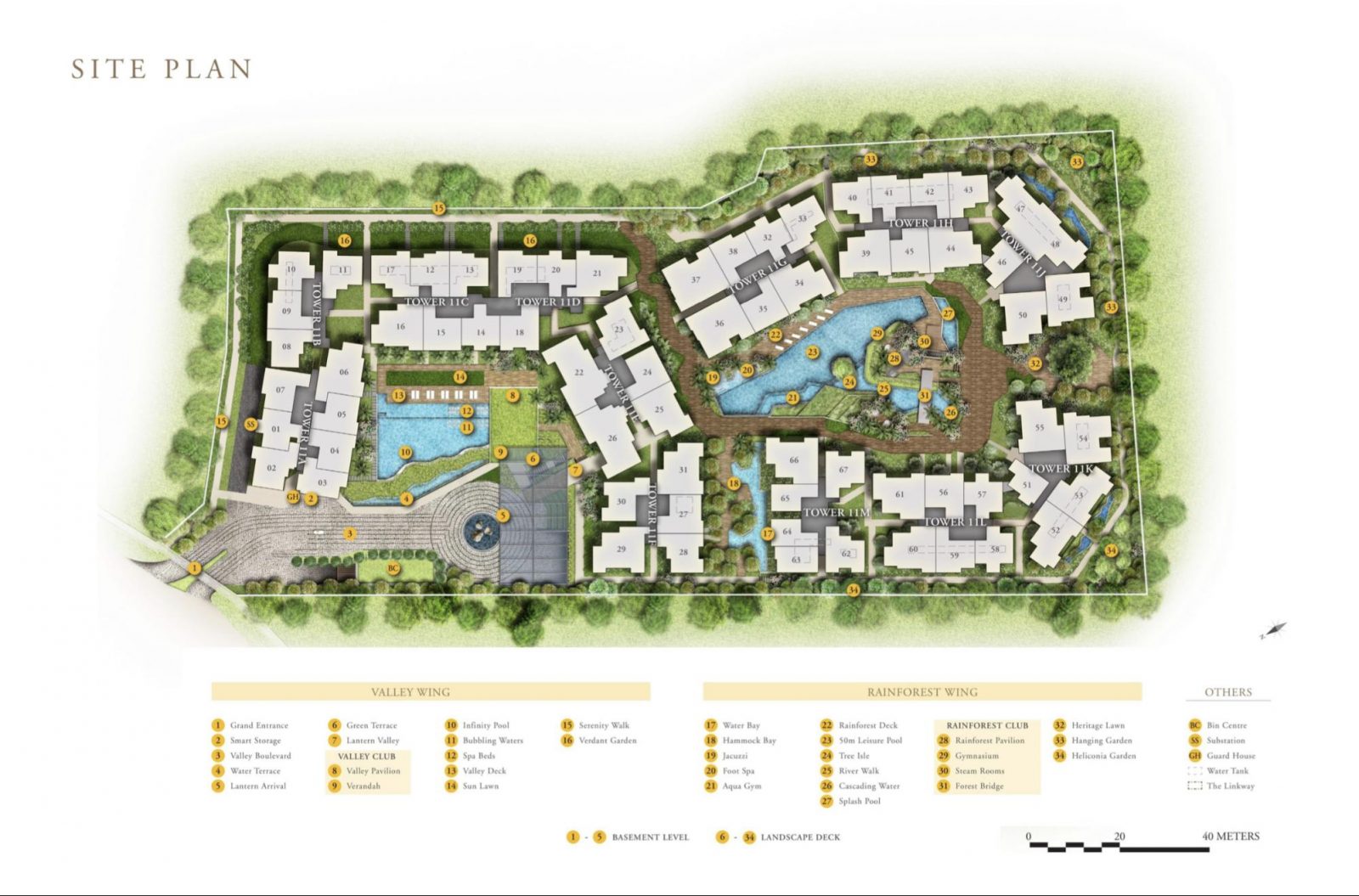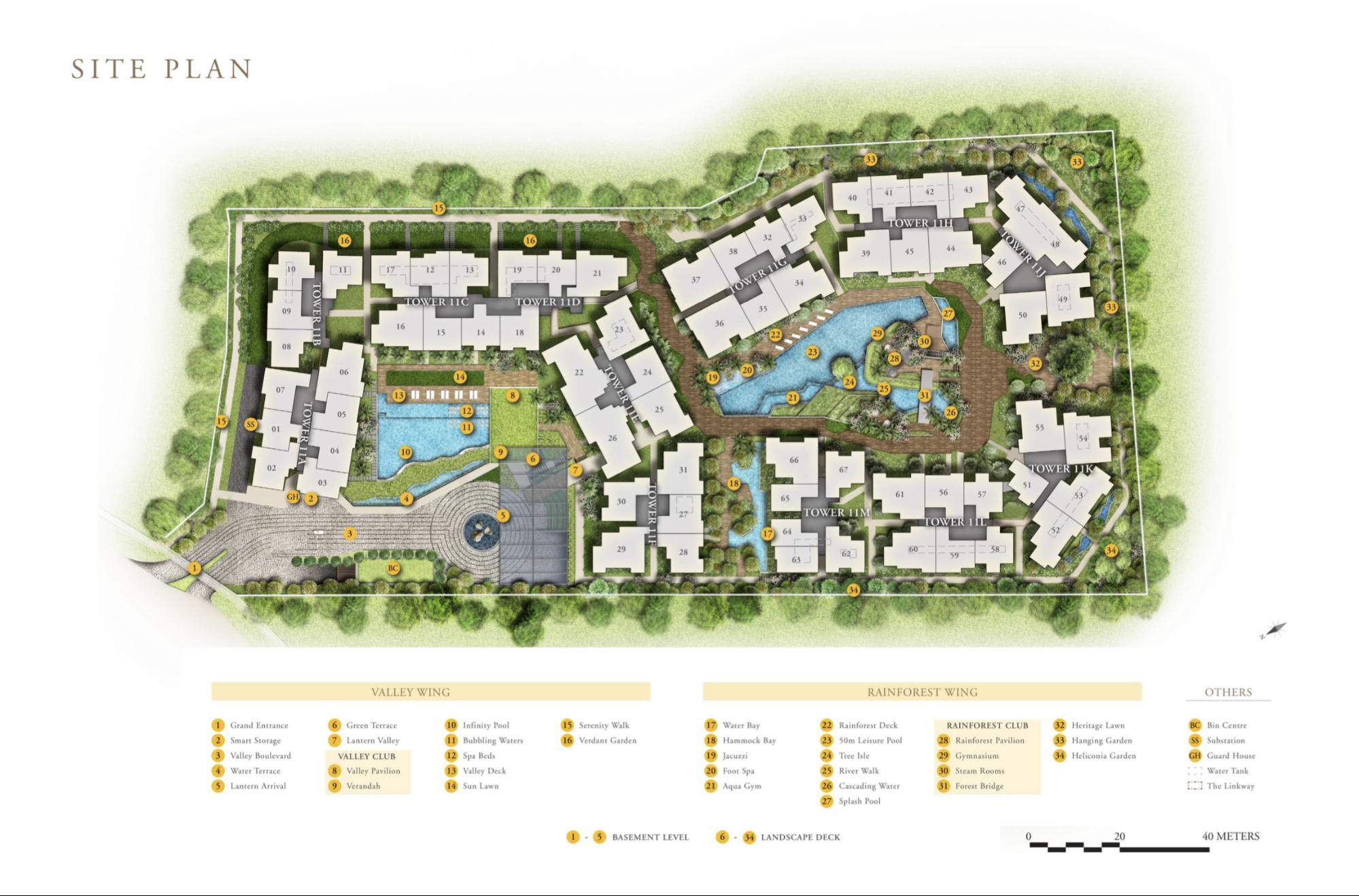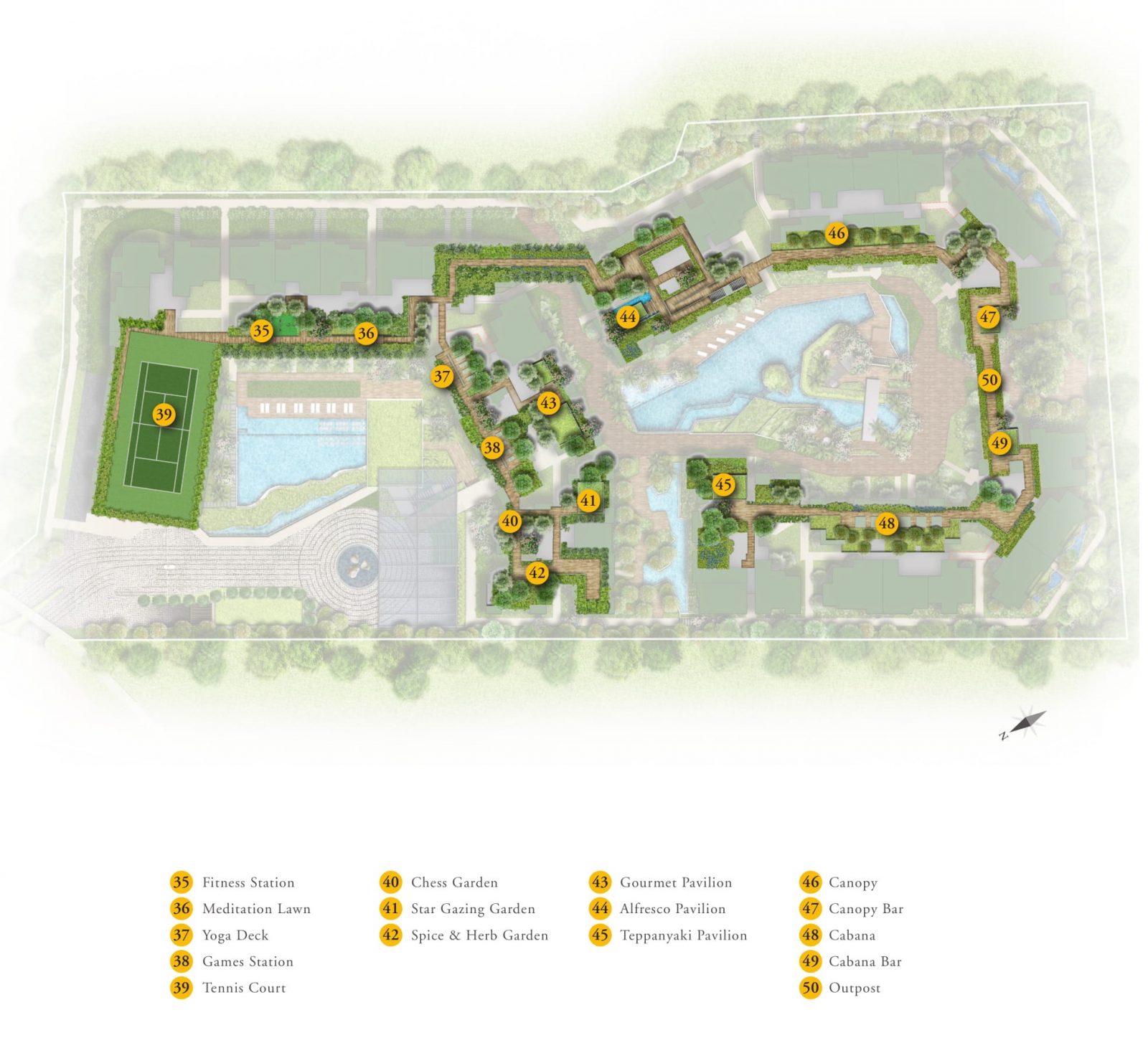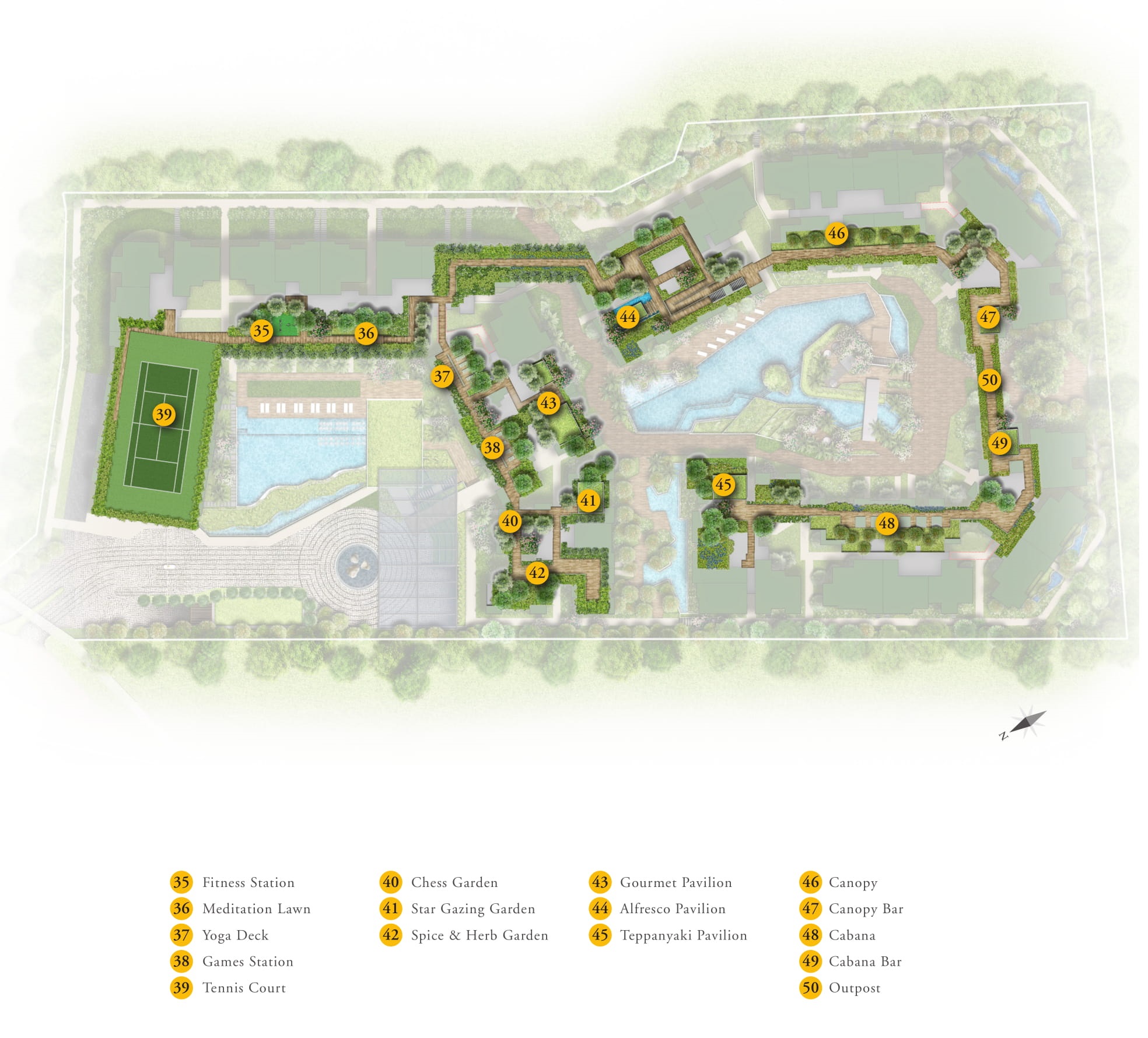 Facilities in Daintree Residence

| | | |
| --- | --- | --- |
| Game room | Gymnasium room | Jacuzzi |
| Main entrance | Pavillion | 24 hours security |
| Steam bath | Swimming pool | Tennis courts |
Although it's not seen on either of these images, I ought to mention that Toh Tuck Road runs adjacent to the side of the development site where Heliconia Gardens (#34) is located.

Accessibility to public transport options aside, here is a little heads up if you are considering staying at Daintree Residence.

Toh Tuck Road has always been a main bugbear of residents staying in the area. In the mornings and peak evening periods, traffic flow is definitely heavy – and turning in and out of the development might be a problem if you are looking to head to PIE.

One of the other problems is because Toh Tuck Road is a single laned one. Once Forett and Daintree Residence are completed, the addition of further vehicles will surely overwhelm the road. Couple that with the buses plying the route, and I can't see the situation getting much better in the future (not to mention road noise for the blocks facing the main road).

Other than that, I would say the 12 blocks are arranged in a neat and somewhat linear manner in the 2 separate wings (Valley and Rainforest) – with the rooftops of every block connected via the magnificent Treetop Walk.

At 330 metres long, this might not be best suited for a run/jog considering the tight corners, but it's certainly perfect for a relaxing walk under the night sky after dinner with your loved ones.

If it's a weekend and you have some free time to spare, you only need to head down to one of the pools for a dip, or even the hammock bay (#18) for a nap.

Finally, here's the remainder of the highlight of Daintree Residence's facilities.

Besides the multitude of lush gardens to relax in across the site, you may find the Heritage Lawn (#32) the most interesting sight.

Set in the center of the Rainforest Wing, the Heritage Lawn contains the beautiful Heritage Raintree (yep it's a literal tree!) – upon the condo's completion, it will stand as an iconic green landmark and a majestic sight to behold.

All things considered, I'm sure we can all agree on one thing.

S P Setia has done an outstanding job in pushing architectural boundaries in the design of Daintree Residence – giving us a rich blend of unique technological features, premium facilities and a vibrant nature-focused theme.

Whether the builds live up to expectations though, will remain to be seen.

Stacks with the least afternoon sun
Stacks with the least afternoon sun are stacks 55, 51, 57, 61, 64 – 67, 30, 26, 22, 39 – 48, 32 – 33, 37 – 38, 12 – 13, 19 – 21, 01, 07 – 11 and 17. These either face the south-east or the north-east orientation and are protected from the west sun all-year round.
Best Stacks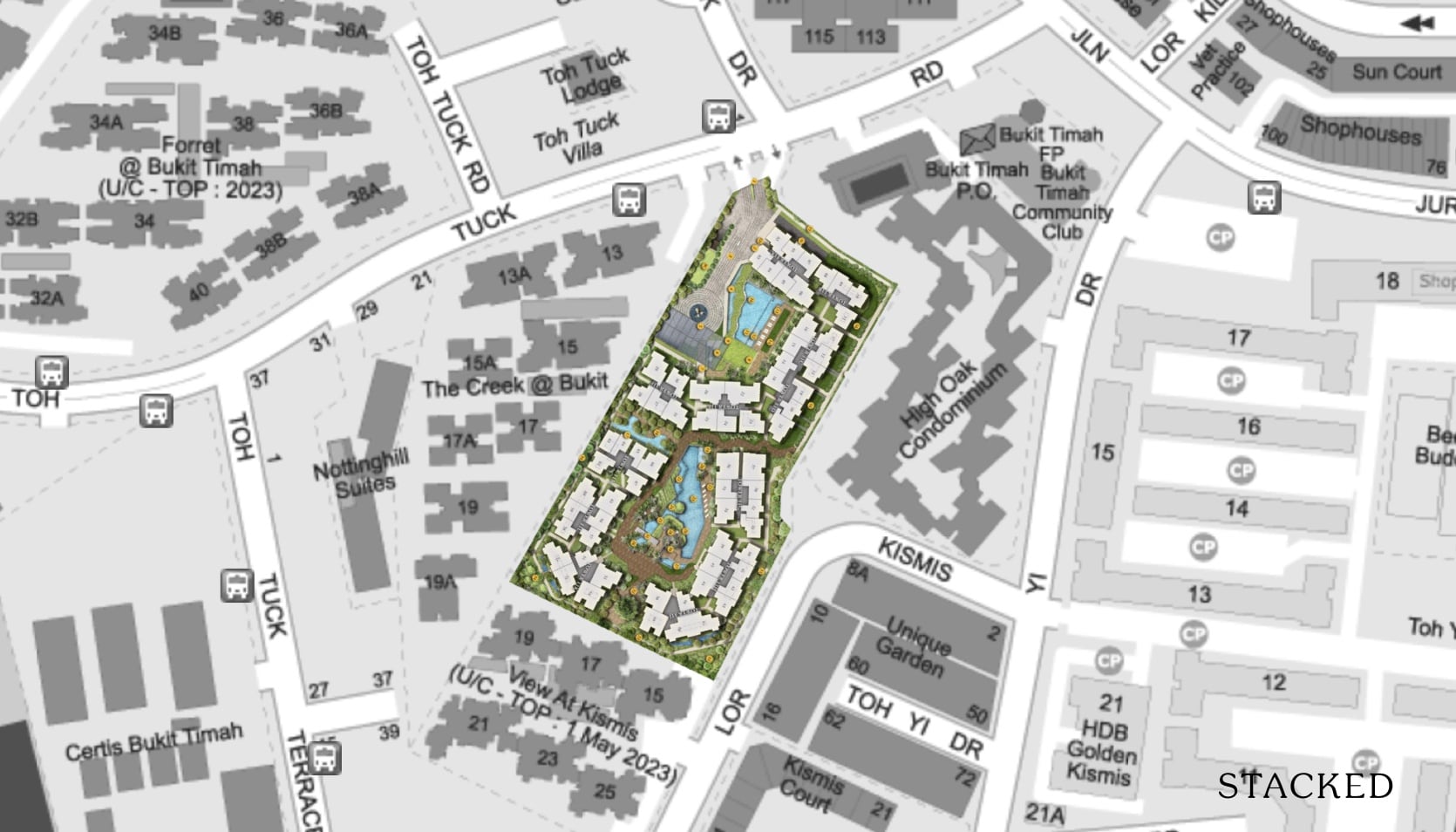 Given that Daintree Residence has great internal landscaping, I would say that it is worth looking at the stacks that face the pool. But of course if privacy is your main concern, 14 and 15 would have the advantage of a pool facing as well as the highest gap as it faces the Creek @ Bukit.

Also since Daintree Residence is primarily surrounded by the Creek @ Bukit, High Oak Condo, and View at Kismis, your only option for outer views would be stacks 40, 41, 42, 43, 47, and 48. These face the Toh Yi Drive landed cluster, so the upper floors should suffice for better views.

Unit Mix
| | | | |
| --- | --- | --- | --- |
| Unit Type | No. Of Units | No. of Bath | Size of Units (sqft) |
| 1-Bedroom | 12 | 1 | 517 – 549 sqft |
| 1-Bedroom + Study | 10 | 1 | 560 sqft |
| 2-Bedroom + 1 Bath | 10 | 1 | 603 – 678 sqft |
| 2-Bedroom + 2 Bath | 121 | 2 | 667 – 764 sqft |
| 2-Bedroom + Study | 51 | 2 | 743 – 786 sqft |
| 3-Bedroom | 114 | 2 | 1,001 – 1,249 sqft |
| 4-Bedroom | 9 | 3 | 1,485 – 1,539 sqft |
In most condo developments we see these days, we often observe the 1-bedders turning out to be the most abundant unit type available (this is mostly for investor appeal).

That said, Daintree Residence seems to have taken a different approach, with the 2-bedder and 3-bedder units here talking up a bulk of the units available – proving to an extent that home-buyers are the demographic that is being prioritised here.

Not only does this exude a certain sense of exclusivity (ie. fewer tenants in the project), it also helps to justify the seemingly high price tag that we will get to in a bit.

As for the most convenient tower in the condo? I would think that the title goes to Tower 11E.

If you refer back to the first development site image, you'd notice that 11E is conveniently situated directly in between both Wings. In other words, one wouldn't have to walk too far for a dip in the infinity pool, or a stroll through the Heritage Lawn on the other end.

Visitors too, wouldn't have to walk all that far from the drop-off point to the tower itself.

Best Stacks
Prices for daintree residence
Price Breakdown (1st Property)
1-Bedroom
2-Bedroom
3-Bedroom
Price
$916,752
$1,280,932
$1,680,615
25% Down Payment
$229,188
$320,233
$420,154
Additional Costs
Buyer Stamp Duty
$22,103
$35,837
$51,825
Legal Fees
$2,500
$2,500
$2,500
Valuation Fees
$300
$300
$300
Stamping Fees
$500
$500
$500
Total Price
$942,155
$1,320,069
$1,735,740
Initial Investment Amount
$254,591
$359,370
$475,278
Return on Investment
Expected Rental Price
$2,313
$3,121
$3,376
Rental Yield
2.95%
2.84%
2.33%
Price (2nd Property)
1-Bedroom
2-Bedroom
3-Bedroom
Cost Without ABSD
$942,155
$1,320,069
$1,735,740
Plus: ABSD (12%)
$110,010
$153,712
$201,674
Total Price After ABSD
$1,052,165
$1,473,781
$1,937,413
Initial Investment Amount
$364,601
$513,082
$676,952
Return on Investment
Expected Rental Price
$2,313
$3,121
$3,376
Rental Yield
2.64%
2.54%
2.09%
Price Review
| | | | |
| --- | --- | --- | --- |
| Project Name | Tenure | TOP | Average Price (PSF) |
| Daintree Residence | 99-year Leasehold | 2022 | $1,658psf |
| View at Kismis | 99-year Leasehold | 2023 | $1,691psf |
| Mayfair Modern | 99-year Leasehold | 2024 | $1,924psf |
| Mayfair Gardens | 99-year Leasehold | 2024 | $2,014psf |
Here we have a price list comparing Daintree Residence with several other New Launches in District 21. For the sake of a fairer psf comparison, we have left out KI Residences, Verdale, The Linq at Beauty World and Forett at Bukit Timah – each has had a 0% take-up rate so far (yet to be launched).

But with Forett at Bukit Timah just across the road, it's hard to ignore the influence that it might have on the sales at Daintree Residence. Given its estimated breakeven at $1,636 psf, most people were thinking that it would be launched at around the $1,900 – $2,000 psf mark. But speculation has been rife that it might be launched at $1,800+ psf instead, which puts it at a 10ish% premium from Daintree Residence.

It's tough to do a comparison now until we take a look at Forett for ourselves but it could really go both ways. One, Forett is priced very comparatively such that it pulls people away from Daintree. The second, Forett's final product pales in comparison to the offering at Daintree, and given the slightly better location and closer TOP date, those who are looking to live in the area would be able to make their mind up at which is the better development that suits their lifestyle.

Let's start off with the condo featuring the highest price tag on this list – the exclusive Mayfair Gardens. This condo has a relatively hefty price tag considering that it's a leasehold development.

What does contribute though, would be its setting in a quiet enclave along Rifle Range Road, serving as a peaceful retreat with solid accessibility to nearby amenities and public transport options.

Not to mention, its unique exterior design and "Georgian-inspired" theme.

Mayfair Modern isn't too far off in terms of pricing and style of architecture, and it boasts a closer proximity to King Albert Park MRT than Mayfair Gardens does. It may not be set in the most peaceful and quiet of surroundings, though, due to its location along the bustling Bukit Timah Road.

(Fun fact: Mayfair Modern seems to be the more popular option when compared to Mayfair Gardens – the former has sold at a very healthy 77% so far, with the latter lagging behind at a 40% take up rate).

View at Kismis (not to be confused with Kismis View) happens to be the next-door neighbour of Daintree Residence – and so it isn't all that surprising that both share very similar prices given the relatively similar level of connectivity and accessibility to schools, entertainment and public transport options.

At some point while reading this, you must have wondered: Why does Daintree Residence's price tag seem like the lowest on this list?

The answer to that lies in its location – both Daintree Residence and View at Kismis are situated in the Upper Bukit timah area. The higher-priced Mayfair 'duo', on the other hand, will be situated along Bukit Timah Road (where you'd find a string of other equally-exclusive private properties).

And so, here's another price comparison list, this time between Daintree Residence and the more significant (ie. older) developments along Toh Tuck Road..
| | | | |
| --- | --- | --- | --- |
| Project Name | Tenure | TOP | Average Price (PSF) |
| Daintree Residence | 99-year Leasehold | 2022 | $1,658psf |
| The Creek @ Bukit | Freehold | 2017 | $1,650psf |
| Nottinghill Suites | Freehold | 2016 | $1,490psf |
| Signature Park | Freehold | 1998 | $1,318psf |
| Highgate | Freehold | 1995 | $1,250psf |
Unlike the previous price list, you'd notice a vast difference in this one – Daintree Residence now holds the highest 'price tag'.

Here's a good reason for this.

Situated along Toh Tuck Road, Daintree Residence is located the closest to Jalan Jurong Kechil (main road connected to PIE), with Signature Park and Highgate situated the furthest away.

Naturally, this affects each of the various condo's connectivity to key expressways like PIE, or even Bukit Timah Road, and the CBD afterward.

Despite that, and the novelty factor that Daintree Residence boasts (given its position amongst a number of older developments), a fair number of people believe that the initial 'over-payment' for land here by the developers has resulted in much higher pricing margins – therefore making the development a tad too pricey when compared to its immediate neighbours.

Once again, a possible explanation as to why its take-up rate has stagnated at 40% with potential buyers hanging on to the hope of a possible future discount in the near future (…especially in light of the current Co-vid19 situation).

Let's also not forget that its 'neighbours' are freehold options with varyingly increased degrees of en bloc potential down the road.

Appreciation Analysis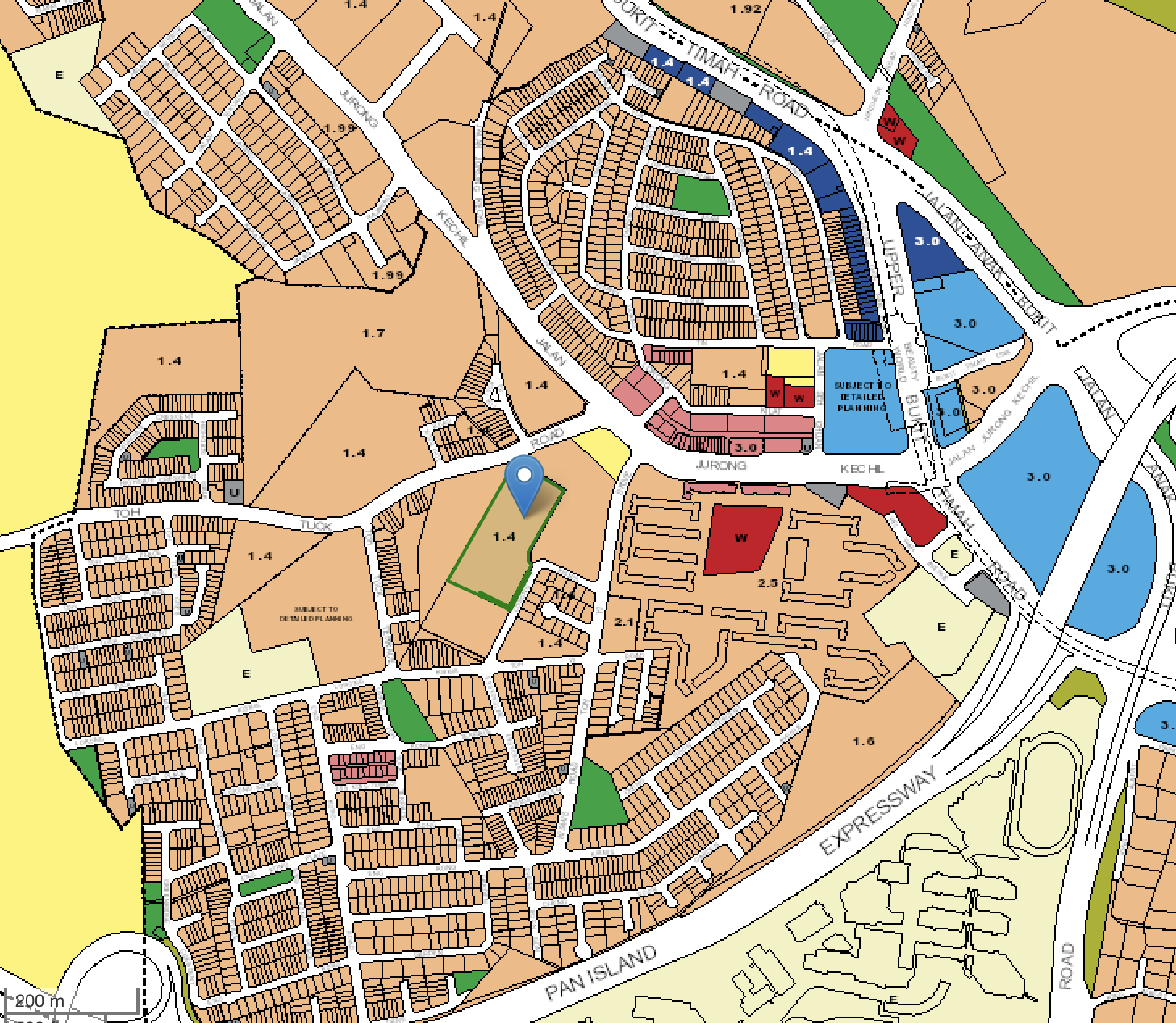 When I first took a look at this image from the URA Master Plan 2019, the first thing I noticed was the amount of land set aside for commercial and residential integrated developments (marked in blue).

Earlier in June this year, a successful tender for the design and construction of the mixed-use development – or future Beauty World Integrated Transport Hub was submitted.

As of time of writing, the Land Transport Authority has not released any specifics on its completion, and the project is still in its early stages of planning.

Upon completion, this transport hub could be a driving force for capital appreciation gains for surrounding residences, and quite possibly, the overall appreciation of District 21.

Other than this project and the large reserve sites to the east (indicated in yellow), there seems to be no other indications of upcoming government projects in the area.

Regarding competition in the vicinity, this is one issue that many have highlighted as a potential oversupply to the area. As mentioned at the beginning, View at Kismis, Mayfair Gardens/Modern, Ki Residences, Linq, Verdale, and the upcoming Jalan Anak Bukit site – these are a sizeable amount of new units that have to be absorbed.

Rental yields have also never really been a super attractive point of the Upper Bukit Timah region, with one of the factors being a strong preference for own stay.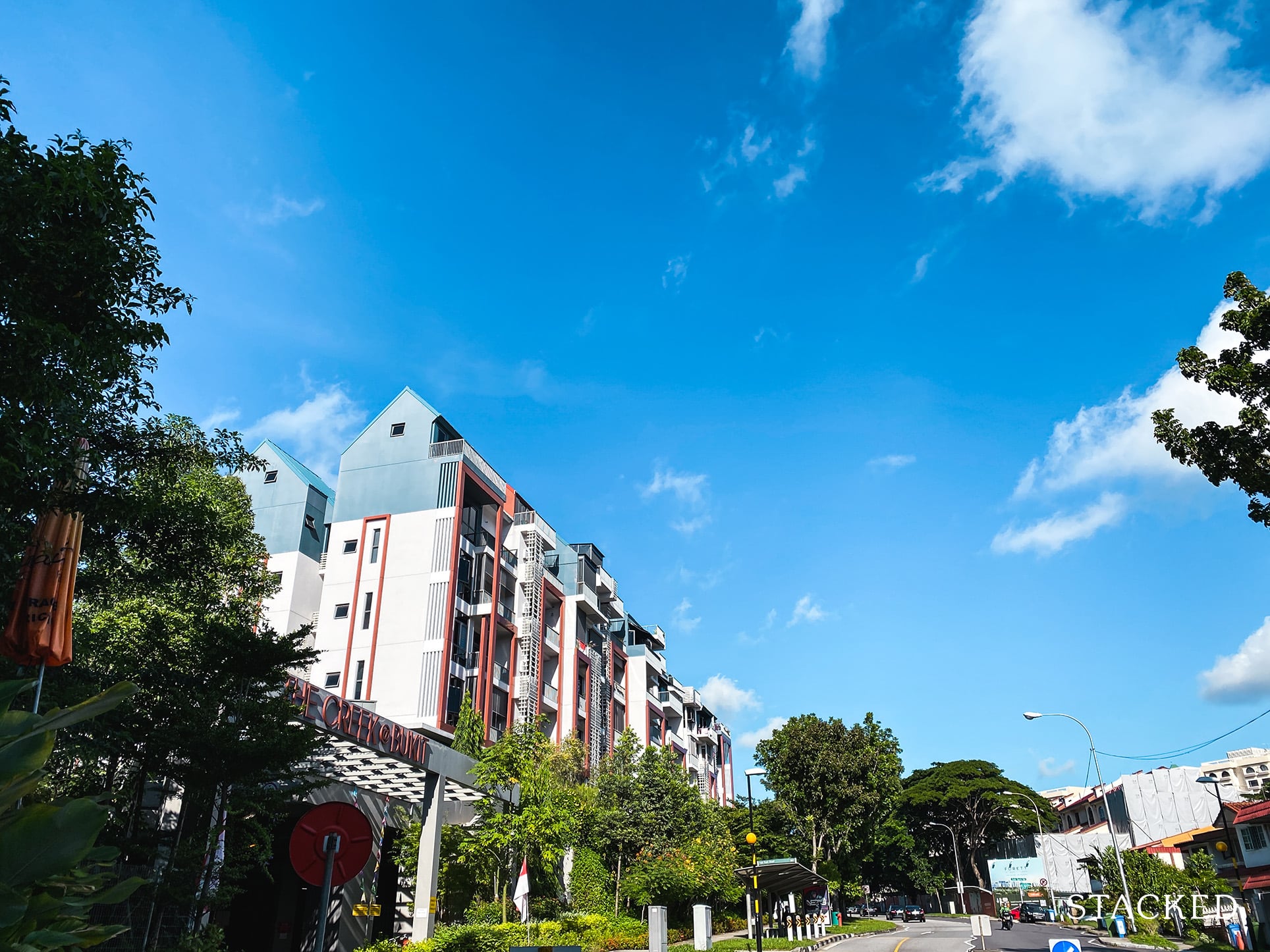 A quick look at its immediate neighbour, the Creek @ Bukit also doesn't give a great vote of confidence when it comes to price appreciation in the area. Granted it has only 5 resale transactions since TOP, but it doesn't make for good reading when only 3 out of the 5 have made gains so far. In fact, 1 of the profit making transactions was actually only $20k, factor in the usual costs and you'll realise that you are looking at a net loss instead.

But the upcoming Jalan Anak Bukit site should go some way to providing more functionality to the area with 20,000 sqm set aside for commercial use, of which 7,500 sqm can be used for shop and restaurant use.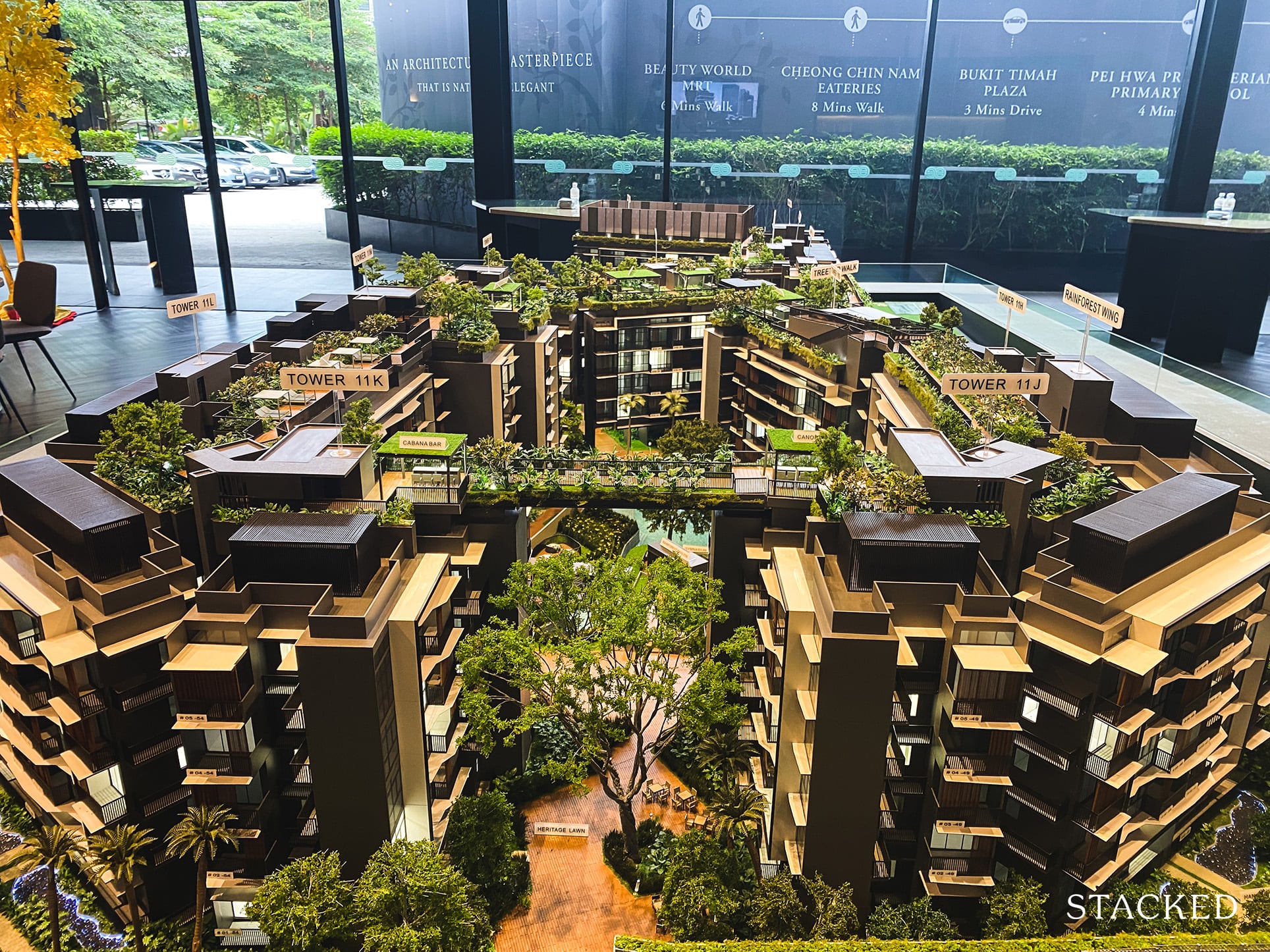 Our Take
What we like
Rooftop facilities

High ceiling for certain units

Good landscaping
What we don't like
–

Not as near to the MRT

–

Toh Tuck road issues
In the face of current economic downturn (ie. Singapore's recent plunge into technical recession), it will be tough to predict the likely short mid-term appreciation trends of Daintree Residence.

…At least not without first detailing a thorough analysis of both local and global economical factors, policies and likely buyer trends.

That being said, we shouldn't forget about the upcoming Integrated Transport Hub project at Beauty World, or the upcoming Forett in Goodluck Garden's place possibly bearing a hefty price tag.

Investment aspects aside, if you plan to move to this condo, you're in for an exclusive stay in a beautiful home in an environment that offers a great deal of privacy. 

True, you might be paying a higher premium for a leasehold property – but I think for those looking at an own stay project, Daintree Residence does offer quite a compelling option that should tick the boxes for most young families.

Developer Notes:

A Malaysian public-listed developer, S P Setia Berhad made its mark locally having influenced the skyline of several Malaysian states.

They didn't stop there however. Through years of consistency and dedication, they expanded their reach to foreign markets – Vietnam, China, Japan, Australia, the United Kingdom, and of course, Singapore.

You might be familiar with two of their private development projects (in Singapore), Eco Sanctuary and 18 Woodsville.

Here's a brief history of the developer.

S P Setia started out with a humble beginning. Founded as a construction company in 1974, S P Setia eventually made its way to an IPO on Bursa Malaysia in 1993. Three years later, they shifted their core focus from construction to property development, a move which has seemed to bode well for S P Setia.

They have also been known to be a very charitable organisation – take for instance, their establishment of the Setia Foundation in 2000. This charitable trust has supported charities and underprivileged individuals in aspects like education and medical assistance, impacting numerous lives across Malaysia.

Setia Foundation has also stepped up its humanitarian aid to support Malaysian hospitals and frontliners in light of the Covid-19 crisis, donating over RM500,000 worth of medical equipment and supplies.

So while S P Setia might have launched a multitude of successful residential projects over the years, it is really the stories of their humanitarian efforts that speaks of the company's ethics and leadership.

To me, this is something that sets S P Setia apart from most other developers.
What this means for you
You might like Daintree Residence if you:
• Fancy a Close Proximity to F&B outlets:

Within a few minutes of walking, you'd find yourself either at the Bukit Timah Market & Food Centre, or spoilt for choice at the popular food chain belt further down Upper Bukit Timah Road.

• Appreciate a Tranquil Homestay:

Enclaved in an area surrounded by mostly low-rise buildings, residents here can expect a largely-tranquil lifestyle in Daintree Residence, save for the occasional noise disturbance from the adjacent Toh Tuck Road.
You might not like Daintree Residence if you:
• Prefer a Less Expensive Condo in the Area:

Despite having a more reasonable price point than other New Launches in the area, the price tag to stay here can be quite hefty for some. More affordable options would include Daintree Residence's immediate neighbours – High Oak Condominium or Terrene at Bukit Timah.

• Prefer More Accessibility to the CBD:

Journeys to central Singapore and the CBD would take quite a while, even if you travel by private transport via the PIE.
End of Review
Join our Telegram group for instant notifications
Join Now
Reuben