HDB Reviews

Ang Mo Kio Court Review: Unblocked Views Amidst Good Amenities
Sean
March 27, 2023

16

min read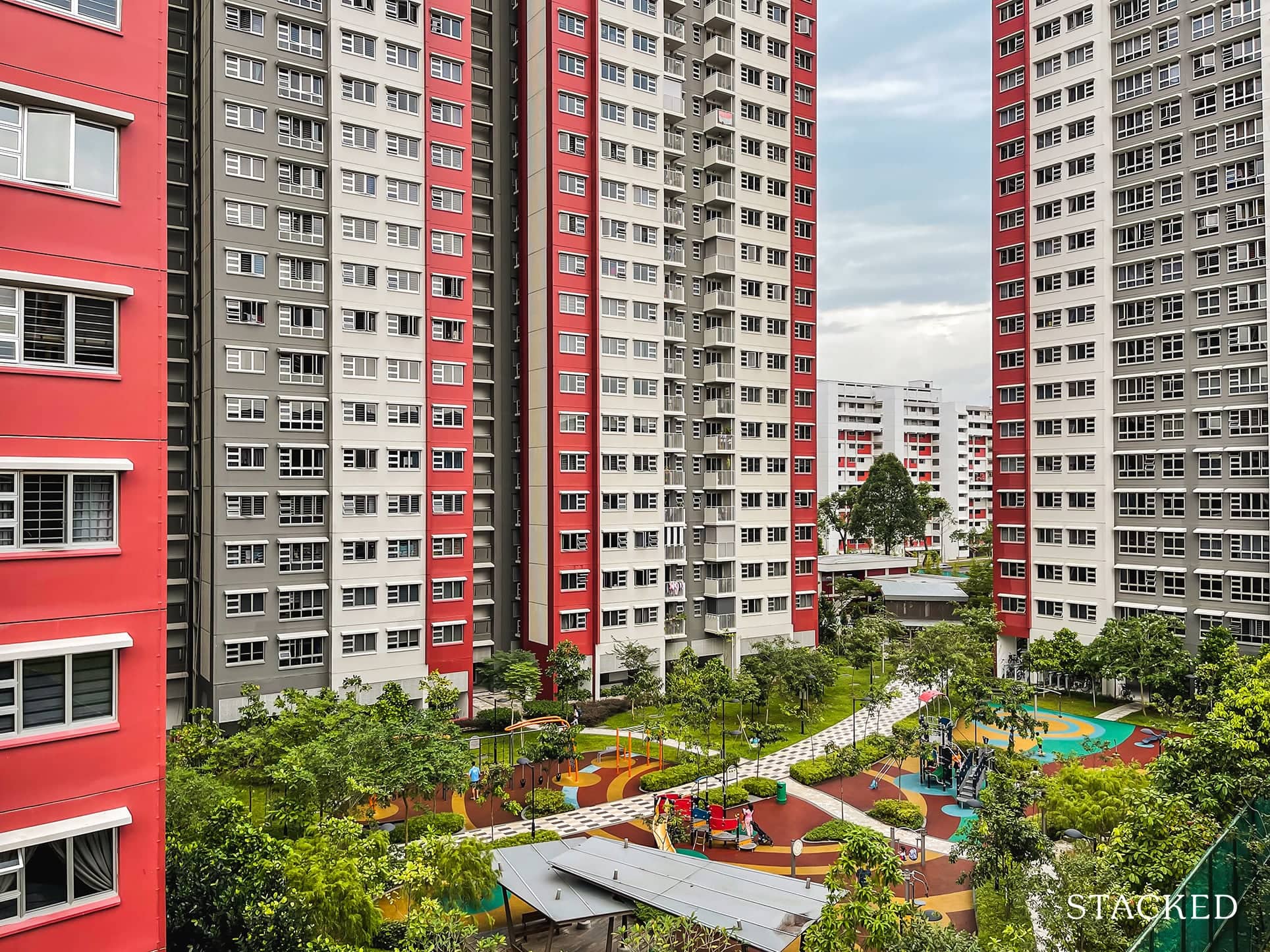 Reviewed by Sean on
What we like
Close to popular primary school CHIJ St. Nicholas

Great amenities

Bishan-Ang Mo Kio Park a 10-minute walk away

Unblocked views all around
16
min read
| | |
| --- | --- |
| Project: | Ang Mo Kio Court |
| HDB Town | Ang Mo Kio |
| Address: | Ang Mo Kio Street 23 |
| Lease Start Date: | Around 2020 |
| No. of Units: | 590 |
Ang Mo Kio Court was launched in the May 2016 BTO exercise – 3 years after the previous Ang Mo Kio launch (Kebun Baru Court). But given the rarity of an Ang Mo Kio BTO launch, this was naturally one that was very much in demand.
Beyond the limited supply of new HDBs in Ang Mo Kio, this project was also sought after due to its proximity to 3 primary schools (within 1 km). For parents with girls, you'd be very happy to know that one of them is the very popular CHIJ St. Nicholas Girls School!
Buyers were able to pick from quite a wide range of units too: 2-room flats, 4/5-room flats as well as 3Gen flats, and for a pretty central HDB, the sizes are not to be scoffed at too! 4-room flats here are above average at 96 sqm.
Combined with the plethora of amenities around, Ang Mo Kio Court is likely going to sell for upwards of $800K for a 4-room flat here – Kebun Baru Court is already transacting at this amount.
So if you're going to be spending a pretty penny on this development, let's take a tour to see whether this place is a right fit for you!
PS: For those who are interested to see what a unit inside looks like, check out our insider tour series of a 5-room flat below:
Ang Mo Kio Court Insider Tour
Ang Mo Kio Court has two entrances: one at Ang Mo Kio Street 22, and another at Ang Mo Kio Street 23. Having two points of entry makes this quite convenient for residents as it reduces any traffic build-up during peak hours, and also gives residents a faster point of access to either street.
Upon entering, you're greeted by the name of the development on the wall.
While this is hardly going to have any effect on your purchasing decision, I can't help but feel that it doesn't seem like the kind of design that modern HDBs would have. Be it the colour, or the design, it does look a little old-fashioned to me.
And since we are on the topic of colour, I'm not the biggest fan of the shade of red used for the painting of the blocks. Again, this wouldn't be a dealbreaker, and I suppose the choice of colour is always subjective!
Heading in, you'll find that there are two drop-off points in the development, one between blocks 228A and 228B, and the second at block 228, where the precinct pavilion is located.
Given that there are only three blocks in the development, both drop-off points allow residents to reach their lobby quickly, which is great.
Both drop-off points have sheltered walkways throughout the development, which is especially useful during rainy weather.
But what's even better is that the drop-off point between blocks 228A and 228B also has a sheltered walkway to the shops and eateries across the street! That's really convenient, especially with the kind of weather we are having.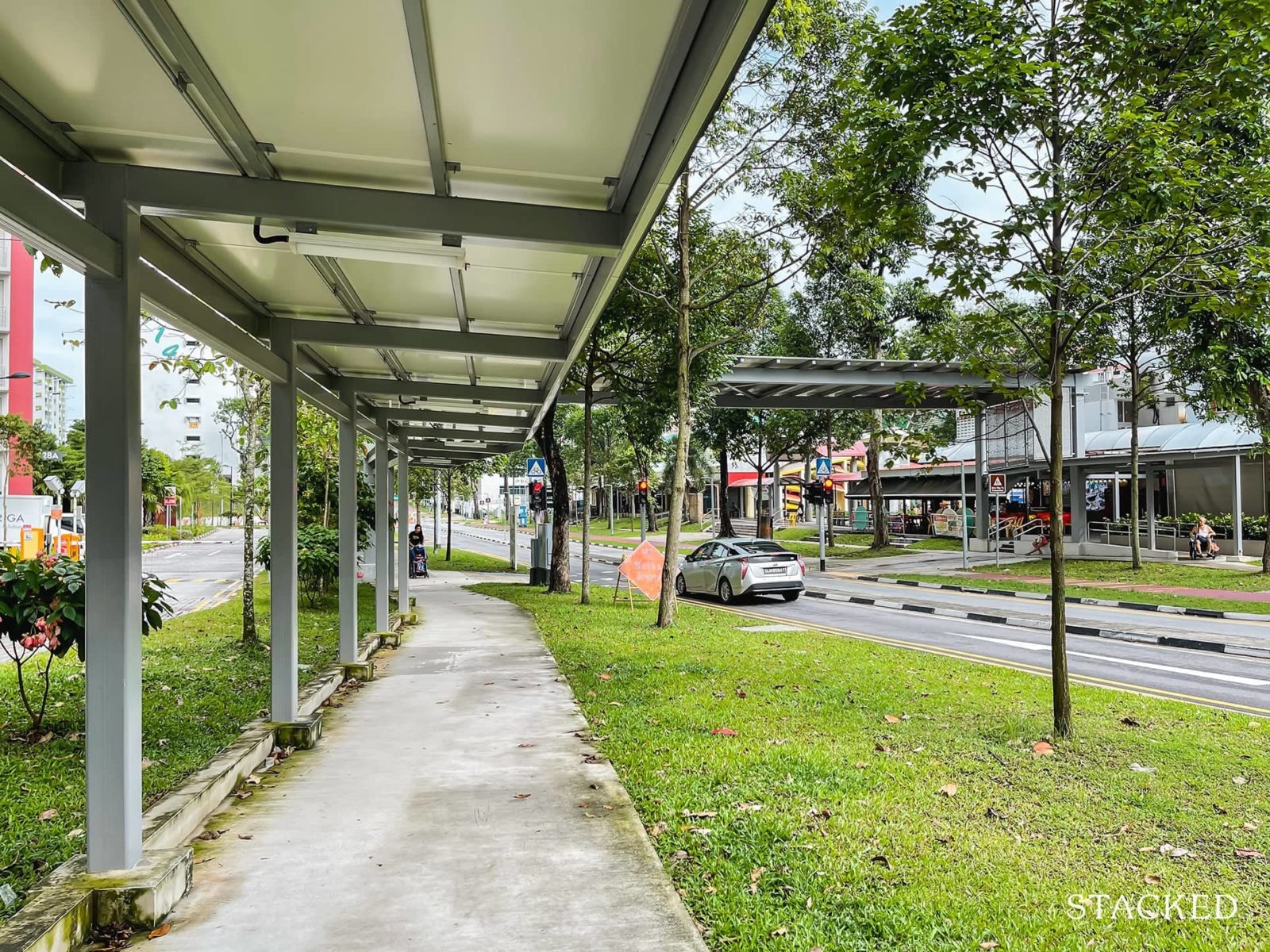 Not every HDB has commercial units below that cater to the daily needs of residents, so having a sheltered walkway to amenities is surely a plus!
The first drop-off point looks like it can fit one car under its shelter, which is good enough for a development of this size.
Like many other new HDBs, there has been an increased effort to spruce up the landscaping around the estate. The lush greenery used at the roundabout makes the drop-off point a rather welcoming one.
There are also two benches here which are great for those waiting for their pickup, although they don't look too comfortable.
The second drop-off point is quite similar, except for the bench seating that faces the roundabout instead. It's very spacious and well-ventilated, making it a comfortable waiting area.
Right next to the second drop-off point is the precinct pavilion. Having a precinct pavilion here makes it very convenient for first-time visitors as it would be easy to find.
Its location at the southeast corner of the development does put it some distance away from the residential blocks, however, stacks 29 and 31 may still be affected by the noise coming from here given its direct facing.
Generally, the pavilion is well-ventilated and spacious, but it can be a little dark during the day as the ceiling here isn't particularly high. However, there are only lights here and no fans. This is not an issue since event organisers can provide them as needed.
Moving on to the car park, it is your typical multi-storey (6 storeys) one, which makes it bright, well-ventilated, and spacious.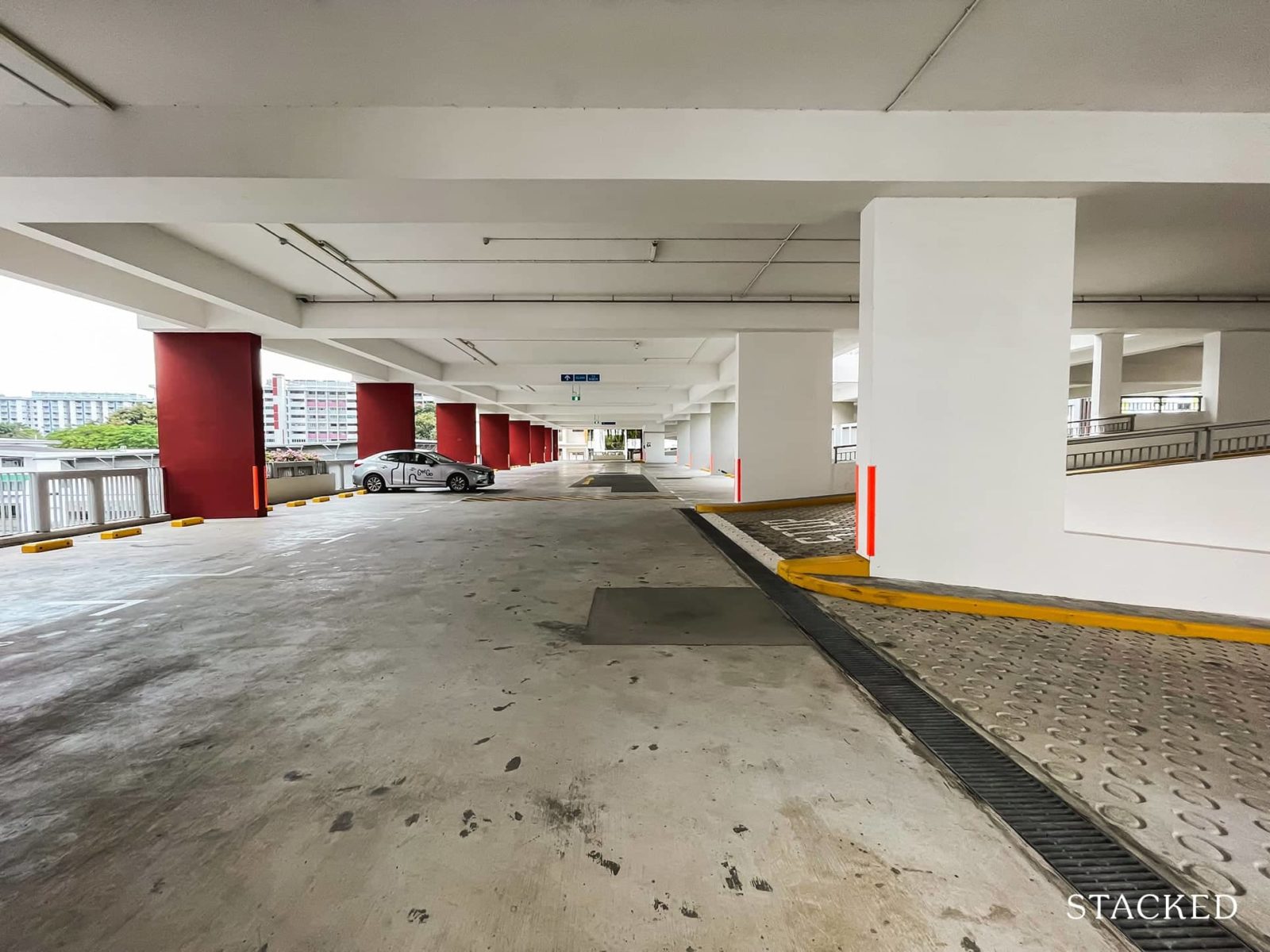 The car park design sports a neutral white/grey tone with red accents, which is consistent with the theme of the development.
There are two exits and one entrance to the multi-storey car park, and at the time of my visit, there were quite an ample number of lots here as level 4 onwards was mostly empty.
As a resident who drives, you'd be pleased to know that getting season parking wouldn't be a problem here. For the month of March, there were still over 100 lots available.
Next, let's head up to the rooftop to check out the rooftop garden!
Stepping out onto the rooftop garden, you'll see that it has some nice greenery and is well-kept. It's also quite a decent size, sporting quite a number of seating areas.
From here, you can see that some units face the MSCP directly. These tend to be the most undesirable stacks in any HDB due to the unsightly nature of any MSCP. Besides the less-than-inspiring views, residents here would be exposed to the sounds of tyres screeching, car doors slamming and headlights potentially shining into the opposite units.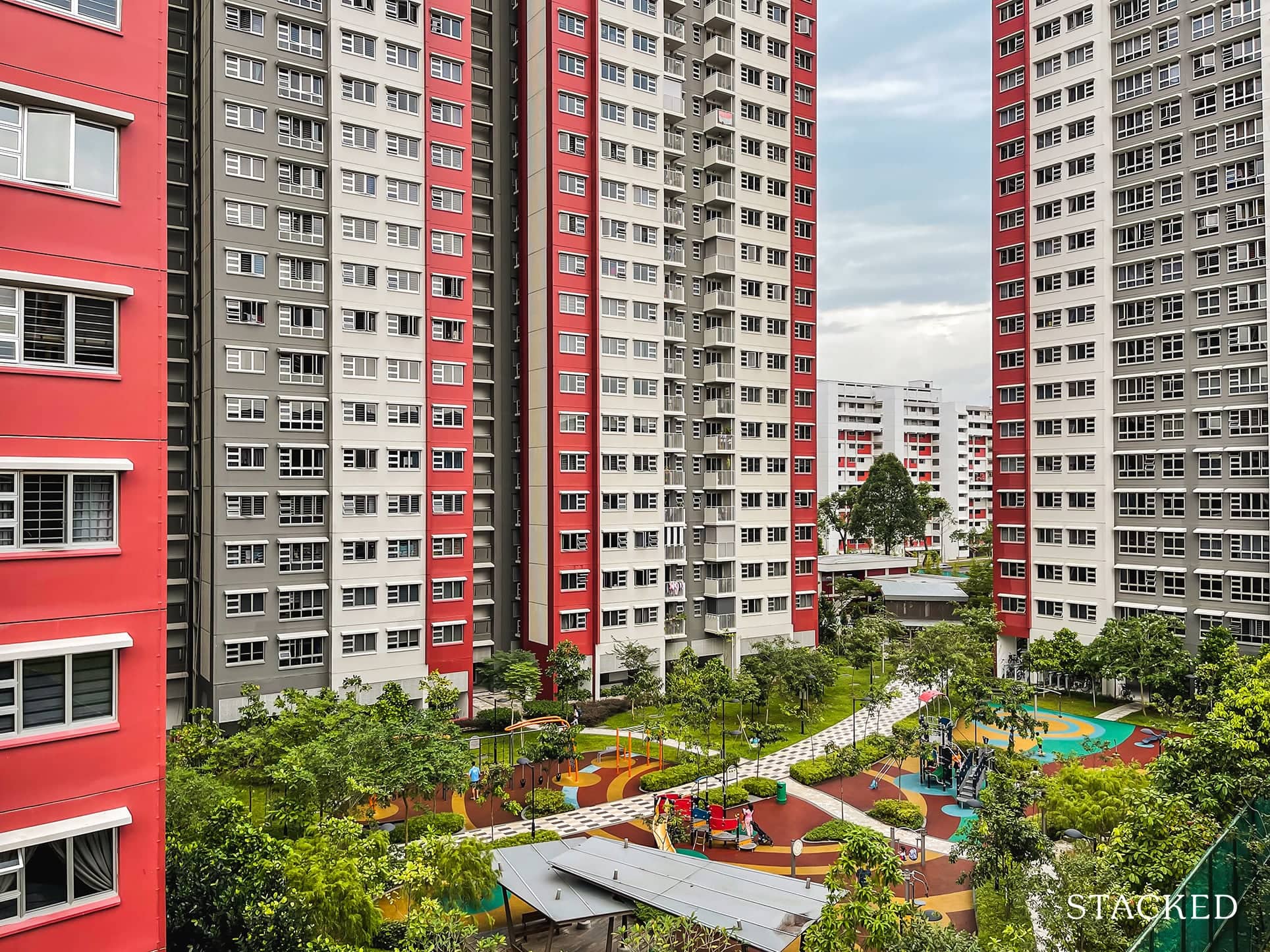 To make things more convenient, the rooftop garden was connected with the neighbouring block via a link bridge.
I wished that there were more link bridges here since this would mean extra convenience for residents parking on higher floors so they won't need to head back down to go home. Personally, for me, this could be a make or break depending on how solid the other factors are for the development.
Now let's talk about the common corridor layout:
Needless to say, the position of your unit within the corridor layout matters – a lot. Naturally, corner units are the best – you won't need to share the common space outside. In this case, the best unit is unit 21 in the above layout. There's no reason for anyone to approach your home since there are no other units there. Moreover, it's close to the lift yet far enough from the rubbish chute but not too far that it's inconvenient.
Stack 35 is the least desirable in my opinion. Many owners would pass by your home, the service yard faces the common corridor which reduces privacy, and the biggest concern is that the unit is just next to the rubbish disposal point. This increases the odds of pests coming into the home, and many residents would be visiting your corner almost every day.
Inside the block, you'll find the common corridors to be very spacious, bright, and well-ventilated.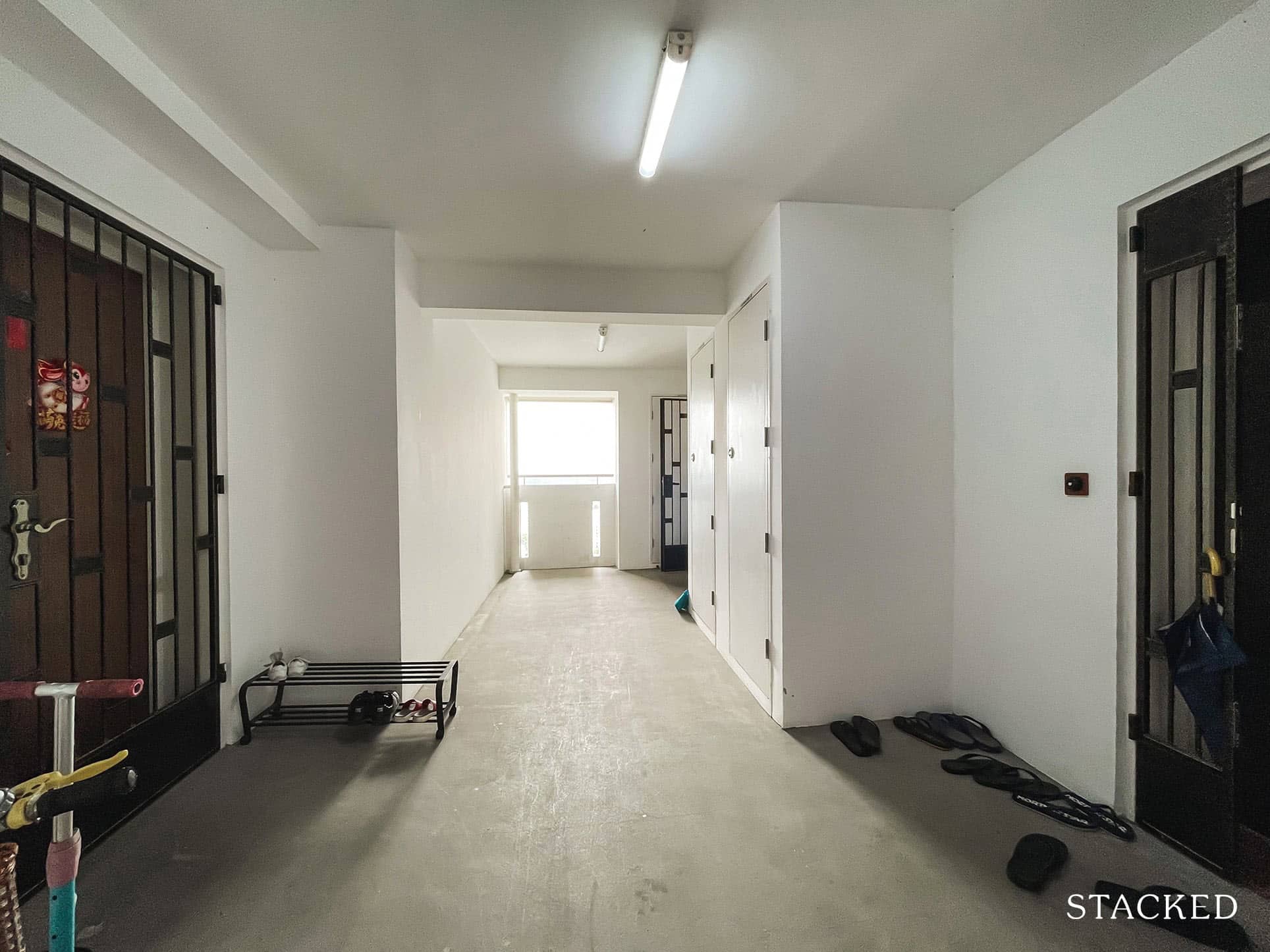 Each unit has a good amount of space outside, which really helps when you need to leave things like your shoes outside. Units along the corridor have a good distance between them, so there's definitely no gate that would be clashing against each other while affording residents space to put useful things like a shoe rack.
Again, the best units here go to the corner units due to the amount of privacy and common area space.
There's one recycle bin and one regular waste disposal chute, which is either next to the lift lobby or separated from the lift lobby by the staircase.
However, it can be considered some distance away from some units – those that are past the common corridor.
For such residents, going to throw the trash may be slightly less convenient than for those whose units are just outside the chute. The benefit here is that they're less likely to get pests, though it shouldn't be an issue compared to those with chutes within the unit.
The lift lobby area has 3 to 4 lifts servicing 5 – 10 units, depending on the block. It is very spacious, modern, and nothing out of the ordinary. Considering it's only up to 27 storeys high, we don't anticipate the wait times to be too long here.
Depending on how high you are, you can also get a glimpse of the decent unblocked views here, which is a definite plus for those who value a good view.
Now, let's check out the facilities that Ang Mo Kio Court has to offer!
There are two playgrounds and three fitness corners in total, making it sufficient for this cluster. The facilities are well spread out from each other, and the surrounding area doesn't feel very dense at all given how open the space is. There are also sheltered seating areas for parents to sit and watch over their kids while they play.
Parents would be happy to know that both playgrounds have a different theme, catering to different age groups.
The first one is very colourful and features some climbing structures. These look like they're for younger kids who enjoy exploring and climbing.
The second area looks more suitable for older kids as the obstacles seem more advanced to tackle. Nevertheless, these are always important facilities for families to have to keep the young ones entertained.
Also, as someone who is more risk averse, I'm happy to report that the facilities are not situated nearby any roads to reduce the possibility of accidents happening.
Finally, as with most HDBs, Ang Mo Kio Court also features some fitness equipment.
The first fitness area houses pretty standard fare and is quite well spread out.
The second one looks more interesting and could actually make sense for those looking for a tougher workout.
Overall, I would say that the facilities provided here are very decent for a 590-unit HDB. But if you've read to this stage, you've probably realised that it's missing out on 2 important things: a childcare centre as well as commercial units for daily necessities.
Editor's Note (31 Mar 2023): There is a childcare centre located at block 227.
Given the estate's maturity though, we really wouldn't worry about it – so let's look into that in our location review!
Ang Mo Kio Court Location Review
Ang Mo Kio is definitely a very sought-after estate to live in and there are quite a number of reasons why this is so.
For starters, there's the Kebun Baru Market and Food Centre and a coffee shop just opposite. The best part is that it's connected directly to Ang Mo Kio Court via a sheltered walkway, so residents can easily grab something to eat even during a rainy day.
The area also houses a supermarket, a wet market, and several miscellaneous shops for basic necessities.
Up north, there's also a Sheng Siong supermarket at block 122 Ang Mo Kio St 12 which is about an 8-minute walk away.
And for those who love taking a walk in the park, you'd be glad to know that Bishan-Ang Mo Kio park is just under a 10-minute walk away!
There's also the Ang Mo Kio Park Connector close by, so residents can hop onto the network quickly for some recreational fun.
That being said, Ang Mo Kio Court isn't near any shopping malls, so if more varied dining and shopping options are important to you, this would be a downside to note.
Finally, those with young ones would be happy to learn that there are 5 preschools within walking distance:
A quick check on these preschools reveals several vacancies within 1 year, which sounds bad but this is much better than not having any vacancies at all which is quite commonplace.
Overall, I would say that the location is quite positive given the numerous amenities around which is probably what you'd expect of any mature estate.
Public Transport
| | | |
| --- | --- | --- |
| Bus station | Buses Serviced | Distance From HDB (& Est. Walking Time) |
| 'ANG MO KIO PR SCH (54229)' | 76, 132, 165, 166, 169, 265, 268, 268C, 269, 269A, 652 | 50m (1 min walk) |
Closest MRT: Mayflower MRT (Thomson-East Coast Line) – about a 7-minute unsheltered walk depending on the block you stay in. This may not be considered within walking distance to some, but it's a comfortable amount of time to reach an MRT.
Editor's Note 28 March 2023: A resident reached out to inform us that the walk to the MRT is a lot shorter cutting through the open-air car park.
There's also Ang Mo Kio MRT which is about a 22-minute walk. By bus, this is reduced to around 11 minutes including the walk to the bus stop.
In terms of bus connectivity, residents would be able to reach the CBD, Clementi, Hougang, and even up north – Yishun, Woodlands, and Sembawang.
Unlike several HDBs I've reviewed, Ang Mo Kio Court disappoints here in that the walk to the bus stop isn't sheltered. This creates greater inconvenience during wet weather if you don't happen to have an umbrella. Frankly, I'd have preferred a sheltered link to transport, rather than to food!
Private Transport
| | |
| --- | --- |
| Key Destinations | Distance From HDB (& Est. Peak Hour Drive Time) |
| Raffles Place | 13.2 km (20 mins drive) |
| Orchard Road | 11.3 km (18 mins drive) |
| Suntec City | 12.7 km (19 mins drive) |
| Changi Airport | 23.8 km (34 mins drive) |
| Tuas Port | 40 km (58 mins drive) |
| Paya Lebar Quarter | 10.2 km (16 mins drive) |
| Mediapolis | 12.4 km (23 mins drive) |
| Mapletree Business City | 14.2 km (27 mins drive) |
| Tuas Checkpoint | 36.3 km (52 mins drive) |
| Woodlands Checkpoint | 18.1 km (28 mins) |
| Harbourfront Cluster | 17.2 km (25 mins) |
| Punggol Cluster | 10.3 km (20 mins) |
Source: OneMap. Based on driving times during peak hours.
Immediate road exit:
Ang Mo Kio Street 22, Ang Mo Kio Street 23

Summary:
Drivers can easily connect to the CTE to go straight to the CBD via Ang Mo Kio Avenue 1. From the CTE, drivers can transfer to the PIE to quickly reach Changi Airport too.
Groceries
| | |
| --- | --- |
| Name of Grocery Shop | Distance from HDB (& Est Time) |
| Sheng Siong | 8-minute walk (650m) |
Schools
| | |
| --- | --- |
| Educational Tier | Number of Institutes |
| Preschool | 3 |
| Primary School (Within 1KM) | 3 |
| Secondary School | 3 |
| Junior College | 2 |
| Other Tertiary Institutes | 1 |
| | |
| --- | --- |
| School | Distance From Condo (& Est. Walking Time) |
| My First Skool | 700 m (8 mins walk) |
| PCF Sparkletots Preschool @ Kebun Baru | 800 m (9 mins walk) |
| Sunflower Kinderhub @ AMK LLP | 1 km (11 mins walk) |
| Ang Mo Kio Primary School | 0.5 km (5 mins walk) |
| CHIJ St. Nicholas Girls' School | 1.5 km (18 mins walk) |
| Mayflower Primary School | 1.8 km (21 mins walk) |
| Ang Mo Kio Secondary School | 0.4 km (4 mins walk) |
| Mayflower Secondary School | 0.6 km (7 mins walk) |
| Peirce Secondary School | 1.3 km (15 mins walk) |
| Eunoia Junior College | 1 km (12 mins walk) |
| Anderson Serangoon Junior College | 2 km (17 mins via bus) |
| Nanyang Polytechnic | 2 km (18 mins via bus) |
Ang Mo Kio Court Site Review
From my tour here, it's apparent that Ang Mo Kio Court feels very spacious even if it didn't look like it on the site plan.
The development features wide paths lined with greenery that meanders through the common grounds. And despite the towering 27-storey structures around, you wouldn't feel caved in here.
This is due to the wide amount of space between each building. For example, block 228A is just next to the main facilities area, but it's a good 40+ metres away from the low-rise Ang Mo Kio Primary. Blocks 227A and 228B are also around 60+ metres apart.
Inside the blocks, you'll also find numerous seating areas for people to rest and chit-chat. There's nothing particularly special about this, but you may be surprised to learn that not every HDB development has them.
These honestly don't look very comfortable though, but that could be a deliberate decision both in terms of cost and also to discourage people from lounging for too long.
Unit Mix
| | | | | | | | |
| --- | --- | --- | --- | --- | --- | --- | --- |
| Block Number | Storeys | 2 Room (Type 1) | 2 Room (Type 2) | 4 Room | 5 Room | 3Gen | Total |
| 227A | 27 | 52 | 104 | 104 | | | 260 |
| 228A | 23/27 | | | 78 | 70 | 52 | 200 |
| 228B | 27 | | | 52 | 78 | | 130 |
| Total | | 52 | 104 | 234 | 148 | 52 | 590 |
Ang Mo Kio Court Stack Analysis
Ang Mo Kio Court goes up to 27 storeys high, and while this isn't anywhere near the tallest HDBs (40-50 storeys high), it's relatively tall given it's surrounded by low-rise HDBs.
Therefore, anyone who stays above these older flats would have some sort of unblocked view. The question is just how good the unblocked view is.
South-facing stacks would get a good view of the BIshan-Ang Mo Kio Park plus the CBD beyond. You can also see the Upper and Lower Peirce Reservoir and the Bukit Timah area. This is personally my favourite view, however, it does mean you'll be facing the main road too which is noisier.
North-facing units from levels 11 and above can overlook the low-rise Ang Mo Kio Primary to see all the way to Sembawang/Malaysia.
On the west side, high-floor units here will get an unblocked view of the Upper and Lower Peirce reservoirs and the landed estate opposite. There's only one stack that has a slight west facing which is stack 37. This stack receives the afternoon sun for about a quarter of a year.
Finally, east-facing units on high floors will get an unblocked view of the Serangoon area.
All of the stacks here have a pretty good distance to the next building. You'll also notice that none of the stacks directly faces another unit within the same development given how it's laid out. However, do bear in mind that stacks 05 and 07 face the MSCP directly.
Ang Mo Kio Court Layout Analysis
Those who wish to see the 3D tour of these units can visit this official link by HDB.
2-Room Flexi Type 1 (38/36 sqm)
| | |
| --- | --- |
| Pros | Cons |
| Living and bedroom window walls are aligned. | Long walkway entrance |
| Spacious kitchen, 2 sided cabinet can be built. | Living/dining is pretty tight |
| Good privacy as the door doesn't open up to the living or dining area | |
2-Room Flexi Type 2 (47/45 sqm)
| | |
| --- | --- |
| Pros | Cons |
| Living and bedroom window walls are aligned. | Long walkway entrance |
| Spacious kitchen, 2 sided cabinet can be built. | Living/dining is pretty tight |
| Good privacy as the door doesn't open up to the living or dining area | |
4-Room Flat (93/96 sqm)
| | |
| --- | --- |
| Pros | Cons |
| The unit layout is well laid out and efficient. | Short TV wall |
| Common bedrooms can fit a queen-sized bed while the Master bedroom can fit a king-sized bed. | |
| Separate living and dining area | |
| Decent-sized kitchen, ample space to do cabinets along the perpendicular walls. | |
| The service yard layout allows for a dryer and washer on both ends | |
5-Room Flat (113/116 sqm)
| | |
| --- | --- |
| Pros | Cons |
| All rooms can fit a queen bed minimally. The Master bedroom can fit in a King bed. | The main door opens up straight to the living and dining area (which lacks privacy) |
| Good service yard layout allows for a dryer and washer on both ends | Structural column between living and 1st common bedroom |
| Spacious living/dining area | Kitchen cabinets can be put on only one side of the kitchen |
3Gen Flat (120 sqm)
| | |
| --- | --- |
| Pros | Cons |
| Dumbbell layout with two spacious ensuite bedrooms | The main door opens up straight to the living and dining area (which lacks privacy) |
| All rooms can fit a queen bed minimally. Both master bedrooms can fit a king bed. | Structural columns between bedrooms make it hard to achieve an open-concept home |
| 2 sided cabinets can be built in the kitchen | |
Our Take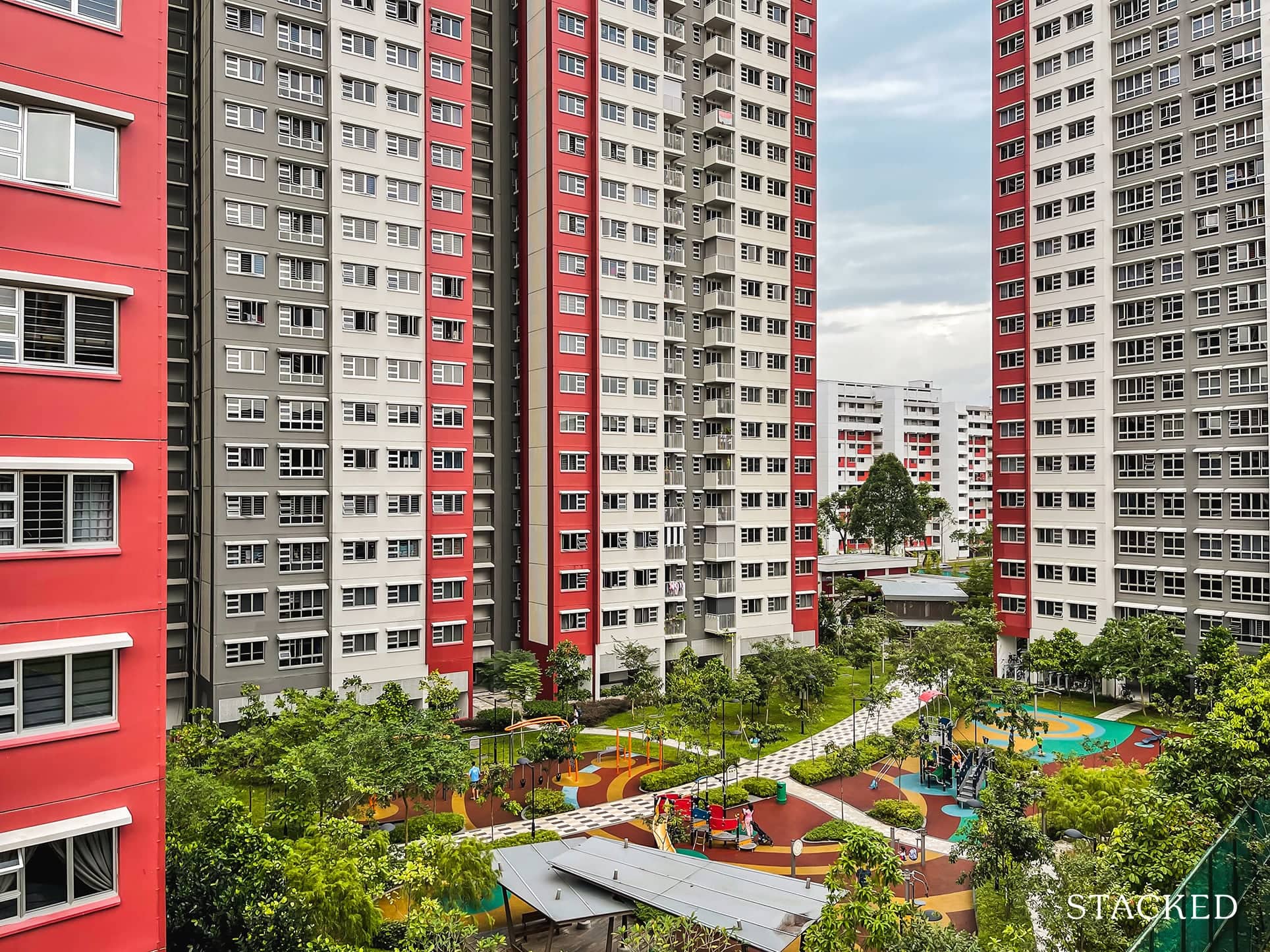 Overall, Ang Mo Kio Court seems like a great development for those looking to stay in a young and modern HDB flat. Its facilities are sufficient and the development feels quite spacious.
Given it rises up to 27 storeys, many residents here can enjoy an unblocked view of the city too.
In addition to that, no block faces each other directly and there is a good distance between each block and the opposite building.
Amenities-wise, residents have plenty to choose from despite not having commercial units within the development. There's also a sheltered walkway there which makes the journey very comfortable.
There's also the Ang Mo Kio Park Connector which residents can use for recreation as well as the sprawling Bishan-Ang Mo Kio park that's perfect for the weekend stroll.
The downside here is the lack of an MRT within walking distance. For those who do not drive and rely a lot on public transport, perhaps Ang Mo Kio Court may not be for you unless you don't mind the more than 10-minute walk to the Thomson-East Coast Line. Otherwise, you'll find yourself taking the bus to the MRT quite often!
So should you consider staying in Ang Mo Kio Court? While pricing may not be out yet, you can expect 4-room flats here to be in the $800,000 – $900,000 range given its good location and large size. This is the case for the recently-MOP HDB Kebun Bahru Court.
For this amount of money, you would have plenty of other options, so it'll really boil down to whether this location is important to you!
The good thing is that Ang Mo Kio has a limited number of modern HDB flats. Like Bishan, the estate is more or less built-up, so unless the government starts announcing SERS like crazy for all the other old HDB blocks around, buyers would only have a limited supply of new-ish Ang Mo Kio flats to choose from which helps to stabilise its pricing.
What this means for you
You might like Ang Mo Kio Court if you:
• Want an unblocked view:Those staying on higher floors can easily get an unblocked view on all sides.
• Want to be near amenities:While it doesn't have a major mall nearby, the maturity of Ang Mo Kio means plenty of basic amenities nearby for residents staying here.
You may not like Ang Mo Kio Court if you:
• Want to be close to an MRT:Mayflower MRT is not within walking distance and Ang Mo Kio MRT is even further. Those relying on the MRT may want to consider elsewhere.
• Are on a budget:While there's no transaction to reference, flats here will be within the top percentile of most expensive flats. Expect 5-room flats to cross the million-dollar mark here.
End of Review