Condo Reviews

8 St Thomas Review: Freehold New Condo in River Valley
Sean
March 14, 2019

14

min read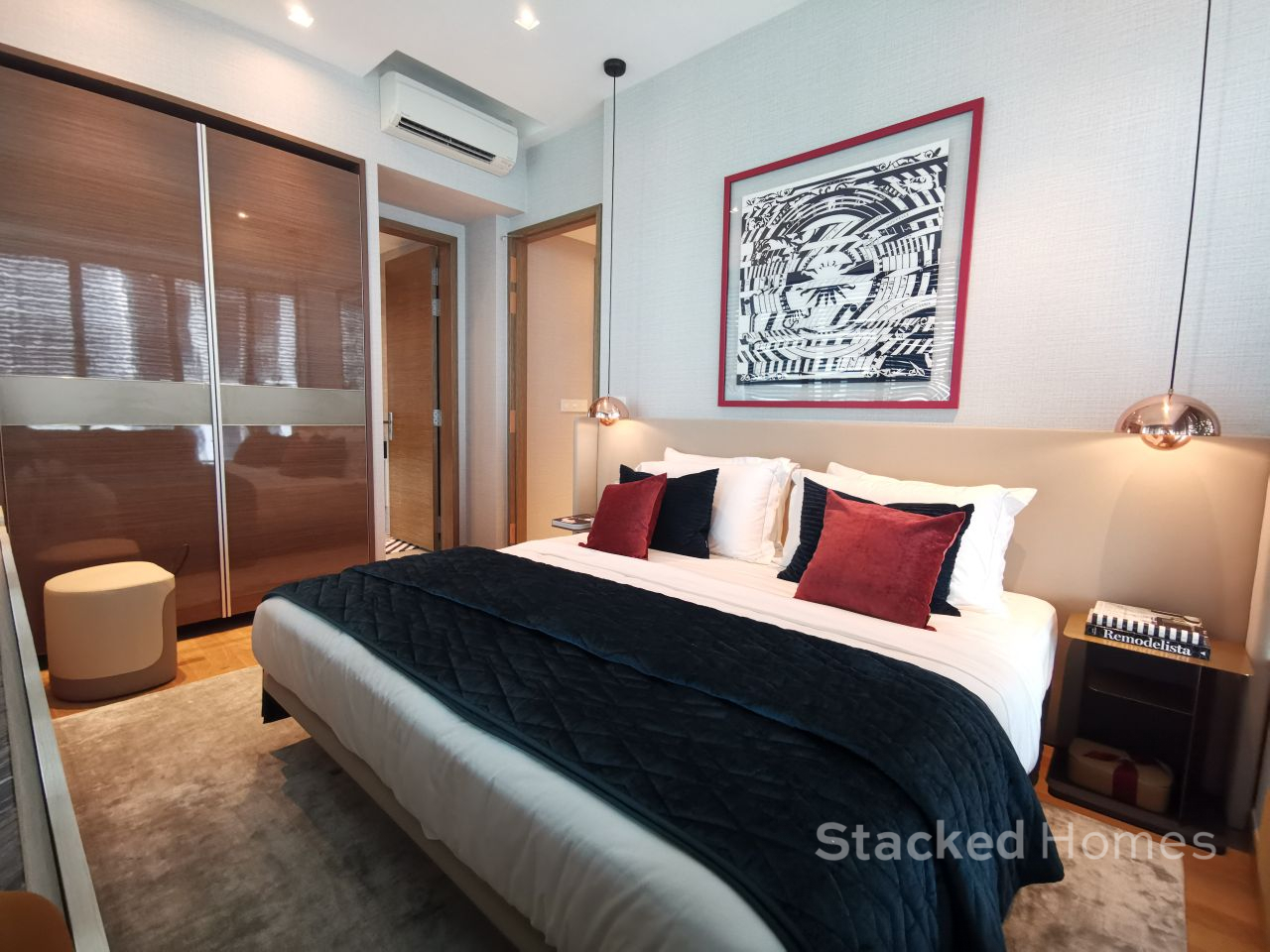 8 St Thomas is most suited for young couples and expats and those after a certain lifestyle. However, for bigger families that require more space there are better options out there.
Reviewed by Sean on March 14, 2019
What we like
Great location

Prestigious address

Close to food and amenities

Near 2 MRT lines

Reputable developer

Lovely swimming pool
What we don't like
—

PSF is a little high compared to surrounding developments

—

No standout touches for luxury development
14
min read
About this condo

| | | | |
| --- | --- | --- | --- |
| Project | 8 St Thomas | District | 09 |
| Region | Core Central Region (CCR) | Address | 8 and 10 St Thomas Walk |
| Tenure | Freehold | Site Area | 9,073.4 sqm |
| No. of Units | 250 units | Developer | Bukit Sembawang Estates |
If you are looking for a luxury condominium in River Valley, you will have a tough decision awaiting you, as the area is awash with tall modern condos dotting the landscape. However, if you have been driving on River Valley road the past few years you must have noticed two sleek towers being built along St Thomas Walk. If you didn't know already, 8 St Thomas is quite unique in that it was launched as a new development, and it was fully completed. This means once you have paid up the initial payments, you could actually move in right away. This is unlike many other new launches, in which progressive payments are involved and you will have to wait for 3 to 4 years for the development to be built. So if you are looking for a luxury new condominium in River Valley that you can move in right away, 8 St Thomas could be an interesting option for you.
8 St Thomas Review Location
8 St Thomas is located along St Thomas Walk, which leads in from the main River Valley road. In our opinion, it is the best location of all the condominiums at St Thomas Walk because it is the closest to the main road. Sure, you might get some road noise at the lower levels, but this allows for great accessibility to the upcoming Great World MRT station. Not to mention, the bus stop is right at your doorstep as well. Also, we are great fans of developments with multiple road entries, so you can also get to 8 St Thomas from Killiney road as St Thomas Walk is essentially a loop. This should ease traffic trying to get in and out during peak hours, as there are quite a number of developments on this stretch.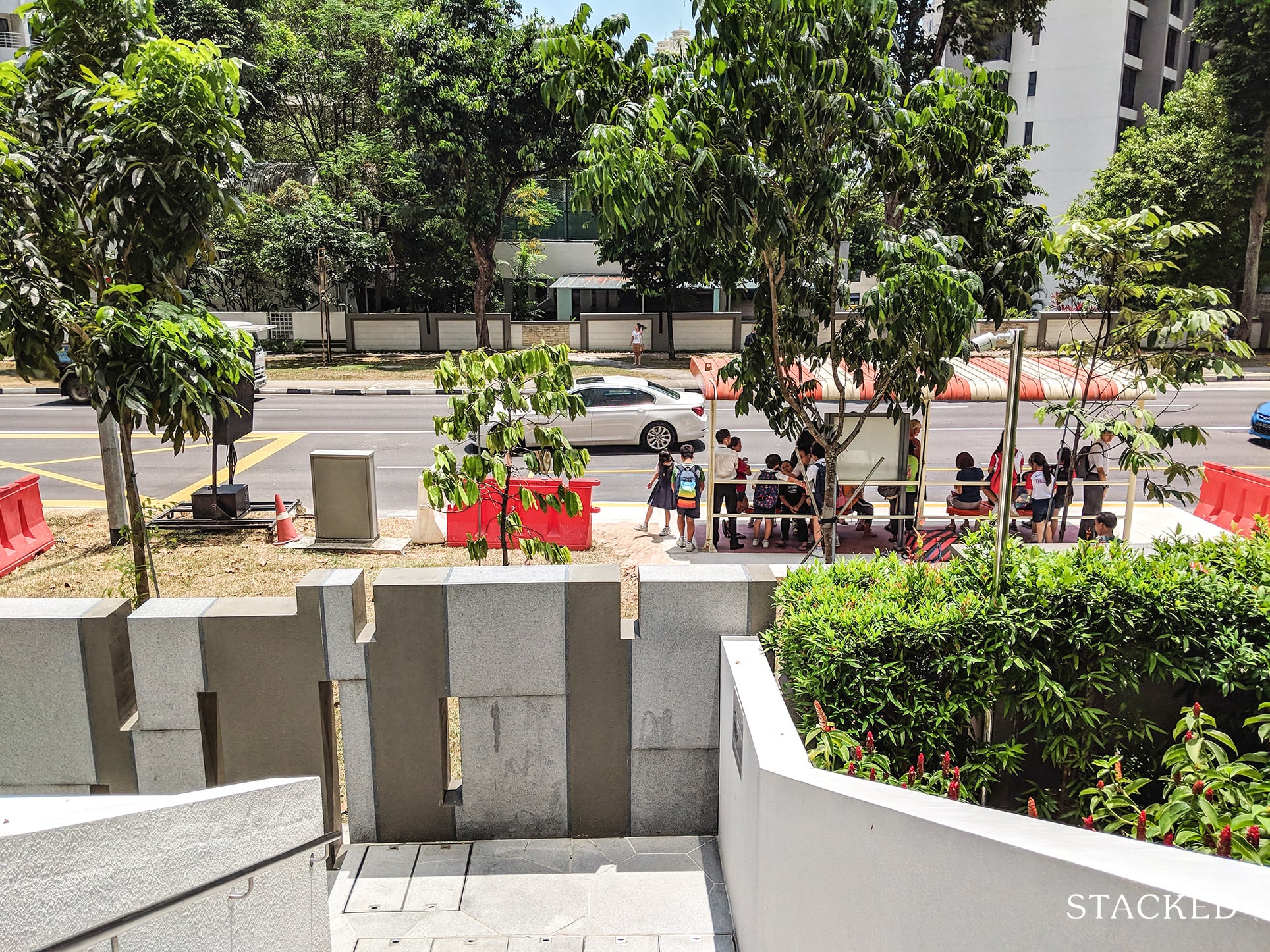 We think that most well-heeled buyers looking at this area would probably own a car, but even if you do not drive, the location of 8 St Thomas is really a major draw. As said earlier, the upcoming Great World MRT station is under a 5-minute walk. In addition, Somerset MRT station is about a 10-minute walk as well.
You are able to access both the North South line and the Thomson East-Coast line from this development.
This isn't as convenient as the Fourth Avenue Residences, but there aren't many condos that can boast of being located walking distance to two different MRT lines.
River Valley is a popular area because it has the convenience of being close to Orchard with less of the hustle and bustle, and it is also near the Robertson Quay area. So think of shopping trips to Orchard Road on a Saturday morning, followed by a lazy afternoon tea along Robertson Quay. If this is the kind of lifestyle you are after, then the River Valley location is certainly very ideal.
The whole length of Somerset shopping centres is in close walking distance, such as Orchard Central, Orchard Gateway, 313 @ Somerset and Mandarin Gallery. If you are too lazy to walk, Great World City is even closer by, and with its latest revamp it should be enough for a quick trip out (Cold Storage and Golden Village for movies).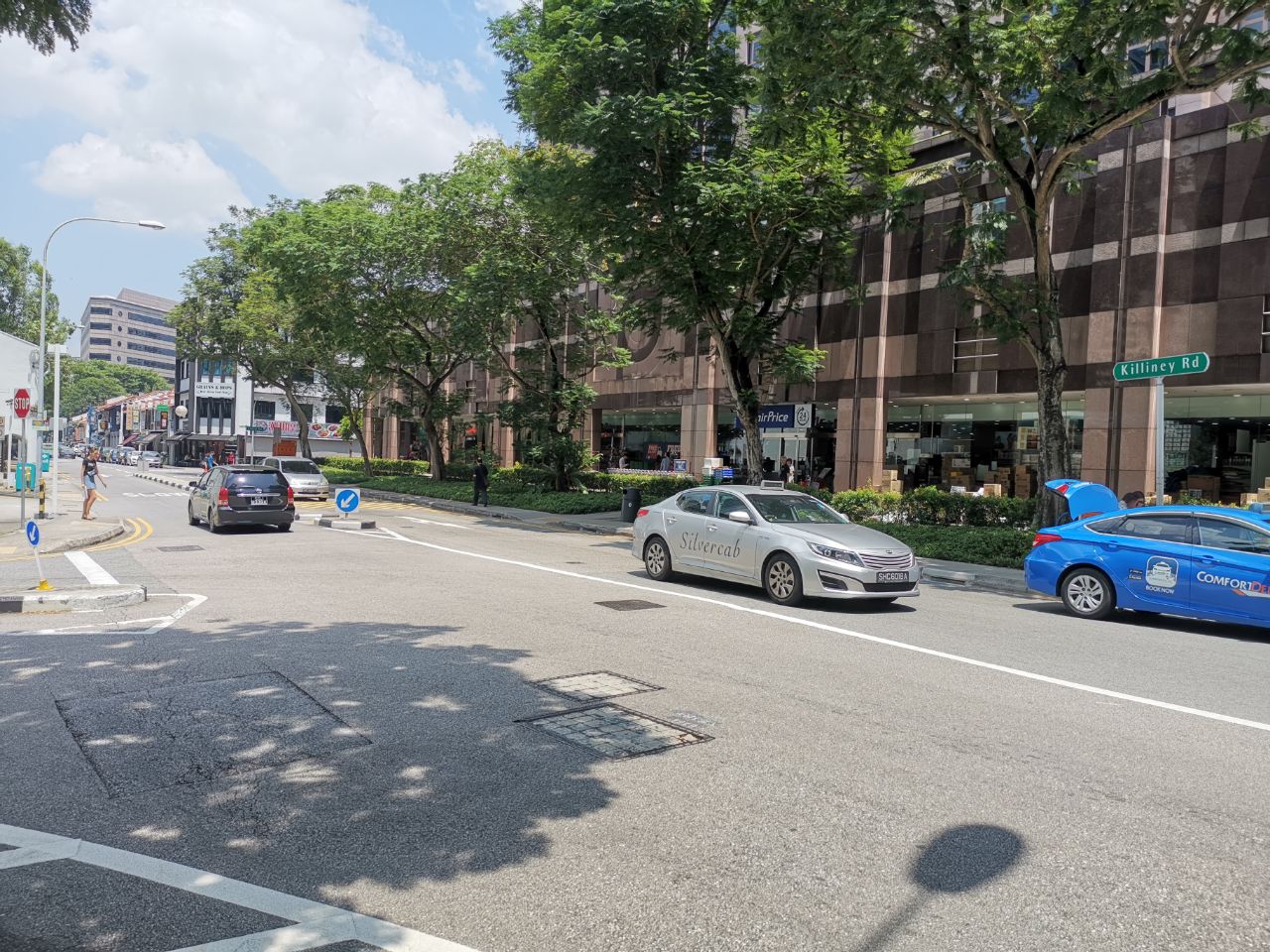 Situated closer to home, Orchard Grand Court has a 24-hour NTUC for your grocery needs and the shophouses at Killiney Road offers a variety of different cuisines. Plus the corner coffeeshop recently had a revamp as well and it is now 24 hours!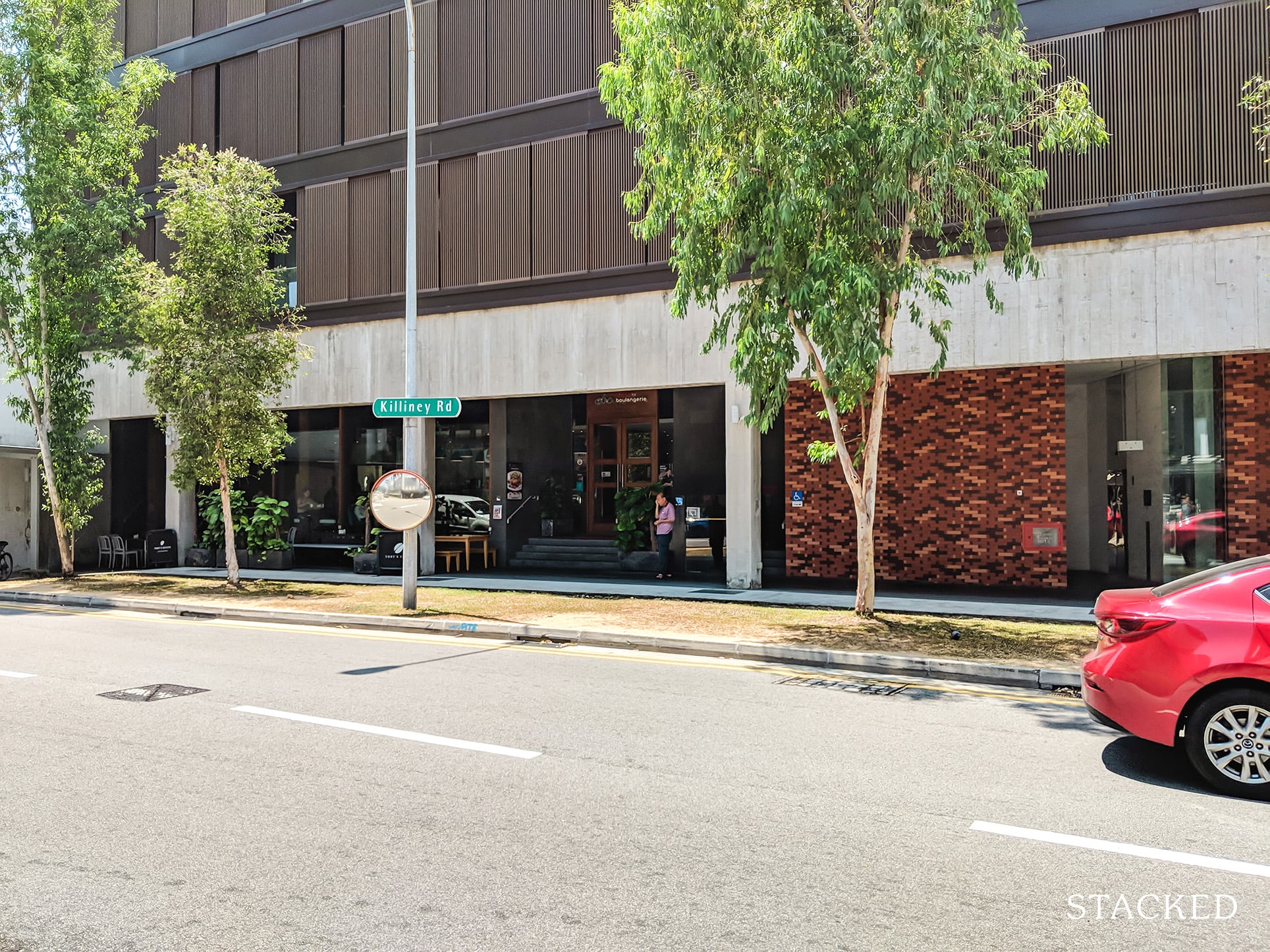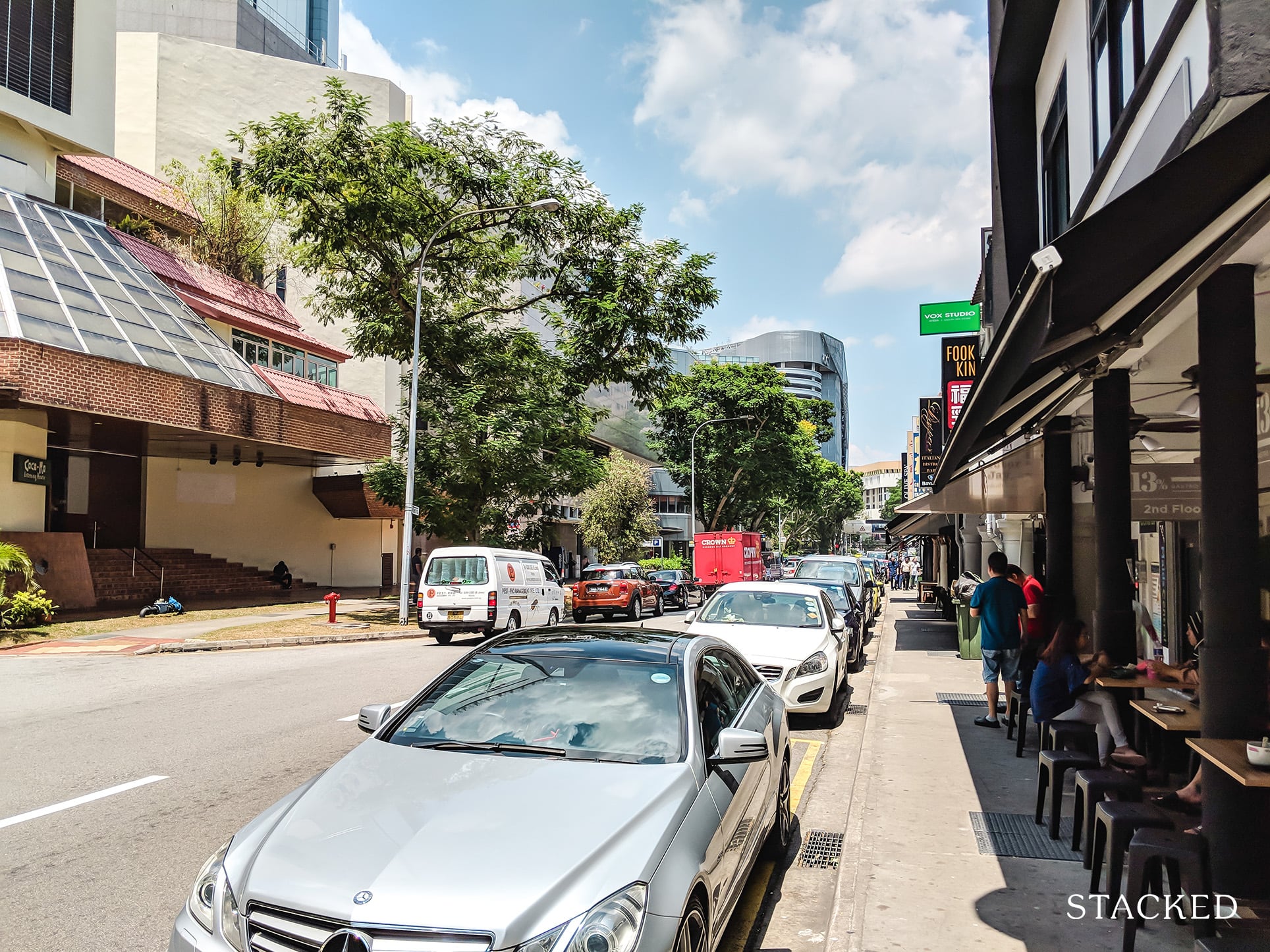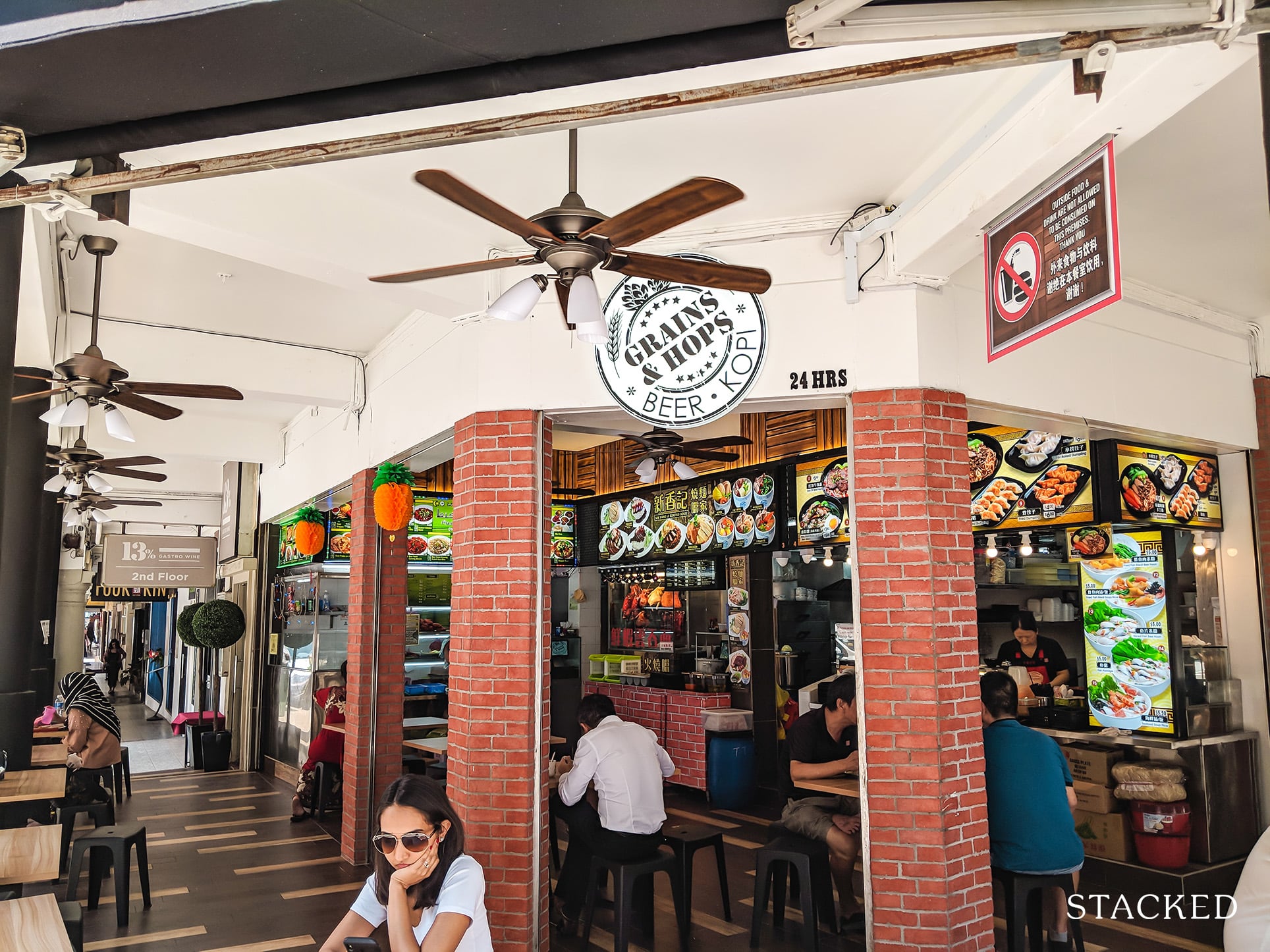 Lastly for schools nearby, you are quite covered there as well. River Valley Primary School is the closest at a couple of minutes' walking distance away. There is a Little Village Child Development Centre and Winchester Pre School a short drive away at Grange. Other schools nearby include Raffles Girls Secondary School, St Margaret's Primary School, Anglo-Chinese School, and Chatsworth International School.
8 St Thomas Review Development Site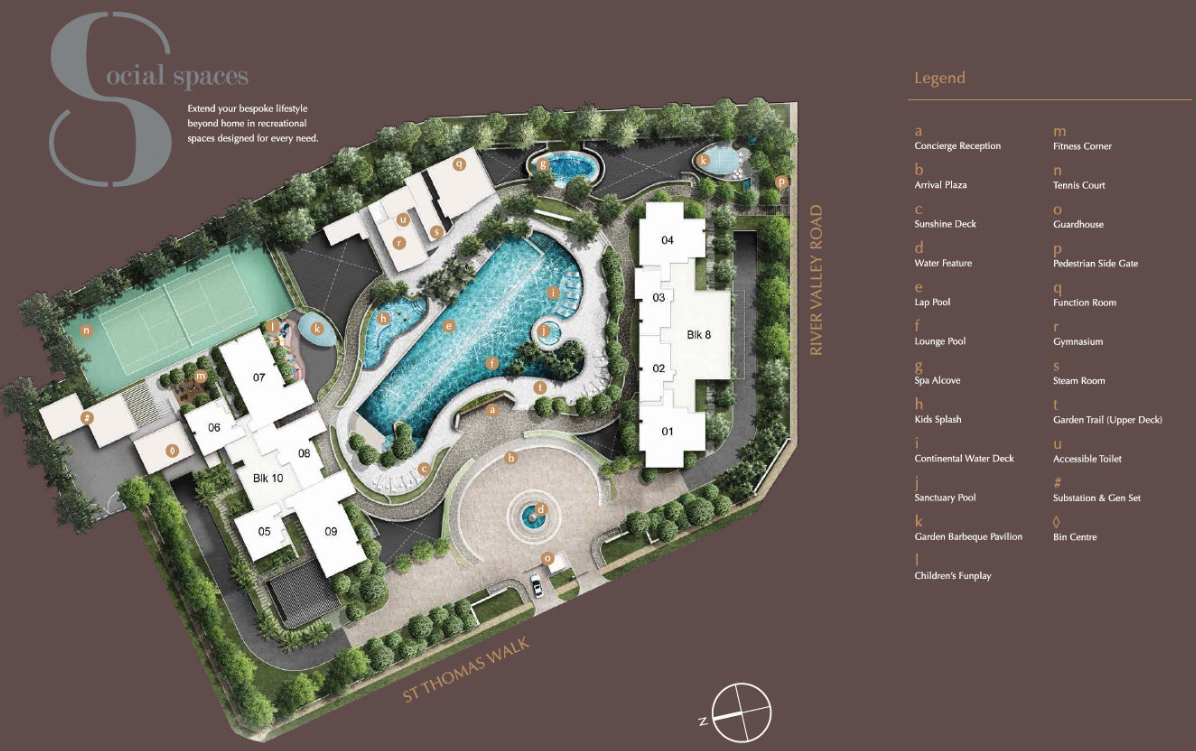 8 St Thomas was actually the site of two different developments previously, which is Airview Towers and Chez Bright. It was a smart move from Bukit Sembawang to wait to combine both sites together as the size is a lot more compelling.
Side Note: As this is a new development, we feel inclined to share a bit more about the developer, Bukit Sembawang. They were included in our list of top ten developers in Singapore, and if you look at their portfolio, it is quite clear that they have the experience and know-how into building a quality development no matter the location in Singapore.
As said earlier, the development is accessible from both River Valley Road and Killiney Road which is great. If you are driving out and have to turn right onto River Valley Road from St Thomas Walk, it could be quite a pain as you will have to watch out for traffic from both sides. This is where coming out from Killiney Road could prove to be very useful during peak hours.
Let's look at the breakdown of the unit mix:
Unit mix

| Unit Type | No. of Units | Size of Units (sqft) |
| --- | --- | --- |
| 1-bedroom | 39 | 441 – 517 sqft |
| 2-bedroom | 152 | 549 – 1,044 sqft |
| 3-bedroom | 81 | 1,141 – 1,302 sqft |
| 4-bedroom | 14 | 1,744 and 1,755 sqft |
| 4-bedroom dual key | 20 | 1,690 sqft |
| Penthouse | 2 | 2,422 and 2,659 sqft |
The main bulk of the units here are 3-bedroom and below, which is very much in trend with most developments nowadays. There is some flexibility here in terms of what you require, with even an option for a 4-bedroom dual key. Which is essentially a 3-bedroom unit with a separate bedroom to rent out for additional income. Or it could be an option to house a multi-generational family as well.
We have to say that the 2 penthouses here are rather underwhelming from what we have seen from the floor plan. Of course, at the highest levels, you do get the best views from the development, but at the increased PSF they are asking from the floor below it, the increase is not really justifiable from our viewpoint. Not especially when there is nothing special about the penthouse. So no private swimming pool, nor jacuzzi or even the private lift being able to access both floors. In our opinion, it is a missed opportunity to create a standout penthouse in District 9.
Insider Tour
Facilities in 8 St Thomas
Arrival Plaza
Sunshine Deck
Lap Pool
Lounge Pool
Spa Alcove
Barbeque Pavilion
Playground
Fitness Corner
Tennis Court
Function Room
Gymnasium
Steam Room
Garden Trail
Sky Terraces
Game Lounge
Serenity Deck
Yoga and Fitness Deck
Cocktail Lounge
Gourmet Dining
One thing that is unique to 8 St Thomas is the sky terraces that are interspersed between sections of the two towers. So from the first tower, there are Sky Gardens from level 2, 9, 16, 23 and 30. And from the second tower, they are at level 13, 21 and 29. Level 29 is particularly interesting because its a dining and entertainment area that you can book for your guests so if you can snag a unit on level 29 itself it is almost as if you have your own private entertainment area.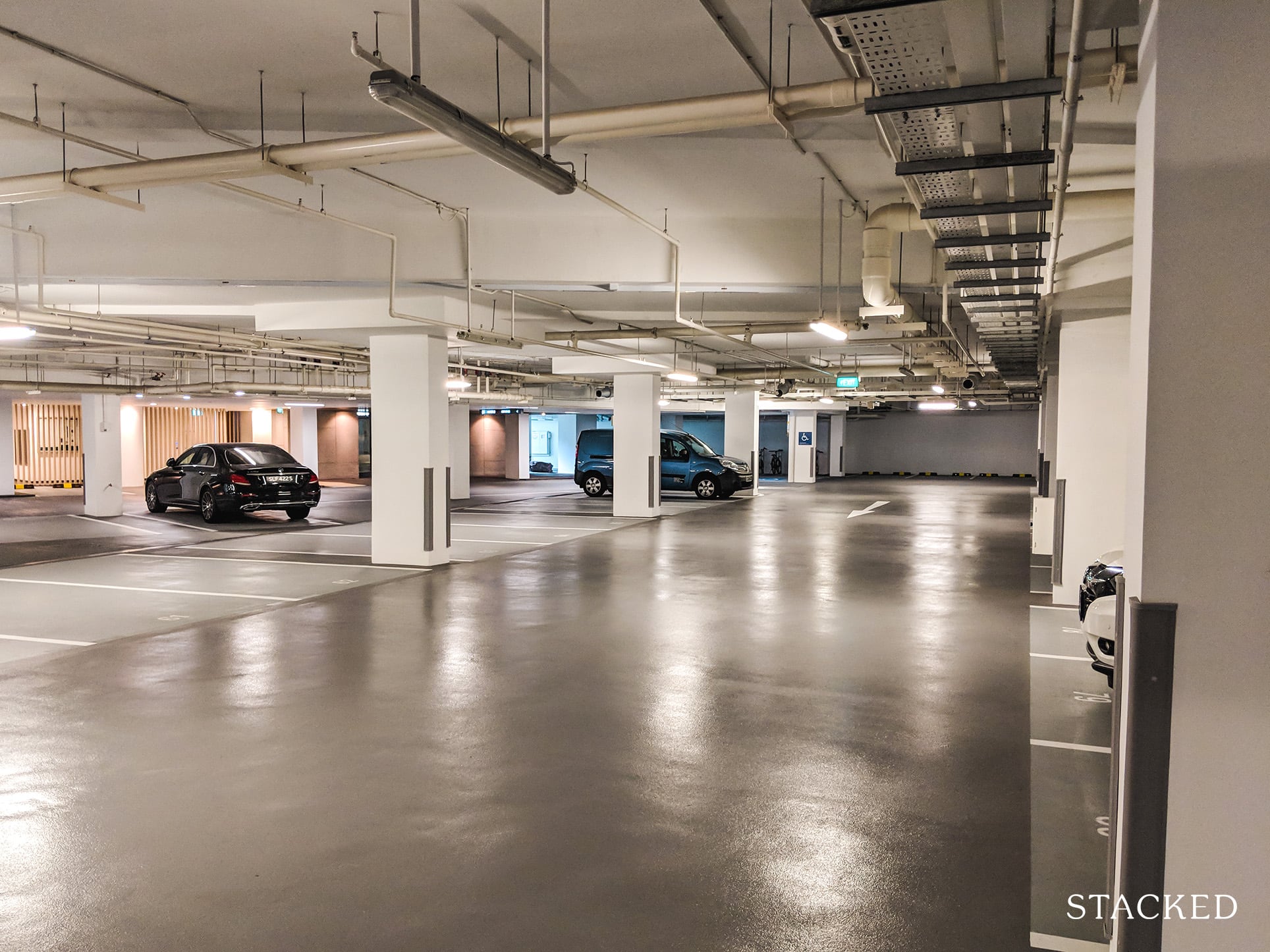 The carpark here is cheery and bright, but it does not look as upscale as some of the other luxury developments we have seen. There are 250 carpark lots, so every unit has 1 carpark lot.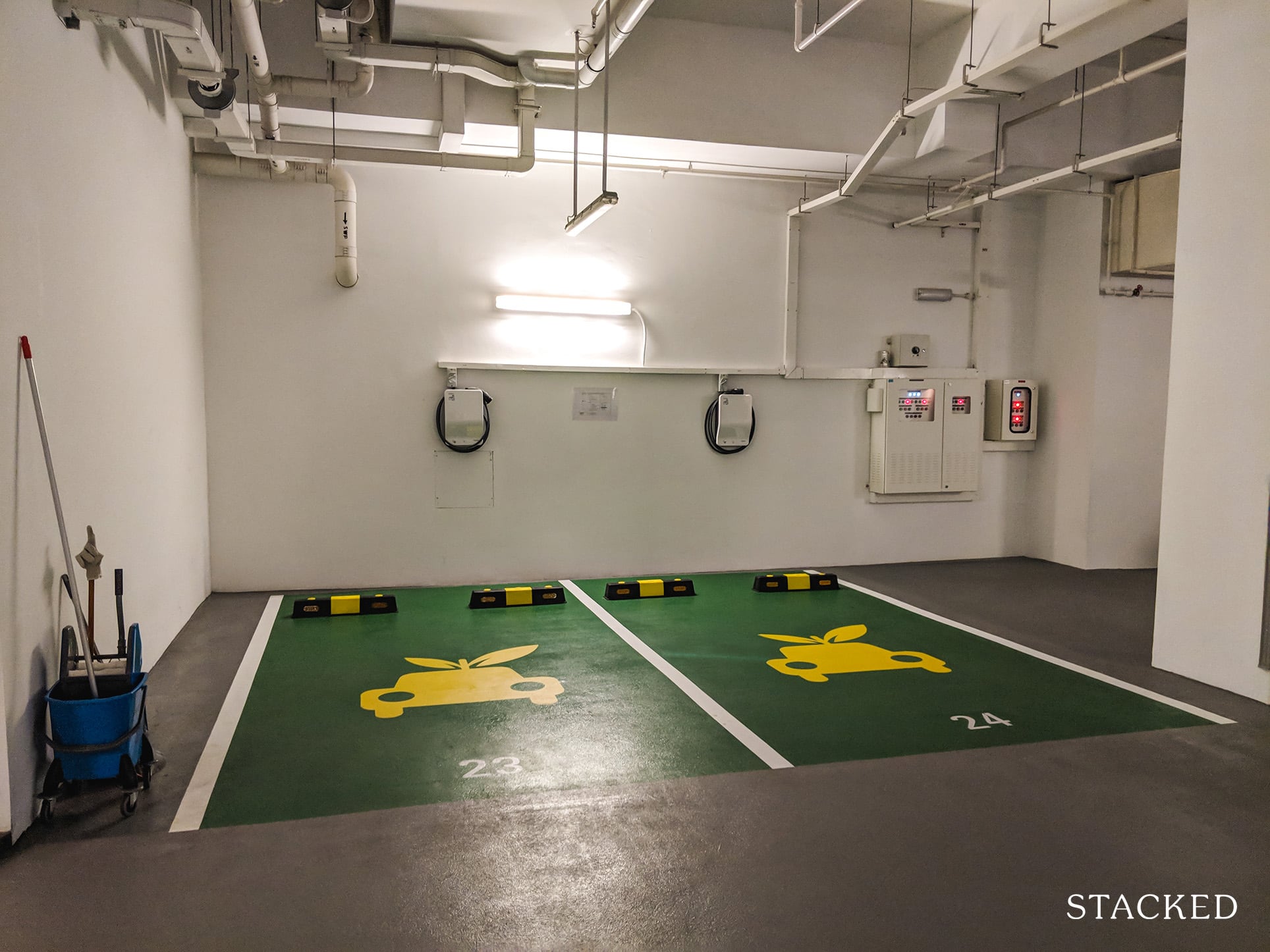 There are 2 electric car lots and charge points here, which is a great selling point too for electric car or potential electric car owners.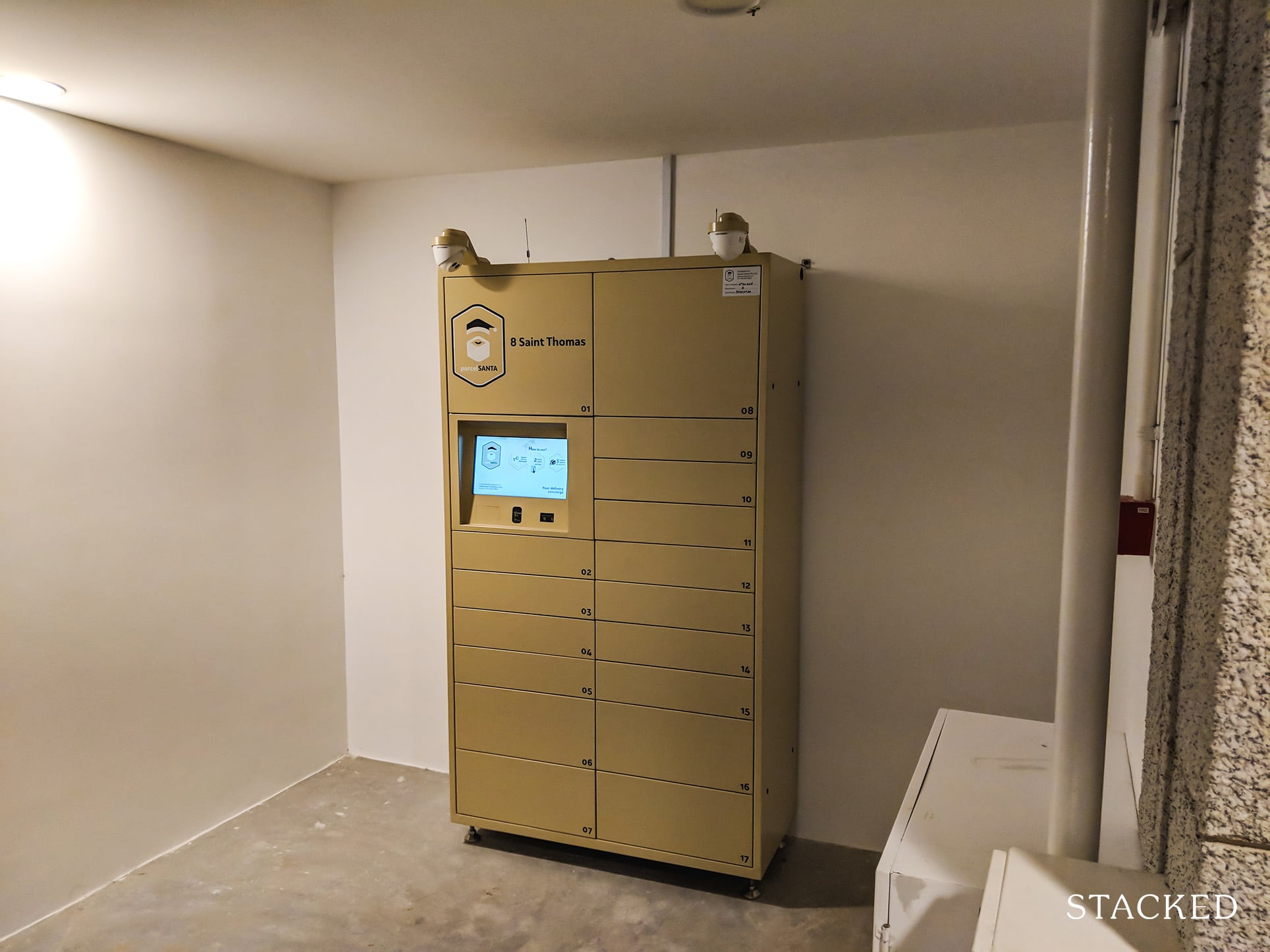 There is also a Parcel Santa smart locker here, which is fantastic for frequent online shoppers as now you do not need anyone to be at home to receive your parcels.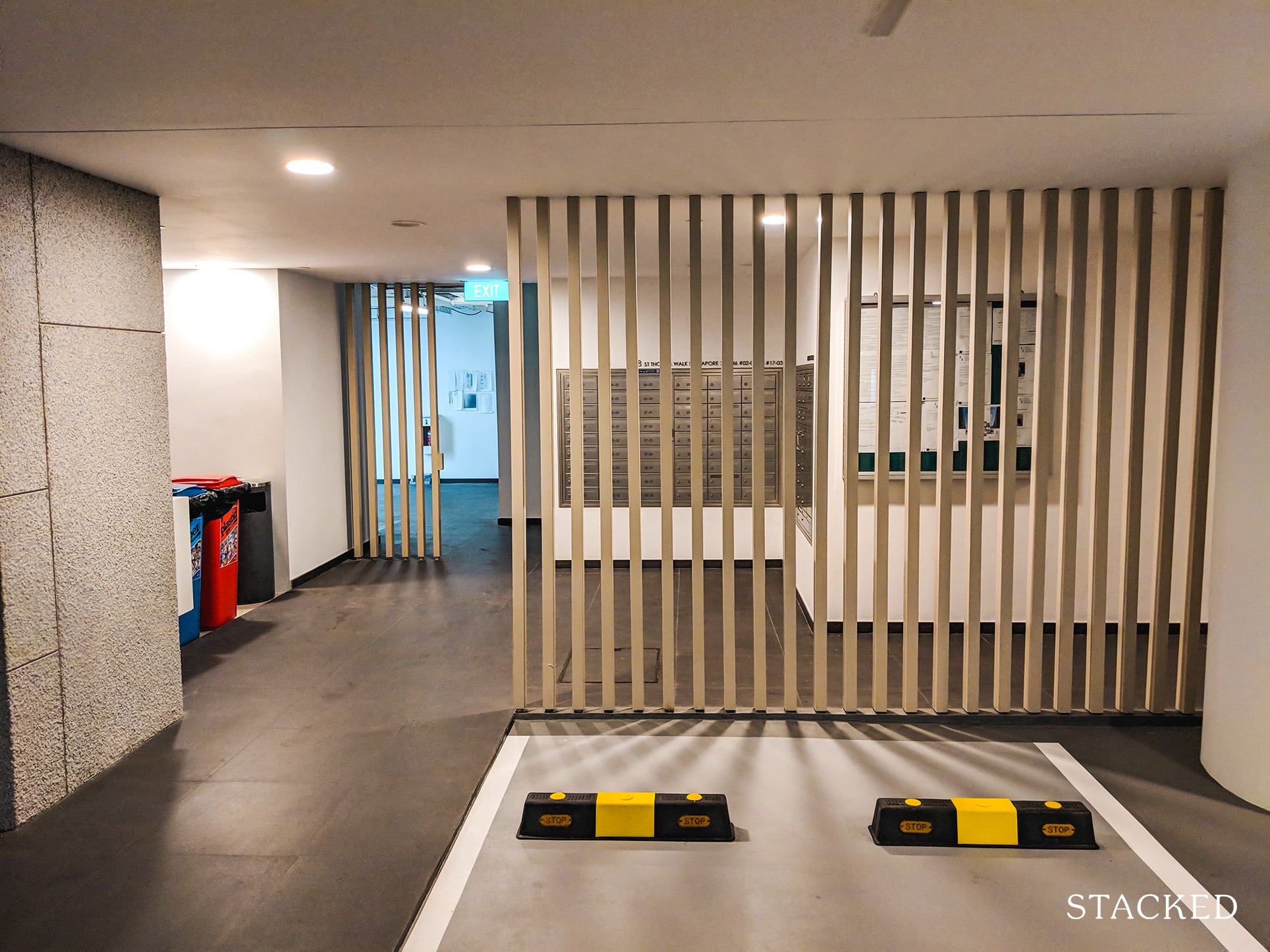 Very standard letterbox area.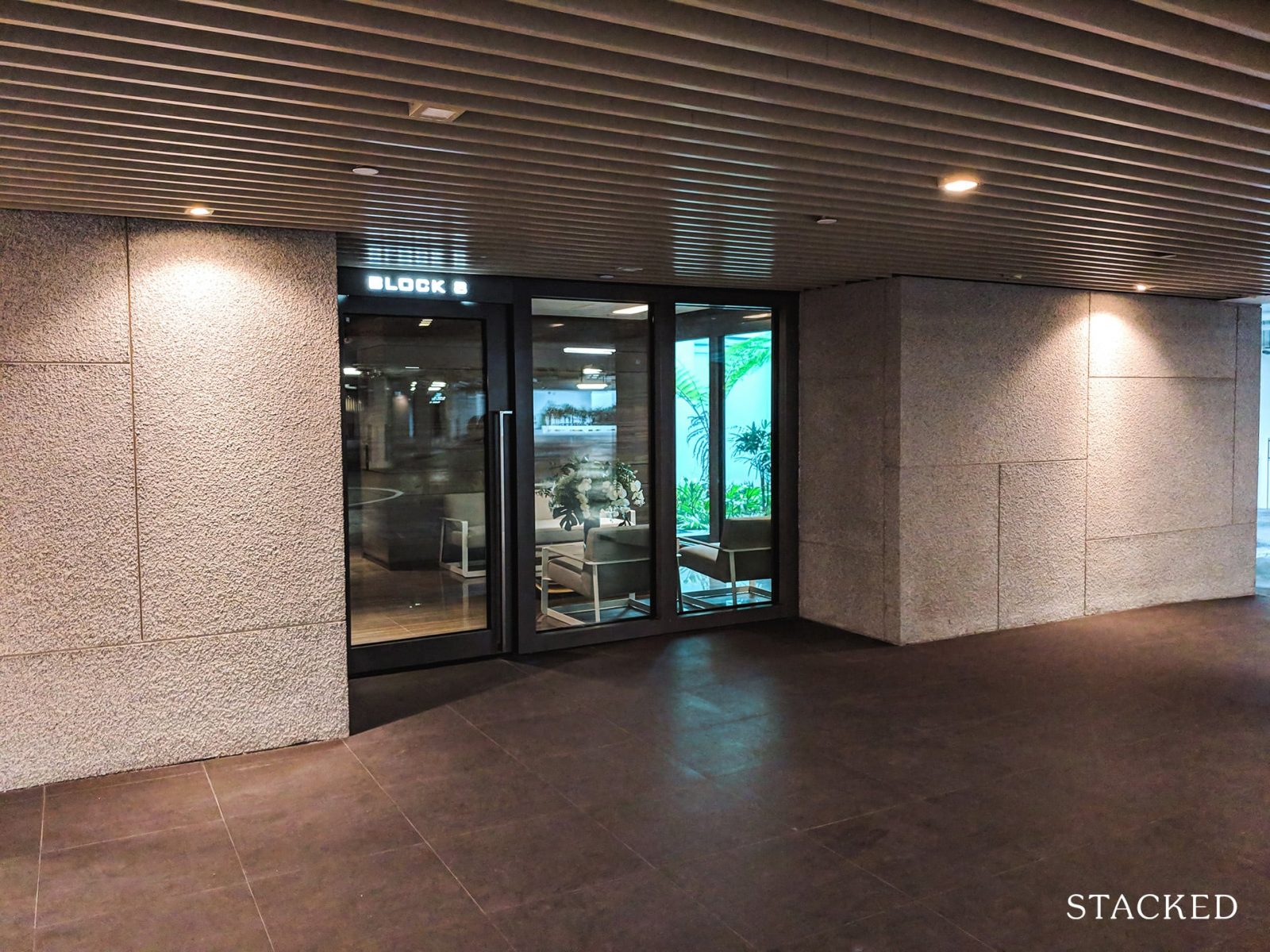 The lobby area from the carpark to the blocks are comfortable and air-conditioned.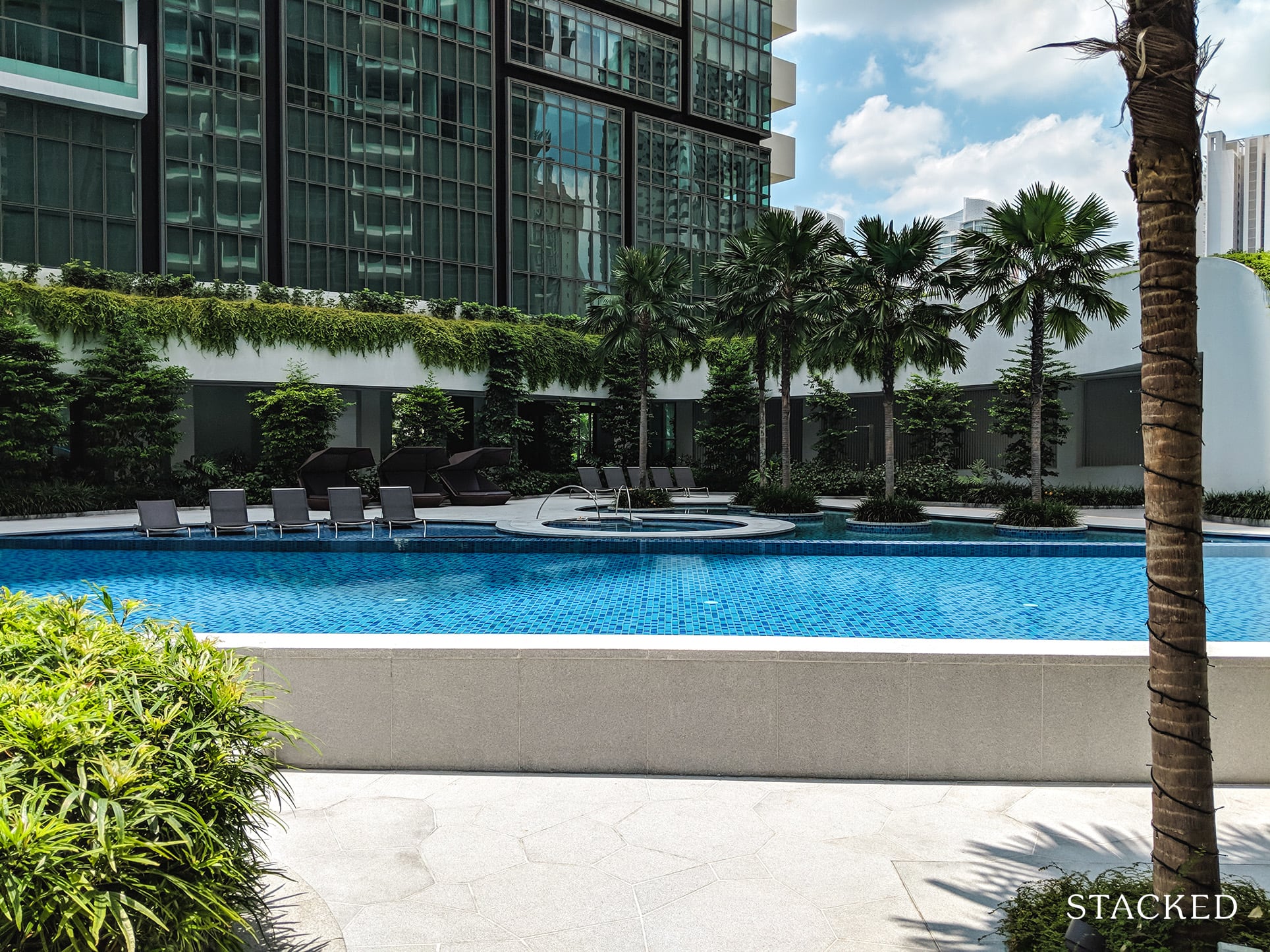 Once you get up to the first level, you are greeted with this picture-perfect swimming pool. In the sunlight and heat of the day, it is certainly super inviting to just jump right in.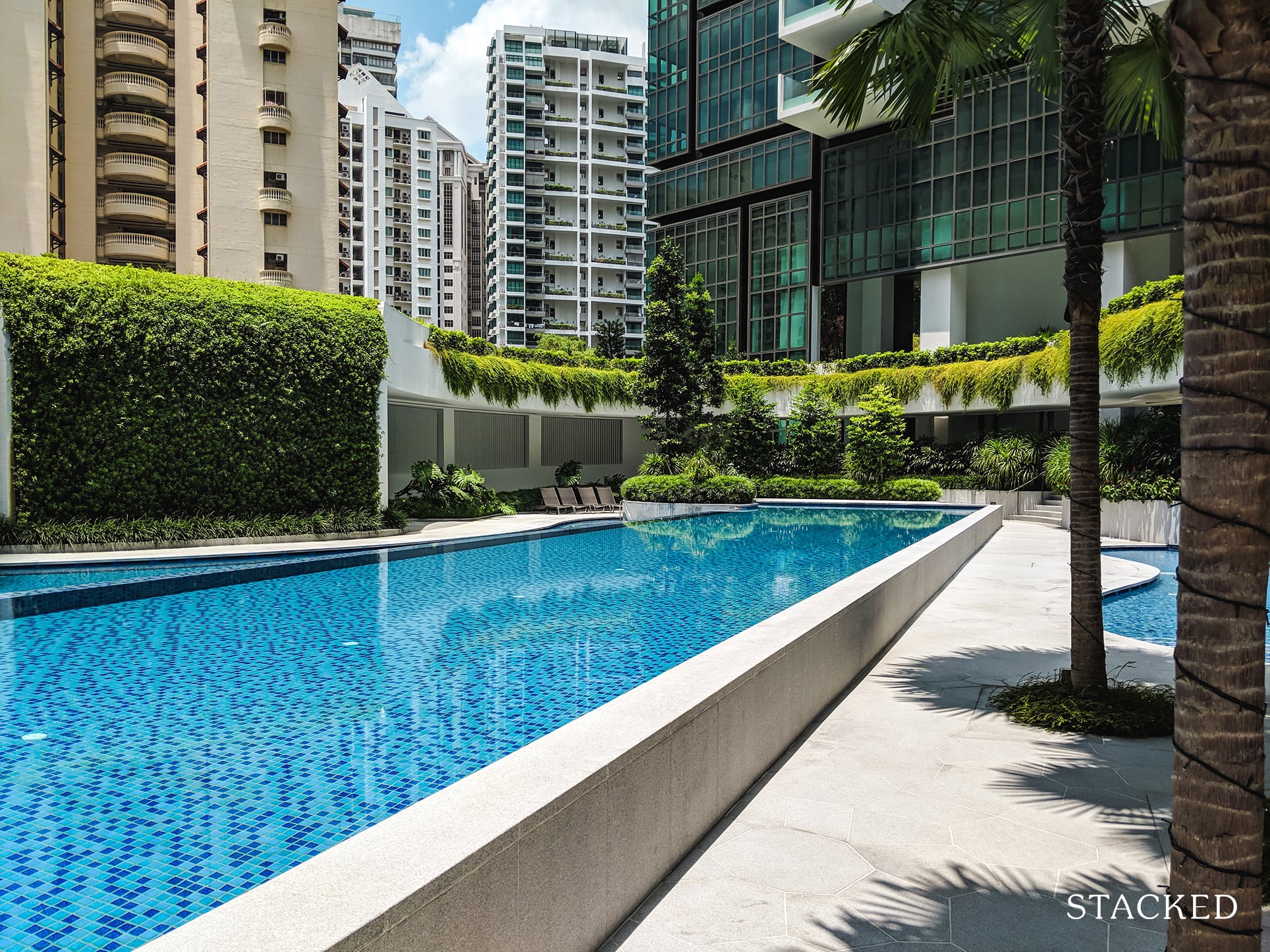 We really like the swimming pool here, it's long and great for proper swimming.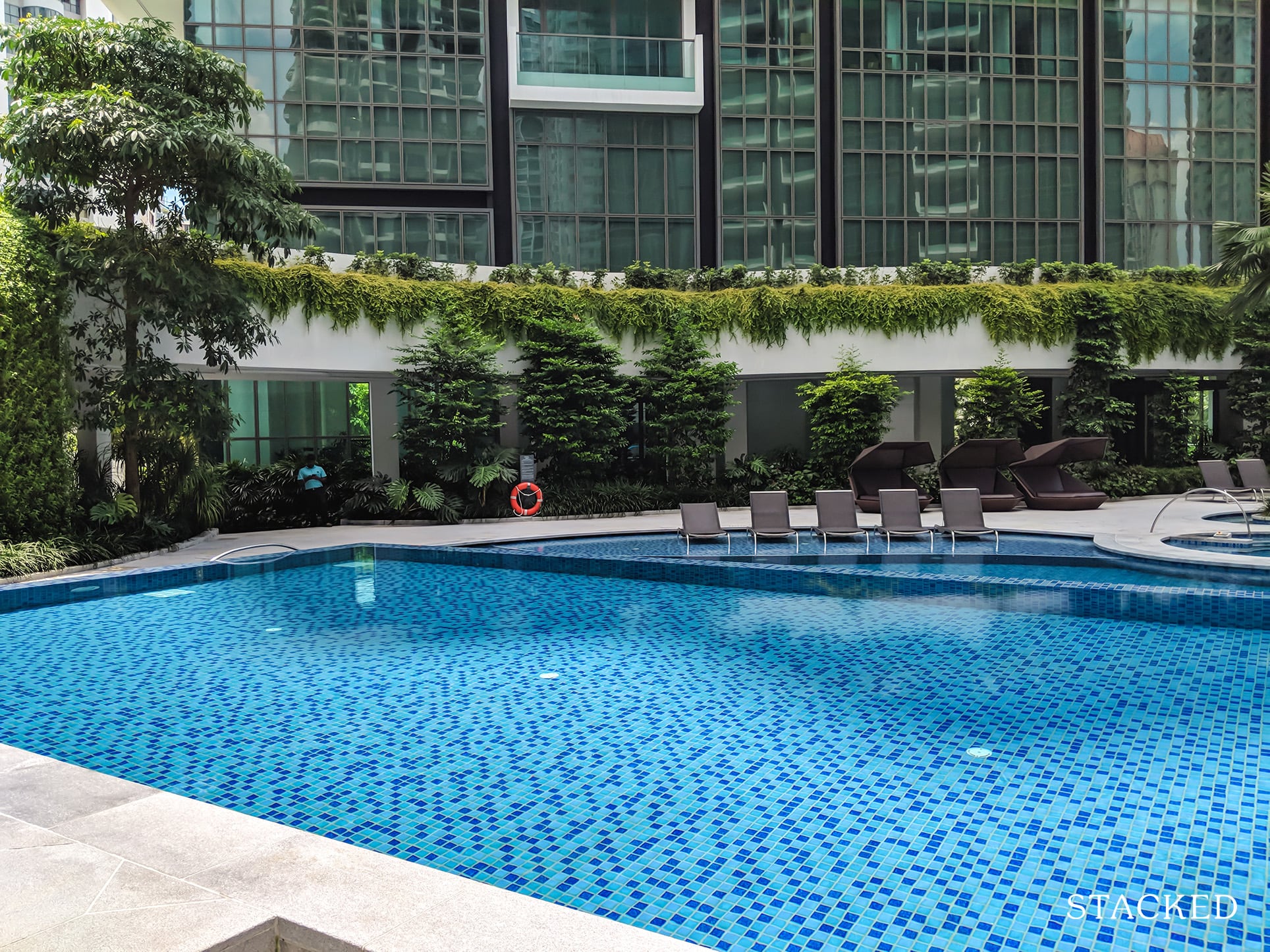 The size is really spacious for a development with only 250 units. You could have times when you can almost have the whole pool to yourself!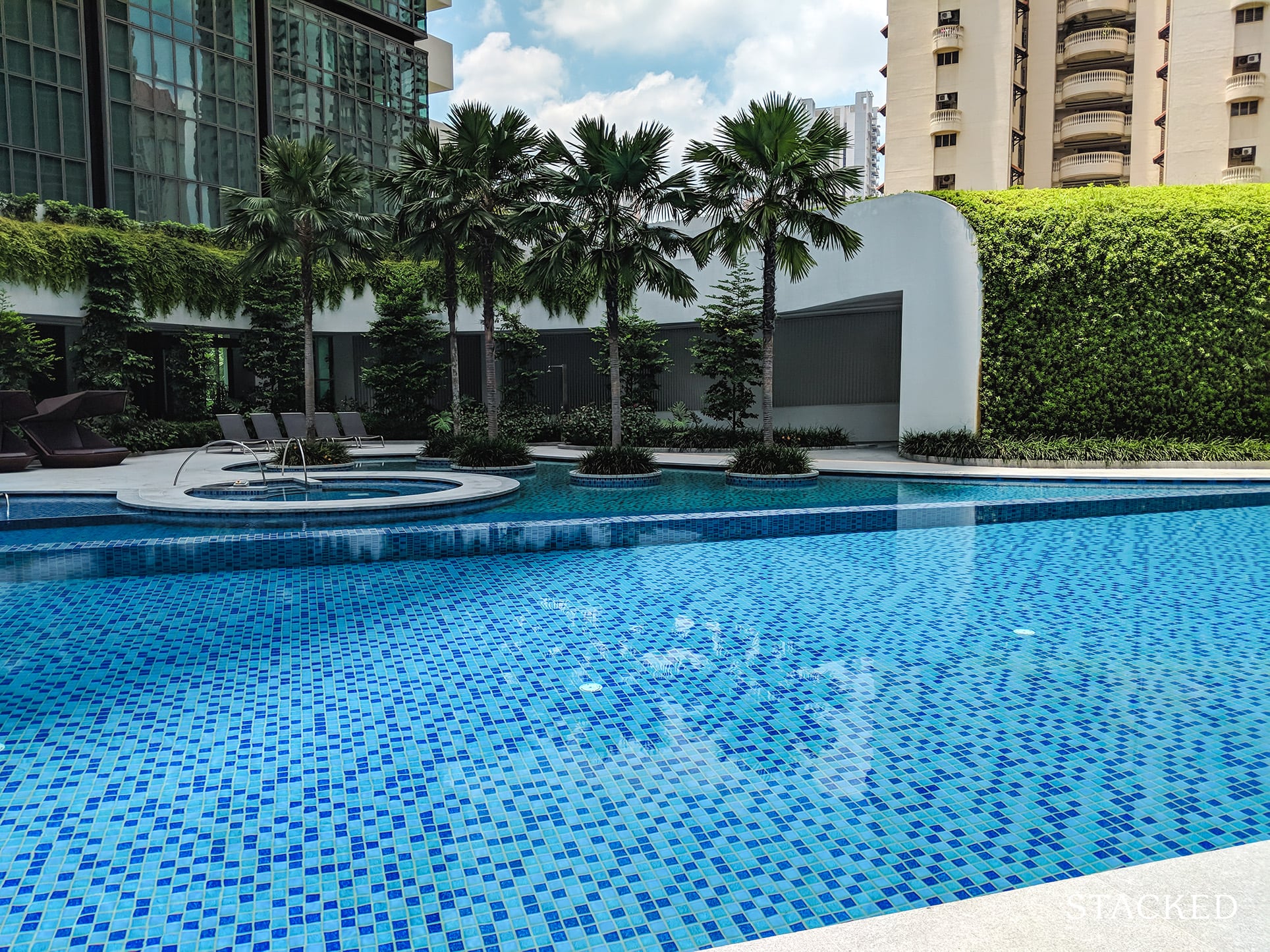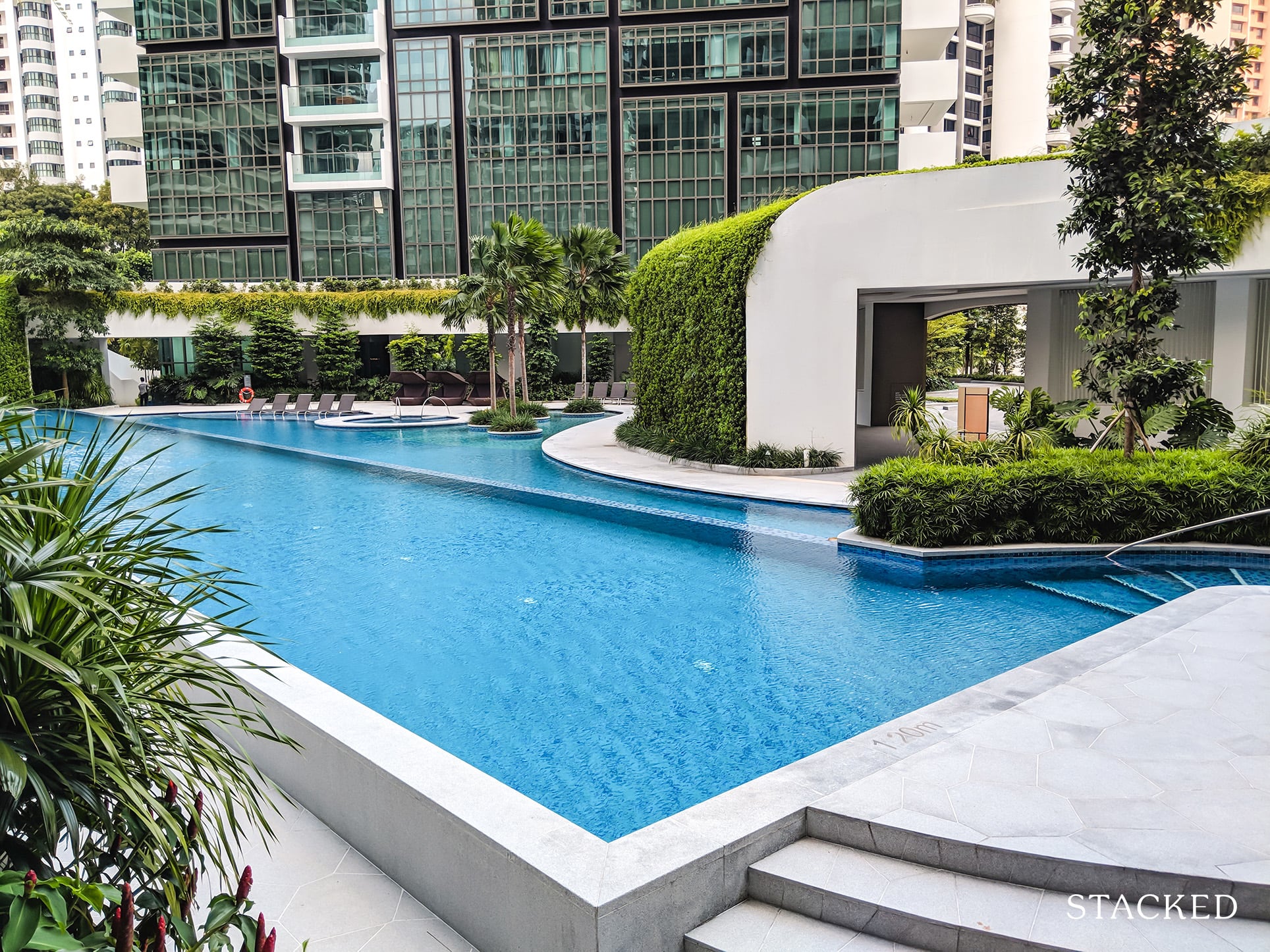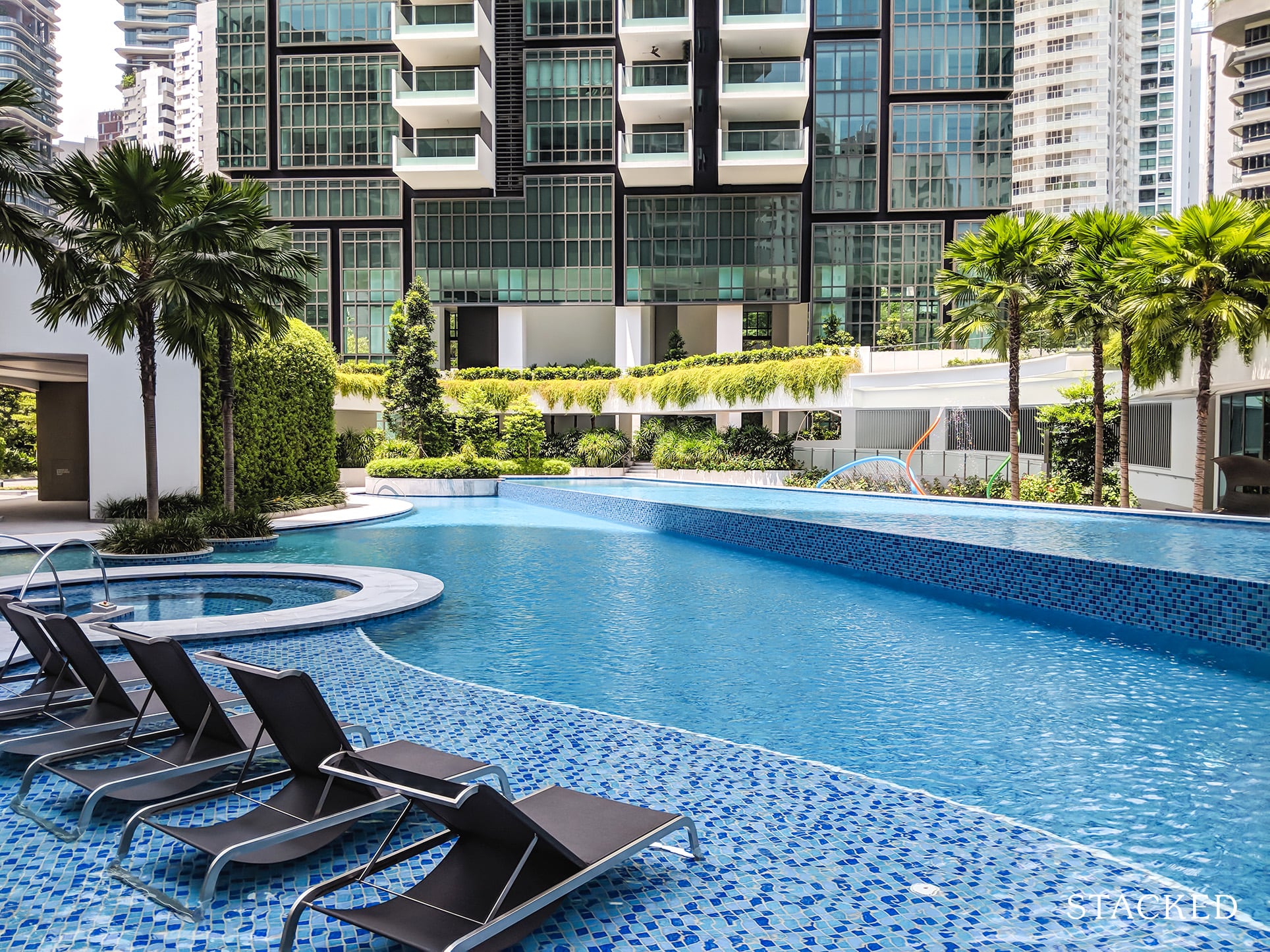 There are also sun loungers in the water itself.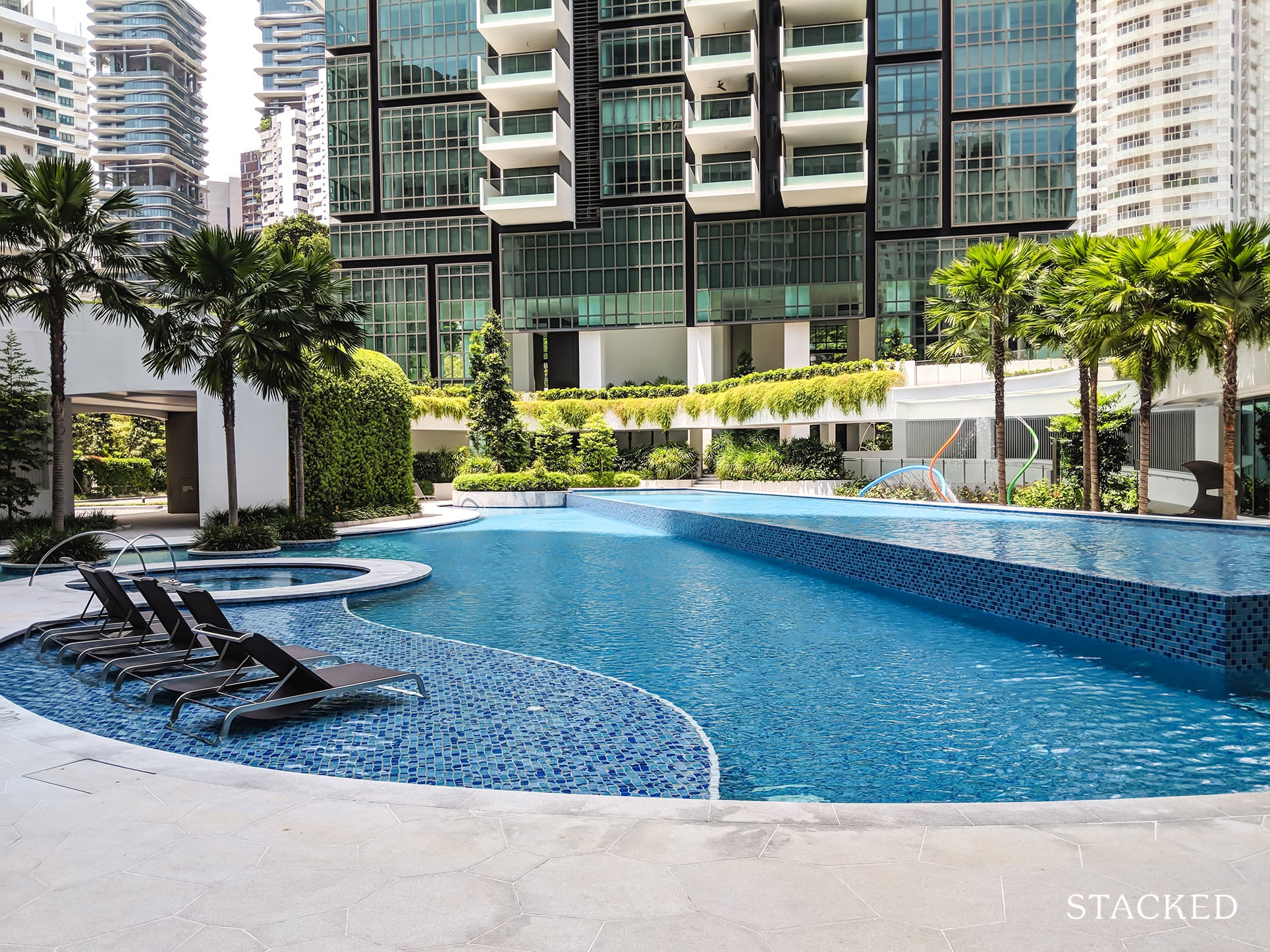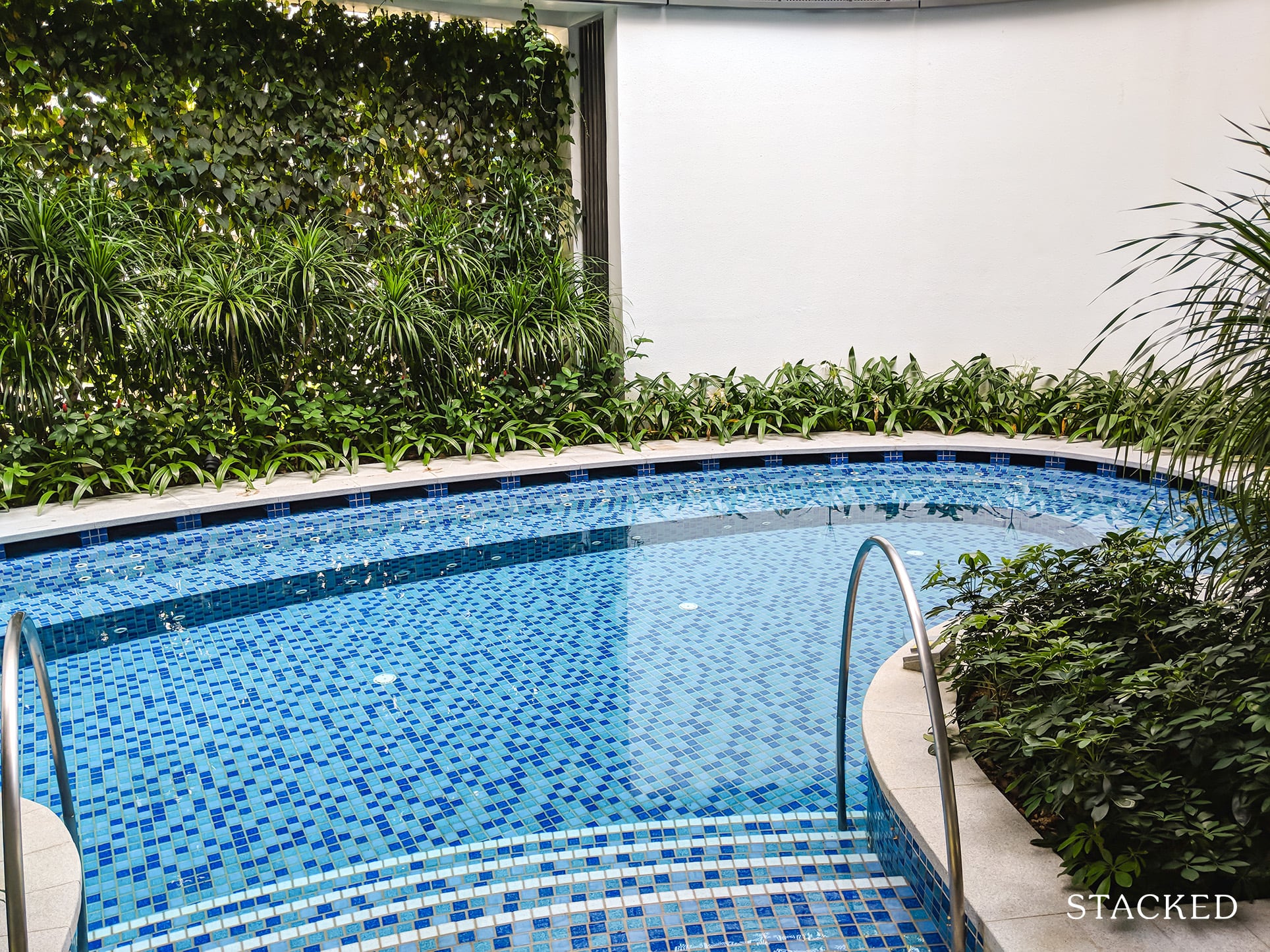 And small dipping pools around the main pool.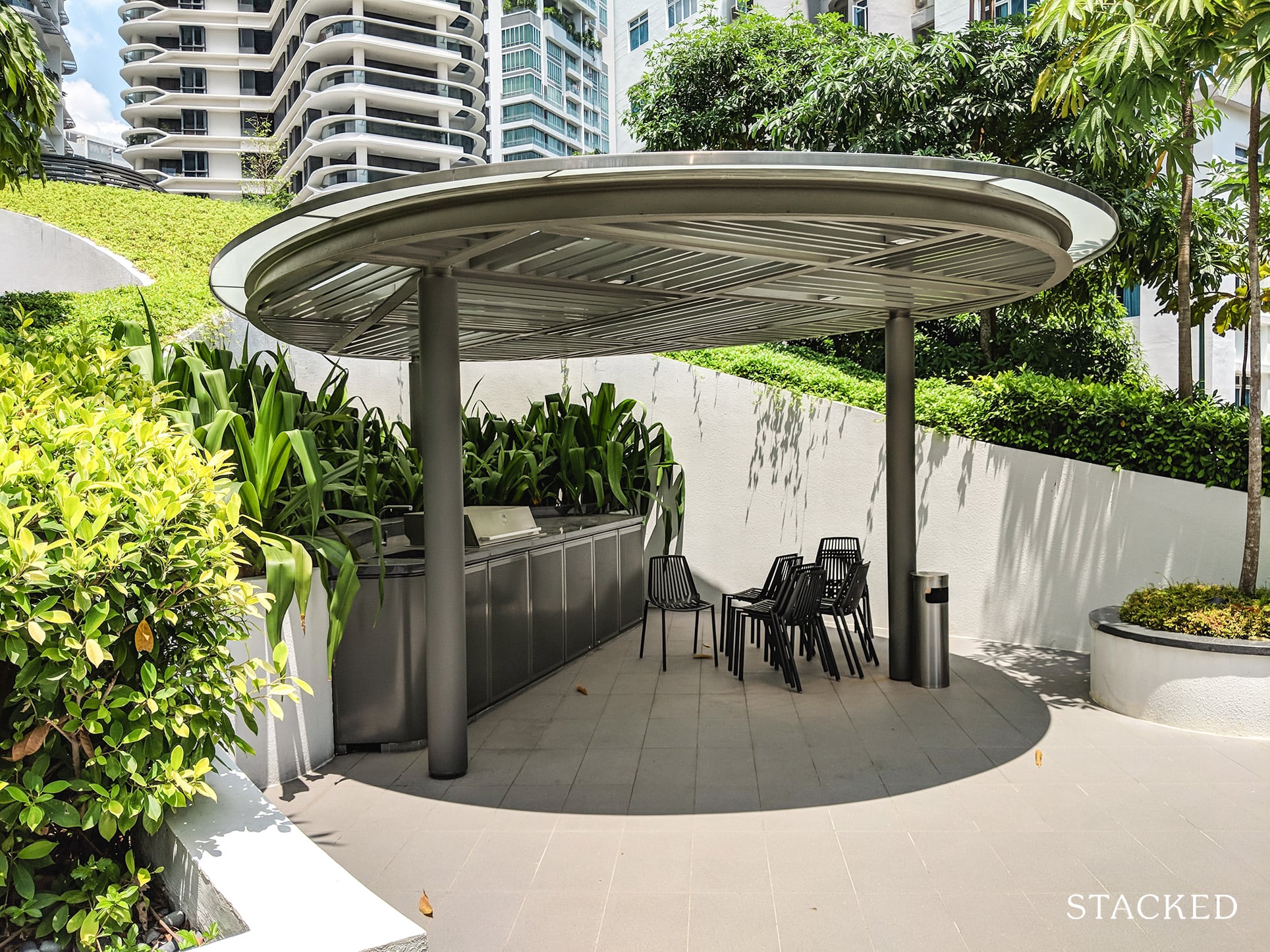 The barbeque pits here are conveniently sheltered.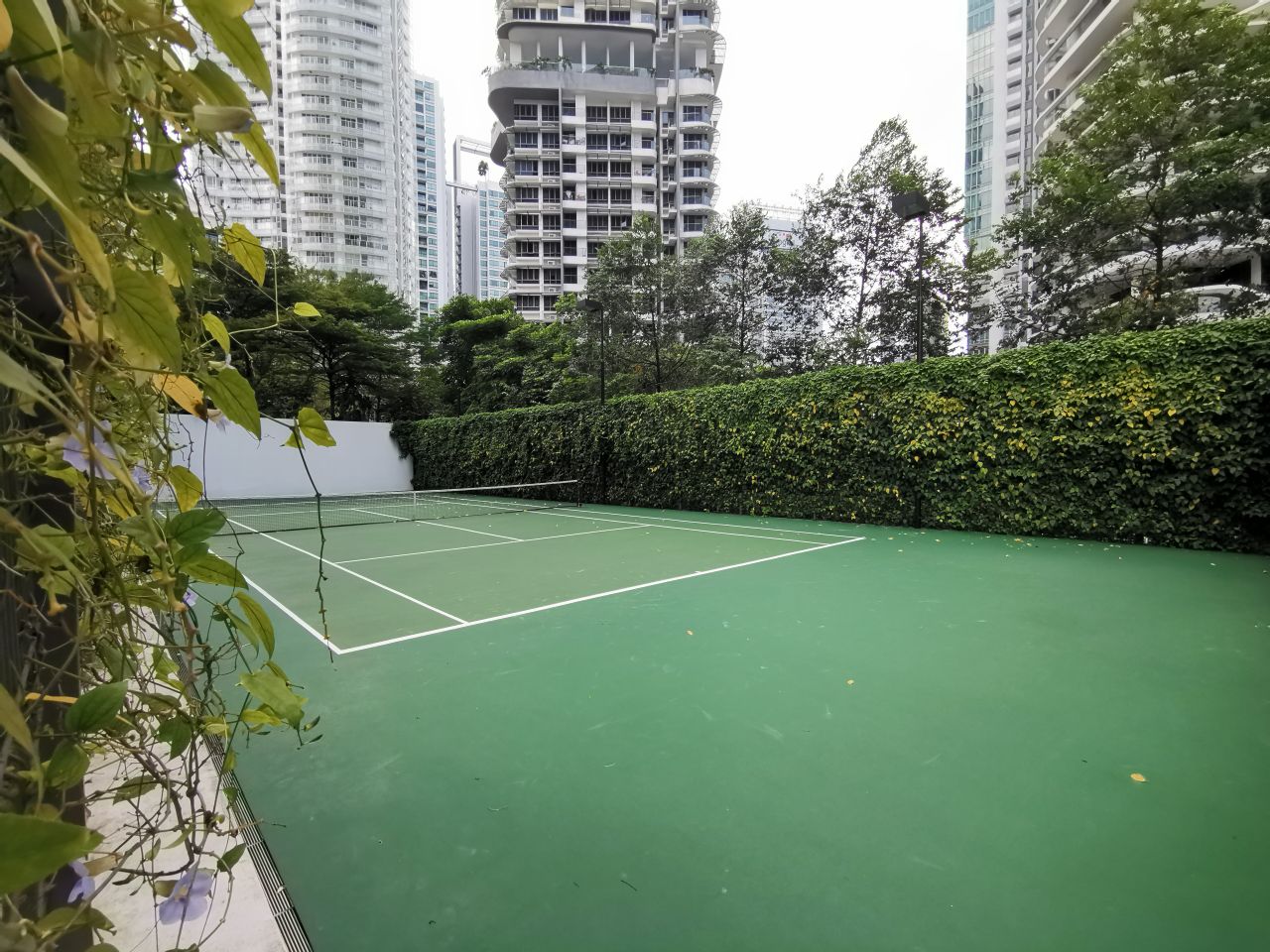 For a development in town, it is impressive that they managed to fit a tennis court in as well.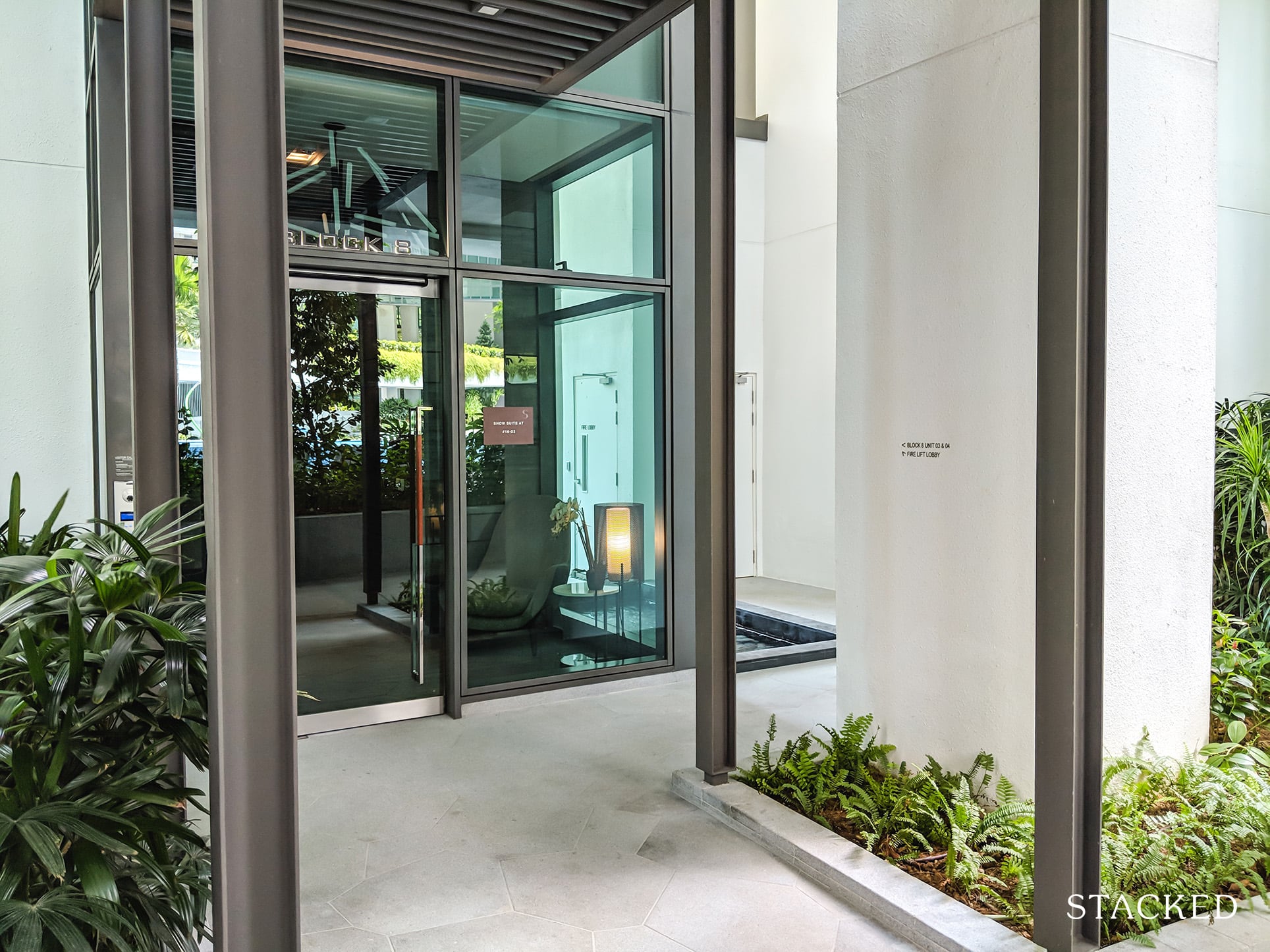 The lift lobby for units with private lift access. Which for 8 St Thomas it is only the 4 bedroom units and up.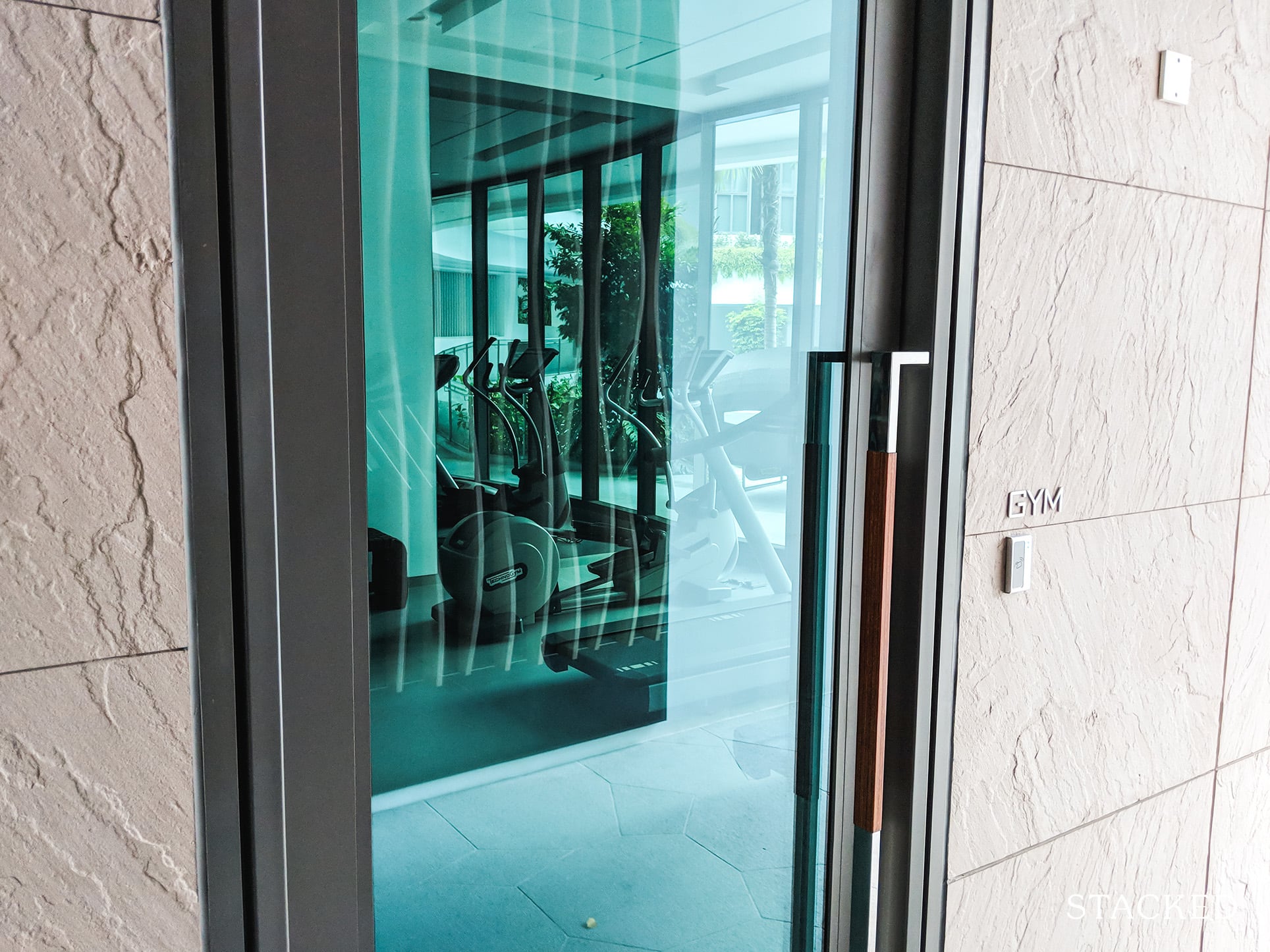 The gym here is standard fare, with a view looking out towards the swimming pool.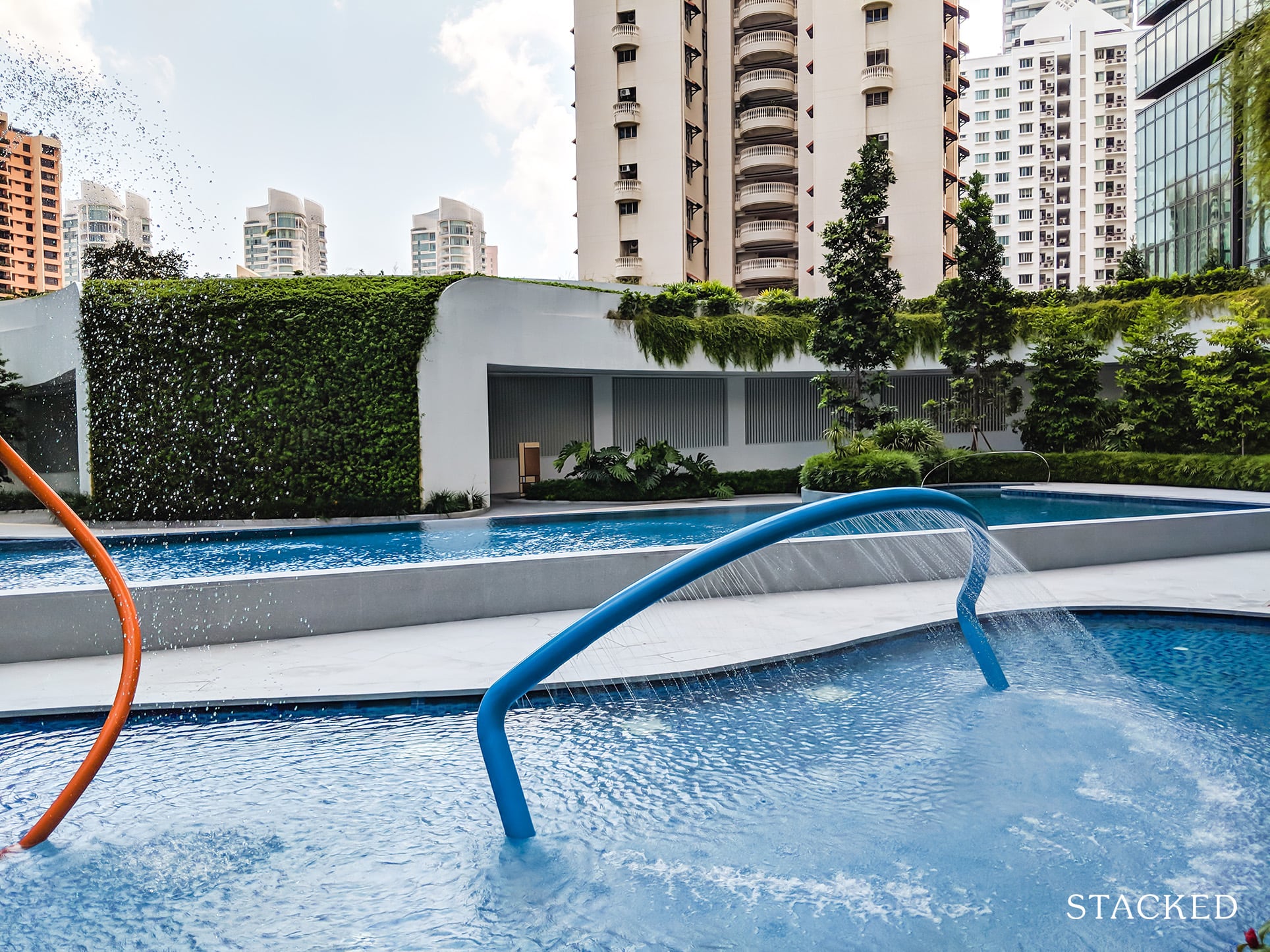 We aren't sure if this is by design, but the water fountains provide a fine cooling mist as you walk by. It's great for hot days such as these.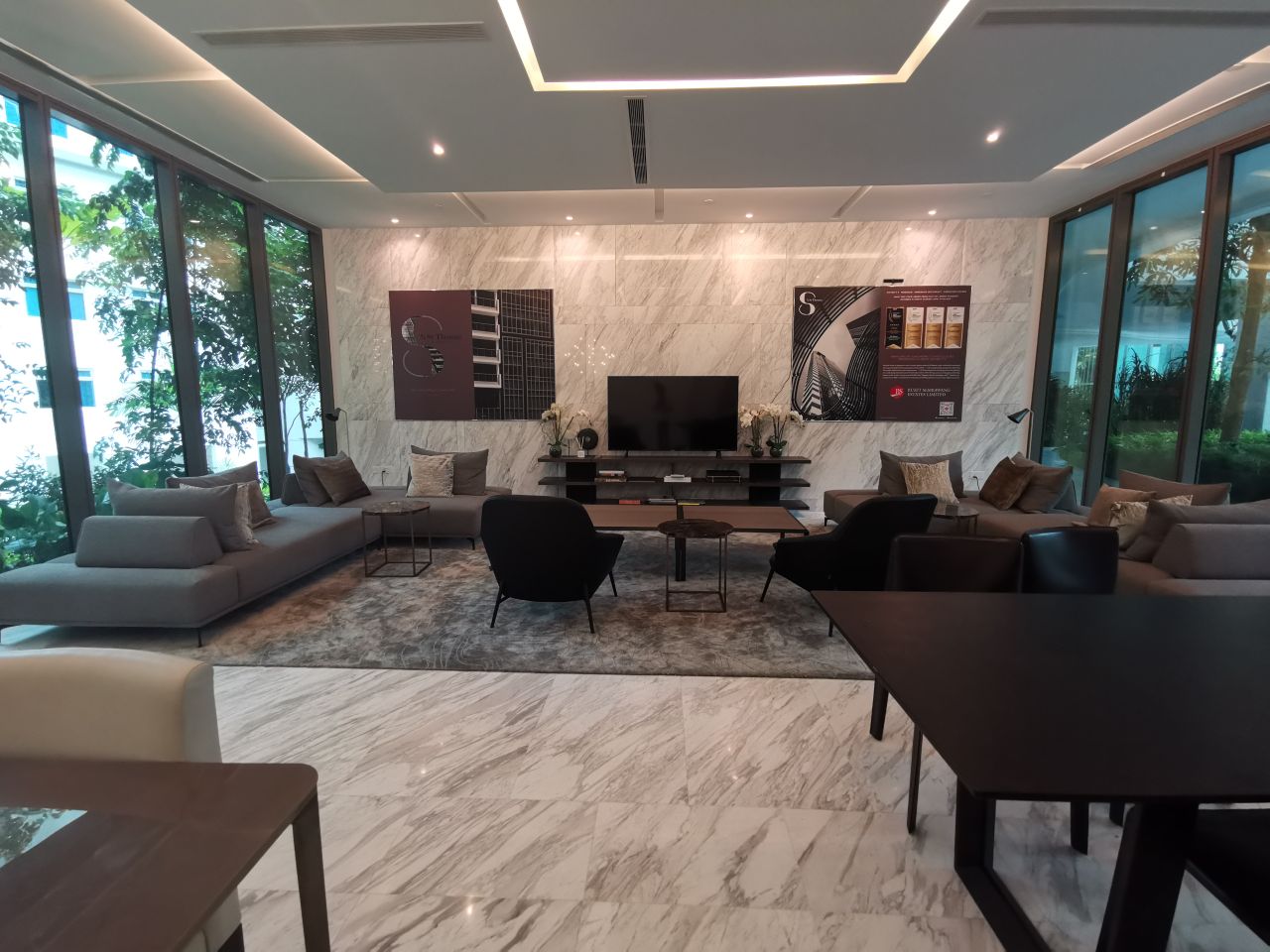 The function room at the first level here is fantastic. It's big, has lots of seating and cooking functions as well for entertaining your guests.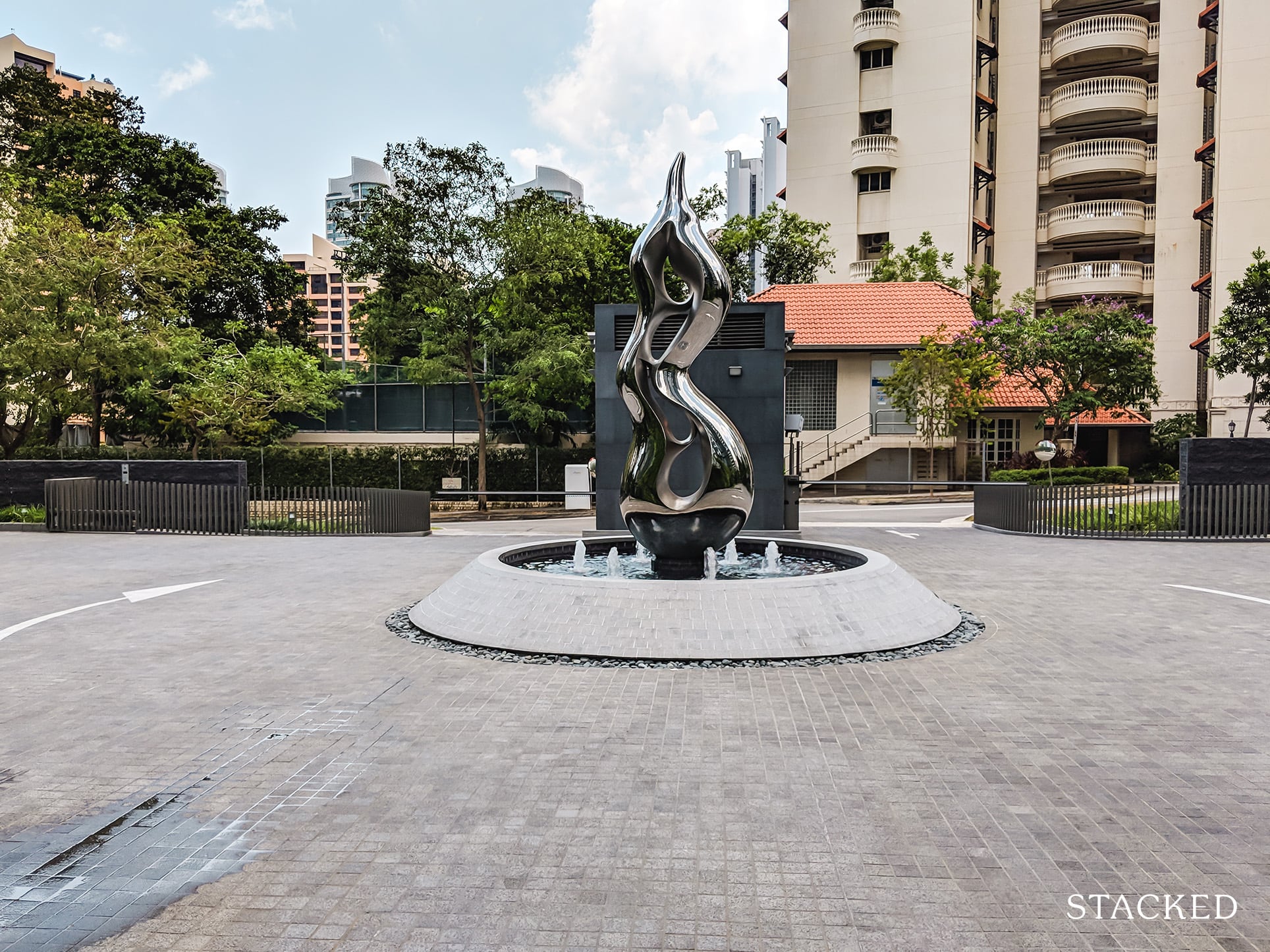 We also like the arrival area, it is imposing and the big space makes it feel grand.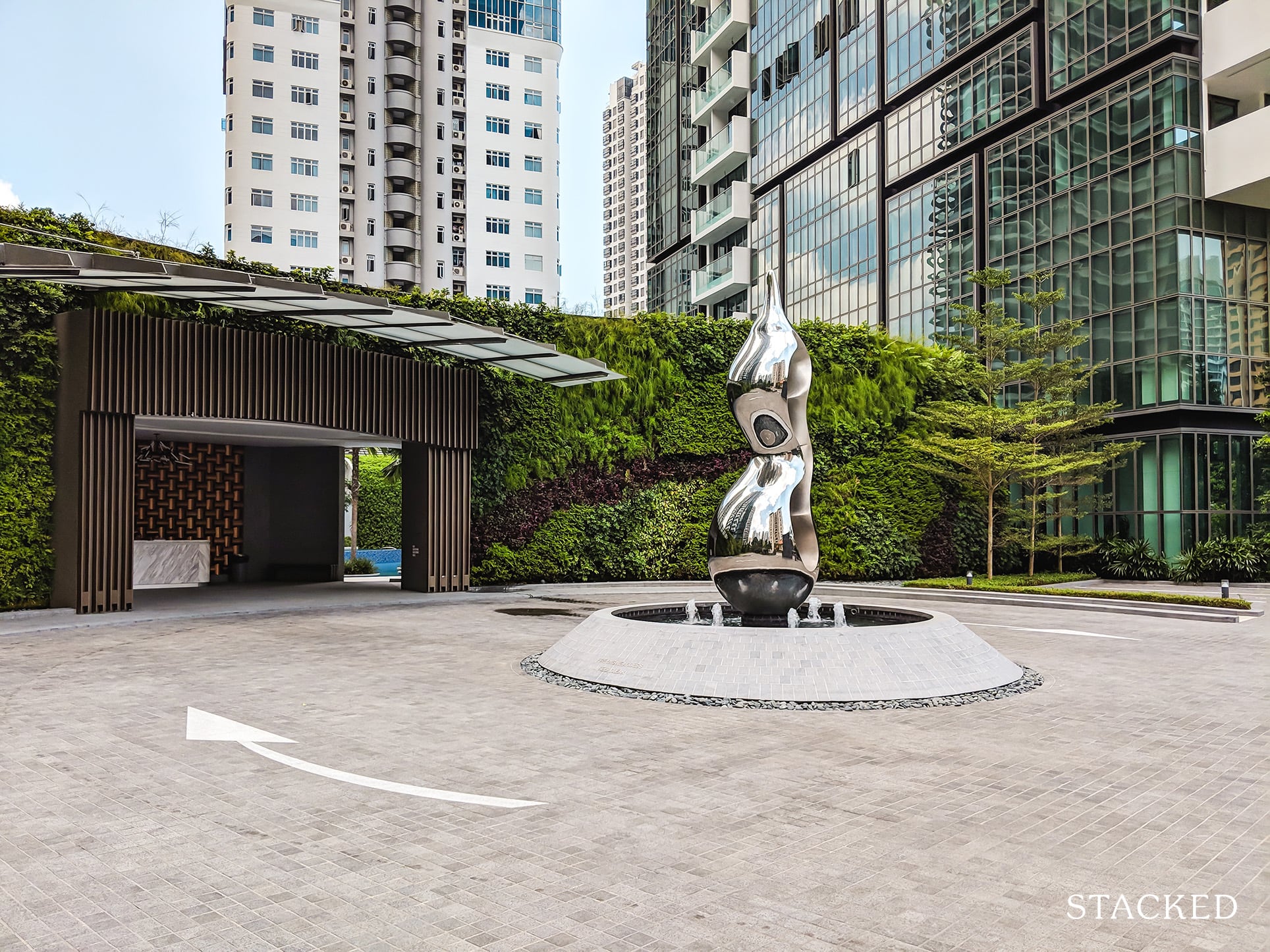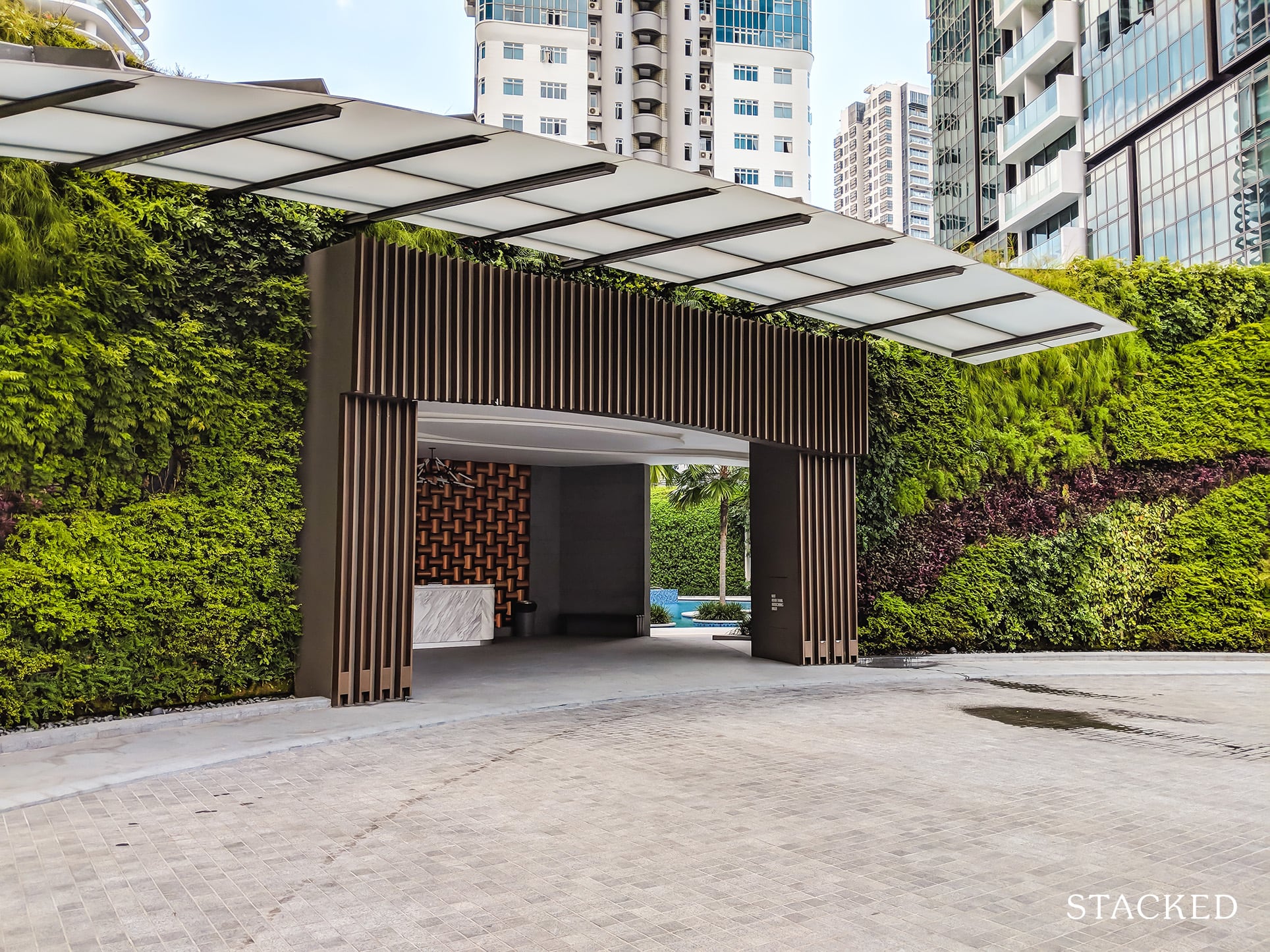 The arrival area is well designed and the greenery provides a warm welcome and is relaxing on the eyes.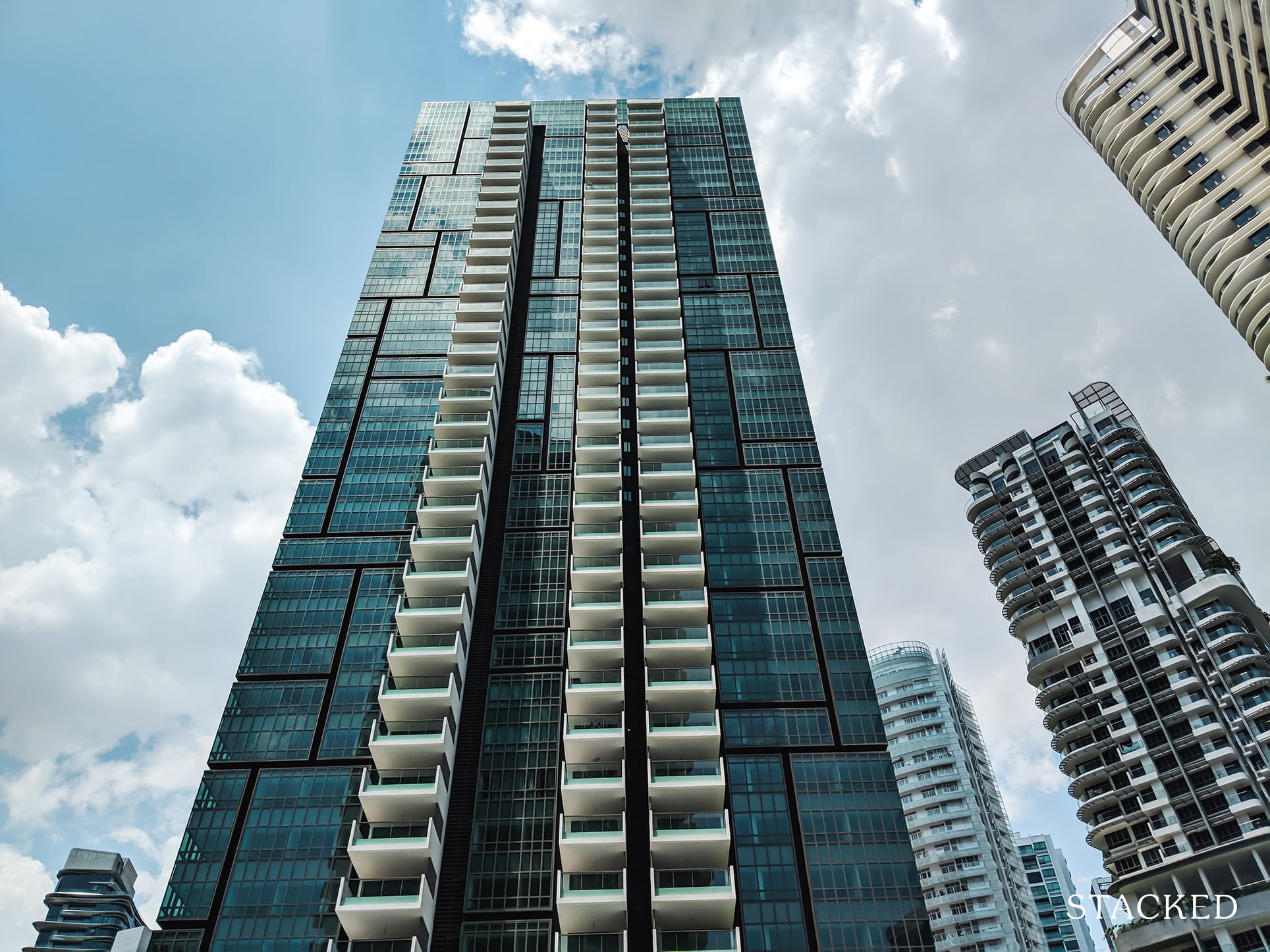 The design of 8 St Thomas certainly looks striking with the afternoon sky as a backdrop.
Read this next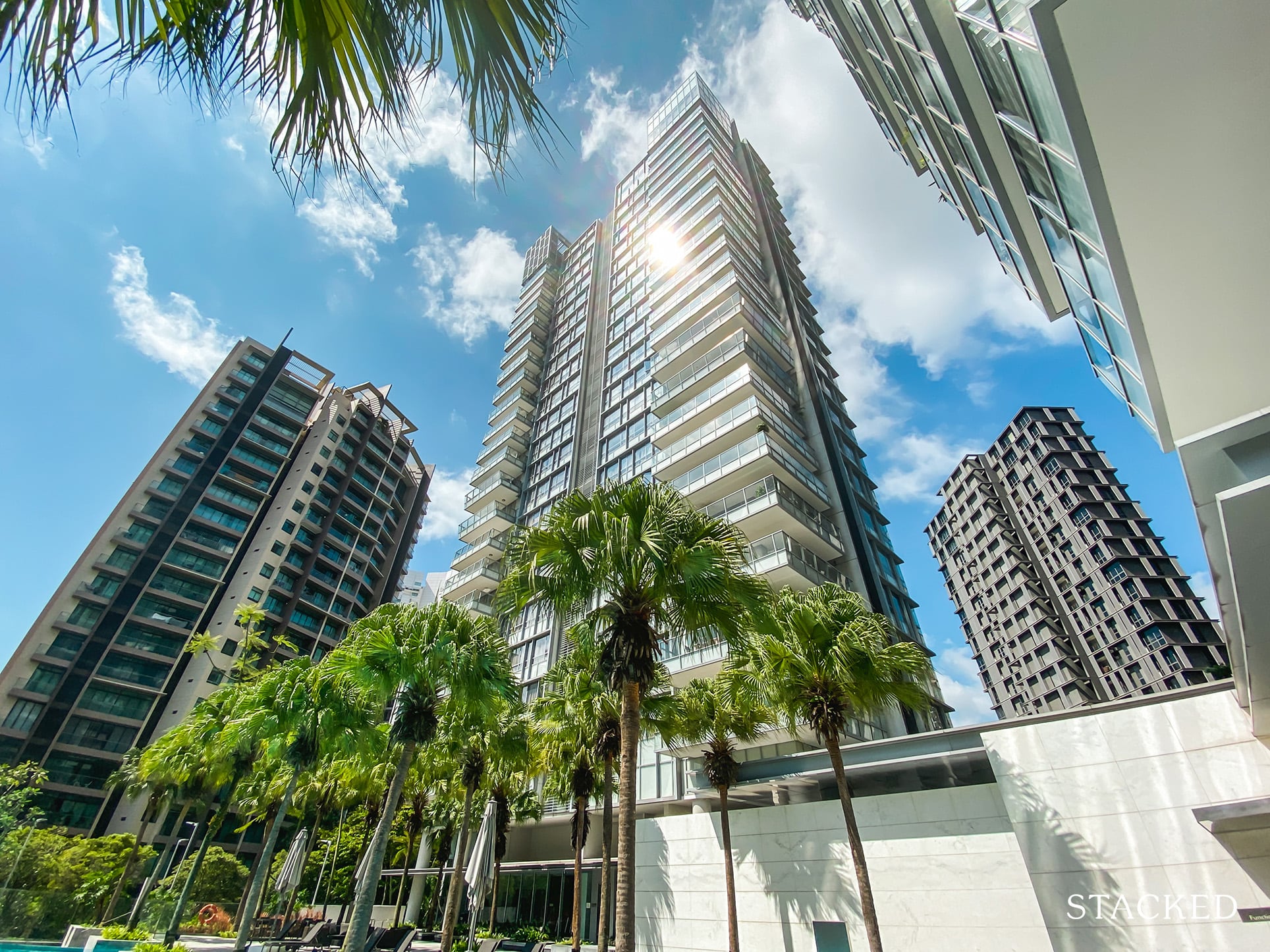 8 St Thomas Review – 2 Bedroom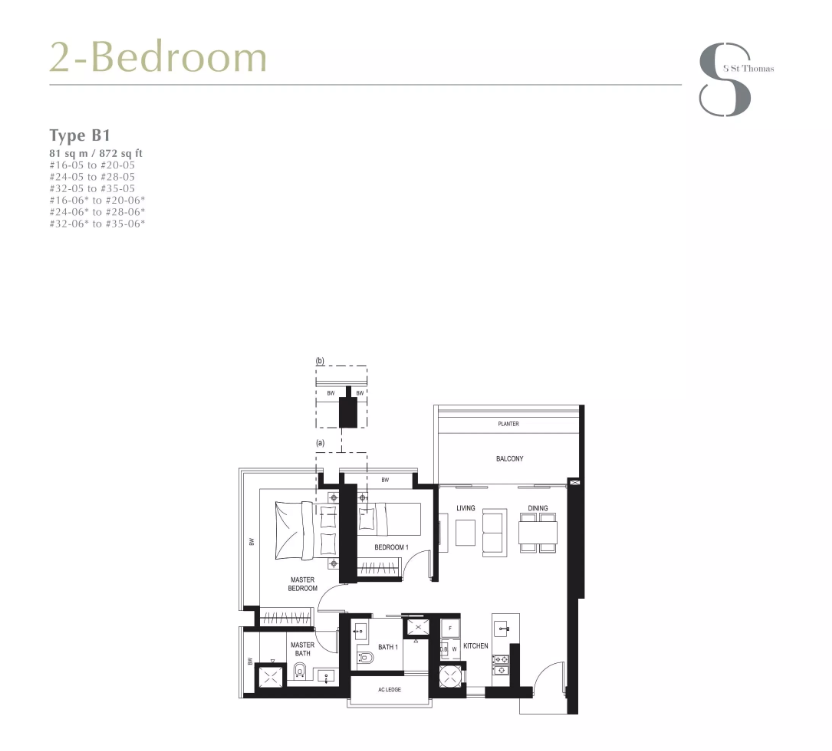 8 St Thomas actually has a few different layouts for the 2 bedroom units, depending on what you prefer.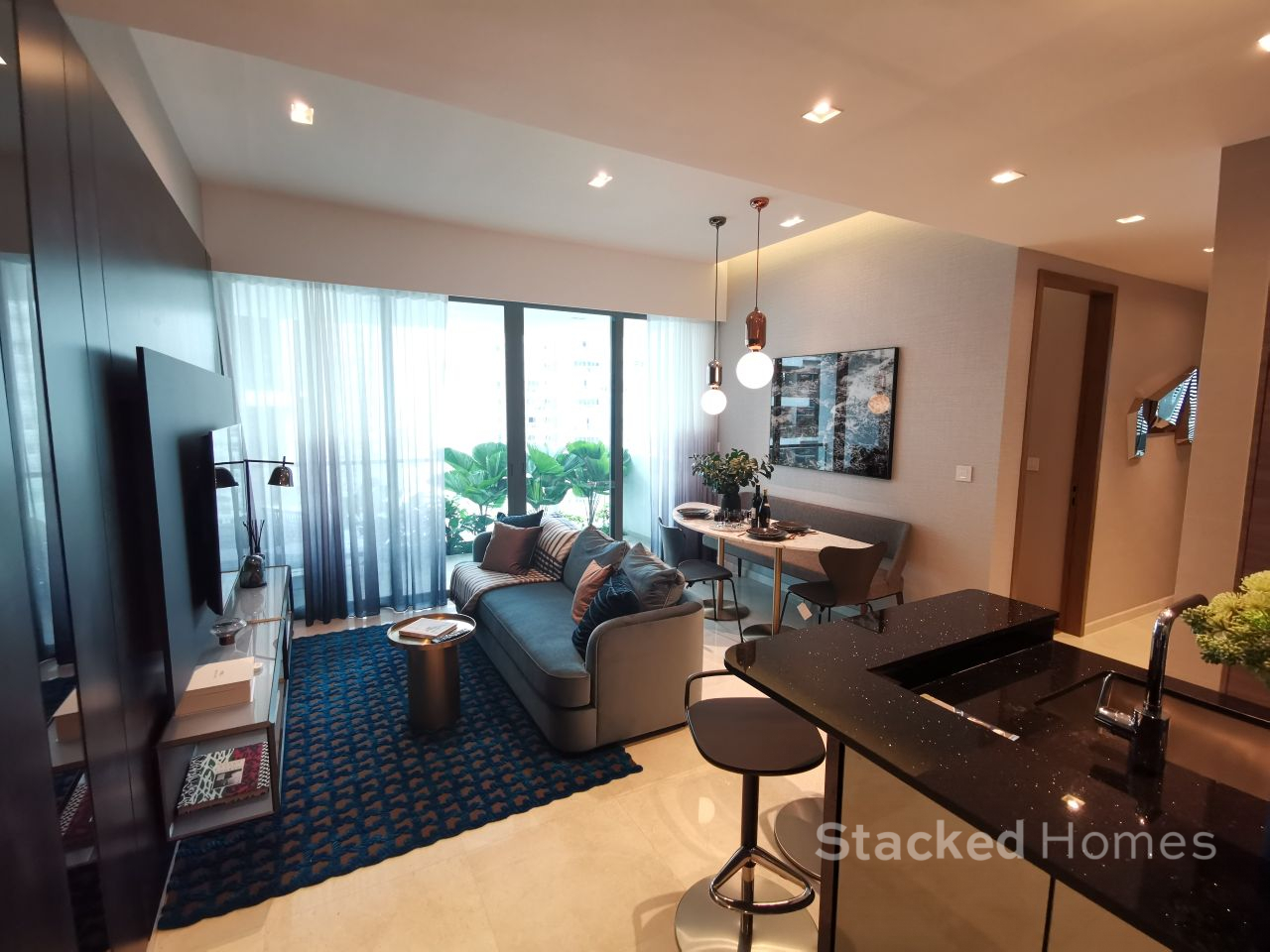 Upon first entering the unit, we were surprised to find that the living room feels substantially bigger than the size it suggests on paper. Perhaps that is due to all the natural light coming in from the balcony. The small countertop around the kitchen area is a great use of space as well.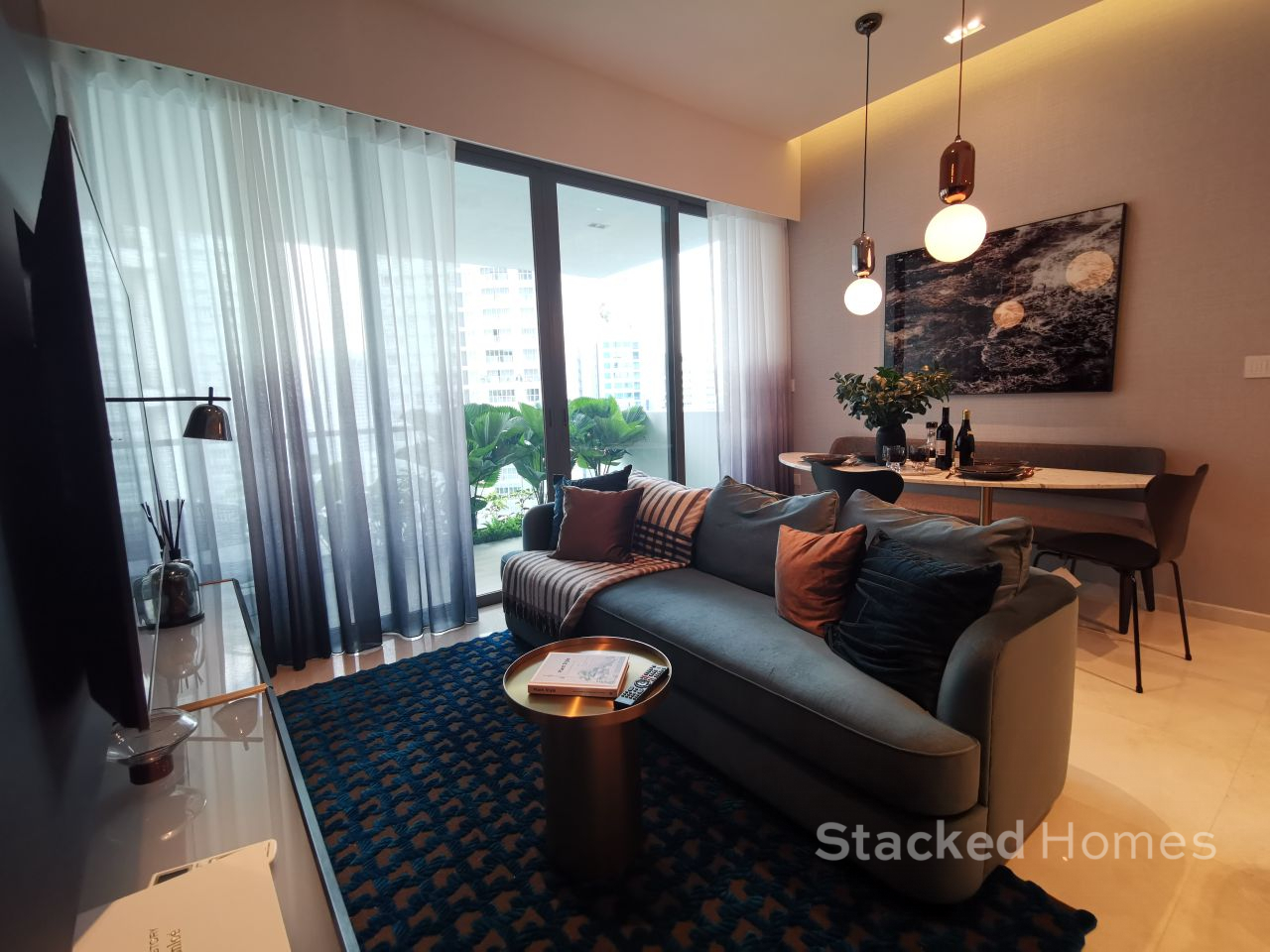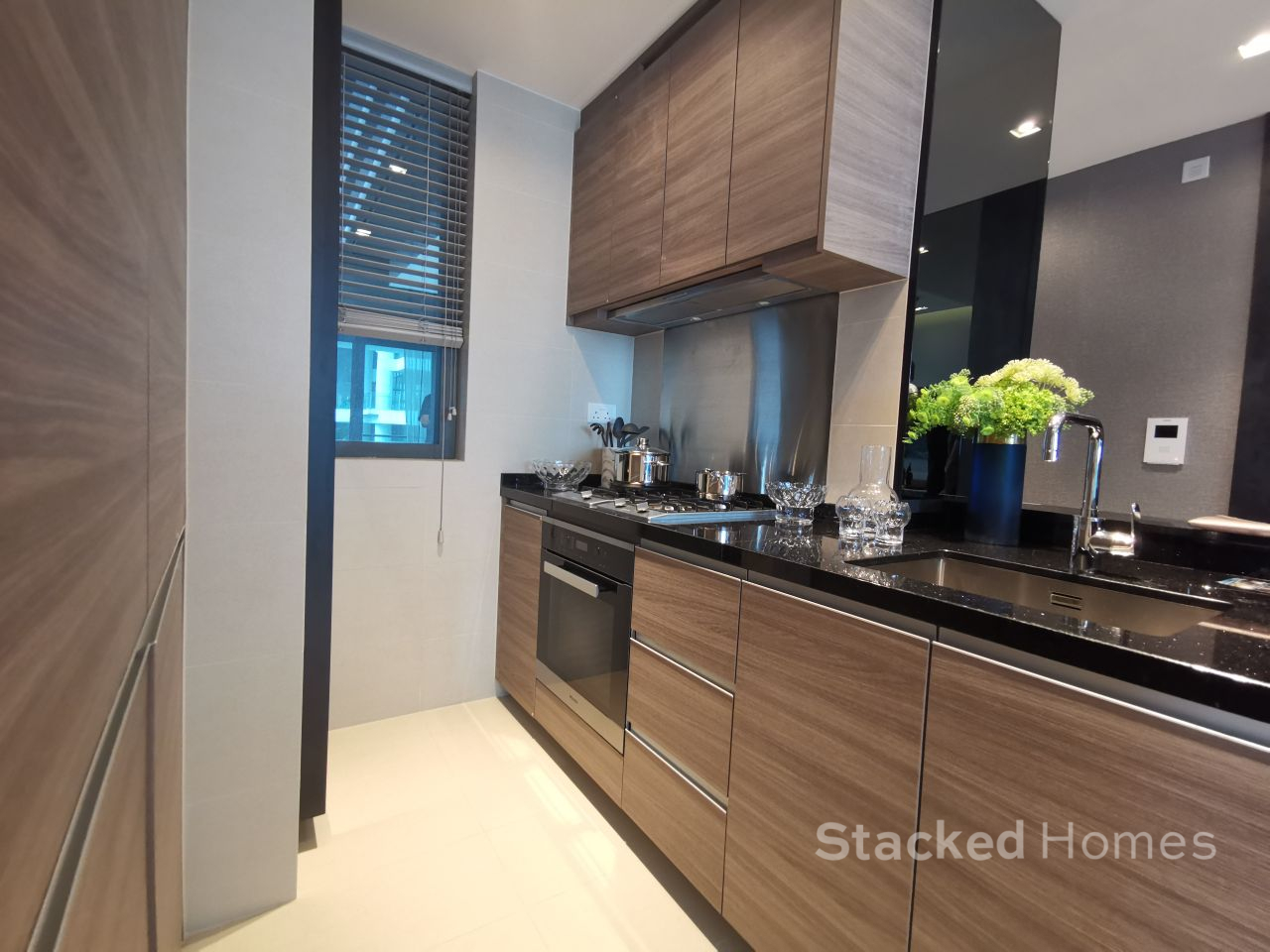 We like that there is a window right next to the cooking area of the kitchen, which allows for natural ventilation should you choose to do more heavy-duty cooking. Most modern 2 bedroom units nowadays will have an open kitchen concept, which is usually only good for light cooking.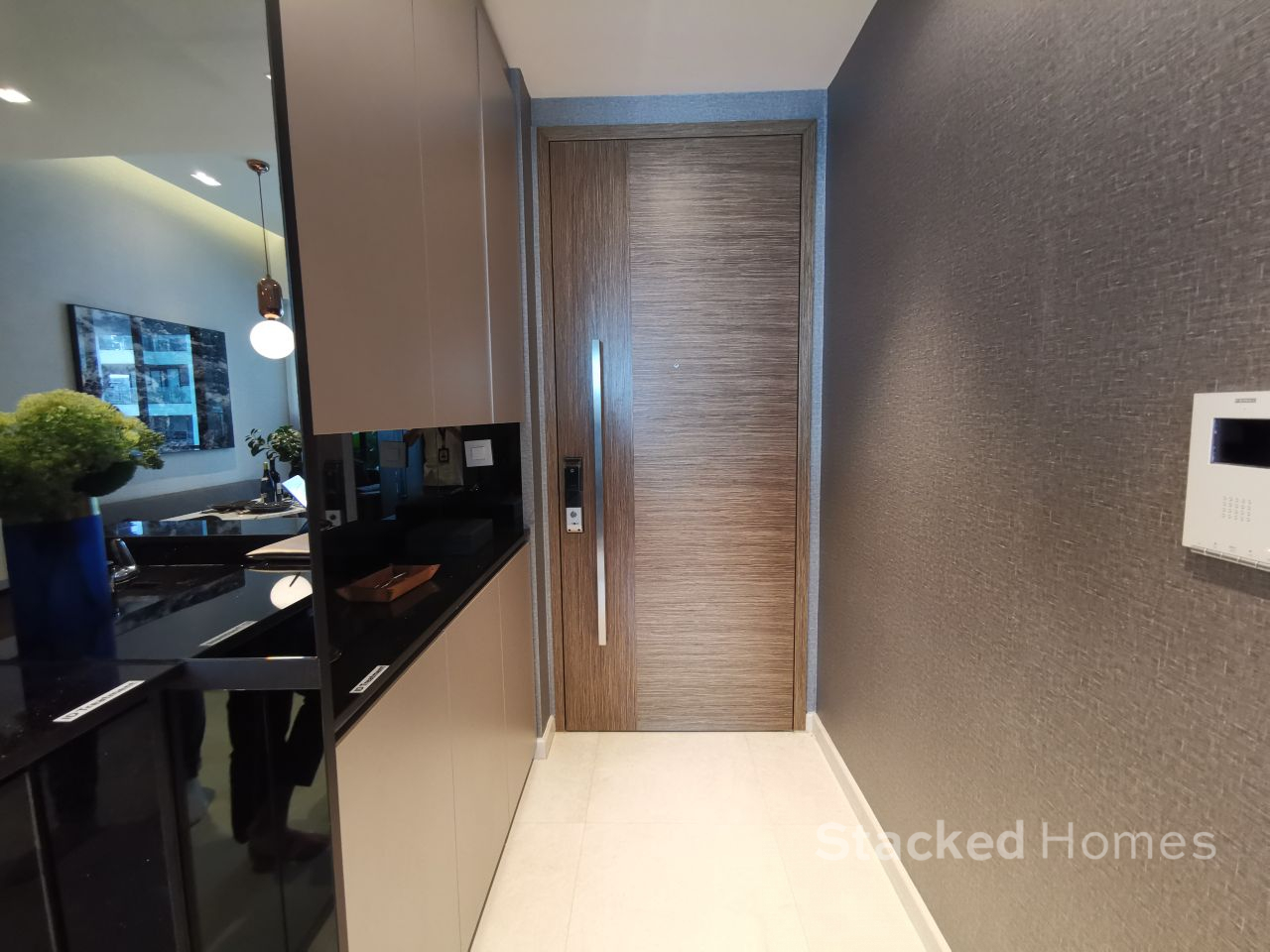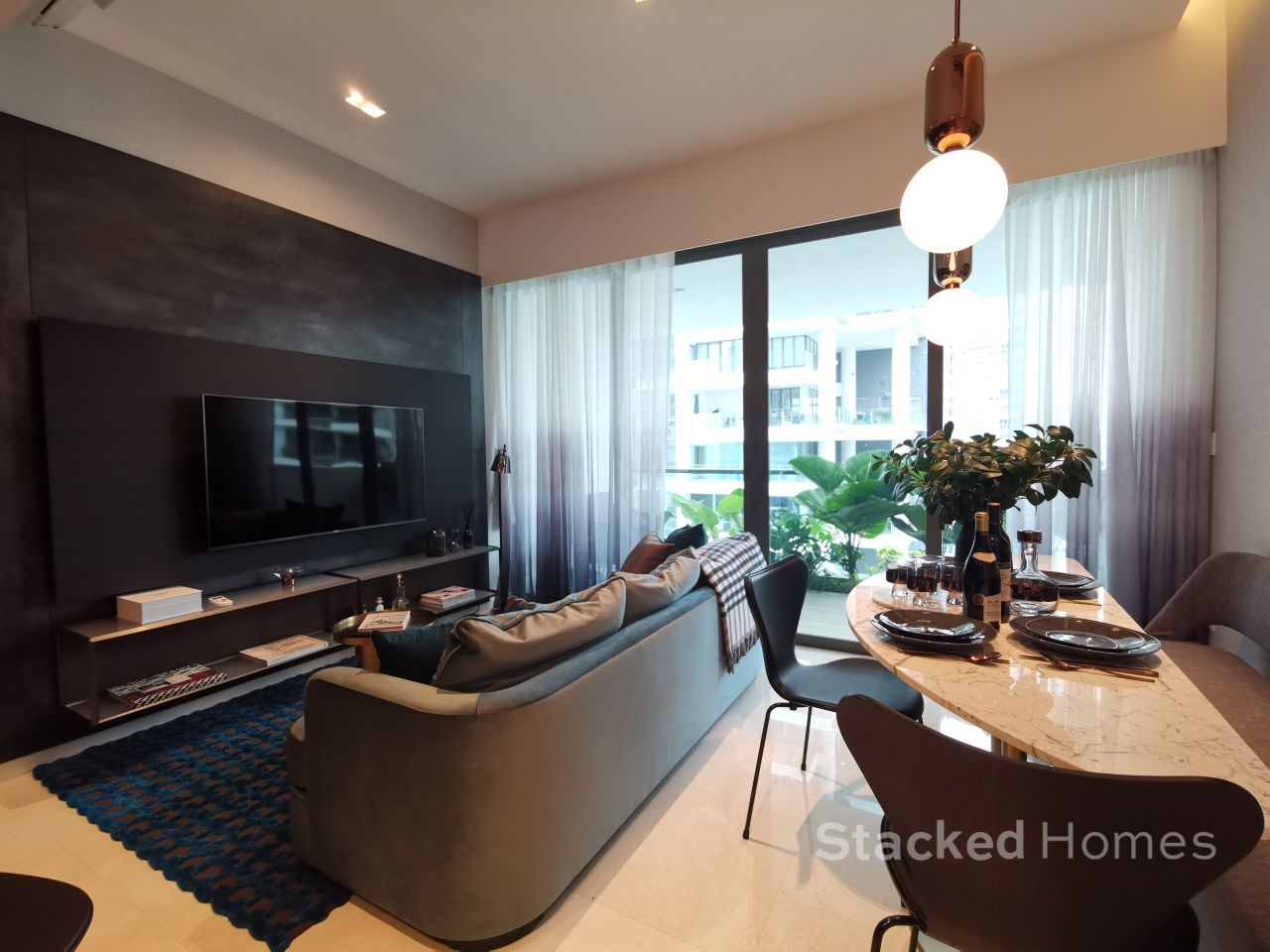 The ID does play some part in making the living area seem bigger, but it is certainly a very usable space. Of course, if you had a rectangular dining table instead it might become a little more squashed.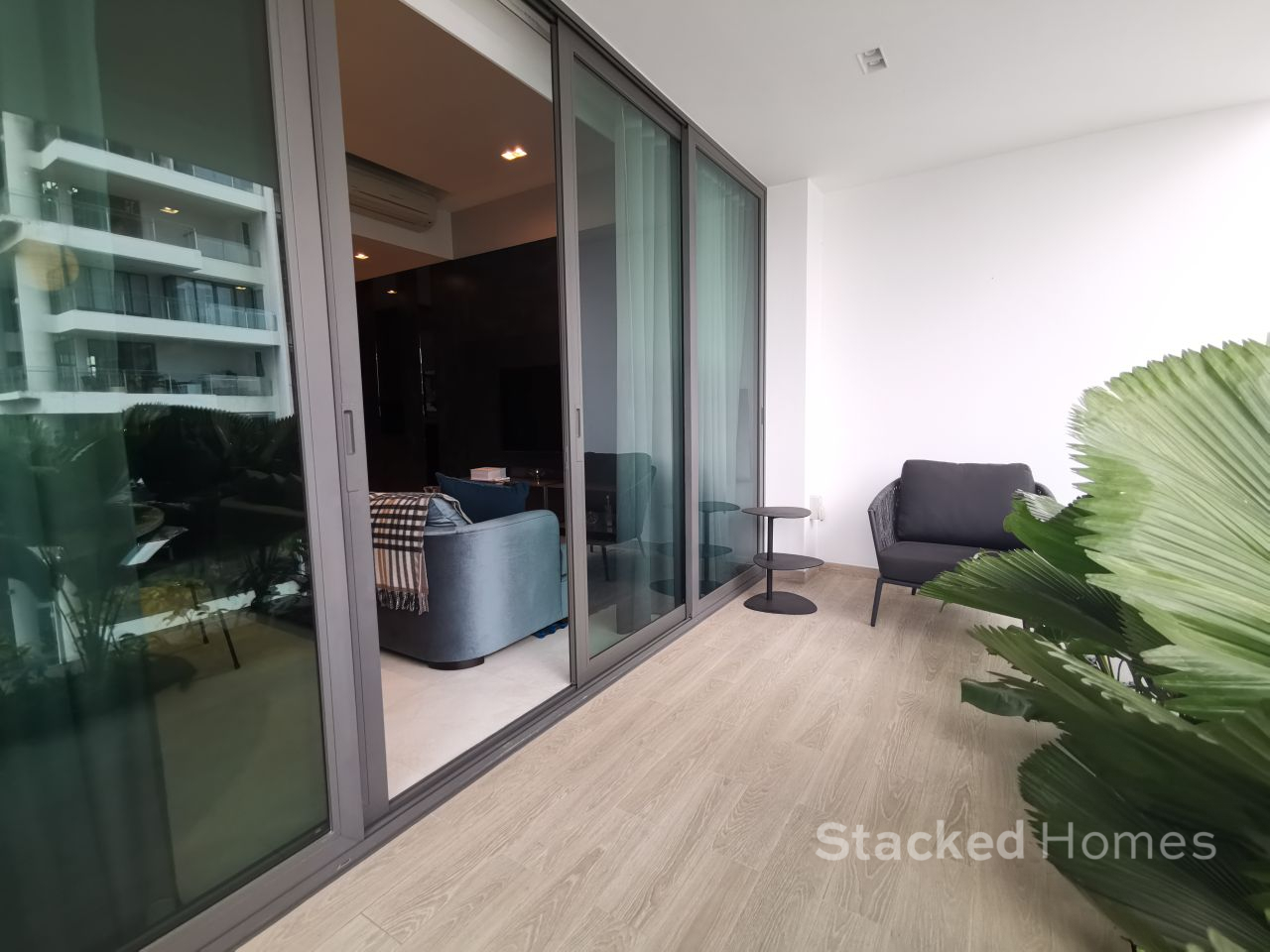 The balcony has a very usable space too, you could even fit a small dining set here.
The views here are blocked by the other tower at 8 St Thomas, but at angles still provide a more than decent view of the city.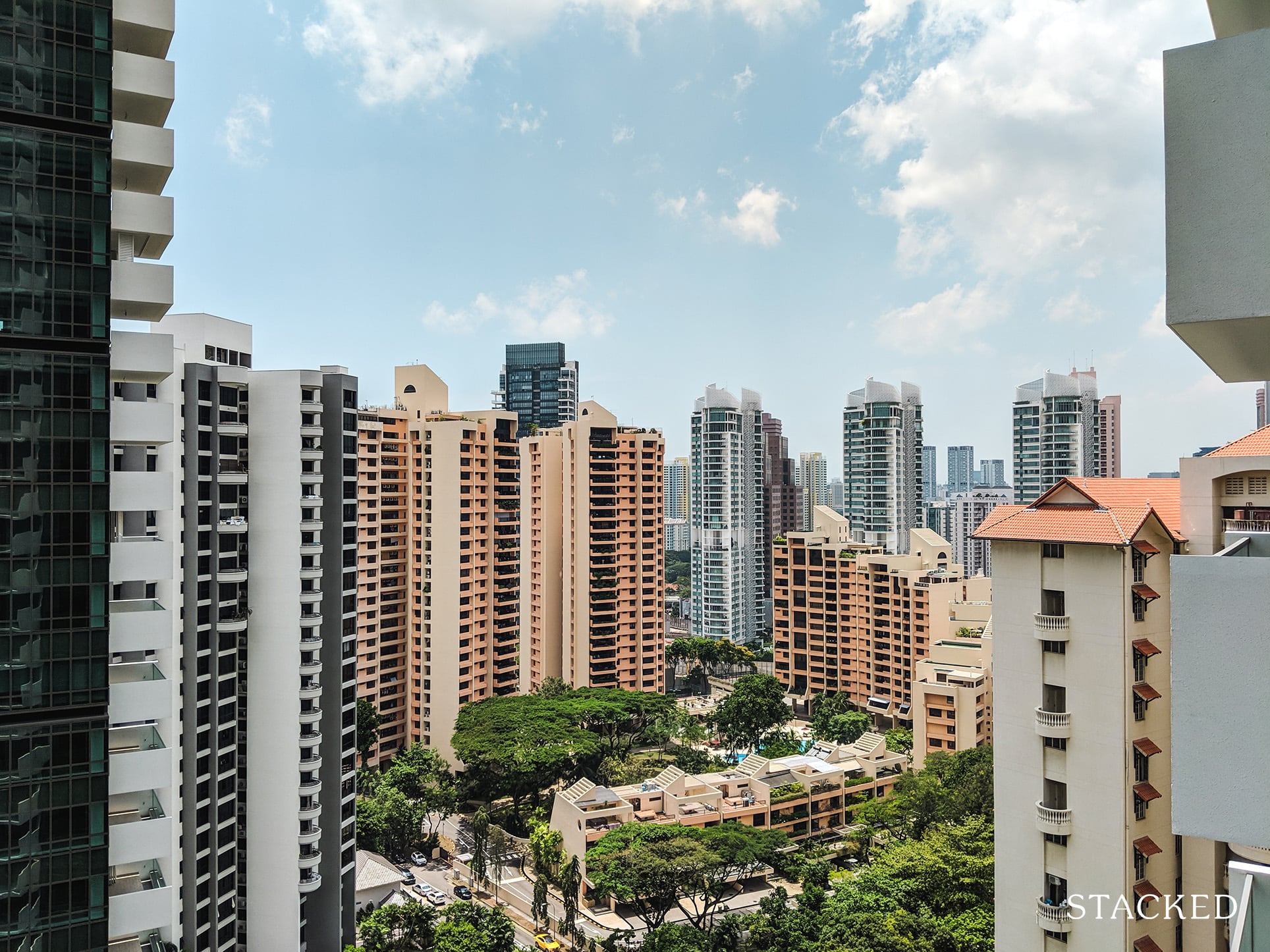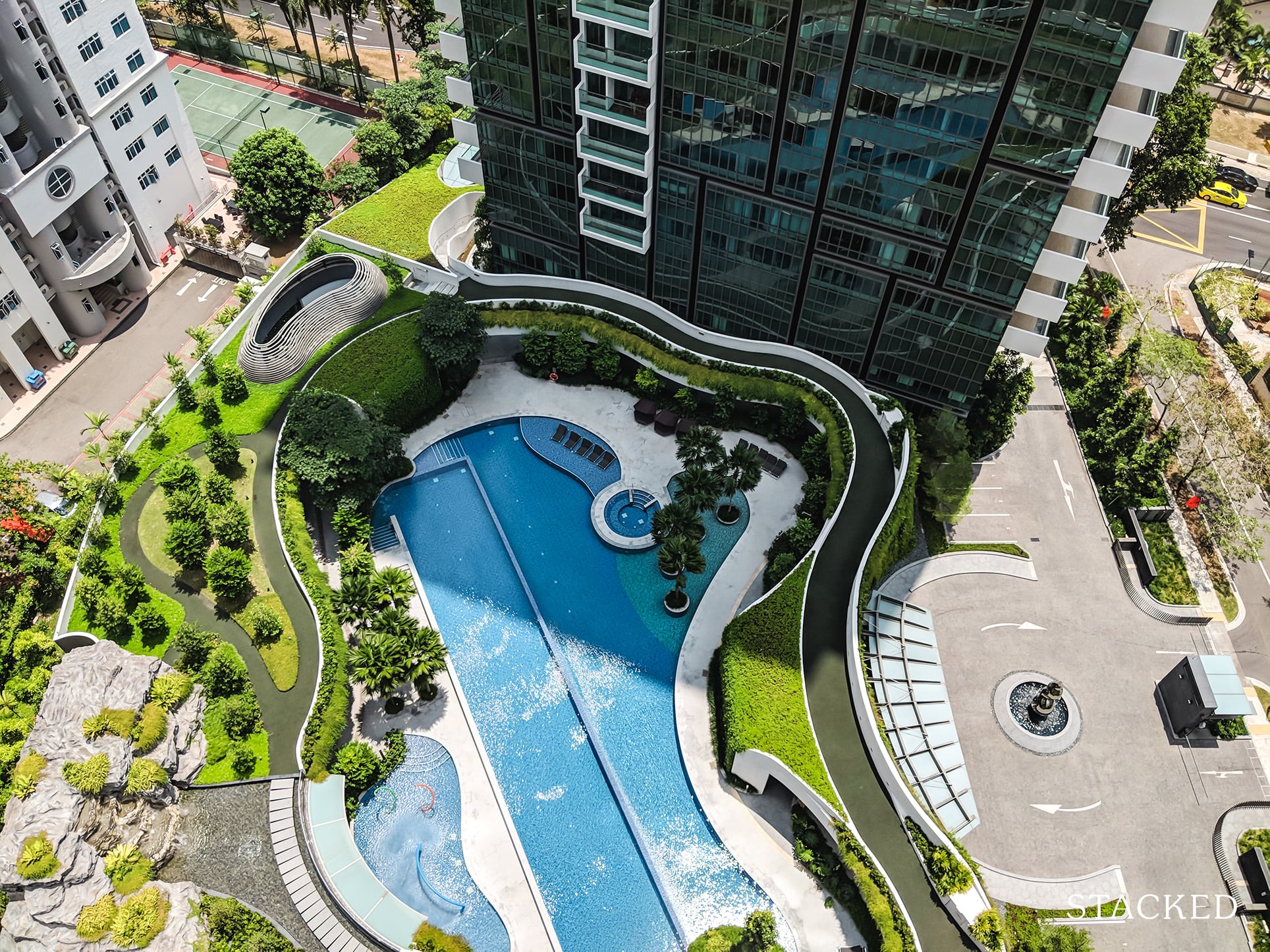 The swimming pool in all its glory.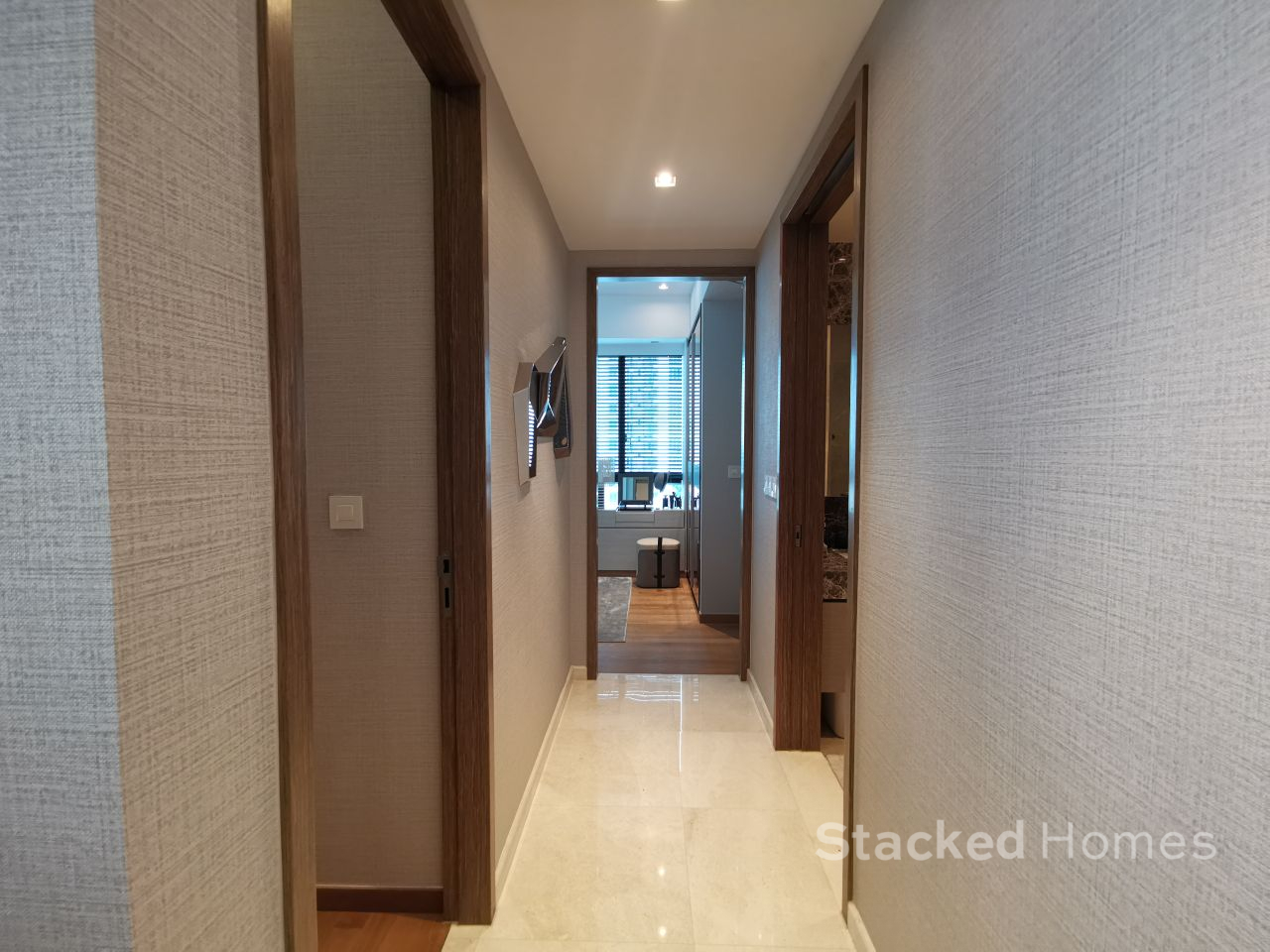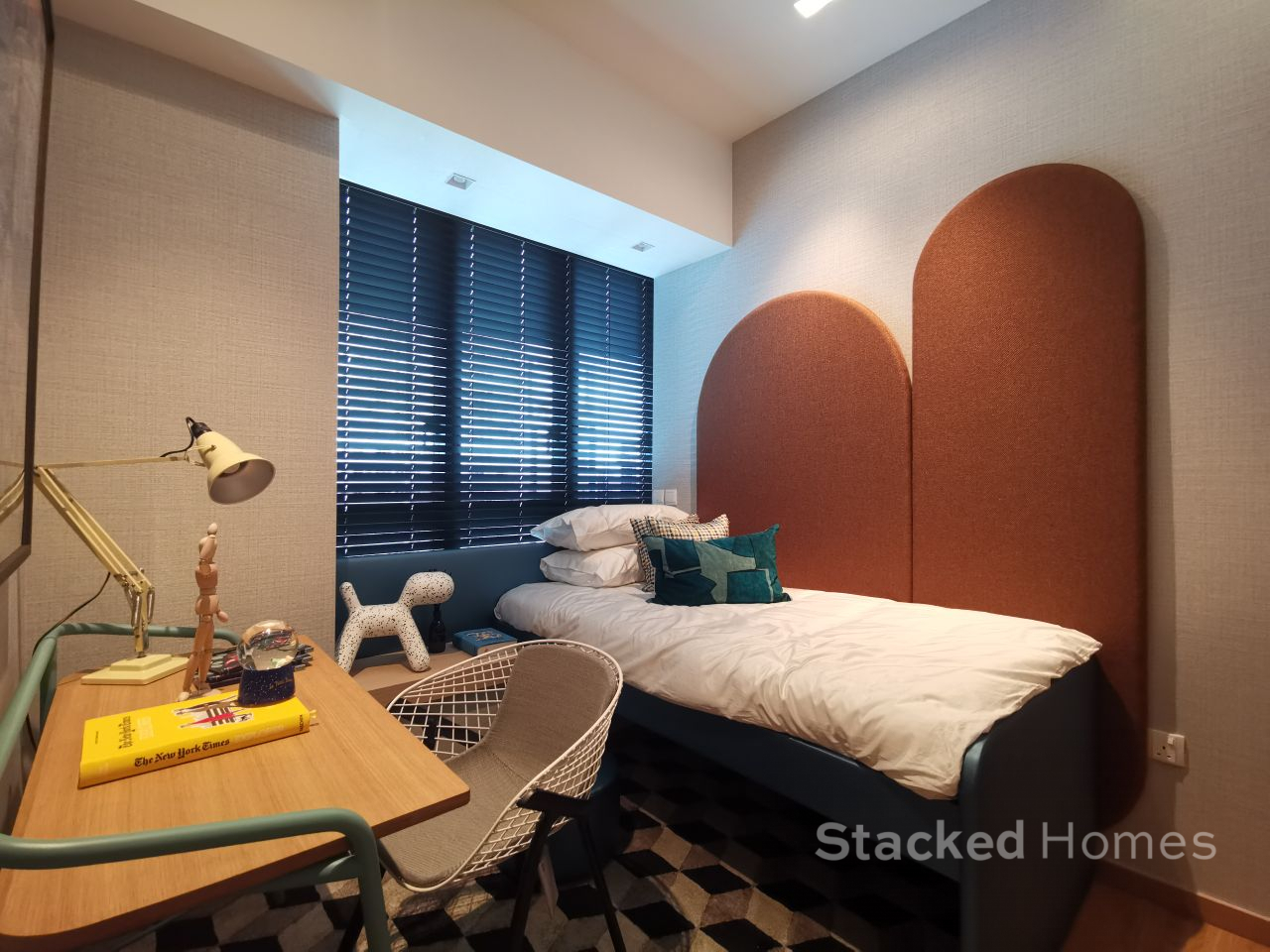 The common bedroom is decent, you could probably fit a queen-sized bed in here if you were to forgo the study table.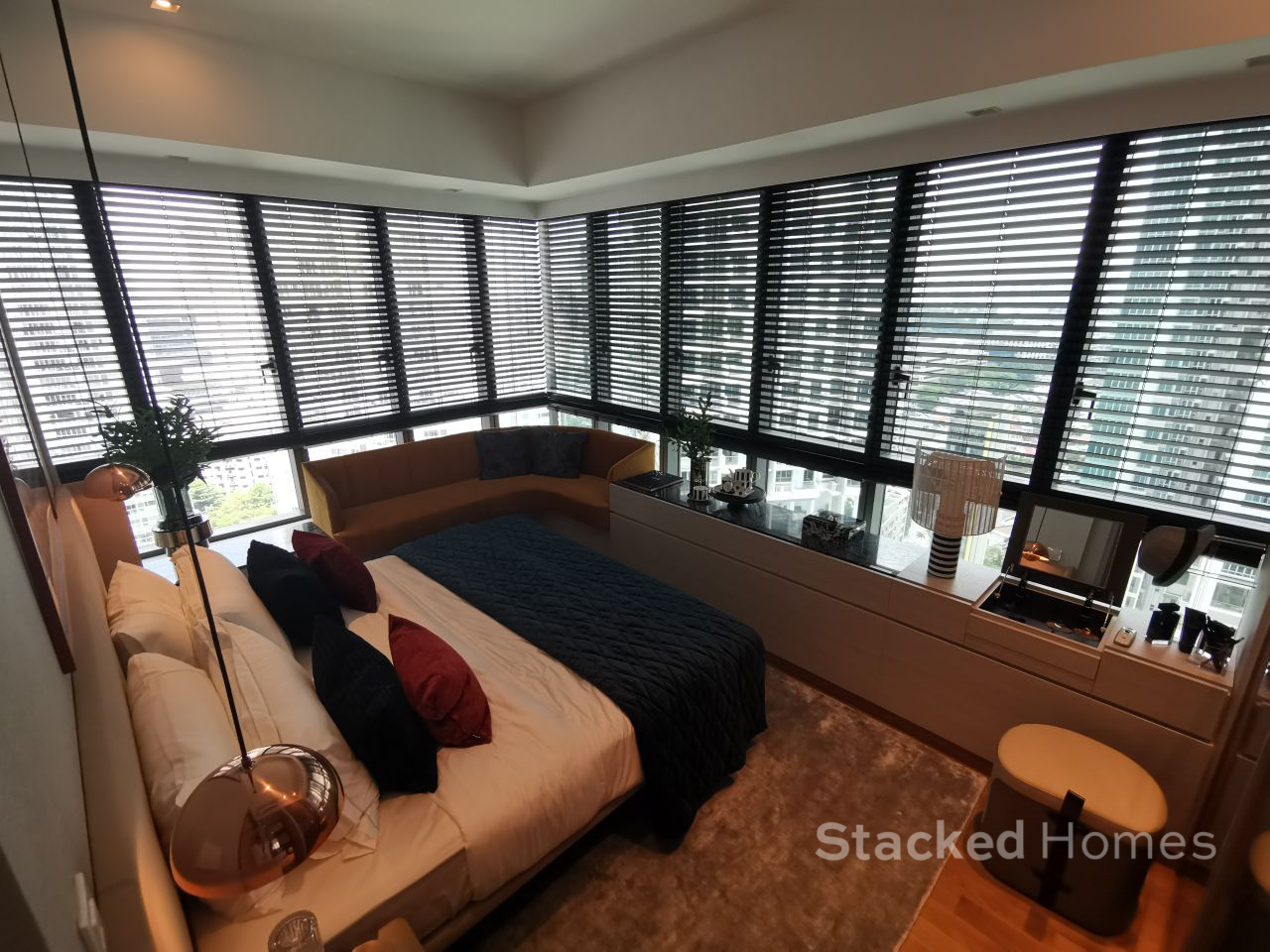 This is probably the pièce de résistance of this 2 bedroom apartment. Just check out that panoramic wrap-around view of the city. Needless to say, we were sold by this. It is not as stunning as the Wallich Residence 3 bedroom unit, but at a much more affordable price tag and freehold status, we cannot complain about it at all.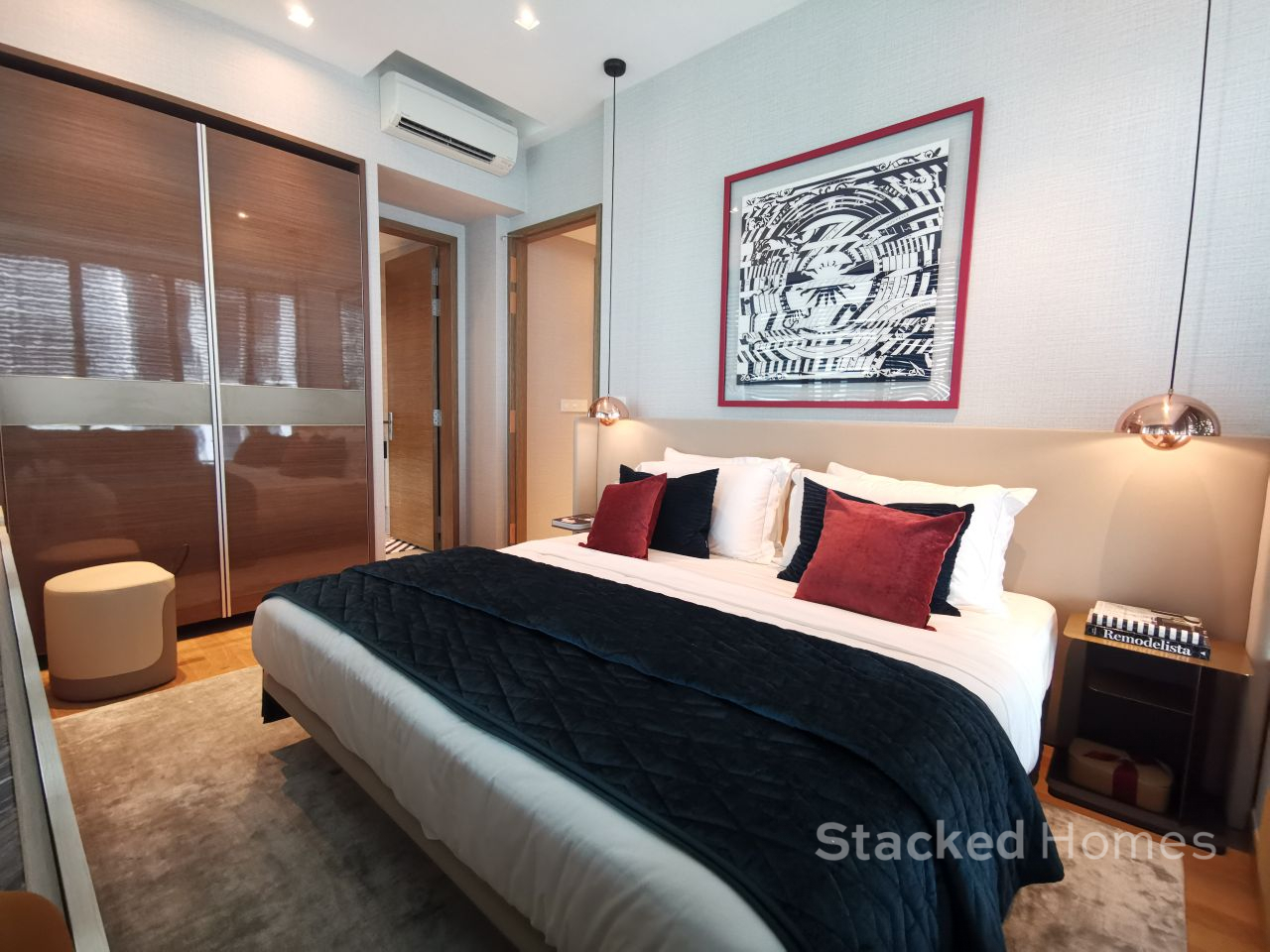 There is a decent walk around space surrounding the master bed.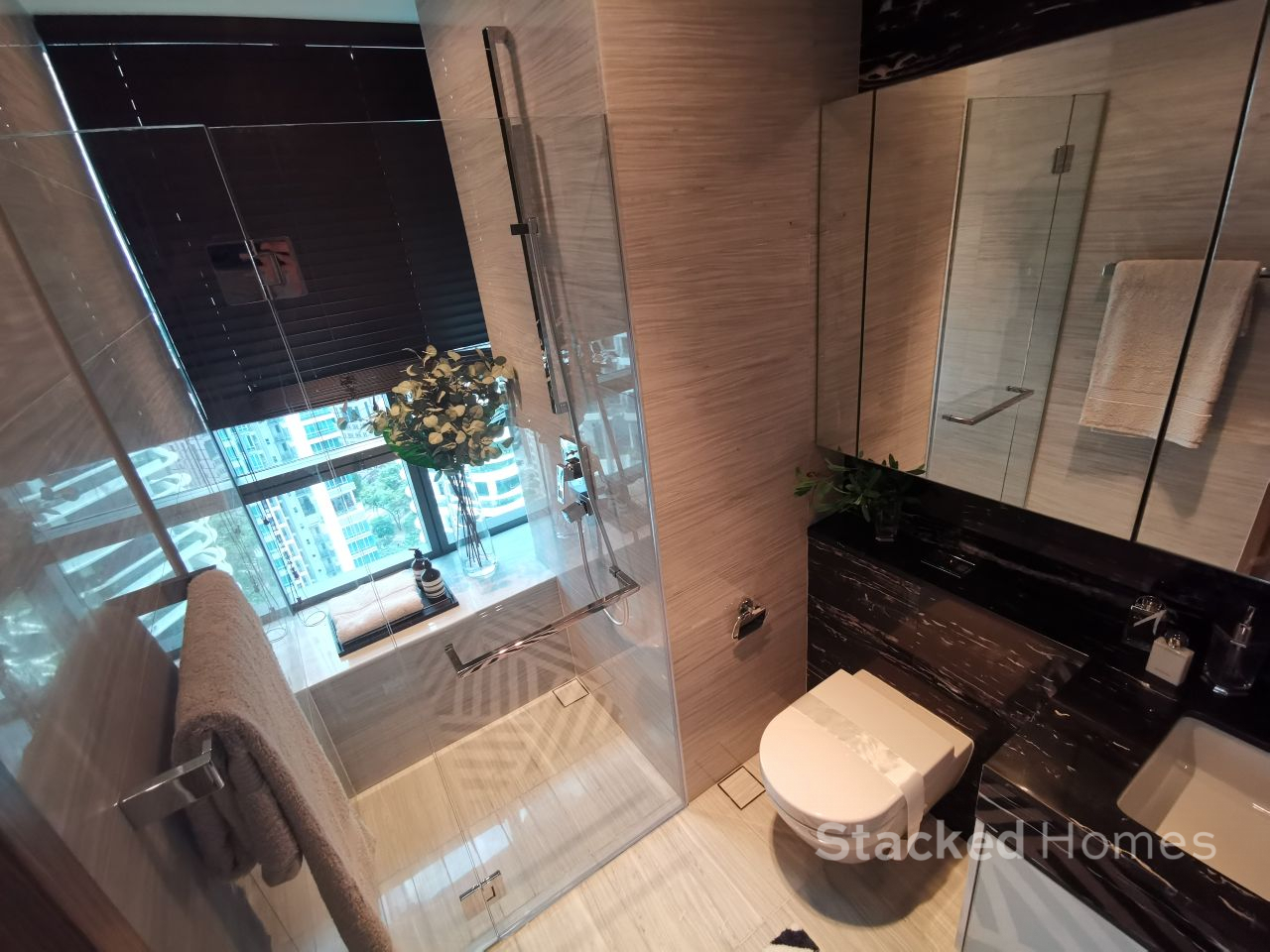 You can also enjoy the city views from your shower.
8 St Thomas Condo Review – Prices
8 St Thomas launched in August 2018, with the developer revealing that 20 units were sold over the weekend at well over $3,000 per square foot.

The 1 bedroom unit at 441 square feet sold at about $1.44 million, which translates to $3,265 PSF. The 2 bedroom unit in question here sold at $2.7 million, at $3,354 PSF. Again, for tall developments such as this, it is very much subject to the facing and level of the units.
Let's look at the direct neighbours.
La Crystal Condo
La Crystal Condo is the development right next to 8 St Thomas and at the corner of the street. It is freehold as well but is old and the design of the condo leaves much to be desired.

Its harder to make a direct comparison here because the last unit was sold in October 2017, at only $1,767 PSF. It will be tough to find any units here as the owners know that their value has been propped up by the prices that 8 St Thomas is asking for. If you do come across a unit here and you are not sticky about your lifestyle, we reckon this would be a value purchase.
Skyline 360 @ St Thomas Walk
Probably the closest competitor, Skyline 360 was built in 2013, so just a couple of years older.

The 1,733 sqft unit here is a 3 bedroom unit, so you will have to compare it directly to a similar 3 bedroom at 8 St Thomas. So a 1,302 sqft 3 bedroom unit has gone for above $4 million at 8 St Thomas. In our opinion, Skyline 360 is just as modern in design and at similar prices for the 3 bedroom units, there is not much to choose between the 2 so it makes more sense to plunge for the bigger apartment.
Our take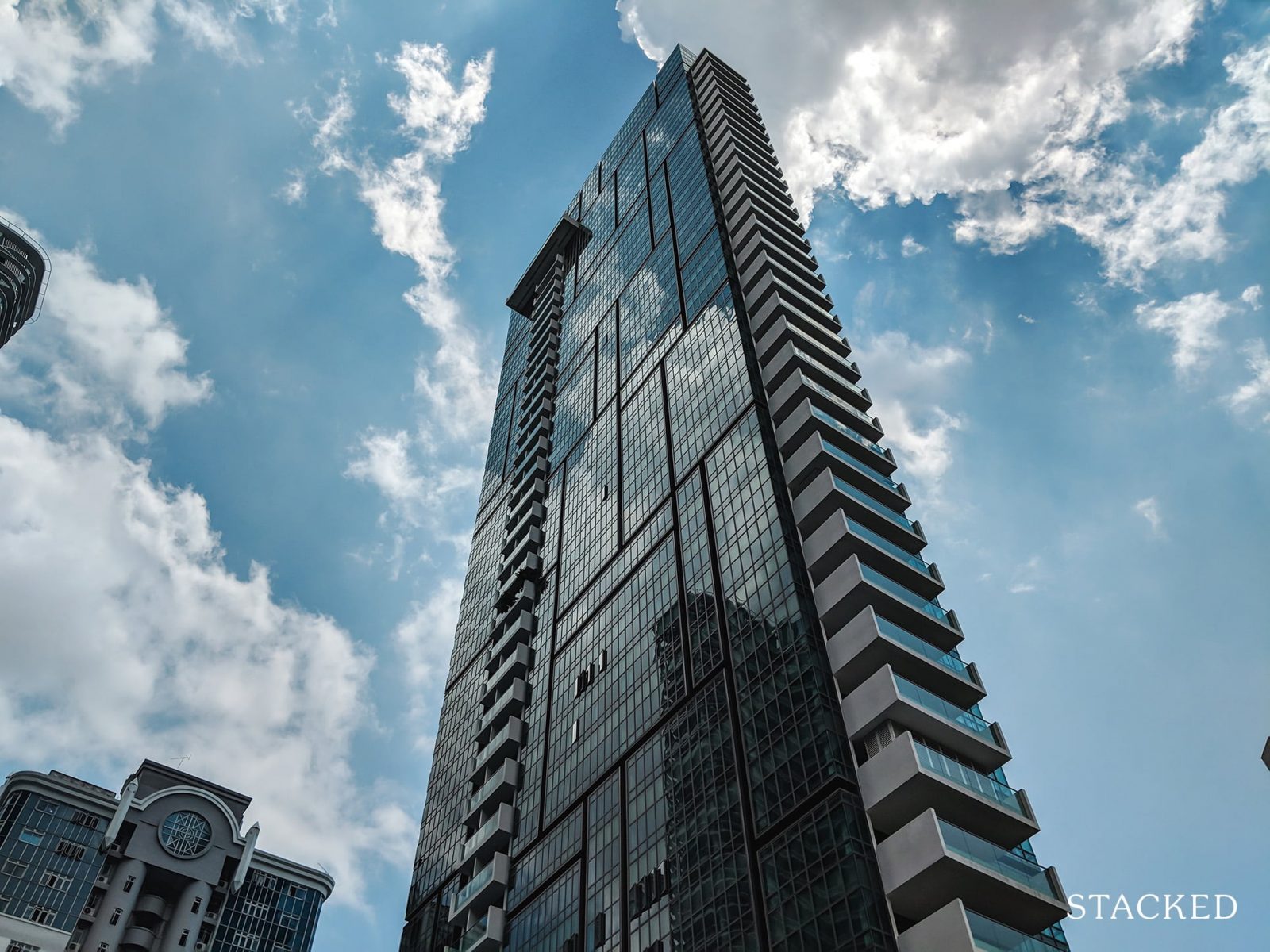 8 St Thomas is most suited for young couples and expats and those after a certain lifestyle. However, for bigger families that require more space, there are better options out there, after all, the whole River Valley area is chock full of options. If you are looking for a 1 or 2 bedroom, the high PSF here is not felt as much as the unit sizes are smaller. So if you want to stay in a new development and require to move in straight away, 8 St Thomas could be a great choice. The 2 bedroom we have reviewed is a considerable sweet spot in our opinion. If price is less of a concern to you the view every time you step into the master bedroom is something intangible and unique to this development.
End of Review