Property Picks
8 Cheapest 3-Bedder Prime District Condos Under $1.9 Million In 2023
Ryan J
August 9, 2023

2

min read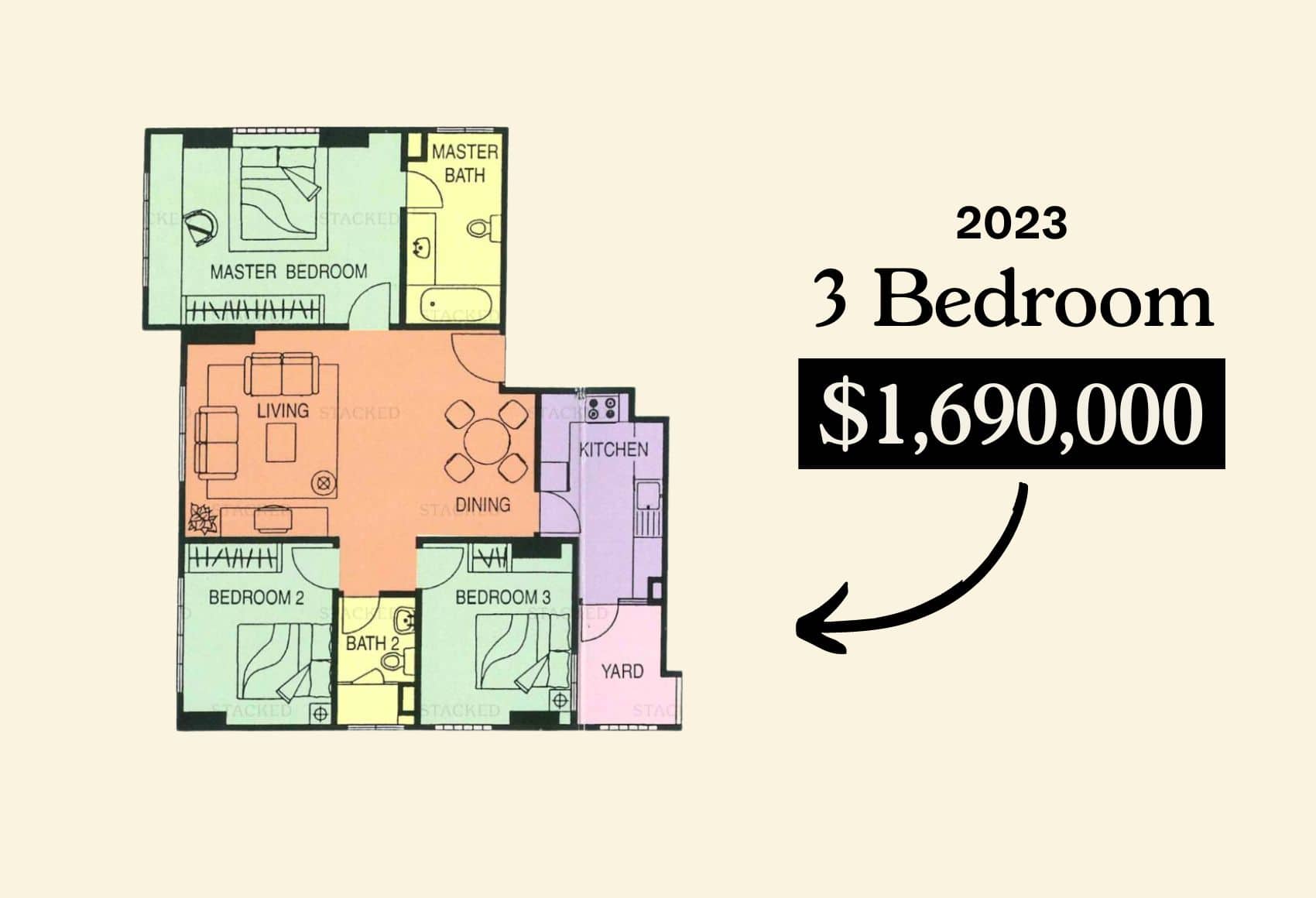 2
min read
Indeed, they do exist, but these are admittedly few and far between. If you're okay to consider older resale condos, the following might be a way to live within the prized Core Central Region (CCR), without having to break the bank. Some of them might even be within reach of HDB upgraders, with a bit of a cash top-up; and the good thing about CCR living is that, wherever in the region you are, it's probably not hard to find amenities.
But first, where exactly is the CCR? The CCR is defined as districts 9, 10, and 11 as well as the planning areas of Downtown Core and Southern Islands (aka Sentosa). This is not to be confused with Central Singapore which is broader as it includes further-out places such as Geylang.
Here's a look at the CCR transactions that went for $1.9 million and below in 2023:
Three-bedder CCR condo transactions that went under $2 million
| | | | | | | |
| --- | --- | --- | --- | --- | --- | --- |
| Project Name | Completion Date | Tenure | Sale Date | Transacted Price ($) | Area (SQFT) | Unit Price ($ PSF) |
| NOVENA LODGE | 1999 | Freehold | 1-Jun-23 | $1,680,000 | 947 | 1,774 |
| MONARCHY APARTMENTS | 1997 | Freehold | 11-Jul-23 | $1,690,000 | 1163 | 1,454 |
| SOPHIA HILLS | 2018 | 99 yrs from 10/12/2013 | 16-Feb-23 | $1,710,000 | 850 | 2,011 |
| SOPHIA HILLS | 2018 | 99 yrs from 10/12/2013 | 30-Mar-23 | $1,710,000 | 850 | 2,011 |
| THE SIERRA | 1998 | 947 yrs from 15/05/1937 | 3-Jan-23 | $1,715,000 | 1033 | 1,660 |
| MINBU COURT | 1986 | Freehold | 18-Jul-23 | $1,820,000 | 1270 | 1,433 |
| THE RISE @ OXLEY – RESIDENCES | 2017 | Freehold | 27-Feb-23 | $1,838,000 | 818 | 2,247 |
| MINBU COURT | 1986 | Freehold | 27-Jun-23 | $1,858,000 | 1270 | 1,463 |
| EON SHENTON | 2017 | 99 yrs from 06/10/2011 | 28-Feb-23 | $1,870,000 | 786 | 2,380 |
| CAVENAGH GARDENS | – | Freehold | 21-Apr-23 | $1,900,000 | 1206 | 1,576 |
3 bedroom condos that sold under $2 million in 2023
A quick glimpse at these Core Central Region properties
1. Novena Lodge
Location: 2 Jalan Merlimau (District 11)
Developer: Novena Development Pte. Ltd.
Lease: Freehold
Completion: 1999
Number of units: 66
Novena Lodge is located along the less busy side of Thomson Road; but there is a problem with its proximity to Thomson Road.
The project is situated at the point where Jalan Merlimau connects to Thomson Road, thus making it more exposed to traffic. It's a bit aggravated by the proximity to Thomson Medical Centre just up the road, and the whole area is typically jammed pack due to the connectivity to the PIE as well.
In effect, it's at the very point where a landed enclave meets the main road. Some buyers might feel this offsets the benefits of being in a low-density immediate area; but it's subjective, so do take a look.
This is a boutique development with just 66 units, and the plot is just under 50,000 sq. ft. As such, the common facilities are very basic (there's a small pool and bbq facilities). It's also in a courtyard layout, so not everyone would enjoy the inner-facing views as the development isn't big. Unit sizes aren't also much to speak of, ranging from 592 to 1,055 sq. ft. Instead, Novena Lodge relies on its proximity to Novena to impress.
An eight to nine-minute walk down Thomson Road (with one crossing, so watch the children) will bring you to Novena Square/Square 2/Royal Square. This is also where Novena MRT station (NSL) is located, giving you quick access to Orchard Road (two train stops). Novena Square is also the major mall servicing Novena, so all the restaurants, supermarkets, stores, etc. can be found here.
This is a development for those who prize practicality, over frills like a nicer pool or fancier façade.
Novena Lodge 3 Bedroom Floor Plan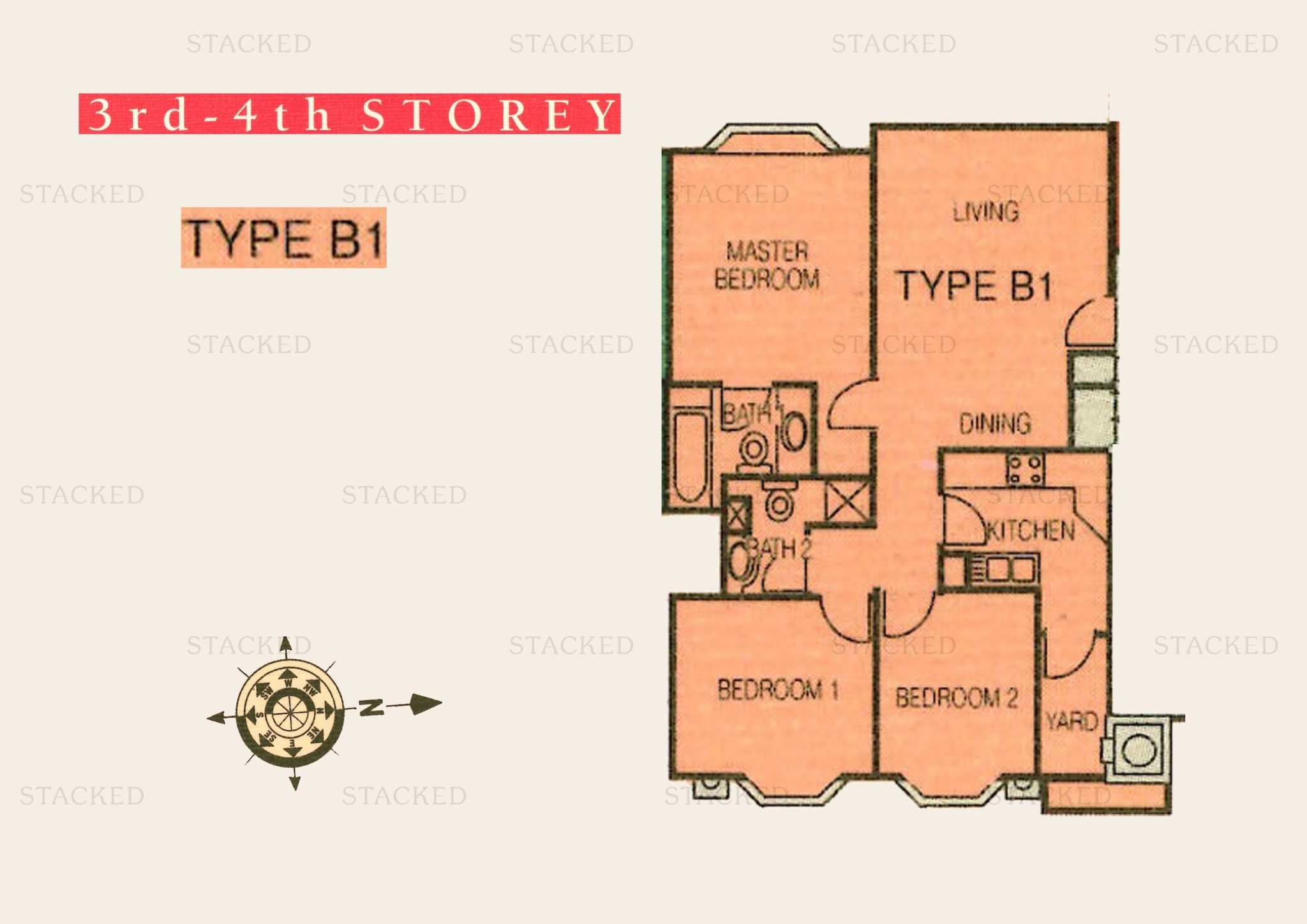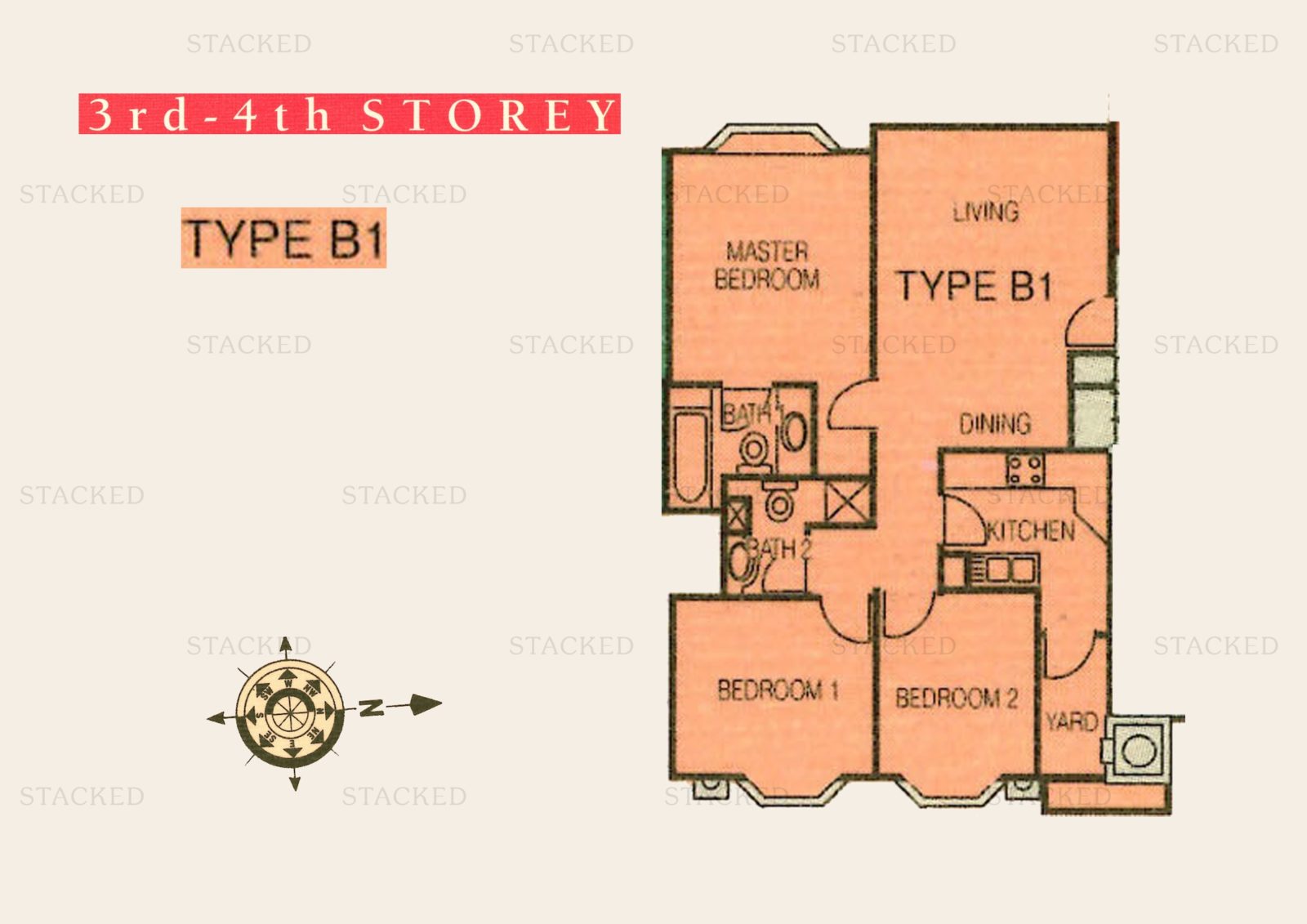 2. Monarchy Apartments and Minbu Court
Monarchy Apartments
Minbu Court
Location:
Monarchy Apartments: 51 Mandalay Road (District 11)
Minbu Court: 54 Minbu Road (District 11)
Developer:
Monarchy Apartments: Queens Square Investment Pte. Ltd.
Minbu Court: Unknown
Lease:
Monarchy Apartments: Freehold
Minbu Court: Freehold
Completion:
Monarchy Apartments: 1997
Minbu Court 1986
Number of units:
Monarchy Apartments: 39
Minbu Court: 27
Monarchy Apartments and Minbu Court are very close (and not too far from Novena Lodge), so we're covering them under the same entry.
Both projects are just a quick bus link away from Novena MRT station (take bus 131 from the nearby bus stop, on the other side of Balestier Bak Kut Teh). Like Novena Lodge above, this means quick access to Novena Square mall, as well as the Orchard shopping belt. The only drawback is needing one extra bus connection. A quicker mall nearby is Zhongshan Mall, which should fulfill your basic amenity needs (there's an NTUC here).
As a form of compensation, both projects are along Balestier Road, which is a well-known foodie haven. From Boon Tong Kee chicken rice, to the famed Balestier Market and Food Court, this is a place for residents to really put on weight, and we mean that in a good way.
The important thing to note is that these are apartment complexes, not condos; hence the lower prices. There are no facilities, nor would those be practical as Monarchy and Minbu only have 39 and 27 units respectively.
It's also not the most aesthetically pleasing area – there are no open green spaces, and the proximity of Balestier Road invariably means traffic and crowds. But maybe you won't care so much, when you can duck downstairs for a steaming bowl of bak kut teh or whatever you crave, on a rainy day.
Monarchy Apartments 3 Bedroom Floor Plan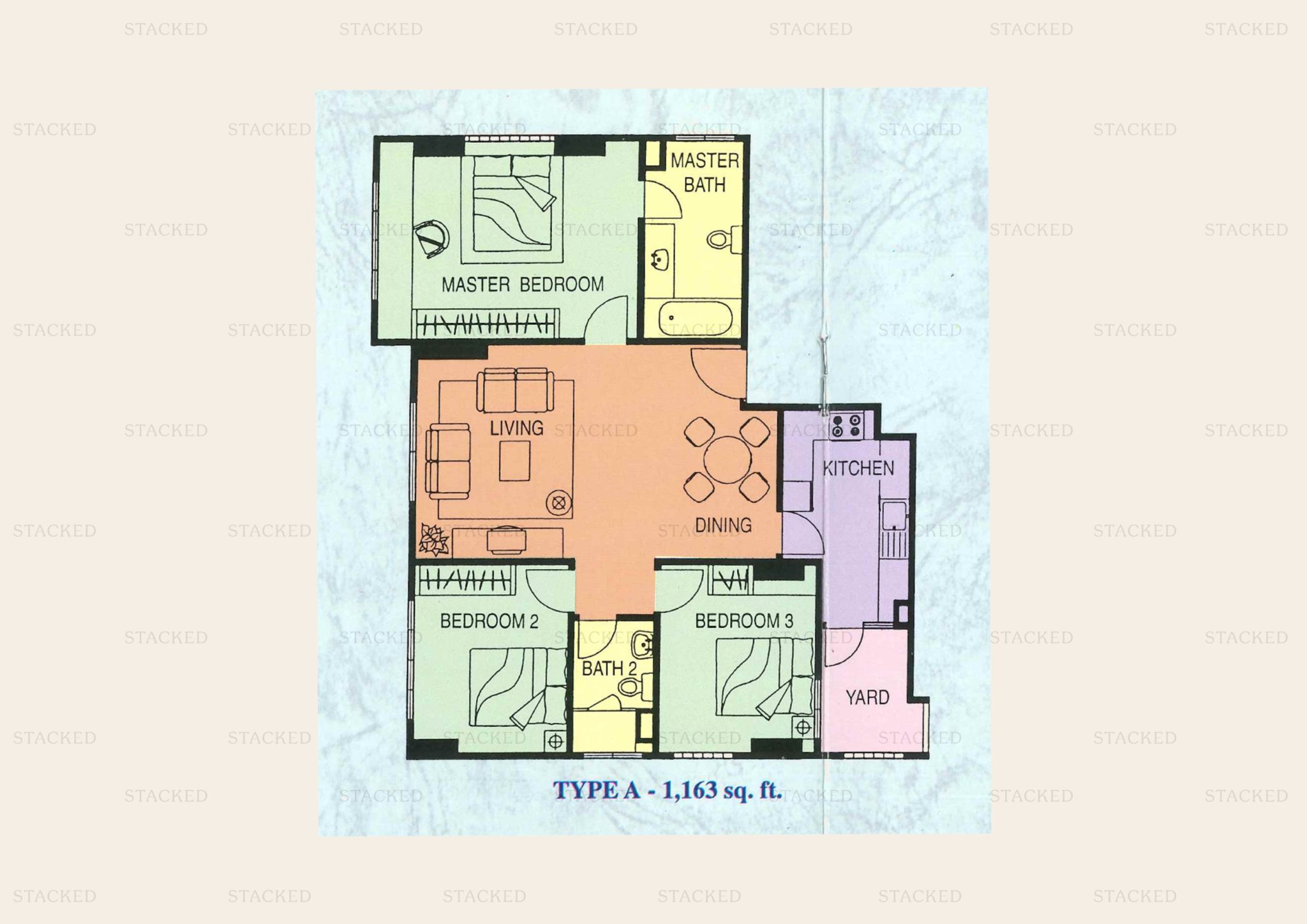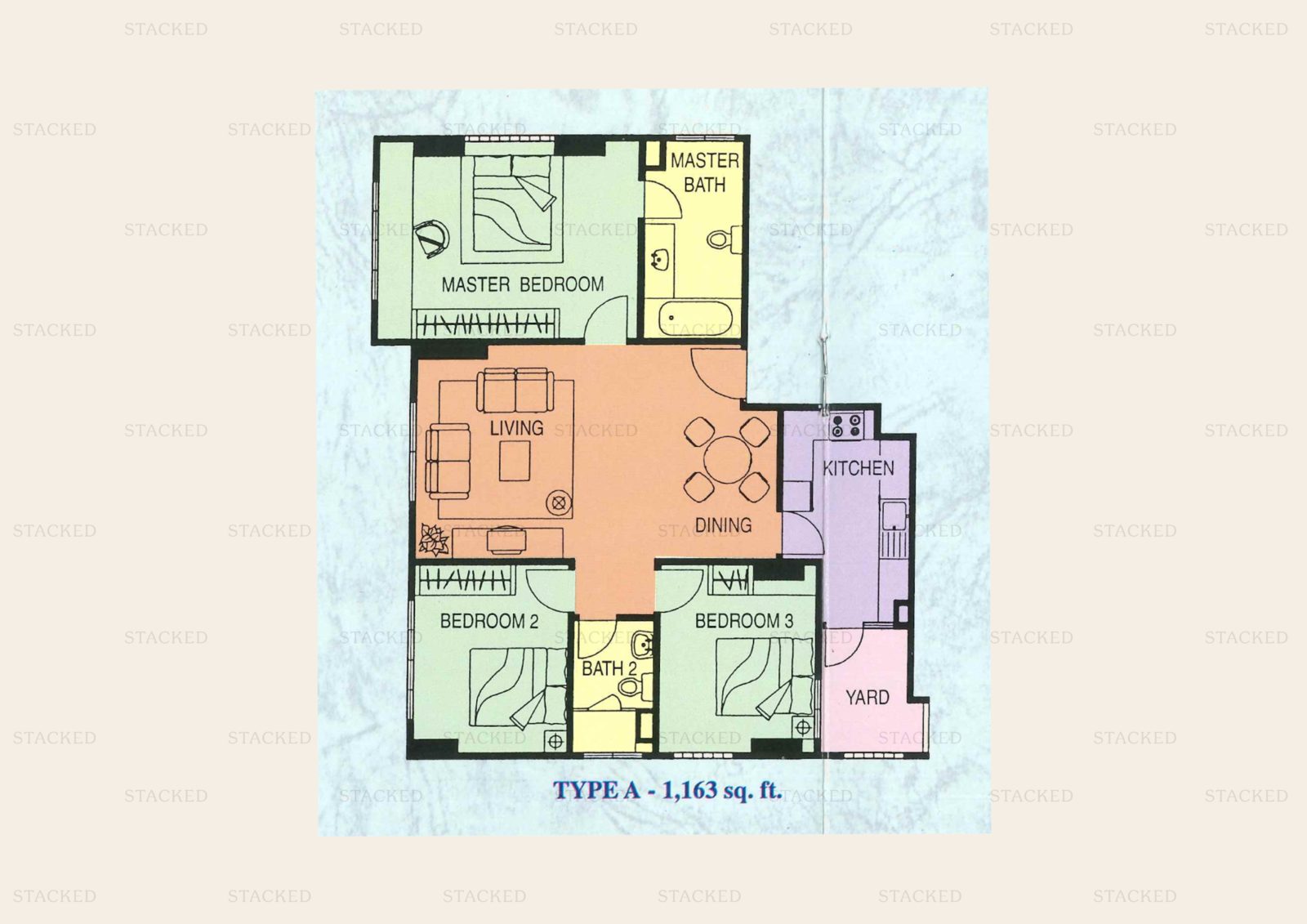 3. Sophia Hills
Location: 5 Mt. Sophia (District 9)
Developer: Hoi Hup/Sunway
Lease: 99-years
Completion: 2018
Number of units: 493
It's quick and easy to walk from this project to the Dhoby Ghaut MRT station, and the nearby Plaza Singapura (CCL, NSL, NEL). However, be warned that it's less easy to walk back.
When walking down to Plaza Singapura/Dhoby Ghaut, the most direct route will take you past another condo, Haus on Handy. Next to this condo, there are stairs that go all the way down the hill. Going down is a breeze, but climbing back up may be tough for the elderly or the mobility-challenged.
That said, this is a fantastic price for a condo within roughly six minutes of Plaza Singapura, and one of the most important MRT interchanges.
Also, note that the Cathay Cineplex is at the base of those stairs, but it's currently being renovated; we don't know what the revamp will bring.
SOTA is next to the Cathay Cineplex, making this quite attractive to families with students there. A bit of a further walk away is Bencoolen MRT (DTL). This is around a nine to 10-minute walk. The whole Selegie and Prinsep Road has further food and bar options (some of which open late), so there's that whole lifestyle element there as well.
The area can feel a little too dense though, and the only real greenery nearby would be Mount Emily Park, Dhoby Ghaut Green, and Fort Canning Park.
Overall, this is a decent development that feels private and exclusive due to its hilltop location; and worth considering as an alternative to the newer Haus on Handy. Do note also that this is a 99-year leasehold development, unlike a lot of its small freehold neighbours.
Sophia Hills 3 Bedroom Floor Plan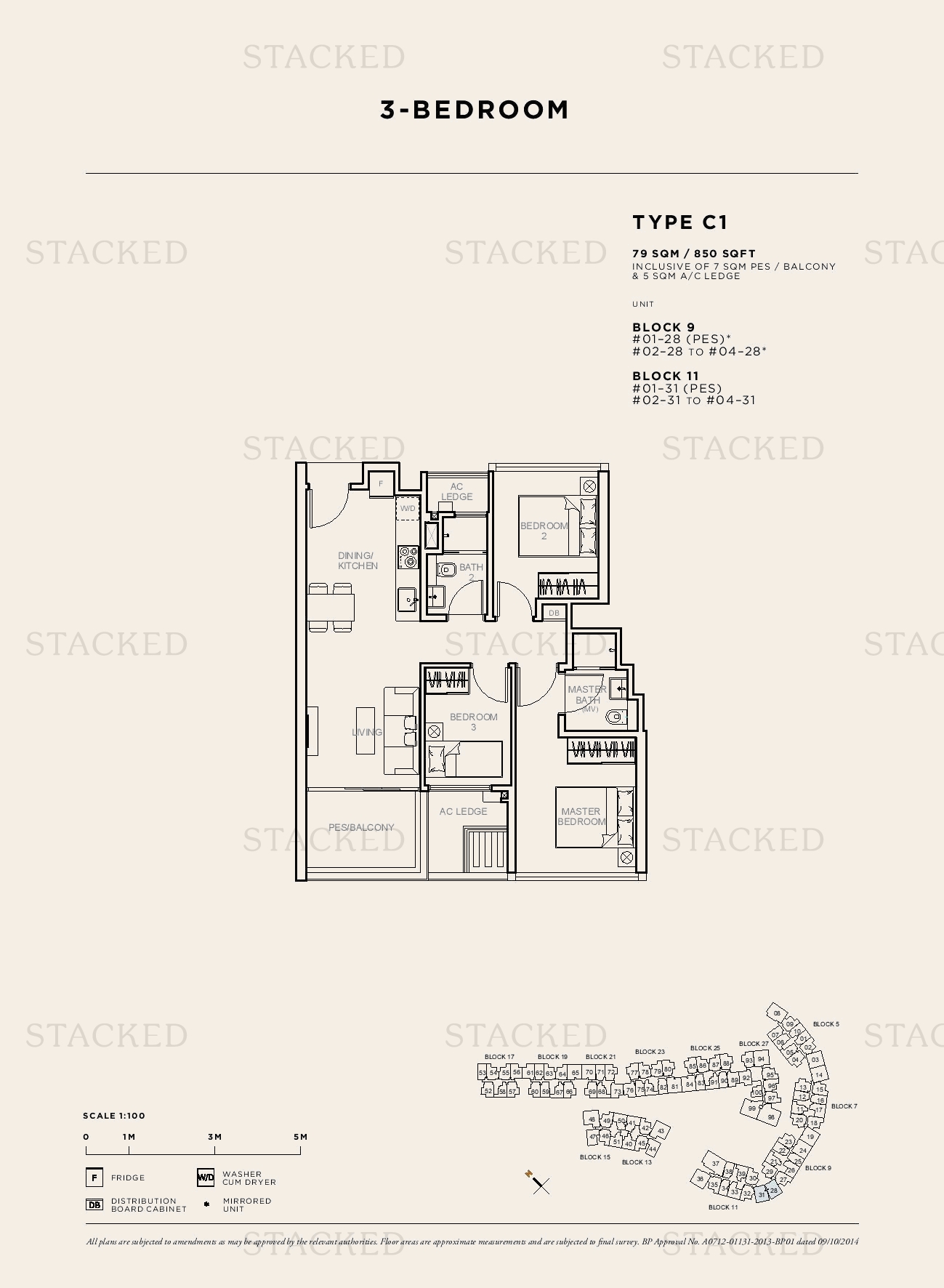 4. The Rise @ Oxley
Location: 73 Oxley Rise (District 9)
Developer: Oxley Rise Pte. Ltd.
Lease: Freehold
Completion: 2017
Number of units: 120
To use an Orchard area landmark, The Rise @ Oxley is the condo right across the road from the Chesed-El Synagogue. It's a mixed-use development, with 2 levels of commercial units on the lower floors. Units here are on the smaller side, ranging from 463 to 1,195 sq. ft.
If you know this site, the first thing that will occur to you is the proximity to Fort Canning Park. This is indeed a major amenity for residents here, as they can walk to the park in as little as five minutes. This makes it one of the few CCR properties to enjoy significant green space, as well as outdoor event spaces (if you like things like Shakespeare in the Park or movie screenings, you'll have plenty to do here in the evening). This is also where you'll find Fort Canning MRT station (DTL).
Alternatively, you can head in the direction of Dhoby Ghaut MRT (CCL, NSL, NEL), which you can reach in around eight minutes, which is definitely nearer. From here you're two train stops to Orchard, and Plaza Singapura is directly connected to this mall.
Some buyers may consider this a viable alternative to even Clarke Quay area condos, such as Canninghill Piers. You can, for instance, walk to Canninghill Piers from this project in under 12 minutes.
The Rise At Oxley Residences 3 Bedroom Floor Plan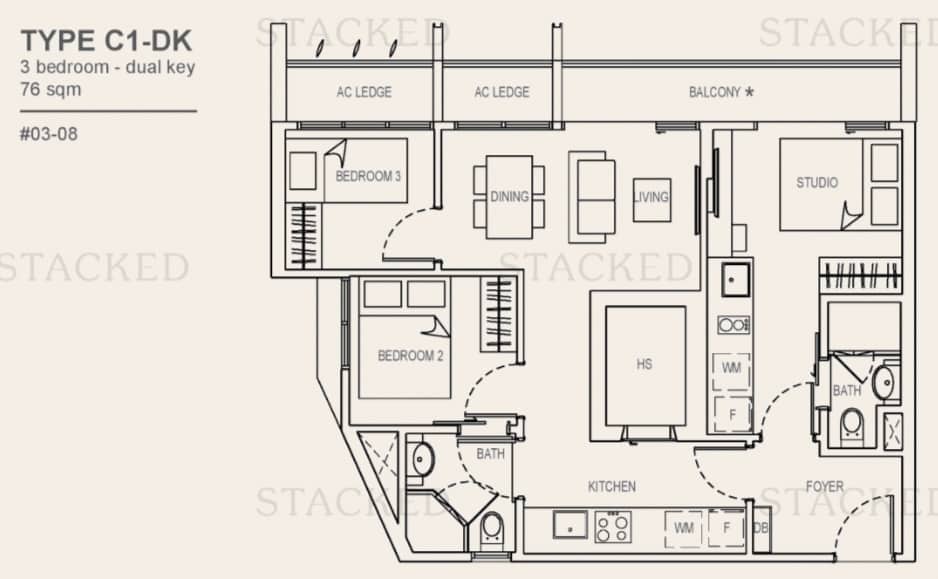 5. EON Shenton
Location: 70 Shenton Way (District 2)
Developer: 70 Shenton Pte. Ltd.
Lease: 99-years
Completion: 2017
Number of units: 132
This is honestly more of a rental asset than a family condo. Nonetheless, if you work in the CBD and near Tanjong Pagar, a three-bedder here can be very convenient.
EON is just six minutes away from 100AM Mall and Icon Village, via Enggor Street. This area is also across the road from Tanjong Pagar Plaza, which is a hawker centre and marketplace. This provides a tremendous mix of food options, from affordable to pricey restaurants; and you can definitely get most of your day-to-day needs seen to.
(This area has also become swamped with Japanese restaurants for some reason, and there's also a Don Don Donki at 100AM).
To get to Tanjong Pagar MRT (EWL), it's just a roughly seven- or eight-minute walk in the direction of Gucco Tower. A new MRT station, Prince Edward Road (CCL) will be located just across from EON by 2026.
The convenience is great but be warned: this is a hectic, noisy, and heavily-urbanised area; and given the extent of the traffic, we'd probably surrender the car and just use the nearby MRT.
Admittedly, the common bedrooms here are definitely on the small side, which is to be expected for a compact 3 bedder that is only 786 sq. ft.
Eon Shenton 3 Bedroom Floor Plan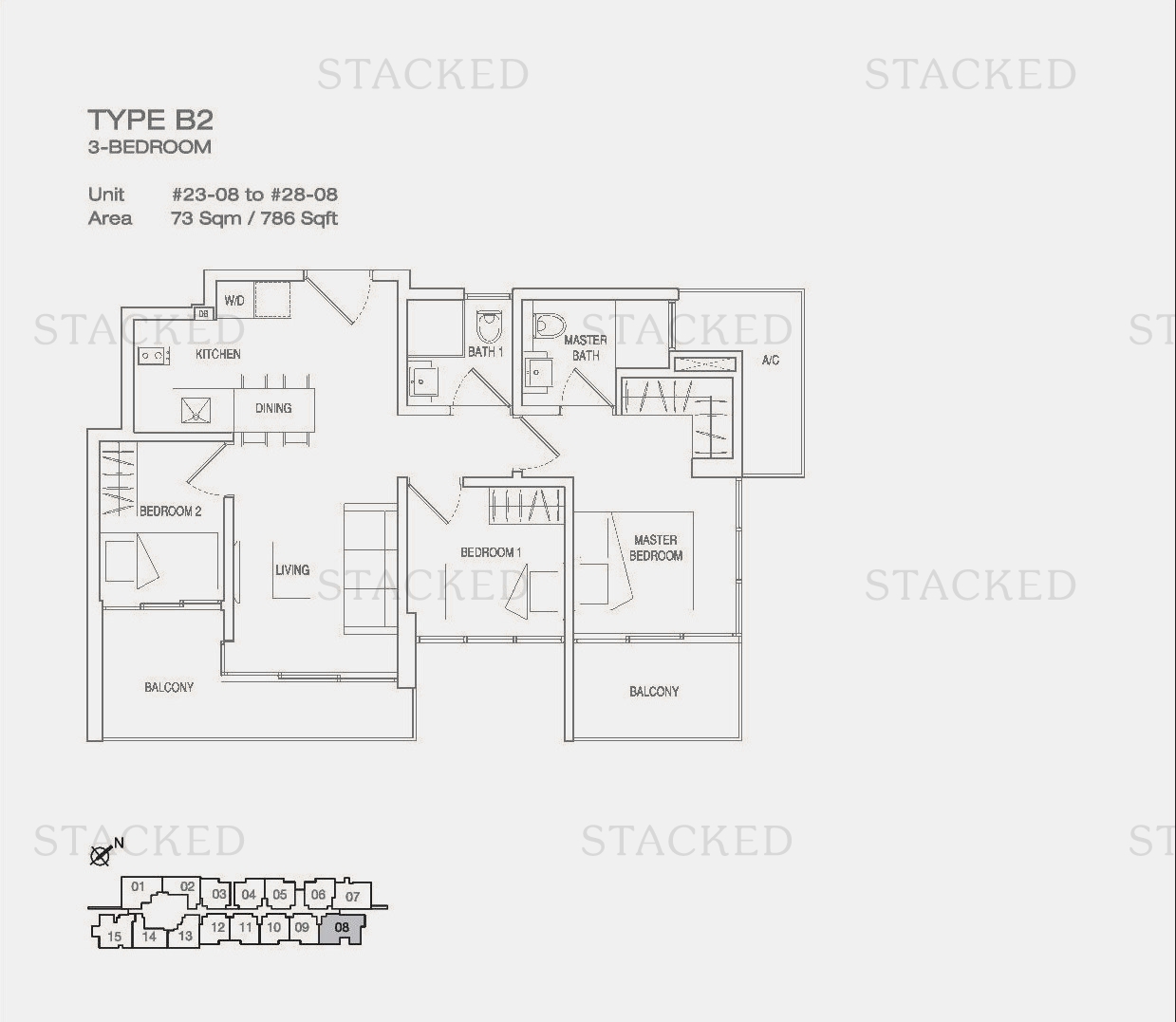 6. Cavenagh Gardens
Location: 69 Cavenagh Road (District 9)
Developer: Unknown
Lease: Freehold
Completion: 1975
Number of units: 172
Cavenagh Gardens is in the CCR, but despite that, it's quite hard to get to. There's no immediate bus stop near here, nor are the MRT stations nearby; so this is definitely a project for those who drive.
This is an apartment complex, so there are no facilities, which likely lends to its affordability.
From a former tenant, we learned that most of the other residents tend to be foreigners, who are in retail or service industries in the Orchard area. This is one of the few places near Orchard where rental rates are affordable to less affluent foreign workers (a check shows single rooms of around 110 sq. ft. being rented for about $1,600 per month).
The façade is dated, and the place could definitely use a fresh coat of paint.
At the very least, units here are quite decent in size, that range from 1,044 to 1,550 sq. ft.
For more information on the Singapore private property market, as well as in-depth reviews, follow us on Stacked.