Buying
6 Ideal 2-Bedroom Condo Layouts That Don't Compromise On Practicality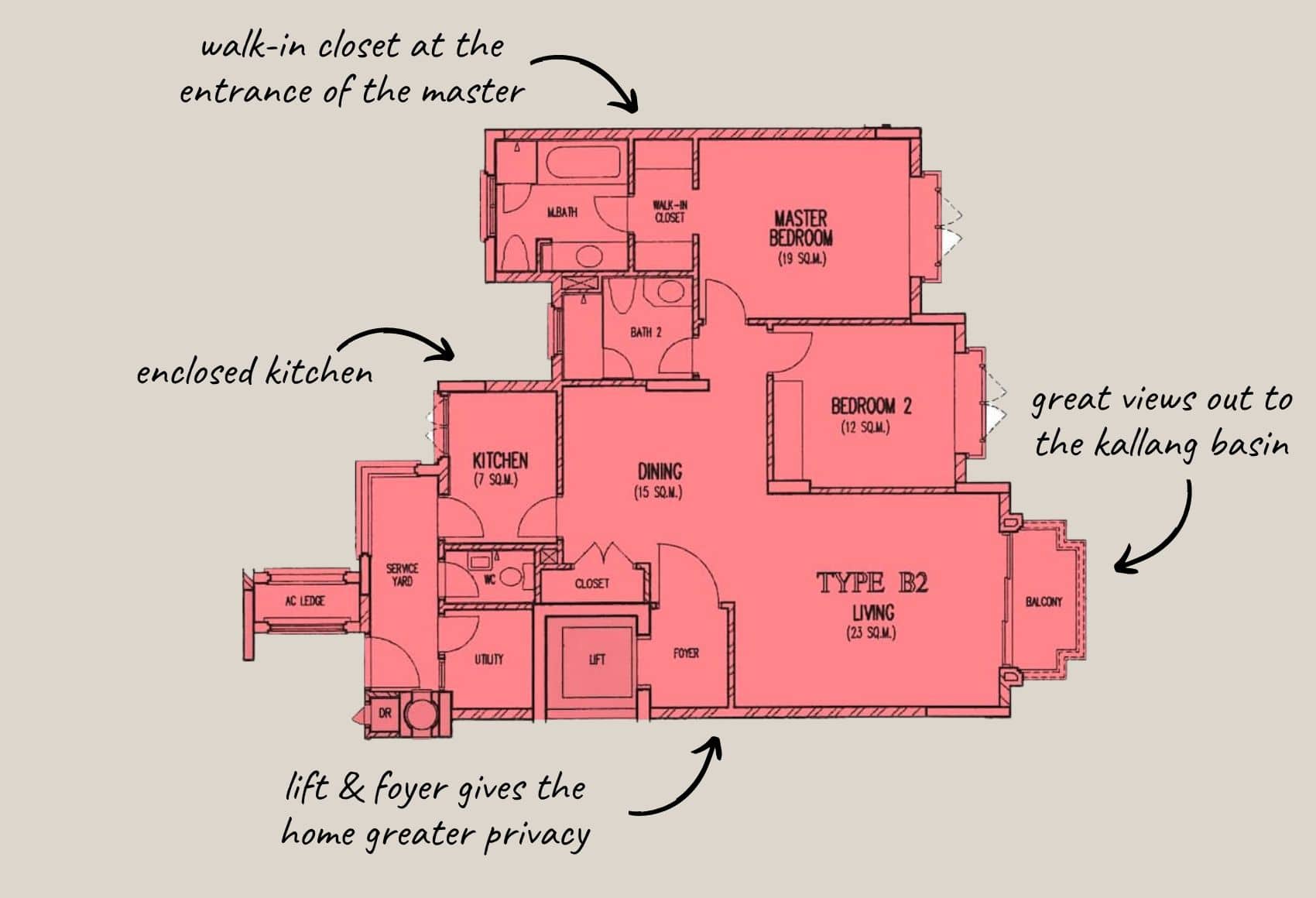 7
min read
Two-bedders are the most tricky units to work with, in terms of interior space. They can be for young couples, retirees, roommates, or even a single homeowner who just wants more space. This makes it hard to come to an "ideal" two-bedder layout, not least because some are barely 150+ sq. ft. more than a one-room counterpart. Here are some of the better two-bedders on the market that we think have the mix done right:
1. Belmond Green 990 Sq ft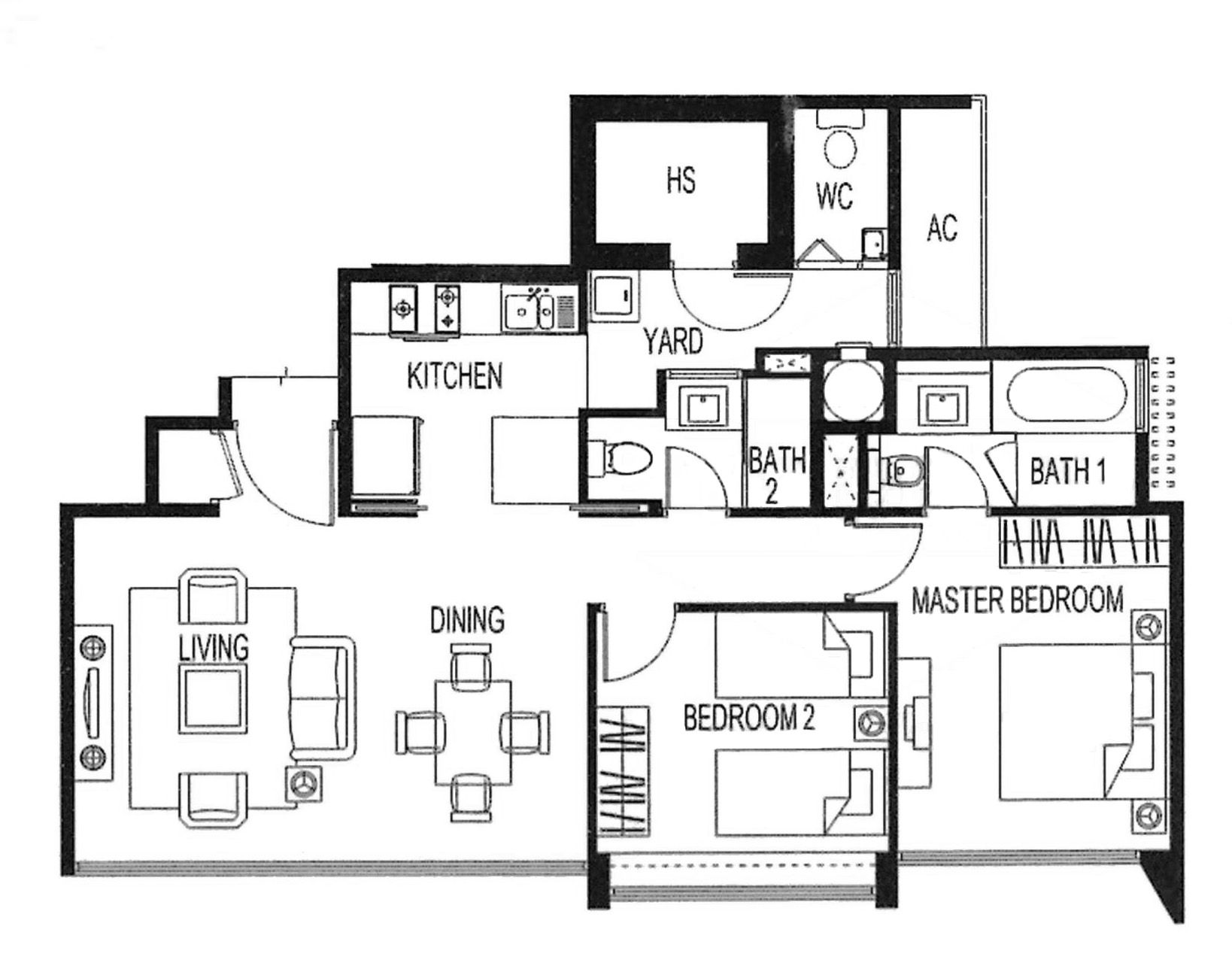 For those looking for a better lifestyle mix, you'd often have to look at the older developments as they were typically bigger and came with more features.
One of those that we find useful is the two-bedders at Belmond Green along Balmoral. It still looks relatively modern, and some might be surprised to find that it is approaching nearly 20 years in age (2004 TOP).
Belmond Green's two-bedders can fit three or four residents: the master bedroom is large enough for two, while the second bedroom is big enough for two beds. This makes it a viable choice for small families, in addition to just unrelated roommates/tenants.
Note that there are three toilets if you count the one adjacent to the service yard – this is quite generous for a two-bedder, of which many these days have only two toilets.
For families willing to also use the kitchen as the dining room, the living room will become exceptionally spacious for a two-bedder; possibly enough to fit a small study area.
Some might consider the corridor leading to the master bedroom a bit inefficient; but other than that, this is a very spacious and family-friendly layout for a two-bedder.
2. City Lights 893 Sq ft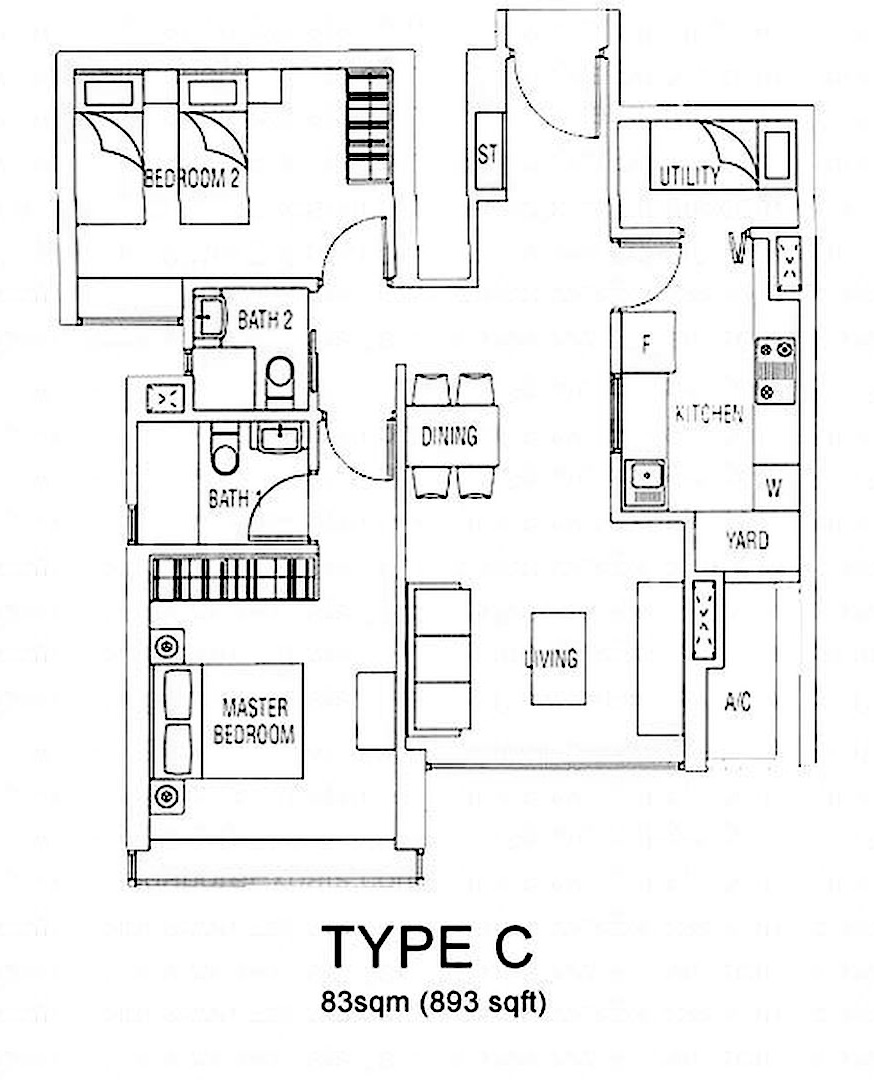 City Lights has another layout that can accommodate a small family, with the second bedroom able to hold two beds. The layout is quite efficient, with the living/dining space opening right into the two bedrooms without the need for a long corridor; but some homeowners may not like the dining area being squeezed to one side of the room.
The air-con ledge is tucked well out of sight, and one bonus is the kitchen has two functional sides (i.e., there can be cabinetry and appliances running along both kitchen walls, rather than just one). This is considered essential by some home cooks.
The utility room is always a matter of debate – some Singaporeans feel it's sufficient to house a domestic helper, while others look in horror at the tiny space and convert it to storage instead. Nonetheless, the option exists.
One minor quirk is that the second bedroom seems to get more light on one side than the other. In the layout above, for instance, the bed on the left will have more light and a better window view than the one on the right.
3. Tresor 1,012 Sq ft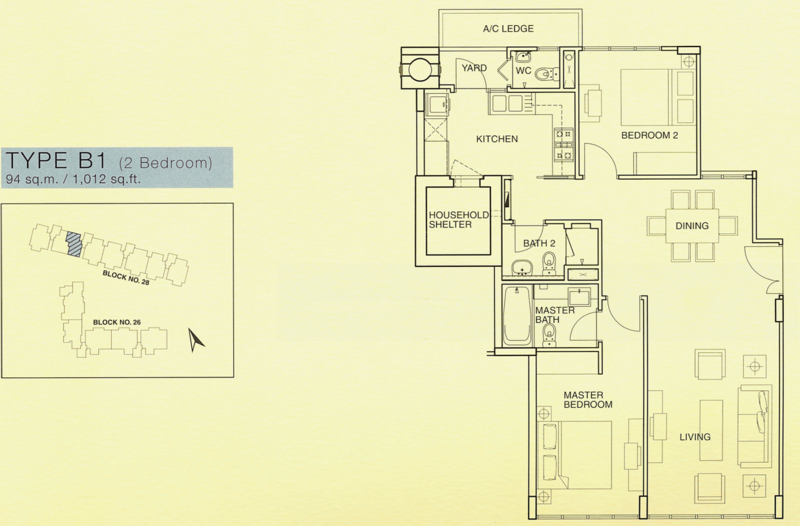 Yet another older development, Tresor has another two-bedder layout that features three toilets, including the one next to the service yard. The kitchen provides a lot of functional space – an L-shaped layout on the right, and the wall on the left. The household shelter is conveniently located here and can act as additional storage for the kitchen.
The master bedroom though, is going to be hit-or-miss among different residents. Some won't like the passageway running past the en-suite bathroom into the master bedroom; it could be seen as a little inefficient. Any furniture or items here could obstruct both the bathroom and the bedroom, so it's not the most useful space.
The AC ledge is nicely tucked away in the back, and out of sight.
4. Waterina 969 Sq ft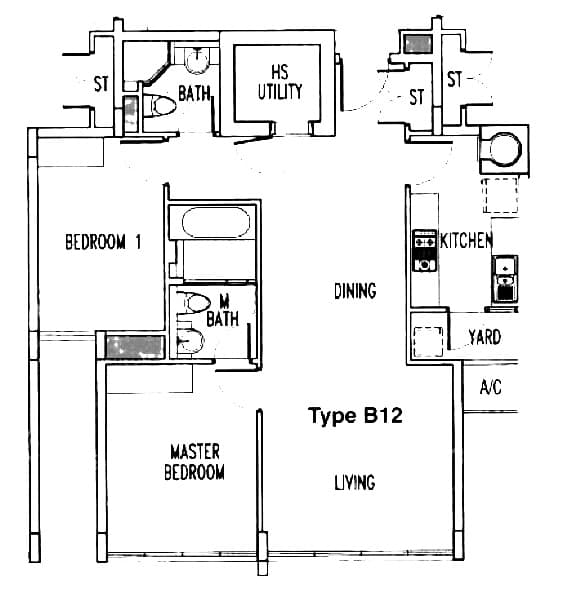 Waterina's two-bedder layout provides a kitchen with two functional sides, as well as a service yard. In any case, it is an enclosed kitchen which is quite rare to find for two-bedders today. You could also open the kitchen up to create an open concept too.
The living room opens right into the master bedroom, without the need for any corridor space; and the overall layout is quite efficient. This is quite a versatile layout, with plenty of squarish spaces that leave room for various interior design approaches.
5. Costa Rhu 1,345 Sq ft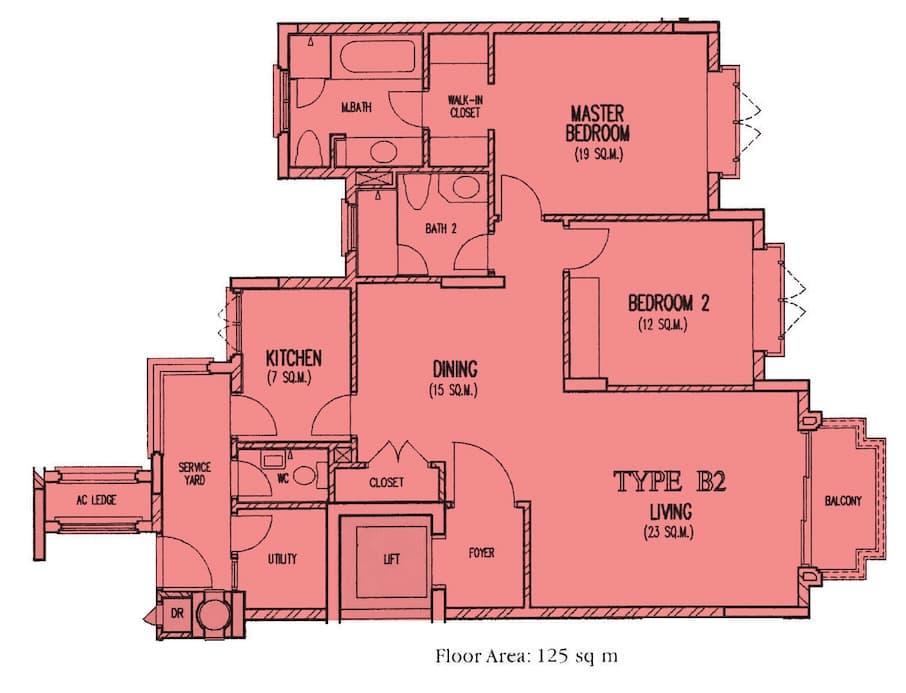 One feature that doesn't appear on this floor plan is Costa Rhu's view – most units, including the two-bedders, are angled to take in the full view of the Kallang Basin; this provides an excellent scenic outlook from most living rooms.
That said, this older layout doesn't have the efficiency of new dumbbell counterparts; but some residents may like that it has a foyer for the private lift, instead of a front door opening directly into the living room.
The kitchen is enclosed rather than open; again an older style, but one that will appeal to residents who dislike contemporary open-plan kitchens.
A bit of a highlight here is that the master bedroom comes with a walk-in closet, right in front of the entrance to the master bathroom.
Note that features like the foyer and walk-in are only possible because of the unusually large size of Costa Rhu's two-bedders, which begin at 990 sq. ft. (a size that today would be on par with a three-bedder).
6. Forett @ Bukit Timah 732 Sq ft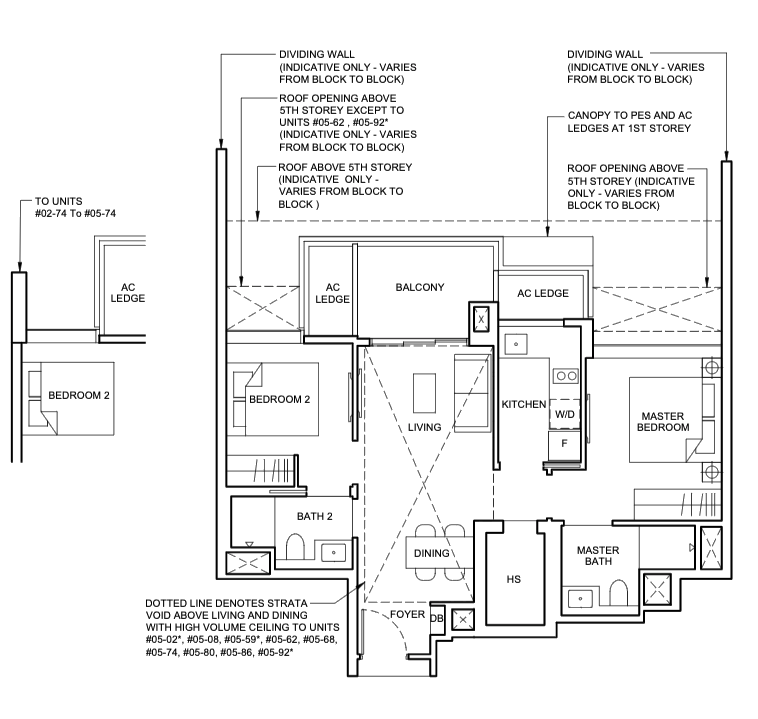 As a newer condo, Forett @ Bukit Timah uses a dumbbell layout, which removes the need for connecting passageways or corridors. As such, the two bedrooms are attached via the living/dining room.
What's unusual is the inclusion of a foyer, which is something we tend to see only in older '90s-era condos. However, the most interesting quirk is the placement of the enclosed kitchen so near the master bedroom. This is likely a hit-or-miss with different residents: not everyone wants the sounds of cooking to reach into the master bedroom. However, those who work or dine in the kitchen may actually find the placement convenient.
Also, an enclosed kitchen is something we'd expect from an older condo – but it isn't just enclosed it also has proper ventilation, which again is rare to find for a new launch two-bedder.
Note that the balcony is flanked by two air-con ledges; this may be a bother to some residents, who prefer that air-con ledges remain out of sight.
Nonetheless, Forett does have a very space-efficient design, which helps to maximise the limited room of a two-bedder.
For a more in-depth look at various new and resale launches alike, check out our reviews on Stacked. Follow us as we curate property picks based on useful traits, from sizes to prices.