Property Picks
6 Condos With Better Locations Than The Internet Suggests
Ryan J
April 27, 2022

6

min read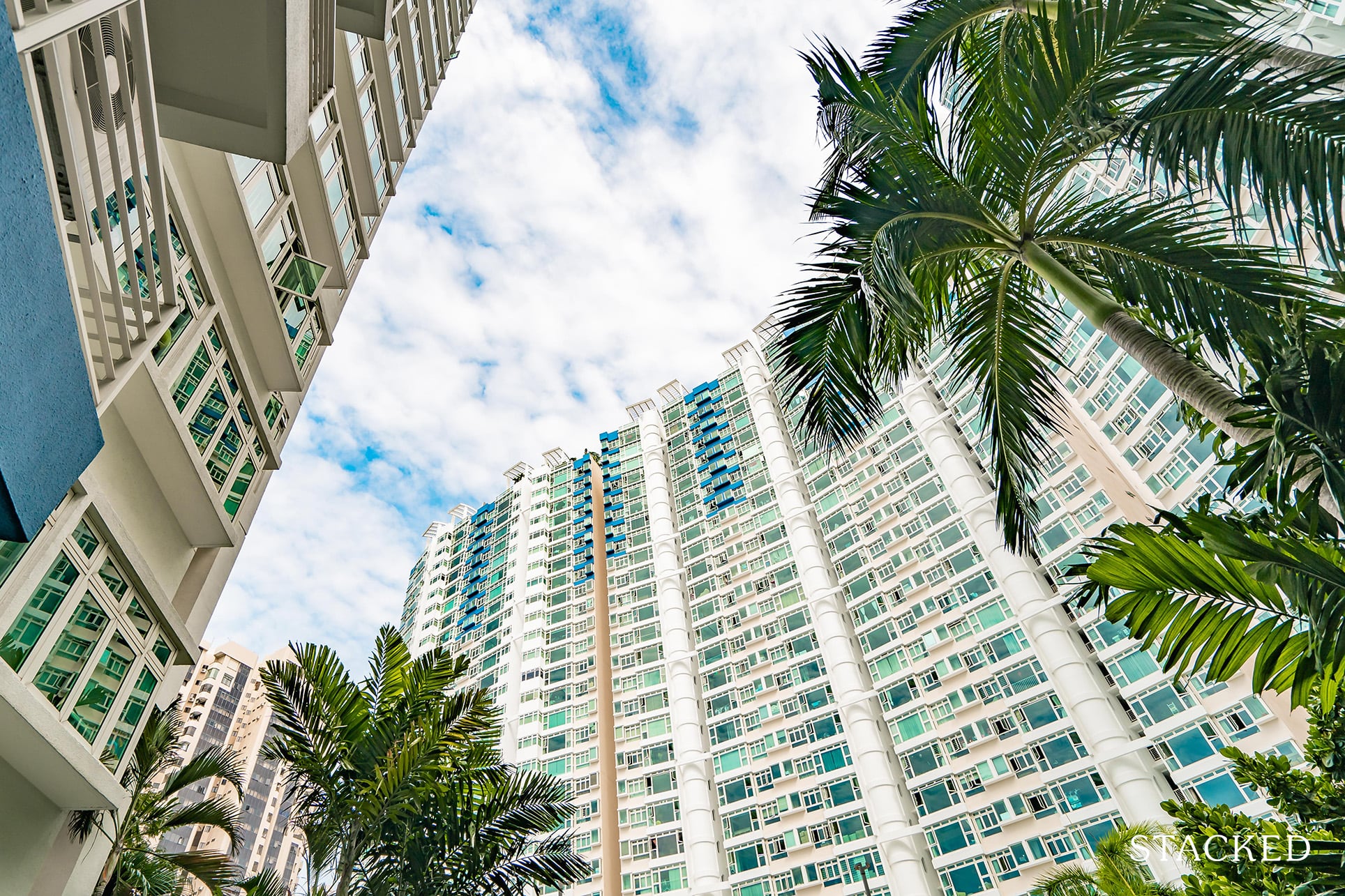 6
min read
Thanks to Google maps and street view, it's quite easy to scout out a condo location these days…or is it? Over time, we've found that this is quite unfair to some condos (we've made that mistake before) – there are properties that don't seem very accessible or convenient on the internet, but are great once you go down in person. Here are some condos that have a better location than it first appears:
#1 – Clavon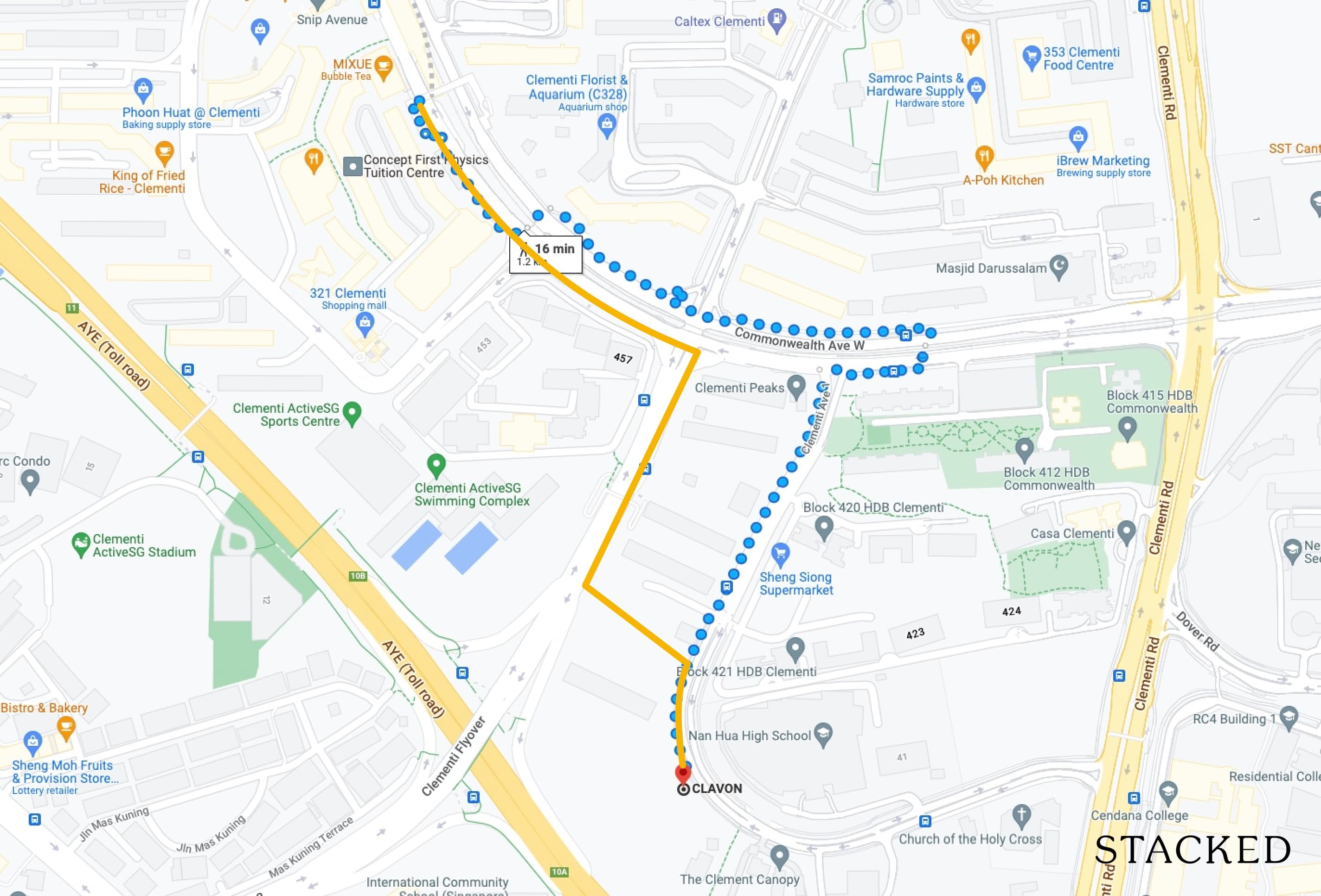 Location: 6 Clementi Avenue 1 (District 5)
Developer: UIC & UOL Venture Investments
Lease: 99-years
TOP: 2025
Number of units: 640
Median price: $1,674 psf
What you should know:
Clementi MRT (East West Line) seems really far from Clavon, if you check online maps. The "official" route to the MRT station is often listed as 15+ minutes walk away, which is too inconvenient for most.
However, this is because the route currently avoids Clementi Peaks (a BTO development), which is under construction. Once these flats are completed, residents of Clavon will be able to walk straight through the flats, shaving a lot of time off the walk.
Also overlooked is the 24-hour Sheng Siong at Casa Clementi, which is only about eight minutes walk from Clavon. There's also a coffee shop here, with some clinics and a dentist.
#2 – Principal Garden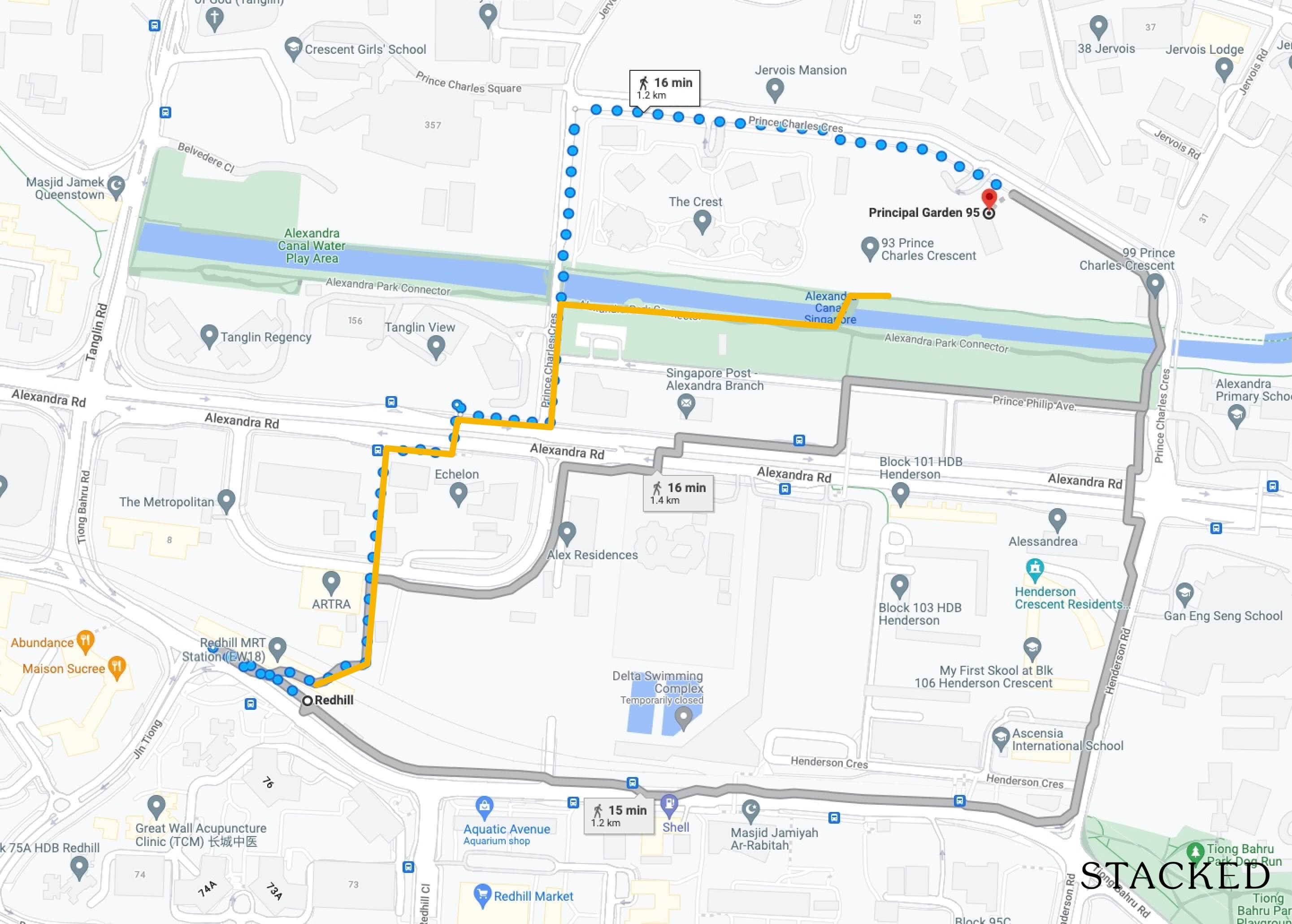 Location: 93 Prince Charles Crescent (District 3)
Developer: Secure Venture Development (Alexandra) Pte. Ltd.
Lease: 99-years
TOP: 2018
Number of units: 663
Median price: $1,928 psf
What you should know:
There are many claims that Principal Garden is too far from the MRT to walk. This is a bit of a half-truth. While the distance is not short, it's fair to point out that Redhill MRT (East West Line) is reachable in 10 minutes on foot; this is an acceptable walking distance to some.
Additionally, there's a bus stop just outside Principal Garden, so you're only a few stops away from Redhill MRT; most residents won't feel much inconvenience.
Also, note that Principal Garden is across the canal from Alexandra Park Connector (there's a bridge). This allows residents to walk straight to Alexandra Road, which gets you easy access to the CBD.
And as a location itself, Principal Garden is really central so if you drive you can get to most places in Singapore pretty quickly.
#3 – Parvis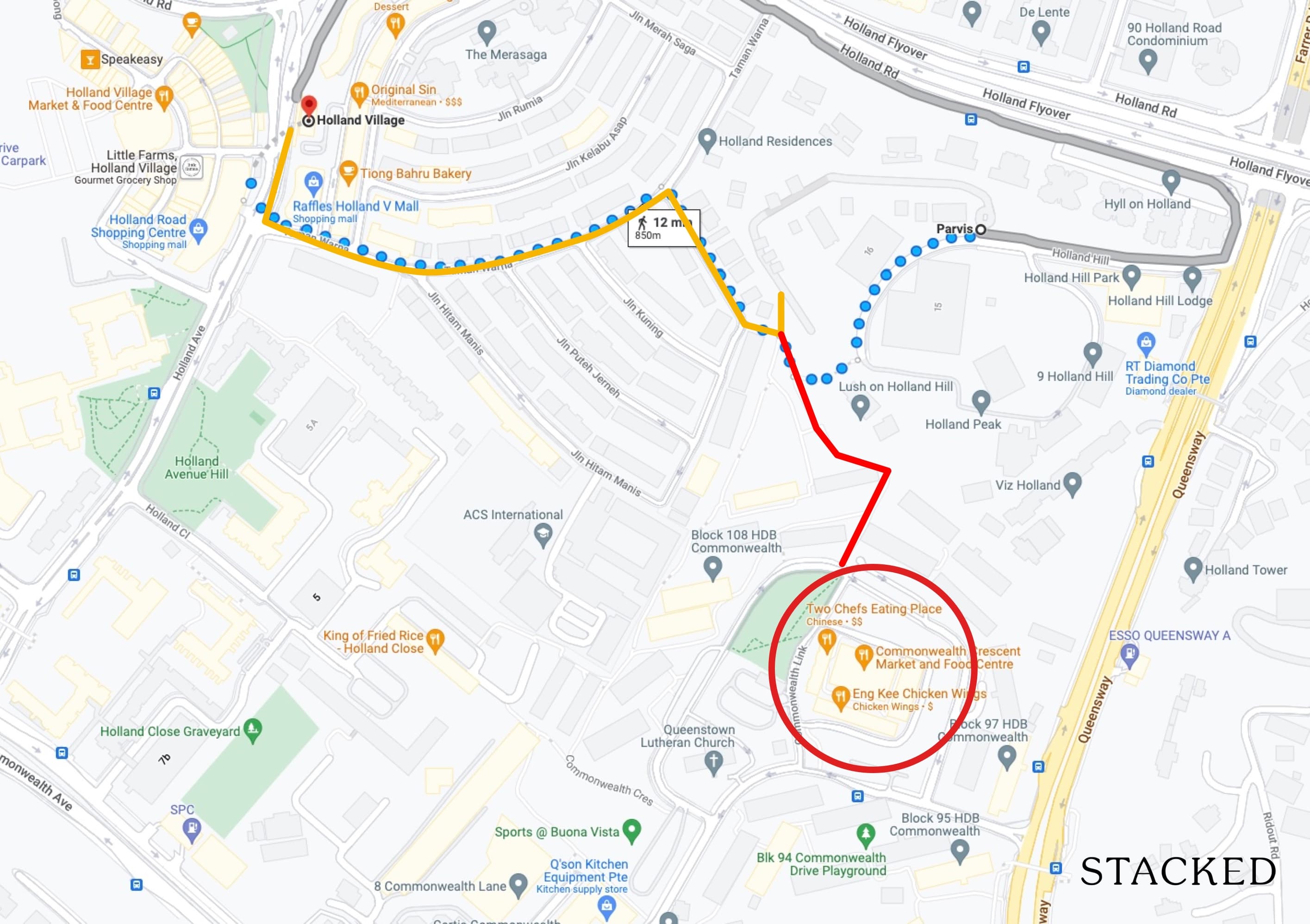 Location: 12 Holland Hill (District 10)
Developer: Calne Pte. Ltd.
Lease: Freehold
TOP: 2012
Number of units: 248
Median price: $2,087 psf
What you should know:
Some websites list the closest amenities to Parvis as being in the centre of Holland V (near the MRT station). This isn't within walking distance, at around 15 minutes; so it might leave the impression there are no nearby amenities.
Read this next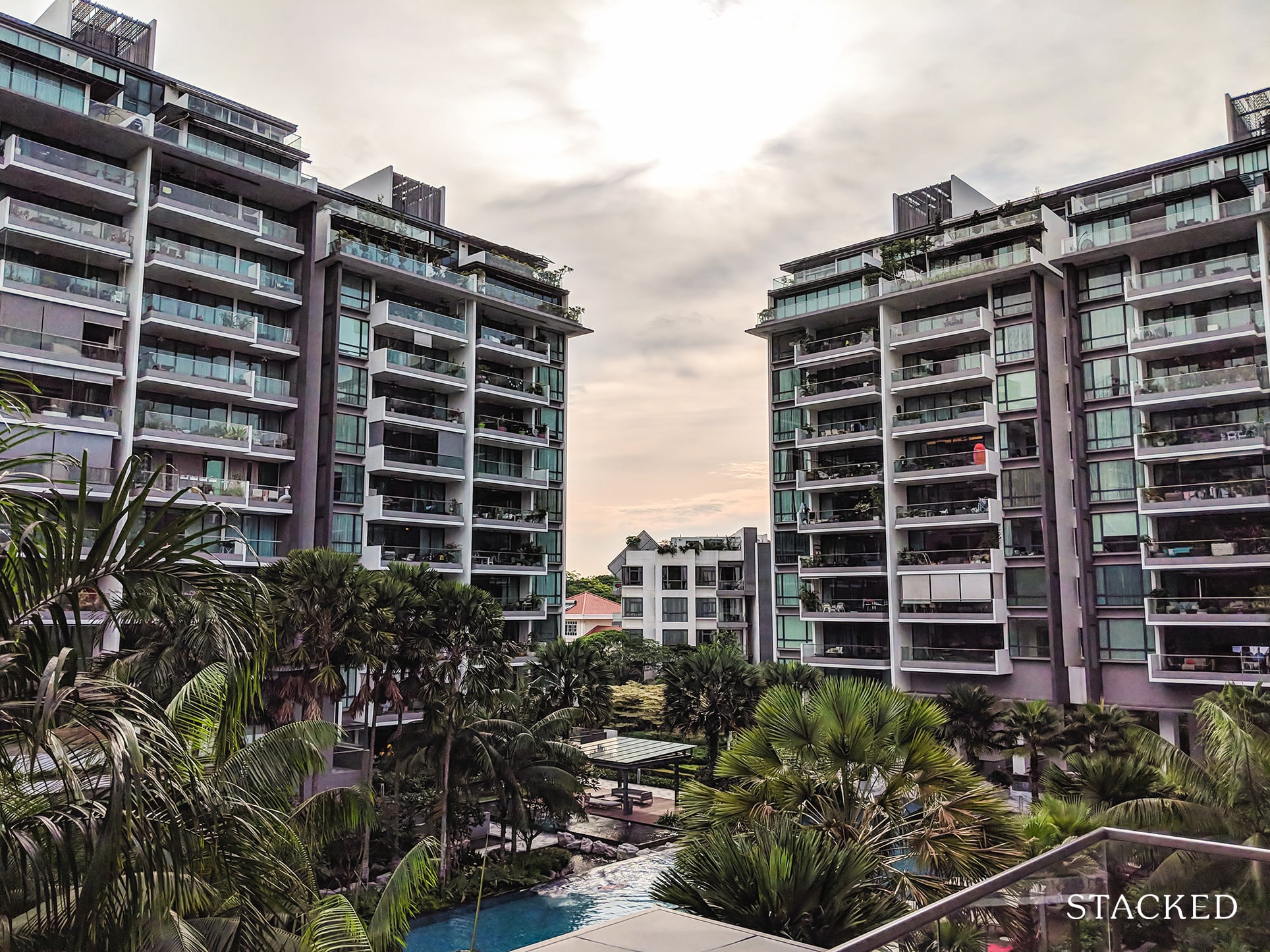 Upon closer inspection, however, we've found there's a back gate at Parvis. From there, there's a route to Commonwealth Crescent Market, which is only an eight-minute walk. For that reason, many descriptions keep missing out that there's a big hawker centre just a stroll away.
Any commonly missed benefit is the 10-minute walk to Chip Bee Gardens, which is a small foodie haven. Granted, this one is a bit of a longer walk; but residents can get there on foot via Taman Warna.
#4 – Valley Park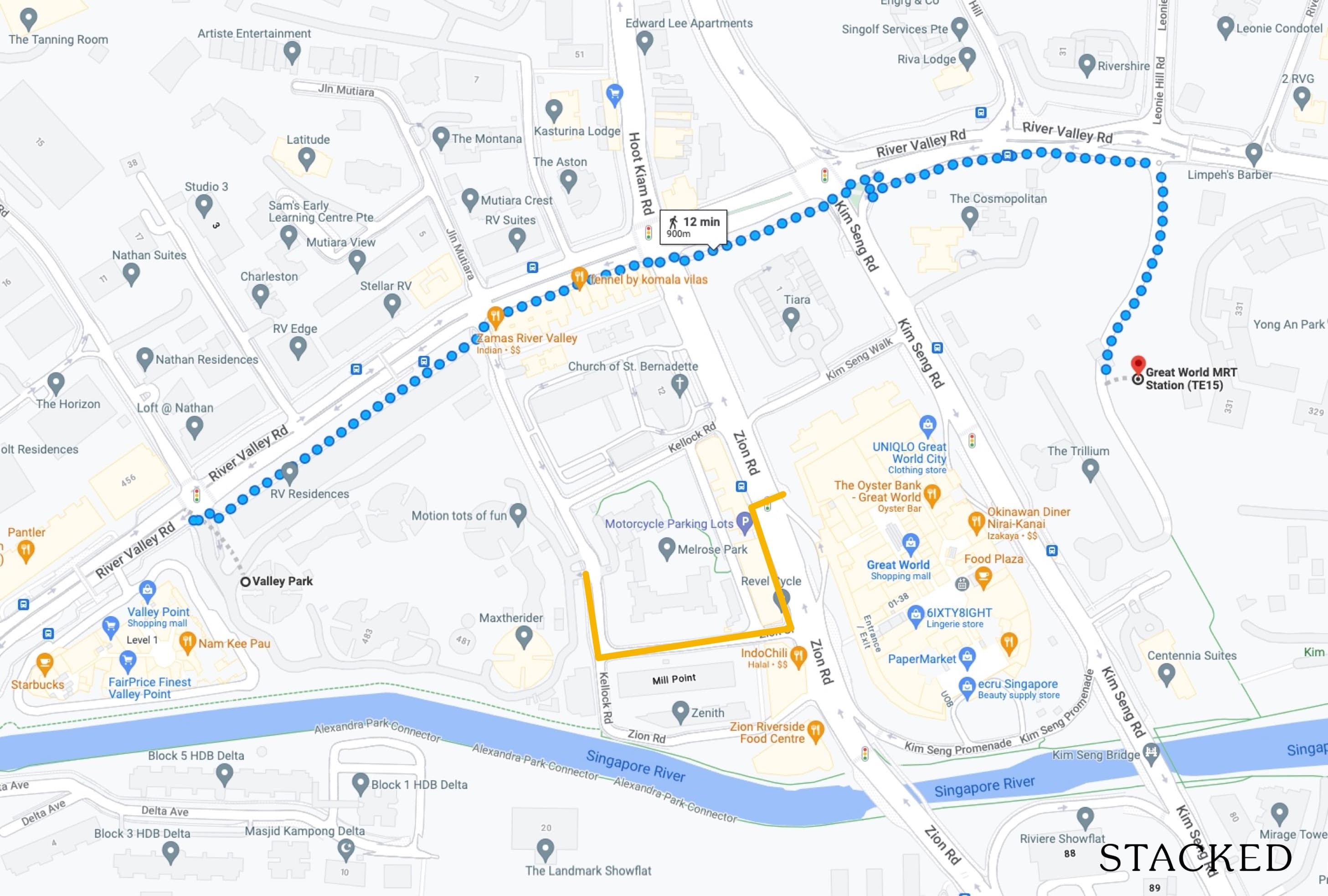 Location: 473 River Valley Road (District 10)
Developer: River Valley Properties Pte. Ltd.
Lease: 999-years
TOP: 1997
Number of units: 248
Median price: $1,895 psf
What you should know:
Valley Park is much closer to Great World City, and its adjoining MRT station (Thomson-East Coast Line) than many websites suggest. There's a back gate in Valley Park, which allows residents to cut through Zion Close – this will take them to Great World City in around six minutes.
Another commonly missed bonus is how easy it is to get to Tiong Bahru. You just need to take bus 32, from the stop right outside Valley Park. This will stop outside Block 48, and from there you're only six minutes walk to the heart of Tiong Bahru.
#5 – Costa Rhu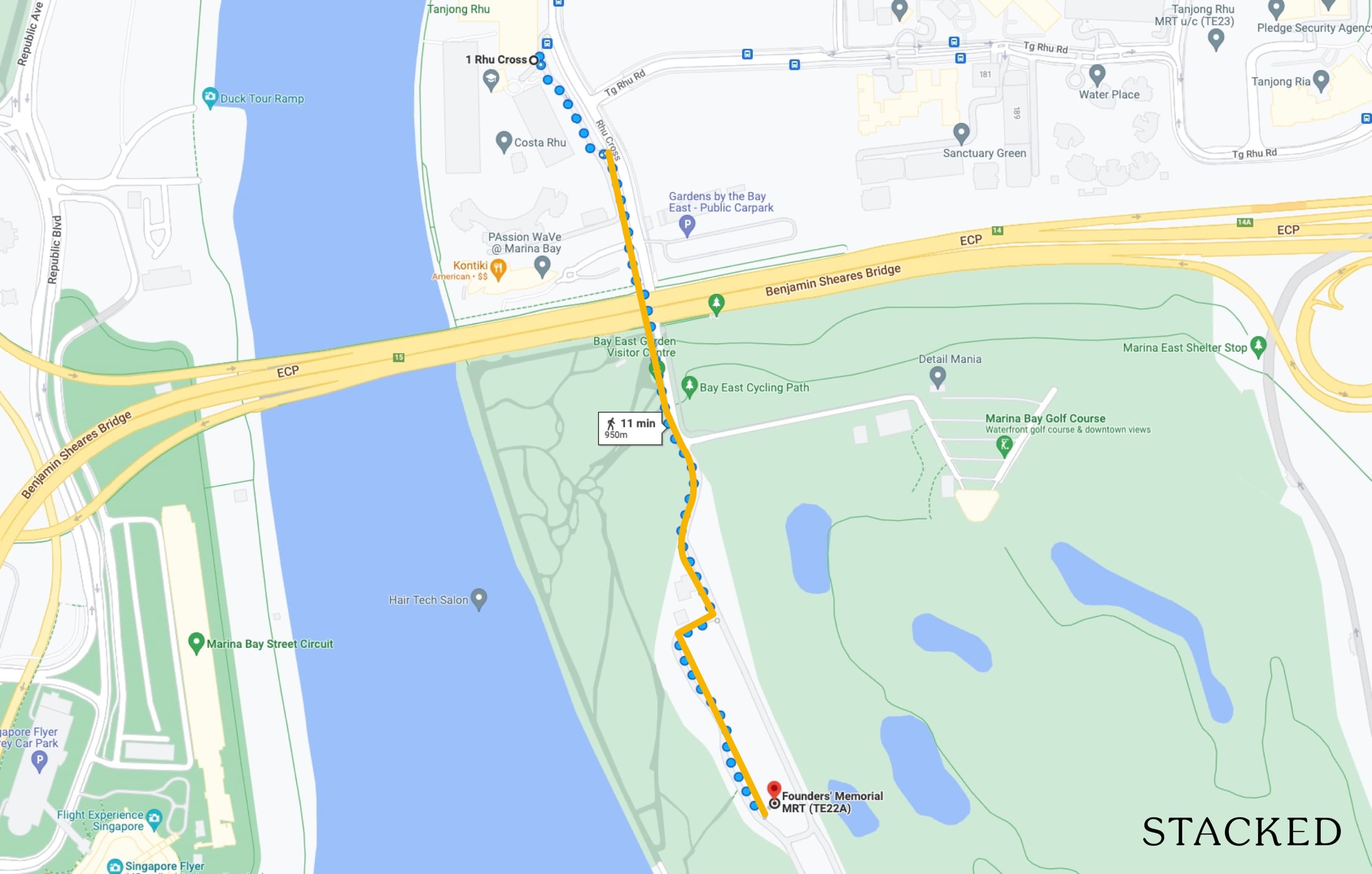 Location: 1 Rhu Cross (District 15)
Developer: Amcol Gardens Pte. Ltd.
Lease: 99-years
TOP: 1997
Number of units: 737
Median price: $1,409 psf
What you should know:
There are a couple of changes that have benefitted Costa Rhu, since it came up in the 1990s. For starters, Costa Rhu will be close to the upcoming Founders Memorial; and residents can walk there. 
This will in turn connect to Gardens by The Bay (it's integrated with the gardens). This will be up and ready in 2027.
Another much-needed update for Costa Rhu involves developments in the Kallang area. The Kallang Sports Hub, and its attendant Kallang Wave Mall, didn't exist at the time Costa Rhu was put up. As such, a lot of old information will list Leisure Park or Golden Mile as the nearest major retail.
In fact, the Sports Hub and Kallang Wave Mall are just around an eight-minute drive from Costa Rhu, and may now be a more convenient option. It's also commonly overlooked that, if you cycle along Tanjong Rhu promenade, you can get to Kallang Wave Mall in as little as seven minutes.
#6 – Costa del Sol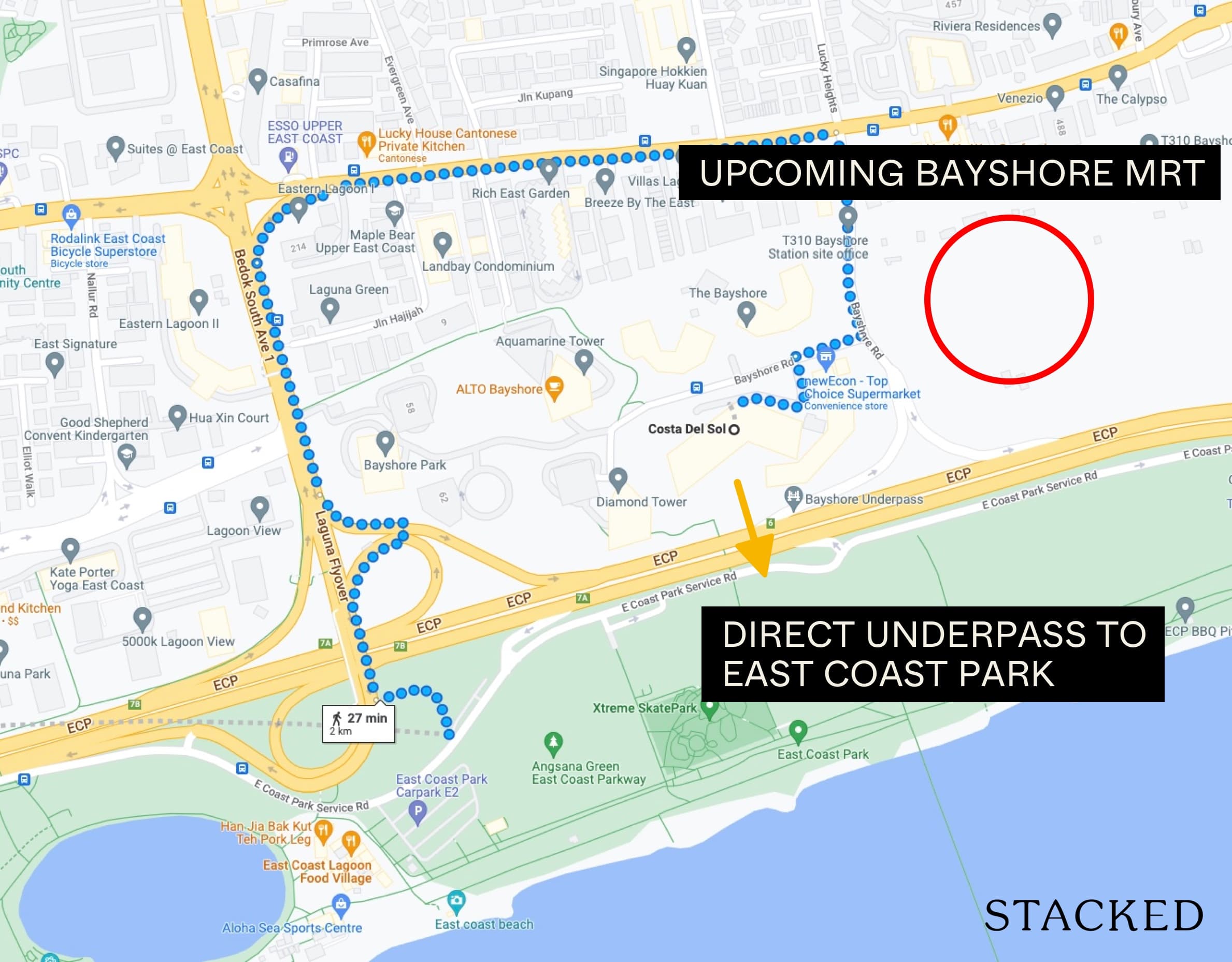 Location: 68 Bayshore Road (District 16)
Developer: Japura Development Pte. Ltd.
Lease: 99-years
TOP: 2003
Number of units: 906
Median price: $1,555 psf
What you should know:
Contrary to online maps, Costa Del Sol is not several kilometres from East Coast beach. The condo has a side gate and underpass that cuts across the road, so residents can reach the BBQ area of the beach in as little as five minutes.
Costa Del Sol and its surrounding neighbours (Bayshore Park and The Bayshore) will both be less than five minutes walk from the upcoming Bayshore MRT (Thomson-East Coast Line) in 2023, even though there's currently no MRT access. 
Also, note that there's a huge childcare facility (Alphabet Playhouse) that is right across the road from all three condos.
Does your condo have side entrances or changes that aren't well known?
Let us know about it, so we can provide reviews and updates; these will help future buyers make a better-informed decision. For more on these developments, as well as insights into the Singapore private property market, follow us on Stacked.