Units Of The Week

5 Unique HDBs With Rare Balconies That Have Been Recently Renovated
Stacked
December 29, 2022

10

min read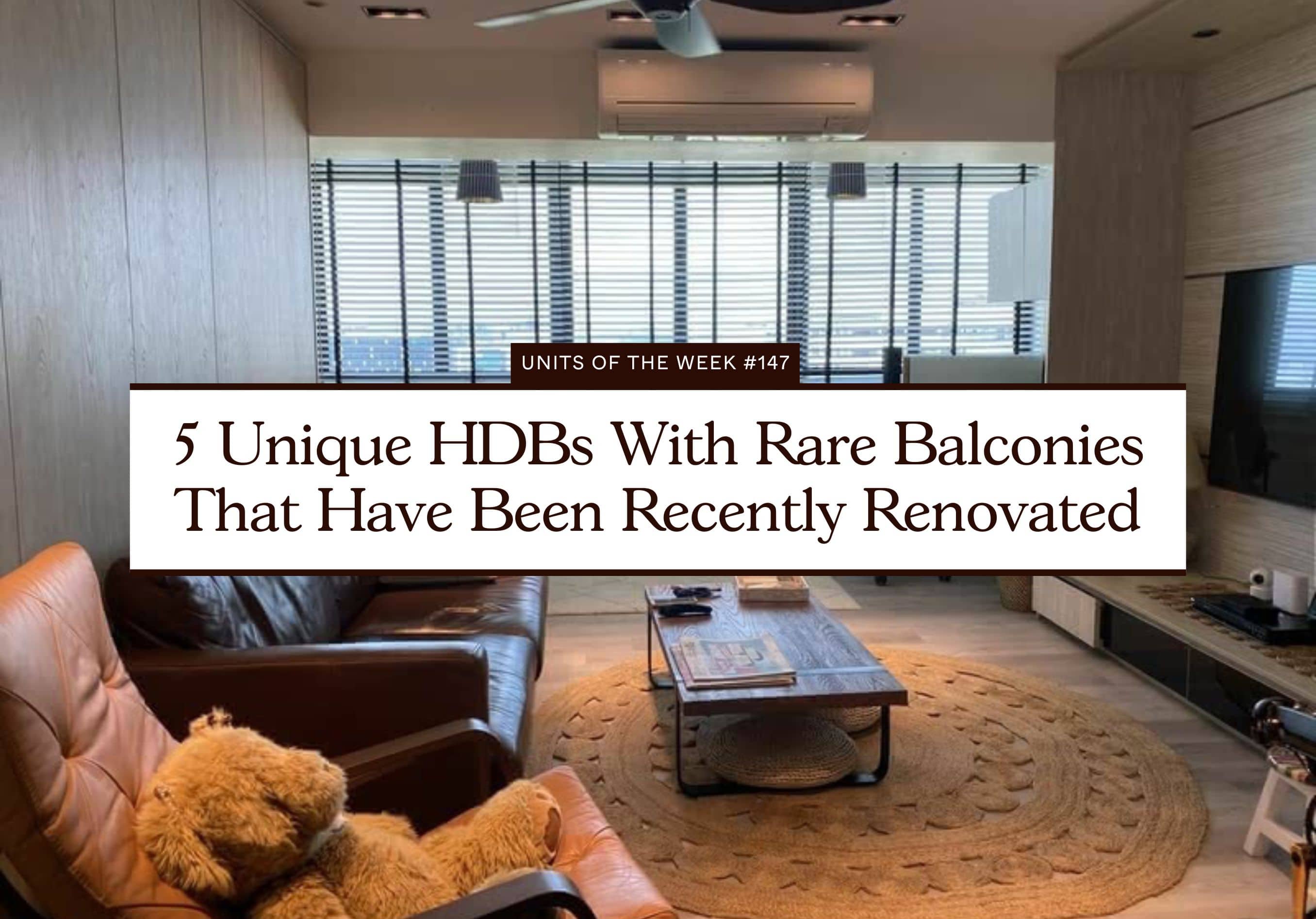 For most homeowners, there's always a corner in their home that'll always have a special place in their hearts.
For some, it could be the living room, kitchen or even the bedroom. But for those who love a bit of outdoors, it starts from the balcony.
In a space that may not always have a designated function, it's really up to the homeowner's personal interpretation to design the area; which is what makes it so special. So whether it be used as a secondary dining area, a mini garden, or just a place to have a cup of coffee in the morning – it's something that some homeowners really cherish and enjoy about their home.
In this piece, we're featuring 5 HDB units that have recently renovated balconies that make a big difference in elevating the entire space.
Missed last week? You can view the previous issue here.
You can also join our free weekly newsletter so you stay up to date on our latest curations weekly.
Now let's get on with the list of curated units this week!

1

89 Dawson Road
$1,200,000
| | |
| --- | --- |
| Address: | 89 Dawson Road |
| Tenure: | 99-year Leasehold |
| Size: | 1,044 sqft |
| $PSF: | $1,149.43 PSF |
| Developer: | HDB |
| TOP: | 2015 |
Why I like it
Loft units are extremely rare in the HDB scene and this unit at SkyTerrace@Dawson has an eye-catching double volume ceiling in its living room that is well-accompanied by a newly-renovated balcony.

At 1,044 square feet, it has 3 bedrooms and 2 bathrooms that have been recently renovated and is somewhat move-in ready.

Its monochromatic colour scheme is definitely eye-catching (to say the least) and has many unique designs throughout the unit. This includes a feature wall that extends from the TV console to the dining area and a small but beautiful balcony that overlooks the Queenstown neighbourhood. The loft design definitely adds a huge bulk of character to this particular space

Another thing that I like about this unit is that most walls can be hacked off and the layout is easily configurable for growing needs.

Its location is quite central too. It is under a 10-minute walk to both Queenstown MRT (East-West line) and Redhill MRT Station (East-West line) that connects residents to Buona Vista MRT in 2 stops and Raffles Place MRT in 5 stops.

For those looking for more convenient and affordable grocery shopping and dining options, there is a food court and 24-hour Sheng Siong Supermarket accessible within a 3-minute walking distance. Alternatively, Dawson Place is a 6-minute walk away for more dining options and to access a 24-hour FairPrice supermarket.

– Ryan

2

326 Ubi Avenue 1
$1,280,000
| | |
| --- | --- |
| Address: | 326 Ubi Avenue 1 400326 |
| Tenure: | 99-year Leasehold |
| Size: | 1,571 sqft |
| $PSF: | $814.77 PSF |
| Developer: | HDB |
| TOP: | 1985 |
Why I like it
As far as space is concerned, executive mansionettes are extremely popular options amongst Singaporeans who need a big space under budget. This unit, in particular, offers a whopping 1,571 square feet of dual-floor space for more privacy and 3 extremely spacious bedrooms.

Not only that, its location is rather convenient for those who take public transport and also for those who drive. It's about a 6-minute walking distance away from Ubi MRT (Downtown Line) and is located behind the PIE (this block doesn't directly face the highway at least).

Amenities are aplenty within the area, but I can see that it's especially appealing for young families with schooling children. Eunos Primary School, Maha Bodhi School, Manjusri Secondary School and Telok Kurau Primary School are all within a short walking distance from the unit. A food court is located right downstairs the block for accessible dining options, with a 24-hour Giant Supermarket located nearby.

However, what makes this space special is its high-floor unblocked views of Harmony Park from its huge balcony.

I also appreciate the layout of the unit. The common spaces are all located on the lower floor, whereas the rooms are located on the upper floor – which gives residents a good sense of privacy, which can be important for big families.

On top of that, the whole unit has been very tastefully renovated with ample natural light and ventilation throughout the space.

– Druce

3

748B Bedok Reservoir Crescent
$635,000
| | |
| --- | --- |
| Address: | 748B Bedok Reservoir Crescent 472748 |
| Tenure: | 99-year Leasehold |
| Size: | 721 sqft |
| $PSF: | $880.72 PSF |
| Developer: | HDB |
| TOP: | 2014 |
Why I like it
This is a DBSS unit at Belvia, which will have some features that differentiate it from most regular HDB units.

Besides the balcony, it is a point block unit which means that homeowners would have more privacy with only 4 units per level. Looking at the floorplan, this 721 square feet unit offers a very squarish layout. It's also the penthouse unit, which gives great views of the Bedok North neighbourhood from the balcony, with ample sunlight and natural ventilation. There are 2 spacious bedrooms with one of them having high ceilings, which make the space feel even bigger.

I would also say that the condition of the unit is rather decent, with tasteful and simple designs of a monochromatic palette. Overall, the condition is move-in friendly for those that are not picky.

It's less than a 5-minute walking distance to Bedok North MRT Station (Downtown line), with several bus stops within its vicinity, making it convenient for those who commute via public transport regularly.

And it also has the perks of living in a mature neighbourhood. There are several 24-hour supermarkets just opposite the block accompanied by a variety of eateries for quick dining options. Damai Primary School is also located just beside the block.

However, the biggest draw would probably be the multiple pockets of parks located within the area, including Bedok Reservoir and Bedok Town Park.

– Druce

4

537 Pasir Ris Street 51
$998,000
| | |
| --- | --- |
| Address: | 537 Pasir Ris Street 51 510537 |
| Tenure: | 99-year Leasehold |
| Size: | 1,550 sqft |
| $PSF: | $643.87 PSF |
| Developer: | HDB |
| TOP: | 1992 |
Why I like it
While Pasir Ris is well-loved for its big units, this 5 bedroom unit is perfect for big families that require a bigger space while looking to enjoy superb amenities, green spaces and a huge balcony.

Located along Pasir Ris Drive 1, it is a quick 5-minute walk to White Sands Shopping Centre for shopping and dining options, as well as Pasir Ris MRT Station (East-West line). Additionally, Pasir Ris Central Hawker Centre is located nearby for more eating options. You do also have the upcoming Pasir Ris 8 and mall to look forward to, which will be further great upgrades to the area.

For nature lovers, its biggest draw is probably being located opposite Pasir Ris Town Park, which is also connected to Pasir Ris Beach for stunning views along the coast.

The unit is located on a high floor to enjoy more ventilation and great views of the neighbourhood. Additionally, it has a modern Victorian interior design as seen from the Applied Moulding designs in their cabinets and the chandeliers installed.

I like that the previous owners made use of the high ceilings to create a loft in one of the bedrooms, which gives it a very distinct aesthetic touch. There are lots of storage space throughout the house, which is very practical to stow away clutter from sight.

The living space and kitchen is also very spacious, which is great for big families.

– Stanley

5

874 Yishun Street 81
$728,000
| | |
| --- | --- |
| Address: | 874 Yishun Street 81 760874 |
| Tenure: | 99-year Leasehold |
| Size: | 1,367 sqft |
| $PSF: | $532.55 PSF |
| Developer: | HDB |
| TOP: | 1987 |
Why I like it
This rare corner unit located in Yishun has 4 spacious bedrooms and large common spaces set within a 1,367 square feet unit. Right off the bat, I'm sure many would appreciate its unique layout with the spacious living room and balcony positioned in the centre of the house.

On top of that, the previous owners decided on an open kitchen; combining the living room, balcony, access balcony and kitchen into one seamless area. The L-Shape counter in the kitchen also doubles up as a dining space, making it versatile and practical.

The good sized common space is definitely ideal for big families or for those who like to host.

Additionally, it has 4 spacious bedrooms that are very squarish to maximise usage of the space. The unit has been tastefully renovated recently and is of move-in condition, which saves up a fair bit on renovation costs for its next owner.

Connectivity is also great for residents in the area. It is within a 5-minute walking distance to Khatib MRT Station (North-South line), accompanied by multiple neighbourhood stores for dining and grocery shopping. Additionally, Khatib Central is located just across the street, where two 24-hour grocery marts and eateries can be found. For avid golf lovers, Orchid Country Club is located less than a kilometre away.

Some schools within the area include Orchid Park Secondary School and Naval Base Primary School.

– Sean