Units Of The Week

5 Spacious HDB Units Above 1,300 Sqft That Are Nicely Renovated
Stacked
January 19, 2023

10

min read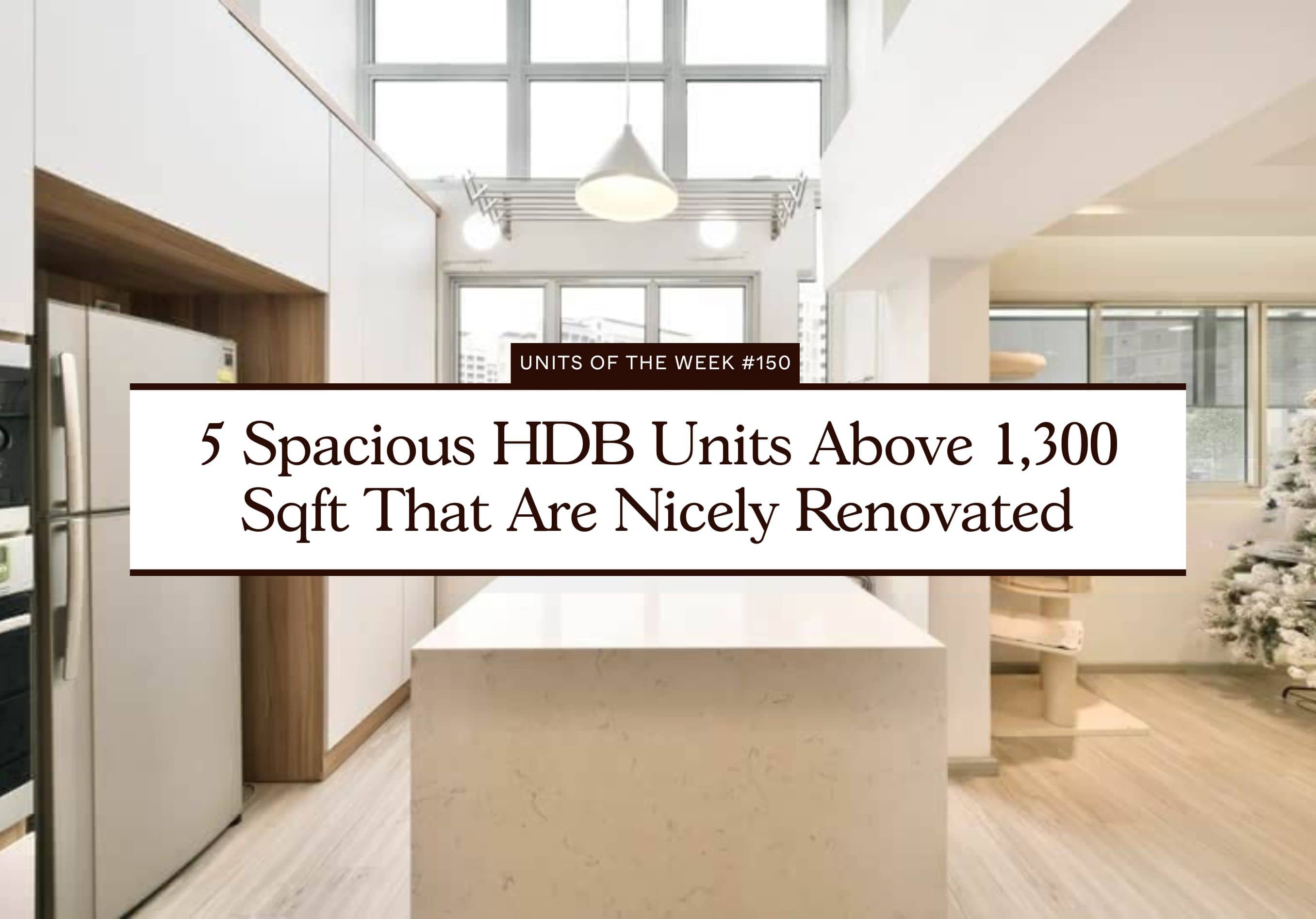 We all know how home renovations can add up to quite a huge amount when it comes to buying a new home. From the costs of hacking, installing new flooring, carpentry and even the lighting can all add up.
Not to mention, the downtime and the clean-up required afterwards are not ideal for many homeowners.
This week, we have 5 HDB units that have been beautifully renovated and are move-in ready to reduce any waiting time and to save up on the renovation costs. The best bit? All units are nicely-sized to accommodate big families or any lifestyle needs.
Missed last week? You can view the previous issue here.
You can also join our free weekly newsletter so you stay up to date on our latest curations weekly.
Now let's get on with the list of curated units this week!

1

526 Serangoon North Avenue 4
$1,000,000
| | |
| --- | --- |
| Address: | 526 Serangoon North Avenue 4 550526 |
| Tenure: | 99-year Leasehold |
| Size: | 1,603 sqft |
| $PSF: | $623.83 PSF |
| Developer: | HDB |
| TOP: | 1991 |
Why I like it
At first glance, this Executive Mansionette in Serangoon would appeal to many in terms of its chic and minimalist renovation designs and its great location.

For one, the choice of monochrome tones for this unit makes the space look spacious and bright. I thought that the use of contrasting colours to highlight individual corners (like the stairs) was very aesthetically pleasing. Originally, this unit had 4 bedrooms but the previous owners chose to open up the lower floor bedroom to amplify the common areas. The combination of the open kitchen, balcony and spacious laundry area makes the space feel bright and airy. At 1,603 square feet, it has 3 bedrooms, 1 study room and 2 bathrooms – great for multi-gen families that are living together.

Amenities within the neighbourhood decent too. For young families, Rosyth School is less than a 5-minute walk away. Other schools within the vicinity include Serangoon Garden Secondary School, Bowen Secondary School and Nanyang Polytechnic. There are a handful of eateries available within a walking distance (including Kopitiam and Kimly) and the nearest grocery shop is located at Sheng Siong, which is a 5-minute walk away. Alternatively, Hougang 1 is nearby to pick up any food or groceries too.

Though the current nearest MRT station is rather far away (Hougang MRT on the North-East line), the future Serangoon North MRT Station (Cross Island line) would be located right at the unit's doorstep, though it is only estimated to be completed in 2030. As of now, residents would have to take the bus or cycle to the Hougang MRT.

– Ryan

2

356 Bukit Batok Street 31
$950,000
| | |
| --- | --- |
| Address: | 356 Bukit Batok Street 31 650356 |
| Tenure: | 99-year Leasehold |
| Size: | 1,657 sqft |
| $PSF: | $573.33 PSF |
| Developer: | HDB |
| TOP: | 1986 |
Why I like it
This Executive Maisonette in Bukit Batok is located just a 4-minute walk away from Bukit Gombak MRT (North-South line) and also the vibrant Bukit Gombak Neighbourhood Centre. For those who are unfamiliar with the location, there is a wet market, 2 supermarkets (Giant and Prime) and numerous eateries that can sort out your daily necessities conveniently.

Furthermore, it's also a great location for young families. Sparkletots, St. Anthony's Primary School and Swiss Cottage Secondary School are all located less than a 4-minute away, giving the children a convenient education option from nursery to the secondary school level.

Outdoor lovers would appreciate that Bukit Batok Town Park (where the famous Little Guilin is located) is located right across the street, perfect for walks and runs. It's also nearby Bukit Batok East Park Connector, which leads folks to Bukit Batok Nature Park and Bukit Timah Nature Reserve.

This corner unit is breezy with no afternoon sun and is nicely designed with a monochromatic palette and minimalist touches. I like how the front door blends in well with the kitchen with the glass section, which allows more natural light to filter in and makes the space feel bigger. Furthermore, the balcony has been levelled out to form part of the living area, which is a rare treat to have such a spacious common area for HDBs.

This unit is generously sized at 1,657 square feet and has 3 bedrooms and 2 bathrooms on the upper floor.

– Druce

3

217A Boon Lay View
$800,000
| | |
| --- | --- |
| Address: | 217A Boon Lay Avenue 641217 |
| Tenure: | 99-year Leasehold |
| Size: | 1,302 sqft |
| $PSF: | $614.44 PSF |
| Developer: | HDB |
| TOP: | 2017 |
Why I like it
Recently hitting MOP in 2017, this 1,302 square foot multi-gen unit in Boon Lay has 4 bedrooms and 3 bathrooms, which is great for big families that live together. One plus point on its recent MOP is that it has a longer lease as compared to other older resale flats, which might be an important consideration for some.

It comes in a dumbbell layout with 2 ensuite bedrooms, which is great for maintaining privacy and convenience for everyone living under the same roof.

As the unit has a bright colour palette and some of the walls have been replaced with glass, the area looks spacious and bright with ample natural light filtering into the space. The open-concept kitchen also adds a touch of character to the common areas and comes with a versatile island that is attached to the dining table. I thought that the sliding barn door dividing the living room from the ensuite bedroom was a rather nice touch to the design of the unit.

As for its location, there are several key amenities within its vicinity, including Jurong West 505 Market & Food Centre, Boon Lay Place Market and Food Village and a Sheng Siong Supermarket. Several schools like Rulang Primary School, Boon Lay Garden Primary School and River Valley High School are within its vicinity.

While Lakeside MRT (East-West line) might not be within a walking distance per se, the upcoming Jurong West MRT Station (Jurong Region line), which is estimated to complete in 2027, is less than a 5-minute walking distance away.

– Reuben

4

542 Serangoon North Avenue 4
$1,050,000
| | |
| --- | --- |
| Address: | 542 Serangoon North Avenue 4 550542 |
| Tenure: | 99-year Leasehold |
| Size: | 1,636 sqft |
| $PSF: | $641.81 PSF |
| Developer: | HDB |
| TOP: | 1991 |
Why I like it
Another unit located in the Serangoon neighbourhood, this unit is actually very near to Ryan's pick. It's another Executive Maisonette with 3 good-sized bedrooms, 1 study room and 2 bathrooms, with its upper and lower floor combining to a generous 1,636 square feet.

Overall, it has a white and nude colour theme that brings out a relaxing feeling to call home. Complemented by the great use of lighting in the loft kitchen, the space feels luxurious and very impressionable. The original balcony has been levelled out and converted into the dry kitchen with the island table that also dubs as a dining table. Another touch of elegance to this unit would have to be the spiral sphere chandelier that's found in the stairwell.

There's a food court located right below the block and a Sheng Siong Supermarket located a 5-minute walk away. Alternatively, Hougang 1 offers great dining and grocery options and is just a 10-minute walk away. For families with schooling children, Rosyth School and Bowen Secondary School are located nearby.

Hougang MRT Station (North-East line) might currently be the nearest station (and requires a bus to get there), but once Serangoon North MRT (Cross Island Line) is completed in 2030, the nearest MRT station would just be a short 5-minute walk away.

– Stanley

5

130 Bedok Reservoir Road
$1,100,000
| | |
| --- | --- |
| Address: | 130 Bedok Reservoir Road 470130 |
| Tenure: | 99-year Leasehold |
| Size: | 1,528 sqft |
| $PSF: | $719.90 PSF |
| Developer: | HDB |
| TOP: | 1986 |
Why I like it
Living in mature estates inevitably has its own advantages and this unit in Bedok Reservoir has many amenities that make living there very convenient.

Bedok Reservoir Food Centre (which has a wet market and 2 supermarkets) is located right across the street from this unit to provide affordable dining and grocery options. Alternatively, Kaki Bukit Mall and Bedok Mall are also rather near, both under a 4 km distance from the unit. Some schools within the vicinity are Bedok North Secondary School and Telok Kurau Primary School.

Transportation wise, Kaki Bukit MRT (Downtown line) is accessible within a 7-minute walking distance.

This Executive Maisonette has 4 good-sized bedrooms and 2 bathrooms on the upper floor, with the common living areas on the lower floor. Overall, the unit is sized at 1,528 square feet, which is good for big families looking to stay under one roof together.

The living room and balcony space are divided with glass panels to make the space appear more spacious and wide. The ample natural light from the balcony windows also does a good job of brightening up the space. While this could be a pro or a con, there are loads of storage space built in the various bedrooms, which is a great solution for those who have clutter to stow away.

I appreciate that all common bedrooms come with a built-in study table, which is perfect for those with children who need tables to study, or for those who work from home.

– Sean