Units Of The Week

5 Spacious And Well Decorated Homes With Seaviews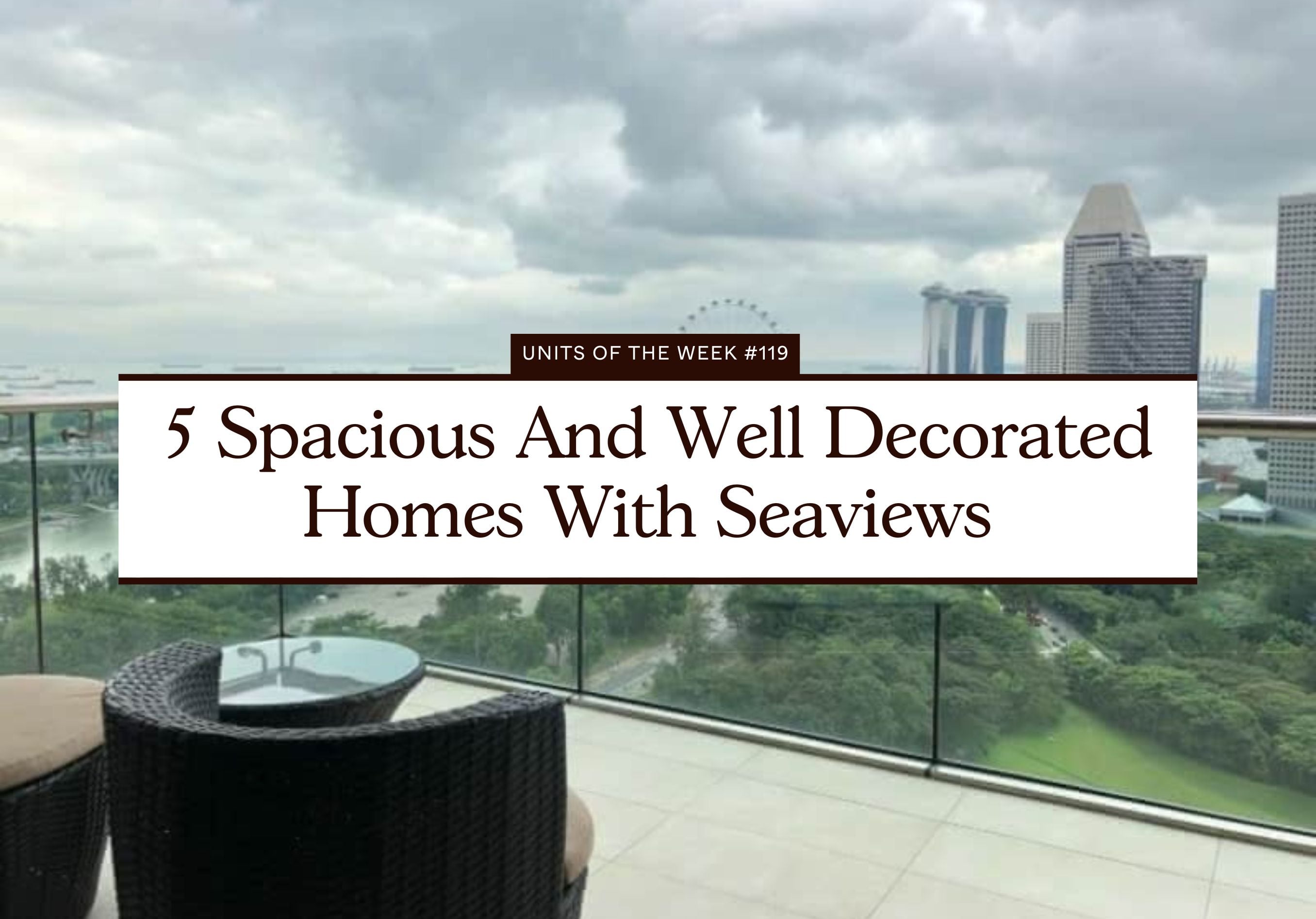 Clearly, differentiated types of housing in Singapore are something that many people are looking at beyond your usual condo and apartment types.
And so seeing as how last week's collection of freehold walk-up apartments was received, we've decided to look for more walk-up apartments to feature in this week's edition of Units Of The Week.
You definitely need to set aside a good-sized renovation budget for some of these – so if you are interested do get your wallet prepared!
Missed last week? You can view the previous issue here.
You can also join our free weekly newsletter so you stay up to date on our latest curations weekly.
Now let's get on with the list of curated units this week!

$5,600,000
| | |
| --- | --- |
| Address: | 300 Beach Road 199555 |
| Tenure: | 99-year Leasehold |
| Size: | 2,123 sqft |
| $PSF: | $2,637.78 PSF |
| Developer: | Hong Fok Land Ltd |
| TOP: | 2014 |
Why I like it
For those looking at a large 4-bedroom unit, you'll find this to be quite suitable! It's got an efficient dumbbell layout with a property yard, an in-unit household shelter for storage and provision of separate wet and dry kitchen space too.

One thing I like about the layout is the neatly tucked study area which is great for Home Based Learning/Work From Home setting.

The best part? It's got a spectacular view of the CBD and Marina Bay vicinity too! Of course, this does come with the downside of traffic noise from the Nicoll Highway.

The development itself is leasehold in tenure and is within walking distance to the Nicoll Highway MRT. It's also surrounded by lots of amenities and food options that's within walking distance. The downside here is that for a family profile, the area is lacking in terms of schools – currently there's Stamford Primary but it will be relocating next year.

– Ryan

2

Reflections at Keppel Bay
$4,600,000
| | |
| --- | --- |
| Address: | 29 Keppel Bay View 098417 |
| Tenure: | 99-year Leasehold |
| Size: | 2,045 sqft |
| $PSF: | $2,249.39 PSF |
| Developer: | Keppel Bay Pte Ltd |
| TOP: | 2013 |
Why I like it
I think it's fairly obvious that Reflections at Keppel Bay would make it into this list considering it has an iconic look along the southern waterfront. What I like about the unit is how spacious it is for a 3-bedder. It's 2,045 sqft in size and even comes with 4 bathrooms! The living, dining and bedrooms are all very spacious as a result of this.

Given the size, it does come with a proper yard area for laundry as well as a utility room with an attached WC. One downside to this unit is that it lacks balcony space which could be seen as a negative thing considering the view is the USP here.

The development itself is within walking distance to Telok Blangah MRT station but it is slightly away from the amenities at Harbourfront. Do note that with the Greater Southern Waterfront transformation, residents here can expect construction inconvenience over the next few years.

– Druce

3

The Makena
$3,250,000
| | |
| --- | --- |
| Address: | 121 Meyer Road 437932 |
| Tenure: | Freehold |
| Size: | 1,518 sqft |
| $PSF: | $2,140.97 PSF |
| Developer: | Hong Leong Holdings Limited |
| TOP: | 1998 |
Why I like it
If you're looking out for a freehold development in the east coast area with sea views, perhaps this unit might fit you. The Makena is a mid-sized development and comes with full facilities – including a tennis court and squash courts (you can probably tell this is an old developkment!).

It's within walking distance to the upcoming Tanjong Katong MRT, and as of now, you'll still have to depend on bus services to get around. For drivers, you'll be glad to know that there's easy access to the ECP via a slip road nearby!

The unit itself has a direct view of the development's facilities and the sea view. It's a good-sized 3-bedder unit with spacious bedrooms and the living/dining area is separated. Renovations also seem to be minimal here though if you're looking to have a fresh look, you would need to do some hacking works!

The irregular layout here can be a boon or a bane too. On the one hand, you can see it has a unique layout that does give your home a different feel, but on the other hand, you might find furniture placements to be a tad bit more difficult here!

– Stanley

4

The Seafront on Meyer
$6,280,000
| | |
| --- | --- |
| Address: | 57 Meyer Road 437878 |
| Tenure: | Freehold |
| Size: | 2,315 sqft |
| $PSF: | $2,712.74 PSF |
| Developer: | CapitalLand Residential |
| TOP: | 2011 |
Why I like it
I've shortlisted this 4 bed and 4 bath unit due to its size – at 2,314 sqft, this is generous for a 4-bedder! What I also like is the efficient layout. It's got the double balcony in the living and dining area too which is a unique point about this layout. What this does is allow for greater cross-ventilation – and that's definitely going to be effective since the unit here faces the sea directly! Bedrooms here are also of a good size which is to be expected given the large unit size in general.

Seafront on Meyer itself has close proximity to the Katong Park MRT station that's coming up in a few years. It does have a lack of amenity options around, and currently residents have to depend on the bus to get around – so if you have a car, then this unit would suit you better.

The downside of the development is the lack of primary schools options, so families looking at this development might want to consider elsewhere if that's important to you.

– Sean