Units Of The Week

5 Sizeable Freehold 3 Bedroom Units Above 1,500 Sqft (Under $2.3 Million)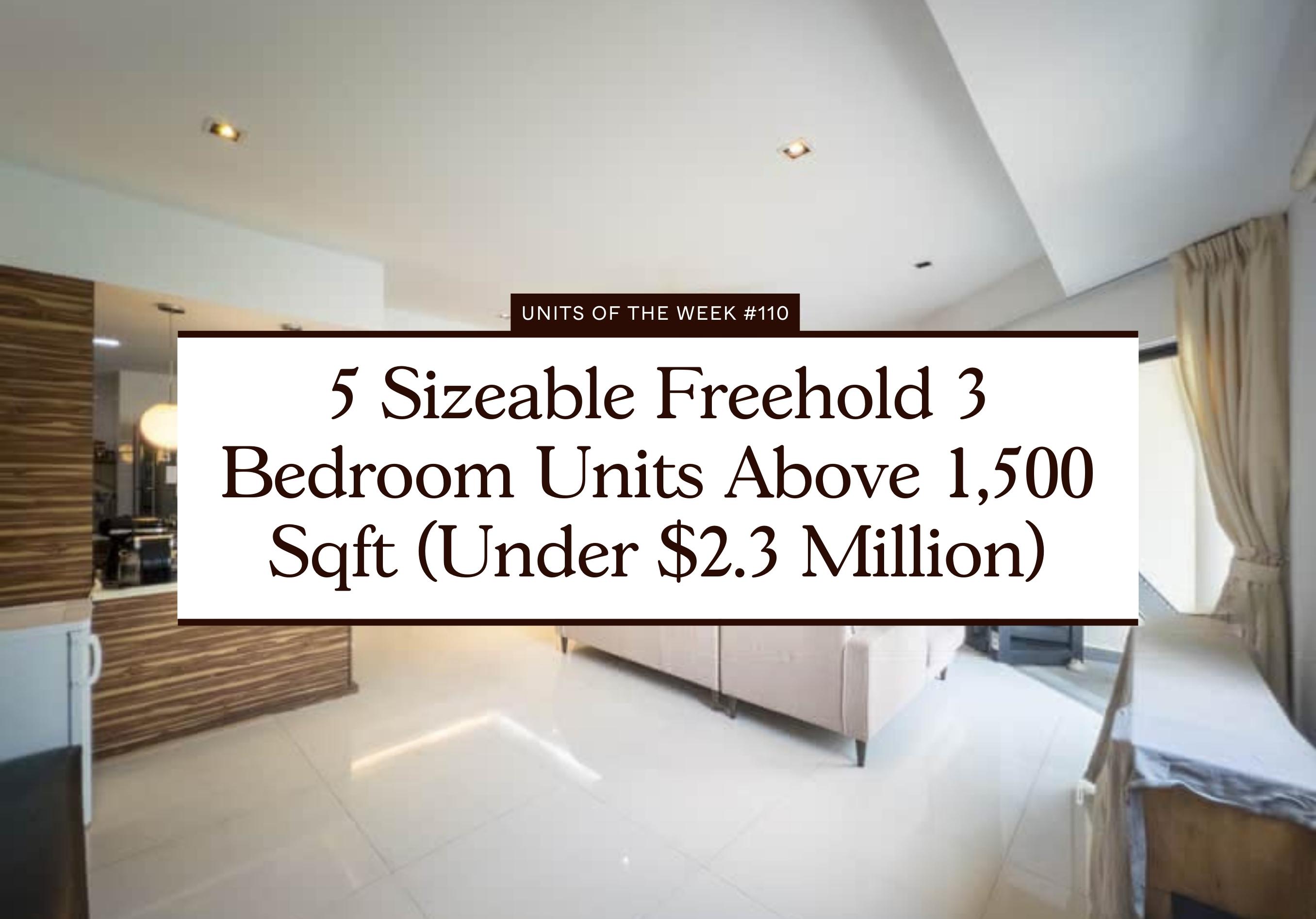 With the recent news of the Haig Road en bloc, there has been renewed interest in smaller, older properties.
While some of these may not have facilities (or even security, for that matter), you do have perks like lower monthly maintenance as well as typically bigger living spaces. To add the cherry on top, these usually have a higher chance of being freehold as well.
As such, we've looked for freehold 3 bedroom units that are 1,500 square feet and up, with a price point of under $2.3 million dollars.
Missed last week? You can view the previous issue here.
You can also join our free weekly newsletter so you stay up to date on our latest curations weekly.
Now let's get on with the list of curated units this week!

1

Nouvelle Park
$2,200,000
| | |
| --- | --- |
| Address: | Poh huat Road West |
| Tenure: | Freehold |
| Size: | 1,550 sqft |
| $PSF: | $1,419.35 PSF |
| Developer: | NA |
| TOP: | NA |
Why I like it
Nouvelle Park is a small freehold condominium of just 108 units. It was built in 1994 so it's definitely on the older side, but it does come with your usual facilities such as a swimming pool and barbecue pits. More interestingly to note is also the addition of the tennis court, which is fantastic for the number of units.

Another unique point is that the development only has 3 bedroom units that starts from 1,098 square feet. This is the largest of them all at 2,350 square feet. While the balcony is a bit of an awkward shape, it is minimally sized so you do have a good amount of interior space. In today's context, the space you get in the living/dining as well as the bedrooms is truly exemplary.

Location wise it is currently a good distance away from Kovan MRT station. And when I say good, I mean it isn't within walking distance. Although the upcoming Serangoon North MRT station will be about 6 minutes walk away.

– Ryan

2

Peakville Mansion
$2,080,000
| | |
| --- | --- |
| Address: | PeakView Mansion 488551 |
| Tenure: | Freehold |
| Size: | 1,553 sqft |
| $PSF: | $1,339.34 PSF |
| Developer: | NA |
| TOP: | NA |
Why I like it
Peakville Mansion is a little known freehold development of just 8 units at Jln Pari Kikis. It's freehold, and is surrounded by low-rise landed housing in a quieter part of the area. While I can't quite confirm if there is a shortcut through the back of the development (if there is, it's about a 7 minute walk, if there isn't, it will be slightly longer at about 10 minutes.

The unit is a sizeable one at 1,553 square feet for 3 bedrooms, and without a balcony, is all internal living space. Despite the age of the development, the interior is still in good condition, and there is a good base to work from unless you want something truly modern.

The upcoming Sceneca Residence will provide some amenitites to the area, with commercial space of about 21,528 square feet.

– Druce

$2,250,000
| | |
| --- | --- |
| Address: | 8 Eden Grove |
| Tenure: | Freehold |
| Size: | 2,403 sqft |
| $PSF: | $963.33 PSF |
| Developer: | Grove Development Pte Ltd |
| TOP: | 1999 |
Why I like it
I'm always a fan of outdoor areas, but the problem is most penthouse or ground floor units usually take up a lot of exterior space, leaving the interior space a little to be desired. So unless you have a massive budget, you often have to choose between the two.

Which is why this penthouse unit caught my attention. The total space allocated is 2,403 square feet. Approximately 1,000 square feet will be outdoor space, with the remainder being indoor space. And so with nearly 1,400 square feet of space for a 3 bedroom unit – that's a really decent offering! As you can see from the photos, with that space you can create an outdoor garden such as this – which can be a really nice respite after a busy day at work.

With just 41 units, this freehold development does have a swimming pool, although it is a pretty tiny one. You are also just about 7 minutes away from Serangoon MRT (Circle and North East line), so its convenient – plus the giant NEX for your shopping and dining needs.

– Reuben

4

Sunshine Lodge
$2,200,000
| | |
| --- | --- |
| Address: | 510 Upper Serangoon Road 534530 |
| Tenure: | Freehold |
| Size: | 1,916 sqft |
| $PSF: | $1,143.23 PSF |
| Developer: | Lkn Development Pte Ltd |
| TOP: | 1998 |
Why I like it
Admittedly, this 3 bedroom unit at Sunshine Lodge will need a complete overhaul if you want a more modern interior style. The best part of it is really the interior space that you get, with 1,916 square feet of space for 3 bedrooms – which is very sizeable indeed.

In terms of its location, you are an easy 8-minute walk away from Serangoon MRT station (which is an interchange between the Circle and North East line), as well as the shopping mall NEX. You do also have eateries nearly at your doorstep, so it is convenient for food.

Where it falls short a little is the lack of facilities, as you don't have a swimming pool although you do have a rooftop garden. It is also situated right next to Upper Serangoon flyover so there will definitely be traffic noise here.

– Stanley

5

Banyan Condo
$2,250,000
| | |
| --- | --- |
| Address: | 3 Chwee Chian Road 119745 |
| Tenure: | Freehold |
| Size: | 1,851 sqft |
| $PSF: | $1,215.56 PSF |
| Developer: | Far East Organization |
| TOP: | 1995 |
Why I like it
Banyan Condo is a small freehold development with just 104 units. It was built in 1995 so its facade is definitely not considered to be modern, or very attractive for that matter.

This is a 3 bedroom unit at a size of 1,851 square feet. You do have a ground patio, but the interior sizes of the living and dining as well as the bedrooms is still very decently sized.

Location wise you are just 6 minutes away from Pasir Panjang MRT station so it is quite convenient. You have easy access to West Coast Highway too, which means that you can drive to the CBD and Vivocity areas very quickly as well.

– Sean