Units Of The Week

5 Old But Freehold & Spacious 3 Bedroom Units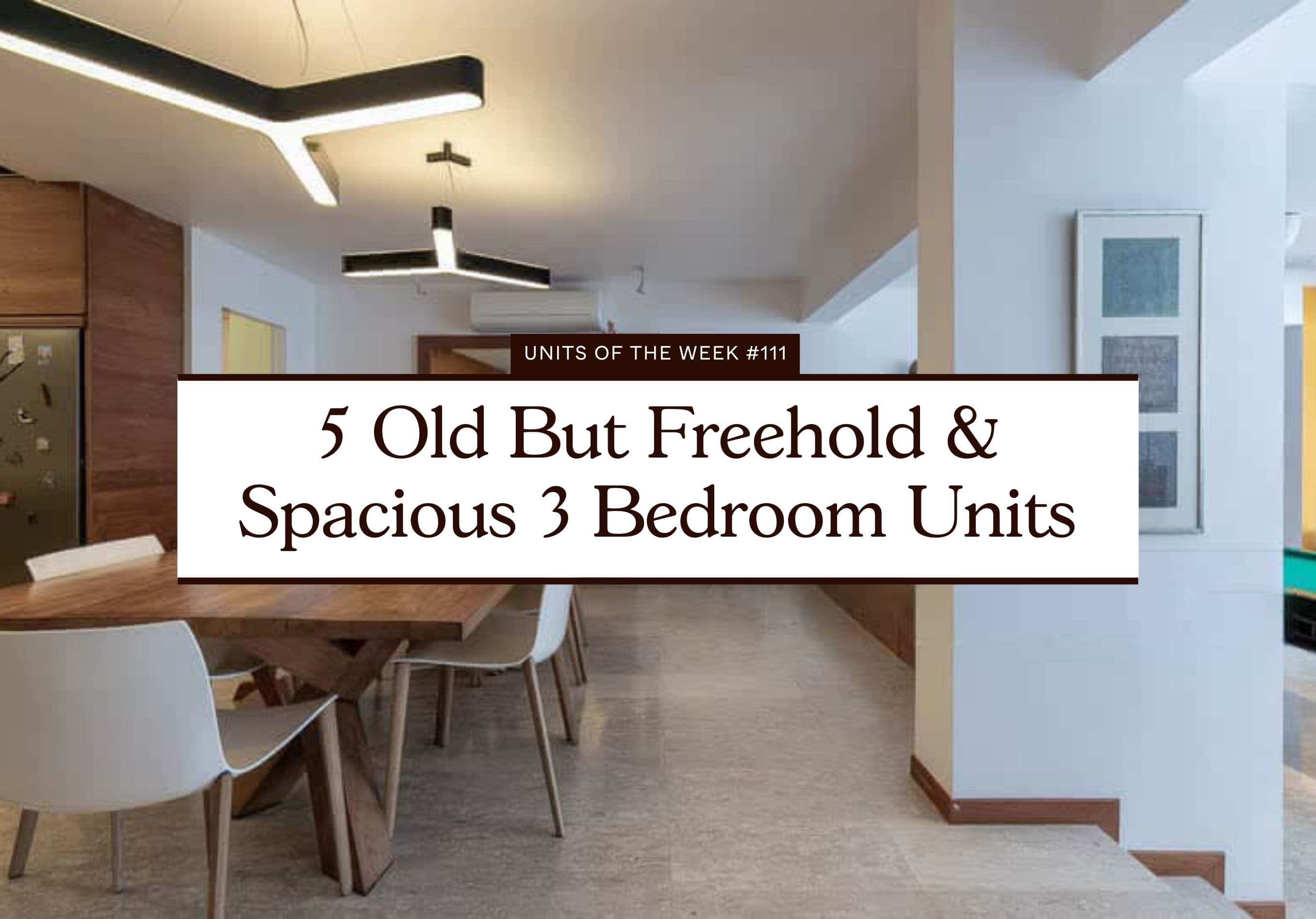 Old is gold, or so they say.
This week, we take a look at some of the older developments in Singapore (built beyond the year 2000), that are freehold and have good interior living space. These are usually the main points that people are looking for today, if they are averse to the leasehold new launch condos with smaller units.
Some of these also have very unique attributes, such as a skylight, and triangular-shaped balconies. It may not be for everyone, but it's certainly a talking point for when guests come over!
Missed last week? You can view the previous issue here.
You can also join our free weekly newsletter so you stay up to date on our latest curations weekly.
Now let's get on with the list of curated units this week!

1

Clementi Park
$3,680,500
| | |
| --- | --- |
| Address: | 137 Sunset Way 597159 |
| Tenure: | Freehold |
| Size: | 2,368 sqft |
| $PSF: | $1,554.27 PSF |
| Developer: | City Development Limited |
| TOP: | 1985 |
Why I like it
I know we've covered Clementi Park multiple times already, but there's just something that is really alluring about the development if you aren't fussed about being close to the MRT (although there is a shuttle bus). For more photos and a quick review of the estate you should definitely check out TJ's review here.

But in short, this is probably the only development in Singapore with an actual hill within the compound. There's just a ton of space, and the units here are spaciously big.

Being old also has its perks as some of the units are quite unique. Take this listing for example, it's a massive 3 bedroom unit sized at 2,368 square feet. But the special part really is that skylight above the living area, it just lets a ton of light in and makes the space feel so much more open. It's a ground floor unit too, and the facing is into an area of ample greenery.

The added bonus? The unit is done up really nicely, and looks really homely yet still modern at the same time.

– Ryan

2

Holland Court
$4,000,000
| | |
| --- | --- |
| Address: | 144 Holland Road 278576 |
| Tenure: | Freehold |
| Size: | 1,948 sqft |
| $PSF: | $2,053.39 PSF |
| Developer: | NA |
| TOP: | 1970 |
Why I like it
While the Holland area is well known in general, even some people living in that area might not even know about Holland Court – as conveniently located as it is. It's just a very short walk to the Holland Village enclave (and the MRT station), but as the entrance is small on the busy Holland Road, it becomes an easy miss. This is an old freehold development that was build in 1970 with just 22 units. There's no facilities to speak of, but the advantage you get here is privacy with just 2 units per floor.

The unit itself is generously sized, with a 3 bedroom + family room at 1,948 square feet. It's done up impeccably, with a mix of modern elements and vintage pieces. I also like how the aircon units are hidden seamlessly along the side, and the sizes of the bedrooms here are a real plus point.

– Druce

3

Pasir View Park
$2,136,000
| | |
| --- | --- |
| Address: | 200 Pasir Panjang Road 118571 |
| Tenure: | Freehold |
| Size: | 1,335 sqft |
| $PSF: | $1,600.00 PSF |
| Developer: | City Development Limited |
| TOP: | 1994 |
Why I like it
First things first, Pasir View Park isn't the closest located to an MRT station, with Pasir Panjang MRT about a 9-minute walk away. You do have a smattering of small shops at Icon @ Pasir Panjang and Viva Vista, along with eateries along the shophouses at Buona Vista Road so it isn't too bad in the immediate vicinity despite the less dense and general low-lying area.

If you do drive, it's an easy travel down West Coast Highway to the usual suspects such as Alexandra Business Park, Harbourfront, as well as the CBD.

As with older units, this unit is pretty sizeable at 1,335 square feet for a 3 bedroom unit. The balcony space here is minimal, but is shaped in the form of a triangle (like the master bedroom), which generally isn't the most efficient.

– Reuben

4

The Hacienda
$2,980,000
| | |
| --- | --- |
| Address: | 1 Hacienda Grove 457908 |
| Tenure: | Freehold |
| Size: | 1,894 sqft |
| $PSF: | $1,573.39 PSF |
| Developer: | Assobuild Realty Pte Ltd |
| TOP: | 1985 |
Why I like it
The Hacienda is an old development that was built in 1985, and is close by to one which we've reviewed before – Villa Marina (this one is 99-years lease).

With just 109 units, and low blocks, it is about as private as you can get. The entrance is off Hacienda Grove, which is a little hidden behind the row of shophouses. You do have good access to the various cafes in the immediate area, and its not too far a walk to Siglap V and Siglap Shopping Centre. The upcoming Siglap MRT station on the Thomson East Coast line is within a reasonable walkable distance as well.

This unit itself is a very spacious one for a 3 bedroom unit, occupying a size of 1,894 square feet. There's a minimal balcony space, so you do get a good amount of interior living space. What's worth pointing out here is the bedrooms – they are very ample in size, and is really a luxury when you compare to today's new developments.

– Stanley

5

Pinehurst Condo
$2,200,000
| | |
| --- | --- |
| Address: | 132 Lorong L Telok Kurau 425569 |
| Tenure: | Freehold |
| Size: | 1,690 sqft |
| $PSF: | $1,301.78 PSF |
| Developer: | Jihe Property Pte Ltd |
| TOP: | 1993 |
Why I like it
Pinehurst condo is one of the many small developments along Lorong Telok Kurau. It is of course freehold, and was built in 1993 with just 41 units. You do at least get a swimming pool, despite the small nature of it.

Location wise, you are about 8 minutes away from the upcoming Marine Terrace MRT station, which is a great help as the current closest (Kembangan MRT) is a close to 15 minute walk away.

At 1,690 square feet for a 3 bedroom unit, this place is attractively sized. The best part? The unit is very nicely done up (if you are fond of colours). The wallpaper in the living room is a burst of vibrancy, but what's cool is that every other part has a different design, with the dining area a touch more classy, and the kitchen finished in a more raw look.

– Sean