Units Of The Week
5 Lesser-Known Freehold 3-Bedroom Condos Under $1.5M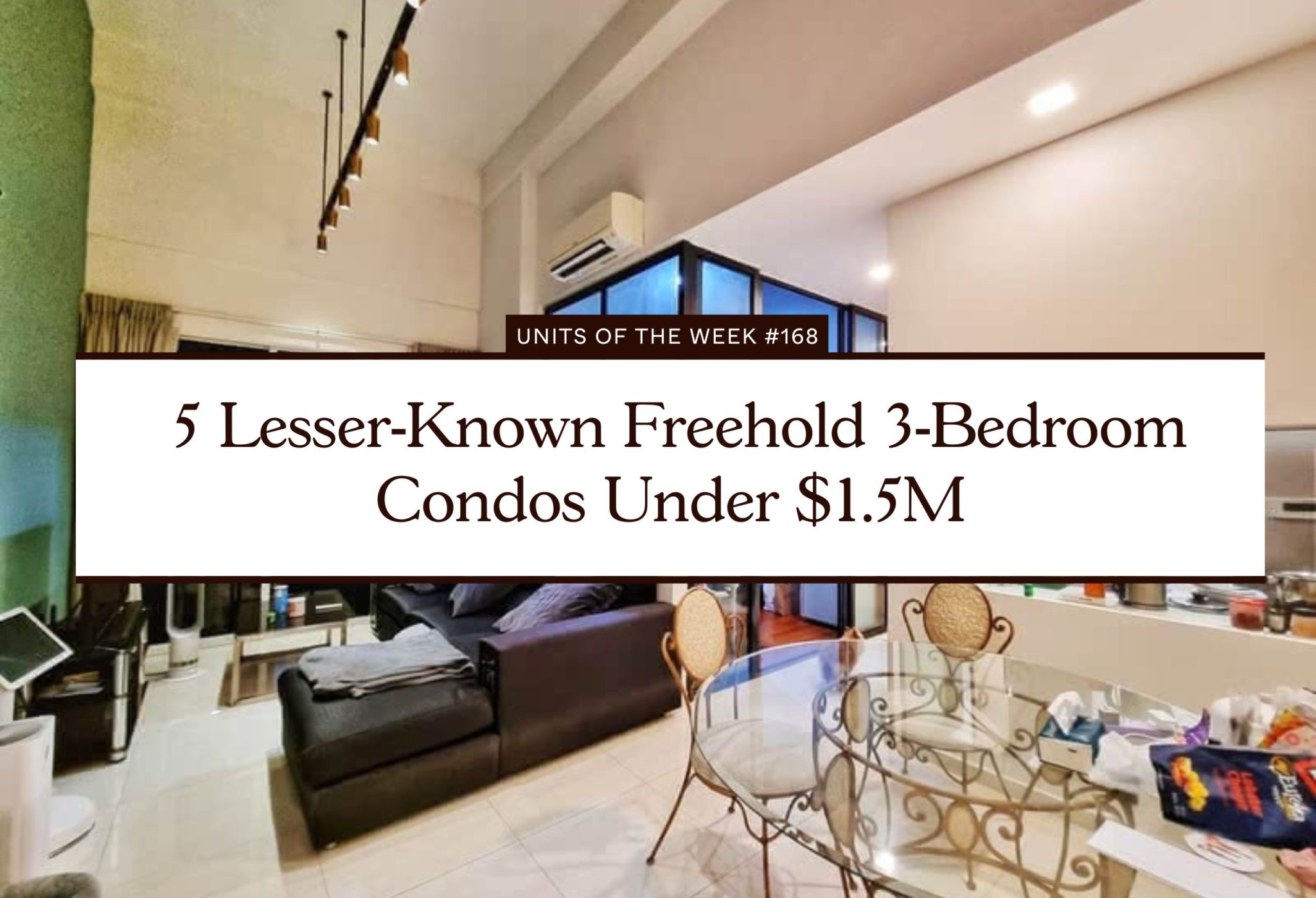 8
min read
Given the choice, most Singaporeans generally prefer to own a freehold home. Needless to say, that unfortunately will always come at a premium.
That said, if you are set on a freehold condo or plan to have a long-term hold, here are 5 less known freehold 3-bedroom condos that you can get for under a $1.5 million budget. Do expect some compromises here, whether it's in the form of a location or a floor plan that is on the compact side.
Missed last week? You can view the previous issue here. 
You can also join our free weekly newsletter so you stay up to date on our latest curations weekly.
Now let's get on with the list of curated units this week!

1

Hills TwoOne
$1,198,888
| | |
| --- | --- |
| Attribute | Info |
| Address | 21 Hillview Terrace 669232 |
| Tenure | Freehold |
| Size | 753 SQFT |
| $PSF | $1,592.25 PSF |
| Developer | MACLY RL Pte Ltd |
| TOP | 2016 |
Why I like it
In a busy city in Singapore, it's always a nice respite to come home to a peaceful environment for a change. For those who prefer that lifestyle, this unit at Hills TwoOne might be a suitable choice.

Hills TwoOne is a boutique condominium located right next to Bukit Batok Nature Park and is also next to the Hillview Park Connector, which is connected to Bukit Timah Nature Reserve. With only 71 units in this project, homeowners can look forward to a more private environment.

Getting to amenities is rather convenient. It's a short walk to Bukit Batok East Point, which houses a wet market, supermarkets, numerous eateries and typical heartland shops. The nearest MRT Station is at Bukit Gombak (North-South line), which is about 1km away, so MRT connectivity here isn't great.

Interestingly, this unit has a dual-key layout but it is compactly sized at 753 square feet. Whether you're looking to stay with family and want more privacy, or want to rent out half of the apartment, this layout can make sense.

There's also a home shelter that is located in the bedroom, which is quite unusual. However, I think it can double as a storage room or even a walk-in closet for homeowners, which is a bonus point. Currently, the unit has a simple design and can be easily renovated to change to newer tastes.

– Ryan

2

Jade Residences
$1,400,000
| | |
| --- | --- |
| Attribute | Info |
| Address | 5 Lew Lian Vale 537018 |
| Tenure | Freehold |
| Size | 732 SQFT |
| $PSF | $1,912.57 PSF |
| Developer | Roxy Residential Pte Ltd |
| TOP | 2017 |
Why I like it
Let's be clear that at 732 square feet, this is definitely a very compact unit when it comes to a 3 bedroom layout.

What I like about this unit is its extended balcony, which draws out from the living room to one of the common bedrooms, and can double as a yard area. It also brings more natural light into the apartment, making it bright and it is better for ventilation.

When looking at its location, it's under a 7-minute walk to Serangoon MRT Station (North-East and Circle line) as well as NEX for plenty of dining, shopping and grocery options. Alternatively, there are several coffee shops located nearby.

For families with children, the project is surrounded by several well-known schools such as Maris Stella High (Primary), Paya Lebar Methodist Girls' (Primary) and St. Gabriel Secondary School.

– Druce

3
Cassia Edge
$1,399,000
| | |
| --- | --- |
| Attribute | Info |
| Address | 343 Guillemard Road 399764 |
| Tenure | Freehold |
| Size | 915 SQFT |
| $PSF | $1,528.96 PSF |
| Developer | MACLY EQUITY Pte Ltd |
| TOP | 2018 |
Why I like it
As a useful dual-key unit, this freehold unit is sized at 915 square feet and has three bedrooms and two bathrooms. It comes as a studio and a 2-bedder, which is great for those who want to rent out their space while maintaining privacy.

This unit stands out with its three balconies (two are found in the bedrooms and one in the living room), which is good for those who prefer a brightly lit and well-ventilated apartment. Furthermore, the unit is North or South facing, which means that direct afternoon sunlight would not be an issue.

With regards to the home shelter, it is tucked away in a corner, which is less jarring to the layout. There's also a small study area in the shared lobby near the entrance, though it could be adapted to fit shoe racks and storage cabinets to keep clutter out of sight.

Its location is decent but not the closest to an MRT station. It's within a 15-minute walk to 3 MRT stations, including Dakota MRT (Circle line), Mountbatten MRT (Circle line) and Aljunied (East-West line). Being a short walk to Old Airport Road Food Centre (which has some of the best local delights in Singapore), homeowners are spoilt with a wide variety of food options. It's also near Geylang Road and Sims Avenue, which is loved for its eateries along the shophouses.

For nature lovers, it's a short walk away from Geylang Park Connector, which leads to Kallang Riverside Park which offers scenic pathways for cycles and runs. 

Last but not least, there are many schools nearby, including Chung Cheng High (Main), Kong Hwa School, Tanjong Katong Girls' School, Tanjong Katong Secondary and Broadrick Secondary. 

– Reuben

4
Sunshine Regency
$1,480,000
| | |
| --- | --- |
| Attribute | Info |
| Address | 9 Rambai Road 424352 |
| Tenure | Freehold |
| Size | 894 SQFT |
| $PSF | $1,655.48 PSF |
| Developer | Fragrance Homes Pte Ltd |
| TOP | 2007 |
Why I like it
Another unit located in the East, Sunshine Regency is located within a 16-minute walk to the upcoming Marine Parade MRT, which is slated to complete in 2024.

While it might not be the nearest to MRT stations, it's within walking distance of many malls (such as i12 Katong, Roxy Square, Parkway Parade and Katong Shopping Centre) and the well-loved Joo Chiat shophouses and cafe scene.

It's also near many renowned schools, such as Tao Nan School, CHIJ Katong Convent (Primary) and St. Patrick's School.

The unit is sized at 894 square feet and comes with three bedrooms and two bathrooms.

All rooms can accommodate a double bed with a good amount of walking space left. There's also a balcony in the living room that is overlooking the condo's pool direction and without any afternoon sun, making the space feel bright and airy. For families who are looking for a functional space to call home and near a wide variety of amenities in the East, this unit is one to consider.

– Stanley

5
Hilbre28
$1,350,000
| | |
| --- | --- |
| Attribute | Info |
| Address | 68 Hillside Drive 549018 |
| Tenure | 999-year Leasehold |
| Size | 861 SQFT |
| $PSF | $1,567.94 PSF |
| Developer | Development 72 Pte Ltd |
| TOP | 2018 |
Why I like it
While this unit is not a freehold, it is considered as good with a 999-year leasehold tenure. Hilbre28 is a boutique development that is situated within a landed enclave, which translates to unblocked views and a tranquil environment that residents are able to enjoy.

The nearest MRT station is at Kovan (North-East line) around a 13-minute walk away, though a slightly further walk away connects residents to Serangoon MRT (North-East and Circle line) and NEX. For those looking to enjoy food nearby, Serangoon Garden Market and Chomp Chomp Food Centre are some options to consider.

The unit is sized at 861 square feet and has three bedrooms and two bathrooms. What makes the apartment stand out is that it has high ceilings that goes a long way in a compact sized 3 bedder. The kitchen comes with a yard space, which is always useful.

While the unit originally has three bedrooms, the previous owner combined one of the common rooms with the master bedroom to create a sizeable walk-in wardrobe.

– Sean