Units Of The Week

5 Less-Known Freehold 3 Bedroom Homes Under $1.5 Million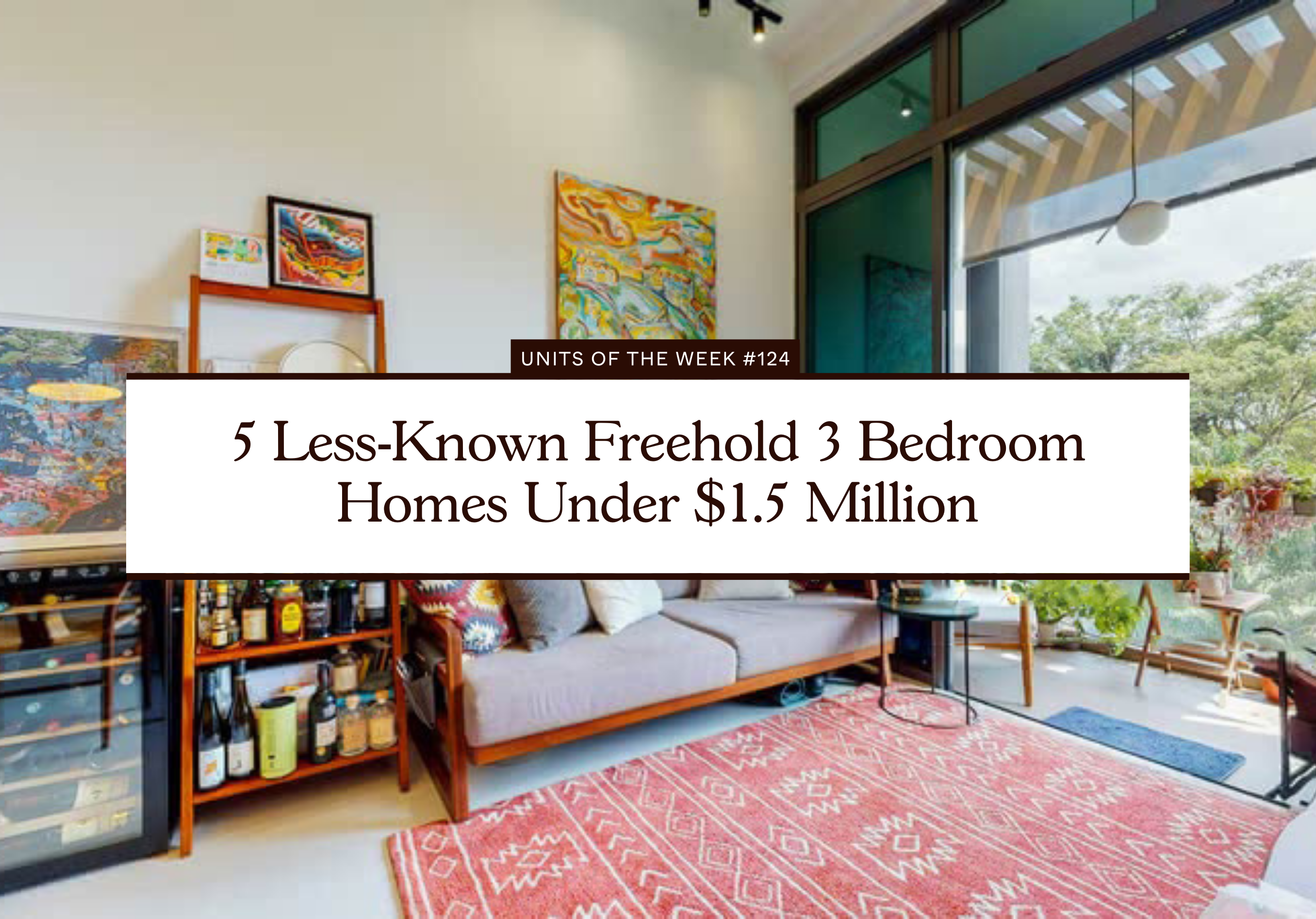 As much as leasehold properties can make more financial sense to buy if you don't have a very long exit timeline, it's always hard to get away from the idea of owning a home forever.
This week, we look at some 3-bedroom units that are freehold at or under a $1.5 million price point. Unlike the $1.418 million Dawson flat, these are not in as centrally located places, and nor are they the most accessible to an MRT station. And so, if you are more concerned about having a "forever" home and are less strict about location, here are some interesting units to look at.
Missed last week? You can view the previous issue here.
You can also join our free weekly newsletter so you stay up to date on our latest curations weekly.
Now let's get on with the list of curated units this week!

1

The Morning Glory
$1,480,000
| | |
| --- | --- |
| Address: | 24 Sirat Road 545782 Hougang |
| Tenure: | Freehold |
| Size: | 1,033 sqft |
| $PSF: | $1,432.72 PSF |
| Developer: | World Class Land Pte Ltd |
| TOP: | 2004 |
Why I like it
In an era of residences, parks, and mansions, this condo sure has a very unique name. The Morning Glory has multiple meanings (of which I won't go into), but it is definitely one that you will remember once you hear of it.

It's located in the Serangoon area, but it's not exactly a close walking distance to Serangoon MRT station. That said, it does connect 2 lines (North East and Circle line), so you do get more choices when it comes to travelling around Singapore. NEX is here as well, so your shopping needs and groceries are covered too (there's a massive 24 hours NTUC). If it helps, the other perk of the location is that it is next to Serangoon Stadium, which has a sports centre and swimming complex next door.

The Morning Glory itself is a freehold development of just 18 units. This is a 3 bedroom unit sized at 1,033 square feet – which is decent all things considered. It's got an enclosed kitchen, utility, yard, and household shelter, which are certainly useful additions.

There's a small pool, which isn't the biggest but for just 18 units I think that's not too bad already. Besides, what you get from small developments like exclusitivity and privacy is probably the bigger selling point here.

– Ryan

2

Adana @ Thomson
$1,400,000
| | |
| --- | --- |
| Address: | 8 Old Upper Thomson Road 573868 |
| Tenure: | Freehold |
| Size: | 721 sqft |
| $PSF: | $1,941.75 PSF |
| Developer: | Fortune Properties Pte. Ltd. |
| TOP: | 2018 |
Why I like it
Adana @ Thomson is a small development of just 74 units. It was completed in 2018 so it's still considered new, and yes, of course it is freehold too. The location of Adana @ Thomson is one that looks a little inaccessible, but when you look at it closely it actually is pretty good if a quieter, less dense area is what you are looking for. For one, it's just bordering the Lower Peirce Reservoir Park. If you haven't been, it's worth a trip down as some shots that you'll be able to capture look quite unlike a place in Singapore. It's incredibly scenic, and sometimes you might even be able to spot wildlife like monkeys and wild boars. There's also a fishing pier here too, so if you are into fishing I'm sure being able to fish at your doorstep will be an attraction.

In terms of connections, while the nearest MRT station Bright Hill MRT station is a little too far for a daily walk, you are within close driving distance to Thomson Plaza, the entire Thomson stretch of shophouses, as well as walking distance to Sembawang Hill Food Centre. There's also other food options along the shophouses here along with a mini mart. Plus, for immediate groceries, there's Caltex, Esso, and Shell all in one stretch just next door to you.

The unit itself is a compact 3 bedroom sized at 721 square feet. It's certainly not a winner in the size department, and is really only ideal for those who don't need much space in the common bedrooms as each can only store a single sized bed.

– Druce

3

Changi Court
$1,488,888
| | |
| --- | --- |
| Address: | 702 Upper Changi Road East 486832 |
| Tenure: | Freehold |
| Size: | 1,098 sqft |
| $PSF: | $1,356.00 PSF |
| Developer: | Allgreen Properties Ltd |
| TOP: | 1997 |
Why I like it
Changi Court has always been a bit of an under-the-radar development due to its location and age. It is freehold though, and with 297 units set over 255,506 square feet of land – it is definitely a spacious one if you are looking for a less dense property. It was completed in 1997 though, so you should tamper your expectations in terms of the exterior outlook of it.

This is a 3-bedroom 1,098 square foot unit. It's got minimal balcony space so most of it is reserved for the interior. You've got a proper yard and utility too, so it is a useful layout for families. While Changi is definitely a far off location for most, for those who work in the area Changi Court will make sense – especially with the Downtown line MRT station Upper Changi just outside the development.

– Reuben

4

Eng Aun Mansion
$1,500,000
| | |
| --- | --- |
| Address: | 314 – 314C Thomson Road 307659 |
| Tenure: | Freehold |
| Size: | 1,002 sqft |
| $PSF: | $1,497.01 PSF |
| Developer: | Unknown Developer |
| TOP: | 2016 |
Why I like it
Eng Aun Mansion is right by Novena Court, a development that we've covered multiple times in our Units Of The Week series. Let's start with the good parts. It's freehold, close walking distance to Novena MRT station and the collection of malls in the area like Novena Square, Royal Square, and United Square. You do also have smaller ones like Goldhill Plaza and the eateries across the road (plus the whole of Balestier to explore) so you really are not short of food options here.

It's an old walk-up apartment, so yes, there's no lift. But it's not a tall one anyway, and there are no facilities to speak of, so the maintenance will be low. It's 1,002 square feet of space set over 3 bedrooms and 2 bathrooms, which is very decent in today's context. You are next to the main Thomson Road though, so there's definitely some traffic noise to contend with here.

– Stanley

5

Wing Fong Mansions
$1,120,000
| | |
| --- | --- |
| Address: | 12 Lorong 14 Geylang 398924 |
| Tenure: | Freehold |
| Size: | 1,163 sqft |
| $PSF: | $963.03 PSF |
| Developer: | Wing Fong Development Pte Ltd |
| TOP: | 1997 |
Why I like it
Located in the Geylang area, Wing Fong Mansions is an old freehold development that was built in 1997. It has 218 units, which is a decent size in an area with lots of small projects. While you are surrounded by loads of food, the nearest MRT station is about 9-minutes walk away (Mountbatten MRT station on the Circle Line).

As a result of the older nature of it, it doesn't look the nicest but it does have quite good internal space. At 1,163 square feet for a 3 bedroom 2 bathroom unit, that's considered very reasonable in today's context.

– Sean