Units Of The Week

5 Jumbo-Sized HDB Units Above 1,700 Sqft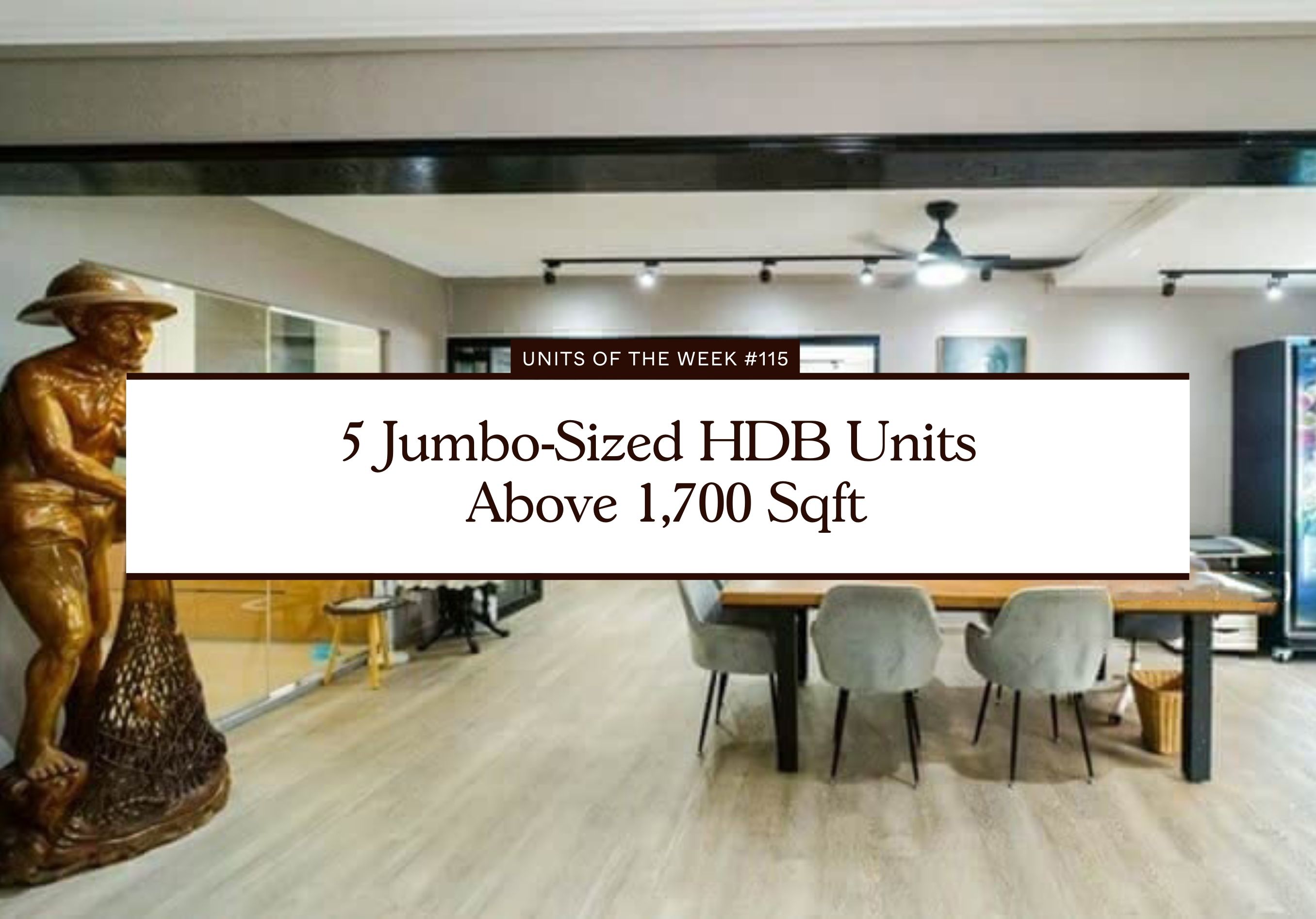 With the very recent news that a Henderson HDB flat has been sold for a new record of $1.4 million, it only seems like the ceiling for what people are willing to pay for HDB flats in Singapore will be broken yet again.
And so, this week, we look at some of the biggest HDB flats you can find (they are all above 1,700 square feet in size).
Missed last week? You can view the previous issue here.
You can also join our free weekly newsletter so you stay up to date on our latest curations weekly.
Now let's get on with the list of curated units this week!

1

665 Yishun Avenue 4
$900,000
| | |
| --- | --- |
| Address: | 665 Yishun Avenue 4 760665 |
| Tenure: | 99-year Leasehold |
| Size: | 1,765 sqft |
| $PSF: | $509.92 PSF |
| Developer: | Housing & Development Board (HDB) |
| TOP: | 1986 |
Why I like it
As with many of the older and bigger flats, this jumbo flat isn't very close to an MRT station as it is about a 15-minute walk away from Khatib MRT station.

That said, its immediate location is convenient as you are located just across Wisteria mall. It isn't the biggest mall around, but it does contain familiar favourites like Coffee Bean, KFC, and Yole to name a few. You are also closeby to a playground along Yishun Green Link, and the park connectors that can take you to the huge Yishun Park, pond, and Safra at Yishun.

School wise, you are also close to schools like Northland Primary, Chung Cheng High, Orchid Park Secondar, and Naval Base Primary.

Finally, the unit itself is a massive jumbo unit sized at 1,765 square feet. It still has a balance lease of 69 years, which is very decent all things considered. The old layout was a 5 bedroom one (it can be converted back), but it is now a 4 bedroom with 2 en suites – which means you have a huge living and dining area. The unit is still pretty modern as well, so unless you want a major revamp it should be minimal renovation required for most people.

– Ryan

2

820 Woodlands Street 82
$1,088,888
| | |
| --- | --- |
| Address: | 820 Woodlands Street 82 730820 |
| Tenure: | 99-year Leasehold |
| Size: | 1,905 sqft |
| $PSF: | $571.59 PSF |
| Developer: | Housing & Development Board (HDB) |
| TOP: | 1995 |
Why I like it
First things first, this is a giant of a flat. It is technically a jumbo flat of a 3-room and 4-room HDB combined (so 5 bedrooms) but HDB classifies it as an Executive Apartment. And so at a size of 1,905 square feet, this is going to be one of the biggest HDB flats that you can find. It is still well renovated too, so you can keep any renovation costs as low as possible.

The location is pretty stellar too. You are within walkable distance to Woodlands MRT station, which is an interchange consisting of the North South line and Thomson East Coast line. Of course, Causeway Point is right here too, along with Woodlands Civic Centre and the still new Woods Square.

In terms of immediate amenities, you Fu Shan Garden is just next door, with open spaces and a variety of playgrounds. You are also close by to Woodlands North Plaza, where you'll find a Giant Supermarket, a KFC, and the ever popular McDonald's.

– Druce

3

661 Yishun Avenue 4
$1,078,000
| | |
| --- | --- |
| Address: | 661 Yishun Avenue 4 760661 |
| Tenure: | 99-year Leasehold |
| Size: | 1,765 sqft |
| $PSF: | $610.76 PSF |
| Developer: | Housing & Development Board (HDB) |
| TOP: | 1986 |
Why I like it
This Jumbo flat at Nee Soon Central View is just the next block from Ryan's pick, so I won't be going over the same location attributes here.

The unit itself is exactly the same size too, with a layout of 4 bedrooms and 2 common bedrooms with a shared bathroom. You can really sense the luxury of space available here, with the large L-shaped sofa that might ordinarily look too oversized for other homes, looking like a great fit here.

– Reuben

4

129 Potong Pasir Avenue 1
$999,999
| | |
| --- | --- |
| Address: | 129 Potong Pasir Avenue 1 350129 |
| Tenure: | 99-year Leasehold |
| Size: | 1,732 sqft |
| $PSF: | $577.37 PSF |
| Developer: | Housing & Development Board (HDB) |
| TOP: | 1983 |
Why I like it
This executive maisonette at Potong Pasir is very well sized at 1,732 square feet. While most people looking at this would probably need to factor in a sizeable renovation budget, you are set in quite a convenient location to begin with.

For one, you are very close by to the Sungei Kallang (although no river views from your unit), which you can actually walk all the way down to Kallang Riverside Park and the Kallang Basin itself. Getting to Potong Pasir MRT station is also just about a 9-minute walk, and from here you have a whole hive of activity here. You have shops and dining options at The Poiz Centre, The Venue Shoppes, as well as old school favourites along Tai Thong Crescent (the upcoming Woodleigh Mall will just be one train stop away too).

Road connectivity here is great too, as the PIE and CTE are both just a stone's throw away.

– Stanley

5

139 Marsiling Road
$890,000
| | |
| --- | --- |
| Address: | 139 Marsiling Road 730139 |
| Tenure: | 99-year Leasehold |
| Size: | 1,700 sqft |
| $PSF: | $523.53 PSF |
| Developer: | Housing & Development Board (HDB) |
| TOP: | 1995 |
Why I like it
Starting with the downsides, this Executive Apartment isn't the closest to an MRT station. Marsiling MRT station is about a 12-minute walk, and you can also walk to Woodlands MRT station although that would be slightly further at about 15-minutes walk away. It's also here that you'll find Causeway Point, which is basically the hub of Woodlands.

Besides that, Woodlands Town Park East is just at your doorstep, and if you travel to JB a lot, the Woodlands checkpoint is nearby too. Other than that though, it's hard to really describe the place as a picture of convenience, although you do have a few coffeeshops nearby, and a Sheng Siong about an 8-minute walk way.

This unit is still very generously sized at 1,700 square feet (even though it is the smallest on this list). Everything is still quite well done up too, so if the design is to your style, you could consider it as move in ready.

– Sean