Property Picks

5 Condo Picks For Integrated Developments
Ryan J
July 23, 2020

9

min read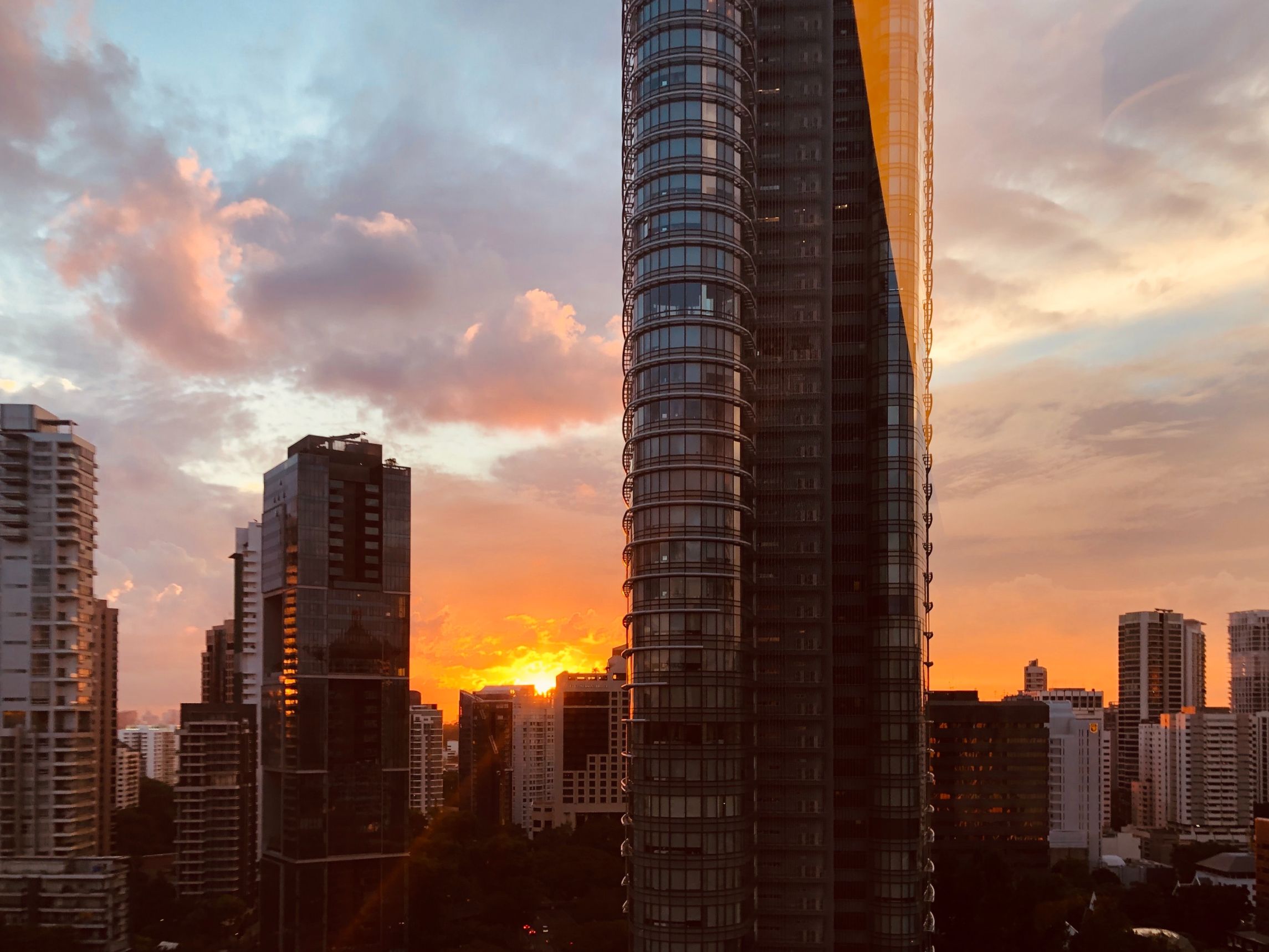 Live near a shopping mall? Take a whole train ride just to eat what you want? The day is coming when these will be quaint, amusing ideas. These days, the idea is practically live on top of the mall or restaurant, or even have the community centre attached to your block.

That's the idea behind integrated developments. They're not just mixed-use, they could also include some civic buildings, which can range from neighbourhood libraries to even police stations. 

For those who want to do your shopping, eating, work, and maybe even neighbourhood Tai Chi sessions without leaving home, here are some of the more popular integrated developments to take a look at:

The Woodleigh Residences 
Park Place Residences
The Orchard Residences 
Marina One Residences
The Poiz Residences
(Yes, many integrated developments include "residences" in their name; mostly to distinguish the residential portion from their mall or office components, which may have different names).

1. The Woodleigh Residences
There's an interesting story behind this one: Woodleigh Residences had its soft launch way back in October 2018, which really didn't do well – only 30 units were moved. But that's mainly because it was close to the new cooling measures introduced in August that year.

It was relaunched in May 2019, with prices lowered by 10 per cent to 13 per cent (starting from $1,733 per square foot). 

Now despite that rocky start, it's actually picked up a lot and is back on the radar. There are two big reasons:

(a) it's the first private residence in Bidadari New Town; and Bidadari is in the very mature and central area of Toa Payoh. As a bonus, this development also has one of the better views, overlooking Alkaff Lake.
(b) it's built on top of a mall with 30,000 square feet of retail space (Woodleigh Mall), and an underground bus interchange. If you don't take the bus, it's a four-minute walk to Woodleigh MRT station.
It's quite rare that you can get a condo built right on top of a sizeable mall, which is also a transport node, at a price like $1,733 psf. It's got food, it's got retail, it's super accessible, it's close to work if your office is in the CBD, and it's probably the safest condo ever (because, fun fact, there's a police station in this development). 


One drawback though, is that Park Colonial is just next door to The Woodleigh Residences. Some landlords don't like this kind of competition; but then again, Park Colonial isn't the one sitting on top of Woodleigh Mall.

Info sheet:
Address: Upper Serangoon Road (District 13)
Developer: Kajima Development Pte Ltd & Singapore Press Holdings Ltd
Site Area: Approx. 273,842 sq.ft.
Tenure: 99-years leasehold
TOP: Est. 3Q 2022
Units: 667
2. Park Place Residences
Park Place Residences should be nearing completion the same year we write this; and it's probably the most significant residential development in the Paya Lebar area to date. 

Park Place Residences was specifically developed to tie together the 3.9 hectare Paya Lebar Central site, under the efforts of Australian developer Lendlease. Paya Lebar Central is part of the URA's decentralisation efforts; that is, it's meant to become a commercial hub outside of the traditional CBD – much as we've seen with Jurong Gateway, and the upcoming Woodlands Regional Centre.

This development is integrated with 340,000 sq.ft. Paya Lebar Quarter (PLQ) mall and the accompanying Paya Lebar MRT station. It's also integrated with three Grade A office blocks (around 1 million sq.ft. of office space).

Starting from $1,600 psf (currently), this is one of the more affordable integrated developments; and it's one of the most exemplary ones, being designed to fit into the overall redevelopment of the neighbourhood.


As an added plus, Paya Lebar has a unique location that can be considered both east and central – Changi Airport is a 15 minute drive away (and is accessible via the MRT), and it's about a 10-minute drive to City Hall. 

Info sheet:
Address: Paya Lebar Road (District 14)
Developer: Lendlease
Site Area: Approx. 39,231 sq.ft for the residential component, approx. 422,280 sq.ft. for the entirety of Paya Lebar Quarter precinct. 
Tenure: 99-years leasehold
TOP: Est. end 2020
Units: 429
3. The Orchard Residences
While it's already 10 years old (TOP in 2010), we can't exclude The Orchard Residences from any list of Integrated Developments; simply because it's one of the most prestigious condos in Singapore.

This may be the very pinnacle of integrated developments right now, with only 175 super luxury units sitting atop Ion Orchard (and by default, the Orchard MRT station). It's said to have the best view of Singapore city centre out of any existing development; and while there's no objective way to gauge that, it still strikes us as being plausible. It is, after all, in a 56-storey tower in the centre of Orchard Road.

Ion Orchard has 663,000 sq. ft. of retail, and if that's not enough, well…you'd be on Orchard Road. Everything from Takashimaya to Orchard Central is within walking distance. 

The only amenity that's not afforded to you here is low traffic, for obvious reasons (also, your neighbourhood isn't exactly cosy; it's a giant shopping belt and not much else).

Prices here are steep, as you might expect from superlux housing. Units currently average around $2,900 psf, with units starting at $5.8 million (and topping out at $11.5 million to date). The Orchard Residences is the final word in integrated developments, for those with the means to afford it.


That said, prices have dropped in recent months, with a recent transaction in May 2020 sustaining a loss of slightly over $2 million. The purchase price was at $4,099 psf and it was sold at $3,383 psf!

Info sheet:
Address: 238 Orchard Boulevard (District 09)
Developer: CapitaLand & Sun Hung Kai Properties
Site Area: Approx. 200,747 sq. ft. 
Tenure: 99-years leasehold
TOP: 2010
Units: 175
4. Marina One Residences
Marina One Residences is one of the first integrated developments to take full advantage of the Marina Bay area. It also stands out among the other integrated developments on this list, because of its heavy emphasis on greenery and natural surroundings.

(Most integrated developments bank heavily on their malls and offices, and leaving the "nature enclave" concepts to condos in Sembawang or Bukit Timah).

In fact, one of the highlights here is the "Green Heart", featuring 13-metre tall cascading waterfalls in a canopy-style environment; we have a more detailed write-up of it in Stacked Homes. Mind you, you'll run into huge crowds of Instagrammers all day long.

The retail podium of Marina One is around 140,00 sq.ft. of food and shopping; and the development includes two 30-storey towers of grade A office space (approx. 1.88 million sq.ft of lettable space). The development is connected to the Downtown MRT station, and the Marina Bay Link Mall via underground access.

At an average price of around $2,575 psf, it's not a cheap buy (as you'd expect from such a prime region) – but the single bedders start from $1.47 million, which may appeal to those willing to trade space for convenience and centrality. 


One issue to note, though, is the high number of residential units (1,042 units). This could create quite a bit of competition for tenants; a lot of buyers have probably looked at the one or two-bedders, and thought "yay, rental income".

Read this next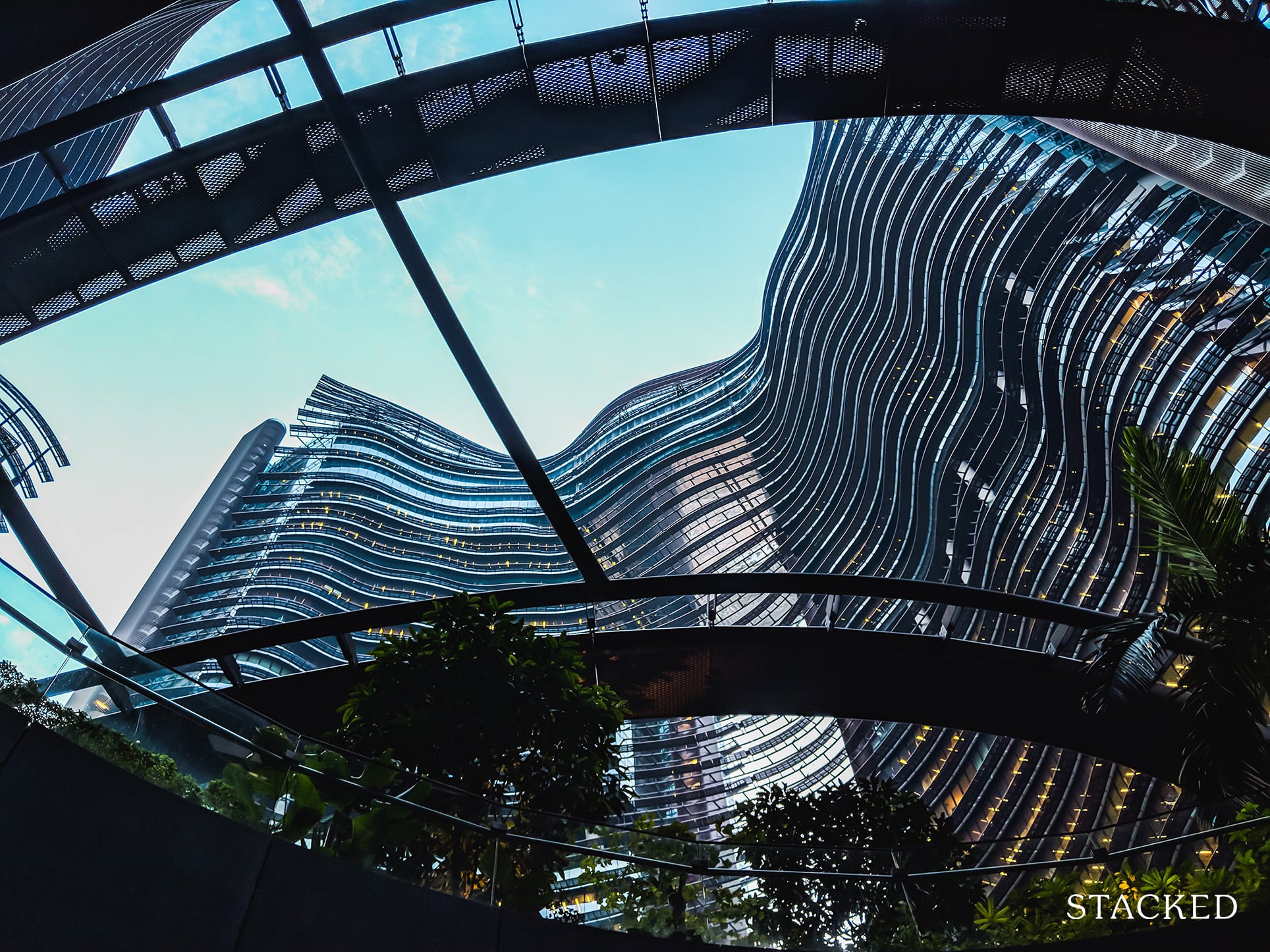 Info sheet:
Address: 21 & 23 Marina Way (District 01)
Developer: M+S
Site Area: Approx. 282,400 sq. ft. 
Tenure: 99-years leasehold
TOP: 2018
Units: 1,042 units
5. The Poiz Residences
This is one of the most unique developments on the list, for reasons of its location. Potong Pasir is a real estate mystery: despite its city fringe location (10 minutes drive to the CBD) and maturity, it's always maintained a strong kampung vibe. In fact, The Poiz Centre (the mall component of this development) was one of the biggest malls to open in the area in decades. 

The Poiz Residences is the Heartlander's integrated development – this is where you upgrade to if you want to retain a somewhat HDB vibe despite living in a condo. 

The Poiz Centre itself is 50,000 sq.ft. of shopping and food, and its right next to the Potong Pasir MRT station. One of the key highlights will be proximity to St Andrew's Village – a 13.5-hectare school cluster that includes St. Andrew's Junior Schoo, St. Andrew's Secondary School, and St. Andrew's Junior College.


At an average of $1,572 psf, it's also one of the most affordable integrated developments anywhere – with prices slowly increasing because of recent sub-sales. Chances are, it's slipped beneath the radar of buyers, due to Potong Pasir itself being a greatly underrated neighbourhood. 

Info sheet:
Address: Meyappa Chettiar Road (District 27)
Developer: MCC Land
Site Area: Approx. 173,826 sq. ft. 
Tenure: 99-years leasehold
TOP: 2019
Units: 731 units
Not sure if an integrated development is right for you? 
It comes down to what you expect out of your property. Investment-wise, it's possible that a condo near a mall or MRT could be just as convenient, even if it's not integrated; some of these other options may be right across the street. You can drop us a message on Facebook if you have any questions.

For a deeper analysis of all 14 integrated developments, you can view it here!

Meanwhile, you can keep up to date on the latest properties by following us on Stacked.