Units Of The Week

5 Homes With Lovely Unblocked Water/Greenery Views Under $2.5 Million
Stacked
October 13, 2022

8

min read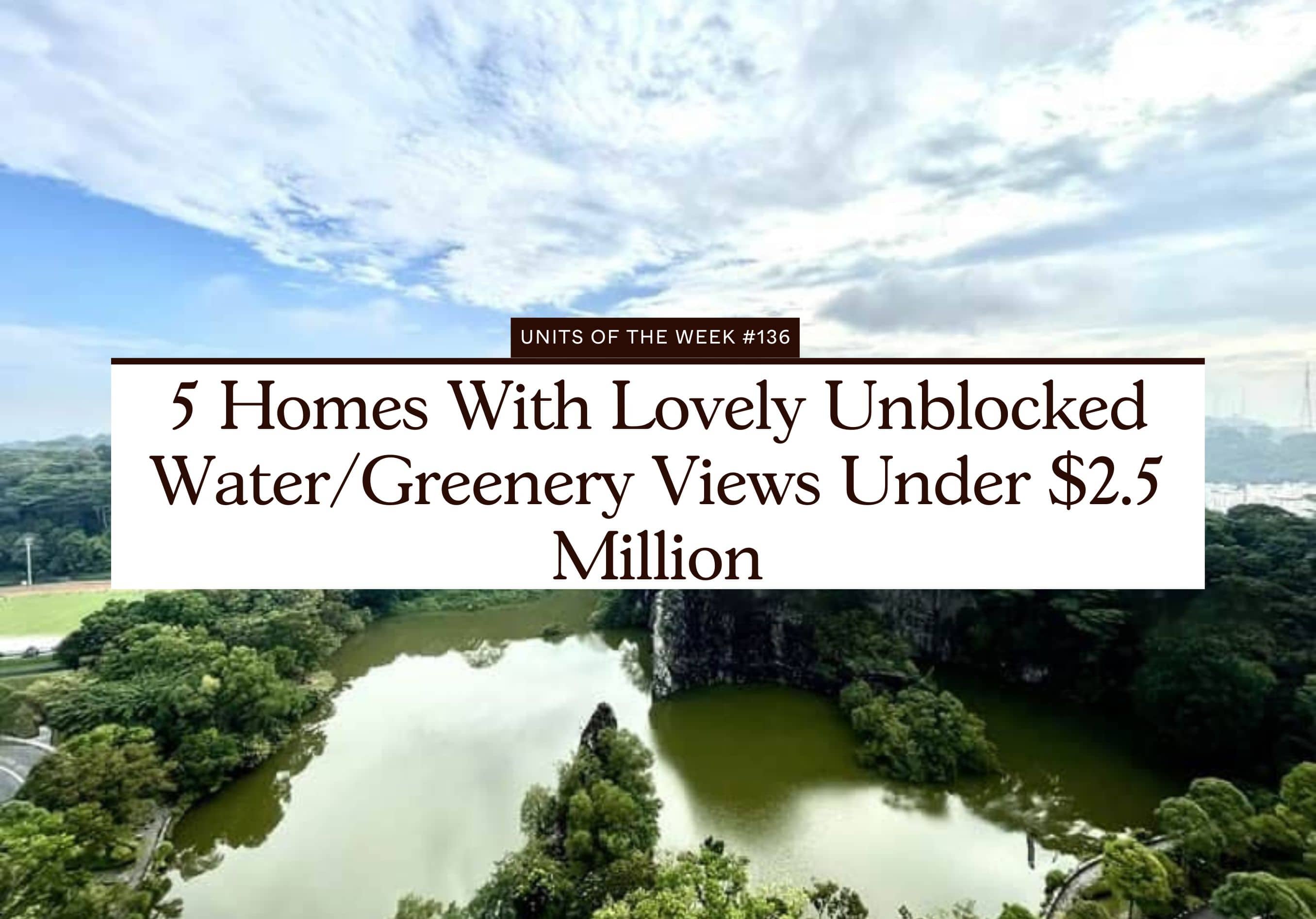 In a country where tall buildings fill a housing estate, it may be hard to find a home with an unblocked view – more importantly, a view that doesn't break the bank. After all, unblocked views with a gorgeous greenery/water view do come at a premium!
So for those who are on the lookout for such units, here are 5 listings that caught our attention over the past week!
Missed last week? You can view the previous issue here.
You can also join our free weekly newsletter so you stay up to date on our latest curations weekly.
Now let's get on with the list of curated units this week!

1

Guilin View
$2,395,000
| | |
| --- | --- |
| Address: | 28 Bukit Batok Street 52 |
| Tenure: | 99-year Leasehold |
| Size: | 3,025 sqft |
| $PSF: | $791.74 PSF |
| Developer: | City Development Limited |
| TOP: | NA |
Why I like it
For those who don't know, Guilin View really has one of the most stunning views in Singapore. As with the name, this one features an unblocked view of Little Guilin from the living and all bedrooms. And it's not a surprise that it is also the development with the best view of Little Guilin (and according to the Master Plan that's thankfully not going to go away). 

This is a massive penthouse unit of 3,025 square feet. It's spread across 2 levels with a private roof terrace on the second level, and you naturally are going to have the most prime views at the highest vantage point. It's a good option for big families as it also comes with a yard, utility and WC, plus the utility room is ventilated so it can also double as a helper's room if necessary.

Location wise, it's a really short walk to Bukit Gombak MRT, and under a 10 min walk to Bukit Gombak Neighbourhood Centre which houses a wide array of eateries, a wet market and 2 supermarkets – Prime and Giant. 

– Ryan

2

Lakeview Estate
$1,800,000
| | |
| --- | --- |
| Address: | 97B Upper Thomson Road |
| Tenure: | 99-year Leasehold |
| Size: | 1,615 sqft |
| $PSF: | $1,114.55 PSF |
| Developer: | Housing and Urban Development Company (HUDC) |
| TOP: | 1977 |
Why I like it
Lakeview Estate is one of the few remaining former HUDC developments, that was privatised in 2003. It's not too far away from Marymount MRT station, although if you want to get to the TEL line, Upper Thomson MRT is a little further away. It's walking distance to 320 Shunfu Market and Food Centre, Upper Thomson eateries and Thomson Plaza, so getting food here is not going to be a problem. 

The best part of the development is the stunning unblocked view of Macritchie Reservoir Park from the living, common room 1 and master bedroom. Do note that the open space in front is zoned as residential in the URA master plan. As with older units, it has a generous size of 1,615 square feet for a 3 bedder, and comes with a yard, utility and WC. The layout is efficient with no wastage of space and regularly shaped and the living and dining areas are also nice segregated. 

– Druce

3

Thomson Grand
$2,500,000
| | |
| --- | --- |
| Address: | 25 Sin Ming Walk |
| Tenure: | 99-year Leasehold |
| Size: | 1,367 sqft |
| $PSF: | $1,828.82 PSF |
| Developer: | Luxury Green Development Pte. Ltd. |
| TOP: | 2015 |
Why I like it
Thomson Grand has a number of different units, so not every single unit there will offer you great unblocked views. It's about an 8 minute walk away from Bright Hill MRT station on the TEL line (which in November 2022 next month will be have more stations opening up!). 

The unit is of a bigger than the average new development 3 bedroom, at 1,367 square feet in size. This development is supposed to be more premium, with its own private lift lobby and an unblocked view of Windsor Nature Park. It's a dumbbell layout with master bedroom on one side and 2 common bedrooms on the other, which gives abit of privacy. It features a long balcony that stretches from the living to the master bedroom which faces the nature park, and is a perfect spot for a morning coffee or to unwind after a long day. 

For parents, this development is within 1 km of 2 renowned primary schools – CHIJ St Nicholas Girls' School and Ai Tong School. 

– Reuben

4

Kingsford Waterbay
$1,400,000
| | |
| --- | --- |
| Address: | Upper Serangoon View |
| Tenure: | 99-year Leasehold |
| Size: | 958 sqft |
| $PSF: | $1,461.38 PSF |
| Developer: | Kingsford Property Development Pte Ltd |
| TOP: | 2018 |
Why I like it
Given this is a newer development (it was built in 2018), this 3 bedroom unit is decent for a relatively new condo at 958 square feet in size. The best part here is really of the unblocked view of the Sungei Serangoon and the forested area across it. Of course, do note that these areas have sadly been earmarked for industrial business use on the URA Masterplan, so don't expect these lovely views to last forever. 

It's not a daily walkable distance to Hougang MRT but you do have a shuttle bus service that brings residents there. You can also walk along the park connector to take you all the way to Punggol, or down to Hougang. Hougang Capeview next door also has some shops and a supermarket too, so it's pretty convenient. 

– Stanley

5

Regent Heights
$990,000
| | |
| --- | --- |
| Address: | 56 Bukit Batok East Avenue 5 |
| Tenure: | 99-year Leasehold |
| Size: | 1,023 sqft |
| $PSF: | $967.74 PSF |
| Developer: | Far East Organization |
| TOP: | 1999 |
Why I like it
First things first Regent Heights isn't really the closest located to an MRT station, at about a 15 minute walk away from Bukit Batok MRT and Westmall. The upside? You do get a pretty unblocked view of Bukit Batok Nature Park, which is looking towards Bukit Timah Nature Reserve. As you might expect, these views are here to stay too (according to the URA master plan). 

It's definitely a very good size for a 2 bedder at 1,023 sq ft as it comes with a yard, utility and WC which you rarely see in newer 2 bedroom units. You are situated on a high floor so you do get a lot of natural light and ventilation here. The layout is also efficient with no wastage of space. Plus, it also has a proper dining area which can fit a 4 seater dining set – also rare with newer developments. 

– Sean