Units Of The Week
5 Cheapest 3-Bedroom Condo Units (Starts From $999,000)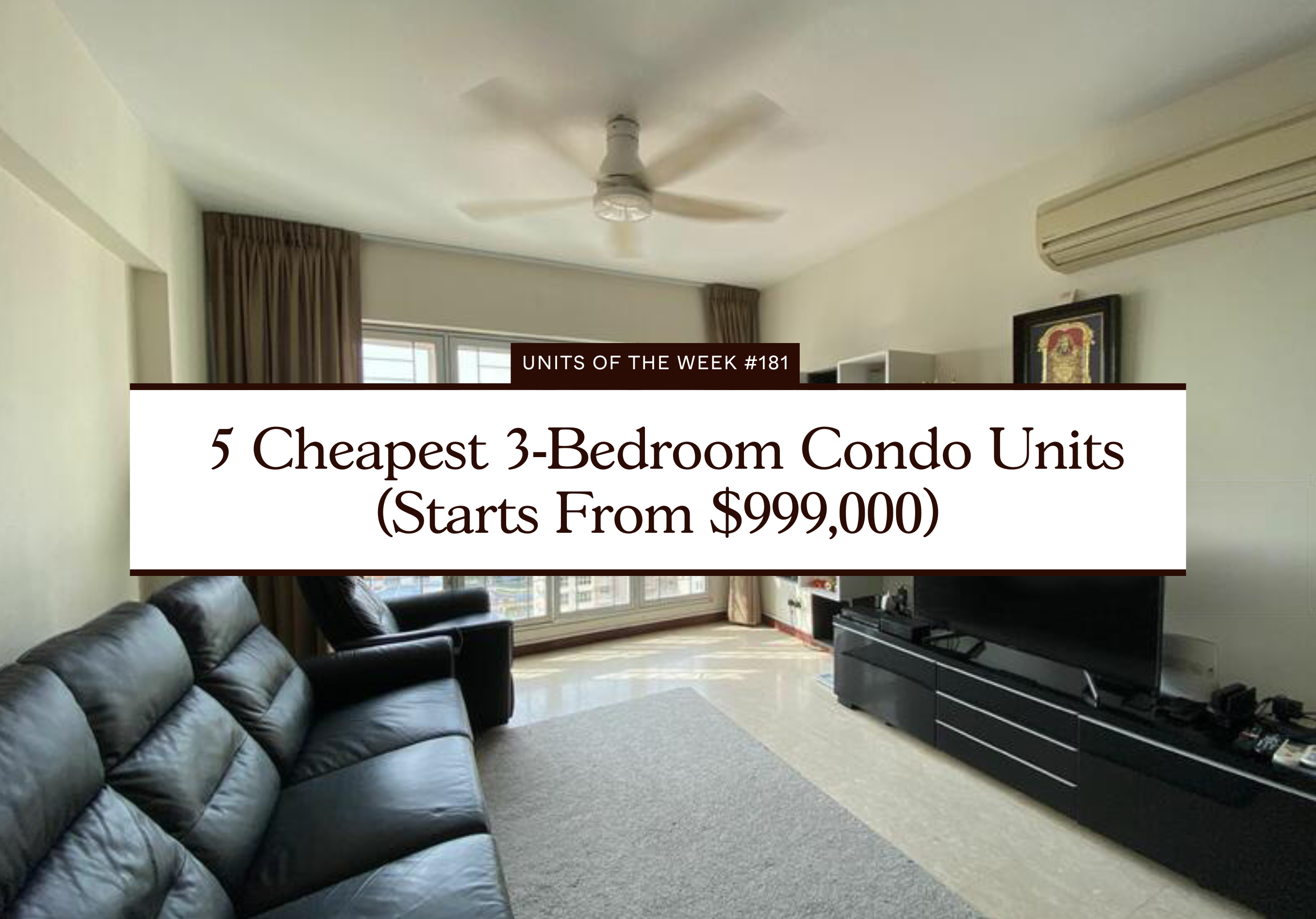 8
min read
Everyone wants to find the cheapest home, but naturally, the more affordable price will often come with limitations. This could be in the form of the location, the age of the property, or maybe even the size of the unit.
Nevertheless, if you are looking for the cheapest possible 3-bedder condo for your family, we've picked out the 5 cheapesst 3-bedroom units that start from $999,000 with a mix of freehold and leasehold tenure.
Missed last week? You can view the previous issue here.
You can also join our free weekly newsletter so you stay up to date on our latest curations weekly.
Now let's get on with the list of curated units this week!

1

Aston Lodge
$999,000
| | |
| --- | --- |
| Attribute | Info |
| Address | 56 Lorong 8 |
| Tenure | Freehold |
| Size | 980 SQFT |
| $PSF | $ 1,019.39 PSF |
| Developer | LICO PROPERTIES PTE LTD |
| TOP | August 1997 |
Why I like it
Aston Lodge might be getting on in age (it was built in 1997), but this freehold apartment has an efficient layout and the potential to become a functional home with proper renovation.

Sized at 980 square feet, it comes with three decent-sized bedrooms, two bathrooms, a spacious living room and a yard space to store bulky items. Homeowners who live with a helper can choose to convert it into a helper's room instead.

Although the development is not a high-rise building, the surrounding area is pretty low rise anyway and homeowners get to enjoy partially unblocked views.

Residents of Aston Lodge enjoys city-fringe living and is within a 15-minute walk to three MRT stations (Mountbatten (Circle line), Kallang MRT & Aljunied MRT (both on East-West lines)), though taking the bus is probably the more convenient option.

There are plenty of lifestyle and dining options nearby, including Old Airport Road Food Centre, food options along Geylang Road and Kallang Wave Mall.

Nearby schools include Bendemeer Primary School, Canossa Catholic Primary School, Geylang Methodist School (Primary), Kong Hwa School, Broadrick Secondary School, Chung Cheng High (Main), Dunman High School and James Cook University.

2

Ascent @ 456
$999,050
| | |
| --- | --- |
| Attribute | Info |
| Address | 456 Balestier Road |
| Tenure | Freehold |
| Size | 689 SQFT |
| $PSF | $1,450.00 PSF |
| Developer | Quest Homes Pte Ltd |
| TOP | August 2017 |
Why I like it
This freehold 3-bedroom apartment in Ascent@456 is a useful option for homeowners who don't mind a very compact (but functional) layout, but prioritise a central location.

The apartment is sized at 689 square feet and comes with three bedrooms, a compact living & dining area, a small kitchen, a home shelter and a balcony. Interestingly enough, the home shelter is located in one of the common bedrooms and has the potential to be converted into a walk-in wardrobe. Otherwise, it's a suitable space to store any bulky items. Although it must be said that given the size, the 2 common bedrooms are only big enough to put a single bed.

Homeowners who like a brightly-lit unit with plenty of natural light would enjoy the design of the balcony as it spans across the length of the living and dining area, and gives a nice view of the neighbourhood.

Its city fringe location puts it within a short bus ride to Toa Payoh MRT Station (North-South line) and Novena MRT Station (North-South line), though a walk is possible on a cooling day. Nearby the project are plenty of eateries, including Balestier Market, Boon Tong Kee and Founder Bak Kut Teh, though Zhong Shan Mall and Shaw Plaza are also within a short walking distance away.

CHIJ Primary (Toa Payoh) and St. Joseph are a few of the schools within a 1KM radius.

3

Symphony Suites
$1,000,000
| | |
| --- | --- |
| Attribute | Info |
| Address | 1 Yishun Close |
| Tenure | 99-year Leasehold |
| Size | 797 SQFT |
| $PSF | $ 1,254.71 PSF |
| Developer | EL Development (Yishun) Pte. Ltd. |
| TOP | 2019 |
Why I like it
Located in right next to Yishun Park Connector, Symphony Suites is a relatively new development that was completed in the year 2019.

Sized at 797 square feet, this apartment has a compact layout, though all three bedrooms are decent-sized. It also comes with two bathrooms, a squarish living and dining area, along with a open-concept kitchen.

Seeing that the unit faces the green park connector in the South-West direction, the full-length windows are a great way to bring in more natural light into the apartment. Furthermore, it is located in a quiet environment with good ventilation, which is a peaceful reprise to come home to.

In terms of location, it's a short walk to Junction Nine, though there are several other eateries nearby at the Yishun Bizhub, too. Yishun MRT (North-South line) is about a 1.2km walk away, though there are several bus stops nearby for those who prefer not to walk.

There are several schools nearby, including Yishun Town Secondary School, Northland Secondary School, Chongfu School, Huamin Primary School and North View Primary School.

Notably, it is located right beside the upcoming North Gaia EC which is only reaching completion in 2025 and would mean for residents to expect more construction noises and dust.

4

Melville Park
$1,048,000
| | |
| --- | --- |
| Attribute | Info |
| Address | 24 Simei Street 1 |
| Tenure | 99-year Leasehold |
| Size | 1,044 SQFT |
| $PSF | $ 1,003.83 PSF |
| Developer | Melville Park Development Pte Ltd |
| TOP | August 1996 |
Why I like it

For those who priorisie low-density living, this apartment located in the spacious Melville Park might be a good option to consider.

It is a spacious unit sized at 1,044 square feet and comes with three bedrooms, two bathrooms, a spacious common area and even a yard behind the kitchen. It's also notable that this unit does not come with a balcony, which means the entire unit is catered to liveable indoor space.

This unit sits on a high floor and enjoys partially unblocked views of the main road and neighbourhood, along with plenty of natural light.

Simei MRT (East-West line) and Eastpoint Mall are a short 12-minute walk away and there is a mini mart located right within the development for the convenience of the residents. Tampines East (Downtown line) MRT is also a nearby option.

Alternatively, multiple food courts and eateries at Tampines East Community Club is a bus stop away from the project.

For parents, there are many schools nearby, including Chongzheng Primary School, Yumin Primary School, Ngee Ann Secondary School, Angsana Primary School, Changkat Primary School, Changkat Secondary School and SUTD.

5

Evergreen Park
$1,080,000
| | |
| --- | --- |
| Attribute | Info |
| Address | 31 Hougang Avenue 7 |
| Tenure | 99-year Leasehold |
| Size | 1,023 SQFT |
| $PSF | $ 1,055.72 PSF |
| Developer | Evergreen Park Pte Ltd |
| TOP | August 1999 |
Why I like it

Sized at 1,023 square feet, this apartment in Evergreen Park is an ideal choice for families who like living alongside a park connector, being close to a park, and enjoys water views.

It offers three bedrooms, two bathrooms, a spacious living & dining area, a yard and a utility room. Noticeably, the master bedroom and bathroom are particularly better-sized, just so that homeowners would have more space to work around with. Two of the bedrooms does come with bay windows, which is a unique addition to the home (though not everyone would like this).

The unit is located on a high floor, which offers unblocked views of the neighbourhood and Serangoon River. Do note that the forested area is zoned as a business/industrial area under the Master Plan, so the green views that you see will not last forever. Although thankfully, the sliver of land across the Sungei Serangoon will be kept as a park.

As for its location, the current nearest MRT Station is located at Hougang MRT (North-East line) (along with Hougang Mall) and it's about a 14-minutes walk away. There are also plenty of eateries located under the HDBs nearby for more convenient options.

It is located near several schools, such as CHIJ Our Lady of The Navity, Holy Innocents' Primary School, Serangoon Secondary School and Punggol Primary School.