Units Of The Week
5 Biggest 3-Bedroom Units Above 1,700 Sqft Priced Under $2M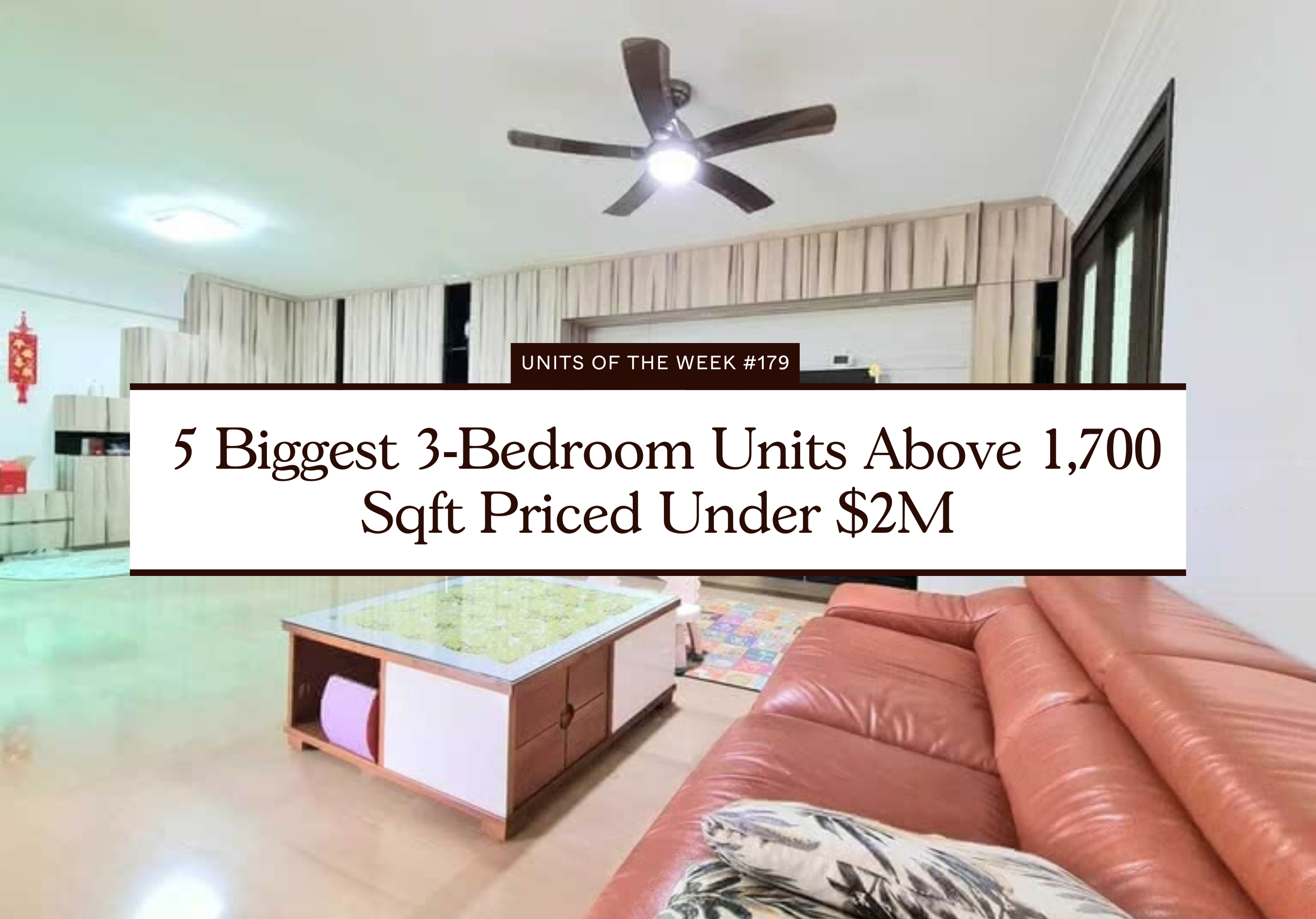 8
min read
As the average size of condos in Singapore continue to shrink and the prices continue to rise, the demand for value-for-money and generously sized apartments gets more competitive, too.
This week, we found 5 spacious 3-bedroom apartments sized above 1,700 square feet but specifically below a $2 million budget.
That said, don't be expecting that these are 1,700 square feet of internal living at this price point – at this size they are often ground floor or penthouse units with more terrace/patio space.
Missed last week? You can view the previous issue here. 
You can also join our free weekly newsletter so you stay up to date on our latest curations weekly.
Now let's get on with the list of curated units this week!

1

Stratford Court
$1,750,000
| | |
| --- | --- |
| Attribute | Info |
| Address | 41A Bedok Ria Crescent |
| Tenure | 99-year Leasehold |
| Size | 1,828 SQFT |
| $PSF | $ 957.33 PSF |
| Developer | First Capital Corporation |
| TOP | August 2000 |
Why I like it
Located in the heart of the East, this ground-floor unit in Stratford Court is sized at 1,828 square feet with three bedrooms and three bathrooms. With two ensuite bedrooms, the third bathroom would be shared amongst guests and the third bedroom, making it a comfortable arrangement for small multi-gen families.

Seeing that it's a ground-floor unit, it comes with a spacious patio which can be accessed from the living room and master bedroom, making it a unique and circular layout that might appeal to homeowners who enjoy their outdoor space. It's also a great way to allow in more natural lighting, which results in a bright home.

Apart from the spacious patio, the master bathroom is also generously sized and can fit a bathtub comfortably. The kitchen also comes with a decently sized utility room, which can be used as a helper's room or for storage. Either way, the segregation of space would come in handy for most families.

In terms of location, it's a short 8-minute walk to Tanah Merah MRT Station (East-West line and Airport line), which is one stop away from Expo Station (which is on the Downtown line). Simpang Bedok is a short walk away for convenient access to affordable food options and a Giant Supermarket. Alternatively, Bedok Mall is a short drive away.

Schools nearby include Bedok South Secondary School, Bedok View Secondary School, Temasek Primary School, Anglican High School, and ITE (East).

2

Maysprings
$1,890,000
| | |
| --- | --- |
| Attribute | Info |
| Address | 6 Petir Road Dairy Farm |
| Tenure | 99-year Leasehold |
| Size | 1,788 SQFT |
| $PSF | $1,057.05 PSF |
| Developer | First Bukit Panjang Land Pte Ltd |
| TOP | August 1998 |
Why I like it
Nestled in the leafy Bukit Panjang neighbourhood, this apartment in Maysprings is sized at a spacious 1,788 square feet and comes with three bedrooms, two bathrooms, a comfortably-sized living area and a huge open terrace space.

Interestingly, the common bathroom has a jack-and-jill design, in which it can be entered from the living area, as well as Common Bedroom 2 (which essentially means two bedrooms are ensuite).

Seeing that this unit is located on a high floor and is a corner unit, homeowners get to enjoy unblocked views of the neighbourhood and a well-ventilated unit throughout the day in a private environment. Furthermore, it has no direct exposure to the West sun, making it cooling and comfortable.

The open terrace is a versatile space for homeowners to either care for plants or even make it into a small workout corner to enjoy the tranquil surroundings.

This is quite an old condo though, and the facade is dated so it's not for those looking for something more modern.

Maysprings is located just across of Bukit Panjang MRT Station (Downtown line) and the LRT services. As such, Hillion Mall, Bukit Panjang Plaza and Junction 10 are the nearest spots for convenient food and grocery options.

Homeowners who enjoy the outdoors can also choose to walk to the Rail Corridor to enjoy vast verdant spaces that the neighbourhood is well-known for.

Families with schooling children would be pleased to know that there are several schools nearby, including Greenridge Secondary School, West View Primary School, Bukit Panjang Primary School and Assumption Pathway School.

3

Braddell View
$1,950,000
| | |
| --- | --- |
| Attribute | Info |
| Address | 10L Braddell Hill |
| Tenure | 99-year Leasehold |
| Size | 1,862 SQFT |
| $PSF | $ 1,047.26 PSF |
| Developer | Housing and Urban Development Corporation Limited |
| TOP | August 1981 |
Why I like it
Braddell View is the biggest of the 18 HUDC projects in Singapore, comprising of 2 land plots sized at about 618,221 and 524,055 square feet. The apartment in question is a 3-bedroom ground floor maisonette unit that is ideal for families who prefer a low-density living arrangement.

The apartment is sized at 1,862 square feet and comes with three spacious bedrooms, three bathrooms and well-sized common living areas. Notably, all corners of the apartment is regularly-shaped and very spacious, which gives it a lot of potential to play with the space for a make-over. Also, all bedrooms are located on the upper floor for more privacy, especially when guests frequently come over.

Despite it being a ground floor unit, the entire apartment is well-lit and ventilated and offers views of the neighbouring greenery. What stands out the most to me in this development is that it is sitting on a huge plot of land with the residential blocks spaced out widely, which offers a low-density lifestyle.

Braddell View is actually decently close to Caldecott (Circle and Thomson-East Coast line) Station, but it really depends on which block you are at given the size of the development. There are several amenities found within the development too, including a bar, an eatery and a salon, just for the convenience of the residents. Alternatively, it is within a short walking distance to Toa Payoh West Market and Food Centre for other food options.

What makes it stand out the most would likely be its proximity to Raffles Girls' School (Secondary) and Marymount Convent School, which would likely be a main factor for parents with schooling children.

4

Savannah Condopark
$1,700,000
| | |
| --- | --- |
| Attribute | Info |
| Address | 47 Simei Rise |
| Tenure | 99-year Leasehold |
| Size | 1,732 SQFT |
| $PSF | $ 981.52 PSF |
| Developer | City Development Ltd |
| TOP | August 2005 |
Why I like it
This ground-floor apartment in Savannah Condopark is sized at 1,732 square feet and offers three bedrooms, two bathrooms, spacious common areas and a huge patio space for homeowners who like to feel more connected to the outdoors.

The patio is a prominent part of the unit as it spans across the length of the house and can be accessed from the living room and master bedroom. With that said, it brings in plenty of sunlight into the apartment and is an ideal corner to set up a gardening nook or lounge area.

Within the apartment, there's an alcove located next to the common bathroom which can be converted into a small study area or reading space. The master bedroom also comes with a walk-in wardrobe.

However, one downside is that residents would likely have to drive or take a short bus ride to get to amenities. Savannah Condopark overlooks the PIE and the Jalan Pelatok landed enclave and is a short bus ride away from Simei (East-West line) MRT Station, along with East Point Mall. SUTD, Metta School, Changkat Primary School and Changkat Changi Secondary School are some schools located nearby.

The nearest MRT station is Upper Changi on the Downtown line, but it's not at a daily walkable distance.

5

Pine Grove
$1,950,000
| | |
| --- | --- |
| Attribute | Info |
| Address | 1L Pine Grove |
| Tenure | 99-year Leasehold |
| Size | 1,755 SQFT |
| $PSF | $ 1,111.11 PSF |
| Developer | HUDC Housing |
| TOP | August 1984 |
Why I like it
Located in the serene and leafy Ulu Pandan estate, Pine Grove is known for its vast land size and tranquil living environment. Though it might not be the lifestyle for everyone, it is appealing to those who wants a reprise from Singapore's city life and still get to enjoy the RCR location.

Taking a look at the location first, it's within a 1km radius to Henry Park Primary School. Other schools within the vicinity includes School of Science and Technology, Singapore Polytechnic, National University of Singapore, Ngee Ann Polytechnic, SIT and SIM. Residents can take a 10-minute walk to Sunset Way for dining options, too.

The nearest MRT station is currently at Dover MRT (East-West line), though it would be better accessible on a bus instead.

In terms of the actual apartment, it's sized at 1,755 square feet and comes with three bedrooms and two bathrooms. The terrace is generously-sized and comes with a shelter, making the space versatile for multiple uses.

The master bedroom comes with a walk-in wardrobe and dressing area, which is comfortable enough to accommodate homeowners that need more space to store their belongings.

Overall, the apartment has an efficient layout and ideal for homeowners who need more space.