Units Of The Week

5 Beautifully-Designed Unique Shophouse Units That Are Freehold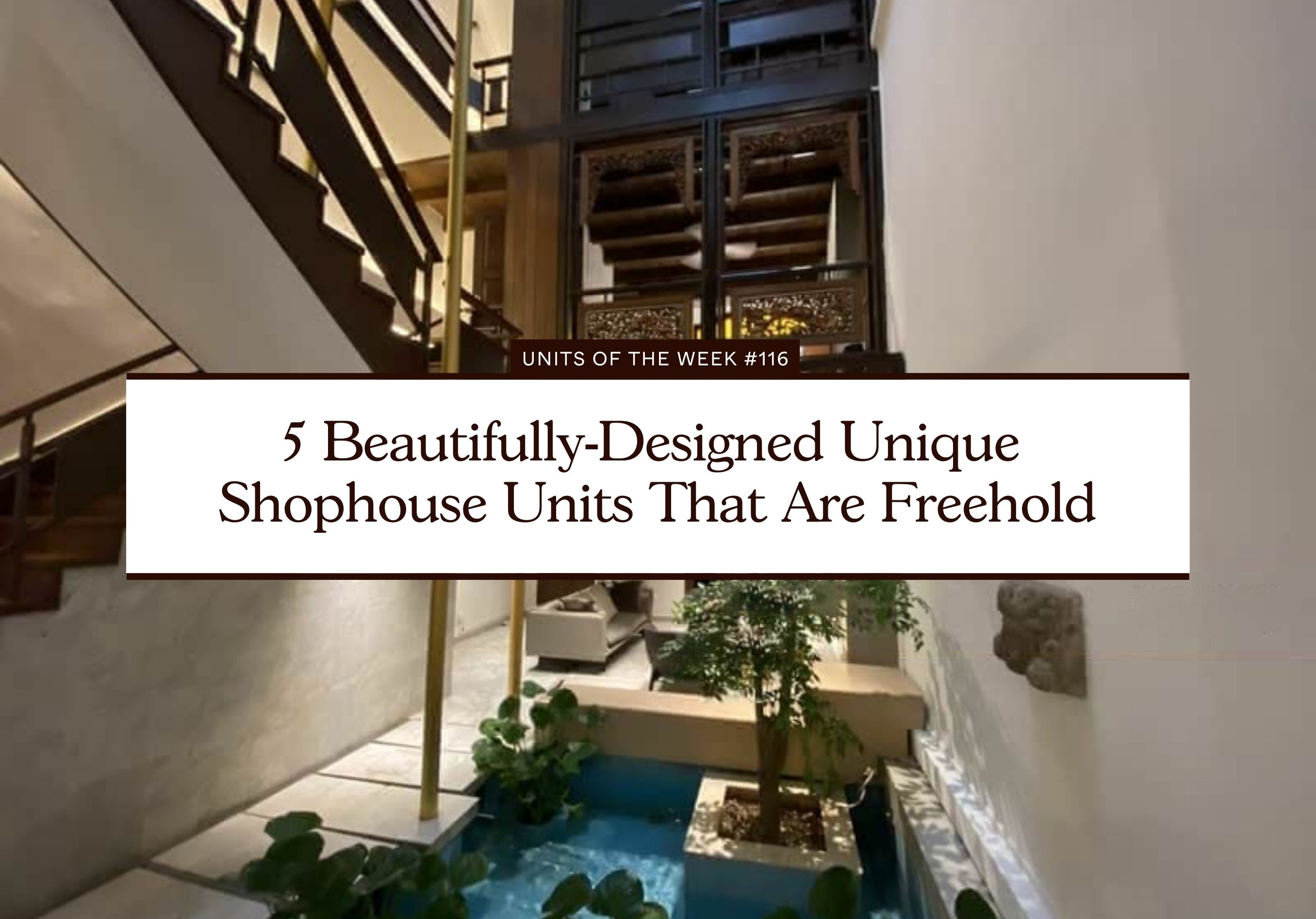 With shophouse sales in 2021 reaching a record $1.9 billion in Singapore, it's clear just how much demand there is for this very niche type of property in Singapore.
Shophouse living is definitely not for everyone though. Aside from the obvious price issues, you will also have to deal with quirks like maintenance issues (roof leaks are more common than you might think). And unlike landed houses, you will have certain limitations to what you can do with the house.
Still, the charm of a shophouse is hard to ignore – when done up nicely, there's really nothing else like it in Singapore. Here are 5 of some of the nicer ones we've come across this week.
Missed last week? You can view the previous issue here.
You can also join our free weekly newsletter so you stay up to date on our latest curations weekly.
Now let's get on with the list of curated units this week!

1

Upper East Coast Road
$4,188,000
| | |
| --- | --- |
| Address: | Upper East Coast Road 466525 |
| Tenure: | Freehold |
| Size: | 1,764 sqft |
| $PSF: | $2,374.15 PSF |
| Developer: | N/A |
| TOP: | N/A |
Why I like it
Upper East Coast Road will be lot more accessible soon, not just by car, but by MRT as well with the upcoming Thomson East Coast line. As a result the location of this home will be really convenient, with Bayshore MRT station just about a 5-minute walk away.

It's size is about 2,700 square feet of internal space set over 3 bedrooms and 2 bathrooms. It would feel more spacious than you might expect too, especially with the high ceilings and open nature of it all.

You are set along the main road though, so while it may be extra convenient, there will be a little road noise to deal with.

– Ryan

2

Emerald Hill Conservation Area, Residential Shophouse
$10,900,000
| | |
| --- | --- |
| Address: | Emerald Hill Road 229320 |
| Tenure: | Freehold |
| Size: | 1,552 sqft |
| $PSF: | $7,023.20 PSF |
| Developer: | N/A |
| TOP: | N/A |
Why I like it
Most people would know the Emerald Hill area to be one that is synonymous with shophouses – and with its very convenient location in Orchard, it is quite a haven for those who still want to be close to shopping and multiple food options.

For those looking at a shophouse at a longer term investment will also be happy to know that the area is a conserved one, and so it could serve as a valuable asset that can be passed down to the next generation as well.

This unit is a spacious 4,600 square feet set over a land size of 1,552 square feet. The interior is modern and sleek looking, but still retains certain elements that lets you know you are not in just any ordinary landed home. I really like the roof here, as the glass cover adds a ton of light into the areas below.

– Druce

3

Shophouse! Divine Blair Quality with Pool
$8,380,004
| | |
| --- | --- |
| Address: | Nearby Blair Road, Everton Road Conservation Chinatown |
| Tenure: | Freehold |
| Size: | 1,492 sqft |
| $PSF: | $5,616.62 PSF |
| Developer: | N/A |
| TOP: | N/A |
Why I like it
I've only just toured a shophouse home recently, and have really experience first hand the joy of living in a shophouse home. And this one at Blair Road is another stunner! It has a floor size of about 4,200 square feet, and my is the interior just such a lovely space to be in. From the slanted roof, to the exposed brick wall, I love the lighting elements that have also been cleverly slotted into the ceiling. Not that it needs much light too, with the skylight placed over the really sleek staircase.

The best part is that it has a small pool set on the ground floor. While it's obviously not going to be a big enough size for proper swimming, having a swimming pool in a shophouse is a treat in itself!

– Reuben

4

Emerald Hill Conservation Area
$13,500,000
| | |
| --- | --- |
| Address: | Saunders Road 228000 Orchard |
| Tenure: | Freehold |
| Size: | 1,903 sqft |
| $PSF: | $7,094.06 PSF |
| Developer: | N/A |
| TOP: | N/A |
Why I like it
With the amount that an Emerald Hill Shophouse would cost, it's no surprise to see that a good number of them will have a sizeable amount also invested into their interiors. This one has a build up interior space of 3,638 square feet, and done up in a gorgeous Peranakan style.

While the detailing of certain elements are unmistakably still from older times, much of the furniture is still modern and is a great blend of old and new in my opinion! I don't think there's much more to say about living in the Emerald Hill area. You are, after all, in a very convenient part of town, and having the luxury of just stepping out and walking to the Somerset area immediately is not something most people can boast of!

– Stanley

5

Onan Road Conservation Shophouse
$3,180,000
| | |
| --- | --- |
| Address: | Onan Road Conservation Shophouse |
| Tenure: | Freehold |
| Size: | 1,187 sqft |
| $PSF: | $2,679.02 PSF |
| Developer: | N/A |
| TOP: | N/A |
Why I like it
While Onan Road may not quite have the same prestige like Emerald Hill, the Joo Chiat area is still undoubtedly a very nice place to live in (and naturally a whole lot more affordable too!). It's certainly been changing the past few years, with many new tenants and businesses in the area – and the result is a very charming yet laidback living area in Singapore.

This unit isn't the biggest for a shophouse, but it still has been renovated to a very nice standard indeed. The flooring here is kept to a more modern style with tiles, but I do like the addition of the Peranakan tiles in the middle!

– Sean