Units Of The Week
5 Beautifully Designed 5-Room Flats You Can Buy To Avoid Having To Renovate
Stacked
October 27, 2022

9

min read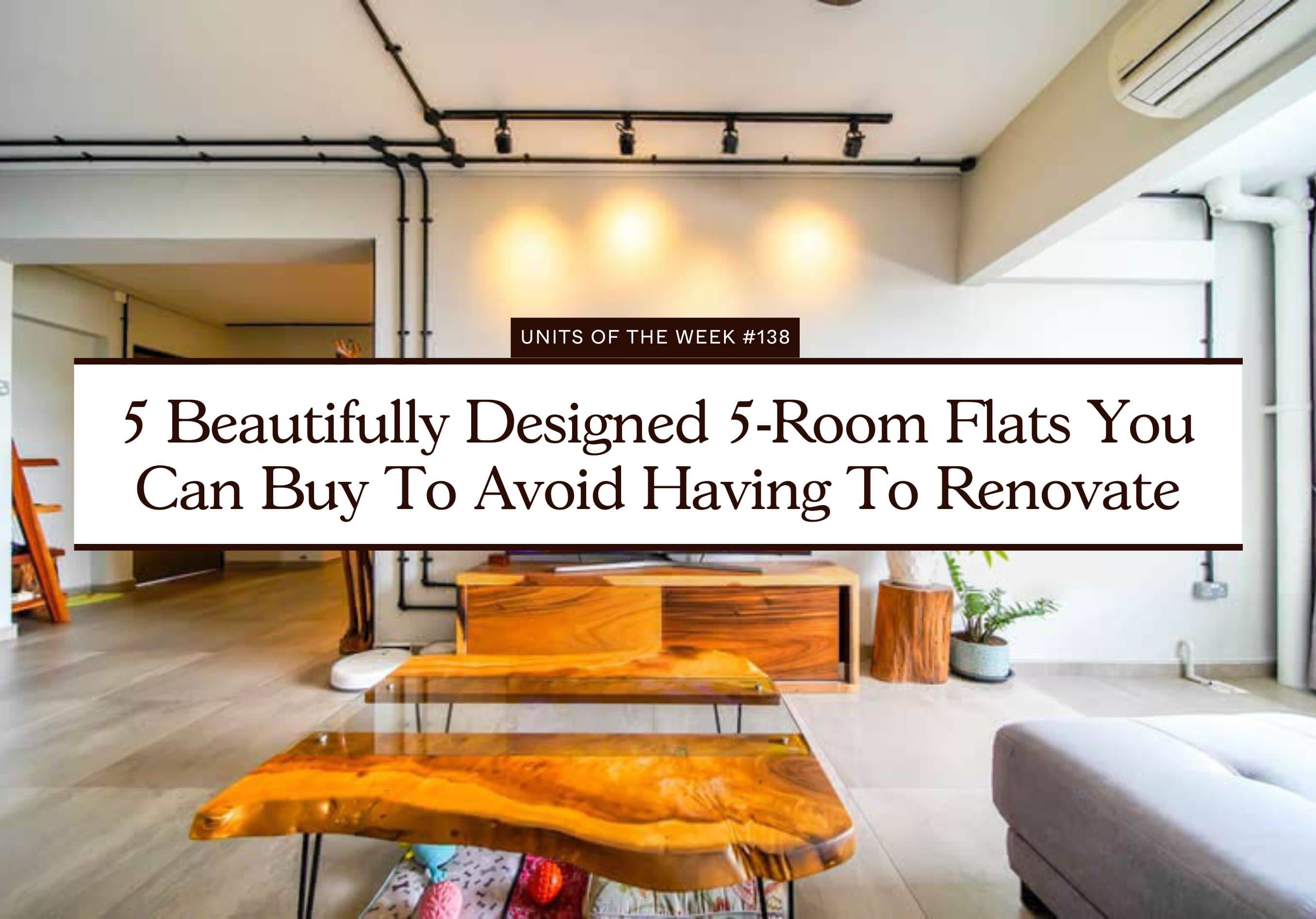 9
min read
One of our guys travelled overseas recently for the first time in nearly 3 years, and he remarked that travel is now back to pre-Covid-19 days. No checks, no masks on planes, and it's really almost as if life has gone back to normal.
Yet while everyone is furiously spamming travel overseas, it seems that not everything has gone back to pre-pandemic days. Construction costs, for one, is still as high as ever. Which is why finding a home that is already renovated (and that you like the design of), is in such high demand still. You don't have to deal with construction issues, delays, and who doesn't want to move in nearly immediately anyway?
Missed last week? You can view the previous issue here.
You can also join our free weekly newsletter so you stay up to date on our latest curations weekly.
Now let's get on with the list of curated units this week!

1

590A Ang Mo Kio Street 51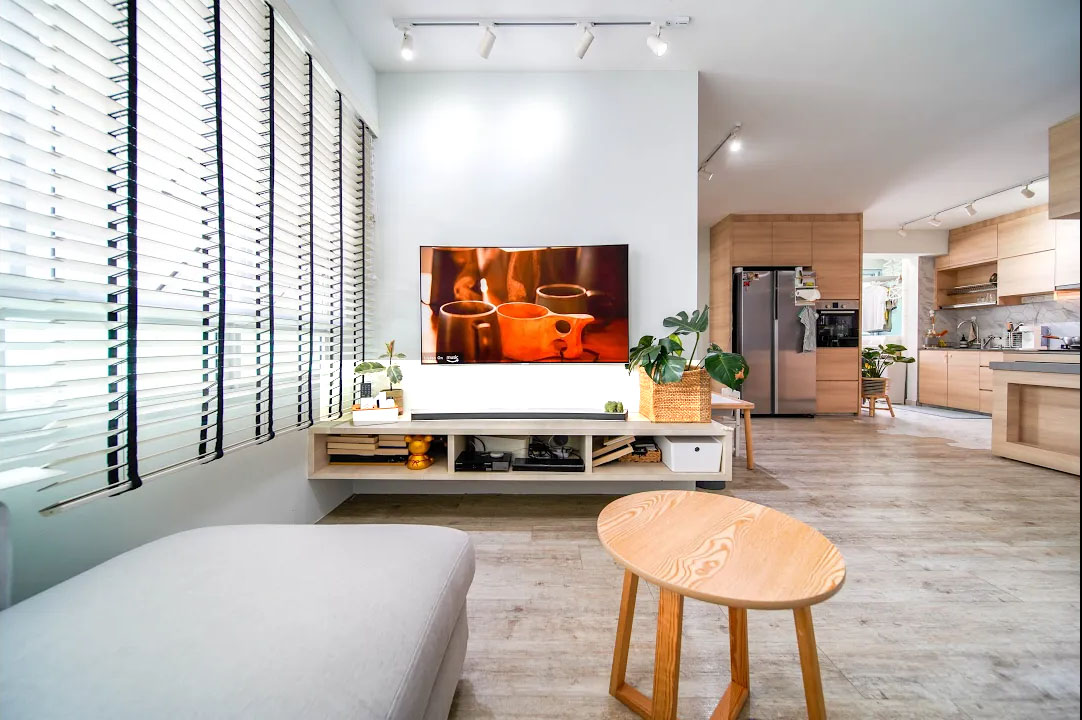 $945,888
| | |
| --- | --- |
| Address: | 590A Ang Mo Kio Street 51 561590 |
| Tenure: | 99-year Leasehold |
| Size: | 1,001 sqft |
| $PSF: | $944.94 PSF |
| Developer: | Housing & Development Board (HDB) |
| TOP: | 2017 |
Why I like it
As with lots of homes these days, the preference is to open up the kitchen. This makes the whole space appear larger, which really helps these days as homes get smaller. The kitchen has an extendable countertop which can be used as a dining area when needed and kept away when not in use to save space, which is a smart design. I do also like that there are different tiles in the kitchen that creates a clear demarcation between the living and kitchen area.

Further changes include the wall of the second common room which has been replaced with a glass door, allowing more natural light in and also makes the space feel more open. Most of the house is done up with light wooden furnishing giving the place a bright and clean look, and both toilets have been overhauled, with darker tones used here which is a good contrast from the rest of the house. A final interesting point is that there is a bathtub in the master bedroom which we don't often see in HDBs.

This unit is 1,001 square feet for a 4-room unit. It's a new block that just hit MOP, and is about a 10-minute walk to Ang Mo Kio MRT and Ang Mo Kio Hub.

– Ryan

2

554 Pasir Ris Street 51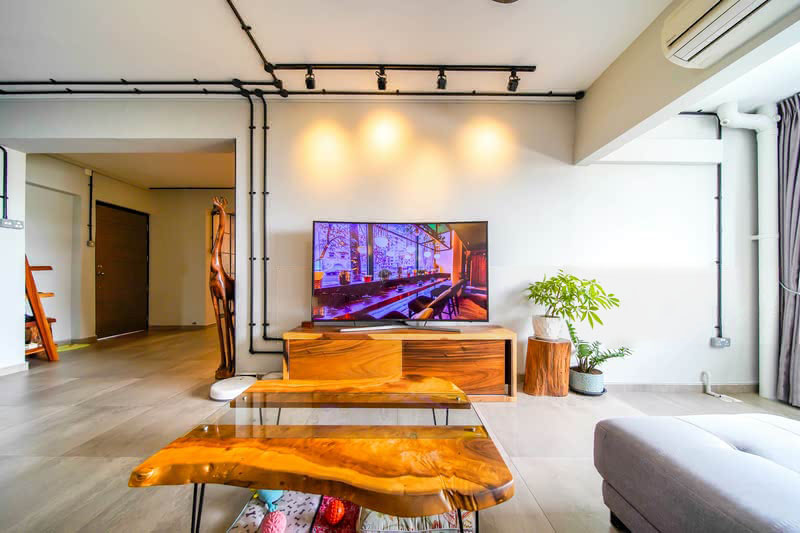 $850,000
| | |
| --- | --- |
| Address: | 554 Pasir Ris Street 51 510554 |
| Tenure: | 99-year Leasehold |
| Size: | 1,323 sqft |
| $PSF: | $642.48 PSF |
| Developer: | Housing & Development Board (HDB) |
| TOP: | 1991 |
Why I like it
This is a rather big unit of 1,323 square feet for a 5-room HDB. It's about an 11-minute walk to Pasir Ris MRT and White Sands. You also do have the upcoming Pasir Ris 8 (Pasir Ris Mall) to look forward to in the near future, and it's a short walk to Pasir Ris Town Park which leads to Pasir Ris Park and Beach.

The unit originally had 4 rooms – 3 bedrooms and a study but the owner has reconfigured the unit such that there is only 2 large bedrooms now. There are elements of industrial designs throughout the house – concrete looking tiles, exposed ducts, spotlights. What's cool is that the feature wall that you'll see once you enter the main door looks like you're stepping into a gallery. The owner has also leveled the balcony to form part of the living room so it's much bigger – you can fit a 4 seater L-shaped sofa and still have lots of space to maneuver around. Finally, there's also a huge walk in cabinet in the master bedroom that's separated into two for the husband and wife

– Druce

3

103 Ah Hood Road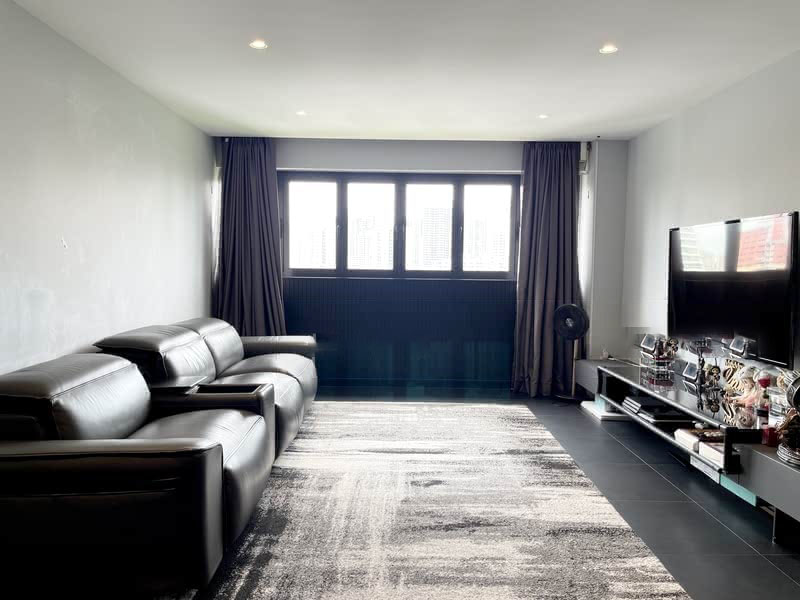 $820,000
| | |
| --- | --- |
| Address: | 103 Ah Hood Road 320103 |
| Tenure: | 99-year Leasehold |
| Size: | 1,270 sqft |
| $PSF: | $645.67 PSF |
| Developer: | Housing & Development Board (HDB) |
| TOP: | 1981 |
Why I like it
Those who like sleek, monochrome designs would definitely take a liking to this unit. It sports a minimalistic design with contrasting light and dark tones, and has an effect of making the 1,270 square feet space look bigger. The kitchen and store has been opened up to create an open kitchen and dining area – and the owner has also carved out an area at the back of the kitchen to create a yard space.

The balcony has also been leveled and forms part of the walkway leading to the bedrooms which was meant to be the dining and family area, with the full length windows of the balcony allowing natural light into the walkway. In keeping with the sleek nature, the owner has also created little storage spaces along the walkway so misc items are all hidden from sight.

It's certainly not going to be the closest to an MRT station, Novena MRT, Velocity and Square 2 are about a 16-minute walk away. There's lots of food nearby though, and you are just a 2 min walk to Zhongshan Mall which has all your basic necessities.

– Reuben

4

987A Jurong West Street 93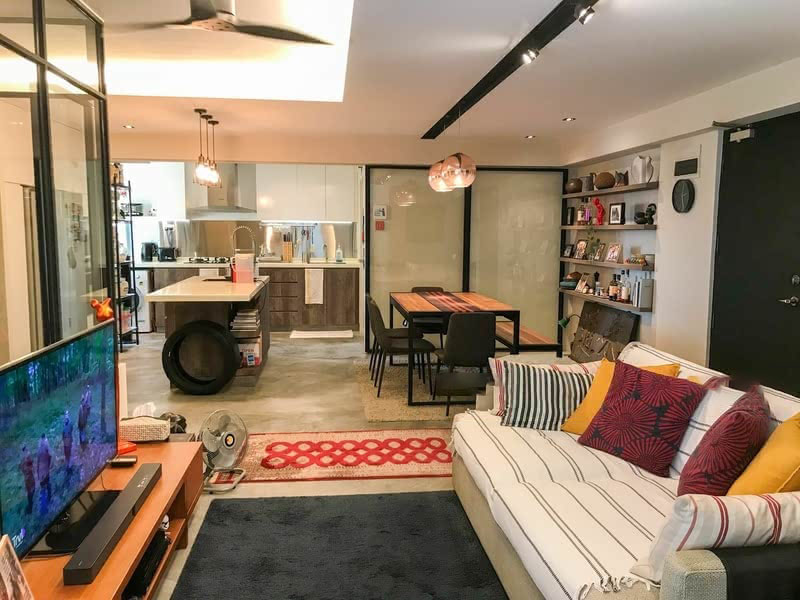 $670,000
| | |
| --- | --- |
| Address: | 987A Jurong West Street 93 641987 |
| Tenure: | 99-year Leasehold |
| Size: | 1,184 sqft |
| $PSF: | $565.88 PSF |
| Developer: | Housing & Development Board (HDB) |
| TOP: | 2008 |
Why I like it
If you are a fan of an open kitchen concept, you will like this one. This 1,184 square foot 5-room unit in Jurong West features an open concept kitchen which can be closed up with sliding glass doors when doing heavy cooking. There is also a sizeable island counter that can double as an extra dining area when hosting guests, and the owner also managed to carve out a small area in the living room to create a study. Even then, the living room space is not as compromised as you might think as they used glass panels instead of walls so the space doesn't feel cramped.

Location wise it is about a 6 min walk to Pioneer MRT station and a 24 hour food court. You can also take a 12 min walk to Pioneer Mall for basic necessities and you are one mrt station away from Jurong Point.

-Stanley

5

426A Yishun Avenue 11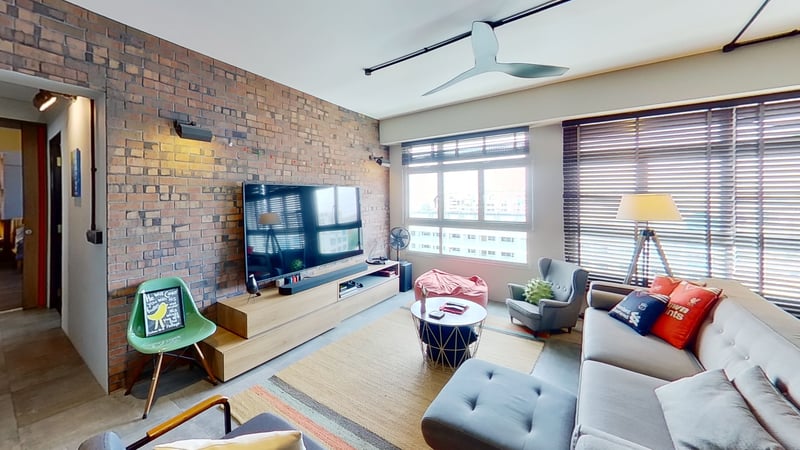 $660,000
| | |
| --- | --- |
| Address: | 426A Yishun Avenue 11 761426 |
| Tenure: | 99-year Leasehold |
| Size: | 1,206 sqft |
| $PSF: | $547.26 PSF |
| Developer: | Housing & Development Board (HDB) |
| TOP: | 2013 |
Why I like it
This 1,206 square foot 5-room HDB is not within walking distance to the MRT but a short walk from numerous places to get your basic necessities – Yishun Park Hawker Centre, Yishun Mall, Wisteria Mall.

It features an industrial design with the exposed brick walls and ducts, concrete like tiles, but with a more colourful slant than what you might usually see. There is some space in the living room where it's possible to build up an additional room/study, and the open concept kitchen does help to make the space feel bigger. The dining table here is also an extension of the kitchen counter, so it helps to save on some space. Finally, the common room that is adjoining the master room has been converted into a walk in wardrobe so there is plenty of storage space, but if you need all 3 bedrooms you'd definitely need to spend a little to do it back up.

– Sean