Commentary
2 Different Locations In Singapore Getting Upgrades: Exploring Bukit Merah & Marina Square's Future Transformations
Ryan J
September 19, 2023

5

min read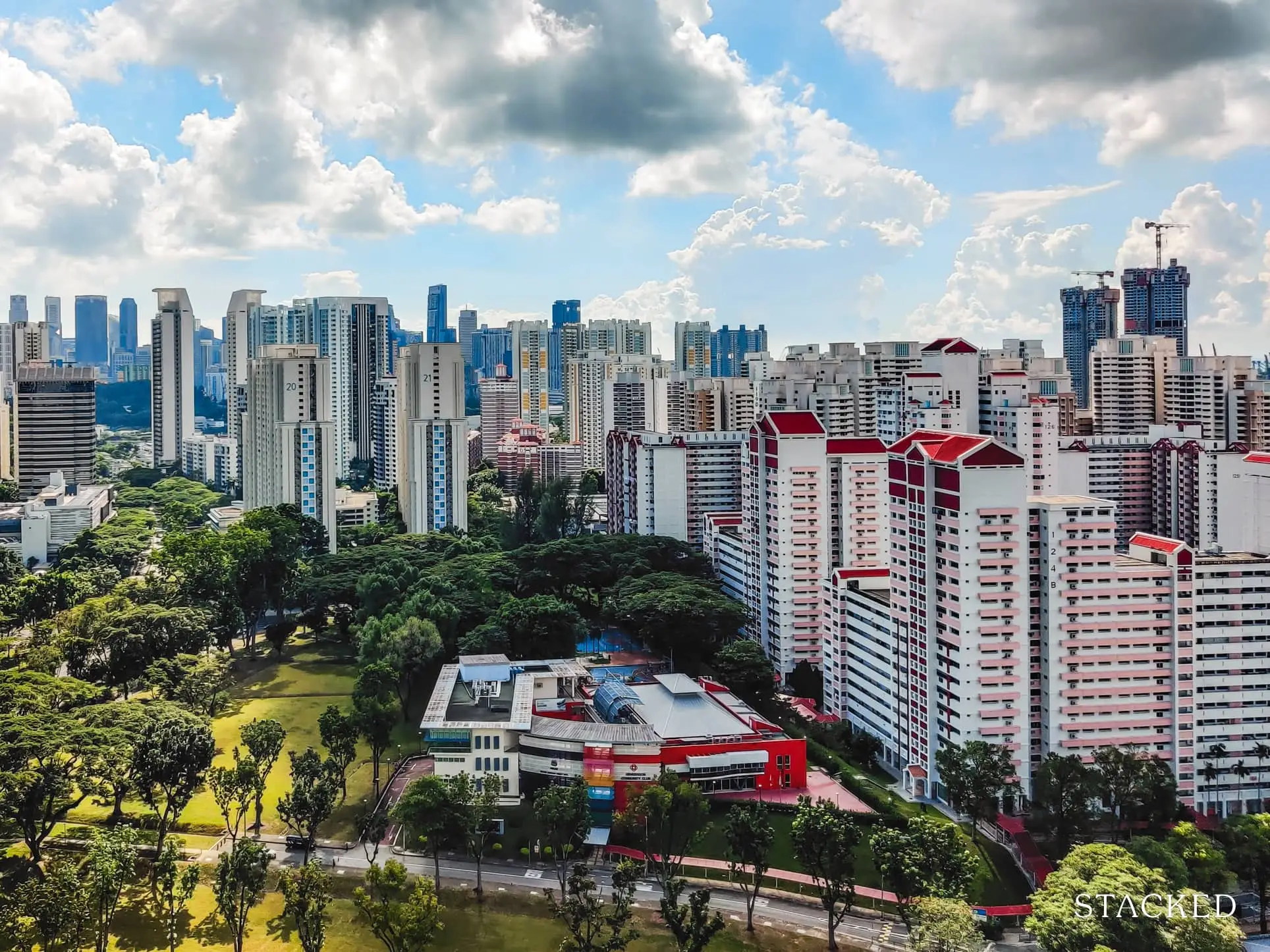 5
min read
Bukit Merah is currently known for two things: Tiong Bahru, and VivoCity. But beyond that, there's a negative reputation for overpriced, ageing flats.
Meanwhile, Marina Square is a gigantic mall that's far more empty than it should be – unlike its heyday in the 1980s, Marina Square has tried to update itself, but it is still faded as a go-to place for shopping. But big changes may be on the way:
What's happening in Bukit Merah?
The Remaking Our Heartland (ROH) programme is covering Bukit Merah as part of ROH 4, with plans unveiled at the town centre last weekend.
Seven main purposes were listed as part of the revitalisation:
Refreshing the town centre
Revitalising neighbourhood centres
Greening the estate
Building new communities
Rejuvenating precincts
Enhancing connections
Strengthening town identity
The Bukit Merah Town Centre will be upgraded with a sheltered plaza area, as well as a sheltered walkway to Redhill MRT (this will mainly be along Redhill Linkway). There'll also be a "pocket park" to directly connect the town centre to the Rail Corridor: this will be around Block 119, where the multi-storey car park is located.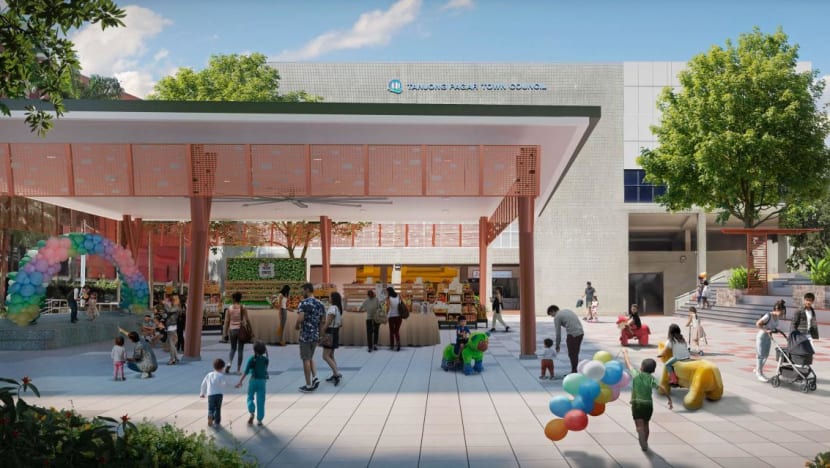 Meanwhile, seven neighbourhood centres of Bukit Merah will see upgrades. These are:
Alexandra Village
Brickworks
Stonehill Close
Bukit Merah View
Beo Crescent
Tiong Bahru Orchid
Telok Blangah Mall
The upgrades for these designated Neighbourhood Centres (NCs) are not specified yet; but we're told they include more greenery, better walking access, and upgraded shopping experiences.
More greenery also means two new parks: one will be at Alexandra Vale, around where we saw a BTO launch back in August 2022. Another park will be located on the grounds of the former Keppel Club (and integrated with the new flats there). Existing parks will also be upgraded, and we notice an emphasis on better connections to the Rail Corridor.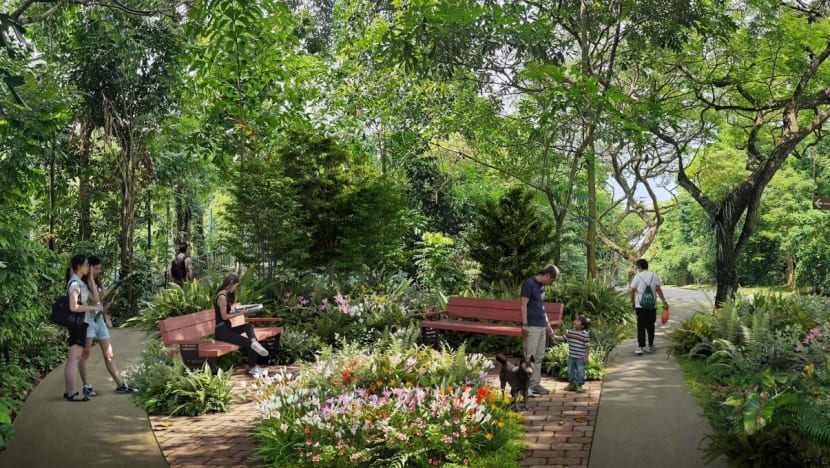 Throughout the neighbourhoods, upgrades will include active-ageing facilities; probably in recognition that Bukit Merah has a sizeable elderly population (about a third of the area's population are above 60.)
Also note that, as of 2026, two new MRT stations – Keppel and Cantonment – will join the CCL. These will be located within the Bukit Merah area.
For new housing developments, the most obvious highlight is also the former Keppel Club area. This will be a much-desired hotspot, one that will benefit from the Greater Southern Waterfront (GSW), and will feature "skyrise greenery" and landscaped terraces.
(We suspect these will follow design styles pioneered by flats like Pinnacle @ Duxton, or SkyTerrace and SkyVille at Dawson, where there are above-ground sky parks and facilities).
The total land space for development (which goes beyond Keppel Club itself) is about 48 hectares, and is expected to yield about 6,000 new homes after the inclusion of park space. Based on the location, we speculate that some blocks may be within walking distance to either Telok Blangah MRT (CCL) or Labrador Park MRT (CCL).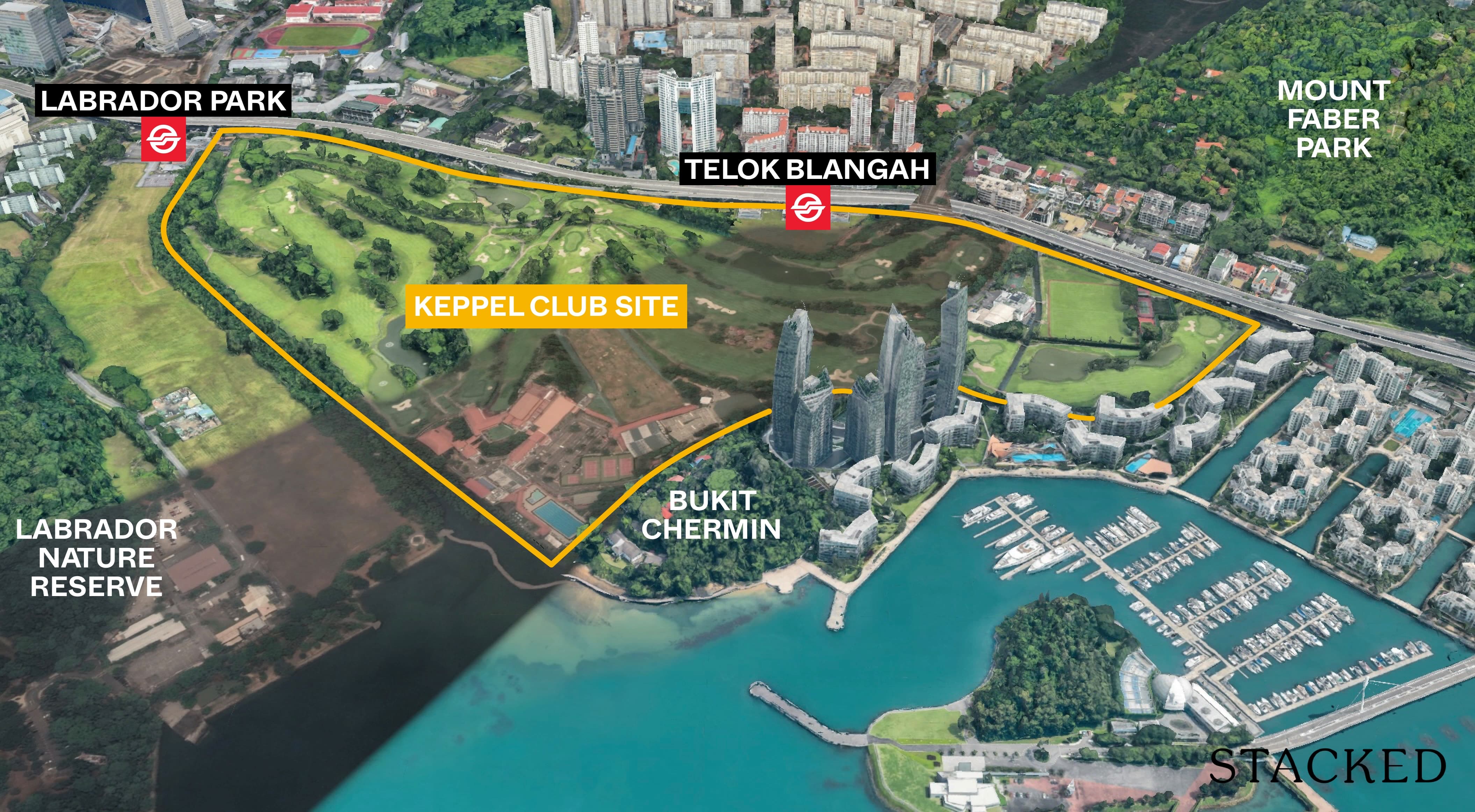 Other housing sites will also be available in Bukit Merah, but the former Keppel Club will hog the limelight for sure. It's almost certain that any BTO launch here will fall under the Prime model.
What do some residents have to say?
We spoke to some readers who live in Bukit Merah, who offered the following:
"Redhill Market is too small and crowded, boxes and waste items thrown about all over outside the market, please upgrade and do a deep clean." – M.M
"The cycling paths are a good improvement because this area (Alexandra) has not been friendly to cyclists for a long time. More connections to the Rail Corridor will be better for cyclists, and encourage car-lite neighbourhoods." – Subi.
"Many older people and people of many stripes living here, change the identity so others don't think we are all rich and live in million-dollar flats." – Afiq
"Need more sheltered walkways for older folks, very dangerous for them to walk in the rain. Bukit Merah has the fewest sheltered paths* to the town centre and MRT or bus stop." – J. Quek
(*We don't know if that's actually true! In any case, the upcoming improvements do address this.)
"Protect the special round flats* in Tiong Bahru if they are serious about protecting our history. Also these should no longer be residential after the lease ends, make it into a common heritage building owned by all." – T. Moh
(*We believe the "round flats" refer to the SIT-era flats, which are still remaining in Tiong Bahru.)
Meanwhile, Marina Square may end up having residential units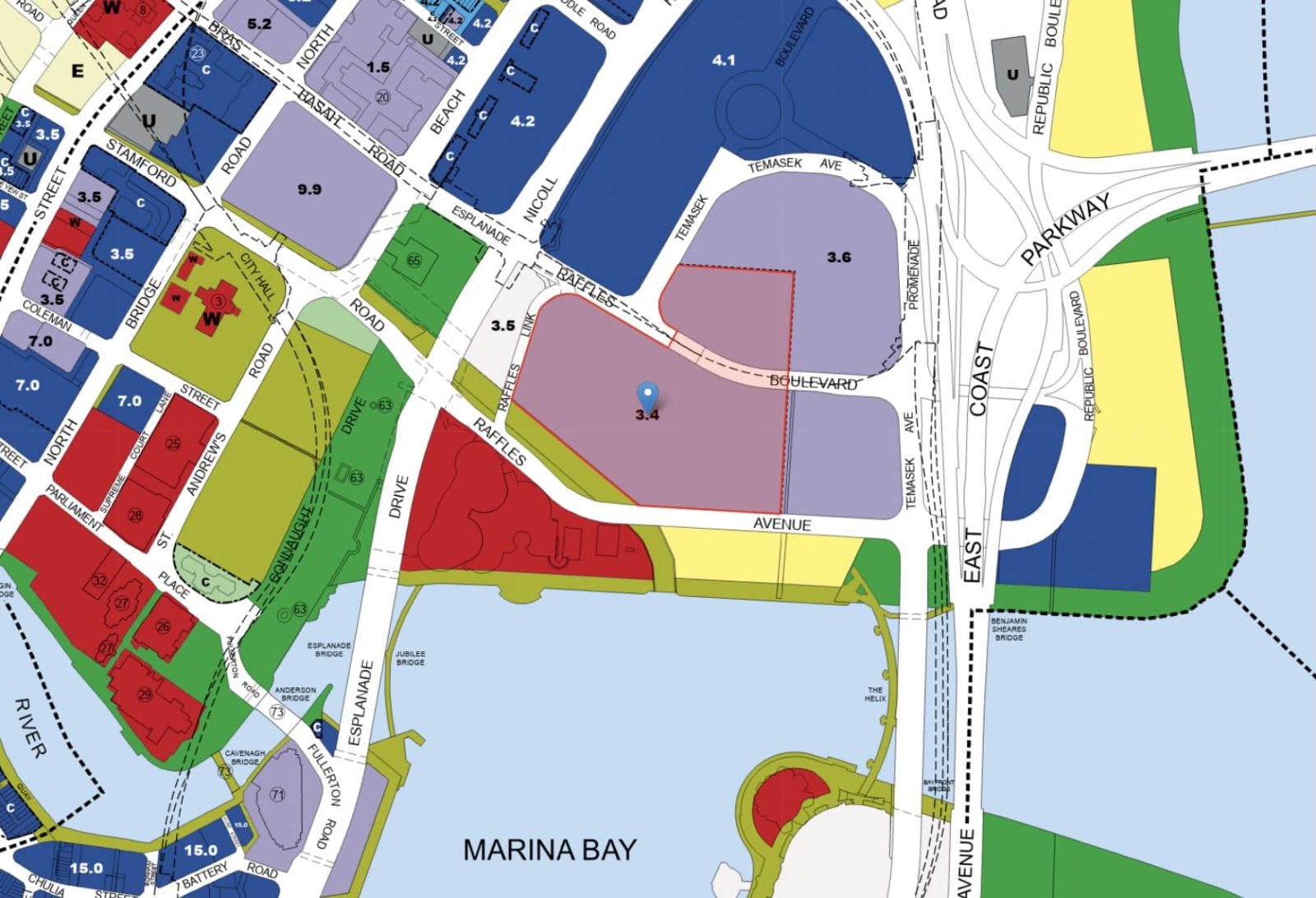 For younger Singaporeans, it can be hard to imagine Marina Square as having been the place to be in the 1980s. Shortly after its opening in '85, there was even speculation that this mall was overtaking its counterparts in the Orchard area. There was another brief resurgence in the '90s, when then-American retail giant Kmart made its first Singaporean venture here.
While Marina Square is far from dead today, and is still a decent mall; the number of two and three-star reviews on Google is starting to creep in. Also, even a casual walk will show it doesn't draw the same level of foot traffic in Bugis or Orchard; but those who came to this mall in the '80s or even mid-'90s will remember being packed almost neck-to-neck on weekends.
To some degree, this is due to the challenge of decentralisation: central area malls are seeing dips in traffic, as heartland malls become more popular. This was predicted as far back as the early 2000's, when UNIQLO chose Tampines as its opening location created a stir: back then, some market watchers considered it a death knell for central area malls.
Ask a Singaporean today, and most will tell you they see no need to travel to Marina or Orchard when their local mall has the same goods and services (ironically, perhaps more goods and services, as certain types of lower revenue businesses – such as salons and enrichment centres – can rarely be found in high-end malls).
SingLand (under UOL) may change the equation at Marina Square though. An application for a proposed amendment to the Master Plan was reflected on August 1st: these suggested rezoning, allowing for residential as well as commercial elements. In short, living spaces at Marina Square. (This is similar to what is happening with the 40 -storey residential redevelopment at JCube).
The suggested area is next to Raffles Link, and spans about 3,700 sqm. This could yield around 110 to 120 homes. Demand may be strong for no reason besides scarcity: there are few residential developments close to Marina Square, and there's little in the way of competition.
It would also result in homes close to Promenade and Esplanade MRT stations. Also note that the Citylink Mall (Singapore's first underground mall) links Marina Square to City Hall MRT, even Promenade/Esplanade are technically closer).
This move will be closely watched if it's approved and actually happens. More than one developer has probably considered scaling down the retail portion for residential; it may be a meaningful move in light of decentralisation, e-commerce, and other changes that make the giant malls of the '80s and '90s less relevant.
Realtors we spoke to speculated that serviced apartments, or other rental-related properties, would be ideal for such a location. This is due to the current 60 per cent ABSD on foreign buyers, which may dampen demand for central area condos.
For more news on the situation as it progresses, follow us on Stacked. We'll also provide you with in-depth reviews of new and resale properties in the Singapore market.