We Had A Strict $45k Reno Budget: How We Rebuilt Our Run-Down 18-Year-Old HDB Into A Cosy Home
Renovation Journeys
We Had A Strict $45k Reno Budget: How We Rebuilt Our Run-Down 18-Year-Old HDB Into A Cosy Home
WRITTEN BY Stacked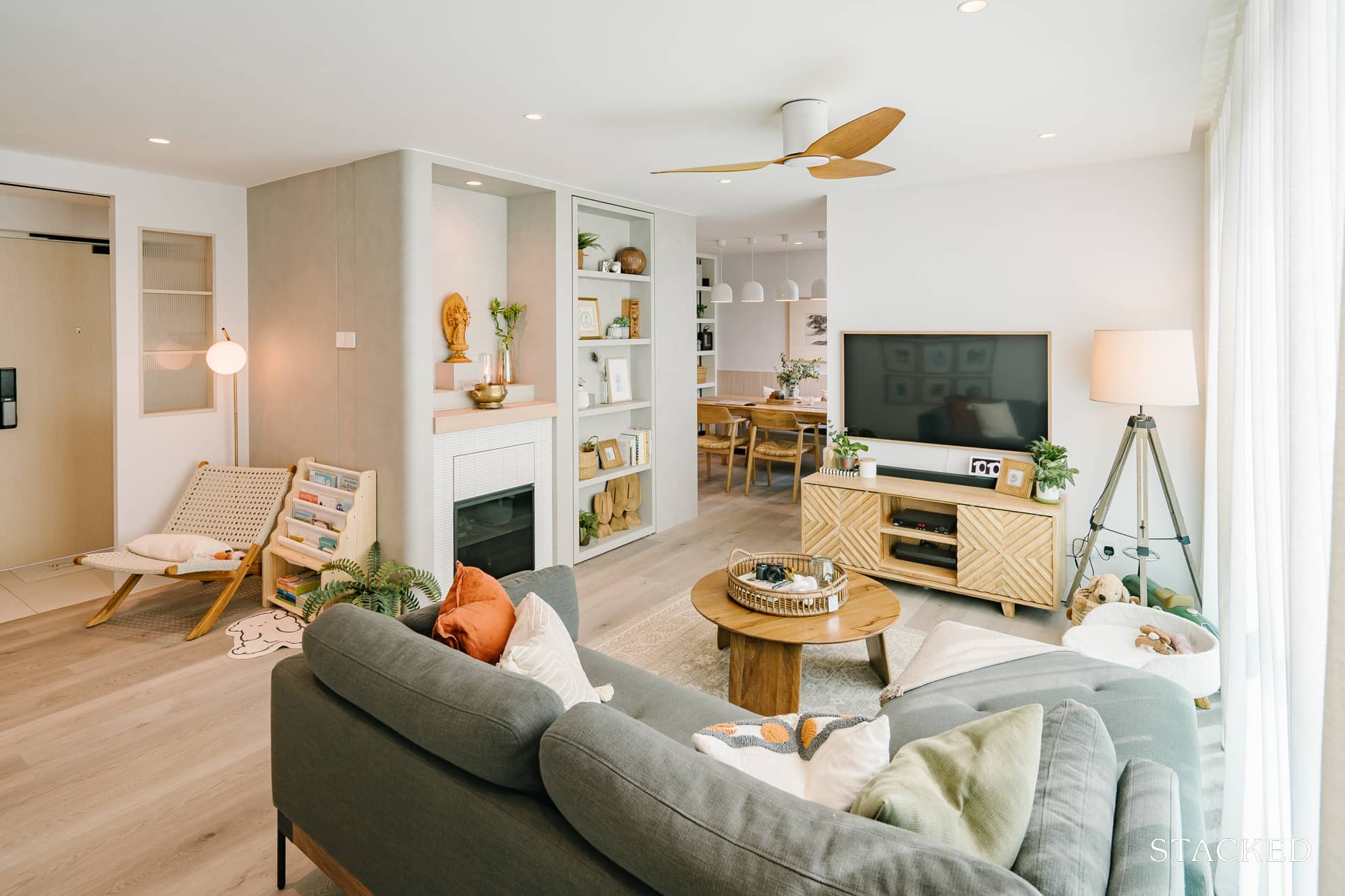 6
min read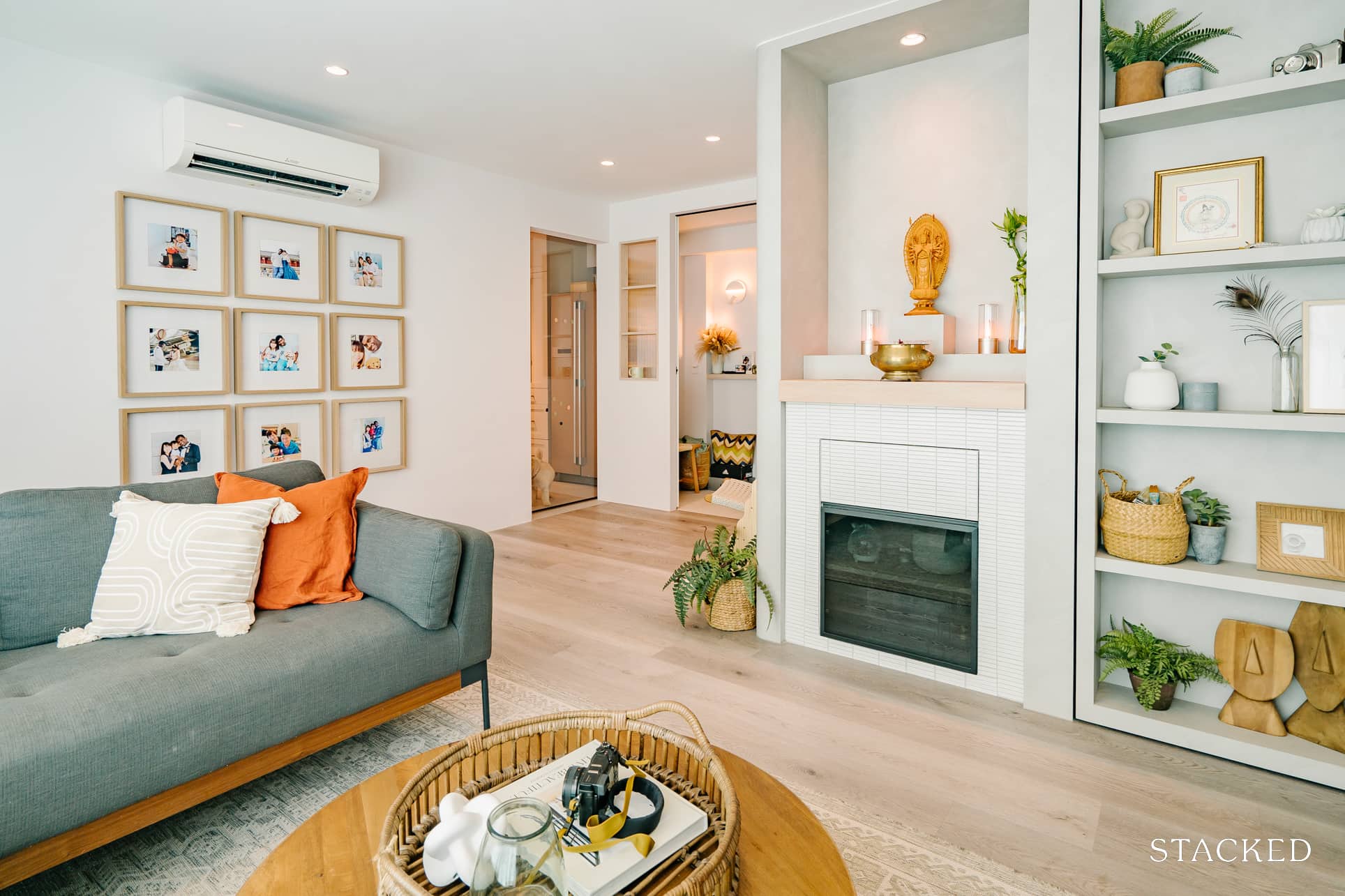 Located in Punggol, the 18-year-old resale HDB bought by couple Becky and James (*not their real name for privacy reasons) was initially in quite a bad condition. The floors in the living and the rooms were cracking, which made it hard to see past its flaws.
But because of that, they were able to secure it at a lower price. Besides, it had its plus points too. There was good proximity to public transport, and the block's underground carpark just made it even more convenient.
Currently, the house is occupied by both of them, together with their 4-year-old son and their helper.
Let's go ahead and join them as they share the reno journey they went through, converting what used to be an old and shabby place to one that's completely unrecognisable.
How The Renovation Journey Turned Out
Their renovation budget was $45K – the cash amount they earned from selling their previous house – and they managed to stick to this budget. "We were able to fit into the budget everything, including fittings, furniture, etc.," Becky said.
For their design or style of renovation, Becky said they didn't want any fixed theme. "It was designed according to the needs of our family."
When selecting materials, they were inspired by a few styles, such as Farmhouse, Classic Modern, and Zen. "We liked having the flexibility to curate with our personal things and art decor."
Herein lies the caveat, though. As the layout of the house was an odd shape, and there weren't many walls they could hack, which made things a challenge. "We kept most of the walls and only enlarged the doorway of the room where we placed our dining table," she said, "so that it feels more connected to the living area."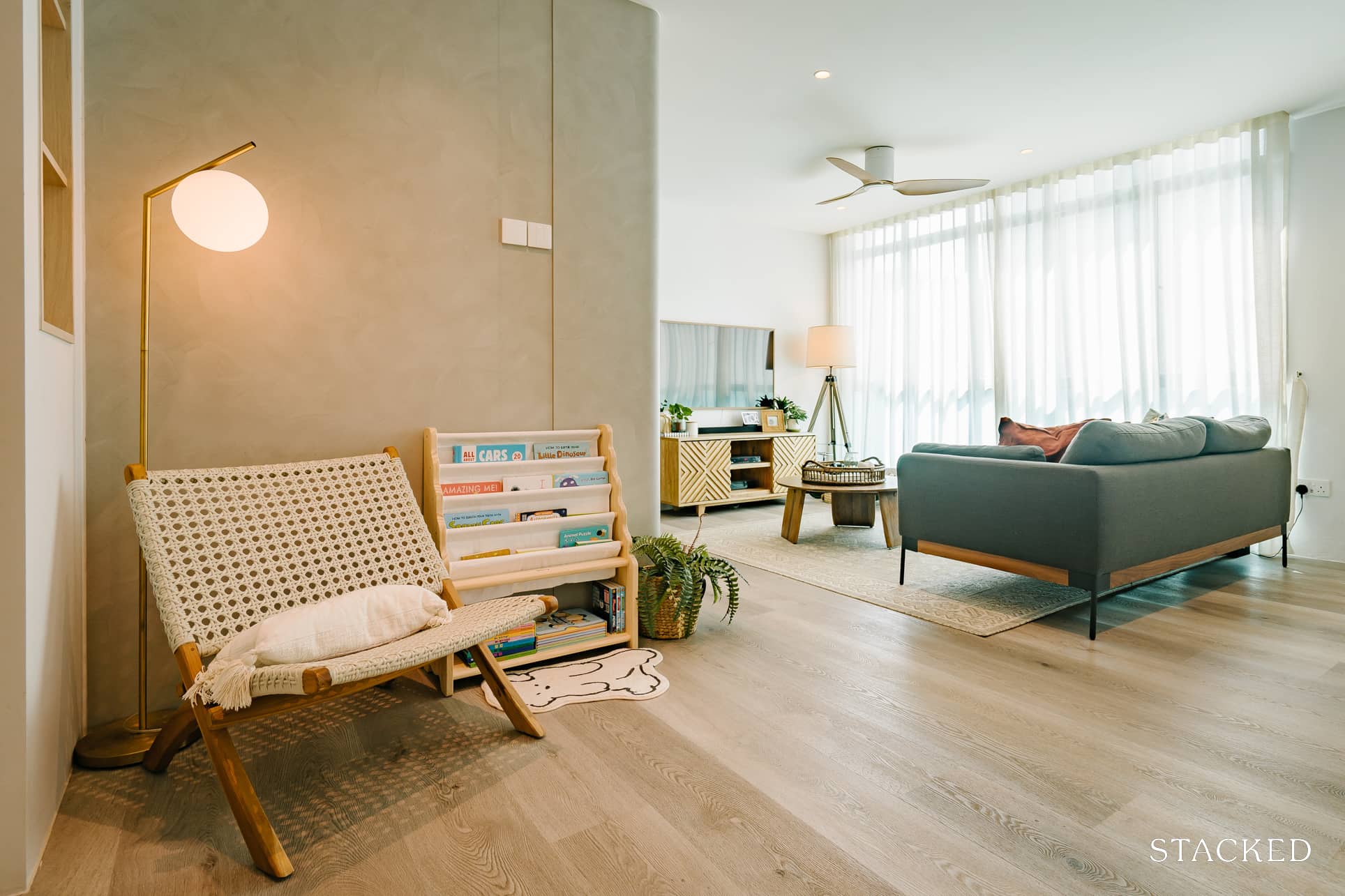 They also wanted to create a nice welcome area, so they had to hack a wall in the kitchen. This helped them keep their dogs away whenever they had to pick up delivery items.
Let's take a tour of their home and see how they were able to change it for the better.
Living Room
Previously, the living area had a bomb shelter right in the centre of the house. In an effort to conceal it, the couple used a lime wash laminated feature wall and a display shelf which is actually a hidden door.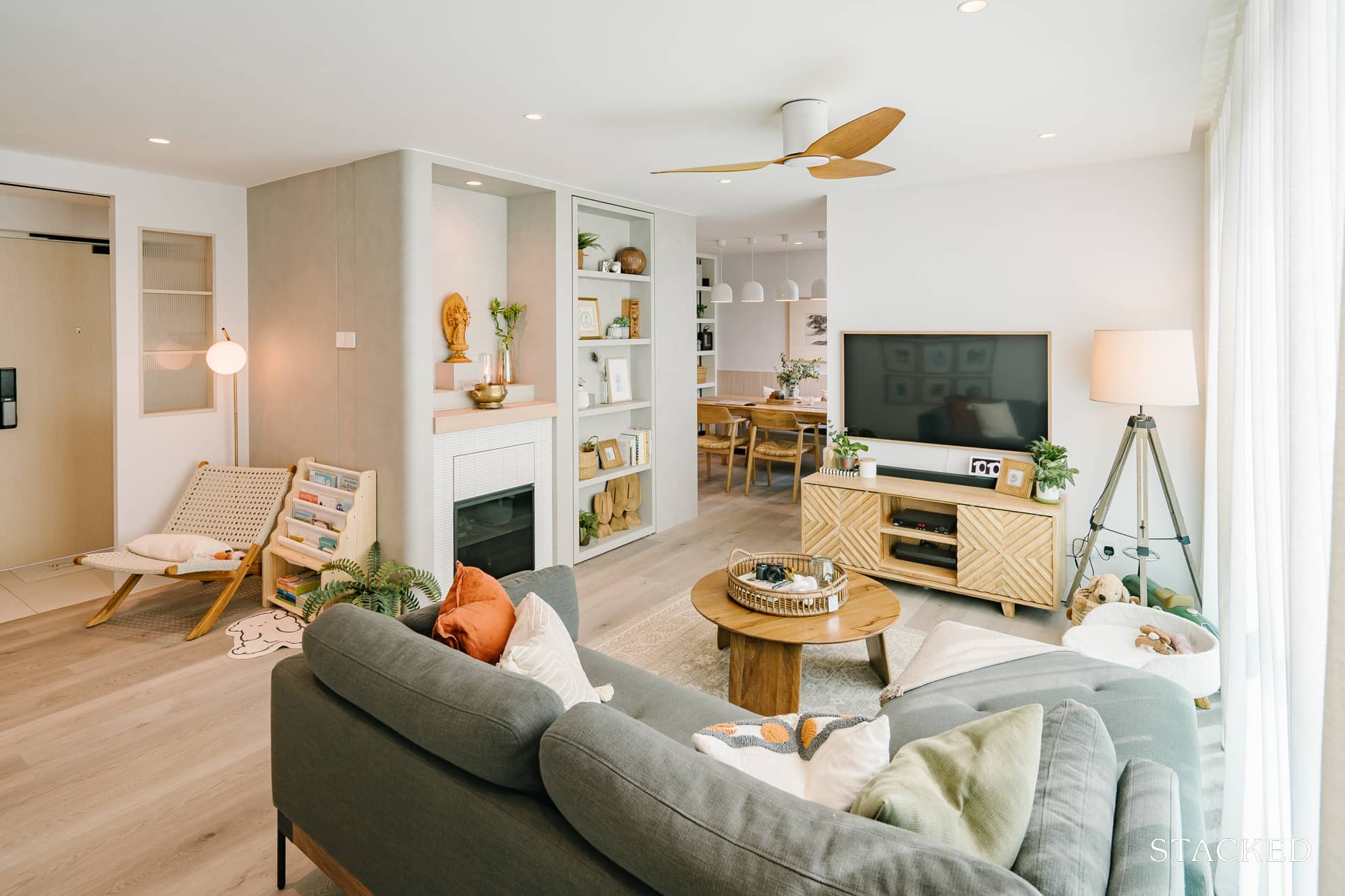 The centrepiece of their home is a fireplace-inspired altar table. "We wanted an altar that looks modern and homely," Becky said. "We used classic small white tiles and set up a pull-out table, as well as storage and display unit for our vases."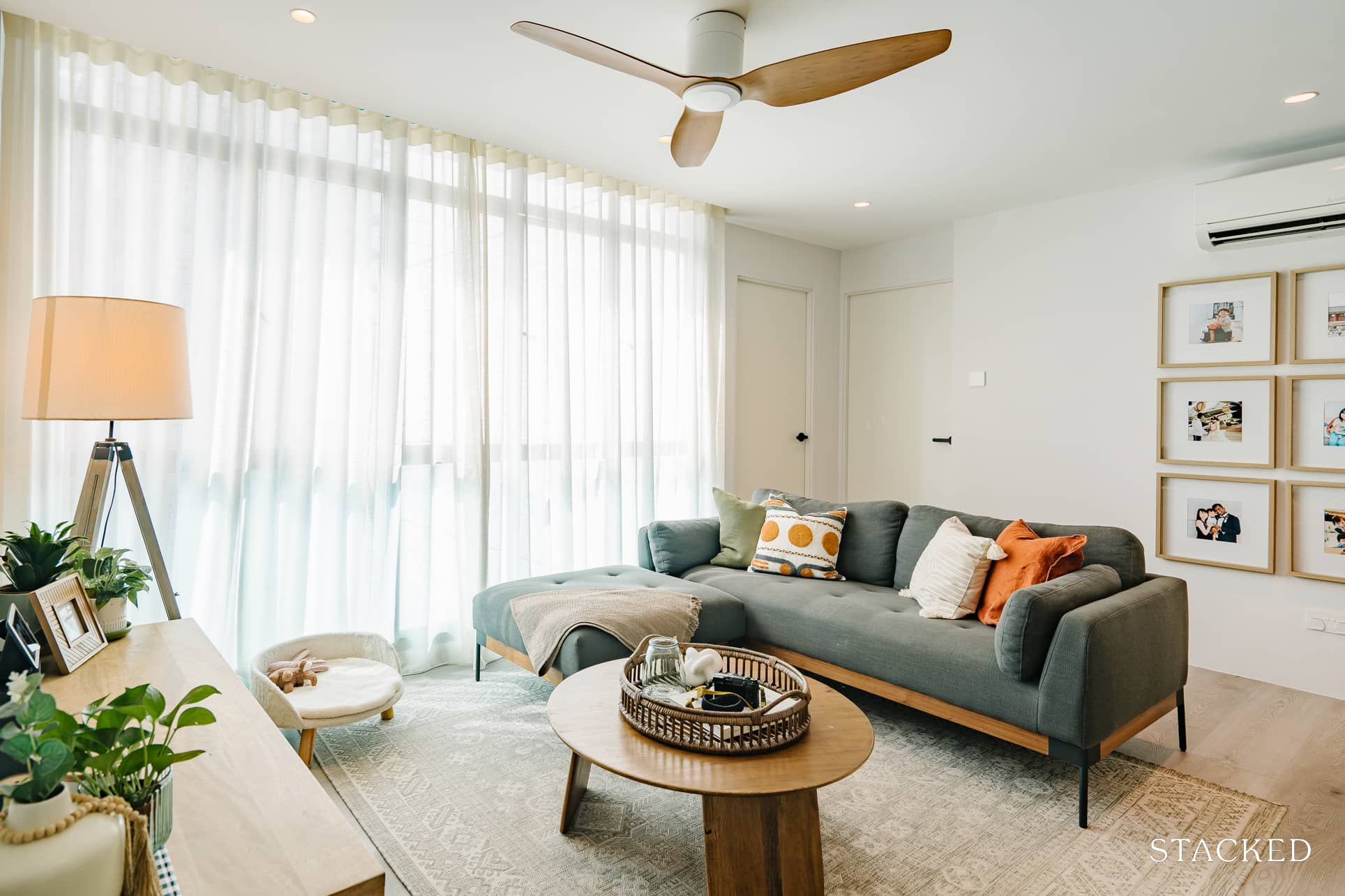 The overall effect on their home is transformational when you look at the original condition of the unit. Besides changing out the floor, the addition of the accessories like a rug and brightly coloured pillows help to bring about a cosy and cheery feel.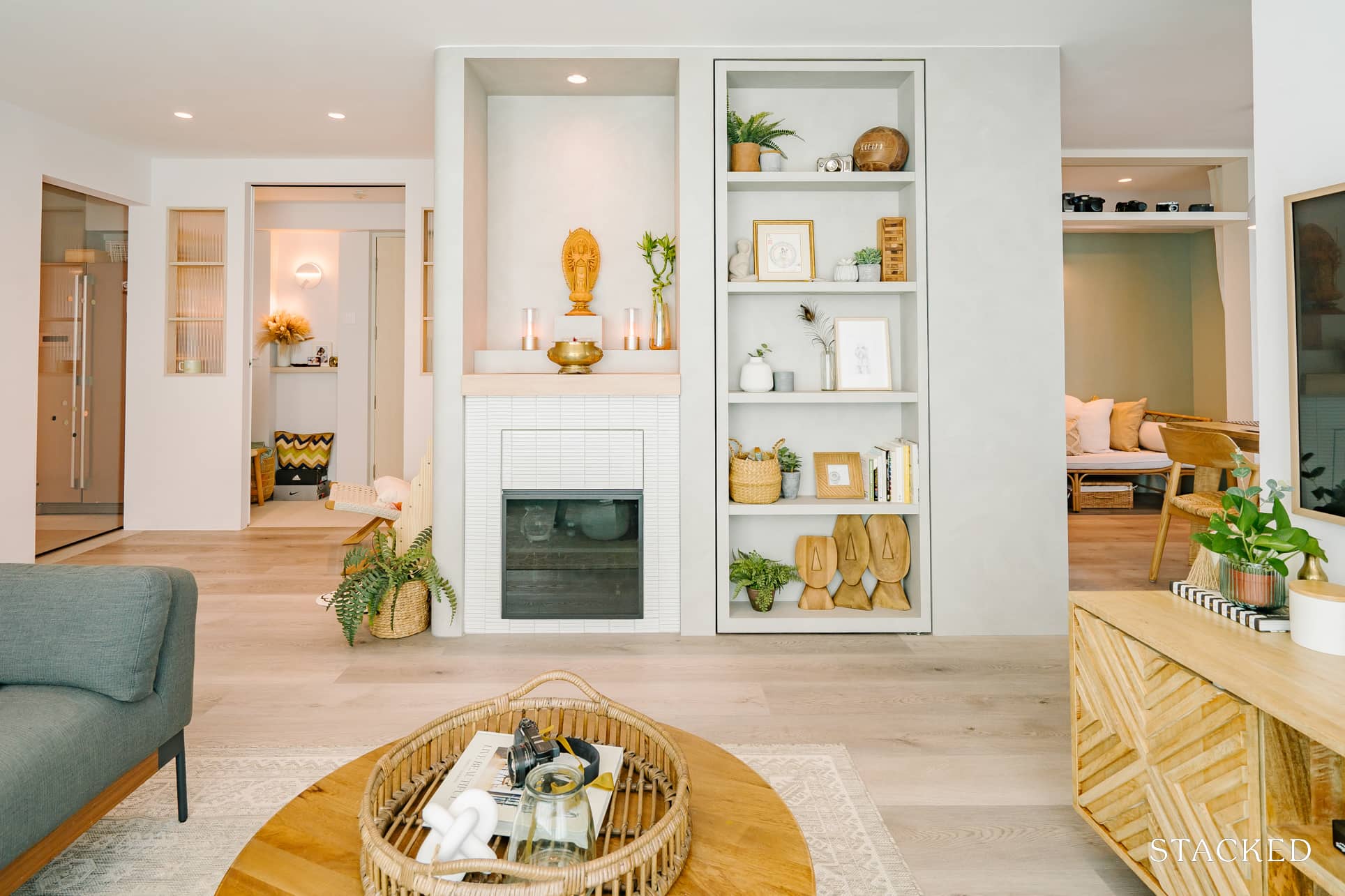 Dining Room
Becky revealed that their dining room used to be just another bedroom. As they wanted to enjoy a large dining area that they can use when working from home, they decided to hack the bedroom walls to create a seamless connection to the living room. Then, they created a divider using a combination of open bookshelves and curtains.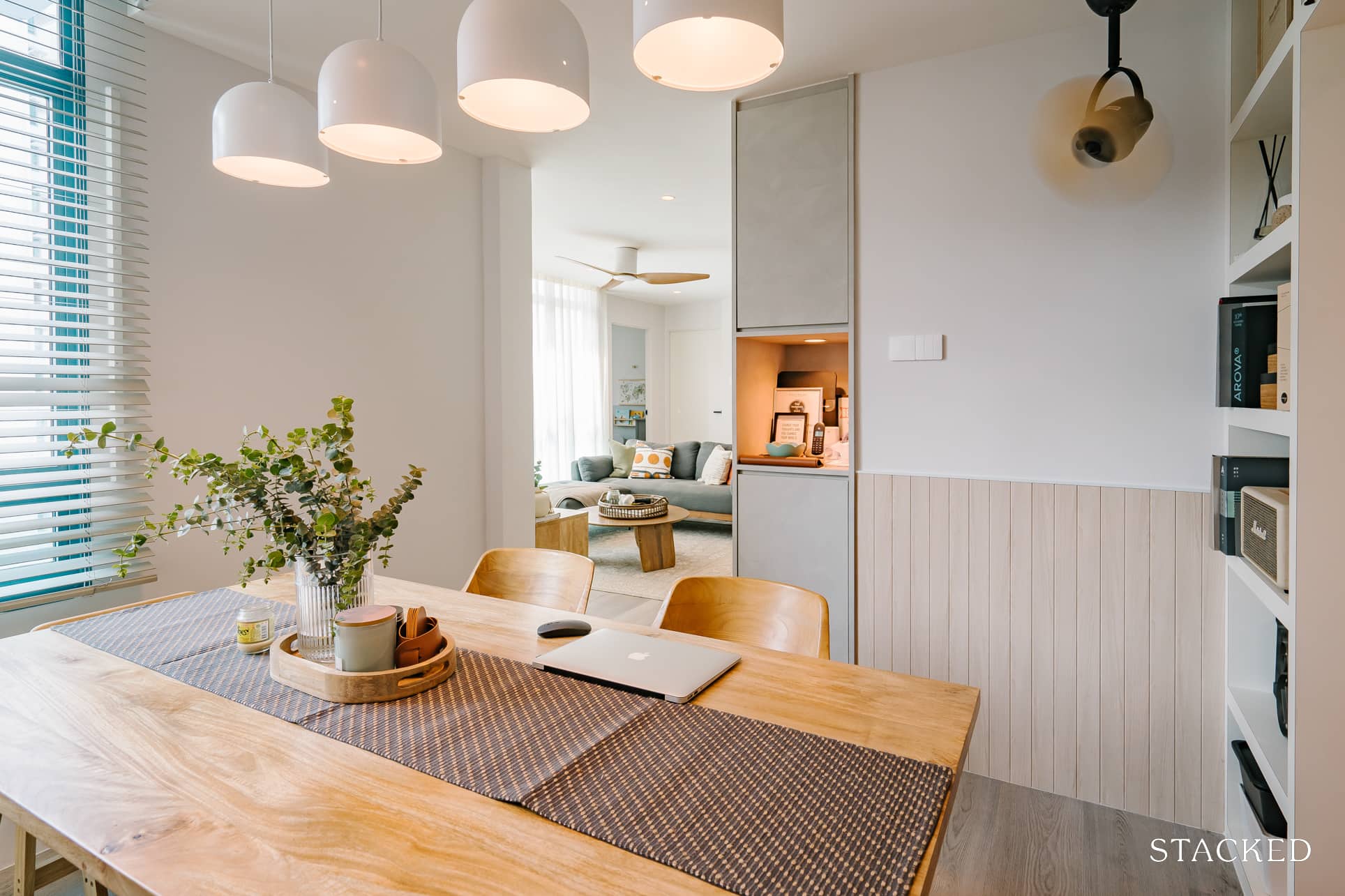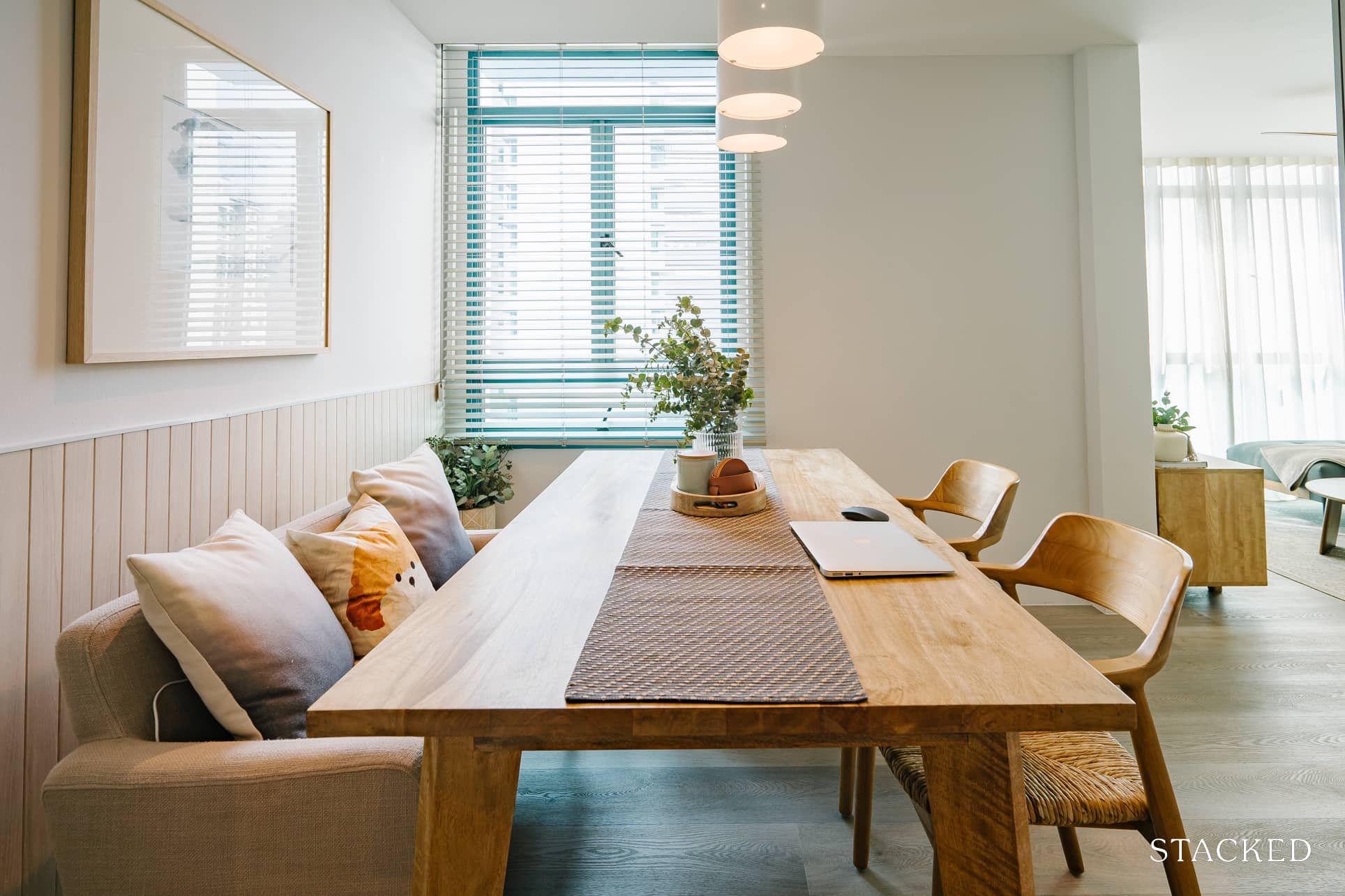 "Currently, this particular area is now catered for our helper, which could easily be converted to a study in the future," she said. "When we have guests, we open up the helper's room to make the dining room more spacious and create more seating."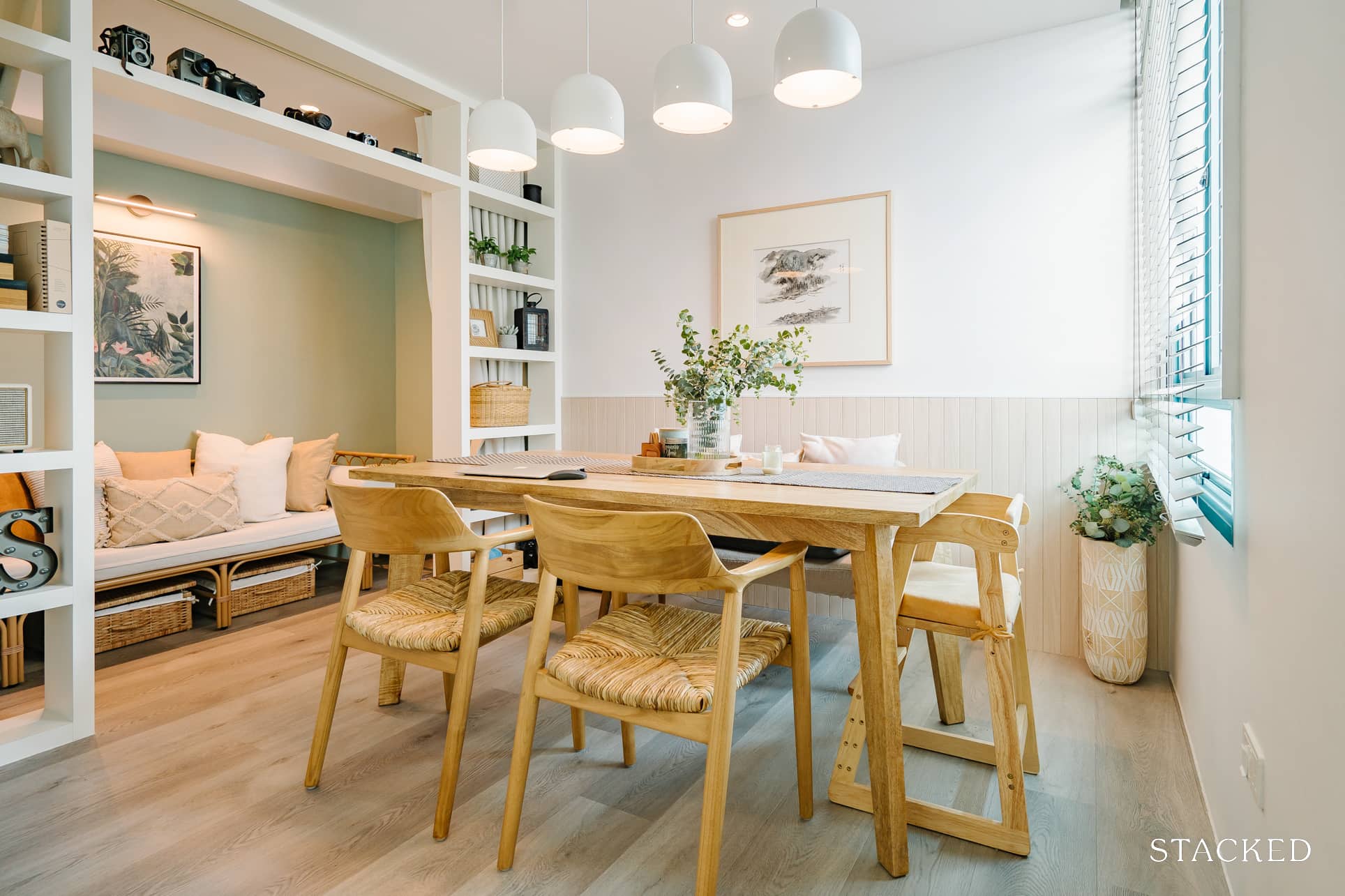 Kitchen
While they had a good-sized kitchen, they didn't have a space for laundry. As such, they decided to hide their washing machine in one of their kitchen cabinets using a fake drawer door.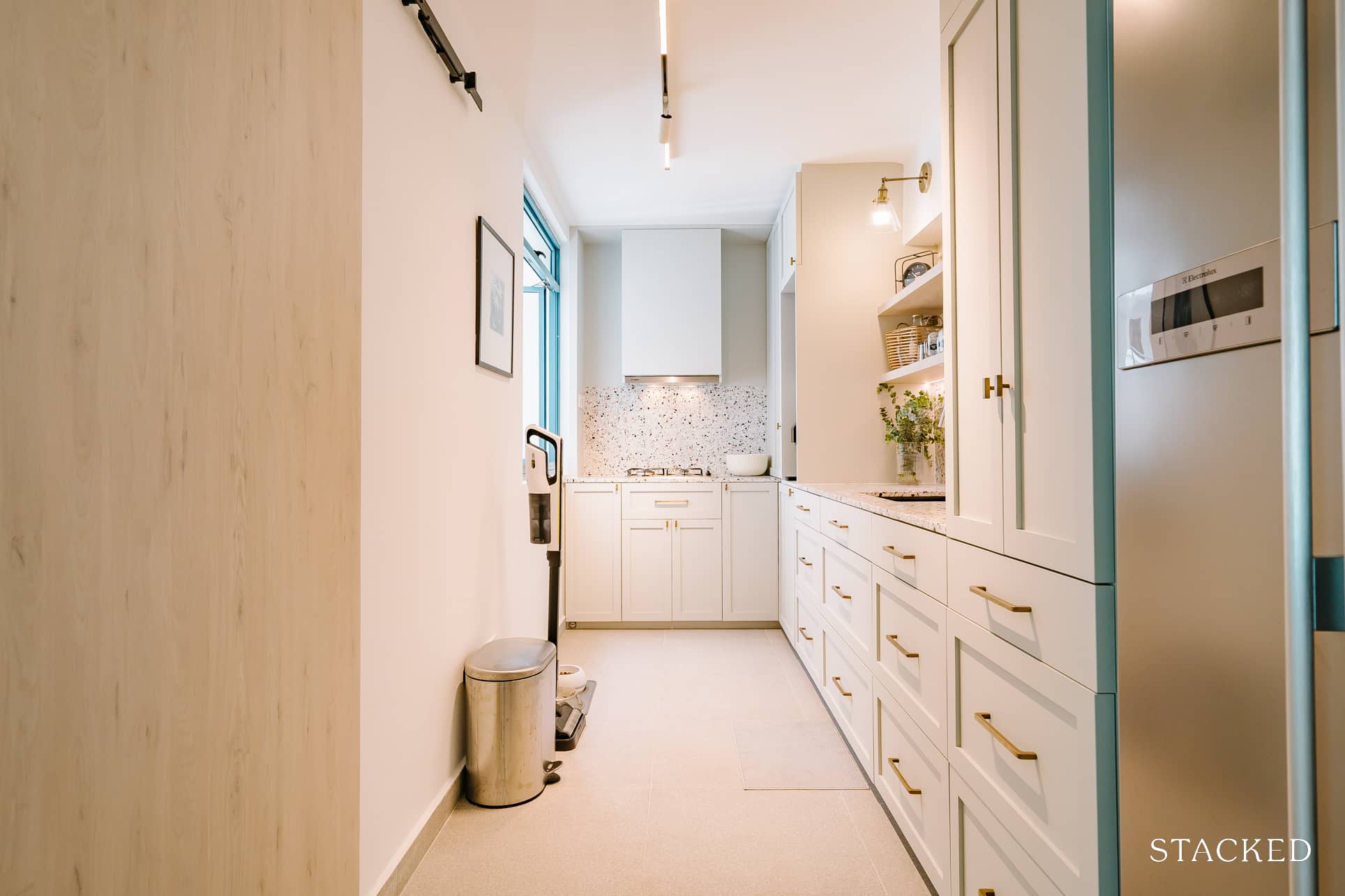 The kitchen is where they've gone for a more farmhouse-inspired look. This was done through the modern shaker cabinets and drawers, exposed shelving to showcase their homewares, and gold fittings.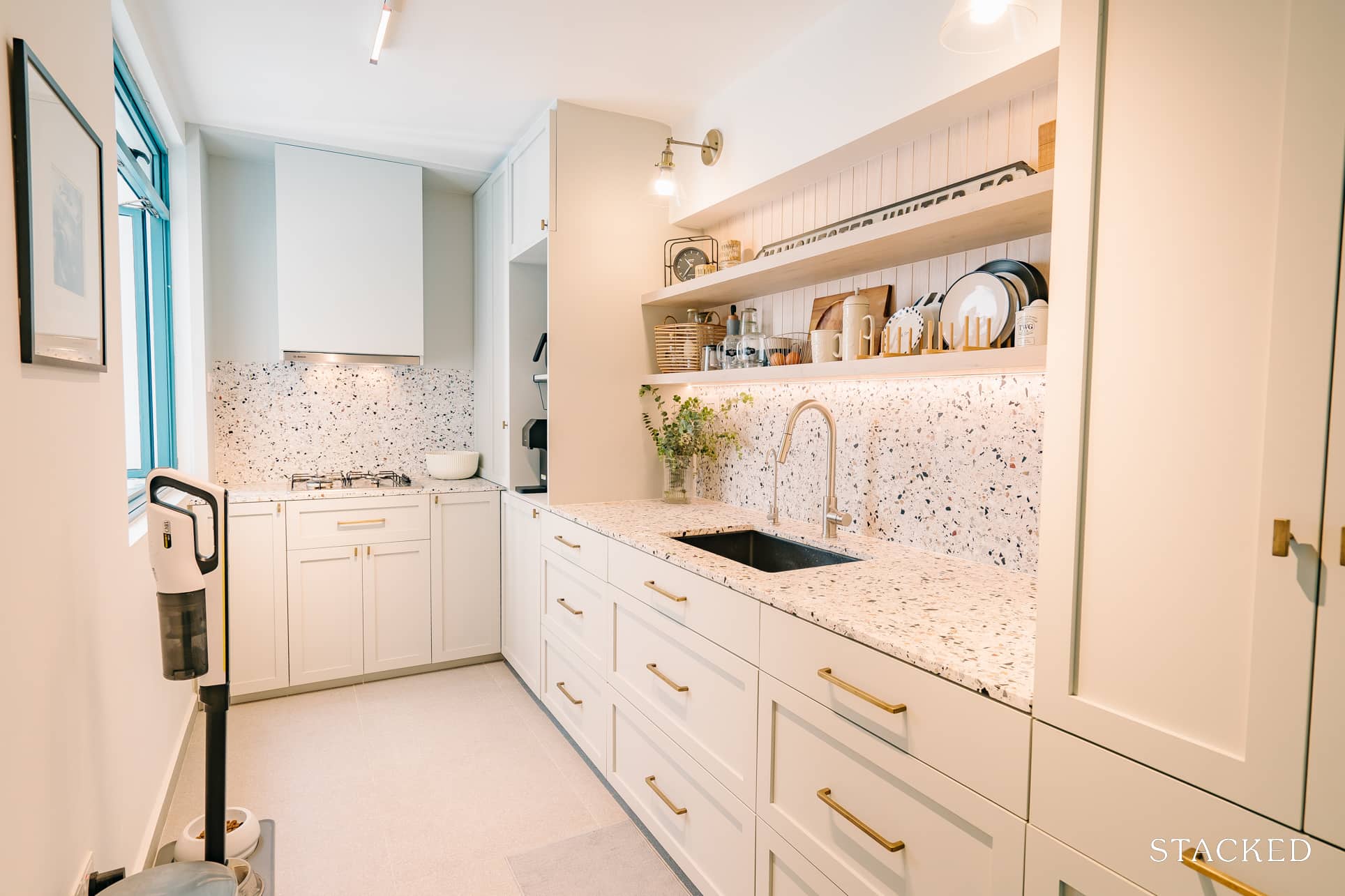 To further complement the look, they chose a terrazzo countertop and backsplash.
Bedroom/s
Becky said that there was a very deep niche beside the main window of their master bedroom. So as not to waste this space, they decided to use it for a wardrobe and even built a settee area for more storage.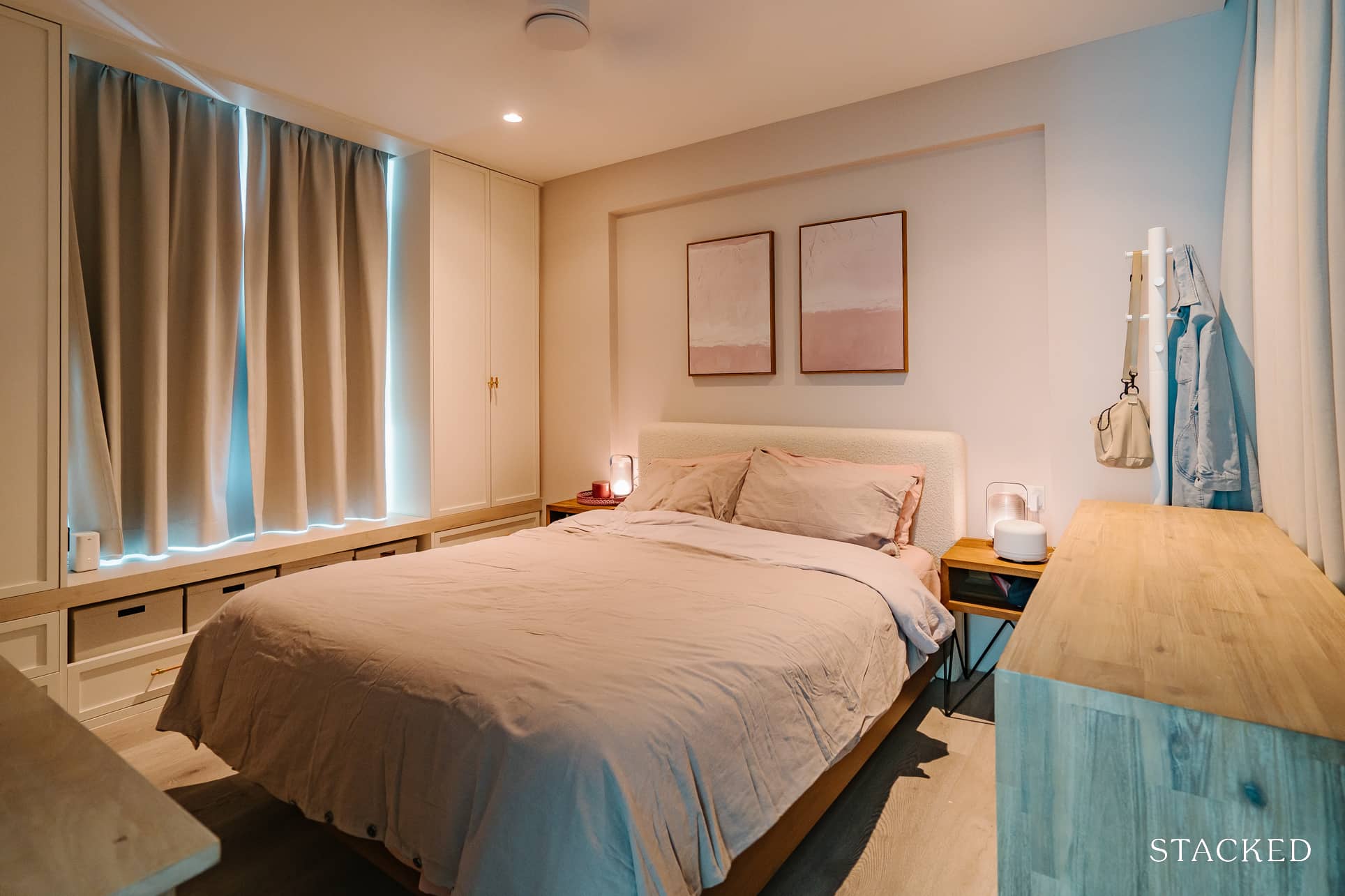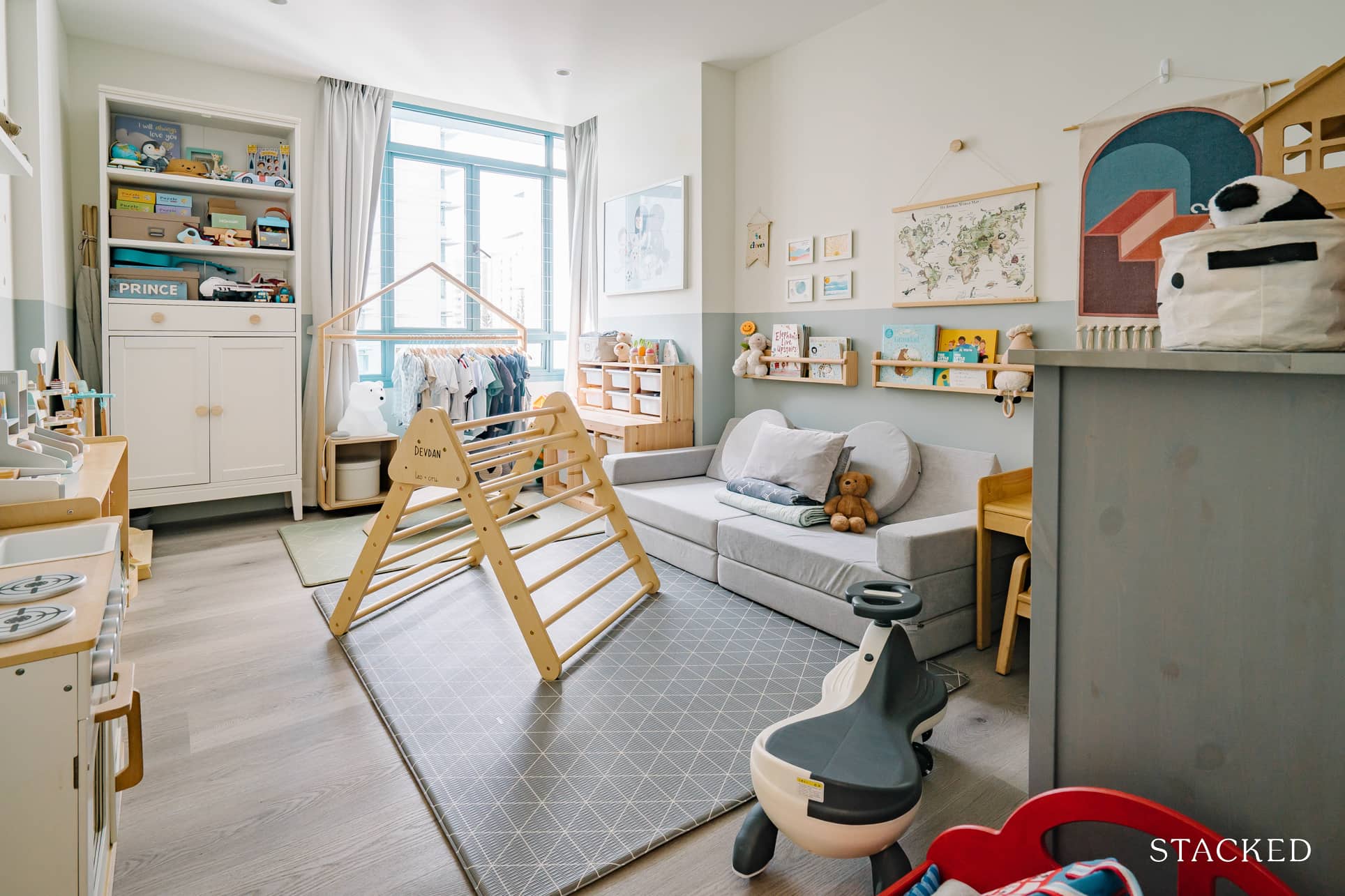 And there's no contesting that their kid loves his bright room, with all the toys and activities to keep him busy.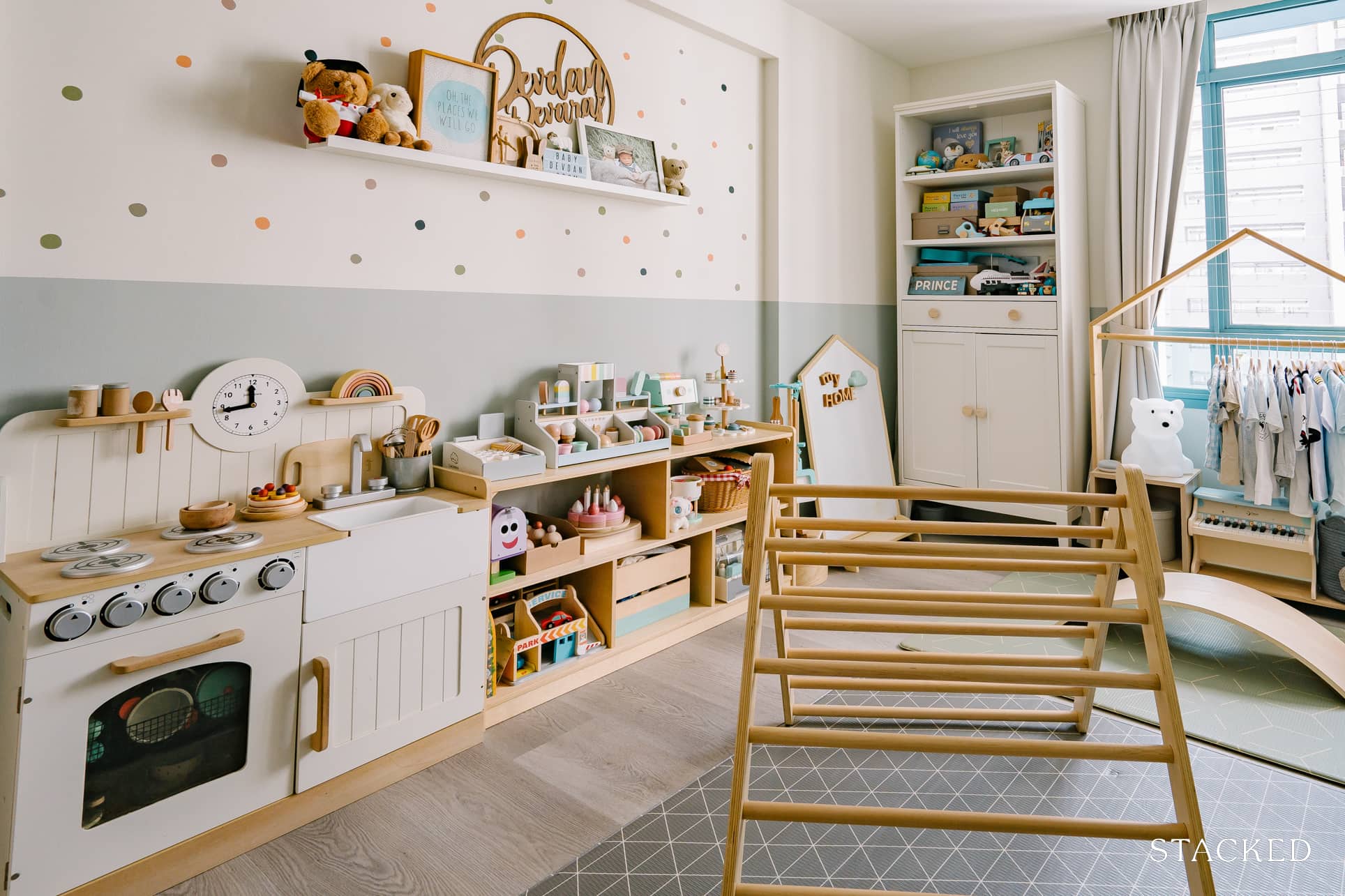 Bathroom/s
The couple kept the master bathroom neutral by using grey tiles and matte black fittings. They also boxed up the pipes and used LED strips to add highlights.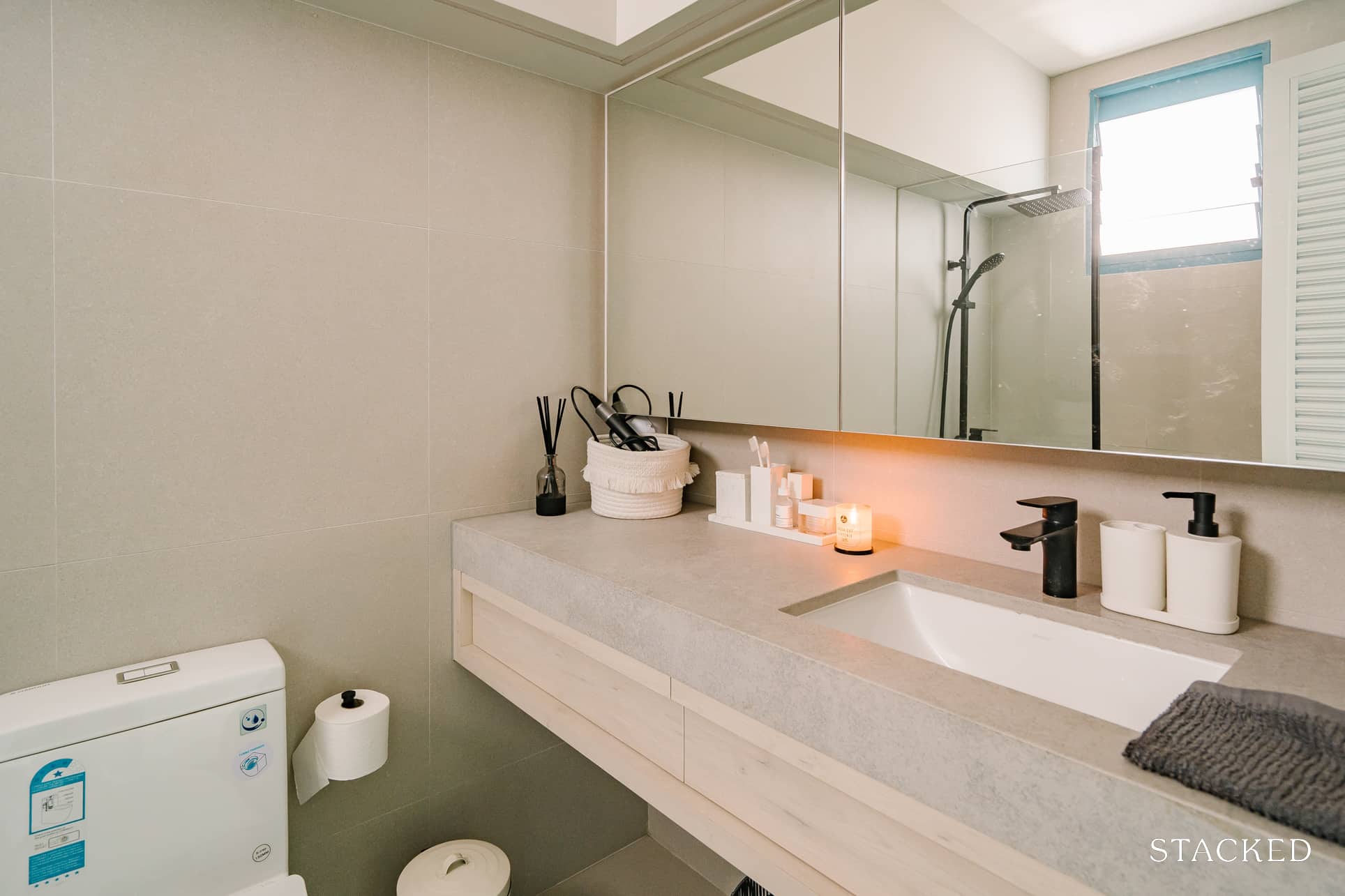 "The common bathroom has a wash and pee area for our dogs under the sink. Storage is very essential for us because we have to keep some items out of sight from our toddler and 2 dogs."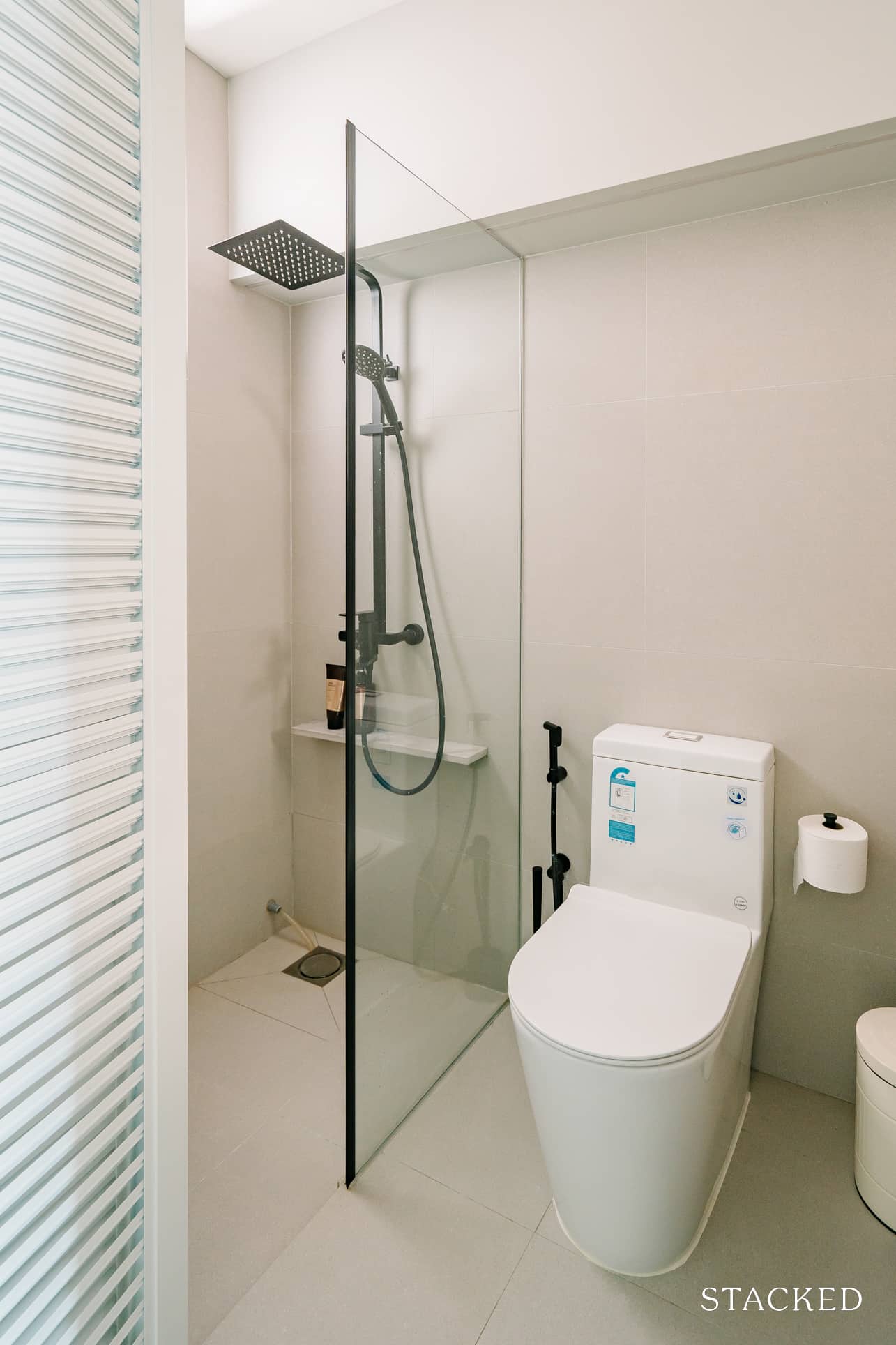 They realised that covering up the pipes in the bathroom made the area look smaller, so they compensated for it with a lighter colour and smaller tiles.
Bringing The Vision To Reality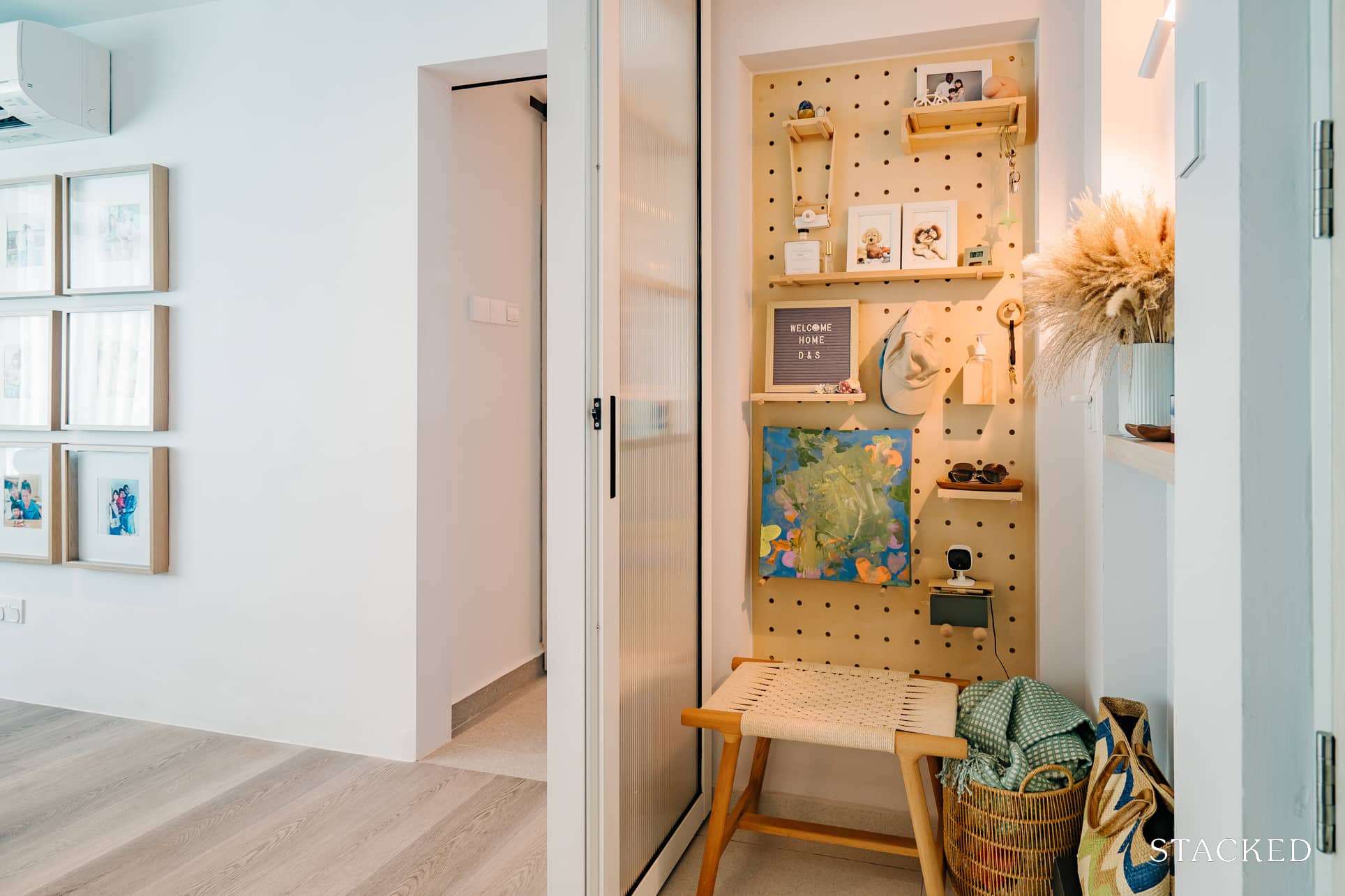 Rezt & Relax Interior was their renovation contractor, and since they were the same company that worked on their first home, it wasn't hard for Becky and James to think about hiring them again. "We are very pleased with their workmanship," she said, "and their carpenters are very skilled and responsible."
Overall, she said they knew they shouldn't be too ambitious with their lower budget, plus their home was also a resale that needed a lot of repair work.
The couple did not rush into getting their furniture as they were very firm with their budget. As such, they only purchased items during clearance sales or when they saw something they liked on Carousell. "It was quite enjoyable as the items were what we wanted and affordable. Also, as we have pets and a very young kid, we didn't want to feel burdened by worries of furniture getting damaged by them."
Becky said that the living room is what they consider the best part of their home. It's very bright and airy during the day and cosy at night.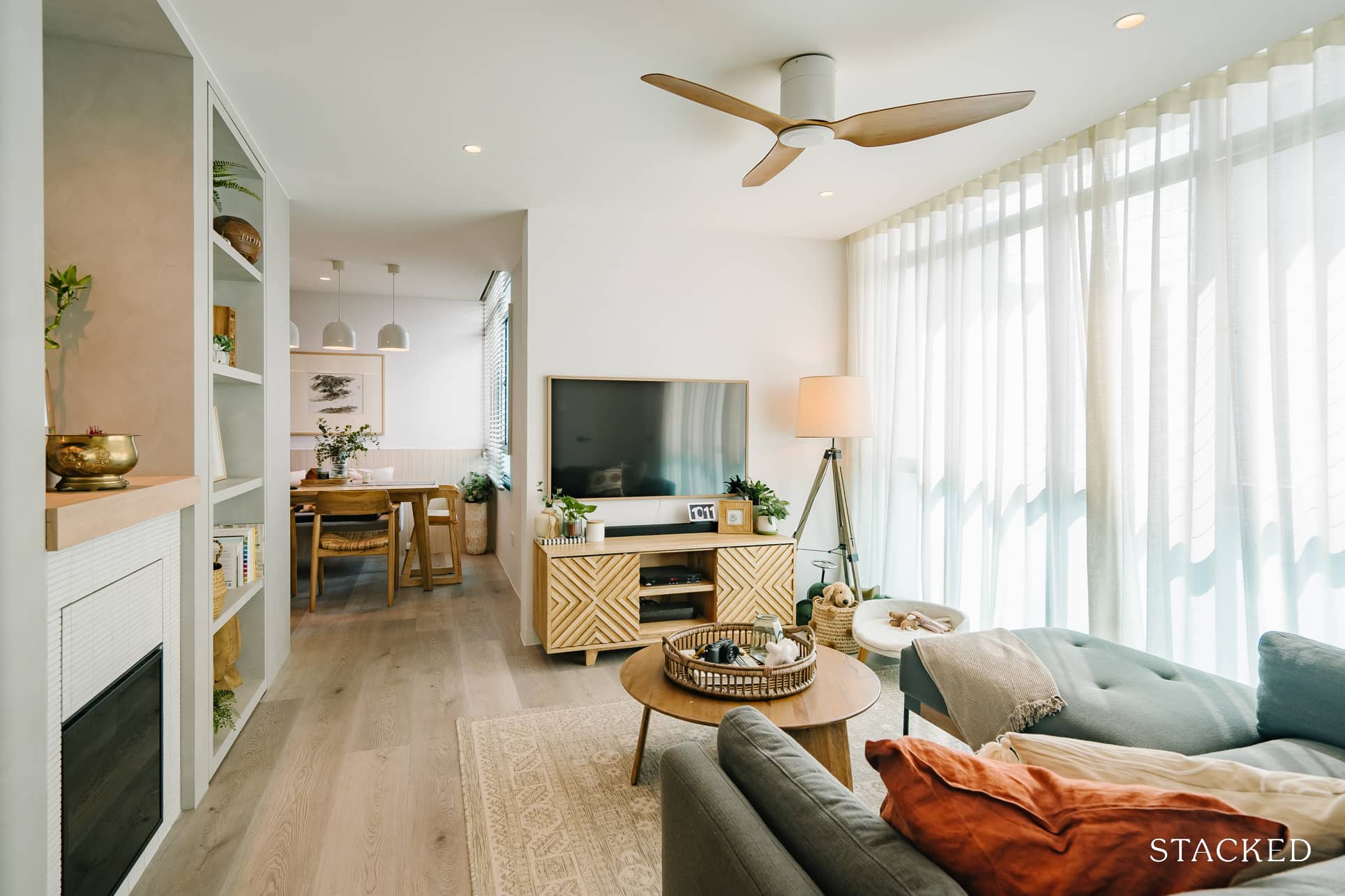 Lessons Learned From A Successful Reno Journey
The greatest challenge Becky and James encountered during their renovation was the budget. In able for them to overcome this, they had to focus on practicality and prioritise an aesthetic vision that would last many years.
"I would say keeping the trend out and just focus on what we needed and keep it simple," Becky explained. "Aside from purchasing most of our items from clearance sales and Carousell, we also reused our old furniture."
Last but not least, Becky shares this tried-and-tested advice for those who are looking to spruce up their home: "There are many IG home accounts these days. It is great to follow their accounts for more in-depth reno ideas."
SHARE