Tour An Old 1984 HDB Transformation: How A Couple Built A Raw Yet Playful Home With A $90k Reno Budget
Renovation Journeys
Tour An Old 1984 HDB Transformation: How A Couple Built A Raw Yet Playful Home With A $90k Reno Budget
WRITTEN BY Stacked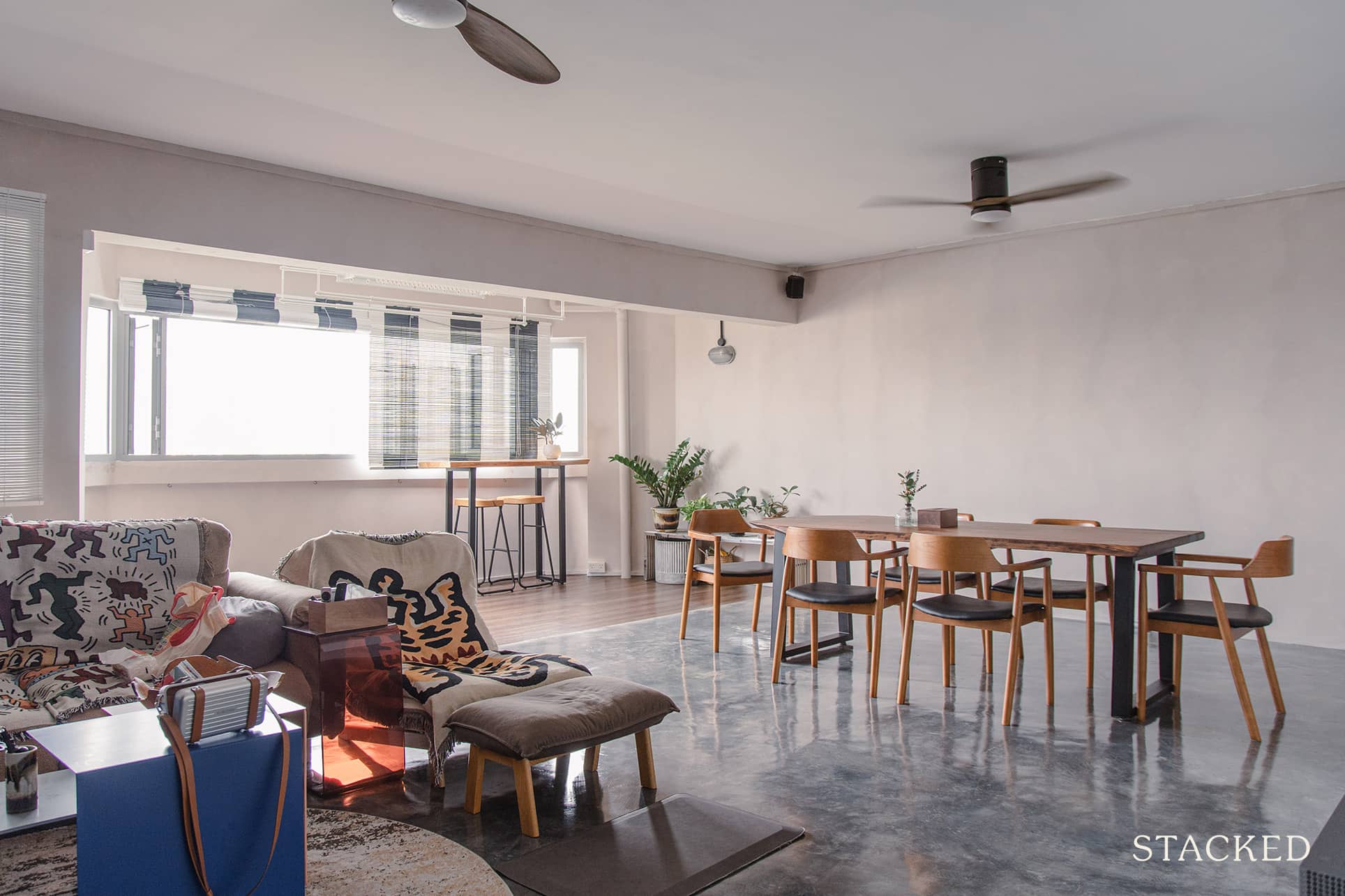 9
min read
Open-concept living is very popular in Singapore, for a variety of reasons. The most important reason though? It can make even the smallest of spaces feel bigger and brighter.
And when you have a bigger space, it really allows you to accentuate the spaciousness of it all.
Benedict wanted to implement this in their home, as well as incorporate his wife's creative ideas as well. But to do so, they had to find an HDB with a suitable layout.
It's quite a tall order, but their patience paid off when they found a 5-Room Model 'A' Point Block built way back in 1984.
Yes, it's quite old but the squarish layout served its purpose. Plus, the bright and airy atmosphere of the unit due to the multitude of windows worked out well with their eventual home design.
Benedict tells us his criteria for searching for their home.
"In our search for our new house, our 2 criteria were to be near to my parents' place – about walking distance – and also we wanted an open concept house that we could hack away the walls."
He said he stayed in a point block for all his life, so if he could get a point block flat, it would be a bonus.
When they first saw the house, what attracted them was the layout. It was almost a perfect square and there wasn't any walkway in the rooms. It also had a huge balcony overlooking a school and offering a good view. Benedict said that since schools are hardly ever replaced, he knows his view will never be obstructed by a newly-constructed high-rise in the area.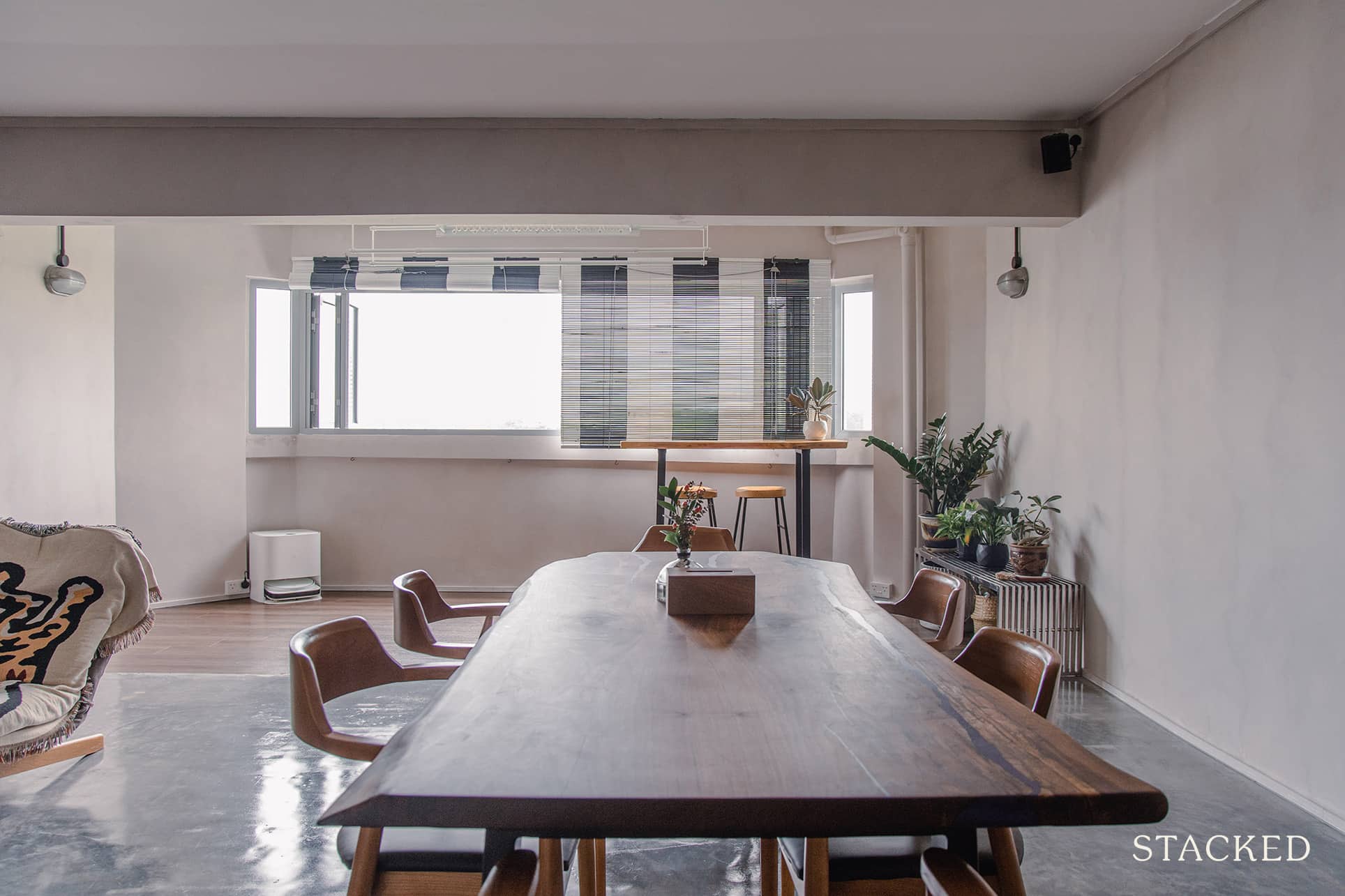 "With the layout, the view, the distance from my parent's, and also it being a point block, we very quickly were sold on it."
Currently, he and his wife are staying in their house and they're in the midst of cat-proofing their place so he can bring his family cat over to stay with them. Let's join Benedict as he shares the journey and the result of their reno project.
How The Renovation Journey Turned Out
Their initial budget for the renovation was $90k and they set aside another $40k for the furniture and fixtures. In the end, he said they spent less on the renovation and more on the furniture and fixtures.
So what helped them stay within their budget?
Benedict said that there were quite a few things they took on themselves, including painting the walls and applying an epoxy coat on the floor. This helped them save some costs.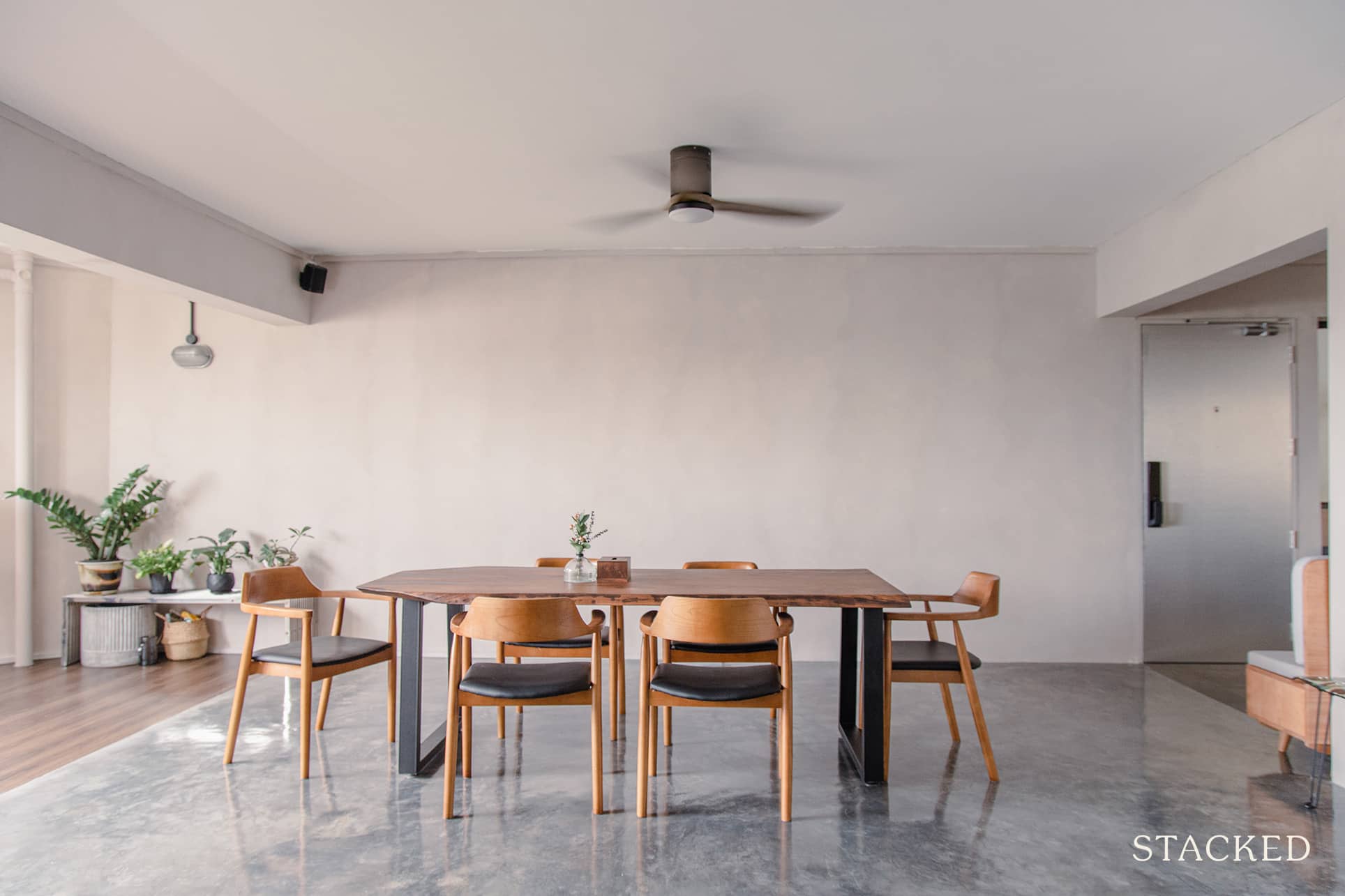 Their home design is actually a fusion of his wife and his own aesthetic preferences. He always wanted an industrial and brutalist kind of decor while his wife likes wood and plants. Even with such contrasting inclinations, they were able to find some common grounds such as having cement screed walls and limewash paint for the walls.
"I actually like the house more, as compared to the design and style I had in my head," he said. "There's an imperfection in subtle areas that tells a story only me and my wife would know."
The couple knew from the get-go that they wanted to hack all the rooms into a single, big private room. As the rooms are laid out back-to-back, it wasn't difficult for them to do.
"We wanted a secret entrance to the rooms," Benedict added.
They also knew that they wanted to combine the two toilets into one, with each of them having their own toilet bowl and sharing a shower area with two individual shower sets. They also extended their toilet room a bit more so they can have a bigger room for the shower area.
The original entrance to their home was quite cramped so they knocked down the storeroom to make it more open and inviting.
Let's tour their home and see how their reno journey turned out.
Living Room
The living room was what attracted them the most when they first viewed it, and upon seeing it, we can understand why.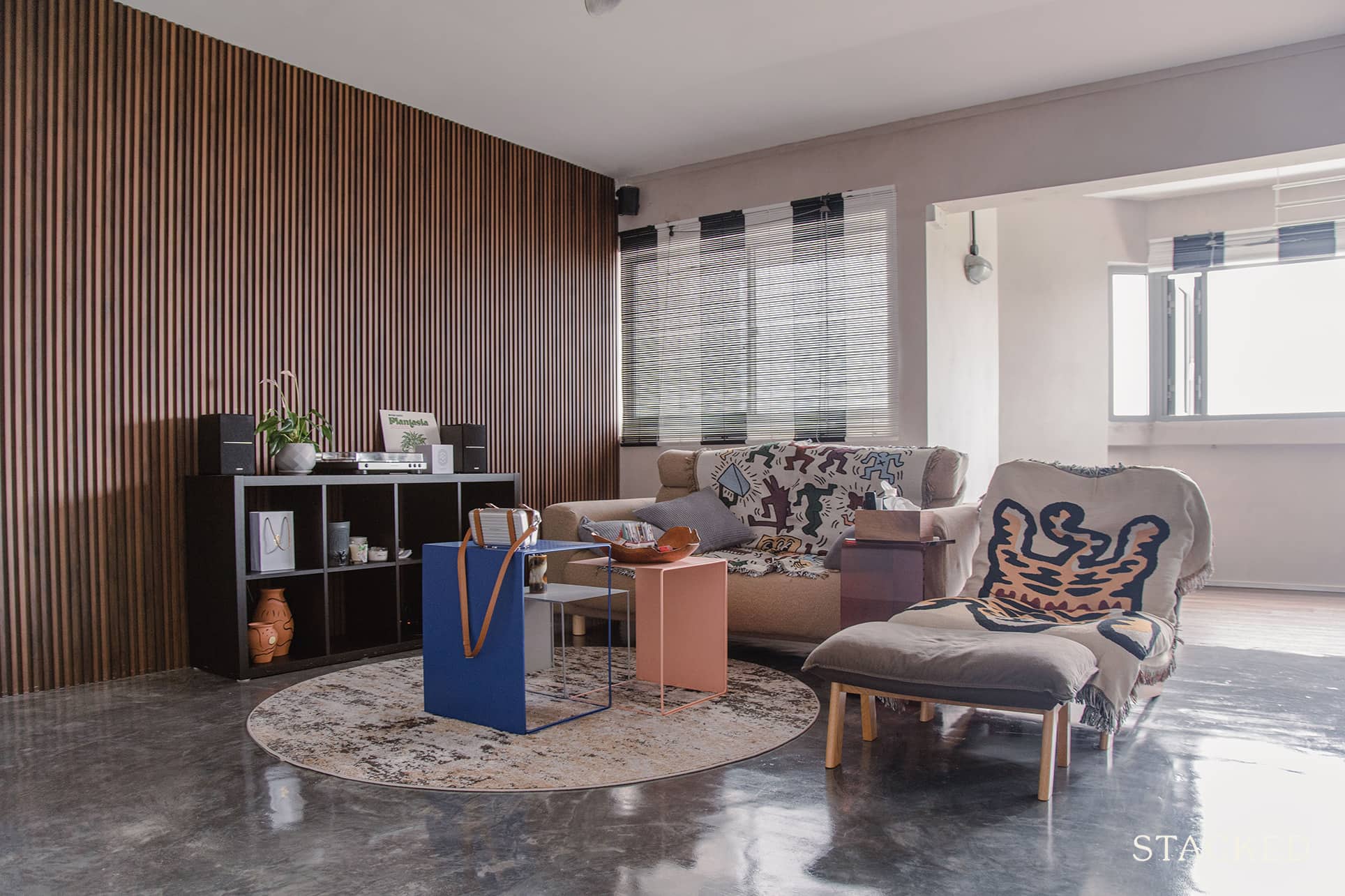 "We didn't do much as this was the centre of the house, it was a nice square space, the only modification was the extension of the toilet so we have a long wall that we used for our projector screen."
As such even though you can feel the expansiveness of the space, the soft furnishings, quirky throws and carpets really help to keep the place feel cosy.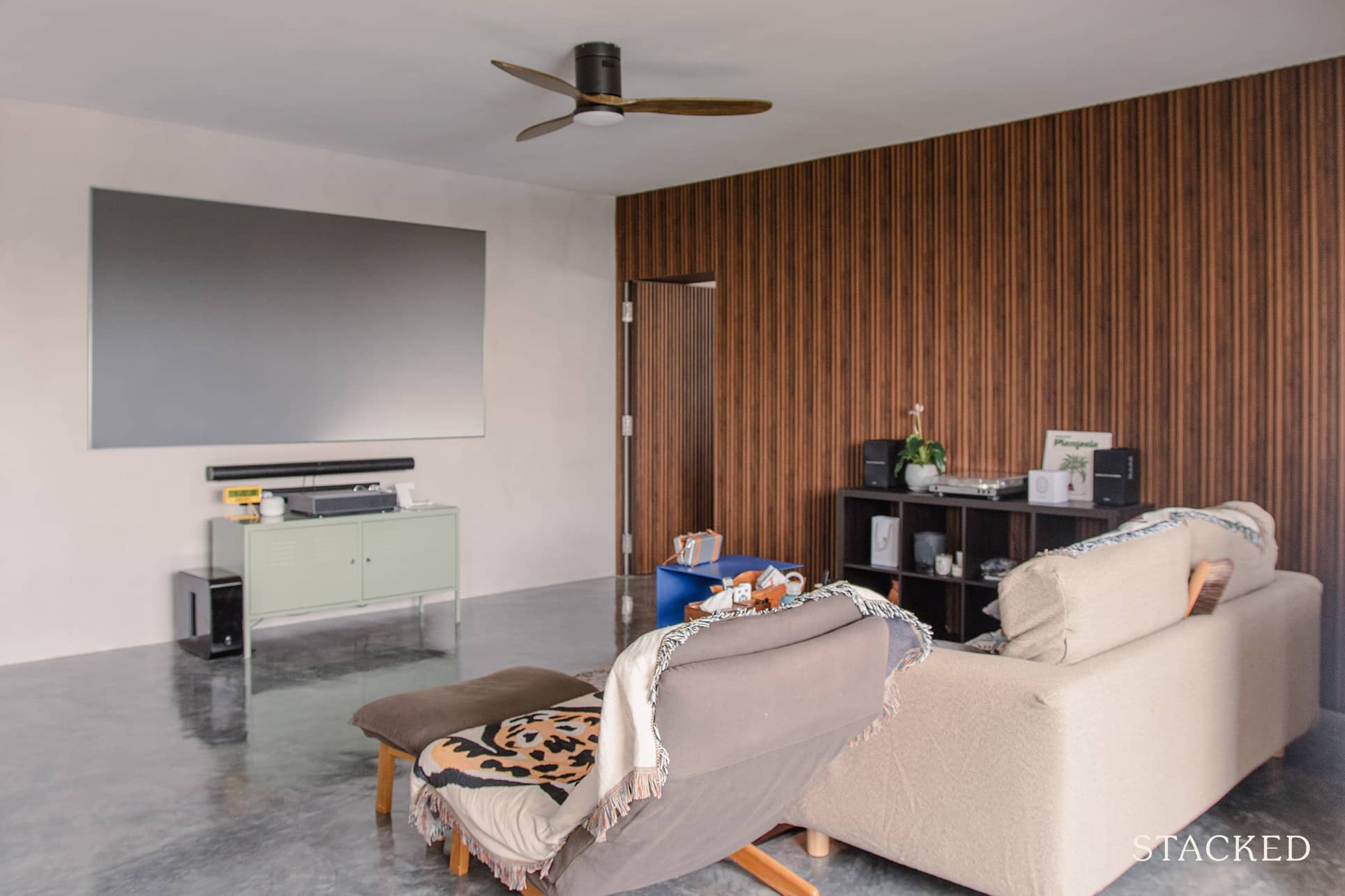 Read this next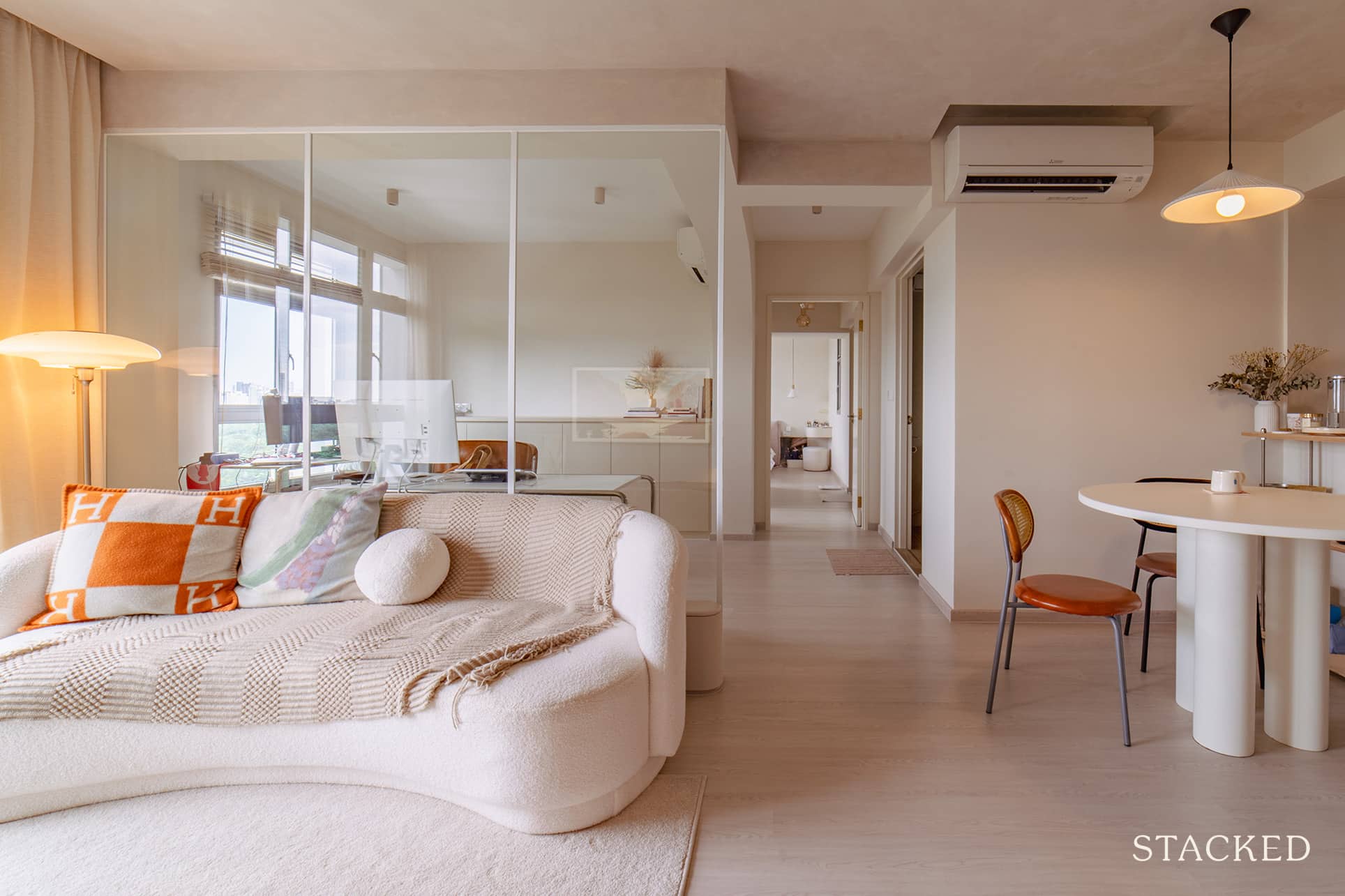 Dining Room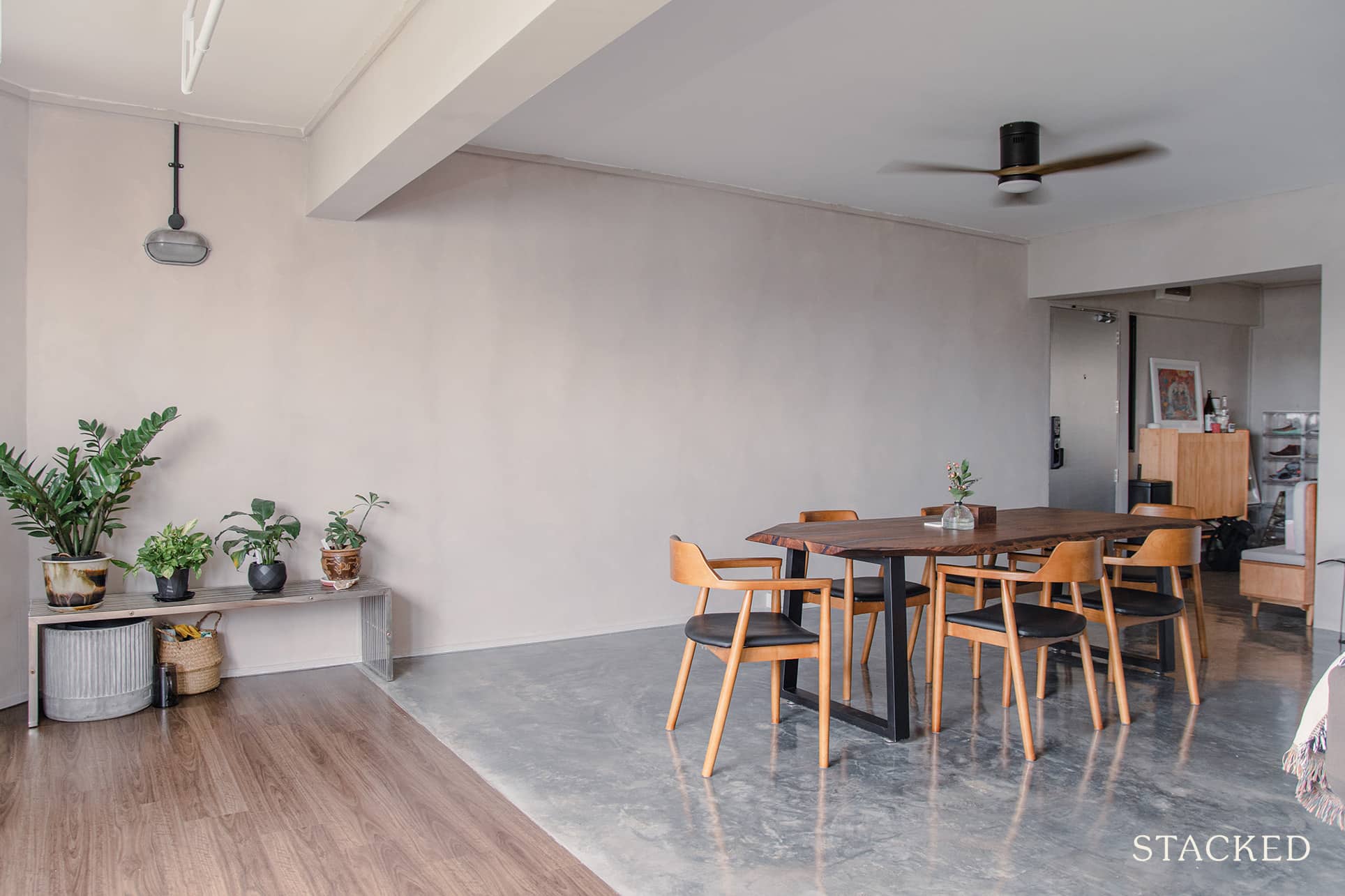 It's with the combination of the dining room (and the balcony), that you really feel the sense of space. They chose to go with a 6 seater dining table (although you could fit an 8 seater easily), and the bare furnishings here help to keep it in a more minimalist nature.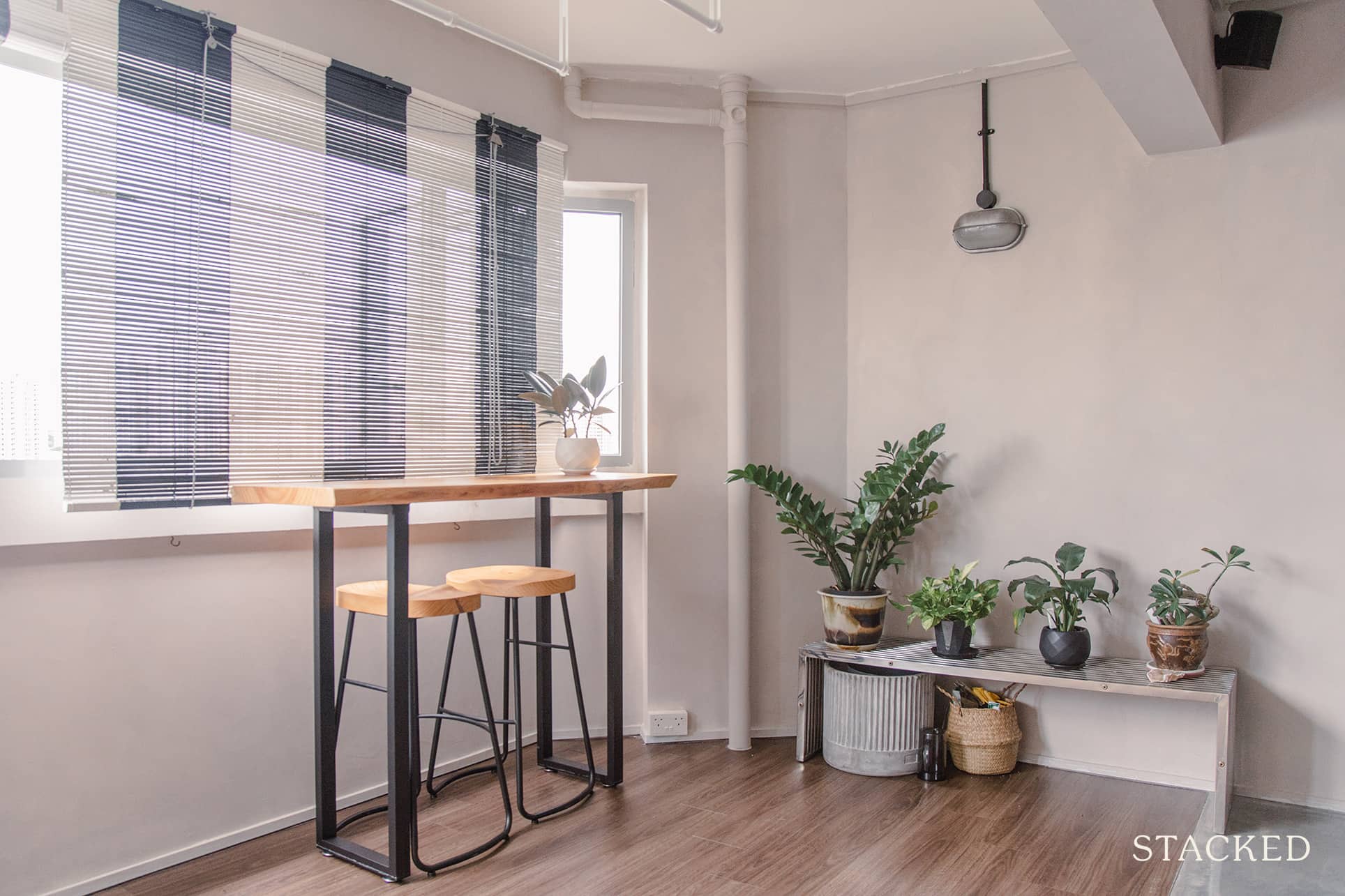 As for the balcony, a taller bar table and stools were used so that they could take advantage of the views. The outdoor bamboo blinds here also give a throwback to earlier times in Singapore, plus keep the breezy nature during windier months of the year.
Kitchen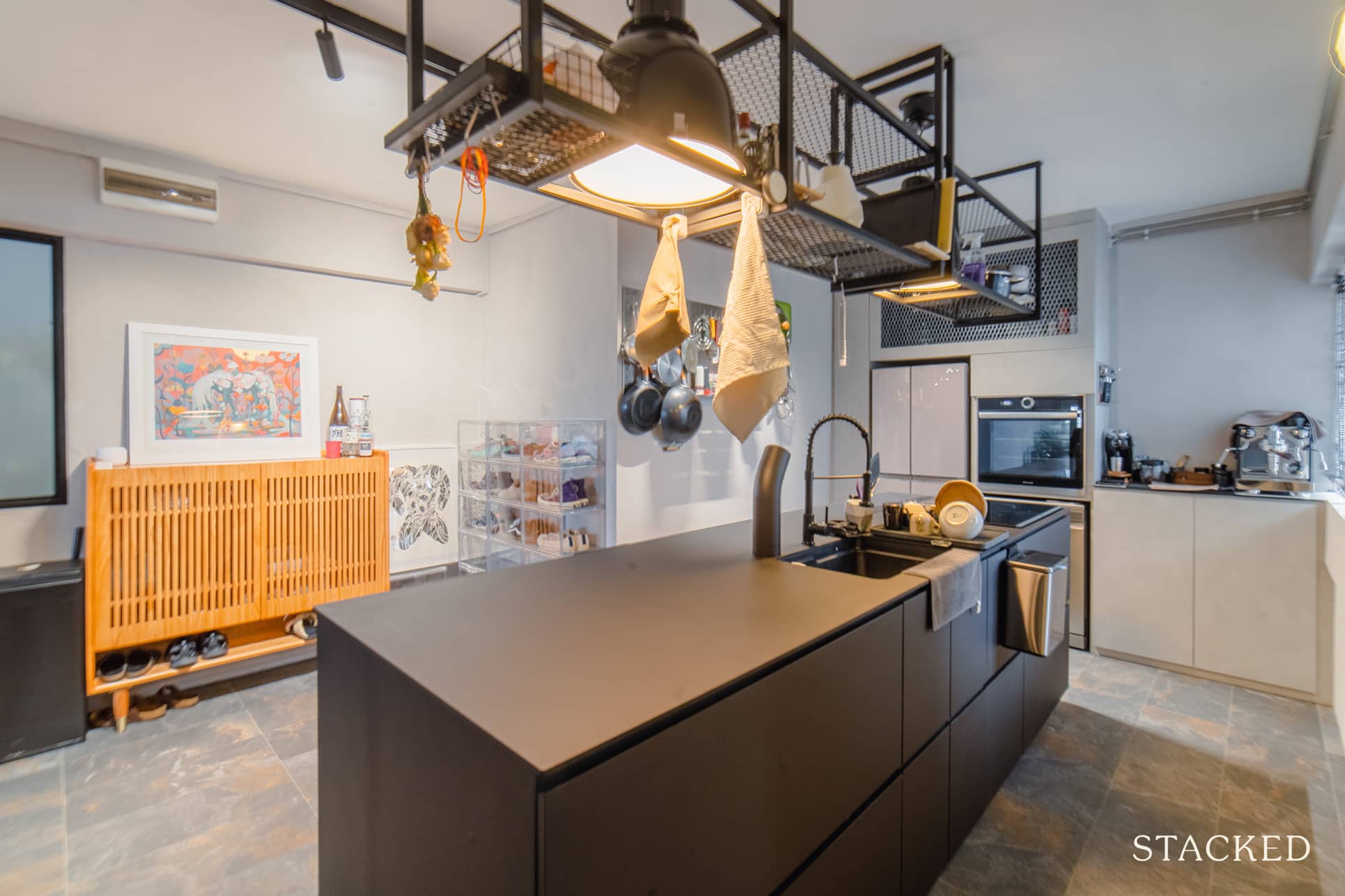 The kitchen was significantly modified from the original condition, as they wanted a different layout for it. "We knocked away the store room, which opened up the kitchen, that allowed us to build an island right in the middle," Benedict shared.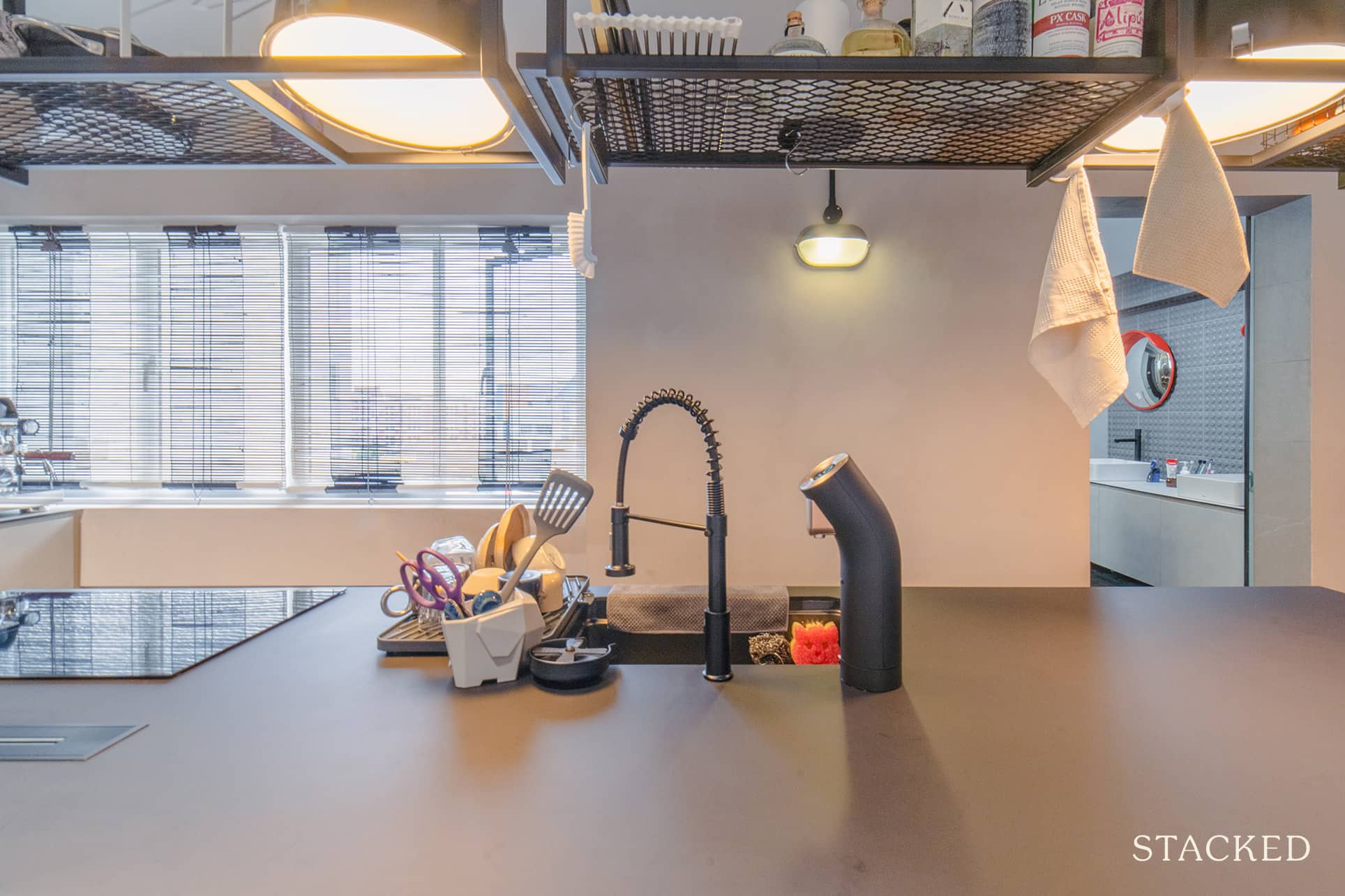 We love the smooth black countertop, and the black powder-coated racks above help to add a touch of that industrialist look, while still being handy to store stuff for easy accessibility.
Bedrooms
As for the bedrooms, they combined 3 rooms into one. But Benedict shared that in reality, it actually looks like 2 rooms with a door leading to the walk-in instead.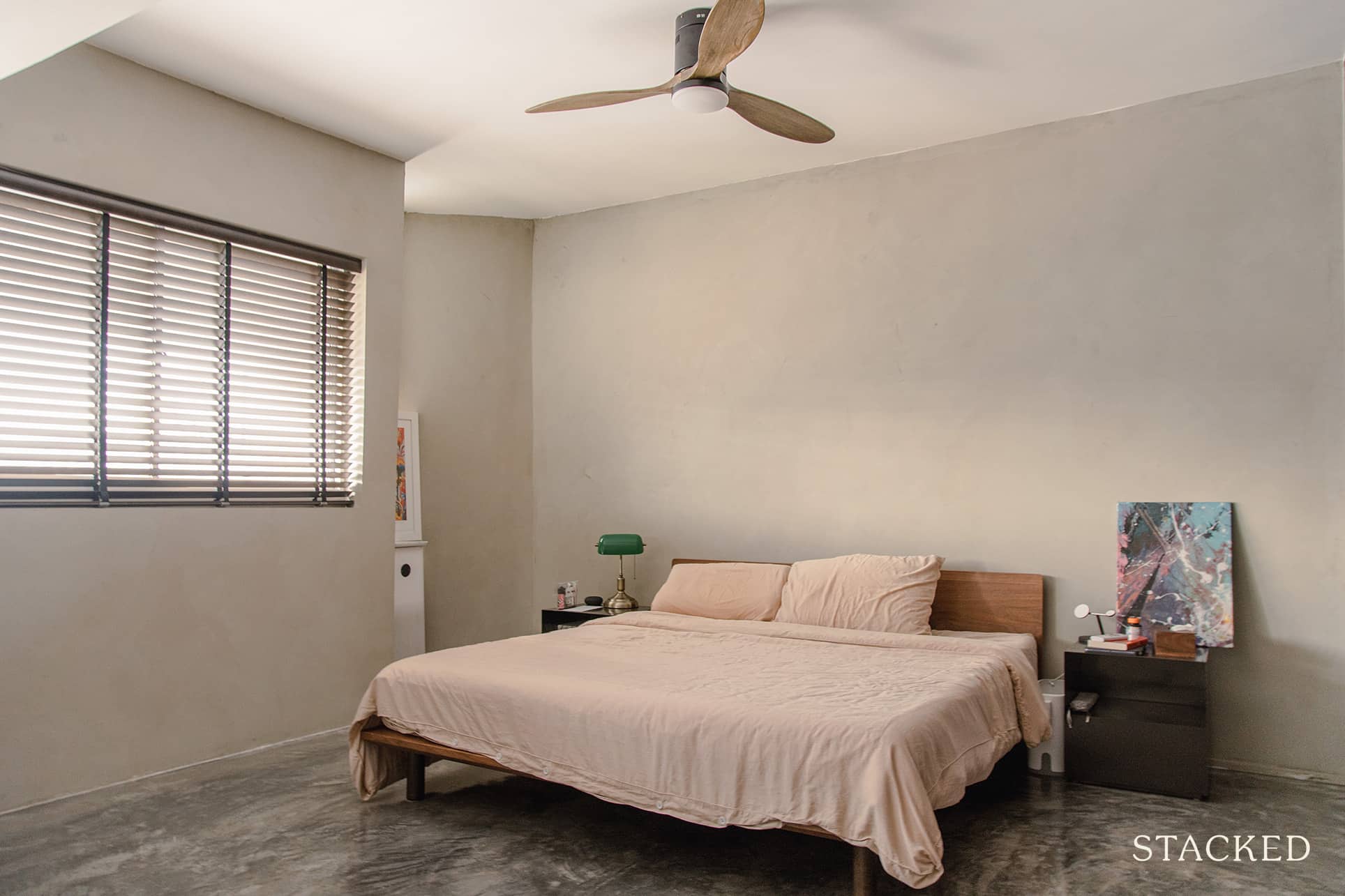 "We actually wanted a room that we can see end to end, but we found out the column that could not be hacked was a bit larger than we liked. We decided to build a glass black wall and add a door. This allowed us an open concept walk-in closet, that we can regulate the humidity," Benedict recounted.
The other benefit? They were able to save on having one more air con unit added to their open-concept walk-in wardrobe.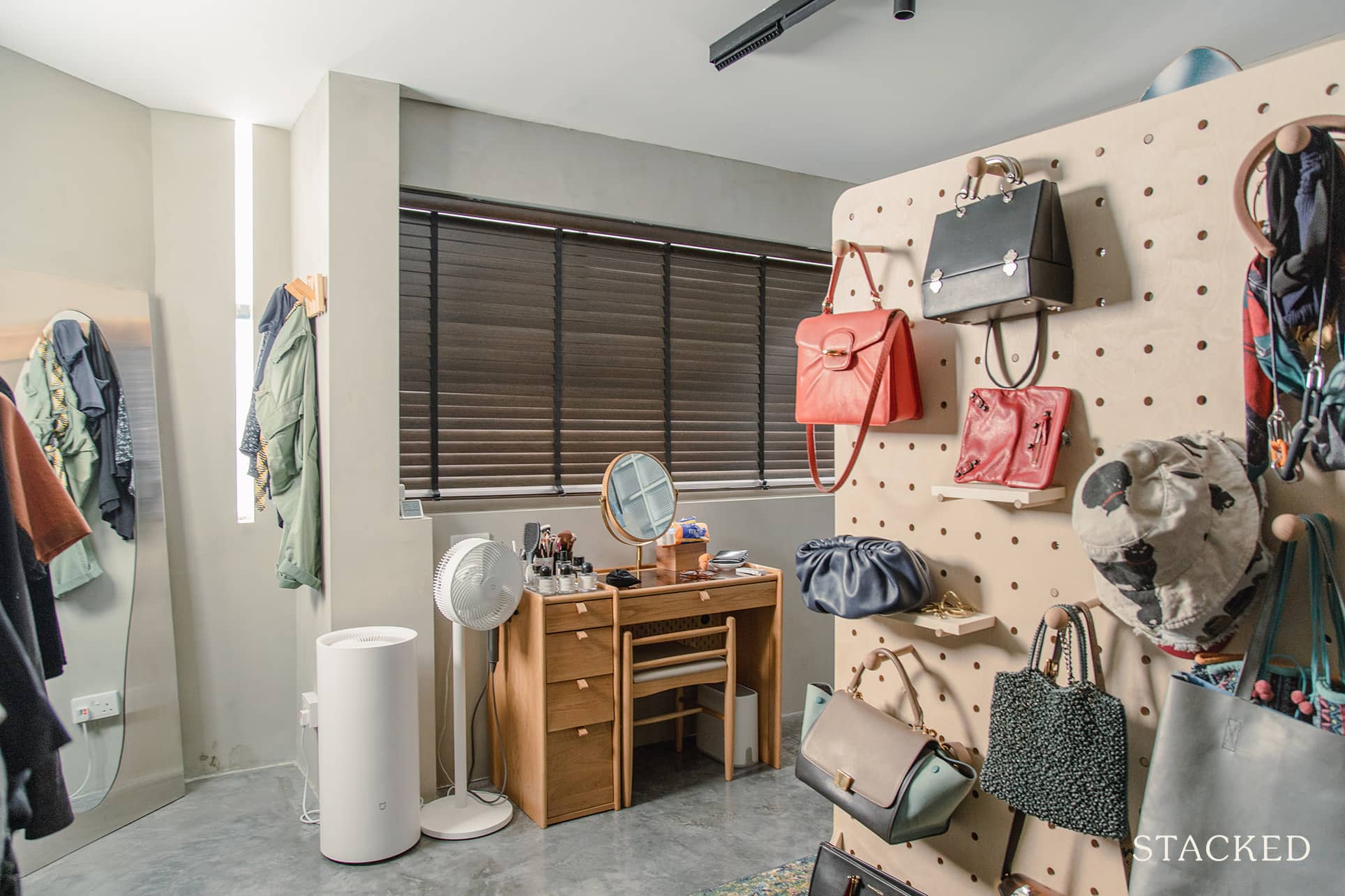 As such, their open-concept walk-in wardrobe formed a really visually interesting part of the home. Sure, it may be a challenge to keep it tidy, but they added a few elements that made it different.
He said that the walk-in closet feels like a small popup store with two distinct sides – one for his wife's and the other for his own clothes. "It almost feels like a multi-label popup for men and women."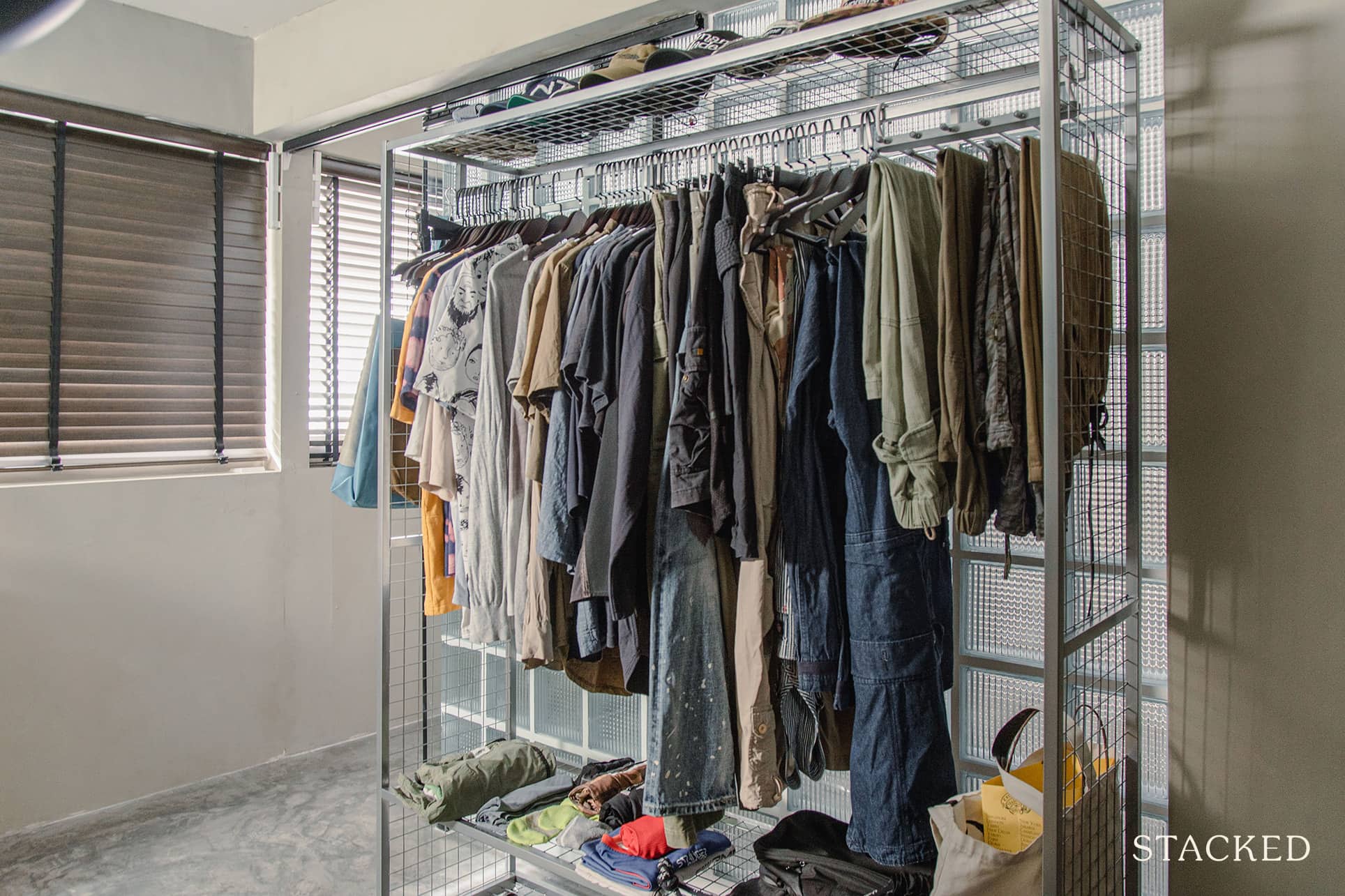 From the peg board to hang up their bags and accessories, to the clothes rack, the result was a really character-filled space.
They did have worries about how it would turn out though, especially with the need for storage. "When we knocked away the storeroom, we were worried that we will not have enough storage space, but once we had the carpentry all in, we were quite sure this area could serve as the storage space for the entire house. We also like it because its conspicuous and quite tucked away on its own," Benedict shared.
Bathrooms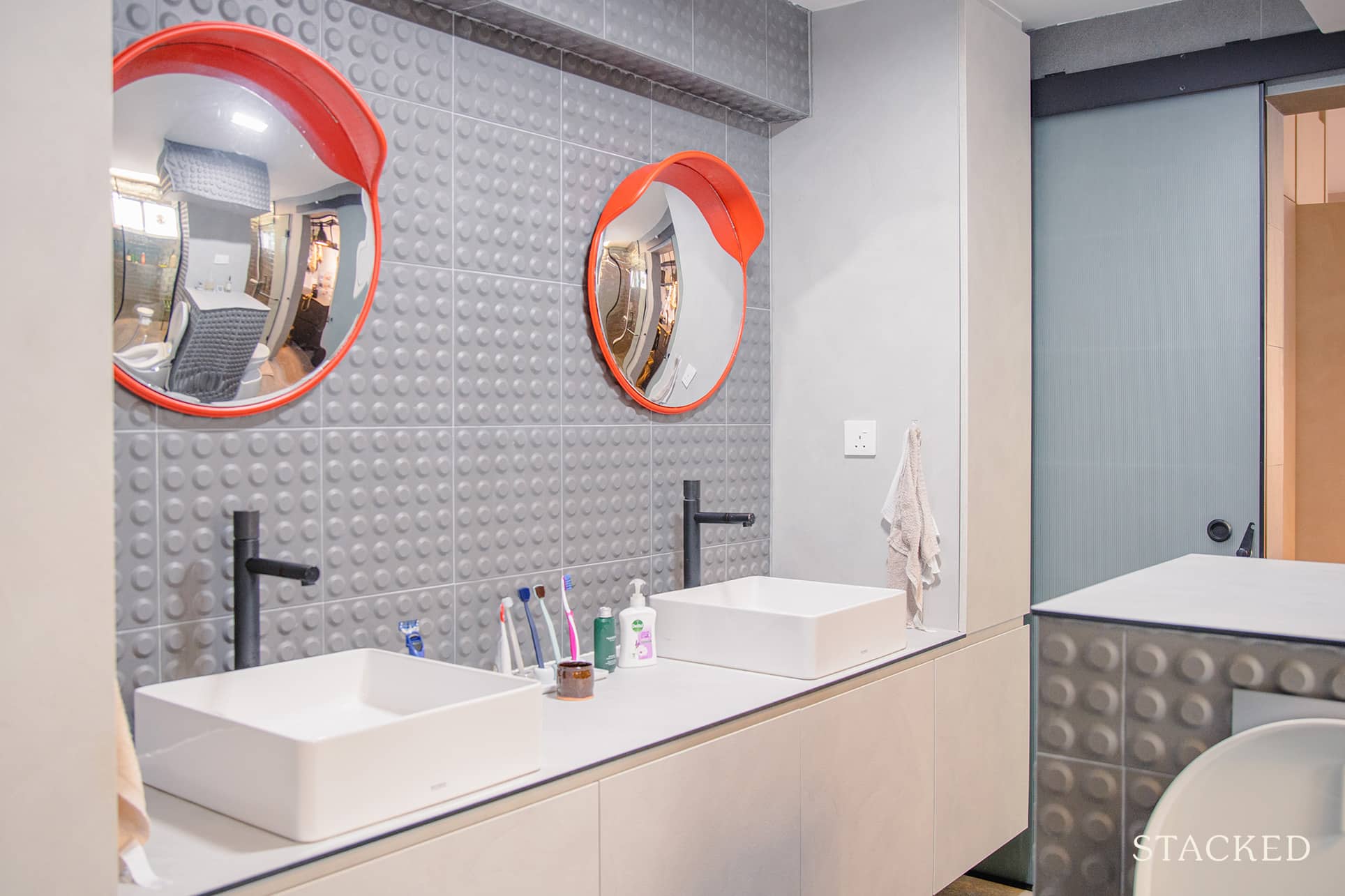 If you found their wardrobe intriguing, their bathroom may have just taken it to a new level. Apart from the lego-like wall, the first thing that you'd notice is the orange traffic mirrors that they used above the his-and-hers sinks. We can't vouch for how useful they are (given the convex nature of it), but it certainly makes for a unique talking point!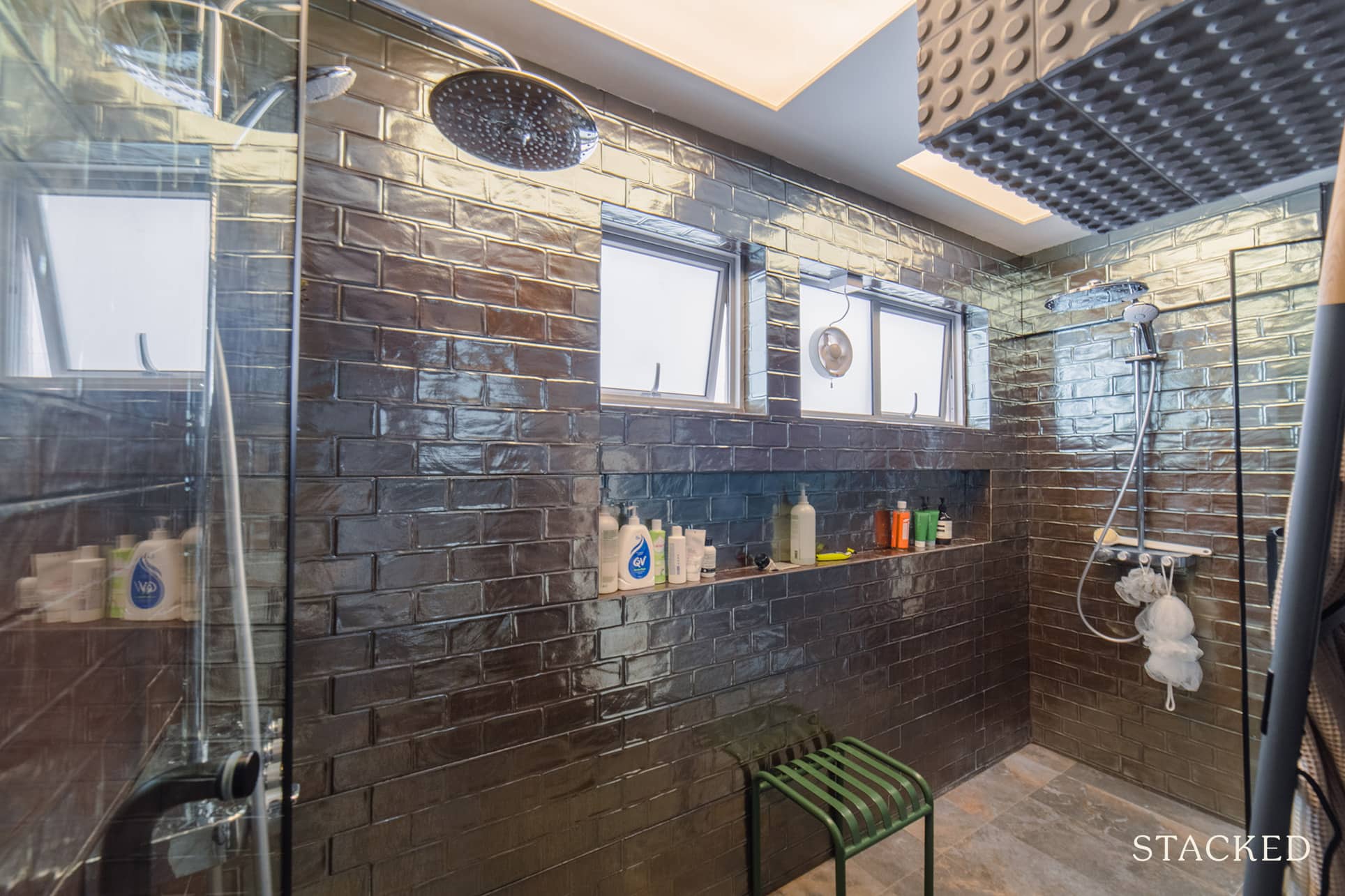 Their bathroom also was bigger as they "hacked and combined two toilets into one."
They wanted to have a bigger toilet, as they found that HDB toilets are normally quite small. But it was a technical challenge, as after knocking the walls down, they had to find a way to conceal the pipes properly.
Bringing The Vision To Reality
We asked Benedict if the outcome is similar to what they envisioned before the reno started.
"I would say the outcome was similar, though, there were many trade offs along the way," he answered. "Structurally, it was how I imagined it to be."
They ended up with a combined toilet and three rooms hacked and combined into one room. Their home resulted in having a communal area – living and kitchen – and a private area, which contains their bedroom, study, and walk-in closet.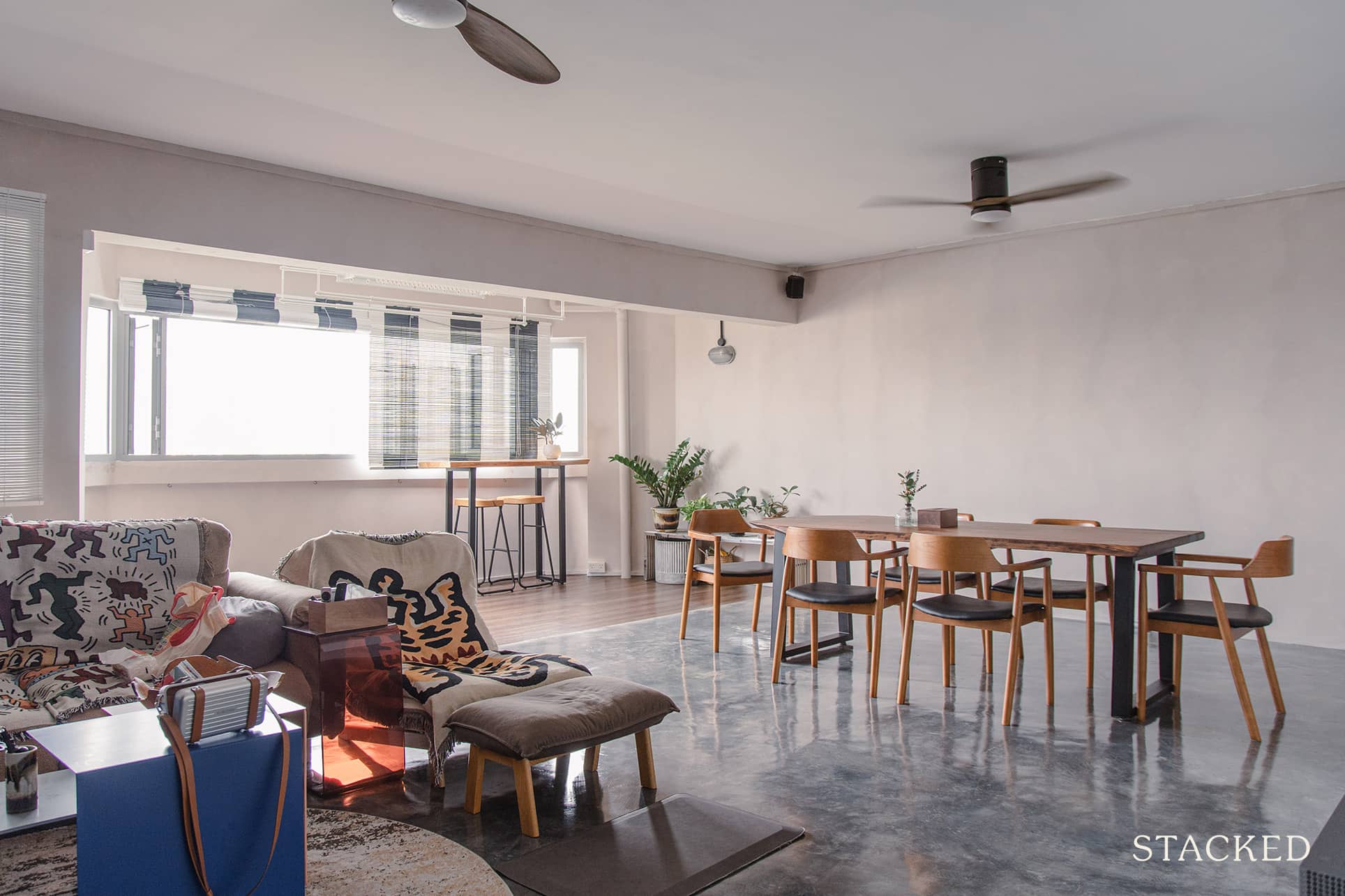 The renovation contractor that helped them was Andrew Loh from Ingenious Design Solutions. They picked him because Benedict said Andrew was confident and that he could deliver the house in the timeframe he wanted. He also liked that their contractor was technically more experienced.
"When he proposed to us how to hide the air con pipes, that was when we decided to go with him. None of the IDs I met could propose a solution that was satisfactory," recalled Benedict.
The couple had an interesting process with their furniture sourcing. While they were very definite with their home's style, they picked their furniture based on what they really liked to the point they had already purchased all their furniture and had no place to store them due to the delays.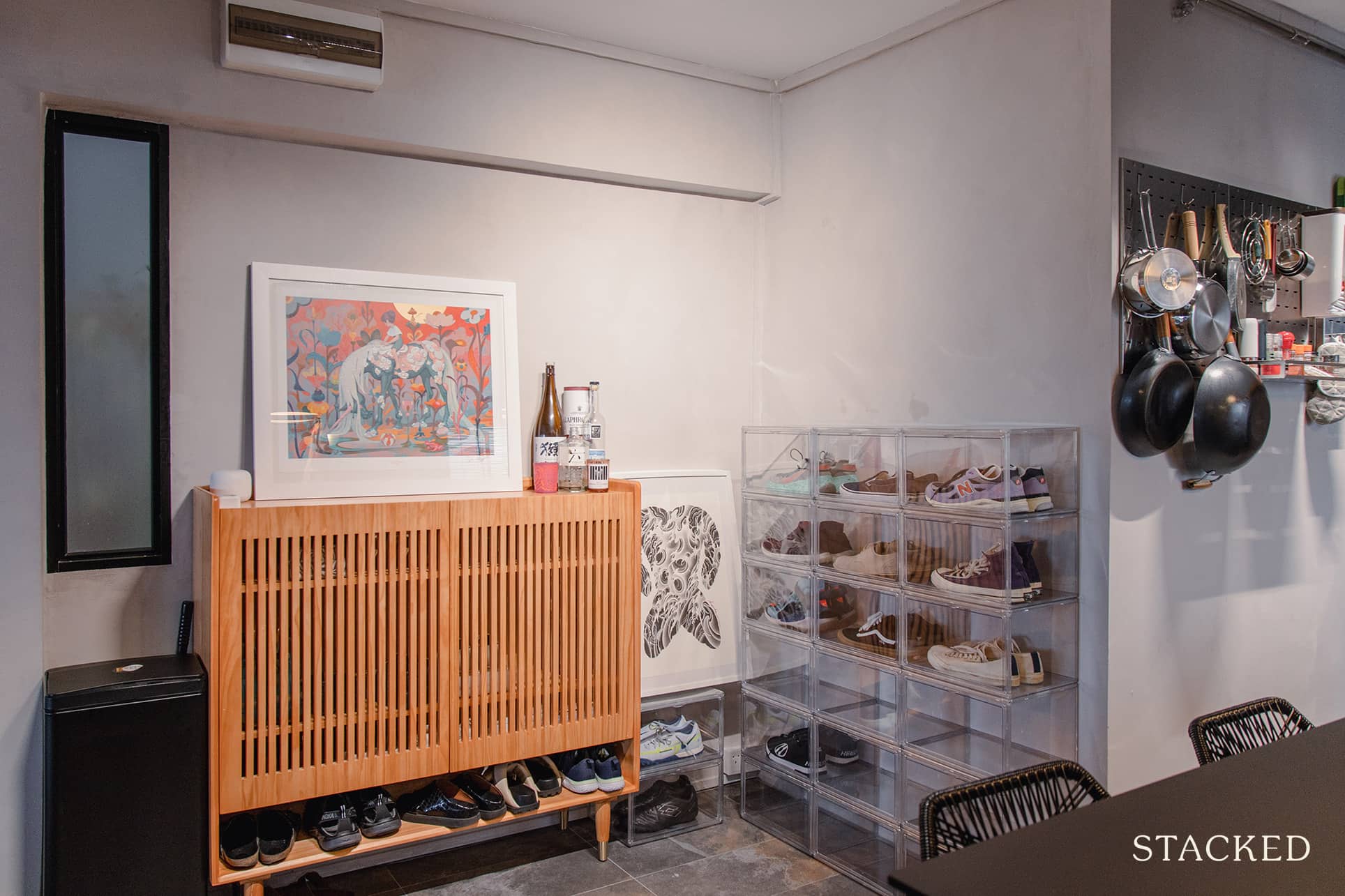 "If the house followed a style and design, then our furniture definitely went the opposite direction."
The only locally-sourced furniture they have were the bed frame, sofa, recliner chair, and dining table. Everything else was from Taobao.
We asked Benedict what he thinks is the best area of their home before and after the renovation.
He said that before the reno, it would have to be the balcony, as it was quite big and had a really nice view. After the renovation, though, it was a close fight between the walk-in closet and the toilet.
"I think it's quite interesting to have a combined toilet of this size in an HDB, and I really like the shower area."
Lessons Learned From A Successful Reno Journey
Benedict said that their reno journey took way longer than expected. If he were to sum it up, it took a bit more than 2 years from getting the keys to moving in.
Their first ID really didn't do well in the project management of the house, and so after close to 2 years, they decided to pull the plug and took on the renovation themselves.
Fortunately, the couple was able to find their contractor who did most of the work in a time frame that was acceptable to them. To top it off, they resumed right after CNY, which was a challenging time to start as most of the work was not in Singapore.
"I think what really helped us was when we started to become more hands-on. At the end of the day, a contractor or an ID looks after multiple houses, so they will not be as invested as you. You really have to be the one pushing and deciding things."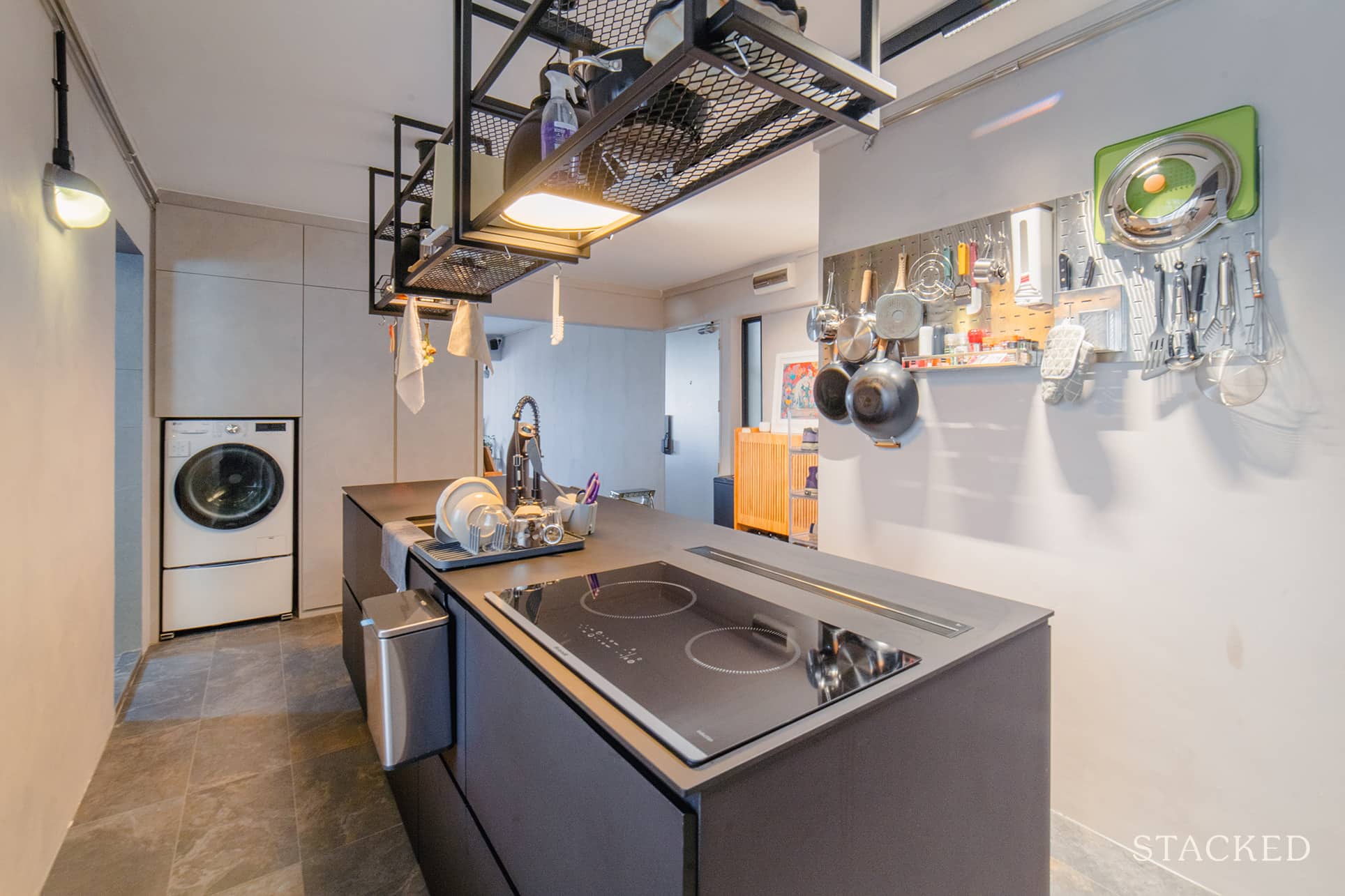 They sourced some materials in Taobao and went down to look at laminates and tiles on their own. Benedict said they also did some of the renovations works themselves. Still, he admitted they were quite fortunate to find a contractor who's technically experienced, and could quickly communicate with them what can or cannot be done.
Benedict and his wife also learned that a lot more prep work has to be done when choosing IDs. He added that he feels like the IDs in the market now are more like salespersons instead of designers.
"If you have a BTO, you should be relatively safe, because a lot of their ideas and work processes are quite cookie cutter. But if you have a resale like mine, with extensive hacking, you really need to get someone who is experienced."
Benedict shares one final bit of advice for those who are planning to go on their own renovation journey.
"Live in it for a bit and understand the house before planning the layout. There were a few things we found out after staying in for a while. Like where does the sun rise and set, how noisy is it to be near a road."
SHARE