How An Avid Baker Couple Created A Cosy HDB Home With A Dream Kitchen
Renovation Journeys
How An Avid Baker Couple Created A Cosy HDB Home With A Dream Kitchen
WRITTEN BY Stacked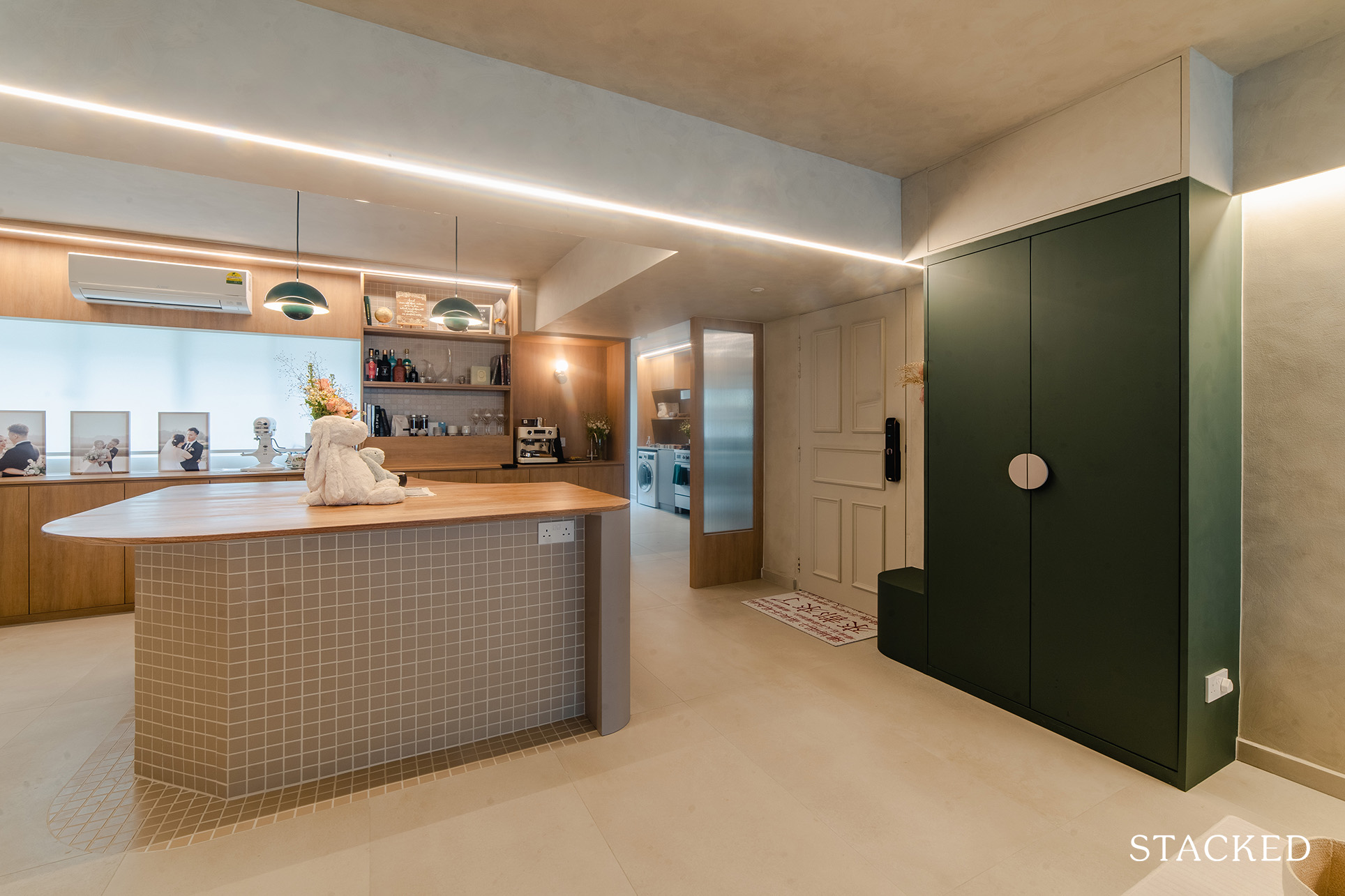 8
min read
Colin and his wife (@therollyjollyhome), like many couples, initially set their sights on applying for a BTO (Build-To-Order) flat. However, despite their hopes and efforts, fortune did not smile upon them, and their journey through the BTO/SBF route ended in disappointment.
"After nine failed attempts, we decided to change our approach and explore the resale market," Colin shared, reflecting on their experience.
Yet, within this setback, a glimmer of hope emerged. The couple now had the opportunity to broaden their search and find a home that truly aligned with their needs and preferences.
"When considering a resale flat, we had a multitude of factors to consider," Colin elaborated. "Our checklist included proximity to our parents, a high-floor unit, a vibrant and lively neighborhood, well-spaced blocks, privacy, a corner unit, convenient access to the MRT, and no COV."
Fortunately, their perseverance paid off when they discovered a 121-square-meter resale HDB that captured their hearts.
"Third time's the charm! After visiting two other units within the same block and exploring several neighboring options, we instantly knew that this unit was the perfect fit for us," Colin recalled.
Now, let's dive into their renovation journey and explore how they transformed their new home to perfectly suit their cooking and baking lifestyle.
How The Renovation Journey Turned Out
Colin said they initially allocated $80K for their reno budget, but after speaking with a few IDs, they had to change it. "We knew that in order to achieve the look that we wanted, we had to increase the budget."
Also, since they intend to stay in their place for a long time, they wanted to invest in quality fixtures as well.
The couple wanted something timeless for the style of their home – a place where they could also host gatherings for the people who are dear to them.
"As the both of us cook and bake a lot, our kitchen was our top priority when it came to the design of the place."
Still, one of the big changes they had to make to accommodate their design can be seen in their toilets. Colin said their toilets were pretty small, so their ID suggested bringing the sinks out of the bathroom to make it more spacious.
As a result, their master bedroom toilet is now a little haven where the couple can wind down for the day.
Here's what their place looks like now after the renovation.
Living and Dining Area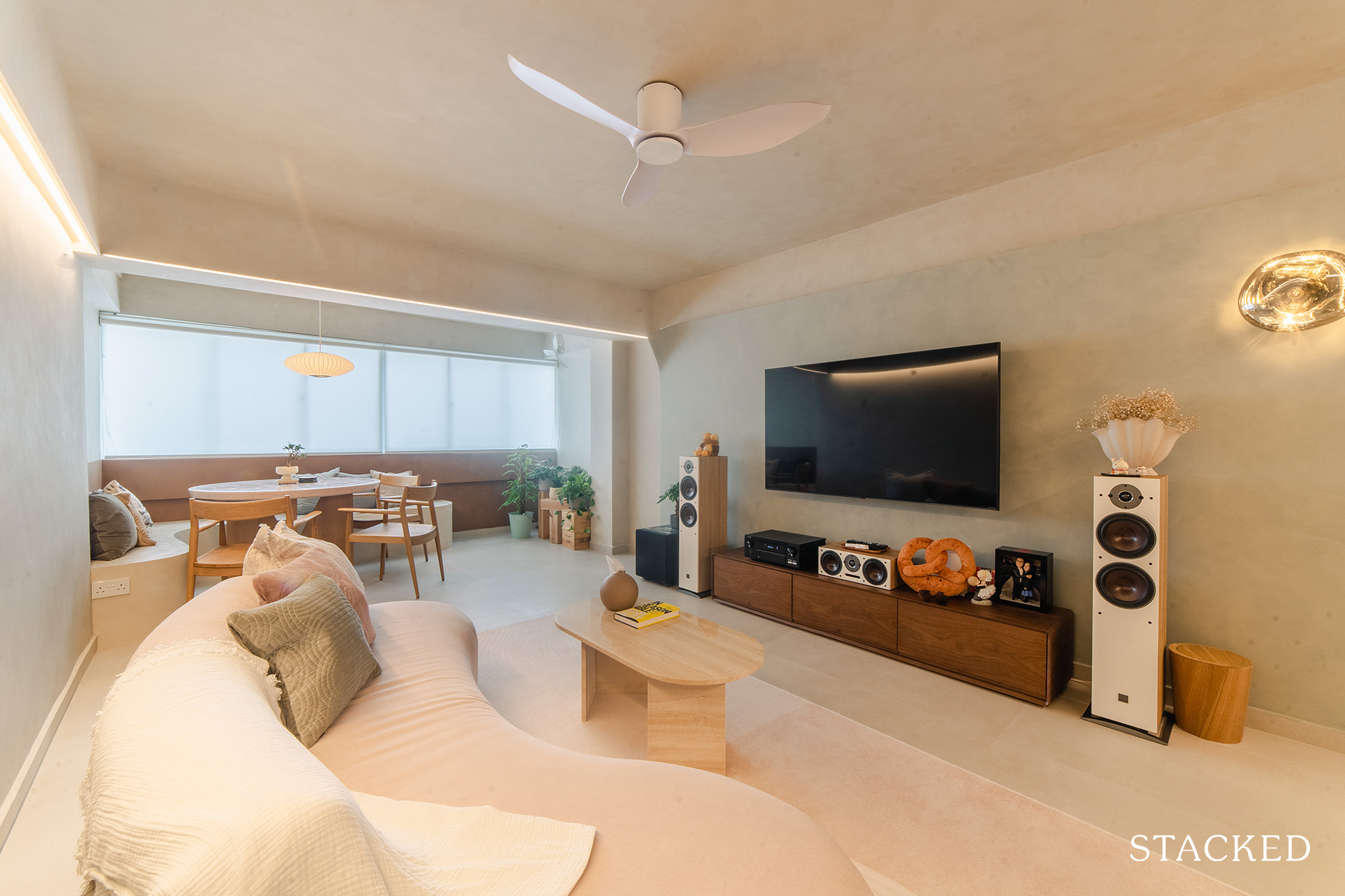 The living room was combined with the balcony, making the area feel more spacious and allowing them to shift the dining area so that it takes up the corner of the balcony.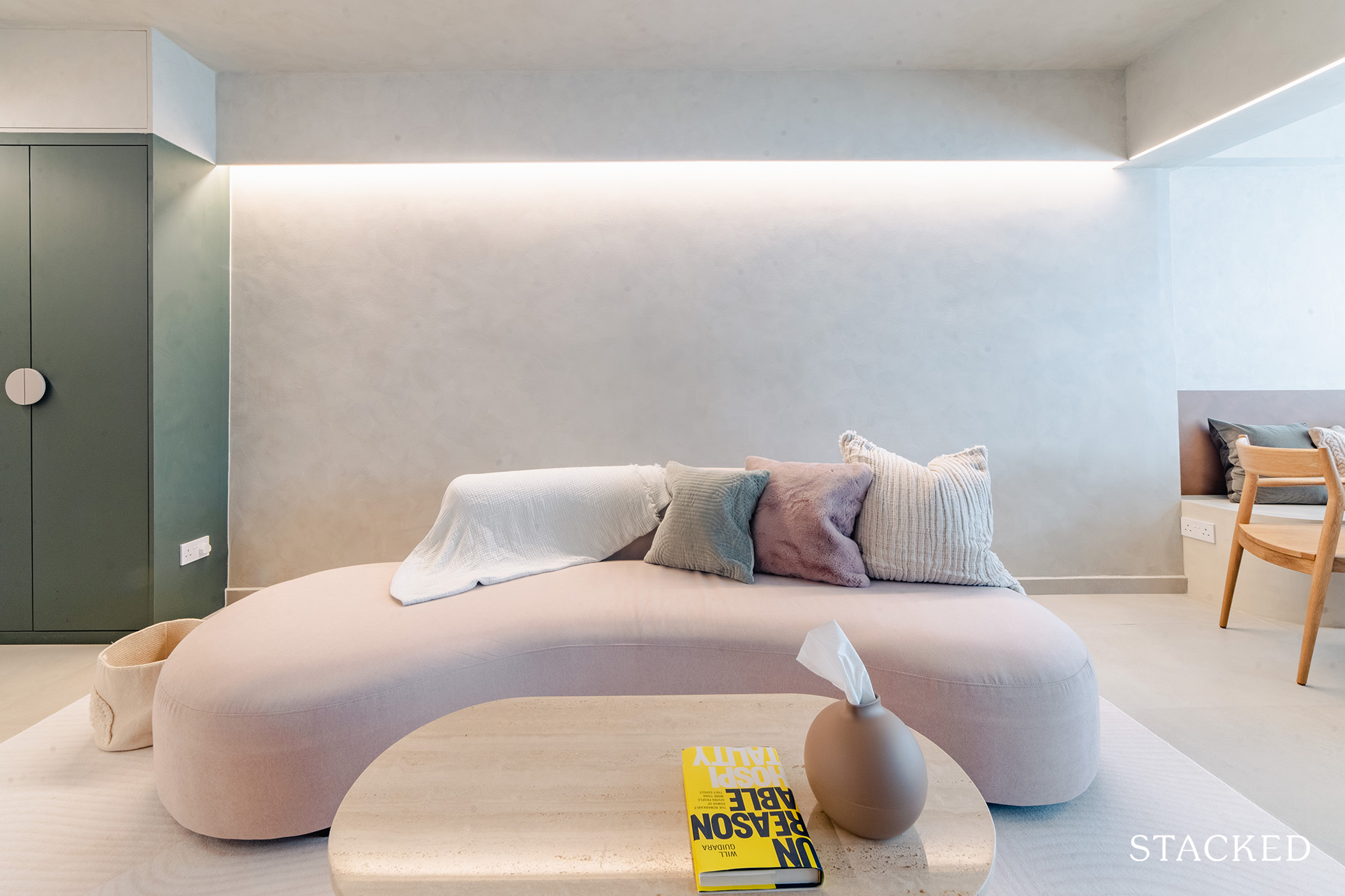 For the sofa, a pastel pink svelte piece was chosen, which goes with the soft vibes of the space. And instead of a floor lamp, they chose to go with ambient cove light.
You'd also notice that throughout the space, the walls are covered in limewash paint. Colin said his wife loves limewashed walls, but given the price, they didn't actually use it throughout their home. Their ID managed to help them work through their budget and suggested limewash paint instead for their living area and a more textured limewash plaster for their master bedroom.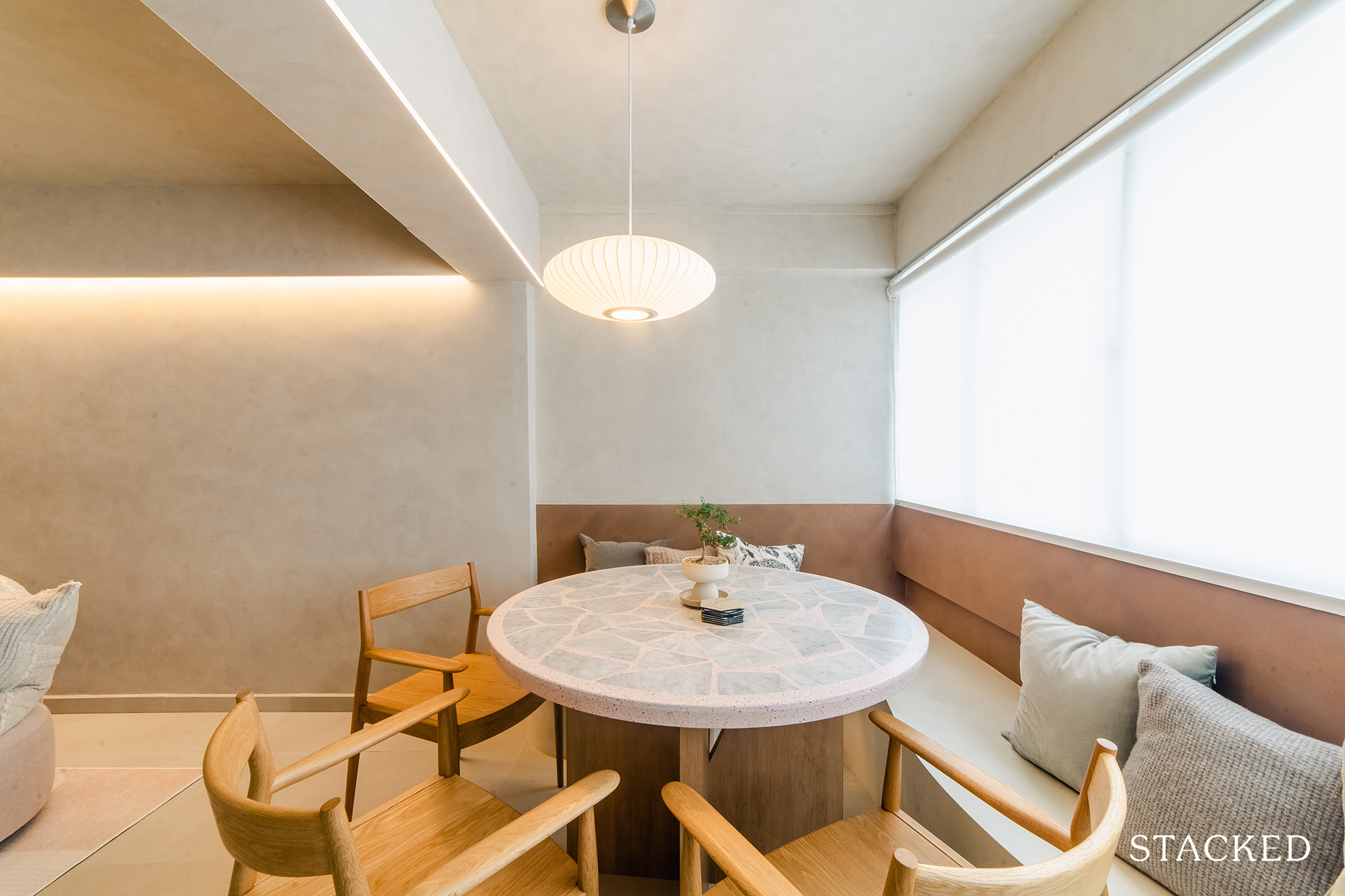 The dining area is kept space efficient with the bench seating on one side, and the HAY Nelson bubble pendant lamp helps to keep the space cosy with a soft glow.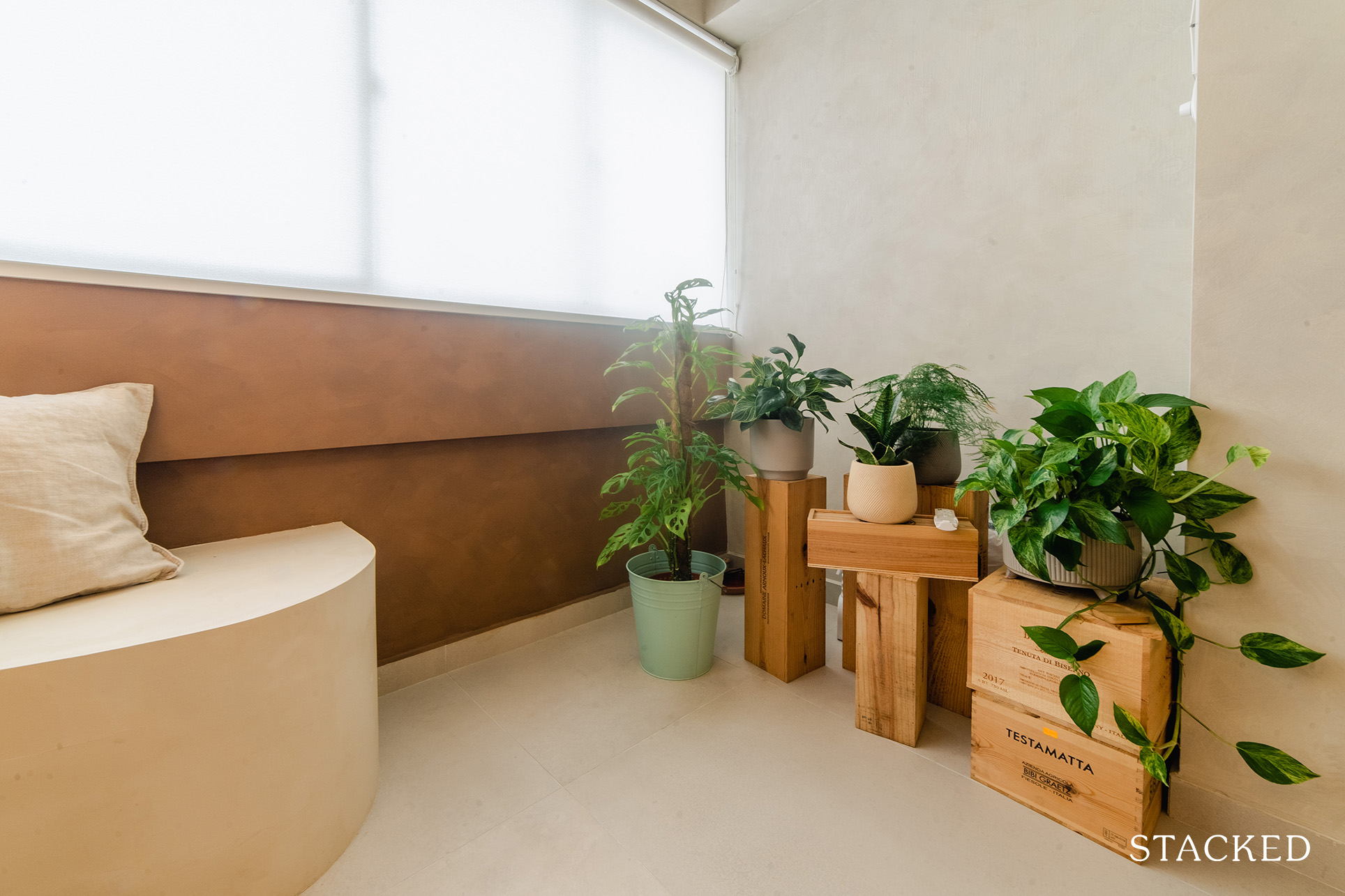 Dry Kitchen Area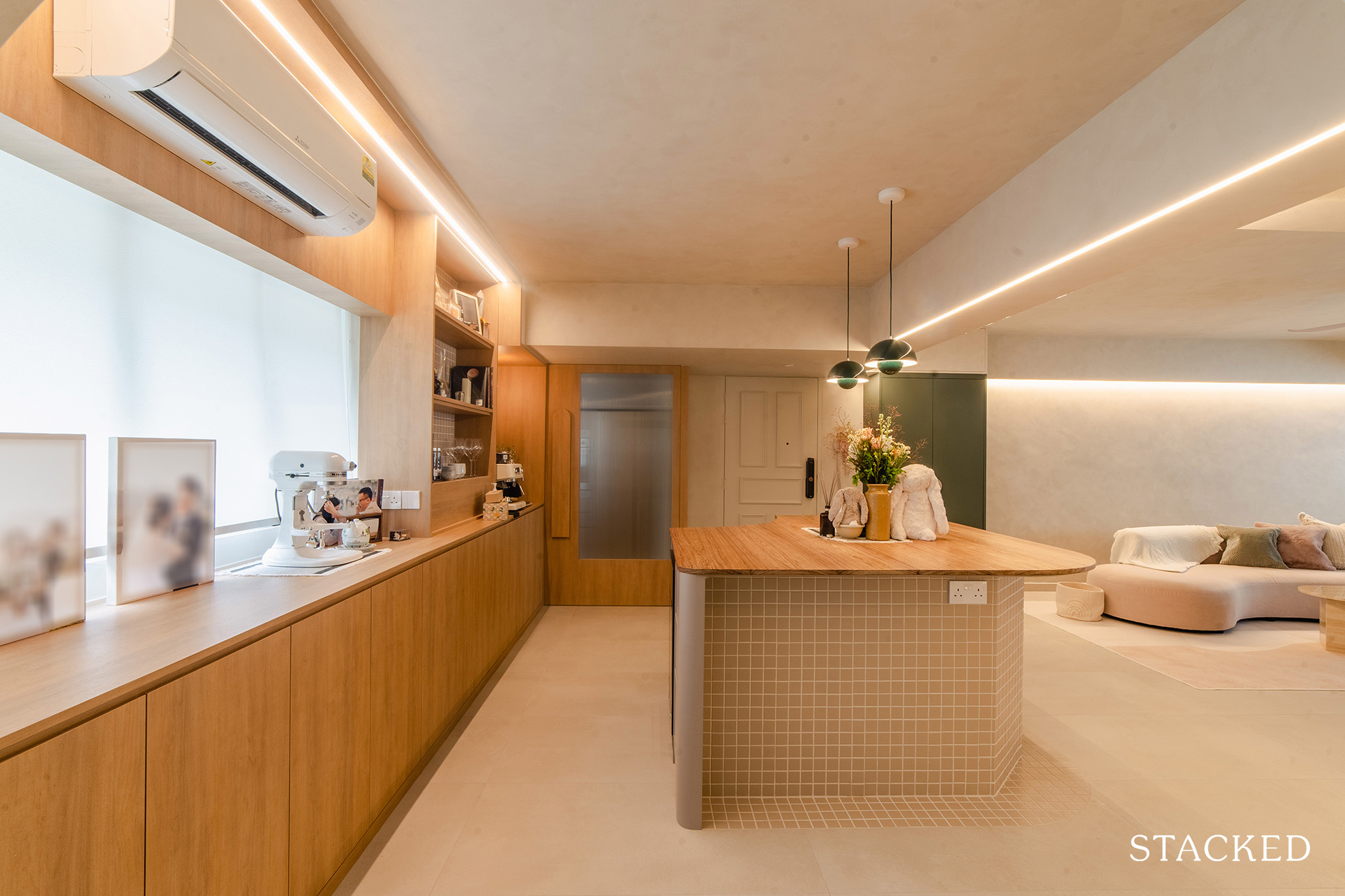 The dry kitchen was originally the home's dining room, which they now opened to create an open-concept layout extending to the dining area on the other end. This unrestricted floor plan helps match the couple's desire to host gatherings easily, making the interaction seamless among these three common areas of the home.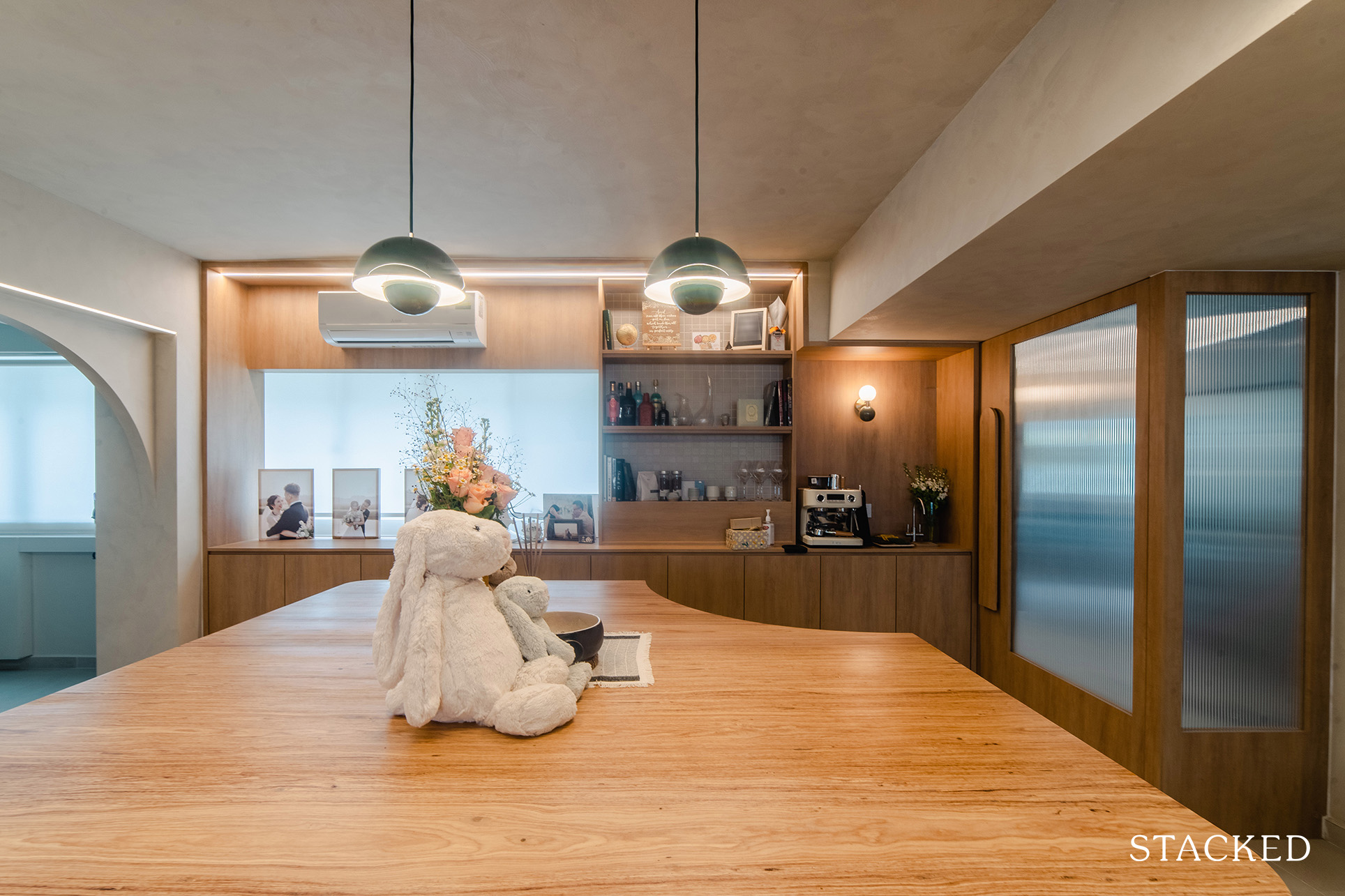 What was particularly interesting here was the countertop that was made from engineered wood called Onewood. Aside from being more durable compared to normal wood, it was also perfectly aligned with the design the couple wanted for a unique feature piece.
"We initially decided on sintered stone and were a little skeptical about having wood as our countertop. But once Serene shared with us the properties of Onewood, there was no turning back." The shape proposed to them was also functional for the little baking sessions Colin's wife likes to conduct with friends and children.
Apart from the countertop, the mosaic tiles were also a "love at first sight!" as Colin puts it. The tiles have a subtle oat shade and are consistent with the backing of their display shelf, as well as their kitchen backsplash, all in all, offering a more cohesive look.
Galley Kitchen
As for the kitchen, they chose to go with the Bertazzoni hob and hood (with a built-in oven), which offers a really distinct look.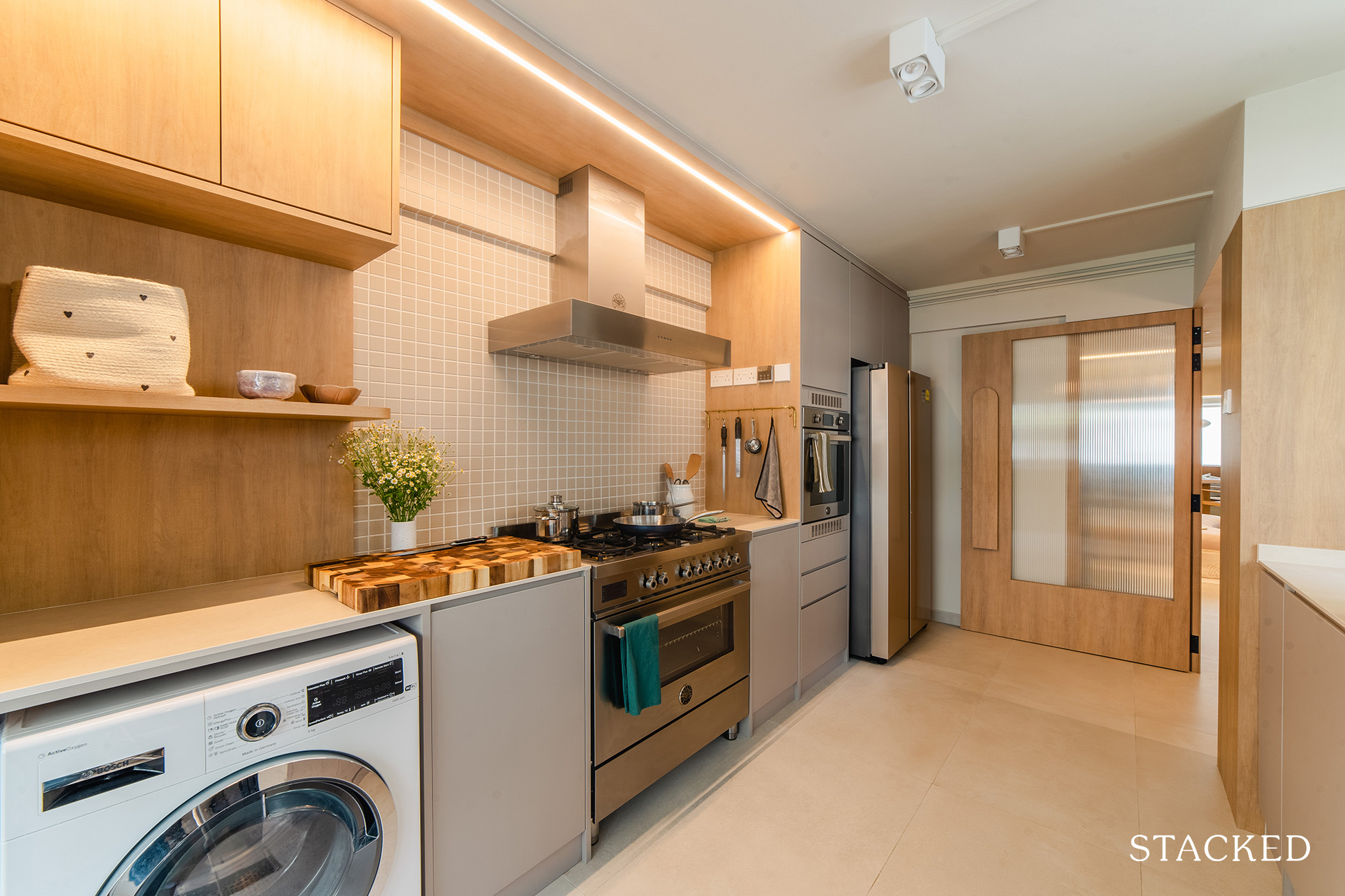 On one side of this area is the entrance to the kitchen proper in galley style. This particular approach is also known as a corridor kitchen – its long narrow walkway allows easy access to the cabinets, counters, and other necessities.
Bedroom/s
The master bedroom was reconfigured to make it bigger and to allow for a walk-in wardrobe.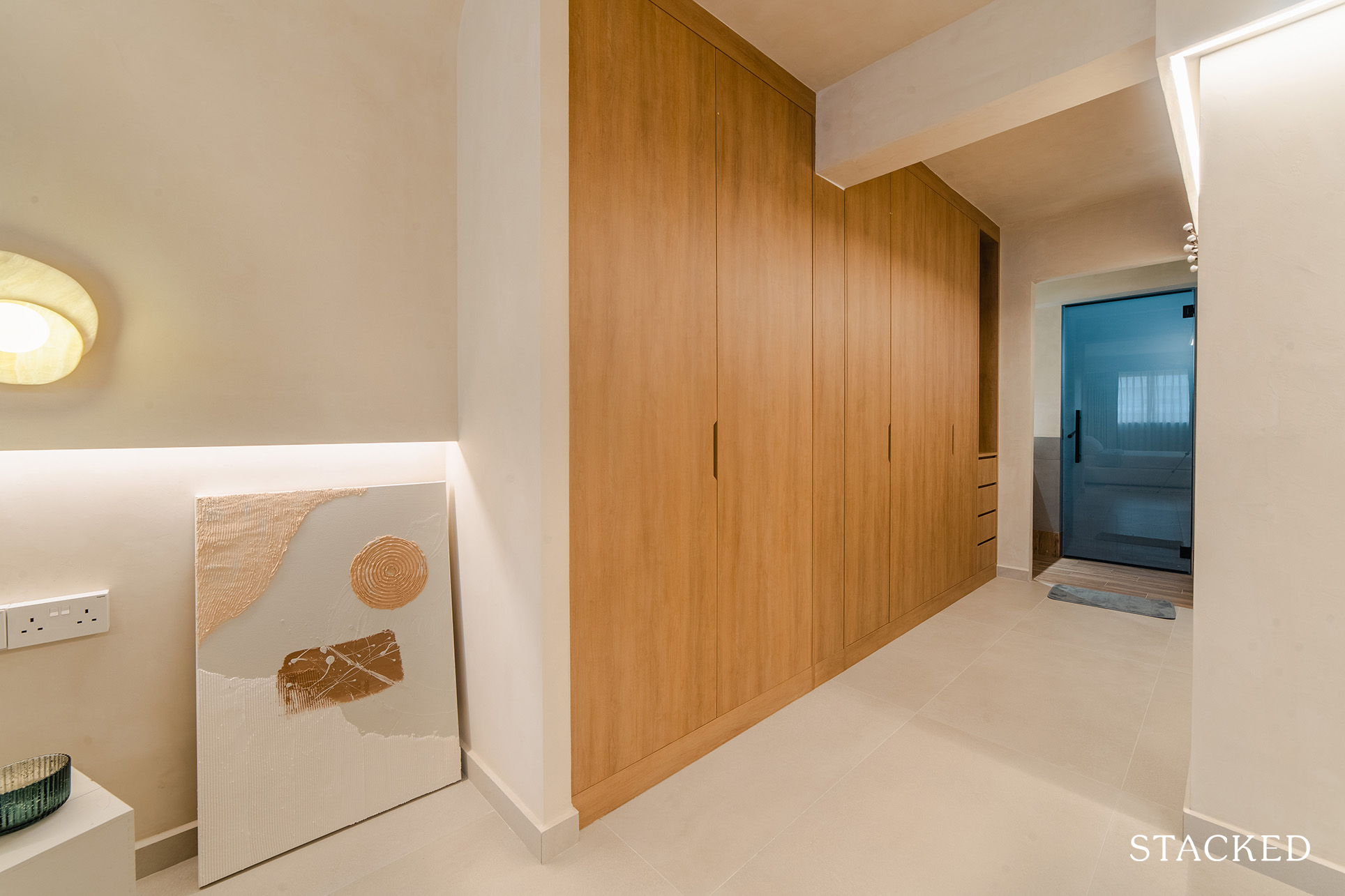 Colin said there were no changes in the common bedroom. On the other hand, common bedroom 2 had to be downsized and reconfigured with an open arch to open up the area.
Bathroom/s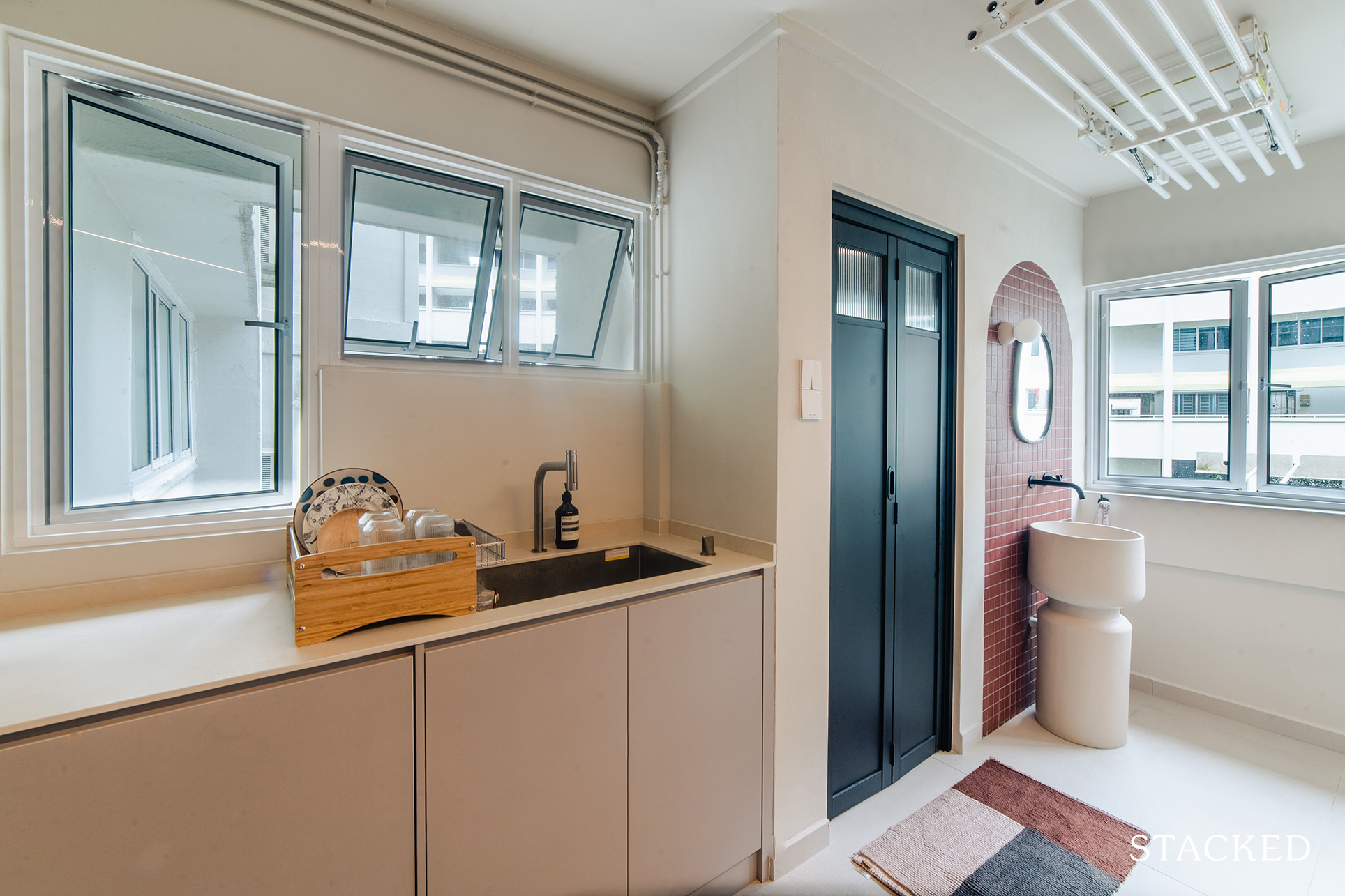 Some people don't bother about yard areas, but the couple really highlighted the space with an arch-tiled feature wall and a curved freestanding basin.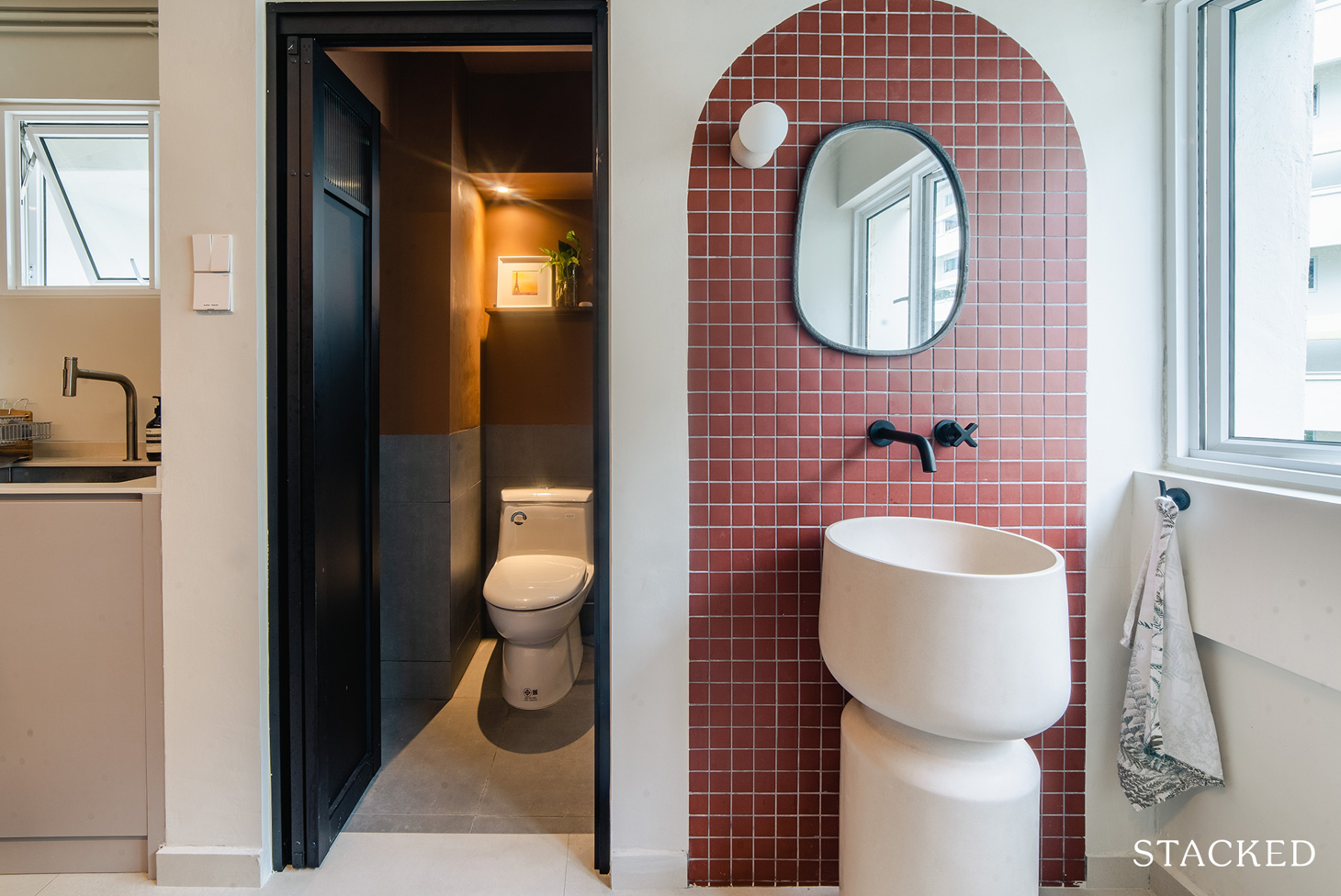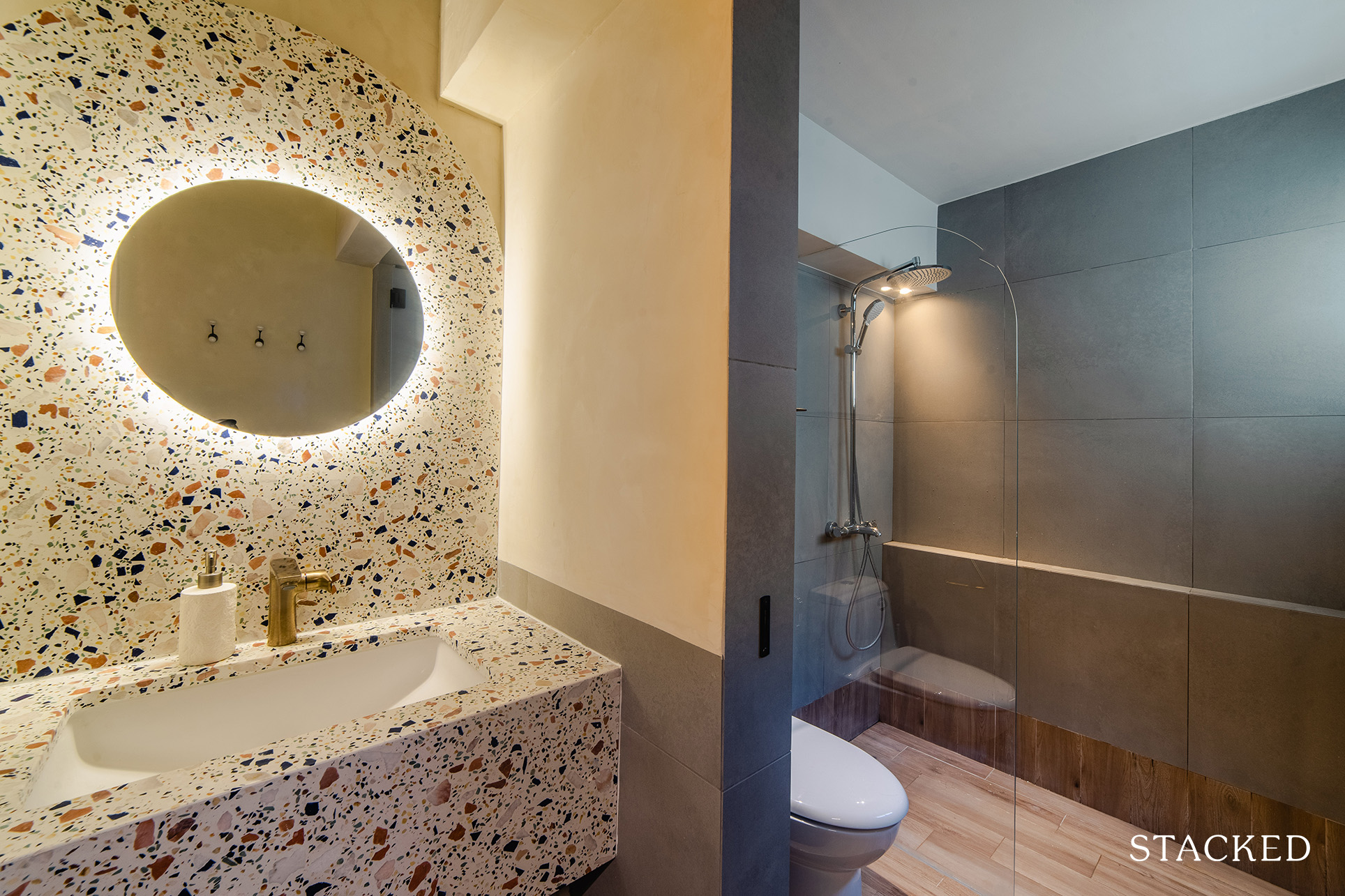 As for the bathrooms, both the master and common bathroom had their sinks brought out of the toilet. As you can see, there's no denying that the highlight of their master bathroom is their customised terrazzo vanity.
Bringing The Vision To Reality
Serene and Yuhui from Intr Studio were their IDs, which they picked because of their unique proposal and use of space. Colin added that they also had a good eye for details and would offer suggestions to improve the place.
Some of the suggestions they received include space management, lighting placements, design of the island, and their walls' aesthetic.
In order to fully utilise their space based on the couple's needs, the original floor plan was adjusted. Then, the soft ambient lighting that was set up in their place helped create a chill and cosy vibe, just as the couple wanted.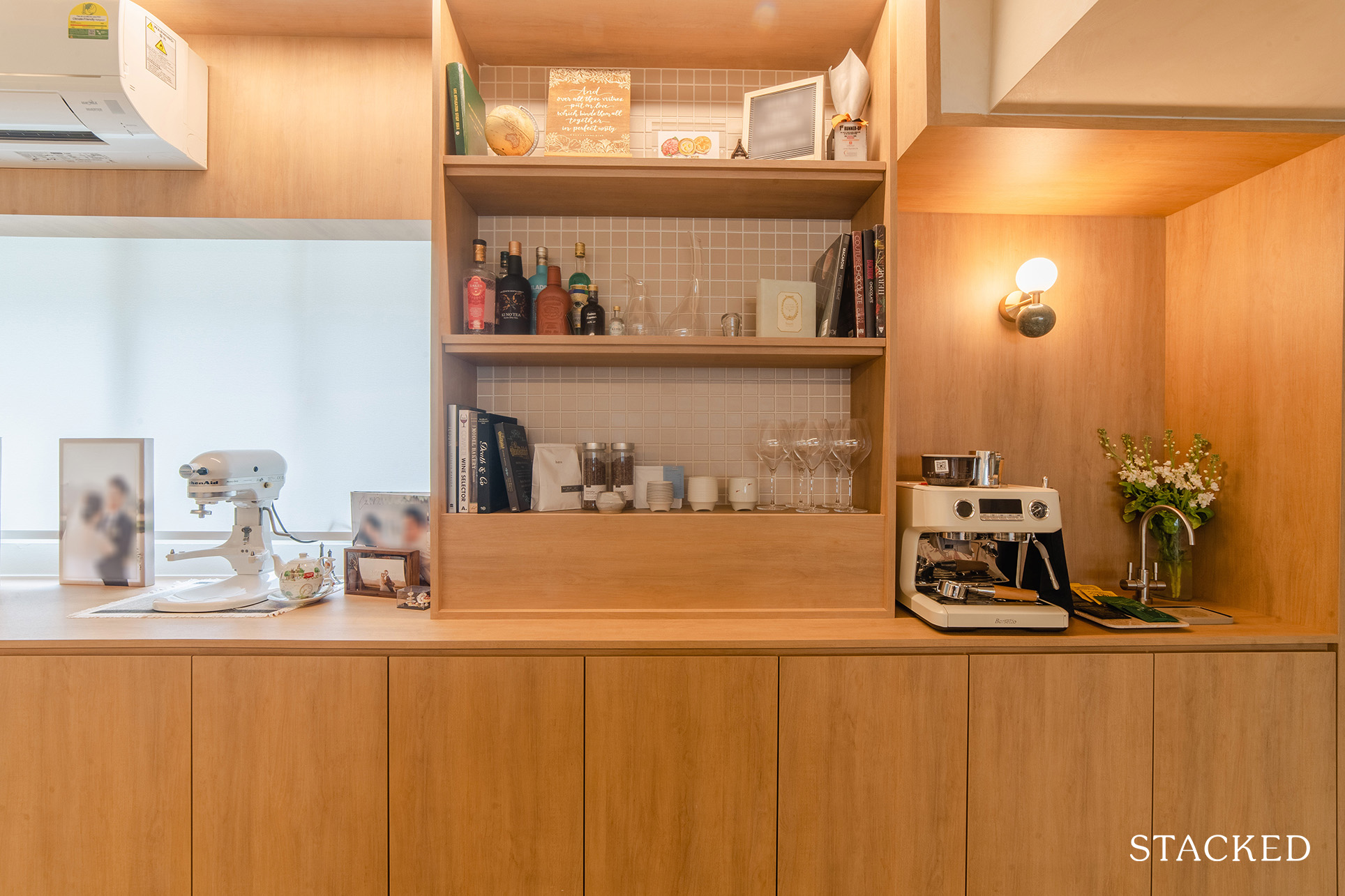 As they wanted their island to be the heart of their house, Serene and Yuhui offered unique suggestions for the island's design. From the shape to the materials and even the tile detailing, their IDs were very meticulous, through and through. "Mrs even has side drawers for her baking equipment," Colin shared, "and I have my wine chiller tucked under."
The couple's furniture sourcing process was rather direct – spending days combining different furniture shops for the right items they wanted for their space. Aside from local retailers, they also purchased some of their items from Taobao.
Many things were on their minds when they were sourcing their furniture, such as price, designs, aesthetics, durability, and functionality. "Ultimately. we asked ourselves if it was something we could put together in the space." There are times when they would take photos and put them into a PowerPoint to help them visualise.
Colin found it difficult to decide which part of the home he would consider the best one. But if he were to go with his wife's choice, it would be the kitchen. "Mrs loves the island area as it's her dream dry kitchen," he said.
Lessons Learned From A Successful Reno Journey
The greatest challenge they encountered, having to work within the confines of the budget, was something that most homeowners had to contend with as well. They were able to push through this obstacle with a simple solution that most people find hard to do, which is discussing honestly with their ID.
"I think many times, as a new homeowner, you want to source out the best deals. But we'd say go with an ID you trust because they have their own 'good deals or insider info' from all the experiences that they've gained too."
Colin continued that mindset and mutual respect are important. "Creating a home needs to have two-way respect. It's dangerous to start out thinking that the IDs are just out there to make maximum profit," he added.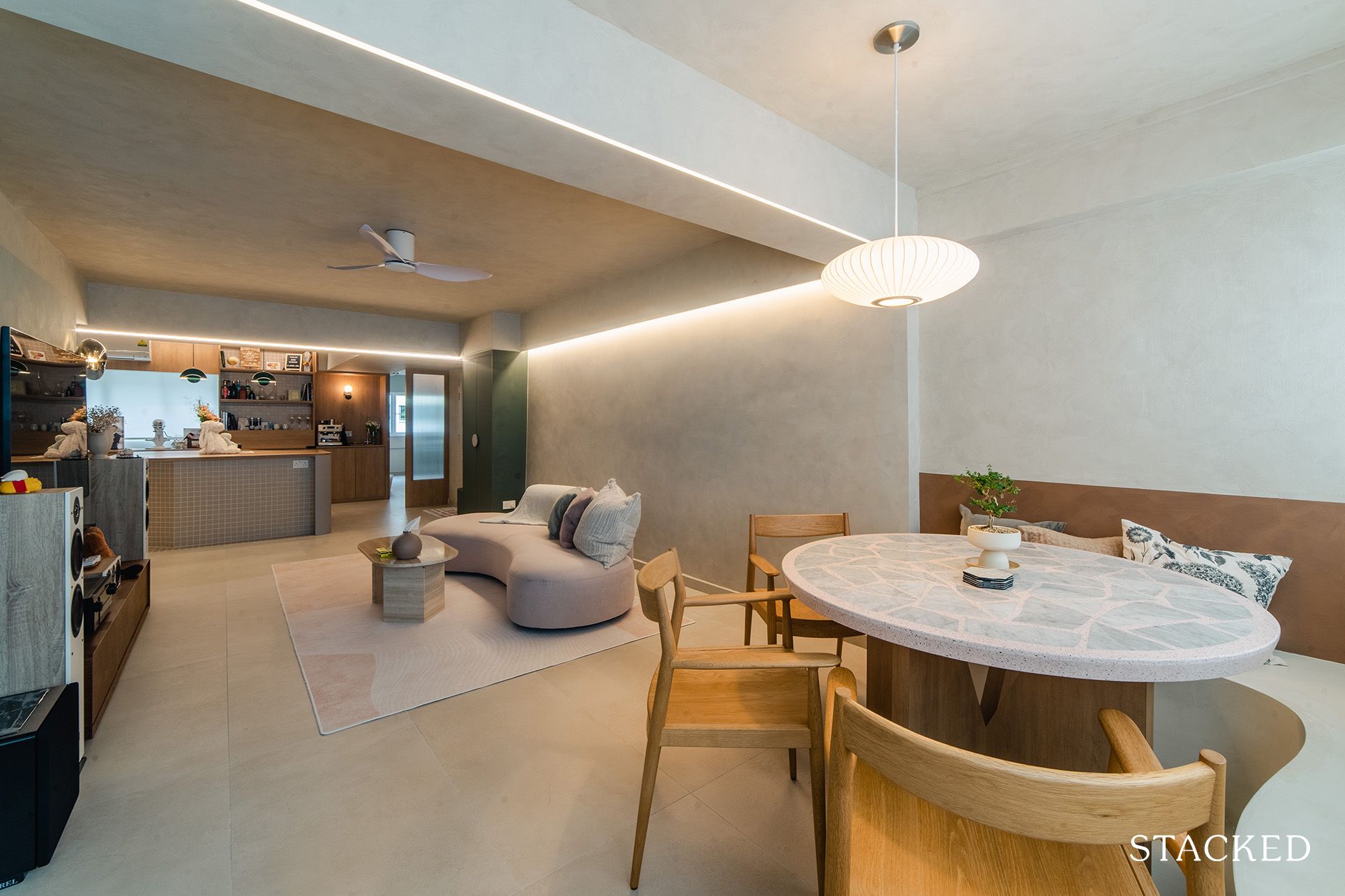 While their IDs helped them to stay within their budget, the couple knew they also had to do their part. "For fixtures, we travelled a lot all over Singapore to find the best deals. It pays to do research as there may be different ongoing deals, cashback, and freebies. Doing your homework is really important."
With the reno journey offering an experiential and effective crash course in home design, the couple also learned things they would like to share.
For instance, the AC and ceiling fans are usually overlooked but are an important aspect. With their study room being quite small, Colins feels they could have done away with an aircon in this space.
Carpentry should also be considered, especially if one is expecting the shelves to hold a heavier weight. "As we decided to have our water dispenser in the living area, the tank was a little too heavy for the shelving that was provided."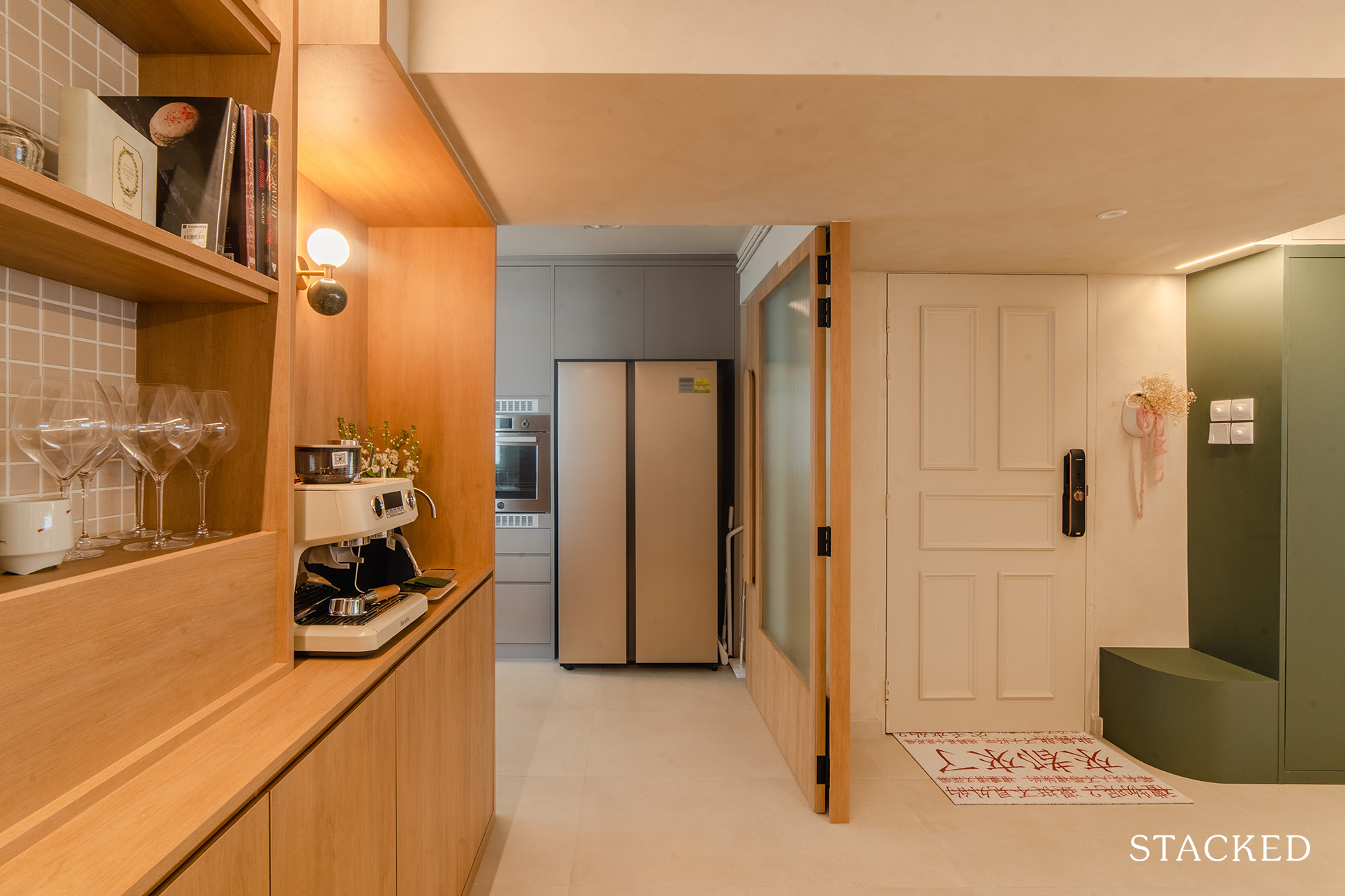 Last but not least, Colin shares some well-founded advice for new homeowners who are planning to go on a reno journey themselves.
"A home will always be a work in progress, take time to savour the journey. Having the right ID helps to solve many problems, as their experience helps in decision making."
During their renovation, there were many times they felt decision fatigue, and Colin further shared an instance of this. "We were trying very hard to find the right side table that we wanted. After sharing with Serene, she suggested painting some crates in the same colour as our walls – and we loved the outcome so much!"
Having their IDs walk them through their choices really helped them move in the right direction when putting the house together. So aside from picking the right ID for the job, steady and clear communication with your ID is also important.
SHARE