From A 30-Year-Old HDB To A Raw Eclectic Home: How A Couple Designed Their Home For $70k
Renovation Journeys
From A 30-Year-Old HDB To A Raw Eclectic Home: How A Couple Designed Their Home For $70k
WRITTEN BY Stacked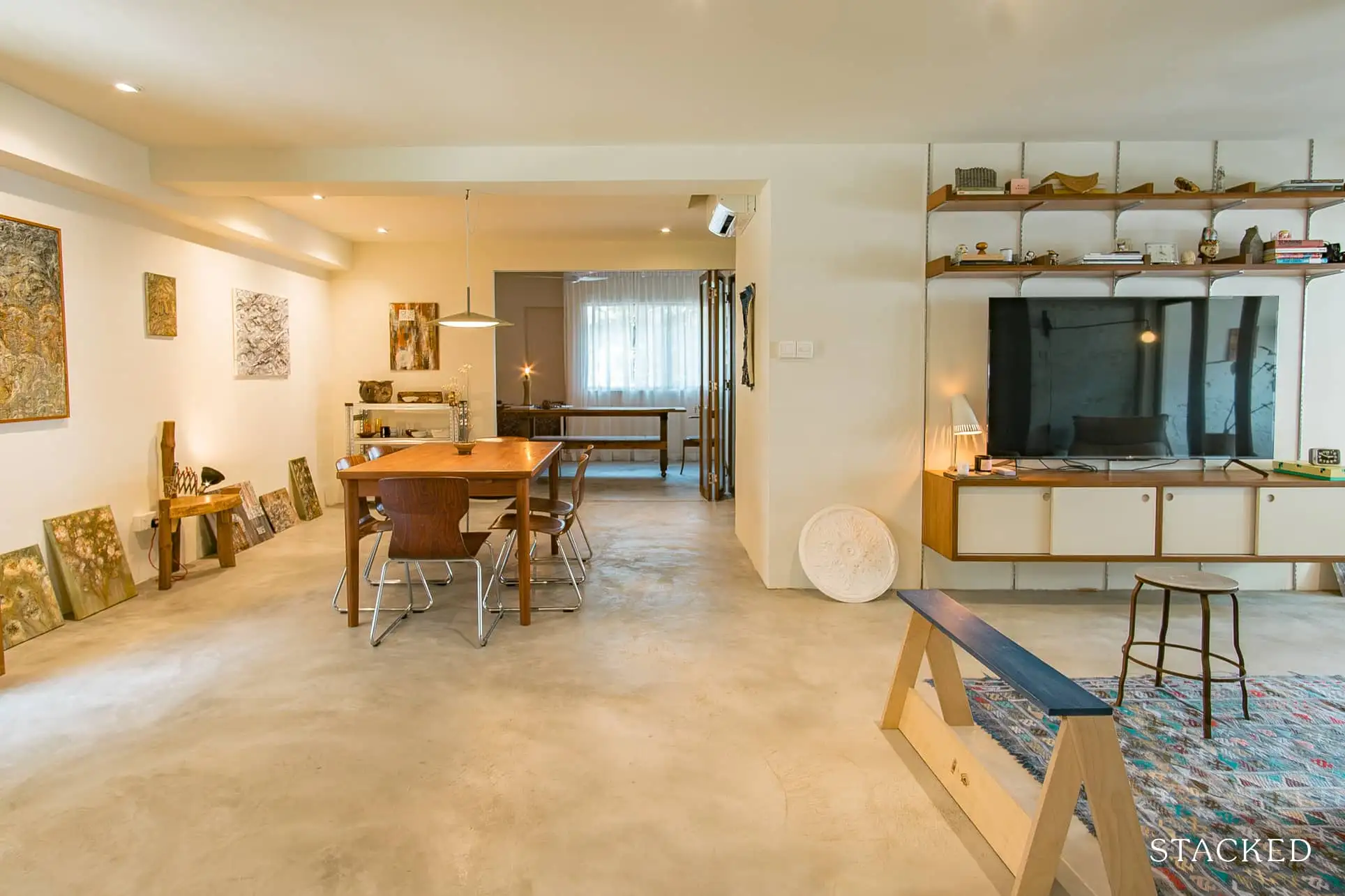 6
min read
B and C (@bedoksouthhouse) found their dream flat in Bedok South, and it wasn't just the inside that caught their eye. The road leading to their block is shaded by tall trees, creating a cosy feel every time they come and go. Plus, with markets and shops just a short walk away, the location was a big win for the couple.
They were also excited about the size of the flat. Even though it was 30 years of age, they saw a lot of ways to tweak the layout and make it perfect for them.
Now, it's home sweet home for the couple and their two cats, Billi and Momo. Dive in with us as we discover how B and C transformed this old flat into their cosy nook.
How The Renovation Journey Turned Out
From the outset, B and C were resolute about their budget for renovating their Bedok South flat. "We were looking at around 70k just for the built cost, and we were determined to stick to it," B recalled. Thankfully, they managed to do just that, achieving their vision without any unforeseen expenses.
Their renovation vision was grounded in the unique T-shaped layout of their home. C shared, "The house was essentially T-shaped, so we wanted to accentuate that. It was amazing how stretching the space in those two axes allowed the main central space to be illuminated with natural daylight from five different locations."
The result? An airy home, graced with cross-ventilation and an abundance of natural light.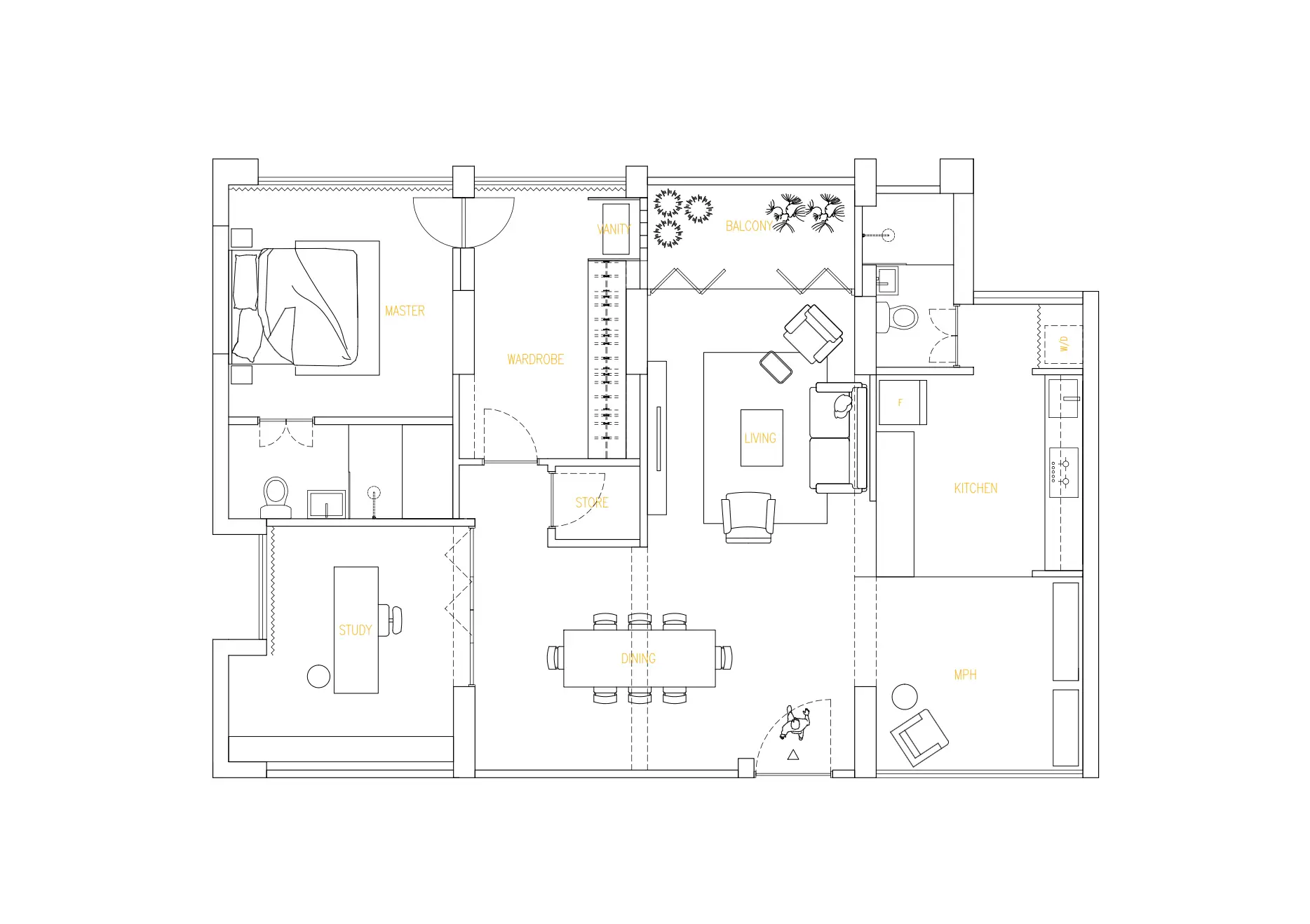 As they embarked on the design journey, they wanted the home to speak of simplicity and tactility. C explained, "After deciding on the architectural aspects, we were drawn to a tactile and unassuming home. Concrete, stained plywood, and stainless steel were our go-to materials. It created a quiet canvas, and our personal furniture and items just brought everything together."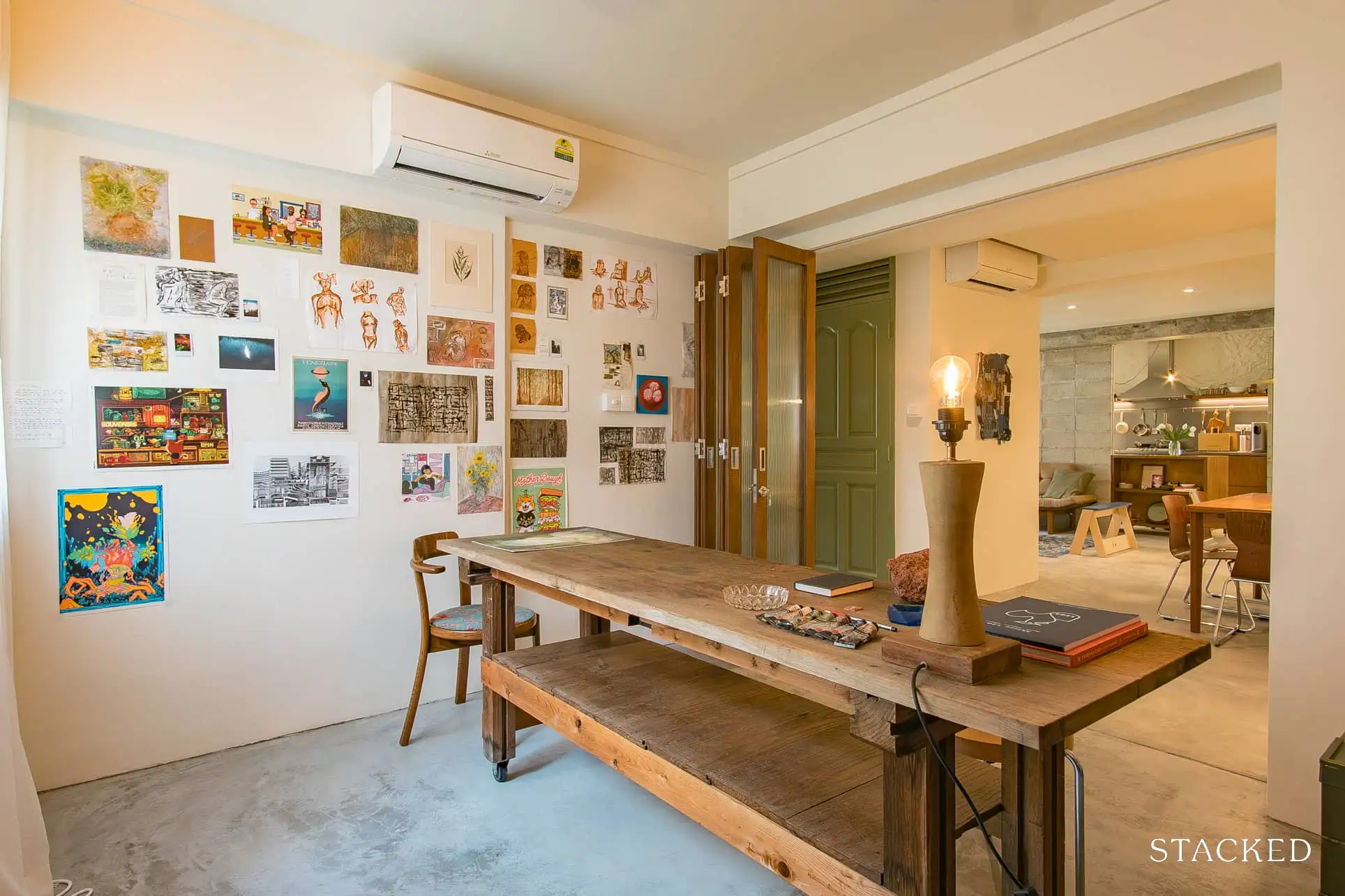 Several transformative changes were made to the original layout to bring their vision to life. "We removed the bedroom by the corridor window to turn it into a multi-functional space. The kitchen was overhauled for an open vibe, and the balcony, which was previously a room, was taken back," B shared. They also created a study overlooking the main areas and a functional walk-in wardrobe from existing bedrooms.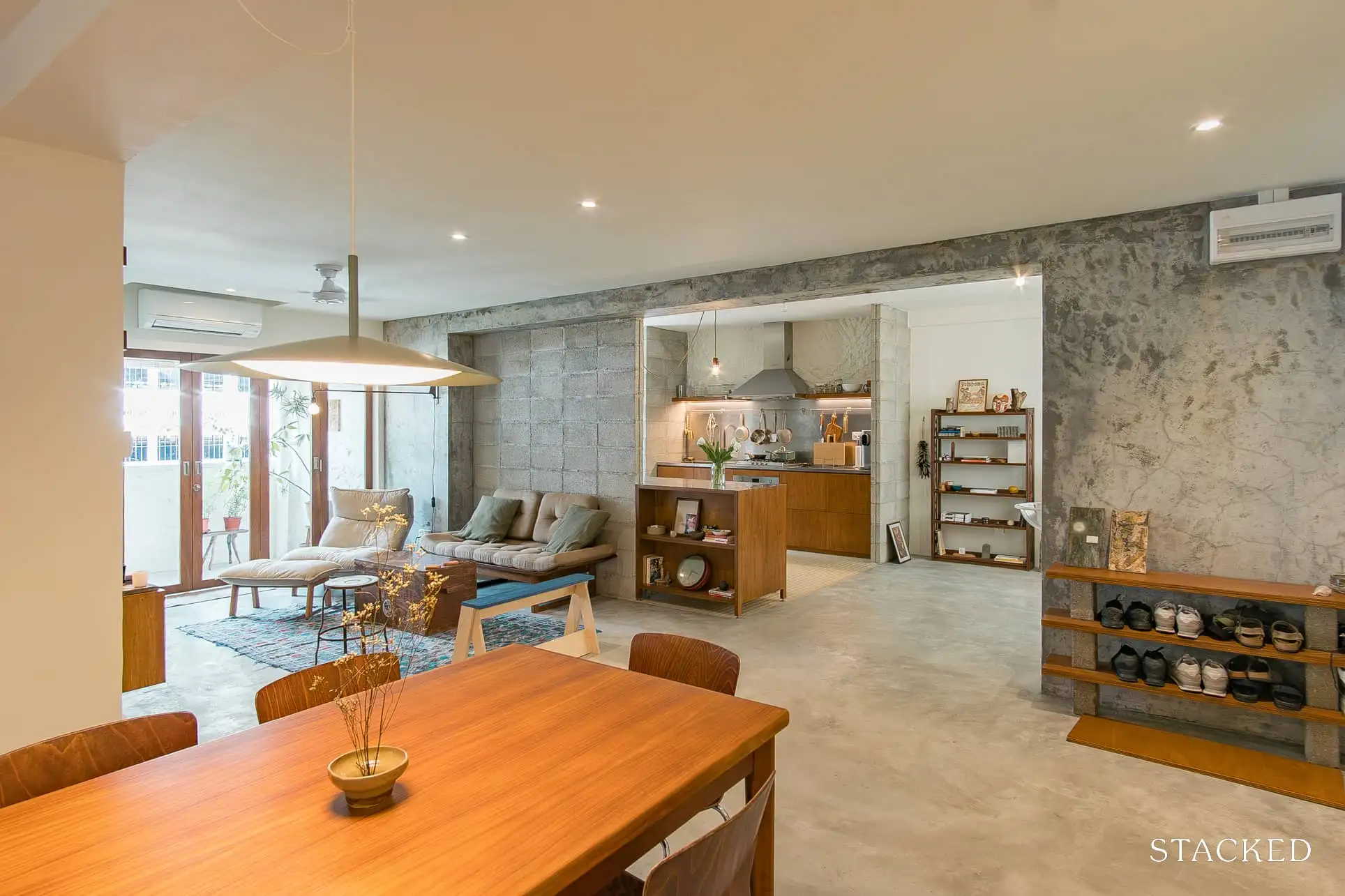 Living Room
The heart of every home, the living room in B and C's space took on a completely refreshing look with its new cement screed floor finish. But what truly set the space apart was its newfound connection to the open kitchen.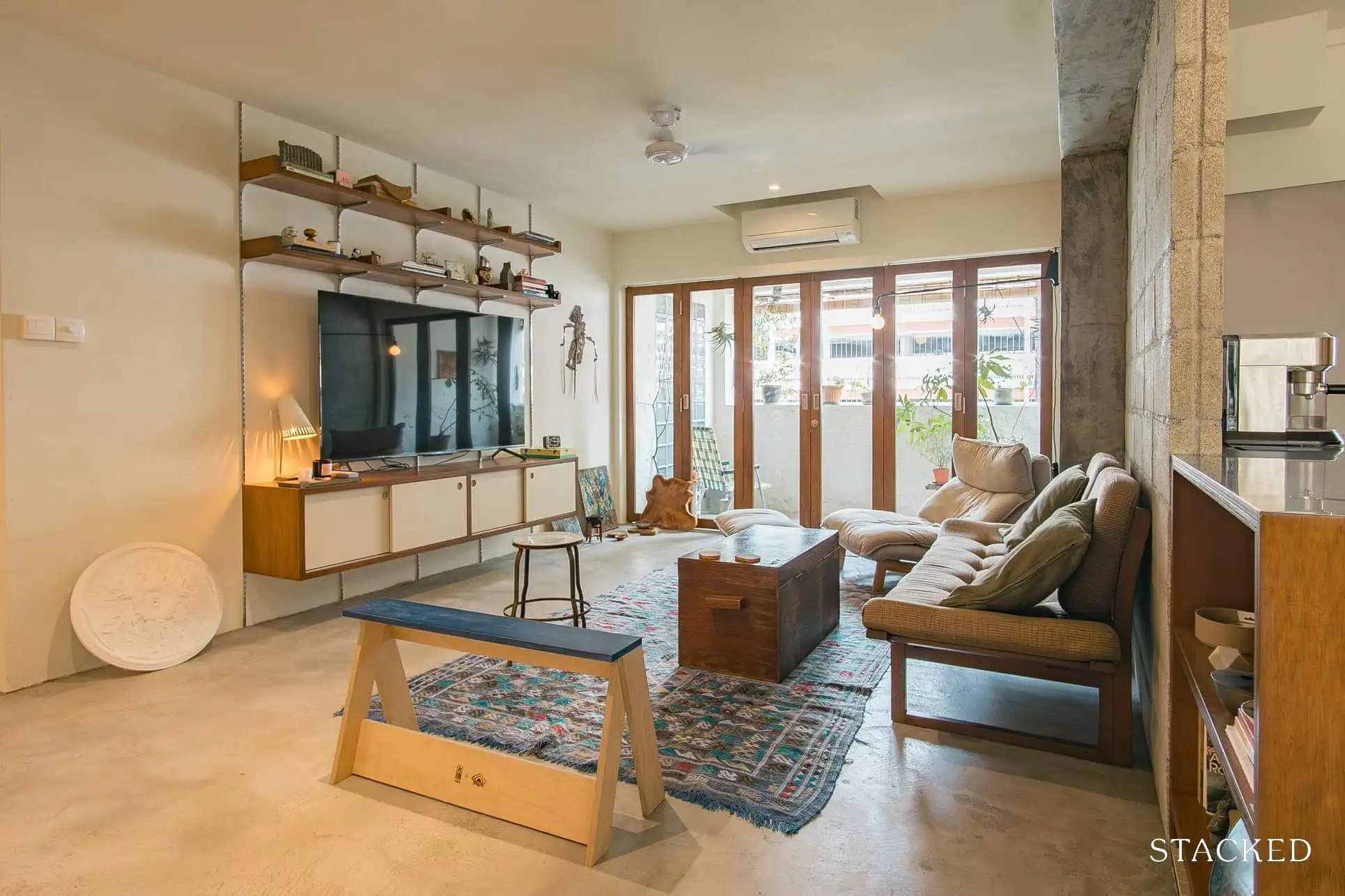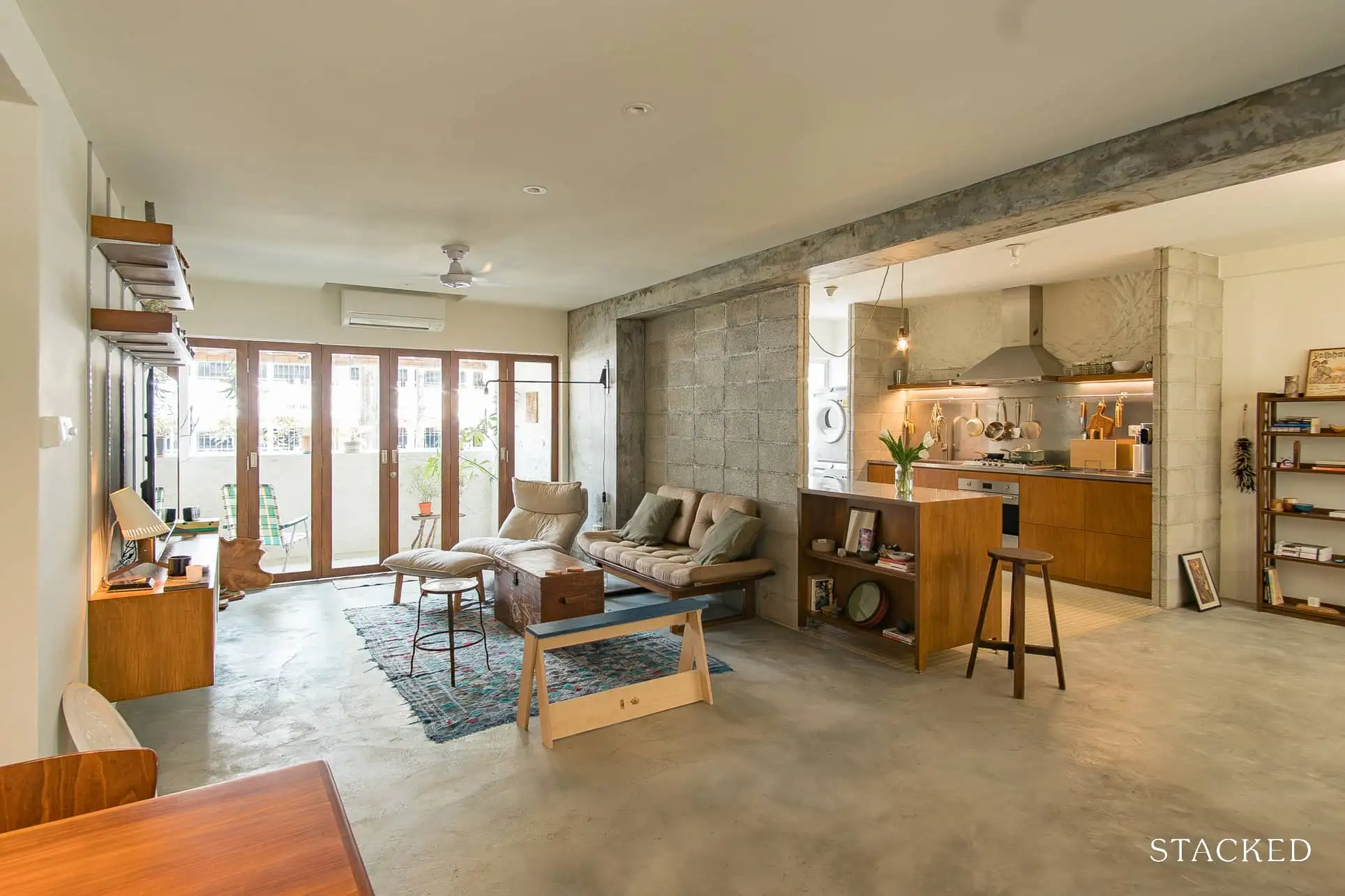 Dining Room
The cement screed didn't stop at the living room; the dining area was graced with the same sleek finish. But the true star was the enhanced view. "So, we opened up the view through the study room window.," B shared. It's easy to imagine how this change could make dinners more scenic and conversations more engaging.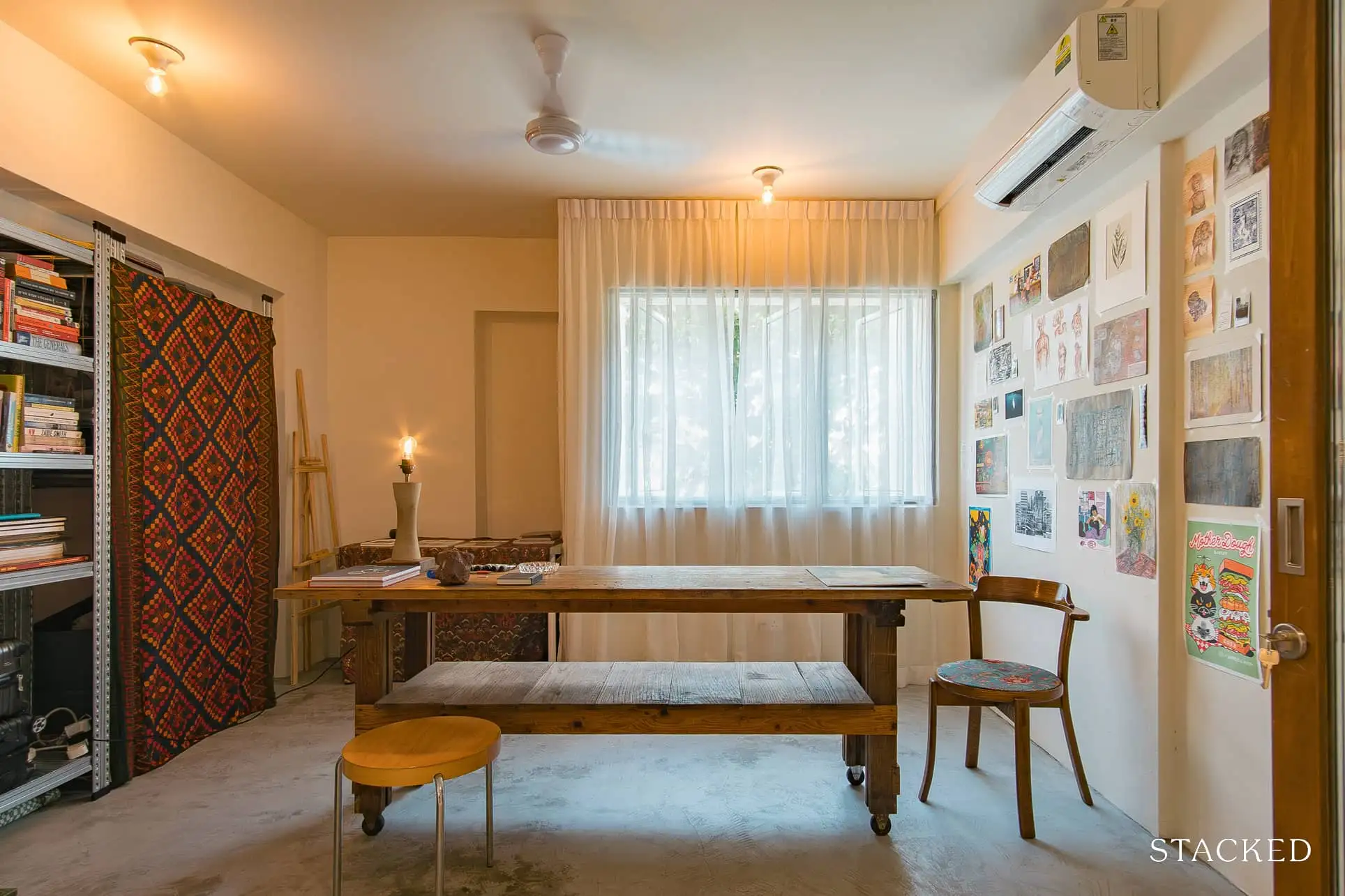 Kitchen
For many, the kitchen is a sacred space, a place of creation and experimentation. B and C were no different. The introduction of an island and the major overhaul not only improved functionality but also made the space feel larger and more inclusive.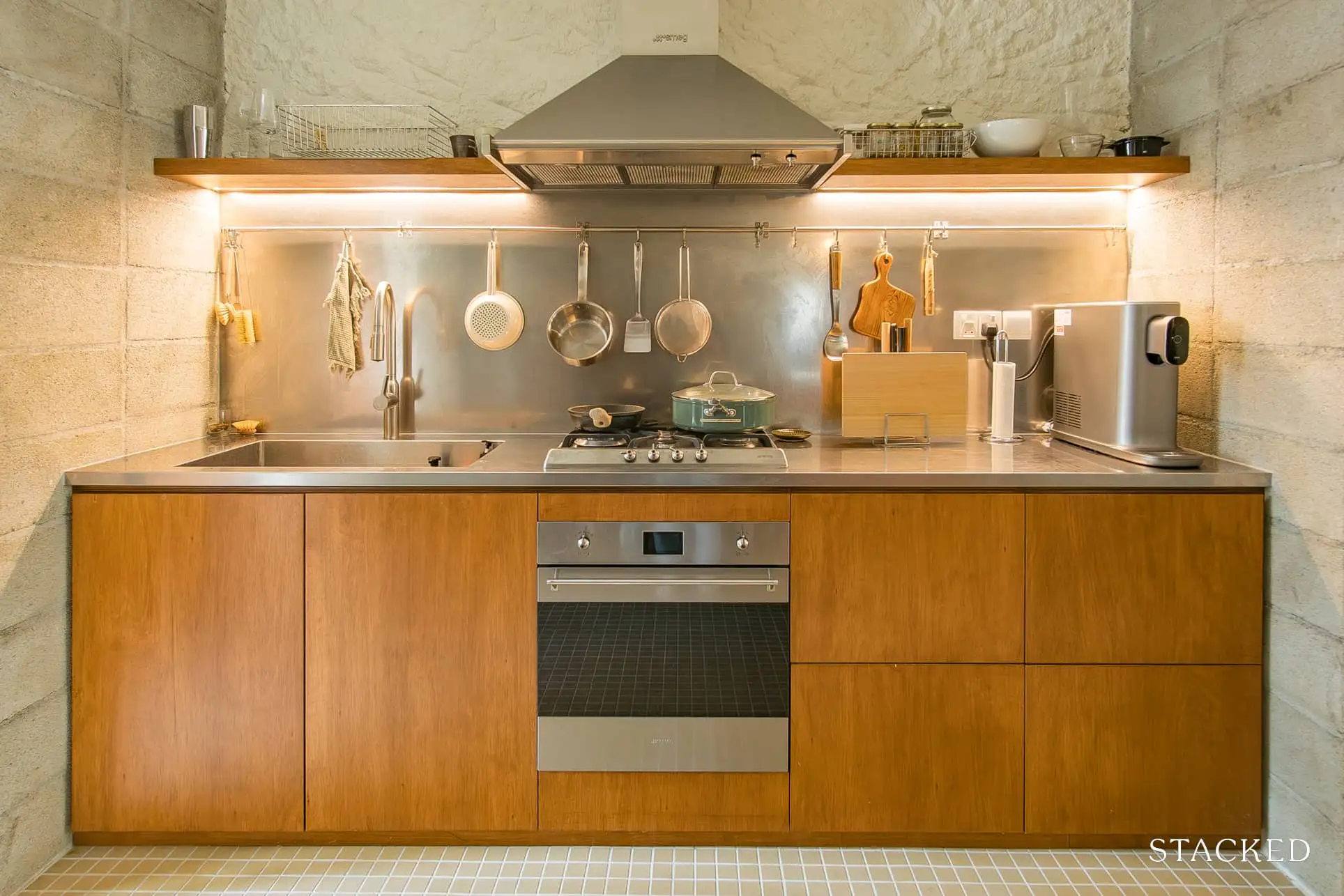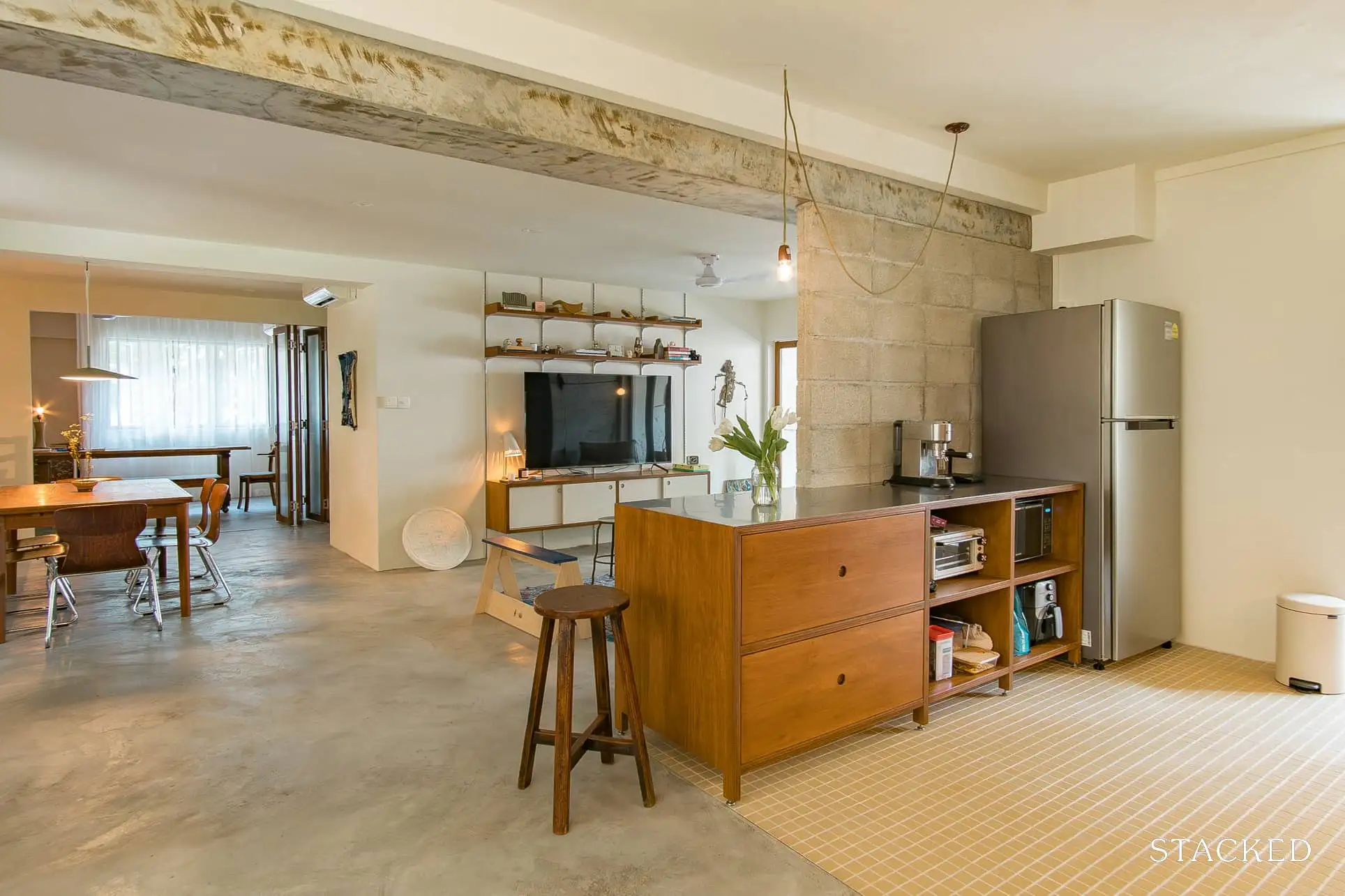 Bedroom/s
Transformations weren't limited to just the communal spaces. Bedroom 1 was rebuilt into a study room, complete with bifold doors, providing the couple with a quiet retreat for work or reading. Bedroom 2 saw its own transformation into a walk-in wardrobe.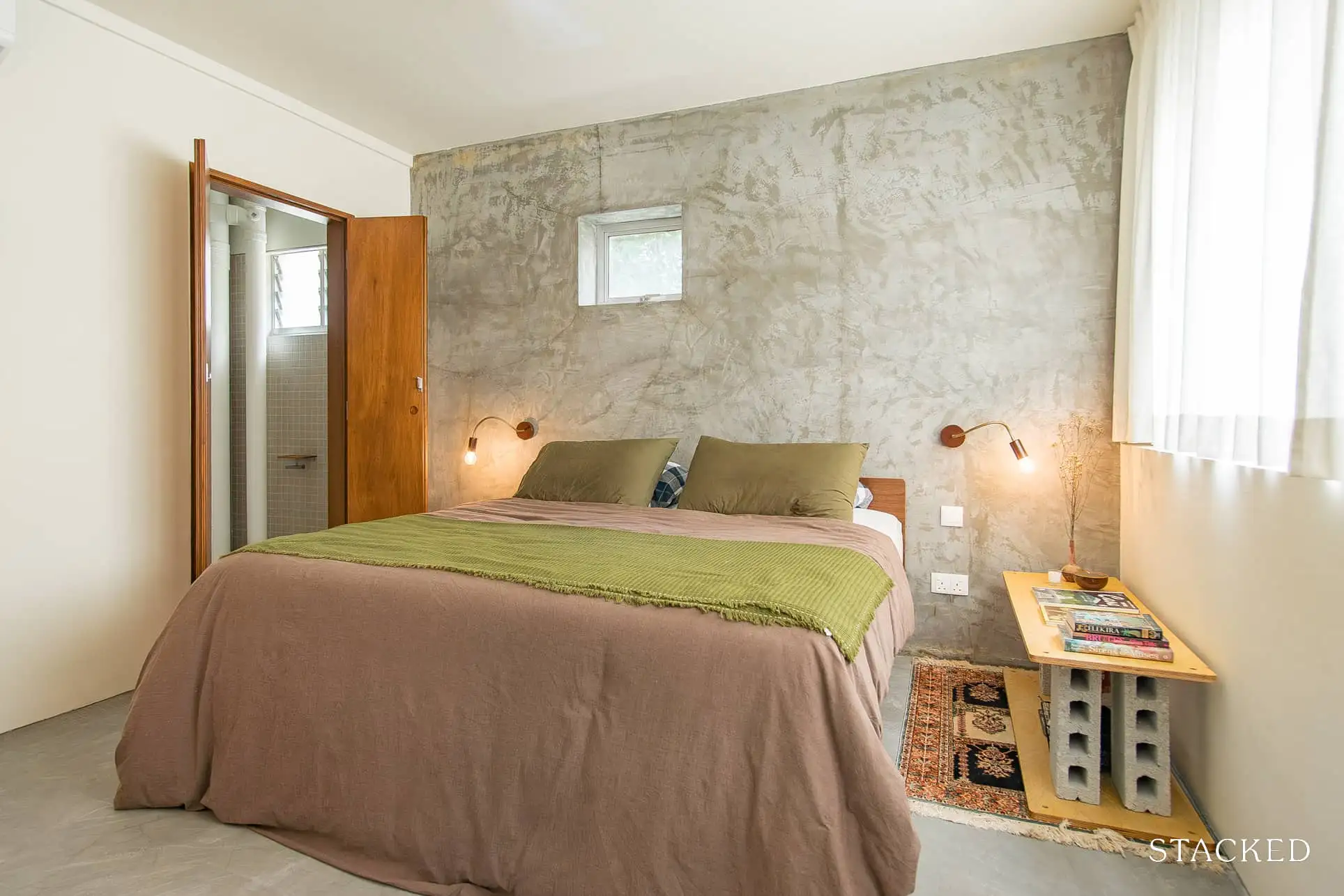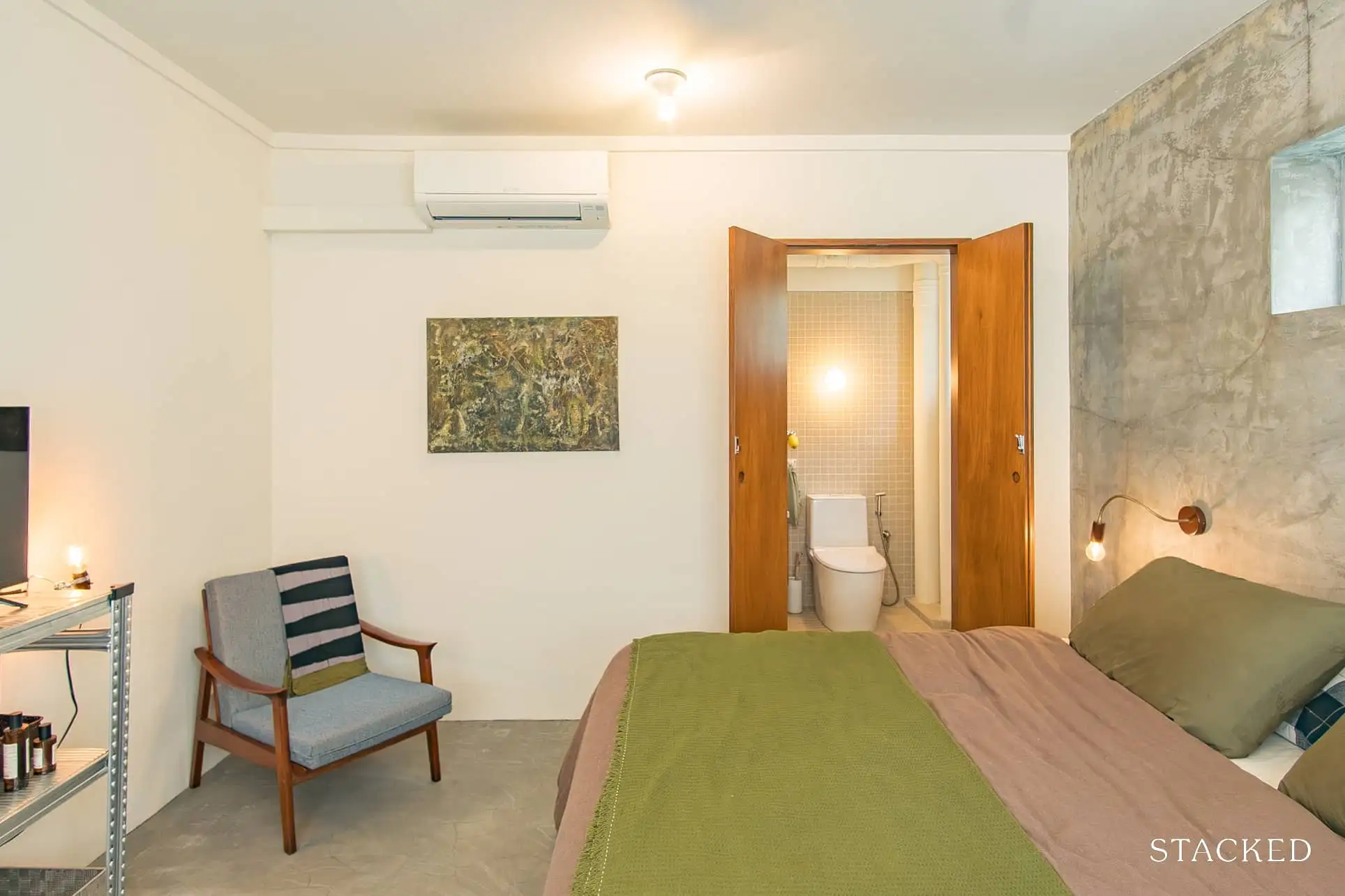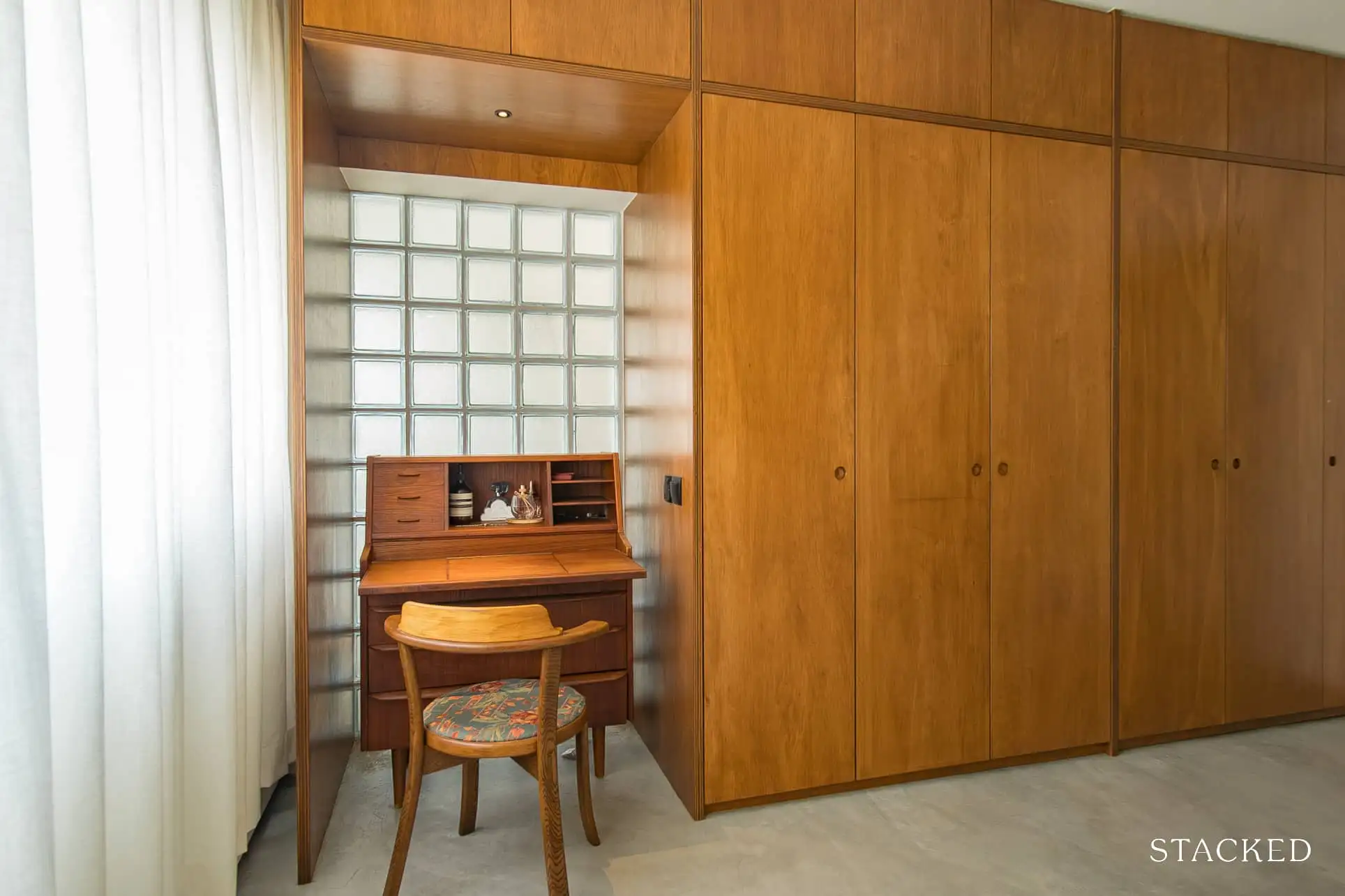 Bathroom/s
Both the common and master bathrooms also underwent significant overhauls. This came in the form of new mosaic tiles for the floor and wall, and also stainless steel walls for the shower area.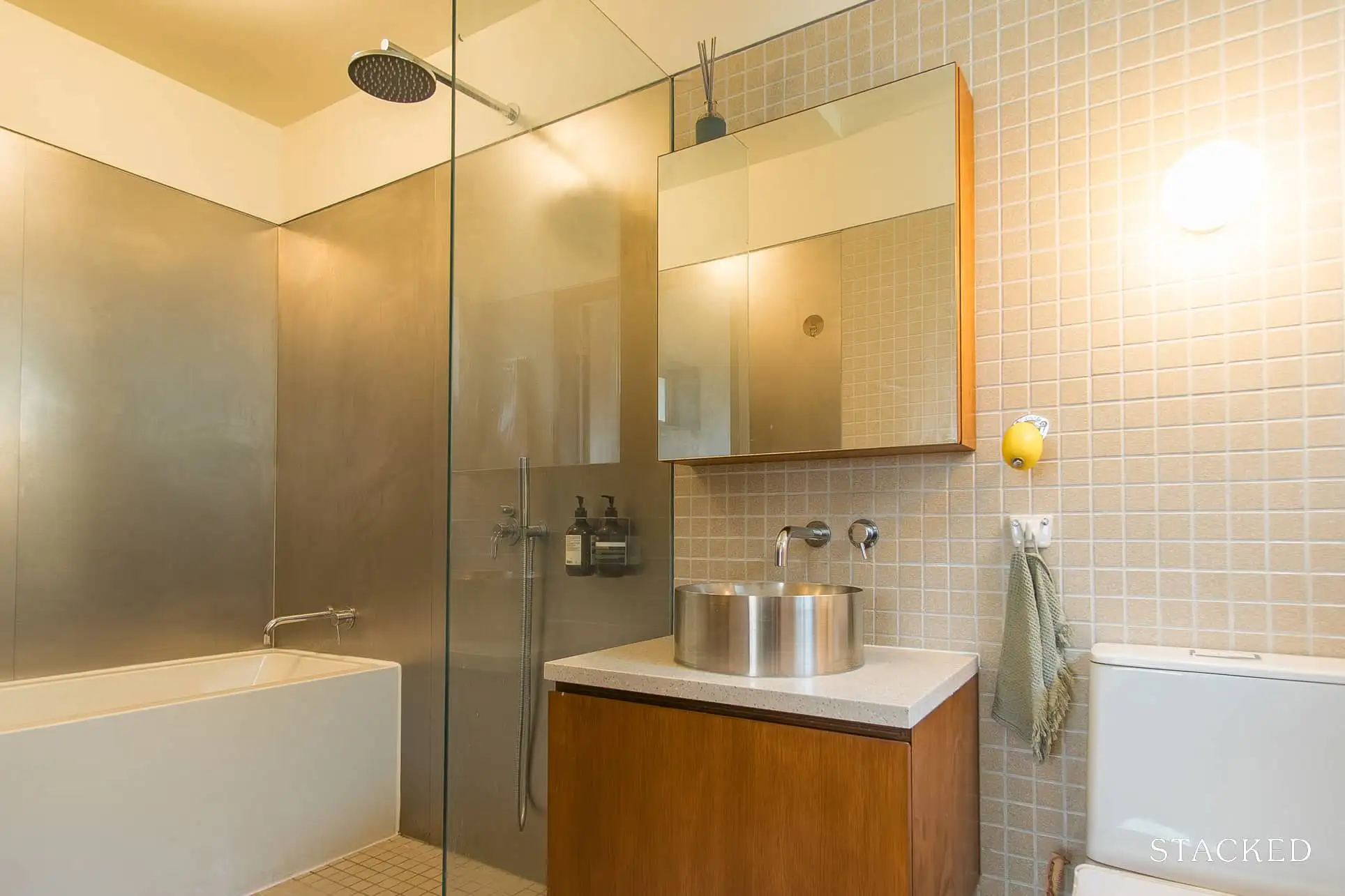 Bringing The Vision To Reality
So was the final outcome close to what the duo had imagined? The results spoke for themselves. "We did spend a lot of time trying to conceptualize the house, I think at the end of it, we managed to achieve what we intended for the space," shared B.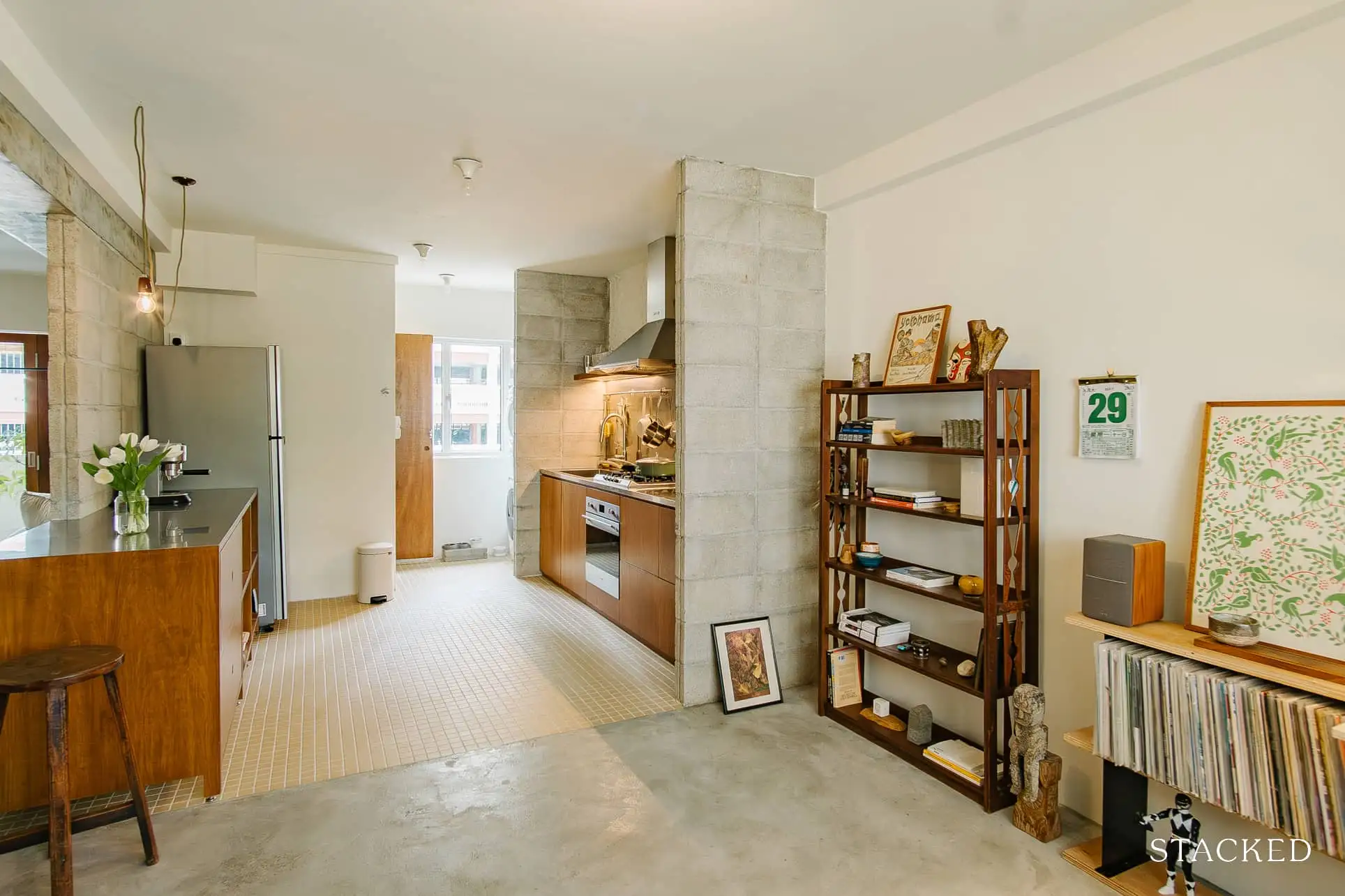 When it came to the choice of their renovation contractor, their decision was thankfully an easy choice thanks to professional ties. "LCN Interior Design Pte Ltd," B shared, "I'm a designer, and they are one of our regular builders."
Their approach to furnishing the house was nothing short of a global treasure hunt. "A lot of our furniture, lights, fittings, and objects come from various parts of the world," D explained. While some items could be readily sourced from regular websites and stores, a significant portion of their unique collection was the fruit of years of meticulous curation. "Our home allows us to showcase our passion for things vintage and old, all with their own stories and individual characters," he added.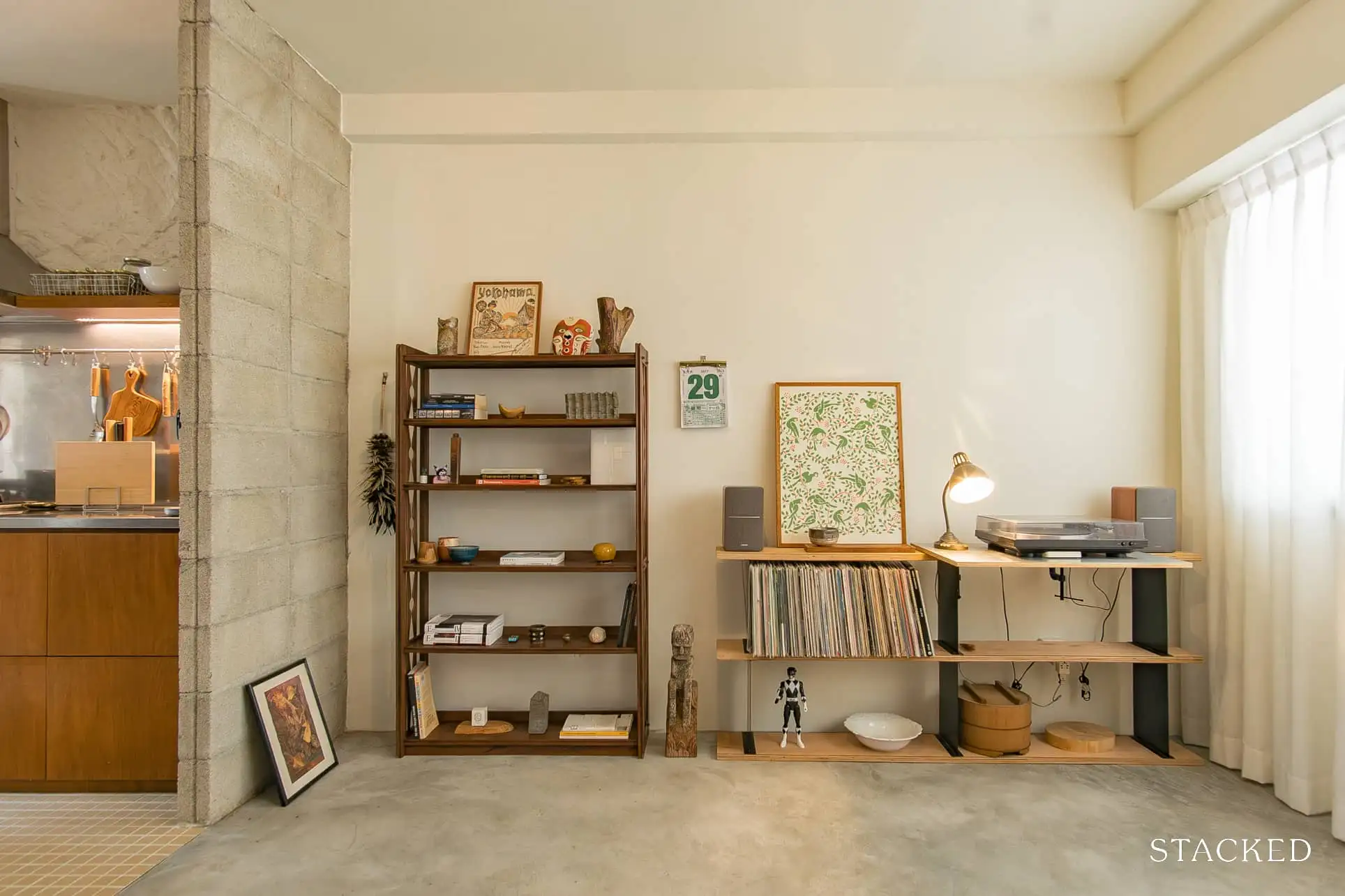 When questioned about the standout area of their home, it was very clear. "I think the living room centre space works well as being the heart of the home which is able to connect to the kitchen, dining, study and even to the walk-in wardrobe through the glass blocks in the balcony."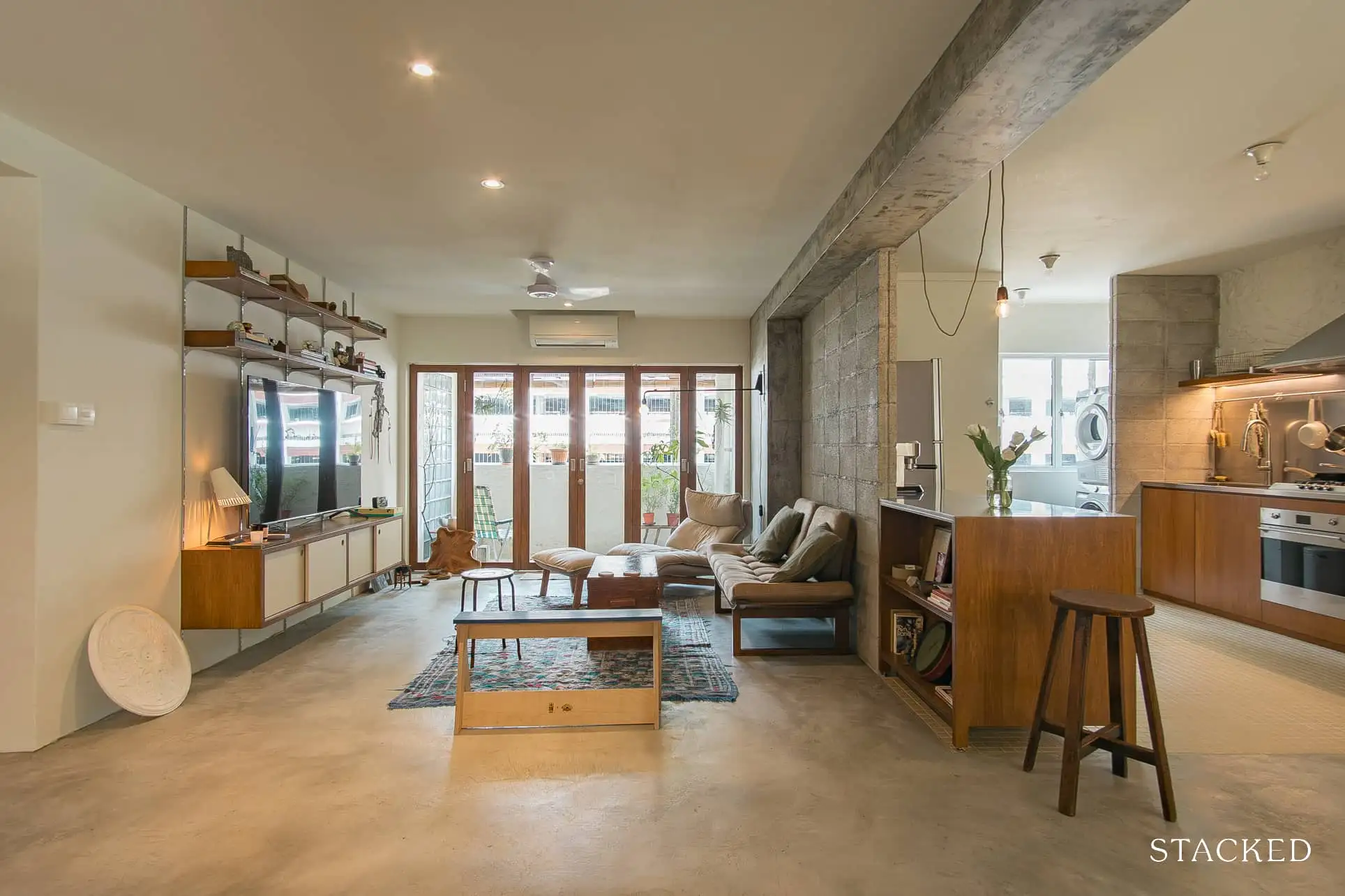 Lessons Learned From A Successful Reno Journey
While many homeowners face challenges during their renovation journeys, for B and his partner, the primary obstacle was slightly different. "Not really any great challenges," B admitted, reflecting on their experience. "I think we spent a lot of time deciding on the things we needed to fill up the home, be it furniture, fittings, appliances, or just overall styling."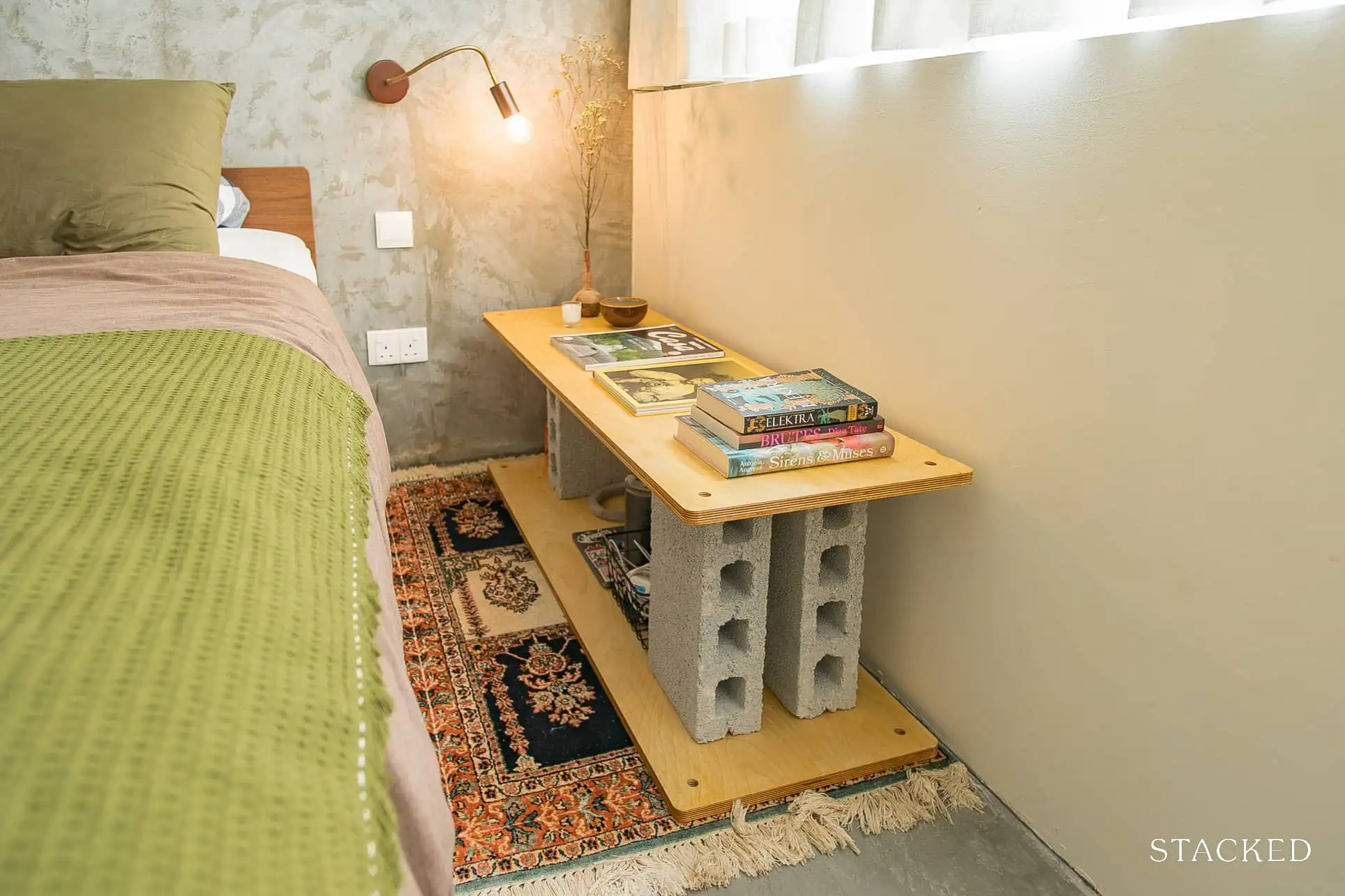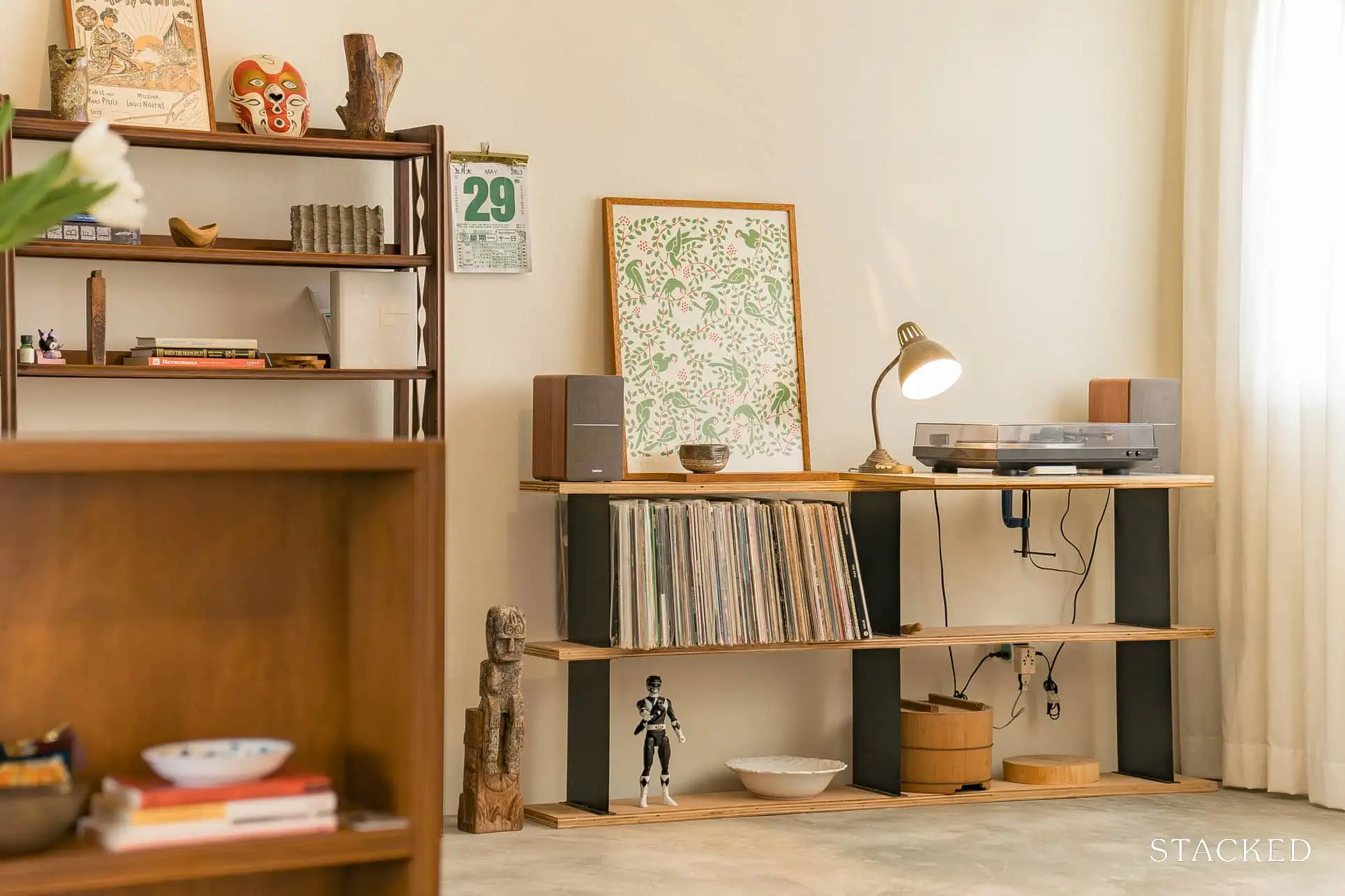 When questioned about any potential regrets or missteps, B had a surprisingly candid response. "So far no regrets," he stated. "Maybe more to come as we live in the house longer."
Such a journey, regardless of its challenges, always imparts a few essential lessons. For those on the brink of their own home makeovers, the couple had some advice rooted in their experience. "Have a good working relationship with your designer and contractor," he emphasised, underscoring the importance of trust and communication in realising a vision.
SHARE