A DIY Condo Renovation Journey: How A Creative Couple Self-Designed Their Home (And Furniture)
Renovation Journeys
A DIY Condo Renovation Journey: How A Creative Couple Self-Designed Their Home (And Furniture)
WRITTEN BY Stacked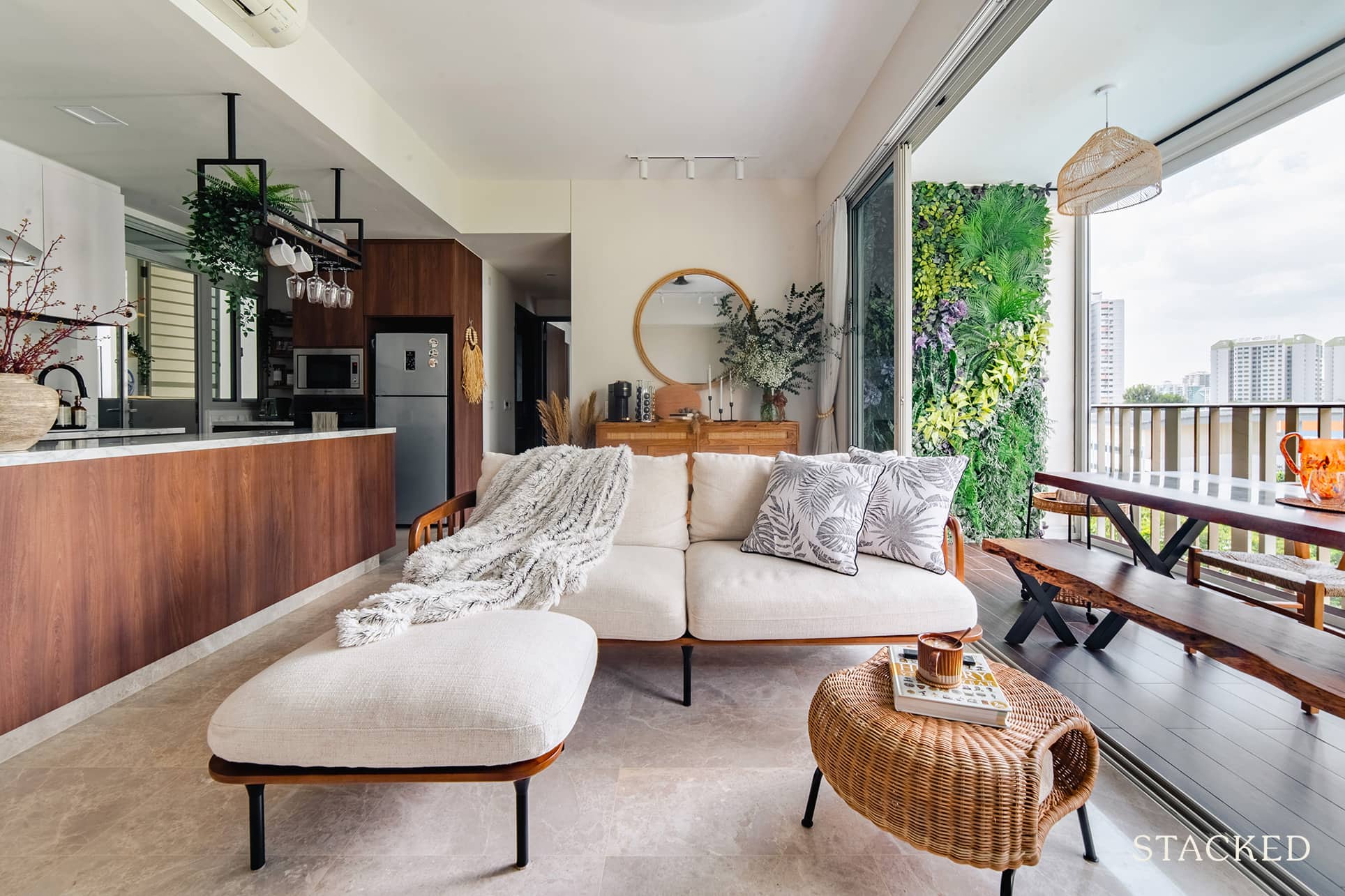 10
min read
When Jo Ann (@home.by.teo) first saw their would-be home, you could say it was already love at first sight.
"The minute we walked into the unit, we fell in love with the large balcony overlooking a secluded, glittering pool, which immediately made us feel like we were stepping into a Balinese resort," she recalled.
"We also loved the functional layout of the unit, and the fact that it had a sizeable storage room and separate laundry area."
Jo Ann and her husband saw the potential of the space to turn into their dream home, so they made an offer immediately the day after they viewed it.
While the flat itself largely influenced them to purchase it, the advantages of this deal don't stop there. The condominium is in a good location since it's situated between each of their parent's homes. The estate is also within walking distance of the Tanah Merah MRT, and many food and grocery options are nearby.
"The icing on the cake was the beautiful lush grounds with multiple swimming pools, which only added to the resort ambiance we were looking for," she added.
While renovating a home is usually beset with challenges, the price at the end of the journey makes it worth the undertaking.
Jo Ann believes that setbacks are a normal part of the process. "What's a house renovation without any hiccups along the way?" she said. "Like with many other renovations, there were some miscommunications, imperfections, and delays, but all in all we are still very happy with the ultimate outcome and the quality of the carpentry they did!"
Let's discover how the couple spruced up their home – from planning to execution.
Mapping Out The Reno Journey
From the beginning of their house search, the couple already set a few considerations in place. They wanted to sell their first home within 3 to 5 years, and they also preferred a well-maintained unit that required little renovation.
When they bought their place, there was still a tenant living there, so they had a whole year to plan and think about their design before actually moving in. With little renovation to do and so much time to plan, they decided to take it upon themselves to try and design their home.
"It came quite naturally for me because when I was living overseas for my university I moved homes 5 times in 5 years," Jo Ann shared. "In every rental place, I would take it upon myself to style and decorate it in a budget and rental-friendly way, which is how I picked up my passion for DIYcraft projects!"
And so, about a year before moving in, she started searching around for design software online to help them plan and envision their dream house.
To be sure, there are many free home design software available online, such as SketchUp, Floorplanner, and Planner5D. But they ultimately went with the free website HomeByMe.
"I found it most intuitive and somewhat similar to playing The Sims, which I used to play when I was younger." She further elaborated that you can easily draw out your floor plan and see the rooms in 2D and 3D, and there is a huge catalogue of furniture and decorative items to furnish your home.
She further recommends it because it's great for planning the general layout of the space, whether walls need to be hacked, or for positioning large furniture such as beds and a sofa. Also, while HomeByMe is a free online software with limitations to the intricacies of design, it's sufficient enough to give one an overall sense of space.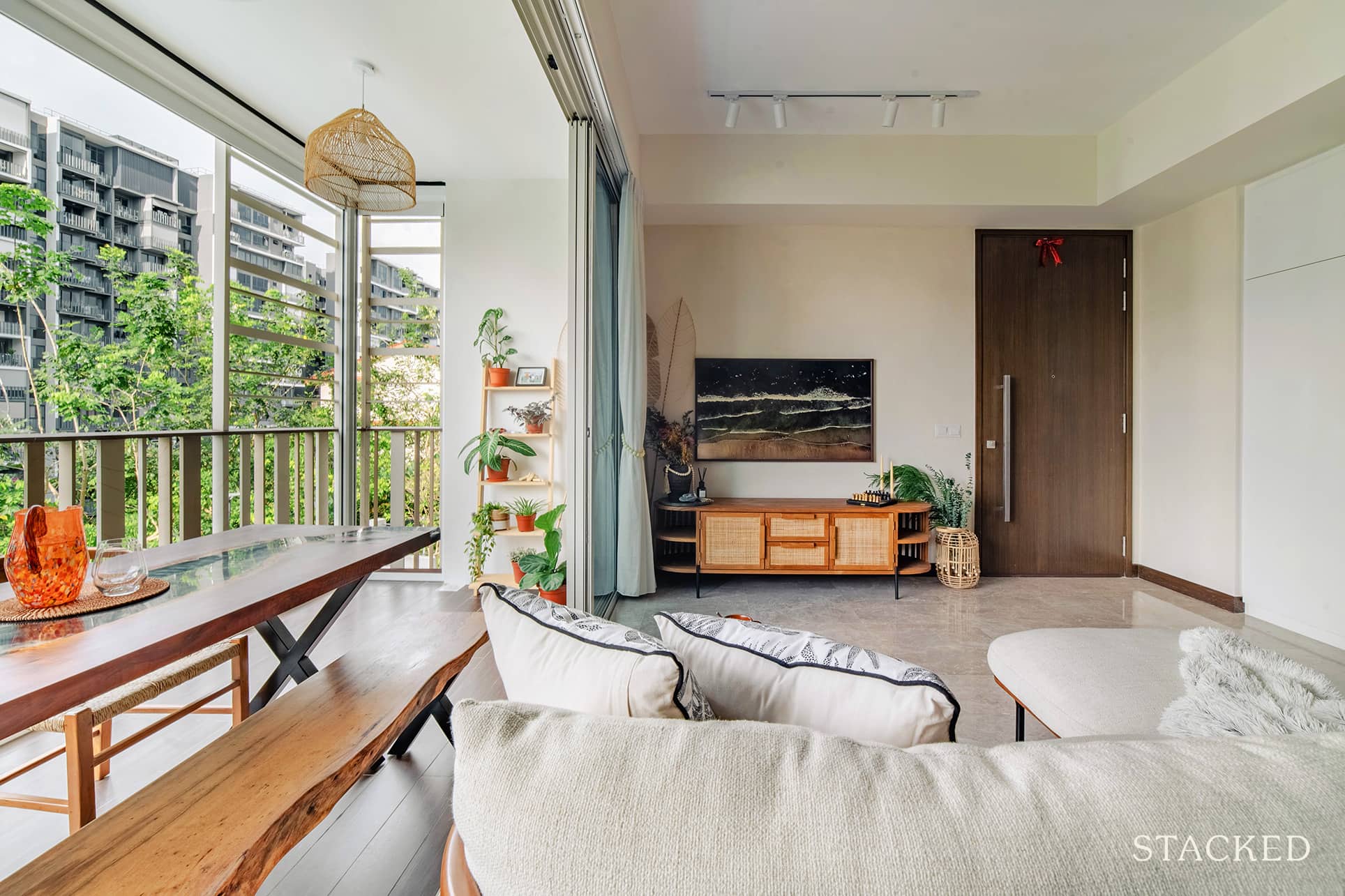 And so by the time they started actively searching for a contractor, they already had a 3D layout and realistic renders to show, making it much easier for them to explain their concept and for the IDs to give them quotes.
Jo Ann shares more about their rewarding experience, planning online for over a year and witnessing how it came to fruition in front of their eyes.
"During our planning phase, we went through many iterations of designs before we finally landed on one we liked," she started.
"For example, we had initially planned for fluted panels everywhere around the kitchen, living room, and even on the ceiling! We also contemplated hacking down walls and building a walk-in wardrobe in the master bedroom.
But after much deliberation and wanting to stick to our budget, we decided to keep the renovation to a minimum, and to rely more on interior styling to create our space instead."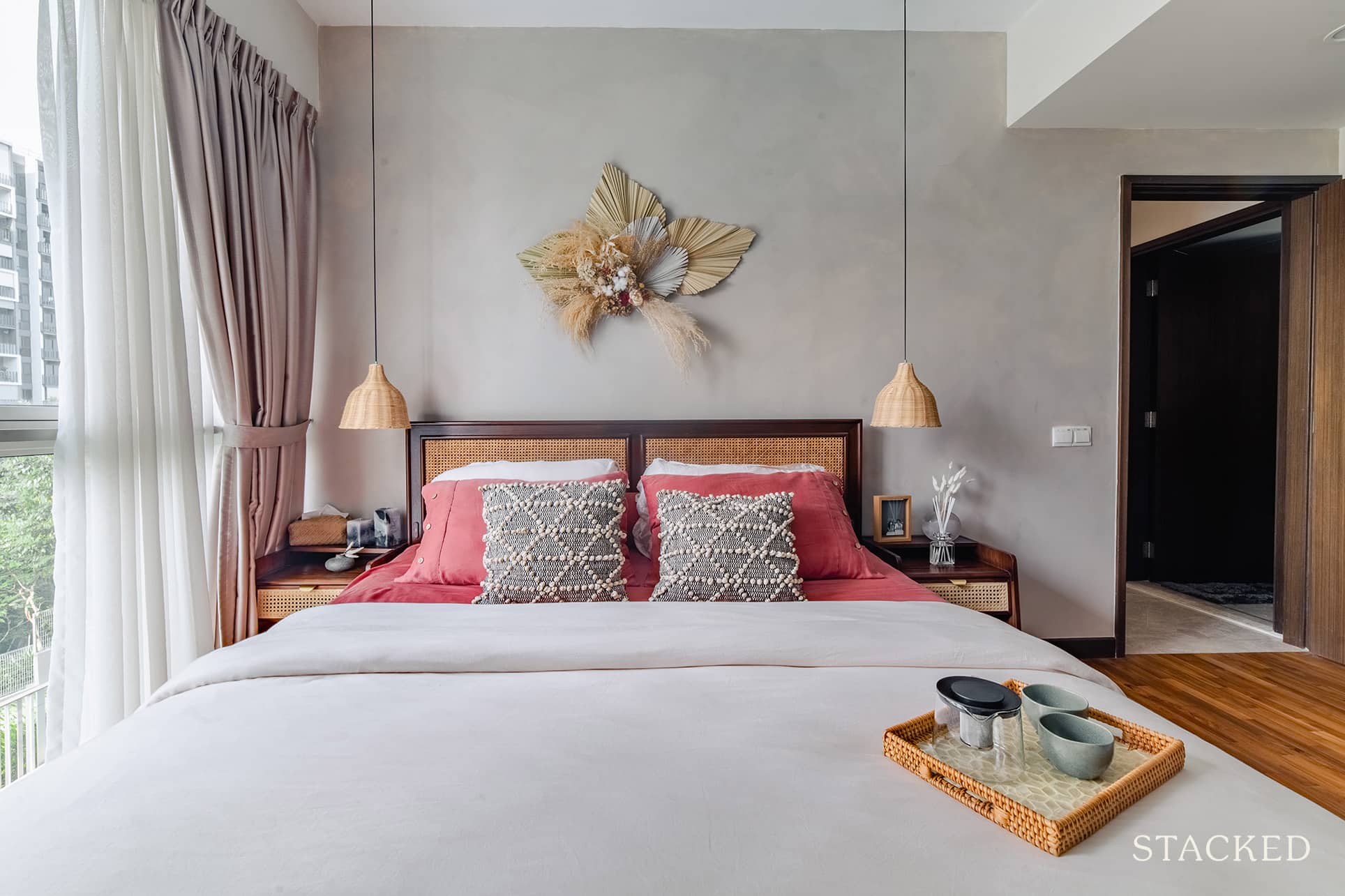 She said that the 3D software was very helpful because it made it easier to play around with completely different layouts. In addition, she liked how It also helped them visualise their home without having to pay someone to come up with a new render each time.
"I loved being able to try out as many different designs as I could think of, before deciding on our favourite."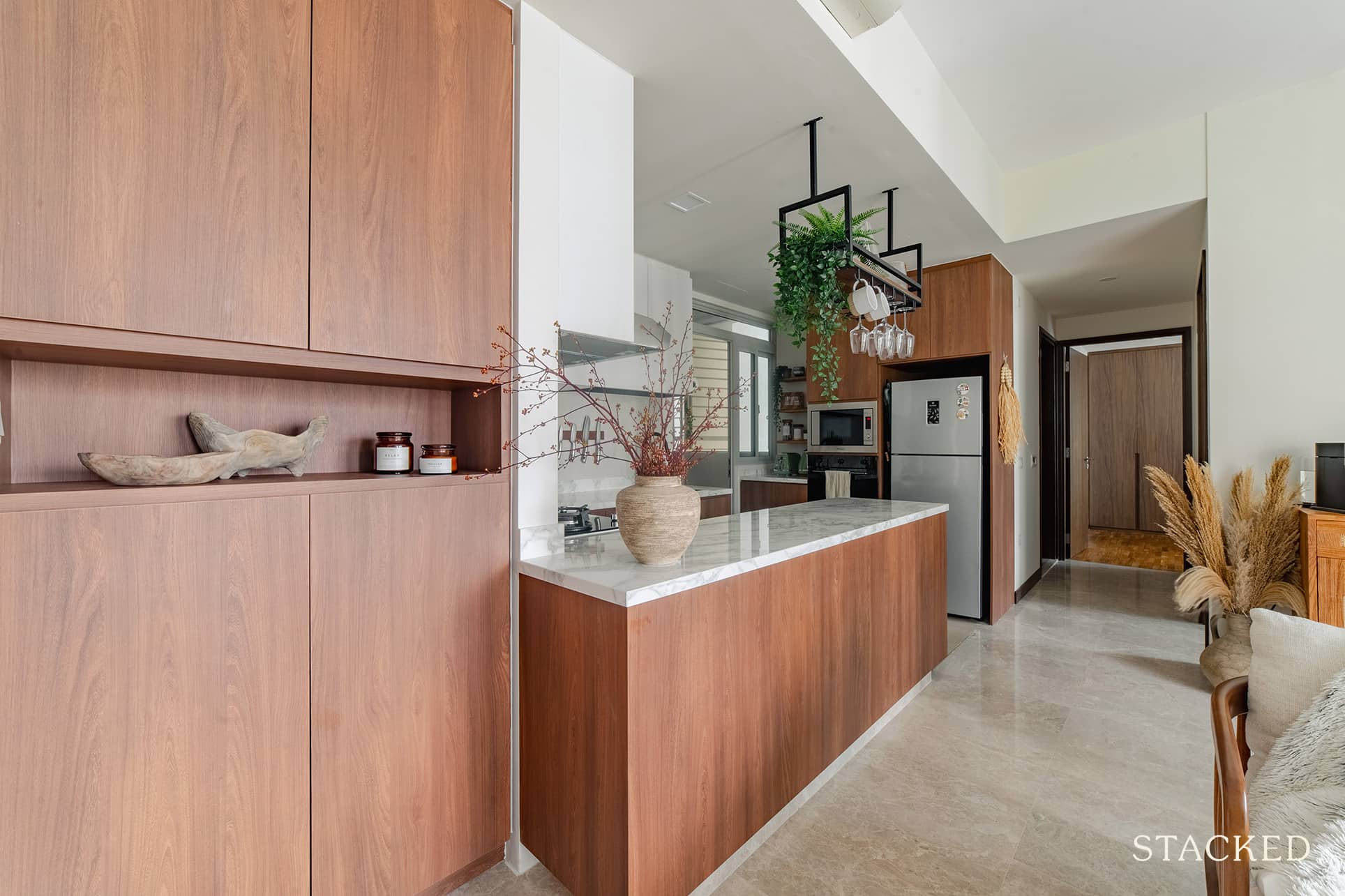 But even despite the help of the application, it still required a lot of time and effort (one could just imagine how difficult it would be without such a tool).
For a whole month while commuting to work or in the evenings, Jo Ann spent every spare moment she had on the website rearranging furniture, redesigning rooms, changing laminate, colours, etc.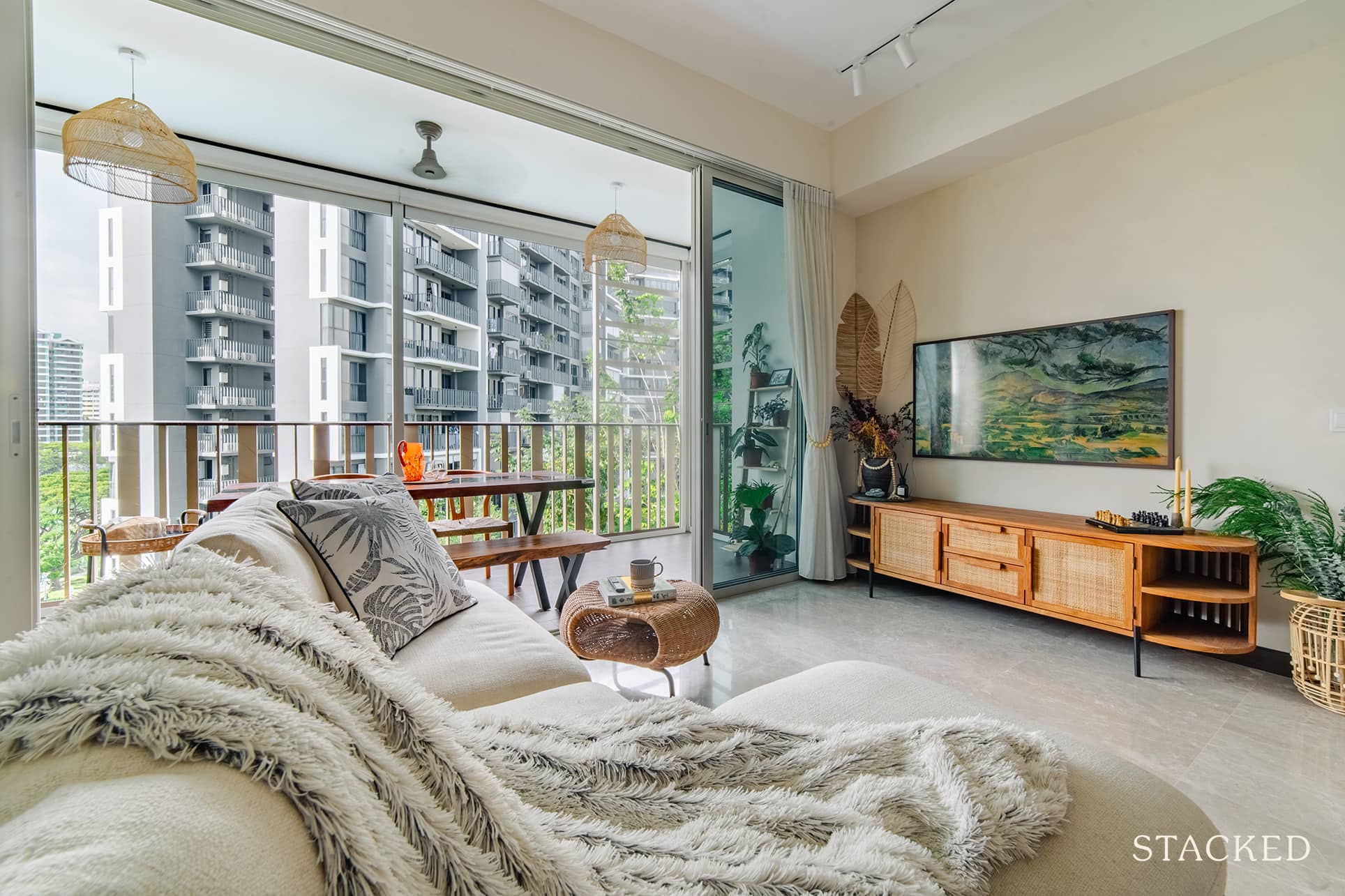 She admitted that she would go a little overboard, sometimes spending hours picking out minor details like decorative bowls and artwork.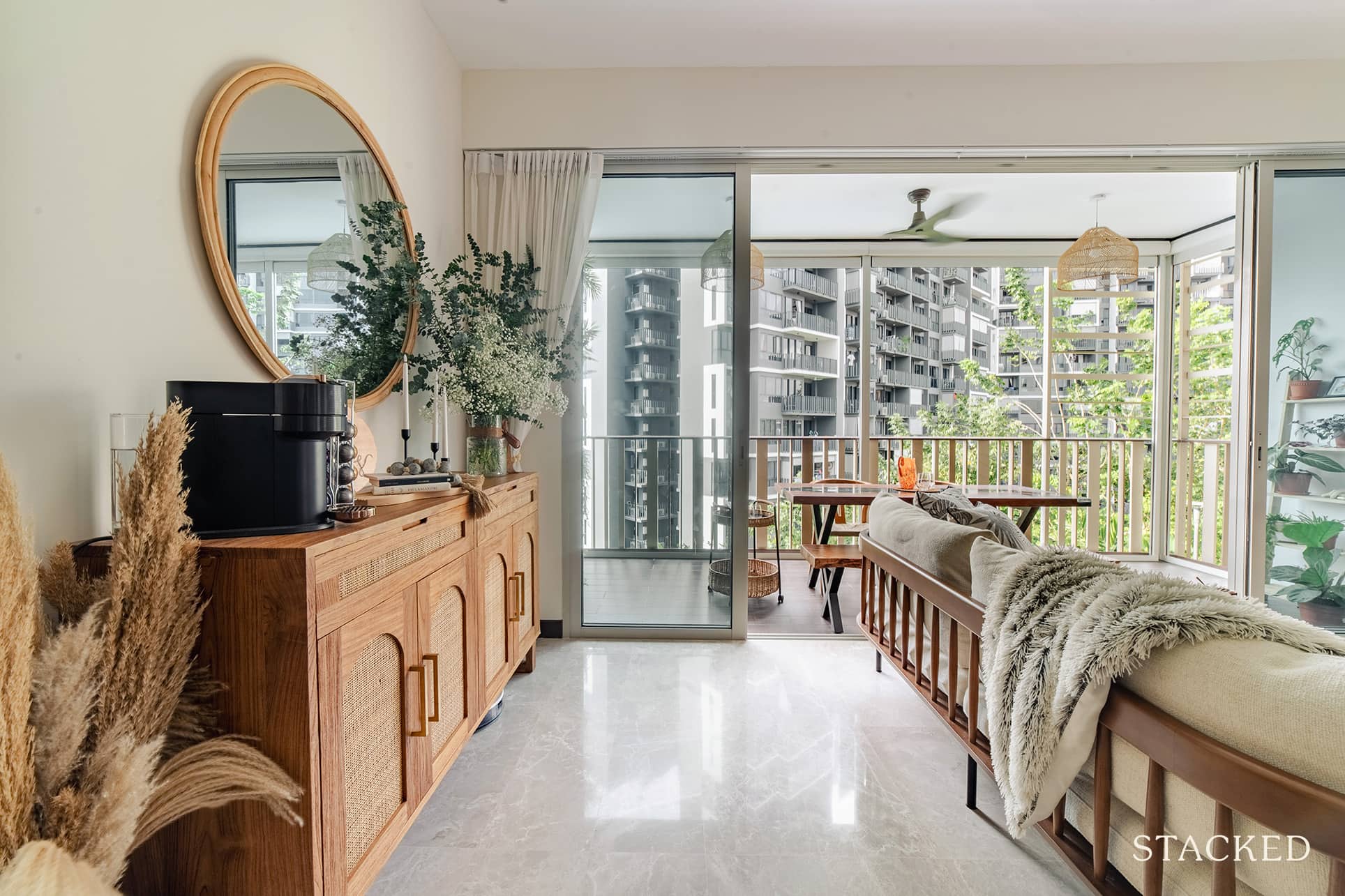 But it all paid off in the end, as they put their home together.
Turning The Vision Into Reality
With the couple handling their home design, they needed to find a contractor that could help them bring their vision into reality.
They searched around on Instagram and Qanvast for a few contractors, but in the end, they went with a recommendation after seeing their friend's house in person."Being able to see the quality of their work and having a trusted review from a close friend was what sealed the deal for us."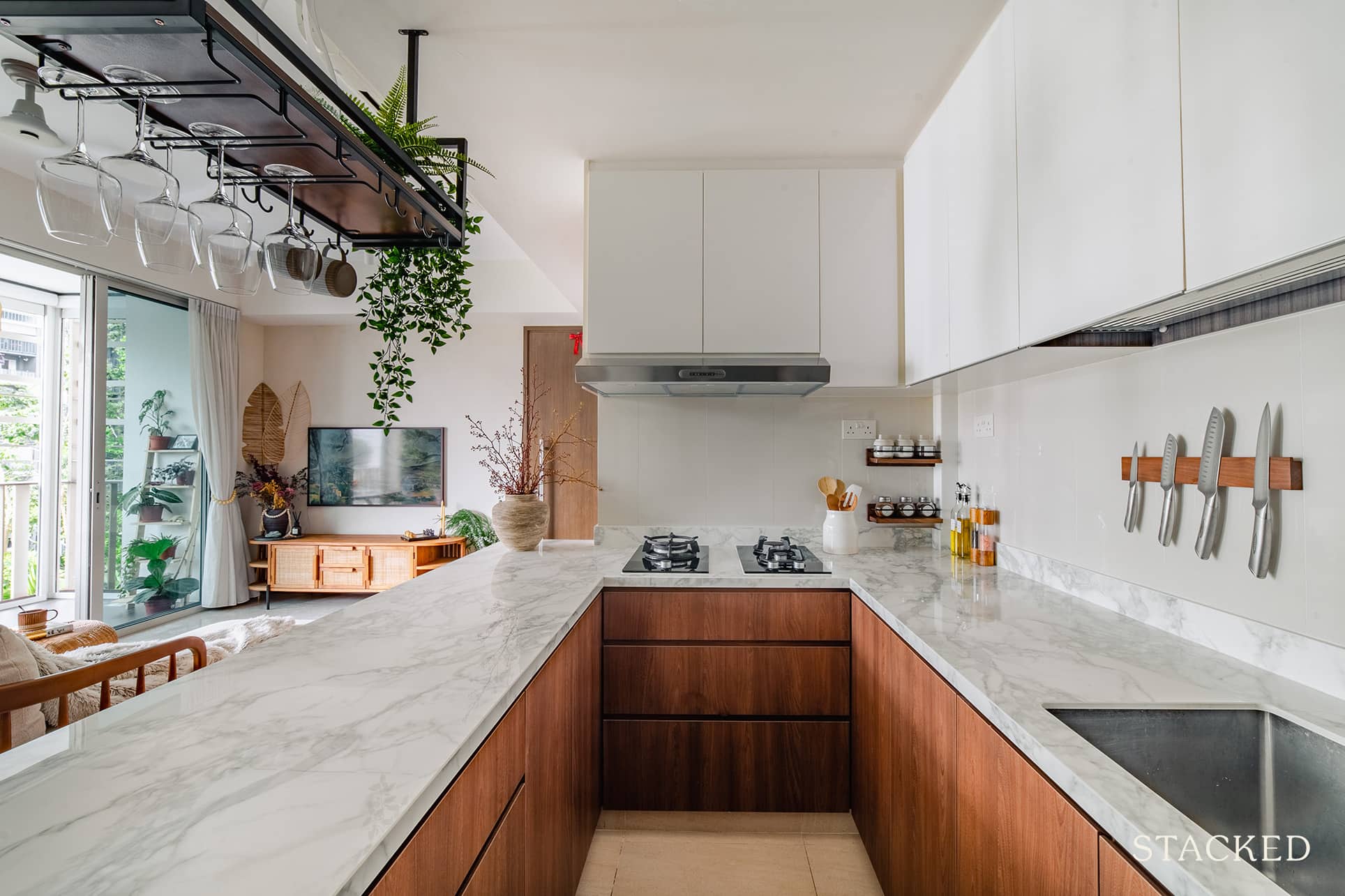 As for their furniture, it was really important for them to find things they loved and those they could bring with them to any future homes.
Jo Ann said that she also tends to find more sentiment and meaning in items that she had a part in sourcing or designing herself, so they looked for companies where customisation was possible. She shared some examples, such as their dining table and TV cabinet.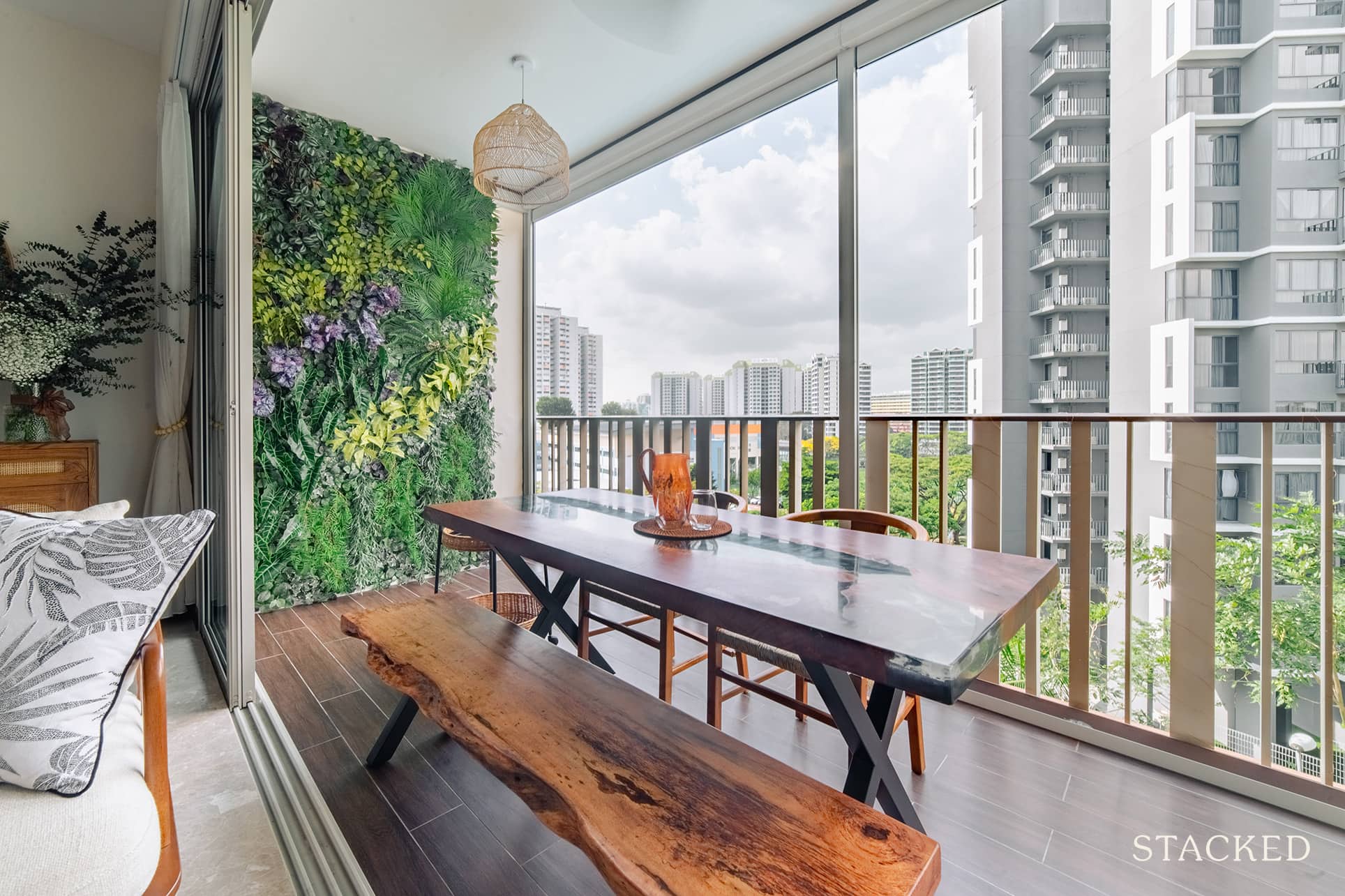 "Our dining table was customised by Dewoodscape, where we were not only able to pick the size but also the cut and type of wood, as well as the colours of the resin.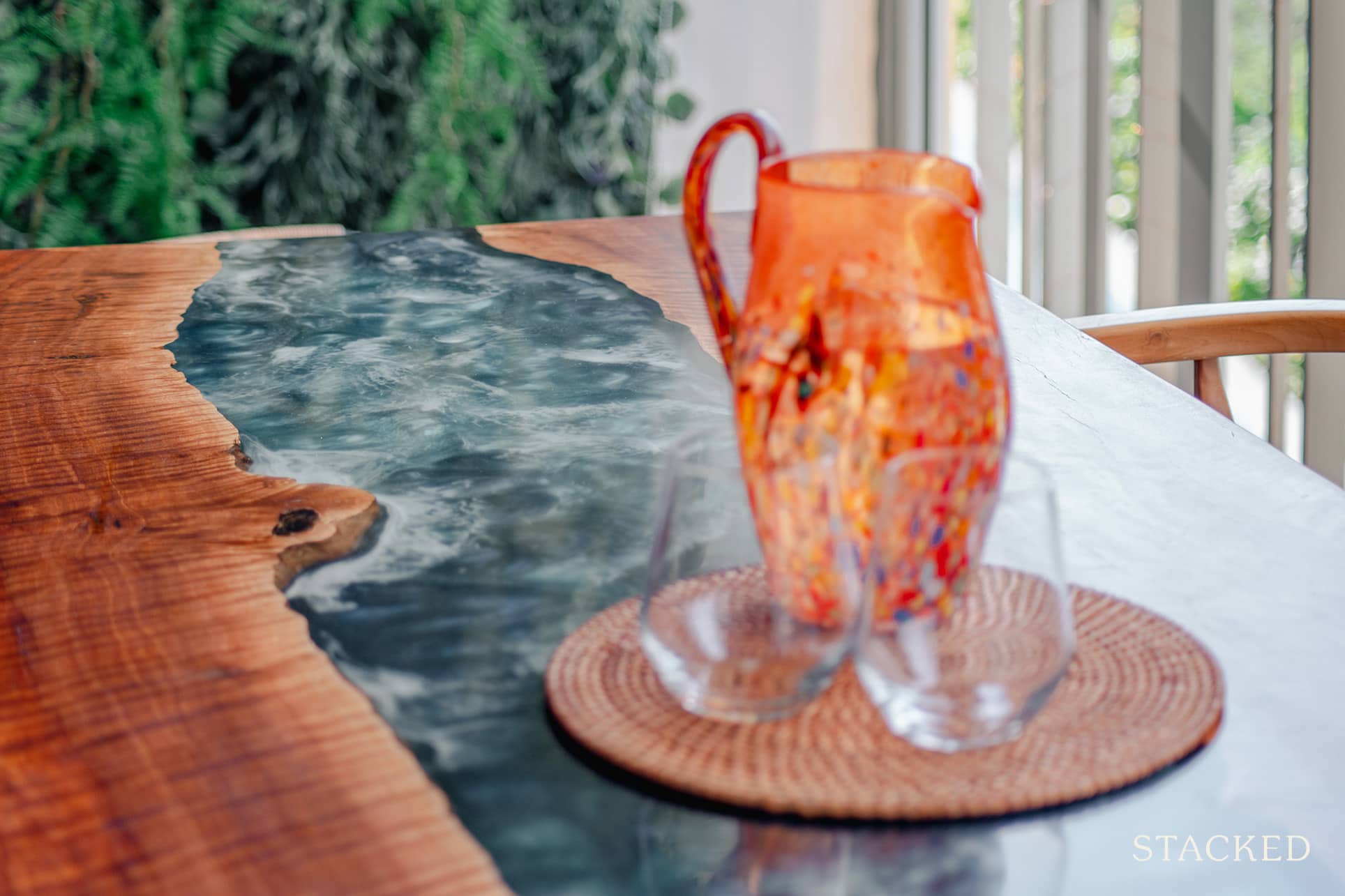 Our TV cabinet and sideboard were customised by Selaweid, an Indonesian furniture manufacturer I found on Instagram, and I drew out and designed them myself on paper and using PowerPoint."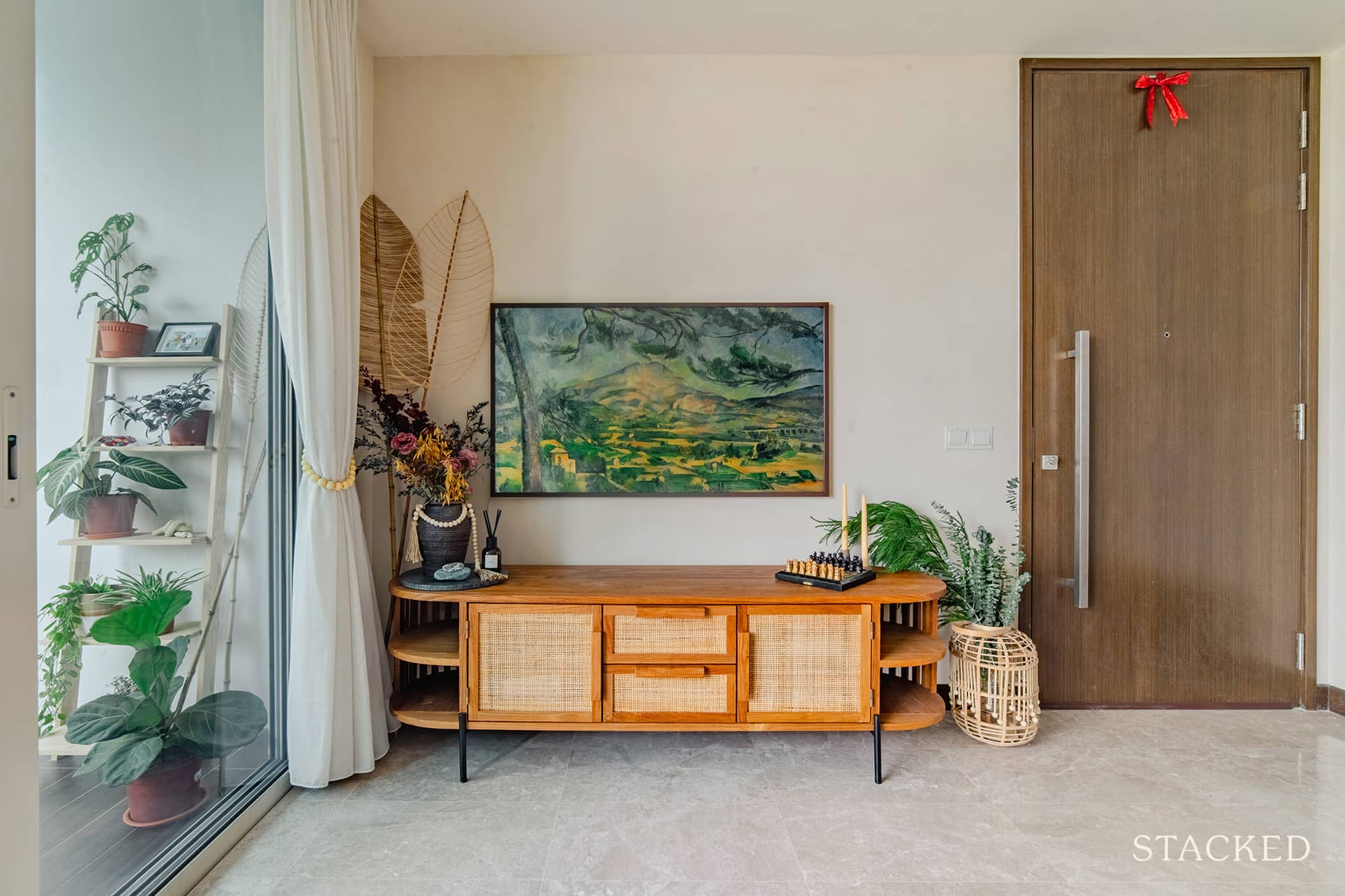 And given her creative nature, almost all of their decorative pieces at home are born out of her DIY projects. From macrame weaves to canvas paintings to pre-wedding shoot bouquets that she repurposed into the centerpiece over their bedhead, it's clear to see how the theme of designing and decorating things by herself carries out throughout their home.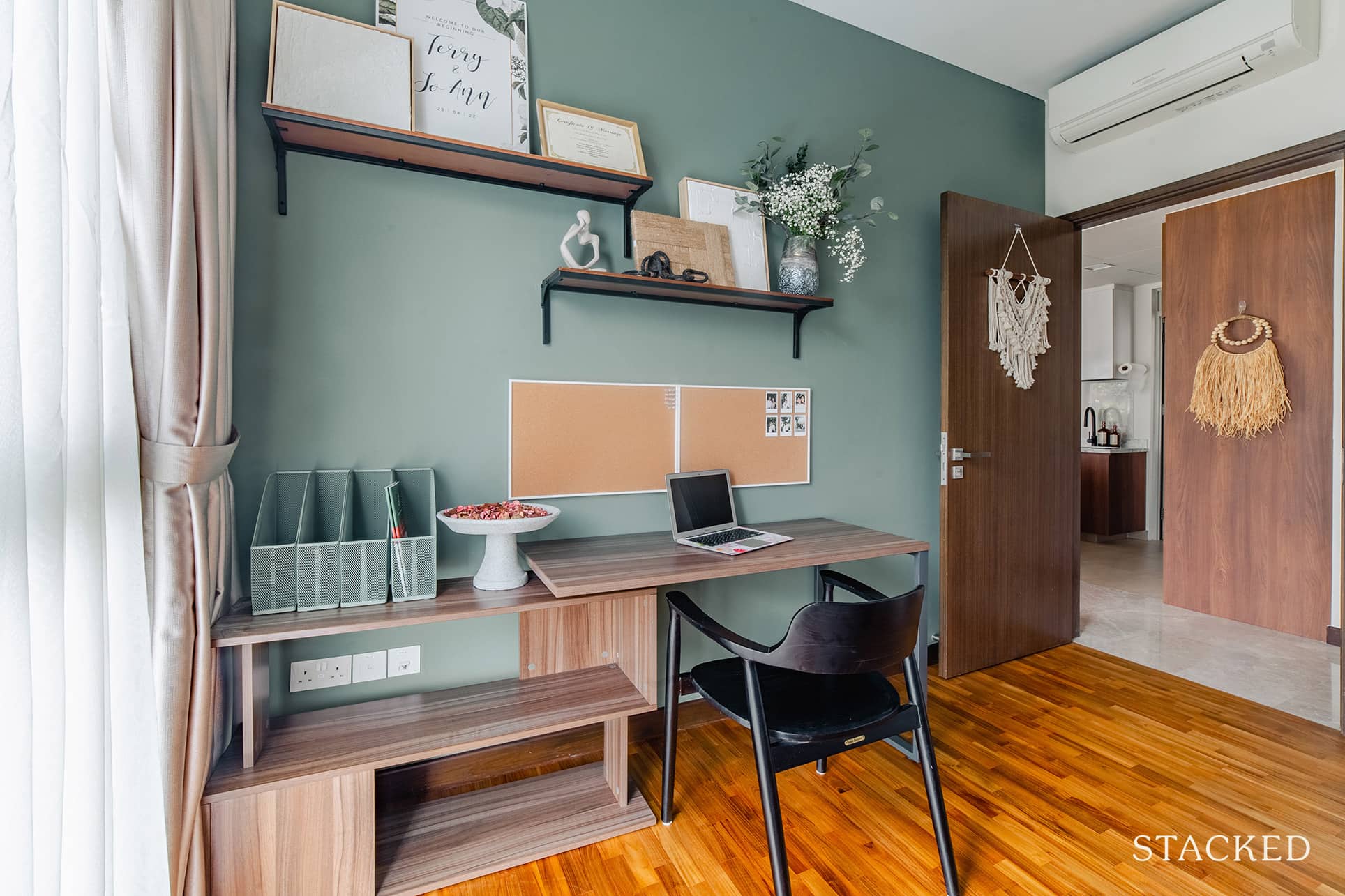 "These items spark a lot more joy for me than a purchased artwork ever could," she stated. Even their customised soap bottle labels, which she designed on Canva with their initials, are well-liked by their family and friends.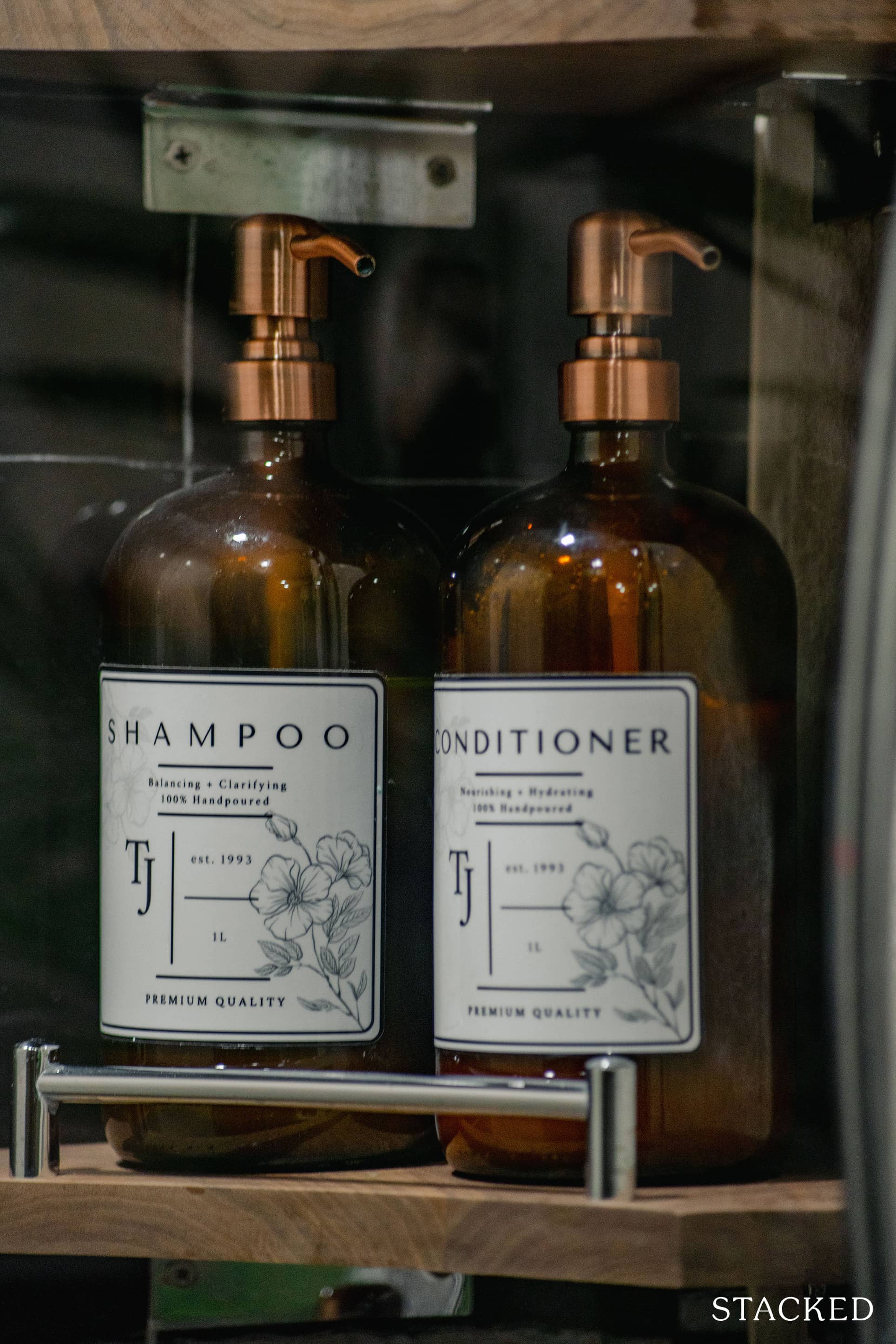 Among all these creative works, there is one in particular that the couple enjoyed working on. "Our favourite project together would be the feature walls in the living room and master bedroom, which we lime wash-painted ourselves."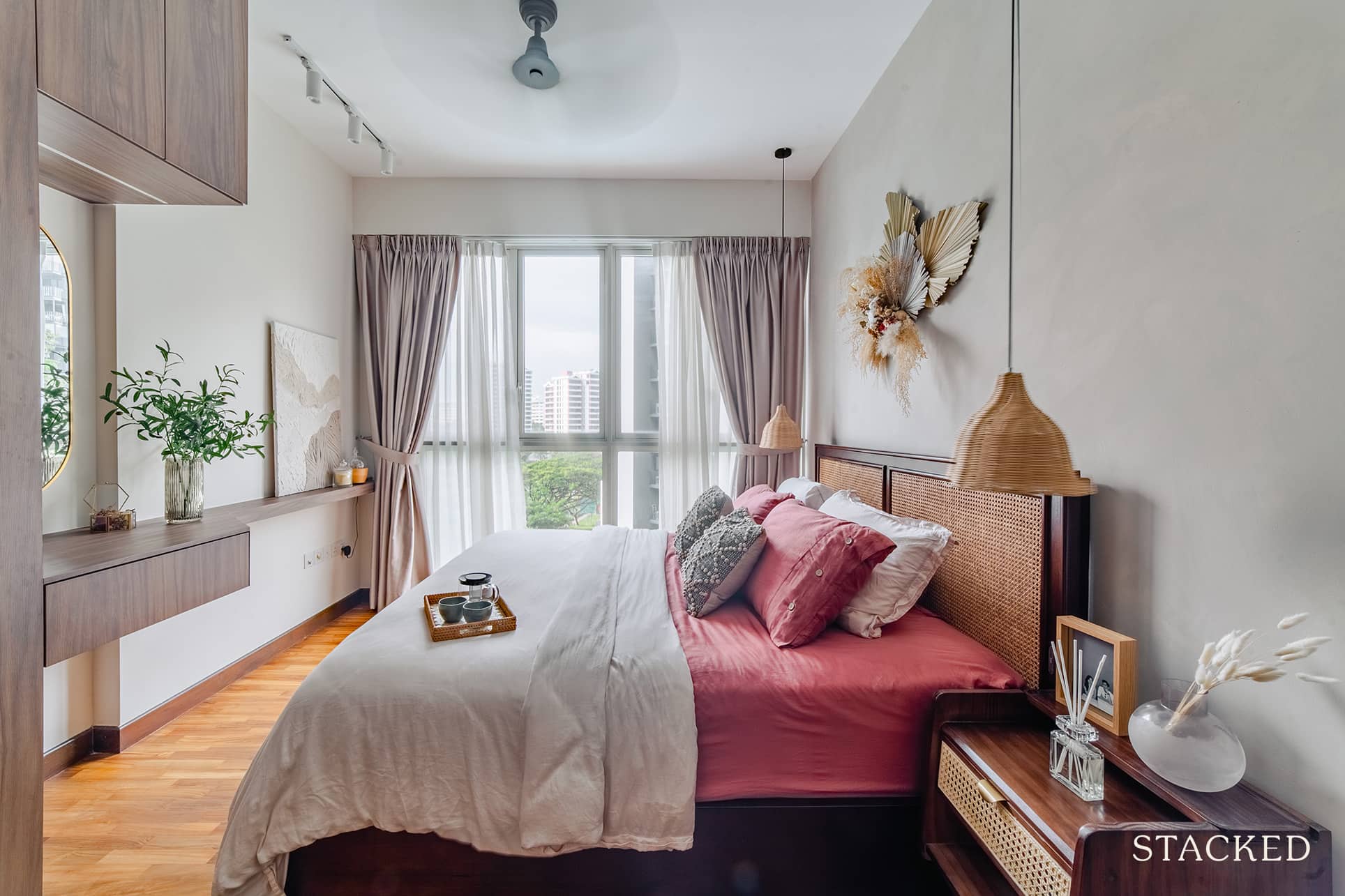 Their biggest DIY project to date would be the feature green wall on their balcony, which took them three days to make, including the setting up of the myriad of plant panels and faux plants from IKEA and Taobao.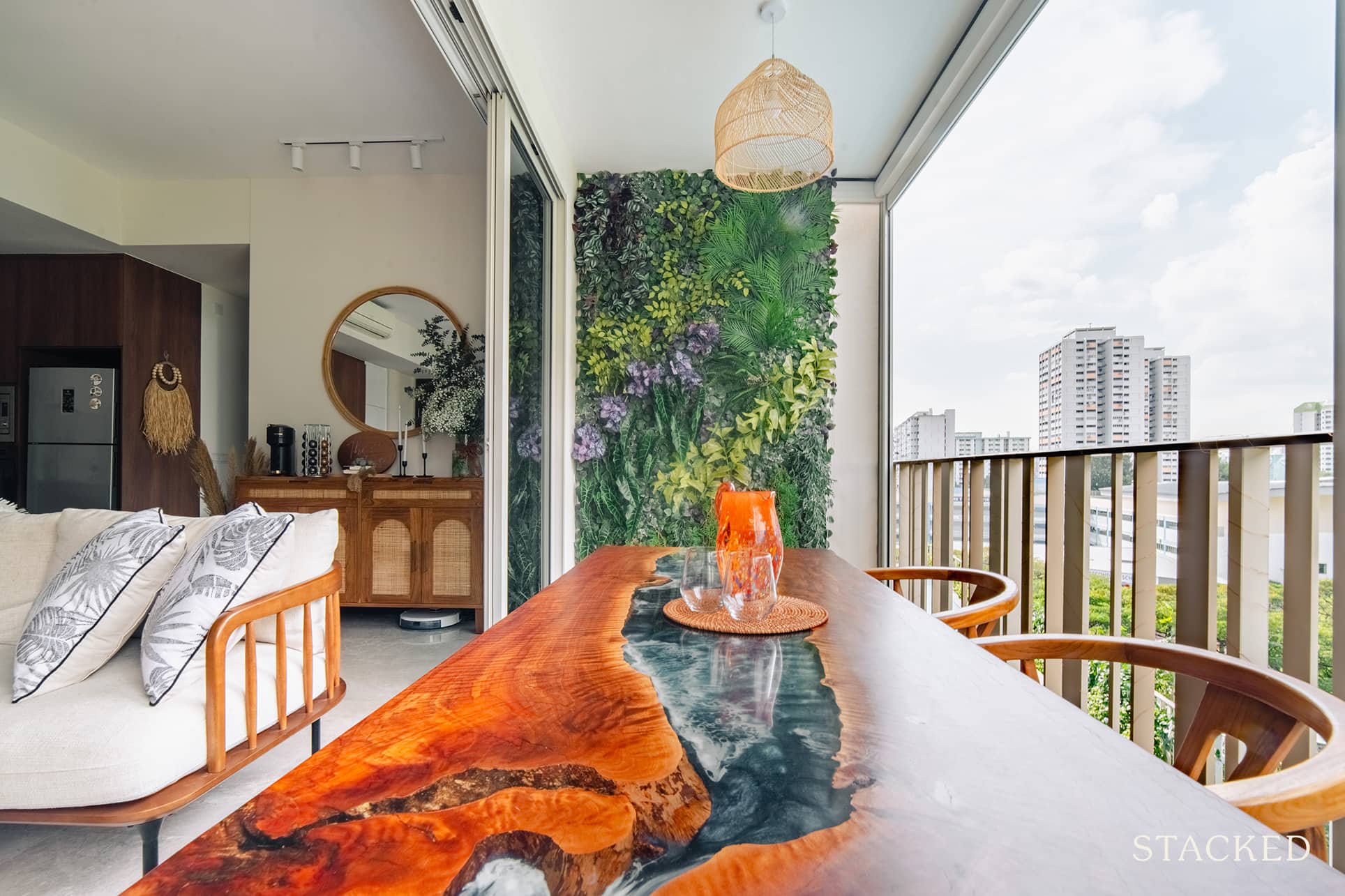 They limited their Taobao purchases to smaller, more decorative pieces like lamp shades, bedside tables, and tableware. For high-usage things such as a sofa, chairs, and mattresses, they opted to purchase them from local stores instead.
Tips For A Successful Home Renovation
The couple is pretty satisfied with what they were able to do within their budget, but Jo Ann said that if she had to do it all again, she'd definitely invest more in quality fittings so they could stand the test of time. "Some of the Taobao towel racks and bathroom shelves I bought are starting to warp a little, which I wouldn't want for my forever home," she cited as an example.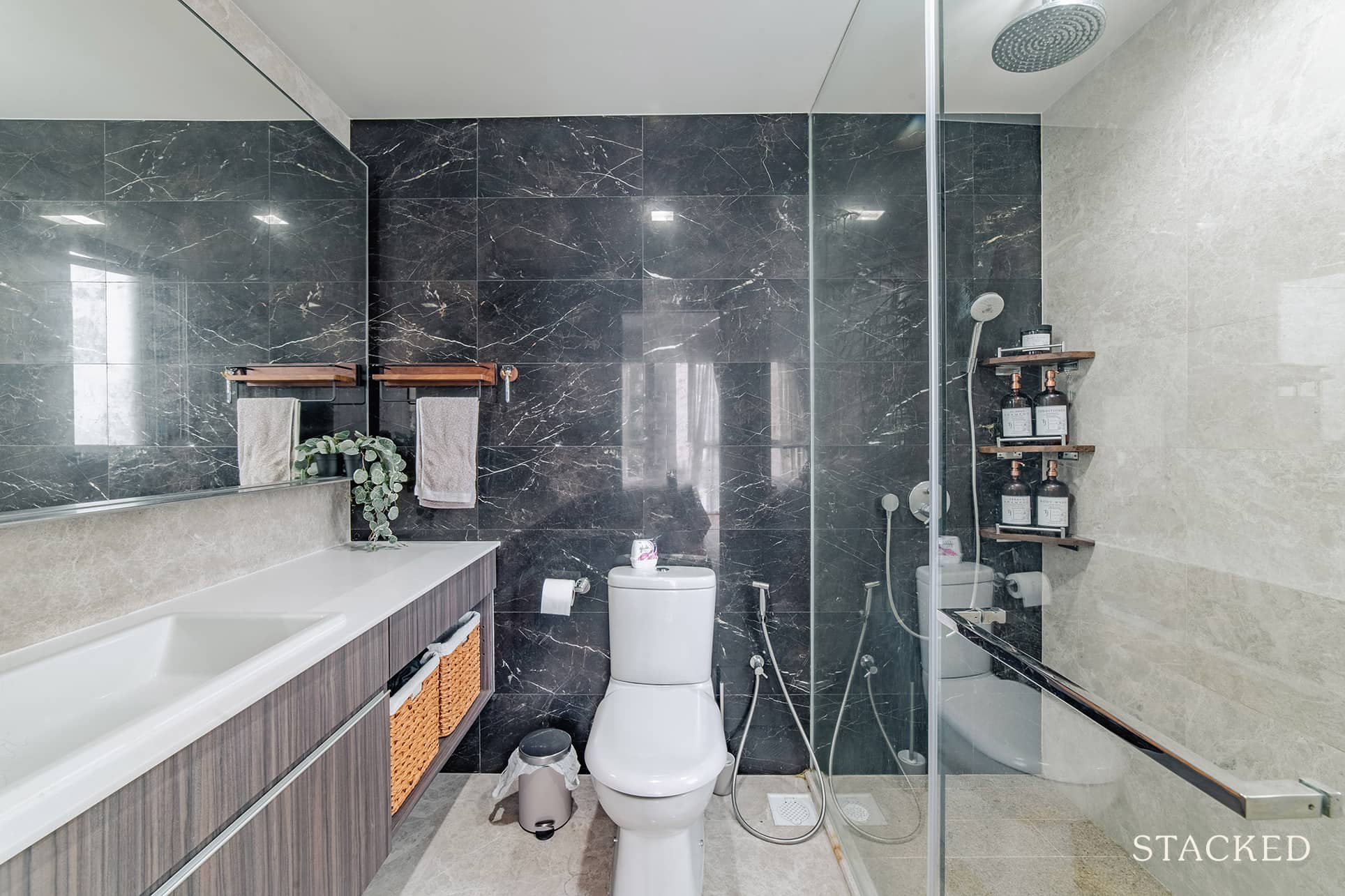 She also emphasised the value of having a dedicated storeroom and more storage to keep the home looking tidy. For their future kitchen, she said she would definitely choose to have drawers over cupboards to improve accessibility.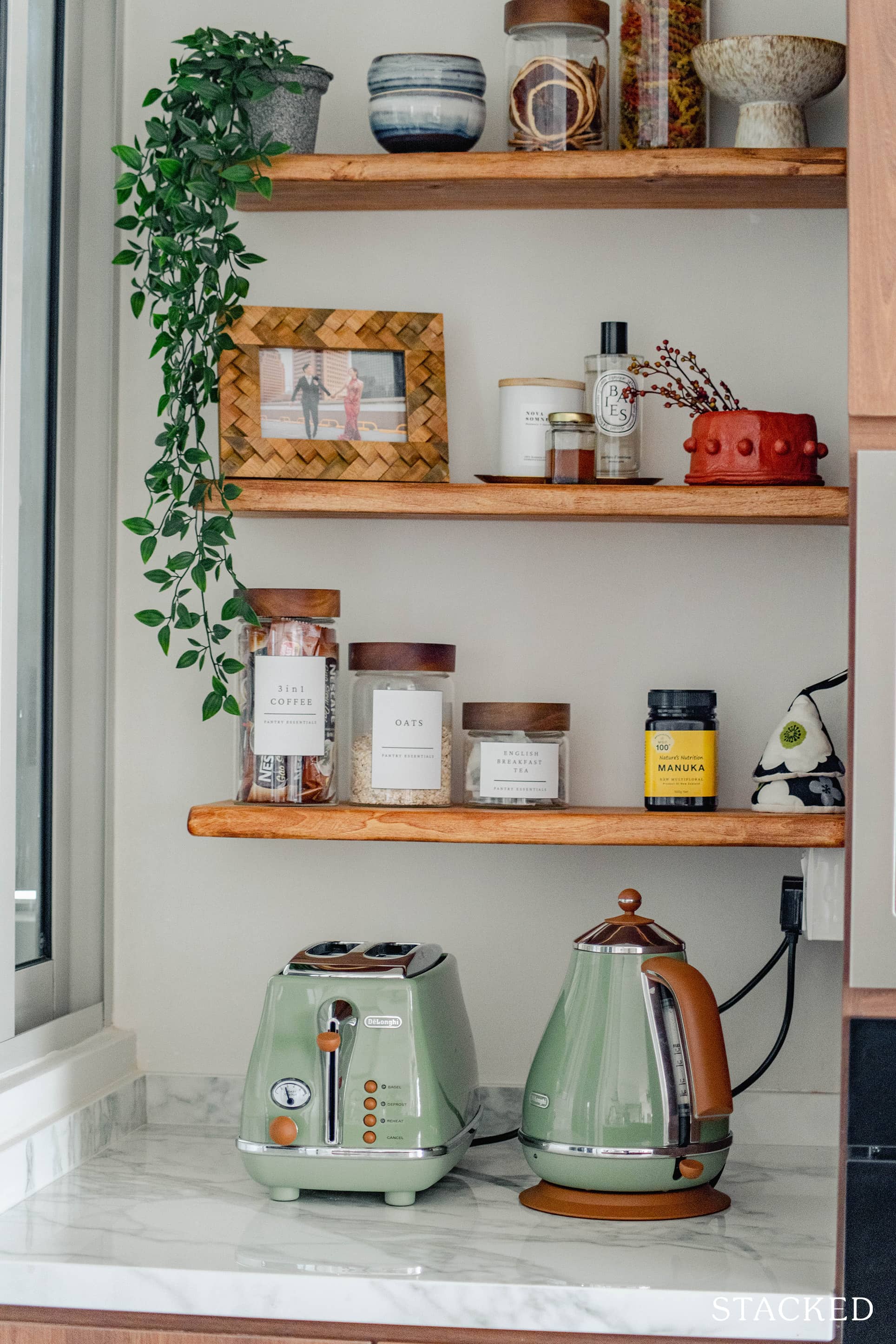 We asked Jo Ann if she has any specific advice for fellow homeowners looking to follow the same path, and she replied with a number of invaluable tips.
"For homeowners who enjoy arts and crafts, and even to those who don't, but like to have things that are uniquely yours, take the time to furnish your home with items that add value and joy to your lives!"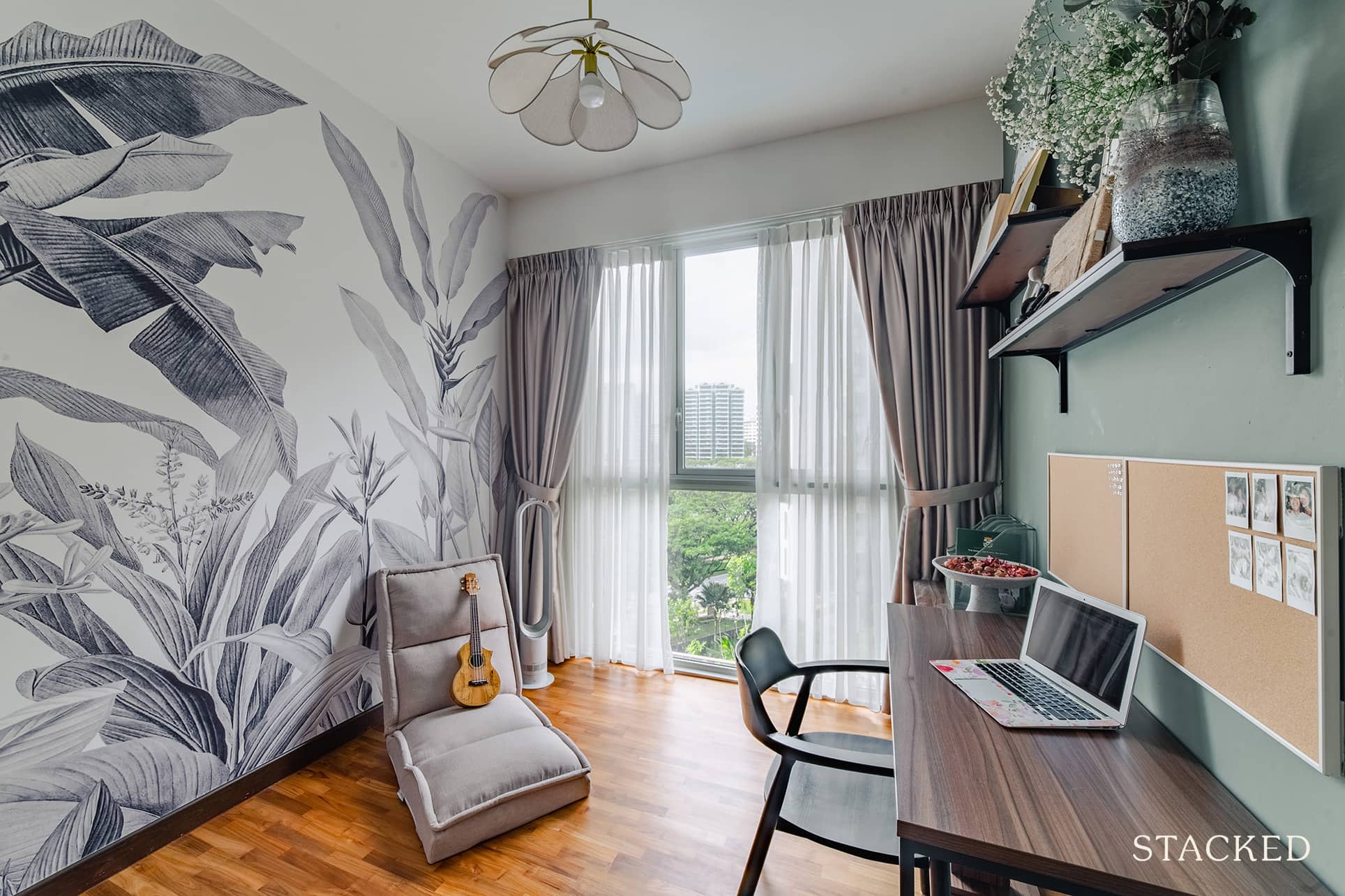 She continued that this could be as simple as purchasing from a small local business or attending a pottery or painting class. Or it could be meticulously packing 12 glass jars and vases in your carry-on luggage and praying they don't break as you lug them from overseas.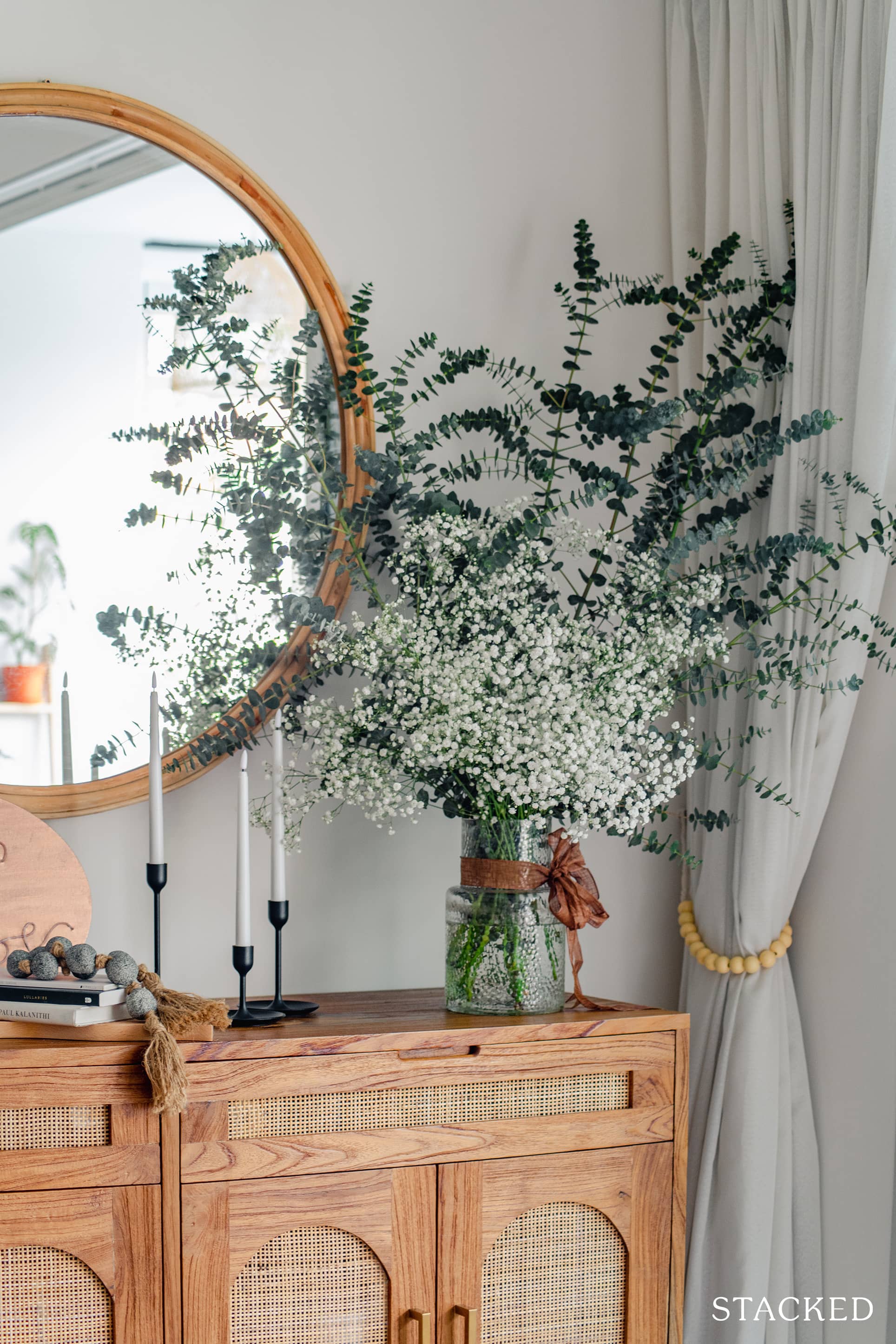 "I love that almost all the items in our house have a little story behind them, and for me, it's the little things like these that bring meaning to this place we call our home," she added.
The Intrinsic Value Of Home Renovation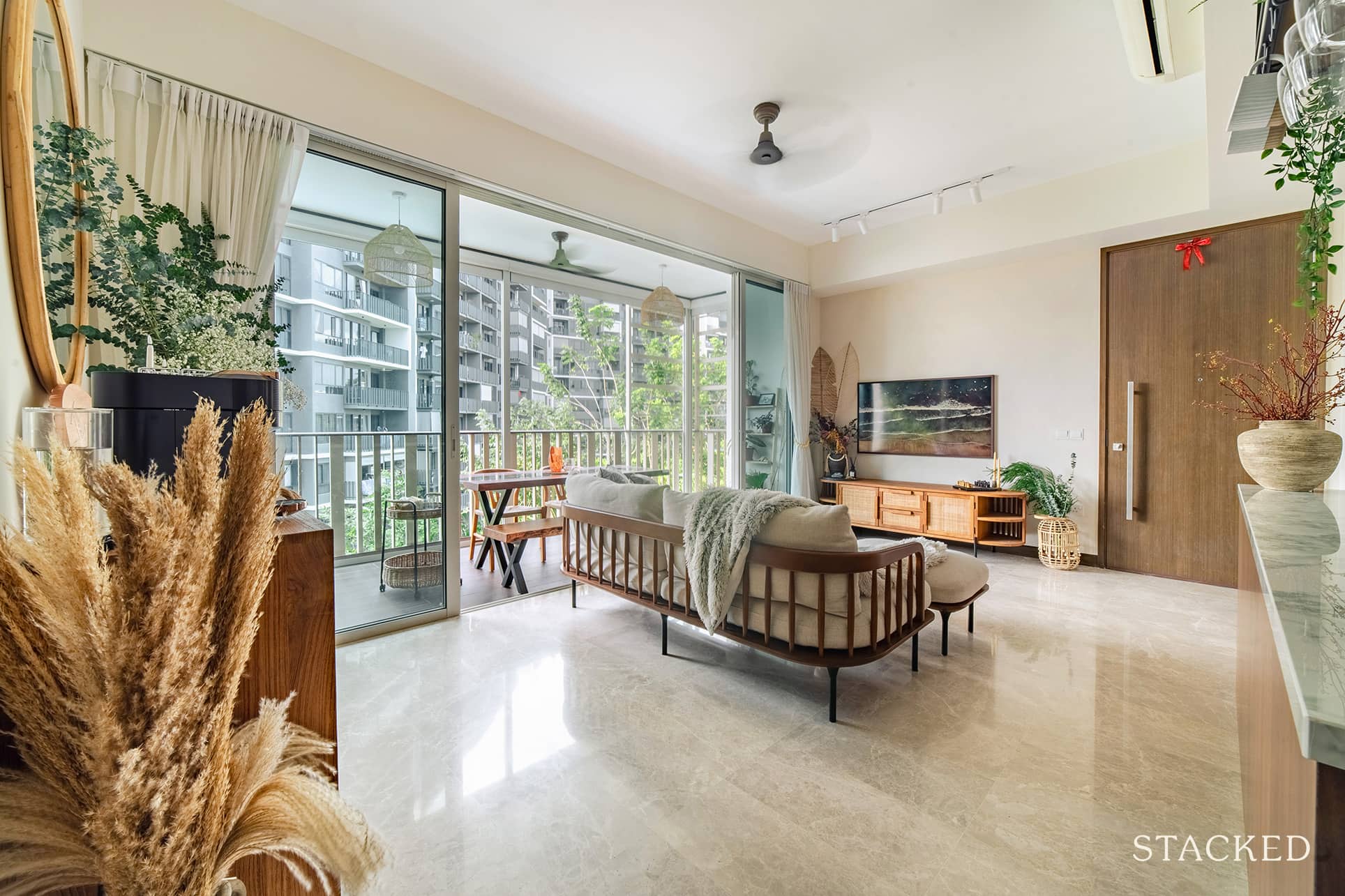 As this was the couple's first home and first time renovating, it was definitely a learning experience for them. She said they were lucky to have reliable and honest contractors willing to listen and rectify when things didn't go to plan.
She shares that if she had to pick the most rewarding part of the journey, it would have to be seeing their design come to life in front of their eyes.
"It was like watching pieces of a jigsaw puzzle come together. As the carpentry was getting installed, our customised furniture came in, and our decorative lights being put up, to exactly how we imagined it would be when designing it online."
Even up to this moment, Jo Ann and her husband love looking back at the 3D design and their home now because it's so similar, and in her own words, "it's a passion project come to life."
SHARE