Advice
Will Amo Residence, Bartley Vue Or Ki Residences 3 Bedroom Be Better For A Family Of 3 With A $2 Million Budget?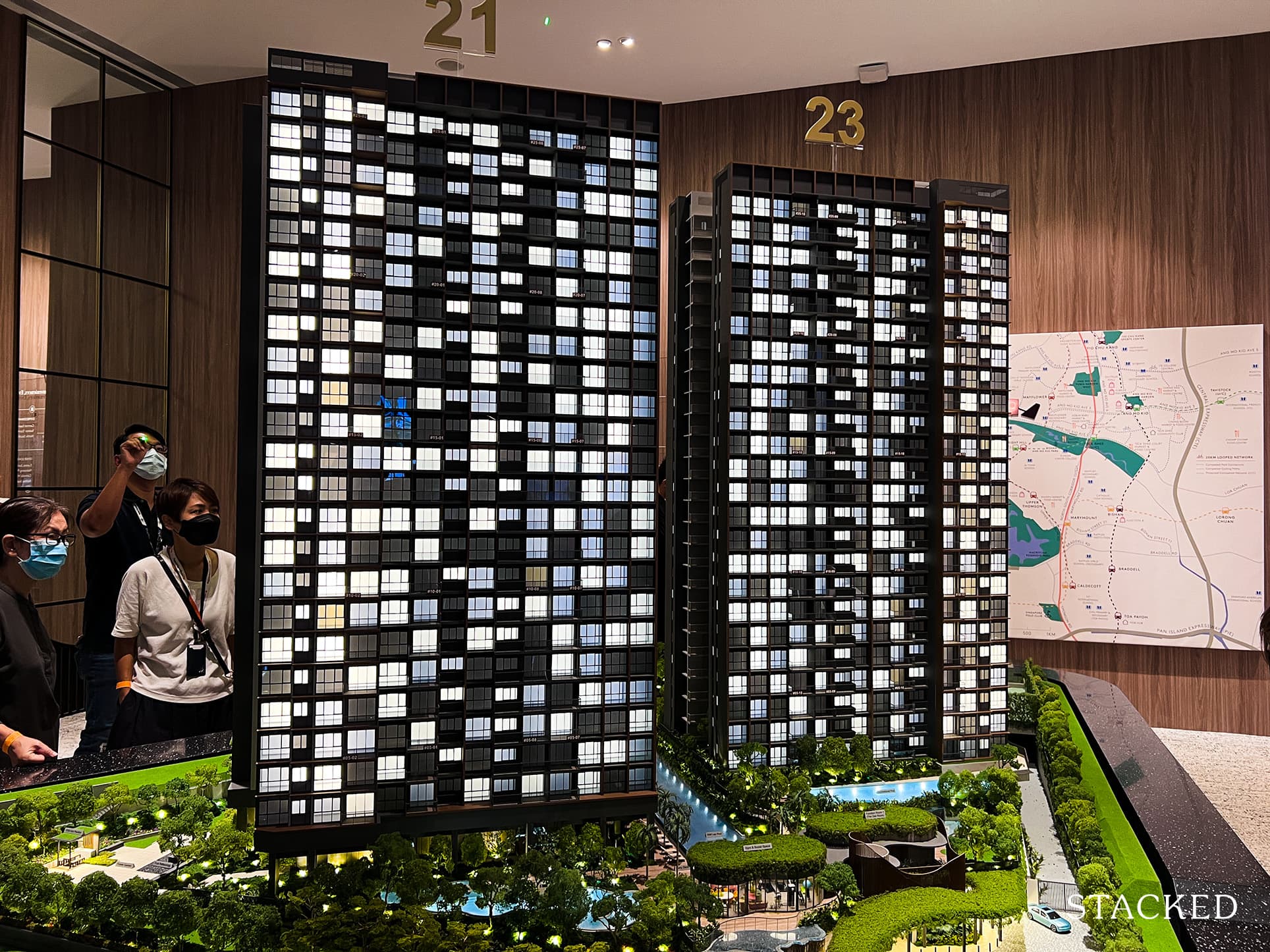 26
min read
Hey Stackedhomes team,
Firstly, thank you very much for your team efforts in curating such fantastic and detailed content. I enjoyed reading your articles and have learnt much about the Singapore property market from your website.
Allow us to share my background, we recently sold off our HDB at Punggol and are planning to upgrade to a private condominium. We will stay with our in-laws while waiting for the new place to be ready. Our primary intention is for both living first and it will be great if there is capital appreciation. I hope to downgrade again in 10-15 years' time. Currently it's just us and our daughter and we are planning for an additional kid if all goes well.
Our budget is 2 million and we have shortlisted 3 projects, Ki Residence, Bartley Vue and AMO residence and are looking at 3 bedrooms in these projects. Our priorities are good transport links, good floor plan layout, shorter waiting time till TOP and decent entry price.
Thank you very much for your advice and have a good rest of the week!
---
Thanks for the kind words, we're happy that you have enjoyed and benefitted from the content! Considering you currently have a daughter and could expect an additional kid, it would be prudent to look for a 3-bedroom unit as you've rightly pointed out. To provide more insights, I'll take into consideration your priorities for each development as well as your capital appreciation considerations.
Transport Links
In determining public transport connectivity, one thing we can consider is just how far can you go within 30 minutes from your residence. Why 30 minutes? Usually anything within 30 minutes is considered convenient, 30 – 45 is fine and anything more than 45 minutes is a pain.
While it isn't fully accurate, we can rely on some free tools that map out the places you can visit within a specific timeframe such as this Isochrone map: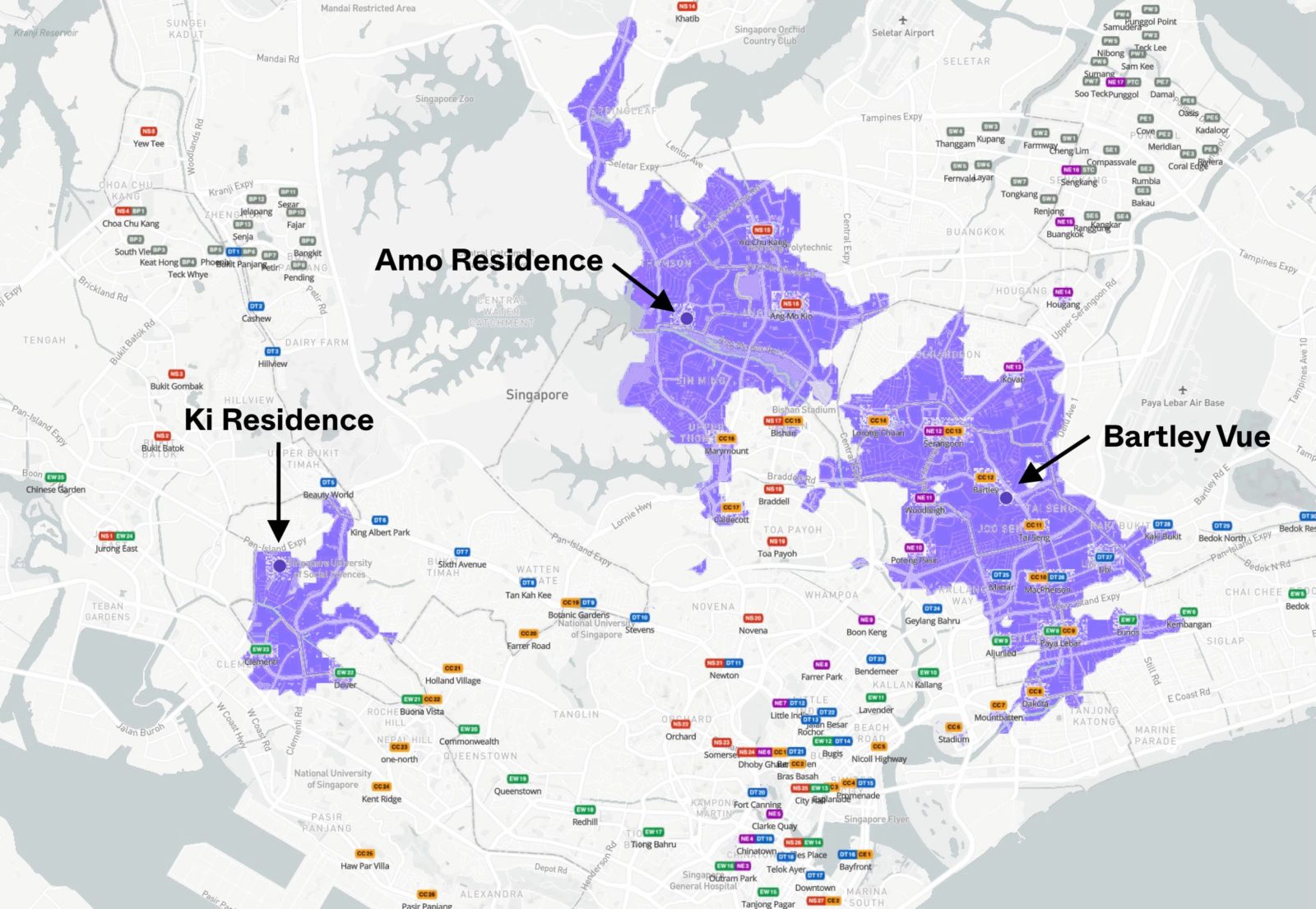 Disclaimer: This isn't 100% accurate due to changes in bus schedules, the fact that Ki Residences would have a new road out, and the Thomson-East Coast Line isn't even accounted for here which is one of Amo Residence's highlights. In fact, this was data derived in 2018 and a lot of things have since changed – especially for Amo Residence.
In the map above, you'll find that Bartley Vue has the best connectivity. However, if we account for Mayflower MRT station, we believe that Amo Residence would have the best connectivity within 30 minutes since the area covered here rivals Bartley Vue even before the new line is accounted for.
Ki Residences is the worst – most of the time is probably calculated in walking out to the main road which is within the 30-minute timeframe. However, once the road is built, we do expect a slight improvement in connectivity there.
What we can also learn from the map is also not just the size of the places you can reach, but is that area even somewhere you'd want to frequent? As such, let's take a look a more in-depth look at the connectivity for each development.
Ki Residences
We've written extensively on Ki Residences before, so for more information about the development, you can read the full review.
Ki Residences has an estimated TOP in June 2024. The biggest downside to this development is its public transport connectivity. It's very typical of any development located in a landed enclave. Even if the new MRT station along Clementi Road is confirmed, it's still not quite within walking distance, putting residents without a car in a sticky situation.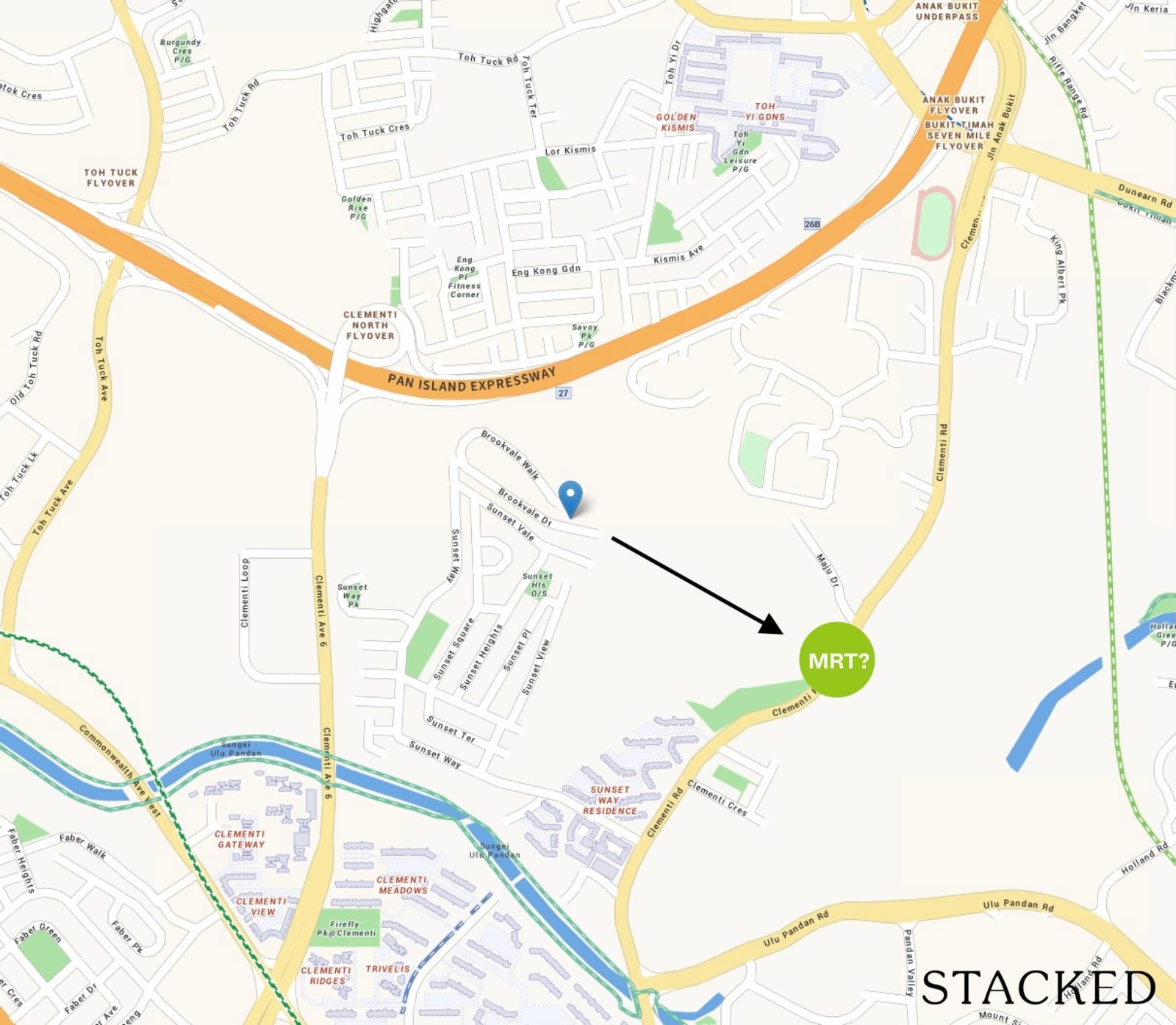 That said, if you don't mind the longer walk, there is a small shopping mall, Clementi Arcade, where you can go for groceries. There's also Bukit Timah Plaza that's not too far off once you board the bus along Clementi Road. For Ki Residences, the developer specifically made arrangements for a shuttle bus to Clementi MRT in the first three years, however, you are at the mercy of how residents vote on it after that, as well as the schedules. As such, this is not something we'd count on in the long-run.
Here's how the bus connectivity fares: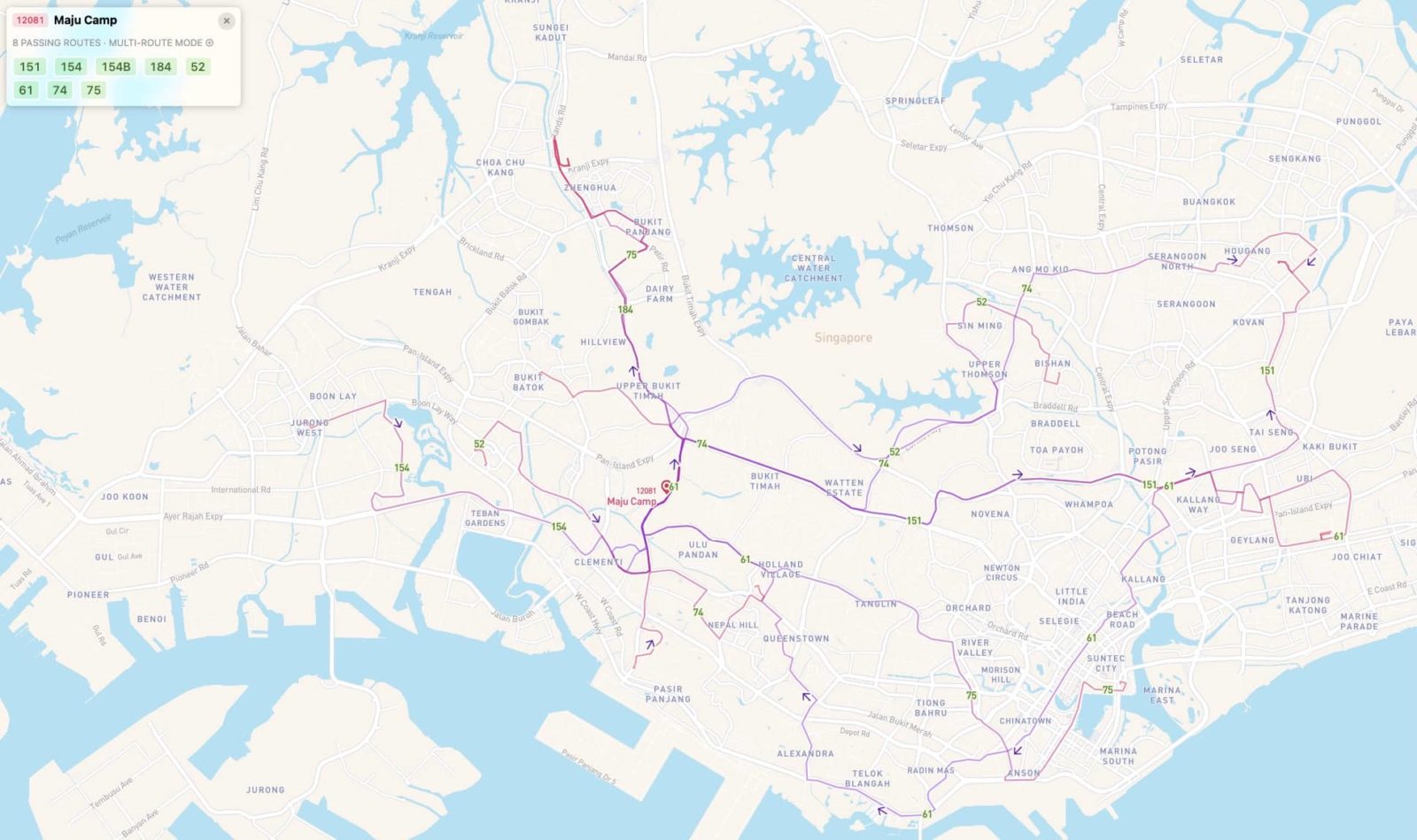 Buses here do have quite an extensive network, covering the west side, central area, and some parts closer to the east.
All in all, you'll need a car if you wish to stay at Ki Residences – or just the mindset that walking out/taking a taxi often is not a big deal at all.
Bartley Vue
Bartley Vue is estimated to obtain its TOP in Jan 2026.
The connectivity is quite decent for those who work in the northeast area. In terms of bus connectivity, the routes provided are quite varied too, going to Queenstown, Sengkang, Changi, and the CBD: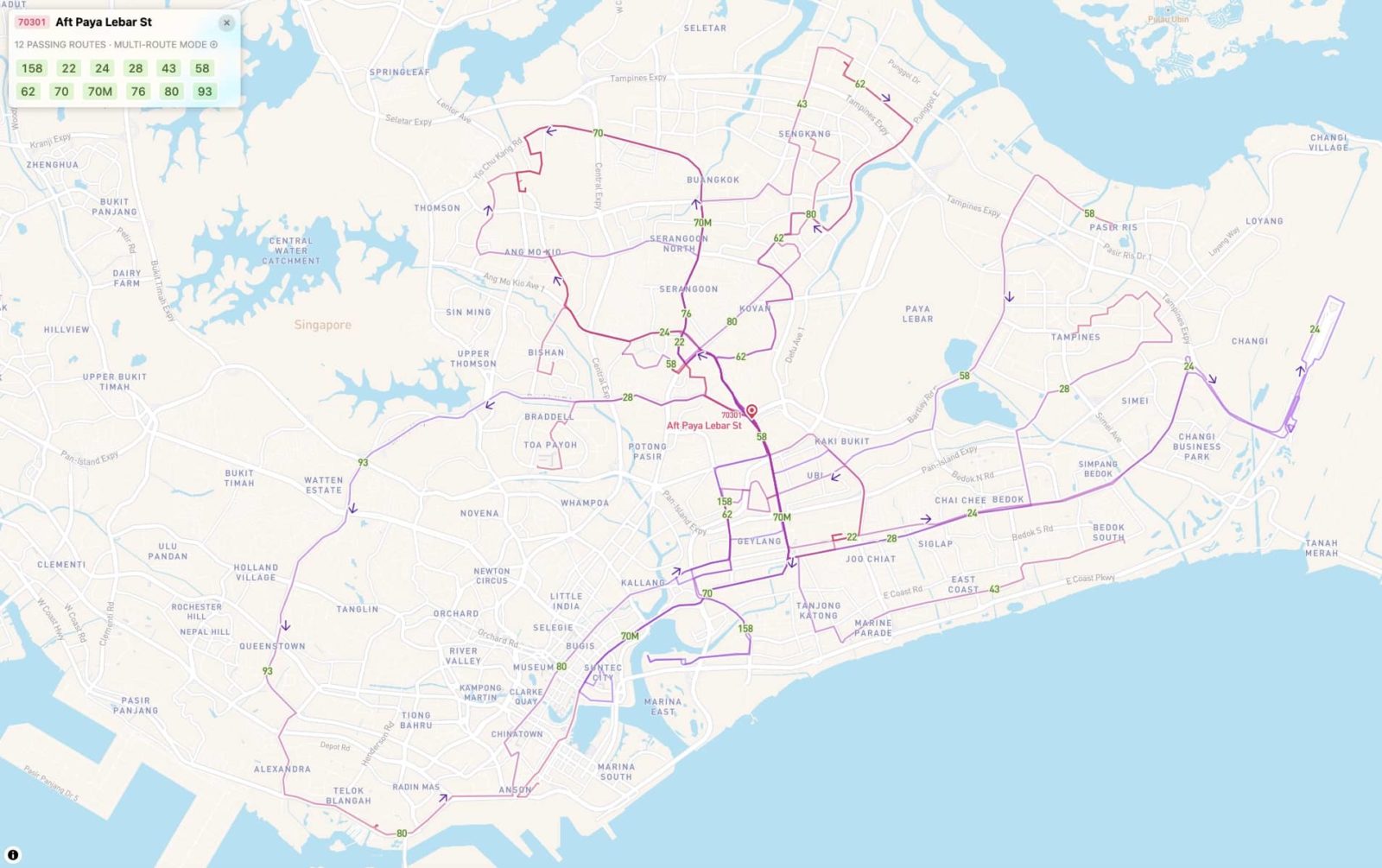 While it looks near on the map, the actual walking time to Bartley MRT from here is 8 minutes. Some may not consider this to be within walking distance, but for most people, this is definitely doable daily.
From there, it's just 1 stop to get onto the Northeast line, 2 stops to get onto the Downtown line, and 3 stops to the Eastwest line. Those who work in the CBD can transit at Paya Lebar MRT to reach Raffles Place MRT in about 40 minutes, door to door. While it's nothing to shout about, it's certainly not too long either.
In terms of amenities, Bartley Vue's immediate surroundings are average. There are some roadside shops along Upper Paya Lebar Road, with quite a wide variety of food in the area. But if you are looking for something more comprehensive, there are sadly no hawker centres or malls within a 5-10 minute walk.
The closest mall with an eatery is about a 13-minute walk away. By bus, it isn't that much shorter. You can drive to Macpherson Mall in 5-minutes, so if you have a car this is certainly acceptable.
There is also the Tai Seng stretch to look at, with the number of offices providing a thriving environment for food stalls. If you aren't familiar with the place it is often quite a pleasant surprise to see the outlets on offer. There's a Tim Ho Wan, The Prata Cafe, Hawker Chan, all the way to a Harry's Bar. You do have an NTUC Fairprice here too, so there's an option for groceries.
It's the immediate area that one might not quite describe as idyllic, with a multitude of industrial spaces surrounding the place. It's a busy, thriving environment, to say the least.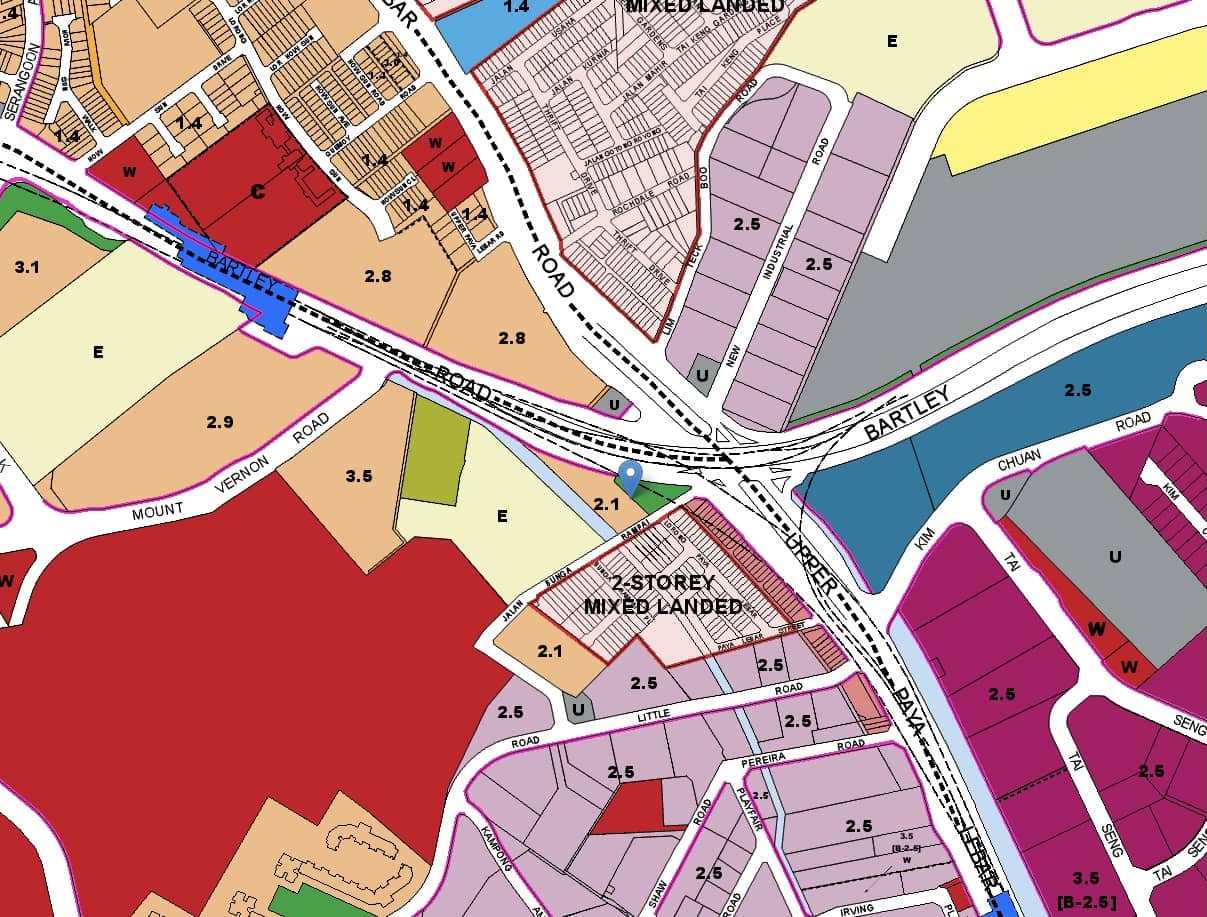 Amo Residence
Amo Residence is the newest launch so far, and its estimated TOP is at end 2026.
One of Amo Residence's highlights is its proximity to Mayflower MRT along the Thomson-East Coast Line. It's within about an 8-minute walk, allowing residents to connect to Orchard conveniently. Here is the bus connectivity: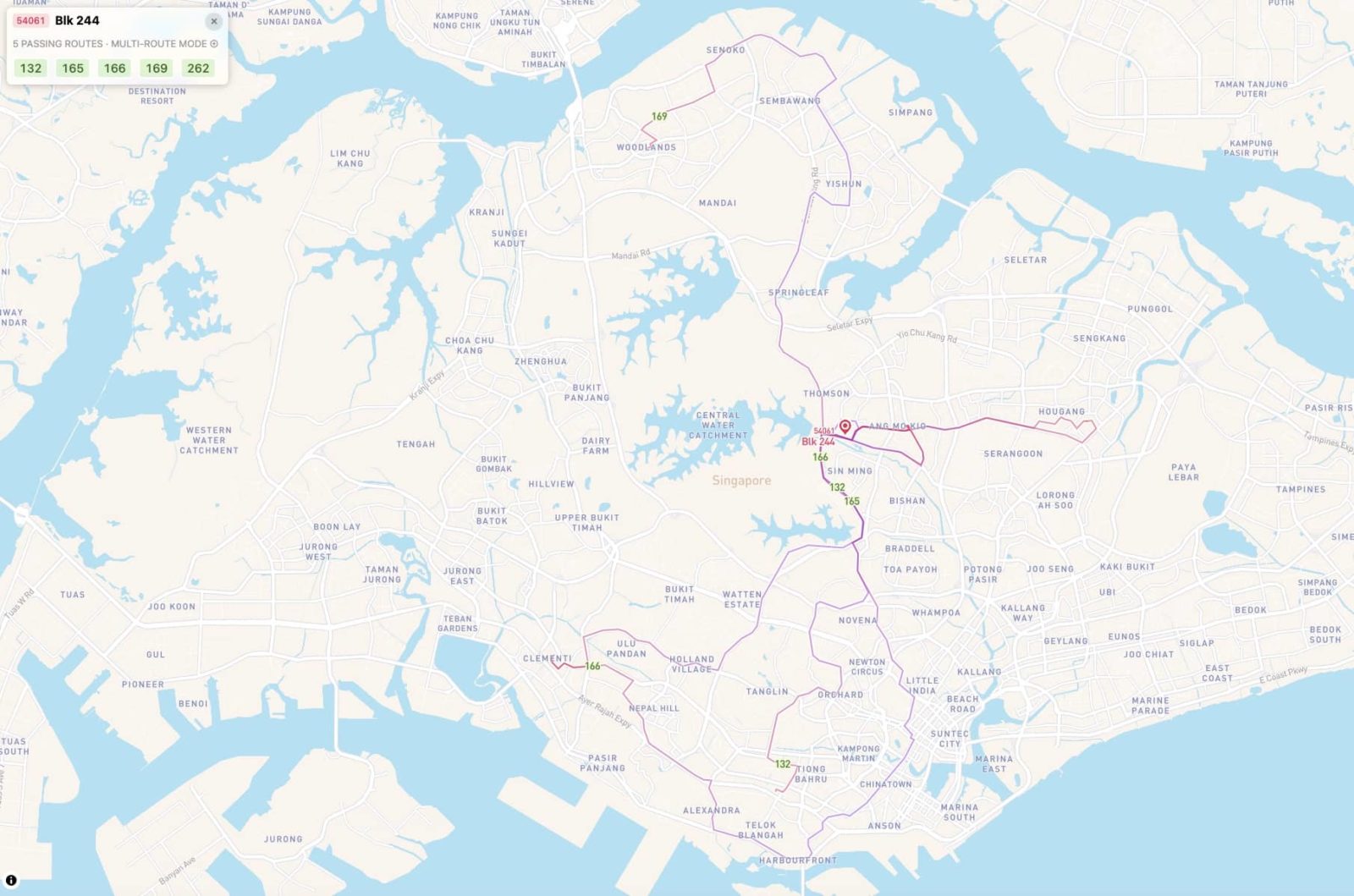 Buses generally go north or south, so we can't say that it's got an extensive network. However, the upcoming MRT should more than compensate for this.
In terms of amenities, this is where the location of a mature estate shines. Looking around, you'll immediately notice the abundance of public housing nearby. There's a Sheng Siong supermarket just a couple of minutes away, and about a 10-minute walk to Kebun Baru Food Centre.
In terms of connectivity and amenities, we think that Amo Residence so far is the best. It's closer to an MRT compared to the other condos, and there are more amenities you can access in the Ang Mo Kio estate.
Winner: Amo Residence. The benefits of staying near public housing are real, and Amo Residence is an example of a balance between being next to a landed enclave (for exclusivity) and being next to a public housing neighbourhood for amenities.
Floor Plan Layout
Ki Residences
For a budget of $2 million and below, you're looking at the 980 sq ft 3-Bedroom + Yard (Deluxe) unit type. So let's take a look at its layout: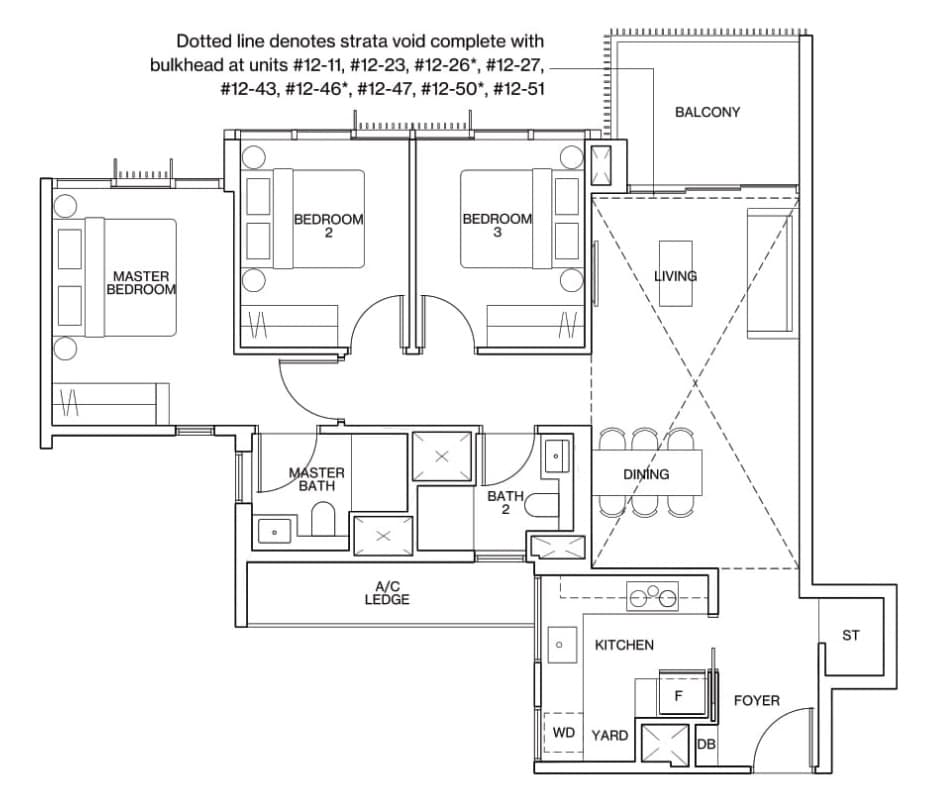 Coming into the unit, you'll find that there's a small foyer area that would allow for some storage to be built immediately on the left where the DB box is located. To the right is also some storage area that you can build shelves in to put some household items, however, it is a lot smaller than the usual household shelters would provide.
Immediately after that is the enclosed kitchen – for a 3-bedroom unit, this isn't particularly big especially if we consider that the "yard" is actually part of this kitchen. You could install a compact clothes drying rack here, but we doubt it'd be enough for a family of your size. The window behind the "washer/dryer" spot also makes it hard to stack a dryer on top of a washer, and those washing machines with dryer functions cannot do a complete job at drying.
The good news is that at least it's got good natural ventilation.
Moving forward in, there's a dining area that just nicely fits a table for six and an average-sized living room. There's also a balcony that can possibly fit a table of 6, but that would probably be pushing it.
The bedrooms here are quite decently-sized, allowing you to fit queen-sized beds comfortably with allowance for decent wardrobes too. Your children and elderly mum should find this amount of space to be quite suitable for them. What's interesting here is the addition of the Juliet windows, which will provide a 'balcony' like experience to the exterior and landscape.
Both bathrooms are also naturally ventilated (rare for new launch layouts these days) and the master bedroom is quite decently-sized too! It even has a small window on the opposite end to provide some cross-ventilation!
Overall, we would say that this 3-bedroom unit is efficient and quite suitable for you assuming you do not have a helper – otherwise, it could be tricky given the lack of a utility room here.
Bartley Vue
With $2 million and below, you can consider both the 3-bedroom and 3-bedroom premium at Bartley Vue.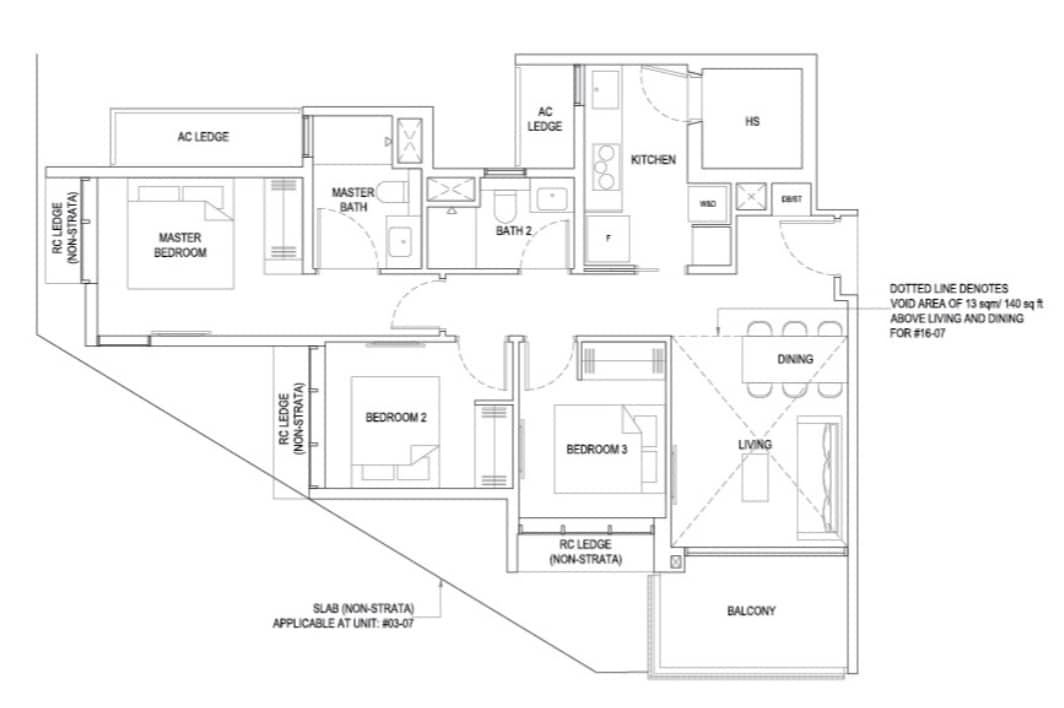 What's great about this layout is that despite its size of 947 sq ft, the developer managed to fit in a household shelter. This is extremely handy – even more so for families given storage is an important consideration. Moreover, if you have or when you decide to have a helper at some point, this could be utilised as a place to stay which is currently not possible with the layout at Ki Residences.
At the entrance, you'll find that the door opens up to a wall directly. This is considered to be good since it adds to the privacy of the home. There's also not much of a walkway here, so the space is considered to be relatively efficient. It's tight, but you could also add a small shoe cabinet right at the wall facing the entrance. Turning left, you'll find the dining and living room.
And since this is the entire space for both dining and eating, we must say that the space afforded here leaves much to be desired. Although the space isn't particularly big, so you could consider shifting the dining out to the balcony. You could also think about installing a ZipTrak to 'convert' the space into an indoor one as it does help to retain air conditioning.
Needless to say, at 947 sq ft and a utility room, space had to come from somewhere, so this is a sacrifice you would have to make. Still, it's not impossible to enjoy dining and living indoors as long as you don't mind the squeeze.
Further in, you'll find the enclosed kitchen. It's naturally ventilated which does wonders, and there's also a "yard" indicated here. This is probably just where you'll store the washer and dryer, and there really isn't room for you to hang your laundry. The kitchen is also quite small – there isn't a lot of countertop space, and the utility room in the corner means you can't build cabinets there either, so cabinetry space isn't fantastic. That being said, if you do not have a helper, this could really be a strategic pantry area!
Moving on, you'll find that the bedrooms here are more than adequate for your family's needs right now since your daughter only needs a single bed, and there would be room for a study table. The other room could be utilised as an office for now, and later on, it can be converted into a bedroom for your next kid.
Both bathrooms are naturally ventilated as well which is not very common in new launches – so that's good. There is some wasted bedroom walkway space here though, but this is also relatively typical and it does add a touch of privacy.
Now let's see what the 3-bedroom premium offers: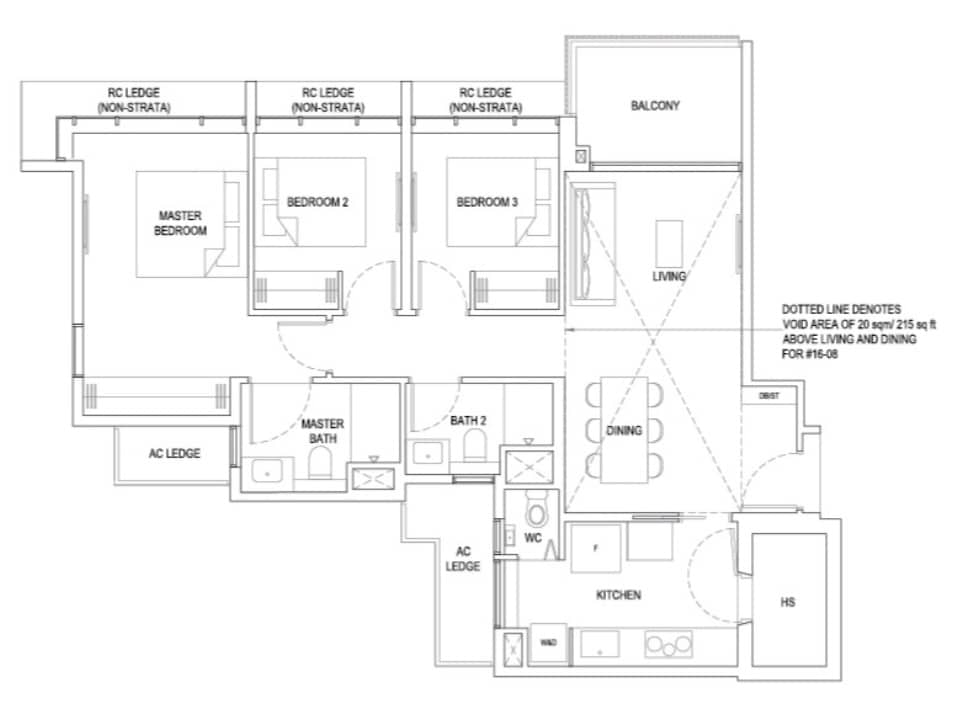 At 1,044 sq ft, Bartley Vue's 3-bedroom premium looks like a decent 3-bedder on paper.
For the extra 9 sqm (97 sqft), you'll get a more spacious kitchen with space to put more cabinetry, a small area to hang clothes, a WC – very useful if you have a helper, a larger area to put items next to the main entrance, a separate living and dining area, and a much bigger master bedroom.
One minor downside of this layout is the lack of privacy – the main door opens up to the dining area.
That's a lot more benefits for 9 sqm more!
There's also a lot of natural ventilation in this house – in both bathrooms, the WC, the kitchen, and the master bedroom even has one facing the main door.
We are quite impressed with this layout, and the size isn't too big to make the overall quantum impractical too. Considering the price range of below $2m and its size, this is pretty ideal for HDB upgraders.
Amo Residence
Amo Residence's pricing isn't confirmed yet, but its indicative pricing does show that some of the smallest 3-bedroom will go from $1.81 million and above, so let's see what this 958 sq ft unit looks like: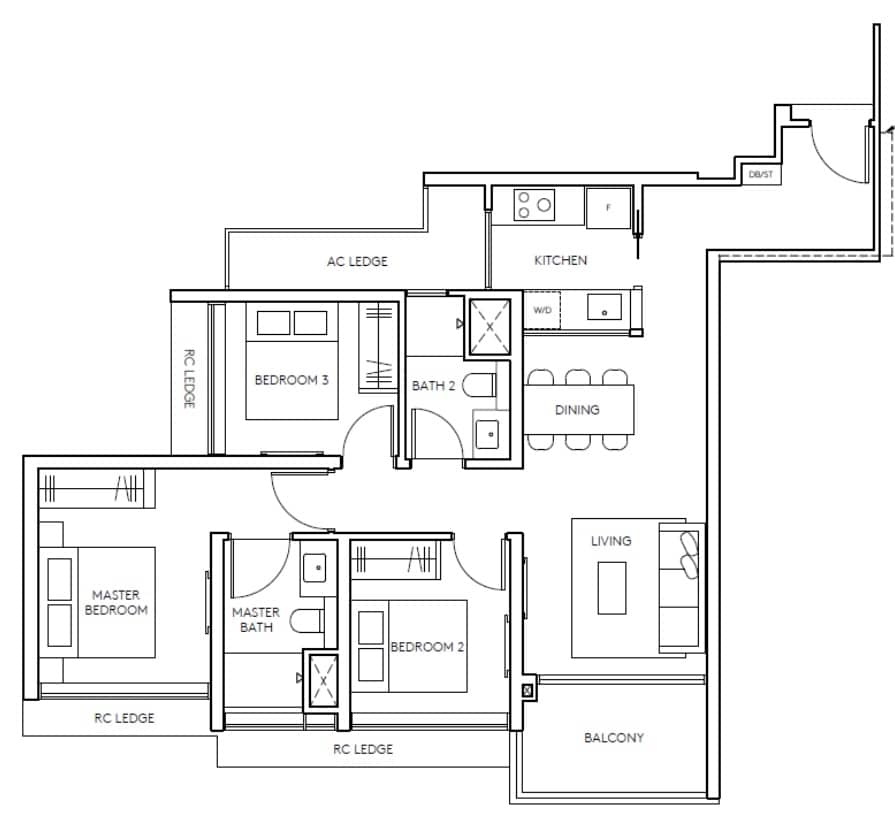 Heading in, you'll notice that the main door faces the wall directly with a long entranceway. While this could be a good thing for bigger units (feels more exclusive/private), it's certainly not a positive one on an already small 3-bedroom unit that's below 1,000 sq ft. There is at least some space on the right to put a small shoe cabinet.
The next area you'll see is the enclosed kitchen. The kitchen is small – in fact, some 2-bedroom units have a kitchen this size too. As such, there isn't a lot of countertop of space for cabinetry, making it quite tight for a family profile. There's also no utility room or yard here, but at least the kitchen is ventilated though.
Further in, you'll see the living and dining area which are separate. The dining area looks to be quite decent, supporting up to 6 people which is enough for your family.
Judging from the furniture placement on the floor plan, it seems that the living room is pretty tight, so you'd need to be careful about what furniture you choose here.
Moving in, I do like that the hallway space is more efficient given that one of the bedrooms is situated on the other side. This does help to compensate for that overly-long entranceway. Both bathrooms here are naturally ventilated which is great!
Bedroom sizes here are pretty much in line with new launches today, and it's certainly enough to fit your family profile. The master bedroom looks like you could fit a king-sized bed with two bedside tables here so that's pretty decent.
Winner: Bartley Vue's 3-bedroom premium. This one is pretty obvious. For its price, you get a more practical 3-bedroom layout. And the layout is extremely important from not just a livability standpoint but a resaleability standpoint too.
Pricing
Here's a quick look at the pricing for 3-bedroom units across all three developments:
| | | | | | | |
| --- | --- | --- | --- | --- | --- | --- |
| Development | Tenure | Type | Size (sqft) | Take-Up Rate For Unit Type | Average $PSF | Average Price |
| Ki Residences At Brookvale | 999-year | 3BR + Yard | 980 | 88% | $1,972 | $1,932,133 |
| Bartley Vue | 99-year | 3BR | 947 | 46% | $1,846 | $1,748,000 |
| Bartley Vue | 99-year | 3BR Premium | 1,044 – 1,066 | 7% | $1,824 | $1,904,500 |
| Amo Residence | 99-year | 3BR | 958 | 0% | Est. From $1,889 | $1,810,000 |
Source: Squarefoot, URA.
Ki Residences At Brookvale is 999-year leasehold – which is as good as freehold as far as pricing is concerned.
At $1,972 psf, it traded at an 8.1% premium to the leasehold Bartley Vue's 3BR premium, and 4.4% more than the lowest $PSF at Amo Residence – so more or less, Amo Residence's 99-year leasehold 3BR will cost more than Ki Residences 3BR units).
If we use Bala's Curve and assume an interest rate of 3.5%, then a 99-year leasehold development with the same age as a freehold should be around 3.7% cheaper. But that's just comparing tenure, all 3 developments are in completely different places, so such a method is not fair unless the location does not matter to you at all – but it does, since you mentioned capital appreciation is a consideration.
So what exactly is a 'decent' entry price?
Markets can stay irrational longer than you can stay solvent
This is a famous quote by economist John Maynard Keynes. It's commonly applied to an exuberant stock market, and some see this playing out in the property market.
So when you try to define "decent", what exactly does this mean?
First, let's make the comparison to new sales.
Ki Residences
| | | | | | | |
| --- | --- | --- | --- | --- | --- | --- |
| Project | Tenure | Type | Size (sqft) | Average $PSF | Average Price | Take-Up Rate (Jun 22) |
| Ki Residences At Brookvale | 999-year | 3BR + Yard | 980 | $1,873 | $1,834,424 | 93% |
| Forett At Bukit Timah | Freehold | 3BR (Deluxe) | 980 | $1,936 | $1,896,542 | 92% |
Source: Squarefoot, URA. Prices from Jan 22 – Jul 22 (incomplete).
The only other new launch with transactions since Jan 22 that's freehold/999-year in D21 is Forett At Bukit Timah. On both a quantum and $PSF basis. Forett At Bukit Timah is more expensive. Taking Forett's better connectivity to the MRT, future bus interchange, and amenities into consideration, we do think that this premium is justified.
As such, the current market value for a new launch condo dictates that Ki Residences At Brookvale seems to be a decent entry at this average $PSF.
Bartley Vue
| | | | | |
| --- | --- | --- | --- | --- |
| Project Name | Tenure | Median Unit Price ($ PSF) | Median Price ($) | Take-Up Rate (Jun 22) |
| BARTLEY VUE | 99-YR | $1,825 | $1,792,000 | 42% |
| SENGKANG GRAND RESIDENCES | 99-YR | $1,817 | $1,745,900 | 100% |
| THE FLORENCE RESIDENCES | 99-YR | $1,704 | $1,727,500 | 99% |
| PARKWOOD RESIDENCES | 99-YR | $1,583 | $1,620,000 | 56% |
| RIVERFRONT RESIDENCES | 99-YR | $1,304 | $1,295,926 | 100% |
Source: URA
Based on new sale transactions between Jan 22 – July 22 for sizes between 900 – 1,100 sqft, Bartley Vue seems to be the highest-priced both in terms of quantum and $PSF.
But if you consider the take-up rate, the only real alternative here is Parkwood Residences. Currently, there are 7 3-bedroom units at Parkwood Residences available. Here's a look at a 990 sqft unit priced $1,685,000: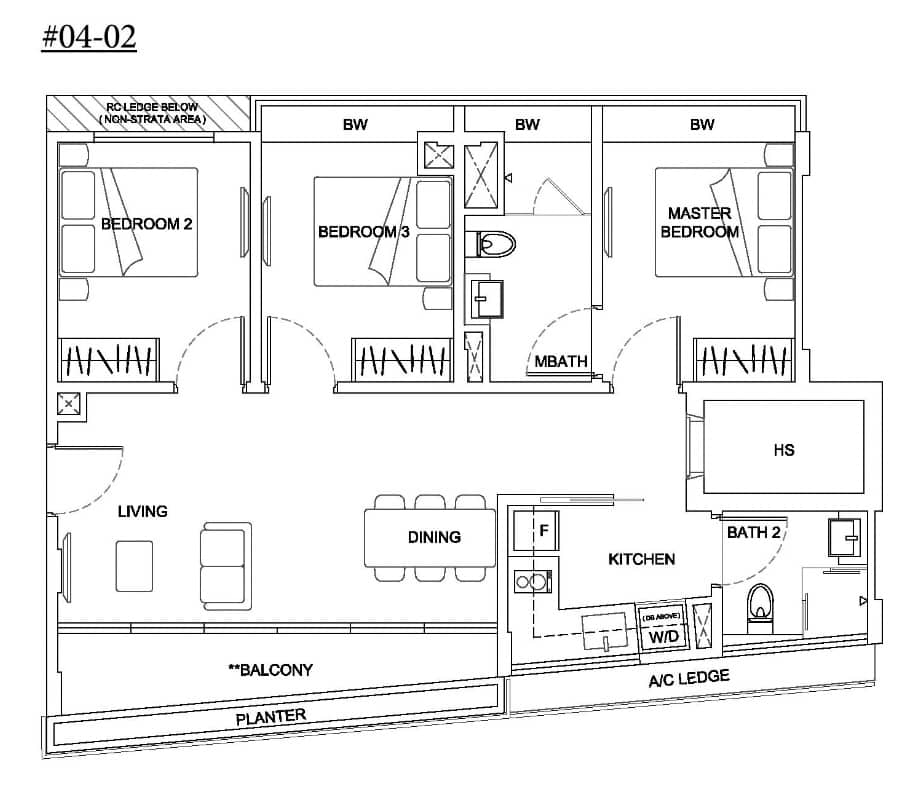 Since you're particular on layout, it's safe to say that this is likely not worth considering. The unit essentially has a long walkway in the middle, the living and dining area is confined to a narrow width, the balcony isn't really usable (alfresco dining is tight), and there's even a planter and bay window here. If you aren't particular on layout, this could work since it's cheaper. But in terms of resaleability next time, buyers would also see the bay windows and planters as a negative.
As such, if you're considering the district and new launches, there isn't much of a choice especially if you want one that's within walking distance to an MRT that's already ready to use.
Amo Residence
Amo Residence is located in district 20 and there are only two other alternatives in district 20 – Lattice One and Jadescape:
| | | | | | | |
| --- | --- | --- | --- | --- | --- | --- |
| Project Name | Transacted Price ($) | Area (SQFT) | Unit Price ($ PSF) | Sale Date | Address | Take-Up (Jun 22) |
| LATTICE ONE | $1,608,750 | 840 | $1,916 | 04 Jan 2022 | 3 SERAYA CRESCENT #04 | 100% |
| LATTICE ONE | $1,597,000 | 840 | $1,902 | 17 Jan 2022 | 3 SERAYA CRESCENT #01 | 100% |
| LATTICE ONE | $1,598,850 | 840 | $1,904 | 25 Jan 2022 | 3 SERAYA CRESCENT #03 | 100% |
| JADESCAPE | $1,620,000 | 904 | $1,792 | 26 May 2022 | 16 SHUNFU ROAD #19 | 99% |
Source: URA
These were the 3 bedroom transactions that took place from Jan 22 to July 2022. The only 3-bedroom recorded this year is the 904 sq ft unit which is really basic and wholly-impractical for family living(expected for this size):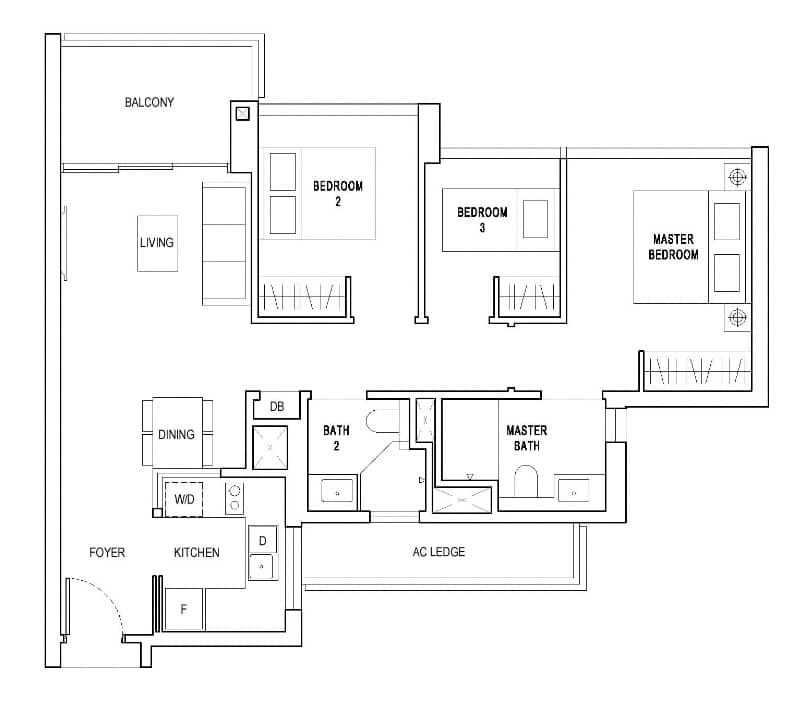 If we look back to 2021, you'll see that the more practical layout (3-bedroom deluxe) at 1,012 sqft went for $1,741 psf ($1.762 million):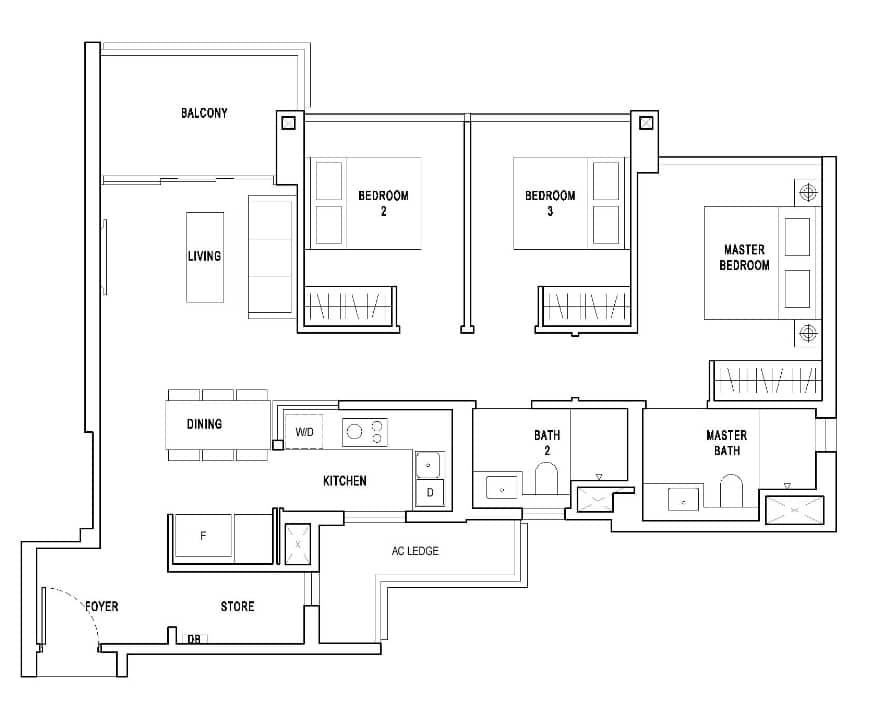 At $1,741 psf, this is considered quite worth it relative to Amo Residence where the starting price is already in the high $1,800 psf. This would make Amo Residence seem like it's not "decent", however, it is the reality now with new launches – it's just getting more expensive as the market goes up and new launch supply gets depleted evidenced by the take-up rate.
This leads us to our next point:
Have you considered resale alternatives?
Here's a look at some freehold resale transactions $2 million and below above 1,300 sqft in district 21 (same as Ki Residences):
| | | | | | | | |
| --- | --- | --- | --- | --- | --- | --- | --- |
| Project Name | Transacted Price ($) | Area (SQFT) | Unit Price ($ PSF) | Sale Date | Address | Completion Date | Planning Area |
| HILLVIEW GREEN | $1,755,000 | 1,475 | $1,190 | 15 Feb 2022 | 61 HUME AVENUE #01 | 1998 | Bukit Batok |
| PANDAN VALLEY | $1,950,000 | 1,464 | $1,332 | 04 Jul 2022 | 2 PANDAN VALLEY #03 | 1978 | Bukit Timah |
| BUKIT REGENCY | $1,980,000 | 1,453 | $1,363 | 23 Feb 2022 | 1 UPPER BUKIT TIMAH VIEW #05 | 1995 | Bukit Timah |
| HILLVIEW GREEN | $1,918,000 | 1,453 | $1,320 | 23 Mar 2022 | 69 HUME AVENUE #06 | 1998 | Bukit Batok |
| SELANTING GREEN | $1,760,000 | 1,453 | $1,211 | 09 Jun 2022 | 1 JALAN SELANTING #04 | 1998 | Bukit Timah |
| BUKIT REGENCY | $1,920,000 | 1,399 | $1,372 | 07 Feb 2022 | 7 UPPER BUKIT TIMAH VIEW #08 | 1995 | Bukit Timah |
| BUKIT REGENCY | $1,935,000 | 1,399 | $1,383 | 13 May 2022 | 9 UPPER BUKIT TIMAH VIEW #05 | 1995 | Bukit Timah |
| PARC PALAIS | $1,800,000 | 1,389 | $1,296 | 31 Mar 2022 | 53 HUME AVENUE #01 | 1999 | Bukit Batok |
| HIGHGATE | $1,770,000 | 1,346 | $1,315 | 18 Jan 2022 | 60 TOH TUCK ROAD #04 | 1995 | Bukit Timah |
| TOH TUCK LODGE | $1,680,000 | 1,346 | $1,249 | 17 Feb 2022 | 26F TOH TUCK ROAD #03 | 2003 | Bukit Timah |
| PARC PALAIS | $1,360,000 | 1,335 | $1,019 | 21 Jan 2022 | 49 HUME AVENUE #07 | 1999 | Bukit Batok |
| HIGHGATE | $1,930,000 | 1,324 | $1,458 | 08 Mar 2022 | 66 TOH TUCK ROAD #07 | 1995 | Bukit Timah |
| HILLVIEW GREEN | $1,830,000 | 1,302 | $1,405 | 21 Mar 2022 | 67 HUME AVENUE #08 | 1998 | Bukit Batok |
| THE HILLSIDE | $1,900,000 | 1,302 | $1,459 | 25 Mar 2022 | 341 UPPER BUKIT TIMAH ROAD #05 | 2001 | Bukit Batok |
| THE HILLSIDE | $1,938,000 | 1,302 | $1,488 | 04 Jul 2022 | 341 UPPER BUKIT TIMAH ROAD #07 | 2001 | Bukit Batok |
Source: URA. Transactions from Jan 22 – Jul 22 (incomplete)
Given your initial shortlist, the location did not seem strict since it was in various places, and if you do not mind the age, there are several resale options like the above that you can look into as well.
You'll notice that a lot of them are much bigger than what new launches are offering, with the compromise being their age and lack of modern facilities – so this is something you have to take note of. Also, resale is a lot harder to buy since you'll need to wait for availability and it can be challenging to arrange the viewings if the unit is tenanted out.
Some of the older units may have what some might consider too big of a living area, or dining area which may not be worth paying for over the lack of modern facilities.
So ultimately, this goes back to our question: what exactly is "decent"?
A large part of what is "decent" depends on your priorities. If you do not prioritise modern facilities and a new development, then you might find the price of Ki Residences to be crazy since you can get a bigger unit for the same quantum. But if you do, then it may not be as crazy as it seems. After all, there are new launches in the past with high $PSF gaps that continue to maintain this even in the resale market (some even strongly appreciated, such as Martin Modern!).
If you are depending on making a profit from your exit to fund your retirement, then we'd caution buying into old leasehold developments. As such, we'd pay more attention to freehold or 999-year leasehold properties such as those listed in the table above.
The case for resale developments can also be made if you're concerned about the TOP dates. The earliest to reach its TOP out of the three shortlisted is Ki Residences (2 years), while Bartley Vue and Amo Residence are still about 4 years away. Buying a resale is heavier on the finance side of things, but you can move in quite quickly.
Finally, let's touch on the last point:
Capital appreciation upside
Disclaimer: There's resaleability, and there is you paying too much for it now only to sell for a loss later even when demand is high. While the following points showcases the possibilities/hindrance for capital appreciation, everything boils down to price and how the secondary market reacts to the new launch moving forward. Unfortunately, we do not know where the market is headed, but we can certainly see the factors that could put your development in a better chance for growth.
Ki Residences
The area may seem pretty quiet, but Ki Residences stands to benefit from three things:
Possible Cross Island Line station along Clementi Road – this is pure speculation, but considering King Albert Park was announced as the interchange and the line has to run south, it's quite likely that a station along Clementi Road (opposite Maju Camp) could be announced. This would surely boost the appeal of the development considering its lack of an MRT is one of its biggest downsides.
Beauty World Transformation – as in the 2019 URA Master Plan, Beauty World is slated to become an integrated transport hub. This entails facilities such as a community club, hawker centre, sports hall, and a condo that can house more than 800 units. This has led to solid demand for Beauty World projects such as The Linq @ Beauty World. Ki Residences isn't as close to the transformation as other new launches like Verdale and Forett, but considering it's in the area, we do expect renewed interest in this development once it's completed.
Residential Zoning at Clementi Forest and Maju Forest – These sites will be launched as Government Land Sales sites with 99-year leases so Ki Residences, as the 999-year development, will stand out as a unique heirloom for generations. The only issue is whether or not this announcement will happen or materialise by the time you want to sell.
Our concern with Ki Residences is that if the transport situation does not materialise or improve, then the property may continue to trudge along with the general property market inflation and we can't quite expect it to outperform the market.
Bartley Vue
Some things that Bartley Vue could benefit from:
HDB Upgraders – generally, HDB upgraders prefer to purchase developments in an area they're familiar with. For Bartley Vue, these are the new Bidadari HDBs as well as several in the Hougang and Kovan areas.
Paya Lebar Airbase Transformation – this is a big one set to start in 2030 and the Bartley area is pretty close by. While it's hard to say how much of an impact this new neighbourhood will have on the Bartley area, it's certainly close enough to warrant added convenience and interest assuming lots of new amenities come up. After all, it's only a few minutes drive away. This is also in line with your exit horizon of 10-15 years time!
A concern we have for Bartley Vue is the competition in the area – with some developments being nearer to the Bartley MRT. Bartley Residences and Bartley Ridge, for example, are just beside or opposite Bartley MRT.
Anyone looking into the area would most certainly make comparisons on what each can offer. Currently, Bartley Ridge and Bartley Residences trade at a lower price (they are, of course older) compared to Bartley Vue. Here are some of their transactions this year for flats above 900 sq ft:
| | | | | | |
| --- | --- | --- | --- | --- | --- |
| Project Name | Transacted Price ($) | Area (SQFT) | Unit Price ($ PSF) | Sale Date | Address |
| BARTLEY RESIDENCES | $2,070,000 | 1,346 | $1,538 | 22 Jun 2022 | 5A LORONG HOW SUN #11 |
| BARTLEY RESIDENCES | $1,920,000 | 1,378 | $1,394 | 17 Jun 2022 | 1 LORONG HOW SUN #07 |
| BARTLEY RIDGE | $1,550,000 | 969 | $1,600 | 08 Jun 2022 | 30 MOUNT VERNON ROAD #05 |
| BARTLEY RESIDENCES | $1,150,000 | 915 | $1,257 | 03 Jun 2022 | 7A LORONG HOW SUN #01 |
| BARTLEY RESIDENCES | $1,386,000 | 915 | $1,515 | 09 May 2022 | 1A LORONG HOW SUN #12 |
| BARTLEY RIDGE | $1,650,000 | 1,033 | $1,597 | 29 Apr 2022 | 40 MOUNT VERNON ROAD #09 |
| BARTLEY RESIDENCES | $2,300,000 | 1,604 | $1,434 | 28 Apr 2022 | 5 LORONG HOW SUN #07 |
| BARTLEY RESIDENCES | $1,770,000 | 1,163 | $1,523 | 18 Apr 2022 | 5 LORONG HOW SUN #14 |
| BARTLEY RESIDENCES | $1,660,000 | 1,066 | $1,558 | 18 Apr 2022 | 7 LORONG HOW SUN #12 |
| BARTLEY RIDGE | $1,550,000 | 969 | $1,600 | 18 Apr 2022 | 36 MOUNT VERNON ROAD #09 |
| BARTLEY RESIDENCES | $1,320,000 | 915 | $1,443 | 14 Apr 2022 | 1A LORONG HOW SUN #05 |
| BARTLEY RESIDENCES | $1,650,000 | 1,098 | $1,503 | 13 Apr 2022 | 5 LORONG HOW SUN #15 |
| BARTLEY RESIDENCES | $1,688,888 | 1,238 | $1,364 | 12 Apr 2022 | 7A LORONG HOW SUN #01 |
| BARTLEY RESIDENCES | $1,910,000 | 1,378 | $1,386 | 11 Apr 2022 | 1 LORONG HOW SUN #05 |
| BARTLEY RESIDENCES | $1,968,000 | 1,378 | $1,428 | 05 Apr 2022 | 1 LORONG HOW SUN #08 |
| BARTLEY RESIDENCES | $2,295,000 | 1,625 | $1,412 | 18 Mar 2022 | 7 LORONG HOW SUN #17 |
| BARTLEY RESIDENCES | $1,300,000 | 904 | $1,438 | 18 Mar 2022 | 3 LORONG HOW SUN #07 |
| BARTLEY RESIDENCES | $1,720,000 | 1,270 | $1,354 | 11 Mar 2022 | 1A LORONG HOW SUN #01 |
| BARTLEY RIDGE | $1,550,000 | 1,033 | $1,500 | 02 Mar 2022 | 42 MOUNT VERNON ROAD #02 |
| BARTLEY RESIDENCES | $2,120,000 | 1,636 | $1,296 | 23 Feb 2022 | 3 LORONG HOW SUN #13 |
Source: URA
While both developments are about 8-9 years older in terms of lease, the $PSF gap may not be justified since their layouts are quite modern (no bay windows or planters here). This could mean a harder time for Bartley Vue to see any great appreciation until much later as resale buyers consider Bartley Ridge and Residences to be more affordable and better in terms of connectivity.
Amo Residence
Out of the three, Amo Residence would seem to have the best capital appreciation potential for the following reasons:
Limited condo supply in the area – there's a reason why Natura Loft DBSS in Bishan keeps doing well. Modern, high-rise HDBs in that area are scarce, and HDB buyers constantly look at this development if they want to stay in Bishan. While we can't compare an HDB with a condo, we do see a parallel in terms of supply here. Resale buyers in the future may not have that many options if they want a modern condo near an MRT that's also within convenient reach to facilities (plus a great view to boot!)
HDBs in the vicinity can support prices here – Amo Residence is anchored by the high prices that the nearby HDB flats are selling for. Kebun Baru Court, which is just beside Amo Residence has many units which have sold for well above $1 million (5 room flat) and $800k (4 room flat).
Proximity to popular schools – we get a lot of enquiries about the Brighthill area – why? Ai Tong Primary. Amo Residence is close to not just 1, but 2 popular schools (Ai Tong/CHIJ St. Nicholas Girls). There will always be a group of buyers that prioritise popular schools, as such, Amo Residence would fall in their radar and continue to make the development relevant in the future (unless they move out!).
Winner: Amo Residence – the lack of supply, support from HDBs, and proximity to schools are substantial reasons to boost its resaleability. This also goes hand in hand with you possibly having another kid. While you've not mentioned proximity to popular schools as a factor, this could be seen as a bonus not just for now, but when it comes to the resale market in the future.
While Bartley Vue and Ki Residences has a lot of potential and merits of its own, the existing competing supply as well as the uncertainty of what the new supply could mean for Bartley Vue is a concern. For Ki Residences, a lot of what was mentioned is purely speculation (of course, this means the higher the risk, the higher the returns!).
We don't have much of a concern about all three developments due to the fact that they're all new, and the leasehold options would not go past the 20-year mark which is when we can expect a stronger effect of depreciation on prices.
Conclusion
Overall, we have shared our thoughts in terms of connectivity, floor plan layout, current pricing, and capital appreciation potential. In the end, all of them have their merits – it's just a matter of which one you hold in higher regard.
We hope that our insights into these developments will help you in your decision-making.
Have a question to ask? Shoot us an email at hello@stackedhomes.com – and don't worry, we will keep your details anonymous.
Looking for a home? Feel free to reach out to us here for a more in-depth consultation.
For more news and information on the Singapore private property market or an in-depth look at new and resale properties, follow us on Stacked.