Advice
Which Dover Condo Within 1KM Of Fairfield Primary School Is Better With A Budget Of $1.6 Million For A Young Family?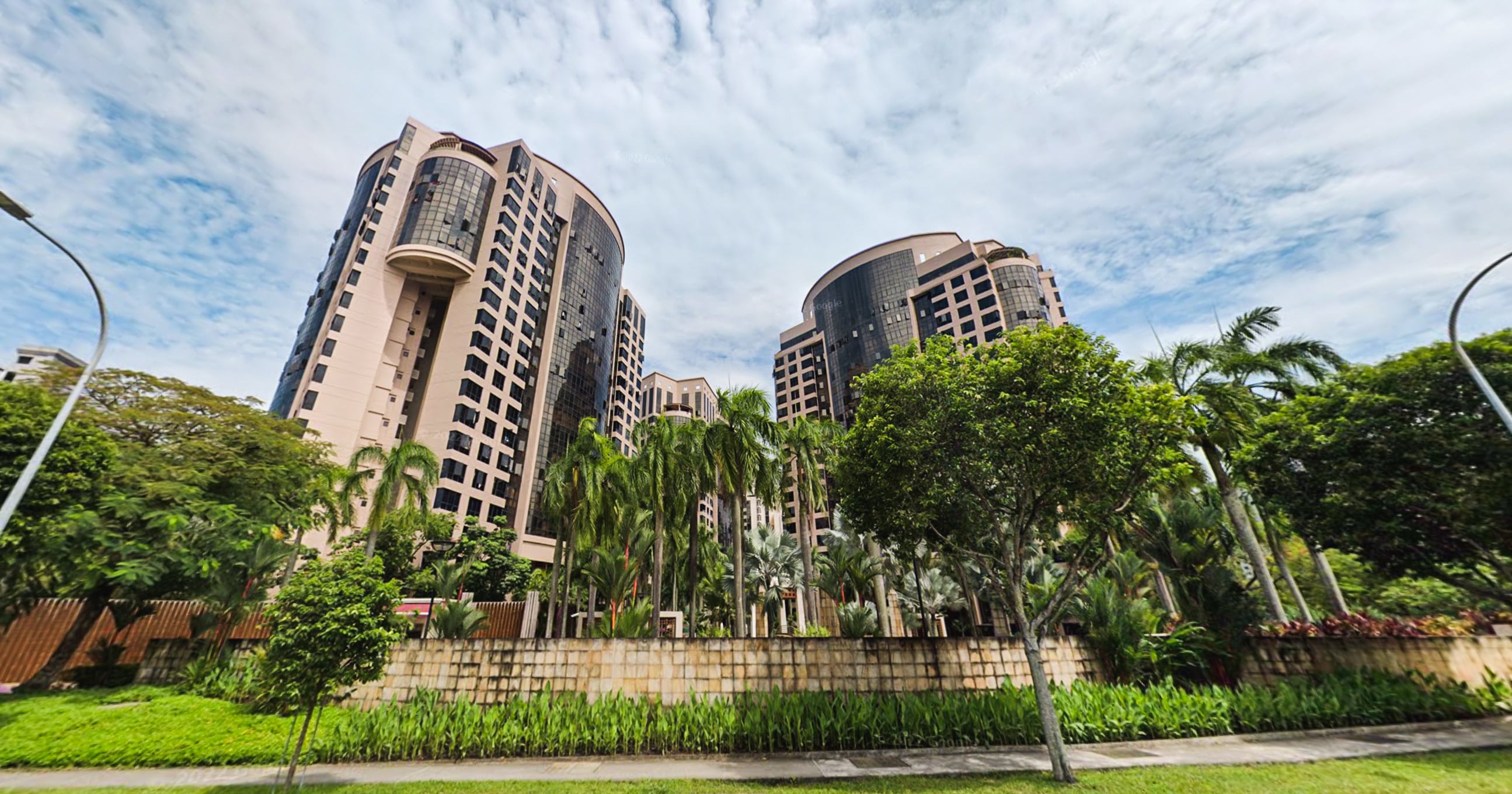 12
min read
Hi Stacked Homes,
We're a young family of 3, and forward planning for our next home to be in the One-North/Buona Vista/Dover area due to its proximity to Fairfield Methodist Primary School.
Ideally, we're looking at a 2 or 3 bedroom at a budget of $1.6mil, given that we would need to spend another sum on renovation and furnishings. A search has led us to two options – Dover Parkview and Heritage View, both of which have similar leases and facilities. Would you be able to provide a view on how to compare these two properties, or perhaps even widen our consideration to others within the same precinct? We would like to maintain the level of capital appreciation, but also be mindful that we may not expect any large jumps. Thank you!
---
Hey there,
Thank you for writing to us and for sharing your intended plans. To be frank, if you intend to live in close proximity to Fairfield Methodist Primary School, you really don't have a wealth of options to choose from.
The Dover/One-North precinct has developed well over the years with more amenities and offices added to the area, but the One-North area is still quite muted on weekends (like the CBD) if you are looking for something more vibrant. It is with the education belt that is located nearby that the area retains its desirability among upgraders. The area is also attractive among expatriates profile due to its proximity to the famous Holland Village as well.
Both Dover Parkview and Heritage View are situated right next to each other, and so will offer exactly the same attributes to nearby amenities, give or take a few minutes walking distance to the nearby HDB estates.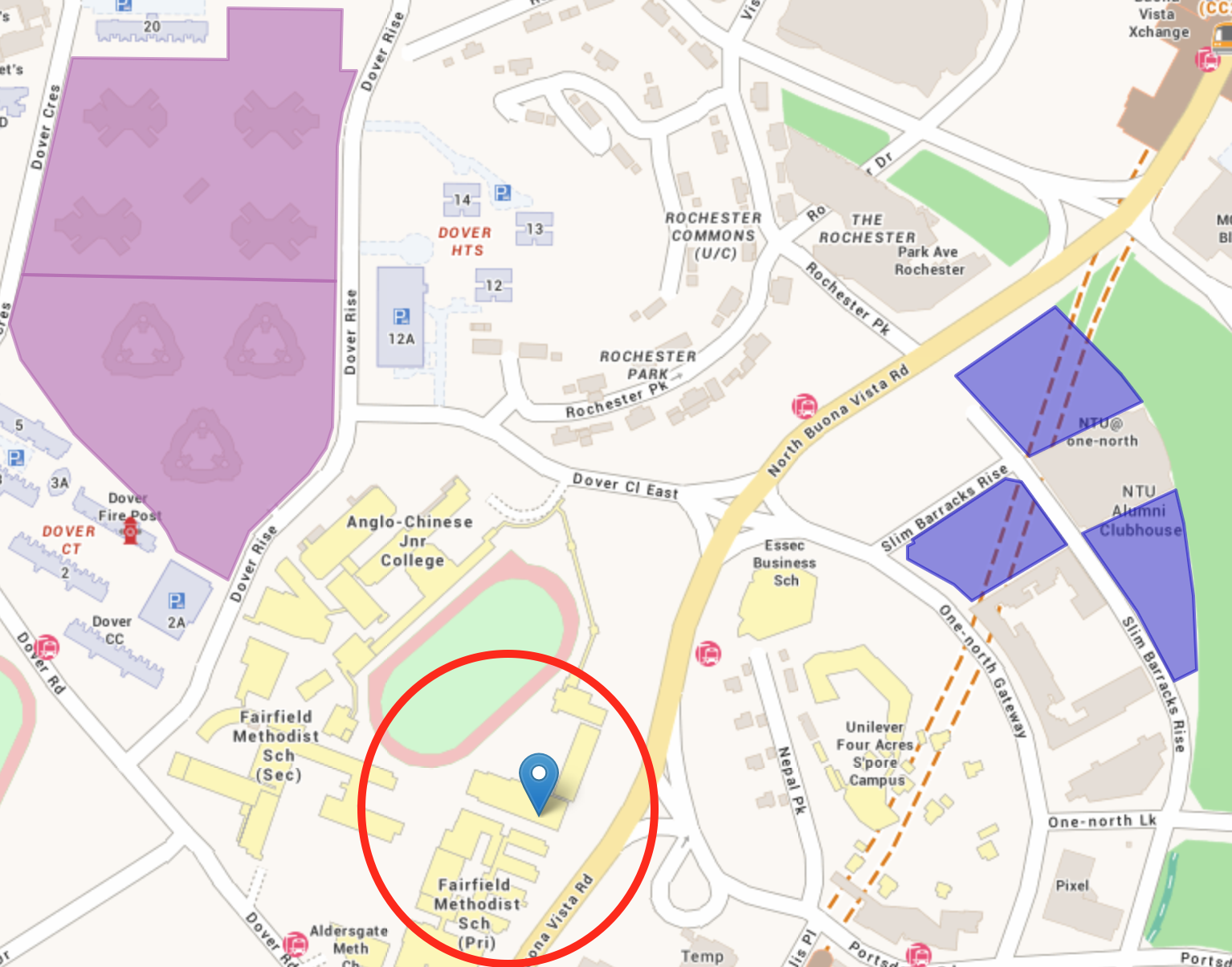 Dover Parkview
Having TOP-ed in 1997, Dover Parkview is the older among the two developments along Dover Rise. With an extensive land size of over 419,792 square feet with a total of 686 units, it offers a few ranges of facilities including four tennis courts and swimming pools, and lawn spaces for children to play freely. You also have more unique facilities like table tennis, a KTV lounge, and an aerobics room. In short, it offers great facilities if you have young children – which sounds like a good setup for you.
Despite the age of the development, facilities here are relatively well maintained from my last visit last year. The biggest drawback for many people is probably its dated design. It was built in the 1990s after all, so that's always going to be the downside if you want the size and facilities of an older development. Due to its design, 2 bedders layout is less desirable with sharp edges making the area inefficient. At $1,1xx PSF though, prices have remained stable in recent years. On a quantum basis, Dover Parkview still offers an affordable quantum for spacious unit size. For the budget of $1.6m, you could potentially stretch up to the 3 bedder unit with an efficient and squarish unit layout.
In general, the location (although surrounded by HDB developments) doesn't actually feel very dense at all. Of course, on school days the roads here can still get packed, but on weekends it is quite a pleasant environment to be in. It's also a short walk to Ghim Moh Valley, where there are a number of shops, food options, a Sheng Siong, and access to the Ulu Pandan Park Connector.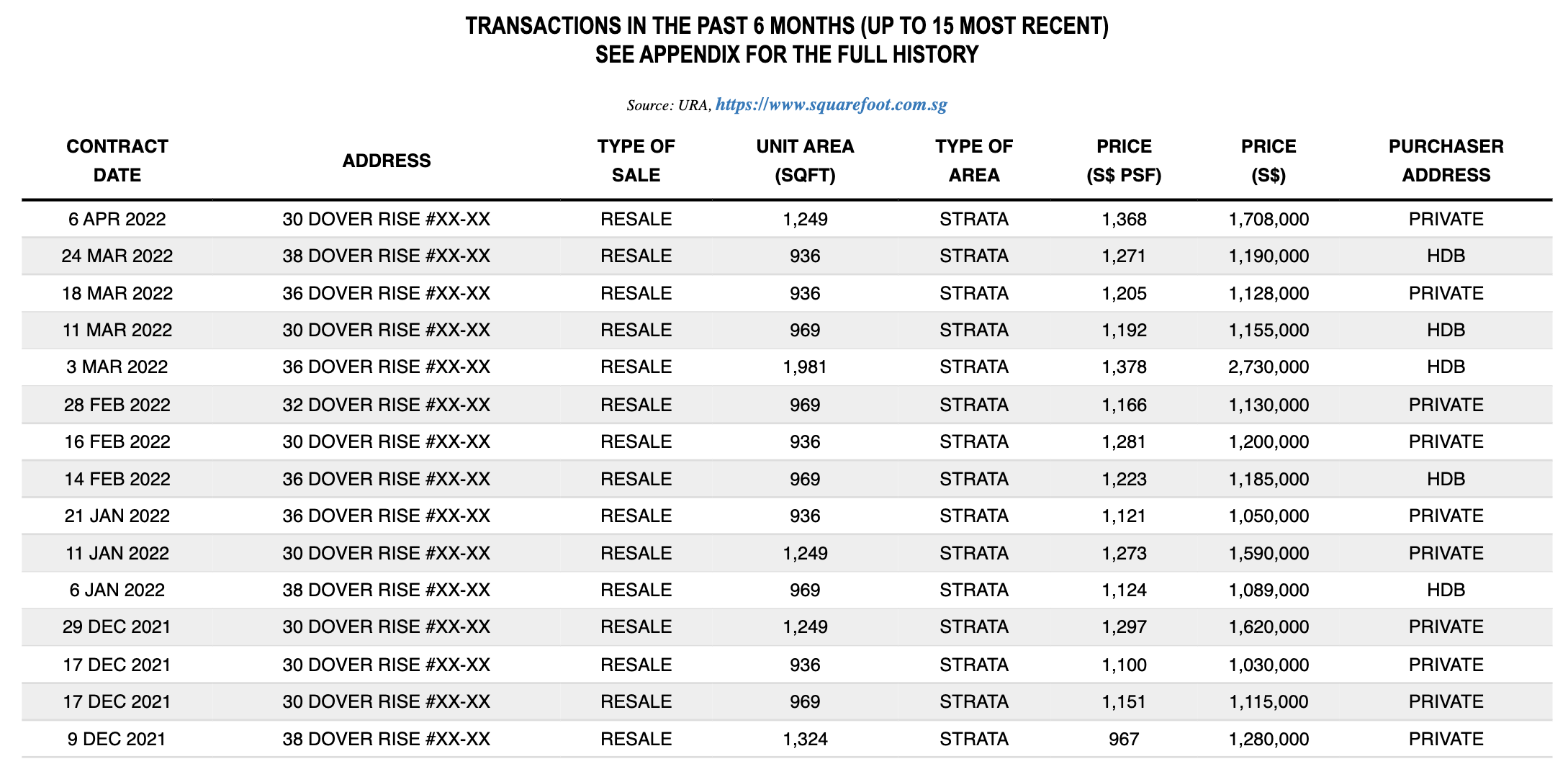 Layout Analysis: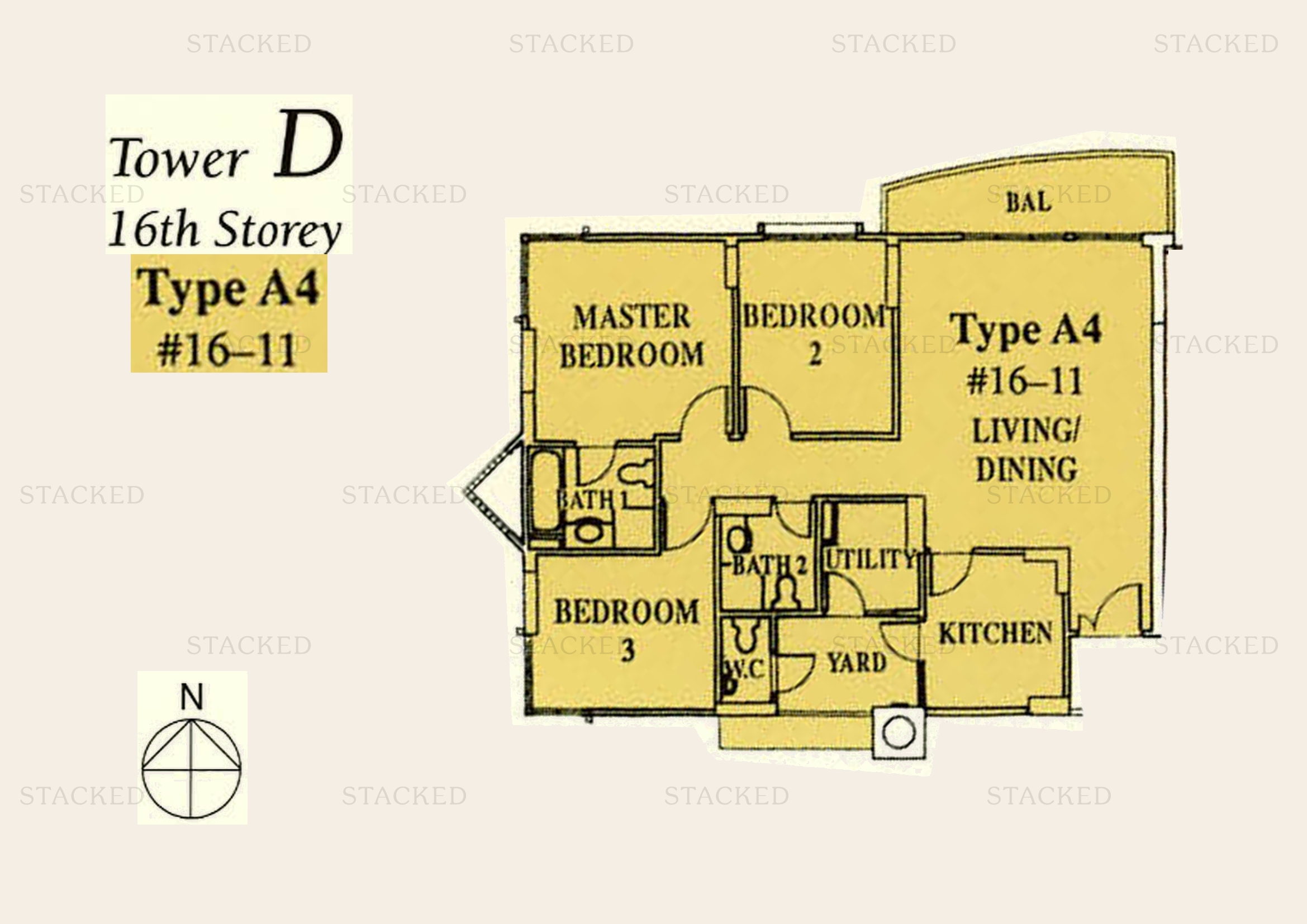 At 1,249 sq ft, the 3 bedroom unit at Dover Parkview is considered a more than reasonable amount of size as compared to today's new launches. The layout is efficient overall, save for the curved balcony, which is never the most useful of shapes.
The positioning of the kitchen allows you to create an open plan kitchen which is something that is usually desired by the younger generation, and you do also have the plus points of a proper yard and utility. This can be used as more storage space, or as a helper's room should you need that allowance for the future.
Beyond that, the bedrooms here are regular in shape and will be larger in size than your regular new launch condo today as well.
Heritage View
With a similar design and facade as Dover Parkview, Heritage View is slightly newer as it was completed in the year 2000. While it is only 3 years apart, most people would probably prefer the design of Heritage View instead (although it isn't a case of chalk and cheese it must be said!). At 392,905 square feet, it is smaller, and the land size doesn't quite feel as open as Dover Parkview either. It's down to the layout of how the 3 residential blocks are placed at the edges of a circle, with the swimming pool in the shape of a crescent moon in the middle. Today, this would have been done very differently, but back then, you had to account for on-the-ground car park lots as well.
So there's a trade-off here to decide. Dover Parkview for the more expansive land and layout, or Heritage View, where the facilities look a little more modern and put together. It's also the little details that could make a difference to you. For example, the curved water fountain at the entrance of Heritage View adds a little more pizazz, as compared to the more "kiddish" nature of Dover Parkview.
There are 618 units here in total, so you aren't going to feel that much of a difference between either. Heritage View does offer a full range of facilities including 3 tennis courts. The average prices now are transacting at about $1,2xx PSF which is just slightly higher than its neighbour.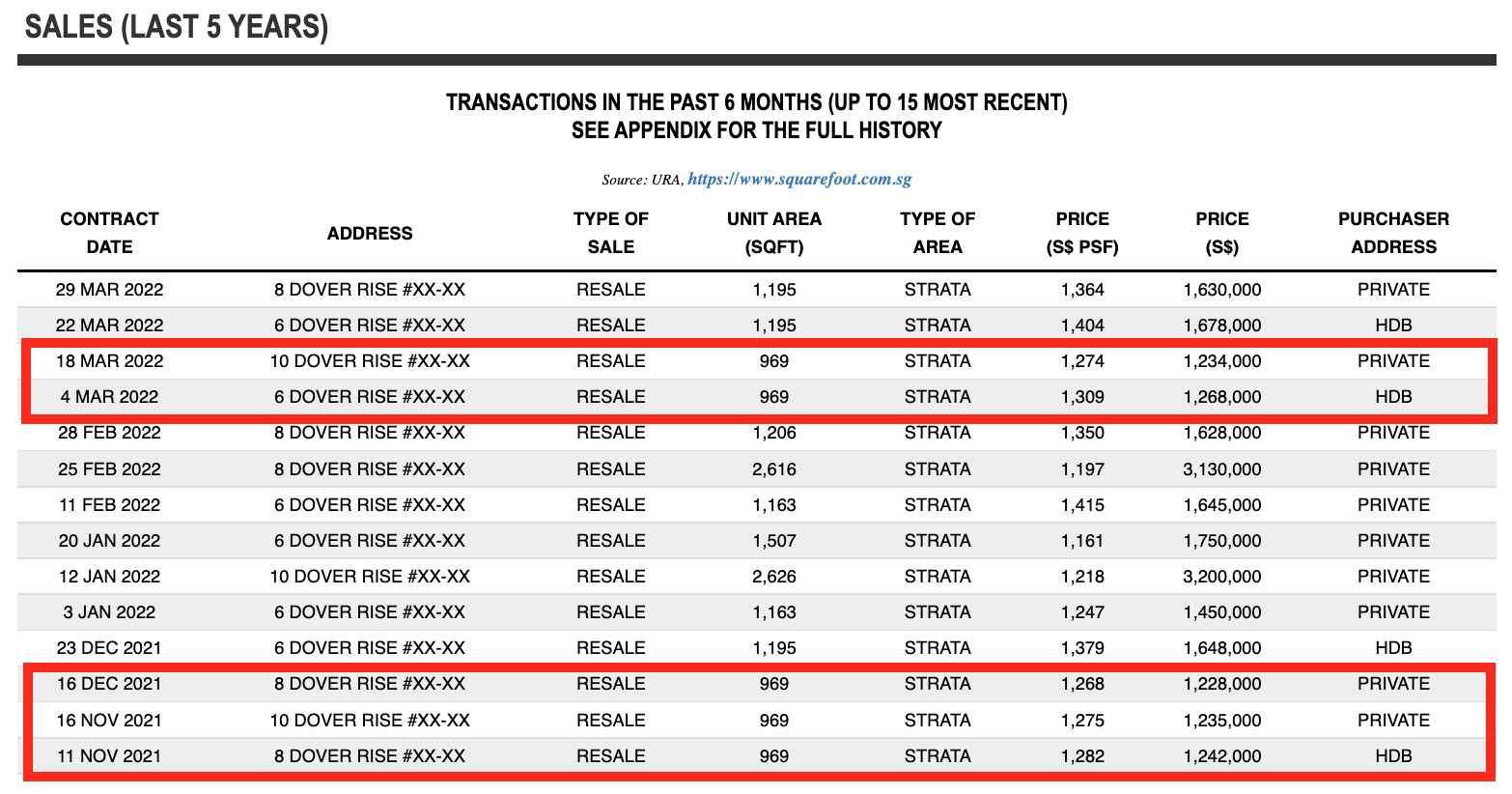 Layout Analysis: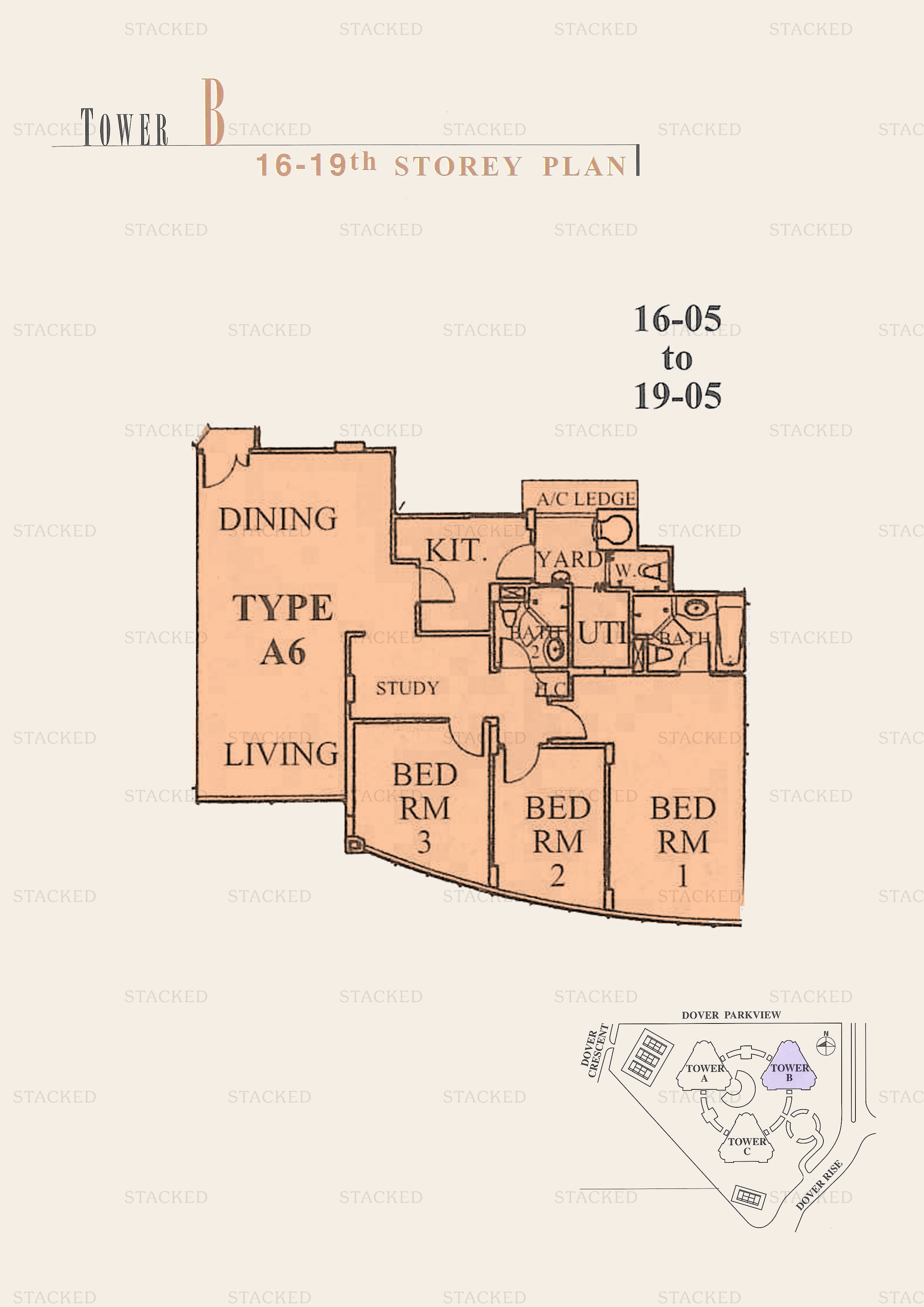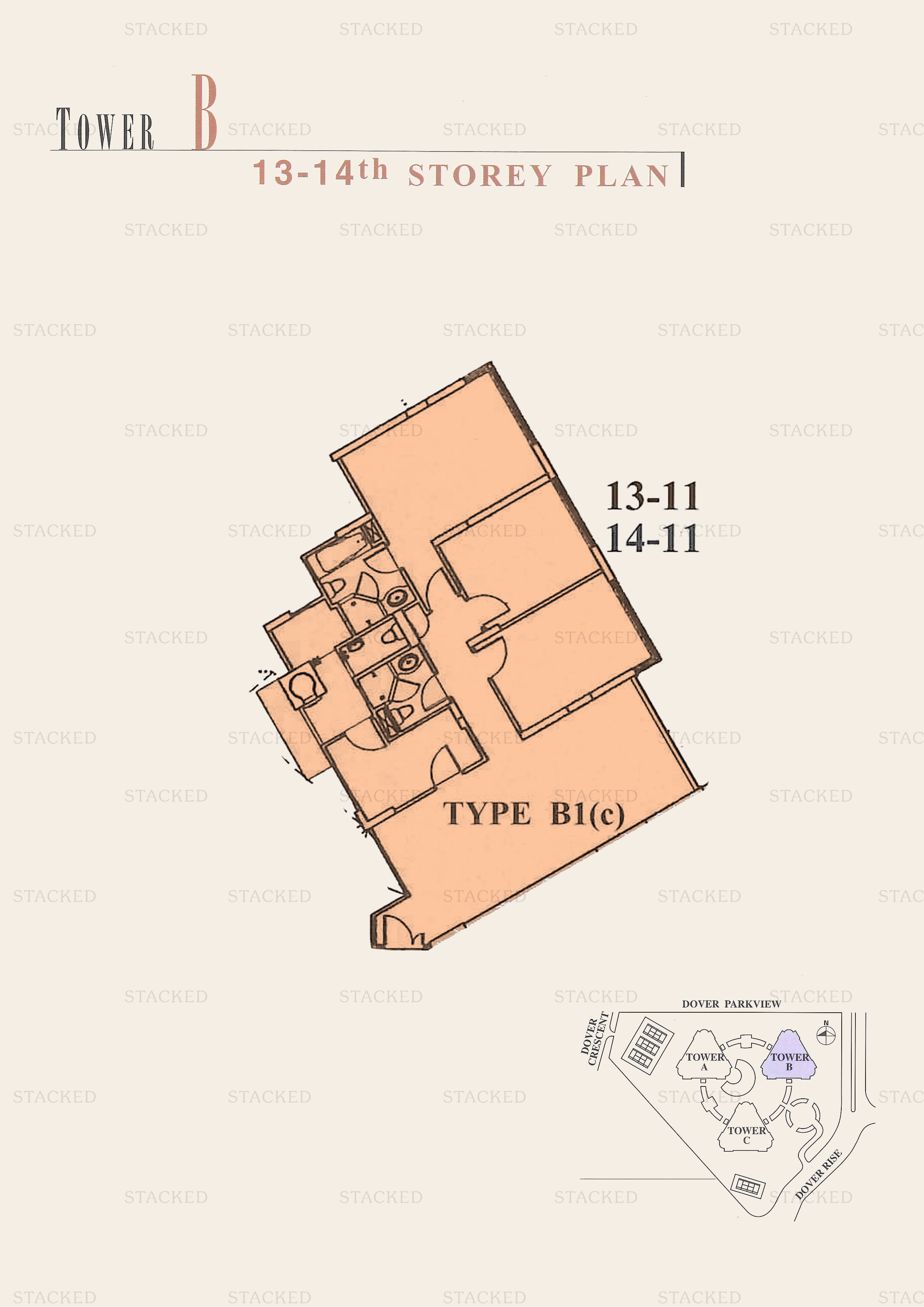 At 1,195 square feet for a 3 bedroom unit, sizes here are very comparable to Dover Parkview as well. There are two different layouts available for the 3 bedroom units. One, because of the design of the building facade, there is a slant here that is applied throughout the unit (besides the living). As a result, the curve affects all the bedrooms, which isn't great from an efficiency standpoint. The second is a much more regular rectangular shape, which is the one that will be much easier to plan and design your renovation.
There isn't a balcony here, which is totally up to your own lifestyle. But most people would prefer more interior living space as compared to an outdoor one. You do have a proper yard here though, so you wouldn't have to rely on the balcony space to dry your clothes.
As the main requirement for you would be the proximity to Fairfield Primary, the only viable alternative is The Rochester Residences, although given your priorities I'd be hesitant to recommend this as an option.
Still, let's go through some of its points.
It was completed in 2011, so it is quite a fair bit newer than either development. You can probably tell from its design anyway, as it is much more modern and sleeker-looking – which is more in keeping with the design of condominiums today.
At 154,258 square feet of land, Rochester Residences is on a much smaller land plot although it does have fewer units too with just 334 units (it does go up to 37 floors). The building does still look good for its age and is likely to still be in fashion at least over the next decade or so.
As for facilities, there is the standard swimming pool, gym, and bbq facilities. For kids, you do have a wading pool and playground, although you definitely don't have the expansive space like you do with the other 2 developments.
There are other benefits to being here though. You do have Rochester Mall (although the mall offerings are more like your average neighbourhood mall), and Star Vista is a very short walk away (Cold Storage, and various other restaurants). You are also next to One-North Park and save for Star Vista, your immediate surroundings are all pretty low-rise. That said, you will have Rochester Commons, Citadines Connect, and Slim Barracks Rise Residences all upcoming, so it definitely will get slightly more crowded in the area.
There are a couple of redeeming features of the development. Namely, the glass lifts that offer a view of the city, along with the standard 3.225m high ceiling that is present in all units. It's also nice to see more than decent storage options within the unit, and generally, everything is well laid out and efficient.

Layout Analysis: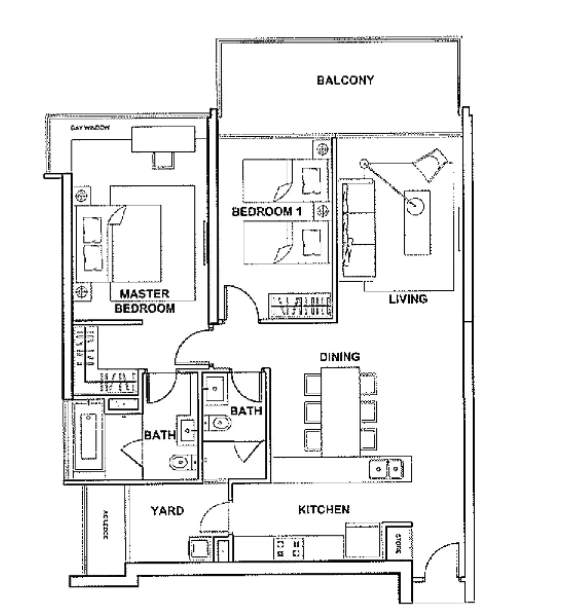 At 1,206 sq ft, the 2 bedroom unit at the Rochester Residences is certainly very well-sized (rivalling the 2 other developments). You do have some wasted space here in the form of the bay window by the master bedroom, but it's not that much really. Overall, the living and dining space is very decent, and for a 2 bedroom unit to include a proper yard space as well is very welcome indeed.
The kitchen space is very sizeable too, although long. The biggest issue here might be the balcony, which is quite a big one although if you are on a high enough floor this might be very welcome for the views.
Appreciation potential:
Now before getting into the specifics of Dover Parkview and Heritage View, I'd like to touch on the general Buona Vista area.
The Buona Vista area has a certain reputation for being a sleepy place, particularly in the evenings – and this is true to some extent. After all, the place is not quite known for its amenity offering or family-friendliness. Headlines about the place tend to focus on the Biotech sector with names like Biopolis and Fusionopolis in the mix given the One-North Business Park dominates the area.
Yet, it is for this reason that capital appreciation is not to be shrugged off. As of today, investment is still pouring into the area, the latest being the Biopolis Phase 6 which saw KSH Holdings winning a S$171.8m contract to design and build the infrastructure. This investment will culminate into a 12-storey development that includes 35,000 square metres of space for research activities. What this means is more jobs, which in turn creates demand for liveable space in the area – particularly for foreigners looking to rent in the area.
This increase in rental demand can prop up the attractiveness of properties in the area in terms of yield which then makes it an attractive proposition to investors. And this in turn could help raise property prices.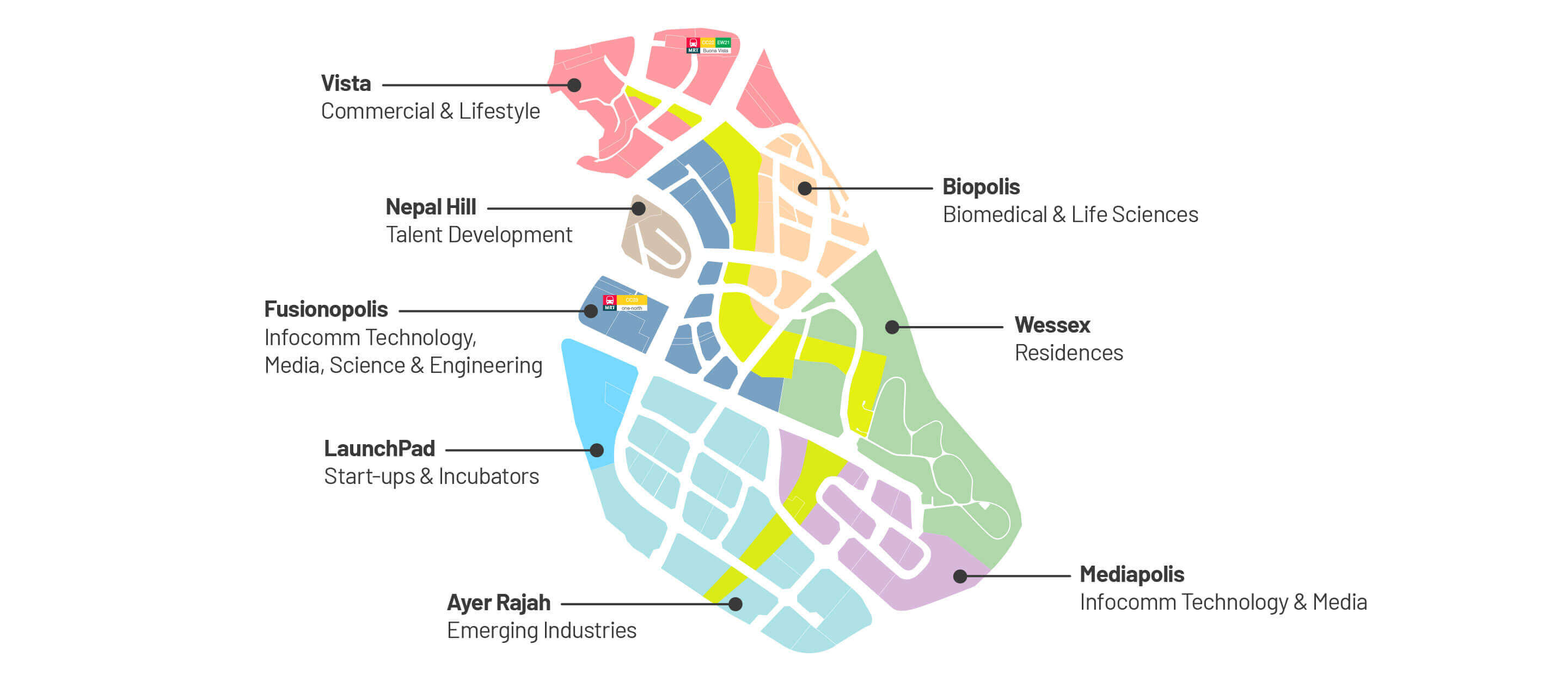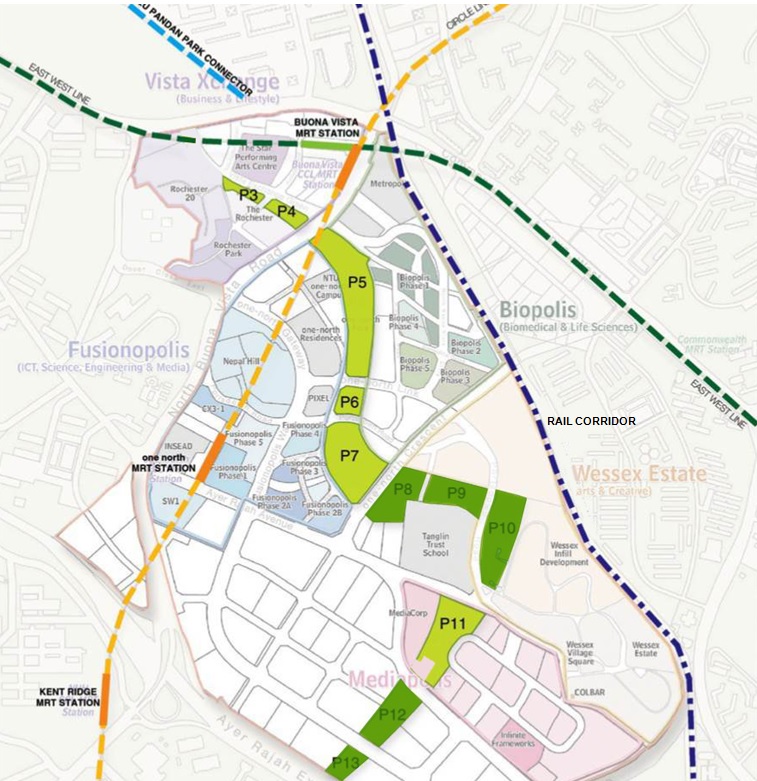 But the One-North transformation is not the only initiative here. The recently-built Rochester Commons breathed new life into the area. According to Capitaland, it is "a 17-storey Mixed-use Tower comprising a Shared Executive Learning Centre, a 135-room upscale Hotel, Office, a sky garden and an amenities deck."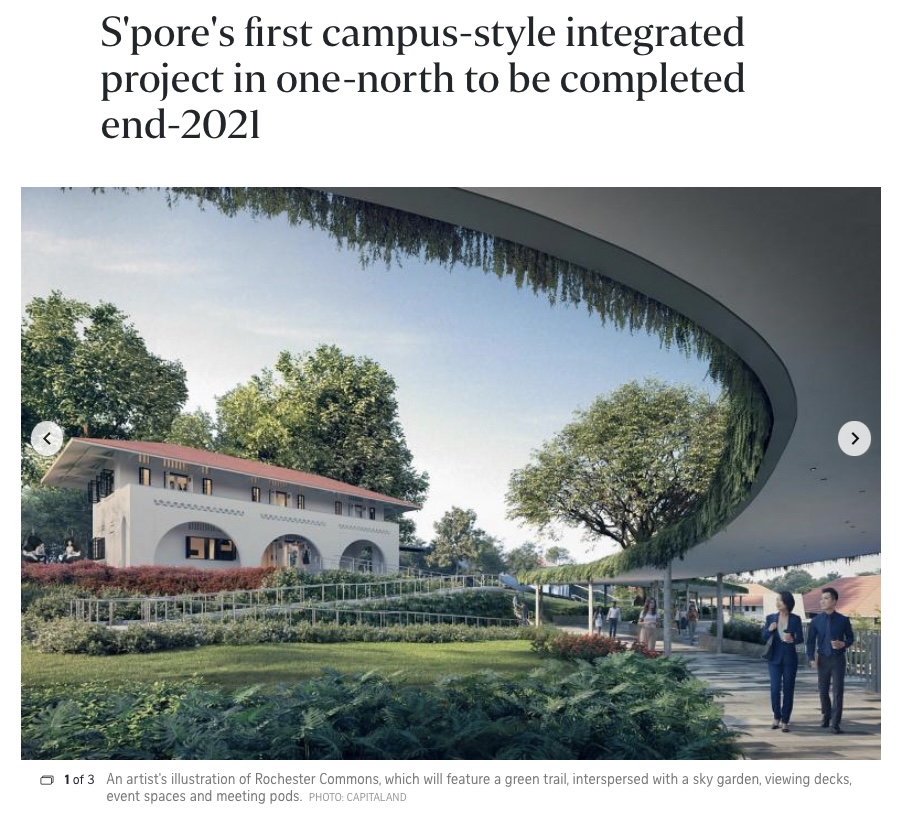 With this, we can expect more tenant demand in the area as the Grade A office component would attract tenants who are able and willing to pay higher rents to live in close proximity to their workplace.
Finally, I would like to touch on the Government Land Sales in the area as well as the continued supply shortage in the area.
We have recently seen the launch of One-North Eden, and that is certainly not going to be the last new launch in the area as the Ministry of National Development (MND) announced 2 parcels of land along the same Slim Barracks Rise as One-North Eden. They will be on either side of NTU@one-north and will further yield an additional 265 and 140 units, respectively.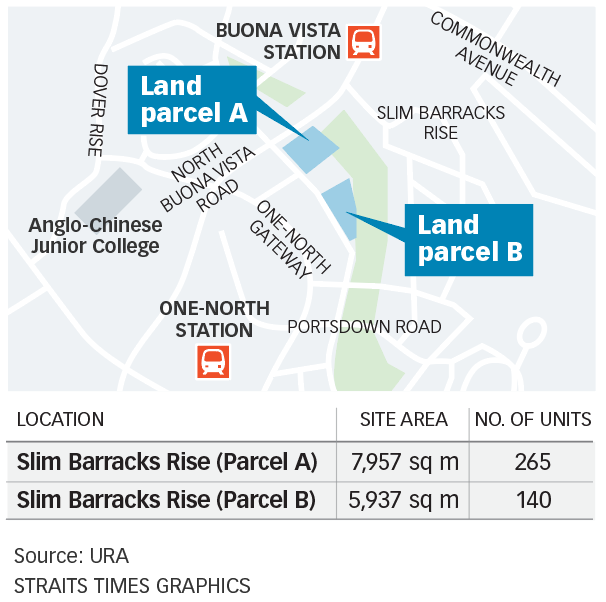 Land parcel A received a bid that was higher than what most property consultants expected: $1,245.7 PSF PPR. Land parcel B received a top bid of $1,210.64 PSF PPR. Both bids outperformed the residential site at Slim Barracks Rise which went for $1,001 PSF PPR.
While this increasing land price means that future condos here would cost, even more, the case on whether or not this could spill over into resale developments nearby isn't black and white. New launches increase the supply in the area – in other words, competition. The competition means future buyers would be spoilt for choice, thus making your unit look less attractive.
However, new launches also increase the population in the area which in turn, increases the demand for amenities. As a result, businesses would be more willing to set up shop as it becomes increasingly attractive to be in the area. Overall, every property would benefit from this.
When it comes to specifically Dover Parkview and Heritage View, these are two old developments compared to the newer developments (e.g. The Rochester) and very new developments like One-North Eden. As a result of their age, Dover Parkview and Heritage View continue to maintain a relatively attractive quantum compared to their new launch peers.
What this means is that buyers who truly want to stay in the area but cannot stomach the high quantum or small unit sizes of new launches in the area could turn to these two older properties as a basis of comparison. This would help to ensure continued demand for both properties so long as new launches continue to have a massive premium over the older developments.
Here's a look at both Dover Parkview and Heritage View's $PSF over the years:
If you notice, the most recent 1-2 years have seen both old developments surpass their highs back in 2013. This is usually a good sign and a signal of whether or not a property has become stagnant.
As such, there is still potential for both developments to continue seeing growth given all of the above-mentioned pointers.
Now while all this news may seem positive, we must caution that ultimately, both Dover Parkview and Heritage view are more than 20 years old. With its 99-year leasehold nature, it's still a gamble on whether the continued investment and development of the One-North area could be enough to meet the level of capital appreciation of the new launches in the area.
This is because while the new launches are also 99-year leasehold in nature, the nature of depreciation is steeper for older properties – and this could silently eat away any growth in price.
While new launches may seem to be a high price now, it's evident that the new sale prices so far in the One-North area were not ridiculous as the property market is still hitting a high and supply in the area is low. This means that there could be more room for prices to grow since prices here were not obscenely higher than other properties in Singapore.
New launches also do not feel the effects of depreciation as much given their early age. As such, they are likely to benefit more from the area's growth rather than the much older developments in the area.
Overall, we would say that both Dover Parkview and Heritage View continue to remain relevant – especially as more life is breathed into this area. There are justifiable reasons why purchasing a unit here would allow you to see some level of capital appreciation. However, given its age and newer options in the area, you're right to point out that large jumps can't be expected – but we do remain positive that it could still see some growth in the short term.
As to when prices would stagnate – this would likely depend on how receptive the secondary market is to the new launches in the area, and how successful the One-North transformation is/remains.
Conclusion:
Personally, given your requirements of being close to Fairfield Primary, it's easy to rule out Rochester Residences as it is less of a kid-friendly condo. And while the walk isn't long (quite a scenic one too), a daily 10 to 12-minute walk still is something to be considered.
It is also higher priced, as for the same budget you can only get a 2 bedroom unit. Although the size is comparable, it is also less future-proof (although you do get a newer development and a longer lease here).
It's probably a better bet for you to be as close as possible to the school, as there is a luxury for your kid (and yourself) to be able to wake up a little later and still get to school in a jiffy. As they grow older, being able to come home for lunch quickly and safely before going out again for CCAs is also a benefit that is hard to ascribe a real dollar value to.
In that vein, it's a toss-up between Heritage View and Dover Parkview since they are such similar offerings.
Heritage View is one if you really want the luxury of being the closest possible to the school, and yet have a little more upscale look to the place. Dover Parkview, although further, has the advantage of more expansive land and probably a better landscape for young children. You are also slightly closer to the main road (and the bus stop) to get to Dover MRT station, which is a marginal benefit but better when the kids are older.
Have a question to ask? Shoot us an email at hello@stackedhomes.com – and don't worry, we will keep your details anonymous.
Looking for a home? Feel free to reach out to us here for a more in-depth consultation.
For more news and information on the Singapore private property market or an in-depth look at new and resale properties, follow us on Stacked.