Commentary
Where To Invest $1 Million (Or Less) In Real Estate In Singapore? We Reveal The Past Decade's Most Profitable Properties
Ryan J
October 3, 2023

2

min read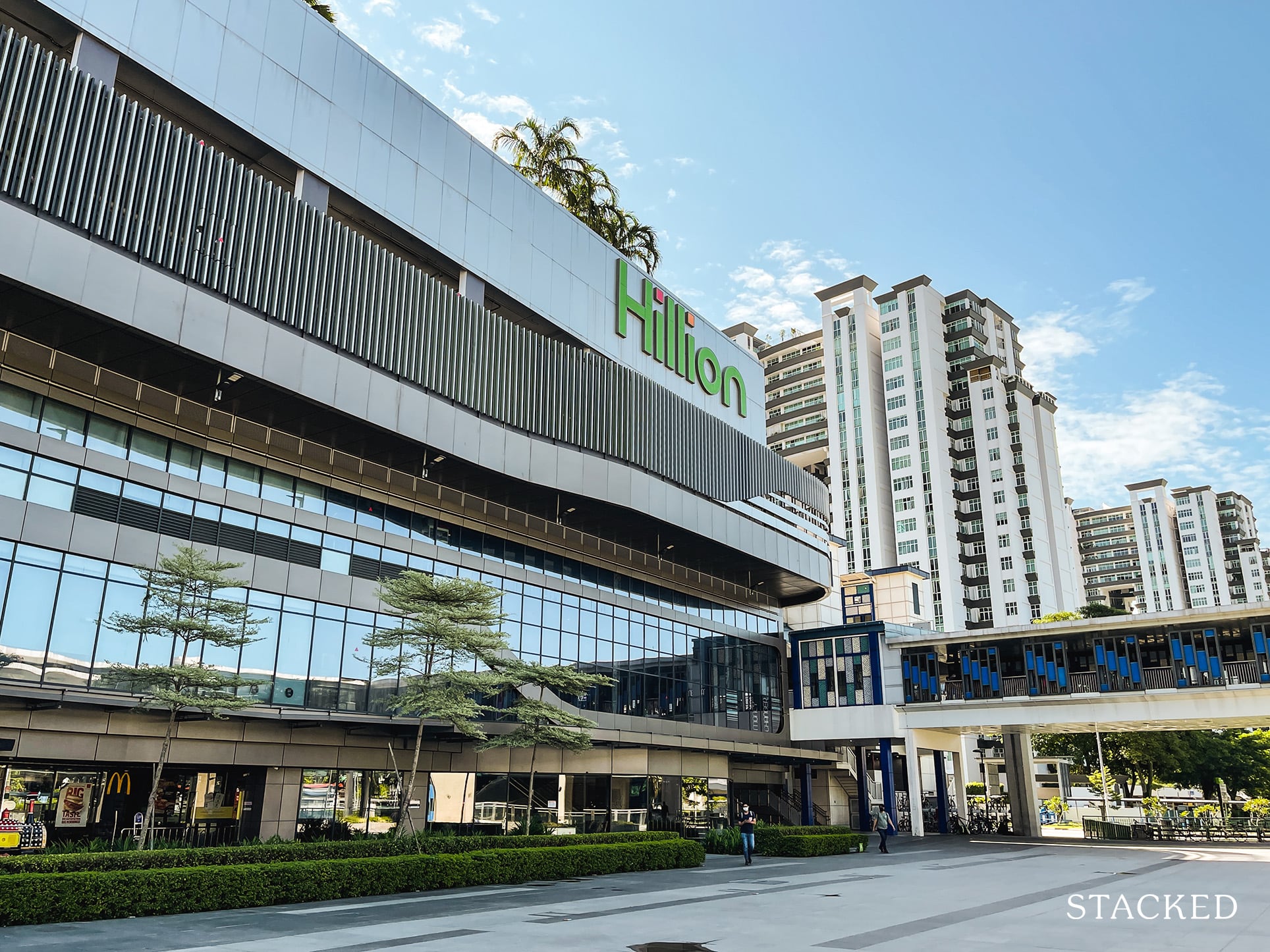 2
min read
For many in Singapore, the $1 million mark is often considered the benchmark when thinking of investing in a second property. However, many examples highlighted in discussions tend to focus on the top-performing properties or those that are atypical, such as units with premium views or those on higher floors.
To provide a more comprehensive perspective, we've examined a broader selection of mass-market condos that were originally bought for $1 million or less. Here are the returns these properties have delivered to their owners:
Condos bought for $1 million or under and their returns
| | | | |
| --- | --- | --- | --- |
| Project | Average Profit (%) | Average Return (%) | Volume |
| HIGH PARK RESIDENCES | $149,499 | 25.0% | 259 |
| THE ALPS RESIDENCES | $146,812 | 23.0% | 77 |
| COCO PALMS | $142,728 | 21.7% | 99 |
| QUEENS PEAK | $138,550 | 18.3% | 41 |
| BOTANIQUE AT BARTLEY | $127,744 | 18.2% | 92 |
| THE POIZ RESIDENCES | $124,447 | 17.8% | 72 |
| PARC RIVIERA | $122,196 | 17.7% | 91 |
| THE PANORAMA | $108,089 | 17.0% | 45 |
| TREASURE AT TAMPINES | $120,482 | 16.5% | 47 |
| RIVERBANK @ FERNVALE | $98,880 | 16.2% | 70 |
| RIVERFRONT RESIDENCES | $111,235 | 16.2% | 120 |
| PARC BOTANNIA | $100,702 | 15.6% | 31 |
| THE WISTERIA | $92,567 | 15.1% | 36 |
| AFFINITY AT SERANGOON | $107,846 | 14.5% | 43 |
| SIMS URBAN OASIS | $94,698 | 13.6% | 128 |
| J GATEWAY | $103,812 | 13.4% | 65 |
| THE INFLORA | $72,188 | 13.3% | 135 |
| D'NEST | $89,213 | 13.1% | 176 |
| RIVERSAILS | $95,406 | 12.8% | 49 |
| SKY VUE | $95,081 | 12.6% | 37 |
| KINGSFORD WATERBAY | $78,530 | 12.3% | 125 |
| BARTLEY RIDGE | $72,553 | 11.2% | 75 |
| SYMPHONY SUITES | $81,463 | 10.7% | 66 |
| THE HILLFORD | $48,740 | 10.5% | 129 |
| THE TAPESTRY | $75,011 | 10.5% | 37 |
| HILLION RESIDENCES | $71,623 | 10.5% | 66 |
| RIVERTREES RESIDENCES | $78,915 | 10.4% | 44 |
| ECO SANCTUARY | $82,460 | 10.4% | 49 |
| COMMONWEALTH TOWERS | $80,457 | 10.2% | 85 |
| PRINCIPAL GARDEN | $78,105 | 9.4% | 38 |
Source: URA. Do note that these are returns from condos purchased for below $1 million and sold within the past 10 years. A minimum volume of 20 buy/sell transactions was considered.
Notable condos from the list:
1. The Hillford
The Hillford offers important insight into the relevance of a property's lease. We note that the majority of buyers at The Hillford have made gains, despite naysaying by many realtors and analysts.
At the time of its launch, The Hillford stood out, and still stands out, for being a property with only a 60-year lease. This is common among commercial properties, but not for residential (at least not in recent decades). The Hillford was in fact marketed as a retirement villa-style condo, aimed at older demographics.
Younger buyers – some as young as their mid-twenties – flocked to it nonetheless, and The Hillford had one of the best launches on record. This prompted many warnings that The Hillford would have "little or no resale value," and that it was a poor buy on the part of young homeowners.
Based on the results, however, The Hillford has done better than expected. While gains are not what we'd call phenomenal, it does show that properties with just 50 years on the lease can still appreciate.
If a 60-year lease condo can still appreciate, what does that mean for a 99-year lease condo? And is this a sign that, in future, developers could find a market for 60-year lease residential properties?
That said, we do acknowledge that gains could be easier for The Hillford, given the much lower prices of many units to begin with (many of the initial transactions were below $500,000). In addition, Hillford's proximity to Beauty World – just around a four-minute drive – means landlords will continue to see potential in it, even toward the final years of its lease (at least, from a rental perspective).
2. Hillion Residences
We've written about Hillion Residences a couple of times and in greater detail in our analysis of why a neighbouring development, The Tennery, performed poorly.
The development is unique in that it's one of a handful of integrated developments in Singapore. Given the popularity of integrated developments, it's easy to see the appeal of Hillion Residences as one of the most affordable on the market right now. Bukit Panjang might not be the best location for everyone, but the convenience that it offers at the price point is hard to ignore. Its current resale performance of 111 profitable and just 8 unprofitable transactions reflects that.
Those who work in the area or prefer staying on the west side but are looking at an affordable but convenient place to stay will naturally consider Hillion Residences over others. As such, the development seals a reputation for being relevant.
This is even more so on the back of rising housing prices. With housing affordability becoming more of an issue, buyers prioritising convenience but can't afford to stay in the RCR/CCR would look elsewhere.
And it's not just about being above an MRT or shopping mall. Hillion Residences is also within minutes' walk to Junction 10 and Bukit Panjang Plaza which further cements its appeal.
Nature lovers would also appreciate the proximity to nature without the loss of convenience that it usually entails. The rail corridor can even be accessed in under 5 minutes as the entry point is just across the road.
Finally, you should know that the majority of units here are 1 and 2-bedders, so those looking to invest in a unit for $1 million and under can still enter today.

3. Treasure At Tampines
Treasure at Tampines has a staggering count of 2,203 units, and it stands as the largest condo project by unit volume. Spanning 648,880 sq. ft., judging by comments on various online videos, it seems that the estate is pretty well-received.
A prevalent concern was the potential for overcrowding and intense competition, both for renting and eventual resale. Some speculated that the development might lack adequate facilities to cater to the vast number of units.
However, Treasure at Tampines' success can be largely attributed to its initial pricing. Agents often referred to it as having an "executive condo price tag" or being the "most affordable new launch". Notably, single-bedroom units were priced under $600,000, while the median launch price hovered around $1,335 psf.
Our own review underscored the development's competitive pricing.
Contrary to initial reservations, the large number of units hasn't deterred its performance. This suggests a valuable takeaway: attractive pricing with growth potential can outweigh concerns about unit volume.
In terms of accessibility, it's a mixed bag. While Simei MRT (EWL) is about a 10-minute walk away, its location on the far end of the EWL and its distance from the airport compared to Tanah Merah are points to consider. Overall, its appeal hinges on competitive pricing, comprehensive facilities, and a decent location.
Read this next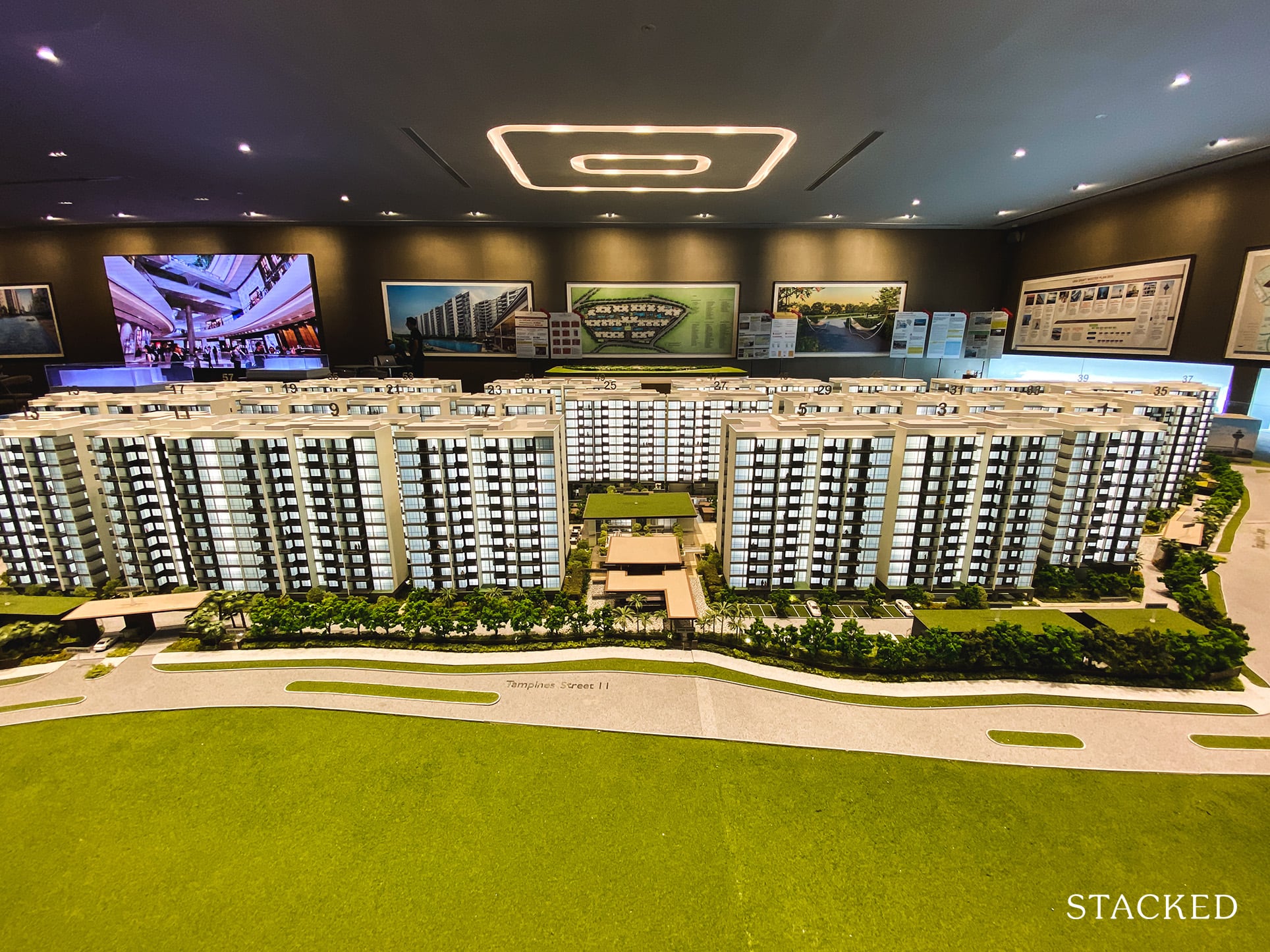 4. Kingsford Waterbay
Like The Hillier, early developer pricing helped with the gains at Waterbay. This was also helped by being a mega-development (1,165 units), as condos of this scale are typically more affordable:
In March 2015, Waterbay saw median prices of around $1,111 psf. By September 2018, this had risen to around $1,350 psf; a 21.5 per cent gain for the first batch of buyers in just around three years.
However, there was some dissent on whether Waterbay had potential for gains. A lot of this revolved around a planned industrial zone, across from the condo (we actually fielded a question about this from one of you readers.) Another issue was the lack of an MRT station within walking distance (although there is an ongoing shuttle service to Hougang Central).
Most of the issues seem to pale in comparison to Waterbay's strengths. This condo has an excellent waterfront view with a lot of greenery; and facilities-wise, the pool is one of the largest – or to be precise the longest – we've seen among condos. The blocks are also strategically arranged to ensure an unimpeded view, regardless of which stack you pick; but height still matters if you want to be well above the treeline.
Overall, this is a good project for those who enjoy green enclaves, and prefer a good distance from malls and busy roads.
5. High Park Residences
High Park Residences is a mega-development, which tends to have a lead when measuring gains. These huge projects (in this case 1,390 units) tend to come with lower initial costs, due to simple economy of scale. And at the very affordable price of around $989 psf, High Park sold out 84 per cent of its units in its launch month of July 2015.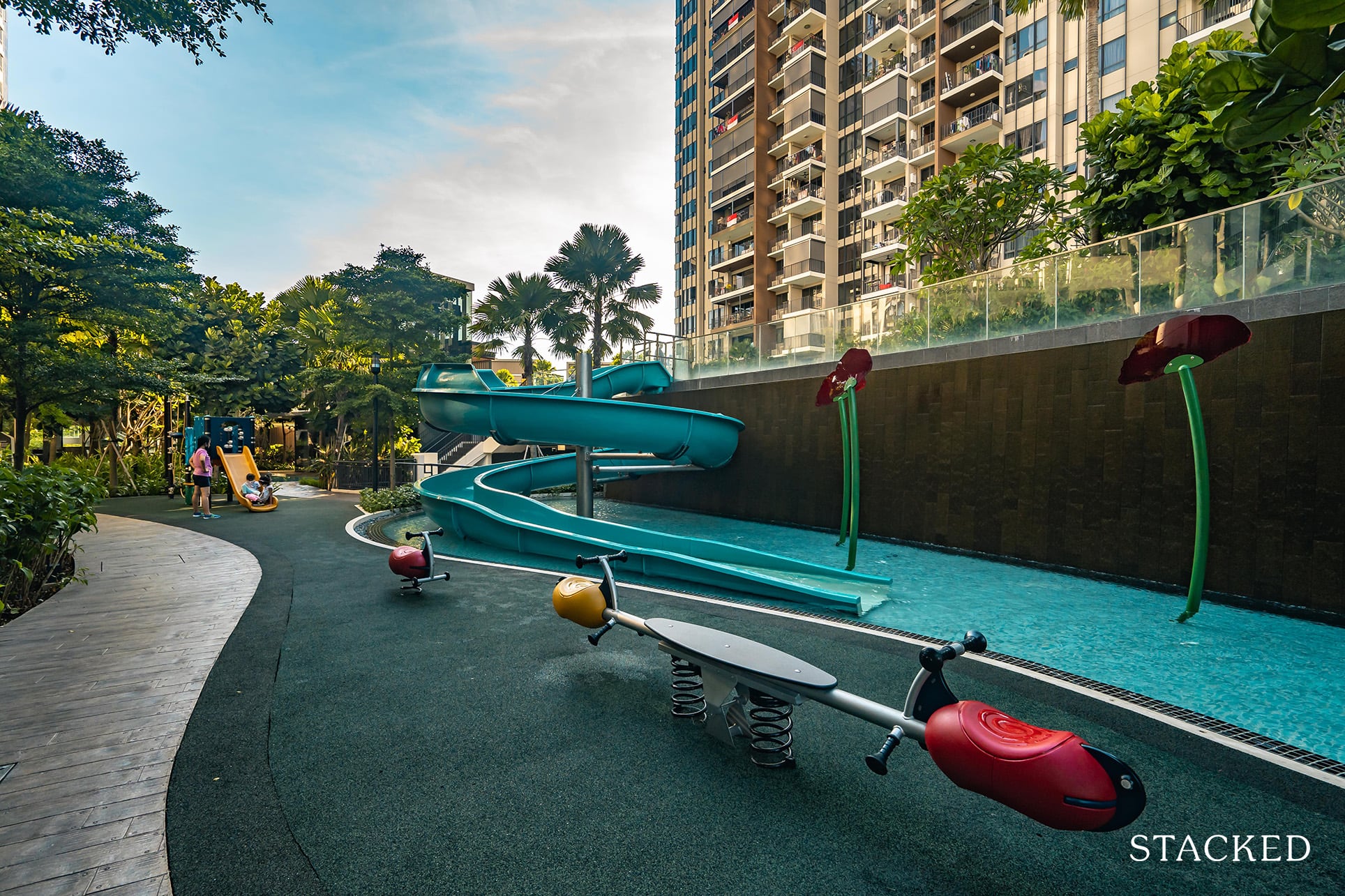 High Park Residences is very spacious, with a land area of well-over 366,000+ sq. ft. As you'd expect from a mega-development, facilities are extensive for families, including multiple waterslides, aqua gyms, and the BBQ pavilions are more creative than usual.
There are also amenities scattered all around, within walking distance. If you cross to Jalan Kayu, for example (just a few minutes walk via a side gate), there's a small food stretch with the famous Blanco Prawn Noodle. Or you can walk along Fernvale Road for about 10 minutes, and get to Seletar Mall (there's an NTUC and a Guardian.) If you walk across Fernvale Road instead, there's a coffee shop nearby, and the HDB enclave here has the usual heartland amenities.
All in all, a very convenient place to live, and one where you don't need to travel out for most needs.
Transport-wise, the location is quite good. While you do need an LRT connection (to Sengkang MRT on the NEL), the LRT station is just across the road from the condo, so it's not too bad. In any case, the whole appeal of High Park Residences is that you can be comfortable and entertained for months without having to travel out.
For more interesting properties in the Singapore market, follow us on Stacked. We'll also provide you with in-depth reviews of new and resale properties alike.