Condo Reviews

High Park Residences Review: Absolute Best Facilities For Families With Kids
Reuben
November 11, 2020

27

min read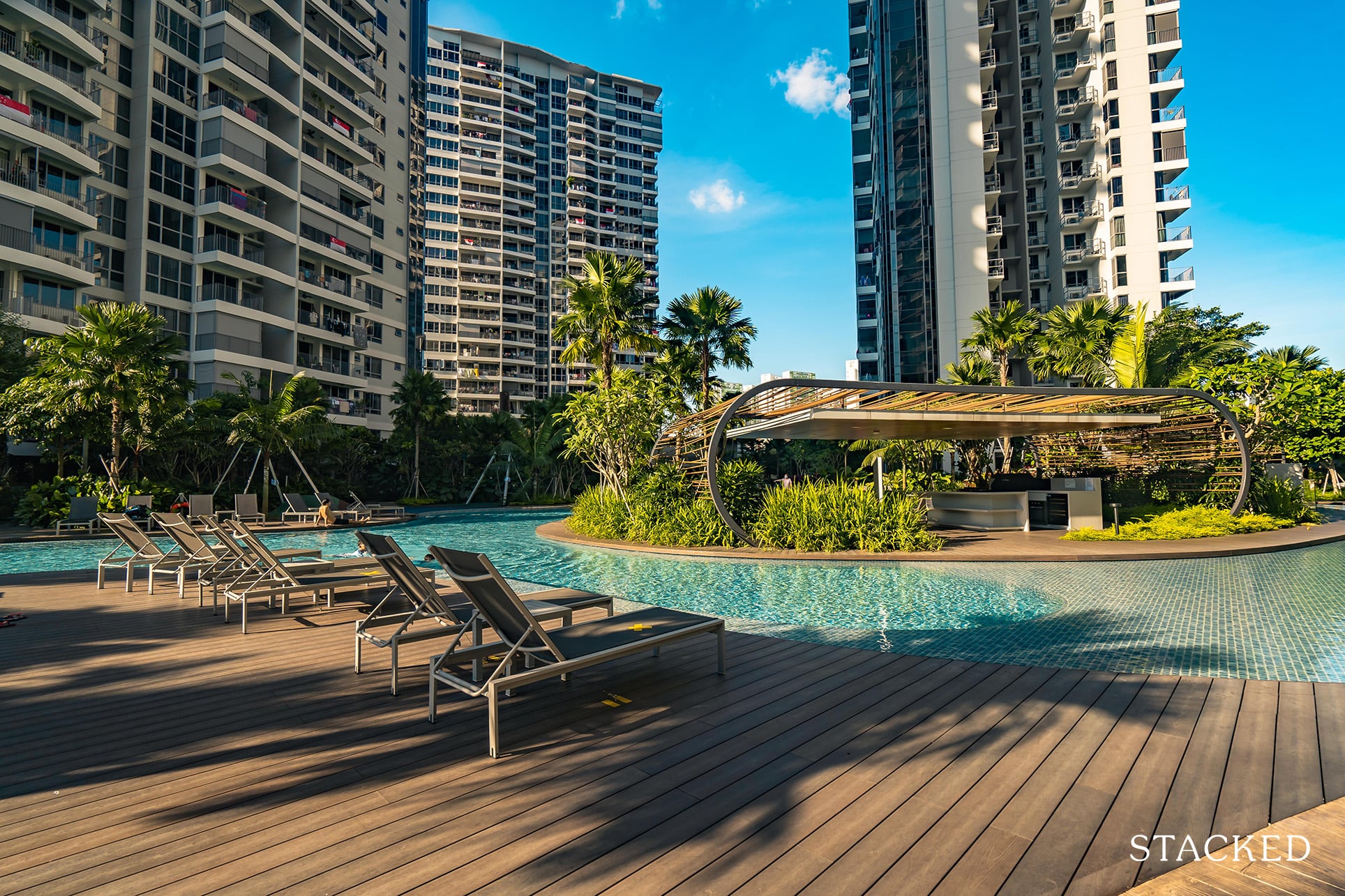 High Park Residences is perfect for those with kids in their growing years given the diverse range of condo facilities, as well as those who prioritise access to a large range of amenities.
Reviewed by Reuben on November 11, 2020
What we like
Great facilities for kids

Does not feel claustrophobic despite number of units
What we don't like
—

Not near MRT

—

Possible maintenance issues in the future
27
min read
| | |
| --- | --- |
| Project: | High Park Residences |
| District: | 28 |
| Address: | Fernvale Road |
| Tenure: | 99-year Leasehold |
| No. of Units: | 1390 |
| Site Area: | 366,168 sqft |
| Developer: | Fernvale Development Pte. Ltd. |
| Completed: | 2019 |
Launched back in July 2015, High Park Residences was Singapore's largest condominium project since D'Leedon, with a total of 1,390 residential units.
Let me just quickly recap its impressive opening numbers:
1,169 out of 1,390 units sold in its first month of sales (84% of its units).
4,000 visitors to its showflat on launch day.
Average launch prices of $970 PSF.
Starting prices of $380,000.
Looking at those figures, should anyone really even be surprised at how well High Park Residences has been performing in the resale market?
Well, they do say that hindsight is 20/20, but it is quite clear from the get go how well received High Park Residences was – this, despite the launch occurring during a period of weakened property market sentiment.
With a total of 165 profitable transactions to date – we find that quite the number of units here have already surpassed the 20% appreciation-yield mark in just the 5 years that it's been on the market.
Fast-forward to the present, and we see that the average unit price here is now $1,207psf, a $217 (or 21.9%) increase from its previous new launch average of $990 psf just 5 years ago.
In fact, that isn't all.
Of the 165 profitable transactions here, the most profitable is a $1.75 million 5-bedder sold in August last year, originally bought back in July 2015 for $1.3 million.
Yup, that's an astounding profit of $451,000 (or 34.6%) in just 4 years!
So while everything sounds superlative in terms of the numbers so far, let's get on our insider tour to see if the living experience does match up.
Facilities in High Park Residences
Kid's Fitness Area
Outdoor Fitness Area
50m Lap Pool
Sun Deck
Water Lounge
Boxing Ring
Gym
Recreational Lounge
Aqua Gym
Kid's Pool
Water Slide
Walking Trail
Flying Fox
Garden
40m Lap Pool
Cycling Trail
Jogging Track
Tennis Courts
Jacuzzi
Yoga Deck
Infinity Pool
Lounge & Bar
Garden
Hammocks
BBQ Pits
Teppanyaki Grill
Lawn
Steam Room
Fitness Changing Room
Jamming Studio
Indoor Movie Theatrette
Childcare Centre
F&B Retail
Multi Purpose Court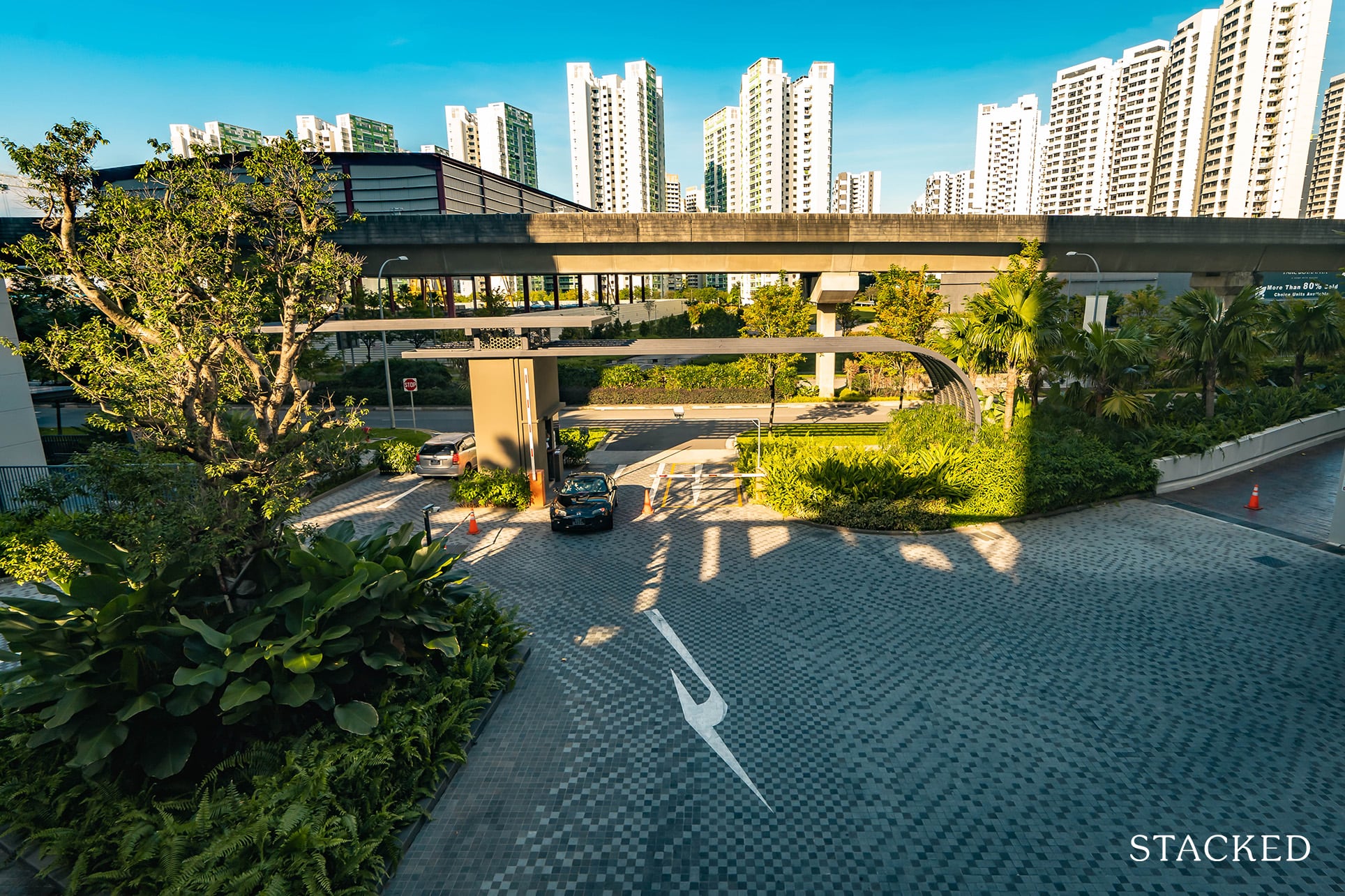 In a town area that is dominated by HDB flats, it isn't too hard to stand out among the crowd of high rise buildings. Let's also not forget that High Park Residences occupies the biggest residential plot on this side of Sengkang, with the amalgamation of two sites to form a total land size of 366,168 square feet housing 1,390 units.
Note that this isn't the only entrance and exit to the development, there is one further down the road (which is shared usually by delivery trucks). It is along the same Fernvale Road, however, so it is just the one road that leads to home.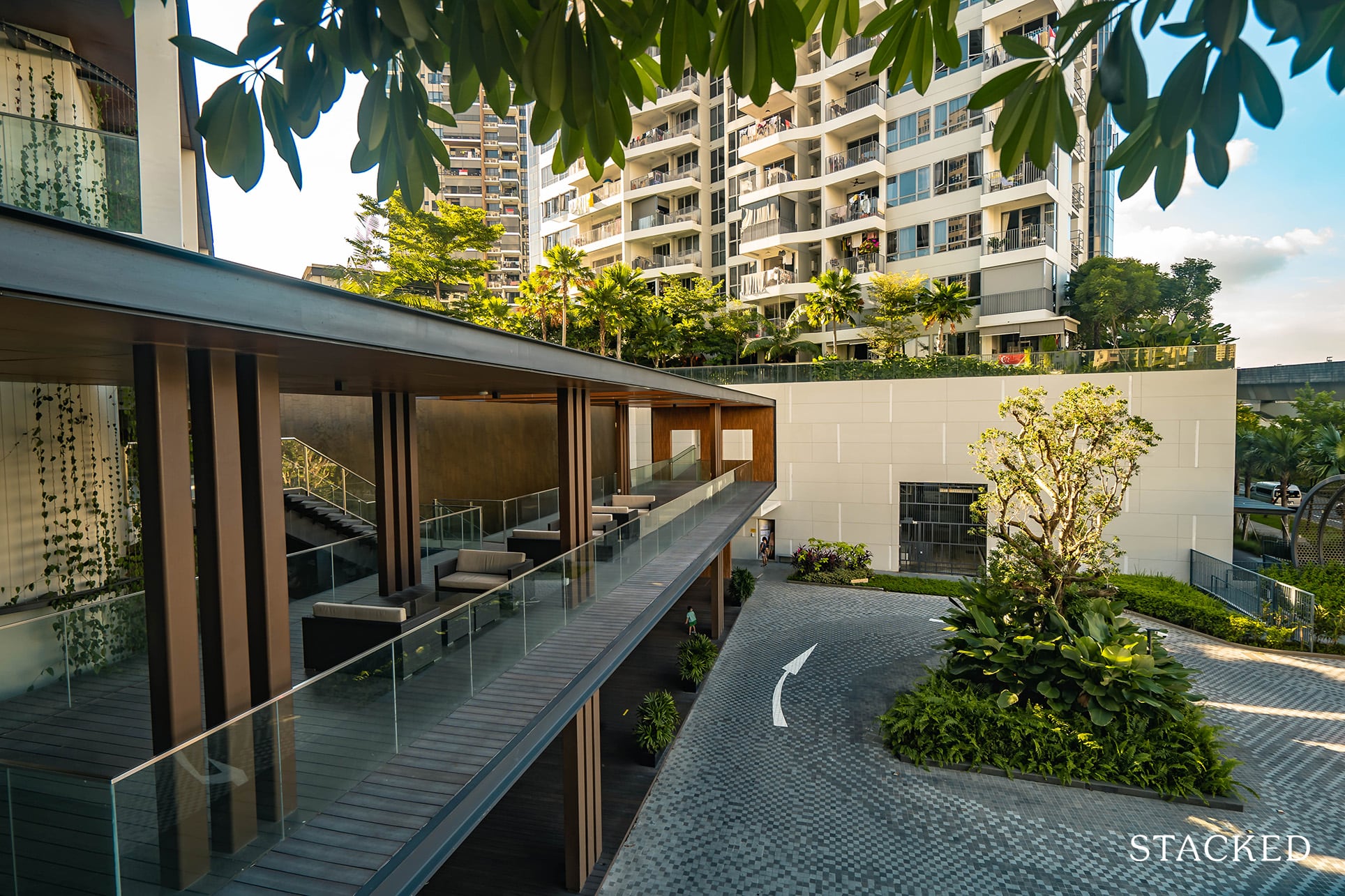 That said, the arrival area does set the tone for the rest of the development. The multi-tiered arrival lounge is an impressive one – clean lines, sleek glass barriers and lounge seatings give a great first impression.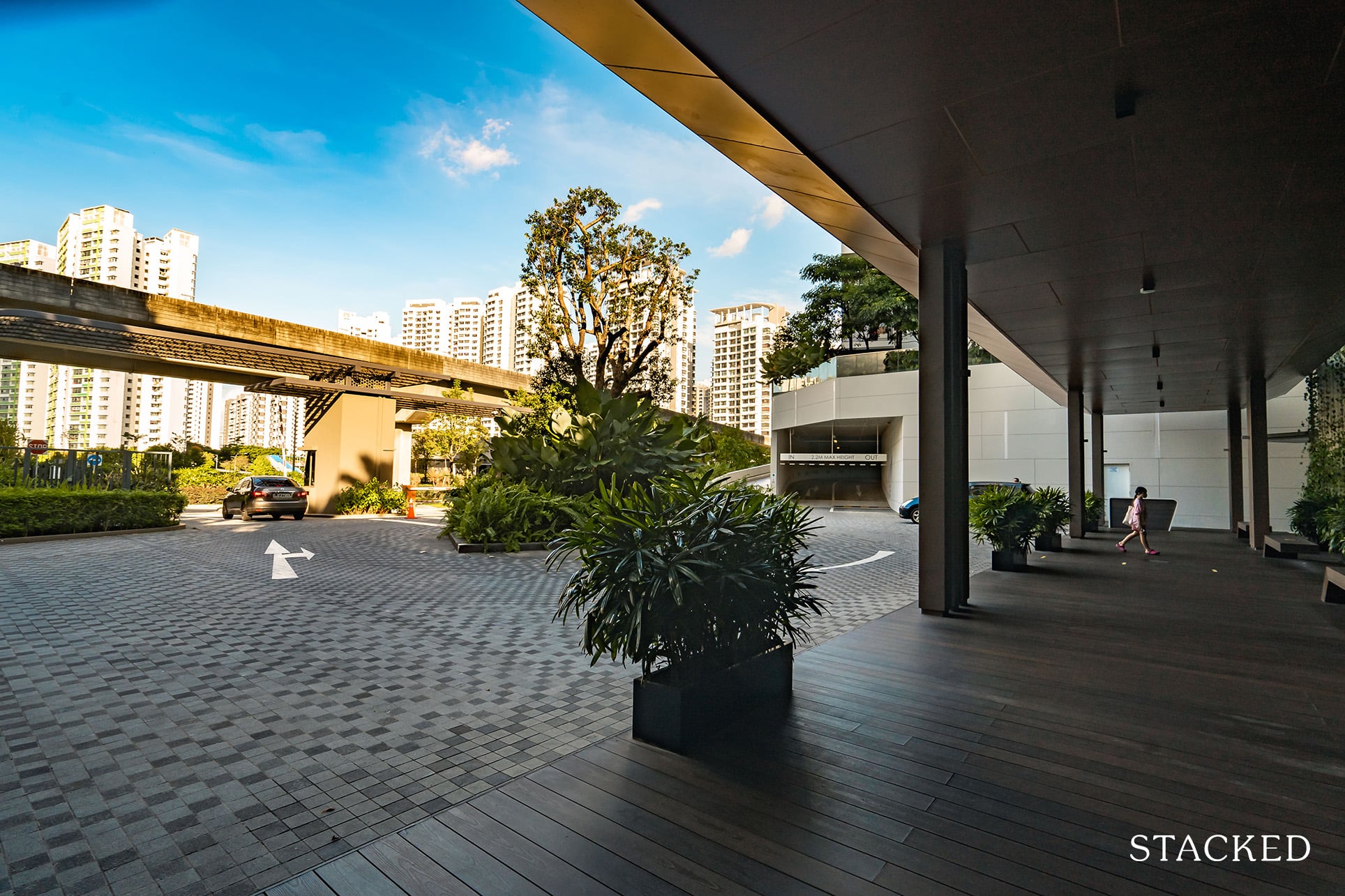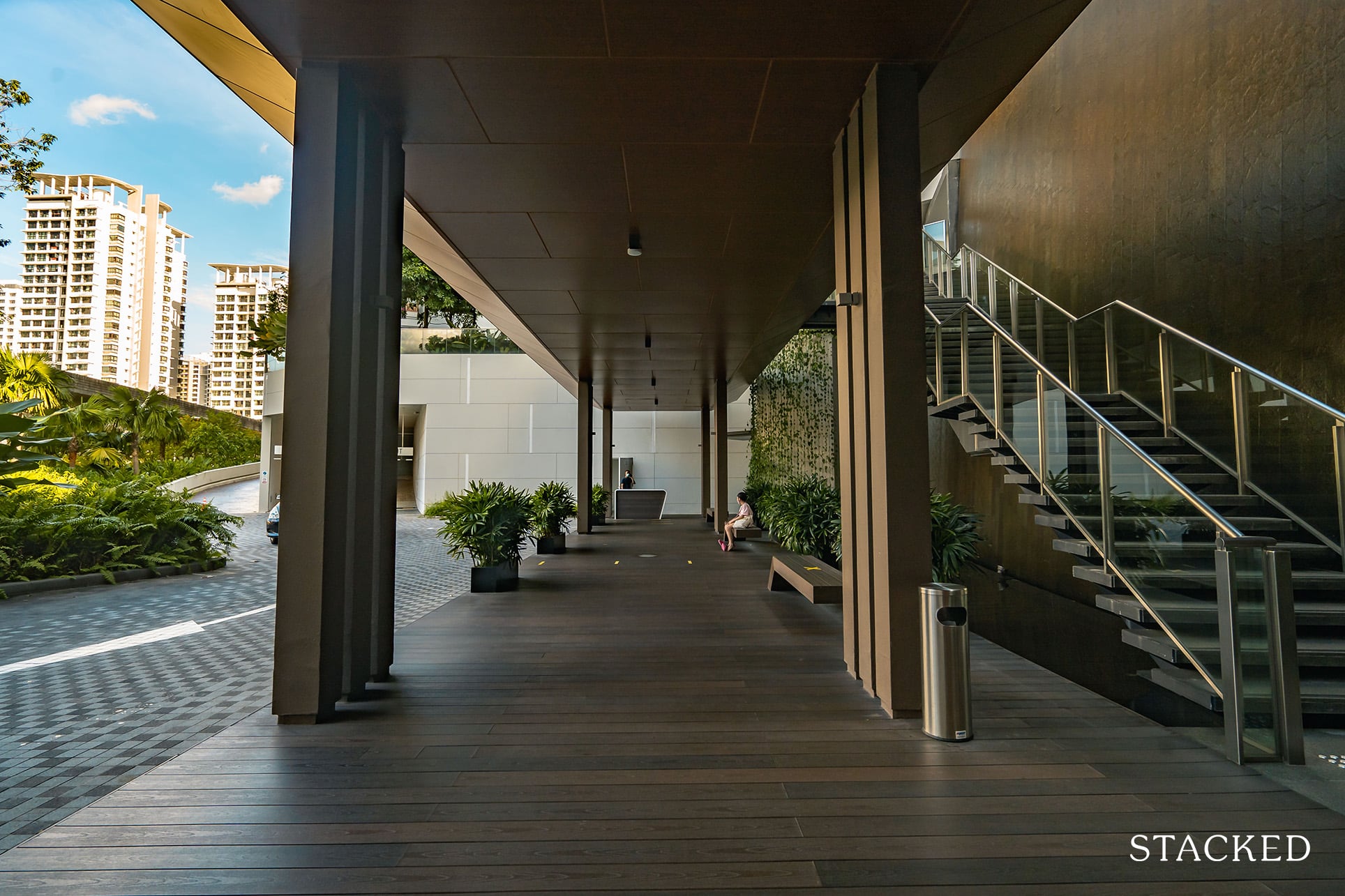 The space afforded here is definitely substantial but the protruding shelter is a little short in my opinion. On a fairly blustery rainy day it may not stop residents getting in and out of the car from getting a little wet.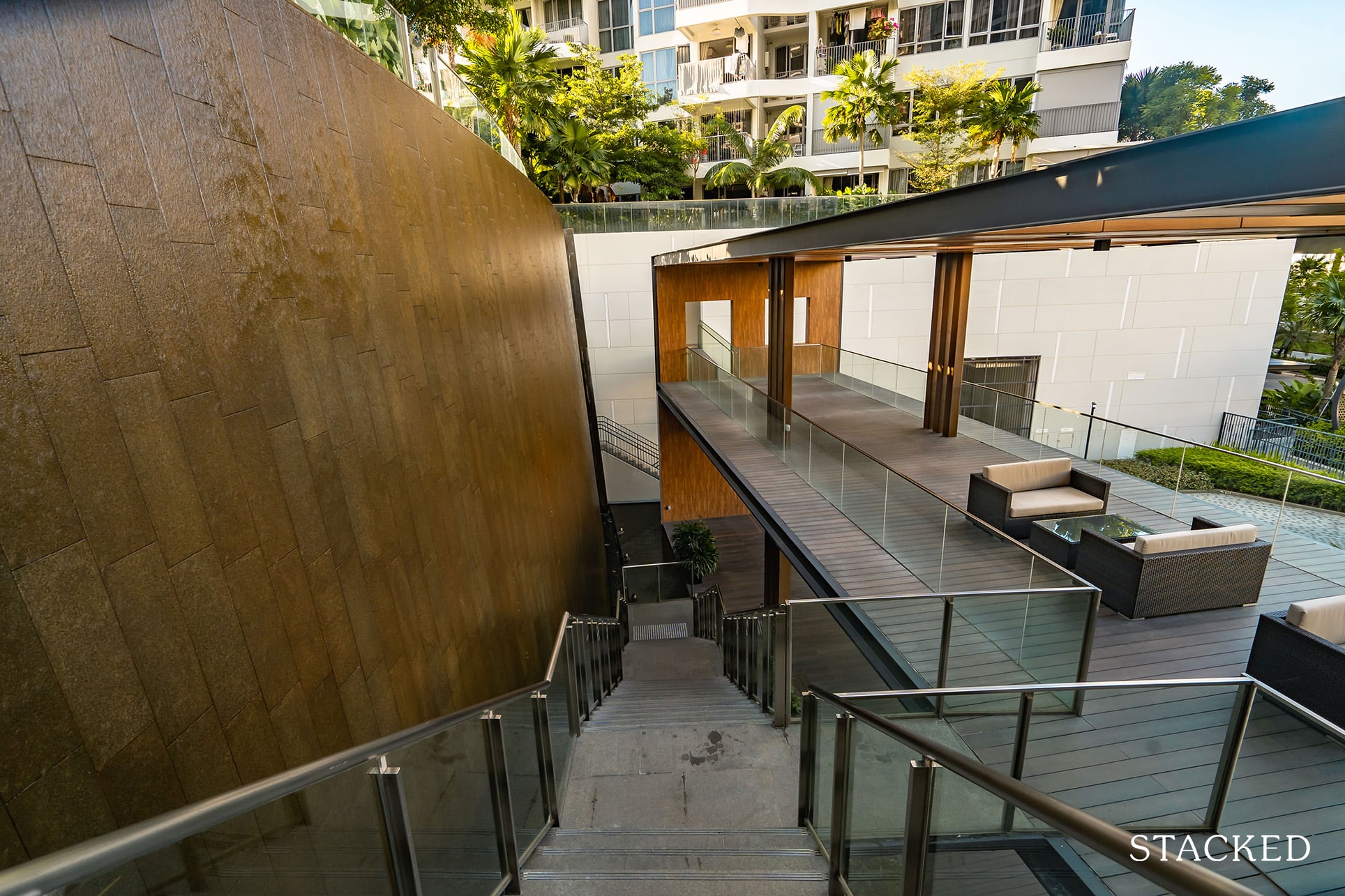 You can either walk up the steps or take the lift to get up to the main facility deck.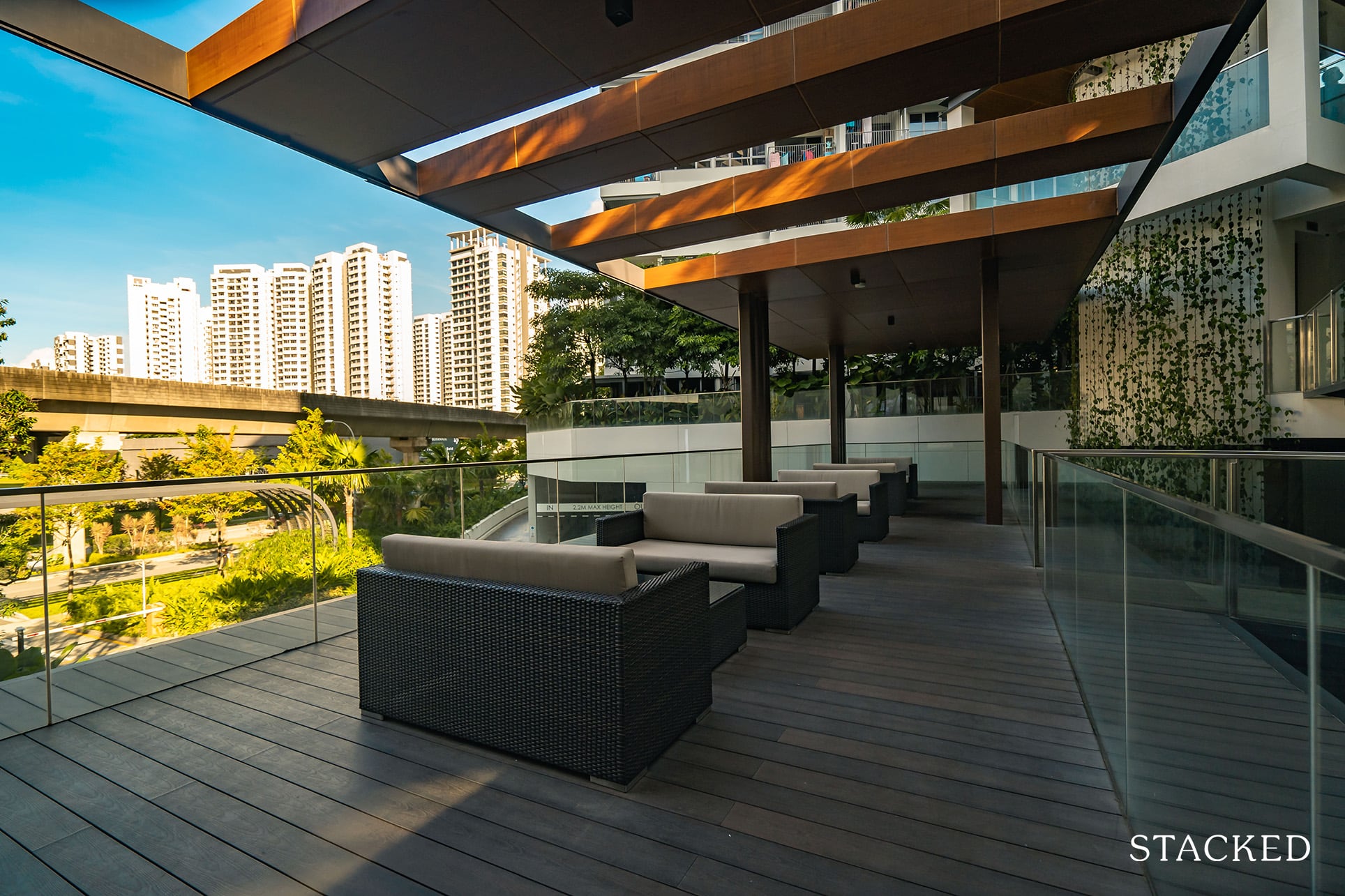 I can't say that this will be a popular spot to sit and chill, but you definitely cannot fault the relaxed ambience it communicates.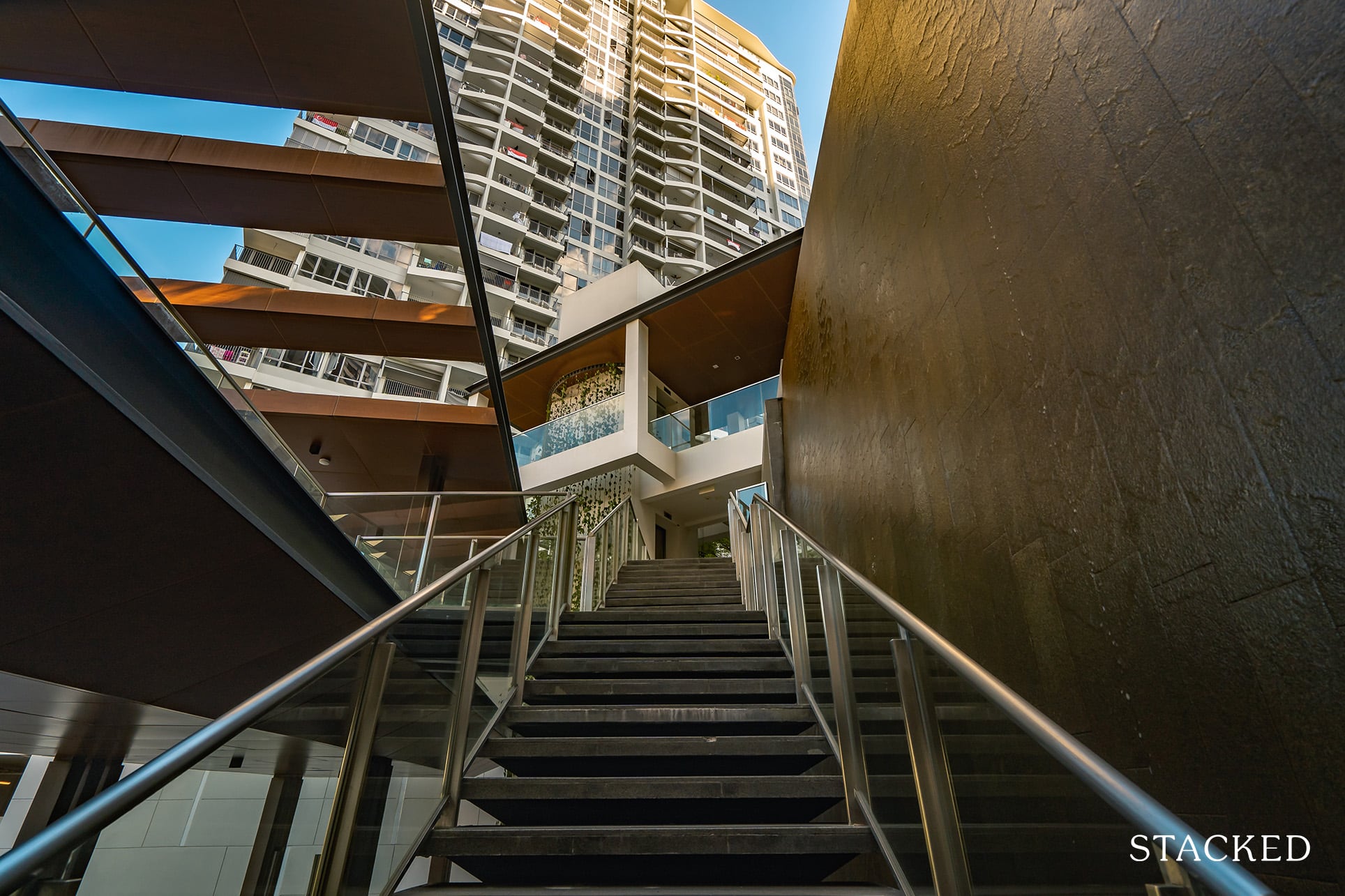 Walking up the stairs, you do get some inkling of the origins of the name High Park Residences. While this may just be my own conjecture, there are benefits to the main facility area being on an elevated level. For one, you do get much better privacy – no nosy pedestrians are able to peer inside. Plus because the LRT tracks are running parallel to the development, it also prevents commuters from being able to look into the common areas.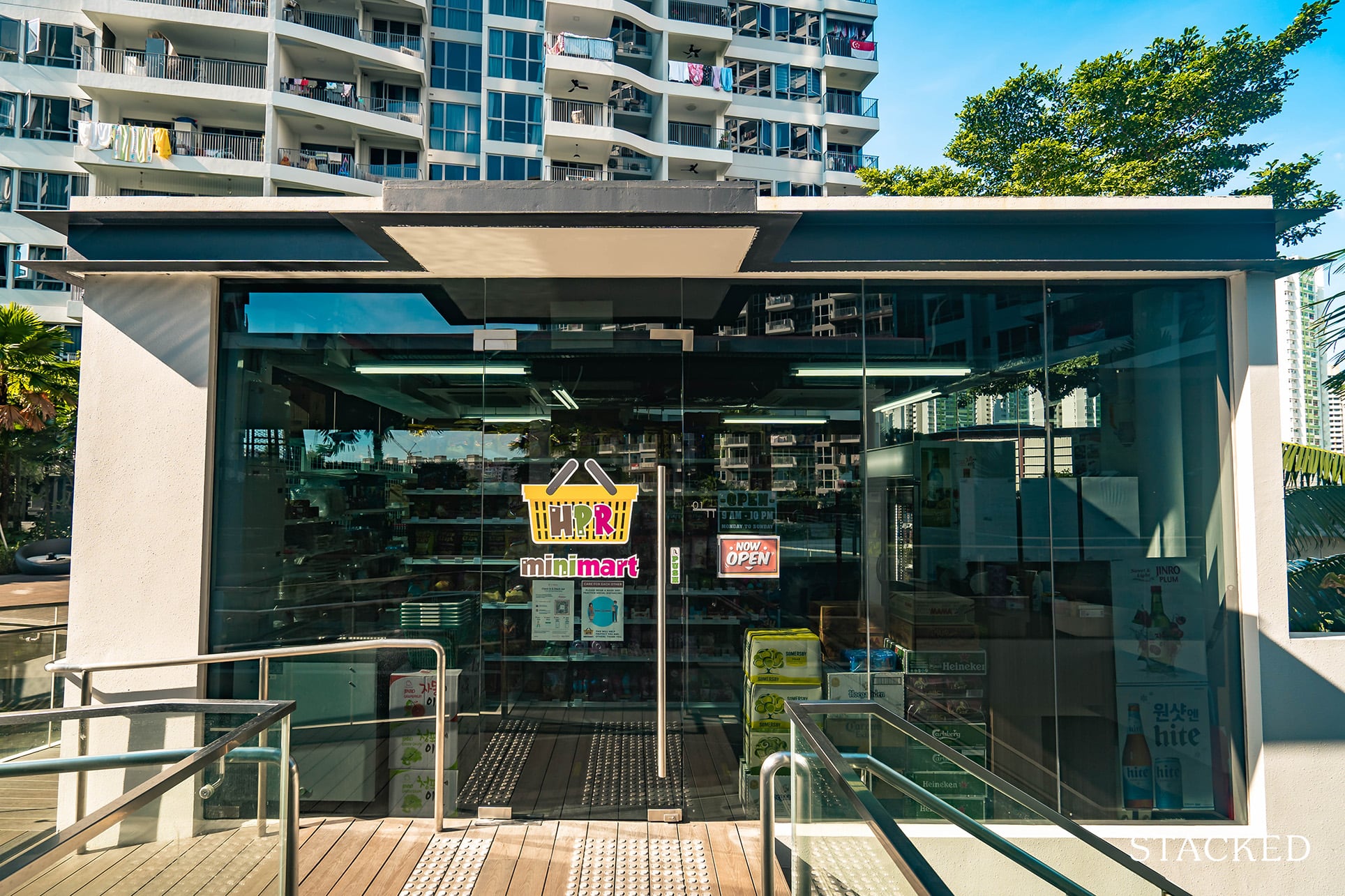 As strange as it may sound, one of the first things you'd see once you come up the stairs (or lift) is the minimart. It is, as its name suggests, mini – but it is no doubt useful should you have sudden cravings or just need groceries on demand.
Actually, Seletar Mall is quite a short walk away (where there is an NTUC Finest), but this is definitely a handy option to have.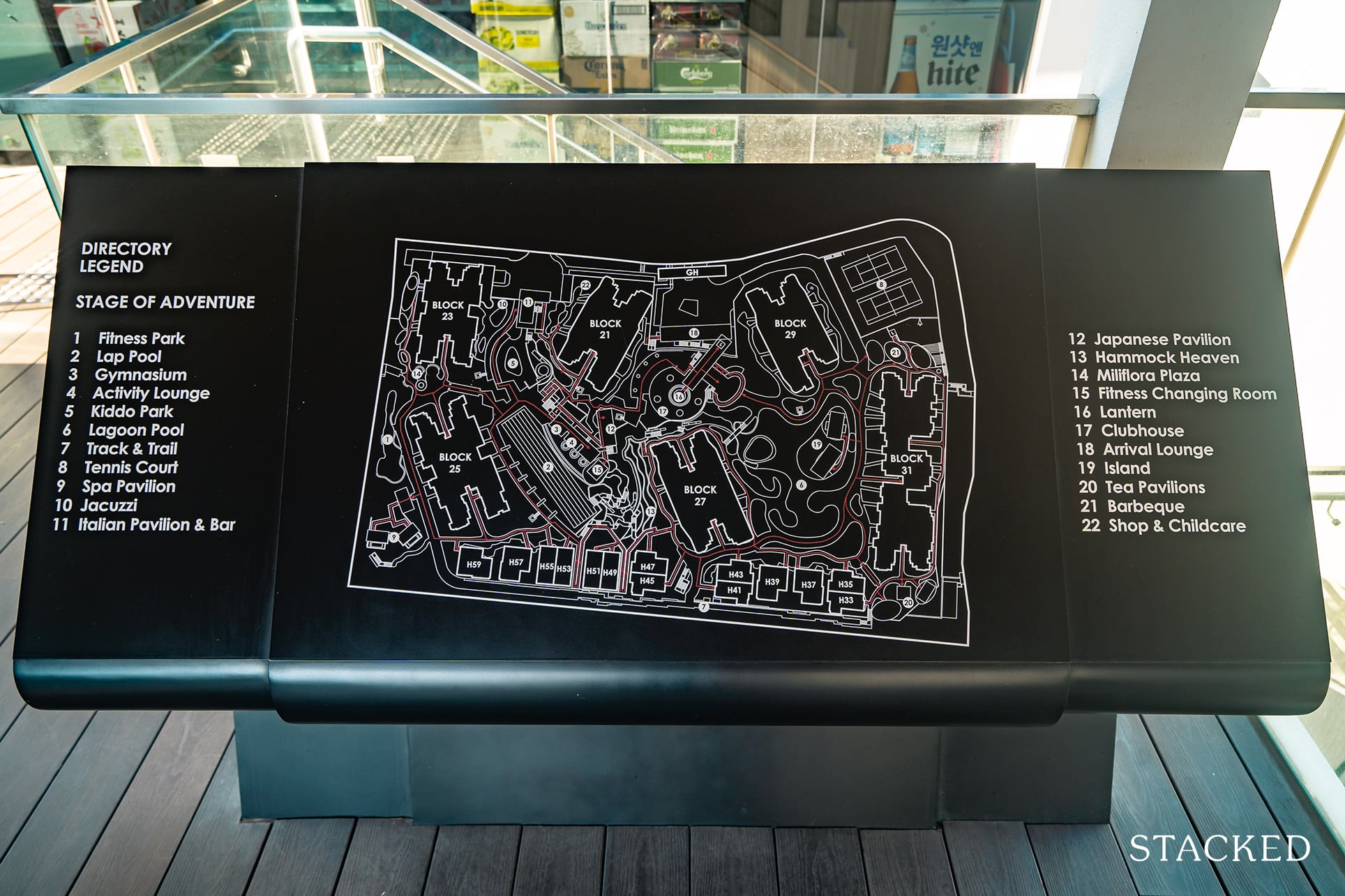 If you are here for the first time, you'd definitely require the help of the directory to move around. It may not be the biggest development I've come across, but 366,168 square feet is still pretty substantial nonetheless.
In fact, I'd reckon some people may even feel overwhelmed by the size of it all. Is it a good thing? Well, it really depends on your preference for small or big developments. One thing's for sure, you aren't going to find a lack of things to do at High Park Residences.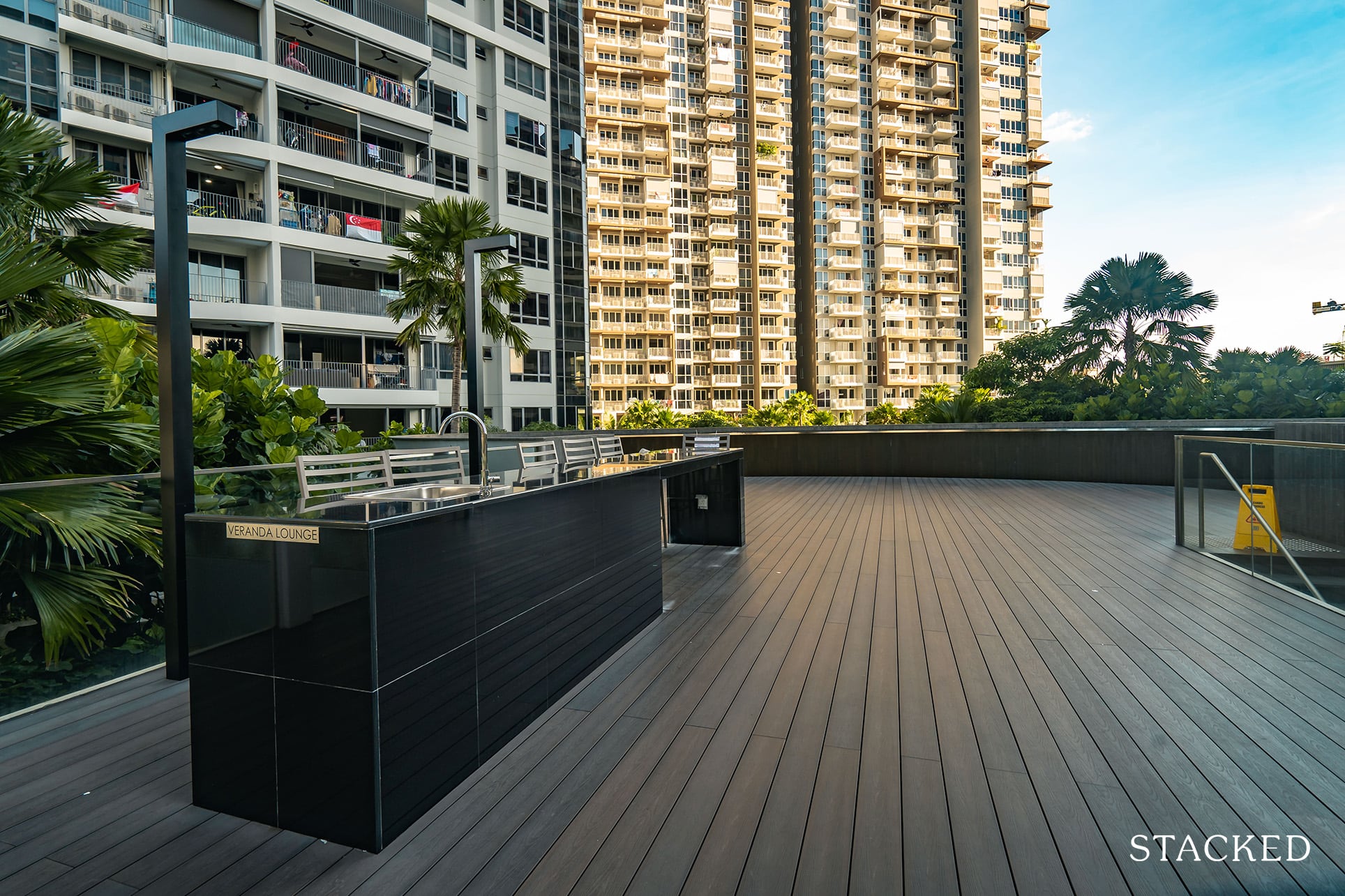 One of the first things you'd see when you get up to the main area is the veranda lounge. It is quite a sizeable open deck in which you can hold gatherings, but there are many better spots to do this at High Park Residences (in my humble opinion).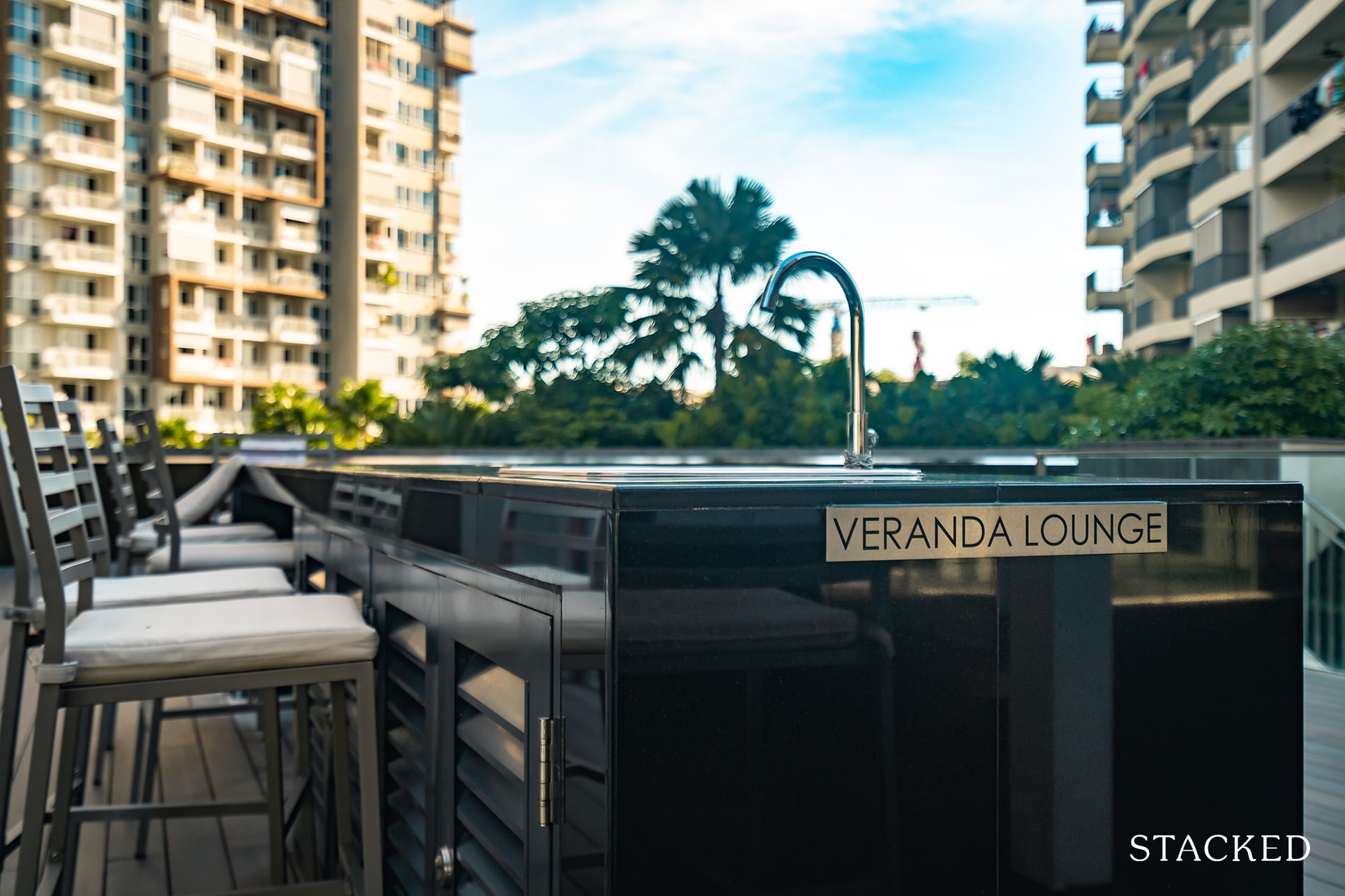 And while the space is wonderfully open and spacious, it does suffer from a lack of privacy and shelter.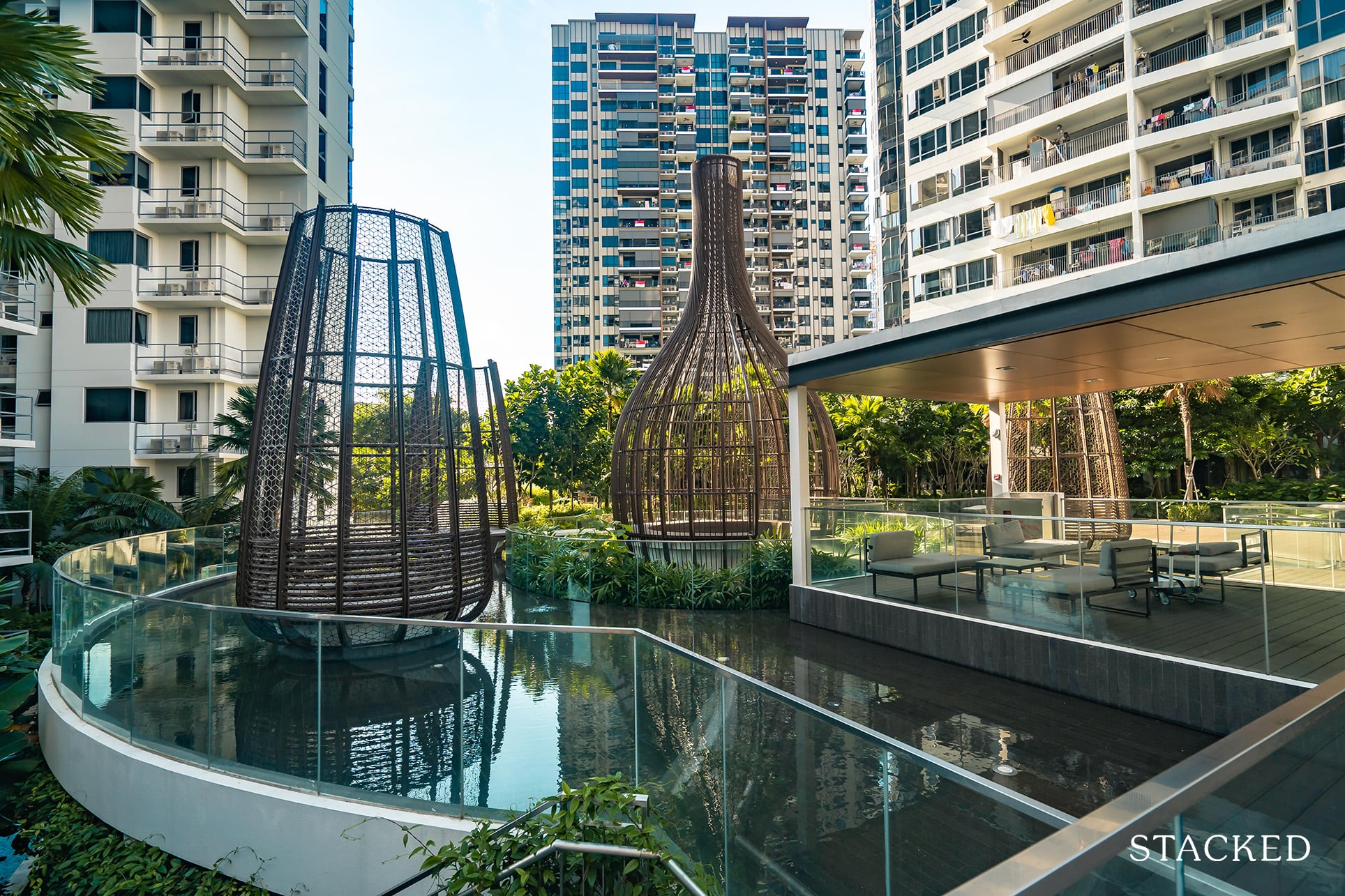 Moving further up, you'll come face to face with the Lantern Lounge. This consists of the Grand Lantern, and the smaller lanterns around it – Bliss, Joy, Wealth, and Harmony.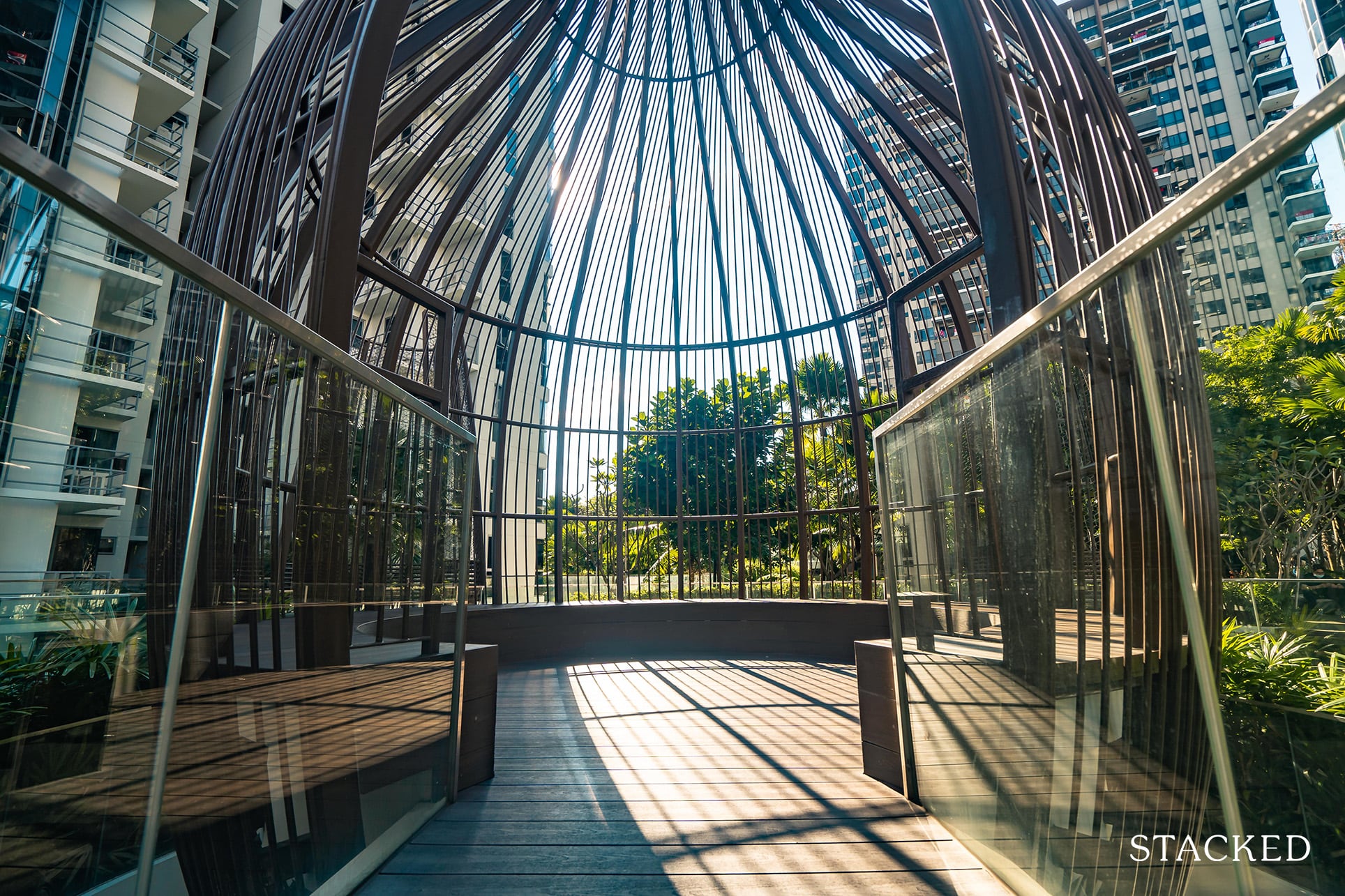 Stripping away the marketing speak, it really is just a lantern shaped structure with a curved bench seating.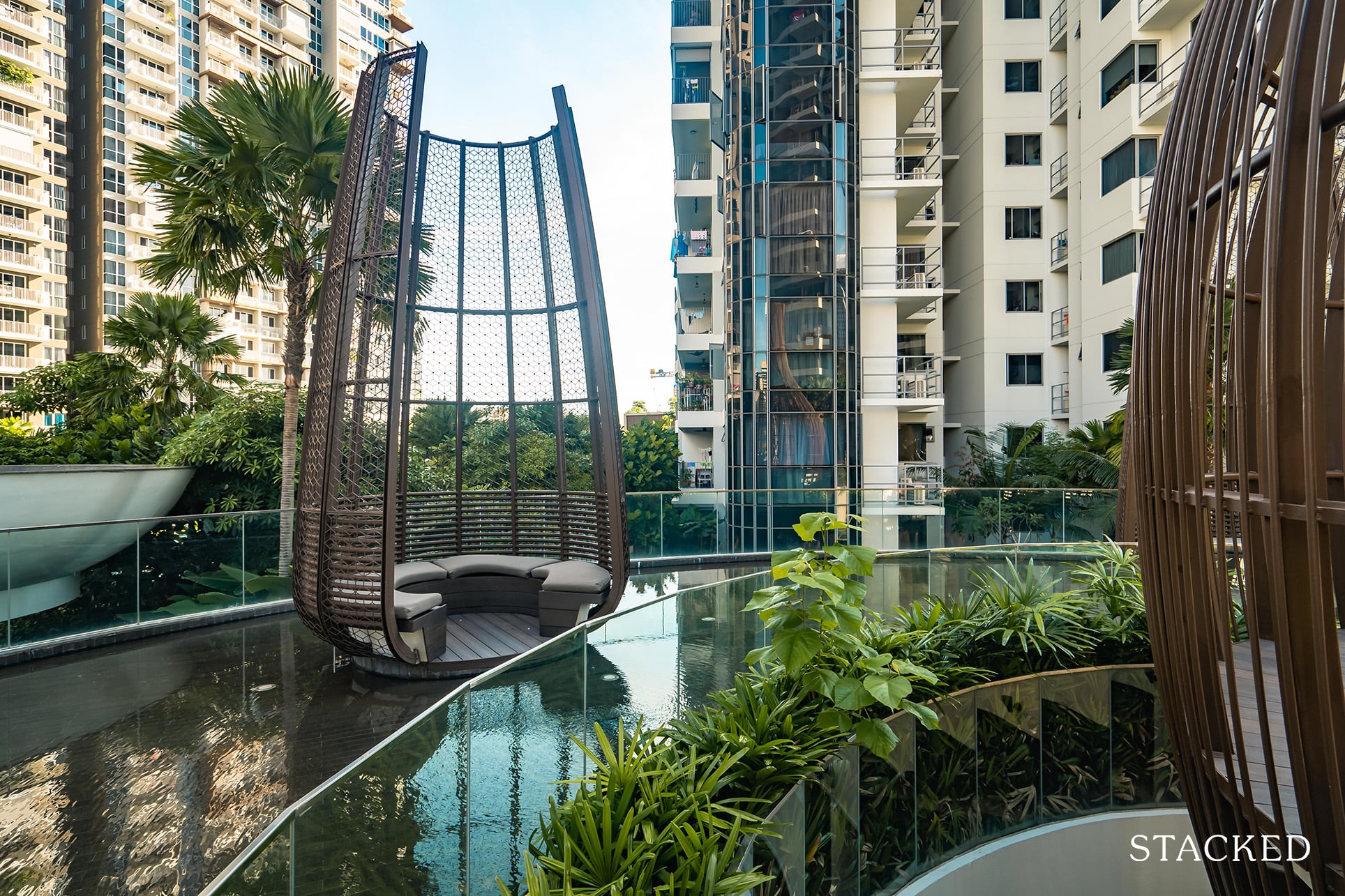 Same goes for the smaller "lanterns" around it. These ones are set on the water, giving the illusion that they are floating upon the water. Practically speaking, I don't see anyone really using these, but it does provide a more grand welcome that's for sure.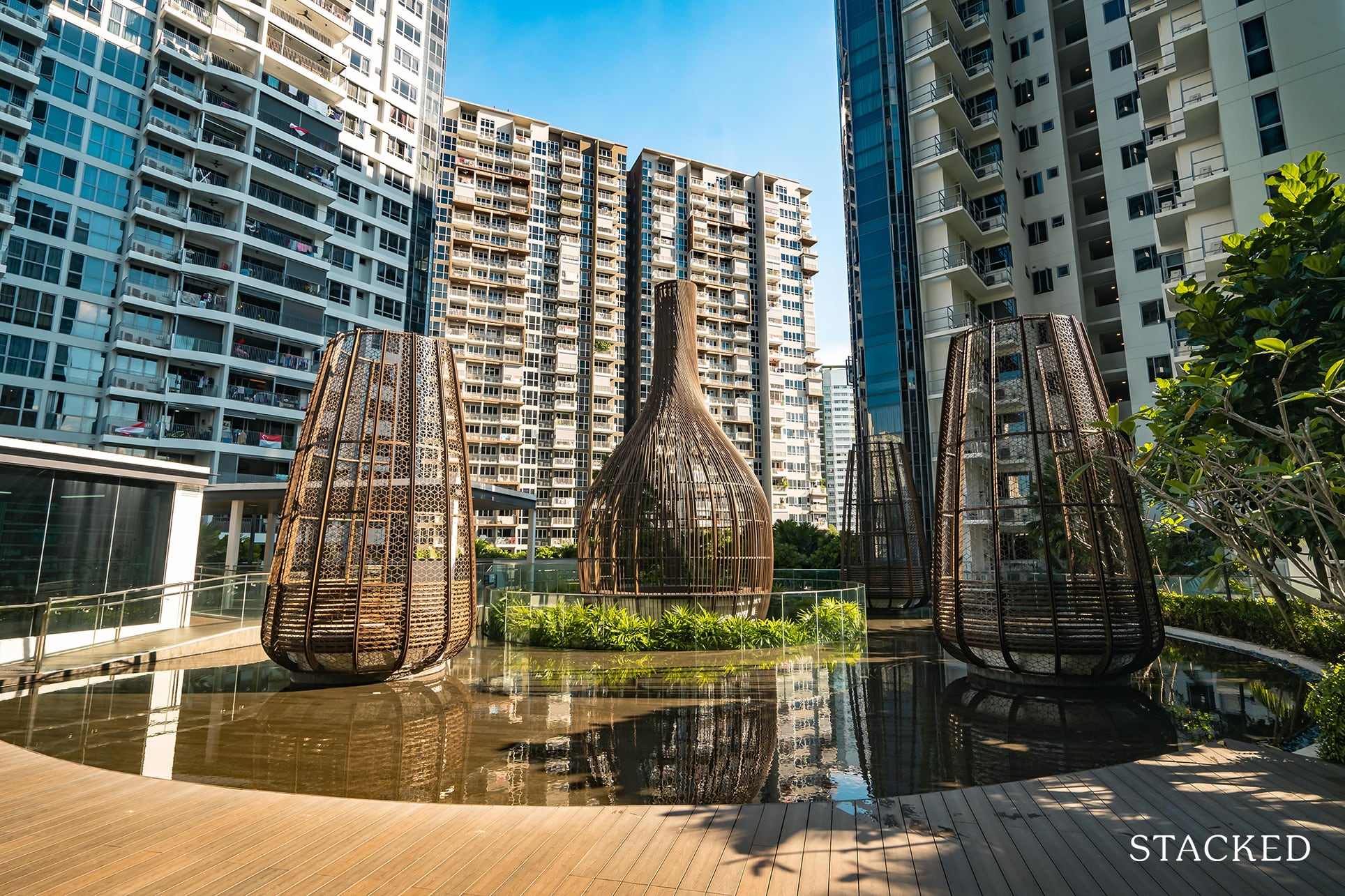 On a curious note, there seems to be no way to get to the other lantern seating pods without getting your feet wet? If so, this is definitely a case of looking pretty trumping over actual real world use.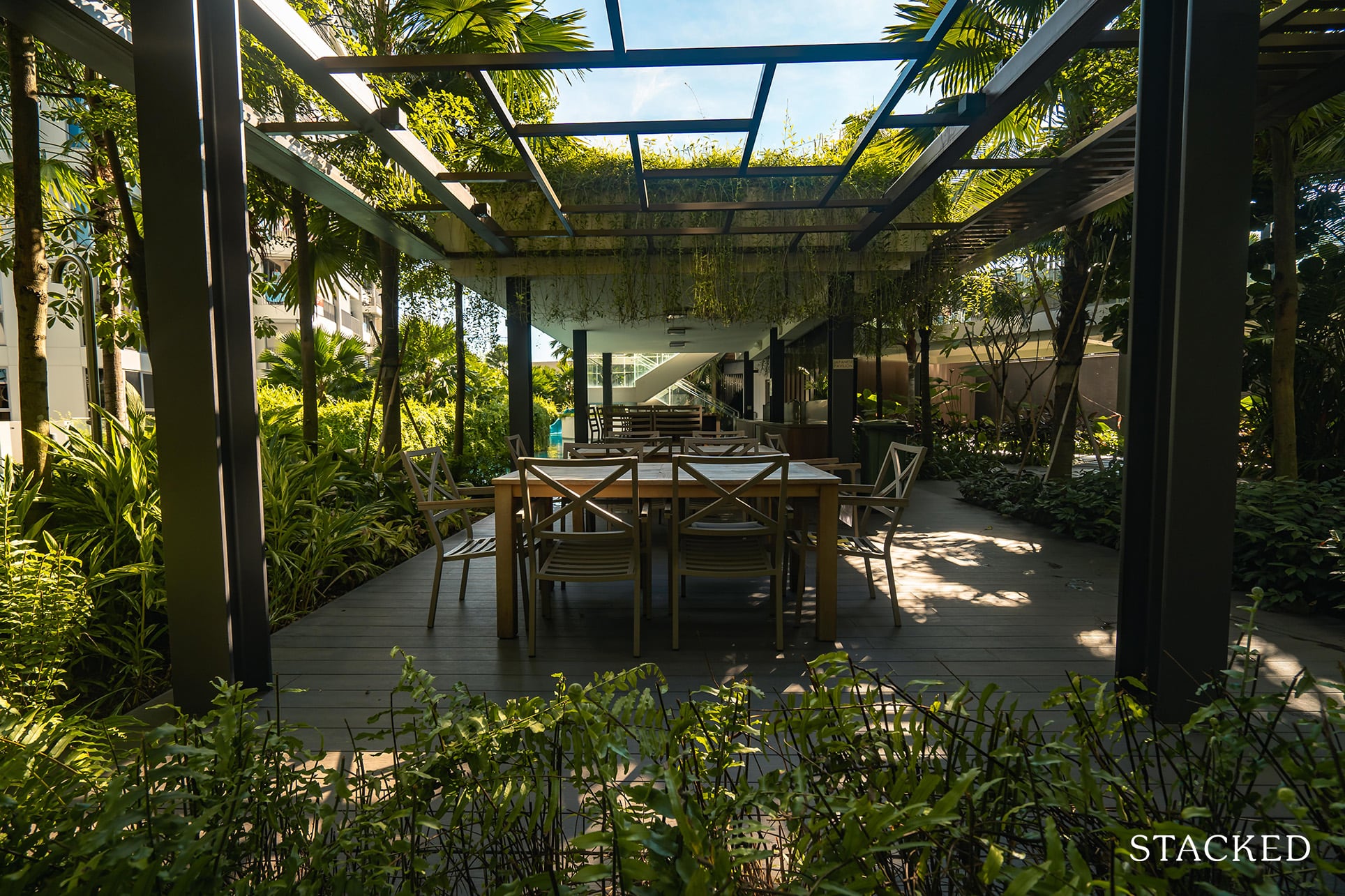 Walking further from the lantern lounge, you'll get to the Japanese dining pavilion. Remember how I said earlier that there are much nicer dining and event spaces? Well, this is one of them.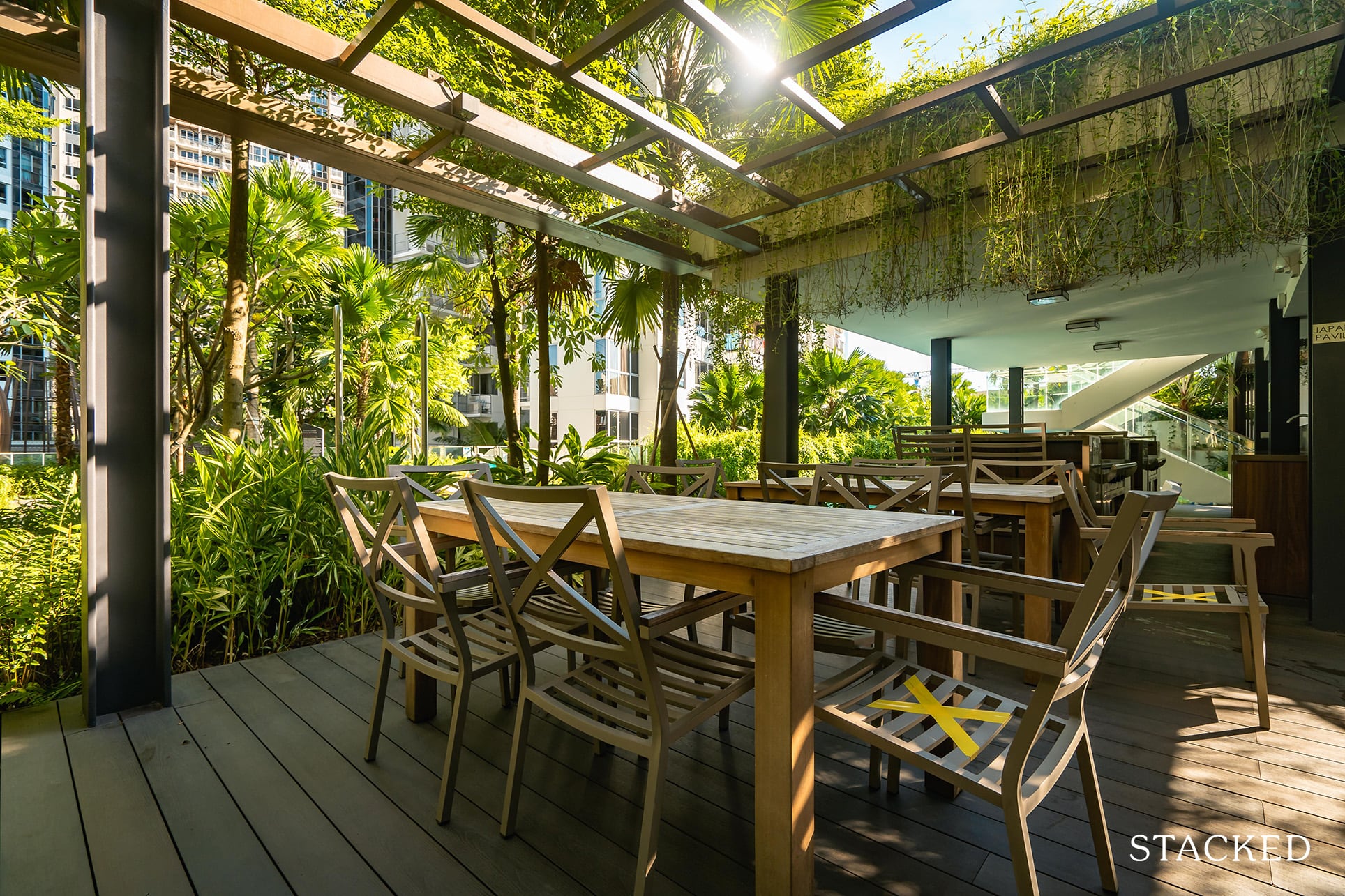 Due to the nature of the size of the development, you're never going to really get a truly private space. But the lush and thick foliage really help to provide a sort of shield around the place.
And while there isn't a proper shelter against the rain, the creepers and plants growing all around the roof structure does provide some semblance of shade. Even on a hot day it is relatively cooling, and you do feel that you are sitting in a garden environment.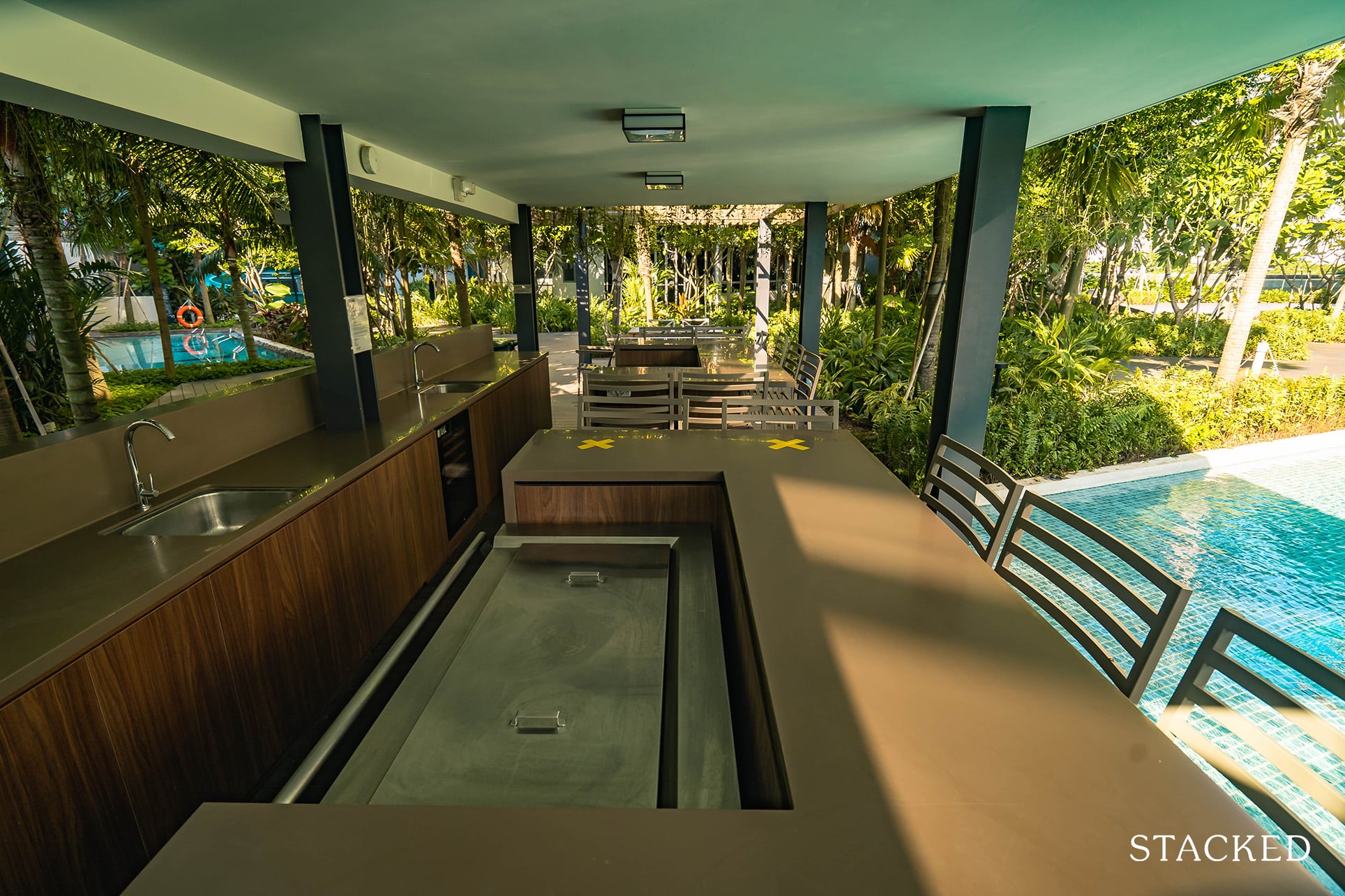 If you're wondering what is Japanese about this space, you have your answer right here – a teppanyaki grill along with a bar counter top.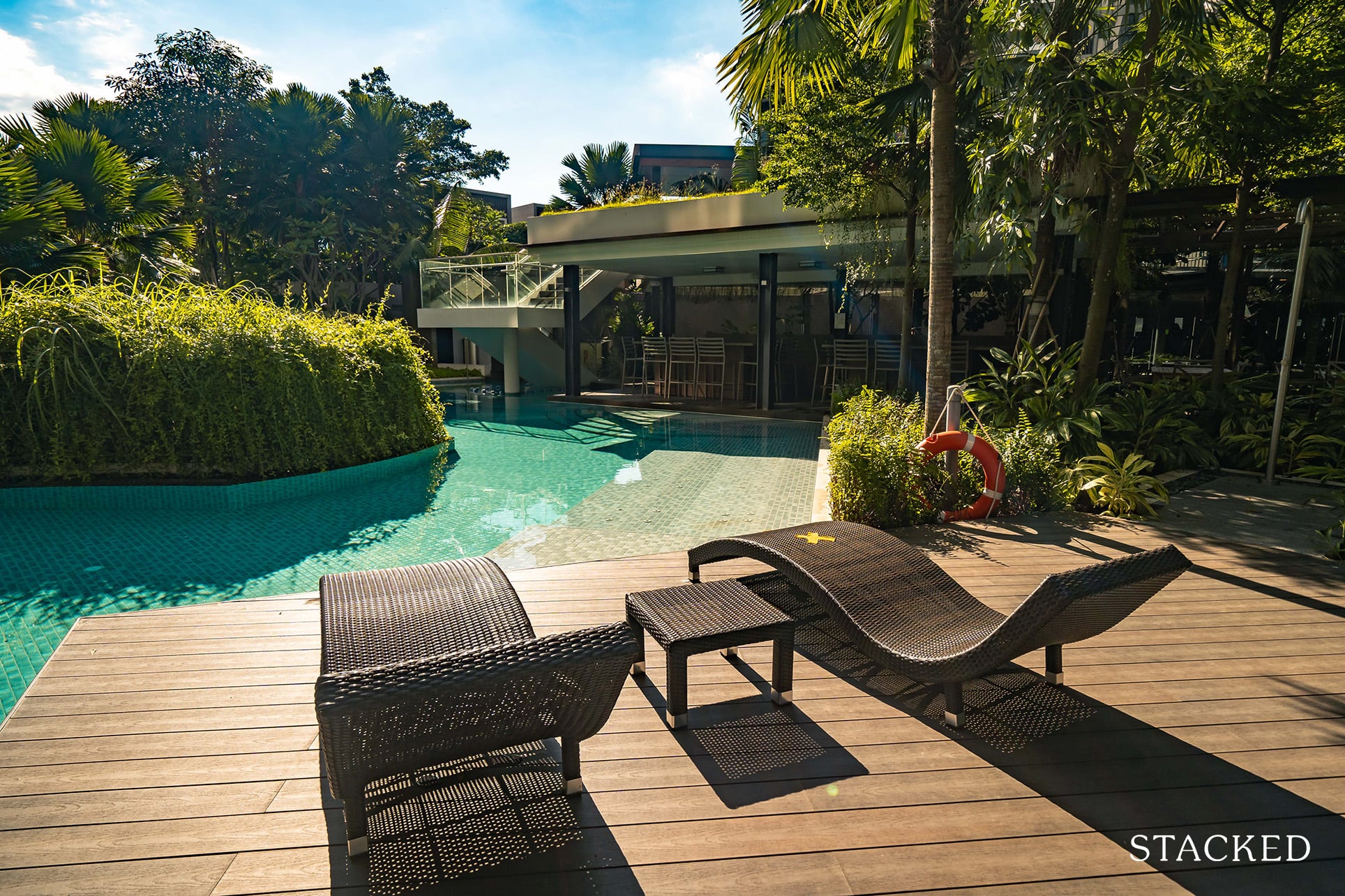 Also, the space is flanked by the lazy jet pool (the stream-like pool that connects all the slides, which you'll see later). So it is quite an ideal spot for hangouts with the family – younger kids will have a whale of a time here.
You can see from here too that the dining pavilion is actually pretty big, which is great for a large gathering.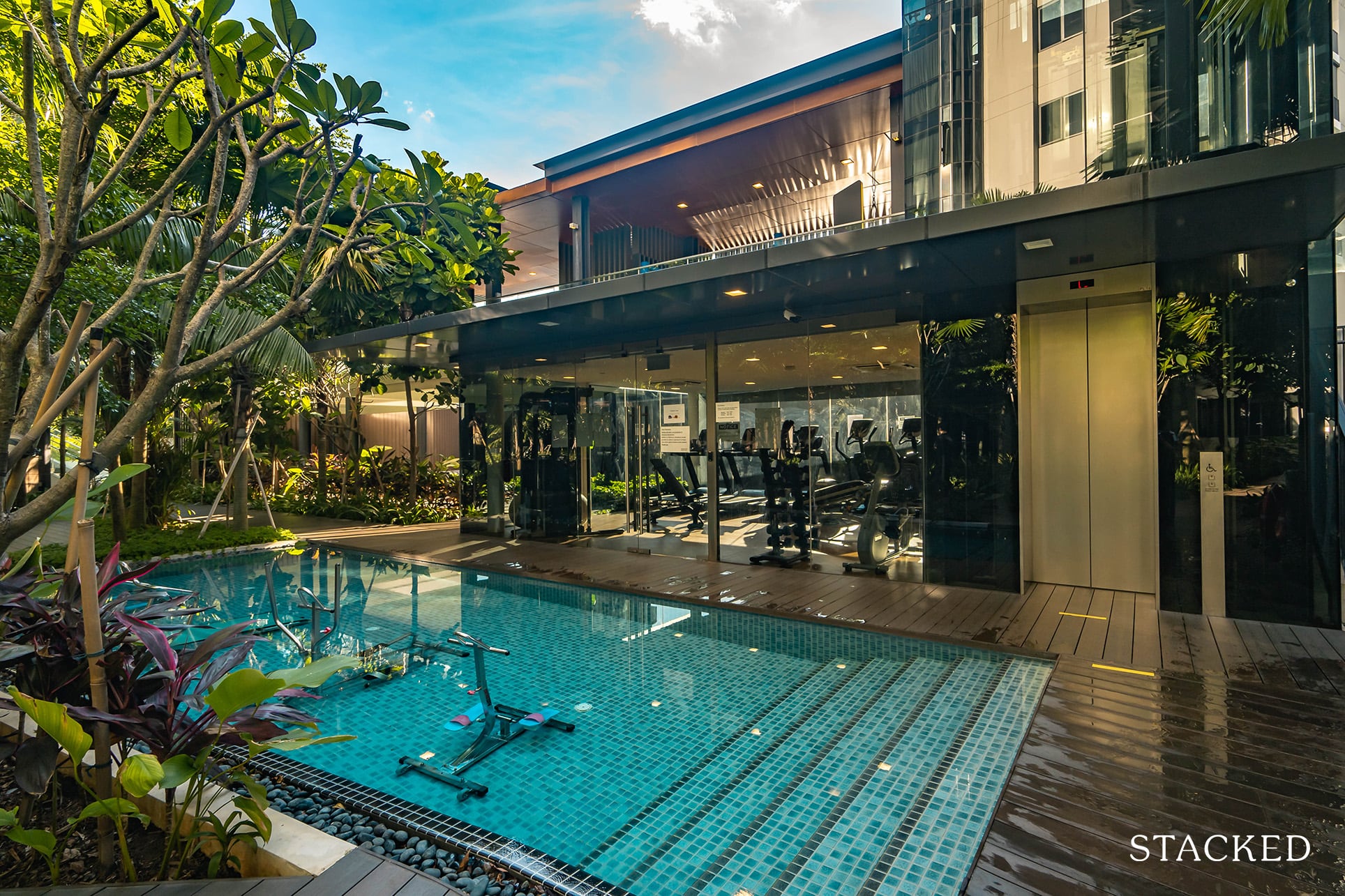 Next to the Japanese dining pavilion is the aqua gym.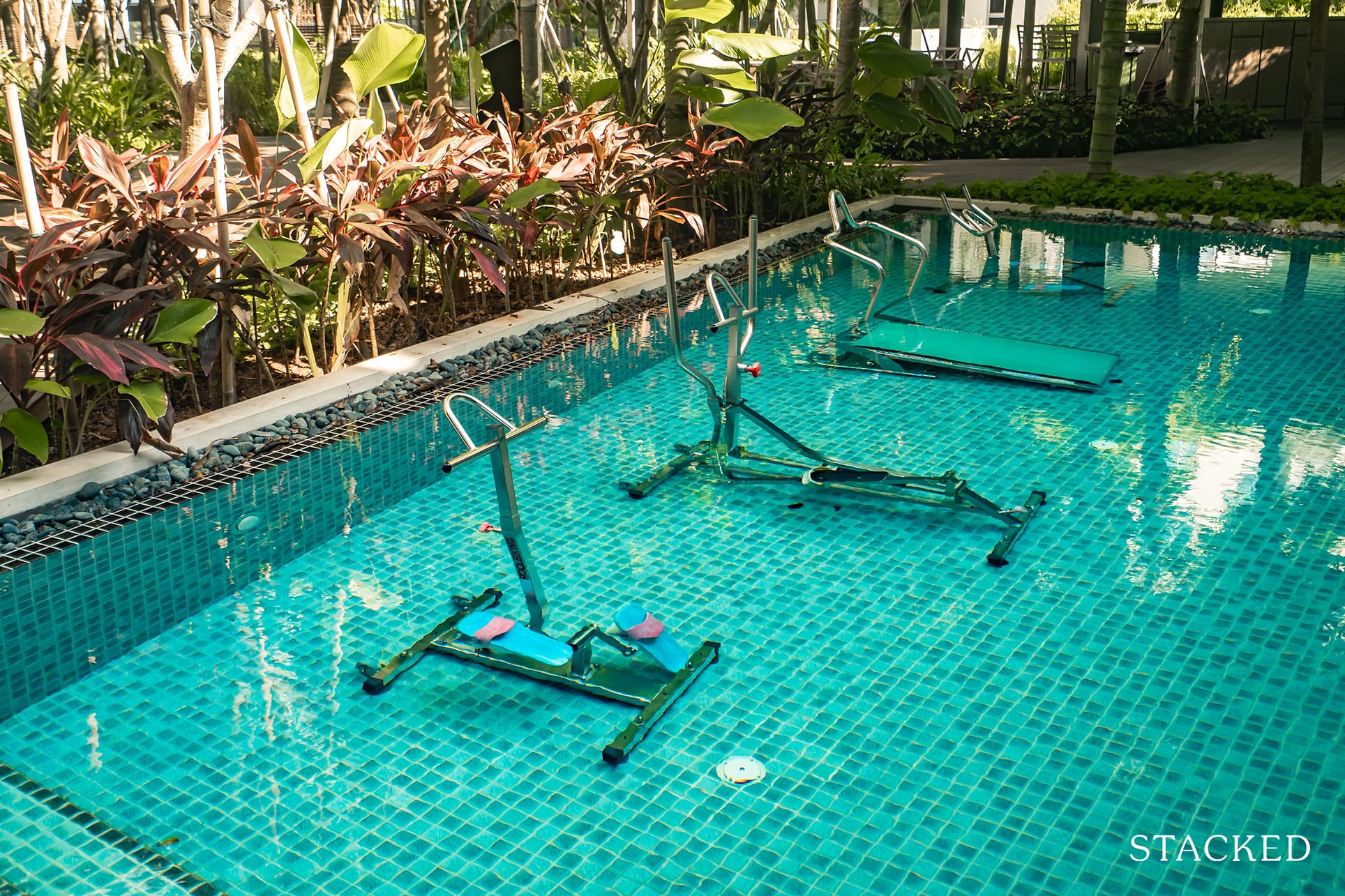 I've always maintained that aqua gyms aren't a particularly useful facility for me – I find that their upkeep is just more trouble than they're worth. Then again, maybe I am just the wrong target market for it.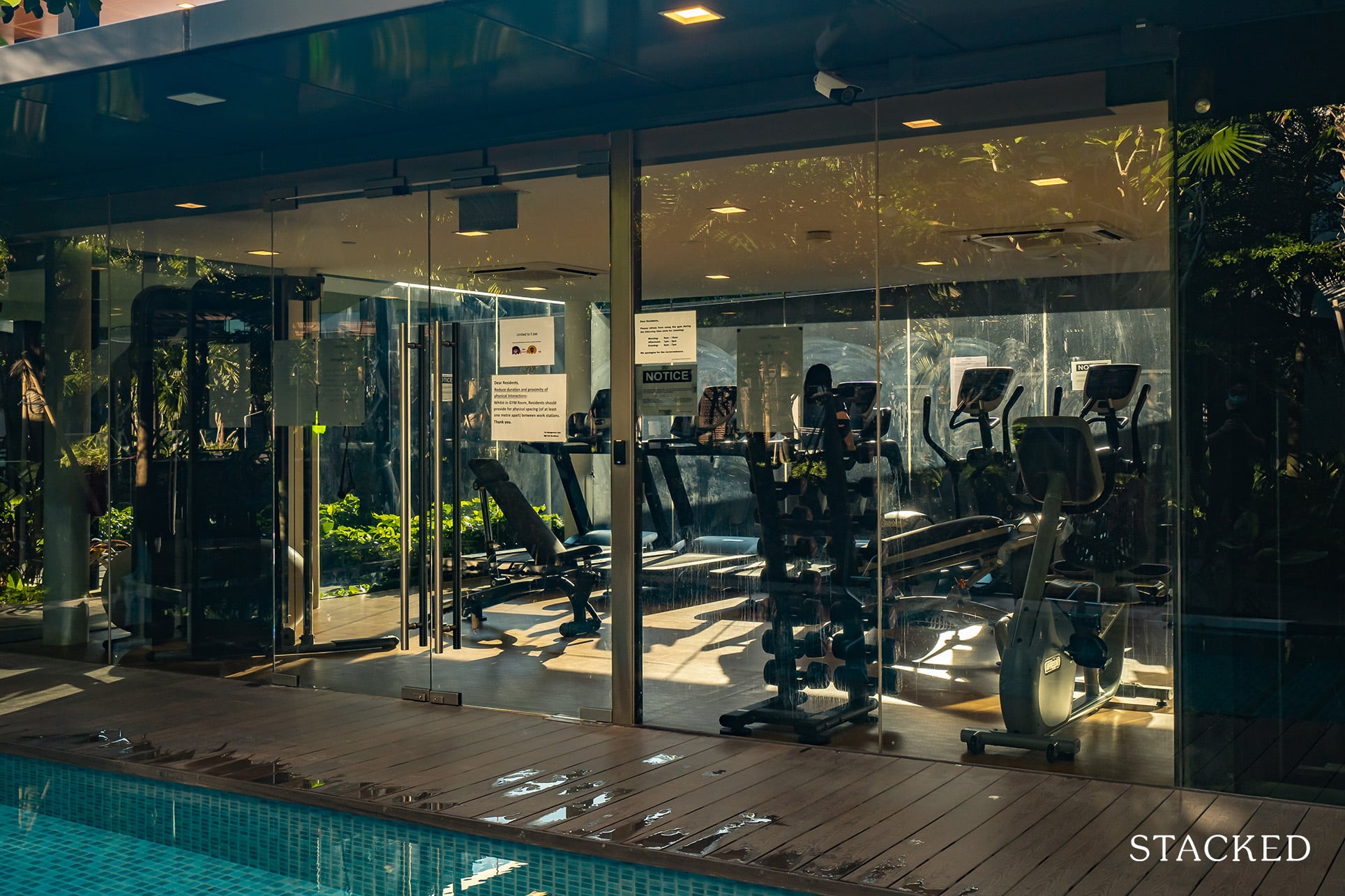 The actual gym is placed just behind the aqua gym. Let's start with the good points first – it does have free weights, aerobic and strength equipment, and it features nearly glass throughout, which makes it more open along with giving a better view.
But, for a place with 1,390 units I would say that it is just way too small to accommodate the population during peak hours. Granted, there are a lot of outdoor activities if you like to get in your daily exercise, but this is definitely not ideal.
Which is quite strange really, because land is definitely not one of the constraints at High Park Residences.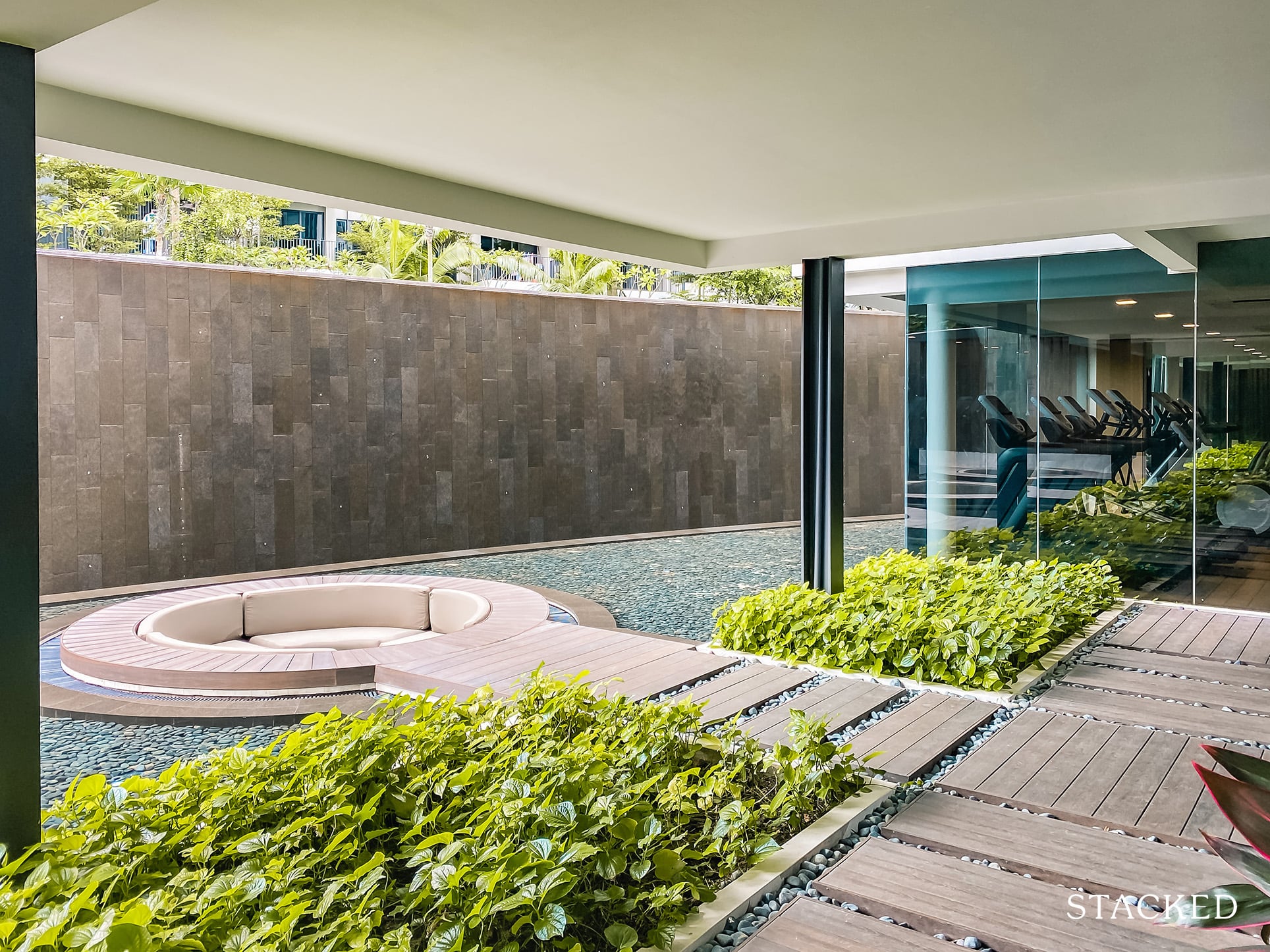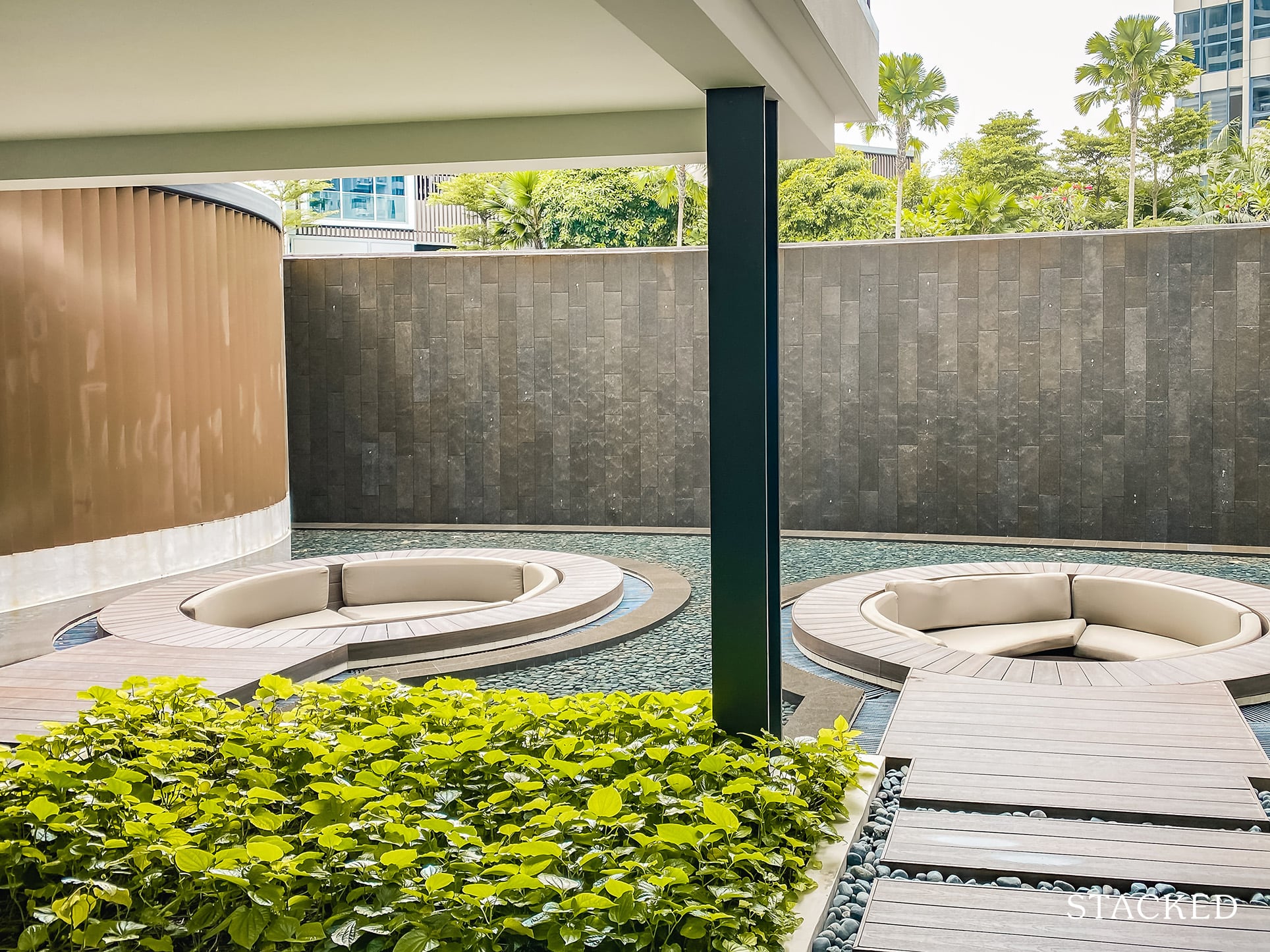 The gym actually faces a wall of running water (that flows down from the main swimming pool). This leads to the pebbled water features, which forms around the sunken lounge seating areas.
Right above the gym is a whole host of other recreational features (you can take the lift right up).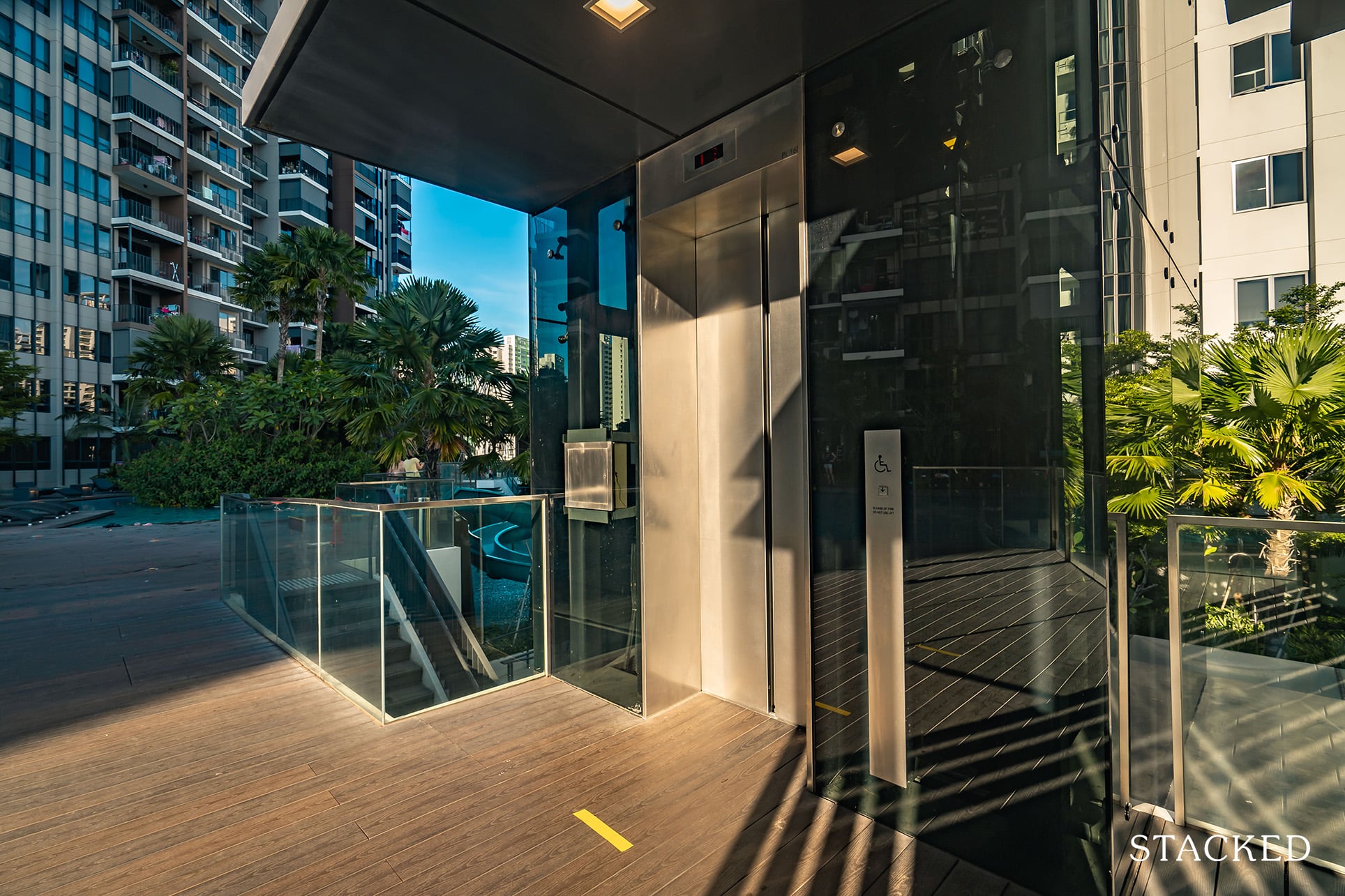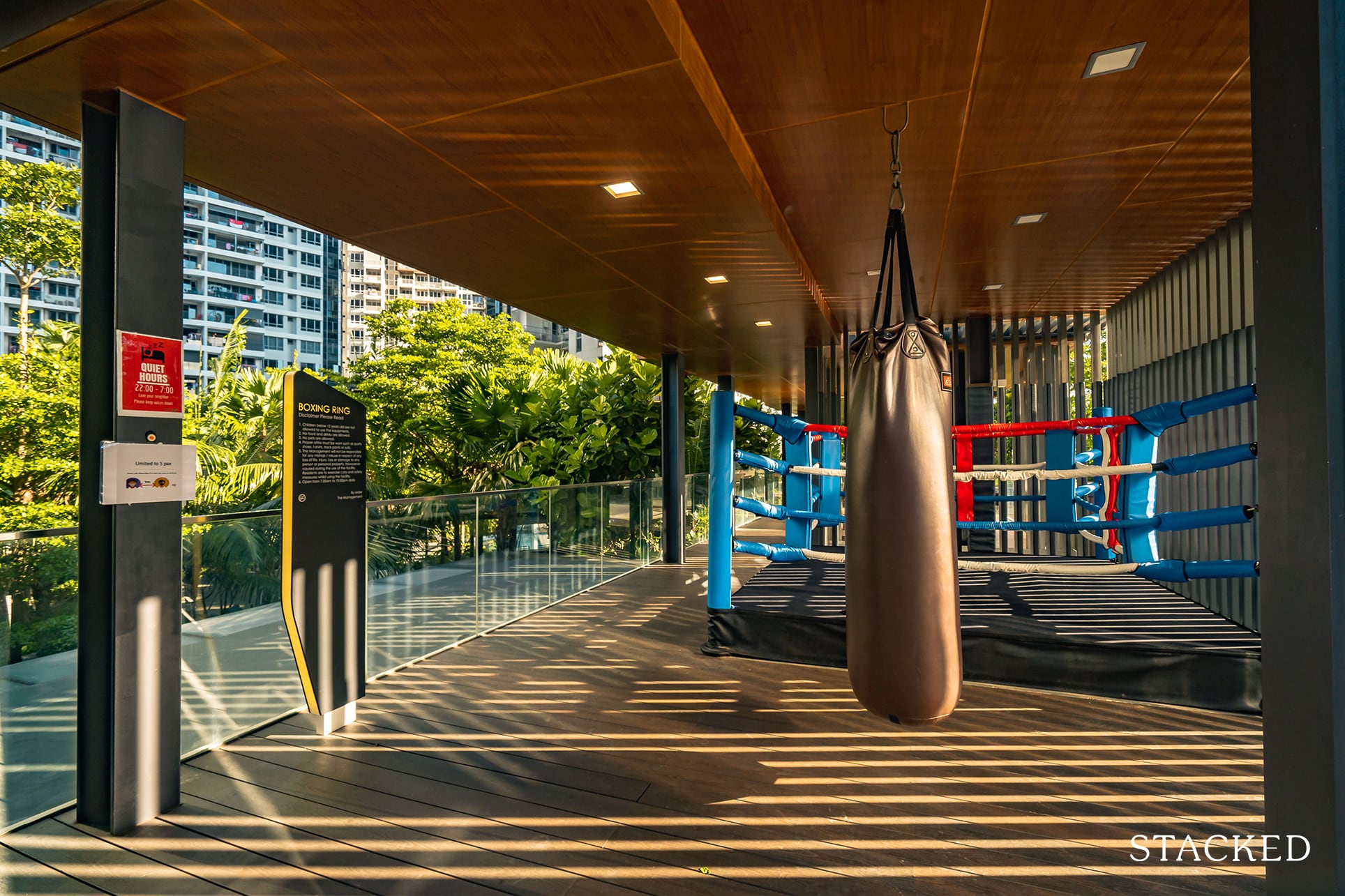 This one right here is the boxing ring along with a punching bag. It's definitely the first I've seen myself, and quite fitting towards the lifestyle of the younger generation.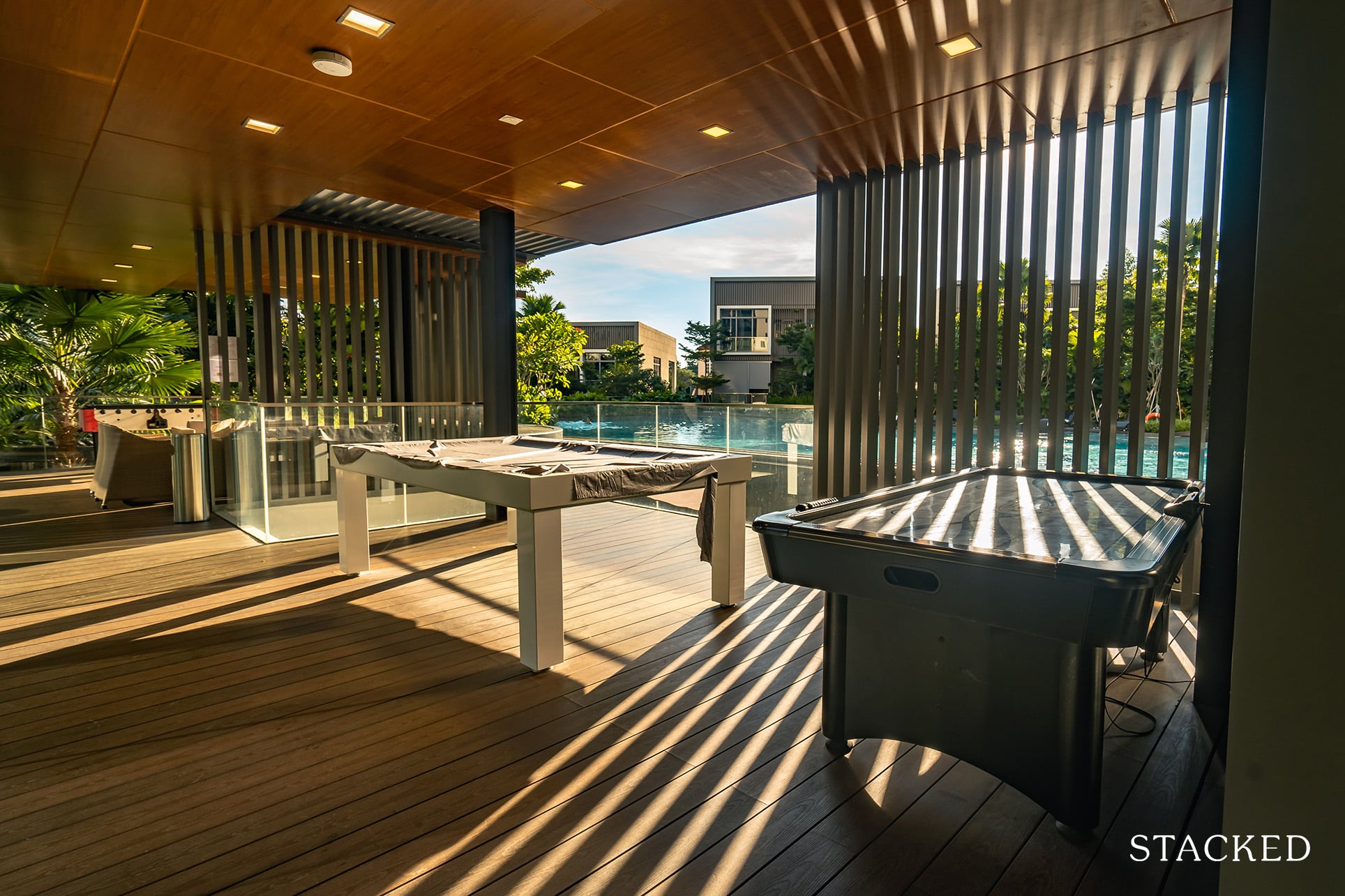 The rest of the deck features a pool table and an air hockey table..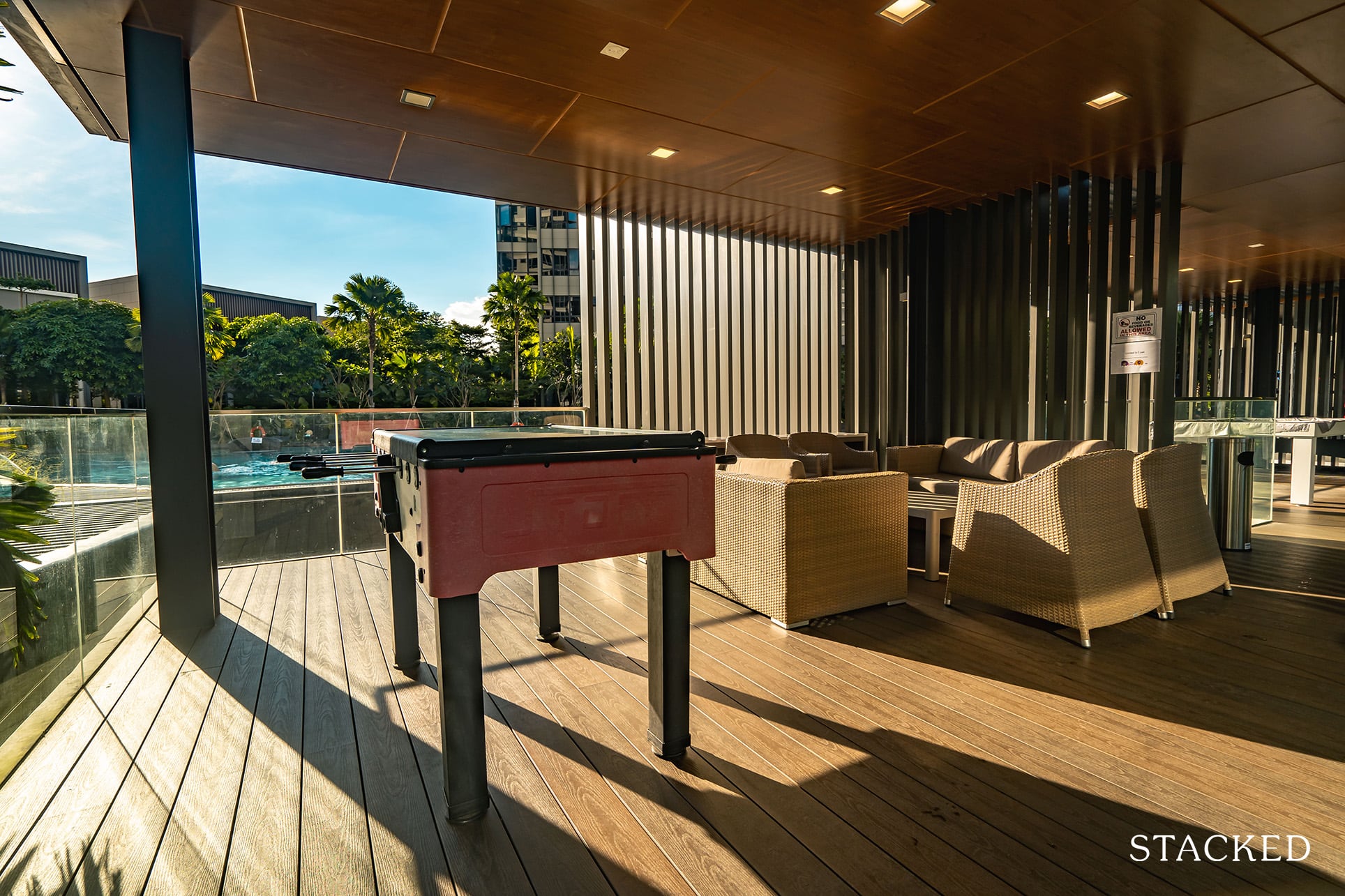 ..along with a foosball table and lounge seating that overlooks the main swimming lap pool. All that's missing here is really a dart board!
Although I think these facilities are much better suited indoors (for the sake of wear and tear as well), I do like the inclusion of them. Older kids will be happy to see such spaces. As a matter of fact, so will some adults.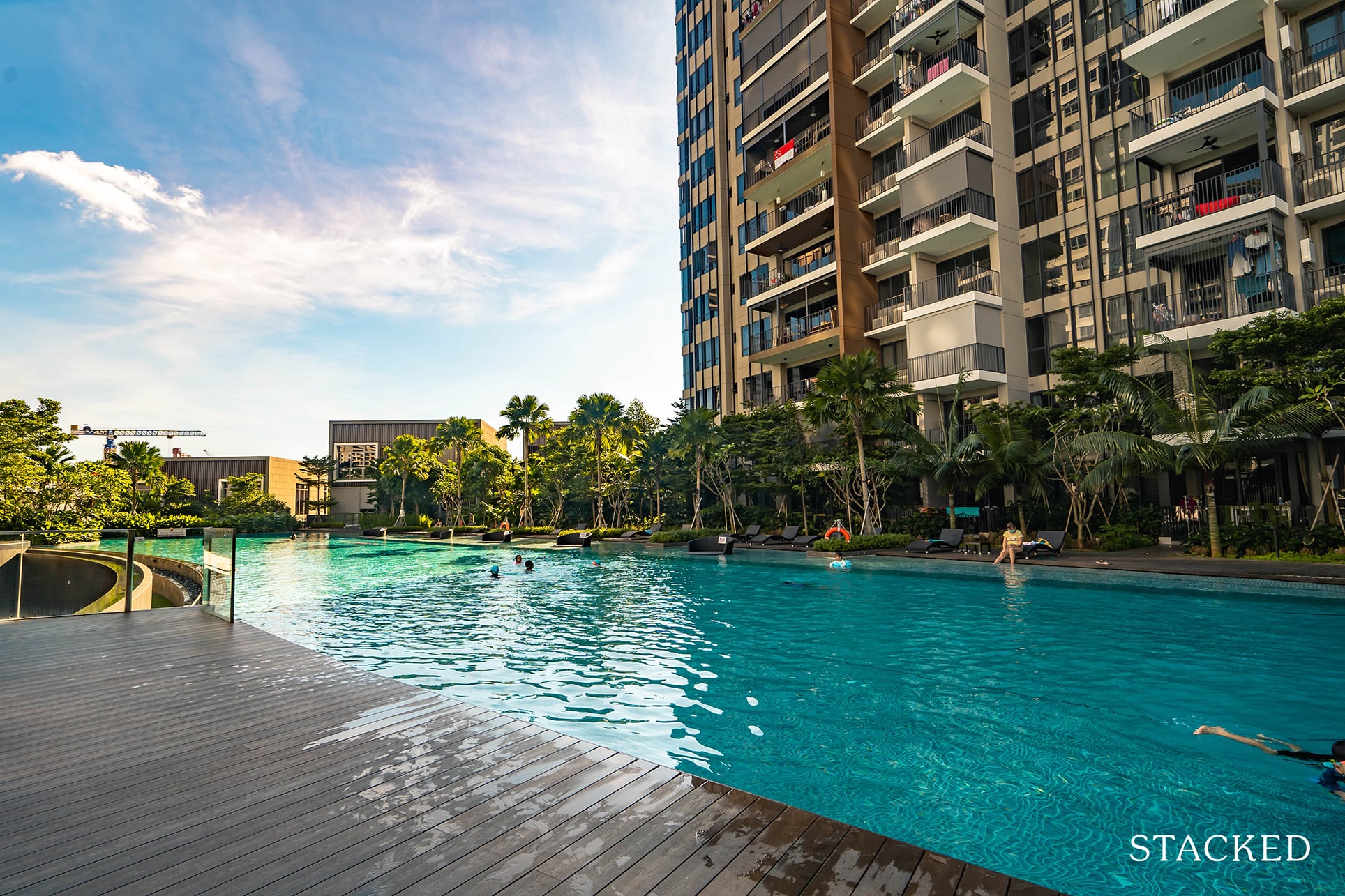 So next to the recreational lounge is the 50m swimming pool.
Deck chairs are lined up along one side and the head of the pool, which is definitely a welcome sight for the sun worshippers.
I do quite like the design of the pool as well. Instead of a regular depth throughout, the circumference of it actually features a protruding ledge. This allows you to lounge around all the sides as well as allows for pool seating on the water itself. It's neat because this lets younger children graduate more easily to the bigger pool.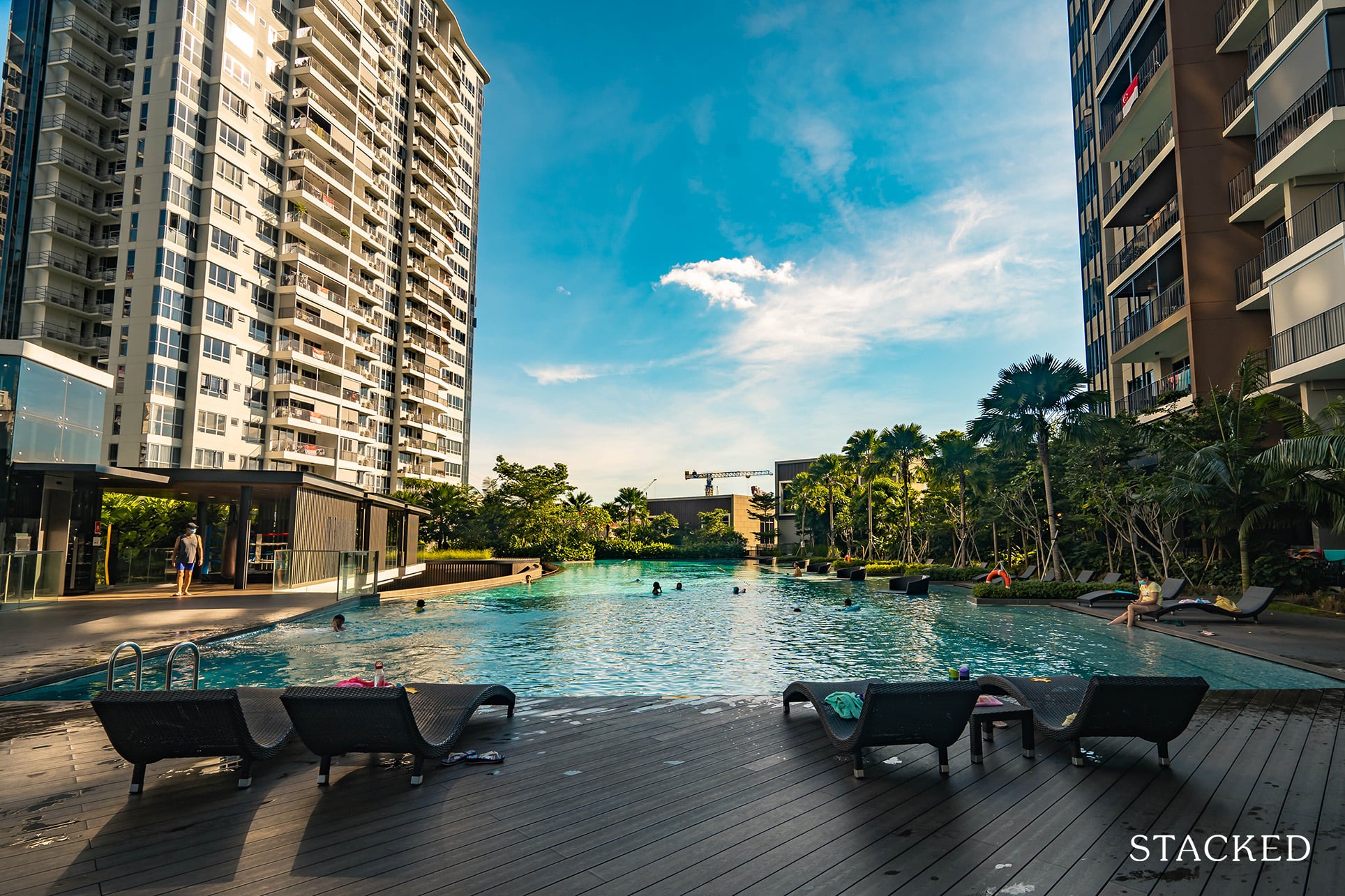 For a development of this size, a 50m lap pool is definitely the least of my expectations. The good thing is that it is quite wide, which bodes well for those looking to get in their weekly swimming sessions.
But despite the fact that there are multiple swimming pools available, you can see that this one is still relatively packed even on a weekday.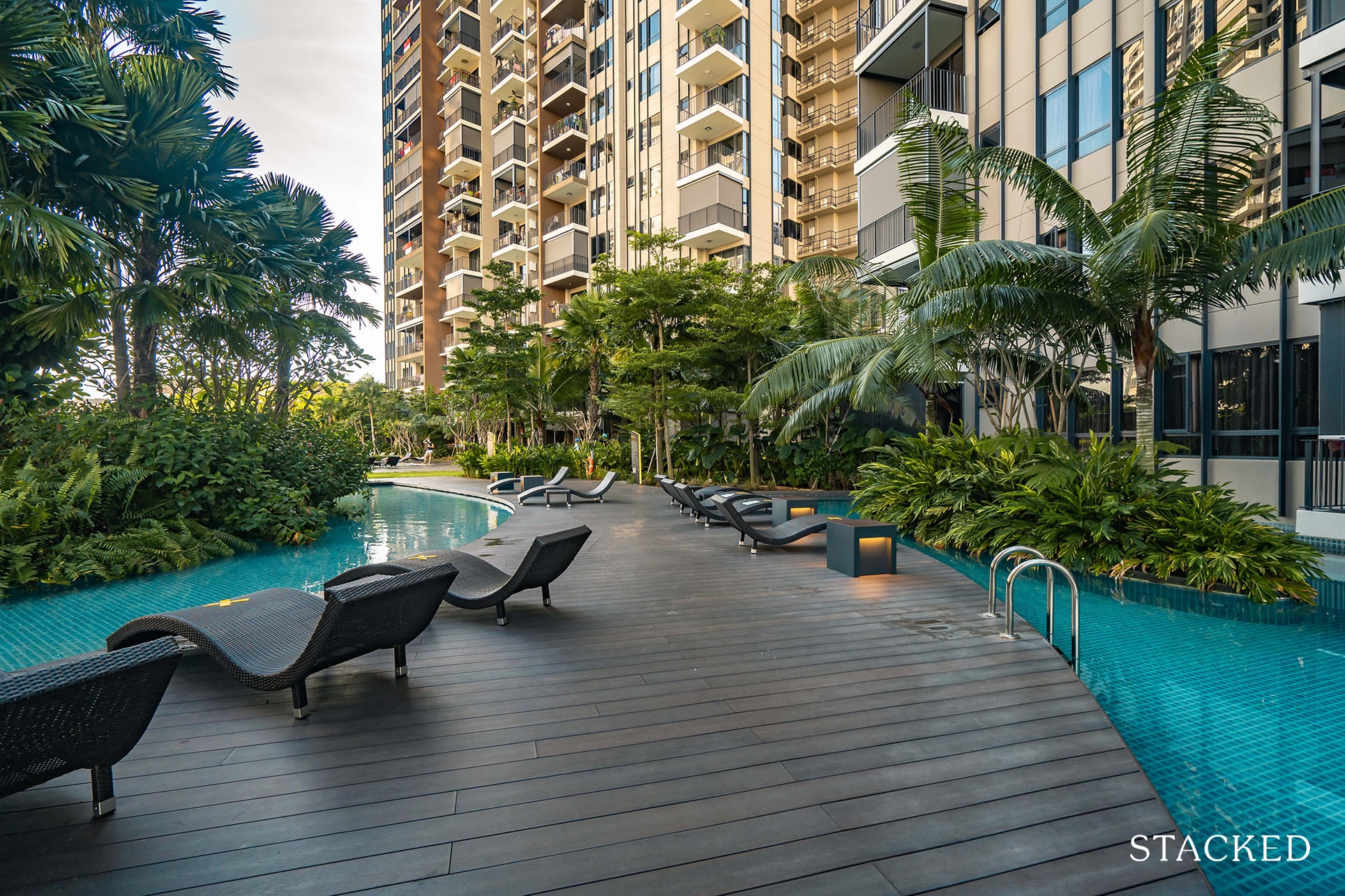 Beyond the main lap pool, you'll get to the kiddo water park along with the infinity pool that is right in front of Block 23. Other than the landed villa units, these are the only ones with a pool right at your doorstep.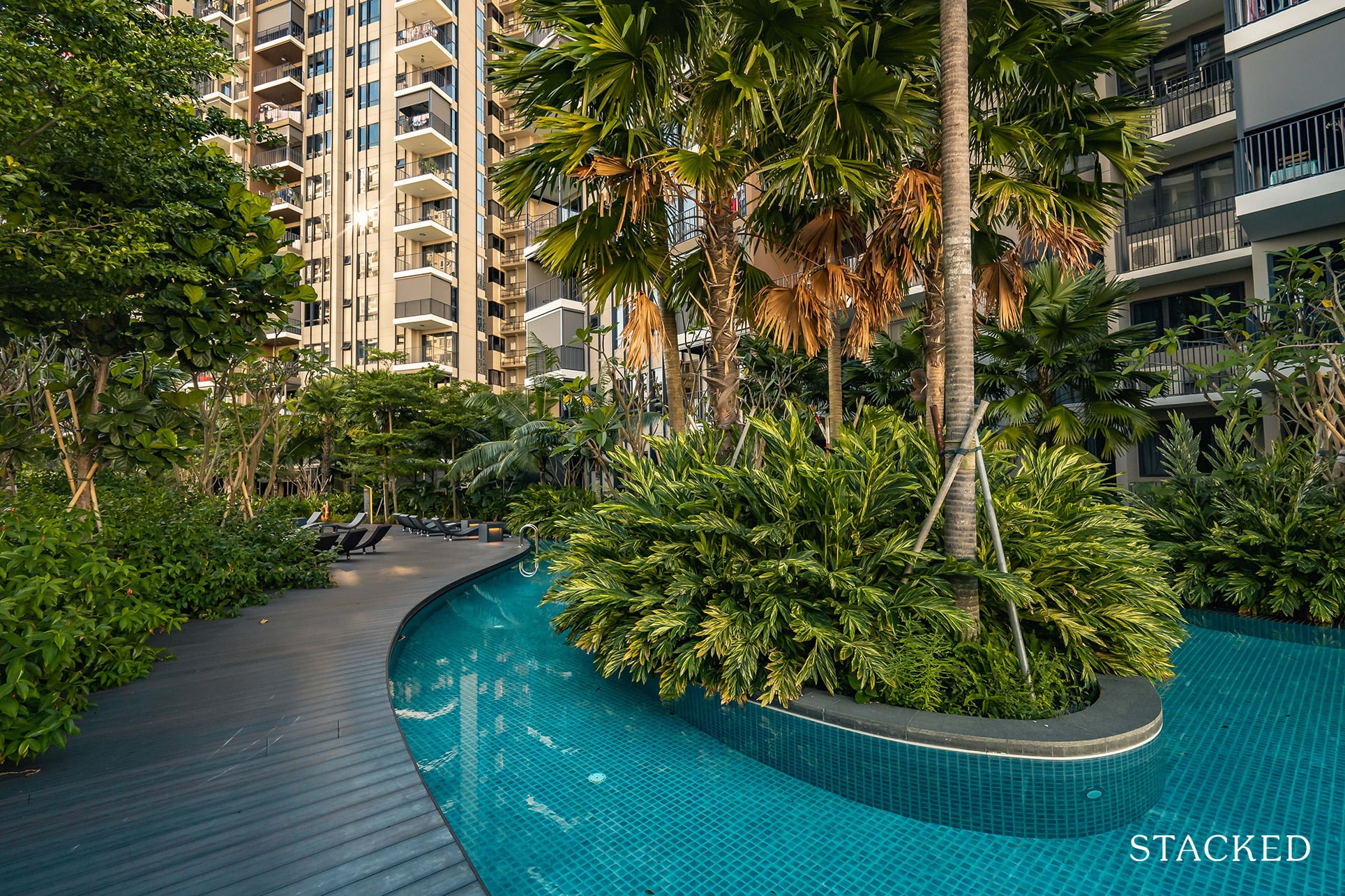 It is a bit narrow at parts, I'd classify this as a dipping pool at best.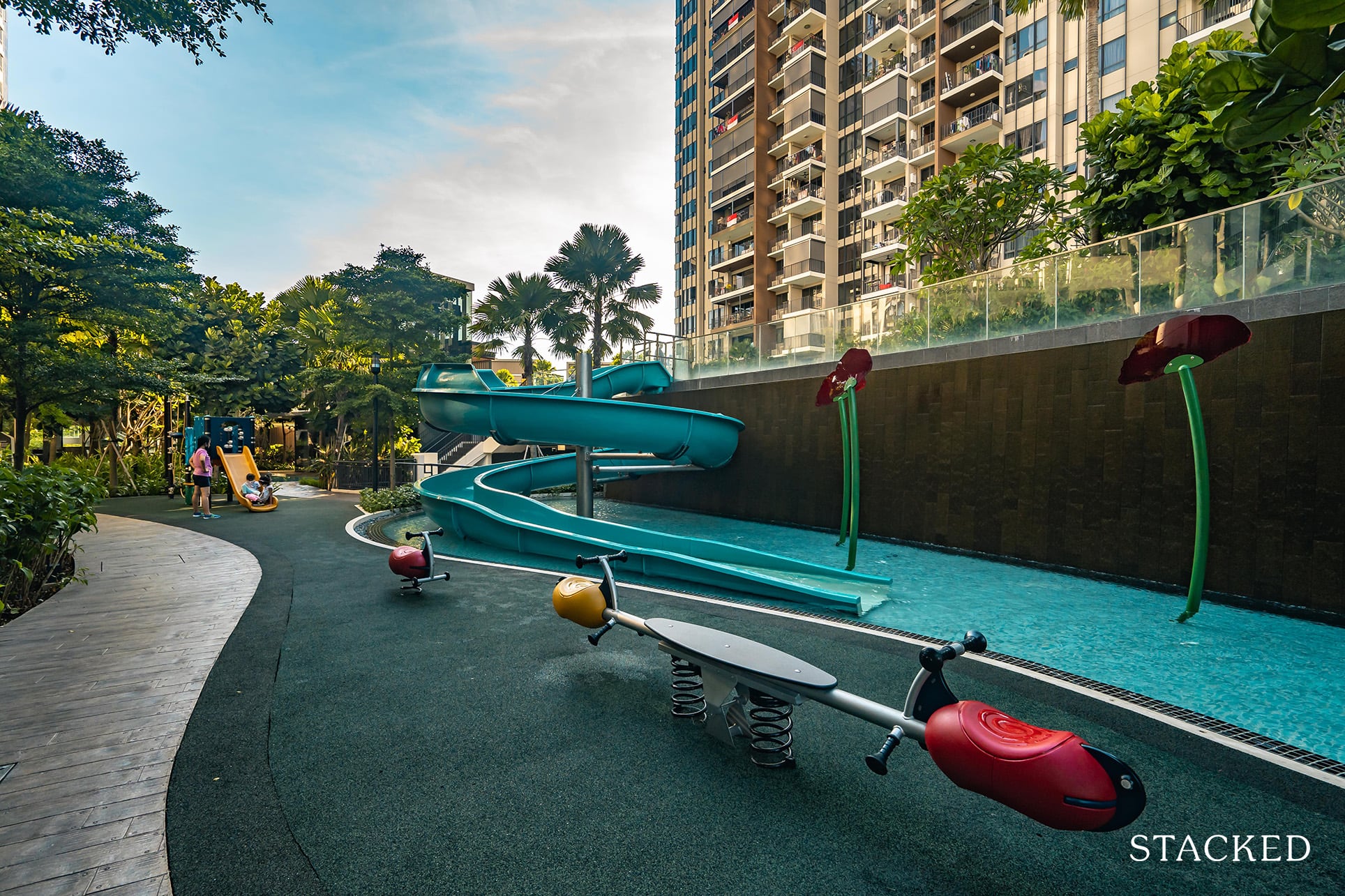 From the kiddo water park, it leads to a winding swirl and splash slide. Like I mentioned in my Parc Komo review, it is odd why slides aren't included in more developments given it is such a compelling attraction for young children.
And I can't say I've done much research on this, but this is definitely the most impressive slide out of all the condo reviews that I've done so far. The best part? This isn't even the only water slide at the High Park Residences!
Read this next
As you can see from here too, the kids playground is located right next to the pool. In theory I get it, it is great for seamless play. But unless your kids are in a swimming costume 24/7 you would have to be extra careful that they do not fall in accidentally while running around at the playground. It isn't detrimental, the pool is a shallow one – it'll just be an extra nuisance.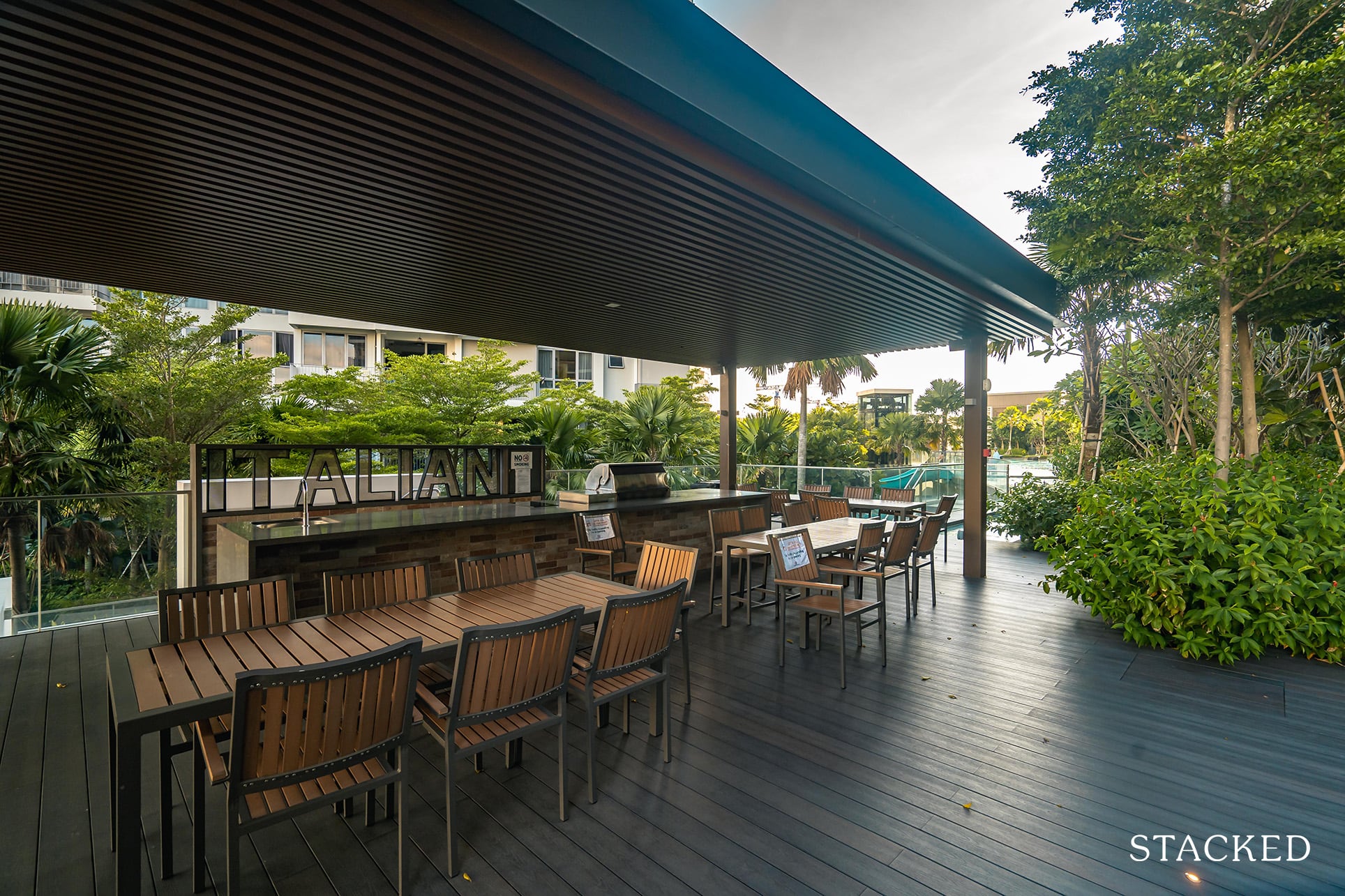 Further up from the kiddo pool is the Italian dining and bar pavilion. Unlike the Japanese one, this dining space is absolutely a lot more clean cut, no doubt because of the absence of the planters growing all over it.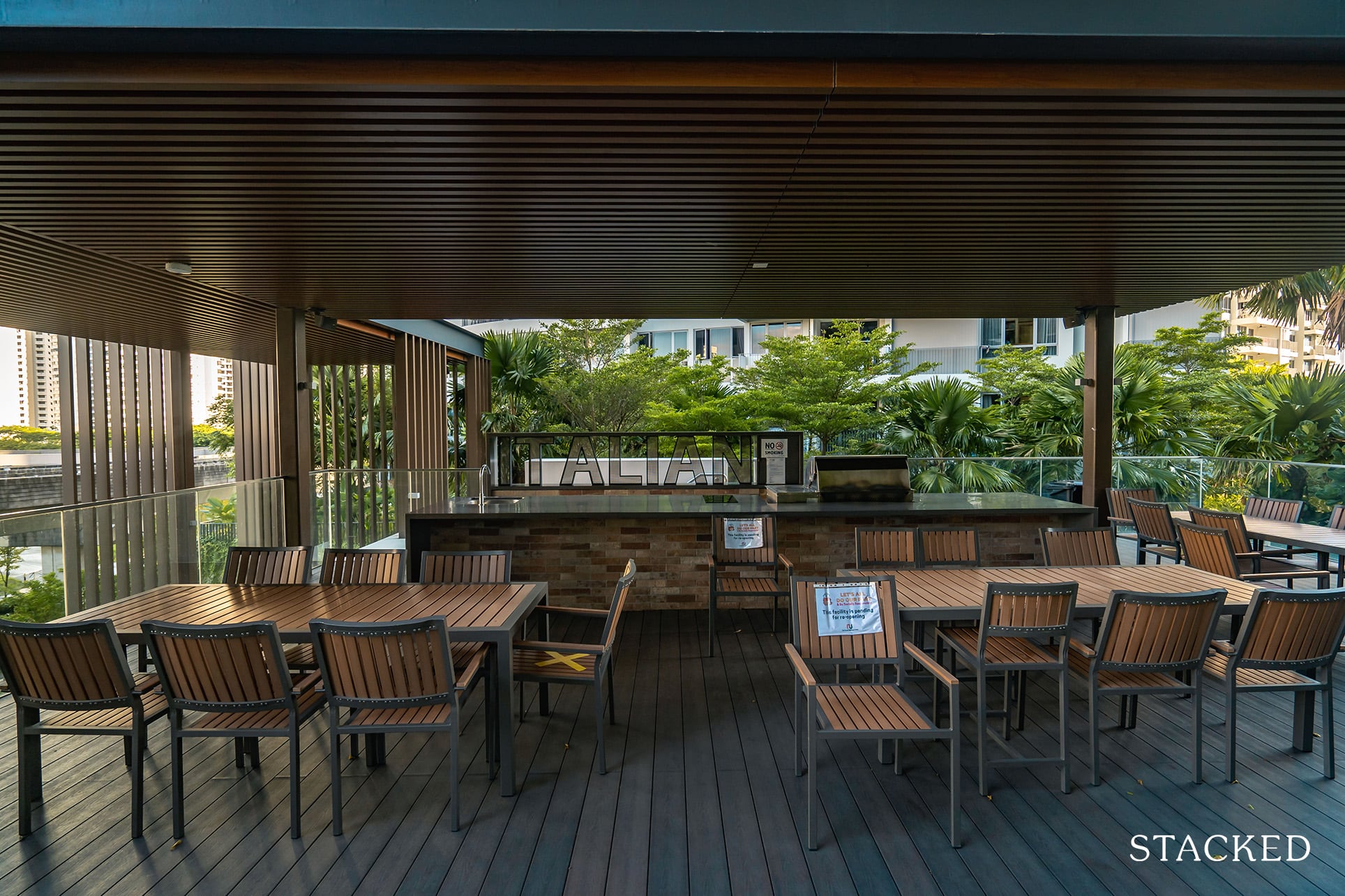 That said, the advantage this one holds over the Japanese dining pavilion is that it is sheltered. It is also arguably more private as it is located at the edge of the estate (overlooking the second exit/entrance). Like everything else, this is elevated so you won't ever get outsiders peeking in uninvited.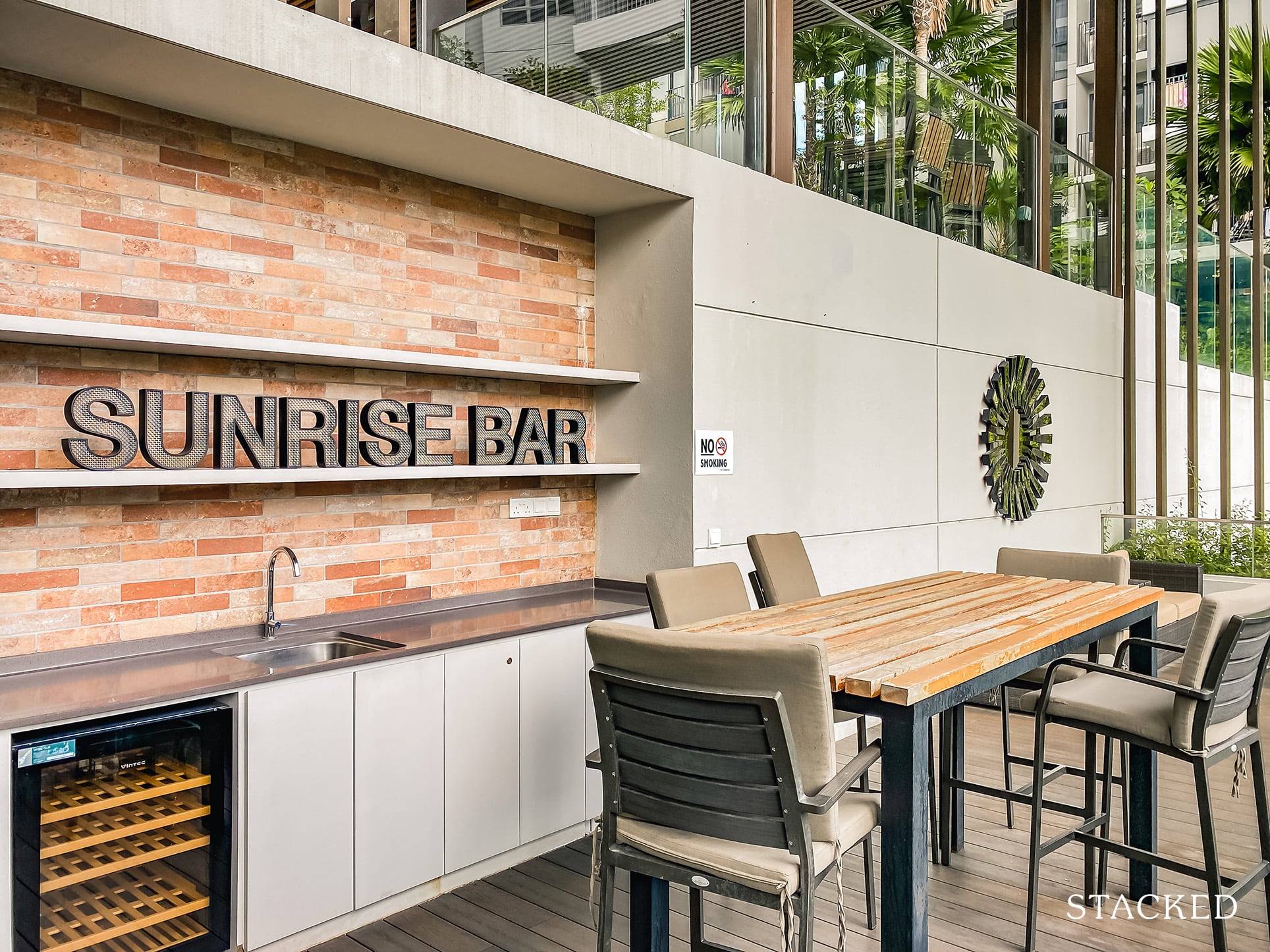 One level down from the Italian dining area is the Sunrise Bar. It's a decent enough space that comes with a wine chiller and sink – but it is quite hidden from sight and I suspect most people may even forget that such a space even exists.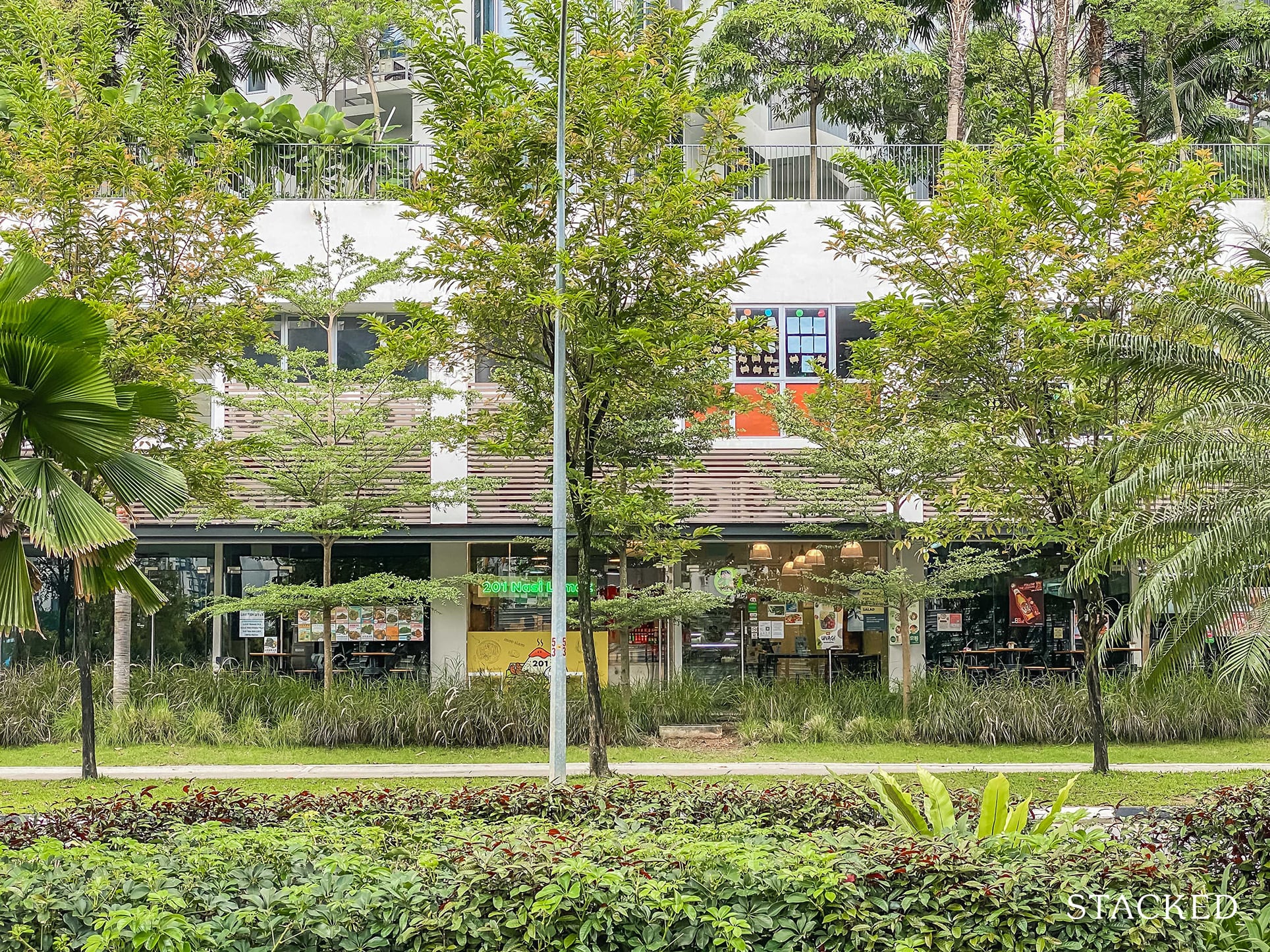 You might have to refer to the site plan for this one, as it is a little harder to explain. But basically, you have 9 F&B shops and even a childcare centre located here.
Its location is actually along the main Fernvale Road itself (of course, to protect the privacy of residents and to allow access to the public) – so you'll often see food delivery riders turn into the second entrance to pick up food from here.
Given the scale of the development, these are certainly welcome additions for residents. Unfortunately at the time of writing, not all the spaces are taken up – and it is still a question mark at this point if it can be a flourishing space for the right tenants.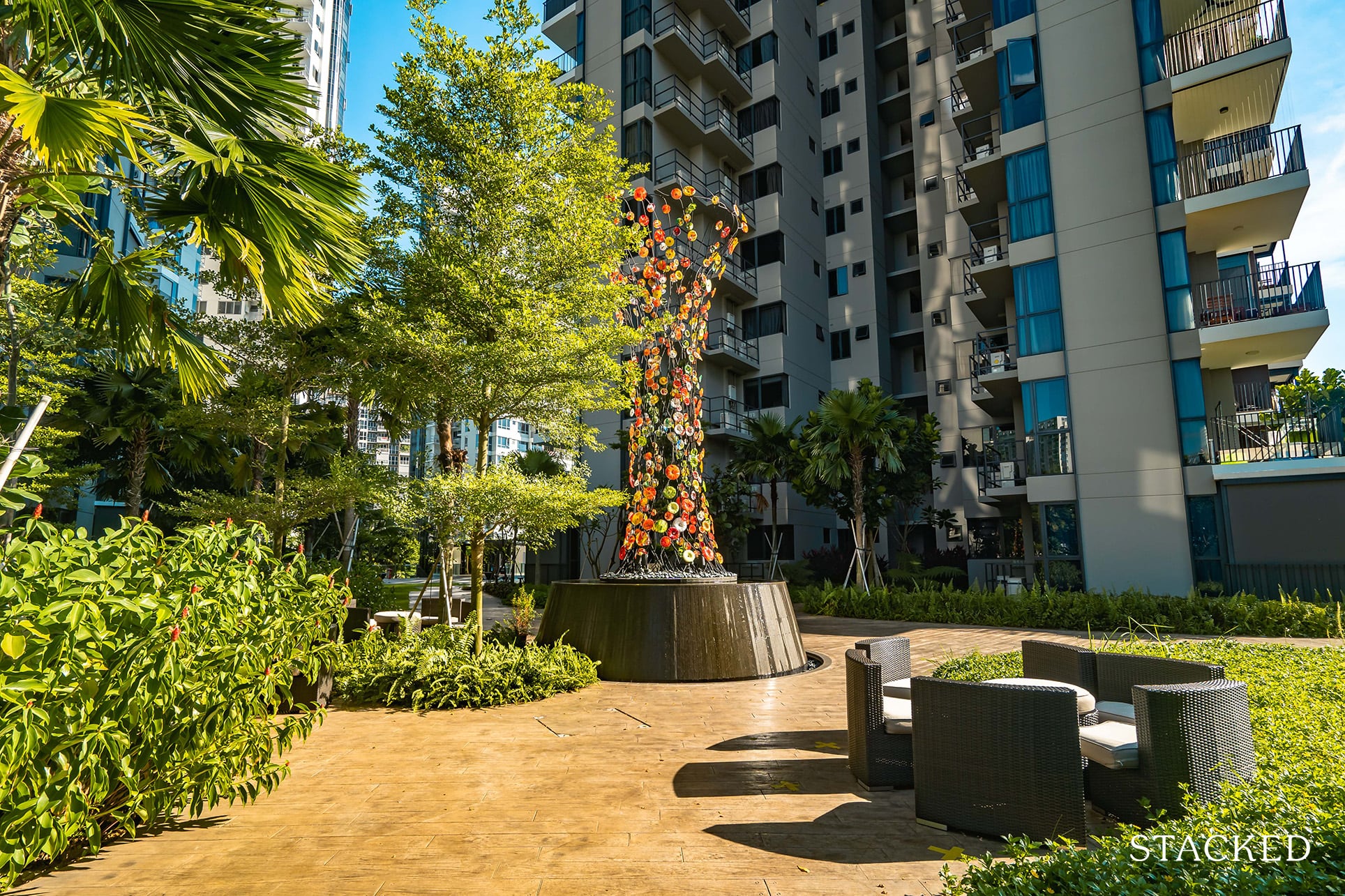 Moving back towards the main pool, turning right gets you to the Milifiora Piazza which is a roundabout of sorts that leads you to the side gate or the long pathway towards the landed homes.
It's actually basically an art installation of hand made glass flowers accompanied by different seating areas.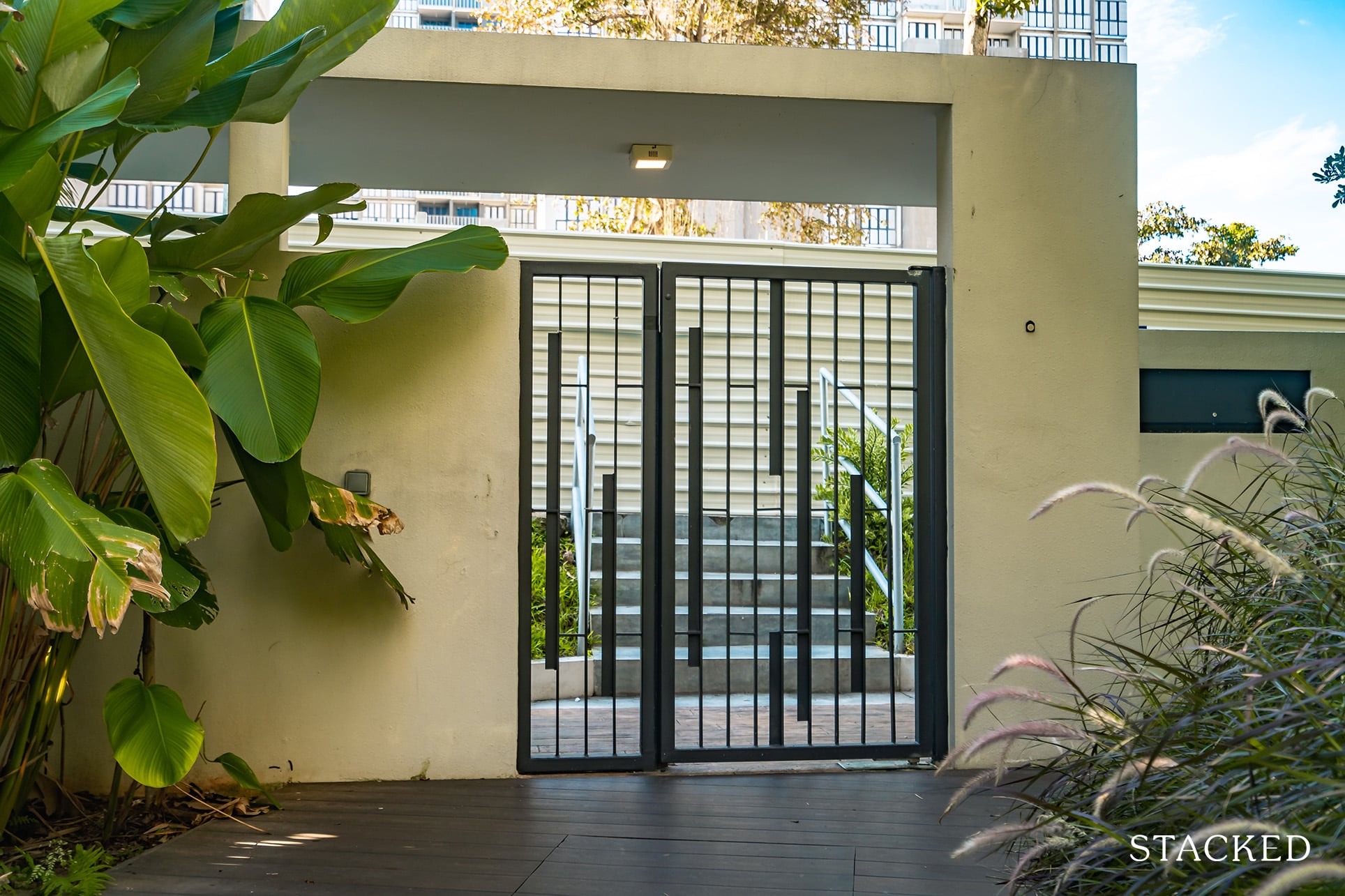 As mentioned above, this is the side gate that will lead you to the numerous shophouses and eateries along Jalan Kayu. In the near distance, you can also see Parc Botannia currently being built.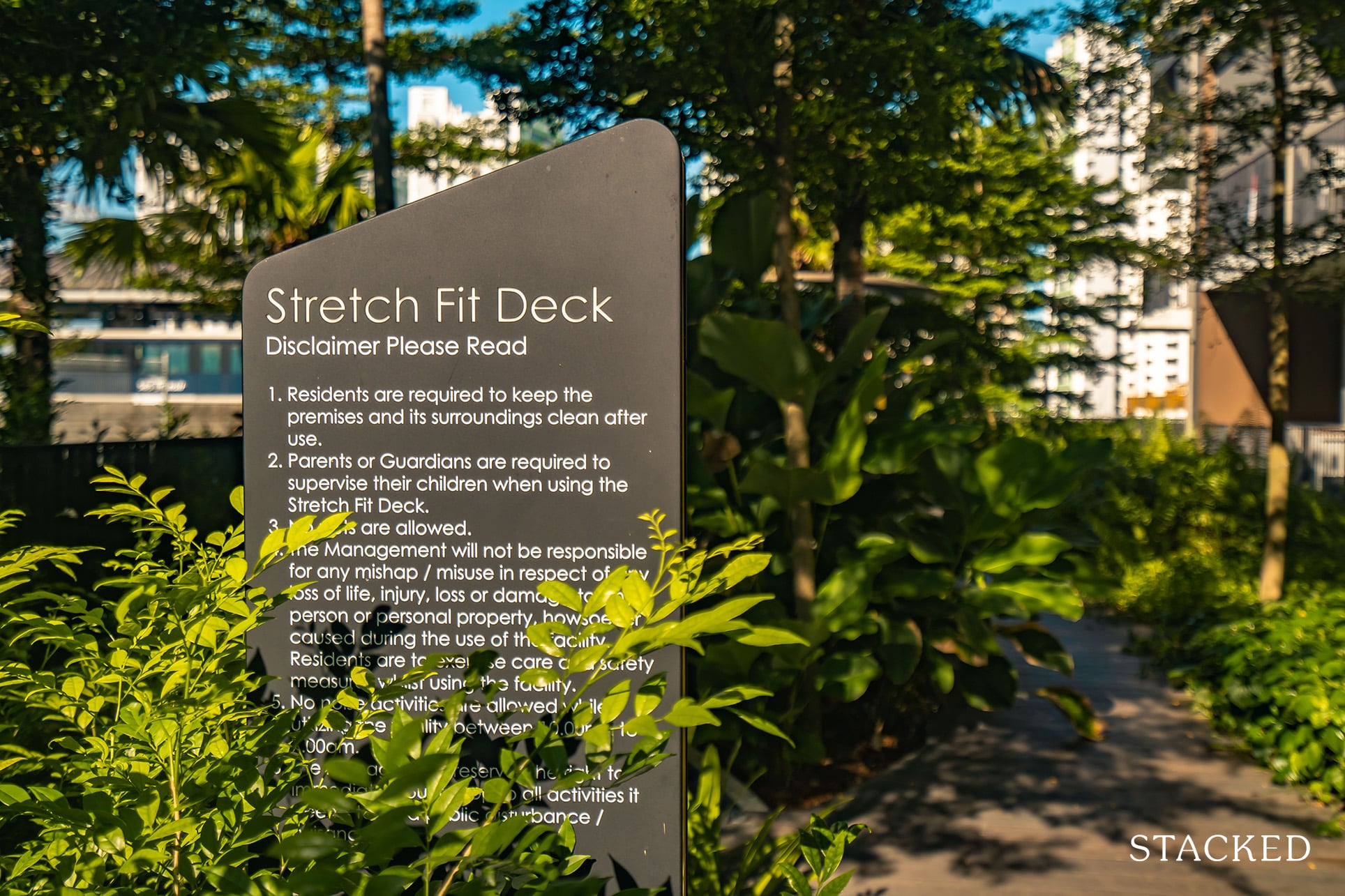 Turning right from the Milifiora Piazza, you'll see a number of different areas named as the Meditation Walk, Yoga Deck, and Stretch Fit Deck.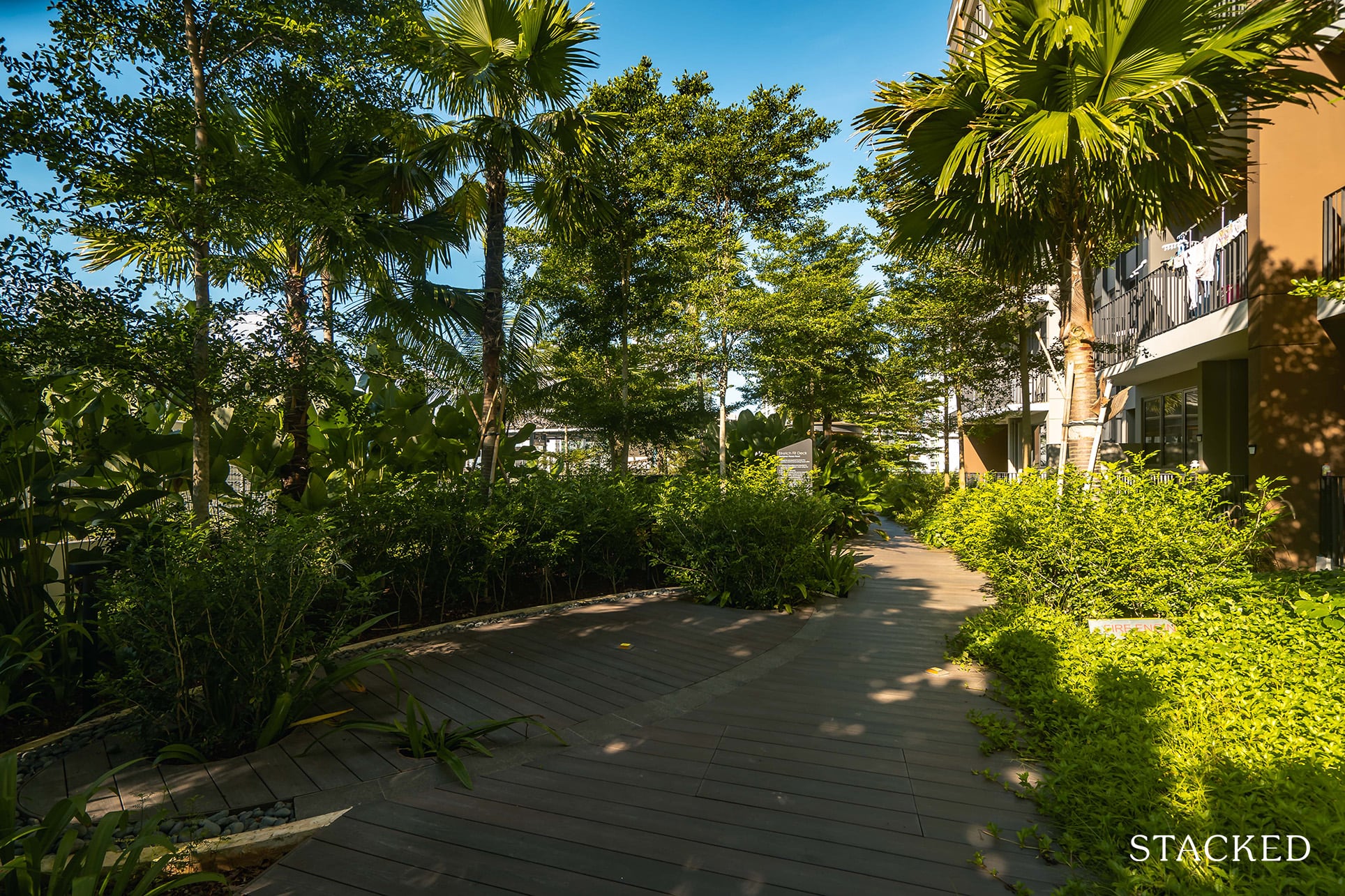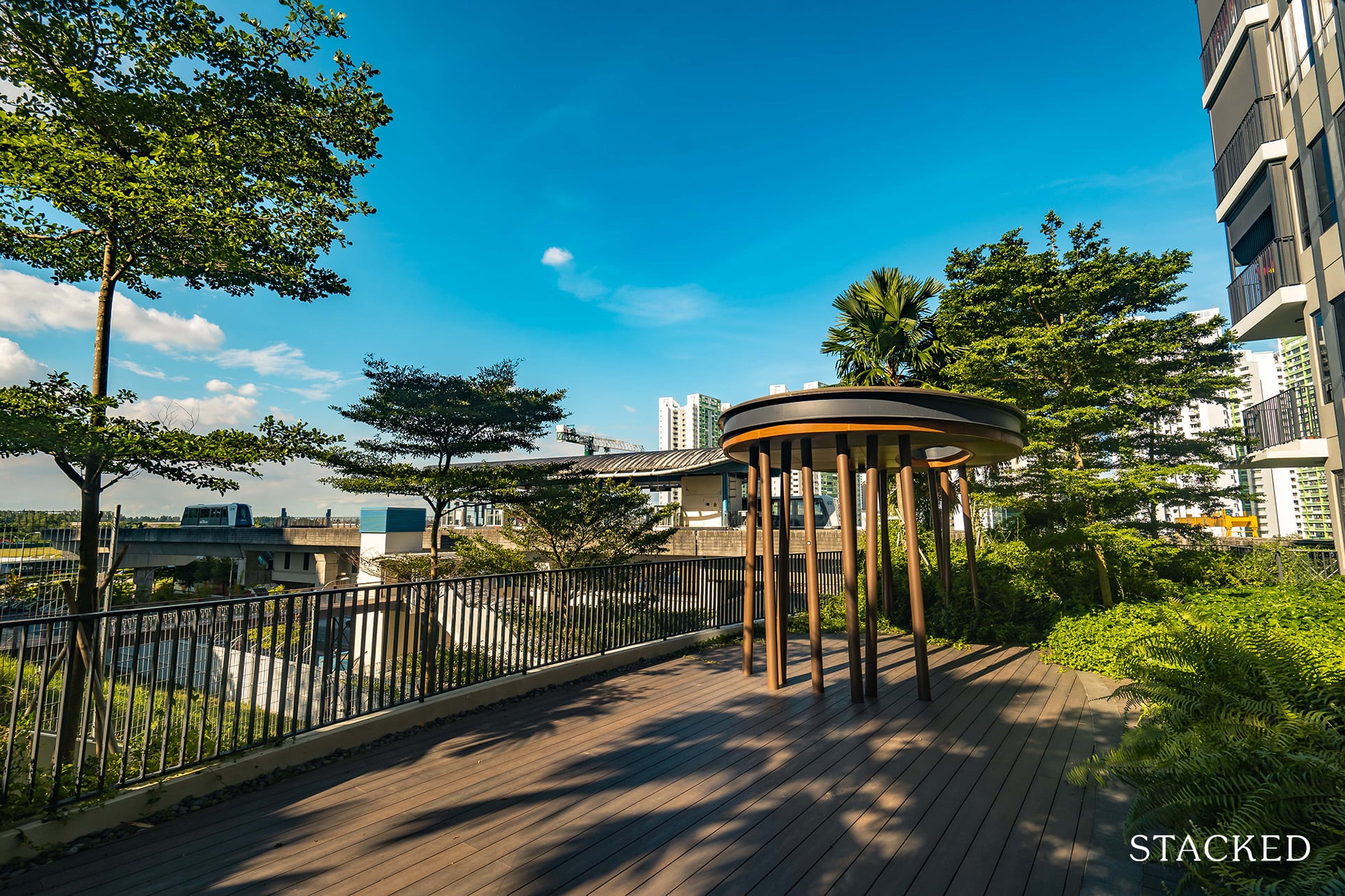 As always, these are just open decks in which you can engage in an early morning yoga or tai chi session.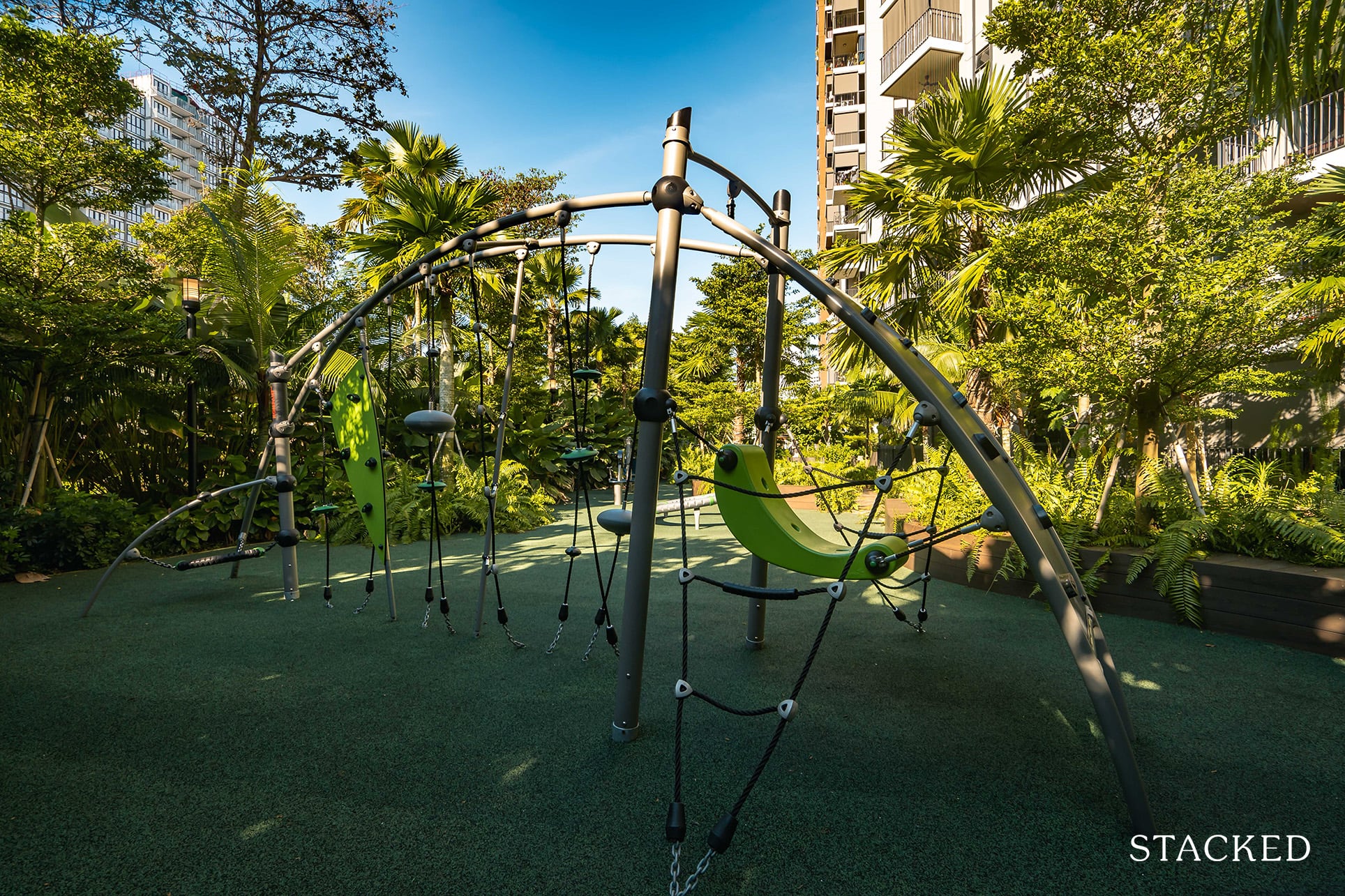 On second thoughts, you could actually term this whole stretch as a fitness area as further down from the open decks are the fitness parks. It's not a bad size at all, with 3 different sections altogether.
What I do find quite perplexing is the location of it – having a kiddo fitness park here in this private location doesn't seem like the best decision. Shouldn't it be placed with the other kid-centric activities in a more open area so it'll be easier to keep an eye on them? This quiet location seems way more apt for a dining pavilion instead.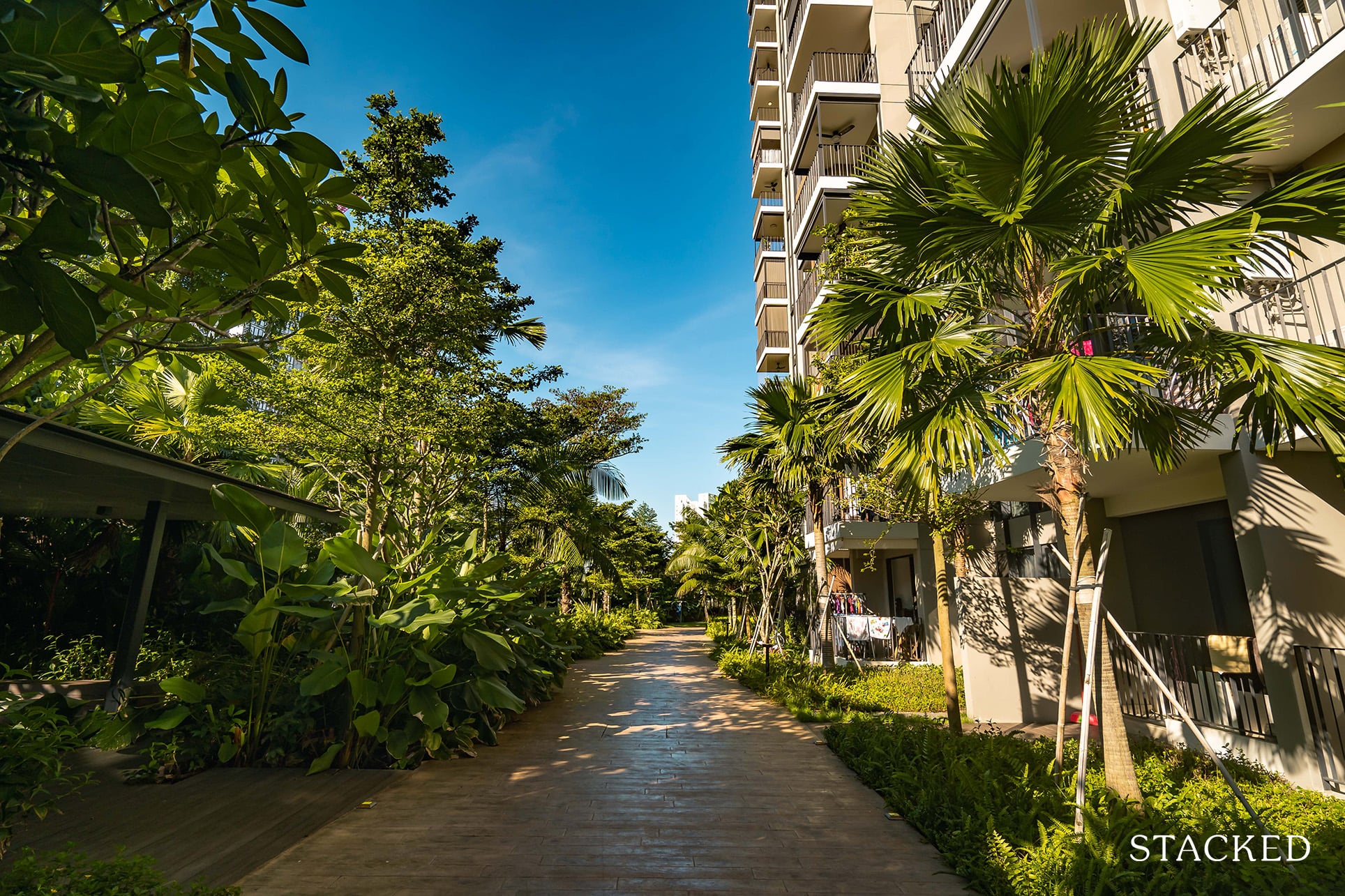 Moving down the walking path, you'll get a better idea of just how lush the landscaping is at High Park Residences. It's actually one of the standout attributes for me – almost everything that you see on the ground is properly covered with greenery. While it remains to be seen if this level of upkeep can be maintained, it is certainly off to a good start.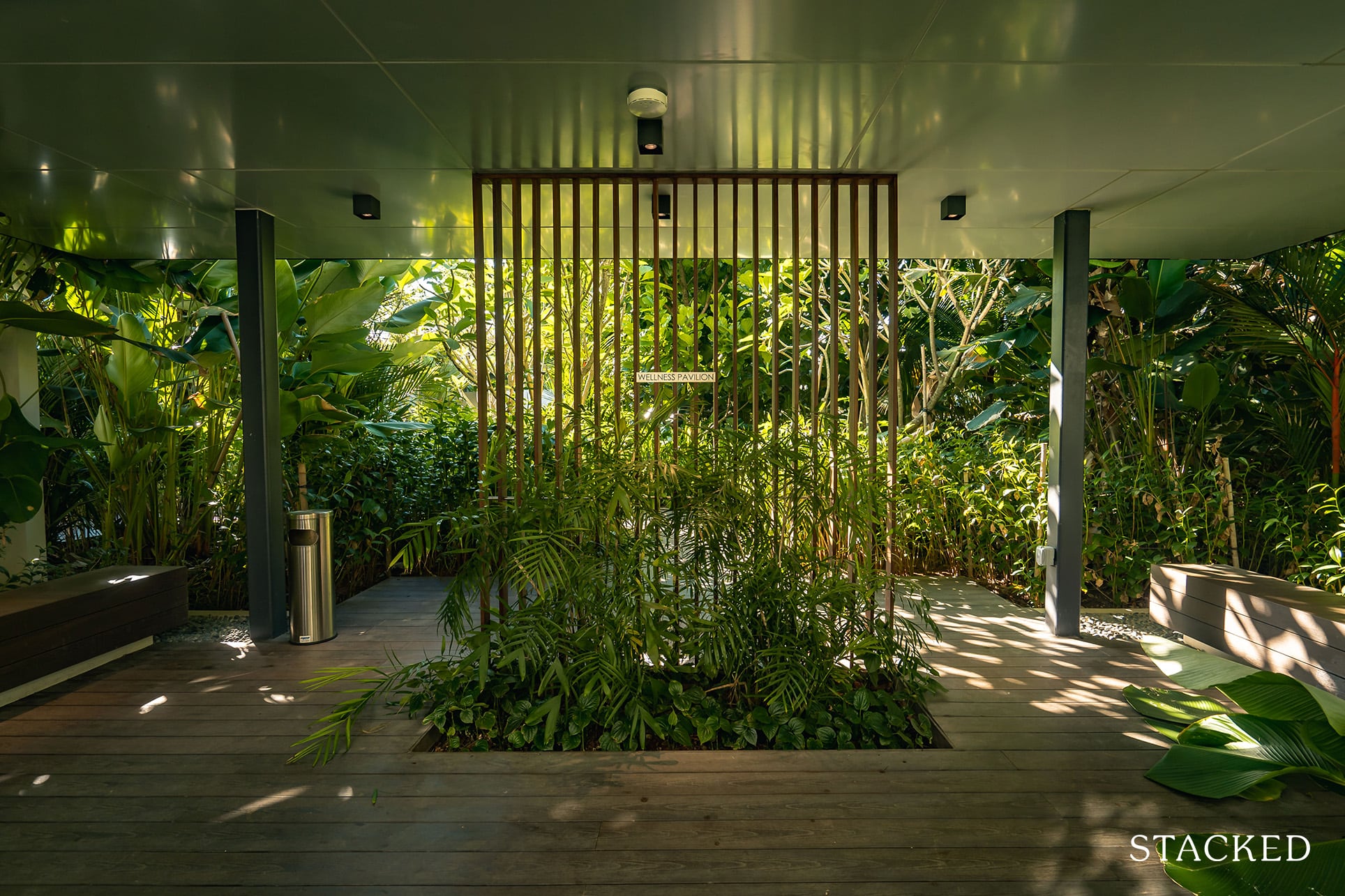 Next up is the wellness pavilion and the spa villas.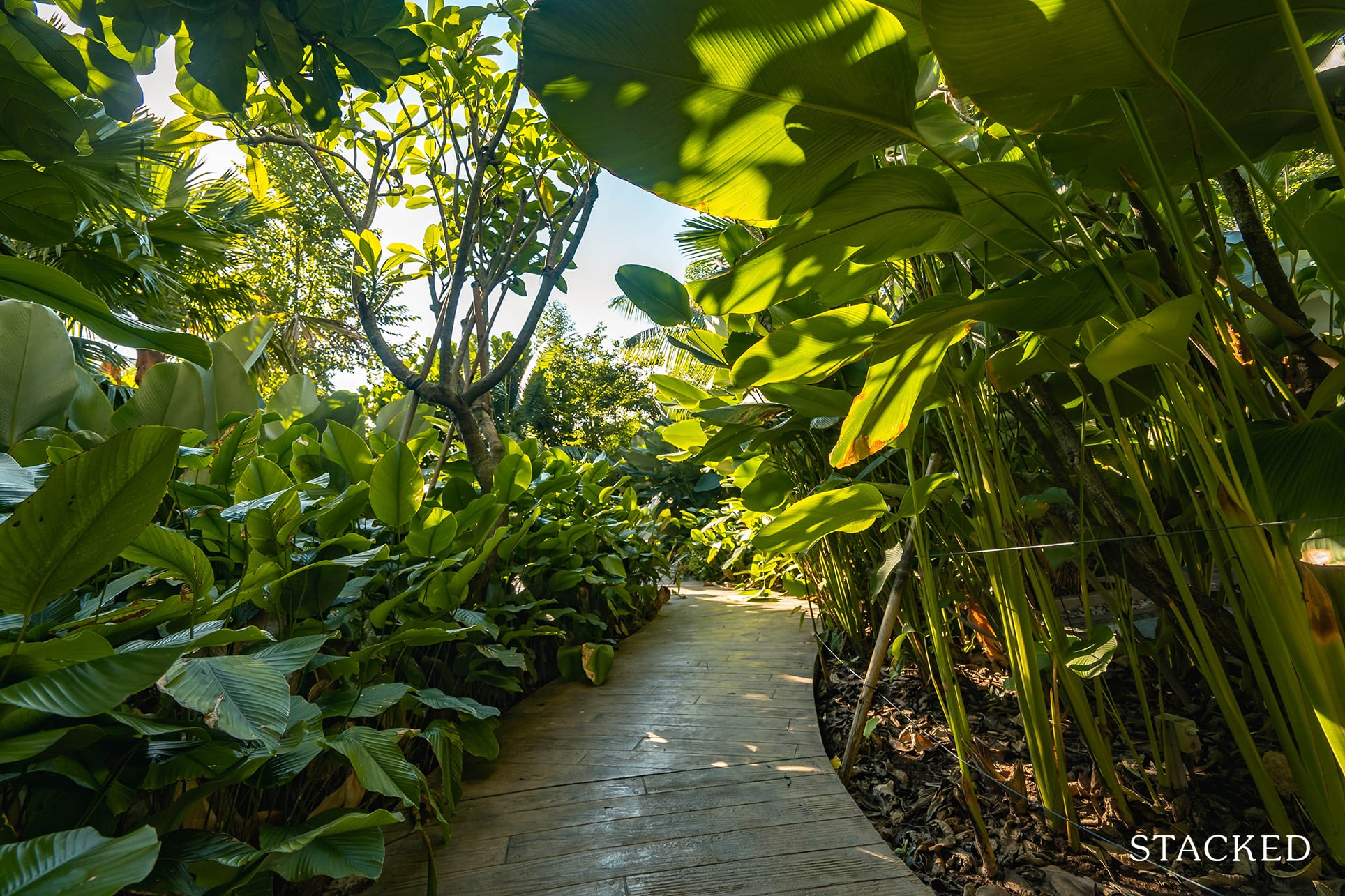 The pathway to the Hilltop and Forest Spa Villas really makes you feel as if you are exploring a botanical garden instead – you'll even have to duck down at different points to avoid brushing into leaves.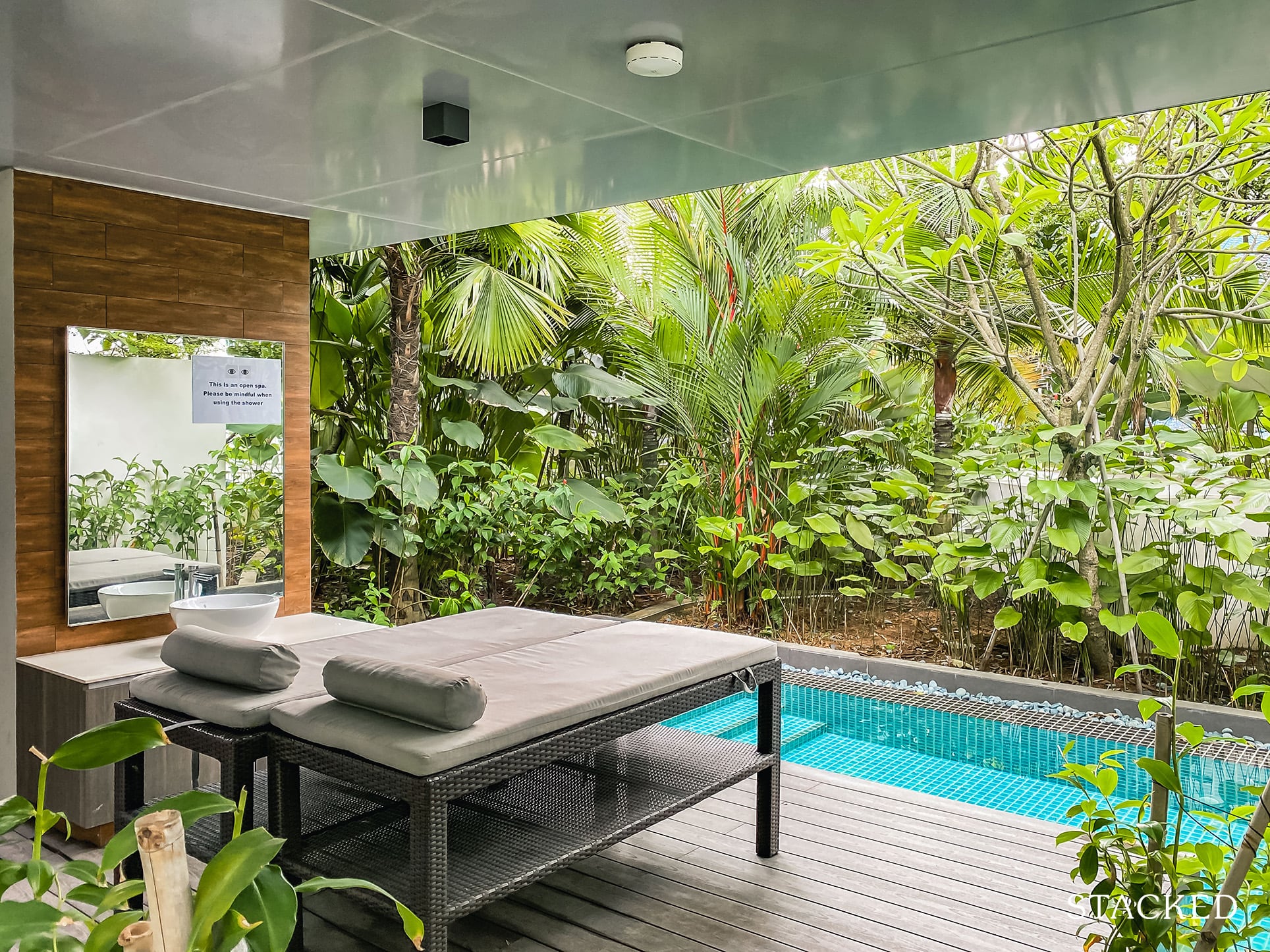 In what is probably the most private section of High Park Residences, that short trek will get you to the Hilltop and Forest Spa Villas.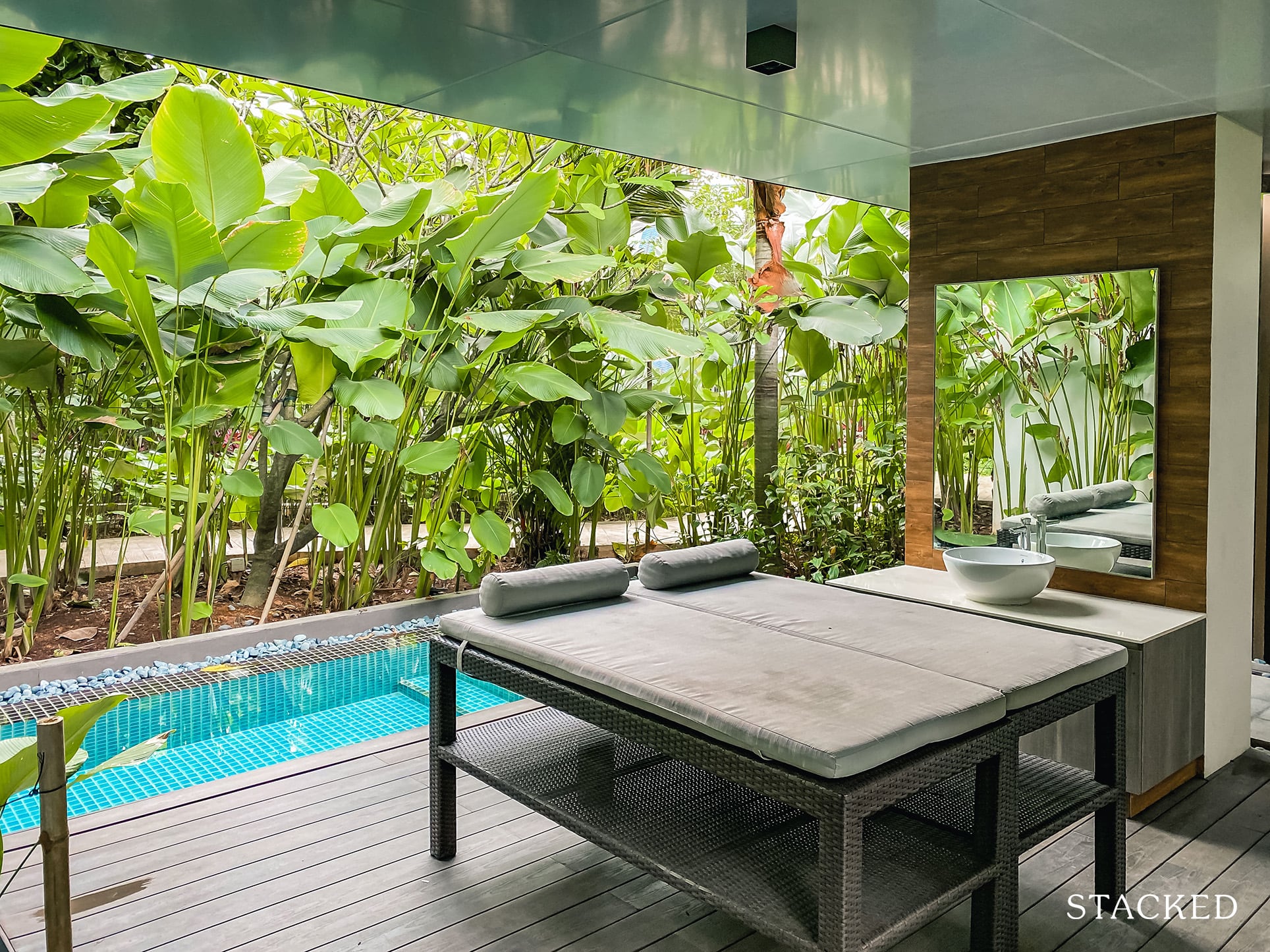 They are identical in size and offerings – just with the usual "creative" names for each. I have to say, it does remind you a little of staying at a villa in Ubud, Bali. My only reservation here is the lack of a door for each villa – I would find it a bit disconcerting to be soaking here only to have someone else walk in looking to use the spot.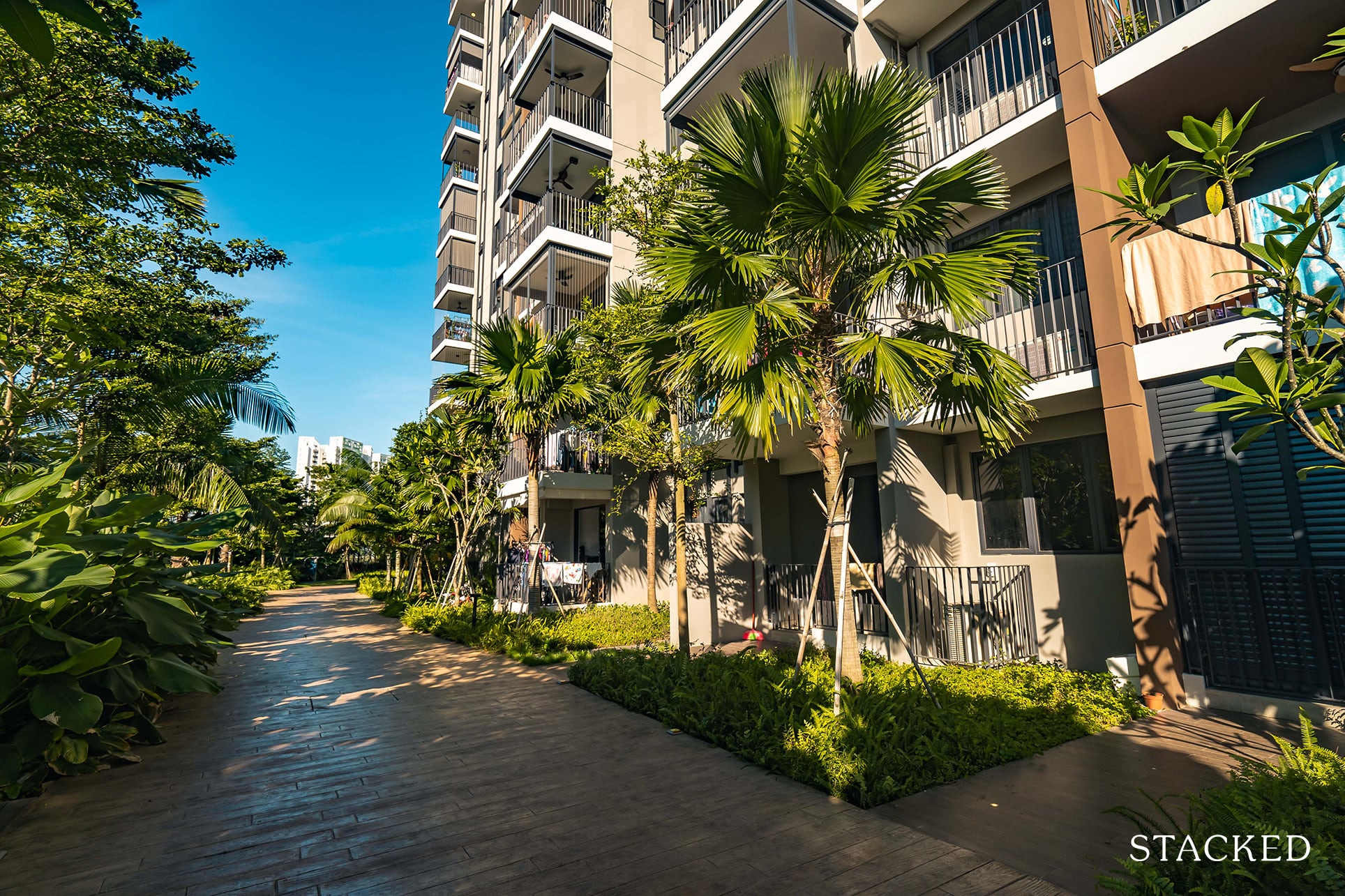 Getting back on the main path would lead you towards the sensory trail. Again, to cut through the marketing speak – it's a long path way around the back that will bring you through the long line of landed homes.
It's also from here that you'll see the exterior facing units are a lot more private – especially for the ground floor patio units. It still isn't the most ideal, anyone going for daily walks would be able to looking into your living room unless you keep your blinds down all the time.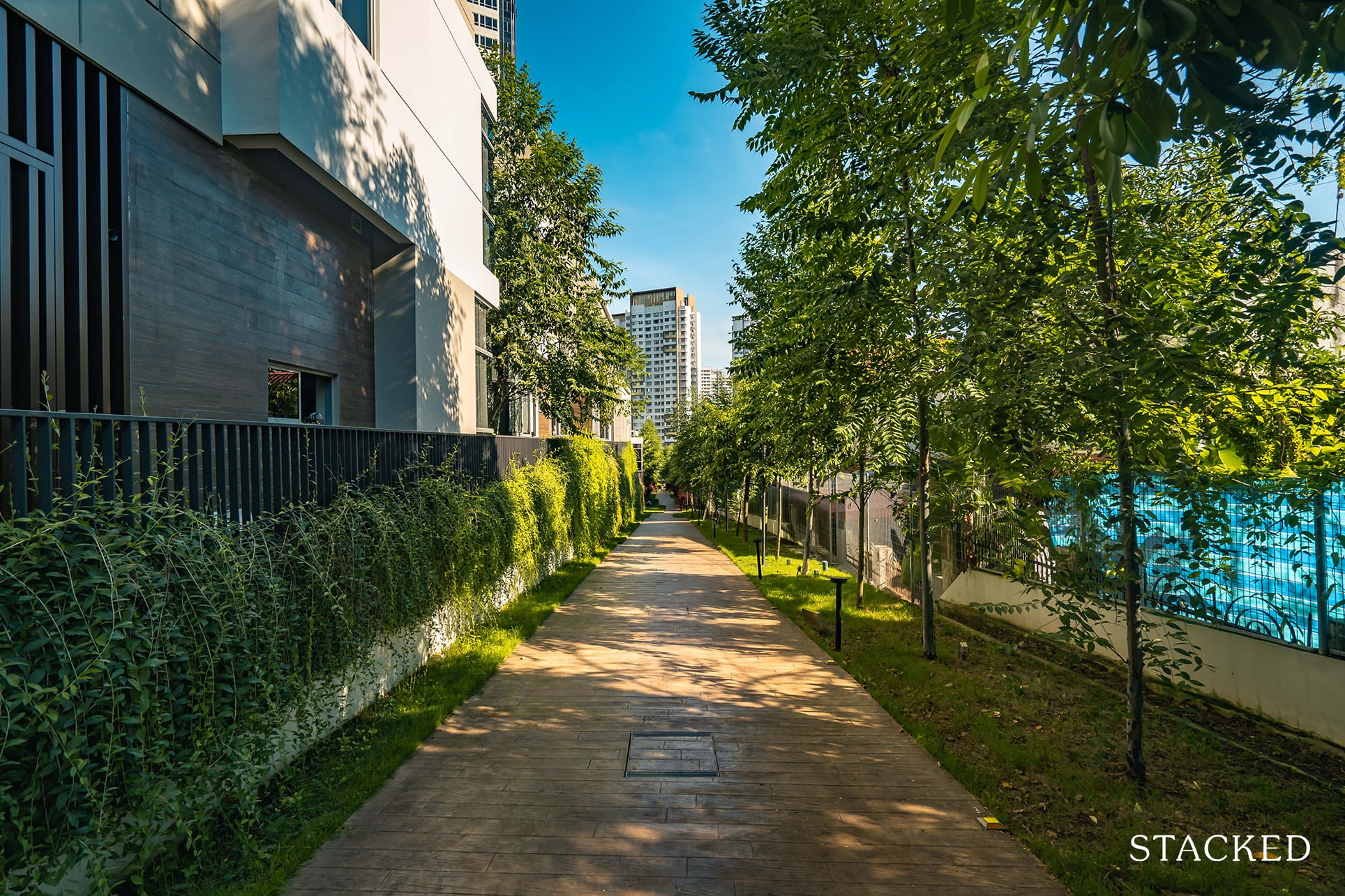 You can nearly walk around the whole exterior of the development, if you so wished. It's a nice enough environment, but Sengkang Riverside Park is just one LRT stop away as well, which is arguably a more scenic spot.
The landed units face the landed homes along Lor Tanggam, with the planted trees providing an added shield of privacy – it is definitely a lot quieter along this part of the estate.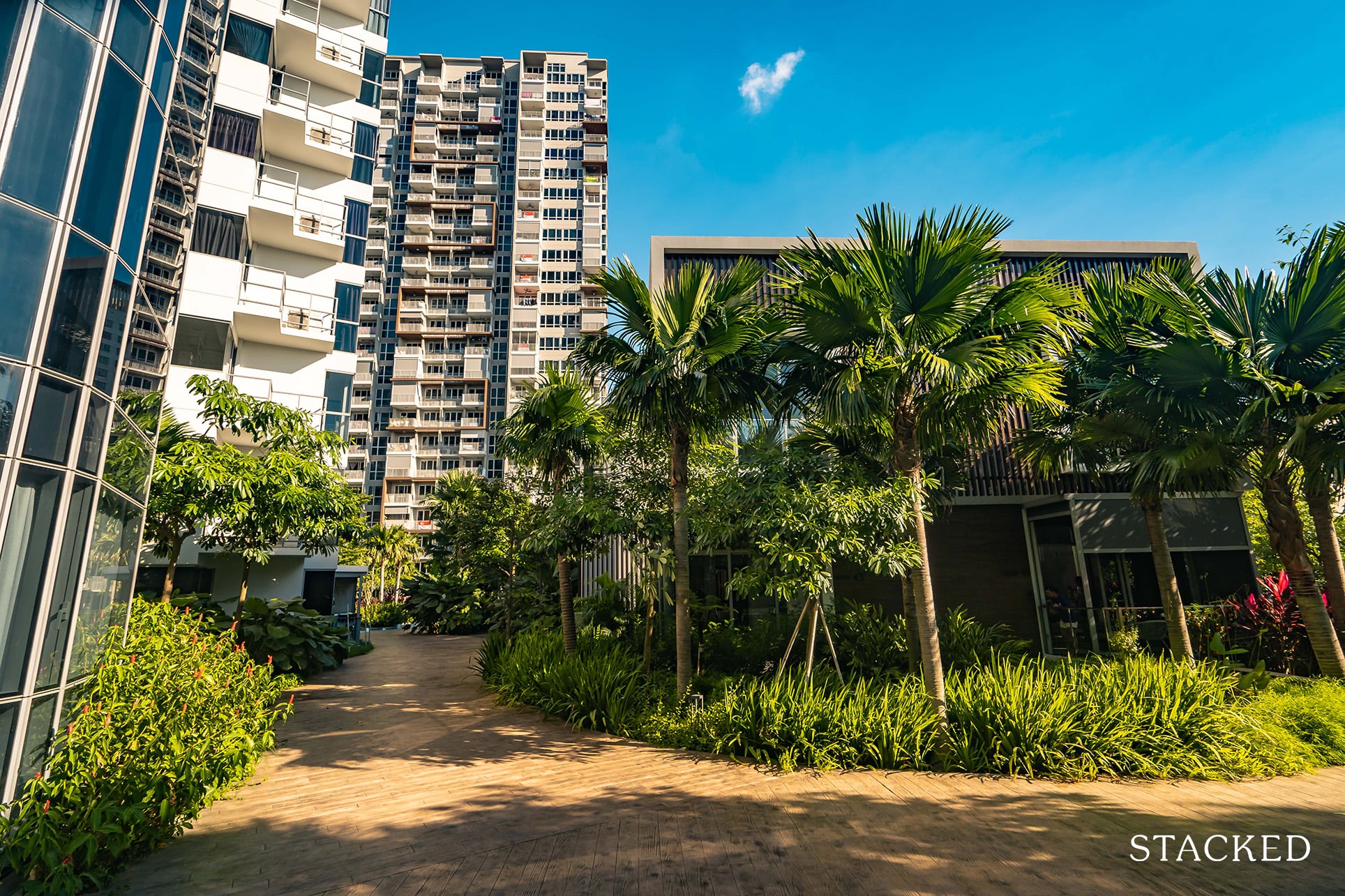 Just to let you know, there are 10 strata semi-detached units and 4 strata bungalows in total. The semi-detached units range from 2,314 sq ft to 2,443 sq ft in size, while the bungalow comes in at 2,734 sq ft. All of them are 3 storeys but the first storey is really for the two private carpark lots and a utility area.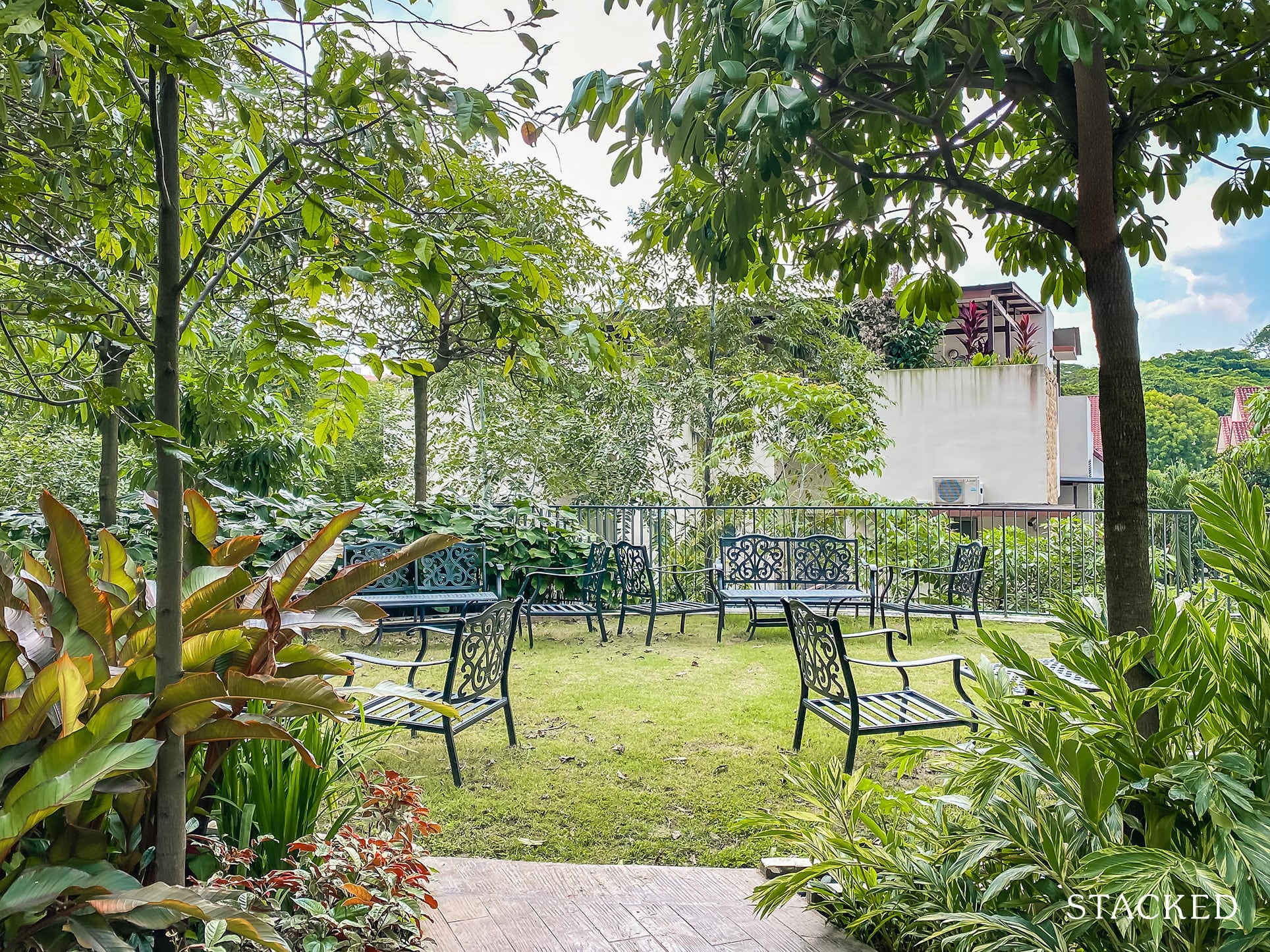 Walking the full length of the track will get you to the other corner of the estate, where it overlooks Sengkang West Way. It's here that you'll find a smattering of other facilities such as the tea garden..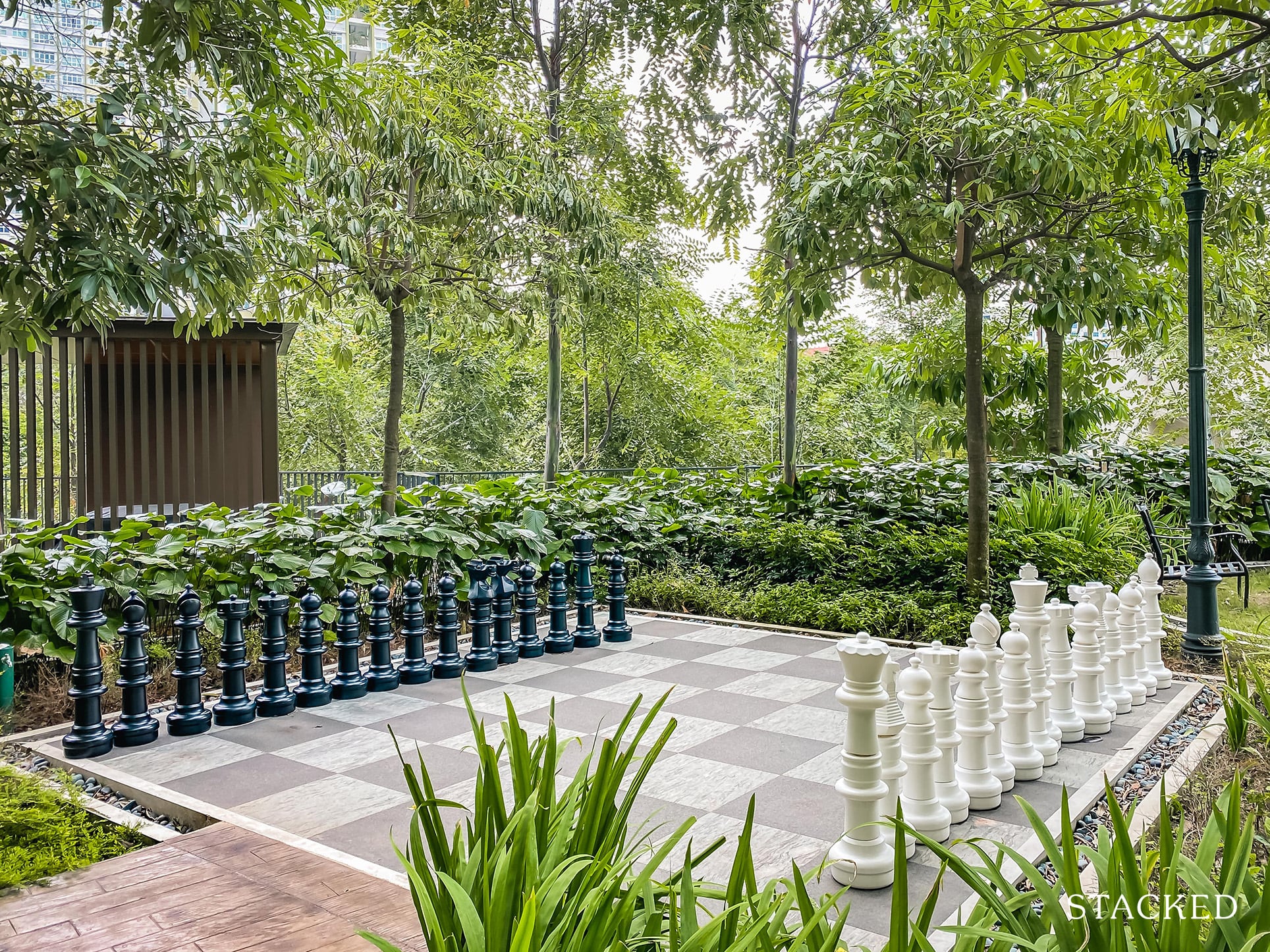 ..and a giant chess set. Looks like a novel idea but its doubtful as to whether it would ever be used for its intended purpose. If you're wondering if it is a complete set, yes it is – 16 pieces of black and white. I'm no chess expert but it looks about right.
Rounding up the facilities in this corner is the Chinese Tea Pavilion. Again, it sounds fancy but it really is just a sheltered pavilion that faces Sengkang West Way.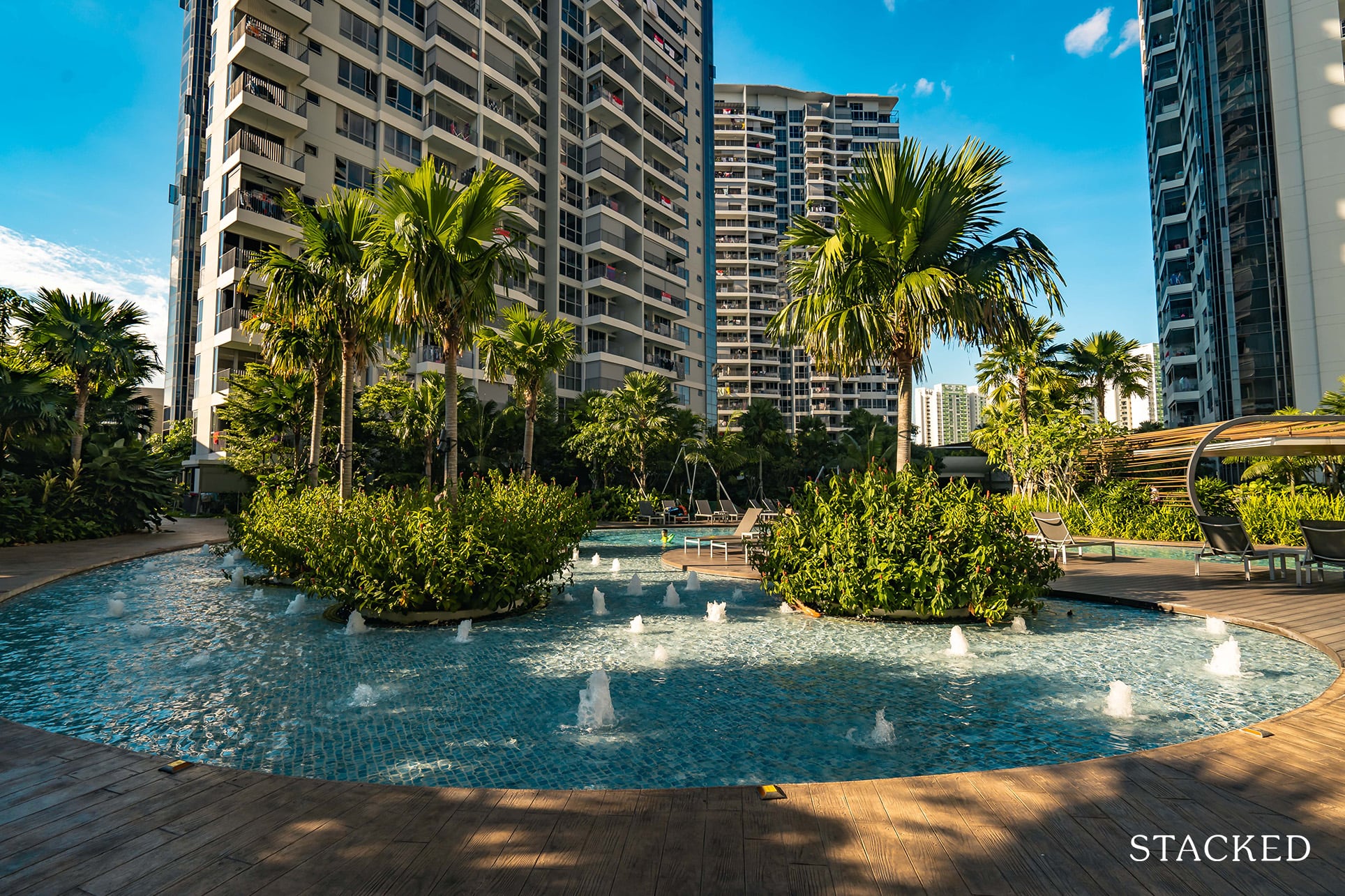 You might be rather lost at this point, and I certainly wouldn't blame you – such is the scale of the offering at High Park Residences. Also because different facilities are all on varying levels, just looking at the site plan isn't enough to give you a proper perspective. This is just one of the places that you will absolutely need to pay a visit if you are intending to make this your next home.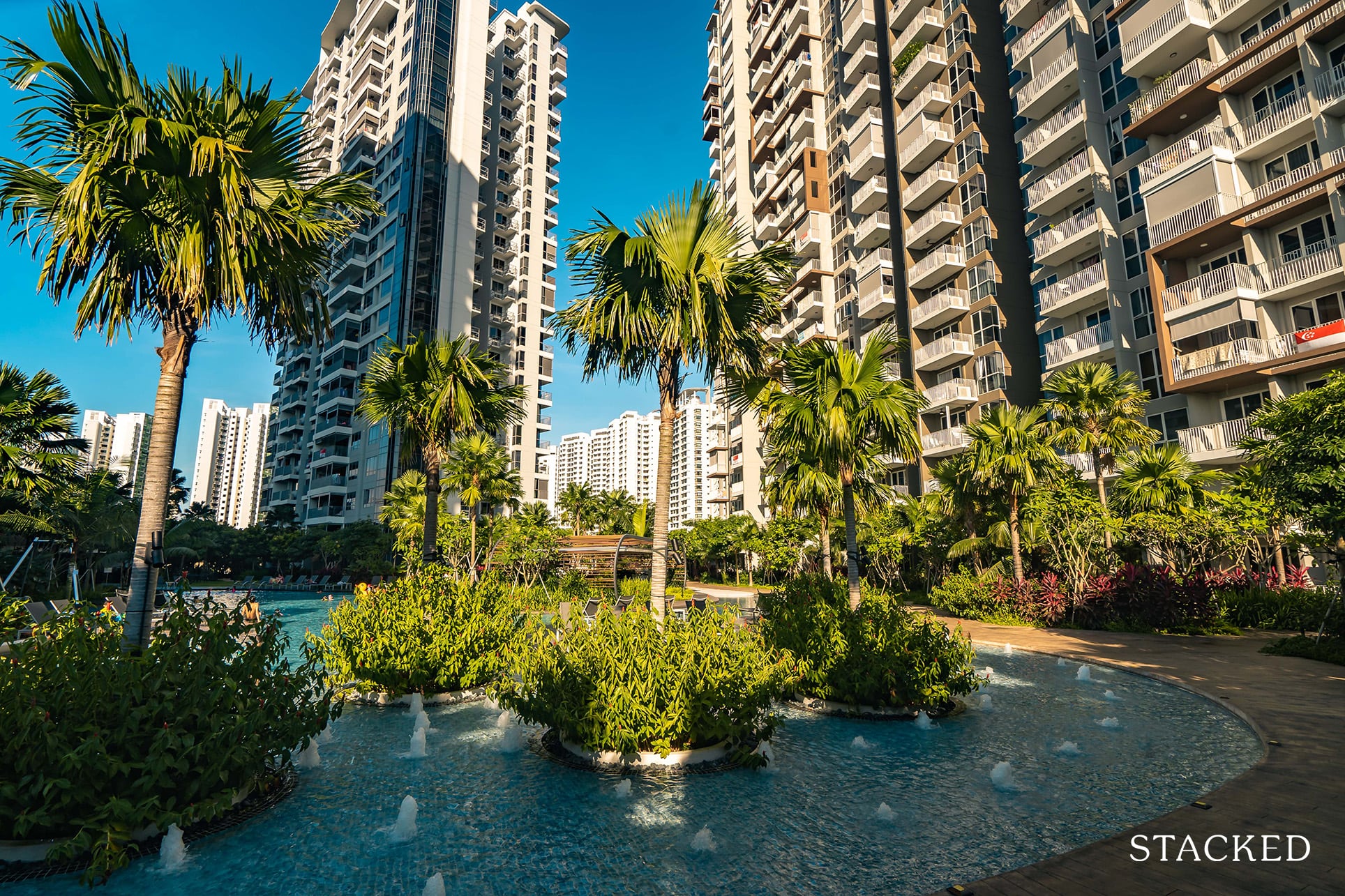 This area that you see here is the jumping jets pool, which is connected to the 40m lap winding pool as well as the fun pool. In that regard, you can actually get from the main 50m lap pool all the way here through a series of connected pools and slides – which I have to admit, is pretty unique.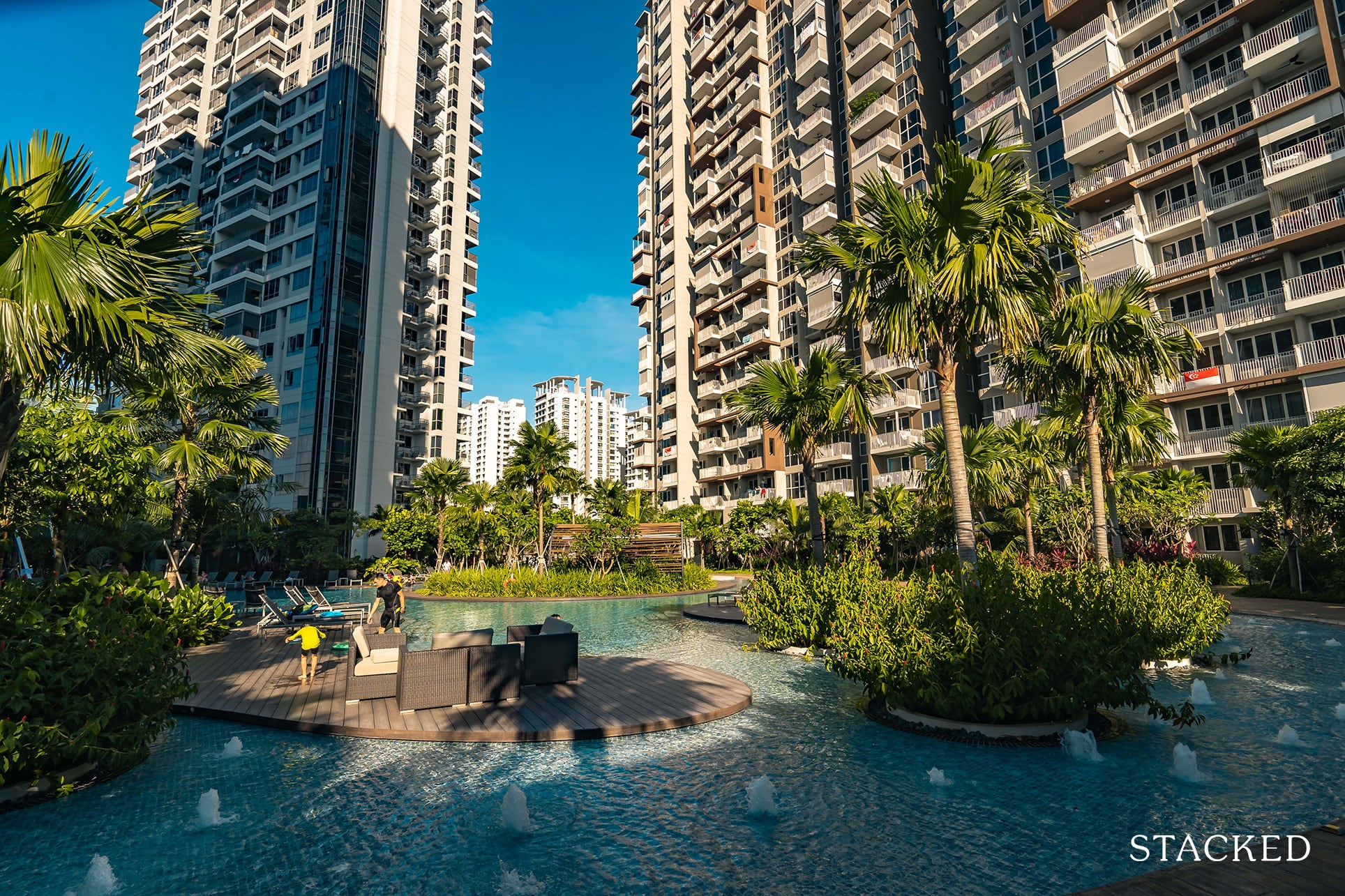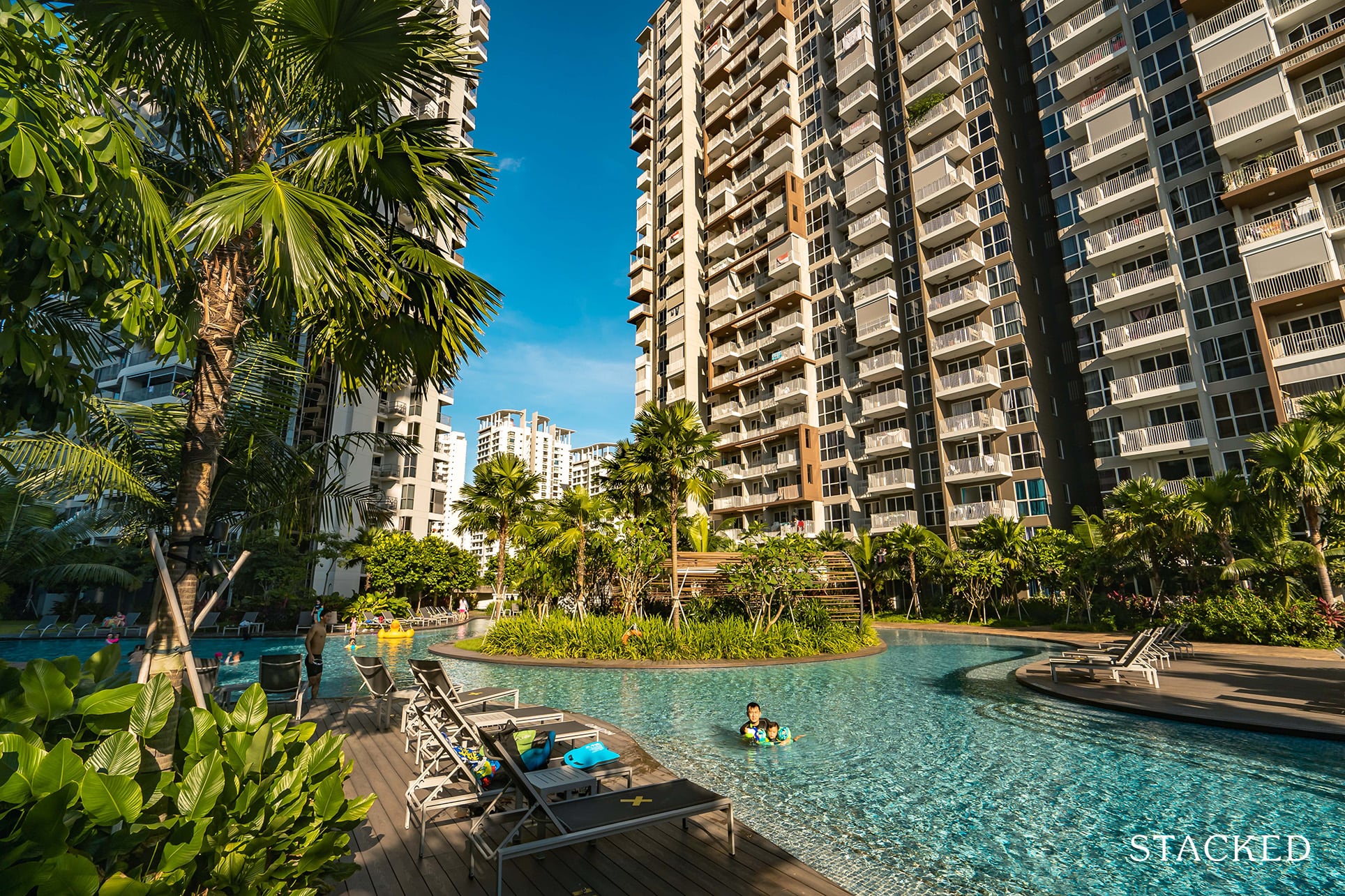 Like the main pool, this lagoon-like pool adopts the same stance – opting for a stepped entrance along the circumference for an easier entry into the pool.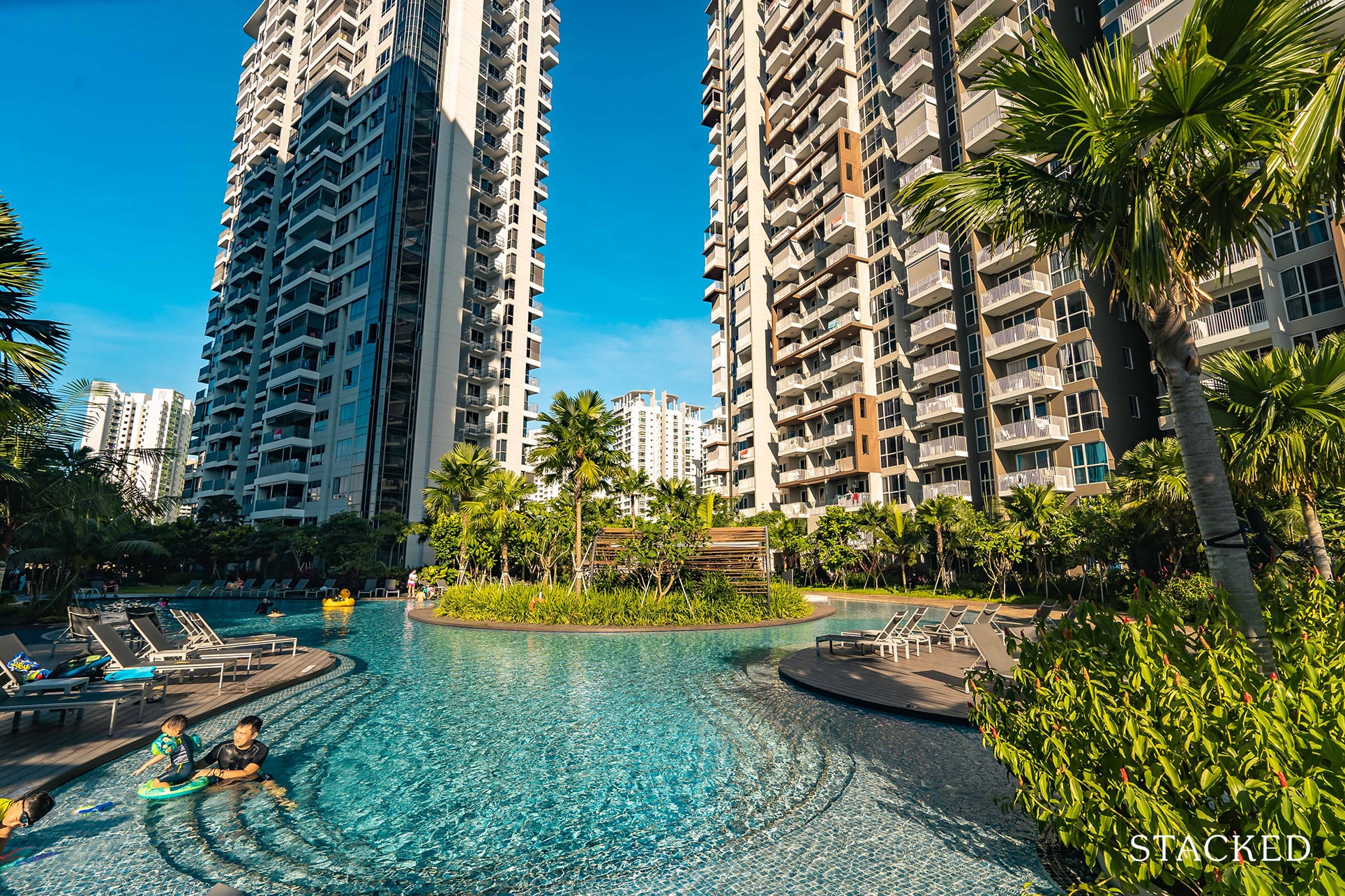 It does speak volumes about the ambitions of High Park Residences to be known as one for family living. The scale of the facilities on offer here is truly quite impressive.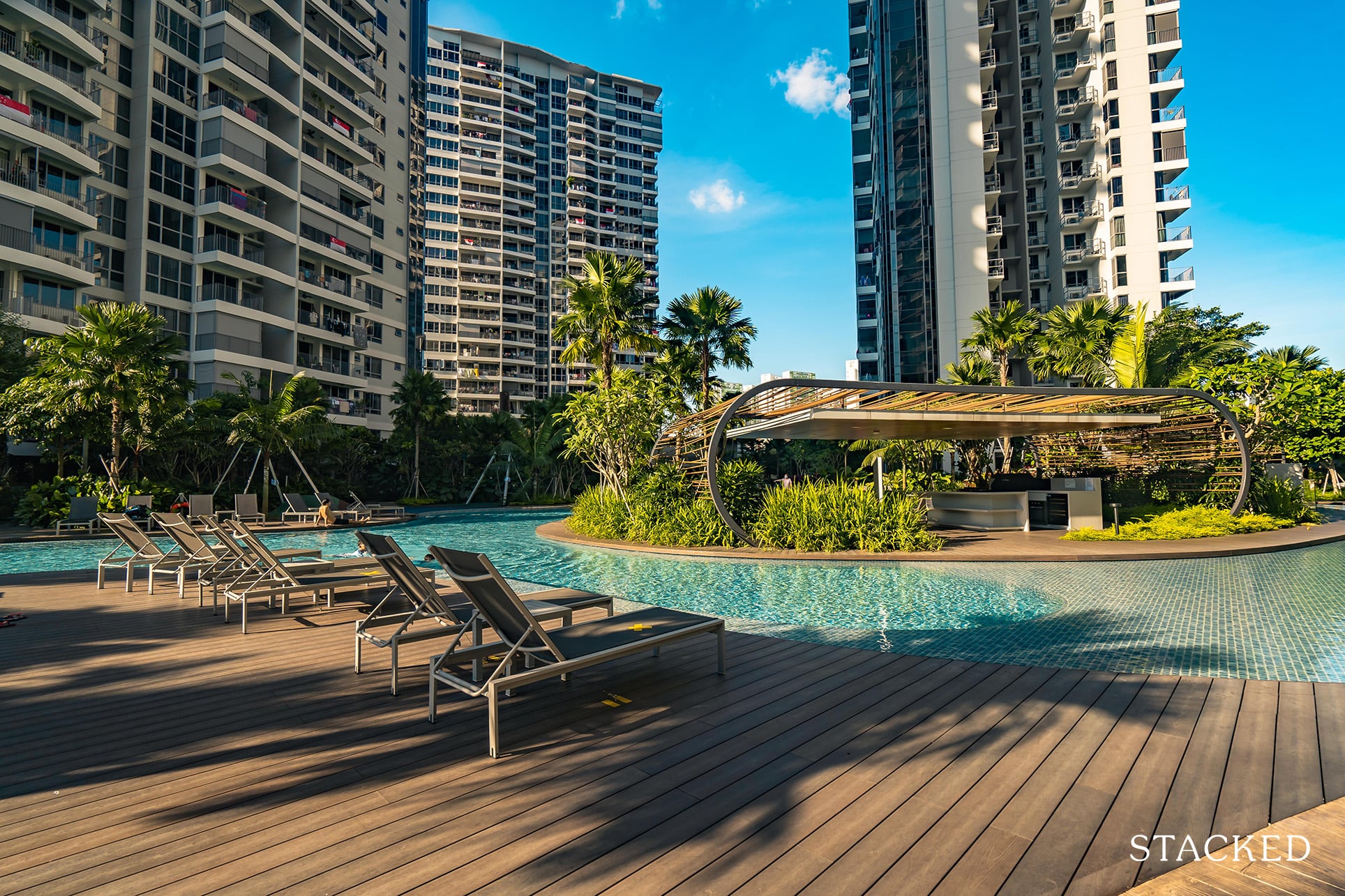 Along with the 40m lap pool is an island of sorts.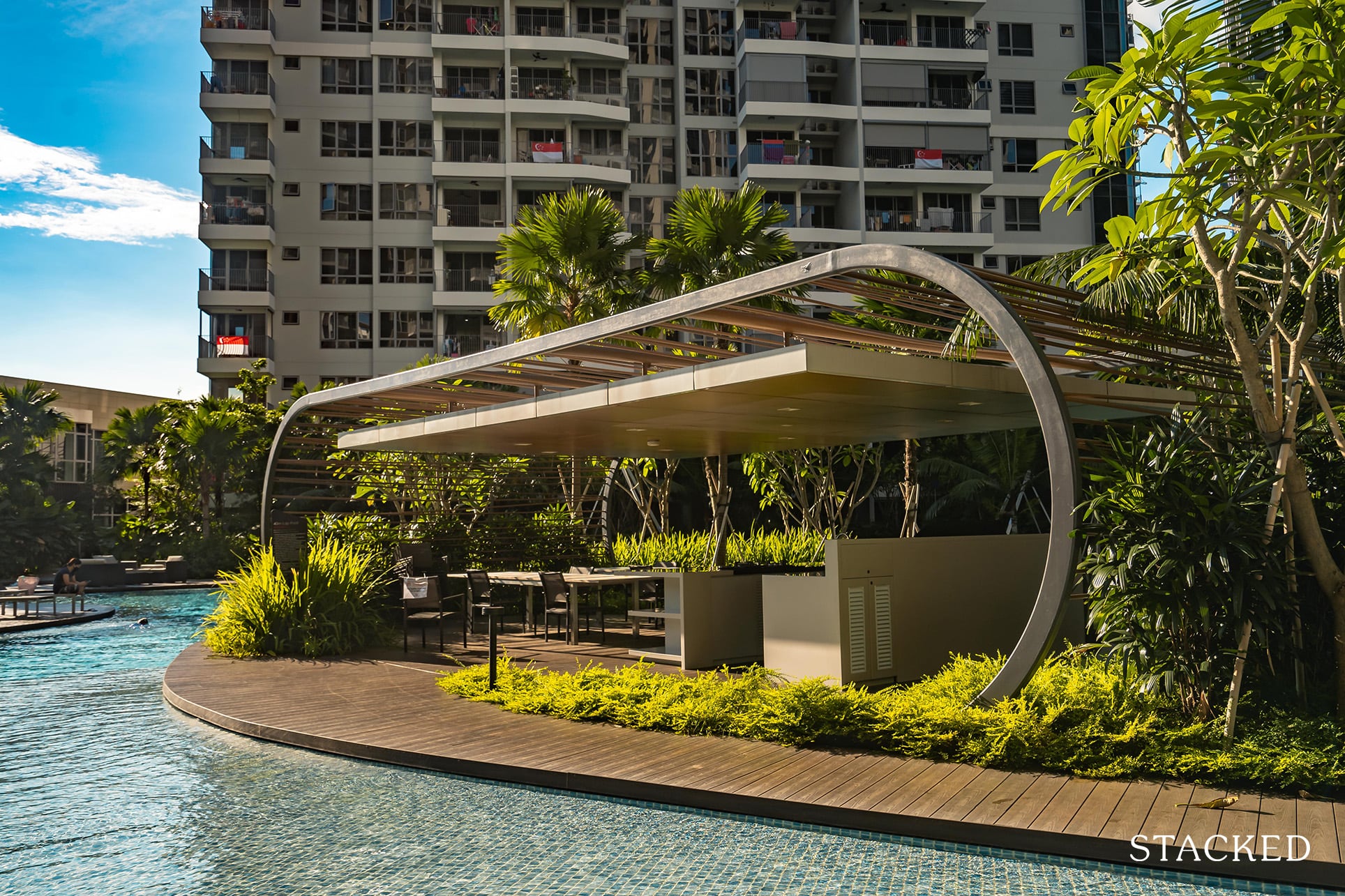 And on that island is a sizeable dining pavilion.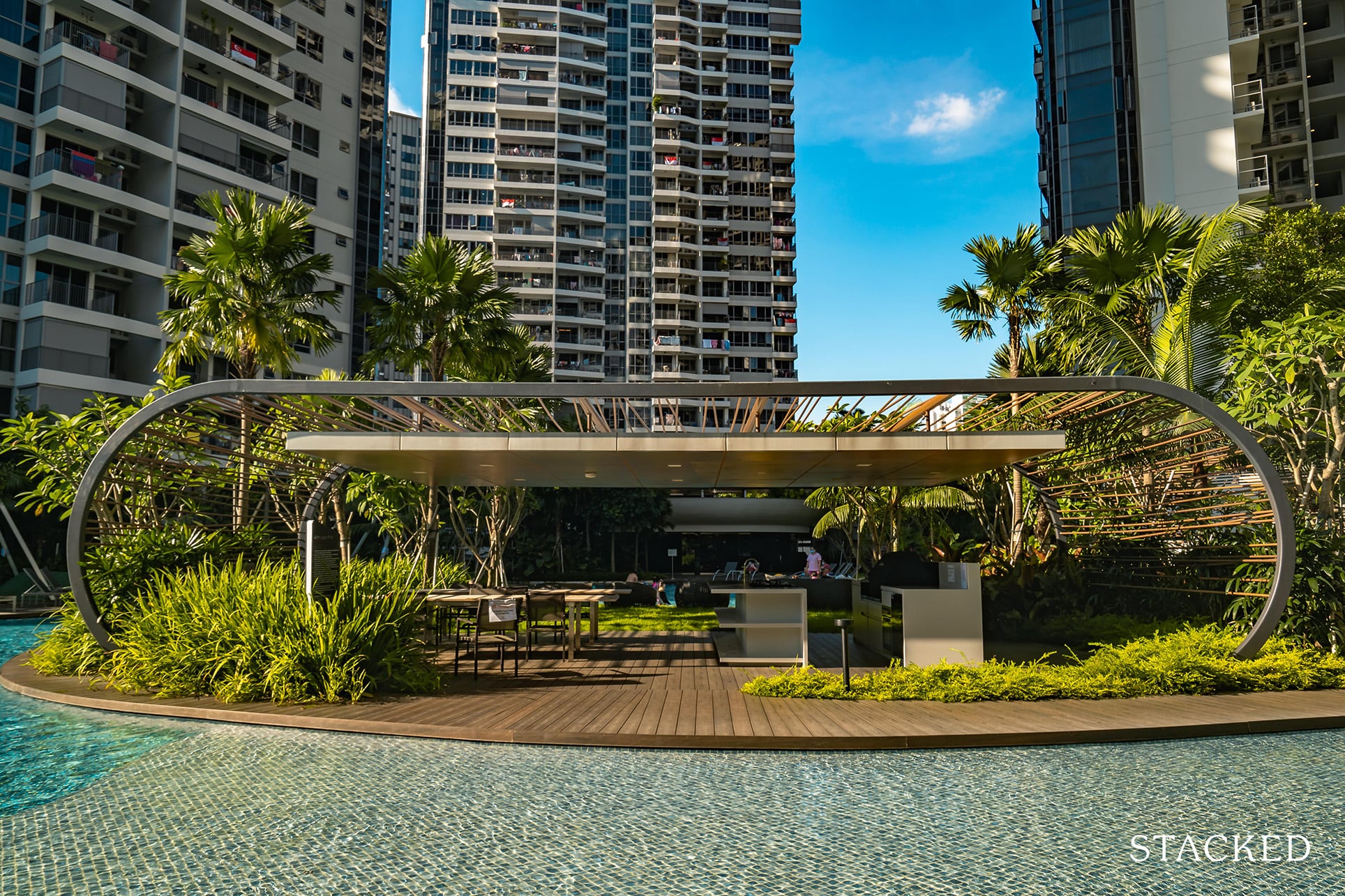 It does give off the feeling that you are dining on a private island, as you are almost completely surrounded by water save for the small pathway to get on it. Out of all the dining spots so far this one is probably my favourite.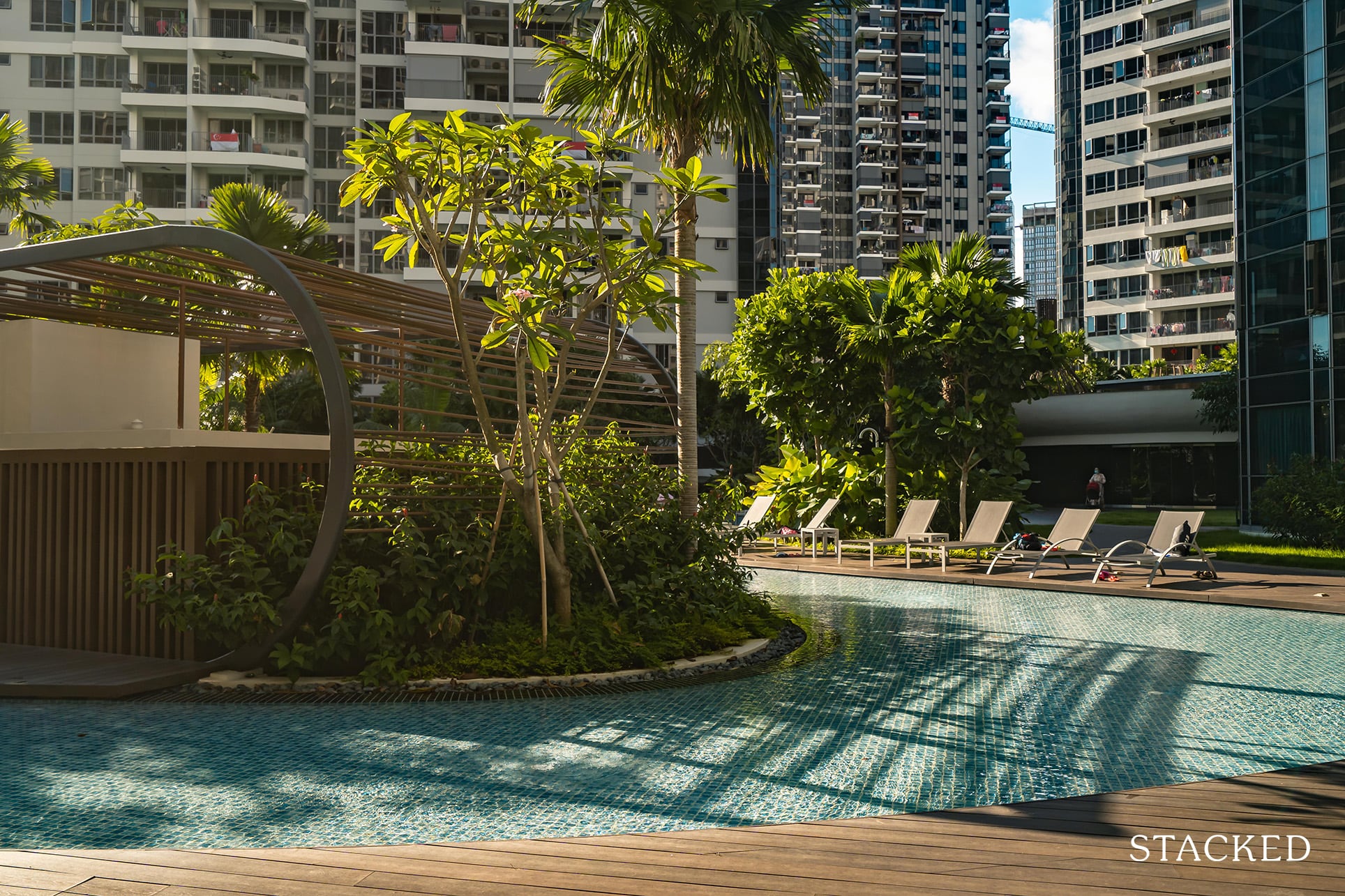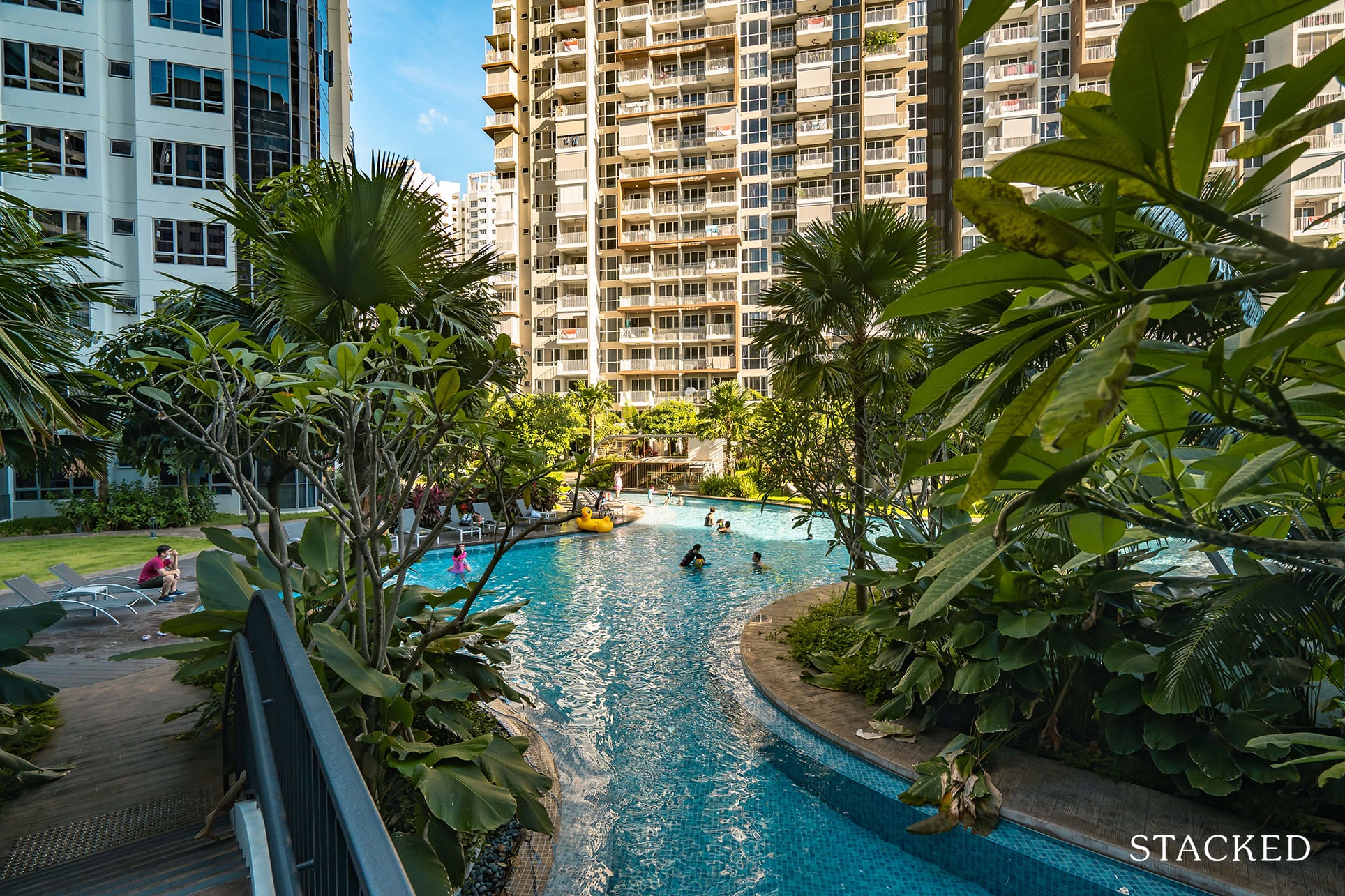 Crossing this bridge will lead you to another guaranteed kid pleaser.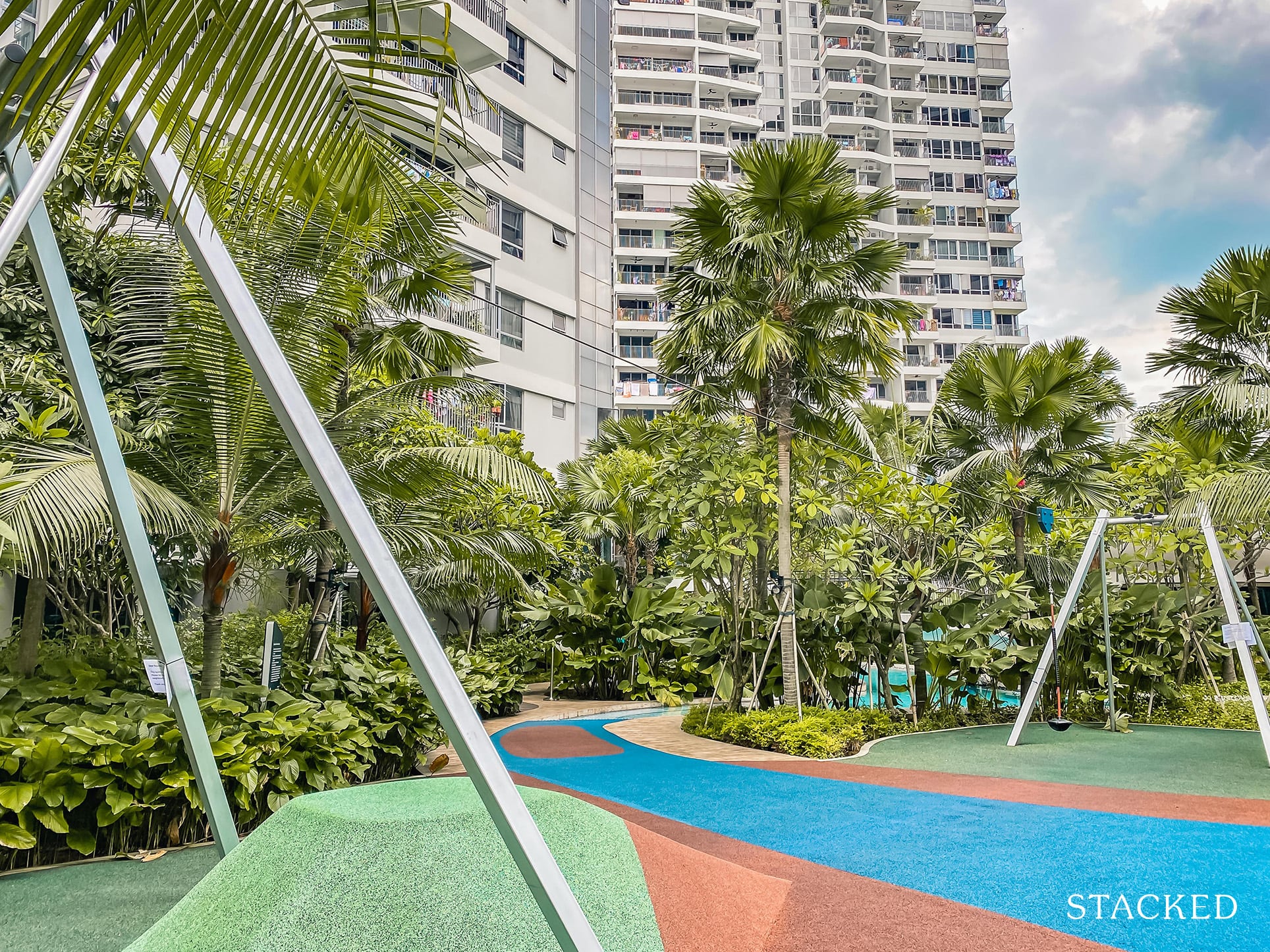 If you guessed the flying fox, well, you're absolutely spot on. While this one isn't the hair-raising thrill seeker type, it should satisfy the young ones without needed proper supervision all the time.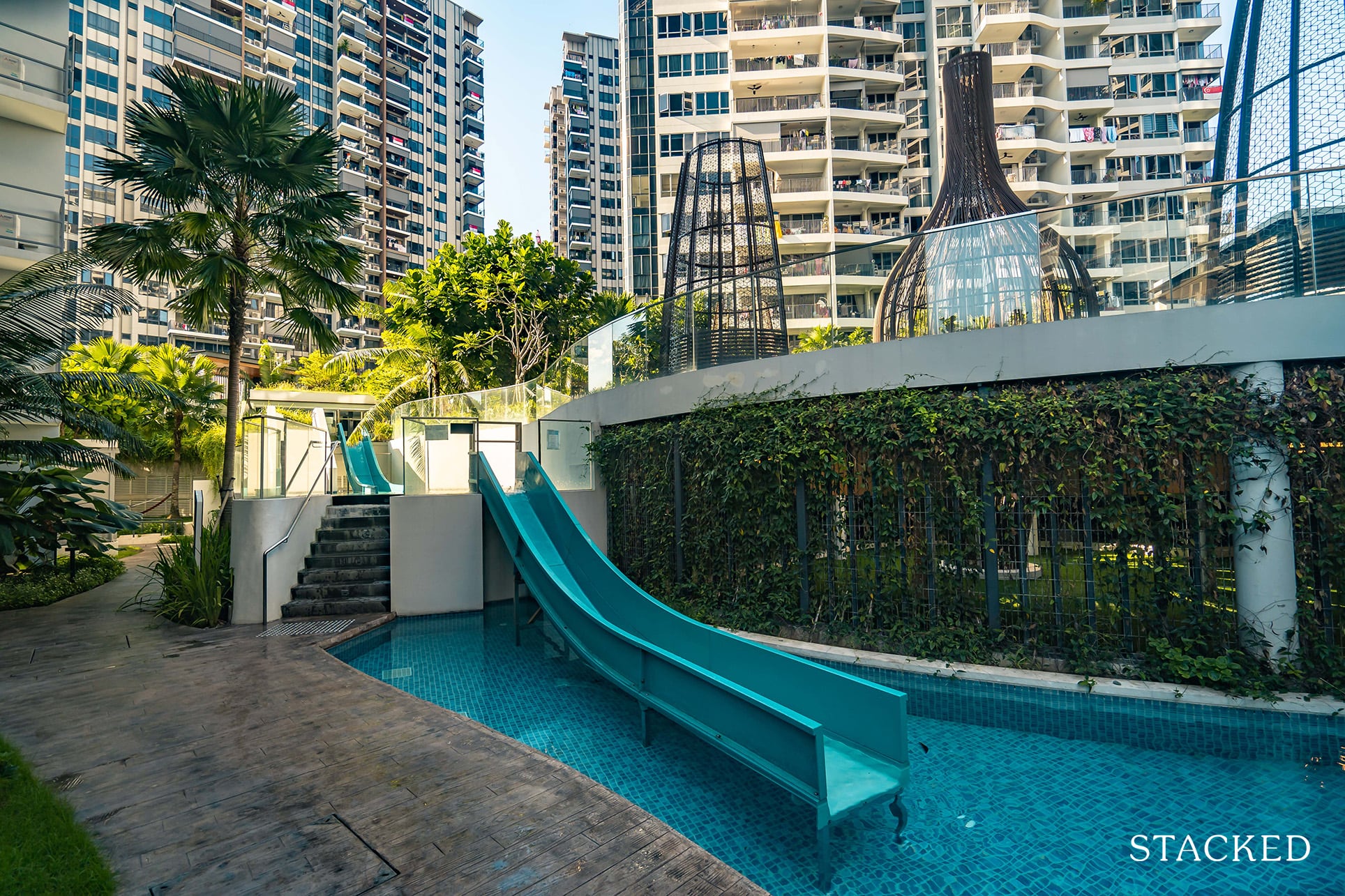 It's also from the stream below the bridge that leads you back to the main pool itself. As I mentioned above, you can actually get from the main 50m lap pool to the fun pools by a series of 4 slides. Naturally, you can't get back up the same way – you'll need to go by the pathways around the back.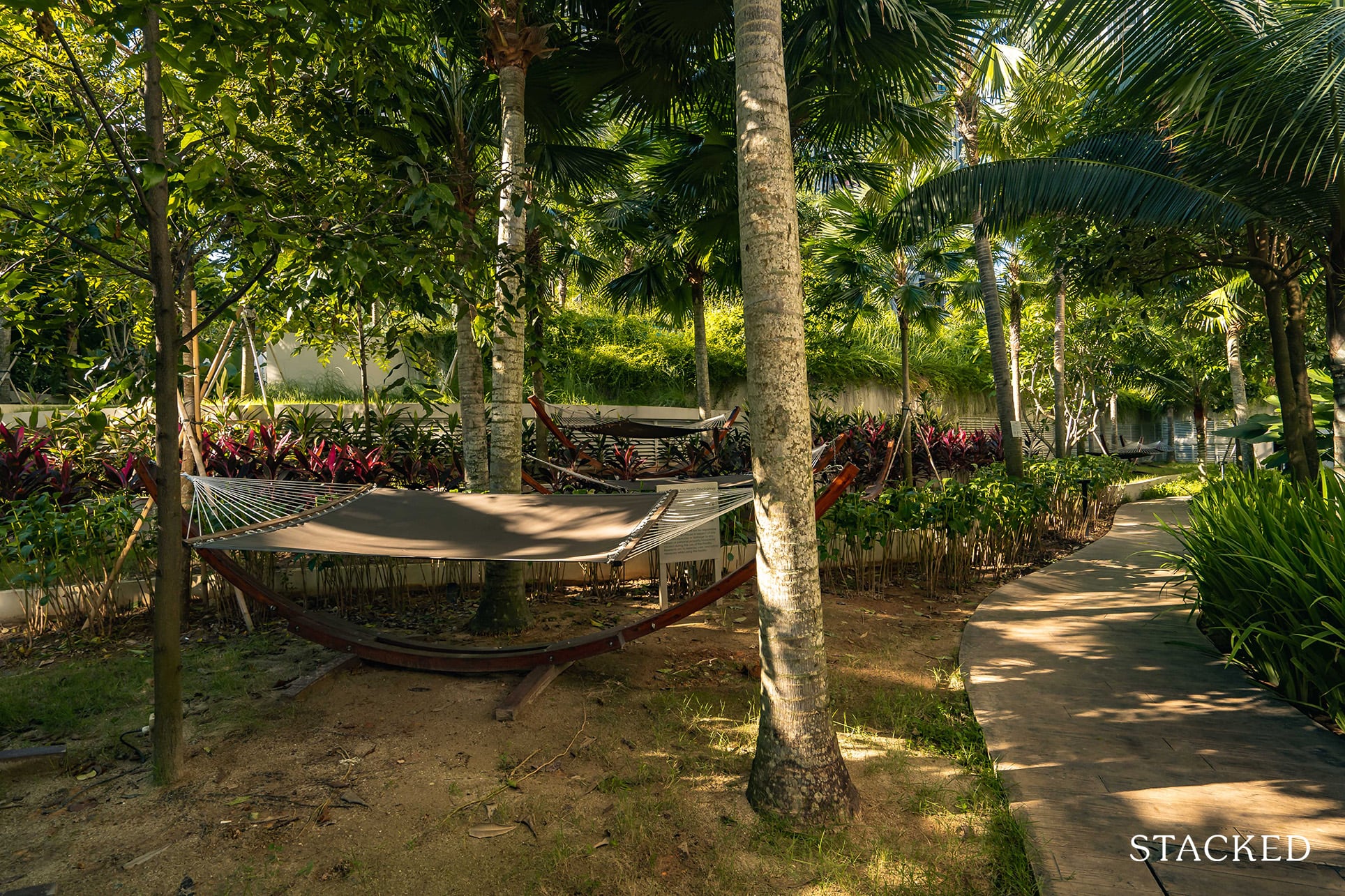 Which you might invariably pass by the Hammock Heaven area, where there are a couple of hammocks strung between the trees. I must say, all the facilities have so far been well implemented – save for this one. It's quite a mystery, almost everywhere featured flourishing greenery but this area looked quite unkempt and not in keeping with everything else.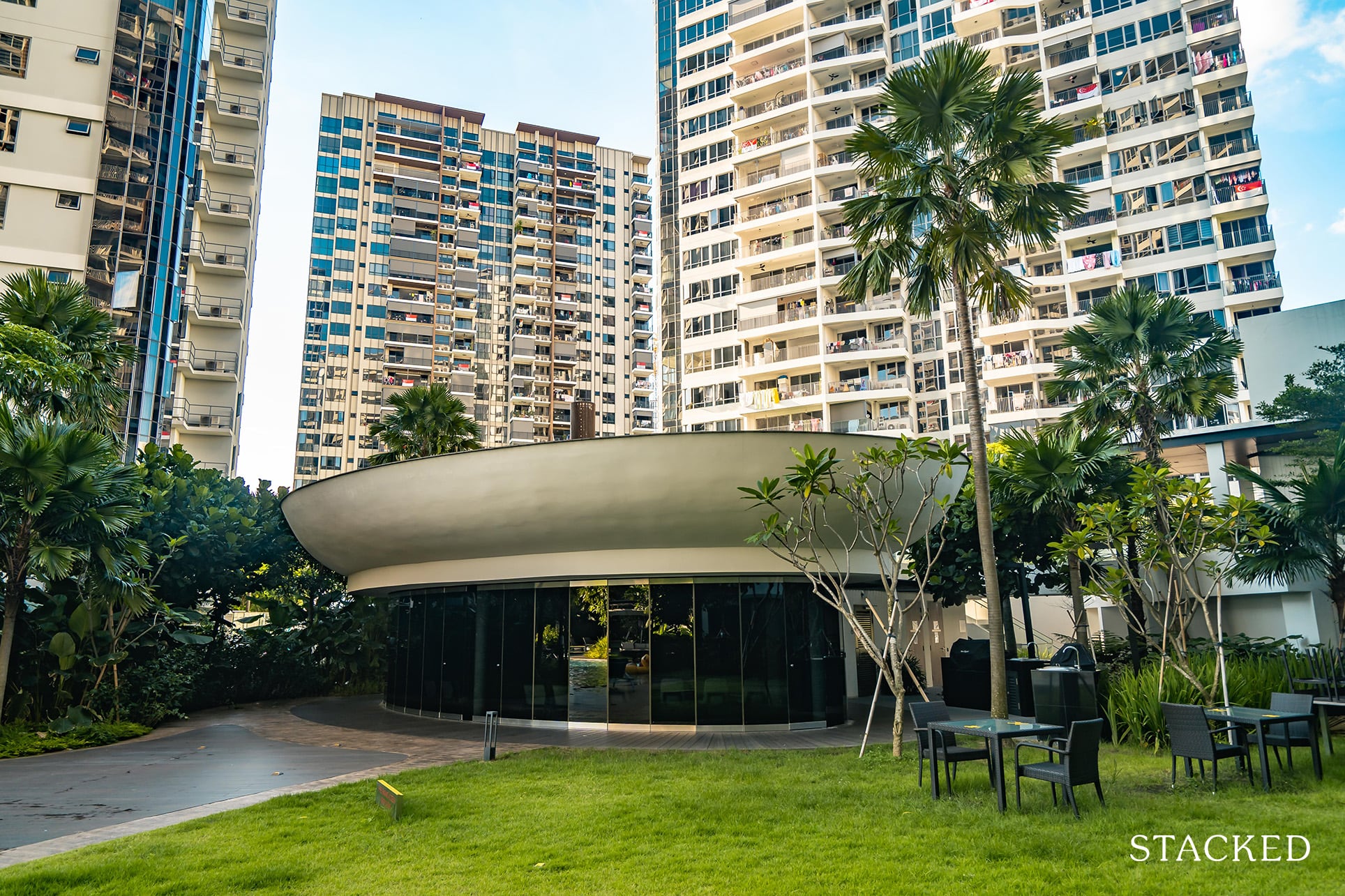 Close by to the fun pools, you'll find the circular shaped clubhouse. Seeing how everything has been rather elaborate so far, the clubhouse does look quite underwhelming in comparison.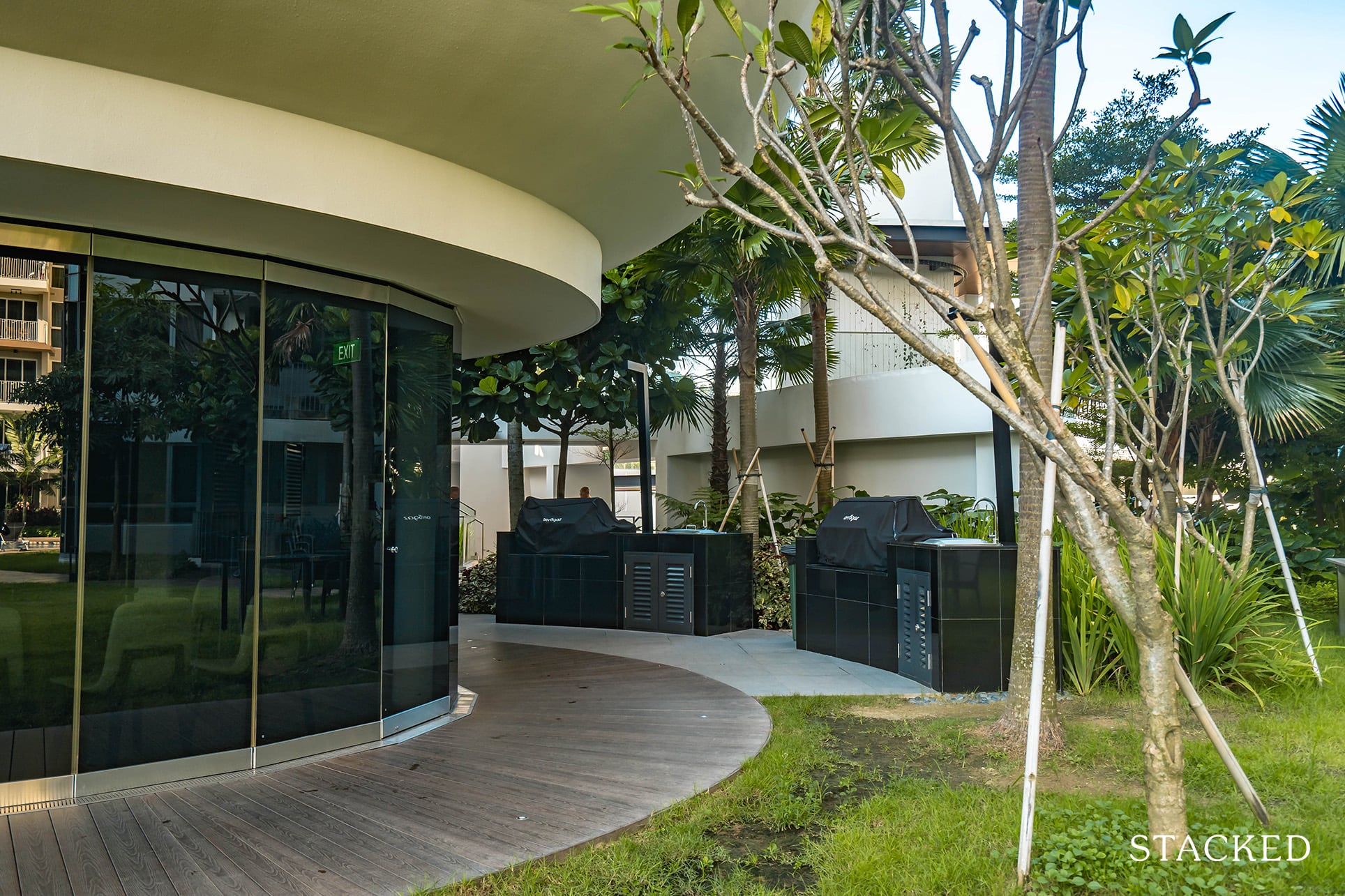 There are two barbecue pits outside, along with a lawn area which can seat more people.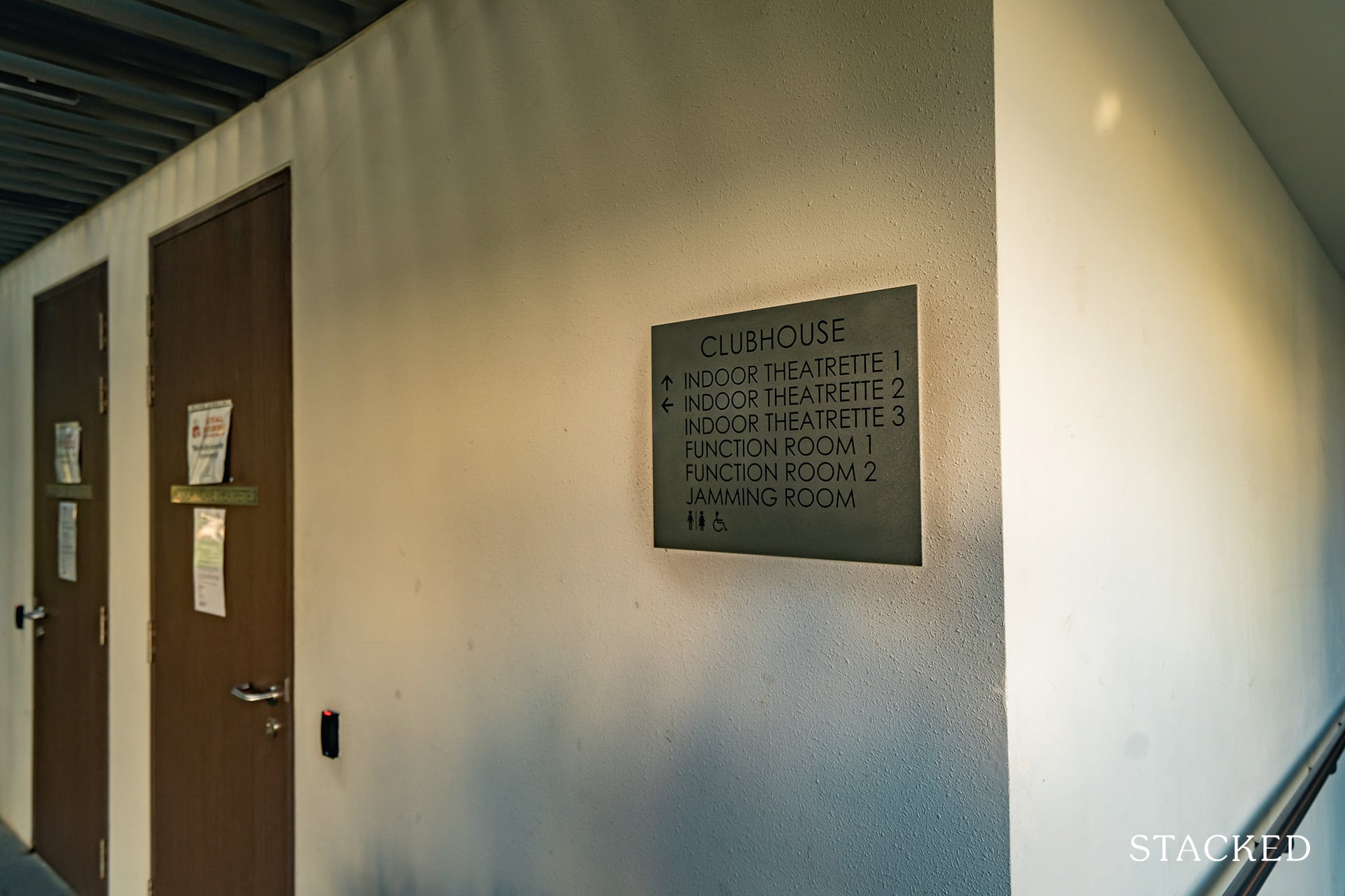 The clubhouse itself consists of two decently sized function rooms, along with three indoor theatres and a jamming studio.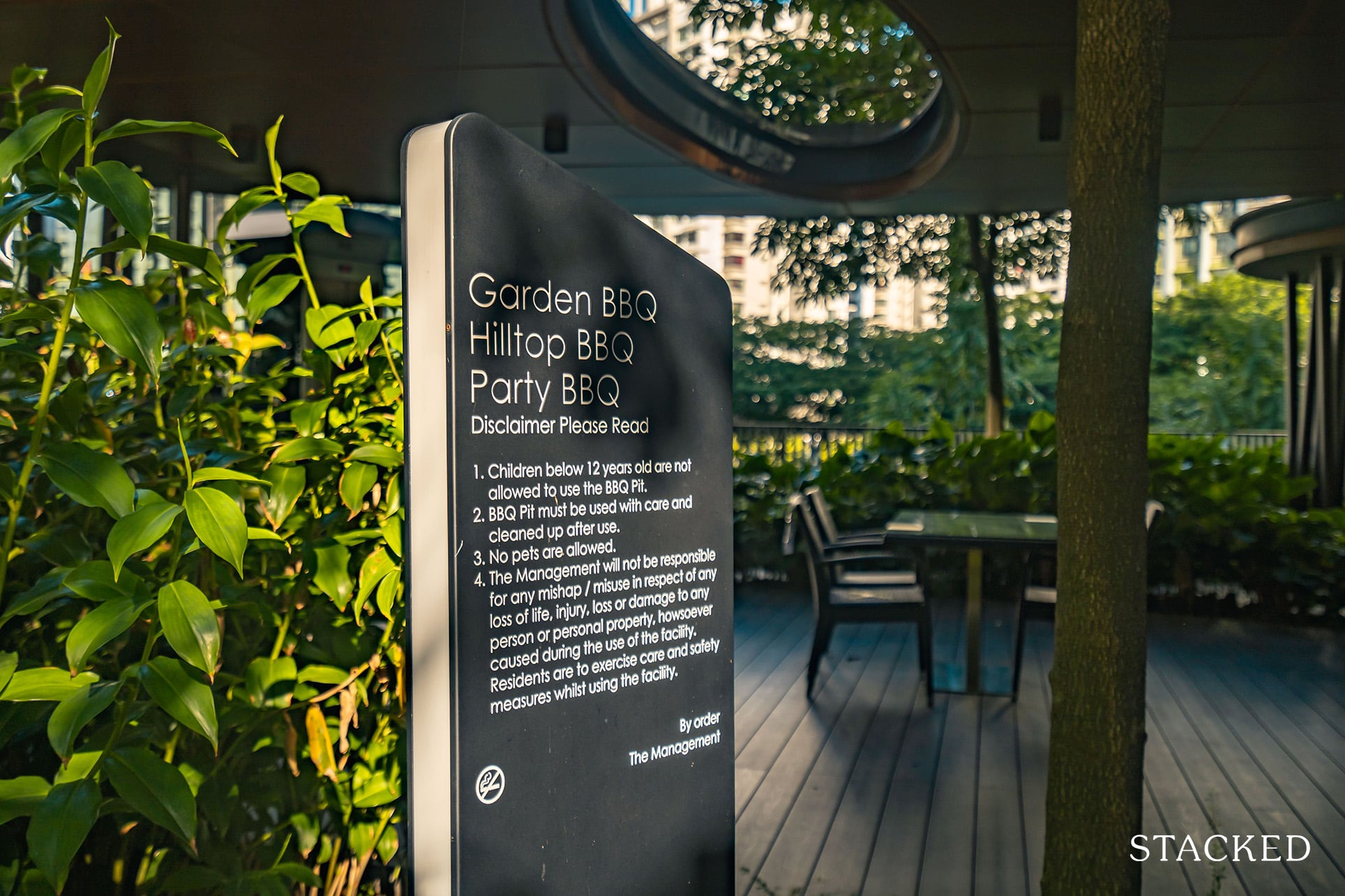 Finally, let me take you to the final dining spot, the garden, hilltop, and party BBQ area.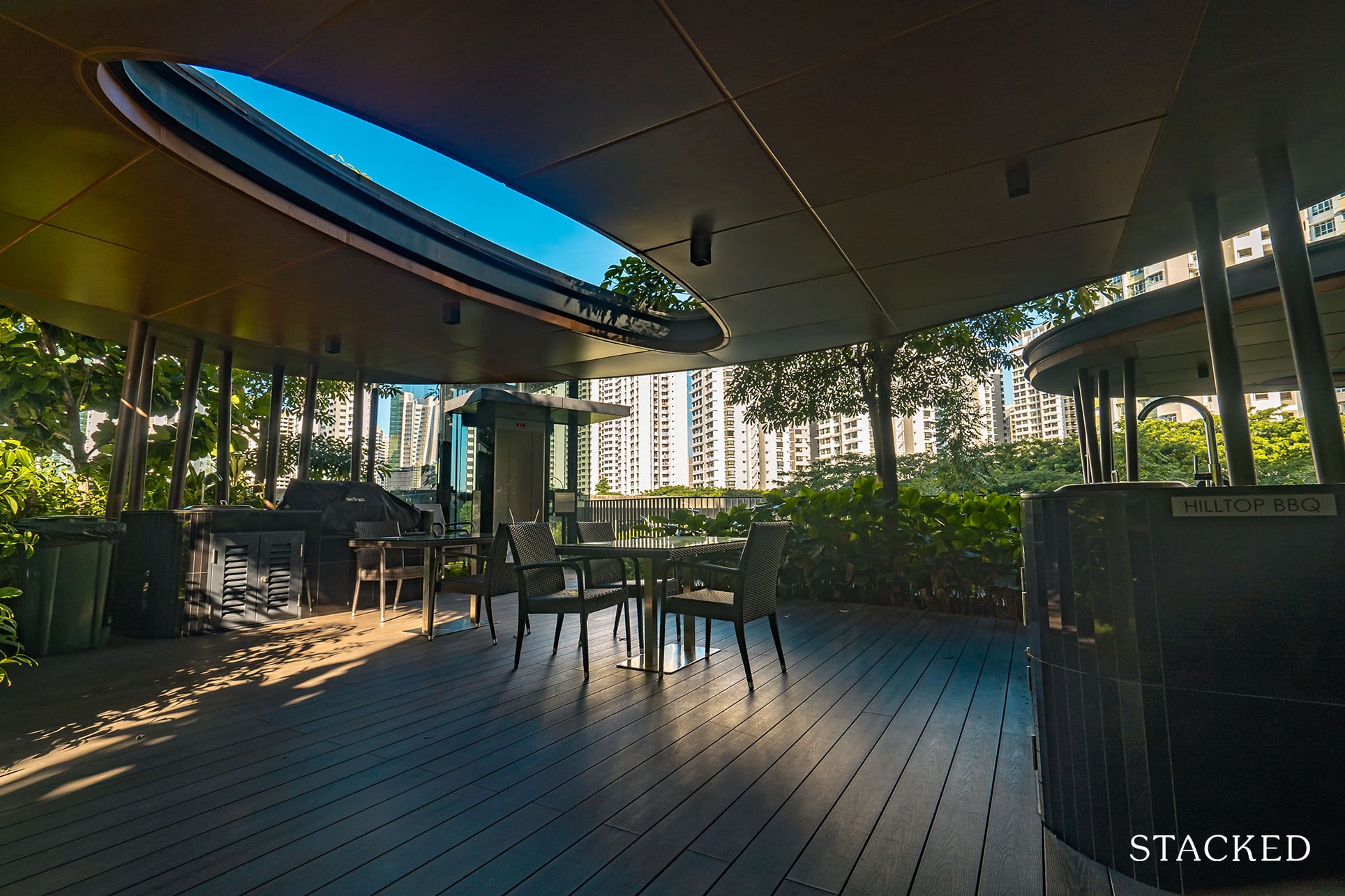 You know the drill by now – different names but they are all basically the same – a BBQ pavilion. They are all very decently sized, with the only odd design choice of an oval shaped hole in the roof. I get that it's to let in extra light, but it does also seem really inconvenient should it rain.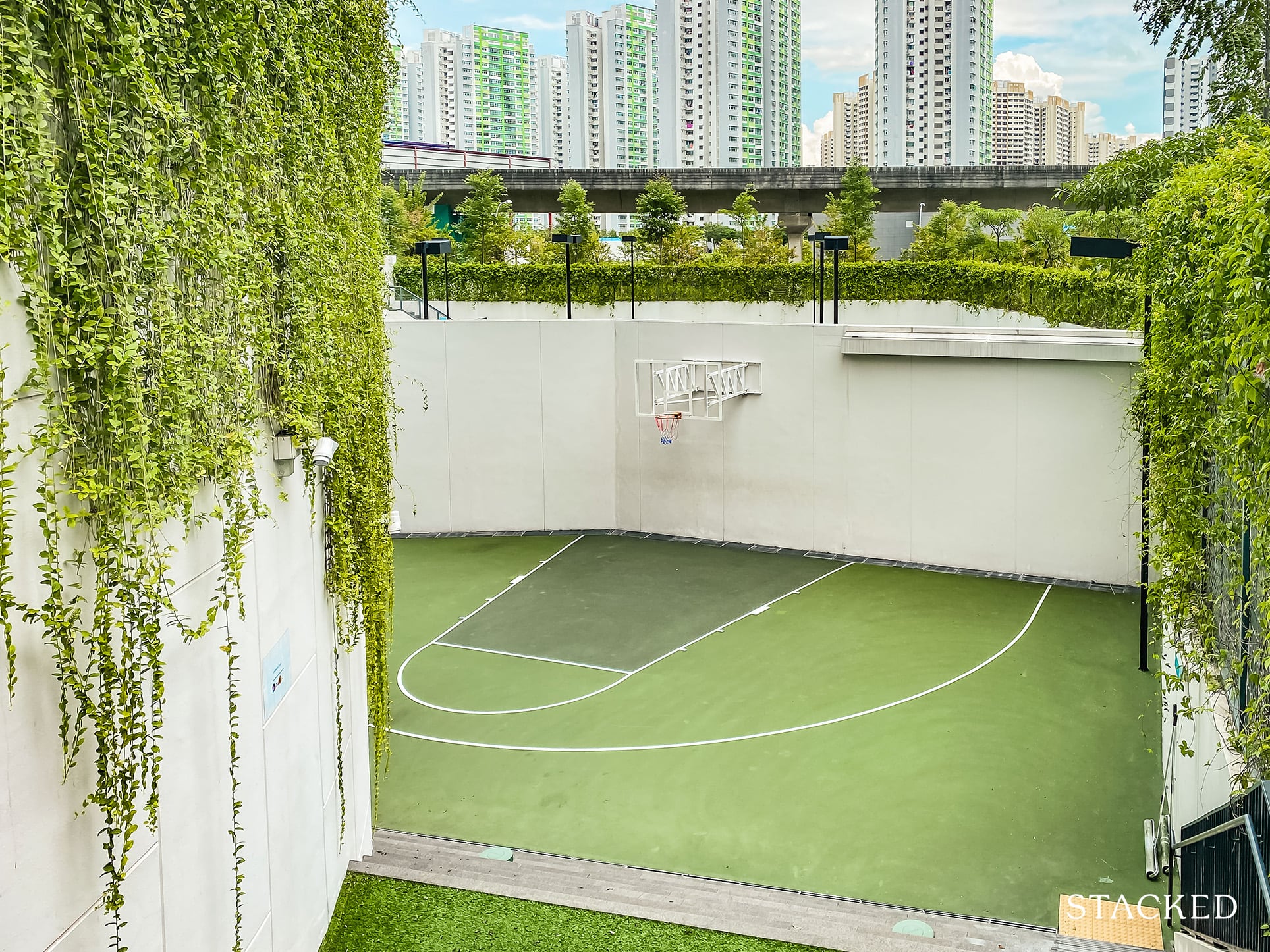 The BBQ pavilions also overlook the basketball court – which is actually quite a big space – so just having that one hoop here is quite puzzling. You do also get bleacher seats here, in the event casual onlookers would ever want to watch.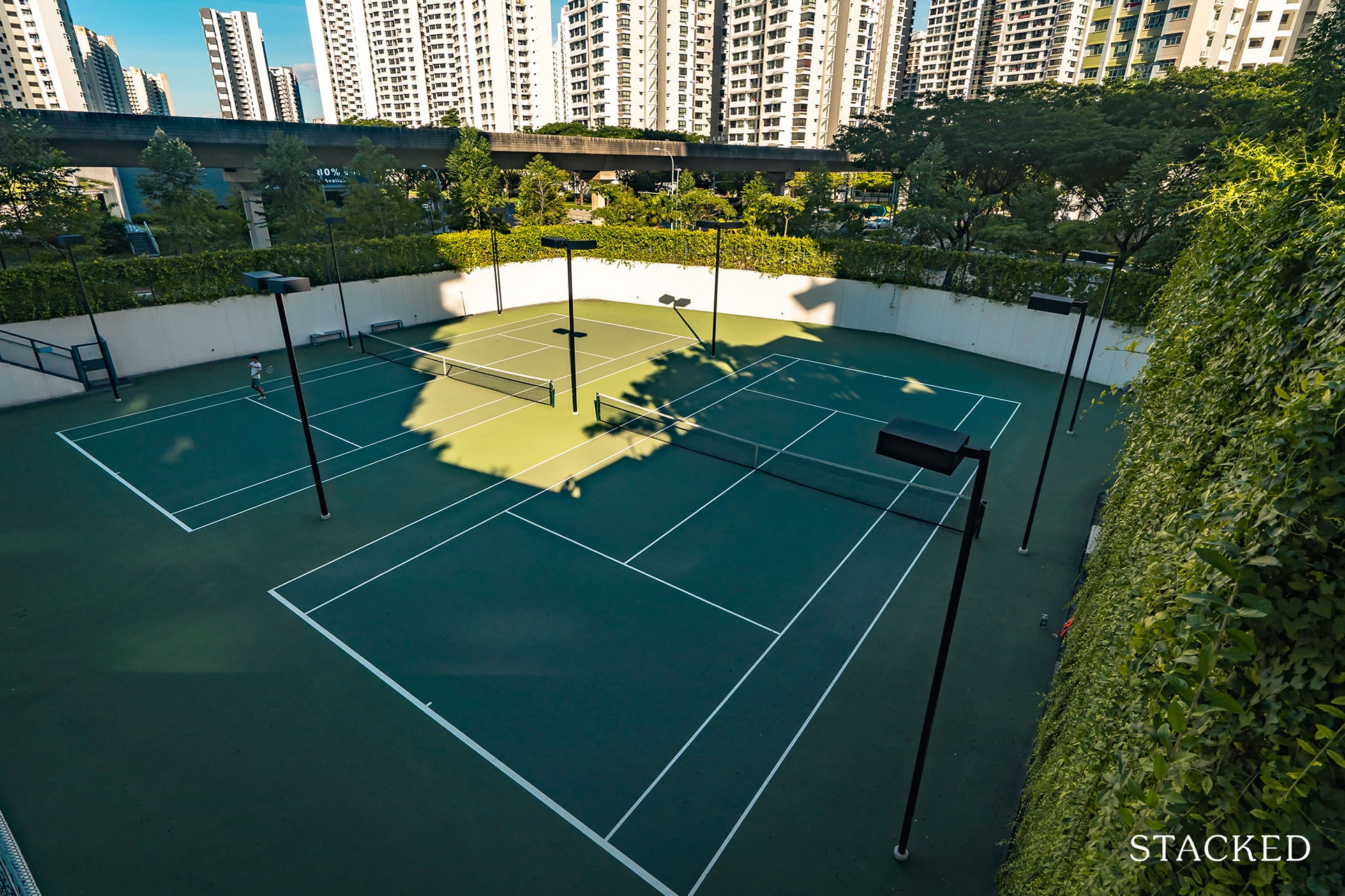 Last but not least, having tennis courts are very much expected in larger developments, so I'm glad to report here that High Park Residences has two. And even with two, it's easy to see how there may be difficulties to book your desired time slots on the weekends – there are 1,390 units after all.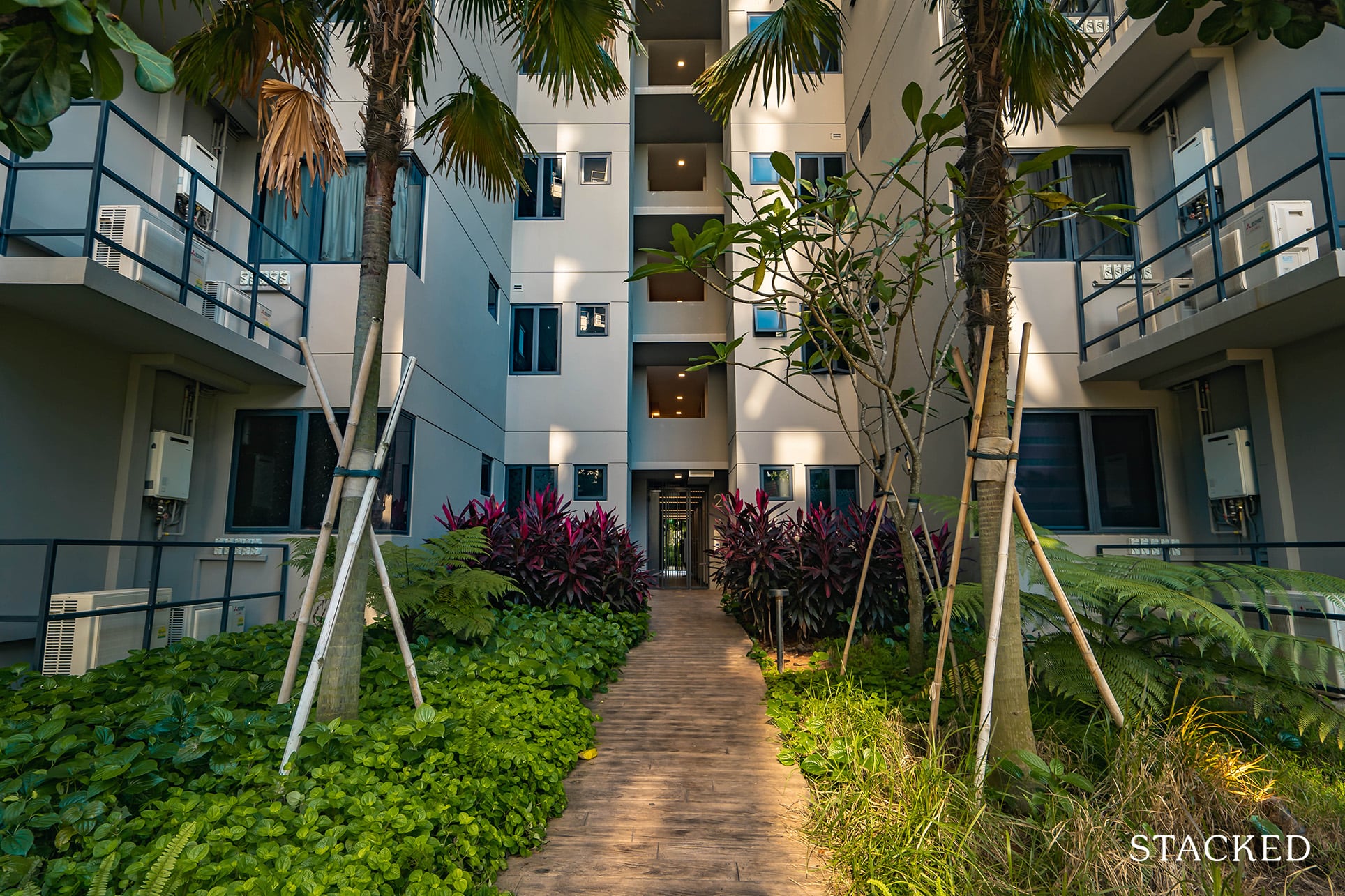 Each block features an open-air styled lobby – which is commonplace in most mass market condos. You do require a keycard to gain access to each individual block.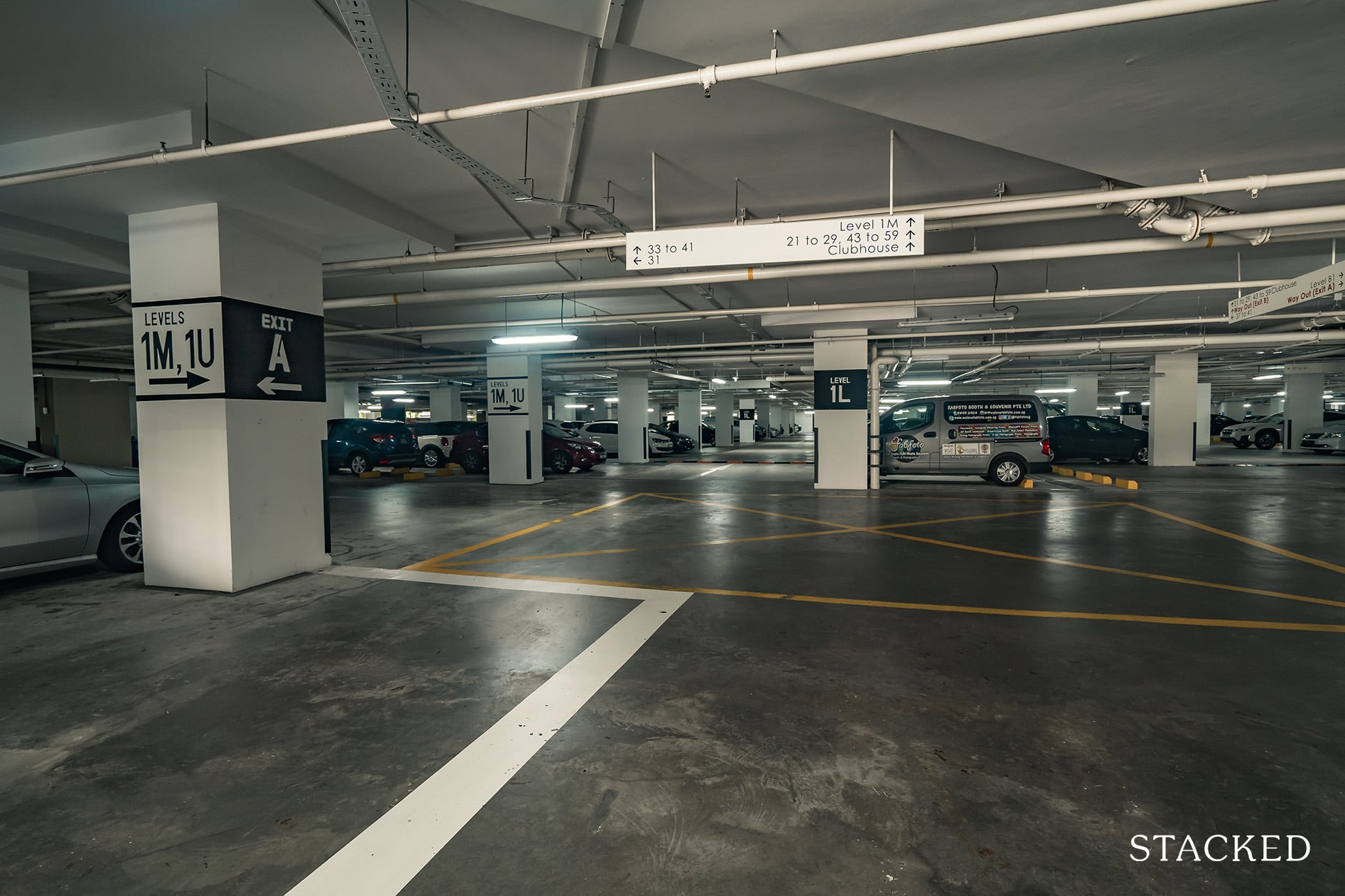 As you might have expected as well, the carpark is suitably massive. For first time visitors, you'd probably find it confusing to move around, as there are different levels and sections.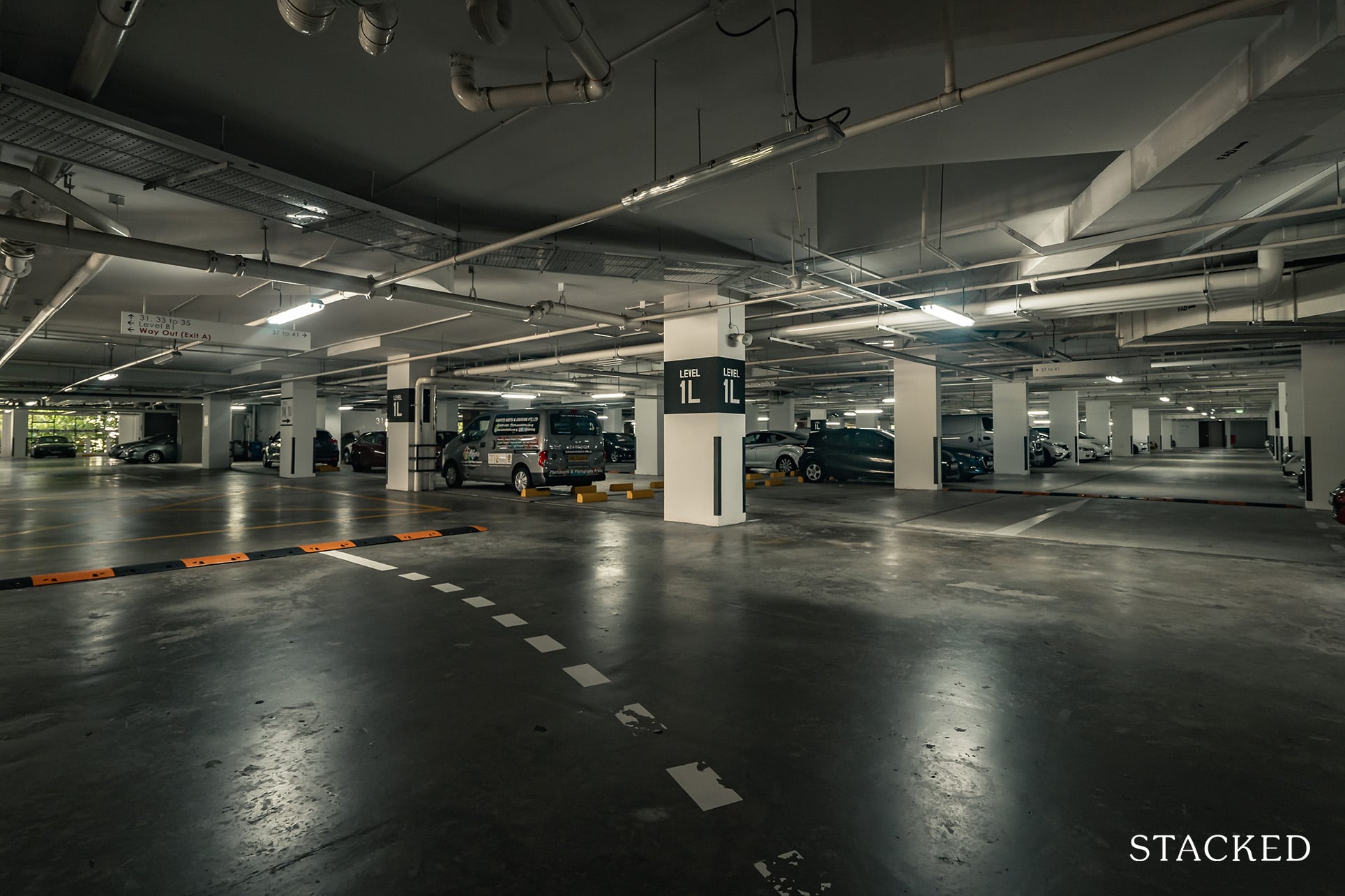 Generally speaking, the carpark is well-lit, and spacious too – so navigating and parking is easy.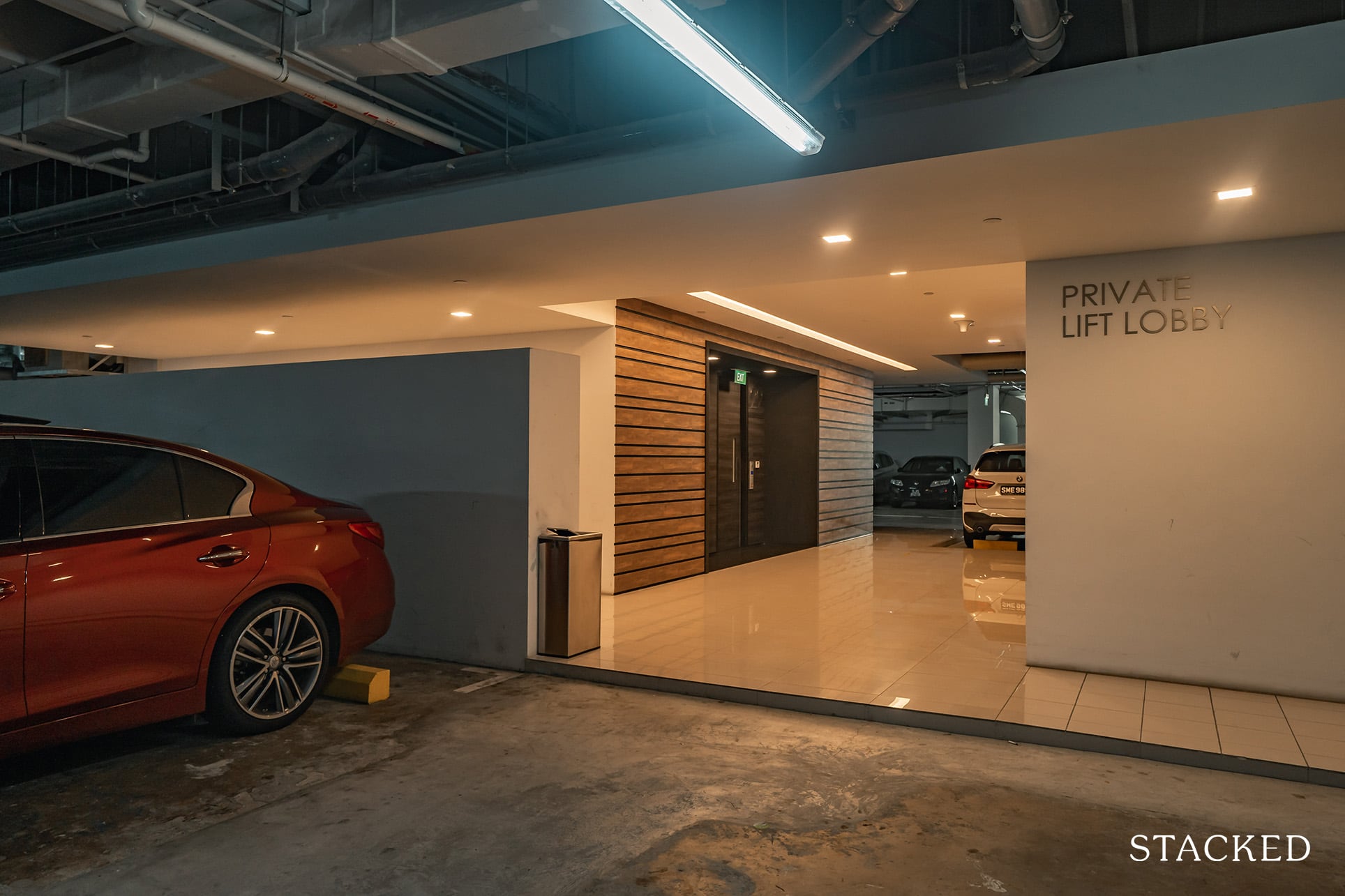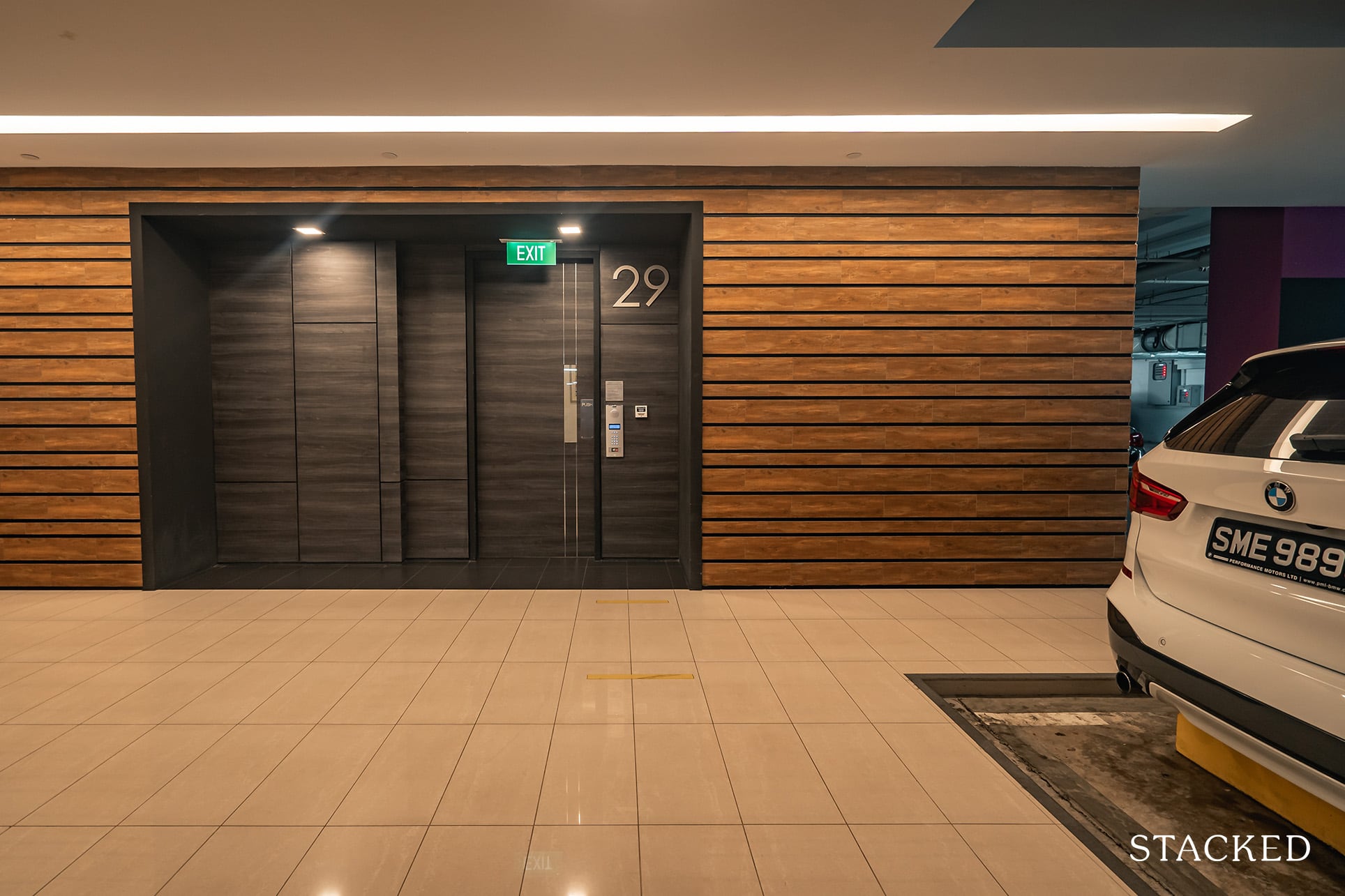 Only the 5 bedroom luxury units come with private lifts though, which is demarcated by the private lift lobbies.
High Park Residences Location Review
High Park Residences is situated on a 3.4-hectare (366,168 sq ft) plot of (previously-forested) land in District 28.

Despite almost no news on upcoming development plans from the URA Master Plan 2019, District 28 (Seletar/Yio Chu Kang) has had some surprising overall appreciation rates – climbing from an average psf of $981 in Jan 15' to $1,270 in Dec 19' (that's a 29.46% increase in just half a decade)!

Zooming in on High Park Residences' immediate vicinity, we find that the condo rests on the northern edge of a high-rise residential region, with a belt of low-rise shophouses and F&B outlets along the quintessential Jalan Kayu (and subsequently the TPE) just minutes away.

Public Transport
| | | |
| --- | --- | --- |
| Bus Station | Buses Serviced | Distance From Condo (& Est. Walking Time) |
| 'Thanggam Stn' | 374 | 15m, <1-min walk |
| 'After Lor Tanggam' | 85, 85A, 102 | 15m, <1-min walk |
| 'Bef Jln Kayu' | 85, 102 | 25m, <1-min walk |
| 'Aft Abundant Grace Church' | 85, 85A, 86, 102, 103 | 140m, 2-min walk |
Closest MRT: Thanggam LRT Station – 25m, <1-min walk

Considering High Park Residences' location, I would not expect quick public transport journeys to central Singapore or the CBD.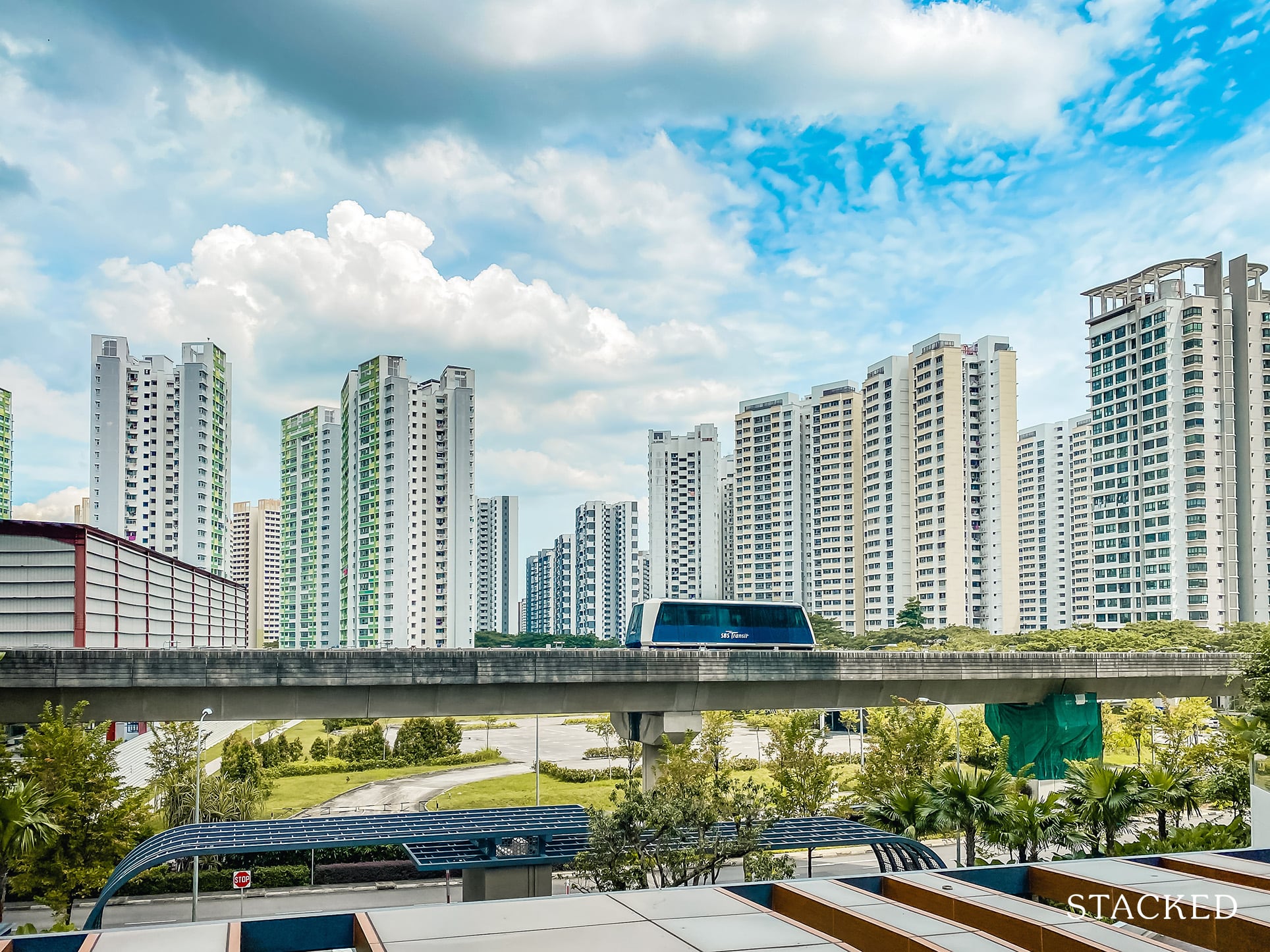 That said, connectivity in the immediate region is enhanced with the addition of LRT lines in the area.

These lines are also an essential option for those who will be utilising the MRT lines on the regular (4 LRT stops to Sengkang MRT, 5-min ride).

For those heading to the CBD (Raffles Place MRT) via public transport, the full journey starts at Thanggam LRT Station, before changing at Sengkang MRT station and subsequently at Dhoby Ghaut MRT station.

Total ride time spans 30 minutes across 16 stops.

Interestingly enough, the bus interchange over in Yio Chu Kang is also very accessible (a quick 12-min highway bus ride away aboard Bus 86).

Private Transport
| | |
| --- | --- |
| Key Destinations | Distance From Condo (& Est. Peak Hour Drive Time) |
| CBD (Raffles Place) | 20.0km, 24-min drive |
| Orchard Road | 18.1km, 22-min drive |
| Suntec City | 19.8km, 24-min drive |
| Changi Airport | 18.0km, 23-min drive |
| Tuas Port (By 2040) | 45.2km, 50-min drive |
| Paya Lebar Quarters/Airbase (By 2030) | 11.1km, 15-min drive |
| Mediapolis (and surroundings) | 22.9km, 30-min drive |
| Mapletree Business City | 29.1km, 34-min drive |
| Tuas Checkpoint | 38.6km, 40-min drive |
| Woodlands Checkpoint | 19.0km, 22-min drive |
| Jurong Cluster (JCube) | 27.5km, 31-min drive |
| Woodlands Cluster (Causeway Point) | 15.9km, 20-min drive |
| HarbourFront Cluster (Vivo City) | 21.6km, 28-min drive |
| Punggol Cluster (Waterway Point) | 4.0km, 8-min drive |
*Note that Drive Times are calculated during Peak Hours
Immediate Road Exit(s): 2 Exits along Fernvale Road

Summary: 2 road exits for a 1,390-unit condo is something that will come in handy, but be wary of traffic congestion at the exits during peak hours – further considering that the Fernvale Road exit is just 2-laned. On a brighter note, the TPE is less than a kilometre away. That said, it is also important to note that due to the number of developments in the area (both HDB and Condo) – and the OCR locale, there is bound to be a huge influx of drivers on the roads during these peak hours.

Groceries
| | |
| --- | --- |
| Name of Grocery Shop | Distance From Condo (& Est. Walk Time) |
| Fairprice Finest – Seletar Mall | 580m, 7-min walk OR 1.9km, 5-min drive |
| FairPrice Xpress – Sengkang West Way | 670m, 9-min walk OR 2.8km, 6-min drive |
| Fairprice – Jalan Kayu | 710m, 9-min walk OR 2.0km, 6-min drive |
Schools
| | |
| --- | --- |
| Educational Tier | Number of Institutes |
| Preschool (within 1km walk) | 3 |
| Primary (3km-drive) | 6 |
| Secondary (3km-drive) | 1 |
| International School (3km-drive) | 0 |
| Junior College (5km-drive) | 0 |
| University (5km-drive) | 0 |
| Polytechnic (10km-drive) | 1 |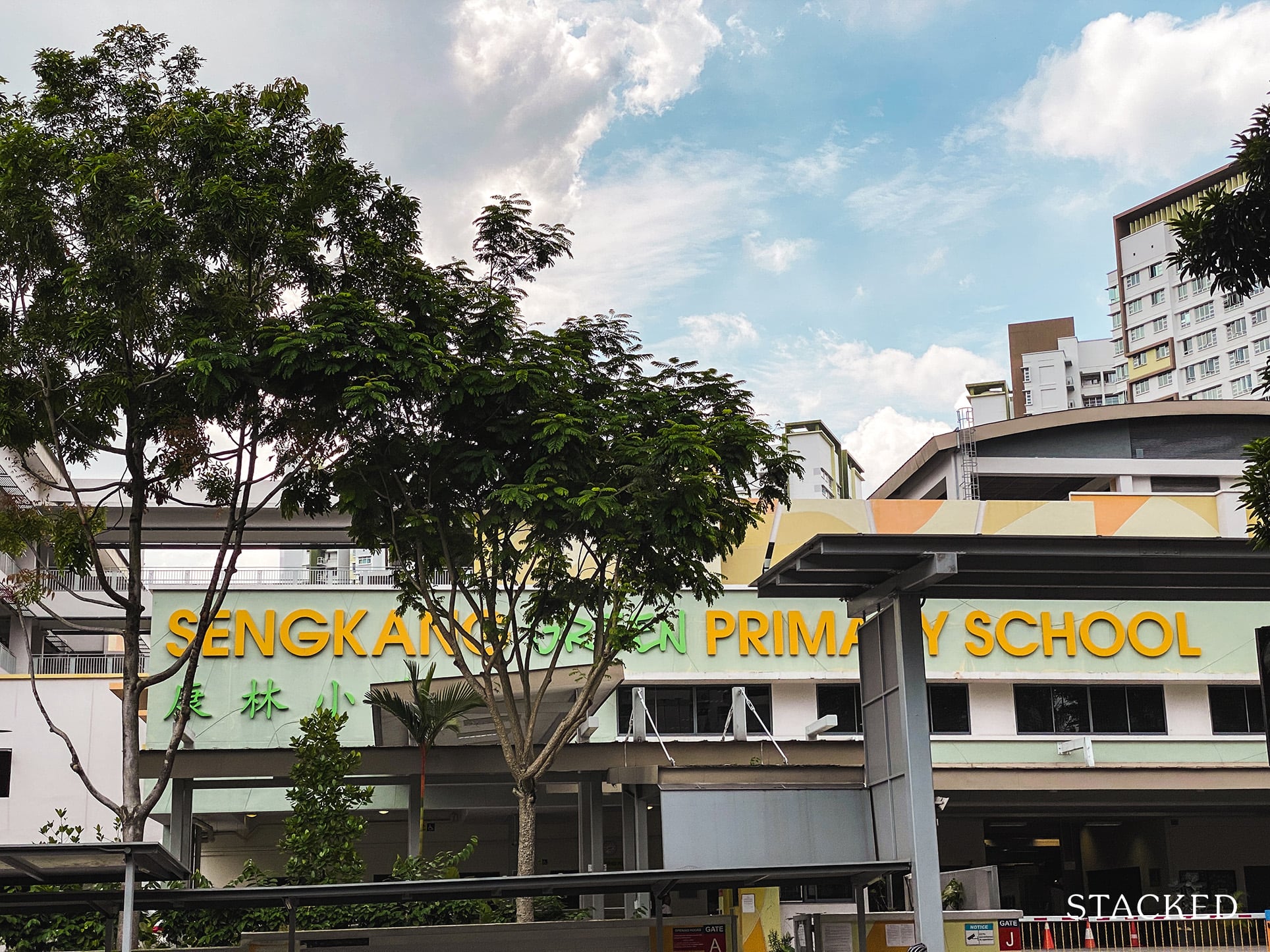 Additional Pointers
The Facilities and Services Offered
Sure, it is no surprise for modern condominiums to offer unique facilities, like Westwood Residences' BMX adventure park or Van Holland's junior rock-climbing wall.

In the case of High Park Residences, the developers have taken things a step further to cater to its large pool of homebuyer types with 118 facilities that are all (okay, mostly) unique in their own regard.

Apart from the typical gymnasium, 50-metre lap pool and BBQ pits you would find in any other condominium, High Park Residence boasts a 3-metre high 'swirl and splash' water slide, a flying fox and even boxing rings – perfect for kids and youths with an inkling for adventure!

For residents who prefer quieter forms of leisure, nothing beats a walk with your loved one(s) amidst the widespread landscaping features and lush greenery of High Park Residence – especially after a long day at work.

Adding to that, we observe that the nine commercial units in the condo also include retail and F&B outlets, making for opportunities to grab a bite without stepping out of the premises (much like Sengkang Grand Residences).

No doubt, this merger of an adventurous theme-park feel and shopping opportunities does give residents of High Park Residences an incredible bang for their buck.

But what about the immediate surroundings of the condo?

Let us move on to explore what they have in store for residents.

A Huge Platter of Amenities
Residents of High Park Residences can expect easy access to amenities in almost every direction.

As we discussed earlier, Thanggam LRT Station is right beside High Park Residences. It may not be an MRT Station, but it does provide connectivity to Sengkang MRT and the rest of Sengkang Central's many amenities.

Looking a little to the west, you would find a string of shophouses amidst a landed housing enclave along Jalan Kayu.

As most of you would know, these shophouses include plenty of F&B (read: prata) outlets serving various cuisines, car repair/mechanic services, and even a yoga studio to boot.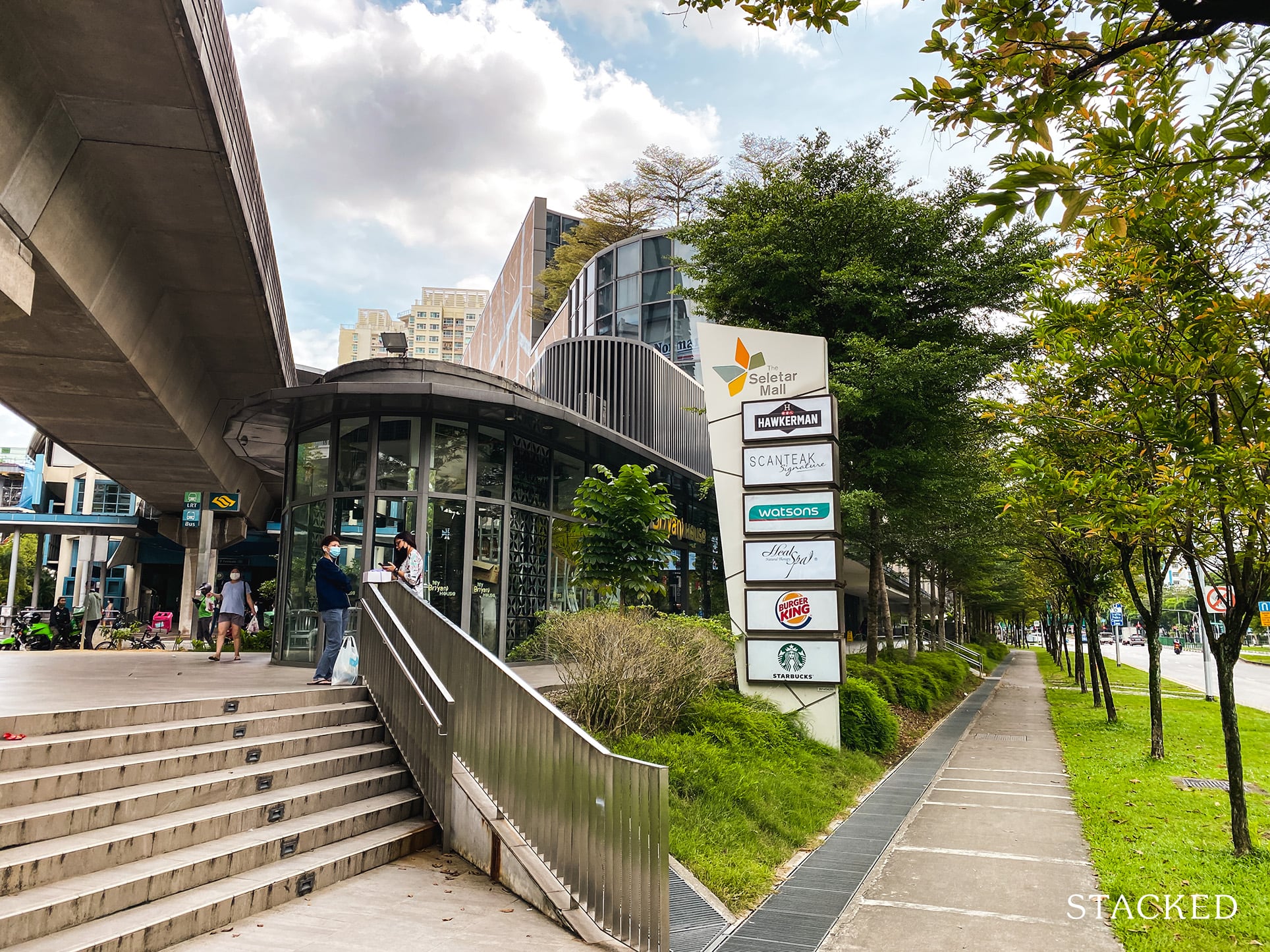 Just down Fernvale Road (adjacent to High Park Residences) lies the relatively novel Seletar Mall, fully-fitted with 6 levels of shopping, F&B, and entertainment options.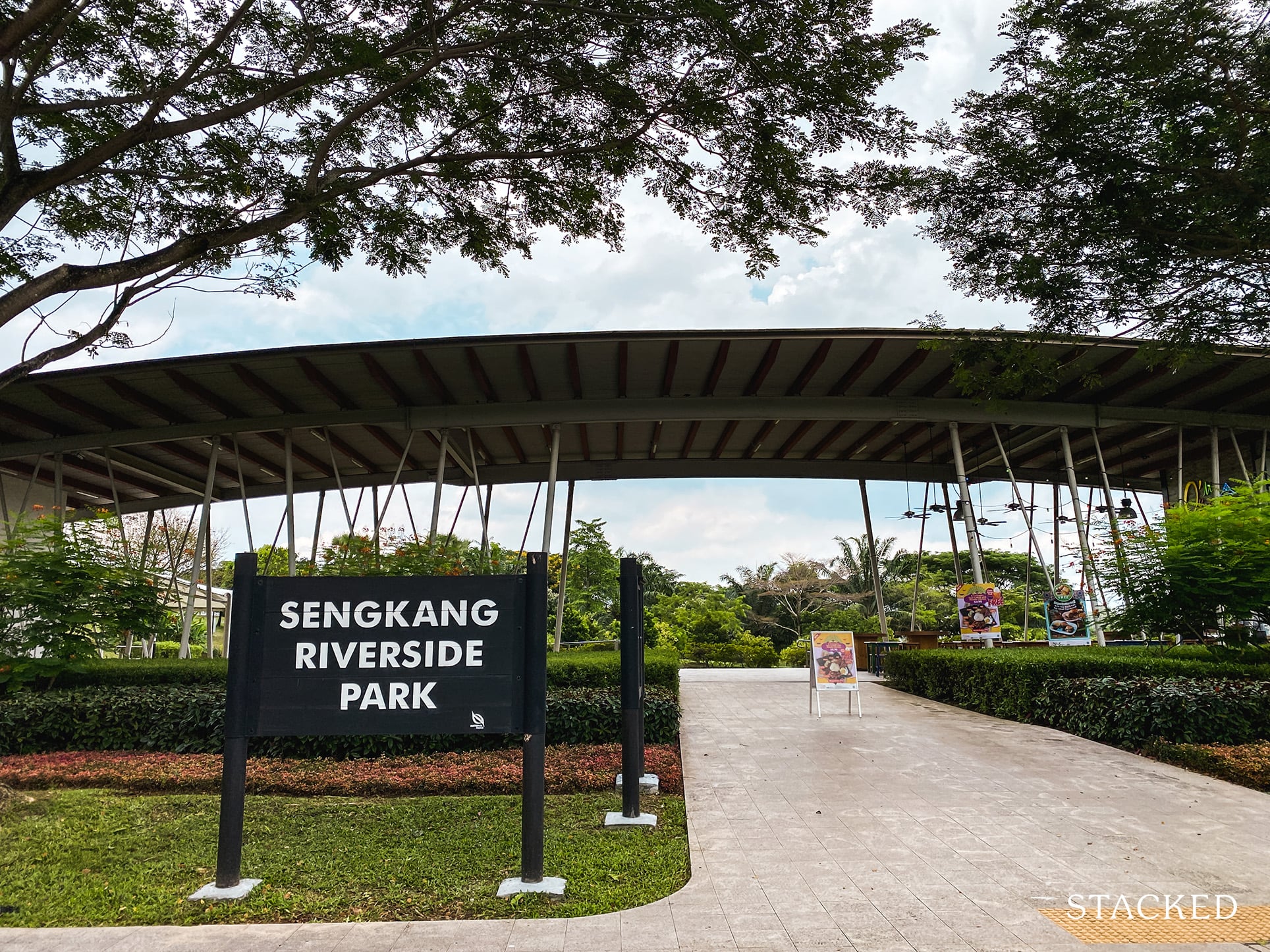 If you're like me and you fancy your quiet time in nature, the nearby Sengkang Riverside Park and Upper/Lower Seletar Reservoir area also boasts lush spaces and numerous tranquil offerings – as well, as numerous leisure options you'll find at the nearby Seletar Country Club.

Moving on to the topic of schools, we realise that while the surrounding region may contain an abundance of preschool and primary education-level schools, there is a distinct lack of tertiary-level educational institutes.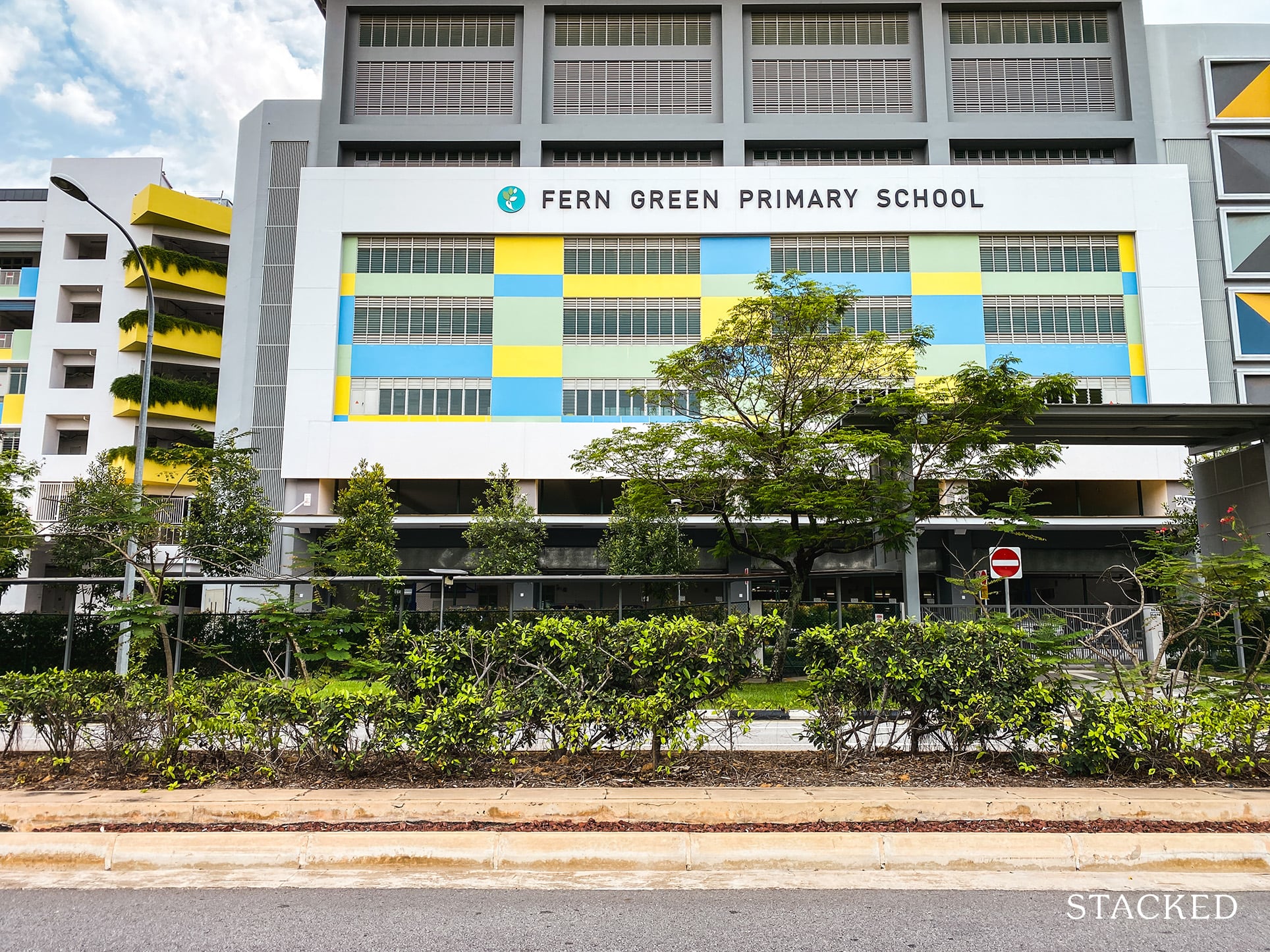 Residents of High Park Residences in their later adolescent years are therefore likely to experience longer journeys to school.

Apart from that, as relatively 'undeveloped' as District 28 may seem as yet, it certainly provides quite the platter of amenities for its residents of High Park Residences.
High Park Residences Development Site Review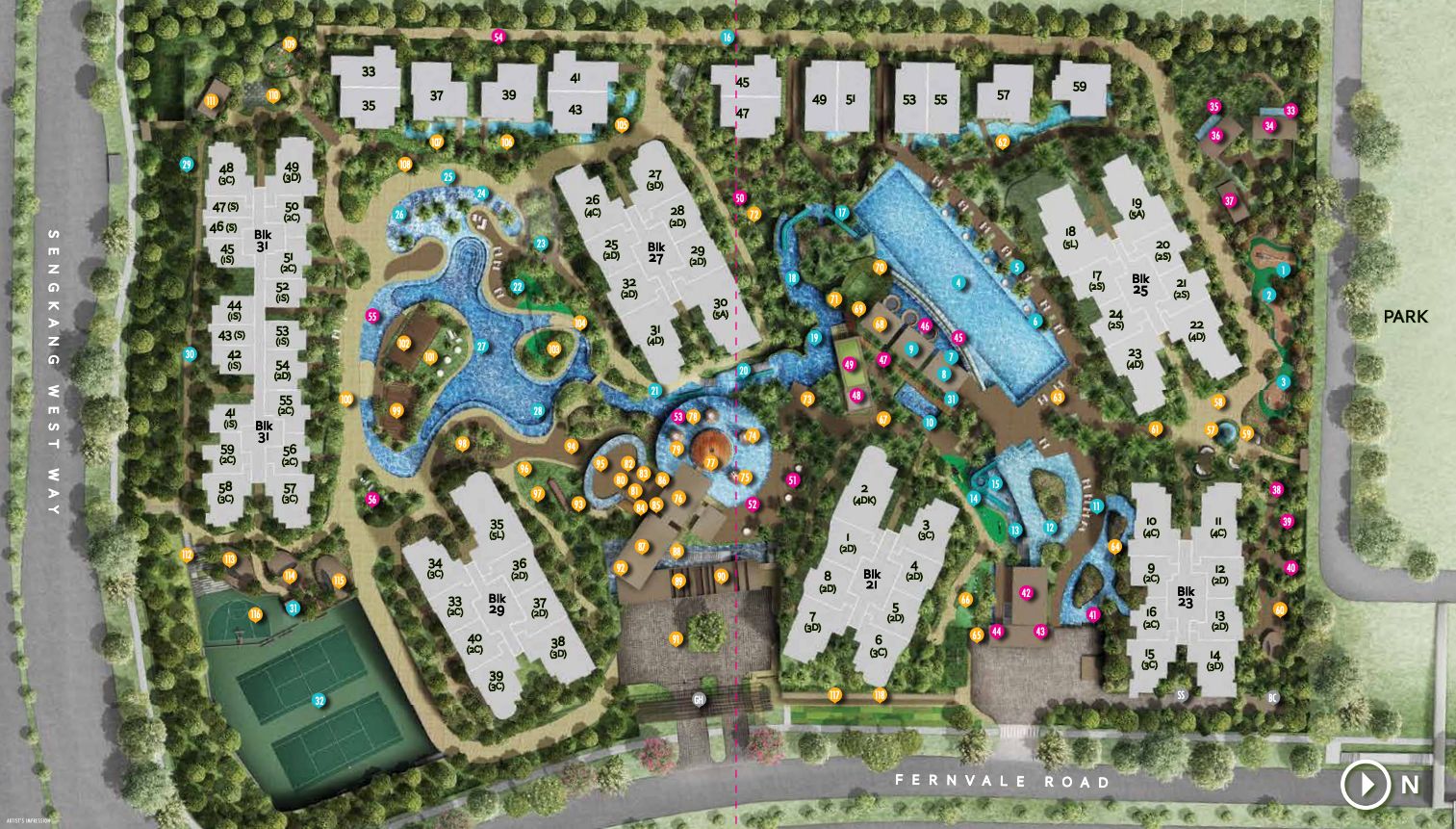 High Park Residences comprises 6 varying 25-storey towers, 10 semi-detached units and 4 bungalows – a great combination of different housing types that cater to a range of homebuyers/investors.

Regarding the blocks specifically, residents on the higher floors of the northern or easternmost units will find that they are in for some breathtaking views of the Straits of Johor/Lower Seletar Reservoir respectively.

What I find rather attractive here is the special consideration that the developers have given to arranging the blocks such that most of the 1,390 units are offered a solid degree of privacy with a distinct spaciousness between buildings.

Vibrancy-wise, High Park Residences is a brilliant mix of blue and green, thanks to the creative design of the pools and extensive spread of greenery across the site.

Naturally, this homely, nature-like 'vibe' offers the condo as an attractive option for most homebuyer, especially young families with kids in their adolescent years.

Regarding noise pollution, we've already discussed the heavy peak-hour traffic flow along Sengkang West Way and Fernvale Road – both of which run adjacent to High Park Residences.

While residents on the higher levels are relatively safe, those in the lower-levelled units are likely to experience some frequent noise disturbances from the two roads.

Finally, for those wondering, the LRT track running above Fernvale Road shouldn't pose too much of a noise contributor given its specific design and build.

Best Stacks
Unit Mix
| | | |
| --- | --- | --- |
| Unit Type | No. Of Units | Size of Units (sqft) |
| Studio Unit | 72 | 388 – 398 sqft |
| 1-Bedroom + Study | 153 | 441 – 474 sqft |
| 2-Bedroom Classic | 208 | 560 – 592 sqft |
| 2-Bedroom Deluxe | 300 | 635 – 678 sqft |
| 2-Bedroom + Study | 87 | 700 – 732 sqft |
| 3-Bedroom Classic | 188 | 872 – 904 sqft |
| 3-Bedroom Deluxe | 117 | 947 – 1,001 sqft |
| 4-Bedroom Classic | 68 | 1,141 – 1,151 sqft |
| 4-Bedroom Deluxe | 68 | 1,216 – 1,281 sqft |
| 4-Bedroom Dual Key | 23 | 1,367 sqft |
| 5-Bedroom | 92 | 1,389 – 1,485 sqft |
| Semi-Detached Houses | 10 | 2,164 – 2,809 sqft |
| Bungalow Houses | 4 | 2,379 – 2,799 sqft |
| Shops | 9 | 320 – 361 sqft |
As you can see, this huge assortment of unit types is meant to cater to an extensive pool of homebuyer types.

The most abundant unit types here are the 2-bedders and 3-bedders – which cater mostly to young families and multi-generational families respectively.

Naturally, the most spacious of these unit types are the semi-detached and bungalow houses, both of which are an exclusive but rare-find in condo developments these days.

On a side note, if you are fortunate enough to reside in the higher-levelled westernmost units (facing Jalan Kayu), you should be in for some scenic views.

Most of the residences in this direction are relatively low-rise, landed properties, so you can expect an unblocked view over an extended distance.

Best Stacks
High Park Residences Price Review
| | | | |
| --- | --- | --- | --- |
| Project Name | Tenure | TOP | Current Average Price (PSF) |
| High Park Residences | 99-year Leasehold | 2019 | $1,207psf |
| Seletar Springs Condominium | 99-year Leasehold | 2001 | $710psf |
| H2O Residences | 99-year Leasehold | 2015 | $1,066psf |
| Riverbank at Fernvale | 99-year Leasehold | 2017 | $1,140psf |
| Rivertrees Residences | 99-year Leasehold | 2018 | $1,169psf |
Here is a price list featuring High Park Residences' immediate resale neighbours – we have left out Parc Botannia and Rivercove Residences (EC) in this one to ensure a fair comparison, since both TOP in 2020.

Interestingly enough, High Park Residences faces very little 'similarly-tiered competition other than the 2 excluded and newer condos, and the 3 on this list.

Let us start with the most 'affordable' residence here.

Unlike its high-rise neighbours, Seletar Springs is a much older residence and a low-rise condo, sitting on the edge of a large landed residential enclave.

The condo is also the furthest from the nearest LRT (Layar MRT Station) compared to other 3 – the LRT is only accessible via a 11-min walk, which likely contributes further to the Seletar Springs' lower entry-pricing.

As for H2O Residences, Riverbank at Fernvale and Rivertrees Residences, all 3 condos are adjacent to one another along the river's edge, yet are all a mere stone's throw away from both Layar LRT Station, and the tranquil Sengkang Riverside Park.

While it is unsurprising that Riverbank at Fernvale and Rivertrees Residences both boast higher price tags due to their novelty, it is noteworthy that all 3 condos are surrounded by a network of well-connected roads which provides easy access to the nearby TPE and CTE.

At the end of the day however, the clear winner here is High Park Residences in terms of convenience.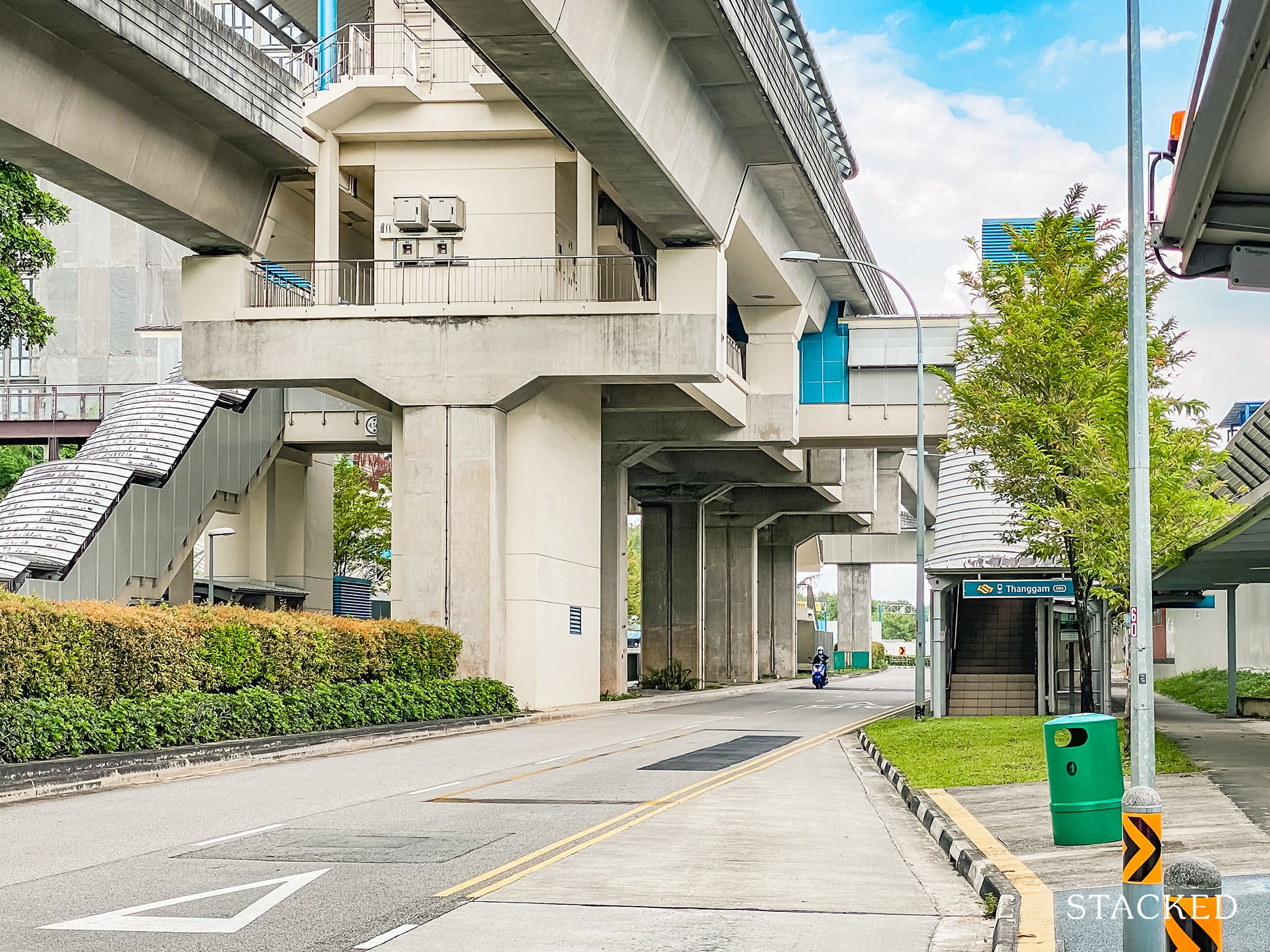 In addition to being situated right beside Thanggam LRT Station, the condo's geographic location boasts great accessibility to TPE, CTE, and SLE, and an incredible variety of amenities in the vicinity as well – not to mention its facility offerings and development-site layout.

Finally, it's safe to say that the launch of Parc Botannia has also gone some way to creating a profitable exit for many of those who had bought into High Park Residences back in 2015. Even when it was launched Parc Botannia was already selling at an average of $1,270 psf.
And these are the current last selling prices for Parc Botannia at the time of writing.
| | | | | | |
| --- | --- | --- | --- | --- | --- |
| Date | Address | Sale | Size | PSF | Price |
| 26 AUG 2020 | 10 FERNVALE STREET #21-05 | NEW SALE | 667 | 1,457 | $972,180 |
| 29 JUN 2020 | 12 FERNVALE STREET #10-11 | NEW SALE | 786 | 1,355 | $1,065,000 |
| 31 MAR 2020 | 10 FERNVALE STREET #19-02 | NEW SALE | 786 | 1,384 | $1,087,800 |
With the latest unit at Parc Botannia going at $1,457 psf, it is easy to see why the first buyers at High Park Residences will have a good price protection when they exit.

Let's also not forget that Rivertrees Residences and Riverbank @ Fernvale were both launched a year earlier – and yet High Park Residences had them both beat on price still.

Appreciation Analysis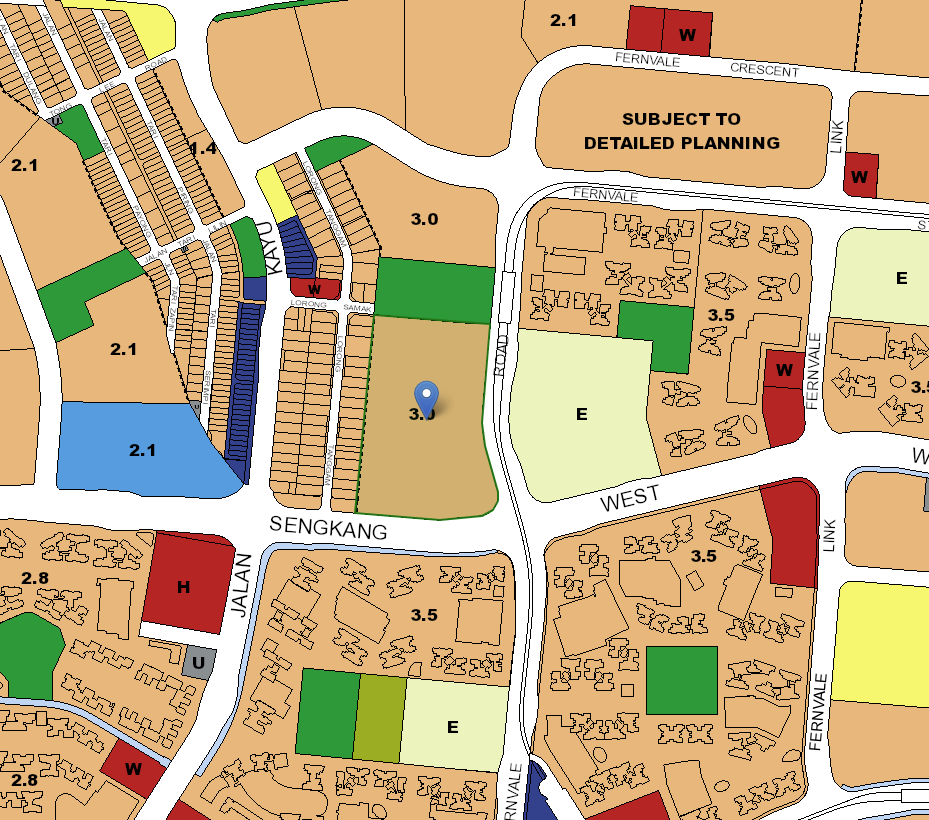 In general, this particular region is still considered one with growth potential.

For starters, High Park Residences (blue marker) is surrounded by an extensive range of amenities – from parks (green areas) and schools ("E" areas), to commercial areas like the Jalan Kayu shophouses and Seletar Mall (dark blue areas).

As most of you would know by now, apart from accessibility to expressways and other major factors, the presence and abundance of the necessary amenities is often a driving force for gains in developmental capital appreciation through the years.

There is the possibility of an upcoming MRT station in the Land Transport Master Plan (LTMP 2040), with the new line planned to support the transport network in the north and northeast region and benefit areas such as Woodlands, Sembawang, Sengkang, Serangoon North, Whampoa, Kallang, and the Greater Southern Waterfront.

Perhaps more importantly, I anticipate that the inevitable rise of the nearby Punggol Digital District come 2023 will inject a slew of interest in the area – no doubt contributing to a further rise in appreciation for this region/district.

For investors looking to capitalise off rental demand, another point worth noting is that a demographic of tenants could stem from individuals working at the nearby Seletar Aerospace Park.

Additionally, the land to the west of Sengkang West (magenta-coloured area) has been earmarked for future development. Based on select insights, we might be seeing a hub for industries and logistics here in the near future – once again, adding further weightage to rentability of units here.

Our Take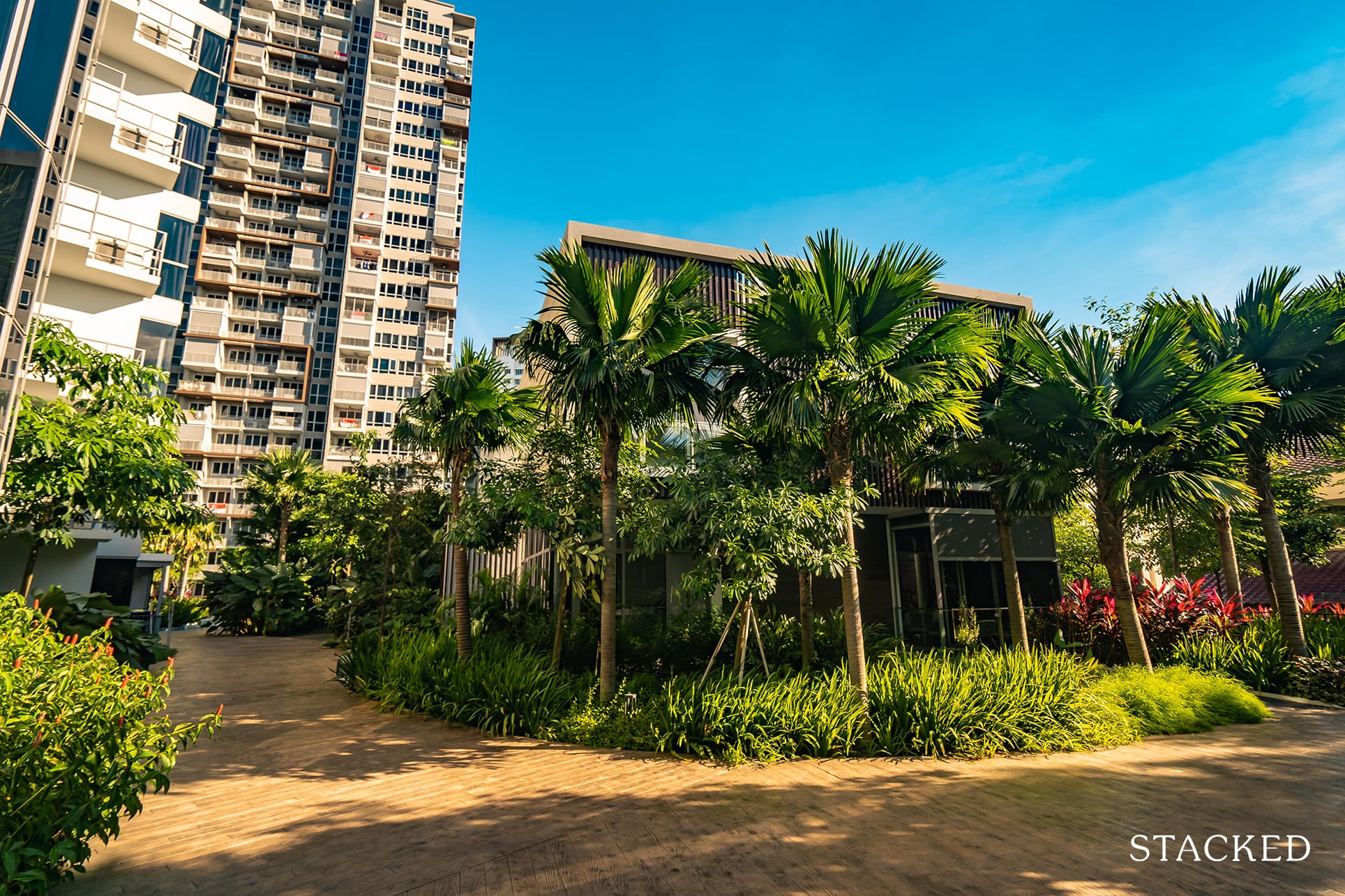 It's hard not to be impressed by High Park Residences. Despite the very obvious lack of MRT station, that does not seem to have hindered it one bit.
Yes, you could say it was launched in very (on hindsight) favourable conditions. It was, after all, the bottom of the market, priced lower than earlier competitors, and it even has the advantage of newer competitors being priced higher as well.
But one key thing that people overlook is the actual on site feel of the project. Sure, not everyone is a fan of mega developments, but I would say they have pulled it off very well here. Some people may say the sheer size of it works against it, and that your privacy will be compromised.

To a certain extent, it's true. Stroll around the development, and it is definitely a busy one, but it is spacious enough that it never feels claustrophobic either.

And it's also clear that they've put their stall out to attract families, and with so many kid-focused facilities it's easy to see the appeal. Multiple swimming pools, slides, and even a flying fox. The list of facilities almost reads as one from a Club Med instead.

Those with young kids will totally understand, having this extensive list of things for your kids to do is nearly a godsend – they can self entertain leaving you with much needed alone time.

Is it perfect? Definitely not. As mentioned above, a lack of MRT station and it's location will be off-putting for those who work in the central areas.

But if your priority is family, and you are familiar with the area – High Park Residences is certainly a compelling choice.

Developer Notes:
CEL Development Pte Ltd might not be on our list of Top 10 developers, but it is worthy of mention nonetheless.
A wholly-owned subsidiary of Chip Eng Seng Corporation Ltd (a listed company on the mainboard of Singapore Exchange Securities Trading Limited since 1999), CEL has performed as the property development arm of its maternal company.
While it has contributed a fair number of intriguing high-rise residences to Singapore's skyline (including Kopar at Newton), CEL stands out most for its expansion of influence into foreign markets with several projects both in Australia and Vietnam.
CEL's vision is clear and transparent – "To be a leading multi-discipline property development company of choice, one that is synonymous with creating quality homes with outstanding build quality and investment value, thereby creating sustainable value to its shareholders and customers and being a socially responsible corporate organisation."
Boasting a strong team synthesis of youths and experienced individuals, CEL strives to build its foundations for success on solid ethical practices and quality standards in alignment with their vision.
Considering their residential contributions, there is little to deny that CEL will achieve greater heights in the near future in its journey to provide quality homes.
What this means for you
You might like High Park Residences if you:
• Have Kids in their Growing Years:With its spacious grounds and themepark feel, High Park Residences is a great place for families to bond and forge unforgettable memories at their doorstep. Not to mention the abundance of preschool and primary-education level schools in the area.
• Prioritise Access to a Large Range of Amenities:To name a few, you will find a plethora of shopping and dining opportunities along the Jalan Kayu belt to the west, and the novel Seletar Mall just down Fernvale Road.
You might not like High Park Residences if you:
• Work in the CBD:Given High Park Residences' non-central location in north-eastern Singapore, public/private transport journeys to central Singapore and the CBD could prove bothersome and tedious over the years.
• Prioritise Close Proximity to the MRT:Despite the abundance of amenities in the vicinity, added measures are required for High Park Residences to reach the nearest MRT (Sengkang MRT Station). It is a 5-min LRT ride away at the very least.
End of Review