Property Stories

We Paid Off Our HDB Loan In Cash: Here's Why We Did It
Ryan J
March 16, 2023

7

min read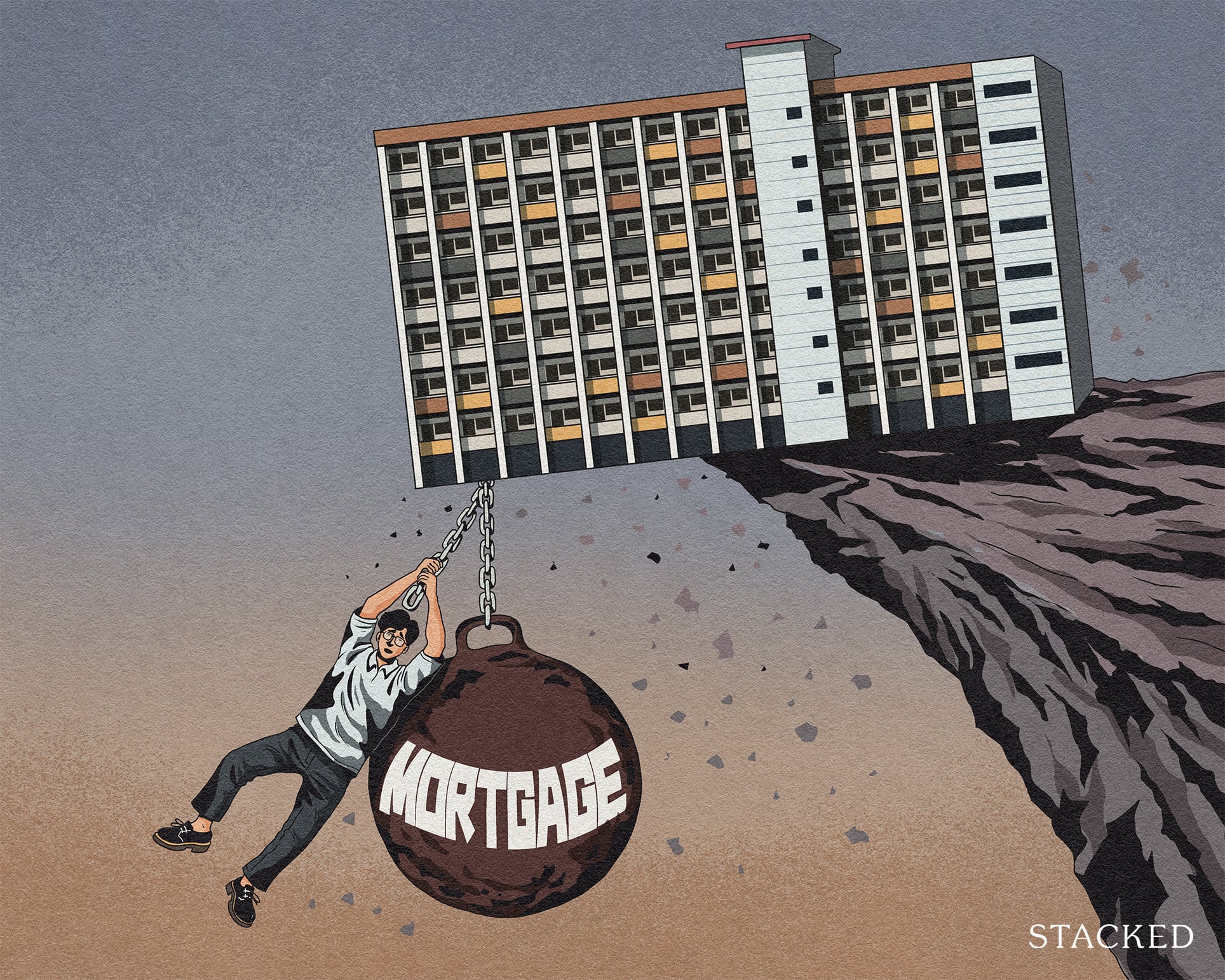 7
min read
Most people take 20 to 25-year loan tenures to pay off their flat, and they aren't in a rush to do so. We've even encountered financial professionals who counsel against paying off the home loan faster than necessary, as it's not always prudent. However, some flat buyers have stringent principles against debt and high aspirations of private home ownership. This week, we spoke to one such couple in their early 40s, who paid off their entire flat loan recently.
Planning for rental income, even before the first home
Even before getting their first marital home, G and his wife intended to upgrade to a private property. G credits this to his late grandfather, who made a good living as a landlord.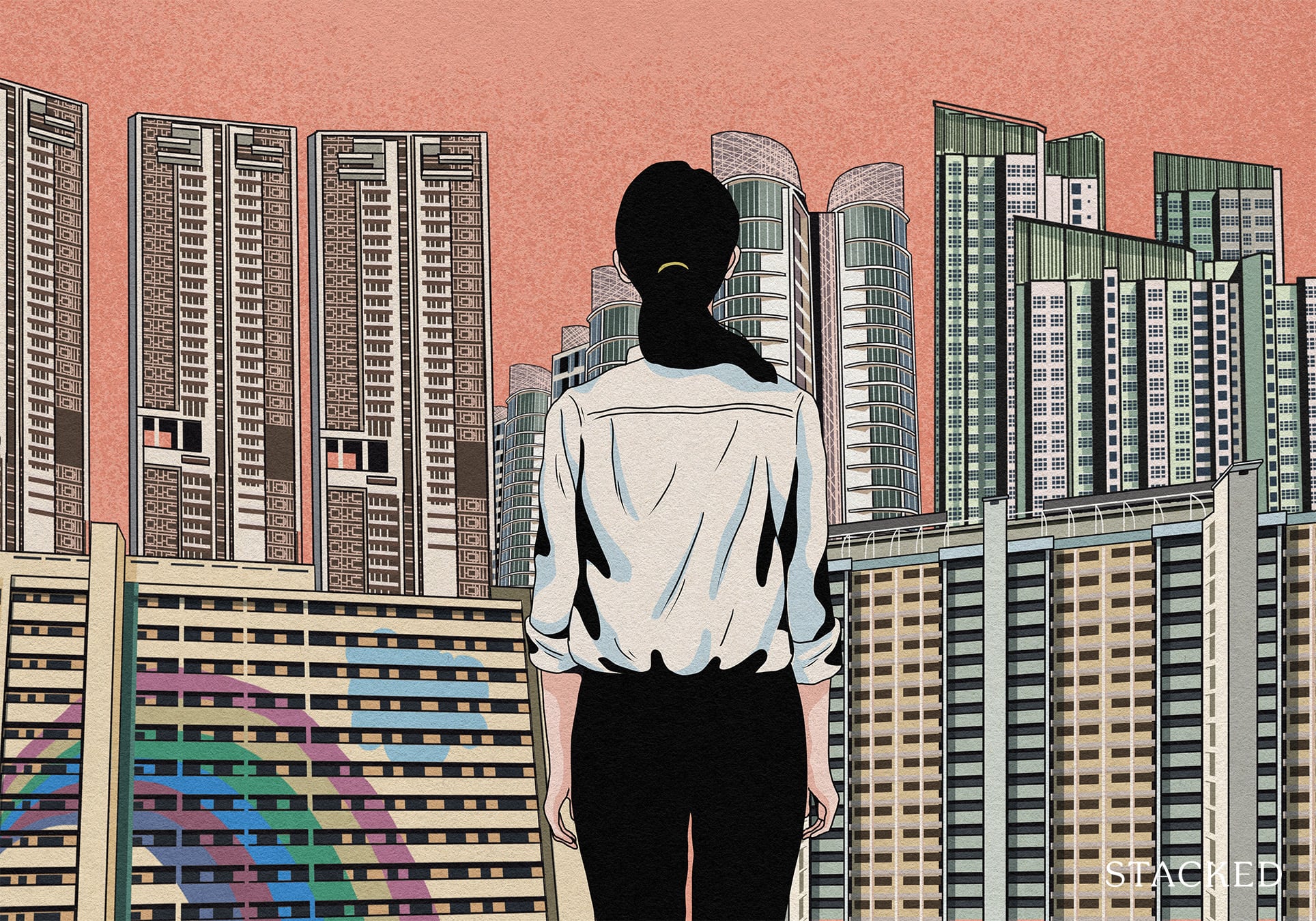 "I was quite inspired by my grandpa," G says, "He was able to retire in his mid-fifties, and also send my father and uncle to study overseas; this was no mean feat in his time when such opportunities were very rare."
Another strong impetus for G was his own health. G suffered from a heart condition even from his teens and says:
"I don't want to assume I have the strength to be working till 60 or 70 years old, and anything can happen. So when I made the leap to get married, I knew I needed some form of income other than work, to provide for my family in the long run."
Unfortunately for G and his wife, their finances were disrupted when G's business ran into difficulties. The couple's plans to become landlords were dashed, and the next decade proved tough.
A decade of ruined dreams 
G says: "My company ran into some financing difficulties, and we had to close it down. After that, I had to start from scratch. I was lucky and my parents gave me a loan to pay my old business debts and to start anew, but we had to revise our housing plans toward something much more modest."
G was uncomfortable with the sizeable loans his parents had given him, as well as his flat loan. As a rule, G says he "gets anxiety issues owing money," so his focus changed from owning a second home to repaying his debts.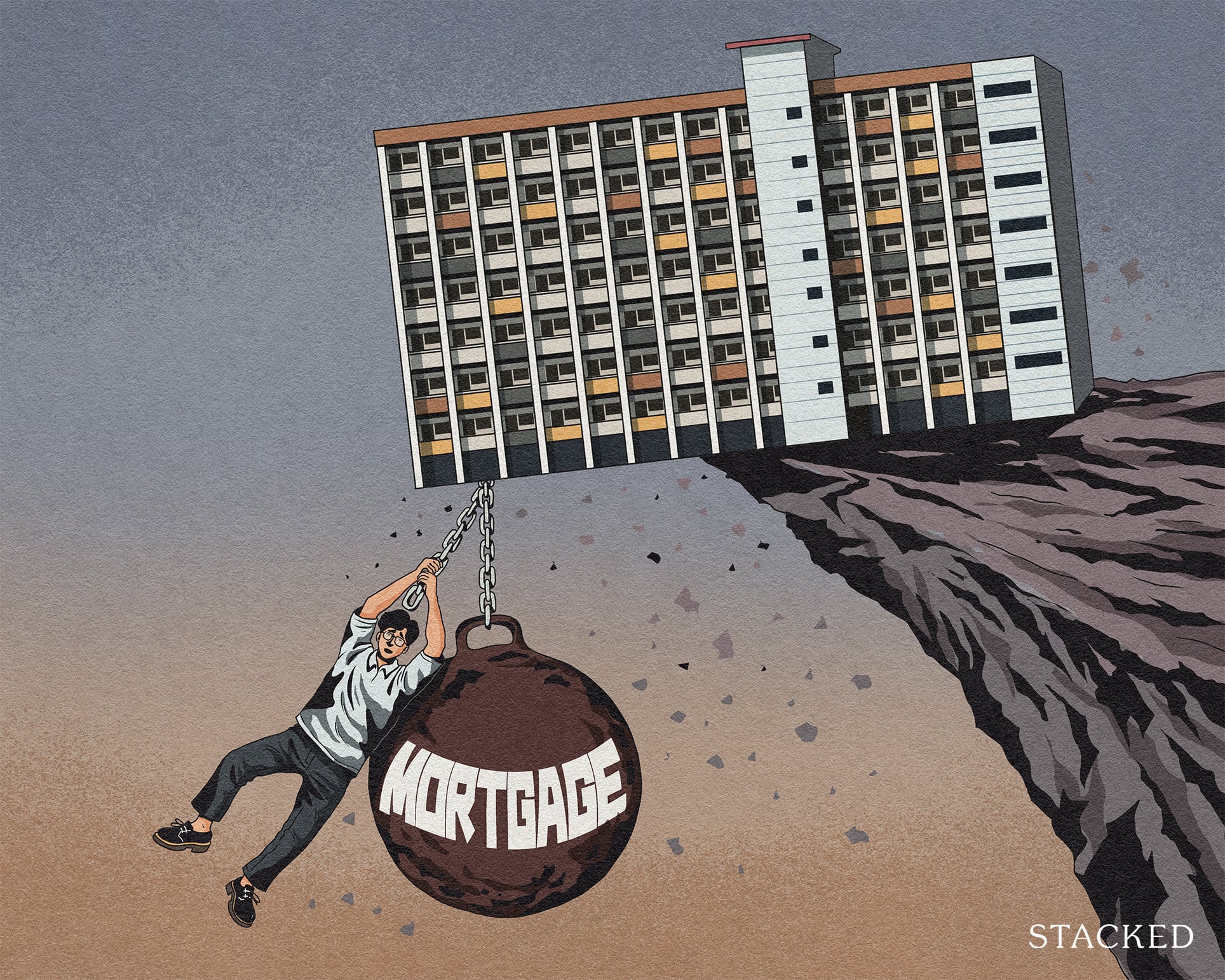 At the time (2005), he and his wife were living in a 4-room flat in Bedok. Given his circumstances, G was prepared for the humble flat to be their forever home:
"For the next 10 years or so, I didn't even dream of owning a private property or a second home. I was barely making ends meet. But I made it a priority to pay back my debts as fast as I could possibly manage."
Not the prettiest flat on the block, but it was home
G says the 4-room flat was cheaper because it was on the ground floor; and because the times were so lean the year they got it, it wasn't even renovated for a long time.
"We lived with the existing renovations for about one and a half years, before we did any real work. Other than that, all we need was very basic maintenance," G says.
G recalls that:
"The vinyl flooring was curled up in so many places, and some of the kitchen cabinets were so old they couldn't close properly. And the wood laminate was peeling off the sides of the cupboards. But we were still proud of our first home, and we would make improvements later."
Despite their rough circumstances, G and his wife managed renovations that he estimated at between $15,000 to $17,000*. This was funded purely through savings, as G didn't want to add to his existing debt.
*This was about a decade ago, and this price range is probably unrealistic today.
Better times and renewed opportunities
Toward the middle of 2016, however, G saw the proverbial light at the end of the tunnel. His business picked up significantly, and by then he had fully repaid his parents.
G's wife had also found a job in a more senior position, and their combined income was raised by about half.
G says:
"We had saved up around $60,000 between us, which was enough to last us quite a while in an emergency; and at the time I had 100 per cent given up on the idea of owning a condo, much less another home."
This was due to the rapid increase in prices between 2008/9 to 2013, and subsequently the introduction of rules like ABSD.
G didn't see any possibility of upgrading anymore; so if the flat was going to be his forever home, he wanted to at least have no debt on it.
"I guess you can call it settling for the next best goal," G says, "Which was to live debt-free, and amass a bigger retirement sum, by not paying so much interest on the flat."
G then decided to focus on rapidly paying off his home loan, aiming to be 100 per cent debt-free by 2020.
This required a significant sacrifice on his part – and he reveals that he and his wife probably subsisted on as little as a third of their monthly income, over the next five years.
At the same time, the couple also stopped deducting home loan repayments from their CPF. Following a strategy used by some other homeowners, G would transfer funds from his Ordinary Account* to his Special Account, instead of using it to service the home loan.
This would get him a guaranteed four per cent interest, as opposed to the Ordinary Account's 2.5 per cent interest rate.
By late 2020, after much deprivation and discipline, G and his wife managed to pay the last of their flat loan.
*Only the CPF OA can be used to service housing costs, such as the monthly loan repayment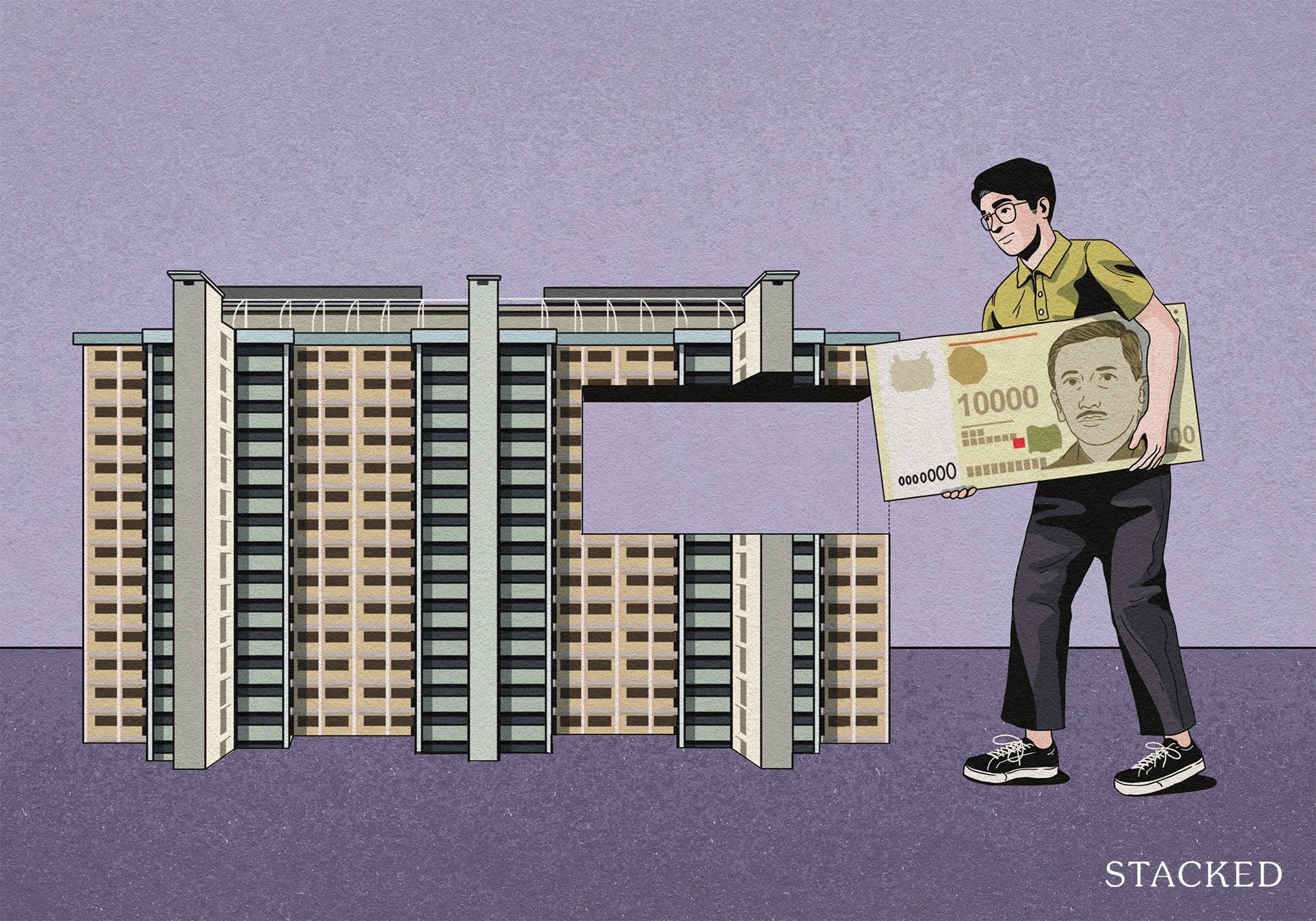 No regrets about the effort
G says he and his wife have few regrets, over the past five-odd years of deprivation:
"We had been through hard times in the decade before, that had put some iron in us. I guess that's the hidden benefit of our trials and tribulations. By that point we had been scrimping and thrifty for so long, I would say we didn't feel it much. We also didn't have children though; if we had, I don't know if we could have put them through the same kind of thing."
G says the sense of having no home loan, in his late 40s, is quite liberating. He is now free to catch up on lost time by investing more aggressively, and the possibility of rental income or private property ownership has even raised its head again.
"My wife has been talking about it again, and we briefly discussed upgrading," G says, "I don't know if that's a good idea with prices and stamp duties right now. But it feels like such an achievement, that we're even in a position to start talking about it again."
G's advice, for those thinking about paying off their home loan early, is to ensure you have sufficient savings:
"If anything goes wrong, you can't change your mind and take back the money you've repaid for your flat," G says, "So make sure you have sufficient savings first. Also, have a discussion with your family – you all have to be in it together unless your income is so high, you can manage it without any loss in quality of life." 
For more on how the Singapore property market works, follow us on Stacked Homes. We'll also provide you with in-depth specifics on new and resale projects alike.