Condo Reviews

Watertown Condo Review: Waterfront Views And Unparalleled Convenience
Reuben
February 25, 2021

27

min read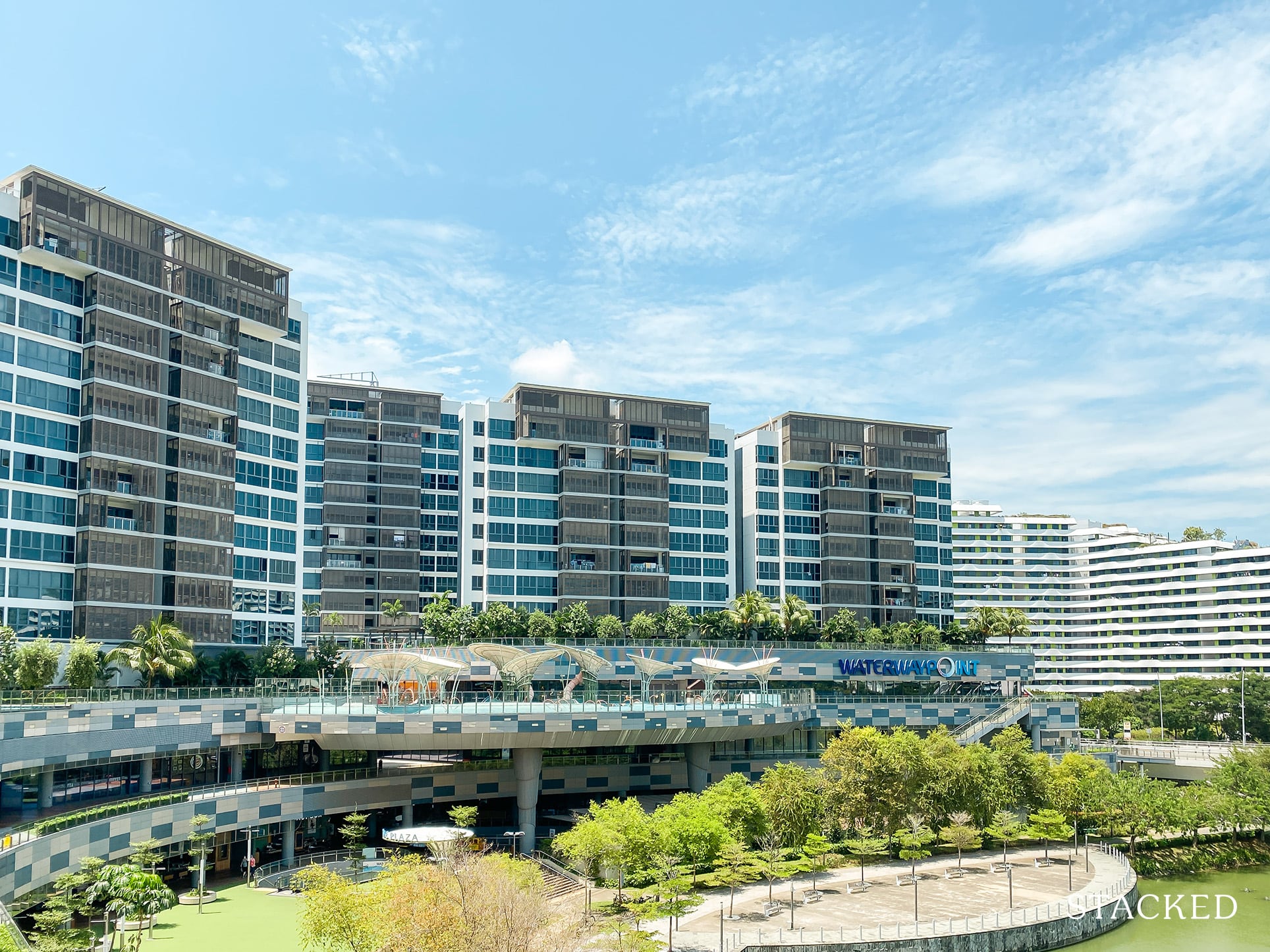 Watertown is an opportunity for those who wish to stay in a convenient part of Punggol while enjoying nature.
Reviewed by Reuben on February 25, 2021
What we like
Extremely Convenient

Waterfront views

Lots of swimming pools to choose from
What we don't like
—

Crowded

—

Lack of privacy
27
min read
| | |
| --- | --- |
| Project: | Watertown |
| District: | 19 |
| Address: | Punggol Central |
| Tenure: | 99-year Leasehold |
| No. of Units: | 992 |
| Site Area: | 322,913 sqft |
| Developer: | Frasers Centrepoint Limited, Far East Organization and Sekisui House |
| TOP: | 2017 |
4 years ago, the seemingly quiet town of Punggol was abuzz with the launch of the hit Punggol Waterway Point.
It meant a much-needed injection of commercial life into the Punggol district – which had to that point been supplied mainly by the aging Punggol Plaza and far-out Compass Point (now Compass One).
Split into an east and west wing, the massive mall is now Punggol's biggest source of commercial entertainment with grocery access, dining options, and even a cinema to boot.
Above that, lies our topic of discussion today – the Punggol Watertown.
It is the district's most expensive condominium to date at just over $1,300 psf based on recent transactions alone.
As is often the case with integrated developments, residents of Watertown will attest to their fair share of convenience – both from a transport and lifestyle perspective.
That said, it isn't all sunshine and rainbows on that end. Noise-related issues, lapse interior workmanship and poor visitor/lift accessibility seem to dilute some of the initial enthusiasm.
With 24 resale transactions from just this year however, it continues to command a significant amount of interest/demand from the public (all things considered).
So without further ado, let's head on to our insider tour of the Watertown condo.
Watertown Condo Insider Tour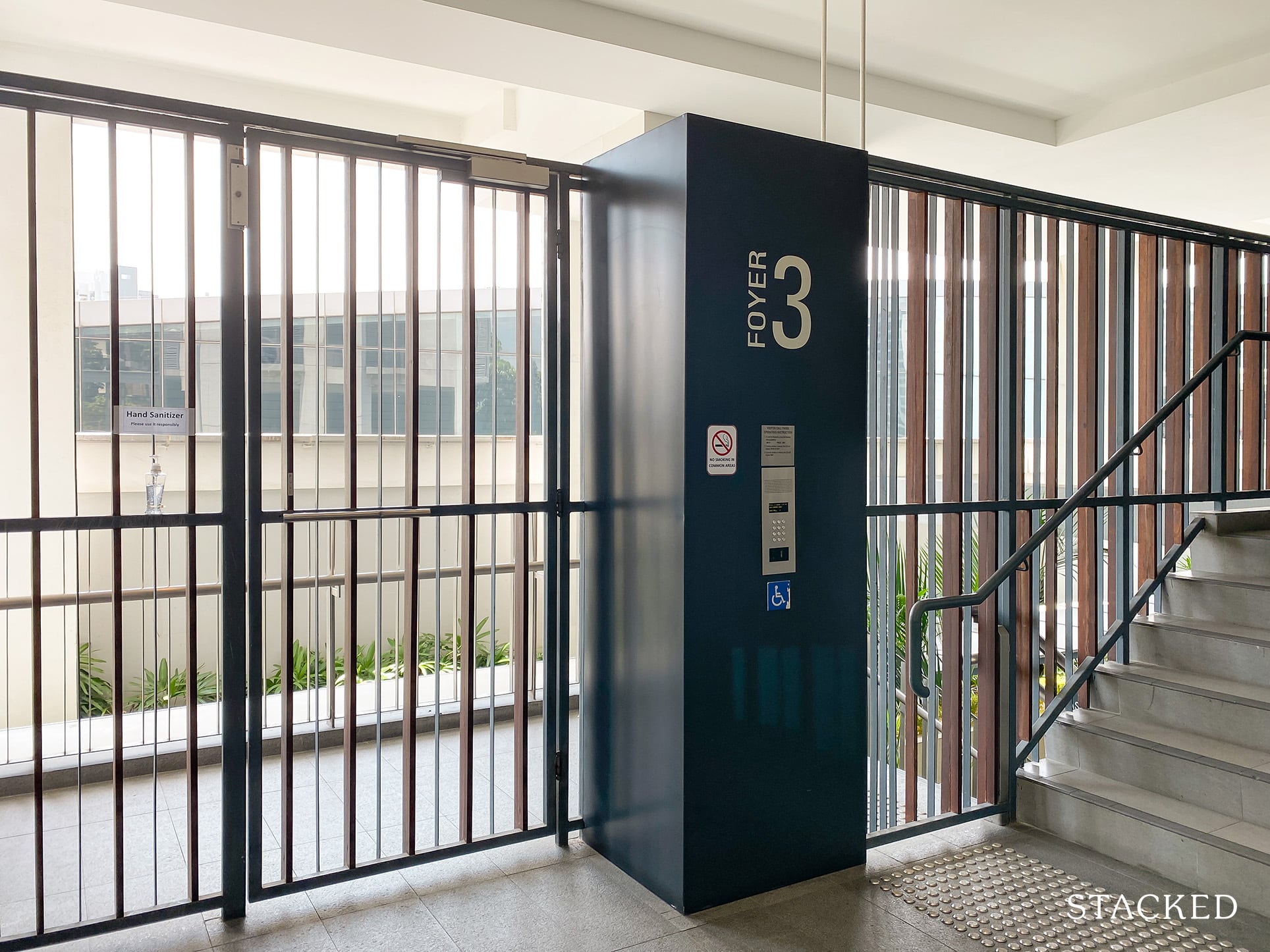 This isn't the most visually appealing place to start a condo tour (neither is one to be welcomed home), but that's because the Watertown condo isn't like most condo developments in Singapore. So if you are a big fan of returning home to a sprawling arrival area, birds chirping, and a blanket of greenery – this probably isn't the place for you. But for ultimate convenience? This is as good as it gets. Basically – different strokes for different folks.
You do also get a sense of how secure the place actually is (and it absolutely has to be), given that it is located atop Waterway Point. Unlike some other developments where it is relatively easy to stroll in without too much trouble, that isn't going to be the case here. So as far as security is concerned, this gets a thumbs up for me.
Once you get past the foyer security, the walk in is relatively interesting as you will be able to catch a glimpse of a view of Waterway Point. It also serves as a reminder of just how conveniently positioned you are. Shopping and grabbing a bite to eat is literally just downstairs.
And for the sake of those unfamiliar with Punggol, this is a proper shopping mall – spanning 542,493 square feet of gross floor area (and 370,824 square feet of retail space). It is managed by Frasers Centrepoint Malls as well – they do have a stellar reputation when it comes to running a mall – their curation of tenants is usually pretty spot on.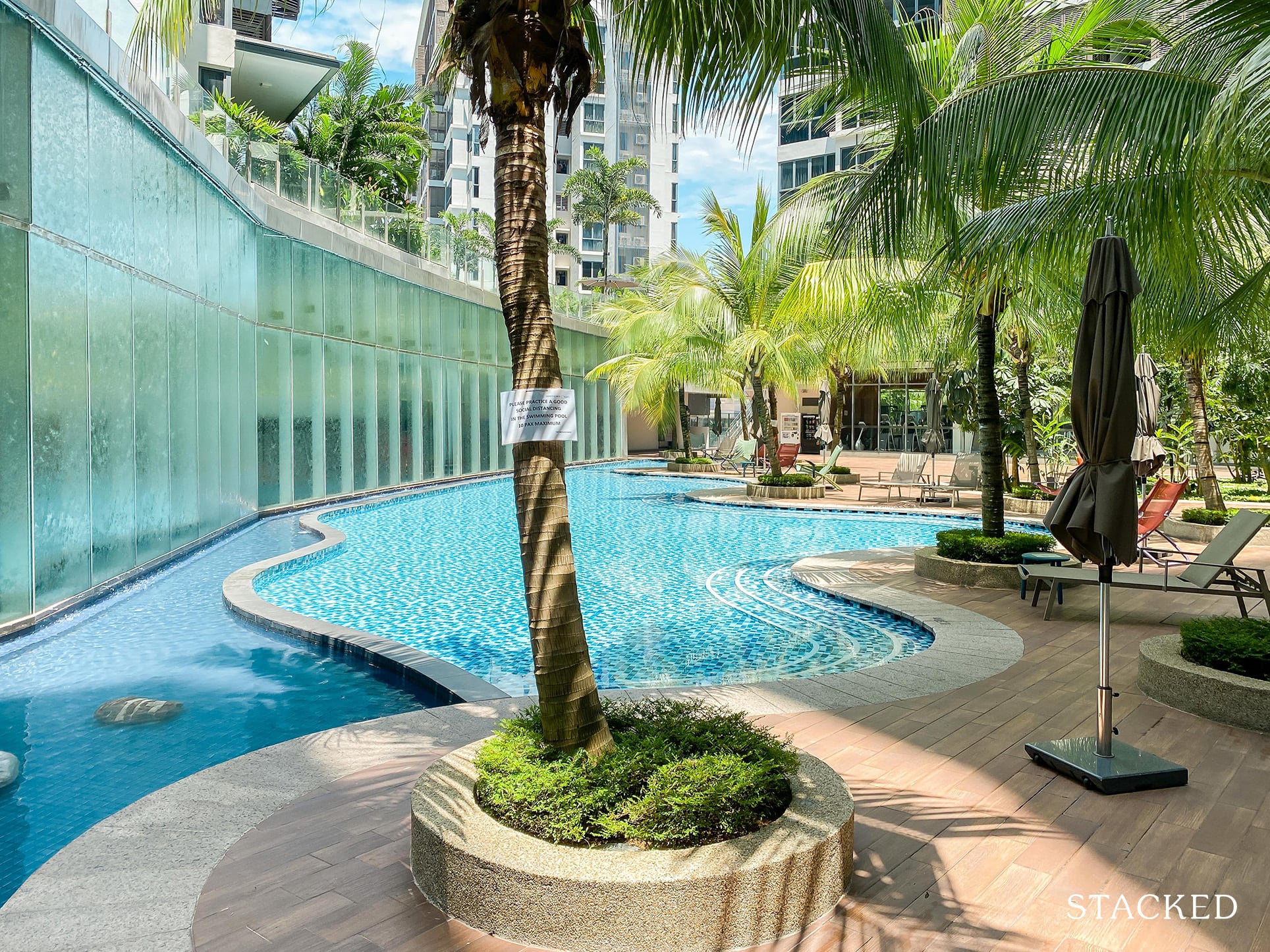 Moving out of the sheltered walkway (complete with a cascading water curtain) you do get your first glimpse of why the condo is named as such – there are a total of 20 different pools here.
This here is the kid's creek pool, and also where you will find the intersection between the lower and higher platform of the Watertown condo.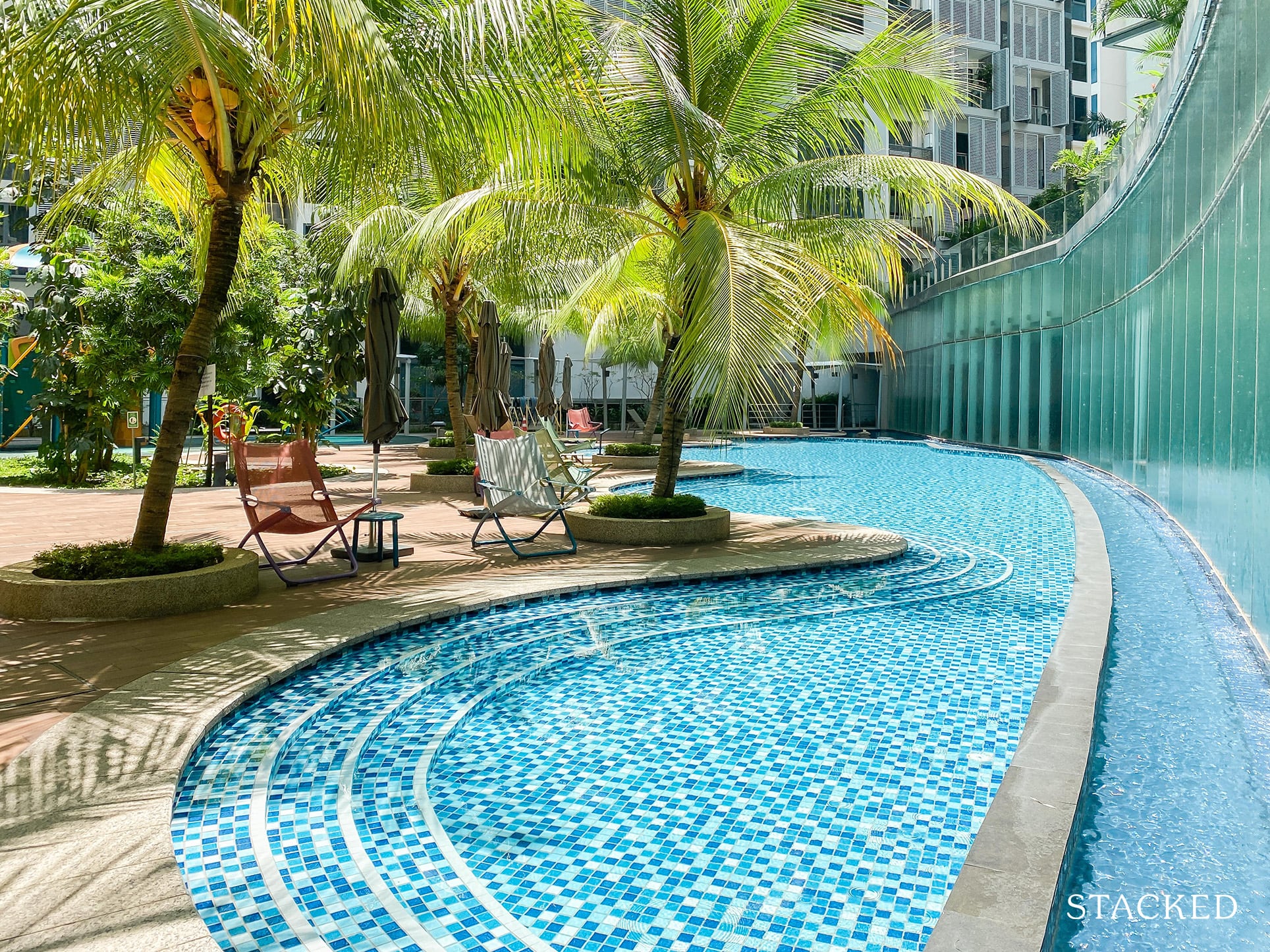 It is definitely a relaxing enough area, with the coconut trees and the colourful foldable chairs strewn by the poolside.
Also perhaps because I was aware I was on elevated grounds, but I couldn't quite escape the feeling of being on a cruise ship. It's not a bad thing, it's just a very different feeling as compared to most developments.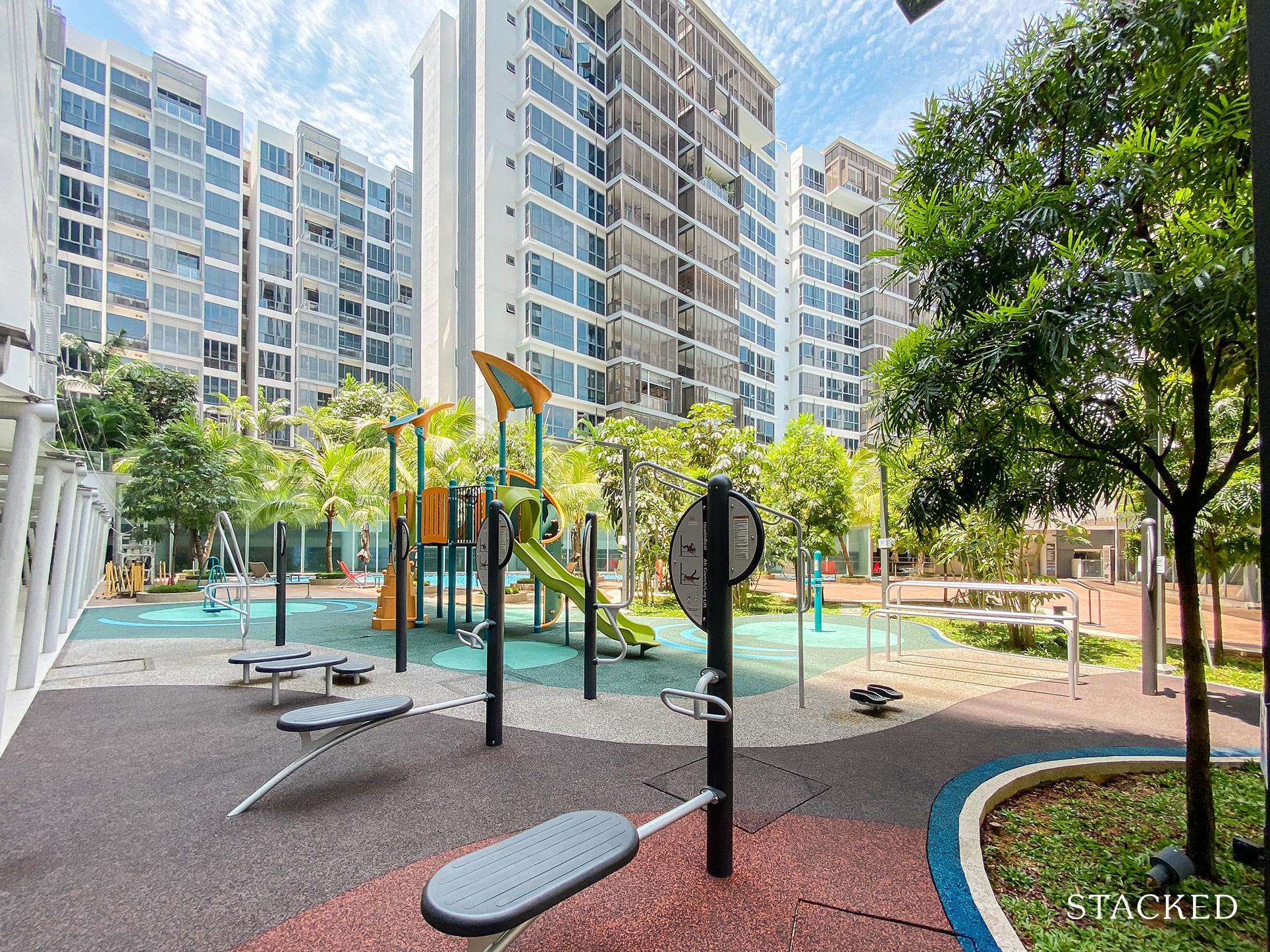 Right next to the kid's pool is the kid's playground and outdoor fitness area. As you might expect, it is built upon a softer rubberised ground so that it is safer for kid's to run and play around.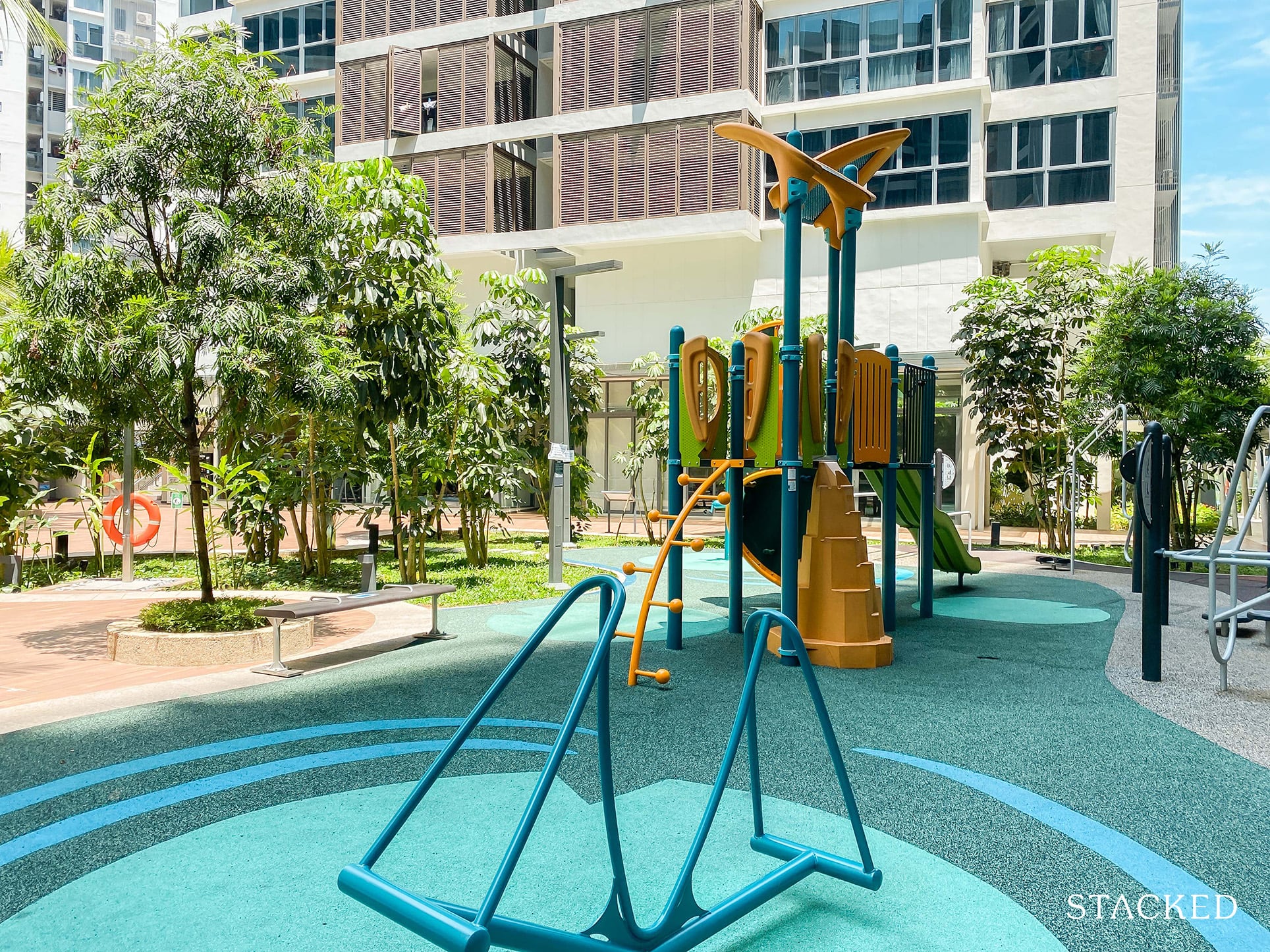 Barring the circumference of the project, this is probably one of the more open areas of its "land" size.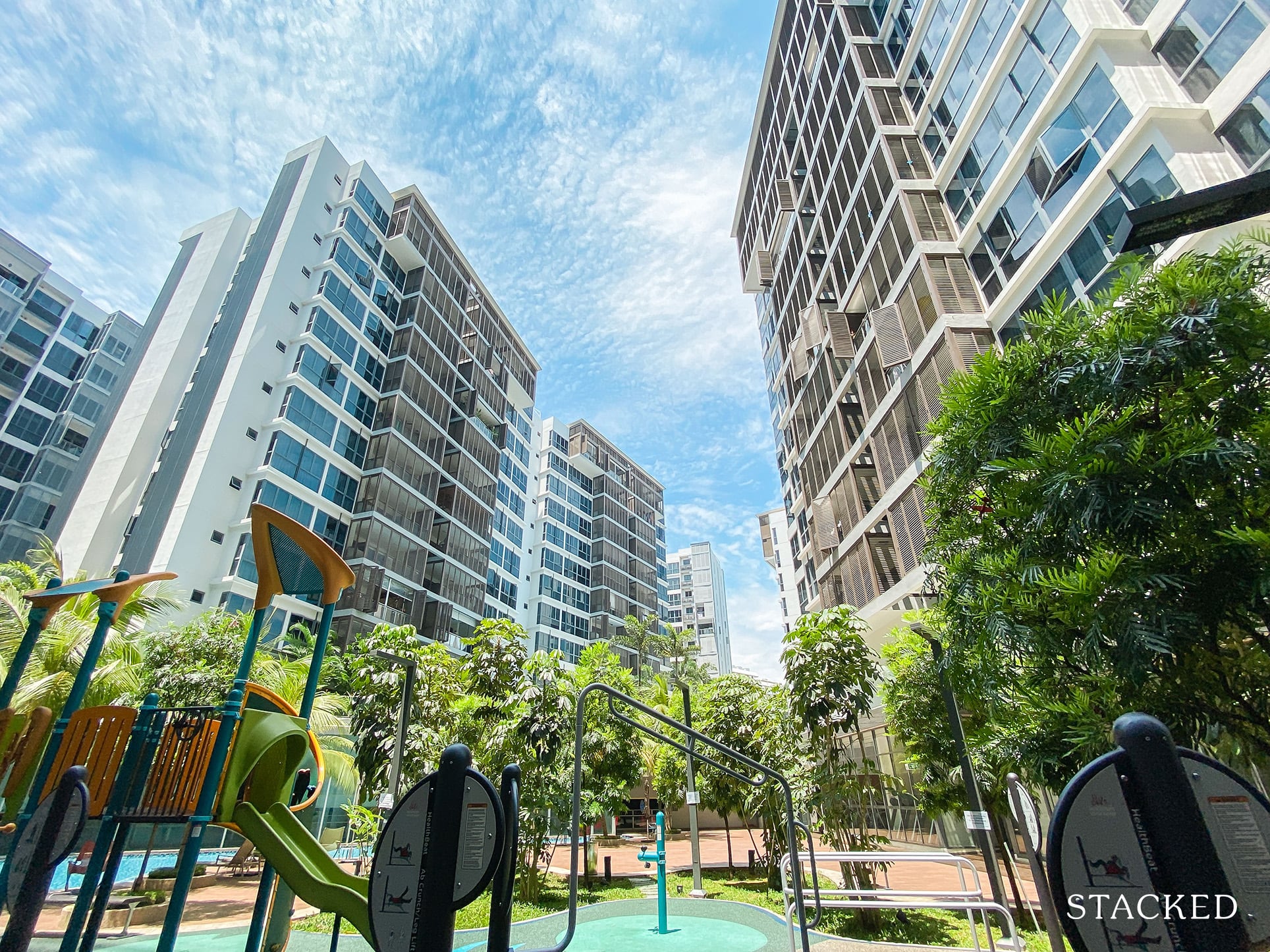 So you definitely do get the sense that every square inch has been utilised here – in short, it is feature packed.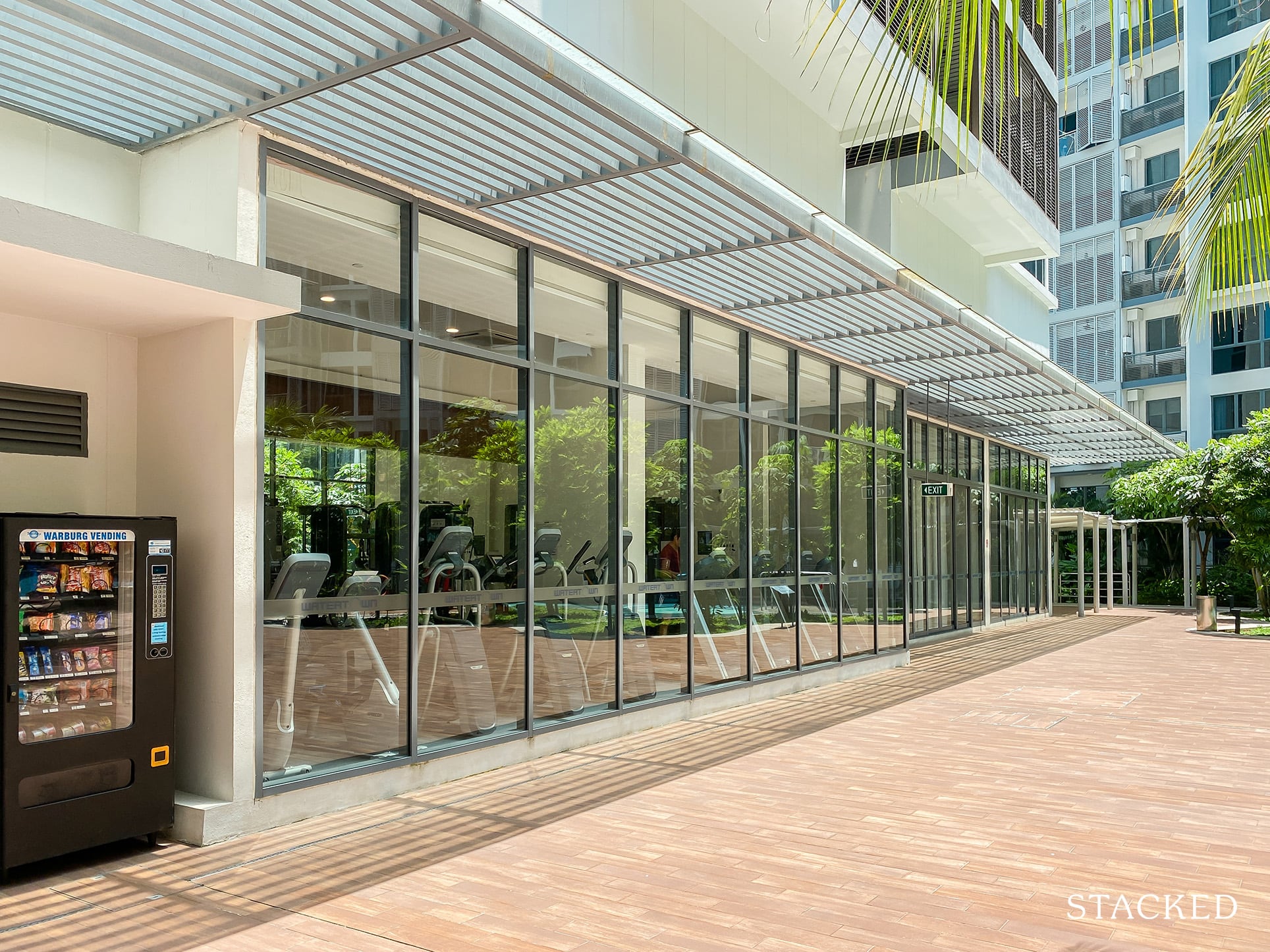 Fronting the kids pool is the gym at the Watertown condo. It is a fairly sizeable one, with a good range of aerobic and weight lifting equipment. Regardless, I can see it getting packed during peak hours – you have to consider that there are 992 units here.
On that note, the view from the gym is a bit of a letdown. Not that facing a swimming pool is an eye sore, but given that there are facilities on the rooftop of certain blocks – you could have been rewarded with a much better view during your daily exercise.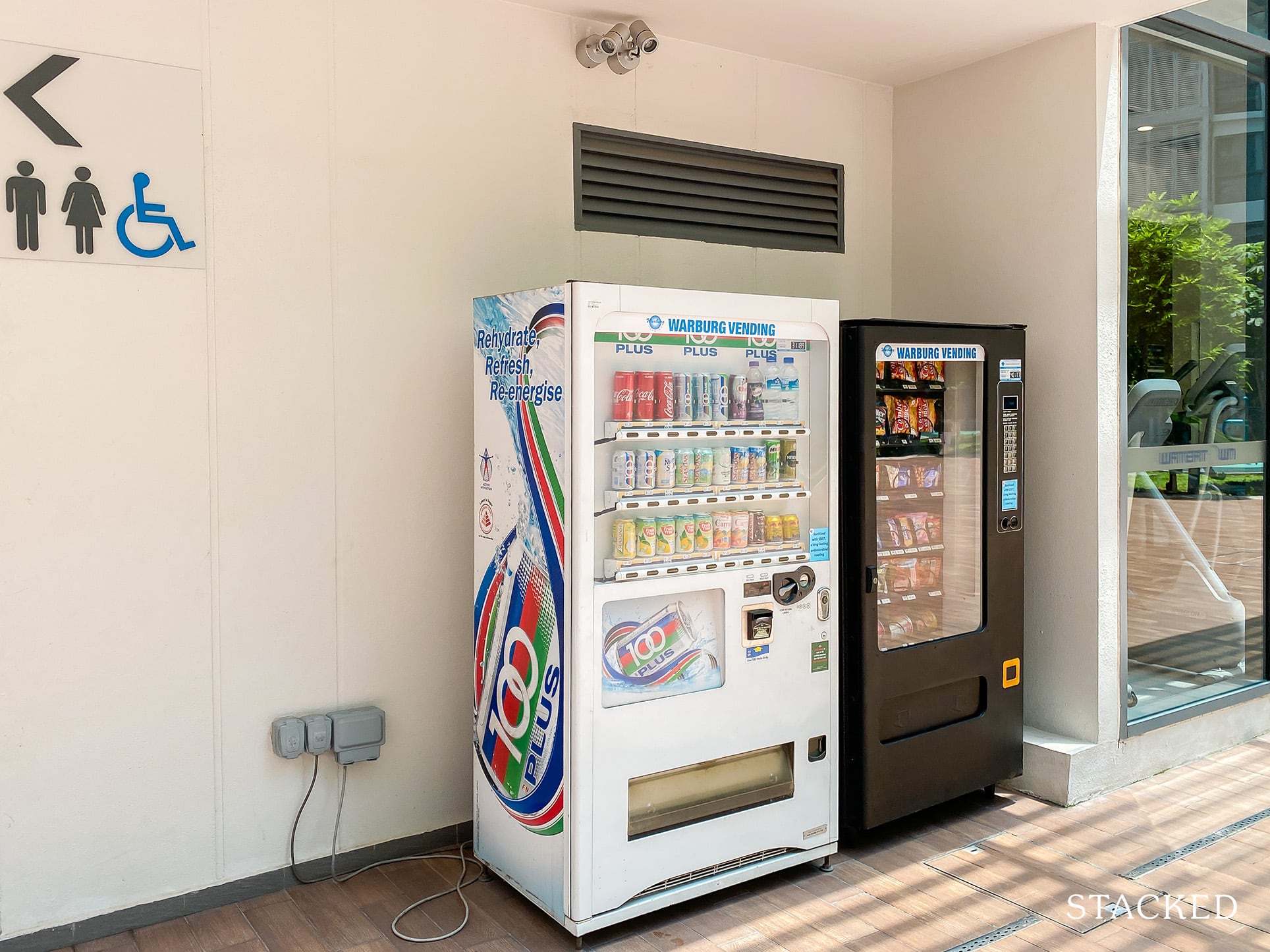 Strategically placed outside the gym are the vending machines. I would say this convenience is welcome in most other condos, but Watertown is one of the rare few that can do without it (it's a good thing).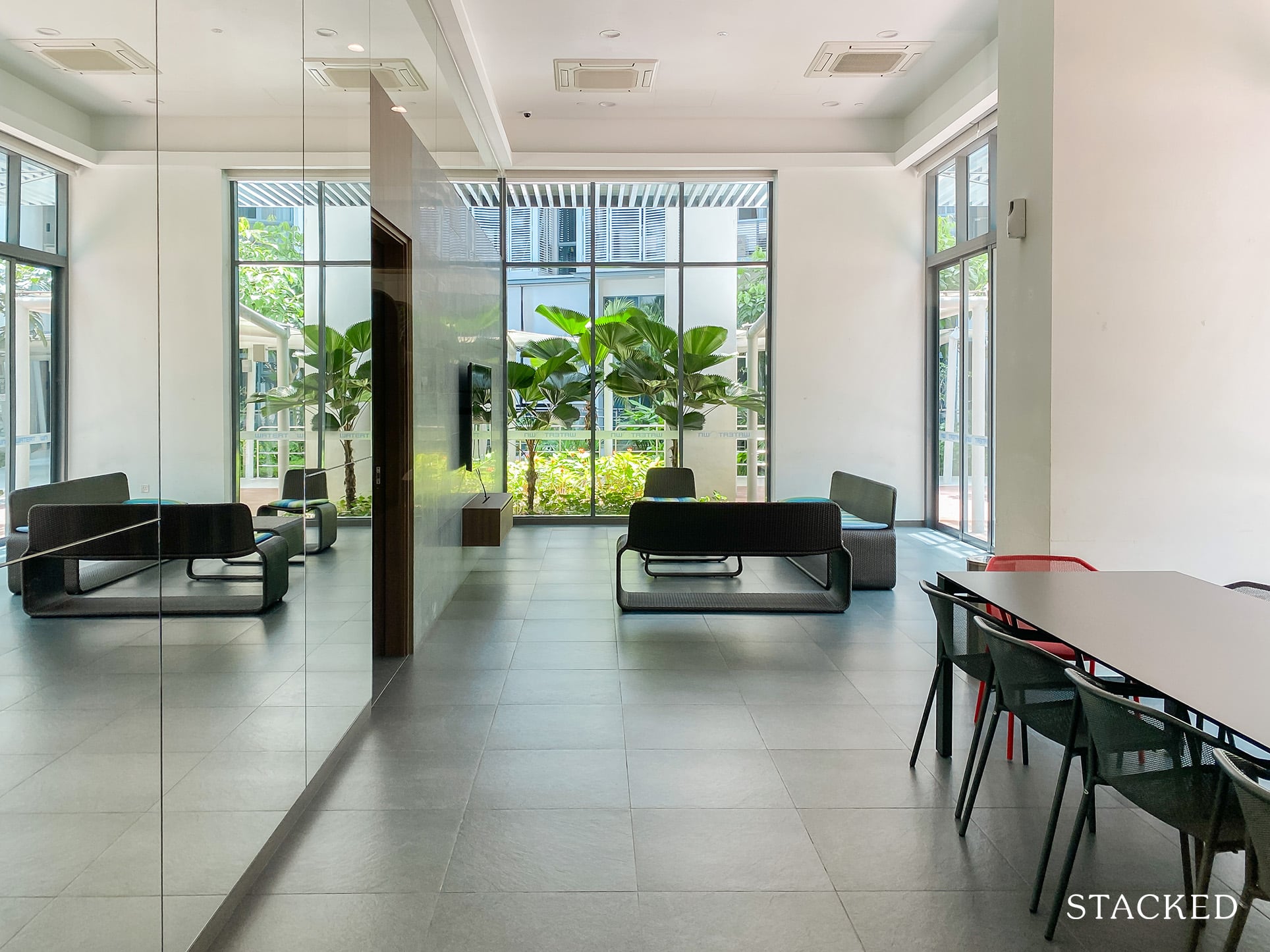 Next to the gym is the "Watertown Villa", a fancy name for what really is the function room. It's a good sized space, with high ceilings and floor to ceiling windows to give off quite a spacious feel.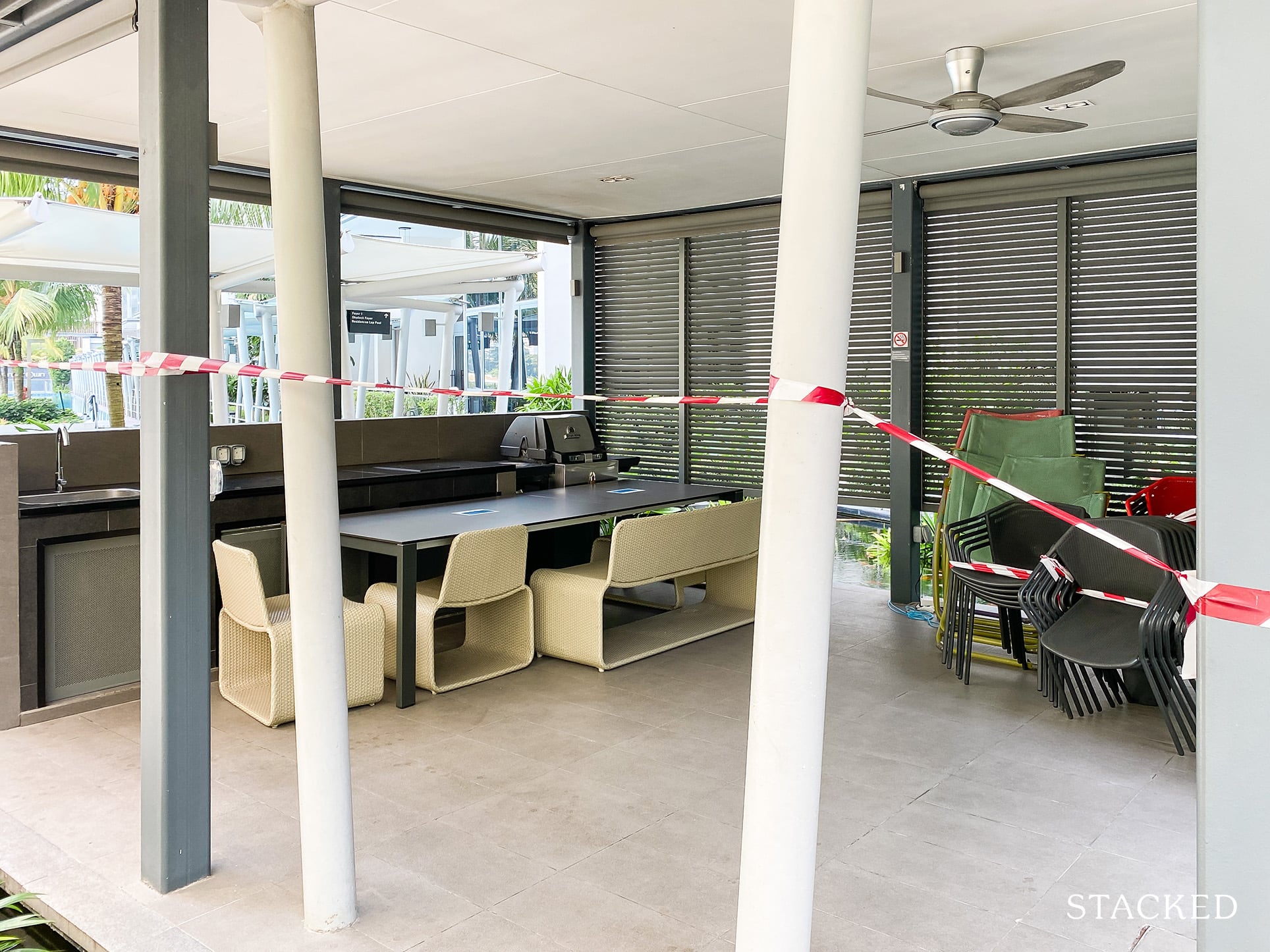 Right outside the function room is the Water Dining Pavilion. Unfortunately it wasn't the best representation of the space and it wasn't open for use at the time, but you can see that it is a fairly usable area. You do have cooking facilities, a good amount of seating, and a ceiling fan for those days that the wind has decided to take a rest day.
On a side note, I don't fancy the ground floor units located behind that privacy screen – the noise from functions held here is definitely unenviable.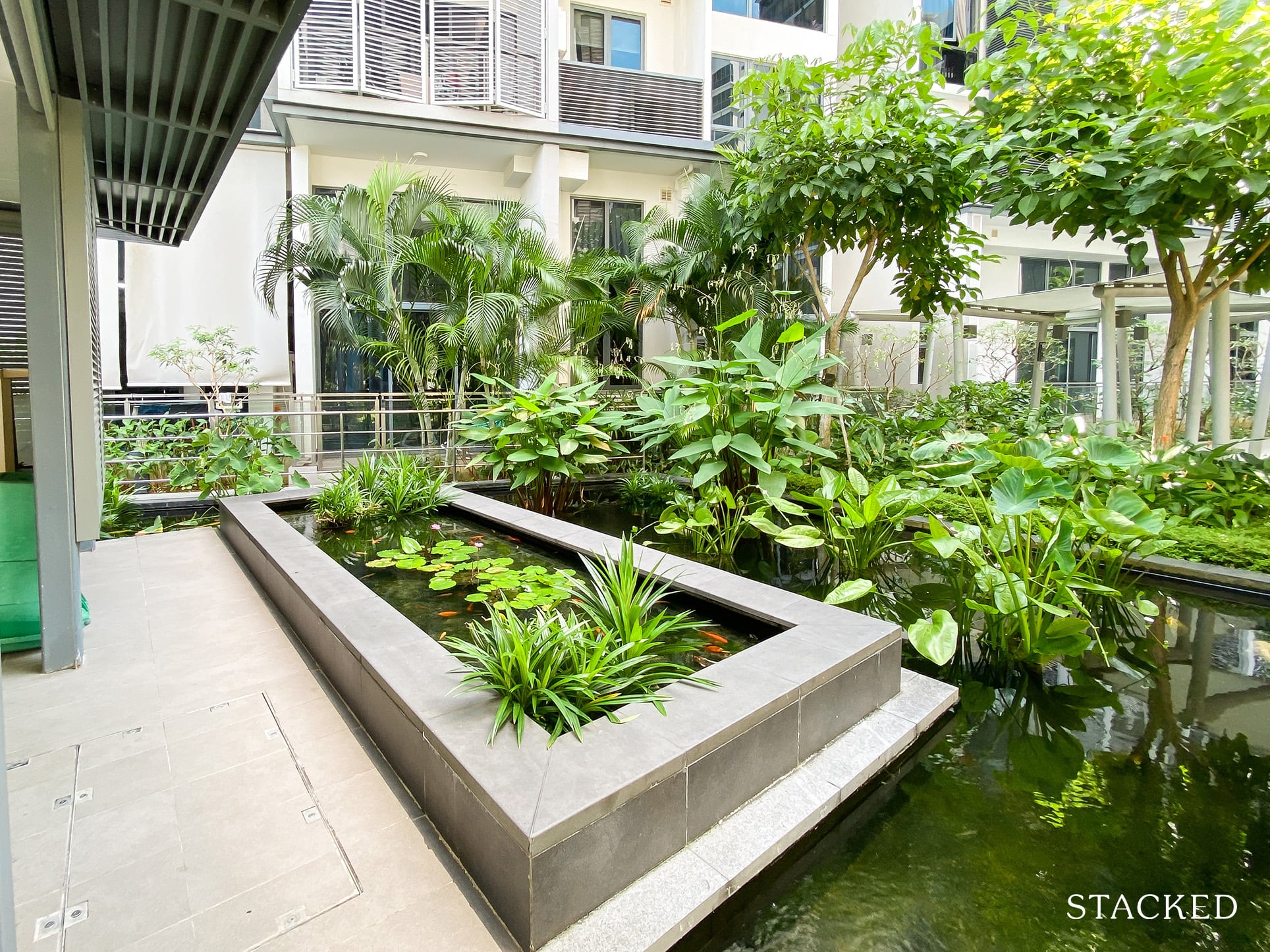 As you can probably tell by the name of the dining pavilion, it is completely surrounded by various ponds and water features.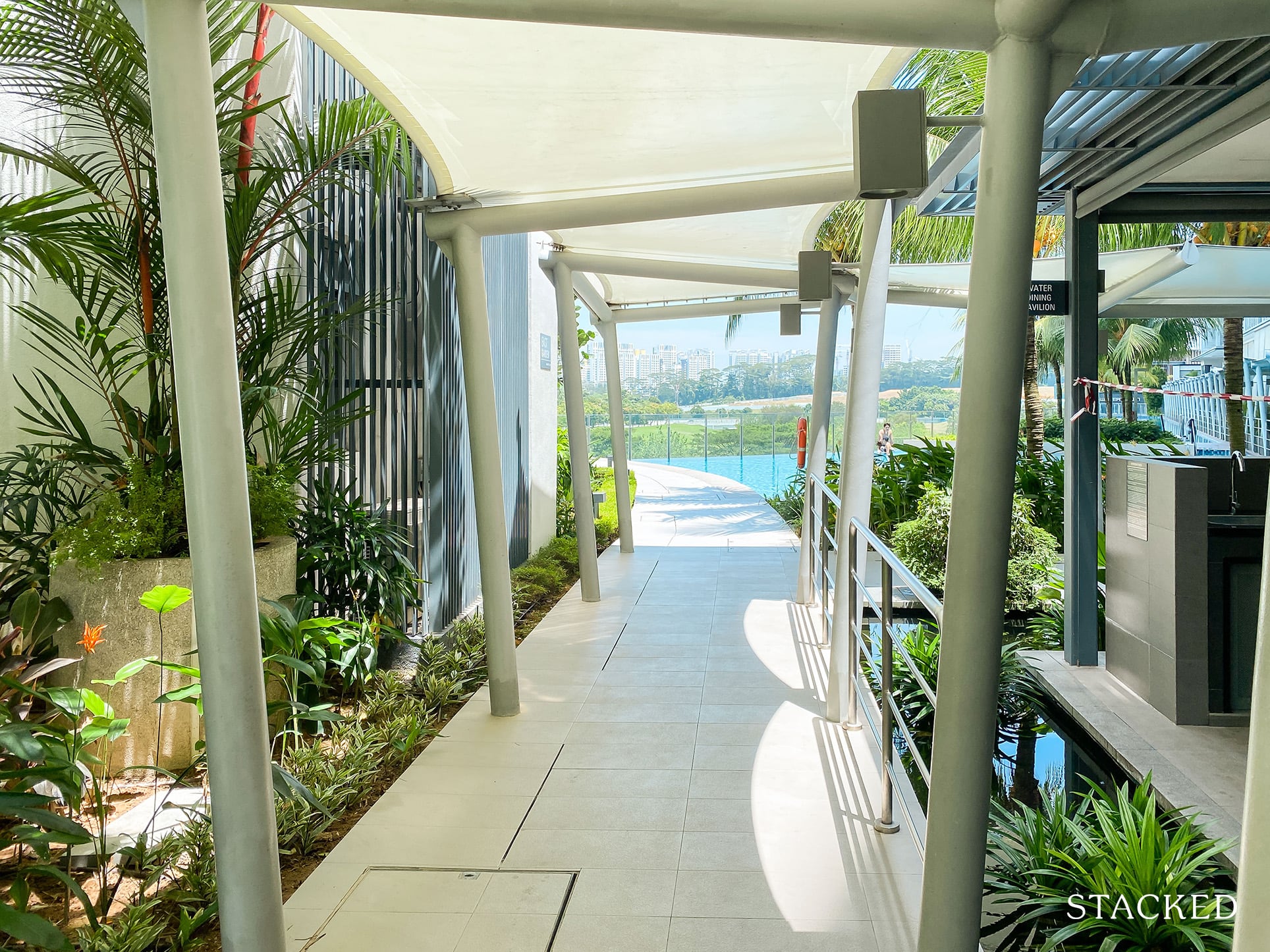 It is also located right by the walkway, so this definitely isn't one for a private and intimate gathering.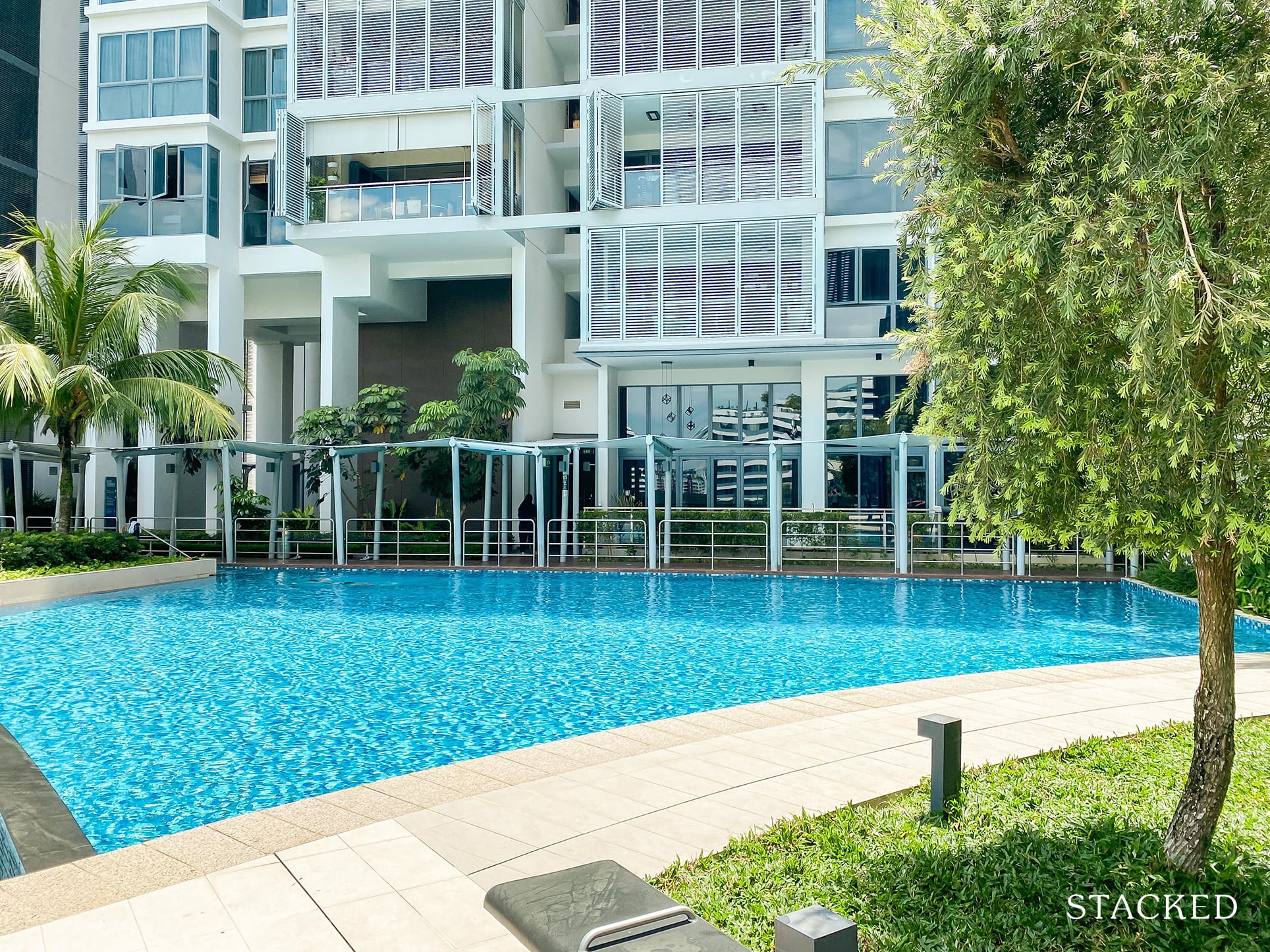 Walking further down the sheltered walkway will lead you to the lounge pool. It is an odd shape, but as the name suggests, it really is just for you to relax and chill in.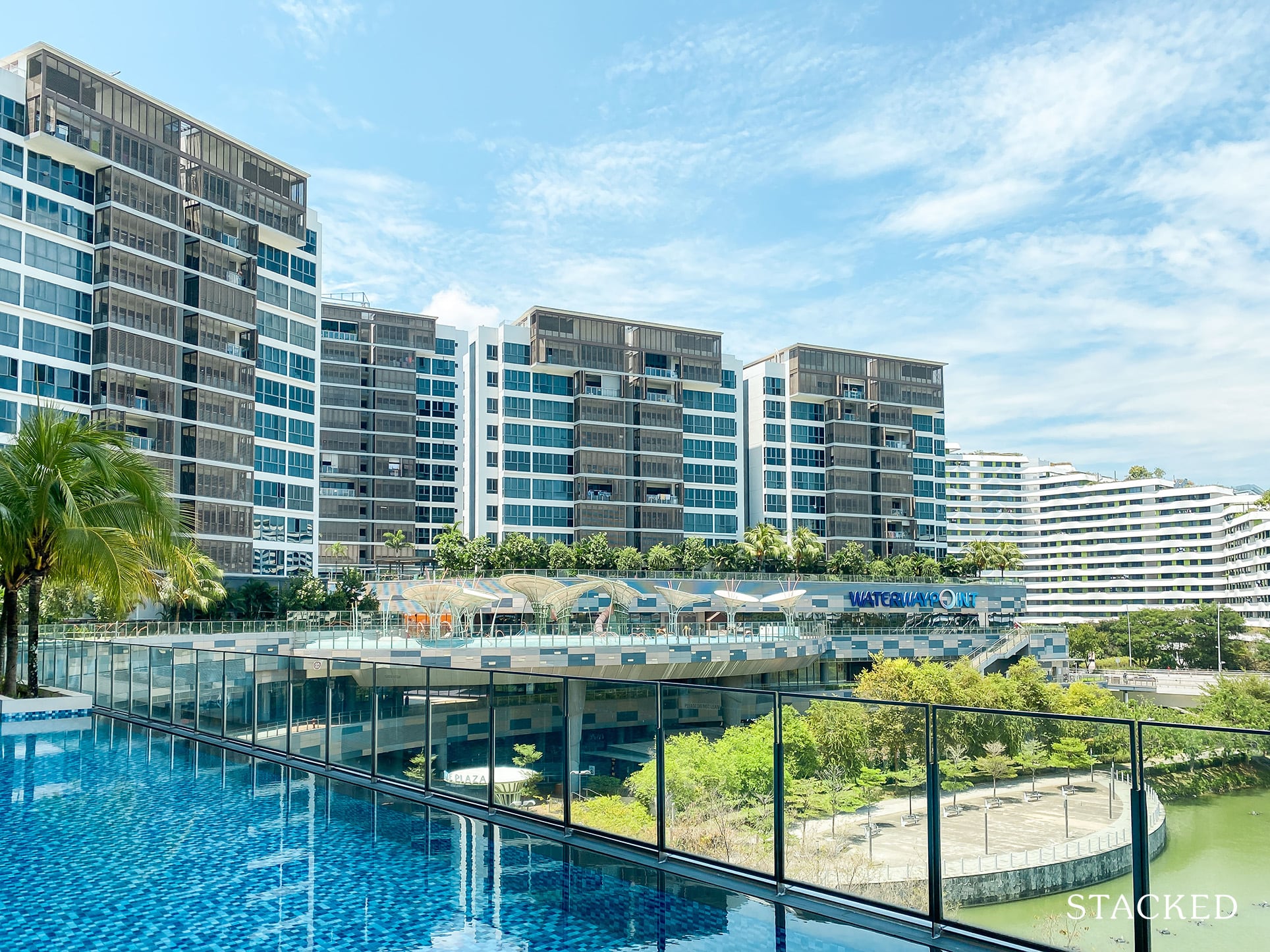 Next to the lounge pool is a long lap pool, which is certainly more suitable to get your daily dose of exercise. These two pools occupy prime real estate along the Punggol Waterway so if you want the best views while swimming this will naturally be the place to be at.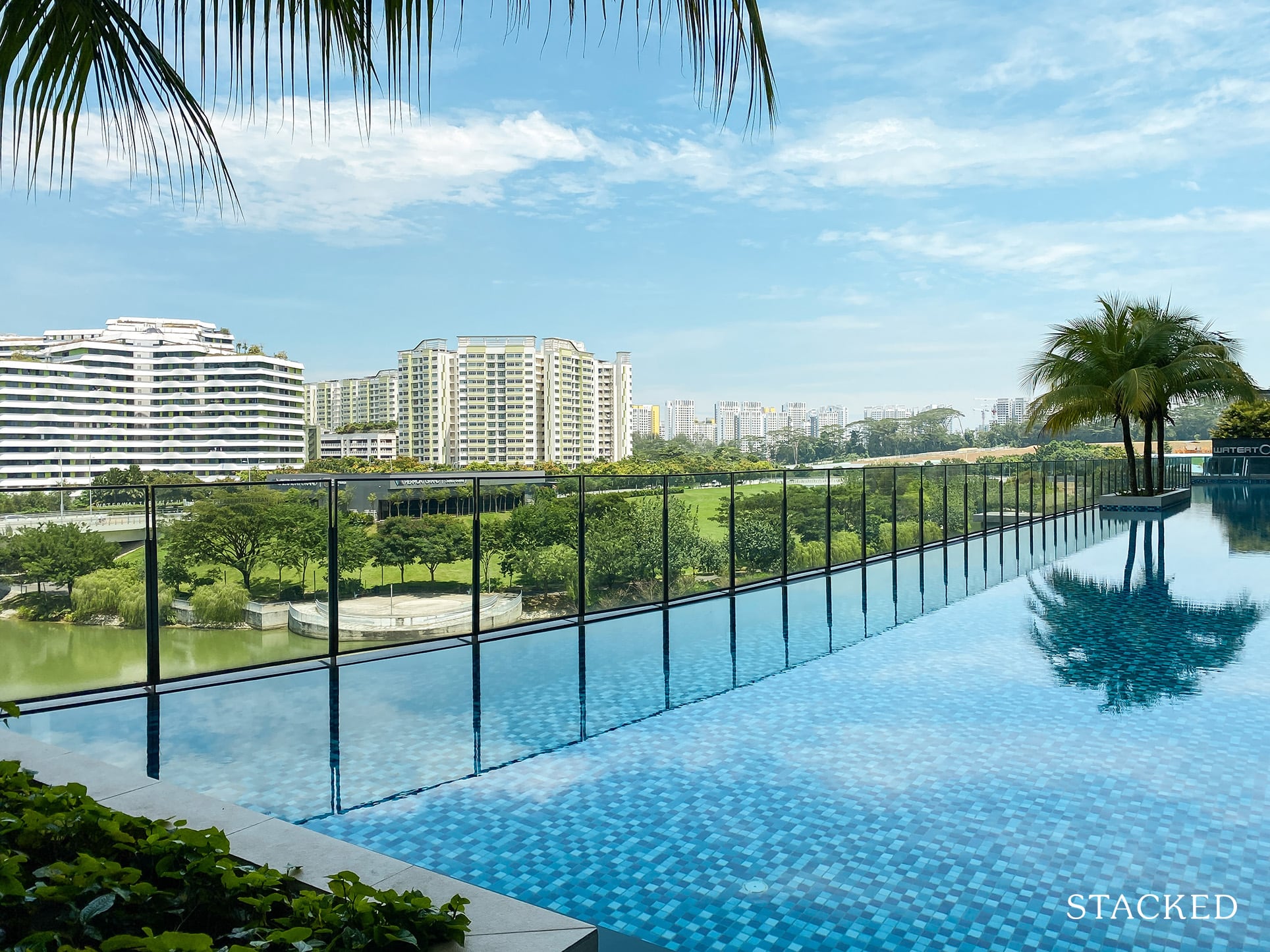 What's great is how open and expansive it feels, as you have sweeping views over the $225 million longest man-made My Waterway @ Punggol. And let's not forget because you are fronting the body of water this will remain unblocked for time to come.
It isn't the most spectacular view you'd find in Singapore, but in this part of the world I'd say this probably is as good as it gets.
But this does lead me to think – why have most of the pools facing walls at the back of the development instead? It would seem much more sensible to have most of it fronting the waterfront to take advantage of the waterway views.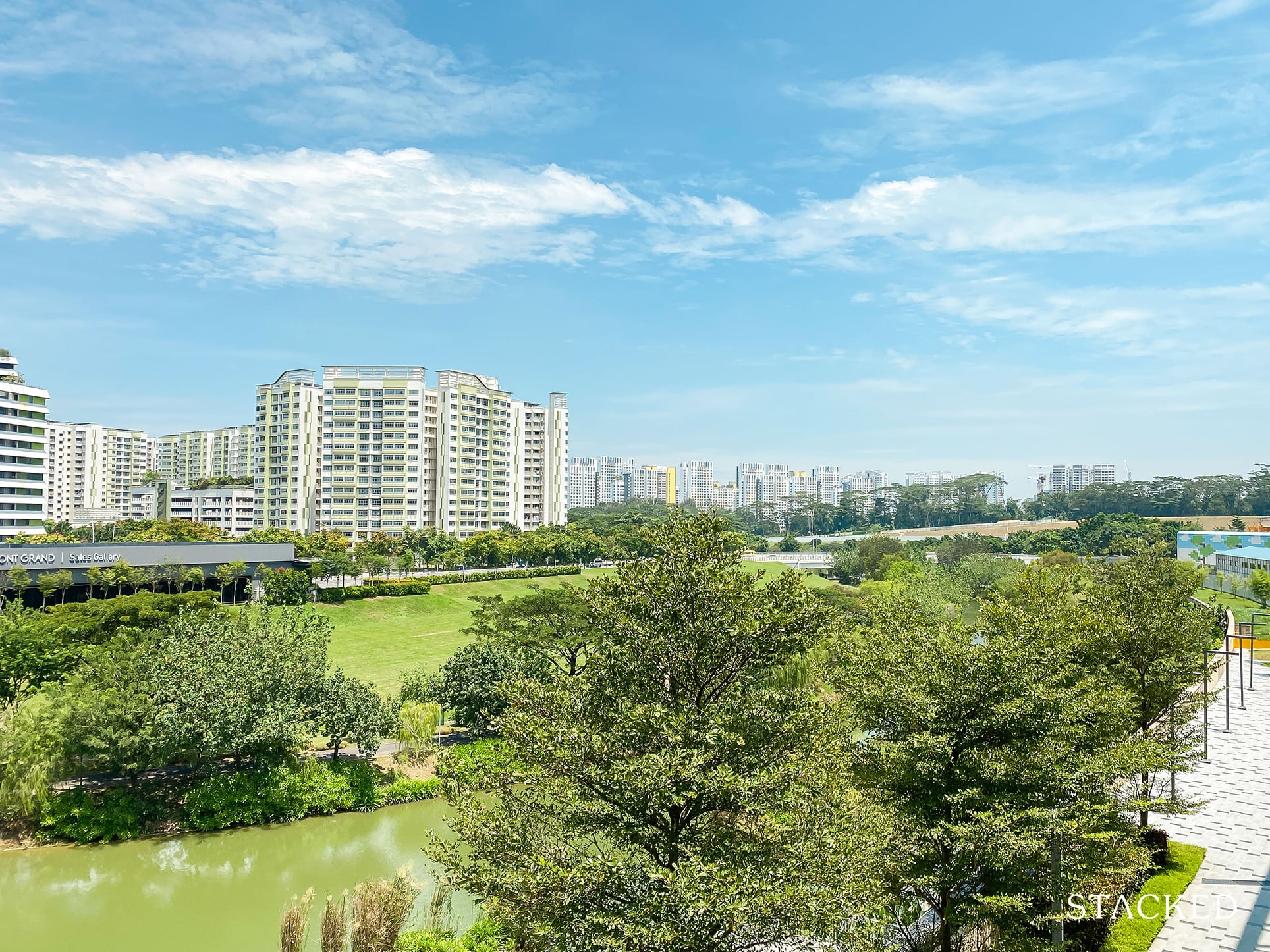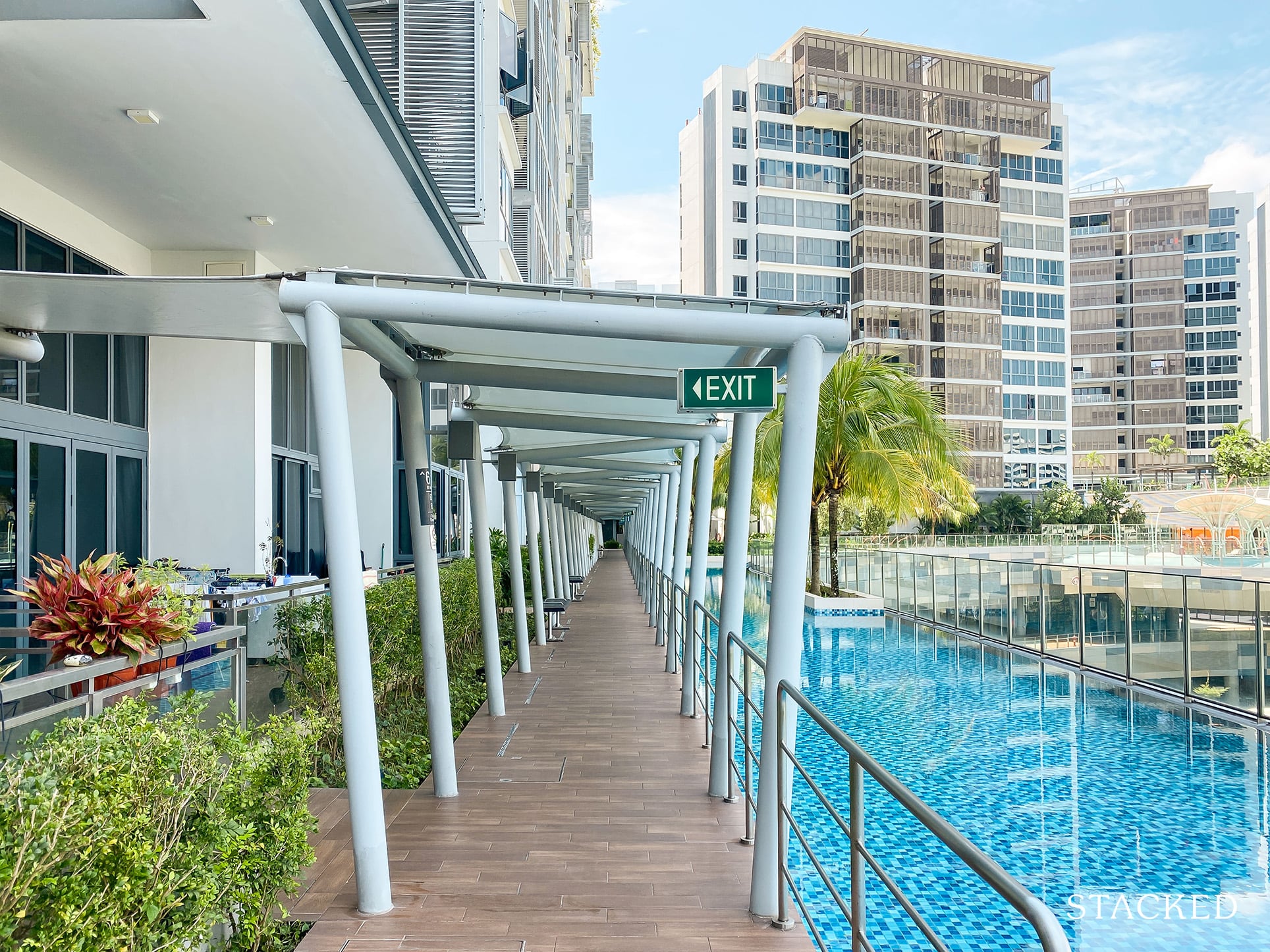 As mentioned above, you can get around to most places with the sheltered walkway.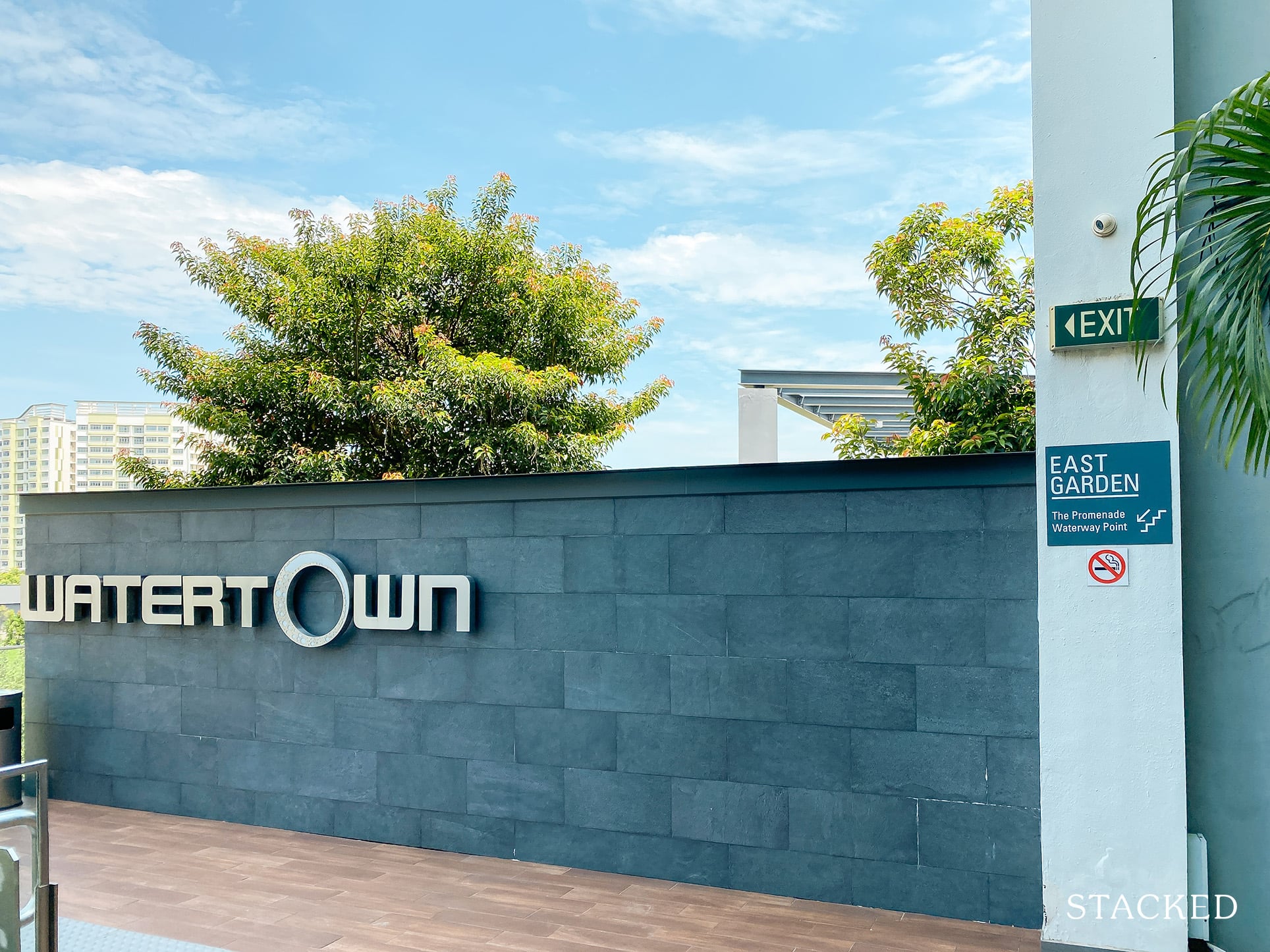 Right at the end of the development is the side gate that will lead you to the Promenade Waterway Point.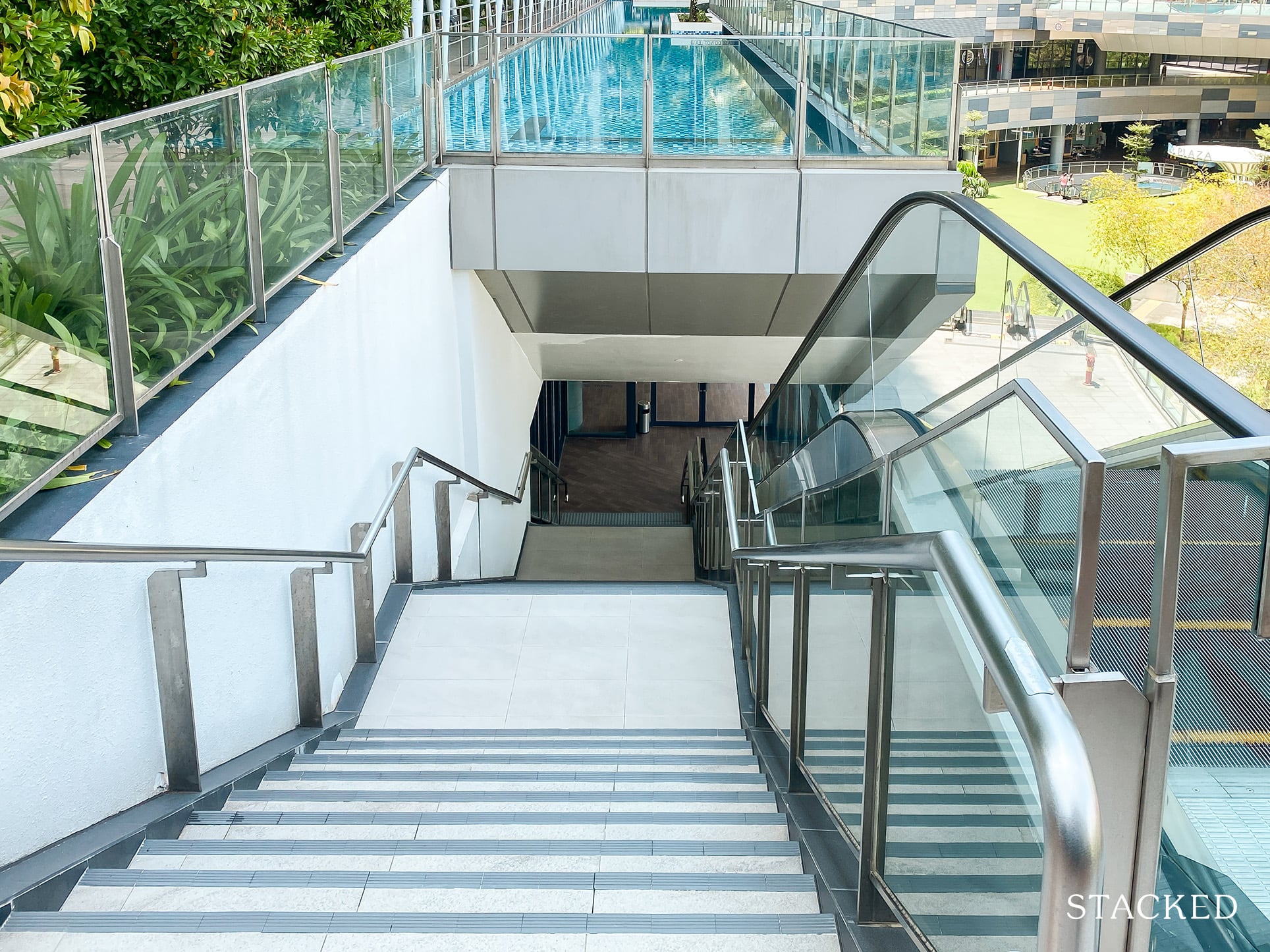 You can get to Waterway Point easily through here, and there is even a provision of an escalator for convenience. The size of the estate is pretty substantial, so residents living at the blocks on this end will no doubt appreciate the thoughtfulness of additional accessibility points.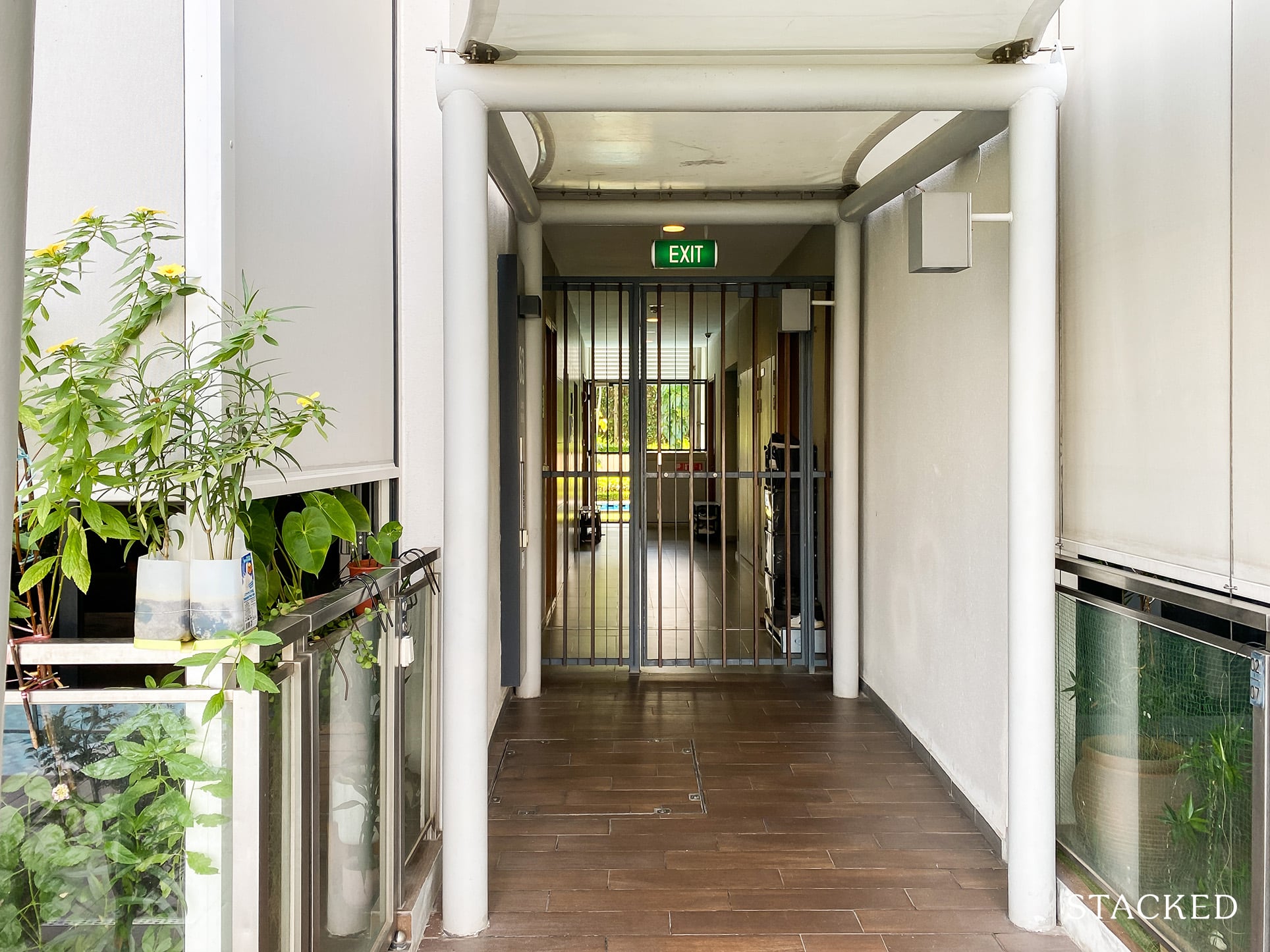 Each lift lobby to the residential units is fairly ubiquitous in its design. So no fancy seating, and neither is it air-conditioned. You do need the resident's keycard to get to the units – so again, security is on point here.
Note for the ground floor patio units here, roller blinds are definitely a must-have as privacy will be an issue otherwise.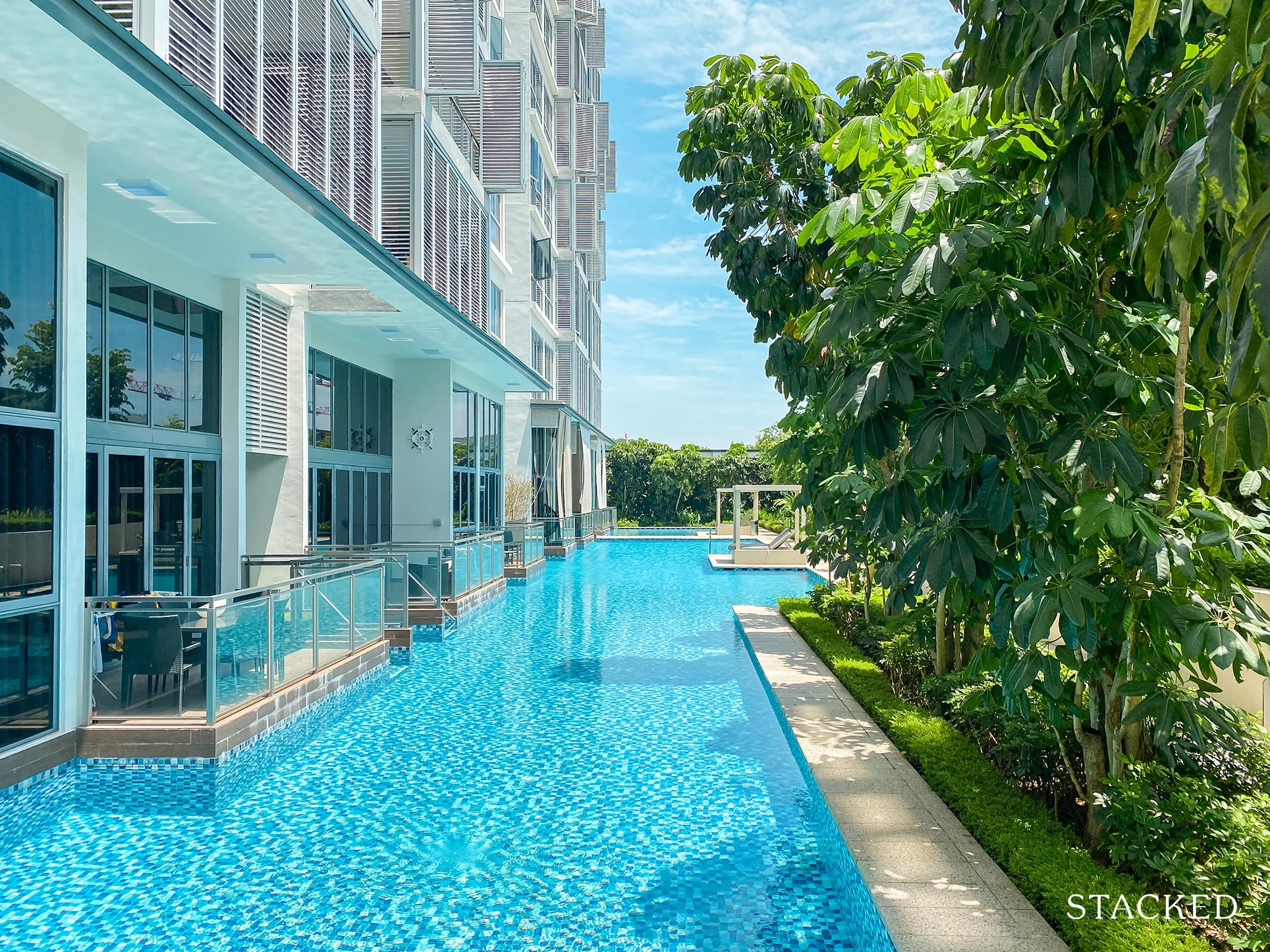 Walking to the back of the development, you'll find more lap pools – and a deeper clarity on why the condo is named as such. In fact, I'd go so far as to say that every unit will have some semblance of a water view – whether it is a swimming pool or a view of Punggol Waterway.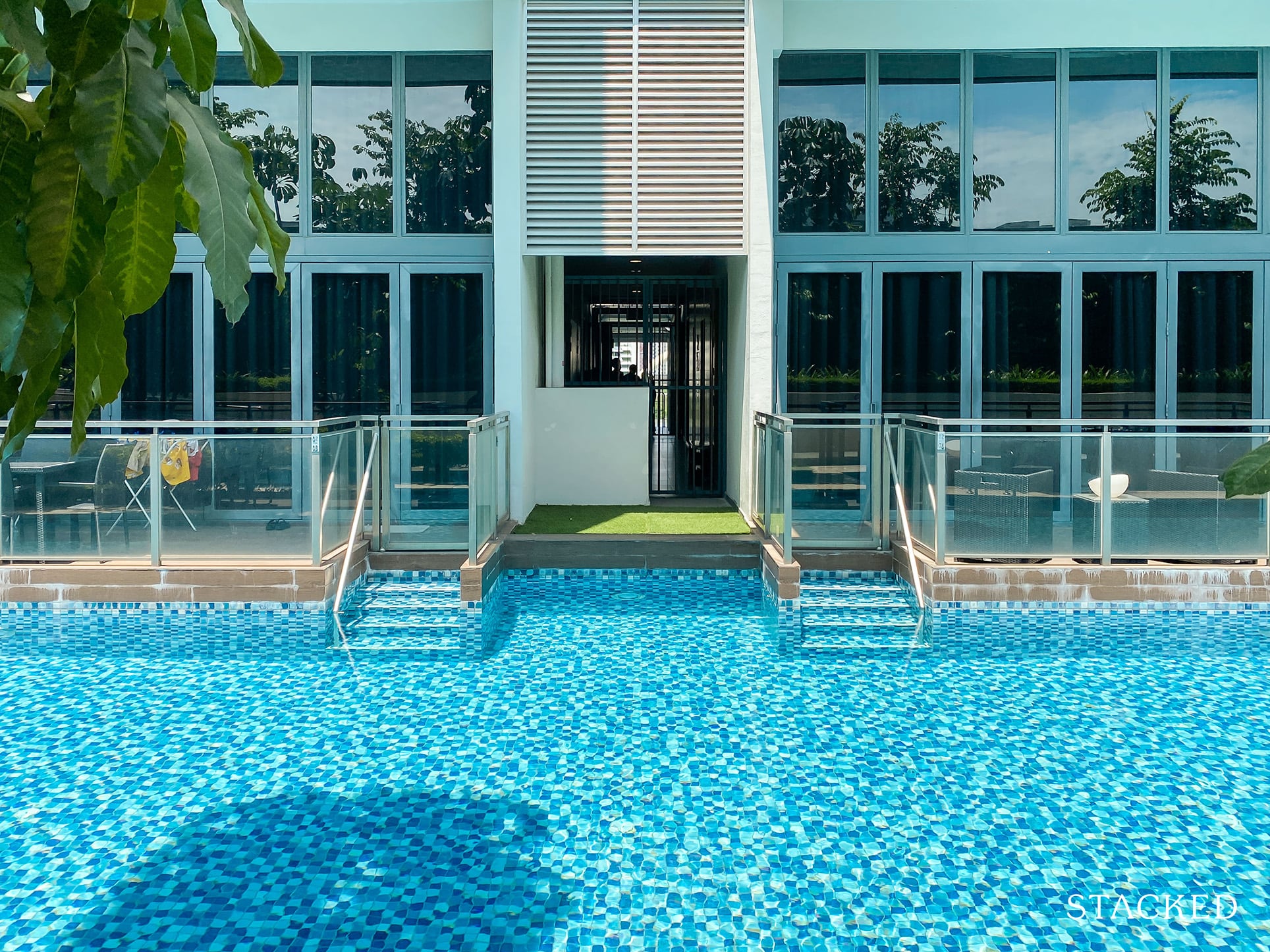 These are the direct pool access units, which I'm sure must be a real highlight for those that love nothing more than spending their day drinking a glass of wine by the pool. Last I counted, there were 36 such pool access units, so these are in short supply even though you could describe such a offering as a niche one.
It may sound obvious to some, but you should know that this isn't a private pool – so every resident will have access to it. So as you might expect, the downside here would be a lack of privacy for these units. Nonetheless, the number of pools here would also mean I don't expect these pools to be used too much.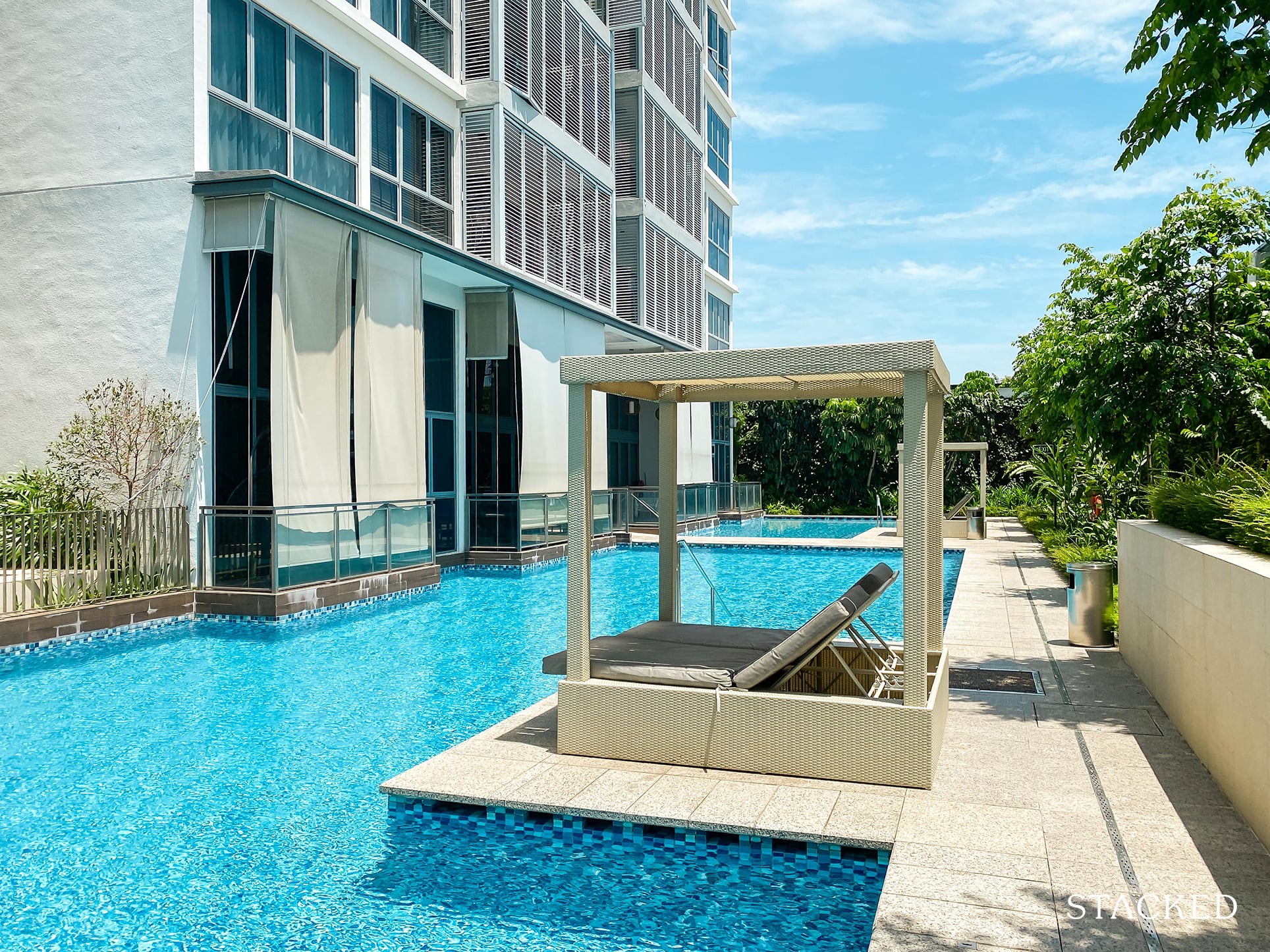 I do also like the additions of the poolside cabanas here, as the shelter and availability of cushioned deck chairs will be infinitely more comfortable than your own balcony space.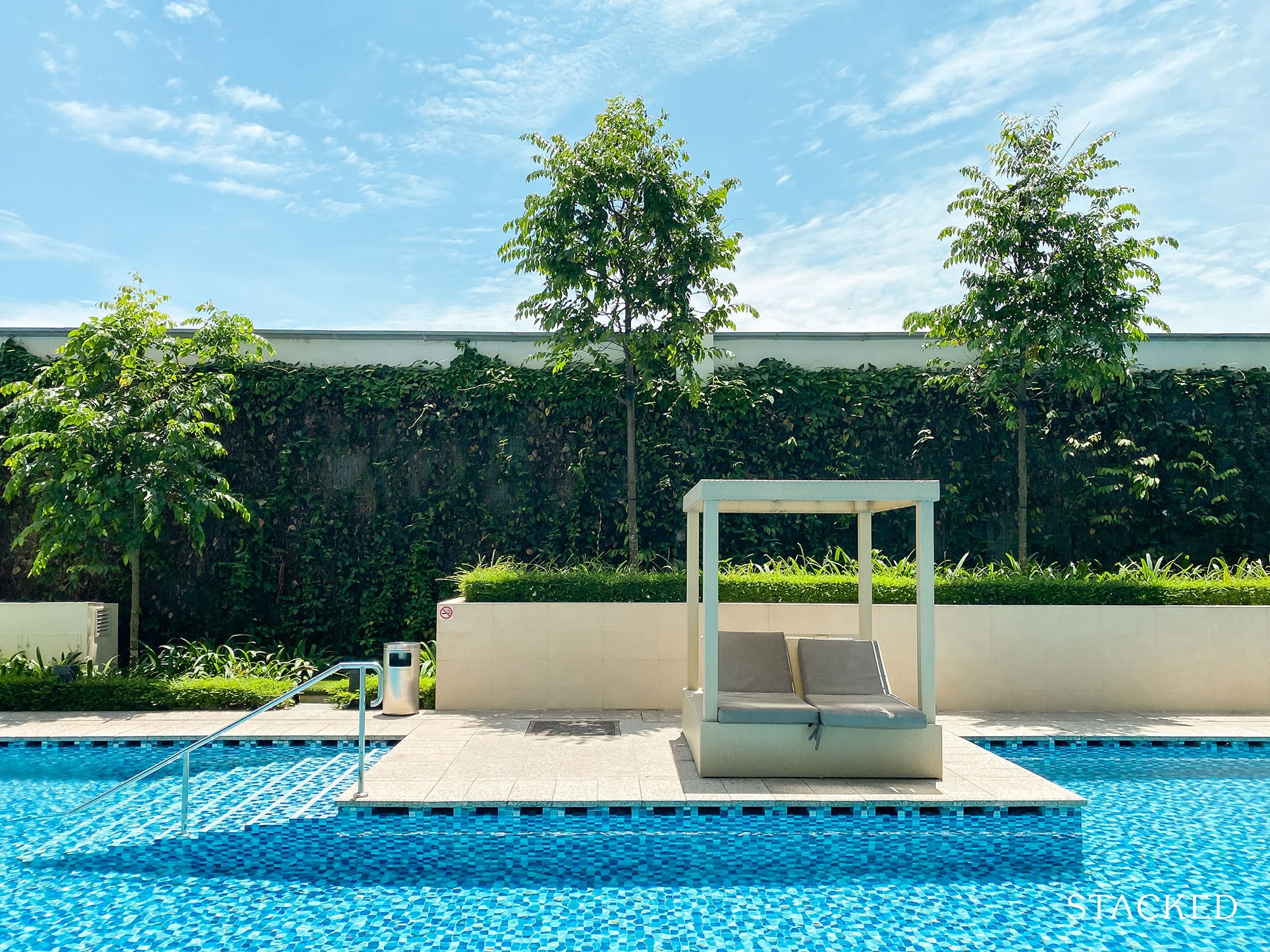 It is worth pointing out here that all the direct pool access units will (other than the swimming pool view) be facing a wall. Thankfully, this is well covered by wall creeper plants so the overall look is still acceptable. I can understand the need for the wall, as this side of the estate in particular will be facing the Punggol LRT.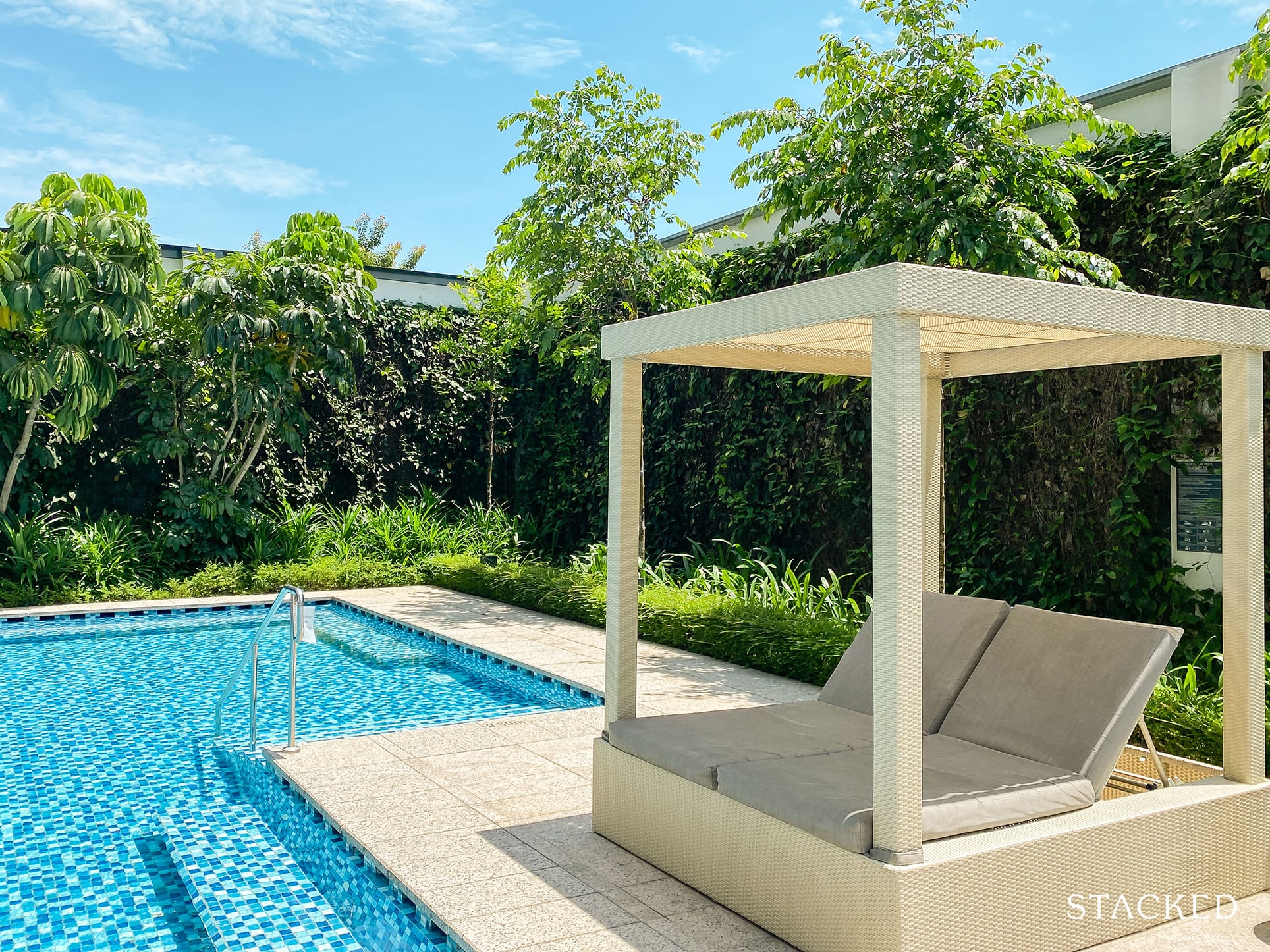 The corner unit is undoubtedly the best for those looking for utmost privacy. For one, the ample supply of swimming pools here means that you wouldn't find your neighbours actively seeking this spot out. Also because of how it's laid out, to walk here you would have to walk the same way to get back – so again, it's unlikely you would even get much footfall here. Which basically means you can almost think of this as your personal private pool.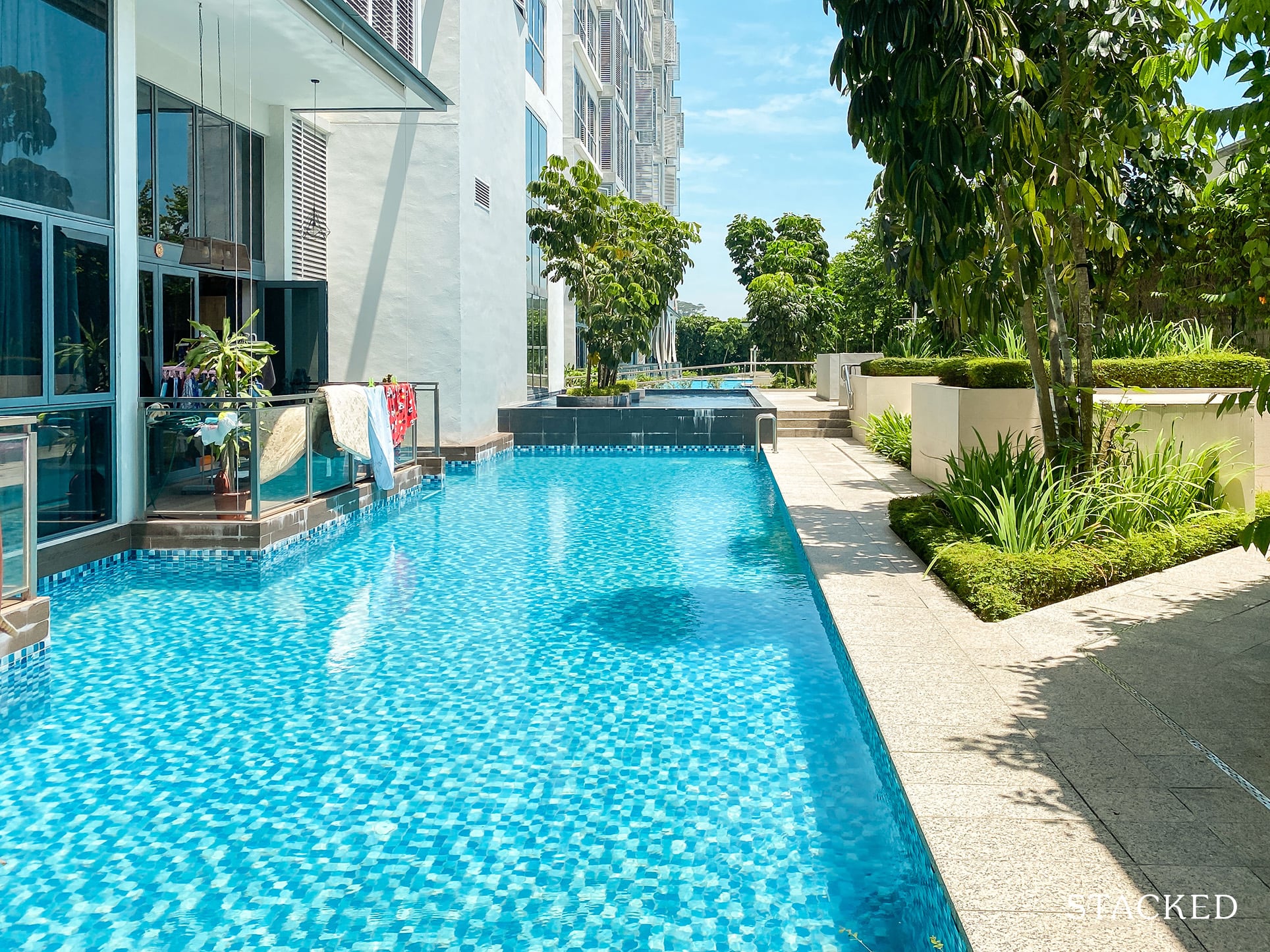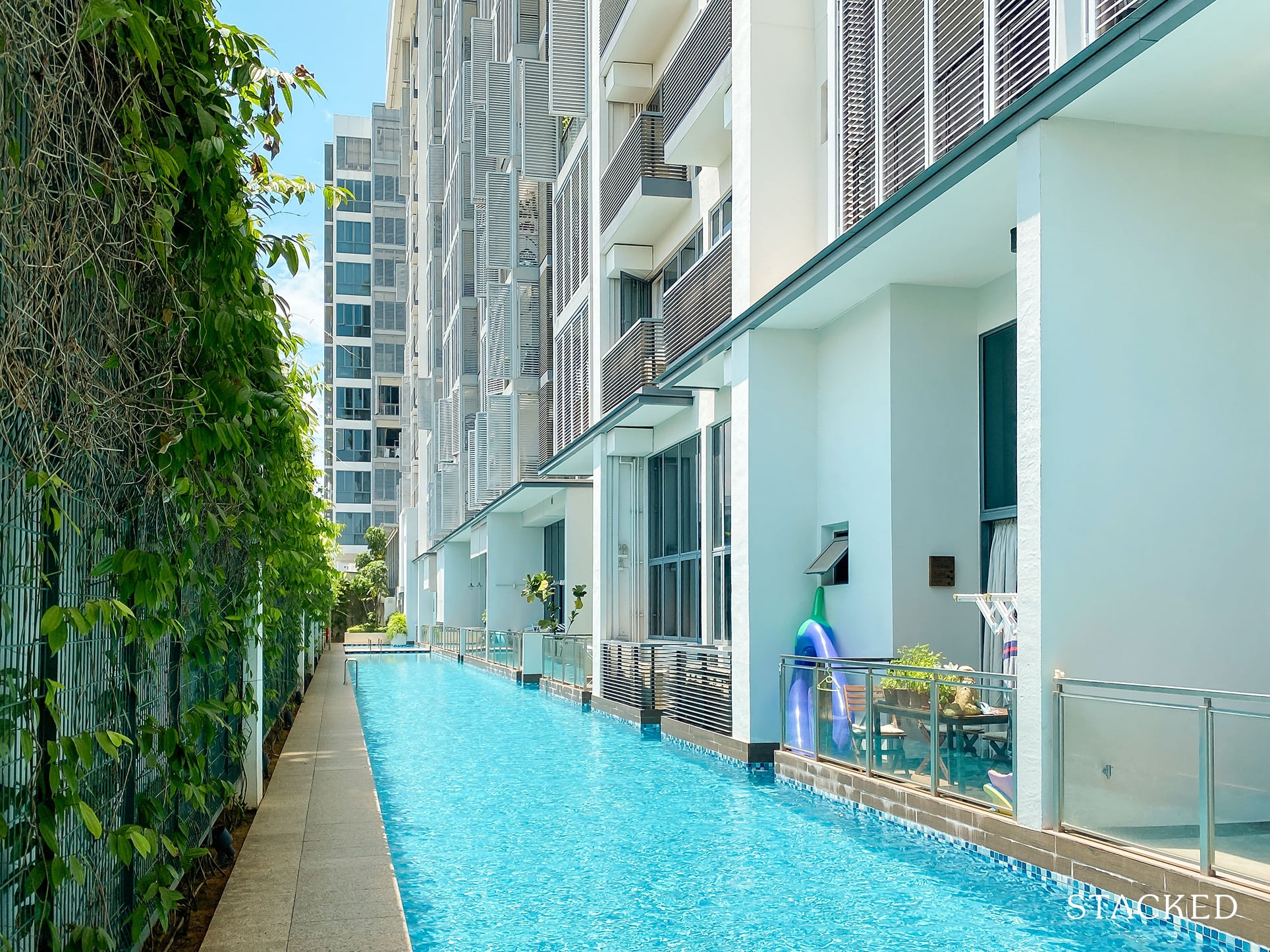 The lap pool here stretches nearly the entire length of the longest end of the development. It's a pity it doesn't connect, but for a quick dip or to to swim a few length in the morning it certainly suffices.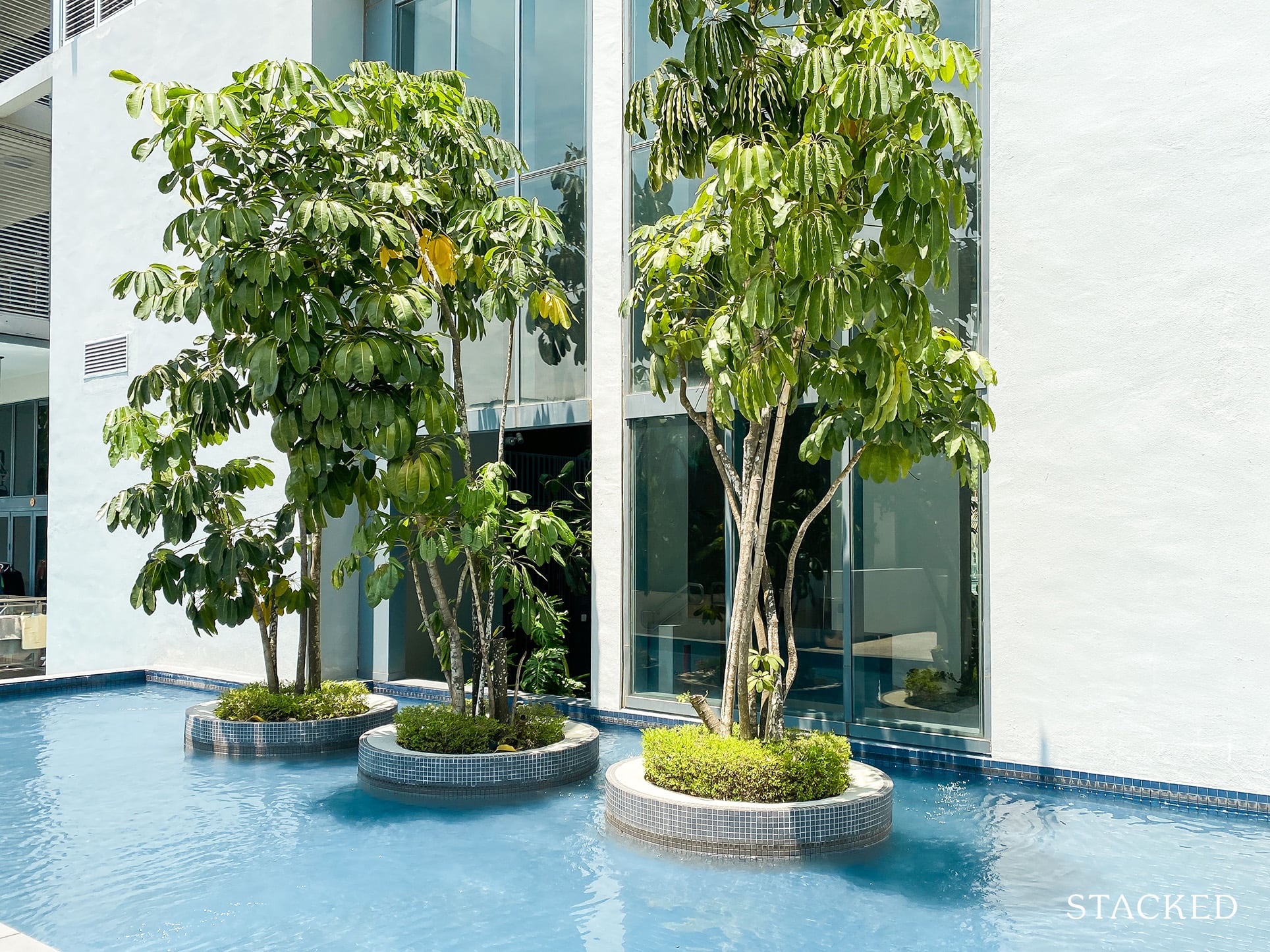 And as if the myriad of swimming pools aren't enough, you will find various water features scattered around the development.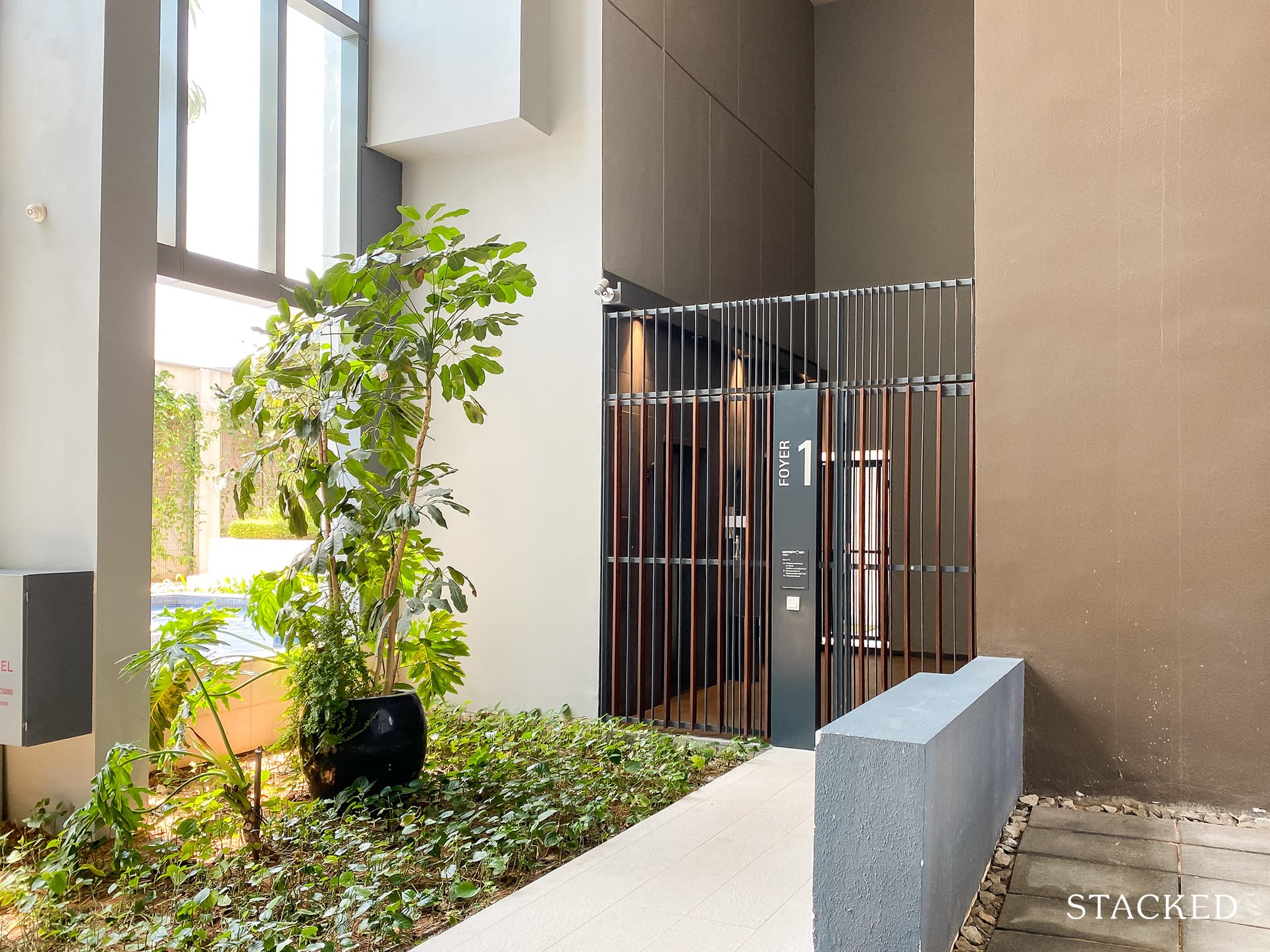 This particular tower is actually quite special, as it houses a few more facilities on its rooftop.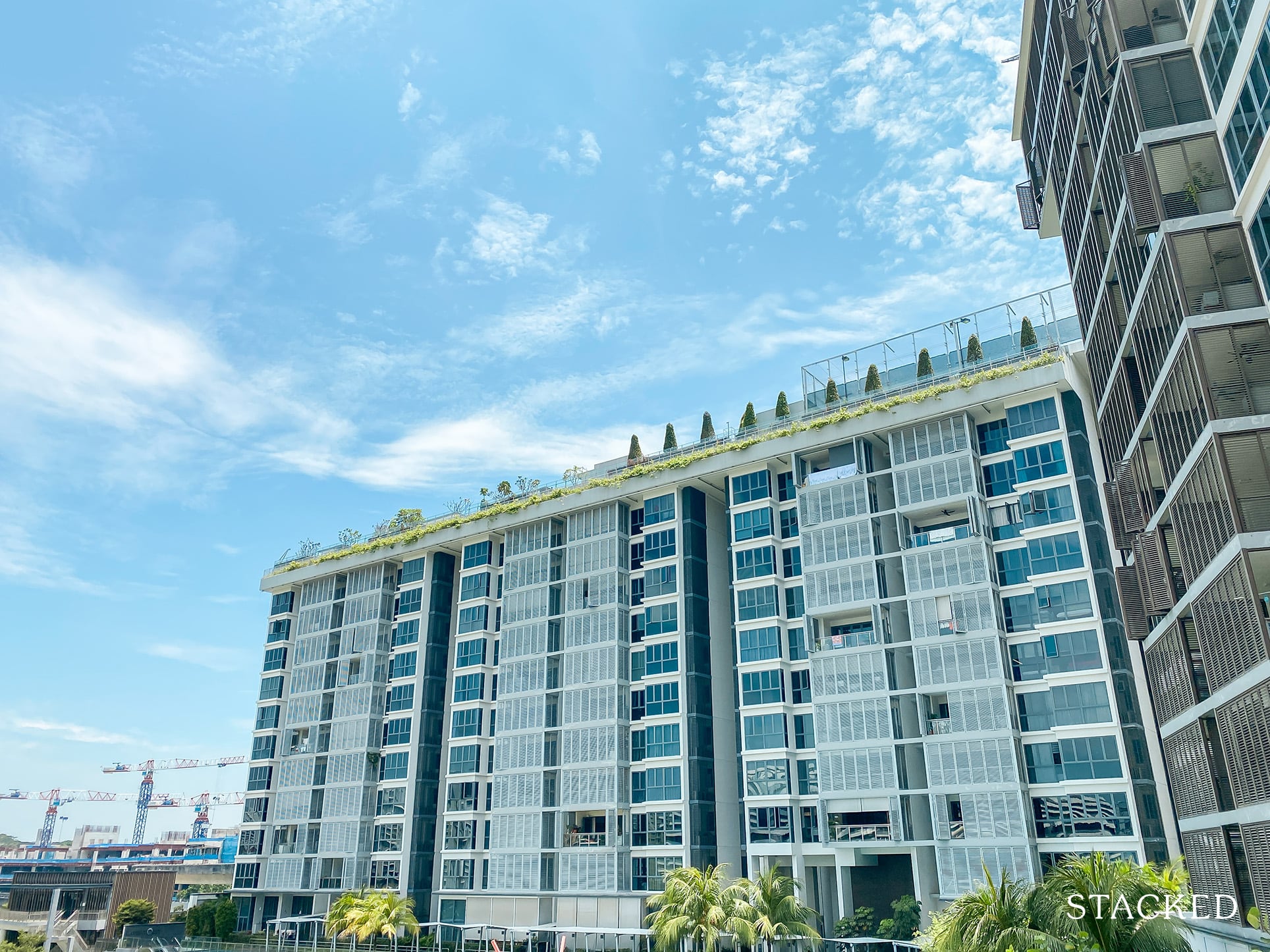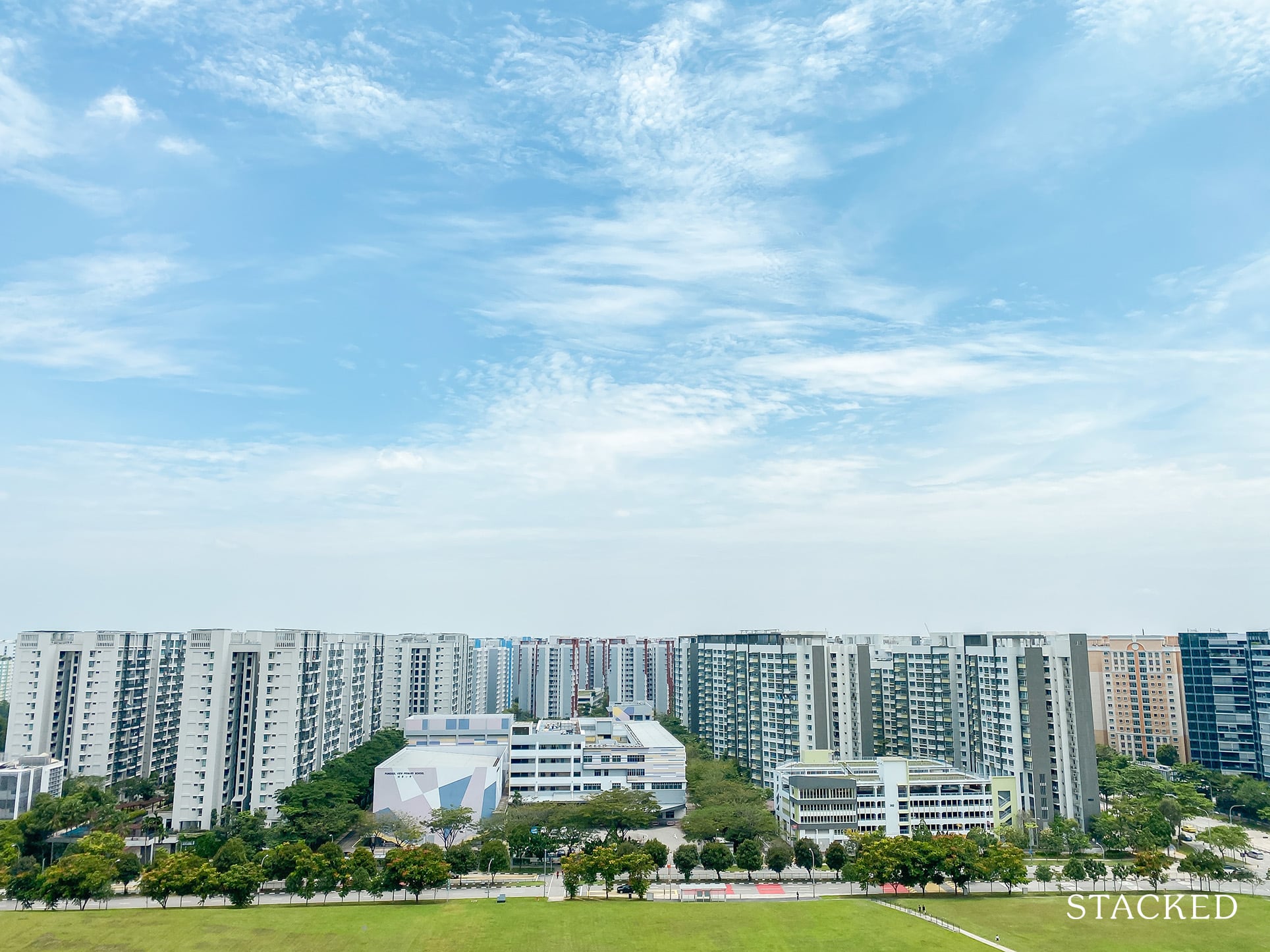 Once you get up to the top, you are immediately treated to an overview of Punggol central. I wouldn't say it is super high up, but it is good enough to get a decent view of your surroundings (definitely still a better view to workout from than below).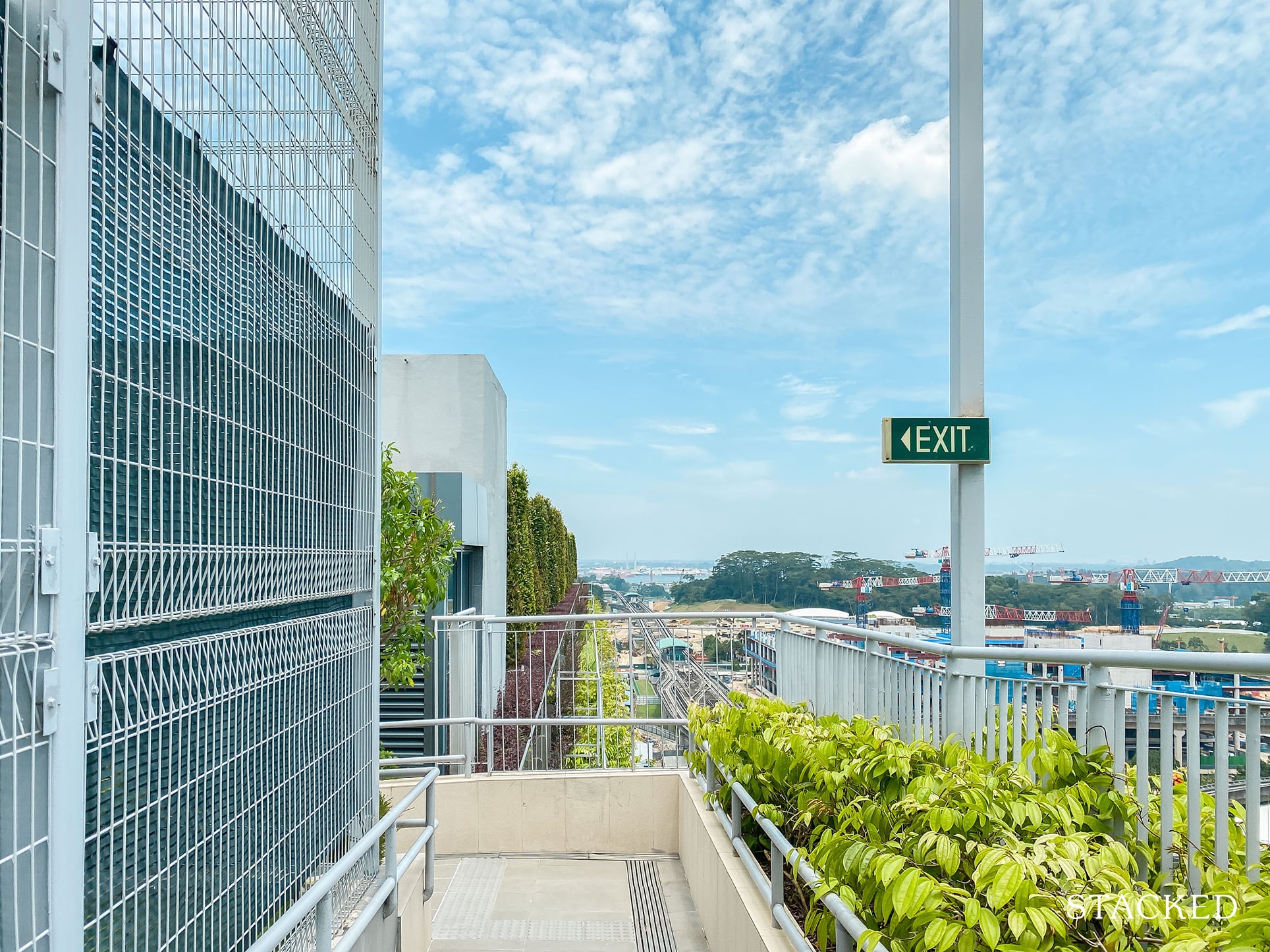 The problem is that while the Waterway view is a scenic one, the rest of the views aren't what you'd describe as astounding. It's really just the construction of the Punggol Town Hub (slated to finish this year), and the multitude of HDB buildings surrounding it.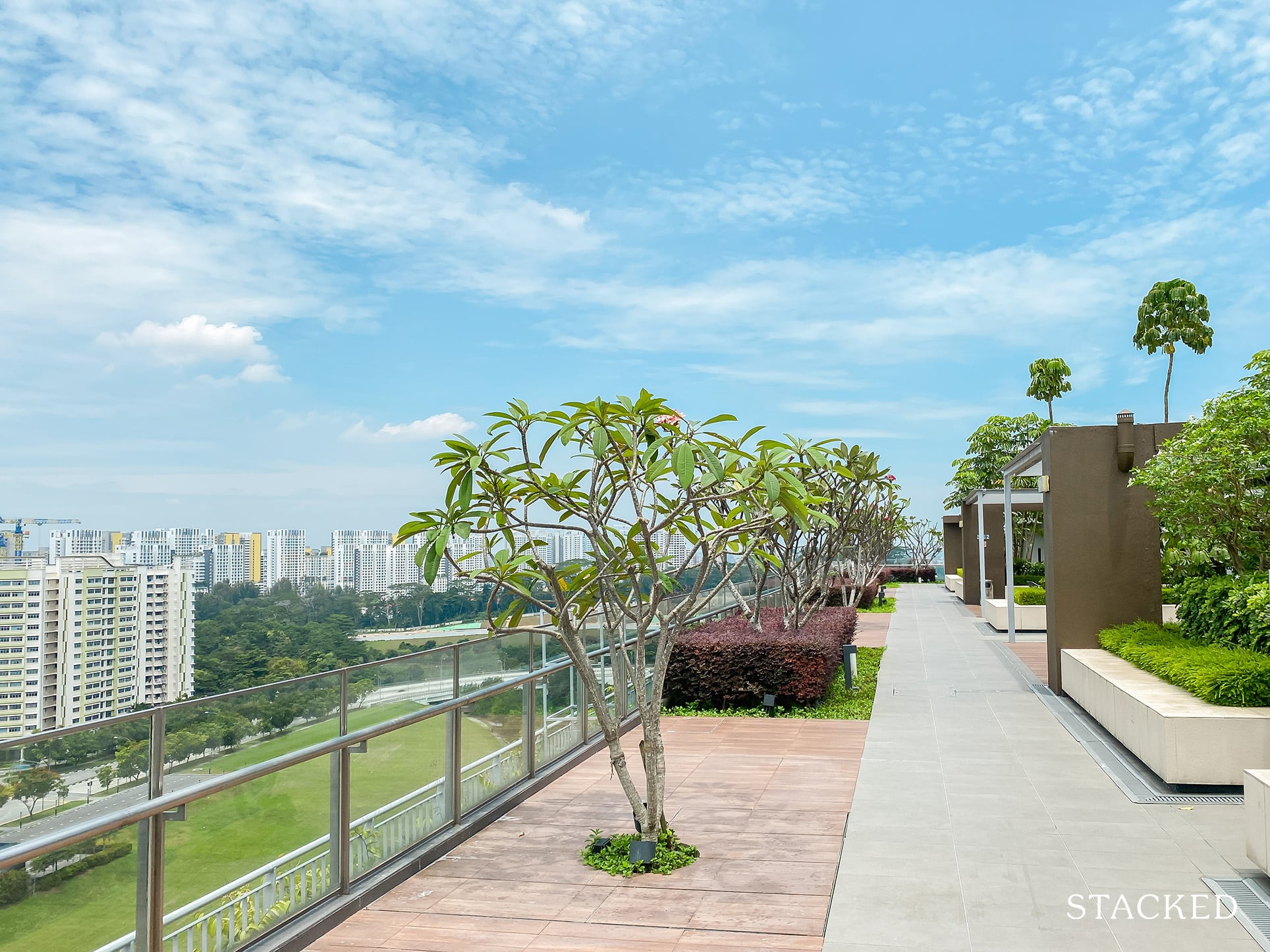 Needless to say, this side of the Watertown condo is really where the money is at. It's actually a really great height to be at. Not too high that you can't observe the details below, yet high enough for a good overview of the area.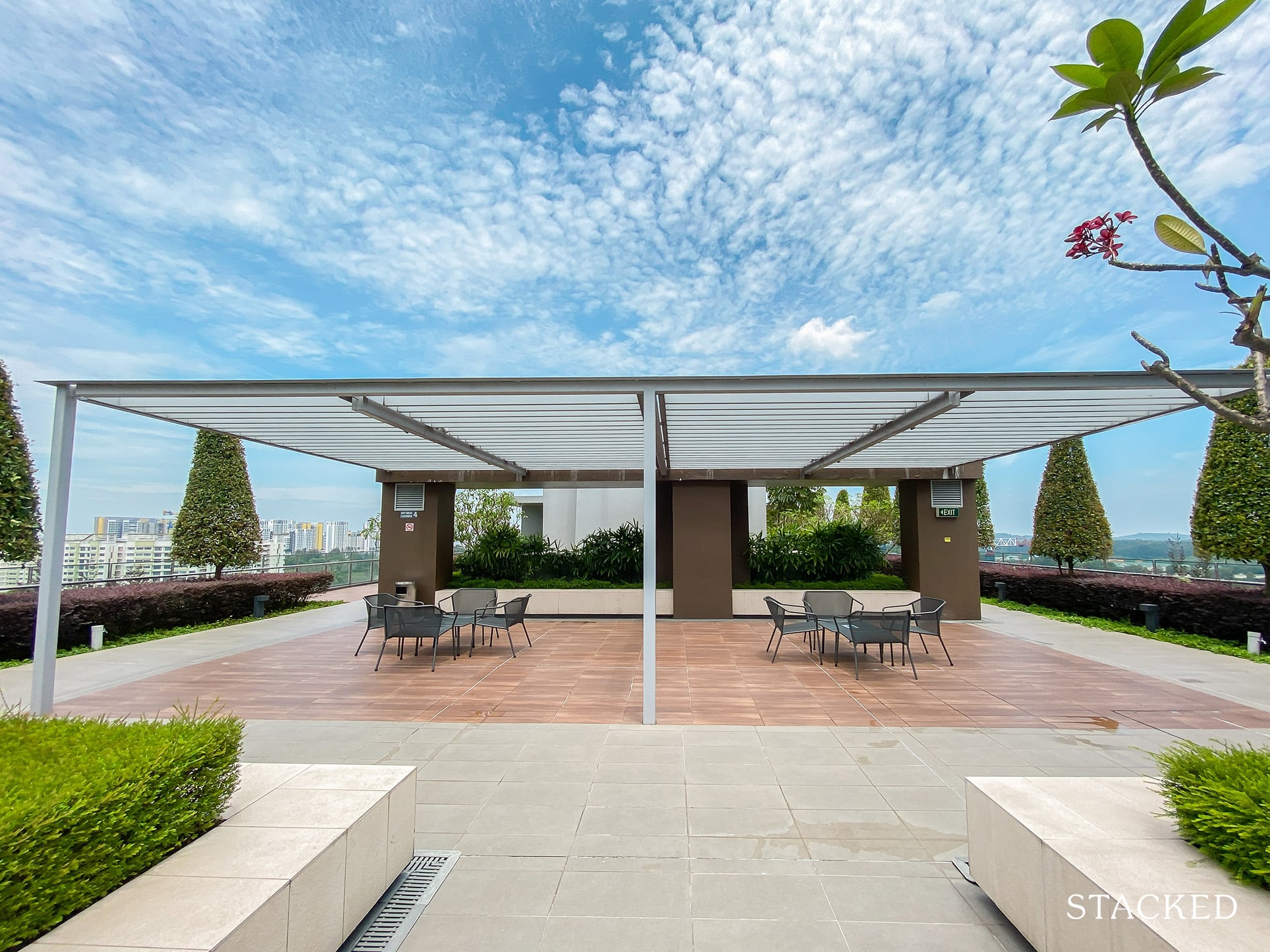 Still, there's nothing quite like being on an open rooftop with a view of the limitless sky stretched above you. On a wonderful blue skied day such as this, it can be a very relaxing place to be at.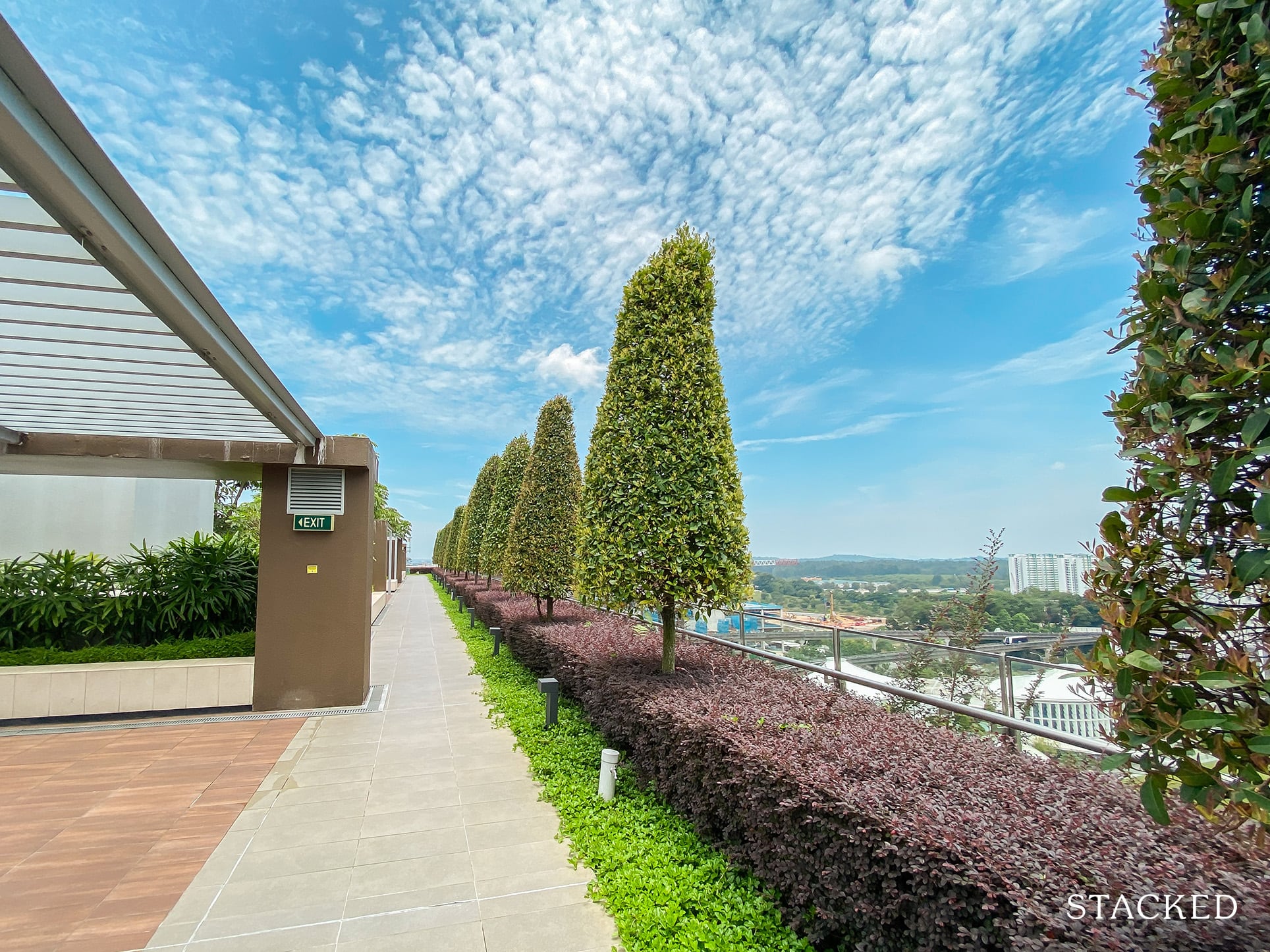 Flanking the pavilion seating area is a row of impeccably maintained hedges and cone-shaped trees. Which certainly speaks volumes when it comes to the upkeep of the place so far. So while it is only coming to 4 years at this point, it is encouraging to see that it is still well-maintained.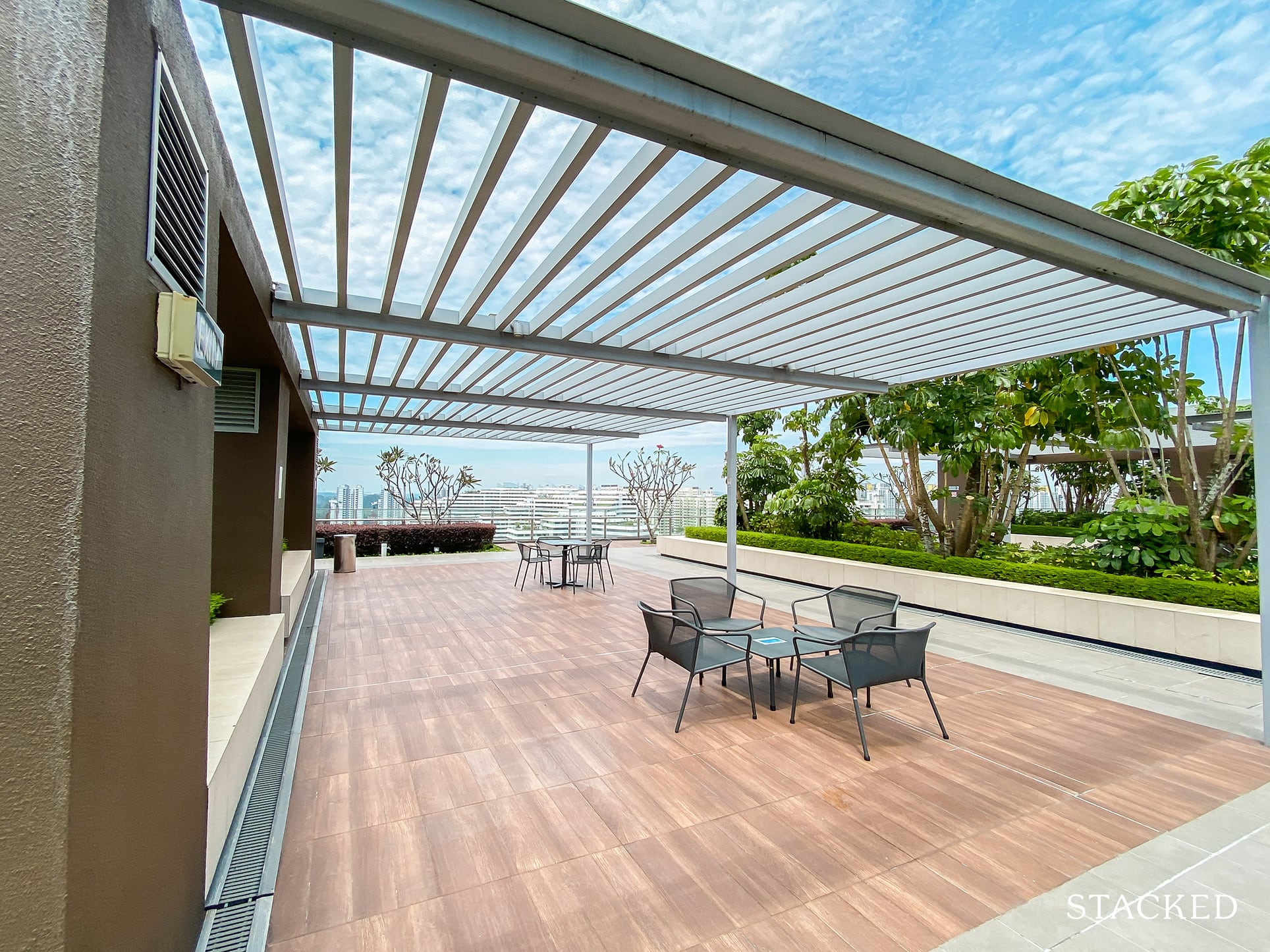 And even though this is the only usable rooftop out of all the blocks, there are multiple seating areas so I can't imagine that you'll really have to face a fight to snag a seat.
As an aside, I've always wondered why slatted roof structures such as these are built. It doesn't do much to shield against the sun, and it obviously is no use once the rain comes either.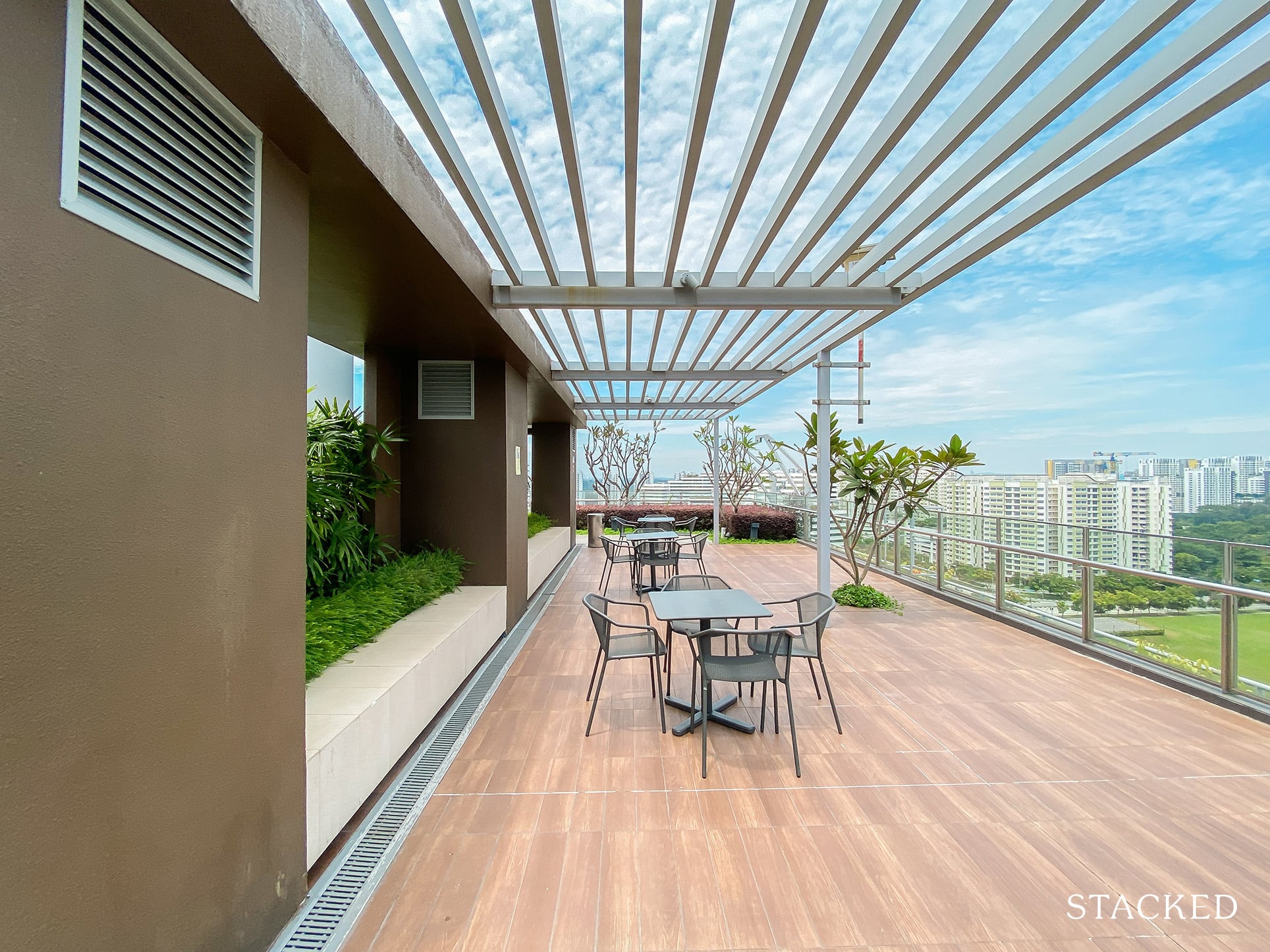 It would have been nice to see some dining facilities here too, just as an alternative to the dining pavilions on the ground floor.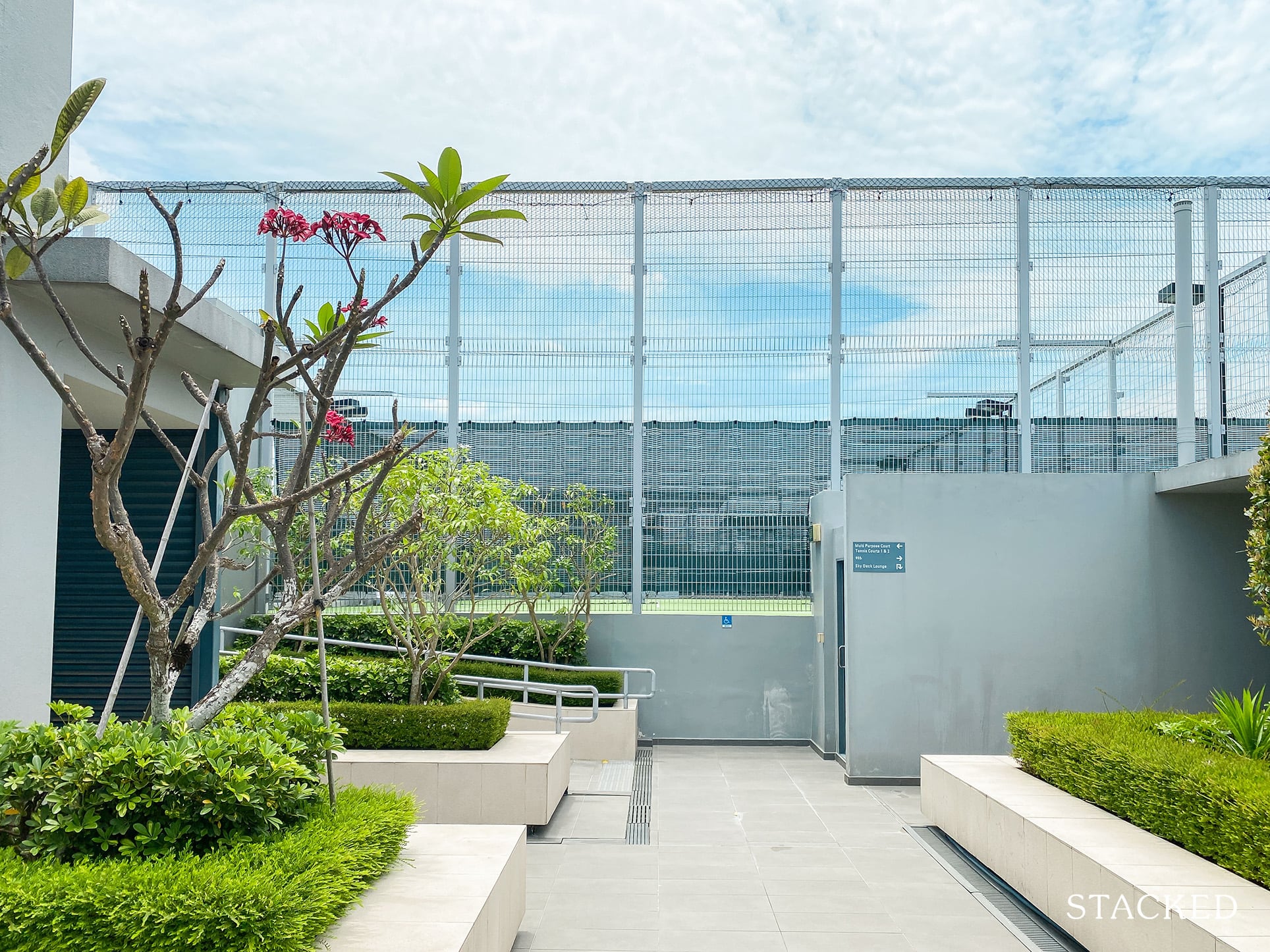 For those wondering if there's anything more up here, well, you'll be pleased to know that there are tennis courts too. And yes, tennis courts with an S so 2 available for the 992 units. That's not bad at all.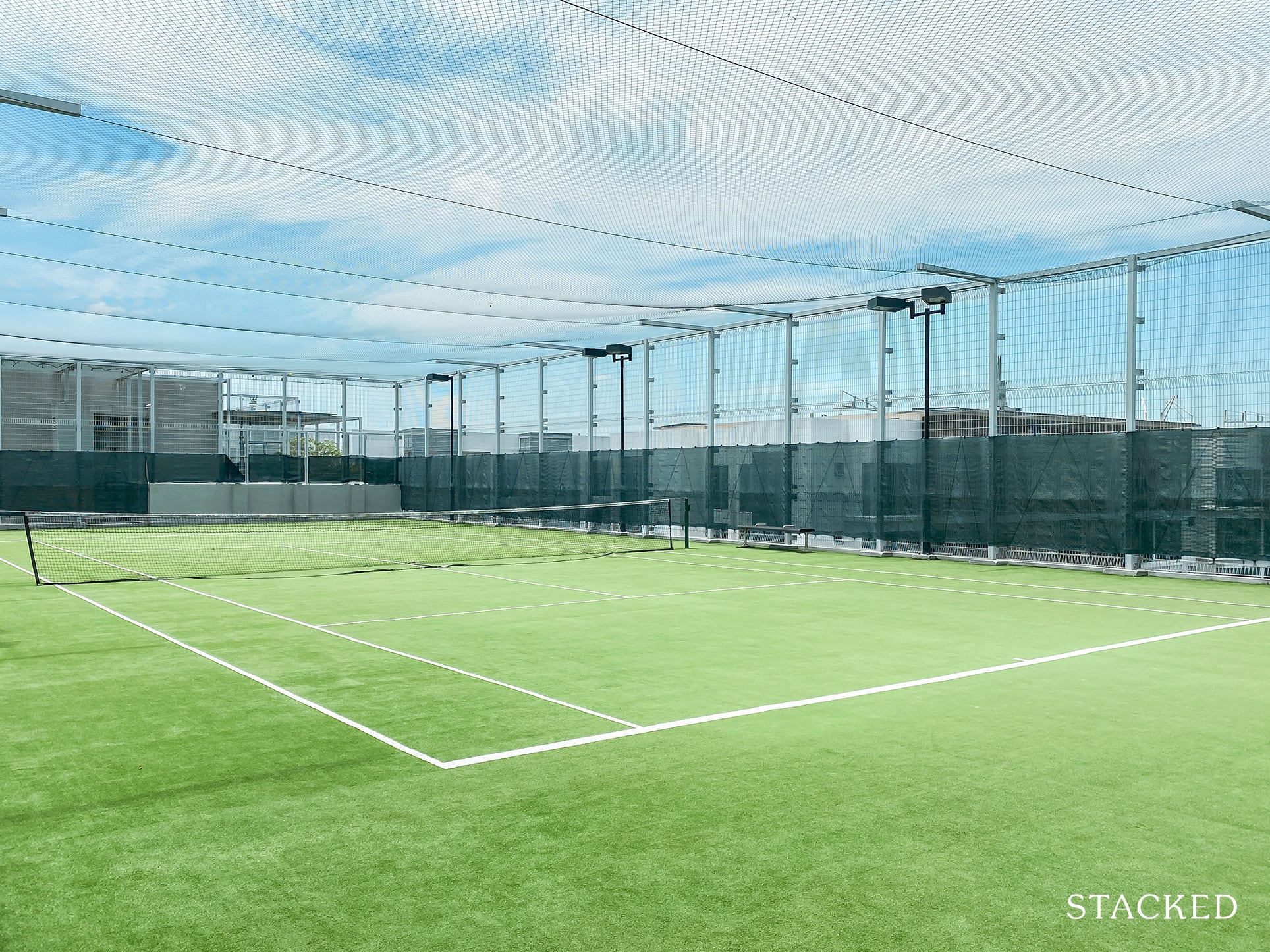 These are not your usual hard floored tennis courts as well, so it's a welcome departure from the norm. Now, I'm no tennis expert but I reckon this would be better for older players and their knees.
They've also included a netting on the top, so you don't have to worry about your stray tennis ball being a unwelcome missile to people below.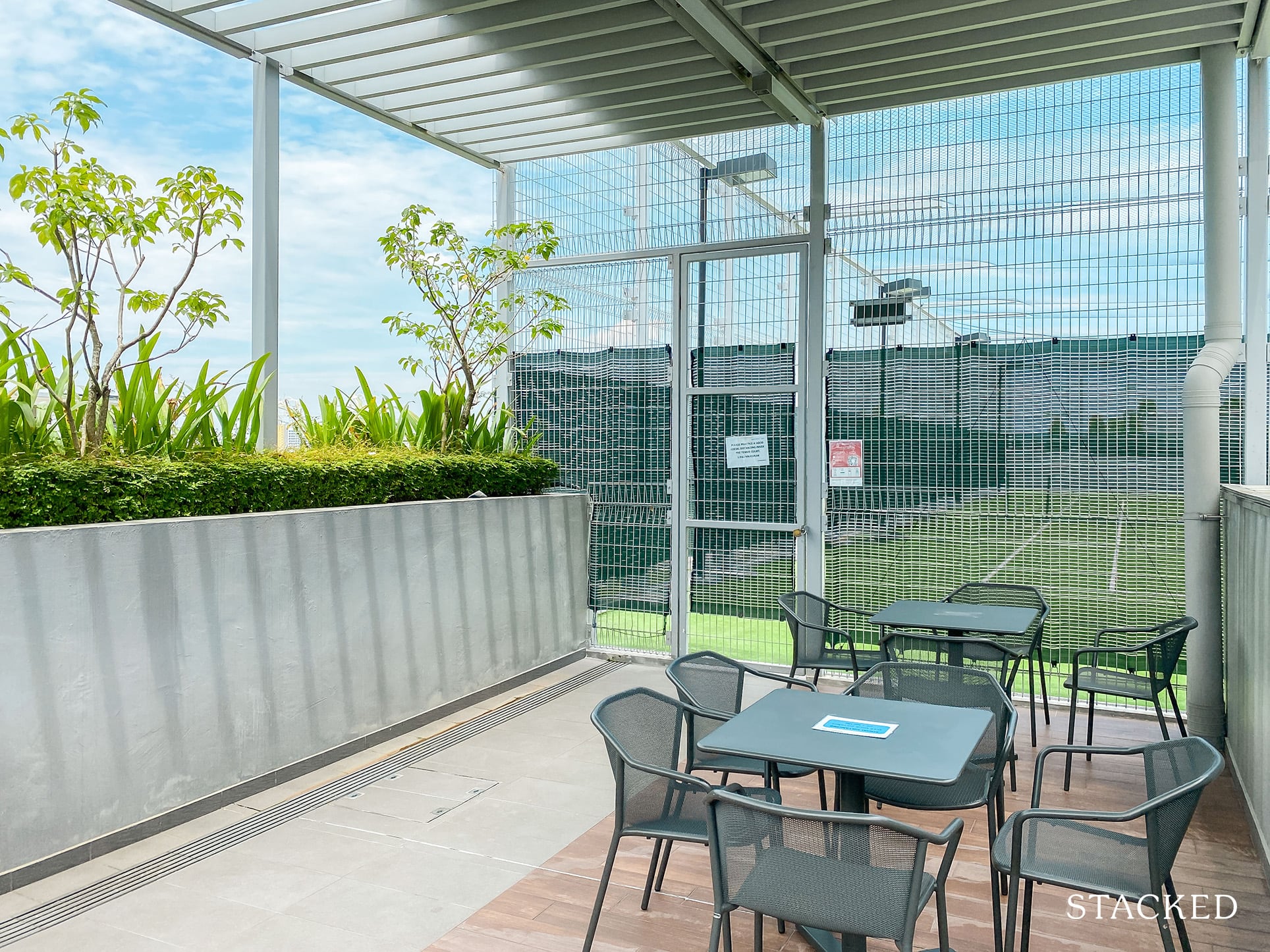 Outside each tennis court they've included more chairs and tables for you to take a breather and rest after the game.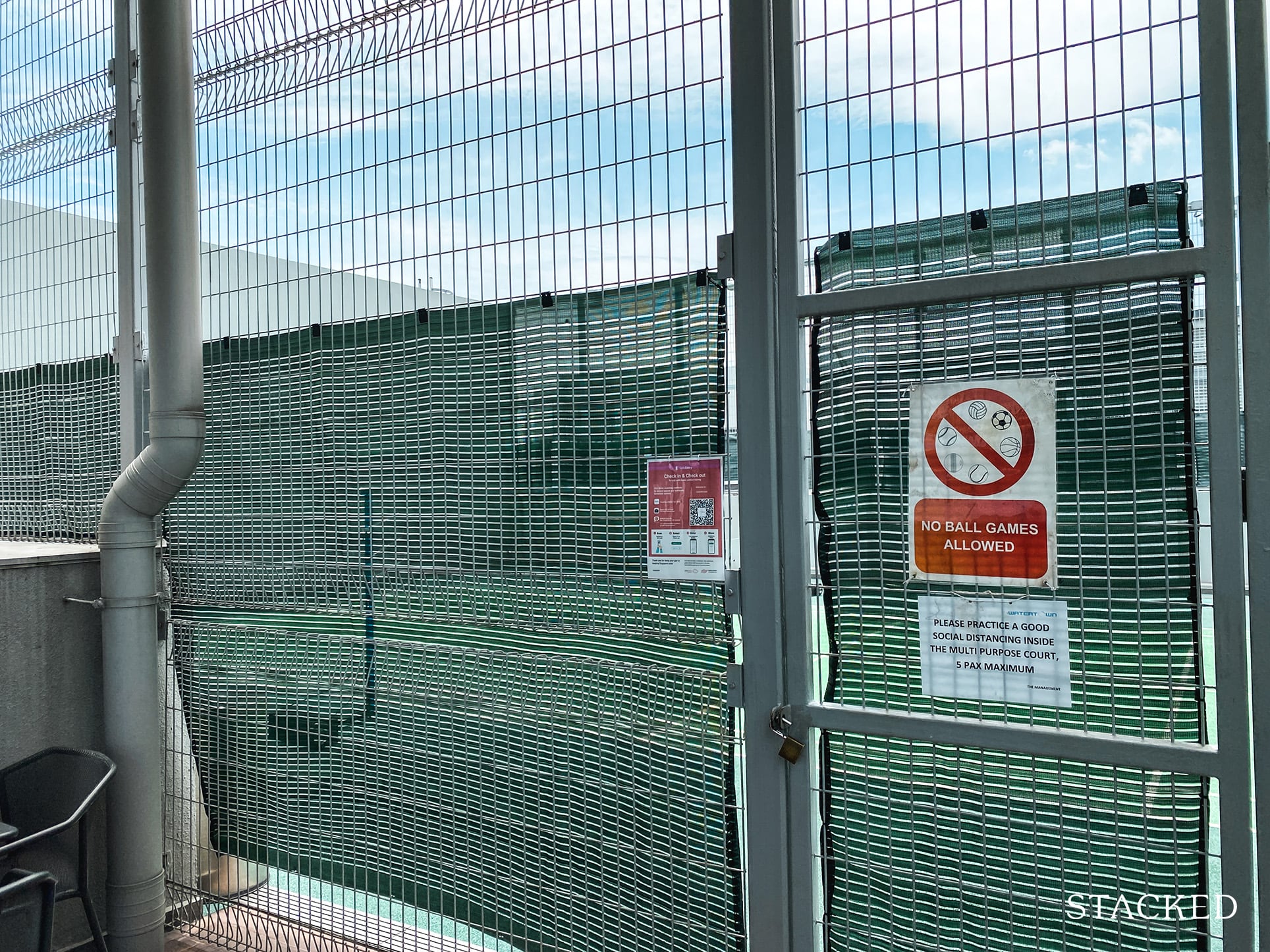 And that's not the end of it. You do have a multi-purpose court (of which the purpose seems to only be badminton since the sign explicitly says ball games are not allowed) – so its tough to say how useful this space really is.
To be honest, I was half expecting to see a dipping pool of sorts here given the swimming pool extravaganza below. Not that it's a bad thing, as you are already spoilt for choice to begin with.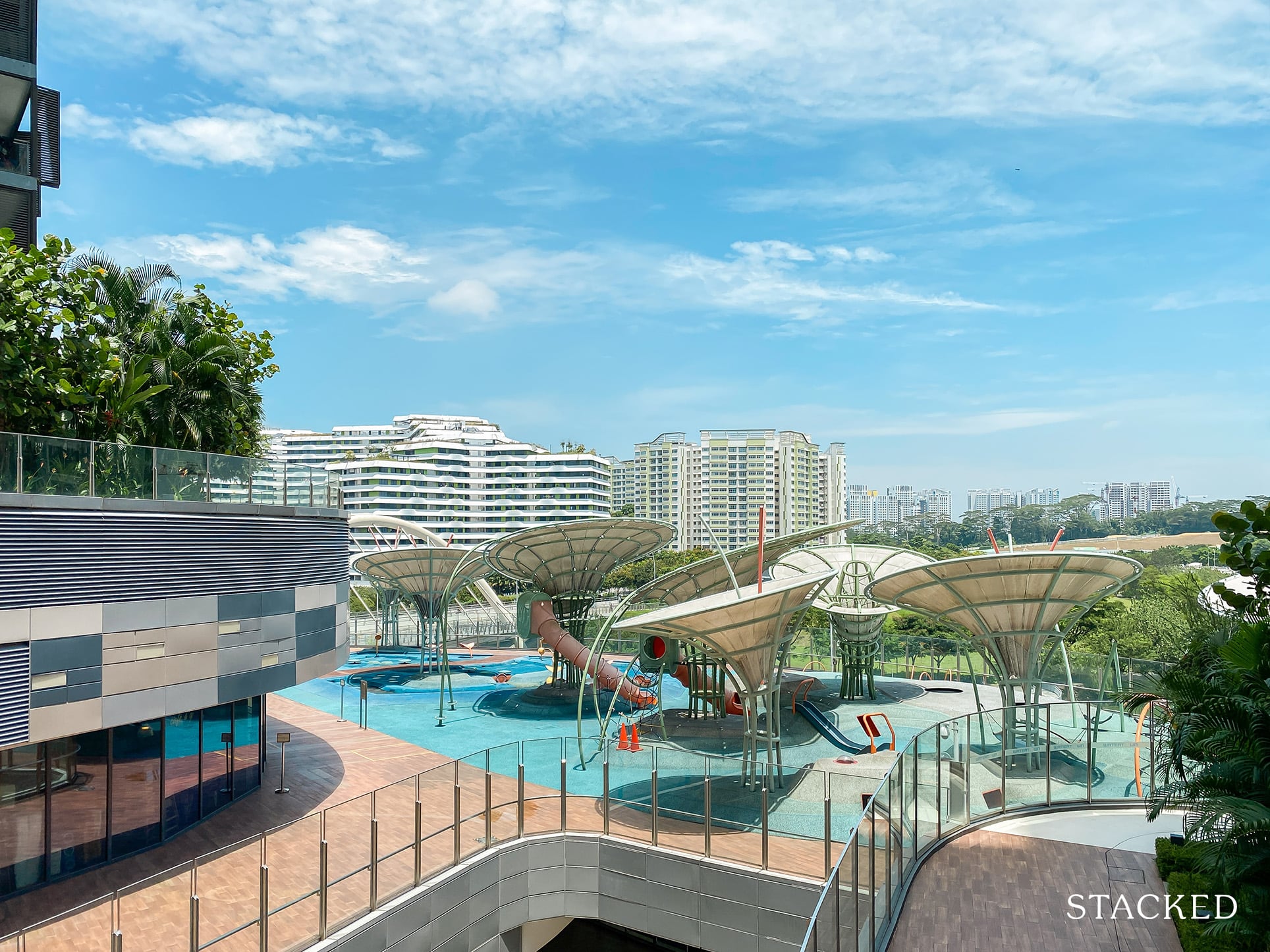 After that jaunt at the rooftop, it's time to head back down to check out the rest of the development. This view that you see here is about the midsection of the space, and that big playground that you see there? That's the Happy Park – don't get too excited as it is actually part of Waterway Point instead.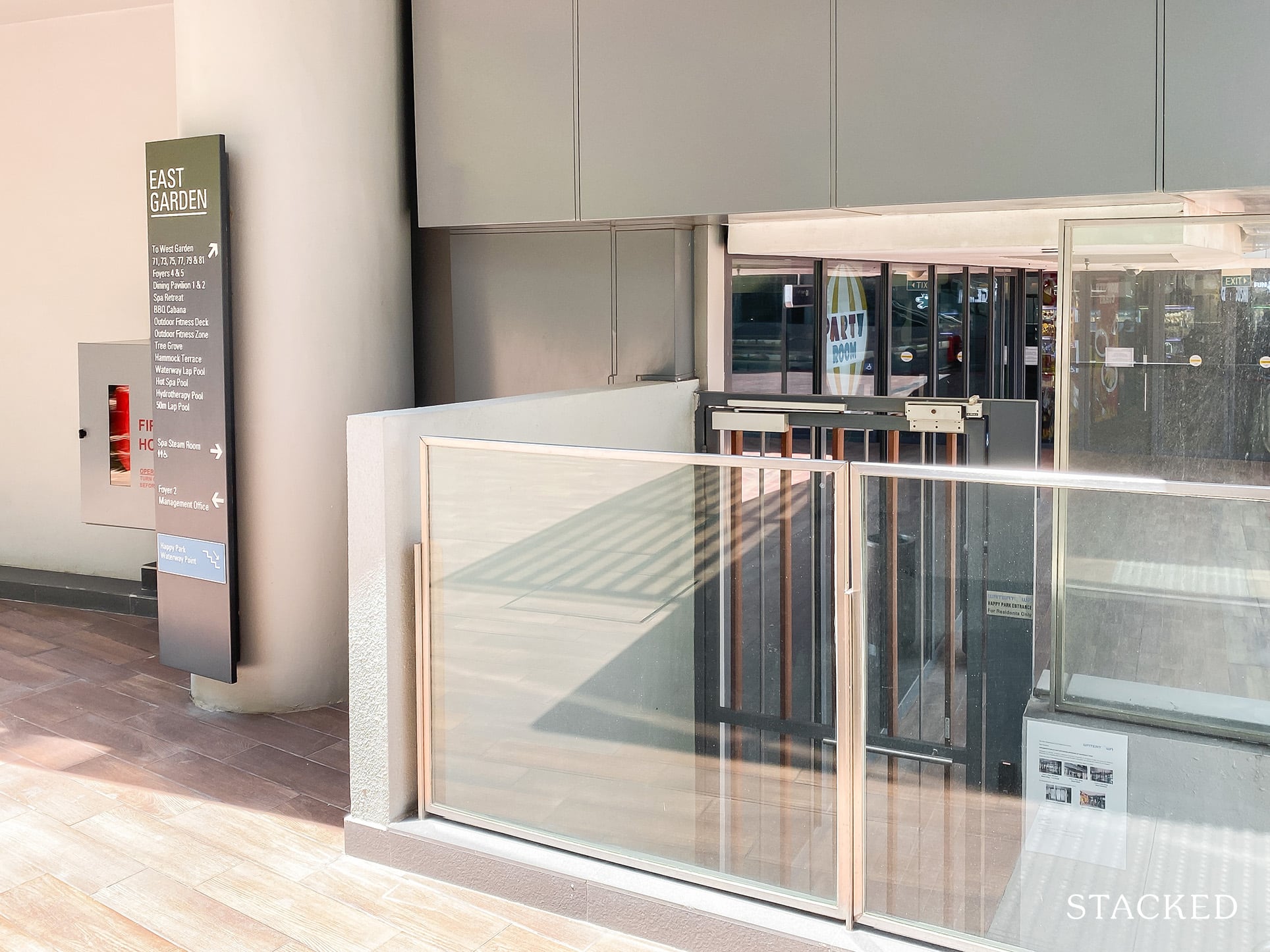 It is also at this point that you can access Waterway Point seamlessly too, which really highlights just how convenient it is to pop in to get a meal or coffee. As always, you will need a keycard access to get in for the security of residents here.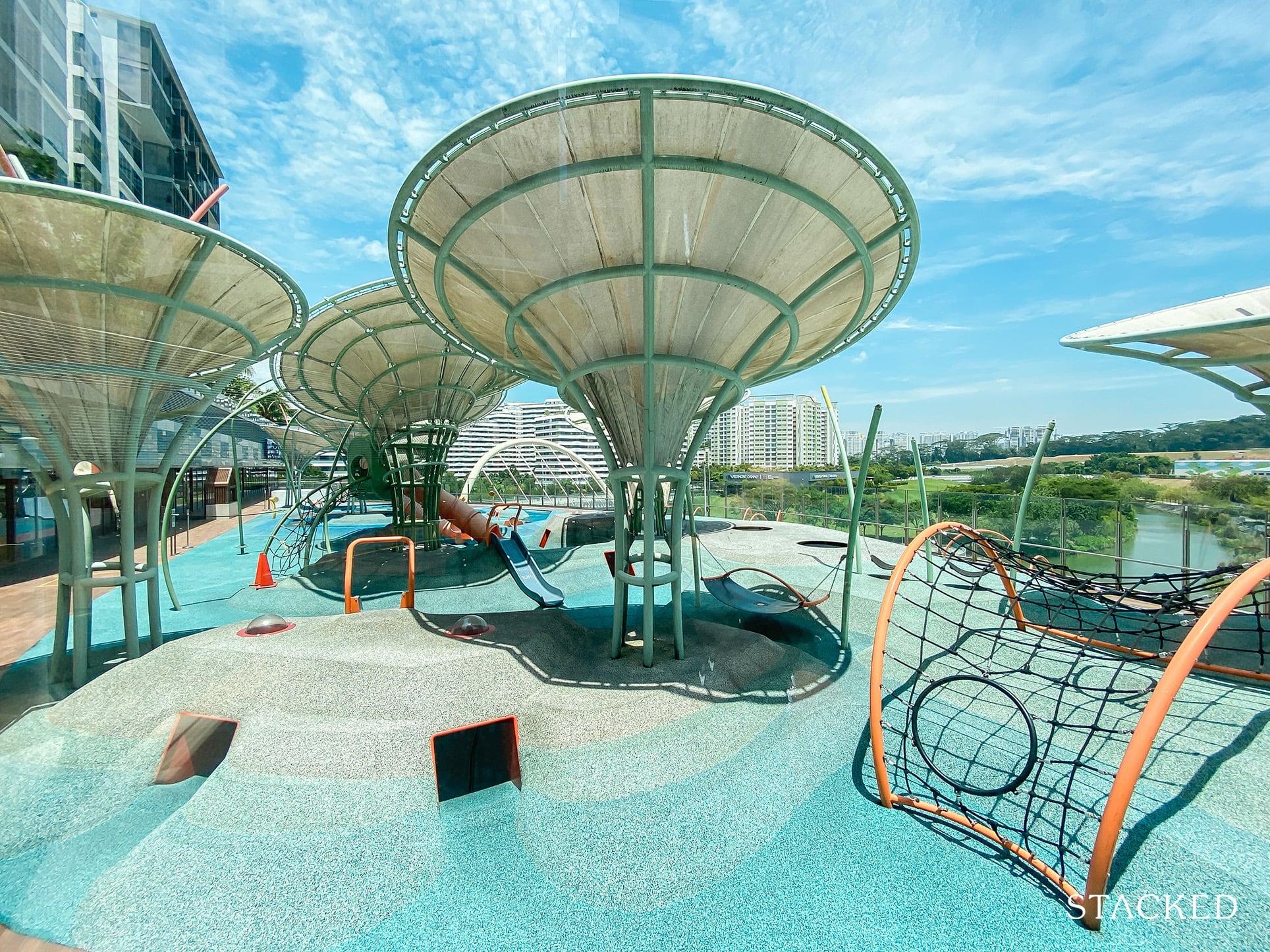 Presumably the Happy Park has been closed due to the Covid-19 situation, but in its heyday, it was as crowded as anything as a hotspot for the many young families living at Punggol. With both a wet and dry play area for the kids, you can definitely see why it was popular.
Of course, this will no doubt be an attraction for families with young kids living at the Watertown condo. For the blocks situated above? Not so much. The noise during peak hours must be quite something.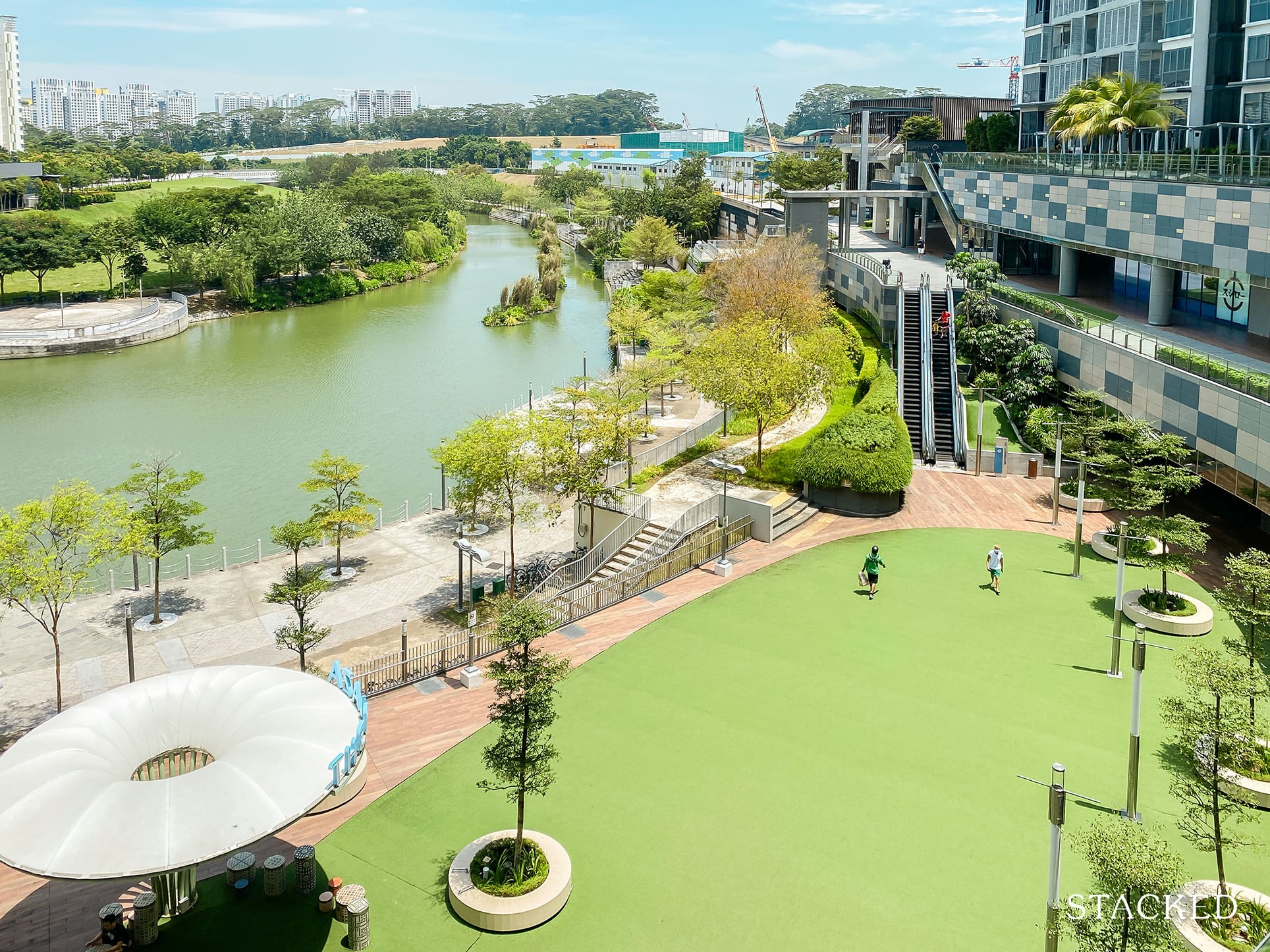 It is from here too that you can get a good overview of the waterfront and what makes Waterway Point and Watertown so unique.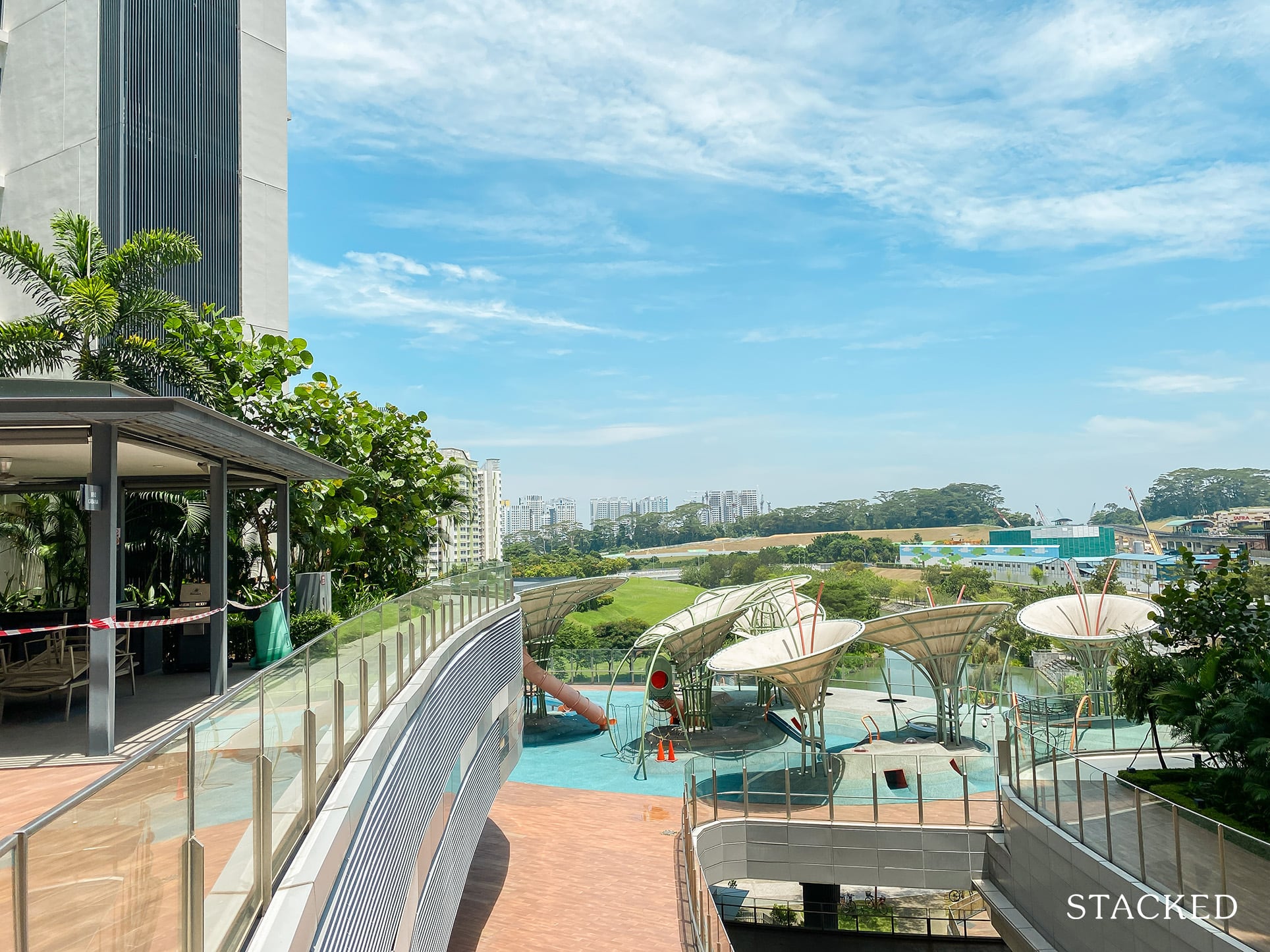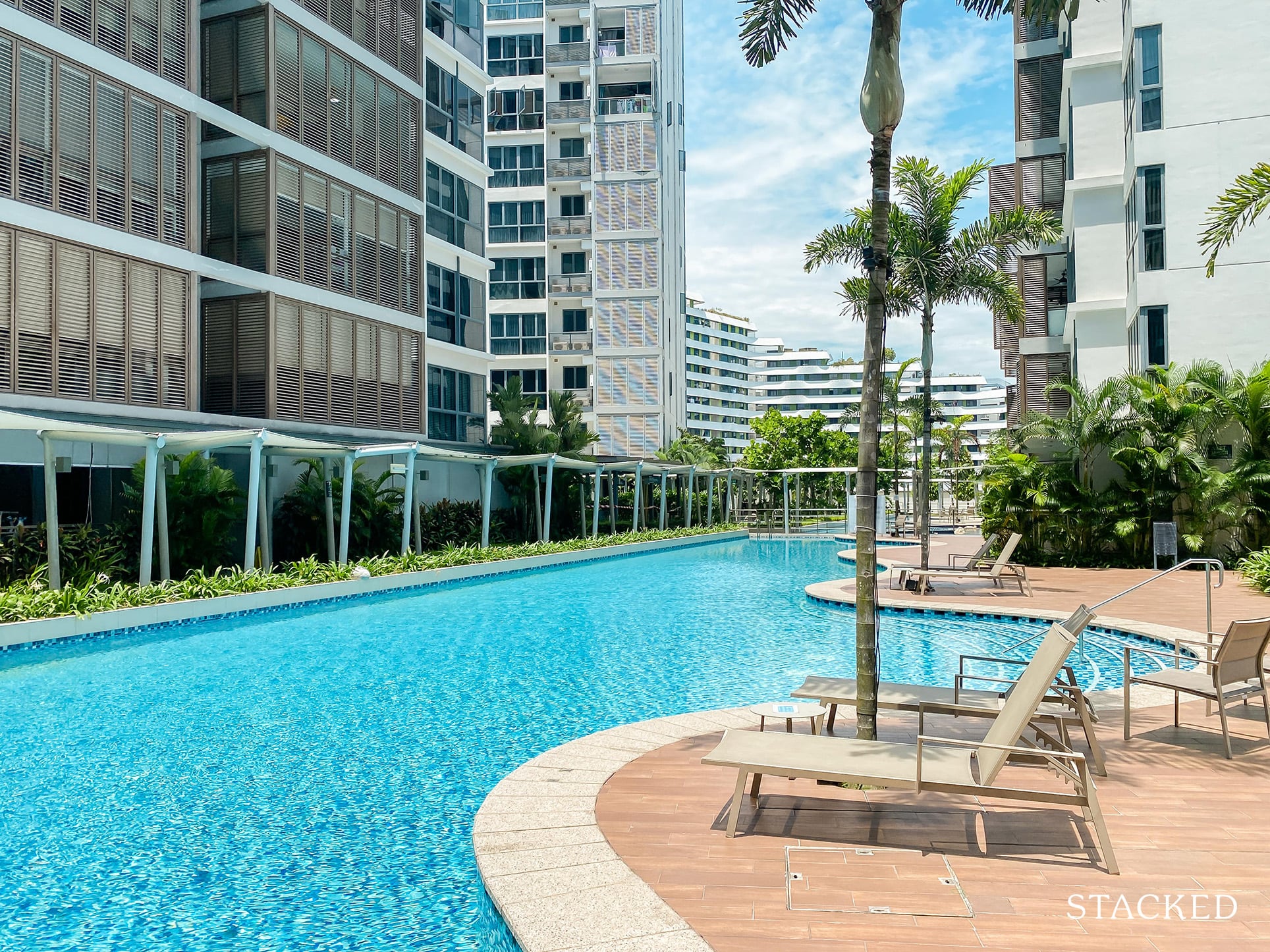 Moving up to the upper deck of the Watertown condo, you'd be greeted with yet another swimming pool. It's a lap pool that's straight on one side, with circular indentations on the other – and it is a pretty long one at that.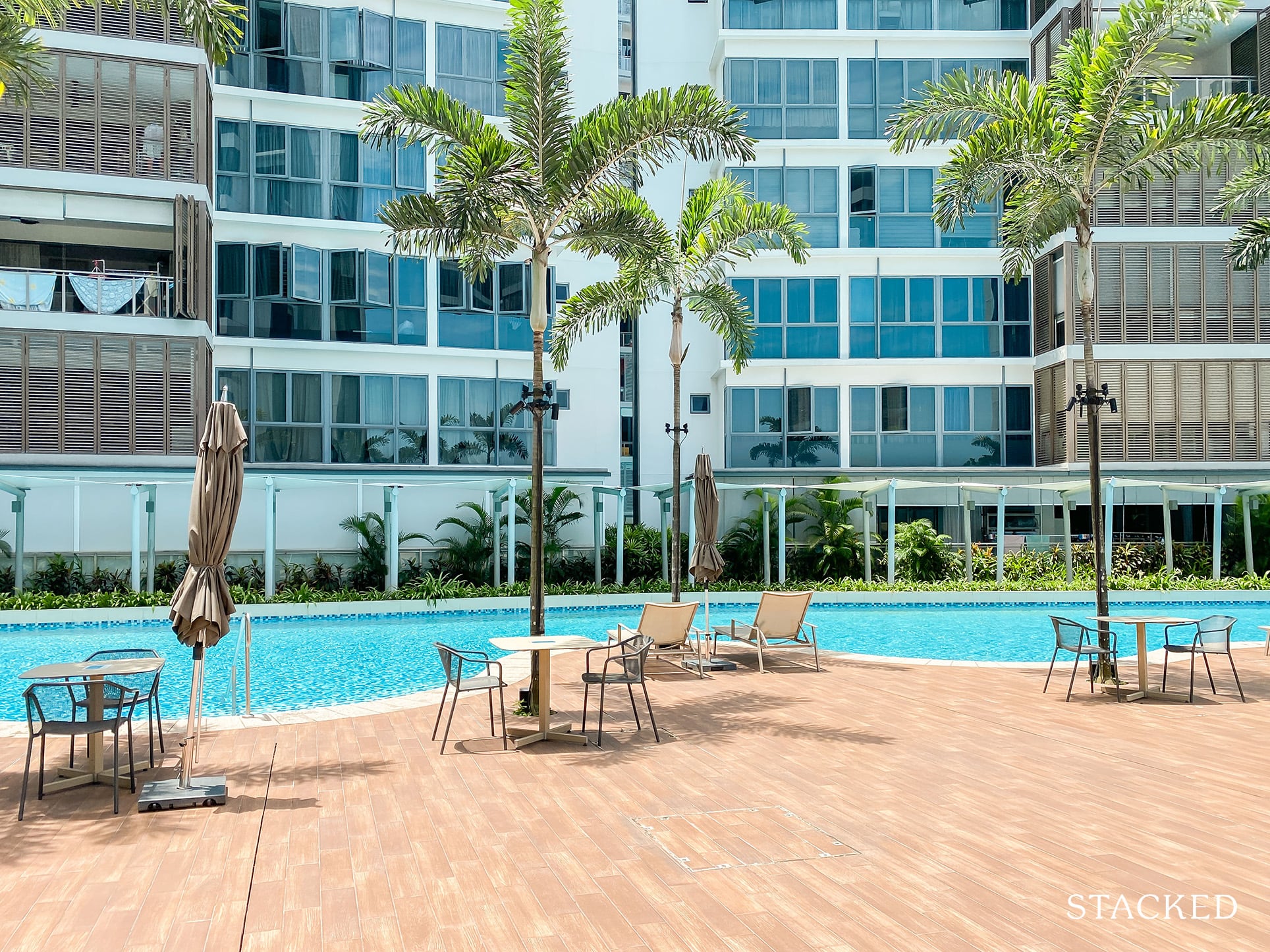 The deck itself is pretty wide so you have a good amount of space to walk around. Scattered around are various seating and deck chairs accompanied by umbrellas (something that you'll be surprised not many condos actually provide for even with Singapore's sweltering weather and sun).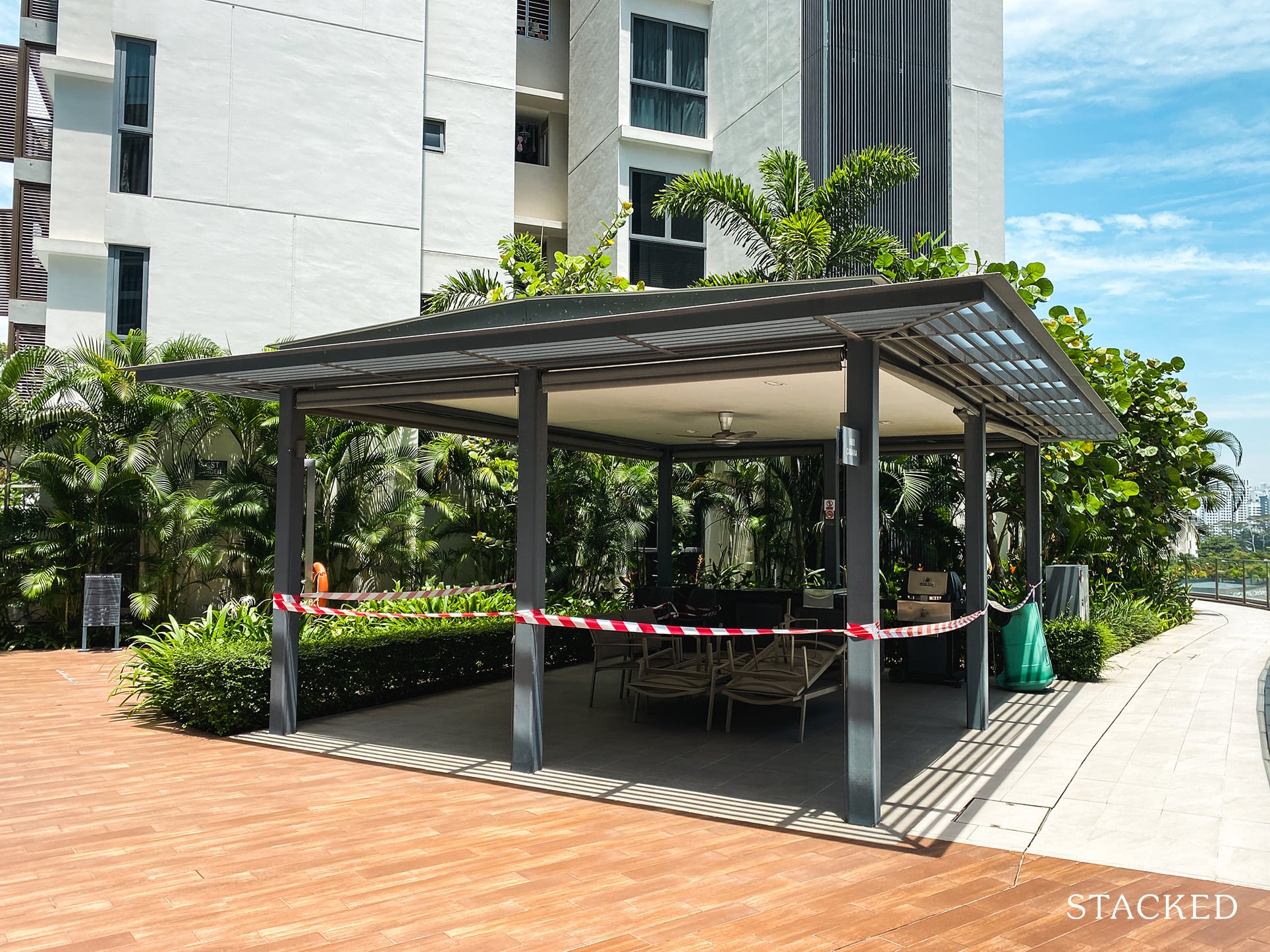 Just in front of the pool is another dining pavilion, with cooking/barbecue facilities. It is thankfully sheltered as well.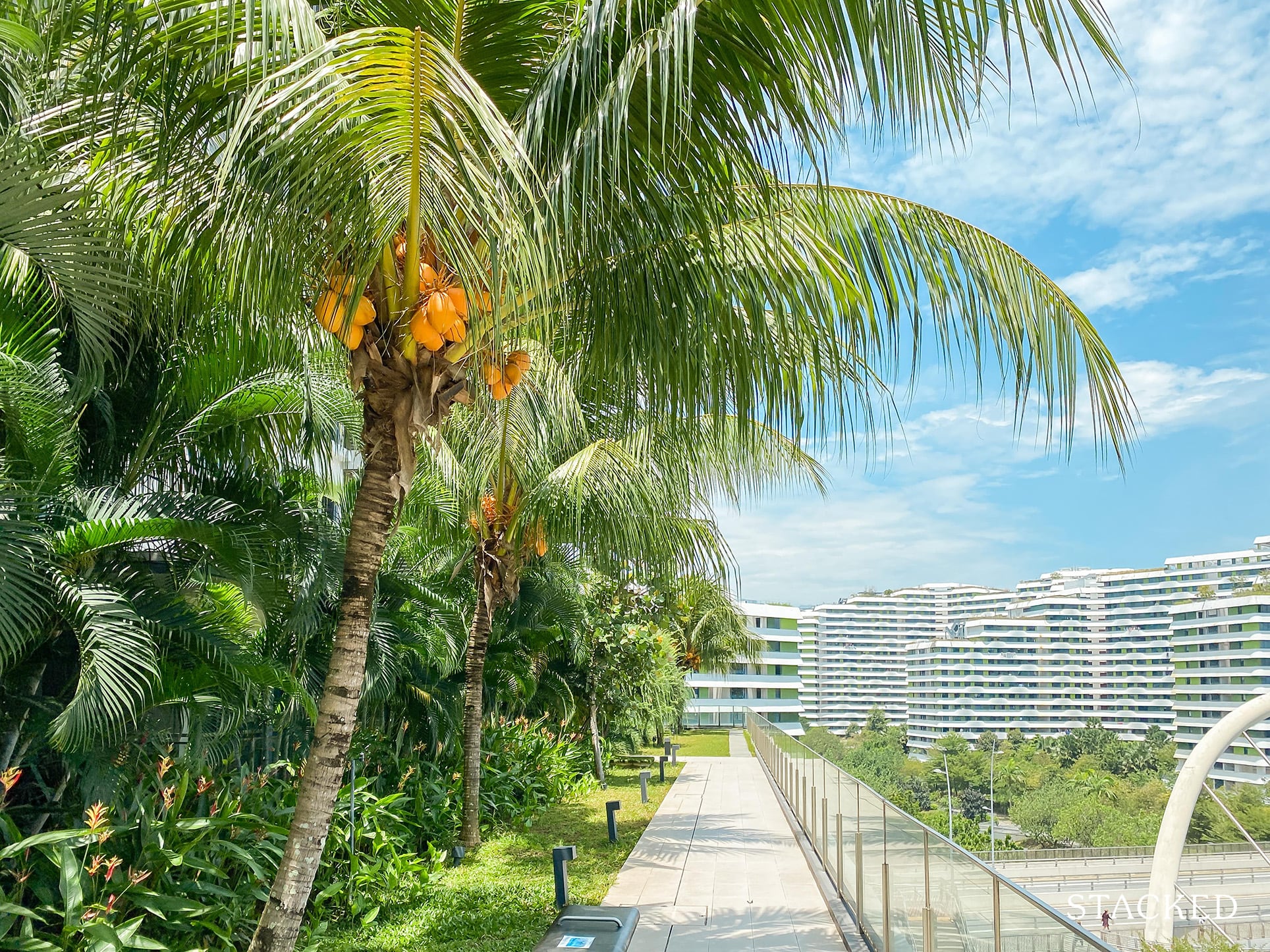 Walking further from the dining pavilion to the end is a walking path that brings you around the circumference of the estate. On the left you can see that it is thickly shrouded with plants and greenery – which is great from a privacy standpoint for the ground floor units.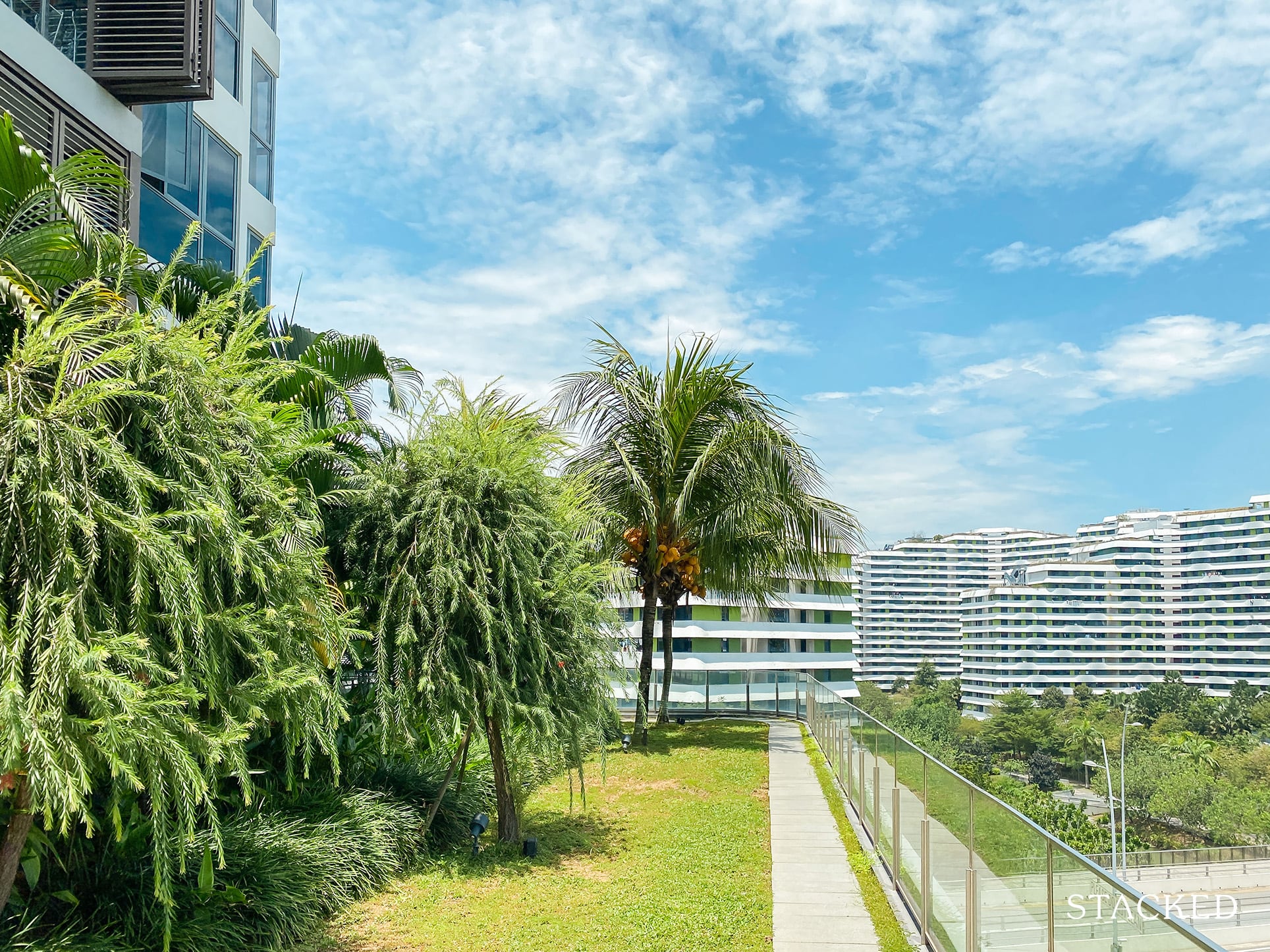 I can't imagine that many would want to walk (or walk their dog) within the estate given that the much more scenic Punggol Waterway is just at their doorstep, but it is nice to know that you have that option should you wish to.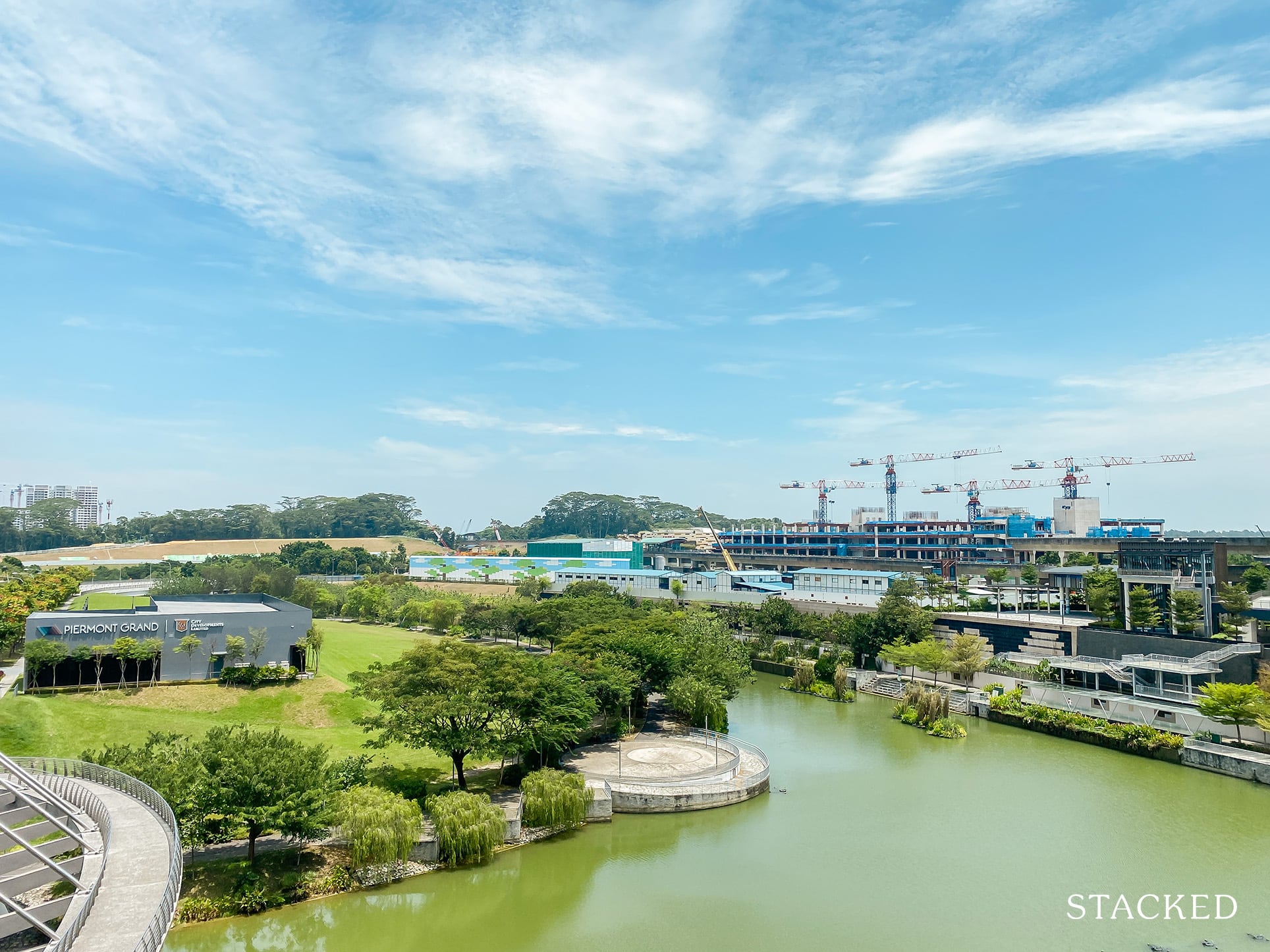 You do, of course, get that elevated views from here too. This side faces the iconic Waterway Terraces which I reviewed recently. It's not everyone's cup of tea that's for sure, but I do appreciate that HDB is trying out more unique designs.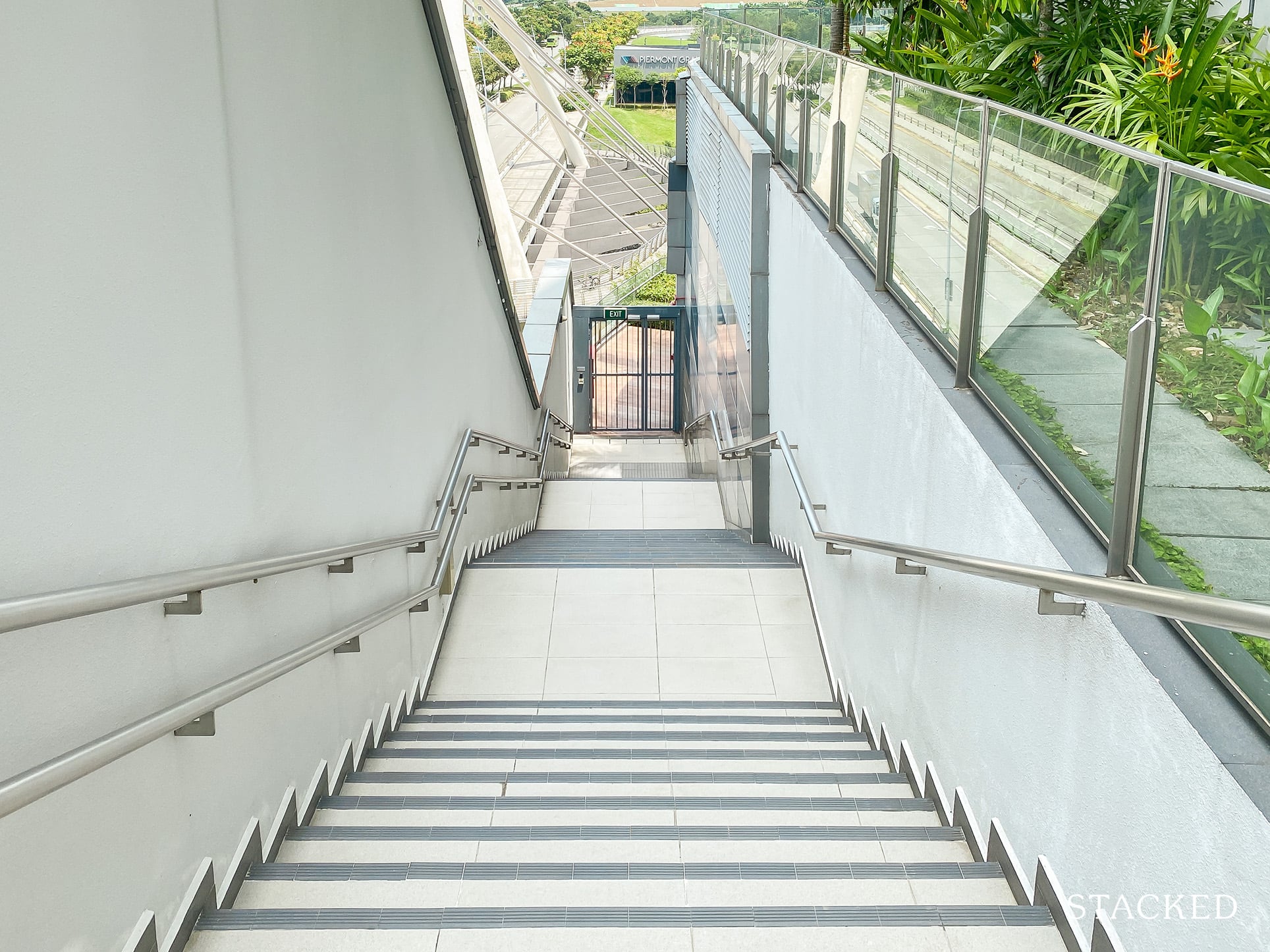 There is also another side gate here that would lead you directly to Waterway Point. This one, unfortunately isn't sheltered and neither do you have the luxury of an escalator so this definitely isn't as suitable for the less mobile.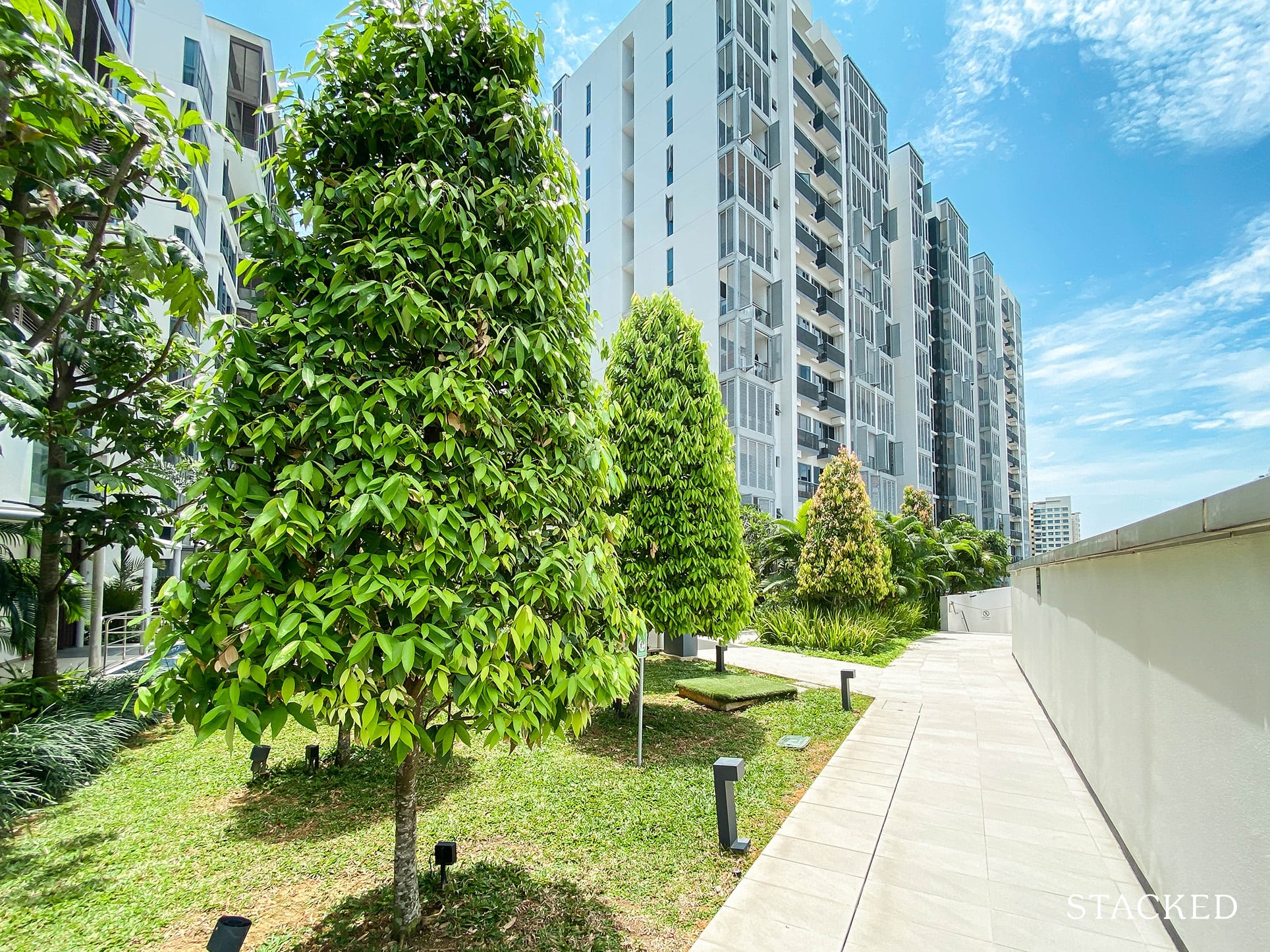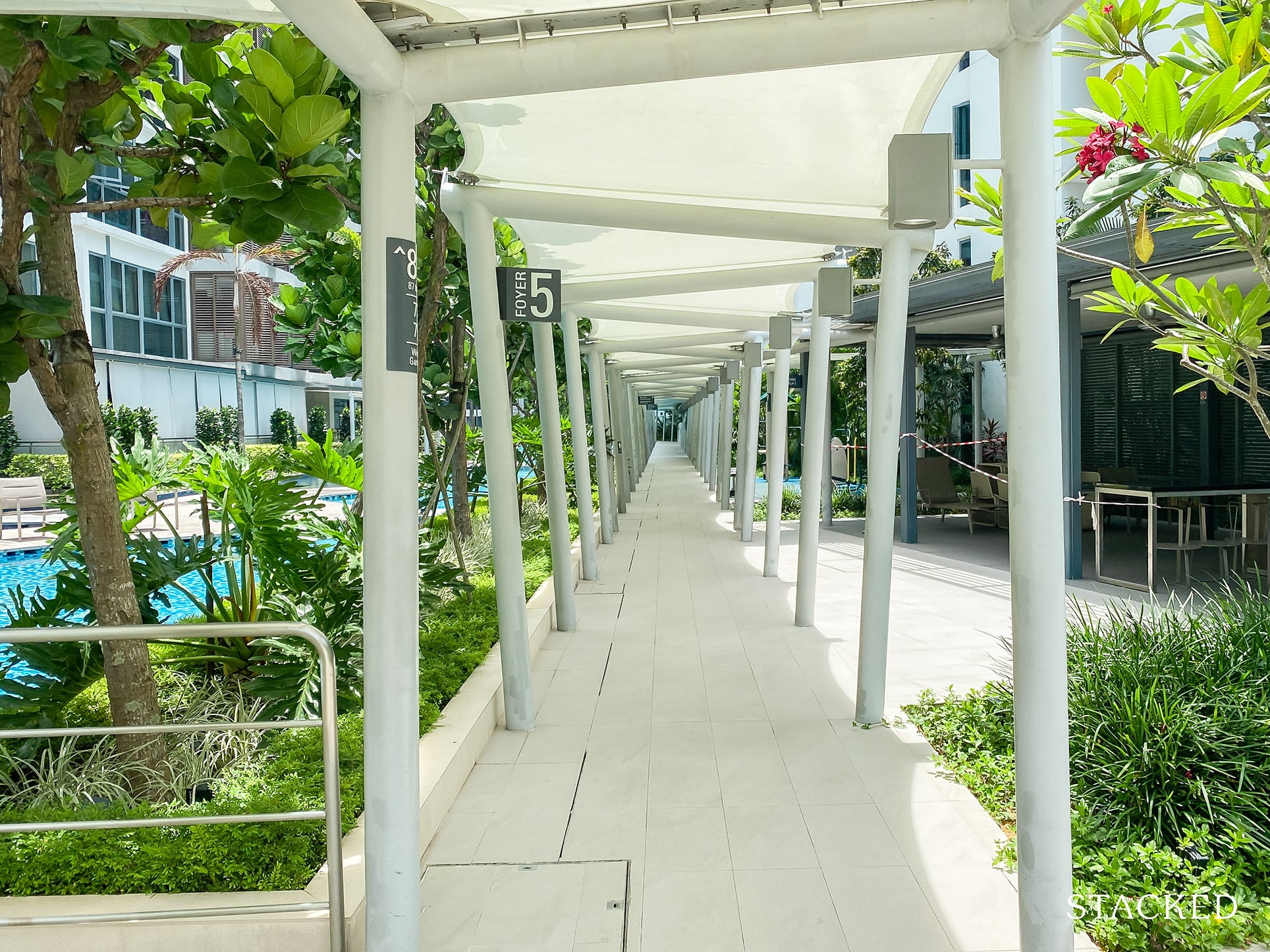 And as you might have already realised by now, the internal pathways at the Watertown condo are all very usefully sheltered.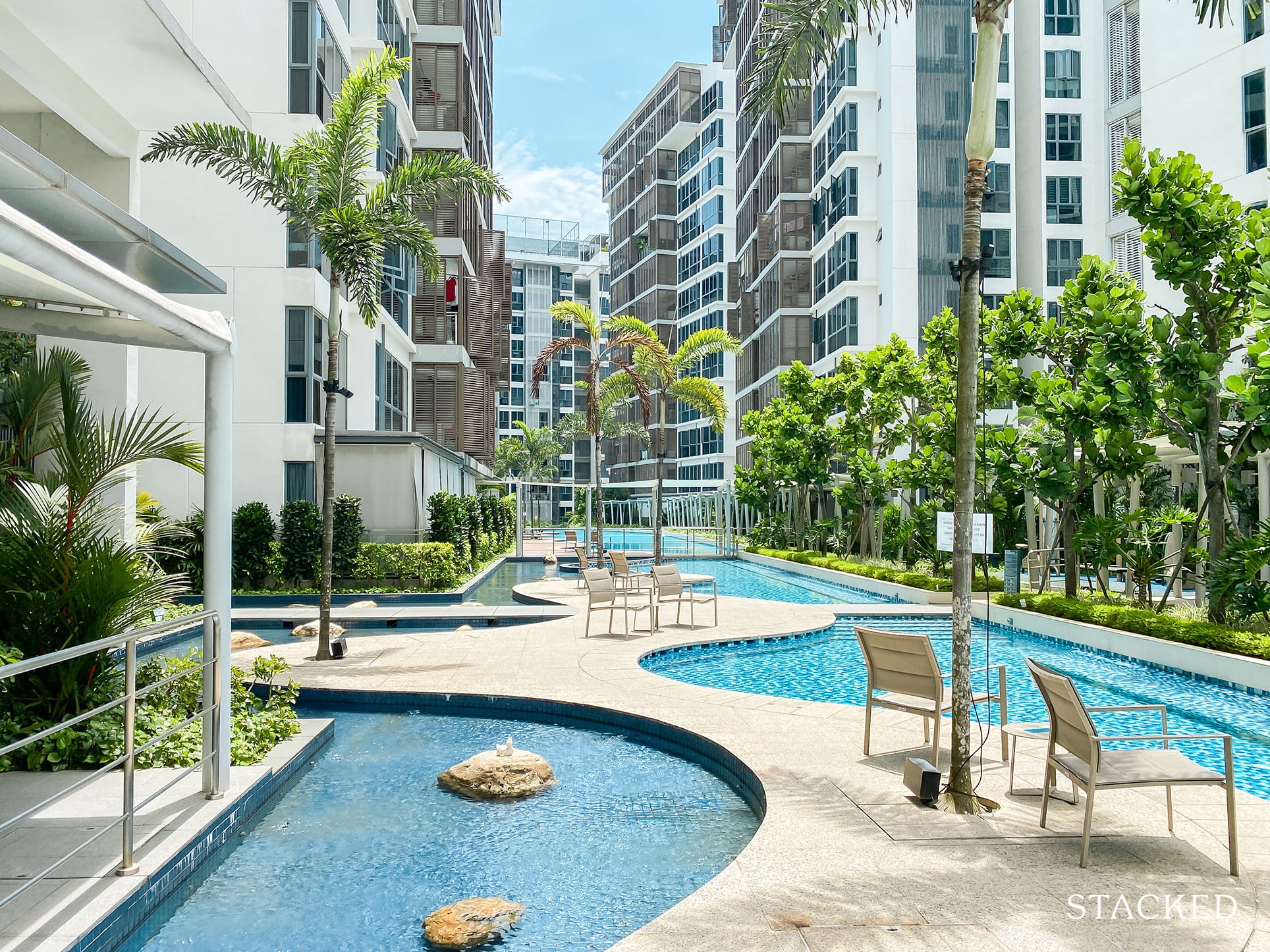 If you are a little lost, this area that I'm at is currently in between Tower 11 and 7. Behind me would be Waterway Terraces, and further in front would be the long lap pool that you've seen earlier.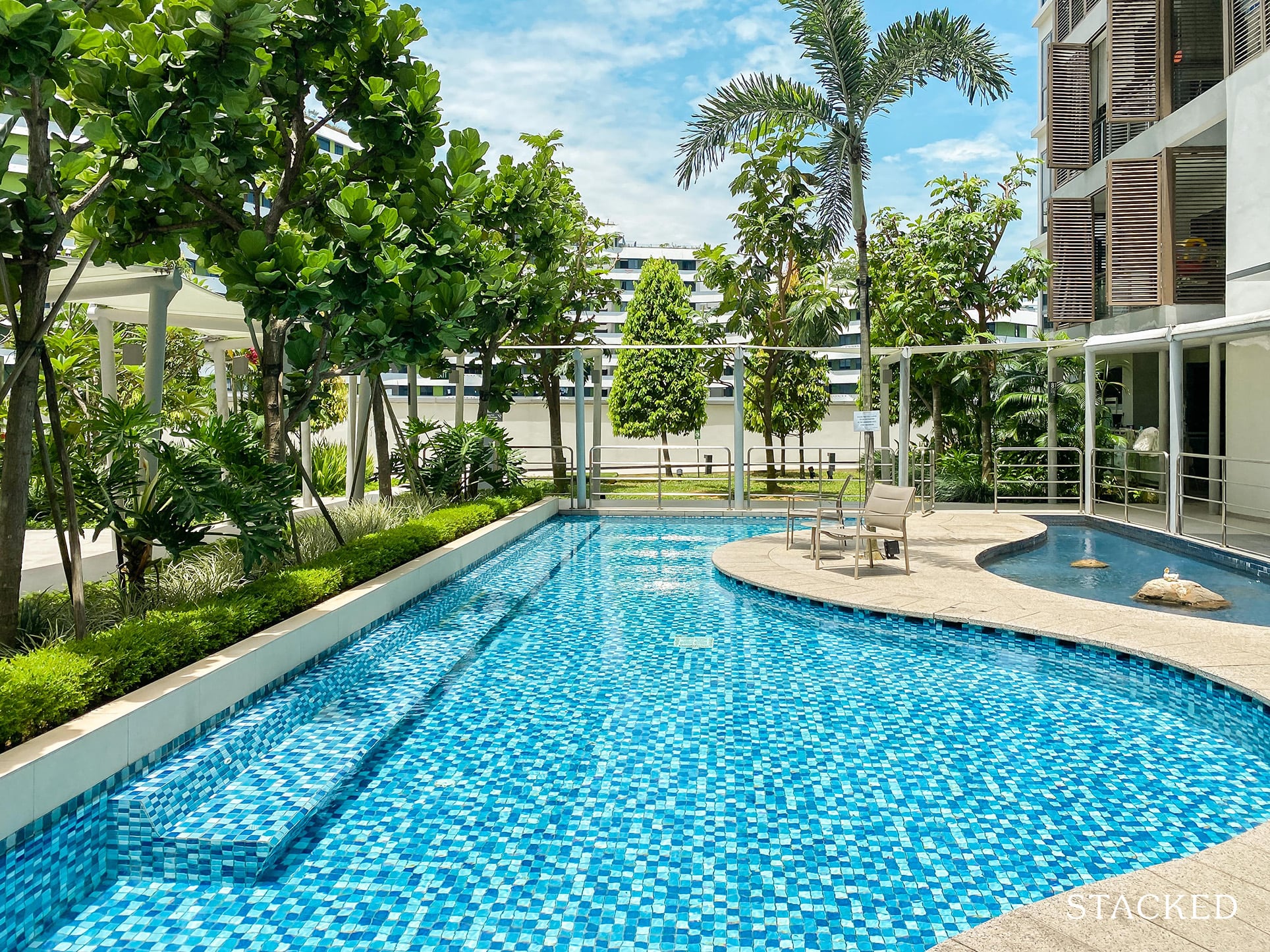 Termed as the Hot Spa Pool, these are essentially small pools to have a dip and relax in. For the ground floor units situated at Tower 11, it's almost practically (keyword: almost) like your very own private pool just at your doorstep.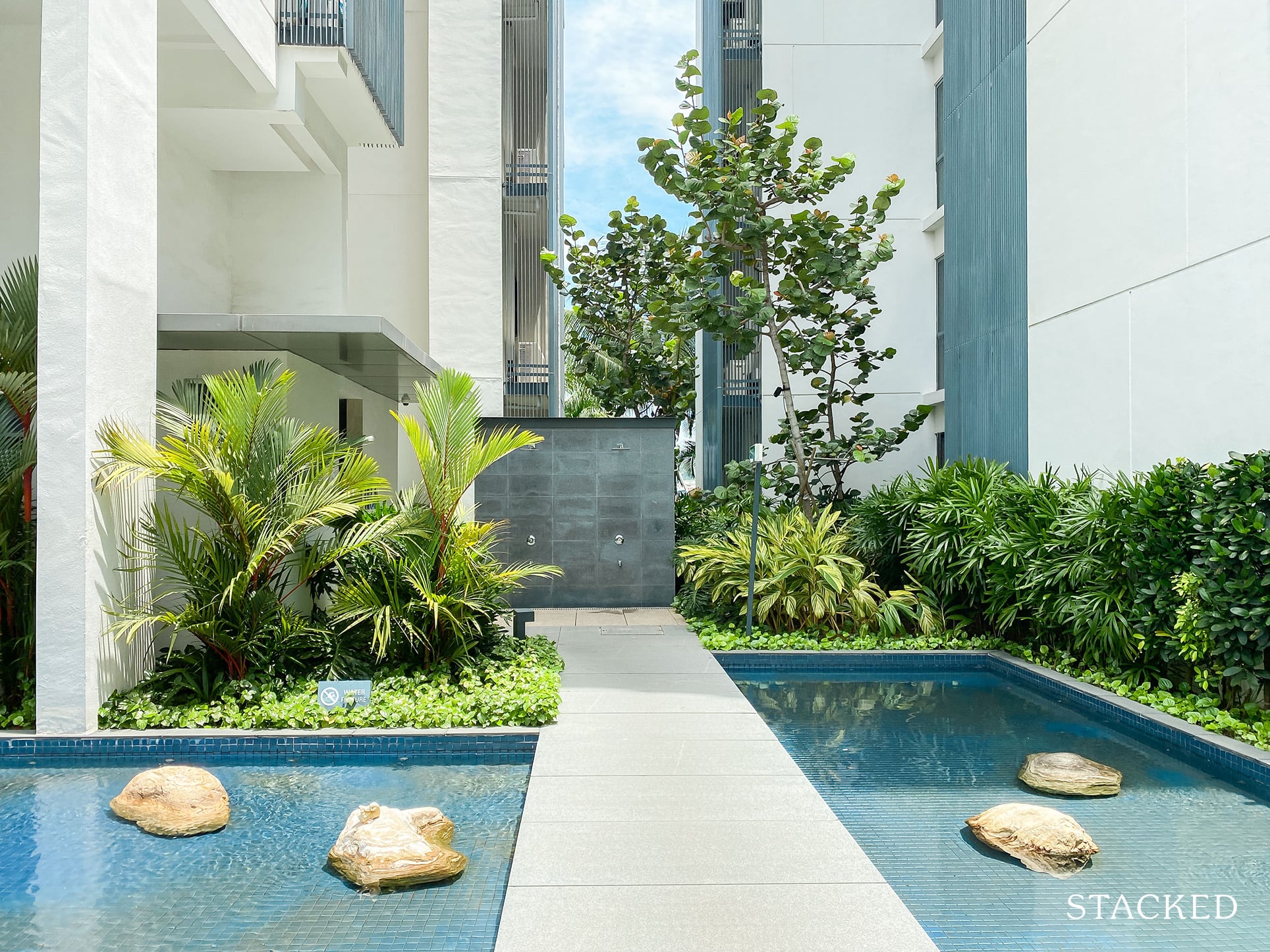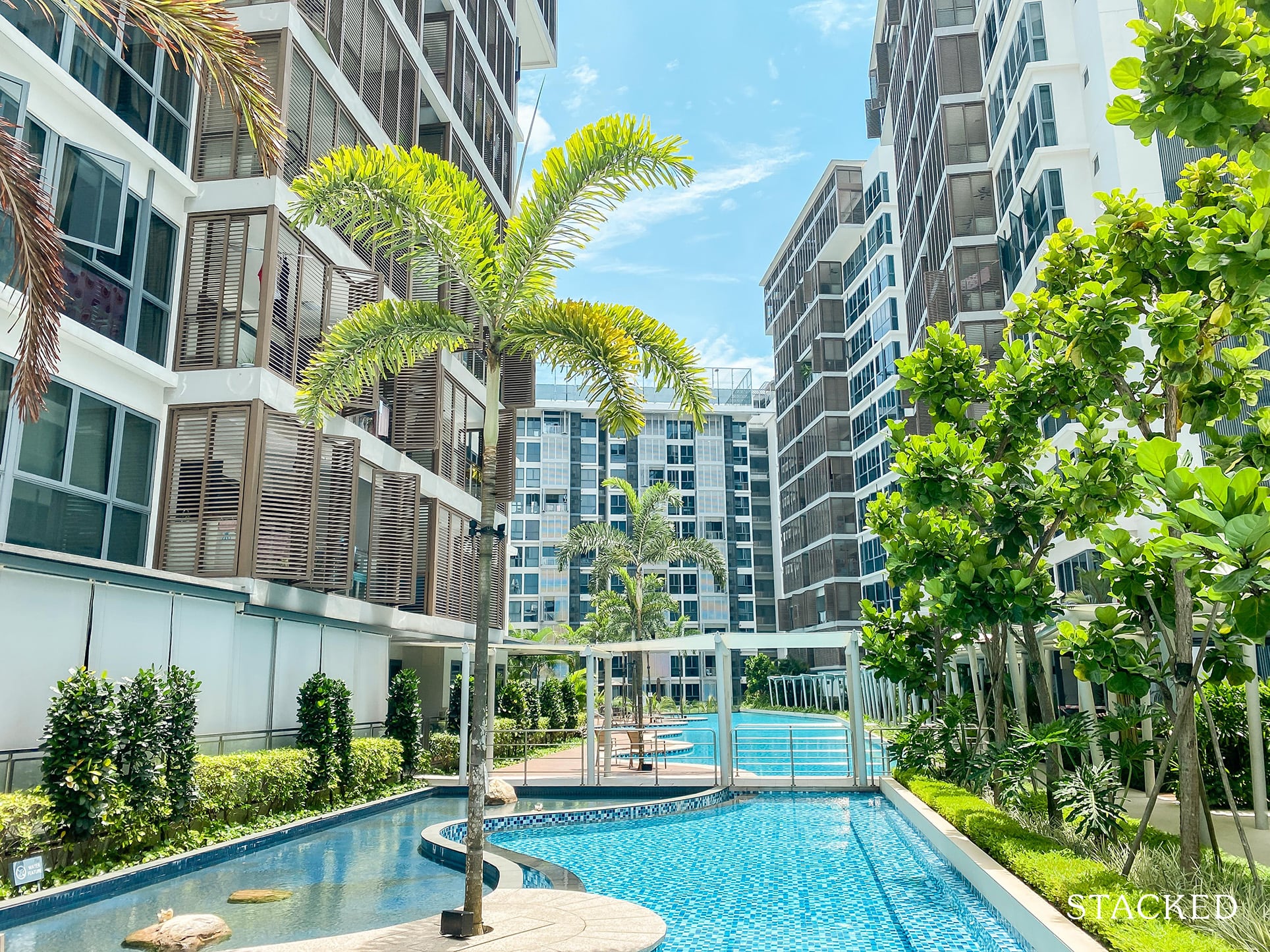 Set in front of you is a meandering path that will lead you to the main lap pool. It's a pity that it isn't all connected into one extremely long pool, followed by a slide at the end that drops into the Kid's Pool (one can only dream!).
There is another dining pavilion set towards the right side of the pathway. It's a like-for-like set up – well-equipped, sheltered, and comes with ceiling fans. Like the others, it isn't the most private of spaces, but that's always going to be the consequence of a tightly packed project such as this.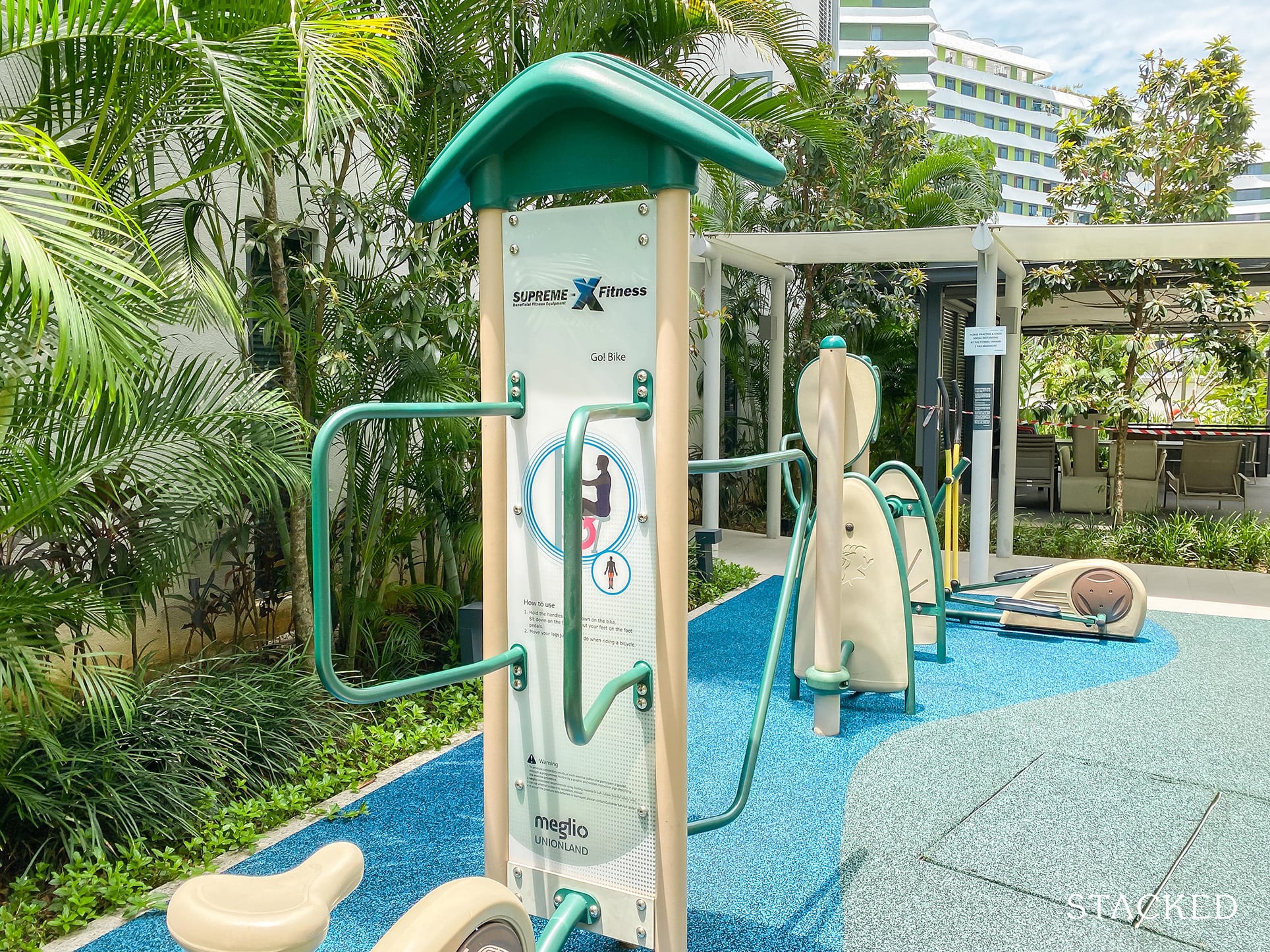 Directly in front of the dining pavilion is an outdoor fitness station, albeit a small one.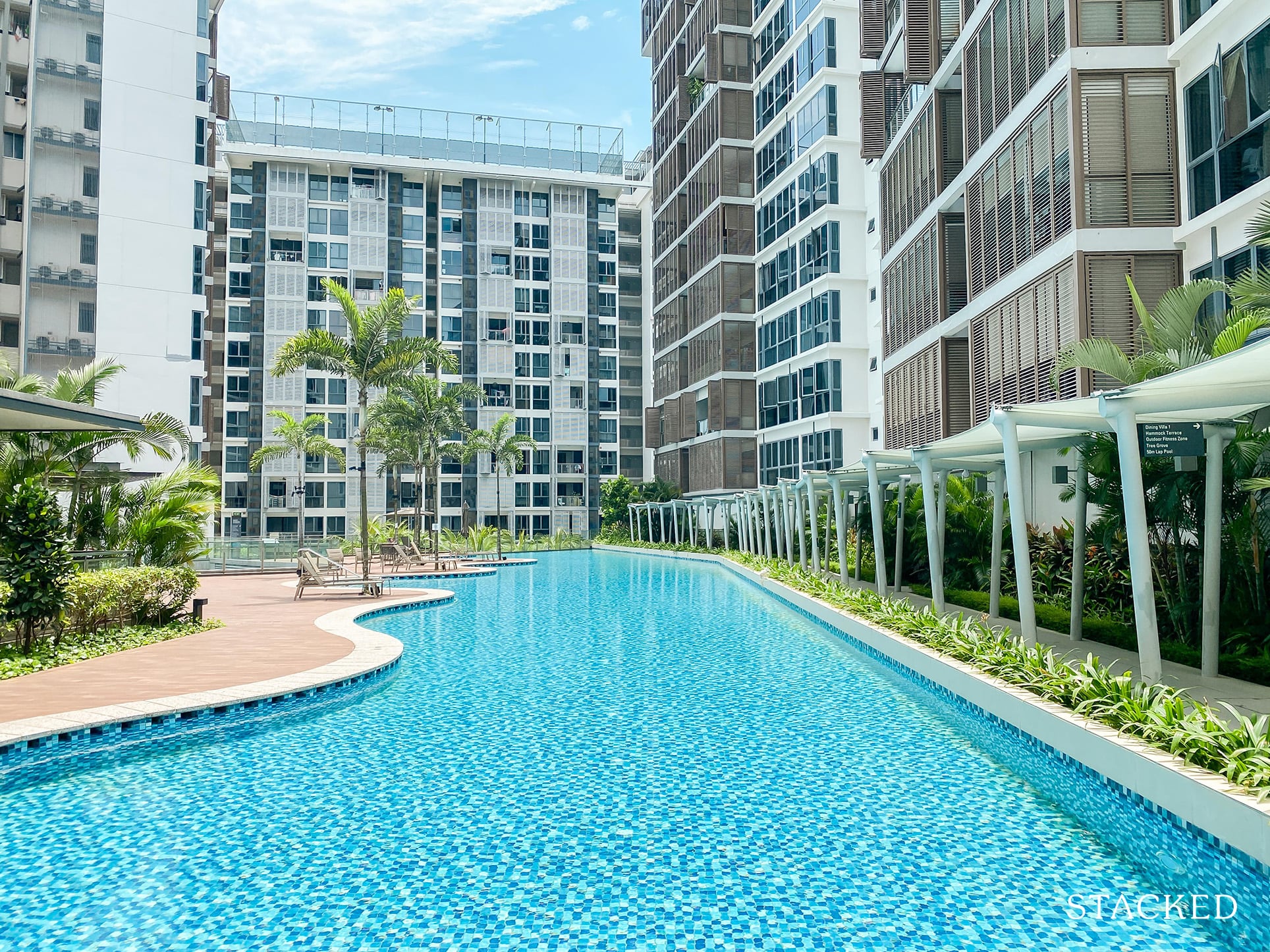 Here's a shot of the lap pool that you've seen earlier from the opposite end – hopefully this helps you with your bearings!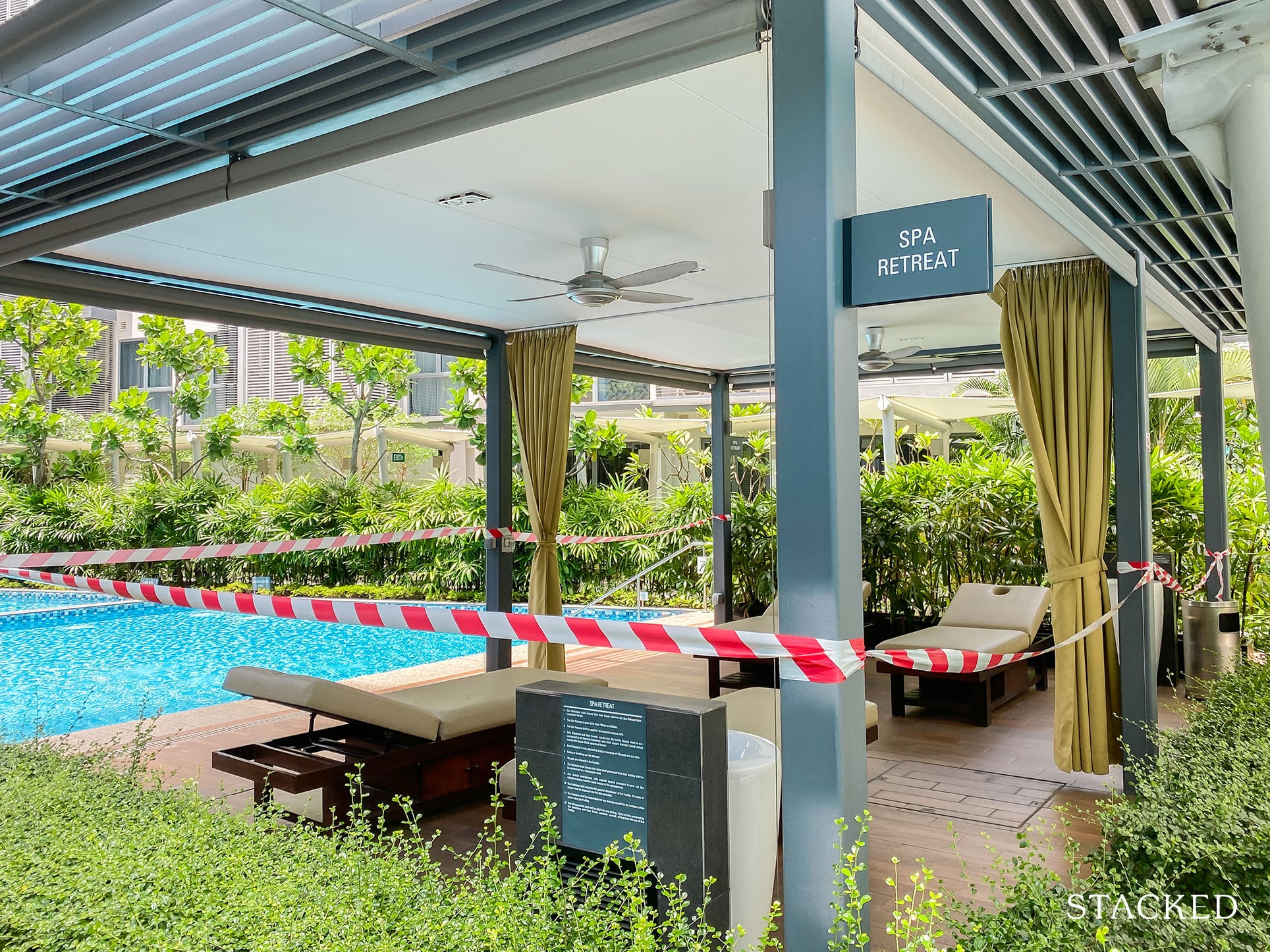 So instead of going straight, turning right would get you to another section of the Watertown condo. Here you have another pavilion named the spa retreat that comes complete with raised cushioned deck chairs.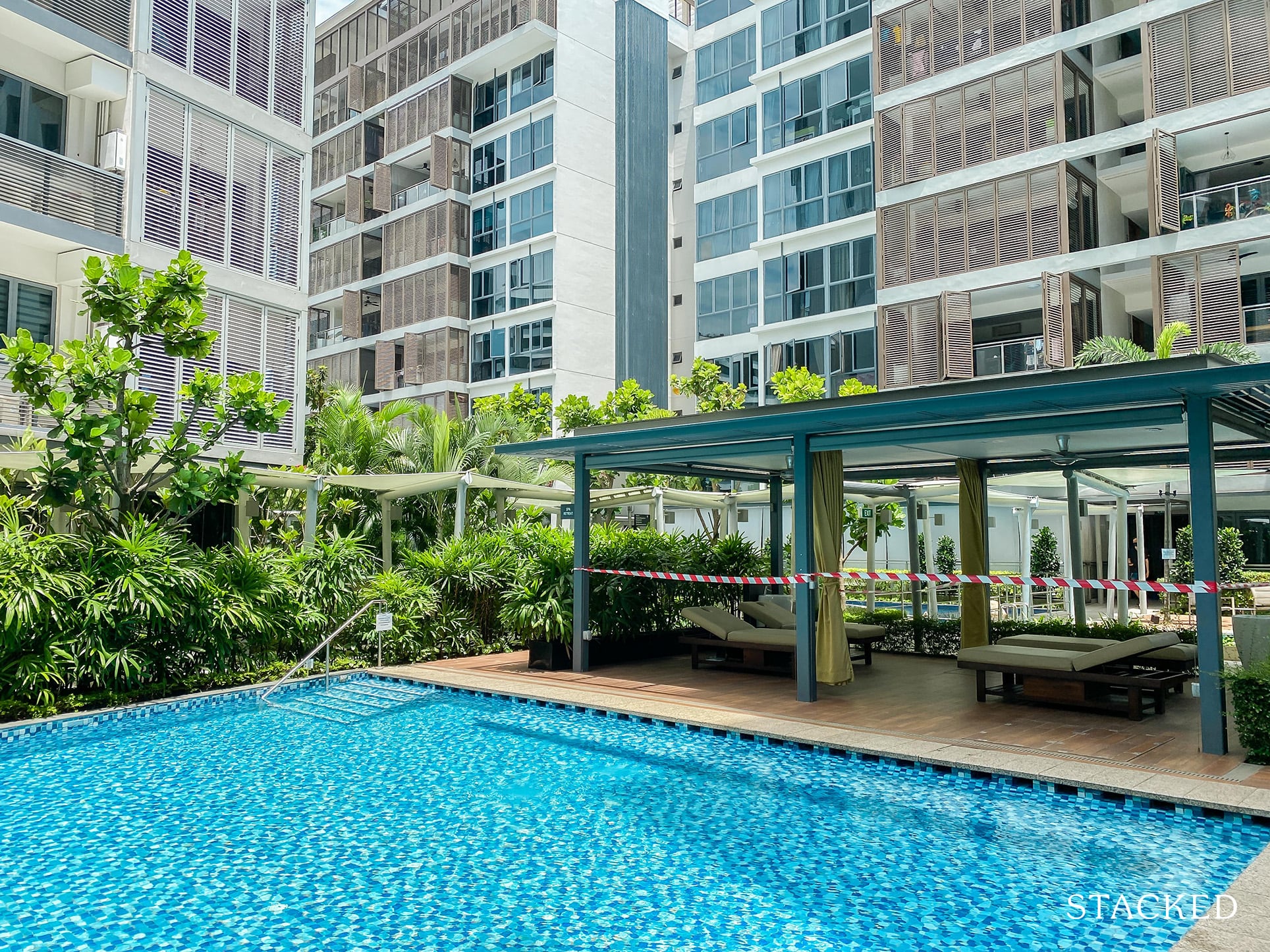 Of course in an ideal world, there would be a spa therapist or masseurs on hand to alleviate your tired muscles before jumping into the pool for an invigorating dip – again, one can only dream. In all likelihood, this space would never be used for its intended purpose – even with the helpful addition of the privacy curtain.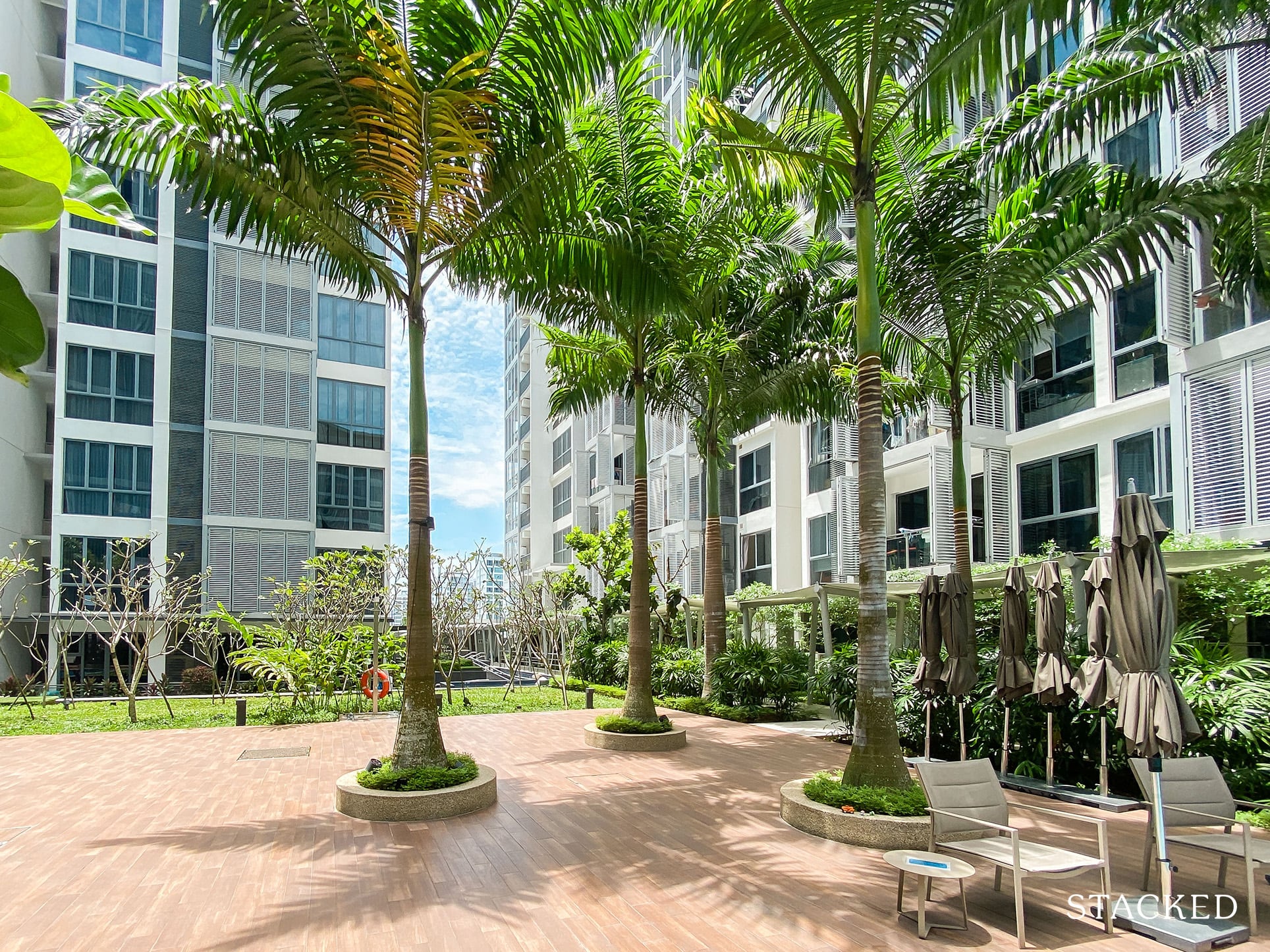 Beyond the Hydrotherapy pool is an open deck. Props to the developers for naming it as such on the site plan instead of the usual outlandish names. If I had to hazard a guess for this one, it would probably have been meditation deck.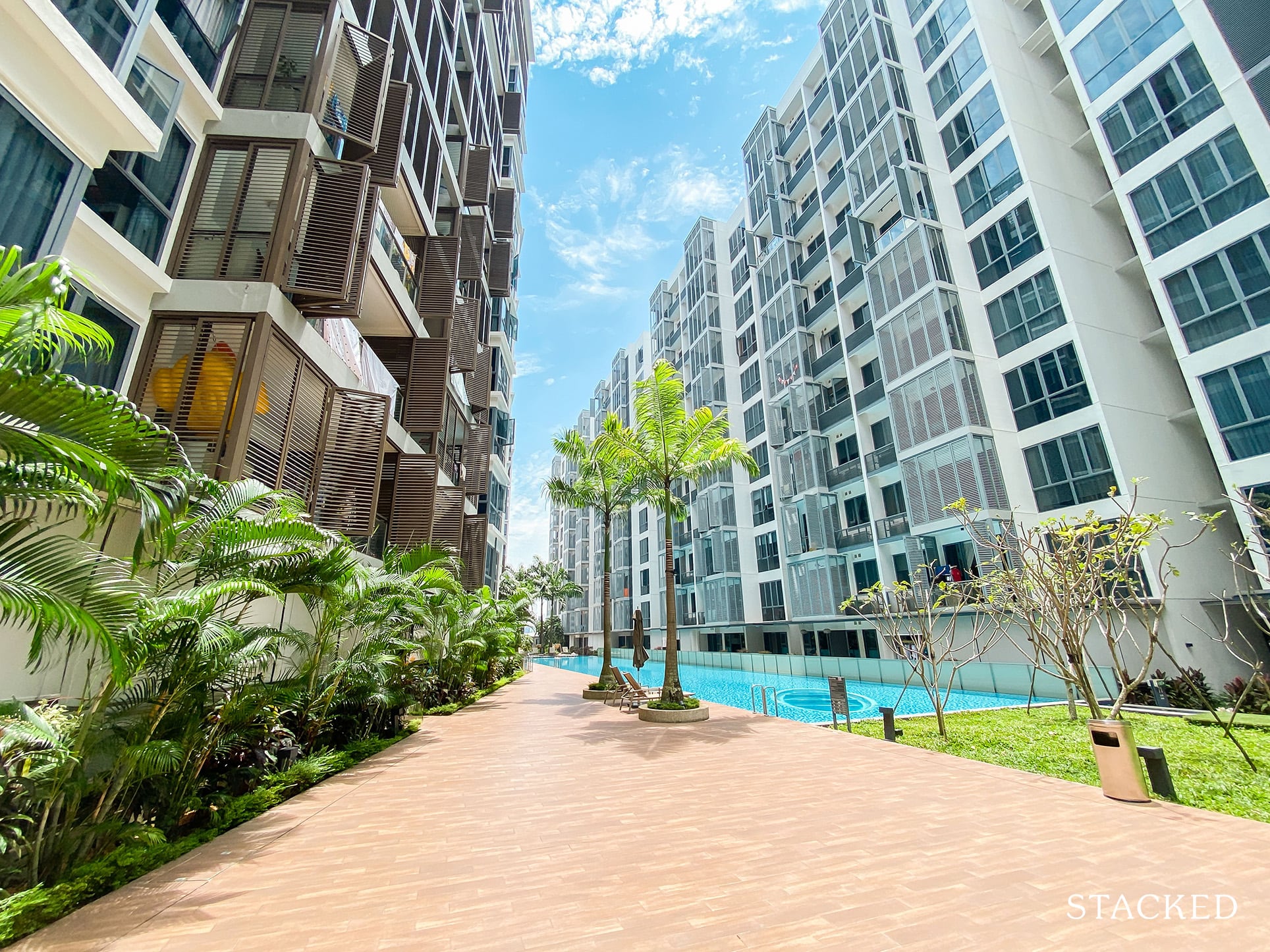 Moving further down, you get to the 50m lap pool of the development.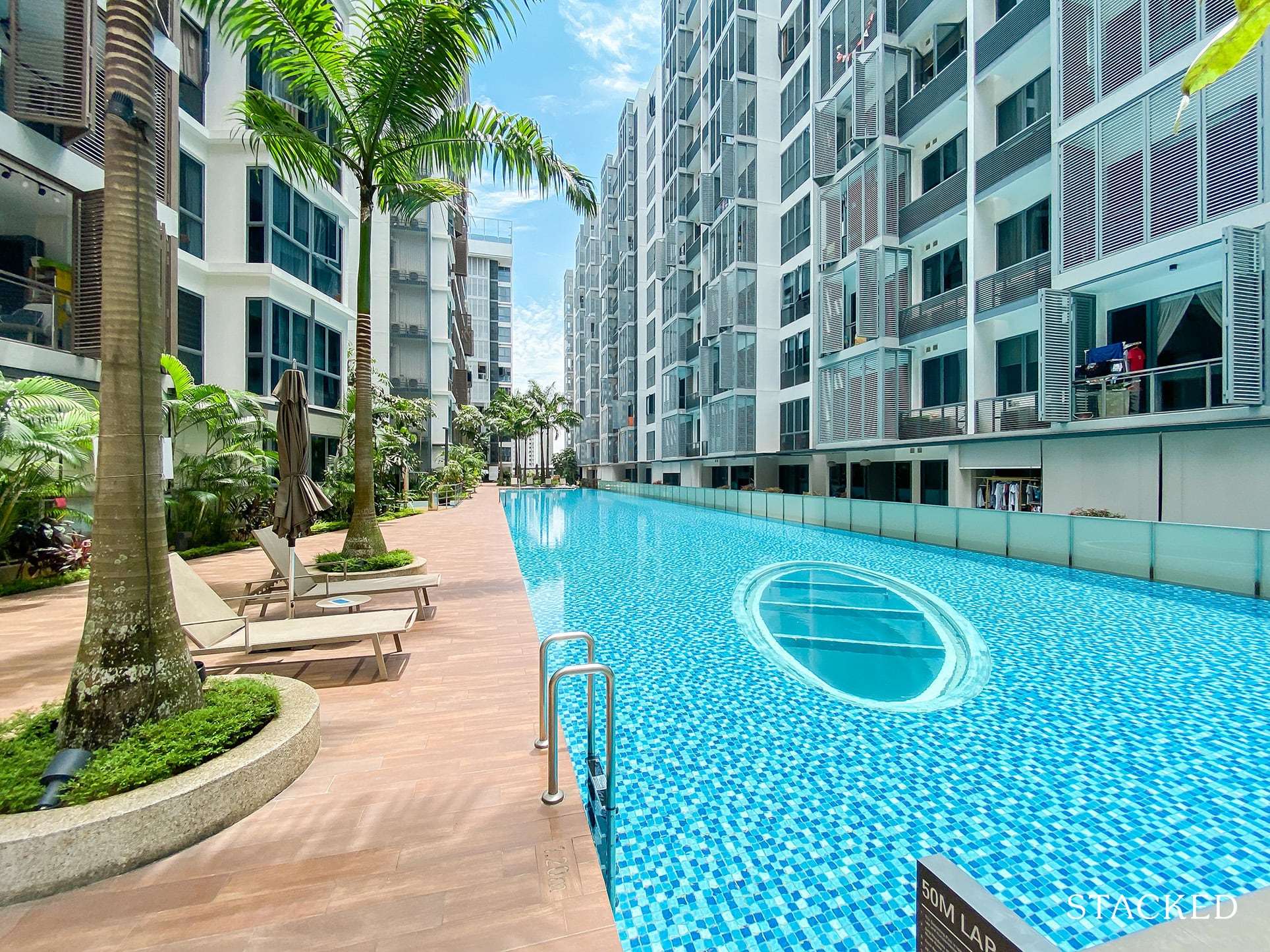 Admittedly, the 50m lap pool here is probably my least favourite pick of the development. There's a deck on one side, while the other is located really too close for comfort for my liking to the residential blocks – hence the need for that privacy filter that you see. Plus, it feels the most "tight" as the pool is set between two blocks.
It does have a cool skylight on the bottom though.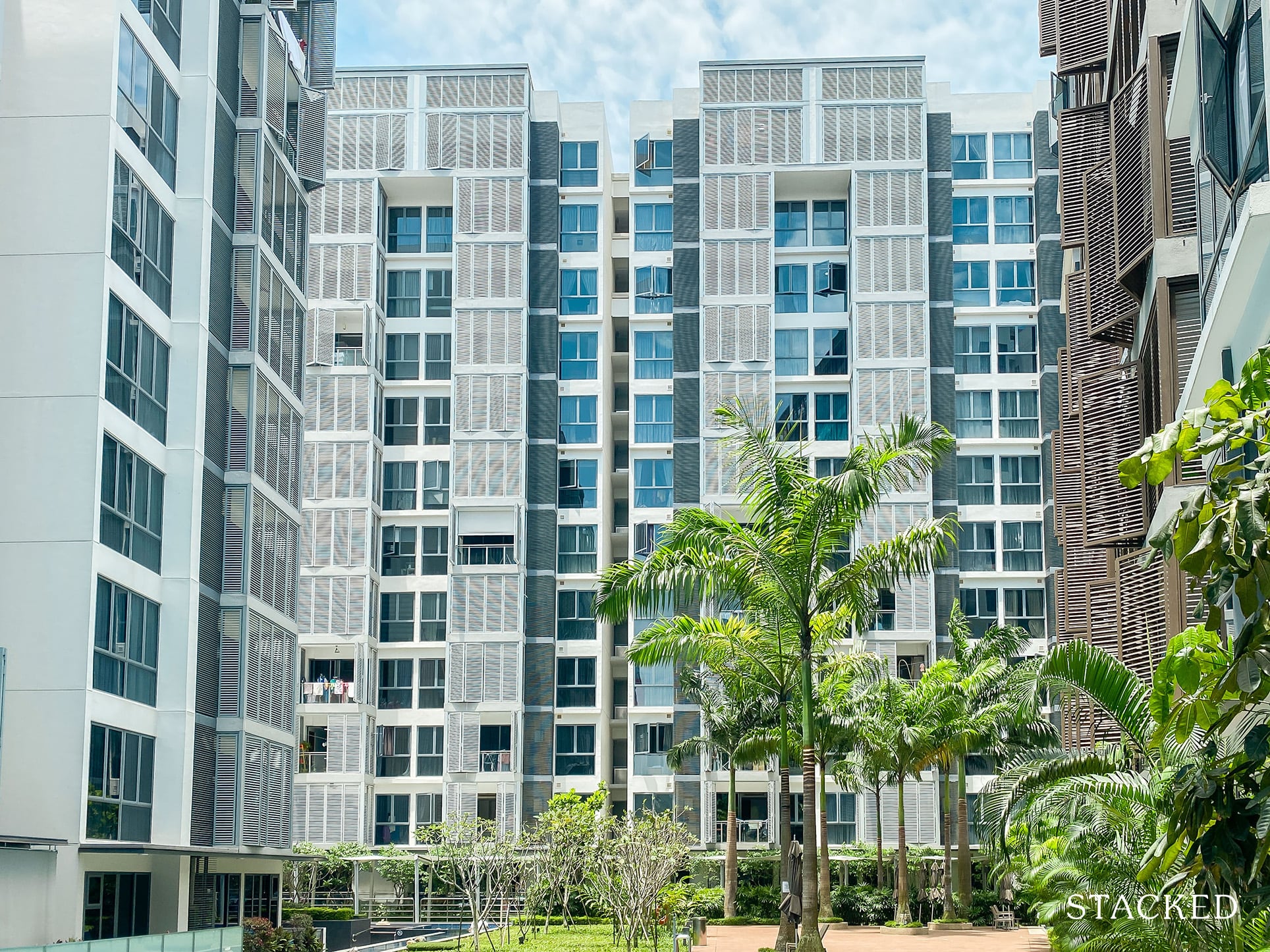 This is the wider end of it, but I have to say, the narrower end is really set quite close. Now, most of the blocks here are already built quite close to each other, but this is one of the rare few that will be directly facing each other. While it is partly mitigated by the balcony screens, I'd advice privacy buffs to look at the exterior facing units instead.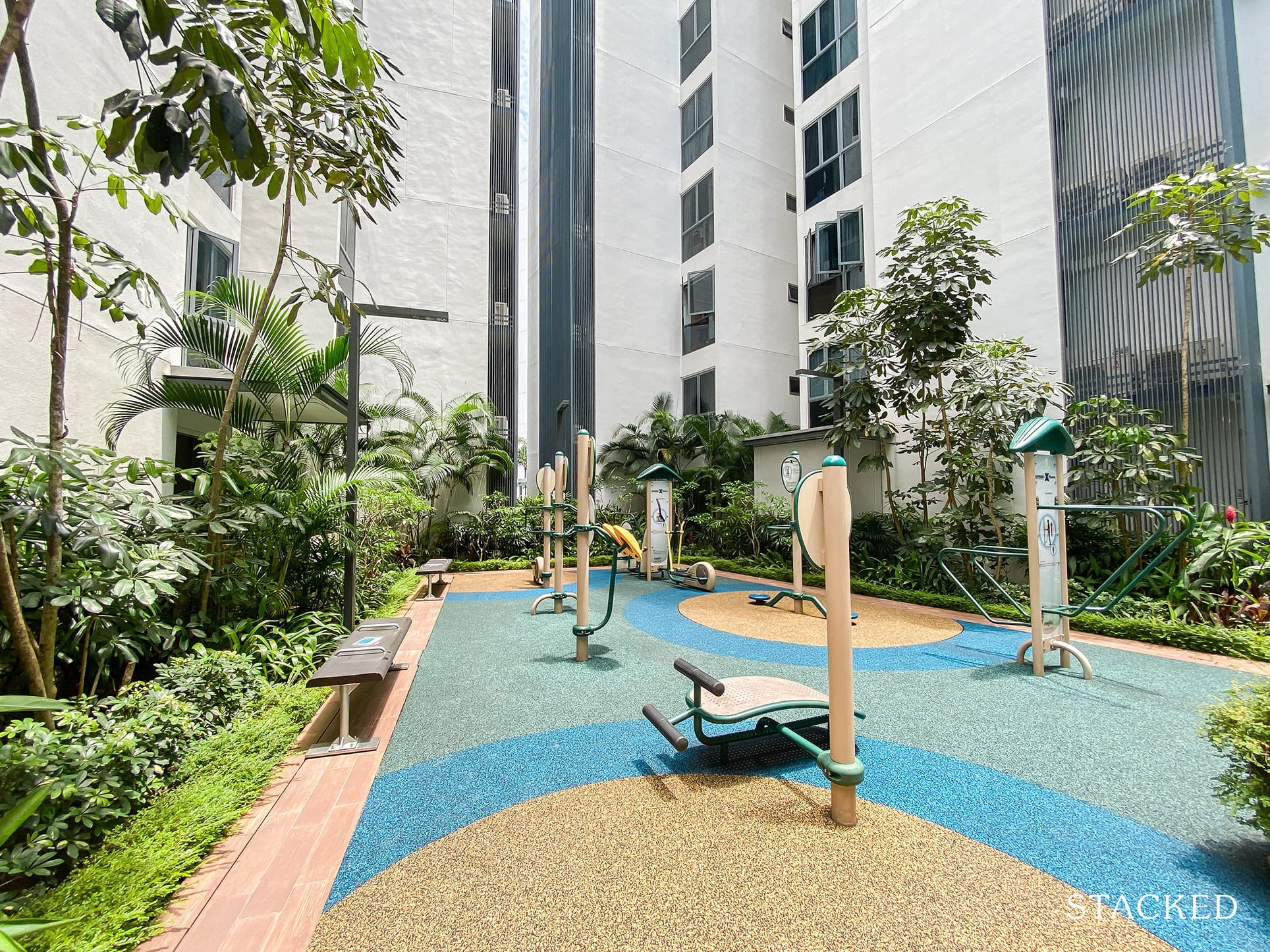 Next to the 50m lap pool is another fitness station area – this one is much bigger than the previous though.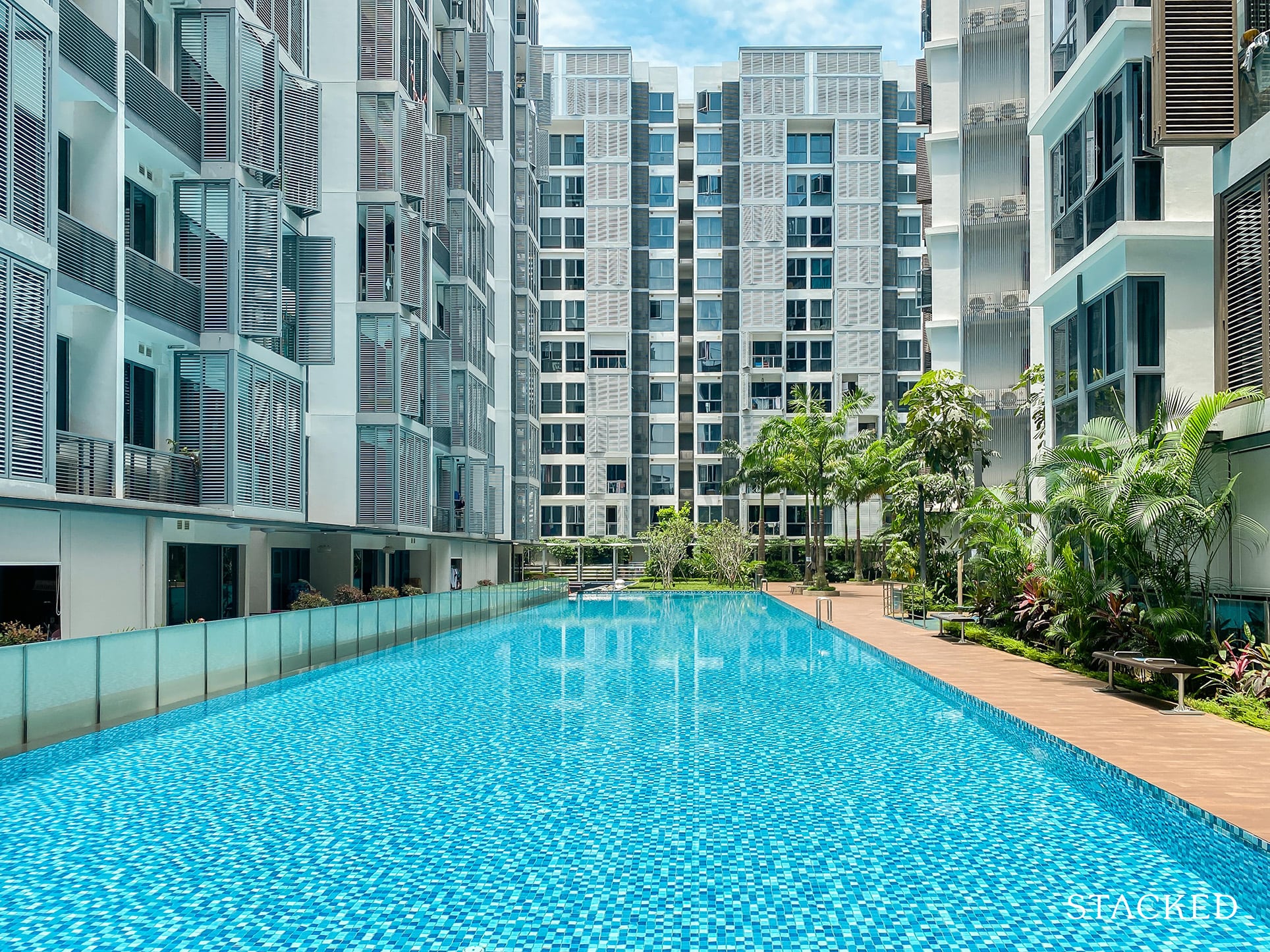 You can see from here too the ground floor units on the left don't exactly have the best end of the stick here even with that privacy fence installed. Having to face that daily from your living room really isn't a great view.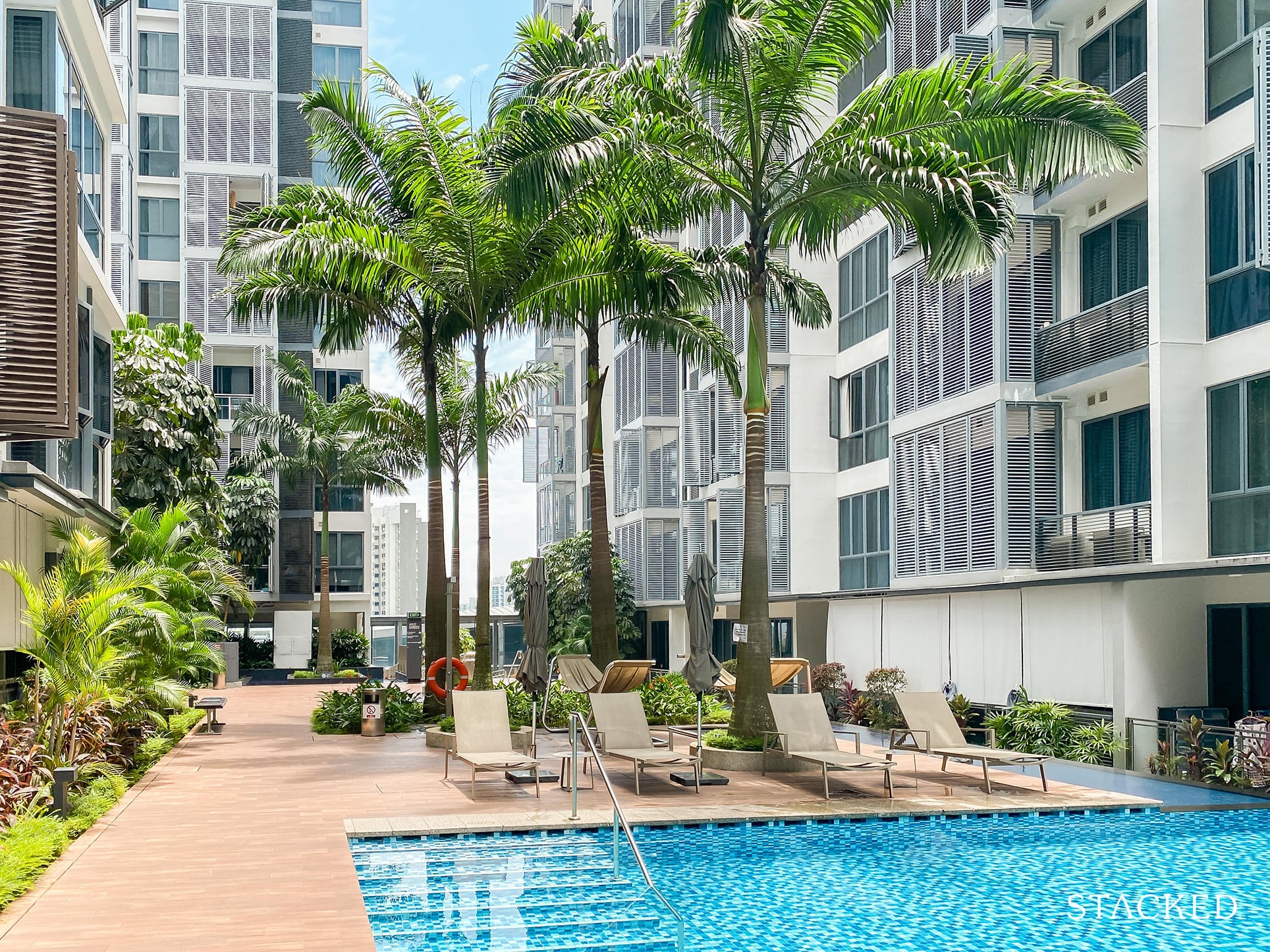 At the end of the pool, you have a couple more deck chairs along with two hammocks.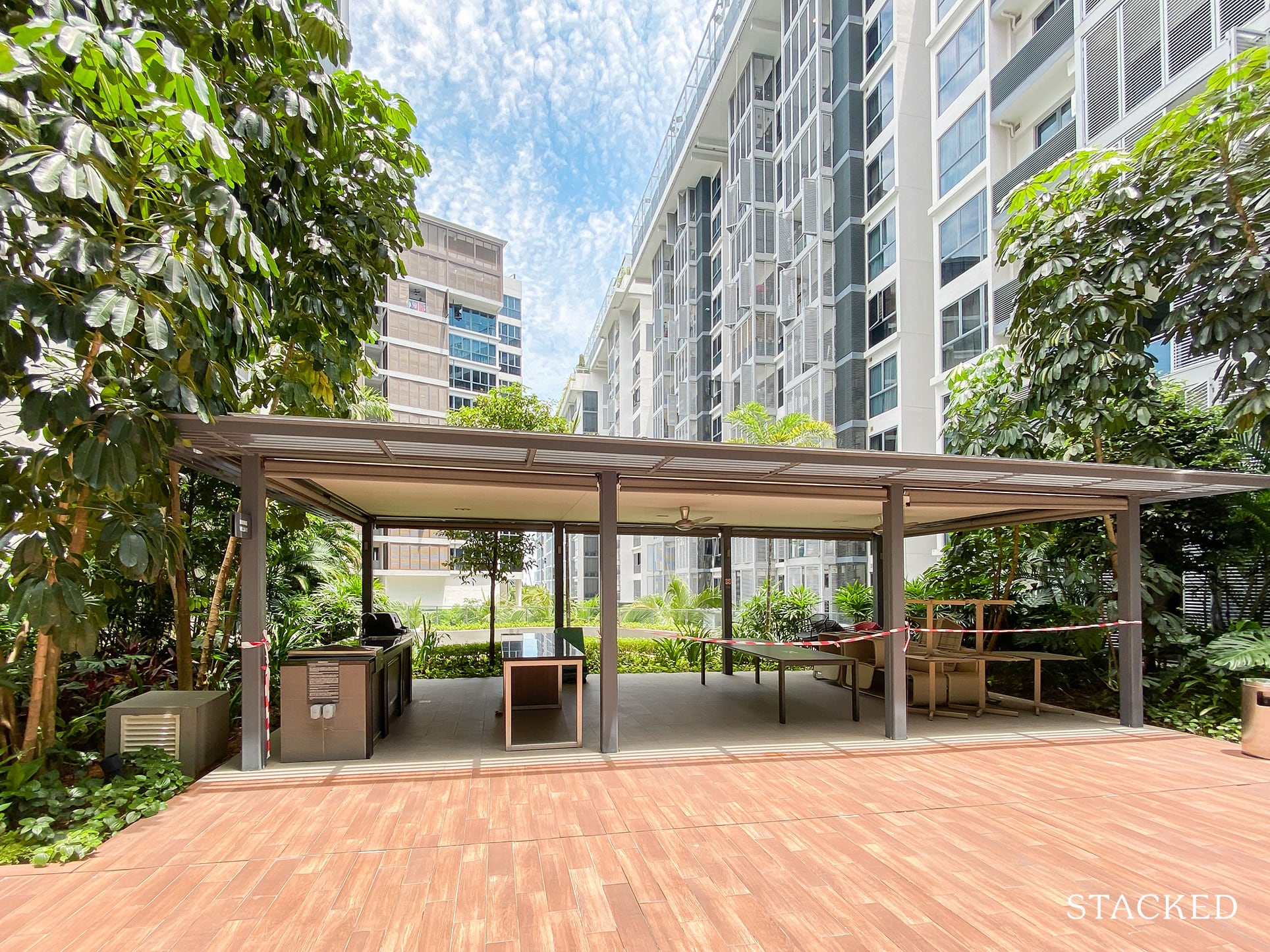 To the left is the biggest dining villa of the development. While it is close to the residential blocks, it still is the best placed for those looking for something more open and less claustrophobic.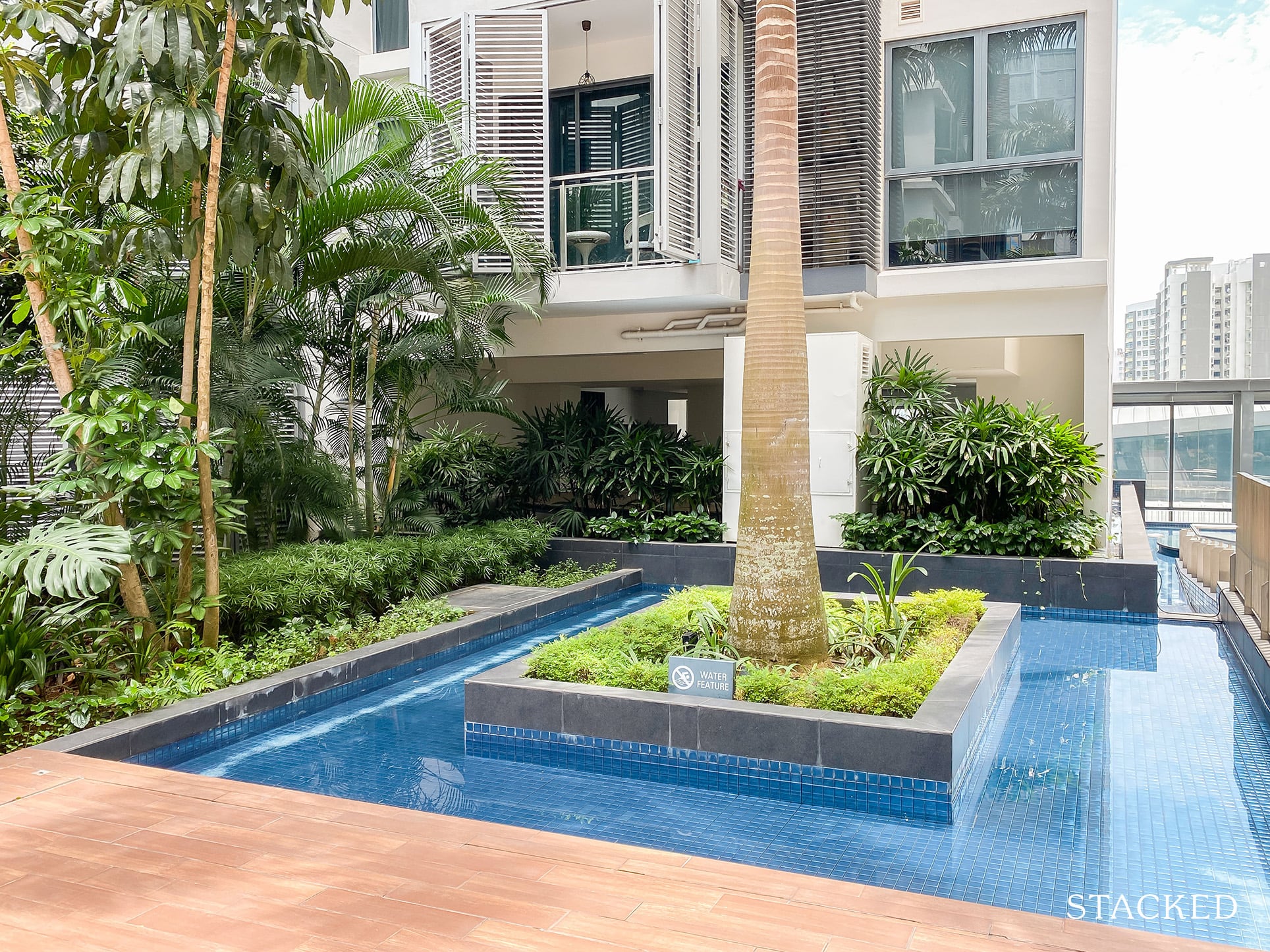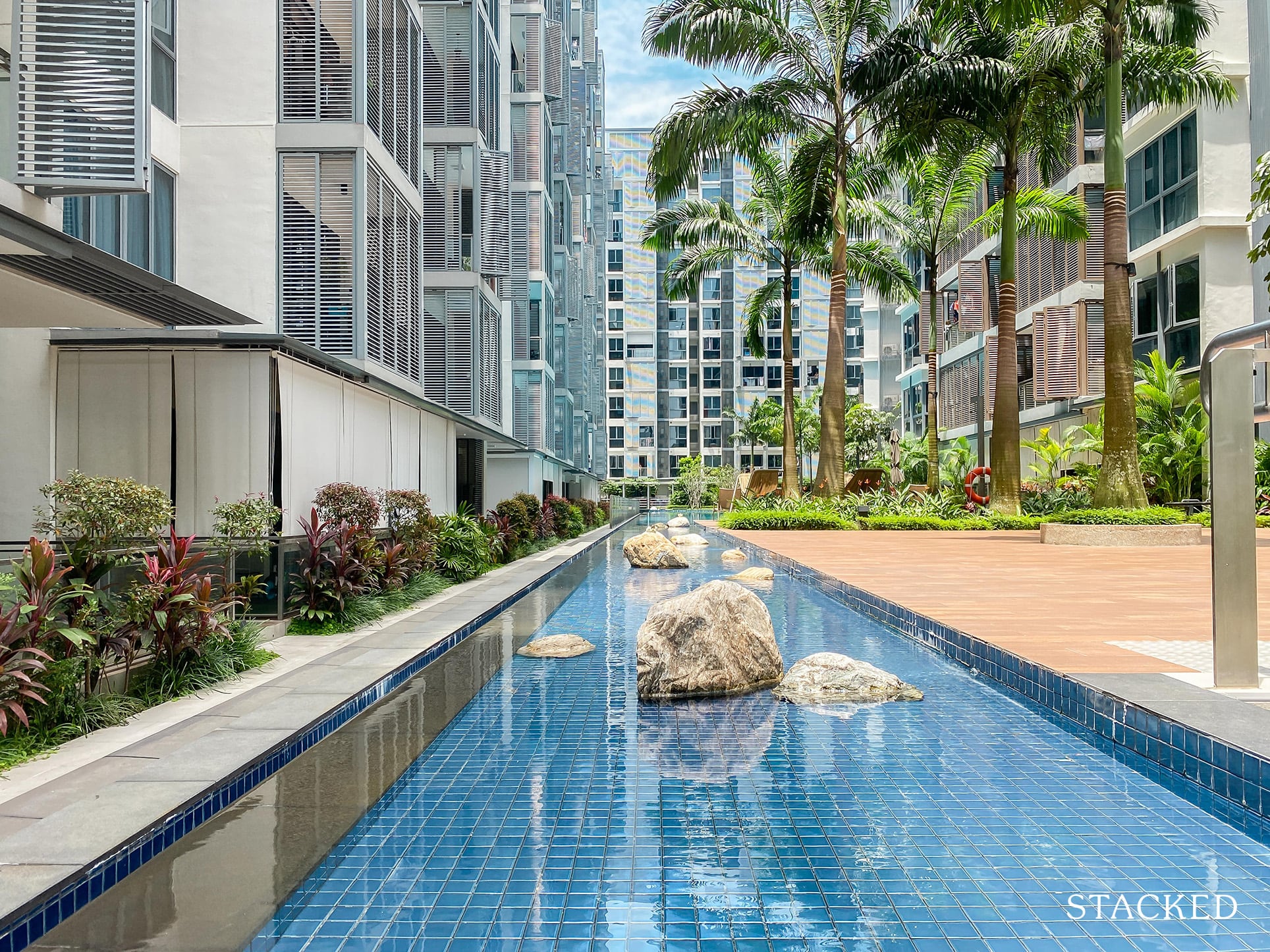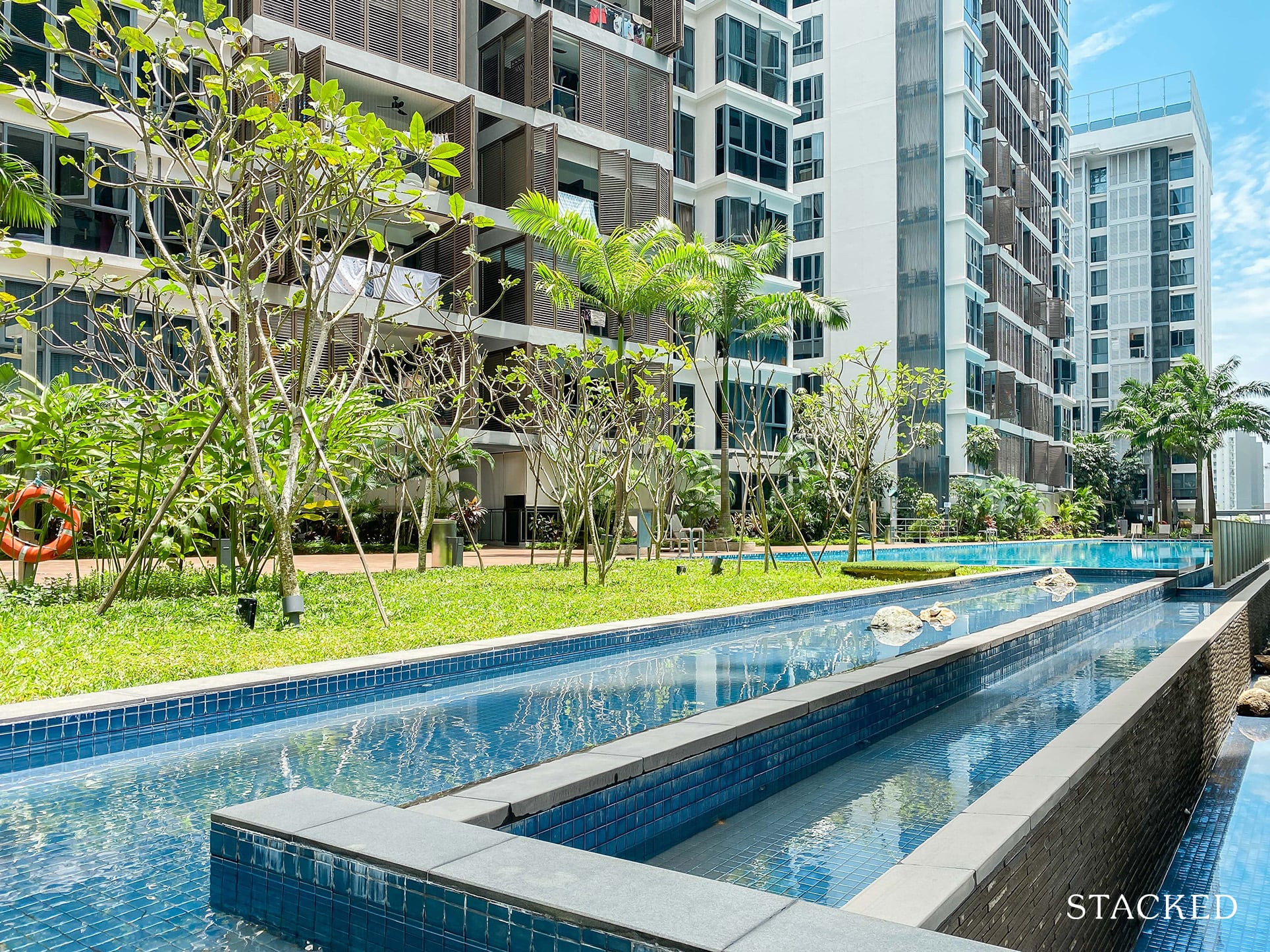 It is also at this end that you will see a series of extensive water features – some of which are long enough to be a swimming pool of its own (although it is on the thin side). While I do applaud the notion, the sparsely placed rocks don't look particularly attractive, and the overall look is rather tame in my opinion.
In short – it could have been done up a lot nicer.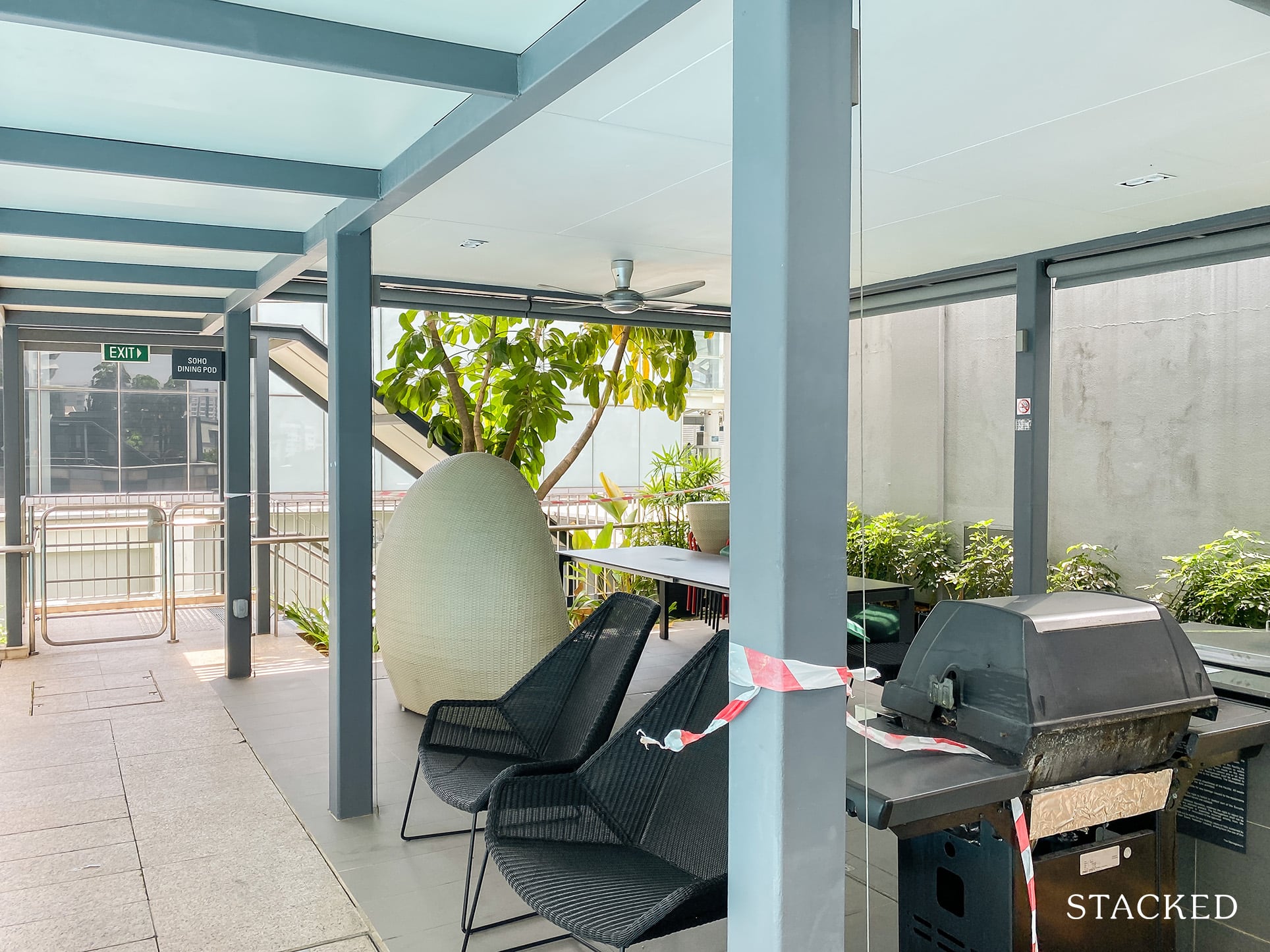 Moving further down is the Soho Dining Pod, which is essentially another sheltered dining pavilion. This one is located at the corner, so you could say it is more private, with the exception of the occasional LRT passing by at the station just outside.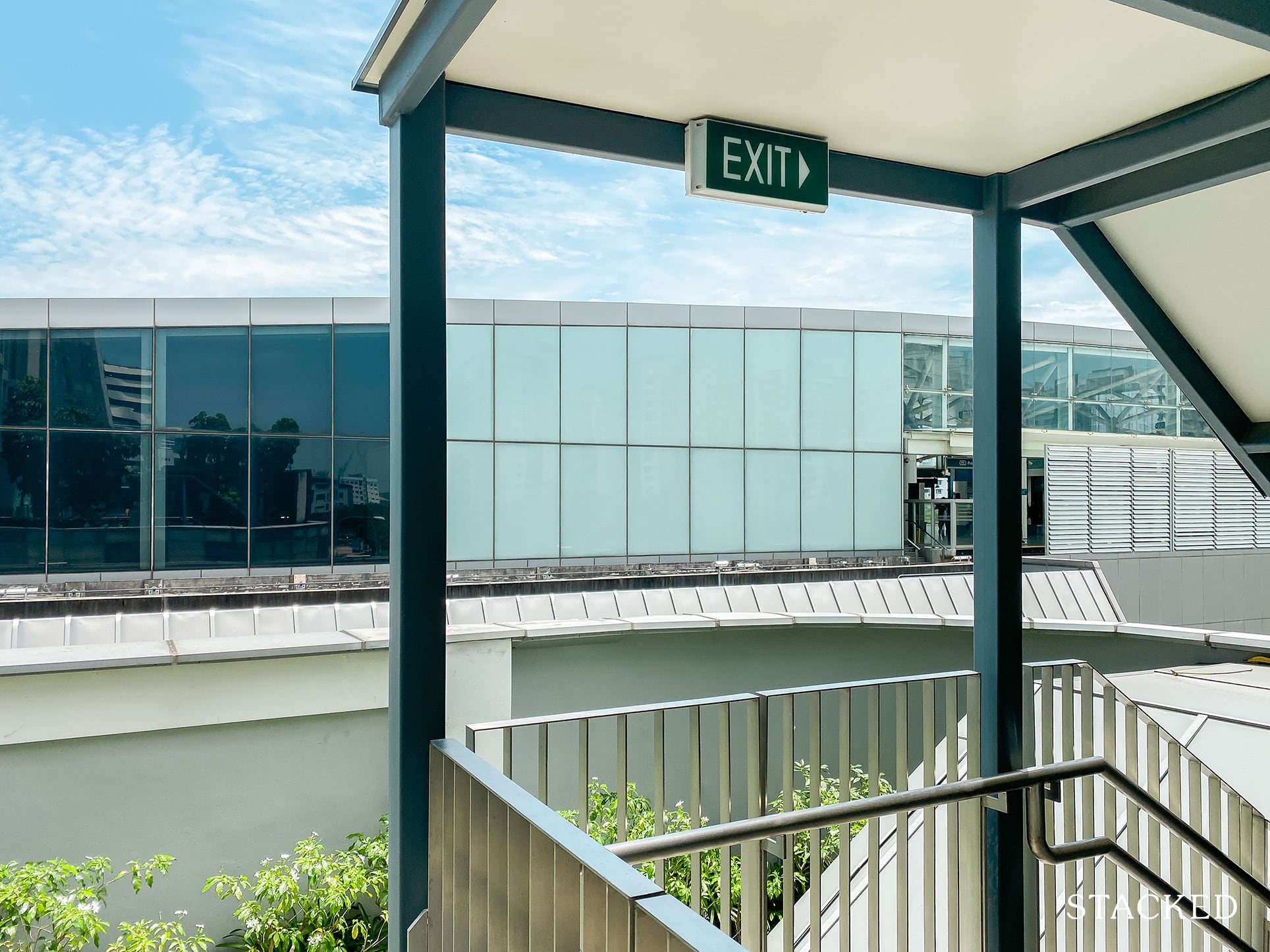 If anything, it again further serves to show the incredible convenience that you get at your doorstep.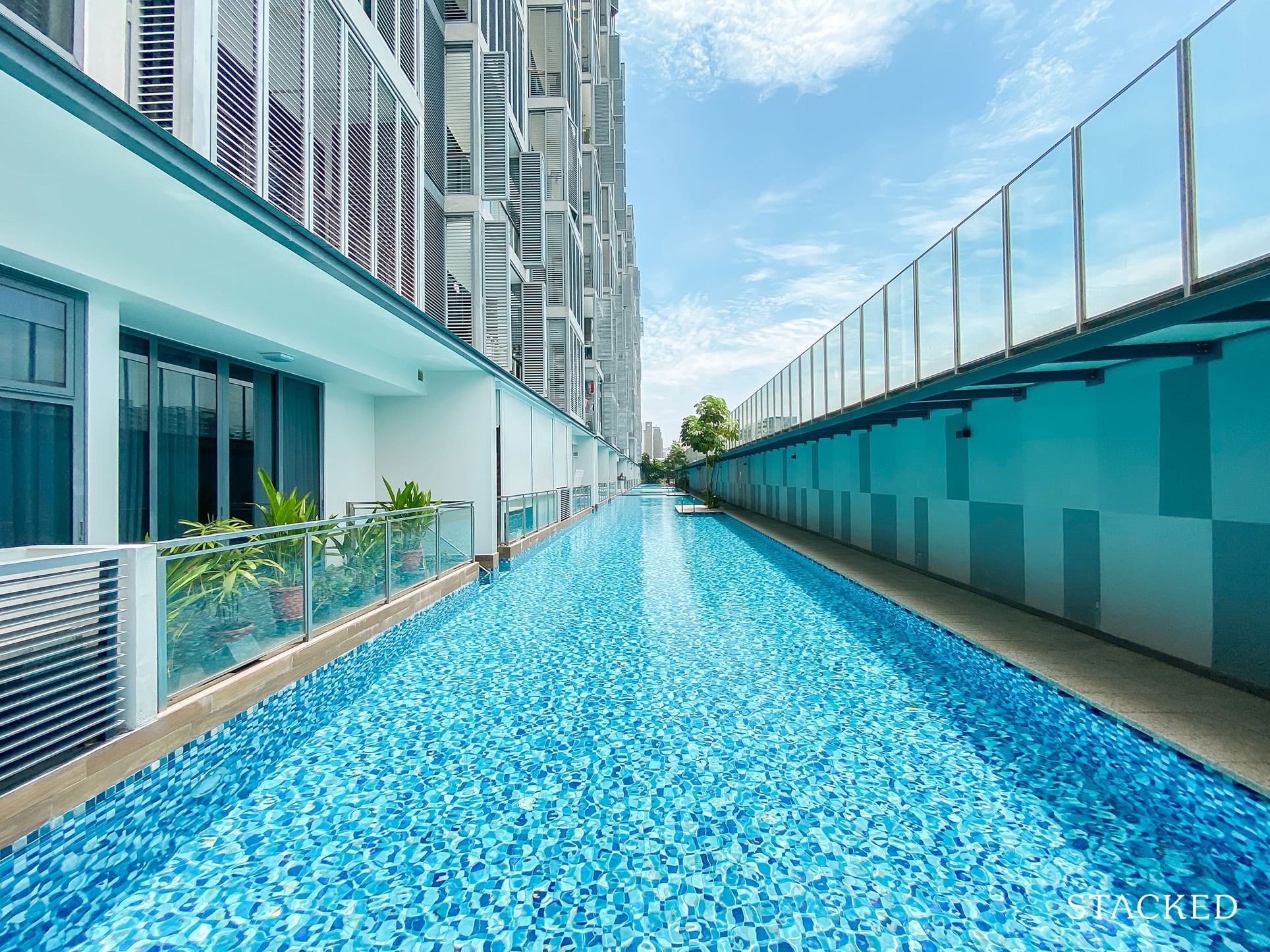 And if you were thinking that that was the end of the swimming pools at the Watertown condo, well, you couldn't be more wrong.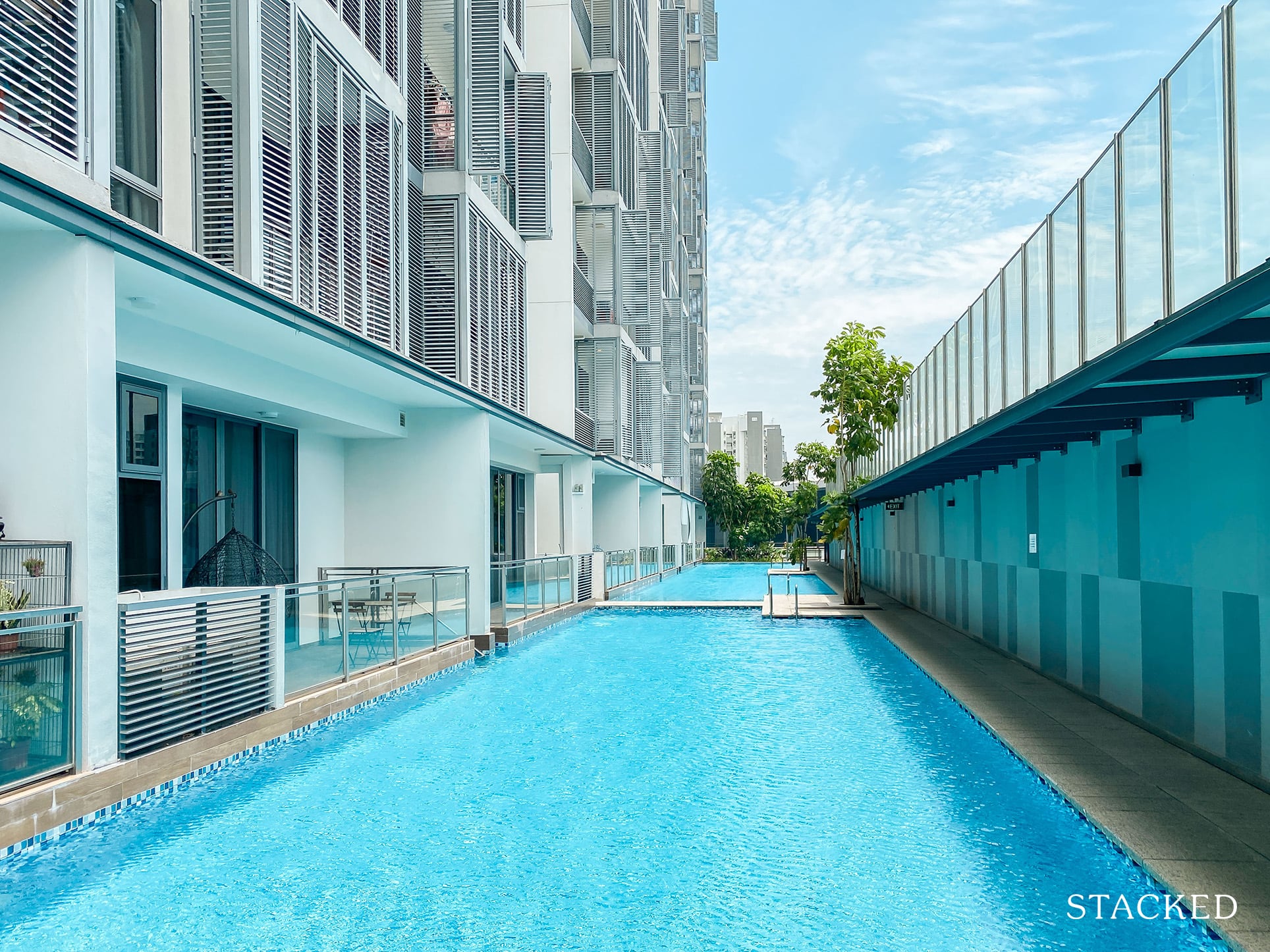 Ultimately I do still prefer the selection of swimming pools at Principal Garden instead, but there's no denying that breath of choice that you get at the Watertown condo.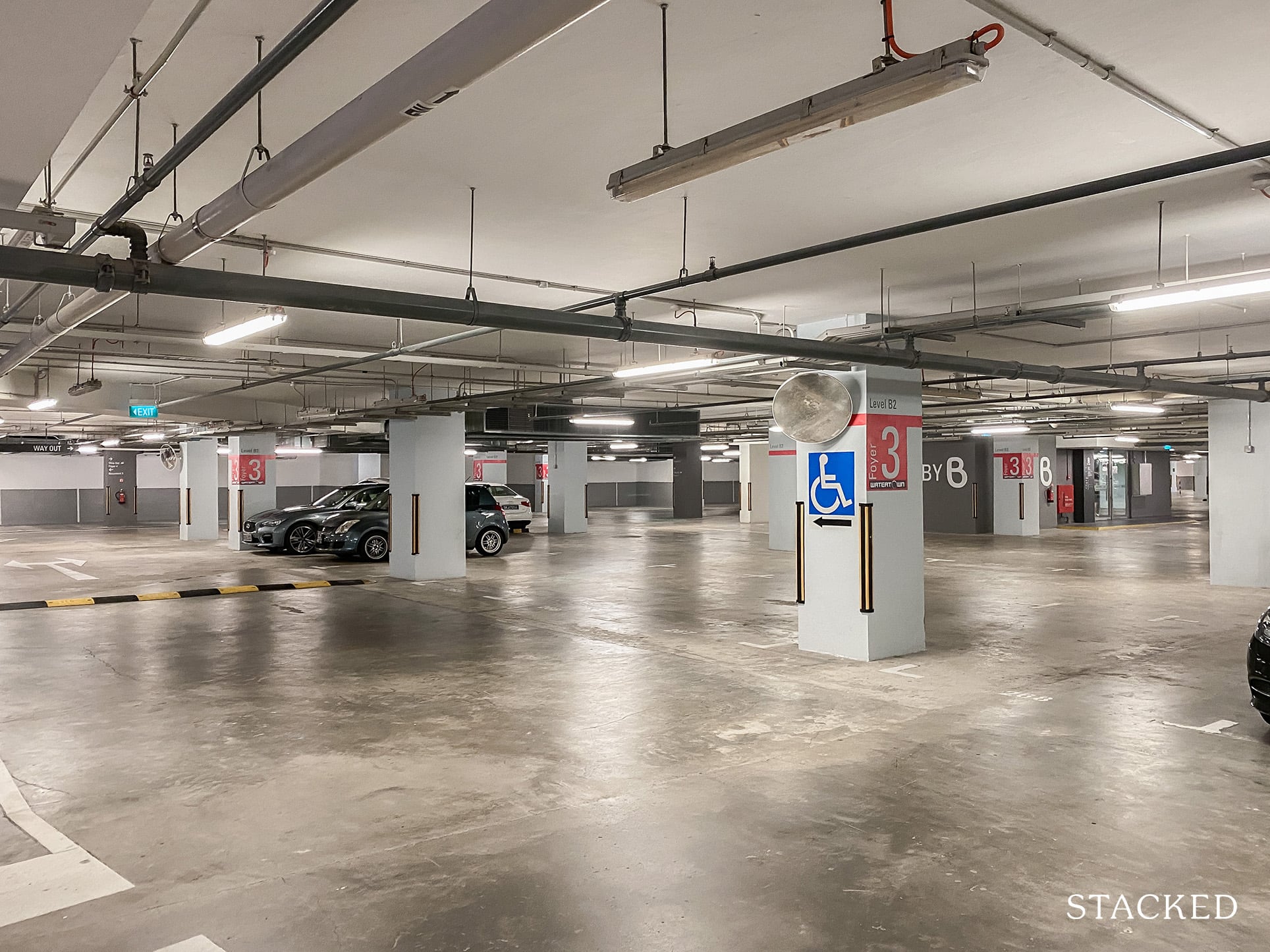 If you think that the carpark at the Watertown condo reminds you of one at a shopping mall, you'd probably find many that would agree with you. It is brightly lit and relatively spacious, so it does feel quite premium.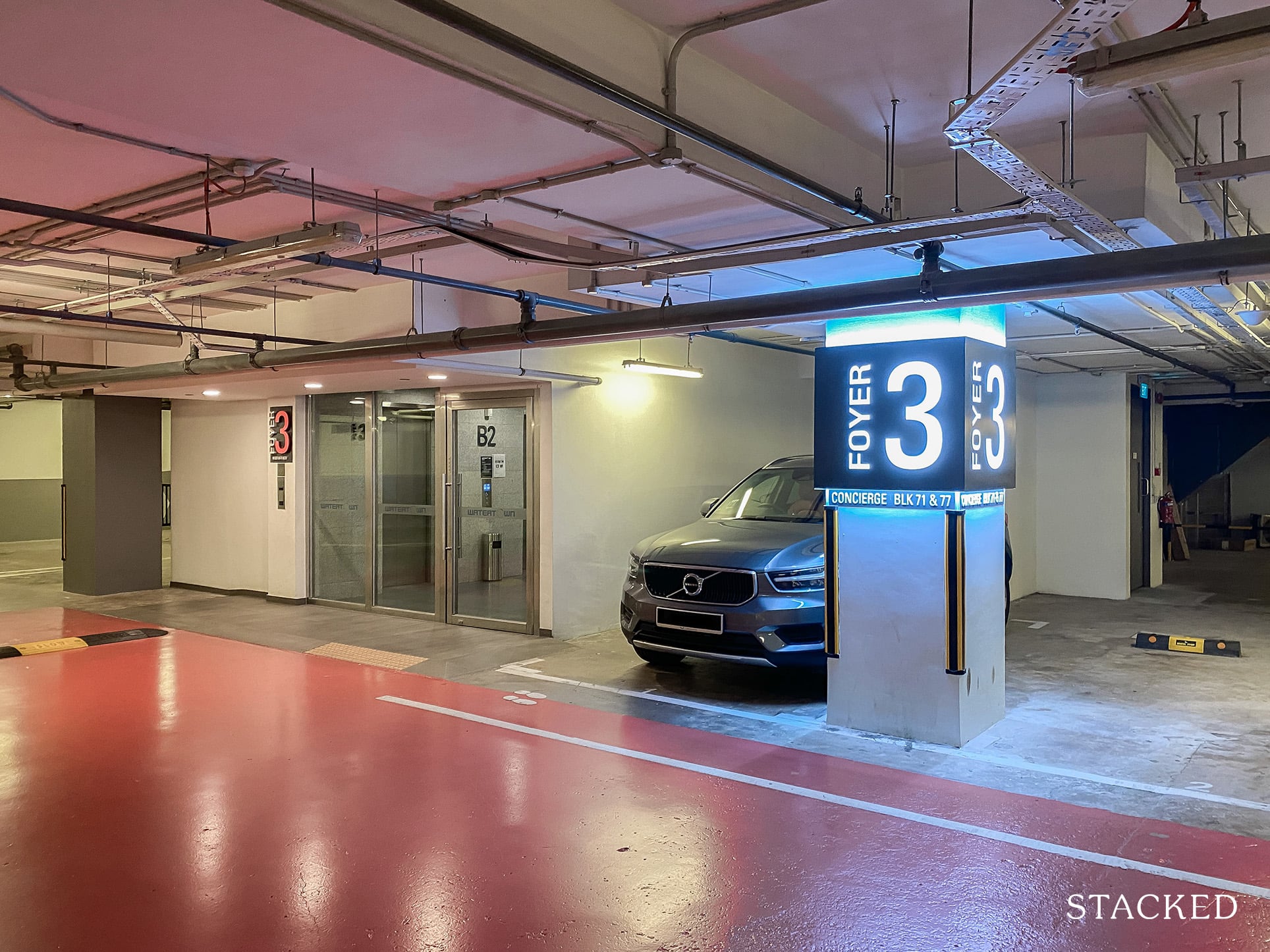 One thing to definitely note here is the traffic build up during peak hours for cars wanting to enter Waterway Point, which does serve as an inconvenience to owners who drive at the Watertown condo. Remember, despite all the improvements to Punggol and its amenities in recent years, it is still considered to be far from the rest of Singapore. For many of its residents in Punggol, Waterway Point serves as a congregational point and unsurprisingly it is packed throughout the week.
So I would say traffic conditions during peak hours won't be the most ideal.
Watertown Condo Location Review
Watertown is situated along Punggol Central, right by the Punggol MRT station.
Those familiar with the North-East line will know that Punggol is the station that's located the furthest out – so in that vein one could say that centrality to the city is perhaps the project's biggest weakness.
That said, its proximity to key public transport nodes including the Punggol MRT station and adjacent Bus Interchange – as well as key amenities like Punggol Waterway Point and the sublime Punggol Waterway does it give its residents a distinct level of 'self-sustainability'.
It is worth noting however, that its location above the bustling Punggol Waterway Point does mean the occasional lapse in surrounding privacy.
Amenities
Groceries
| | |
| --- | --- |
| Grocery Shops | Distance From Condo (& Est. Walk Time) |
| Fairprice – Waterway Point | Immediate (Basement) |
| Hao Mart | 550m, 7-min walk |
| Sheng Siong – Punggol Road | 800m, 5-min drive/10-min walk |
| Cold Storage – Compass One | 2.5km, 10-min drive |
Shopping Malls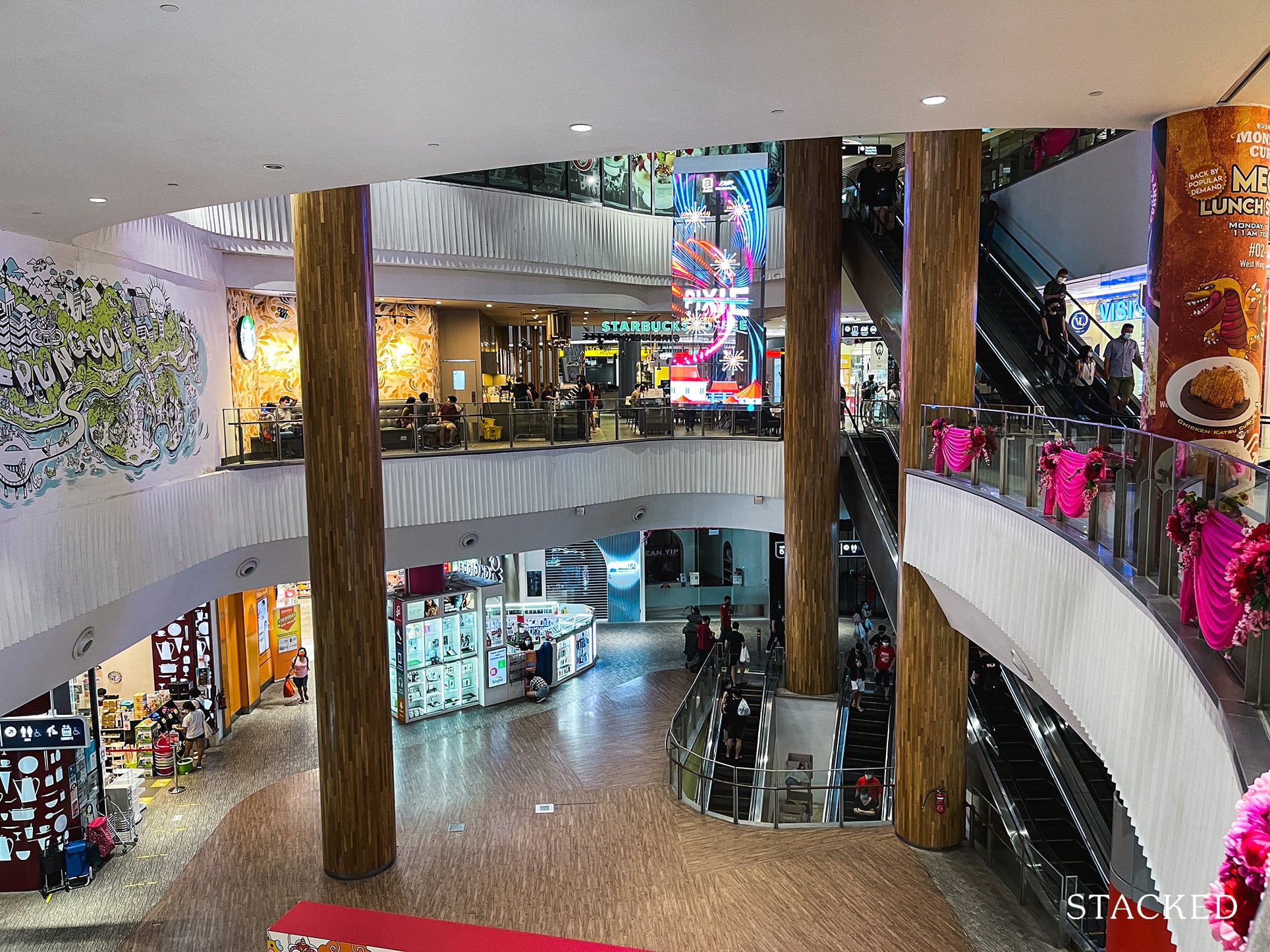 | | |
| --- | --- |
| Shopping Mall Cluster | Distance From Condo (& Est. Walk Time) |
| Waterway Point | Immediate |
| Oasis Terrace | 1.9km, 7-min drive/ |
| Punggol Plaza | 2.3km, 9-min drive |
| Compass One | 2.8km, 10-min drive |
| Rivervale Mall | 2.9km, 11-min drive |
Schools
Educational Tier
Names of Institutes
Preschool (within 1km walk)
Harmoni Preskool
PCF Sparkletots
Metta Preschool
Primary (within 3km-drive)
Punggol View Primary
Valour Primary
Punggol Cove Primary
Oasis Primary
Punggol Green Primary
Edgefield Primary
Horizon Primary
Waterway Primary
Greendale Primary
Rivervale Primary
Compassvale Primary
Springdale Primary
Nan Chiau Primary
Anchor Green Primary
North Spring Primary
Secondary (within 3km-drive)
Greendale Secondary
Punggol Secondary
Edgefield Secondary
Yusof Ishak Secondary
Compassvale Secondary
CHIJ St. Joseph's Convent
Nan Chiau High
Junior College (within 5km-drive)
–
University (within 5km-drive)
–
Polytechnic (within 10km-drive)
Nanyang Polytechnic
For an estate considered to be in the 'outskirts', there sure are a ton of neighbouring primary schools within the 3km radius (15 to be exact).
Unfortunately, this sentiment doesn't carry on to the tertiary institutes as we see from the lack of any Universities/Junior Colleges within the 5km radius (it's really a tale of two extremes).
As a result of that, you actually see many students who live here opting for on-site university occupancy (think NUS UTown/NTU Hall of Residence).
Public Transport
| | | |
| --- | --- | --- |
| Bus Station | Buses Serviced | Distance From Condo (& Est. Walking Time) |
| 'Punggol Interchange' | 3, 34, 34A, 43, 43M, 43e, 50, 62, 62A, 82, 83, 84, 85, 117, 118, 119, 136, 381, 382, 382A, 382G, 382W, 386, 386A | 450m, 6-min walk |
Closest MRT: Punggol MRT, Immediate
Integrated developments usually shine in terms of public transport accessibility. In this case, it is Watertown's adjacency to the Punggol MRT station that gets the nod. 
The Punggol Bus Interchange is just across the road, supplying a number of routes to residents here. Some make use of the nearby TPE en route to more central areas, while others ply the surrounding neighbourhoods.
While it's all very convenient, Punggol is admittedly quite far from central areas (let's not forget that it is the last station on the North East Line after all). As a result, time taken to reach central areas can be rather lengthy.
Those heading to the CBD (Raffles Place MRT) would need to ride 11 stops to Dhoby Ghaut MRT, before switching to the North-South line – 2 stops onward to Raffles Place MRT for a 28-min ride time (excluding waiting times).
Those heading to Orchard would similarly need to ride 11 stops to Dhoby Ghaut MRT, before switching to the North-South line – 2 stops onward to Orchard MRT for a 27-min ride time (excluding waiting times).
All things considered, it isn't all that bad given the relatively straightforward train ride.
On the bright side, you've got a significantly higher chance of securing a seat in the mornings on the way to school/work since it's the first station on the line.
Private Transport
| | |
| --- | --- |
| Key Destinations | Distance From Condo (& Est. Peak Hour Drive Time) |
| CBD (Raffles Place) | 19.9km, 35-min drive |
| Orchard Road | 19km, 37-min drive |
| Suntec City | 17.5km, 25-min drive |
| Changi Airport | 13.1km, 17-min drive |
| Tuas Port (By 2040) | 50.6km, 1hr drive |
| Paya Lebar Quarters/Airbase (By 2030) | 11.9km, 25-min drive |
| Mediapolis (and surroundings) | 29.4km, 37-min drive |
| Mapletree Business City | 28.1km, 37-min drive |
| Tuas Checkpoint | 40.5km, 48-min drive |
| Woodlands Checkpoint | 20.4km, 28-min drive |
| Jurong Cluster (JCube) | 34km, 42-min drive |
| Woodlands Cluster (Causeway Point) | 17.4km, 27-min drive |
| HarbourFront Cluster (Vivo City) | 24.8km, 33-min drive |
| Punggol Cluster (Waterway Point) | Immediate |
*Note that Drive Times are calculated during Peak Hours
Immediate Road Exit(s): 1 single exit onto Punggol Central
Summary: Because Watertown is an integrated development with commercial spaces below, you don't get a private drop-off point unlike most condos. The drop-off is shared with the commercial area with a private entrance into Watertown itself. As for entry and exit from the residence, you get single-lanes which go straight into the private underground car park.   
The Developer Team
Developer
You don't often see a tripartite mix of developers, as is the case with Watertown. It is backed by Frasers Centrepoint Limited, Far East Organization and Sekisui House.
While I haven't had the time to perform deep research on their varying roles in the project, I can perhaps share a little more about their individual past developments/niches and add my thoughts at the end.
Having completed over 40 other residential projects in Singapore spanning the past 30 years, Frasers Centrepoint's isn't just a retail-space namesake in the industry.
In fact, Watertown wasn't even their first integrated development in the area. A decade plus prior, they were also in charge of constructing Compass Heights atop what is now the Compass One mall in Sengkang.
As for Far East Organization and Sekisui House, we do not see any work on integrated projects prior to Watertown's completion in 2017, although we have some past efforts on mixed use projects for the duo.
It's also heartening to know that the trio had worked together on occasions prior. The Boathouse residence is one such project that comes to mind.
Personally, I feel that an in depth developer analysis makes the most sense for New Launch condos given their usual lack of quality yardsticks.
For resale condos like the Watertown however, you already have the on-ground tangibles (ie. go and visit the place!) which allow you to address concerns about the property's build and upkeep.
In that aspect, this isn't a major section in my eyes – although it does ultimately lend project credibility for future buyers.
Architect
Raglan Squire & Partners (RSP) are the source of inspiration behind Watertown.
To date, they have worked on key commercial developments spanning across a number of Changi Airport's terminals (Jewel included), Universities, Tertiary Institutes (think Laselle and ITE HQ) and Shopping Malls (Ion Orchard).
On the residential end, they have played a role in two of Singapore's largest condos – D'Leedon and the Interlace, as well as the Asia Pacific Property Award 2015, 5-star property award winner – the Altez. 
Prior to all that in 2011, RSP also engineered the mixed used development of HillV2 and The Hillier in Bukit Batok. 
Needless to say, they have had a wealth of experiences, and the (well-completed) major contracts that they have acquired over the years only serves to enhance their local reputation.
Unit Mix
| | | | |
| --- | --- | --- | --- |
| Section | Unit Type | No. Of Units | Size of Units (sqft) |
| Suite | 1-Bedroom | 118 | 527 – 592 sqft |
| | 2-Bedroom Compact | 267 | 560 – 646 sqft |
| SOHO | 2-Bedroom Compact | 163 | 581 – 678 sqft |
| | 3-Bedroom Compact | 108 | 807 – 936 sqft |
| Condo | 2-Bedroom | 64 | 904 – 969 sqft |
| | 3-Bedroom Compact | 64 | 1,120 – 1,259 sqft |
| Sky Patio | 2-Bedroom | 16 | 958 – 1,055 sqft |
| | 3-Bedroom Compact | 46 | 1,109 – 1,216 sqft |
| | 3-Bedroom | 80 | 1,173 – 1,442 sqft |
| | 4-Bedroom Compact | 66 | 1,356 – 1,582 sqft |
The table shows us a wide variety of units split across the 4 sections.
What catches my eyes however, is the number of 'compact' units we see here.
As we know, integrated developments are often highly rentable. By offering their units in these 'compact' sizes, I assume that the developers are further appealing to investors with this supposedly 'reduced overall quantum' mindset.
That said, I feel it important to point out that these 'compact' units actually seem more like average present day New Launch unit sizes.
In fact, it is the units without the 'compact' title that seem to be outliers here. They come in much bigger unit sizes. (ie. a 'normal' 2-bedder here is 904 – 1,055 sqft, and a 'normal' 3-bedder is 1,173 – 1,442 sqft).
At the end of the day, it really depends on your personal needs/quantum budget as an investor/homebuyer, but it's good to know that there are a variety of unit sizes to choose from per tier – just don't be fooled by the 'compact' titles!
Finally, while I haven't had the opportunity to view many units here, I have heard that the interior workmanship isn't the best at some points (ie. thin flooring, accelerated material degradation) – so in that vein, be sure to inspect your unit carefully if you intend on taking up residency here.
Also worth noting is that because of the amount of the unit variation present across the various stacks, views here are going to be very different, as we will cover a little later on.
Stack Analysis
Development Site Plan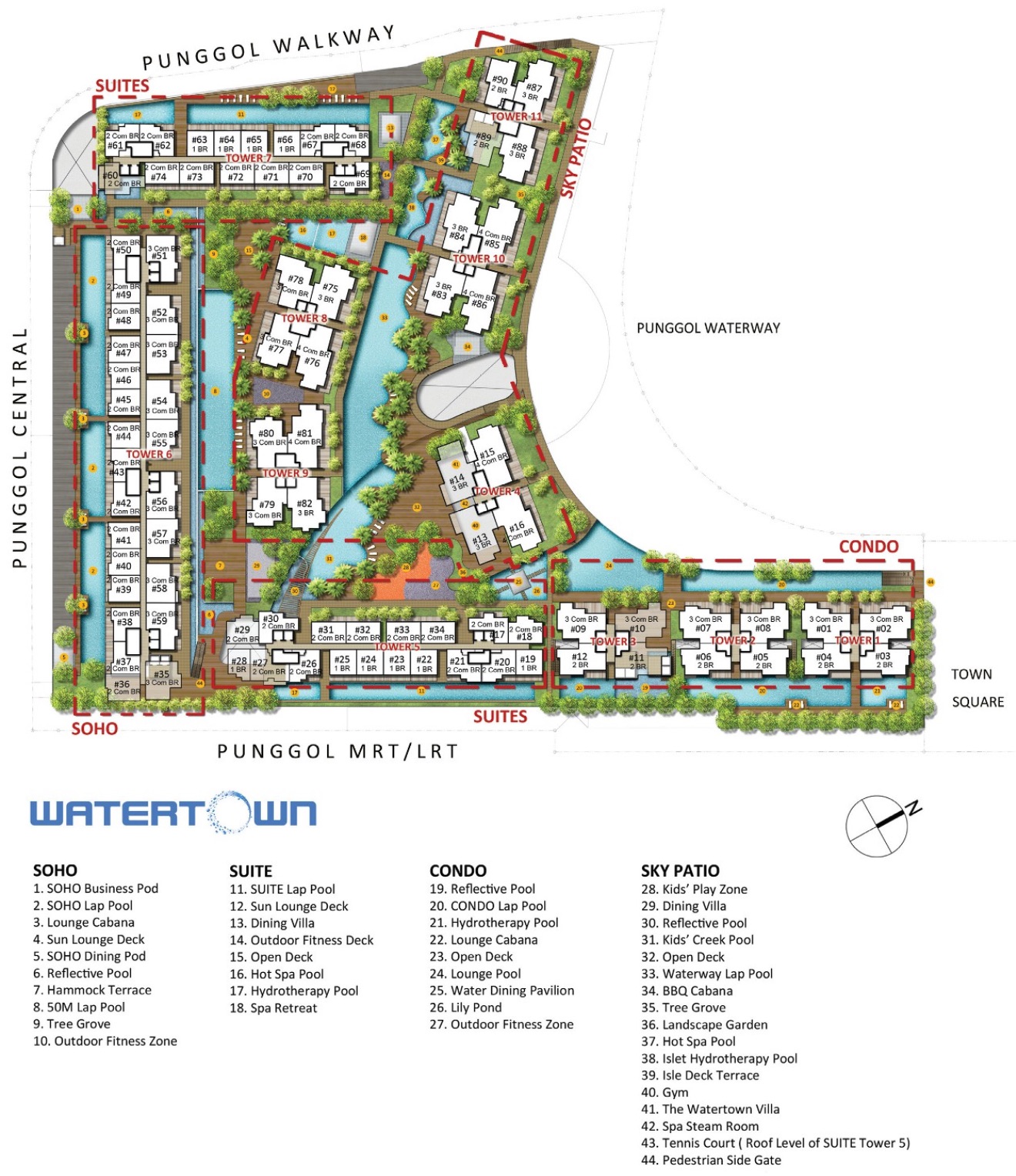 The name Watertown couldn't be more apt with its diverse internal pool offerings (not to mention views of the adjacent waterway). It features a total of 11 towers and 20 swimming pools and sits on a land area of 322,913 square feet.
It does feature quite an irregular shapes, especially the one fronting the Punggol Waterway as it curves along with the bend of the waterway itself.
Watertown Price Review
| | | | | |
| --- | --- | --- | --- | --- |
| Project Name | Tenure | TOP | Units | Average Price (PSF) |
| Watertown Condo | 99-year leasehold | 2017 | 992 | $1,361 |
| A Treasure Trove | 99-year leasehold | 2015 | 882 | $1,044 |
| Parc Centros | 99-year leasehold | 2016 | 618 | $1,214 |
| Prive (EC) | 99-year leasehold | 2013 | 680 | $962 |
| Twin Waterfalls (EC) | 99-year leasehold | 2015 | 728 | $971 |
| Waterbay (EC) | 99-year leasehold | 2016 | 383 | $977 |
| Ecopolitan (EC) | 99-year leasehold | 2016 | 512 | $1,006 |
As far as price is concerned, the Watertown condo takes the cake in the immediate area of Punggol with the average psf from the last 6 months at $1,361. While comparing development pricing by psf isn't normally the most accurate way because of factors like unit size differences and the efficiency of the layout, it is more acceptable to do so here because they are all of similar ages.
So one could argue that the Watertown condo is worth its premium because it is after all the most centrally located (MRT/LRT plus shopping mall) and it is the newest.
Looking back at the transaction data for Watertown, you can see that those who got in early during February 2012 were able to enter at an average psf of $1,181, which would translate to decent gains today. Once that average new launch sales price was bumped up to $1,334 psf, you can see that becomes a harder exit for that group as that has been the current average in recent months.
Ultimately the Watertown condo will still be seen as the market leader in its category of condominiums in Punggol, and one that the rest of its competitors will be taking its direction from.
Also considering that Watertown is an integrated development on the North-East Line, I'd imagine that those interested in the project might also be interested in its other integrated development neighbours.
As such, I've taken the liberty to include the subsequent table.
| | | | |
| --- | --- | --- | --- |
| Project Name | Tenure | TOP | Average Price (PSF) |
| Watertown | 99-year leasehold | 2017 | $1,361 |
| Compass Heights | 99-year leasehold | 2002 | $862 |
| Sengkang Grand Residences | 99-year leasehold | 2023 | $1,734 |
| Woodleigh Residences | 99-year leasehold | 2022 | $1,934 |
| Poiz Residences | 99-year leasehold | 2018 | $1,702 |
Appreciation Analysis
Punggol Digital District (PDD)
This is without doubt the most exciting transformation to look forward to in Punggol.
Over the past 12 years, you can see a lot of exciting changes happening to the Punggol area, so it's very safe to say that this district has a lot more potential going forward – namely the Punggol Digital District.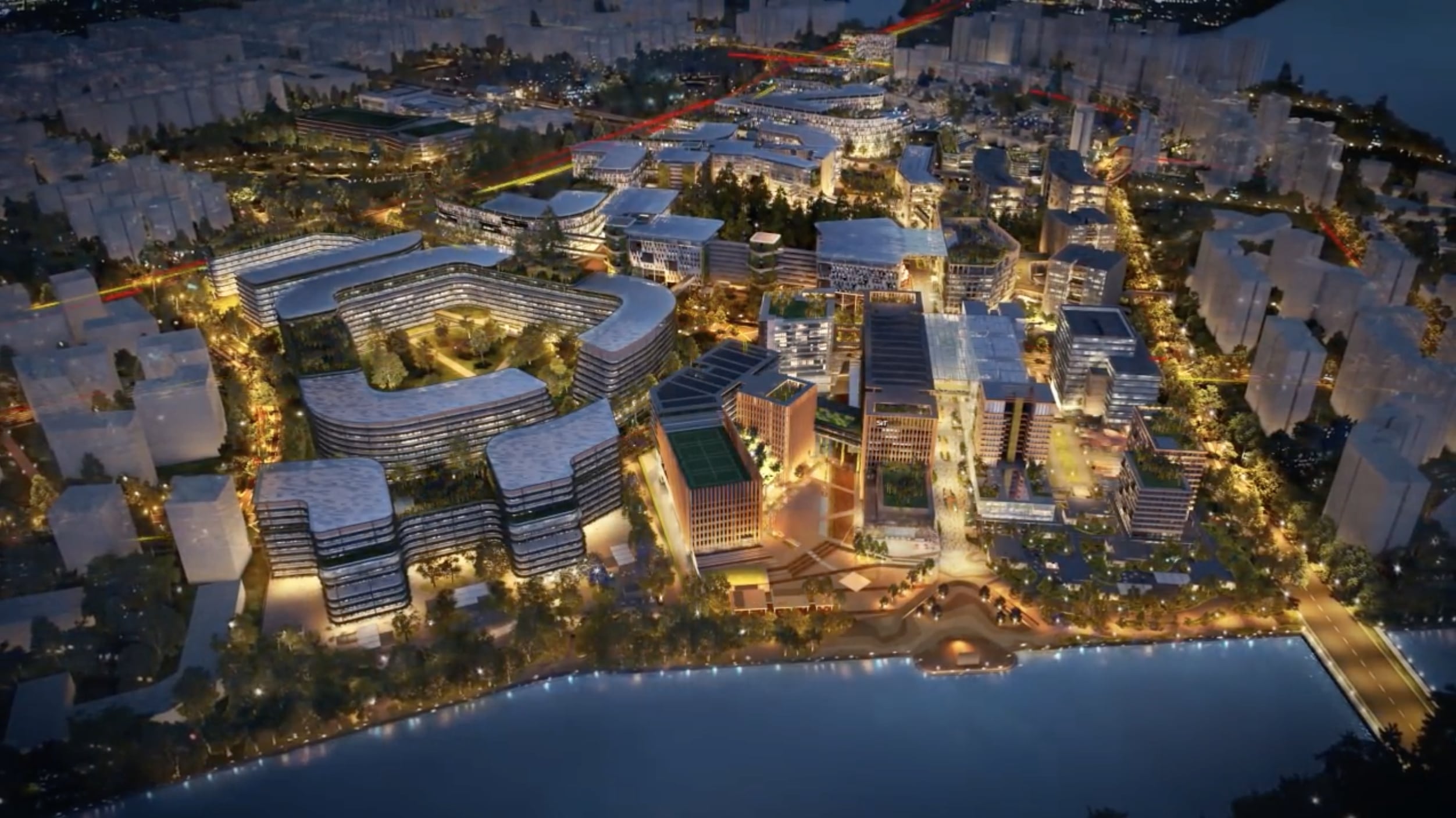 The Punggol Digital District will provide major support for Singapore's drive towards being a "Smart Nation". The district is set to bring about over 28,000 jobs in the area via the integration of Singapore Institute of Technology (SIT) and JTC's Business Park, serving mainly the Cybersecurity and digital technology industry.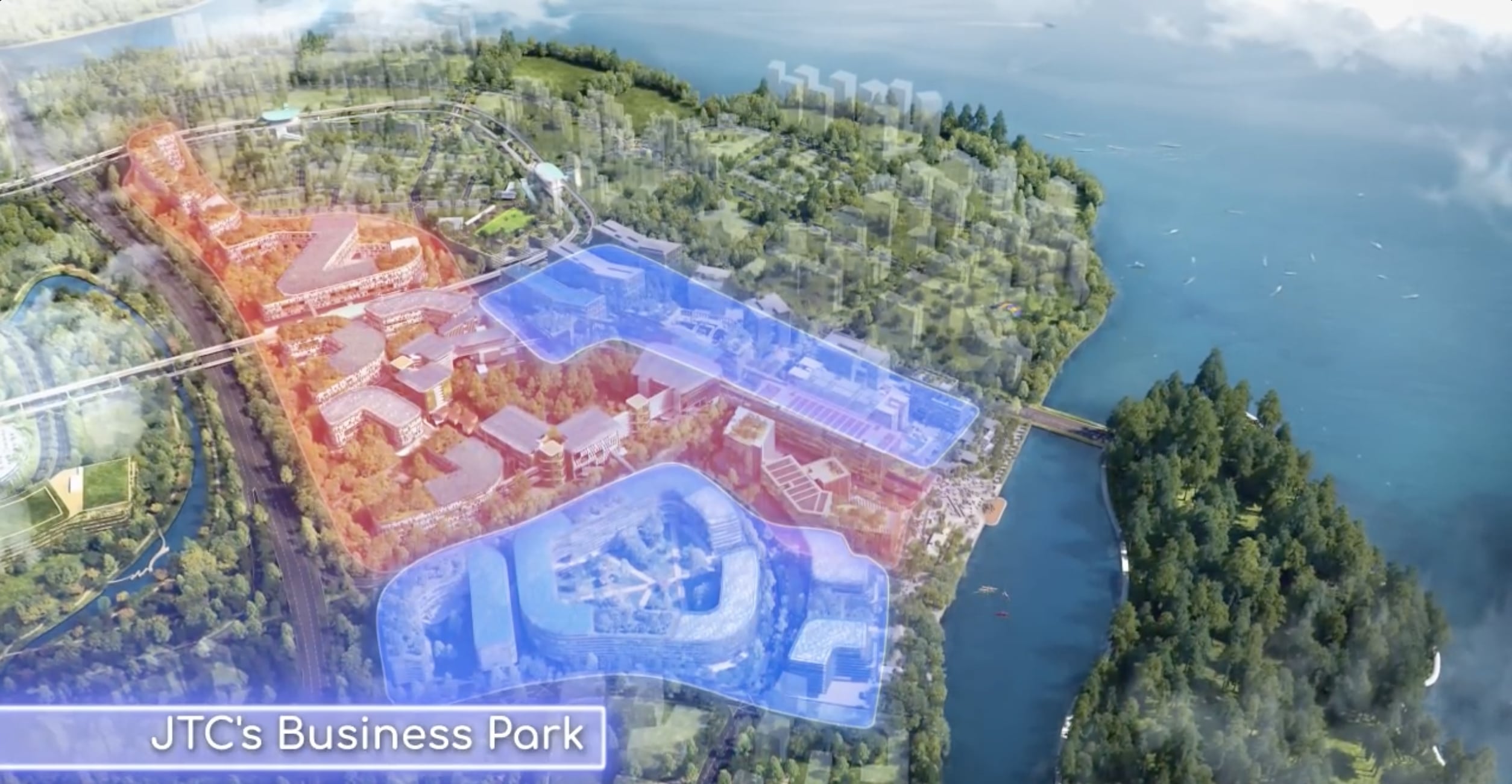 But it's not just jobs and an increase in rental demand that residents can look forward to. More retail and dining amenities can also be expected, especially along the eastern end of the "Campus Boulevard" which overlooks the waterfront.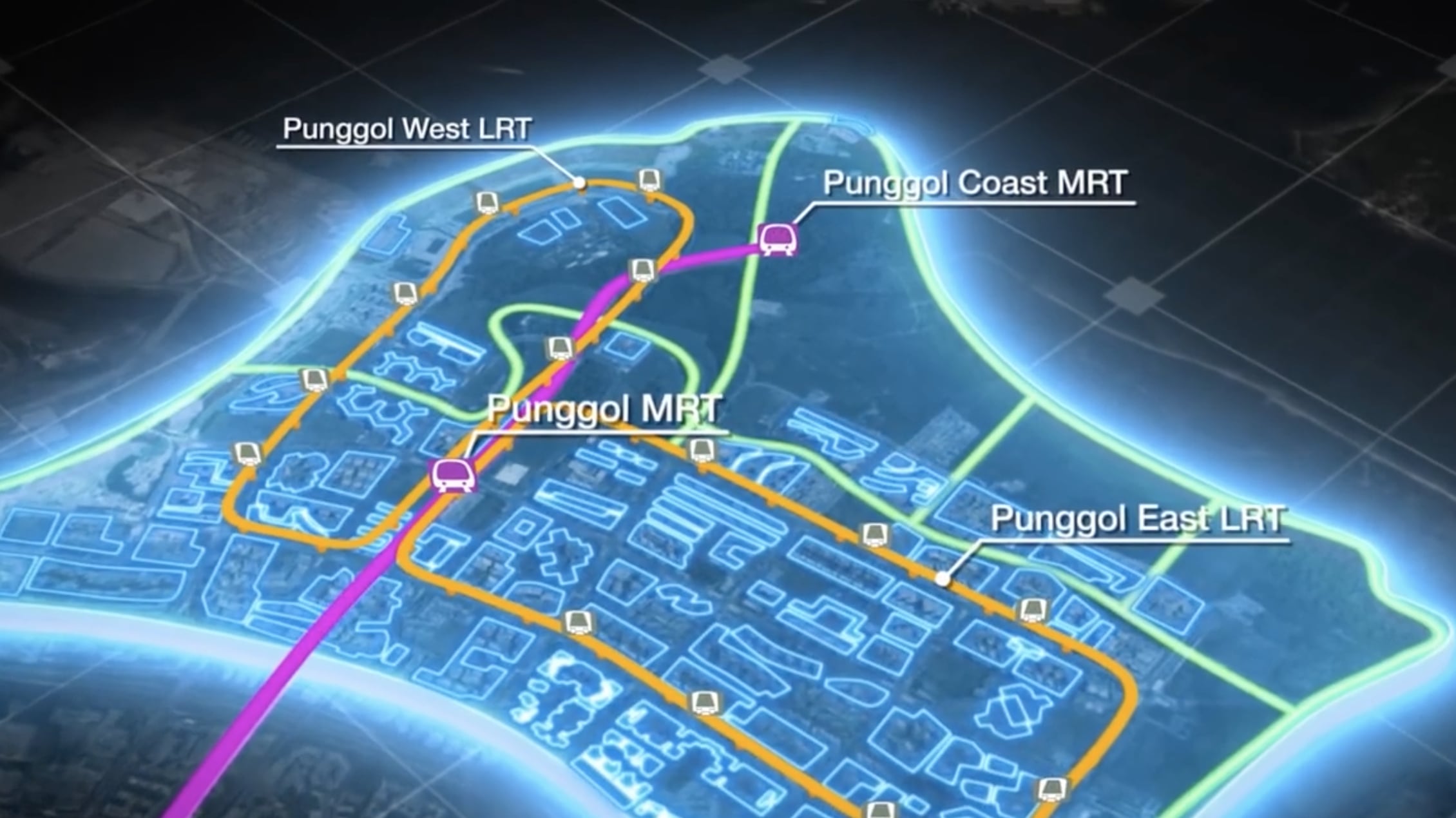 The largely undeveloped space would seamlessly integrate with the existing Park Connector Network that is also PMD-friendly. A new MRT station (Punggol Coast MRT U/C 2024) would also be opened there.
Still faces teething issues
For many years, residents at Punggol have been complaining of having to wait up to an hour to access the expressways (namely the KPE and the TPE). The situation was so bad that the LTA even brought forward the extension of Punggol Central Road by almost 1 year.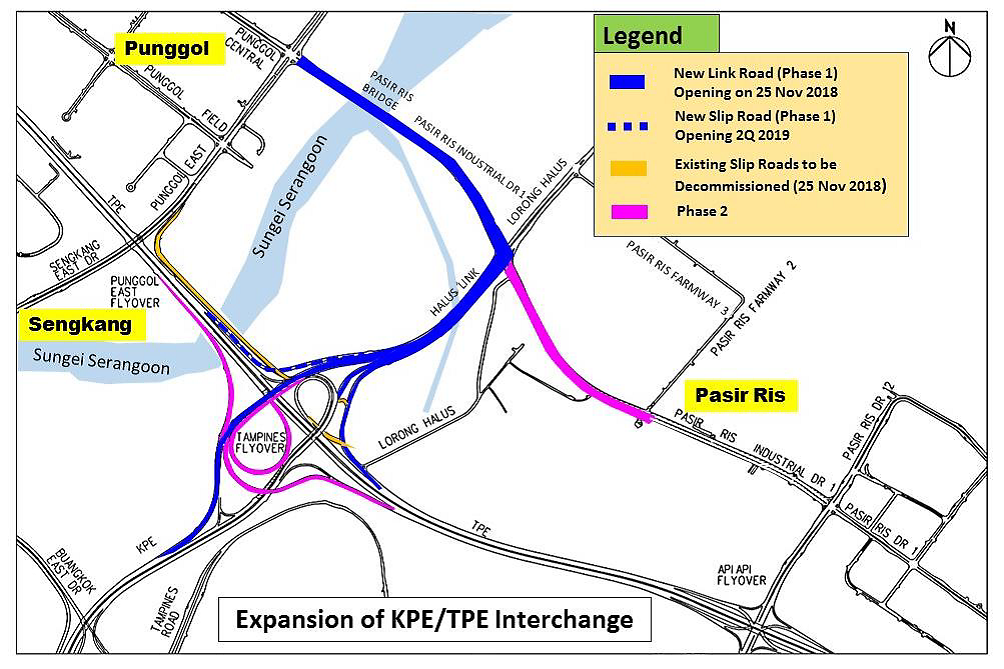 In fact, just 2 months ago as of this writing, the final links of the interchange between both expressways were completed.
As the estate continues to grow in size (it has an estimated 187,800 residents as of September 2019, I would think that Punggol still has some way to go in terms of improvement in connectivity and amenities, which brings me to my next point.
More amenities & connectivity coming up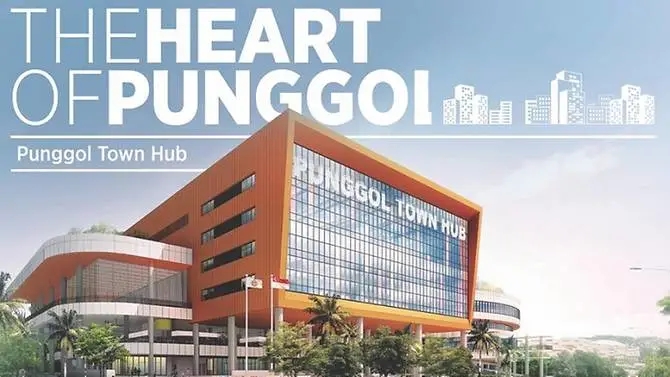 Punggol will soon see some exciting new amenities including the Punggol Town Hub and the Regional Sports Centre.
The town hub will feature a public library as well as a hawker centre and a childcare centre. It will also offer large viewing decks for visitors to admire the surrounding areas.
Yes, this is the feature that got many residents here to say "finally, we have a hawker centre!".
The Regional Sports Centre will boast 5 pools and an over 5,000-seater football stadium.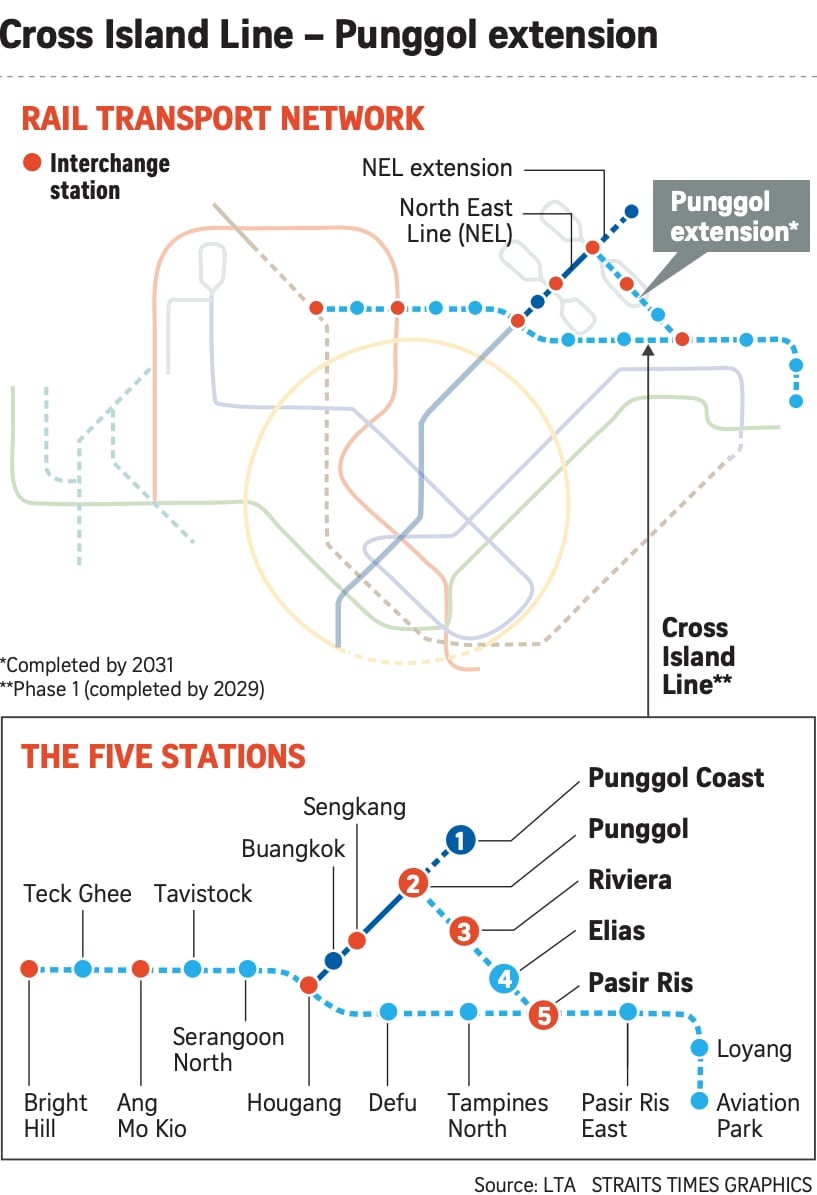 In addition, the upcoming Cross Island Line will connect with Punggol MRT, making it an interchange on its own. This will give even greater access to residents here who want to visit the east as it reduces the existing travel time from 40-45 minutes down to just 15-20, and it will be ready by 2031.
Perhaps the one thing that could help as well would be the land plot (currently the empty field in front of the MRT station) that is currently holding a plot ratio of 4.2 and is zoned as a commercial and residential (which is the same as Watertown). If you've visited the Waterway Point during weekends you can see what I mean – it's packed to its gills. Having another commercial development could go some way to relieving the crowds from all the residential areas currently in Punggol.
Of course, you'd reasonably expect the launch of this development to be at a higher price point to Watertown – which would generally be a positive point for residents of the Watertown condo.
Ultimately you can see long term improvements to Punggol, not just in terms of connectivity to the rest of Singapore, but also with regards to the amenities and infrastructure of it. These changes (should they all come to fruition) will definitely provide a platform for some appreciation potential moving forward.
Our Take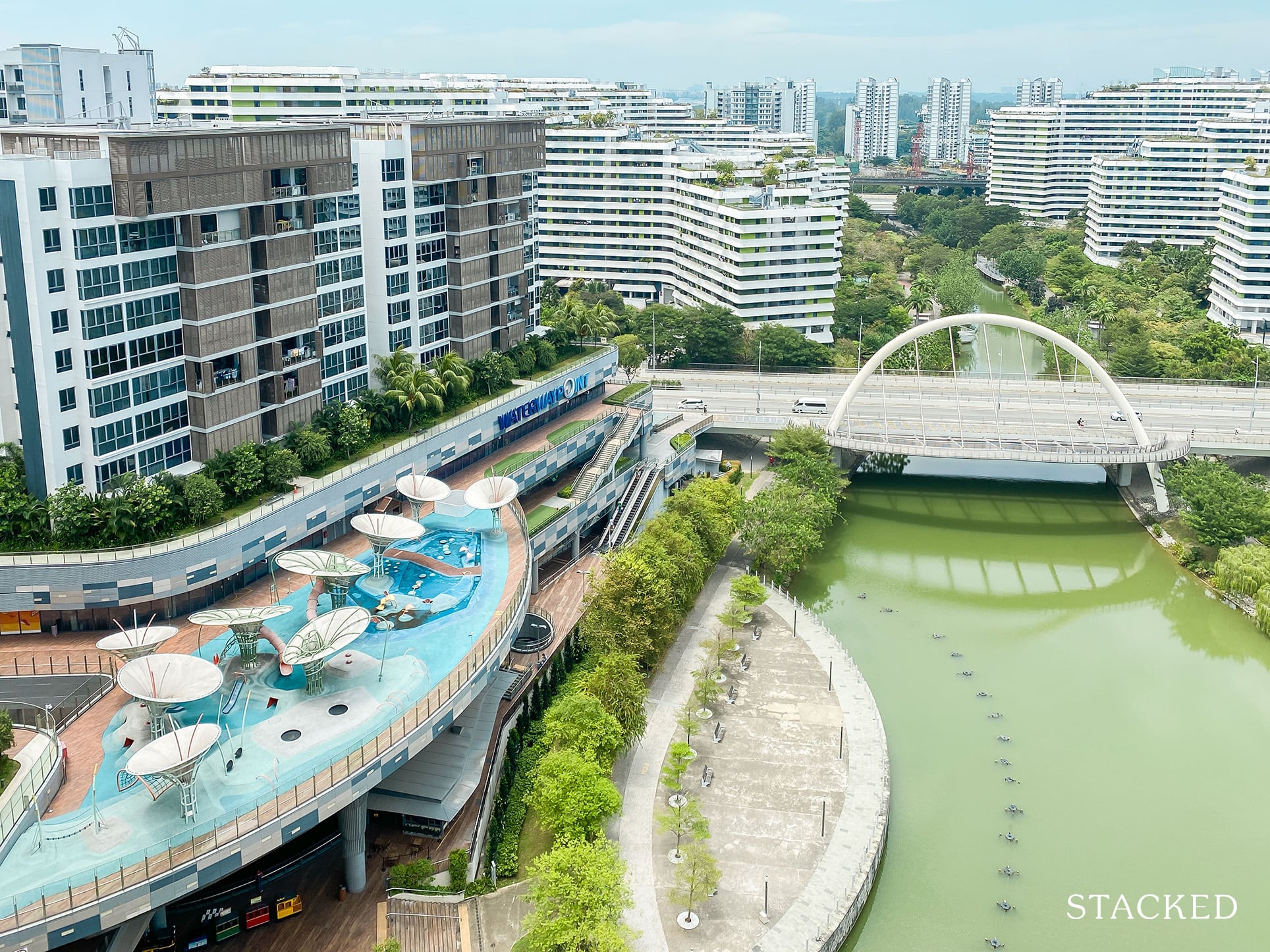 The Watertown condo would definitely be at the top of your shopping list if you are someone that craves convenience. There's little to argue in that regard – immediate access to Punggol MRT and LRT station, and the well stocked Watertown mall. There's even a cinema here so for Punggol residents there would be little need to make that trek to town unless you require a change of scenery.
Say what you will, but Punggol is still a distance away from many other parts of Singapore. So I think many would find it a hindrance to have to travel – hence it is easy to see the appeal of staying at a place like Watertown. In the current pandemic situation, it does seem to make even more sense for those who work from home.
For its target market of families with young children, you can also understand the attraction of such a development. Great facilities, a massive playground at the mall (when the pandemic is over), and the waterfront plus park at your doorstep.
Where it falls short is probably the location of Punggol itself. I find that Punggol is one of those locations that you either love or hate, and there's no straddling between the two. If you are a current resident of Punggol and looking to upgrade? Well, the merits of the Watertown are quite clear to see.
What this means for you
You might like Watertown if you:
• Crave Extreme Convenience:With the Waterway Point just below (cinema, shops, food, and supermarket) it can't get any more convenient that this. Plus the MRT/LRT station, it represents a seamless way to move around Singapore despite Punggol's not so great location.
• Enjoy Nature:Living next to a waterfront will always be a dream for many, and that long stretch of water at the Punggol waterway is a scenic but affordable entry price for one who enjoys a more nature-focused view.
You might not like Watertown if you:
• Frequent Town/CBD:Despite the conveniences of the MRT, getting to CBD to work from Punggol would still take some time. Let's not even talk about driving.
• Value Privacy:With 992 units, it isn't the gigantic size of some of the new launches that we see today, but it is still one of those developments that you'd be seeing people out and about a lot. Being atop a mall also means that you'd always have to go through crowds to get home, which for some people is a definite no-no.
End of Review