Condo Reviews

Tree House Condo Review: A Home Away From Home
Reuben
August 31, 2019

16

min read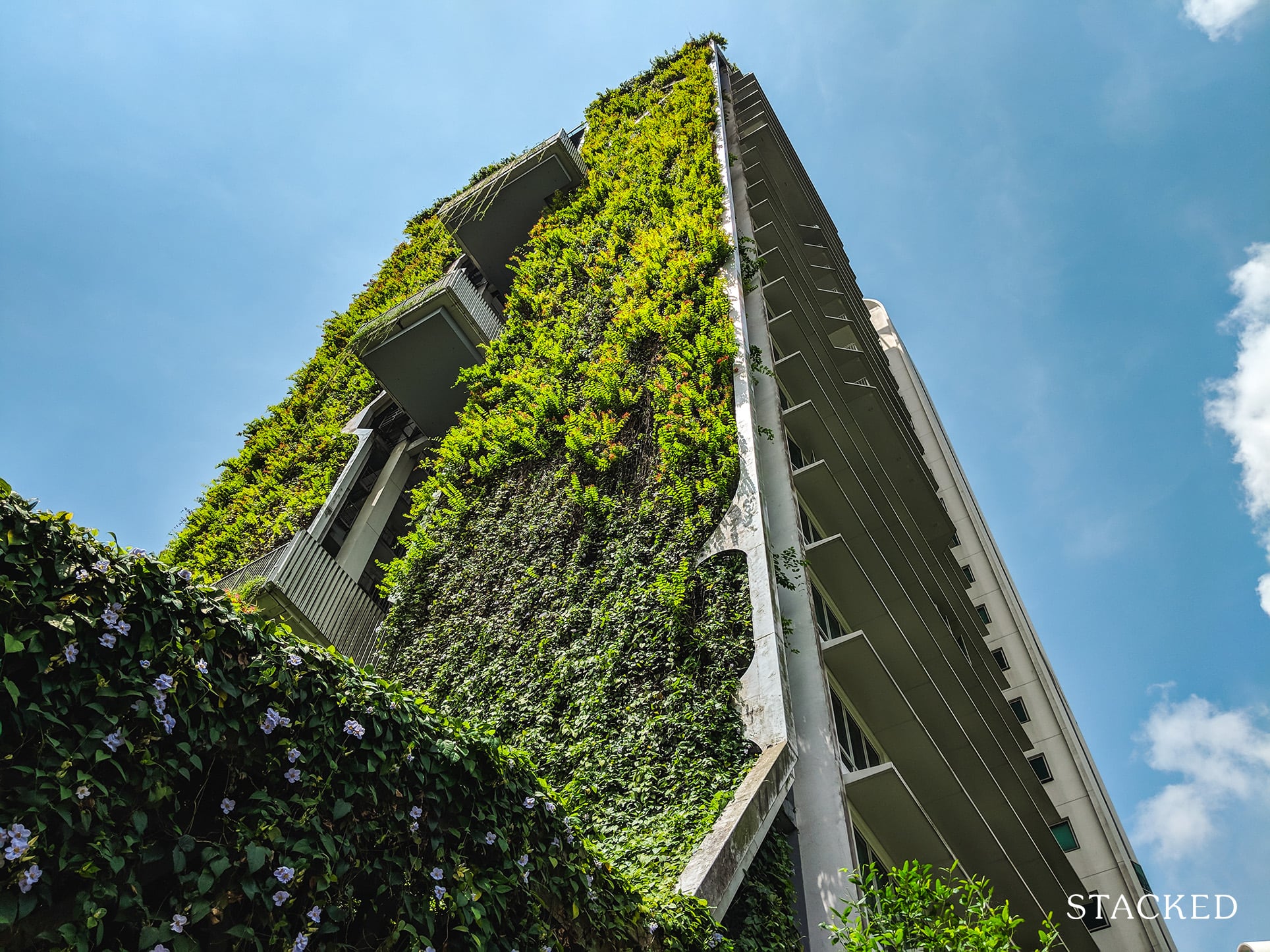 If I were closer to my retirement years, a high-floor option in the Tree House condos would definitely be a worthwhile consideration while if I had a young family, this would be a brilliant place to bring up kids too. But it's out of the question for those without a car, or who work in the CBD.
Reviewed by Reuben on August 30, 2019
What we like
Abundant greenery

Many swimming pools

Great gym

Windy
What we don't like
—

You need a car to live here

—

Far from MRT

—

Certain areas have poor upkeep
16
min read
About this condo

| | | | |
| --- | --- | --- | --- |
| Project: | Tree House Condo | District: | 23 |
| Address: | Chestnut Avenue | Tenure: | 99 years |
| Site Area: | 244,091 sqft | No. of Units: | 429 |
| Developer: | CDL | TOP: | 2014 |
Having received the BCA Green Mark Platinum award in 2010 for its eco-friendly design and the Guinness World Record in 2014 for its 25-storey tall vertical garden, you would expect great things from the Tree House Condominiums (trust us, we did too). Sadly, it turns out that the Tree House isn't exactly the first name that surfaces in a conversation about incredible neighbourhood amenities and easily accessible public transport – not that you're in a desert or anything, it's just that the closest LRT is a staggering 13-minute walk away (more on that later). That being said, the condo's theme – 'Your getaway at home' testifies of incredible nature views from its higher floors, a quieter neighbourhood and generally cooler temperatures in the vicinity – something that I'm sure we can all appreciate. It's an interesting one, to say the least. Will nature's beauty triumph the Tree House's lacklustre locale? Let's find out!
Insider Tour
Facilities in Tree House
Bubble Walk
Main Swimming Pool
Dining Pavilion
Jet Pool
Gym
Aqua Gym
Sun Deck
Plunge Pool
Junior Pool
Rain Spa
Tree Houses
Tree Top Walk
Play Lawn
Jogging Track
Outdoor Fitness Area
Herb Garden
Amphitheatre
Playground
Tennis Court
Skating Rink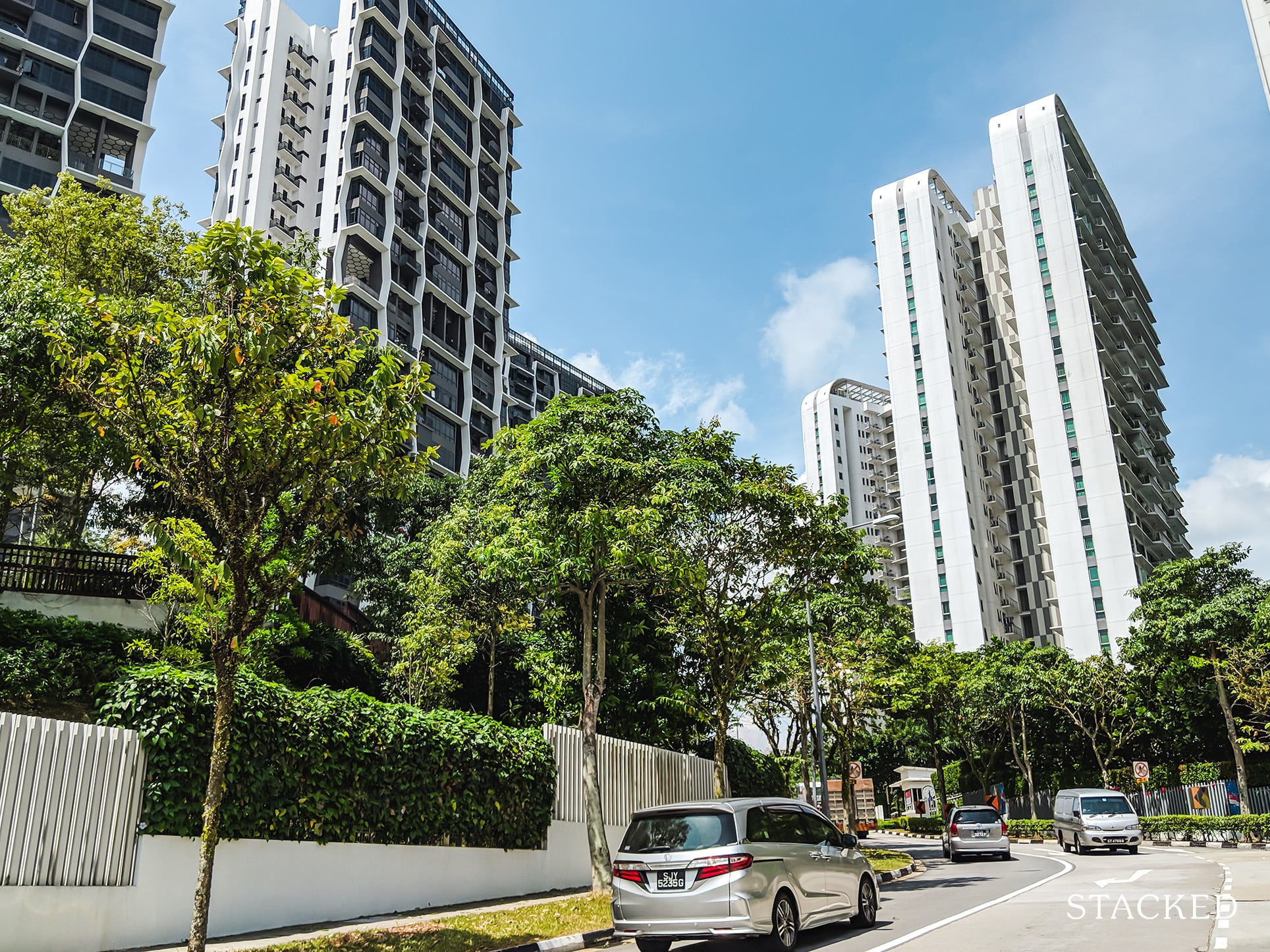 The Tree House condo is located along Chestnut Avenue, and it is the only way into the condominium if you are driving. Unfortunately, it is a one lane road only, and it serves both the Eco Sanctuary and the Tree House condo. At the moment, it is adequate for both developments in terms of traffic, but if there are ever any more developments (which could be unlikely as they are dedicated park areas), this would pose a problem.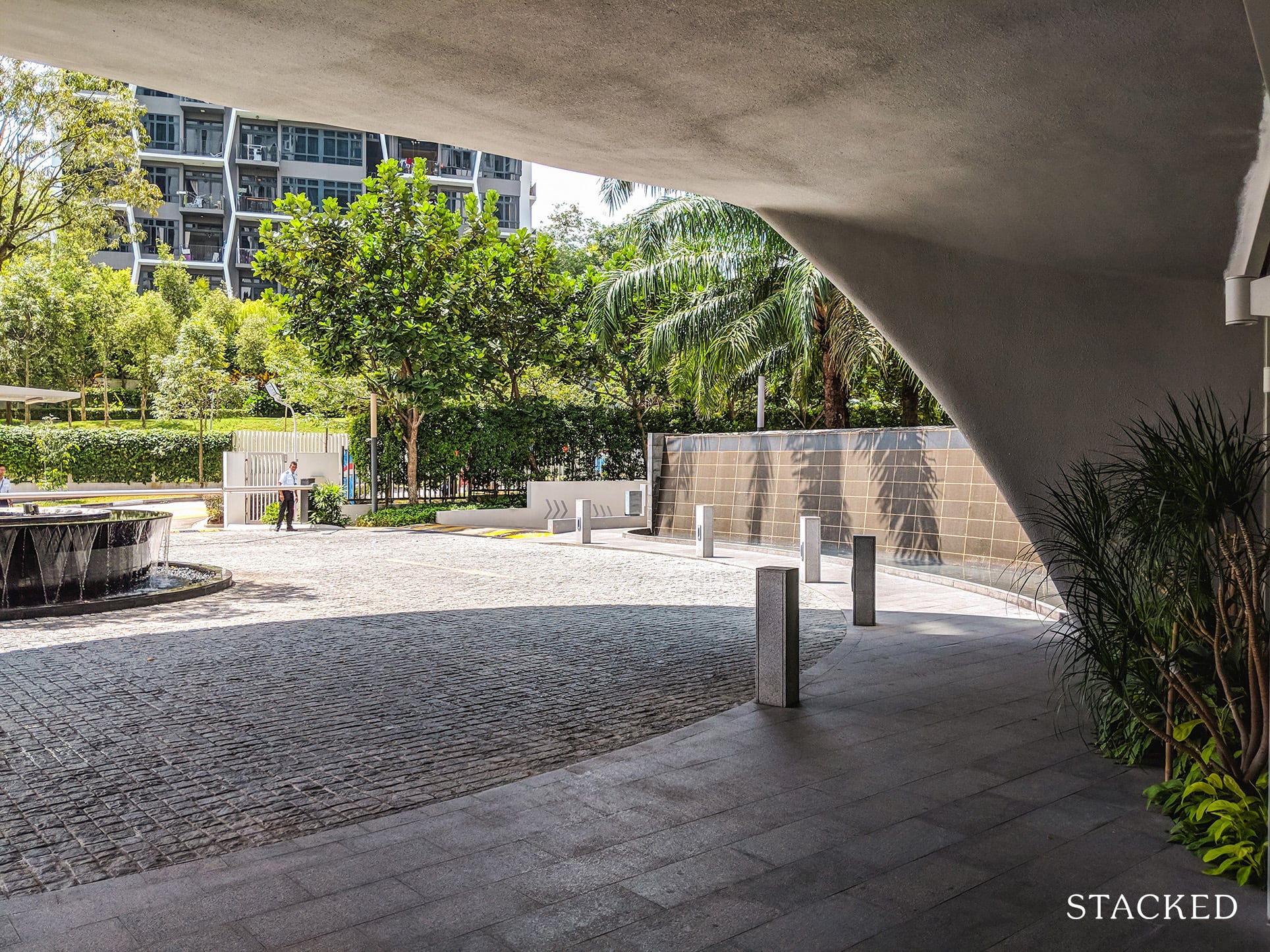 The entrance to the Tree House condo is decently done, with a water fountain in the middle of a circular driveway. The drop off point is well sheltered and a pleasant waiting point. However, the design is not well planned for visitors as upon driving in, you aren't able to take an immediate left into the carpark because it is quite sharp. Instead, you have to make a round around the roundabout before entering the carpark.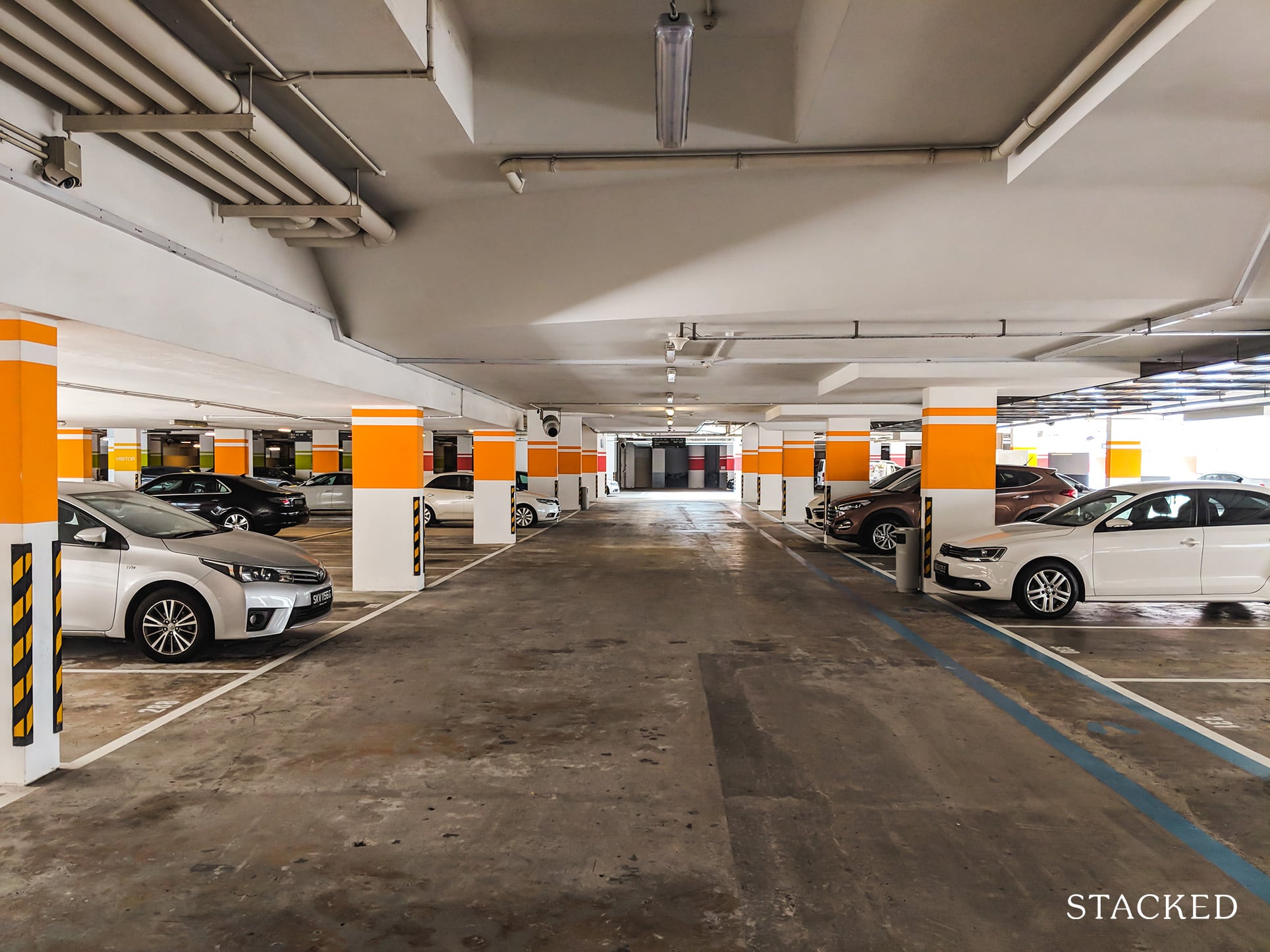 Although the fancy treatment wasn't given to the carpark flooring, I like that the carpark is nice and bright. Mainly because of all the openings that let the light in around the carpark, so it does not feel dark and claustrophobic.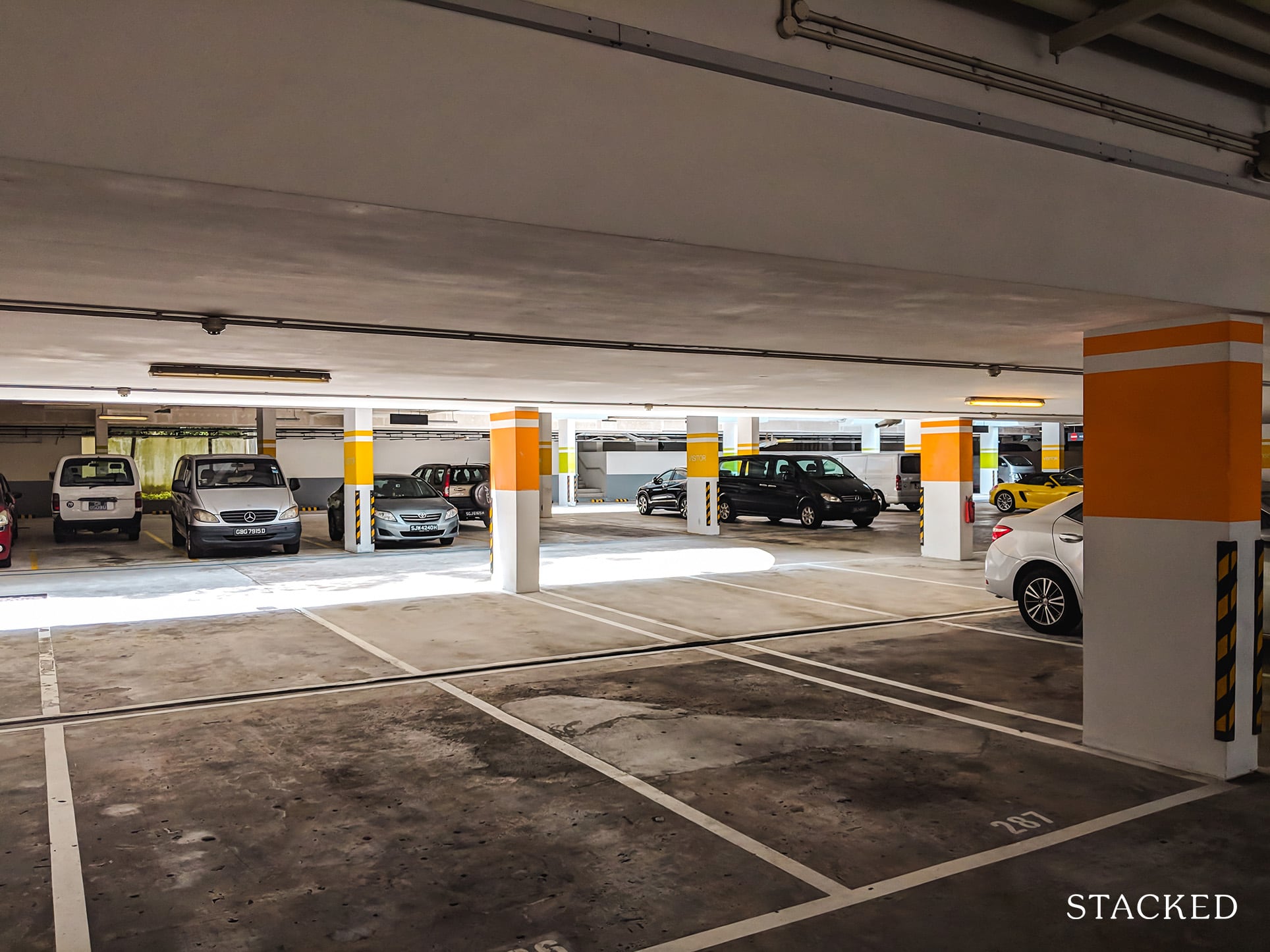 The carpark at the Tree House condo is definitely sufficient for the number of units so parking should not be a concern here.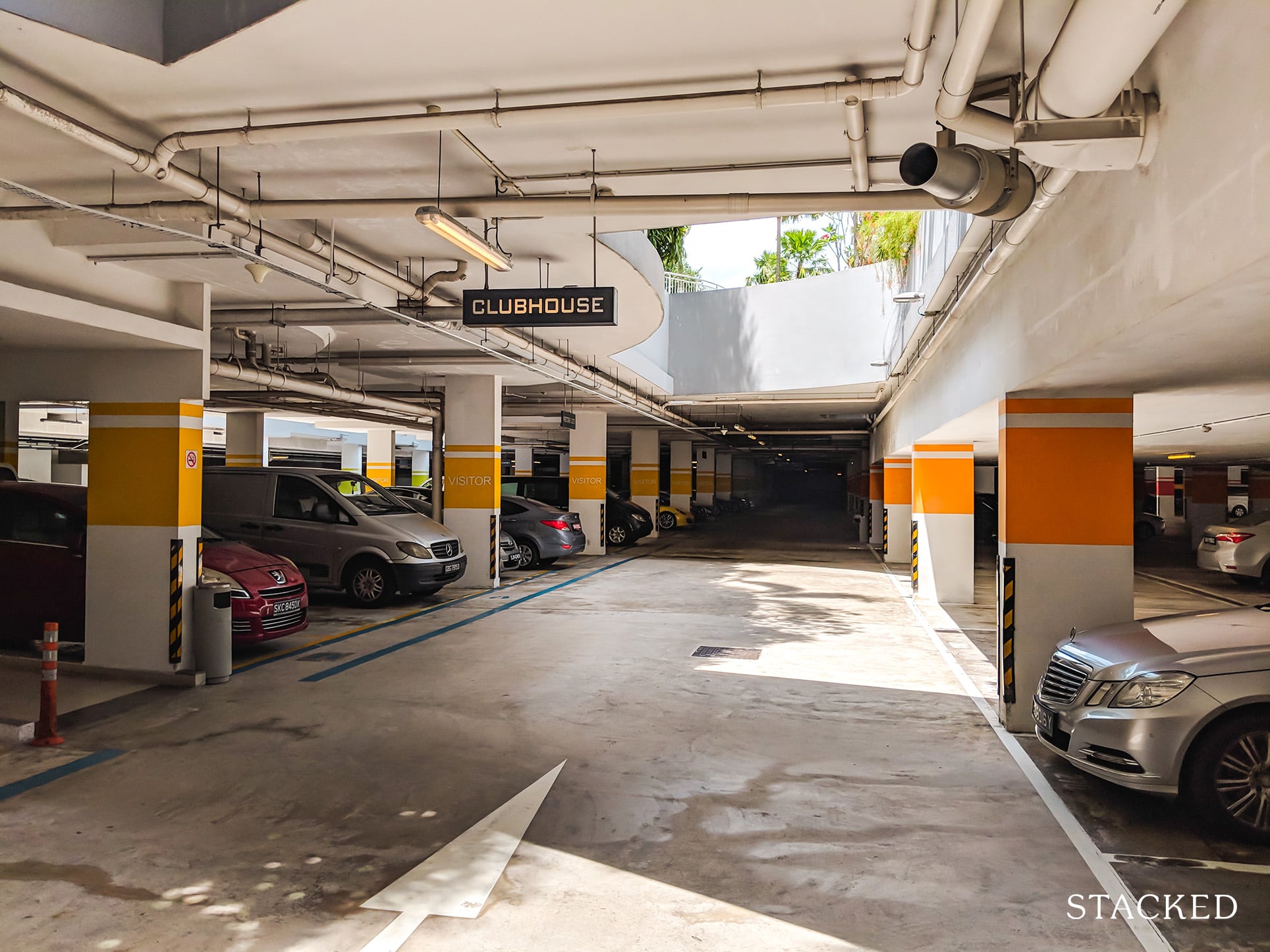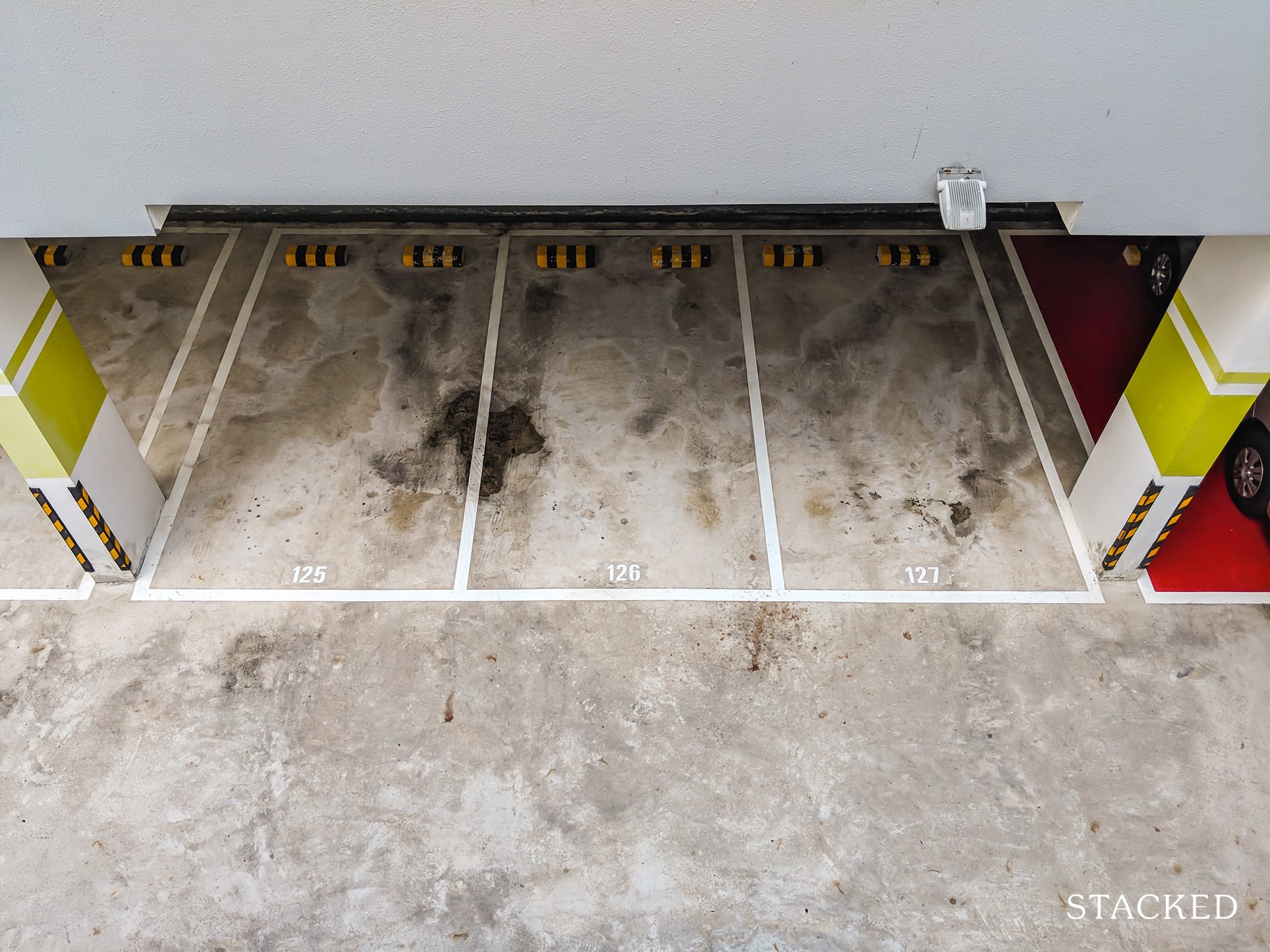 The open spots that let in the light also come with a downside. If your car happens to stick out of the lot, you might not get sheltered from the elements. So some of these lots might actually be avoided by residents.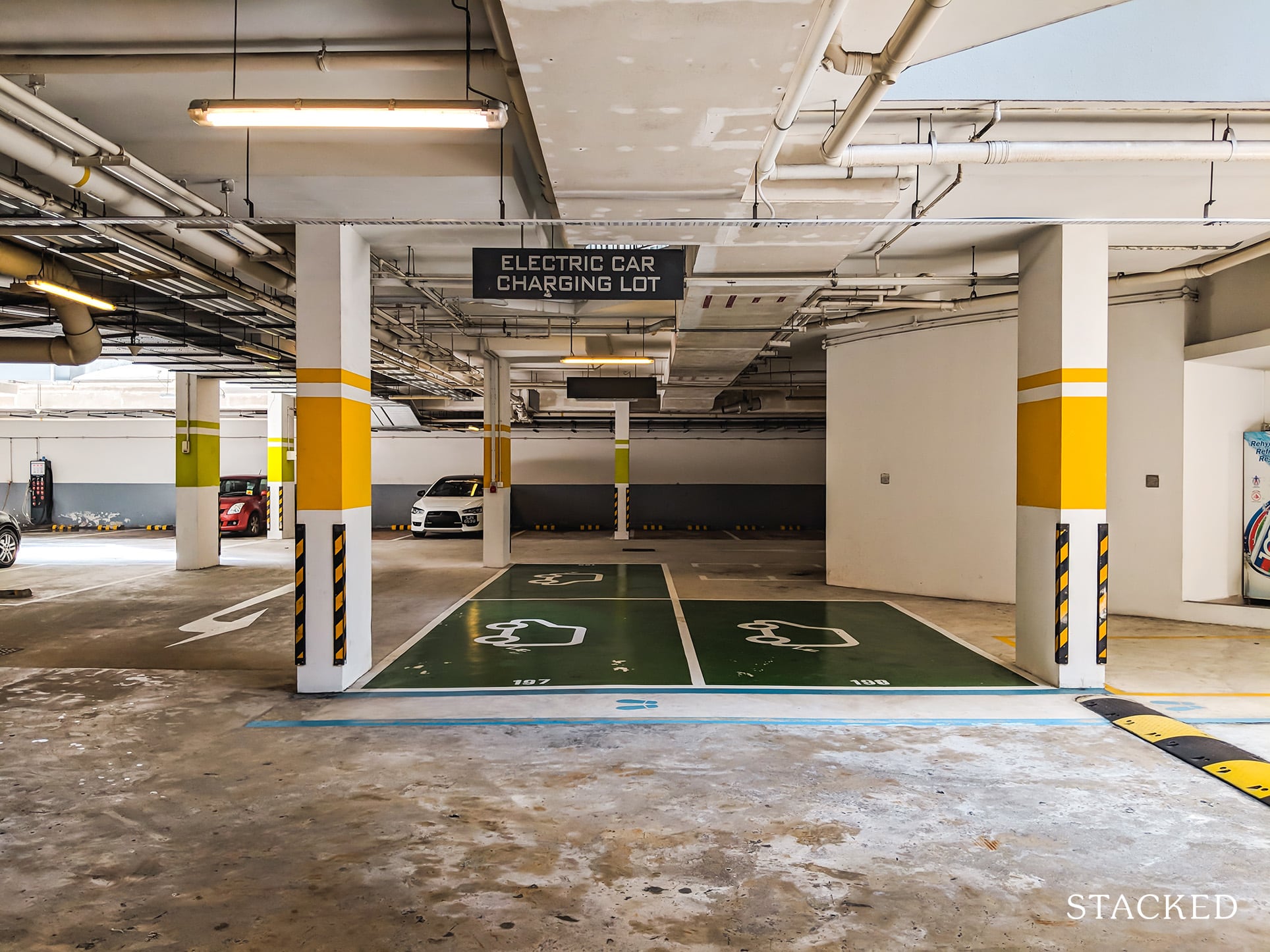 As you would expect from the green status of the condo, there are 3 electric car charging lots.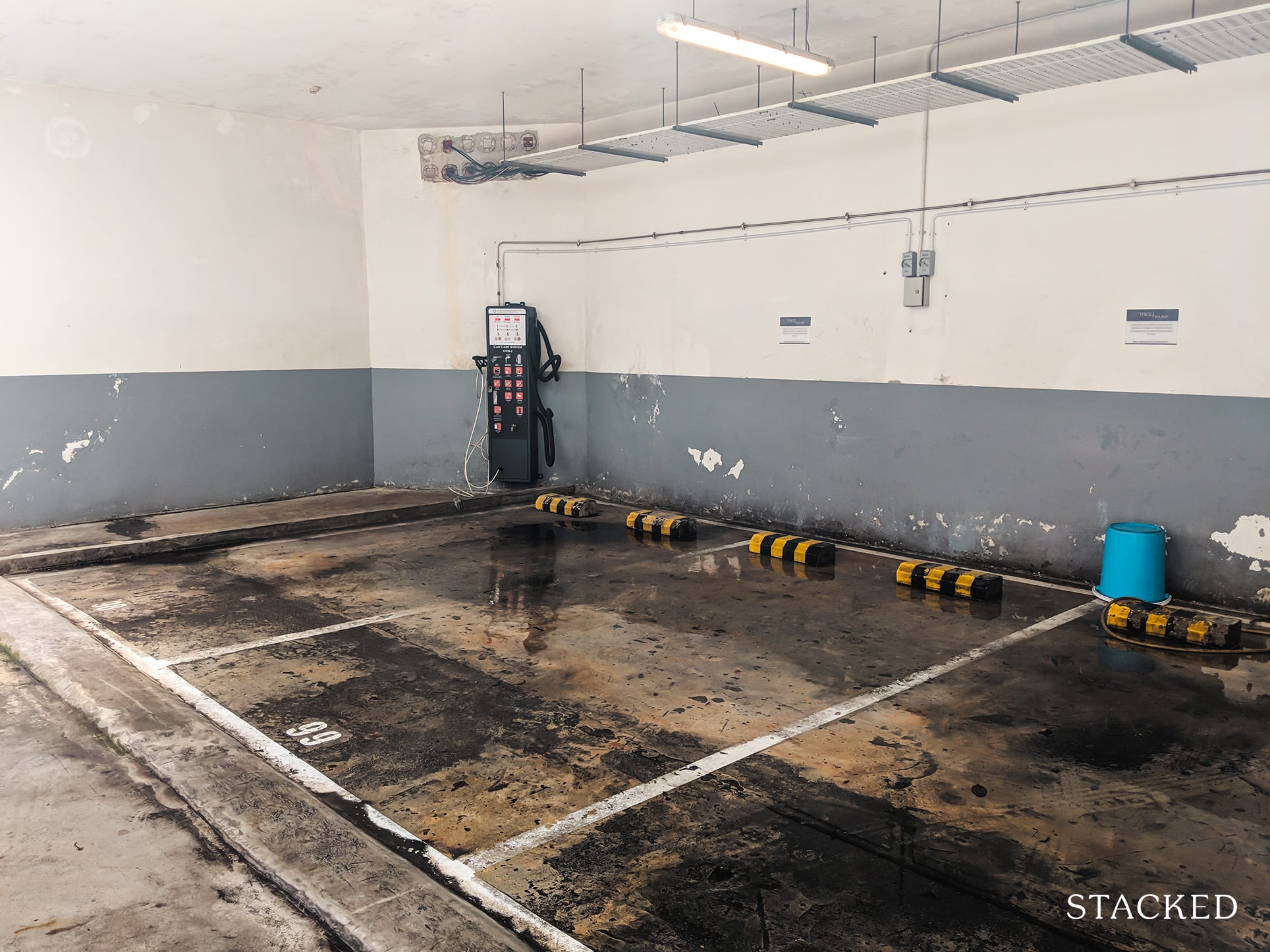 Now onto what I think is the coolest part of the condo so far, the car wash bay! I love that they have included two car wash pay stations so it is super convenient to get your car washed, and vacuumed at the same time. On a negative note, the upkeep of this area wasn't great and is a little cause for concern as the development is only 5 years old at this point. Most areas were quite well maintained, it was just some places that were in a shoddy condition.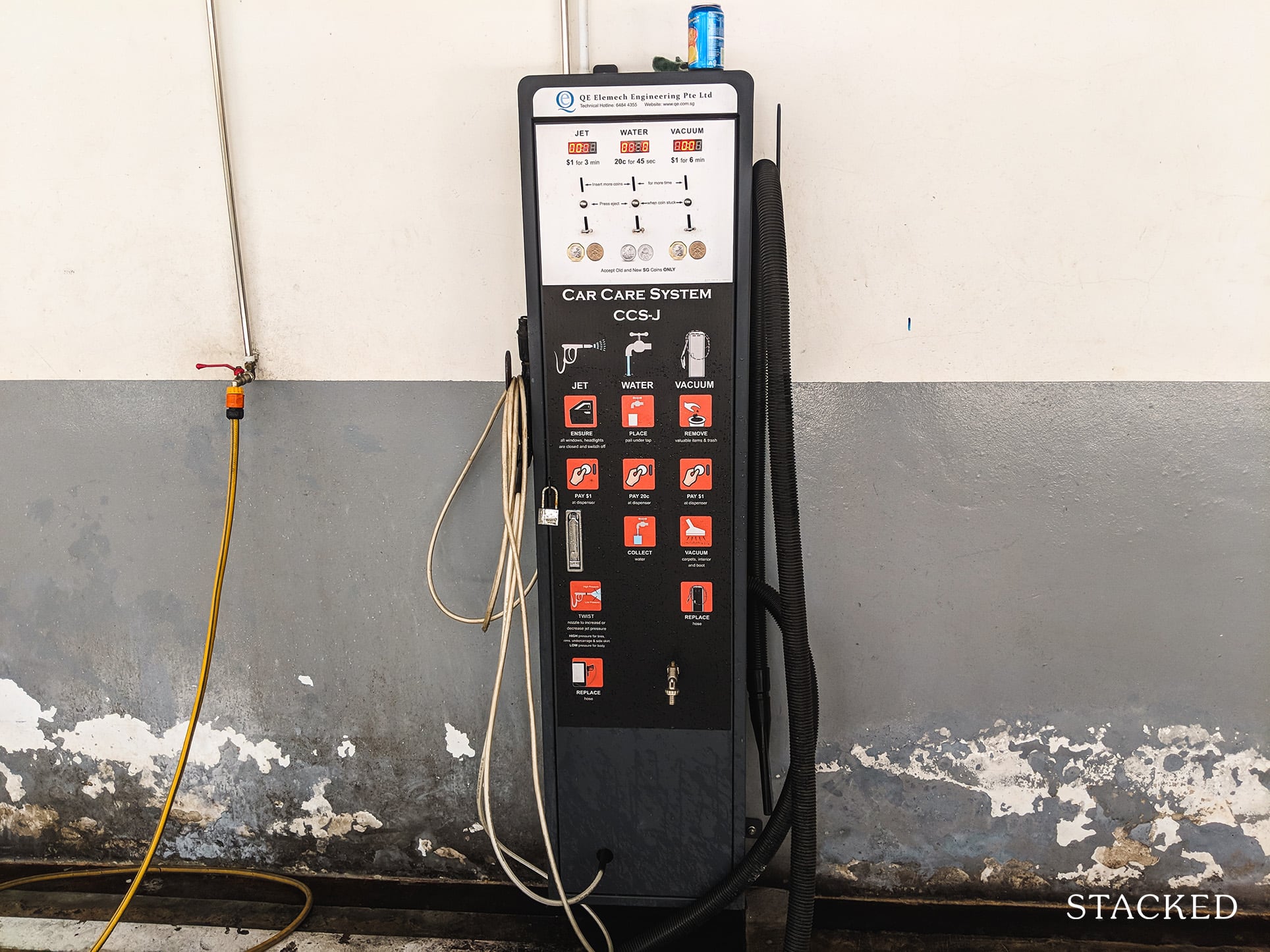 An up-close look at the car wash machine system. You will have to bring some loose change with you each time you come to wash your car, but it is great that there is a jet wash system as well as vacuuming capabilities. I hope more developments will take this on, it looks to be a very useful addition for car owners. I can't comment more on the actual usability or how effective it is, but on the surface, it's a thumbs up!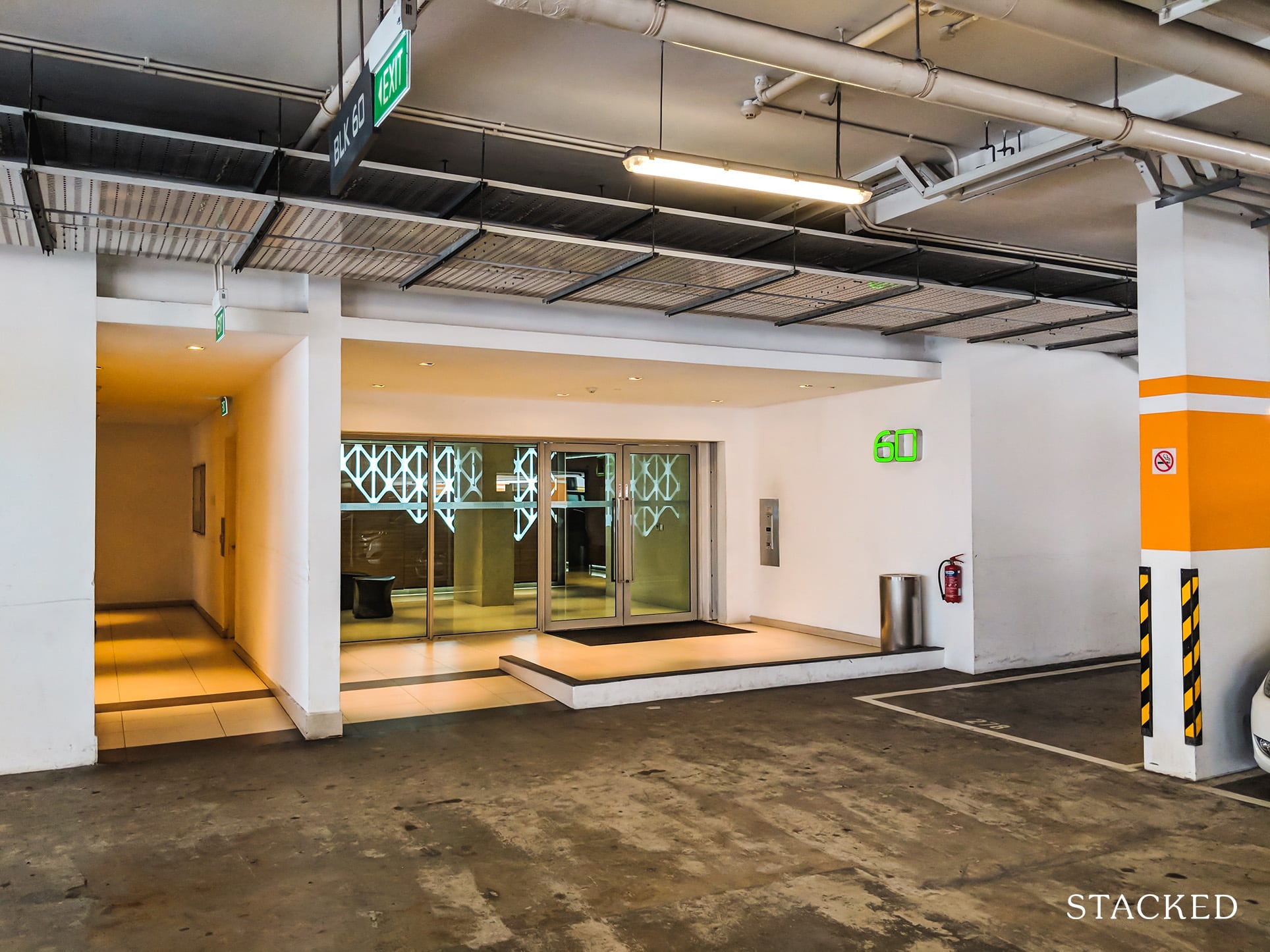 As with most modern developments nowadays, the lobby areas are only accessible if you have a keycard. For added security, guests will have to dial-up to be able to get in. I like that the lobby is air-conditioned as well, which is a nice touch that usually only the higher-end developments would have.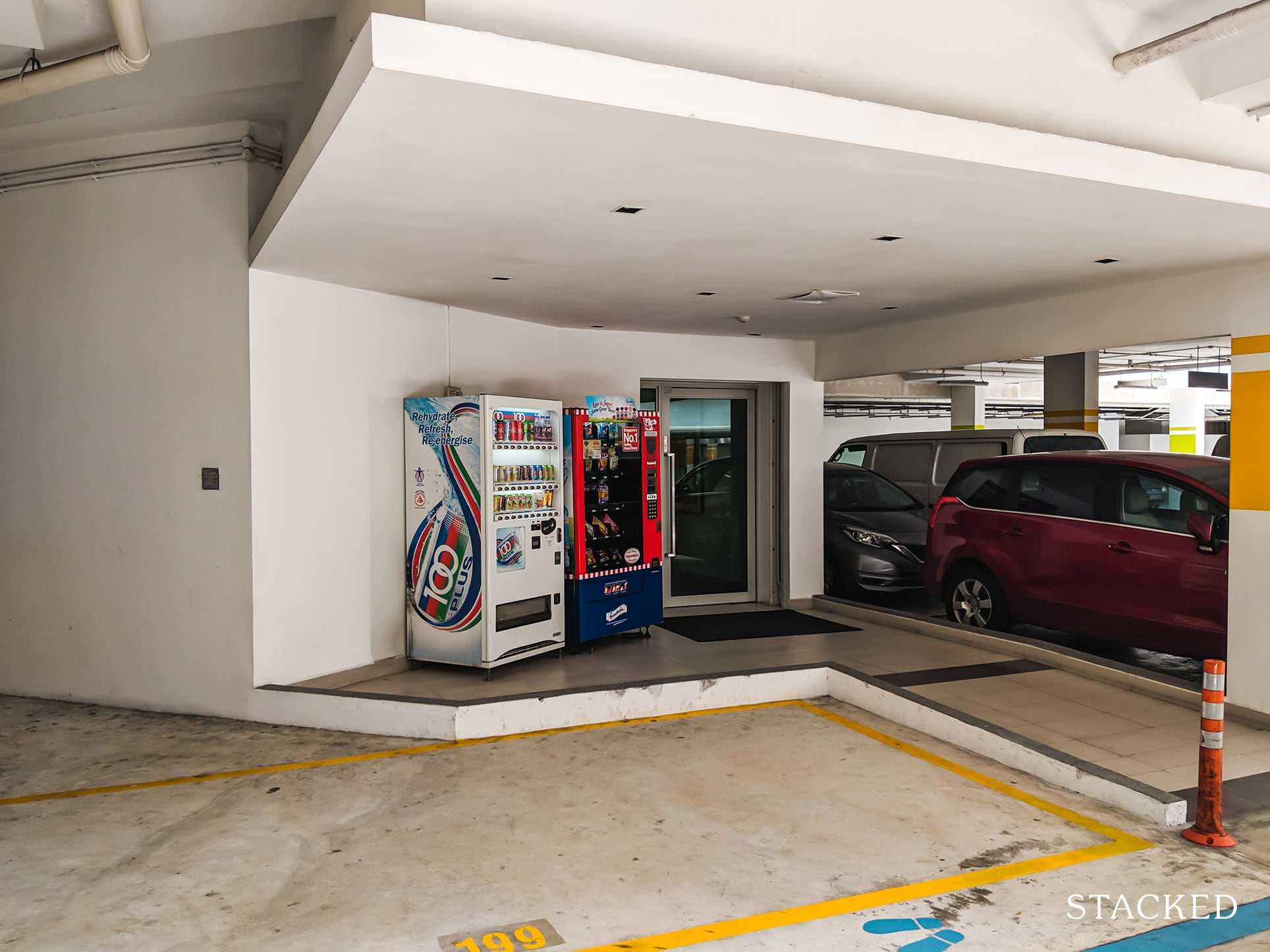 Also an increasingly common feature in condominiums today, there are two convenient vending machines at the lobby of the clubhouse basement.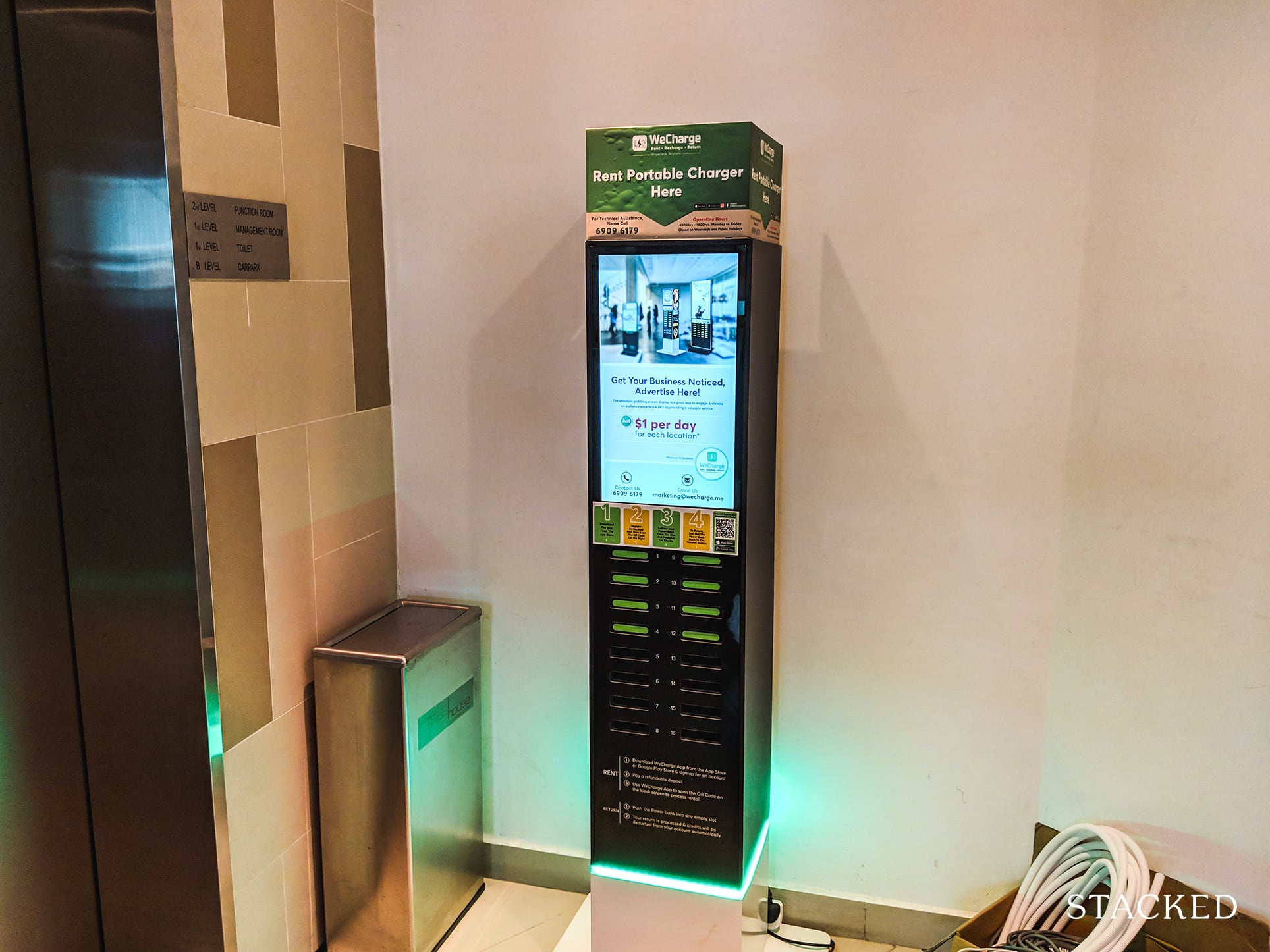 Once you step into the lift lobby, you are greeted by a machine renting portable chargers. Which is a very strange place to put one, if you ask me. When the majority of foot traffic passing through here would be residents in their own home, why would anyone even need a portable charger?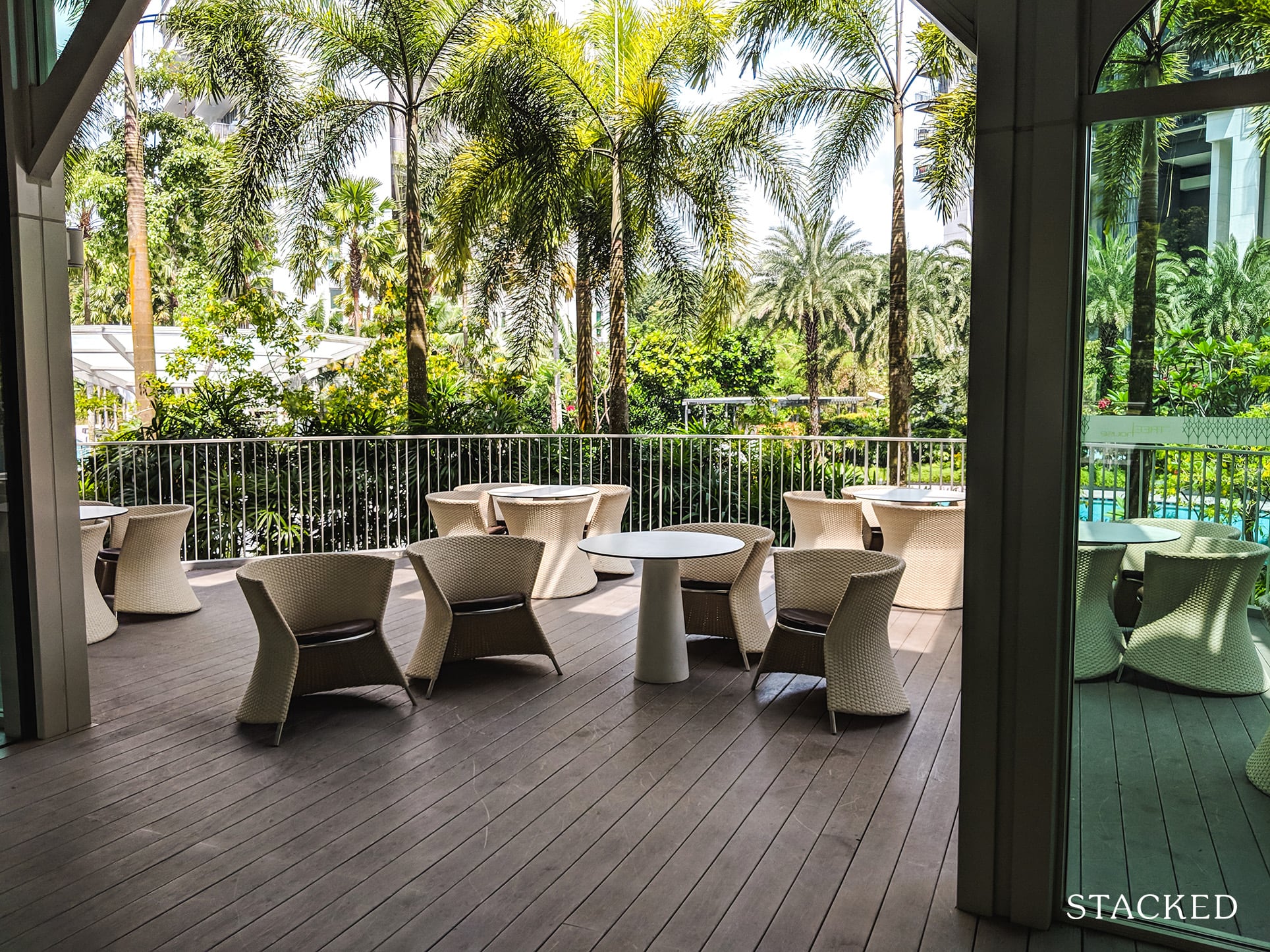 The clubhouse at the Tree House condo has two levels, and the uppermost level leads you to an open space with lots of seating to admire the greenery around you.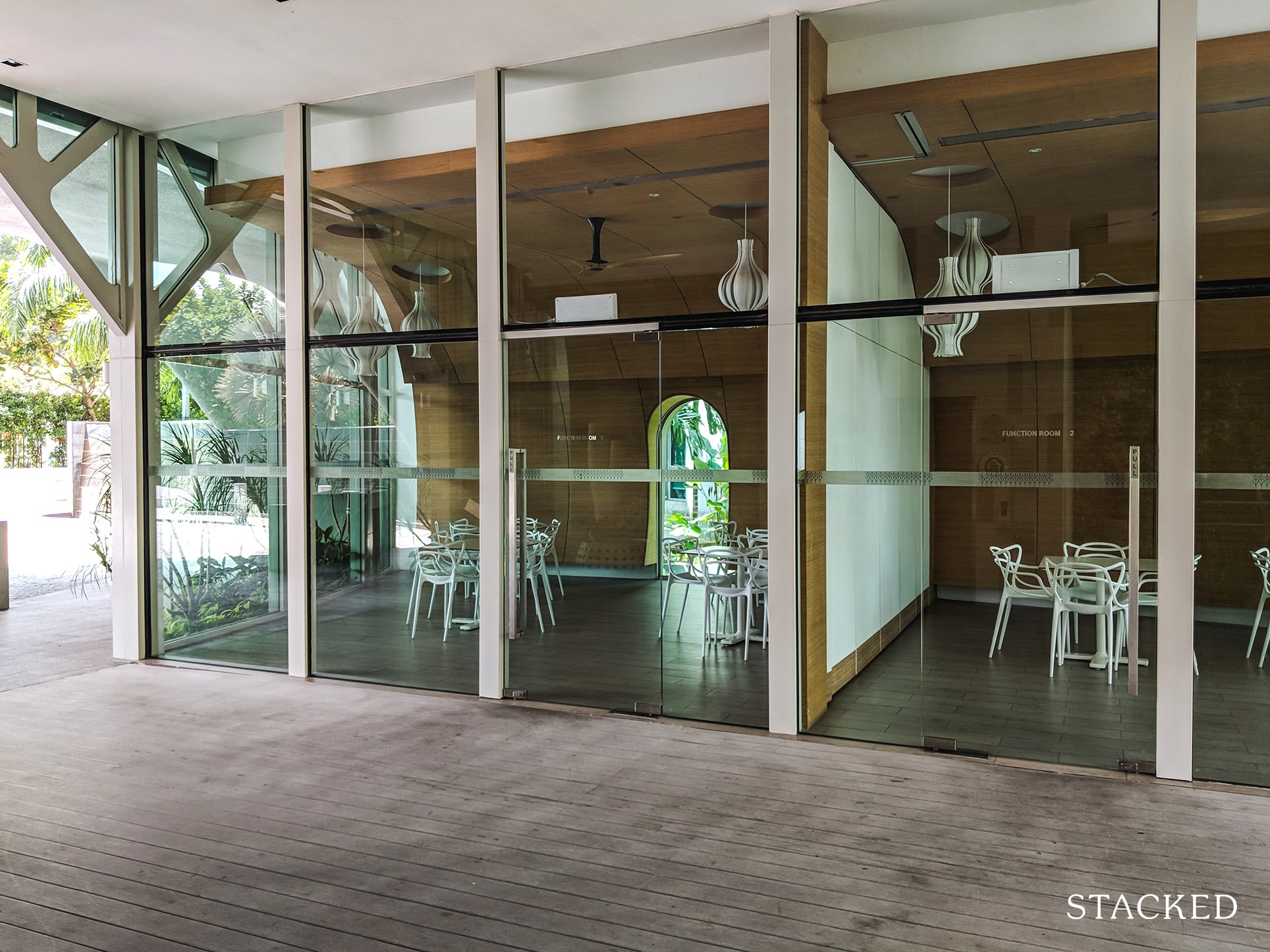 Within the clubhouse itself, there are two simple function rooms with some tables and chairs. These are perfectly usable don't get me wrong, but I do like those that come with the added functionality of a kitchenette or pantry area.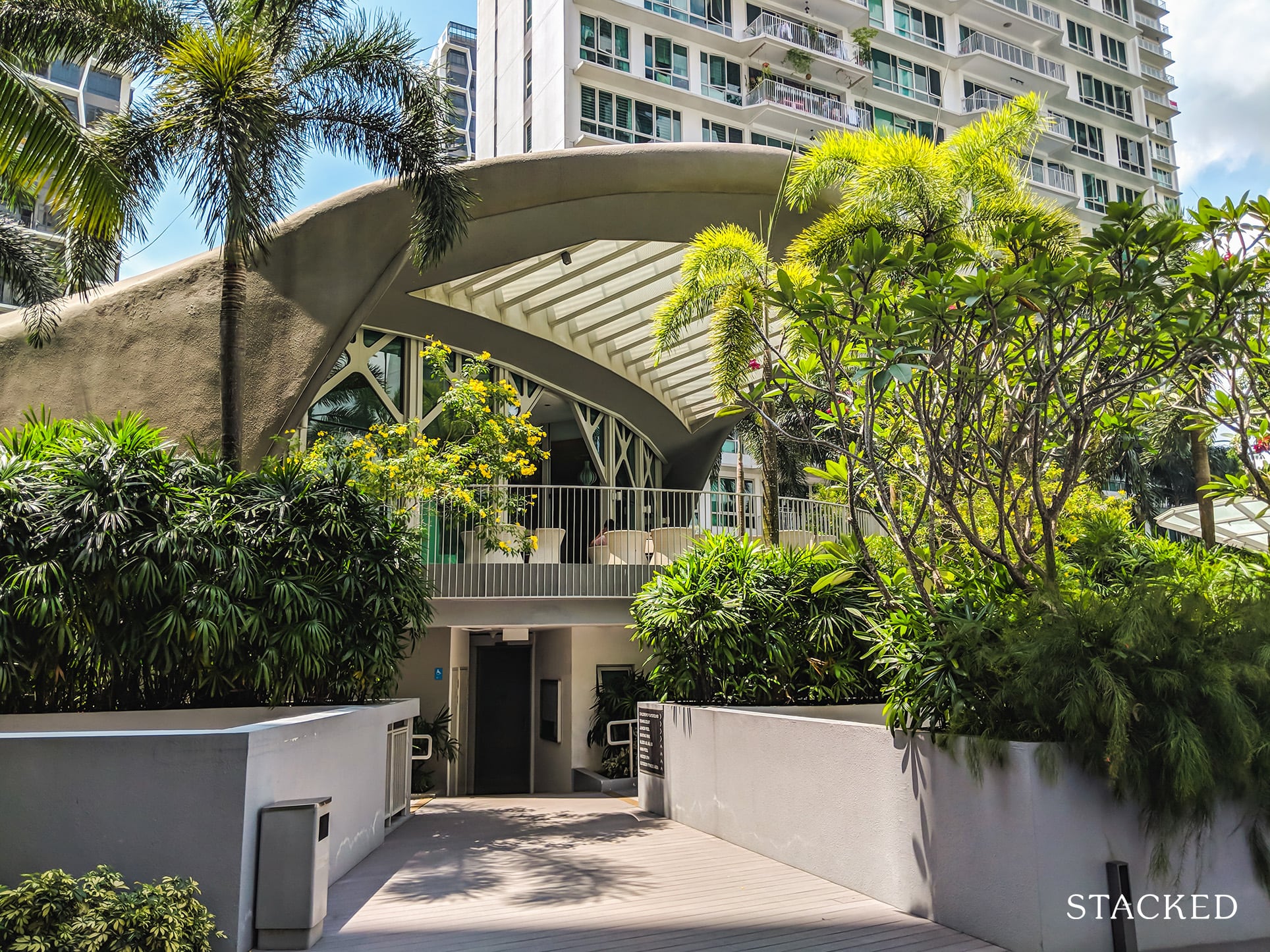 Getting back to the first level from the clubhouse will lead you to the swimming pool area and all the other facilities.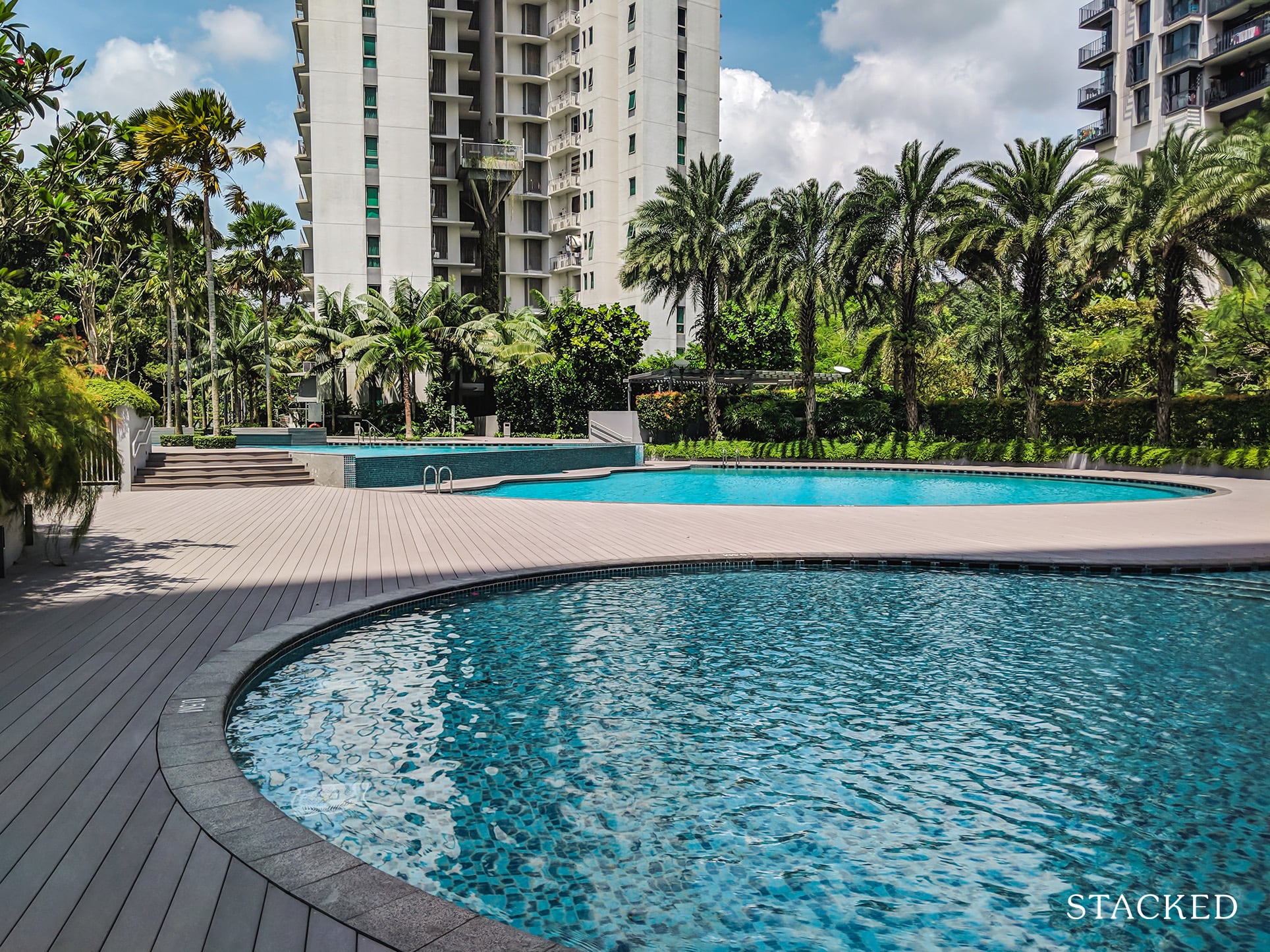 Once you get up here, you are immediately greeted by the sight of the many different pools available at the Tree House condo. Other than the spaciousness, the one thing you will instantly notice is how windy it is! Apparently this is something that is pretty much constant here as most of the surrounding areas around the Tree House condo are low lands. This is a definite plus point for sure.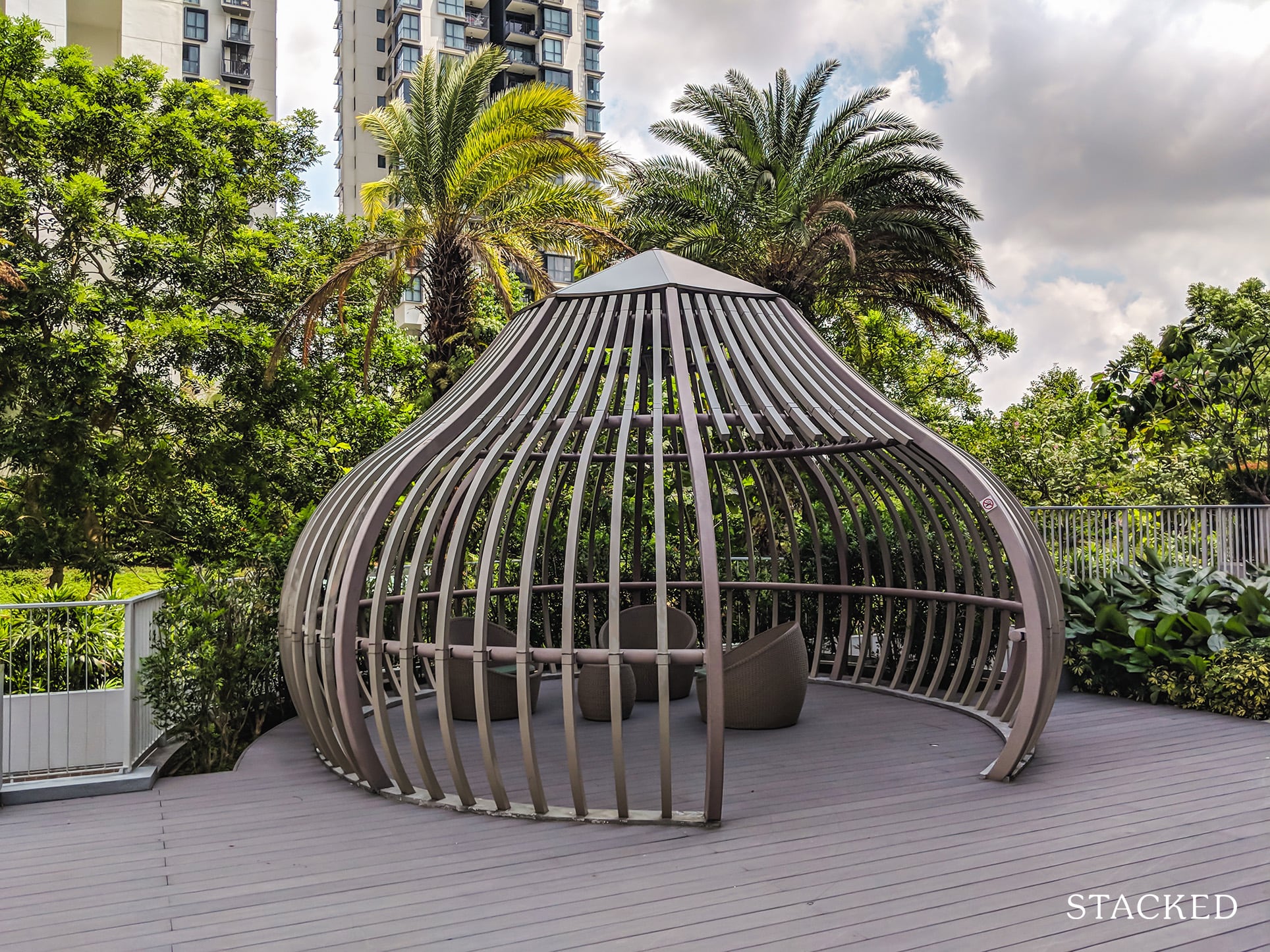 The pavilion by the pool is the least private of all the other scattered pavilions around, but this one definitely lets you enjoy the wind.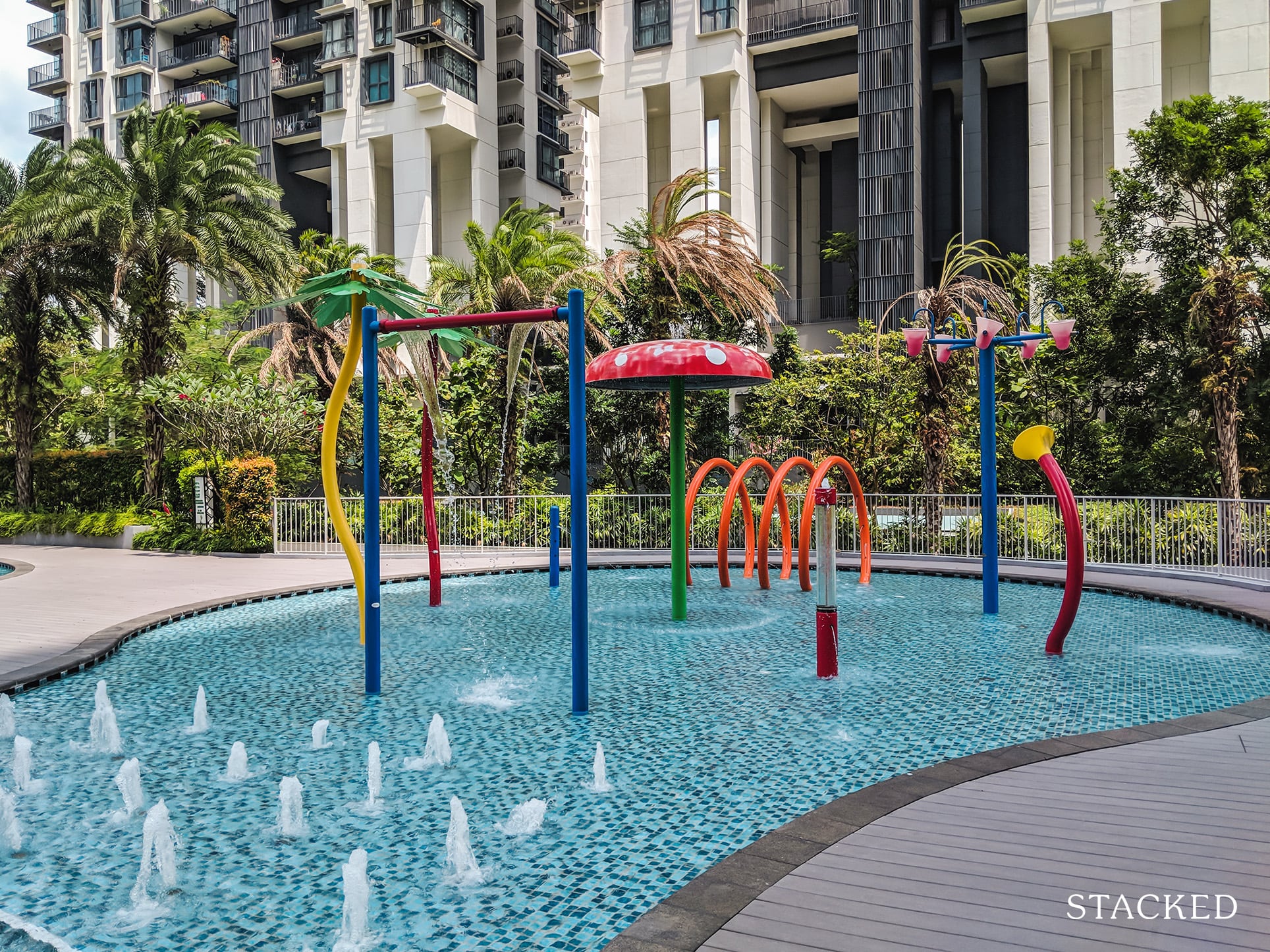 Here is another thing that you don't see often: a unique kids pool with different water features. I really like that they have dedicated a large space to this and I'm sure these different water fountains will delight and entertain little children to no end. This is something that parents with young kids will undoubtedly be attracted to.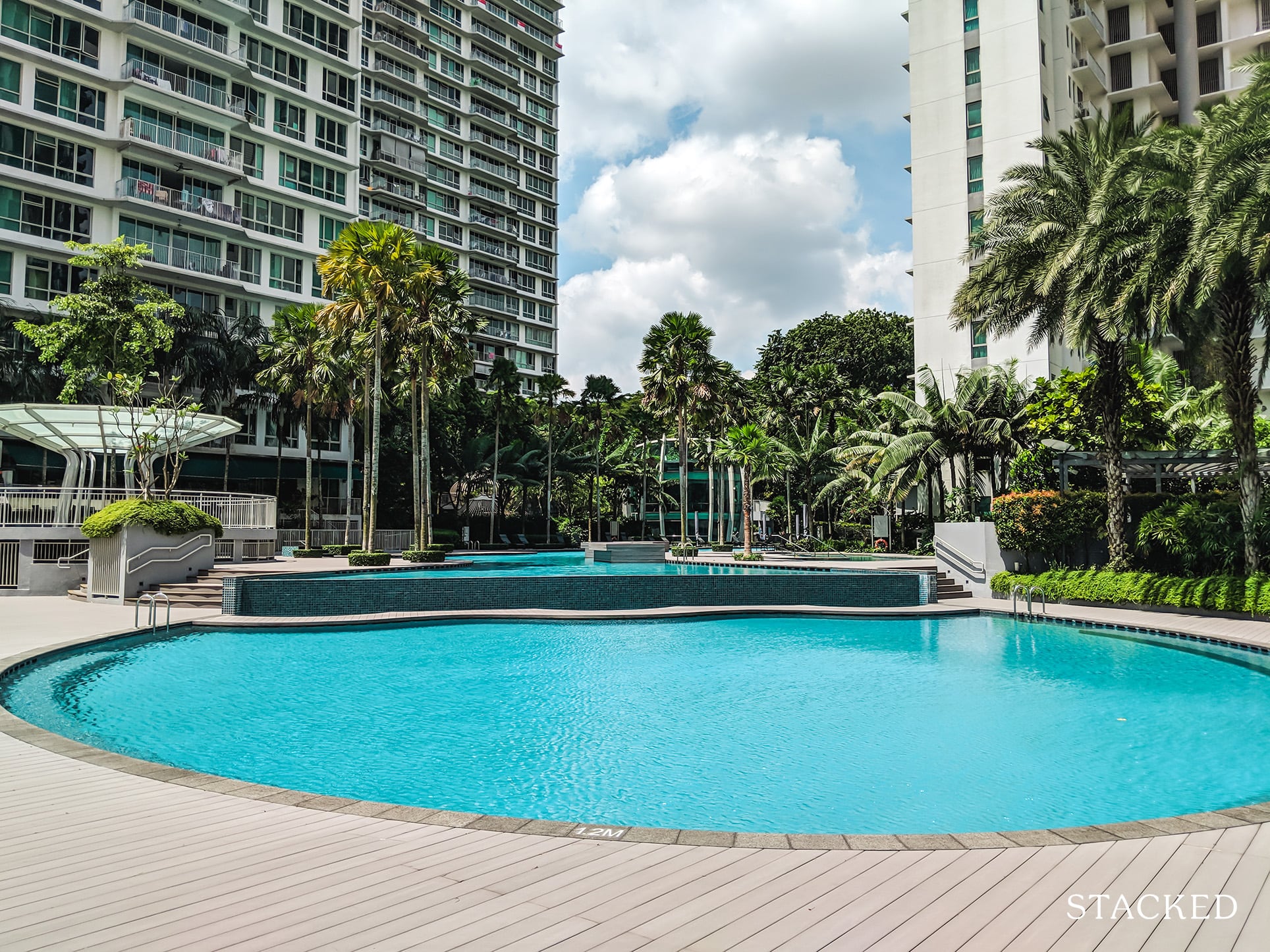 Moving on to the other swimming pool, I really like that the developer has incorporated different shapes of pools for some variety. The first one that you will see is a circular lagoon-shaped pool. It comes with a step that surrounds the circumference, which is perfect for lazing around at the edges.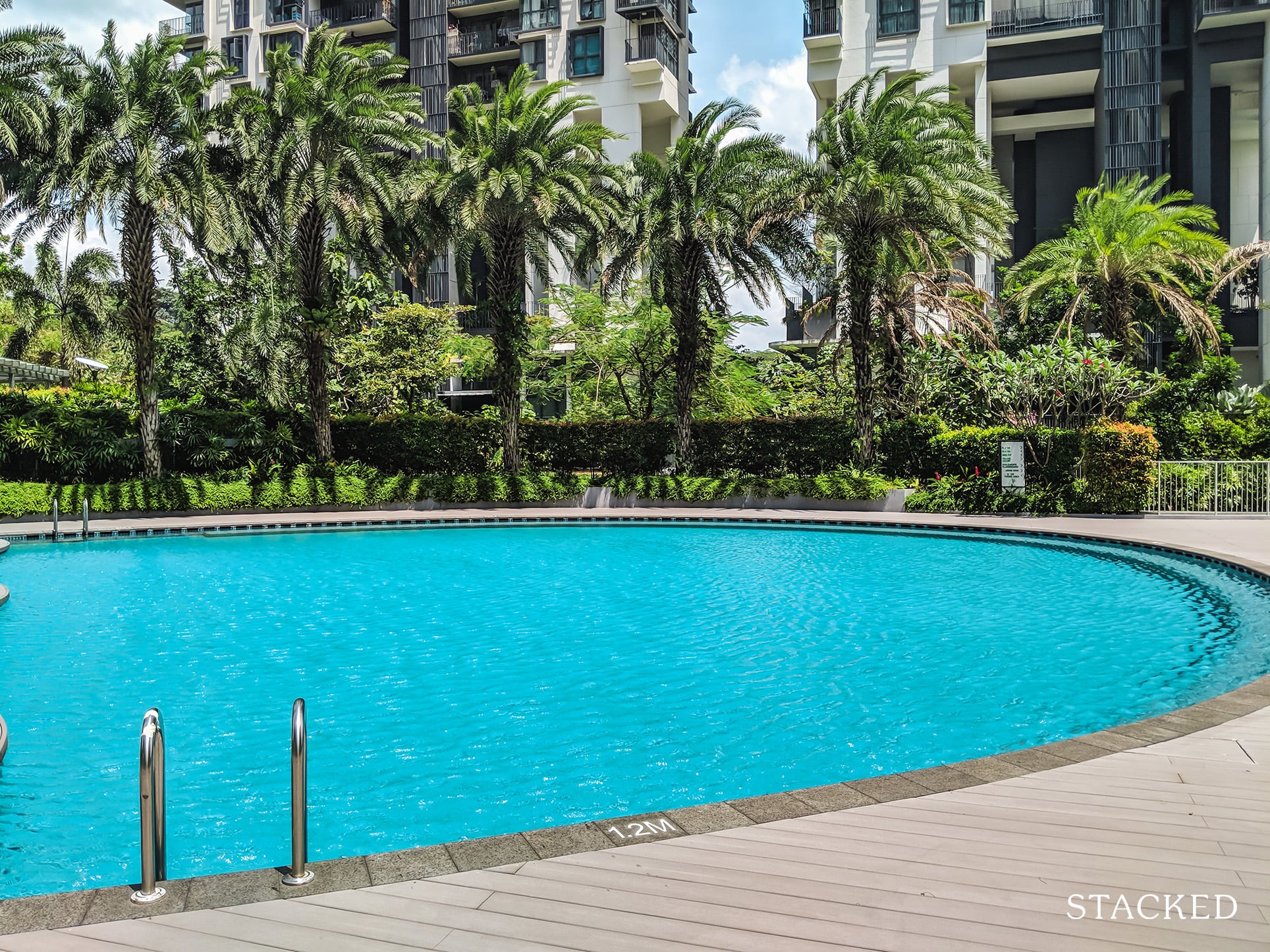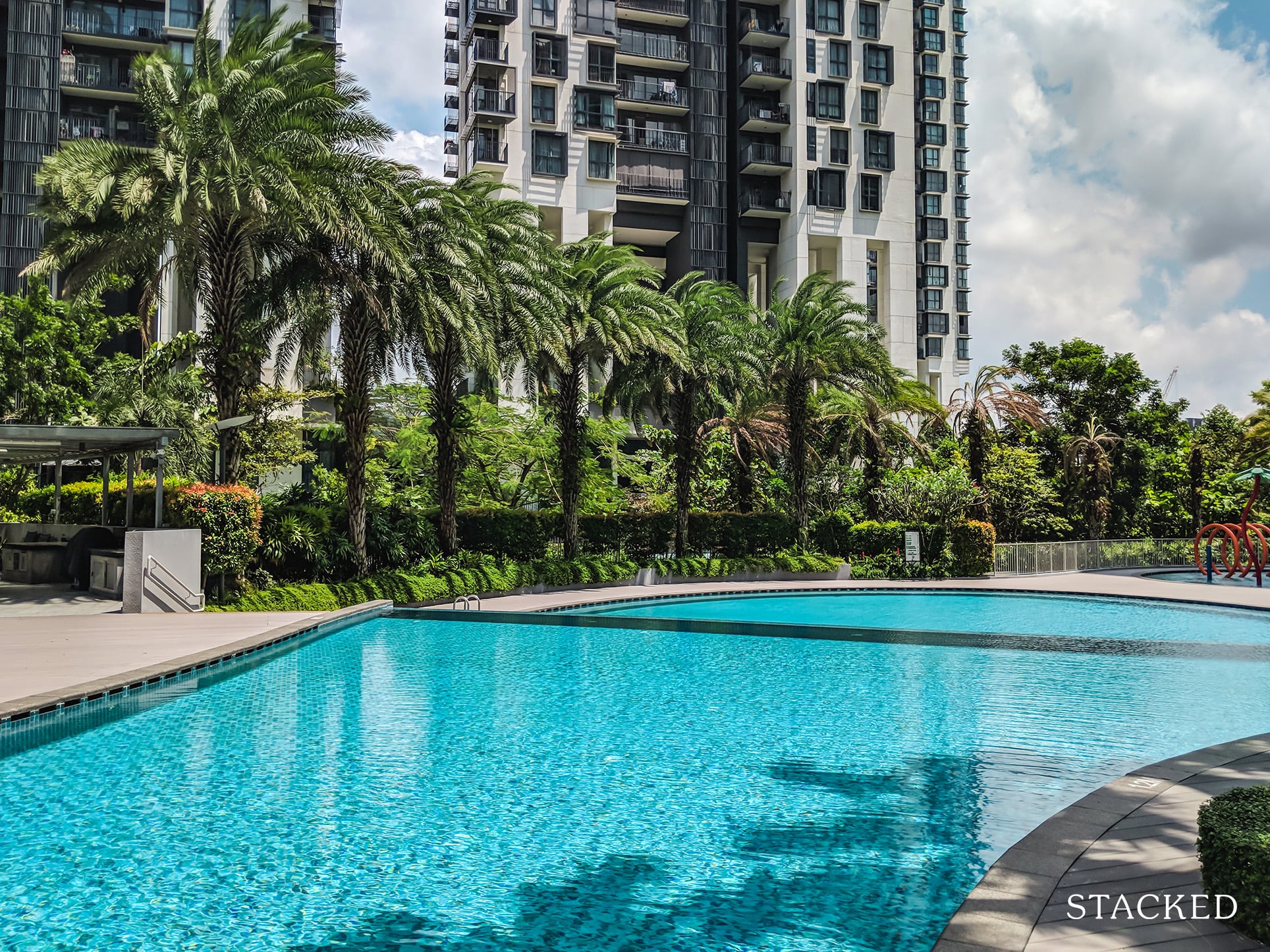 From the upper level, the pool leads to an infinity edge, which is a lovely effect that looks out to the lagoon-like pool at the bottom.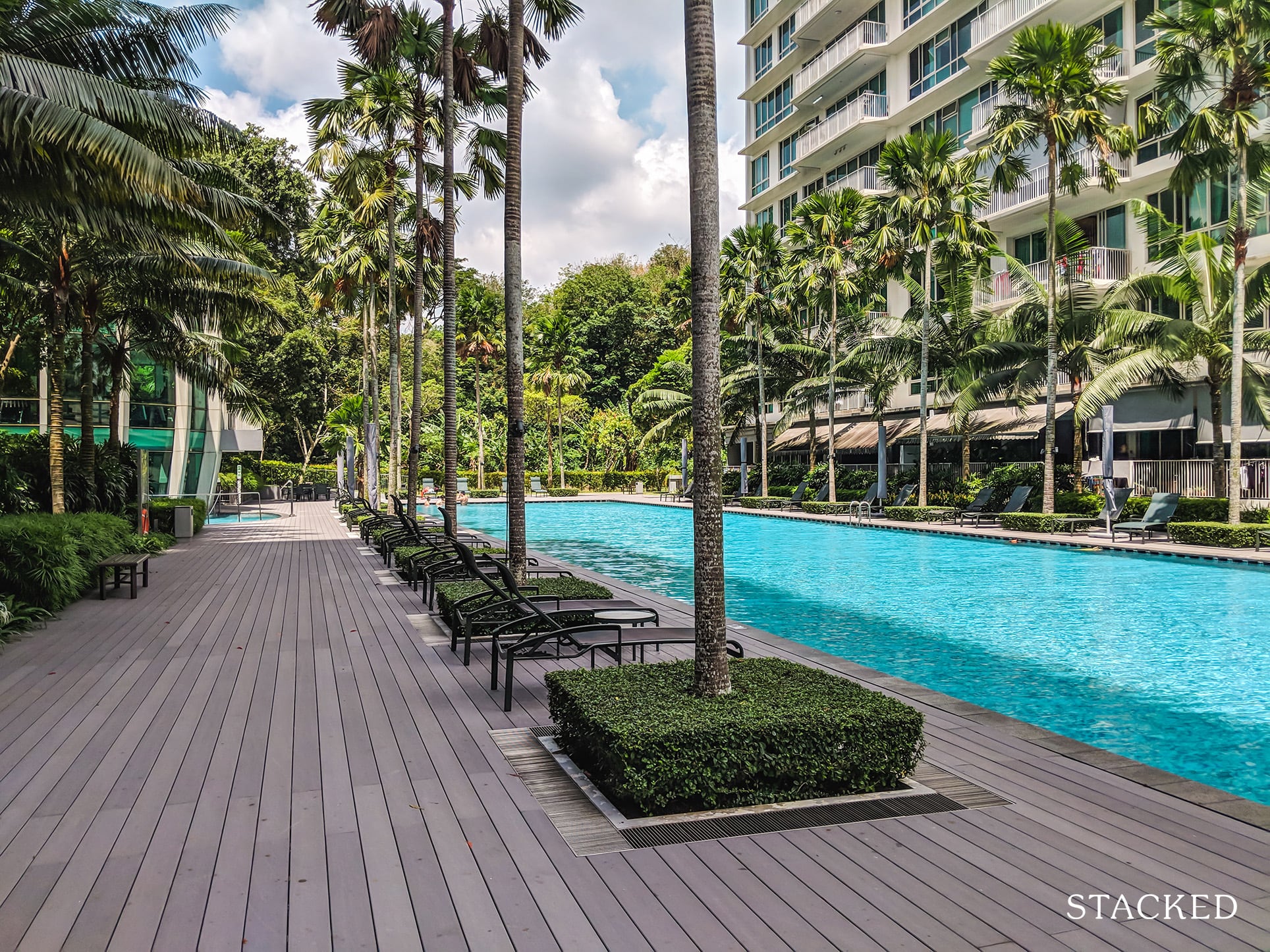 Moving further down, you will get to the lap pool, where you can engage in some proper swimming. There are quite a number of deck chairs lined by the side too.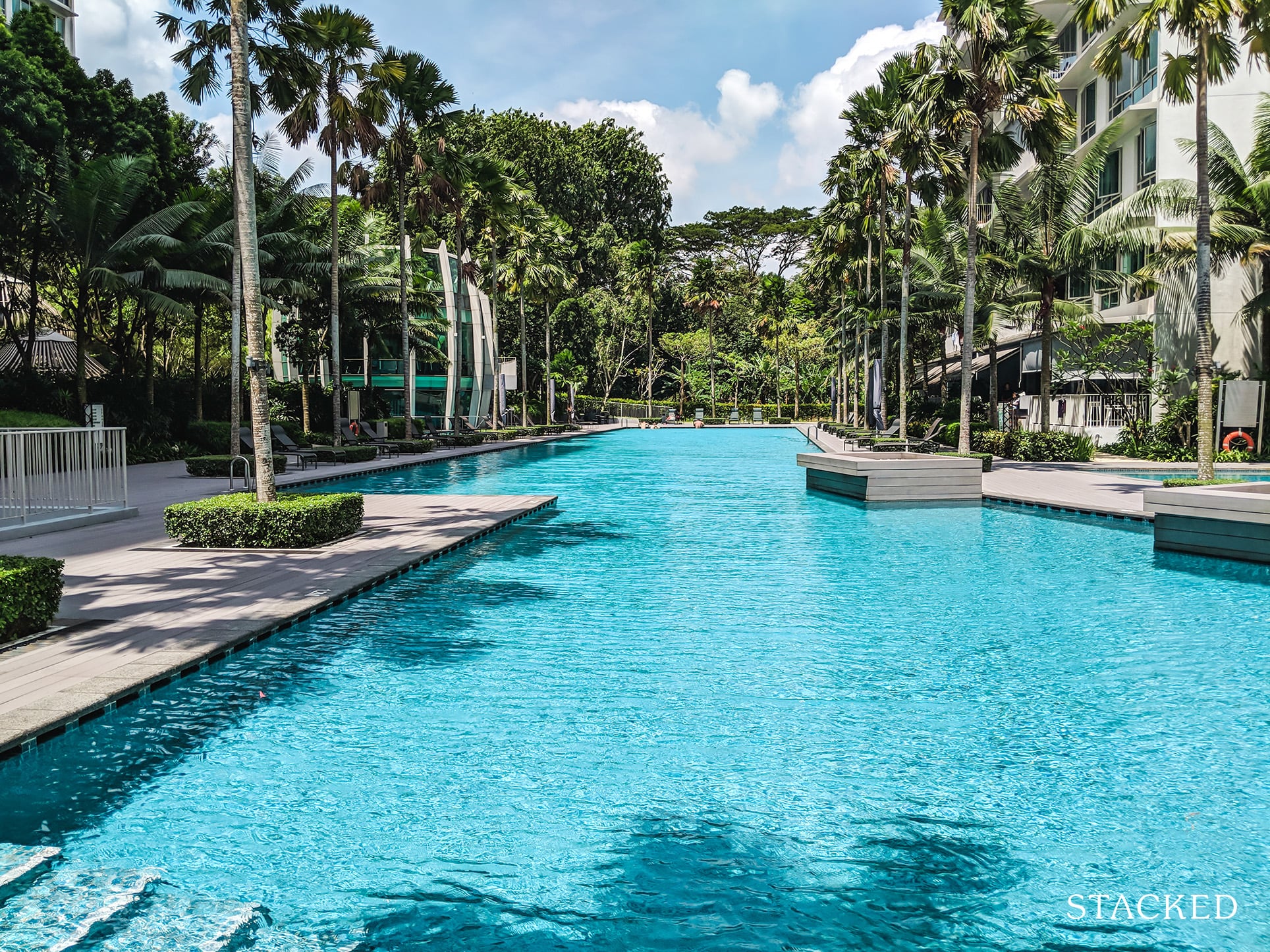 From here, you can see how big the swimming pool really is. For a development with only 429 units, the amount of space allocated to the swimming pools is quite amazing and way surpasses what I would expect for a condo of this size. If you love to swim, this is unquestionably one big advantage that the Tree House condo offers.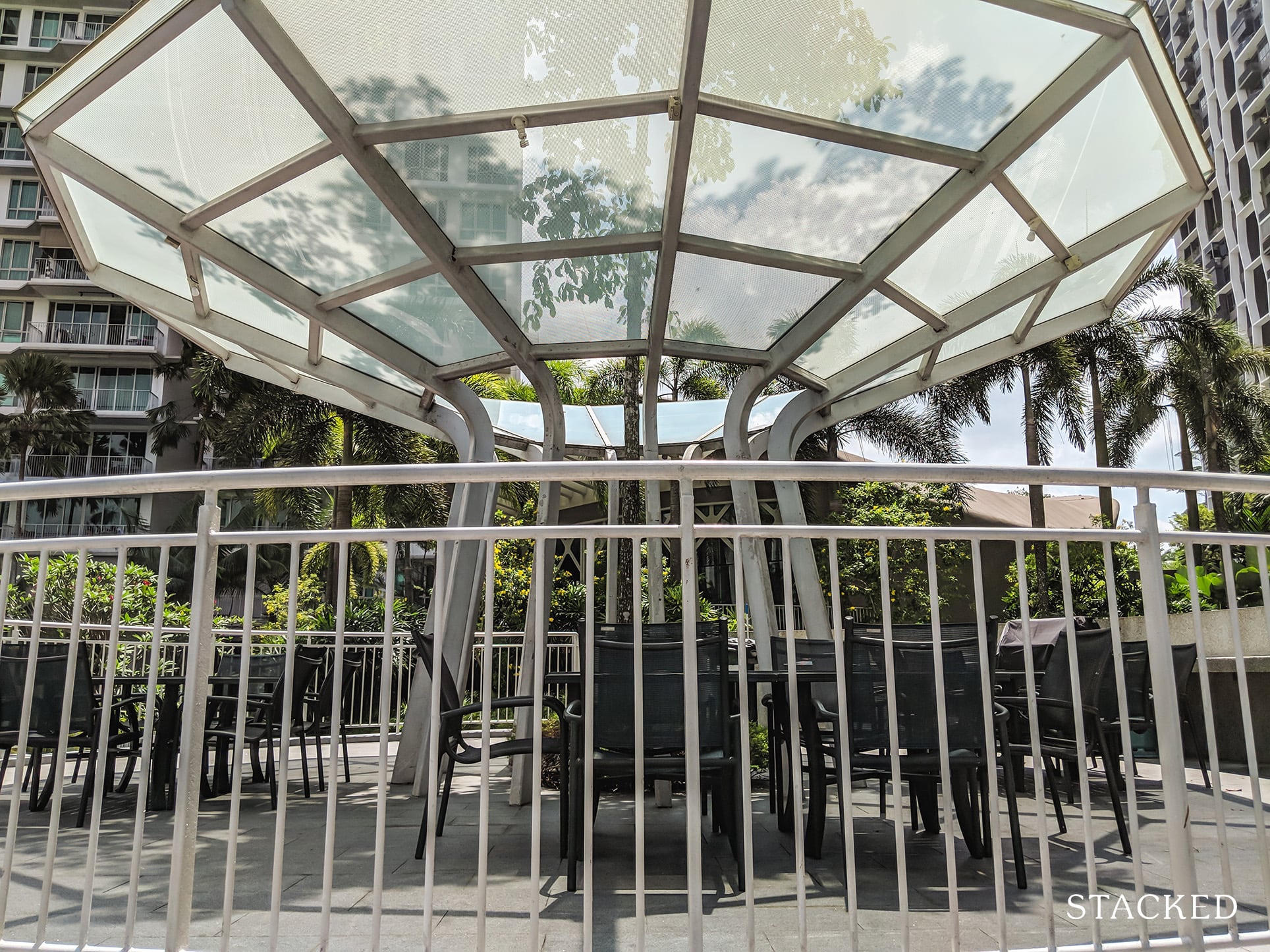 In the middle of the pool area, there is an elevated space for the barbeque pits. It's a large area, so you can hold quite a significant party here. While I commend that they tried to do something different with the design of the shelter, I do question the functionality of it. I can't imagine that it would be much use if it starts to pour.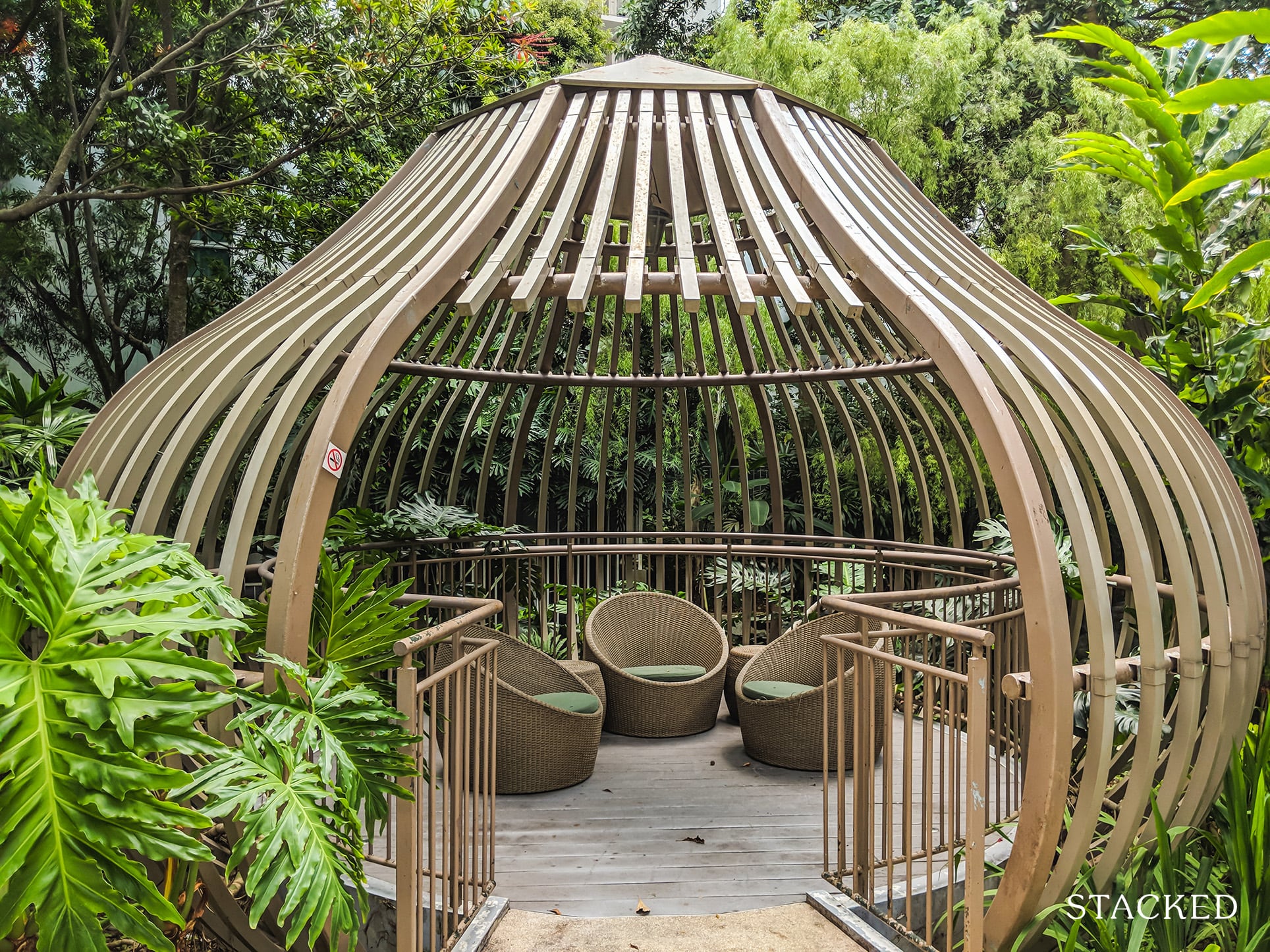 Nestled by the side of the swimming pool, there are a number of pavilions with cushioned seating to rest and relax. There are abundant foliage and trees surrounding it, which makes the place more cooling and private. Very Avatar-like as well.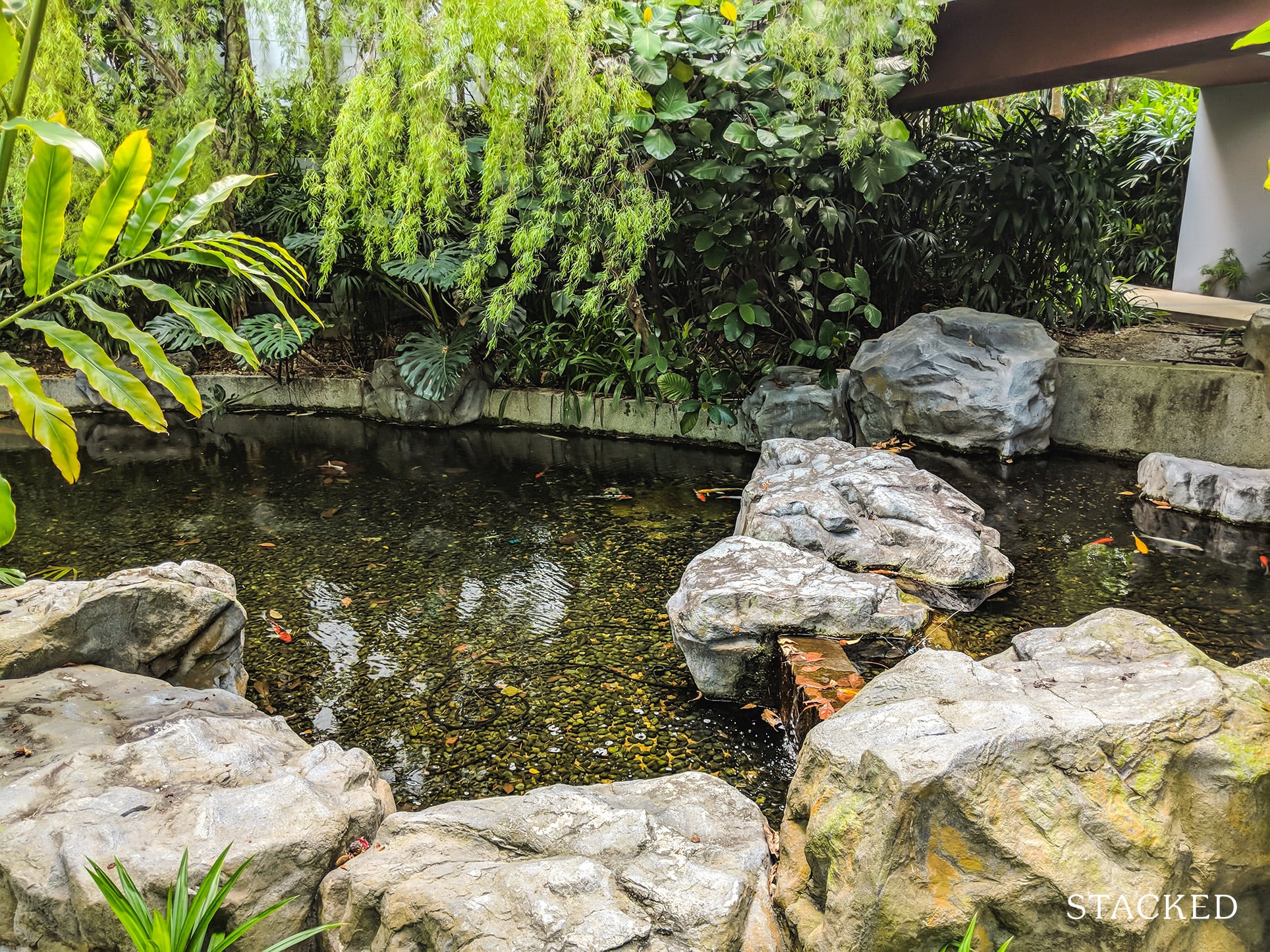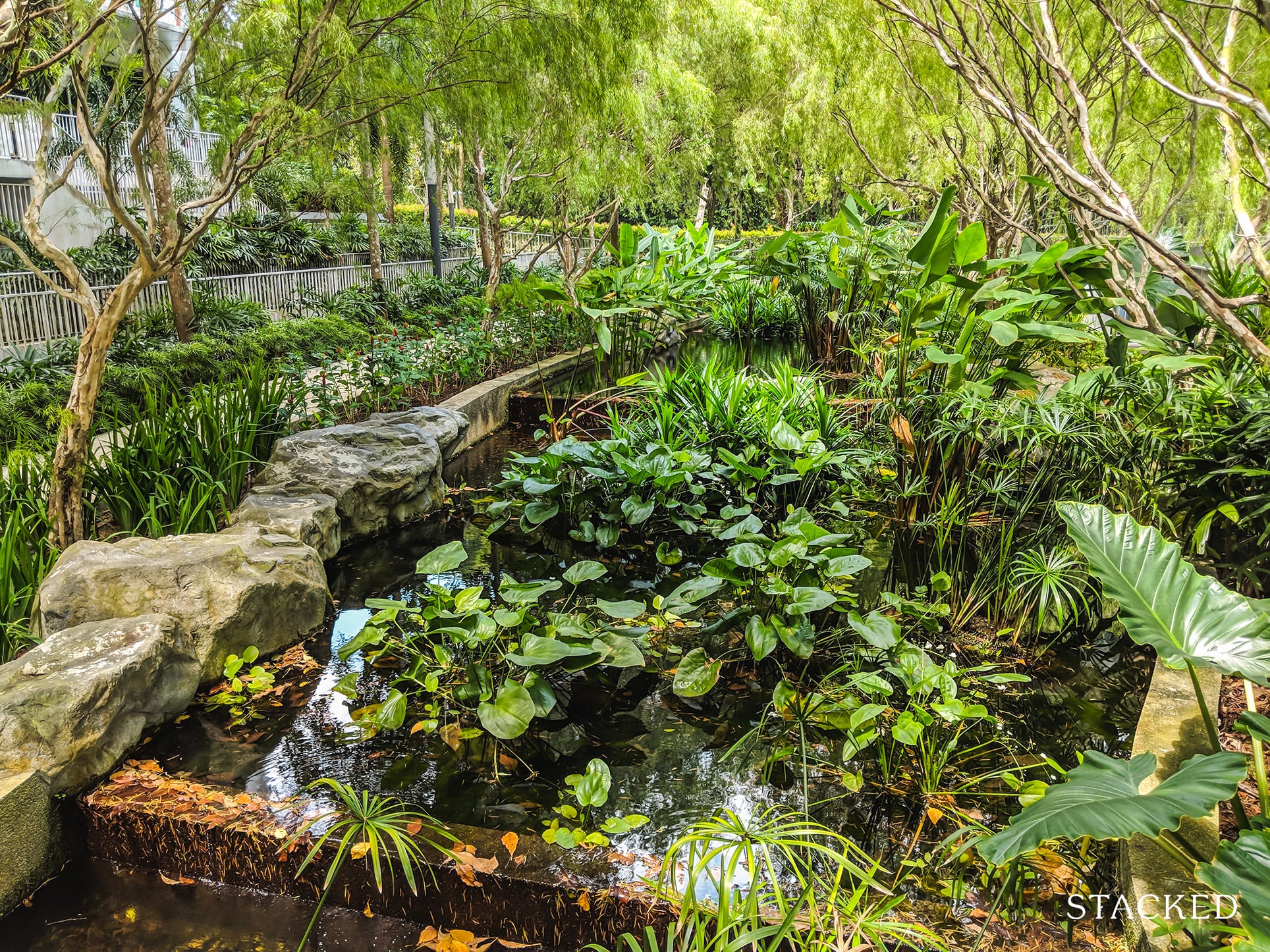 In between, you'll find different ponds and water features. The consistent theme here is really just the lush greenery everywhere, I think if you are a big fan of nature and scenery this development will really do the trick. It's not the most immaculately landscaped, but it certainly looks very raw and natural, if that makes sense.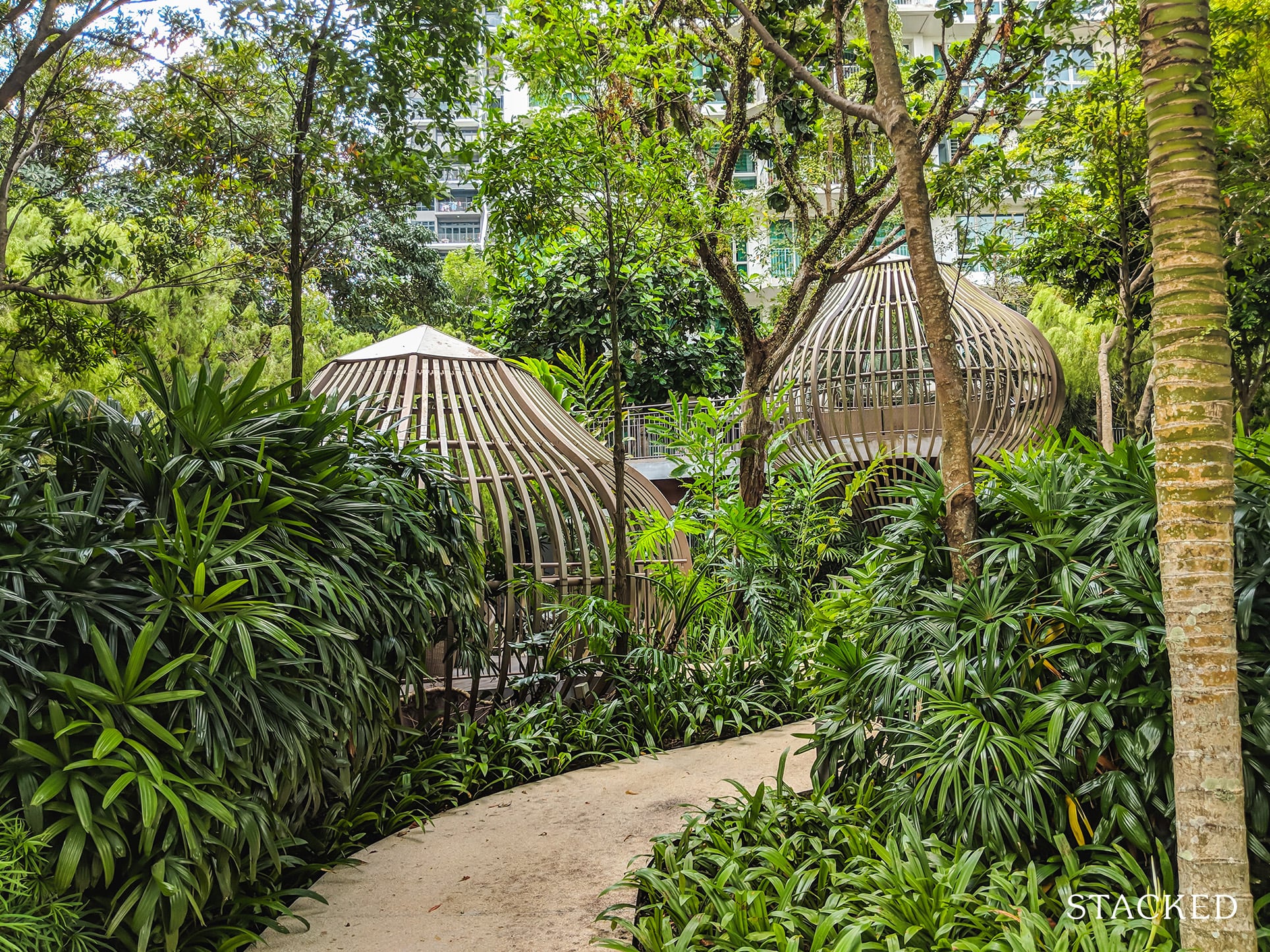 Further up on the treetop walk, you will find two more private pavilions.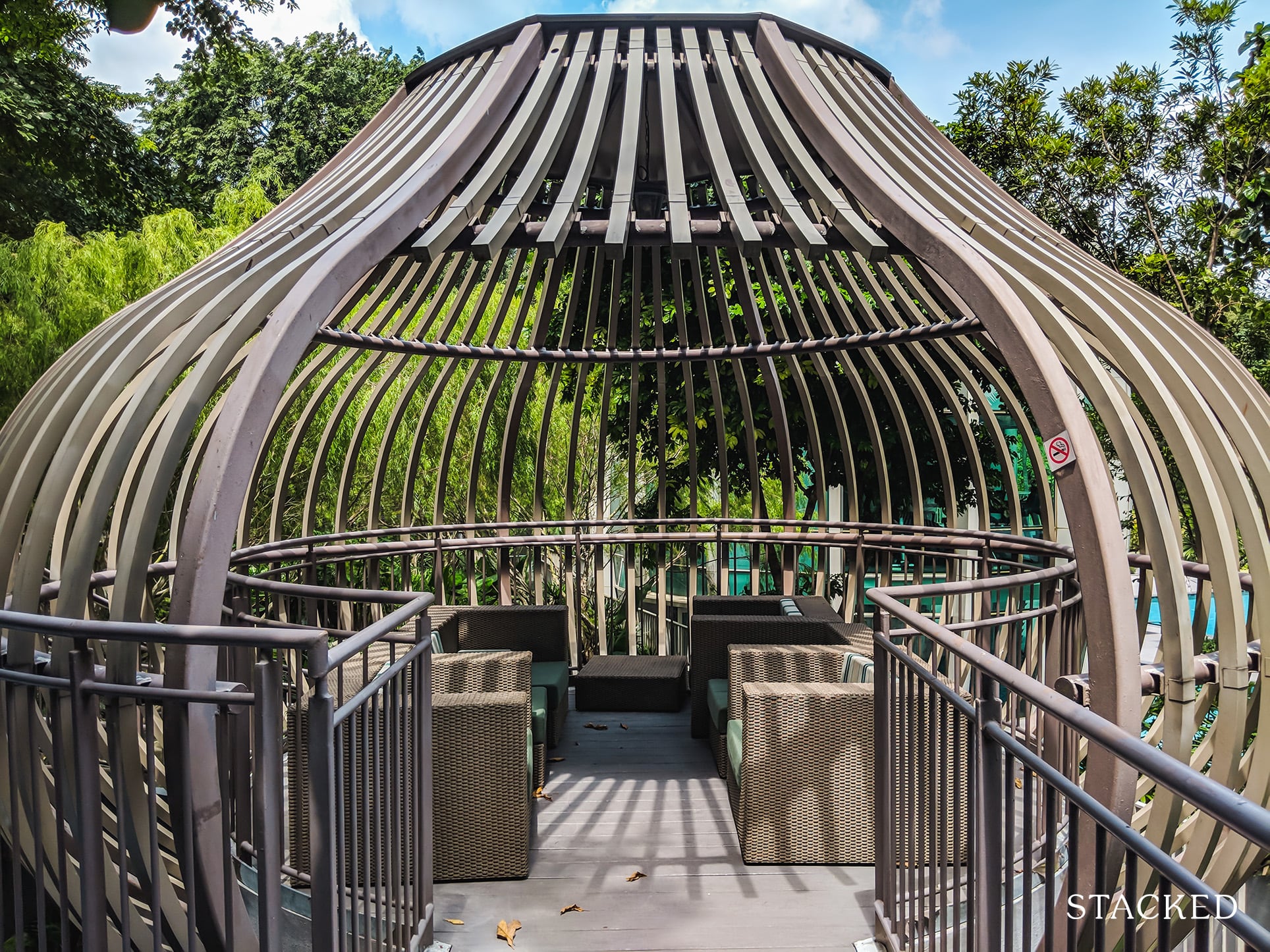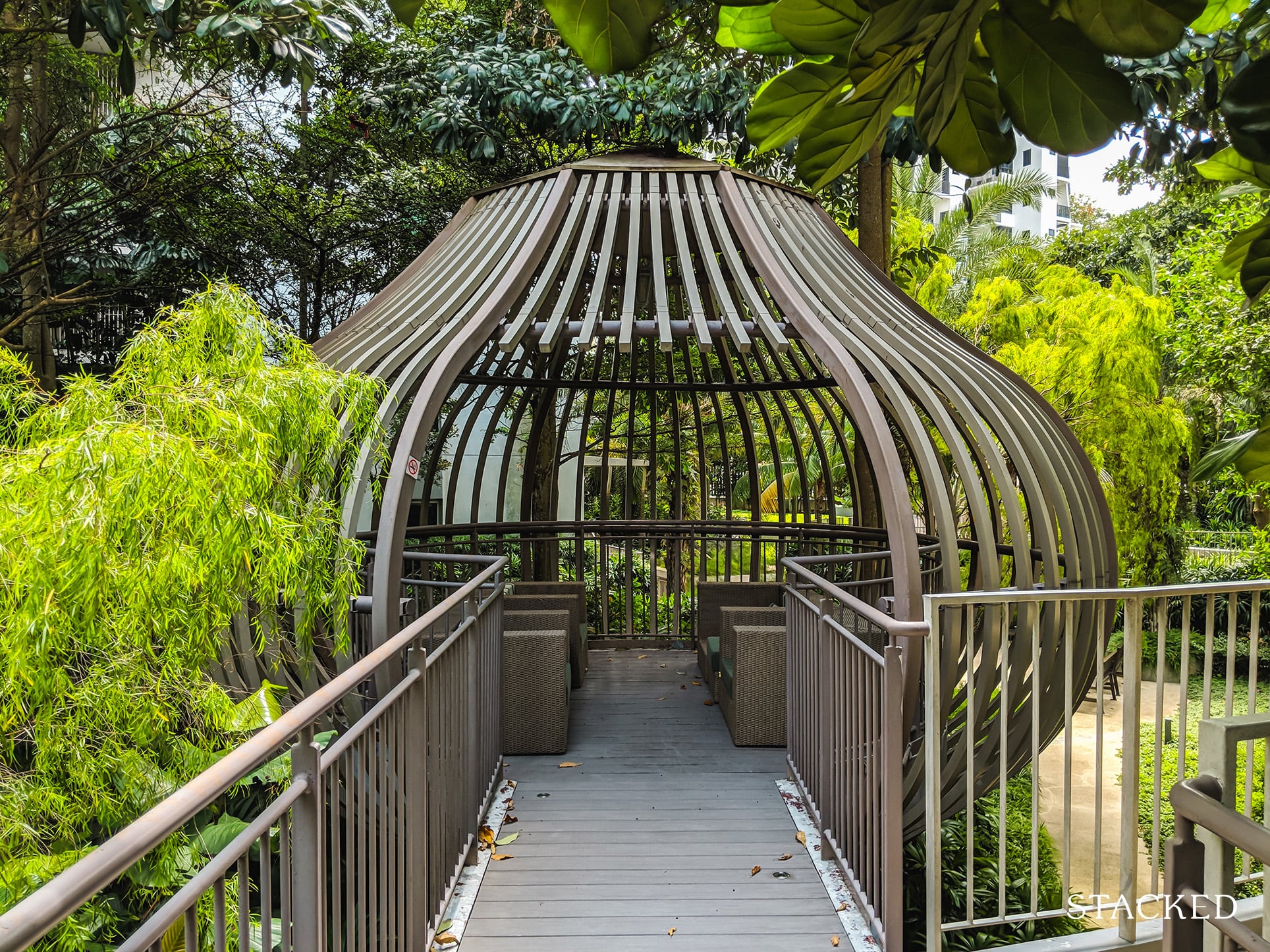 I'm not sure how often these spaces would be used, but the pathways to get to them are undisturbed and serene, which would be great for a walk at night with your dogs (if you have them).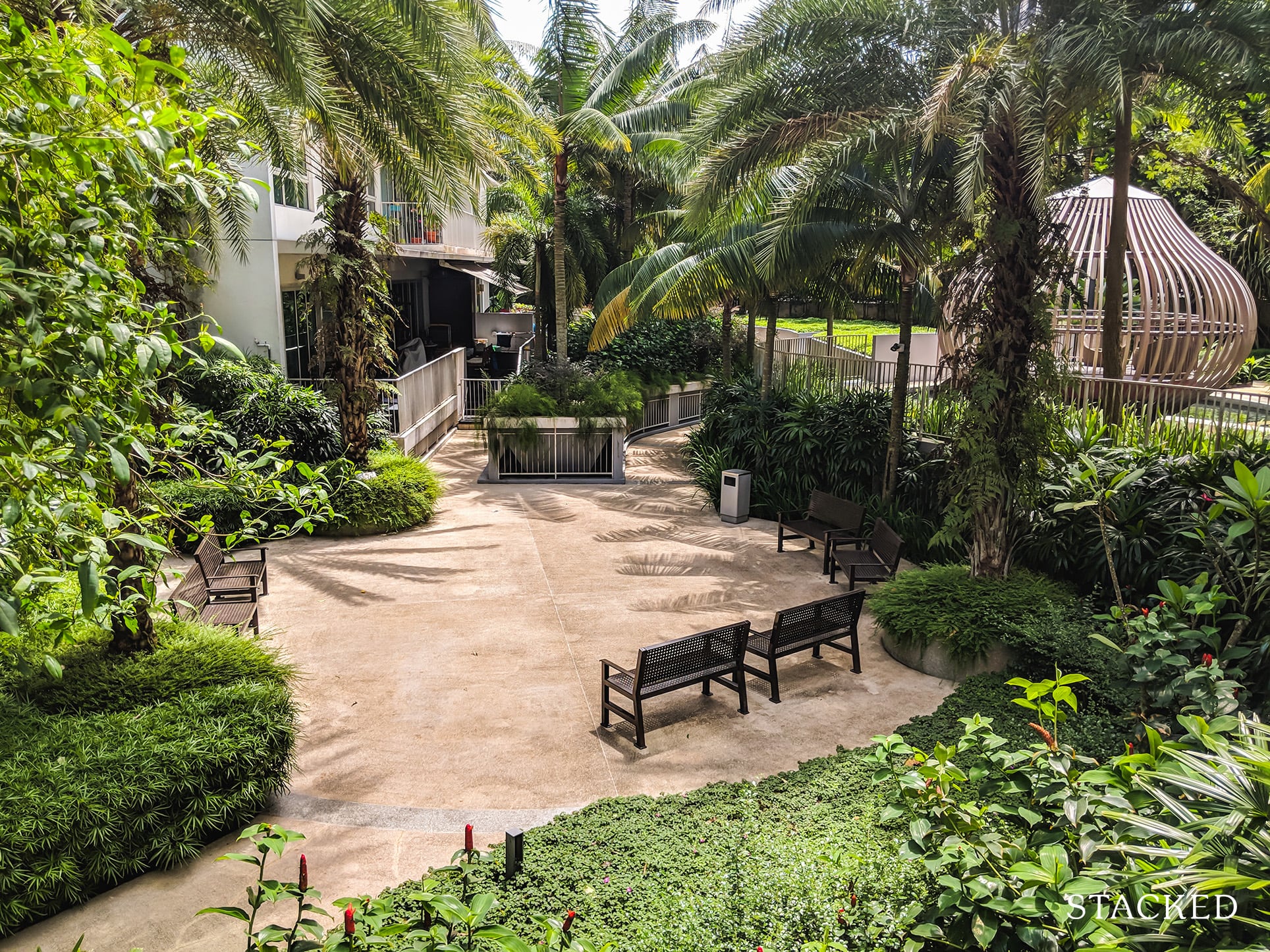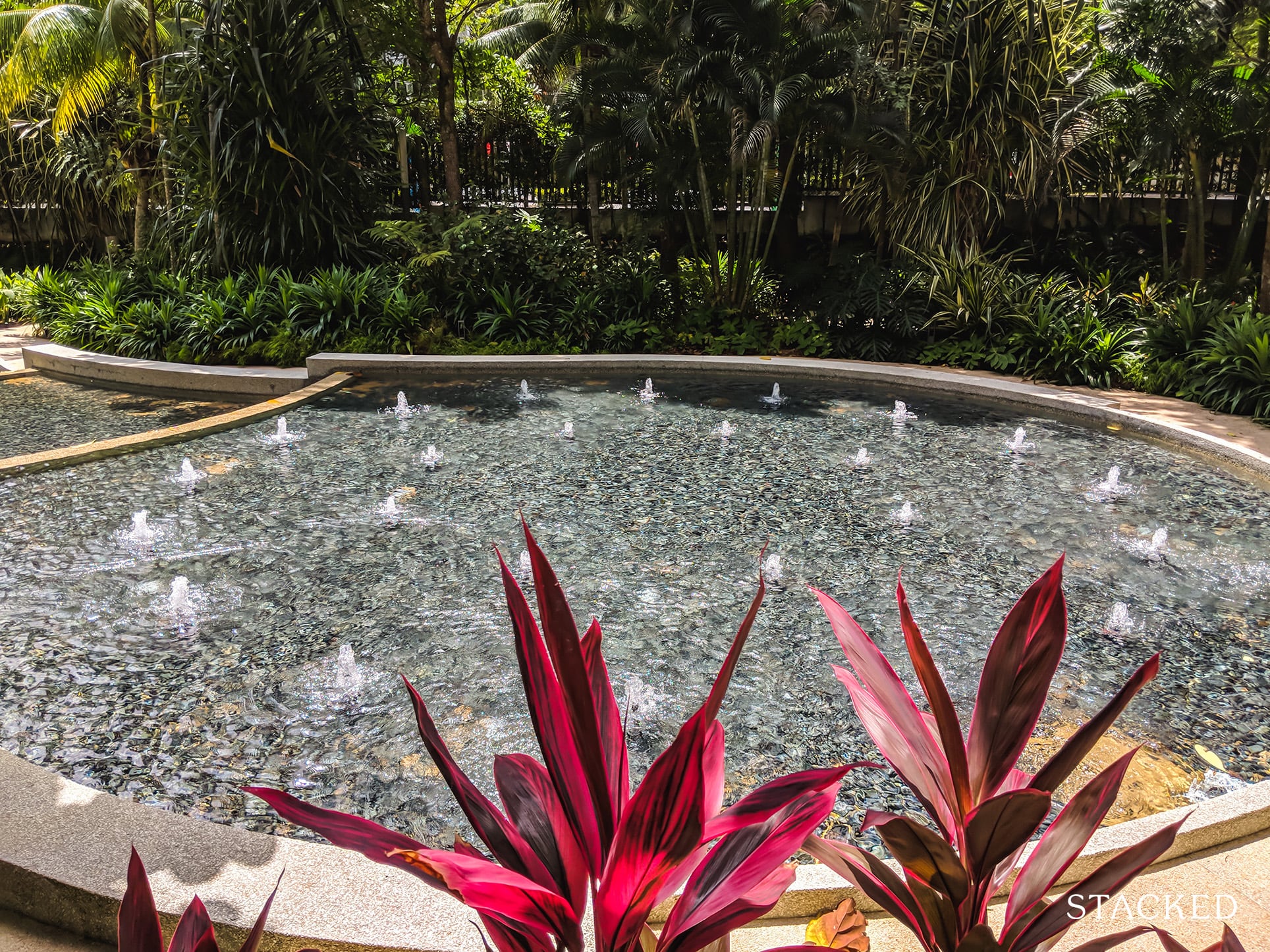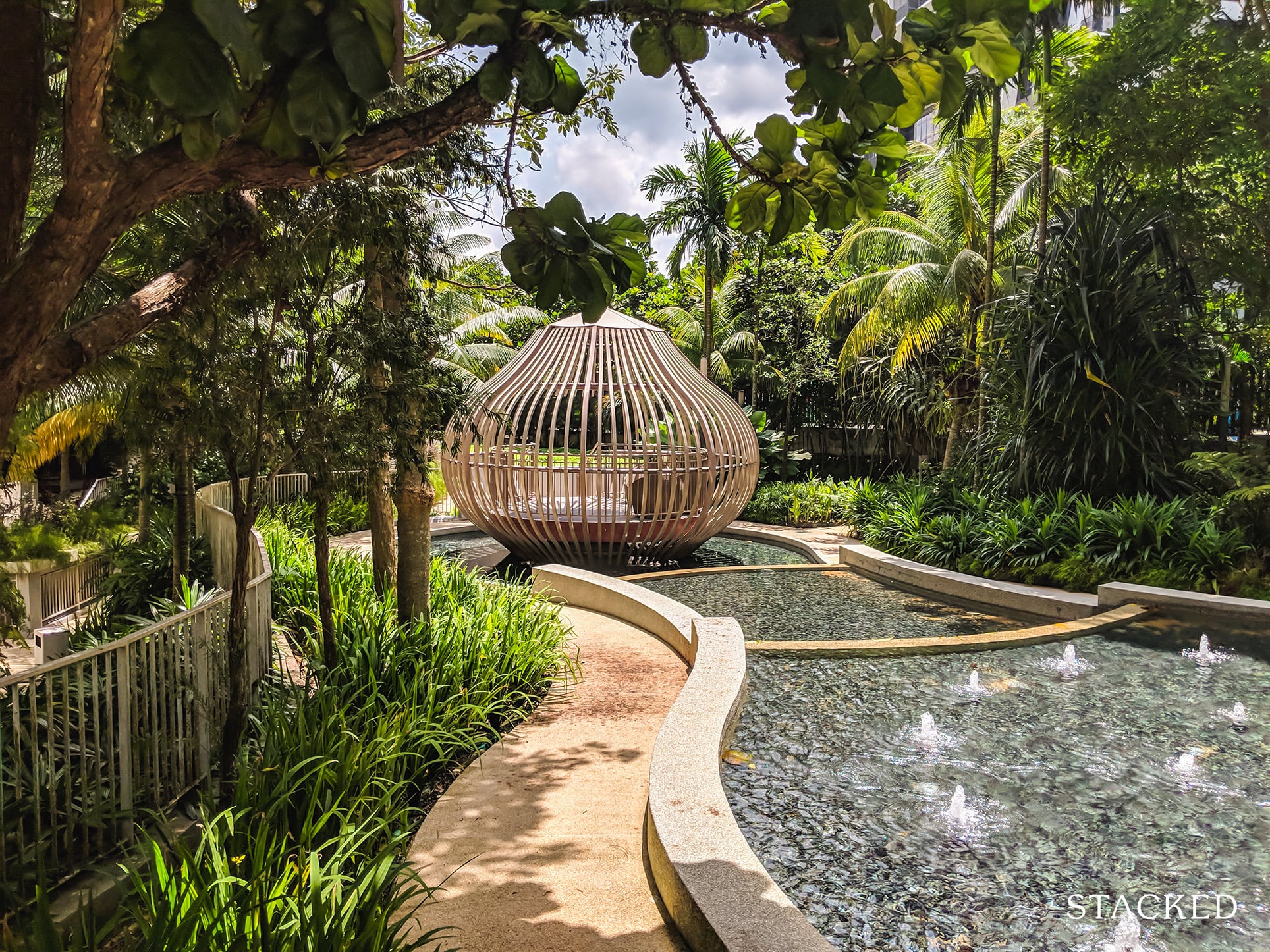 More pavilion seating, this time beside a multi-levered water feature. Of all the pavilions so far, this one is probably my favourite.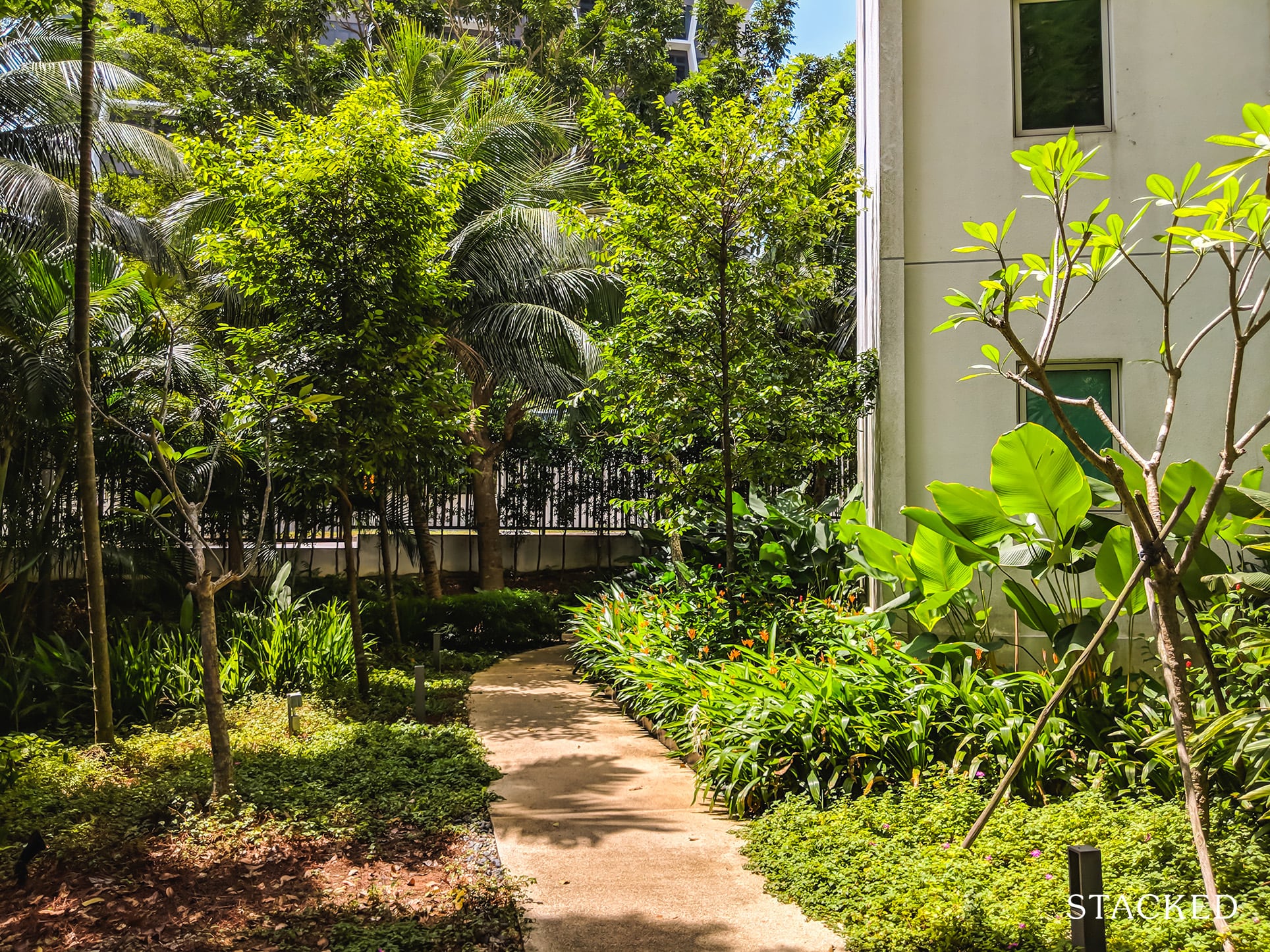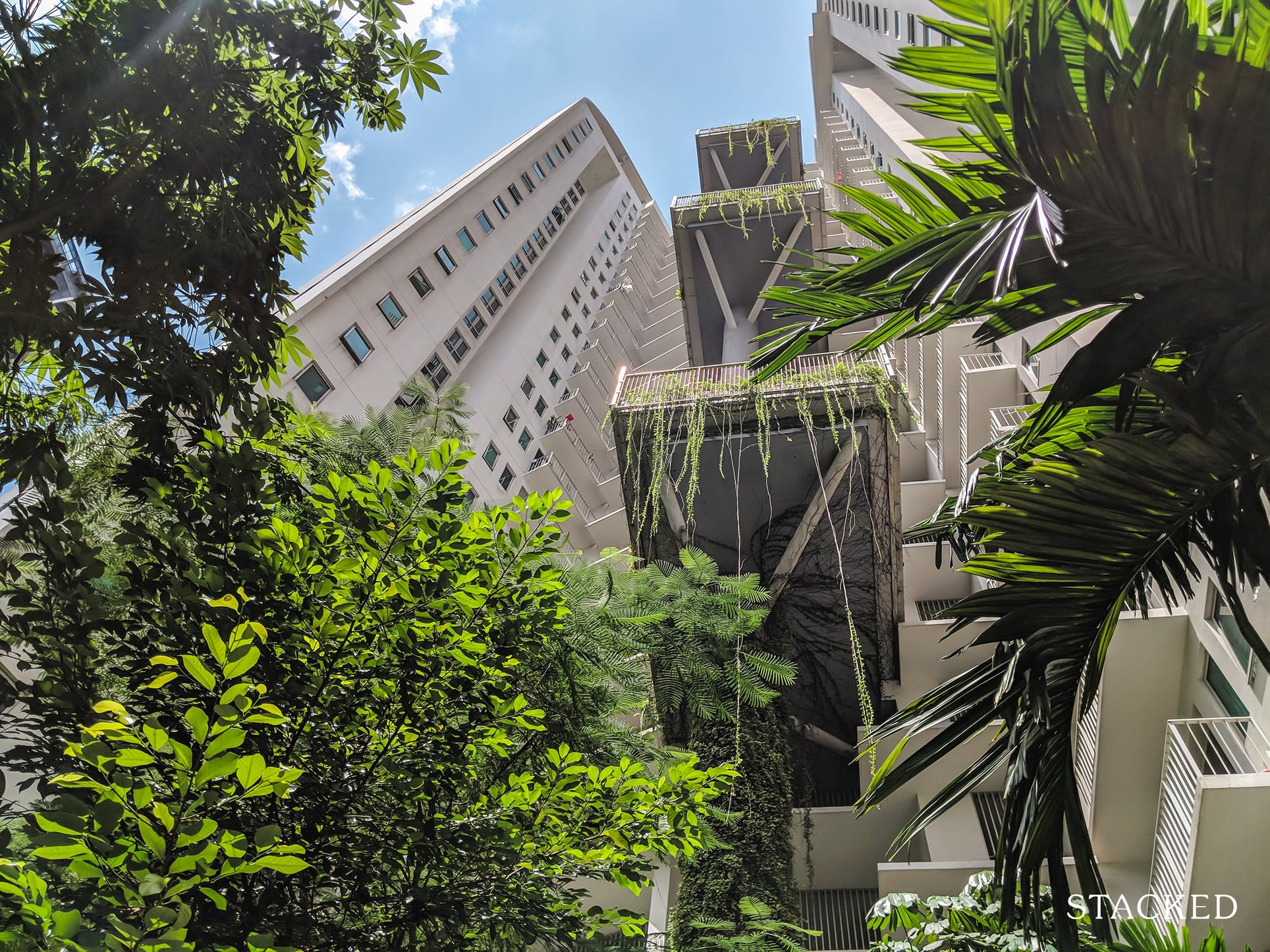 From certain parts of the development, it really does feel like you are living in a forest. The number of plants and greens are truly quite staggering and is really pleasant on the eyes in most places that you look. Unfortunately, I didn't manage to capture a shot from the viewing deck.
But from here, you can really see that you are almost completely surrounded by the green forest. So depending on the block that you are living in, the views that you get are almost unlike anywhere else in Singapore. It's really peaceful and tranquil.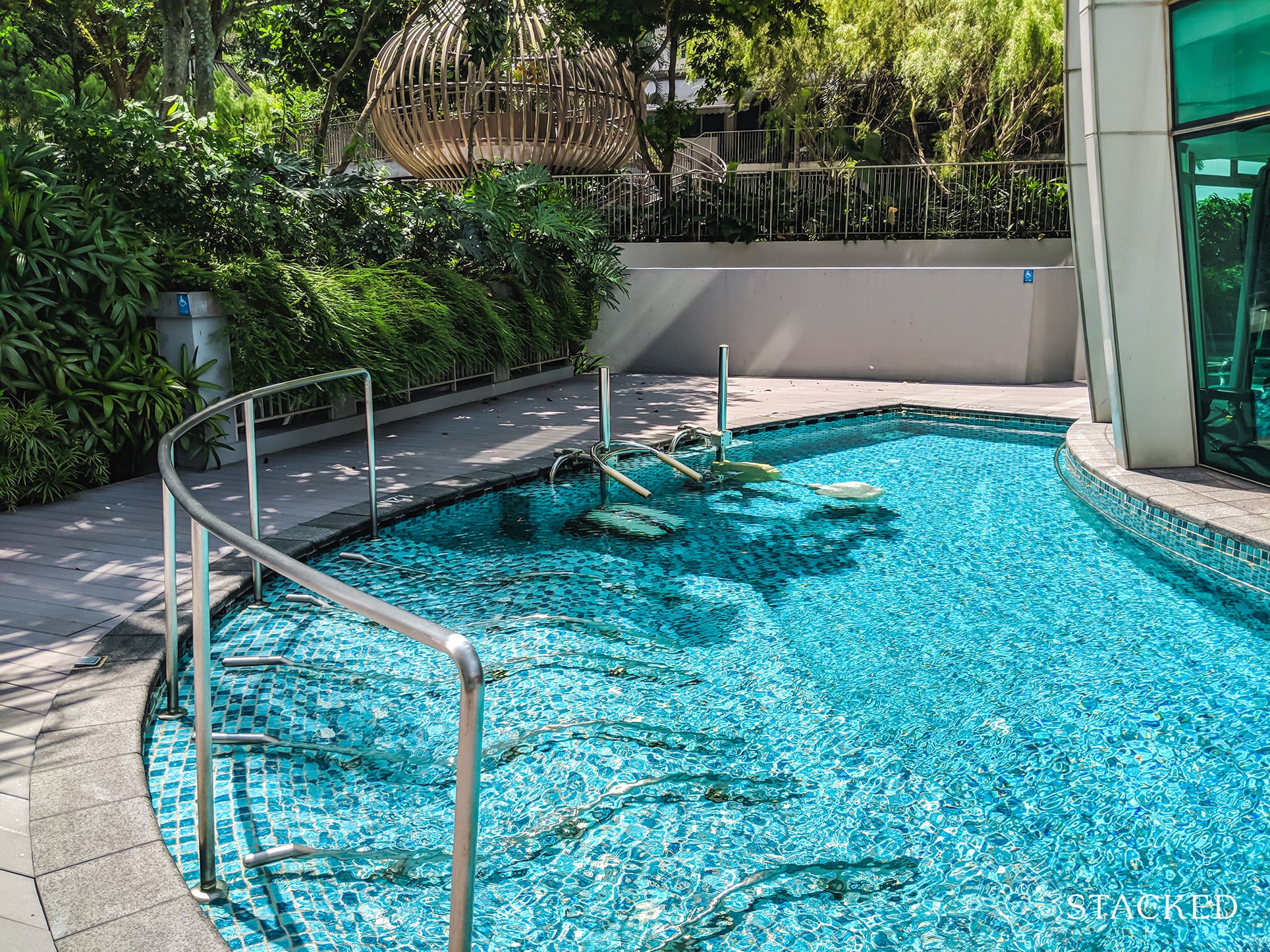 Coming on to the gym area, there is an aqua gym situated right outside.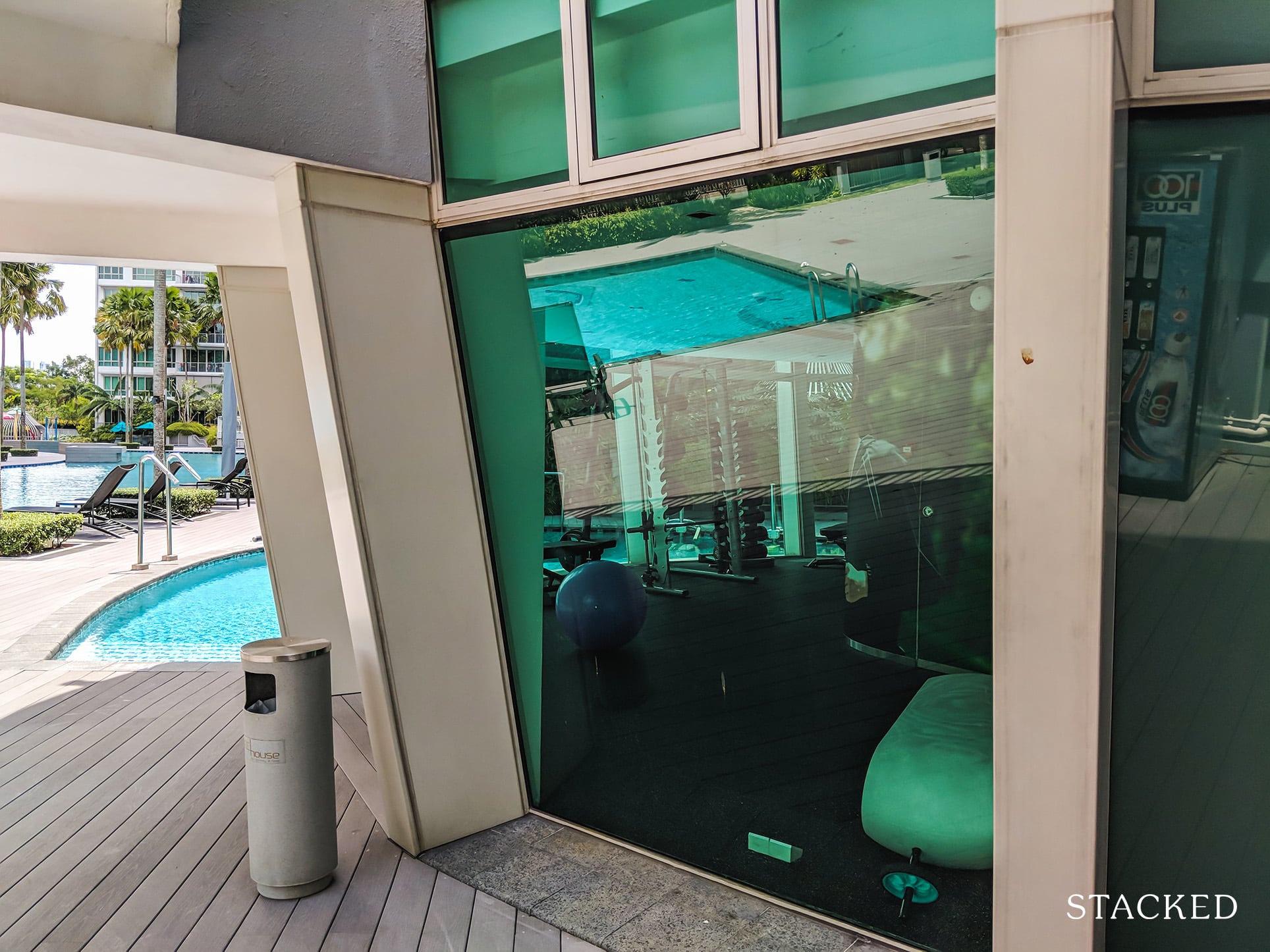 The gym here is fantastic. It is a proper gym, with all the equipment you would need, like a smith machine and quite heavy weights available for more serious lifters.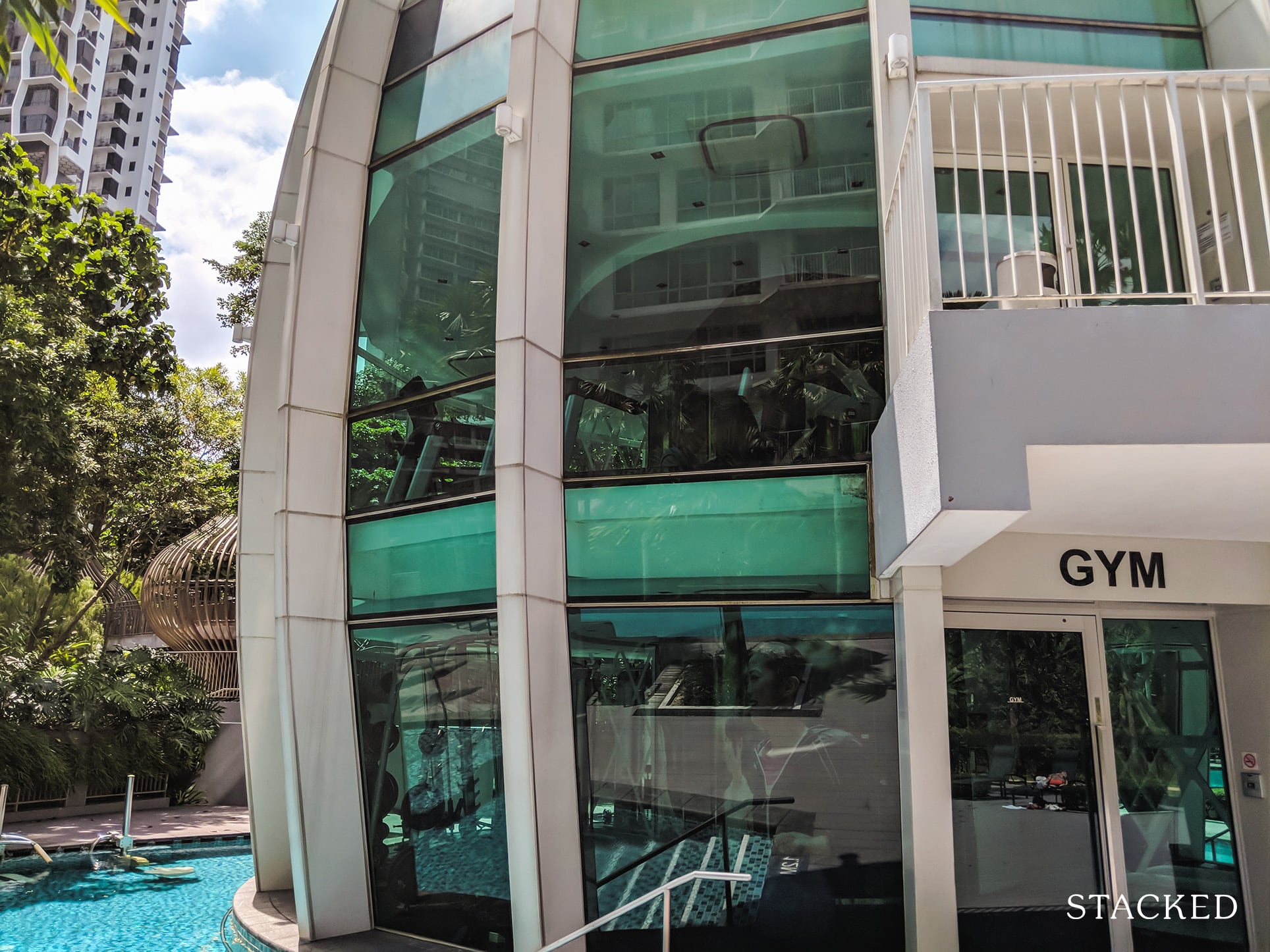 There is a second level too, where the cardio equipment is located. It is strategically located to offer a nice view of the swimming pool while you exercise! The whole structure is shaped like a barrel and is totally unique.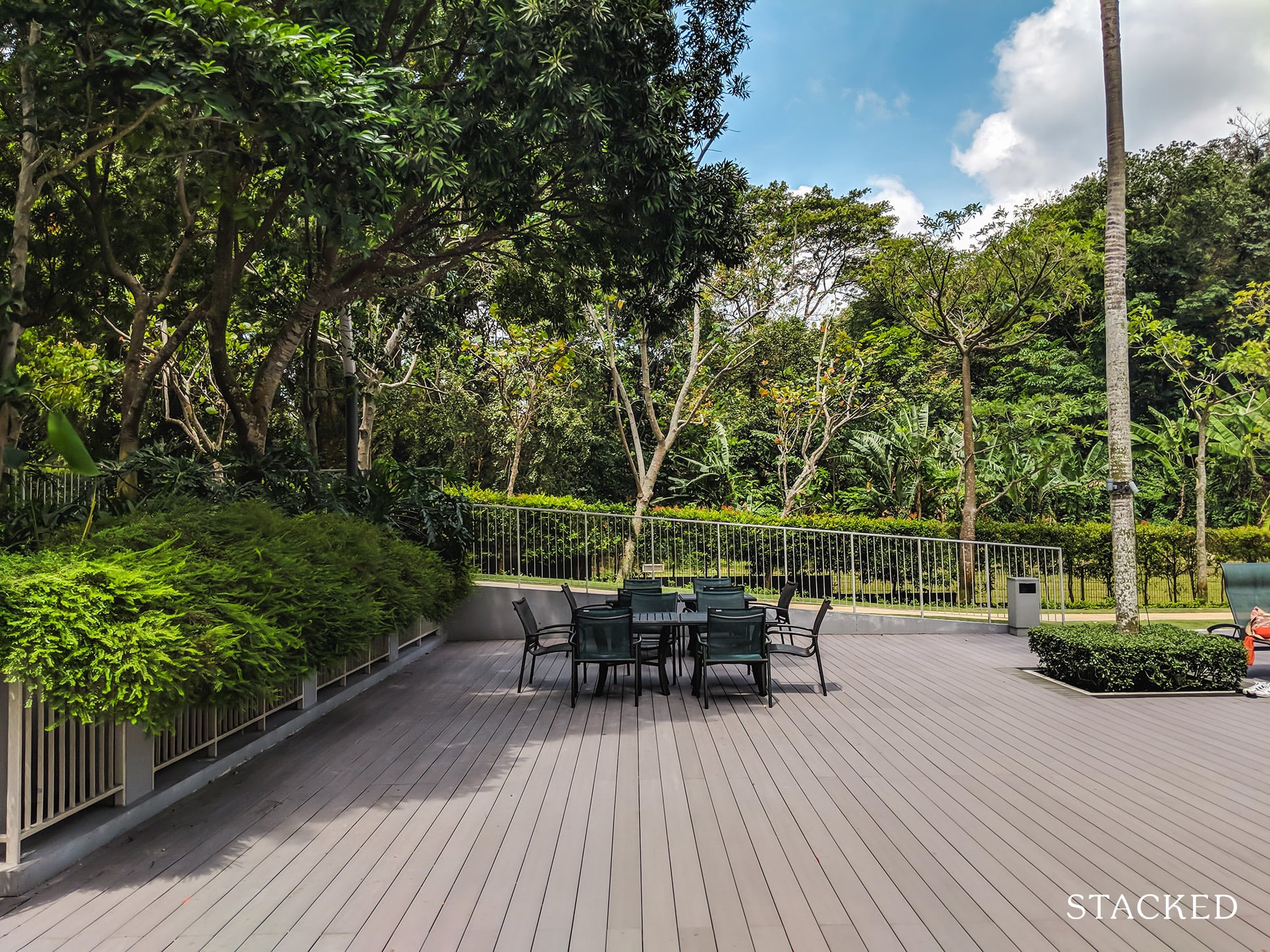 I do like the amount of space around the pool too, it's very open and really communicates the feeling of spaciousness.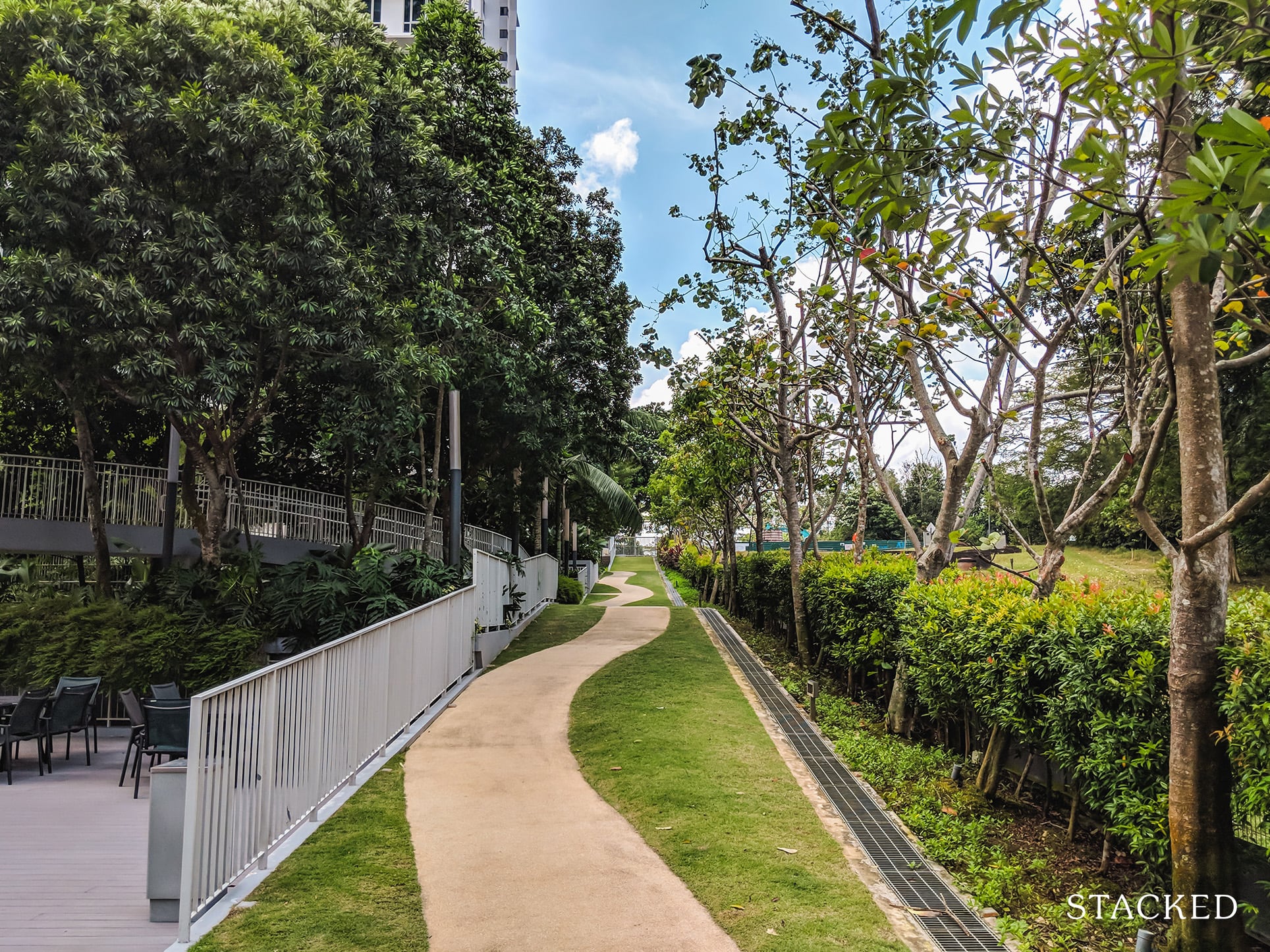 Beyond that, you can see a jogging track being marked out along the edge of the development. For fitness fanatics, you are well covered here. A lap pool, well-equipped gym and even a dedicated space for jogging!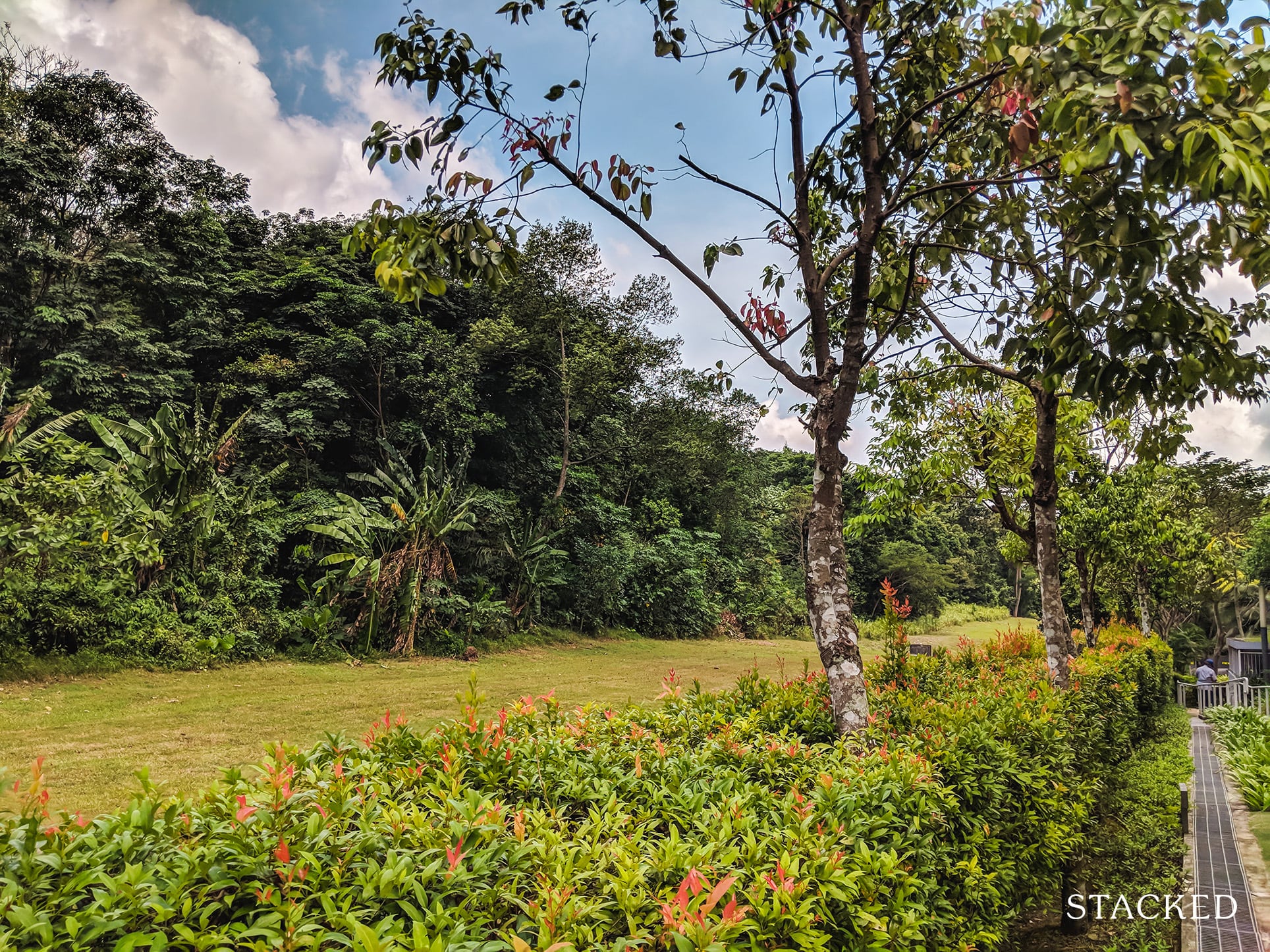 As you can see, this side of the fence is totally surrounded by lush green forests.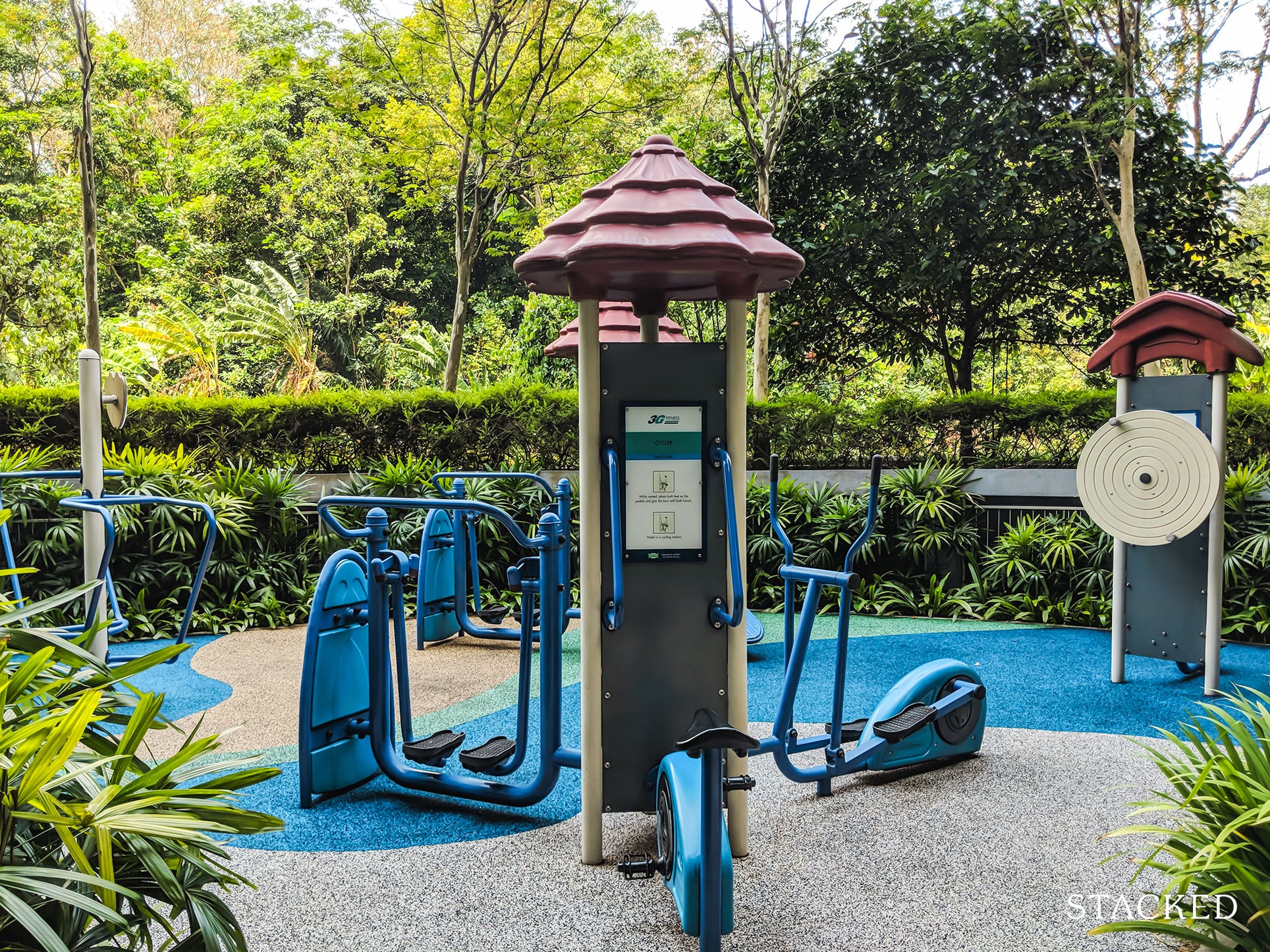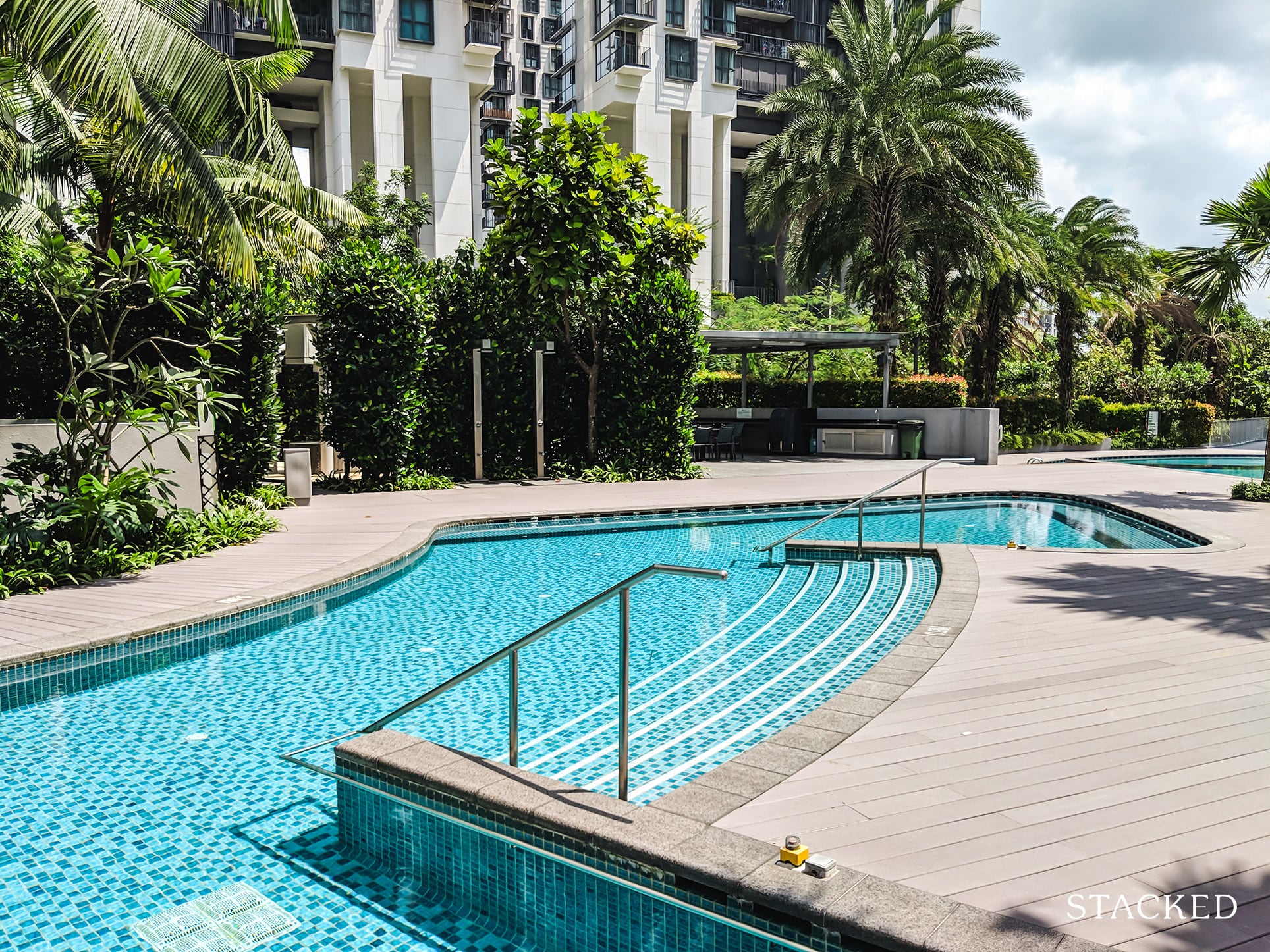 Coming back to the swimming pool, there is another smaller pool on the far side.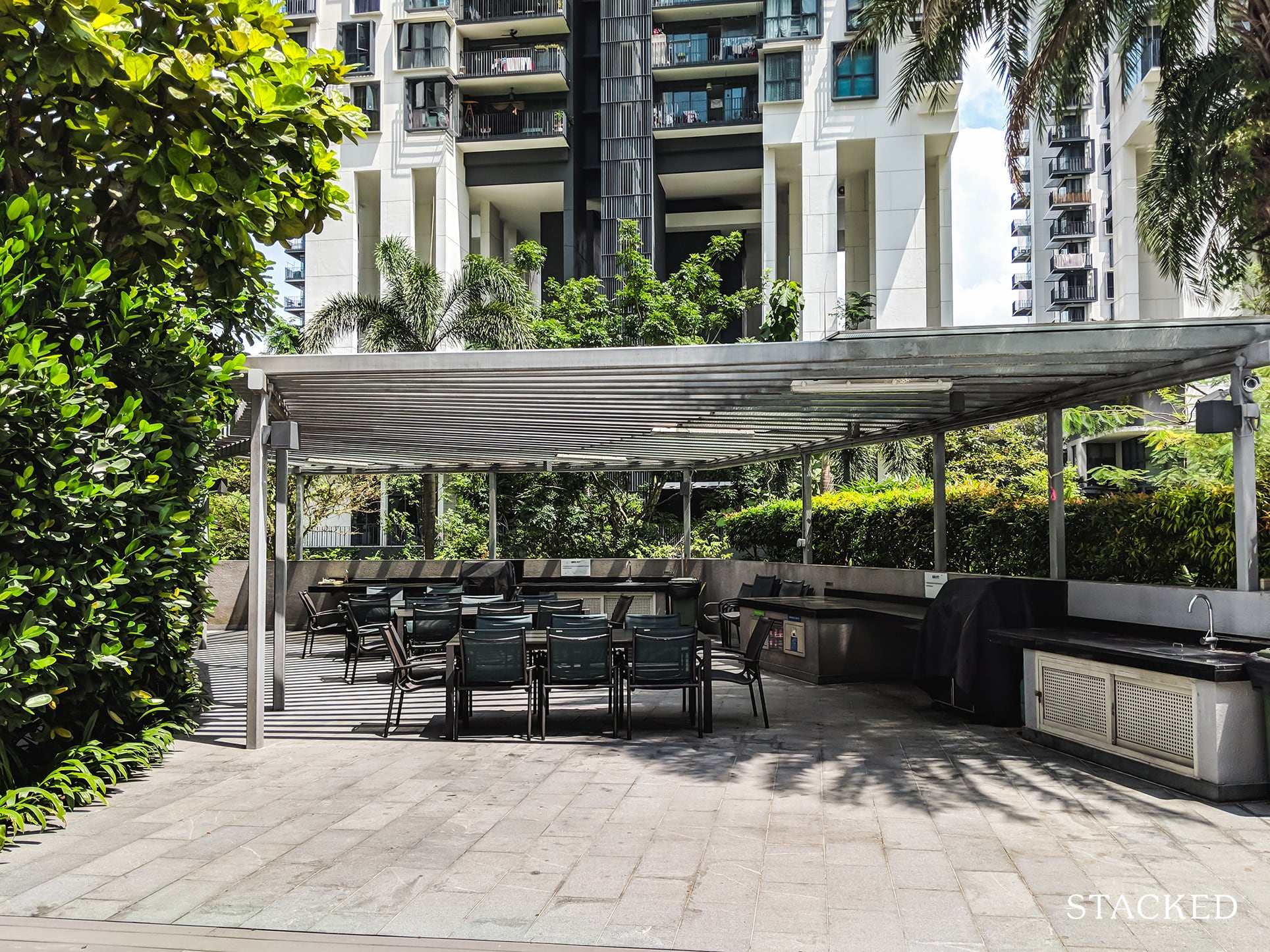 Where there is another barbeque area at the corner. In this case, the shelter certainly does look a lot more practical. I do like that for all these areas, they have included a lot more seating and even spare chairs at the side.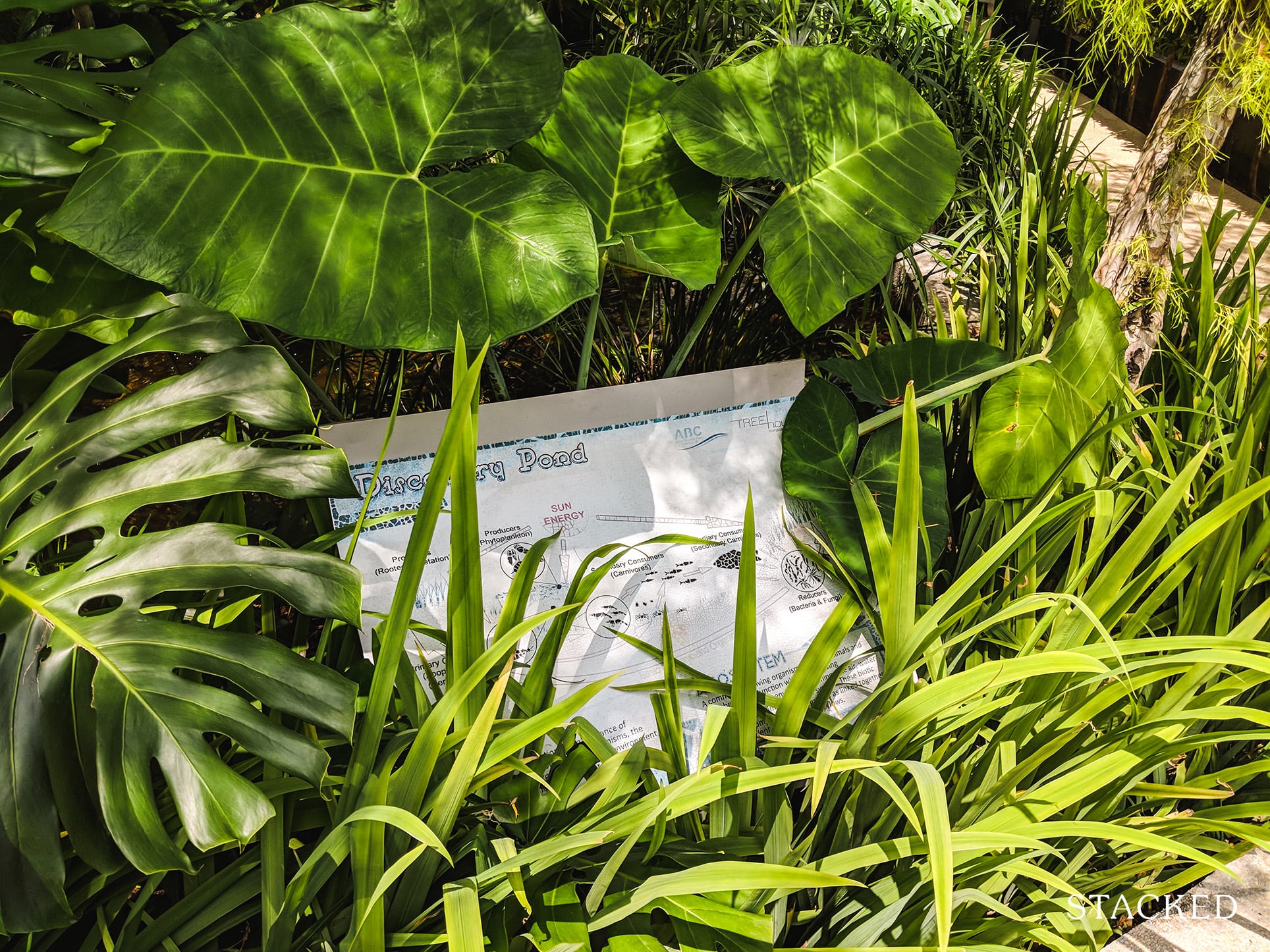 Throughout the development, you'll see different signs along the way showing the green ecosystem that the building has garnered a load of accolades for. Unfortunately, most seem to need some sort of sprucing up as parts of it have faded out due to the intense sun.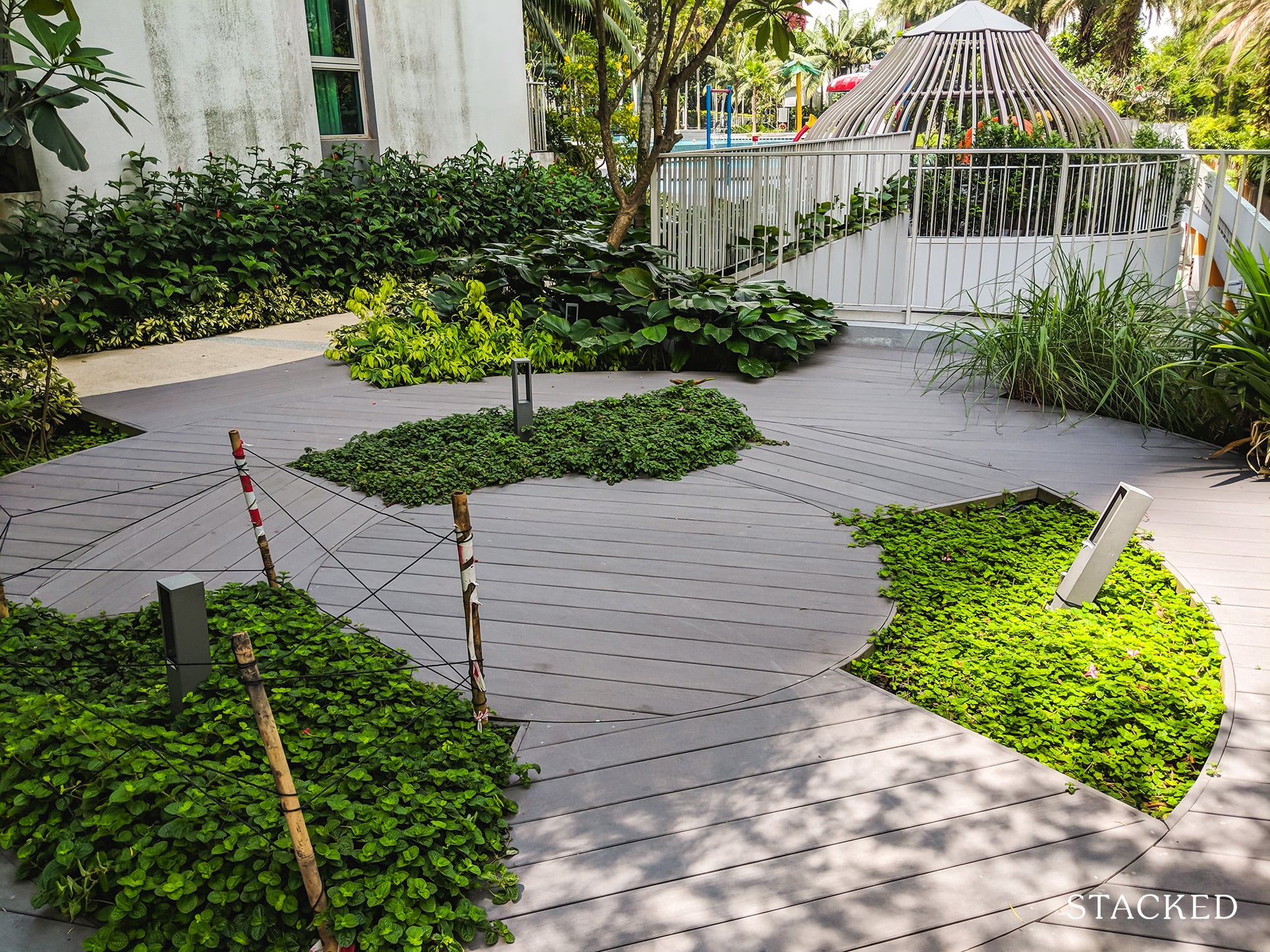 Along the pathway, you will find the herb garden. Seeing as how the development is so full of plants, the herb garden is decidedly quite sparse in contrast.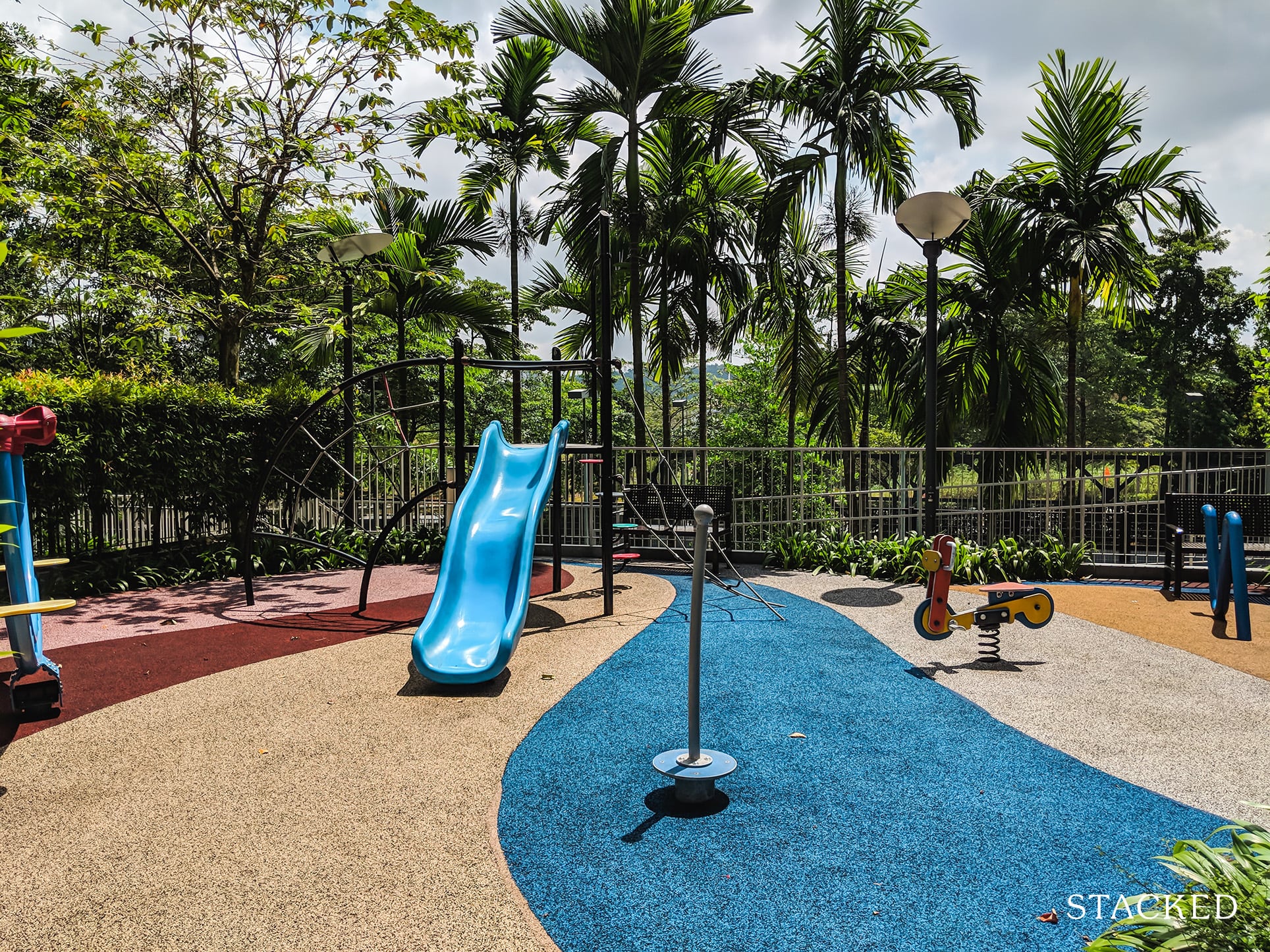 Next, you will get to the children's playground, which is quite a big space for kids to play and run around.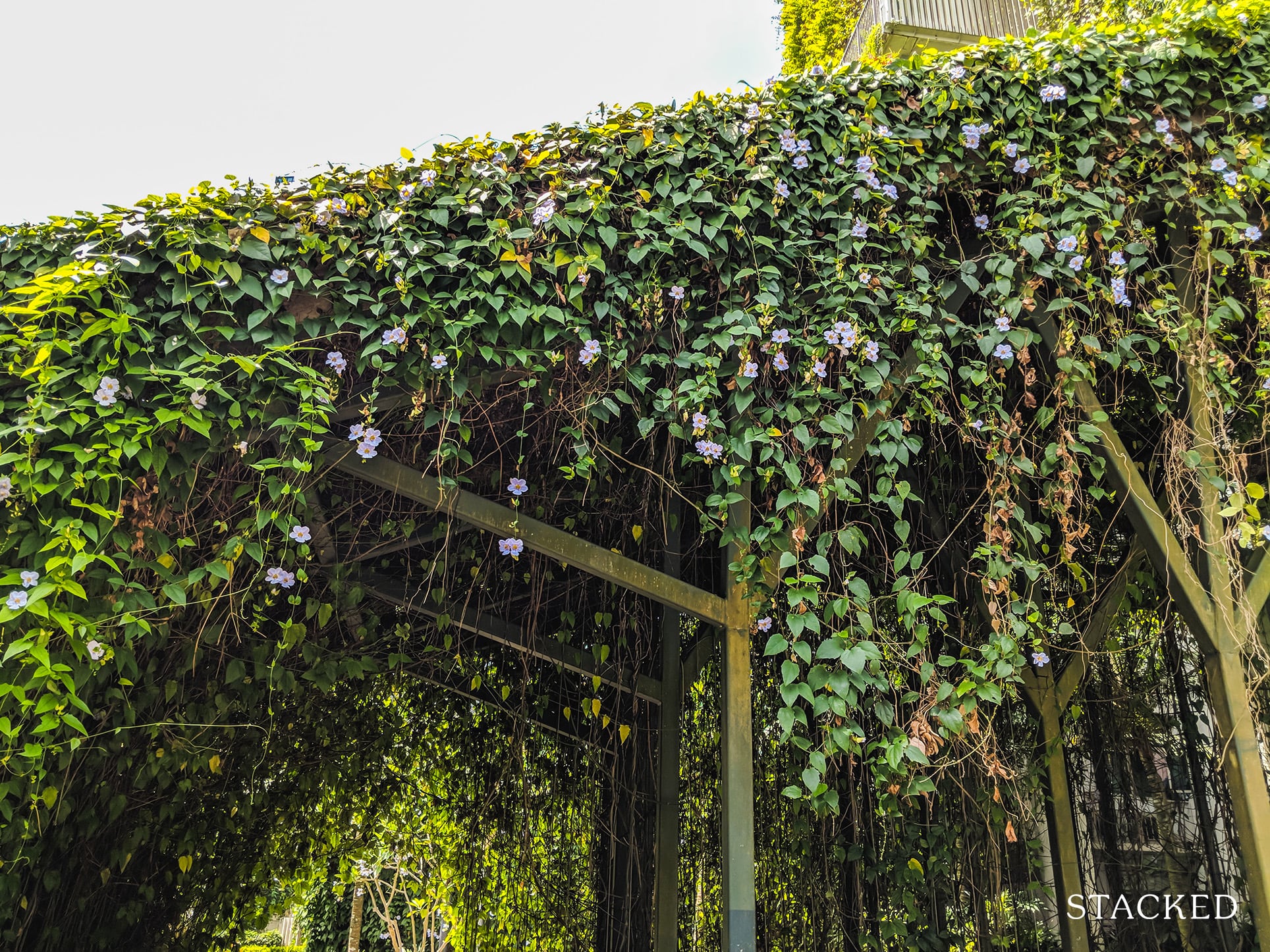 Beyond that, you'll come to the structure that leads on to what the Tree House condo is most famous for.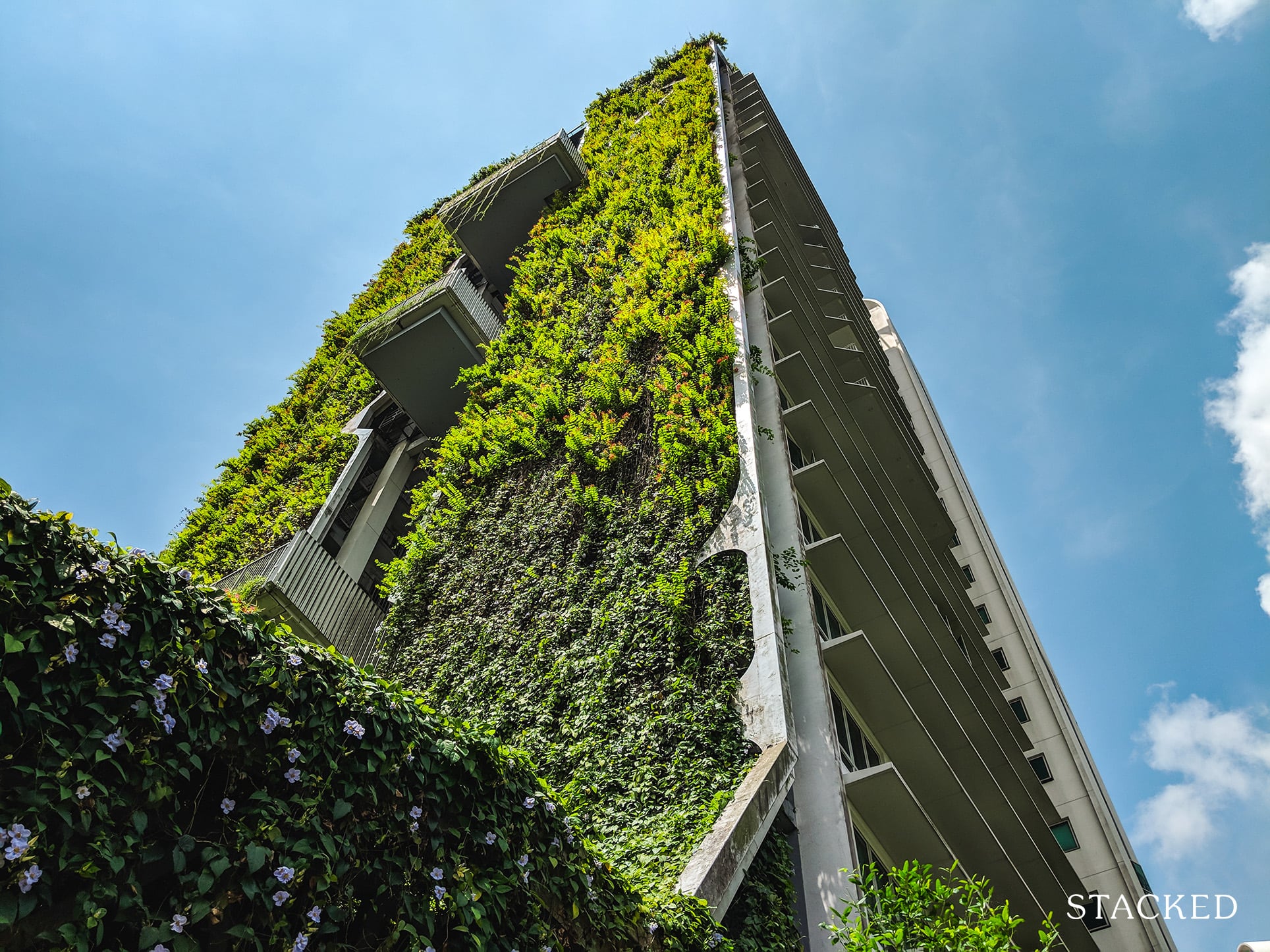 Presenting, the largest vertical garden in the world. It is really quite a sight to see, making the place look totally unique and in keeping with the surroundings that it is set in. It's not just about good looks either, it acts as a natural insulation that reduces the development's carbon footprint by filtering pollutants and carbon dioxide out of the air. This makes the place cooler and reduces heat absorption. That's a win-win in my books.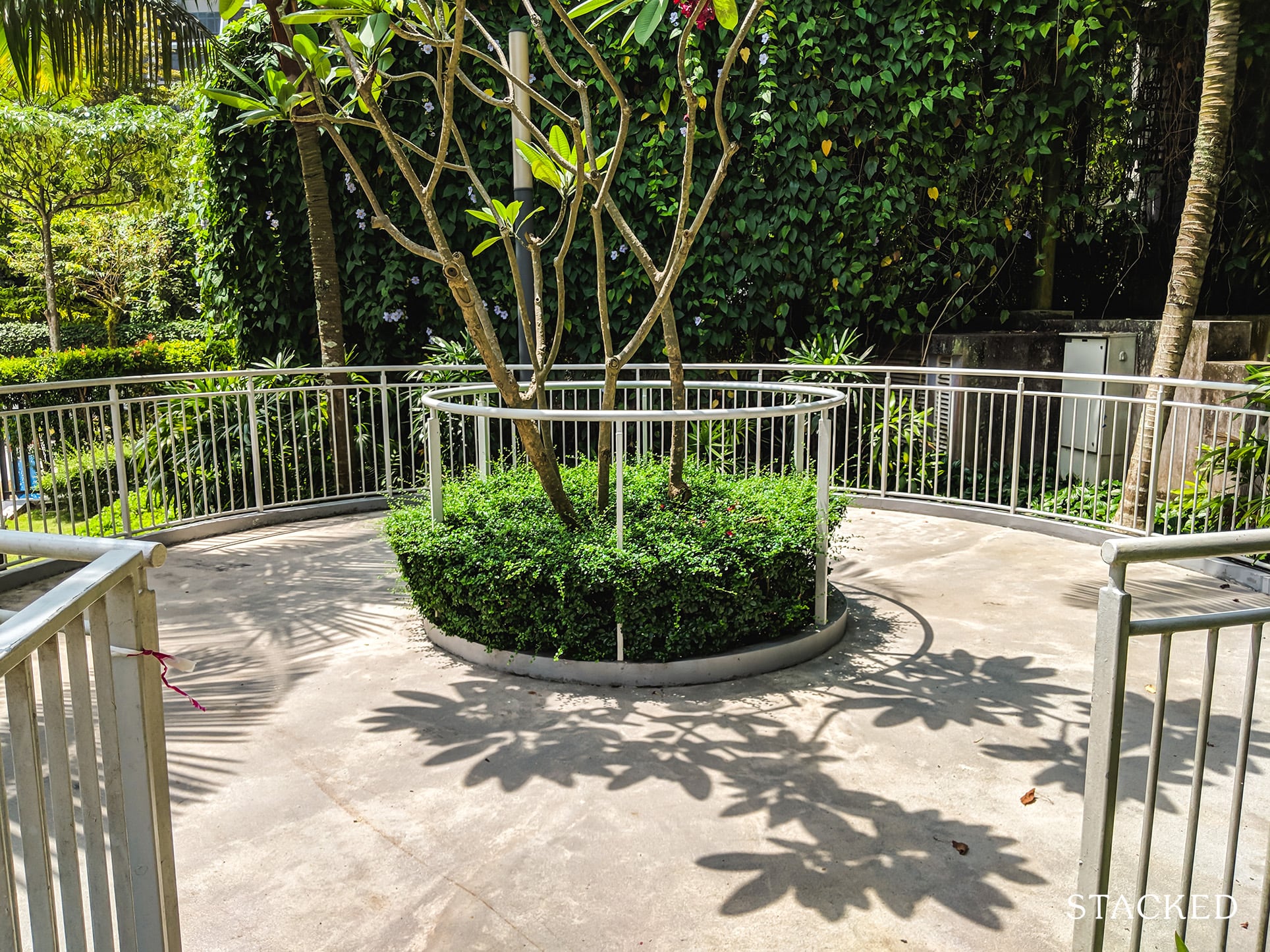 After the wonderment of the vertical garden, you now see one of the more "useful" facilities. Yes, that's right. It's a skating rink.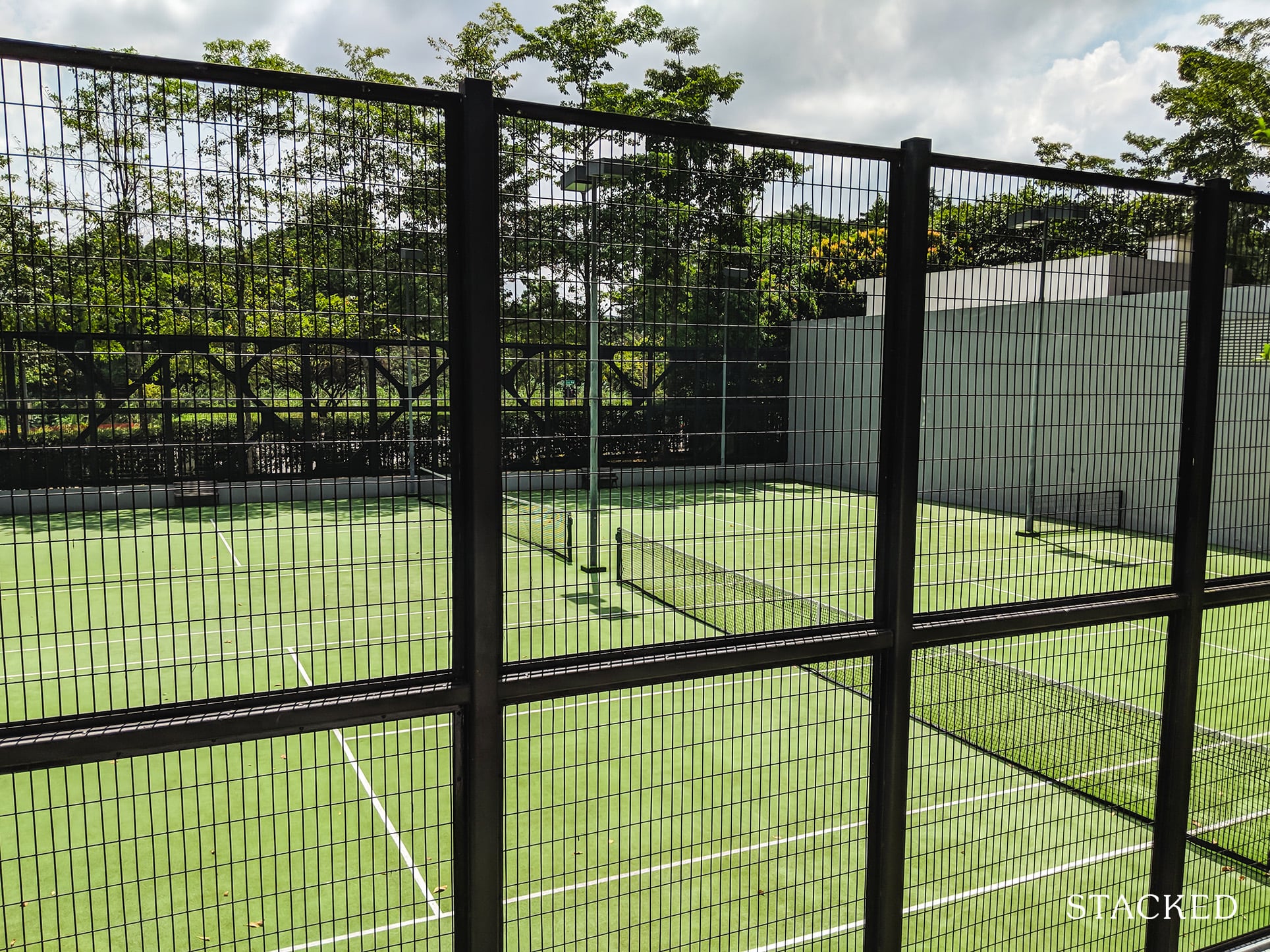 The Tree House condo more than redeems itself, however, with the addition of two sleek looking tennis courts. It is really more than adequate for the number of units.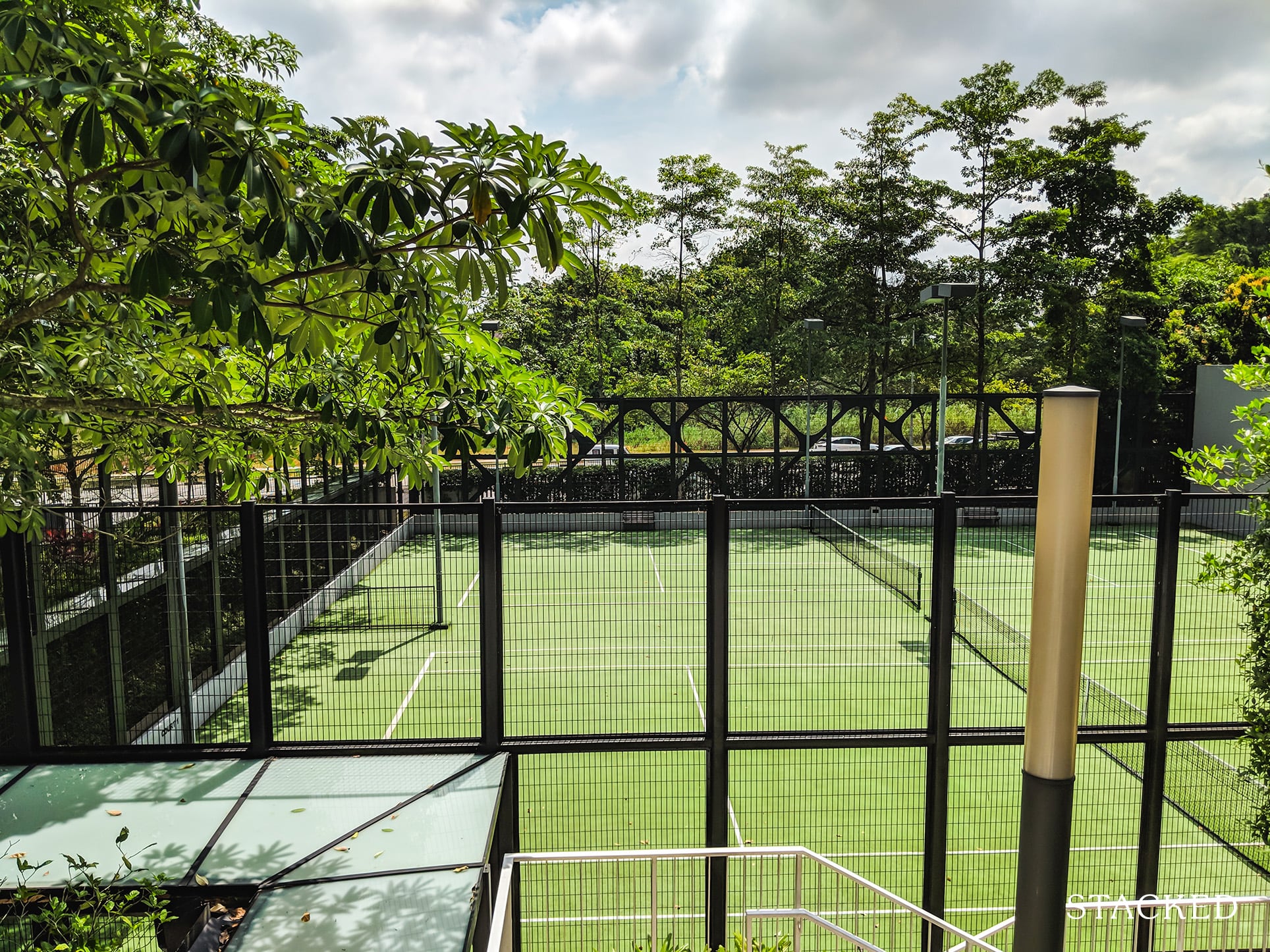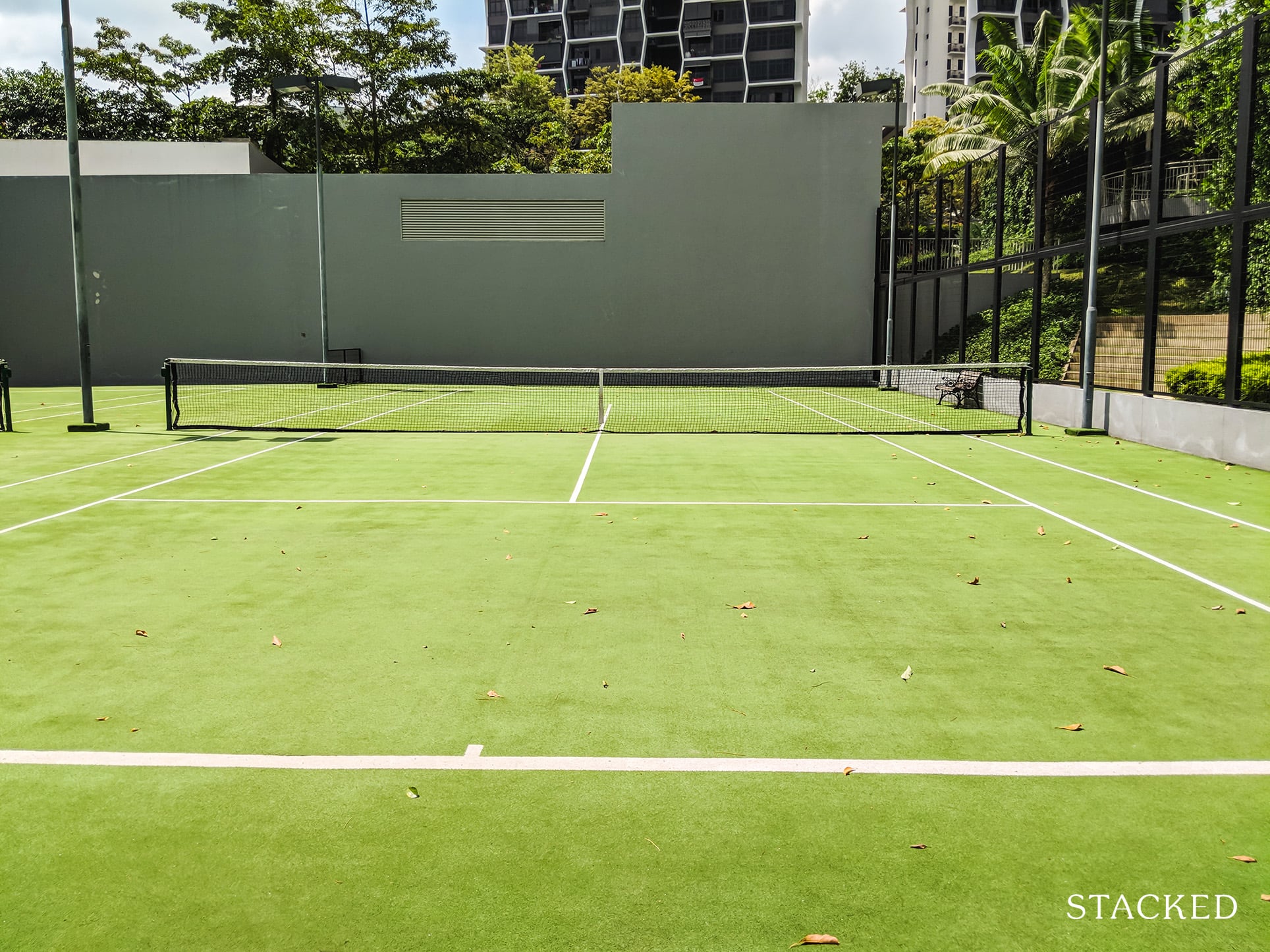 The surface of the tennis court has like a lawn finish, which is really awesome and not something I have come across before in any development. Plus points for it being immaculately kept as well.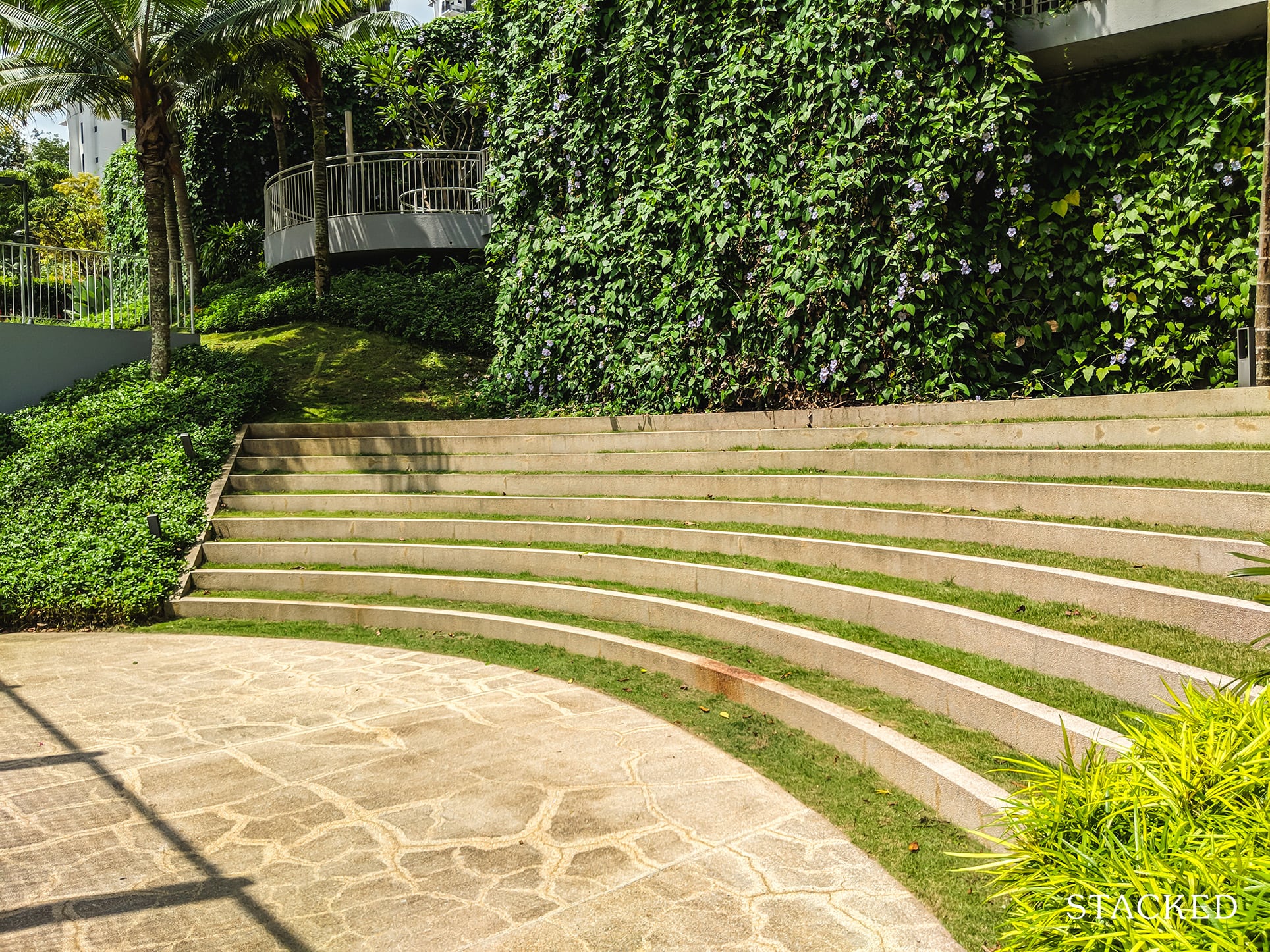 Right outside the tennis courts are amphitheatre seating. While I can't speak for the usefulness of this place, it does fit the look of the development.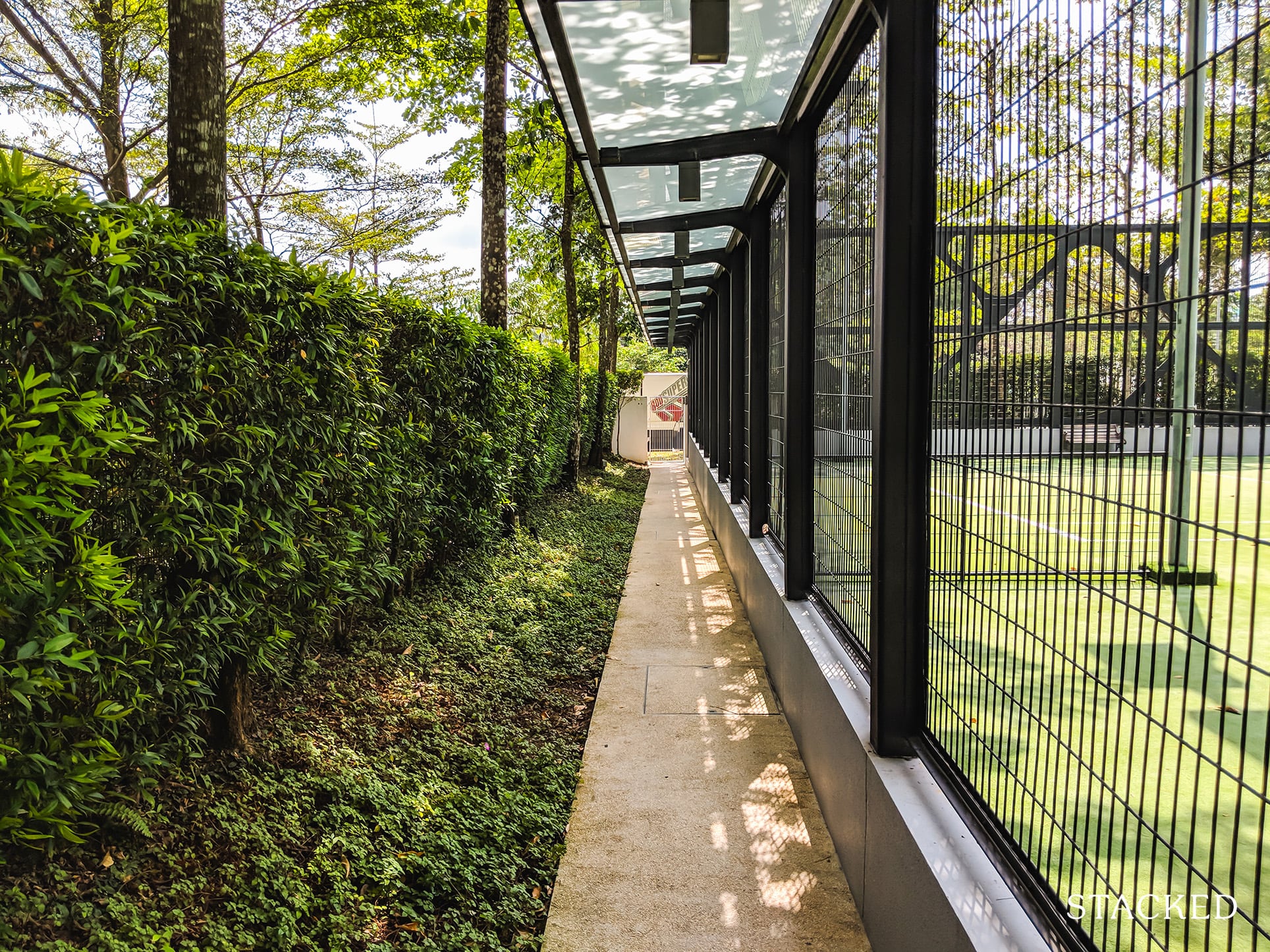 Down on the side of the tennis courts is a pathway to the side gate. Compliments to the developer for making it sheltered and having proper lighting for when it gets dark.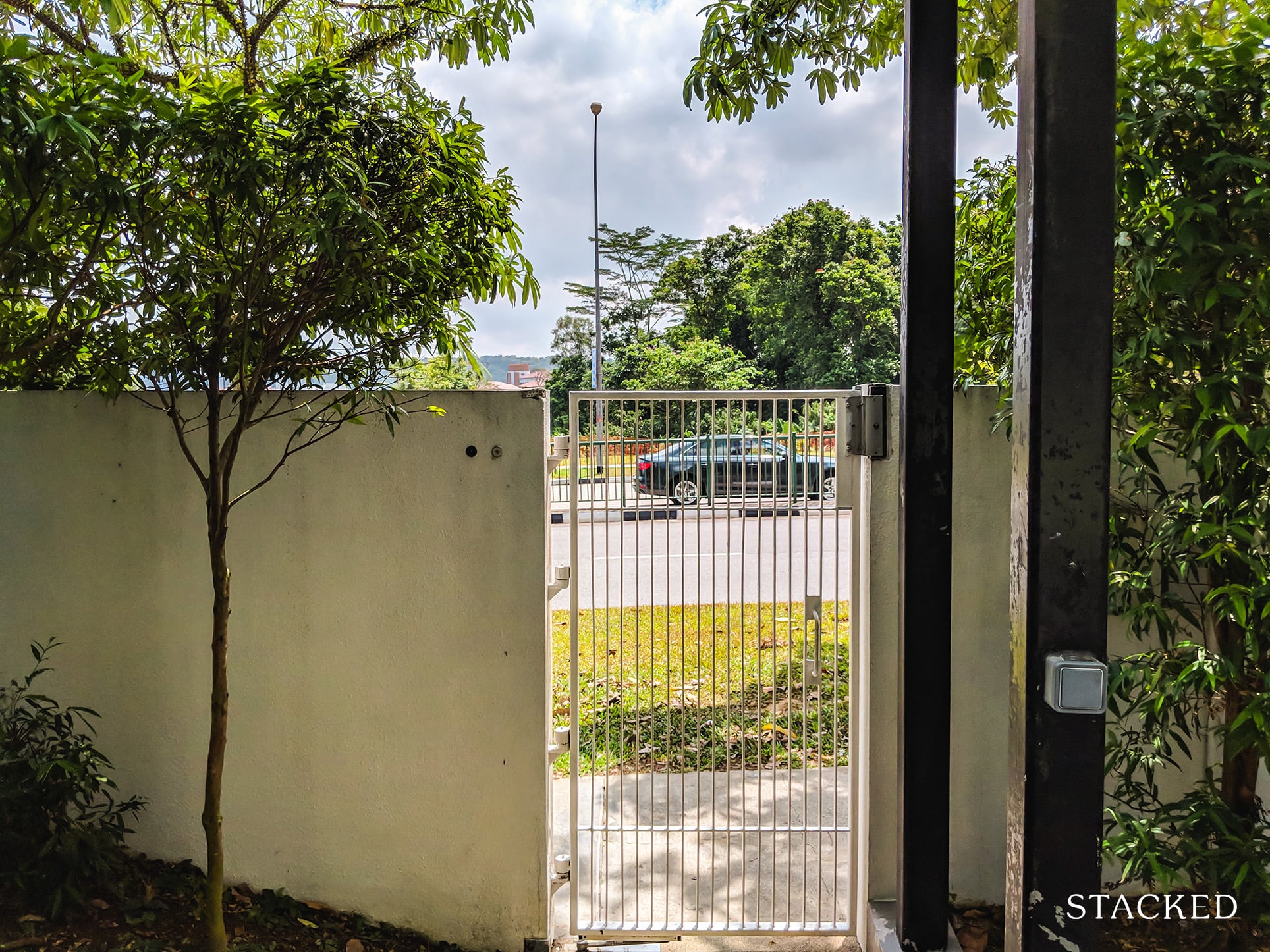 The side gate here leads you to the main road (Petir Road) and is just a short walk to the bus stop.
Tree House Condo Location Review
For those of us who don't drive or barely step foot in the North West, the mention of Petir Road or Chestnut Avenue will most likely draw blank faces. Even for the frequent-travelled, identifying the area could be a challenge due to the lack of landmarks in the vicinity, save for the luxurious Eco Sanctuary and the cosy Foresque Residences – between which The Tree House is nestled.
To address the first thing that's probably on everyone's mind – is the closest LRT station really a 13-minute walk away?
Yes, it is. What's more, a trip to the closest MRT station (Cashew station, DT2) will set you back 19 minutes by foot (or 20 if you take the bus). There is, however, a brief respite that comes in the couple of bus stops lining Petir Road. The closest bus stop is situated a minute or two from the condo's Petir Road entrance/exit. It services buses 700, 700A, 966 and 973 – meaning that you will always have a handy 25-minute ride to town via bus 700 (provided that traffic is kind).
Unfortunately, the Tree House's location in the north-west means that residents who work in the CBD will have to undergo an approximately 50-minute bus commute each way – spelling a massive inconvenience for many.
Does this mean that we should care-off the Tree House Condos altogether?
Not at all. In fact, many of the Tree House's car-owning residents will attest to the convenience of having the BKE just 3 minutes from their homes. It's close, though not quite close enough for its exotic smells and sounds to reach you.
Amenities-wise, there are a few, though not within immediate walking distance.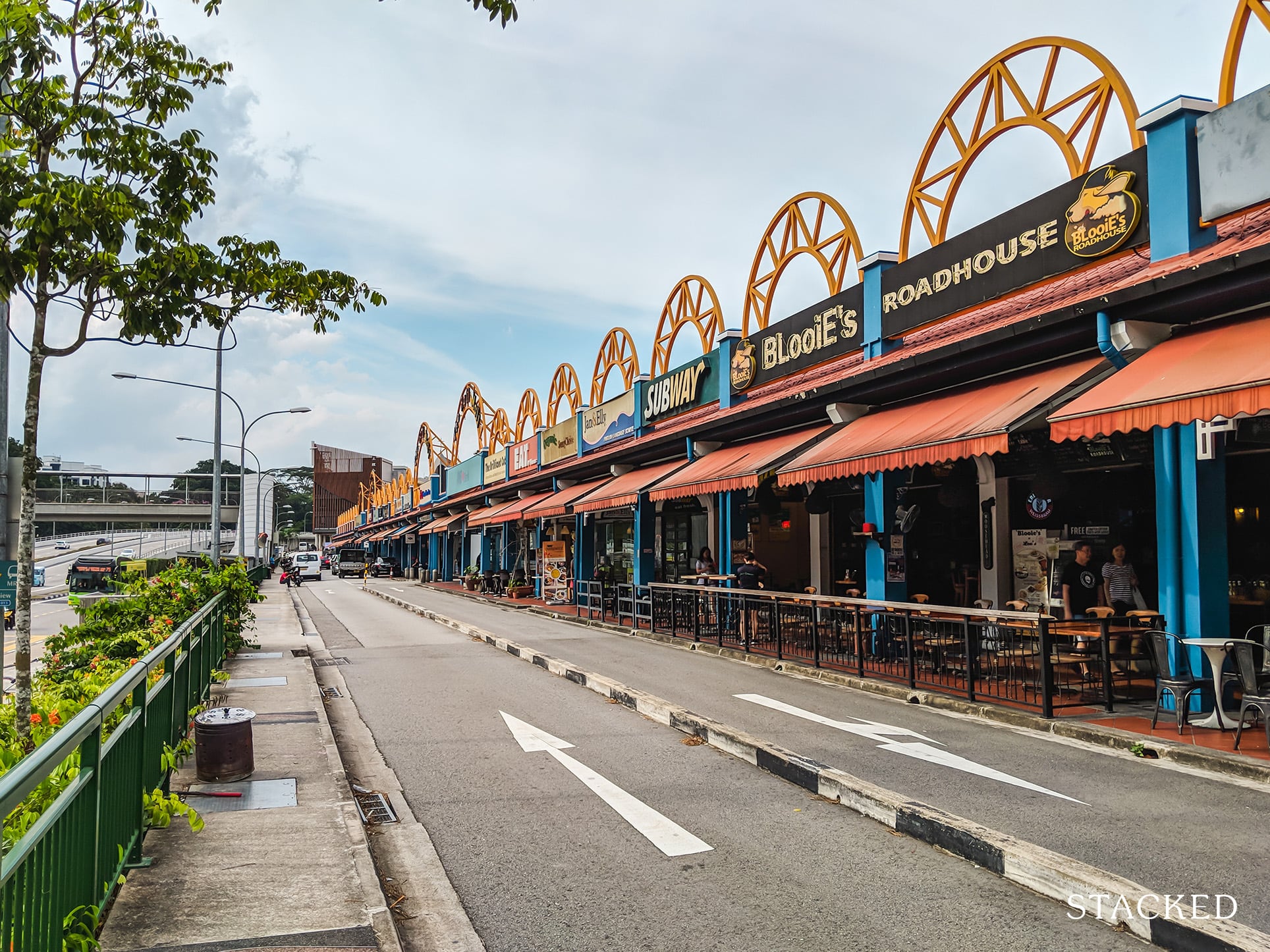 The most prominent shopping centre in the vicinity is the Rail Mall. For the benefit of those who haven't heard of it, it's an iconic string of conjoined 1-storeyed shops – very much resembling a blown-up version of mismatched Lego blocks. For those who are familiar with the place, you will know that this cosy space is home to a sizable Cold Storage and a plethora of cafés/bars – the most famous of which is the Spring Leaf Prata joint (we're open to discussion on this one).
More than that, the locale boasts a children's education centre, a spa, a barber, an indoor playground, a financial service provider, various clinics (including eye and dental specialists) and even furniture experts to suit your needs. It's just 4 minutes away from the condo by car, though its 25-minute walk time is not extremely enticing.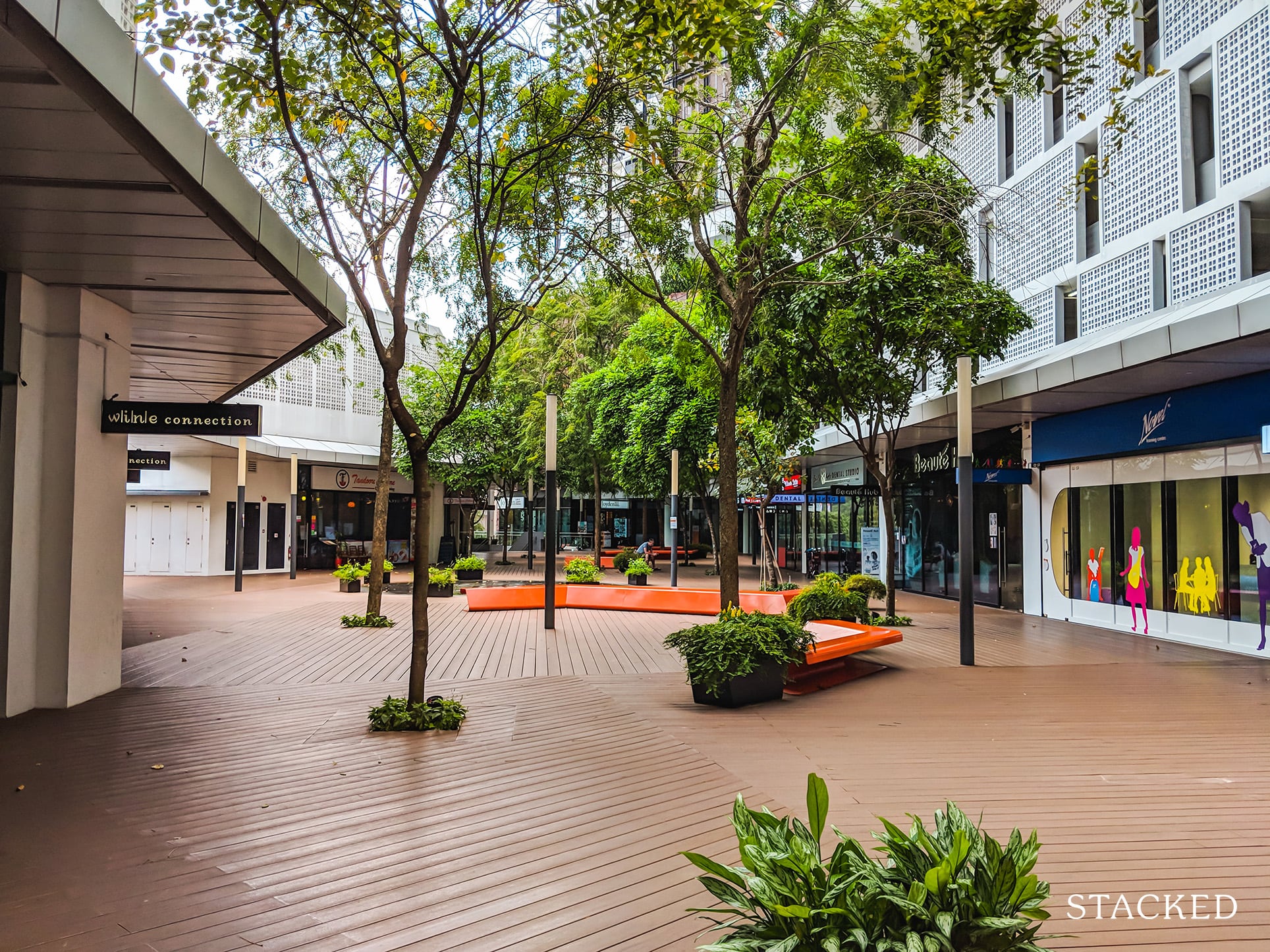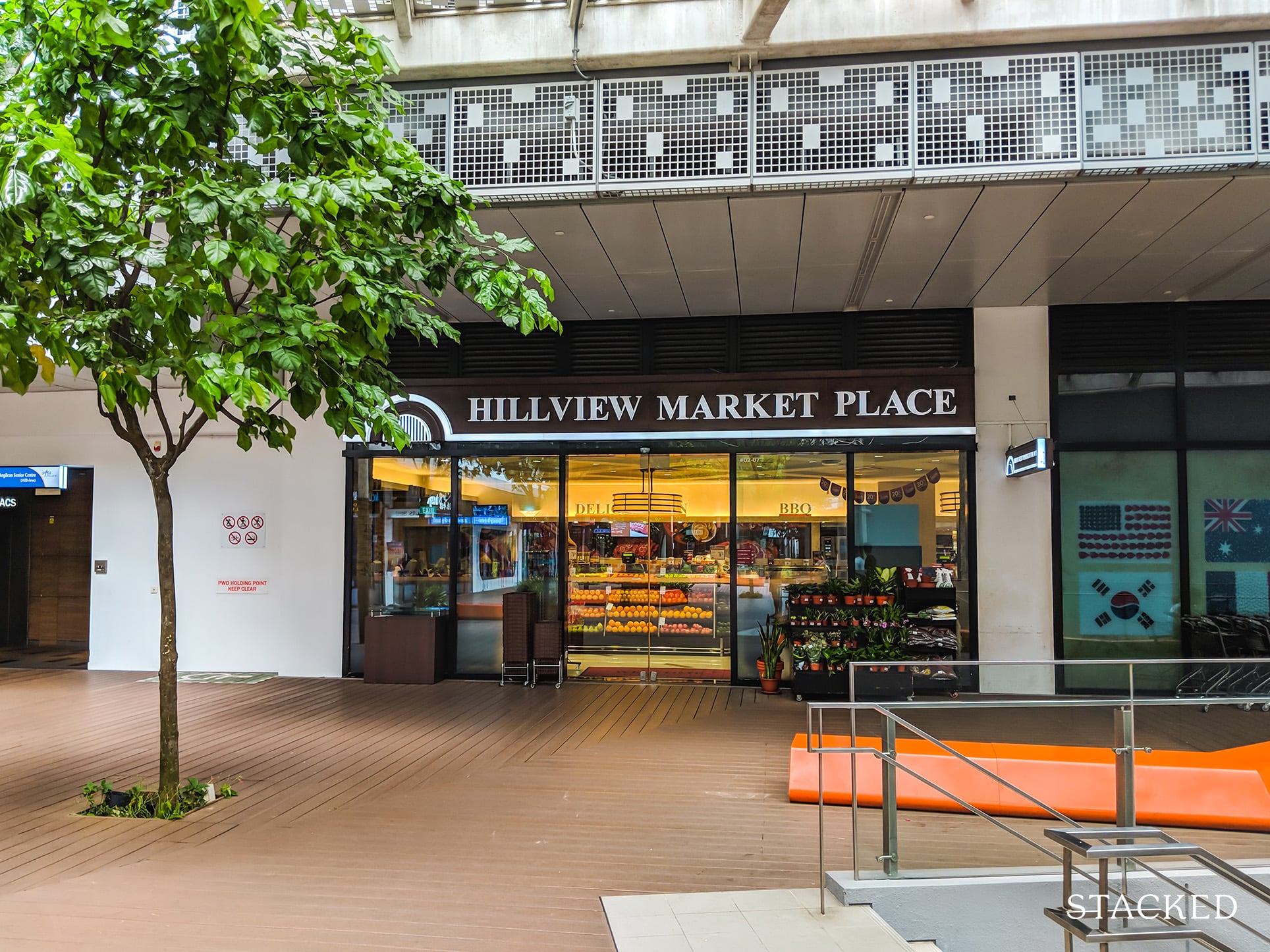 Other notable shopping malls in the area include HillV2 (upscale Marketplace), Hillion Mall and Bukit Panjang Plaza (closest NTUC FairPrice and next to Bukit Panjang Hawker) – all of which are just a 5-minute drive away from Tree House.
As for immediate grocery/late-night snack reliefs, there is a 24-hour 'Hao (mini) mart' located an 8-minute walk away from the condo. Here you will find the usual drinks, snacks, sauces, eggs, flour, rice, canned foods, oils, soaps and some fresh meat and fruits.
Moving on to a thought that is bound to be on every parent's mind – are there any schools in the vicinity (10-minute drive radius to be exact)?
Yes, there are. Quite a few in fact. For preschoolers, you have West Spring MOE Kindergarten. For primary schoolers, CHIJ – Our Lady Queen of Peace, Bukit Panjang, Greenridge, Beacon and Zheng Hua Primary. And for the secondary schoolers – Greenridge, Teck Whye, Fajar and Zheng Hua Secondary.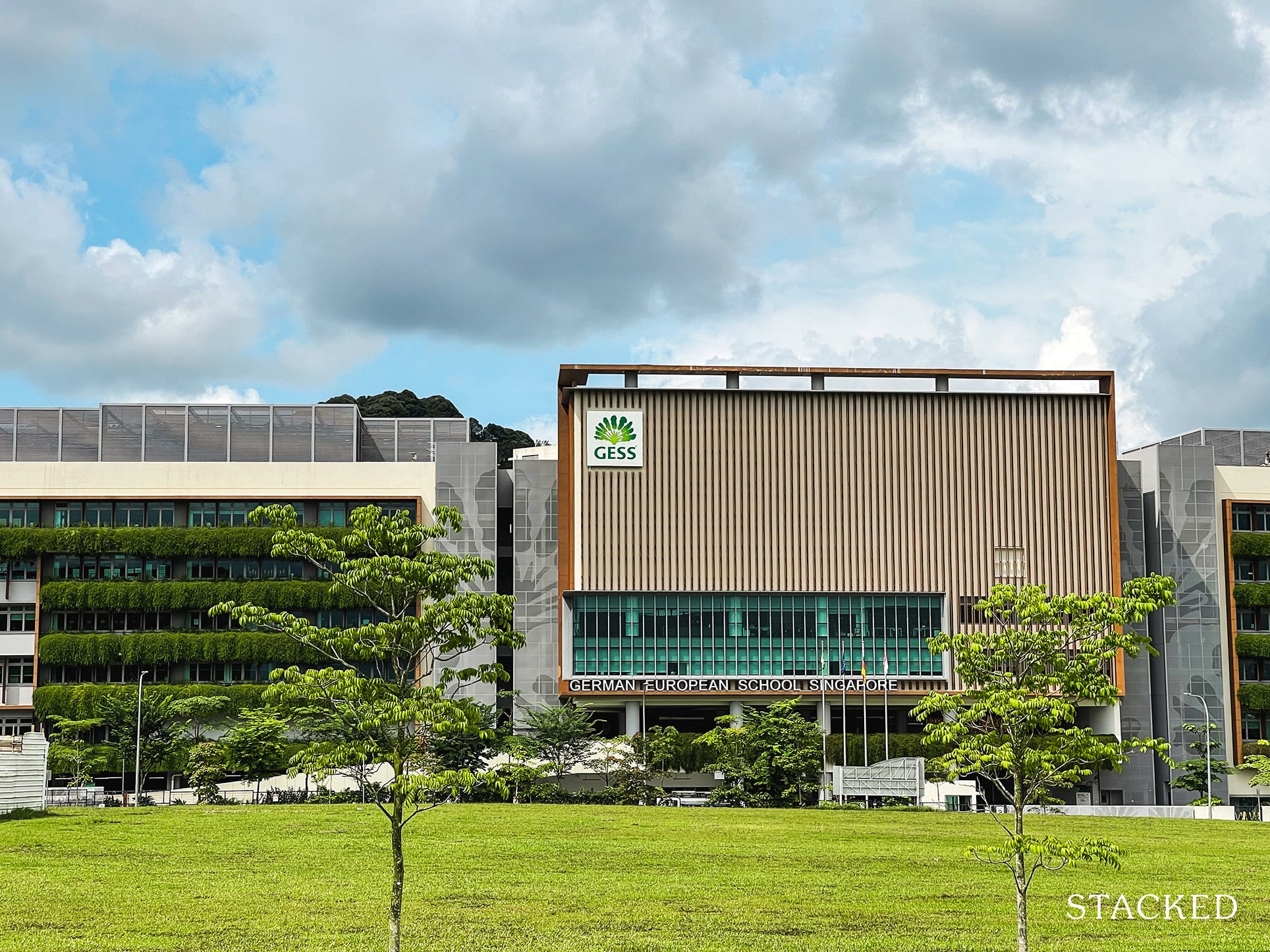 Adding to that, there are also 2 International Schools in the area. The German European School Singapore and St. Francis Methodist School – both of which cater to a variety of educational levels and courses.
As for our final point, we explore the nature options around the condo. Though uncanny in Singapore's condominium context, it is a major selling point for Tree House. With over 5 different parks in the area (the most notable of which are the Bukit Panjang, Zhenghua, Chestnut and Dairy Farm Parks), you will not suffer from a shortage of hiking routes or a lack of fresh, crisp air.
What's more, the Bukit Timah Nature Reserve can be easily accessed through the Zhenghua park – its entrance, a mere 2-minute walk from the condo. It is therefore easy to see why the Tree House Condo is such a draw for nature lovers or those looking for peaceful and quiet residences.
Tree House Condo Development Site
Unlike some of the other condos we've reviewed previously like the Anchorage and Pandan Valley, the plot of land on which the Tree House sits is relatively smaller. That being said, its 244,345 square feet land area is densely populated – with 4 isolated 24-storey towers (429 units in total) and various facilities taking up most of the area.
Surprisingly, the area didn't seem very claustrophobic to us. We're guessing that's because of the abundance of greenery in the condo that helps tuck the various walkways and facilities away, though for some, this somewhat cosy feel might seem a little suffocating. It is worth noting that the Tree House condo is sandwiched in between the Eco Sanctuary and Foresque Residences. That said, sandwiched in this case might be too exaggerated as the space between the developments are actually quite wide.
As for entry points, there is one along Petir Road and the other along Chestnut Avenue – also where the drop-off point, guardhouse and the only carpark entrance/exit is located. Its singular main vehicle entry/exit point means that frequent peak hour jams spilling in and out of the single-laned Chestnut Avenue exit is a distinct possibility – though any said congestions should clear pretty quickly.
On to the Tree House unit mix:
Unit mix

| Unit Type | Size (sqft) |
| --- | --- |
| 2-bedrooms | 721 – 990 sqft |
| 2-bedroom + study | 807 – 1,076 sqft |
| 3-bedroom | 1,152 – 1,550 sqft |
| 4-bedroom | 1,410 – 1,959 sqft |
| 3-bedroom penthouse | 2,024 sqft |
| 3-bedroom + study penthouse | 1, 927 – 1,970 sqft |
| 5-bedroom penthouse | 2,917 sqft |
As you can see, there is quite a selection of units to choose from. The 3 bedroom penthouses are a great option for couples or smaller families in search of luxury (each penthouse features a spa pool). Size-wise – the majority of units here are slightly above average, though nothing noteworthy pops to mind. Lastly, the lack of 1 bedroom apartments bolsters the fact that the Tree House condo has been built as a family-oriented establishment.
Best Stacks
Unlike many other developments, the Tree House condo has a great orientation for the entire estate as it is all North-South facing. The best stacks for privacy are 7,8,17, and 18 as these ones face outwards. In general though, I would say that most blocks here are pretty good, and you can pick and choose depending on the type of view that you are looking for.
Tree House Condo Prices Review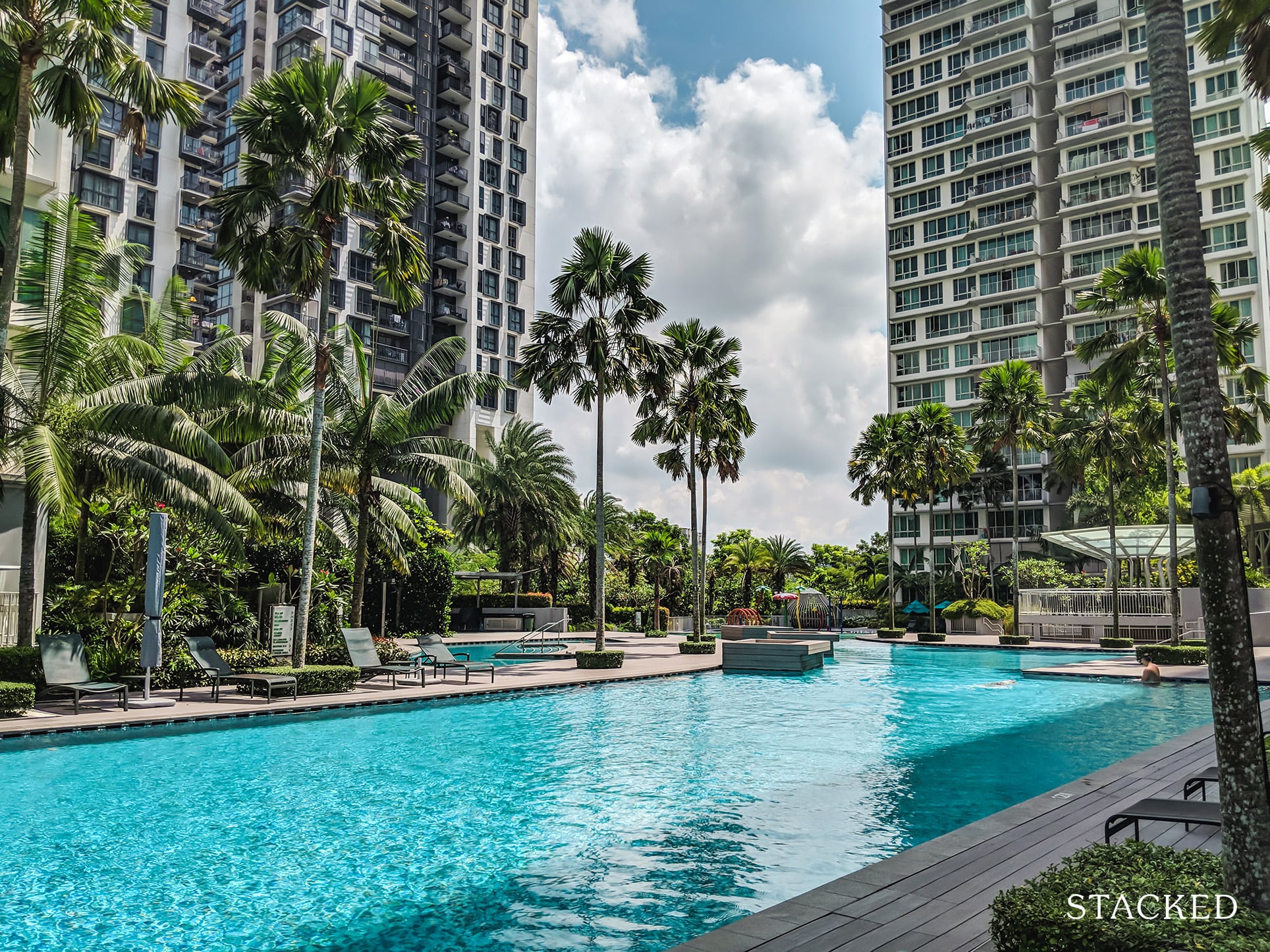 | Project Name | Tenure | TOP | Average Price (PSF) |
| --- | --- | --- | --- |
| Tree House | 99 years | 2013 | $1,076 |
| Foresque Residences | 99 years | 2014 | $1,198 |
| The Tennery | 99 years | 2014 | $1,200 |
| Eco Sanctuary | 99 years | 2016 | $1,267 |
| The Skywoods | 99 years | 2016 | $1,352 |
Now the real question arises – is all that beautiful nature and peace worth $1,076 PSF, limited amenities and scarcity in public transport – remember, the closest MRT station is a 19-minute walk away. You'll have to decide on that. Price-wise, it is definitely a steal compared to the various condos you'll find in district 23 that have been built after 2013. Unfortunately, most of the condos in the vicinity are void of that much sought-after freehold status.
Our Take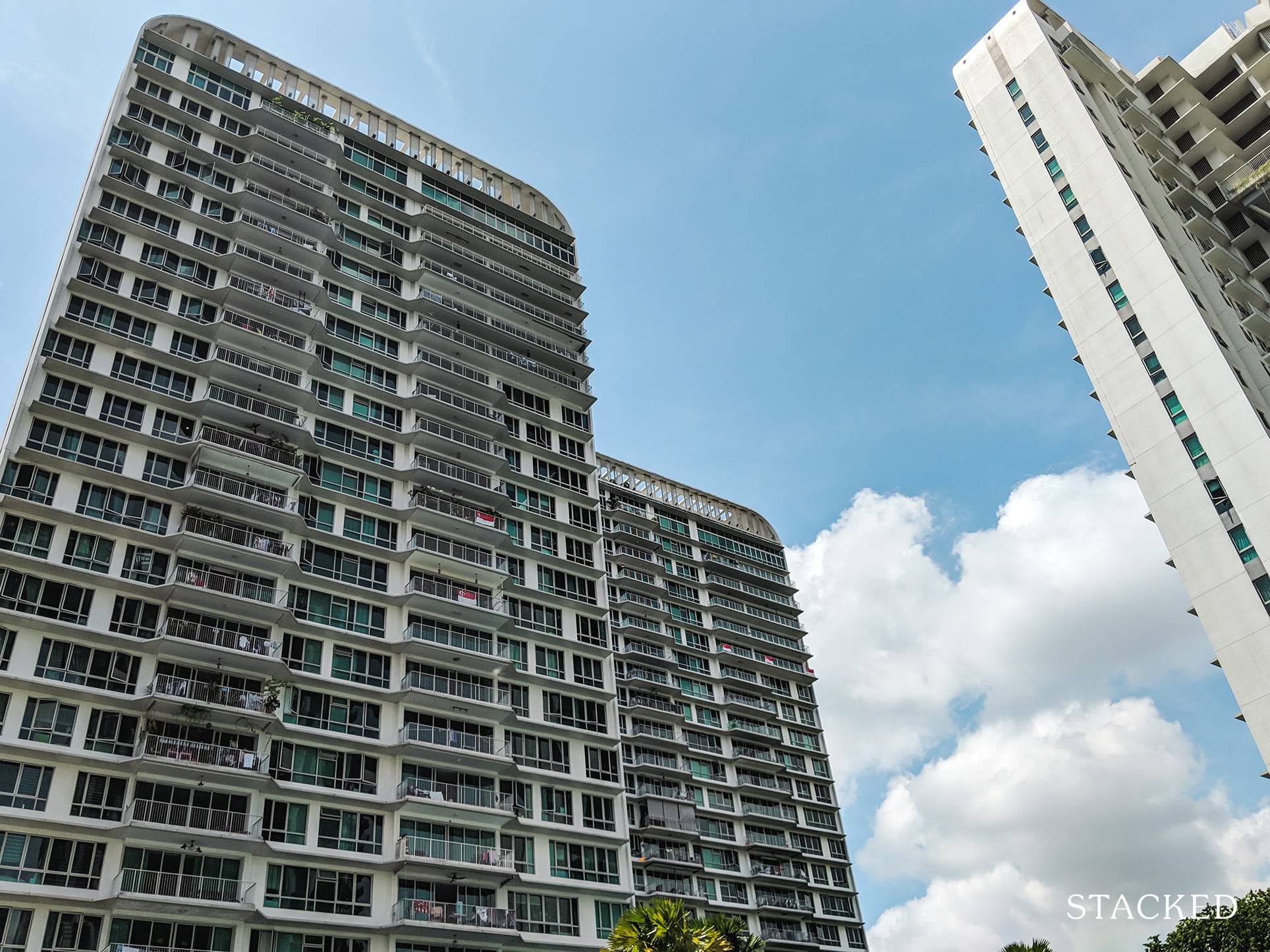 Personally, I think the positives outweigh the negatives. Returning from a hard day's work at the office for some peace and quiet in nature doesn't sound like too bad a deal. Moreover, one doesn't have to venture far to immerse in greenery given the various nature-themed facilities that the condo boasts. In fact, as one of the lowest-priced condos in the area with a relatively recent TOP (2014), it is quite a steal – especially if you are looking to settle in the vicinity near to relatives/friends.
Granted, the amenities are not the best, and neither is access to public transport here a prime attraction. However, these things are easily mitigated by having a car. What's more, the proximity of the BKE to the Condo is an incredibly convenient option to have.
If I were closer to my retirement years, a high-floor option in the Tree House condos would definitely be a worthwhile consideration while if I had a young family, this would be a brilliant place to bring up kids too.
What this means for you
You might like the Treehouse Condo if:
• You want to go green:A multitude of parks close-by, nature-themed facilities and an eco-friendly condo makes this a haven for nature lovers and environmental conservationists.
• You value your peace and quiet:A perfect spot for retirees looking for tranquility, away from busy roads and bustling city life.
You might not like the Treehouse Condo if:
• You do not drive:A lack of walkable amenities (schools included) close by means that families without a car might find it tedious to live here.
• You work in the CBD:50-minute commutes per trip to and from the CBD is very time-consuming for office workers if they choose the public transport option.
End of Review