Property Stories

Touring Jurong Park Landed Estate: An Underrated Freehold Estate With Sweeping Views Near Beauty World
TJ
January 15, 2023

14

min read
A while back, a reader asked for a review of the Toh Tuck area, and so off I went. But while exploring the area, another lesser-known estate (Jurong Park Estate) caught my eye, so I thought I'd do a tour of that first instead. (I promise to get around to Toh Tuck soon though, once I figure out what's the best way to segment it – it spans too large an area to cover in one article!)
By the way, Jurong Park landed estate is not to be confused with Jurong Bird Park, which is nowhere nearby! Instead, this enclave of houses is about a 15-20 minute walk from Beauty World MRT or a 4 minutes drive. (It's actually sort of "opposite" Burgundy Hill, which I toured a while back – separated by a huge reserve site that is currently all greenery.)
Note: judging from sales records, it appears that residents really enjoy living here (or foresee massive price appreciation in the future) as sales are super few and far between. There was 1 sale this year (detached house for $7m+) and the last sale before that was in 2017! (Semi-D, $3m+)
Anyway, since I promised "sweeping views," let's start with the money shot.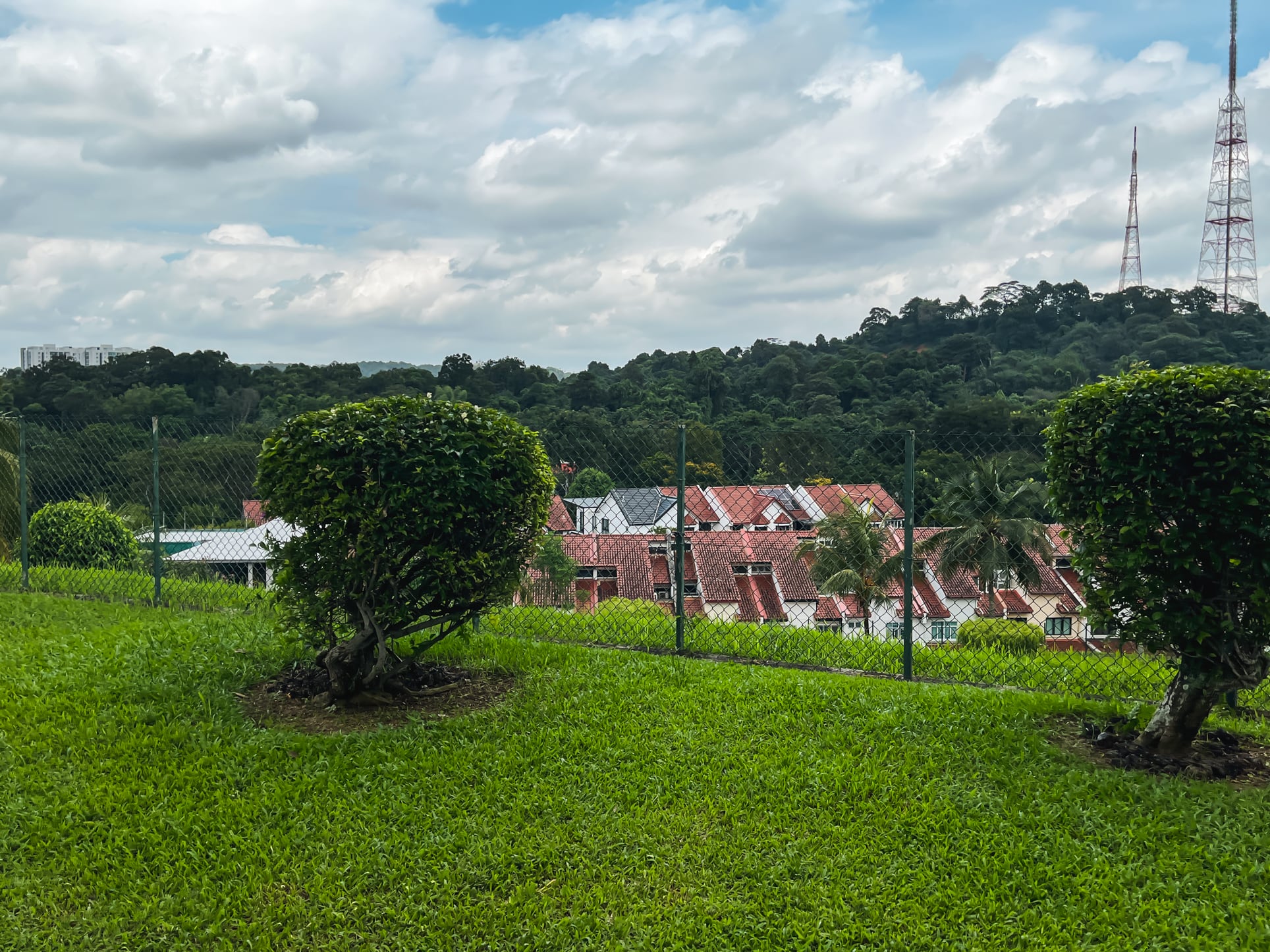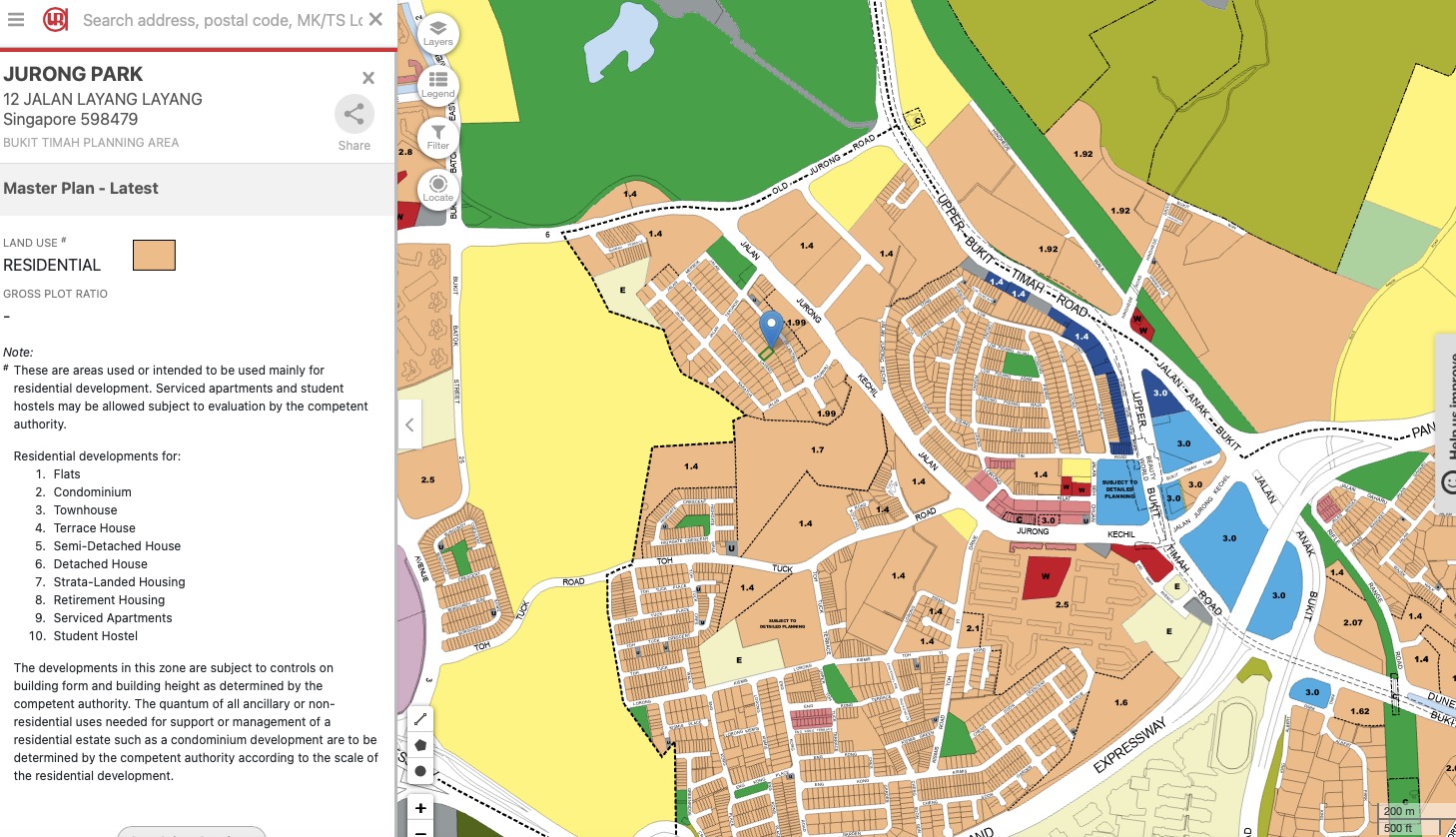 There is also a smaller park/playground within the estate. I say smaller but it's actually very sizeable for a playground. Do you remember how the playground near Ming Teck Park estate had its own private basketball court? Well, the Jurong Park playground has its own badminton court!
Maybe such amenities are more common than I had previously thought….?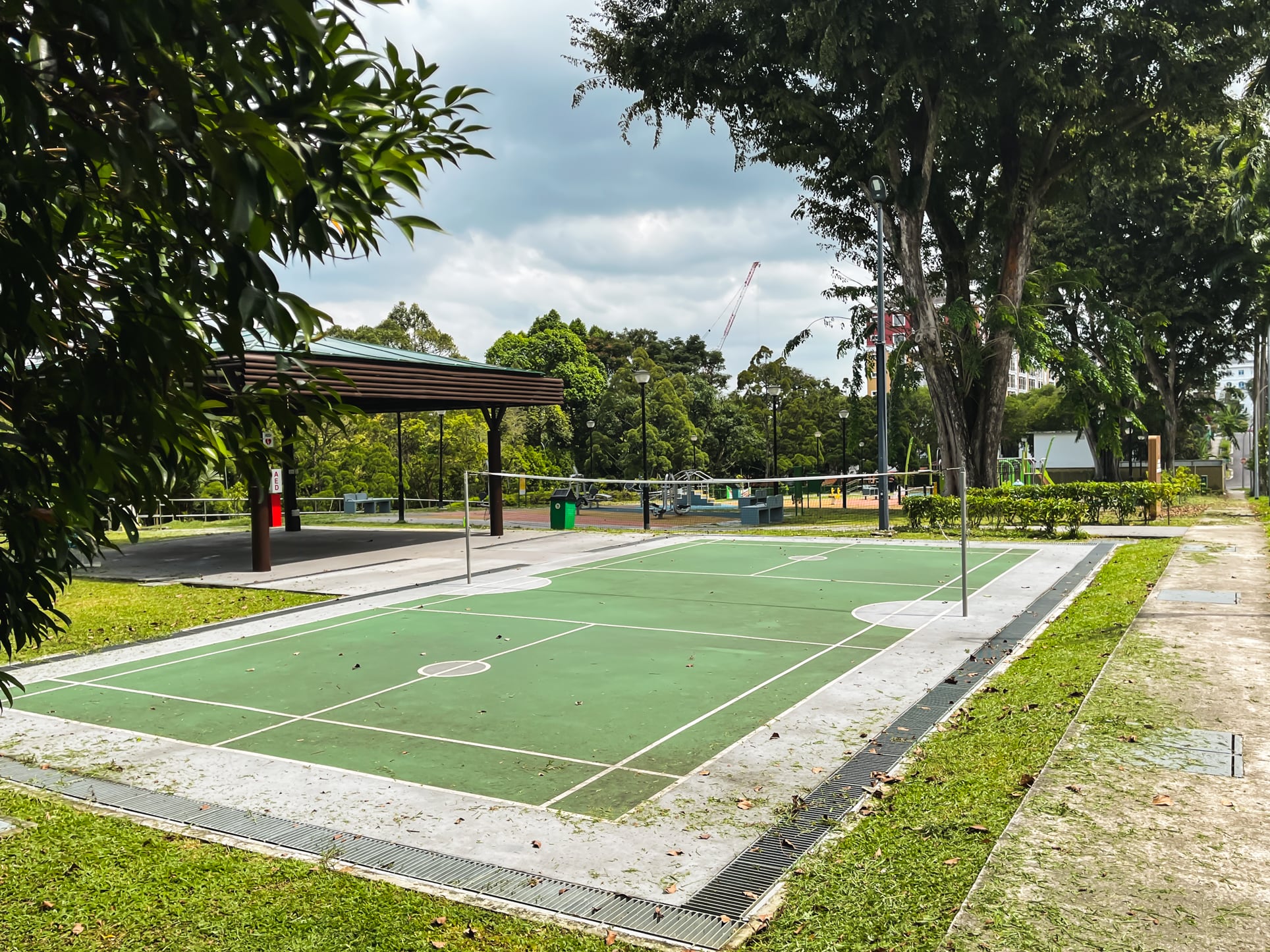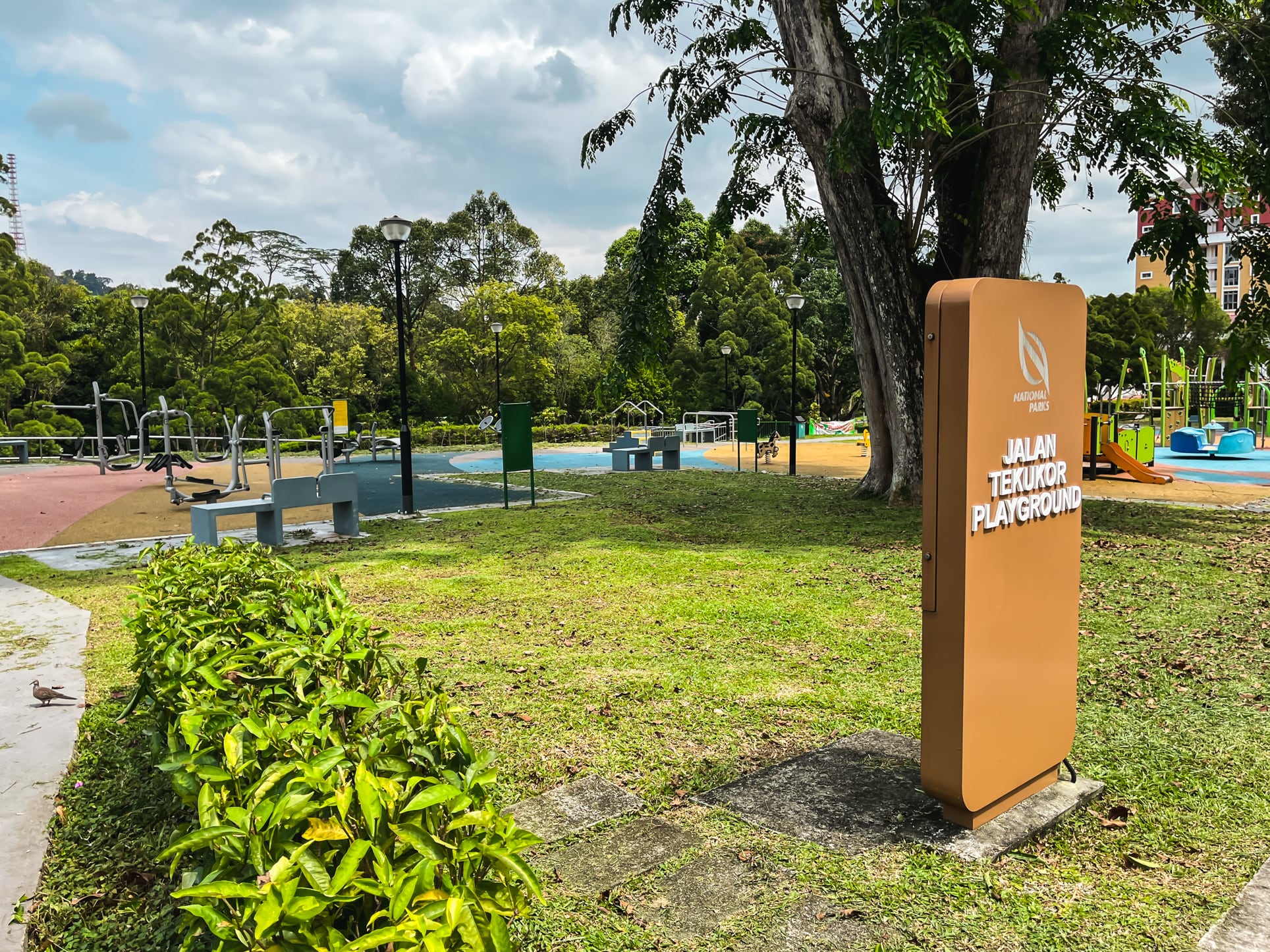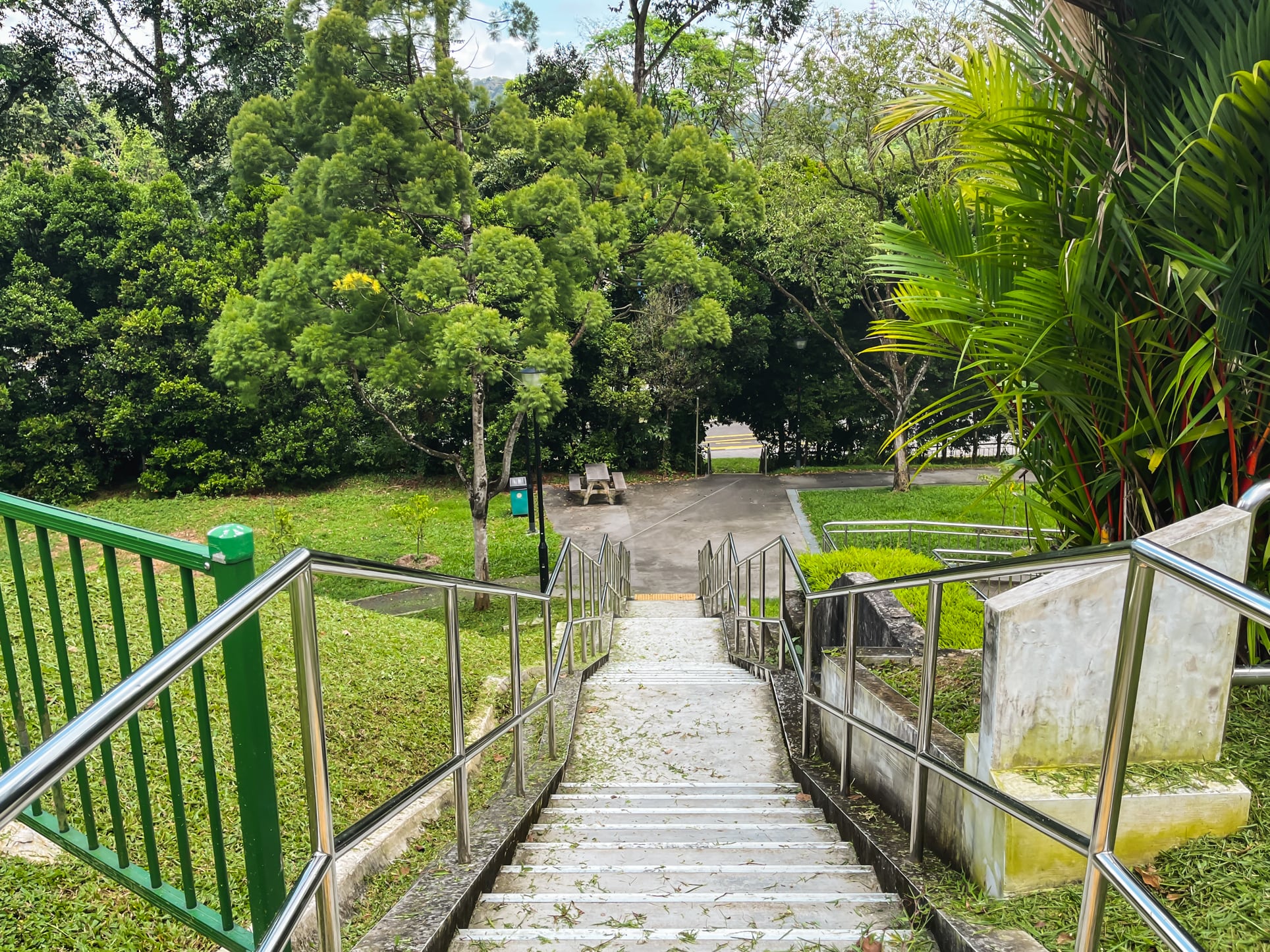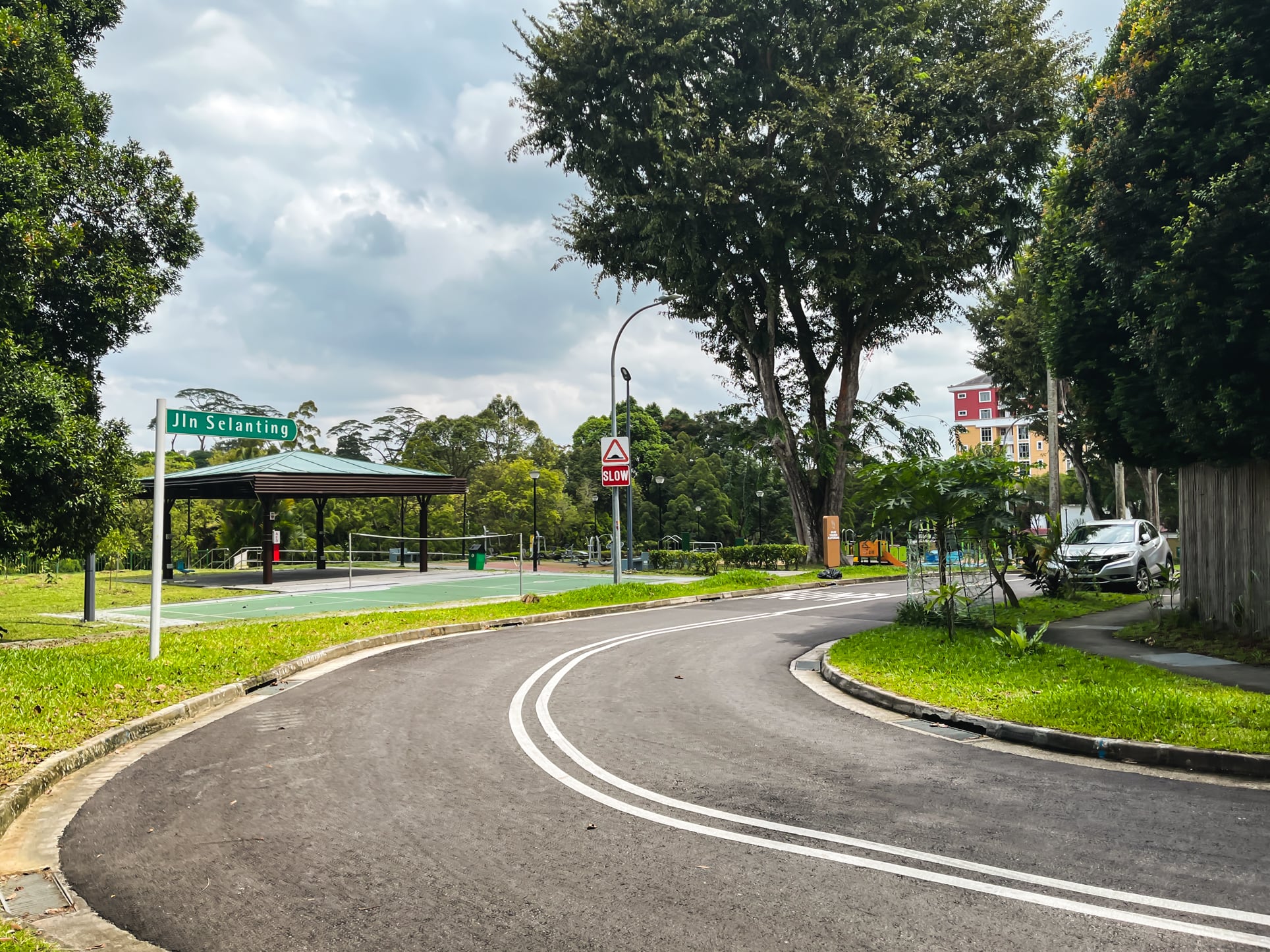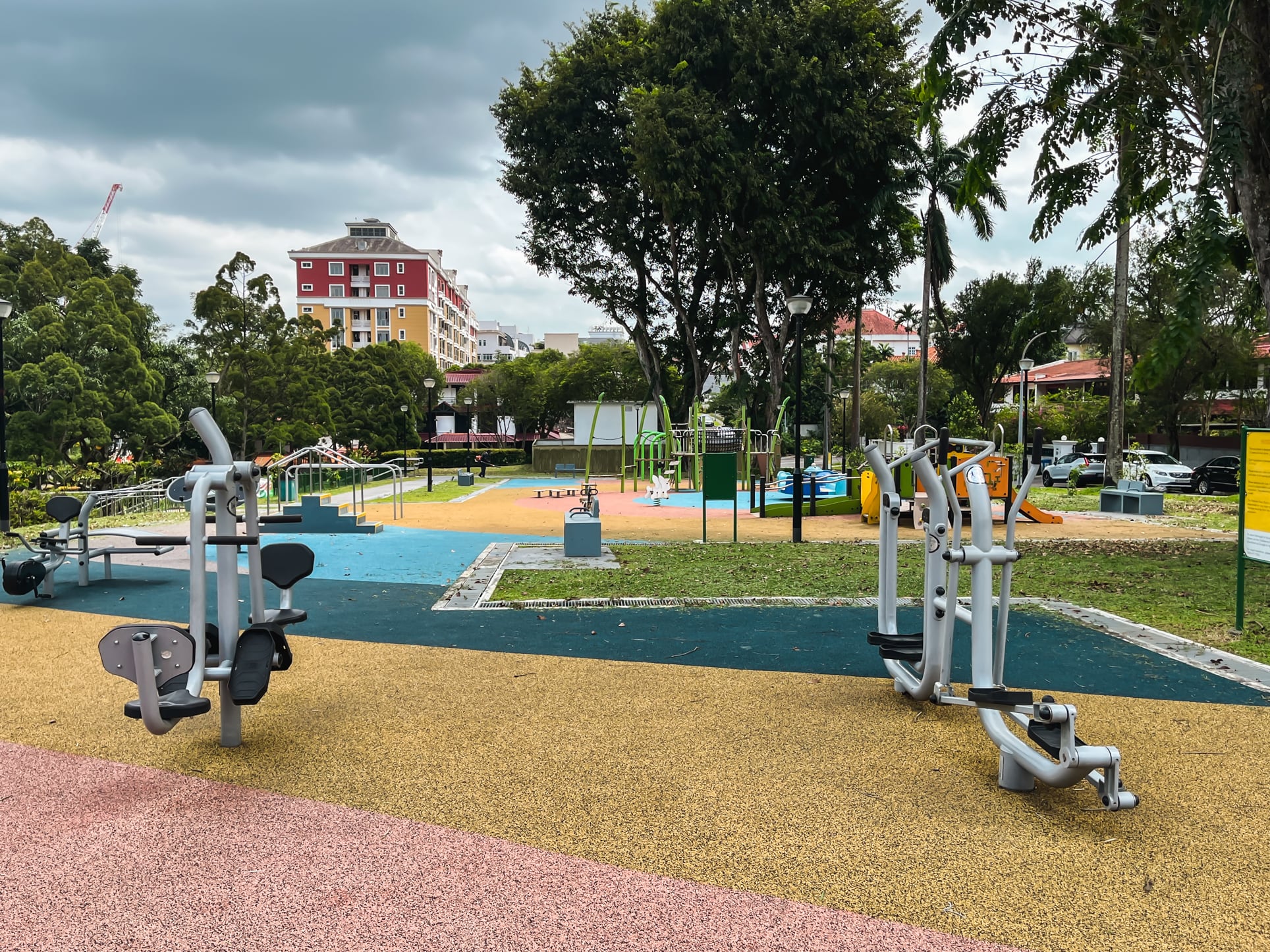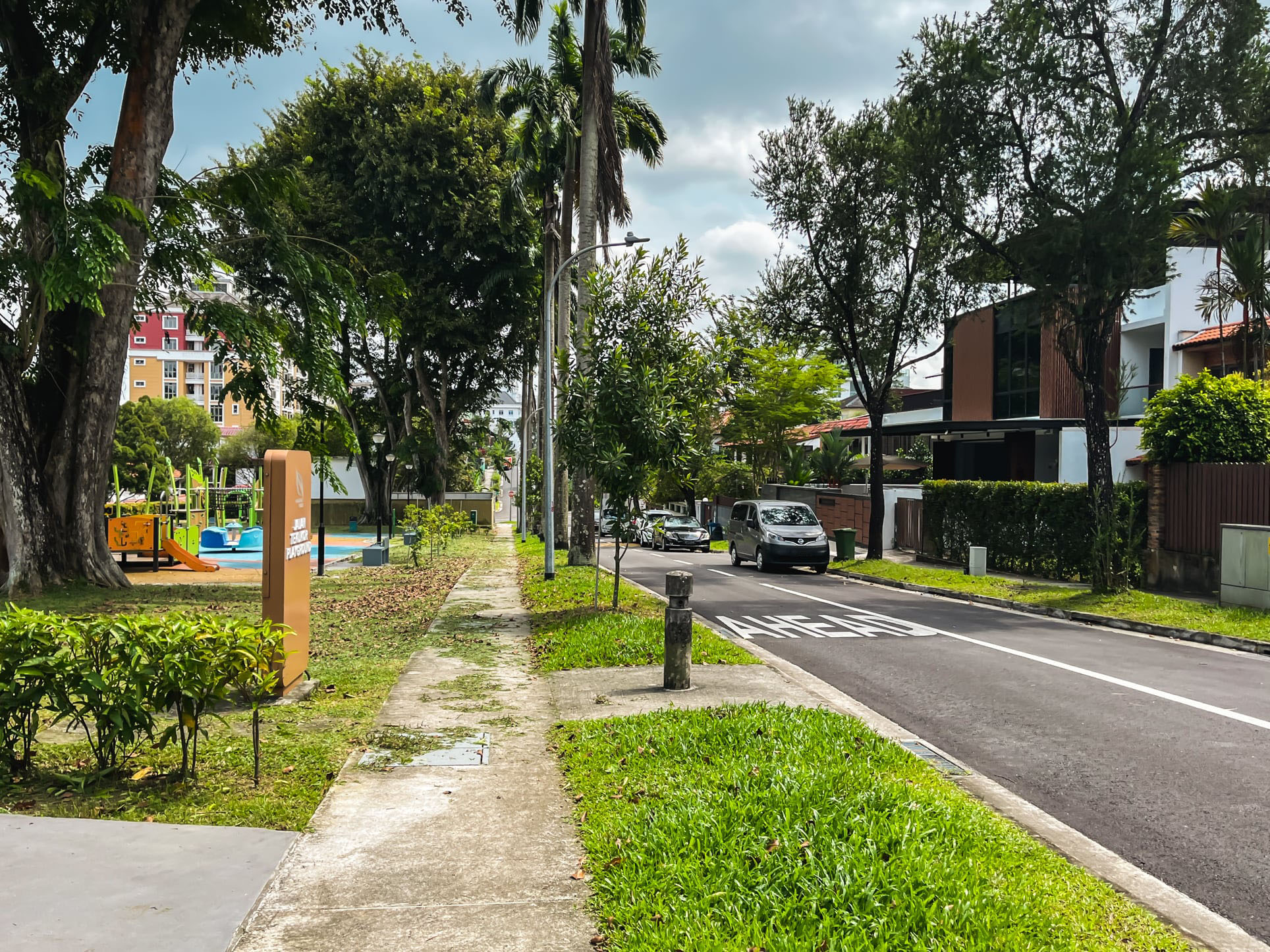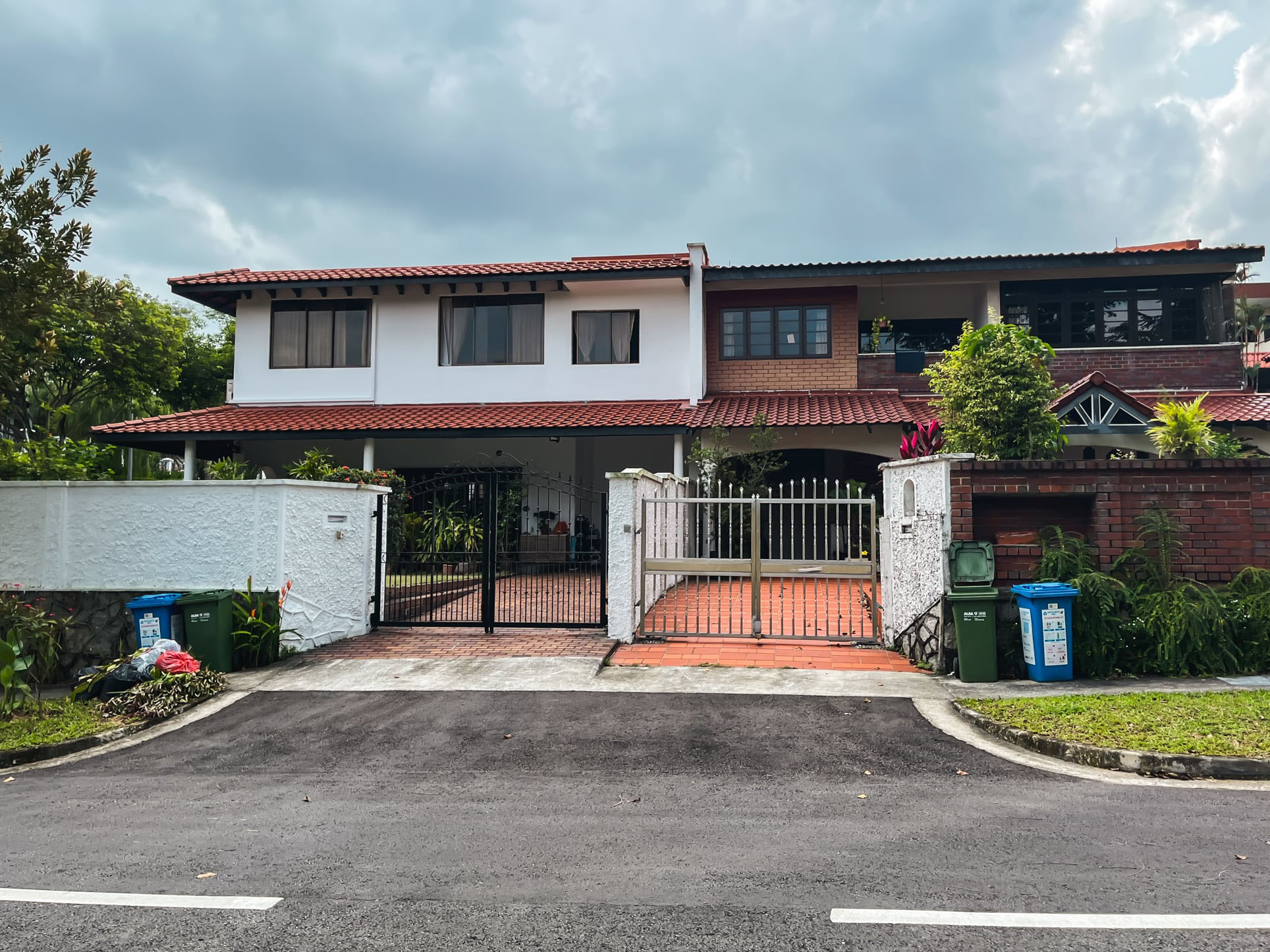 If you're looking for a terrace house, your only chance here would be the houses along the main road. Bear with me for a few minutes and we'll head in that direction.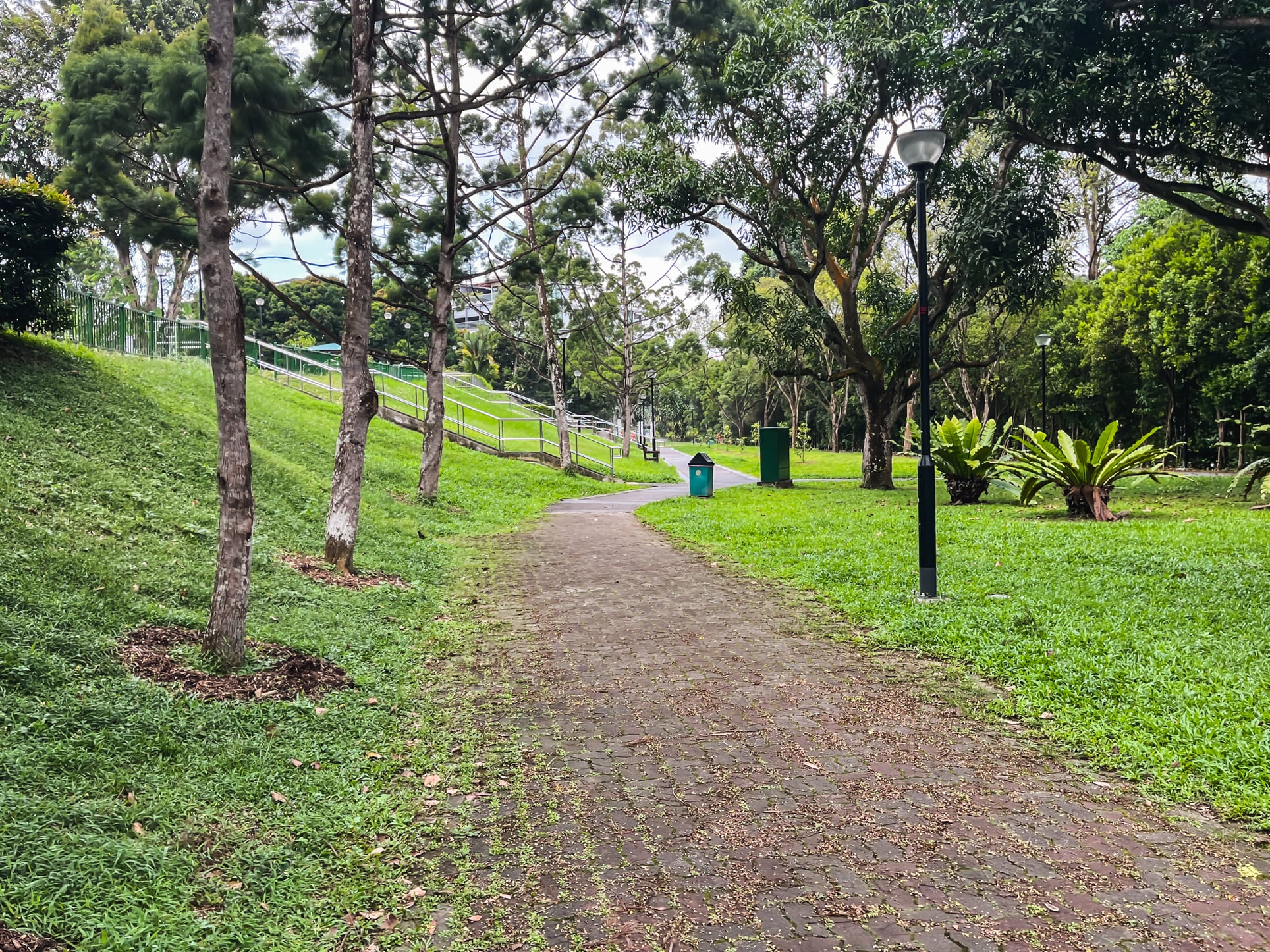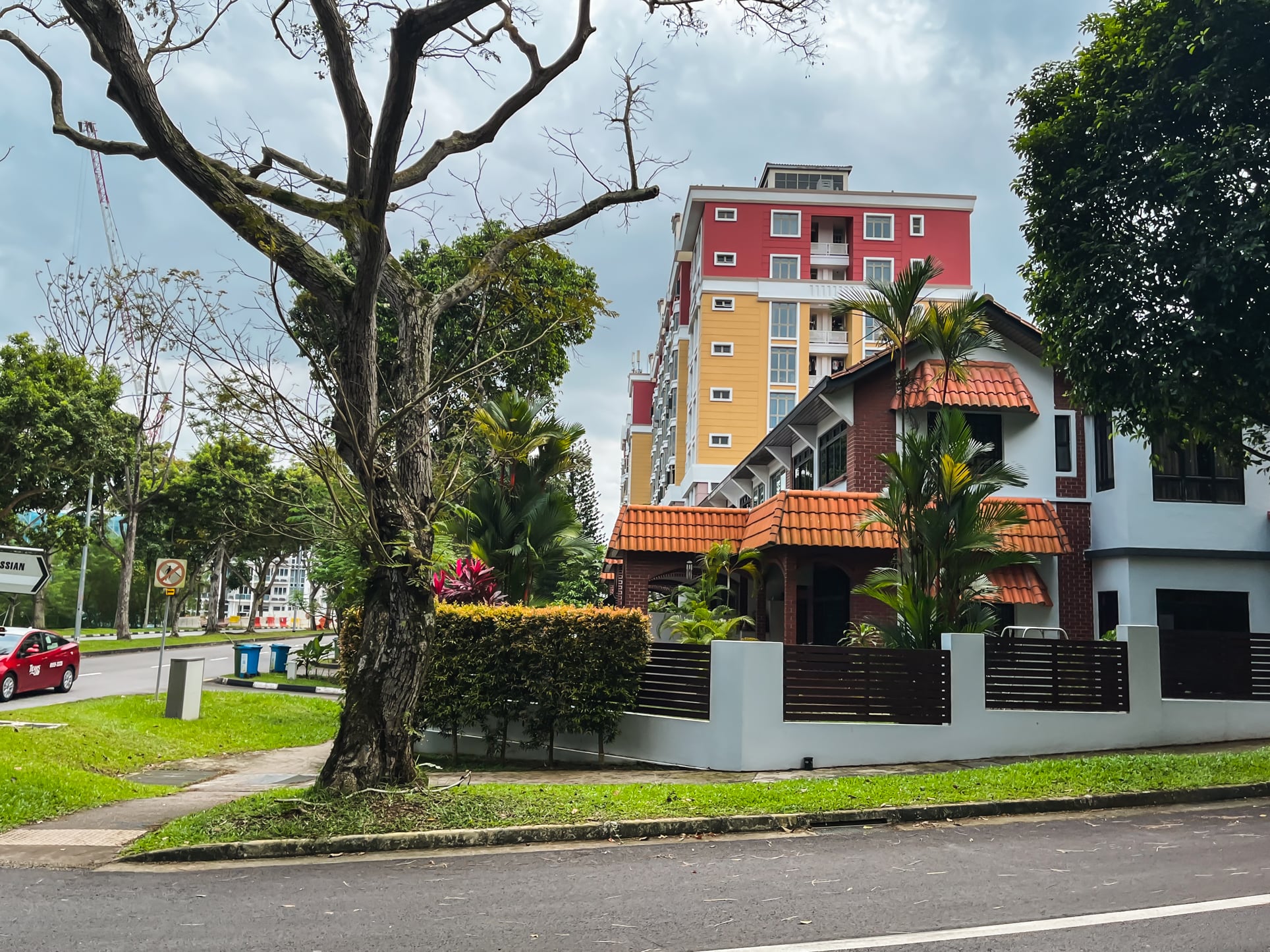 The colourful block behind is Sherwood Condominium. Initially, I was wondering if this row of terraces could potentially be redeveloped into a condo too (if all the house owners form a block.) However, from the looks of the Master Plan (I shared a snapshot earlier on in this article), it does not appear possible at the time of writing. (Sherwood Condo sits on land with a plot ratio of 1.99 but the terrace houses do not appear to have a plot ratio assigned.)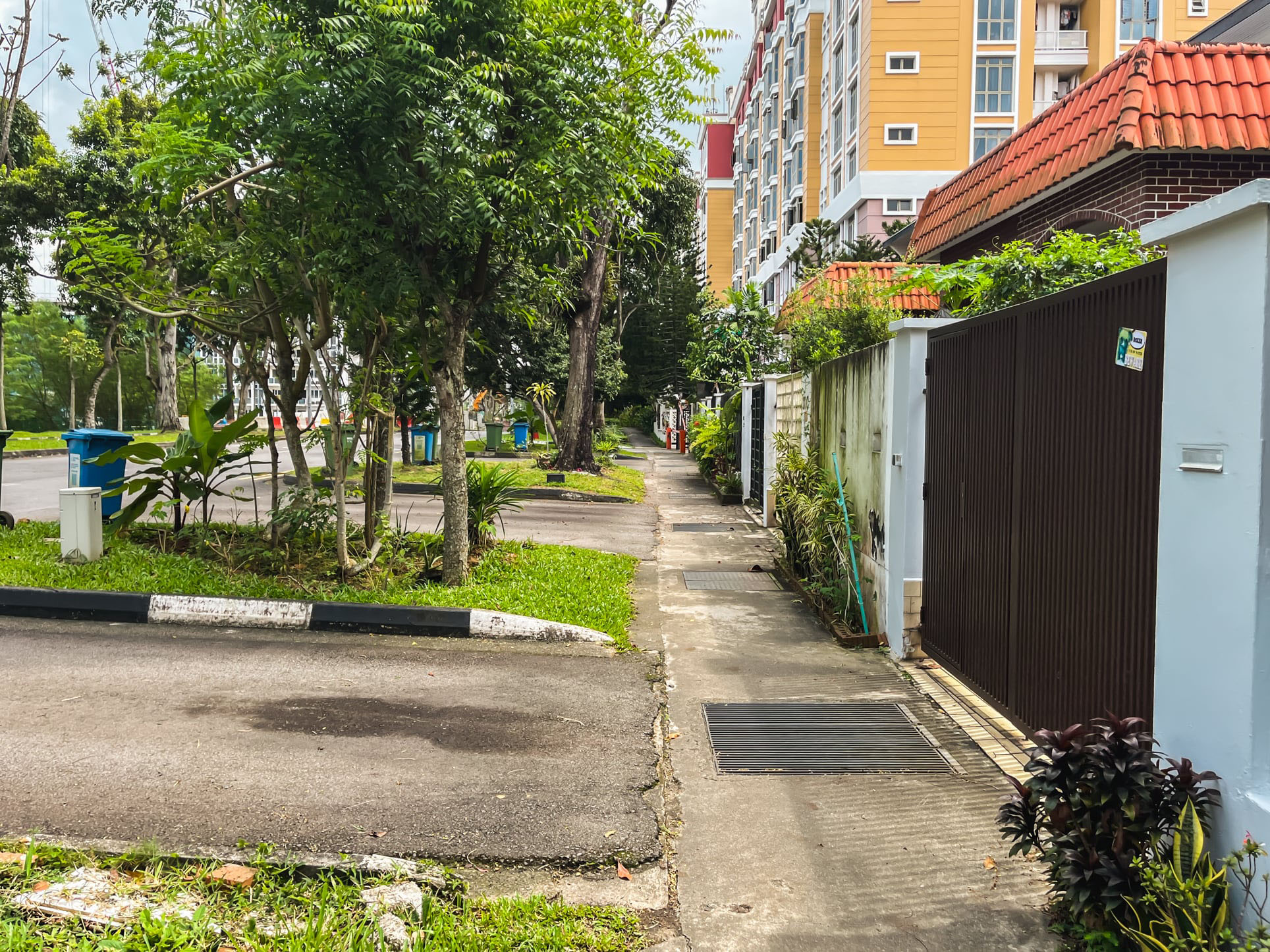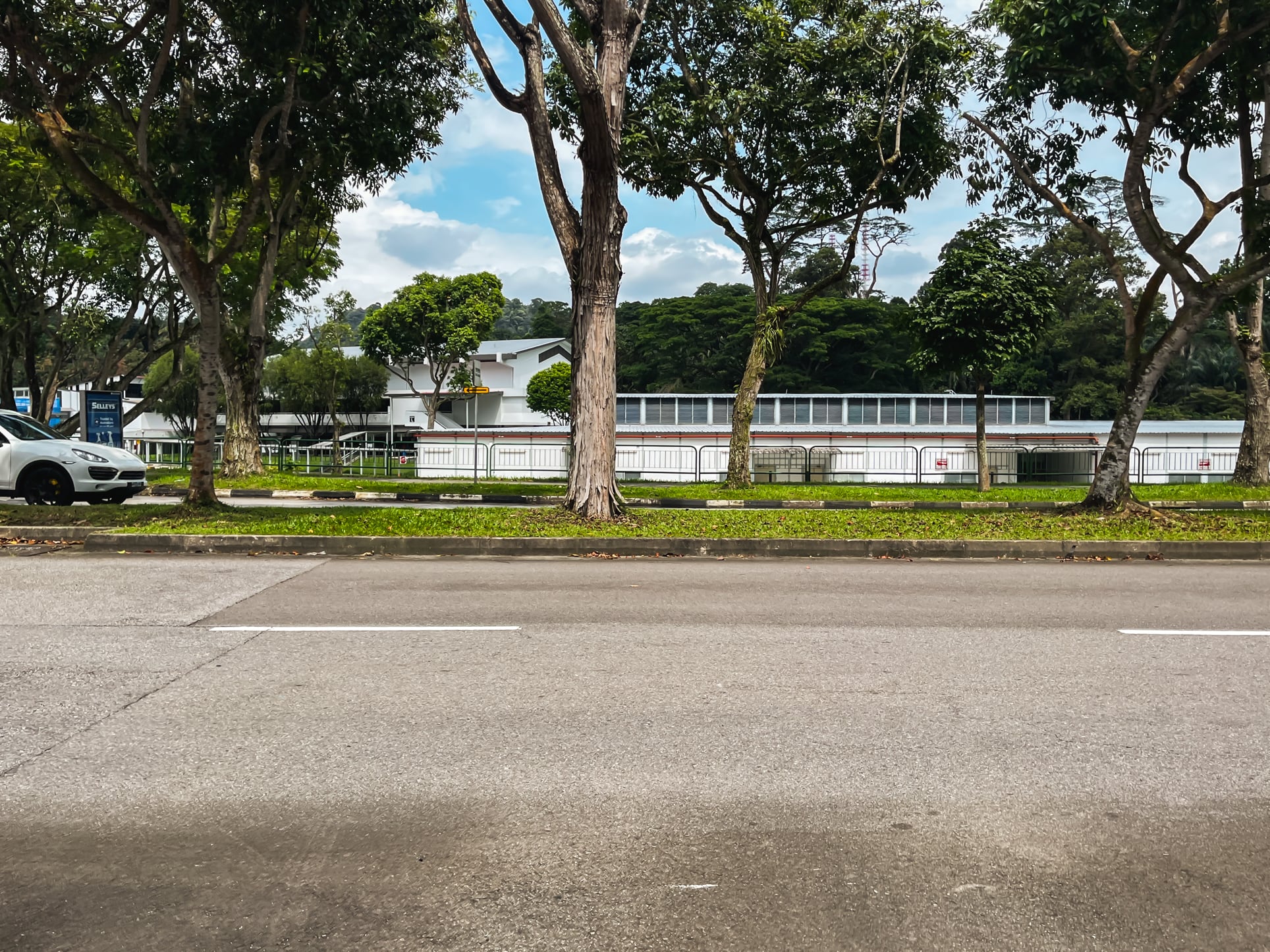 According to the masterplan, the land is zoned residential but it didn't look like a condo. So I did a bit of sleuthing and it seems like the land used to be a school (Bukit Batok Primary) but is currently serving as temporary migrant worker housing.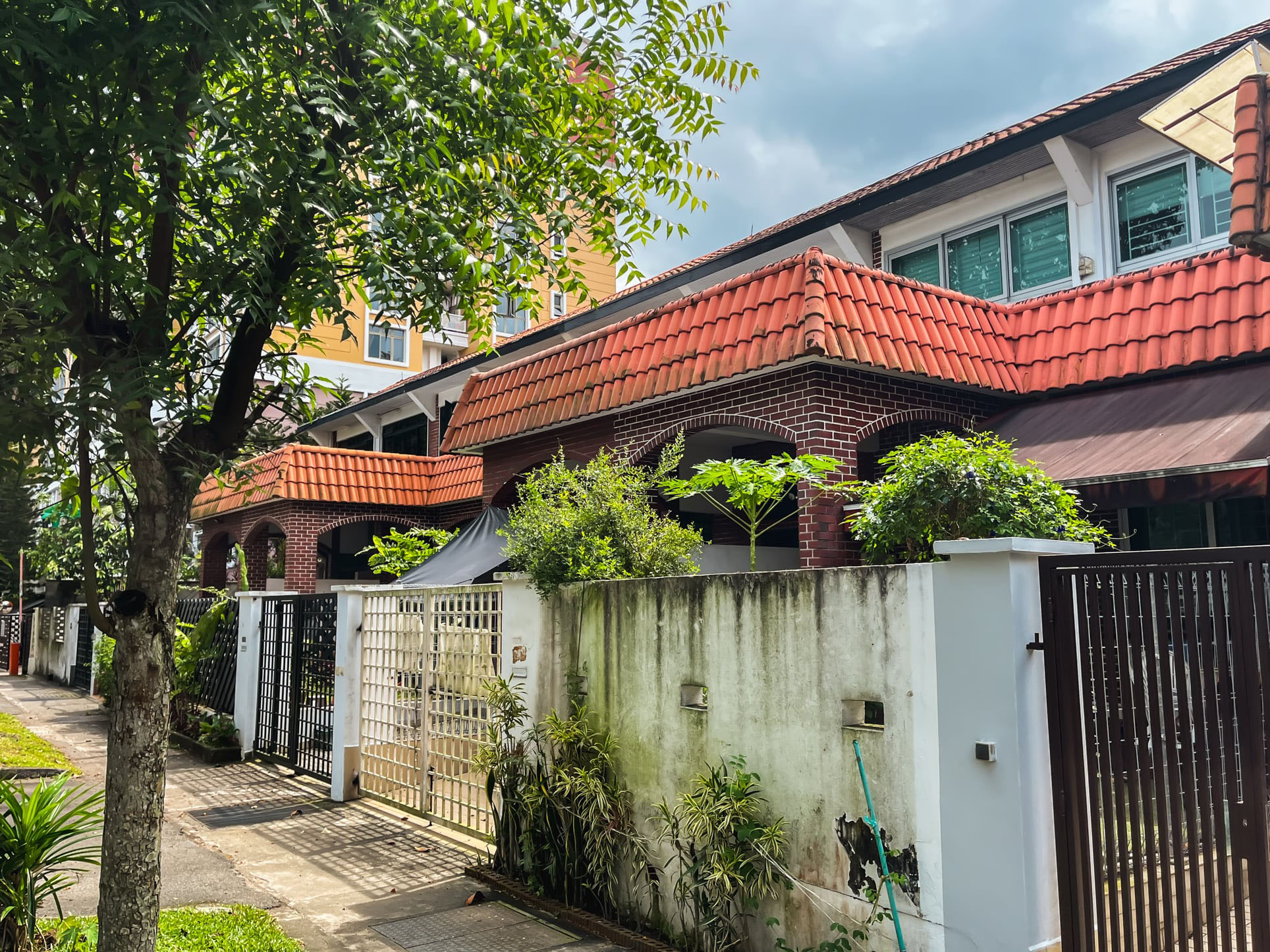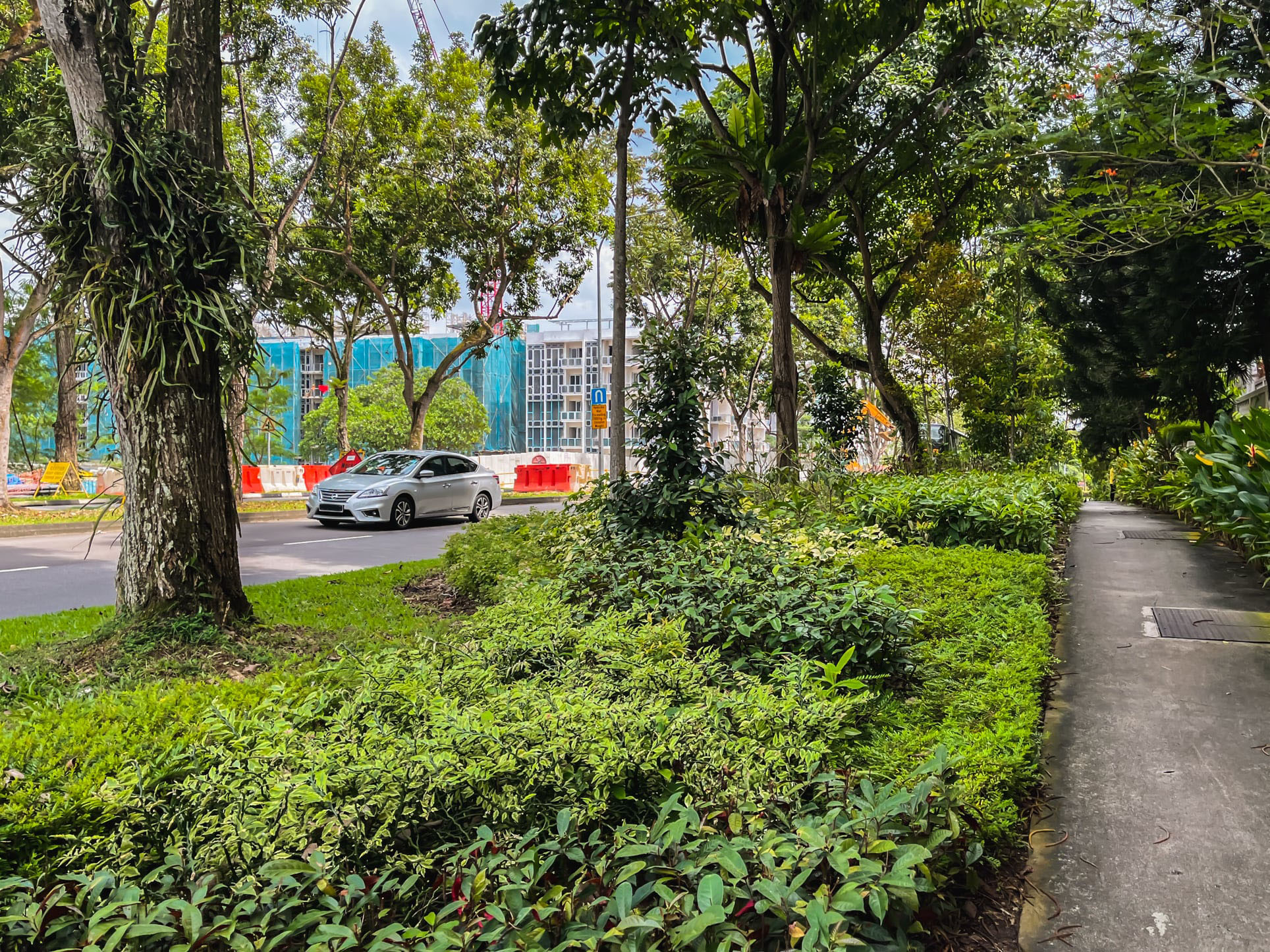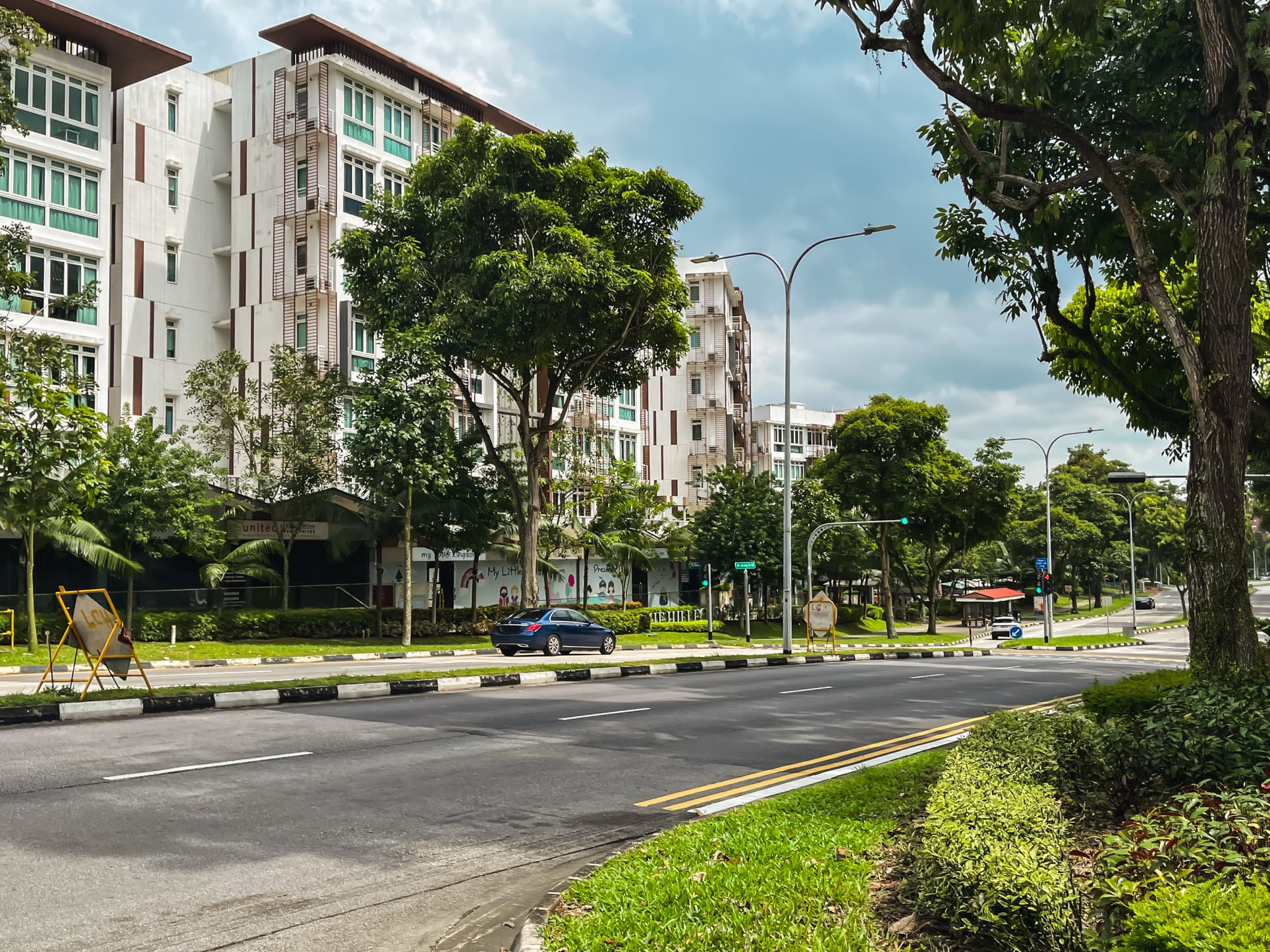 These are the closest amenities to Jurong Park estate that I could find. The Hillford has a laundry, a 7-11, a bread shop, a butchery, a hairdresser, a preschool, etc.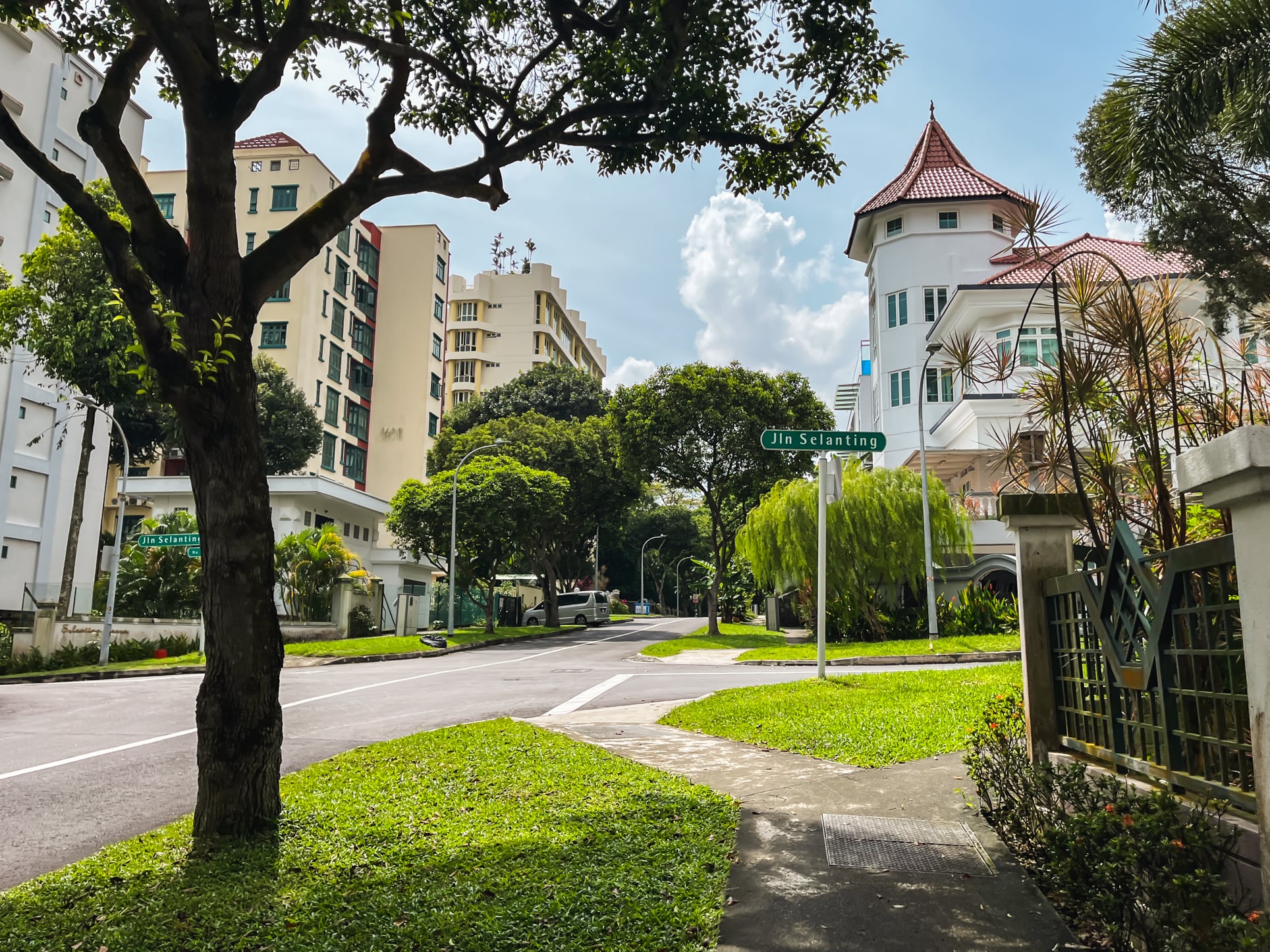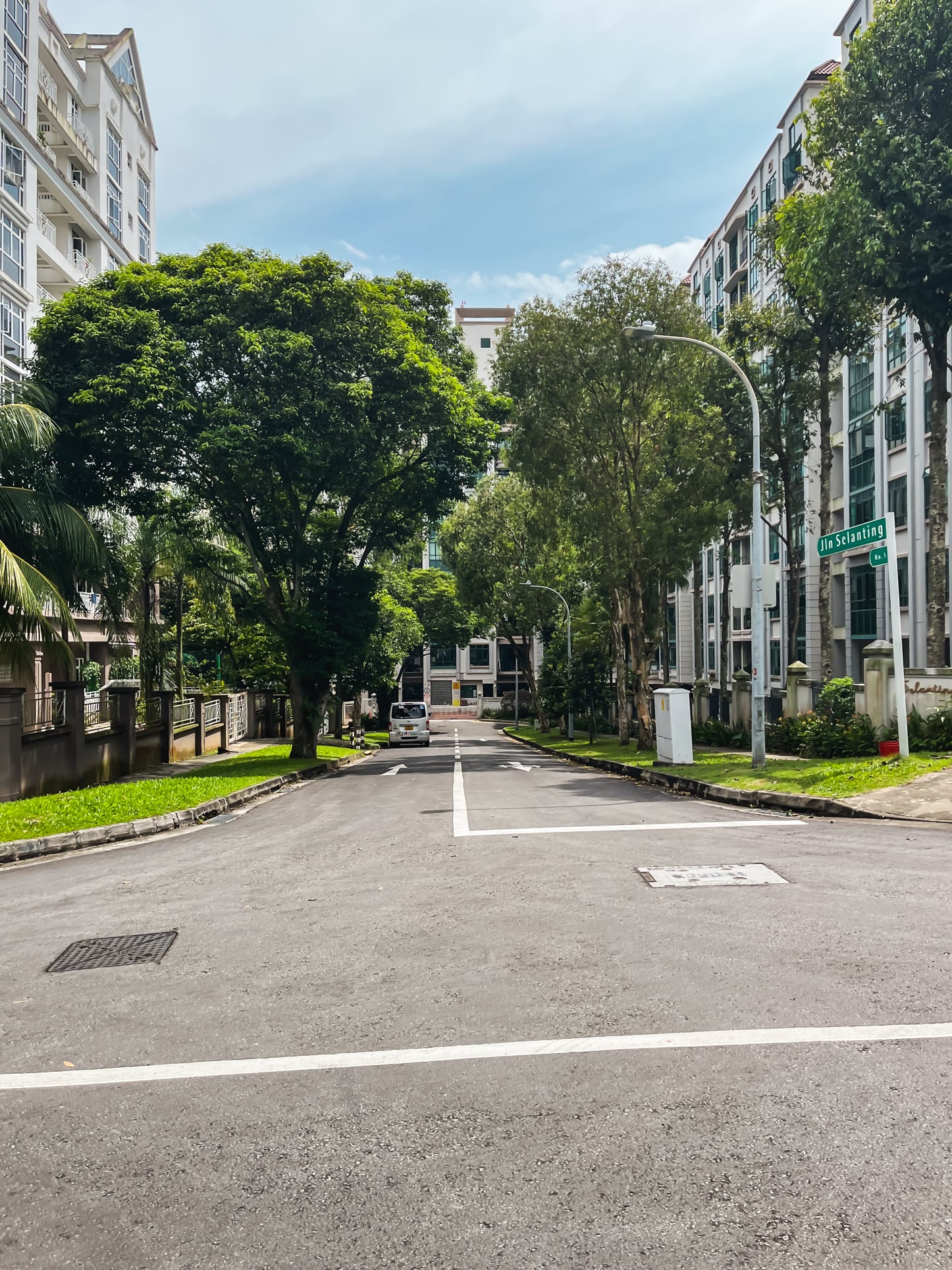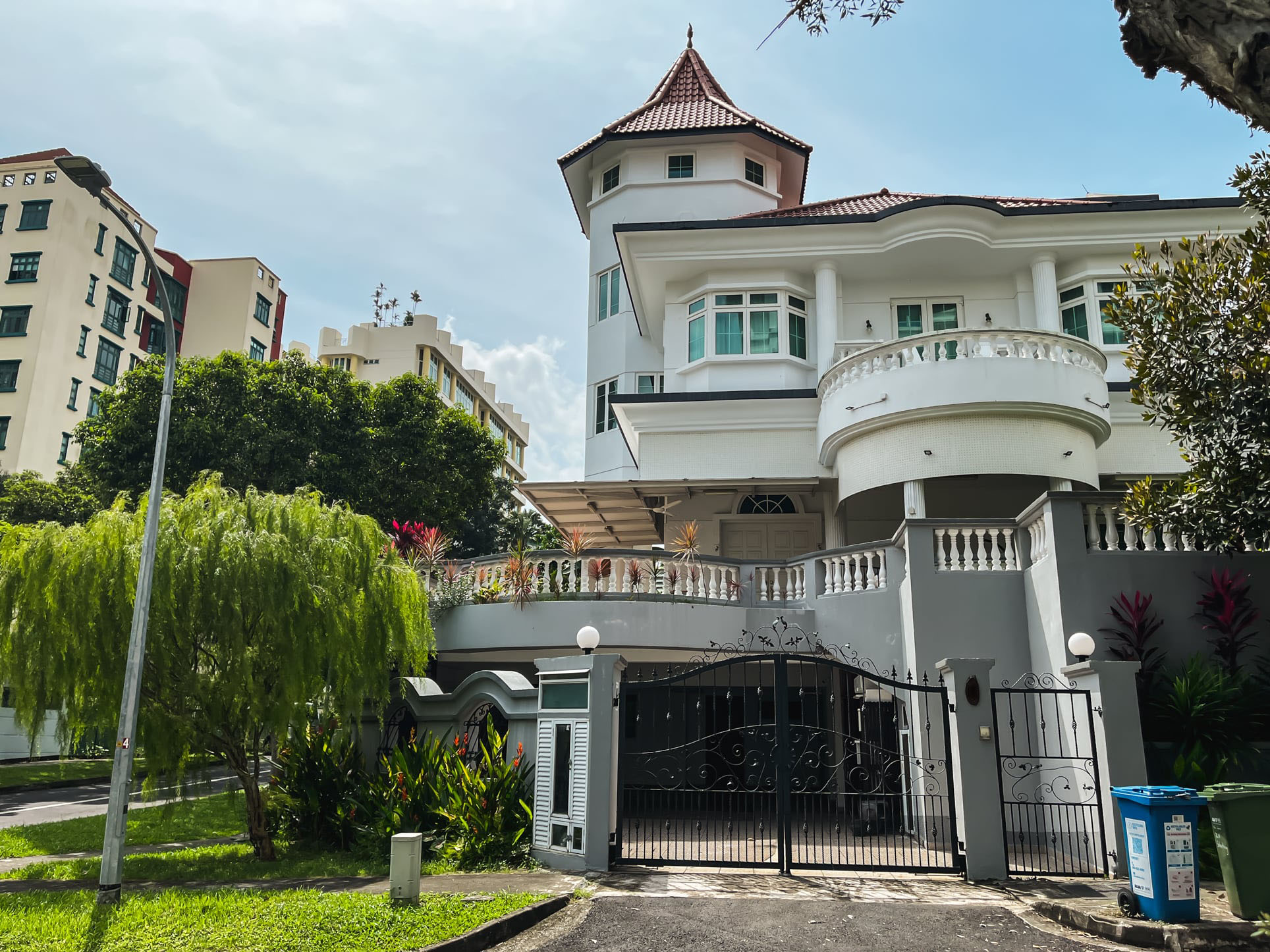 Also note that many of the houses here have a structure commonly seen in houses built on sloping land, where the garden/patio is elevated above the car park/basement. (You can see it in the house shown above. I also saw something similar when I toured Victoria Park Villas.) This has the benefit of a breezier, less polluted garden but may be challenging for elderly family members (as the rooms in the basements are usually dark, so may not be viable as "granny rooms." Moreover, unlike Victoria Park villas, houses in older estates such as Jurong Park usually do not come with lifts so re-building may be necessary if you have mobility-challenged family members.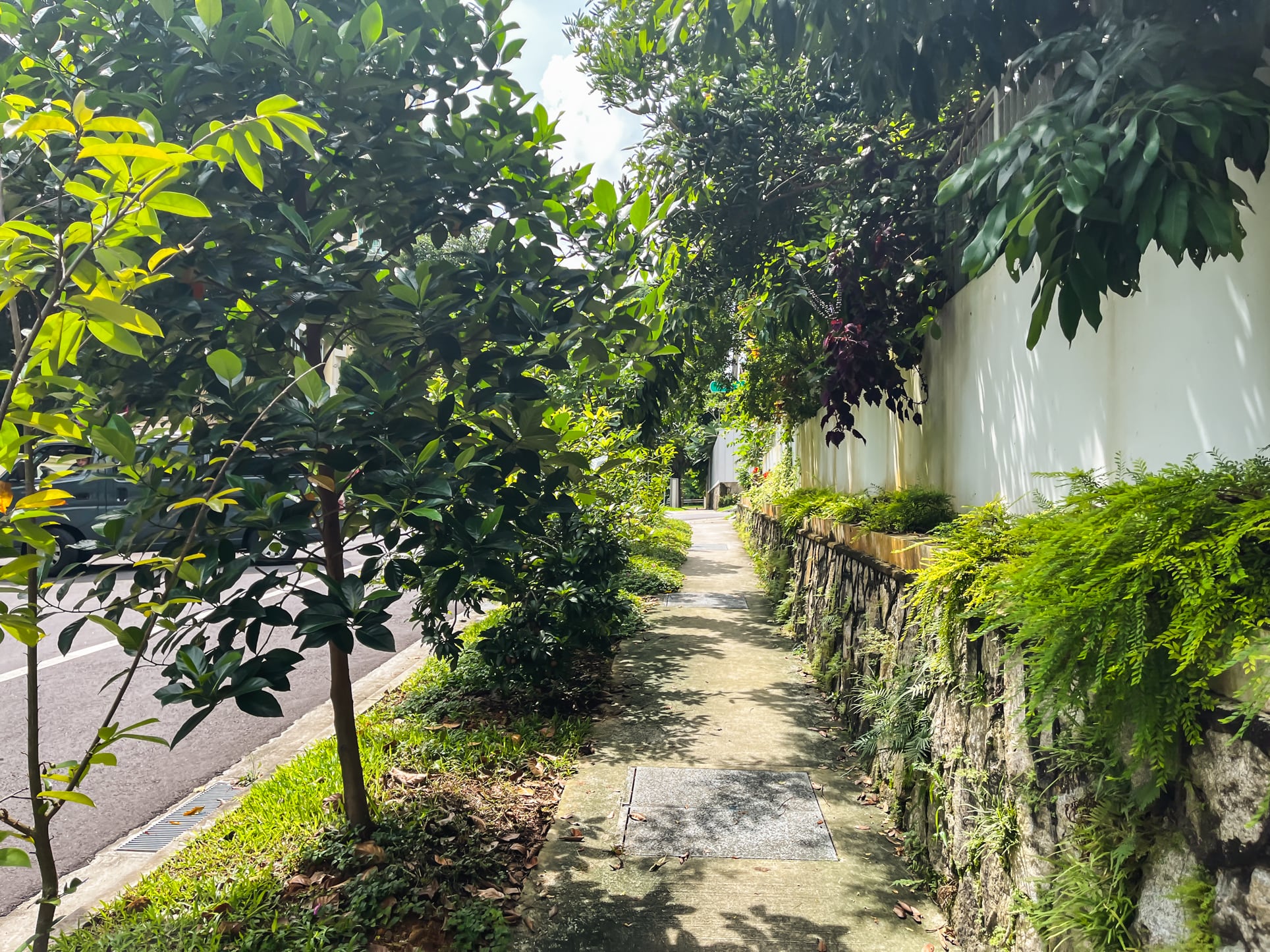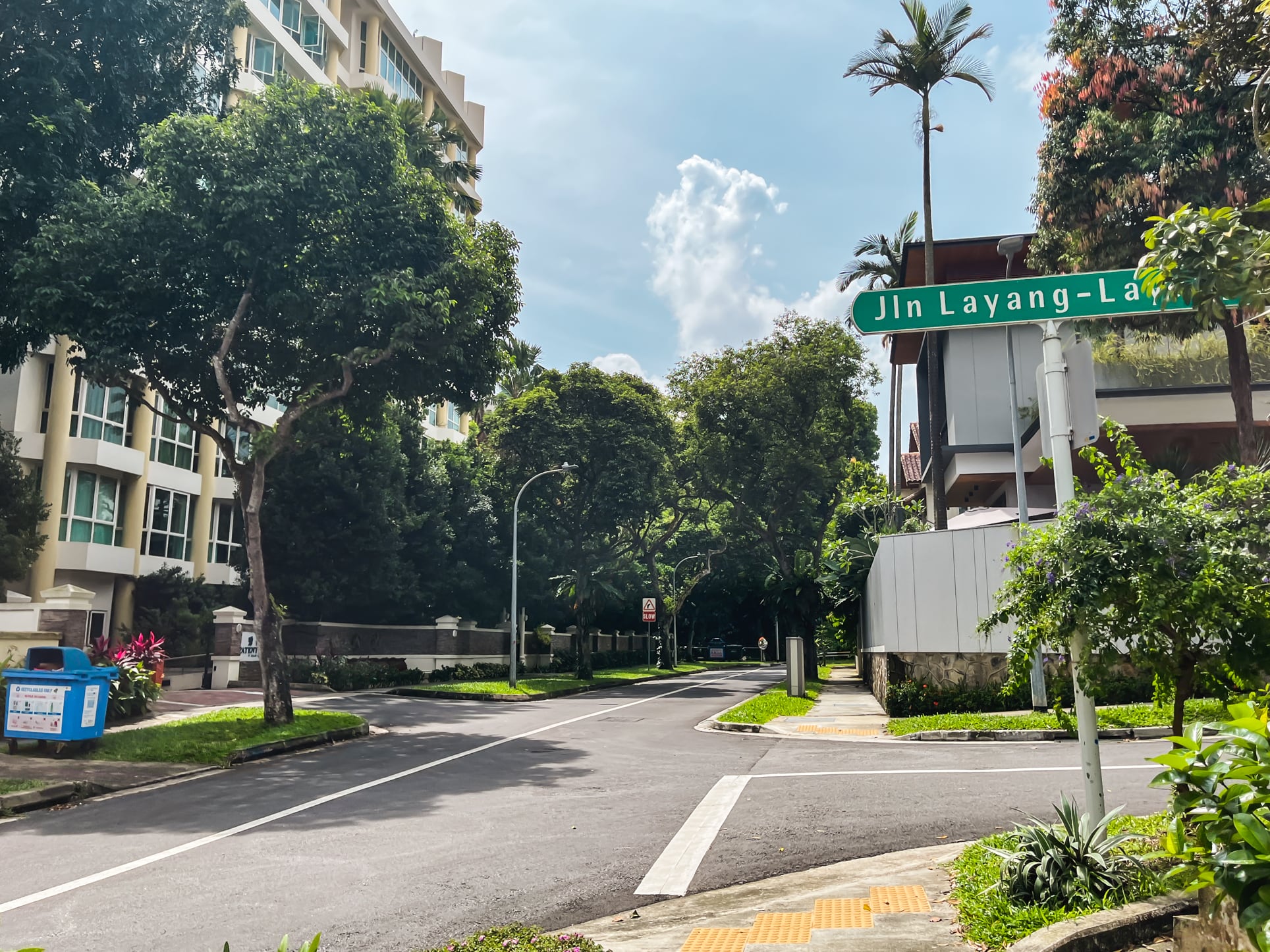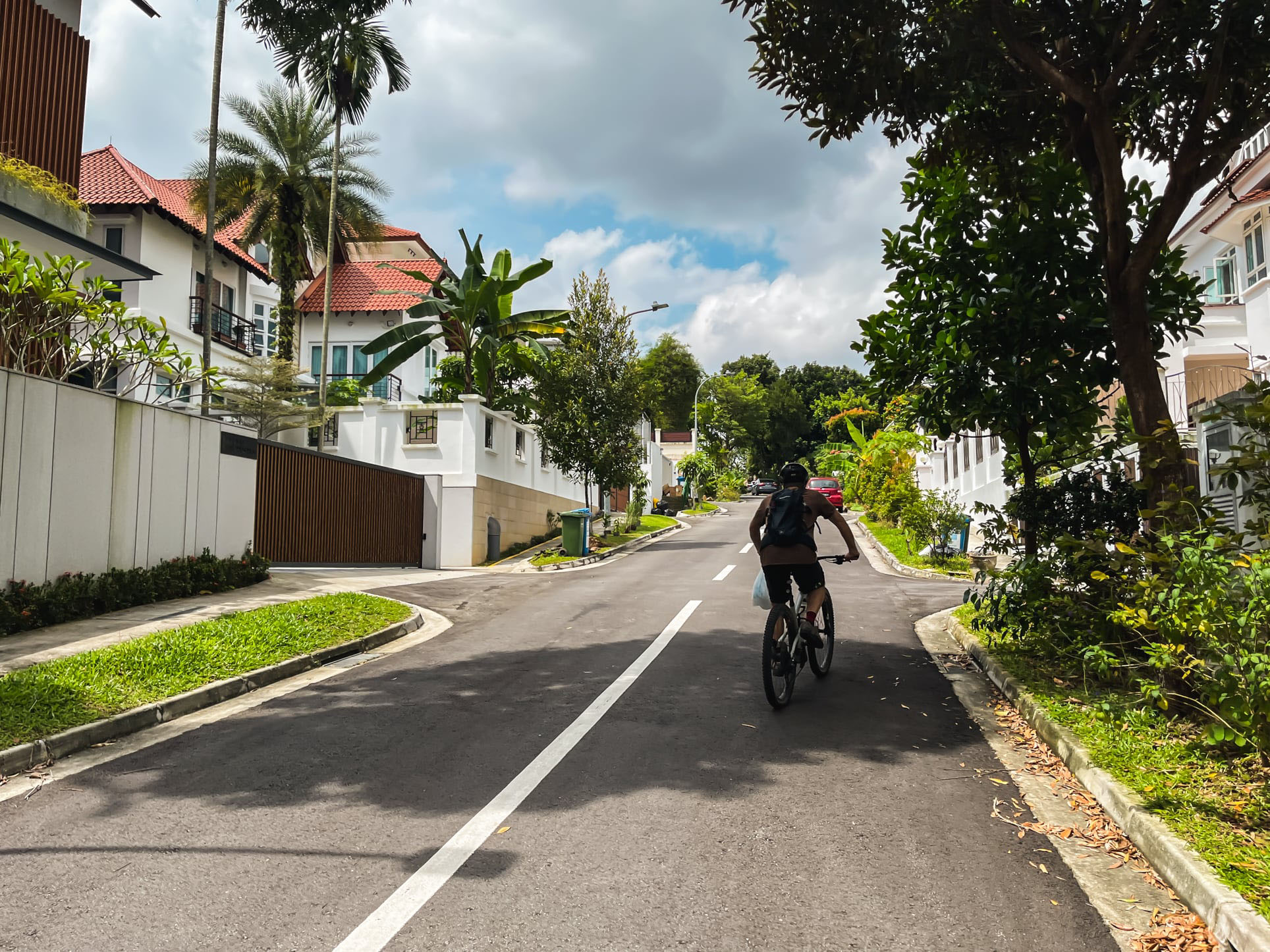 As you can see from the photo above, the estate is really generously proportioned and parking is not an issue here. Overall, the entire area felt peaceful, quiet and a great place to live. (Some estates are quite busy and winding, so cycling or playing on the roads can feel perilous – for both the cyclist and driver! I visited a part of Toh Tuck Estate where the roads were really narrow and bendy, and when I (slowly) turned round the bend, almost ran into kids who, for some reason, were lying down in the middle of the road in the car's blind spot!) In contrast, the roads here are wide, parallel, and quiet – I would be happy to cycle around the area if I lived here, and driving around this estate is definitely much less stressful!)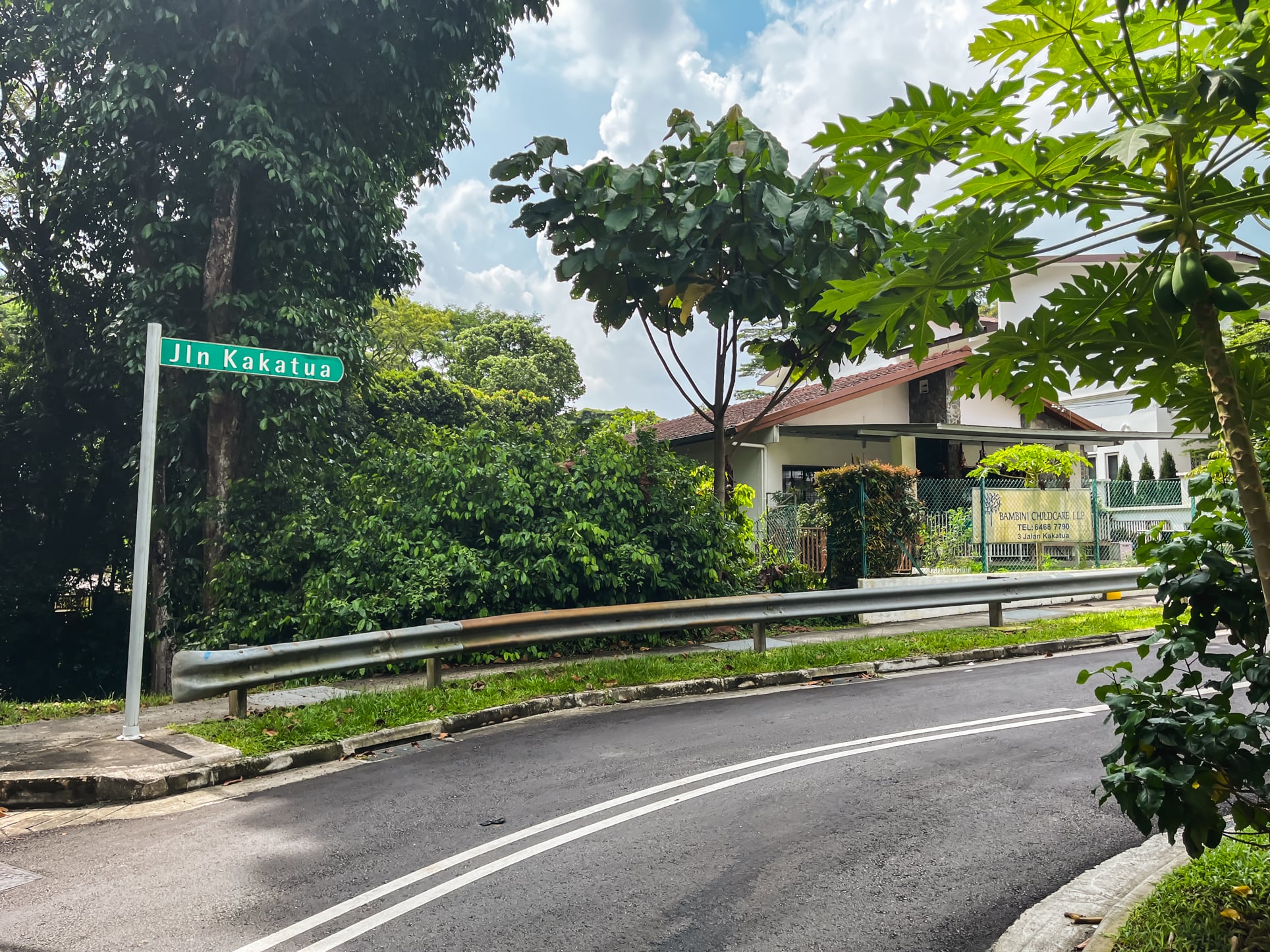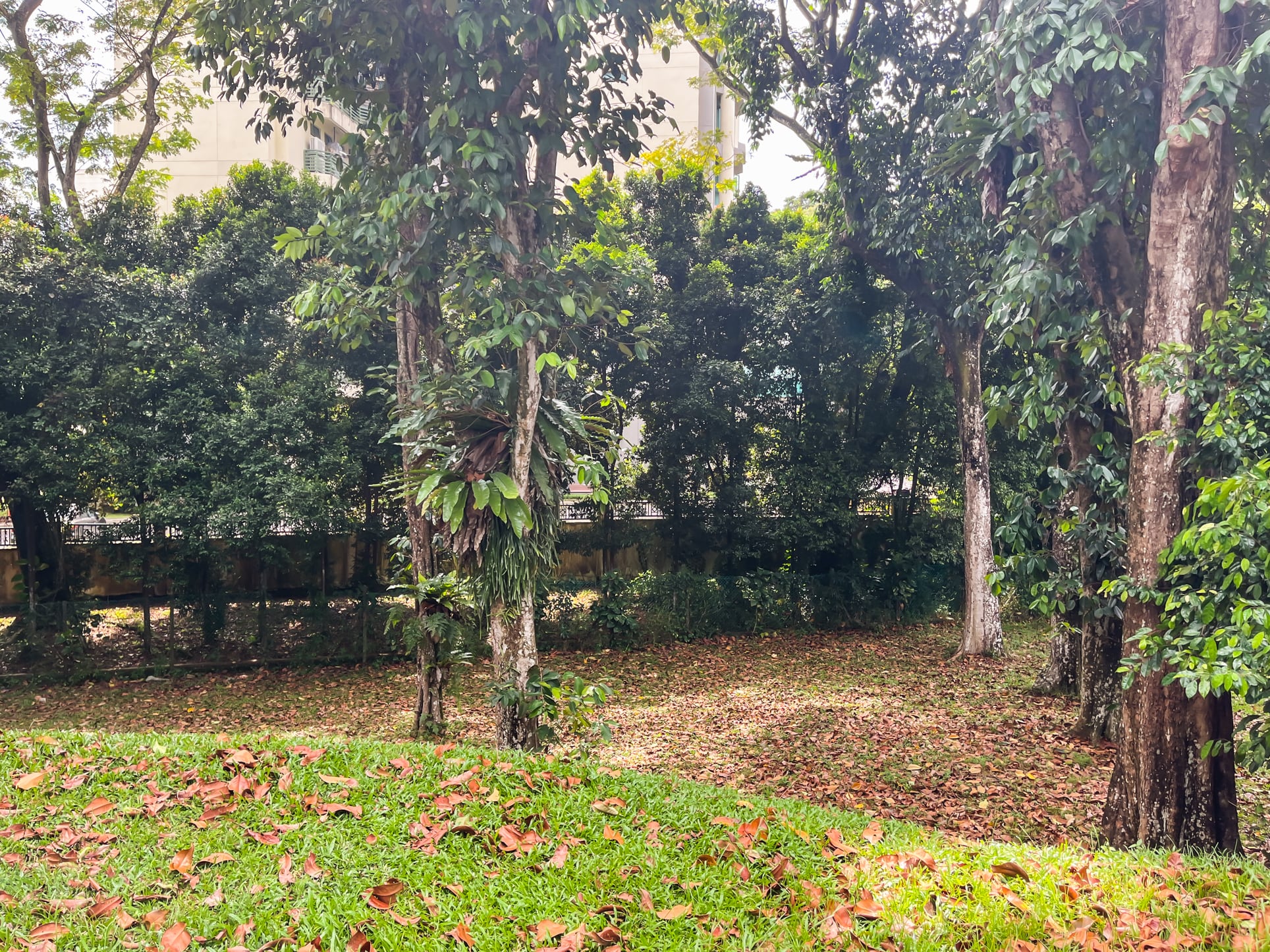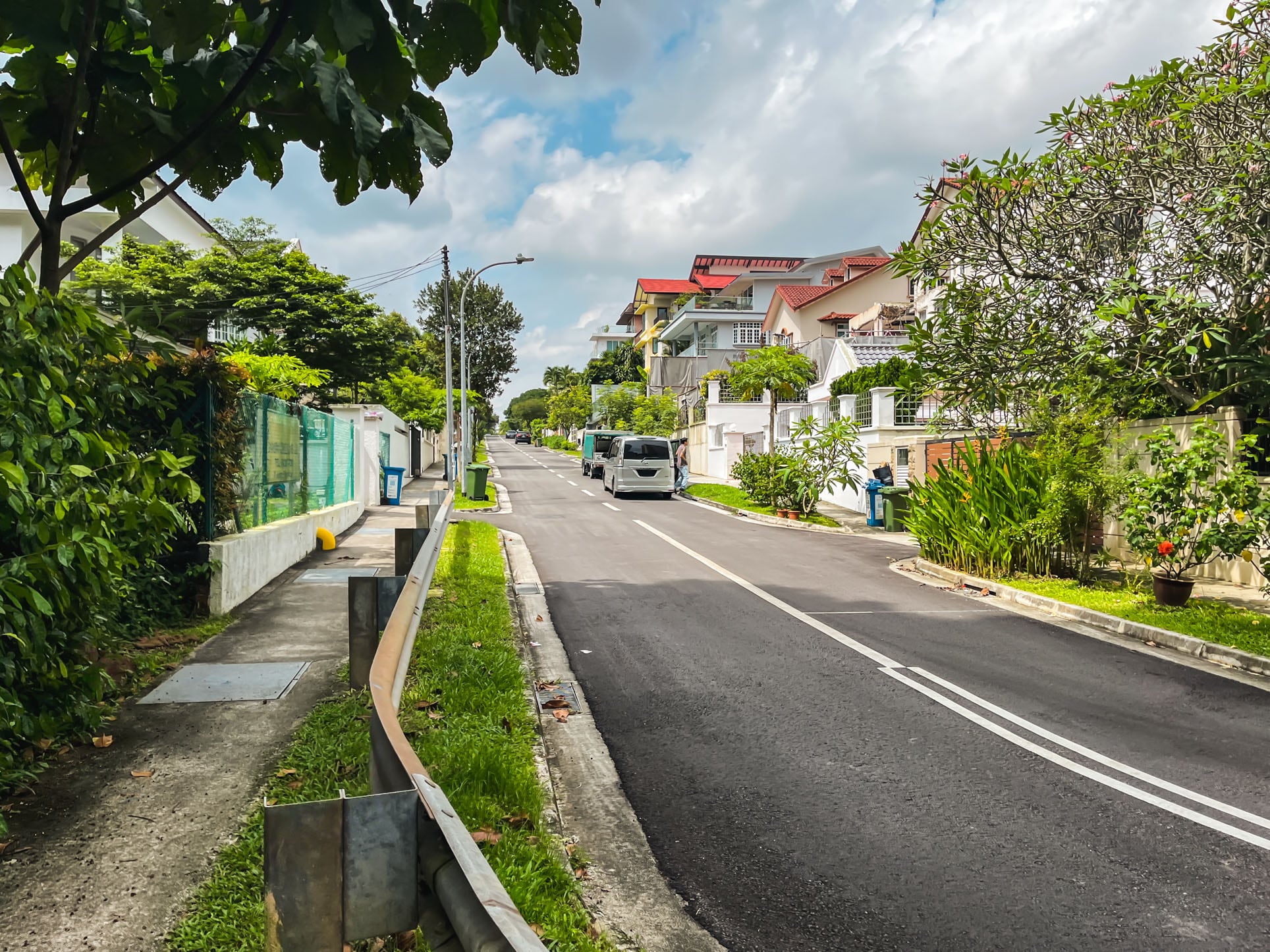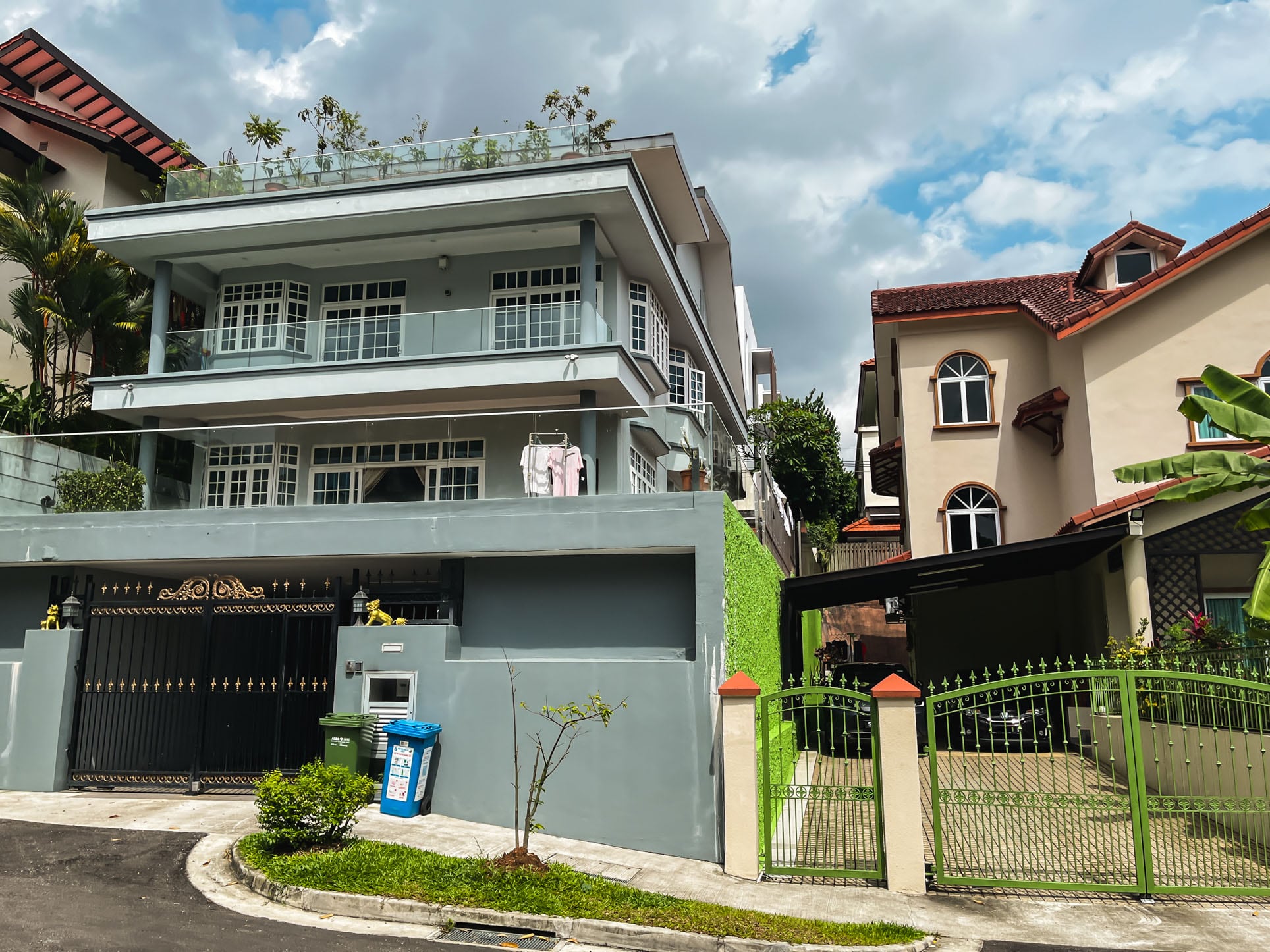 Note: They also feel bigger because they're located uphill, so a 3-storey building looks like a 4-storey one when you're looking up at it from lower-lying land, if that makes sense.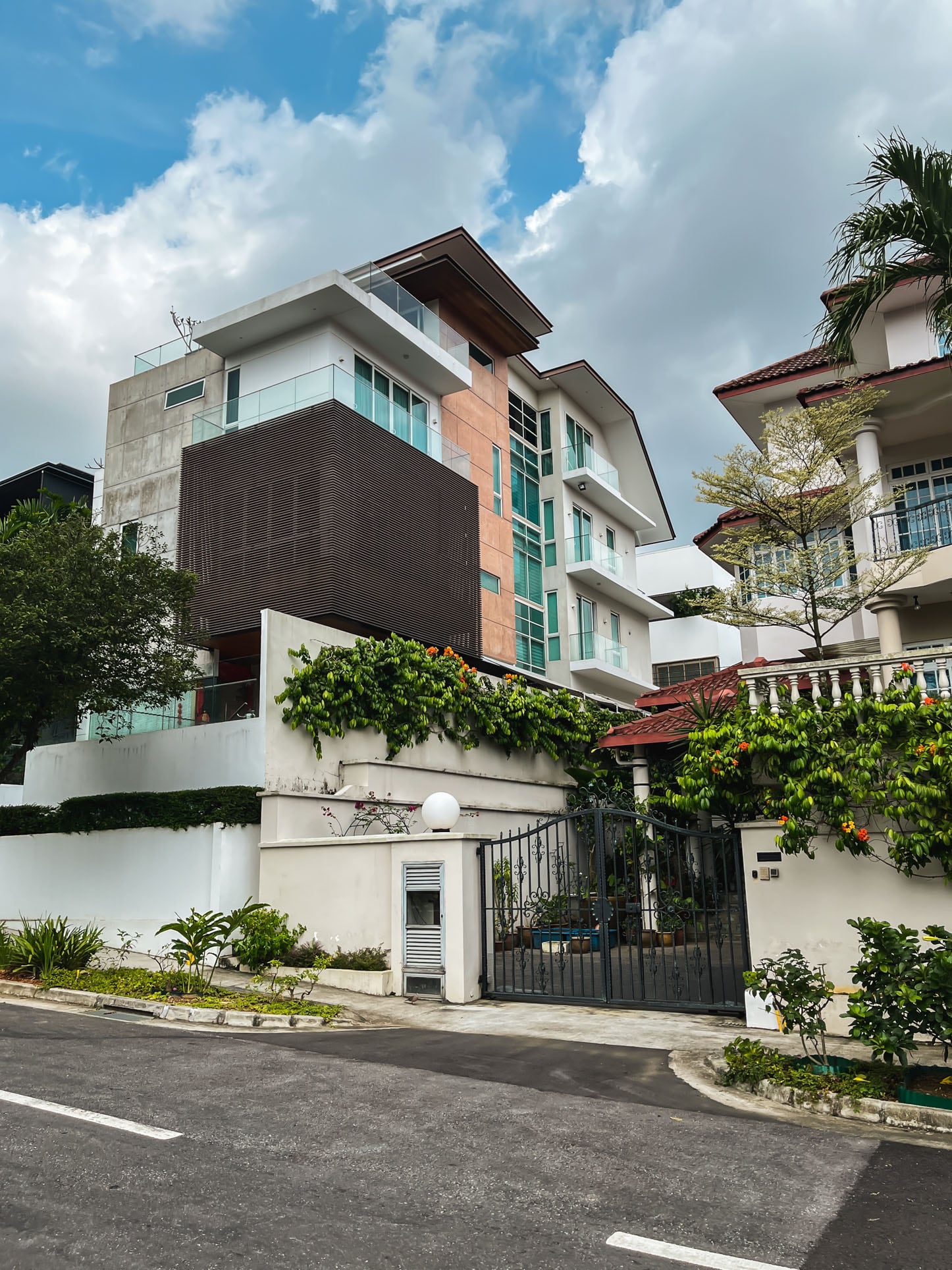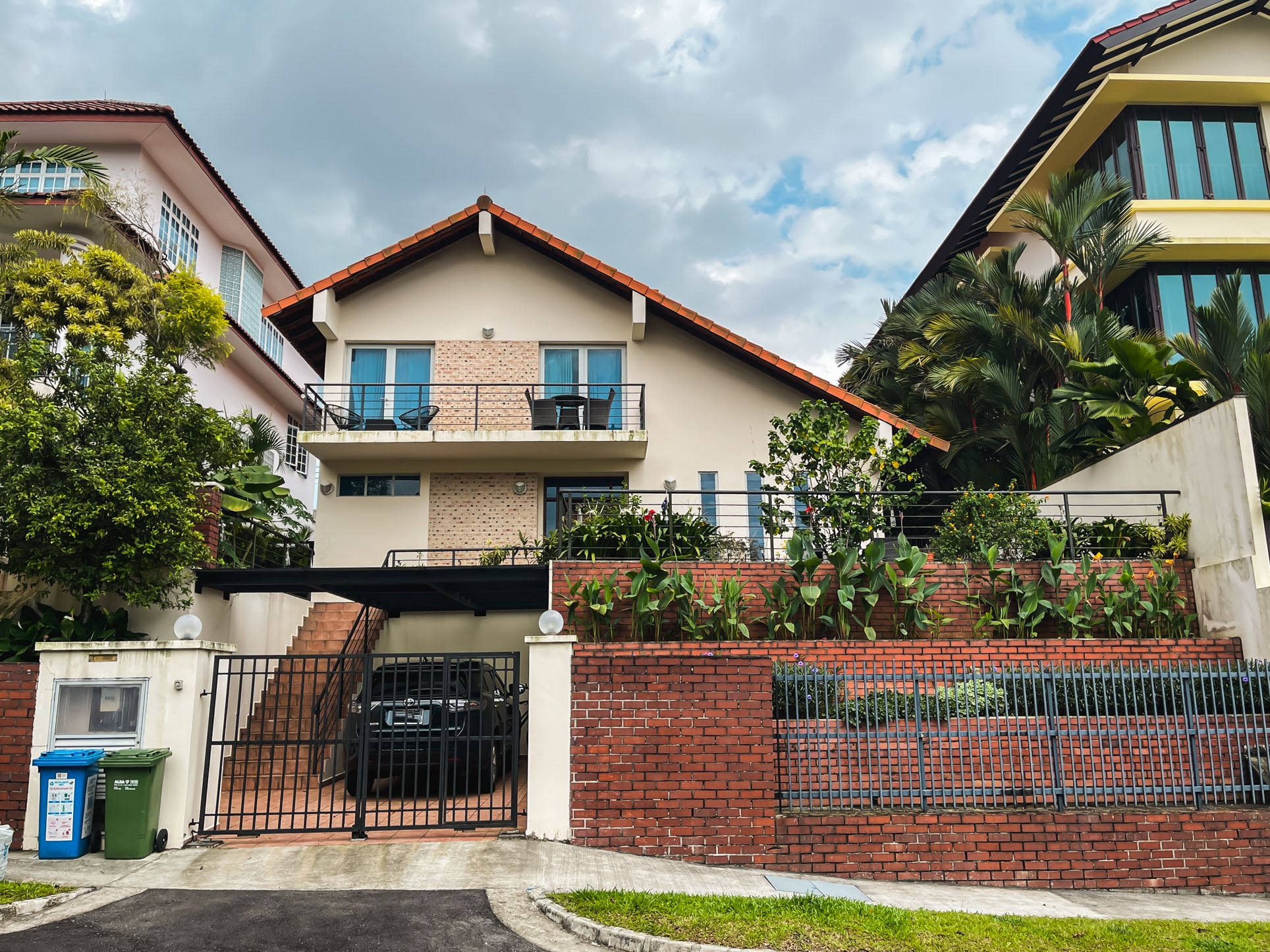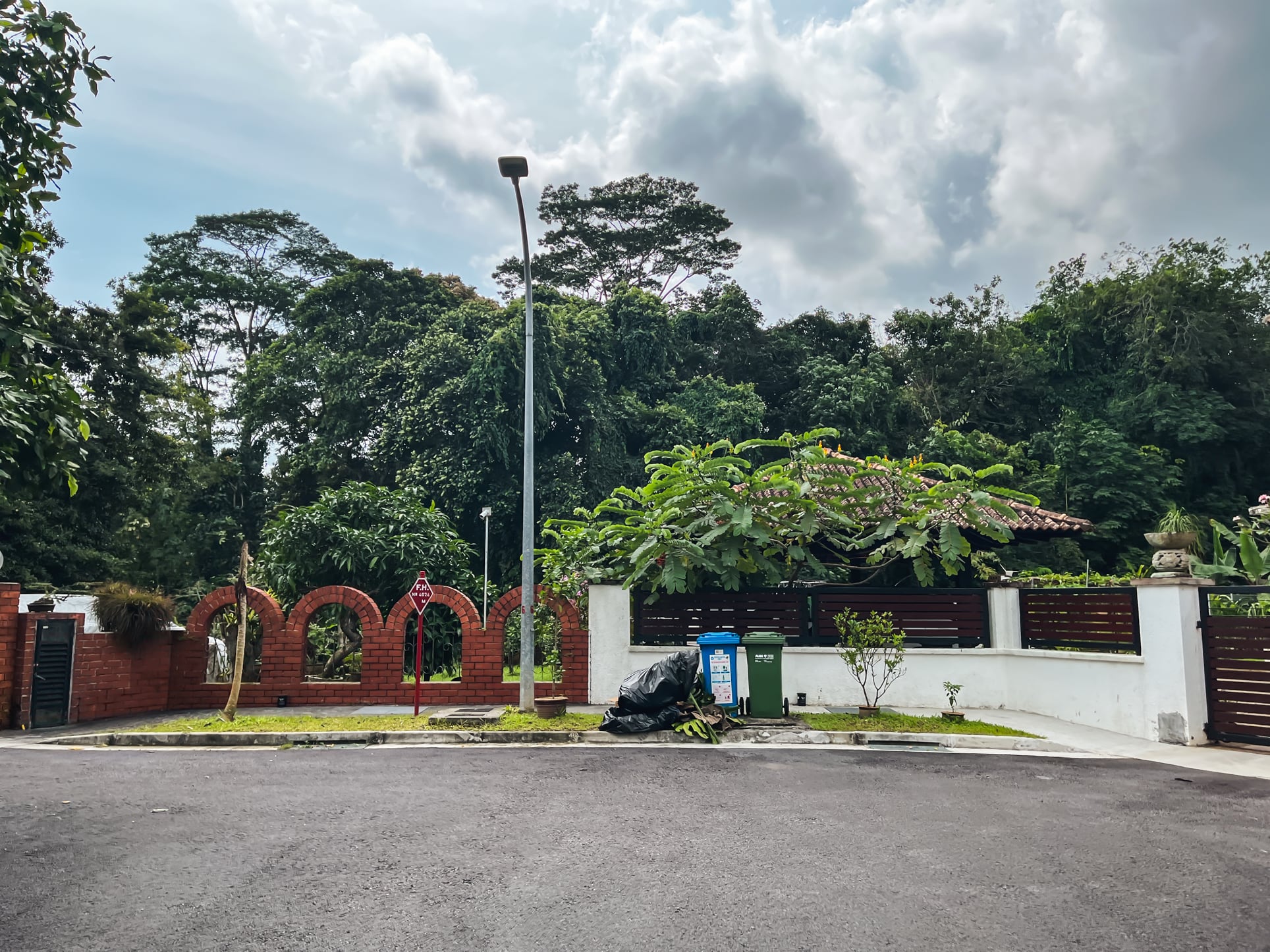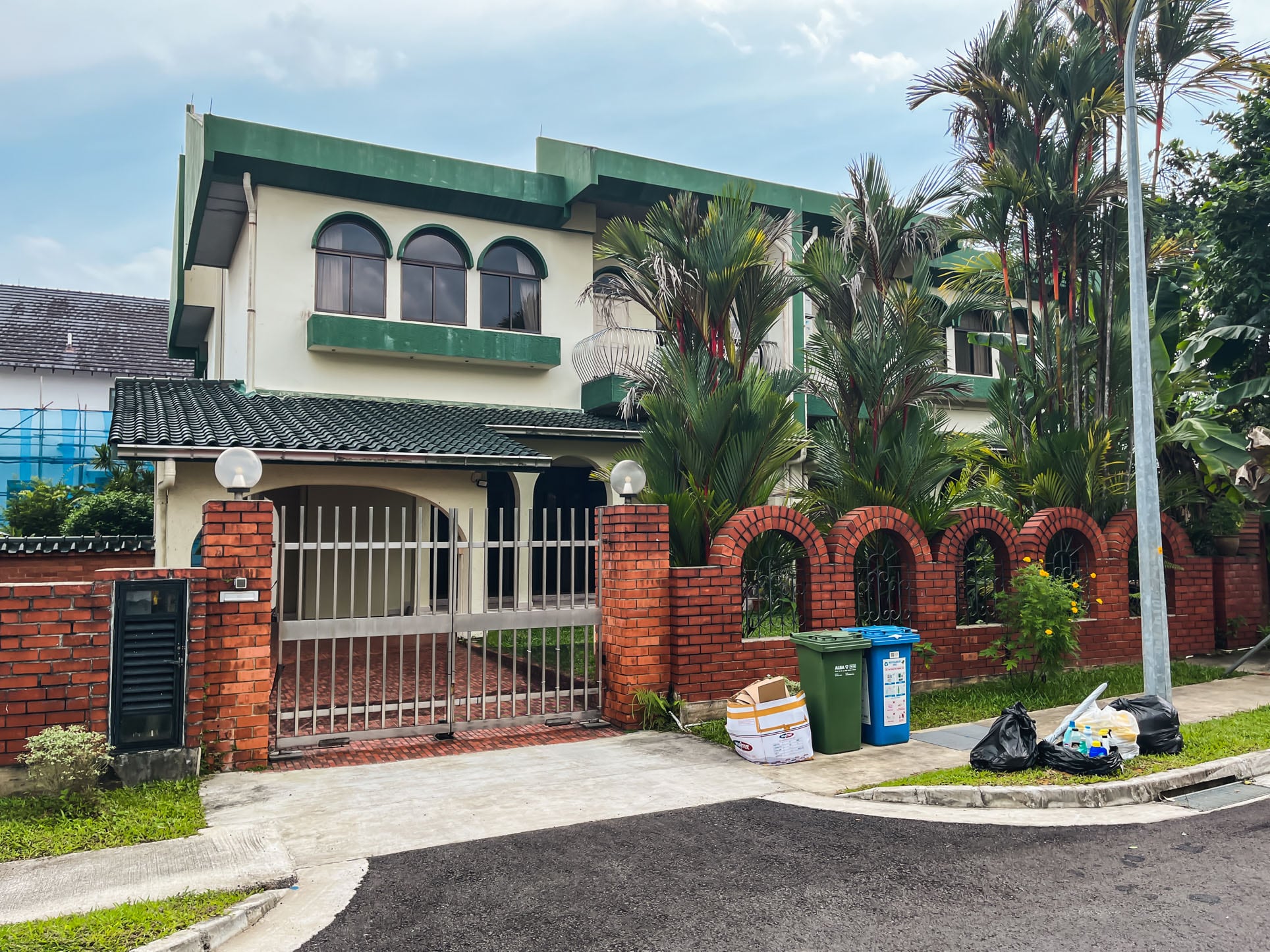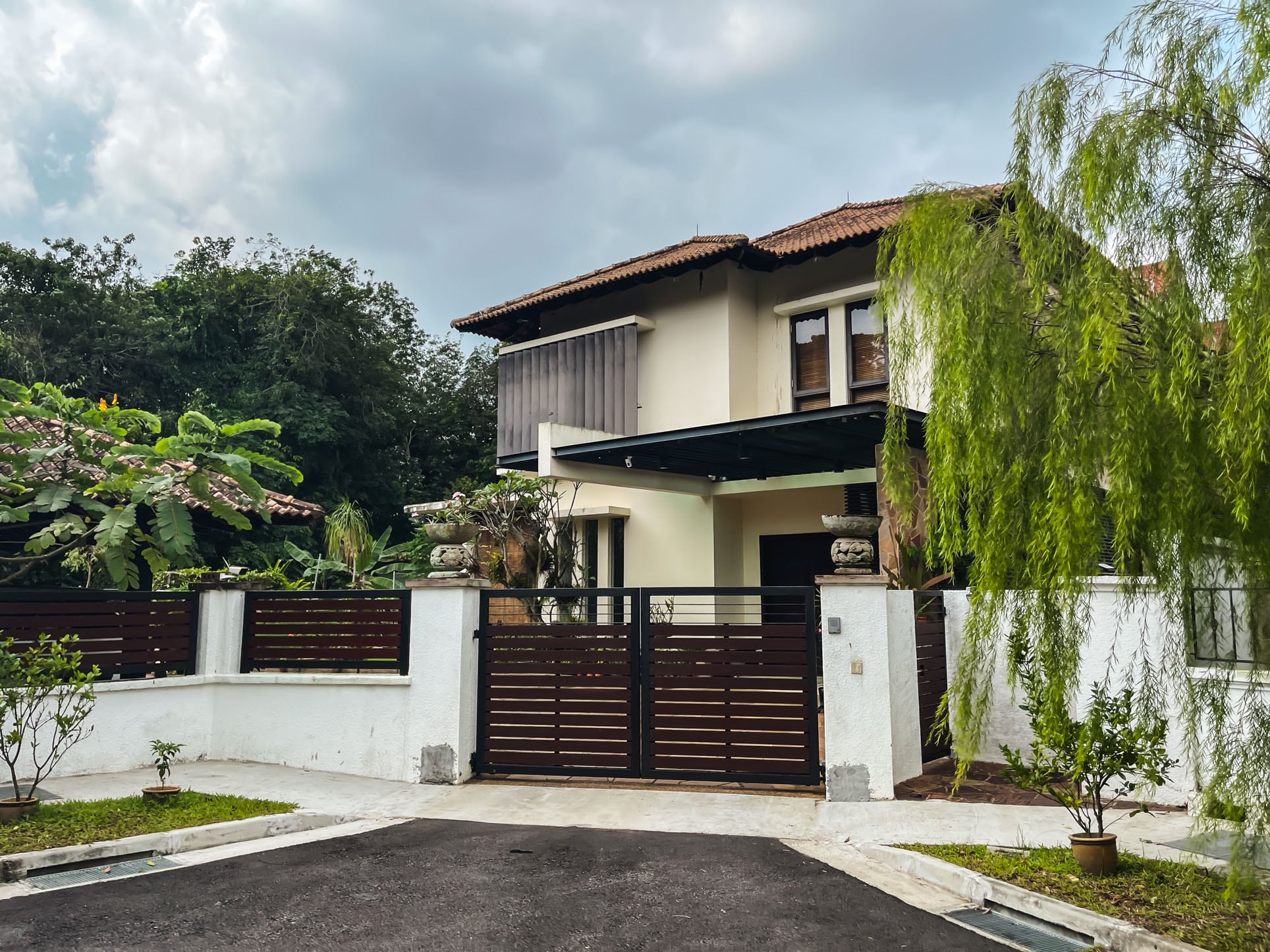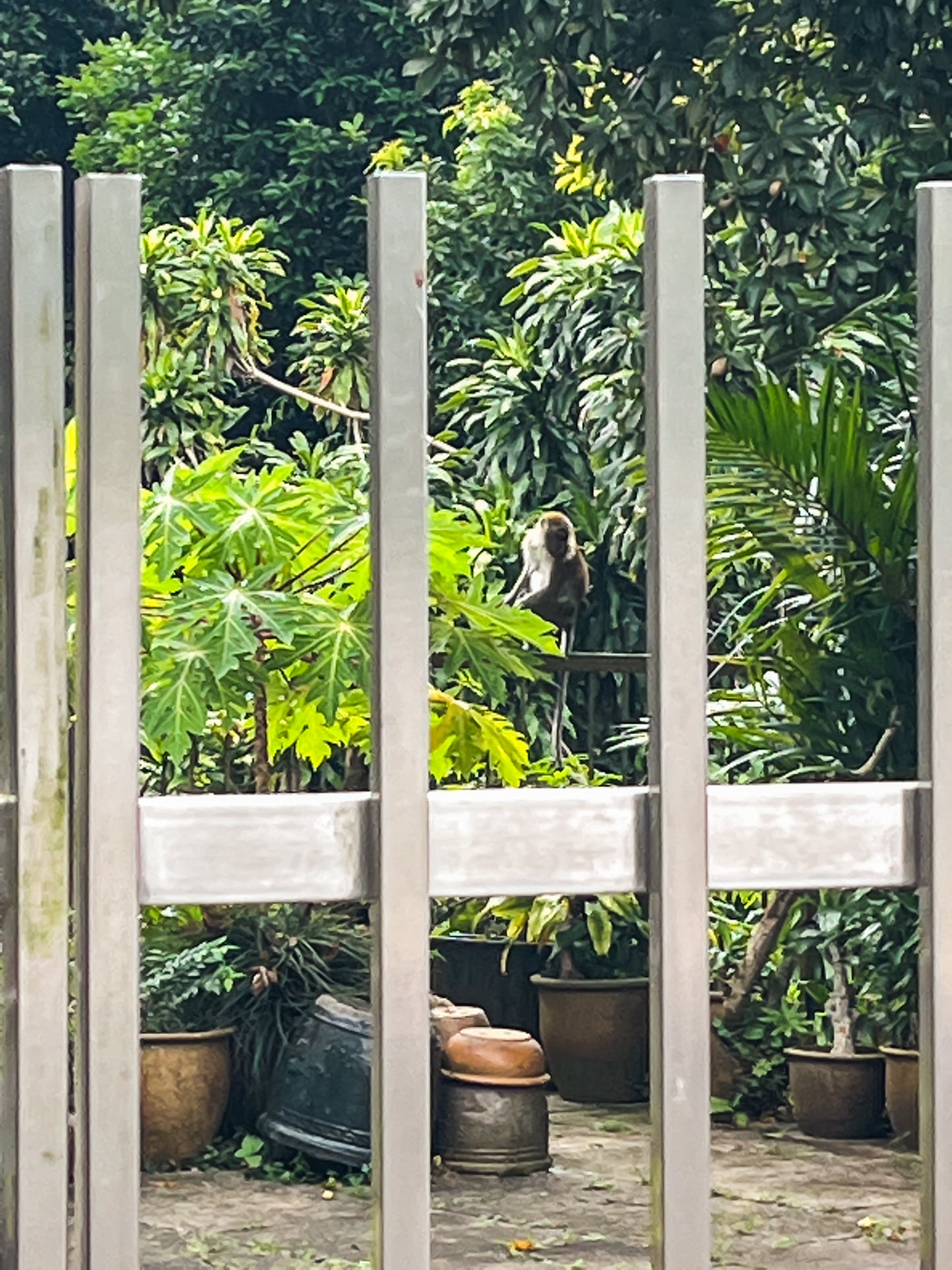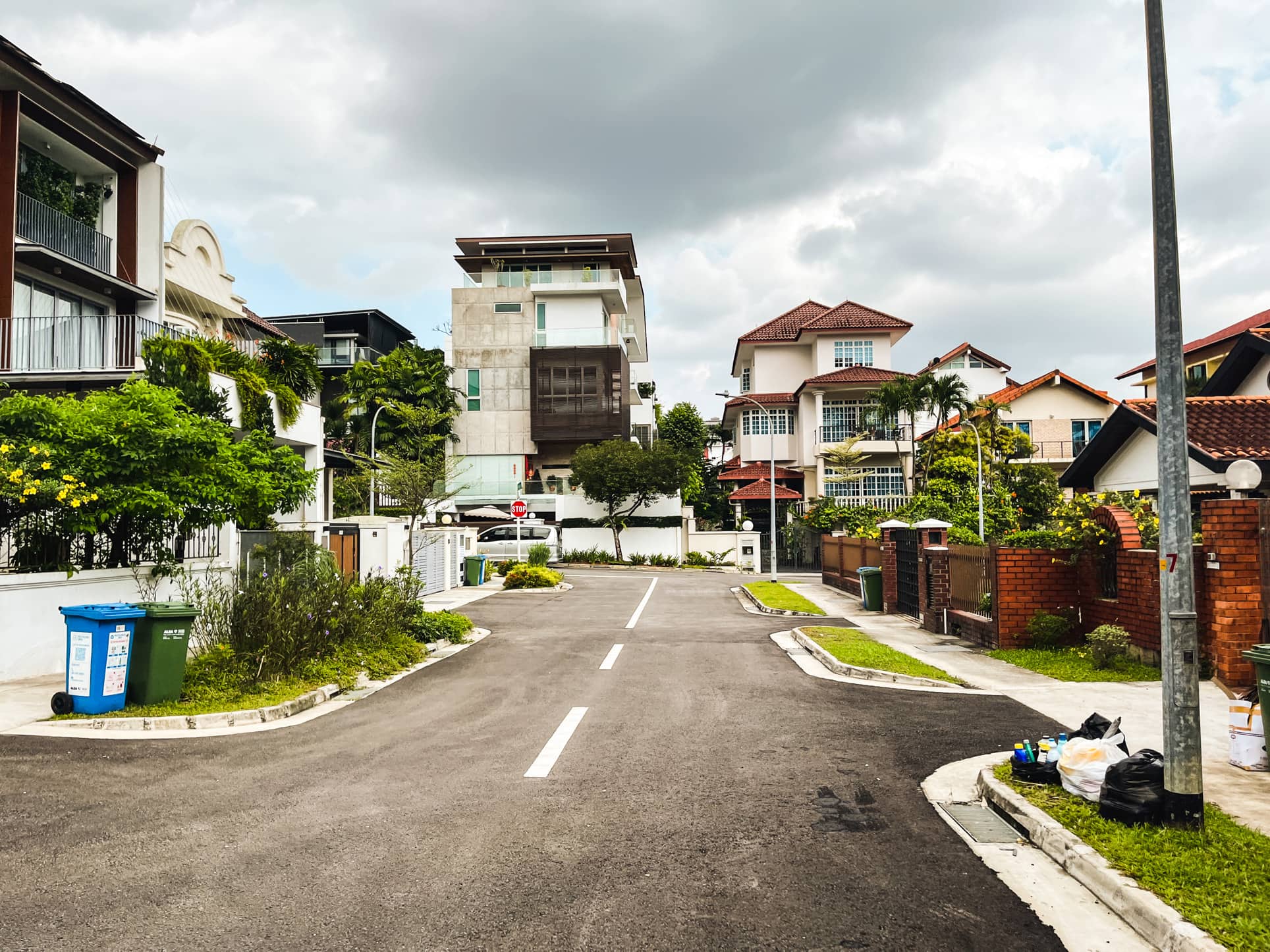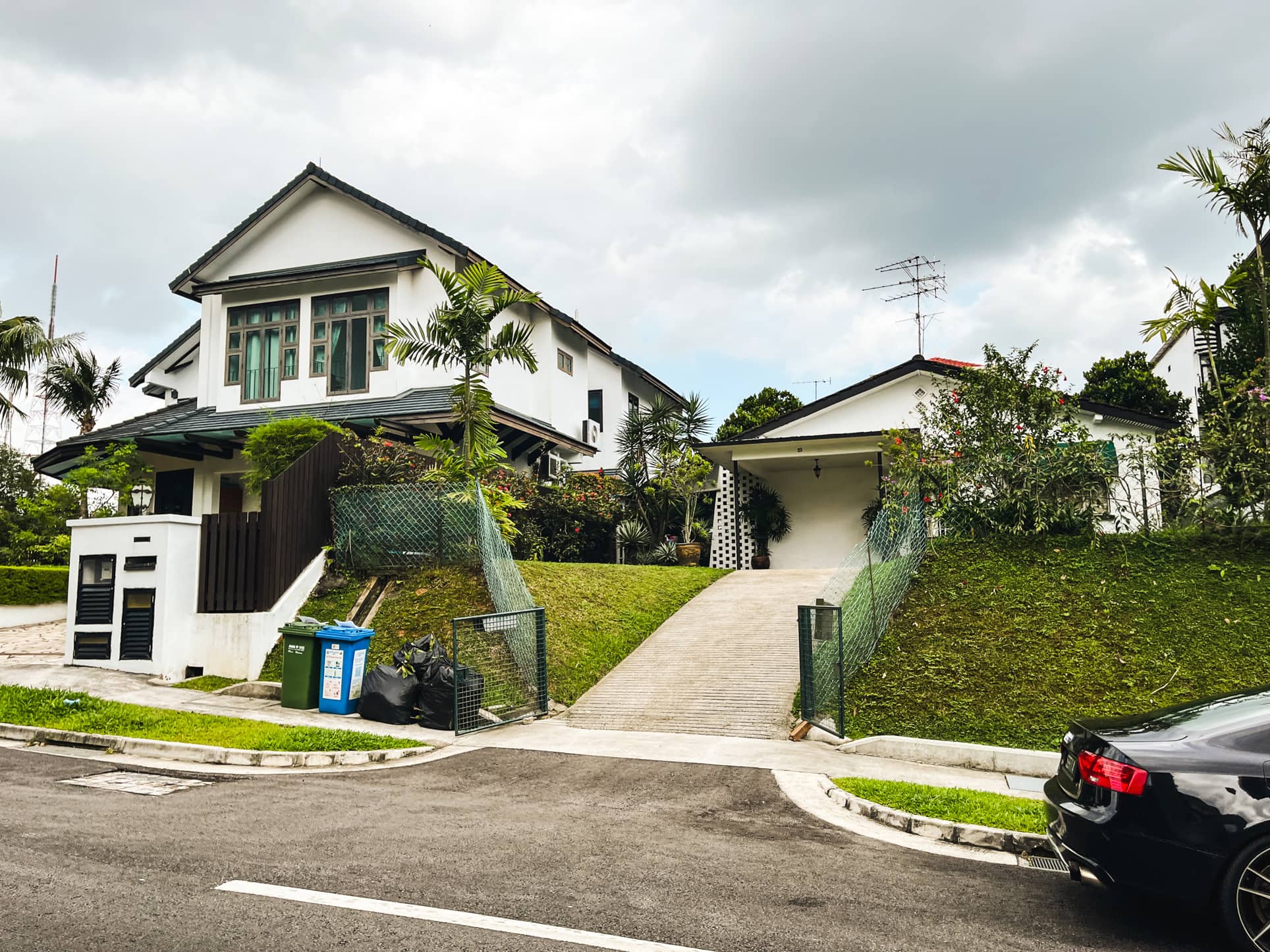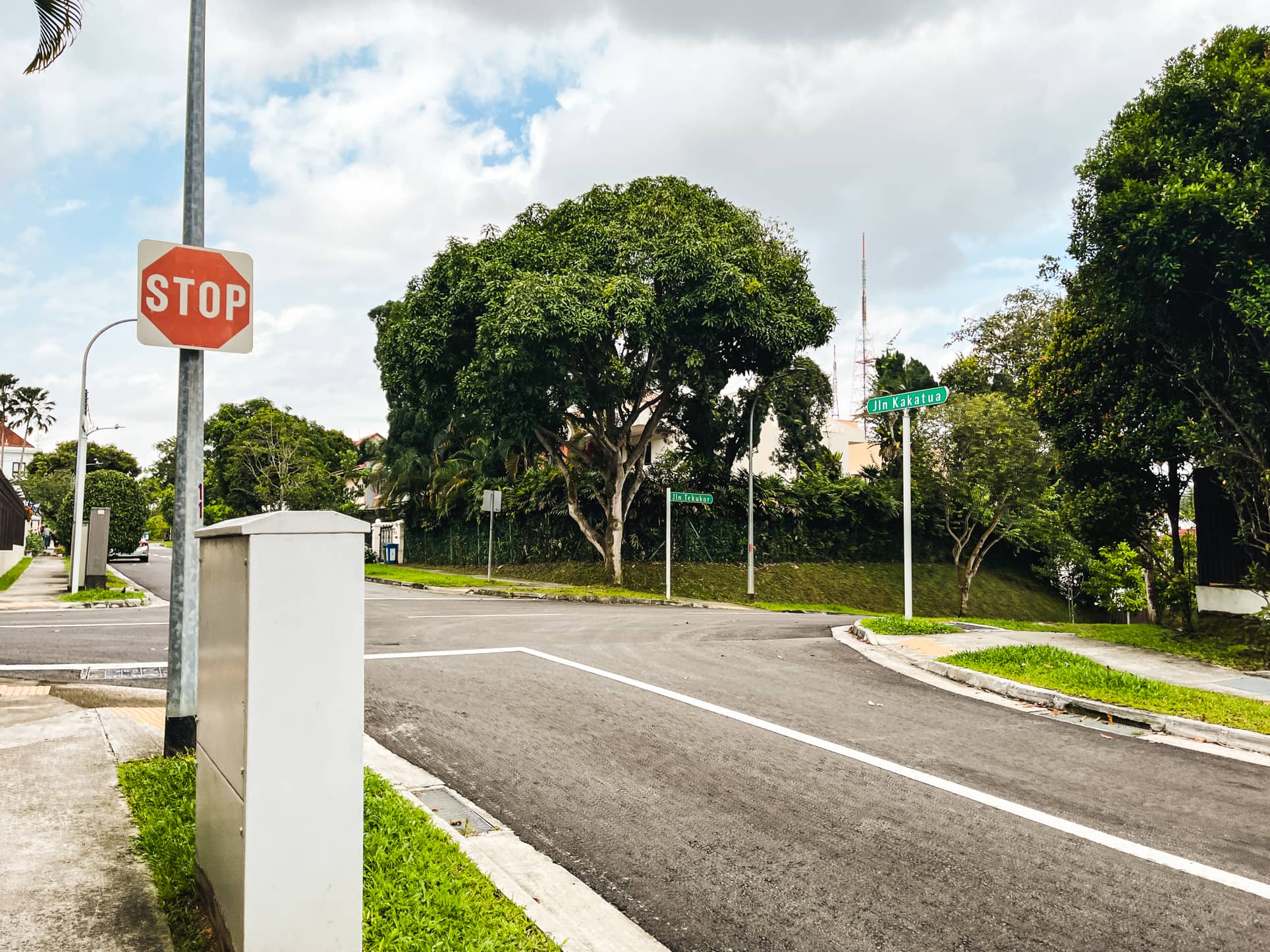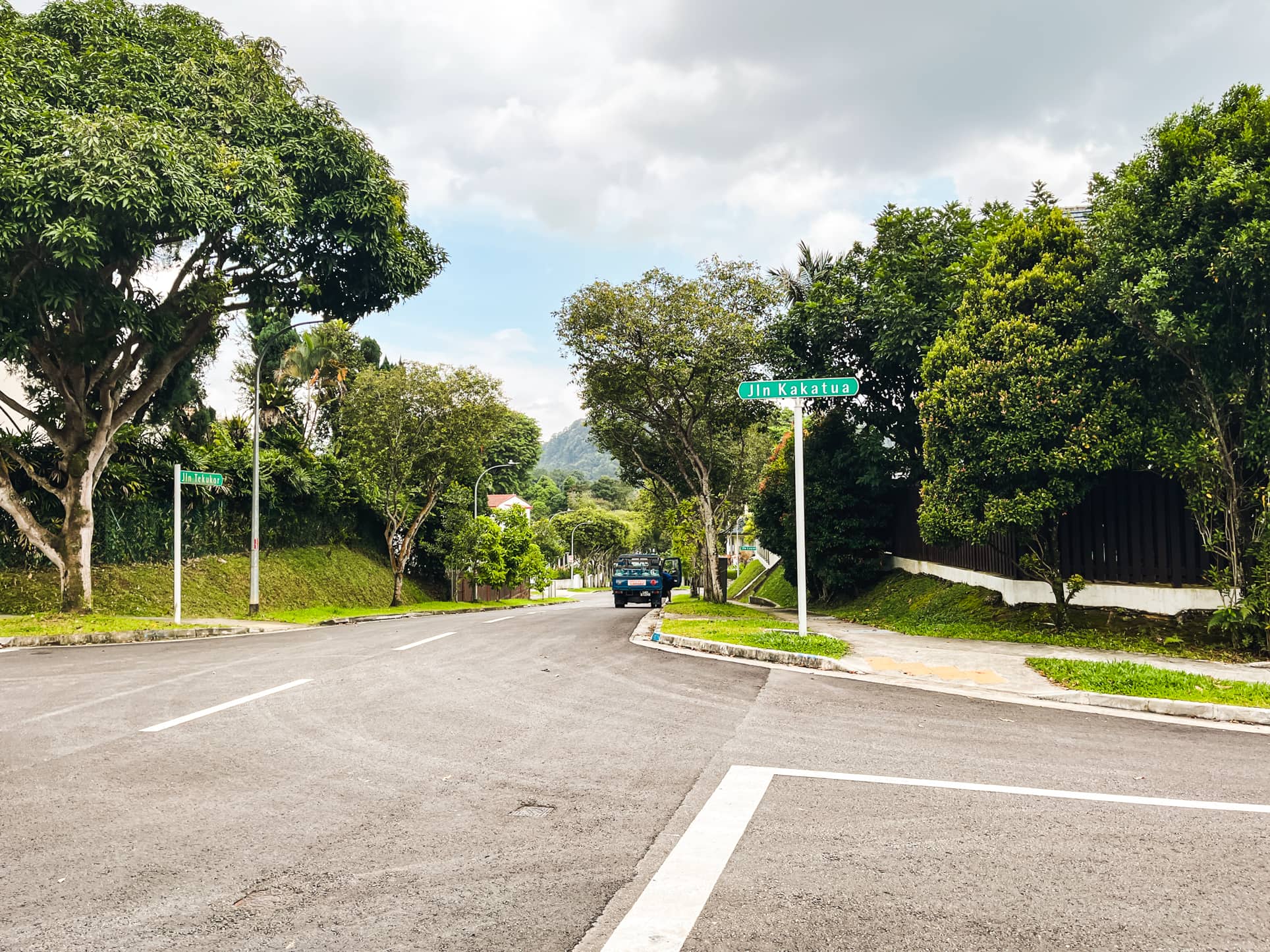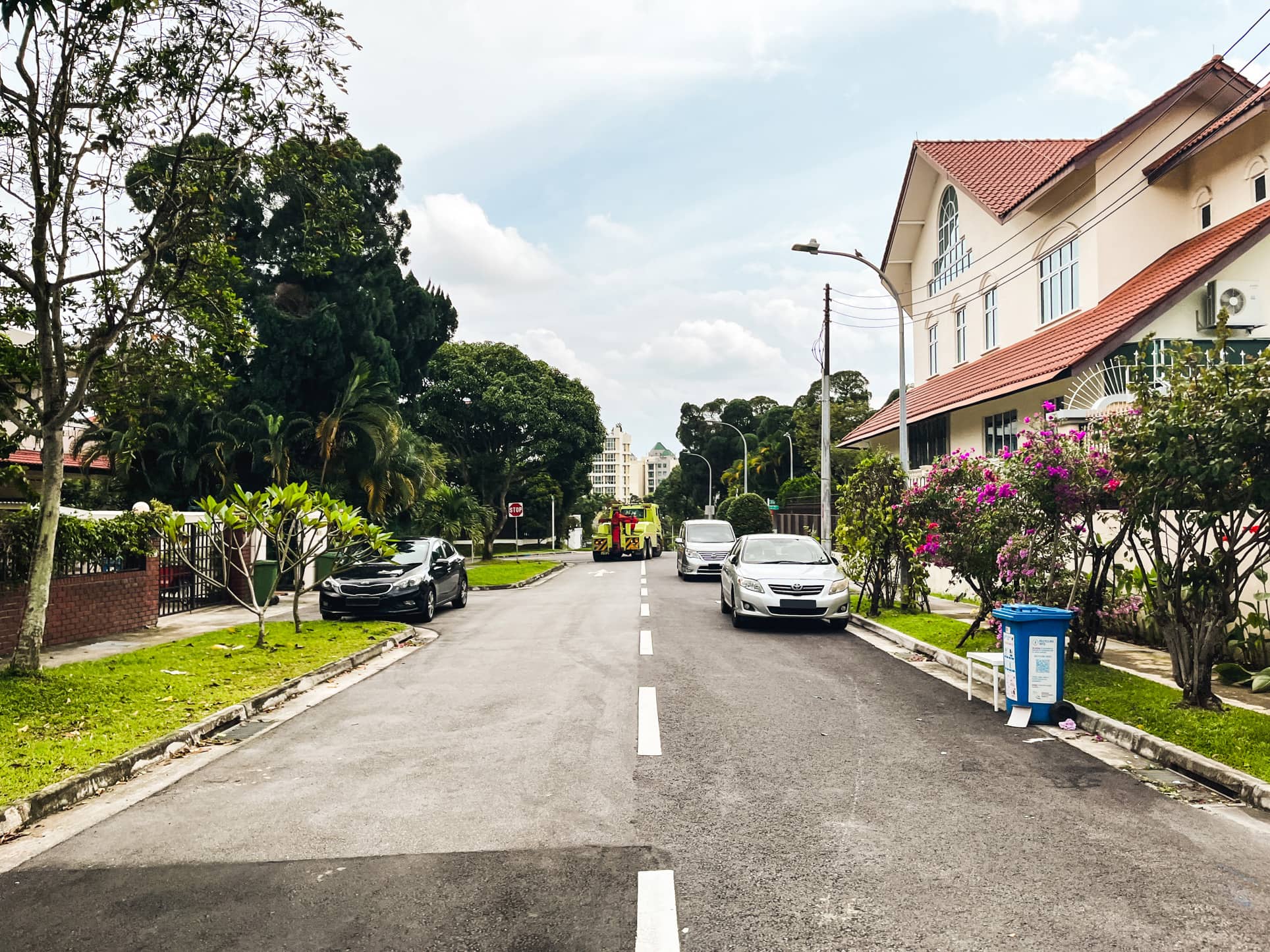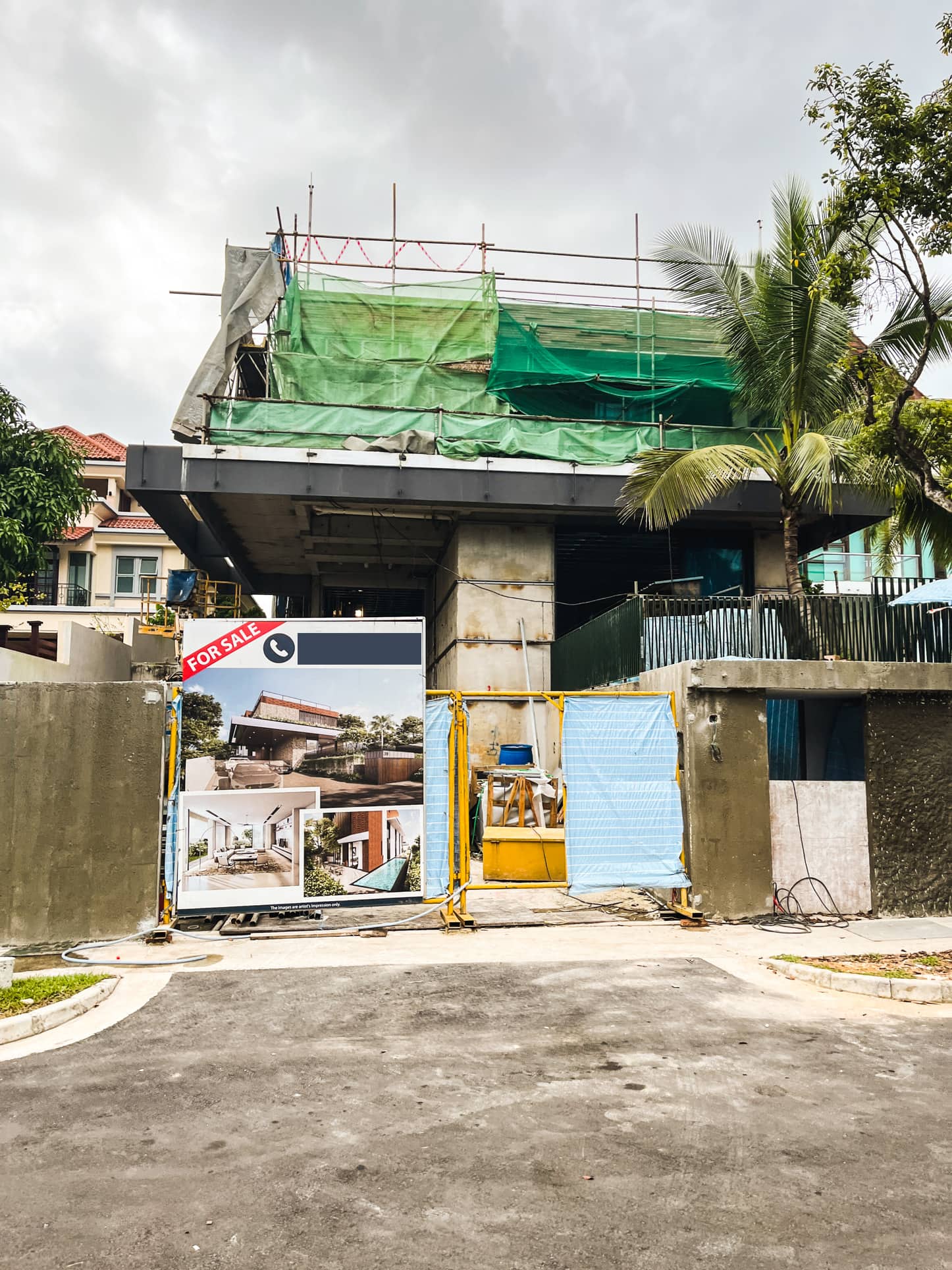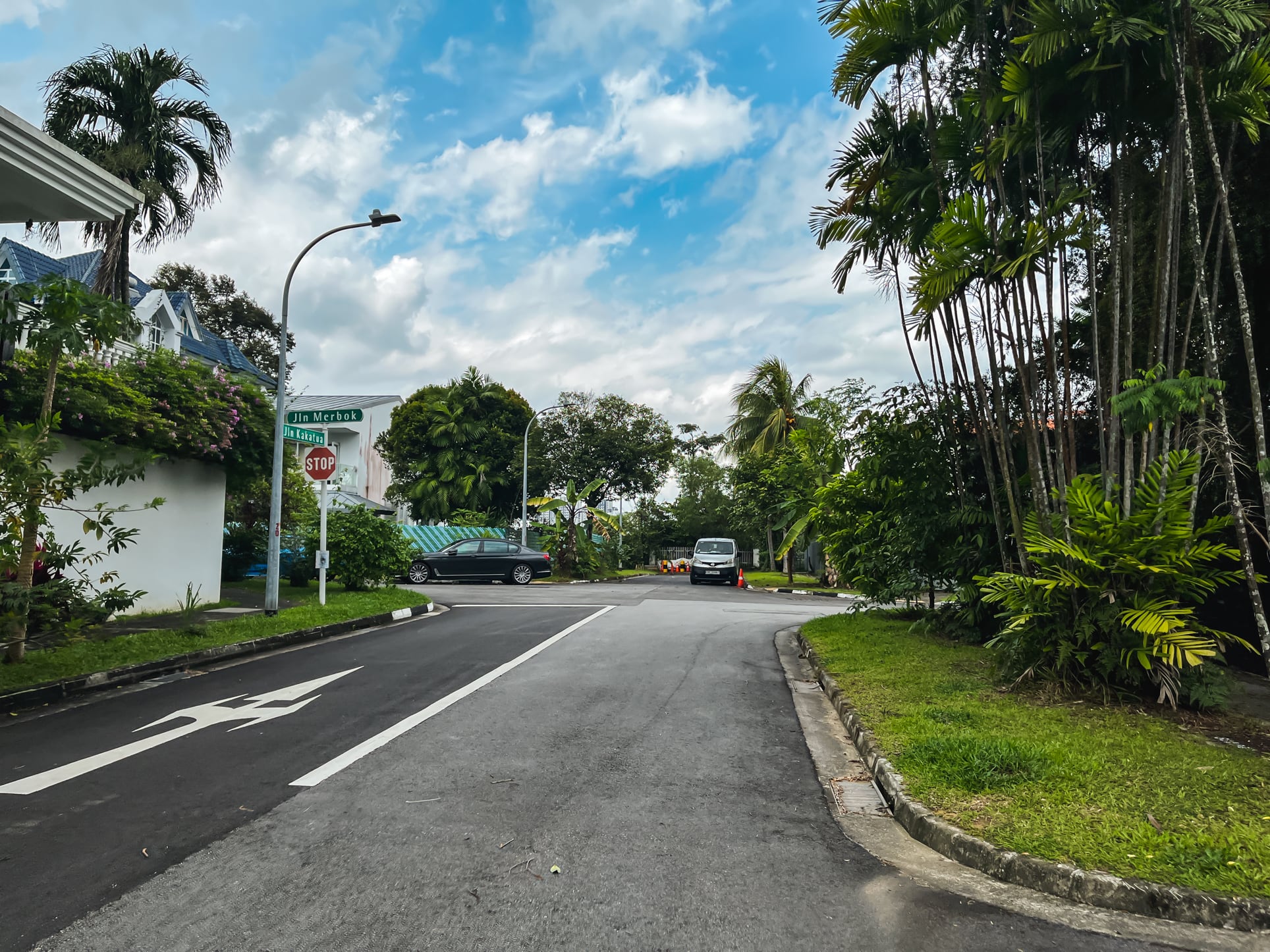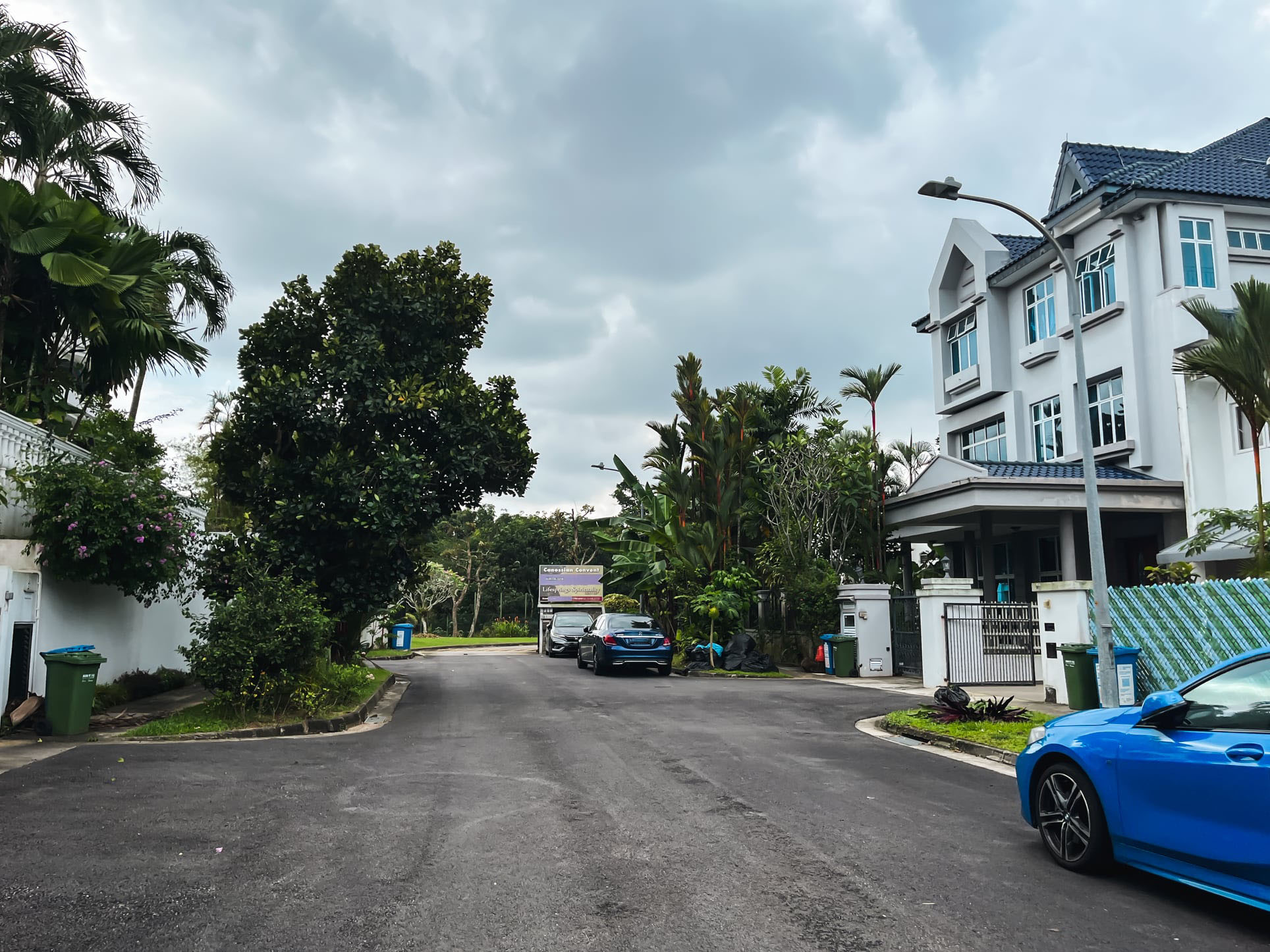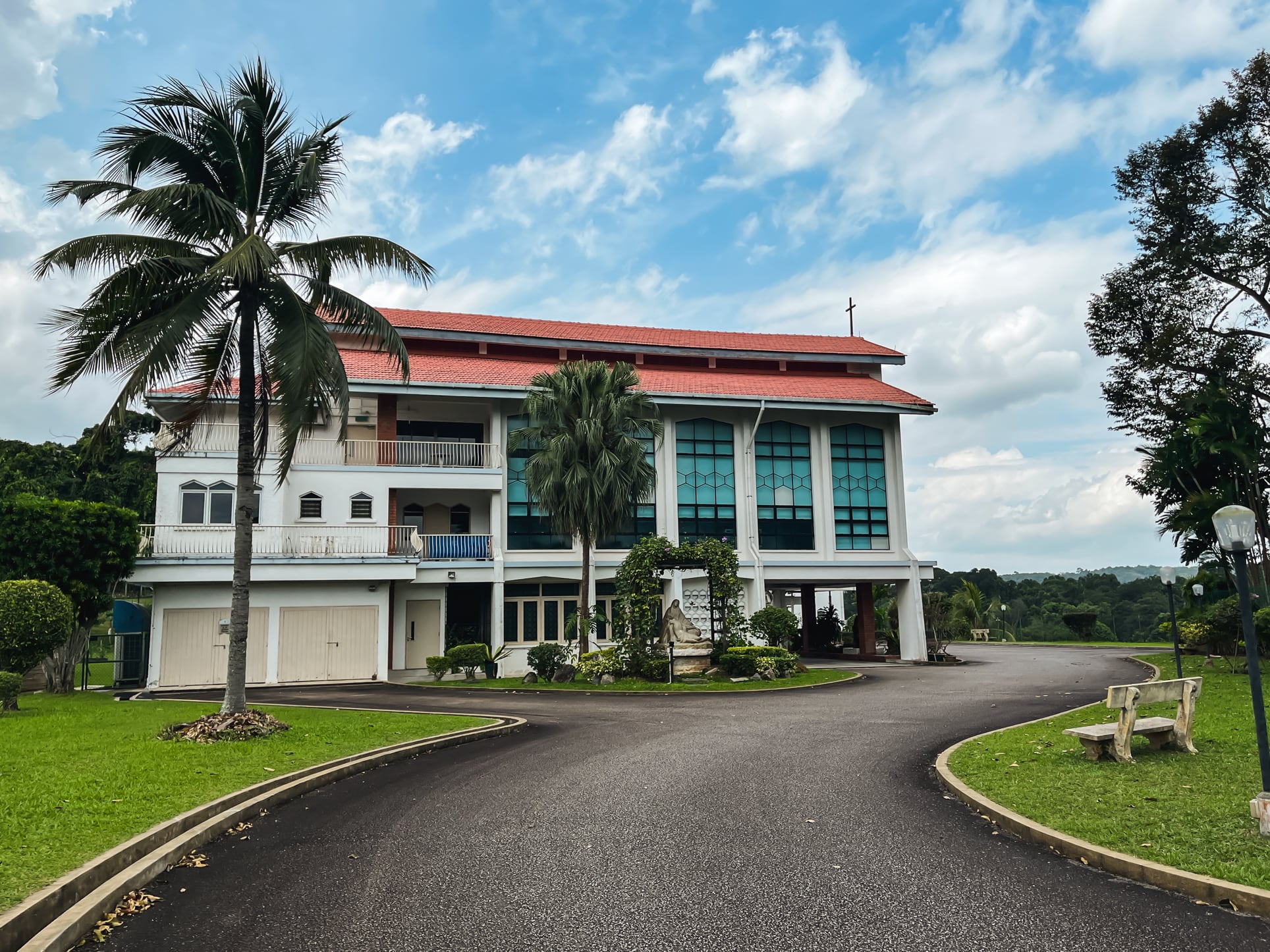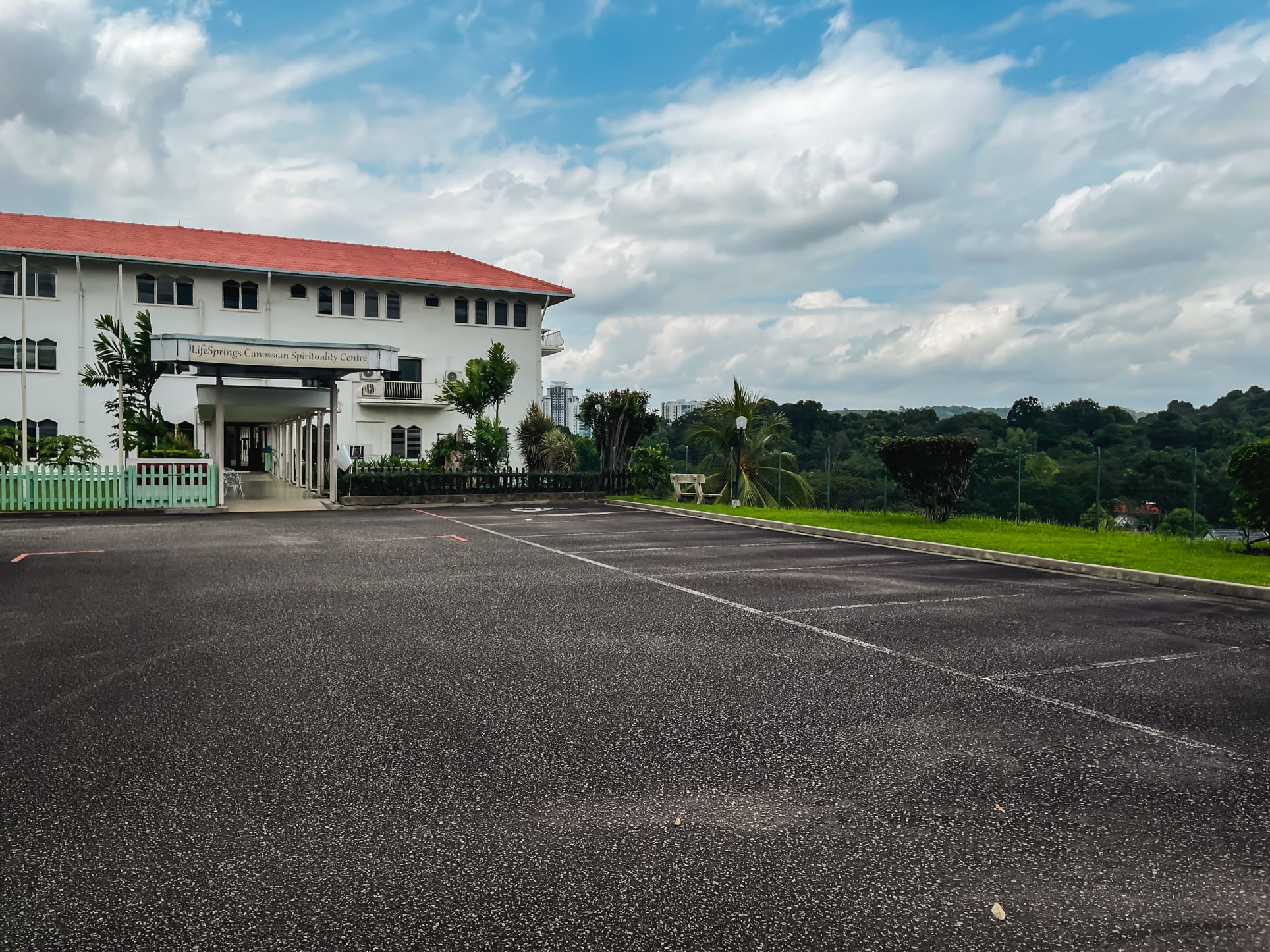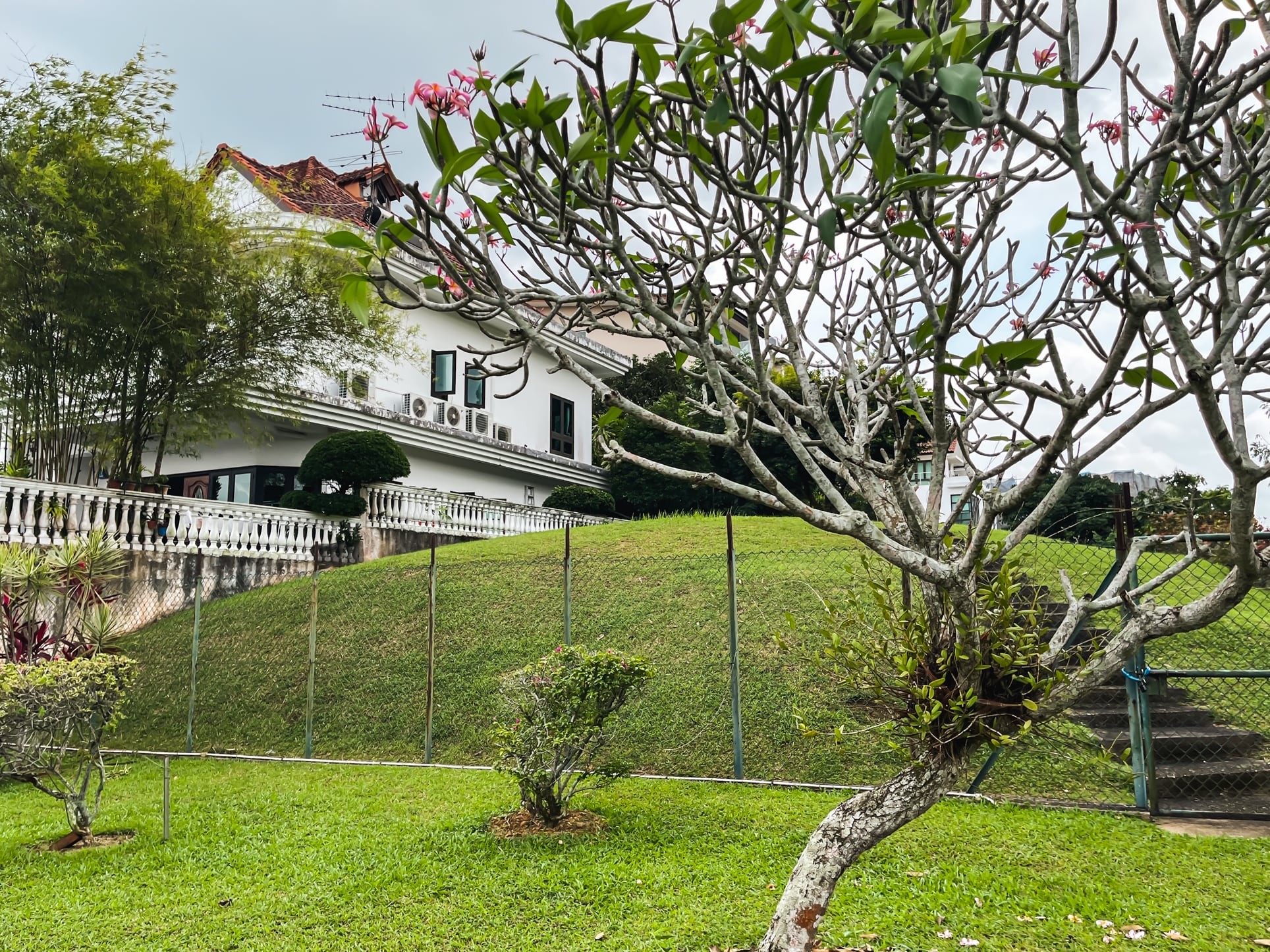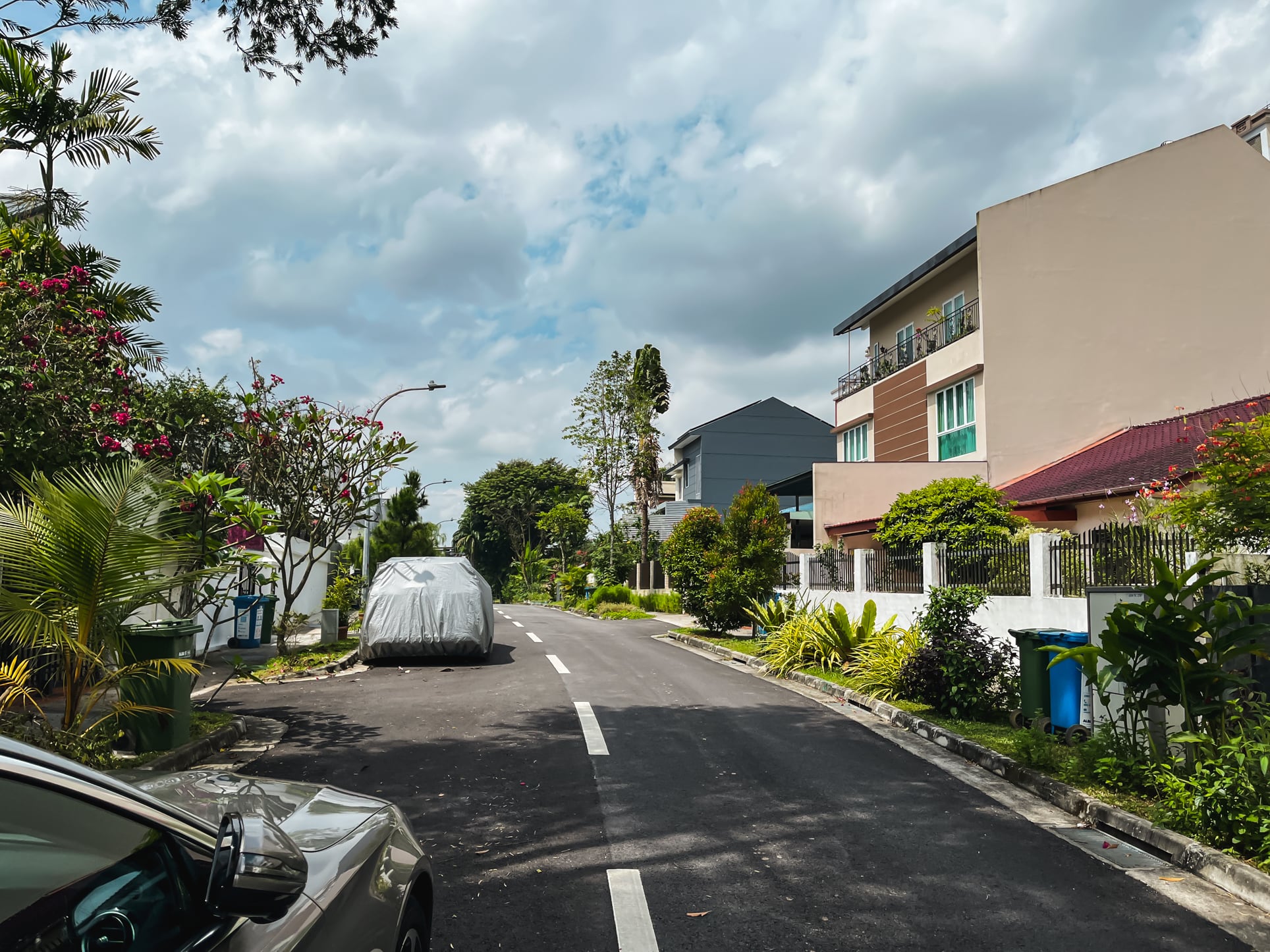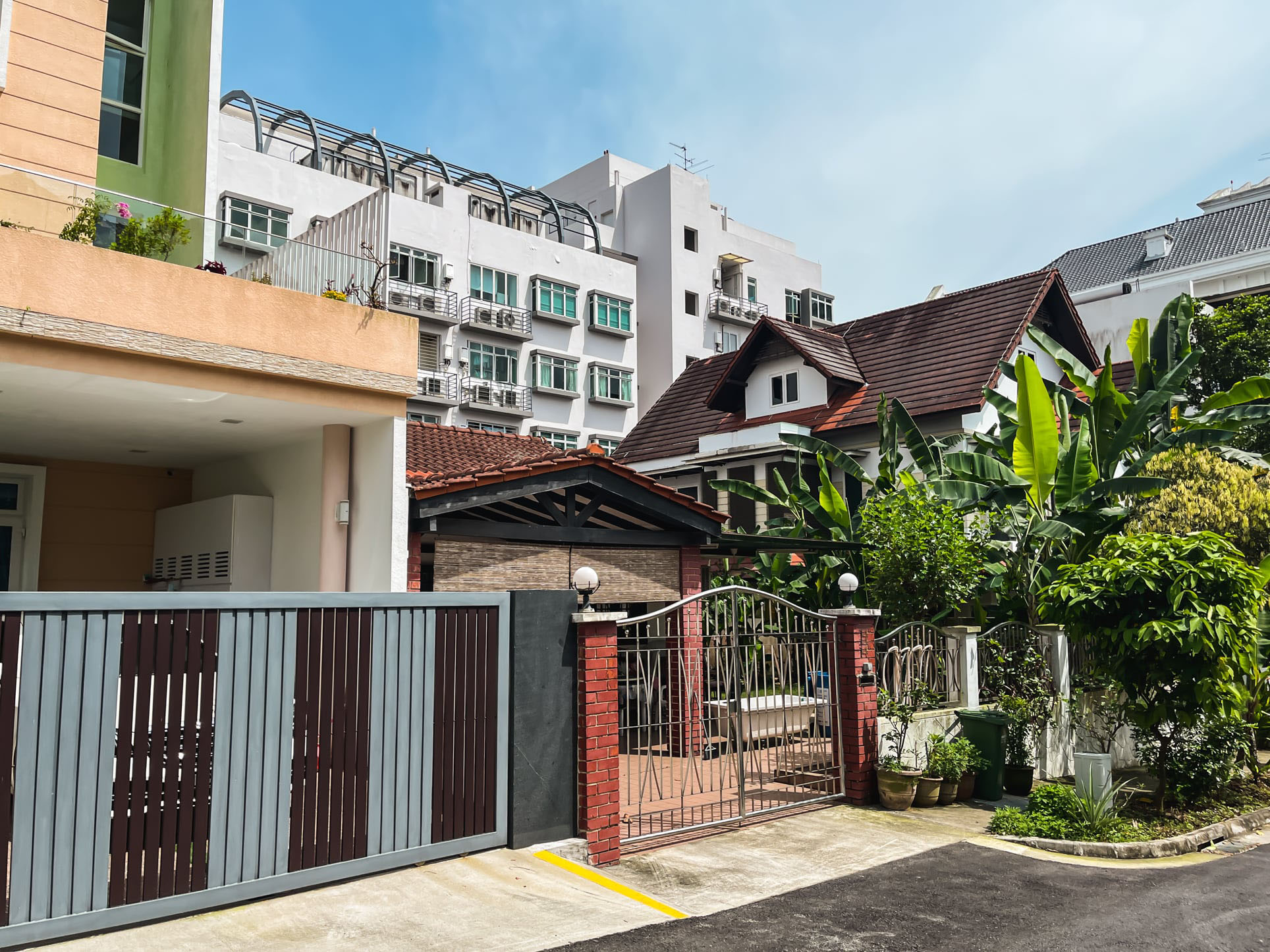 (I actually have better photos to show just how much the condos tower over the houses but am not using them as I don't want to single out any of the houses – at least this photo doesn't show any of the houses clearly.)
Before we end today's walkabout, I had better touch upon schools. Jurong Park is within 1 km of Bukit Timah Primary School. According to Yoursingaporemap, it is just out of range of Pei Hwa but the discrepancy is so slight (like 0.02km or something like that), it would be worth checking for the specific house number you are keen on.
For groceries, besides the 7-11 at The Hillford, there are several specialty shops such as Seoul Butcher and Lotte Mart in the vicinity and Giant at Beauty World (all within 1 km.) There is also Bukit Timah Market and Hawker Centre within 1 km and next to the Toh Yi HDB Executive Maisonettes, one of which recently made the news as the "most expensive HDB executive flat in Singapore."
If you're wondering about the Beauty World Master Plan, you can read more about it here and here.
Now that we've finished our Jurong Park tour, how did you find it? Let me know in the comments!