Property Stories

Touring Jalan Senang: Attainable Freehold Landed Homes From $3 Million (But Near Industrial Area).
TJ
March 19, 2023

13

min read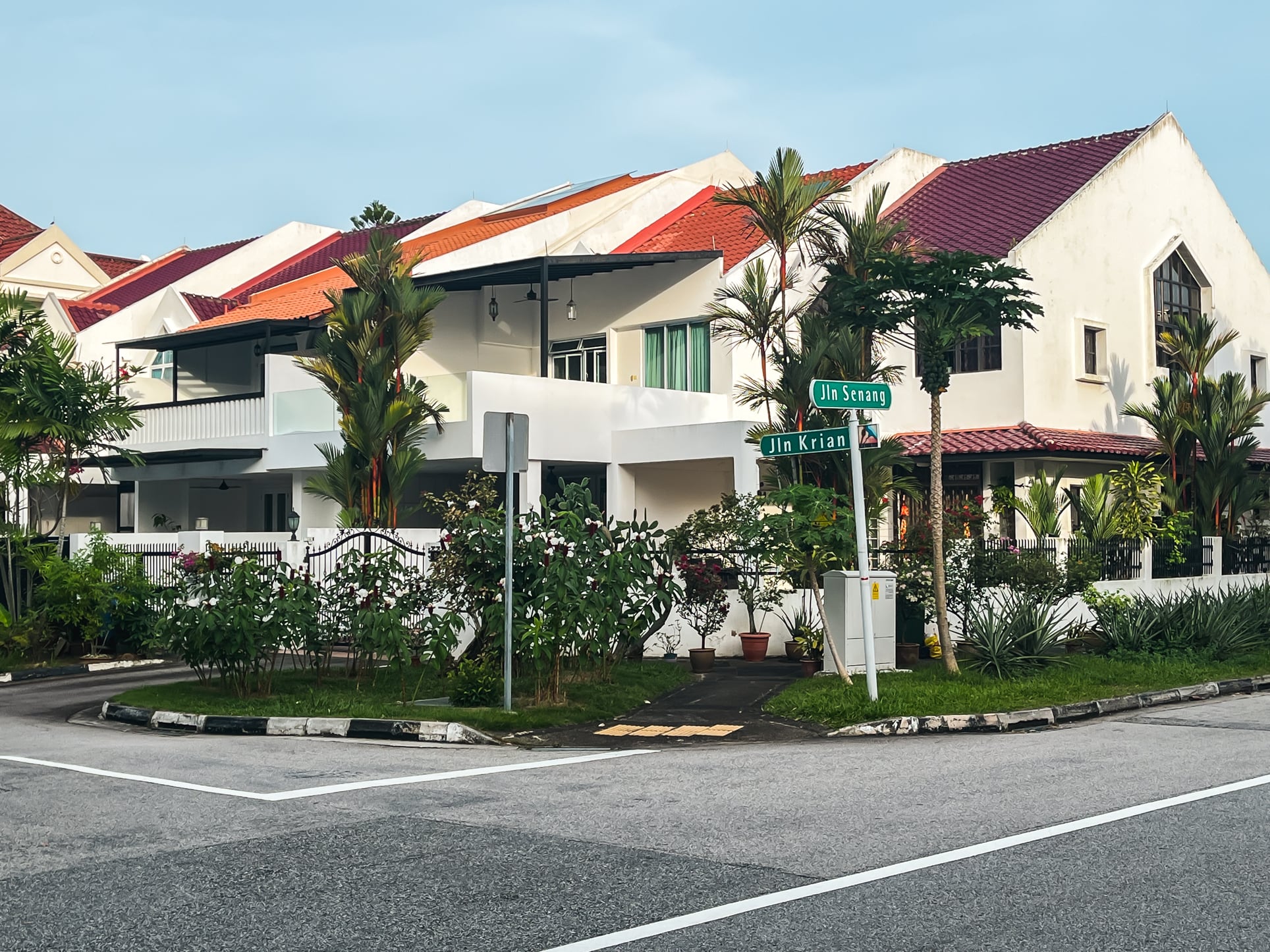 13
min read
A while back, we toured Jalan Kembangan and some of its surrounding areas, but I guess readers just love the East, as the requests for landed tours of the area kept coming in! So today, we're off to Jalan Senang for a visit. Although this landed estate is located just across the road (well 2 roads really) from Frankel and to the East of Jalan Kembangan, it feels very different from both areas. In fact, the first thing that came up when I Googled was an industrial listing!
That said, at least when you first enter the area off Sims Avenue East, it feels quite residential.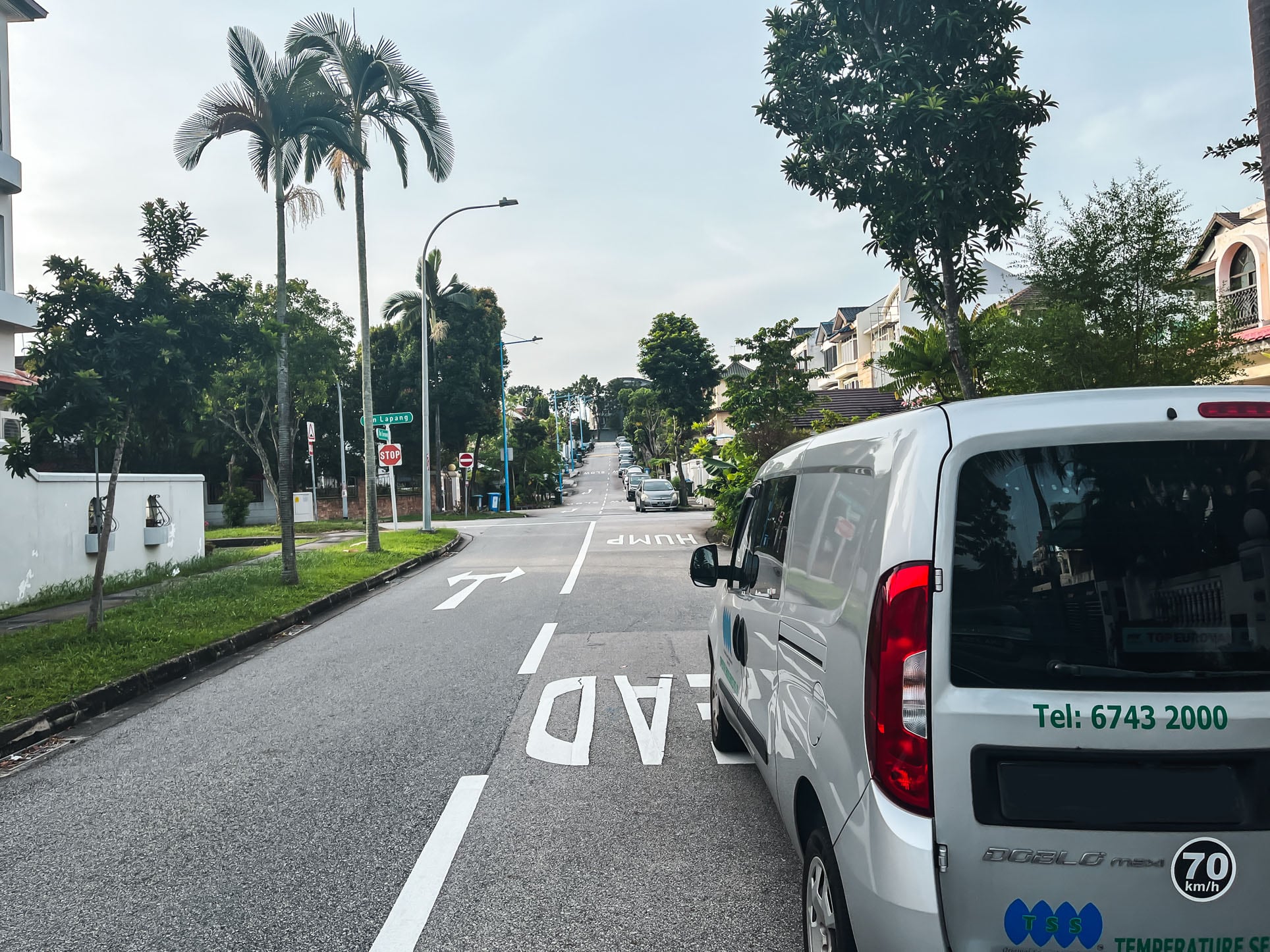 As you can see, the road is broad and spacious. Despite the fact that it is a dotted white line road (i.e. allows people to park along the streets), they don't feel cluttered and it's very easy to drive or walk through. I think this is because the houses along this road are all rather spacious.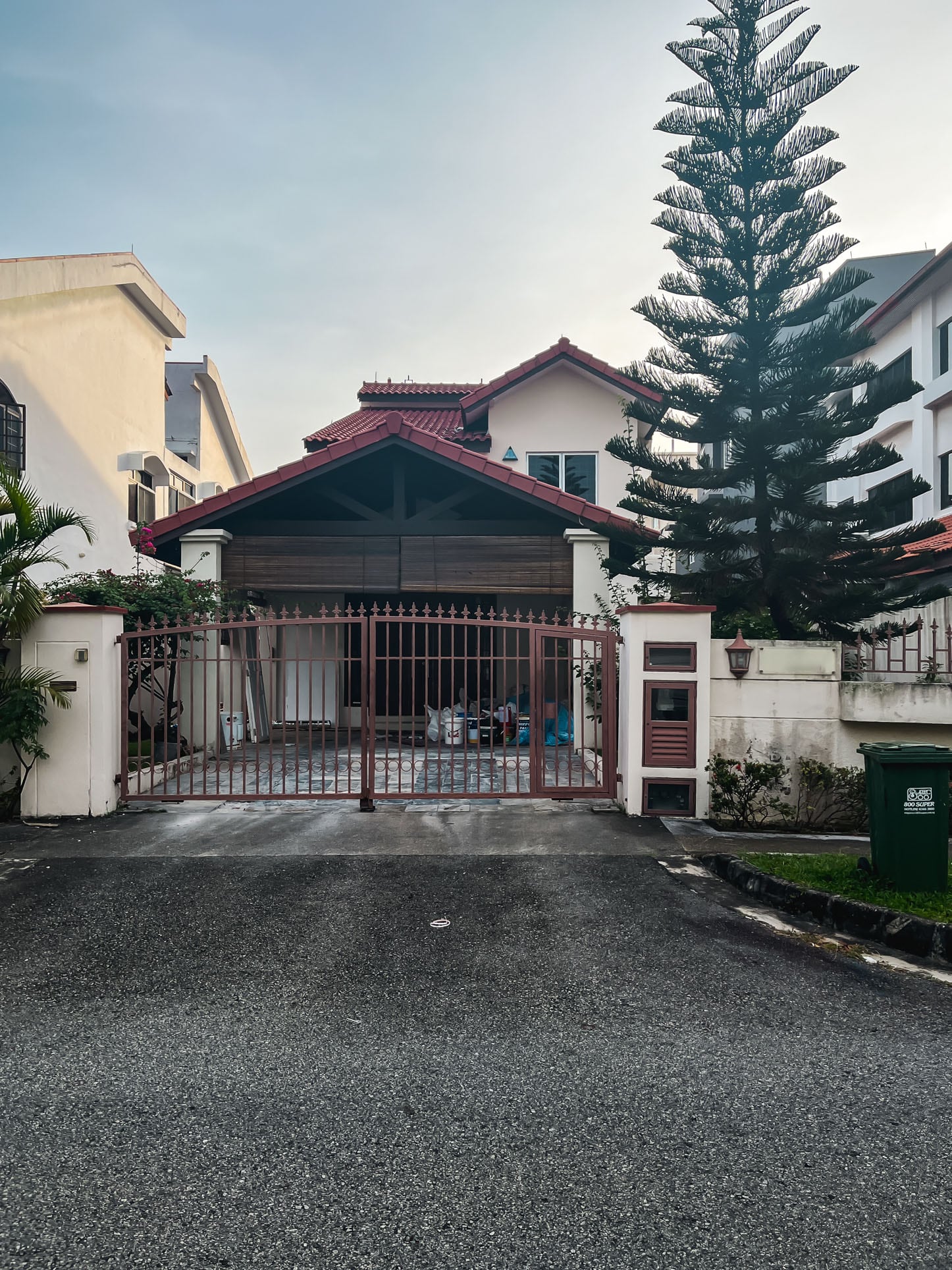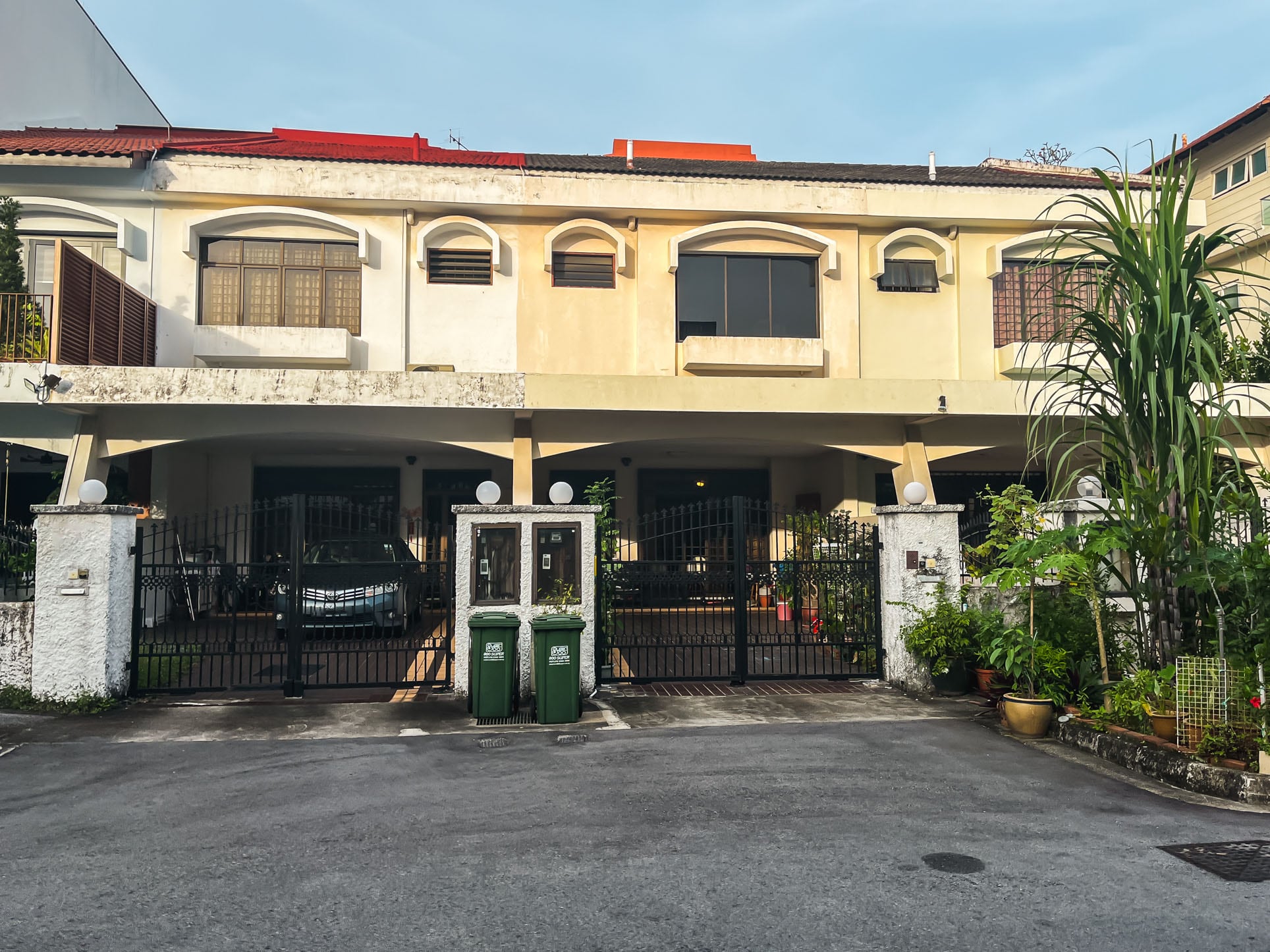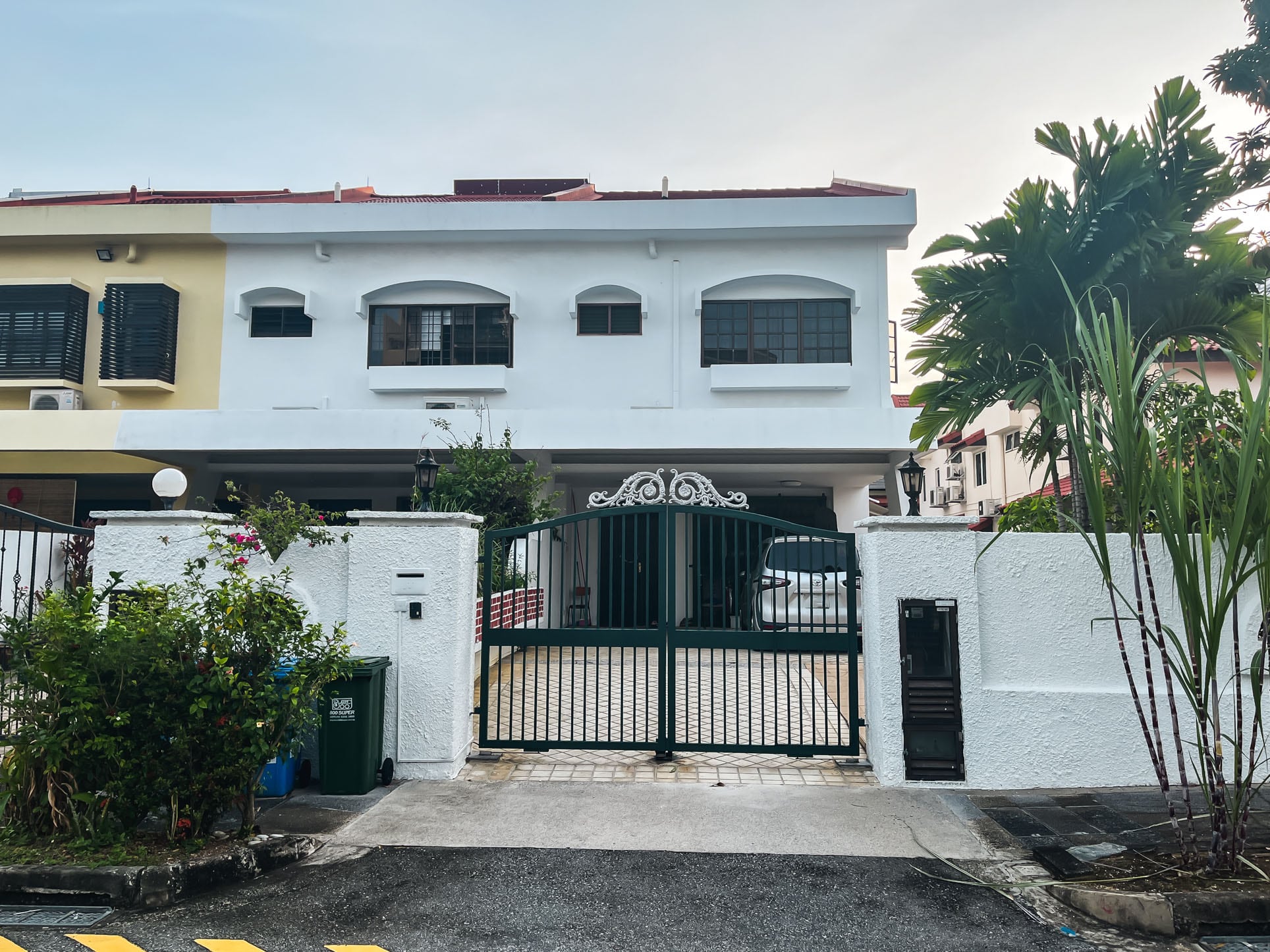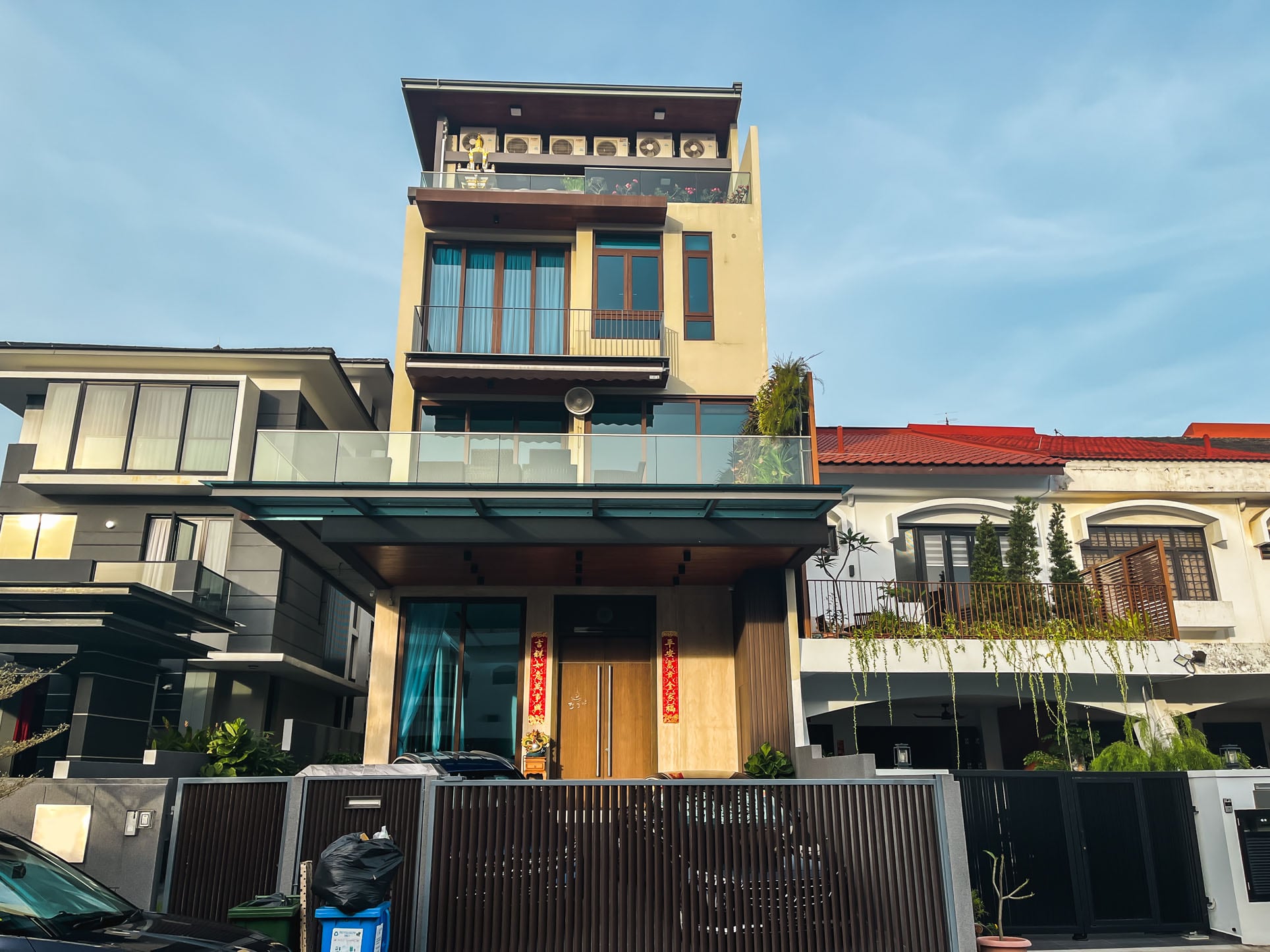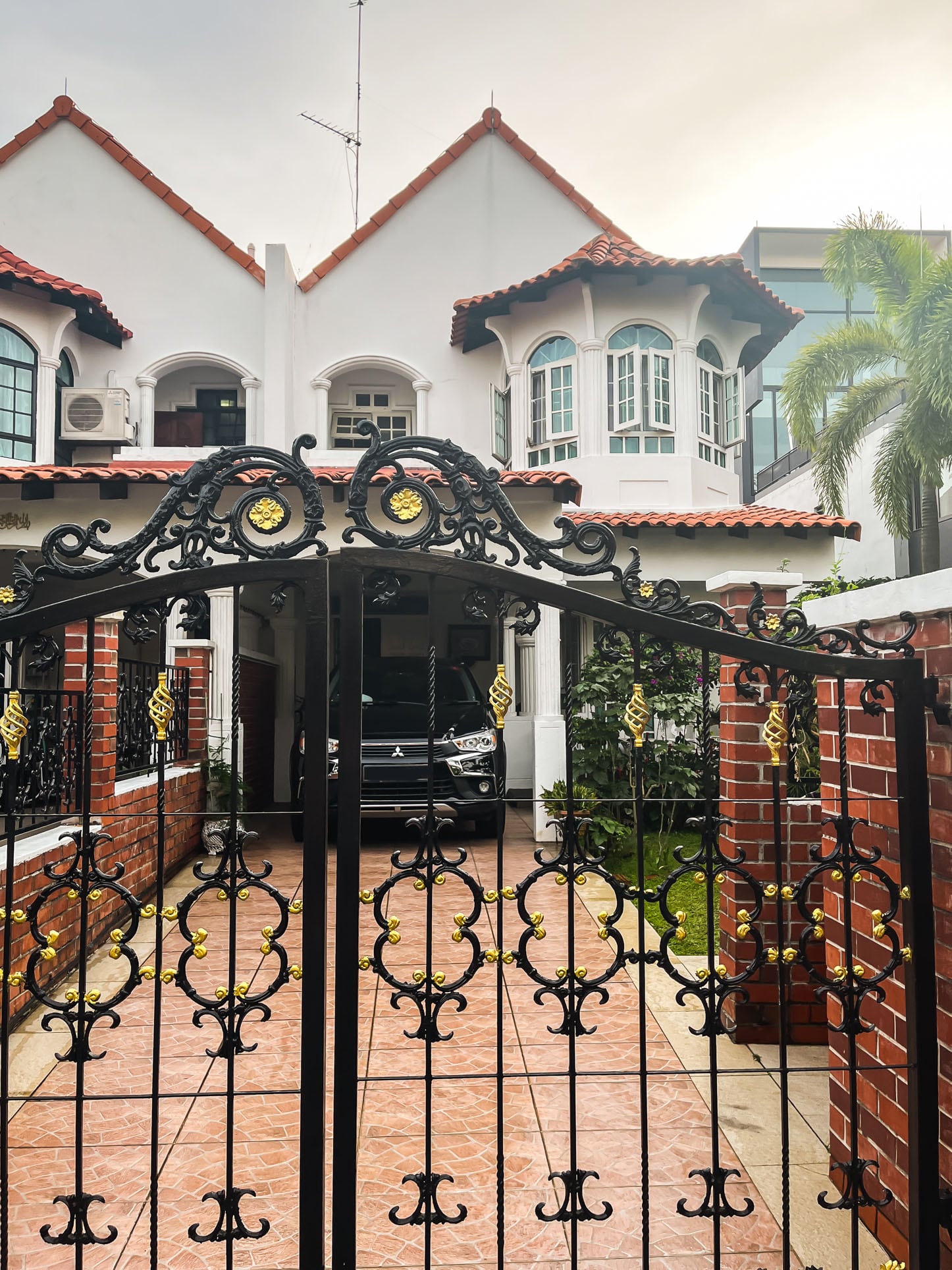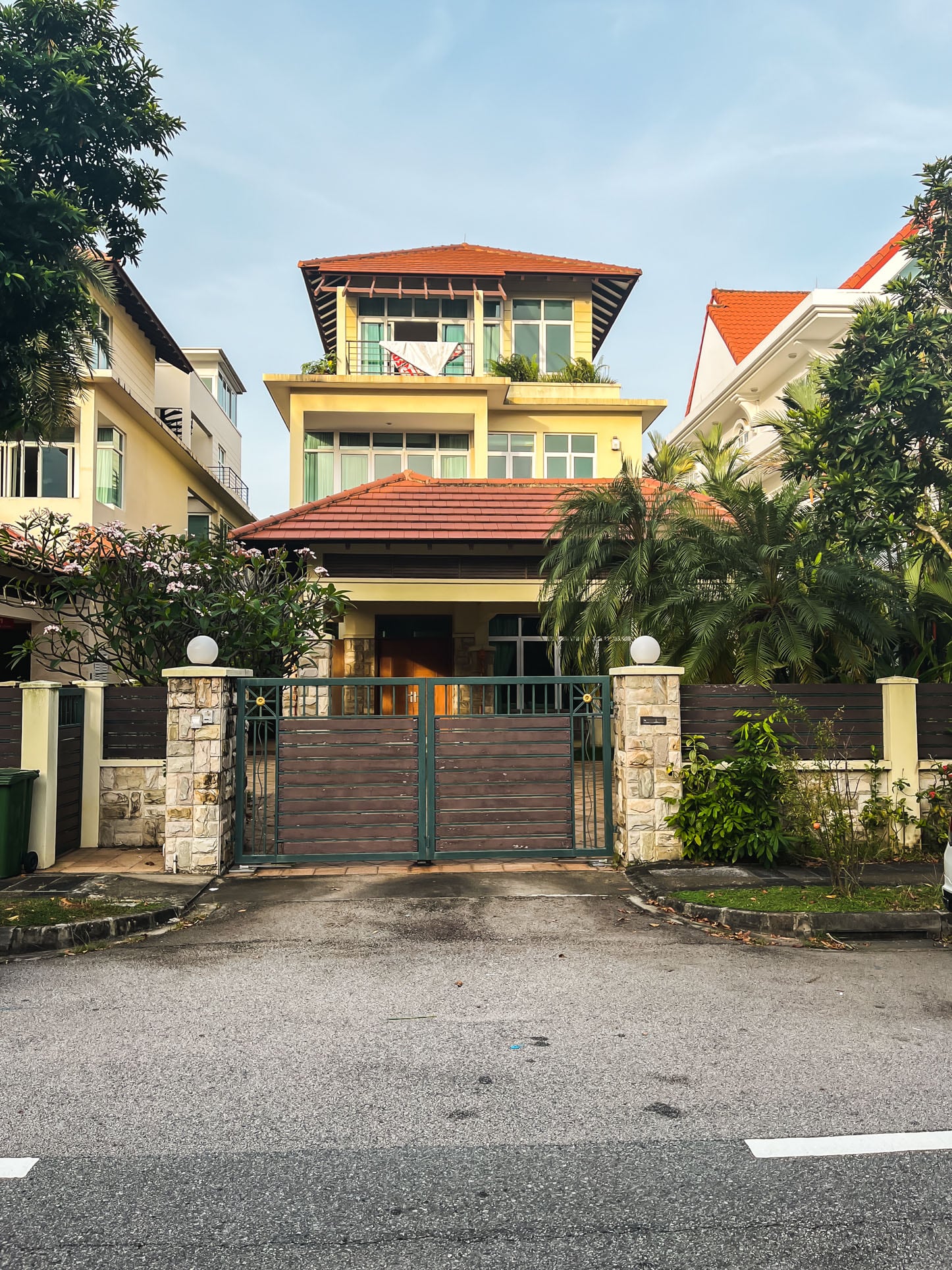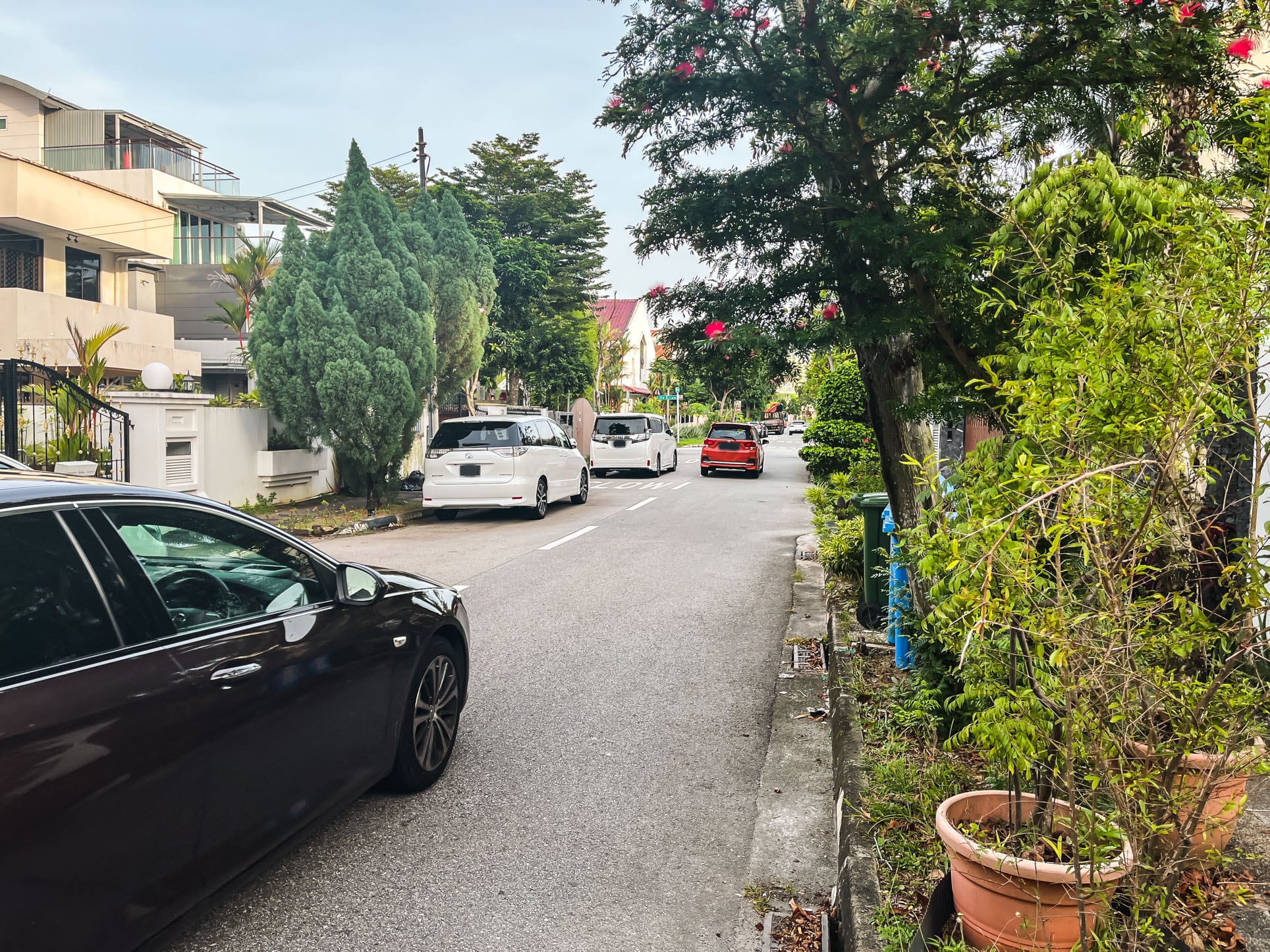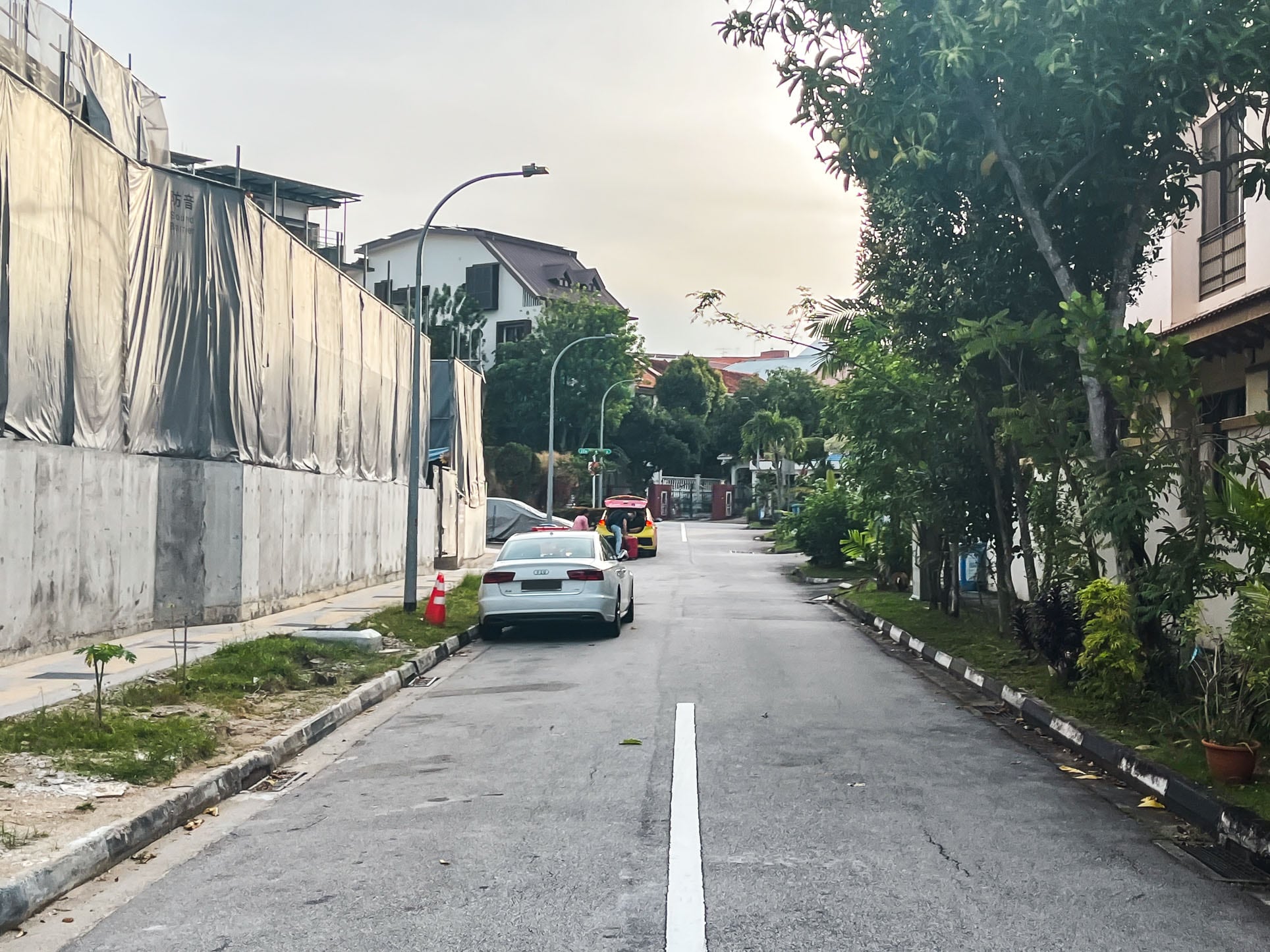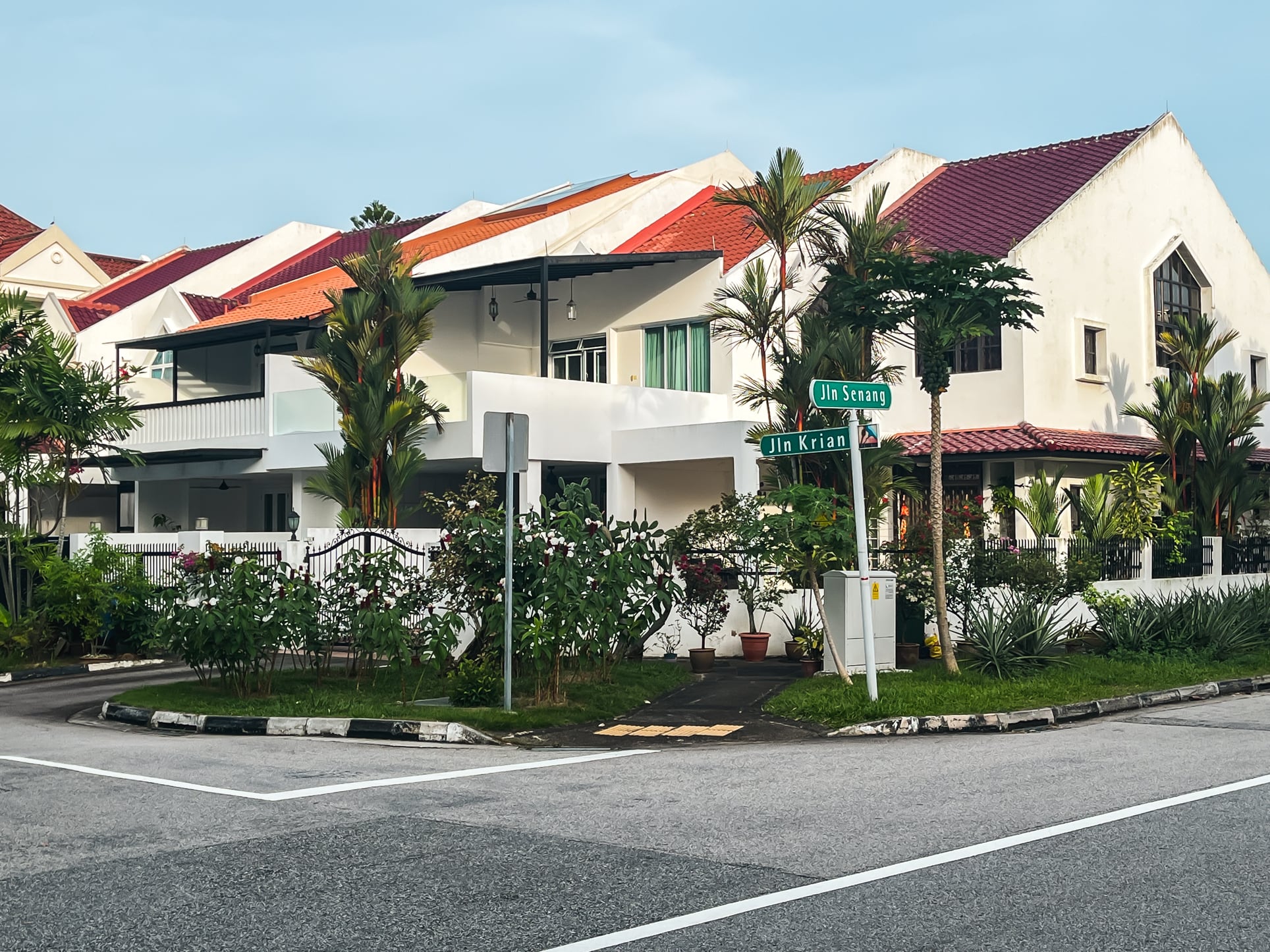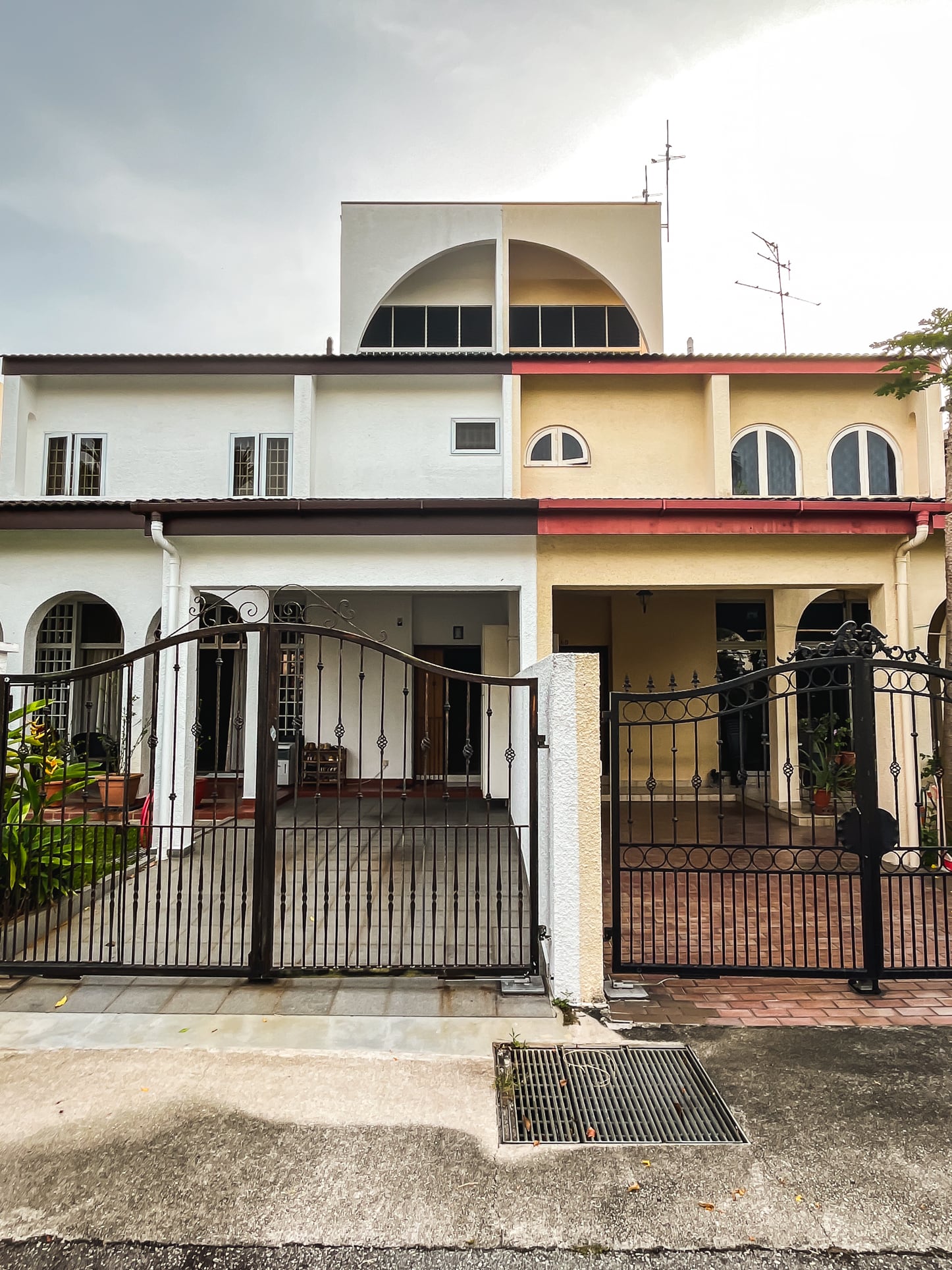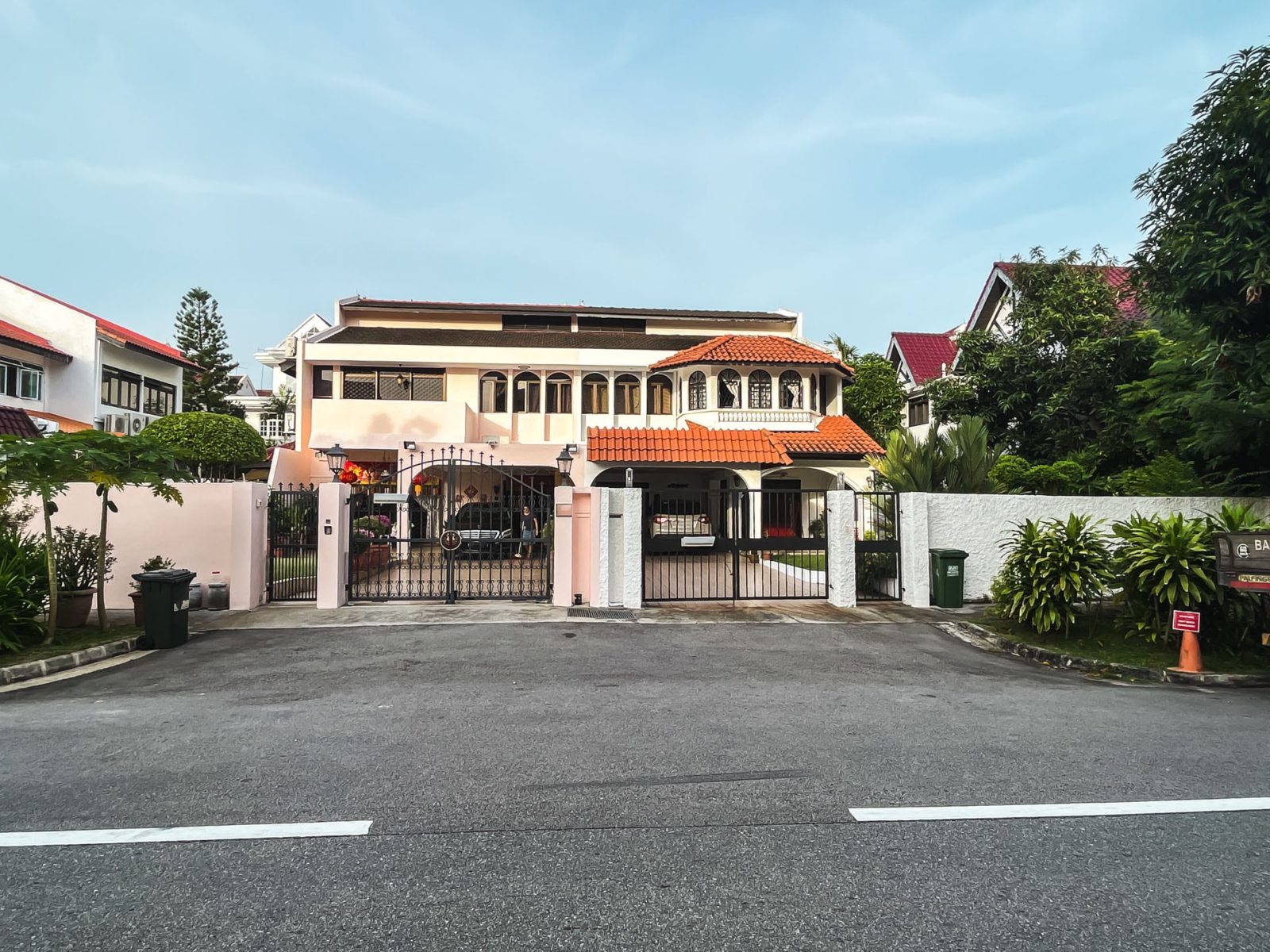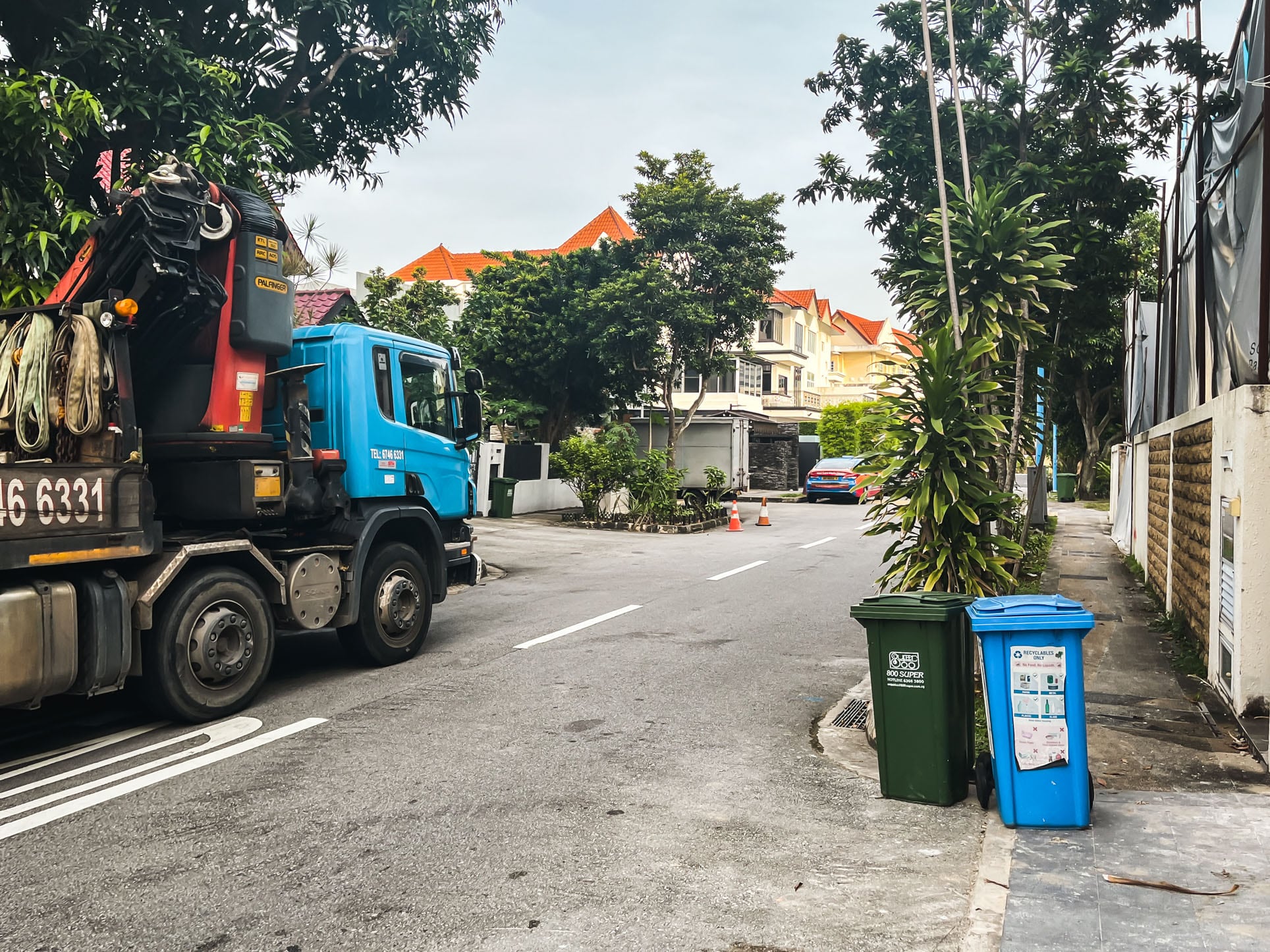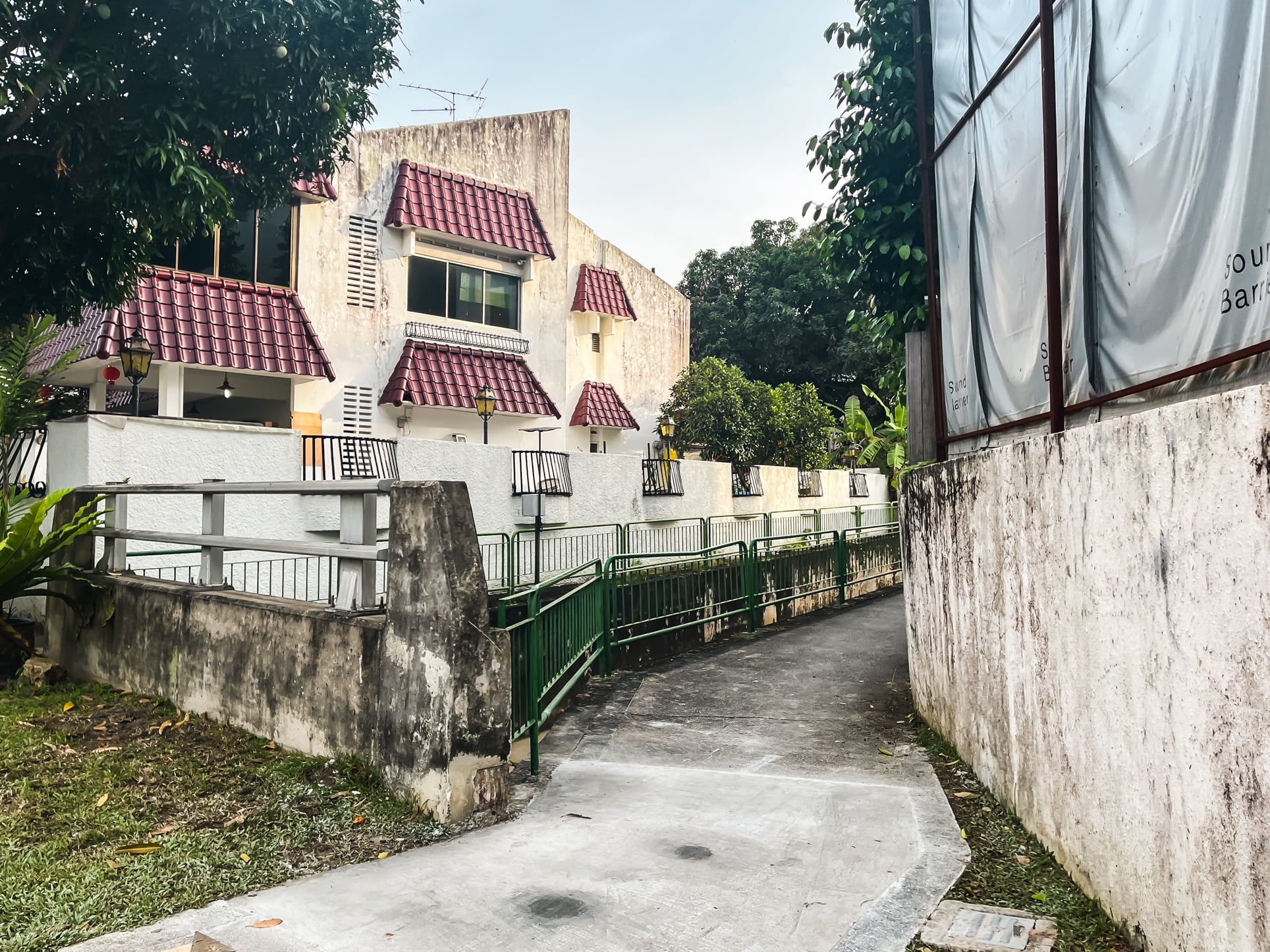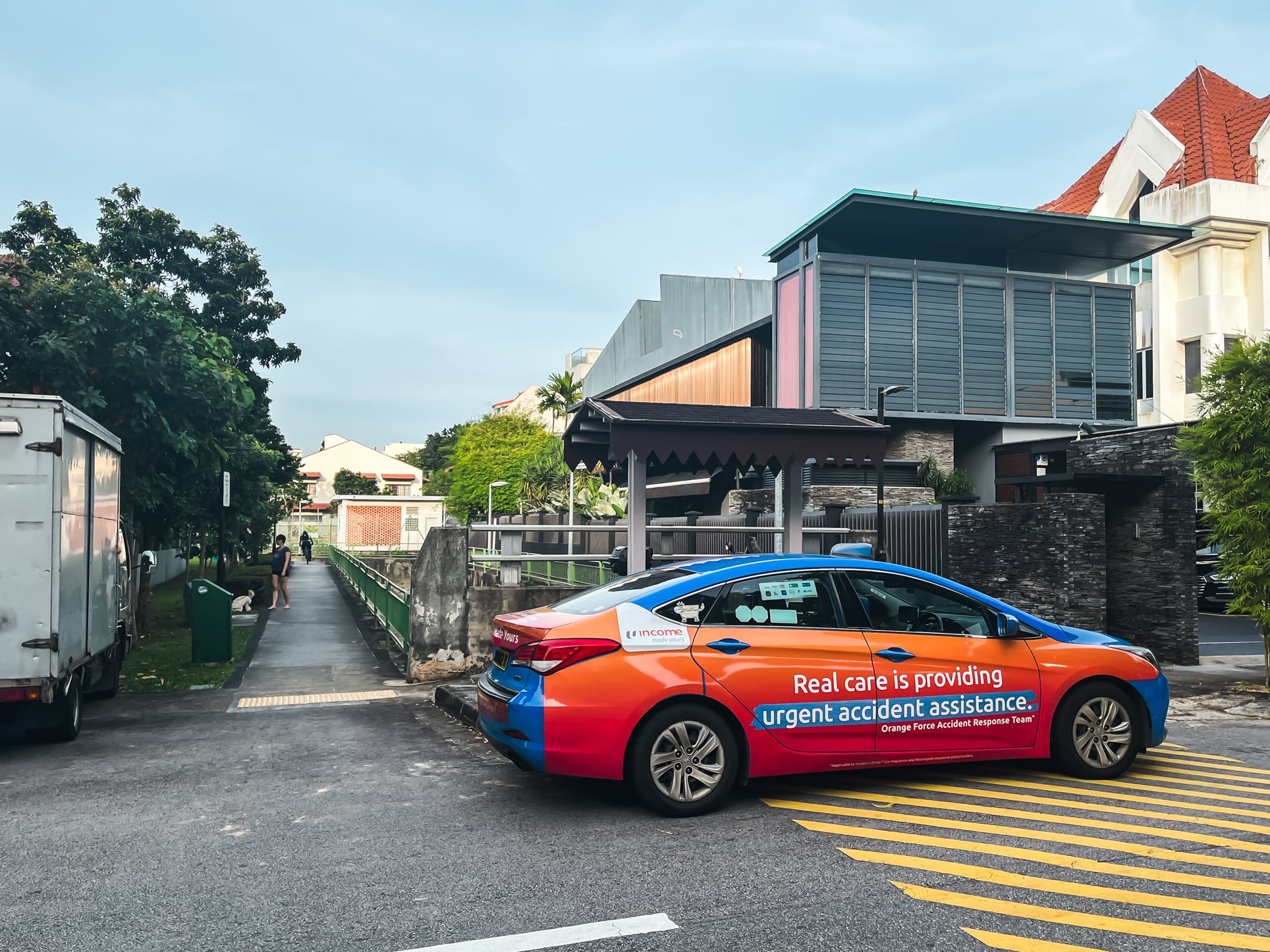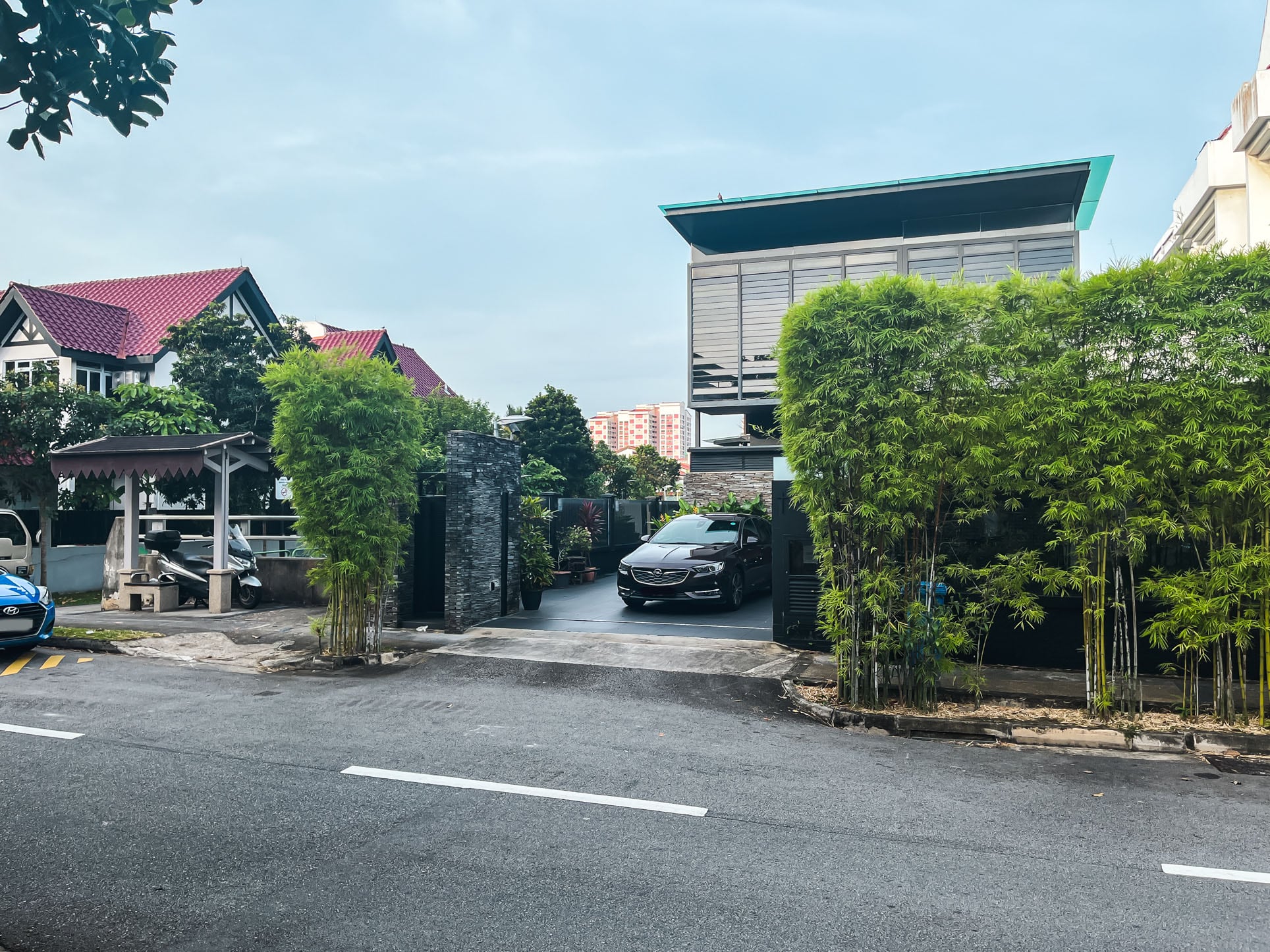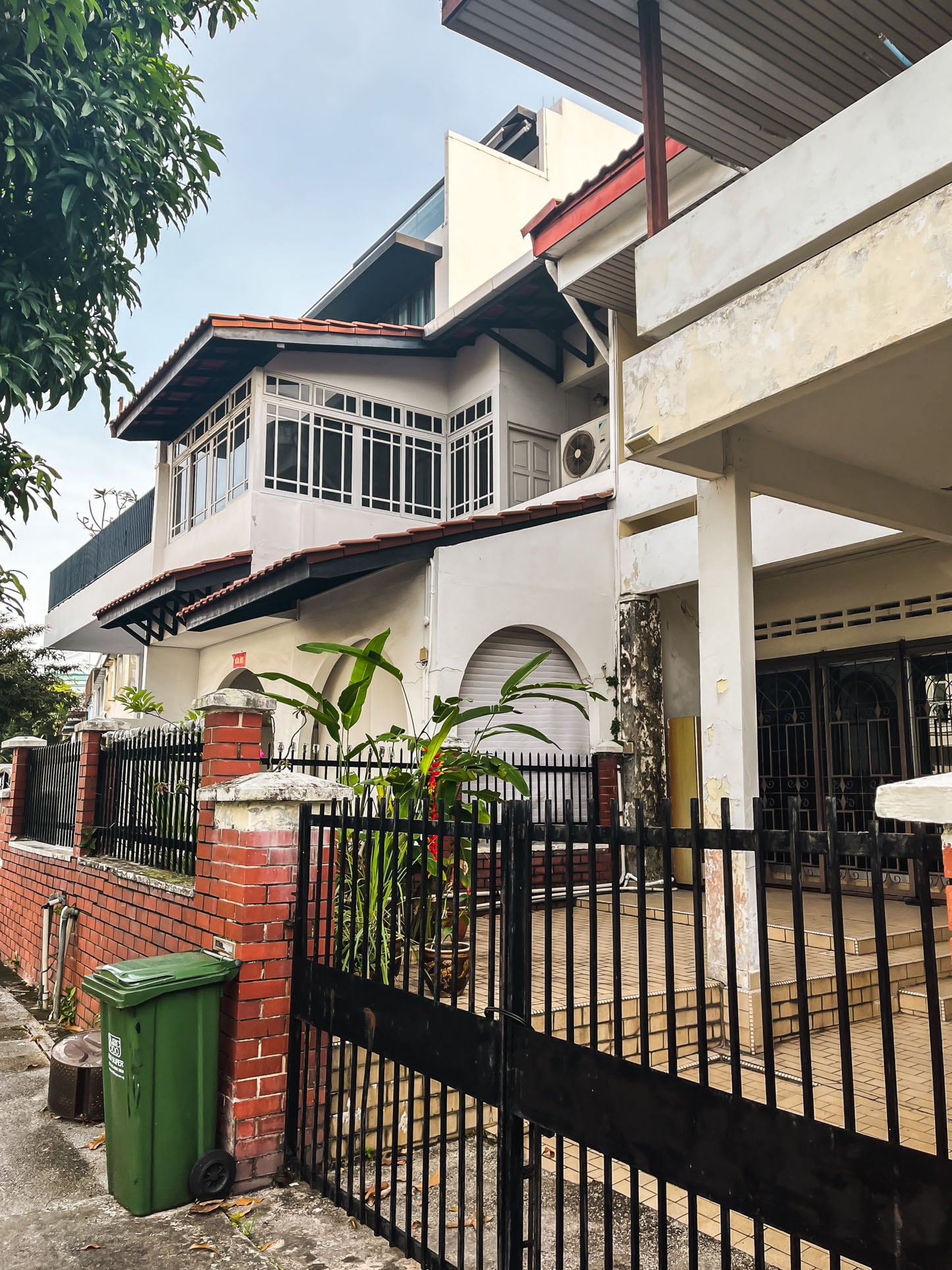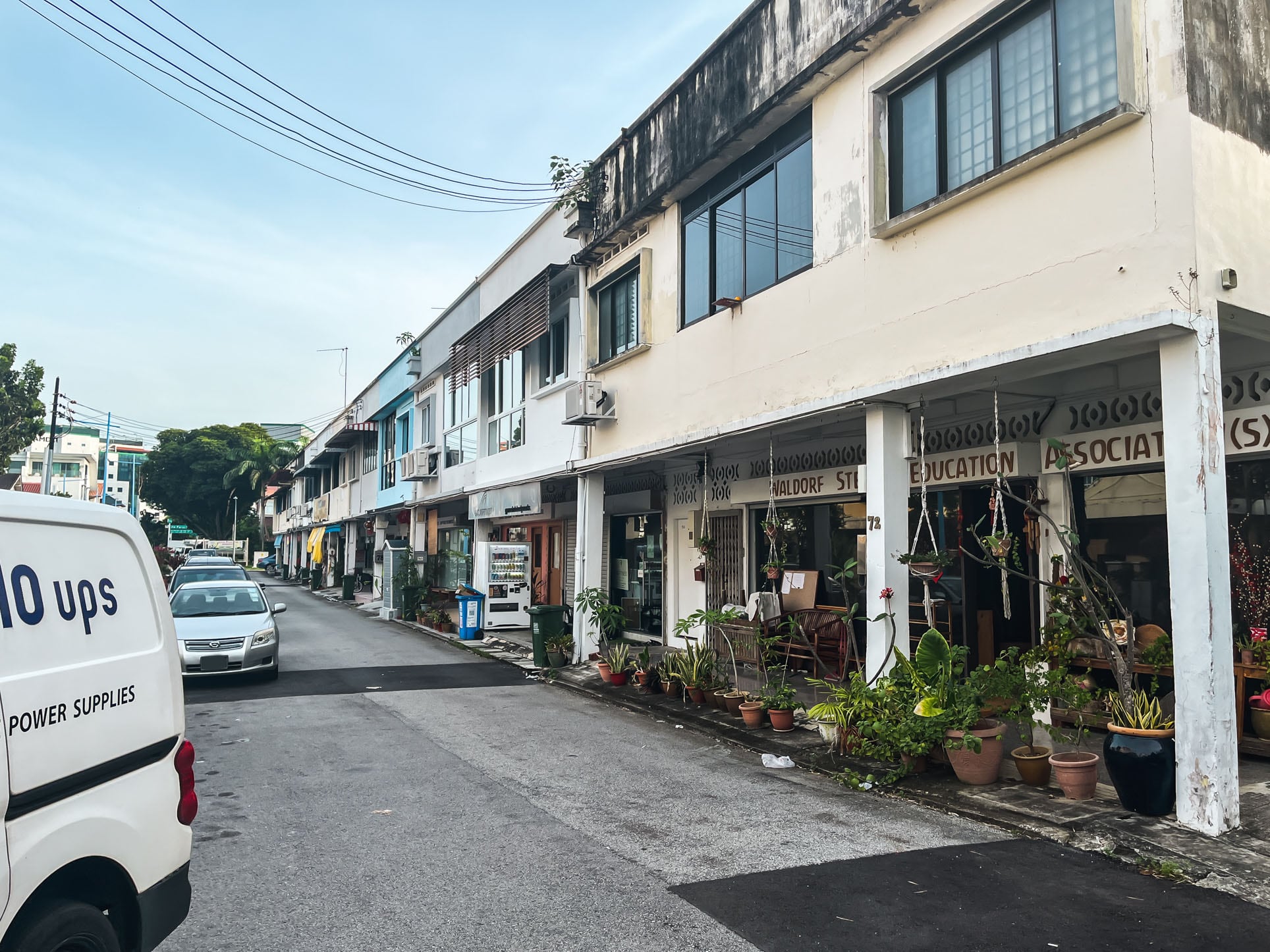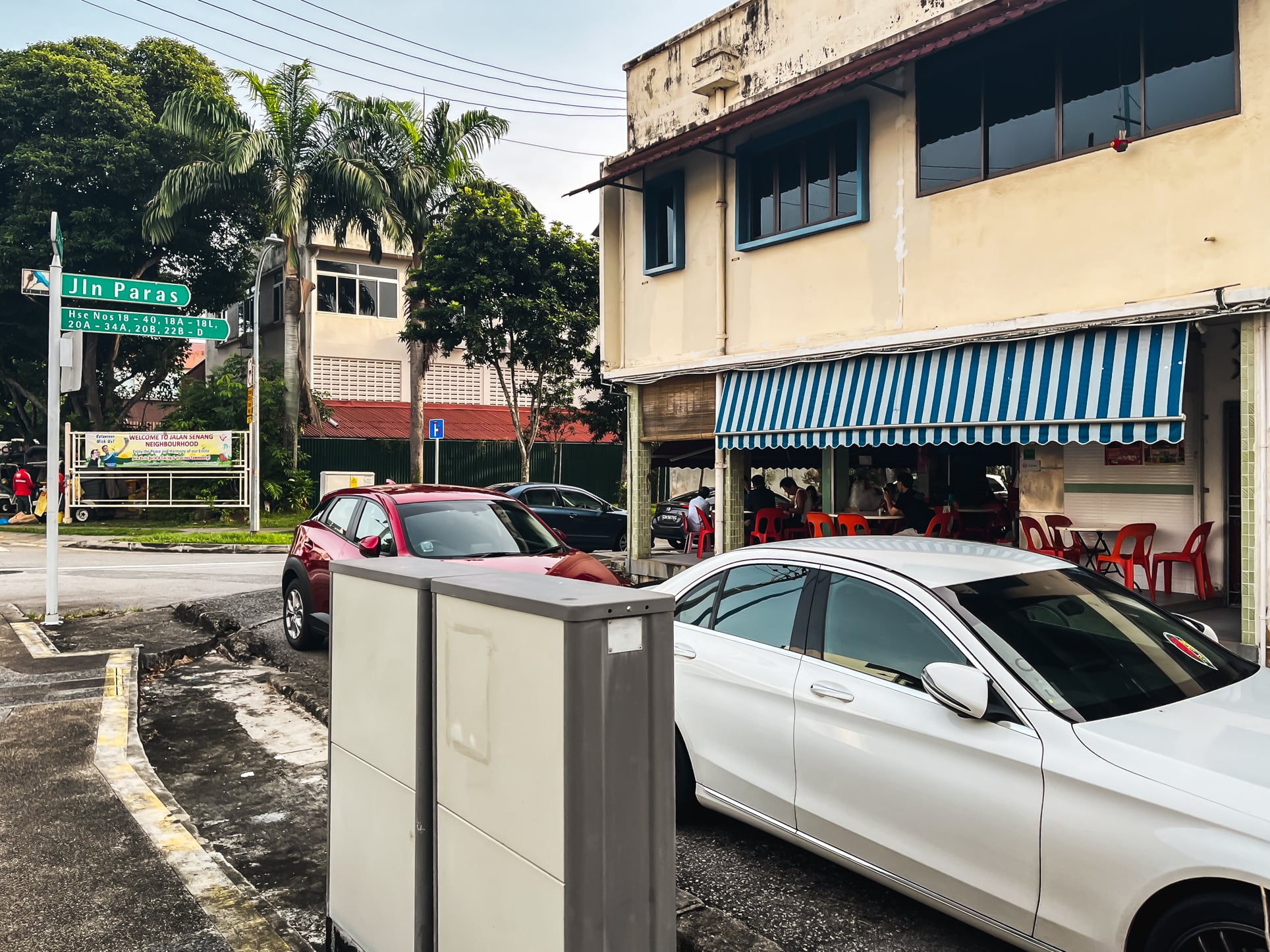 I wanted to try it but it was pretty busy for 8 am on a weekday morning and I decided I didn't feel like queueing and squeezing. Work and the walkabout first!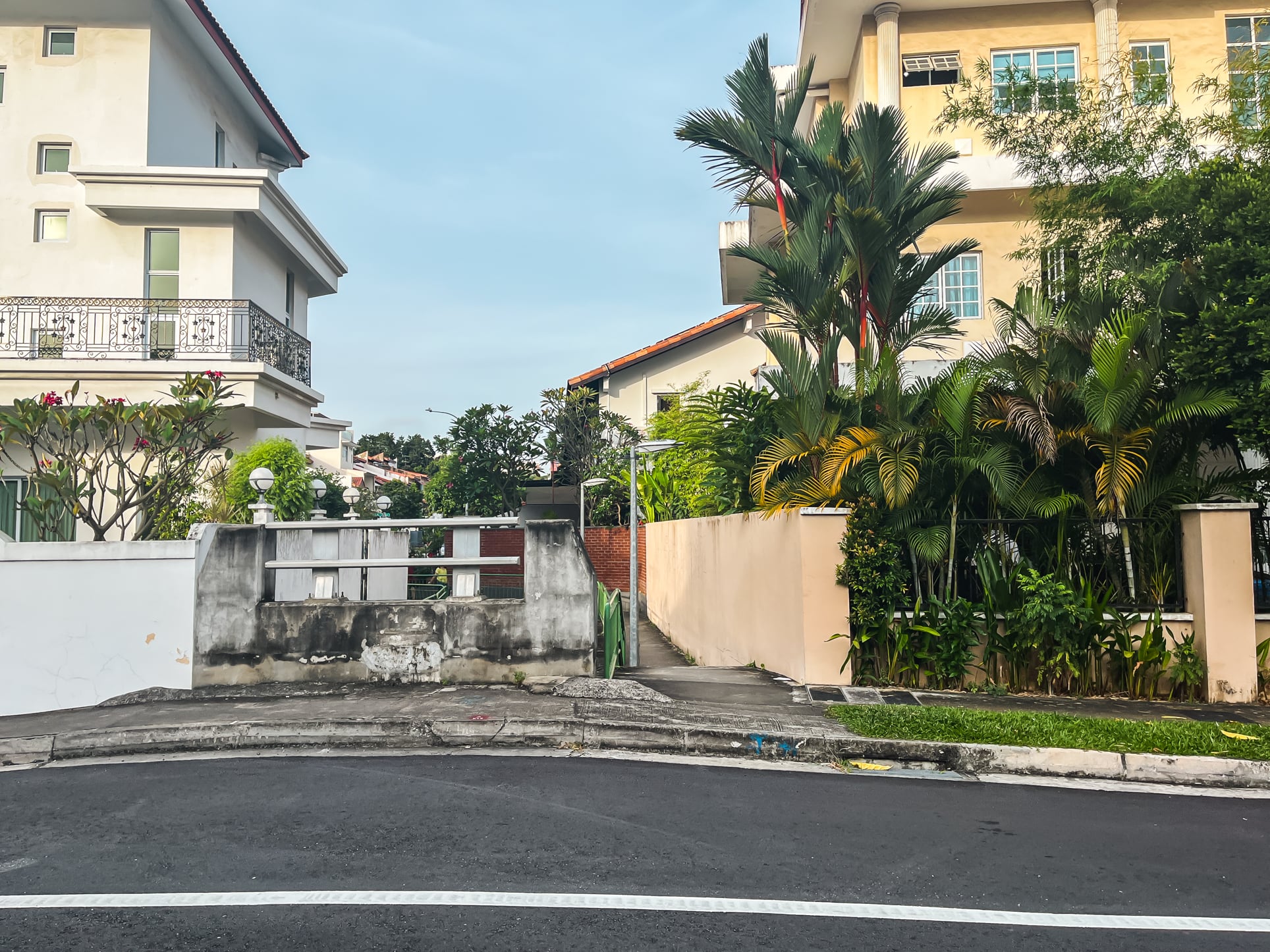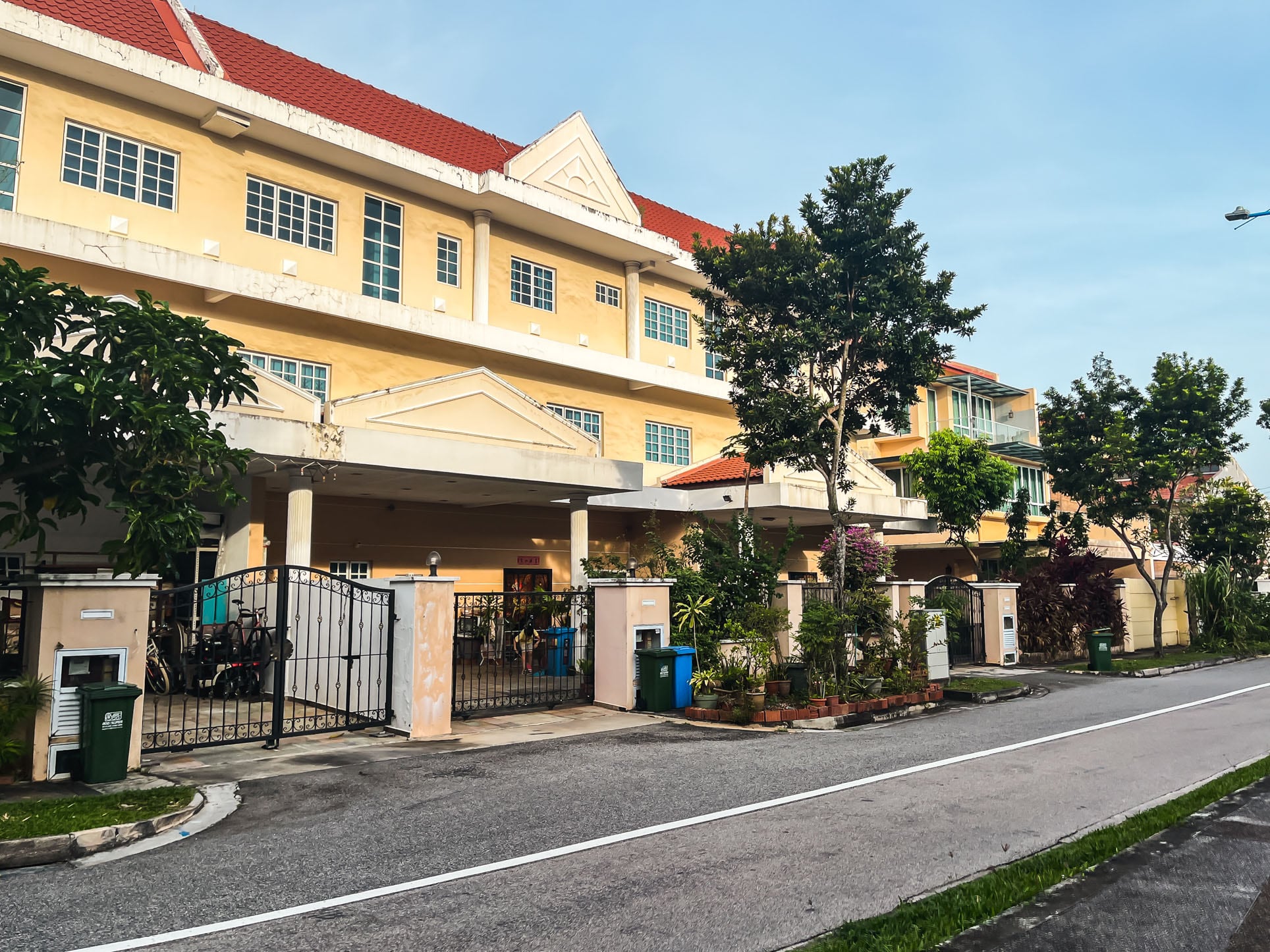 When I first drove in, I thought the area consisted mainly of big detached houses but actually, as we go deeper in, there are more terraces. (I can't help but notice that the "cheaper" terrace units are closer to the industrial bit and the PIE. Having said that, I didn't hear the PIE at all and didn't even know we were near it till I came back and was looking at the Master Plan for this article.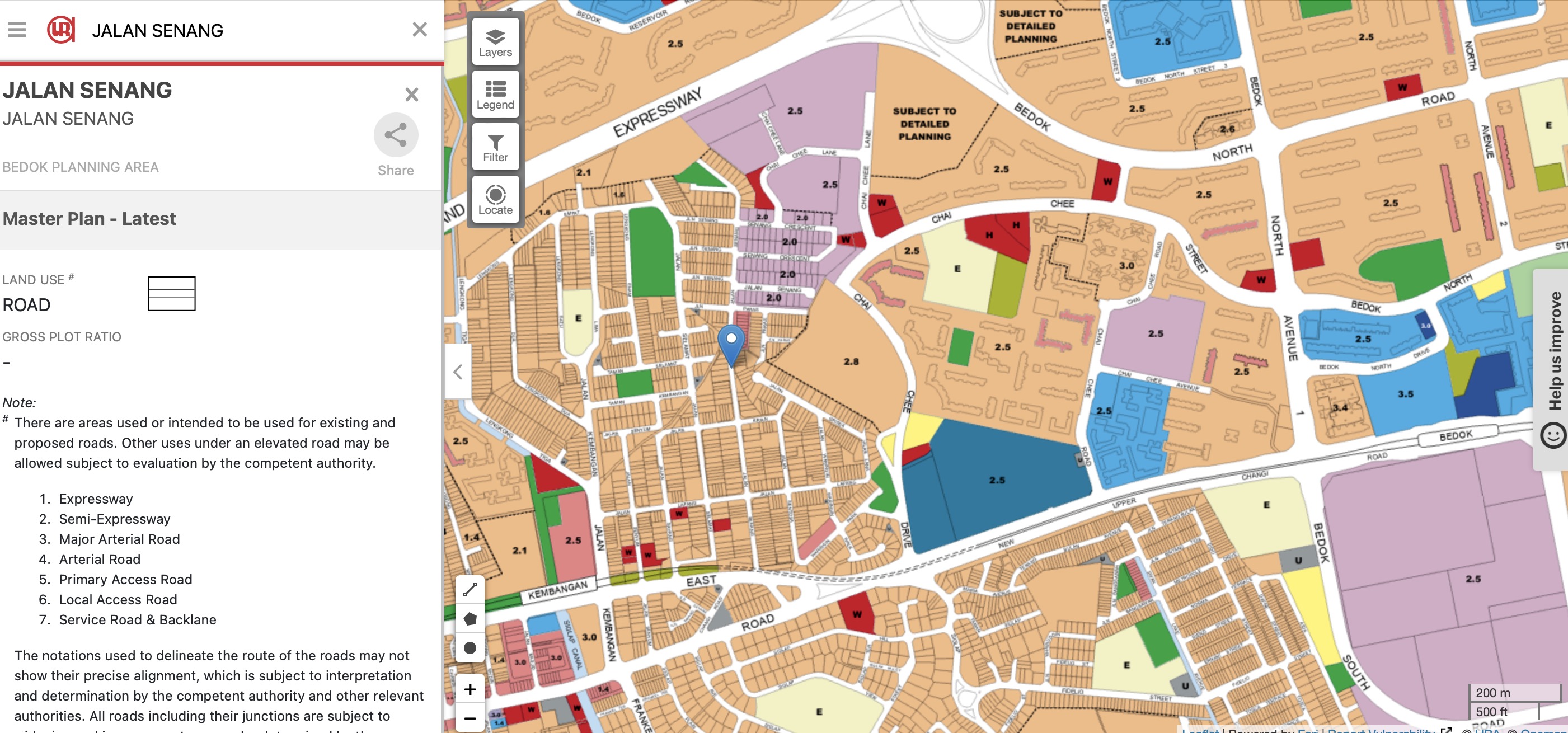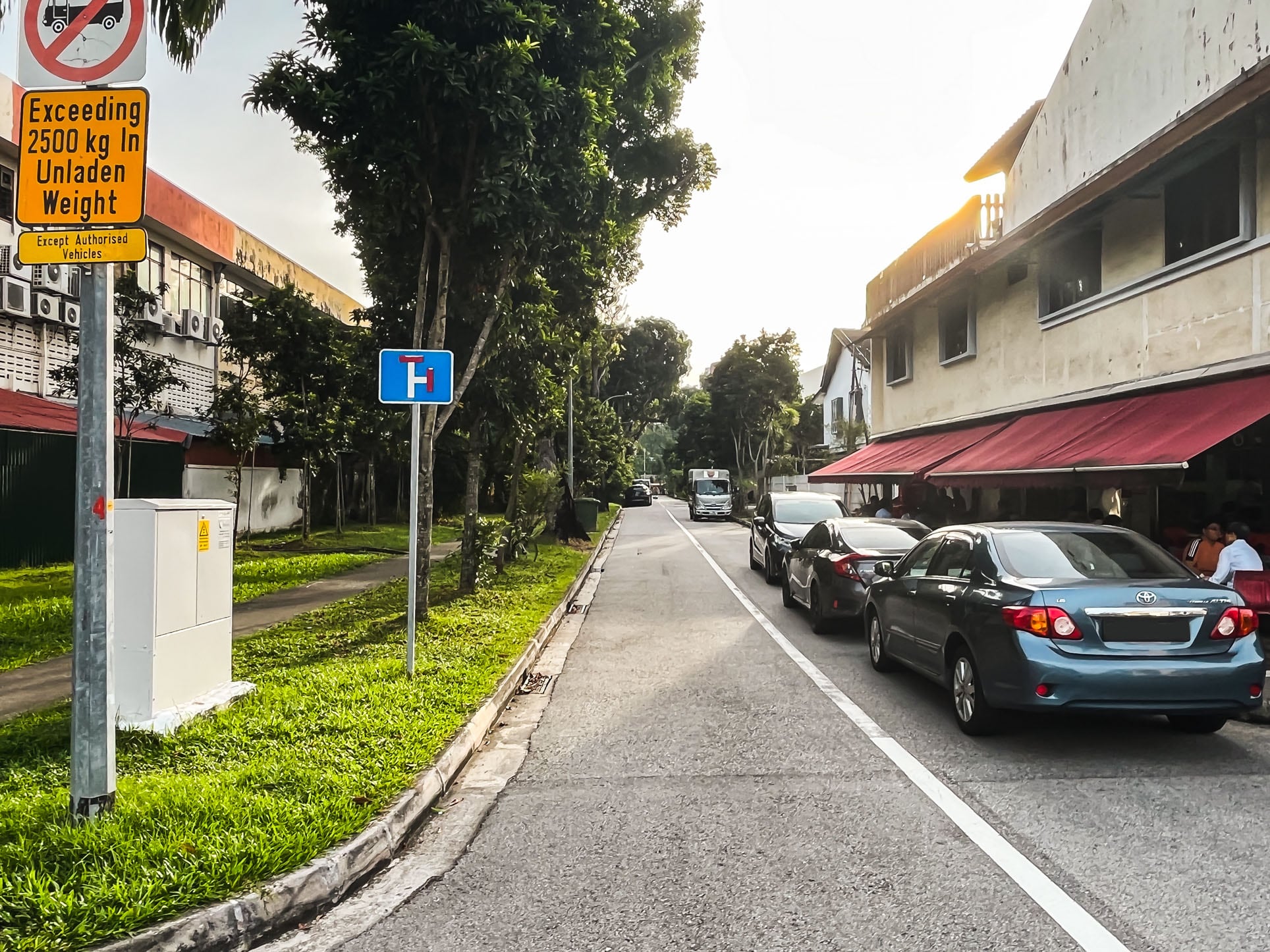 That's "Singapore Distillery" on the left. I was rather excited as I didn't know one existed! According to Google, unique Singapore blends of Gin, and established in 2019. Apparently, residents are quite happy with it (or at least one resident is) as she even left it a 5-star review extolling its presence "right outside my doorstep." It would have been fun to be able to do a tour or create my own gin but the website doesn't indicate any such services.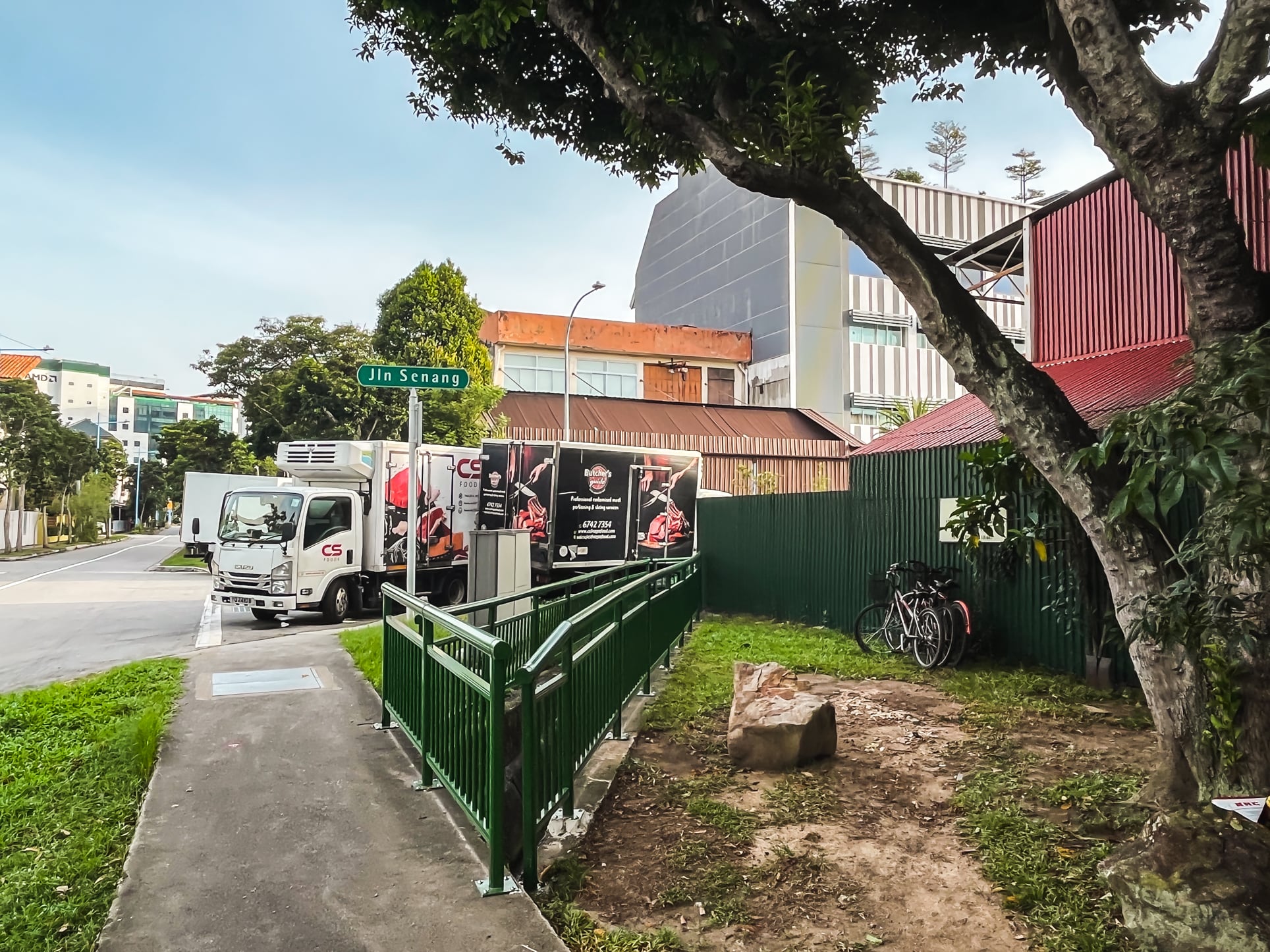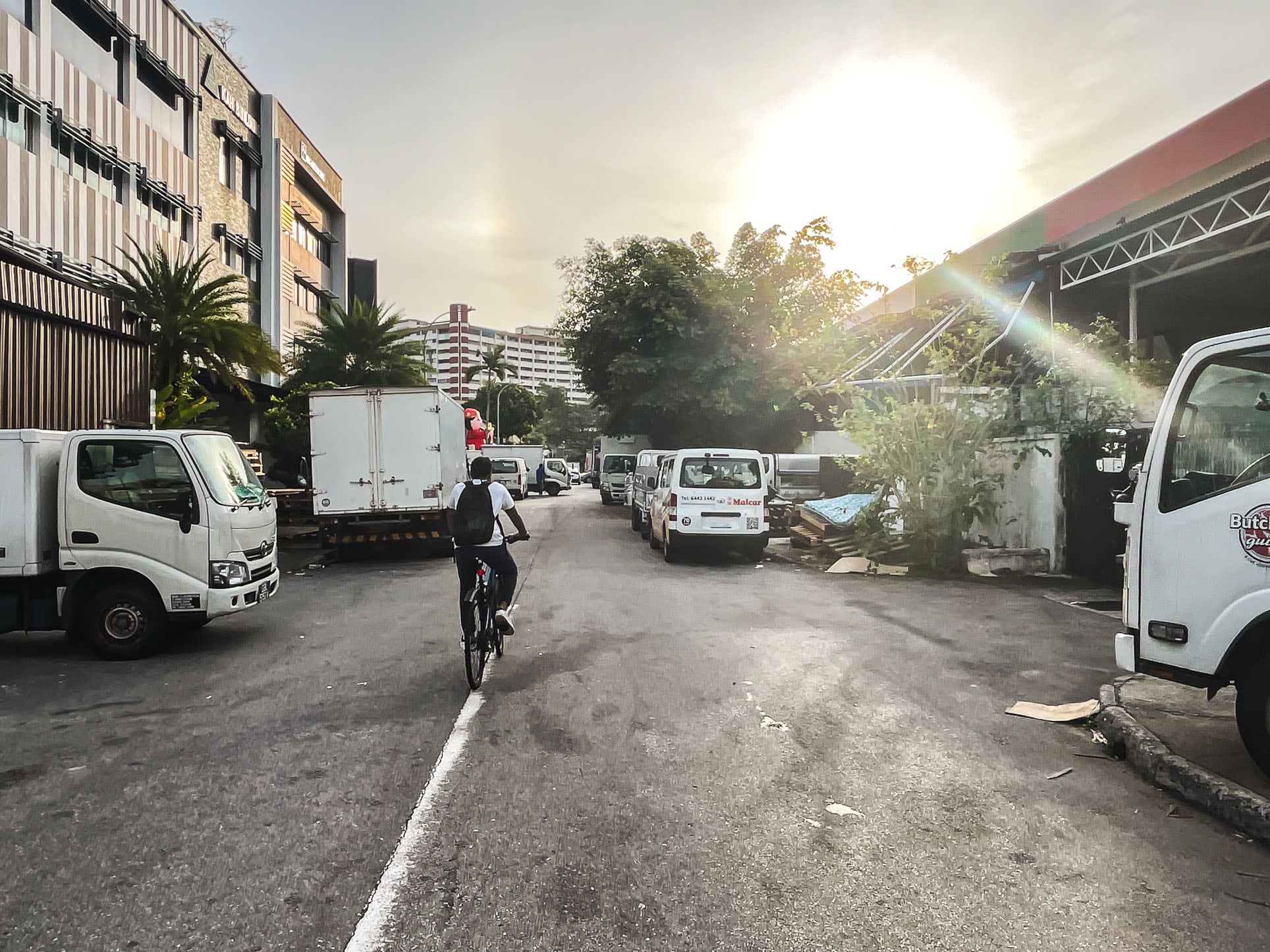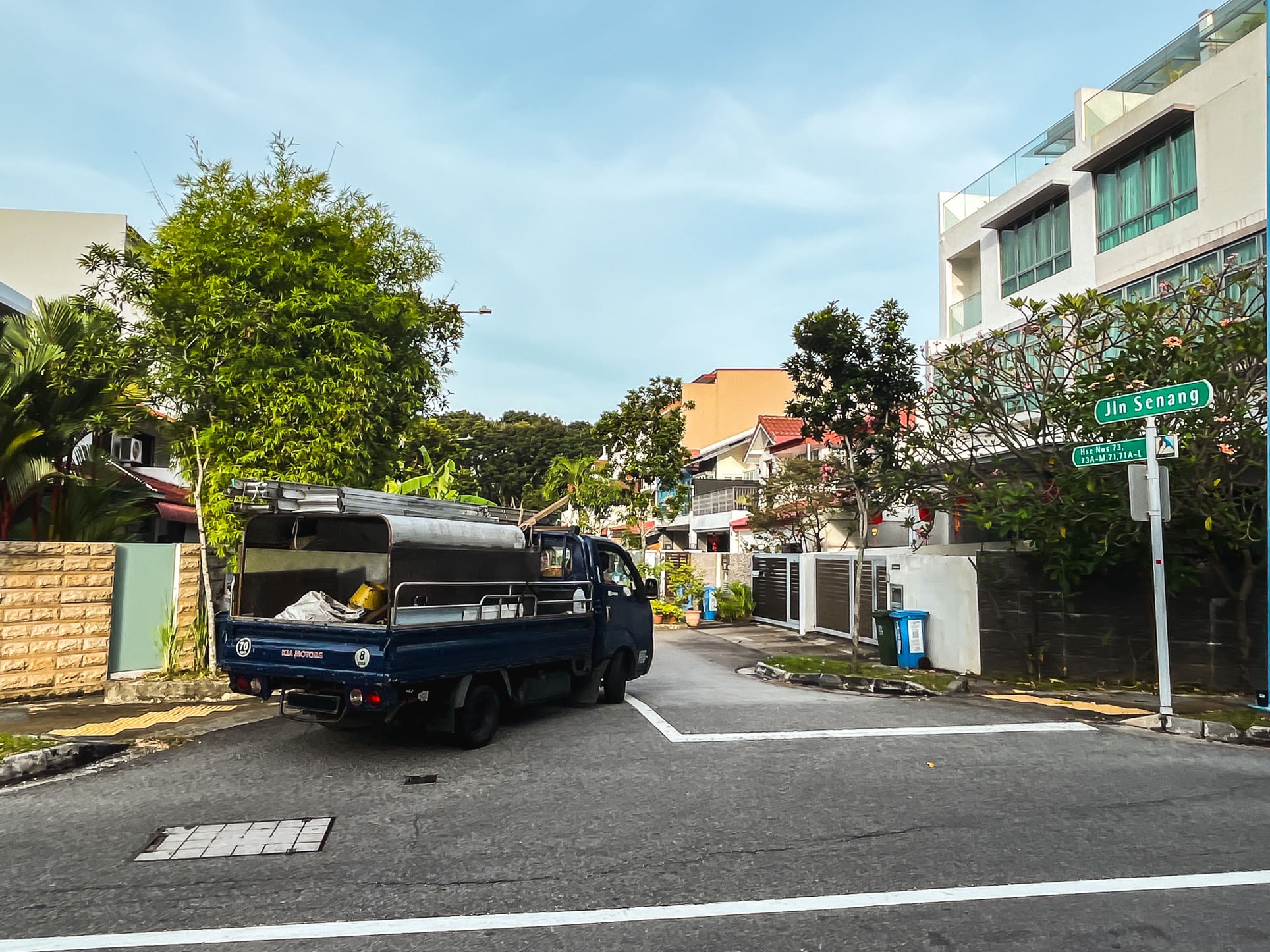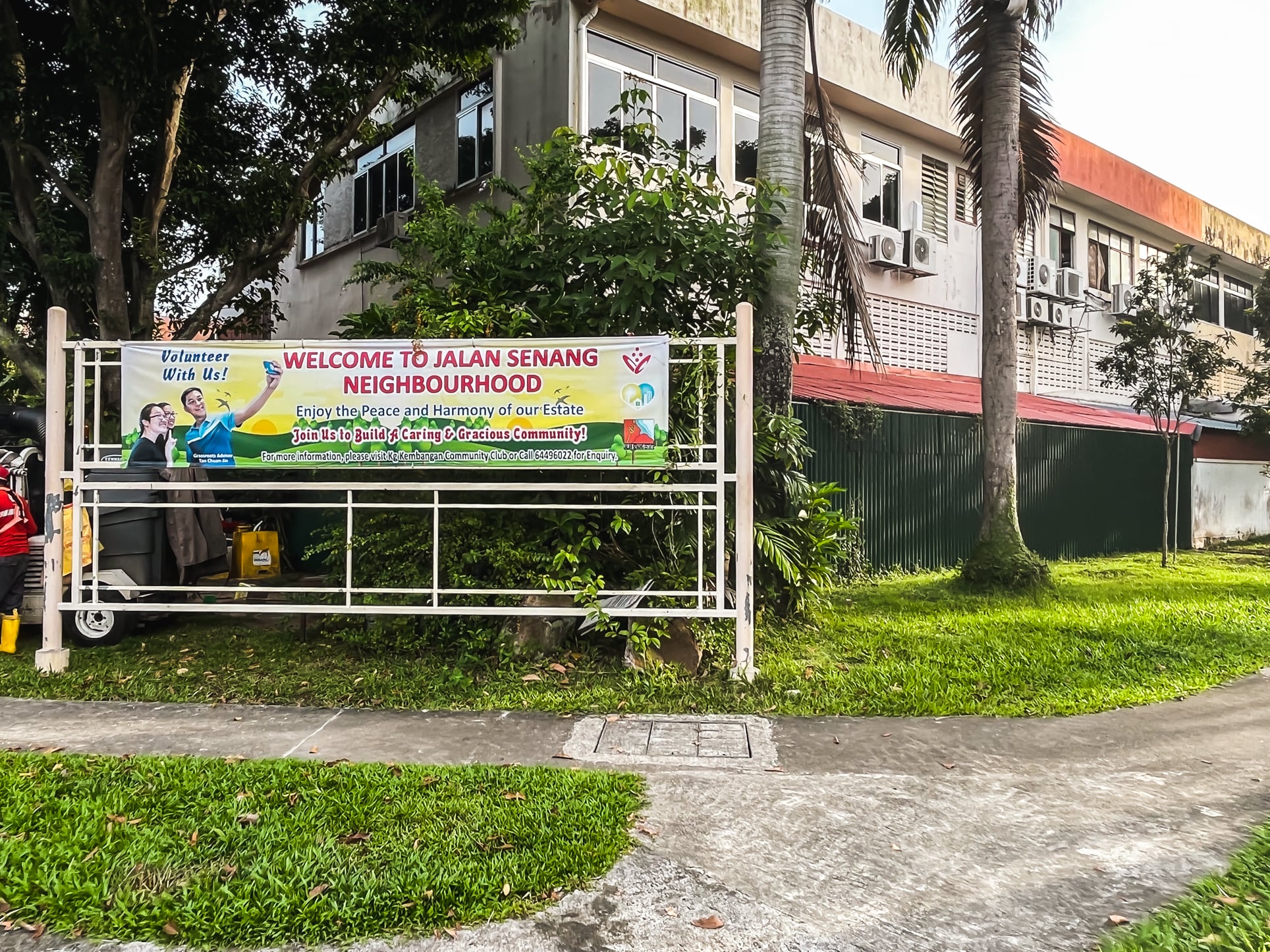 On the minus side, it feels like it could be quite messy during the day (with lots of vehicles driving in and out of the area to transport goods and whatnot.) On the bright side, the area should be very peaceful in the evenings as half your neighbours will be gone! What do you think?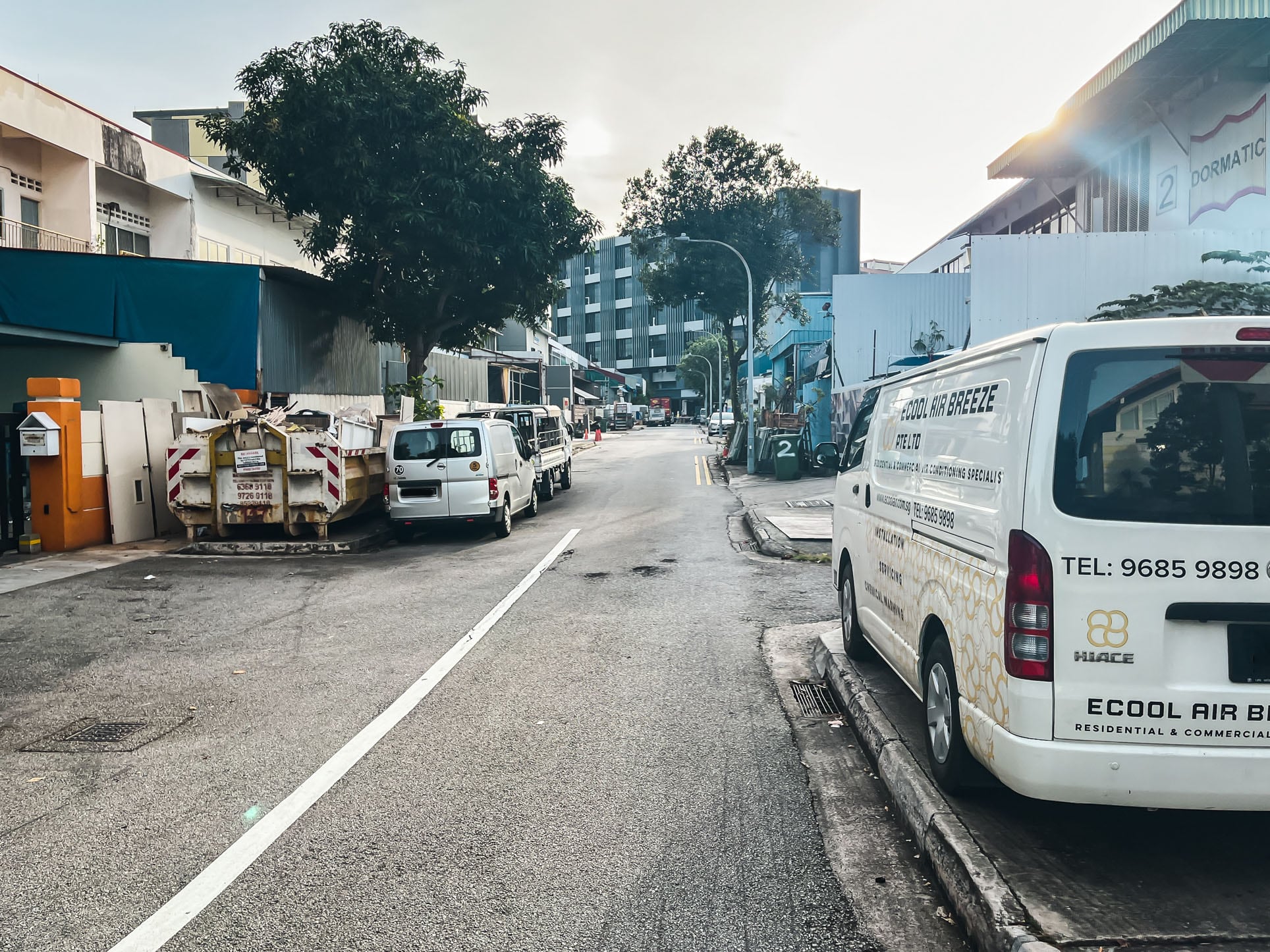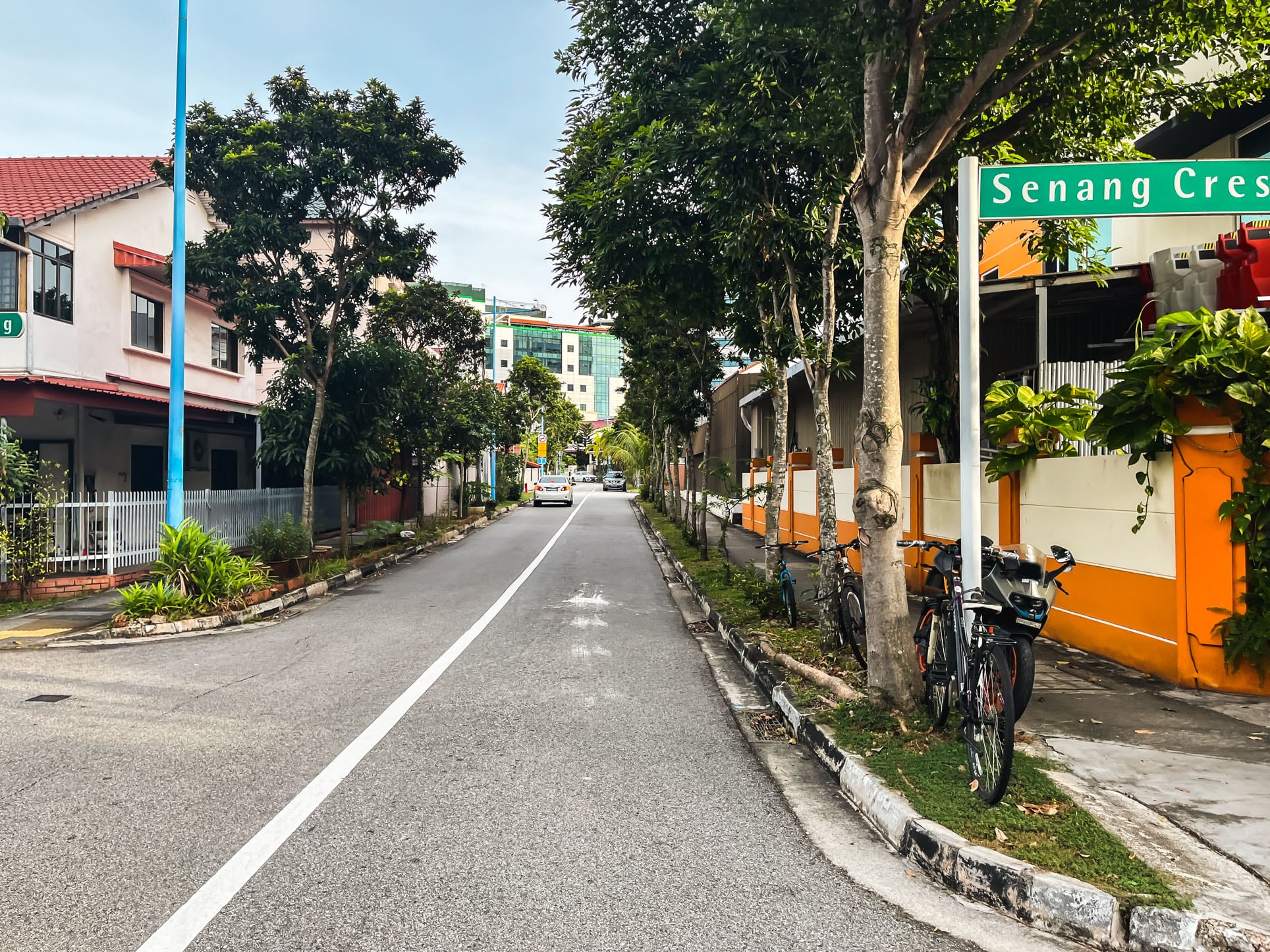 OK, that's the last of the industrial area photos.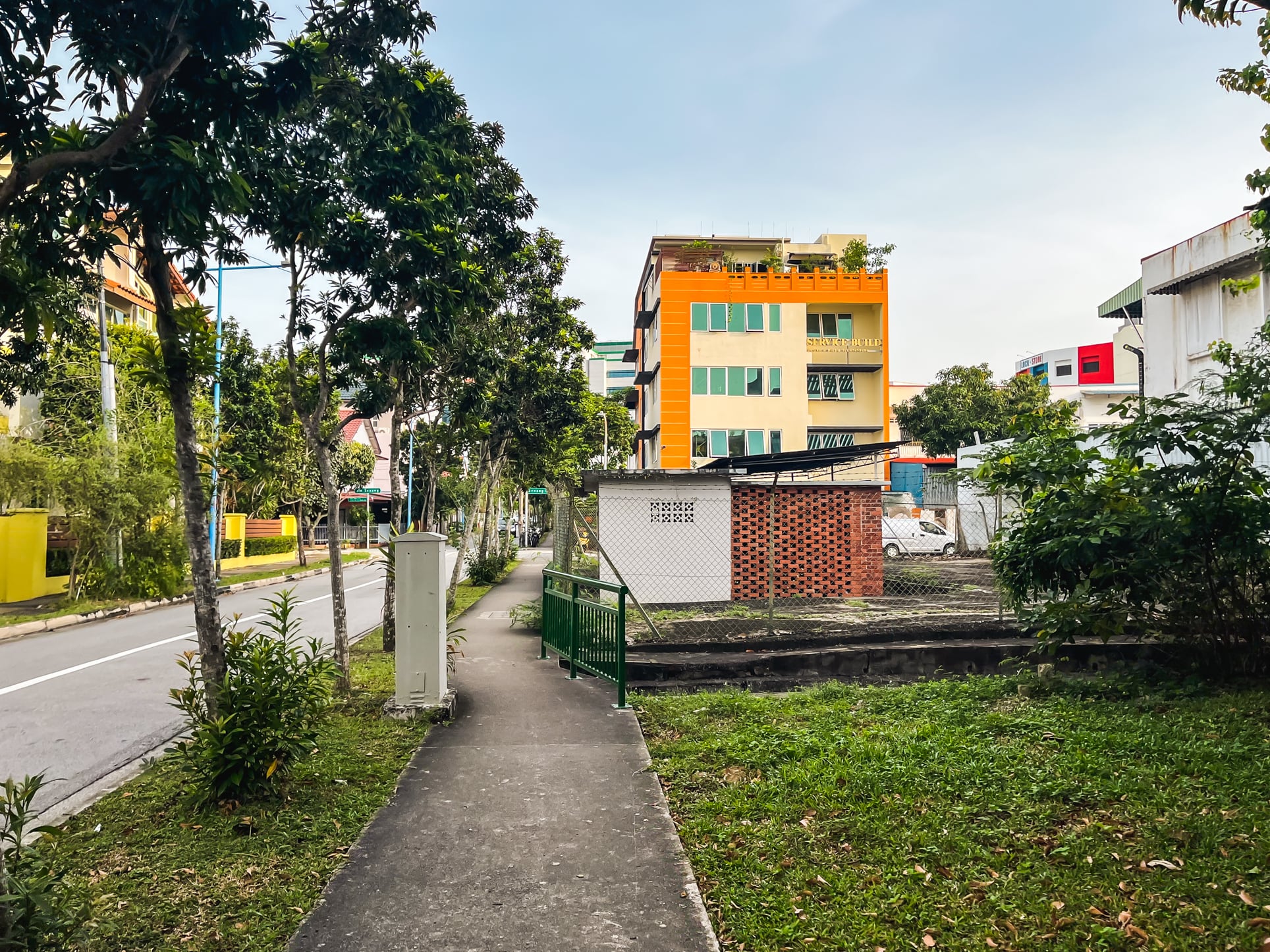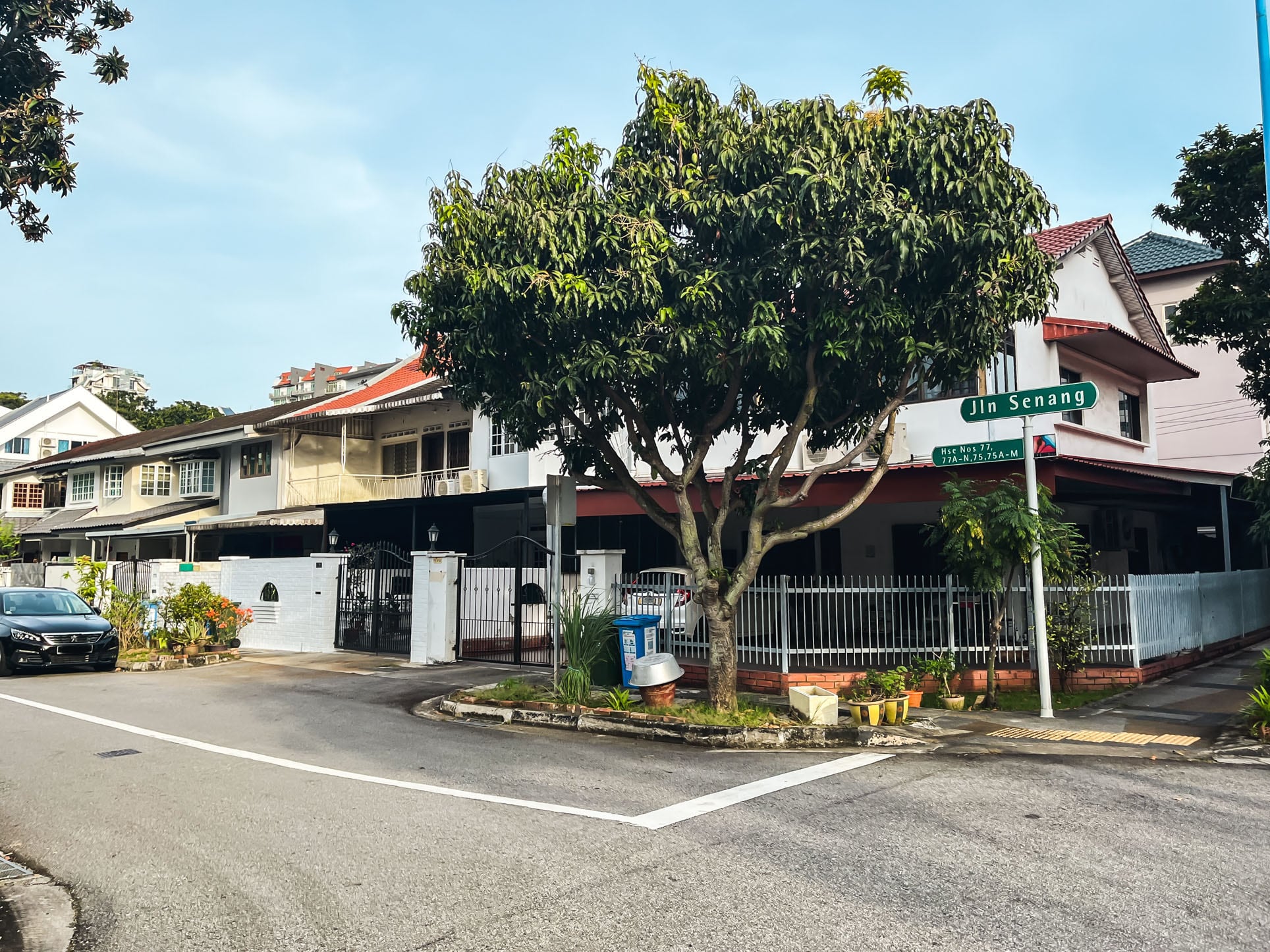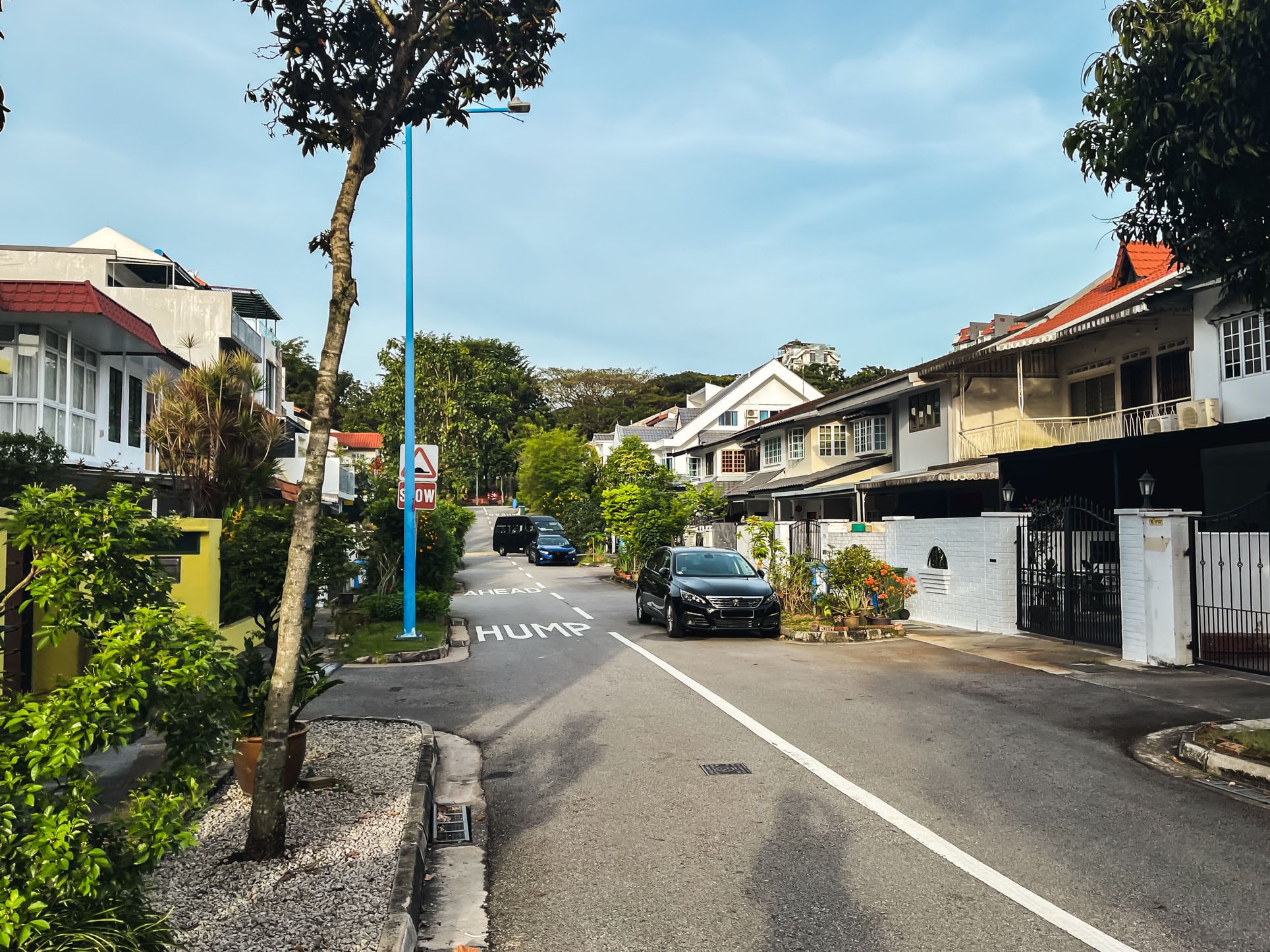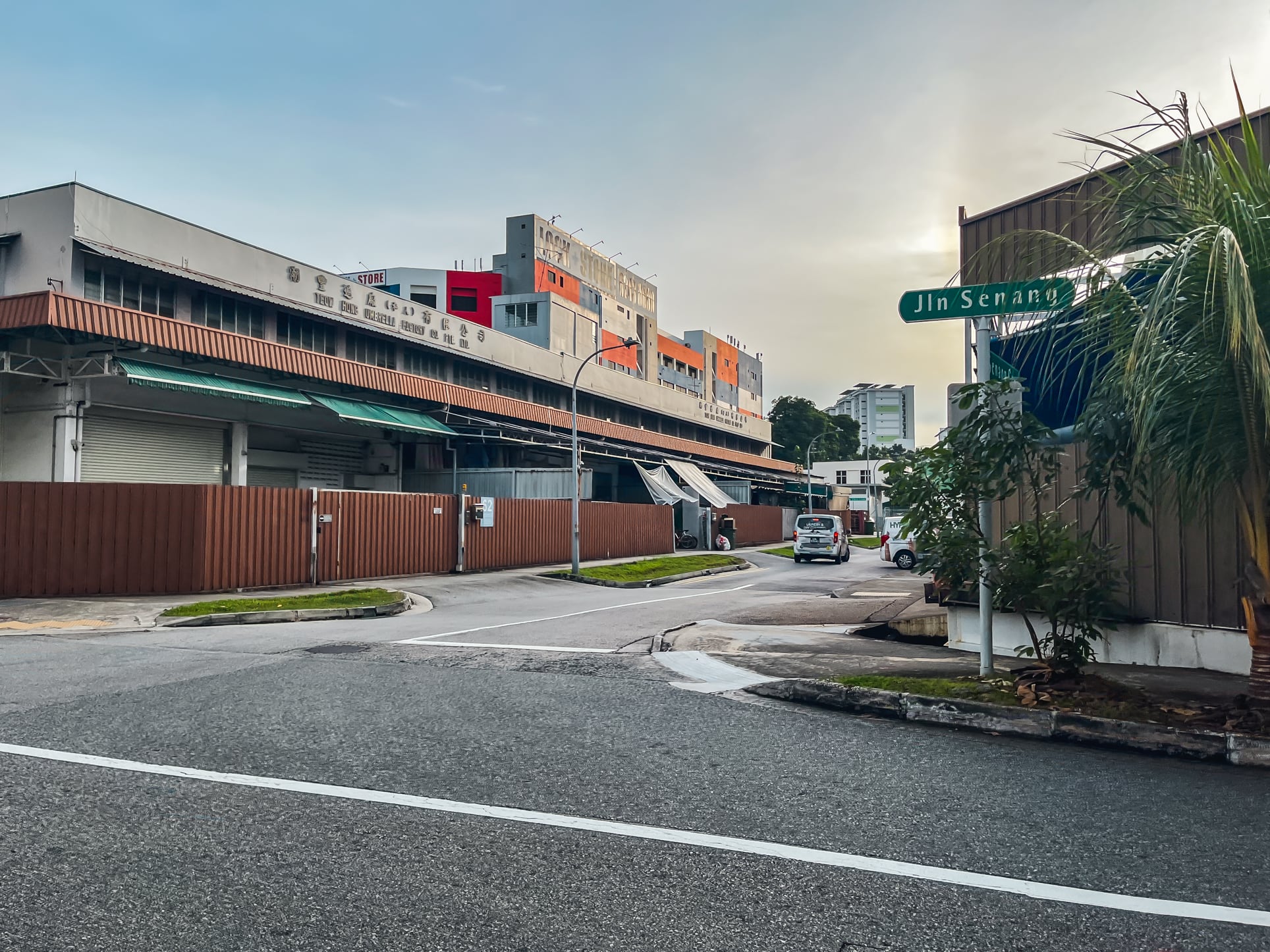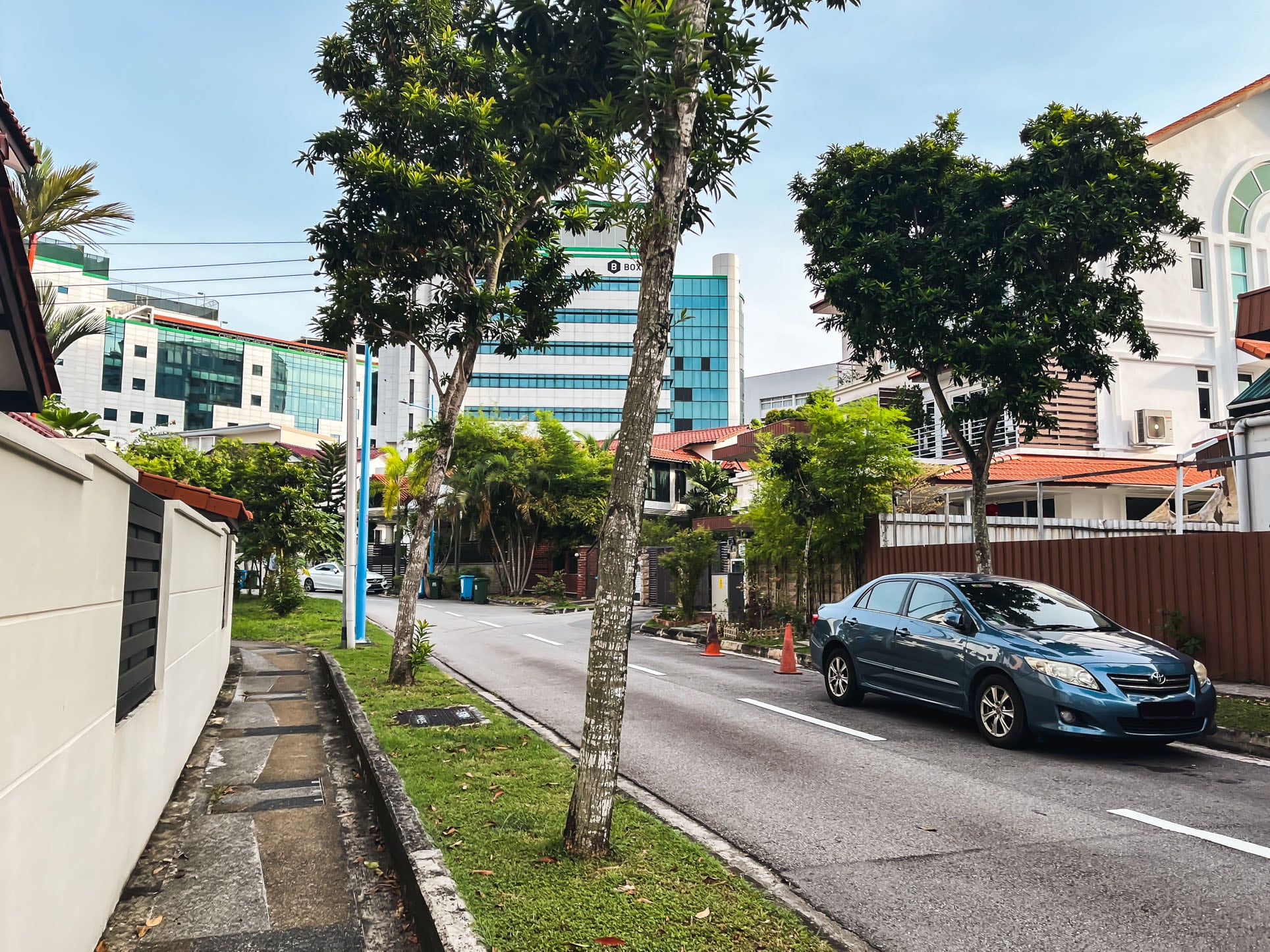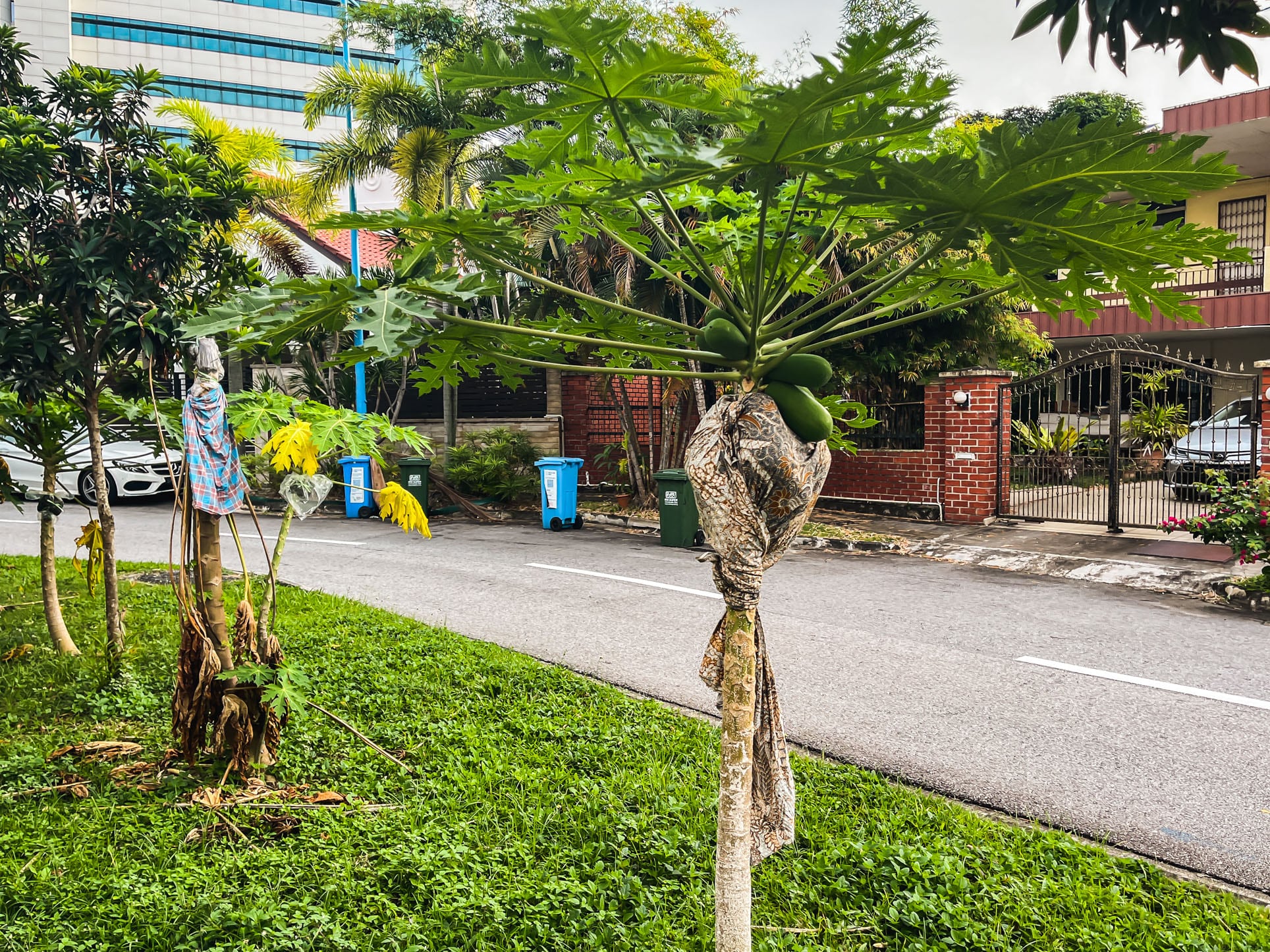 It's also the end of the industrial zone as both sides of the street are now residential (instead of residential on one side and industrial on the other.) Having said that, the residential houses form one row only and then it's zoned civic and community institutions behind followed by industrial buildings again.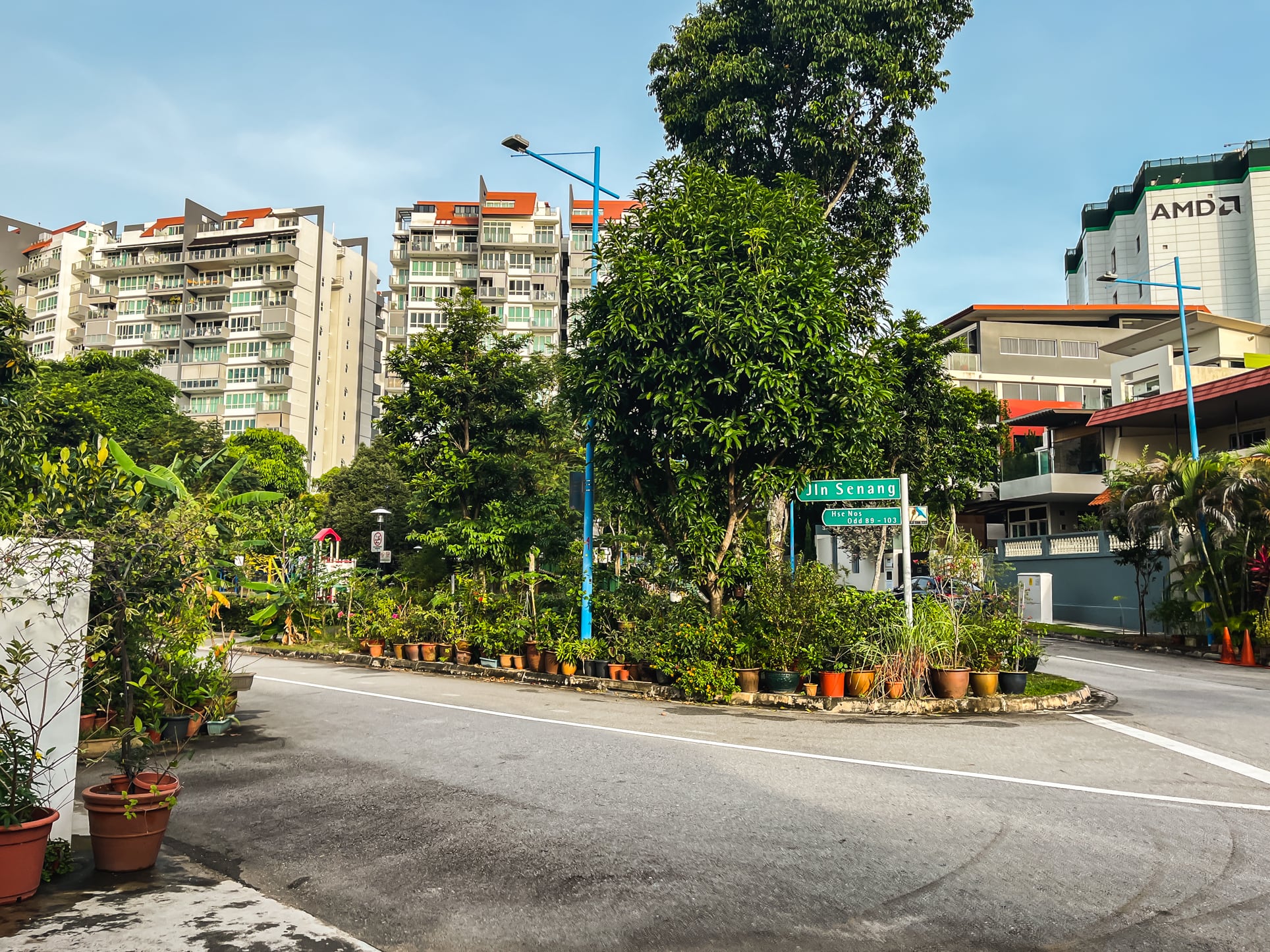 The high-rise condo behind is Vacant East I believe. I'm guessing that's why I don't hear the traffic noise from the PIE. (Luckily for residents, it's blocked by the high-rise.)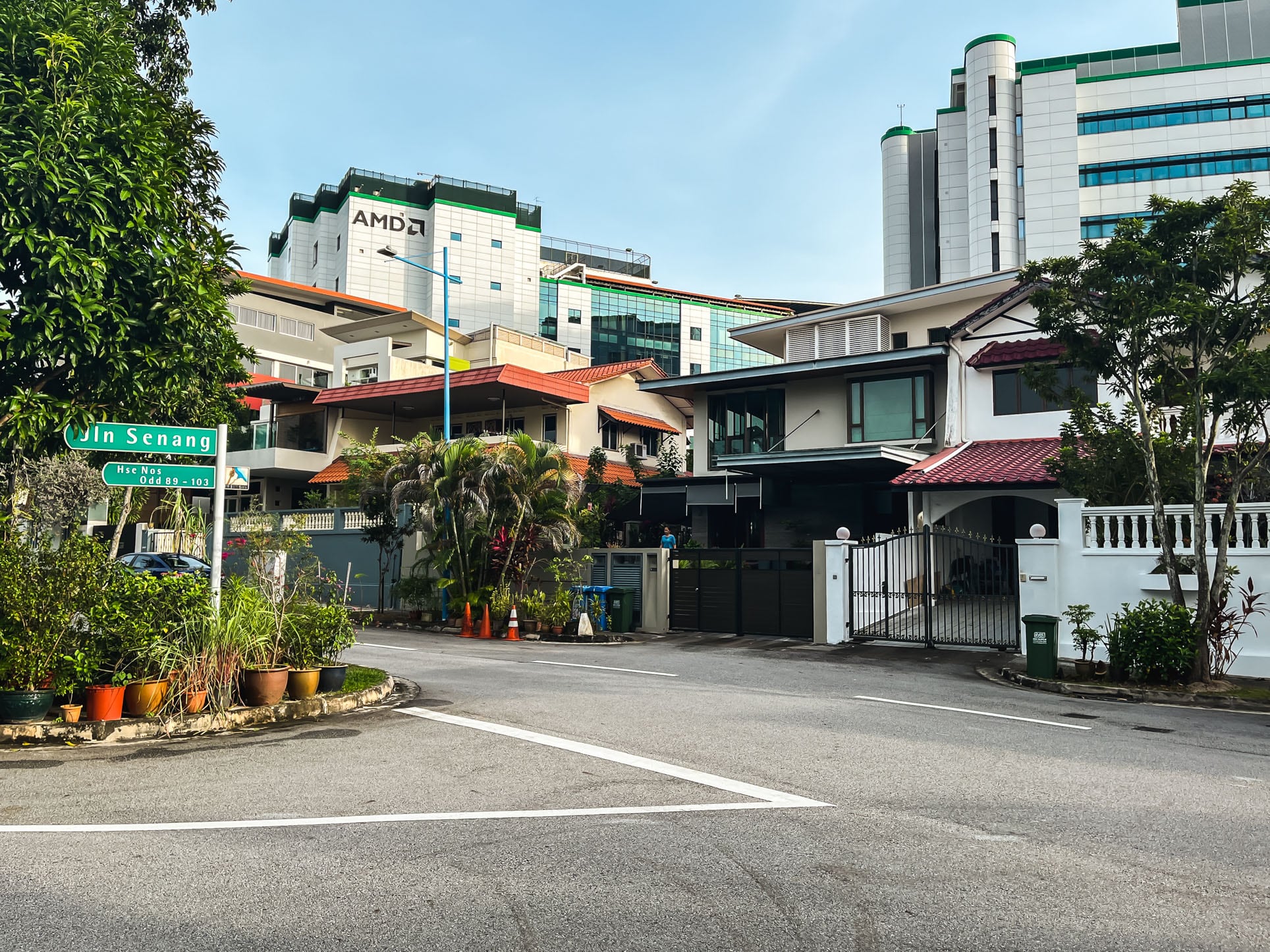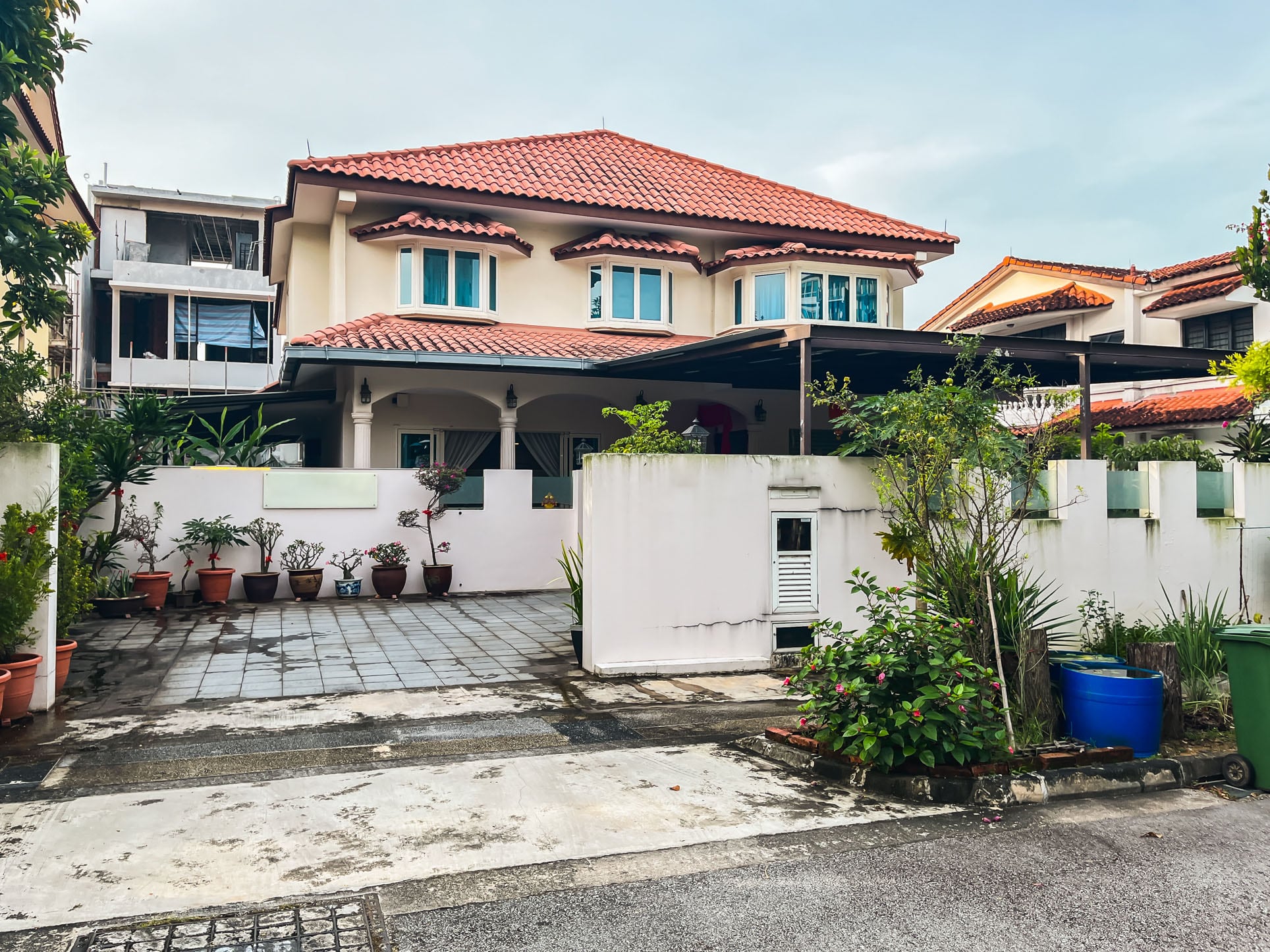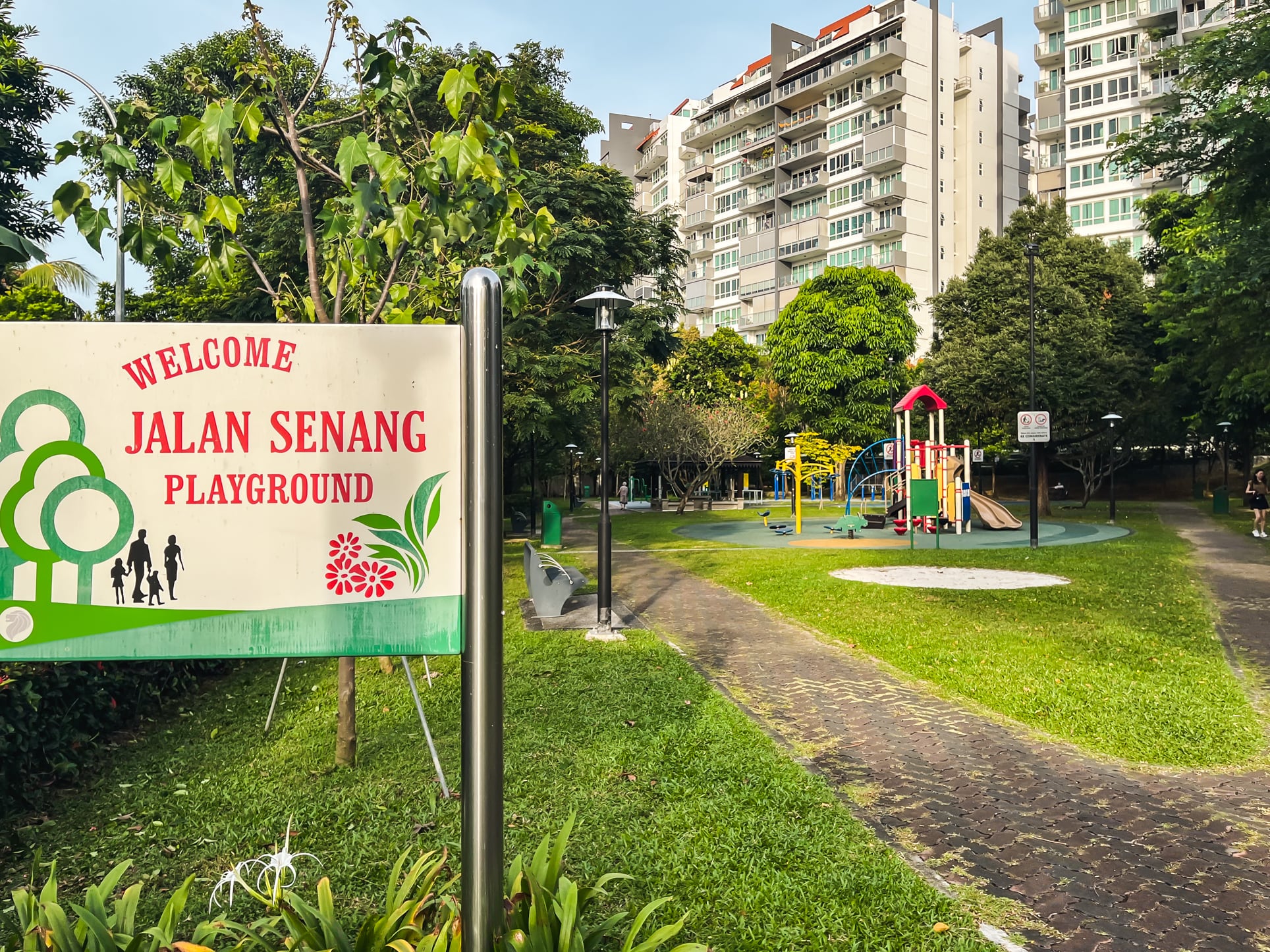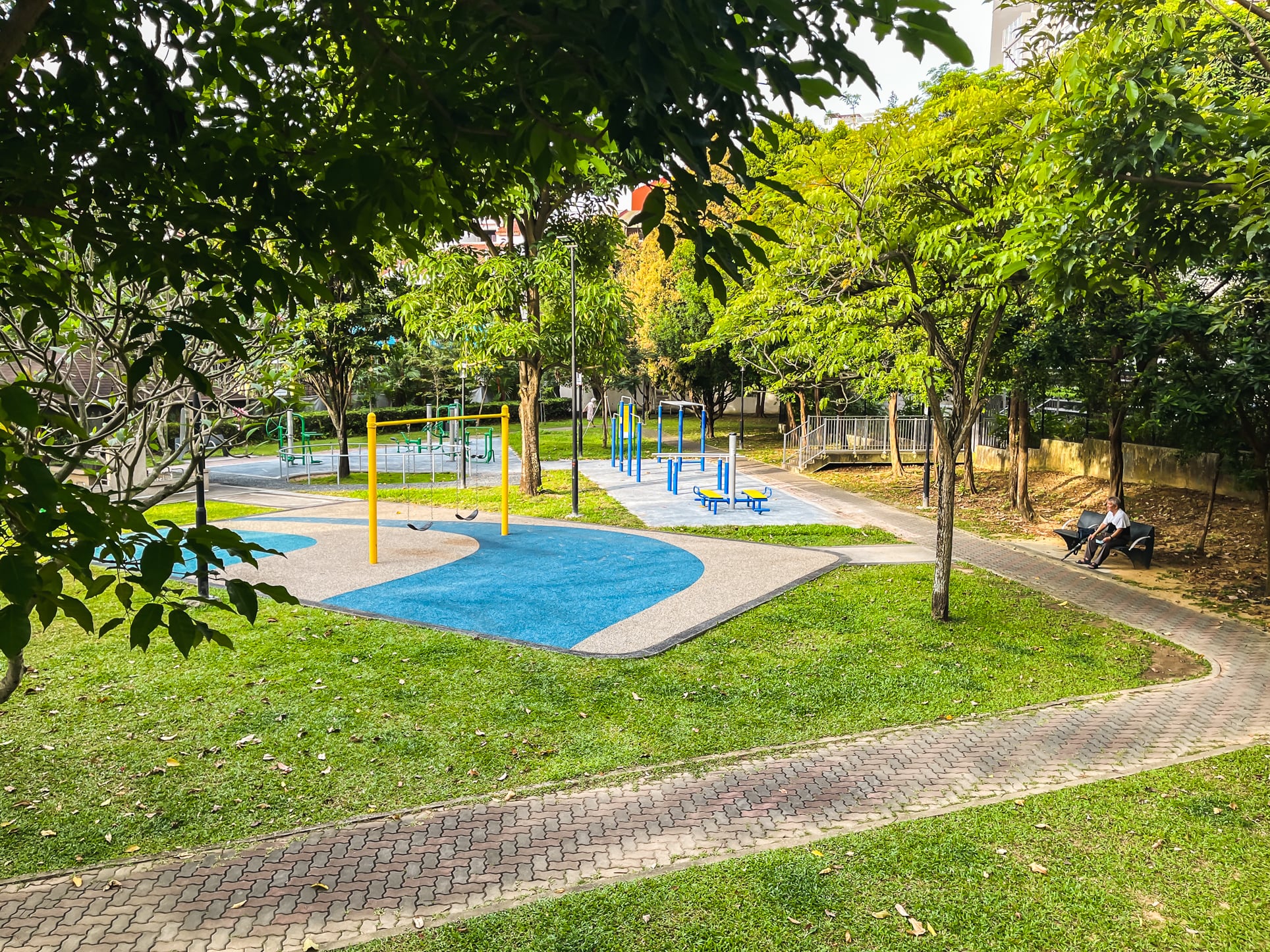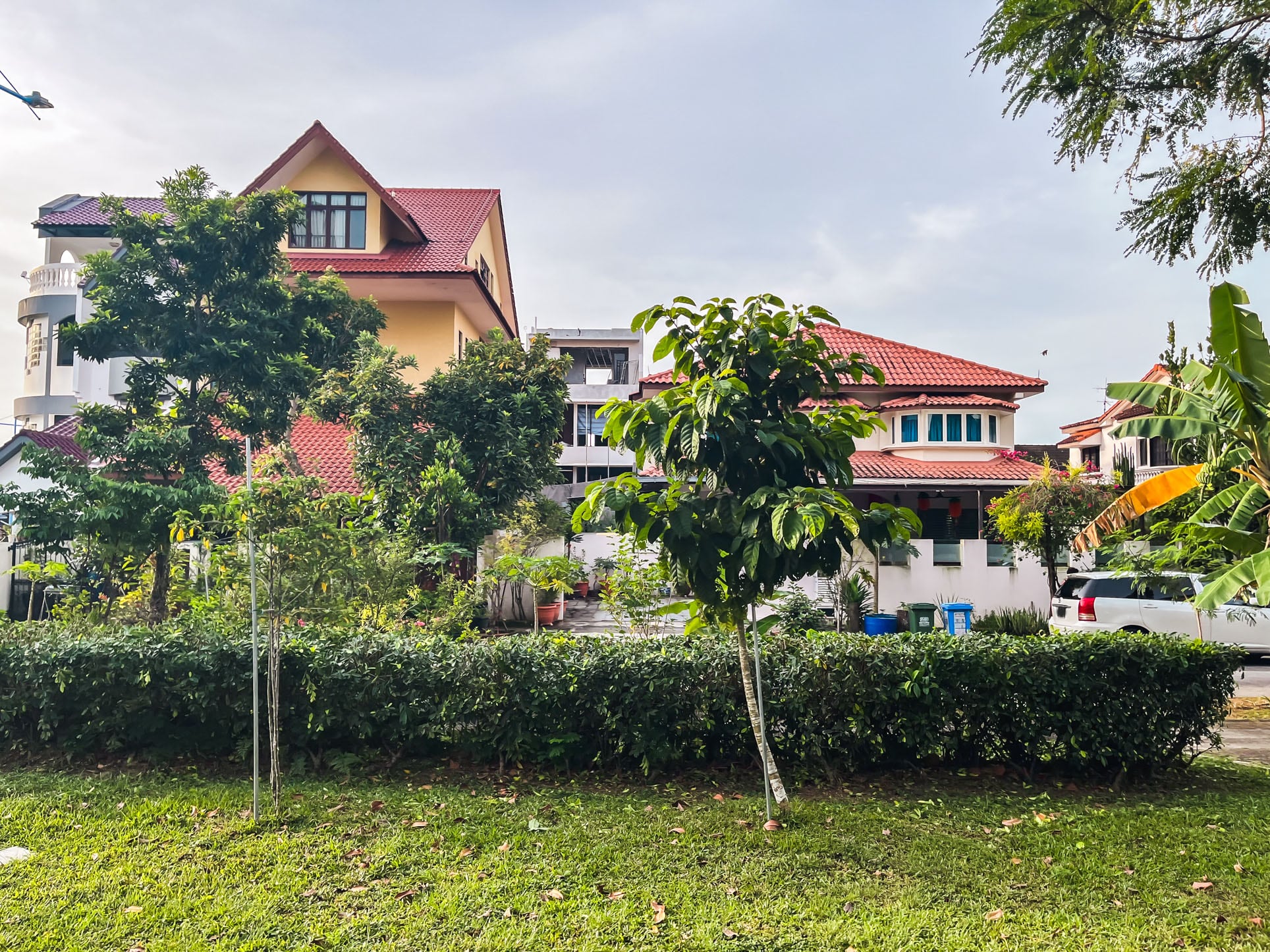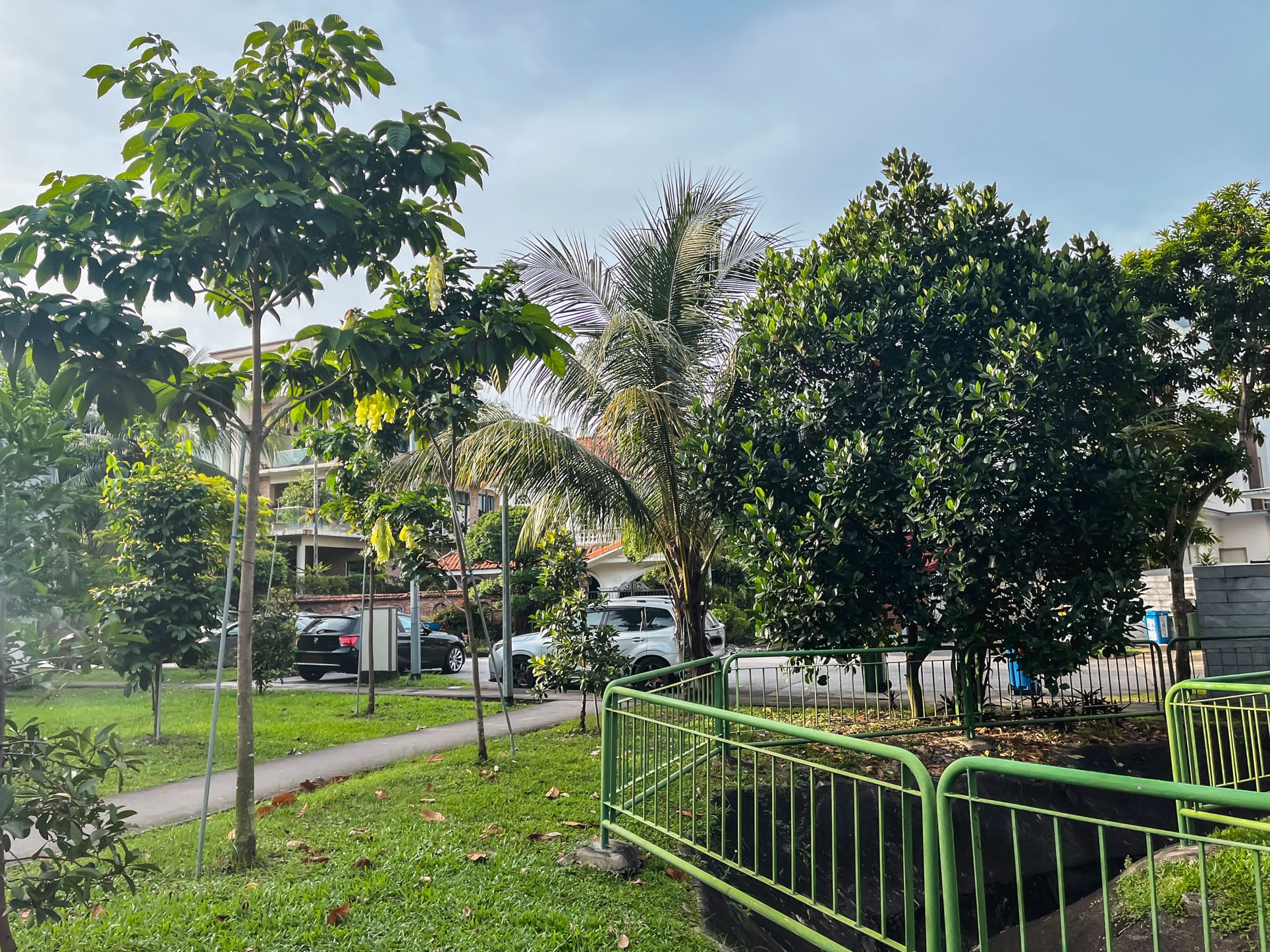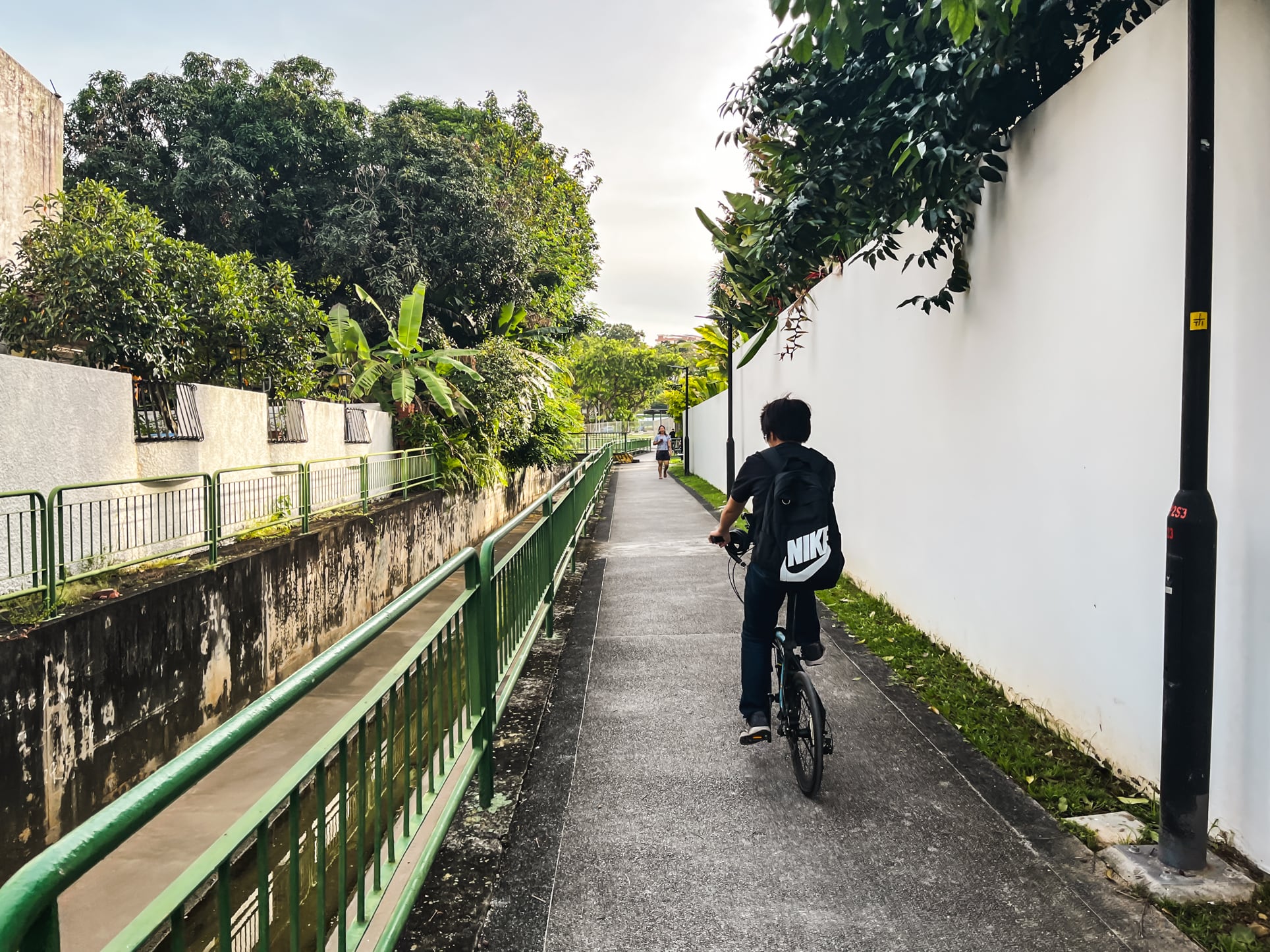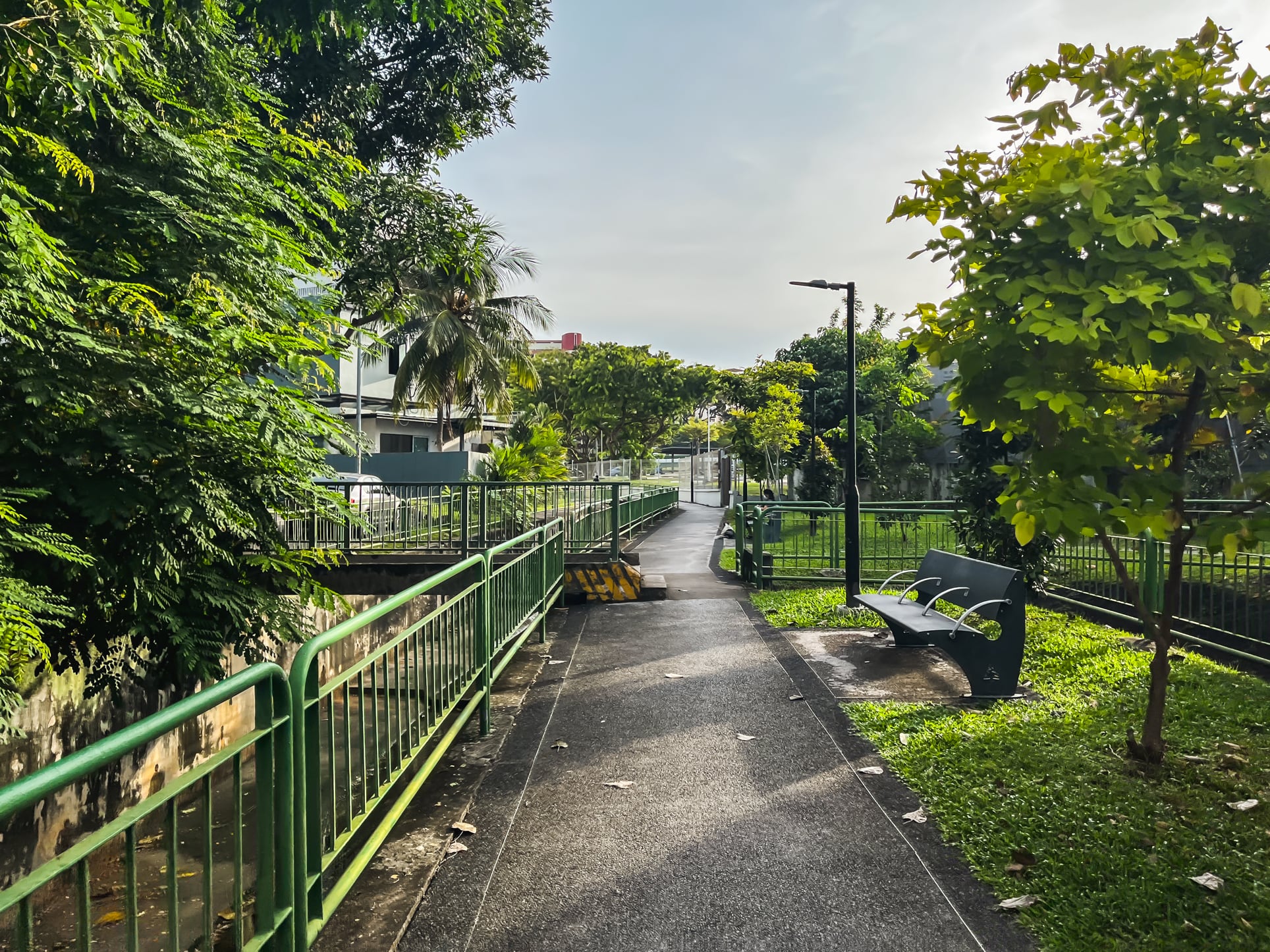 And this is where it leads, bringing us to the end of today's tour.
As you can see, Jalan Senang is quite well-connected for pedestrian access, with many streets and footpaths connecting to the surrounding roads. In terms of vehicular access, it is also very convenient as you can drive in from 3 areas: Siglap (or Sims Avenue East, where we started our tour), the Bedok central region, and Eunos.
For public transport, it's about a 5 to 12 minutes walk to Kembangan MRT, which is on the East-West line. Kembangan is an above-ground line, which can be a little noisy. However, the houses at Jalan Senang are far away enough that they do not hear the MRT announcements. (I have a friend who stays near Tanah Merah MRT and wakes up to their announcements at 5 am every morning!) As for bus stops, there is one just a few stops away from where Jalan Senang meets Sims Avenue East, which serves Buses 2, 2A, 7, 24, 25, 26, 28, 30, 32, 33, 42, 67, and 854.
Unfortunately, the area is a little lacking when it comes to groceries. According to yoursingaporemap.com the closest wet market is more than 1.2 km away and the closest supermarket/ NTUC is about 0.7 km away. (The same is true for shopping centres. The closest is Kembangan Plaza but it's, well, in the words of the Google reviews '"so quiet", "dead", and "small sad building that looks neglected" so don't expect too much! It's mostly gyms and TCM rather than shops.
There are, however, 3 Primary schools within 1 km of some of the houses in the estate – namely, St Stephen's, Opera, and East Coast Primary.
Having finished our tour of Jalan Senang, how did you find the area? Let me know in the comments!