Condo Reviews

Thomson Three Review – All you need to know
Druce
August 18, 2017

11

min read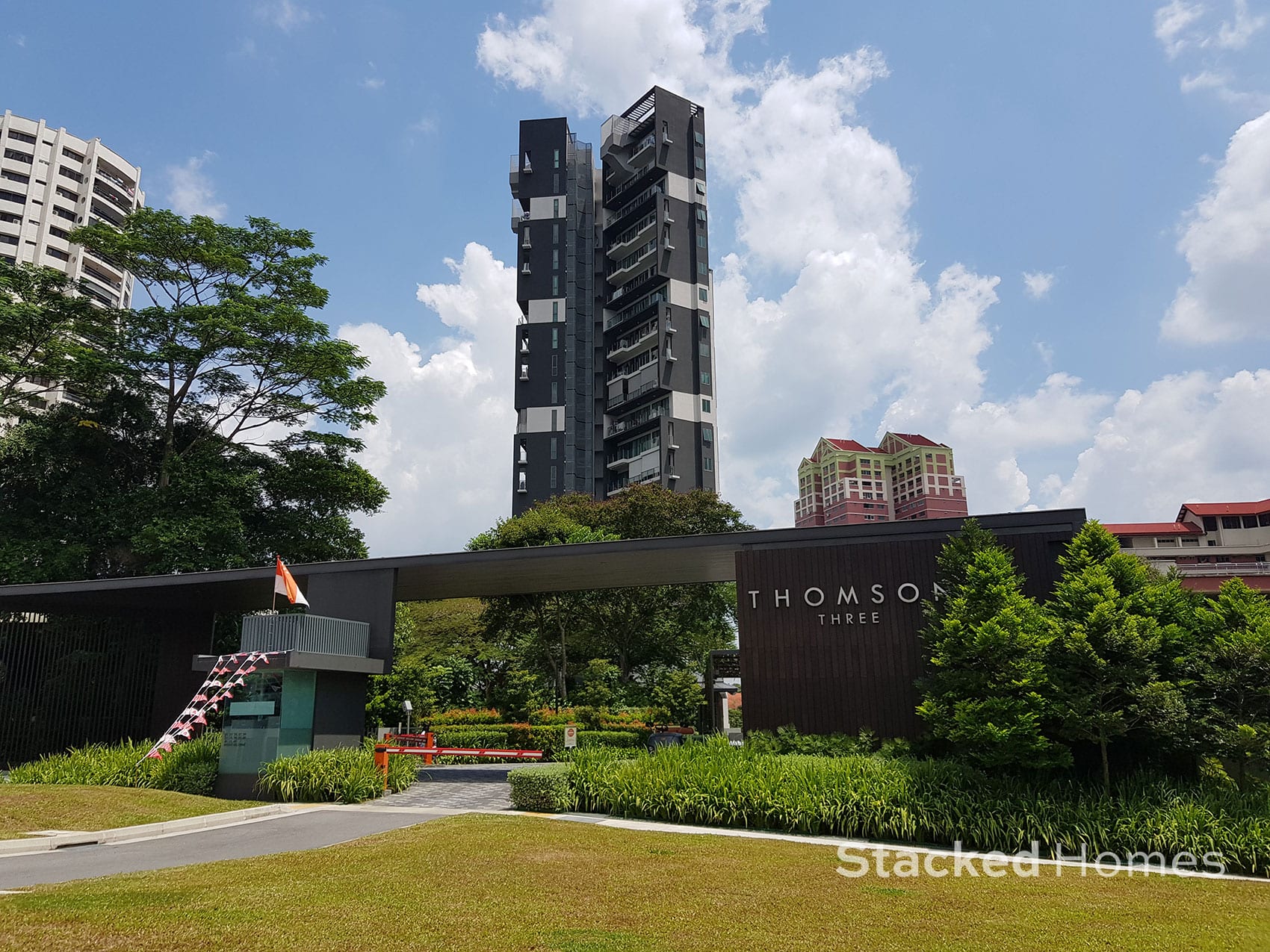 Thomson Three looks to be a great development for families looking for a central location in Singapore that is well connected yet in a peaceful environment. Although it is super close to Upper Thomson, the fact that it is perched on a slight incline protects it from the noise. Once the Upper Thomson MRT is completed, it will become extremely convenient for residents to move around Singapore.
Reviewed by Druce on August 18, 2017
11
min read
About this condo

| | | | |
| --- | --- | --- | --- |
| Project | Thomson Three | District | 20 |
| Region | Rest of Central Region (RCR) | Address | 8 Bright Hill Drive |
| Tenure | 99 Year Leasehold | Site Area | 144,635 sqft |
| No. of Units | 435 units + 10 townhouses | Developer | United Venture Development (Thomson) Pte. Ltd. |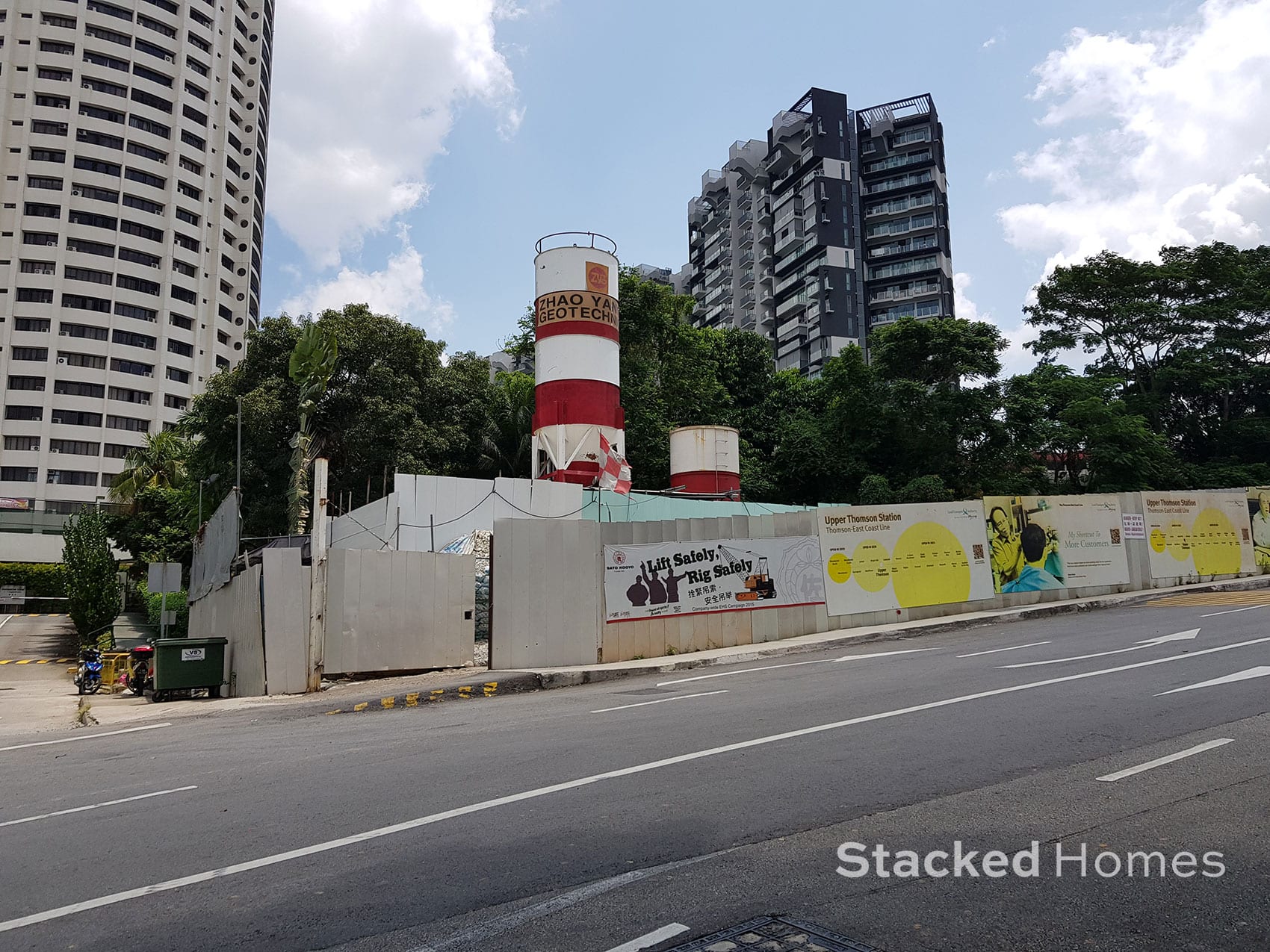 Thomson Three is located on Bright Hill Drive in Thomson, one of Singapore's most sought after areas to live in. As you can glean from the name, the development consists of three 20 story blocks and 10 townhouses. It is an interesting development because at the time it was bought in August 2012 via a Government Land Sales (GLS) exercise, people were puzzled by the winning bid from the joint venture by UOL and SingLand. It had an odd-shaped plot of land and was not near any MRT station. However, the developers must have had some foresight as the now upcoming Thomson line is located just right outside the development.
Location
Thomson has always been considered one of the more prestigious places to live in Singapore, due to its surrounding greenery of reservoirs and mostly low rise private landed housing in the area. The long Upper Thomson stretch is flanked by the Macritchie Treetop Walk and the Macritchie Park and Reservoir. This provides a fantastic scenic view of the higher buildings in the areas. SICC (Singapore Island Country Club) @ Thomson is located just down the road for golf fanatics or just a great hang out for the family.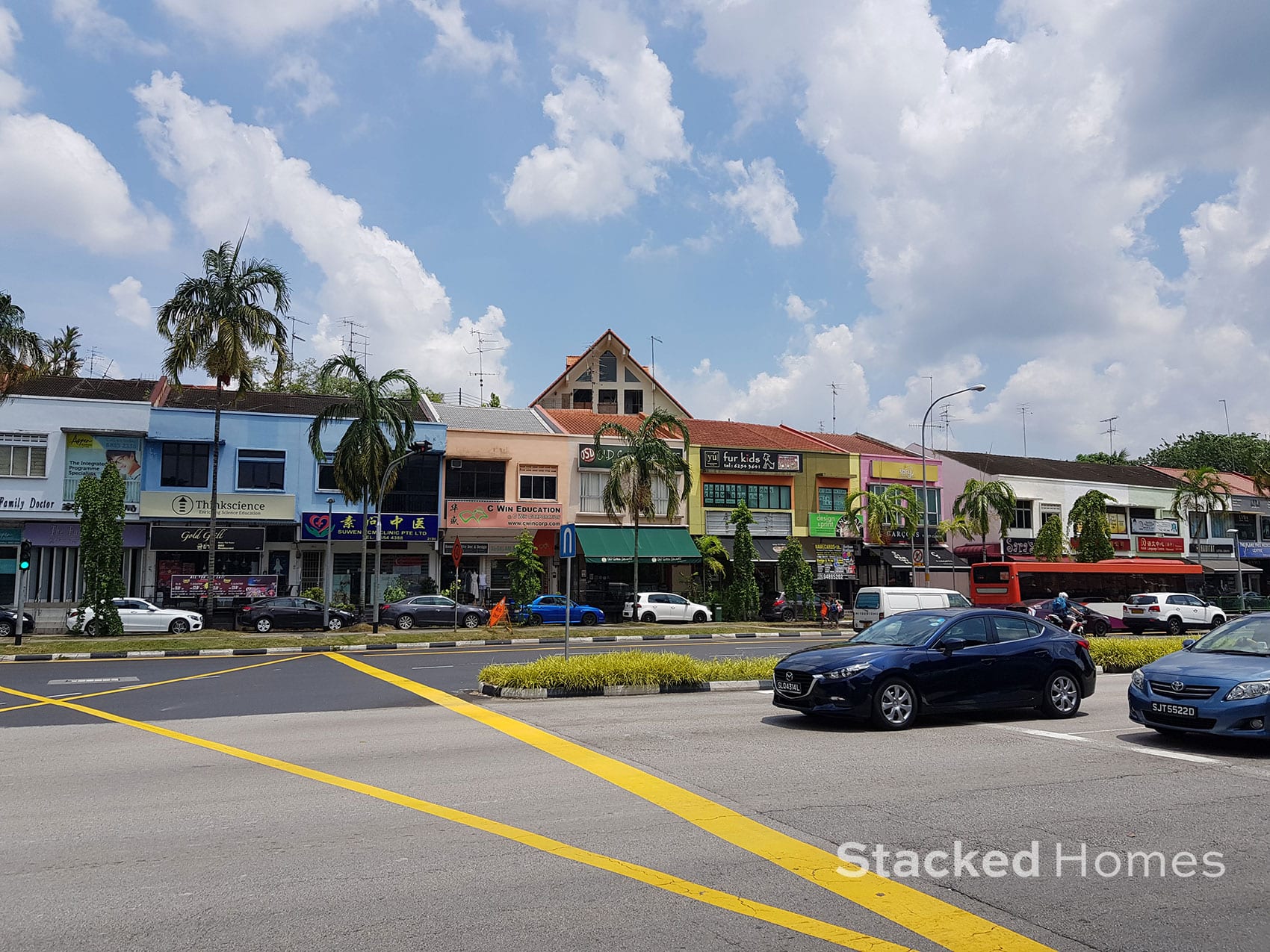 Upper Thomson Road is also home to many eateries and cafes so there is no shortage of food options in that area. Consisting of all low rise shophouses, the vibe is very similar to Holland Village. There are many renowned stalls like 24 hour minced meat noodles as well as a Prata House that opens till late.
For the sweet-toothed, Salted Caramel and Udders are popular fixtures there that open till late on weekends. Adjacent to Upper Thomson is the Sin Ming area, where there are many popular hawker options as well. Although it does tend to get quite crowded in the afternoons as there are many office workers at the Sin Ming area.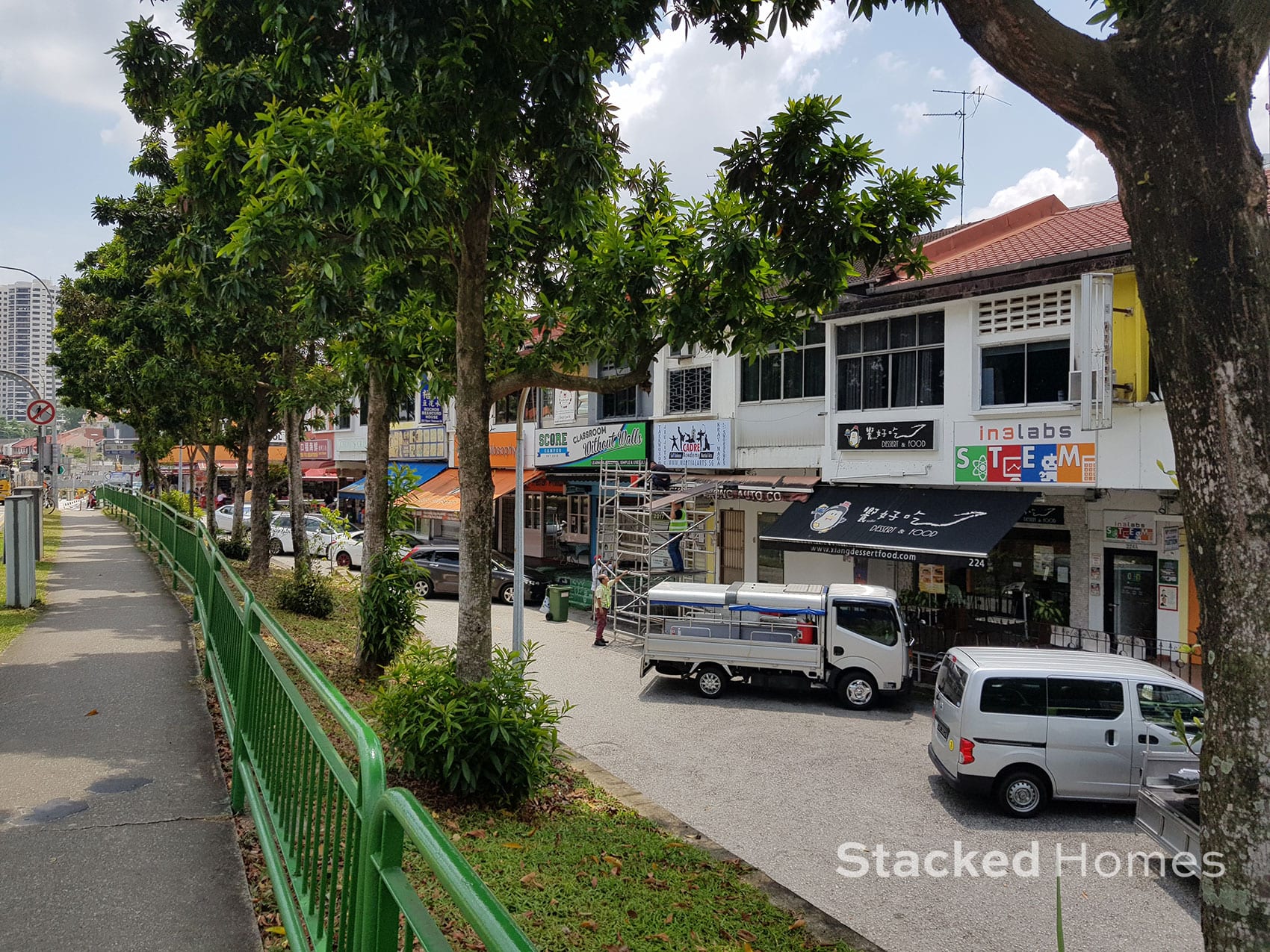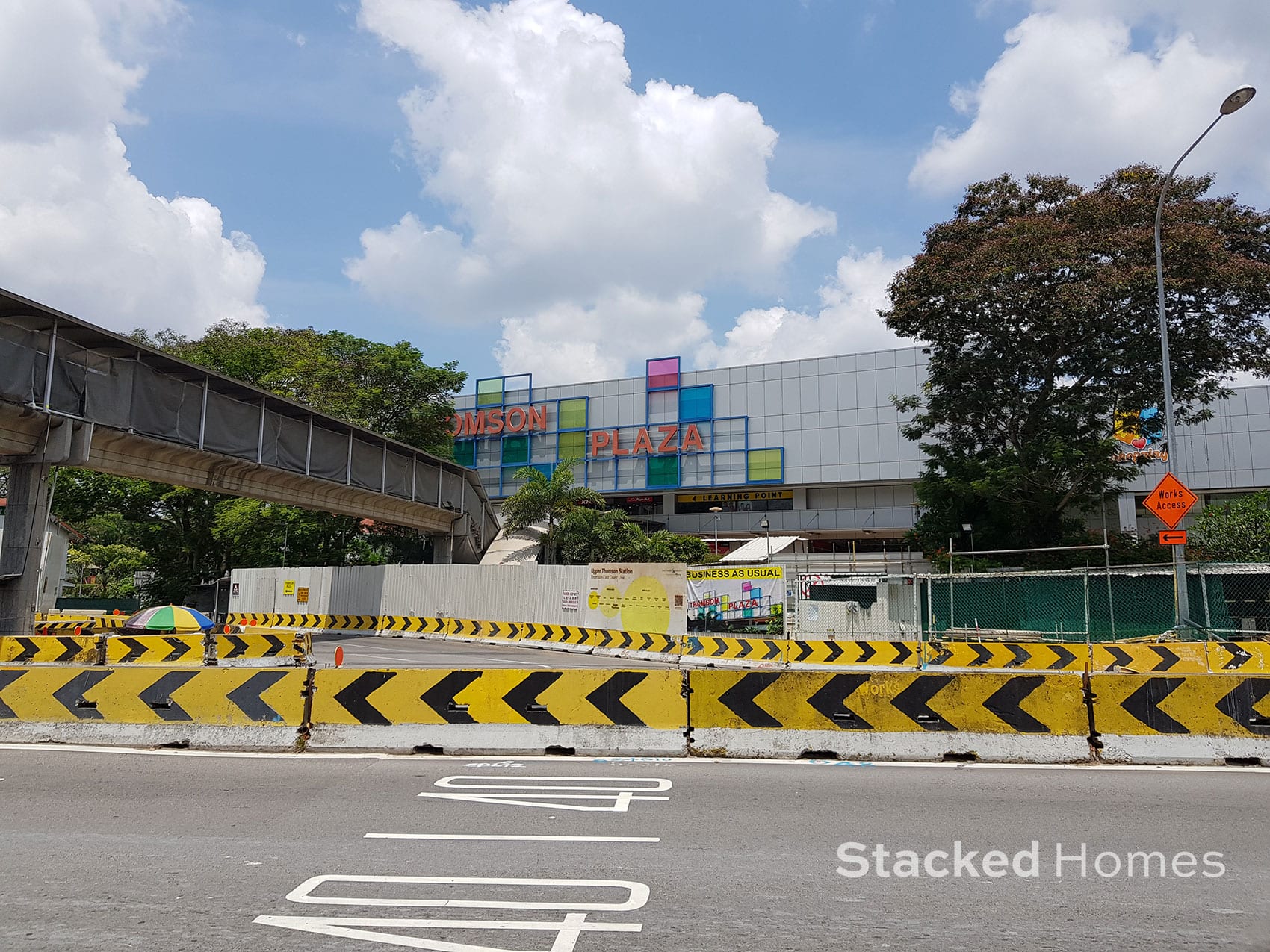 In terms of amenities, Thomson Plaza is located directly across the road. Even though it looks rather dated on the outside compared to a lot of the newer malls, it still offers a great range of stores from restaurants to shopping and medical services.
There is also an NTUC Fairprice Finest, tuition centres as well as a Yamaha for kids to learn music. You can view the complete directory here.
If you are looking for a more complete option, Junction 8 is about a short ten-minute drive away and is chock full of dining and entertainment options. Ai Tong Primary is the nearest school to Thomson Three, located just over 300m away. This means that it is within the much sought after 1-km radius so you are able to ballot for a place in the school.
There are also other good schools in the surrounding vicinity such as Raffles Institution, Raffles Junior College, Catholic High School and CHIJ St Nicholas Girl's School which is just a little further away.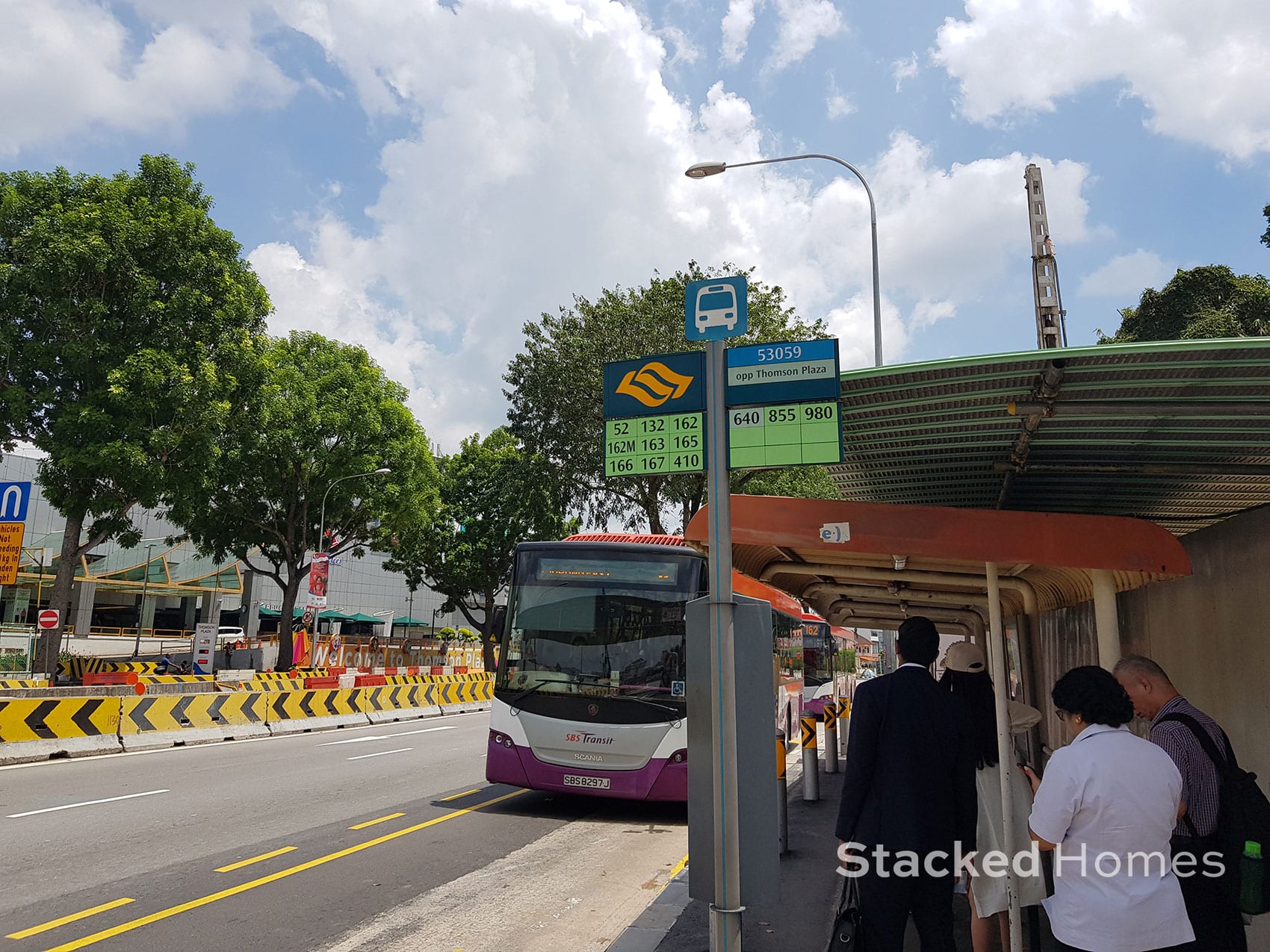 As Thomson Three is pretty much located in the centre of Singapore, it is just a short journey to most places and is well connected.
If we take a look at the upcoming MRT line, it is just one stop away from the Circle Line, which can bring you to areas like Holland Village, Botanic Gardens as well as Harbourfront.
It will also be direct to Orchard Road as well as Shenton Way so it is a great option for those working in the CBD.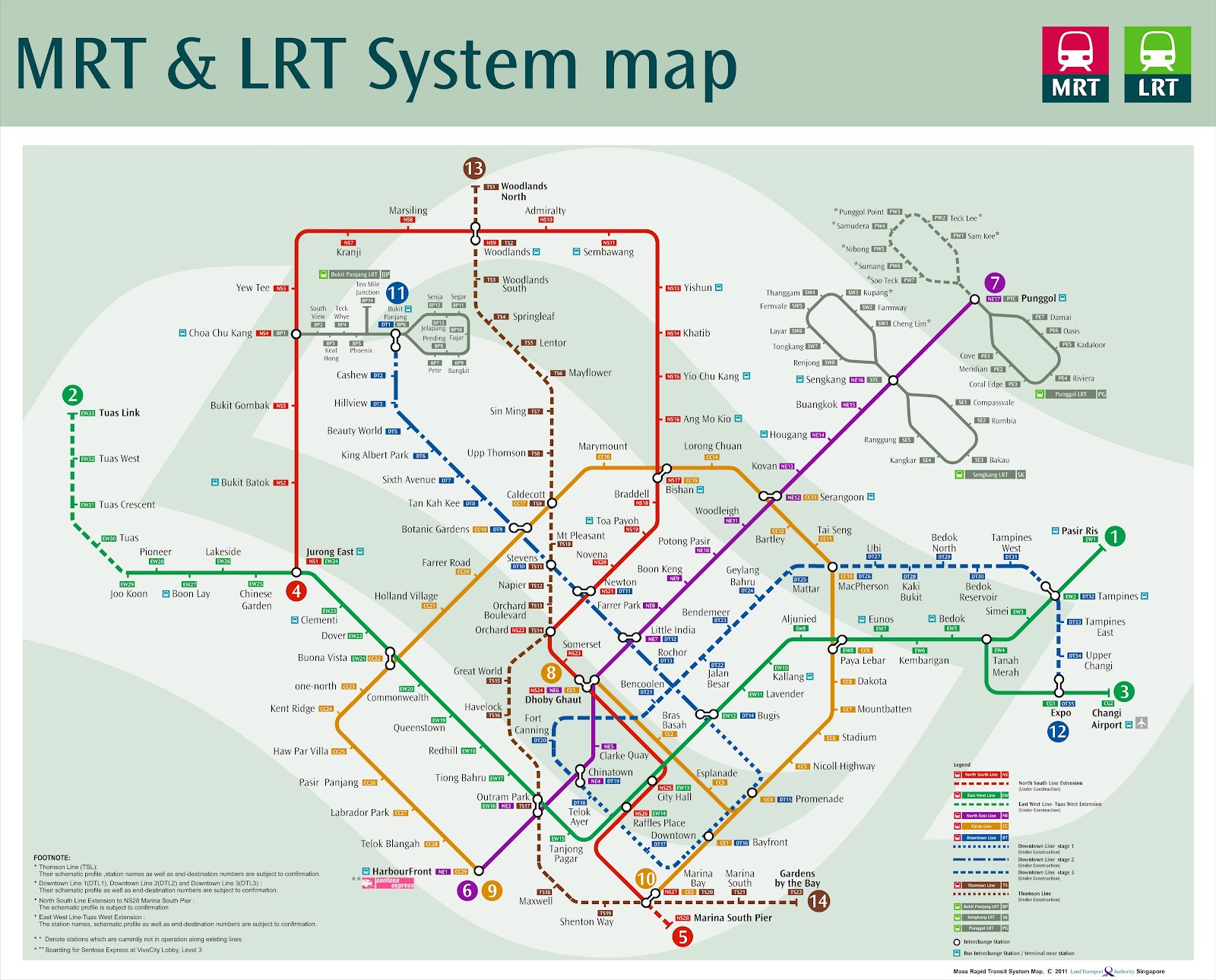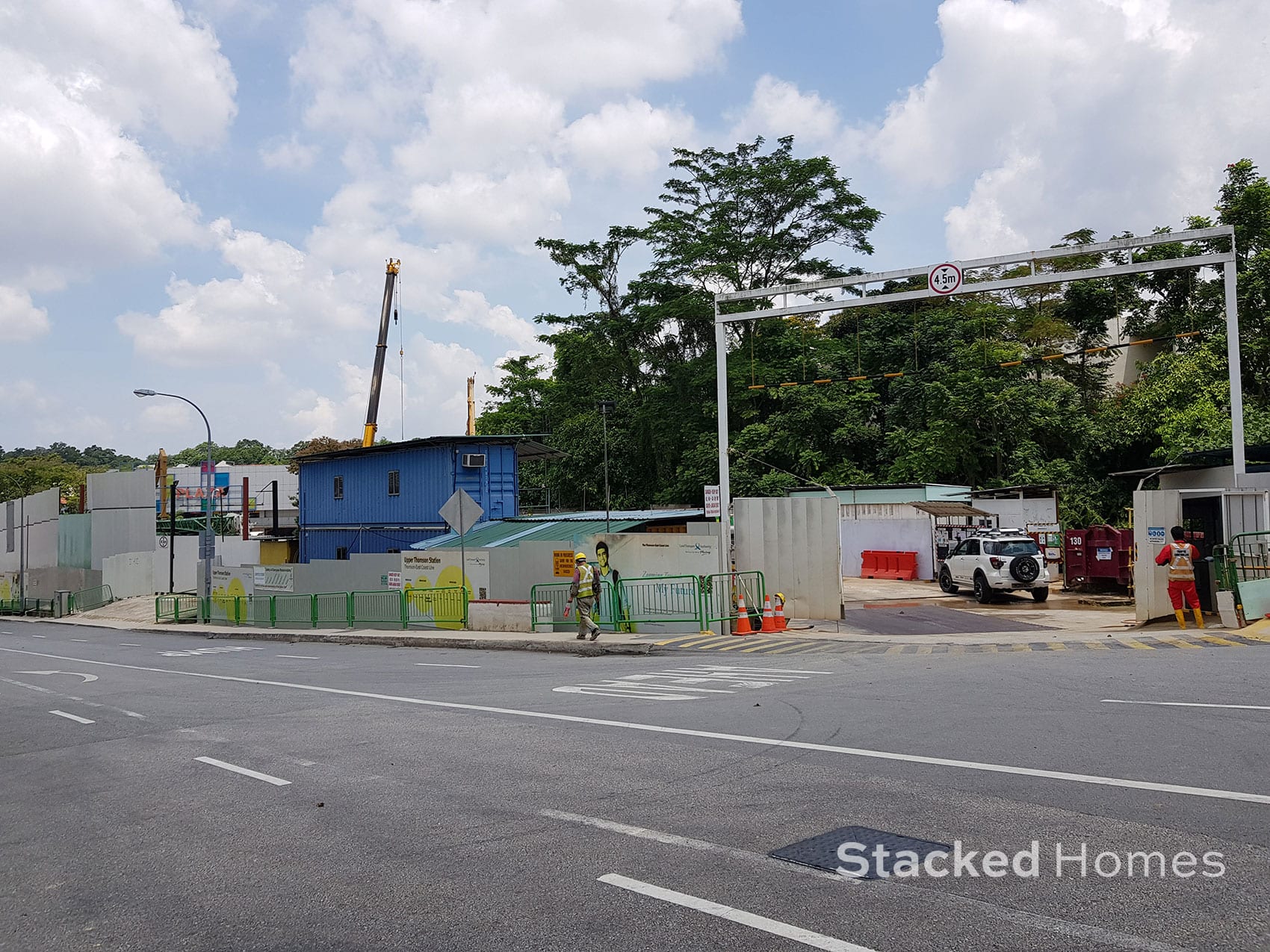 Drivers can look towards the Central Expressway (CTE) towards the east or utilising the Pan Island Expressway (PIE). However, do note that as the construction of the MRT is still ongoing, traffic along Upper Thomson can get pretty congested during peak hours both ways. This will be expected to get better once the Thomson line is up and running by 2020.
Development Site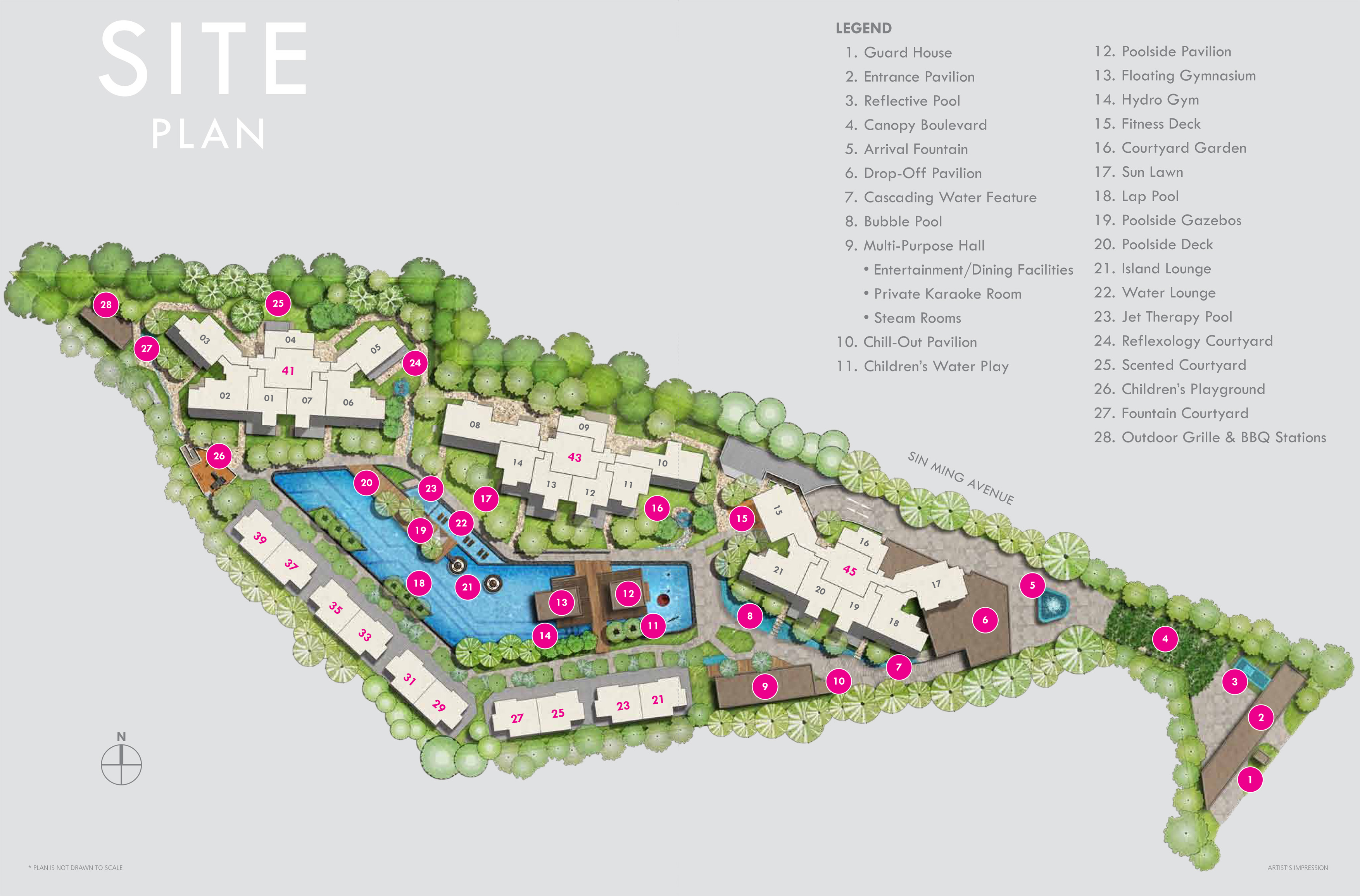 Thomson Three sits on an elevated narrow plot of land, so the plus point here is that it will never be at risk of flooding. On the other hand, as it is on a bit of an incline, the walk back home might be a little tougher than usual. Other things to take note of is that there is only one entrance to the development and Bright Hill Drive leading up to it is a one-lane road so there is potential for it to be more jammed in the morning rush hour. You can also exit or access the development from the back through Sin Ming avenue, just that you would have to drive through the HDB car park.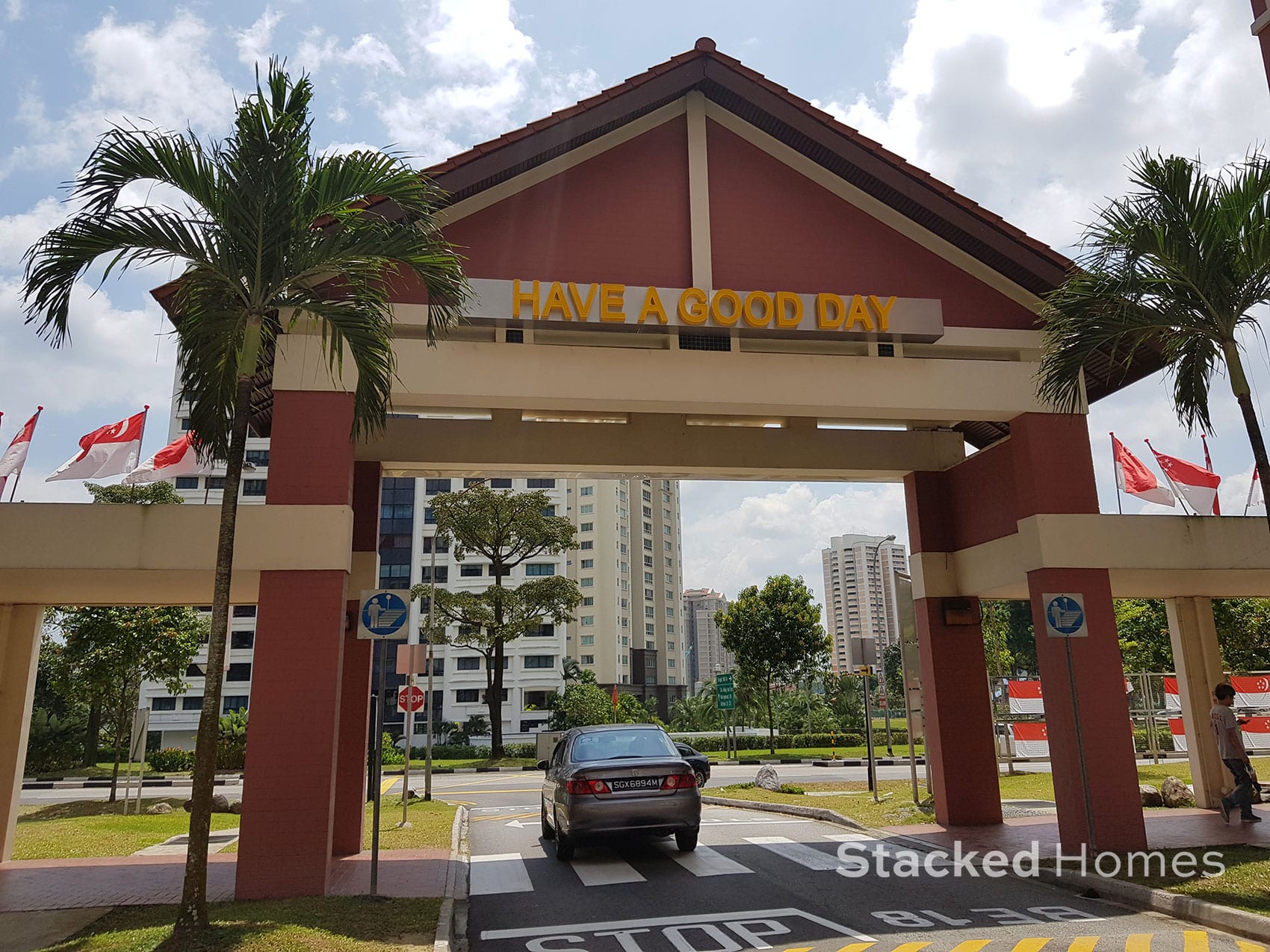 Just in front of Thomson Three is another 99-year leasehold development, Thomson View. This place was set for an en bloc sale but the deal fell through in the end. If it does go en bloc in the future, depending on the development it could push prices in the area further up. However, it also could be said that because Thomson Three is the only new development in the area for now, it will enjoy more attention from property buyers or investors. Taking a closer look at the unit mix, Thomson Three offers a wider range of units as compared to most condo developments.
1 Bedroom: 495 sqft (61units)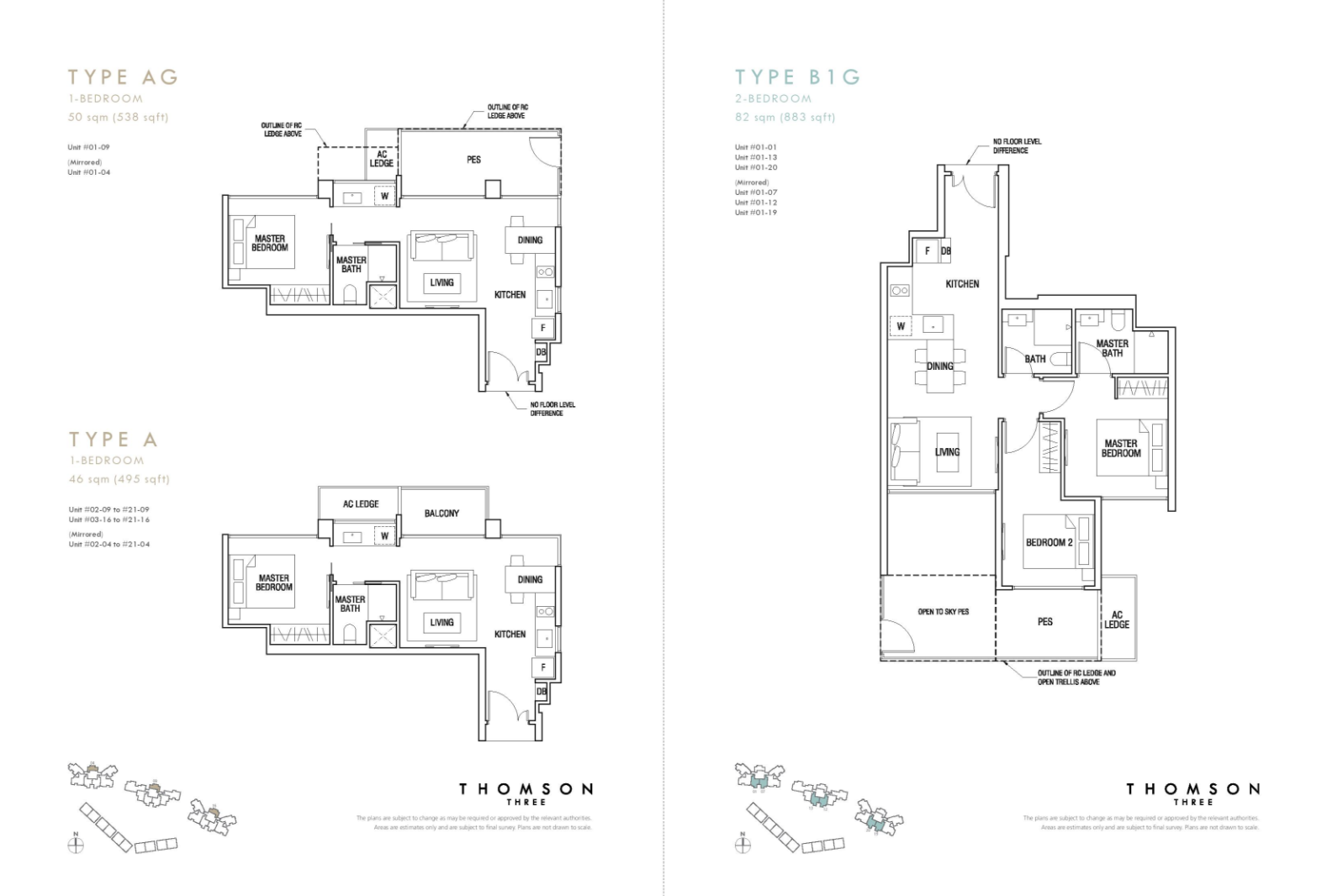 2 Bedroom: 710 to 730 sqft (168 units)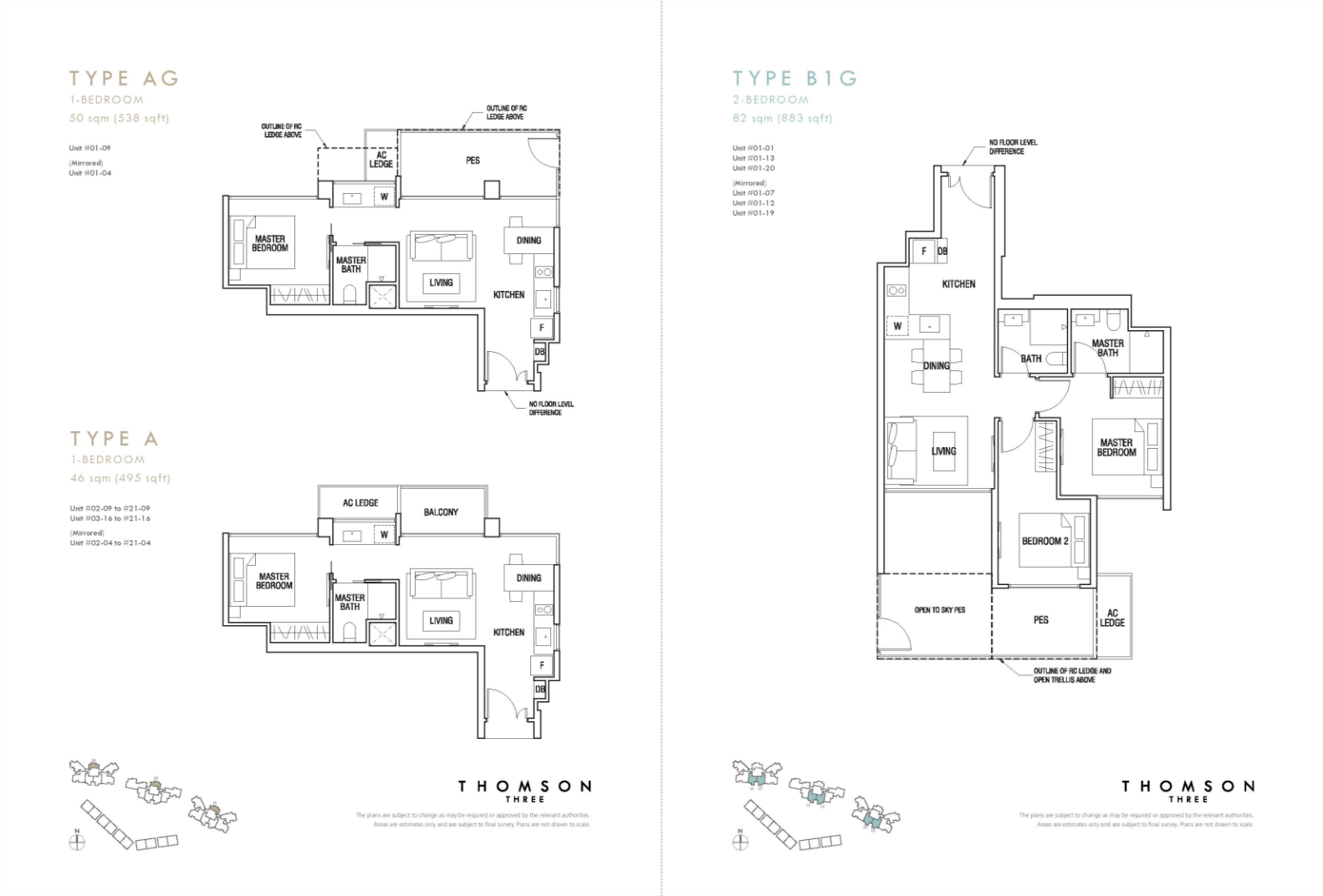 3 bedroom Premium: 1141 sqft (84 units)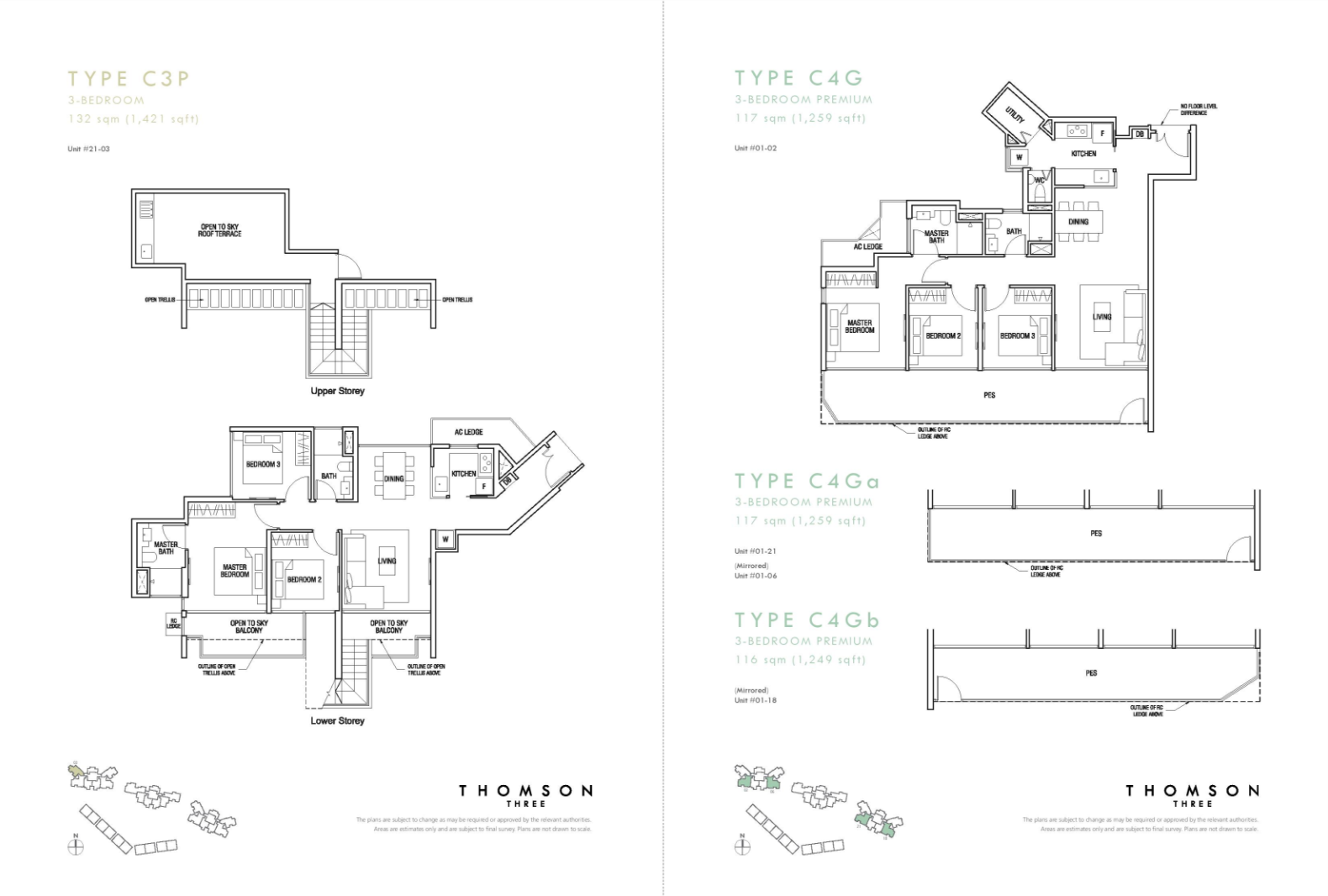 4 bedroom: 1485 sqft (21 units)
Strata Semi-Detached: 3285 sqft (10 units)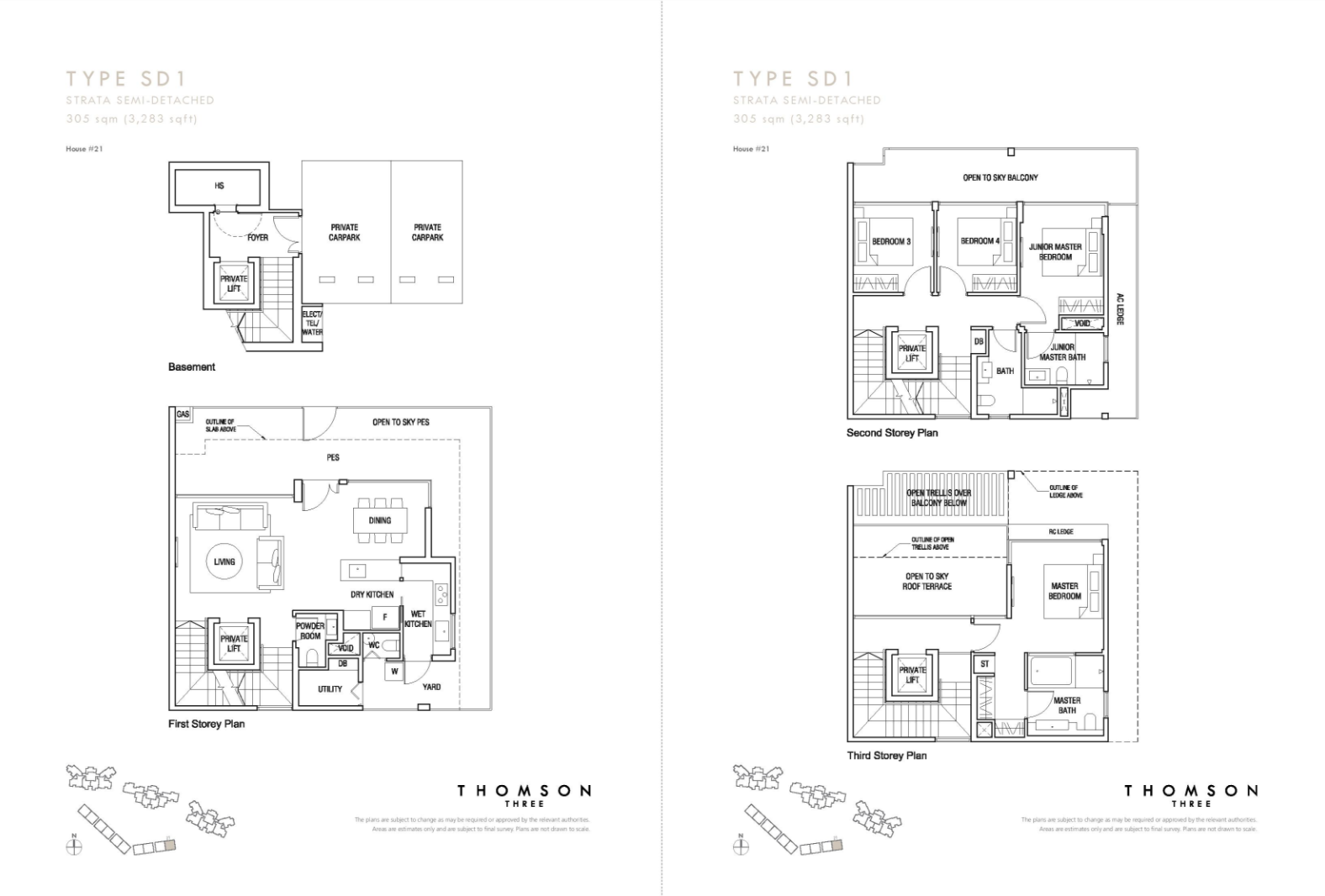 Insider Tour
Facilities in Thomson Three
Reflective Pool
Bubble Pool
Multi-Purpose Hall
Private Karaoke Room
Steam Rooms
Chill Out Pavilion
Children's Water Play
Poolside Pavilion
Floating Pavilion
Hydro Gym
Fitness Deck
Lap Pool
Island Lounge
Water Lounge
Jet Therapy Pool
Children's Playground
Outdoor BBQ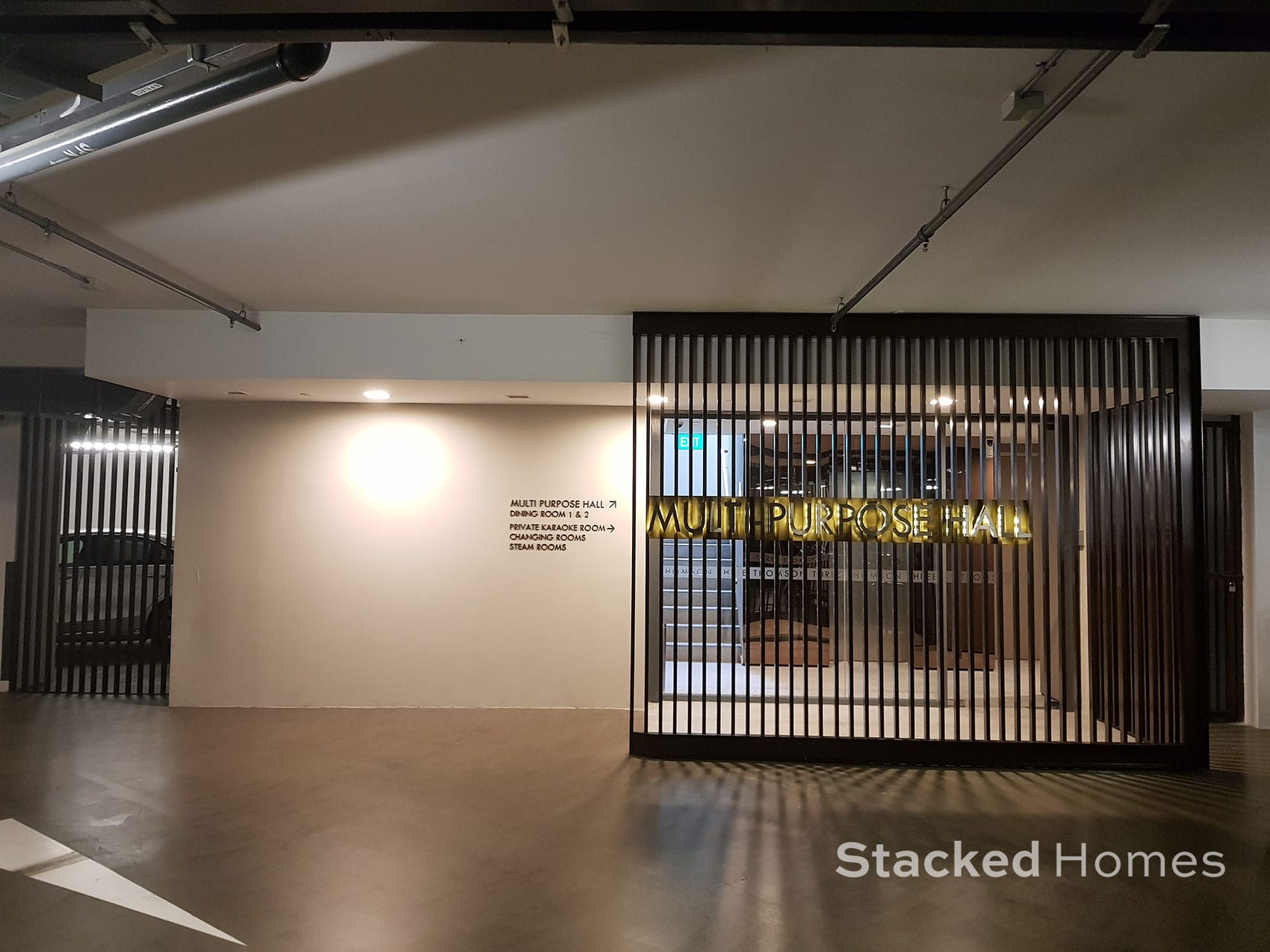 Entrance to Multi-Purpose Hall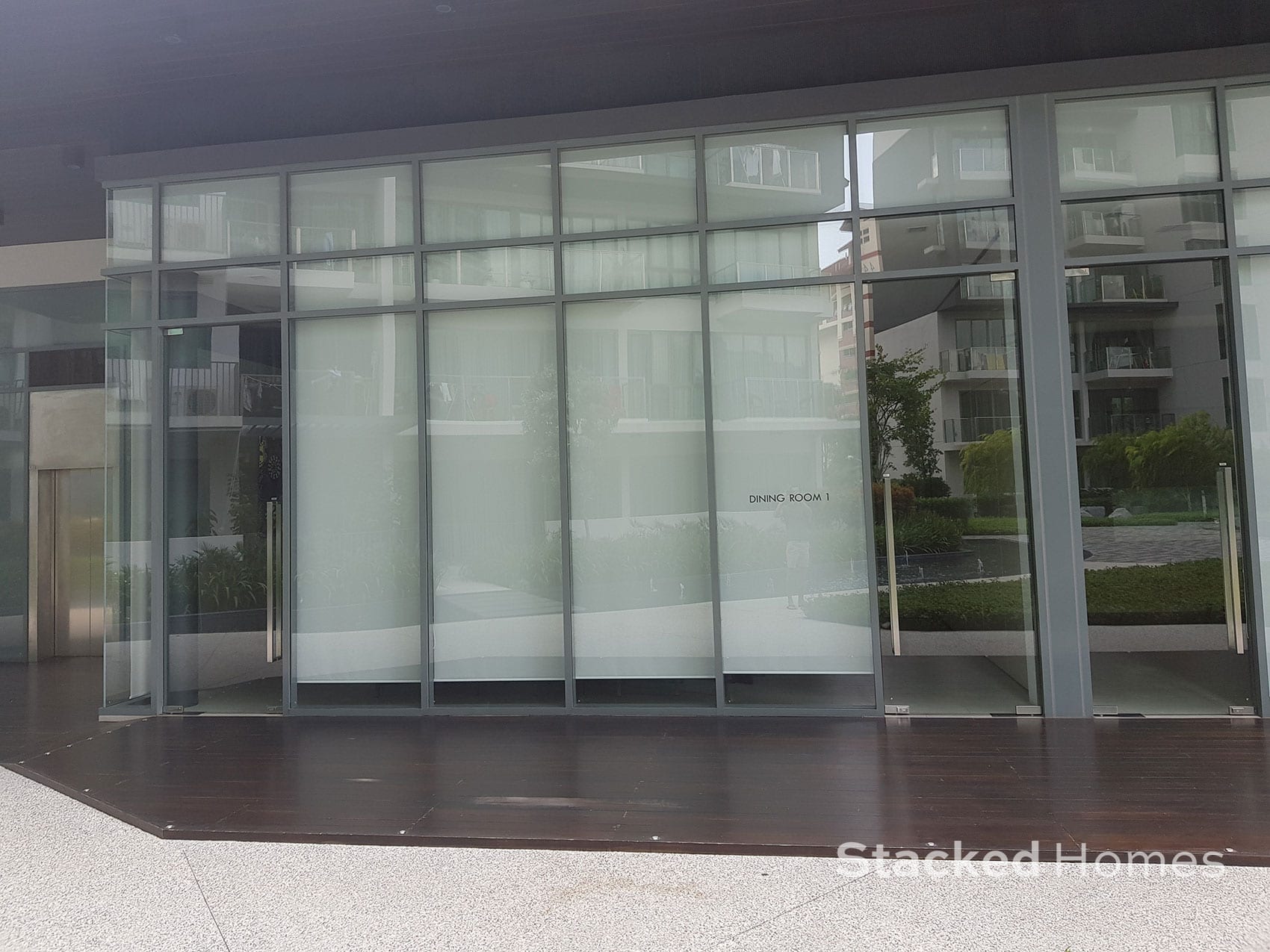 Dining Hall 1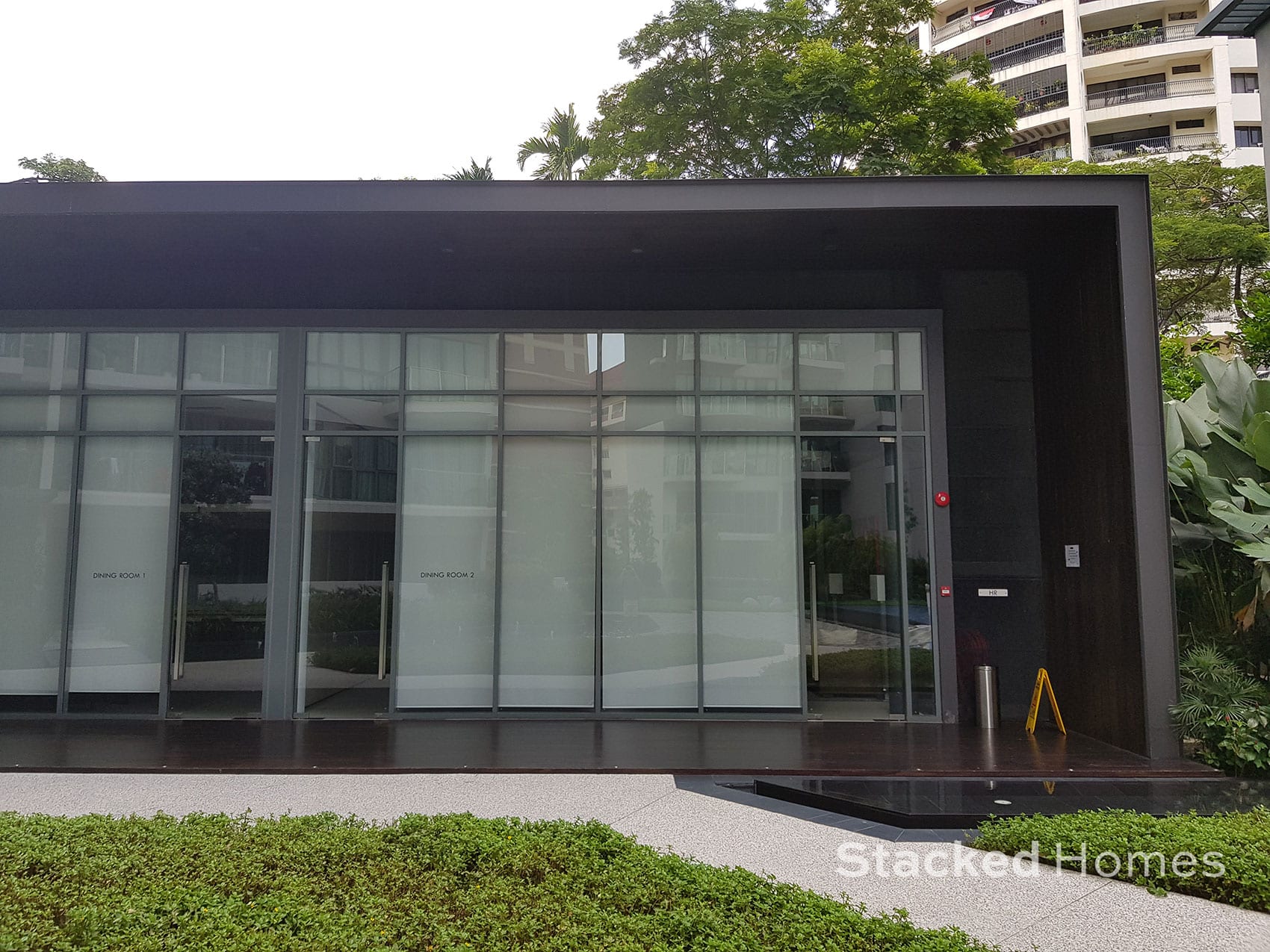 Dining Hall 2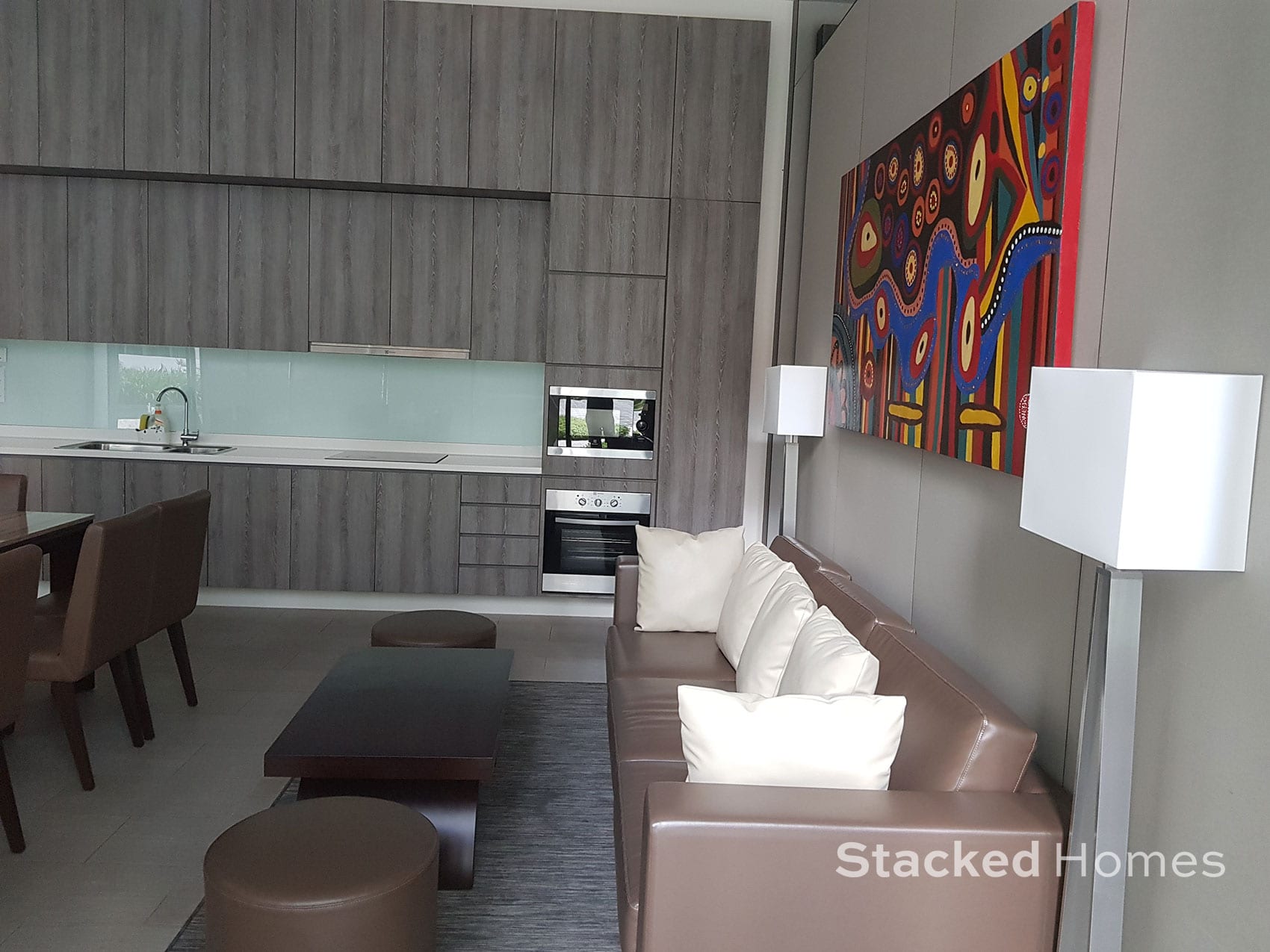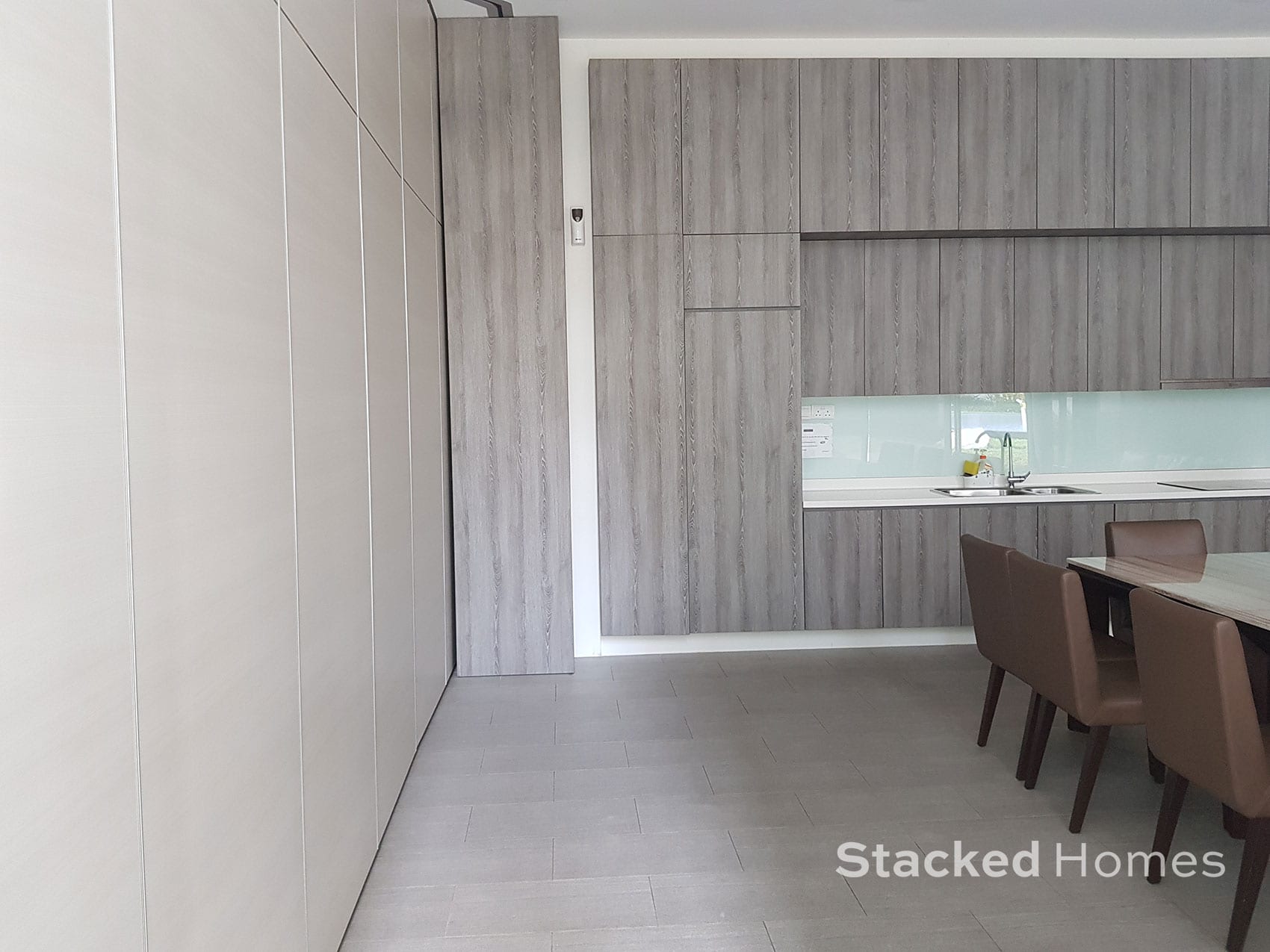 The dining halls are a lovely space to entertain for family or any events that you might have. The area is well furnished and spacious enough to comfortably host a good number of people. It comes with comfy seating areas, sinks to wash and cooking hob and even an oven if you are hosting a dinner party. As houses in Singapore are getting smaller, these facilities are a great option to have in any condo development.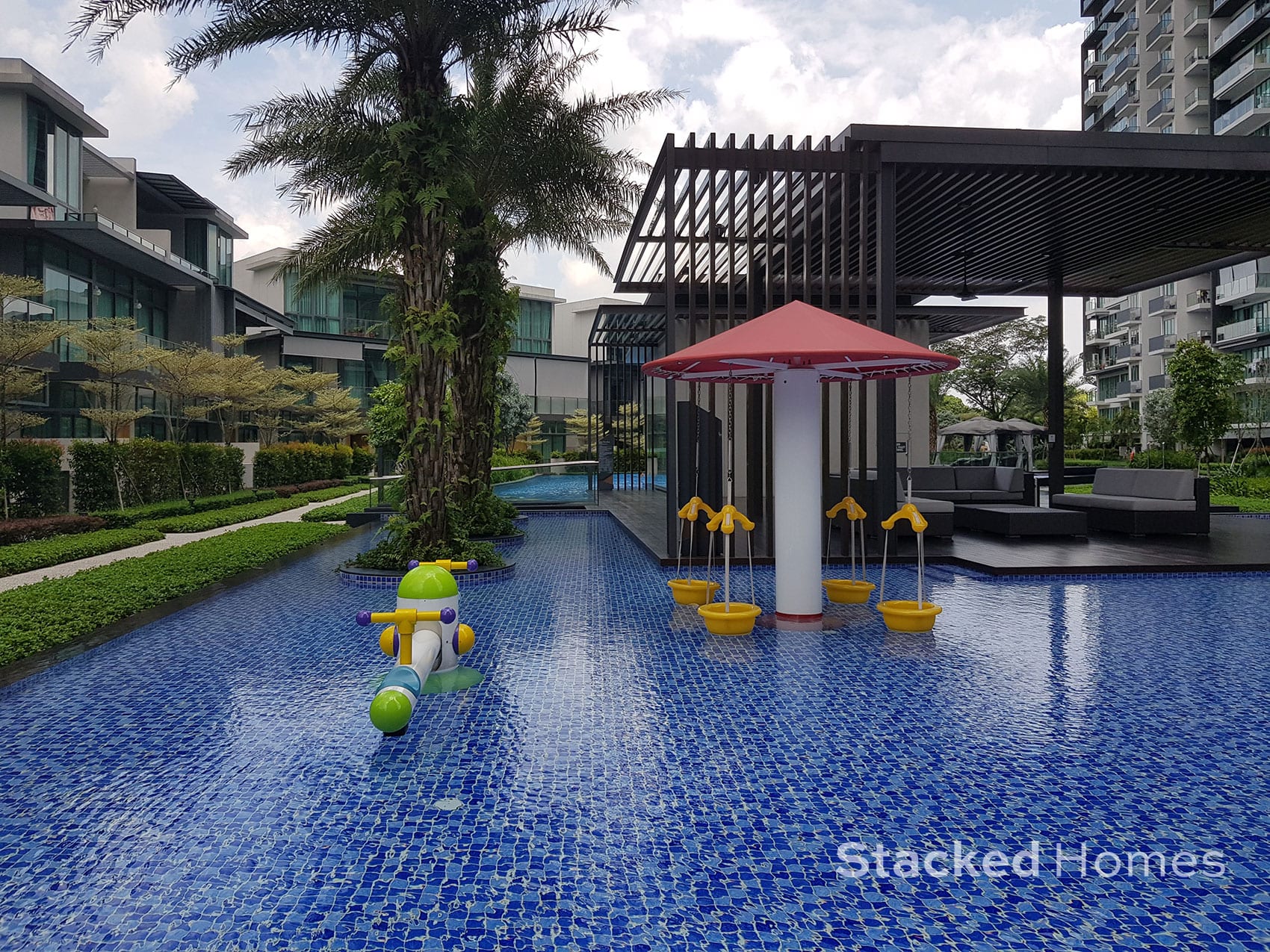 Children's water play area
Water Gym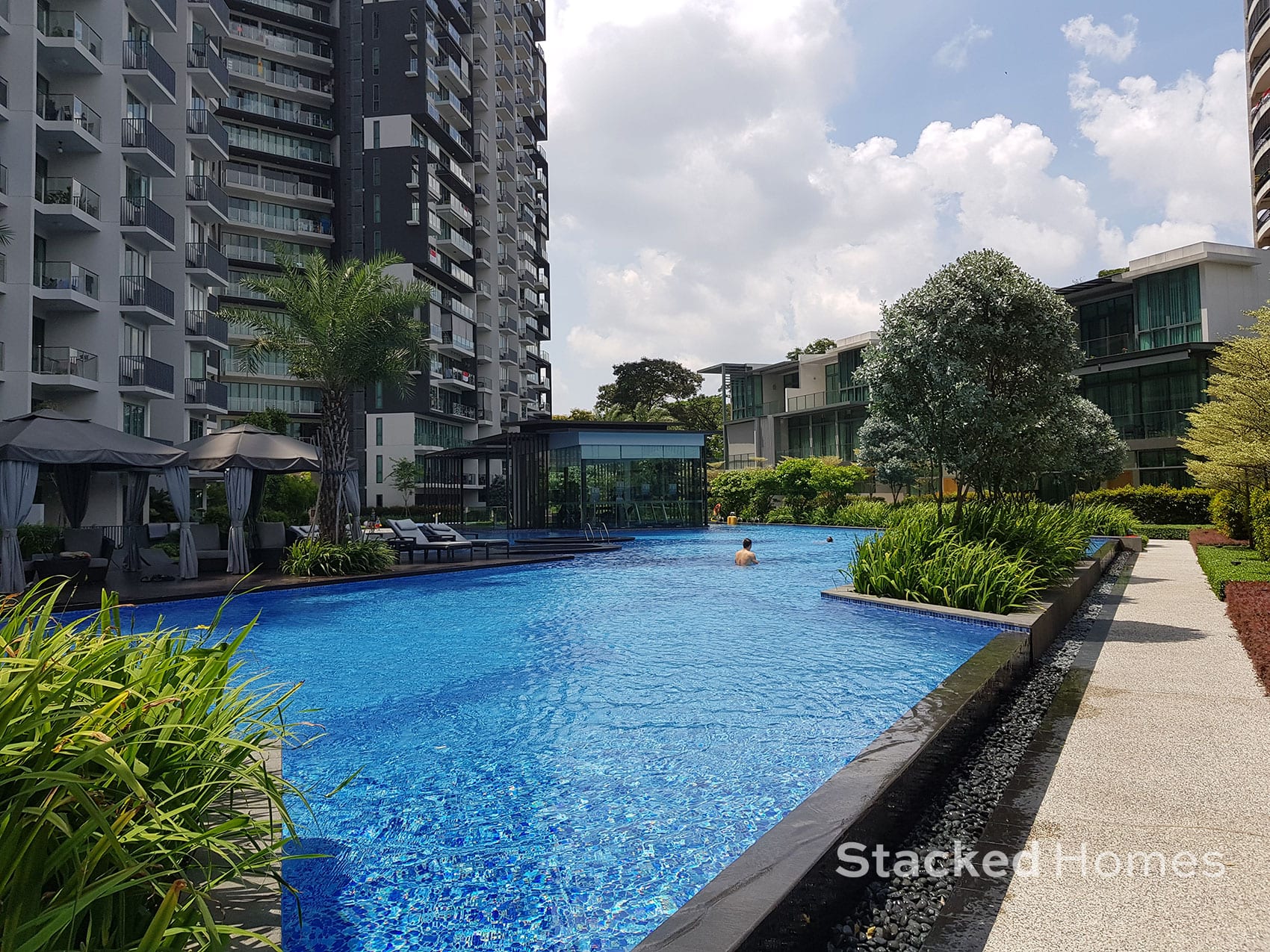 Elongated swimming pool
Poolside Cabana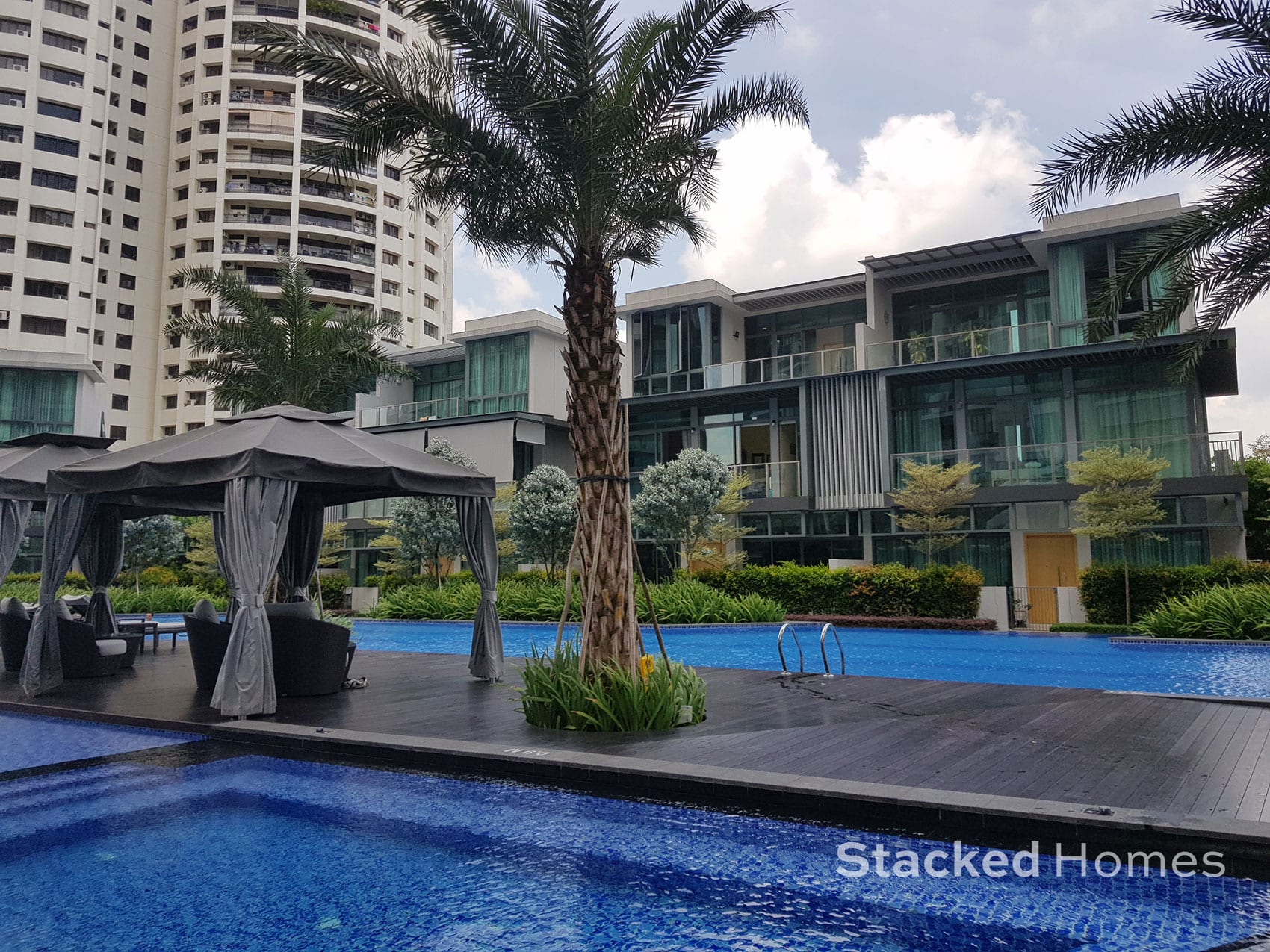 Jet Therapy Pool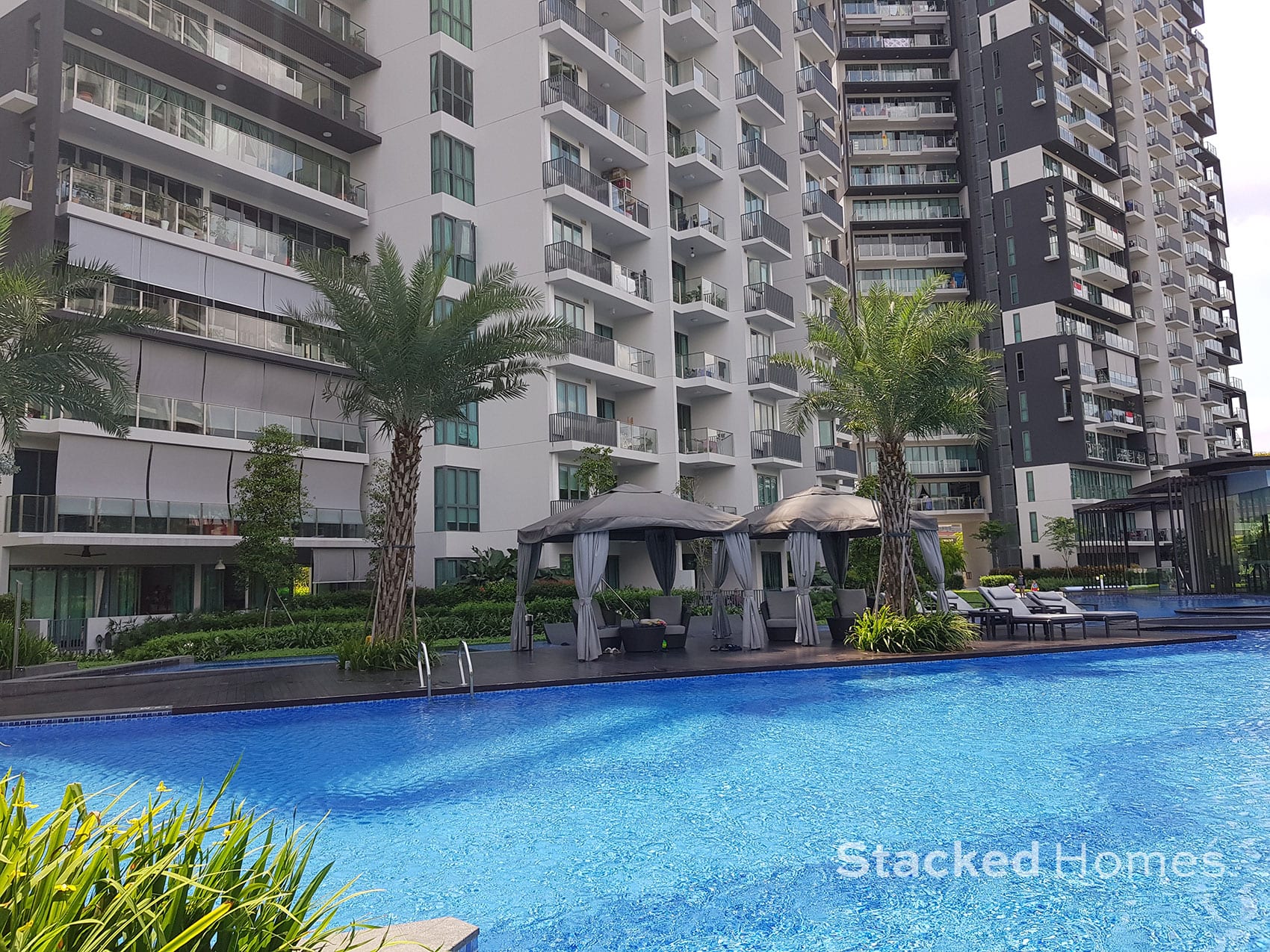 Read this next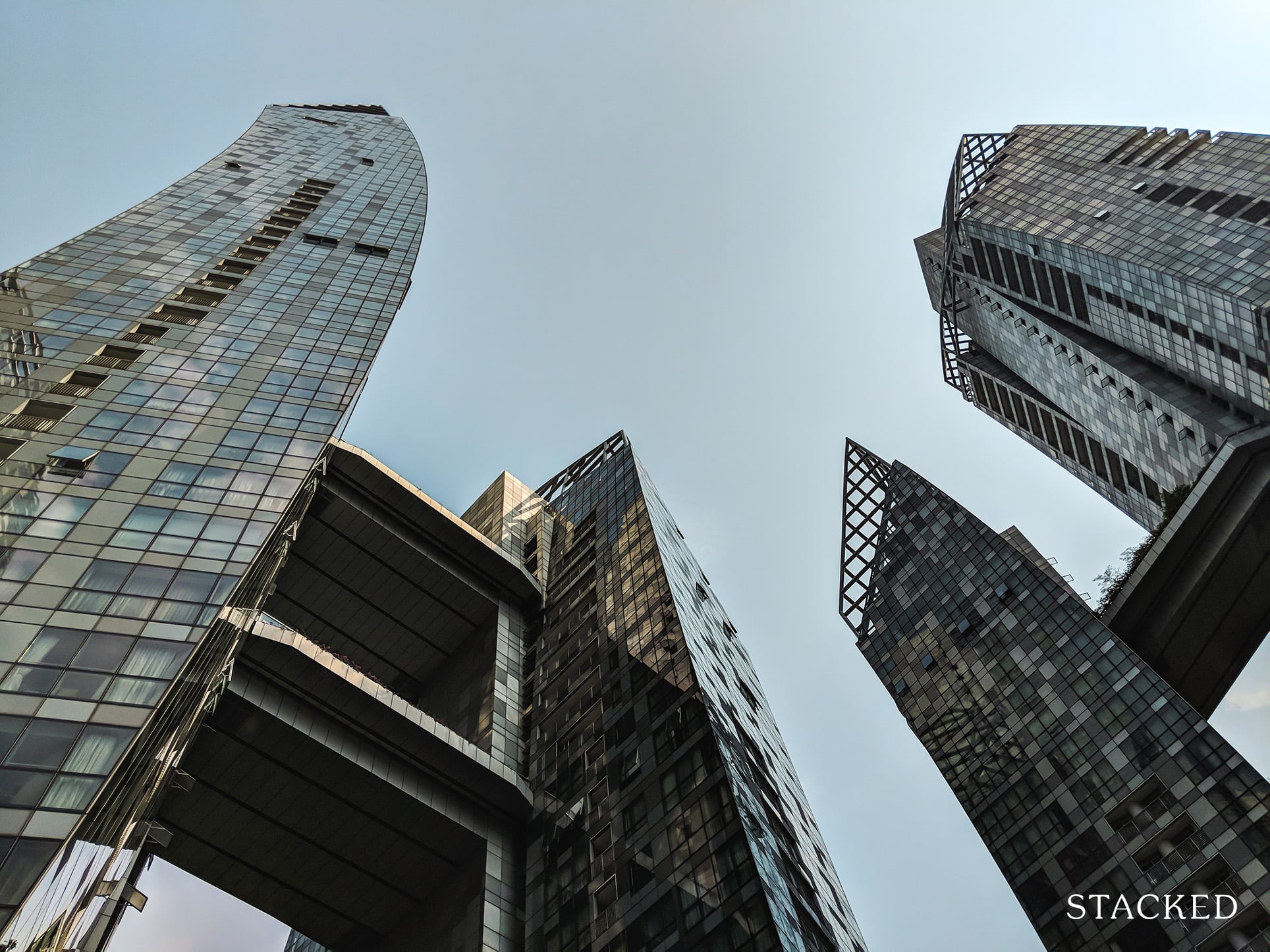 Thomson Three offers a well-sized swimming pool, with a children's play area and a water gym. To be honest, most water gyms are sparsely used, and after a few years if not maintained properly tend to be a bit of an eyesore. There are nice seating areas situated around the pool, and the sheltered cabanas were a good touch. During the afternoon it was rather breezy, and the well-sculptured landscaping around the pool brought about relaxing chill vibes.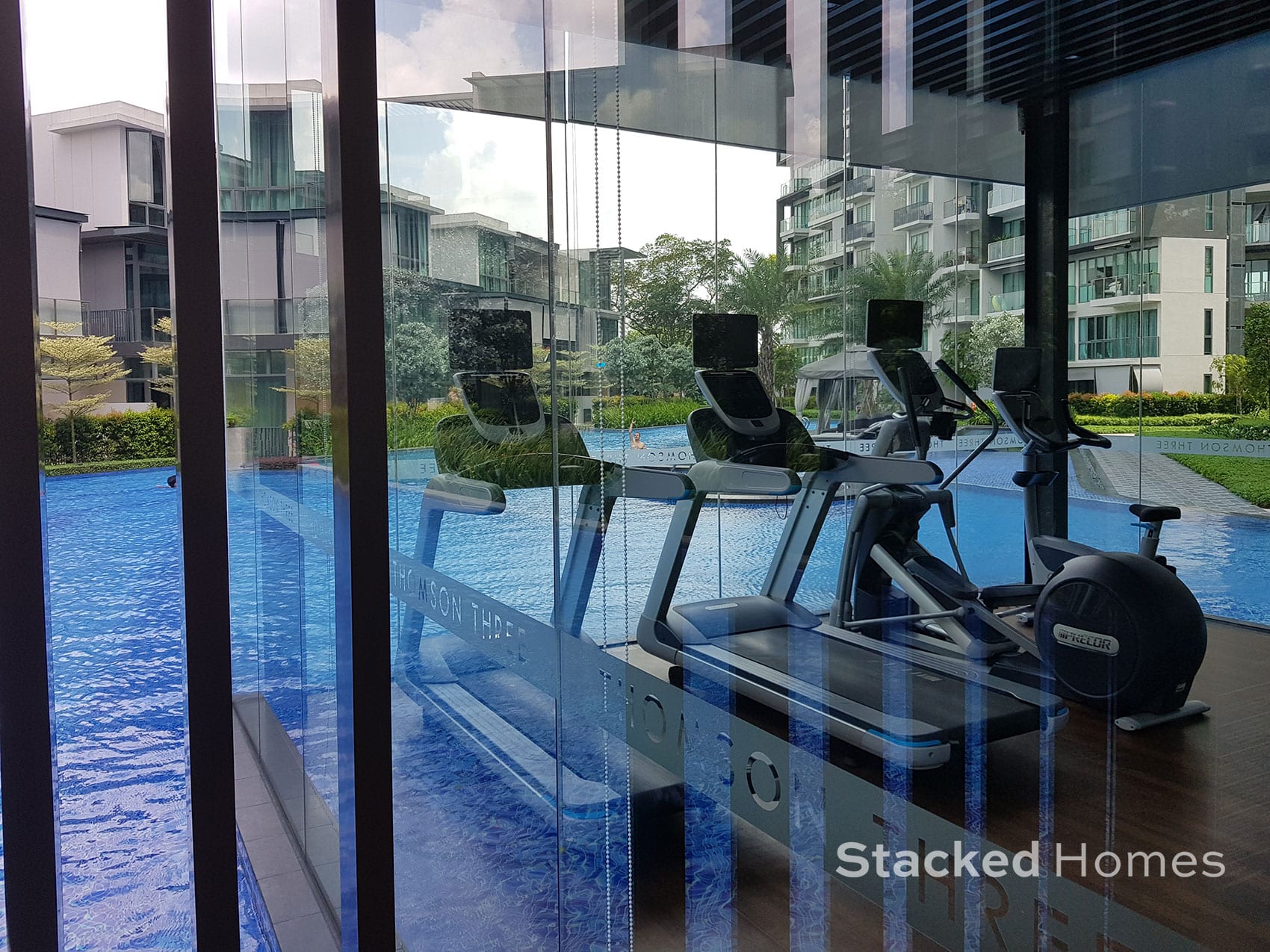 Pool facing gym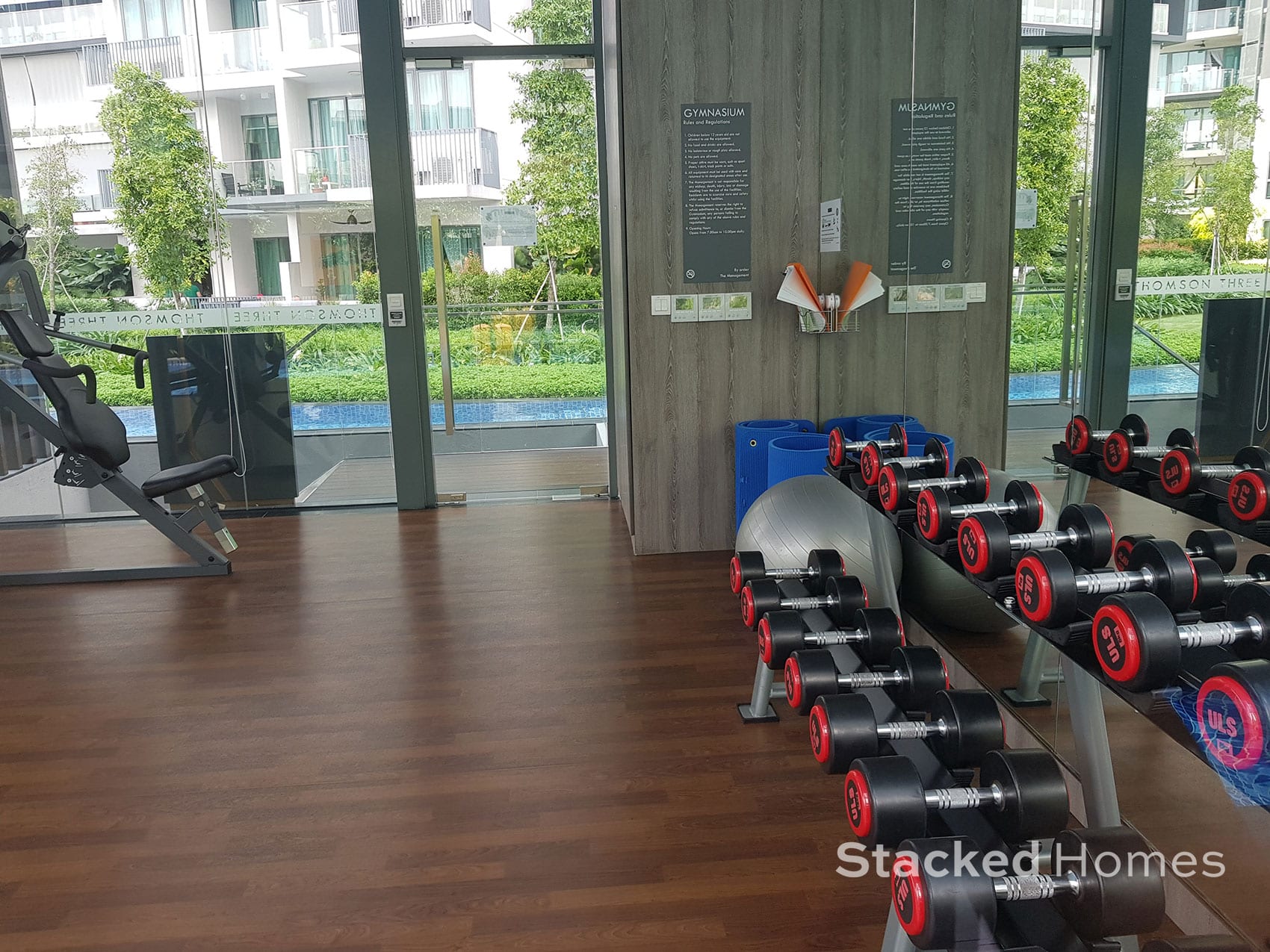 There is a decent-sized gym available, with the standard machine weights and a rack of free weights. As the gym is in the centre, it offers a nice view of the pool area while you do your workouts.
Outdoor Workout Area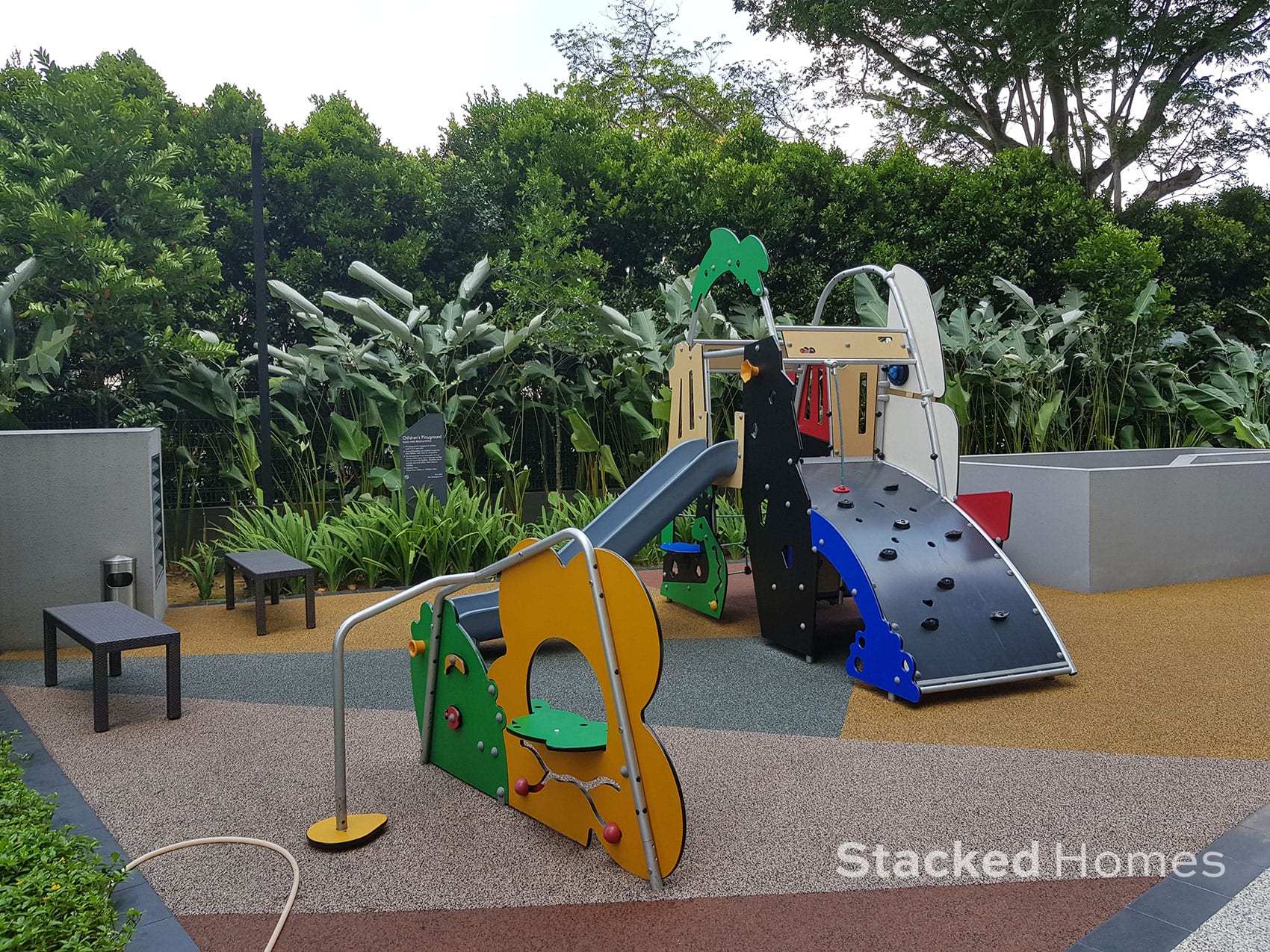 Children's Playground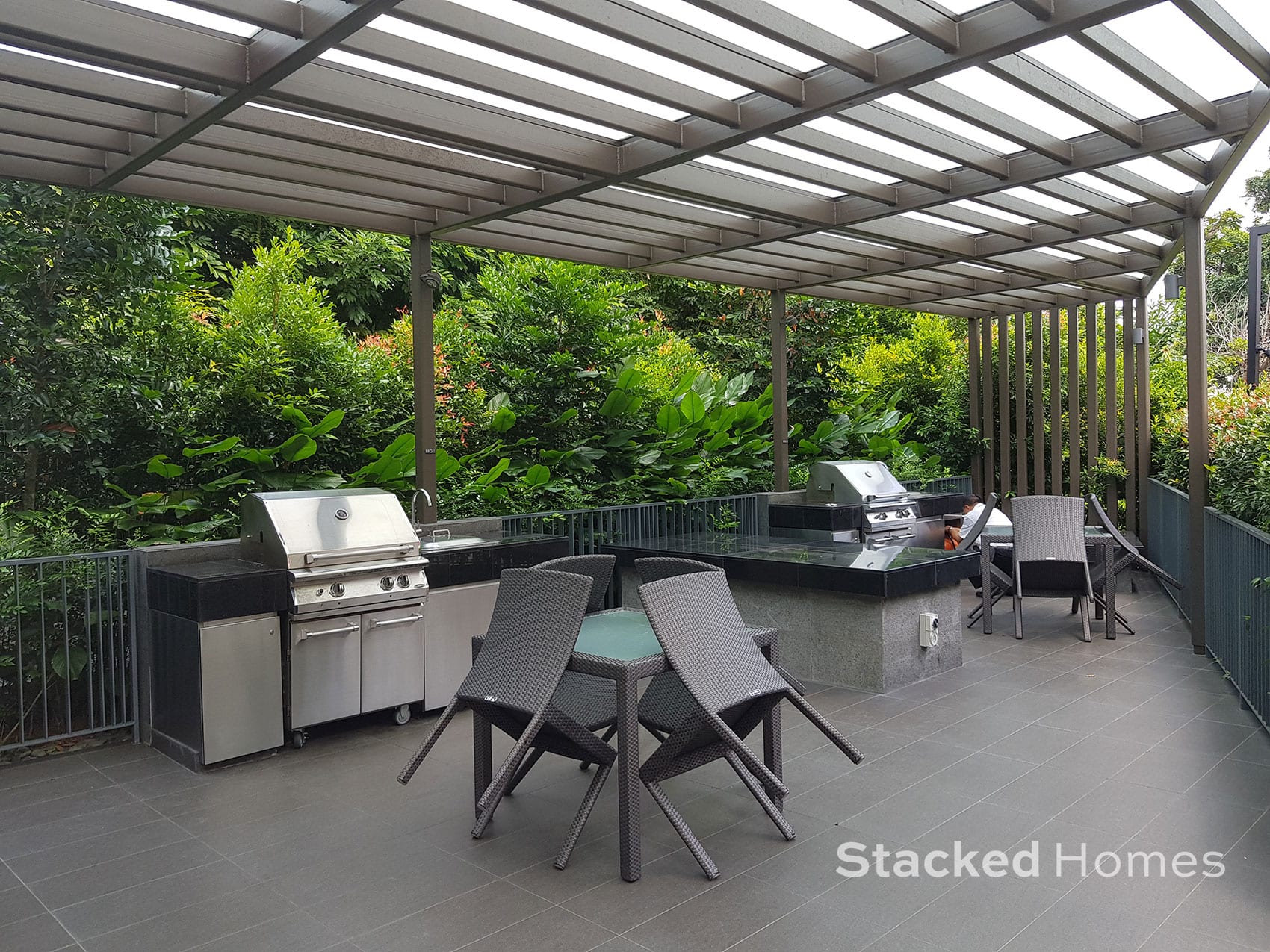 Outdoor BBQ Area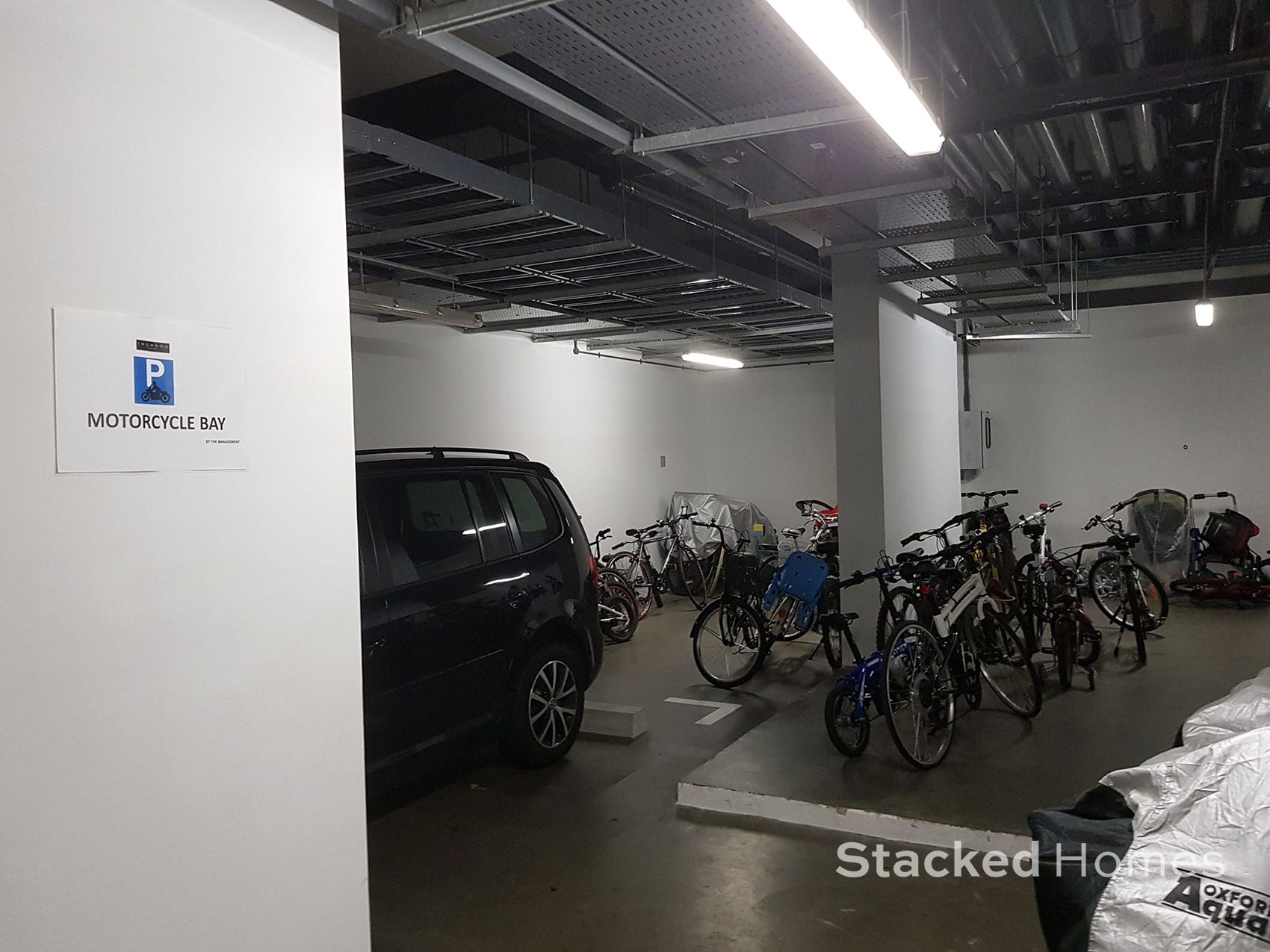 The area allocated to store your bikes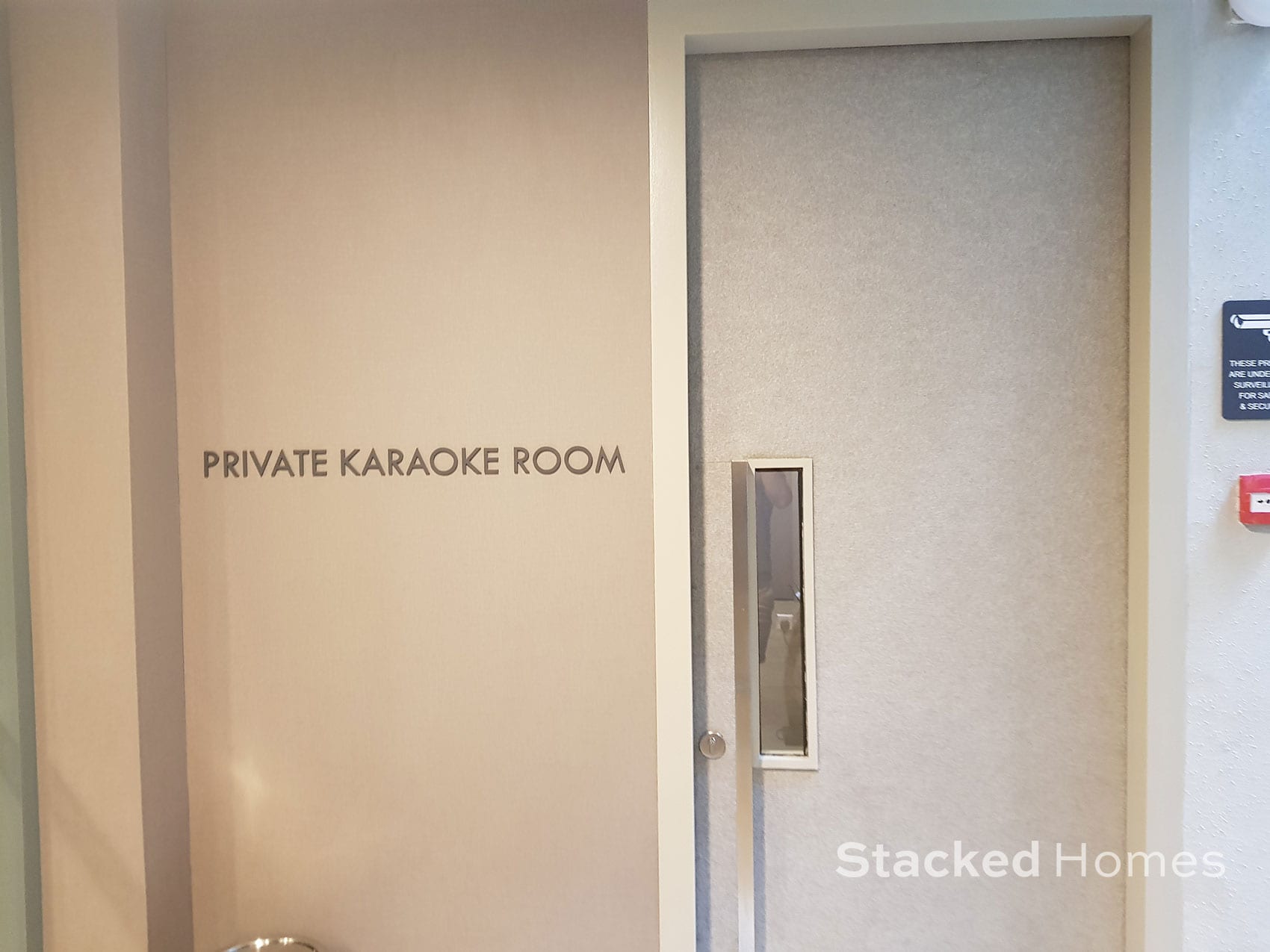 Private Karaoke Room
In terms of facilities, Thomson Three offers a good mix of entertainment options. It is clearly geared towards a family lifestyle, with the dining rooms as well as the private karaoke room, something unique that most condos do not offer. If you are an avid tennis player, be prepared to be disappointed as this is not offered here. The rest is pretty standard fare, a nice sized swimming pool, bbq pits, and a gym.
Security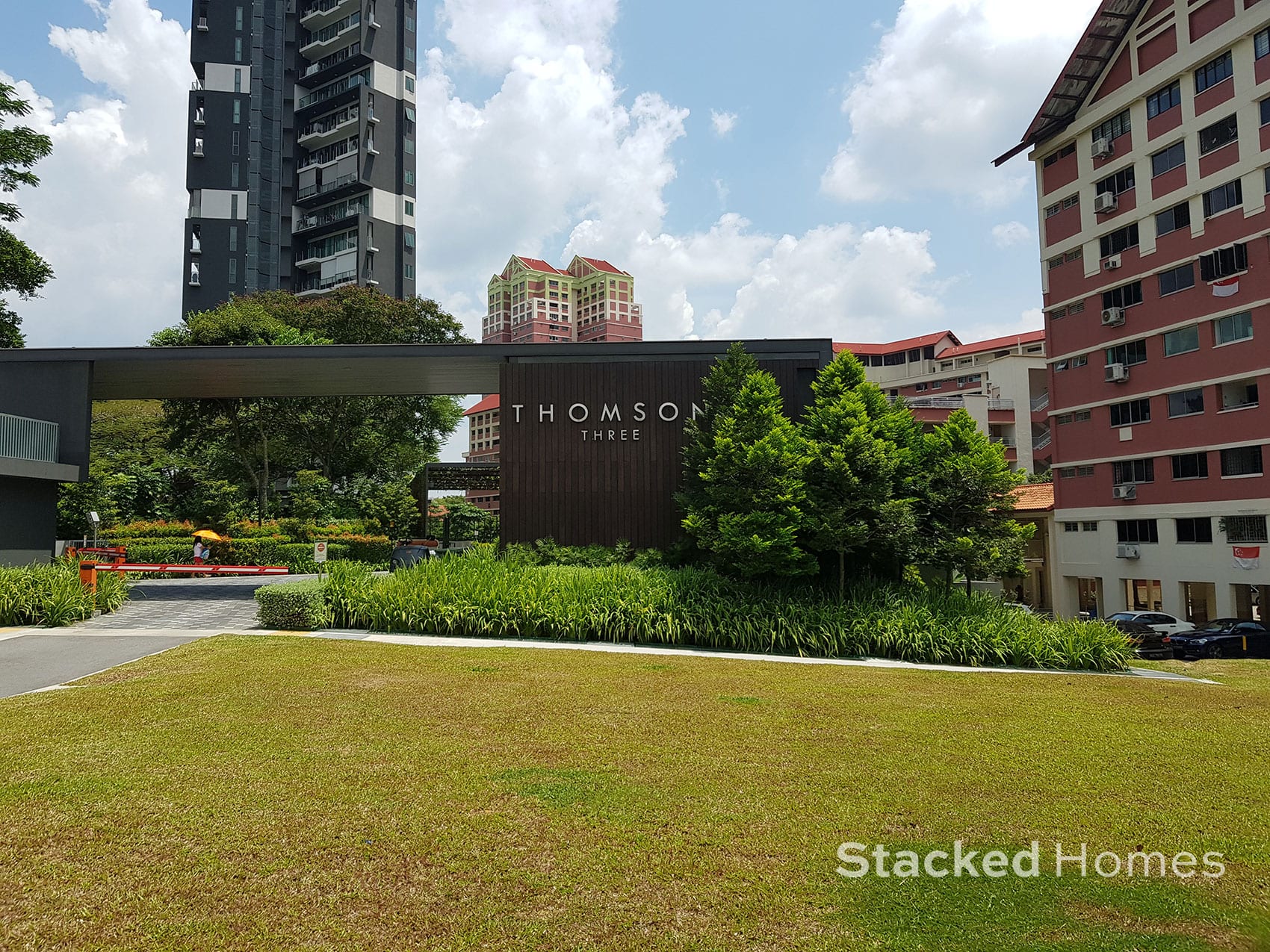 Security here is pretty stringent, upon entering the compound, the security guards were very thorough in vetting every single visitor that comes through. From the carpark, going up to the units require visitors to dial-up for entry and the side gate also requires you to have a pass.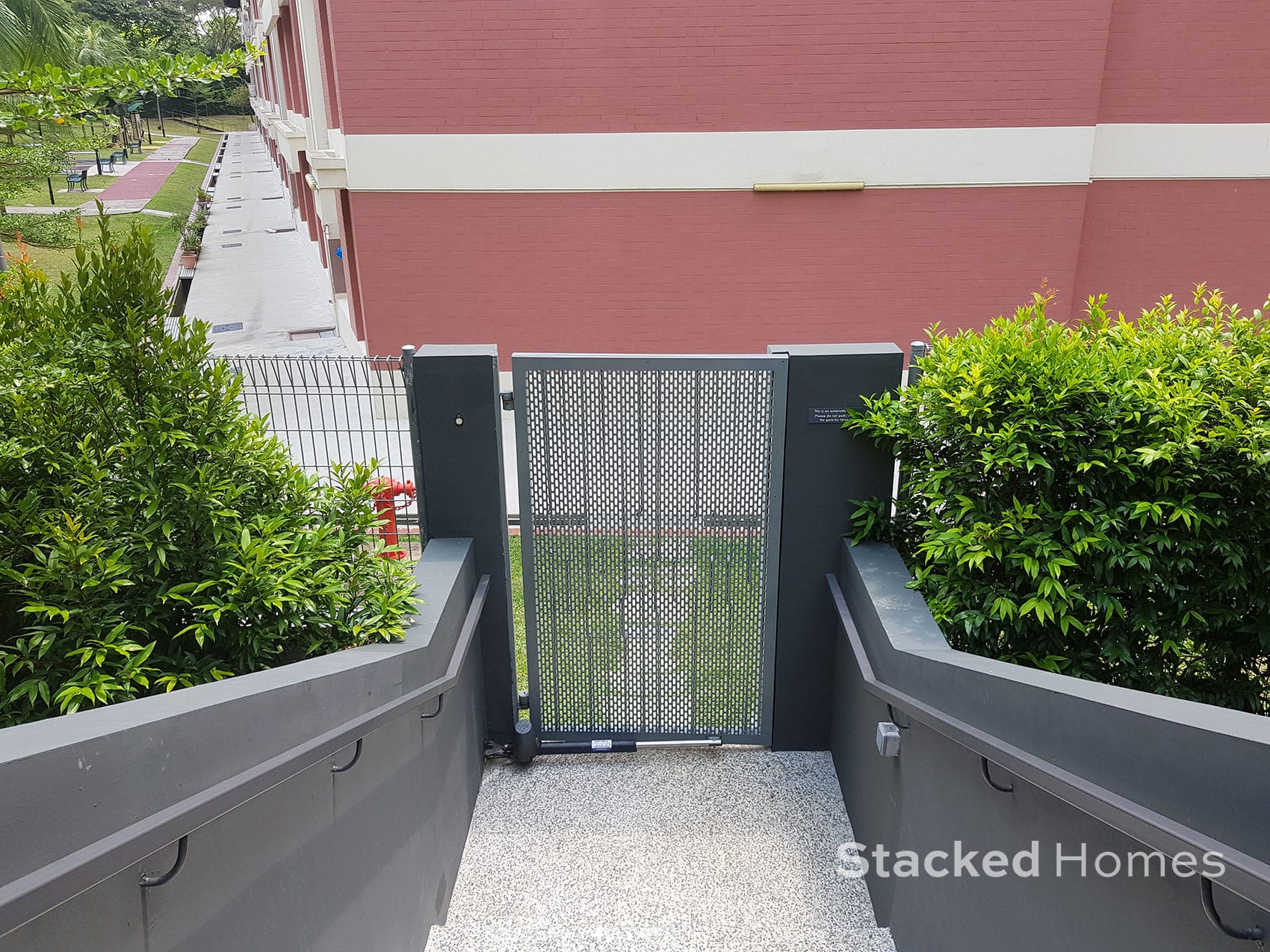 Side Gate that leads out to Sin Ming Avenue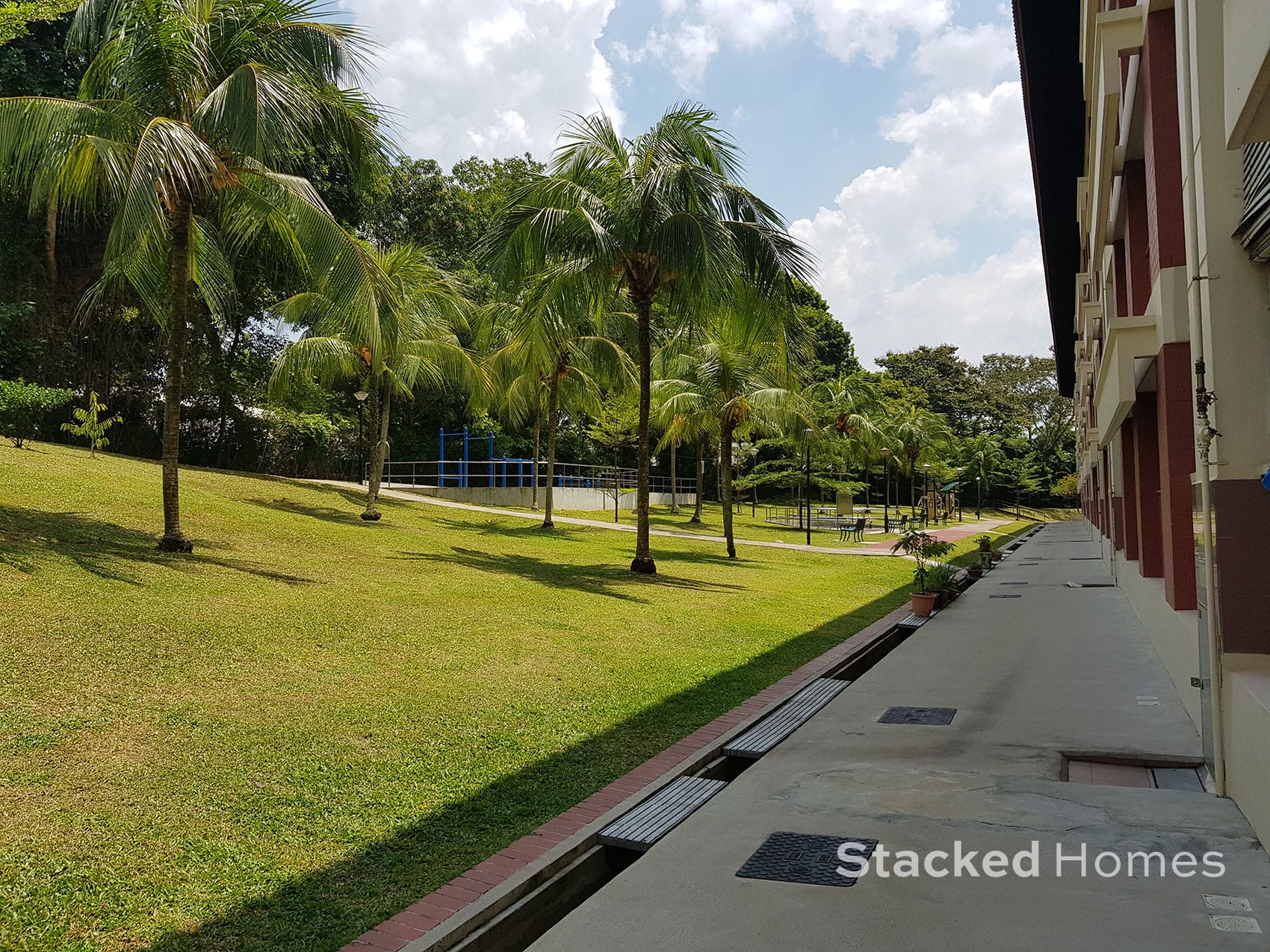 The path that leads back to the side gate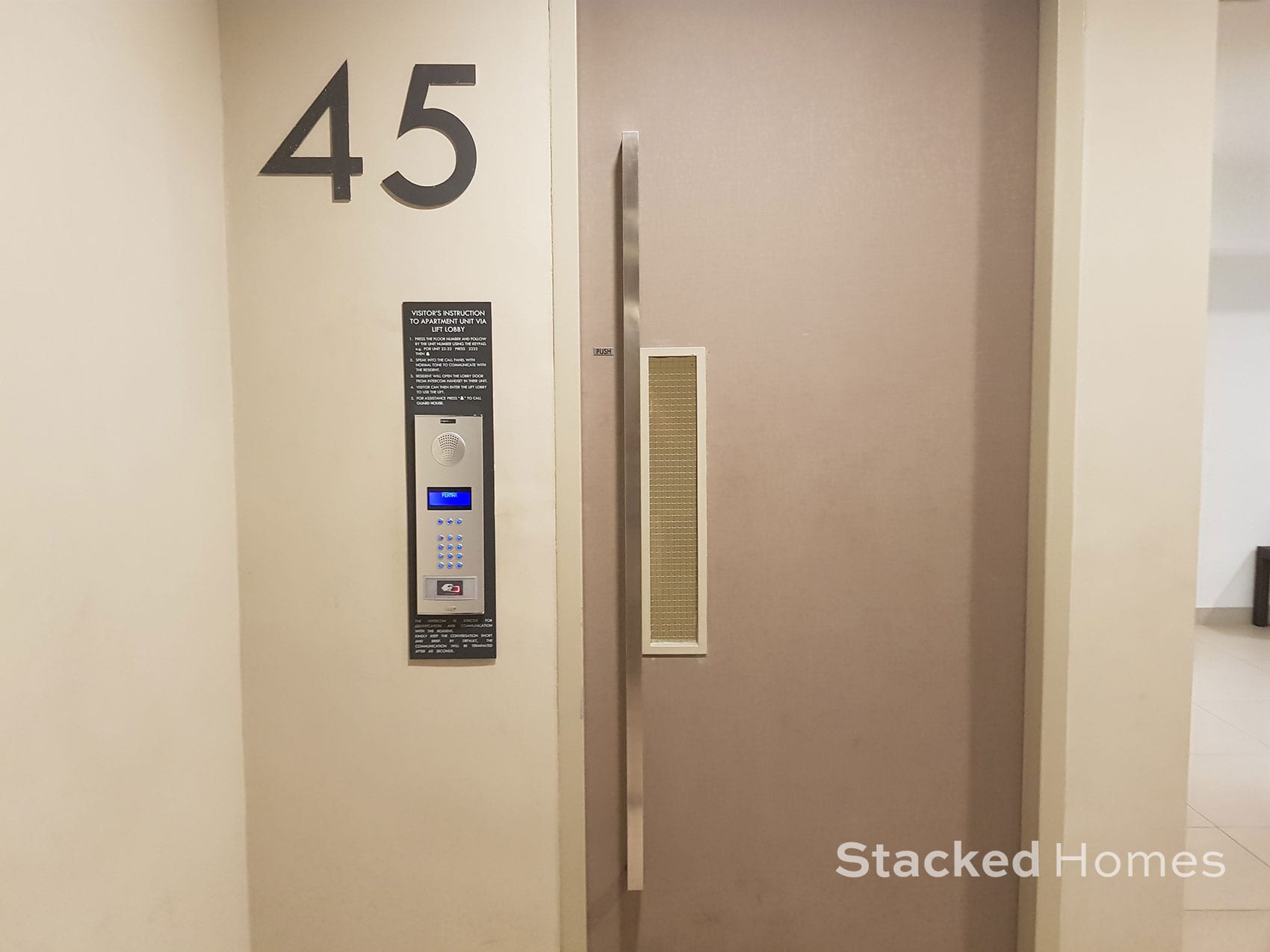 Secure entry to the unit
Carpark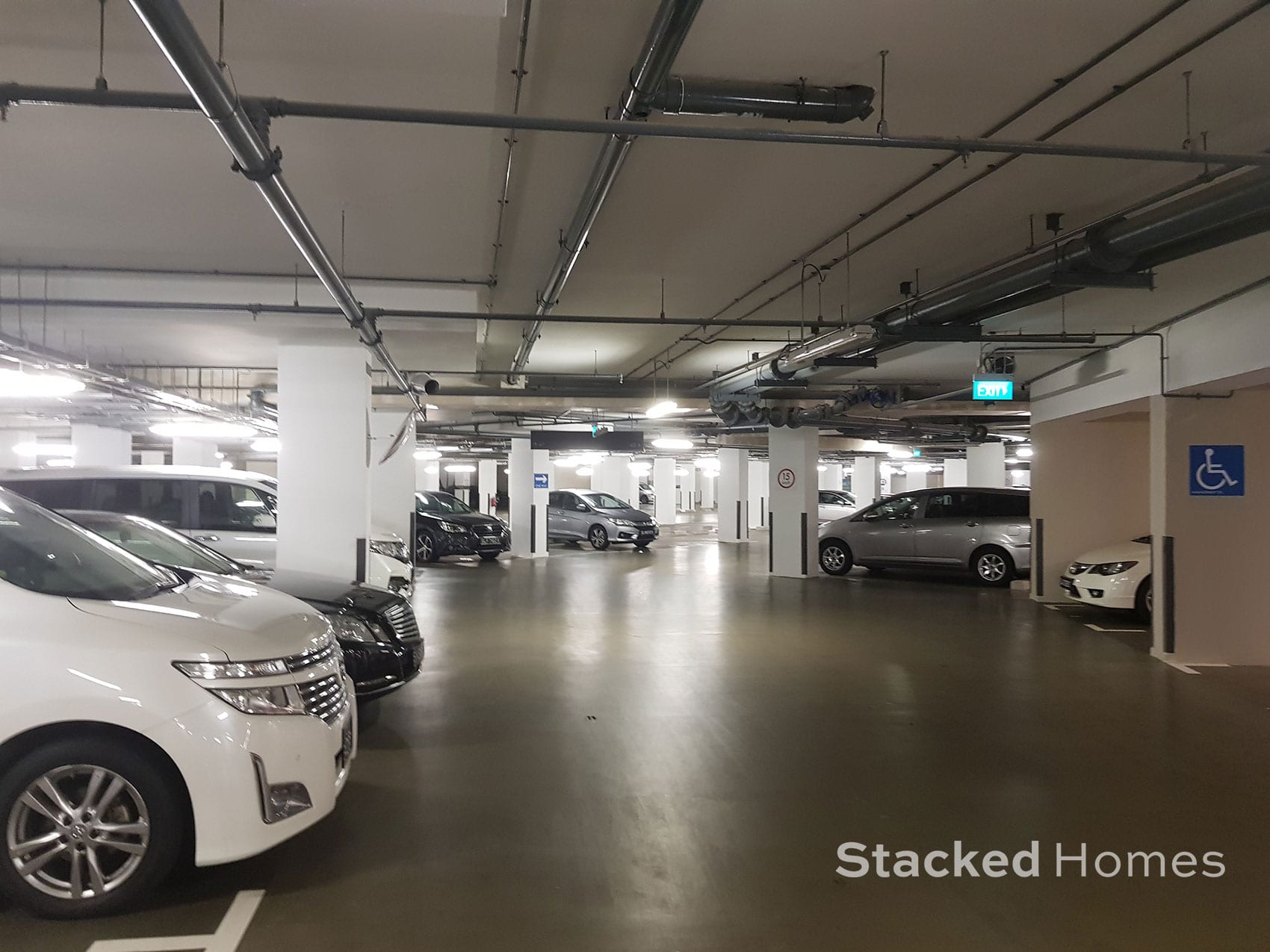 464 underground carpark lots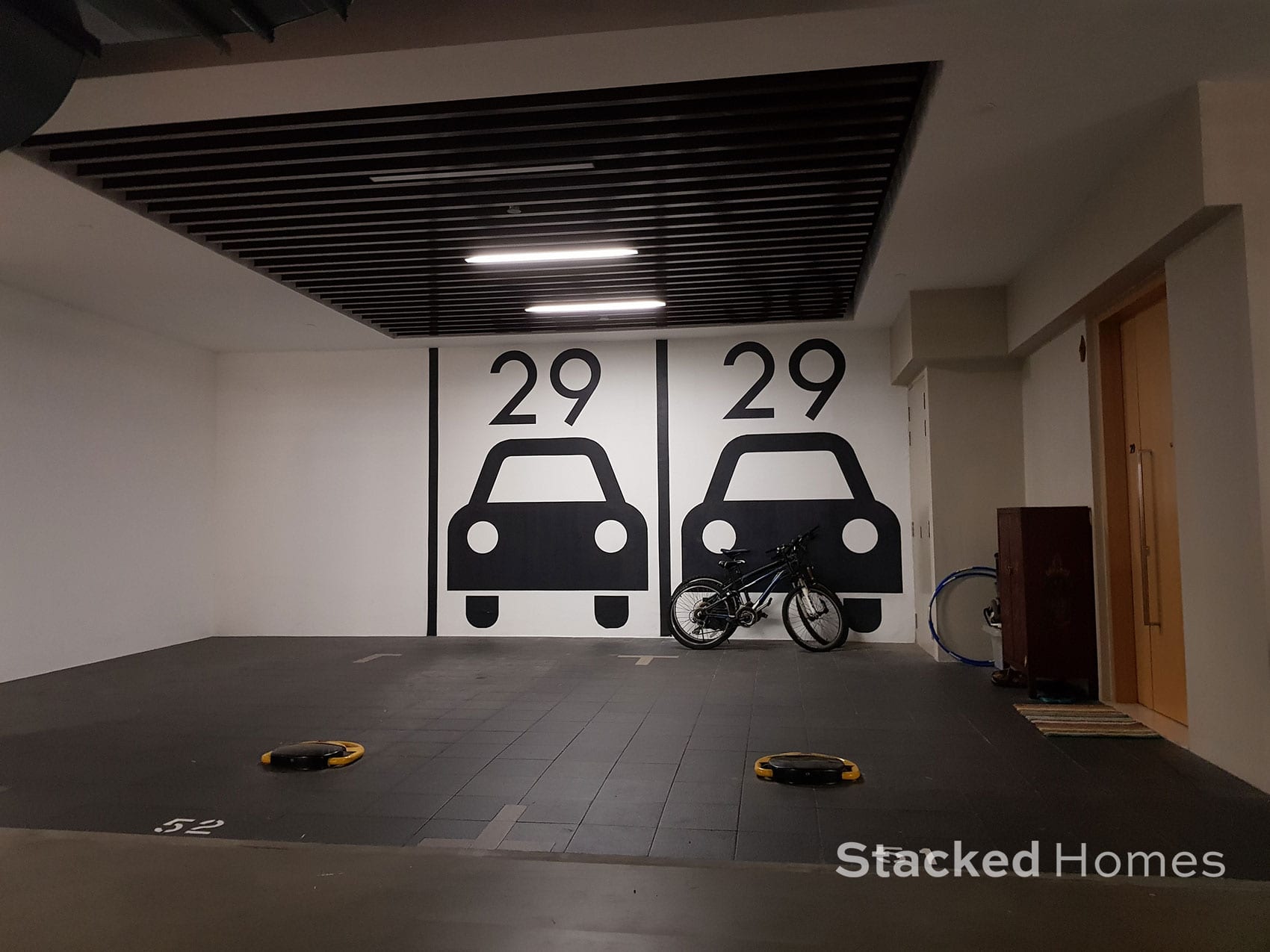 Each townhouse is allocated 2 carpark lots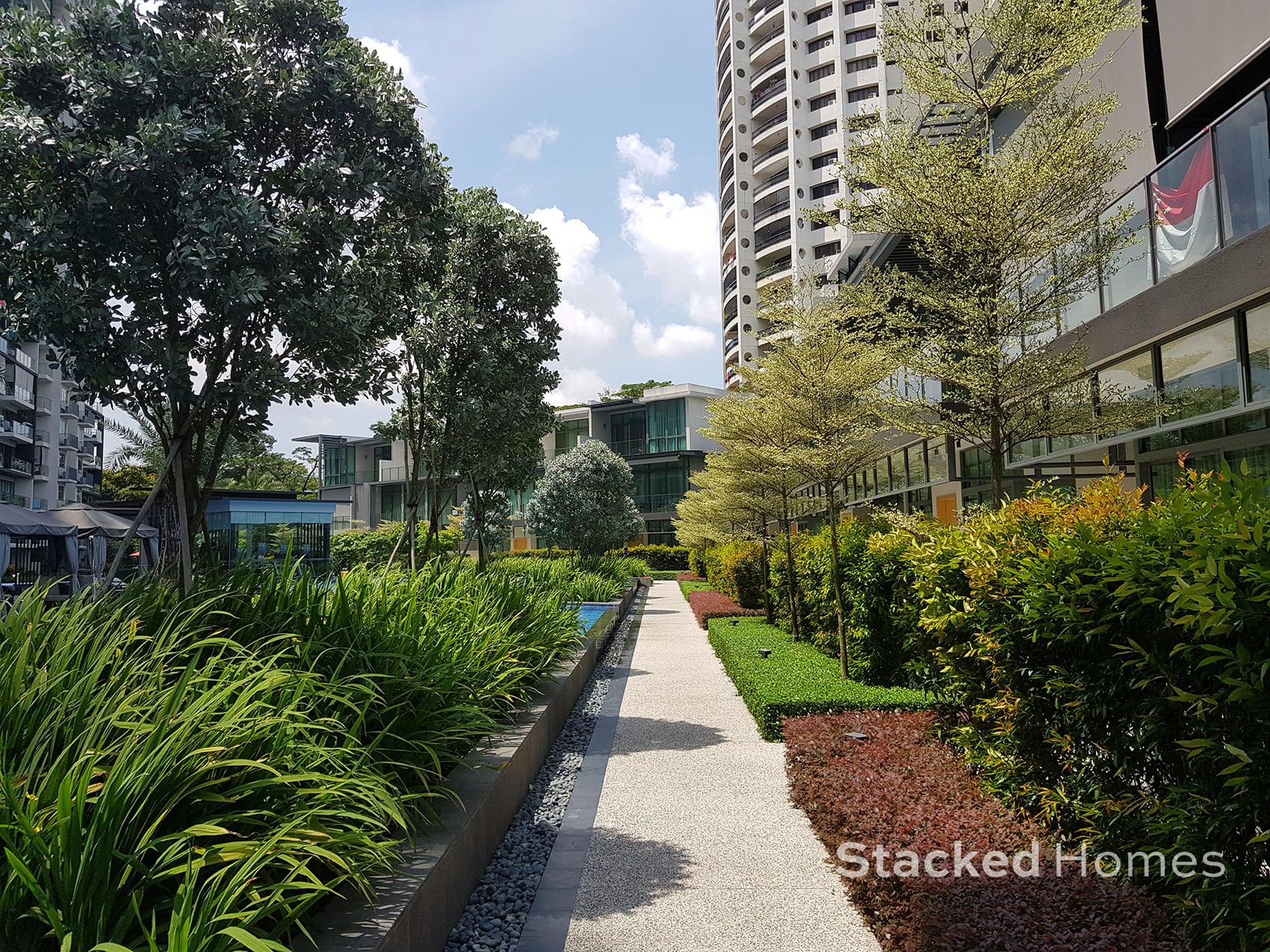 Well-manicured landscaping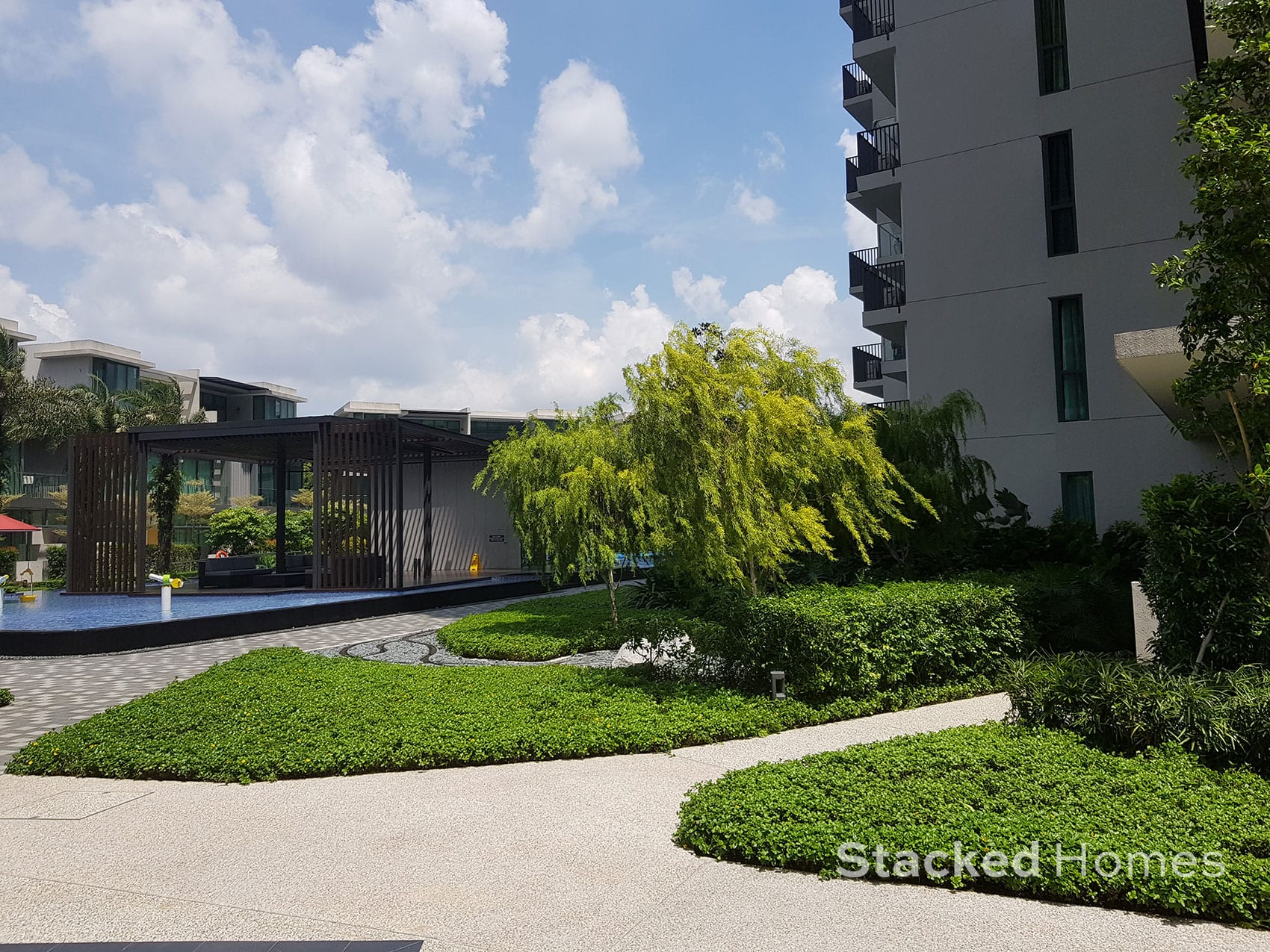 Welcome greenery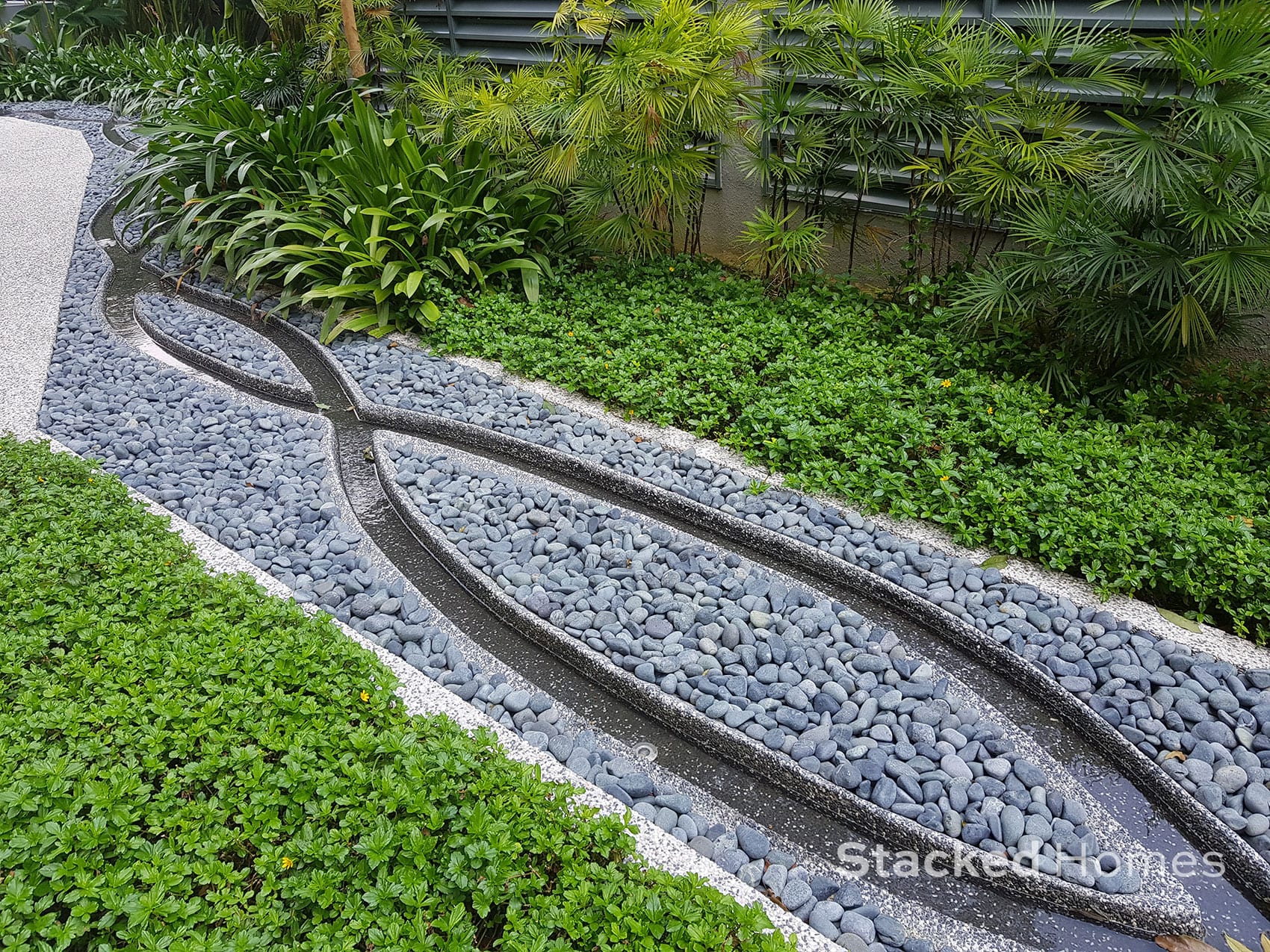 Water streams running throughout the development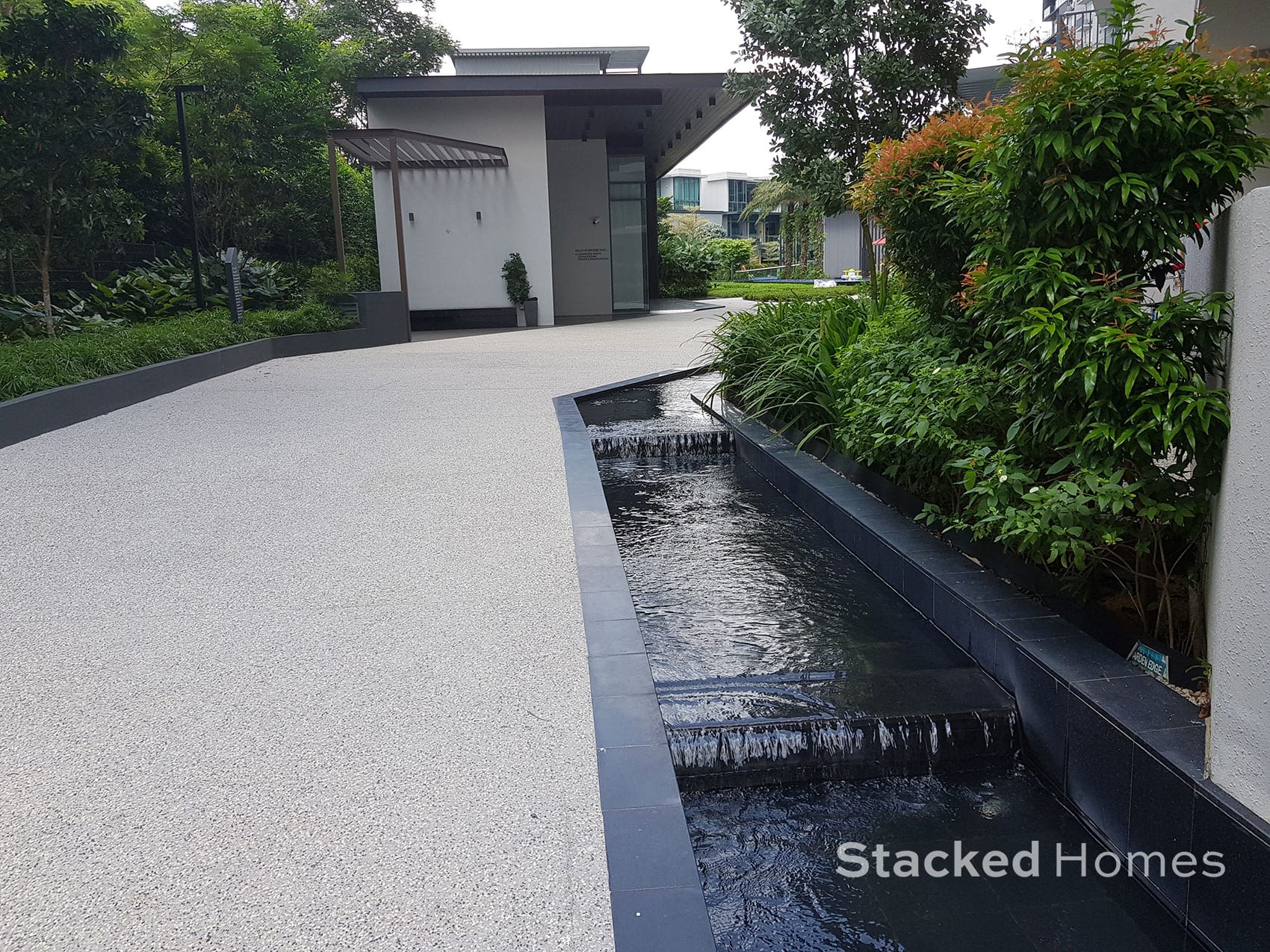 Water feature at the entrance
In general, the developer at Thomson Three has put a decent effort at elevating the surroundings with the details of water features as well as the multiple plants and greenery around to provide an idyllic vibe to the place. We like that everything is well kept and maintained, bear in mind, of course, the place is still relatively new, but with good maintenance, it will still be a great home to live in.
Other features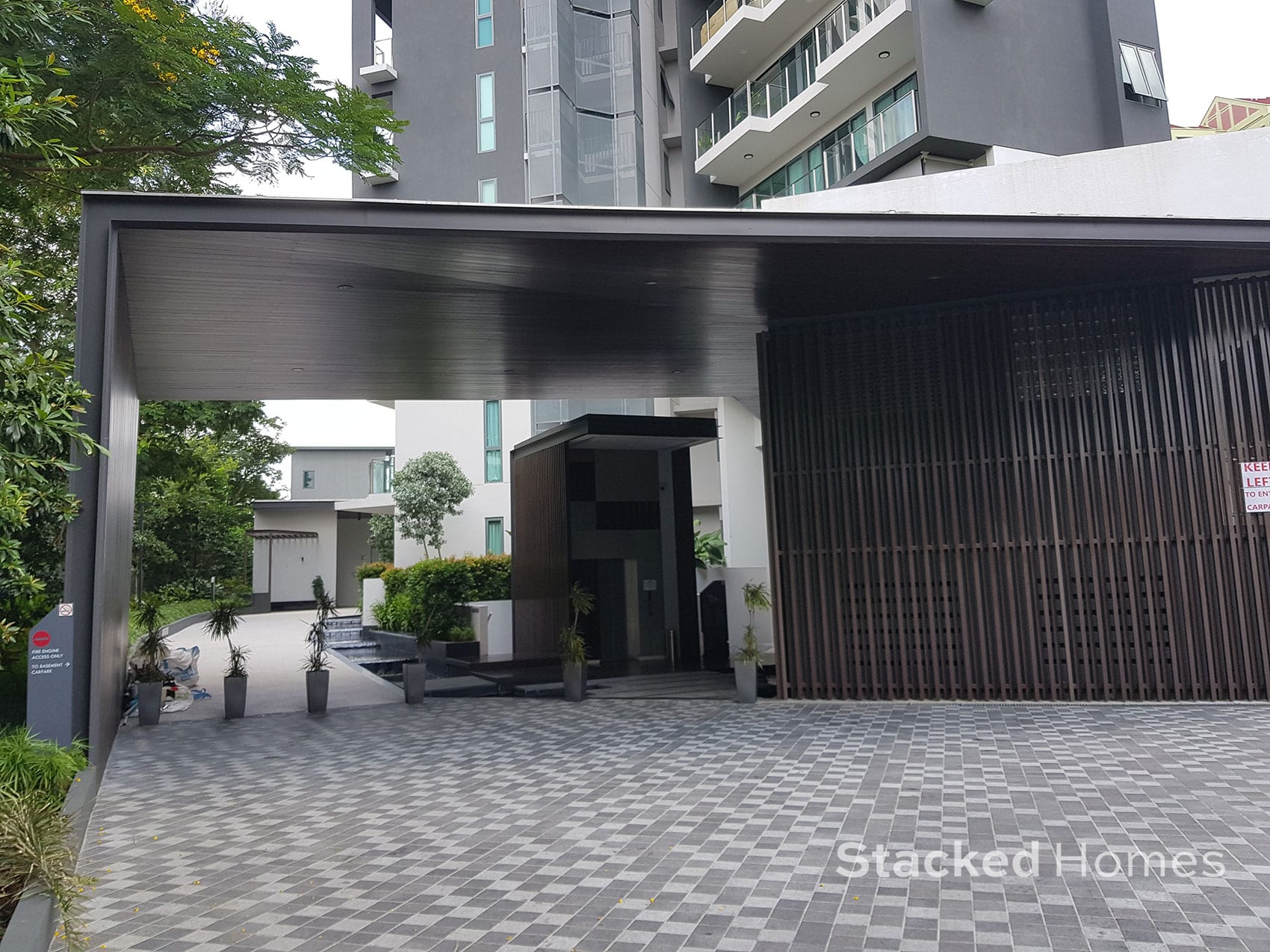 Drop off point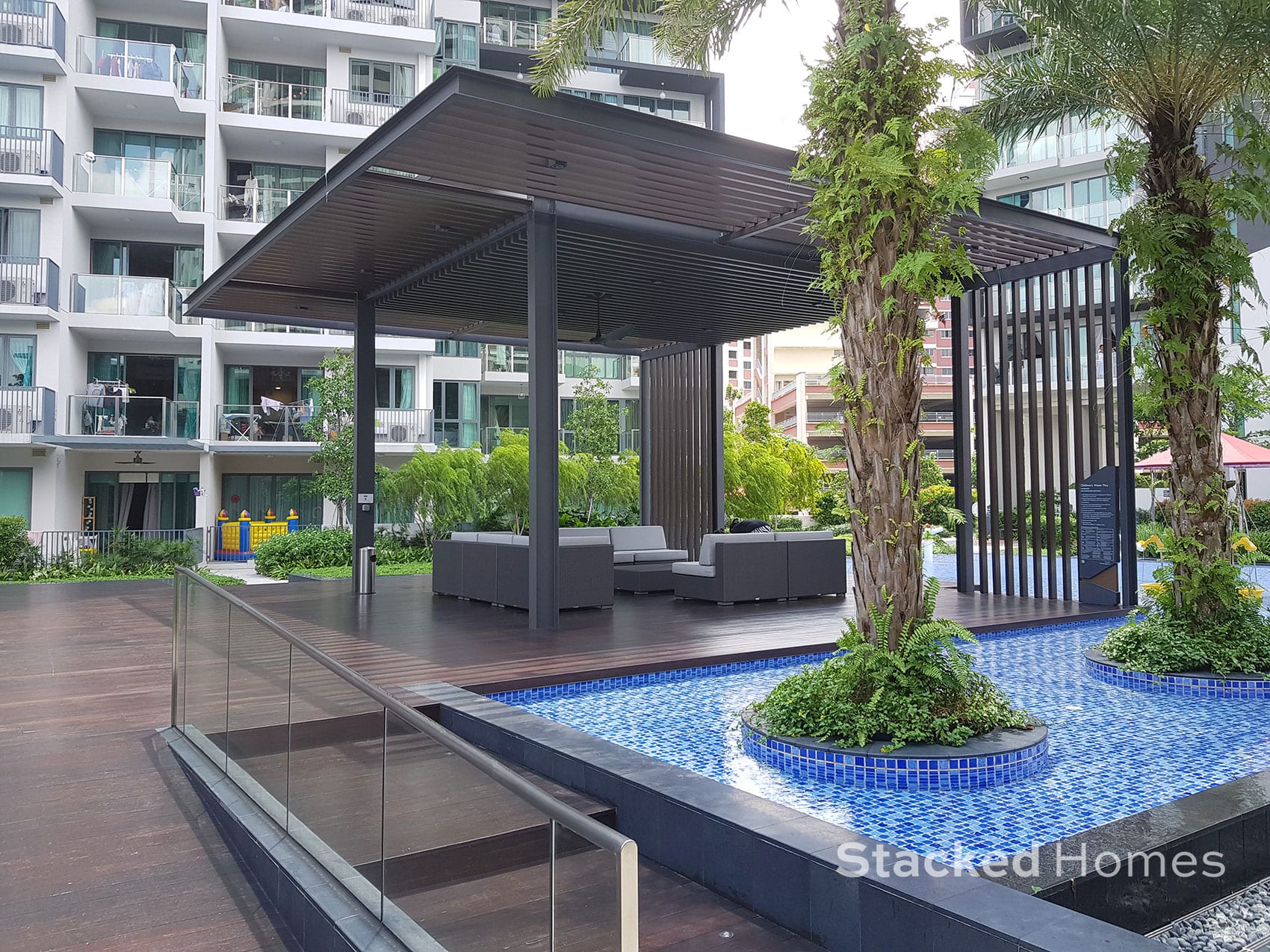 Multiple seating areas around the pool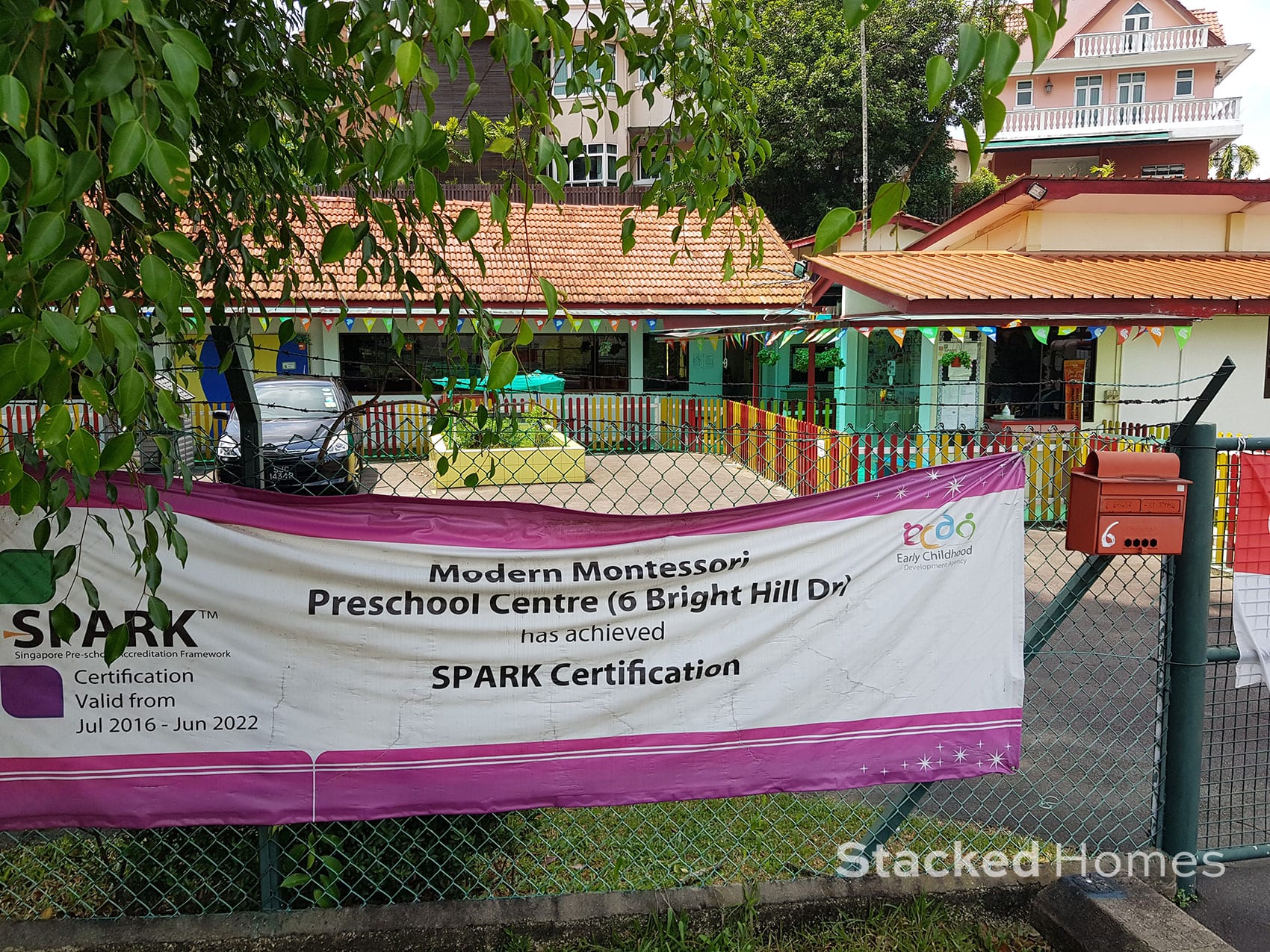 Preschool right outside the development
Developer
Thomson Three is jointly developed by UOL and Singland. UOL has a very strong portfolio in Singapore and is one of the reputable ones, having developed properties such as Riverbank @ Fernvale, 70 St Patrick's, Botanique @ Bartley, Principal Garden and Spottiswoode Residences. Singland has developed rather prestigious properties as well, such as The Paterson and Stevens Loft. Other well-known projects include One Amber, The Sixth Avenue Residences, The Trizon, and Alex Residences. Previous two joint ventures by Singland and UOL group include Archipelago and Clement Canopy. They both have a good reputation in Singapore for quality projects and Thomson Three should be no different.
Pricing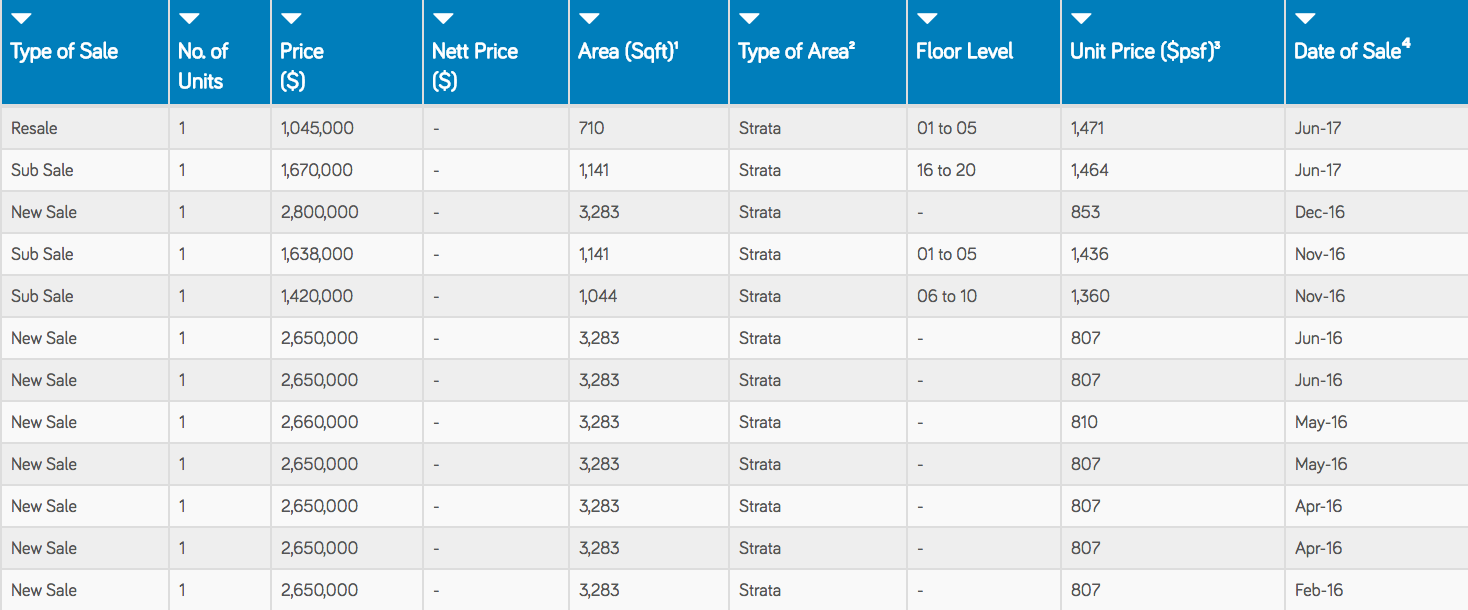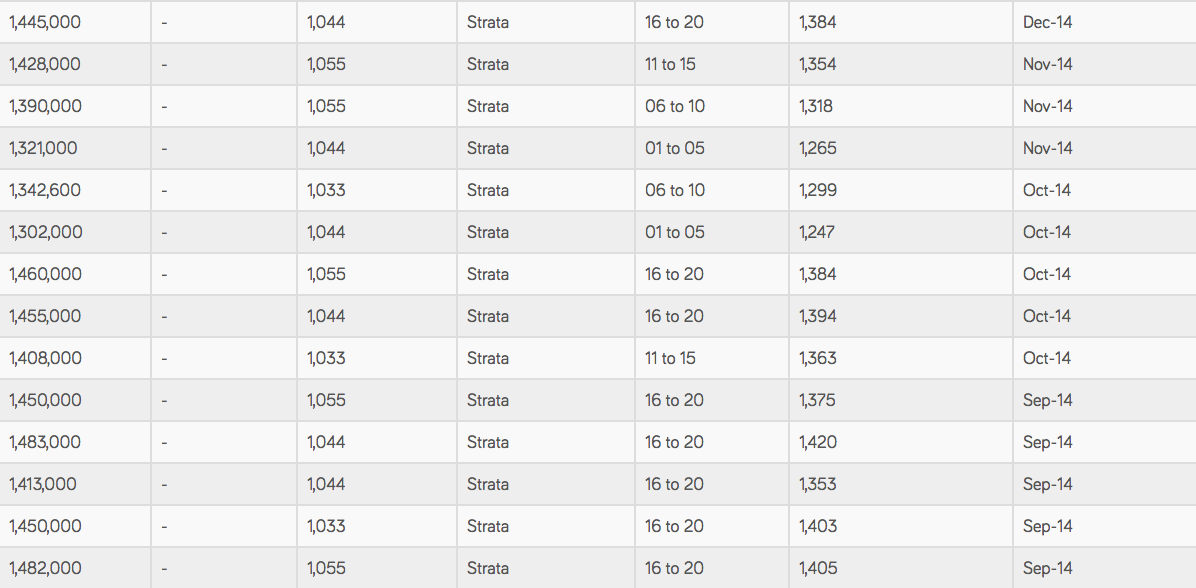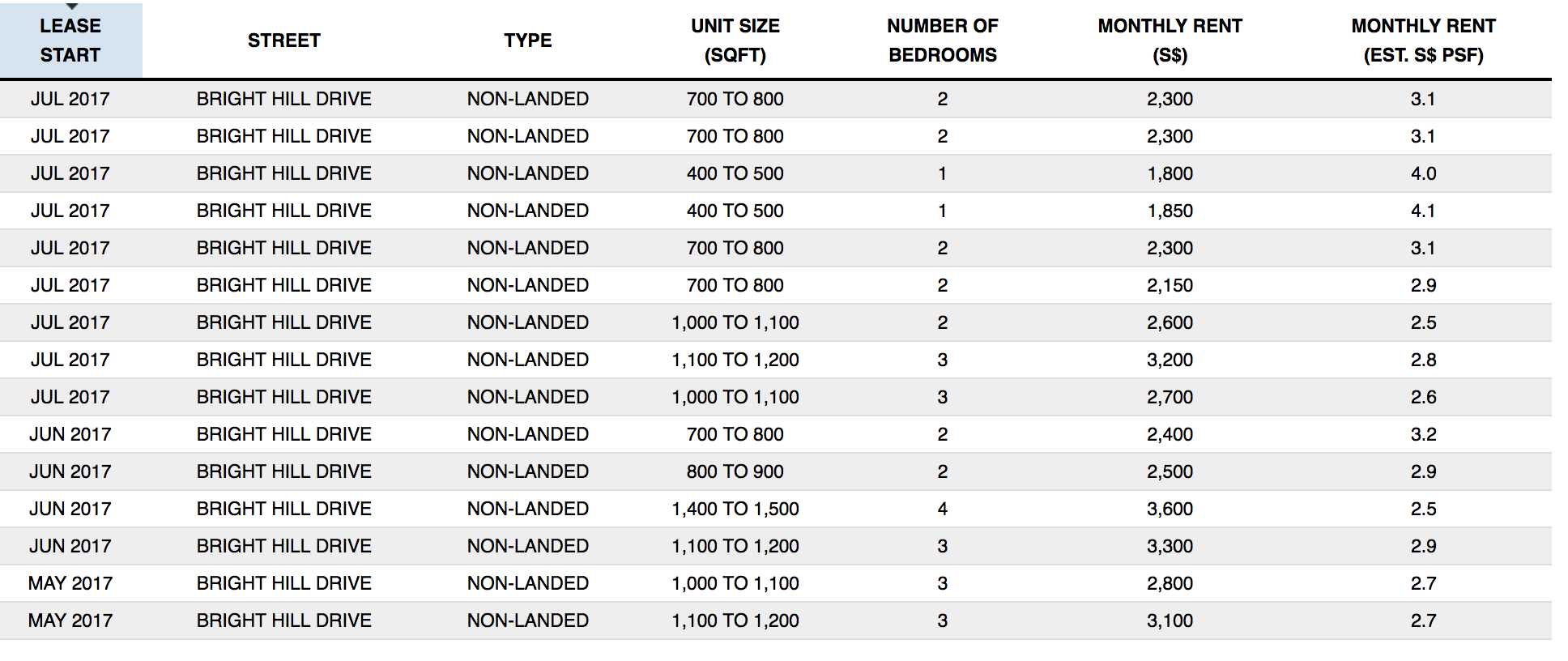 Judging from the recent sales, a 710 sqft unit was transacted at $1,471 PSF in June 2017, and a bigger unit at 1,141 sqft was sold at $1,464 PSF in the same month. This is a slight increase from prices in 2014, where the majority of the units around the 1,000 sqft size were transacting at a high of $1,200 PSF to low $1,300 PSF. In terms of rentals, here you can see a list of recent rental contacts Source: Squarefoot
Our Take
Thomson Three looks to be a great development for families looking for a central location in Singapore that is well connected yet in a peaceful environment. Although it is super close to Upper Thomson, the fact that it is perched on a slight incline protects it from the noise. Once the Upper Thomson MRT is completed, it will become extremely convenient for residents to move around Singapore.