Property Stories
"My Client Refused To Pay Me" The Realities Of Being A Property Agent In Singapore
Ryan J
March 24, 2023

6

min read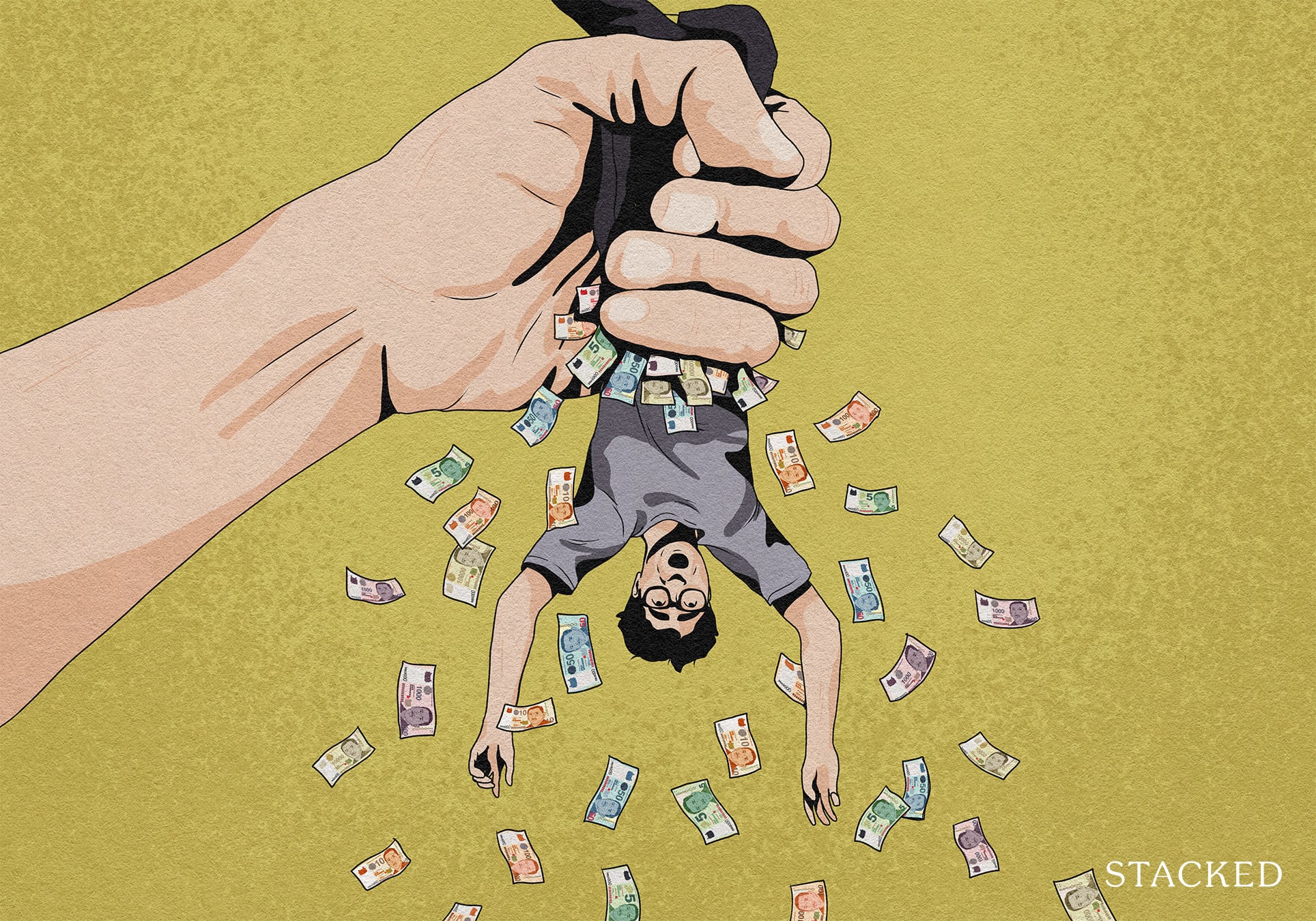 6
min read
Contrary to popular expectations, the life of a realtor isn't just "potentially unlimited income" and getting to browse homes all day. In fact, we've done a detailed breakdown before of how much an average property agent probably makes, and if you haven't read that yet, you may just be surprised at the figures.
But beyond the financial numbers, there are a lot of other aspects to being a real estate agent that some people don't get to see. For every four or five realtors we meet, we run into one who's getting burned out, or who regrets even setting foot into the property market. It's good to learn from bad experiences as well as good ones, so we spoke to some disgruntled current and former realtors about their job issues that are less talked about.
So whether you are looking to enter the real estate industry in the future, or just a buyer/seller that's curious about the behind-the-scenes of being an agent, here are a few ex-agents and current agents that have shared their experiences:
1. It takes too long to get paid
This was the reason a former realtor gave, for quitting her job in December last year. She had been in the real estate industry since the middle of 2017 and found the irregular payment times to be a source of anxiety.
One example of this was a new launch condo in 2018, for which she sold three units, and was only paid close to a year later. She says that "Financial planning is stressful, because you can be working for several months, paying to refresh listings, paying to entertain clients, and there is zero coming in – you can be bleeding thousands of dollars for a few months before you see any rewards."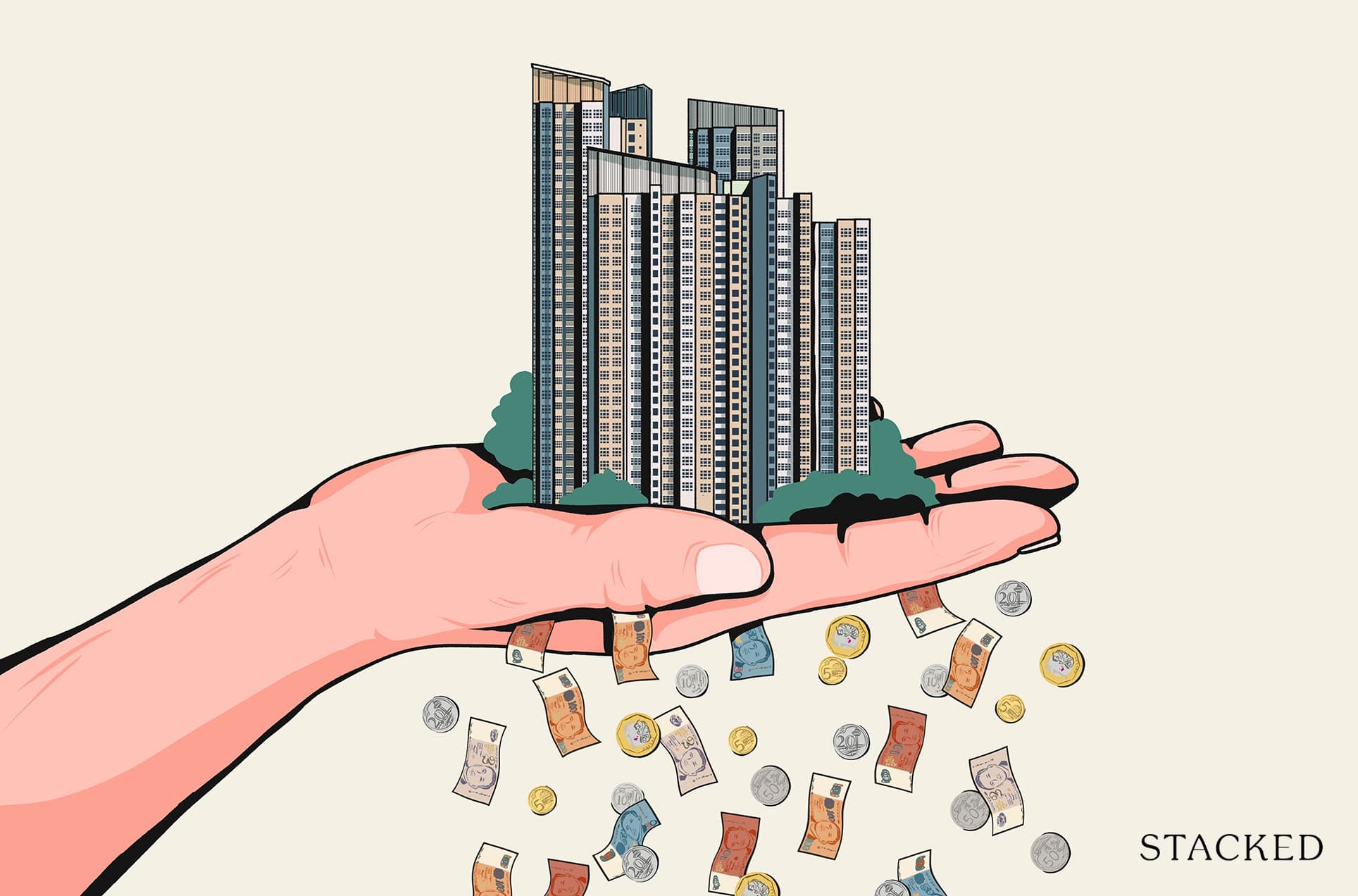 She says it's especially tough during certain seasons, such as near Christmas or New Year, when you know your payments are coming only as late as March or April. At such times, the festivities, gifts, ang paos, etc. can dwindle your current savings to dangerously low levels.
Ultimately the stress of having her first child, coupled with fears of irregular income, drove the realtor to a more regular employed job.
"The alternative to this is the resale flat market or rental", she told us, "but the work and effort are not commensurate to the service fees."
With resale flats or rentals, property agents can get paid much close to when the deal is concluded (often within the same week of closing). However, the cost and effort to market a resale flat or rental unit are not necessarily less than, say, a new launch or resale condo; and the commissions can be significantly lower.
2. Clients can easily back out after you spend significant time and money
Even experienced realtors come across these situations. One of our readers, who's also a realtor, told us the following story:
"In 2016, I was engaged to sell a shophouse along the Dublin Road area. Although the location was prime, the property was not in good condition. I paid to move in some furniture and stage the unit, and I brought in multiple viewings. I even changed the curtains, and I had a professional to help with the online marketing."
Overall, he estimates he spent several thousand dollars to market the unit, just within the first month. However, the client demanded unrealistic results; and wouldn't even entertain an offer that was $50,000 over the valuation.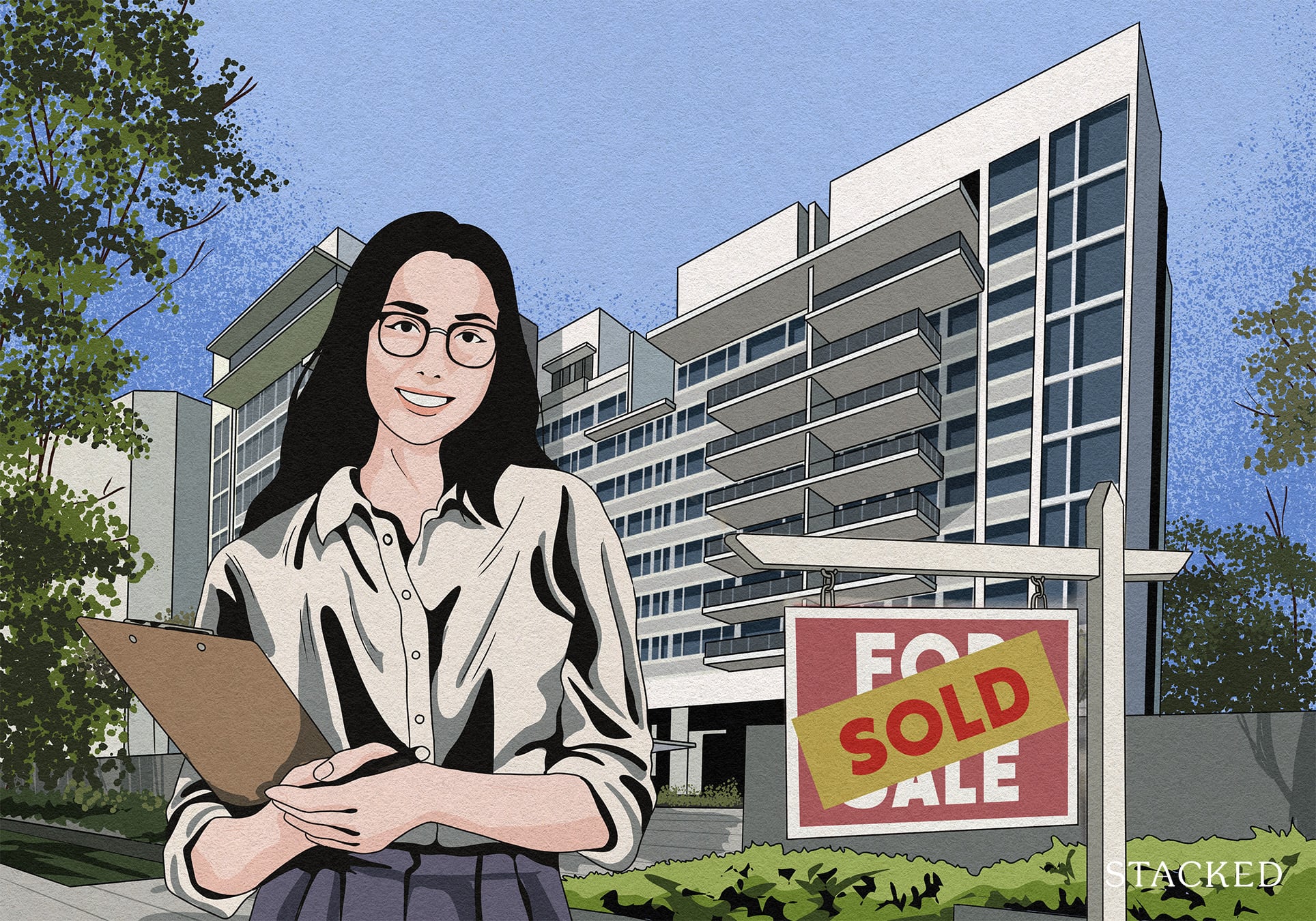 "Because the price they wanted was unrealistic, of course, the unit would take longer to sell. But after just three and a half months, despite the amount that I spent, they decided to change agents."
The property eventually sold for less than the offer he'd secured – but there's no sense of vindication. Just frustration at the loss incurred, by clients who are out of touch.
"It wasn't the first time, and it's never the last time," the agent says.
And so while a lot of people point fingers at real estate agents as being one of the causes of driving up property prices, the truth is that sometimes it is also down to owners who have certain prices they stubbornly want to achieve.
3. Some clients don't respect personal space and time
"Some clients will text you at 11 or 12 o'clock at night," one agent told us, "And if you don't text back in a few seconds, that's it – they're going to complain that you're not responsive, that they feel unimportant, or that you're not on the ball."
Another agent told us that once, he had a client write a complaint to his agency, because "they sent an email to the wrong address and it bounced, and they were not very IT-savvy, so they became frustrated; but that somehow became my fault and I was supposedly uncontactable."
One agent also pointed out a client who sometimes sent over 20 e-mails every day, and would often call whenever an email was not replied to. The same client was emphatic that the agent did not work on any other listings besides their own (something that was never agreed to when they engaged the agent).
While it's understood that property – and any sales job – requires people skills, many are blissfully unaware of how, well, disconnected some clients can be.
4. It's too expensive to market listings, and portals are a monopoly/oligopoly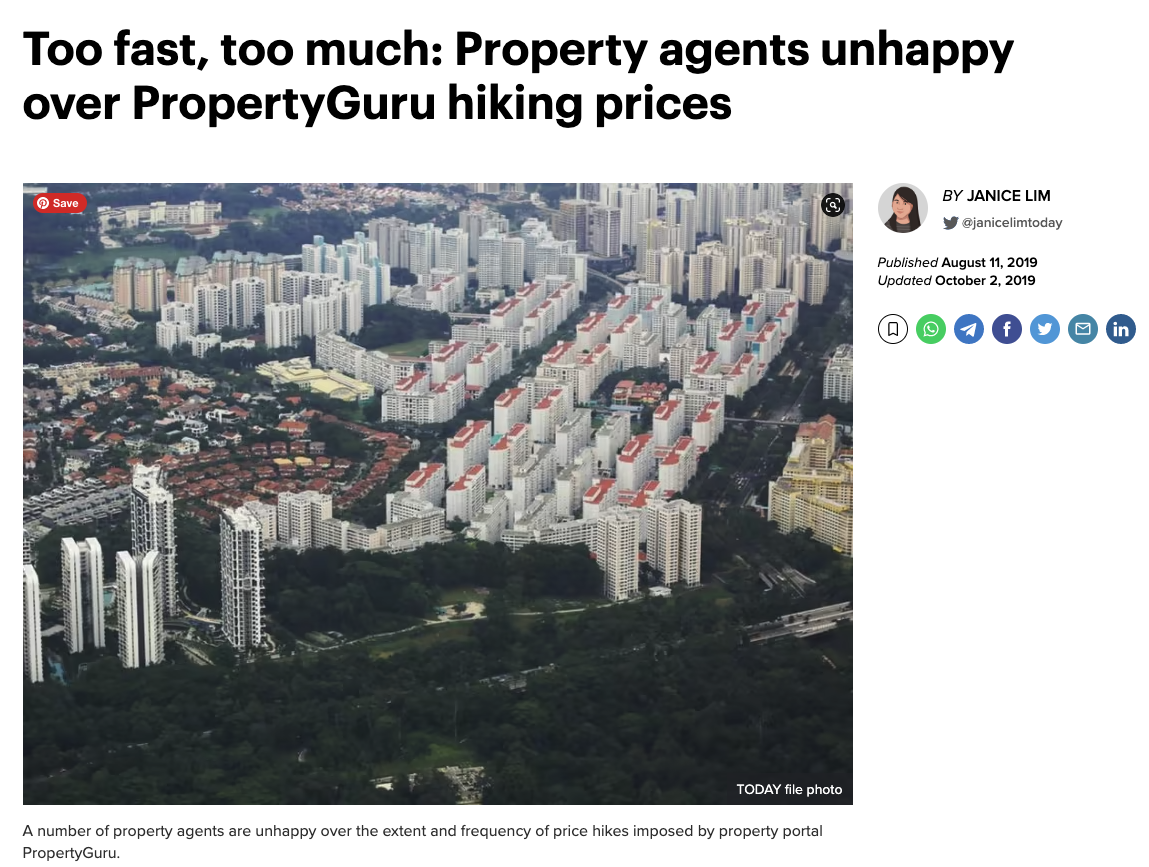 One example of this was back in 2019 when Property Guru raised prices from over 11 per cent to over 26 per cent for varied packages. One realtor said that, early into her career, she learned how unfair the system was:
"There are two or three big players, and they can charge whatever they want because they've cornered the market. People complain that commissions are high, but have they taken a look at how much we're being charged to list the property?"
The same agent noted that other cheaper avenues are "essentially meaningless in this day and age", as the reach of traditional classified ads or flyers can't come close to the established portals.
Another agent notes that this situation favours better-capitalised agents, who start off with large marketing budgets. For those who begin their careers with limited funds, it's unlikely that they can compete.
He says "It's a bit deceptive when you're told about the opportunities because many who recruit don't tell you that those who can afford to spend big bucks on videography, listings packages, and so forth are the ones most likely to make it. If you bootstrap, your odds are probably worse than a start-up."
5. You get into trouble because other people don't do their job
What happens if a client is slow to sign or pass a cheque, and the Option To Purchase lapses?
What happens if the mortgage broker fails to secure the loan, and the buyer can no longer proceed? Or if the seller fails to meet agreed-upon conditions, like fixing broken sockets before the Sale & Purchase Agreement is signed?
Or if you just so happen to deal with an inexperienced real estate agent, who ends up bungling up the deal.
All these issues can stall a deal, or even see it cancelled, and this ultimately impacts the livelihoods of the realtors involved. One property agent described her job as "a lot of chasing other people to do their jobs," while another says the sense of unfairness can be crushing to new agents:
"You can do all the steps right, but because someone – out of your control – decides to be late, you might fail to close. And if there's no transaction, there's no pay; regardless of how well you executed your end."
As such, property agents need to have an eye on all the relevant parties; a process that's both exhausting and time-consuming. On top of that, you need to have tremendous patience, knowing the actions of others can determine whether you're paid.
All in, the list of unstated requirements to be a property agent is extensive: from large saved-up capital (enough to cover your operational and living expenses for around a year, when you first begin), to a high tolerance for mistakes and (sometimes bad) attitudes of the parties you'll work with.
Even if you have sales experience elsewhere, this isn't a job to casually walk into. And as an added reminder, remember most other sales jobs don't also require you to find your own inventory (in property, you don't just look for buyers – you need to convince someone to sell through you as well).
If you're intent on joining the industry anyway, follow us on Stacked. We can provide you with in-depth reviews of new and resale properties alike, as well as the latest happenings in the property market.