Analysis
The Trivelis DBSS Vs Clementi Ridges Issue 10 Years On: Did Trivelis Owners Really Lose Out?
Ryan J
December 20, 2022

6

min read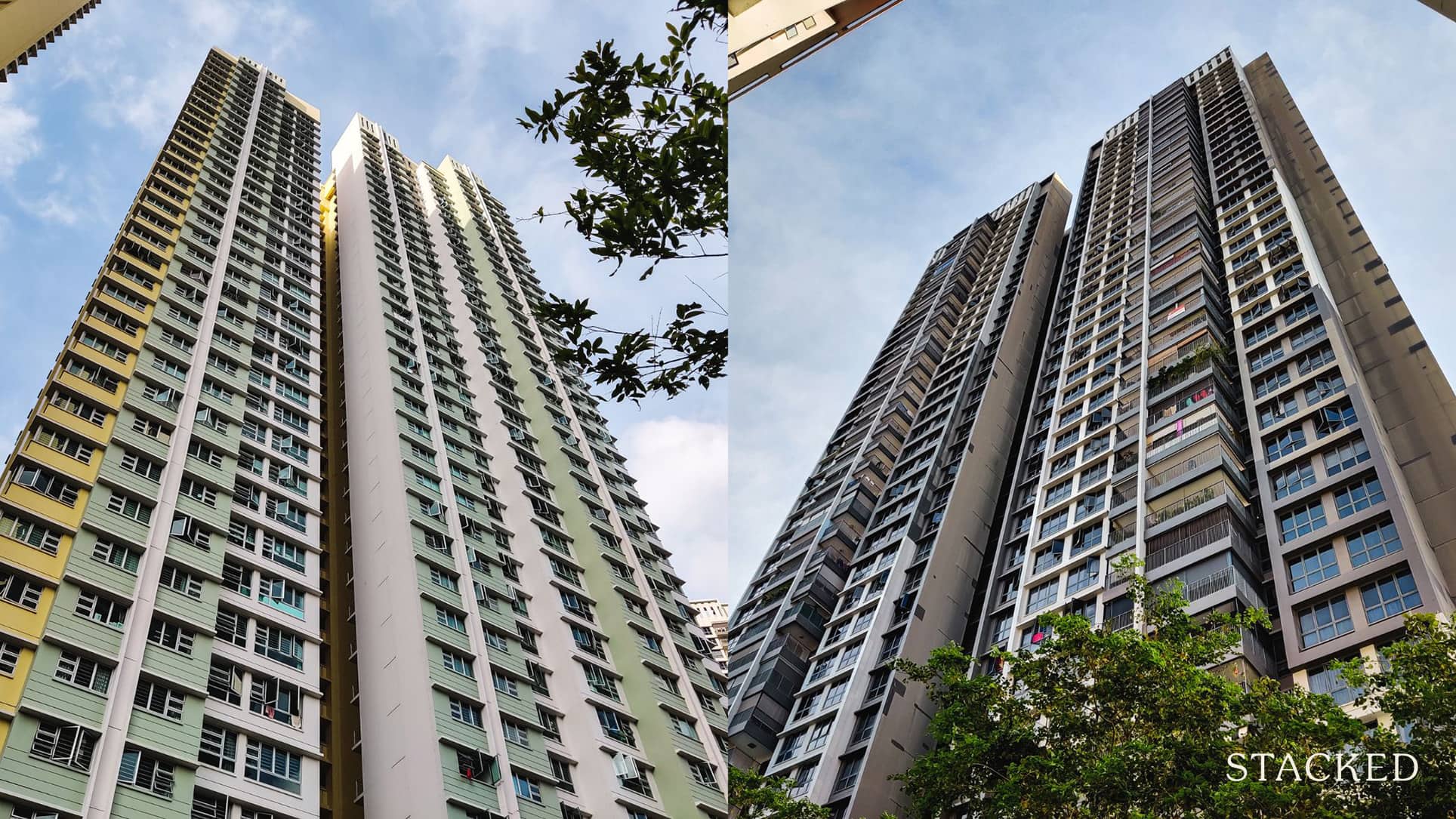 6
min read
Several years ago, the DBSS project Trivelis made the news, but not in a good way. Besides some quality complaints, the biggest issue was due to their newer neighbour next door. Buyers were miffed when a BTO project – Clementi Ridges – launched next door to them.
Probably the most frustrating thing was the timing of it all. Clementi Ridges was announced just 5 months after, and it would be bigger, cheaper, and newer by a year. Views would also be blocked, as Clementi Ridges would be at the same 40-storeys. It was also reported that some even forfeited their Trivelis deposit to try their luck on the Clementi Ridges BTO, such was the appeal.
However, some argued that Trivelis may still have been a good deal, as the quality of DBSS flats would win out. Now, close to a decade after Trivelis was launched, let's see the outcome by comparing the prices between the two:
The significance of Trivelis vs. Clementi Ridges 
The Design, Build, and Sell Scheme (DBSS) was another mid-point between condos and flats. They were designed and built entirely by private developers, but did not have the common facilities associated with full-fledged condos or Executive Condos (ECs). They were also sold under the auspices of HDB, rather than sold directly by developers in show flats.
Due to several complaints involving quality and rising cost (and frankly, it just wasn't differentiated enough), DBSS was suspended indefinitely in 2012. This is where the story of Trivelis comes in.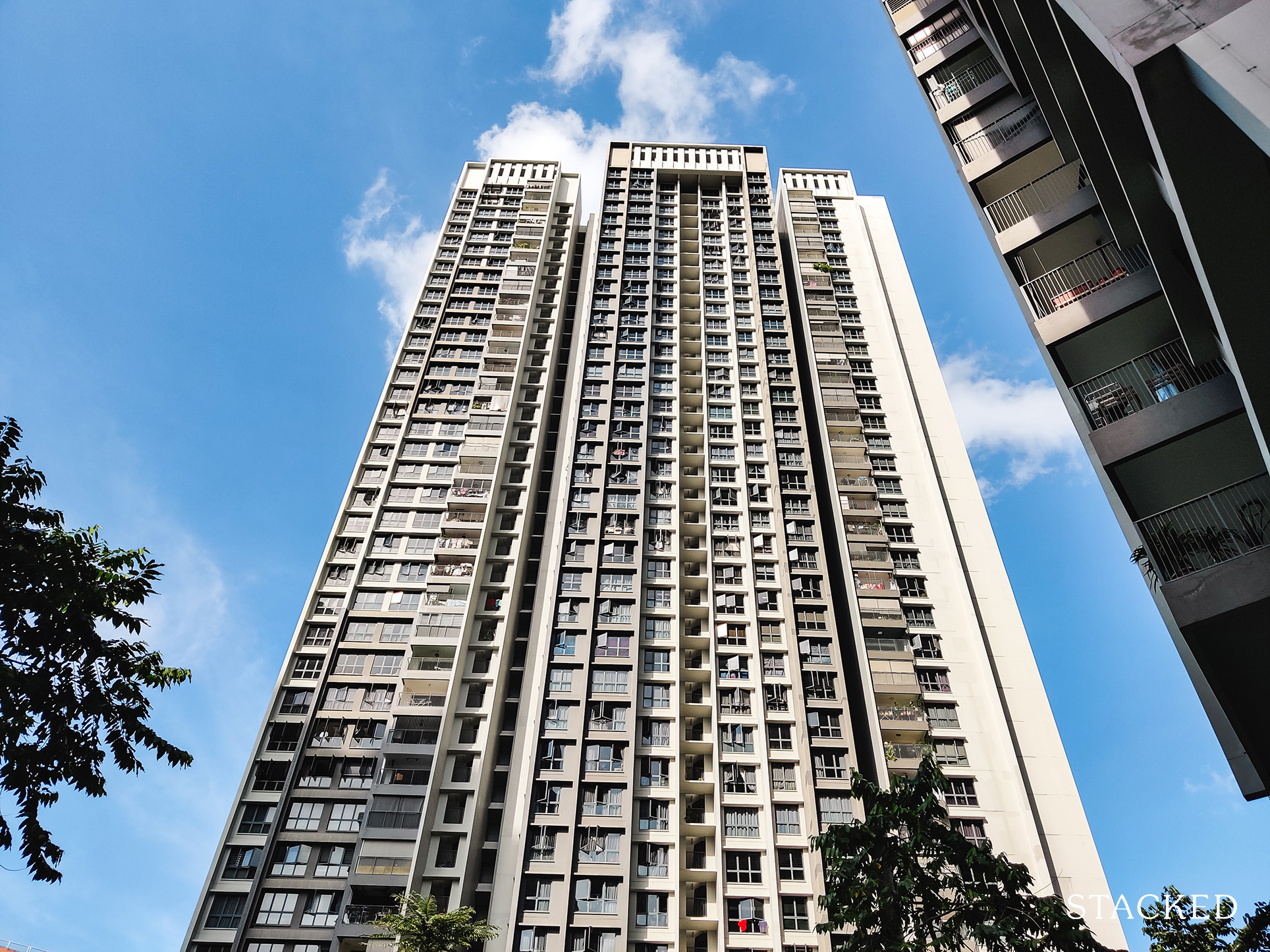 Trivelis was the second-last DBSS project to be launched; and on the ground, there have always been rumours that it was the final nail in the DBSS coffin. Trivelis buyers complained about several defects, but that wasn't even the biggest issue: their biggest gripe was the launch of a BTO project next door, called Clementi Ridges. As you'll see below, Clementi Ridges was both significantly cheaper, and yet larger. This caused several Trivelis buyers to cry foul, and feel they'd been short-changed.
Not everyone agreed with this, however. Some felt that DBSS status would mean Trivelis will see higher demand, and win out in gains in the end. Over the course of last year, it was also seen that many of the million-dollar flats were in fact DBSS projects, regardless of earlier complaints over quality.
As we approach 2023, we decided to check on the prices at Trivelis and Clementi Ridges, to see whether the "DBSS effect" has ultimately turned things around:
How have prices moved since launch? 
Trivelis and Clementi Ridges were launched less than half a year apart, with Trivelis launching in October 2011, and Clementi Ridges launching in March the next year. Here's how their prices have moved:
(Do note that CR = Clementi Ridges, TV = Trivelis. It was shortened for ease of viewing).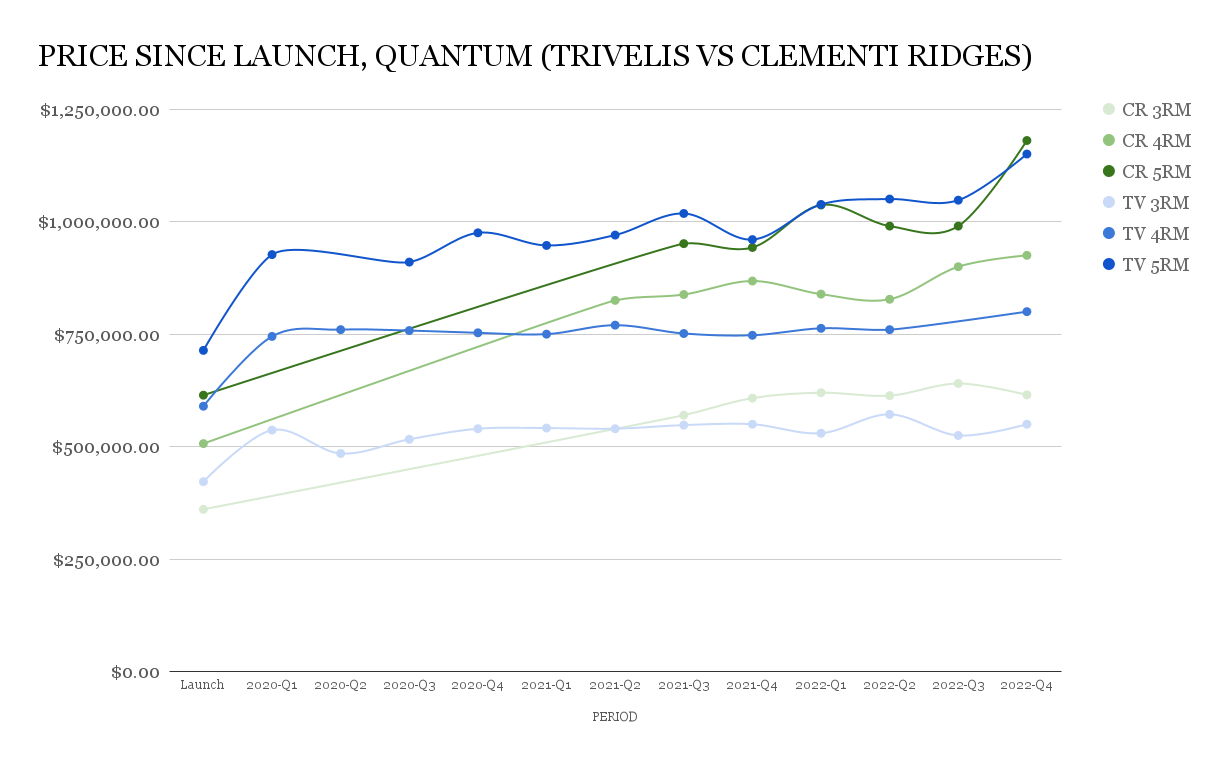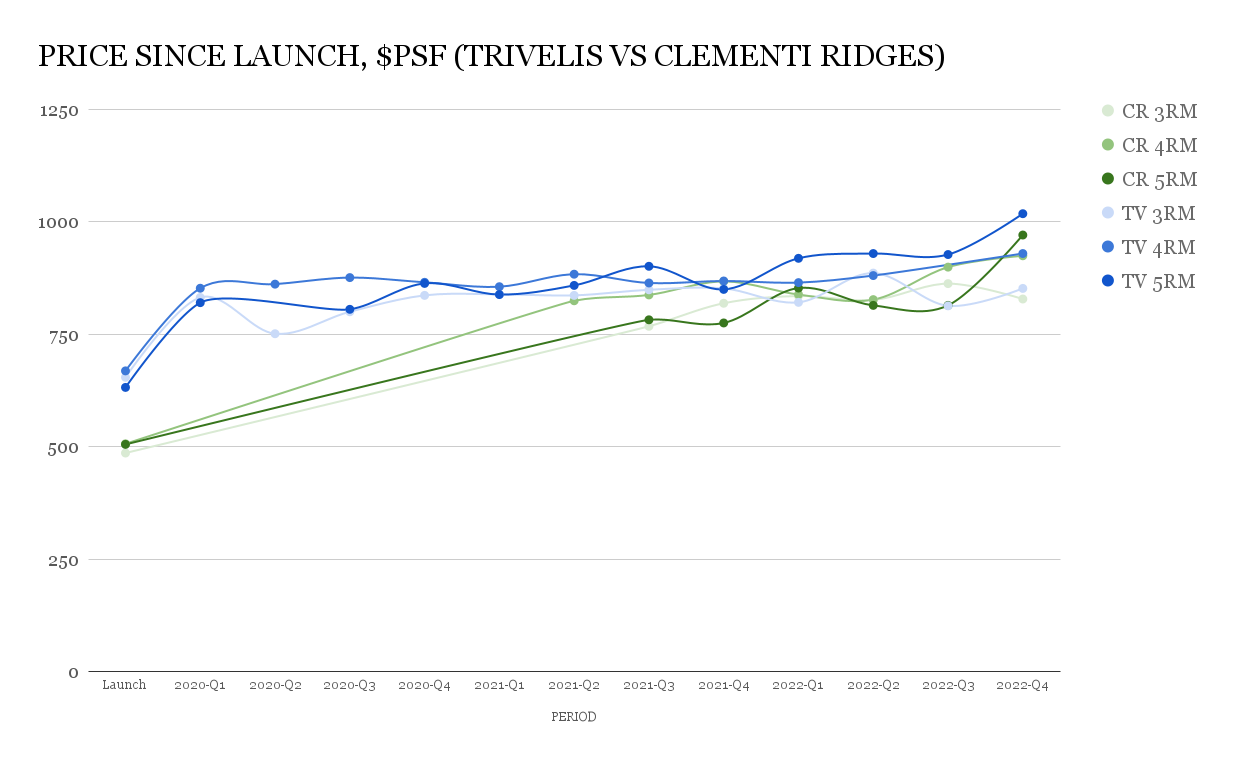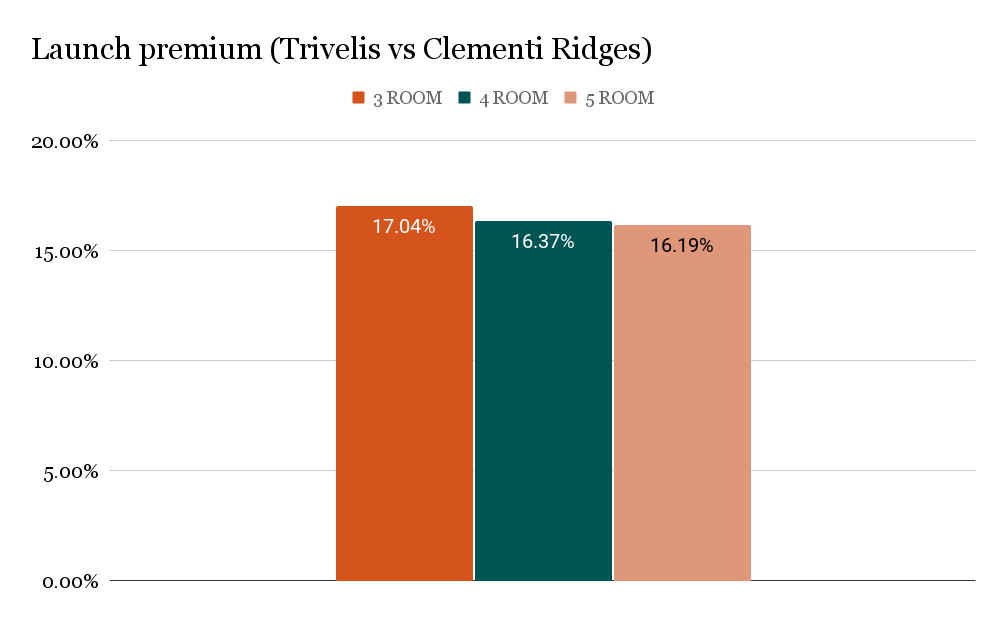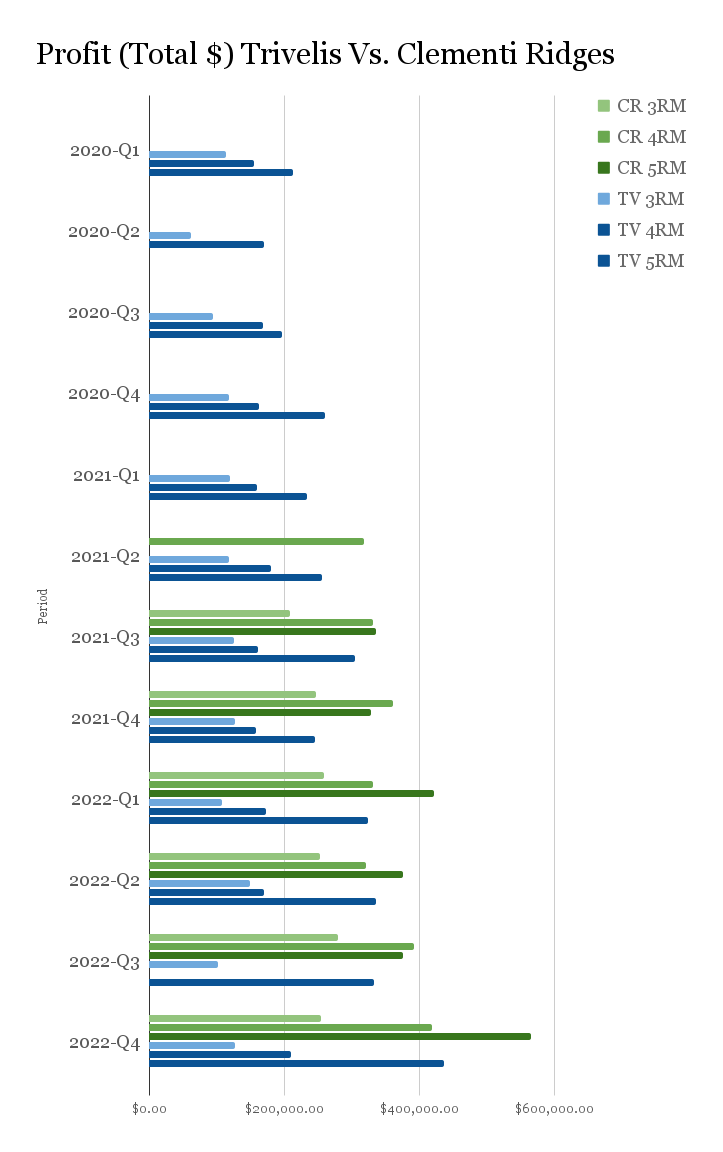 Notable details:
Clementi Ridges had a head-start due to the much lower pricing
Size probably worked to Clementi Ridges advantage
5-room flats make the difference
1. Clementi Ridges had a head-start due to the much lower pricing
In terms of overall quantum, a 4-room flat at Clementi Ridges was about $507,000 at launch, compared to $590,000 at Trivelis. A 5-room flat was $614,500 at Clementi Ridges, but $714,000 at Trivelis. Overall, Trivelis was about 16 to 17 per cent more expensive.
(There were news reports at the time that Clement Ridges cost 25 per cent less, but this is true only for price per square foot; see above).
It's quite tough for Trivelis to compete under these circumstances: both properties were almost the same age with the same general location, and Clementi Ridges tended to have larger units.
Trivelis only had "better finishing" from private developers to count on; and it's unlikely that alone could make up for a 16 per cent price gap; especially not when complaints about defects began to pour in.
As an aside, note that over time, Clementi Ridges also managed to close the price psf gap with Trivelis!
2. Size probably worked to Clementi Ridges advantage 
HDB flat buyers are overwhelmingly family units. These buyers tend to prize space above many other concerns; you can see it in the constant complaints about how HDB flats have gotten smaller.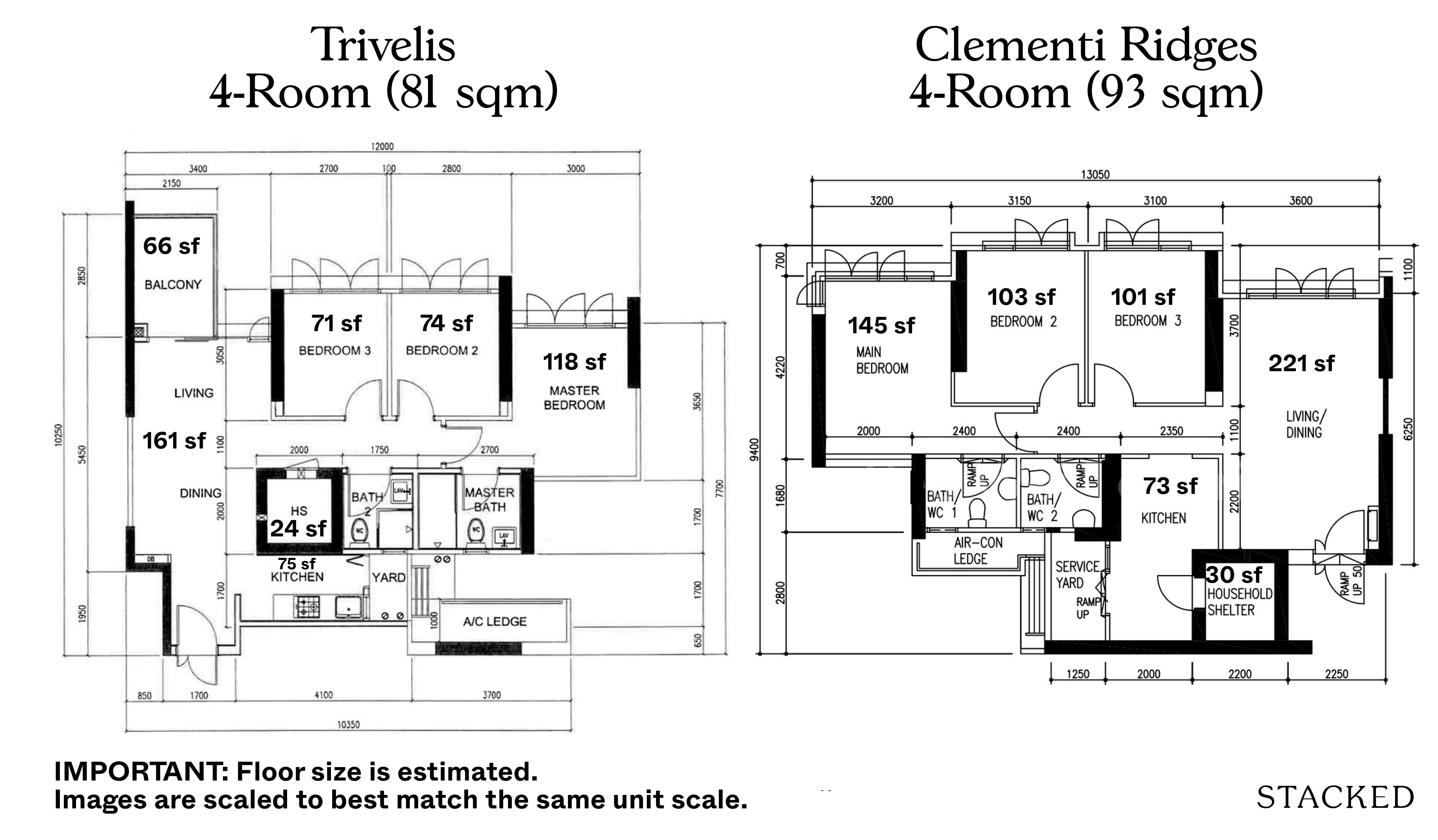 Along with the lower launch price, this might explain why Clementi Ridges ended up performing so much better on the resale market. From the numbers above, we can see transactions with 65 to 70 per cent profit for Clementi Ridges, while the typical profit for Trivelis is 27 to 40 per cent.
Overall, those who bought and sold Clementi Ridges would be making around twice as much as their Trivelis neighbours.
3. 5-room flats make the difference 
The different sized units in Clementi Ridges see a comparable distribution of profits (as a percentage). But for Trivelis, the 5-room flat clearly beats out the 3 and 4-room counterparts. This is, again, likely related to size; and the 3 and 4-room units probably look small in contrast to the 5-room units.
Among the initial buyers at Trivelis, those who opted for the largest units have probably fared the best.
Read this next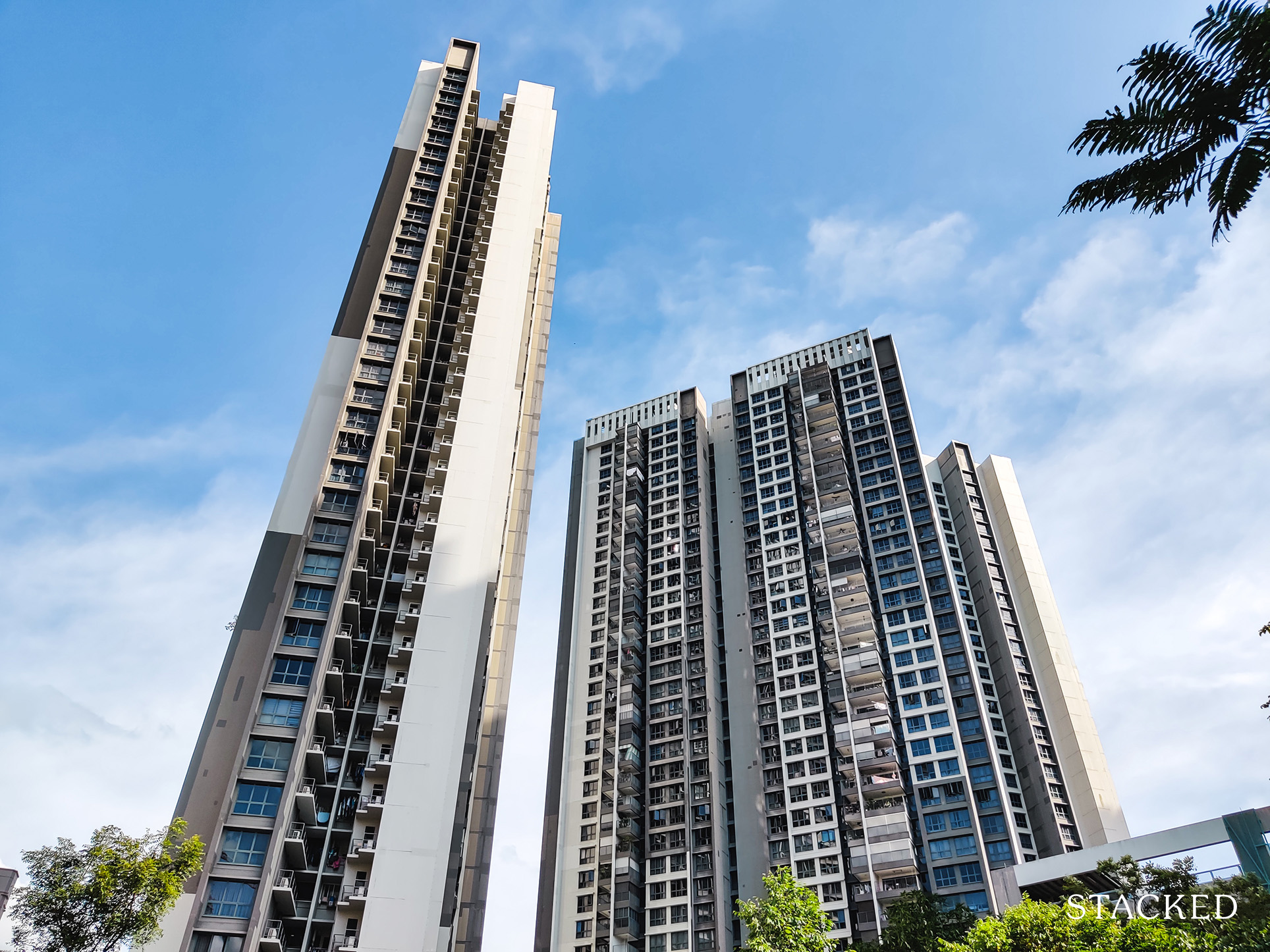 A quick note on the defects 
Some will definitely ask why we're not bringing up the issue of defects, as there were several complaints about Trivelis; this even made it into the media.
This included:
Defective stove knobs
Rusty dish racks
Poor quality laminate flooring
Flooding along the corridor
Scratched floor tiles
Exposed sanitary pipes and water heater
We hesitate to do so because the phenomenon was not specific to Trivelis. Even the very last DBSS flat in the series, Pasir Ris One, ended up with complaints like its narrow corridors (an arguably worse problem than Trivelis, since it's not fixable). Some of the DBSS flats that had complaints have subsequently done well. The Peak at Toa Payoh, for instance, saw numerous complaints at first; but even have been flats that have reached the million-dollar mark.
We can't be certain that the defects haven't, at this point, been sufficiently corrected or just accepted; perhaps to the point where they don't impact price.
Two important takeaways from the Trivelis vs. Clementi Ridges situation
The first is that we need to pay attention to nearby land plots, before buying. If we can spot nearby plots for residential development, we need to consider the potential impact if they end up blocking the view, creating more traffic, or just making your property look like a poor alternative (in this case, by being both larger and cheaper).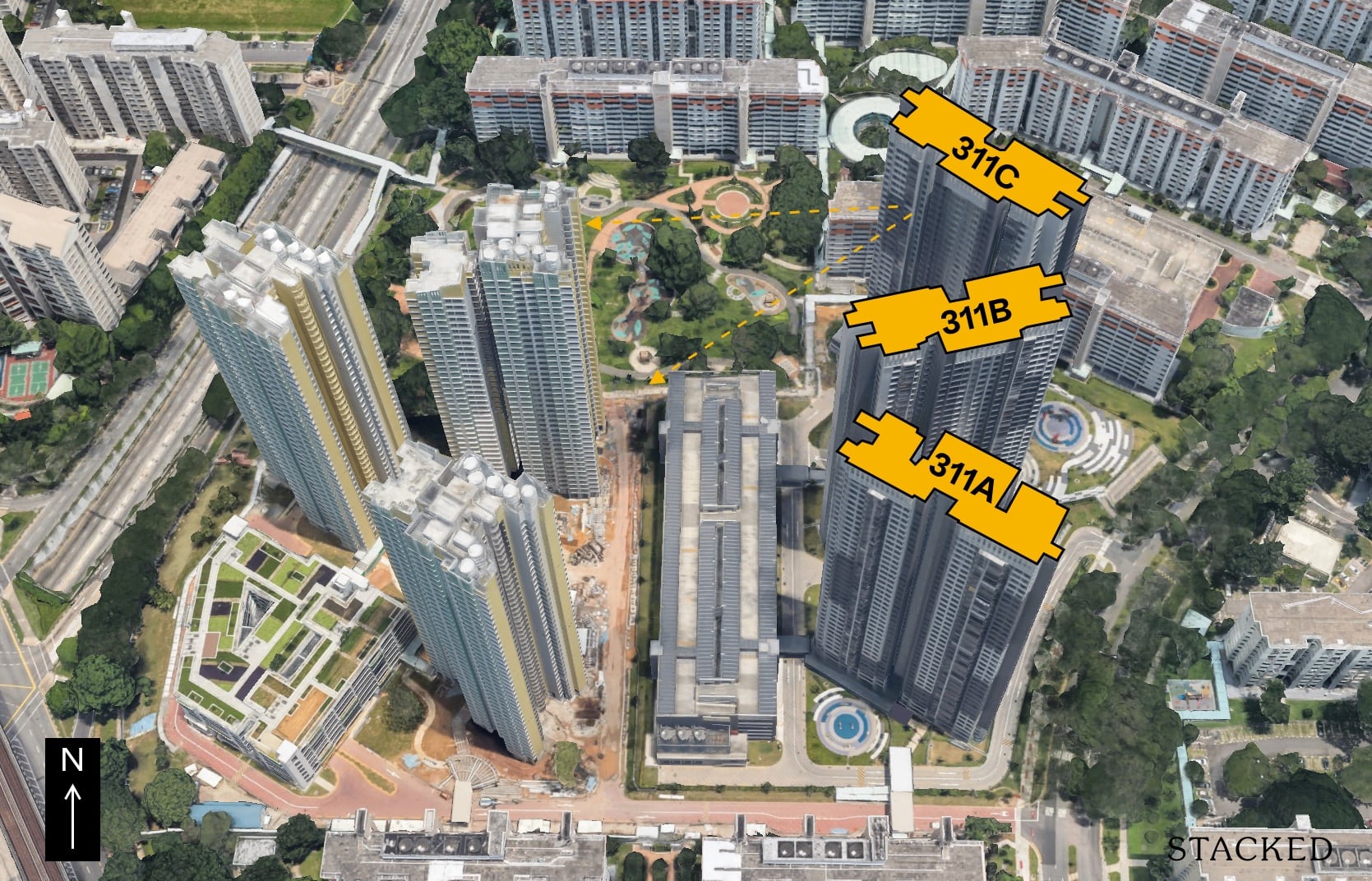 The second, which is perhaps more for the authorities, is that developers should be made to sell the units on their own – not under the auspices of a government agency.
Notice that ECs, for which developers need to build showflats and handle all the marketing, never got as many complaints as DBSS projects.
With DBSS, units were sold through HDB. This may have had the unintended effect of subjecting the projects to less scrutiny, as Singaporeans overwhelmingly trust HDB (while often overlooking the fact that HDB didn't build their DBSS flats).
In any case, given the learnings and outcome from the DBSS projects, we are unlikely to see such a scheme again.
For more on the Singapore property market, follow us on Stacked. We'll provide you with price movements and in-depth reviews, so you can make a better decision.