HDB Reviews

The River Vista @ Kallang Review: Great Riverfront Views But Lack Of Immediate Surrounding Amenities
Sean
December 13, 2021

27

min read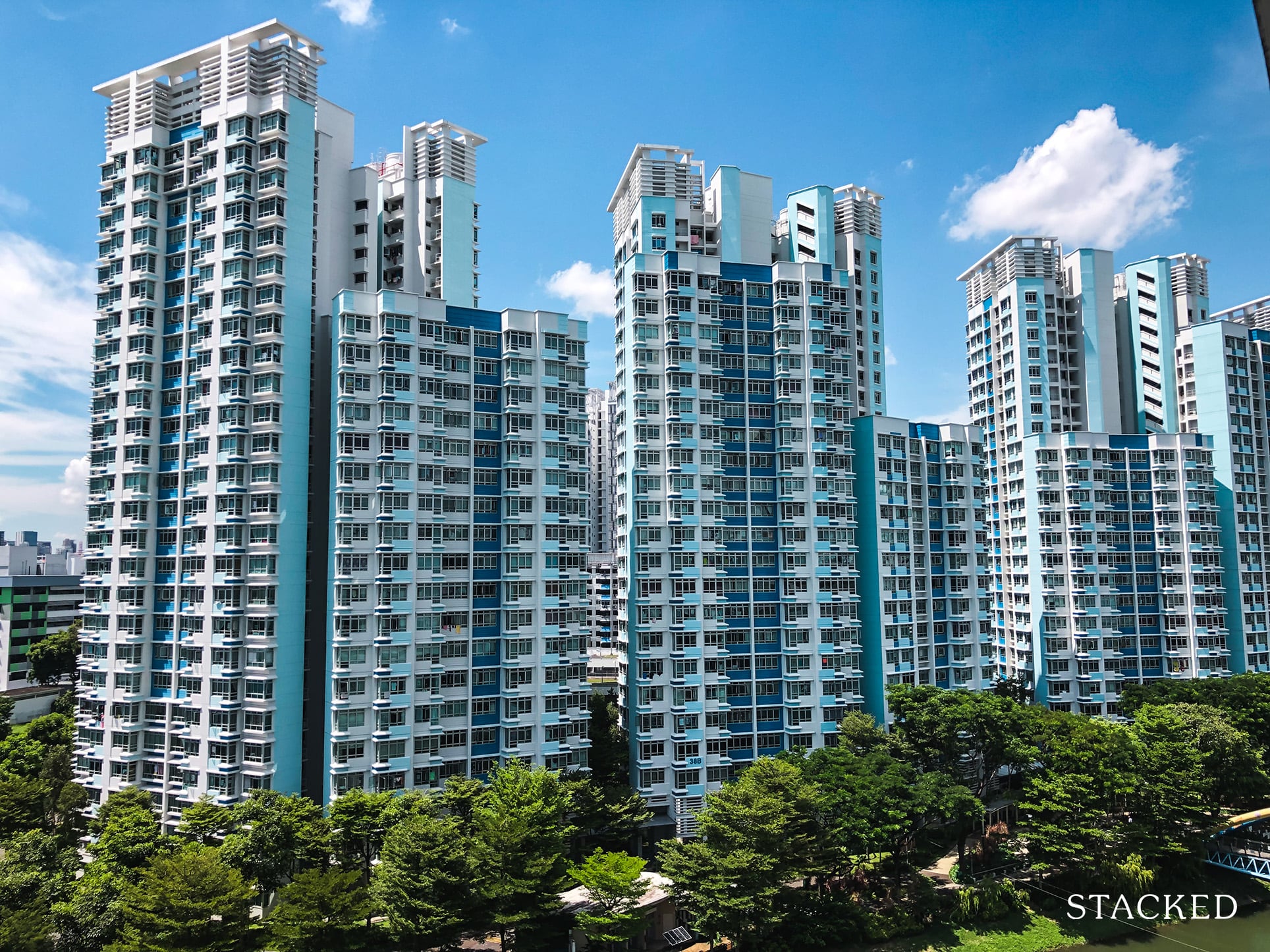 Reviewed by Sean on December 11, 2021
What we like
Well connected to most parts of Singapore by bus along Bendemeer Road

Lots of affordable food options nearby (Geylang Bahru & Bendemeer Food Centre)

Waterfront living

Proximity to the Park Connector
What we don't like
—

Lacklustre facilities within the development

—

Lack of commercial shops within the development

—

Unsheltered walk to the MRT

—

Walk to the MRT is about 10-minutes long
When you think of waterfront HDBs, newer estates like Punggol and Sengkang may come to mind. With so many built along the My Waterway @ Punggol and the more recent Punggol Northshore, Punggol has become nearly synonymous with "waterfront living".
But did you know that the very first waterfront HDB that started it all was actually The River Vista @ Kallang? It was also highlighted by TJ in her home-buying journey as one of the more affordable waterfront properties in Singapore!
And there's no other way to showcase what a pioneering move this was than to have the late Mr. Lee Kuan Yew himself visit a unit here: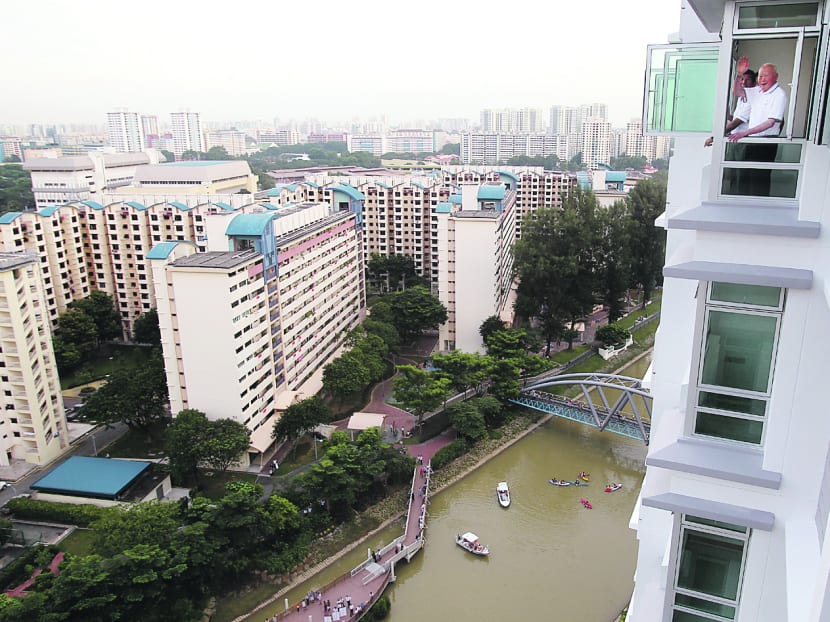 But it's not just the river here that makes it an attractive place. The Park Connector Network also runs around the perimeter of this development, offering very decent greenery views for lower-floor units too.
So for those looking to stay in an affordable home with such a river view, should you consider The River Vista @ Kallang? Let's find out in our usual HDB tour!
The River Vista @ Kallang Insider Tour
Getting to The River Vista @ Kallang is quite straightforward given there's only a single entry in. However, you may find yourself unsure of the turn-in from Bendemeer Road due to the large sign outside.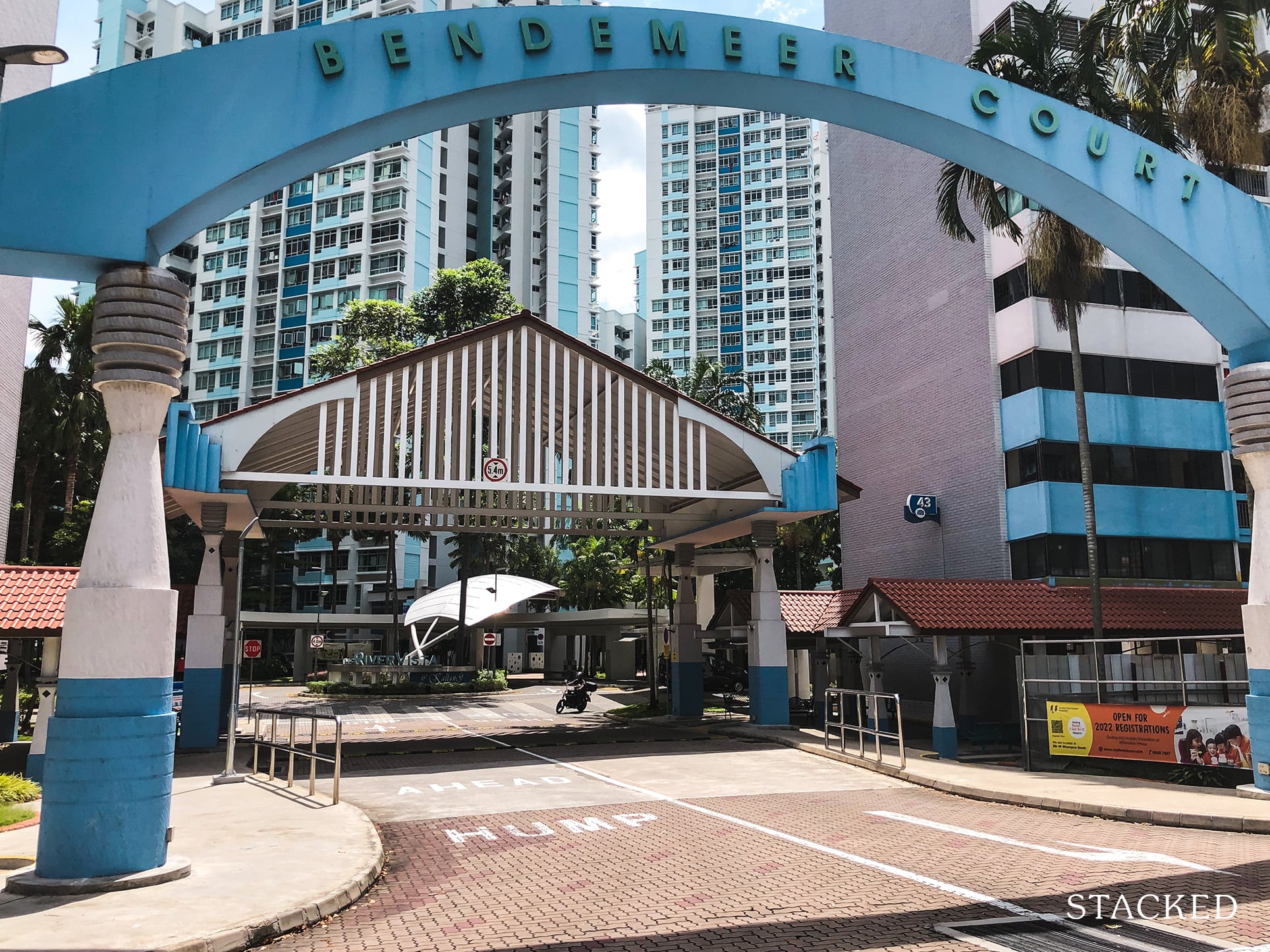 The name here may say Bendemeer Court, but this refers to the old HDB blocks at 43 and 44 Bendemeer Road.
If you continue down the straight driveway past a large sheltered crossing, there's no mistake that you've arrived as you're greeted with the large sign "The River Vista @ Kallang" at the roundabout.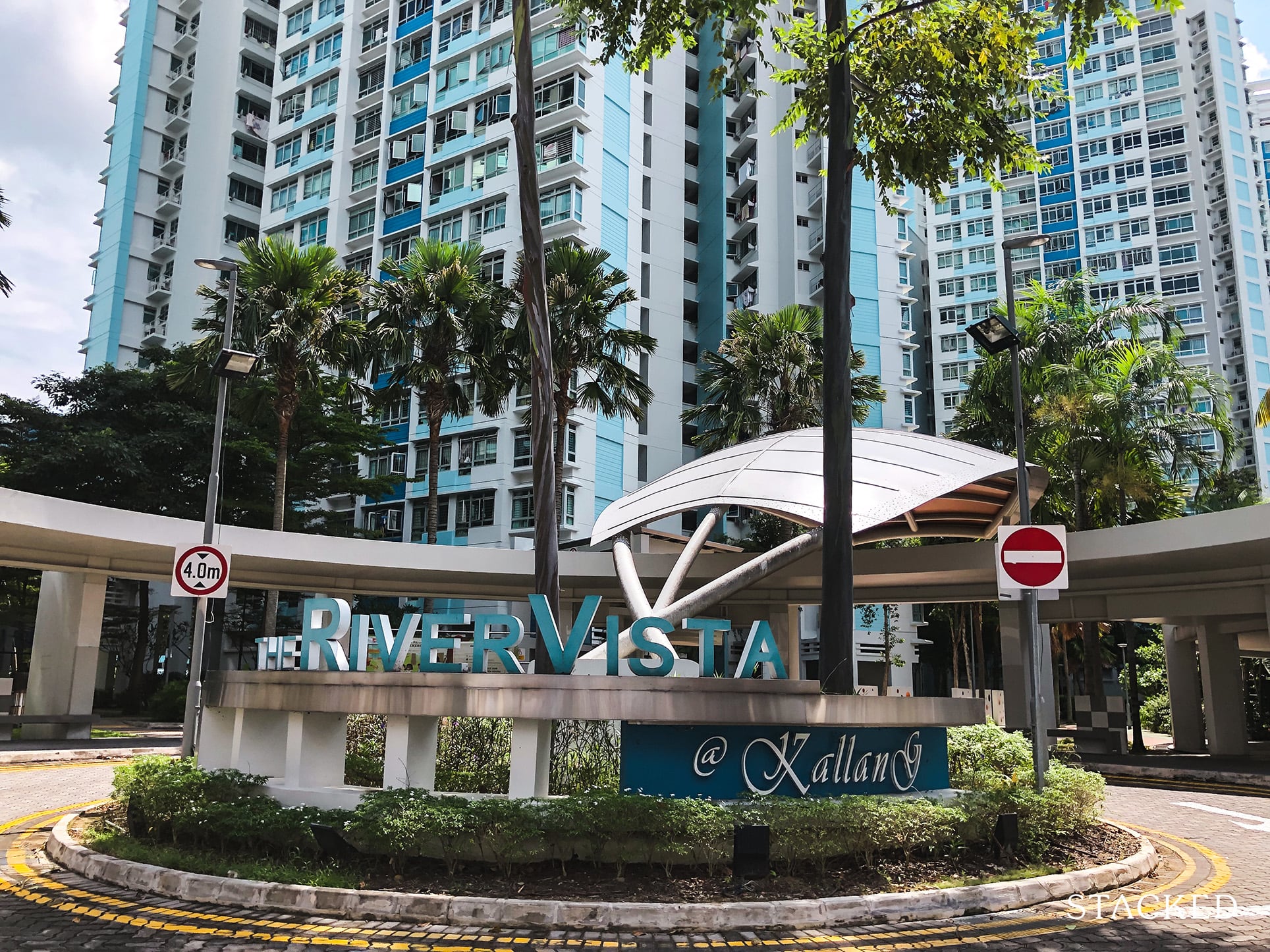 The roundabout here is one of the bigger ones I've seen. Given how large it is, I reckon it could comfortably fit 4-5 cars at any time. On a rainy day though, this is likely reduced to just 1 car as you'll see that the only sheltered area is where the leaf-shaped structure is.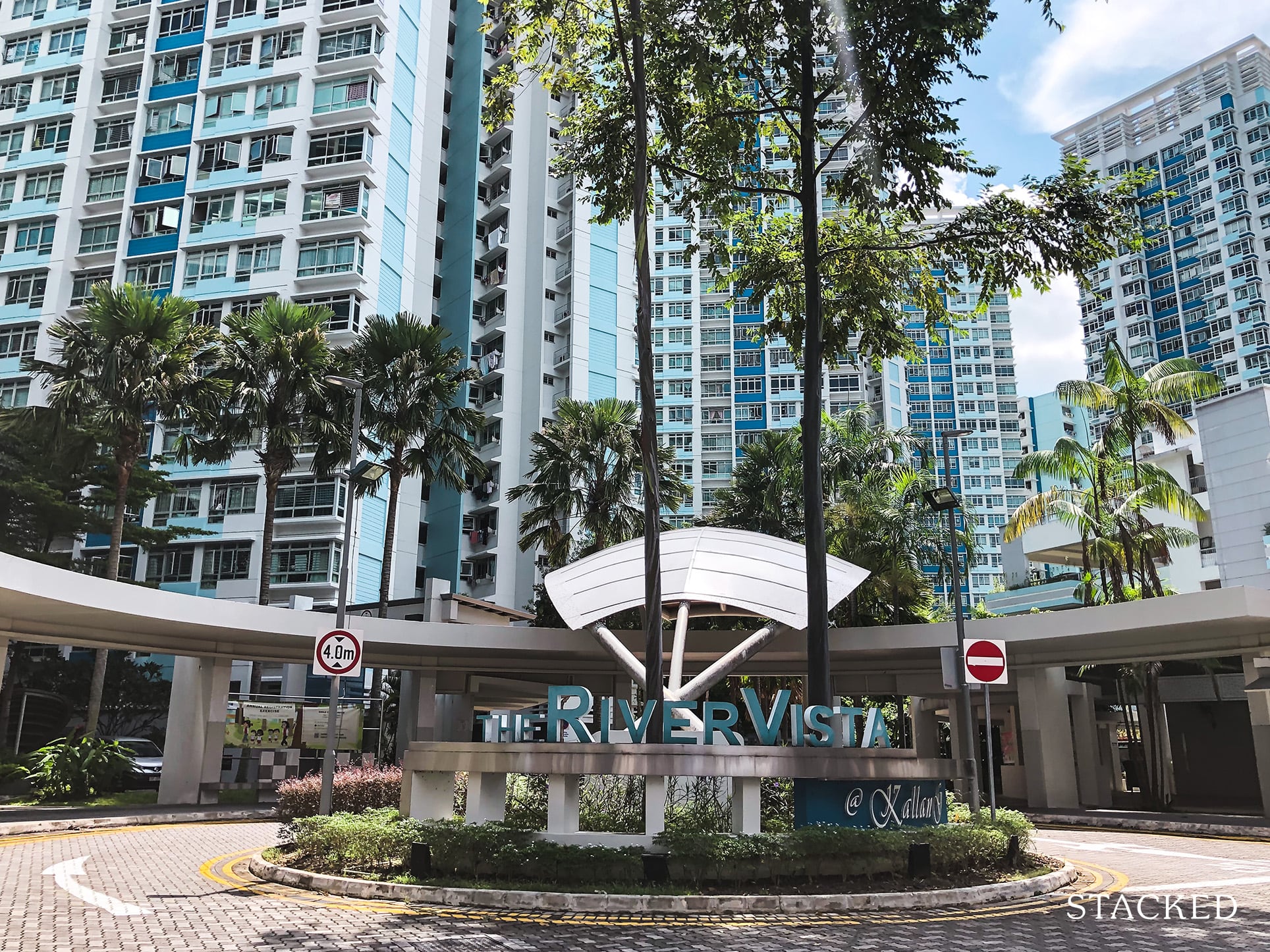 I find it quite strange that so much effort has been put into designing this structure when a longer protrusion from the surrounding drop-off area could have been more practical and perhaps more cost-effective. On a side note, this leaf structure very much reminds me of Natura Loft which features a leaf design throughout the development.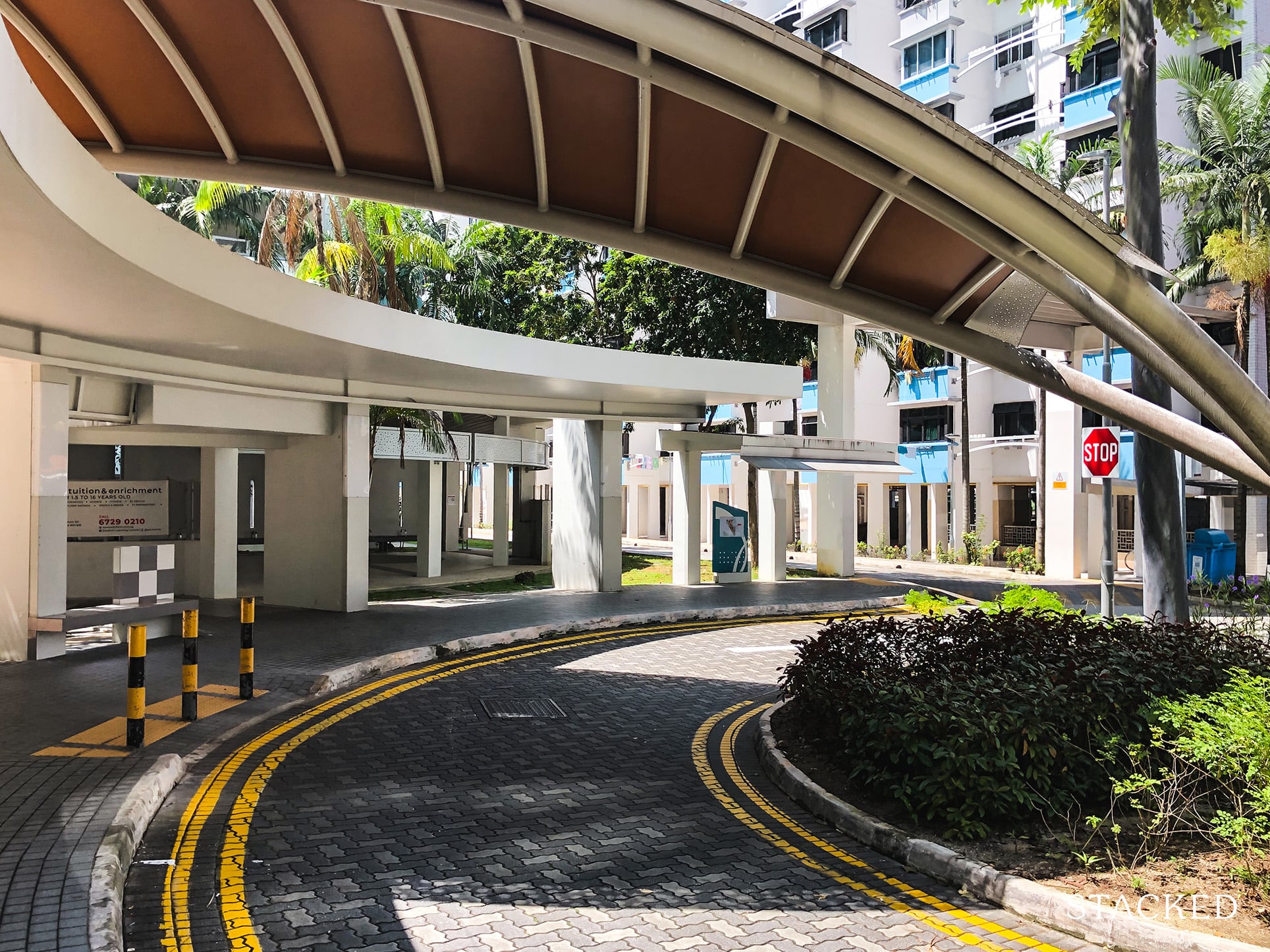 Those who fancy some rest while waiting for their pick-up would be glad to know that there's a generous amount of seating here too. From here, residents will find the sheltered walkway that leads to blocks 38C, 38D as well as the multi-storey car park (MSCP) and the precinct pavilion.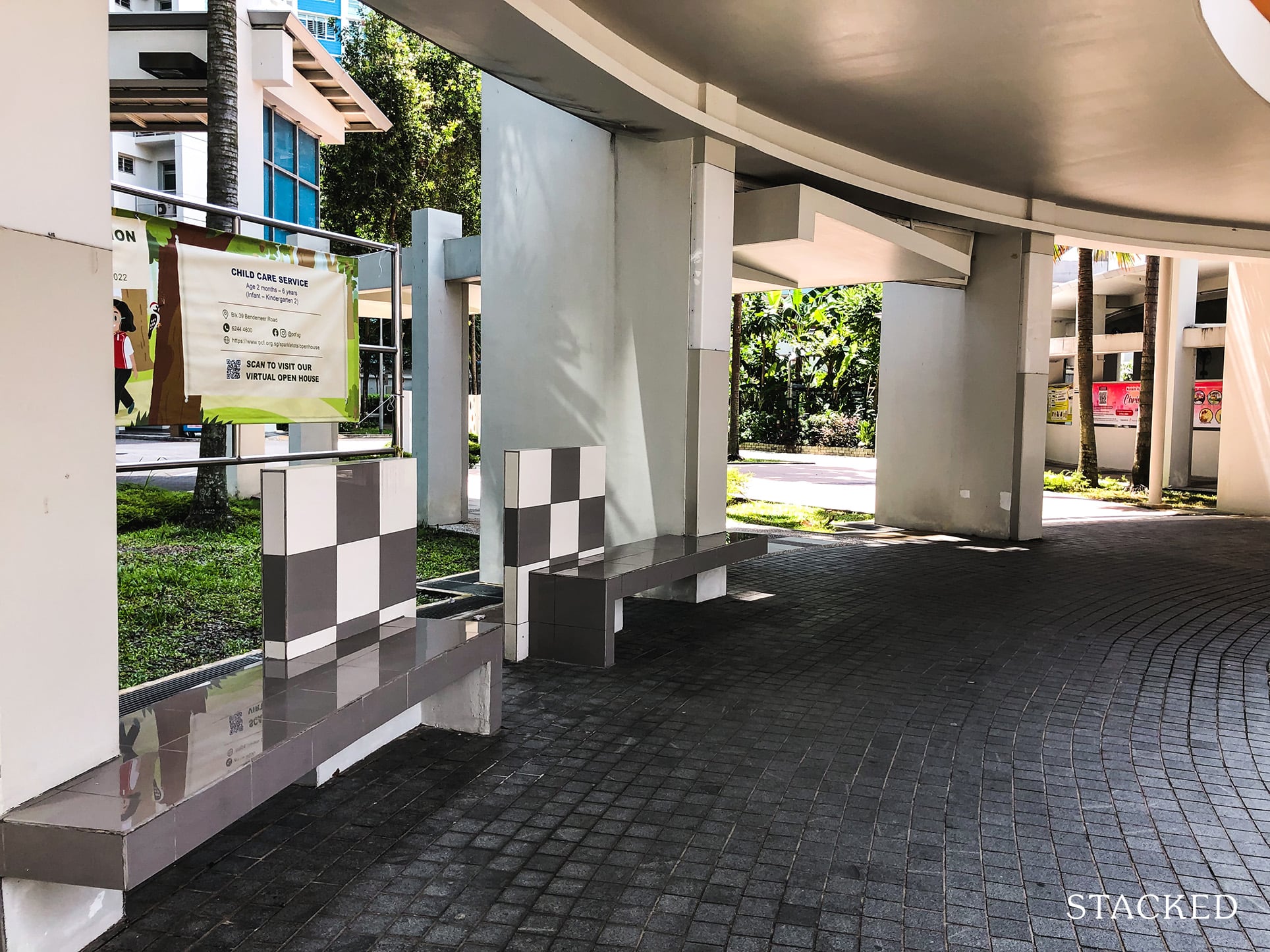 Perhaps it's because I've been to a fair number of newer and more modern HDB estates before this, but you can definitely see here that the design is from a previous generation. That said, It's nice to have some variety in design, and I can see how the cursively-written "Kallang" here seems more appropriate for a riverside HDB project. Even the blue colour "River Vista" (and the rest of the development, for that matter) symbolises being by the river!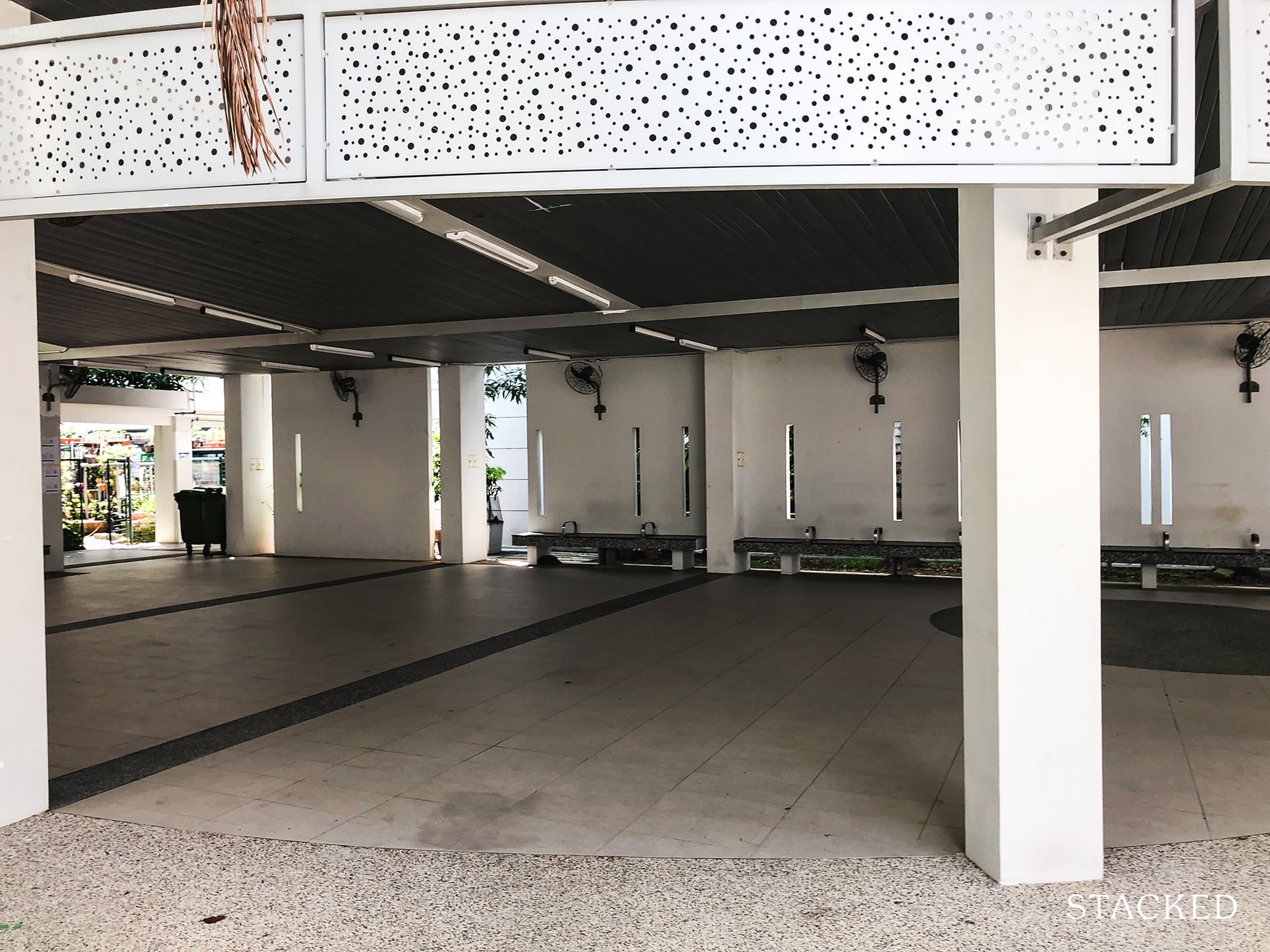 Walking further in, you'll find the development's only precinct pavilion. As it's located right next to the drop-off point, there will surely be no confusion when your guests arrive. It's also right next to the MSCP, making it easy for visitors who drive to reach the event area.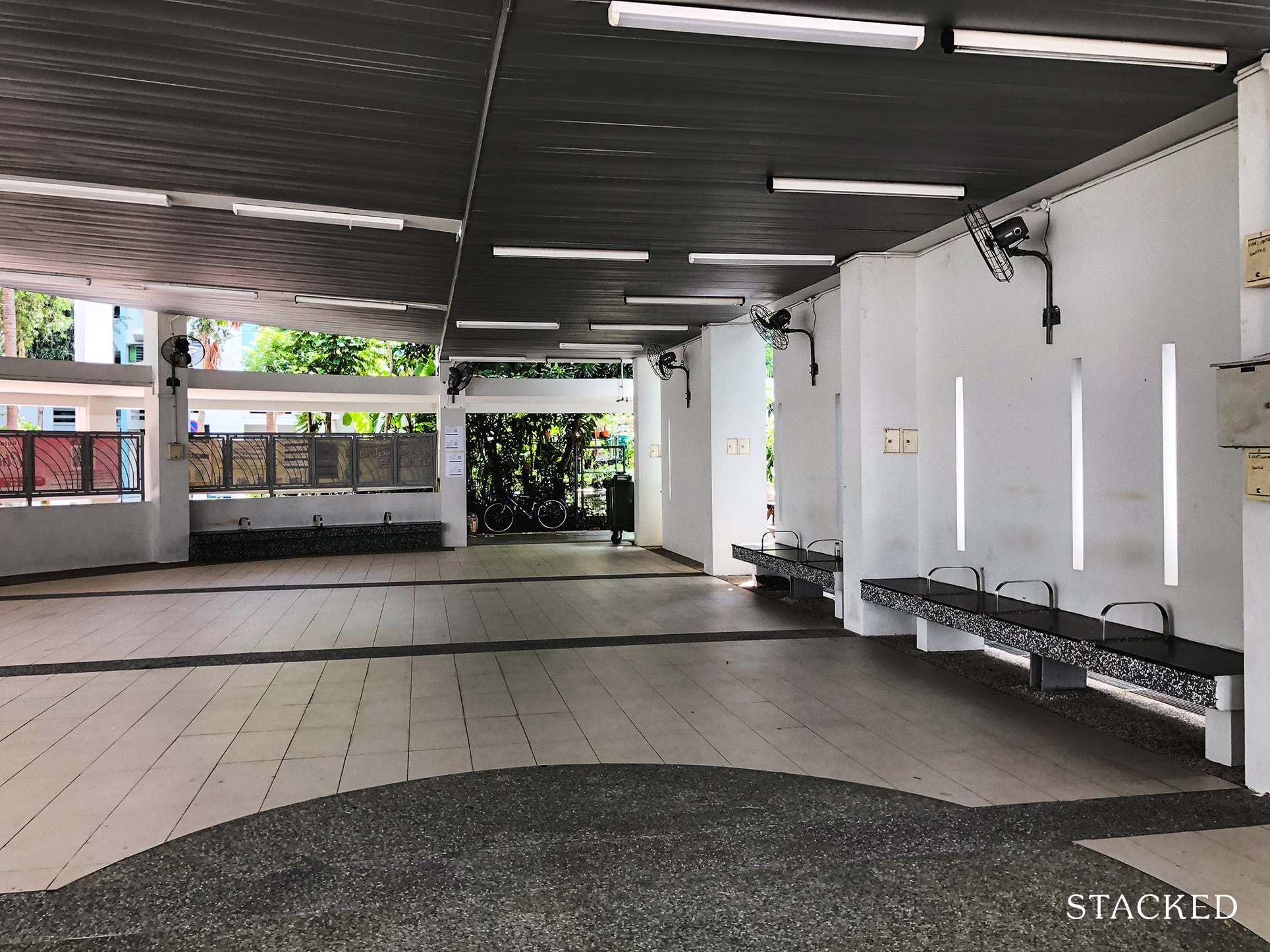 This location is also more strategic than that – it's also located away from the residential blocks which mean lesser noise and more privacy for residents here. Only stacks 836, 838 and 855 faces the pavilion directly but at least it's quite some distance away.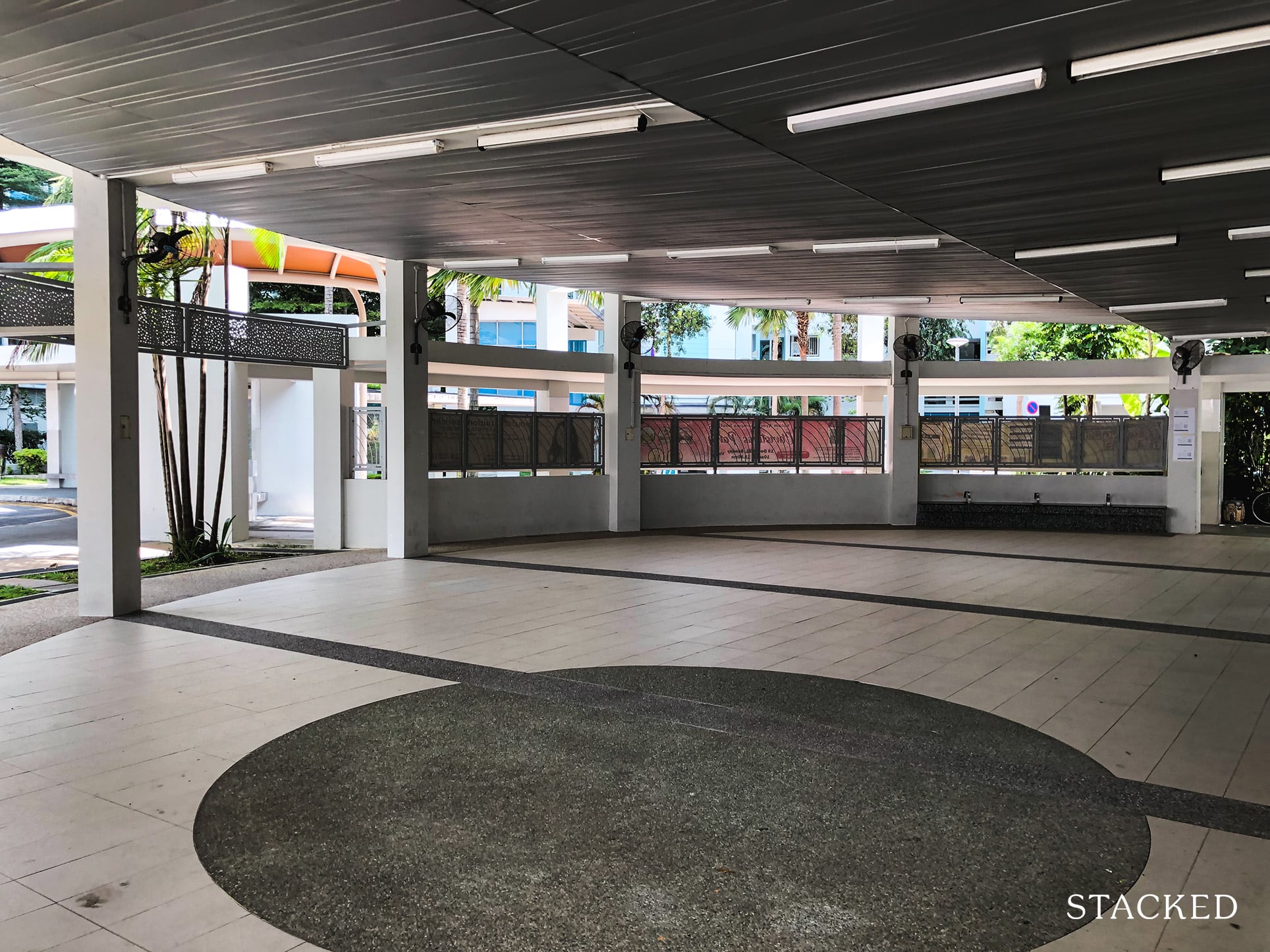 Like most other pavilions, this one has some benches, fans and electrical sockets provided, making it pretty comfortable to hold events here. The benches here are tucked to the side which allows for maximum flexibility in the configuration of space while providing the bare minimum in seating.
As mentioned, this is the only pavilion within the development. For 800+ units, I do imagine this could be used quite frequently.
Now let's move on to the next part of our tour – the Multi-Storey Car Park (MSCP).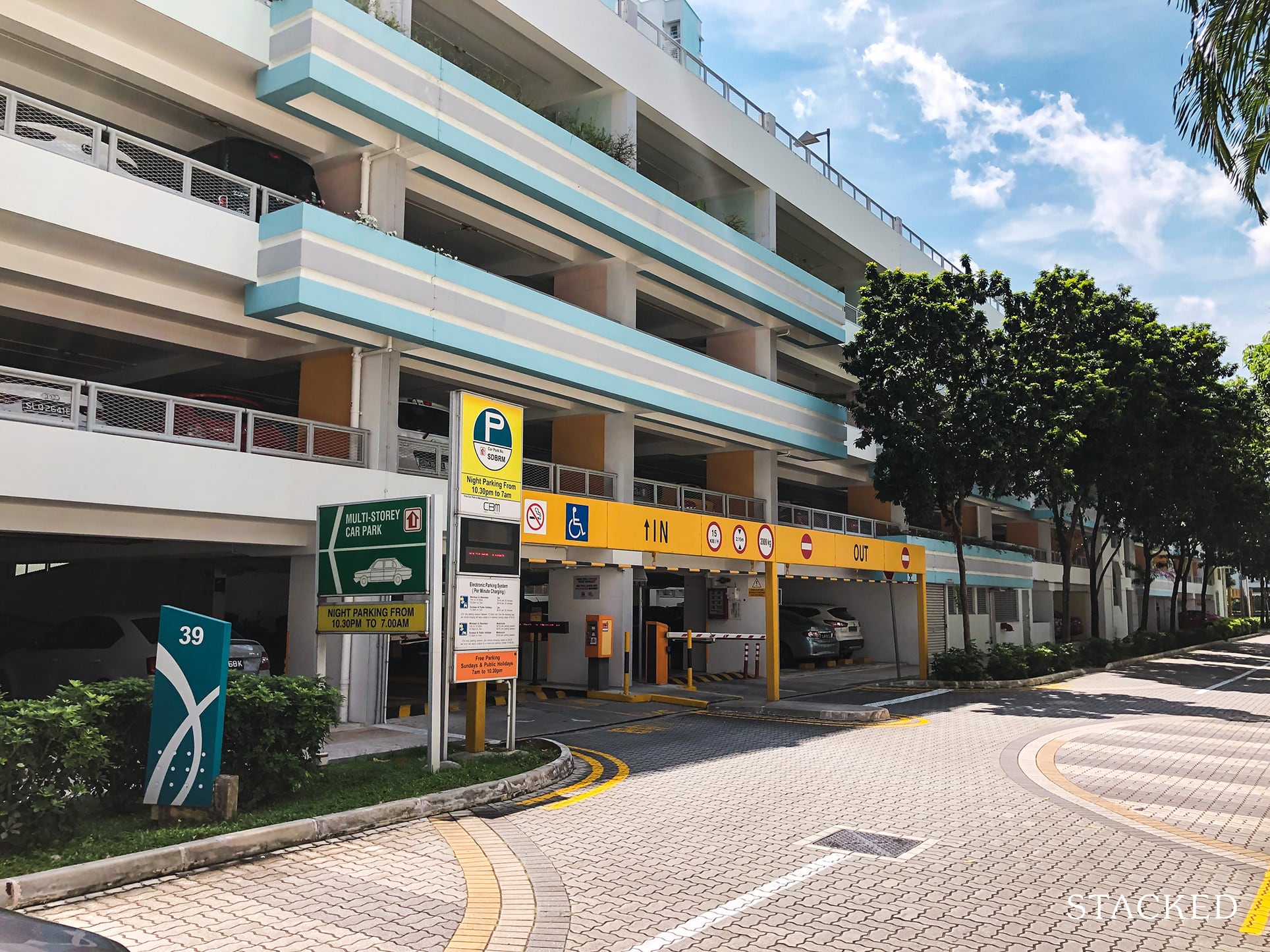 The car park is located on the southern side of the development between the old resale block 43 Bendemeer Road, and the new southern blocks of The River Vista @ Kallang. There are a total of 5 storeys here, and because of how long it spans across the development (about half of it), there are 2 entrances placed for convenient access.
As you can see, it sports the same blue design as the rest of the development. The exterior looks really well-maintained for its age, and I like that there are some plants here to break the concrete facade that's commonplace with any of the older multi-storey car parks.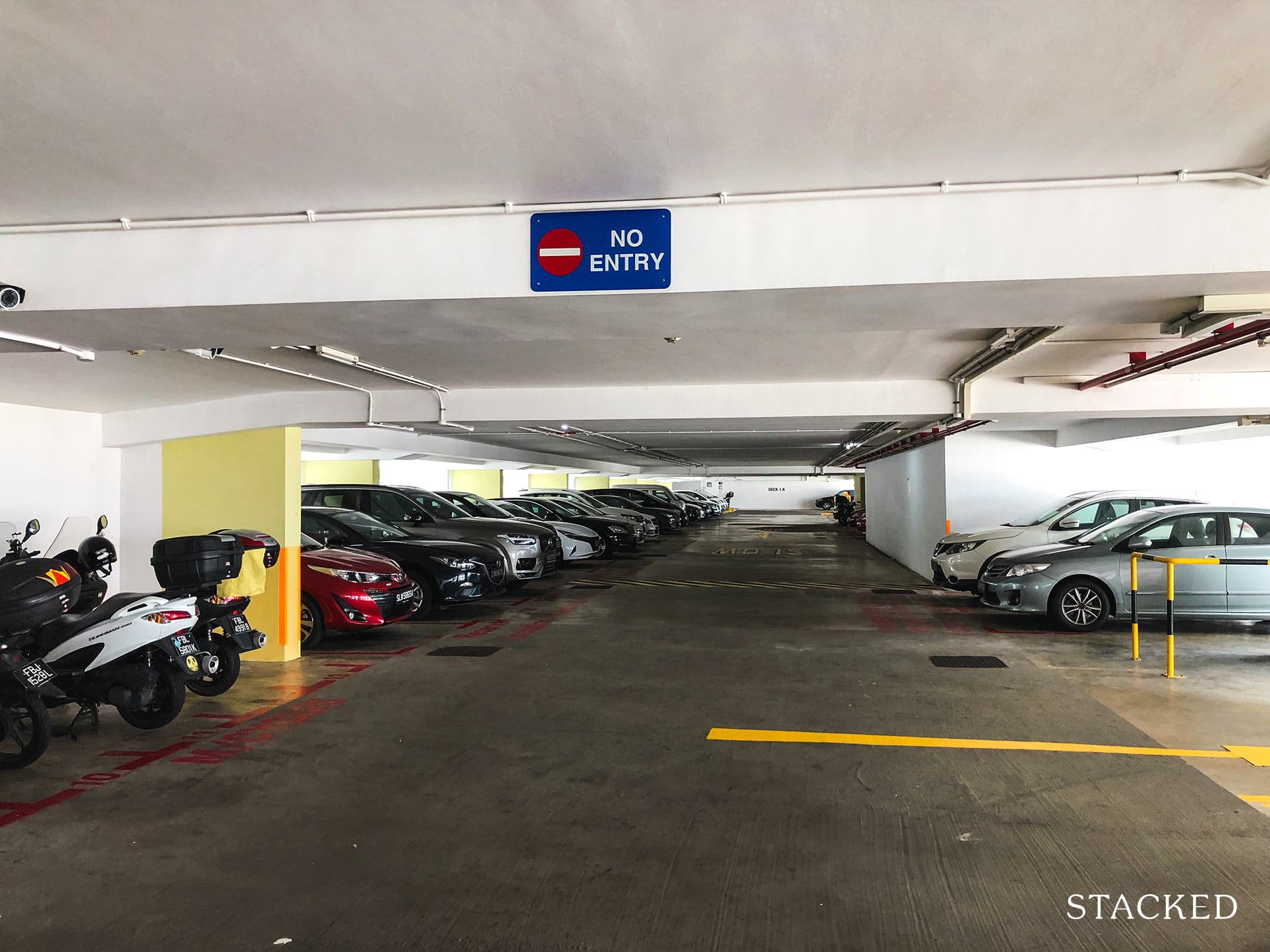 Moving in, you'll find that every level is sufficiently bright and naturally ventilated. There are also air wells in between to ensure light flows through even the deepest parts of the block.
For those who drive, you'll find that the lack of link bridges here can pose an inconvenience. This means that if you park on level 2 or higher, you'll need to take a lift/stairs down to the ground level and cross over to your block to take the lift up. I know this does not sound like much, but if you do grocery runs quite often, you'll find this to be a chore over time. Moreover, there are HDB developments with link bridges for you to consider, so it's good to consider it as part of a development's overall desirability for those who are less mobility active!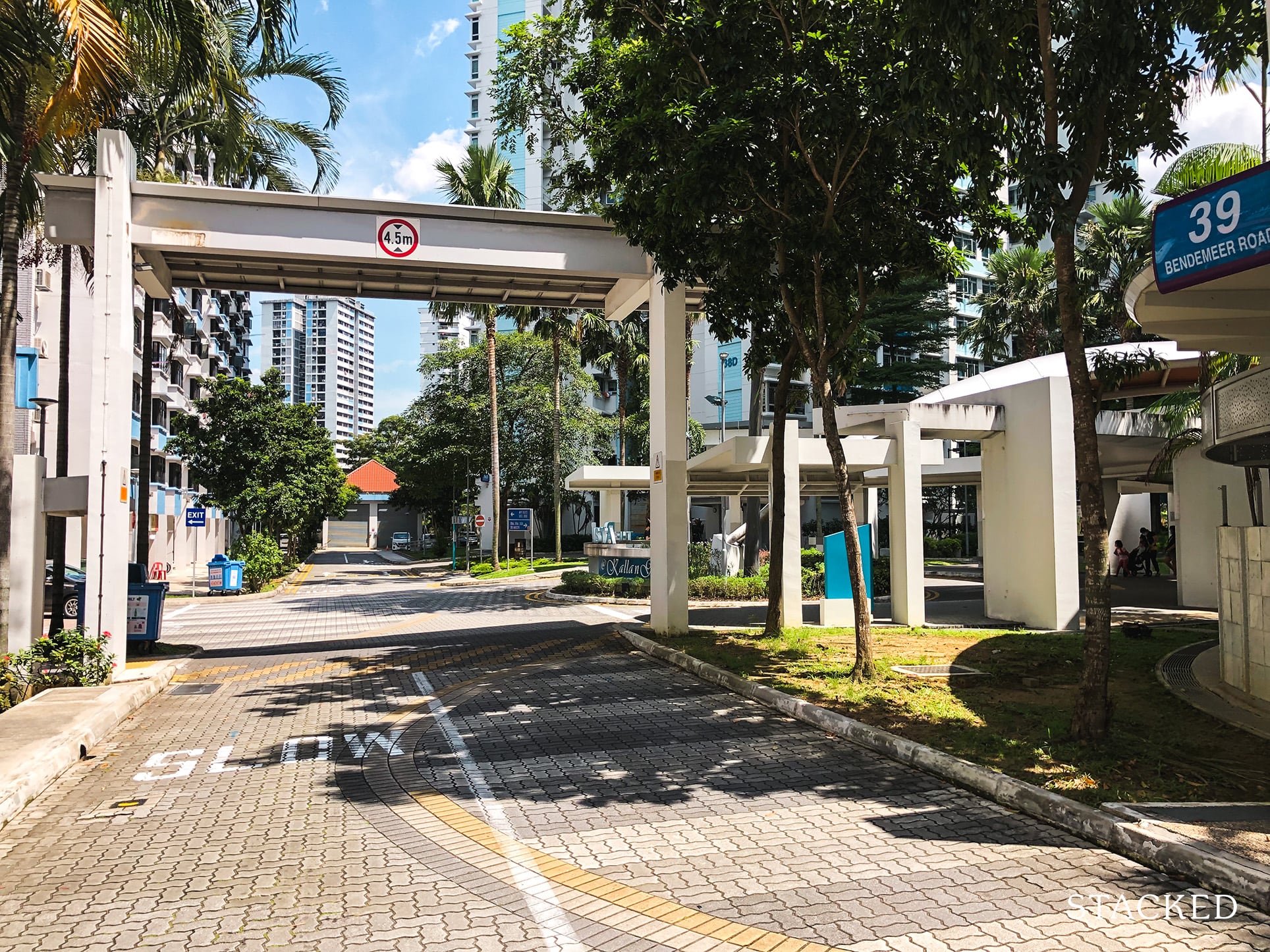 The good news is that at least every block is connected to the car park via a sheltered walkway, so drivers here wouldn't have to worry about the scorching sun or the heavy rain!
Now if you've been following our HDB reviews, you'll know what comes next – the multi-storey car park roof garden!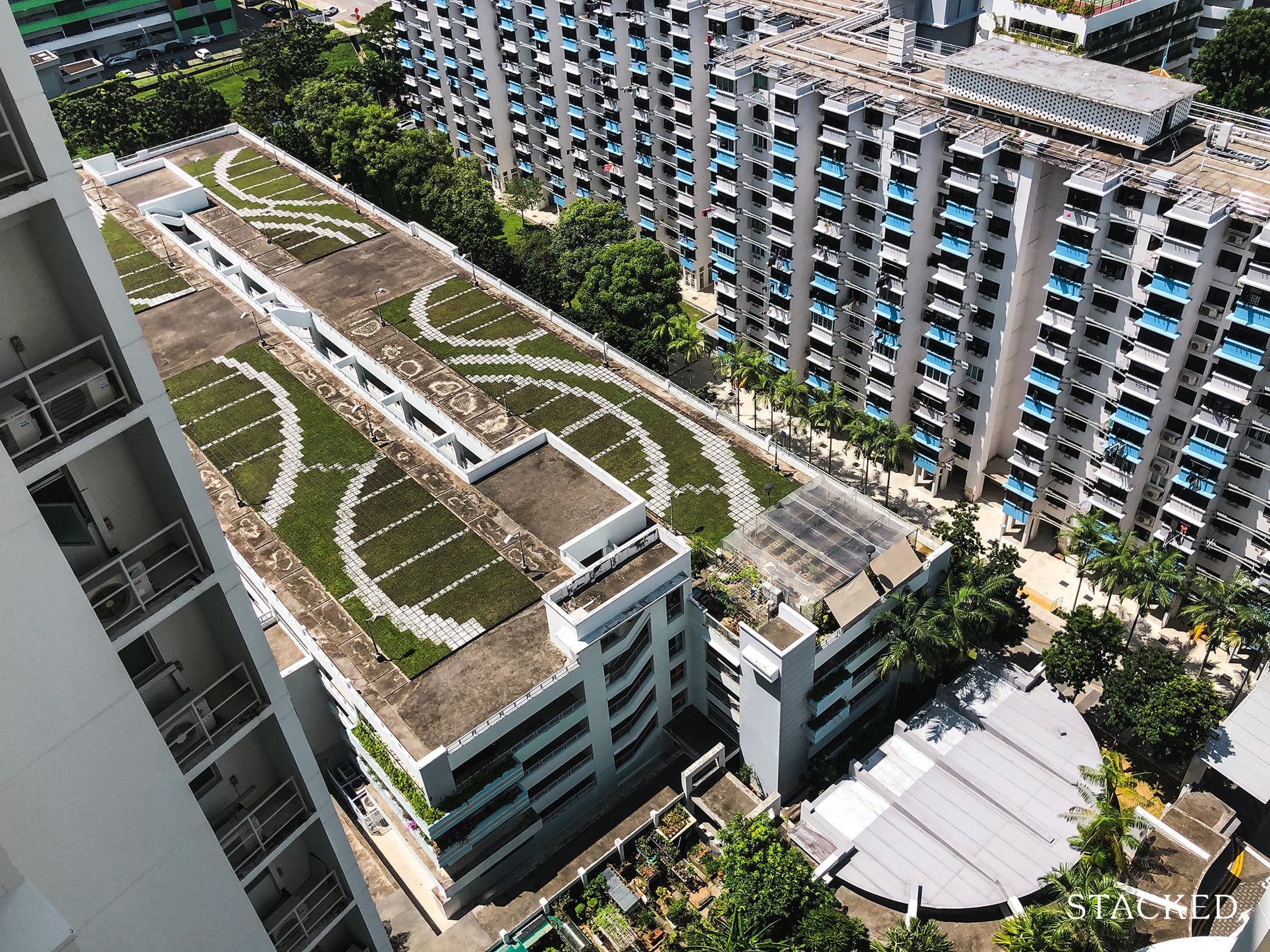 Sad to say, there really isn't anything up there except some patterned vegetation, likely for the viewing pleasure of surrounding blocks. I did notice some plants growing on the corner, but as it was fenced up, I did not attempt to access it – if you do know what this is, please do share it with us in the comments below!
Speaking of vegetation, you'll find the community garden of the development to be just between the MSCP and the precinct pavilion. The community looks really strong given the amount of flora here!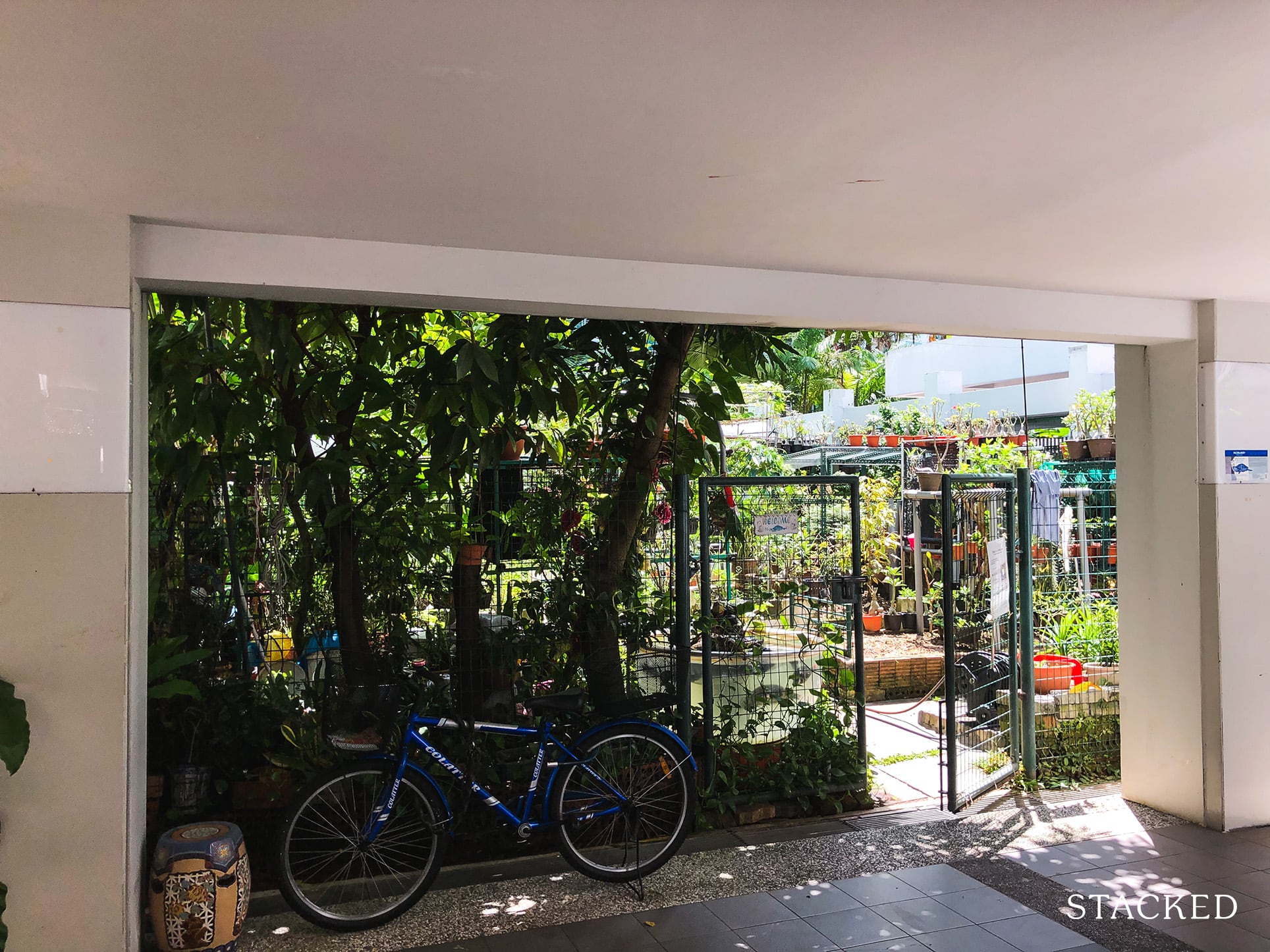 Also located on level 1 is a childcare centre by Sparkle Tots. This one is quite sizeable and is located right next to the development playgrounds. As always, this is very useful for working parents so those looking to have kids in the near future will be happy to see this here.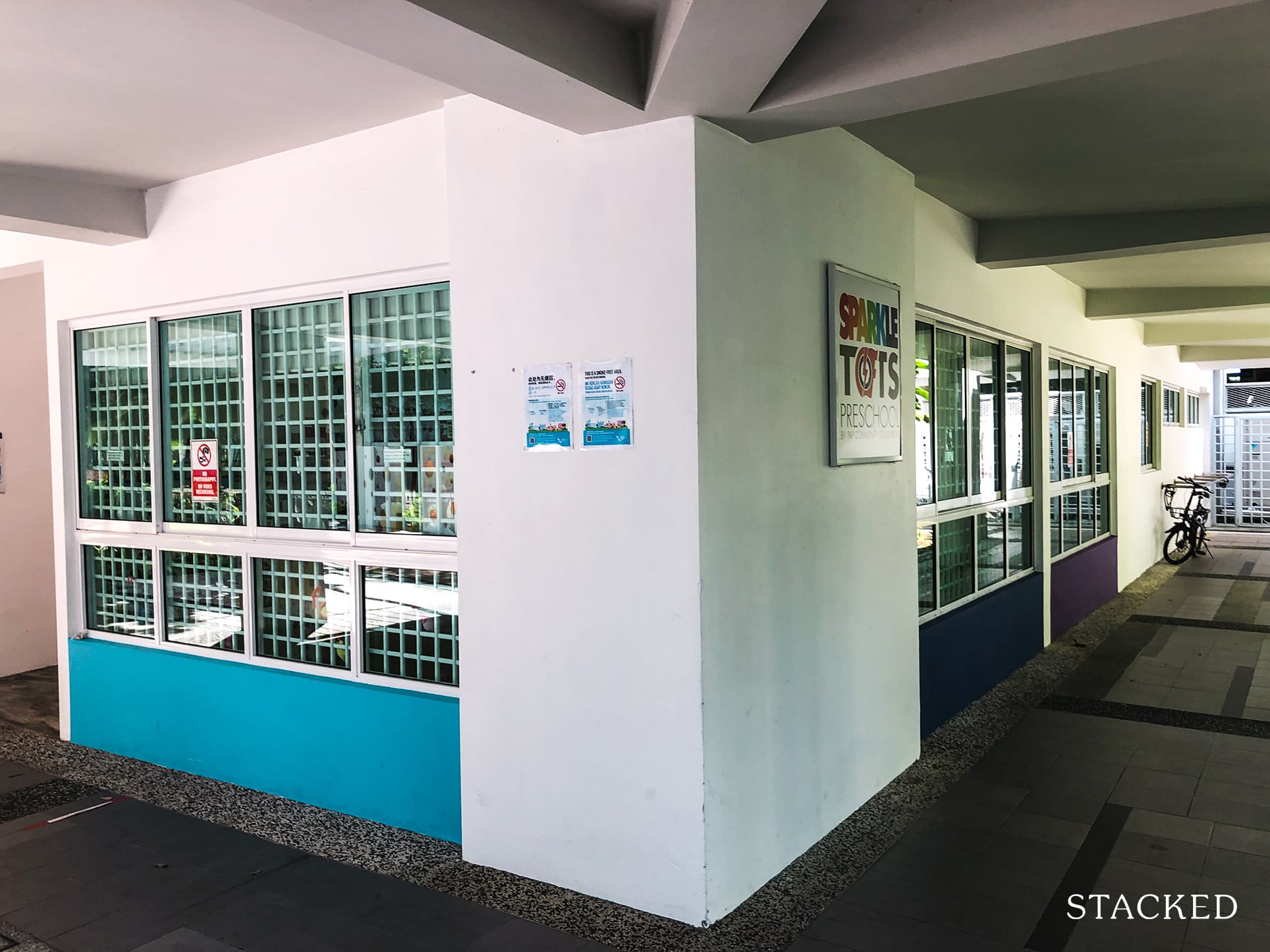 Speaking of playgrounds, let's now check out what facilities this development has to offer!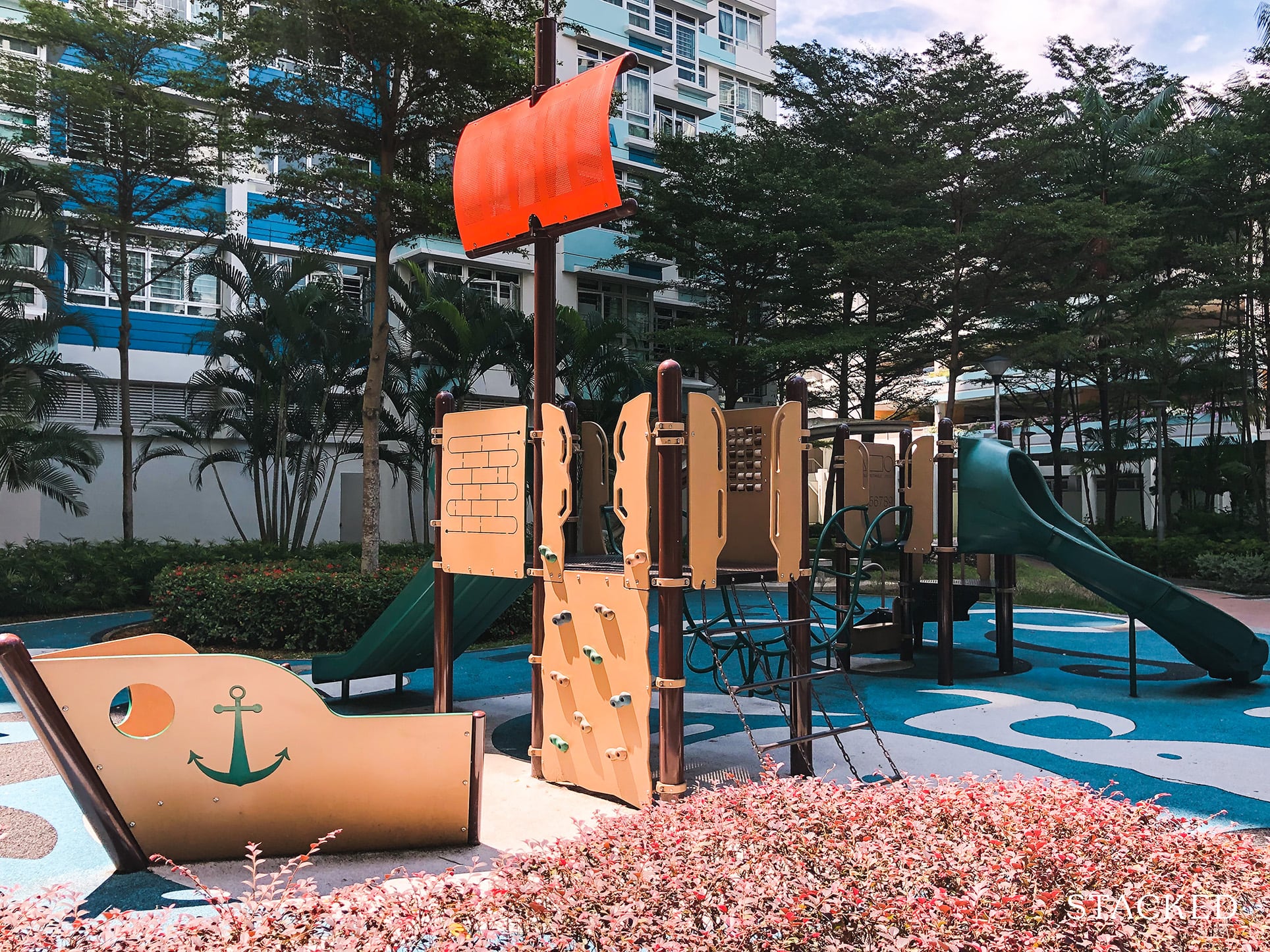 First off is the playground that's right next to the childcare centre. It's obvious where the inspiration for this playground's theme is from considering its location. The ground simulates the sea while the entire playground somewhat resembles a ship and should be lots of fun for any child with some imagination!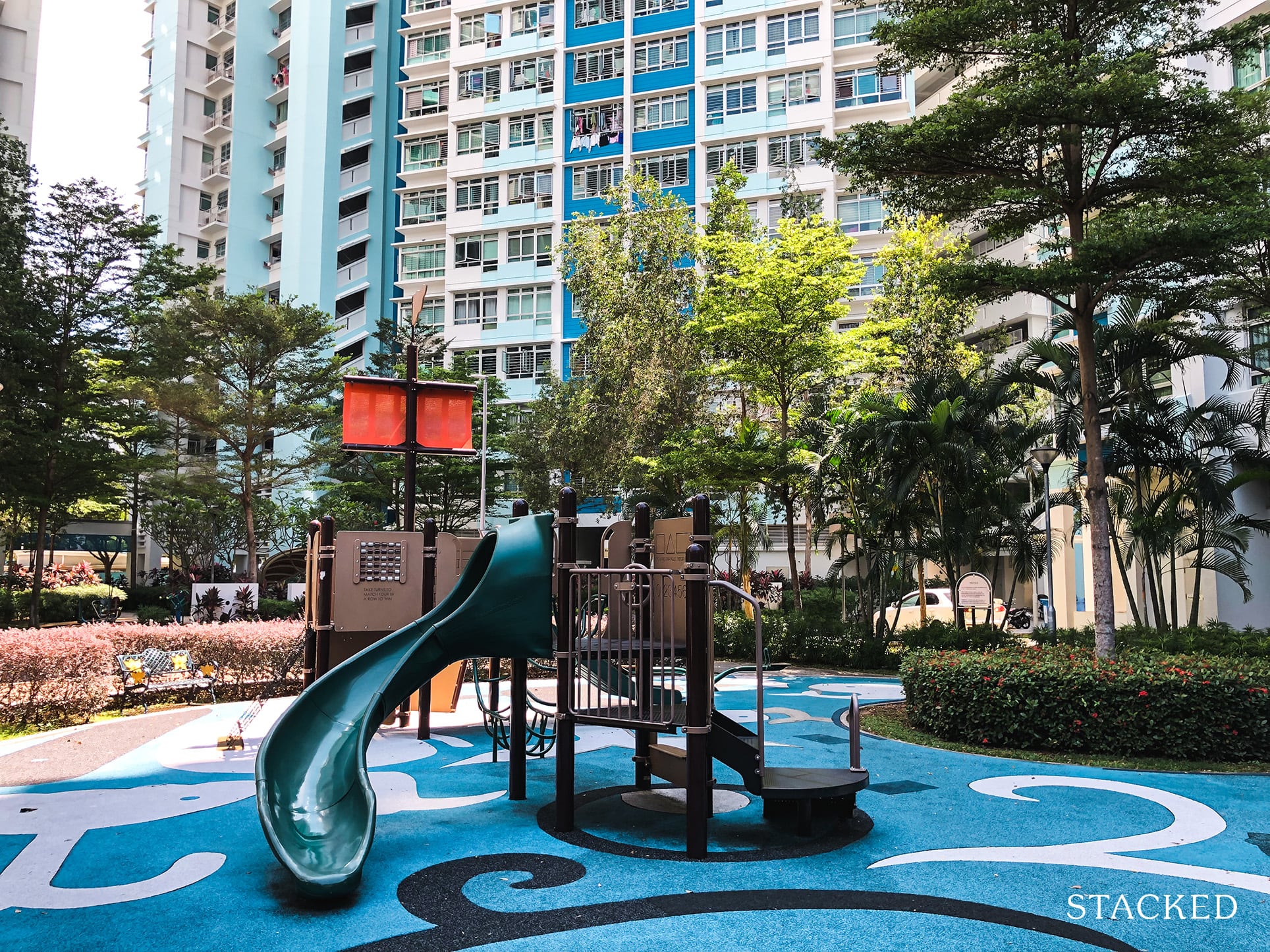 One thing I noticed here is that the playground is quite well-maintained, unlike the one I recently reviewed at Keat Hong Mirage. There's also a sheltered seating area nearby, so parents accompanying their children could rest there on a hot day.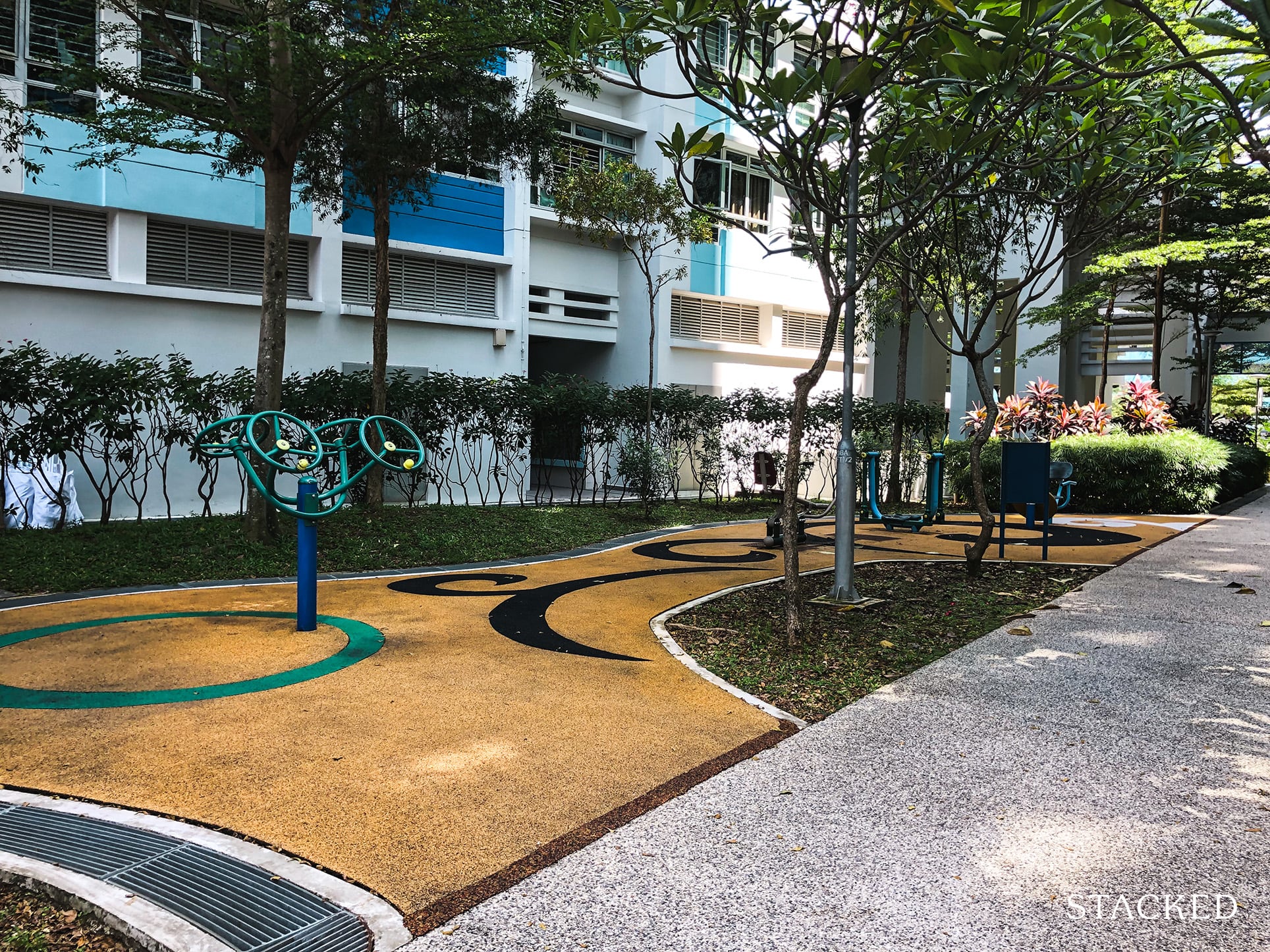 On the opposite side, you'll find the development's elderly fitness corner. It's quite spread out and the machinery is pretty decent! One downside to this facility here is that it's quite close to the lower-floor units in blocks 38A and 38B. While I do not anticipate much noise to be made here, those staying on the lower floor may have to deal with people peering in.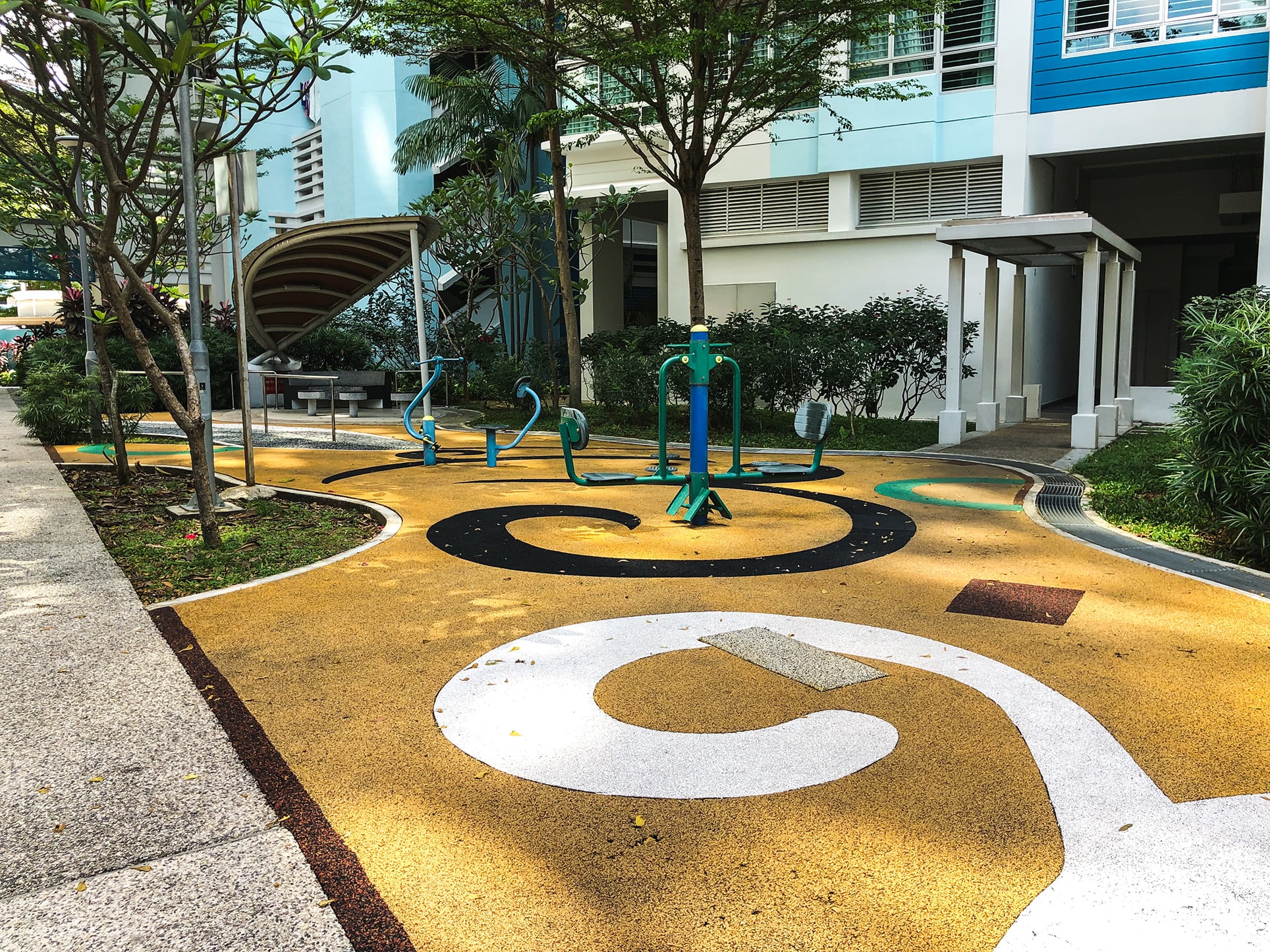 Like the playground, there is also a sheltered seating area nearby – always handy for the elderly who are tired and need some rest!
Nearby, there is a foot reflexology area for those looking to get a pretty intense massage to their feet. I also like that there are 3 different types of stones here of varying difficulty.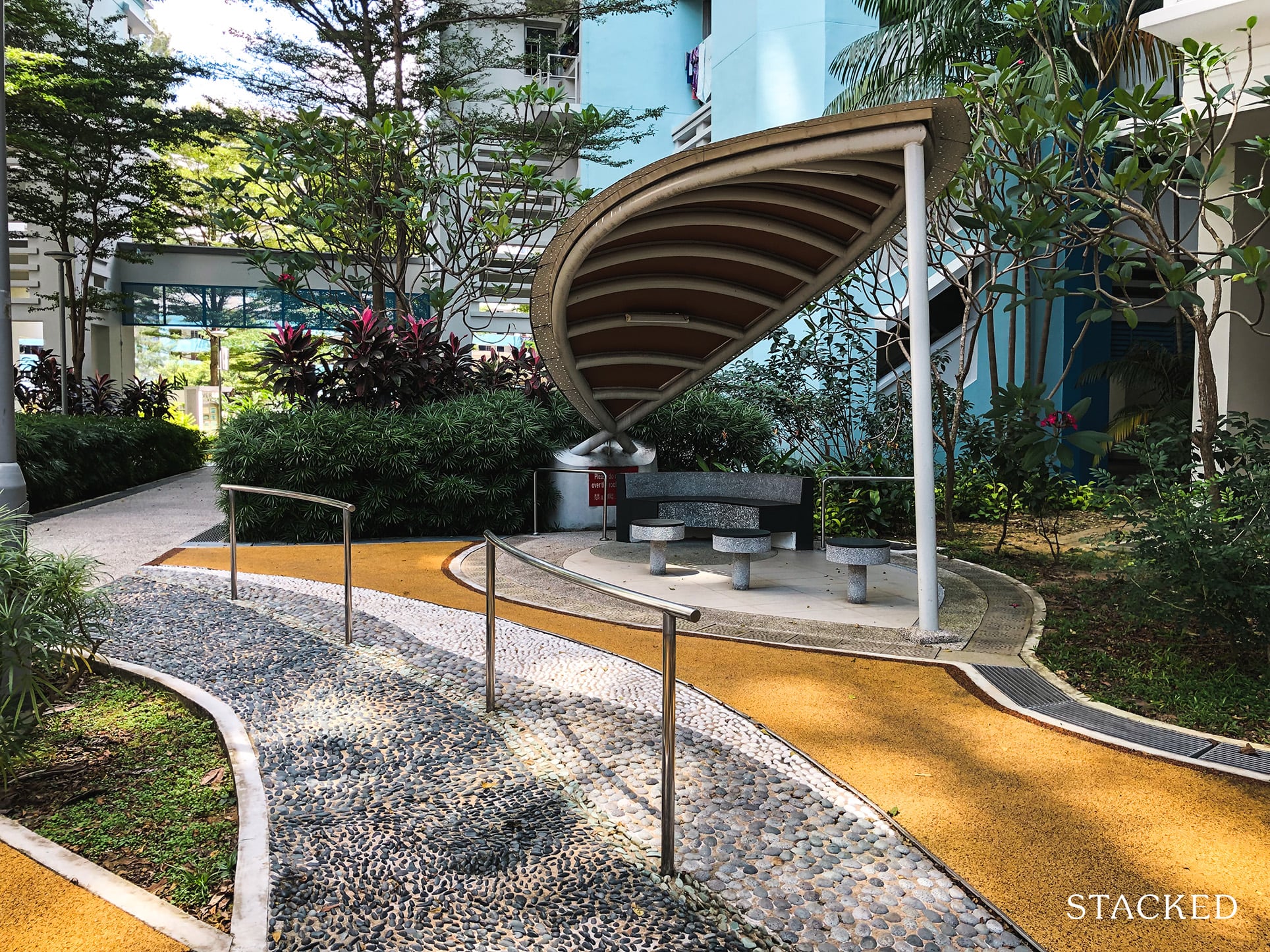 Moving further north of the development, you'll find the adult fitness corner. The equipment here is quite sparsely set apart, always good in the post-COVID era.
It has the traditional inclined pull-up bars, horizontal bars, and monkey bars. In some sense, it doesn't seem like there's a dedicated spot for it since it's scattered all over. It's not necessarily a bad thing, but I would've preferred a more traditional and bigger space with varied equipment, but I think they've made it work by incorporating it to flow more organically with the walkway – so no complaints there!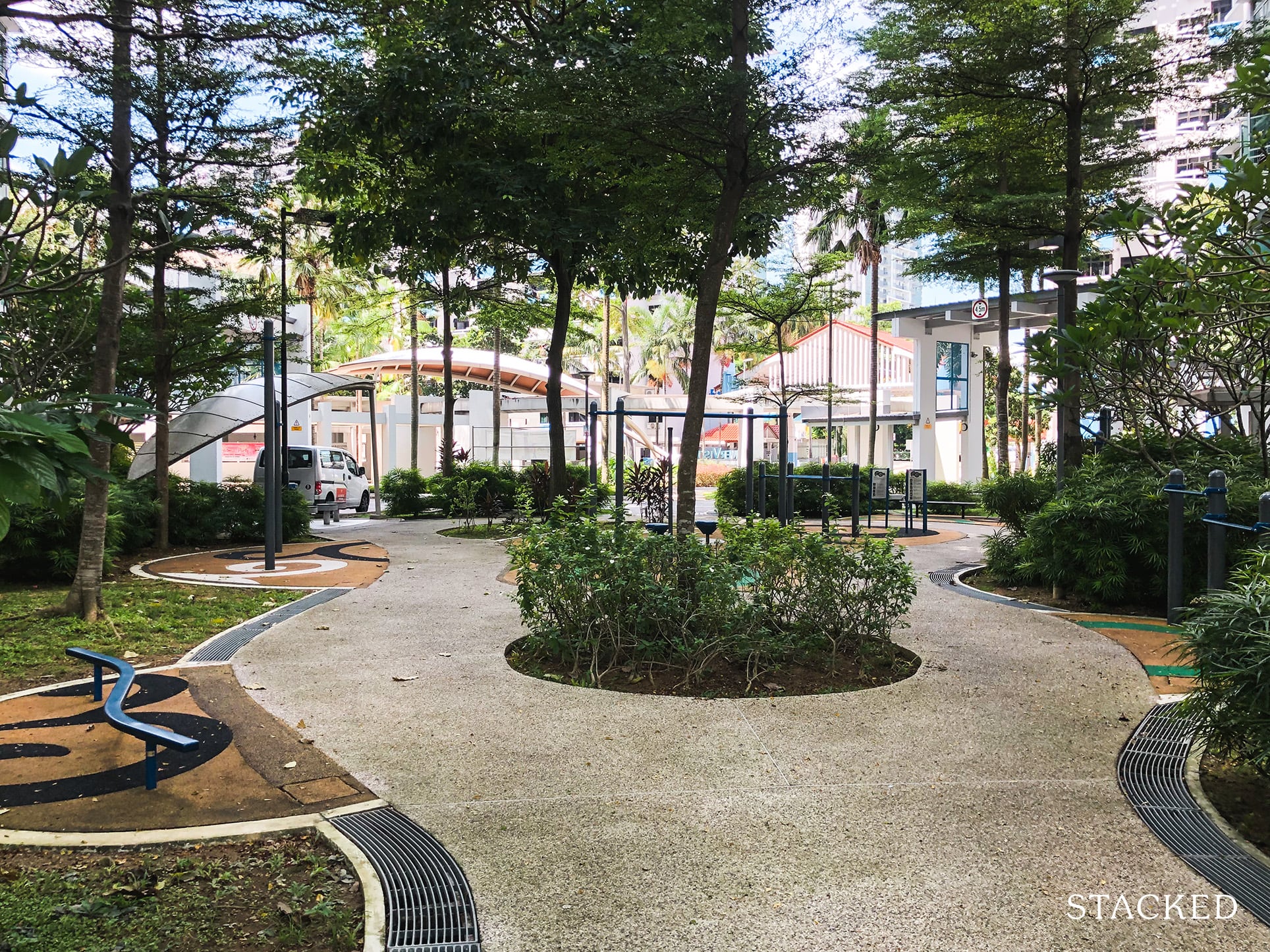 Like all the other facilities so far, there is also sheltered seating nearby. The space planning here is such that there is a sheltered seating area for each facility. This may not necessarily be a good thing – especially if there is a bin like this one as it may attract smokers here – particularly bad for anyone using these facilities.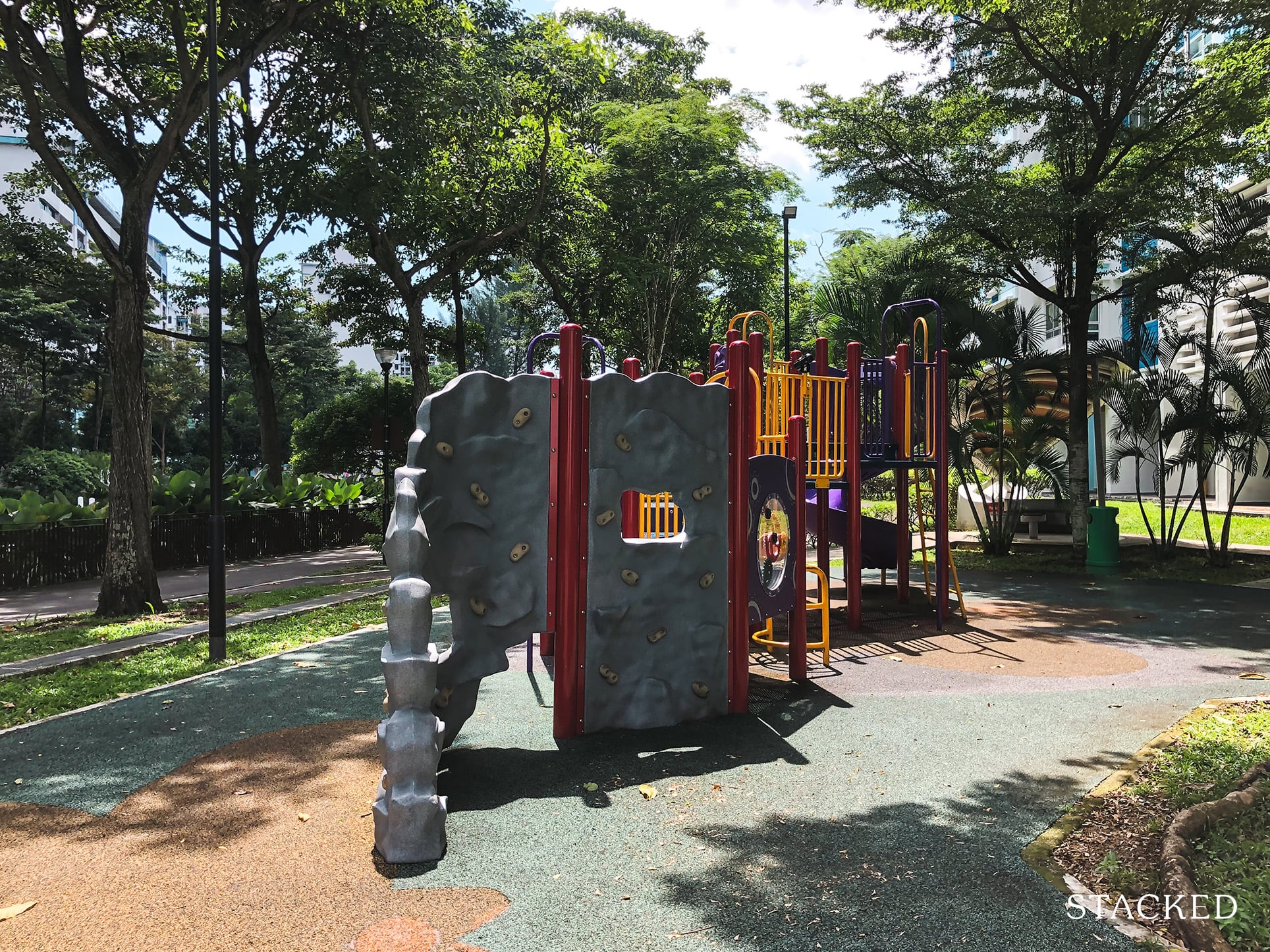 Heading northwards, you'll find the 2nd playground in the development. I'm happy to see that there are at least 2 playgrounds here. For a development size of 800 units, this is just about adequate. This playground is located close to block 38D and is also right next to the Park Connector.
First impressions? I do like that it's much more colourful than the first. While it does not have the same "sea theme" as the first playground, it's certainly a more adventurous one with its wall-climbing features!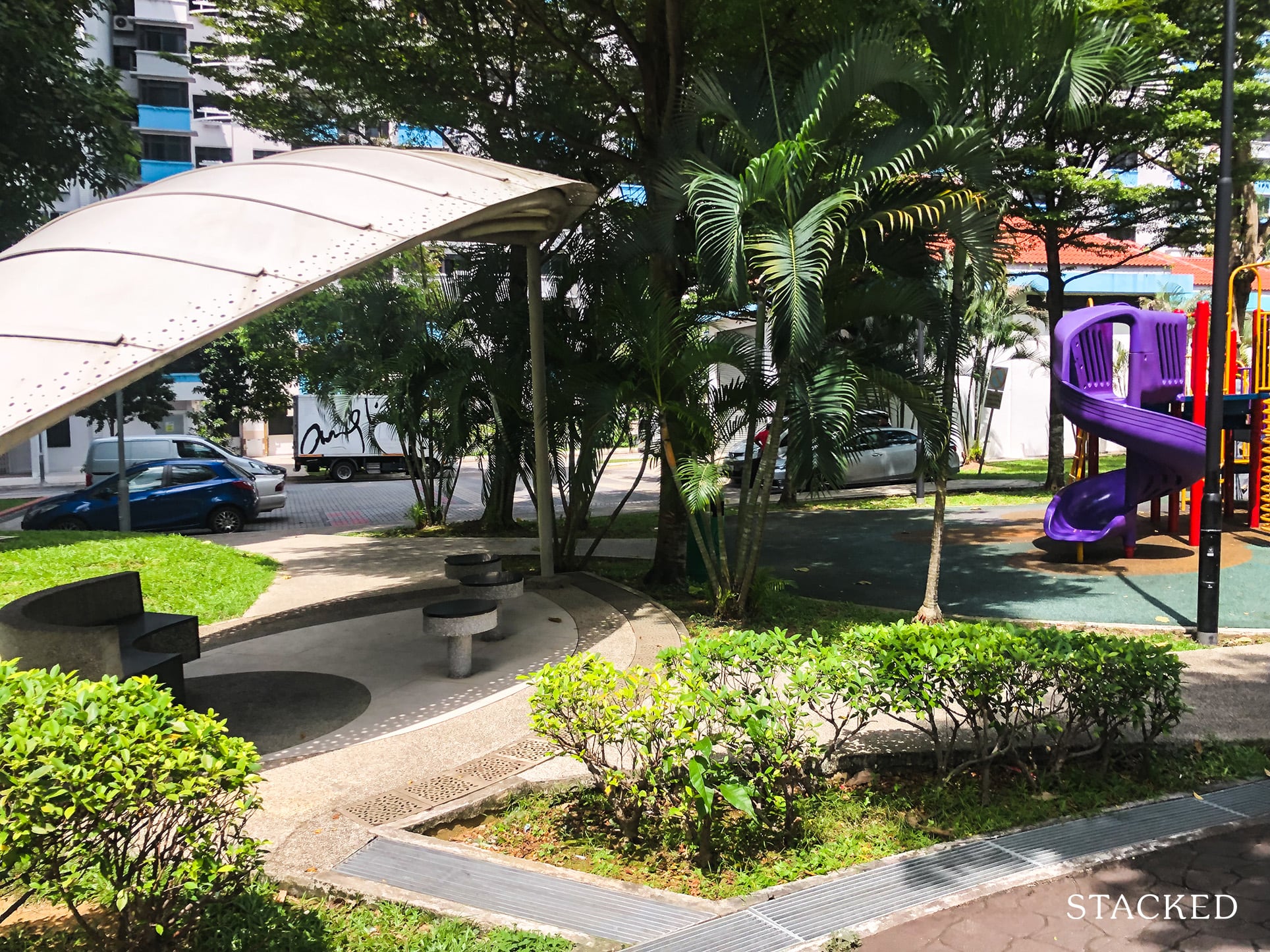 Some of you may be wondering why the playground is separated as opposed to building 1 bigger playground – after all, wouldn't this mean more children can play together?
Well, I do think it's smart to space out the playgrounds. Well-utilised playgrounds generate a lot of noise during the evening time, so spacing it out does reduce the concentration of noise in one particular area. It's also more convenient for residents in different blocks to reach them.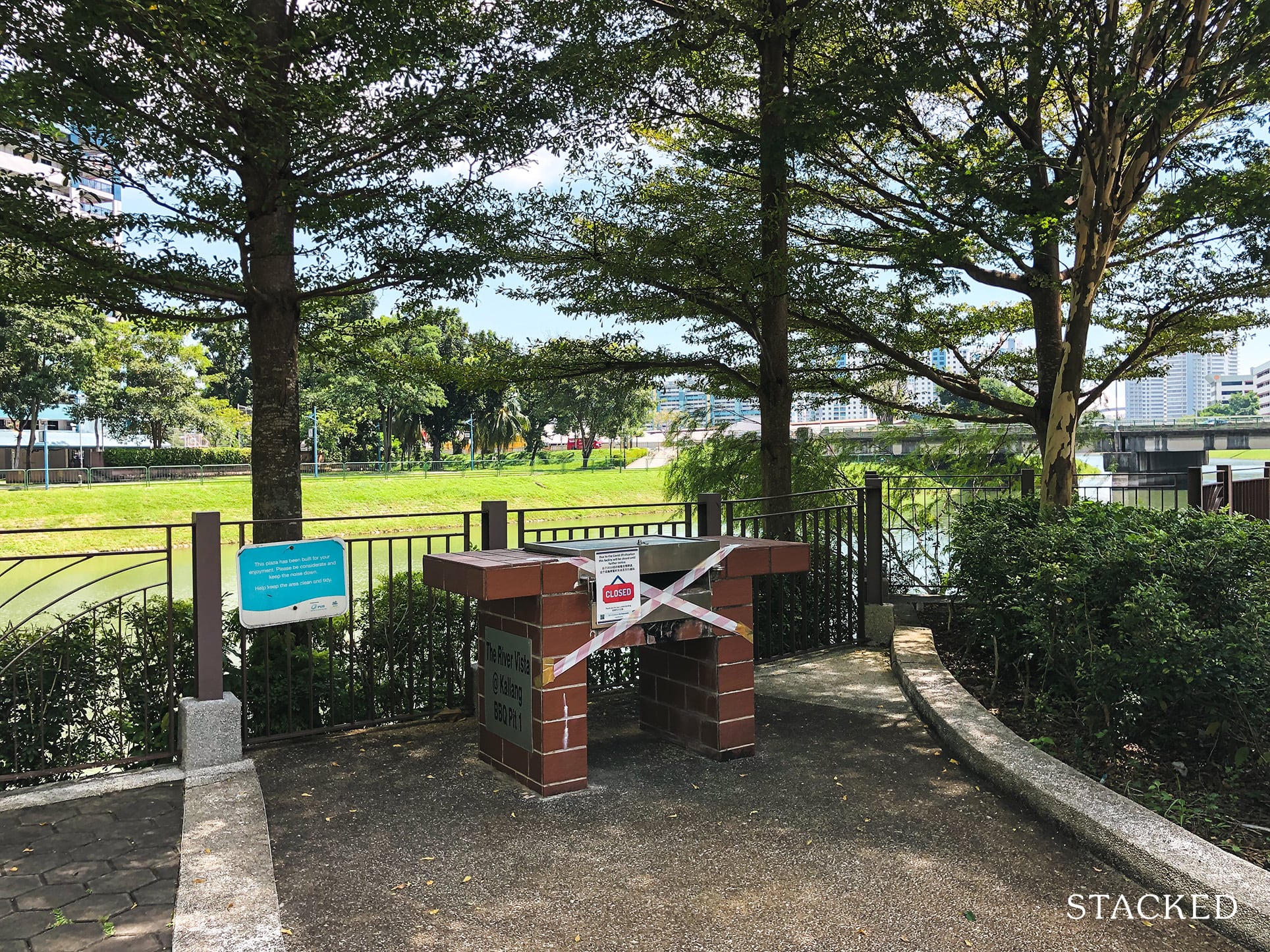 Finally, we reach the last facility here – barbeque pits. Now, do note that the barbeque pits are not officially part of the development's site plan, so I am a little hesitant to say it's a facility offering. However, it is located at the southern tip of the development so it is pretty much exclusive to the development here. It's actually more of a facility along the Park Connector Network, which I'll get to later.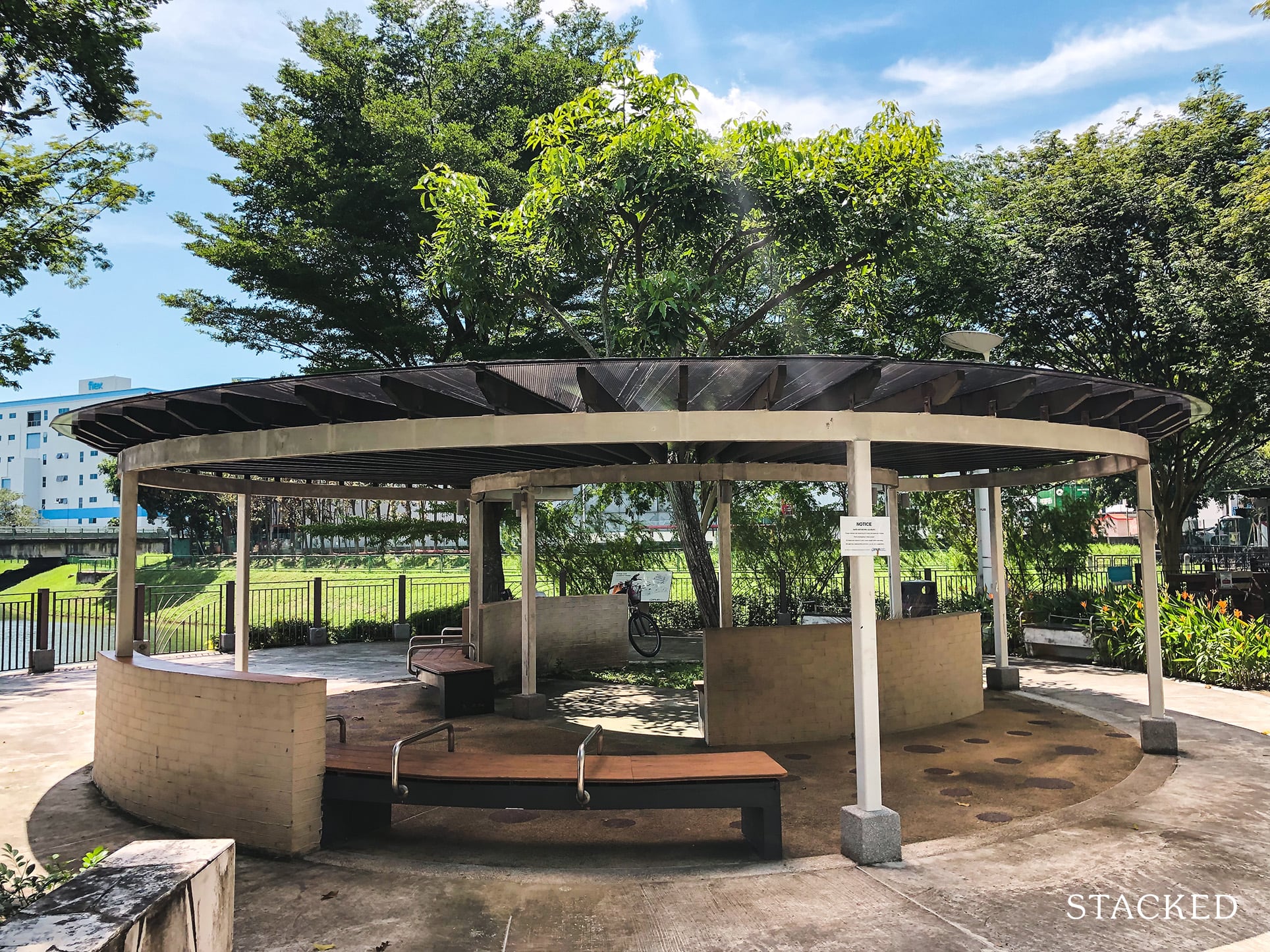 The barbeque pits here have a lot of seating options, so it's quite good for larger gatherings. The seating area is also sheltered, so in the event of wet weather, you couldn't have to scamper back into the development but just wait it out.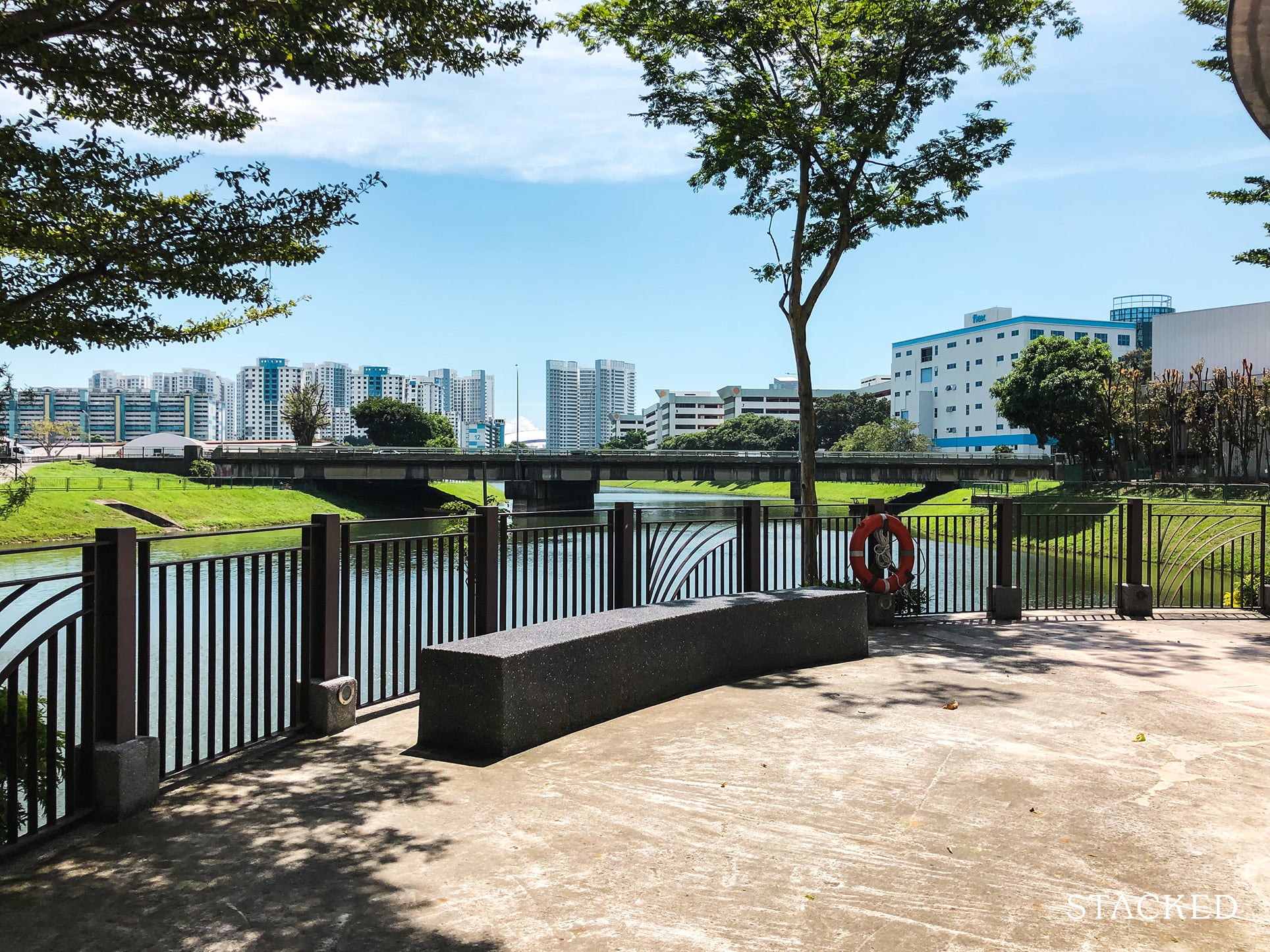 The location of the barbeque pits is pretty strategic as it offers good views of the river – so as far as HDB barbecue pits go (of which there aren't many to begin with) this may just rank as one of the most scenic. Just to play devil's advocate here – I do think that this could be a source of noise and smell for residents nearby, though those affected by it would actually have the best views the development can offer – so it's not too bad really!
Now that we've ended the facility tour, let's check out what the common corridor looks like.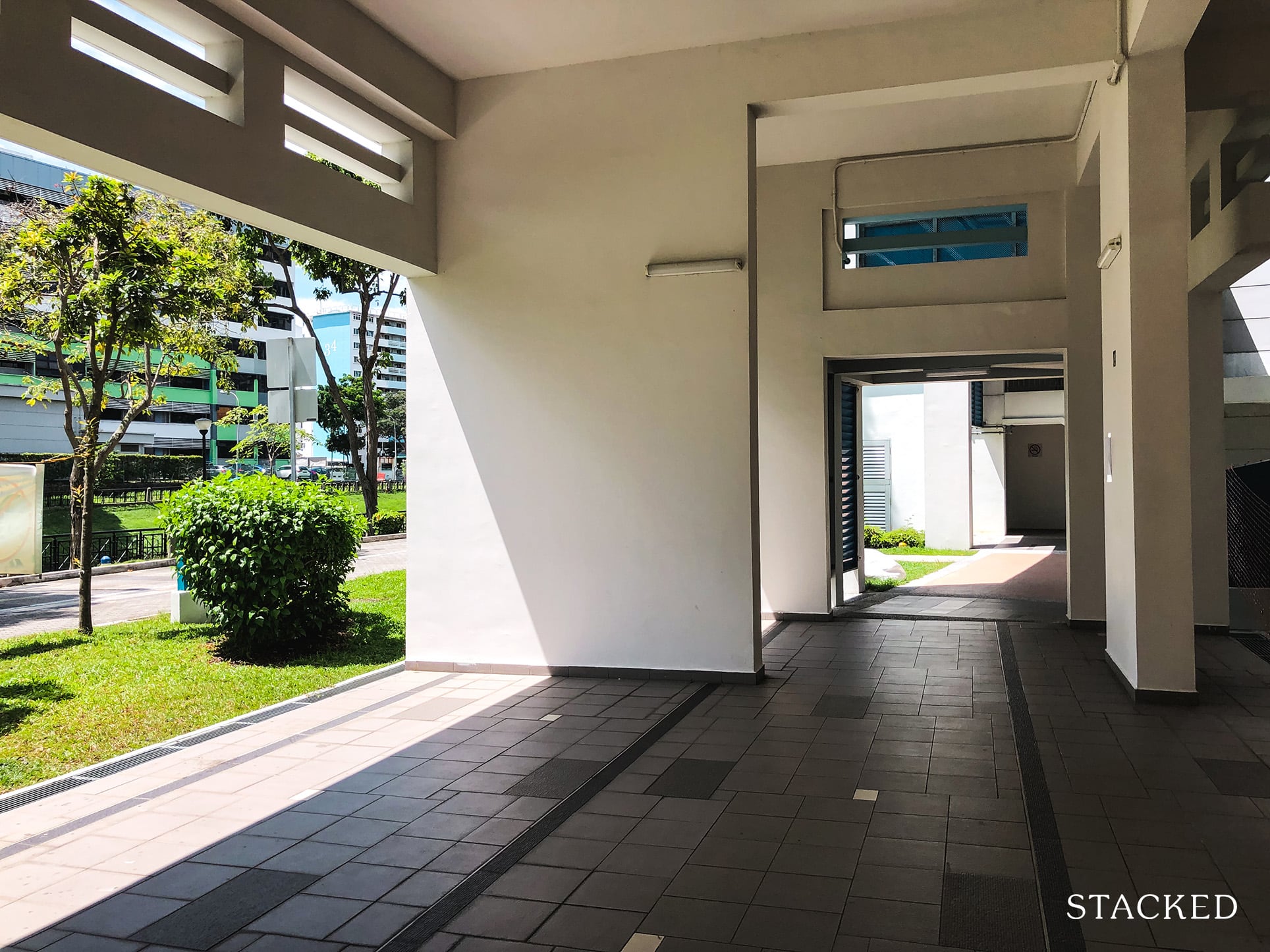 Heading back into the development, you'll find that the void deck here is true to its name – void of space. I'm a little conflicted on this one – not having anything around does make the space more open and quieter, however, having tables and chairs could help foster the community spirit here, particularly when residents gather around. Which would you actually prefer?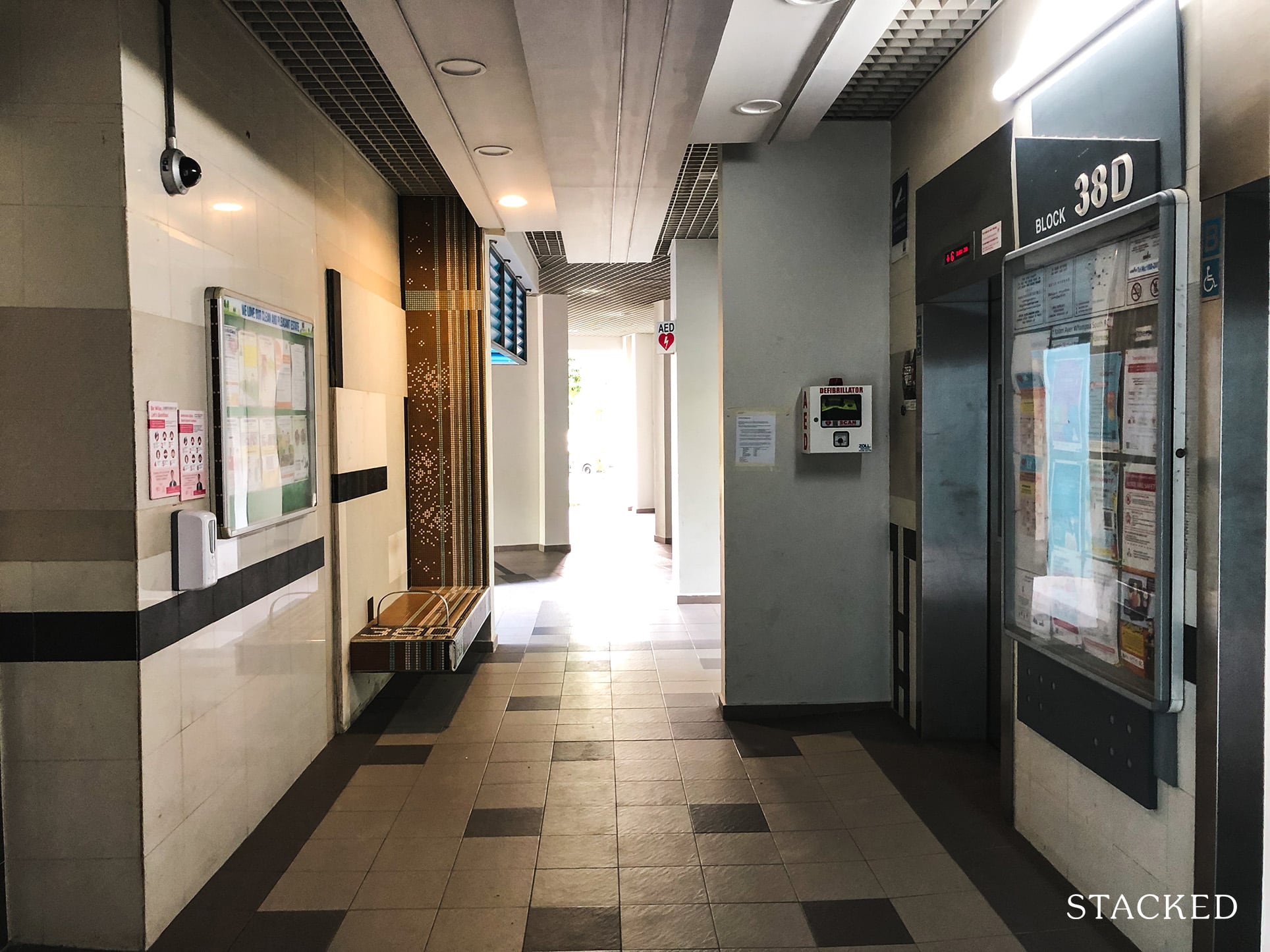 Arriving at the lift lobby, you'll find that there are 3 lifts per block here – nothing out of the ordinary. What's special though, is the uniquely-designed seating area with the block number formed in a sort of mosaic pattern.
While I do admire the creativity, I must say that this does look a little tacky and perhaps off-brand from the whole development. Perhaps the brown signifies land, and the blue signifies the sea. However, as it's set in an area where the regular HDB design rings true, this creativity is not given any justice. And well, it does look like it's definitely seen better days, with bits having fallen off in parts.
Heading up and out of the lift, you'll find that the corridors here are rather narrow, and it certainly doesn't help that the walls run from the ground up, effectively reducing the amount of light and ventilation that can pass through. The opposite to this was my recently reviewed Skyline I & II @ Bukit Batok, where railings are mostly used along the common corridor.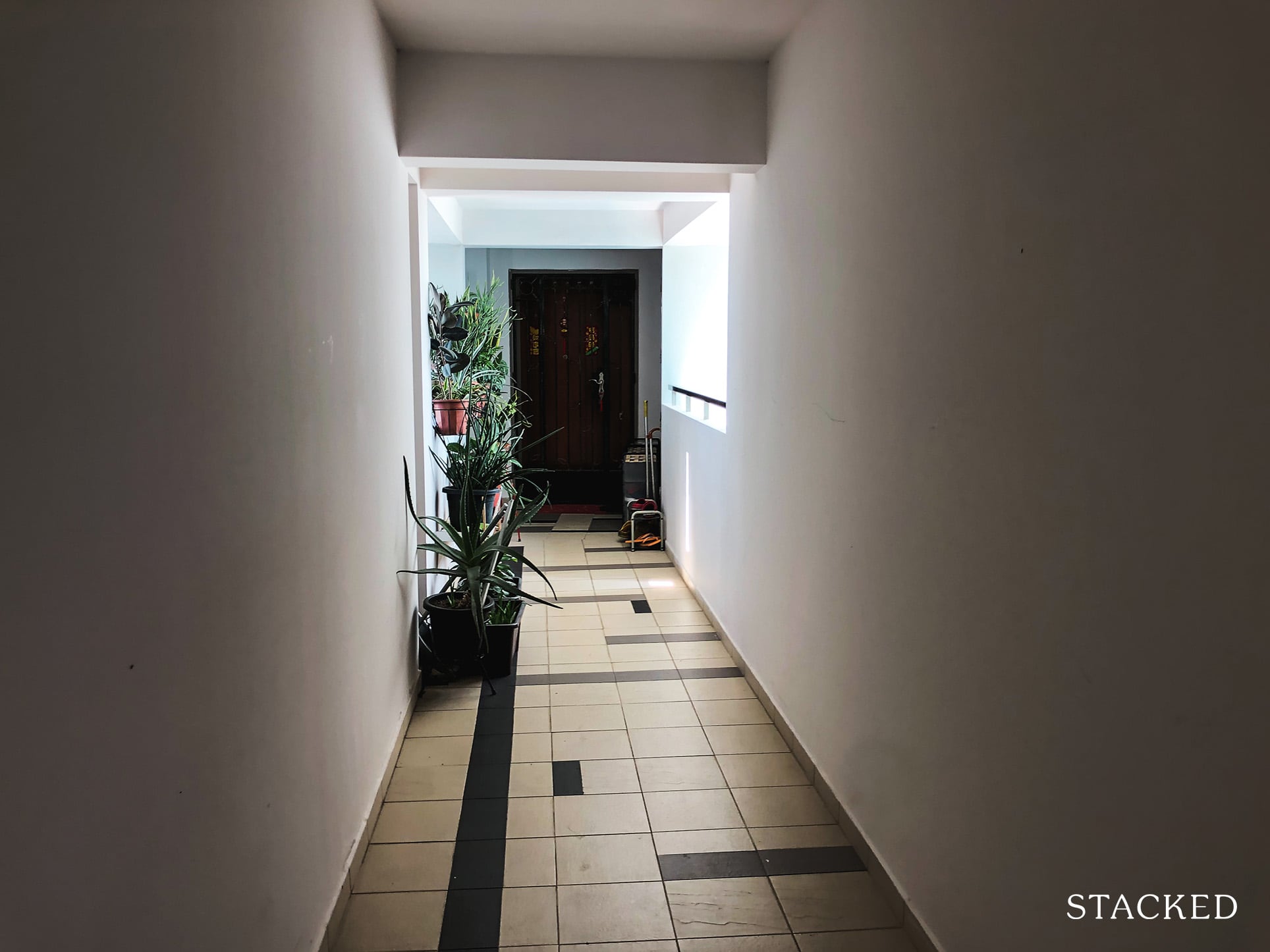 Looking at the floor plan is extremely important, but it's good to pay attention to the corridor layout too! In The River Vista @ Kallang's case, you'll find that units here are situated right next to each other. This does reduce the amount of privacy here, and also leaves little room to place items outside the home.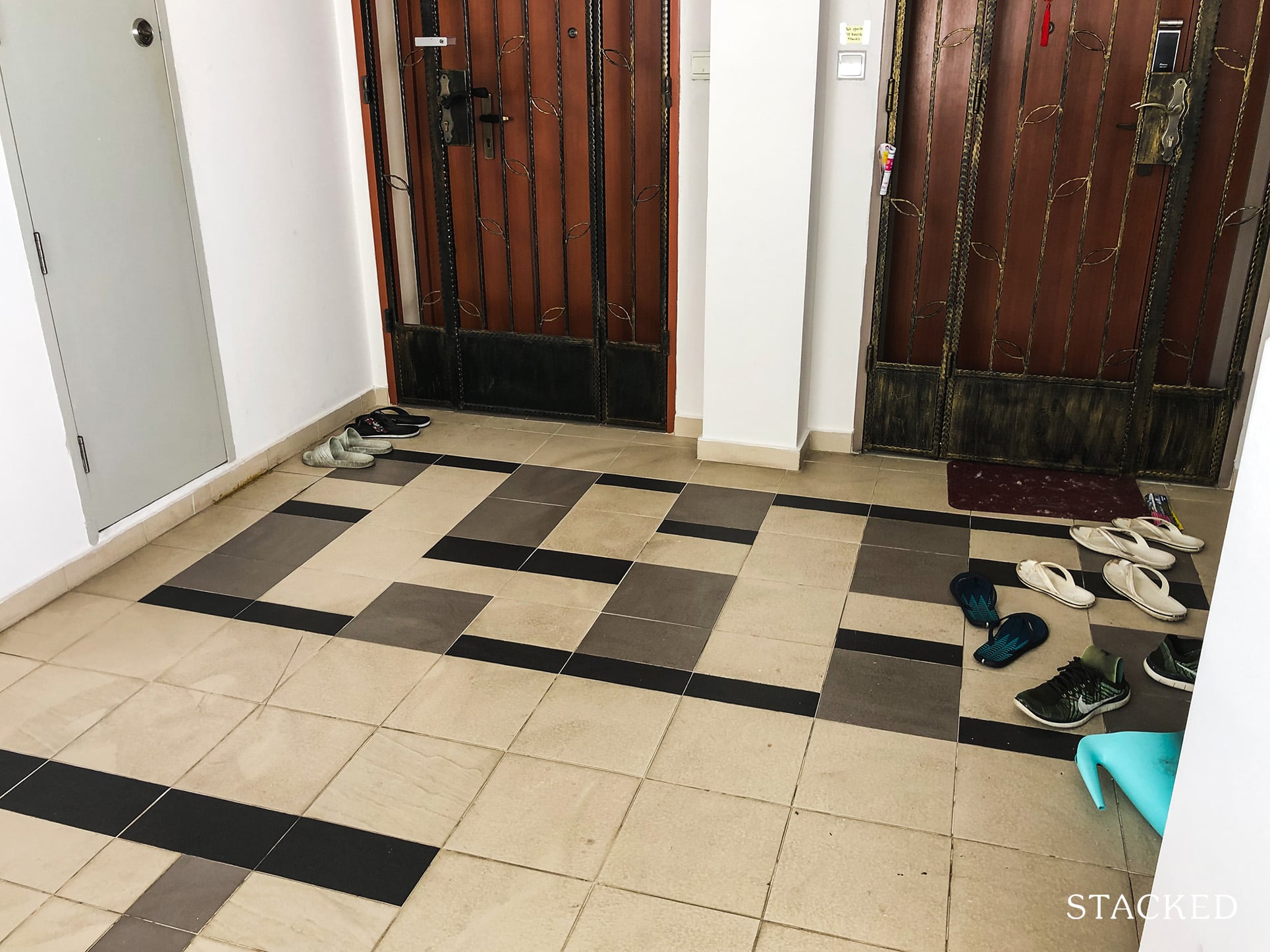 What I do like is that each unit is, in some way, in a "corner". This means that there are no stacks that are situated along the corridor (which in my opinion, is the worst when it comes to privacy!). Their unit layouts are also such that no service yards or any living quarter face the corridor directly, so while privacy is compromised due to its proximity to each other, it does shine in these aspects.
Read this next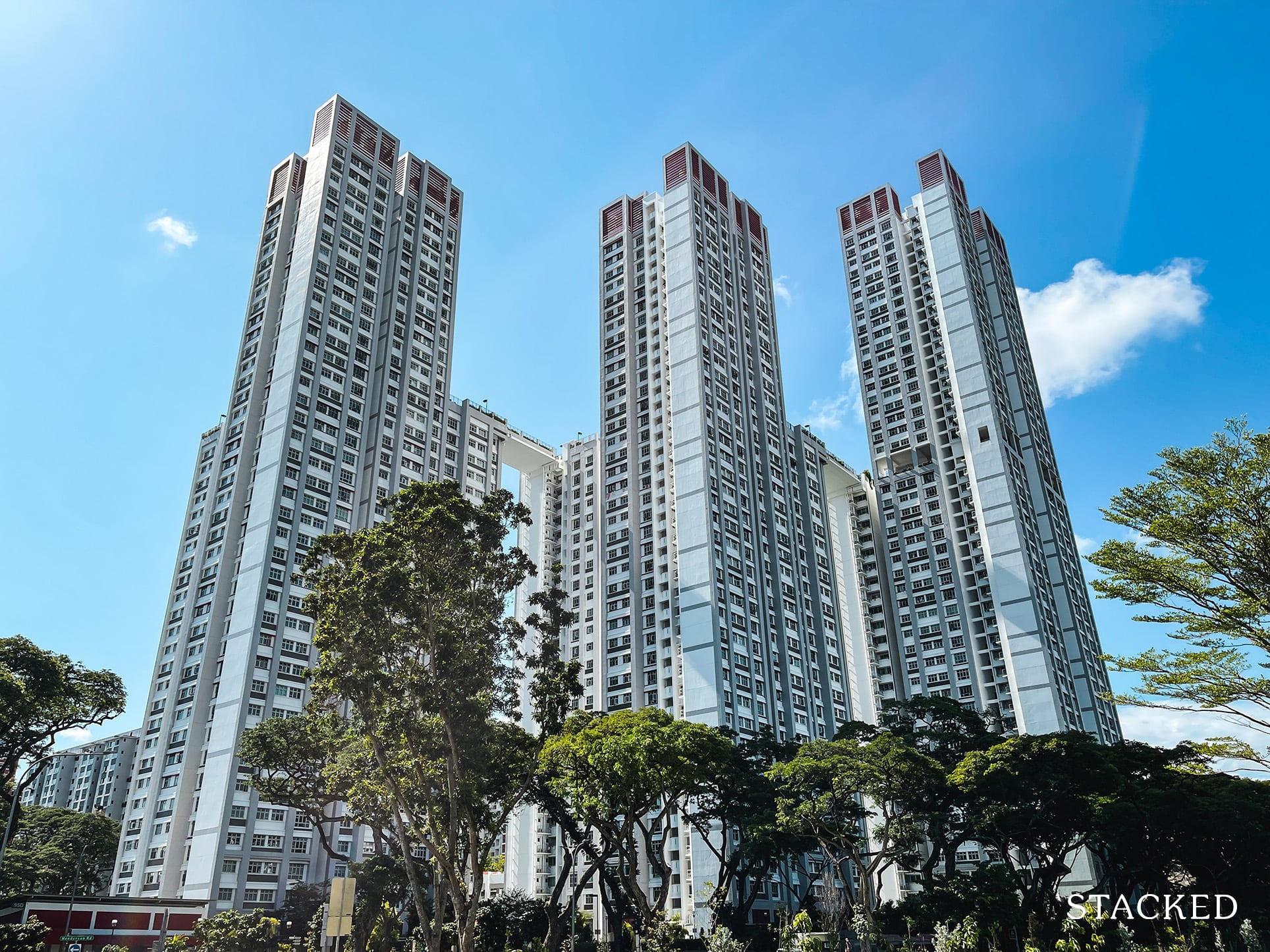 The River Vista @ Kallang Location Review
As the name suggests, The River Vista @ Kallang is along a river – but unlike most developments that front a river, this development has the enviable position of being at the foot of the river intersection where the Kallang River splits out to form Sungei Whampoa.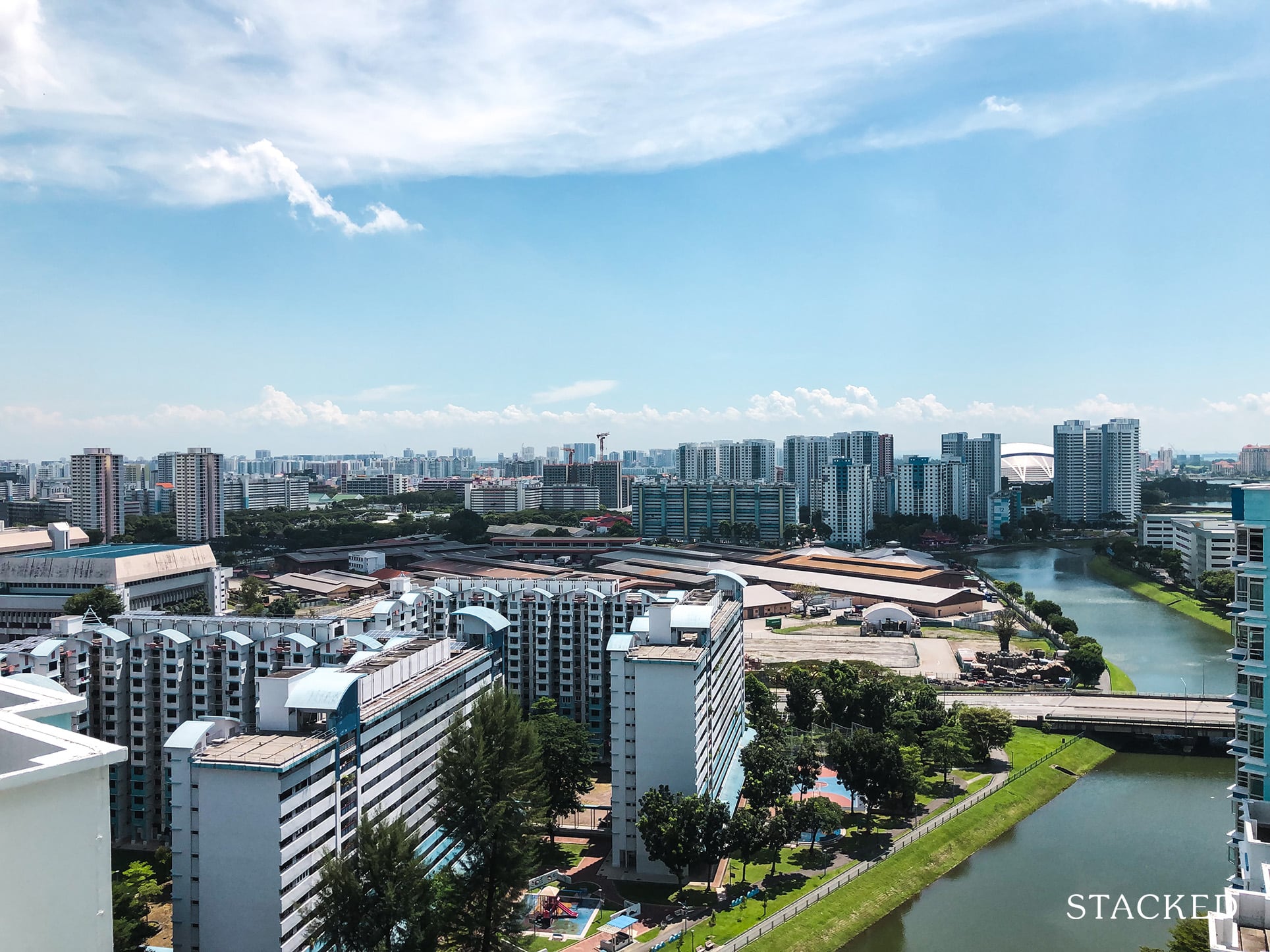 Given it's along the river, it's no surprise to find a Park Connector running alongside the project too!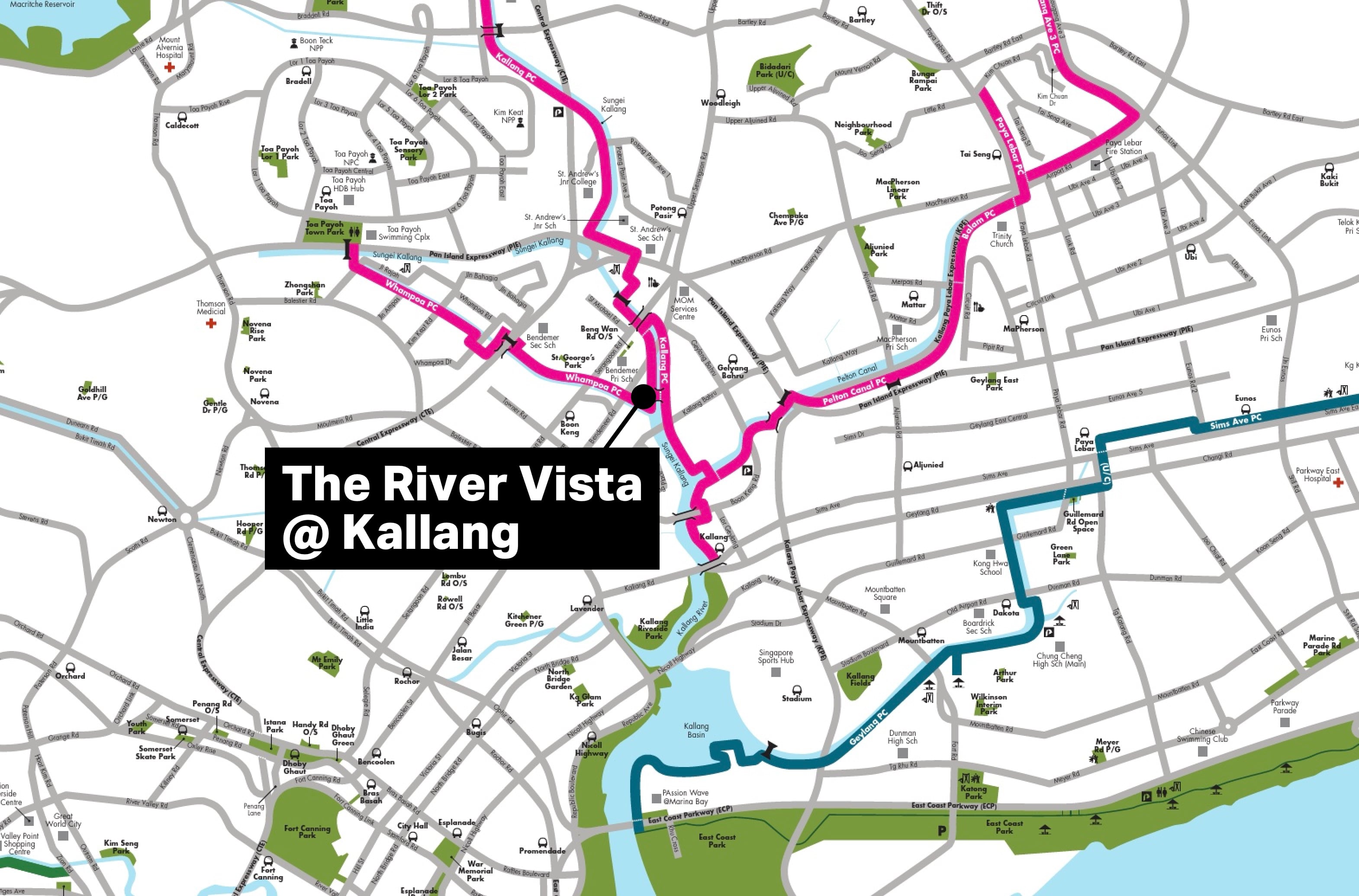 Residents can easily hop onto the Park Connector Network (PCN) to head north towards Ang Mo Kio or North-East towards Punggol. Unfortunately, there's no Park Connector directly connecting residents here to the Marina Bay area even though it is quite close by.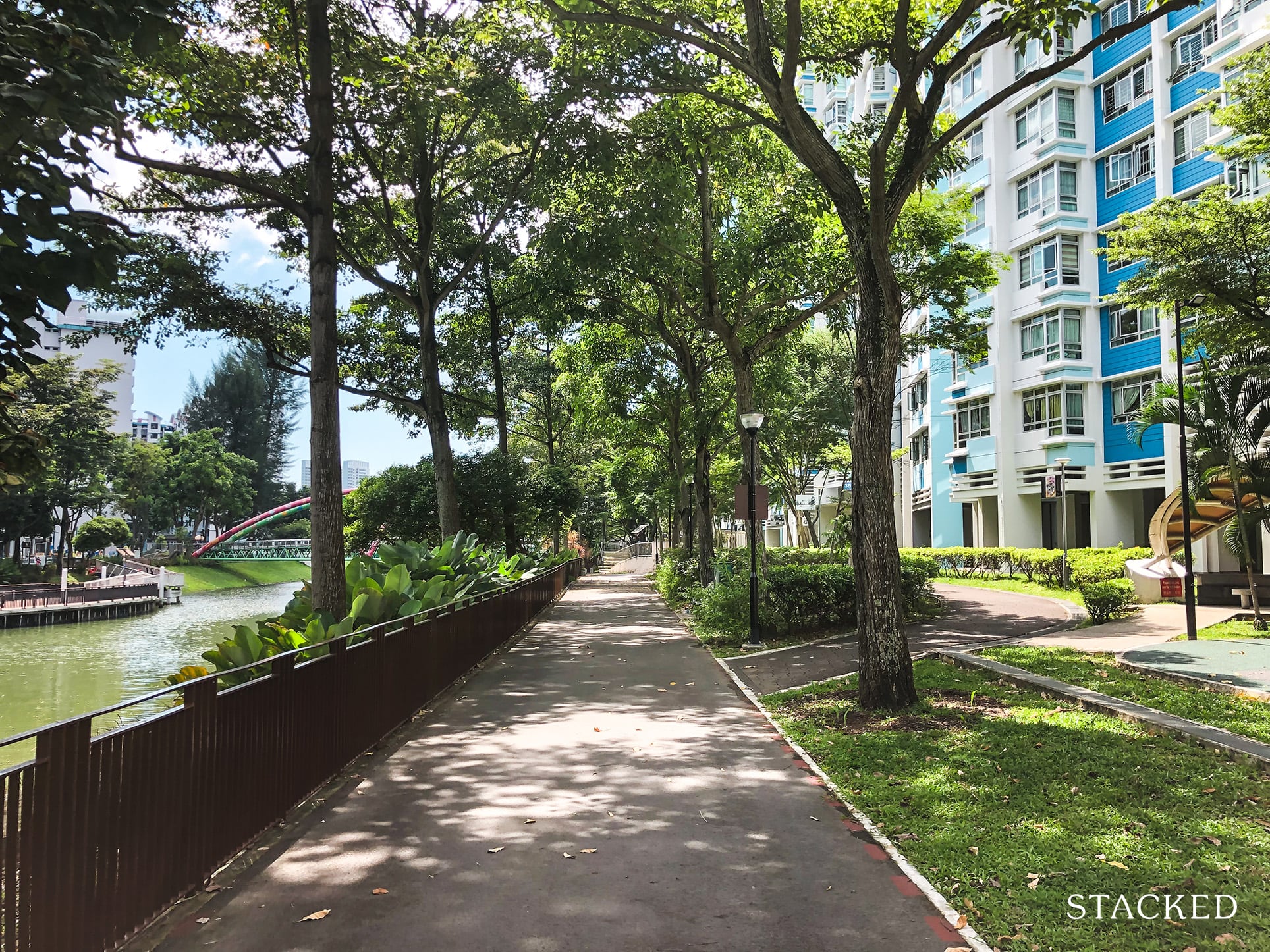 Another plus point about the Park Connector beyond the recreational aspect is the fact that there's lots of greenery, as seen here. Usually, low-floor units are less popular due to the lack of privacy or noise.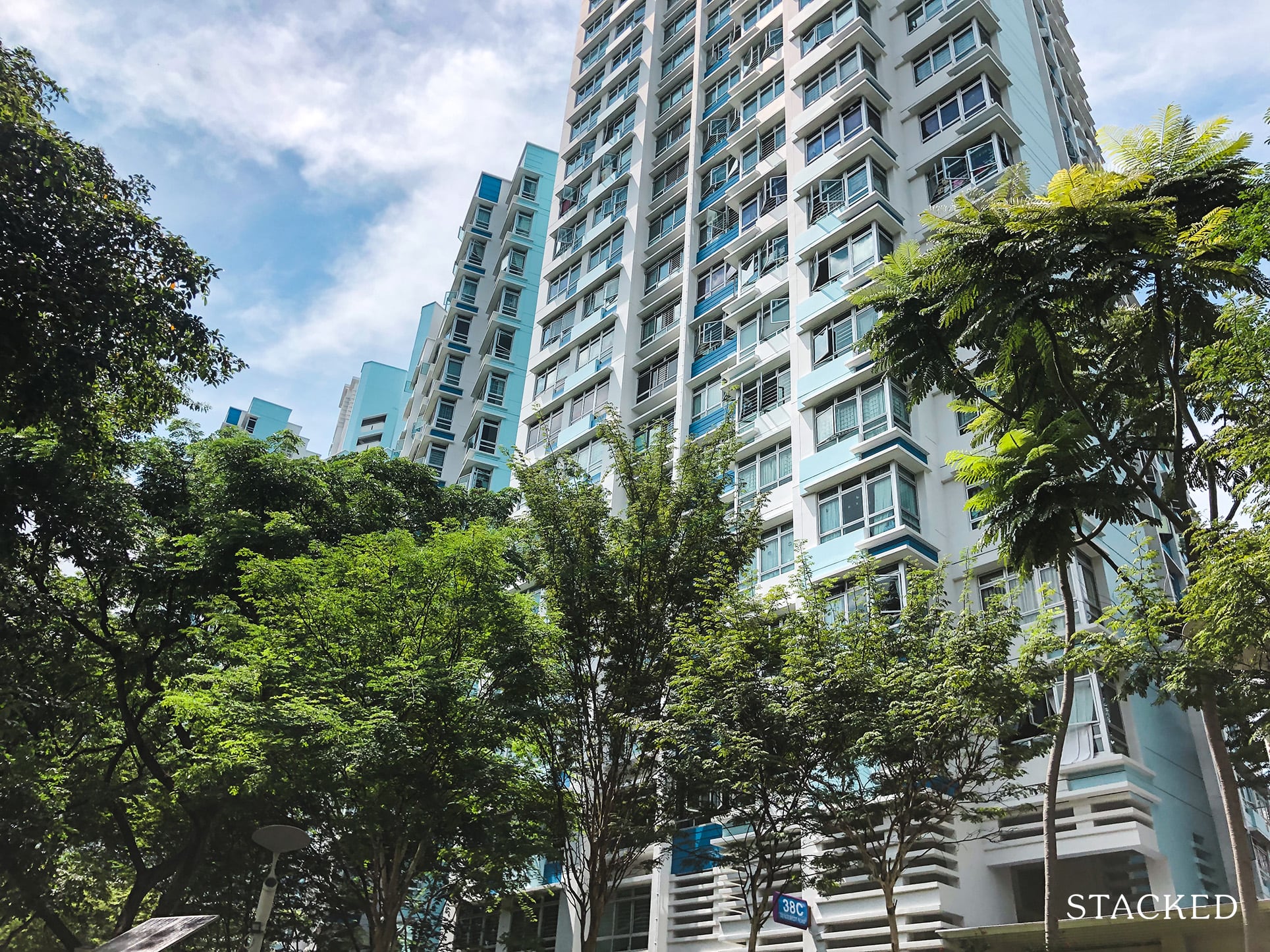 However, lower floor units such as those on levels 5 – 10 actually benefit from being next to one – the proximity to the trees ensures the unit overlooks greenery, and the trees do help provide some privacy and act as a noise buffer. On much higher floors though, this point is irrelevant.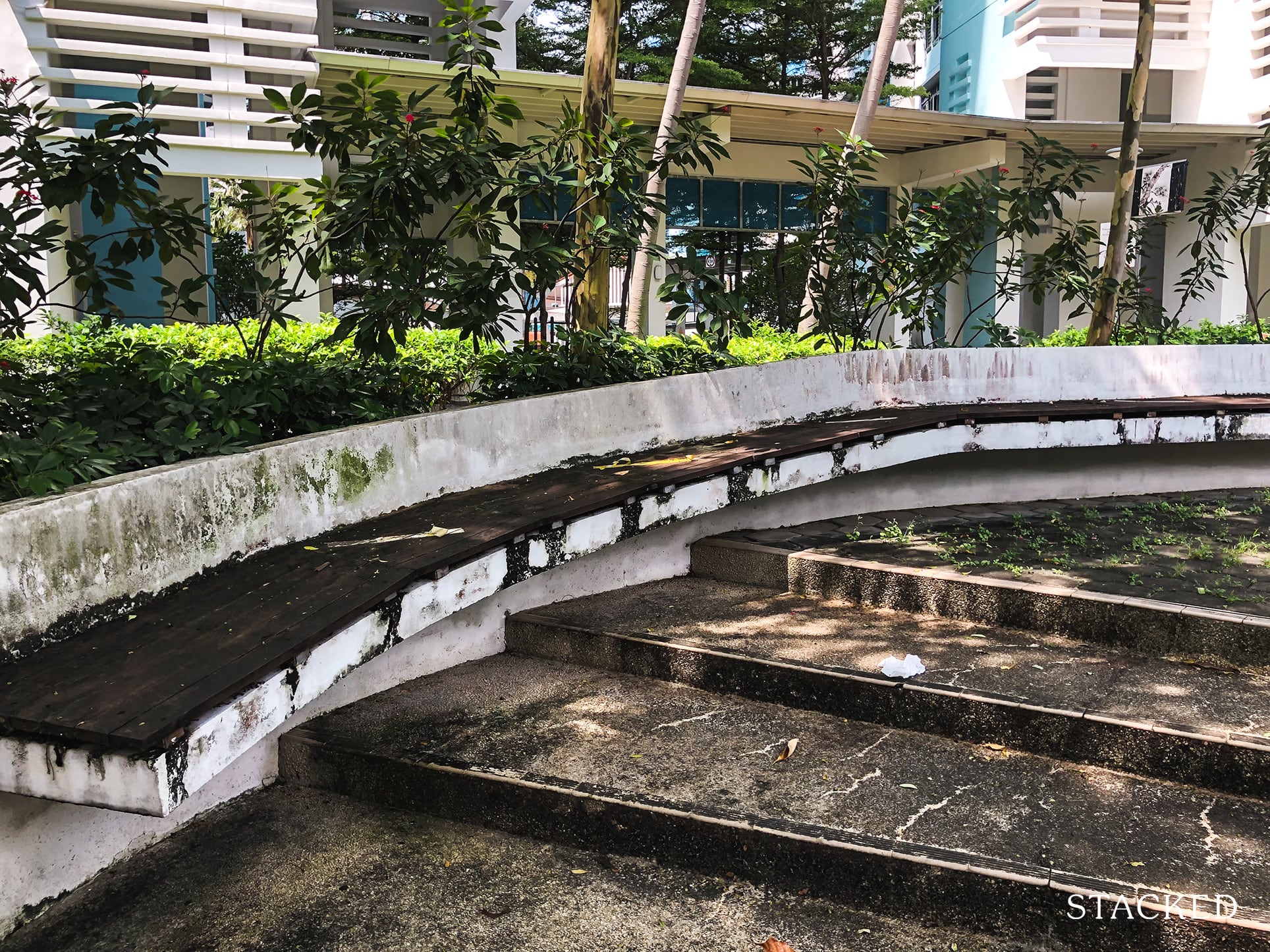 The Park Connector also offers plenty of seating around here, though I'm not sure if this is necessarily a good thing for residents since more people would use this as a resting stop (which I believe was the intention)! On a side note, the benches here does look like it's in need of some tender loving care – it doesn't look like a clean spot to rest at all.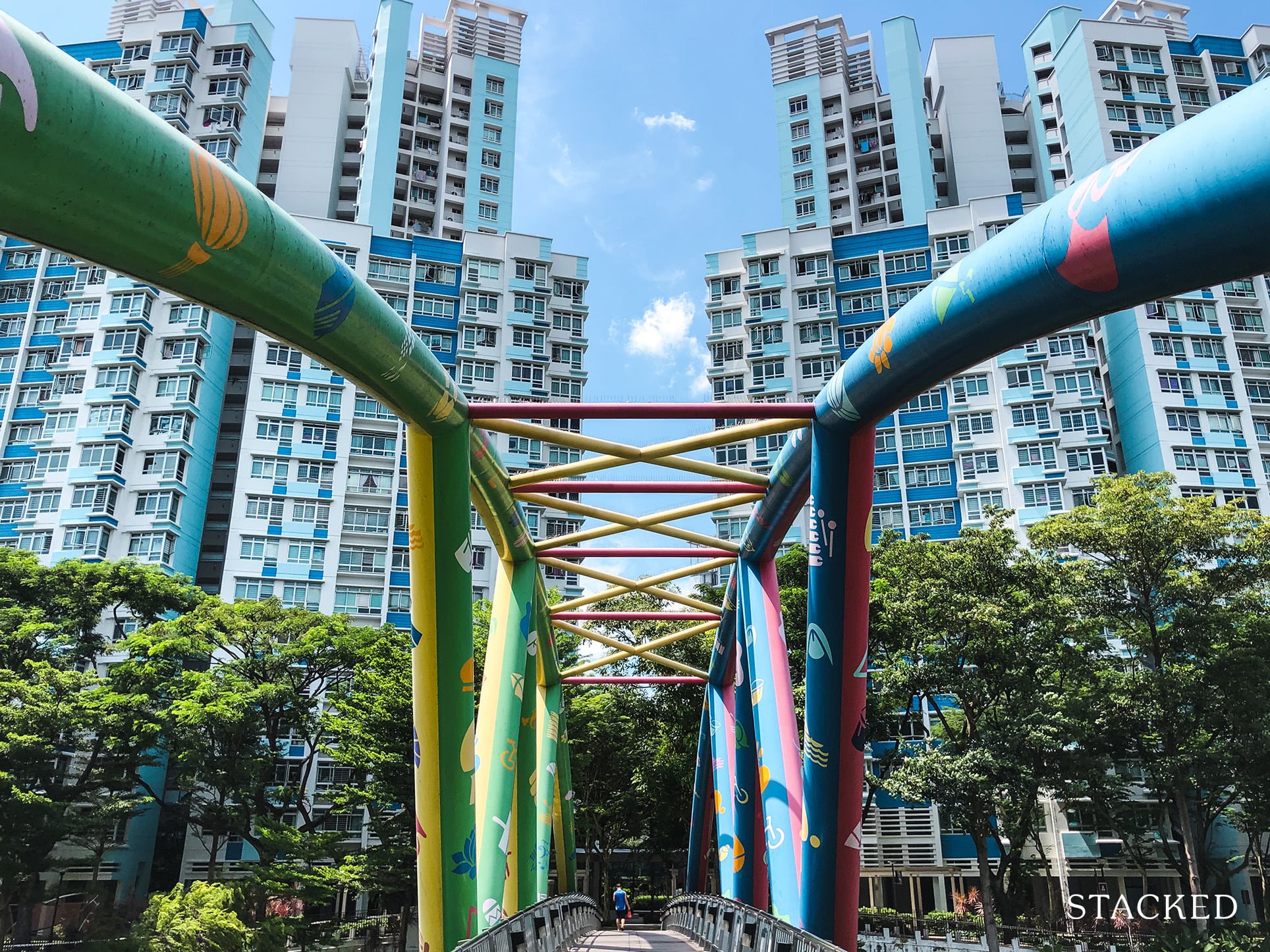 Now If you've been through this Park Connector, you'll undoubtedly have seen this really colourful bridge here. This connects residents to the Geylang Bahru area where you'll find a host of other amenities – another plus point of the area.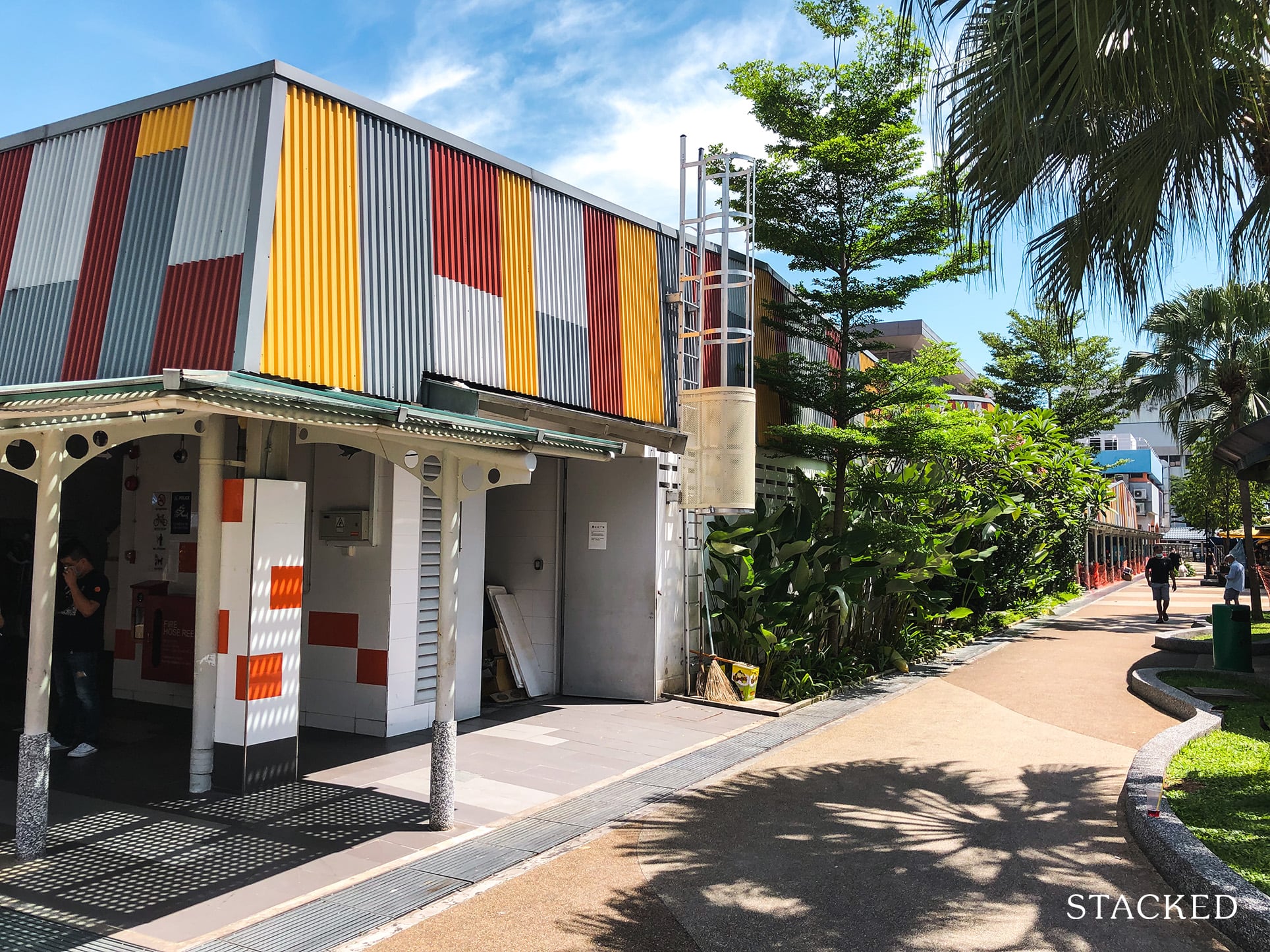 Across the bridge are some older HDBs where you'll find some 1st level shops, including a minimart, eating house, cake shop and so on. Further down, you also have the Geylang Bahru food centre and wet market!
Over on the west side, residents can also head to Bendemeer Market & Food Centre. This is another big food centre that would surely satisfy all your local cravings, so residents staying here wouldn't have to worry about missing out on hawker food.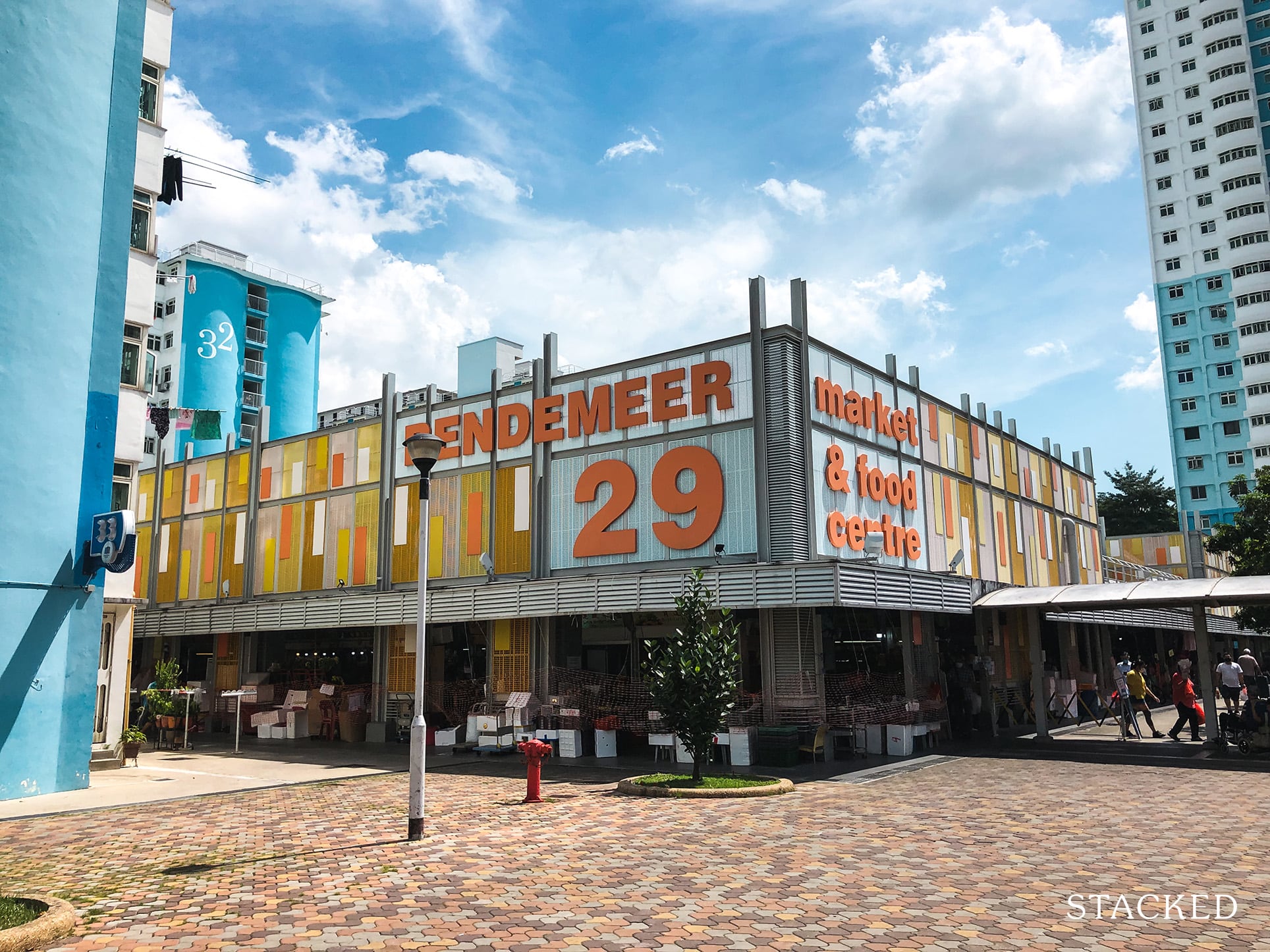 One thing that's lacking in the immediate area though, is a shopping mall – at least one within comfortable walking distance. The southern area is largely industrial, and the immediate vicinity is more residential. You could head over to The Poiz Centre and The Venue Shoppes, however, it will be quite a walk! City Square Mall is also about a 15-minute bus ride away.
Public Transport
| | | |
| --- | --- | --- |
| Bus station | Buses Serviced | Distance From HDB (& Est. Walking Time) |
| 'Blk 44' | 13, 125, 133, 140, 147, 147A, 23, 31, 64, 65, 66, 857, 857B, 985 | 3-minute (300m) |
Closest MRT: Geylang Bahru MRT/Boon Keng MRT; 10 min walk.
The River Vista @ Kallang is about a 10-minute walk to either Geylang Bahru MRT, or Boon Keng MRT. As such, you could say that residents are "within 10 minutes walk to 2 MRT lines".
This does sound like a somewhat attractive proposition, but do bear in mind that both journeys are unsheltered. As such, being caught in heavy rain can be really frustrating here as there aren't even sheltered detours you could make.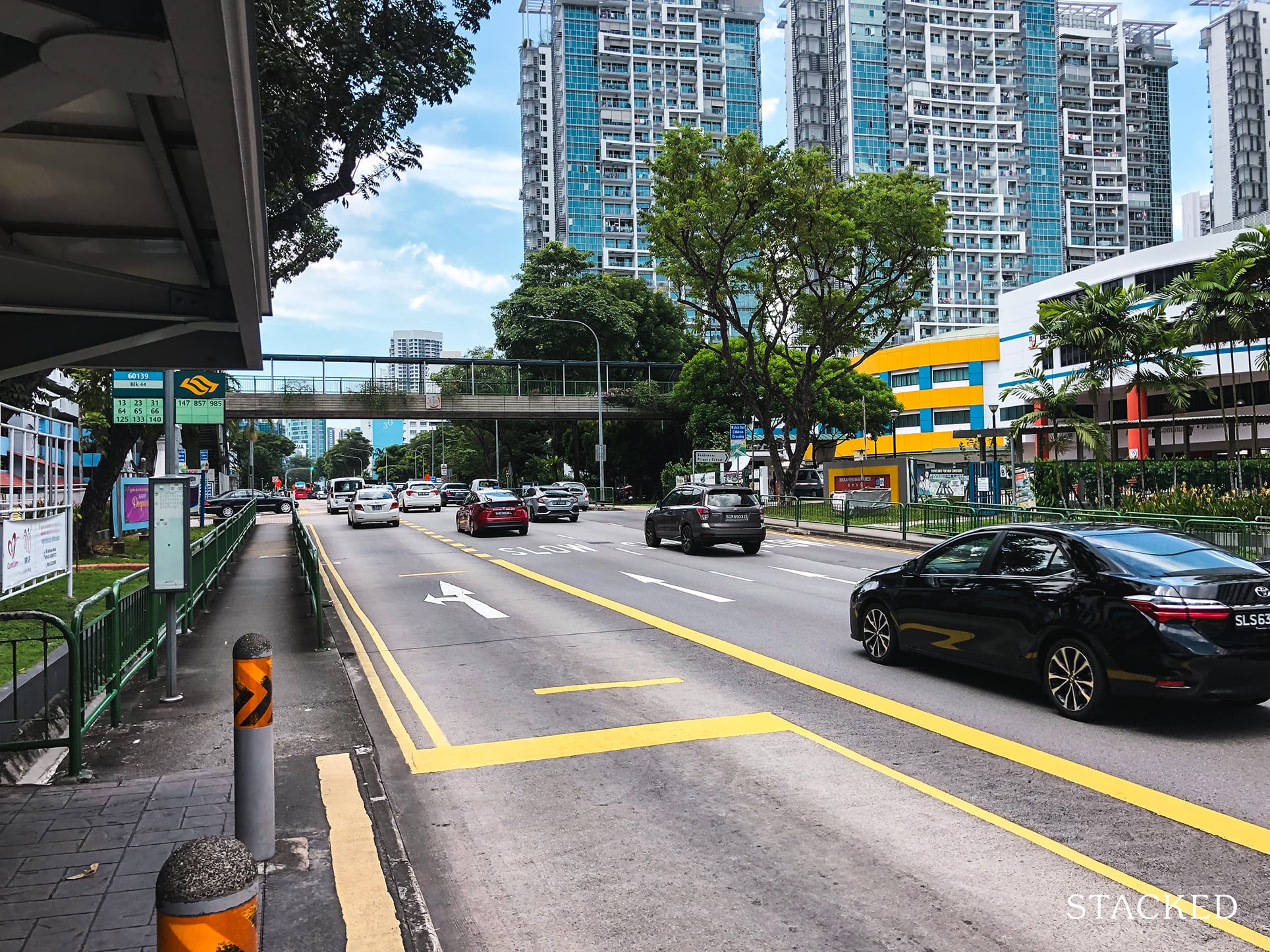 For those of you hoping to catch a bus there – I'm afraid this is not an option too. Unlike many other HDBs where you could hop on the bus for a short ride to the MRT, those staying at The River Vista @ Kallang would have to contend with just walking.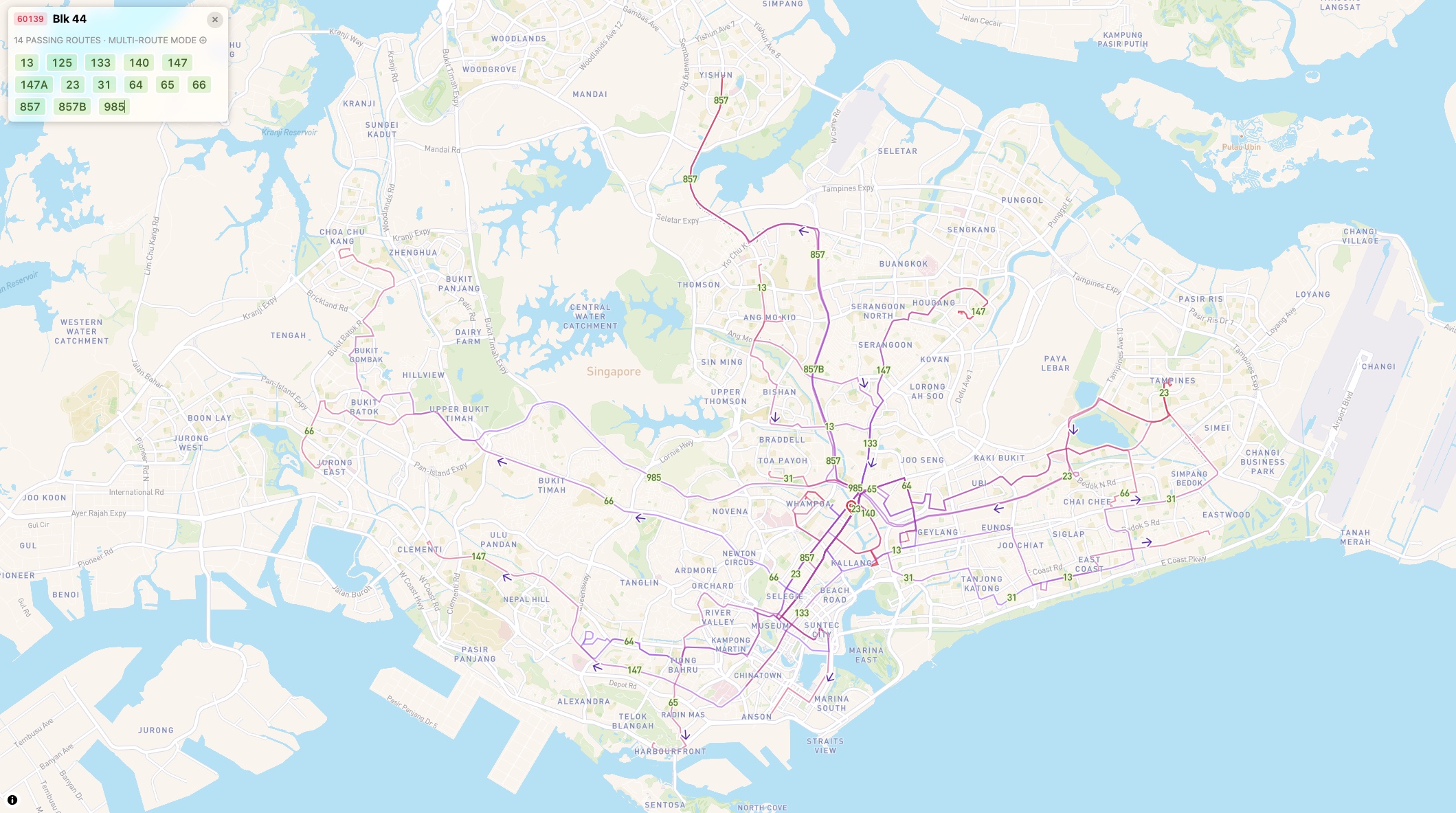 If you are taking the bus, however, you'll find plenty of buses plying along the road here. This would easily take you to the CBD, Yishun, Tampines, and Bukit Batok – it's got all sides covered!
Private Transport
| | |
| --- | --- |
| Key Destinations | Distance From HDB (& Est. Peak Hour Drive Time) |
| Raffles Place | 5.6 km (11 mins drive) |
| Orchard Road | 5.5 km (10 mins drive) |
| Suntec City | 4.6 km (9 mins drive) |
| Changi Airport | 16.6 km (22 mins drive) |
| Tuas Port | 40.7 km (56 mins drive) |
| Paya Lebar Quarter | 4.3 km (9 mins drive) |
| Mediapolis | 13.4 km (18 mins drive) |
| Mapletree Business City | 12.7 km (20 mins drive) |
| Tuas Checkpoint | 36.7 km (49 mins drive) |
| Woodlands Checkpoint | 24.2 km (32 mins) |
| Harbourfront Cluster | 11.7 km (18 mins) |
| Punggol Cluster | 11.8 km (23 mins) |
Source: OneMap. Based on driving times during peak hours.
Immediate road exit:
Bendemeer Road

Summary:
Drivers here can easily hop onto the PIE or CTE from here given it's just a few minutes drive away. This allows quick access to all parts of the island. And given how central it's located, getting to either end would not take very long.
Groceries
| | |
| --- | --- |
| Name of Grocery Shop | Distance from HDB (& Est Time) |
| NTUC FairPrice | 30 Bendemeer Road, 6-min walk |
| NTUC FairPrice | 71 Kallang Bahru, 6-min walk |
Schools
| | |
| --- | --- |
| Educational Tier | Number of Institutes |
| Preschool | 2 |
| Primary School (Within 1KM) | 3 |
| Secondary School | 2 |
| Junior College | 1 |
| Other Tertiary Institutes | – |
Little Footprints Preschool (Boon Keng) – 400m (5 min walk)
My First Skool at Blk 66 Kallang Bahru – 400m (5 min walk)
Bendemeer Primary School – 400m km (4 min walk)
Hong Wen School – 1.4 km (17 min walk)
Northlight School – 1.8 km (22 min walk)
St Andrew's Junior School (Only blocks 38C and 38D are within 1km) – 1.8 km (21 min walk)
Bendemeer Secondary School – 1.1 km(13 min Walk)
St. Andrew's Secondary School – 29 min by Bus
St. Andrew's Junior College – 29 min by MRT
The River Vista @ Kallang Site Review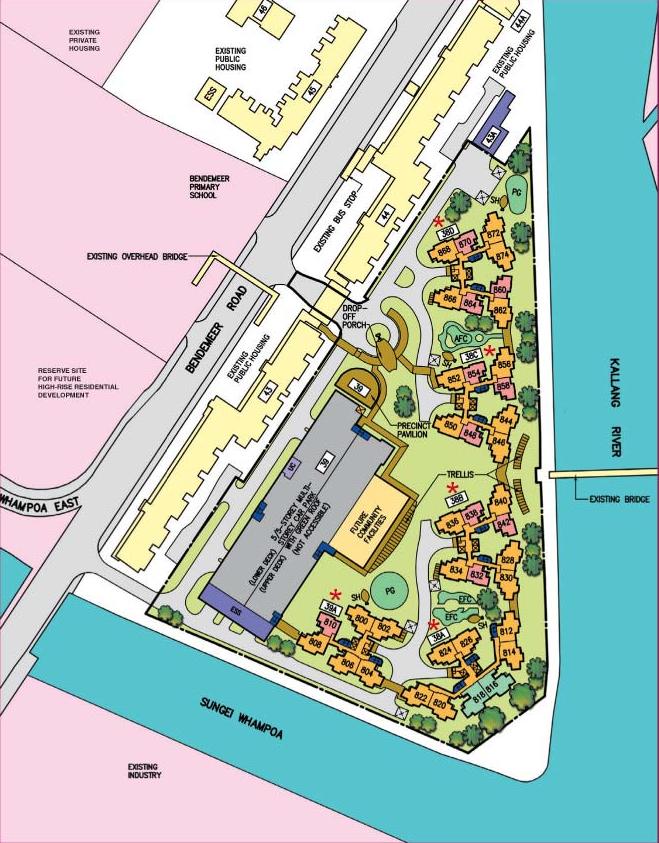 The River Vista @ Kallang is made up of 5 blocks with a total of 816 units, comprising a mix of 3 to 5-room flats.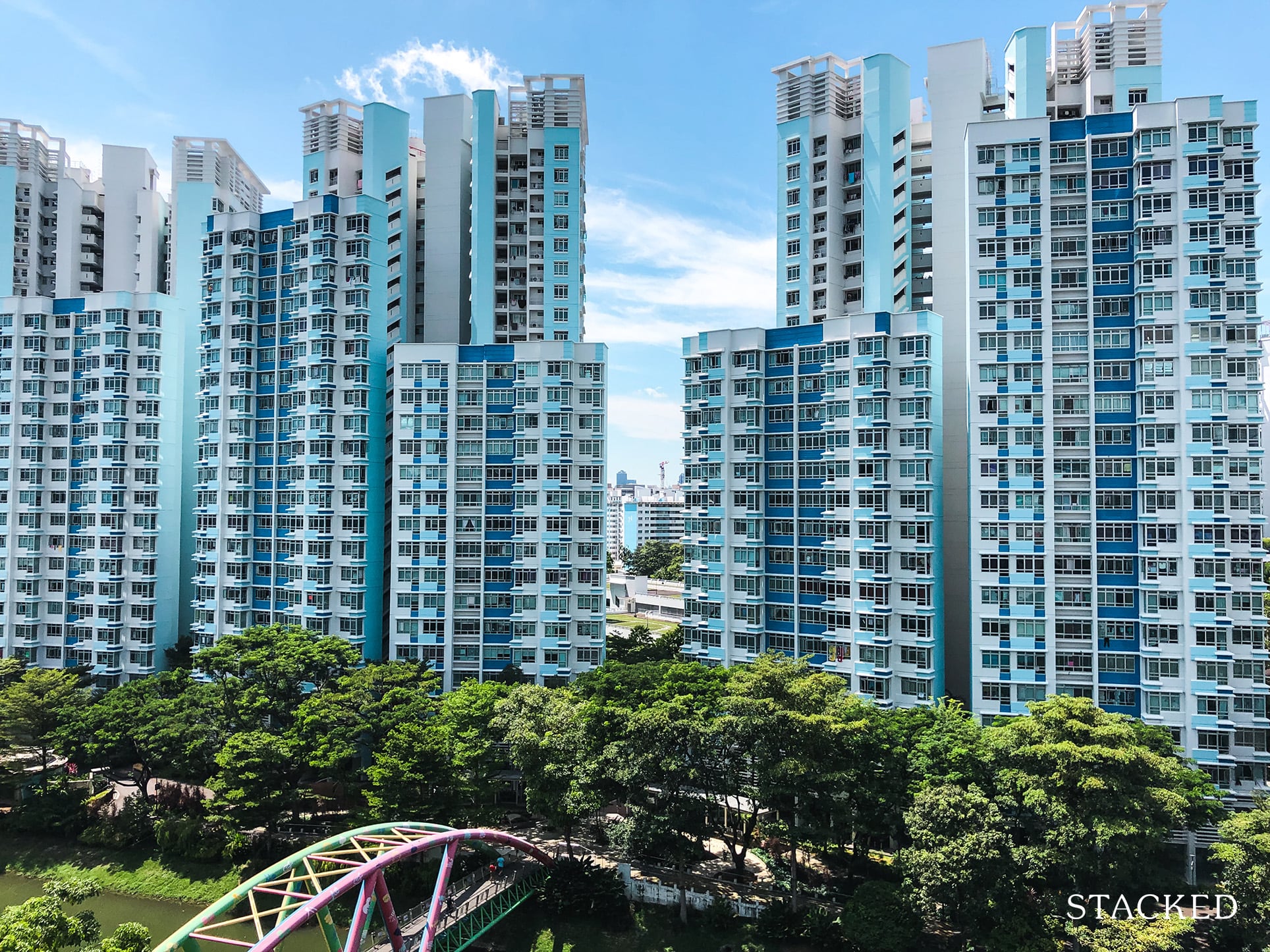 Depending on the block, units can be up to 16, 19, 22, and 26 storeys high – offering residents either the city or river views. Every floor has either 4 to 8 units, depending on the floor and block you are in.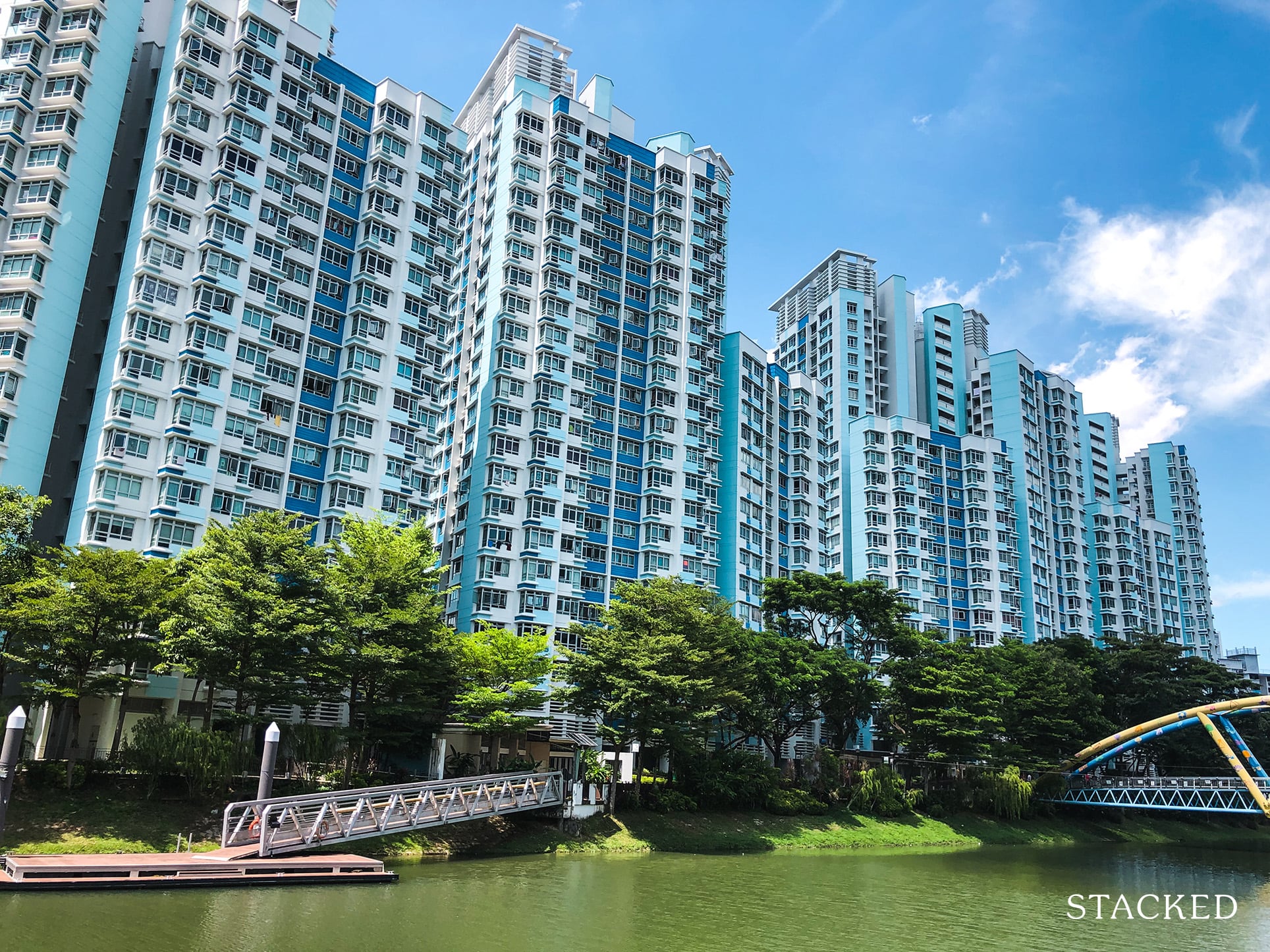 I would have to say that while the white and blue colour tone does match the river theme, the choice of colour somehow already feels very dated – and I wouldn't say this is a very old development. In fact, it was launched just 3 years prior to SkyVille & SkyTerrace, some of what I would consider the nicest-looking HDBs in Singapore.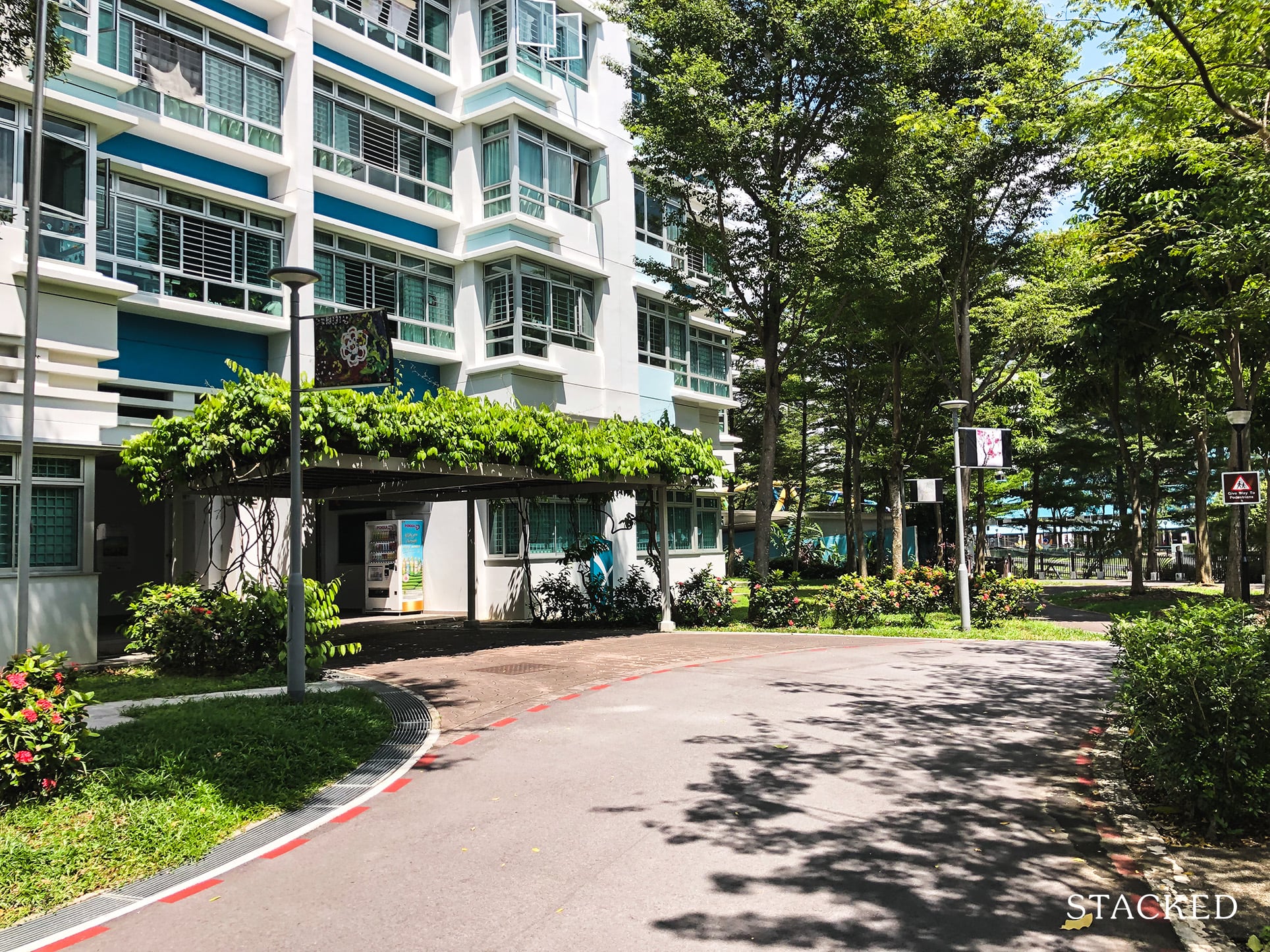 That being said, I admire the amount of greenery that's used within the development which helps break the urban feel of the place.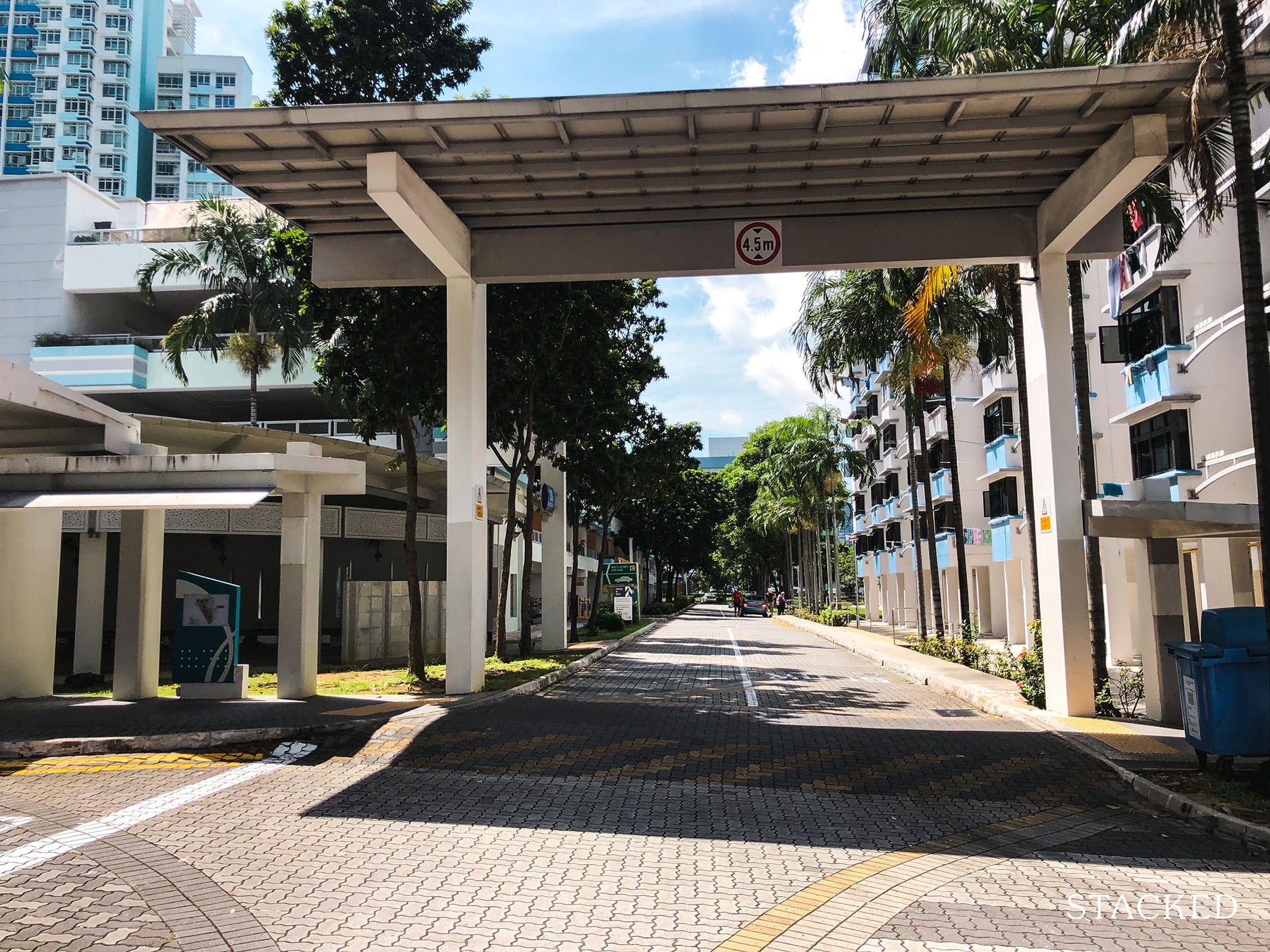 More importantly, the entire development is connected via sheltered walkways, allowing residents to comfortably reach one end to another even in the event of wet weather.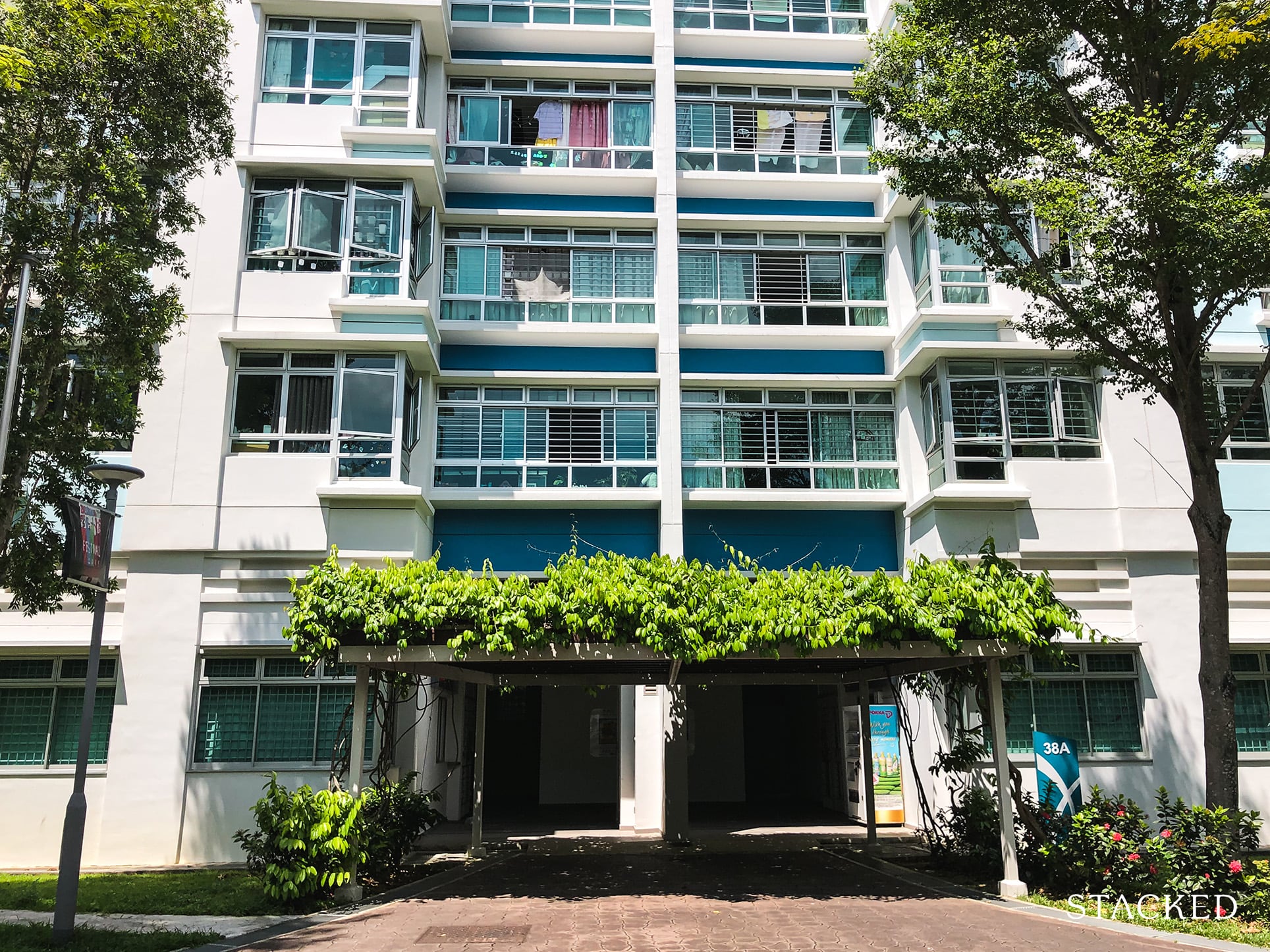 The units here also do not have a full-height window and that is due to the bay windows found here. However, they are sufficiently big to bring in lots of light and natural ventilation.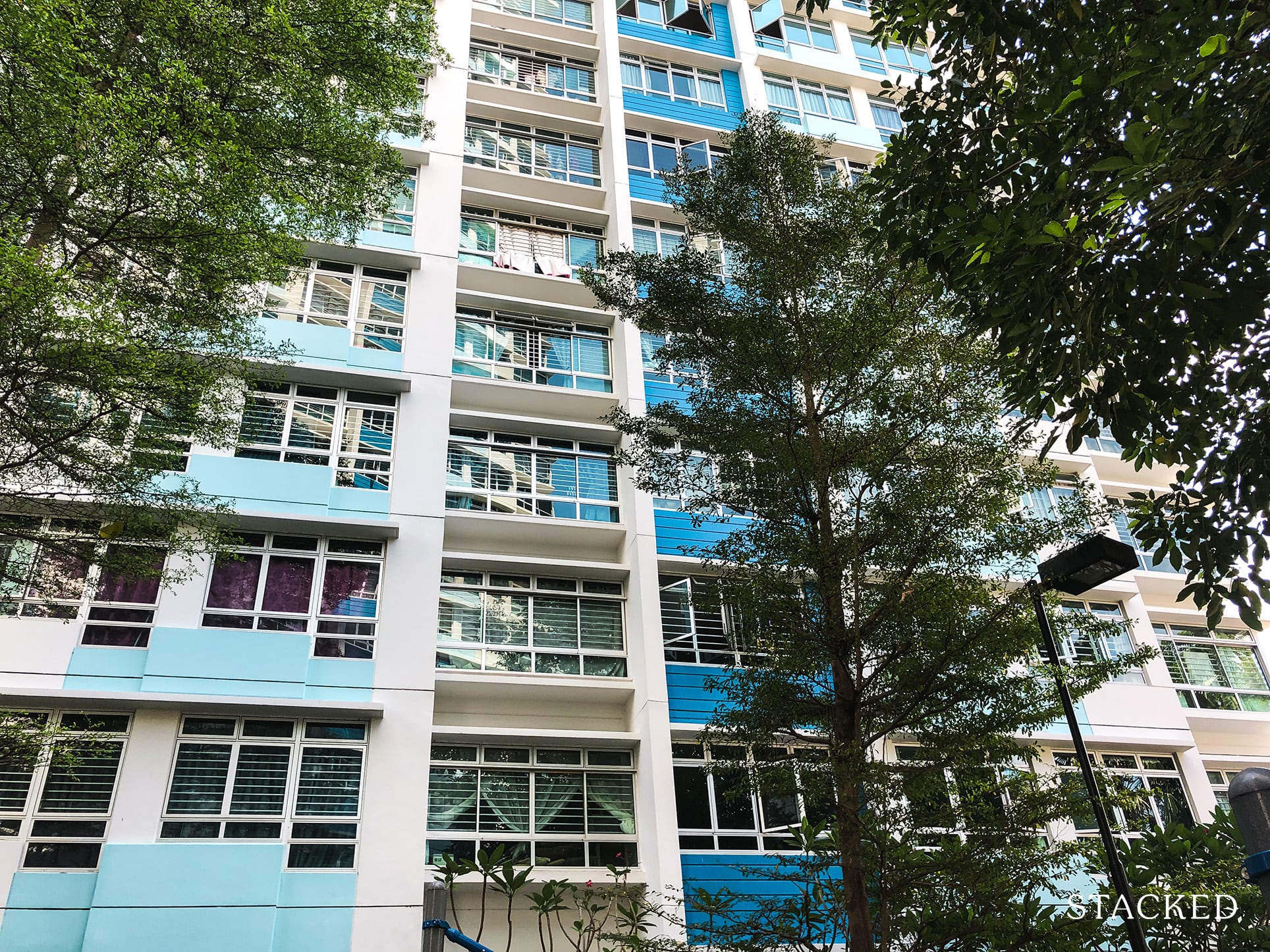 As mentioned earlier, some of the facilities within the development are located quite close to the units, so those staying on the lower floors of the inner-facing stacks should take note of this.
One good thing that I like here is that only a handful of stacks have a view of the MSCP – and it's not uncomfortably close (the worst I've seen is Pasir Ris ONE DBSS!).
Given my numerous HDB reviews, I think what's really missing in this development is a sky garden. Perhaps if a cascading architecture was used that would allow more space for a viewing deck on higher floors, then residents who do not have the river-facing could be within convenient reach to admire the views.
I've always seen HDB sky gardens as a way for the public to access gorgeous views of Singapore, and if we had more of them, then perhaps it would alleviate the issue of overcrowding on certain popular sky gardens. With The River Vista @ Kallang, this seems to be quite a wasted opportunity.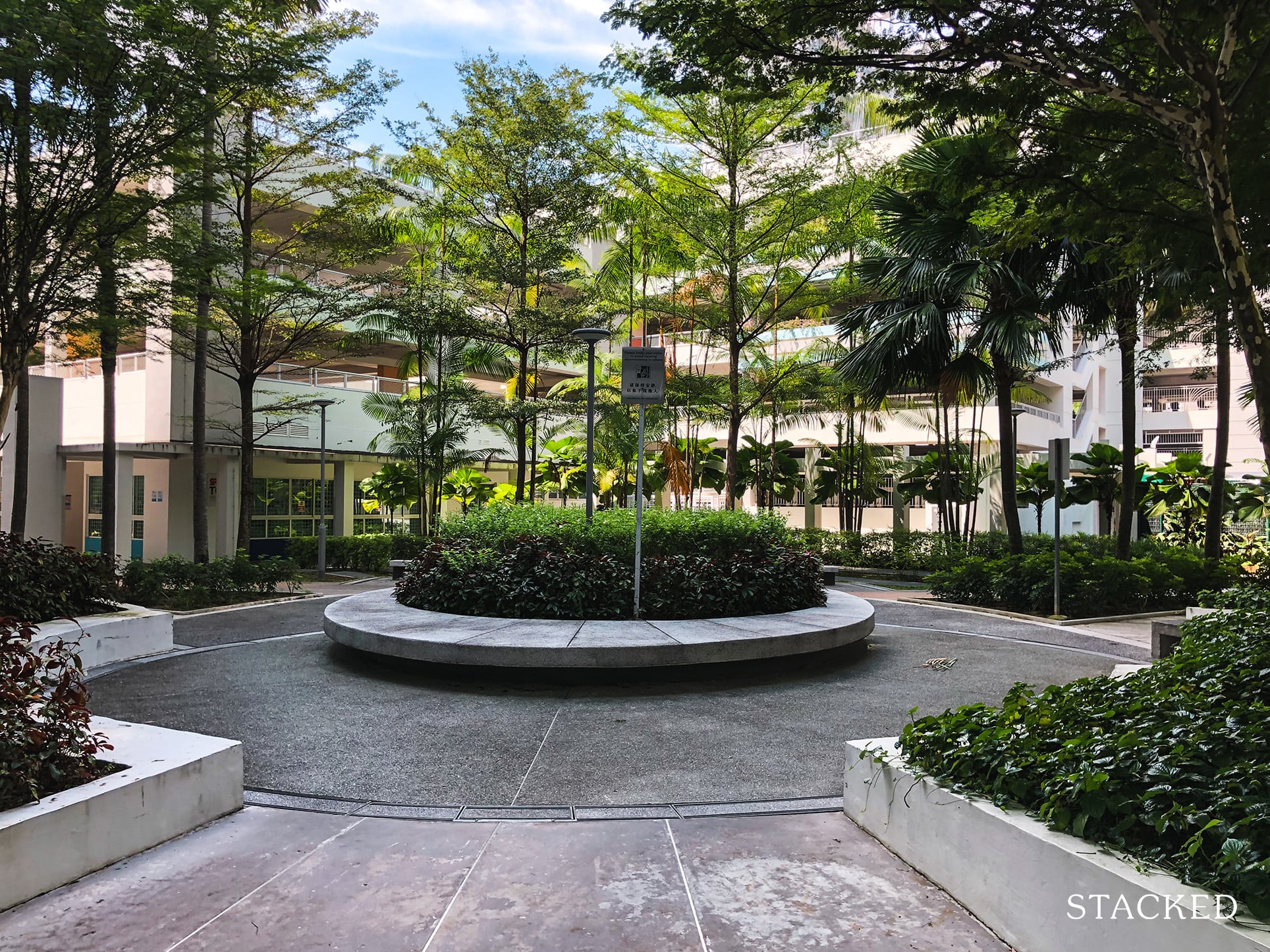 Overall, I also felt that the facilities here were lacking. While there were the usual playgrounds and fitness areas (which I feel is the bare minimum), the lack of a rooftop garden atop the car park was also quite a waste, considering how big it was. It would have been a great opportunity to line it nicely with plants and a walking path, much like how SkyTerrace@Dawson did it. Perhaps in the future, this could be a spot for urban farming!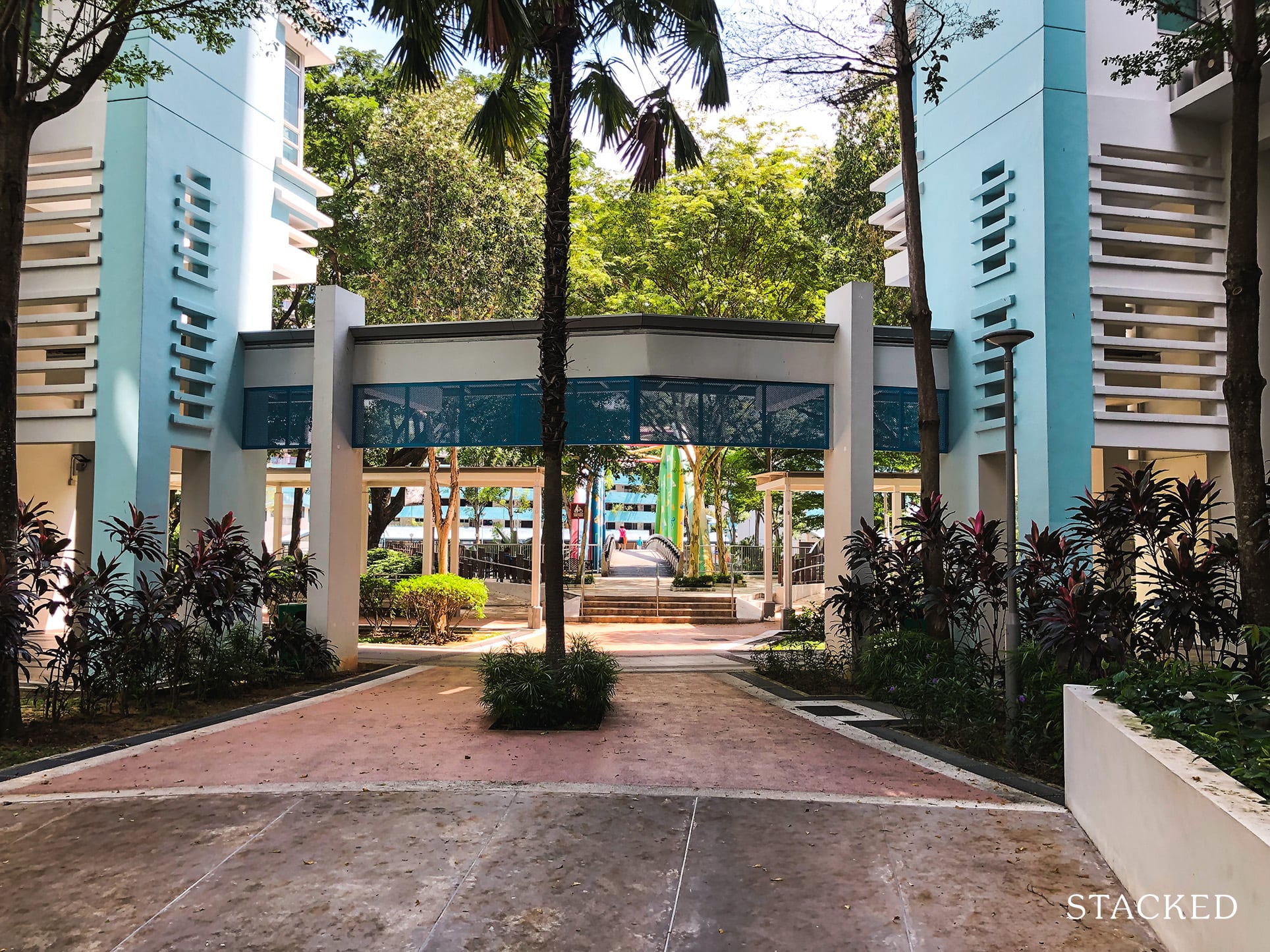 There are also no commercial shops immediately available below which is quite inconvenient, however, there are some amenities that residents can access (such as an eating house) at 44 Bendemeer Road. I suppose the River, Park Connector, and amenities within walking distance does make up for this!
Unit Mix
| | | | | |
| --- | --- | --- | --- | --- |
| Block | 3 Room | 4 Room | 5 Room | Total |
| 38A | – | 120 | 50 | 170 |
| 38B | 65 | 105 | – | 170 |
| 38C | 69 | 97 | – | 166 |
| 38D | 61 | 101 | – | 162 |
| 39A | 22 | 126 | – | 148 |
| Total | 217 | 549 | 50 | 816 |
Stack Analysis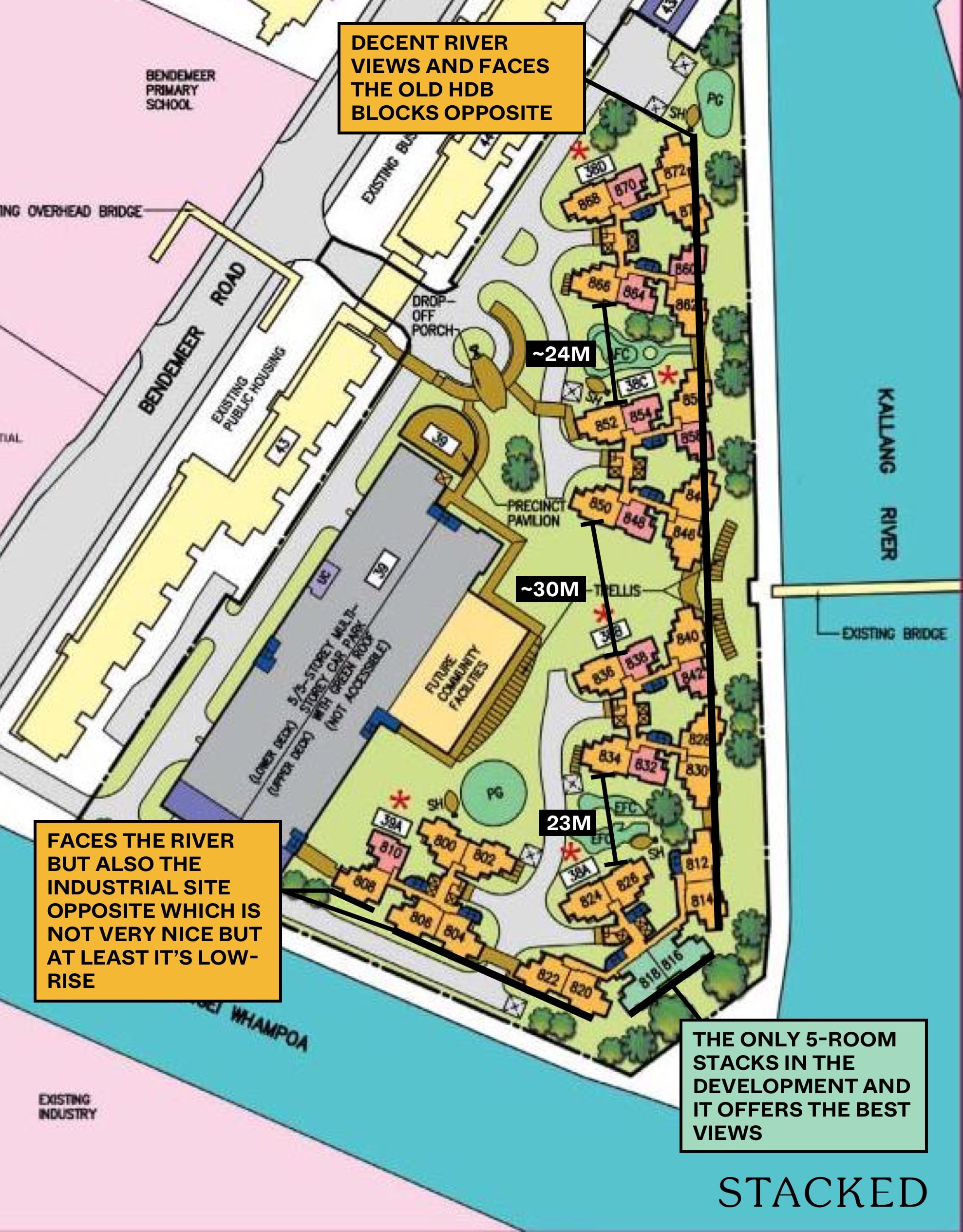 It goes without saying where the most desirable stacks are – and hence, buyers can expect to pay more (read COV) for these river views.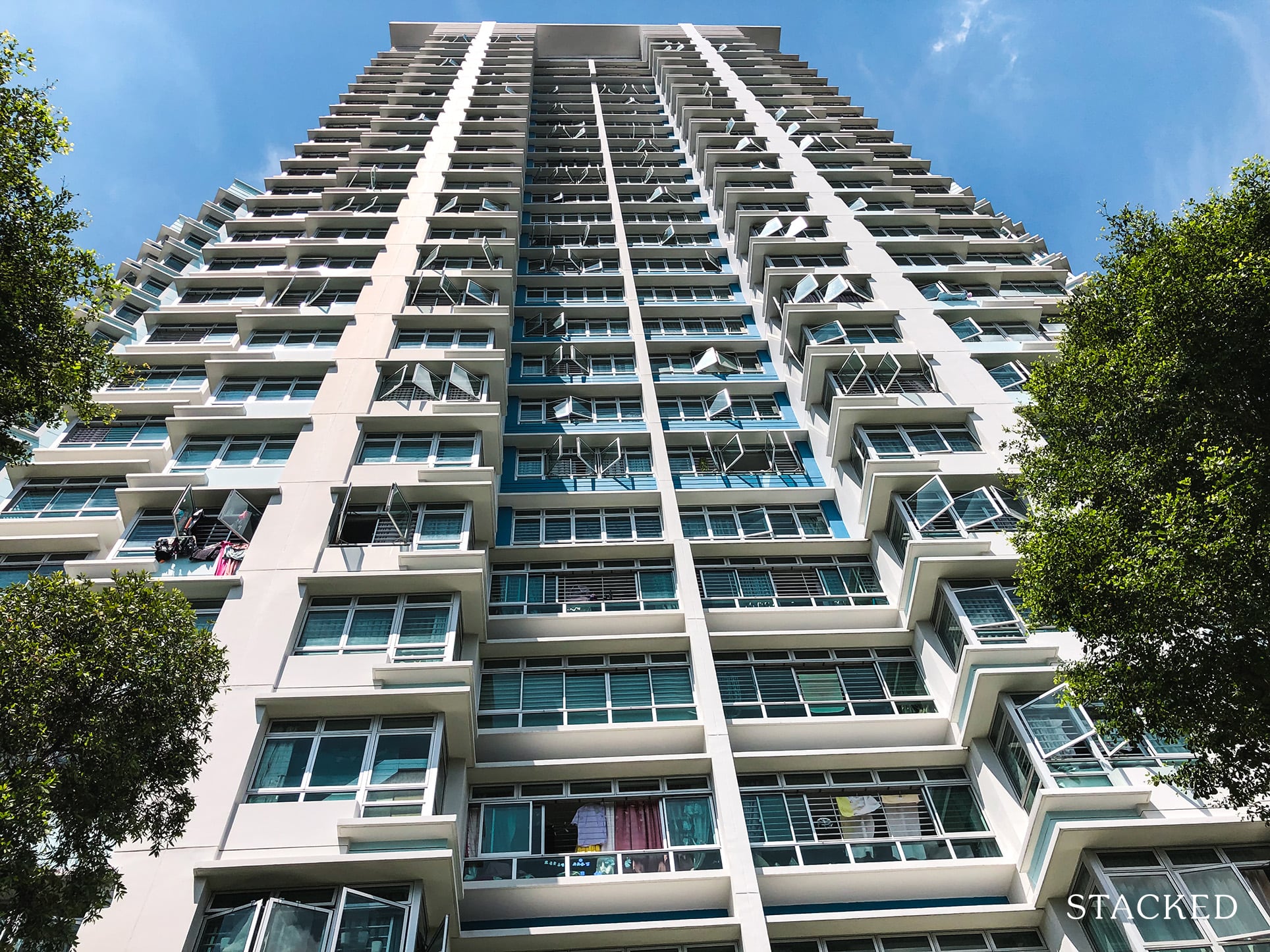 The best views are reserved for the 2 stacks 816 and 818 – both of which are 5-room flats. It's a common tactic for private developers to put the most expensive stacks with the best attributes so that they can sell well. However, it's a real shame that even for public housing, those looking at the 3 and 4-room flat types here cannot have this advantage. The good news is that many units still front the river – just not at the facing where the river splits!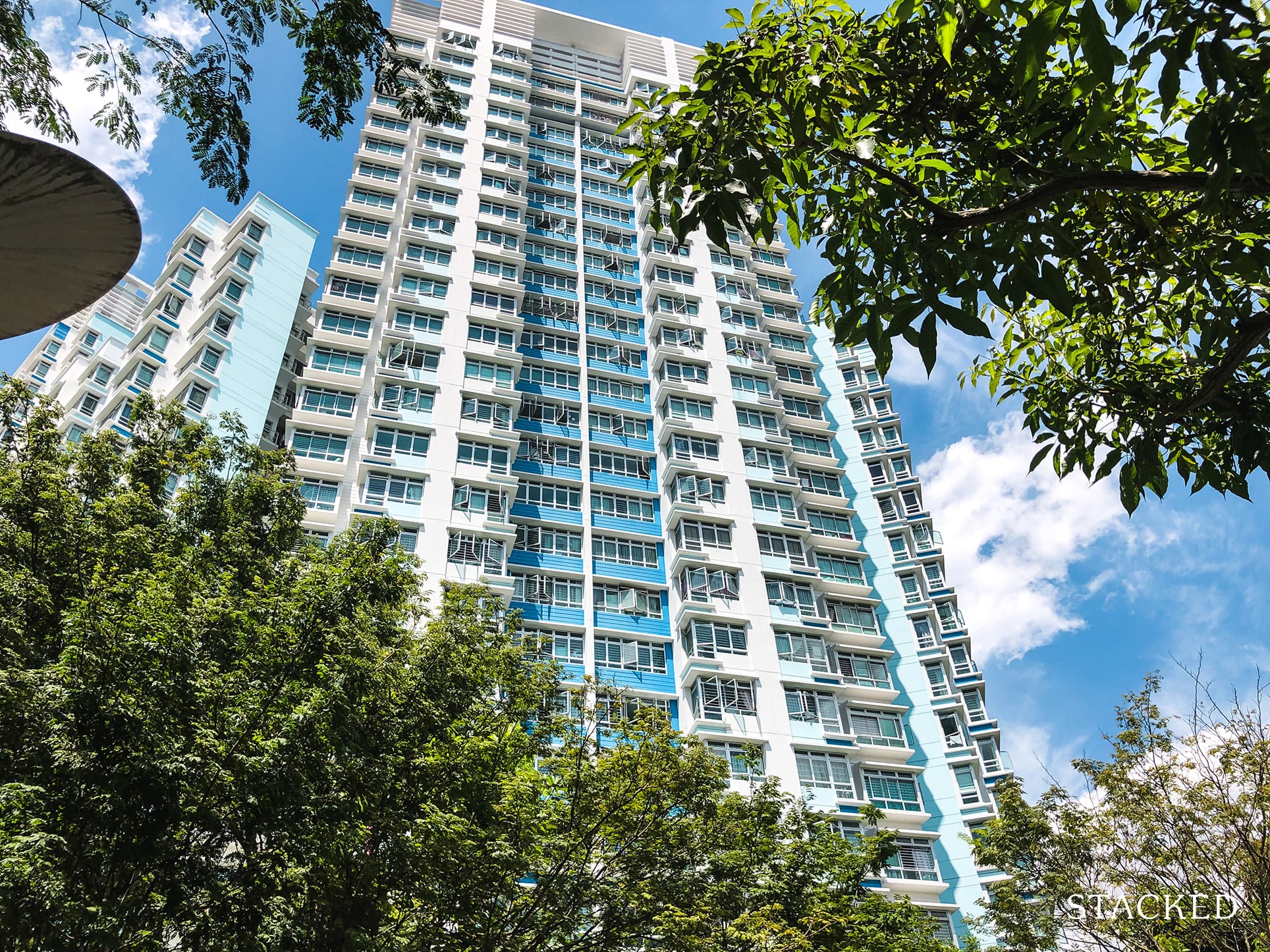 Now most units here are either north-south facing or east-facing, meaning very few units here would experience direct afternoon sun. Stacks 804, 806, and 808 can expect to receive some direct afternoon sun for a few months towards the end of the year, while stacks 824, 826, 836, 838, 852, 854, 870 and 888 (north-west facing) can expect some afternoon sun for a few months towards the middle of the year.
If you're looking to get a river-facing unit, odds are that you'll be facing the east. This means that you'll need to contend with the morning sun coming in. Now I know some people say that the morning sun isn't as intense, but everyone has a different tolerance to this so I strongly advise visiting these units in the late morning to get a good feel of what it's really like! Especially since it's direct east-facing, so this would be an all-year-round situation.
Beyond the river views though, there really isn't much else. While the surrounding area is low-rise, the developments around aren't aesthetically pleasing either.
On the south side, you'll find the low-rise industrial estate: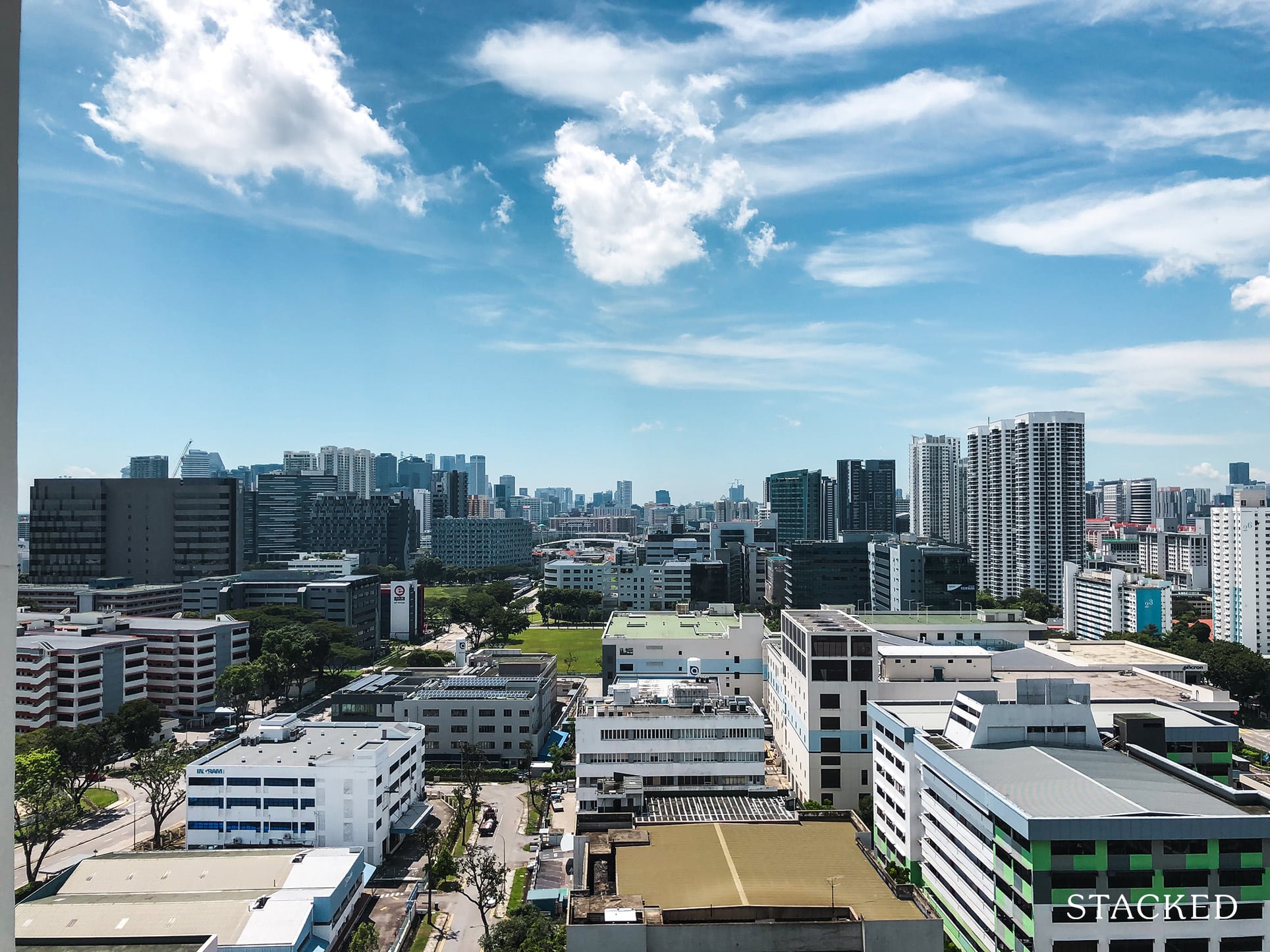 Towards the east, you'll be facing the old Kallang Bahru estate.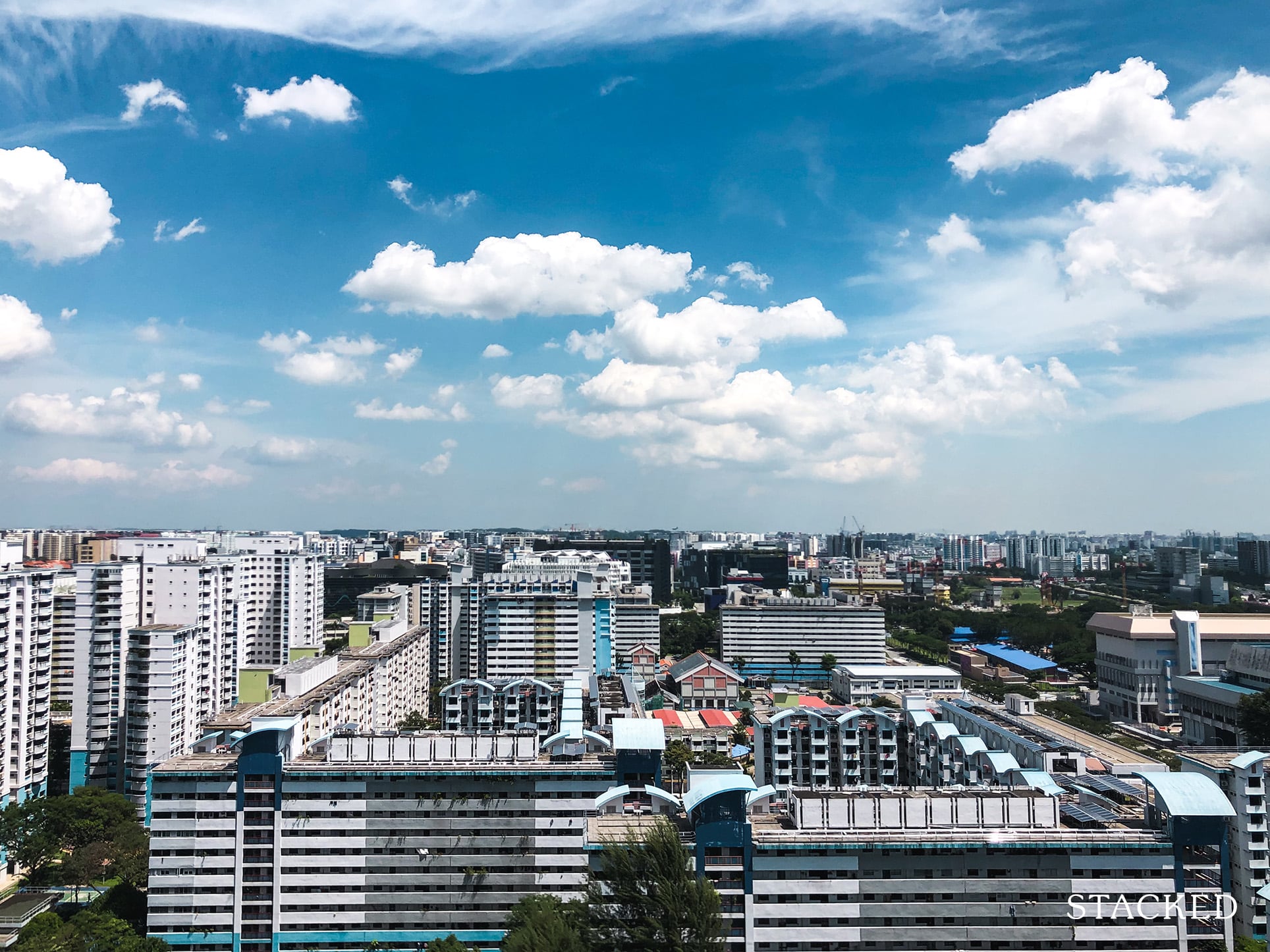 On the west side, you'll have a good view of Bendemeer Primary as well as Eight Riversuites. Do note that no unit faces west directly, so this isn't a view to expect.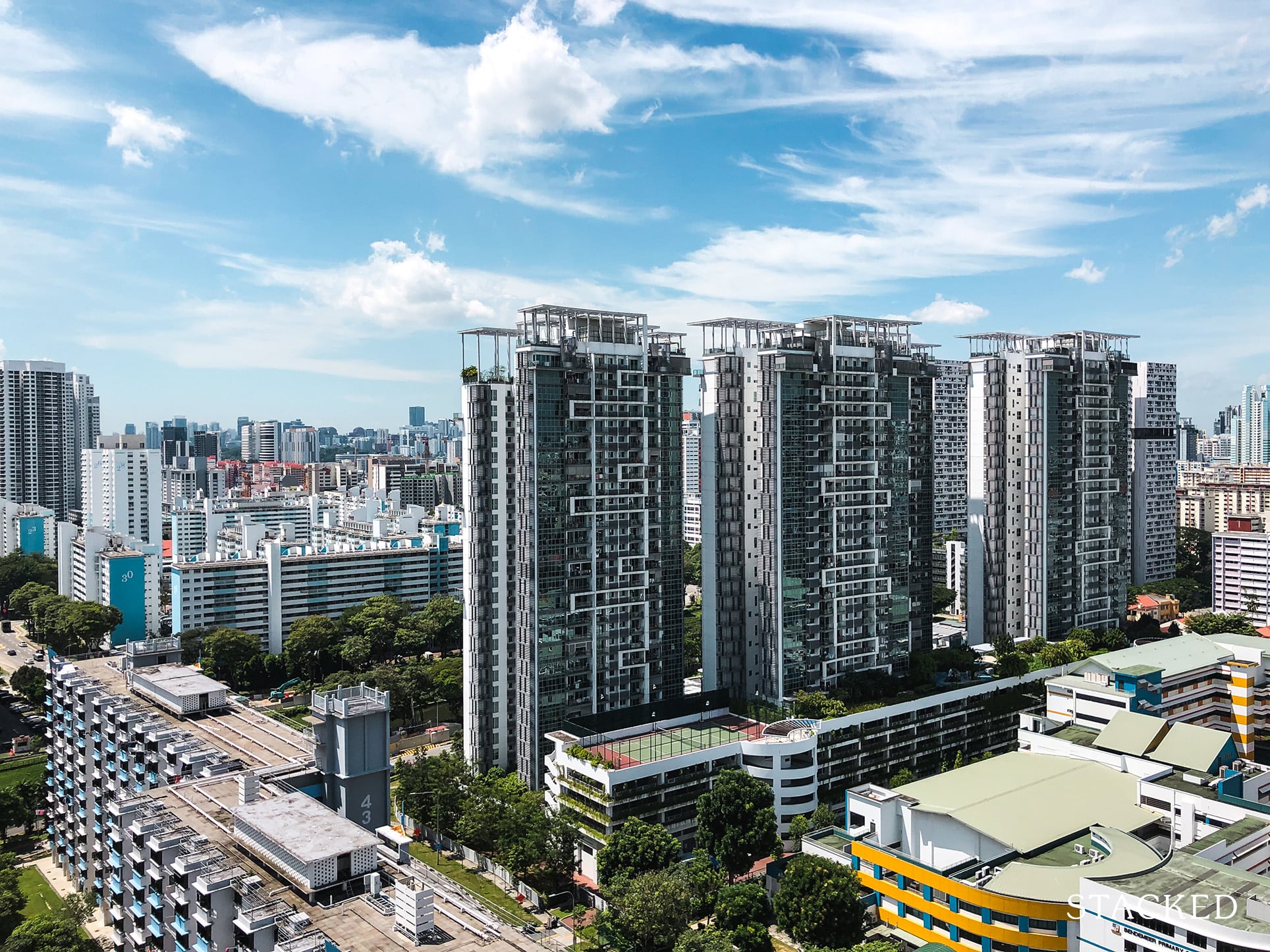 The River Vista @ Kallang Price Review
| | | | | |
| --- | --- | --- | --- | --- |
| Project | Lease Start Date | 3-Room | 4-Room | 5-Room |
| 63 – 68 Kallang Bahru | 1974 | $255,000 – $353,888 | – | – |
| Geylang Bahru Riverpoint | 1974 | $277,000 – $350,000 | – | $502,000 – $620,000 |
| 43 – 44 Bendemeer Road | 1981 | $240,000 – $360,000 | – | – |
| 59A-C Geylang Bahru | 1998 | – | $627,000 – $670,000 | $600,000 – $800,000 |
| 58 Geylang Bahru | 2000 | – | $610,000 | $760,000 |
| City View @ Boon Keng | 2011 | $570,000 – $640,000 | $818,000 – $918,000 | $800,000 – $1,268,000 |
| The River Vista @ Kallang | 2012 | $430,000 – $486,000 | $640,888 – $770,000 | $858,888 |
Source: HDB. Transactions from December 2020 – November 2021
The River Vista @ Kallang costs around $400K+, $700K, and $800K+ for a 3, 4 and 5-room flat.
There isn't much to compare River Vista @ Kallang to given it is surrounded by mostly older HDBs – the closest of which is 43-44 Bendemeer Road which is just behind the MSCP. This 31-year difference has resulted in a 39% discount to The River Vista @ Kallang when comparing the 3-room flats.
On the opposite side of the river, we have Geylang Bahru Riverpoint which is even older – 38 years difference, and the 5-room flat here went for an average of $570,300, a 34% discount.
These prices do make sense and are pretty much in line with how we've seen older flats are priced relative to their newer peers in that the fall in value is sharper for newer flats.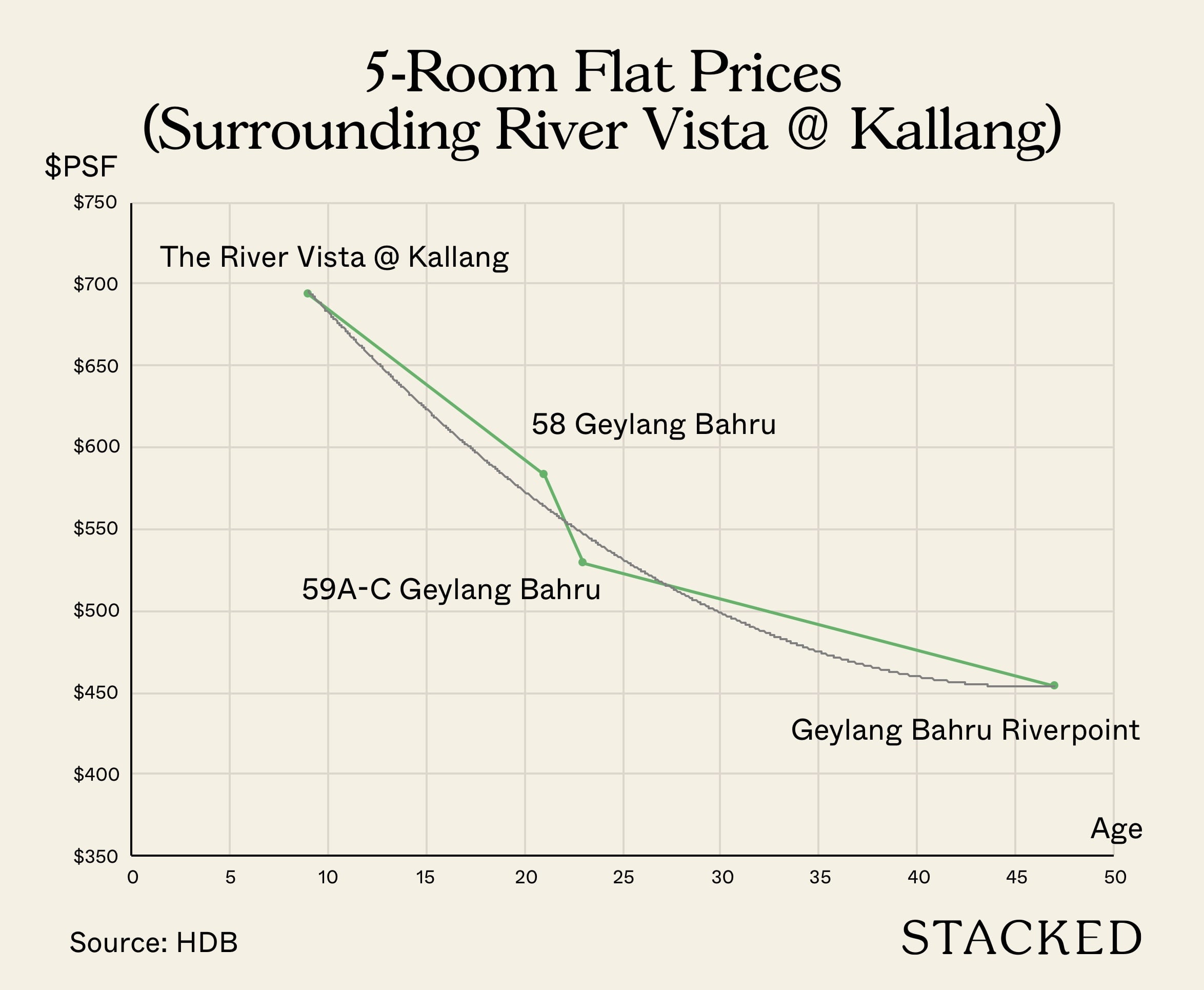 I know what you're probably thinking, $700K+ is an insane amount of money for an HDB. But remember, price is not absolute. If you consider Punggol HDBs going for $500K+ today – many of which may not even have a river view, then $700K is not a jaw-dropping price considering its location in a very mature estate!
One more practical comparison here is with City View @ Boon Keng. This is a DBSS project that has made headlines for crossing the million-dollar mark. While prices are consistently higher across all room types, the premium gap is not consistent between flat types. City View @ Boon Keng has a premium of 30.6%, 22.2%, and 17.0% for the 3, 4 and 5-room flat types respectively based on average transaction prices.
One main reason why City View @ Boon Keng costs so much more is due to its location. It's just a 6-minute walk to Boon Keng MRT, and it's right next to the Serangoon Road area with plenty of amenity offerings.
A 22.2% premium gap for City View @ Boon Keng is a large amount and in my opinion, is enough of a gap to make The River Vista @ Kallang an attractive alternative. Of course, it does boil down to how important the distance to the MRT is for you, and also whether the amenity offering at City View is far too good to pass up – however, The River Vista @ Kallang has decent amenities around too, so perhaps this 22.2% gap makes it an attractive proposition.
Our Take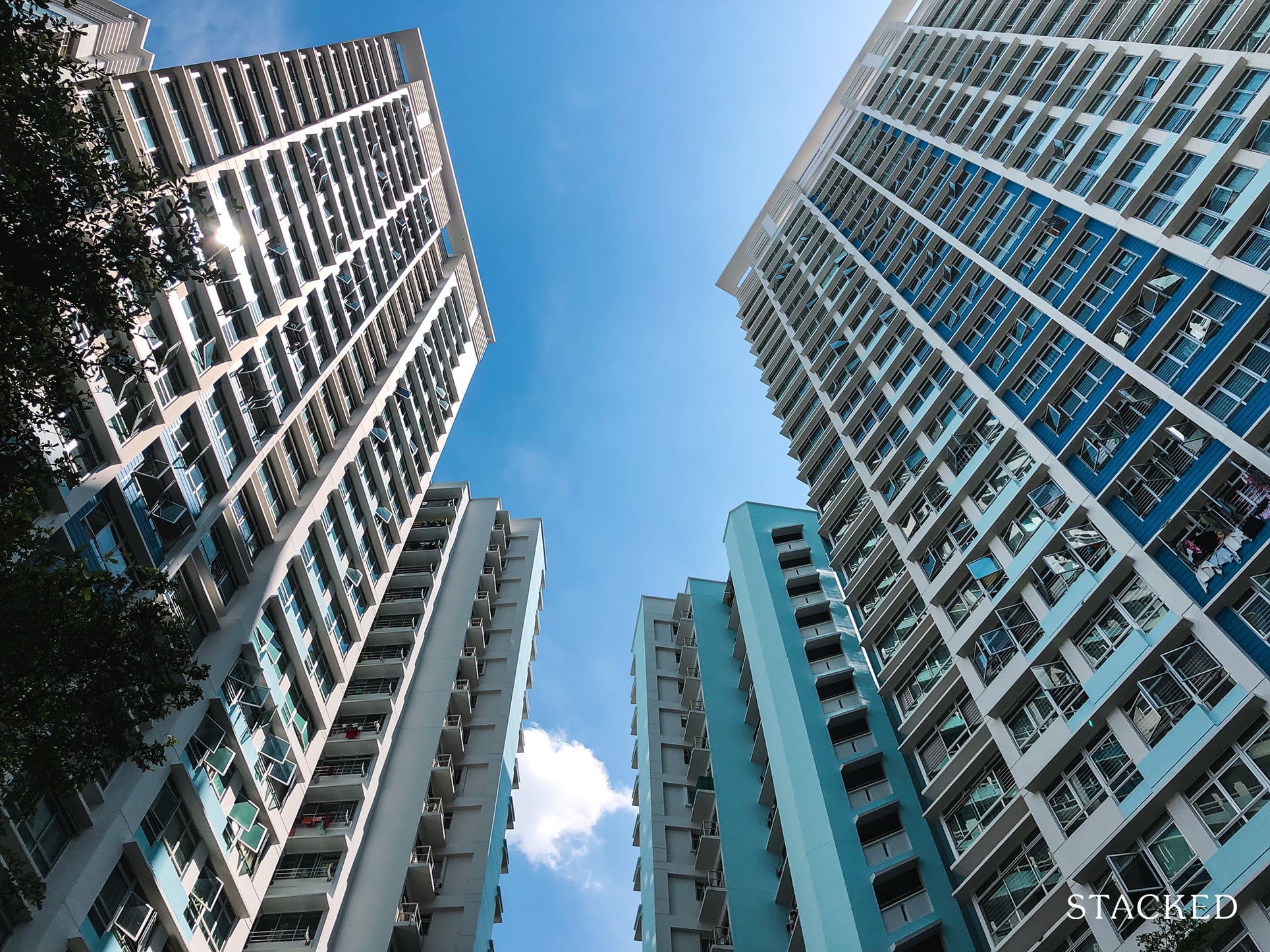 For those after prized waterfront views, The River Vista @ Kallang should definitely be one to look at. It's a centrally-located project that is within the tolerable distance to reach the MRT (10 minutes) – and you get to pick either the North-East Line or the Downtown Line!
Its location right next to the Park Connector is a huge win in my books. This means that the south and east-facing units benefit from both greenery views (if on a sufficiently low floor) or the unblocked river views.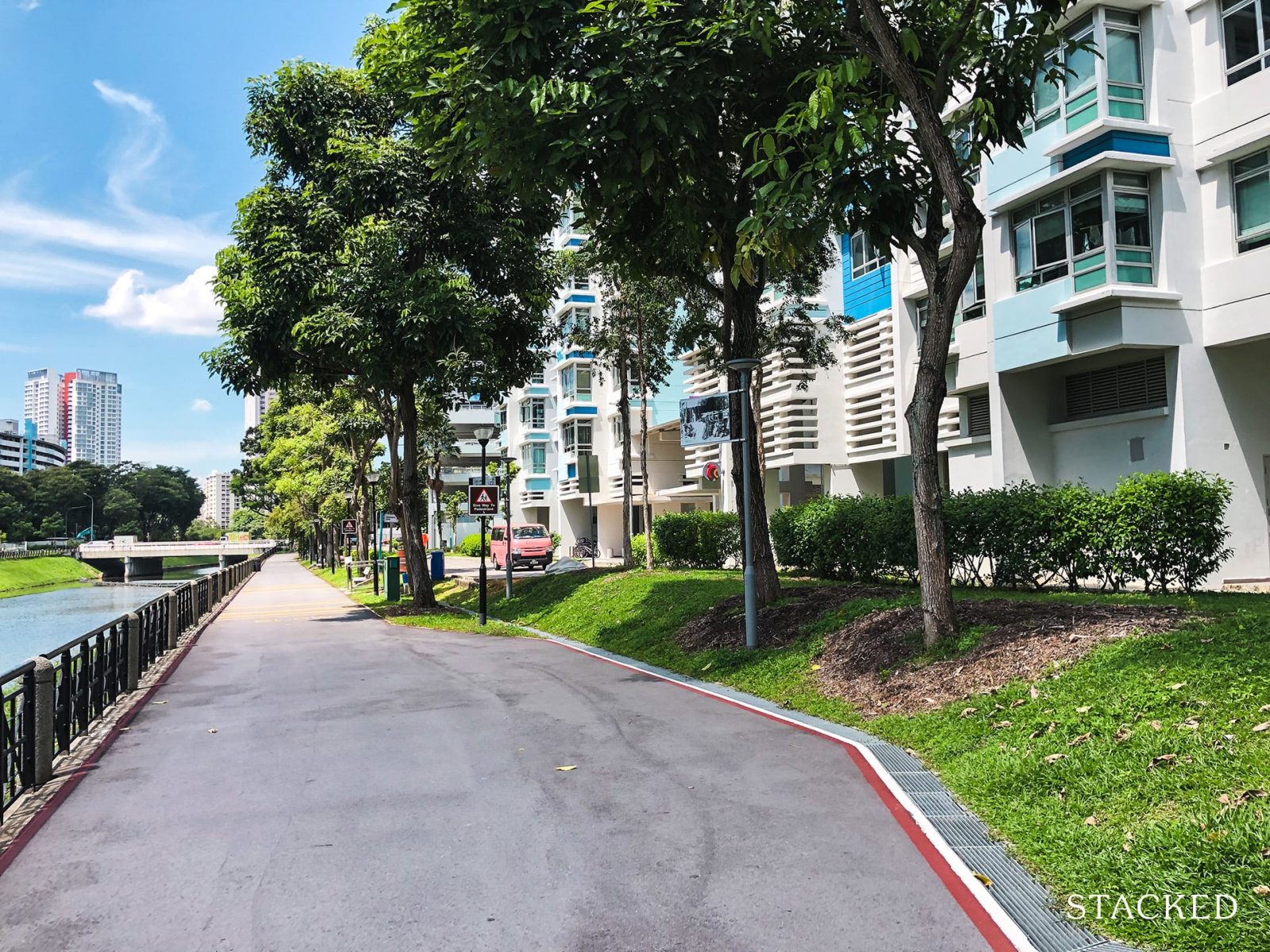 It also gives residents a chance to live in a tranquil and peaceful environment, away from the busyness of the Bendemeer area. The Park Connector Network also equates to a big improvement in the quality of life, as it means easy reach to go for a stroll/run/cycle any time.
It could do better in its commercial offering, particularly since it does not have any commercial shops just below, but it does have options in the older block nearby.
I do find the lack of shopping malls within walking distance to be the downside here, however, it is quite an ask considering the numerous HDBs I have reviewed to be lacking in this aspect too.
However, the saving grace is that it's within walking distance to the Geylang Bahru area, as well as the Bendemeer Market & Food Centre. It's also within walking distance to 2 NTUC FairPrice outlets which I feel makes this development sufficiently convenient.
More importantly, I feel that the average price of around $710,000 for a 4-room flat here is also quite attractive for a centrally-located HDB, especially if you consider City View @ Boon Keng's average of around $850,000!
Considering all of these factors, I think that those looking to stay in a central location that's peaceful (if you face the south and west side) and at a relatively affordable price tag would find The River Vista @ Kallang to be a compelling option. Personally for myself, I think the exterior looks a bit too dated for my taste, but if there is a river-facing unit available here, it would certainly make the shortlist.
What this means for you
You might like The River Vista @ Kallang if you:
• Want an affordable waterfront living lifestyle:With its location by 2 rivers (Sungei Whampo & Kallang River), there's a good chance that those looking for a unit here should find a river-fronting one easily.
• Looking for peace and quiet:The Bendemeer stretch is definitely not my definition of peace and quiet, but the east and south facing units overlook the Park Connector and river, making it quite a tranquil place to stay.
You may not like The River Vista @ Kallang if you:
• Need to be near tons of amenities and malls:With a lack of immediate commercial shops and malls within walking distance, those who prioritise shopping may want to consider some place else.
• Want immediate access to the MRT:Residents staying here have to contend with a 10-minute unsheltered walk to the MRT – and there's no bus you can quickly take to cut the journey short either.
End of Review