22
min read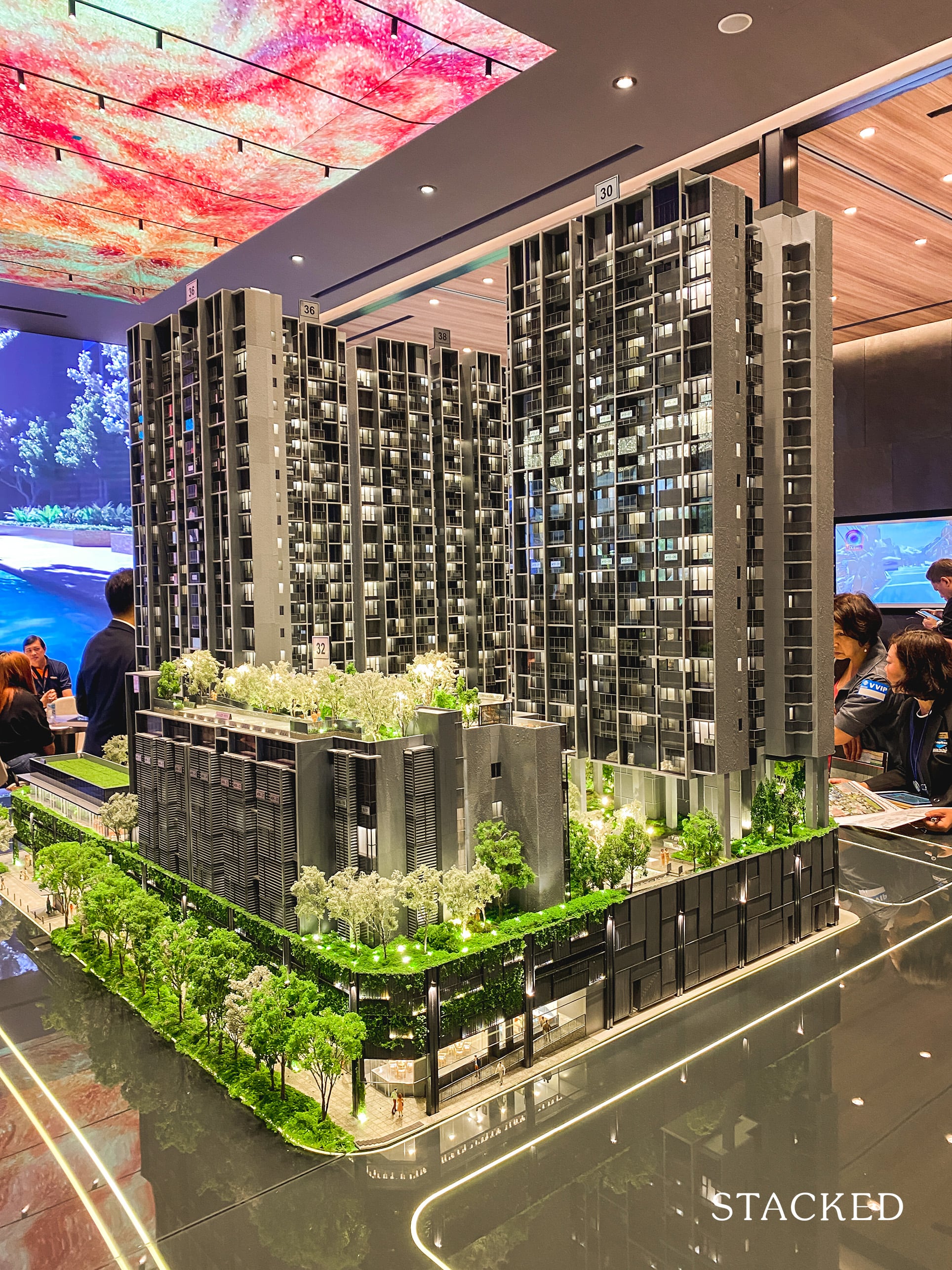 A good investment option
With a solid rental demand and appreciation potential, The M is worth looking into for mid-long term investment. Its central location also makes it perfect for those who work in the CBD.

However, that centrality comes as a cost – the lack of peace and tranquility. The area is also not known to have much educational options for young children.
| | | | |
| --- | --- | --- | --- |
| Project: | The M | District: | 07 |
| Address: | Middle Road | Tenure: | 99-year leasehold |
| Site Area: | 80,327 sqft | No. of Units: | 522 |
| Developer: | Wingcharm Investment Pte. Ltd. | TOP: | 2024 |
The M condo @ Middle Road is a very intriguing upcoming new launch, for a multitude of reasons.
1. – The obligatory comment on District 7.
I'm sure many of you would know by now about the rise of this CCR district in Singapore.
As a quick recap, it's risen from an average of $2,168 PSF in January 2015 to $2,851 PSF in December 2019. If you go further back to 2010, it has risen by 92.14% from an average of $1,365 PSF.
This is by no means a coincidence, with developments like Duo Residences, Midtown Bay (upcoming), and South Beach Residences and its close proximity to the CBD.
2. – It is actually being launched in quite dire circumstances. With the Coronavirus wrecking havoc around Asia (and the rest of the world), it's a testament to the appeal of The M condo that it has drawn the number of visitors that it has on its opening day.
3. – The last and most important point – The M condo is launching at unprecedented prices.
Despite it being the latest launch in the area, the opening prices are actually very reasonable in today's market.
From an average of $2,200 – $2,400 PSF, the smallest studio unit commands a price of just under a million ($988,000)!
So taking into consideration its price, the convenience of its location, and district potential, it's little wonder that there's been so much hype about the development.
Now before we get into all that, let's have a look at the showflat tour!
The M condo Insider Tour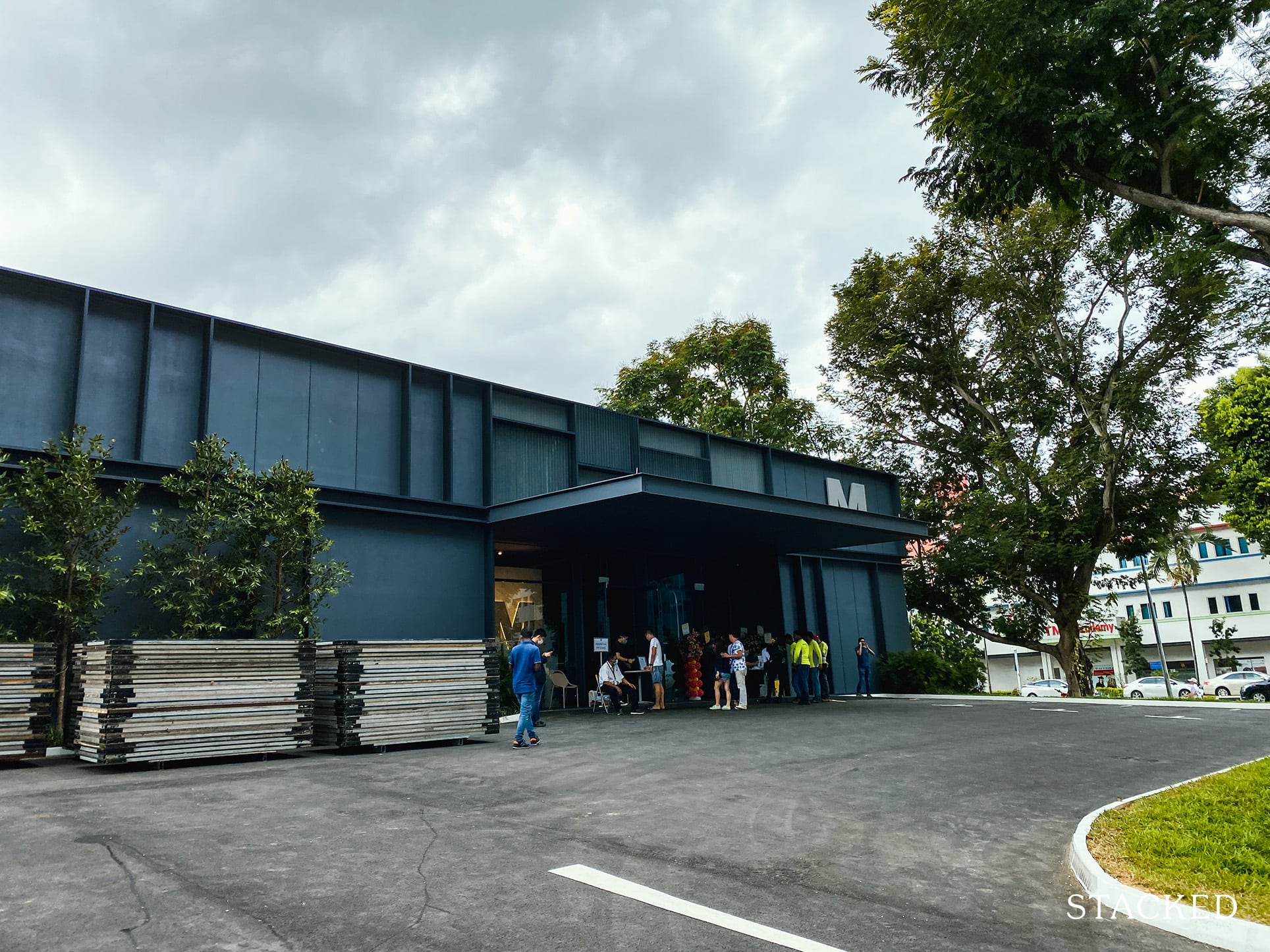 The M condo showflat is actually located beside Sunshine Plaza, quite a distance down from the actual site along Middle Road.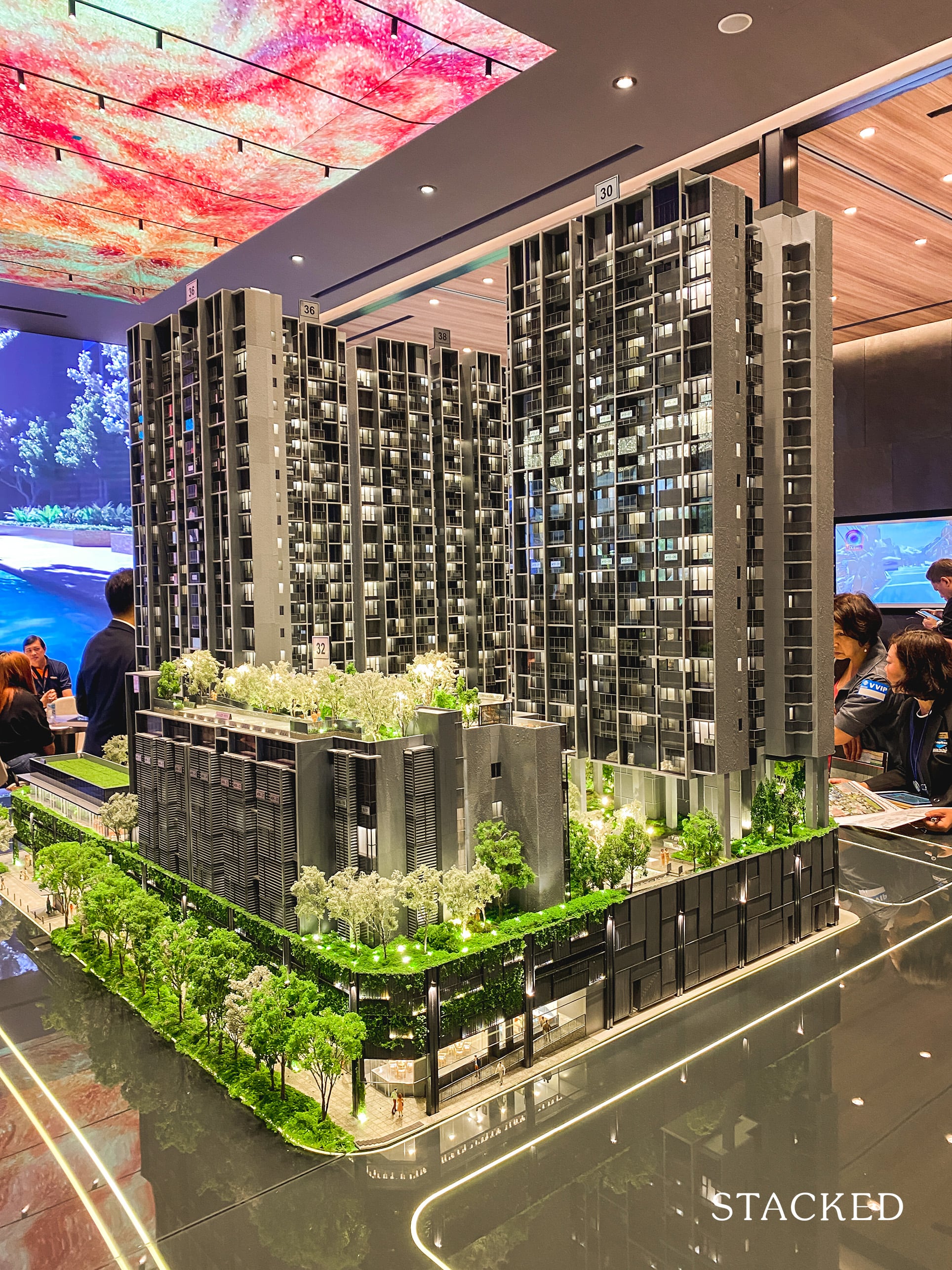 The design
Let's be honest here, the M condo isn't going to be winning any design awards. But that doesn't really matter here at all, does it? Especially when most people looking to buy the M wouldn't be looking too hard for something with an amazing architecture.
It looks decently modern but is definitely the most common looking compared to its peers in the same district (Duo Residences, Midtown Bay, South Beach Residences).
For the development itself, it comprises three 20-storey towers and one low-rise residential block for a total of 522 units. It actually also has a level of commercial space on the ground floor, which can be divided into nine retail or F&B outlets.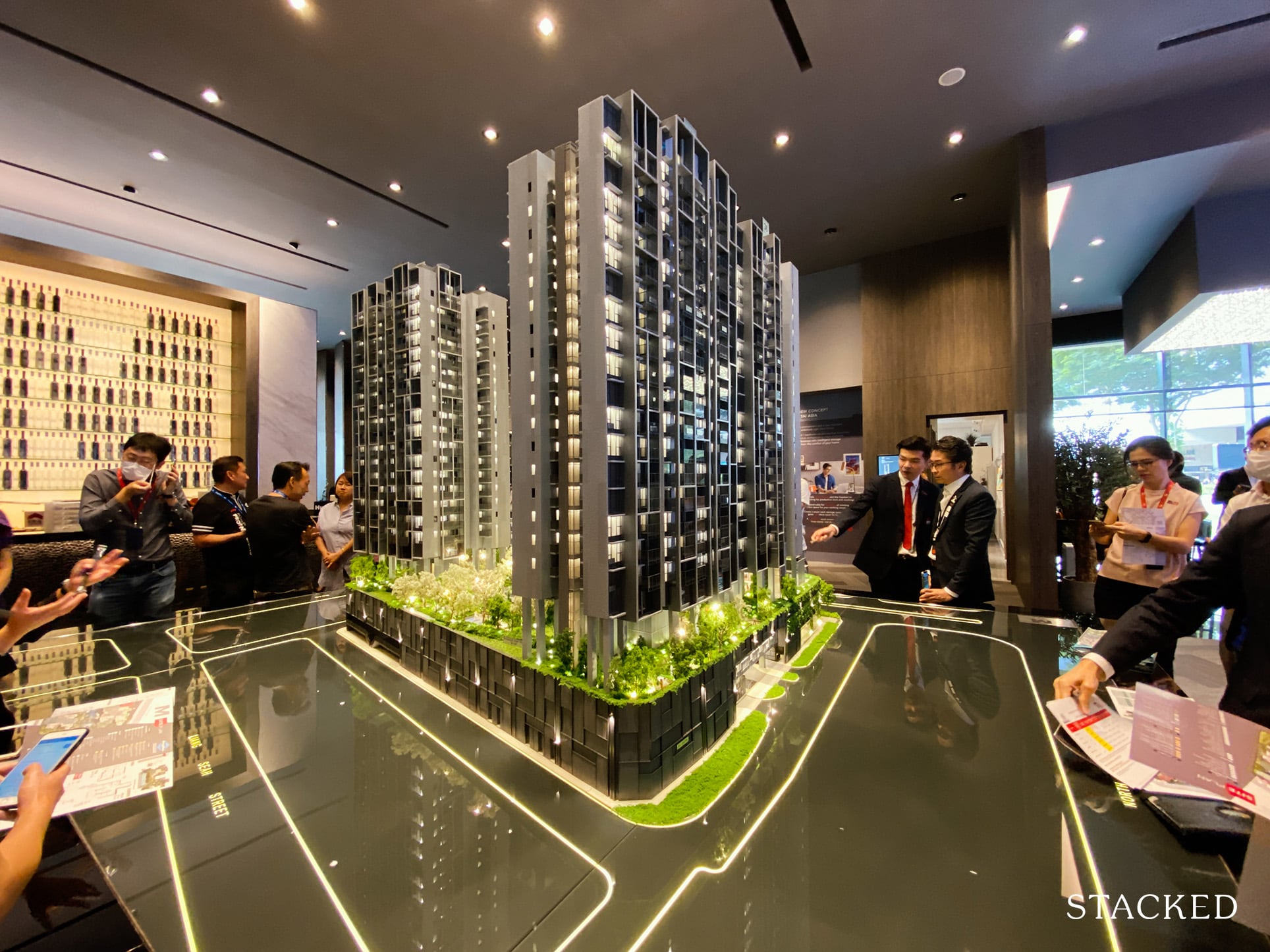 While great to have, it's not a super big draw to be honest, given the wealth of dining and shopping options that Bugis has to offer. Apparently, these shops will be managed by Wing Tai themselves which is good news. Strata titled malls tend to perform poorly, whereas having just one management can ensure that the shops are curated properly.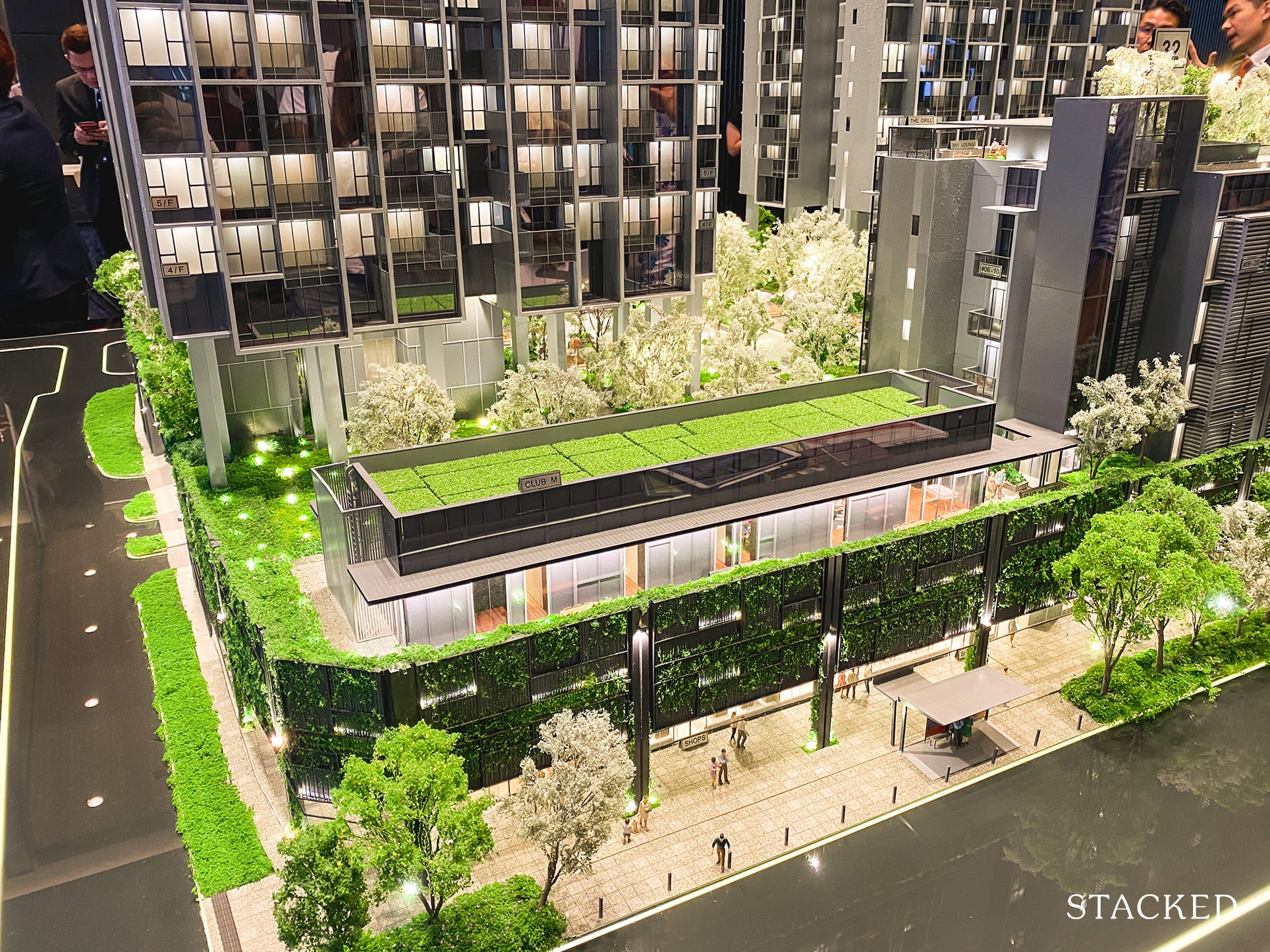 In fact, you could almost treat the M condo as if it were an integrated development. It certainly has almost all the hallmarks of one – office spaces, shopping, and proximity to the MRT. Whether it be work, play or eat, everything is so closely located you really don't have to venture anywhere else.
Carpark and bicycle lots
Above the commercial space is the carpark which contains 261 car park lots. If anyone is keeping count, that is exactly half the number of units. Of course in an ideal world, there would be enough lots for everyone – but given how central the location is, I'd say the majority of those staying here would really have no need for one. As a matter of fact, I think the 147 bicycle lots might probably be even more important here!
A level up from the carpark on the third level is the facilities deck. You won't find a tennis court here that's for sure, but seeing the other facilities available I would venture to say that they have catered very well to the type of consumer they are targeting.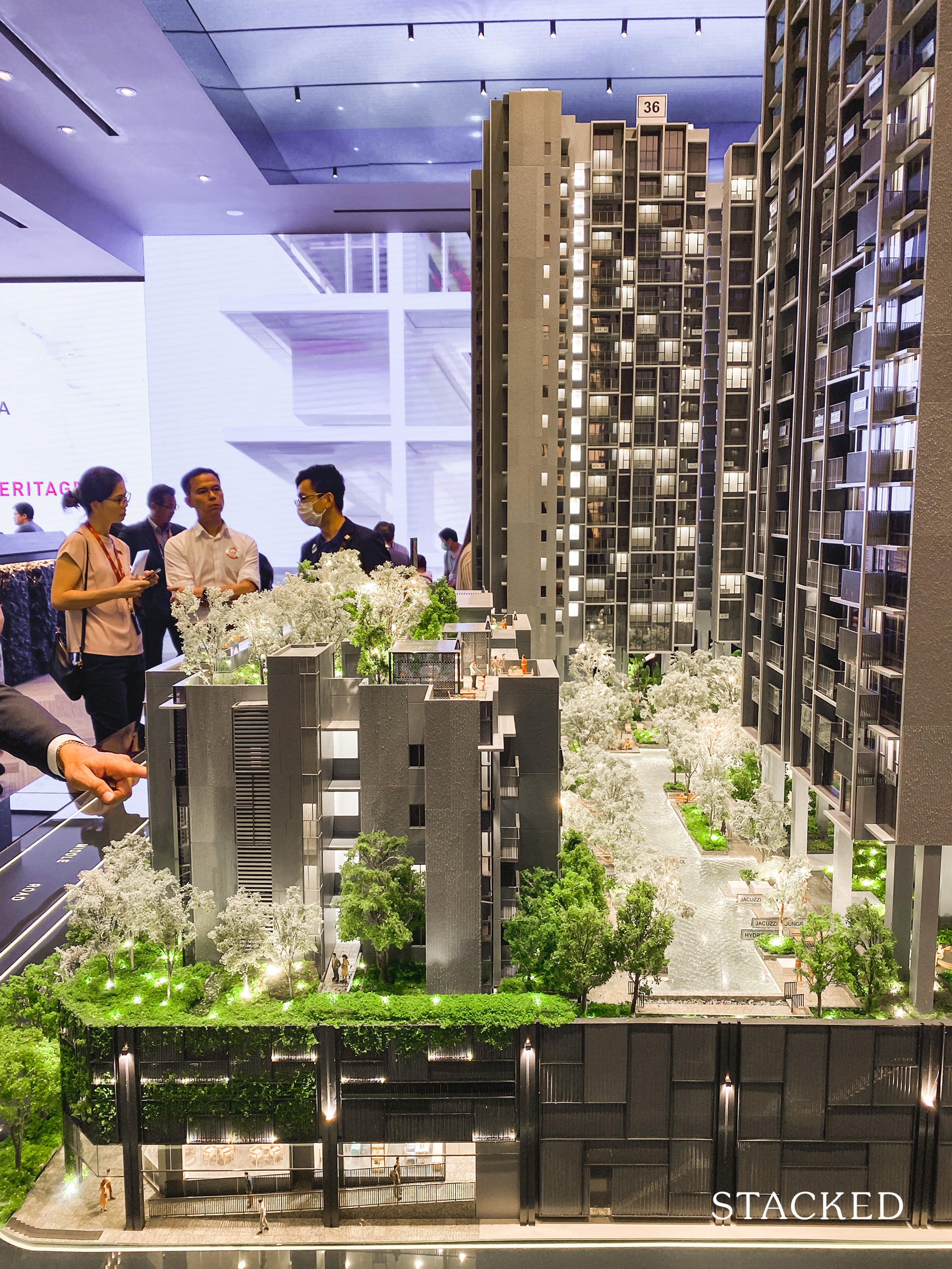 Let's start with the 50m pool. It's a great size, and along with the jacuzzi lounge and aqua social terrace would probably be enough for your swimming needs.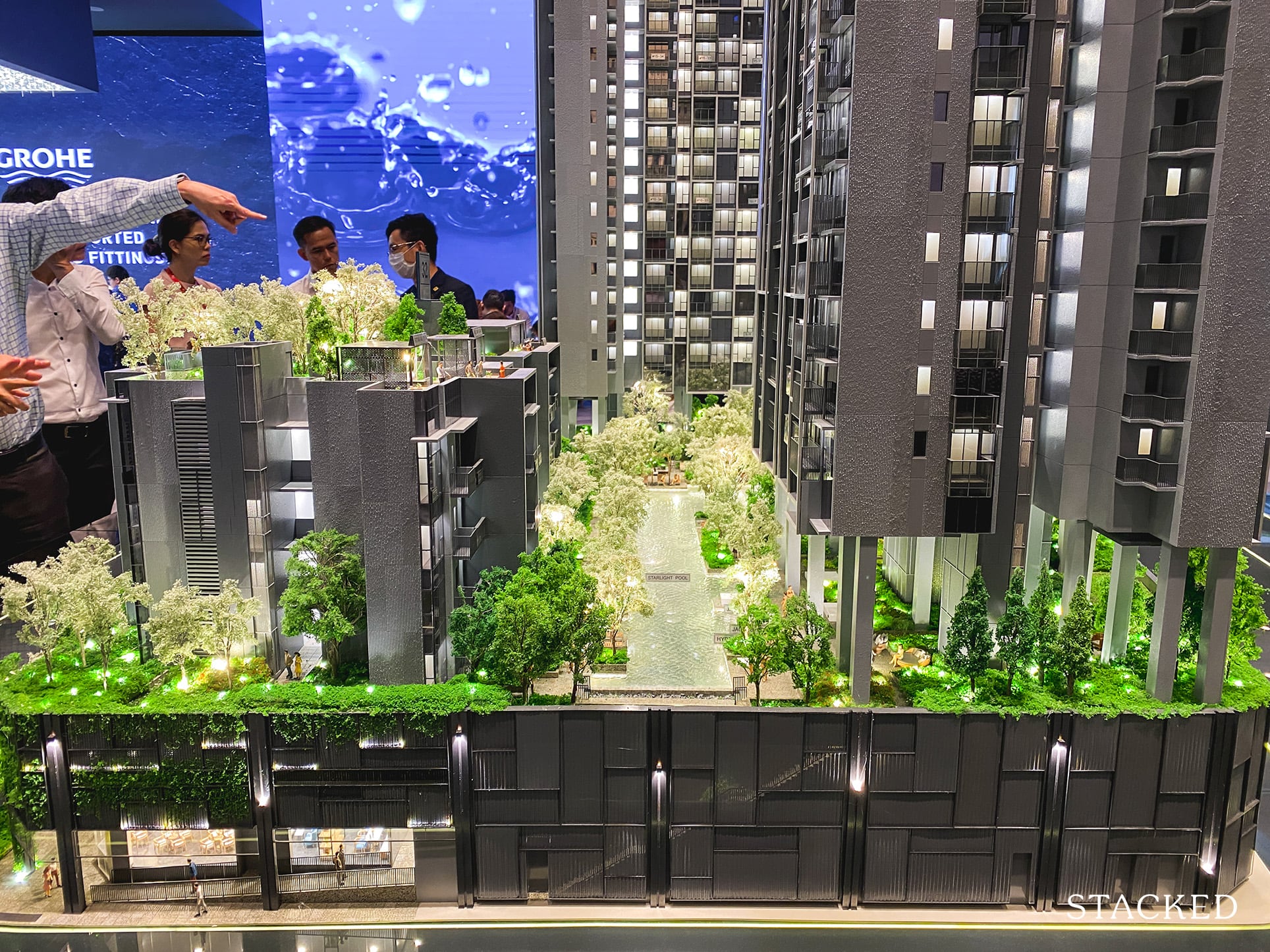 Another thing that Wing Tai has gotten absolutely right is the inclusion of a 3,000 square foot sized clubhouse named Club M.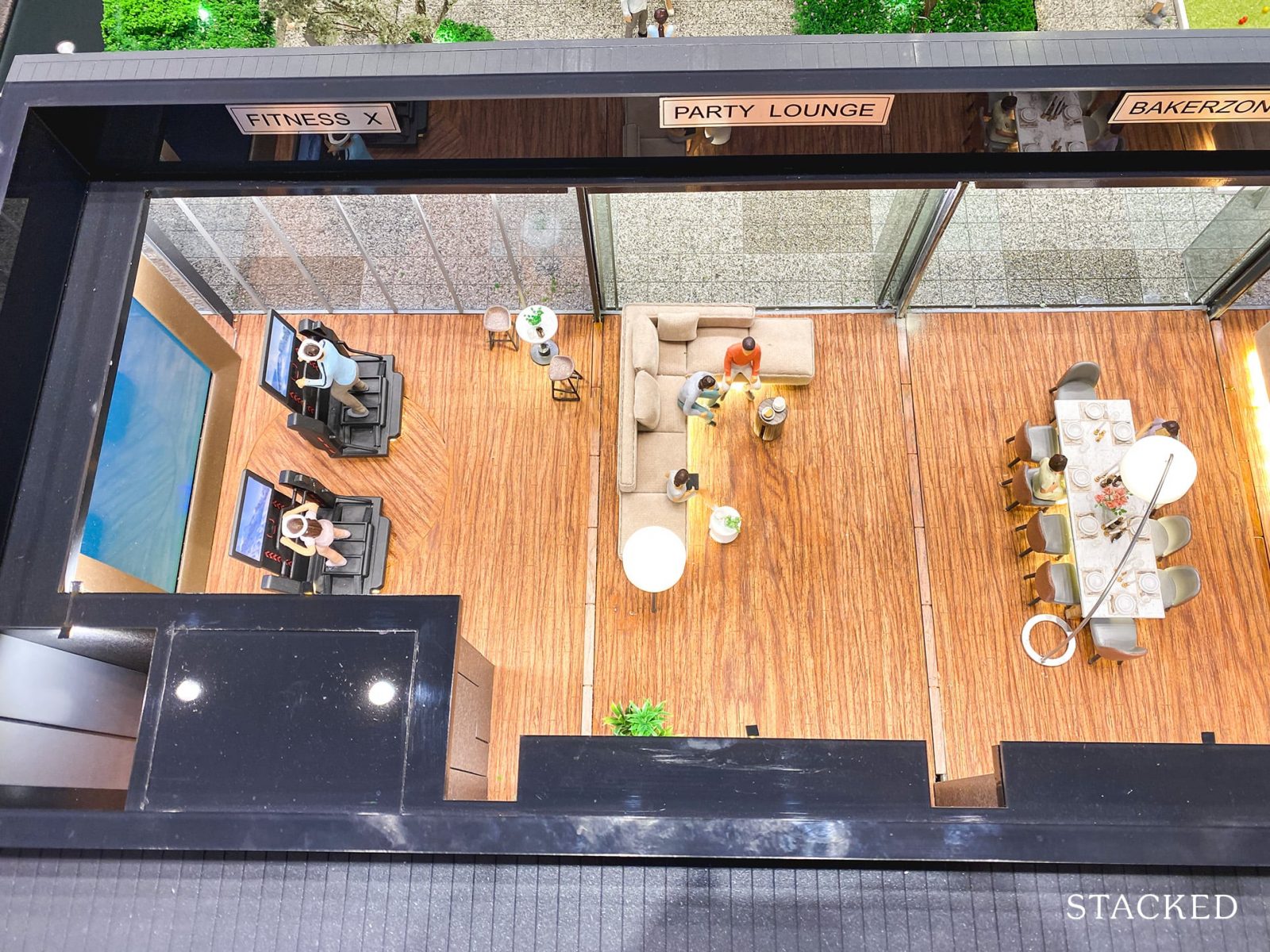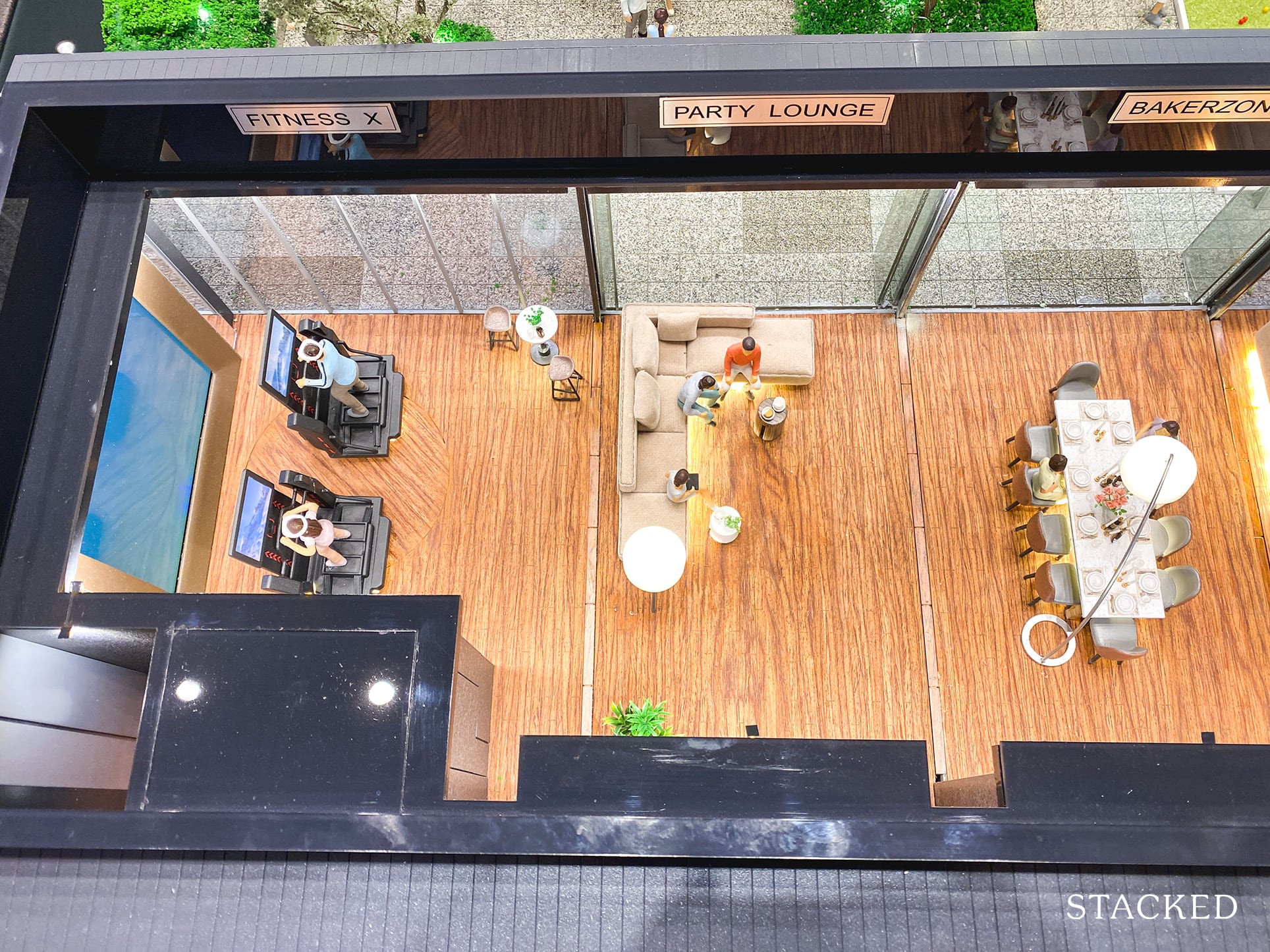 It's basically a collection of spaces – a relaxation area, bar space, gaming room, baking studio, board/meeting room, and a multi-purpose room. From this, you can see that they have thought really hard about their target clientele and which facilities that will be suitable and attractive. Especially so when the unit sizes are on the small side, having these options to entertain or work in different common spaces will be an appealing one.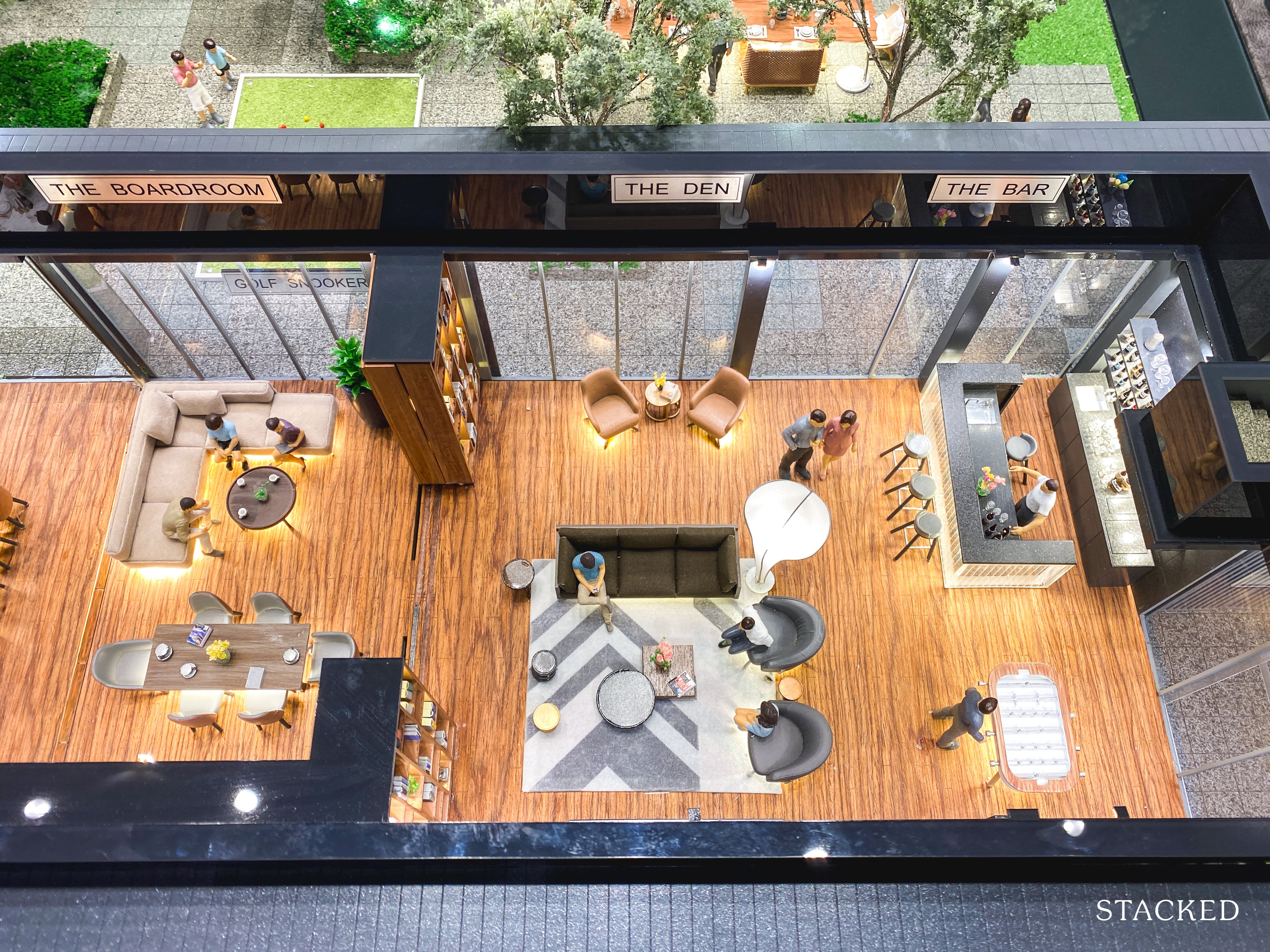 I really like the mix of facilities here. Especially if I think from the perspective of a tenant – it's really in keeping with today's co-living and co-working trend.
It's a pity there aren't any facilities on the highest level of the development to take advantage of the city views – but a consolation would be a deck built atop the low-rise residential block.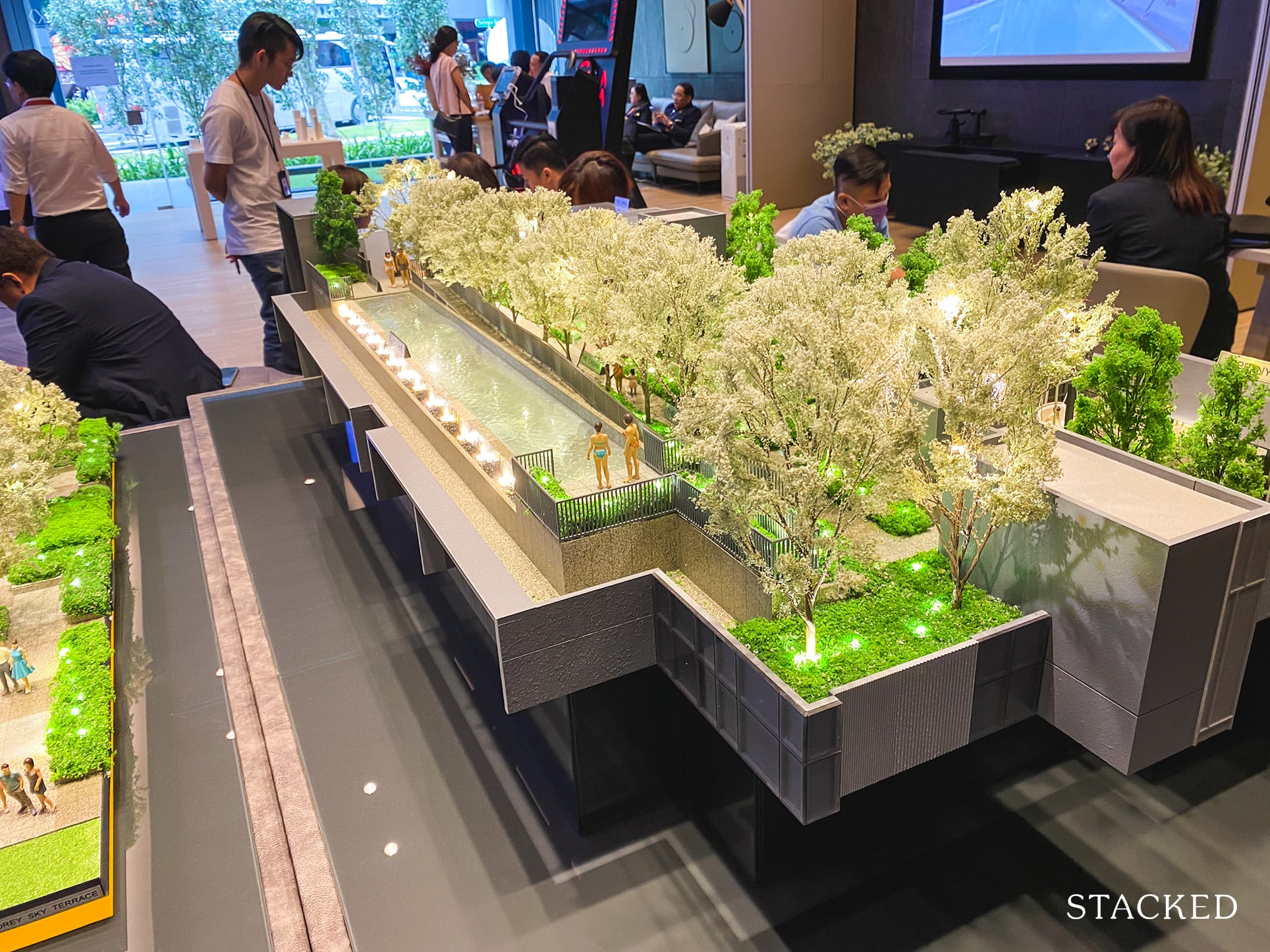 Here, you'll get a decent-sized swimming pool but you probably won't be having much of a view from here seeing as it is only on the 7th floor. There are also various dining spaces here which will come in handy when it comes to entertaining a bigger crowd.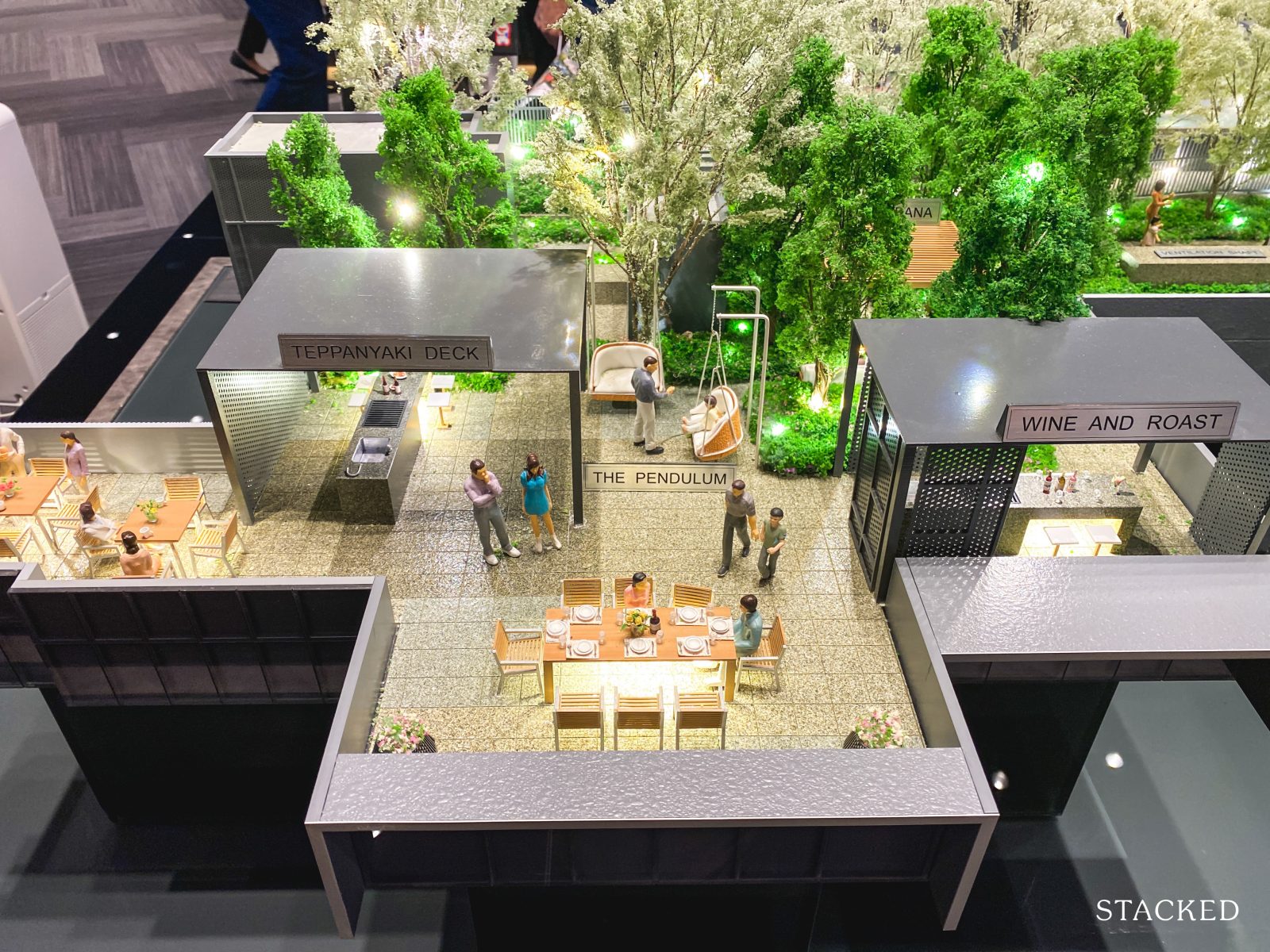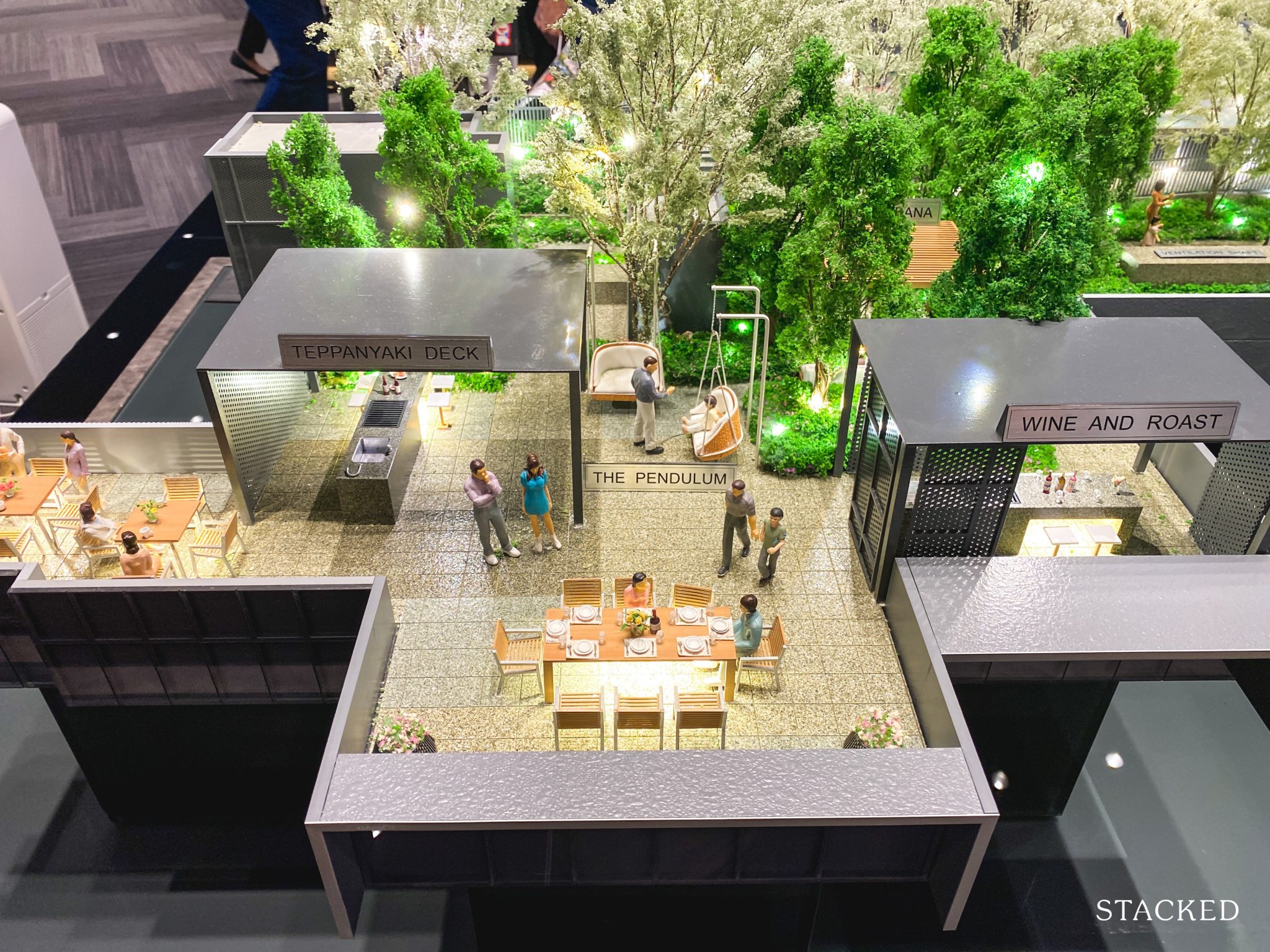 Now, I'm not the biggest art fiend around but one more thing worth mentioning is the three-year partnership with LaSalle College of the Arts.
The artists are actually going to be collaborating from the beginning in hopes of showcasing a more cohesive design along with the architecture at the end of it.
If you'd like a better idea of the facilities on offer, here you go:
The M Condo Studio Review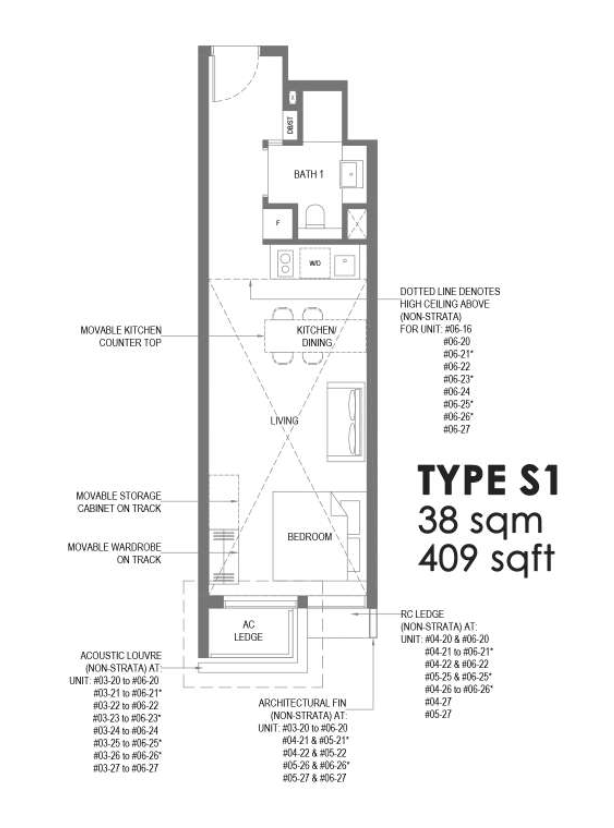 The floorplan
Coming in at 409 square feet, the studio unit at the M condo is definitely not what you would consider a big living space. I mean, if it's just for the one person there's really no issue. But for two you might find things a little too close for comfort.
It's very much a straightforward layout, an entranceway with the bathroom on your left with the rest of the living space in a regular rectangular fashion.
I'll be honest, the ID work is a little messy for my tastes but with only this much space to work with, there is really only so much you can do. That said, the biggest aspect of this studio unit is really how functional they have designed it. It's really quite impressive.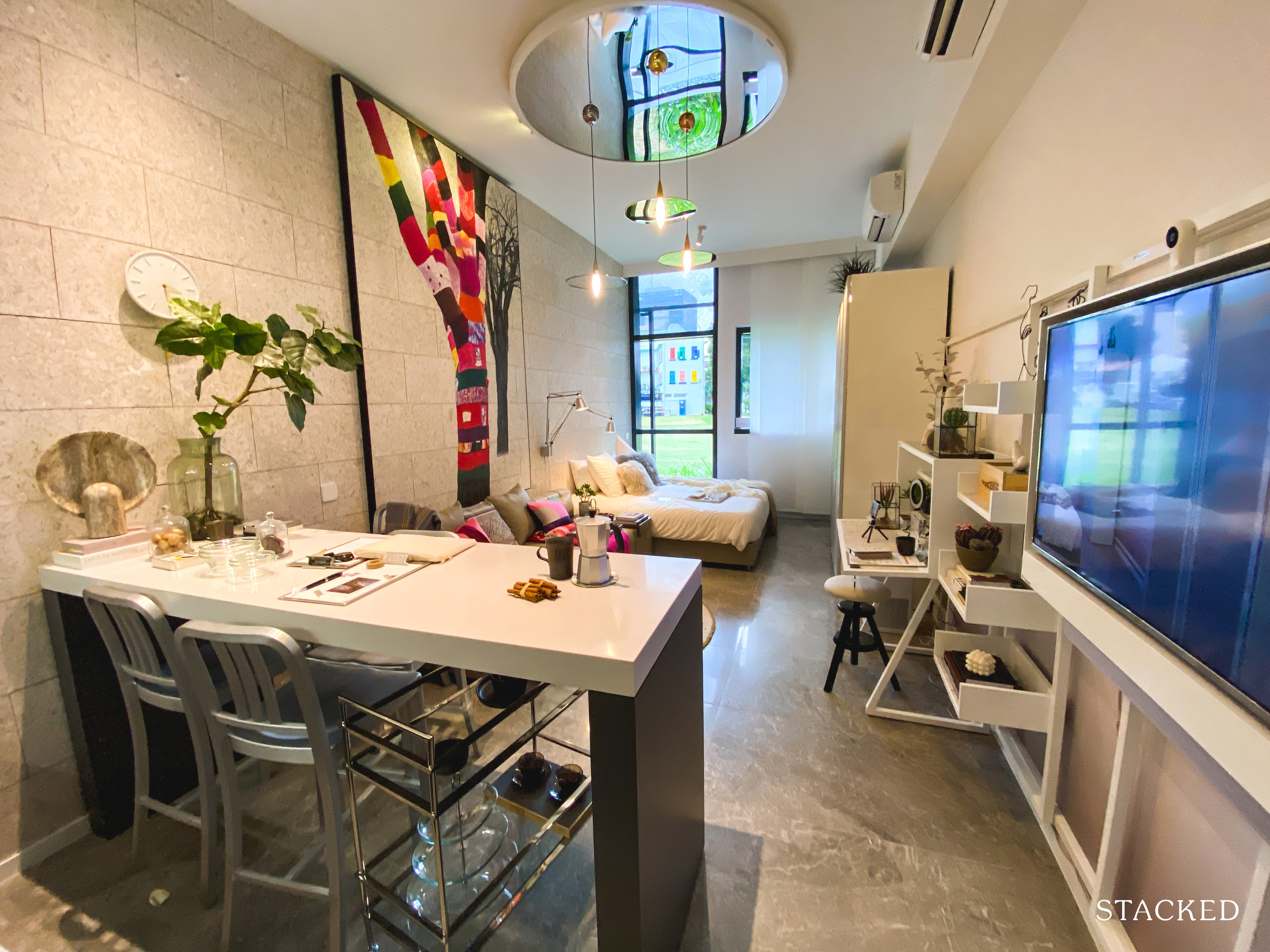 Each unit is designed with a home/work notion in mind. In that way, the space becomes doubly useful as you can tailor it according to your different needs. This is all made possible with the help of "transformer furniture". I think this is really quite brilliant and something I'm sure other developers will start to follow suit.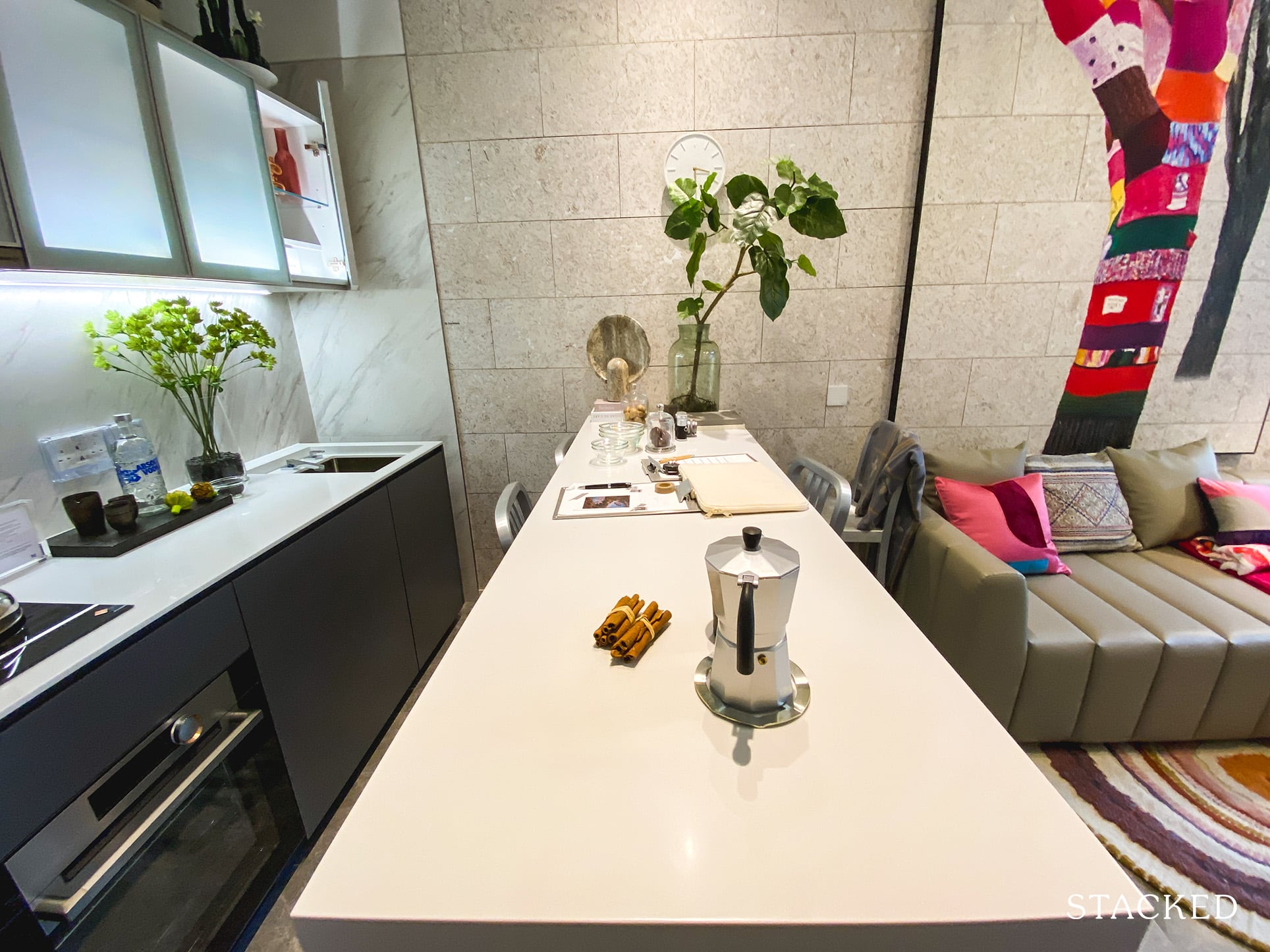 Even if you aren't staying and looking for a unit to invest in, having flexible furniture like this can be a huge asset. This will no doubt be an attraction to tenants as most other comparable units in the area would not have useful furniture like this built-in.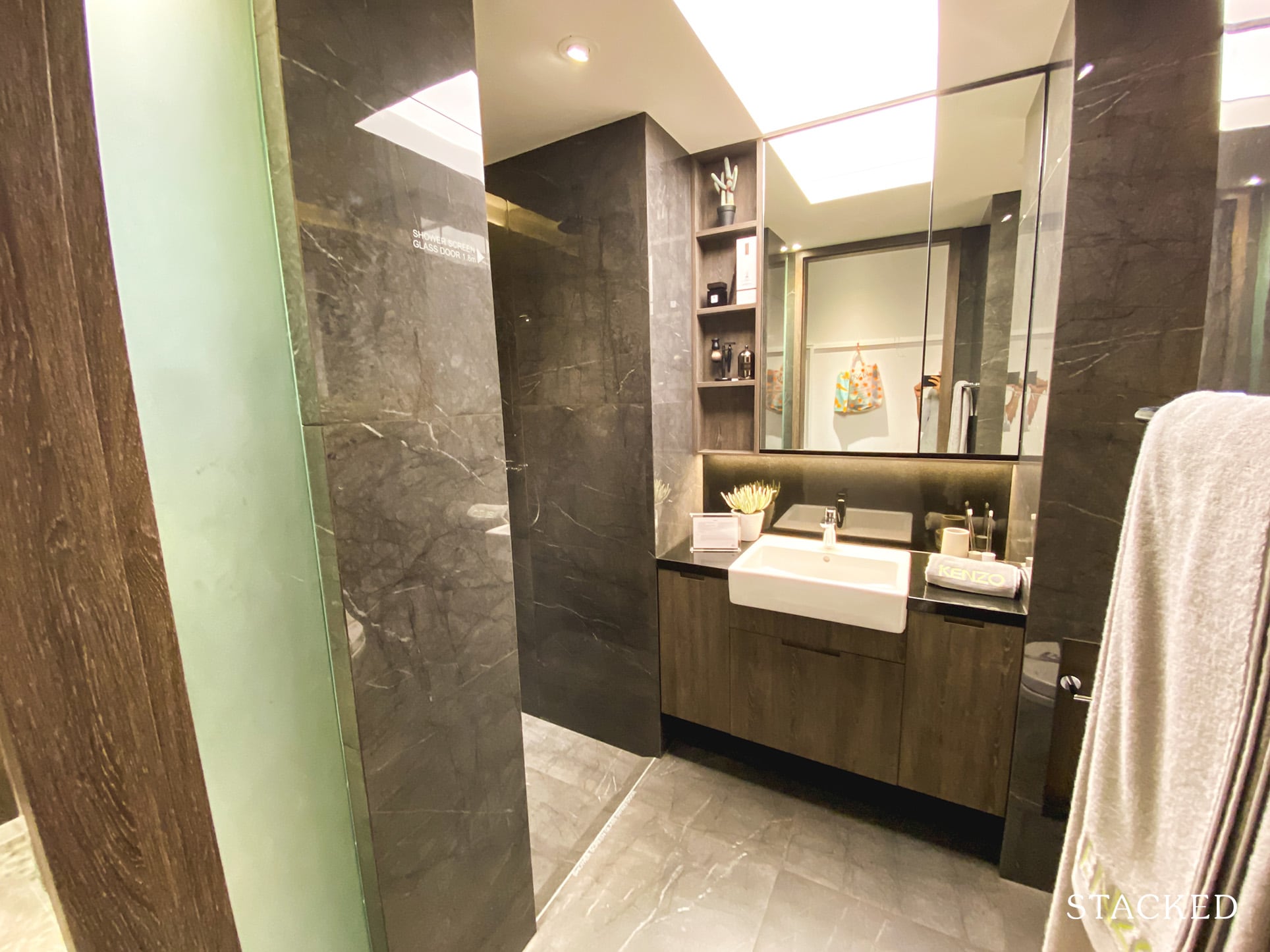 The bathroom is decently sized, and it even comes with a rain shower! One cool feature is the rectangular LED light panel that mimics a skylight. It comes with three different settings, outdoor day, indoor day, and night.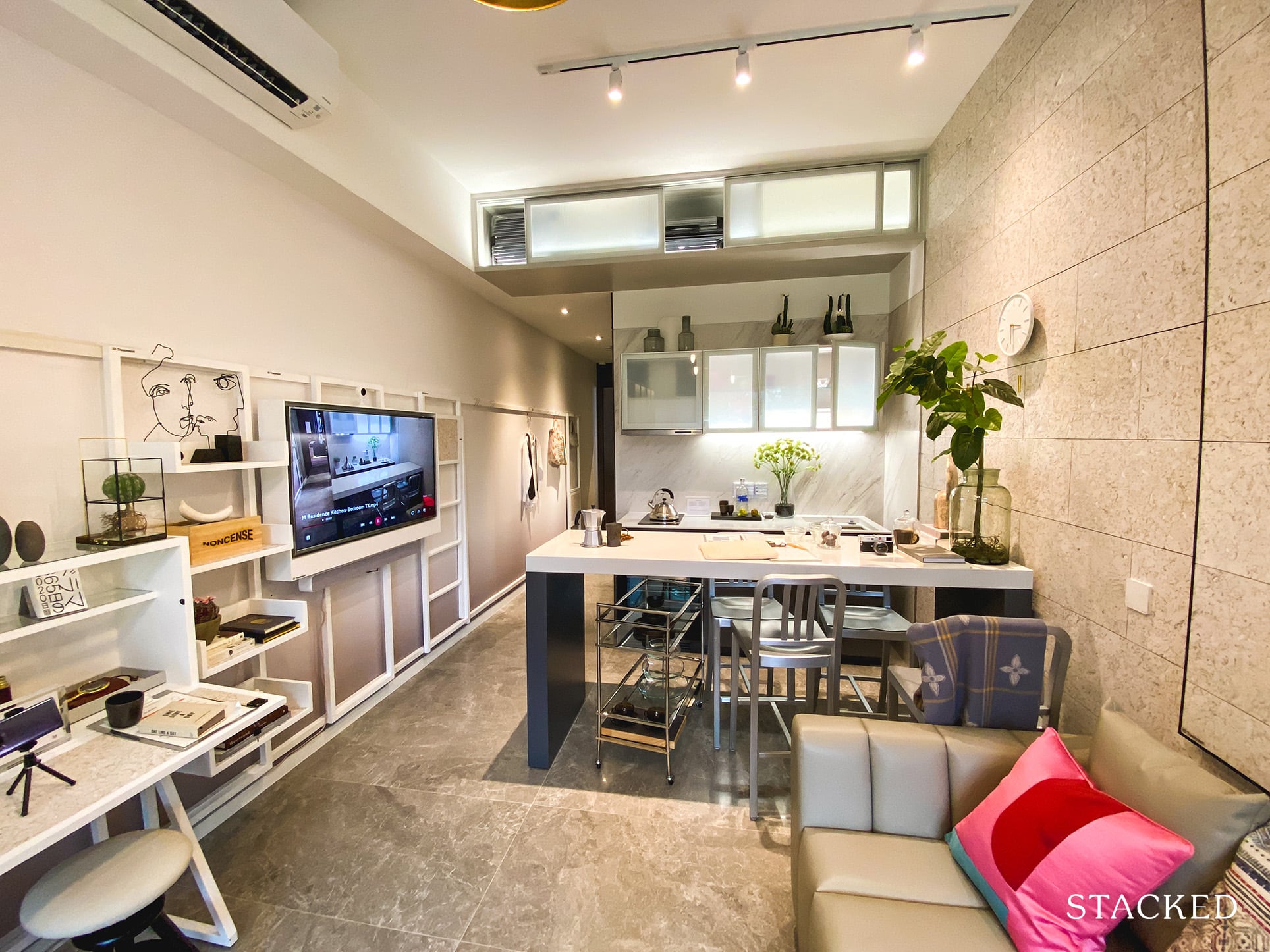 The kitchen space on its own is just enough for regular cooking but what's really clever here is the dining table. It's actually a movable piece that slots neatly above the countertop. So when you need to, the table can be used for prep work/eating. And if you really need the space, you can push the countertop further back.
If you are wondering where the fridge is, it's actually by the side of the entranceway. It's a full-sized one with the accompanying freezer at the bottom.
It's a pity that you can't move the countertop table to test its robustness, but I can definitely see the flexible aspects of it. Whether it would truly live up to its practical usefulness would really be up to how you want to use the space. I can see the moving it up and down to be quite tedious though – clearing the kitchen counter each time could be a bugbear after awhile.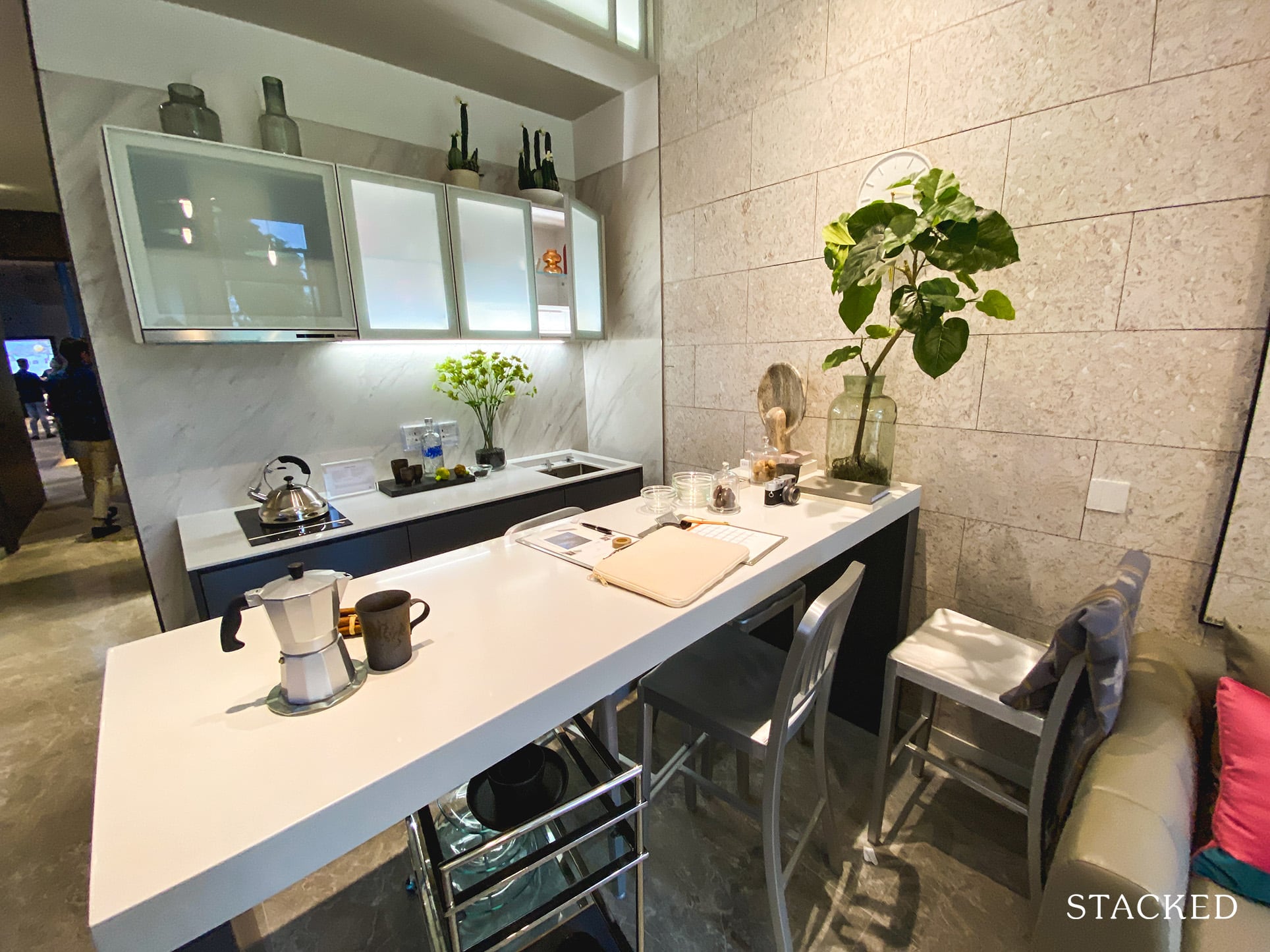 If you don't really do much cooking, you could just stowaway the table to enjoy more space for living/dining.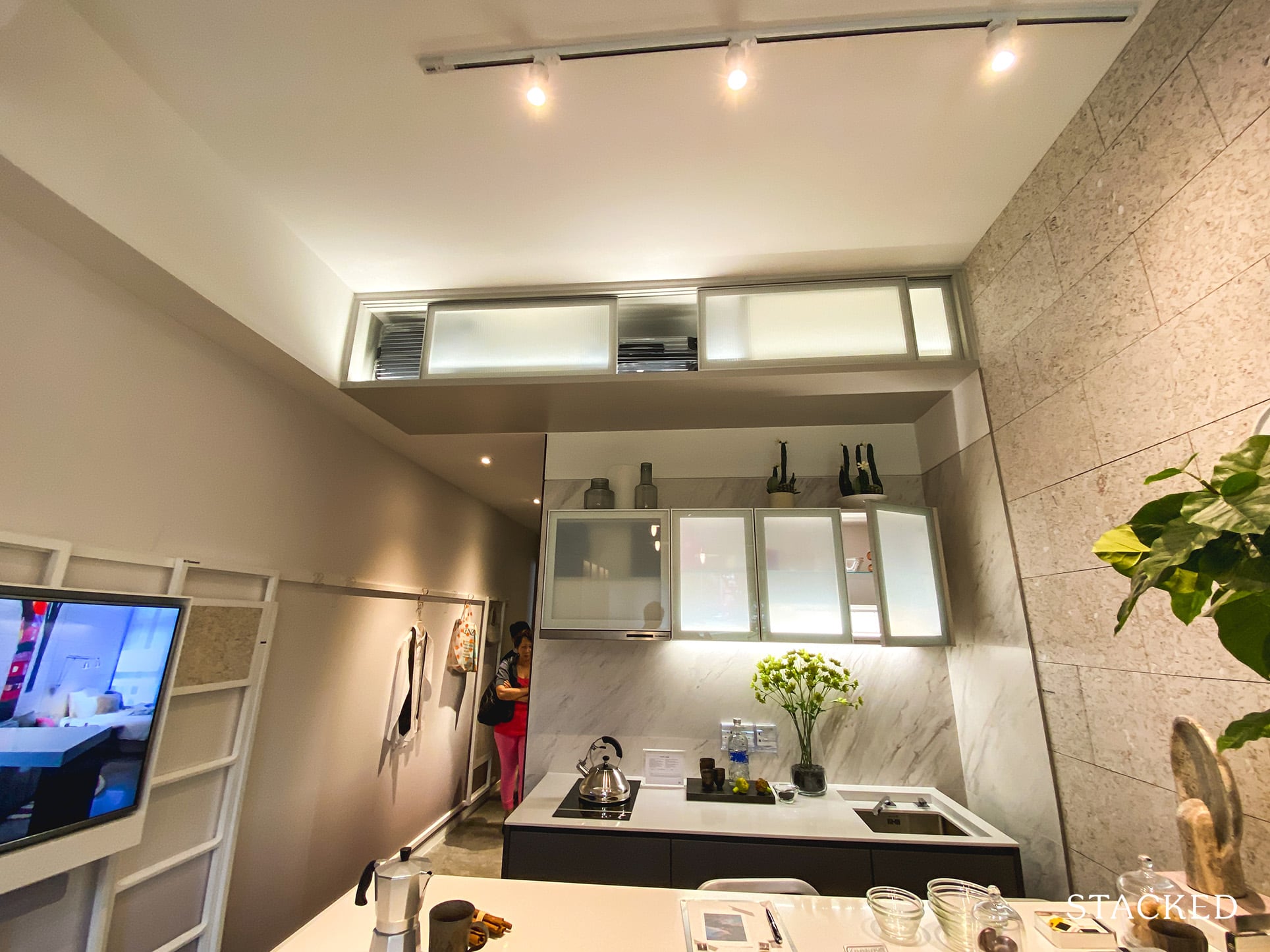 A common complaint of studio apartments is the lack of storage spaces. In this case, an integrated ceiling storage space has been built to make use of the higher ceiling height. Although a case has to be made for reachability here, I think it's definitely very much welcome.
Special mention must be made here to the tempered glass cabinets that allow the lights inside to be evenly shone. While I can't say I love the look of it, it does a good job of brightening up the space. Due to the length of the studio room, the light from the windows at the end might not always be sufficient so this can be handy.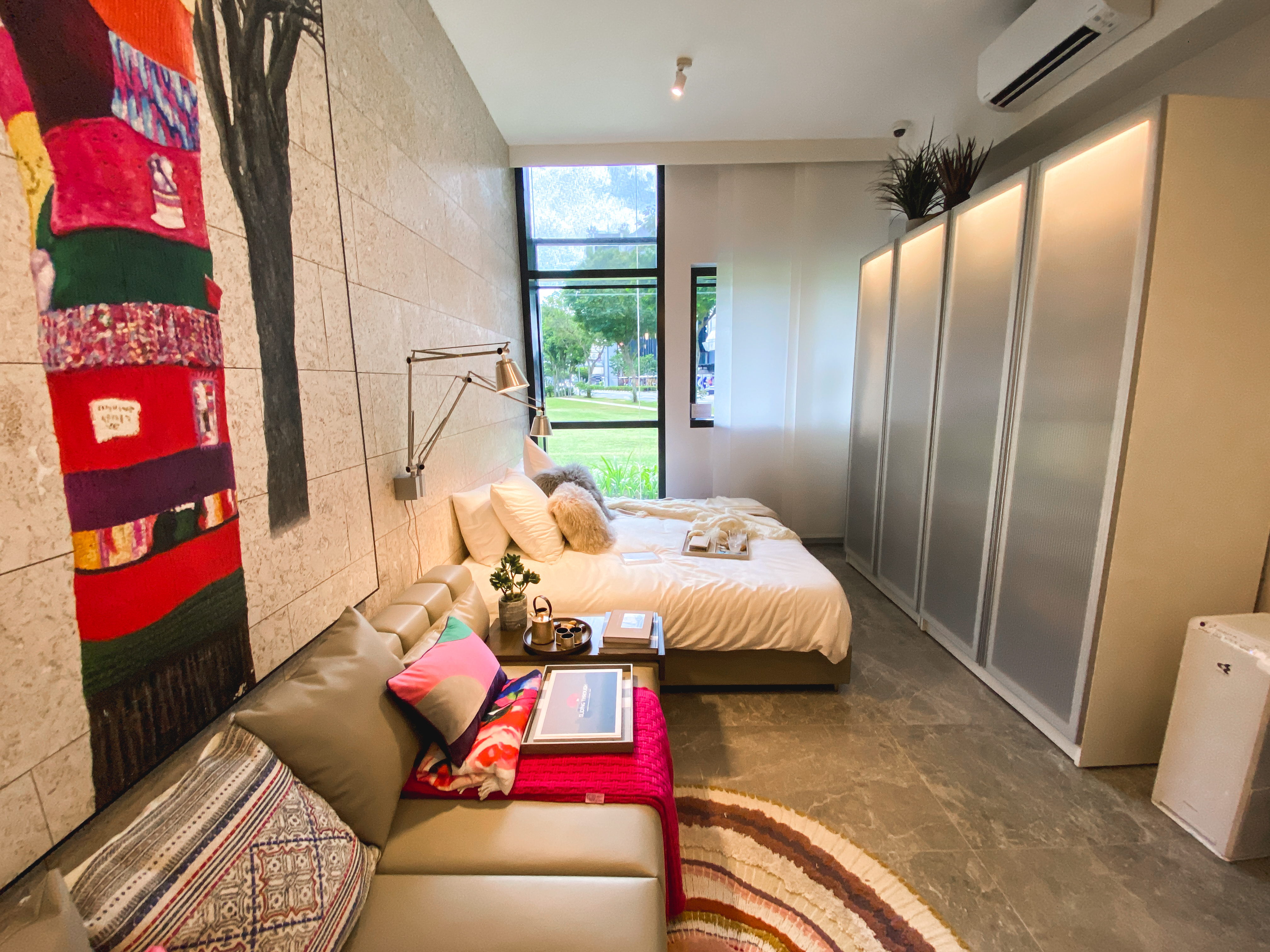 One more feature that has been incorporated here is the movable sliding wardrobe. These can be moved along a track to give you more flexibility in customising the space according to your needs.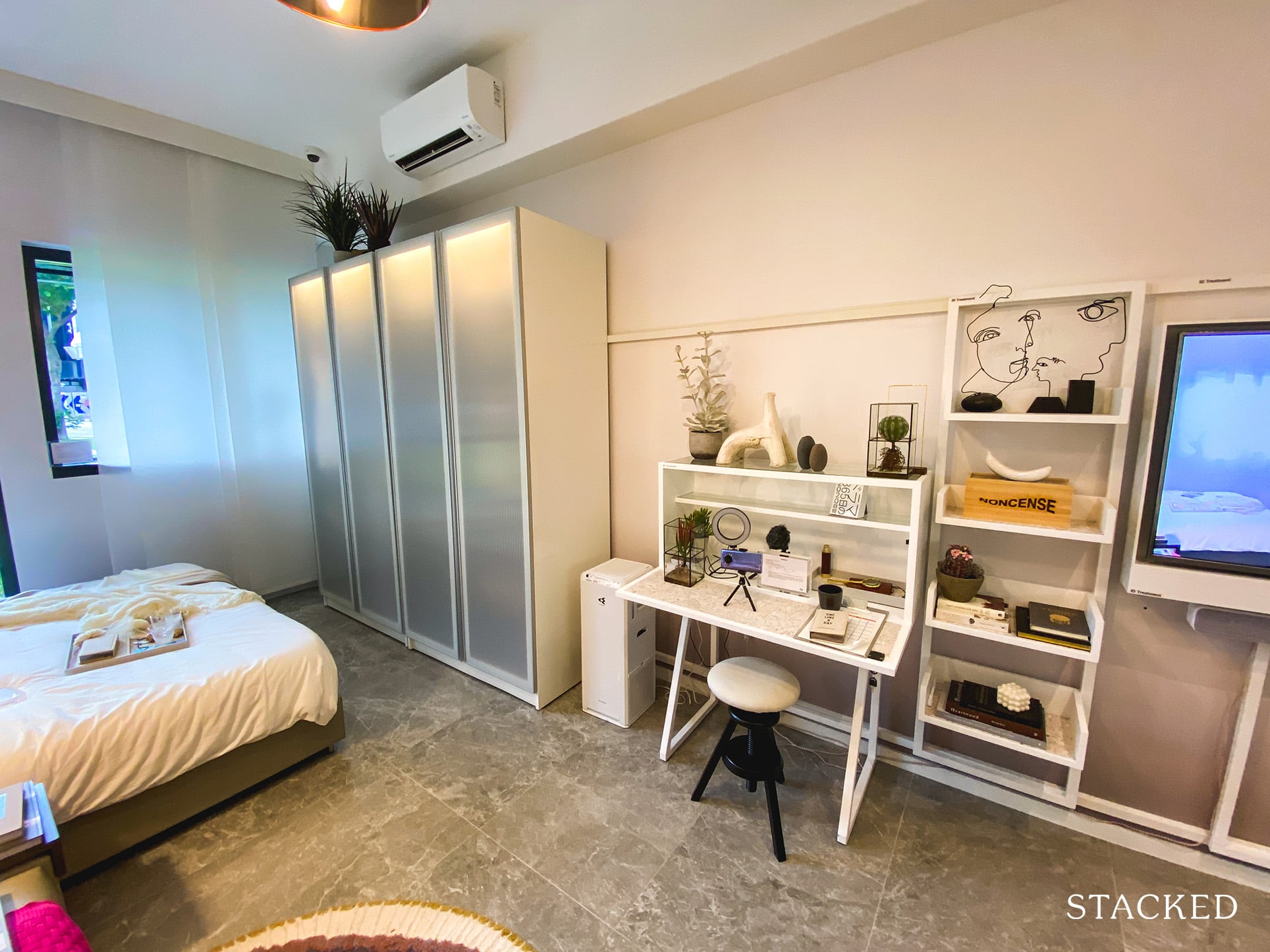 It's a similar story with the wardrobes here as the tampered glass allows it double up as a lighting source.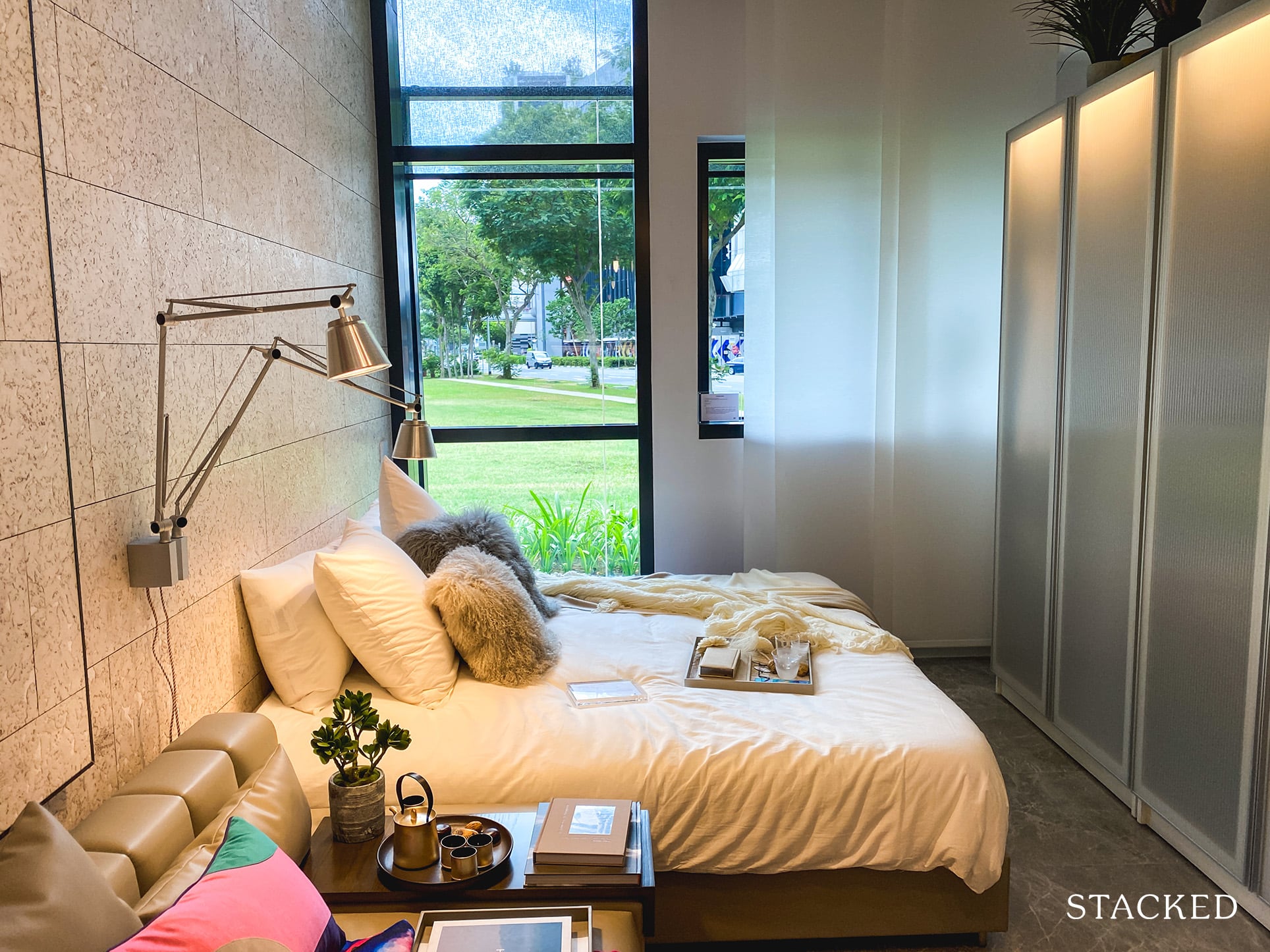 You can definitely fit a queen sized bed here so no worries in that respect. And if you are wondering why the floor to ceiling windows don't extend the width, that's because allowance had to be given to the air-con ledge.
The M Condo 1 Bedroom + Study Review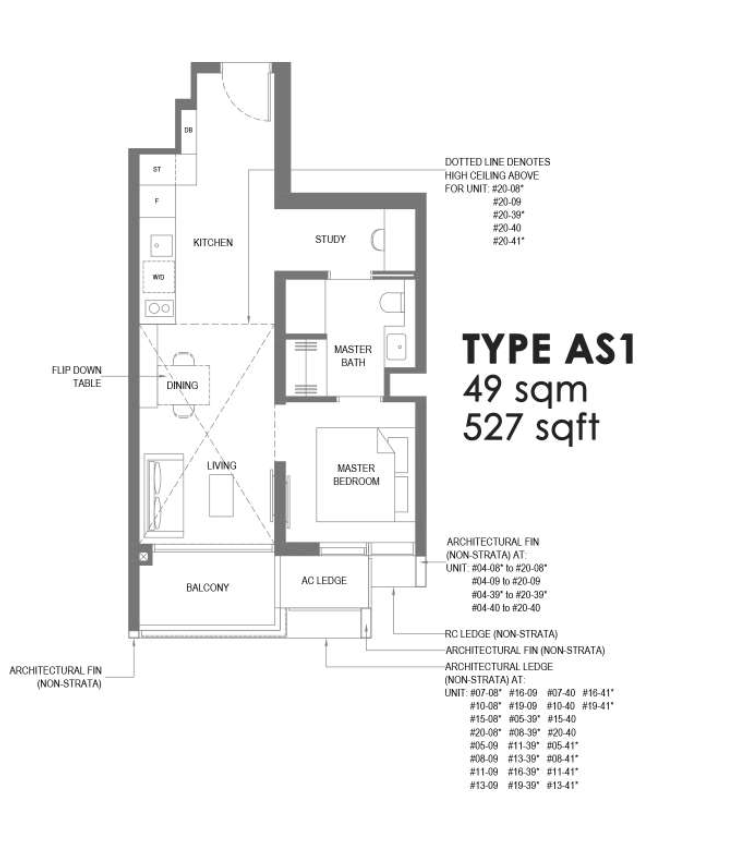 The floorplan
At 527 square feet, the 1 bedroom plus study unit at The M condo isn't what I would consider to be roomy. But the biggest compliment I can give – it feels bigger than the size written on paper.
If you discount the slight wastage of space at the entranceway, it is a very functional layout.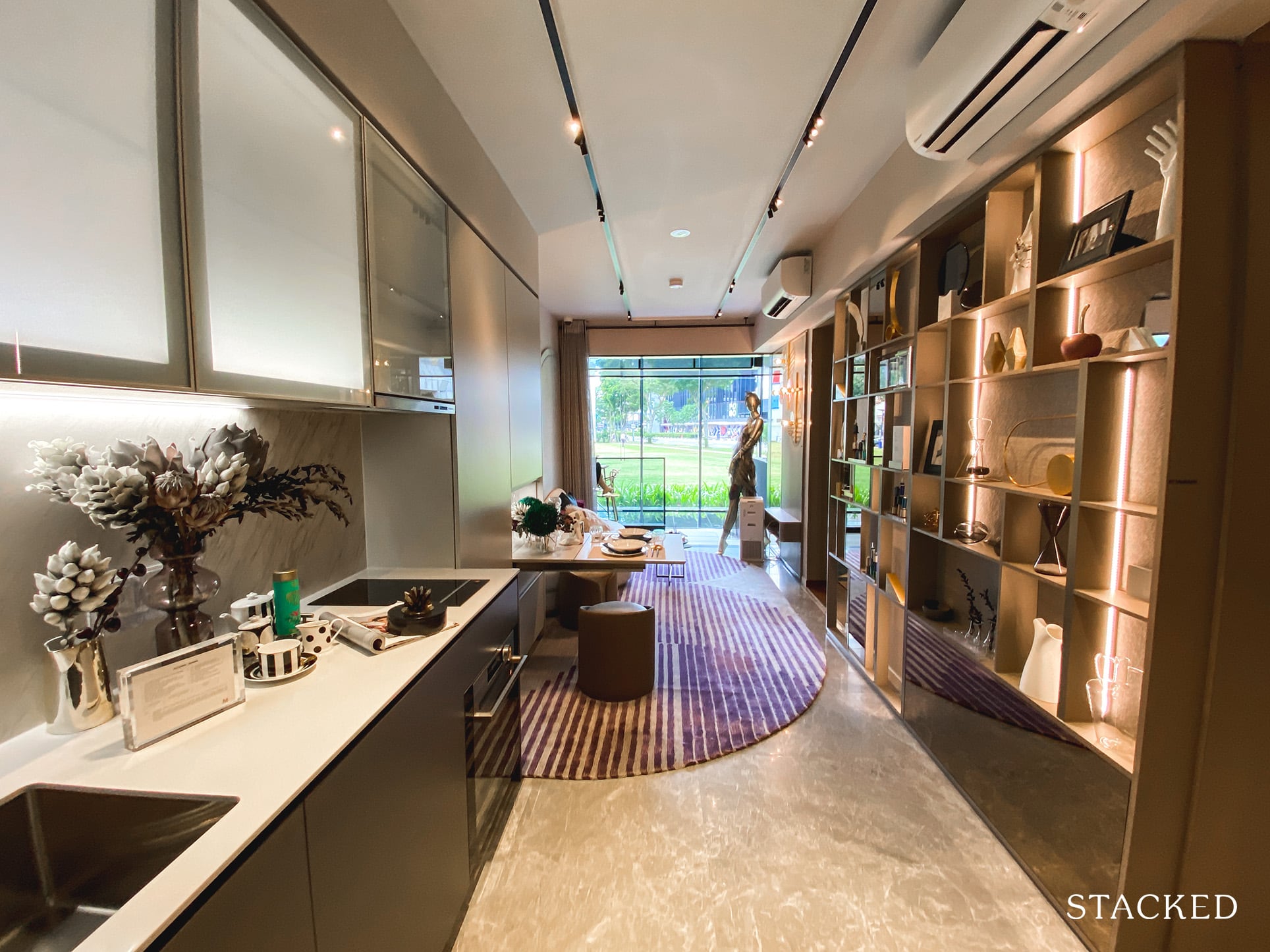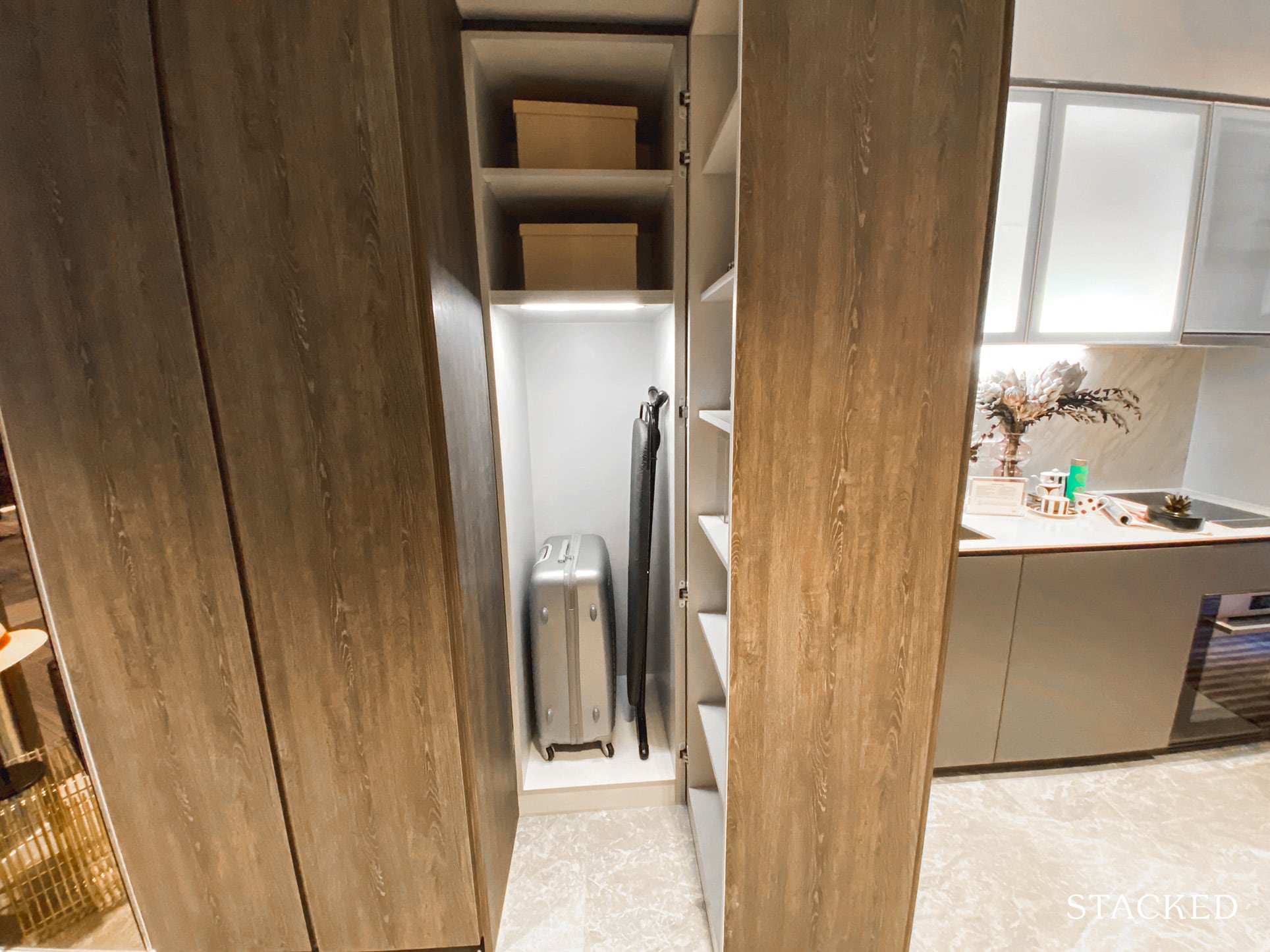 Once you step into the unit, on your immediate left will be a "hidden storage" space. The reason I use the word hidden is that the size of the storage space is quite deceptive – it actually does go quite deep in. If filled with heavy objects moving these cupboards could take some strength to move!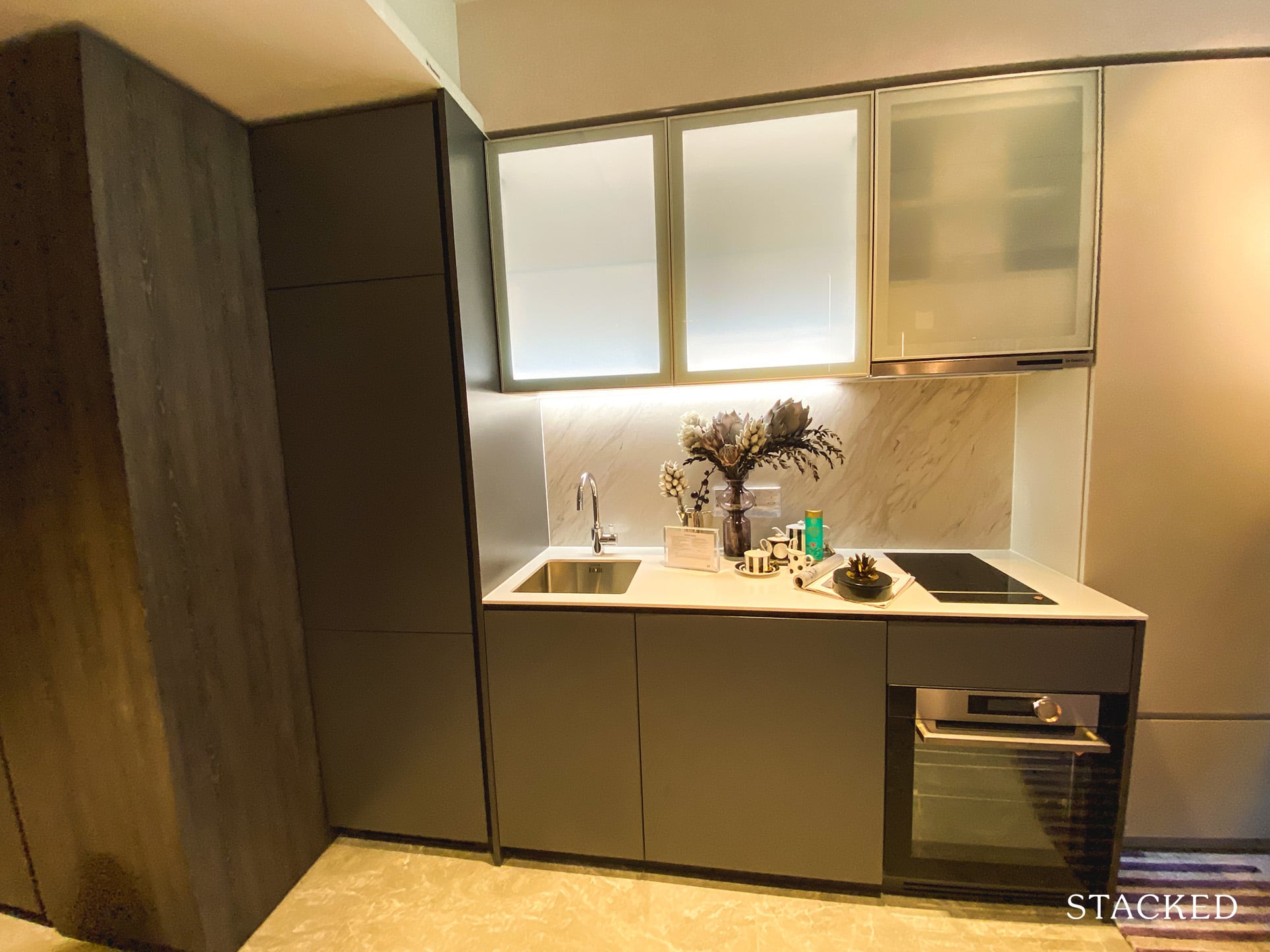 The 1 bedroom plus study unit here takes a different approach as compared to the studio unit. The kitchen is flushed against the wall with similar storage and counter space.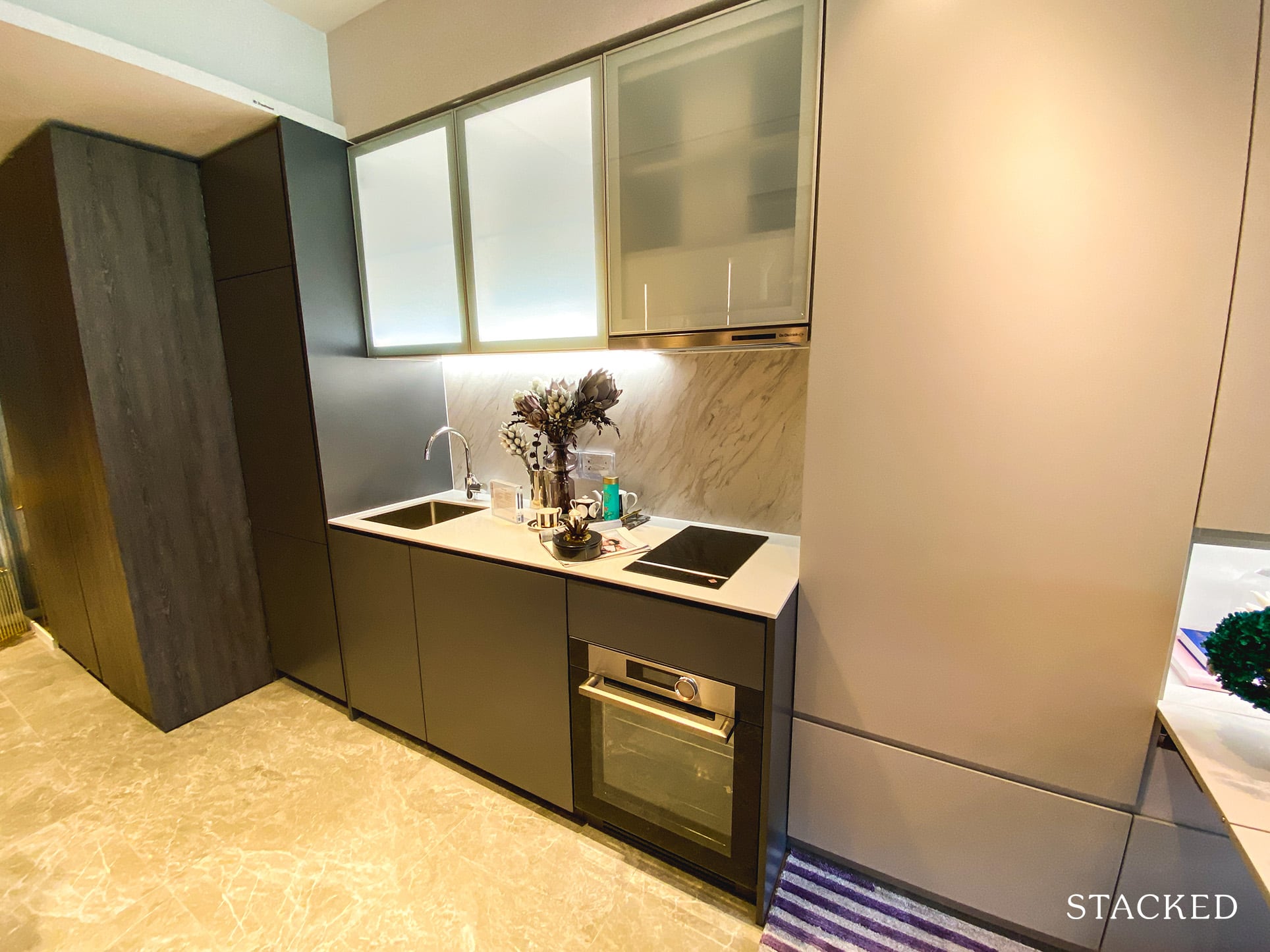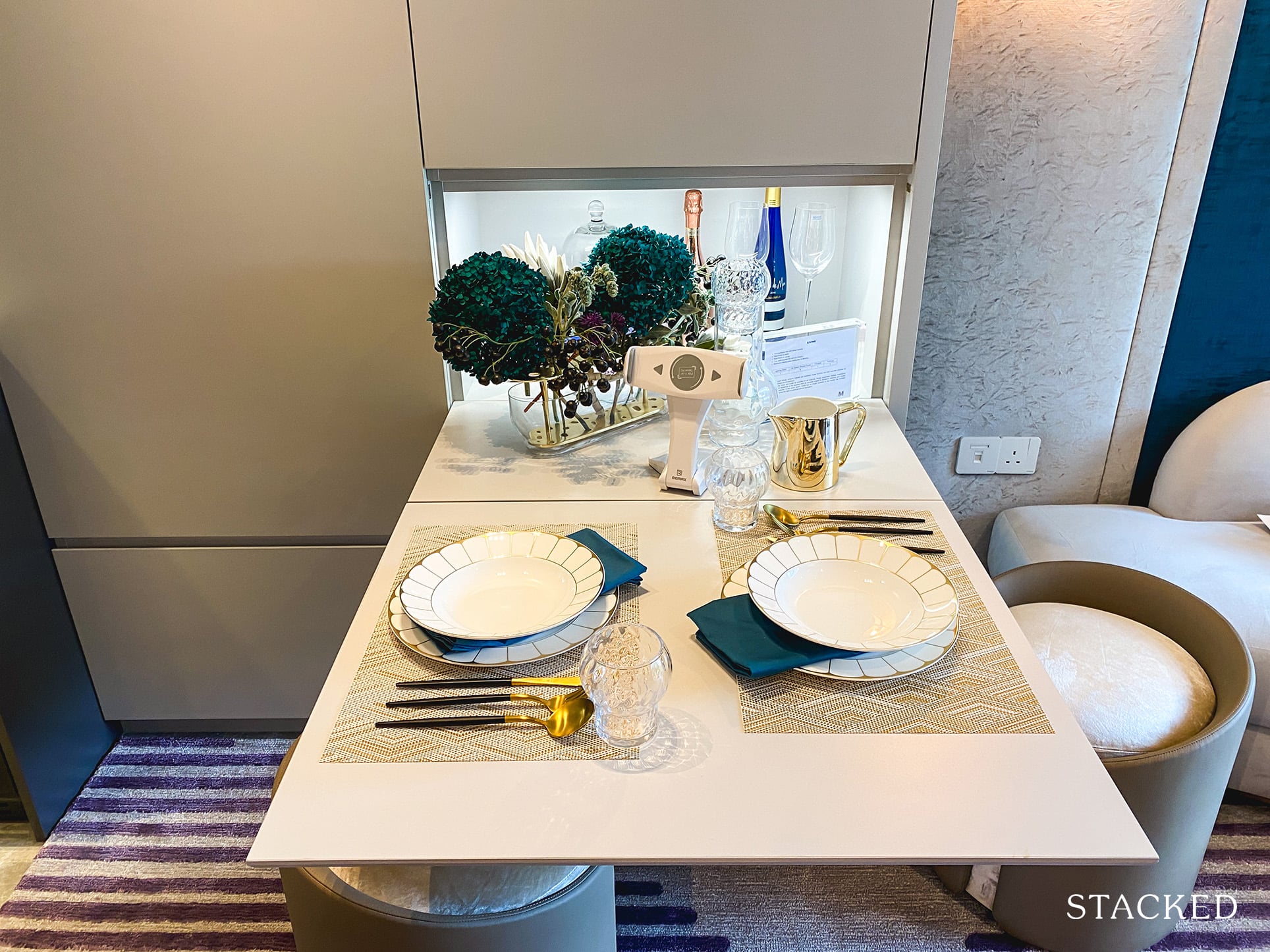 So instead of a movable dining table, you get a foldable dining table that can be folded away and kept into the cabinet itself. It's a neat mechanism, and again, allows for more flexibility to use the space as you'd wish. Just bear in mind the dining table itself isn't very big so you'll be hard-pressed to have a dinner party of 4 here. You'll probably be better off using one of the dining facilities available.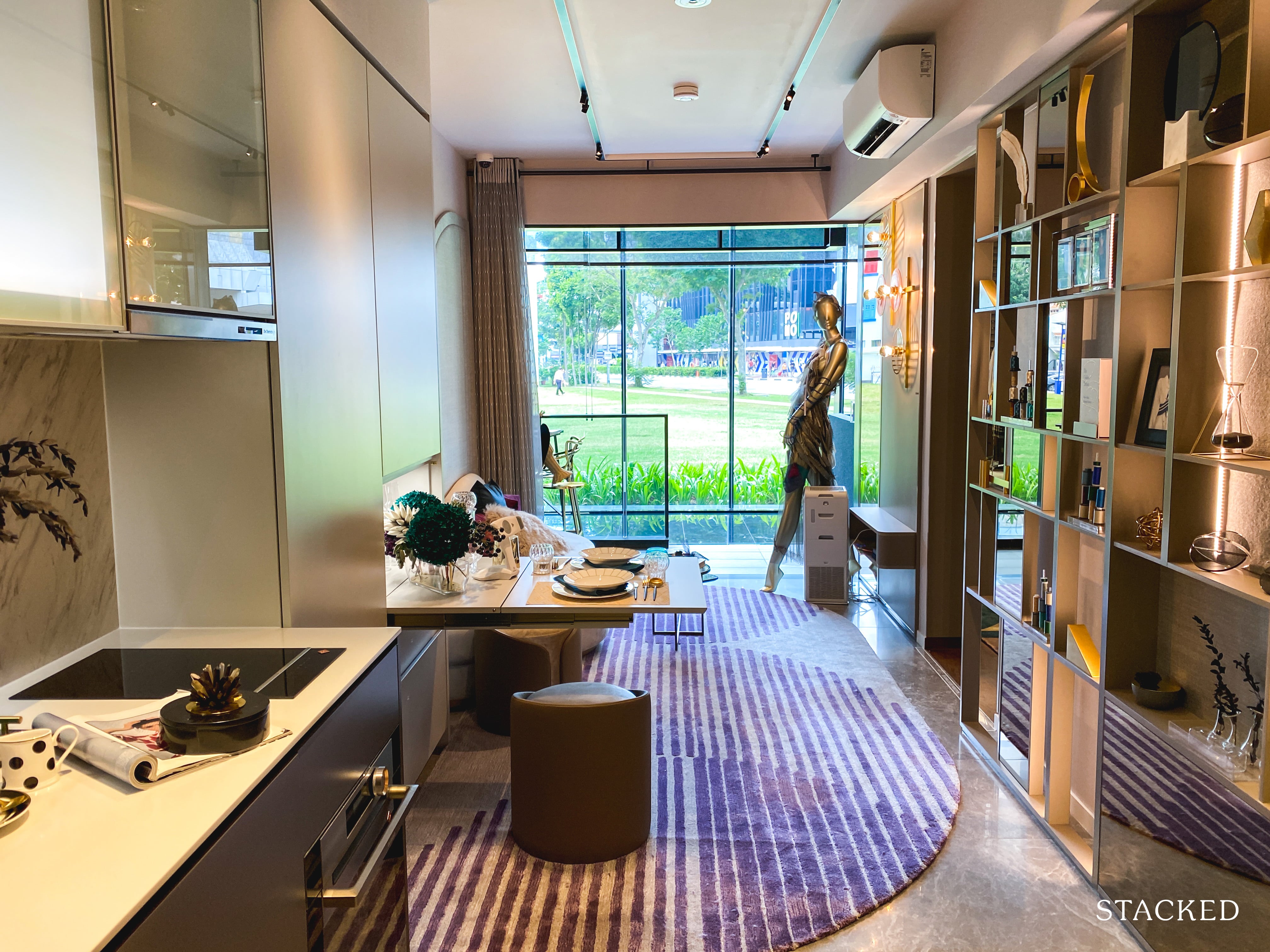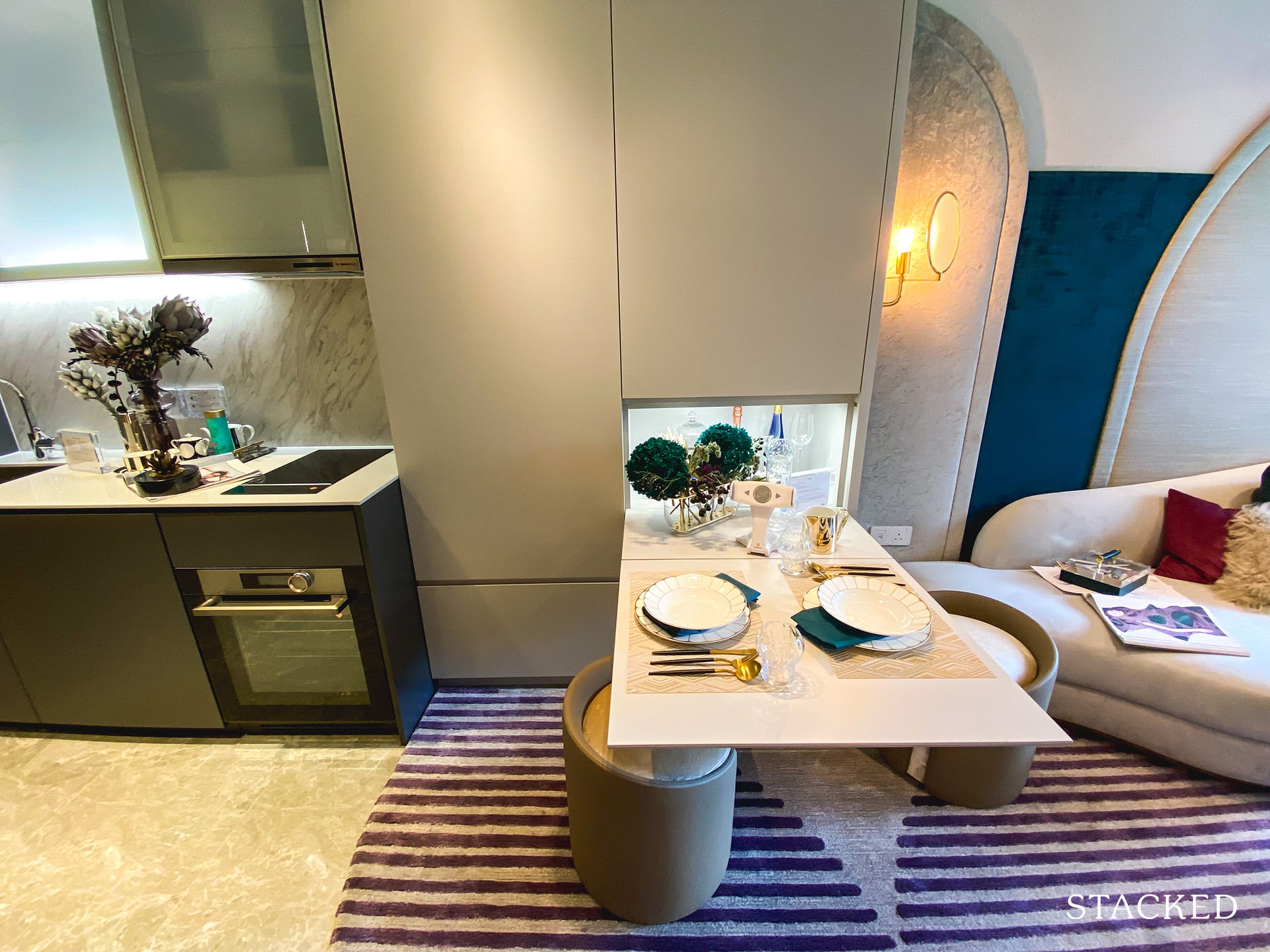 Truthfully, if you do use the dining table a lot you'll likely find folding it in and out to be a pain. So it's worth thinking about how you use the space and if it would truly be useful to you.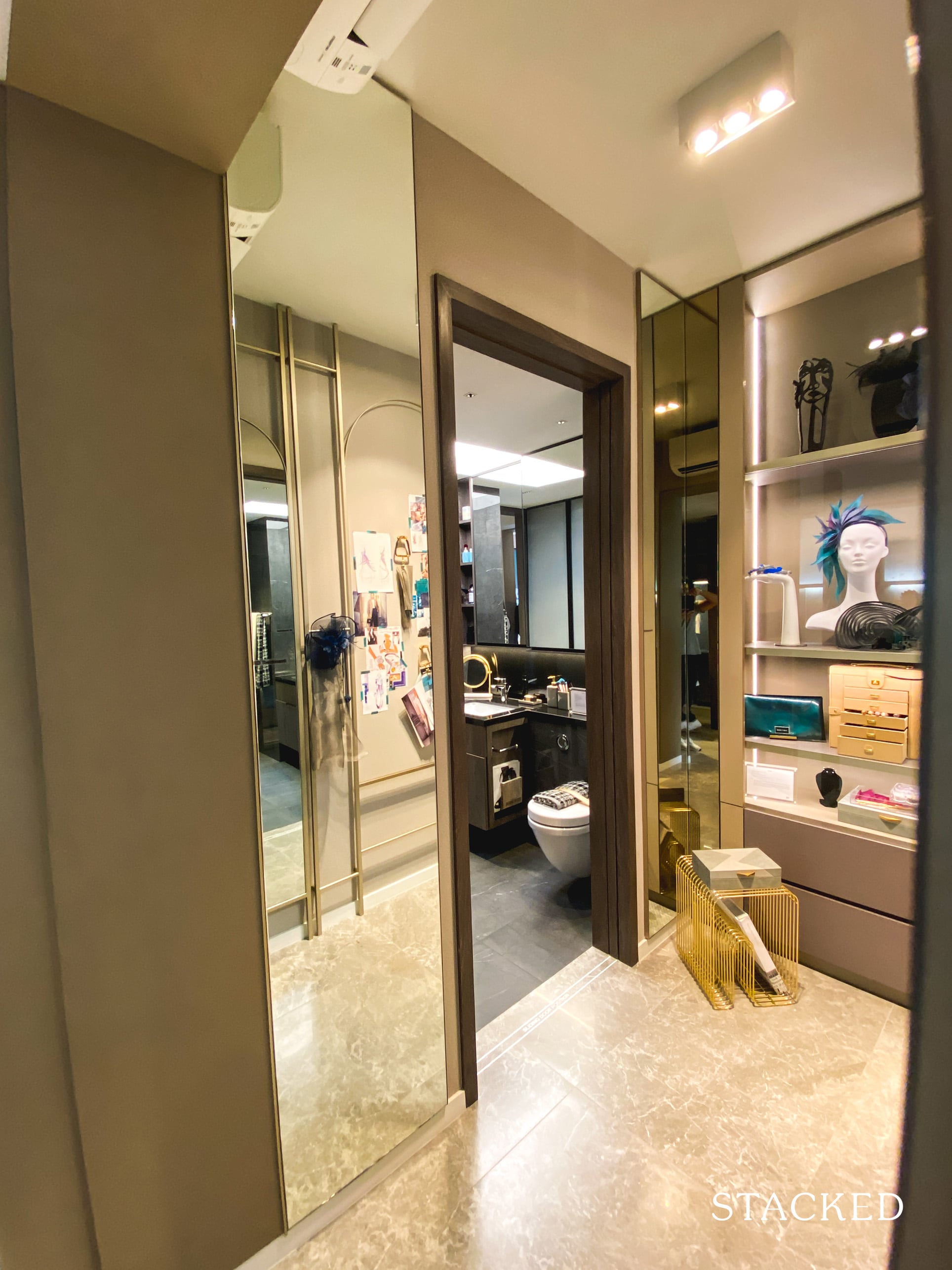 Opposite the kitchen is the study. It's really more of a sliver of a space – I can see some people finding it a little claustrophobic to be working here for extended periods of time.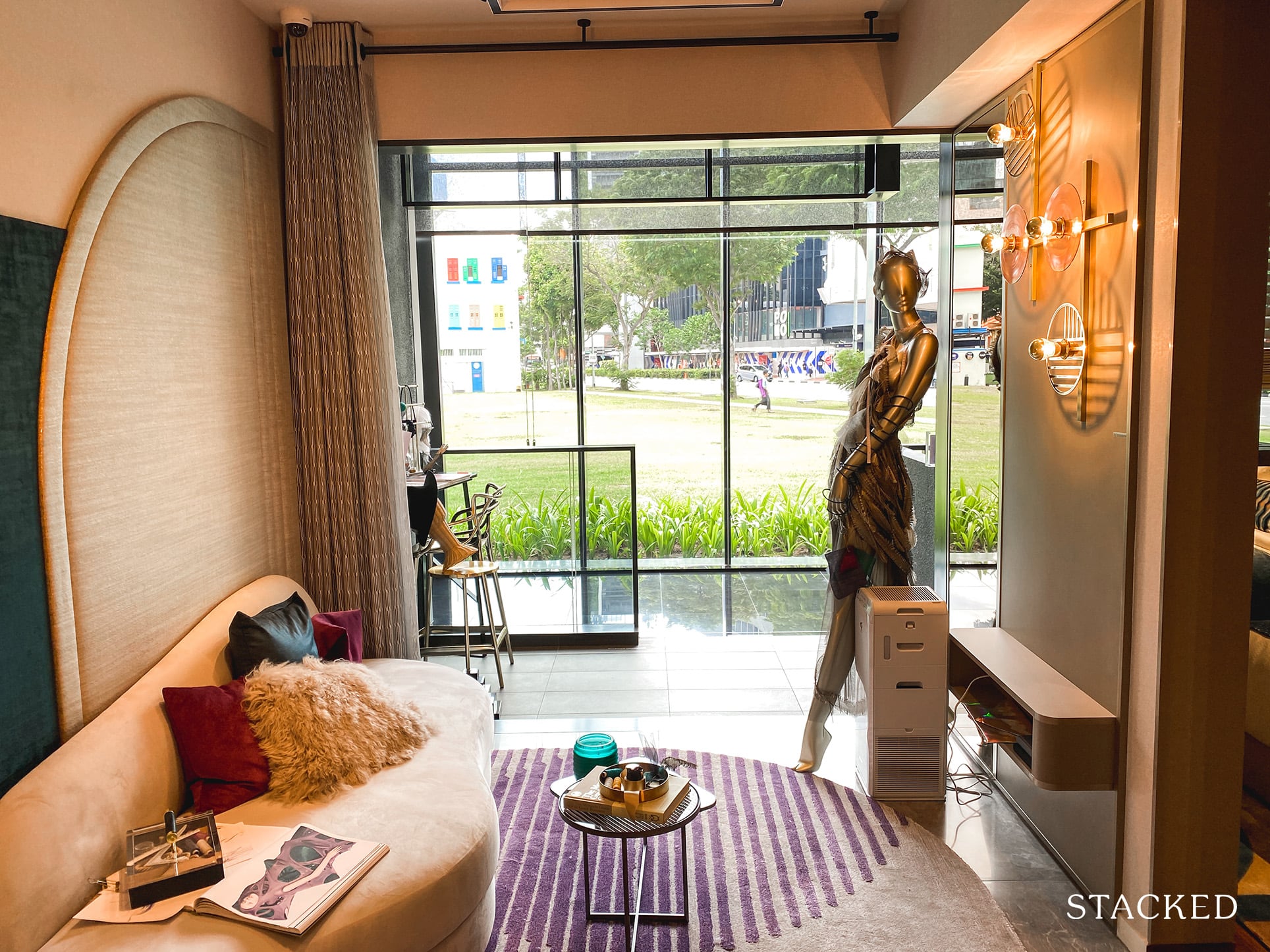 Living space is not too great, it's quite narrow so you'll have to be careful with your choice of furniture here.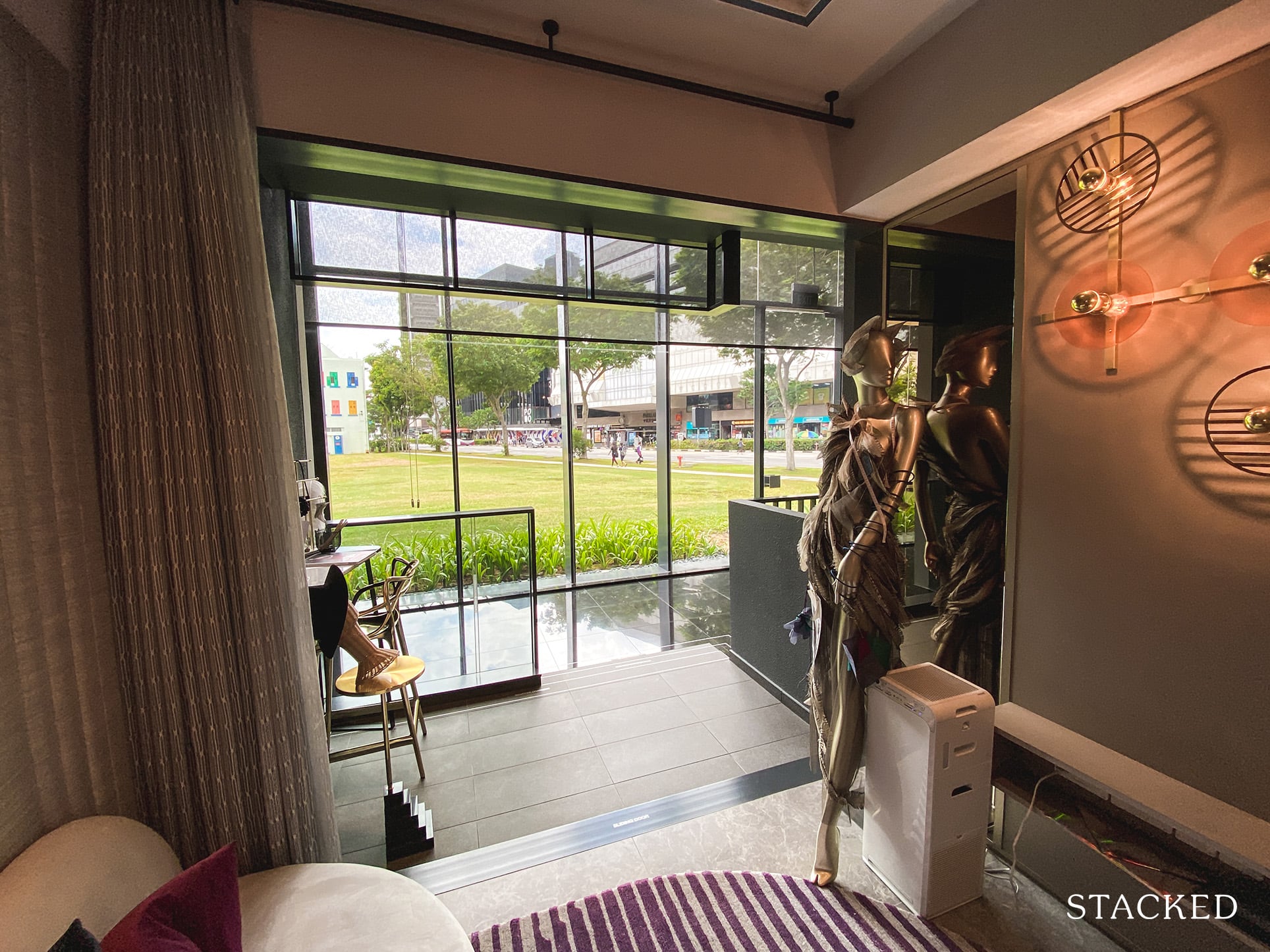 There is provision for a balcony here, it doesn't take up a lot of space which is good considering it is already very limited. I do like to have some outdoor space, especially in a concentrated area like Bugis – it lets you get in some fresh air and it prevents you from feeling boxed in all the time.
The master bedroom is definitely on the small side. You do get a small blockage due to the air-con ledge but the floor to ceiling windows here really helps in getting more light into the space.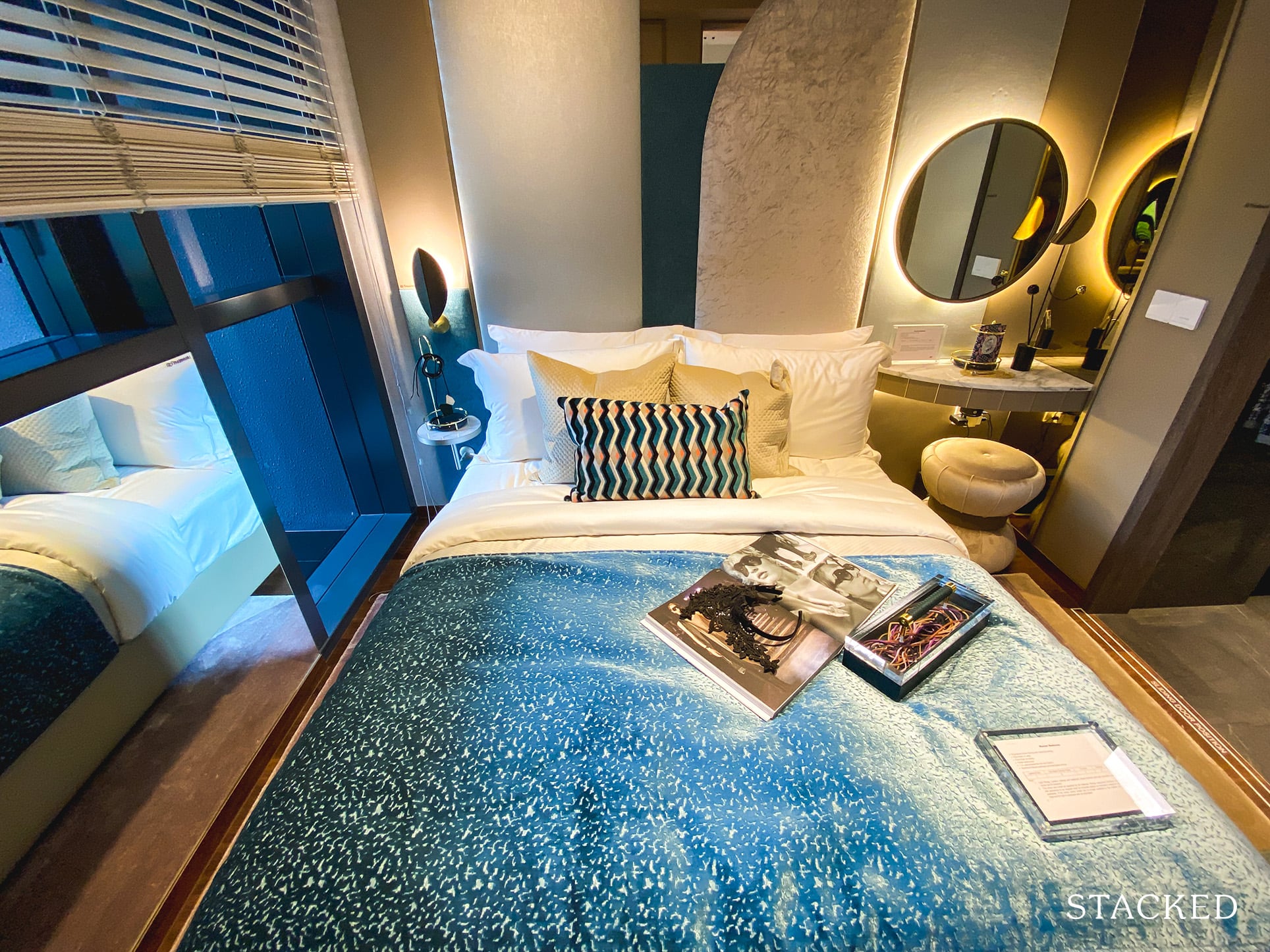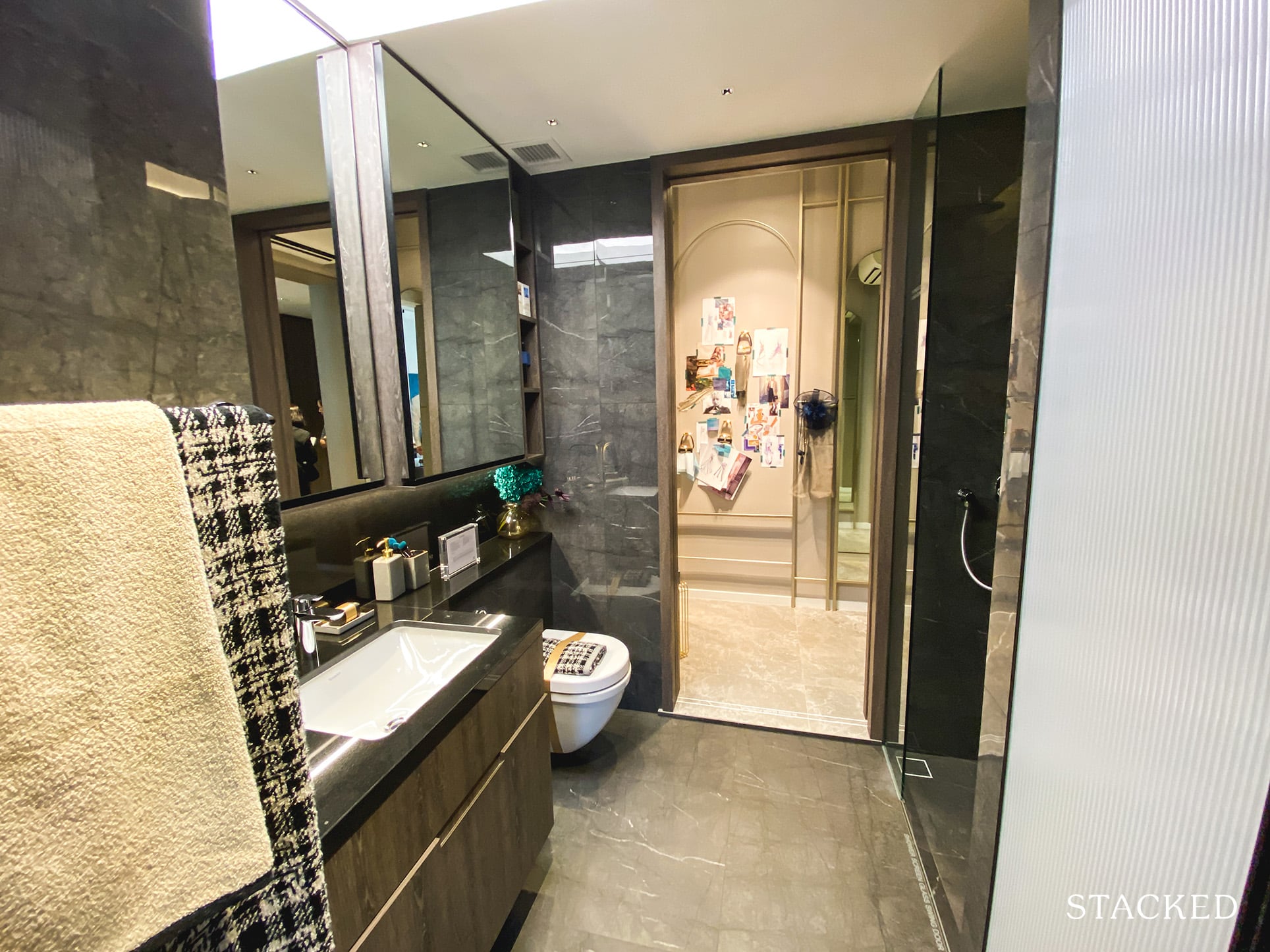 The master bathroom is a jack and jill one – meaning you can access it from both the study and the bedroom itself. It's quite spacious, and features the same skylight that you have seen in the previous studio unit. However, because it is straddled between two rooms it doesn't have a window of its own. While there is a ventilation fan, it is not the most ideal solution.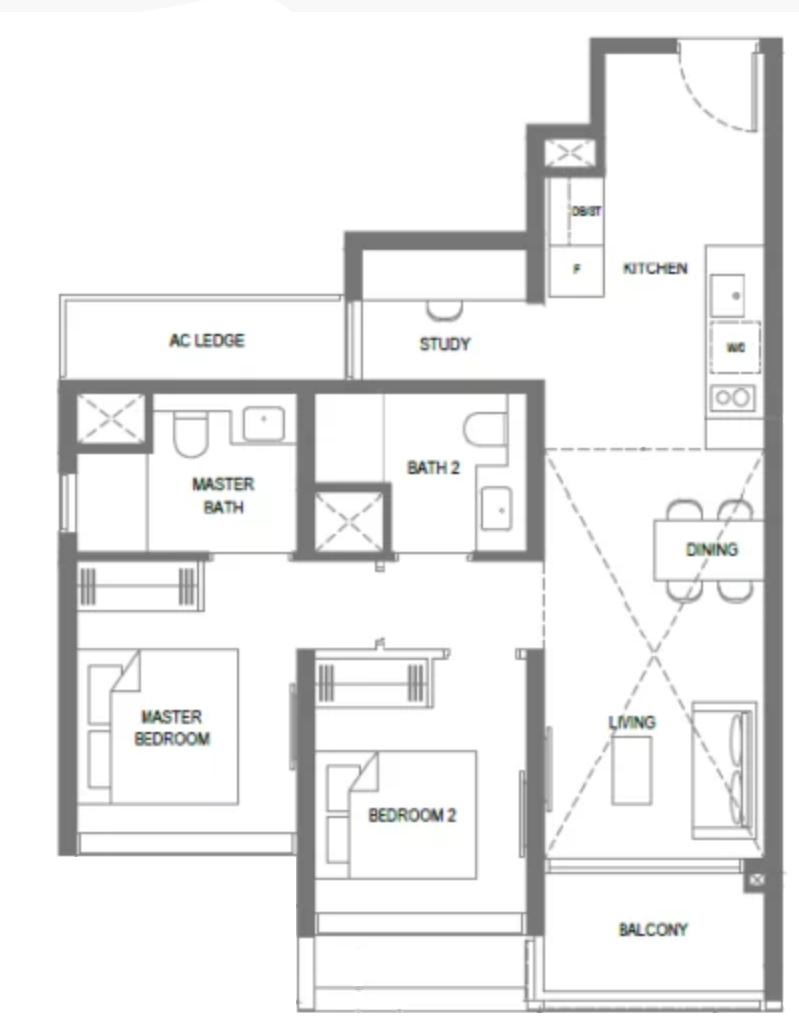 The floorplan
At 743 square feet, the 2 bedroom plus study unit is just about averagely sized. Save for the hallway and a small part of the entranceway, it is mostly well laid out.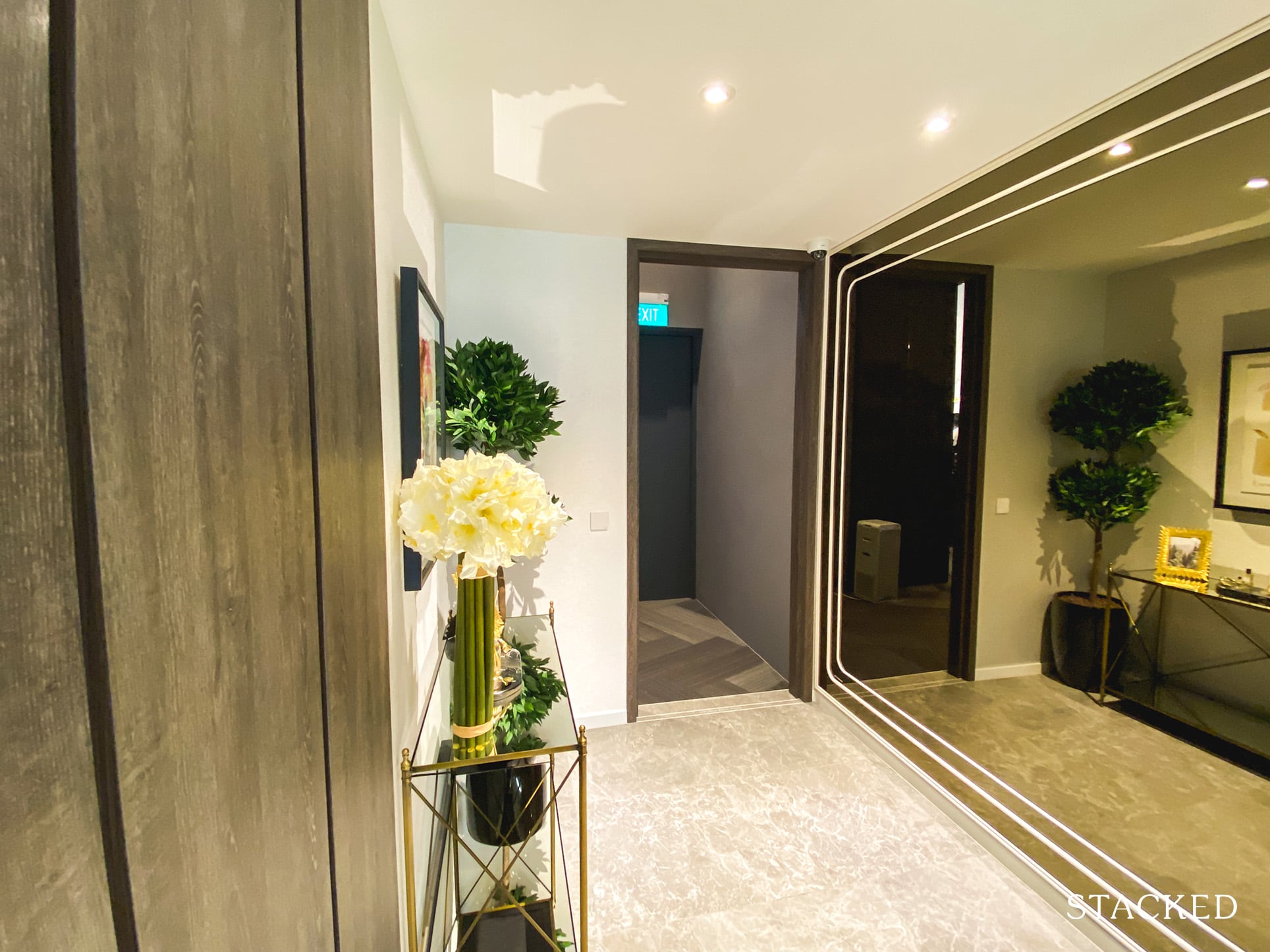 I'm not too fond of the wasted space at the entrance, although you could use the opportunity to build more storage space.
The kitchen fares better than the previous two units in terms of space. The countertop is quite long and comes inbuilt with a full-length kitchen accessory track. This lets you store little spice pots and also allows you to hang up your utensils neatly.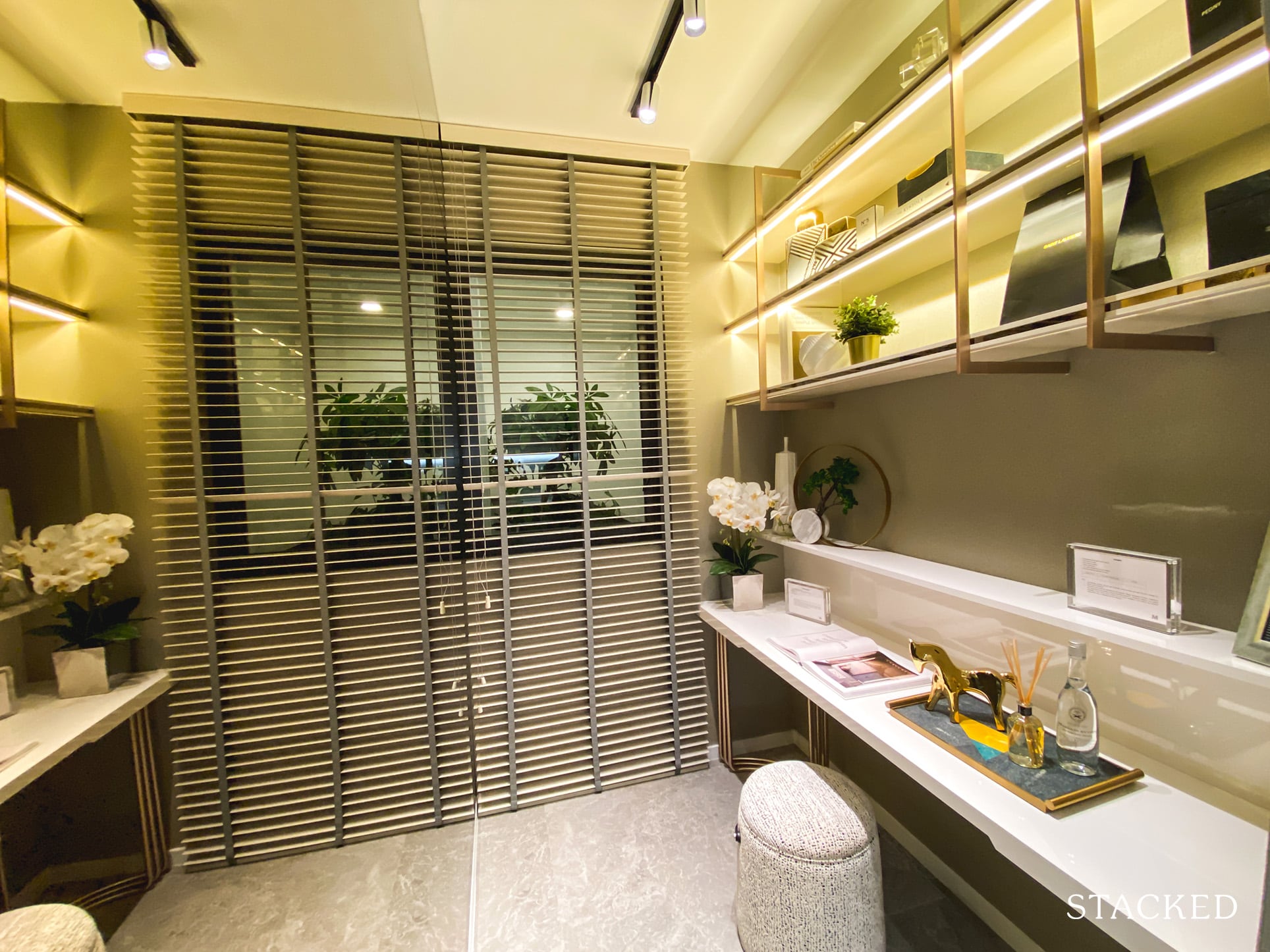 Like the 1 bedroom, the study is located opposite the kitchen. Again, it's not a big space but having a mirror on one side of the wall will certainly help.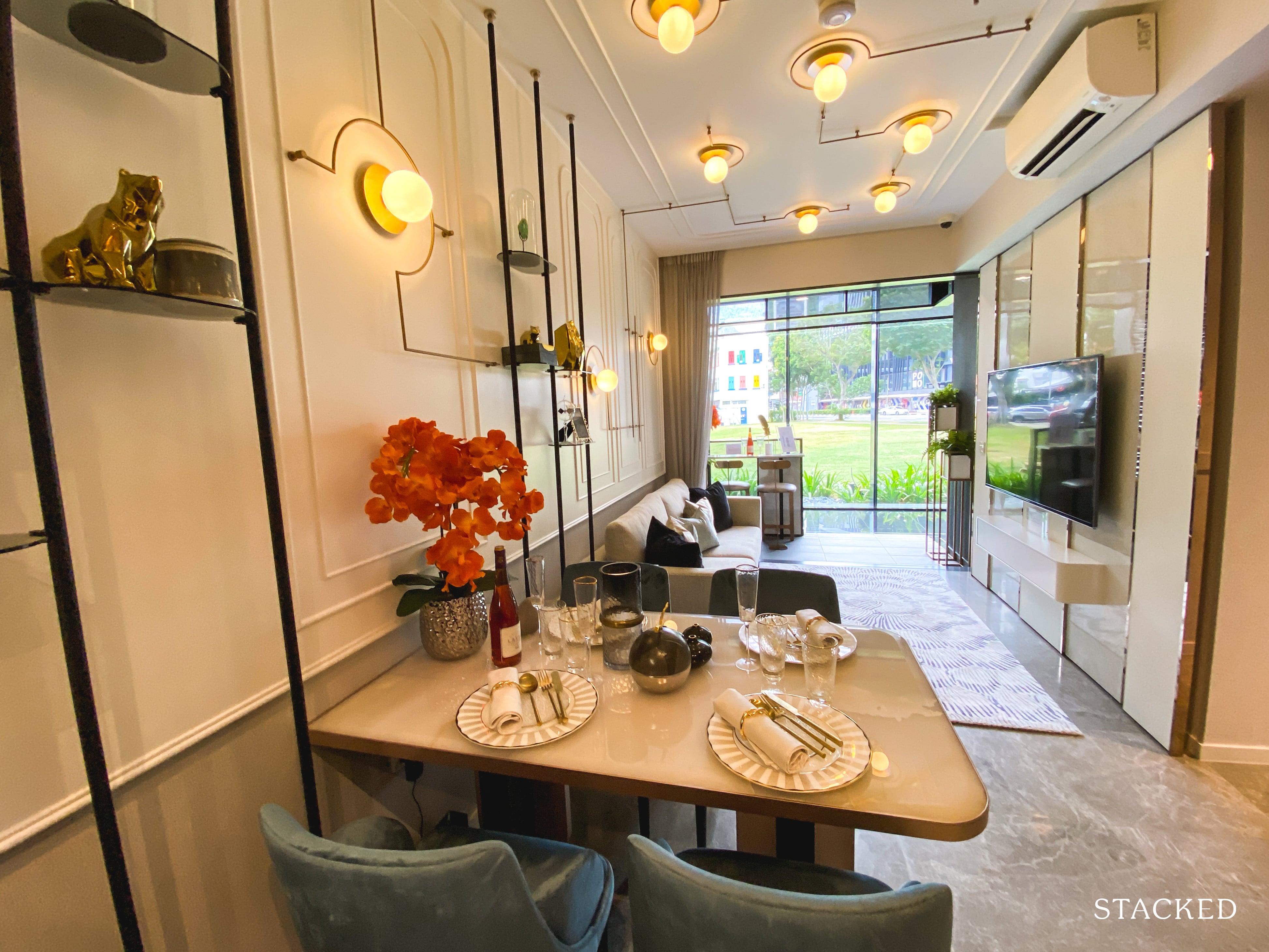 Dining space is just okay in size, the room is narrow but quite long so you'll have to watch the length of the dining table. Sadly, the space saving flexible furniture does not make an appearance here. It's a pity as it would have gone some way in maximising the space here for sure.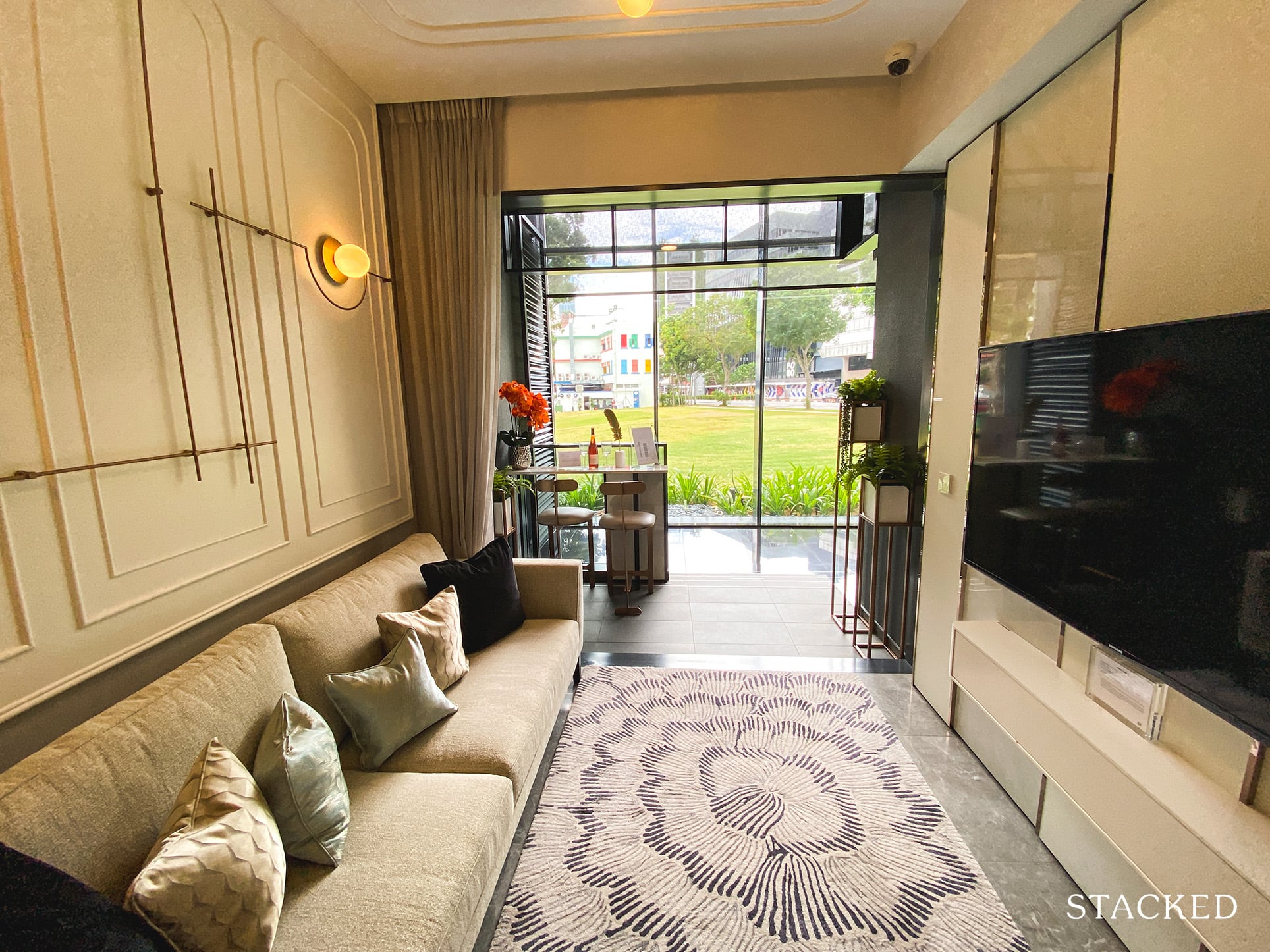 Because of the length of the living, you can fit in a longer sofa as well as a bigger TV flushed against the wall.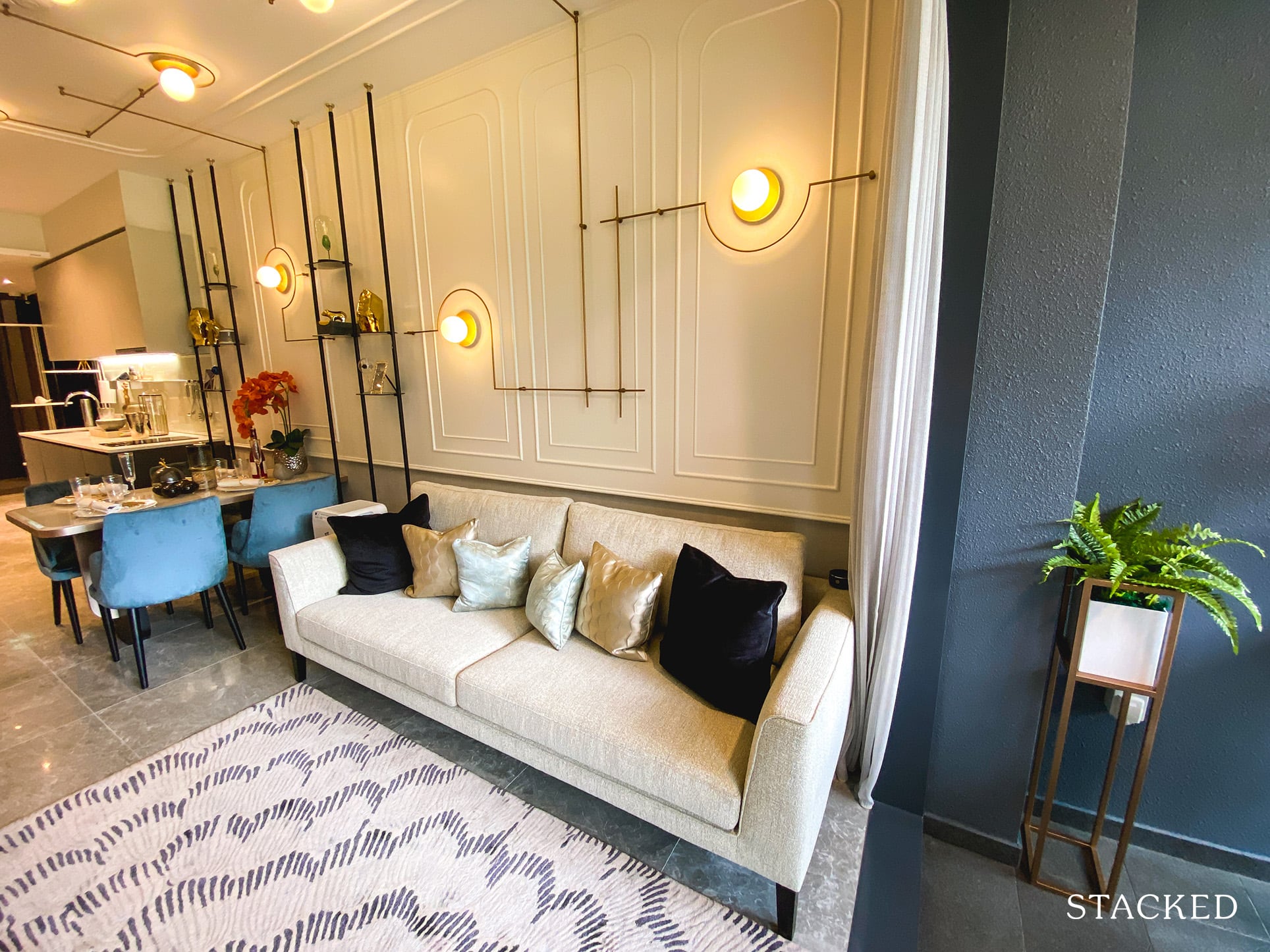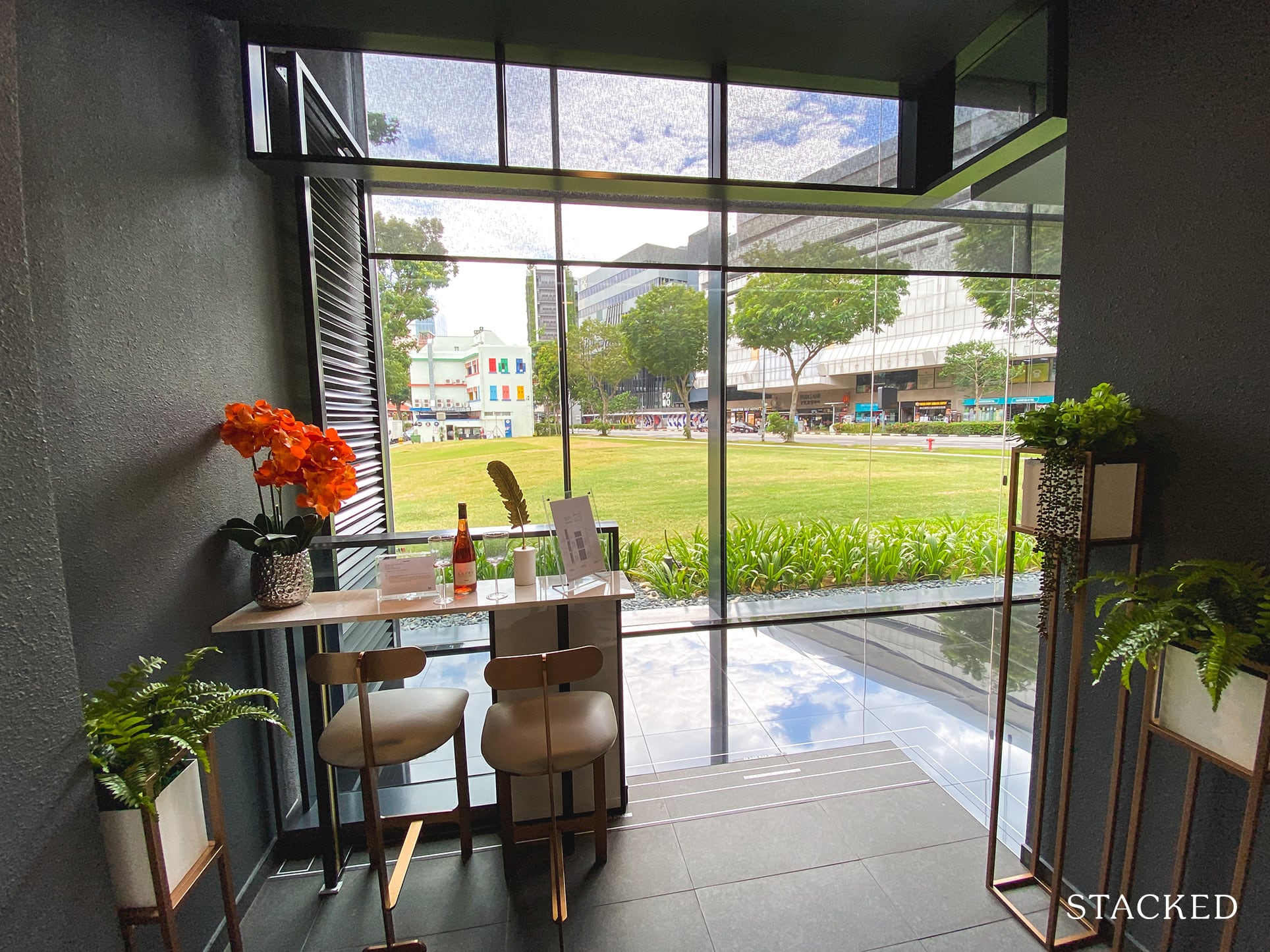 Similar to the 1 bedroom, balcony space here is kept to a minimum. However, there is still some space for some small seating.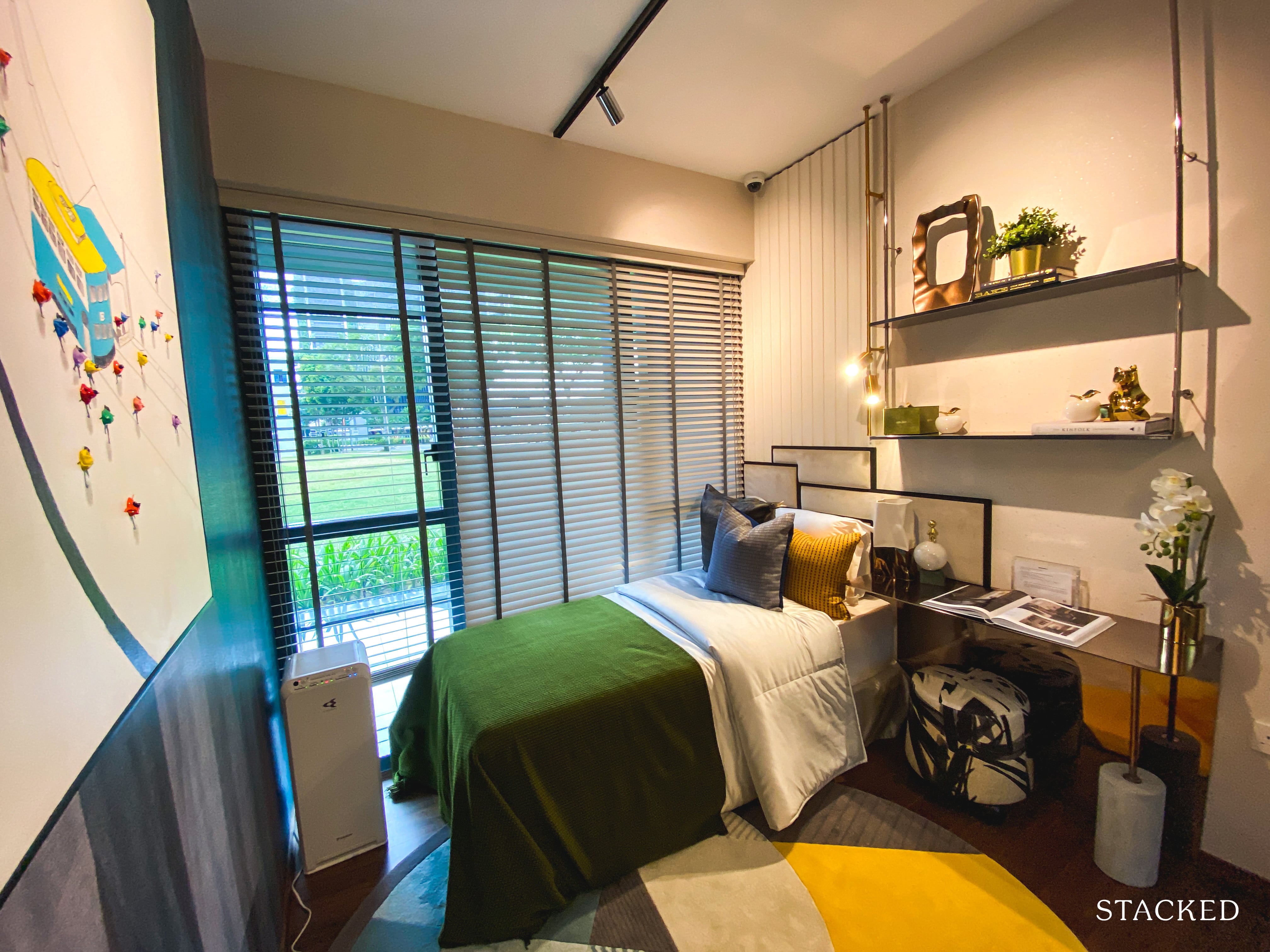 The common bedroom surprisingly feels quite spacious. It's wide but short, so you won't be able to place anything at the foot of the bed.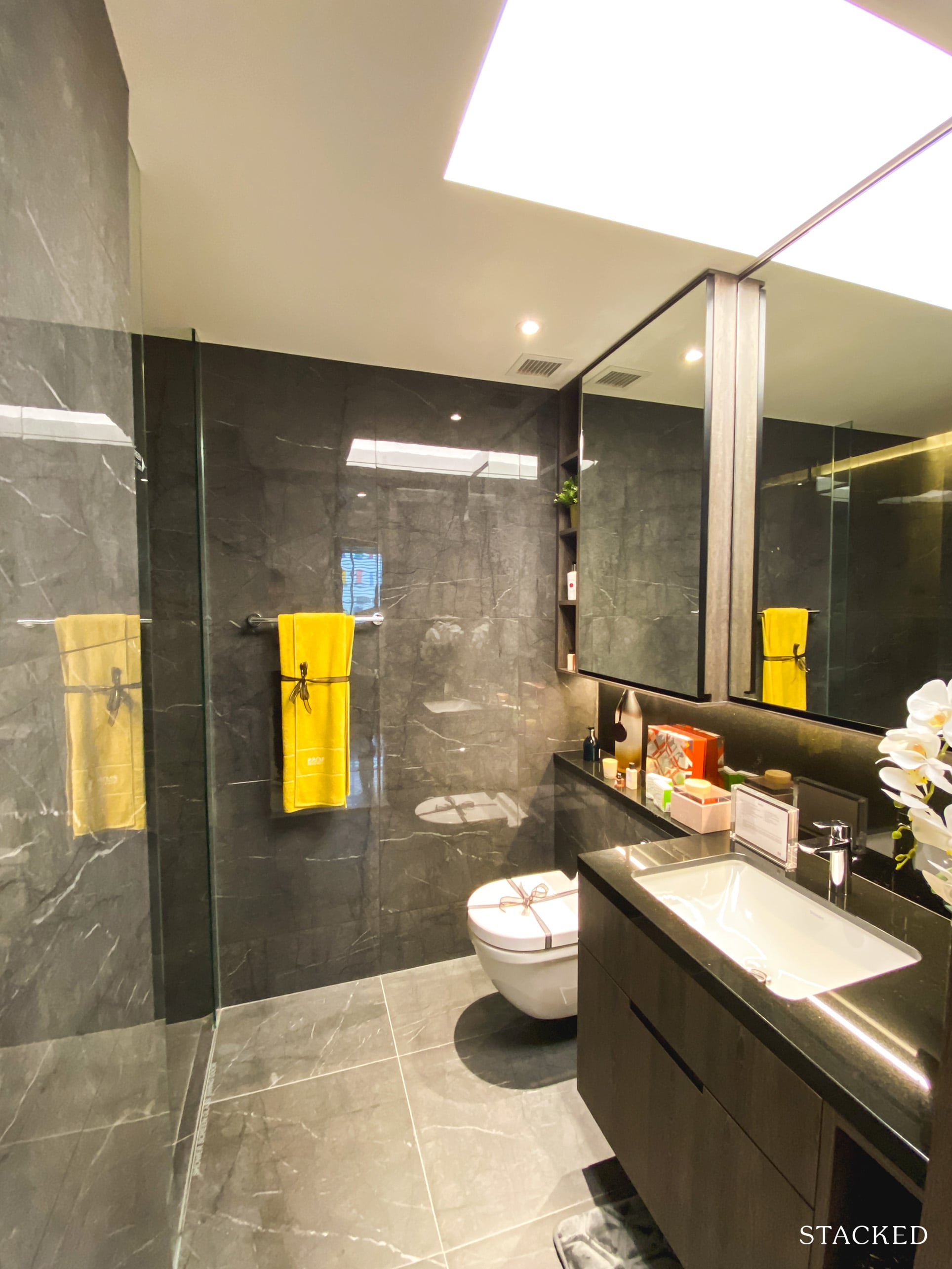 I like the generous space in the common bathroom. Also because the layout allows the shower to be tucked at the side.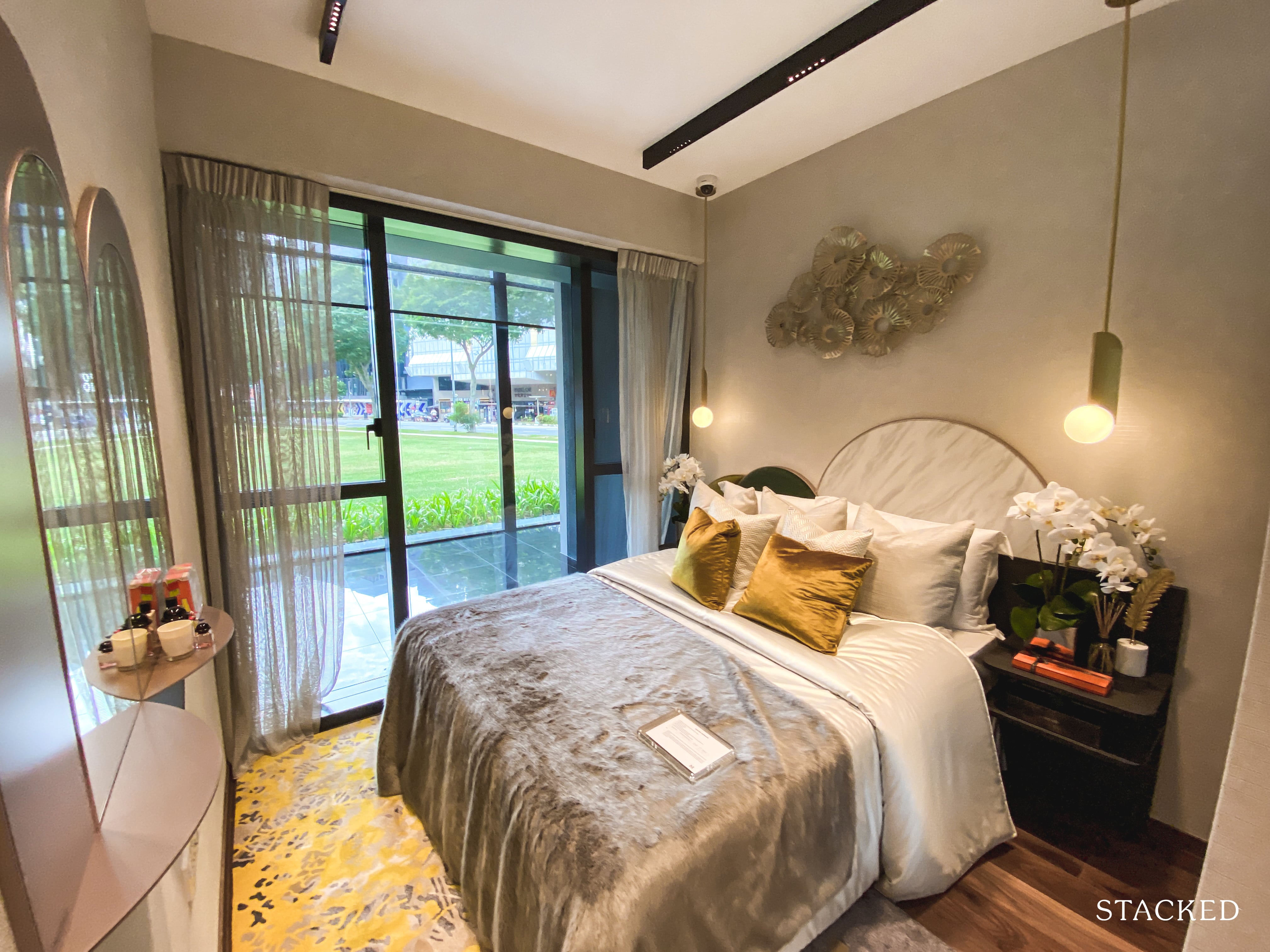 The master bedroom is on the small side, but the floor to ceiling windows really help in brightening and making the space feel bigger.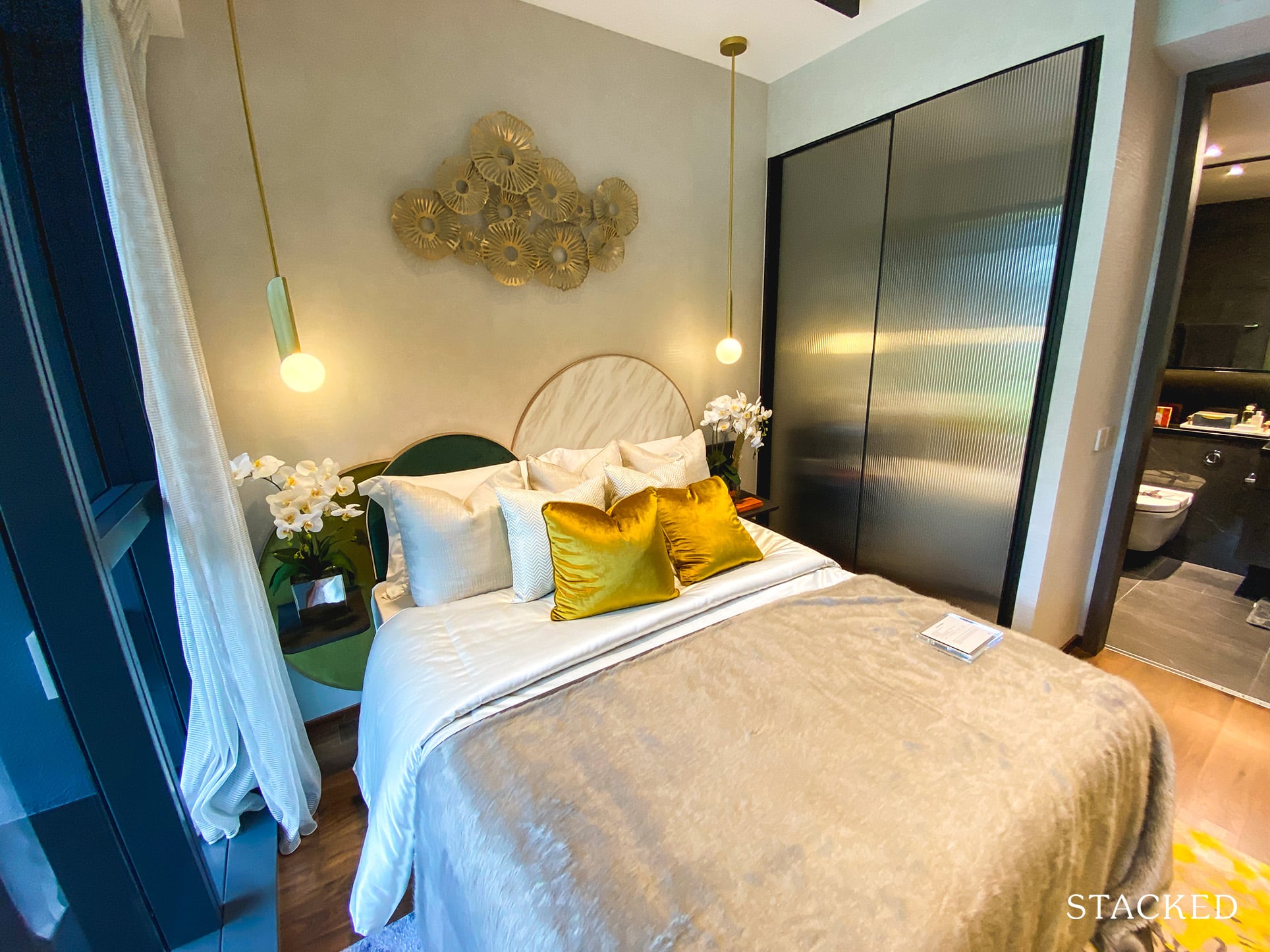 Truth be told, you really don't have much space in here to fit much else.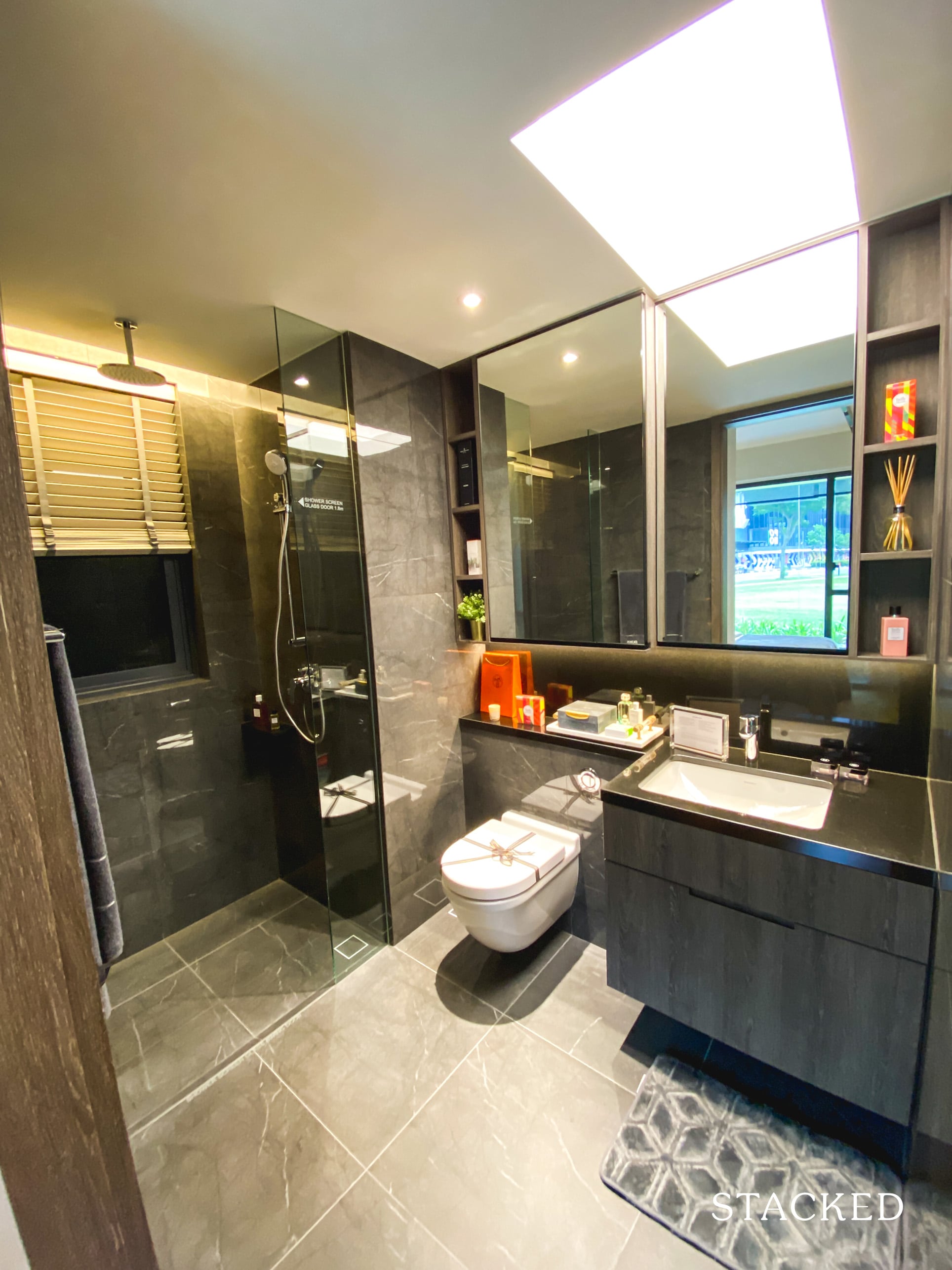 I am pleasantly surprised at the master bathroom too – it's a good spacious size that comes with the "skylight" and rain shower as well. 

The M Location Review
Just a stone's throw from the exciting Midtown Bay, The M condo occupies an extremely prized spot along Middle Road.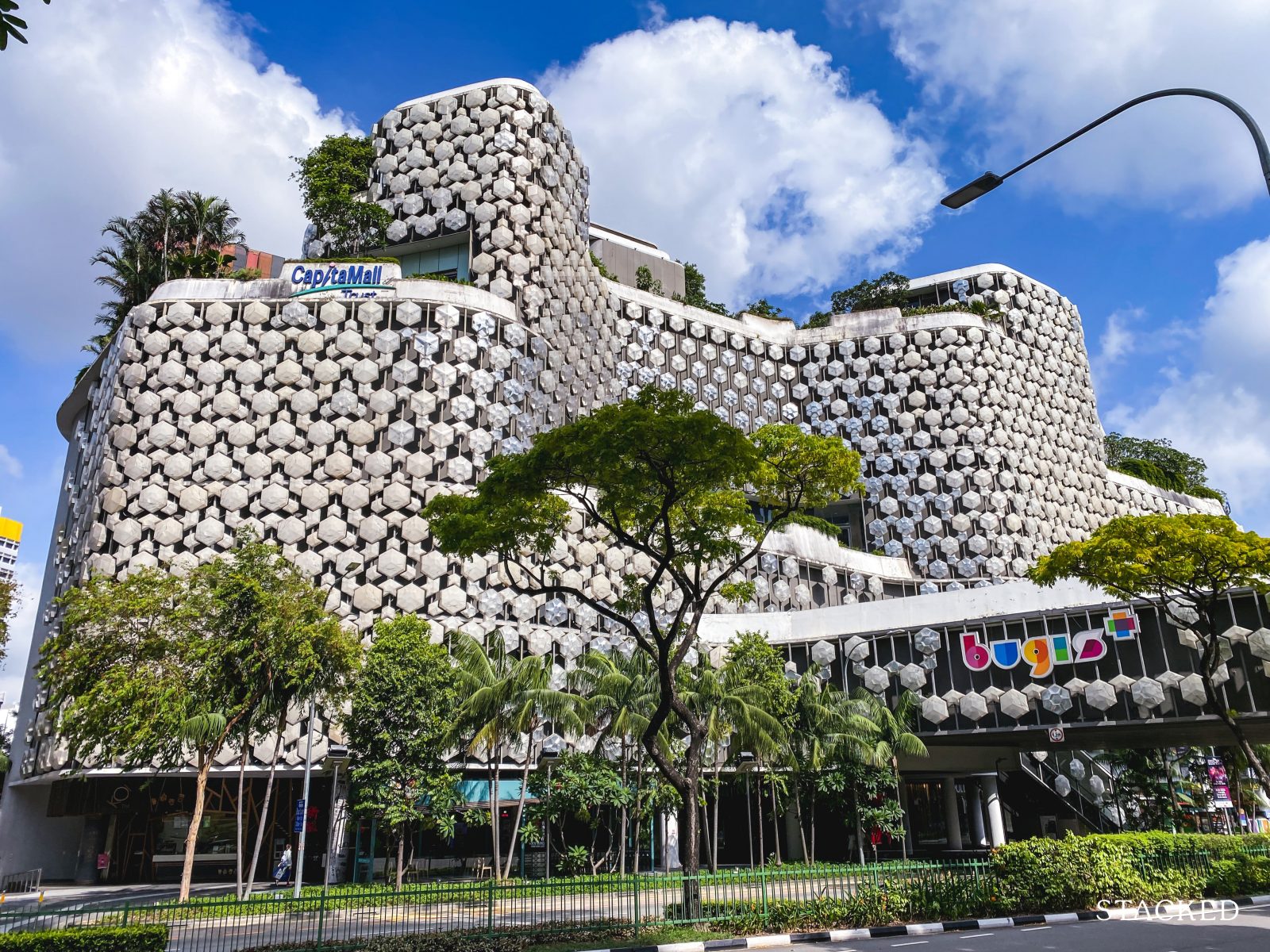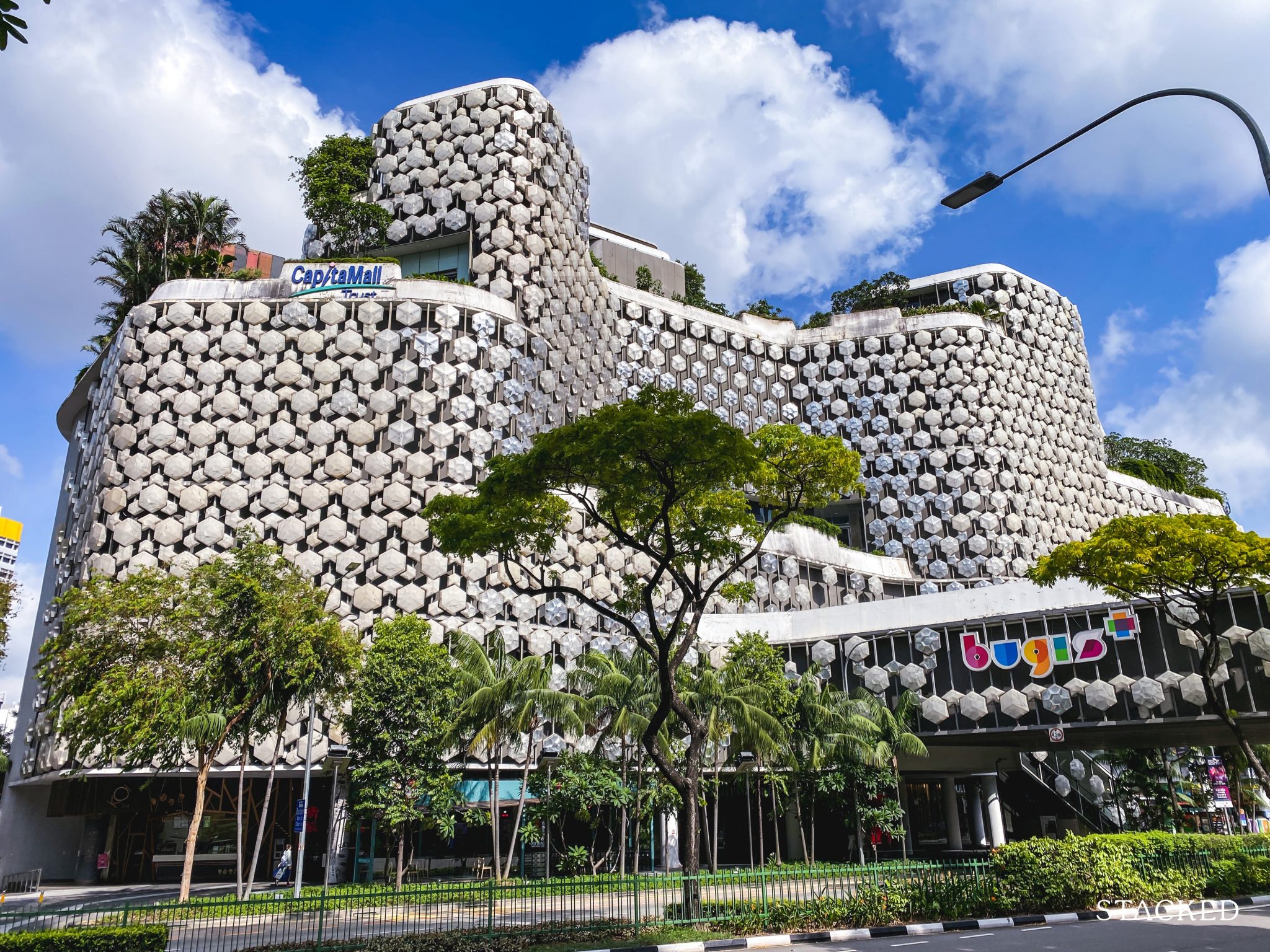 It's nestled between rows of shophouses (on 3 separate ends), within walking distance to 4 Major MRT lines, right next to the entire Bugis mall cluster… and on a slightly larger scale, is a stone's throw from Singapore's Central Business District (CBD).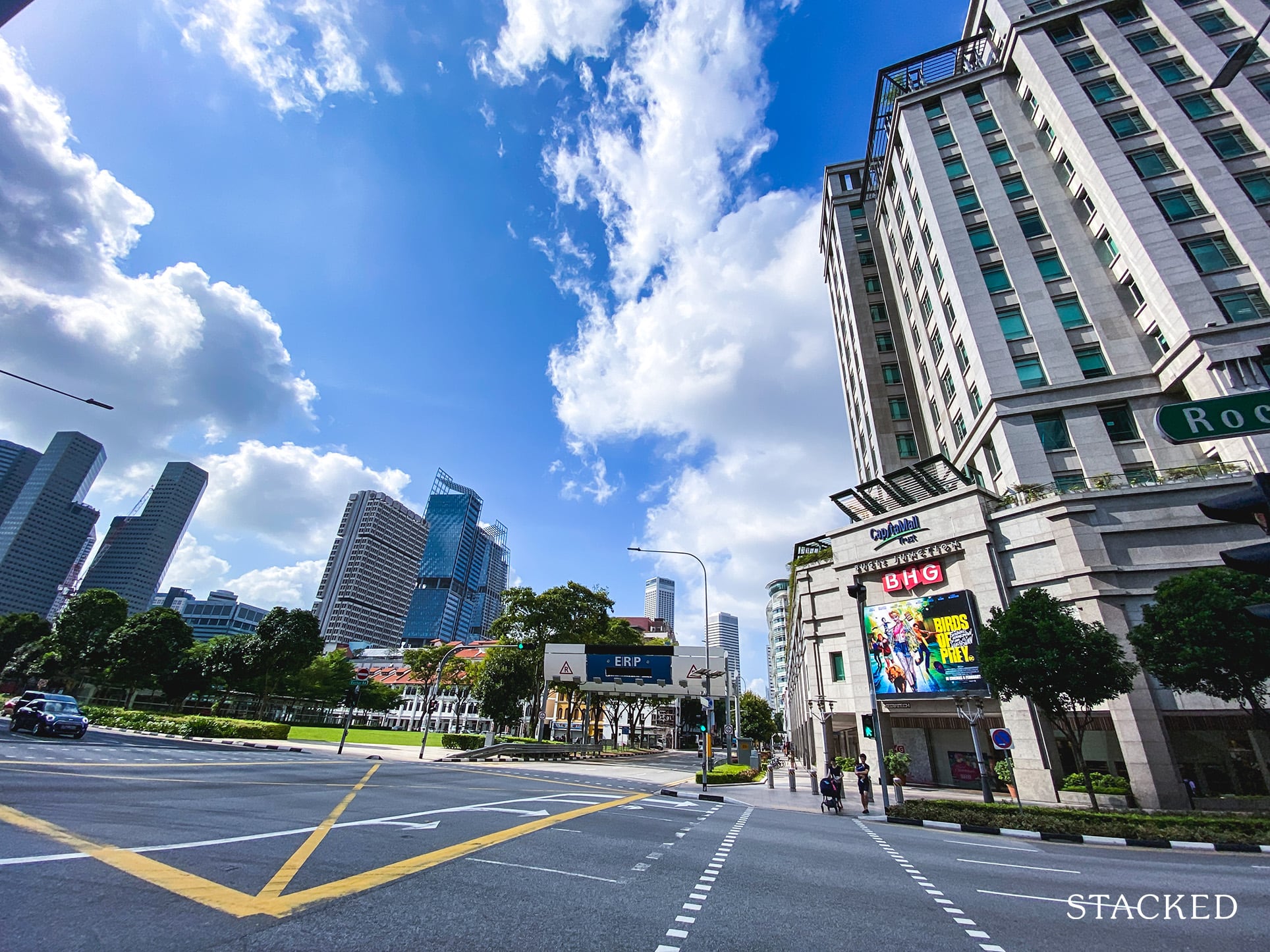 In a nutshell, it screams unparalleled convenience.
Public Transport
| | | |
| --- | --- | --- |
| Bus Station | Buses Serviced | Distance From Condo (& Est. Walking Time) |
| 'Aft Beach Rd' | 56, 980 | 210m, 3-min walk |
| 'Bugis Cube' | 7, 7A, 32, 51, 61, 63, 80, 145, 175, 197, 851, 851e | 260m, 3-min walk |
| 'Bugis Stn Exit D' | 12e, 48, 57 | 350m, 4-min walk |
Closest MRT: Bugis MRT (Exit D) – 350m, 4-min walk
The M is surrounded by a ton of public transport access points.
With Bugis MRT being the closest, it is also within walking distance to the City Hall (850m, 11-min walk) and Esplanade MRT (550m, 7-min walk) stations.
Bugis MRT is 2 stops from the CBD/Raffles Place MRT (4-minute ride) and 4 stops from Orchard Road MRT (8-minute ride) with a single line change either at City Hall or Newton station.

Private Transport
| | |
| --- | --- |
| Key Destinations | Distance From Condo (& Est. Peak Hour Drive Time) |
| CBD (Raffles Place) | 2.6km, 10-min drive |
| Orchard Road | 2.4km, 10-min drive |
| Suntec City | 1.3km, 5-min drive |
| Changi Airport | 18.6km, 27-min drive |
| Tuas Port (By 2040) | 39.8km, 1hr drive |
| Paya Lebar Quarters/Airbase (By 2030) | 10.3km, 20-min drive |
| Mediapolis (and surroundings) | 9.8km, 21-min drive |
| Mapletree Business City | 11.8km, 25-min drive |
| Tuas Checkpoint | 55.5km, 1hr 10min drive |
| Woodlands Checkpoint | 35.4km, 1hr 10min drive |
| Jurong Cluster (JCube) | 17.4km, 30-min drive |
| Woodlands Cluster (Causeway Point) | 25.3km, 38-min drive |
| HarbourFront Cluster (Vivo City) | 9.2km, 18-min drive |
| Punggol Cluster (Waterway Point) | 18.8km, 25-min drive |
*Note that Drive Times are calculated during Peak Hours

Immediate Road Exit(s): 1 exit between Middle/Liang Seah Road (on the Bugis Cube side).
Summary: Extreme centrality means massive jams during peak periods. Residents of District 7 should, therefore, apply less car-dependent lifestyle during these periods to minimize downtimes. That being said, residents at The M will have easy access to major linkways like Nicoll Highway, the ECP and Rochor Road.
Note: The carpark here does come at an additional expense on top of the maintenance fees.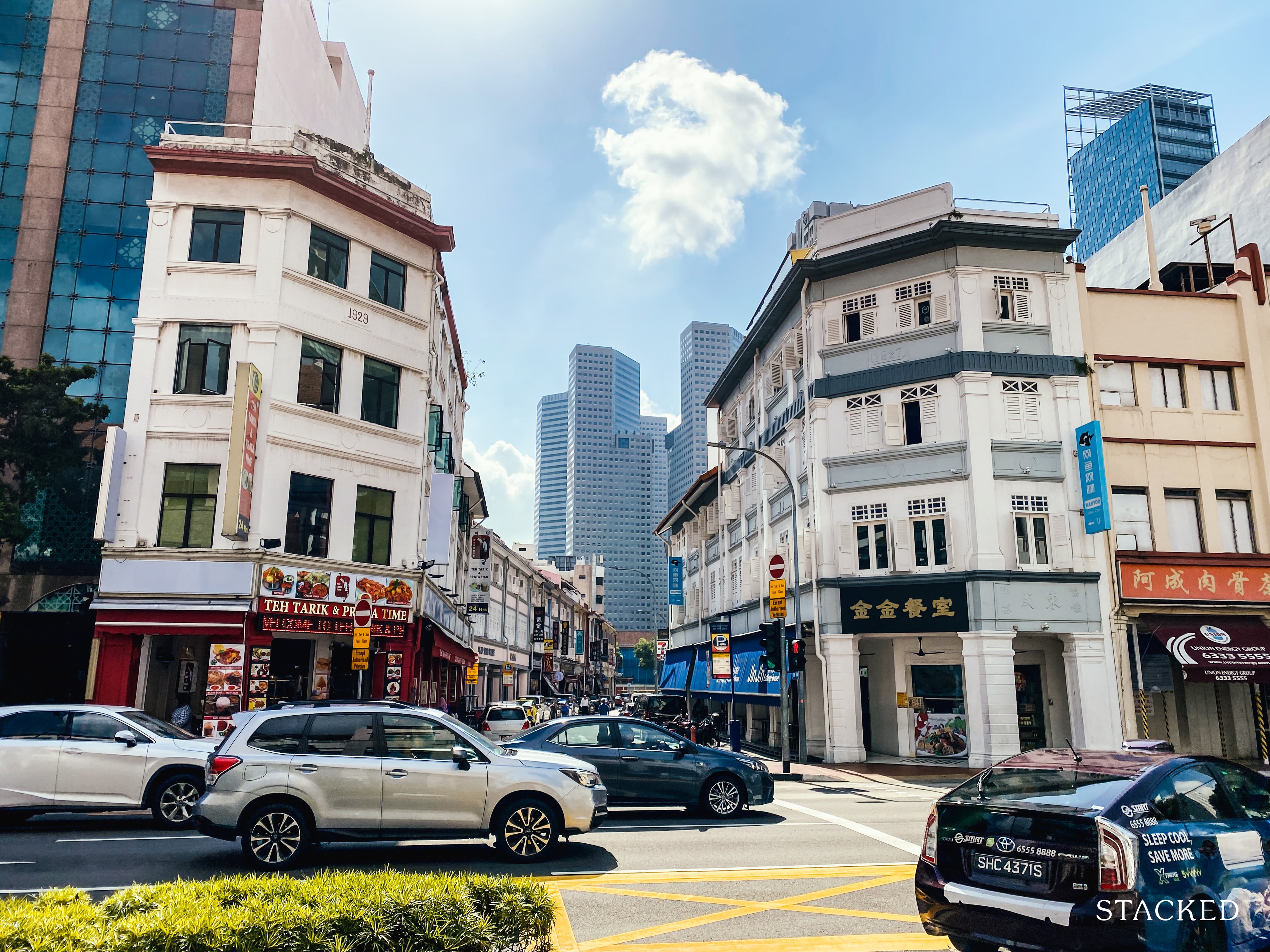 Groceries
| | |
| --- | --- |
| Name of Grocery Shop | Distance From Condo (& Est. Walk Time) |
| Cold Storage – Bugis Junction | 550m, 7-min walk |
| Giant – Suntec | 750m, 10-min walk |
| FairPrice Xpress – Peace Centre | 1km, 13-min walk |
Schools
| | |
| --- | --- |
| Educational Tier | Number of Institutes |
| Preschool (within 1km walk) | 7 |
| Primary (3km-drive) | 2 |
| Secondary (3km-drive) | 0 |
| International School (3km-drive) | 0 |
| Junior College (5km-drive) | 1 |
| University (5km-drive) | > 12 |
| Polytechnic (10km-drive) | 0 |
Additional Pointers
Most central condos are located closer to the Orchard Area (D9/D10). For those who are new/keen on the idea of moving into District 7, you'll realise that the ECP is just a minute's drive from the condo.
In fact, East Coast Park is a 10-minute drive away!
Of course, it's a little further to the checkpoints and 'outer-clusters' of Singapore in that regard, but this little bonus does open up a whole range of recreational activities (not to mention club access) in that regard.
District 7 has long been notorious for the amount of traffic build-up at most points of the day.
And as you have seen from the charts, getting to most places from The M by private transport (during peak hours) takes much longer despite shorter distances.
It doesn't mean that cars are completely useless here – it simply means that some residents might have to look into switching up their usual commute routines.
After all, the convenience of the seamless central public transport offered here is one of the reasons why D7 commands such a high premium!
Lack of Immediate Education Institutes (Excluding Universities)
Interestingly enough, The M provides unfaltering convenience in almost all crucial sectors, but one.
As most parents would know, there is a sore lack of schools in the core central region of Singapore, and it seems like the case is similar for The M. With almost no Primary, Secondary, Junior Colleges and Polytechnics in the usual proximity search radius, it could pose a potential commute issue for the young ones. 
It isn't necessarily a deal-breaker at this point, but parents should also consider the early morning peak hour jams here if they are contemplating sending their kids to school on a regular basis.
Surrounding Office Developments
For those of you who've followed the developments of District 7 closely, you'd know of the current revamp to the Shaw Tower building to provide 35 storeys of Grade A office space by 2023.
Add in the impending office spaces from Midtown Bay that is set to add to the already massive Suntec City workhub, and we've got an entire array of immediate potential working areas for employees of key A-lister companies.
*Cue massive rental-demand*
It's hard to understate just how much office space there is around the area, but I'll try my best.
Duo Tower: 568,000 sqft Grade-A office space
South Beach: 510,000 sqft Grade-A office space
Midtown Bay: 665,000 sqft Grade-A office space
New Shaw Tower: 400,000 sqft Grade-A office space
Again, this isn't even including the existing Suntec and Bugis office spaces. So just imagine how much demand there would be for rental in the immediate area. Two important points – this makes the M condo extremely easy to obtain tenants, and it ensures that it will generate a good rental yield due to the demand.
The M Condo Development Site
Facilities in The M

| | | |
| --- | --- | --- |
| 50M Lap pool | Jacuzzi | Sun Deck |
| Aqua Lounge | Gym | Function Room |
| Garden | Lounge | Yoga Deck |
| Outdoor Gym | Golf Snooker | Security |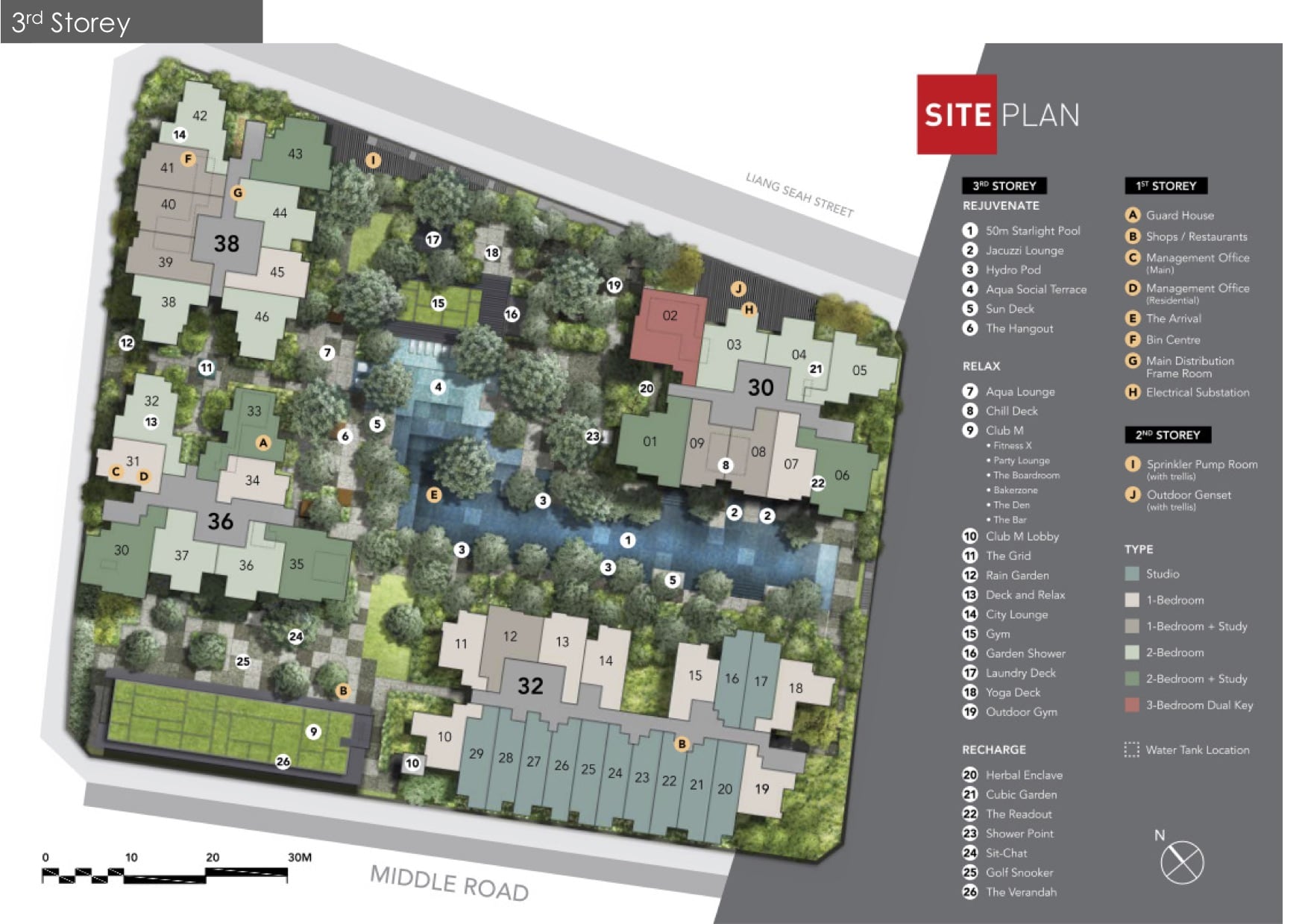 At just 80,327 square feet large, you'd be surprised that the developers actually managed to fit 522 units here.
Of course, the 4.2 plot ratio does help a bunch – but what the development really shows, is the modern emphasis on building 'upwards' for maximised space utilisation.
With one 6-storey block and three 20-storey towers, The M serves as a testament to this feat.
Unfortunately, we aren't looking at any sky gyms here unlike Boulevard 88, but what we do have is a sky terrace atop block 32 – allowing residents access to a sky lounge, teppanyaki deck, a grill and (surprise surprise) beautifully designed infinity jacuzzi pool.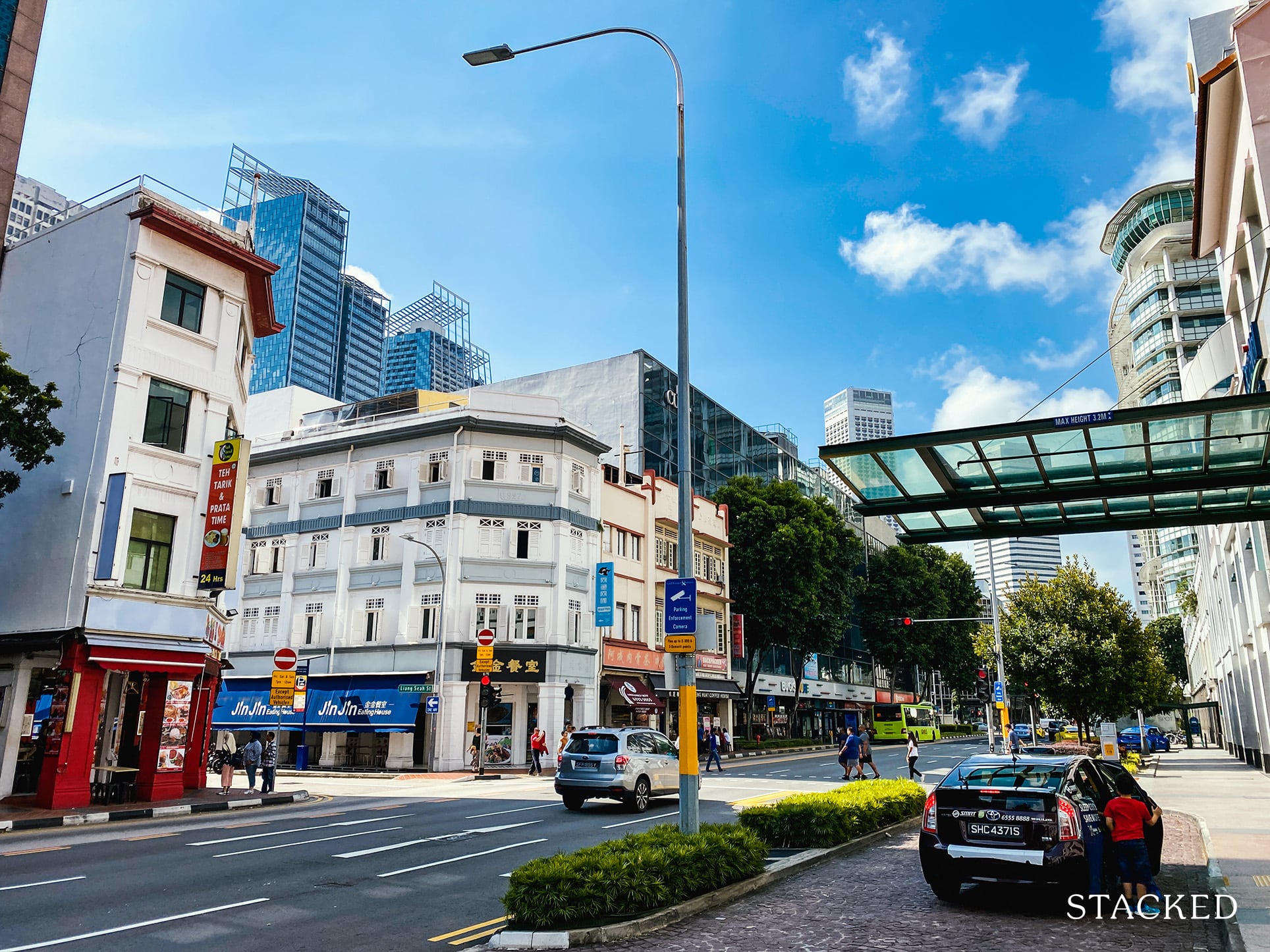 The numerous shophouses (and malls) surrounding the condo will no doubt be thoroughly enjoyed by residents here, though actually having that extra bit of retail shops on the first storey of the development will further boost this convenience factor.
Of course, the take-up rate and value of shop types still remain to be seen.
Considering the number of units here, we should also observe some competition for The M's facilities during the off-peak/weekend hours – and quite possibly, a lack of private free spaces in general.
It's definitely a drawback, especially when you consider the fact that there are only two water-related facilities and a single gym here.
On a brief side note, I know that getting a grasp of the entire development might seem like a tall order at first (especially given the massive diversity of varying building arrangements – not to mention floors).
If you'd like to find out more about the development, feel free to drop us an email at hello@stackedhomes.com, and we'll try to sort you out as best we can!
With that, let's head over to the unit mix.
Unit Mix
| | | |
| --- | --- | --- |
| Unit Type | No. Of Units | Size of Units (sqft) |
| Studio | 48 | 409 – 420 sqft |
| 1-Bedroom | 96 | 409 – 495 sqft |
| 1-Bedroom + Study | 89 | 527 sqft |
| 2-Bedroom | 170 | 592 – 667 sqft |
| 2-Bedroom + Study | 102 | 721 – 764 sqft |
| 3 Bedroom Dual Key | 12 | 904 sqft |
The M's unit mix is an interesting one, to say the least.
For one, the units are averagely – or possibly even smaller than 'averagely' sized.
It was definitely something that was expected from the beginning though, mostly given the project's plot ratio and the number of units to land size scale.
On a positive flipside, while it might not be suitable for those who crave large spaces, it does mean that units here are going to be more affordable based on the PSF pricing scheme.
Considering the unit-tiers available here, you'll quickly realise that the development is suited more for smaller families and couples/bachelors.
More importantly, it will serve as a very attractive rental option for expats further given the condo's proximity to the Core Central Region.
Add in the 3-bedder dual-key units, and it does seem like The M is the next big thing in the rental investment market.
Prices for the m condo
Price Breakdown (1st Property)
Studio
1-Bedroom
1-Bedroom + Study
2-Bedroom
2-Bedroom + Study
3 Bedroom Dual Key
Price
$1,012,684
$1,172,655
$1,353,863
$1,459,280
$1,770,055
$2,191,296
25% Down Payment
$253,171
$293,164
$338,466
$364,820
$442,514
$547,824
Additional Costs
Buyer Stamp Duty
$25,107
$31,506
$38,755
$42,971
$55,402
$72,252
Legal Fees
$2,500
$2,500
$2,500
$2,500
$2,500
$2,500
Valuation Fees
$300
$300
$300
$300
$300
$300
Stamping Fees
$500
$500
$500
$500
$500
$500
Total Price
$1,041,091
$1,207,461
$1,395,918
$1,505,551
$1,828,757
$2,266,848
Initial Investment Amount
$281,578
$327,970
$380,520
$411,091
$501,216
$623,376
Return on Investment
Expected Rental Price
$2,454
$2,970
$3,162
$3,552
$4,326
$5,424
Rental Yield
2.83%
2.95%
2.72%
2.83%
2.84%
2.87%
Price (2nd Property)
Studio
1-Bedroom
1-Bedroom + Study
2-Bedroom
2-Bedroom + Study
3 Bedroom Dual Key
Cost Without ABSD
$1,041,091
$1,207,461
$1,395,918
$1,505,551
$1,828,757
$2,266,848
Plus: ABSD (12%)
$121,522
$140,719
$162,464
$175,114
$212,407
$262,956
Total Price After ABSD
$1,162,613
$1,348,180
$1,558,381
$1,680,665
$2,041,164
$2,529,803
Initial Investment Amount
$403,100
$468,689
$542,984
$586,205
$713,623
$886,331
Return on Investment
Expected Rental Price
$2,454
$2,970
$3,162
$3,552
$4,326
$5,424
Rental Yield
2.53%
2.64%
2.43%
2.54%
2.54%
2.57%
Best Stacks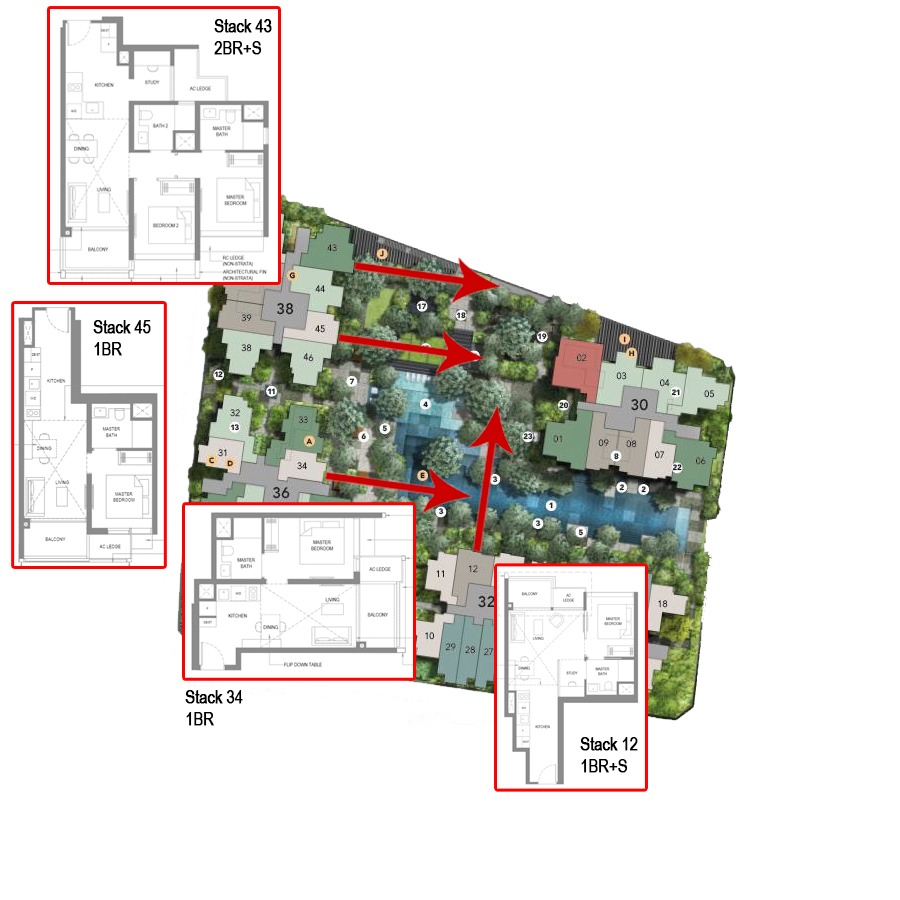 If you are looking for a 1 bedder unit, Stack 45 and Stack 34 would be our pick of the bunch. Stack 45 will get good views (from your living) plus less road noise because it is tucked further in.
Stack 34 overlooks the pool if you are after a pool view, but the layout here is not as good in my opinion as the pullout table might block the walkway a little.
Stack 7 is also worth a consideration because of the view, but you'll have to take note of the South West sun here.
Stacks with the least afternoon sun
Stacks on the periphery of the development on the south-west and north-west side will get the afternoon sun all year round. The stacks with the no afternoon sun are stacks 3 to 5, 12 to 18, 33 to 34 and 43 to 45.
Price Review
| | | | | |
| --- | --- | --- | --- | --- |
| Project Name | Tenure | TOP | Average Price (PSF) | Comparison Point |
| The M | 99-years | 2024 | $2,200 – $2,400 | |
| Midtown Bay | 99-years | 2022 | $2,898 | D7/New Launch |
| Duo Residences | 99-years | 2017 | $2,154 | D7 |
| South Beach Residences | 99-years | 2016 | $3,315 | D7 |
| Concourse Skyline | 99-years | 2014 | $2,318 | D7 |
Back in November 2019 when we wrote our piece on Midtown Bay, we very briefly referred to the 'GLS site' along Middle Road.
This GLS site has now become District 7's most in-demand New Launch project.
Today's pricing table briefly details the key surrounding private residentials in District 7.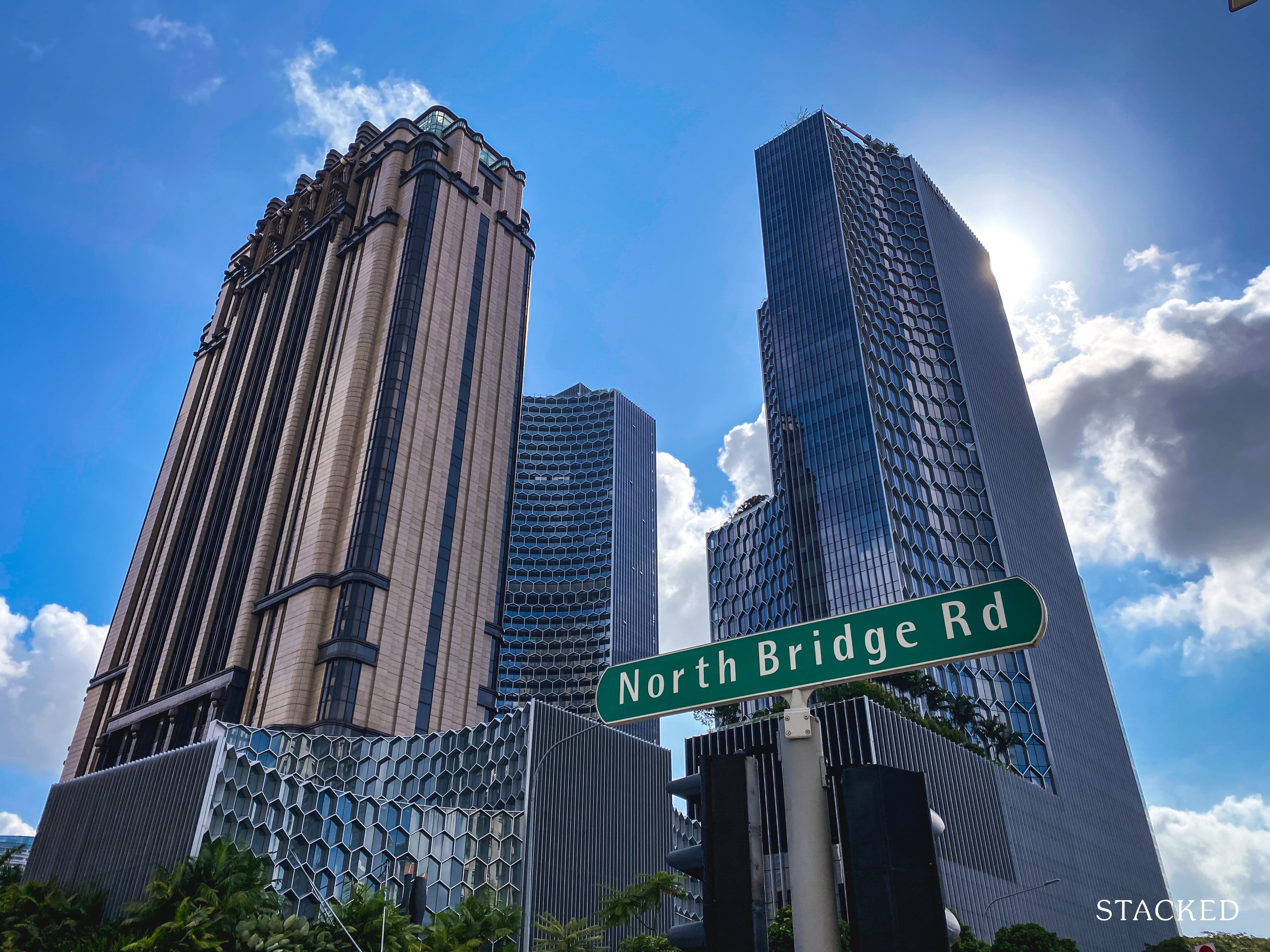 Once again, note that these are all 99-year leaseholds – so you can see how well-valued they are on the property market in terms based on their price range.
Now if we consider that the cheaper units of The M are going for approximately $2,200 PSF, that would place the project just above the Duo Residences (mixed hotel and residential development) in terms of quantum demand, earning it the 2nd most affordable spot on the list.
For those who don't understand the magnitude of that, understand that we're actually talking about a New Launch here!
Compare it to Midtown Bay's current quantum demand of $2,898, and you see why everyone has been flocking to the showrooms these past days despite the entire Coronavirus dilemma.
Appreciation Analysis
But the competitor pricing table really only tells half the story.
The appreciation statistics of District 7, its redevelopment potential (or lack thereof) and solid rental demand potential help make up the rest.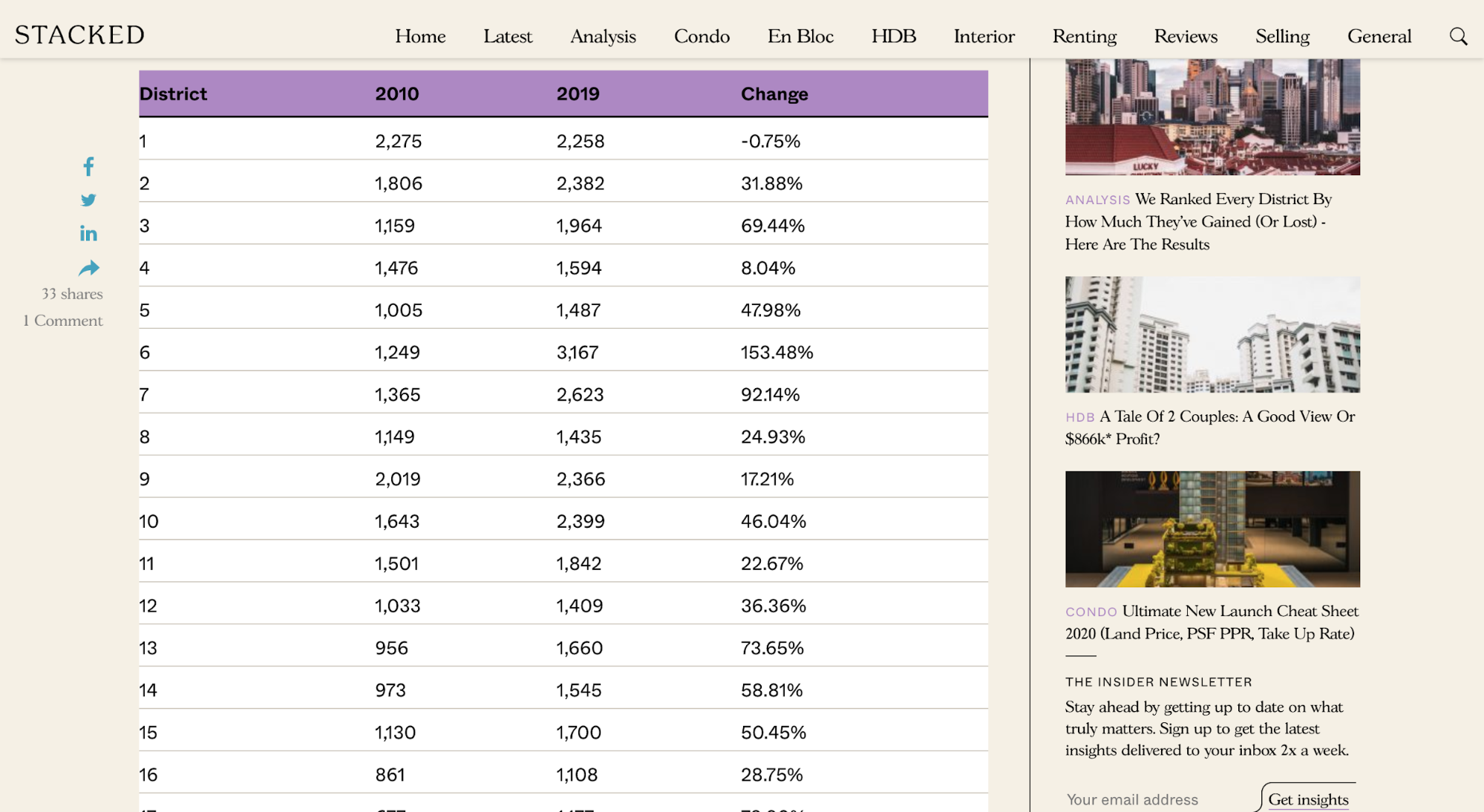 If you had a look at our recent piece on housing price takeaways that involved an in-depth 2010/2020 market comparison, you'd see that District 7's actually seen an incredulous 92.14% increase in average appreciation rate over the past 10 years.
Narrow it down to the last 5 years, and the happening area ranks 3rd for appreciation stats amongst all the other districts with an incredible appreciation rate of 31.5%.
(This percentage, made all the more astounding when you consider the high average quantum to begin with.)
Yes, average appreciation rates have dipped a little in the recent years owing to the district's increasingly massive quantum demands – but if you compare The M's asking quantum to that of Midtown Bay (or even the average district quantum), it technically still has over $600 worth of PSF to 'catch up' on.
And if you consider its 'affordability' and the urge that most people have to dip their hats in well-priced properties, you'd understand that this rare factor will rather ironically not last for very long.
Now if you were to further look at the D7 reserve sites on Masterplan 2019, as well as the general redevelopment news of the area – you'll also realise that there isn't a whole ton of new developments that are going to pop up in the coming years here; save for some new park spaces and streetscape improvements.
Certainly not many residential developments, that's for sure!
And so considering the lack of residentials in District 7, we can only expect prices here to rise considerably in the mid to long term (barring external factors) – especially if you factor in all that incredible rental demand once the office spaces from Shaw Towers and Midtown Bay have been fully furnished.
One other area worth taking note of is the Kampong Bugis precinct that is set to be rejuvenated.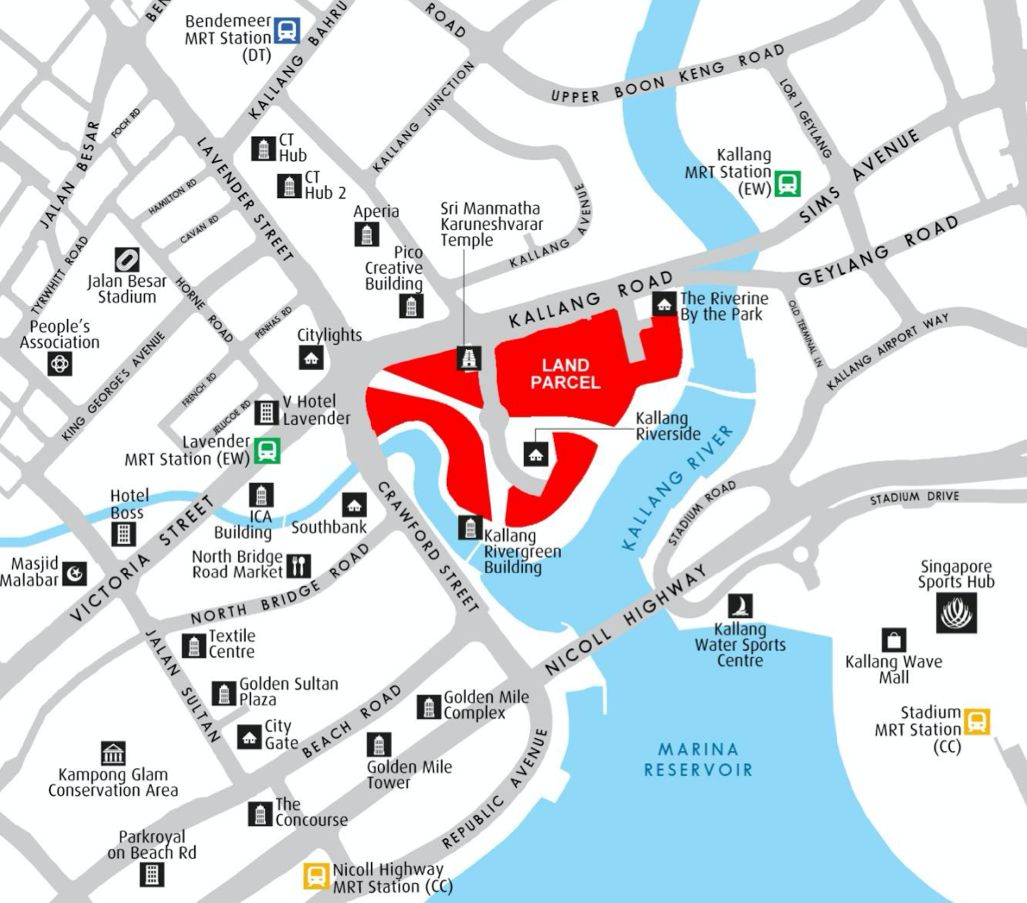 This 8.2 ha white site will be released for sale to a Master Developer, with plans that can potentially yield 4,000 homes as well as retail, serviced apartments, and offices.
So part of the Master Plan is to implement district-wide car-lite initiatives and development of the area, including parks, public spaces, roads, and precinct-level infrastructure systems. The whole development is expected to take up to 13 years, so it is quite a massive project.
Our Take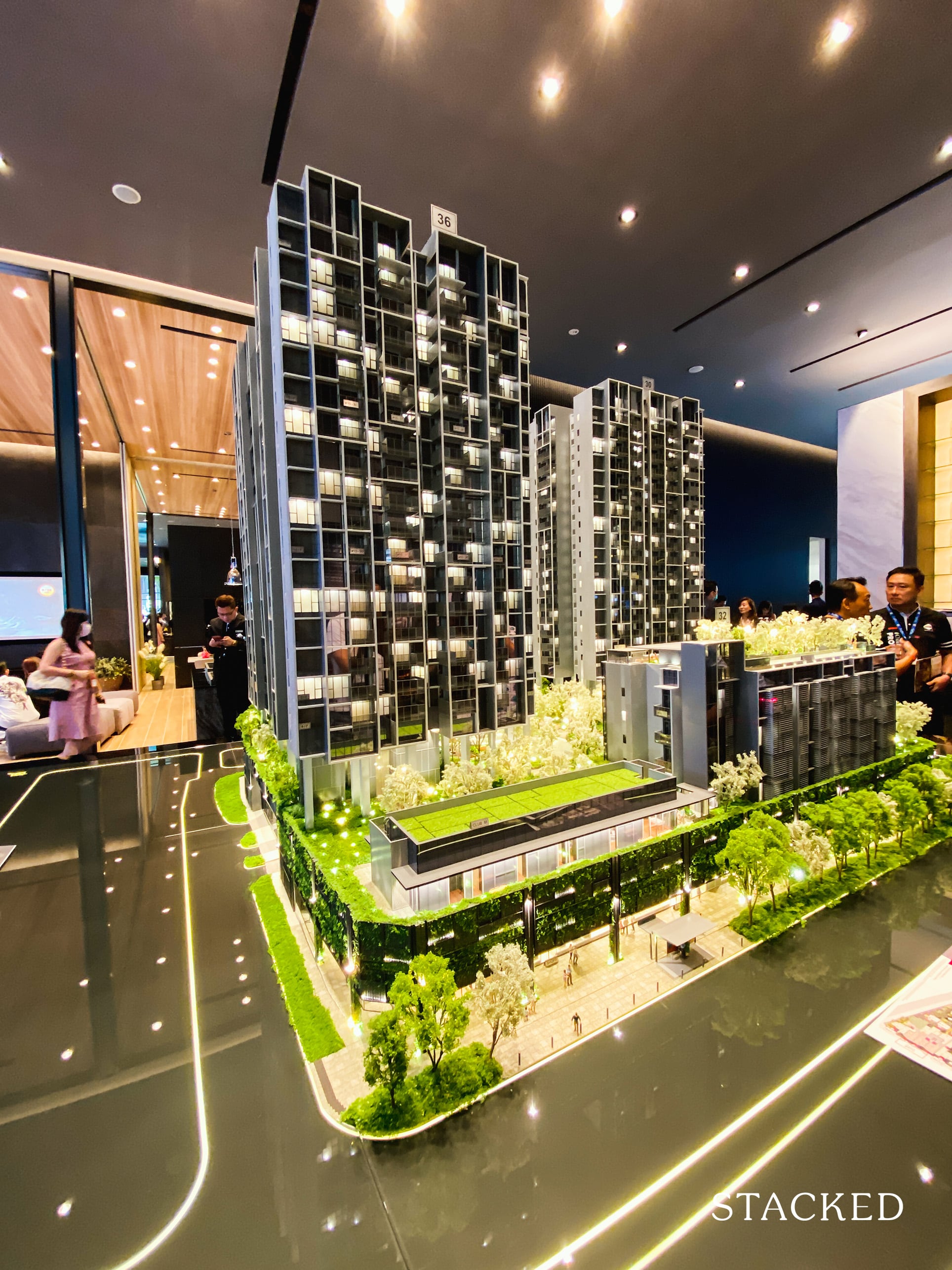 In my opinion, The M condo makes for incredible investment potential.
It's not to say that it isn't a good homestay option – but it really is more suited for singles or couples with no children. I do consider the Bugis area to be much more liveable currently compared to the CBD. So if you work in that area but want the closeness but yet enjoy a greater vibrancy, I'd say that The M condo is a great option.
In my mind, it's very clear the type of customer that the development is positioned towards. If you are an investor looking for a potential capital appreciation and good rental yields, The M condo is really a no brainer.
Considering its quantum and smaller unit sizes (more affordable 'total unit cost'), The M has already ascertained itself as a development in an area where rental demand could soon skyrocket. Add in its mid/long-term incredible appreciation potential, and this is quite a clear winner.
And judging from the crowds packing the showroom, we clearly aren't the only ones that think so.
What this means for you
You might like The M if you:
• Are Looking for Good Investment Options:

Solid rental demand and appreciation potential makes The M worth looking at for mid-long term investment purposes.

• Work in Central Singapore:

District 7 is in the CCR, which means the CBD is just a stone's throw away. Factor in The M's proximity to the Suntec Workhub and upcoming Shaw Tower/Midtown Bay Offices, and long work commutes will soon be a thing of the past!
You might not like The M if you:
• Have Kids:

A lack of educational institutes in the immediate proximity of The M plus the smaller unit spaces will not sit well with most larger families that have children.

• Crave Peace and Tranquility:

Singapore's a bustling city – and there is perhaps no 'noisier' place than in its central areas. Hoards of people in the area at most hours of the day makes The M one to miss for those who love their privacy.
End of Review
Join our Telegram group for instant notifications
Join Now
Reuben