Condo Reviews

Tanglin Regency Review: Great Location But Sub Par Facilities
Reuben
April 22, 2020

19

min read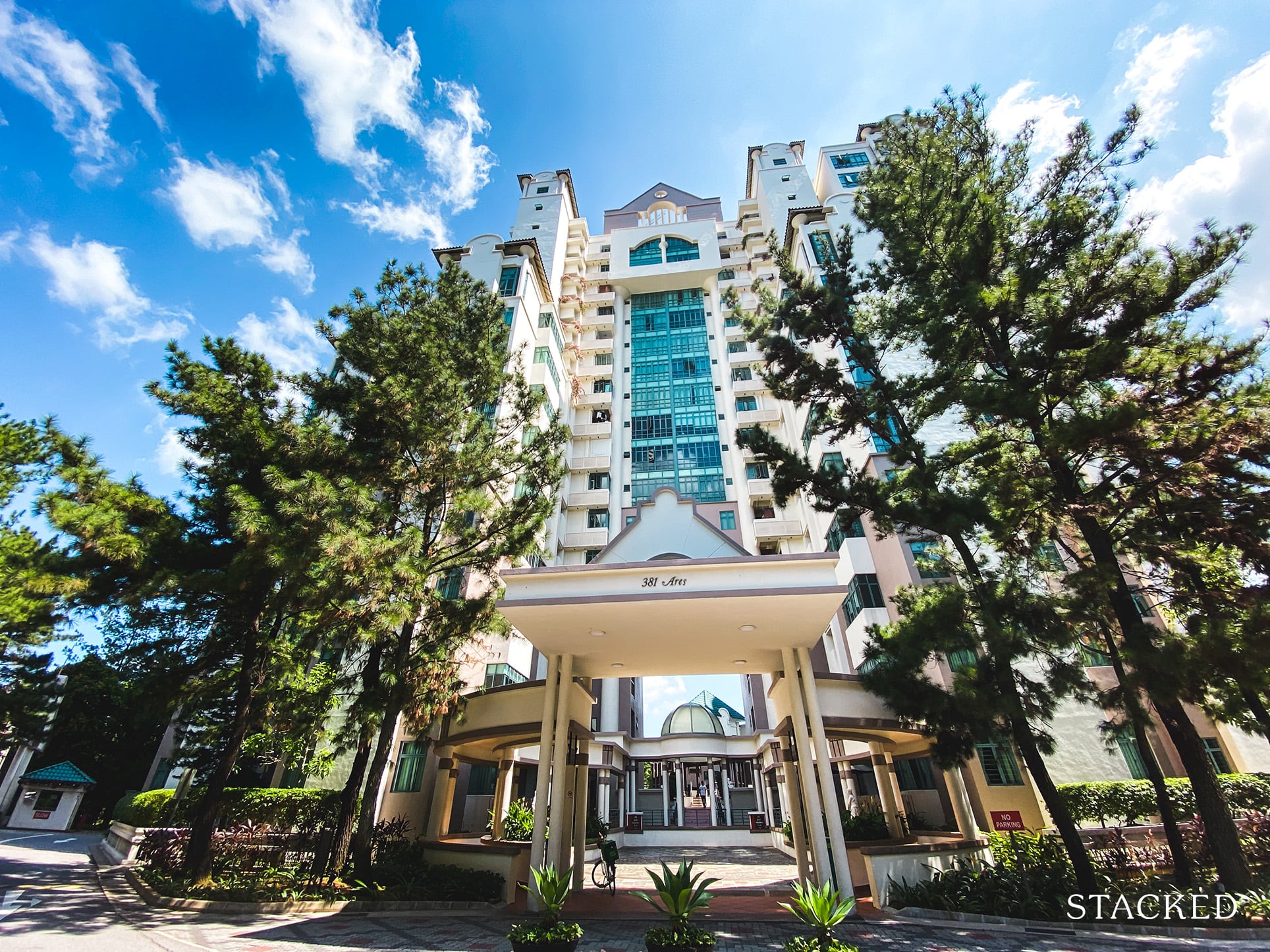 Tanglin Regency is perfect for those who enjoy spaciousness, with only 210 units spread across 118,400+ sqft of land. However, facilities-lovers would may be better off looking some place else given the lack of facility diversity here.
Reviewed by Reuben on April 22, 2020
What we like
Full facilities

Convenient location

Close to park connector
What we don't like
—

Dated exterior

—

So-so facilities
Tanglin Regency

| | | | |
| --- | --- | --- | --- |
| Project | Tanglin Regency | District | 10 |
| Address | Tanglin Road | Tenure | 99-year leasehold |
| Site Area | 118,755 sqft | No. of Units | 210 |
| Developer | First Capital Corporation | TOP | 1998 |
Interestingly enough, Tanglin Regency's name betrays its actual location – and believe it or not, it isn't the only development doing that!

Set closer to the busy streets of the Alexandra district than it is to the posh, uptown Tanglin, Tanglin Regency was completed some 22 years ago.

Despite its age, however, it still remains as one of two iconic private residentials along the Alexandra Road section of the Alexandra Canal (that is, next to its long-time counterpart, Tanglin View).

Its distinct cone-shaped roofs, and high-arching middle portions lend a 'castle-like' semblance to the project – proof of charming architectural quirks across Singapore's yesteryears.

Perhaps another characteristic of Tanglin Regency that will bring us back to the glorious days of ABSD-free Singapore is the space on which it resides. 

With just 210 units spread across 118,755 square feet of land, it's easy to see why residents here are incredibly reluctant to swap their living spaces here for anything else in land-locked Singapore.
Tanglin Regency Insider Tour
Facilities in Tanglin Regency
Barbeque Area
Basement car park
Gymnasium room
Playground
24 hours security
Swimming pool
Tennis courts
Wading pool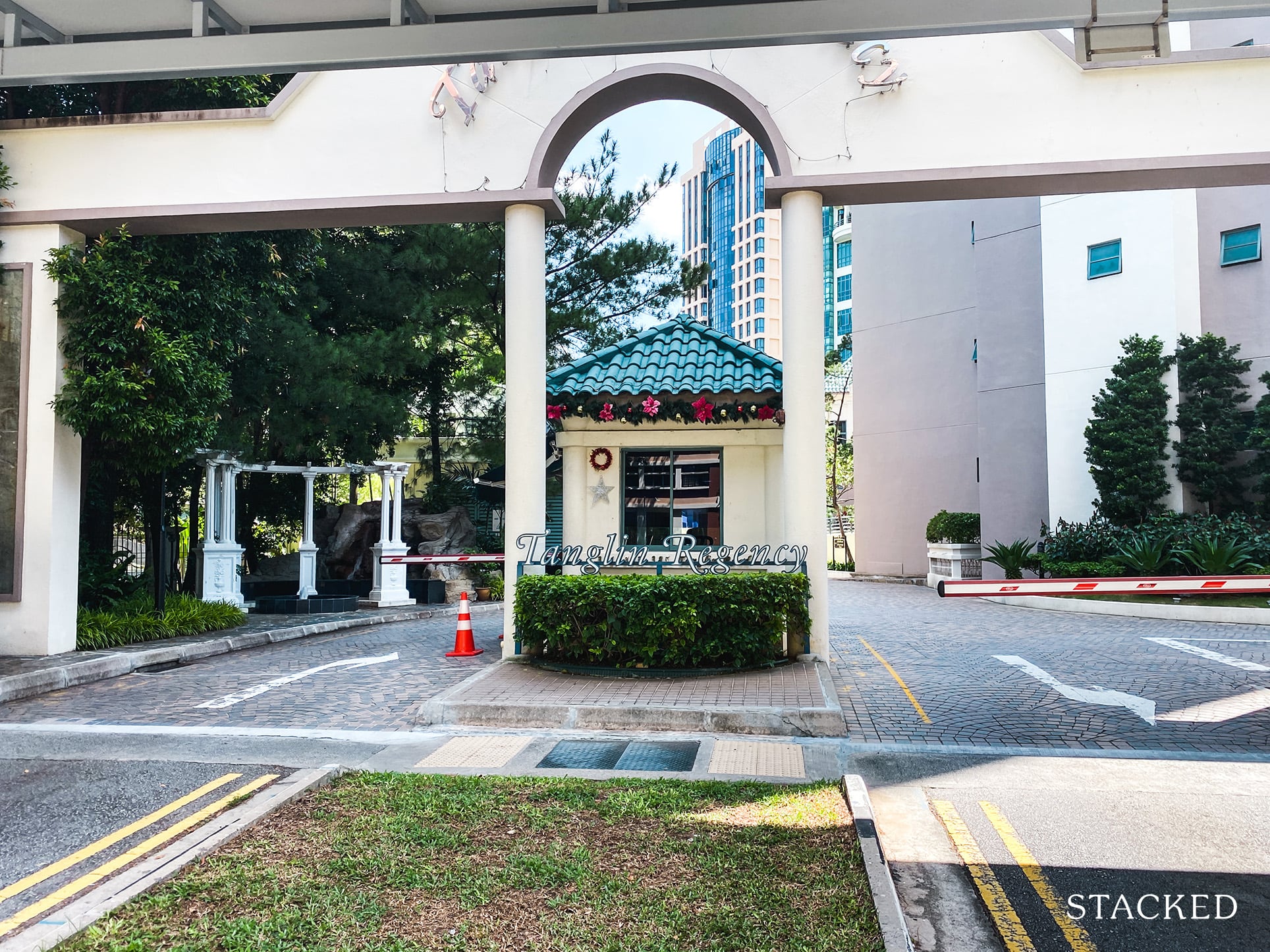 Even if you weren't aware of how old Tanglin Regency was, it would be all too easy to guess upon seeing the entrance of the condo. The thin circular pillars, the blocky viaduct-like beam (which serves no purpose other than to showcase the name of the condo), and the tiled roof are all dead giveaways to the era it came from.
Well, if you still have no clue of its age – it was completed in 1998 so it is going 22 years strong at this moment.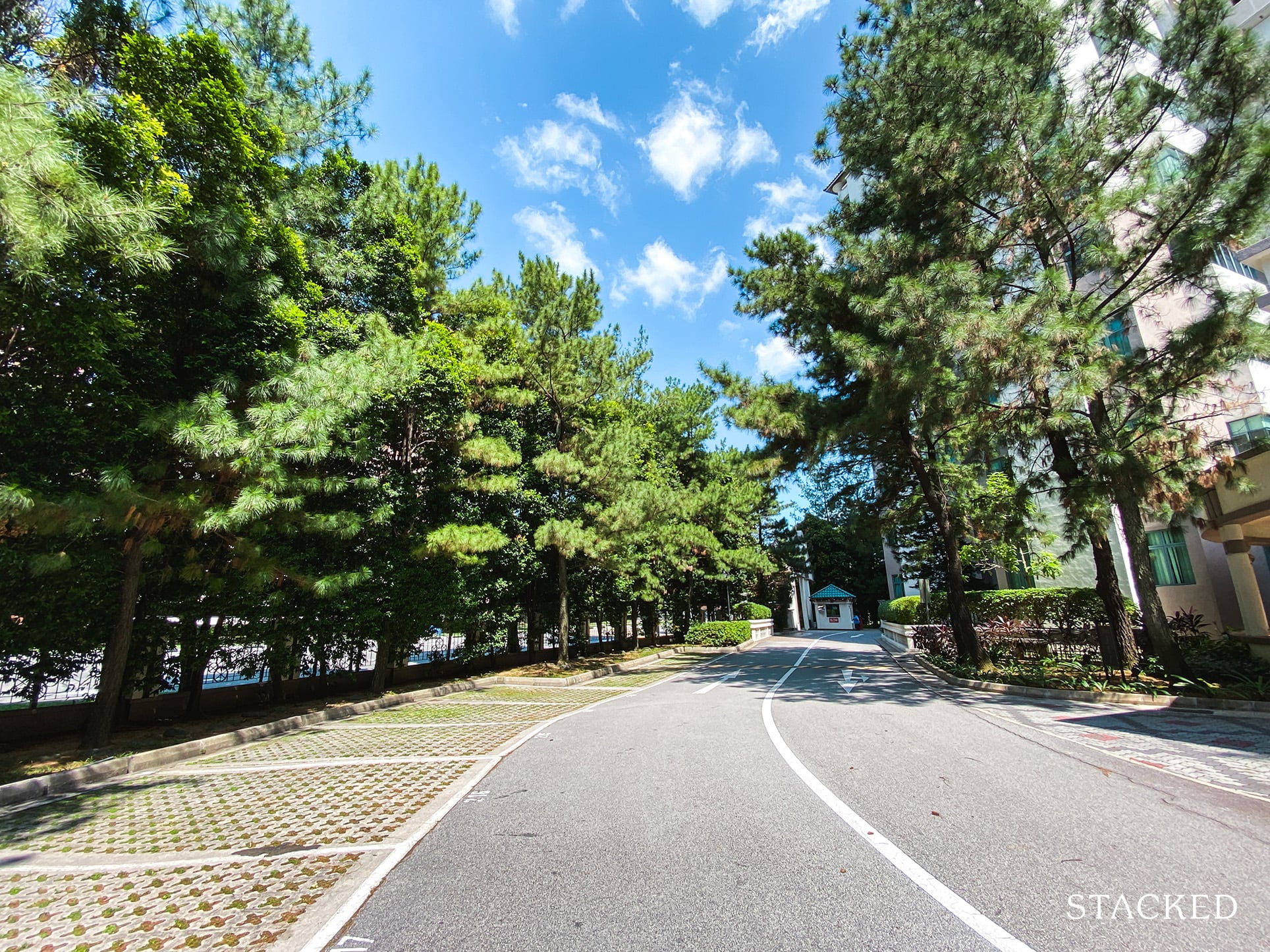 At a land size of 118,755 square feet it is quite immediately apparent how ample the space is within the compound. It's just a simple two-lane road that circles around half of the estate – it is pretty straightforward too, a direct path to the second entrance/exit.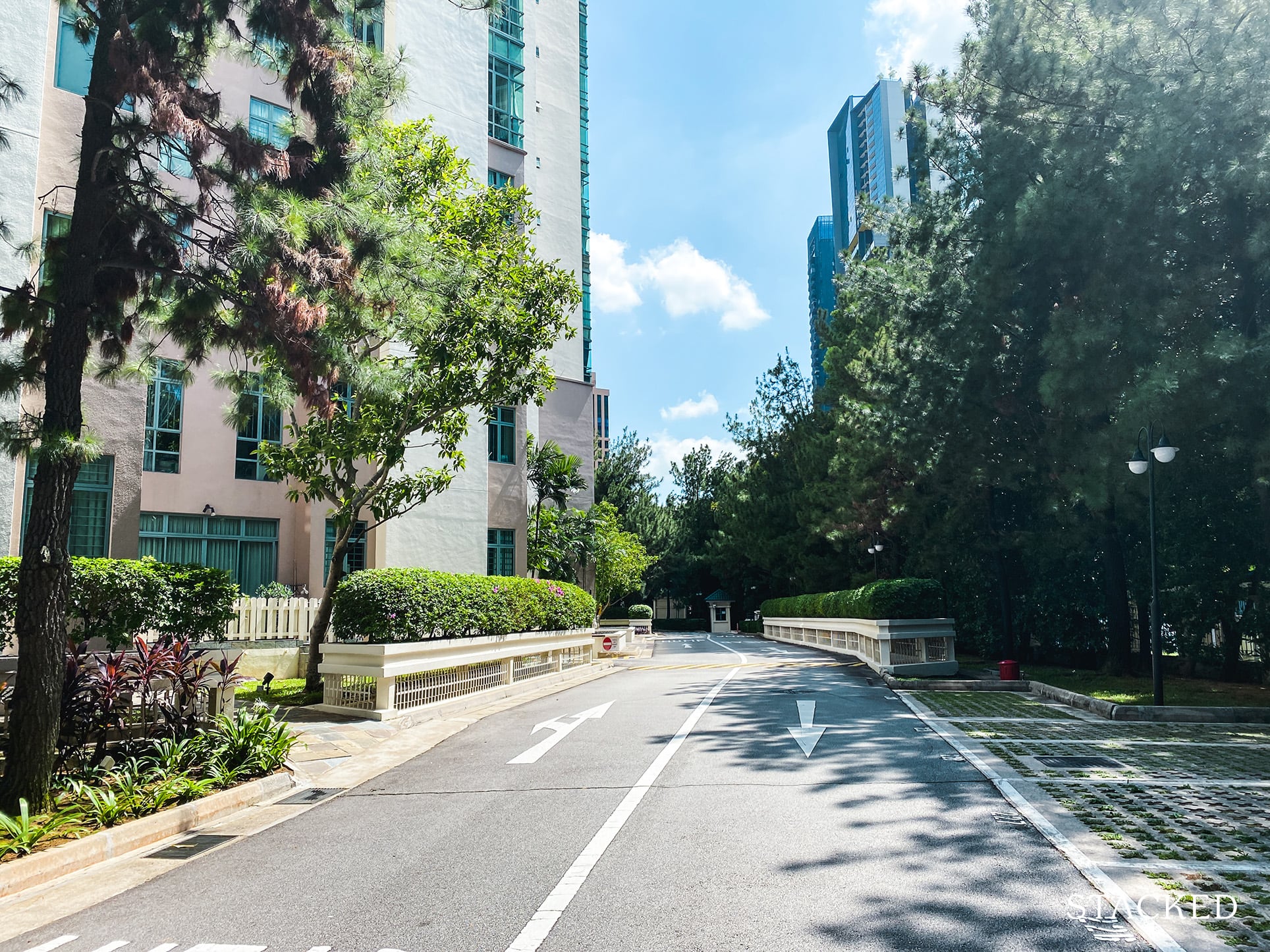 The tall dense trees planted along the front of the estate is not just for aesthetic purposes, it's functional too. Other than providing a green view, it offers a certain level of privacy and buffer from the road noise.
If you were wondering about the absence of cars in the carpark, that's because there is a basement carpark as well. You can take this as a telltale sign to the availability of carpark in the condo – in other words, it is plentiful.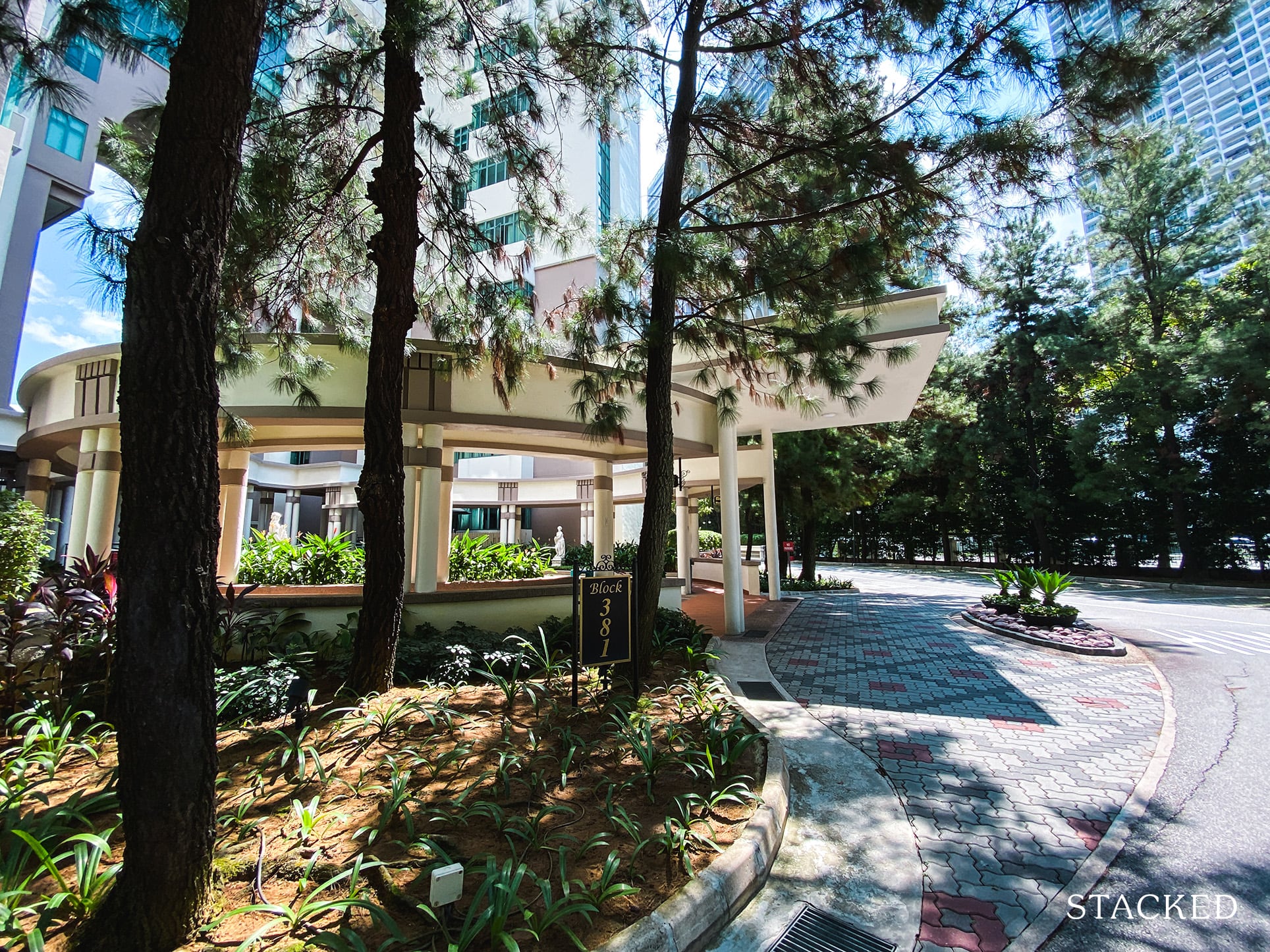 There're only 210 units split between two towers here – with each tower having its own drop off point.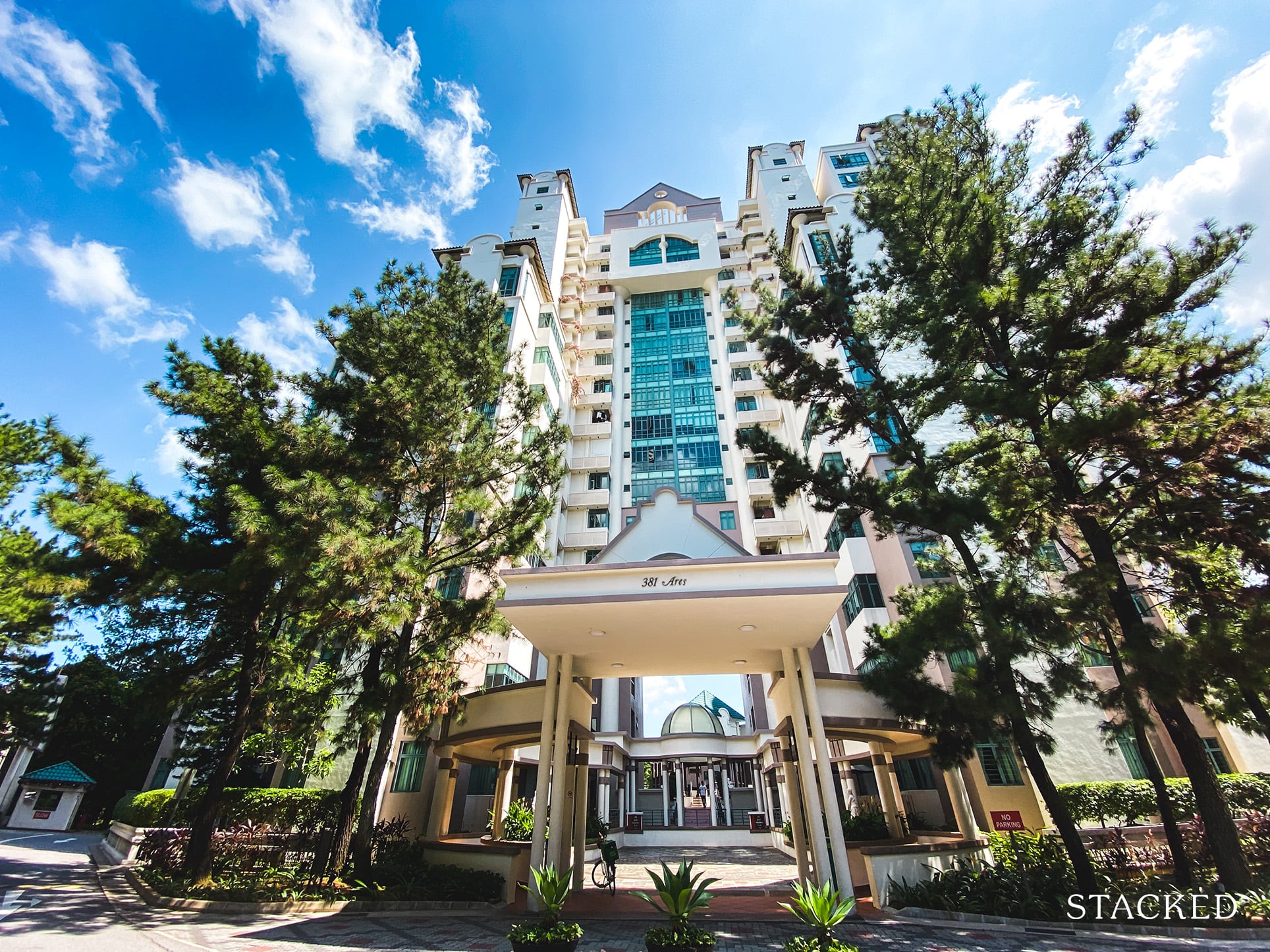 Some people might find the design of the entrance to each block a little wonky (which I will show you in a bit. It is set around a circular open courtyard, which has semi-circular sides which are sheltered. These lead either to your block or to the main area where most of the facilities are.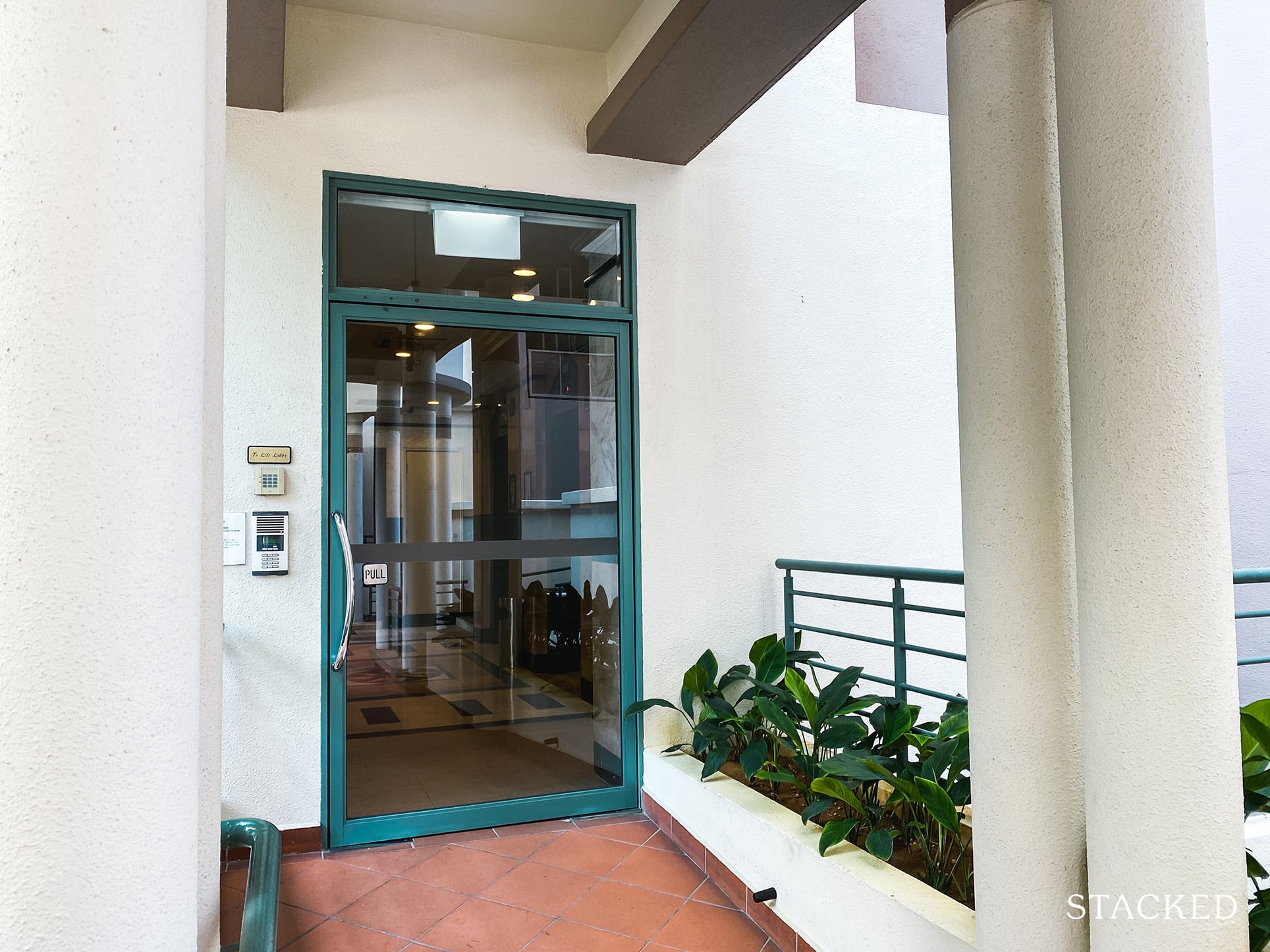 It was a pleasant surprise to see that despite the age of the condo, each block has its own lobby which requires visitors to dial-up – which gives added security to the condo. This isn't something found in most of the older developments so it is definitely a nice to have here.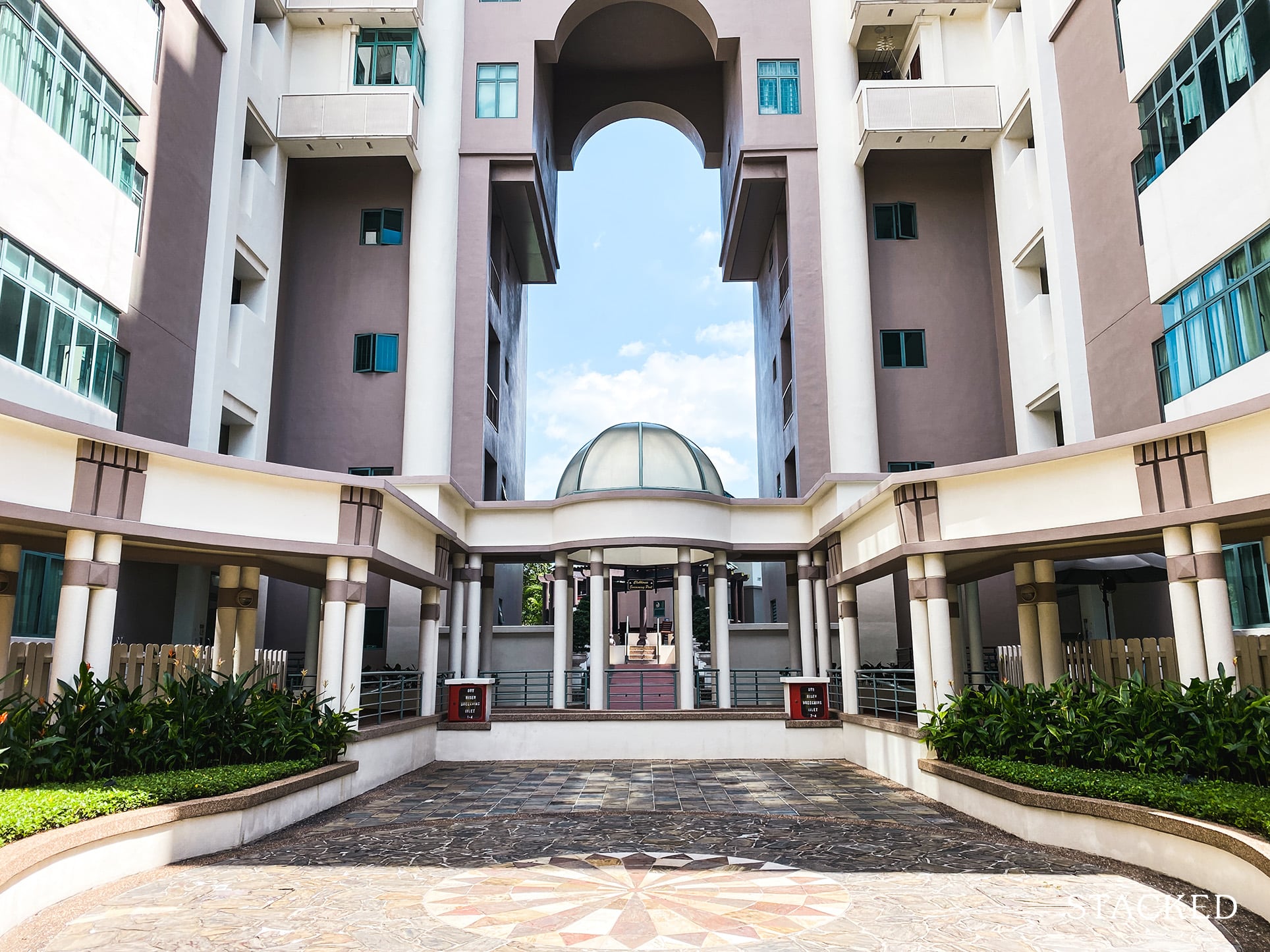 As mentioned earlier, this central courtyard design is quite a perplexing one. There is absolutely nothing in the middle, and you can't walk straight through either – unless you fancy vaulting over the admittedly low wall.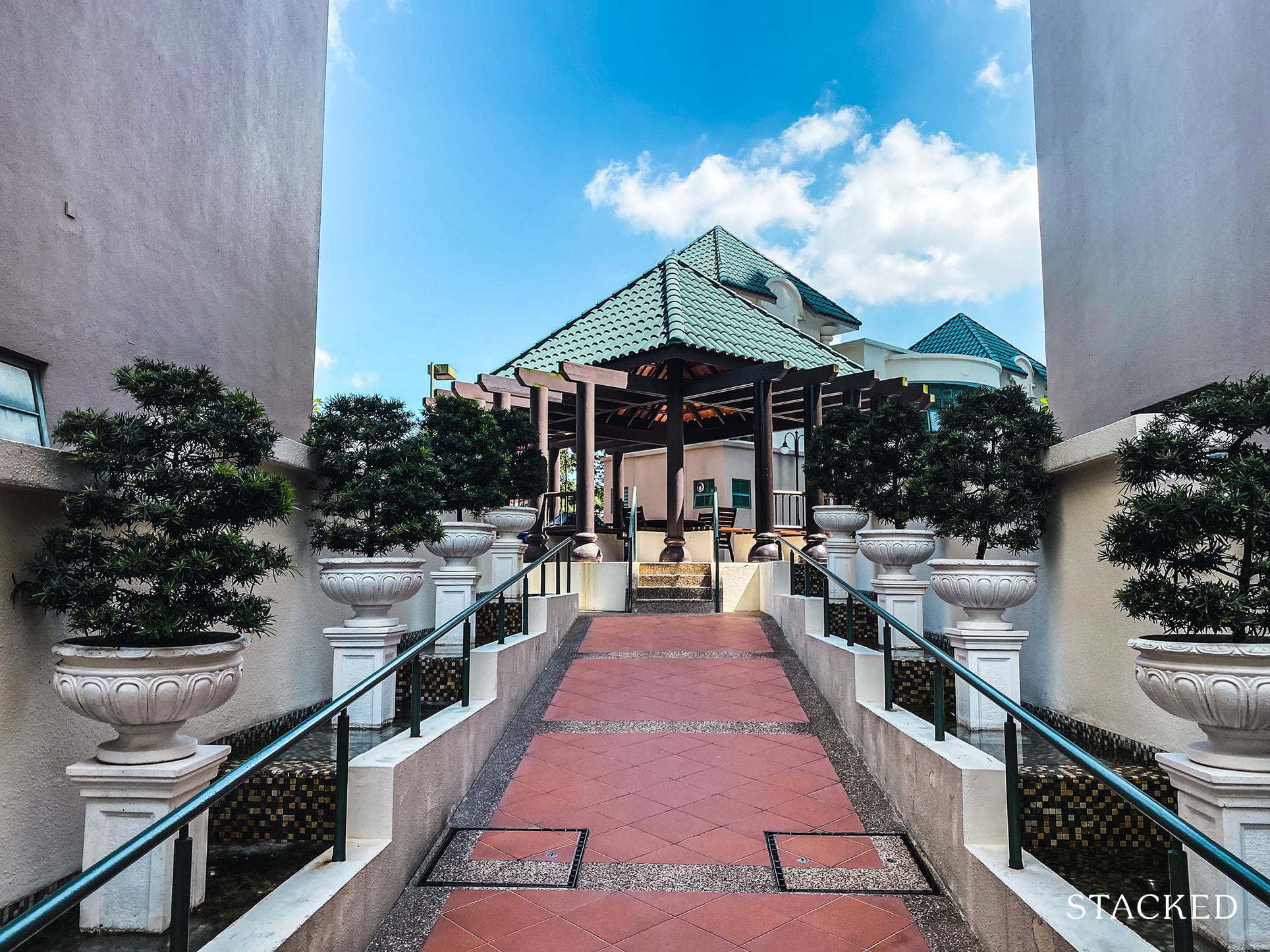 Thereafter it is a straightforward sloped path to the common facilities. The tiles are quite smooth which could result in potential slips and falls when wet – so thankfully there are handrails on both sides.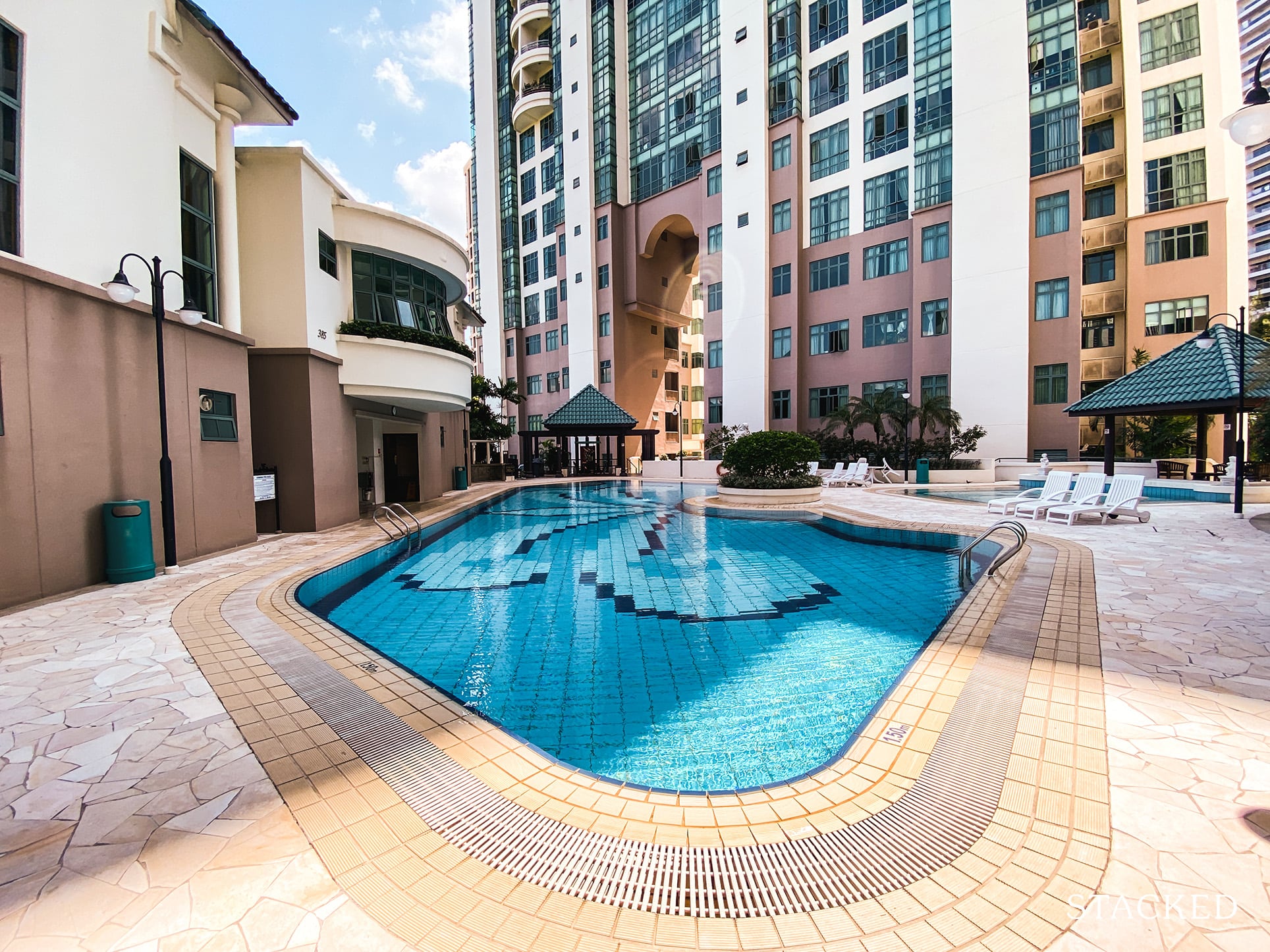 Like the Mandarin Gardens that we recently reviewed, the swimming pool at Tanglin Regency is of the no-frills variety. The look harkens back to a time where there were a lot more public swimming pools in various estates in Singapore. You can tell the age of the place by the yellowing tiles as well as the exposed drainage surrounding the pool.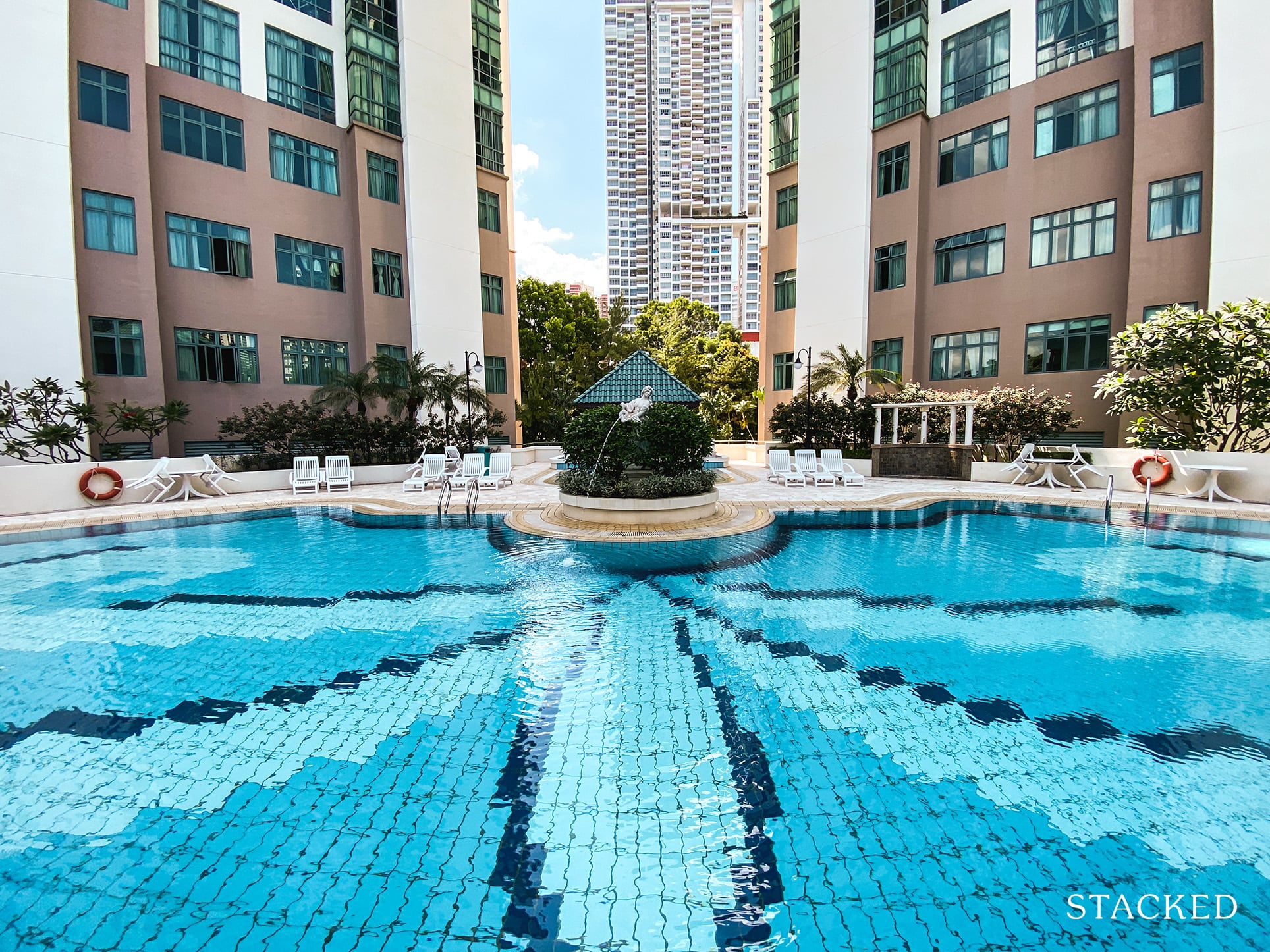 Let's be honest, the swimming pool here isn't going to be winning any awards for its design (even with its very random single water fountain spout). It's long enough to swim multiple laps but I wouldn't say that the pool is adequately big enough. Especially when you have much newer neighbours opposite with fancy rooftop pools and such – it's a real case of swimming pool envy here.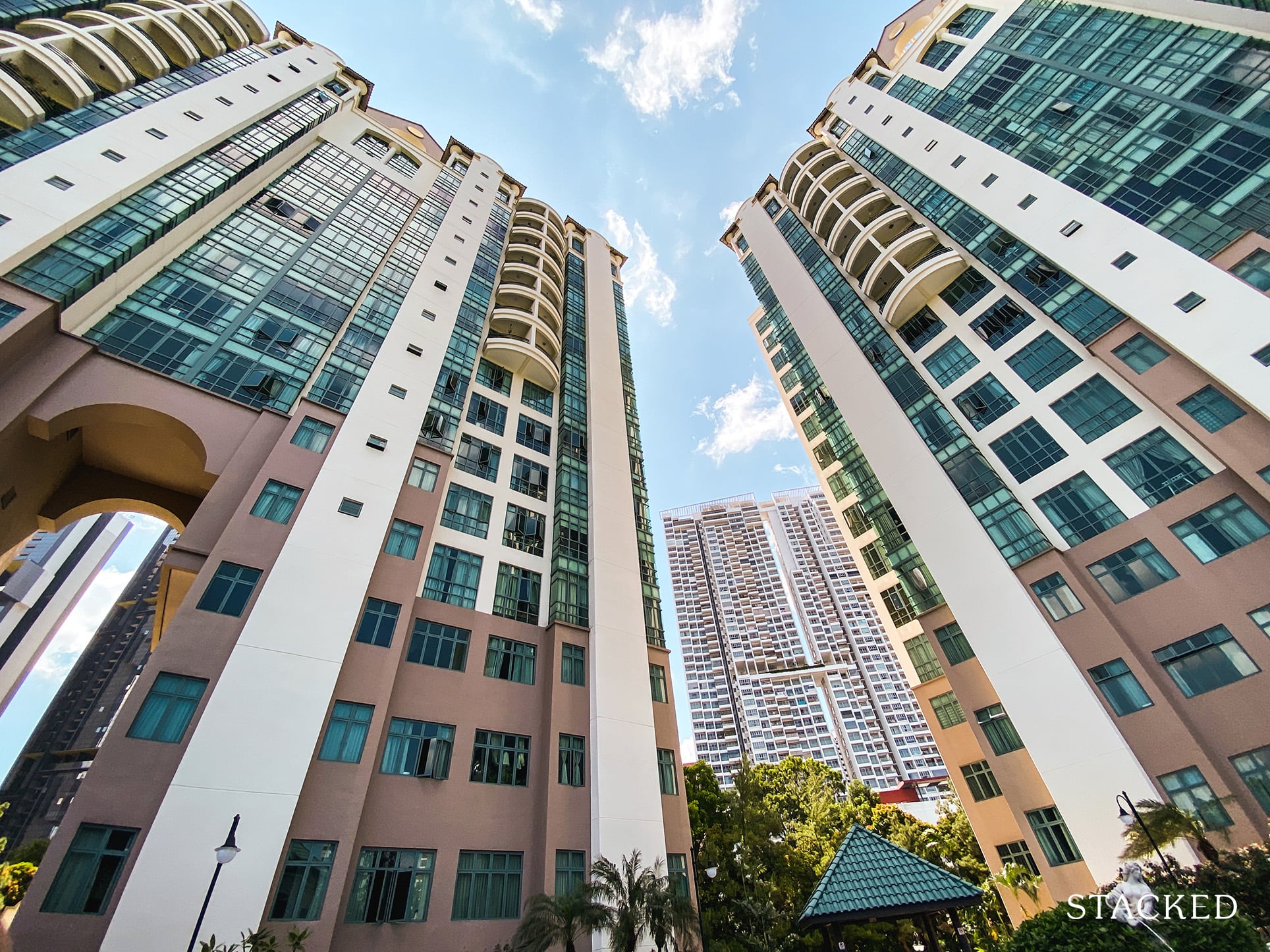 Speaking of which, just peer up and you'll see the clear distinction in design between the Tanglin Regency and the newer boys on the block on the opposite side of Alexandra Road. The one you see right here is the Metropolitan, which is actually the "oldest" of the new builds, having been completed in 2009.
These newer condos put those considering the Tanglin Regency (and Tanglin View) in quite a tough spot. The Alexandra area has always been a convenient city fringe spot, and it has been predominantly HDB centric. As a result, there weren't that many options if you wanted to live in a private estate – hence the attraction of Tanglin Regency and Tanglin View.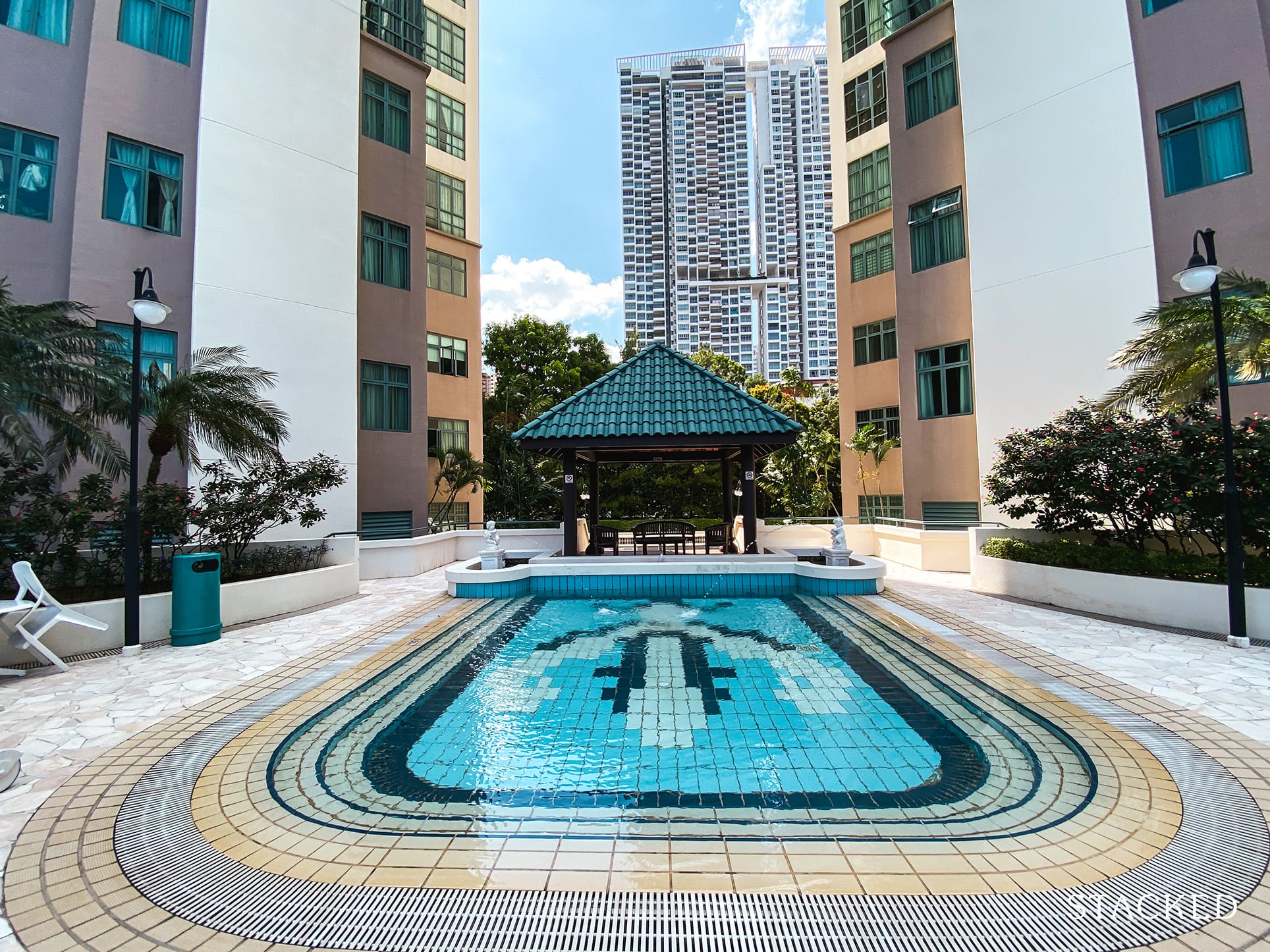 There is a much smaller and shallower pool just behind, which is ideal for young kids. This is positioned quite close to the blocks, so residents living on this side might have to deal with occasional noise on the weekends.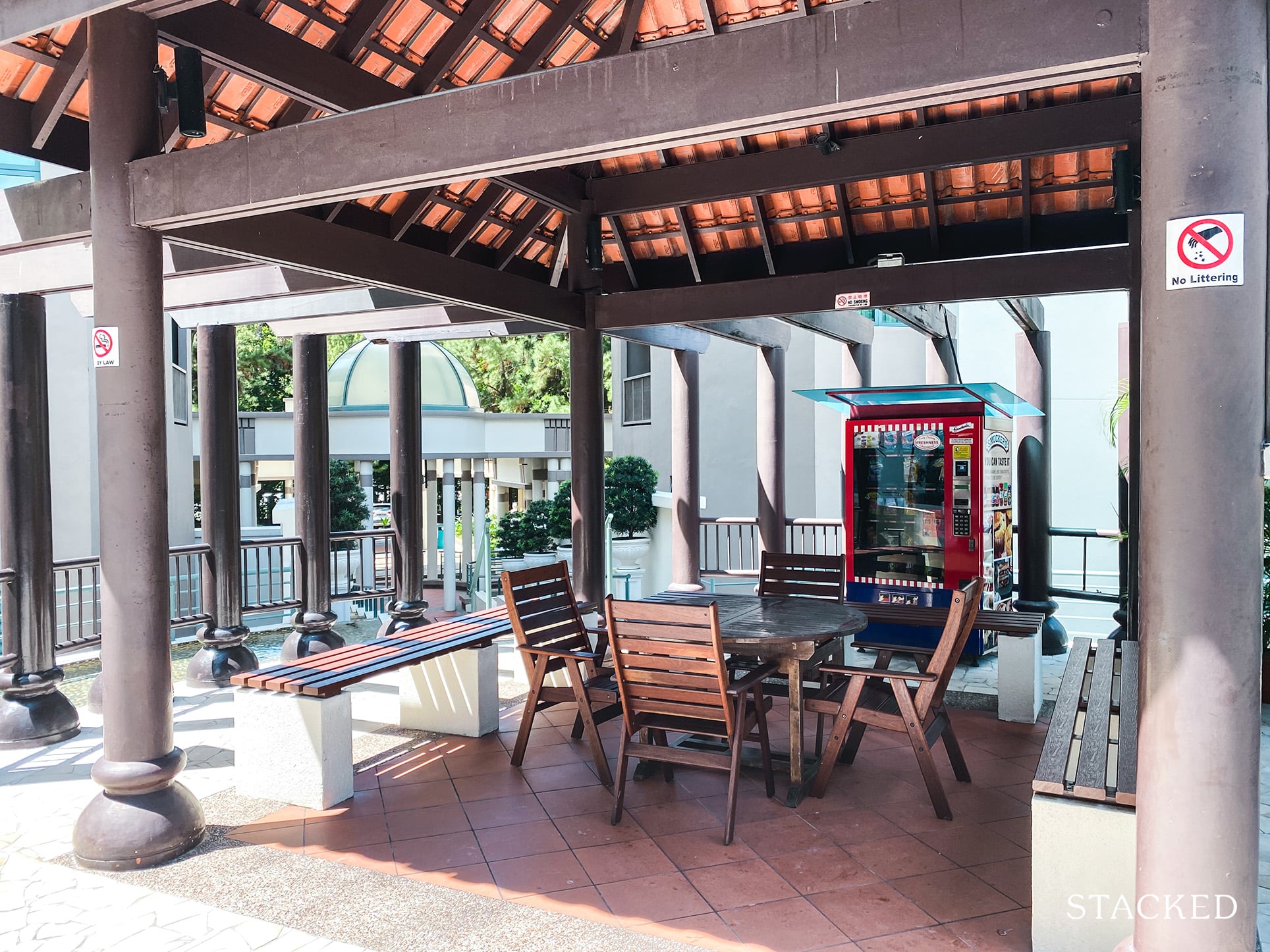 On the opposite ends of the swimming pool, you'll find two sheltered huts with bench seating and wooden chairs and tables.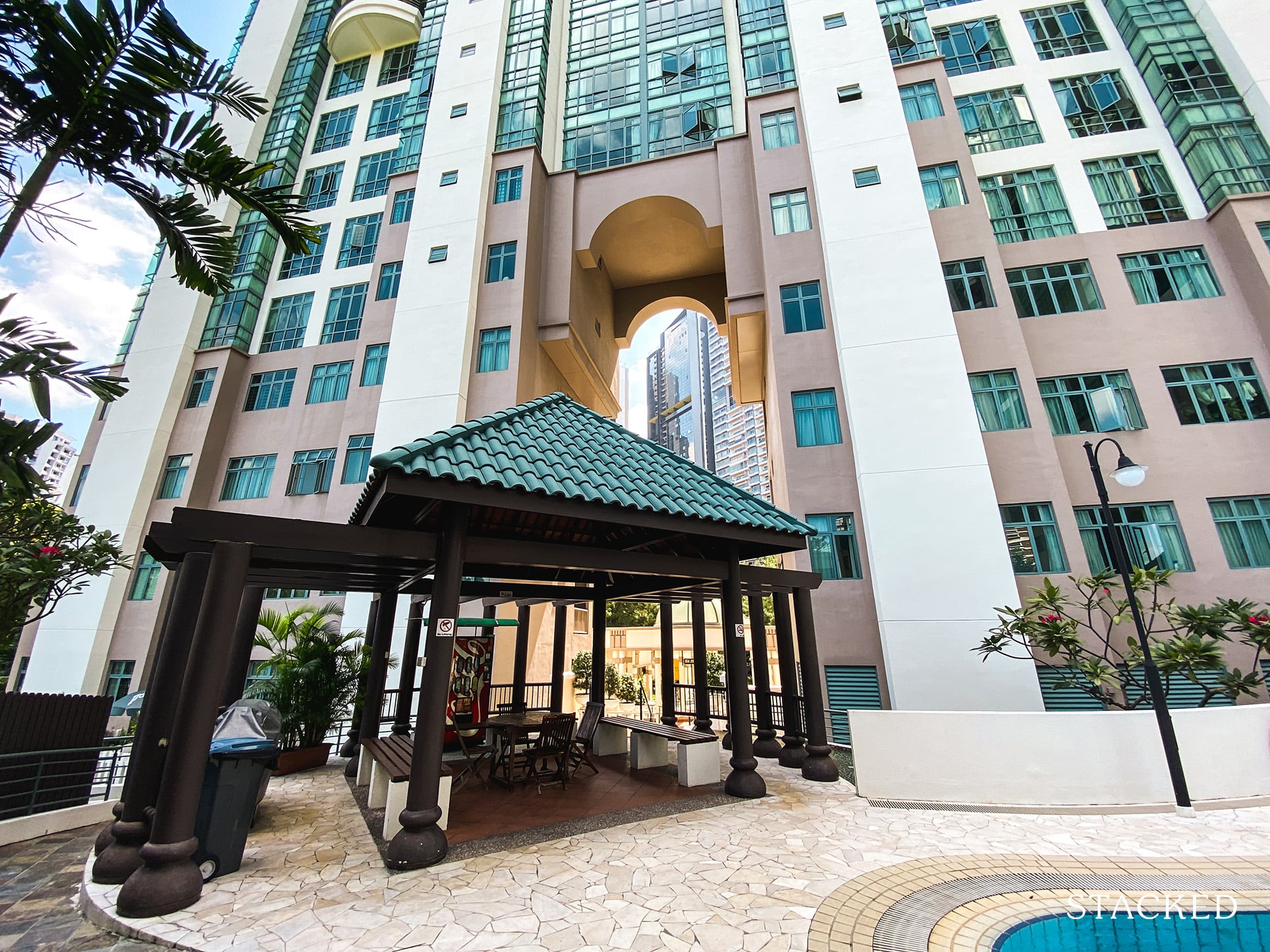 They double up as a barbecue area too. While it doesn't offer a lot of seating (so your party size is quite limited), it is sheltered thankfully.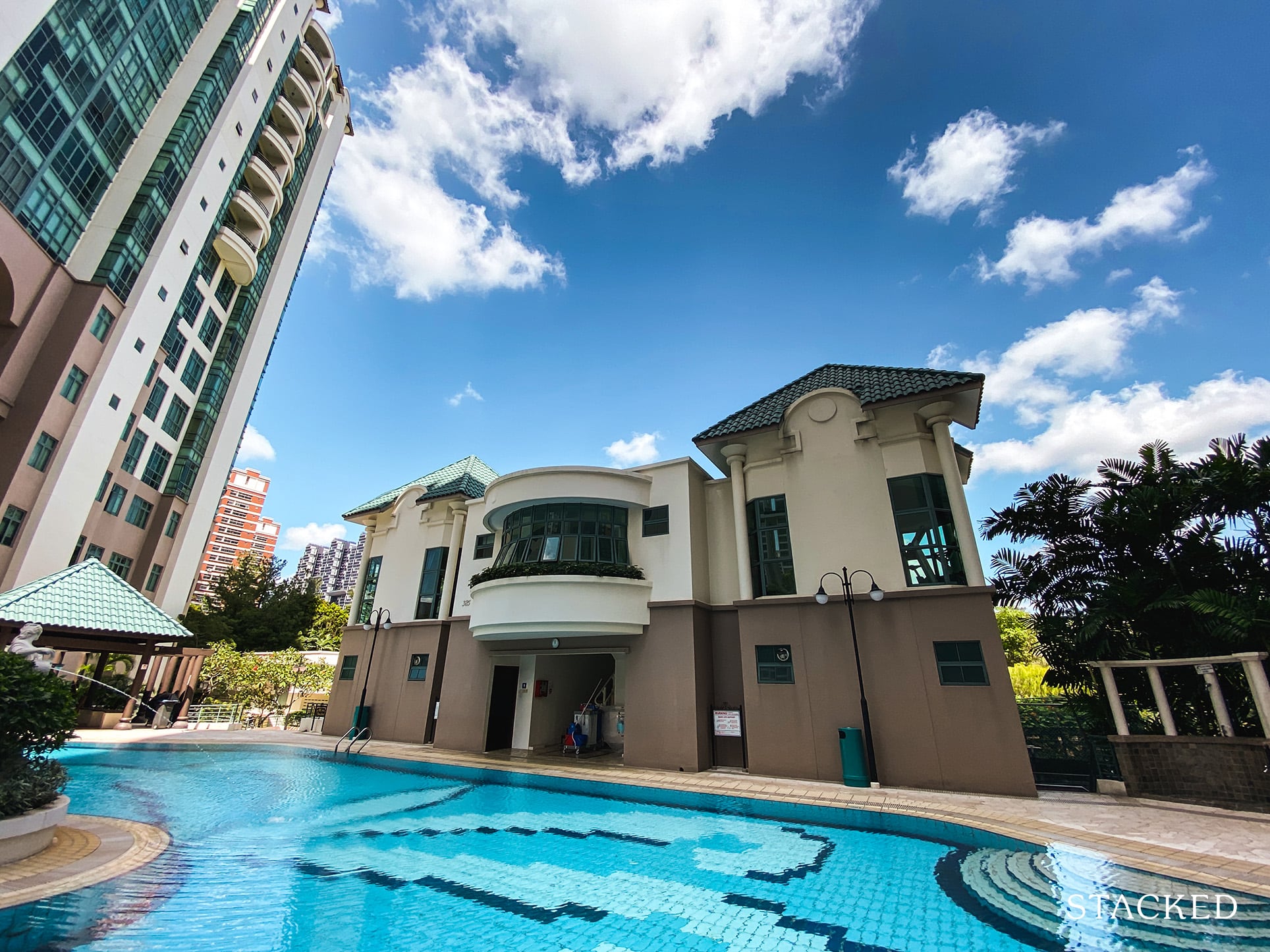 Like the rest of the facilities thus far, the clubhouse is frumpy looking – the dull colours certainly don't help its case either. As a standalone building, the clubhouse isn't connected to the residential blocks via the basement carpark or the ground level either. So if a sudden rain shower does come by, it can pose some inconvenience.
On the positive end of things, you can see from here how unblocked the area behind the clubhouse is. For those facing the low-lying Jervois enclave, you will be treated to a wonderful view – plus you don't even have to be staying very high up!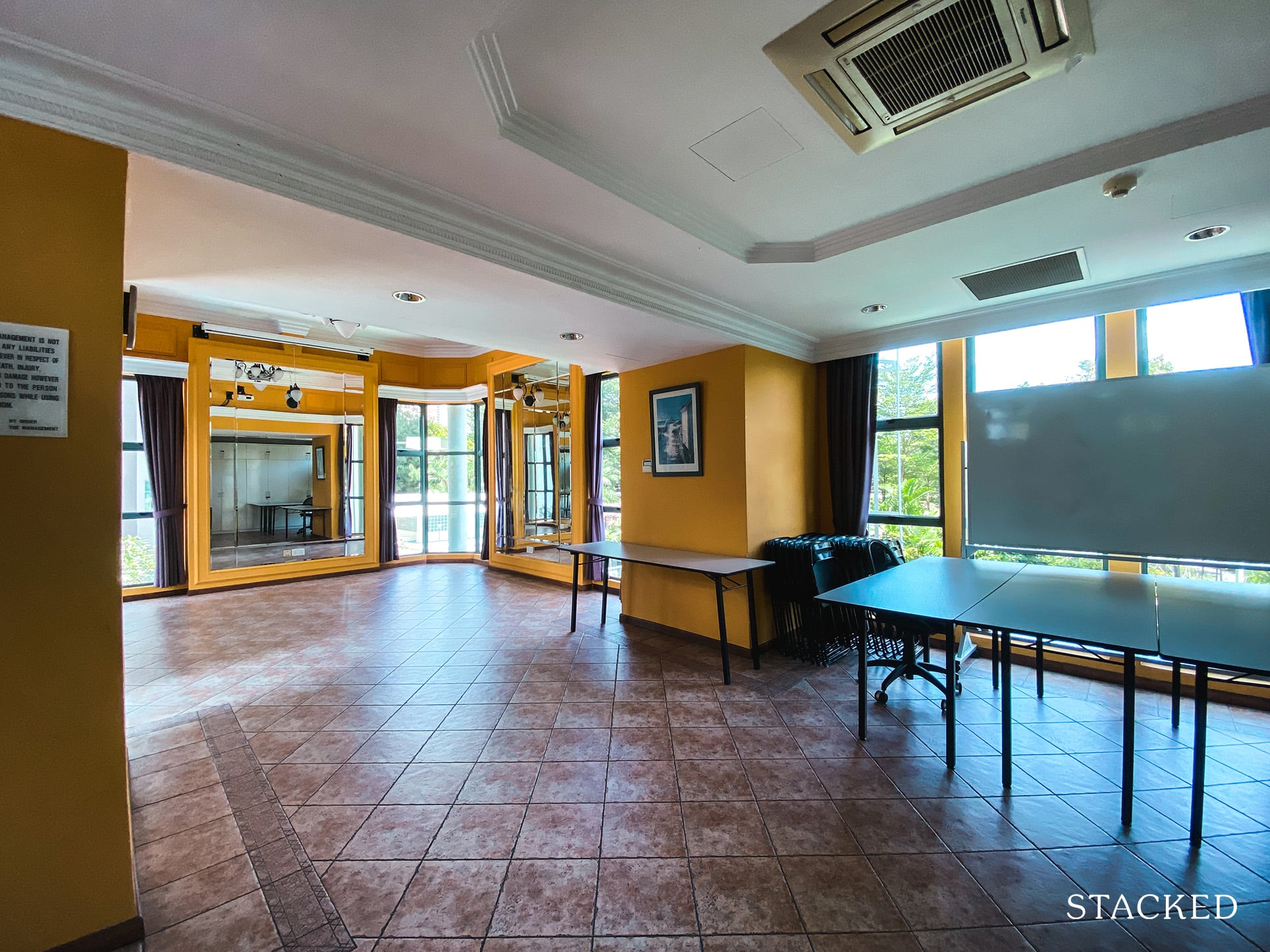 As for the facilities within the clubhouse, you do have quite a sizeable function room. Again, the floor tiles and yellow-painted walls are dated and it isn't the most appealing look.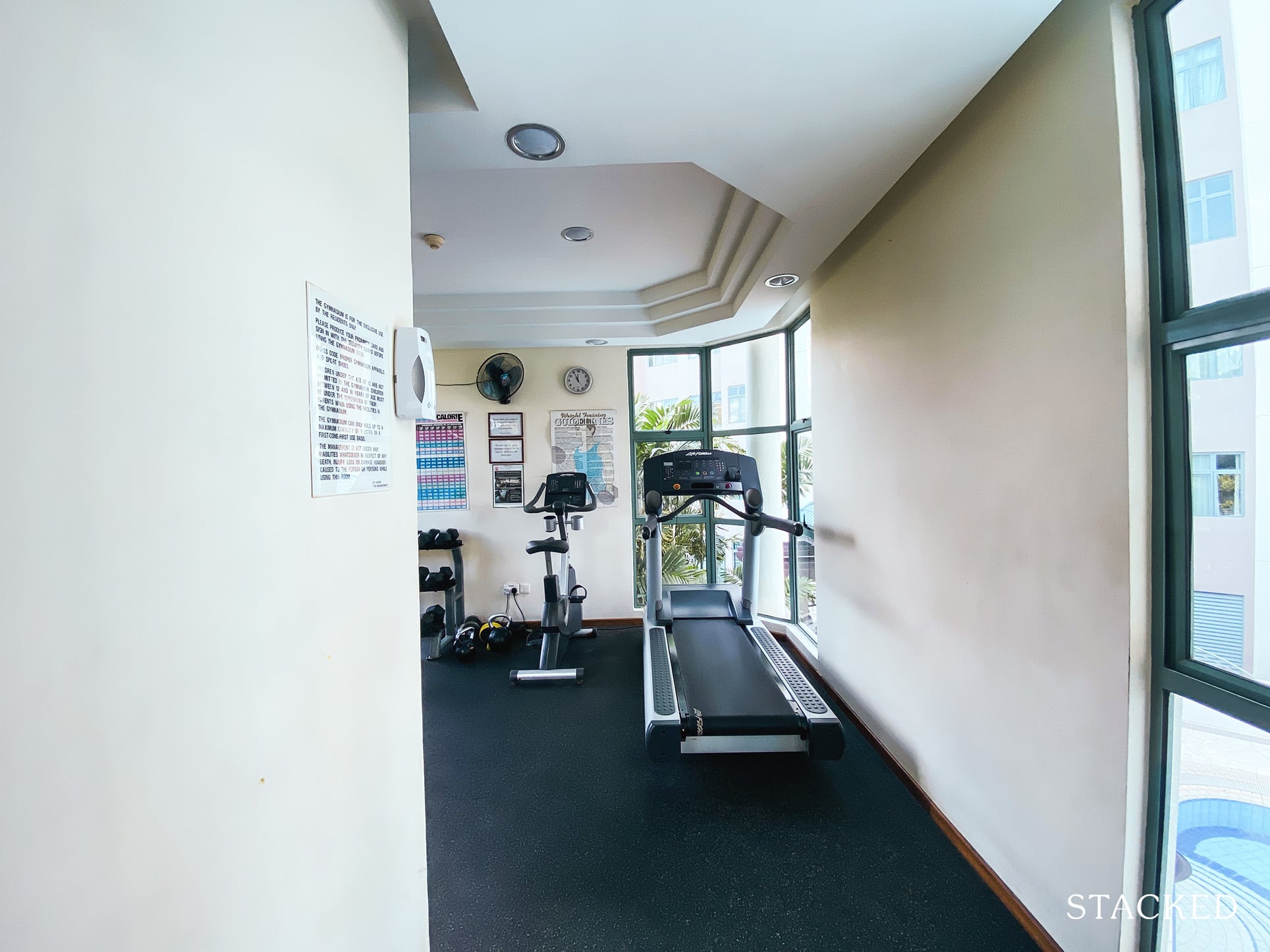 The gym does fare much better. The walls are finished in a bright cream colour, which does wonders for making the place look a lot brighter and more pleasant. There is also a decent range of equipment, and the cardio machines do look recently updated too.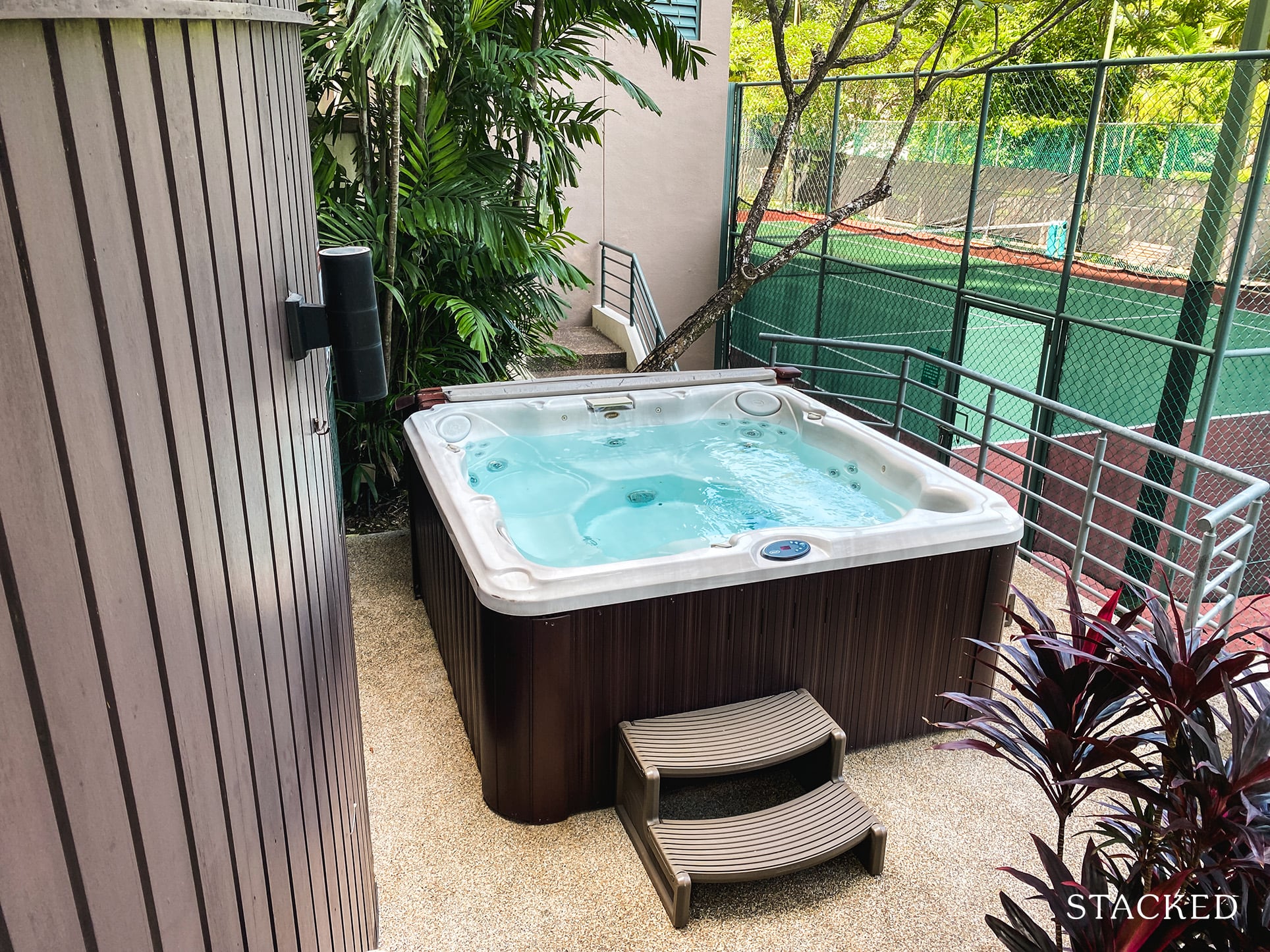 There is a jacuzzi by the side of the clubhouse, which is on a lower level to the swimming pool. While it is certainly nice to throw in a hydrotherapy session after a hard workout at the gym or a session of tennis, it is in quite an awkward position given that you can overlook this directly from the top.
While I'm not a fan of the look, this is a proper jacuzzi – with special functions and settings that you can play around with.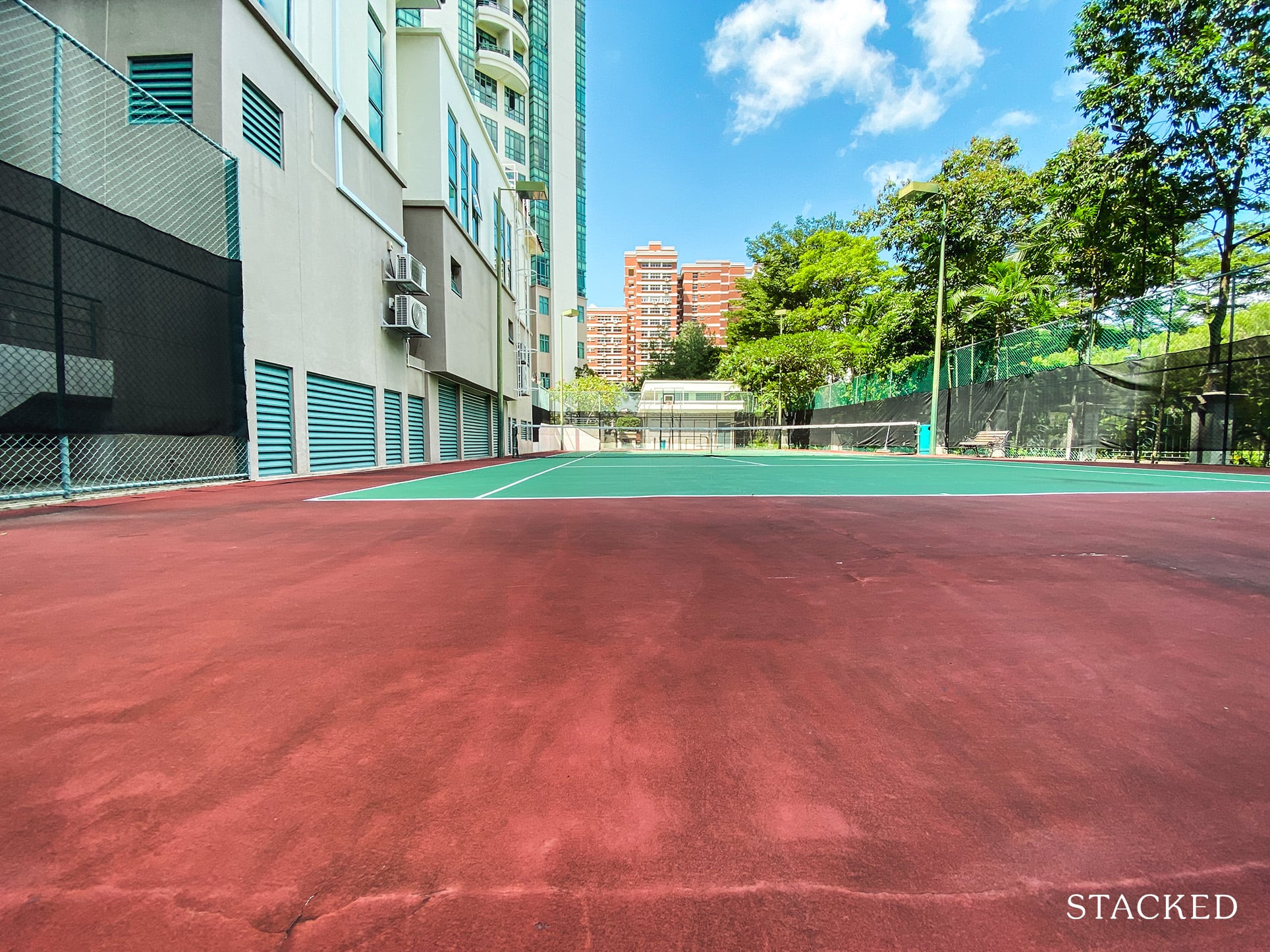 I think most people would be more than happy to find out that there is a tennis court in Tanglin Regency. For the size of the development, I'll have to say that it is a good plus point.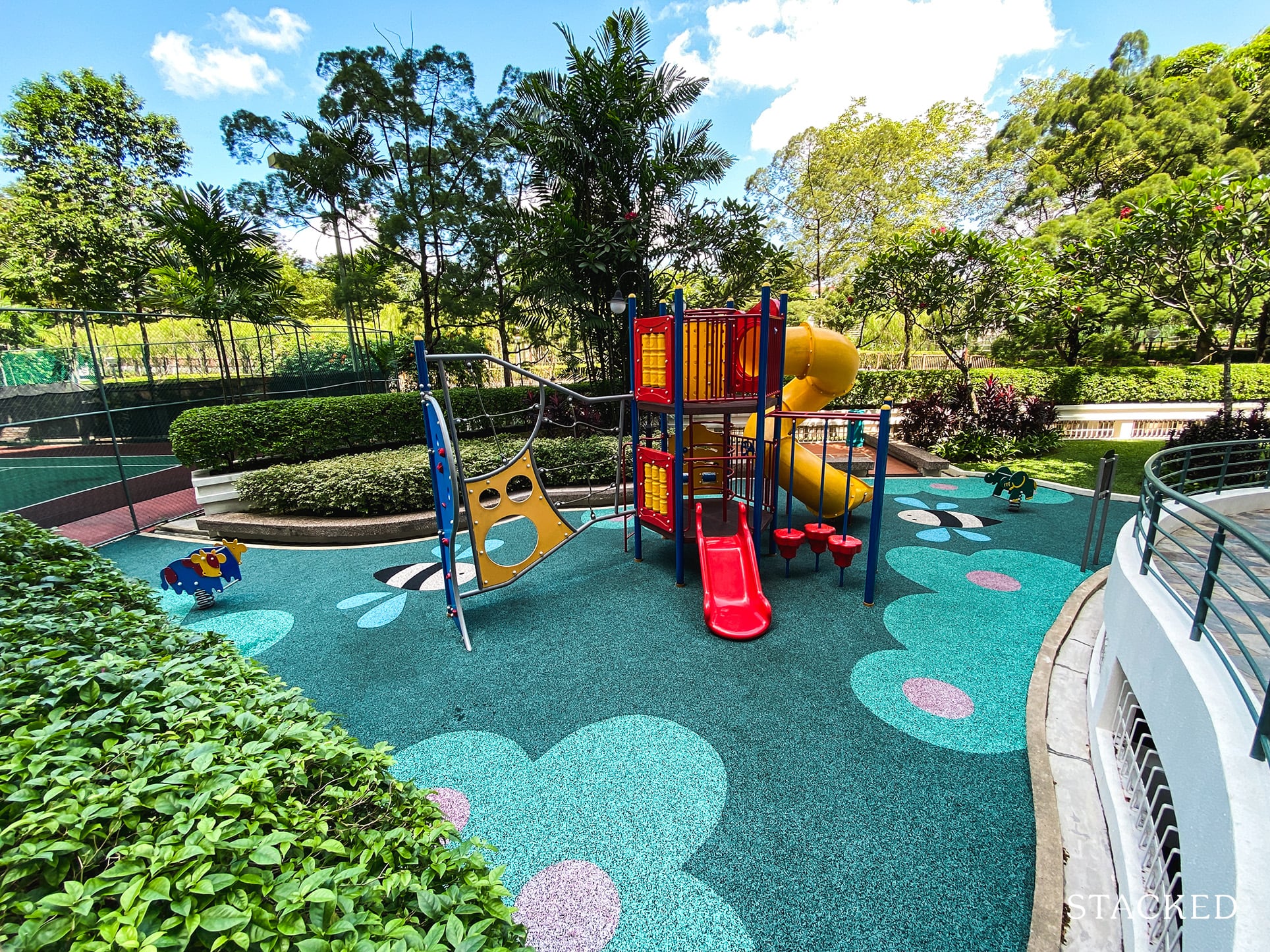 Just off the side of the tennis court is the children's playground. Visually, it is finished in bright, fun colours and it is quite a large space for kids to run and play. On the other hand, I think the concrete edges that run around the hedges are a little concerning for the little ones given the propensity for them to run (and fall). So parents and helpers might have to keep extra watch here.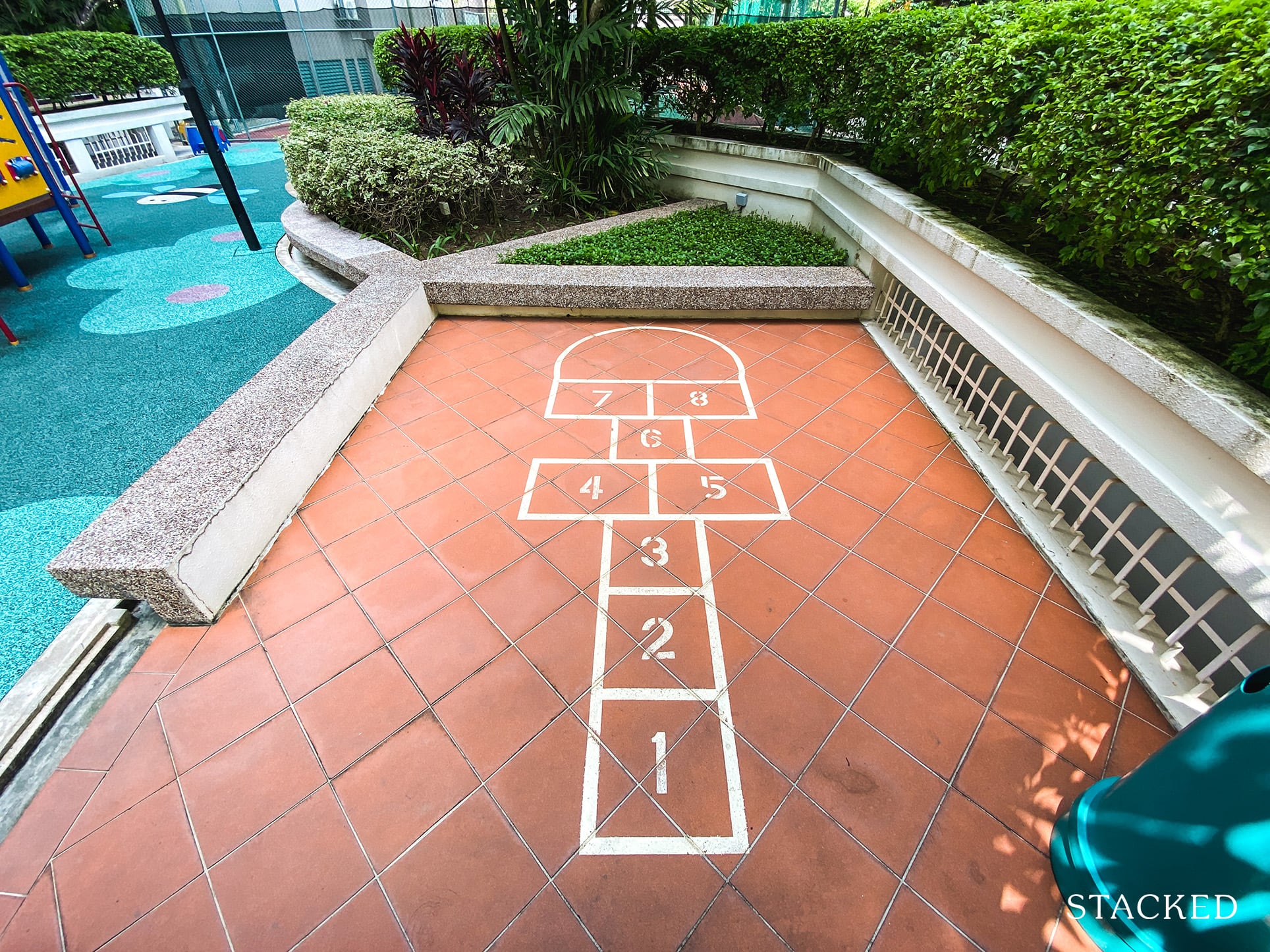 An interesting feature (depending on your age), is a dedicated space for hopscotch. I think it's safe to say that most kids nowadays would probably have no idea what this is – but it is certainly nostalgic to see one.
While I can't say I've been to all the condos in Singapore yet, I can quite confidently declare that this could be the only one of its kind.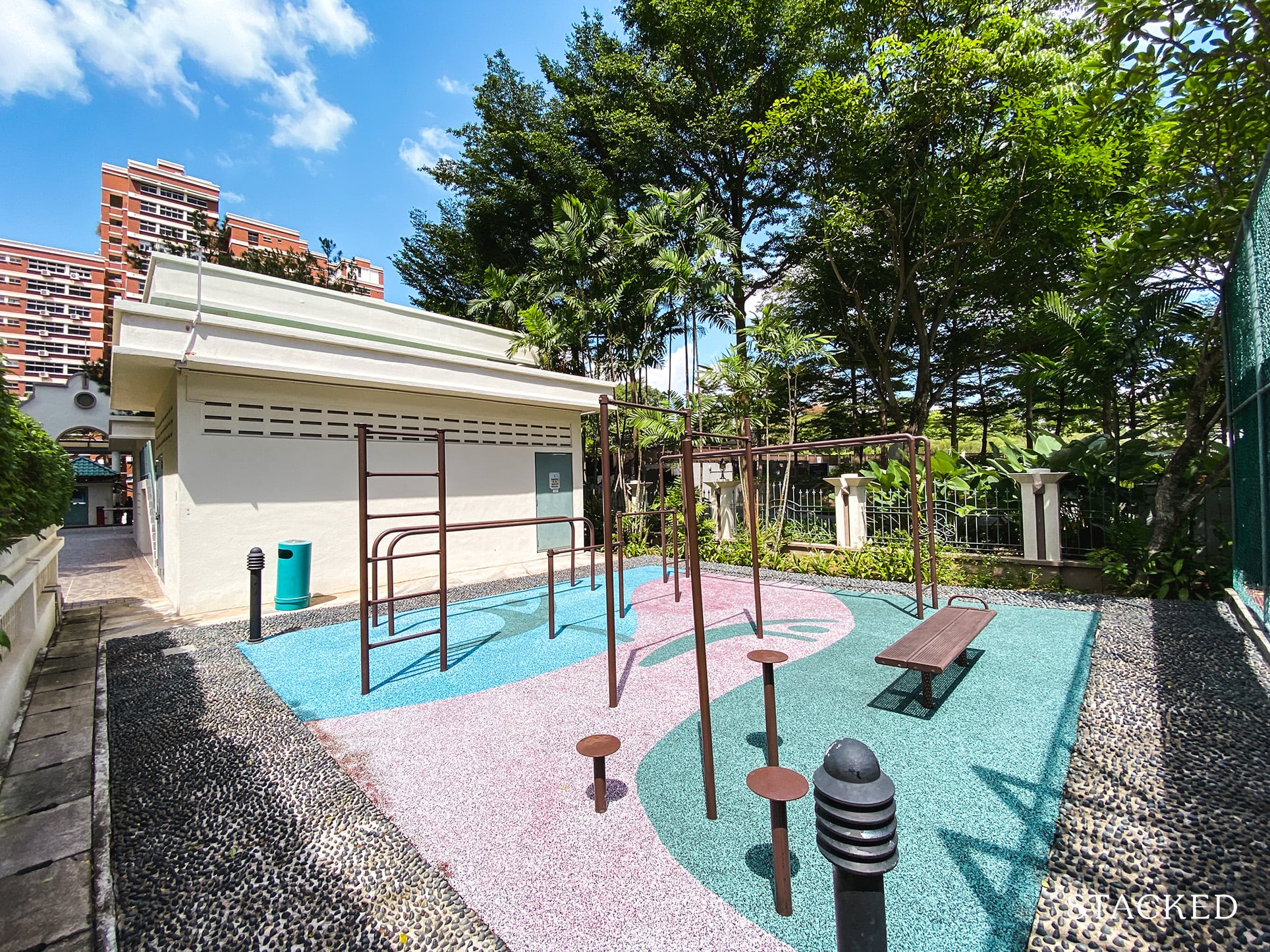 On the other side of the tennis court, you'll find a big outdoor fitness area. You could easily do a proper old school circuit training session here, as there are quite a few different stations.
You might have noticed the pebbled path surrounding the fitness area. This isn't actually due to design, but it is a form of acupressure therapy – which was a popular feature in developments many years back. Nowadays, health experts have warned that these could be more trouble than they're worth. Nevertheless, it is another feature here that is undoubtedly a blast from the past.
This end of the tennis court actually features a basketball hoop as well. While it isn't a full-sized basketball court on offer here, I have to say that it is a really innovative option. It certainly gives you more pause for thought here – why aren't more condos doing this?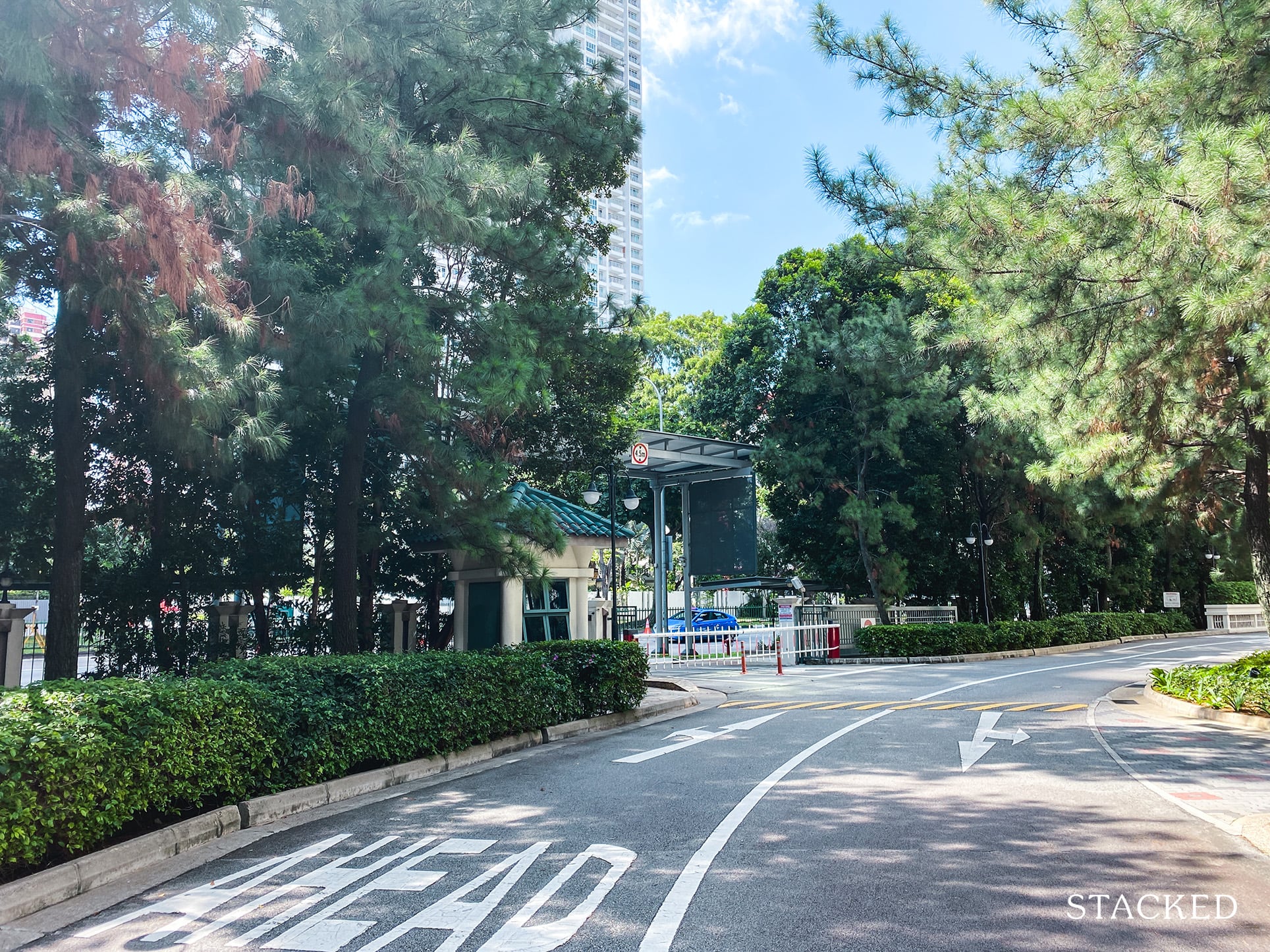 Rounding off the features of the ground level, there is a second entrance/exit at the corner of the estate. This leads directly to the main Alexandra Road.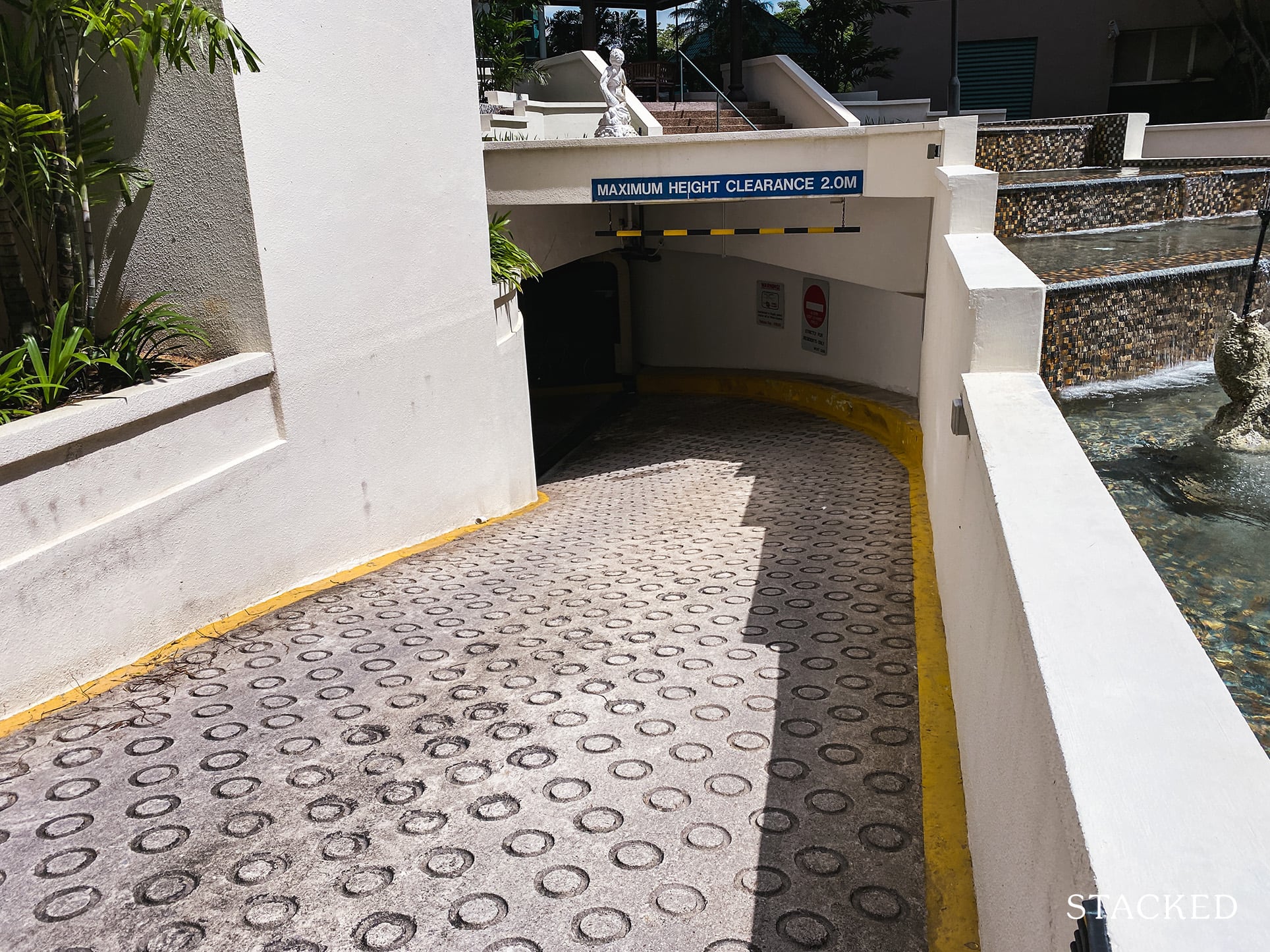 As mentioned, there is a basement carpark at the Tanglin Regency. Do watch out for the slightly squeezy bend though.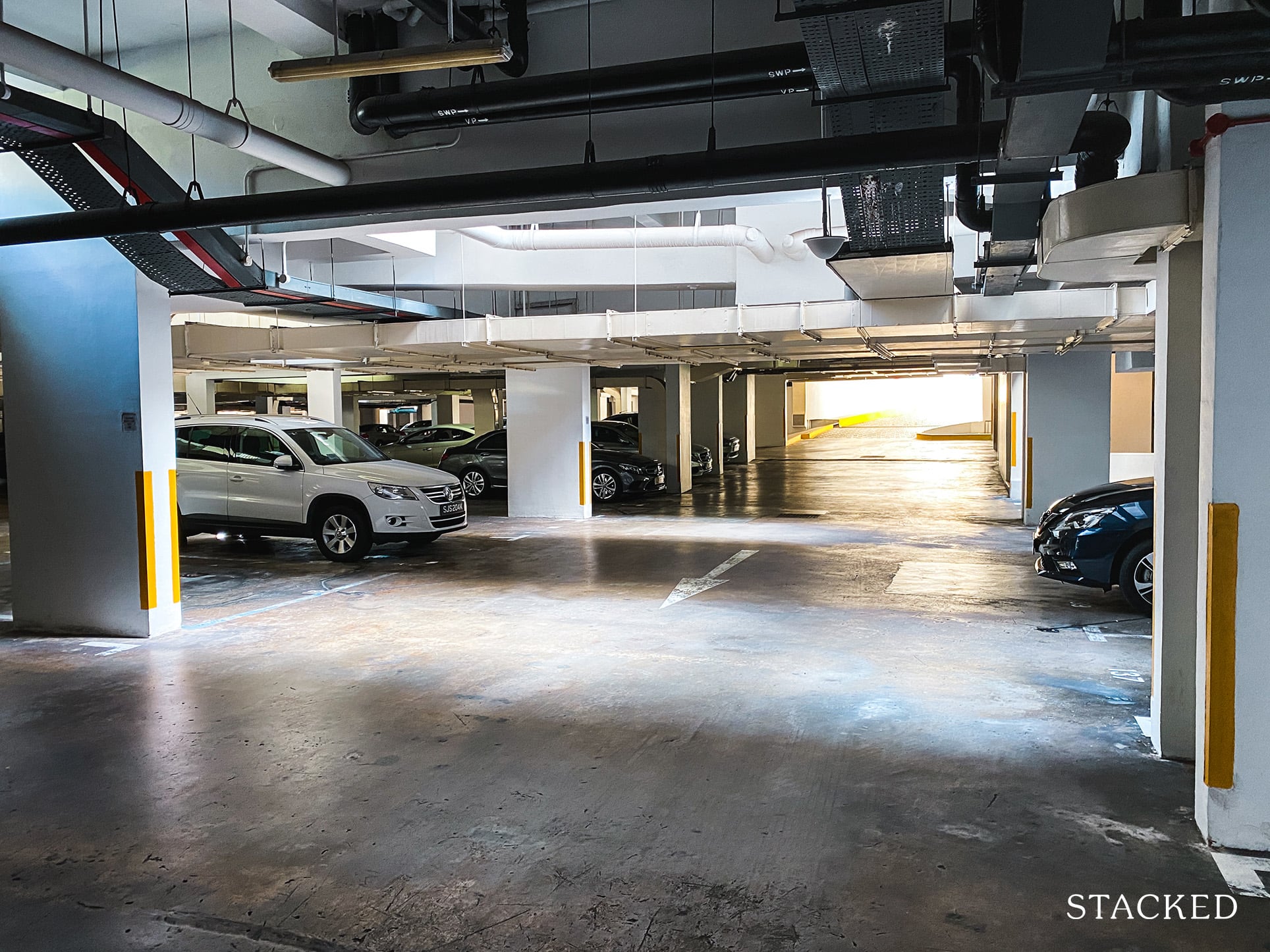 Like most of what you've seen so far, the basement carpark serves up a solid yet unspectacular fare. Having a basement carpark isn't always a certainty in older developments so it is definitely a convenient option here.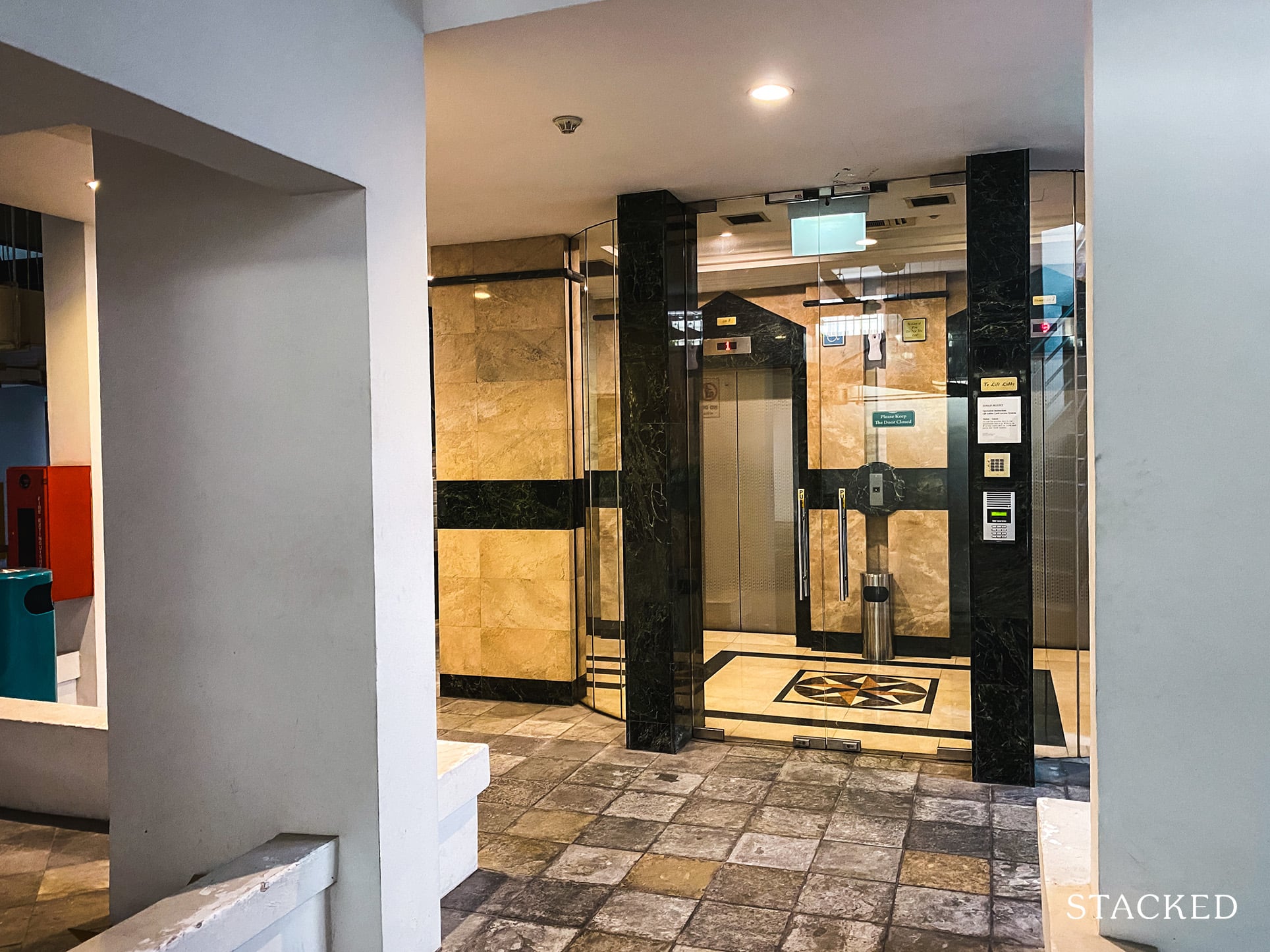 Likewise, with the ground level, the basement carpark lobby requires visitors to dial-up to gain entry.
Tanglin Regency Location Review
Tanglin Regency is set on the southernmost-end of Tanglin Road.

It occupies a sizeable plot of land by the busy junction of Tanglin and Alexandra Road and is surrounded by a number of key private residential developments like the Echelon and Ascentia Sky that have popped up in the area over the years.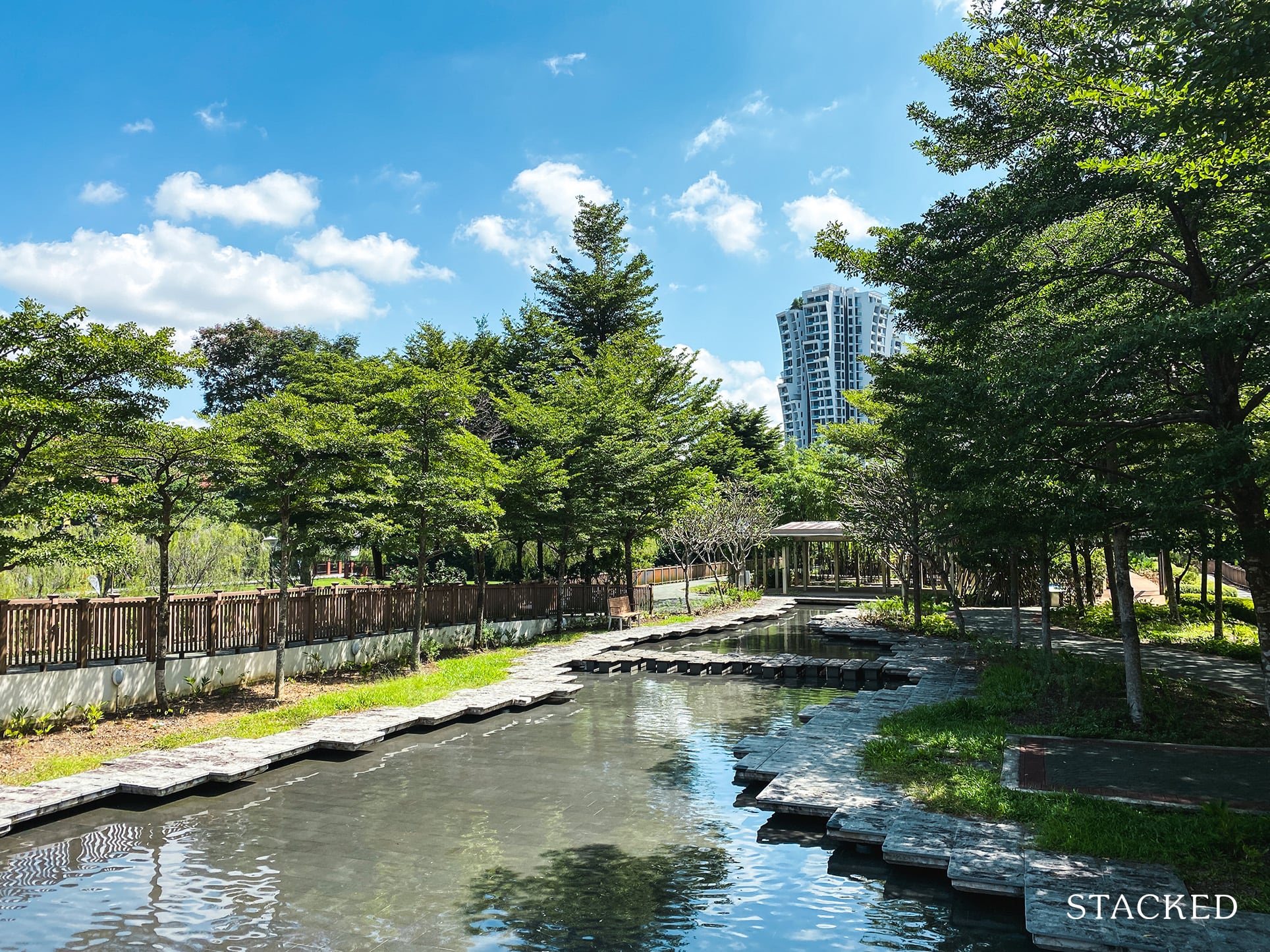 It is also adjacent to the 'newly renovated' Alexandra Canal Water Play Area – which provides both the Tanglin Regency's residents and visitors with golden opportunities for recreational bliss.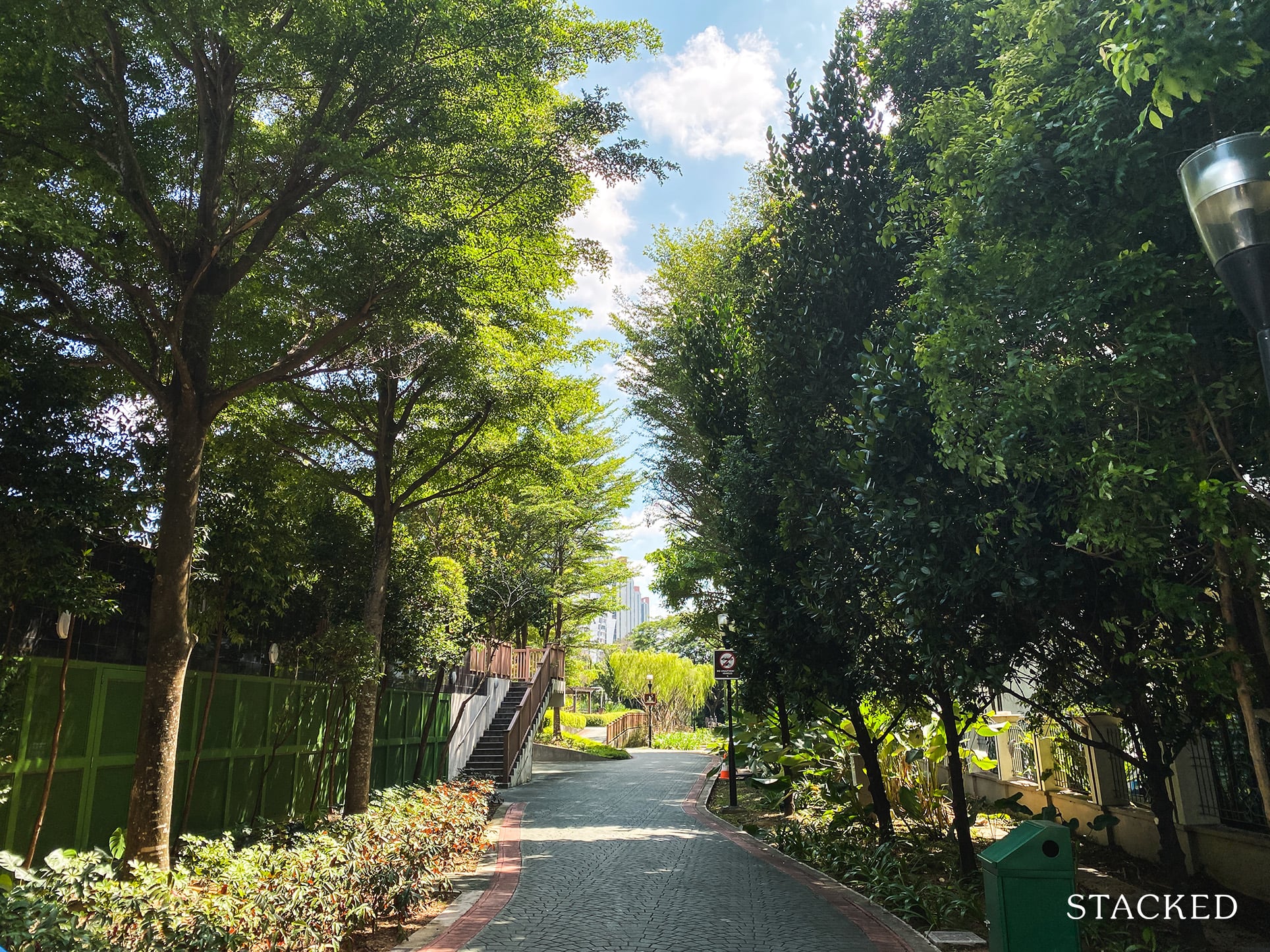 Public Transport

| | | |
| --- | --- | --- |
| Bus Station | Buses Serviced | Distance From Condo (& Est. Walking Time) |
| 'Tanglin View' | 51, 122, 139, 186, 970 | 250m, 3-min walk |
| 'Crescent Girls' Sch' | 32, 111, 122, 132 | 190m, 2-min walk |
| 'Redhill Stn' | 32, 33, 33A, 64, 120, 132, 145, 145A | 500m, 7-min walk |
Closest MRT: Redhill MRT – 500m, 7-min walk

With a number of bus stations at our disposal, Tanglin Regency proves to be a relatively well-linked condominium which adds further promise to its already central-ish locale.

While its MRT routes to town (Orchard area) are not as convenient as its bus routes (trust me, just board the 32/64), the Redhill MRT is just 4 straight stops, or 8-minutes' ride from the CBD/Raffles Place MRT.

Also worth highlighting is the fact that Redhill MRT is just 4-5 stations away from Dover and Clementi MRT – where you will find a number of key educational institutes (Ngee Ann Poly, SIM etc.).

Furthermore, MRT travel times to Jurong East Station take just 14 minutes across 6 straight stops (excluding walking time)!

Finally, do note that the path from Tanglin Regency to Redhill MRT is only partially sheltered with crossings across major roads included.
Private Transport
| | |
| --- | --- |
| Key Destinations | Distance From Condo (& Est. Peak Hour Drive Time) |
| CBD (Raffles Place) | 5km, 15-min drive |
| Orchard Road | 3.6km, 10-min drive |
| Suntec City | 5.8km, 15-min drive |
| Changi Airport | 25km, 30-min drive |
| Tuas Port (By 2040) | 33.5km, 40-min drive |
| Paya Lebar Quarters/Airbase (By 2030) | 17.3km, 25-min drive |
| Mediapolis (and surroundings) | 3.8km, 8-min drive |
| Mapletree Business City | 3.5km, 8-min drive |
| Tuas Checkpoint | 23.3km, 25-min drive |
| Woodlands Checkpoint | 21.3km, 30-min drive |
| Jurong Cluster (JCube) | 11.4km, 18-min drive |
| Woodlands Cluster (Causeway Point) | 21.7km, 30-min drive |
| HarbourFront Cluster (Vivo City) | 4.6km, 13-min drive |
| Punggol Cluster (Waterway Point) | 24.4km, 30-min drive |
*Note that Drive Times are calculated during Peak Hours

Immediate Road Exit(s): 2 Exits – 1 along Tanglin Rd, the other along Alexandra Rd.

Summary: Multiple exits will help to reduce peak-hour congestion. Immediate U-turn available on Tanglin Road, though no yellow box present along Alexandra Road exit. AYE/CTE relatively close in proximity with a number of key working nodes within a 10-minute (peak hour) drive radius.

Groceries

| | |
| --- | --- |
| Name of Grocery Shop | Distance From Condo (& Est. Walk Time) |
| Giant Express – Red Hill Close | 1km, 4-min drive OR 1.1km, 14-min walk |
| FairPrice – Dawson Road | 1.5km, 4-min drive OR 800m, 10-min walk |
| Sheng Siong – Dawson Road | 1.6km, 5-min drive OR 950m, 12-min walk |
| Cold Storage – Tanglin Market Place | 2.1km, 5-min drive |
Schools

| | |
| --- | --- |
| Educational Tier | Number of Institutes |
| Preschool (within 1km walk) | 2 |
| Primary (3km-drive) | 4 |
| Secondary (3km-drive) | 5 |
| International School (3km-drive) | 2 |
| Junior College (5km-drive) | 1 |
| University (5km-drive) | 5 |
| Polytechnic (10km-drive) | 2 |
Additional Pointers

Saturated with Amenities!
Not a bad thing at all.

It's not often that I say this, but with over 10 NTUC Fairprices within a 3km radius of the condo, residents at Tanglin Regency are spoilt for choice!

And this doesn't just apply to grocery selections.

For those who enjoy their shopping malls, Ikea, Queenstown Shopping Centre and Great World City are just some of the entertainment hotspots located in the same 3km radius.

All this, on top of the amazing diversity of affordable foodfare in the area stemming from the Redhill, Tiong Bahru and Alexandra Village Food Centres!

(Easy) Home-Work Commutes
Easy/fast work commutes are one of the most important things when determining a 'good location' for your house.

So for those working in the far reaches (ie. Punggol, Tuas etc.) and still seriously considering Tanglin Regency as a residential option, I do politely, but insistently ask that you turn your head now.

But for the rest who find themselves working in core central regions, however…

(Or even Jurong's Industrial Parks, Alexandra's TechnoPark and Mapletree Business District for that matter)

..Well, you can be assured of incredibly convenient/efficient home-work commutes.

Reduced lethargy, a free-up of personal time and a reduction in the time that one spends staring awkwardly at random people on trains are all valid reasons to embrace this perk.

Accessible/Diverse Medical Care
As we grow older, we tend to place a higher emphasis on our health (heck, even the younger ones are doing it nowadays).

Now we know how insurance policies can differ (and hence the available doctors you can visit).

Thus, having 4 major hospitals in either direction of your home comes not just as a blessing, but for many, a necessity.

Mount Elizabeth, Gleneagles, Alexandra and the Singapore General Hospital make up this list.
Tanglin Regency Development Site Review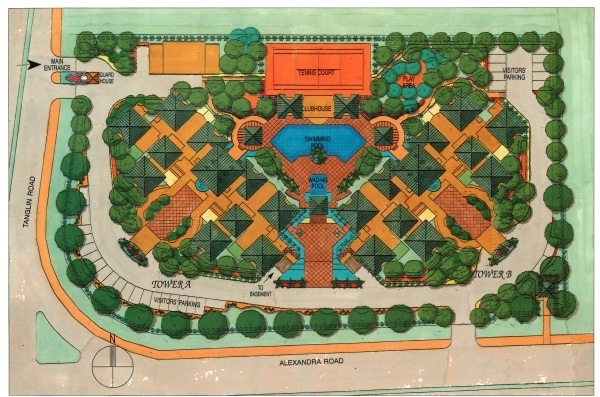 It's a wonder that we managed to get a development site map at all. This is, after all, a 22-year-old condo we're talking about!

You can see how neat the inner-condo roads run from one exit to the other. In reality, It is very much the same – with sizeably sheltered drop-off points located at Towers A and B respectively.

In a modern condo, you would be forgiven for expecting underground drop-off points – and possibly in line with that, a wider range of facilities in their current space.

Given the case of Tanglin Regency's age and size however, these 'on-ground' roads of Tanglin Regency really shouldn't be garnering too much flak from us.

Now I do know of some people who might take one look at the site map and immediately criticise the condo's lack of facility offerings.

And in truth, I am inclined to agree with them.

That said, what you will not see in this sitemap (and might have already seen from the tour) is the fact that there are some key architectural designs present in Tanglin Regency. Designs that present the condo with a unique ambience that you might not find so readily in modern Singapore.

Naturally, this would include the overhanging arches set in the middle of both its residential towers – reaching up to 6 storeys high!
Unit Mix

| | |
| --- | --- |
| Unit Type | Size of Units (sqft) |
| 2-Bedroom | 818 – 1,109 sqft |
| 3-Bedroom | 1,163 – 1,367 sqft |
As is the case with most older developments, you wouldn't find many units smaller than 700-800 square feet in its unit mix.

Given it isn't considered a luxury development, there isn't any units here with private lifts, though it does seem that the layouts of units are relatively well structured, save for the presence of a lengthy corridor in the larger 3-bedroom units that some might not fully resonate with.

(If you'd like to learn more about the specific layouts across tiers, as well as the individual unit pricings/availabilities, feel free to drop us an email at hello@stackedhomes or drop us a message on Facebook!)

Best Stacks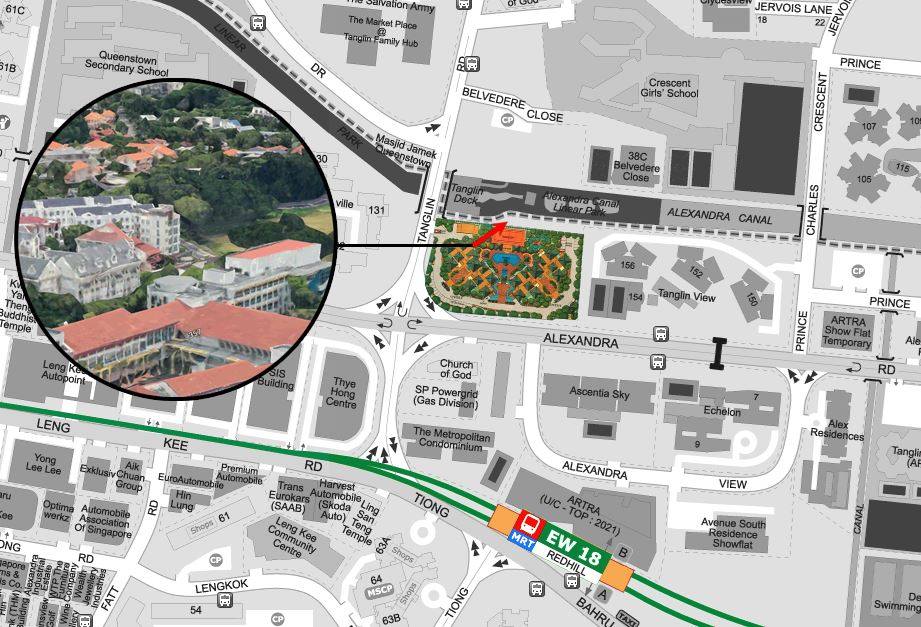 Let's now take a look at what are the best stacks for Tanglin Regency. It's quite a straightforward case here – Stacks 3 and 4 offer an unblocked facing which overlooks the Jervois/Chatsworth GCB area. As these are all low lying areas you don't have to buy a very high floor to enjoy the views.
Interestingly enough, you actually only get a balcony from the 10th floor onwards, 9th floor and below feature fully internal space only.
Tanglin Regency Price Review/Unit Comparisons

| | | | | |
| --- | --- | --- | --- | --- |
| Project Name | Tenure | TOP | Average Price (PSF) | Comparison Point |
| Tanglin Regency | 99-year leasehold | 1998 | $1,330 | |
| Tanglin View | 99-year leasehold | 2001 | $1,308 | Immediate Proximity/Similar Age |
| Ascentia Sky | 99-year leasehold | 2013 | $1,420 | Immediate Proximity |
| Echelon | 99-year leasehold | 2016 | $1,813 | Immediate Proximity |
| Artra | 99-year leasehold | 2021 | $2,018 | Immediate Proximity |
Now if we were to have a look at the pricing, I think it's pretty clear that both Tanglin Regency and View offer the best psf-pricing ratio.

That said, and as was the case with most older developments – you wouldn't expect to find a small unit here.

| | | | | |
| --- | --- | --- | --- | --- |
| Project | 1-bedroom (sqft) | Latest Transaction (Smallest Unit) | 2-bedroom (sqft) | Latest Transaction (Smallest Unit unless otherwise stated) |
| Tanglin Regency | N.A | | 818 – 1,109 | 850 sqft – $1.2m ($1,423 psf) |
| Tanglin View | N.A | | 872 | $1.18m ($1,353 psf) |
| Ascentia Sky | N.A | | 947 – 1,023 | $1.65m ($1,742 psf) |
| Echelon | 452 | Asking – *$1.02m ($2,263 psf)* | 732 | $1.4m ($1,913 psf) |
| Artra | N.A | | 786 – 829 | $1.69m ($2,152 psf) |
(*Note: Due to lack of transactions made for 1-bedroom units at Echelon, we have instead included the latest asking price of a top-floored unit)

In fact, if you were to have a look at the table above, you'll realise that the Echelon has the smallest unit variations (and tier).

Based on the statistics, however, these smaller units tend to fetch higher prices, and as such, the most affordable option, in this case, would still be a unit at either Tanglin Regency or View.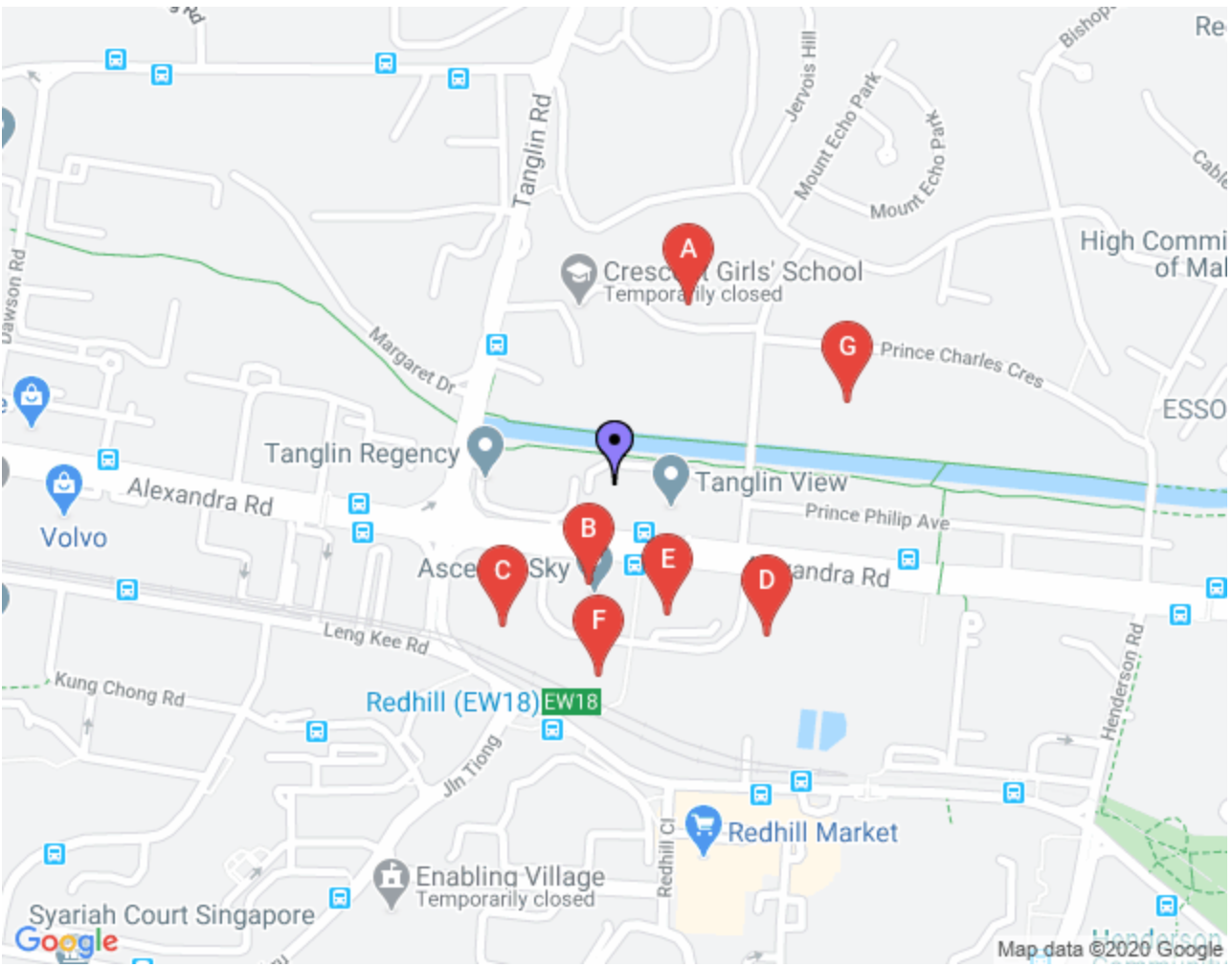 For a better picture of their individual locations, I have also provided a map view to make things clearer. Respective projects of the lettered pointers (from the list) and their distance to the Redhill MRT are as follows:

| | |
| --- | --- |
| Project | Distance to Redhill MRT |
| Tanglin Regency | 500m, 7-min walk |
| Tanglin View | 400m, 5-min walk |
| (B) Ascentia Sky | 180m, 2-min walk |
| (E) Echelon | 220m, 3-min walk |
| (F) Artra | Immediate |
As you can see, the walking times to the MRT station from the condos are relatively negligible.
Appreciation Analysis

Looking at Tanglin Regency's transaction history, you can see how its resale units followed the post-financial crisis price-trends after the early 2000s to 2009ish period.

While it might look like the condo has already fulfilled its appreciation potential, the graph also signifies that the development's unit prices might still have room to grow pertaining to subsequent economical/property market-trends – as it has done before.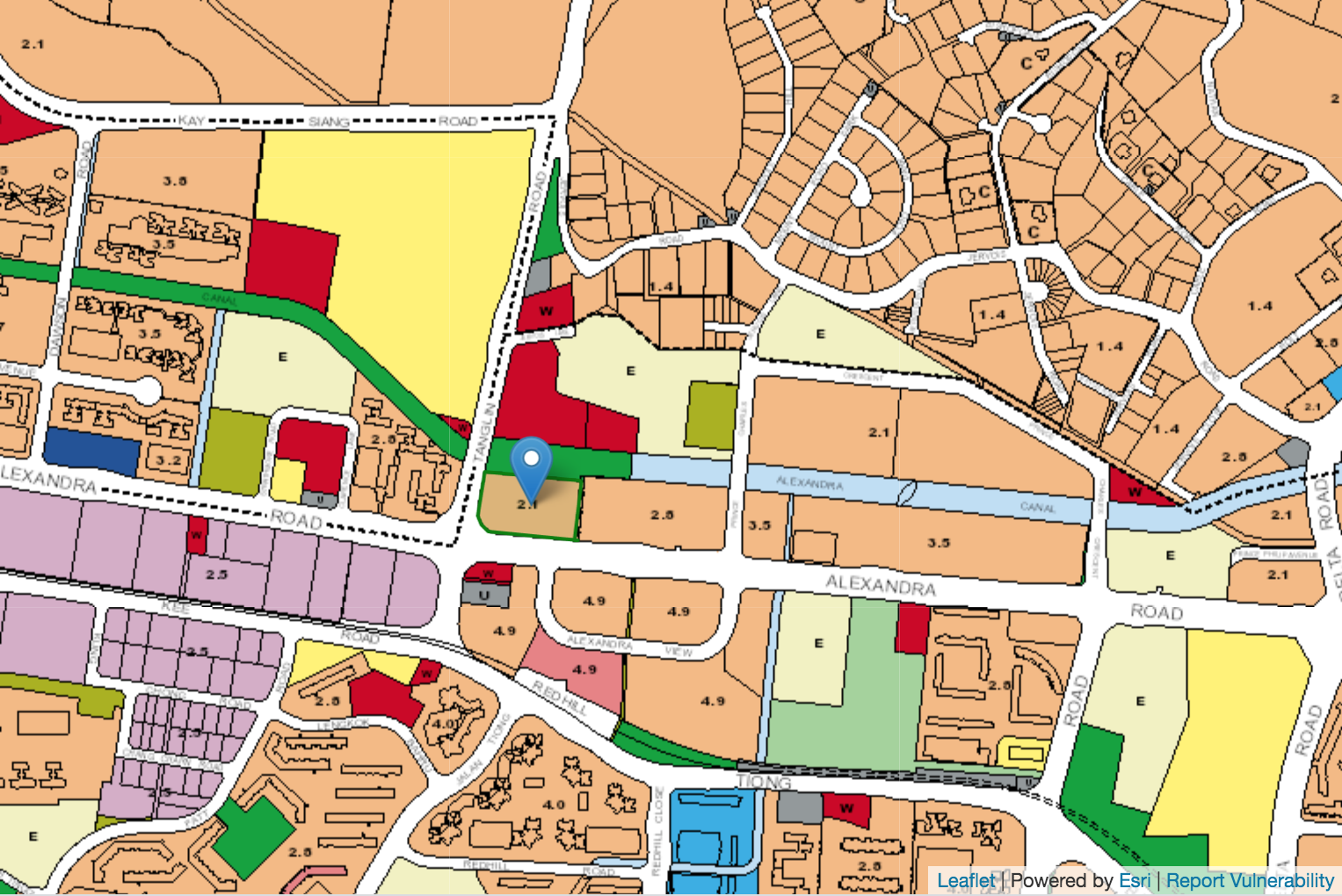 Now if we were to take a look at URA's land use plans, there isn't exactly much free land in the neighbourhood – save for the 2 reserve sites that you see.

As such, you wouldn't necessarily rely on prices here to be driven up based on the construction of numerous new (surrounding) developments.

Of course, another important point to note is that Tanglin Regency's 99-year leasehold actually started from 1994, meaning it has about 73 years left on its lease expiry date.

Now 73 years from now is a long time – and to be honest, I wonder if we would even live to that point (I'll be sure to pop in an update if I do).

That being said, it does have an incredible plot ratio that coincides well with its central locale.

In other words, good en bloc potential.

In fact, this point deserves more emphasis given that almost all of its neighbours are – as you can see, high plot-ratio holders.

Our Take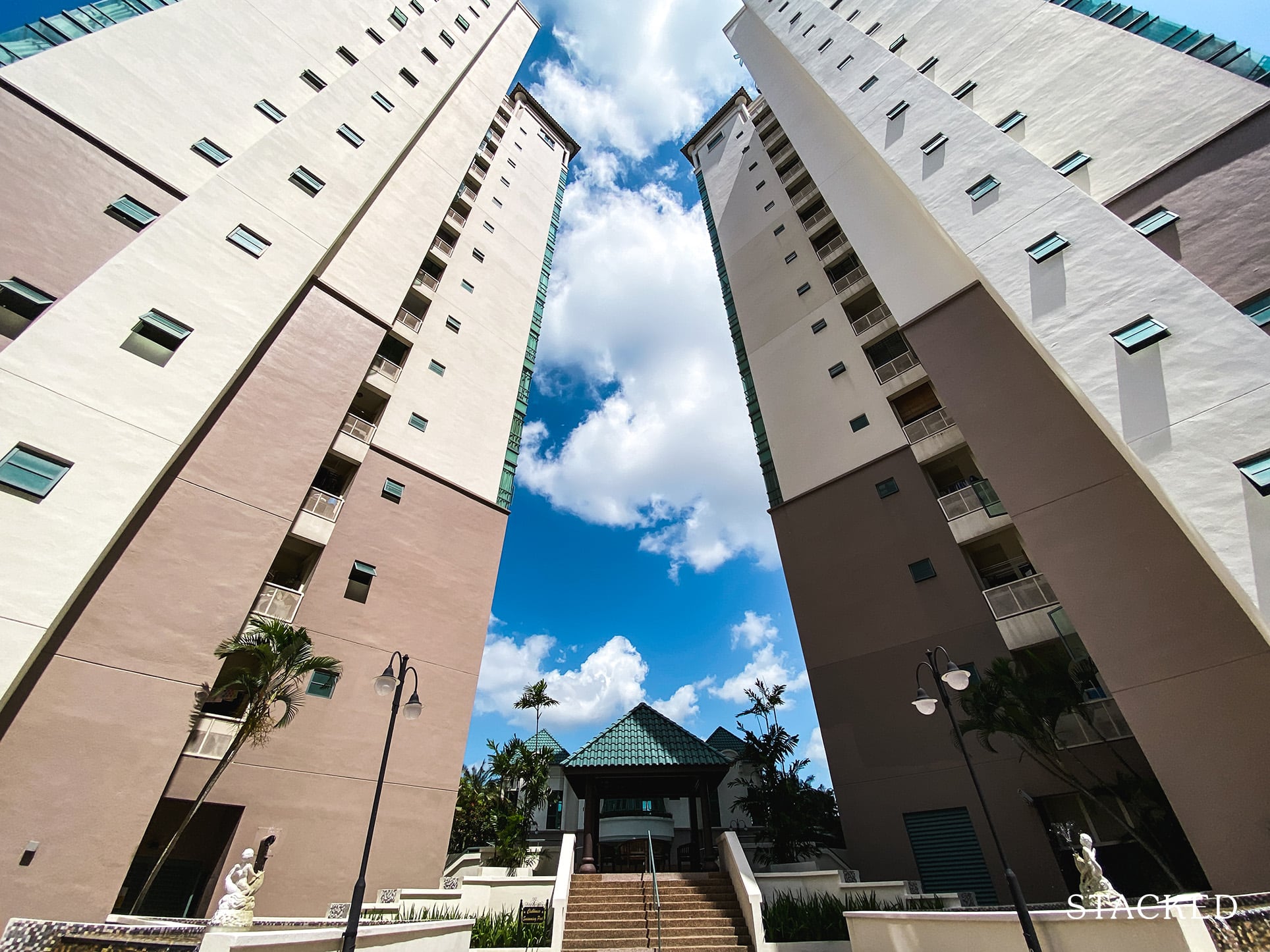 Now I do not (in any shape or form) advocate buying into a unit simply for its en bloc potential – because quite frankly, you'll end up disappointed on more occasion than one. 

It is also quite possible that due to the sentimental value of the area, residents here might be incredibly reluctant to part with their long-time homes.

If you were to buy into a unit here, do not use that as your main USP. Rather, consider the convenience, spaciousness and vibrant neighbourhood as your main plus points. It's quite clear that with all the new condos popping up in the area that it is an attractive place to live.

Yes, it doesn't have the best offering of facilities, and it definitely isn't a new condo by any means, but that's precisely why you can get away with prices like that here.
What this means for you
You might like Tanglin Regency if you:
• Enjoy Spaciousness:With only 210 units spread across 118,400+ square feet of land, and relatively large 2 to 3-bedroom units to boot, Tanglin Regency offers good sizes on a whole.
• Crave Convenience:The condo maintains a relatively central location along Alexandra Road, offering easy accessibility to a number of work, education and entertainment nodes.
You might not like Tanglin Regency if you:
• Dislike Older Developments:At 22 years old, Tanglin Regency might seem relatively 'dated' to some.
• Prefer an Array of Facilities:Unlike some of the newer condos, you won't be getting much diversity in terms of facilities here.
End of Review