Property Picks
Singapore's Best Condos for Spacious Living
Ryan J
April 18, 2020

9

min read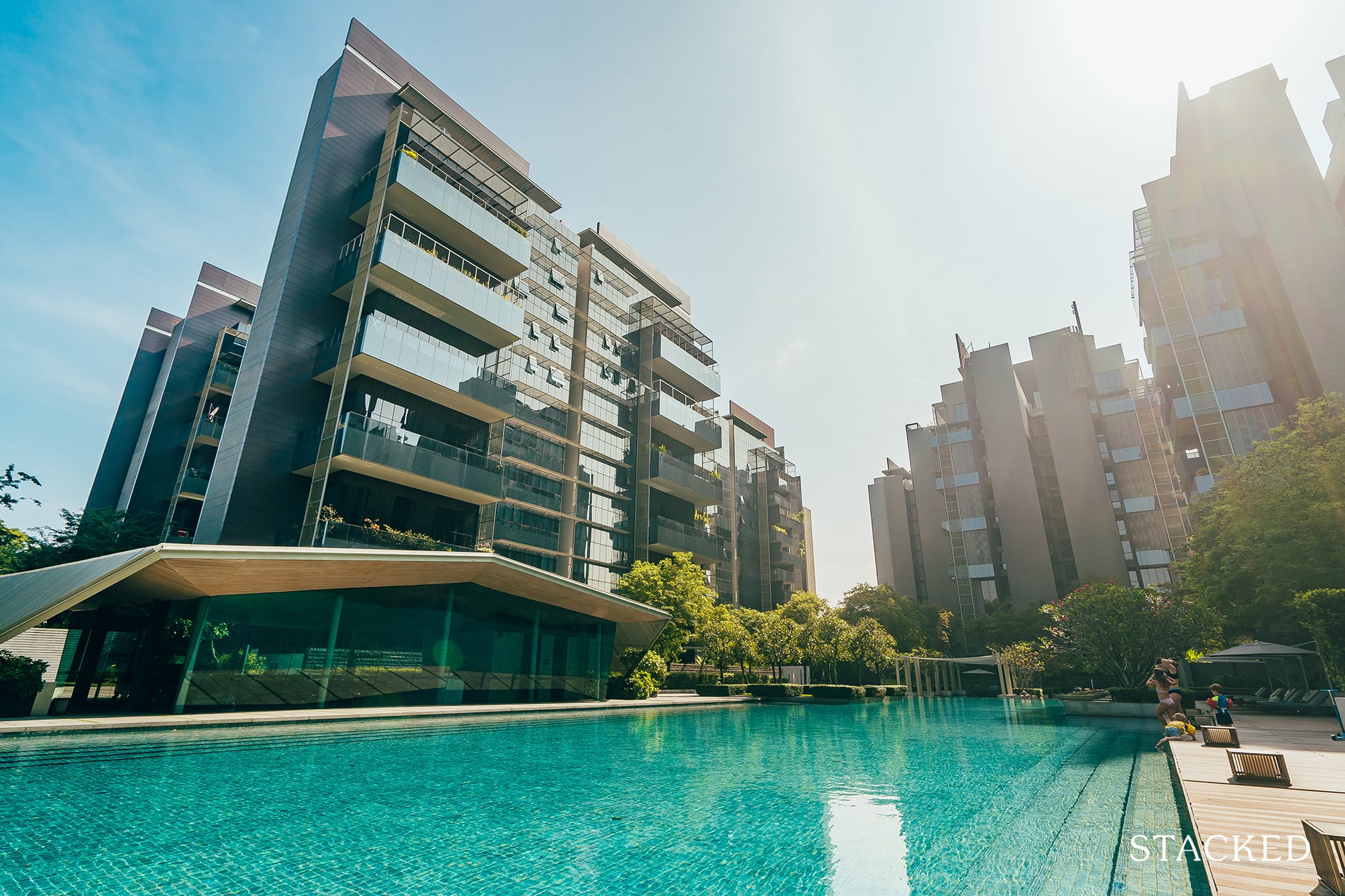 9
min read
Open up YouTube or Instagram, and check out the complaints from Europe or the US about staying home. It's boring, it's driving me crazy, it's cramped. Then they swivel the camera around and you're struck by a painful revelation: your entire home could probably fit into one of their guest houses.

The fact is, Singapore homes seem to shrink further with every age. Here's an example: back in 1993, a condo like Bullion Park had 472 units in over half a million square feet. Today, condos like Treasure at Tampines has 2,203 units sitting on slightly over 700,000 square feet. At this rate, management committees will be restricting the size of our pet hamsters by 2050.

There's still some light in the darkness though, and some developers have found ways to create spacious living even in tiny Singapore. The following condos aren't necessarily the largest in terms of plot size or average unit size; but they all have traits that cleverly use space for true breathing room:
Leedon Residence
D'Leedon
The Interlace
Scotts Square
Le Nouvel Ardmore
1. Leedon Residence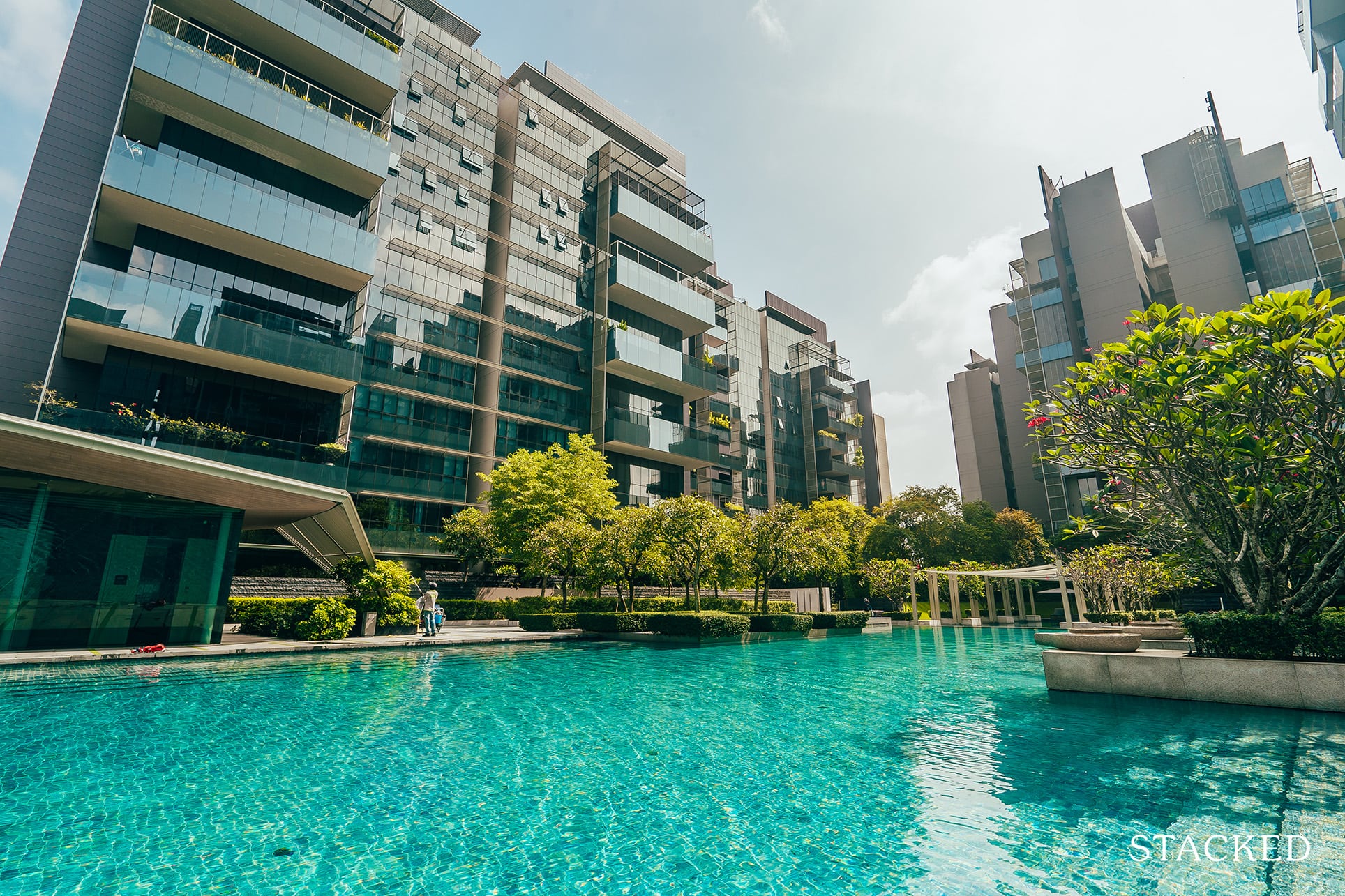 Leedon Residence is sitting on one of the largest land plots we've seen: 522,232 square feet. In spite of that, there's only a mere 381 units in this development.

The common grounds and facilities feel like a proper park space: sheltered seating pavilions (some the size of a beach bar in Bali), multiple outdoor fitness stations, a two-hundred metre walking trail, and a dining lounge with kitchen and 10-seater table.

The units here are also on the large side, as you'd guess from the small number relative to the plot size. The smallest are two-bedroom units that are 1,044 square feet (that's spacious living at its best, you'd expect 600 to around 800 square feet for two-bedroom units, in most new launch condos today). 

The majority of units are three-bedroom units, which go to a whopping 2,088 square feet, and four-bedroom units, which reach 2,685 square feet. The five-room units reach over 8,000 square feet, in case you want to…I don't know, raise a T-Rex or land a small airplane in it.

In all seriousness, extended families who want to live together should take a look at the units in Leedon Residence. The huge sizes does mean a higher quantum, but you're not likely to find such ample space (both in the unit and the common grounds) in many other condos.

You can see a more detailed breakdown of the units, along with cost details, in our in-depth review.

Spaciousness aside, do note that Leedon Residence is a freehold condo in District 10, and within close proximity to the Holland Village area. 

Info sheet:
Address: Leedon Heights (District 10)
Developer: Guocoland
Site Area: 522,322 sq.ft.
Tenure: Freehold
TOP: 2015
Units: 381
2. D'Leedon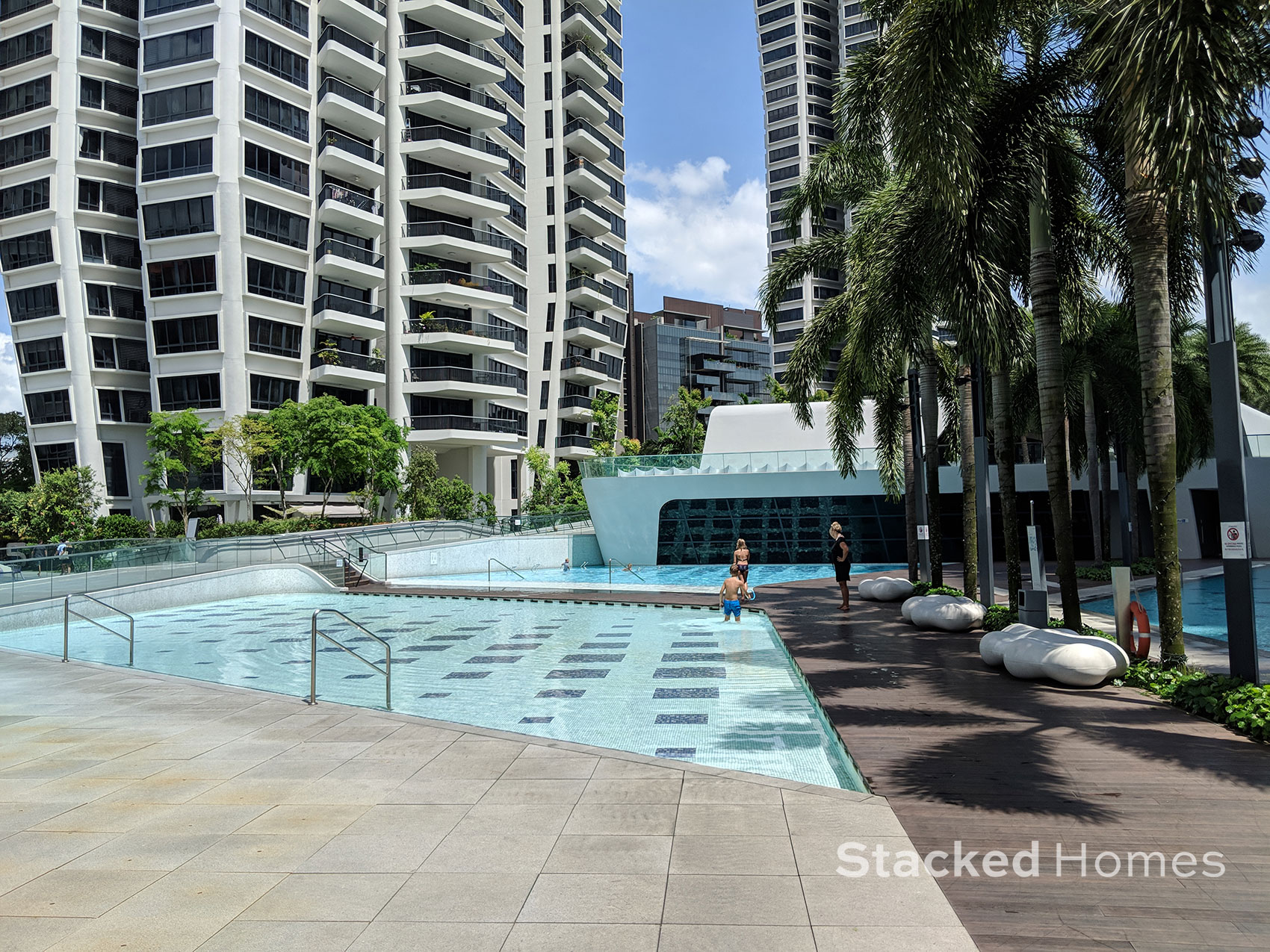 This development is neighbourhing Leedon Residence (see above), and manages to be even bigger in land space at 840,049 sq. ft. And yes, all that space cost the developer a jaw-dropping amount: CapitaLand paid a record-breaking $1.3 billion for all this in a collective sale.

But while D'Leedon sits on more land than Leedon Residence, it's also a mega-projet. There are 1,715 units here, almost four and a half times more than Leedon Residence; so its bigger plot size is also offset by higher density.

As you'd expect from so much land space, the common grounds accommodate six different themed gardens – a Sculpture Garden, Scent Garden, Kinetic Garden, Maze Garden, and Chess Garden.

To be blunt, we didn't really get a big sense of differentiation between them (but that's subjective; this particular writer can't tell between motel room art and a genuine Modigliani). And six gardens is six gardens – it's a ton of space for you to walk the dogs, let the children run around, and not get bored on your evening strolls.

There are also commercial spaces, so you can head downstairs to get groceries, hit the winery, go to a salon or clinic, etc. Mind you, given the sheer size of the place (it feels more like an HDB estate than the inside of a condo), it may be quite a walk depending on which block you live in.

For swimmers, there are two 50 metre pools, as well as the usual BBQ areas, gyms, and so forth. We have a more detailed breakdown of these facilities in our in-depth review, as well as details like unit prices, so do take a look.

Do bear in mind that – while there are way more facilities, that are bigger than most condos – you'll also be sharing them with more residents. With over 1,700 households, the sheer number of users more or less balances out the more generous facilities.

With regard to the units, there's a wide mix of one to four bedroom units, plus mega-sized Garden House units.

The smallest one-bedroom units are between 592 to 840 square feet, which is definitely on the large side; when most other condos have one-bedroom units, they're designated as shoebox or compact units (defined as being around 500 square feet or under). So even the one-bedders at D'Leedon are bigger than the "compact units" you'll find in most other condos.

The majority of the three and four-bedroom units reach up to 1,873 square feet and 2,443 square feet respectively; not as monstrously large as neighbouring Leedon Residences, but very impressive compared to the average condo.

The Garden House units – for those who want to feel like they're living on a landed property – exceed 6,500 square feet. But given the price tag, you might want to to consider if you should just get an actual landed property.

Overall, this is a good development for those who want a spacious living space, and a space that's also lively and bustling. If you want big and quiet, pick something else on this list instead; there are too many units in this one.

It may actually be ideal for those who've lived in busier HDB estates for a long time – the larger numbers of residents, and the sounds of people going to and fro, will feel more familiar (a lot of HDB upgraders find condos to be eerily quiet or lonely, compared to the liveliness of their former homes).

Info sheet:
Address: Leedon Heights (District 10)
Developer: Capitaland
Site Area: 840,049 sq.ft.
Tenure: 99-years
TOP: 2014
Units: 1,715
Read this next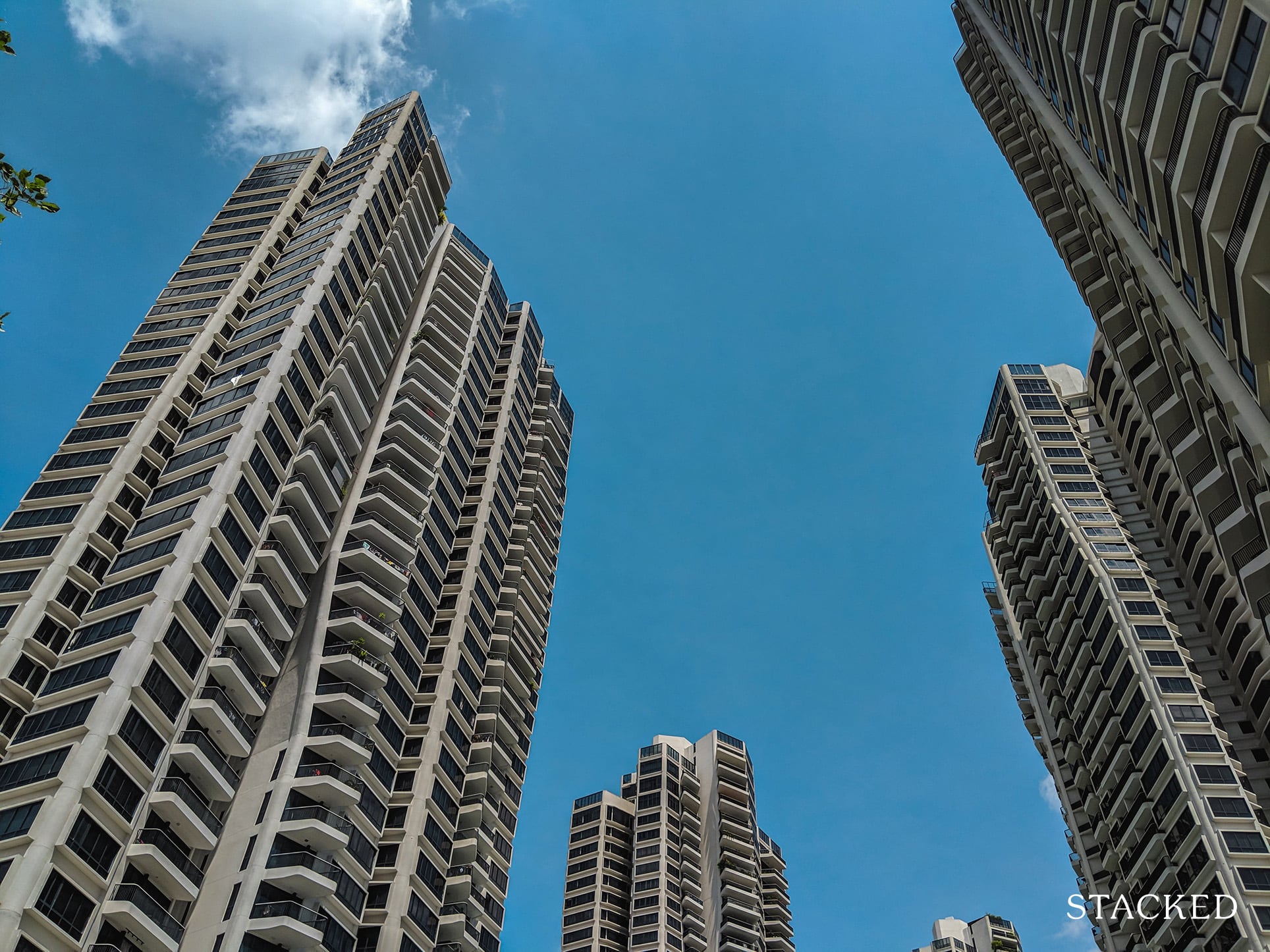 3. The Interlace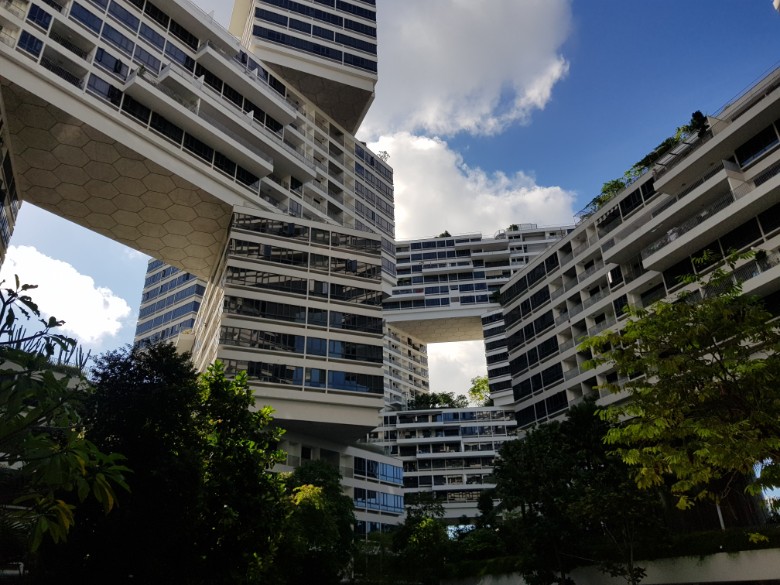 The Interlace has one of the most unqiue designs among residential developments. It drew international attention, even appearing in a Cracked.com article where it was compared (fondly, we assure you) to a shipping container accident.

Rather than build a series of tall towers to house the 1,040 units, its famed architect Ole Scheeren laid it out like a pile of scattered Lego bricks, resulting in a more village-style vibe on the spacious living grounds.

This isn't just to look cool – it has a functional lifestyle effect. The layout ensures a more communal interaction because they're laid out in a hexagonal pattern: the thirty one blocks, each six-storeys and of similar length, are laid out to form a series of eight "courtyards".  These "courtyards" make for a communal space than the traditional condo layout, which are more or less a series of isolated towers.

The spaciousness is empahsied with liberal use of sky gardens and open roof terraces. Because The Interlace is already on high ground, you get a good view of greenery from almost all angles.

Another thing to note is the location: The Interlace is situated along a planned "green belt", which ranges from Kent Ridge to Mount Faber Parks. Just about anything in this area is bound to feel like you're inside a nature reserve.

Eight themed gardens, three tennis courts, lage patios for low floor units, and a putting green round it out. There's even a dedicated area for pets, which Druce in our in-depth review wonders if it's useful to everyone, but I'll tell you why it can be:

Dedicated pet areas allow you or your children to play with the cute doggies, when you can't raise one yourself. Most pet owners like to see other people appreciating their fur-babies, and won't mind.

Units sizes are…wild. Sorry, that's just the word for it.

The smallest two-bedders range from 807 to 1,604(!) square feet. For reference, five-room flats are around 1,290 square feet.

Three and four-bedroom units range reach over 5,200 and 5,600 square feet respectivey; but note that the size differences can be huge between them (e.g. the smallest three-room units are 1,259 square feet. Yes, smaller than the biggest two-bedders).

This really is one of the most unique developments to date in Singapore; it's a must-see for larger families, or those who really require spacious living spaces.

Info sheet:
Address: Depot Road / Alexandra Road (District 4)
Developer: Ankerite Pte. Ltd.
Site Area: 869,320 sq. ft.
Tenure: 99-years
TOP: 2015
Units: 1,040
4. Scotts Square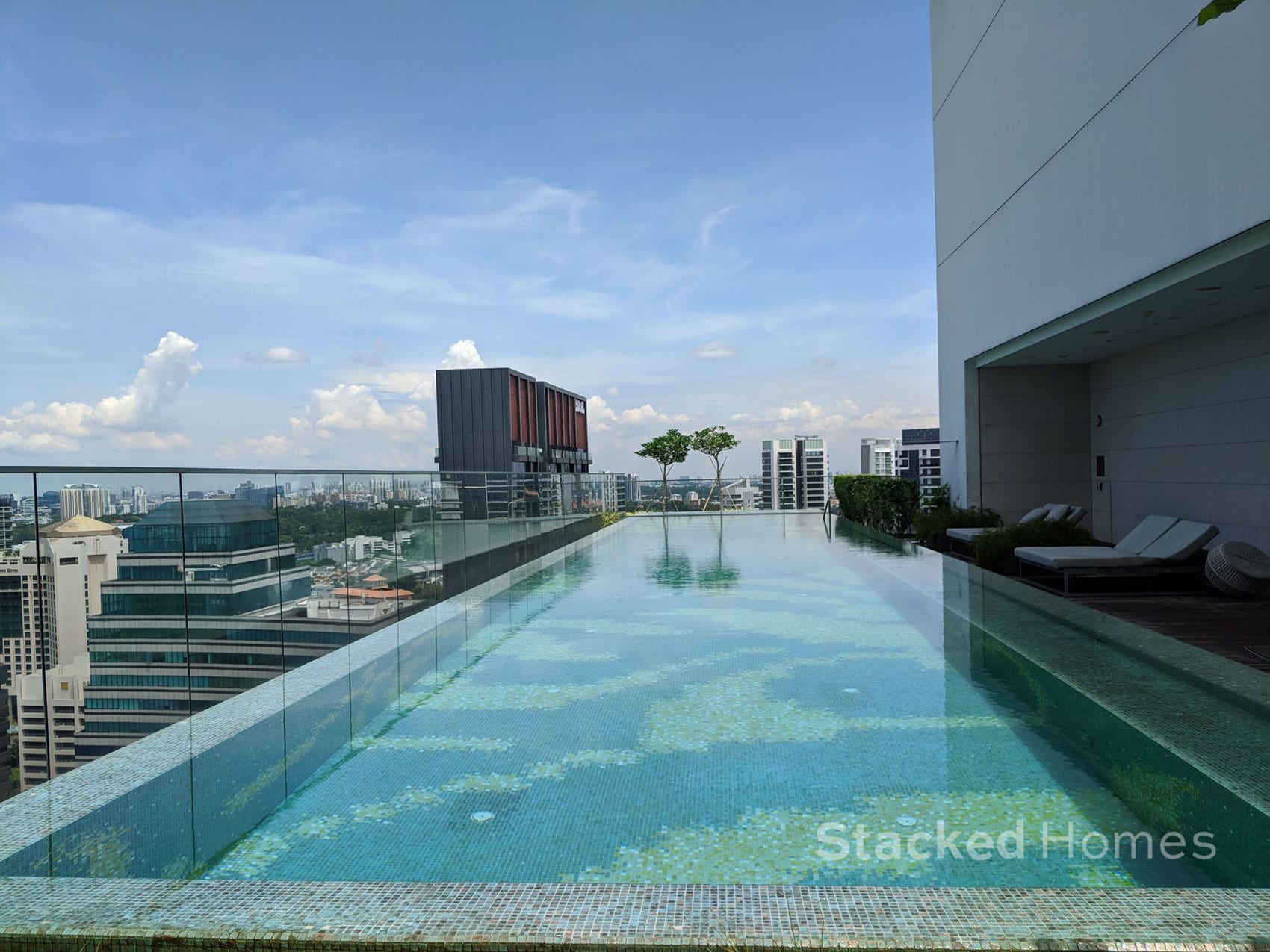 Being smack in the middle of the CBD, you wouldn't think Scotts Square is particularly spacious. This development is located between Lucky Plaza and Shaw Centre, its on top of a shopping mall, and there's even underground access to Tang Plaza. That's the kind of location that makes future buyers / tenants fist fight to shove their money in your pocket.

Now this development doesn't seem that huge on paper, being a around 19,281 sqaure metres (around 207,500+ square feet). But it holds a comparatively small number of units (338), and they're surprisingly spacious.

The units only fall into three categories: one, two, and three bedrooms.

The one-bedders range from 624 to 635 square feet, a bit bigger than most other condos (as we mentioned aboved, compact unit sizes in the 500+ square foot range are more typical).

The two-bedders are not bad too, going up to 947 square feet, while the three-bedroom units reach 1,249 square feet.

The common facilities are not especially huge given the plot size – but they're very well utilised. The rooftop swimming pool, for example, has a spectacular bird's eye view of the Orchard area; and you'll feel anything but enclosed in it. The ground floor pool and greenery also provide a sharp contrast with the city outside, and it's enough to make you forget the concrete jungle.

While it's nowhere near as massive as the other developments listed above, Scotts Square stands out for spacious living right in the heart of the city. If you need a roomy condo – but you refuse to be more than walking distance from a major mall – this is the one to look at.

Info sheet:
Address: Scotts Road (District 9)
Developer: Wheelock Properties
Site Area: 19,281 square metres (approx. 207,538 sq. ft.)
Tenure: Feeehold
TOP: 2011
Units: 338
5. Le Nouvel Ardmore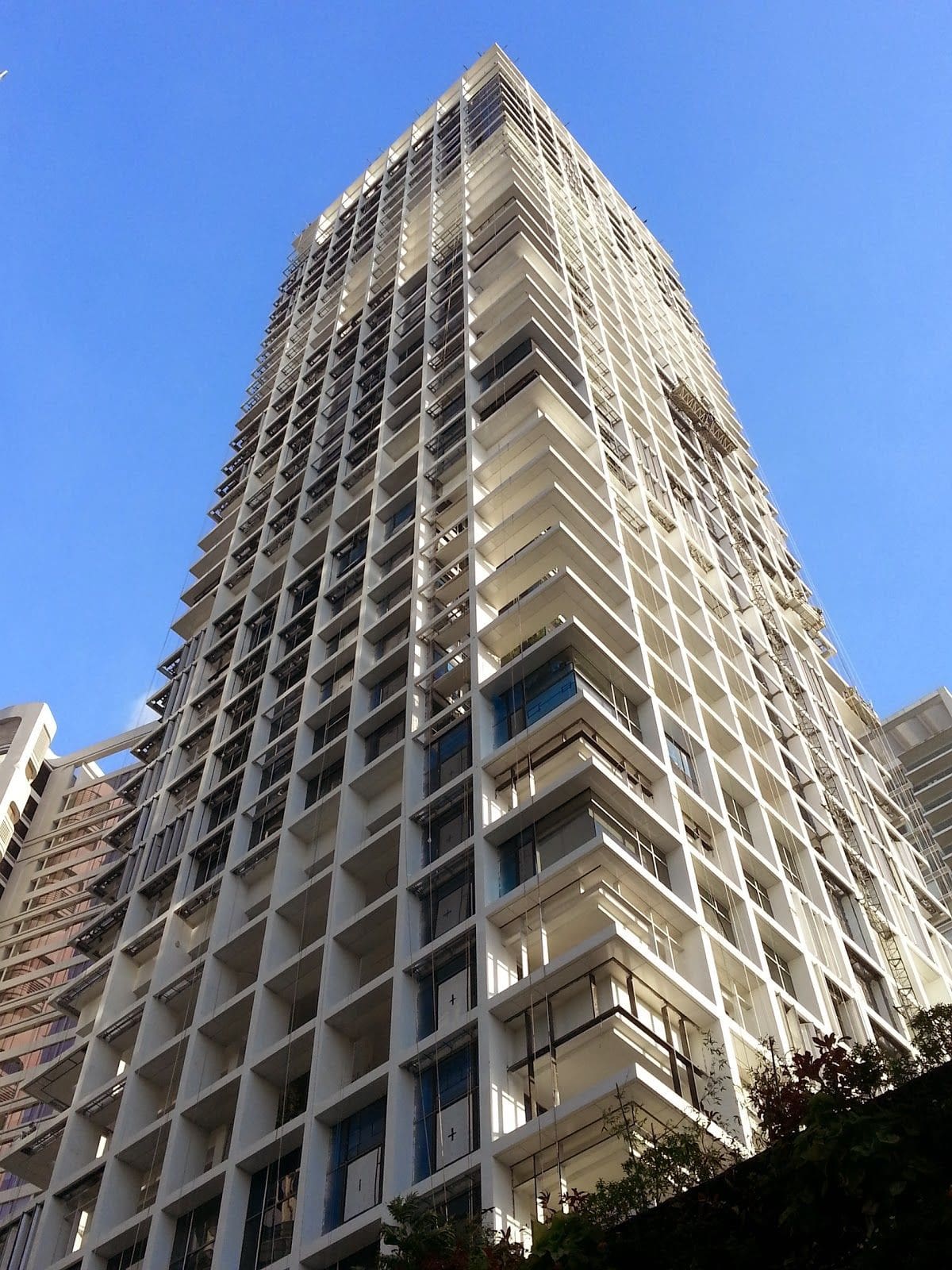 Okay, let's be blunt: this is the sort of condo you'd consider if your housing budget could fund NASA missions to Mars. But it feels wrong not to include Le Nouvel Ardmore to this list, because the units are stunningly huge.

The land size is a modest 60,533 square feet. However, the entire 33-storey tower only holds an exclusive 43 units: two units per floor, with one gigantic penthouse at the top.

Besides the penthouse, there are only two unit types: four bedroom suites that range from 3,789 to 4,133 square feet, and four-bedroom villas that range from 4,047 to 5,360 square feet. For reference, the suites are around the size of three-and-a-half five-room flats put together, and the villas are a bit smaller than two tennis courts.

The penthouse at the top is 13,875 square feet, but you'll have to buy it from Sun Tongyu (AliBaba's co-founder).

In terms of price, you can expect to pay about $3,676 per square foot, so the smallest villa is going to cost you close to $14 million.

Now the common areas are not huge compared to other condos, given the land size. But other condos don't only have 43 units. While the pool, sauna, clubhouse, etc. are are not especially remarkable (apart from the quality you'd expect in ultra-lux developments), they stand out for the simple lack of crowding. With so few units, it's almost as if you have the whole facility to yourself.

You should consider this development if your prize exclusivity and spacious living, but don't want the maintenance hassles of living on a landed property. Or if you're a Bond villain, and need to hide an attack helicopter in your junior suite.

Info sheet:
Address: Ardmore Park (District 9)
Developer: Wing Tai Asia
Site Area: 60,533 sq.ft.
Tenure: Feeehold
TOP: 2014
Units: 43
Spacious living can mean many things, be it large common grounds, big unit sizes, or simple lack of crowding for the facilities.
Ultimately, we suggest you don't just compare the number square feet; view the unit and feel how spacious it is to you.

It's possible for a unit that's lager in literal dimensions to somehow feel smaller, or vice versa: spacious living is a psychological and not just physical quality. Go with what feels comfortable, even if the floor plan says you're "wrong".

For more advice and updates on picking the right home for you, like us on Facebook, or sign-up for our mailing list at this link.