Condo Reviews

Sant Ritz Review: Super Convenient Location If You Like The Design
Reuben
August 24, 2020

16

min read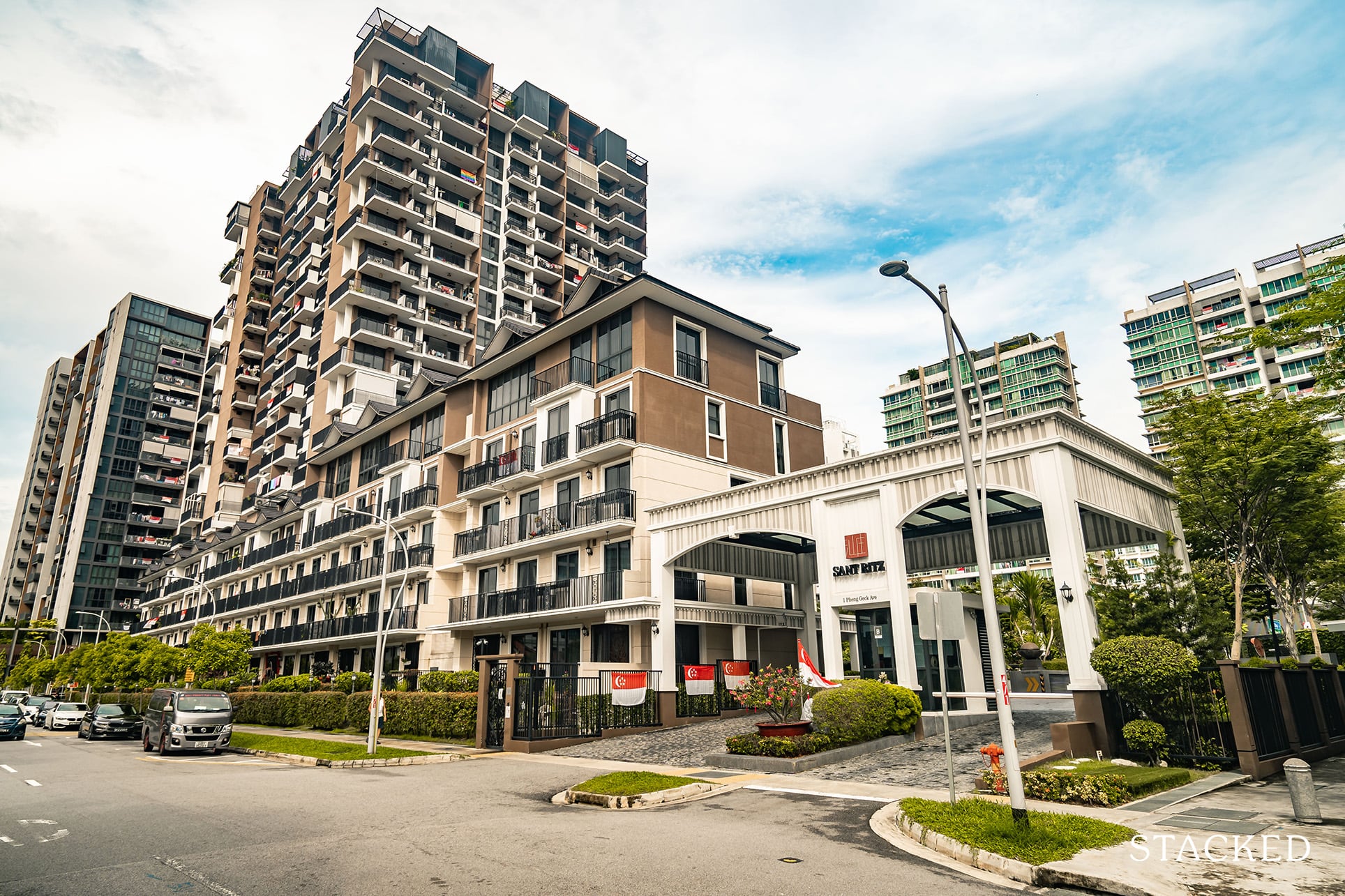 Sant Ritz is a leasehold condo with extremely convenient public/private transportation with beautiful views.
Reviewed by Reuben on August 24, 2020
What we like
Close to MRT

Great transport links
What we don't like
—

Subjective design

—

Road noise
16
min read
| | |
| --- | --- |
| Project: | Sant Ritz |
| District: | 13 |
| Address: | Pheng Geck Avenue |
| Tenure: | 99-year Leasehold |
| No. of Units: | 214 |
| Site Area: | 52,205 sqft |
| Developer: | Santarli Realty Pte. Ltd. |
| TOP: | 2016 |
Set amidst an entire string of landed residentials, the European-inspired architecture of the Sant Ritz brings a welcome contrast to the (already) vibrantly diverse Potong Pasir neighbourhood.

Complemented by a string of 'row houses' which lead straight to the main road (…and coincidentally are the first of its kind in Singapore), we find that the Sant Ritz isn't actually a very big development per say.

In fact, its total land area is a mere 52,205 square feet wide – just enough to accommodate its 5-storey Row House/Soho blocks and a single 19-storey high tower that challenges the immediate skyline.

What the condo lacks in size however, it makes up for in flavour and convenience.

Set just across the Potong Pasir MRT, residents here are treated to a wonderful city-fringe location that is surrounded by an array of immediate amenities.

The exteriors and unblocked views also exude a certain sense of exclusivity that residents here can (deservedly) bask in.

Further given the strong rental demand in the area, fortunate investors who have gotten their hands on one of the 214 units here can look forward to an average rental yield of about 3.1% as of July 2020 – even if gains in the capital appreciation department hasn't been a major blowout point thus far.

Join us today as we explore the grounds of this charming development before getting down and dirty into the actual figures of the Sant Ritz.
Sant Ritz Insider Tour
Facilities in Sant Ritz
Lap Pool
Children'S Play Pool
Wellness Pool
Aqua Gym
Kid'S Spa
Spa Seats
Oasis At The Horizon
Pond
Water Feature
Water Lounge
Sun Deck Lounge
Floating Viewing Gym
Bbq Pavilion
Grand Reception
Steam Rooms
Function Room
Thematic Courtyard
Nature Landscape Trail
Sculptured Tree
Palms Plaza
Car Park
24-Hour Security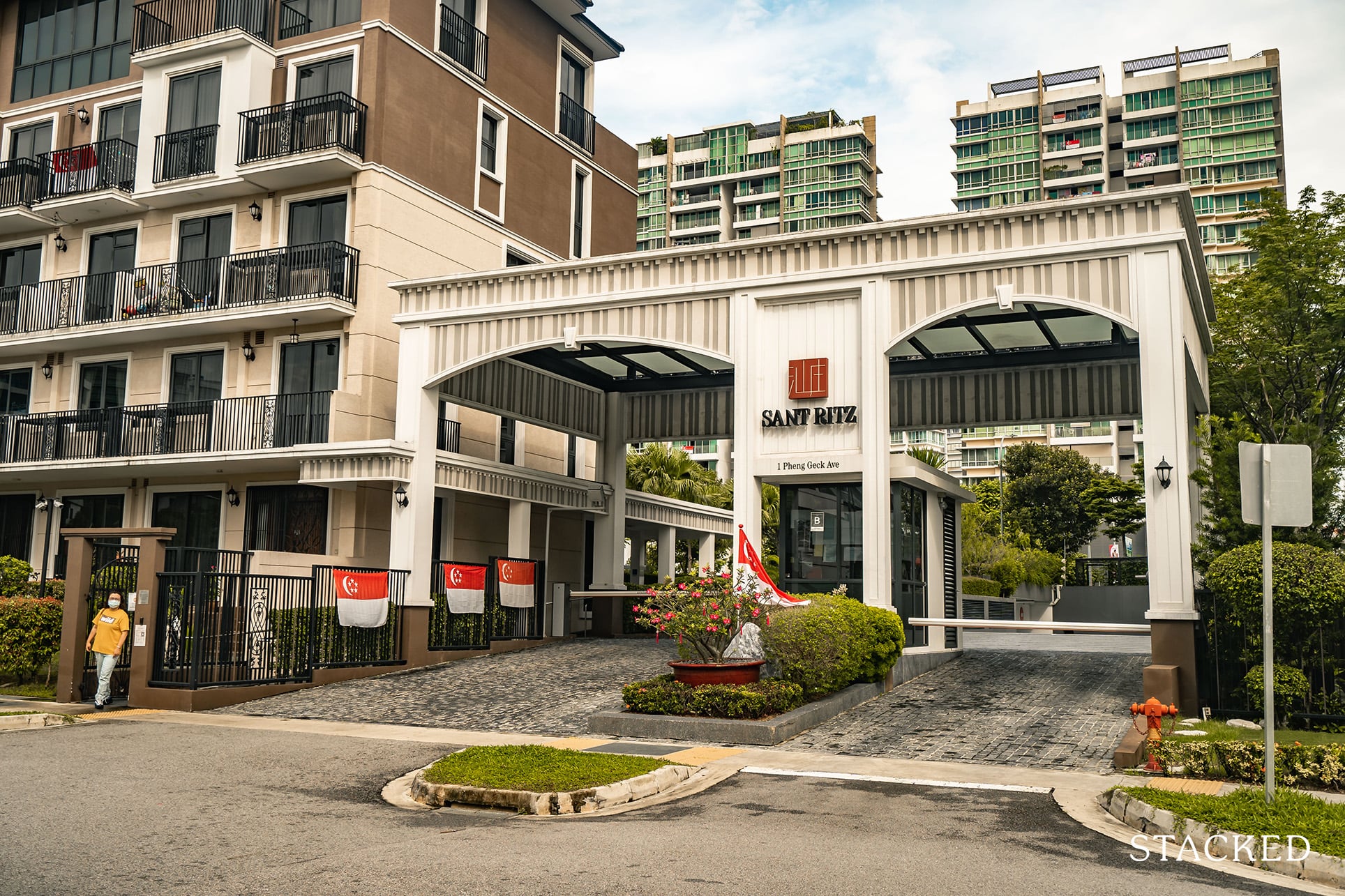 The entrance to Sant Ritz is located along Pheng Geck Avenue, a road home to the Sennett Residences, Nin Residence, The Venue Residences, as well as a part of the, landed Senett Estate.
Despite the influx of competition, the Sant Ritz quite easily stands out because of its unique European-inspired architecture. While I do applaud that the developers have stuck their neck out here to try something different, I do also have to acknowledge that the design might not necessarily be everyone's cup of tea.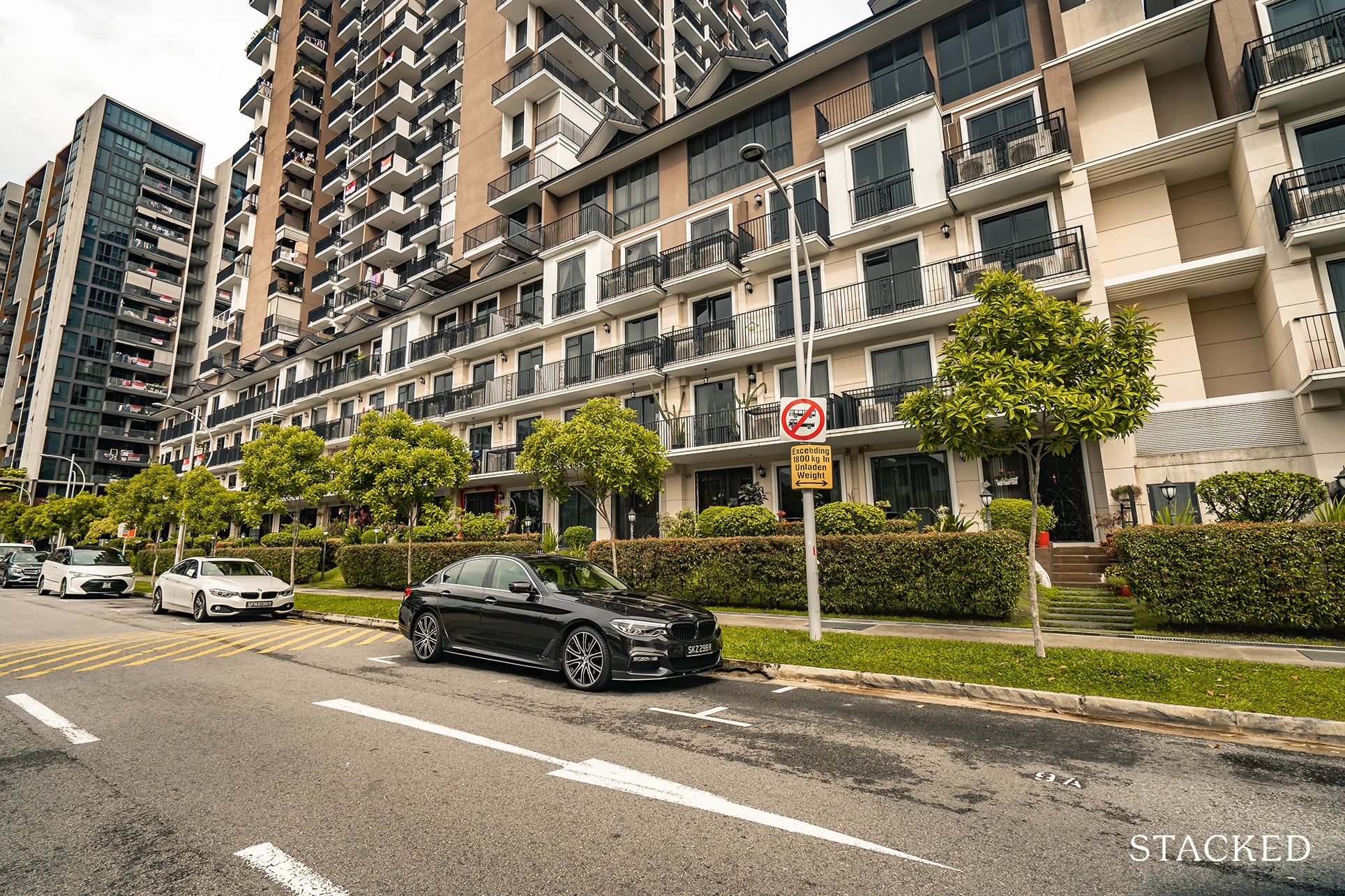 You can certainly see the European-inspired design elements throughout the development, but in my humble opinion, it doesn't quite mesh together as well as it could have been.
Plus given its surroundings, it does leave me quite puzzled where the European part really fits in. With close by road names such as Pheng Geck, Puay Hee, and Siang Kuang Avenue, it seems as if an Oriental theme might have been a better fit. That's not to say its a bad thing, it's just a little strange when you look at it as a whole.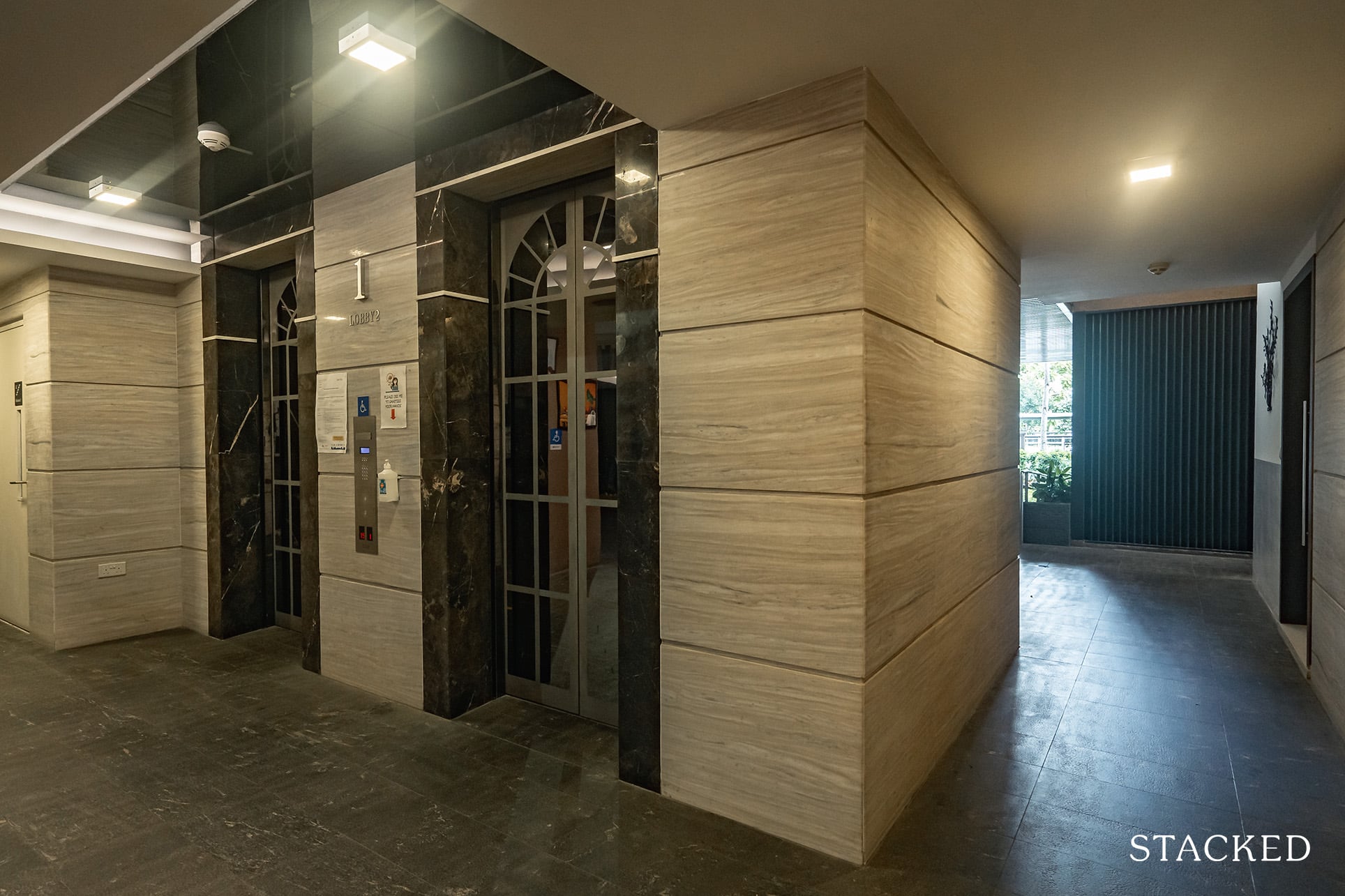 As you can see here, even the lift doors have taken on the traditional arched transom design. Again, it does come across a little forced, it's as if the design brief was – we want it to look European, but not too much (if that makes any sense). So in my mind, it looks as if they just changed different elements like the lift door design, balcony railings, fencing, etc, but everything else had to retain the standard modern look – hence the mismatch.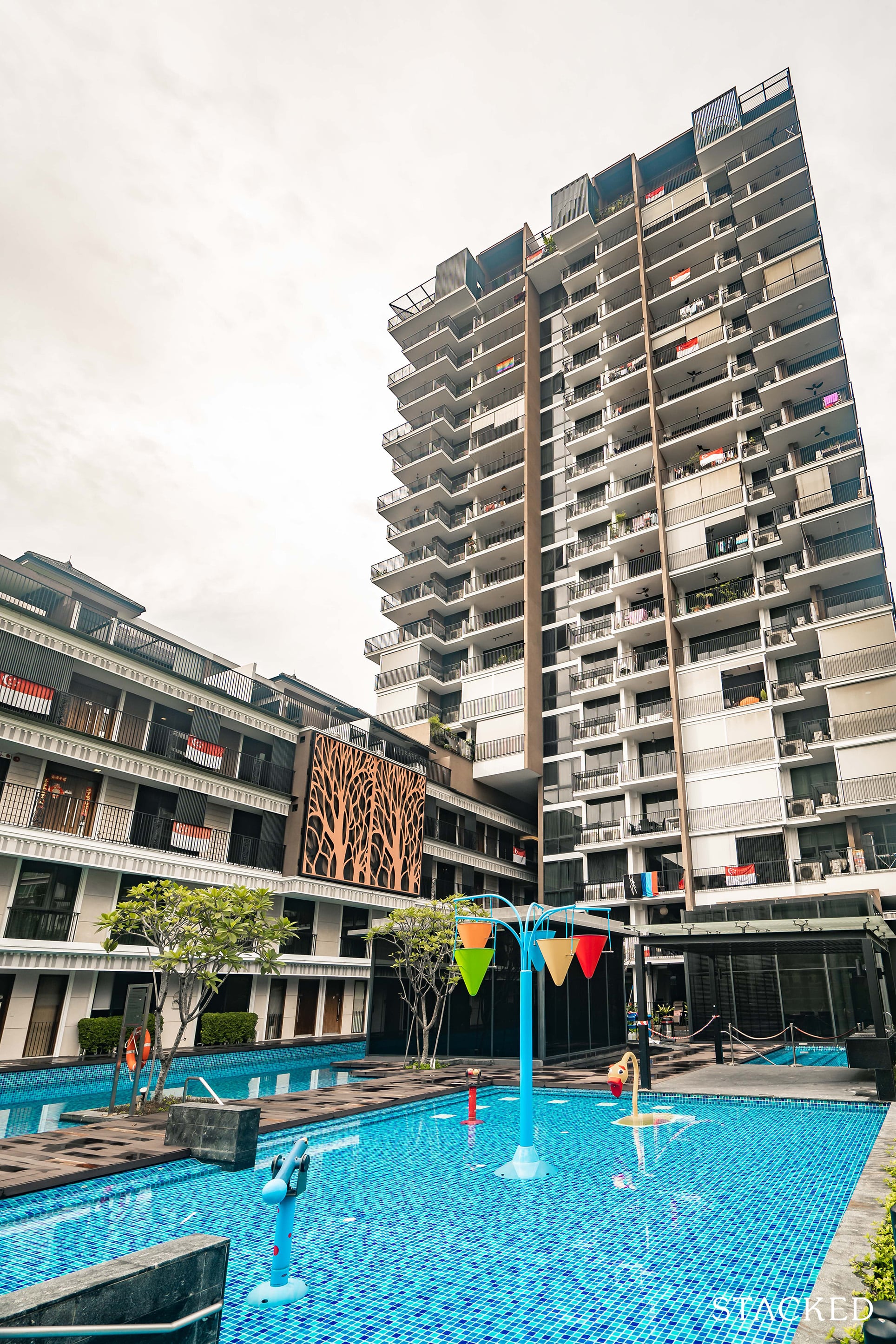 As far as land sizes go, Sant Ritz is the smallest development of the 4 on this side of Upper Serangoon, coming in at 52,205 square feet.
That said, it does have a unique variance of units despite its smaller size, with a 19-storey tower and the quite novel 5-storey row houses. So because of how it is laid out, most units would generally have quite a good facing – rather than the usual blocks facing each other type scenario.
Well, with the exception of those units caught at the right angle on the lower floors!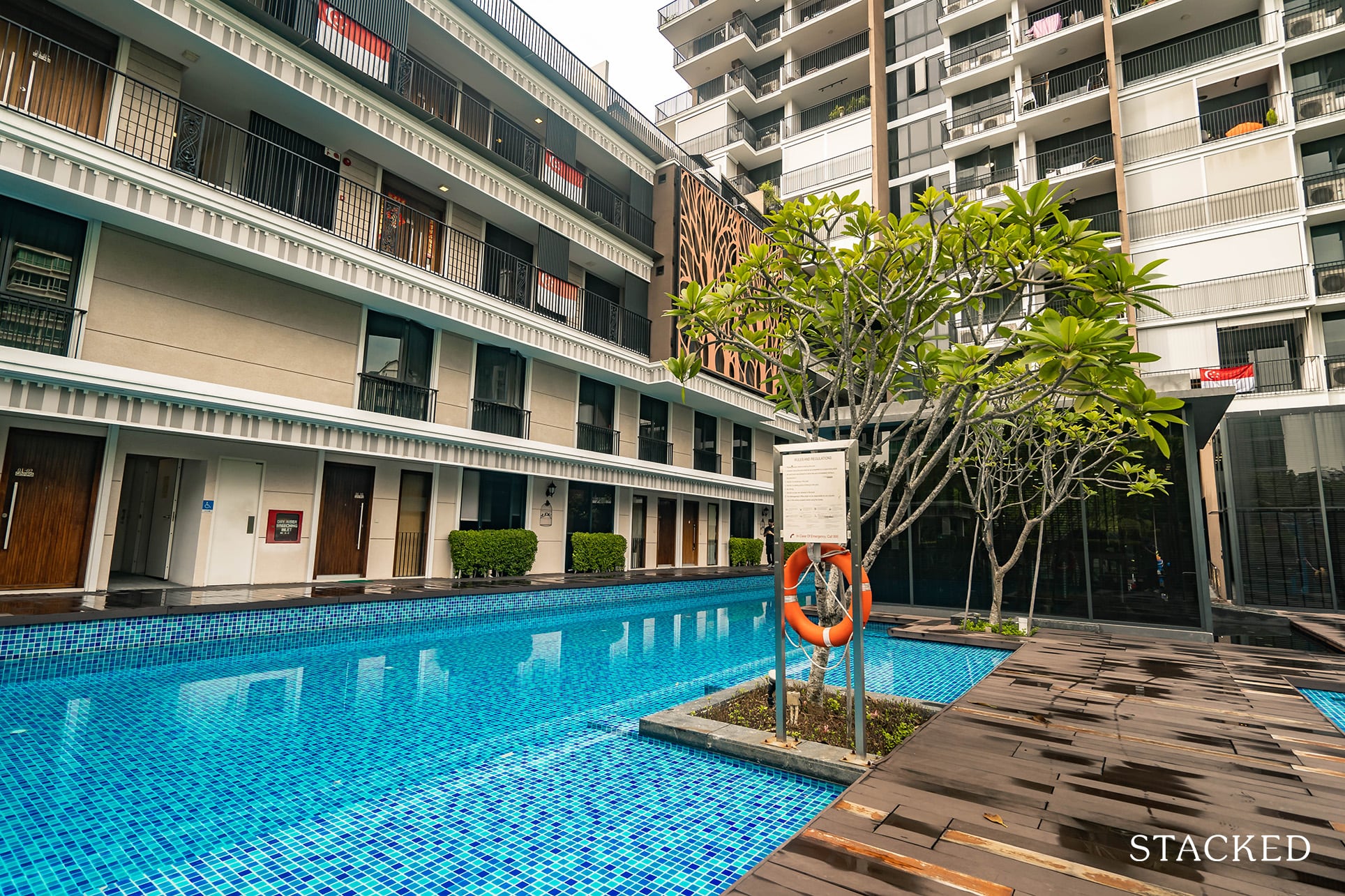 These lower 5-storey blocks contain the row house/SOHO units – which is quite an interesting concept. The bigger 1,786 square feet units are split over 3 levels, with a basement (that comes with private carpark lots), and 2 levels that contain the living plus bedrooms.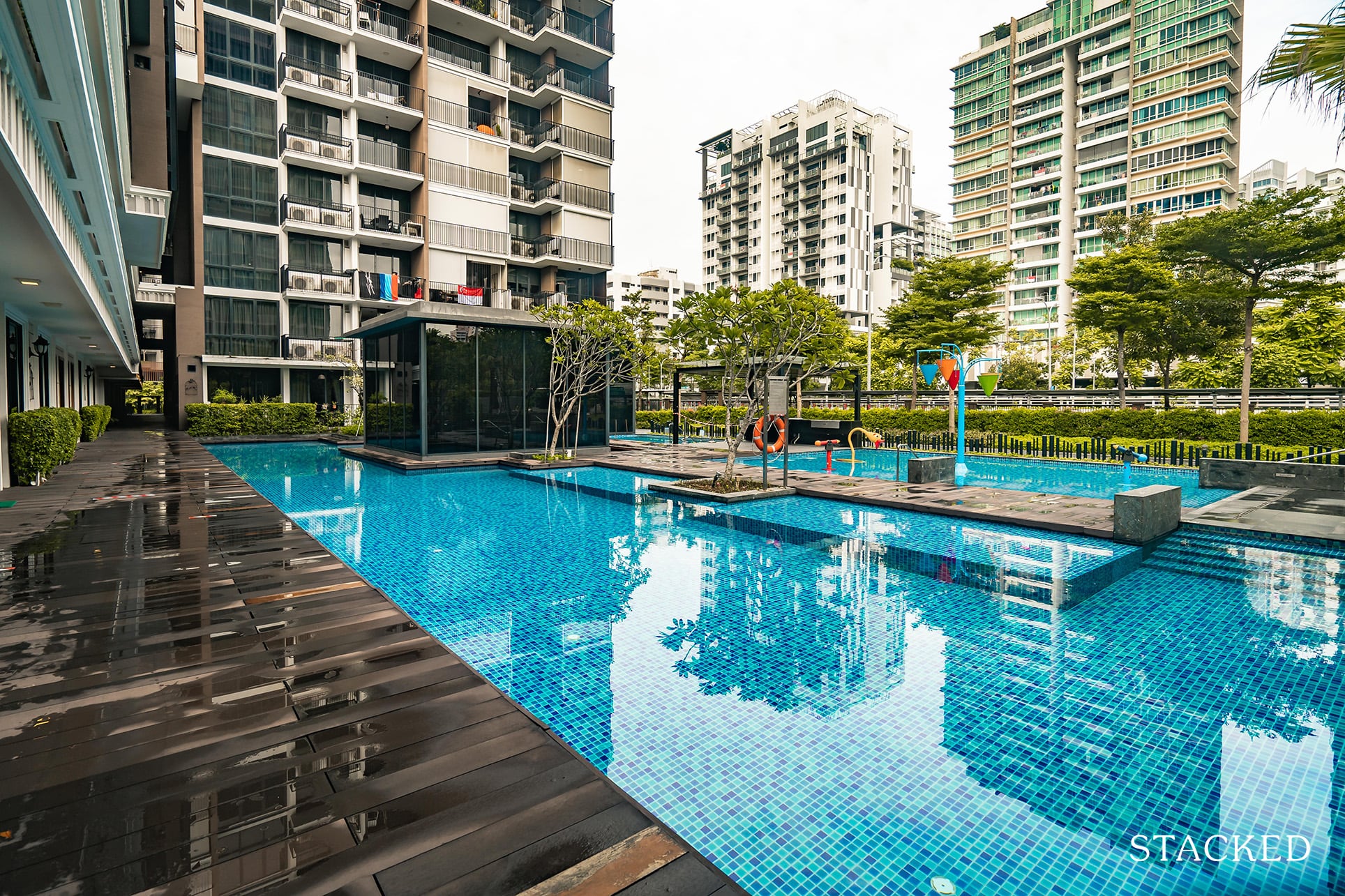 The lap pool isn't huge by any means, but it is decent when you take into account its 214 units. It's good that the deck here is quite wide too, which does provide for some separation away from the ground level units.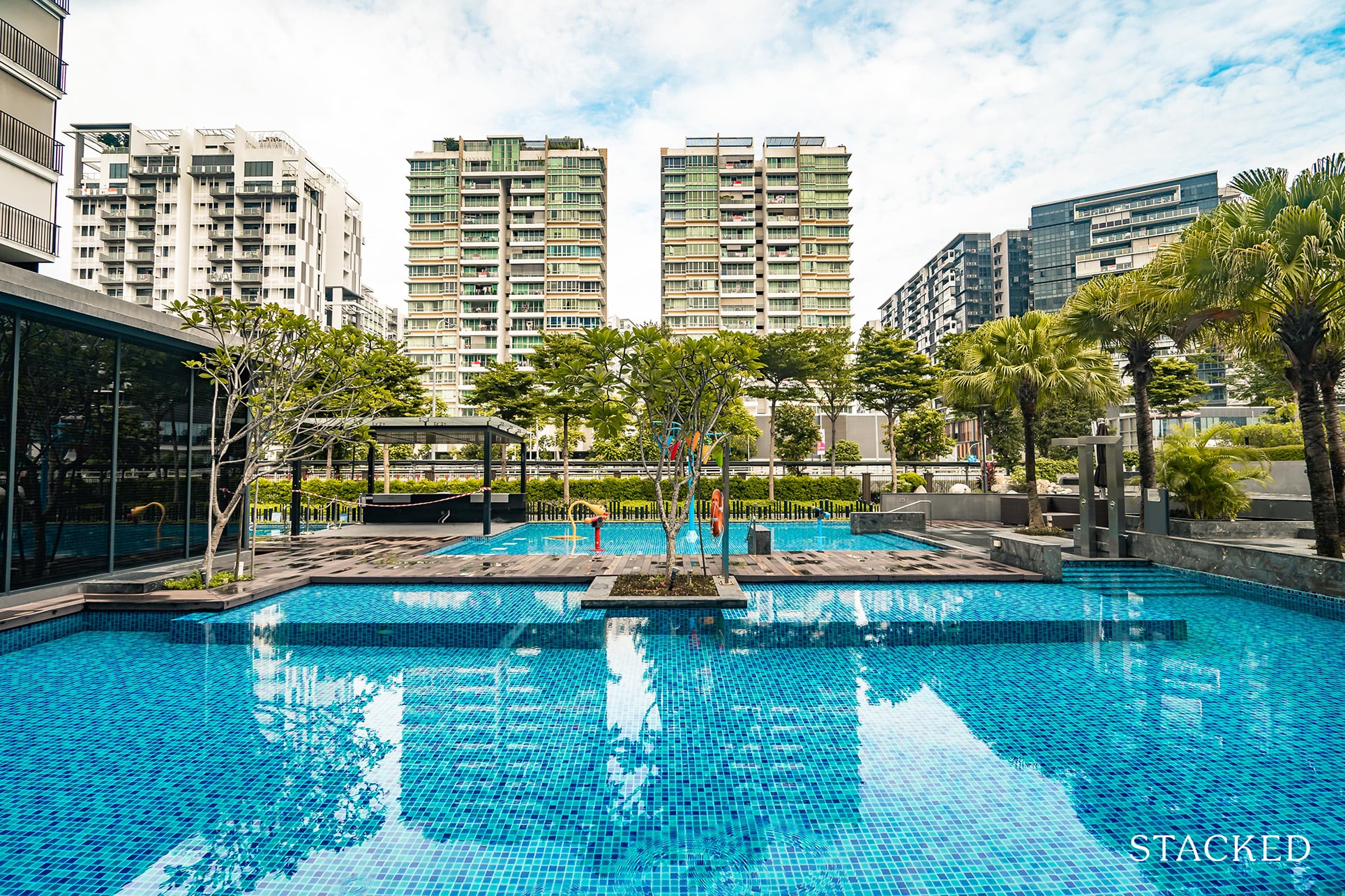 As much as this photo seems to communicate a sense of calm an oasis-like zen environment, its positioning next to Upper Serangoon Road will always mean that it is anything but. Like it or not, Upper Serangoon Road is a major one – and a busy one at that. So while it is a tremendous plus point when it comes to road connectivity for residents, the downside will always be the road traffic noise.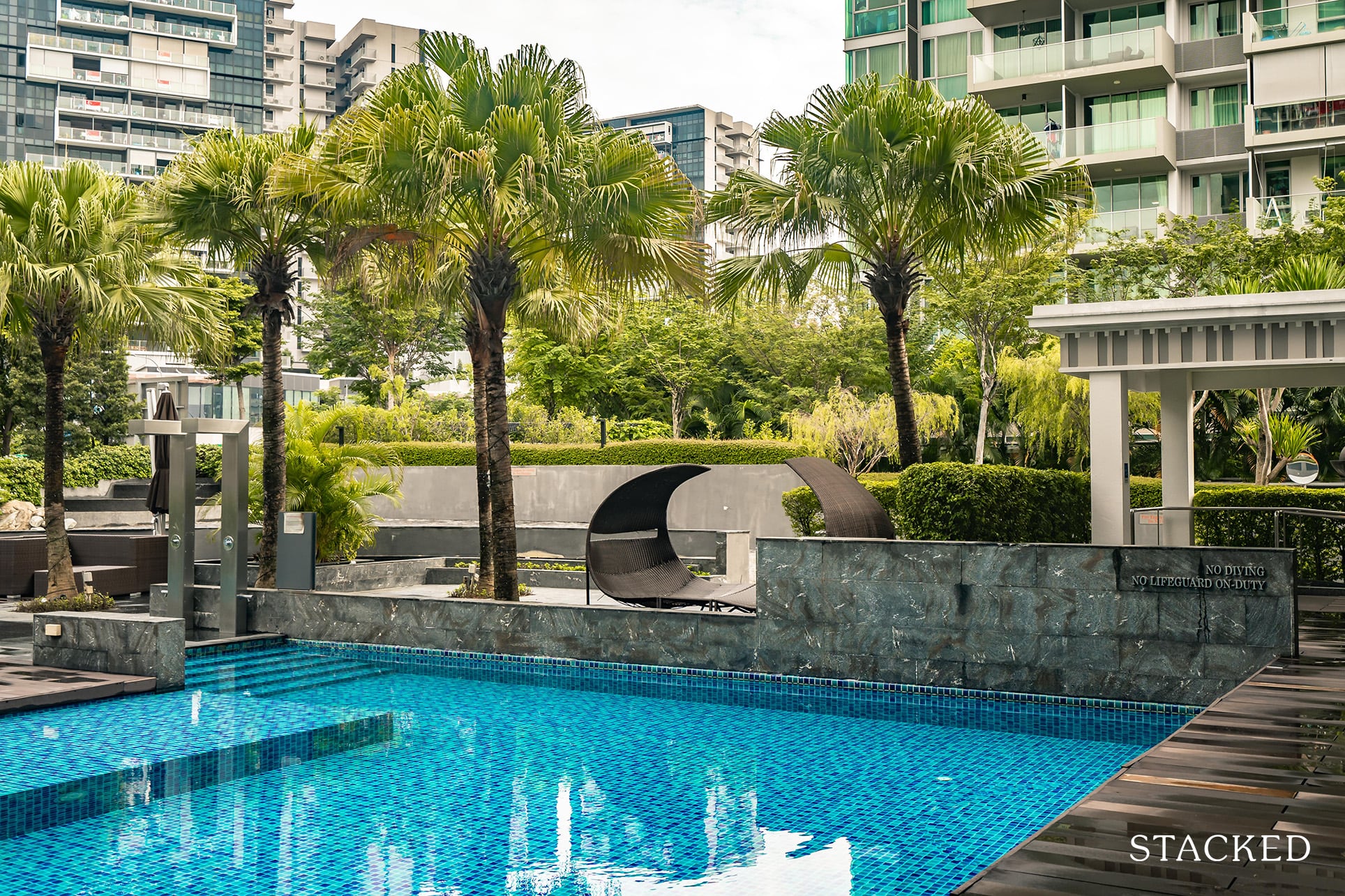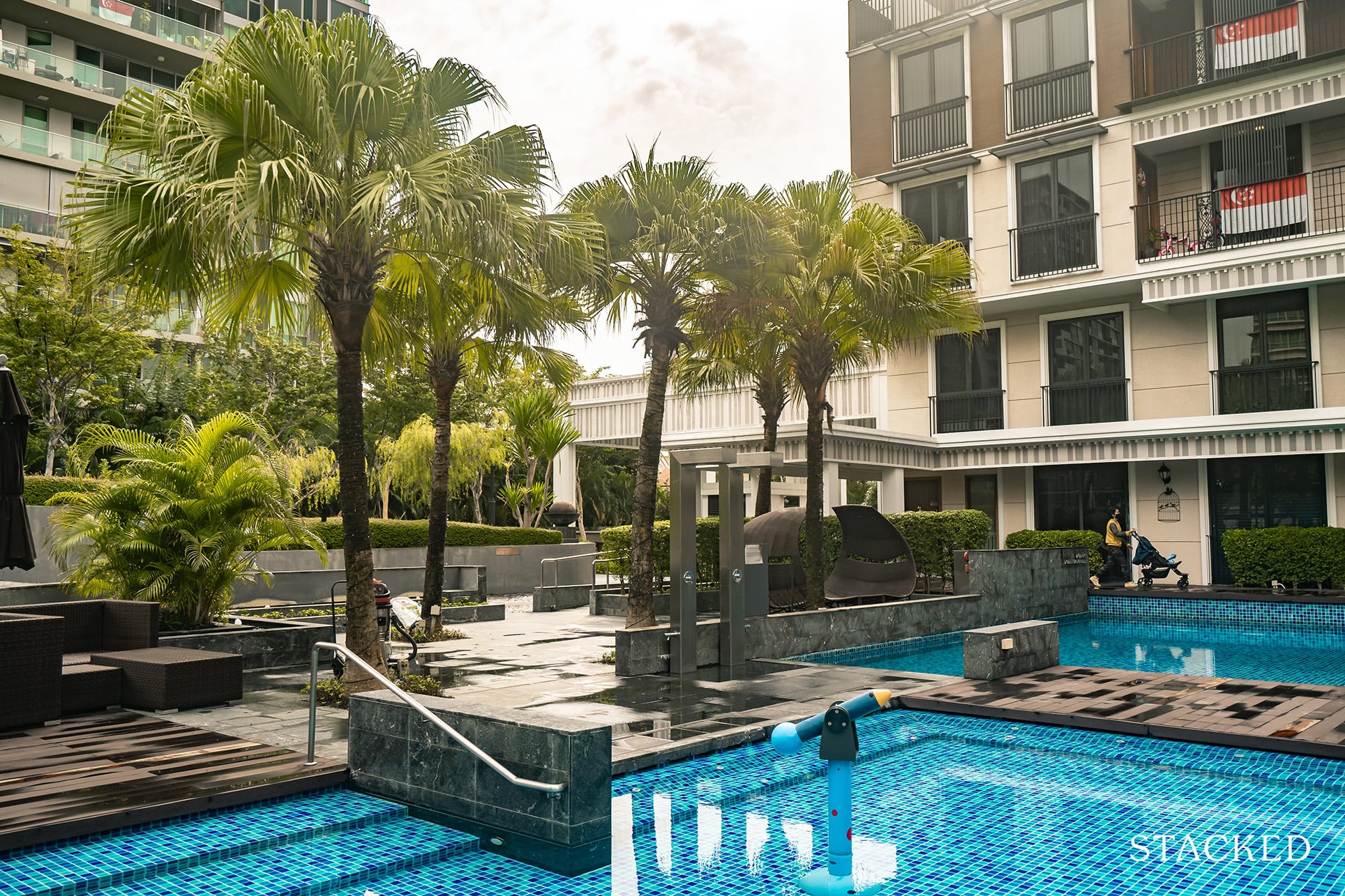 One thing I noticed was the lack of seating areas around the pool. This could just be due to the current Covid situation – so I wouldn't dwell too much on this.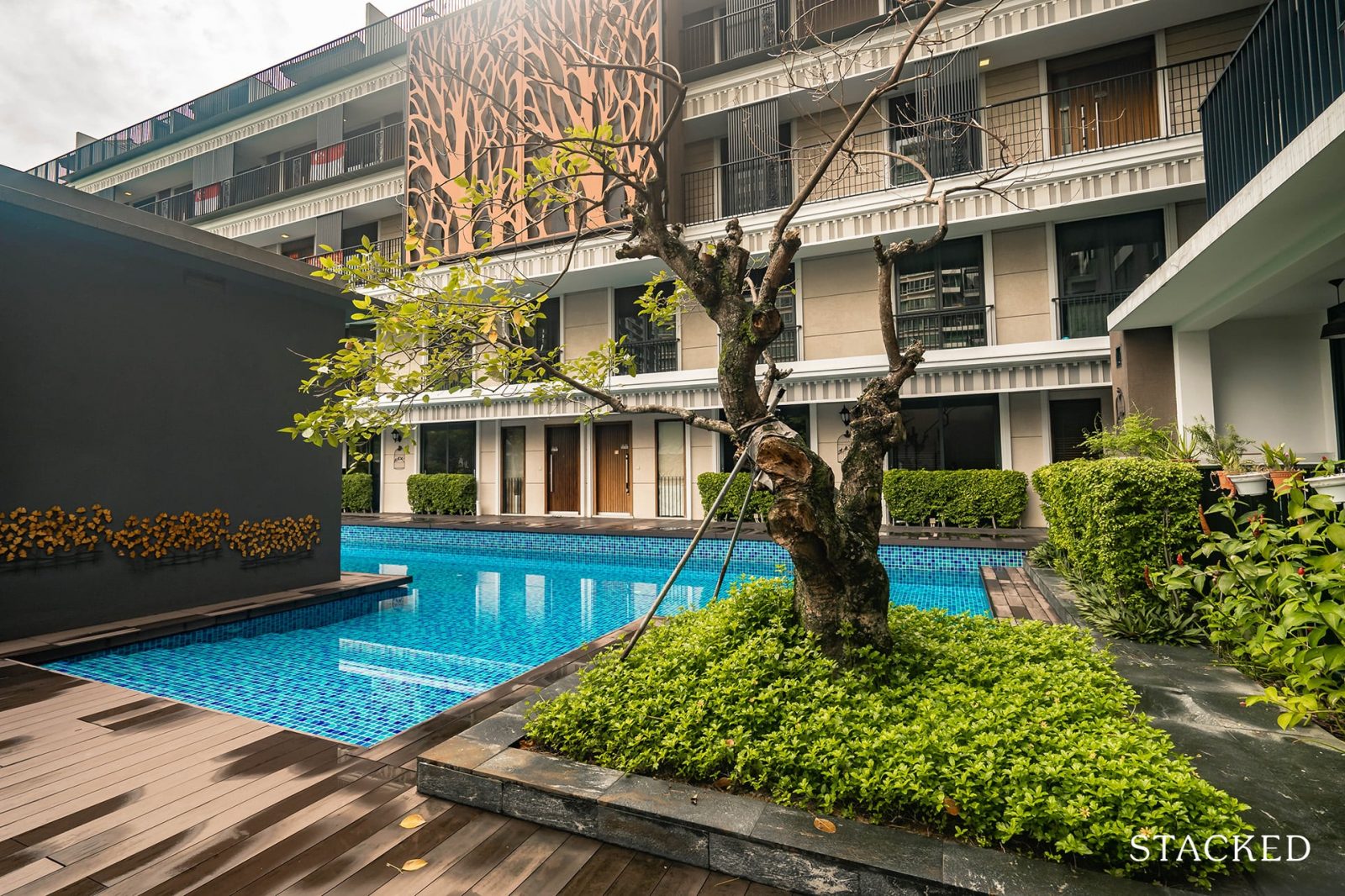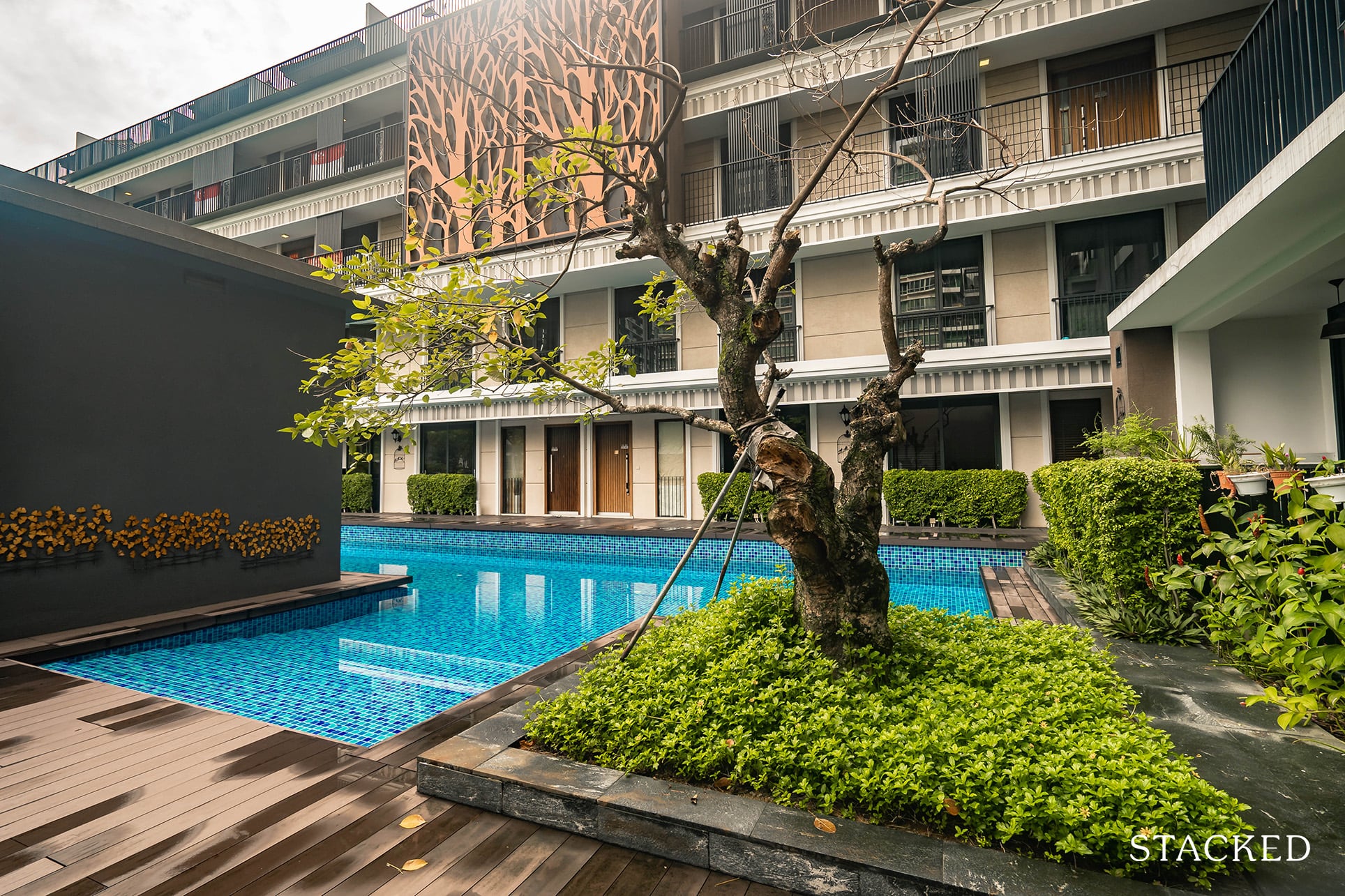 With regards to landscaping, I would say they've done just about enough – but I would prefer more variance in colours (but that's just me). I do hope this tree grows out well though!
I'll be honest, I'm not quite sure what a kids spa entails. But as far as children's swimming pool goes, this one is definitely a big one. In fact, I'd say that it comes up to about half the size of the lap pool – which is positively huge considering the overall size of the development.
Parents with young children will definitely be delighted with the space afforded here – but for the rest – you'll probably be scratching your head at the size of the kids' pool here. Especially when you consider that this isn't really a family-driven condo development.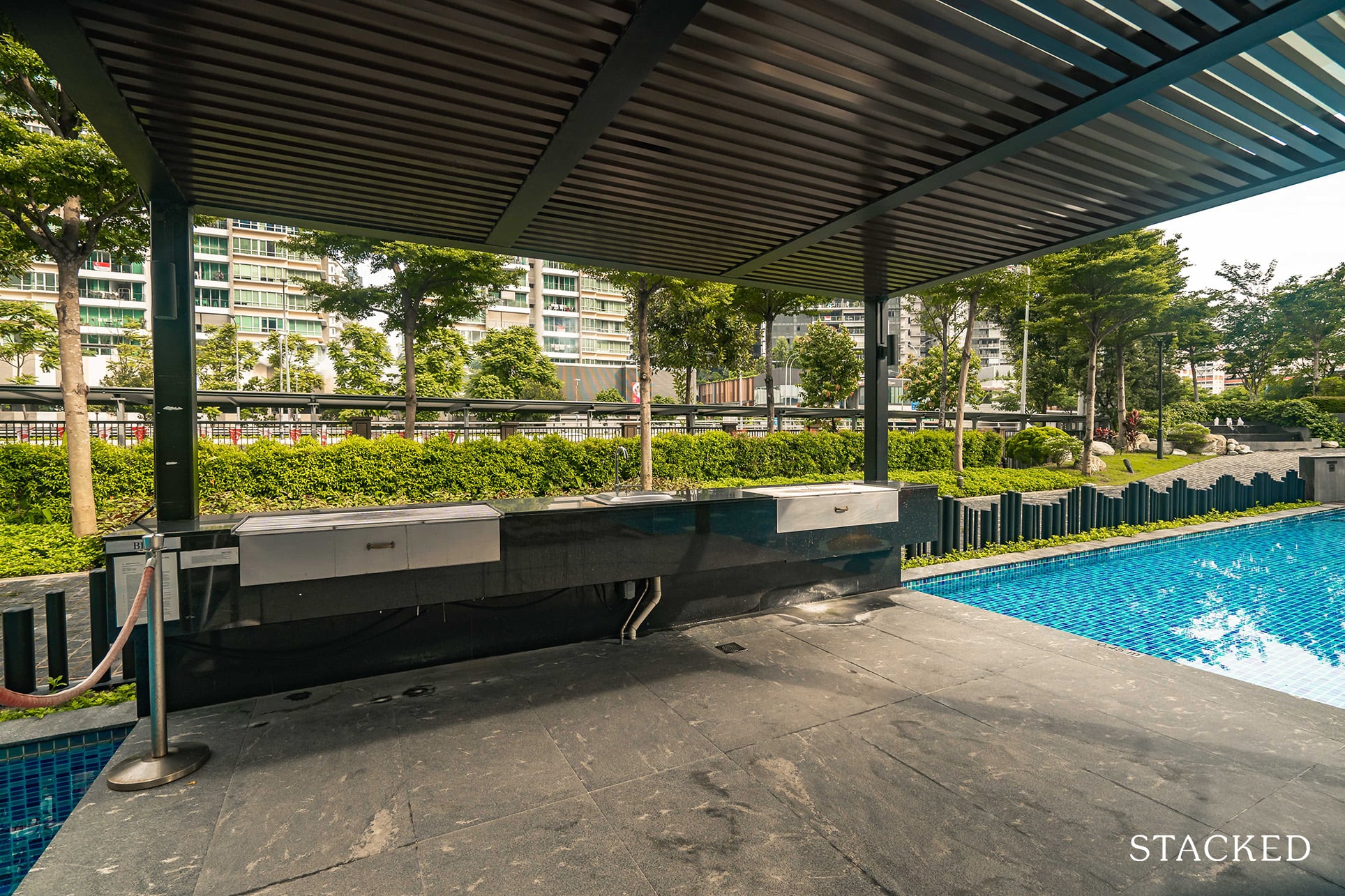 As per usual, no condo development will be complete without a barbecue area, and the Sant Ritz is no exception. It is located right next to the kids' pool, so while you don't get much privacy here (it is in full view of everyone), it is conveniently located for gatherings where young kids are involved.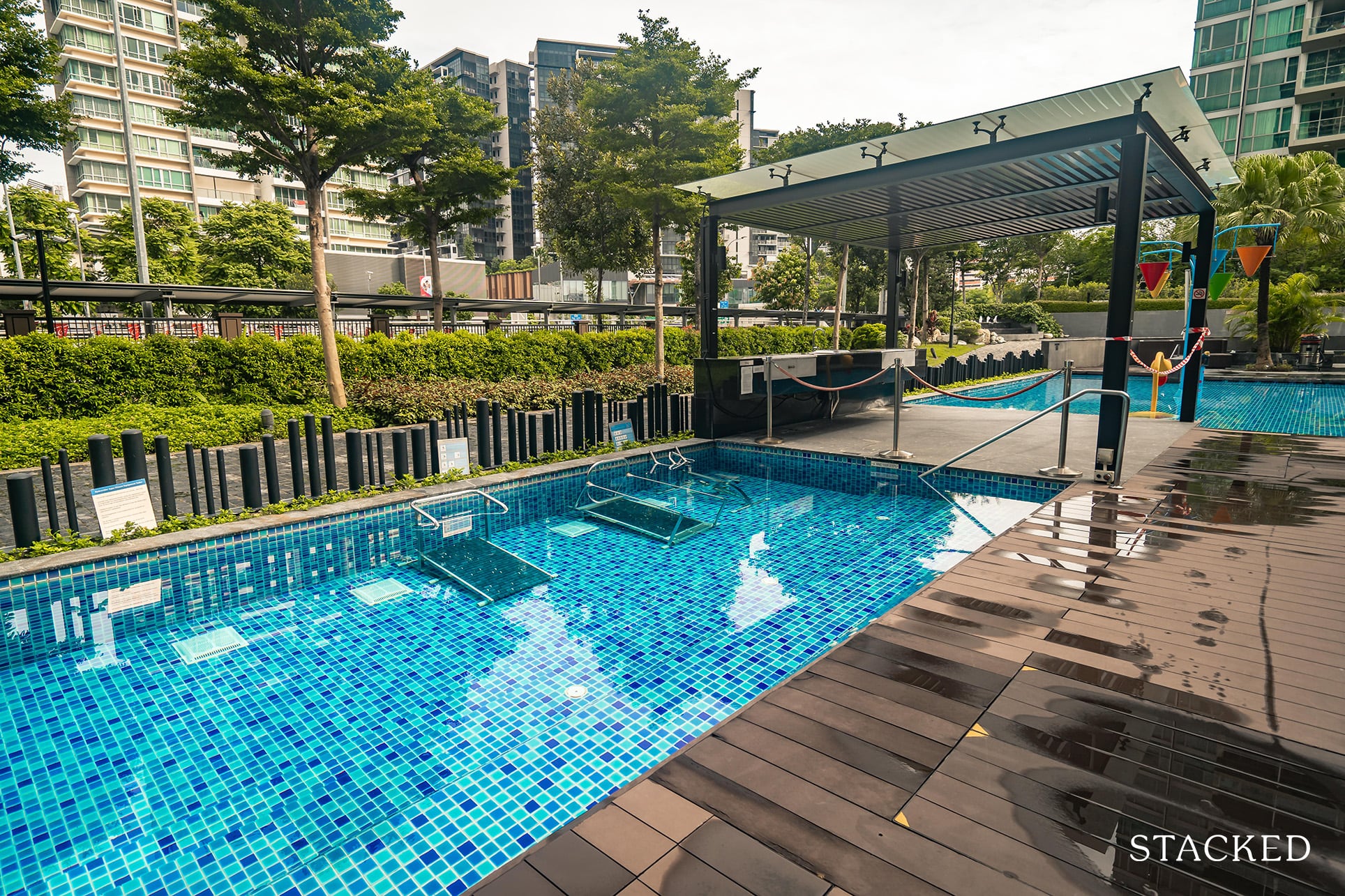 The aqua gym is on the opposite side of the kids' pool, and again, it is quite a substantial size for what I would describe as a not-very-popular facility. I guess you could ignore the equipment and think of it as a mini plunge pool of sorts instead.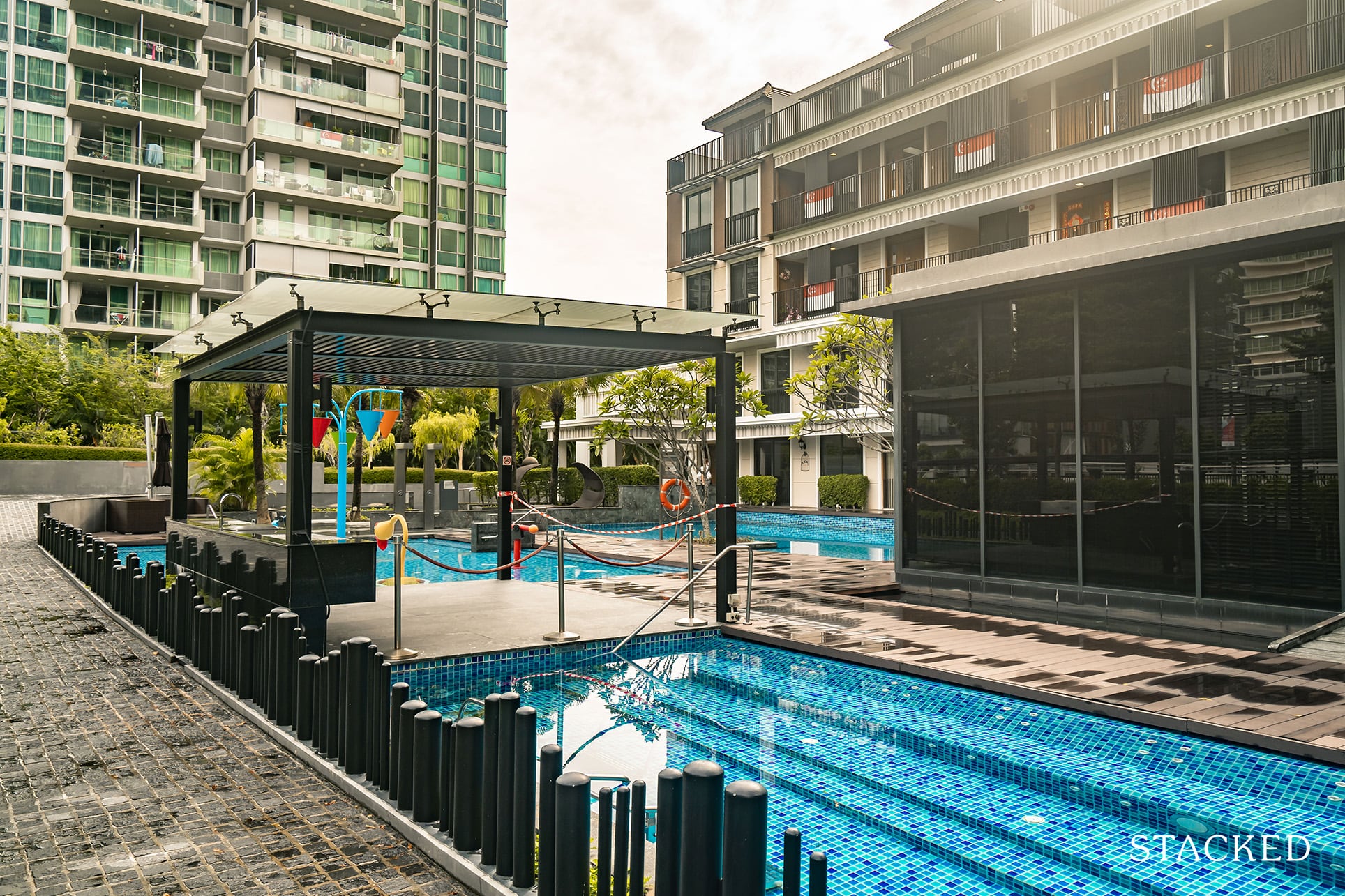 The gym is located in the thick of all the action, which does give a nice varied view of its surroundings.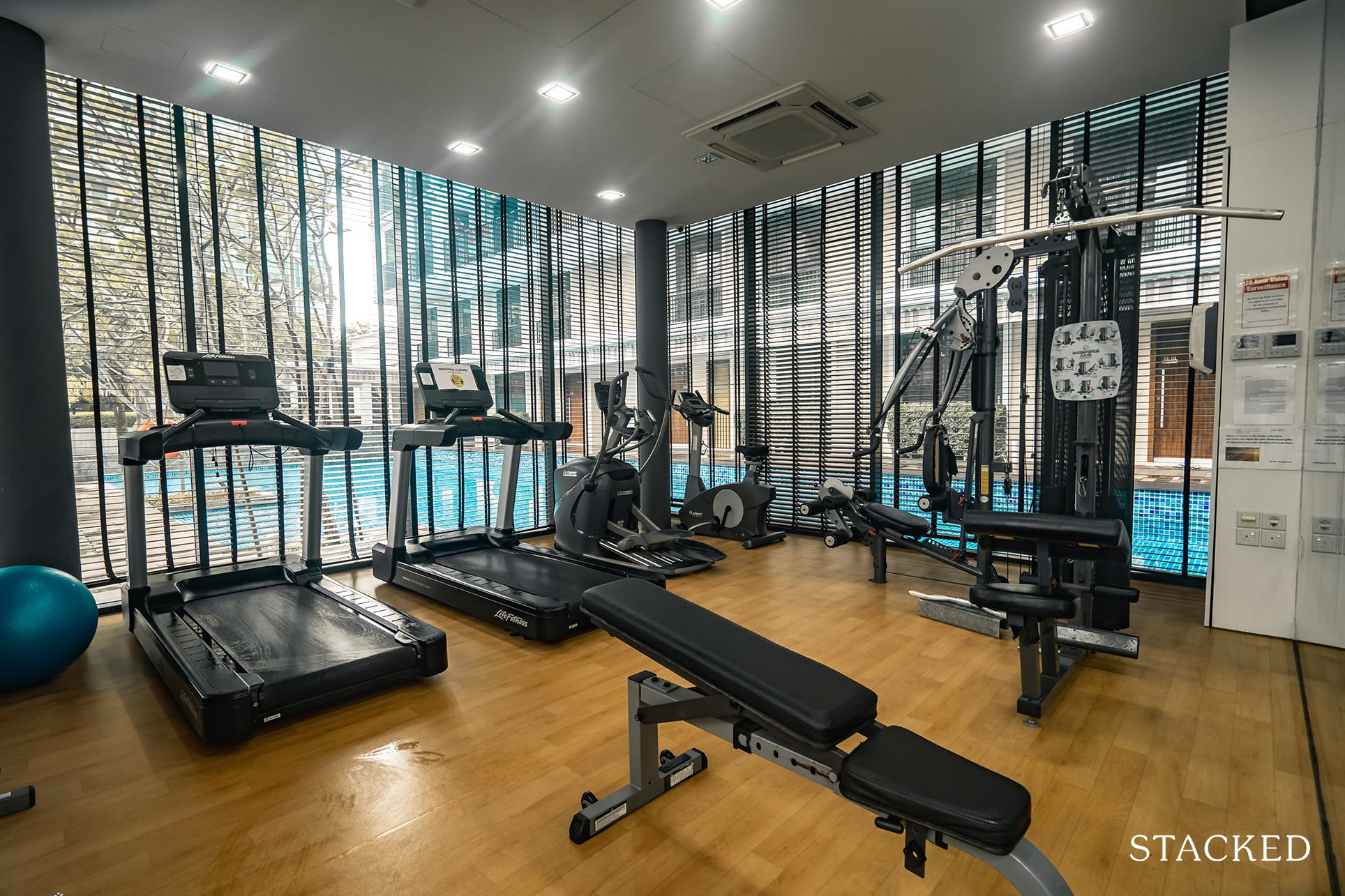 I like the gym here. It's quite a good size, with a good mix of equipment as well. The floor to ceiling windows really helps accentuate the interior space as well.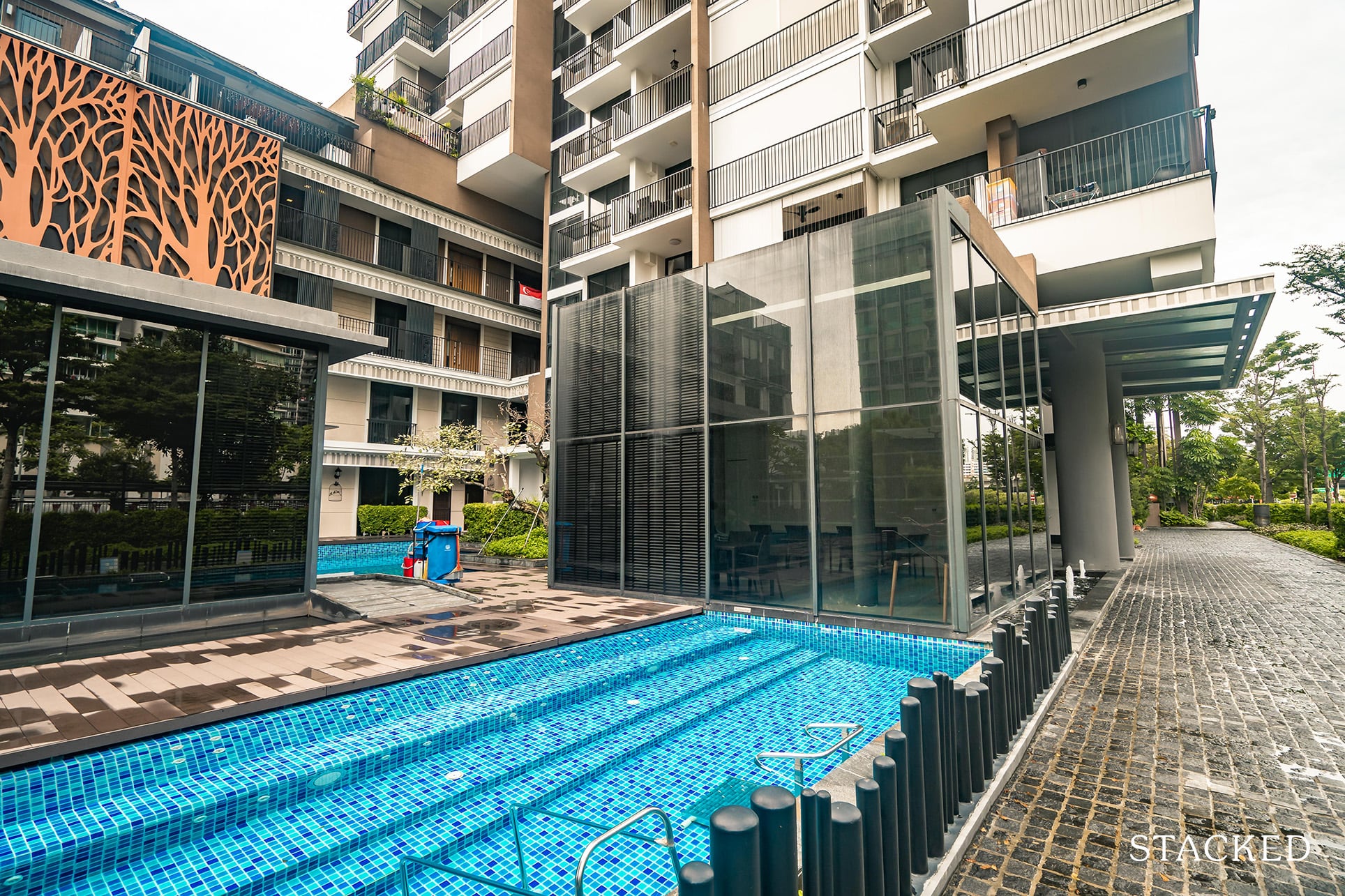 There's one last glass structure – no prizes for guessing what it contains!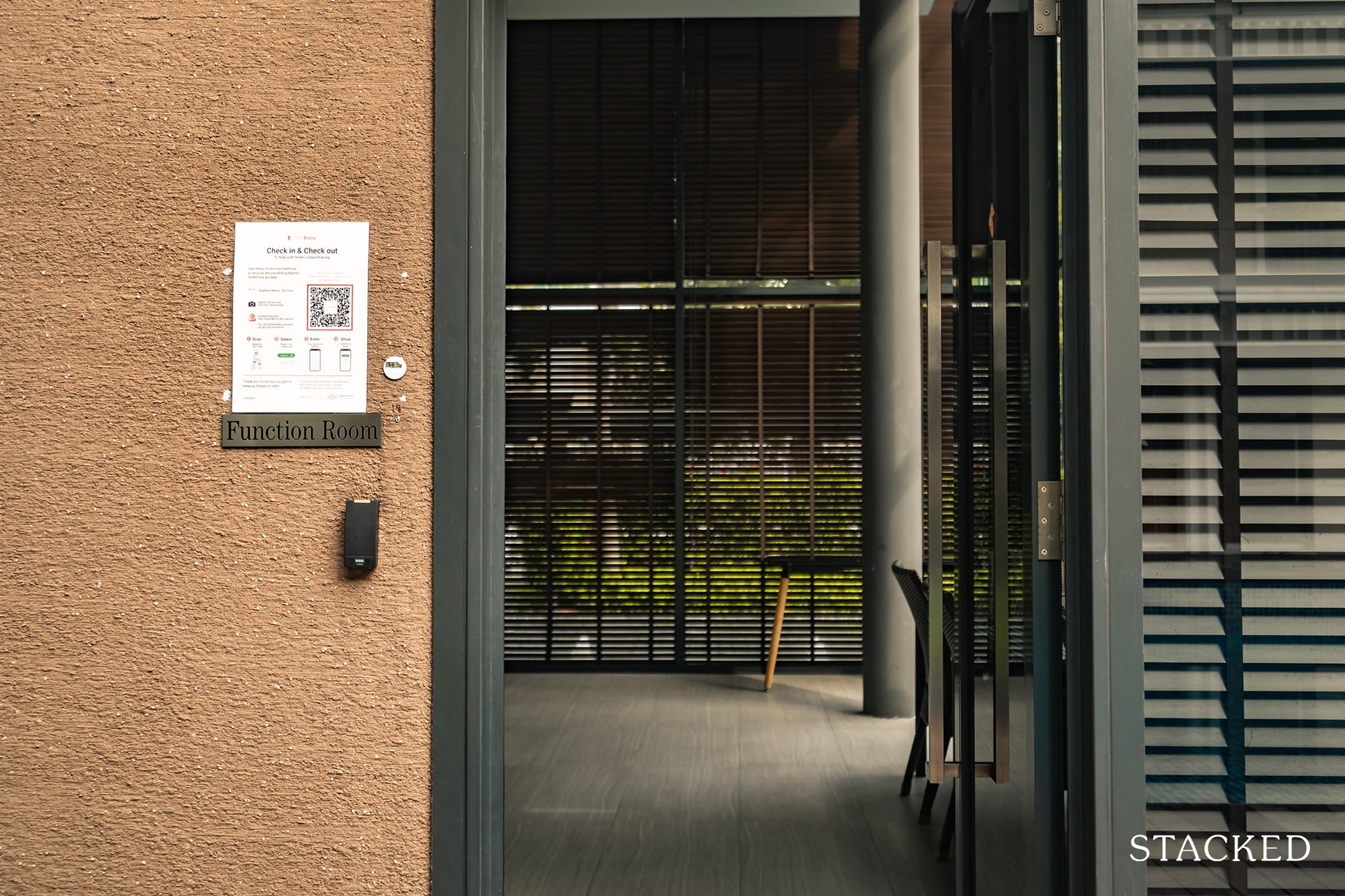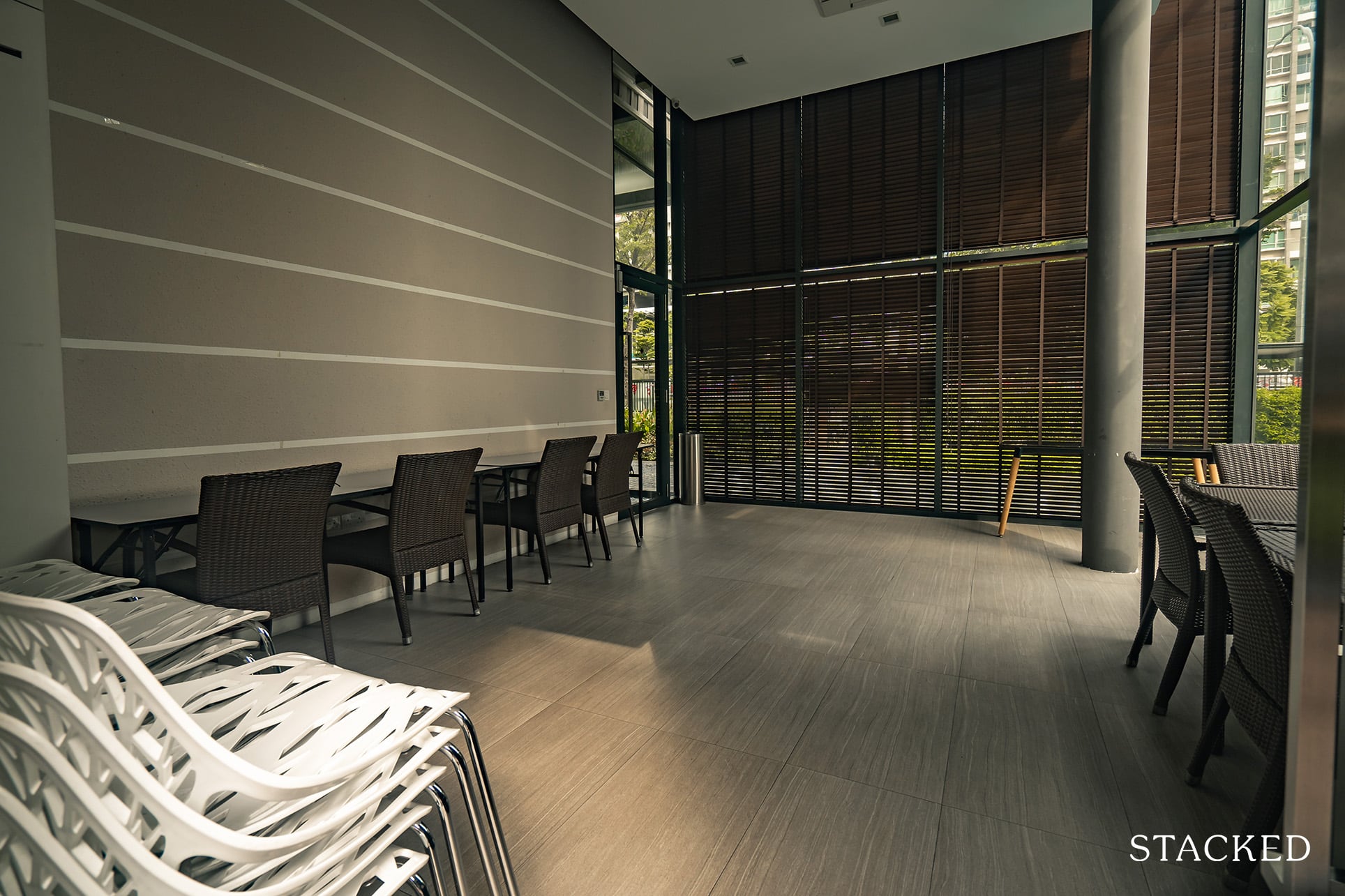 Other than wishing it had an in-built kitchenette, there isn't much to complain about the function room at the Sant Ritz. It has a good number of seats, and the high ceilings allow for a more spacious feel.
It looks modern, but it does make you wonder which part of it is supposedly the European-inspired aspect (something Mayfair Gardens has achieved quite well).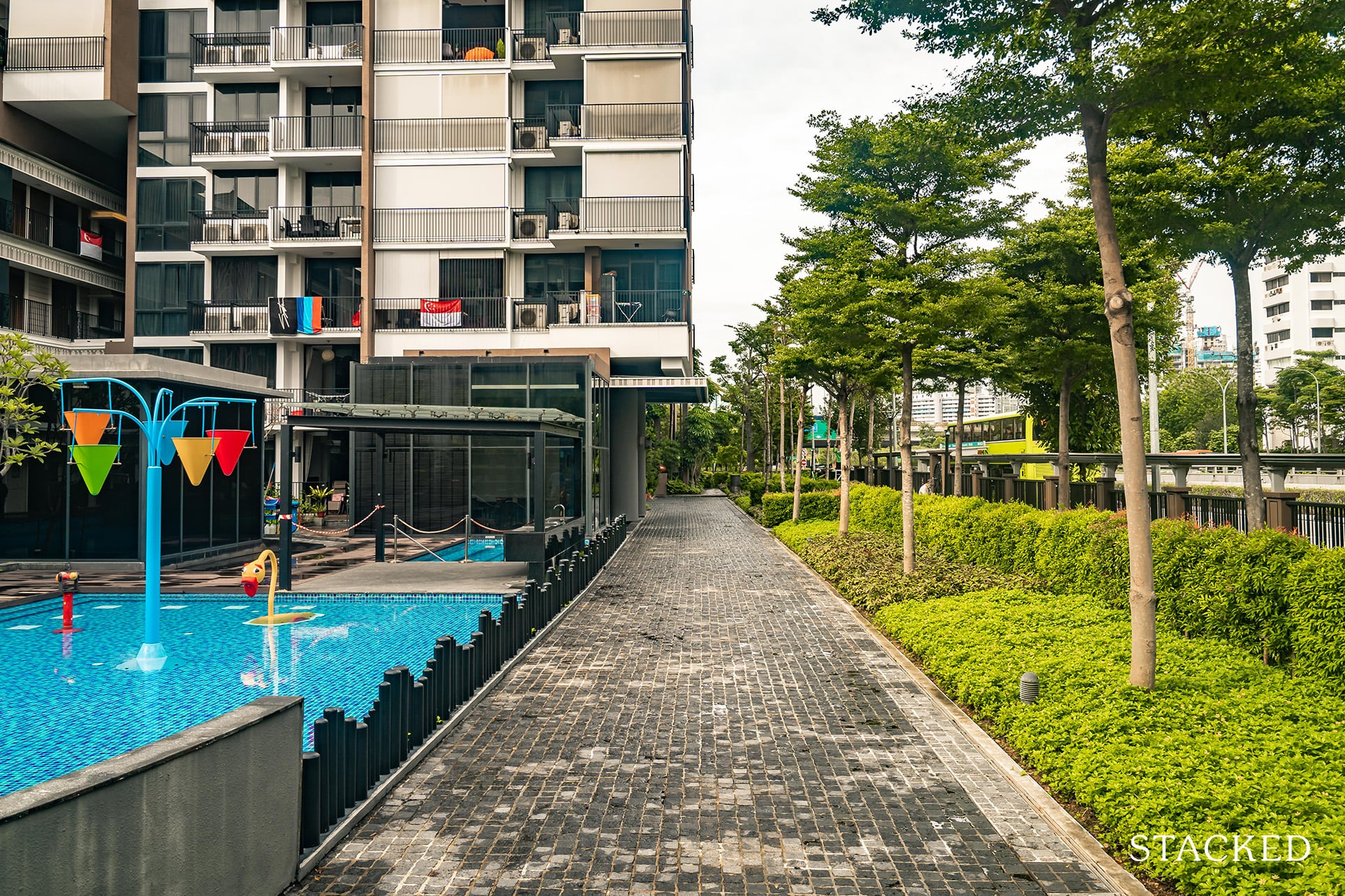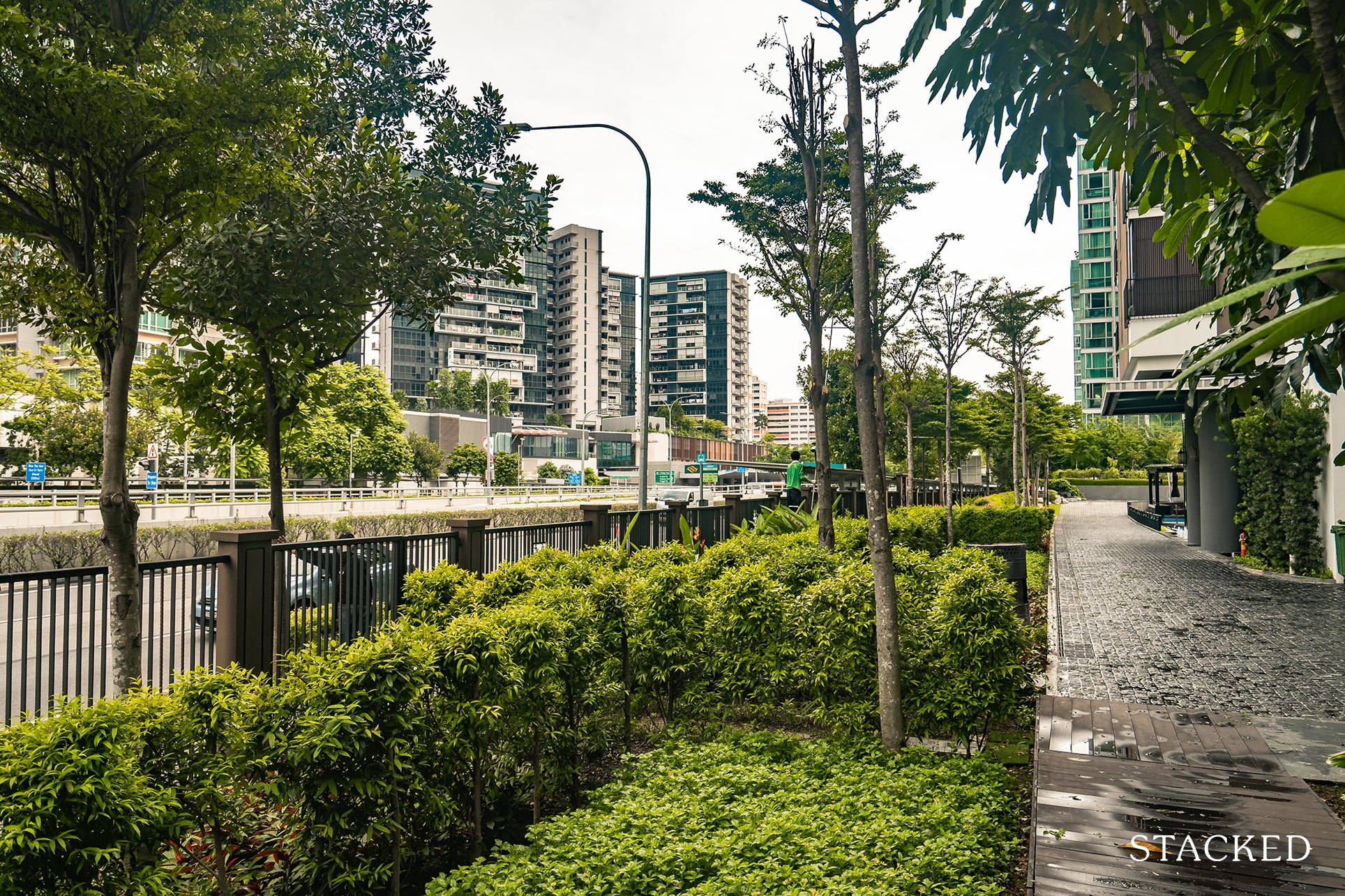 Along the length of the development is a supposed driveway to the drop-off point, or the "Grand Reception". It really is only narrow enough for one car at a time – so you can understand why most people would rather just drop off at the sheltered canopy at the guardhouse, or at the basement carpark.
Read this next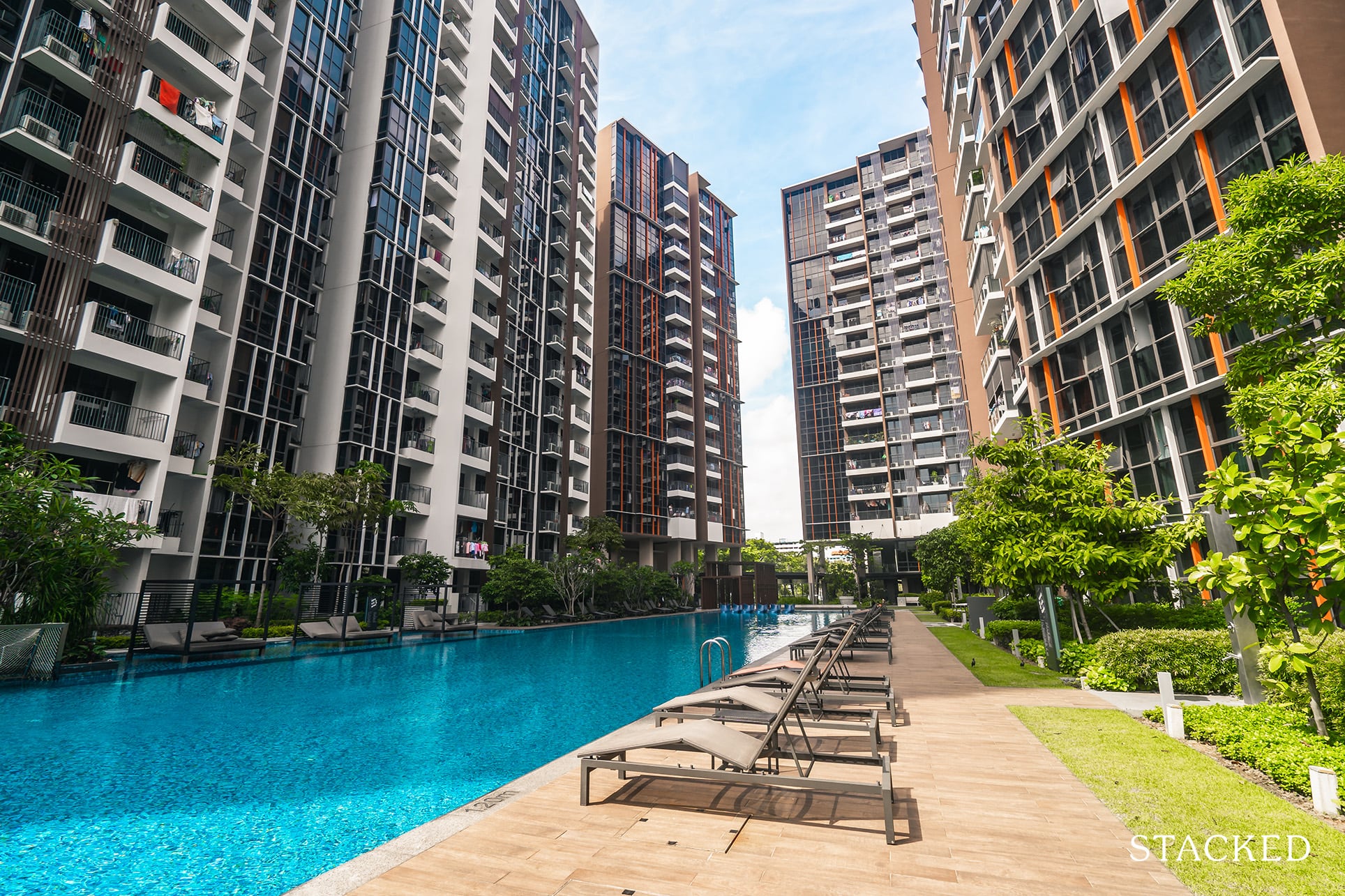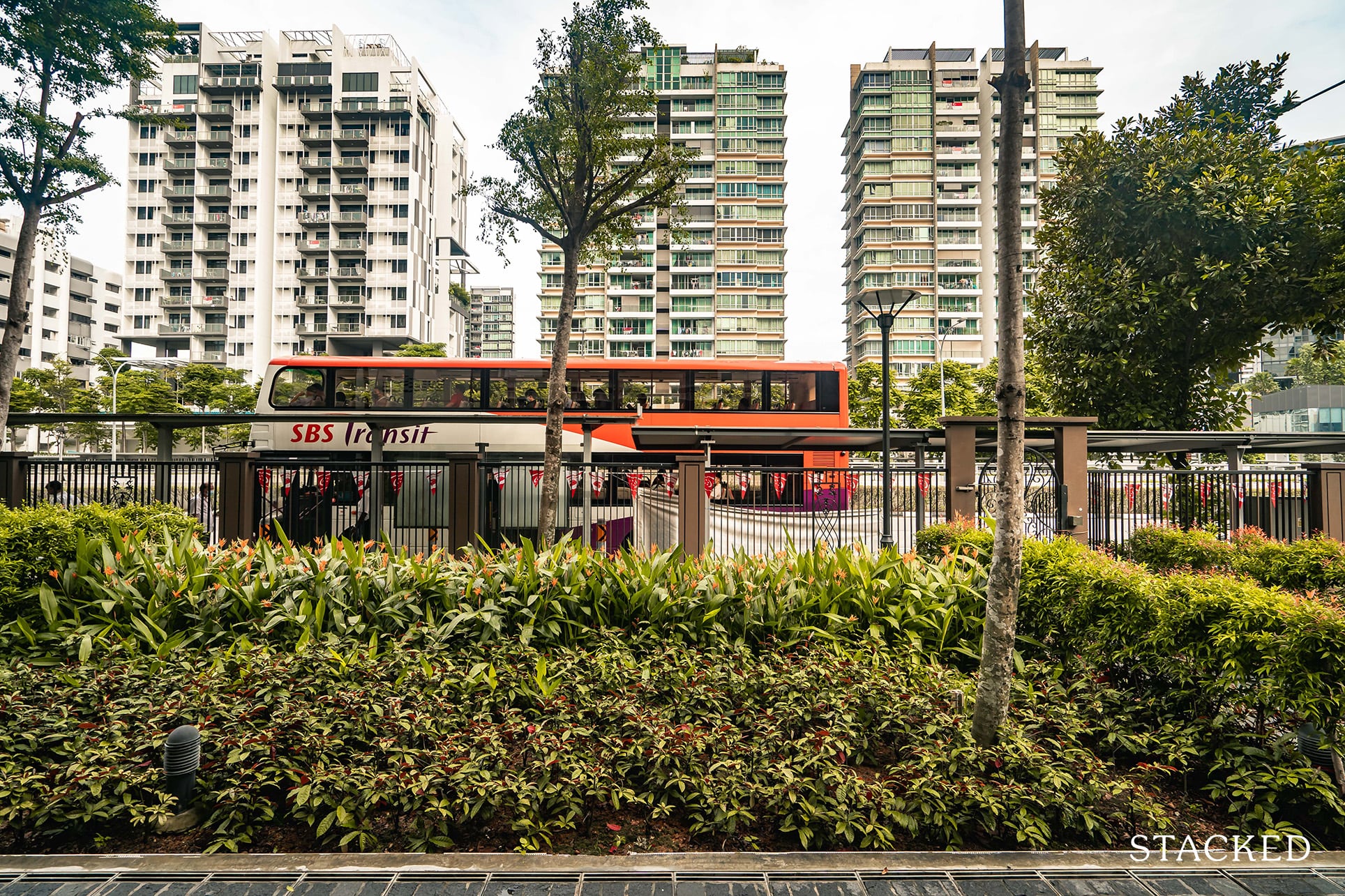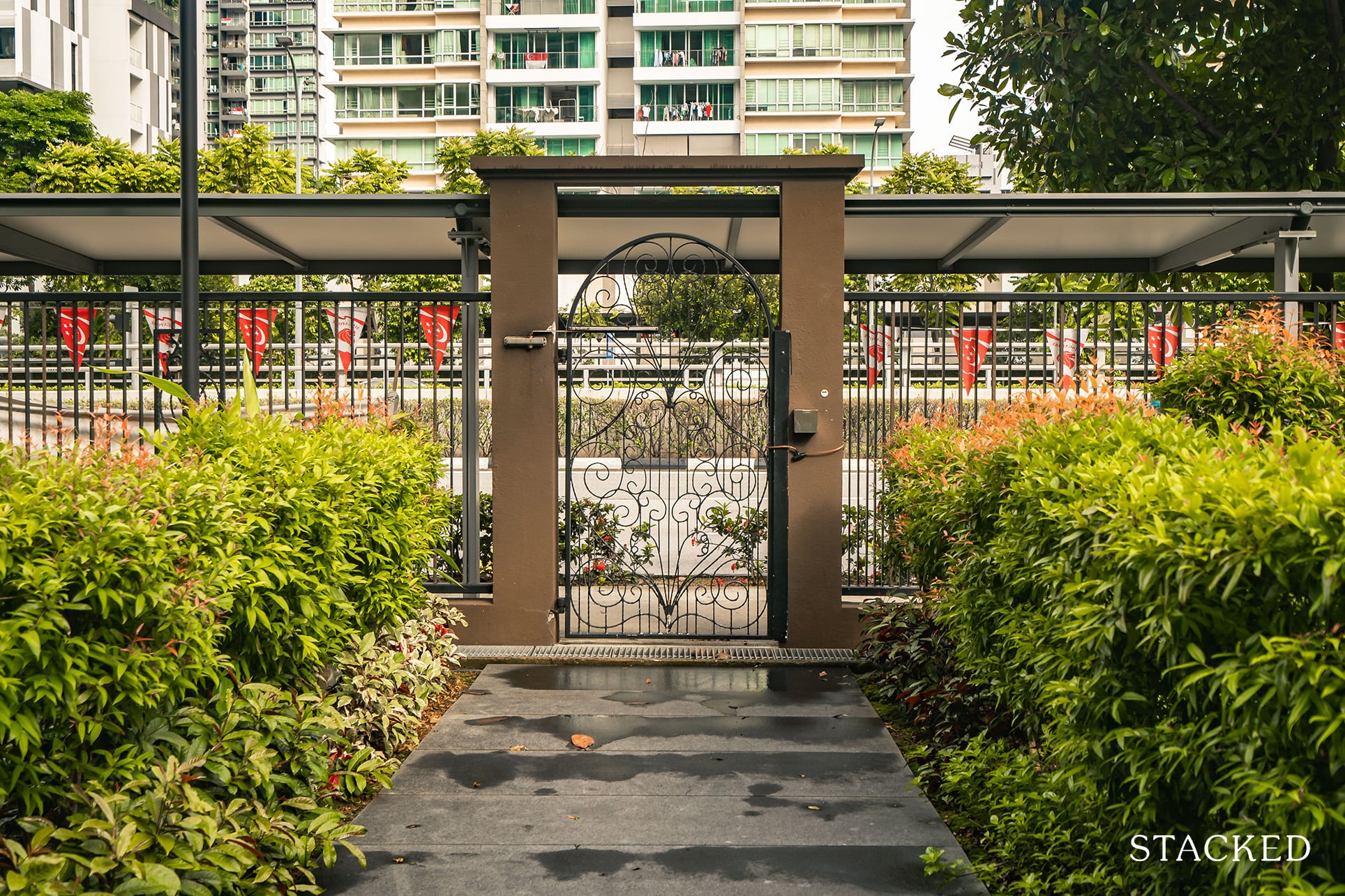 There are two side gates at the Sant Ritz – this one leads directly to the bus stop along Upper Serangoon Road. More importantly too, it is a sheltered walkway all the way to Potong Pasir MRT station – which is absolutely brilliant on rainy and hot days as well. Sadly, it isn't sheltered within the Sant Ritz itself – which is quite a bummer.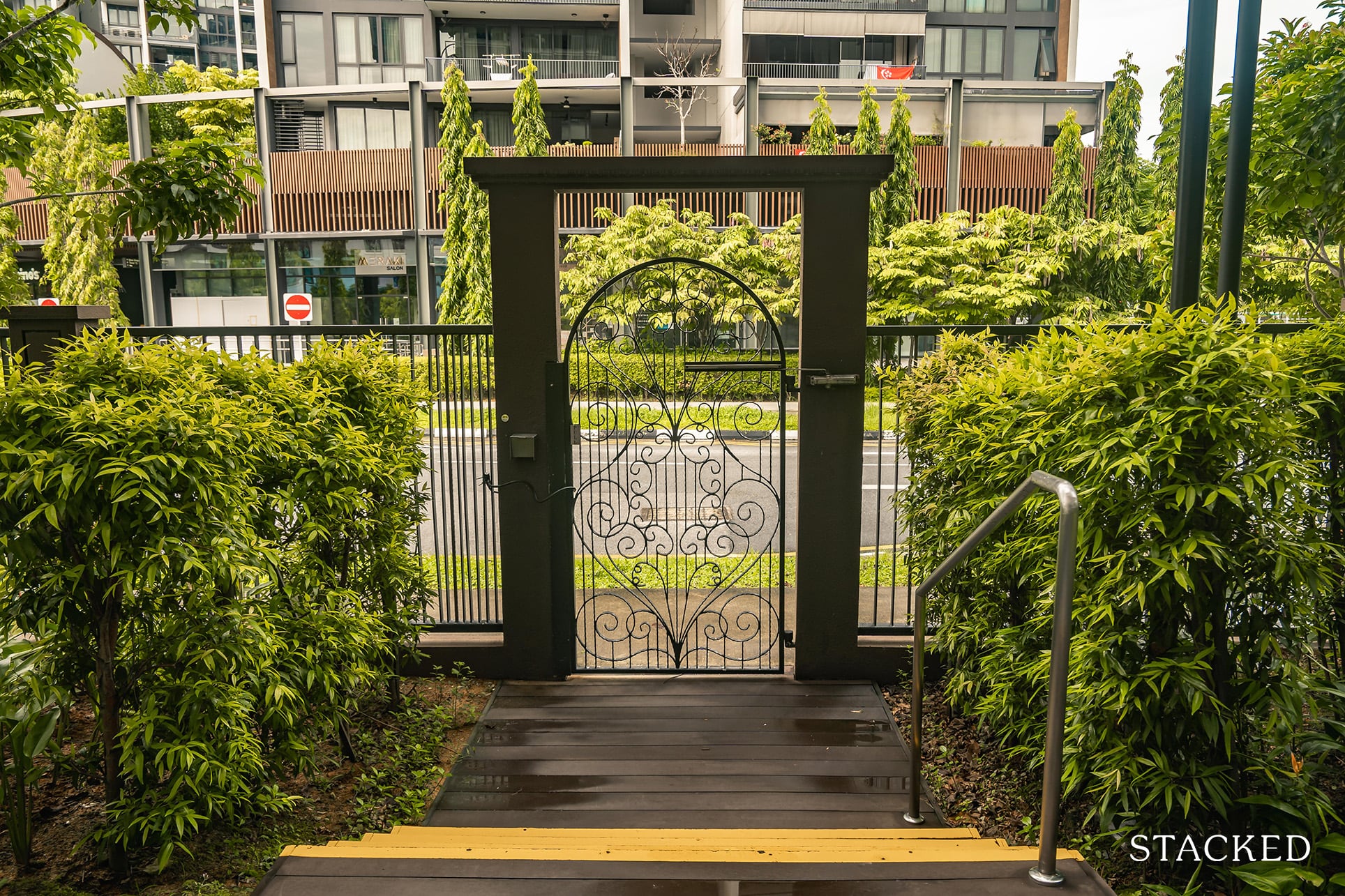 The other side gate is located opposite the Venue Residences and Shoppes. As the name indicates, there is a shopping centre here so it does allow for convenient access to a number of eateries as well as the famous River South Prawn Noodles at Tai Thong Crescent.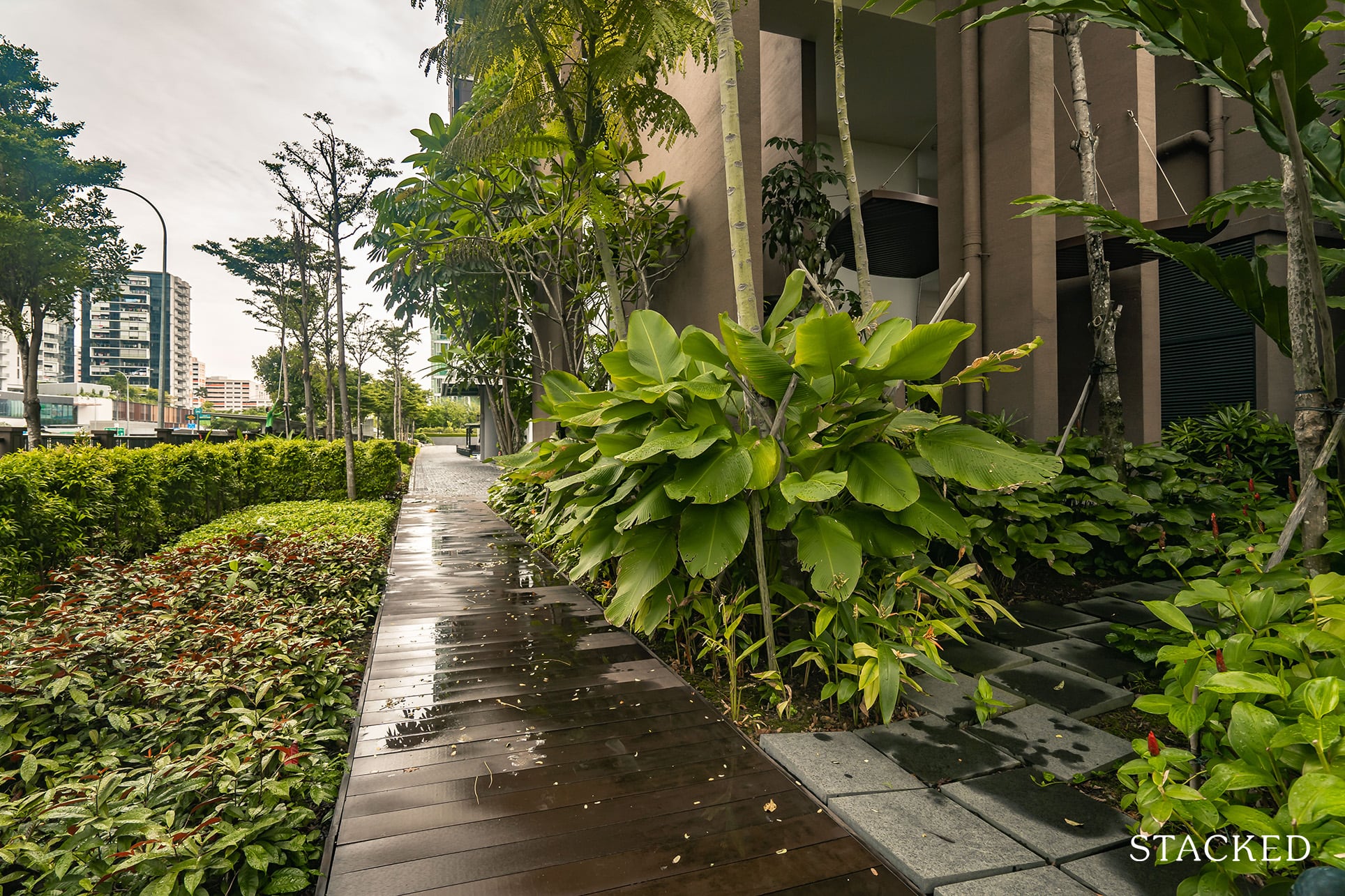 There's also a landscaped walking path of sorts – but don't expect much given the small size of the development. You'll be much better off walking around the Sennett landed estate.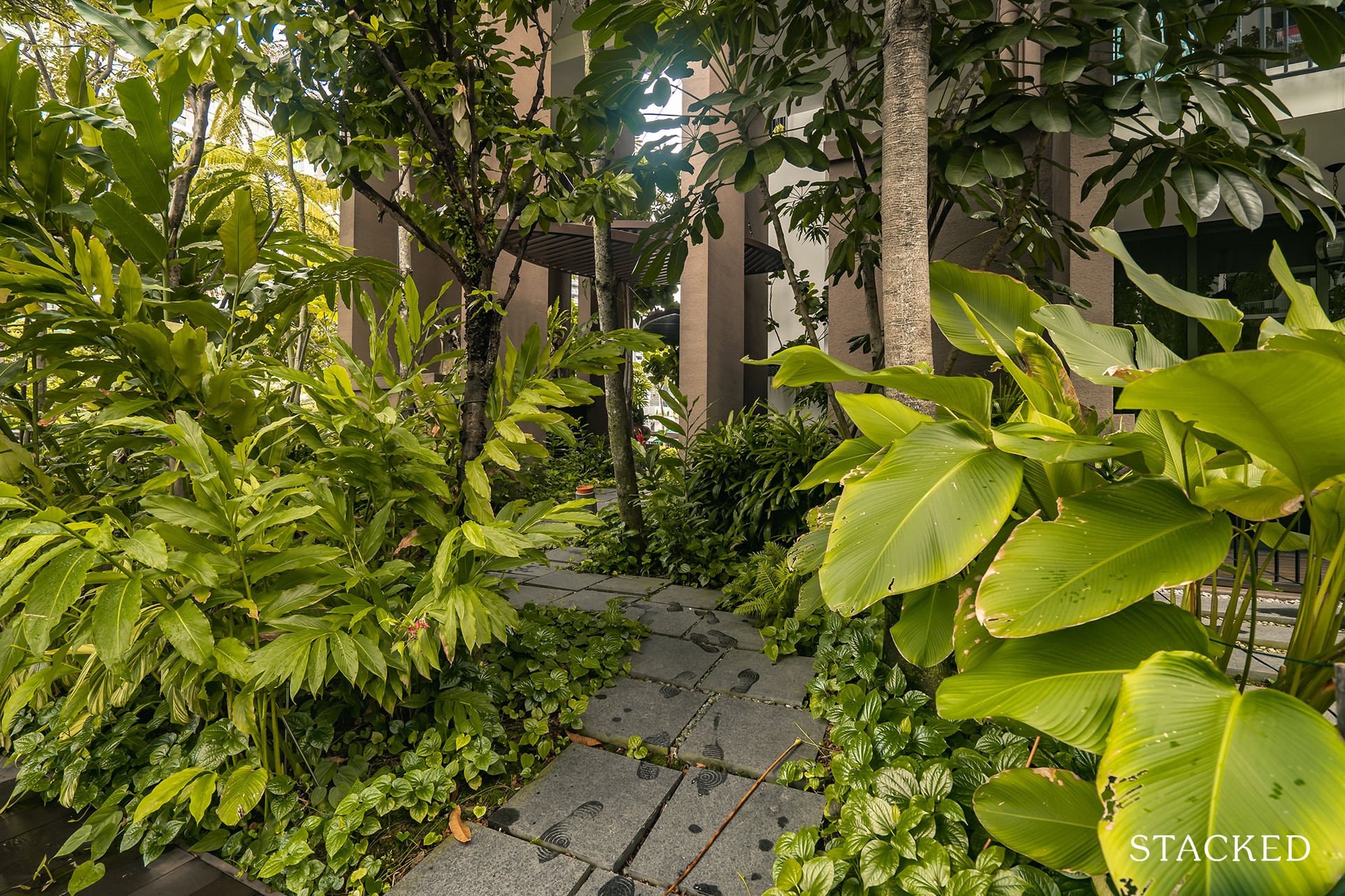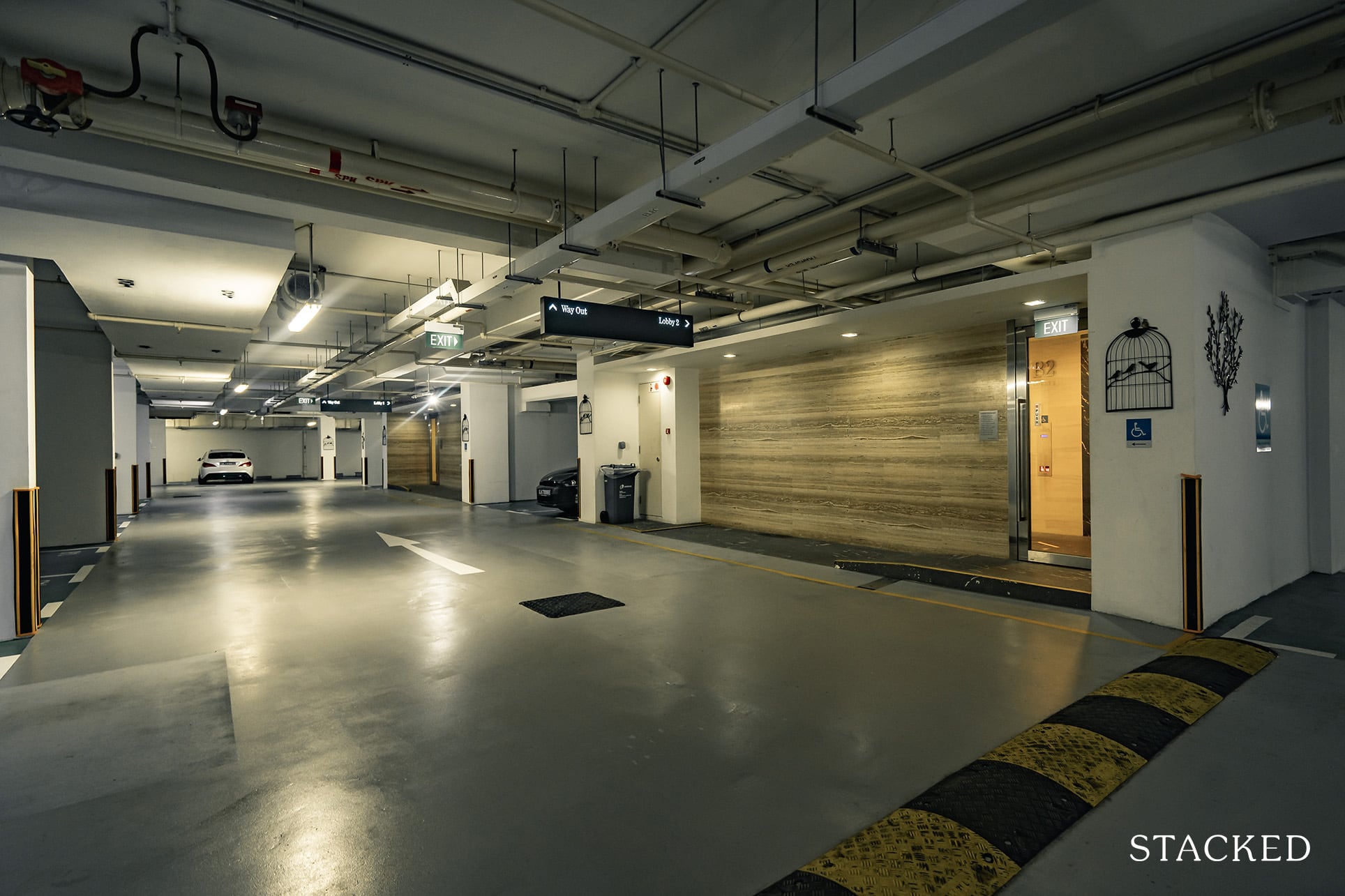 The basement carpark is pretty spacious, and it's one of the major plus points of the development. Despite its amazing convenience and connectivity already, Sant Ritz still manages to offer a 1-1 carpark ratio – which is very attractive in today's context.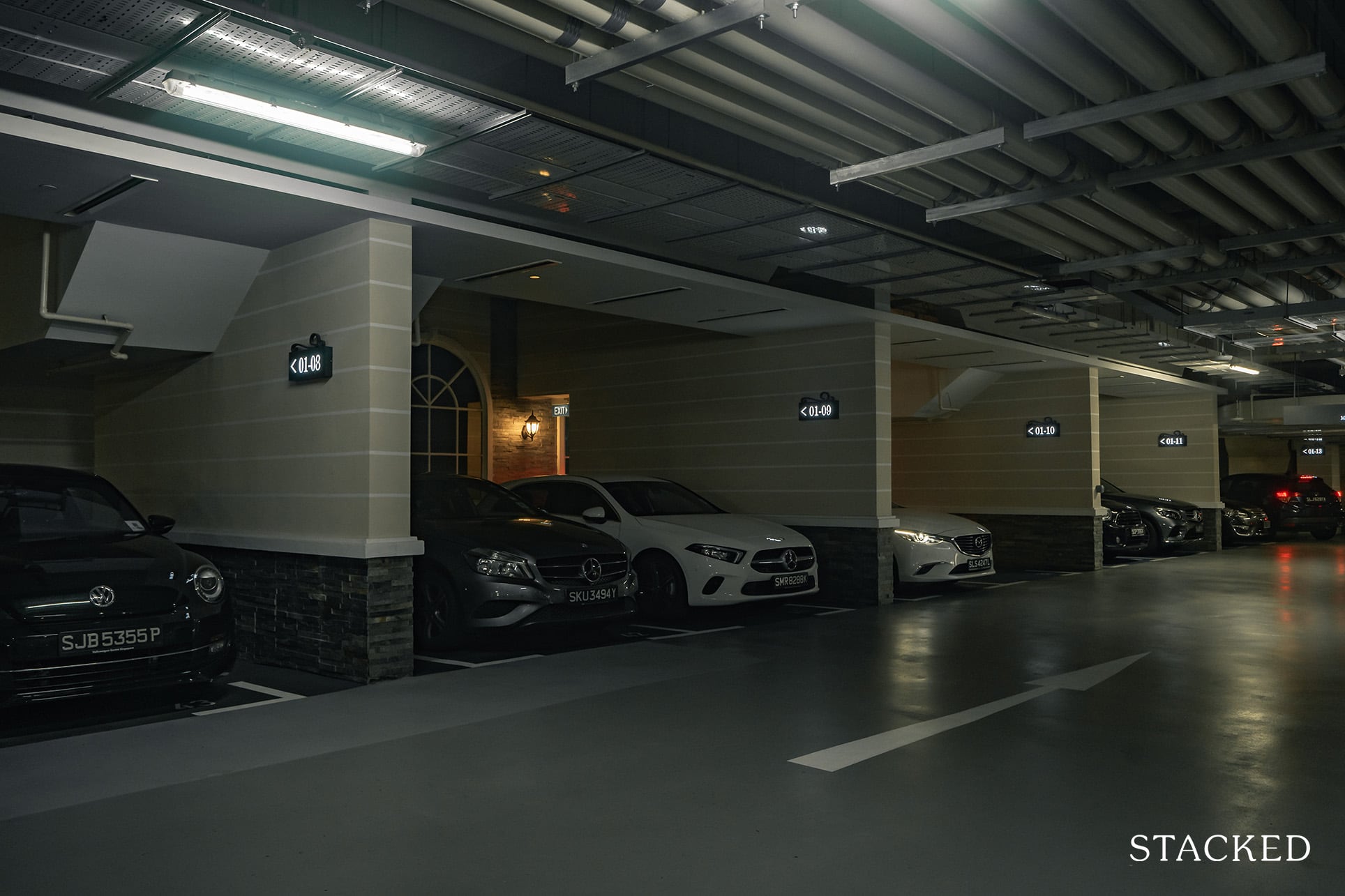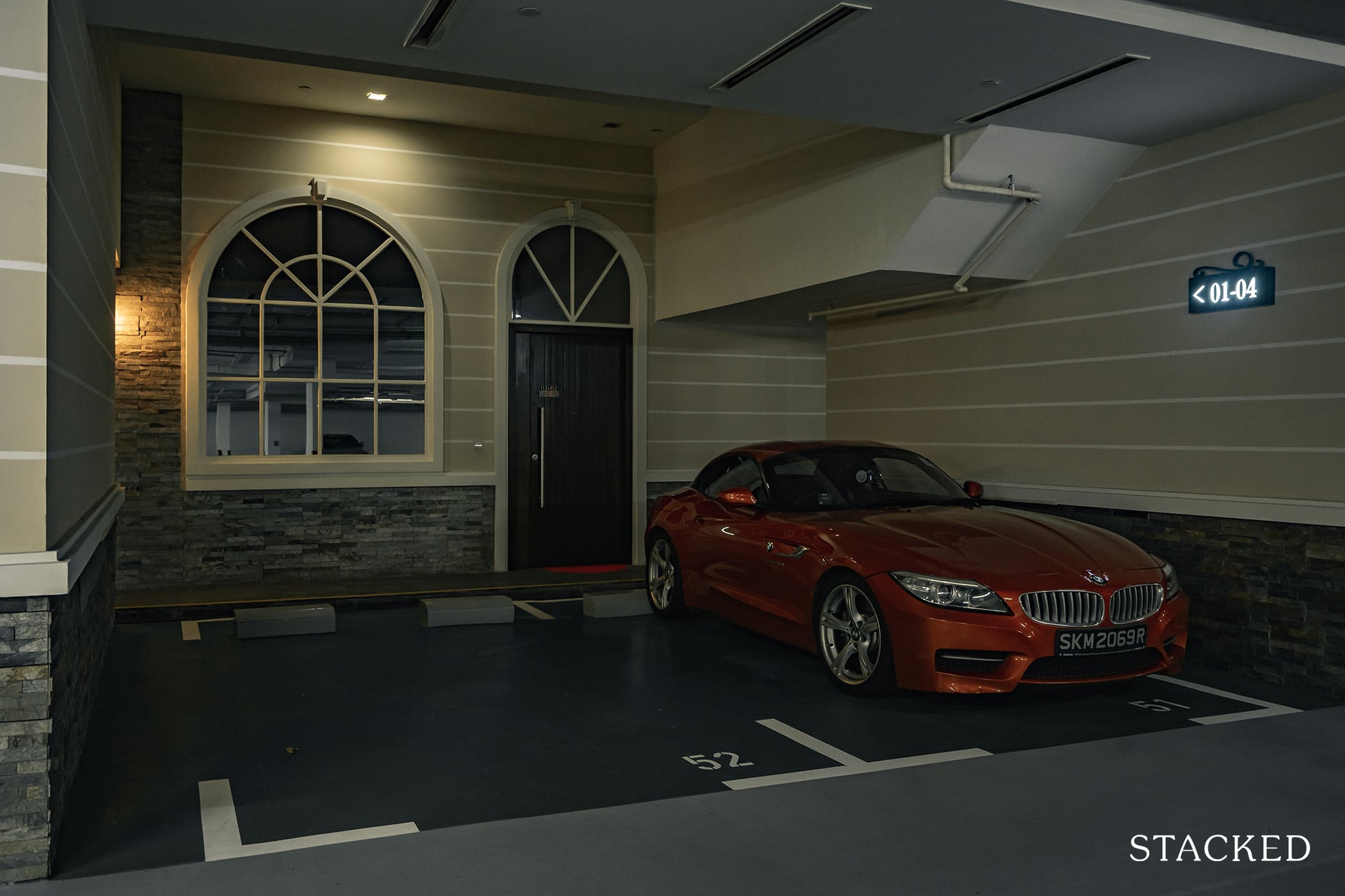 As mentioned above, row houses do get carpark lots that lead straight to their doorstep.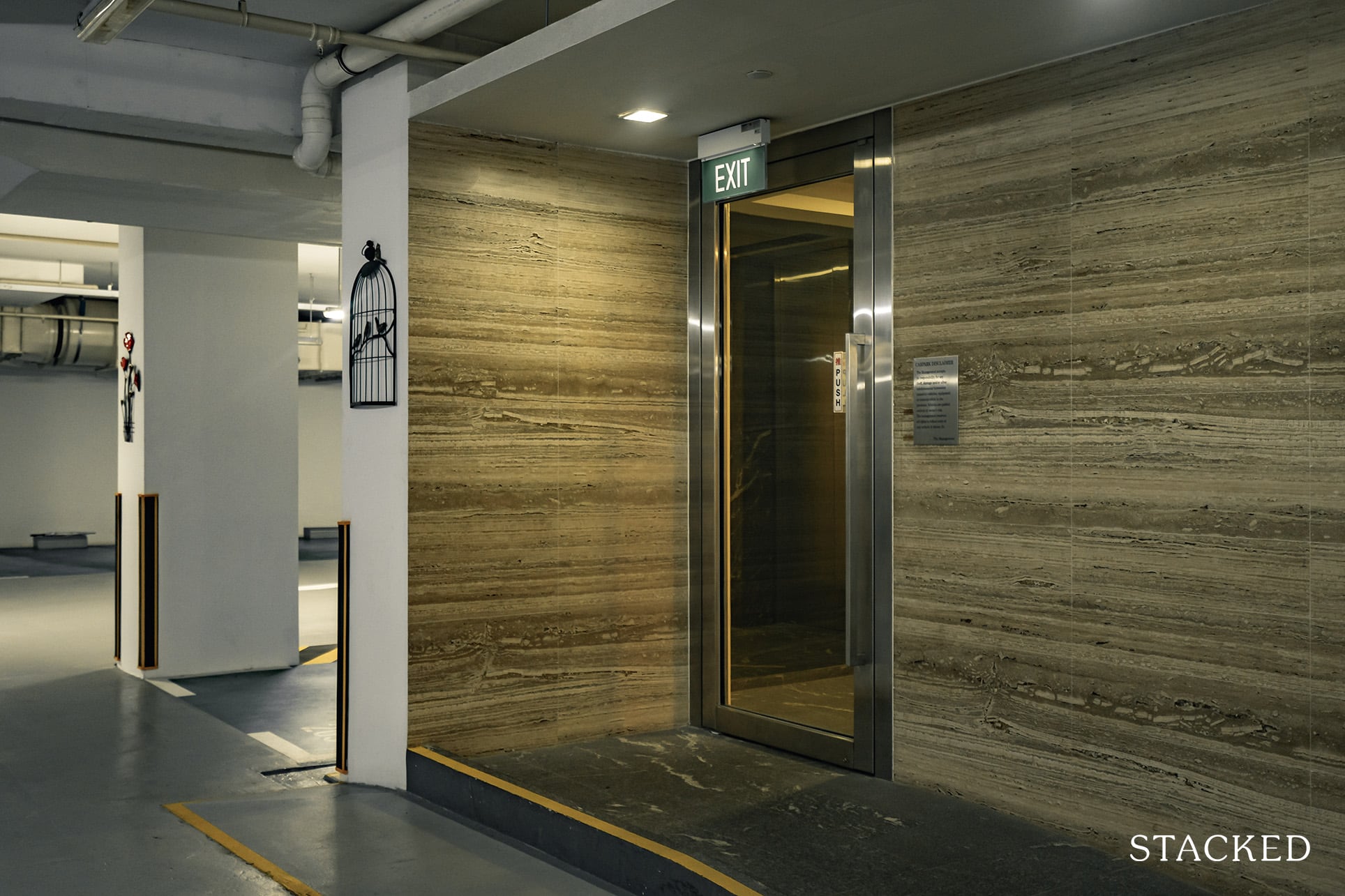 Both basement carpark lobbies are air-conditioned. You can access the ground level from here, but from the second floor and above you will require the usual keycard access.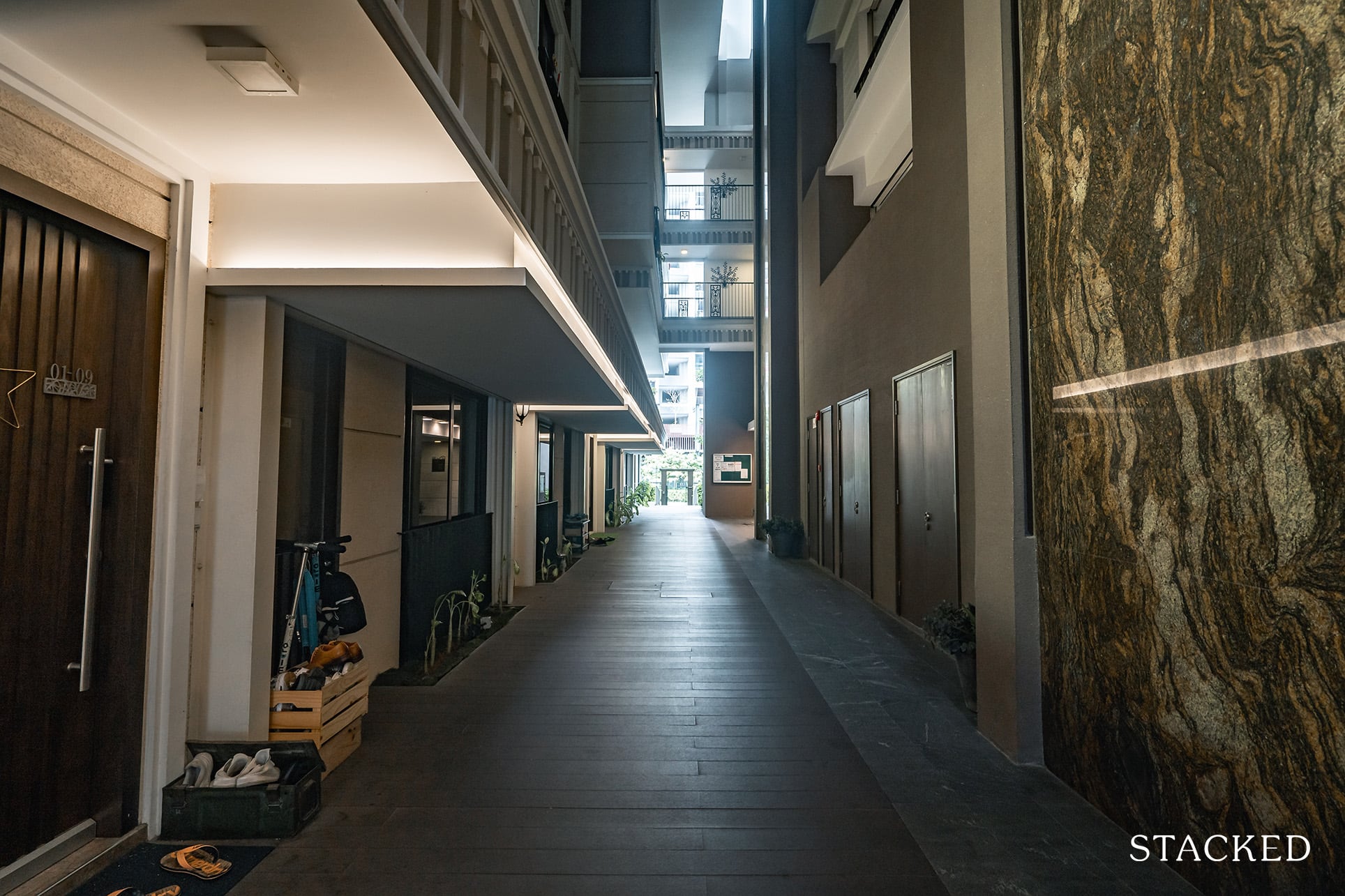 Sant Ritz Location Review
Set in the auspicious District 13, we immediately see the diversity of housing types in the area.

From sloping-roofed HDB flats to beautiful landed houses, and now the Sant Ritz, we see how widespread housing options really are here. 

Sant Ritz in itself is situated right by Upper Serangoon Road on the cusp of Jln Toa Payoh.

It is also adjacent to Tai Thong Crescent and Pheng Geck Avenue – both of which are arterial roads that are further compounded by a string of immediate local eateries.

Just across the road from the condo, you'll find the handy Potong Pasir MRT station – as well, as a quaint 'strata-town' of sorts providing commercial relief to suit your everyday needs.

The illustrious St. Andrews Village and the welcoming Potong Pasir Community Club is a stone's throw past that.
Public Transport

| | | |
| --- | --- | --- |
| Bus Station | Buses Serviced | Distance From Condo (& Est. Walking Time) |
| 'Sant Ritz' | 13, 107, 107M, 133, 142, 147, 147A, 853, 853M | 130m, 2-min walk |
| 'Aft Tai Thong Cres' | 8, 61, 64, 65, 66, 90, 90A, 125, 151, 154 | 220m, 3-min walk |
Closest MRT: Potong Pasir MRT – 230m, 3-min walk

Given Sant Ritz's location along Upper Serangoon Road, and almost immediate proximity to Macpherson Road (it's just around the corner), we can expect a string of convenient bus options here.

The Potong Pasir MRT is also a mere 3-min walk away so you already have an idea of how convenient the area is going to be (provided you are comfortable with the prospects of being situated right next to the main road).

As a city fringe area, we see that getting to town from here isn't going to be hard.

To get to Orchard MRT, one can either take a relaxed half-hour ride on Bus 65 or board the train at Potong Pasir MRT for 4 stops to Dhoby Ghaut MRT before changing lines and riding 2 stops to Orchard MRT.

MRT ride times for that option are approximately 12 minutes long.

Those heading to the CBD (or Raffles Place MRT) can board bus 107 for another half-hour ride or board the train at Potong Pasir MRT for 4 stops to Dhoby Ghaut MRT before changing lines and riding 2 stops in the other direction to Raffles Place MRT.

MRT ride times for that option are approximately 13 minutes long.

Private Transport
| | |
| --- | --- |
| Key Destinations | Distance From Condo (& Est. Peak Hour Drive Time) |
| CBD (Raffles Place) | 8.1km, 14-min drive |
| Orchard Road | 5.4km, 10-min drive |
| Suntec City | 5km, 14-min drive |
| Changi Airport | 14.2km, 14-min drive |
| Tuas Port (By 2040) | 42.2km, 45-min drive |
| Paya Lebar Quarters/Airbase (By 2030) | 4.6km, 15-min drive |
| Mediapolis (and surroundings) | 14km, 18-min drive |
| Mapletree Business City | 13.2km, 25-min drive |
| Tuas Checkpoint | 32km, 30-min drive |
| Woodlands Checkpoint | 21.4km, 24-min drive |
| Jurong Cluster (JCube) | 17.4km, 20-min drive |
| Woodlands Cluster (Causeway Point) | 8.2km, 14-min drive |
| HarbourFront Cluster (Vivo City) | 11.3km, 18-min drive |
| Punggol Cluster (Waterway Point) | 15km, 18-min drive |
*Note that Drive Times are calculated during Peak Hours

Immediate Road Exit(s): 1 exit along Pheng Geck Ave

Summary: Great convenience for car owners given the immediacy of Upper Serangoon Road. Considering that the Sant Ritz is at the tail-end of Pheng Geck Ave, it shouldn't be facing too much road-related competition from neighbouring projects for the Tai Thong Crescent Exit onto Upper Serangoon Road. Following this, a convenient U-turn on the main road is almost immediate, with a number of subsequent exits onto a couple of other key mediums like Macpherson Rd, the PIE, and Bendemeer Rd (to name a few).

Groceries

| | |
| --- | --- |
| Name of Grocery Shop | Distance From Condo (& Est. Walk Time) |
| FairPrice – The Poiz Centre | 550m, 8-min walk |
| Broadway Food Centre + Wet Market/Grocers | 600m, 8-min walk |
Schools

| | |
| --- | --- |
| Educational Tier | Number of Institutes |
| Preschool (within 1km walk) | 3 |
| Primary (3km-drive) | 5 |
| Secondary (3km-drive) | 6 |
| International School (3km-drive) | 2 |
| Junior College (5km-drive) | 2 |
| University (5km-drive) | 2 |
| Polytechnic (10km-drive) | 1 |
Additional Pointers

10-Hectare Bididari Park by 2022!
About a 15 to 20-minute walk (or 5-min drive) from Sant Ritz, residents will find a massive development underway.

A development that is set to change the landscape of District 13 for good.

Known as the 'Bidadari Project', this joint initiative by the HDB, PUB, and NHB is set to feature Singapore's first underground reservoir – which will be essential in 'boosting drinking supply/water pressure to nearby homes in periods of high demand'.

Perhaps more 'tangibly', the 10-hectare Park will also feature a lake, open lawns, a 700 metre heritage walk, and an entire 6km of wooded experiential trails – as confirmed in a Today article dated late last year.

Families with kids can also look forward to features like a 5m treehouse and a compilation of 'picnic-spots'/lawn areas spanning a whopping 5,000square metres.

All this, amidst numerous other features – with one, in particular, guaranteed to appeal to bird-lovers all around.

One of the bigger issues that parents face with their kids' education careers is the switch from Primary to Secondary, and then eventually from Secondary to Tertiary.

In a bid to get rid of that headache, the St. Andrew's mission school along Potong Pasir has been converted into an entire education 'village' – coupled with incredible amenities that feature swimming pools, an 'over-river' bridge, as well as massive artificial fields.

In other words, you will find the kindergarten, primary, secondary, junior college, and even mission church all combined into one outstanding development here.

Given the affiliation between education levels, students here will also have certain points deducted from their various 'school-leaving examinations' (ie. PSLE/GCE O' Levels) to allow easier entry into their subsequent education levels provided they remain in the St. Andrews' educational umbrella.

Apart from the tight-knit culture here, it is also worth noting that St. Andrew's is a 'boys' school', so parents with girls will have to look further down the road for educational options.

A distinct option that pops to mind would be the illustrious Cedar Girls' School on the other end of Potong Pasir.

In retrospect, these two sole 'powerhouses' have brought the Potong Pasir locale to the forefront of our Singaporean educational sphere.

Long may that continue!
Sant Ritz Development Site Review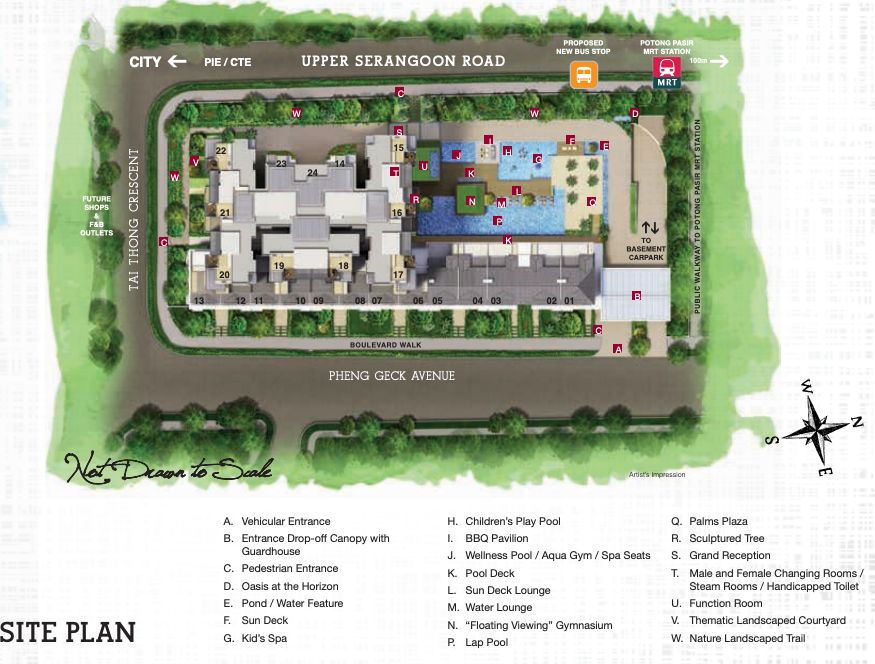 Given the small land size, and the 'diversity'/aesthetics of housing-types, it's no wonder that we're presented with smaller-than-average land allocation for facilities here.

That said, the developers have done well in ensuring a minimalistic, yet pleasant facility spread with the inclusion of your fundamental lap/kids' pools, lounges, and aqua gym.

Moving on, one of the bigger issues that concerned me from the start was the issue of 'road-noise' to residents at the 5-storeyed Row Houses adjacent to Upper Serangoon Road.

Having frequented this road, I have seen the amount of traffic here during peak hours – and with little surprise, considering how important this stretch is in linking the further North-East Regions to the Central parts of Singapore.

And while we're on the topic of traffic, potential owners of units here might be interested to know that there are 'white parking lots' available right outside the development on Pheng Geck Avenue – in the event that they have visitors who drive. Given the 1-1 carpark lot availability here though, this really shouldn't be much of an issue.

Best Stacks
Unit Mix

| | | |
| --- | --- | --- |
| Unit Type (Tower Block) | No. Of Units | Size of Units (sqft) |
| 1-Bedroom + Study | 48 | 527 – 570 sqft |
| 2-Bedroom (2 of which are penthouses) | 40 | 656 – 1087 sqft |
| 3-Bedroom (3 of which are penthouses) | 42 | 882 – 1420 sqft |
| 3-Bedroom Deluxe (another 3 of which are penthouses) | 45 | 1044 – 1582 sqft |
| | | |
| --- | --- | --- |
| Unit Type (Row Houses) | No. Of Units | Size of Units (sqft) |
| 2-Bedroom + Study | 13 | 689 – 785 sqft |
| 2-Bedroom Penthouse | 8 | 1227 – 1259 sqft |
| 3-Bedroom Penthouse | 5 | 1399 – 1517 sqft |
| 3-Bedroom | 13 | 1786 sqft |
The unit arrangement/diversity here at the Sant Ritz has to be one of my favourites thus far.

If you look at the 3-bedroom units at the Row House for example, you might be surprised to learn that it comes equipped with a basement family + SOHO area. Something not commonly seen in most 3-bedders in Singapore.

And if you looked at the 2-bedroom penthouses, you would also realise that they come complete with 'studies' and roof terraces.

Unit sizes aren't massive to begin with (which could also help with that overall quantum fee) – but if you consider that most of these penthouse units come equipped with over 3m high ceilings, you might be able to anticipate that feeling of grandeur and 'freedom' when you step into one of these units.

Not to mention the quality designer home appliances that come with each and every unit here.

Best Stacks

Sant Ritz Price Review
Right off the bat, there are so many condos in the area – ranging from older, resale developments to new launch extravaganzas. 

For the sake of clarity for home buyers/renters looking at a development in this city fringe area, I've decided to piece together all the projects in the immediate vicinity of Sant Ritz (note that there are some boutique condos closer to the St. Andrew's Village that I have not included here). 

I hope that it gives you a clearer idea of the diversity/options here amongst the private residential developments.
| | | | |
| --- | --- | --- | --- |
| Project Name | Tenure | TOP | Average Price (PSF) |
| Sant Ritz | 99-Year Leasehold | 2016 | $1,392 |
| Woodsville Mansions | Freehold | 1987 | $1,002 |
| Woodsville Close | 99-Year Leasehold | 2011 | $1,271 |
| 18 Woodsville | Freehold | 2015 | $1,415 |
| Sennet Residence | 99-Year Leasehold | 2016 | $1,375 |
| The Venue | 99-Year Leasehold | 2017 | $1,345 |
| The Poiz Residences | 99-Year Leasehold | 2018 | $1,638 |
Looking at the table, we see that there isn't too much of a psf-price gap between Sant Ritz and most of its neighbouring projects – save for Woodsville Mansions and The Poiz Residences, which are older/newer condos respectively.

That said, it is always easy to misjudge the figures here if you look solely at the psf-metric.

One key way to analyse the 'affordability' of units here would be to zone in on particular units types and compare the quantum value of these units across developments.

Also note that given the unit variations ie. higher ceilings in a number of Sant Ritz units, the figures don't always paint the full picture – even when taken at a quantum value perspective.

The Poiz Residence arguably holds the best location here, being right at the heart of the main amenities in this Potong Pasir area (not to mention the inclusion of 'shops' in the condo itself).

That said, the Sant Ritz isn't too far behind when it comes to convenience of transport + much better views from most of its higher-floored units.

For those looking to rent/purchase a place here due solely to its location, it is important to note once again, the diversity of housing types here.

While we've only showcased private residential developments in the table above, there are a number of HDB flats, as well as landed houses in the area that you could (and should) have a look at.    
Appreciation Analysis
One of the biggest pulls for District 13, and perhaps more specifically, Sant Ritz, is the insane accessibility of public transport we find here. It is incredibly close to two heavily utilised bus stops on two major roads, as well as the Potong Pasir MRT.

More than that, given the condo's city-fringe locale, and its situation right next to Upper Serangoon/Macpherson Road, getting to key central areas can be very efficient regardless of public/private transport.

It is also a mere 14-minute drive to Changi Airport (and its surroundings) during peak periods!

Considering those factors, as well as the incredibly welcome and well-developed estate (we're talking about numerous food centres, convenience shops, etc.), it makes for a very livable place for homeowners.

Perhaps the biggest issue that might plague residences here is the aspect of road noise.

Now if we were to go into the appreciation numbers, we observe a mere 1.82% capital gain appreciation per year for Sant Ritz as of the time of writing. Not to mention, 7 positive appreciation transactions and 6 loss making transactions thus far doesn't make for a great showing.

In other words, it hasn't done as well as some of its newer neighbours like The Venue Residences – which has observed a capital gain of 7.63% per year since its launch.

In fact, resale prices for Sant Ritz experienced a slight dip between 2015 and 2017 before picking up again up till this point – with owners here setting their unit 'asking-prices' at a median resale figure of $1,550 psf.

We also haven't seen any major pickup in average psf of private residential developments in the immediate area after a steep incline in 2016 at the tail-end of the poor property market sentiment that started in 2013 (basically many of those who bought at a peak).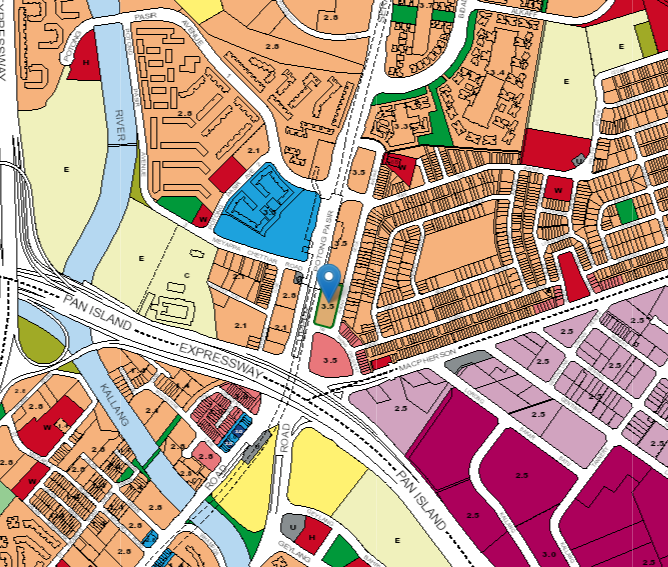 What's more, if we have a look at the MasterPlan 2019, we see that almost all the land here is already 'locked-in' with the only potential for new development coming from the yellow plots of land right along the PIE and Upper Serangoon Road (note the noise levels here) – as well as Woodleigh Lane further up north where we will see the entire Bidadari estate + Alkaff developments.

The Bidadari estate is a big one though – one that could definitely have an effect on prices down the line. With an influx of people moving into the area plus additions like the Woodleigh Mall – this would really enhance the liveability of the area – rather than just one with "investment potential".
While the latter developments could definitely contribute to a rise in the general appreciation of the area, I personally feel that it will eventually be the increased attention to the livability/convenience aspect of this area that will give rise to capital appreciation gains here down the road.

Our Take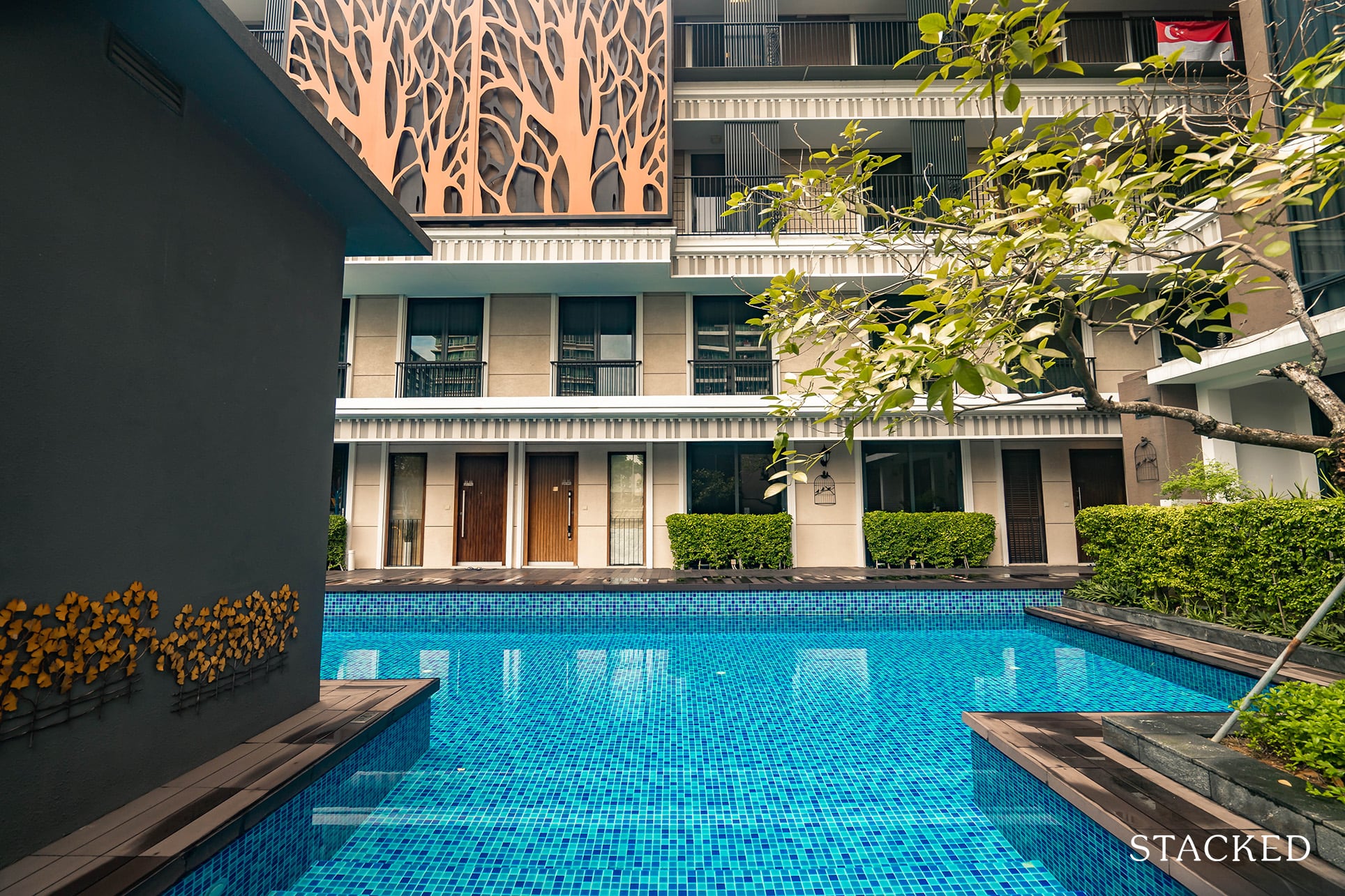 While I'm not the biggest fan of the design, remember that design is always a very subjective issue – you'll just have to make a trip down to view it for yourself.

I wouldn't care too much about the design though, for the biggest selling point here is definitely its extremely convenient location. Whether it is by train, bus, or car, the Sant Ritz has definitely covered all its bases here when it comes to transport – it's a tough one to beat.

Having the residence situated right next to Upper Serangoon Road naturally has its pros and cons too as we've discussed earlier.

And while we might observe strong rental demand for units here with a relatively decent rental yield of 3.1% as of the time of writing, we do not see any massive potential for an immediate upside based solely on momentum price-trends alone (1.82% annual capital gains to date).

Watch out for that Bidadari transformation though.
What this means for you
You might like Sant Ritz if you:
• Appreciate Public/Private Transport Convenience:Given the accessibility of roads and public transport options, as well as its RCR locale, residents can look forward to ease of transport at the Sant Ritz on a number of fronts.
• Treasure High Ceilings + Beautiful views:While the former is relatively self-explanatory, the latter owes its existence to the surrounding landed residentials which essentially mean unblocked views for most units from the condo's modern-looking tower.
You might not like Sant Ritz if you:
• Require a Myriad of Facilities:Unfortunately, the development spans just over 52,205 square feet, meaning that space for a diversity of facilities is almost non-existent.
• Prefer a Quiet/Secluded Development:Having the project located next to a number of roads simply means that residents here will not escape a certain degree of road disturbances.
End of Review