Buying
Getting Your Child Into A Top Primary School And Finding Your Dream Home: Here's How This Tool Can Help
Druce
May 29, 2020

10

min read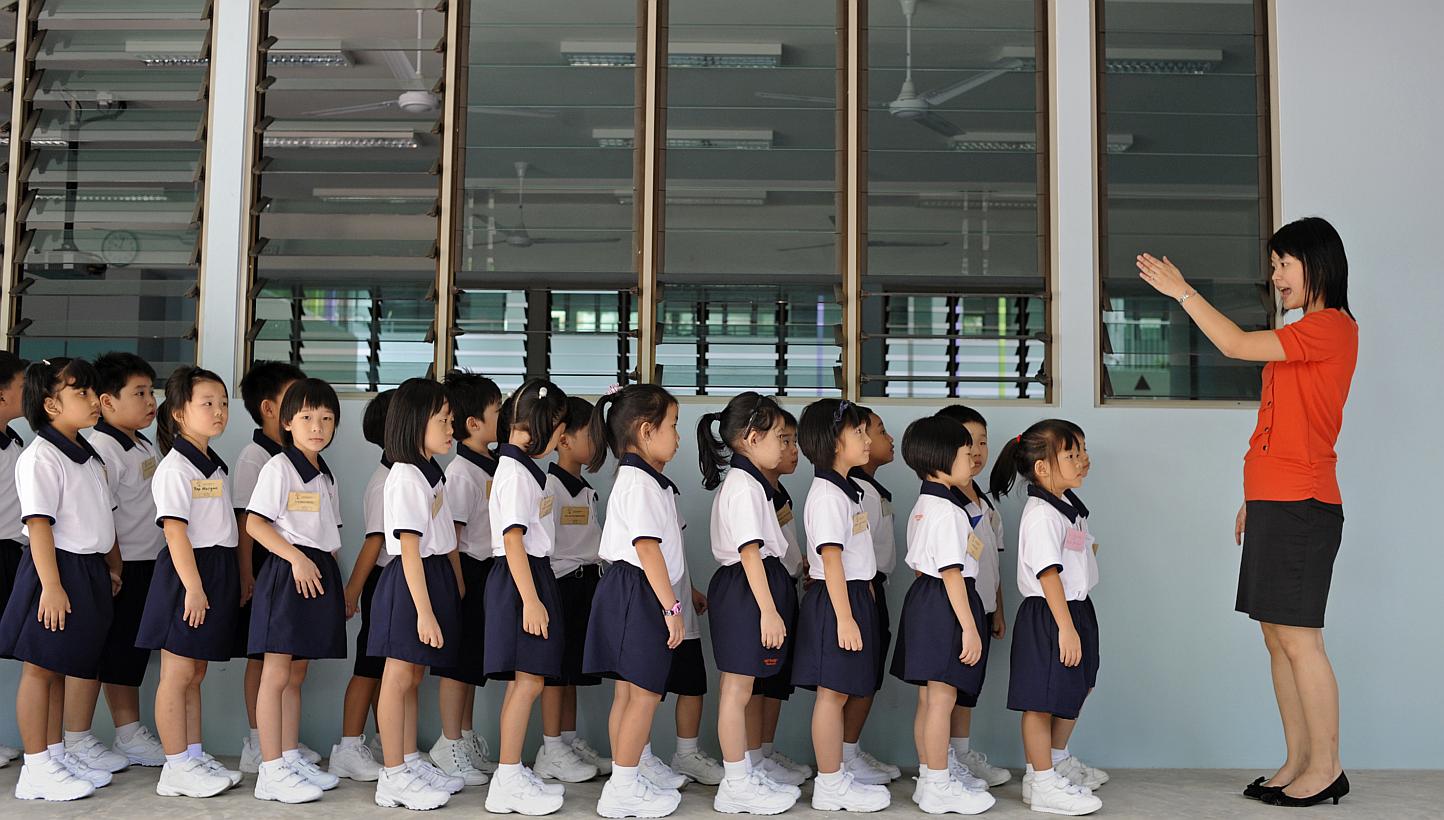 10
min read
"Successfully enrolling your child into the top primary schools in Singapore is akin to winning 4D… followed by TOTO."

It might sound incredulous, but ask any parent that has been through the rigmarole of getting their child into primary school and you will get a fervent nod in agreement.

And as if finding a home isn't a difficult enough task, searching for the right primary school for your child is like opening up another can of worms.

Which are the best primary schools?

Is there a list of primary schools in Singapore?

Does anyone rank primary schools by statistics?

How does the admission process work?

Combine the two questions and you get a migraine that will last you a couple of days.

Given the gravity of this problem, it's a wonder that there hasn't been anything created to remedy this.

Until today.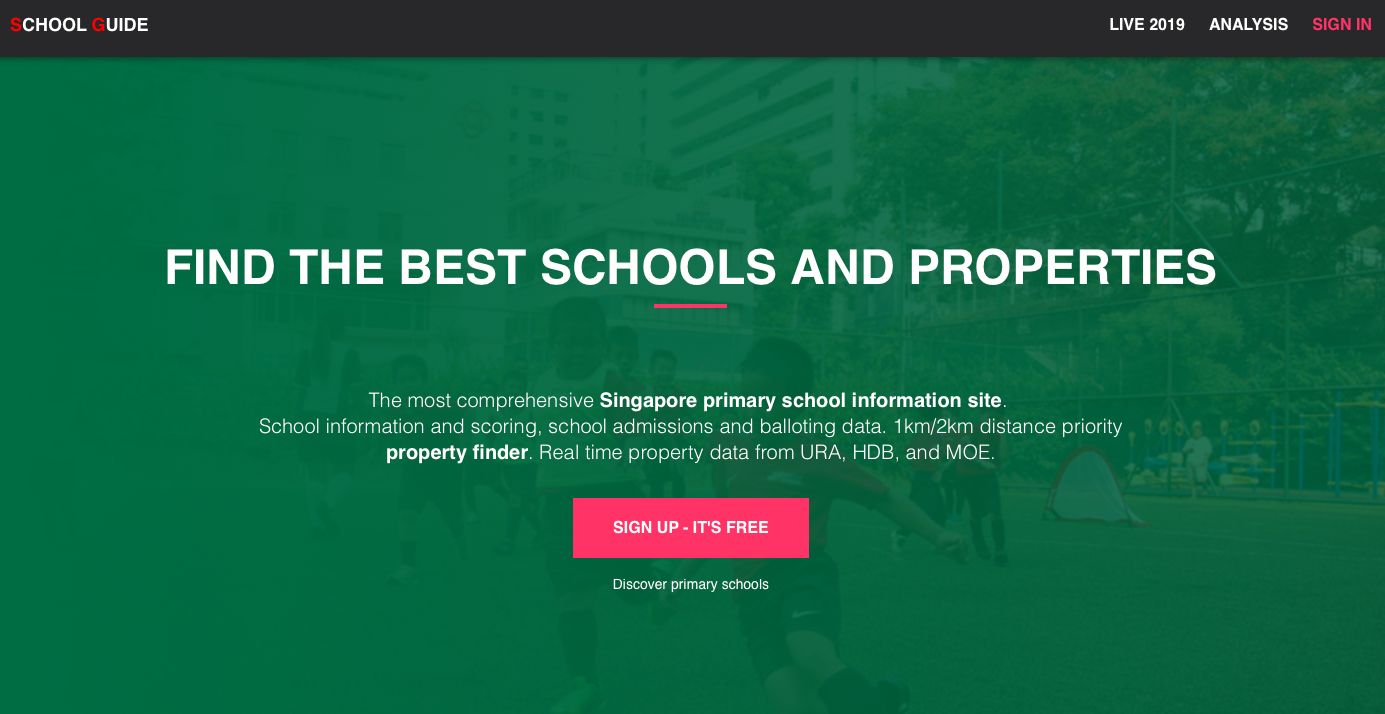 Introducing School Guide – a tool developed specifically to address these issues. 

To illustrate how this tool can really aid you as parents, let us start with an example of a typical Singaporean family:

Mr and Mrs Tan have two kids, Liz and Albert.

Liz is eligible for Primary 1 Registration in 2020, while Albert is some time away from that, being 2 years younger.

As any normal parent would, they want Liz to be registered into a top primary school – but neither of them are alumni nor have they done any volunteering to stand out.

So their main concern is to find a suitable housing option, that accounts for relevant schools for Liz and for Albert in the future.

Let's see how the tool helps solve this problem.

Primary 1 Registration

But first, let's start with the basics (feel free to skip if you know this already).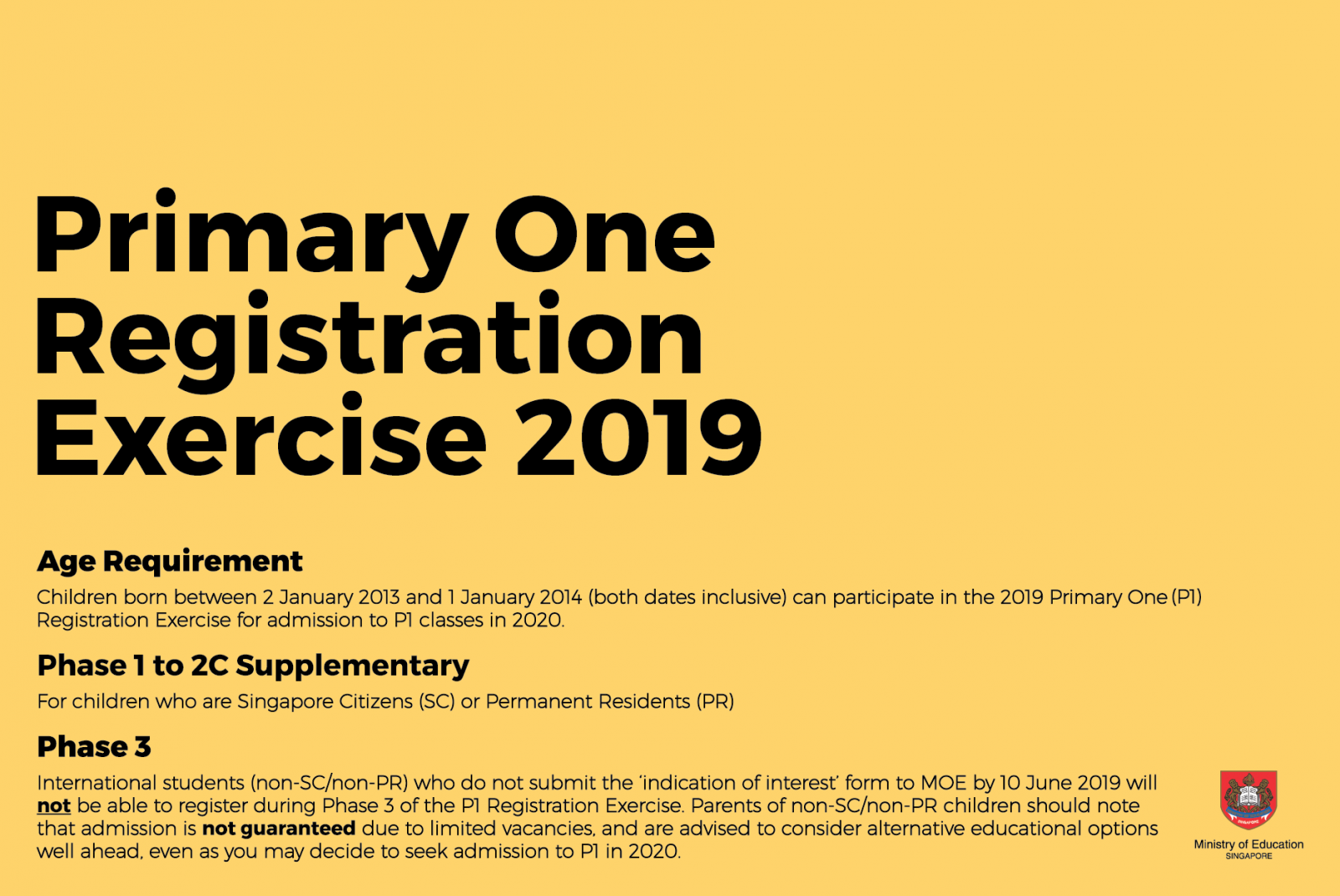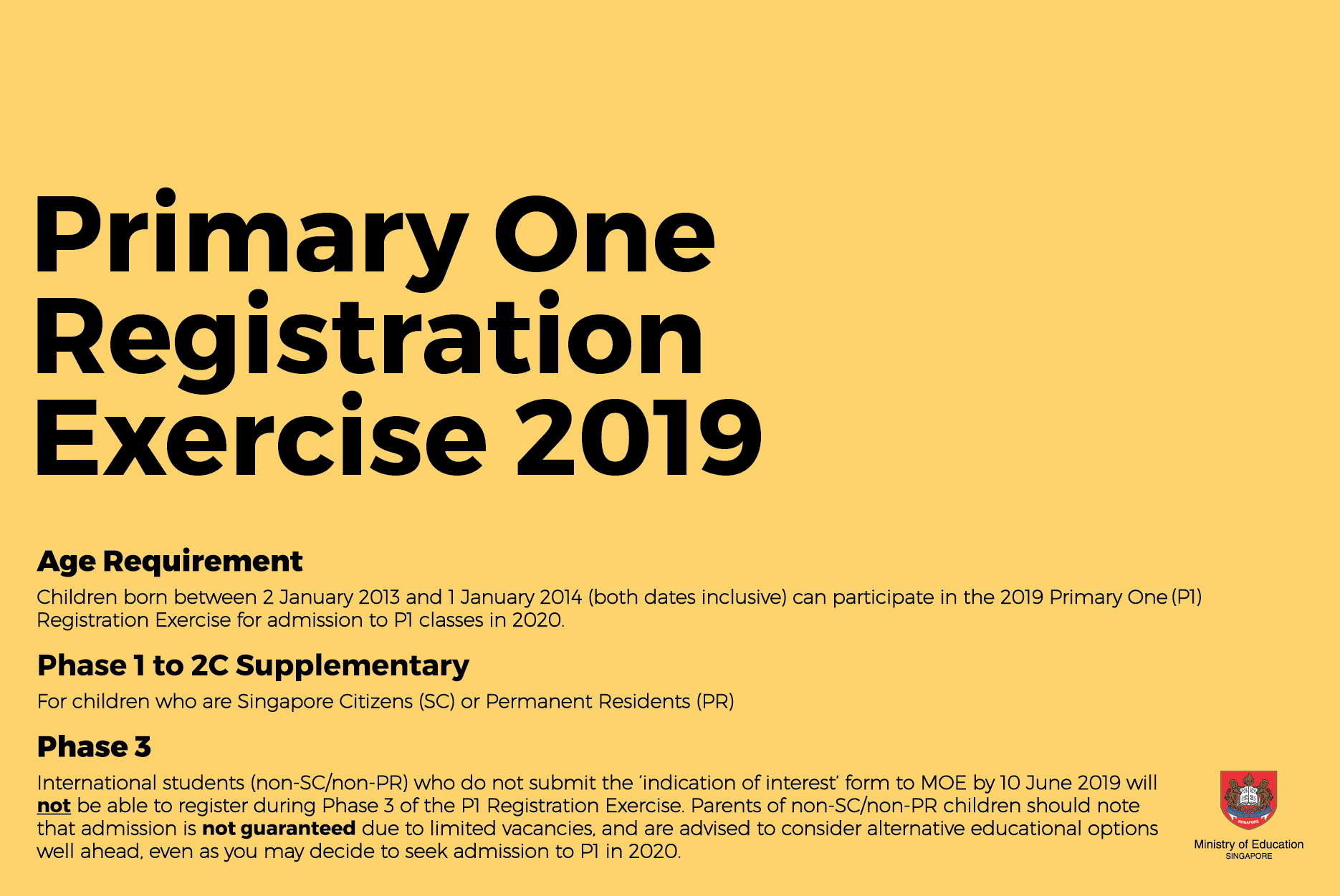 In the Primary 1 Registration process, parents enroll their child into a publicly-funded primary school for the following year. It is compulsory for all Singaporean children aged 5-6 years, and is applicable to Permanent Residents as well as International Students.

Registration will take place annually, and it's typically in the 3rd quarter across multiple phases.

As an example, Primary 1 Registration for 2021 will commence 1st July 2020 through late August.

So your eligibility to apply in a phase can depend on a few criterias:

If the registering child has a sibling in the school
Are parents alumni/volunteers/grassroots association volunteers

There is strict priority of each phase over another, and so vacancies depend on the level of applications (and thus remaining leftover places) from preceding phases.

More importantly, applying to schools in which your child is eligible for an earlier registration phase will increase your chances of admission.

That choice should also take into consideration other factors such as the child's interests, mother-tongue, and the school's affiliation with associations or secondary schools.

For those without any ties to the school (i.e. having one child currently enrolled and trying to register a second, or being an alumni of the school), applications take place in Phases 2B, 2C, and 2CS. Since these are free-for-all application phases, with no prerequisites, the bulk of applications will be concentrated in this phase.

So because Mr Tan and his family are neither alumni nor volunteers, they will have to register Liz under Phase 2C for the schools they are targeting. This will commence 3rd Aug 2020.

Unsurprisingly, in the majority of popular schools, there have been consistently more applications than vacancies across the later phases (balloting is to be expected). An unsuccessful ballot means a re-registration in a later phase, where the odds can be even more stark.

But fret not, because in Phases 2B, 2C, and 2CS, proximity of your home to a school is a strategic advantage, which can provide a dramatic boost to the odds of getting your child accepted into a top primary school.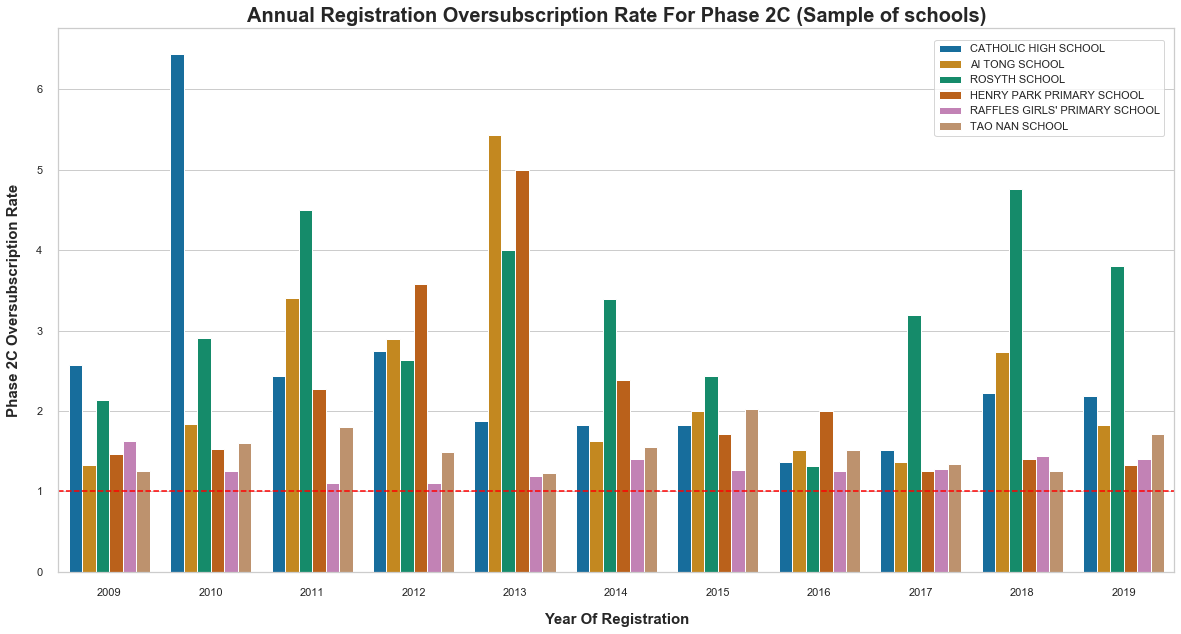 Oversubscription in Phase 2C is a perennial issue for parents, and is especially stark for the best primary schools in Singapore. However, it's worth noting here that even within the creme de la creme of primary schools, there is still distinct variation in oversubscription amongst the schools.

In other words, by understanding the properties within a 1km/2km proximity of a school, and the school's ballot history – Mr Tan's family can obtain a strategic edge for successful enrollment into a desired school.

Popular Schools Ranking

As at 2019, there are 185 primary schools in Singapore. The sheer quantity of options is a classic case of "The Paradox of Choice" for young parents in Singapore, so you can see how this leads to significant anxiety and worry.

As with all Singaporeans, Mr Tan has heard through the rumour mill of schools that have done well, or received recommendations from well-intended (but potentially misinformed) friends and relatives.

But naturally, he is skeptical.

For one, there is now no longer any official release of Singapore primary school ranking statistics, and graded assessments at certain levels have been gradually phased out.

So how could he possibly know for sure which school is genuinely good?

Whilst the move has its benefits in reducing the stresses experienced by students, it has undeniably left an information gap for parents anxious to secure an advantageous starting point on their child's academic and life journey.

Here is where School Guide really comes in handy (especially if you like data).

Schoolguide.sg uses a proprietary scoring algorithm powered by a decade's worth of data to produce a Primary School Ranking list.

Every primary school is ranked based on a variety of factors, including demand, location, school type, affiliations, CCAs offered, and alumni networks.

Popular Primary School Ranking 2019
| | | |
| --- | --- | --- |
| Rank | Popularity | School |
| 1 | 231 | NANYANG PRIMARY SCHOOL |
| 2 | 222 | HENRY PARK PRIMARY SCHOOL |
| 3 | 221 | CATHOLIC HIGH SCHOOL |
| 4 | 221 | AI TONG SCHOOL |
| 5 | 219 | CHIJ ST. NICHOLAS GIRLS' SCHOOL |
| … | | |
| 178 | 40 | NORTHOAKS PRIMARY SCHOOL |
| 179 | 33 | OASIS PRIMARY SCHOOL |
| 180 | 16 | PUNGGOL COVE PRIMARY SCHOOL |
| 181 | 12 | WATERWAY PRIMARY SCHOOL |
| 182 | 0 | FERN GREEN PRIMARY SCHOOL |
Excerpt from schoolguide.sg. For the full ranked list, please access service through the website link.
Right off the bat, Mr Tan can begin to shortlist schools from the top of the list, and cross-reference against opinions shared by his peers.

The most important thing that you need to know here is this – school popularity is a key factor in the rankings.

So if you are familiar with the theory of the Wisdom of Crowds, this means that you can now determine school quality based on the joint judgments of (literally) hundreds of thousands of parents.

If a school has been consistently heavily demanded by many over the years – with some parents even risking the uncertainty of balloting – there is reason to believe it is of high quality.

As a caveat, schools that are relatively new may suffer from a disproportionately low ranking, due to a lack of historical data. A look at the schools at the bottom of the list reveals that most are situated in Sengkang and Punggol, which are relatively new neighborhoods.

School Finder

Whilst an islandwide primary school ranking is useful, every family has unique circumstances, and different risk tolerances for balloting outcomes – this isn't just a popularity contest.

After all, the best school choices may vary depending on the gender of your child, mother tongue language and location.

Consequently, the personalised list of top schools for each family can vary significantly from the nationwide primary school ranking.

So for Mr Tan's family, proximity of a school to his place of residence is an important consideration.

With Schoolguide.sg's School Finder functionality, this will allow him to input several selection criteria, and instantly generate a list of the best primary schools for his family's needs. 

There are also smart filter factors to include the gender of his child, address, desired proximity to school and risk appetite.

Plus in order to make the results quick and easy to understand, they are ranked by a popularity score.

But what is really neat is this:

There is an admission probability included to give you a better sense of a successful admission. This is estimated based on the given address, phase of admission and historical results (see next section on School Balloting History).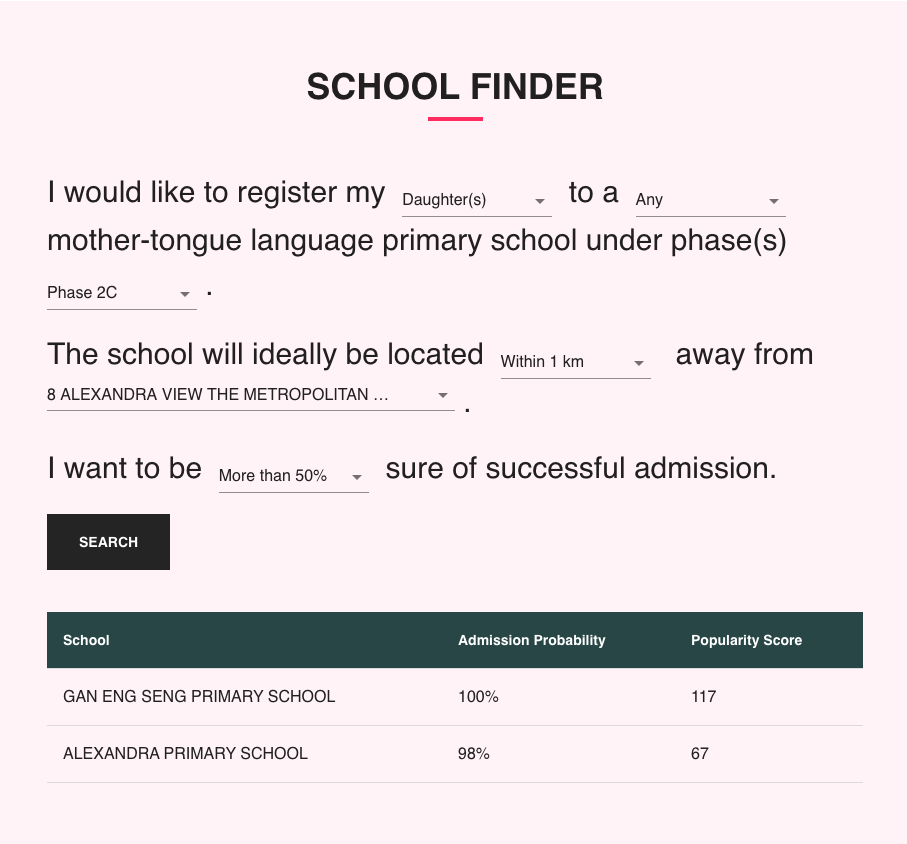 For his family, Gan Eng Seng and Alexandra Primary Schools are immediate possibilities, given his address at The Metropolitan (condominium in Alexandra), and targeting a 1km home-school proximity.

The options are ideal, since a 1km proximity ensures future convenience for him and his family to send Liz to school every morning before work, and it increases their chances of balloting success.

As a bonus, since they are both mixed schools, Mr Tan's family can also send Albert to the same school in future – with the same admission probability.
School Balloting History

For parents who would like to understand the balloting performance for each school, Schoolguide.sg also provides historical balloting data for each school since 2009, across the phases.

They have scoured historical balloting results from the past decade, and compiled into a tabular format, with easy-to-understand colored notations.

Historical Balloting Results of Primary Schools In Singapore

The colors indicate the home-school distance bands at which balloting occurred, at each phase of the admissions process, for Singapore citizens:

Red: Balloting occurred for applicants with 1km home-school distance;
Orange: Balloting occurred for applicants with 1km-2km home-school distance;
Yellow: Balloting occurred for applicants with greater than 2km home-school distance;
White: No balloting occurred.

Naturally, a highly contested and potentially oversubscribed year will have a stricter home-school distance band at which balloting occurred.

So the darker the color, the lower the home-school distance required for a successful ballot.

In the above example, Paya Lebar Methodist Girl's School (Primary) is a highly demanded primary school, and its historical high oversubscription rates come as no surprise. This is due in part to the relatively low density of primary schools in Kovan, and its affiliation to Paya Lebar Methodist Girls' Secondary School.

So in the case of our example, since Mr Tan has to register in Phase 2C, Liz's chances for a successful ballot in Paya Lebar Methodist Girls' School (Primary) will be highly unlikely given their residence in Alexandra, which is more than 2km away.

With this information in hand, his family will be able to focus on other schools.

And here is the cherry on top: School Guide will also provide live data on vacancy and applications in real-time for all primary schools in Singapore during registration in 2020.

Home Search

We've saved the best for last here, with the home search feature.

Let's say Mr Tan has decided to shortlist a few schools based on the Primary School Ranking and Balloting History feature.

But those schools aren't close to his current location, so perhaps moving homes would be a better option instead of being constrained by their current residential address.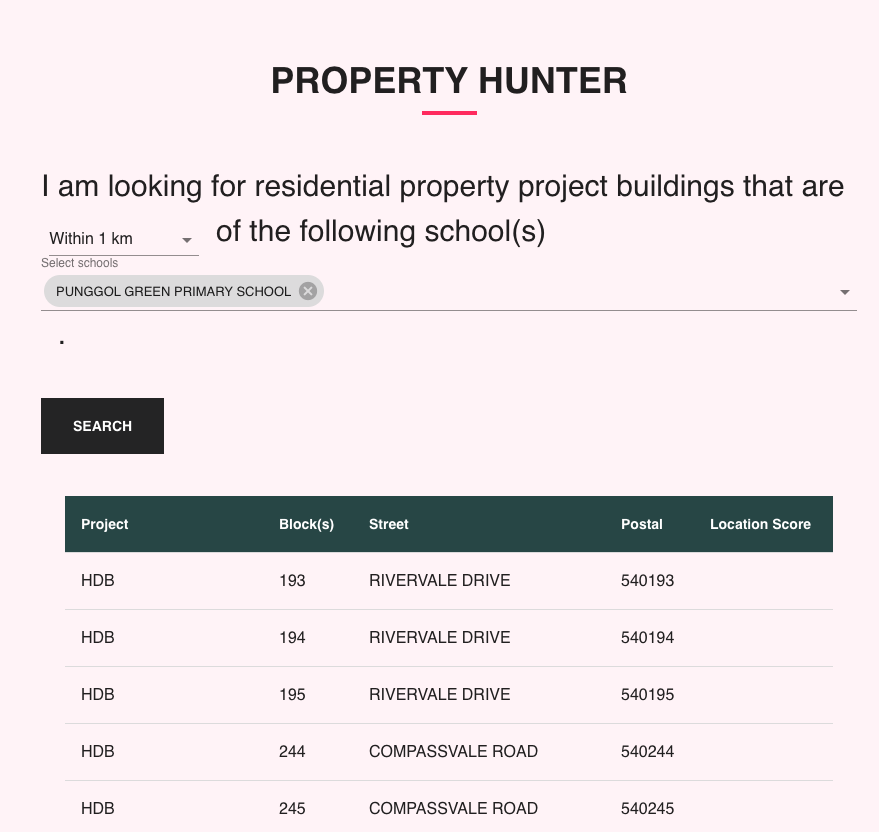 The Property Hunter is a feature that is simple, yet effective.

Just key in your shortlisted school and desired proximity and it will generate a list of all residential options (public and private) within the specified distance.

You might think that most of the property listing portals have this covered, but the truth is, they don't account for school proximity at a building level.

As an example, bigger developments like Leedon Residence fall in this category.

They could be listed as being close to Henry Park Primary School.

But because of its sheer size, only a number of blocks are actually close in actual proximity – so Schoolguide.sg's algorithm will take these differences into account.

Given the density of housing and proximity to education facilities in Singapore, a search on any school in Singapore produces over 100 unique building stacks to choose from.

You can also input multiple schools – the algorithm will return results at the intersection of both schools, given the proximity input. This comes in great use if you are honing in for a particular residential unit.

The Property Hunter helps families plan ahead, so you can start searching for the right home well in advance of the admissions process for your child, and make the best purchase or rental decisions for your family.

Bonus: Location Score Map

Buying a home is a huge financial investment – often the very largest monetary decision any family makes. So, how does living near good schools affect property prices?

Proprietary research by PropertyQuants reveals that proximity to high quality schools positively impacts property pricing, even after controlling for other price-determining characteristics.

Schoolguide.sg reveals the location scoring map used in that research, so subscribers can also understand the highest and lowest scoring locations in Singapore based on proximity to quality primary schools.


The Location Score Map combines the location, density, and popularity of schools at each location, yielding a quantitative index of school location quality. The hexagons represent individually segmented geographical areas of 250m width.

So the darker red the hexagon, the higher the school score.

The Bukit Timah / Newton area is known to be scattered with schools that would leave most parents drooling. Not surprisingly, Nanyang Primary School (in the above example) sits squarely in the darker patches, and that has a positive ripple effect on property prices in the area.

As you consider home purchases (or rentals), you can use this map (and its address search bar) to understand a specific property's school location score.

A property with a high school location score (keeping all else the same) might be a better purchase than one in a location with a lower school location score.

Given the disparity in gains and losses across districts, this information set could provide tremendous financial returns in the future.

Final Word

Mr Tan's family reflects the issues and uncertainties faced by the majority of Singaporean parents as they look to secure a primary school slot for their children in a desired school – the lack of a condensed guide on registration process and information for decision making.

The services provided by Schoolguide.sg were established to solve just that – to aid families in their primary school registration process by using data driven approaches, and solving for the information gap parents may find themselves in (with a property-driven focus).

Ultimately, the features are created by individuals who had to go through the same process, and faced the same issues.

There's no question that education remains a closely scrutinized topic in Singapore. We have all heard the mantra "get into a good school and you will be successful in life", and it does, unfortunately, speak to some truth.

If you are looking at options for your child's future school, this is a no brainer tool to use to help you make the right decision.

This article is a product of a collaborative effort between PropertyQuants and Stacked.