Condo Reviews

Principal Garden Review: Astonishing Swimming Pools and Space
Reuben
September 28, 2019

24

min read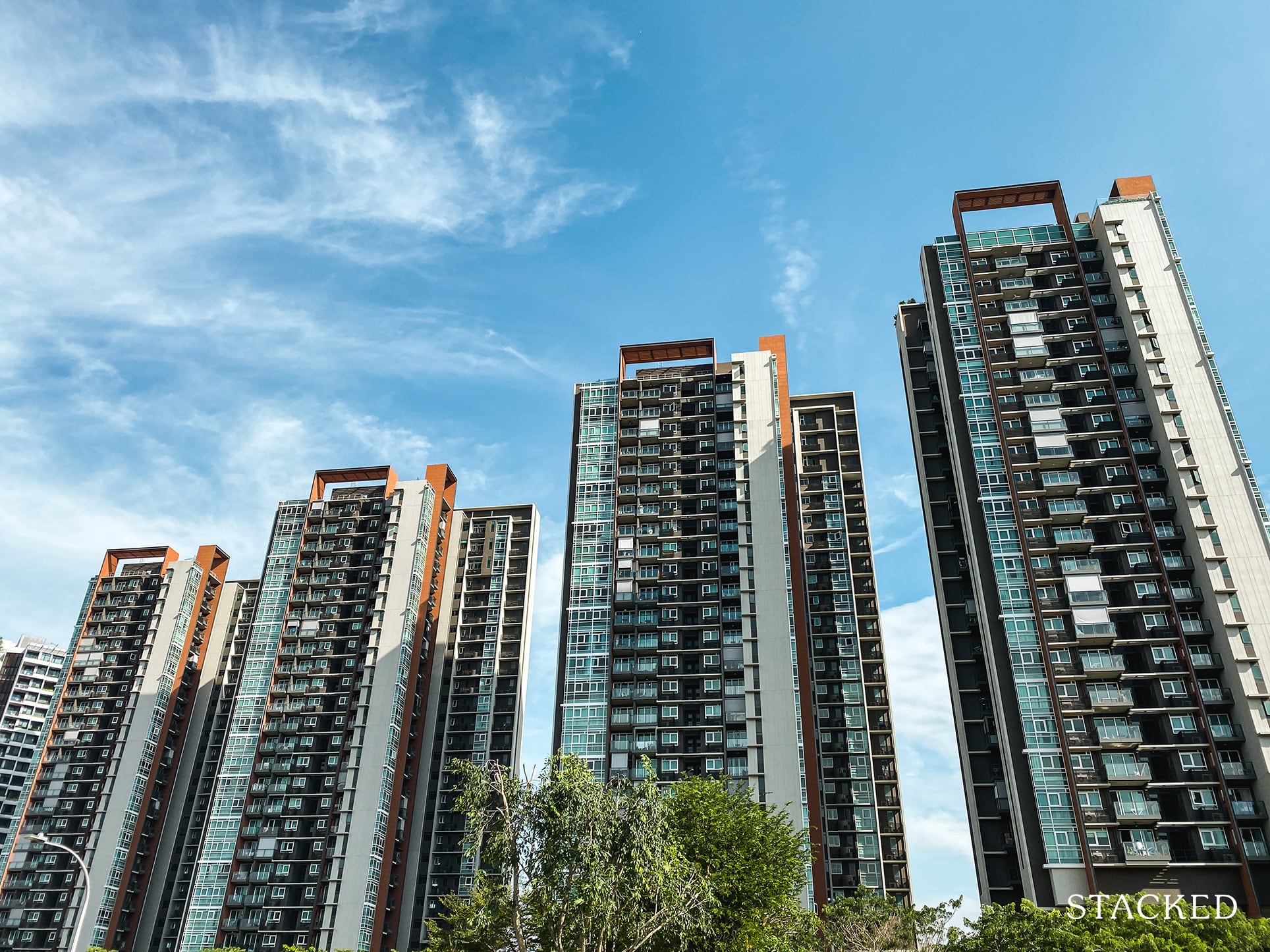 Principal Garden, with its huge open space to living quarters ratio, outstanding facilities and proximity to good schools, make this the perfect home for residents with children. However its distance from the MRT and competing developments with district 10 status in the vicinity makes this district 03 development less appealing for investors.
Reviewed by Reuben on September 28, 2019
What we like
Crazy amount of swimming pools

Lots of open spaces

Upscale

Windy
What we don't like
—

Not near MRT

—

Near but not near food
24
min read
About this condo

| | | | |
| --- | --- | --- | --- |
| Project: | Principal Garden | District: | 03 |
| Address: | Prince Charles Crescent | Tenure: | 99 years |
| Site Area: | 270,044 sqft | No. of Units: | 663 |
| Developer: | UOL Group Limited | TOP: | 2019 |
Cue jokes and terrifying flashbacks of the principal's office.
 
Principal Garden is (thankfully), a tad different in its layout with numerous aquatic hideaways littering every corner as residents and visitors alike revel in an abundance of refreshing flora-filled walkways that snake through the condo's grounds.
 
More than anything, Principal Garden is a testament to spacious developments in the heart of the city, unopposed by any surrounding (suffocating) developments and situated alongside the Alexandria Canal (the condo's unending swimming pools should dissuade you from attempting a plunge here at the very least).
 
Amongst other things, it is a recipient of not one, or two, but three 5-star awards. A since cemented high-flyer, Principal Garden was named as 'Best Condominium' and 'Best High Rise Residential Development' in Singapore as well as the development with the 'Best Residential Landscape Architecture' at the APAC (Asia Pacific Property Awards) in Kuala Lumpur 3 years back.
 
An abundance of free-space is always welcome, though fully-utilising it is a dilemma that spawns alongside. Will Principal Garden succeed in something that even the best have failed at? Read on to find out more.
Insider Tour
Facilities in Principal Garden
Clubhouse
Wine Cellar
Lounge
Private Dining Room
Outdoor Dining Terrace
Gym
Steam Room
Aerobics Deck
Tennis Court
Play Court
Barbeque Deck
Entertainment Suite
Amphitheatre
Music Room
Playground
Outdoor Fitness
Jogging Path
Reading Room
Bicycle Bay
Jacuzzi
20m Lap Pool
25m Lap Pool
50m Lap Pool
Reflection Pool
Rooftop Infinity Pool
Sky Deck
Sky Lounge
Sky Dining
Sky Jacuzzi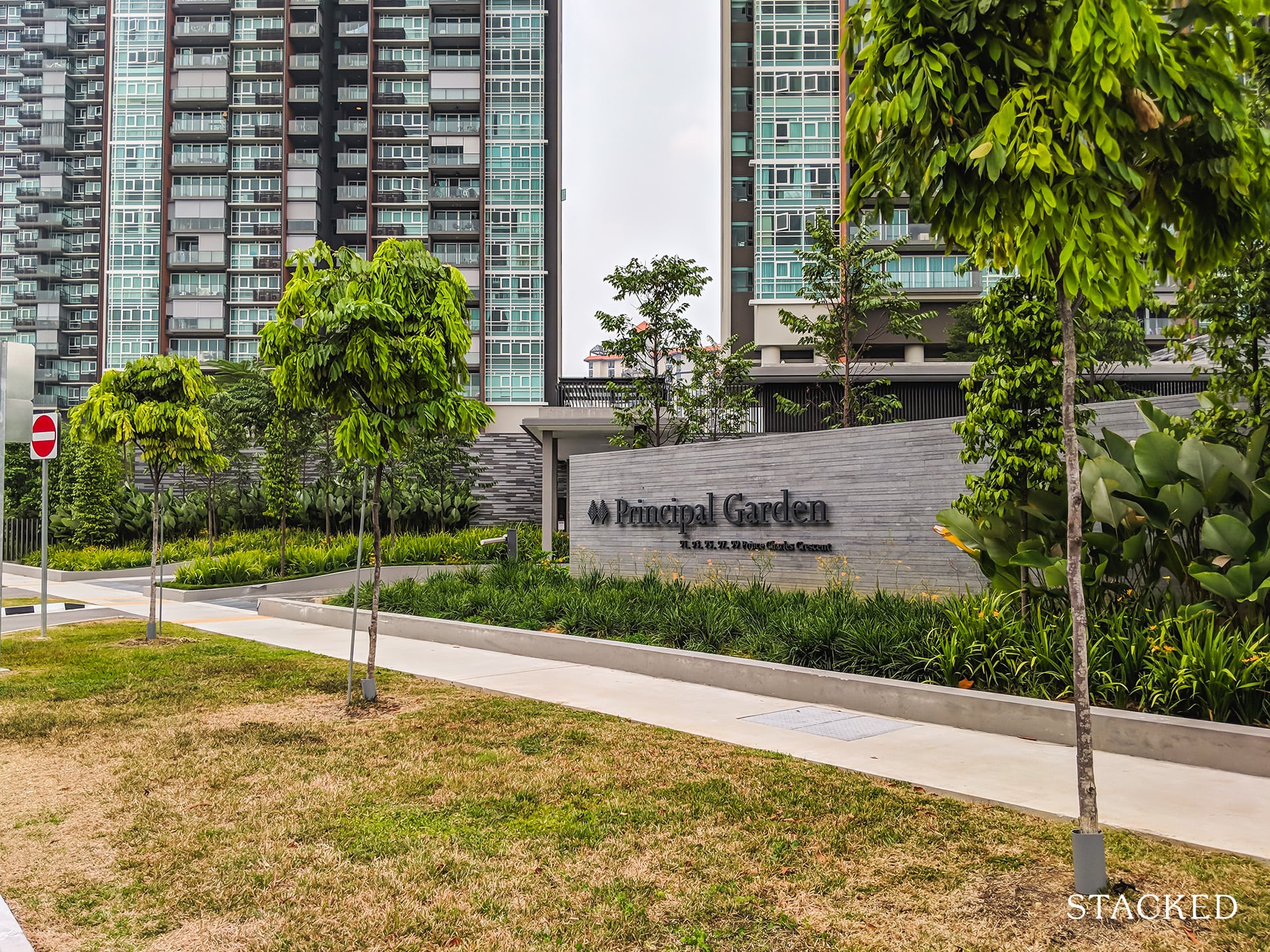 Driving along Prince Charles Cres to Principal Garden was a curious one for me. Mainly because I knew I was in a central area, but the main road leading up to it was so open and almost undeveloped that it felt like I was in a new town.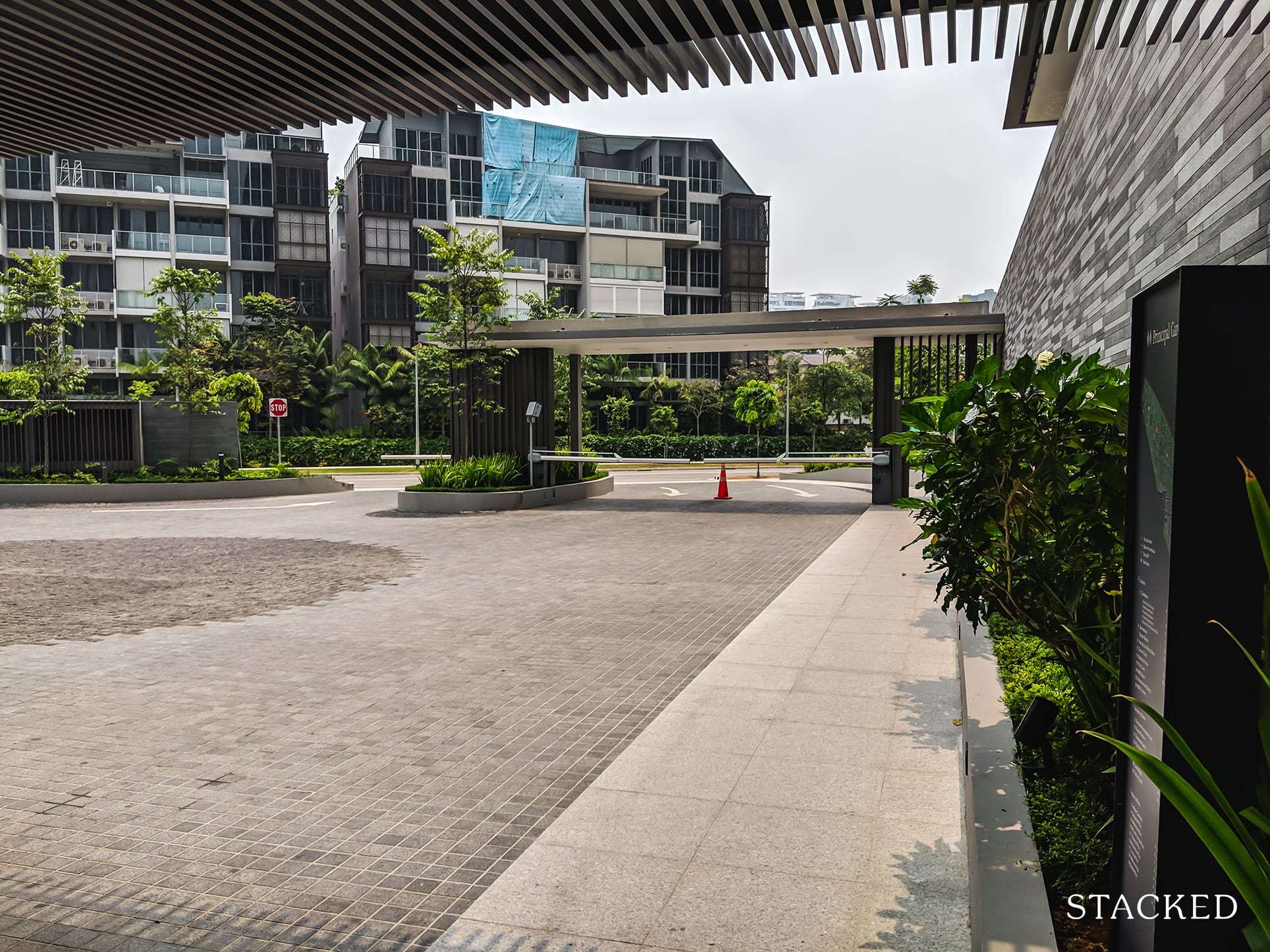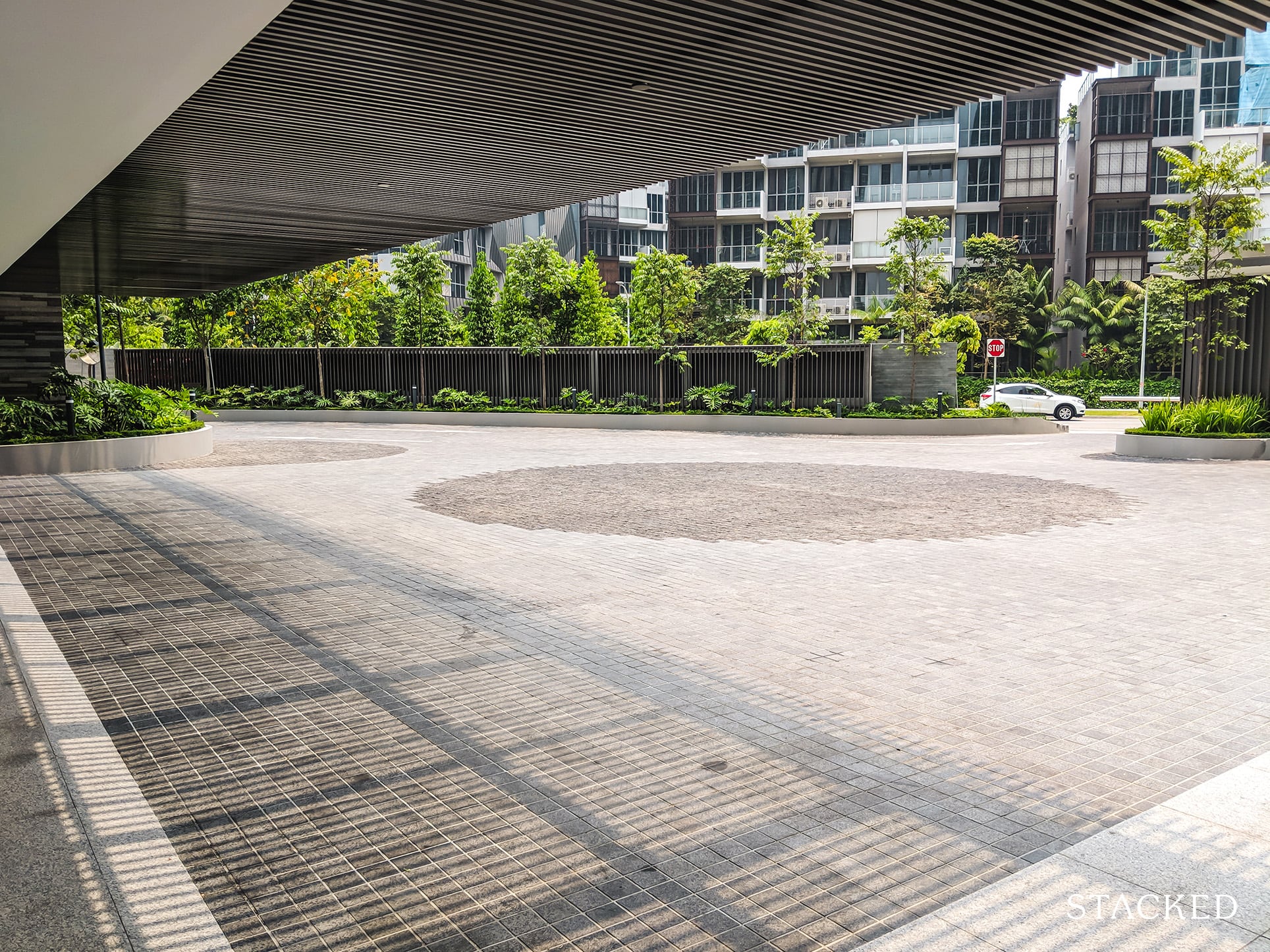 The same theme continues on the inside, as the arrival court is huge and very open. I love the sense of space here, and it is a far cry from many of the squashed up developments in Singapore. Considering that the Principal Garden is in a central location, this is all the more impressive.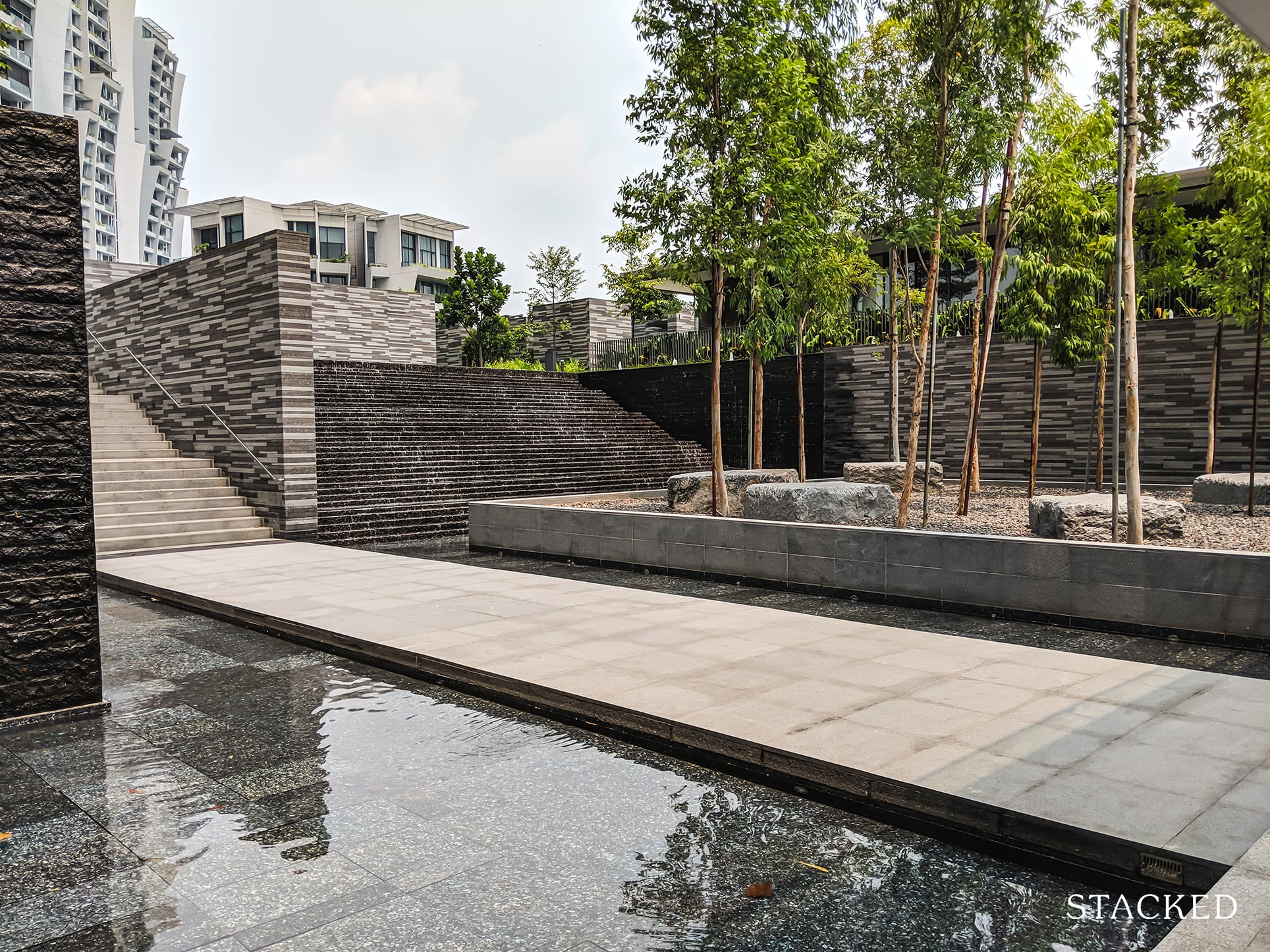 Once you walk further in, the sound of rushing water greets you immediately and you will be faced with this giant complex of a garden and tiered water fountain. Honestly, if I didn't know any better I would have assumed I had just arrived at a luxury resort.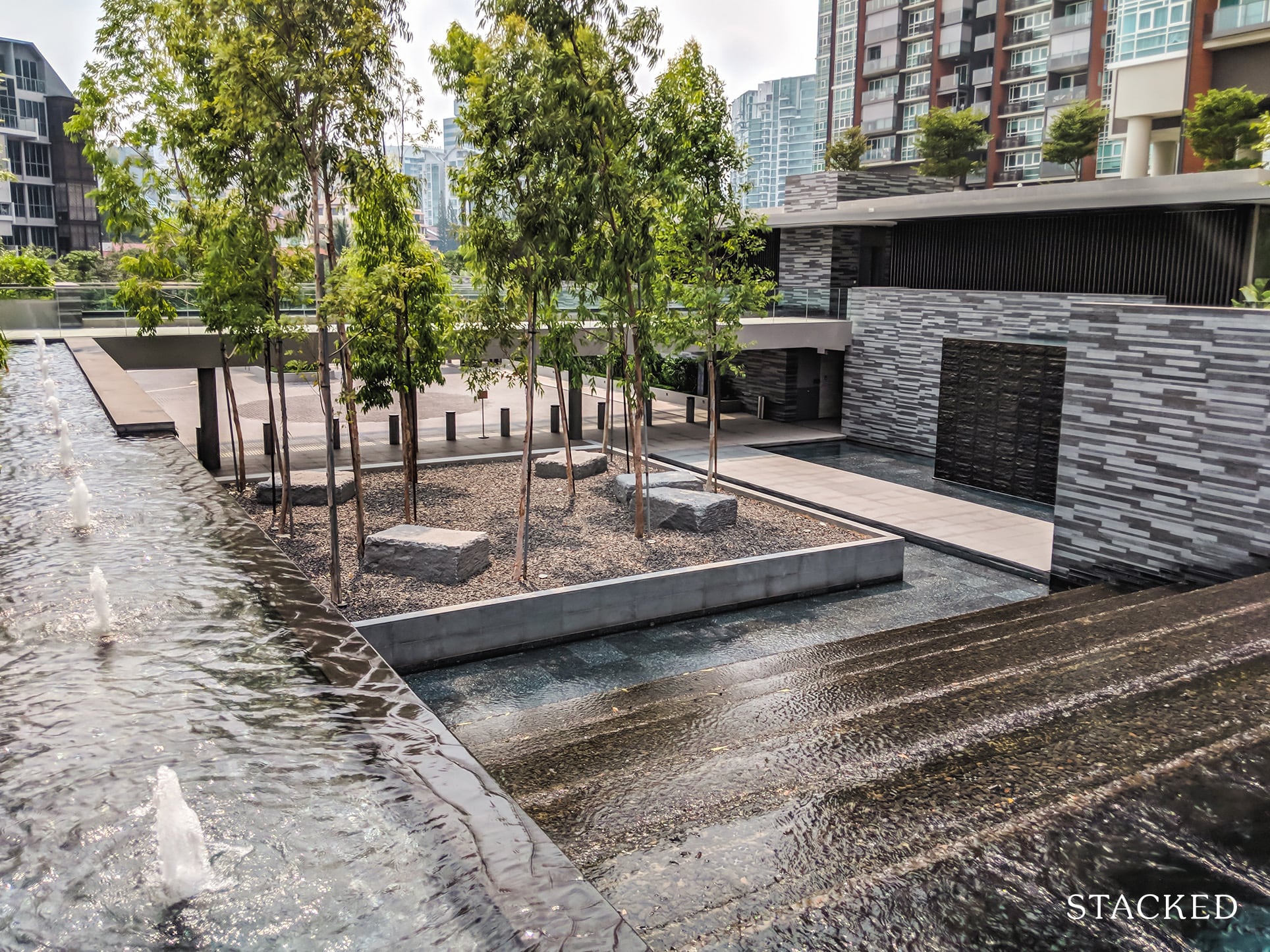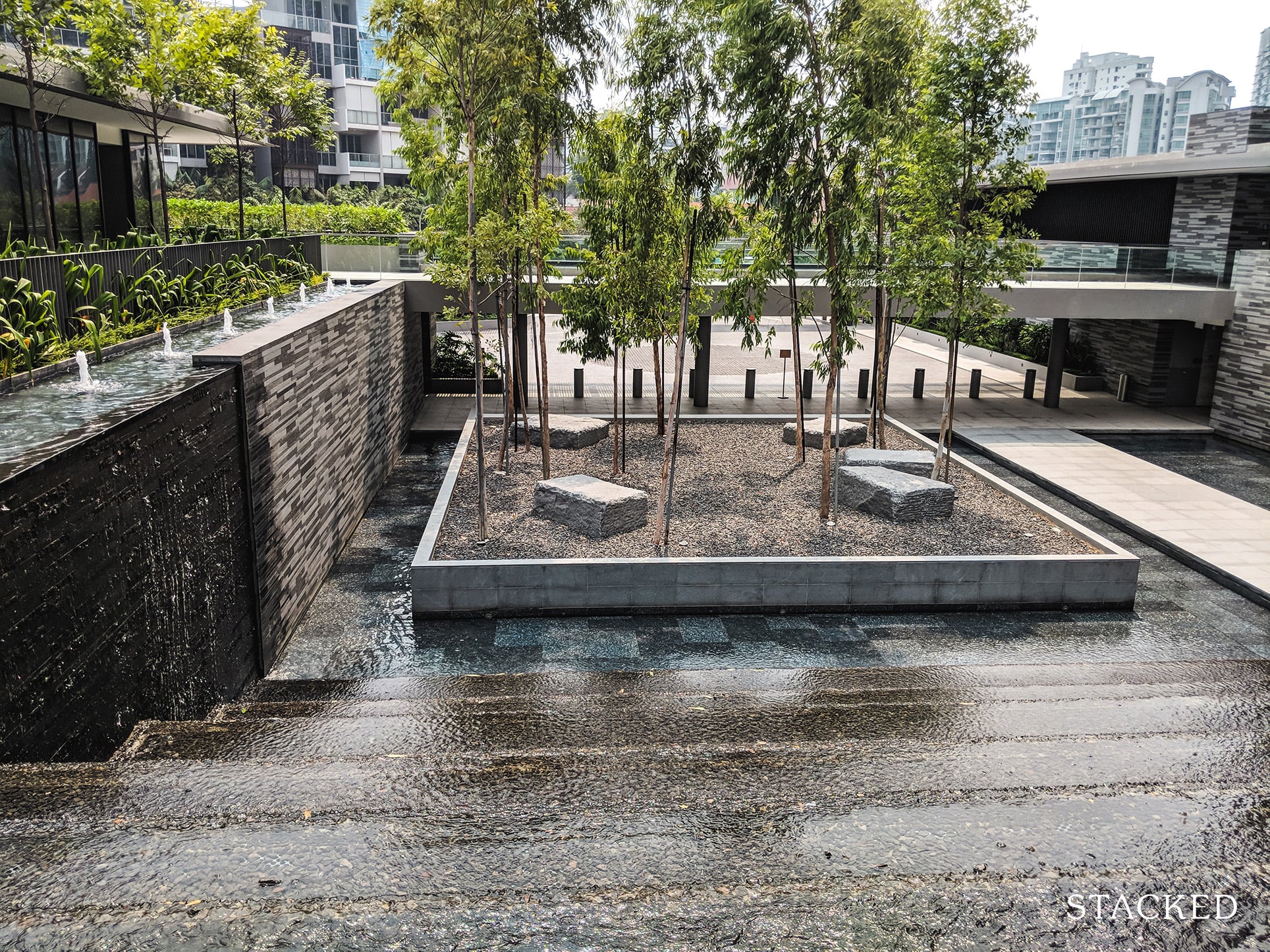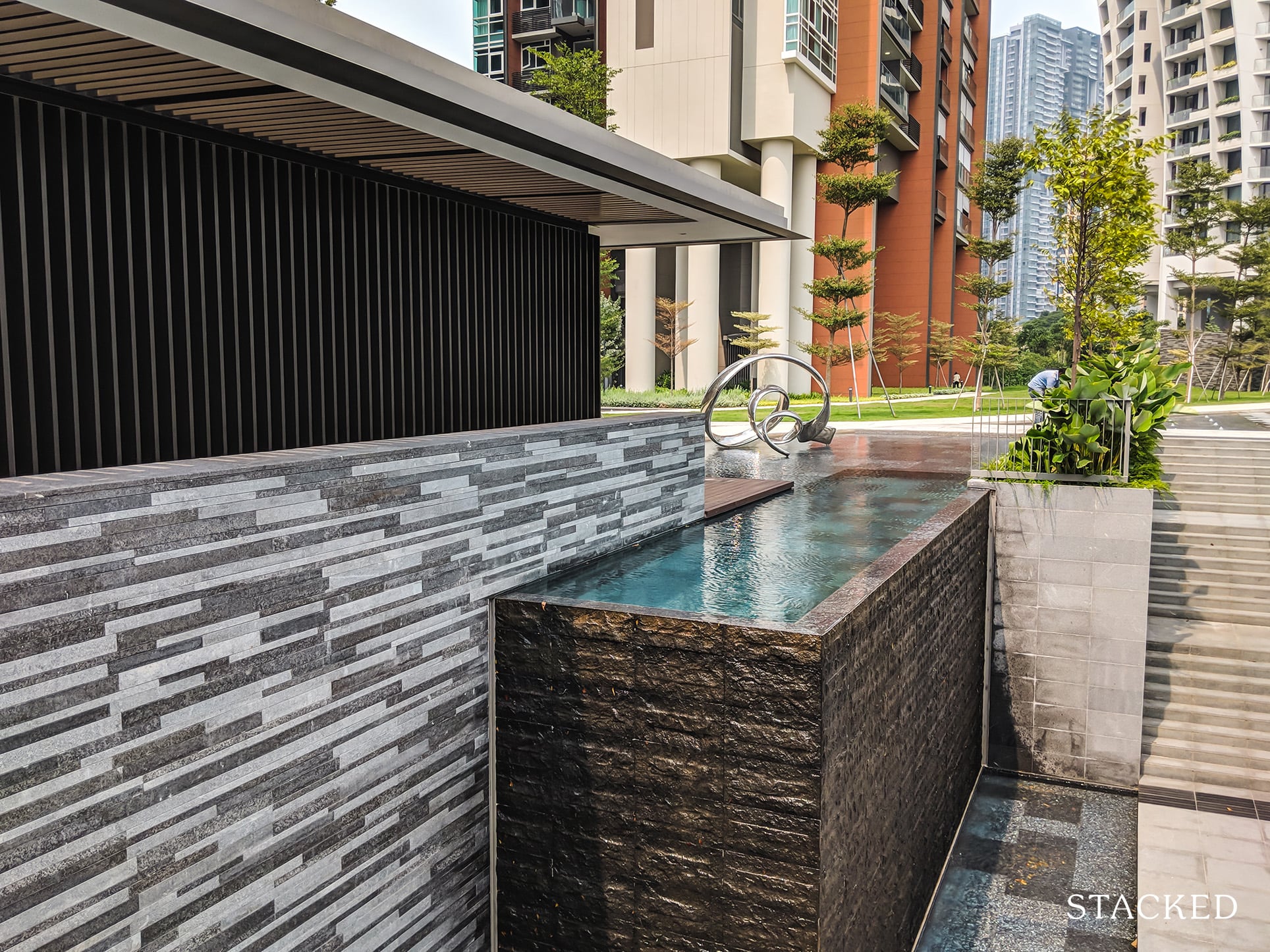 This was taken from the second level to give you a better idea. The sheer amount of space dedicated to this arrival court is quite staggering. One of the best that I have been to this year, that's for sure. Especially when you take into consideration that this isn't meant to be a true luxury condominium, it is all the more outstanding.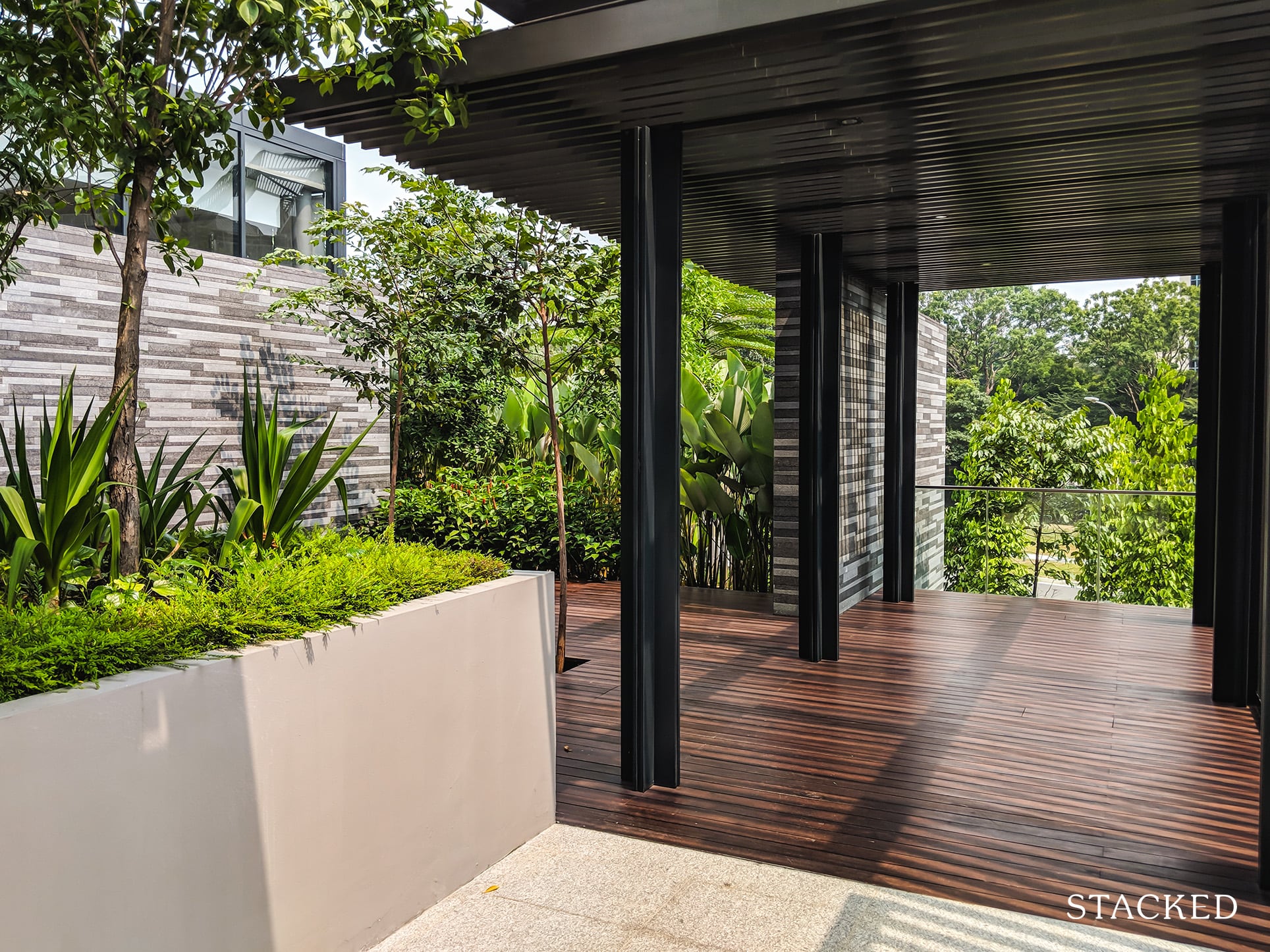 At the end of the second floor, you will get to a wooden-floored deck, which can be used for early morning yoga.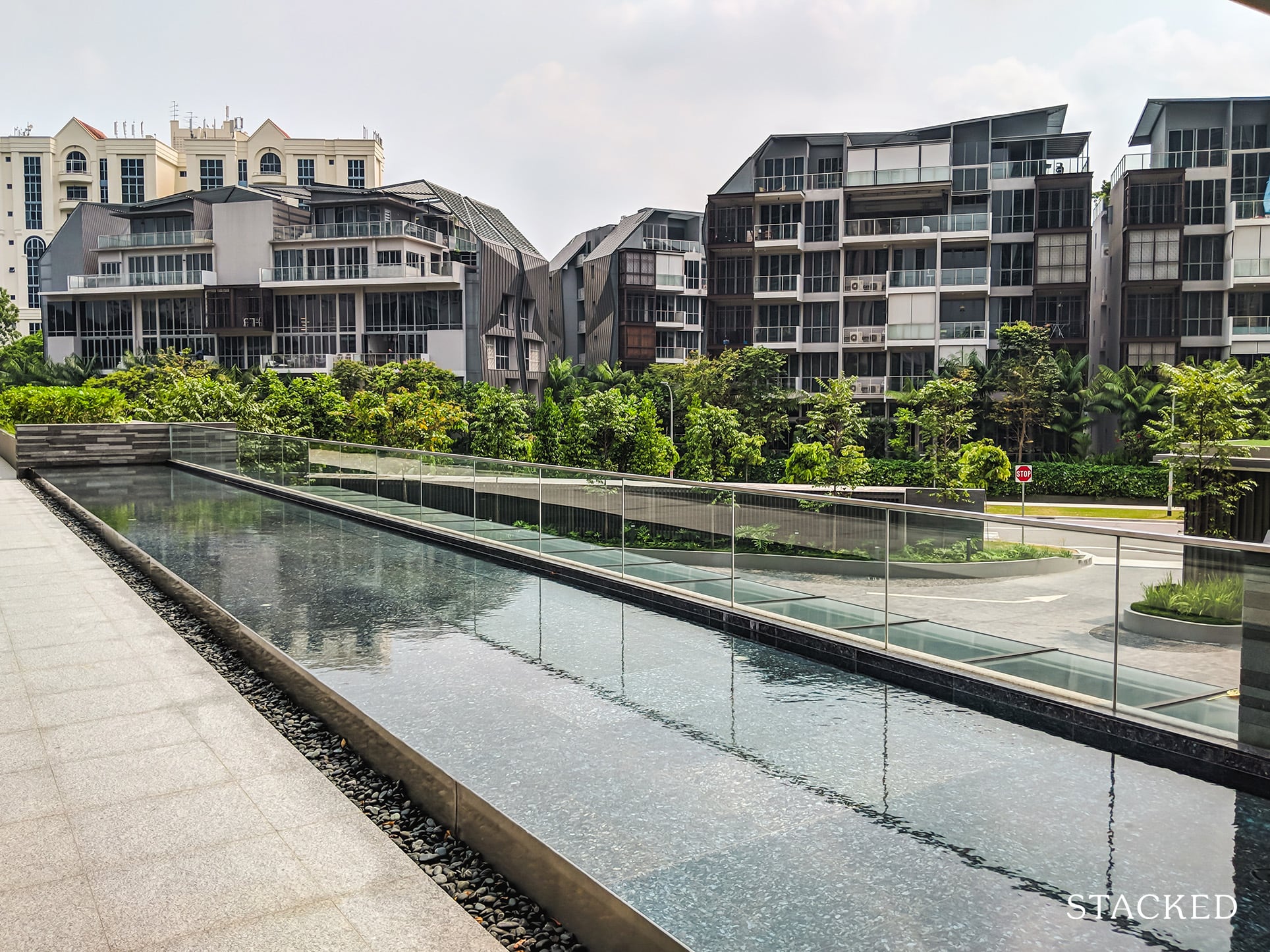 As you will see later on in the review, this is just one of the many water features that are scattered throughout the Principal Garden. It's simple and minimalistic. I like it.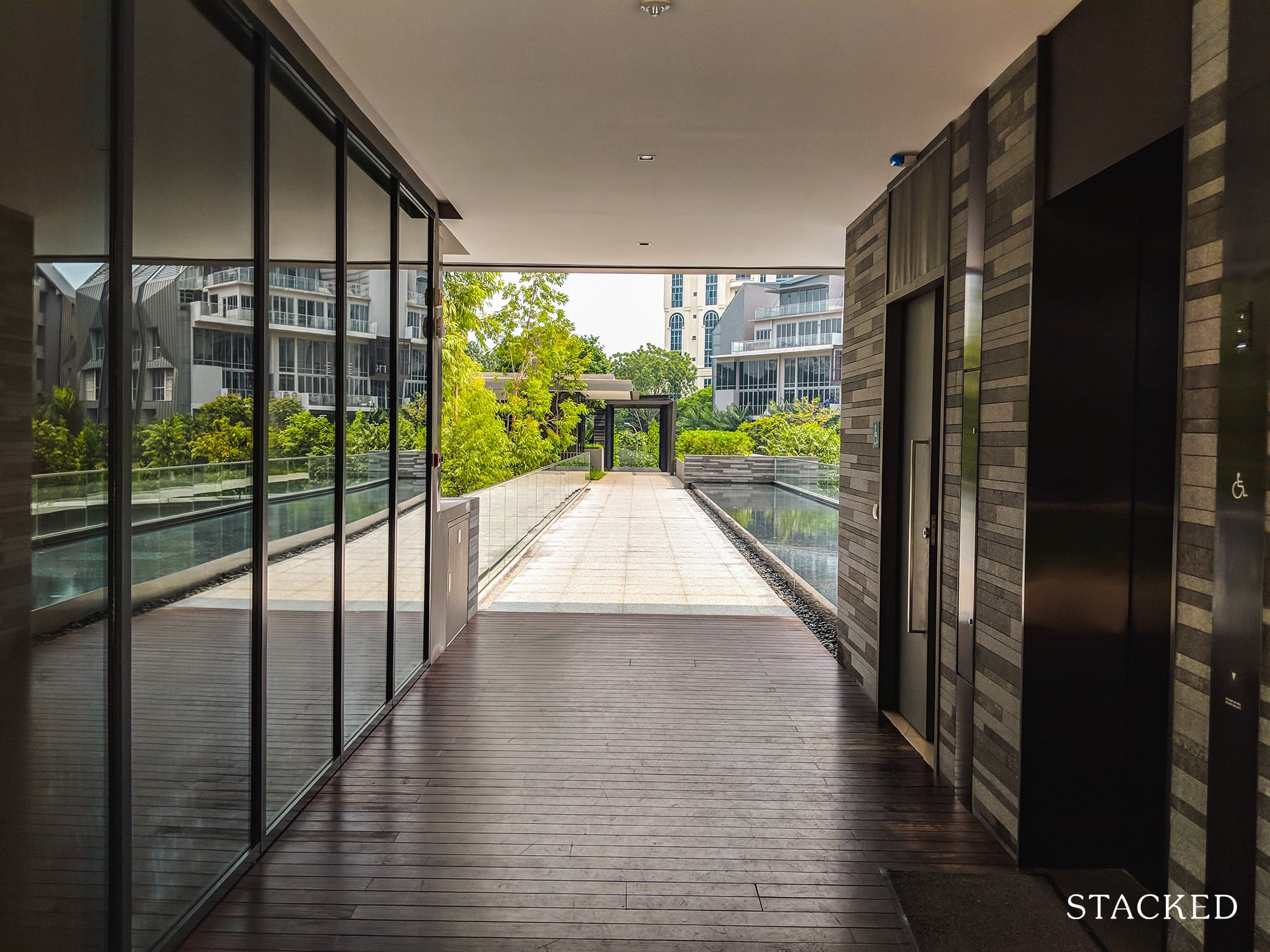 Walking down that path gets you back to the main clubhouse.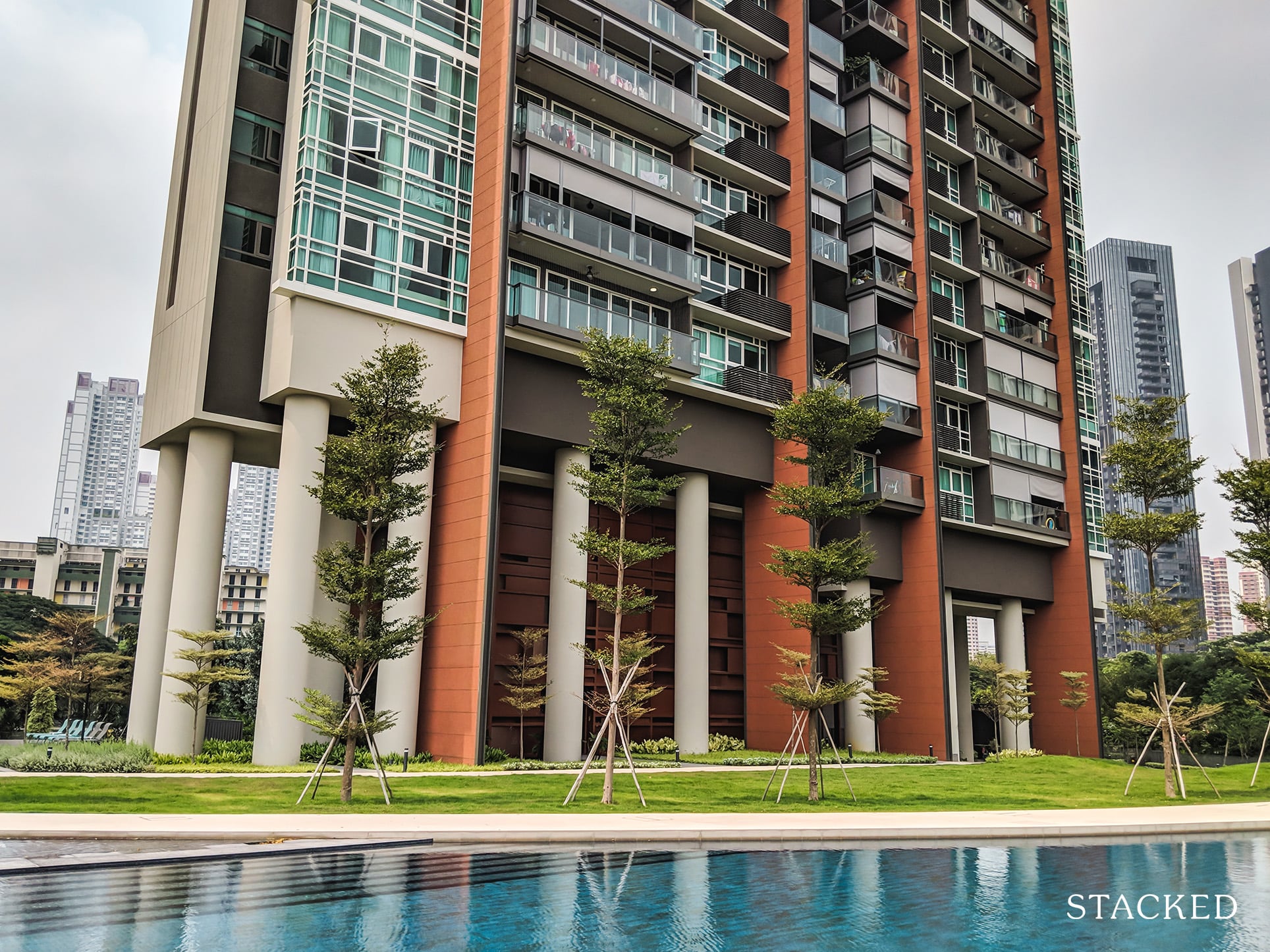 Turning right gets you your first glimpse of one of the many swimming pools in the Principal Garden. What is also worth noting here is that each tower is actually hoisted on tall pillars. This allows for airflow through on the ground level, but more importantly, even the first level of units gets a good view because it starts from 15 metres up.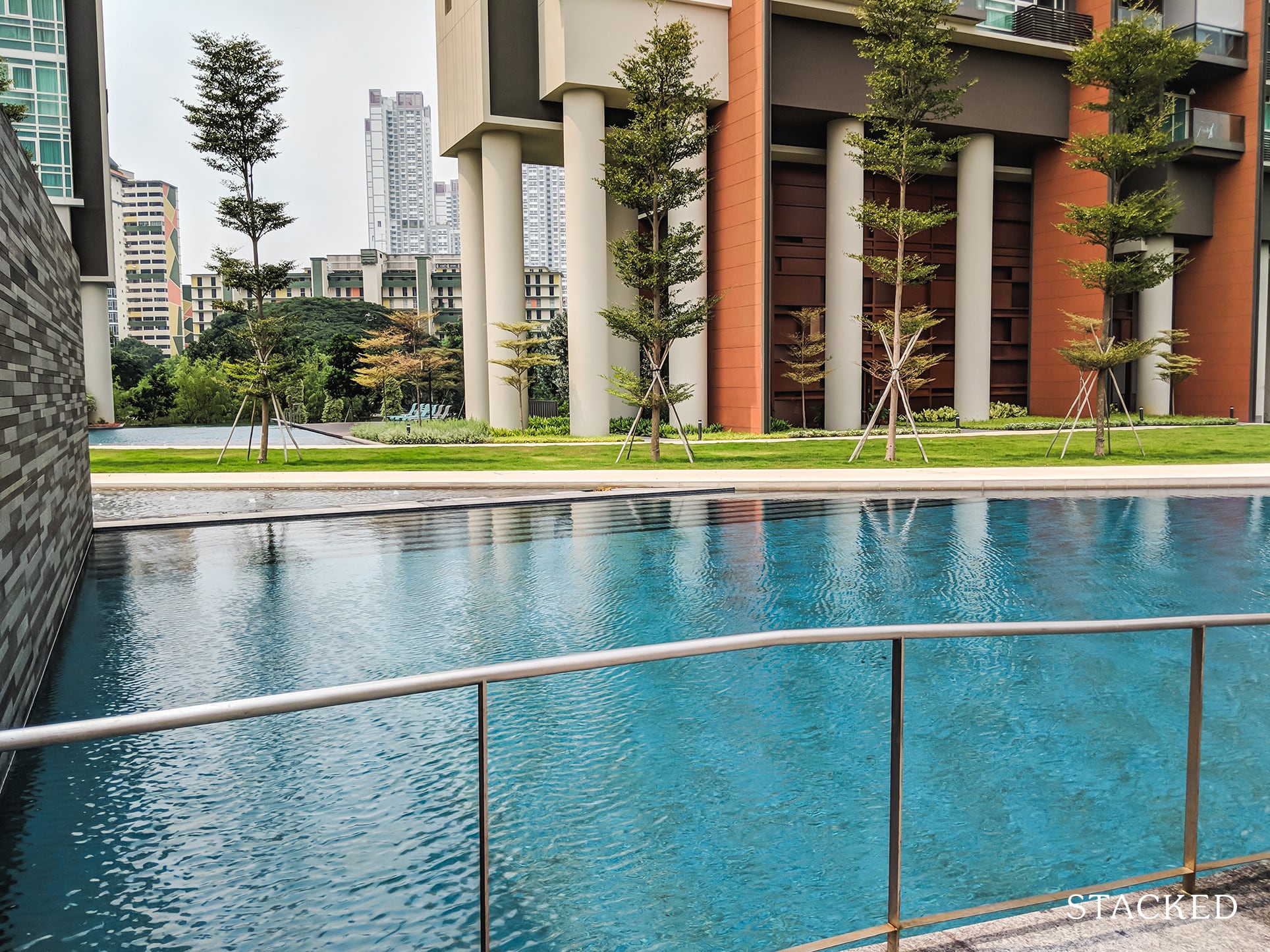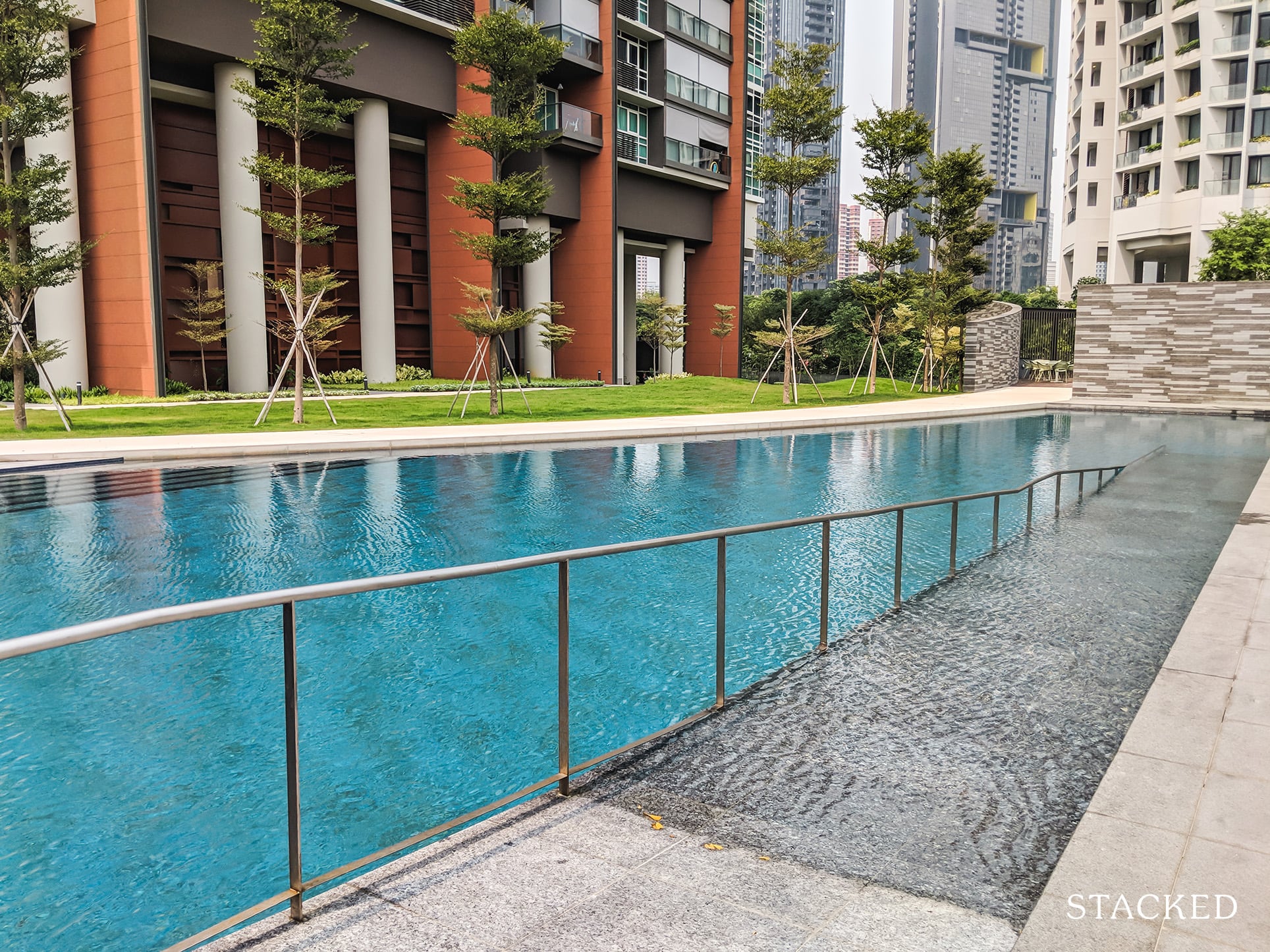 To be completely honest, I am not quite sure what aspects of this swimming pool contributes to the wellness description. If I had to guess it might be because of the guided handrails and slope for easy entry into the pool. The size of this pool is actually great by itself. So you will be amazed when I tell you that this is just one of 13 pools in the Principal Garden. Yes, you read that right, 13!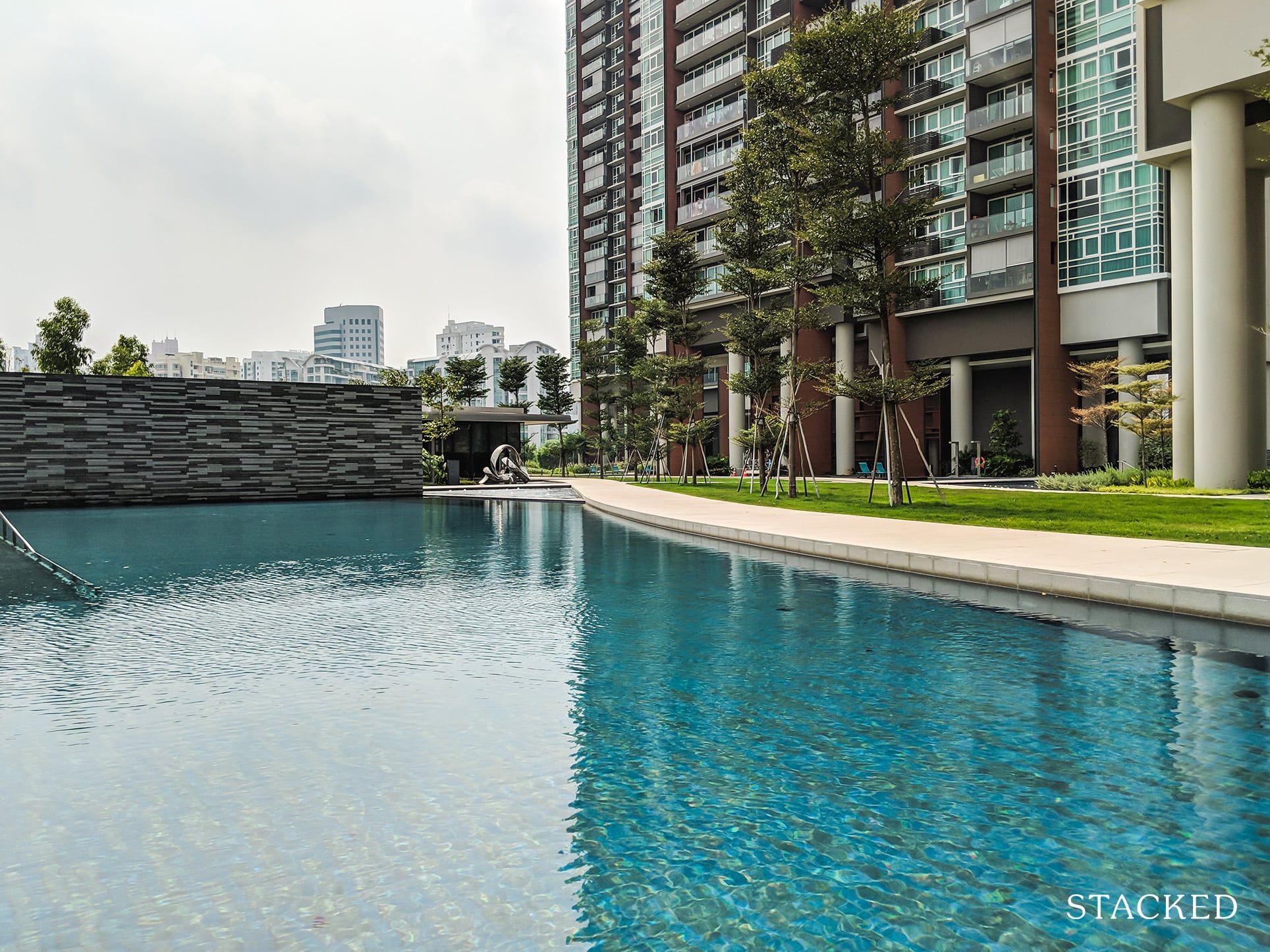 Admittedly, not all of them are this size of course. Still, this is way above the average condo. You will definitely not have a lack of swimming pool options here.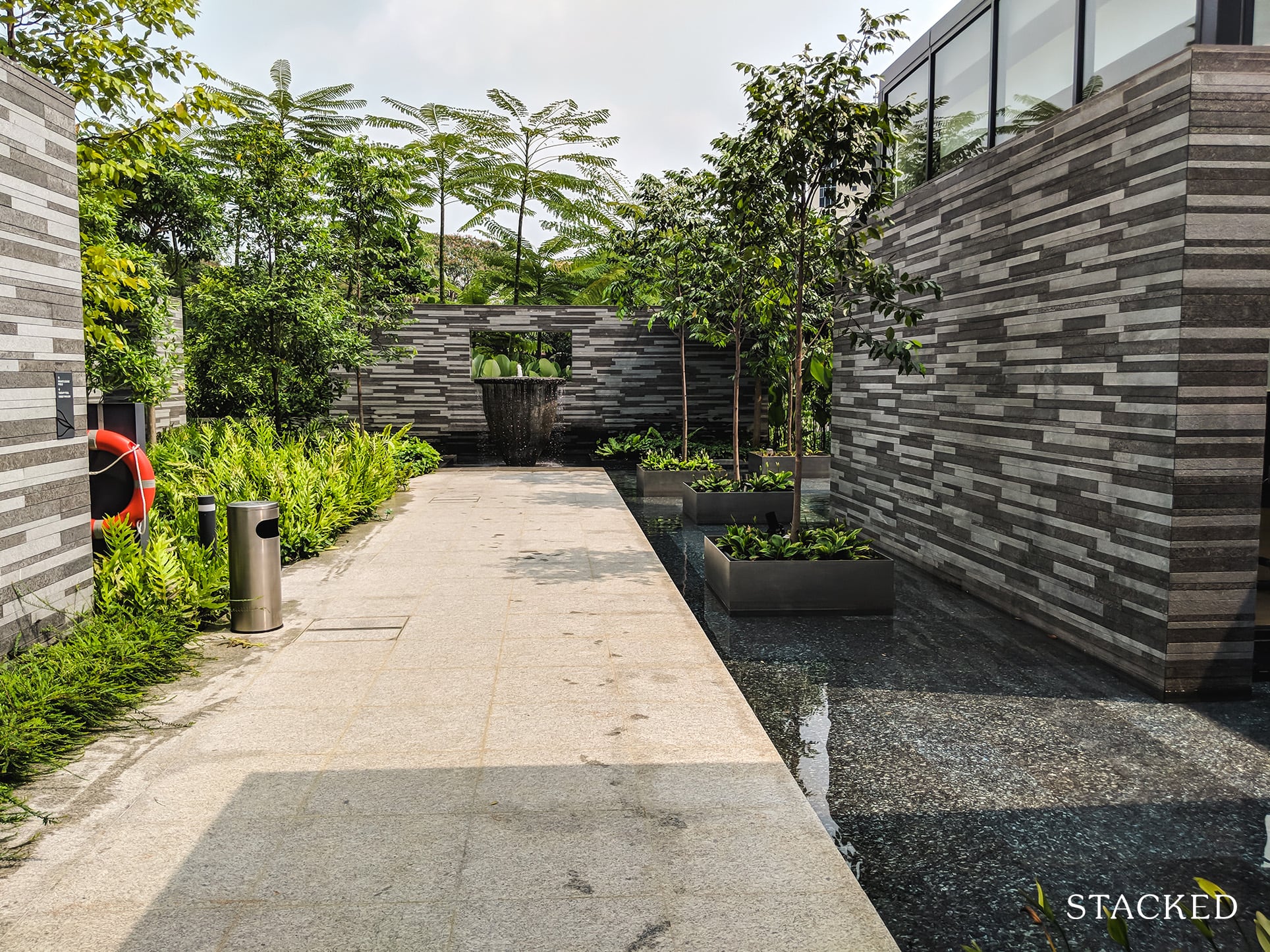 Coming down this path, you get the gym on your right and small private pools on the left.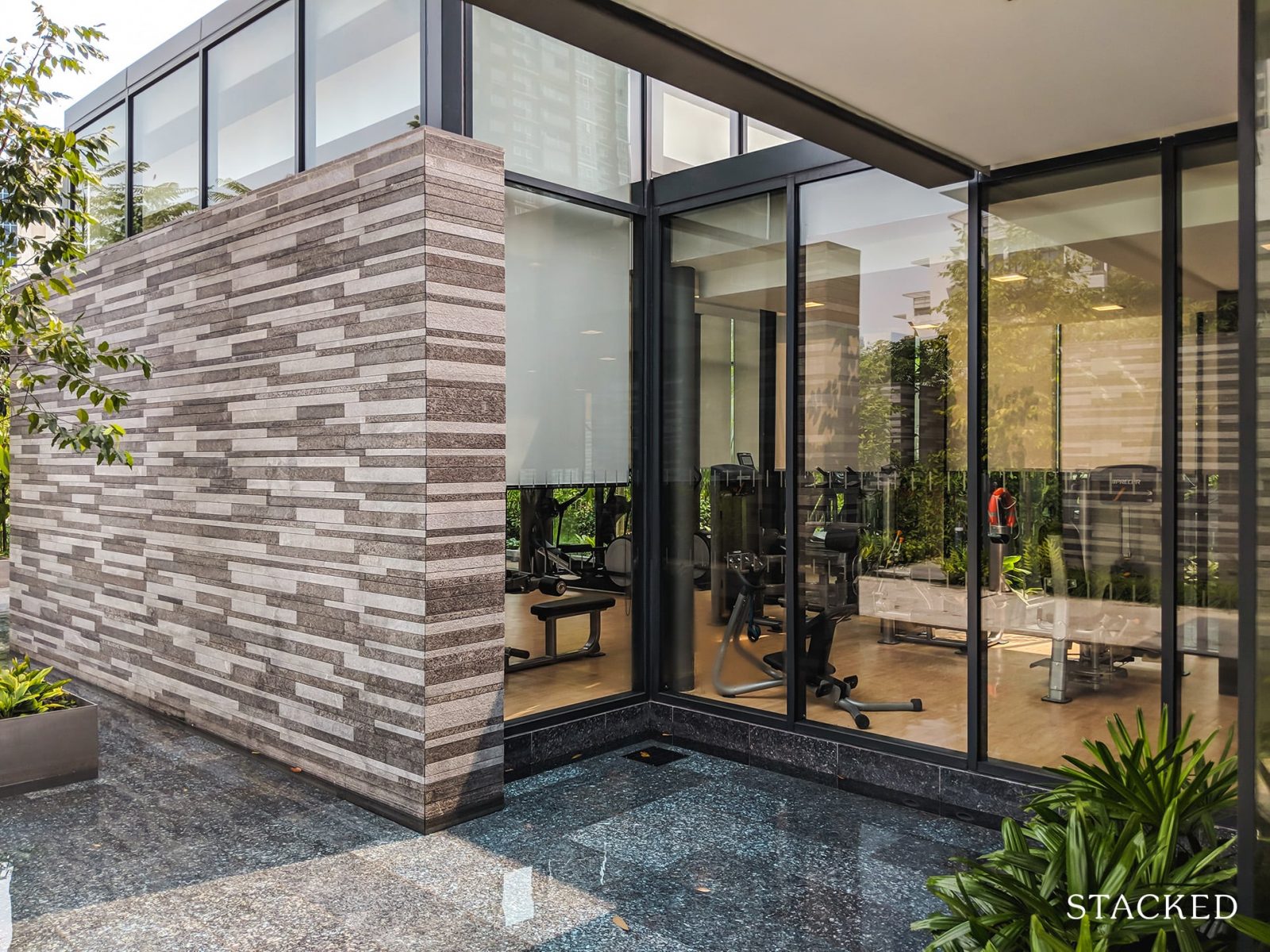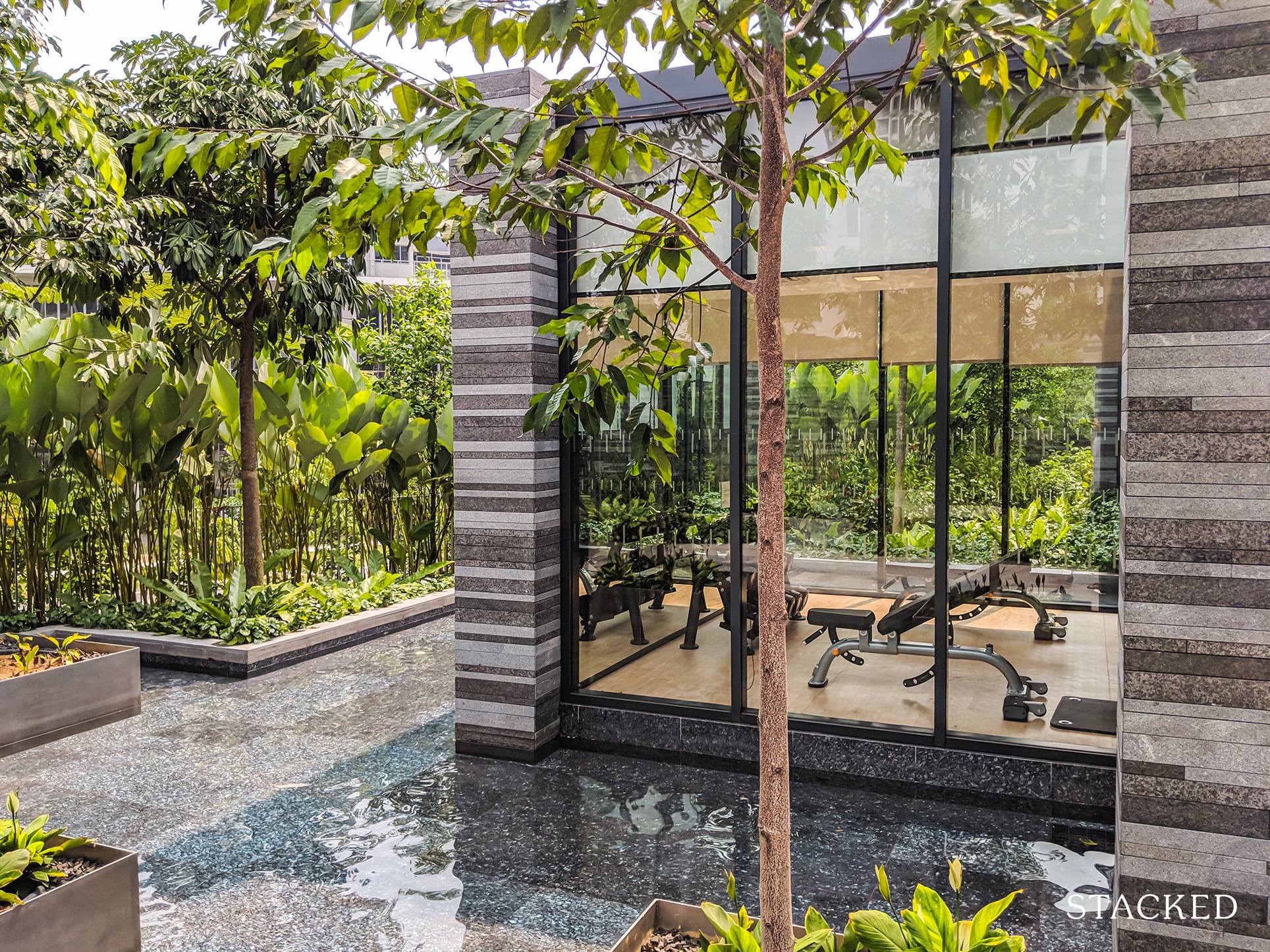 The gym is quite a large space, and I like how it isn't the usual square boxed up shape. In terms of equipment, you will be pleased to know that there is a good variety of weight and cardio machines. The back of the gym has a dedicated space for free weights, plus it is completely surrounded by water, which is a nice touch.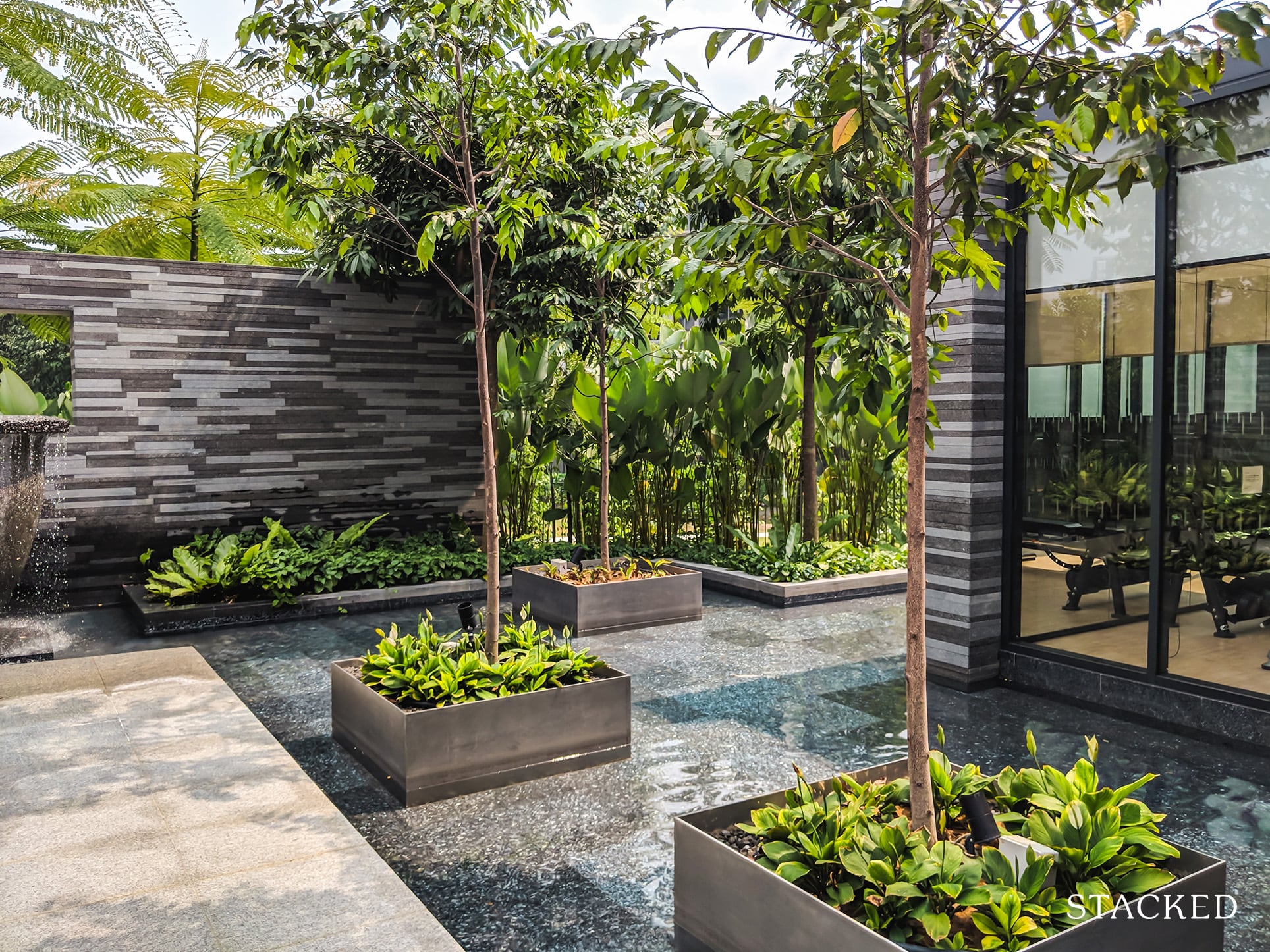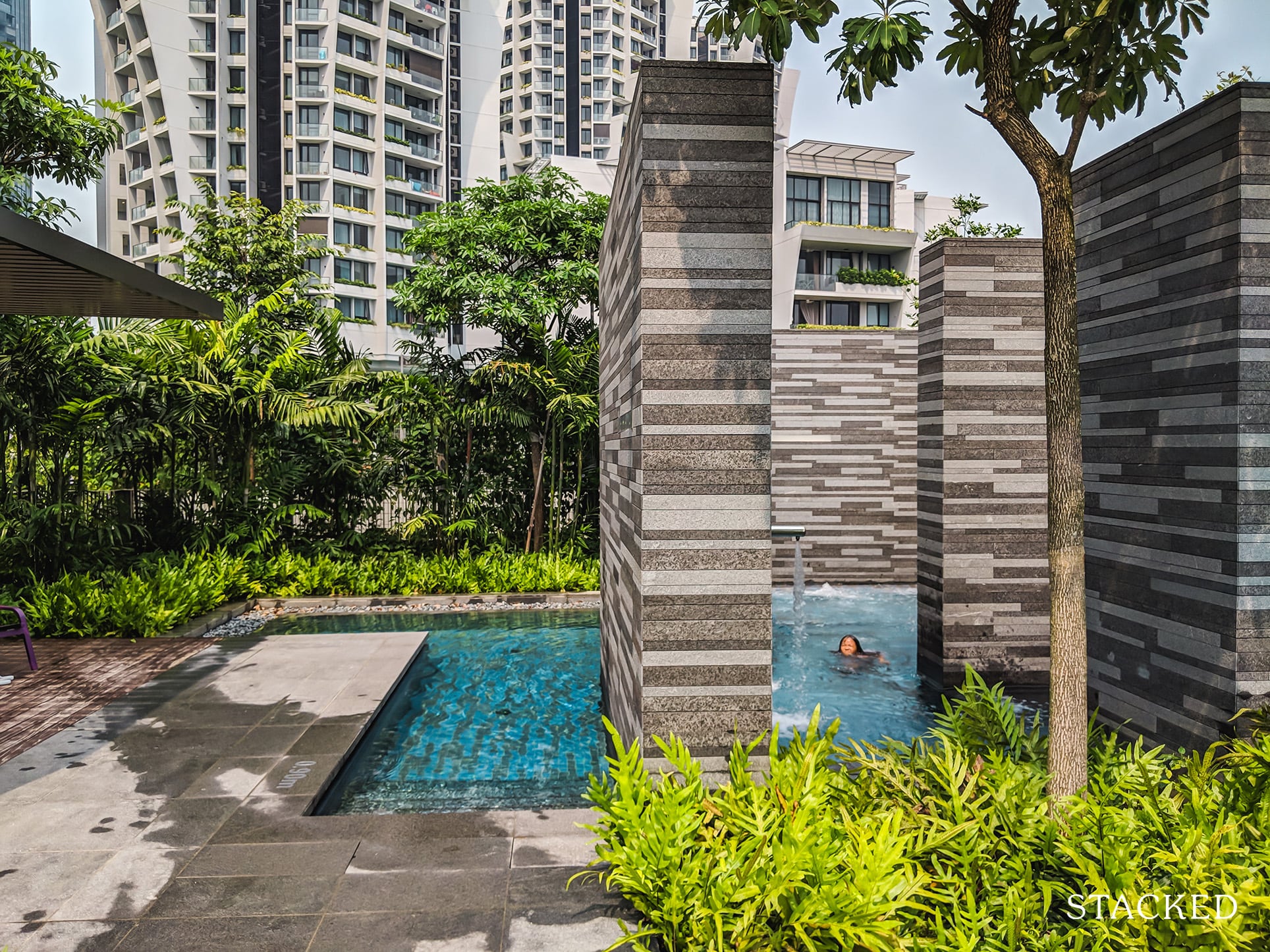 Opposite the gym are the private pool areas, each with its own sheltered deck and seating.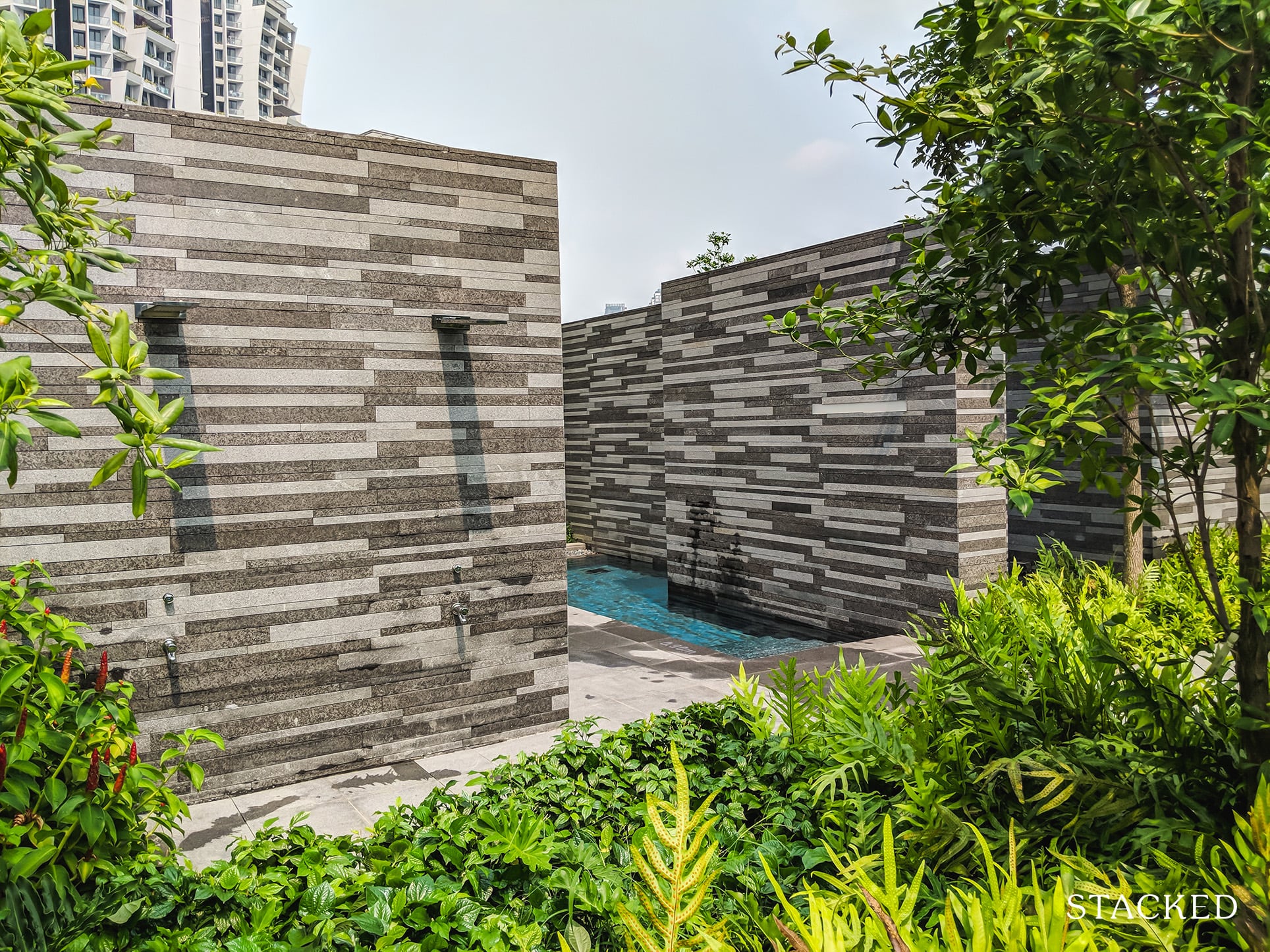 Within the pool itself, it is sort of a mini-maze because of the walls, so there are little nook and crannies that you can relax at. I just find it a bit of an awkward concept in the off chance that you come across someone else there at the same time. Then again, with the number of pools available, this could be quite unlikely too.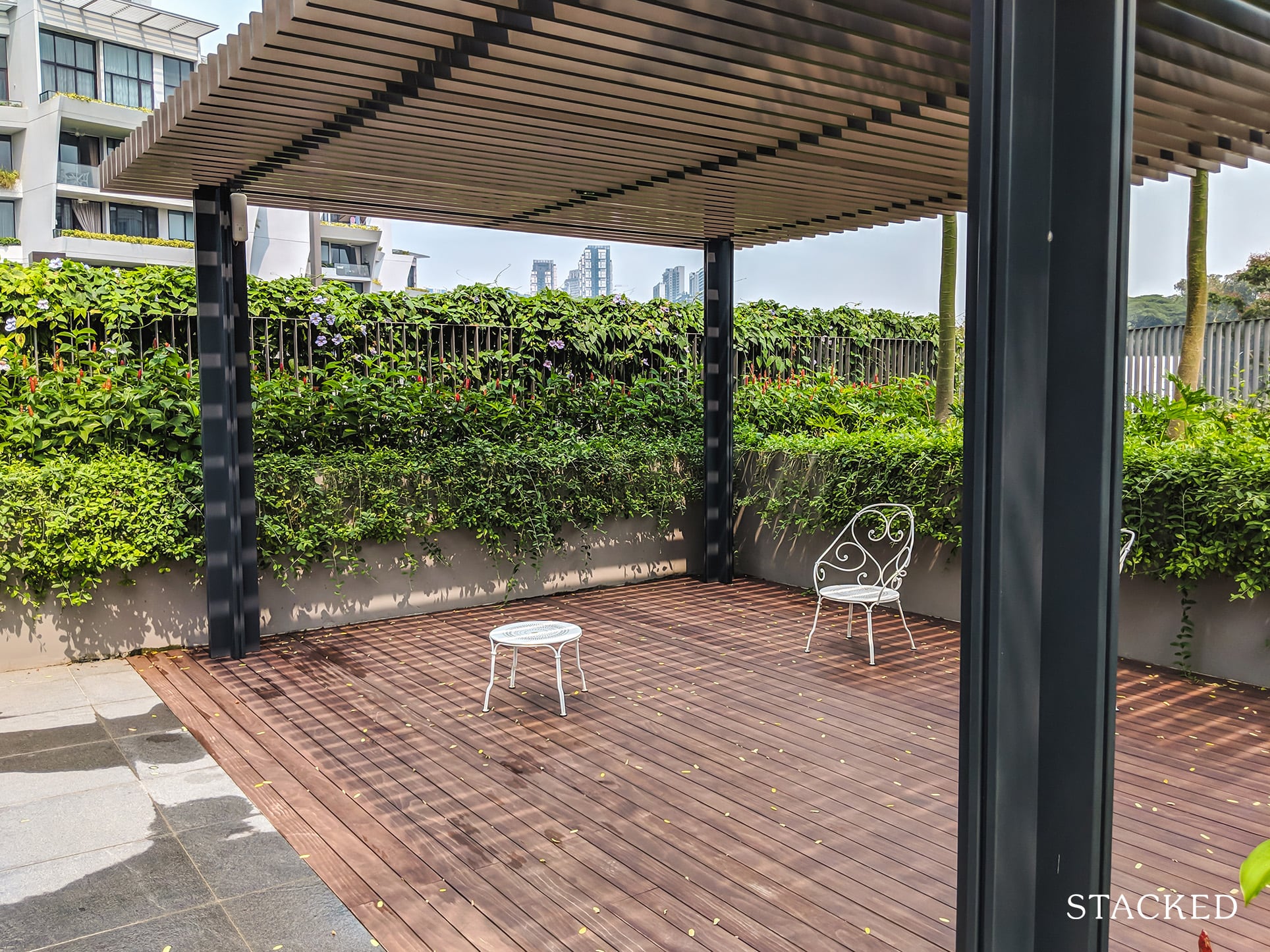 Right at the end is an open deck. Where curiously, the selection of furniture here is quite strange, to say the least.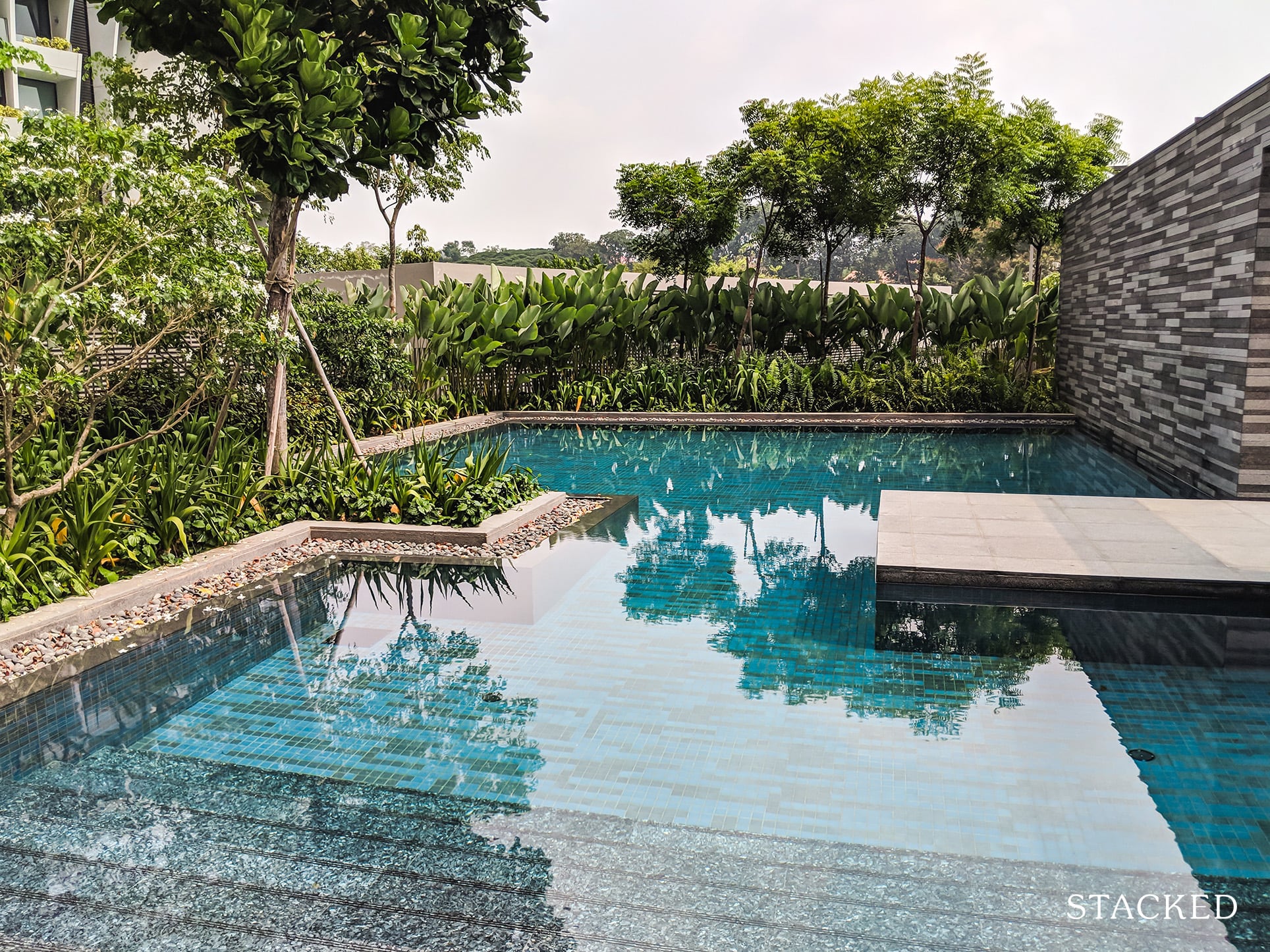 Going back down the same path back to the front, there is another small pool area.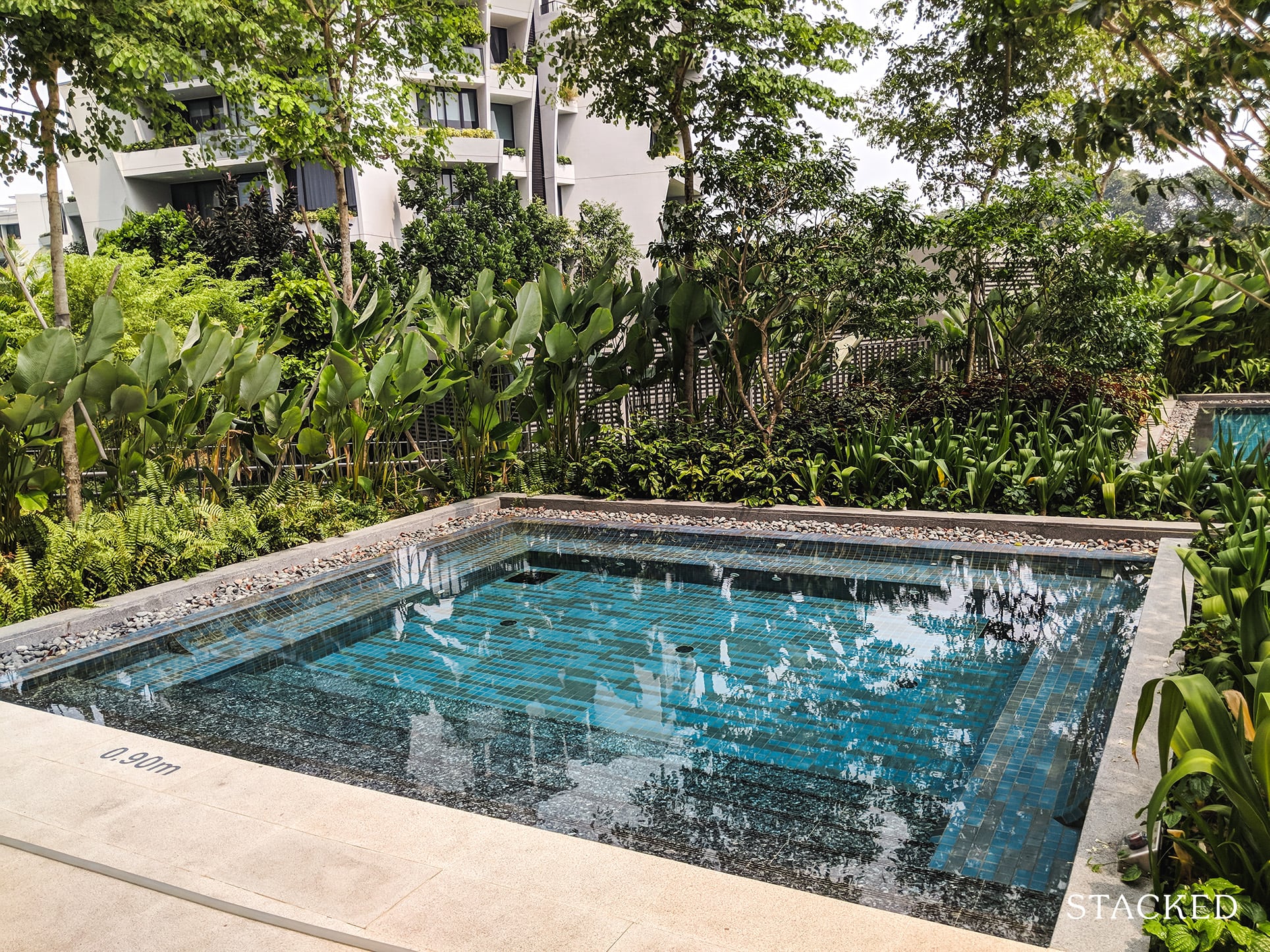 And a jacuzzi right next to it.
Close to the jacuzzi area, there is a space for holding a barbeque and quite a lot of seating too. This isn't the only space available and I think they are all rather well placed at the different corners of the estate for more privacy. One thing I noticed here was the decking, which looked out of place compared to the rest of the development as it was looking somewhat worn down already.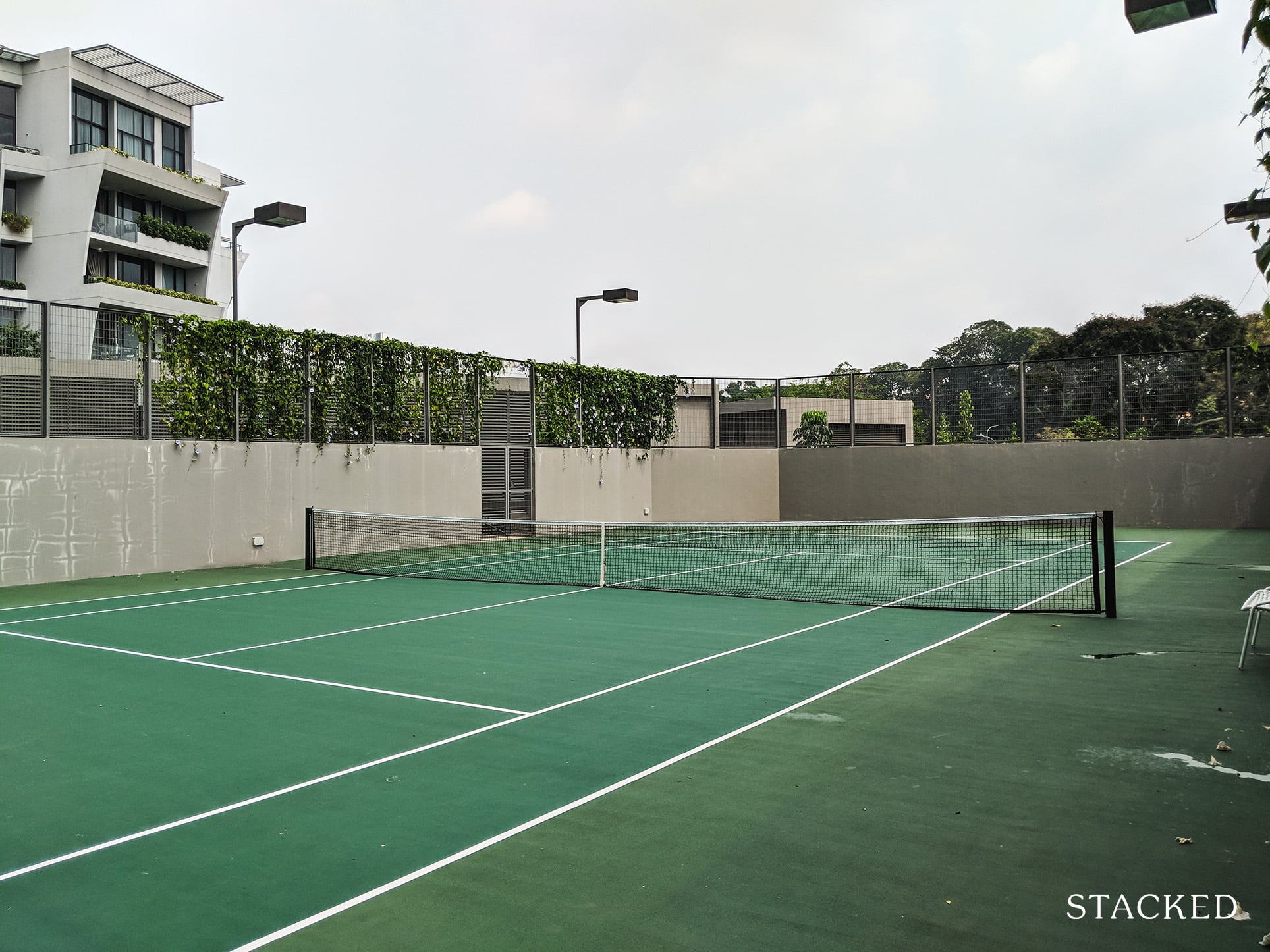 Next, there is just the one tennis court in Principal Garden. Seeing the amount of land available I would have thought that it was possible to squeeze out another. But on second thoughts, I like that they have reserved it for more open spaces throughout as that is something totally unique to this development.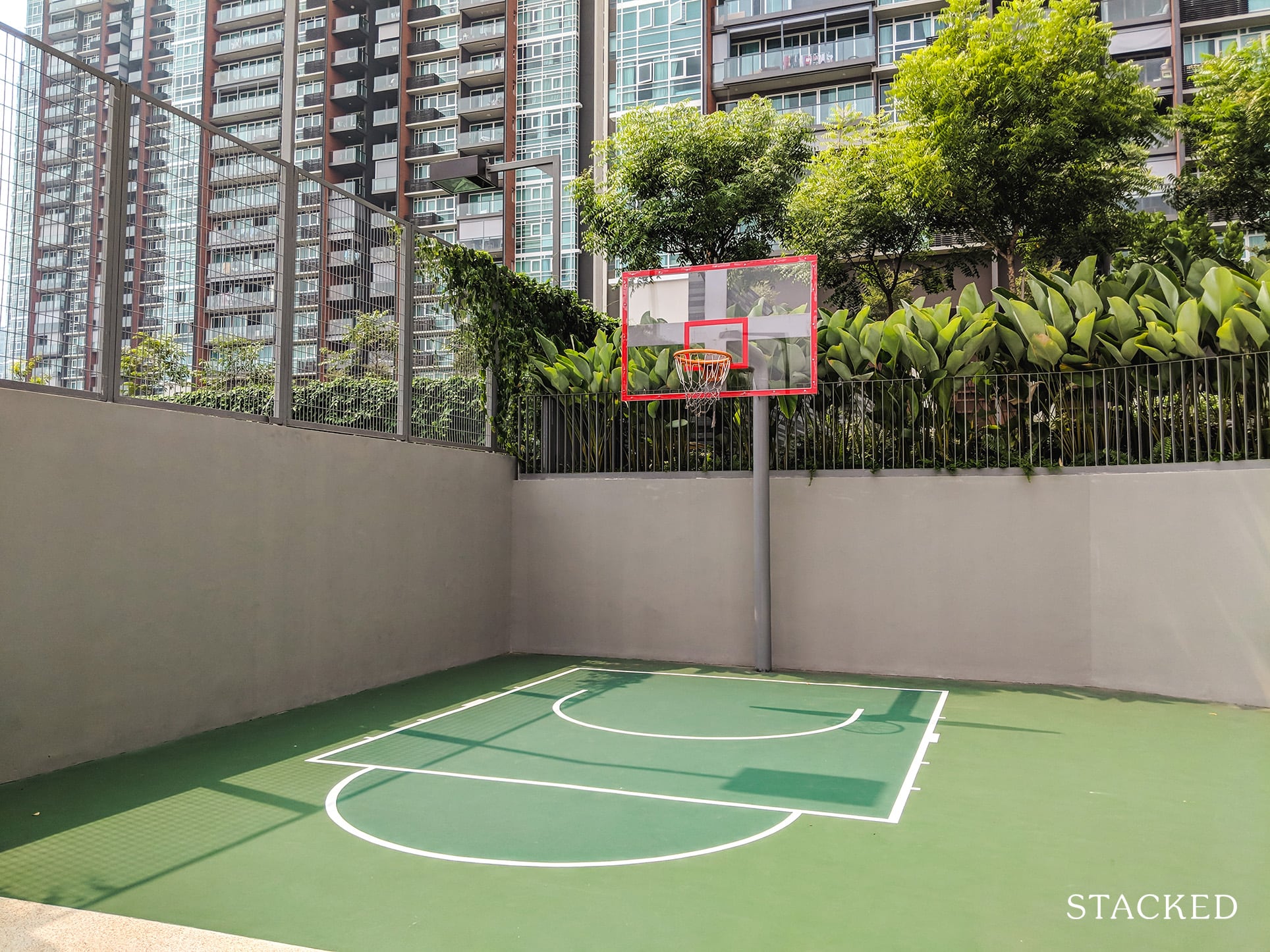 Next to the tennis court, they have actually eked out a small space for a small basketball court. It's not a full-sized one, but to just shoot some hoops it'll do the job.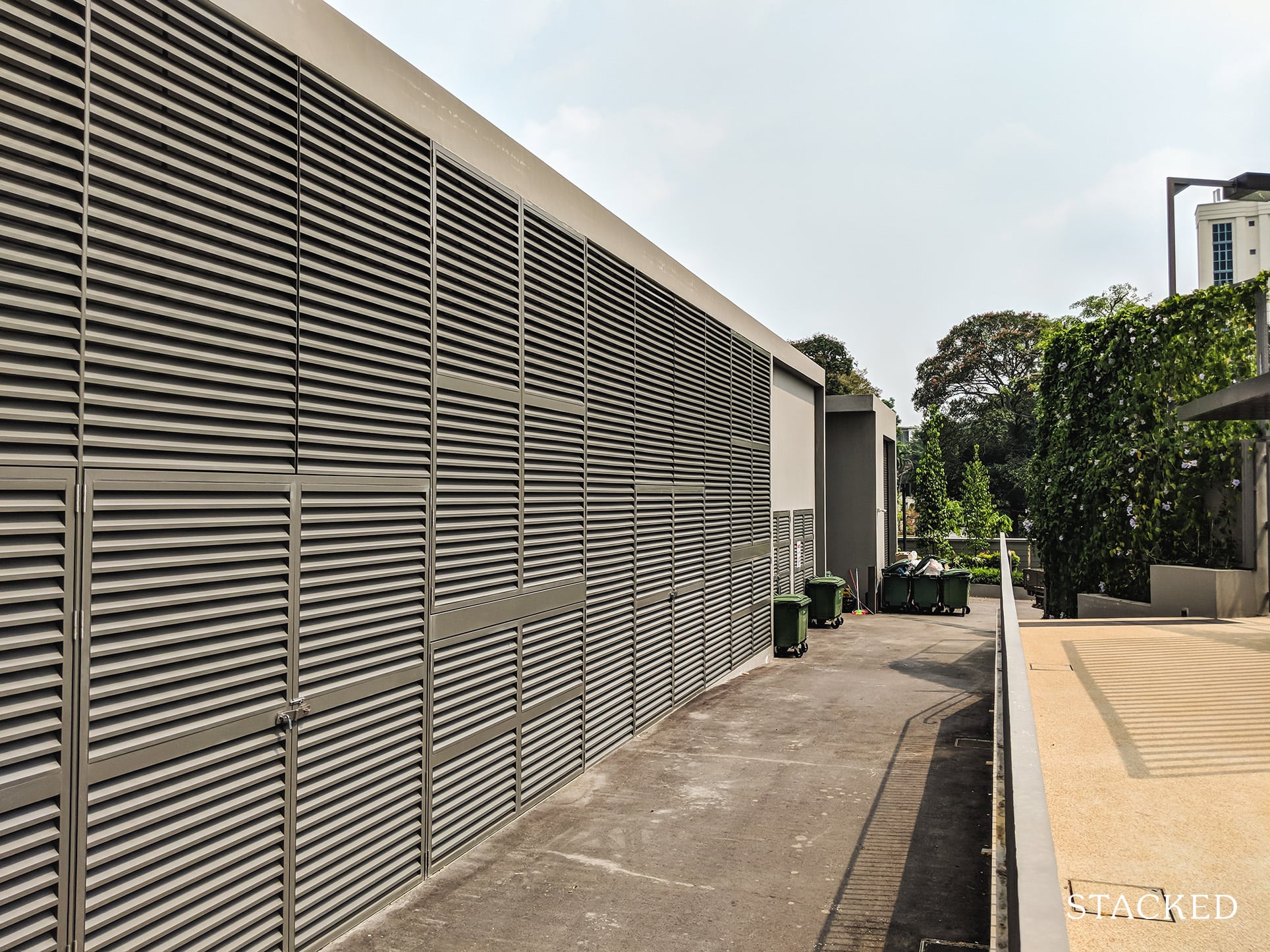 Close to the tennis court is the refuse area.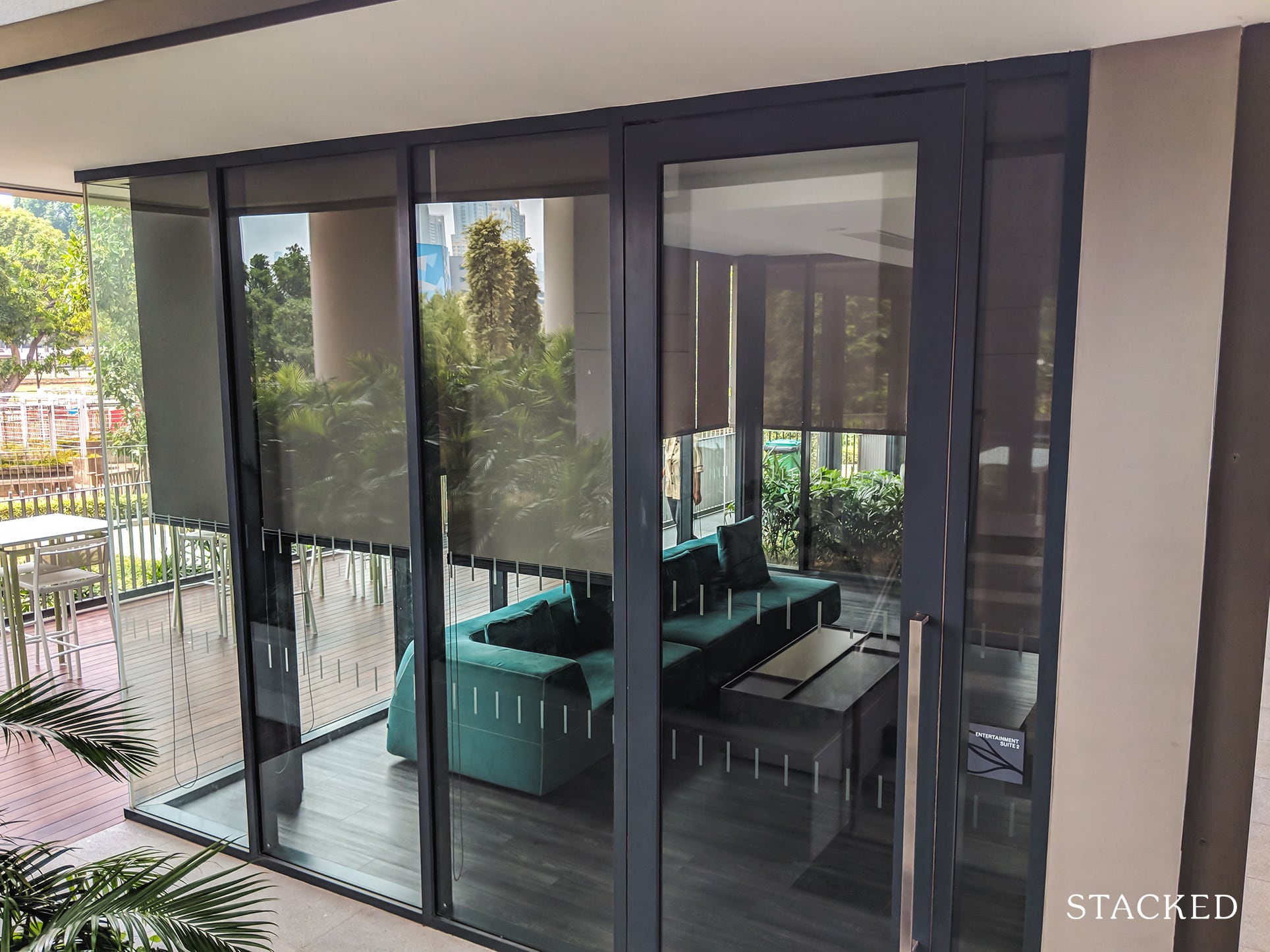 At the furthest corner of the Principal Garden (closest to the Crest), is an indoor function room.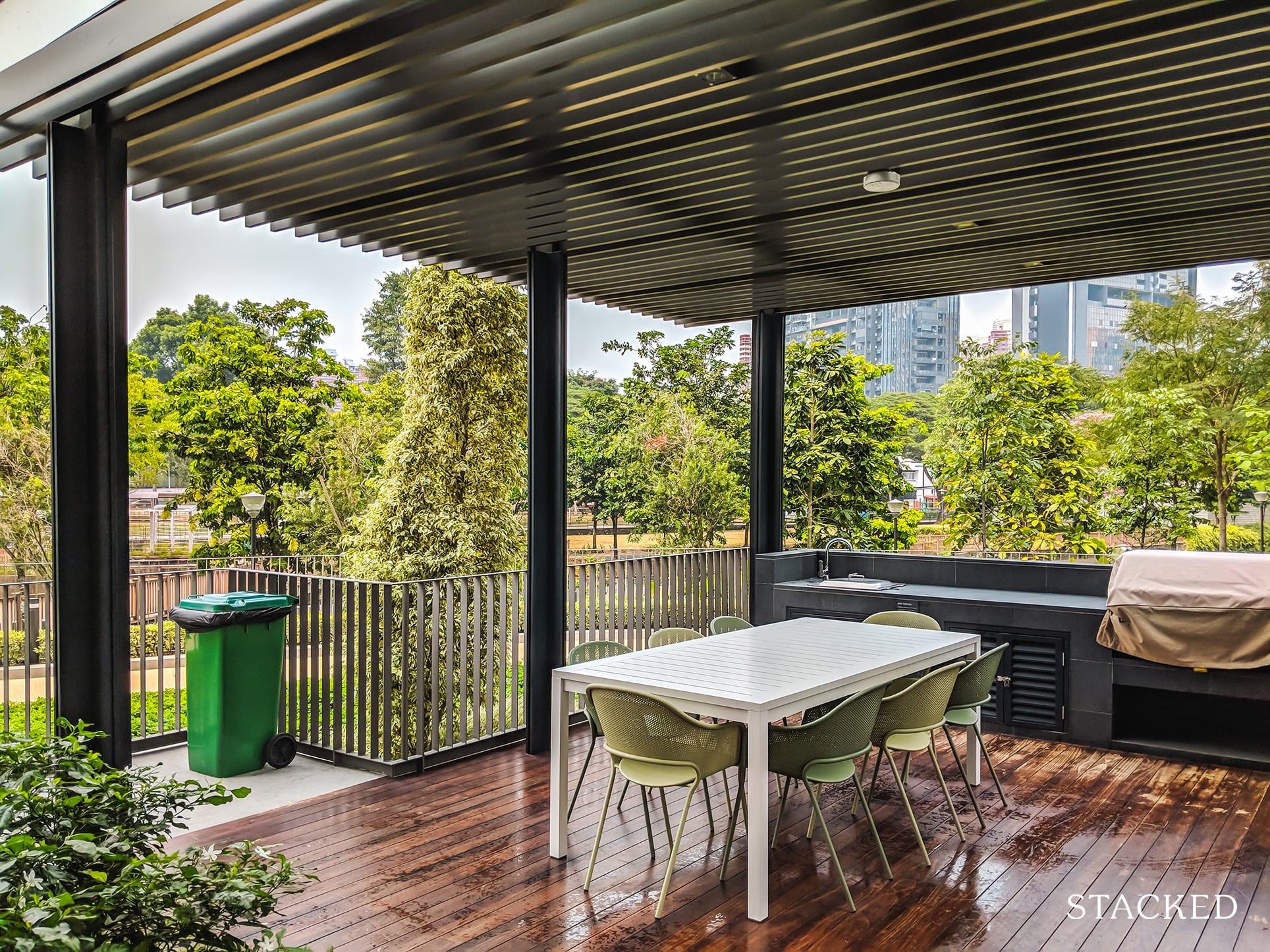 There is also another barbeque area right outside. It is in a great position at the corner, private and quiet too.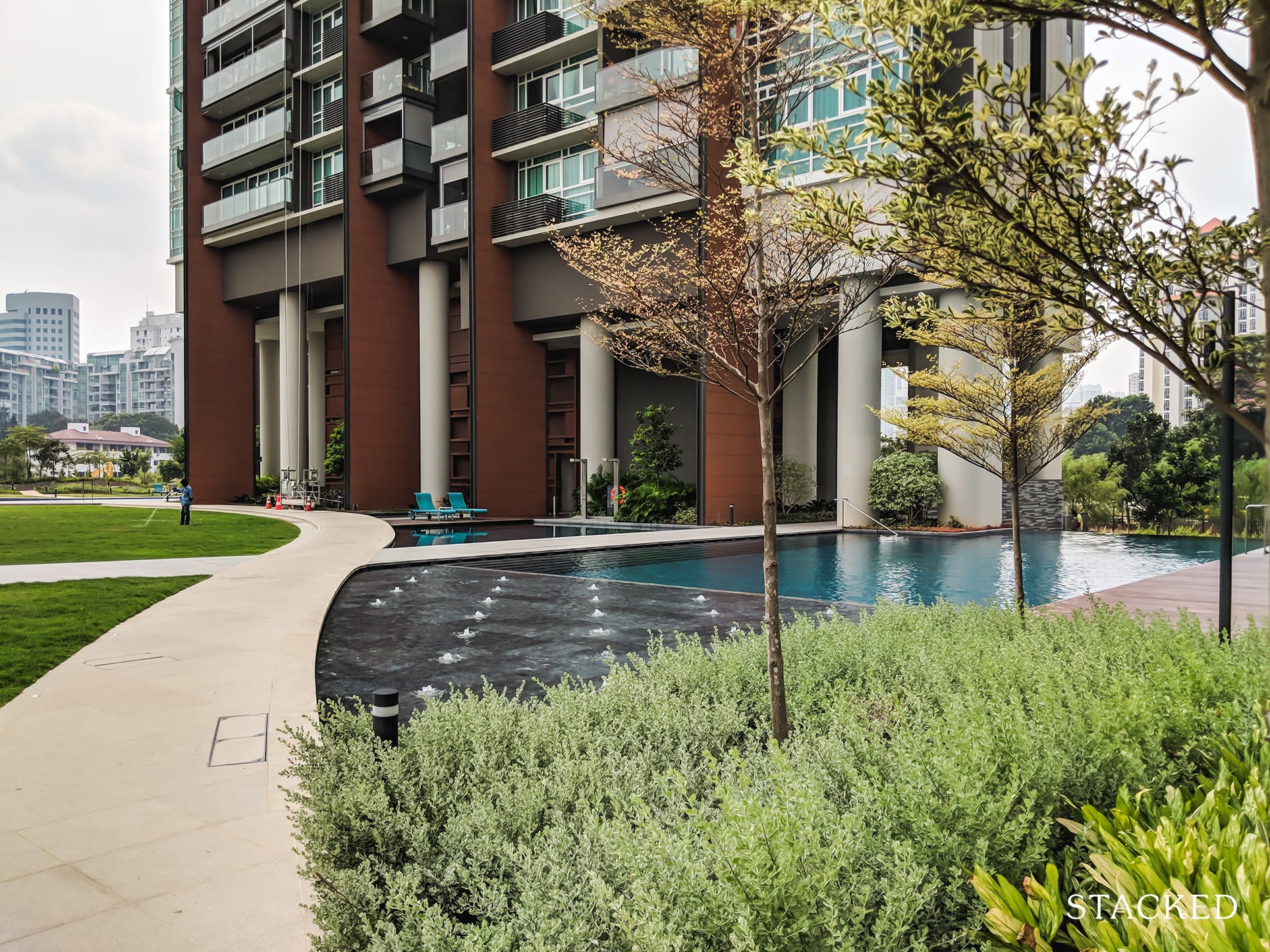 In between each tower at the Principal Garden, you'll find a lap pool. The middle one is the biggest at 50m, with the other two coming in at 20m and 25m respectively.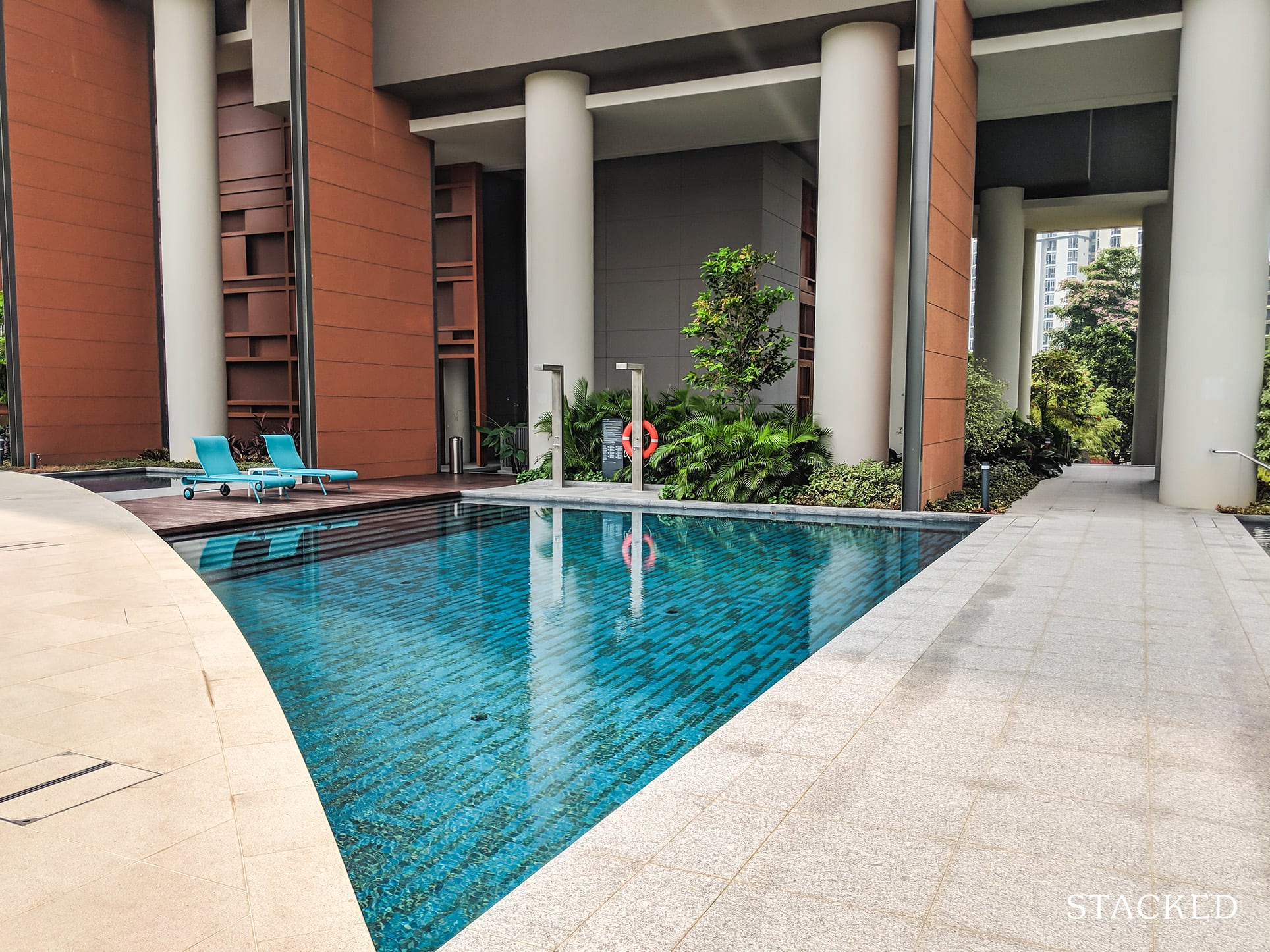 There is a kid's pool by the side too, so you can keep an eye on them while you swim at the lap pool.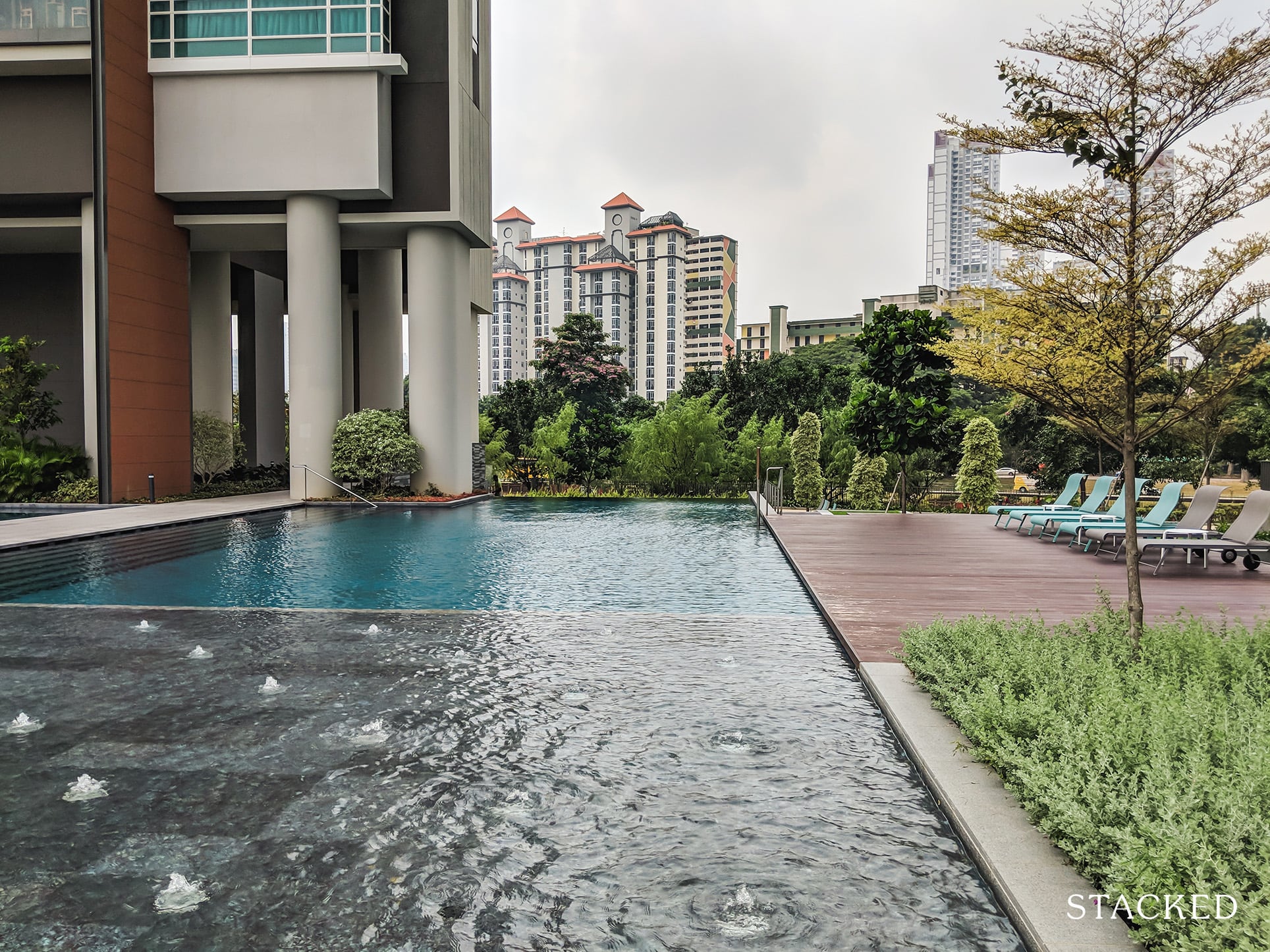 This one is actually the shortest of the three, at 20m. There is a really wide wooden deck at the side, with a couple of deck chairs. I like how the pools are angled towards the Alexandra Canal area, and the infinity edge really completes the look.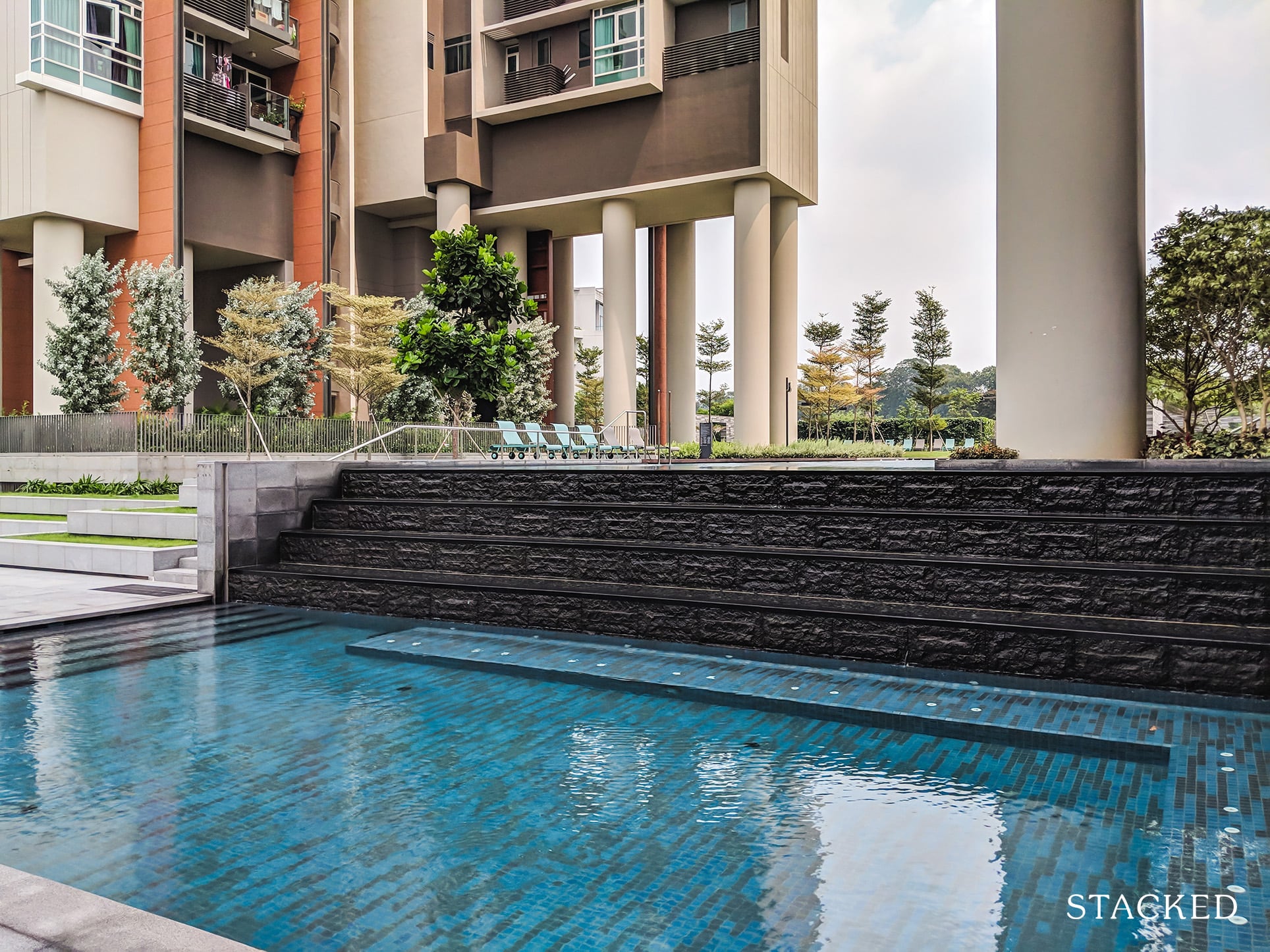 Beyond the edge of each lap pool, there is actually another small pool at the bottom! This would be a good area for kids to frolic around.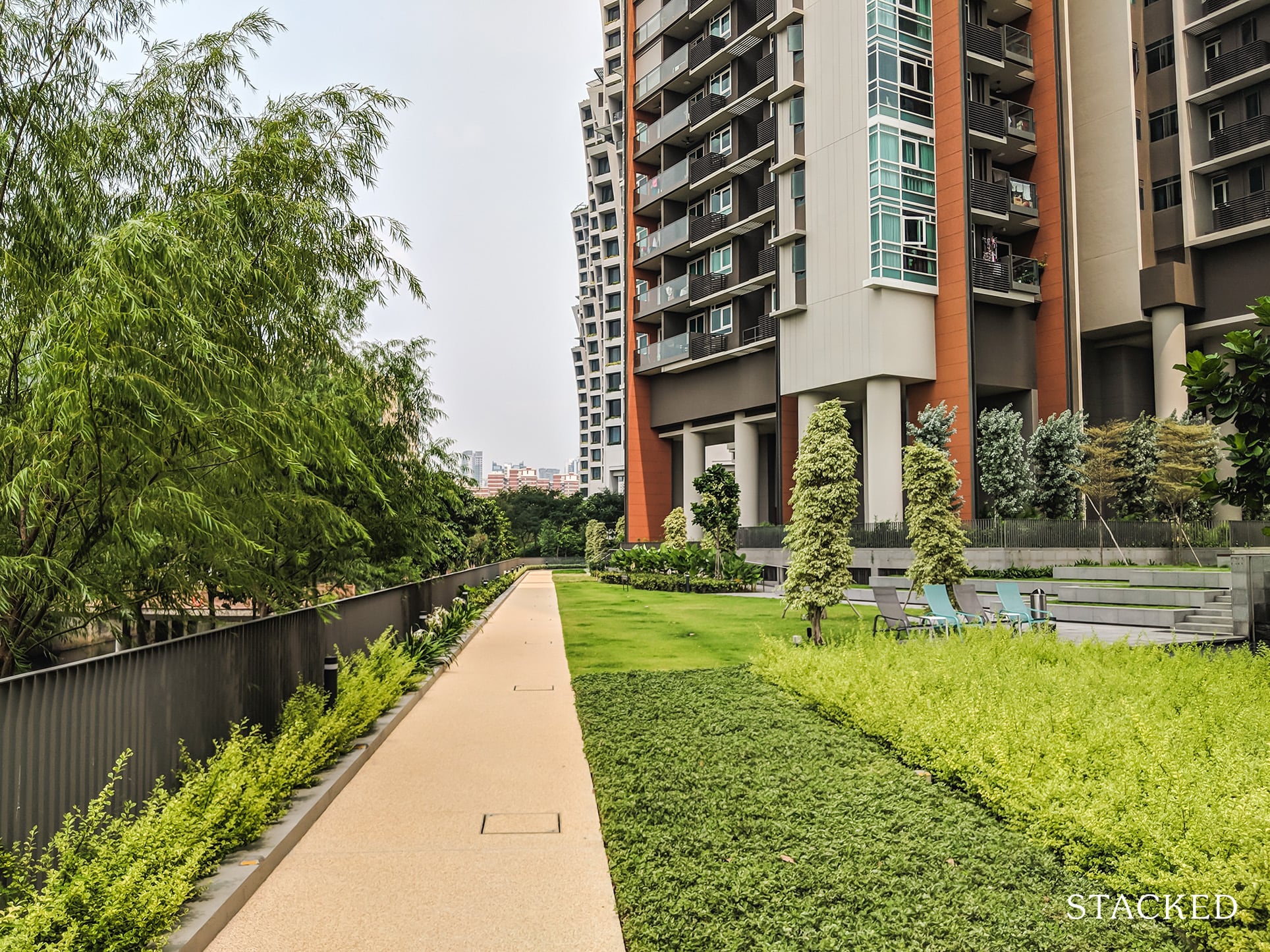 Further down below is actually lots of open greenery and a jogging track.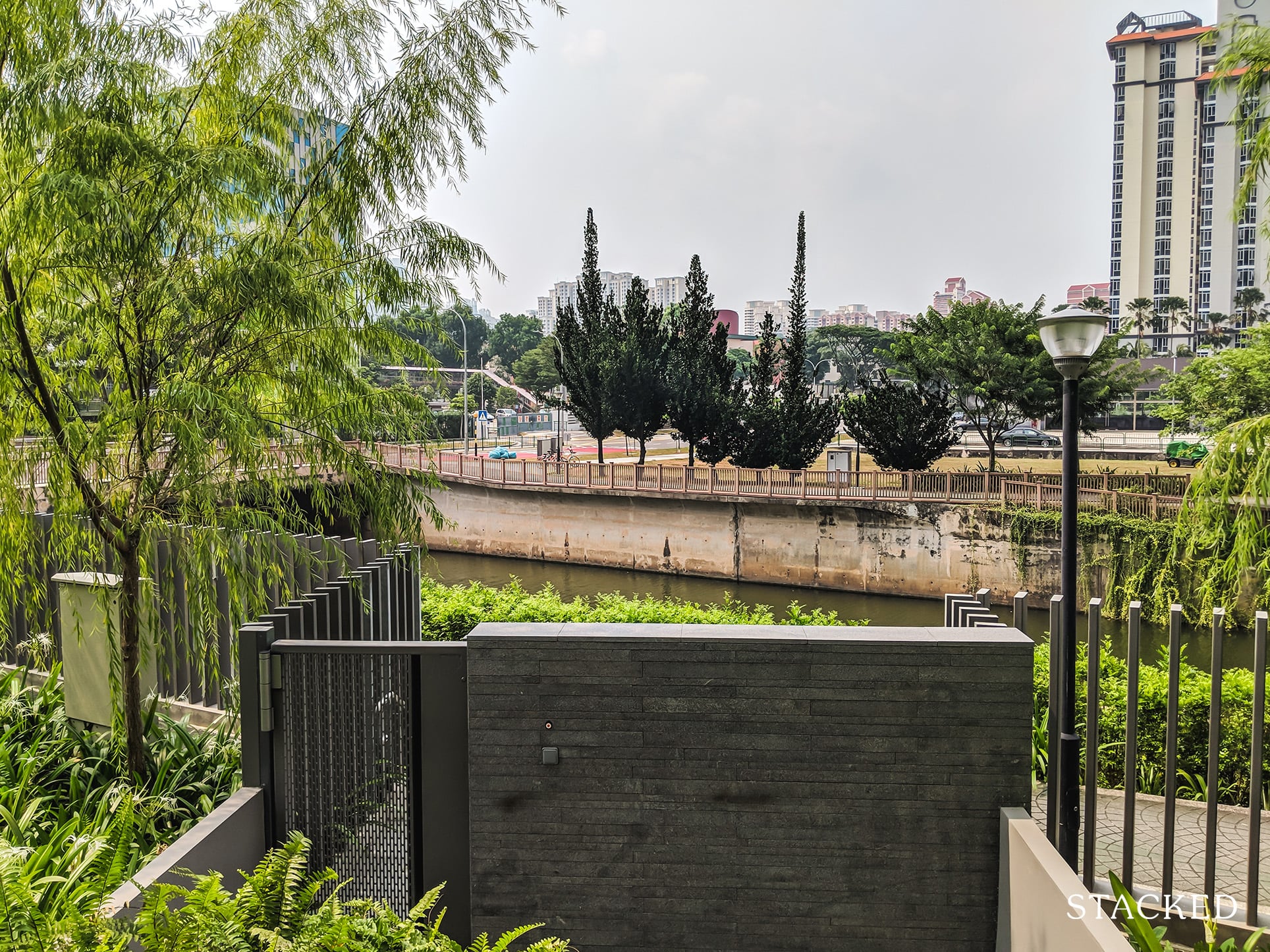 Of which there are multiple side gates at the end which can lead you to the Alexandra Canal.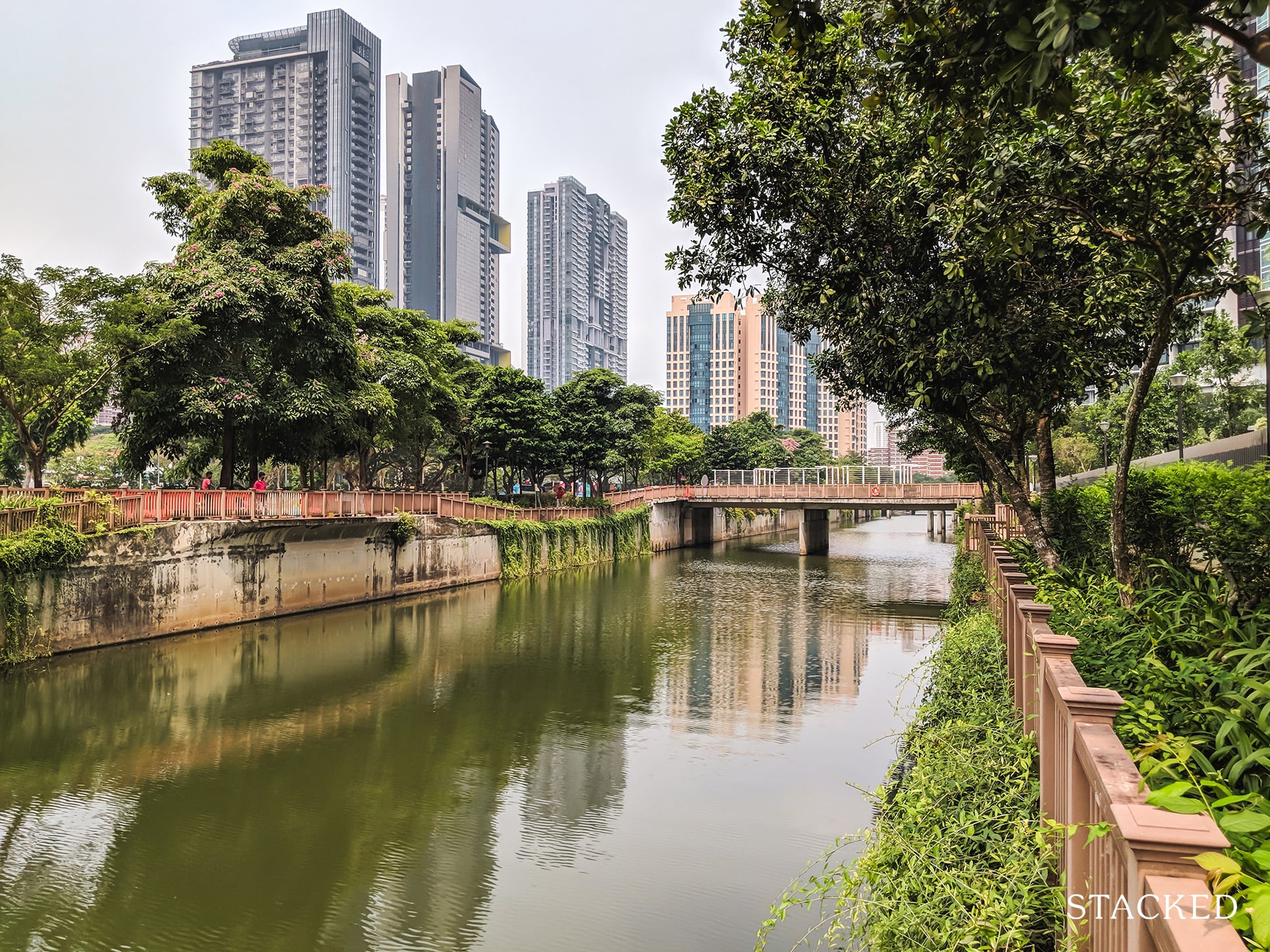 Although the colour of the water here isn't exactly the prettiest, it is still always very calming to be able to walk beside a body of water.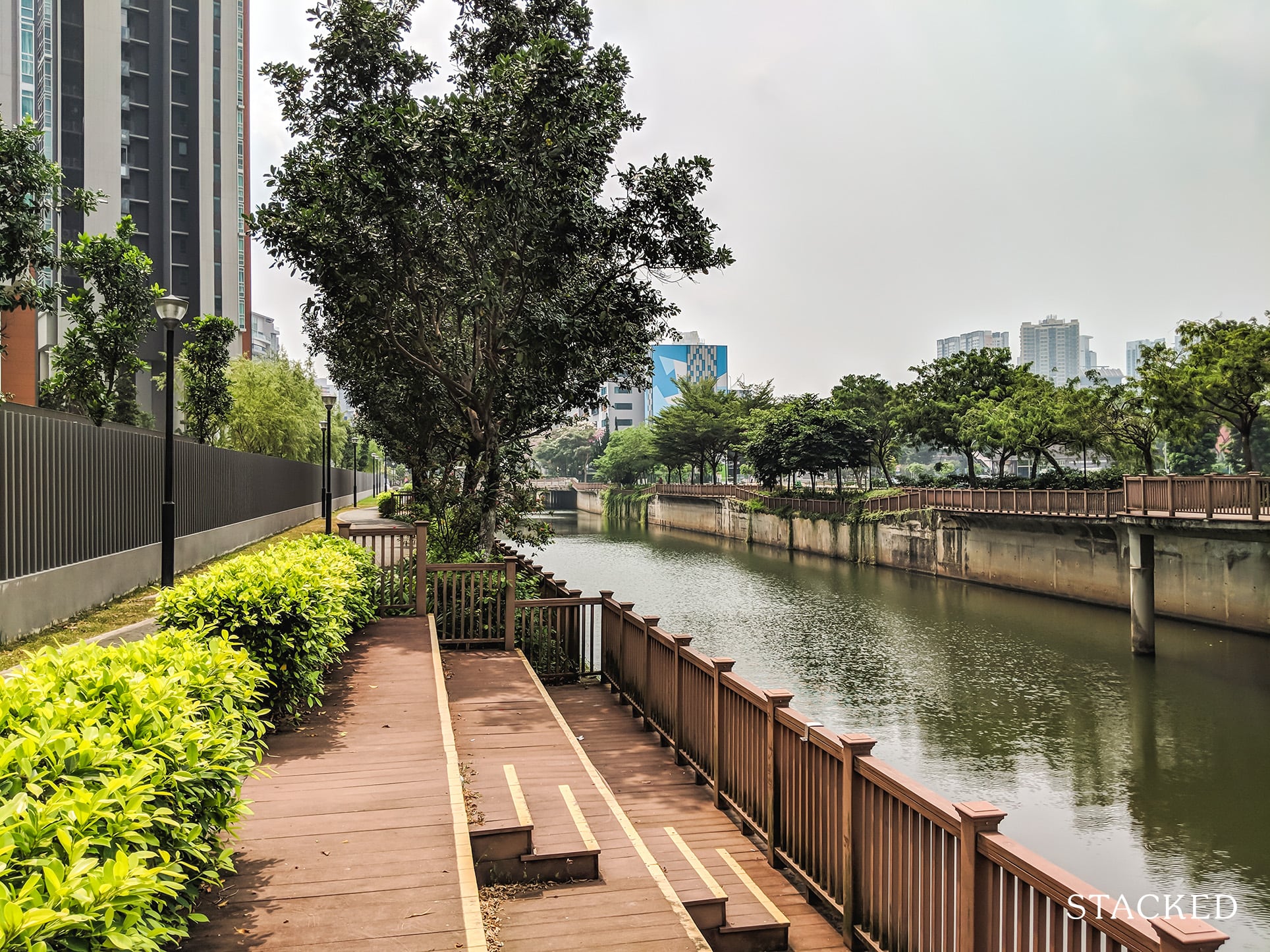 I think the Government has done a great job in sprucing up the area, with these wooden platforms that overlook the canal. The path has lamps along the side too for late evening walks by the canal.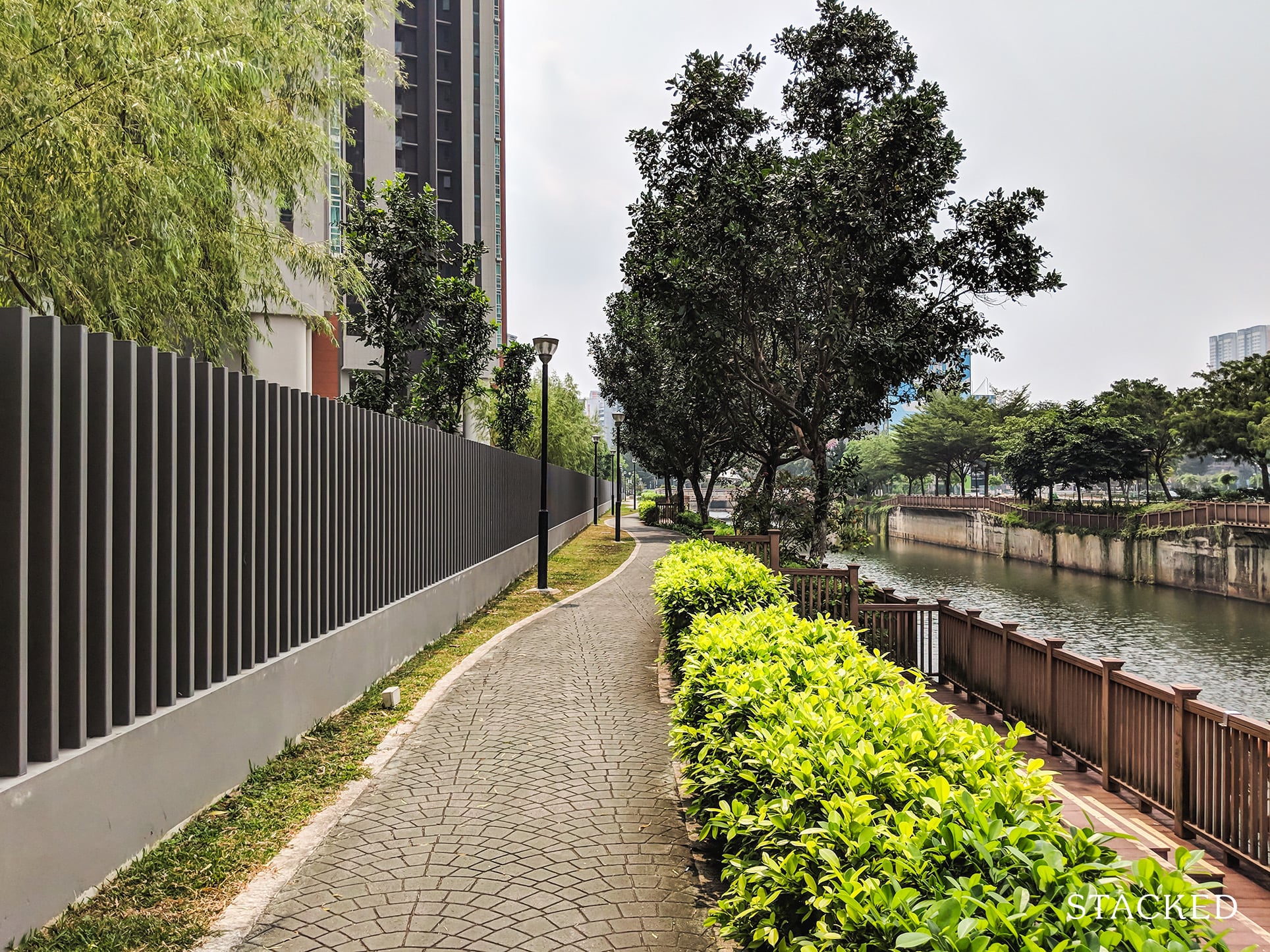 For fitness buffs, this area is perfect to take an early morning or evening run. I think it is great to take an easy stroll here too, with the added bonus of it always being breezy in this area. Which is by design of the open space of the Principal Garden. You can walk from here to Valley Point in about 10 minutes or so, without having to deal with much traffic.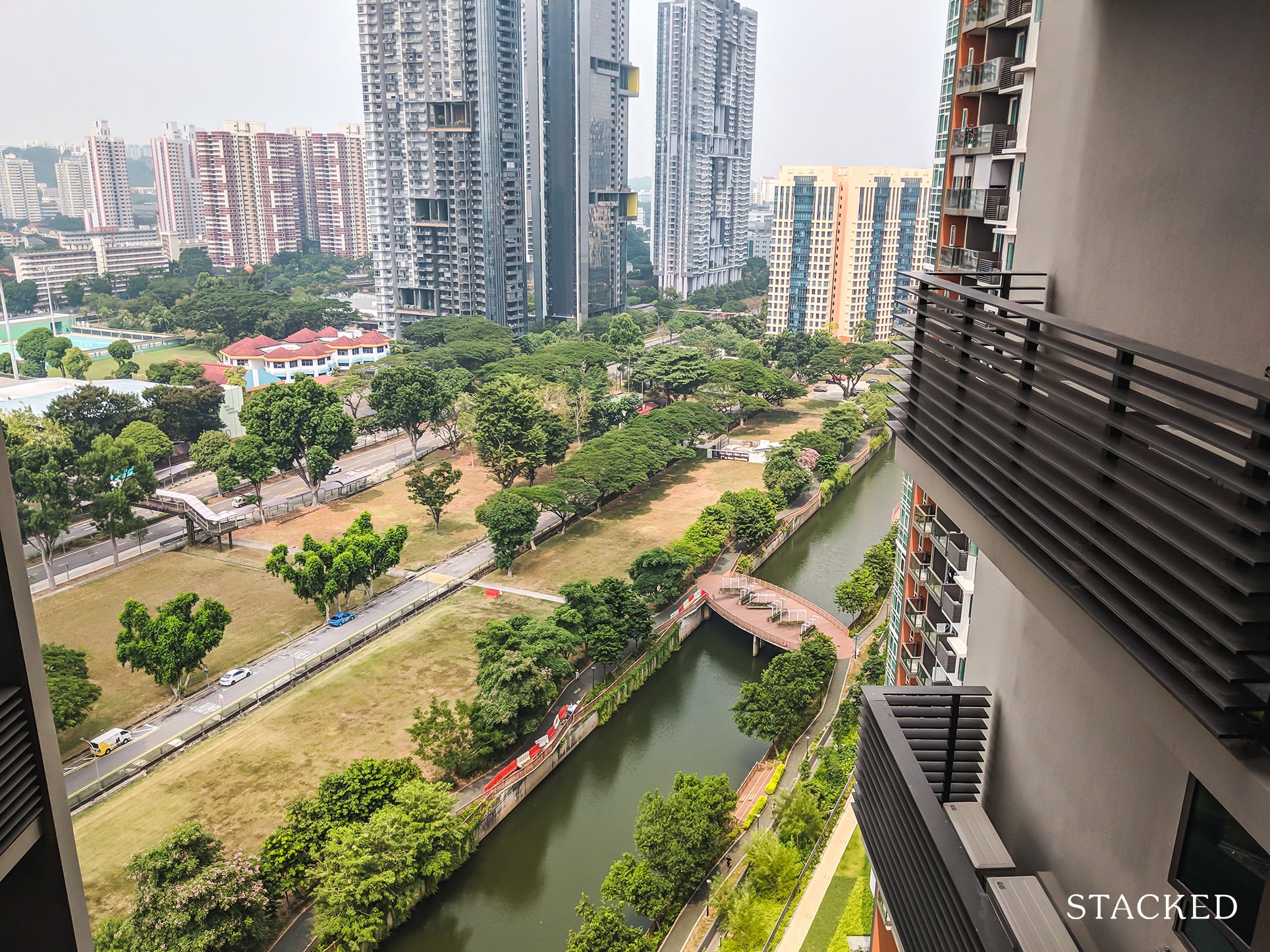 From here you can see how much open space there still is, which really gives the Principal Garden its edge here. It just feels so uncluttered and airy here.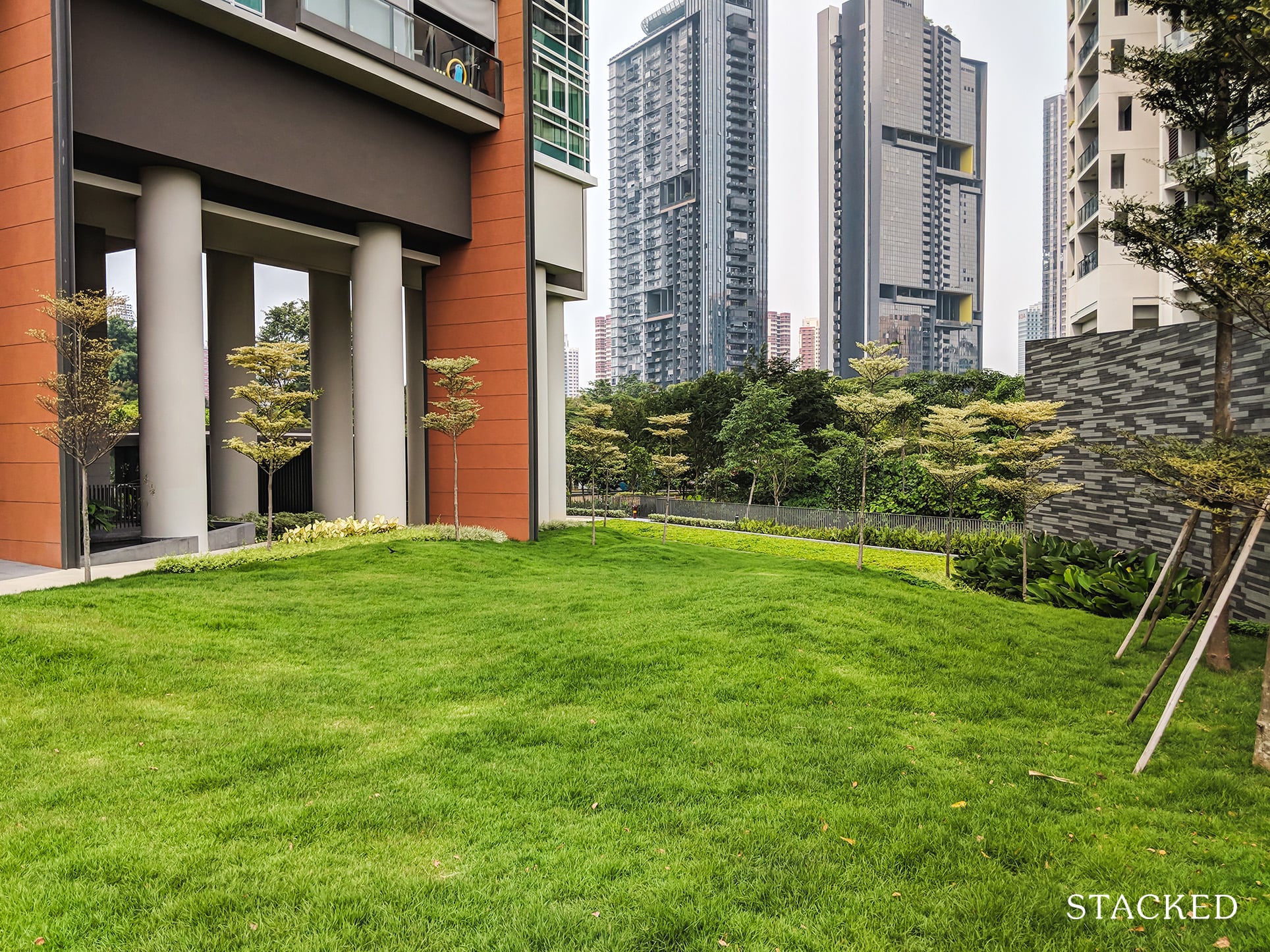 Back to the grounds of the Principal Garden, surrounding the front of each tower is wide open grass patches.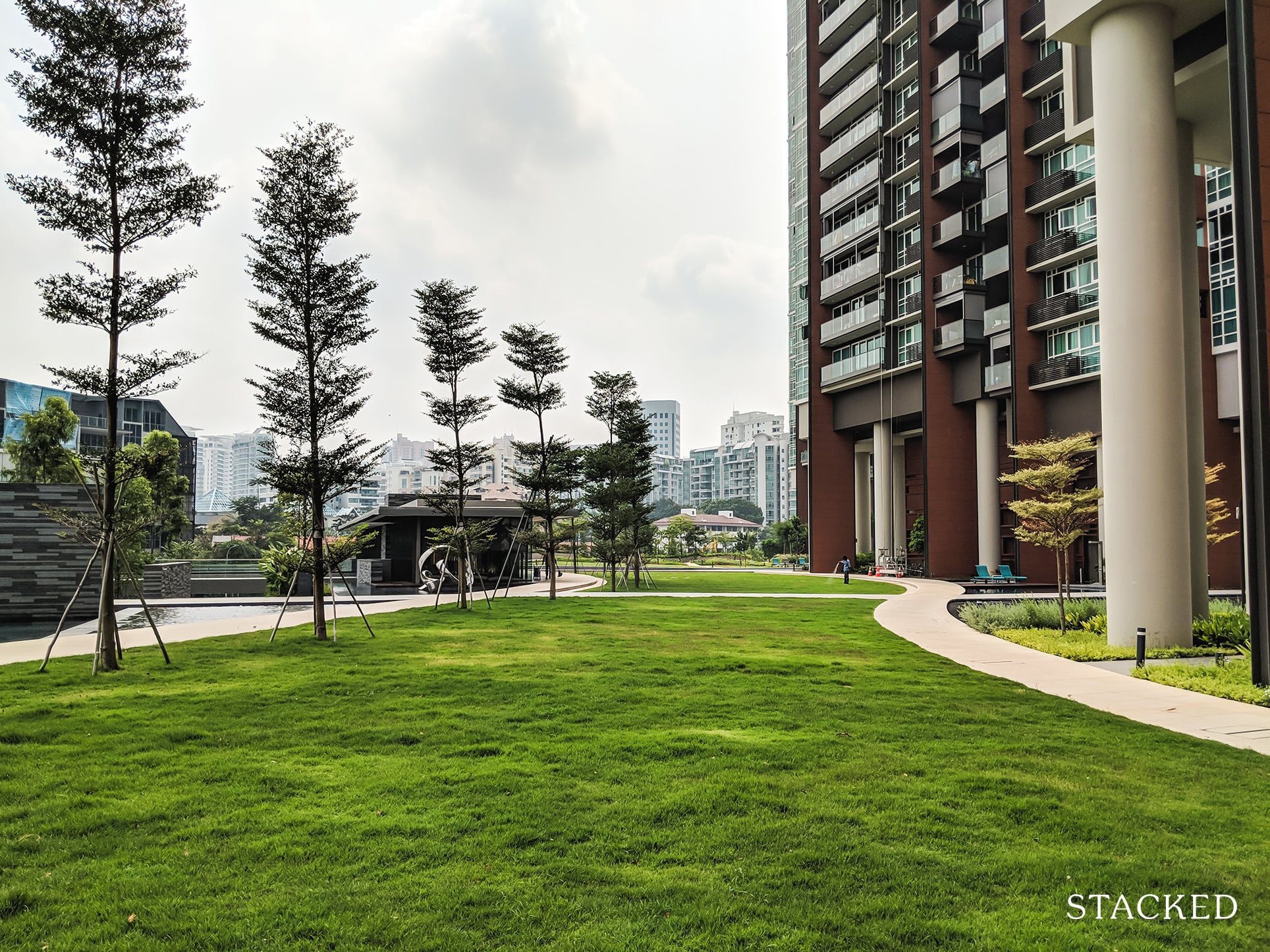 Before the development was launched, one of the biggest selling points was its 80/20 rule, where only 20 percent of the estate would be dedicated to the units. And nowhere is this more apparent than here, where there is just an absurd amount of open grass areas. They have done a great job with the landscaping too, it's quite a soft thick carpet of grass, almost reminiscent of the type you'll find on a golf course.
Moving back to the main clubhouse, where there is a wine cellar and lounge, entertainment suite, private dining room and outdoor terrace.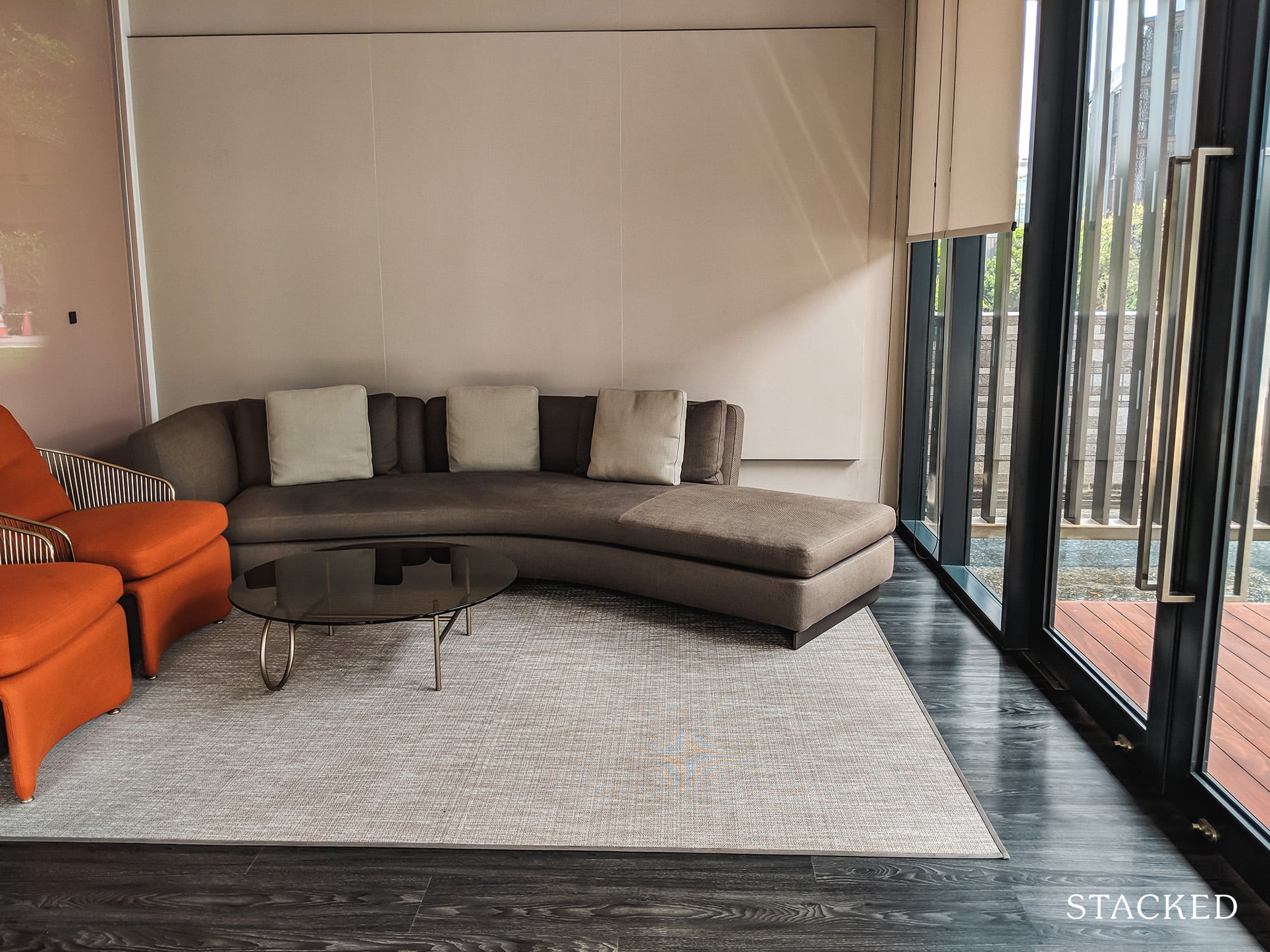 The entertainment room is decent, with comfortable couches and seats.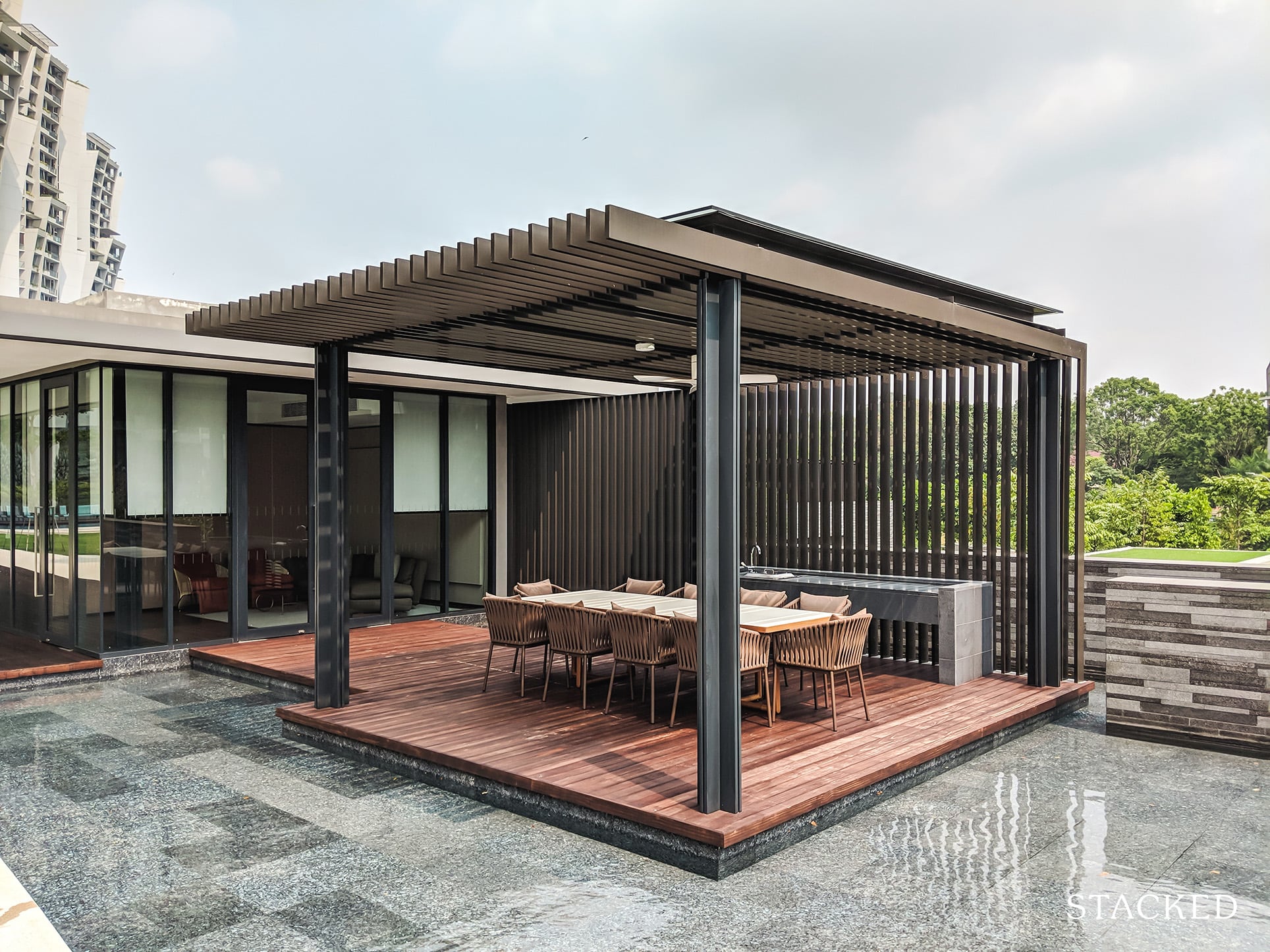 There is an outdoor dining terrace connected to it, which is completely surrounded by water. It makes for a very relaxing atmosphere, although this is the least private place as it is right behind the main pool. Like I pointed out earlier in the review, the wooden decking at all these areas is slightly concerning as the development is still so new.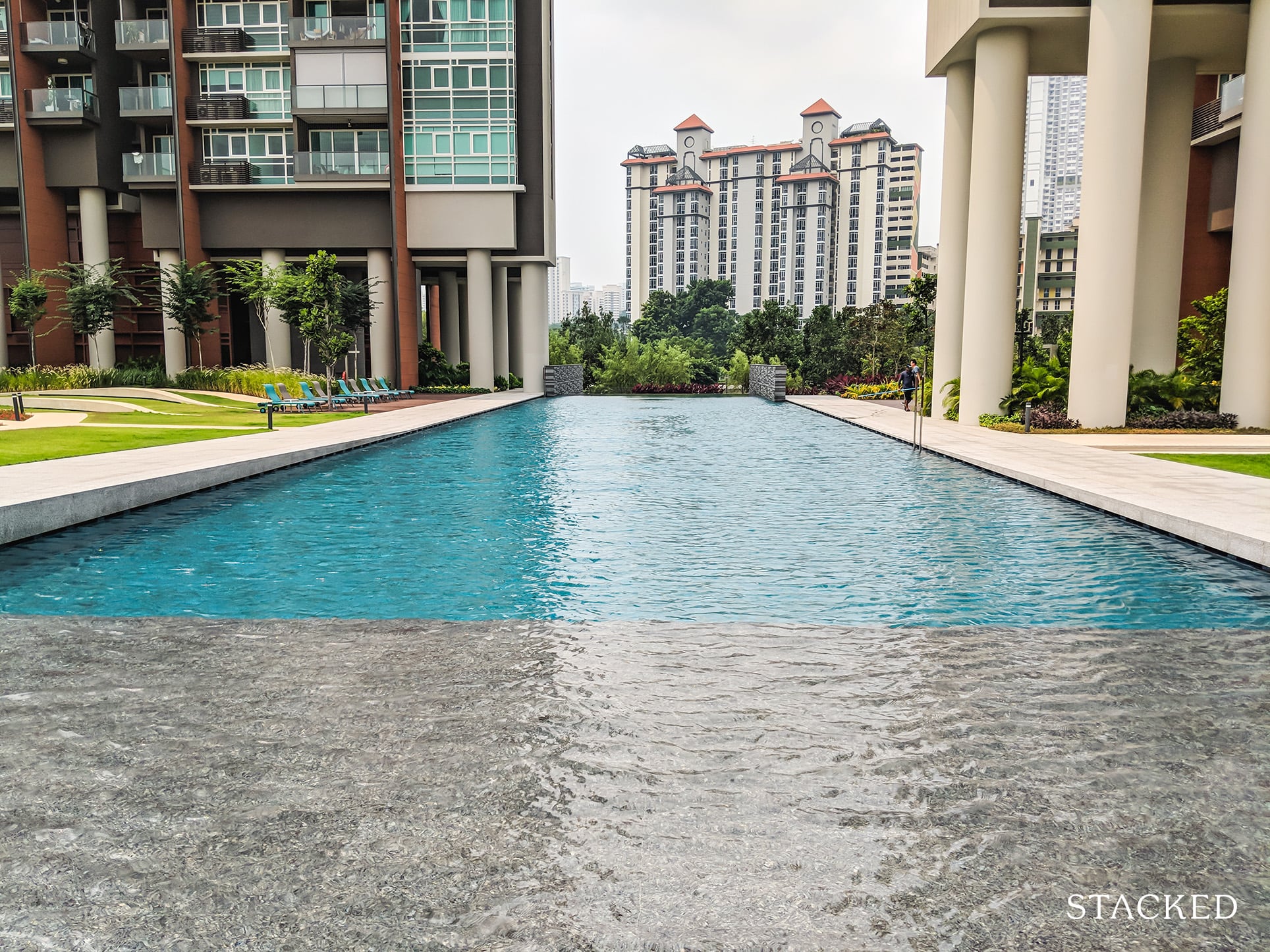 In front of the clubhouse is the main star of the Principal Garden, the 50m lap pool. It is one gorgeous space for sure. With the sloping pavements, the infinity-edge pool at the end, and the rolling manicured greens at both sides, it makes for a very pretty picture indeed.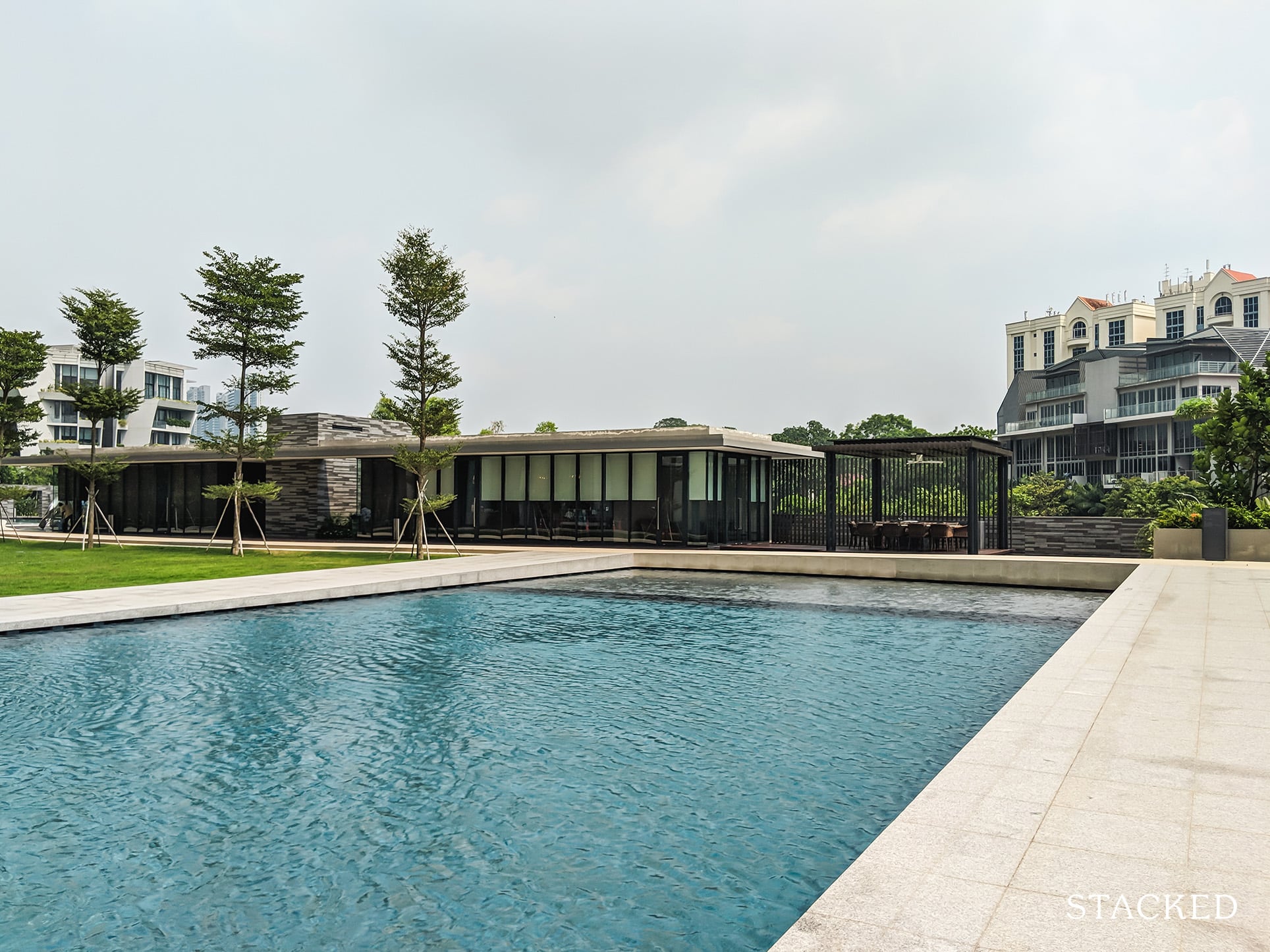 This end of the pool faces the Jervois side, a landed zone which is why you would not get any high-rise buildings towering over and blocking the view.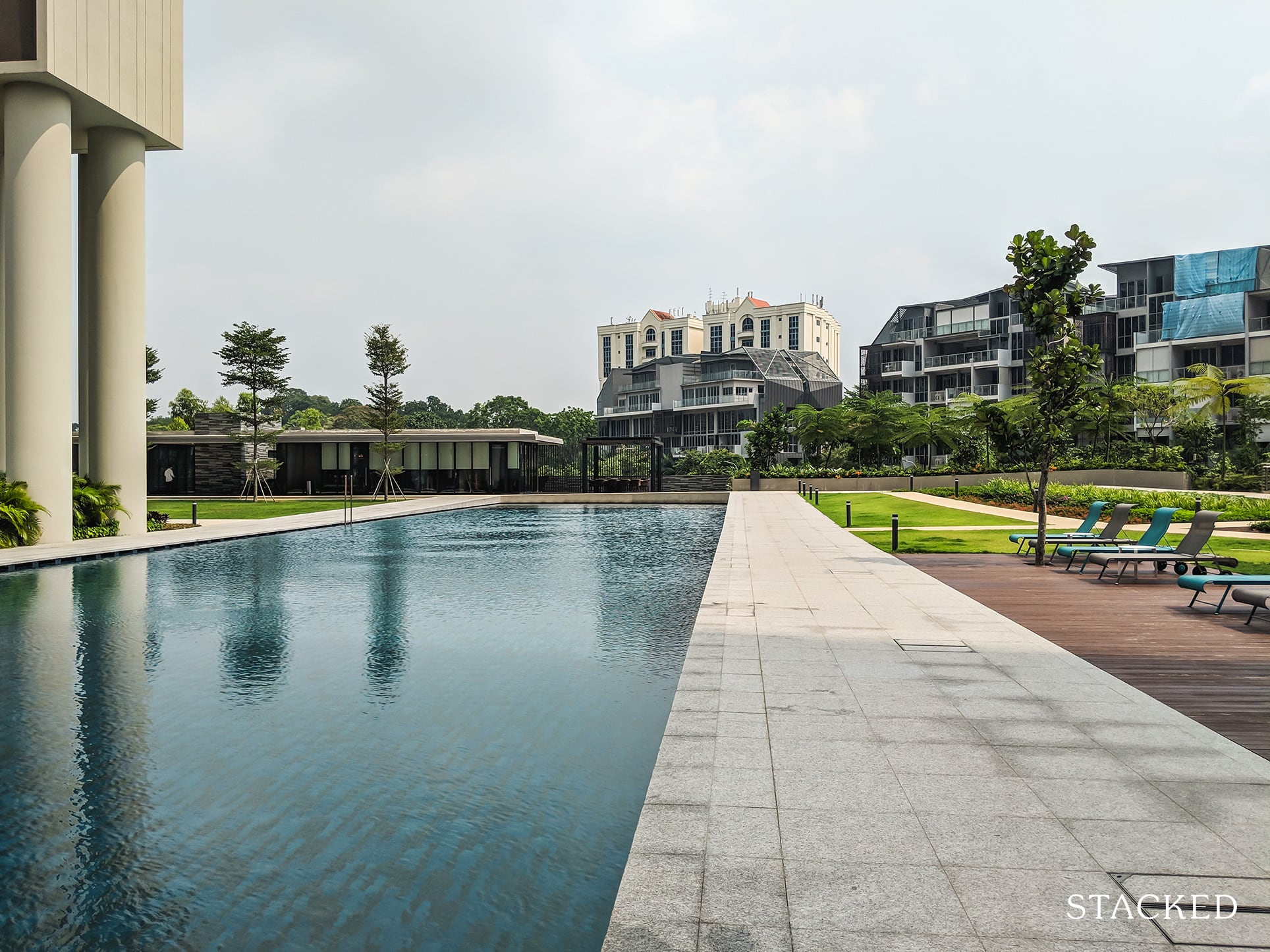 I really like the placement of the main lap pool. It is unblocked on both ends, and although it is placed between two of the towers, they are angled towards its sides so you don't get the bulk of the units facing the pool. Like I said earlier too, even the bottom unit starts from 15 metres up, so the whole area feels very private. Honestly, this space is so impressive it upstages even some of the more supposedly luxury developments for me.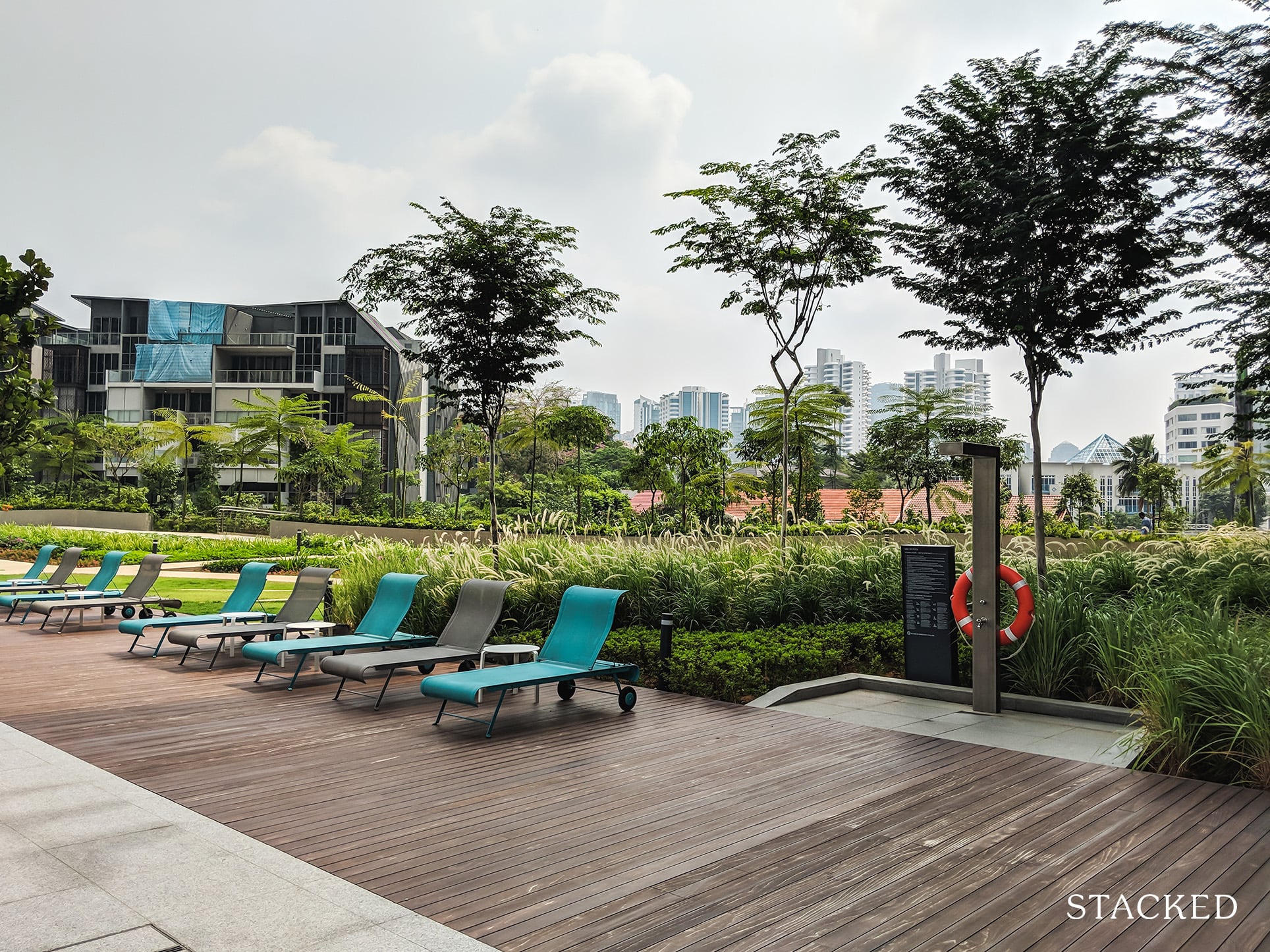 As per the other lap pools, there are more than enough deck chairs by the side.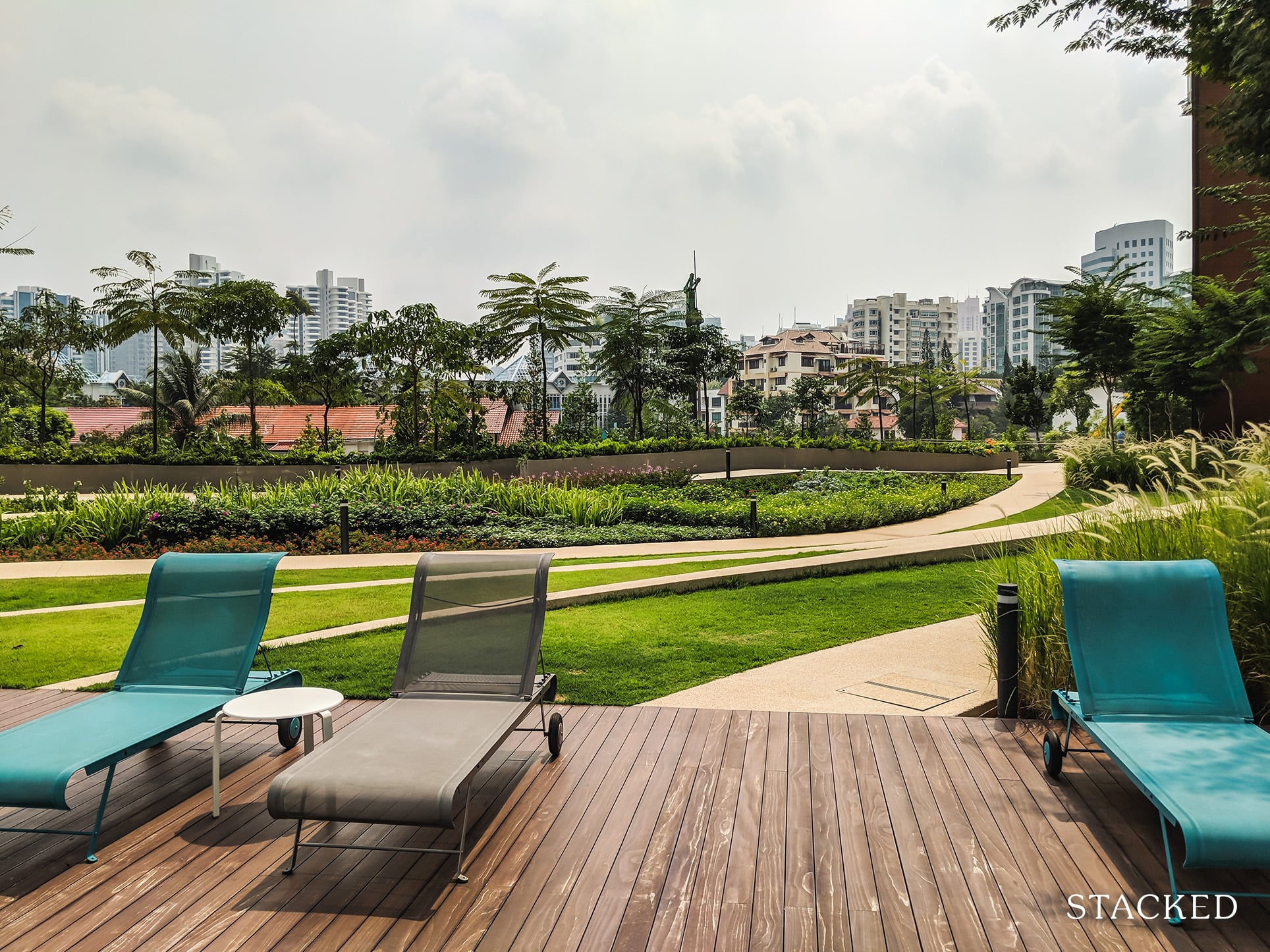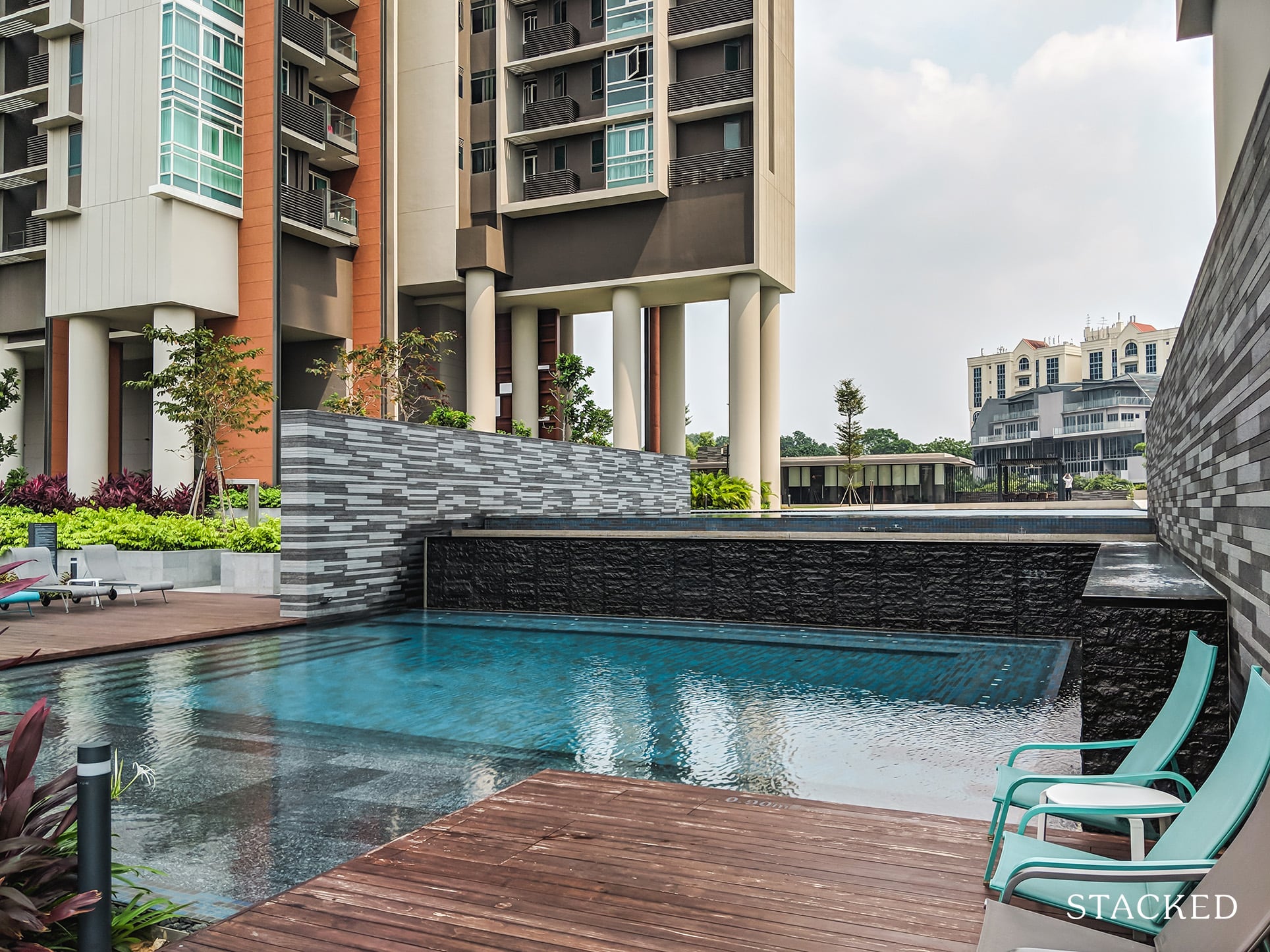 There was also a smaller jacuzzi area at the bottom of the lap pool.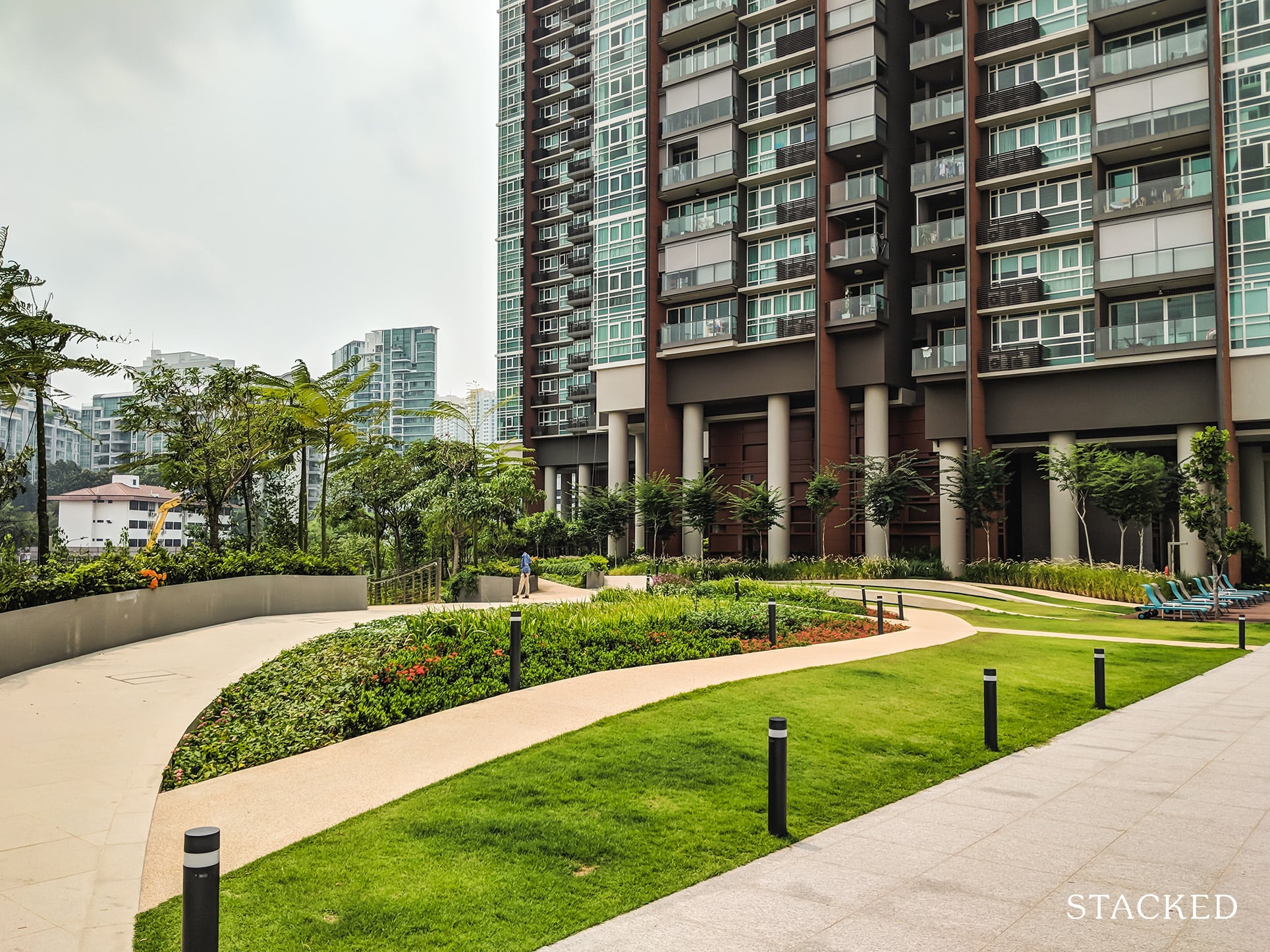 Crossing over to the last lap pool, you can see that the grounds are immaculately kept.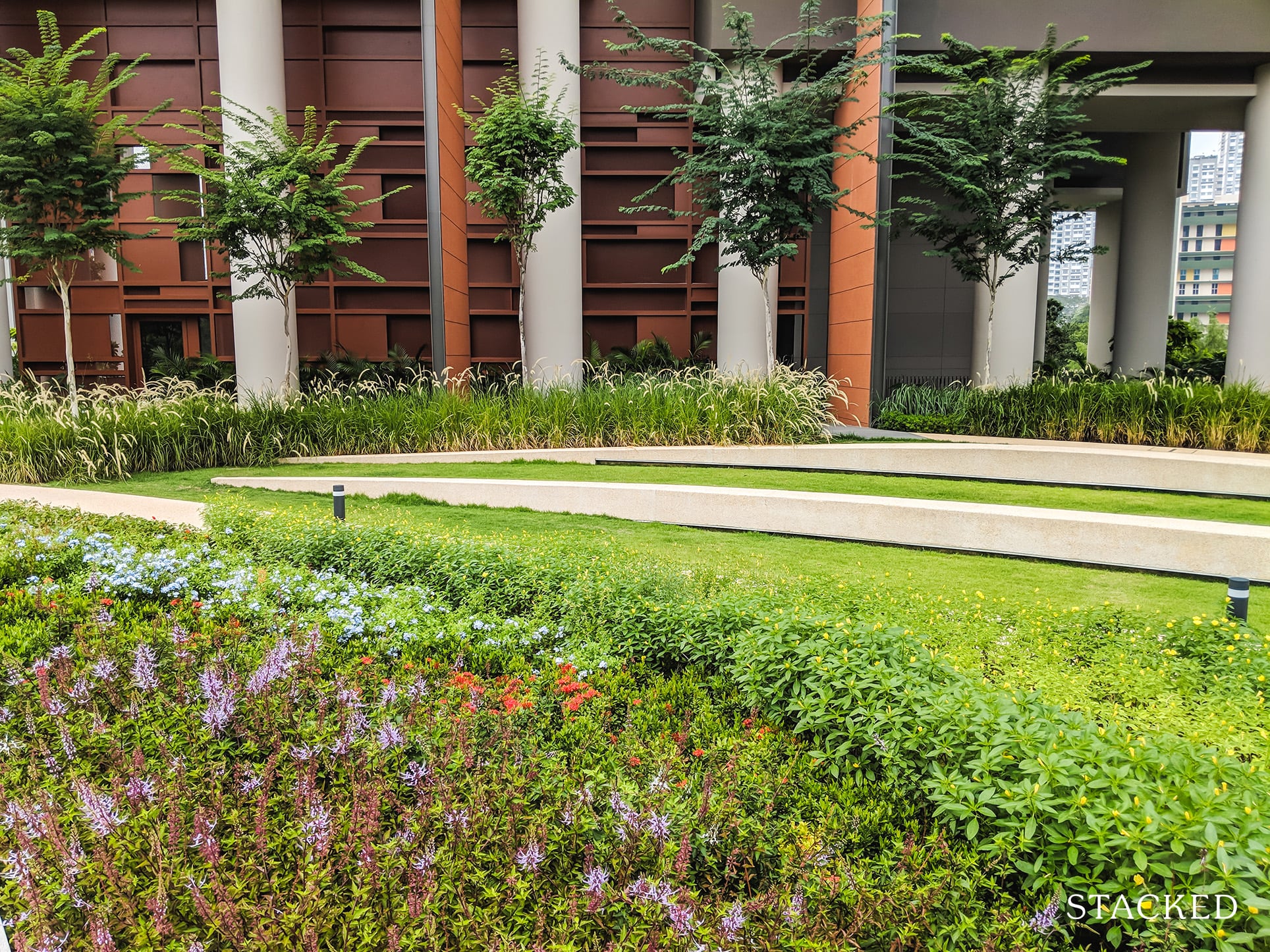 I think as they grow out the flowers more, this space will only get more beautiful over time.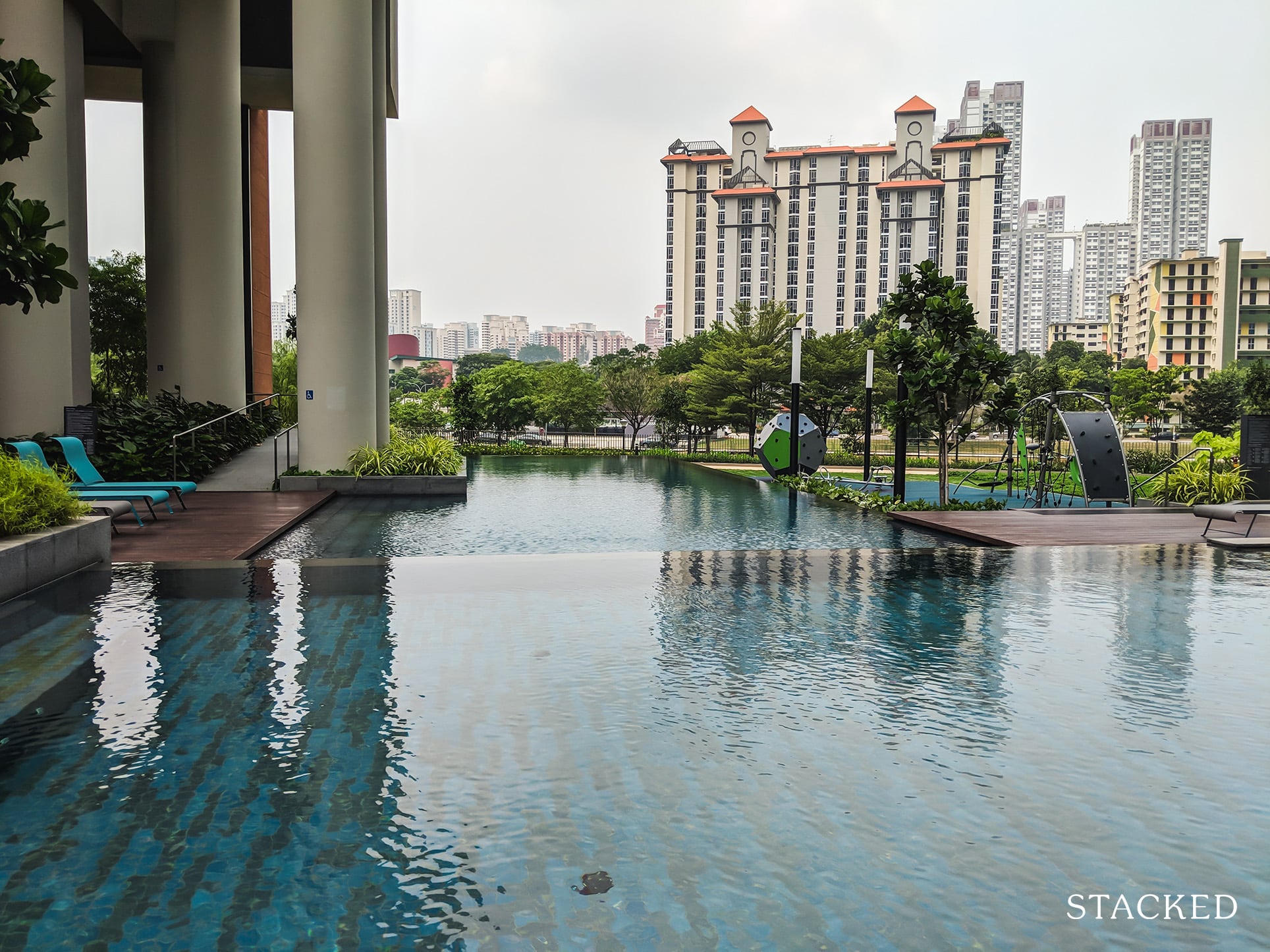 The last pool features a reflecting pool over a 25m lap pool. The number of swimming pools here is truly extraordinary. The best part, we aren't even done yet!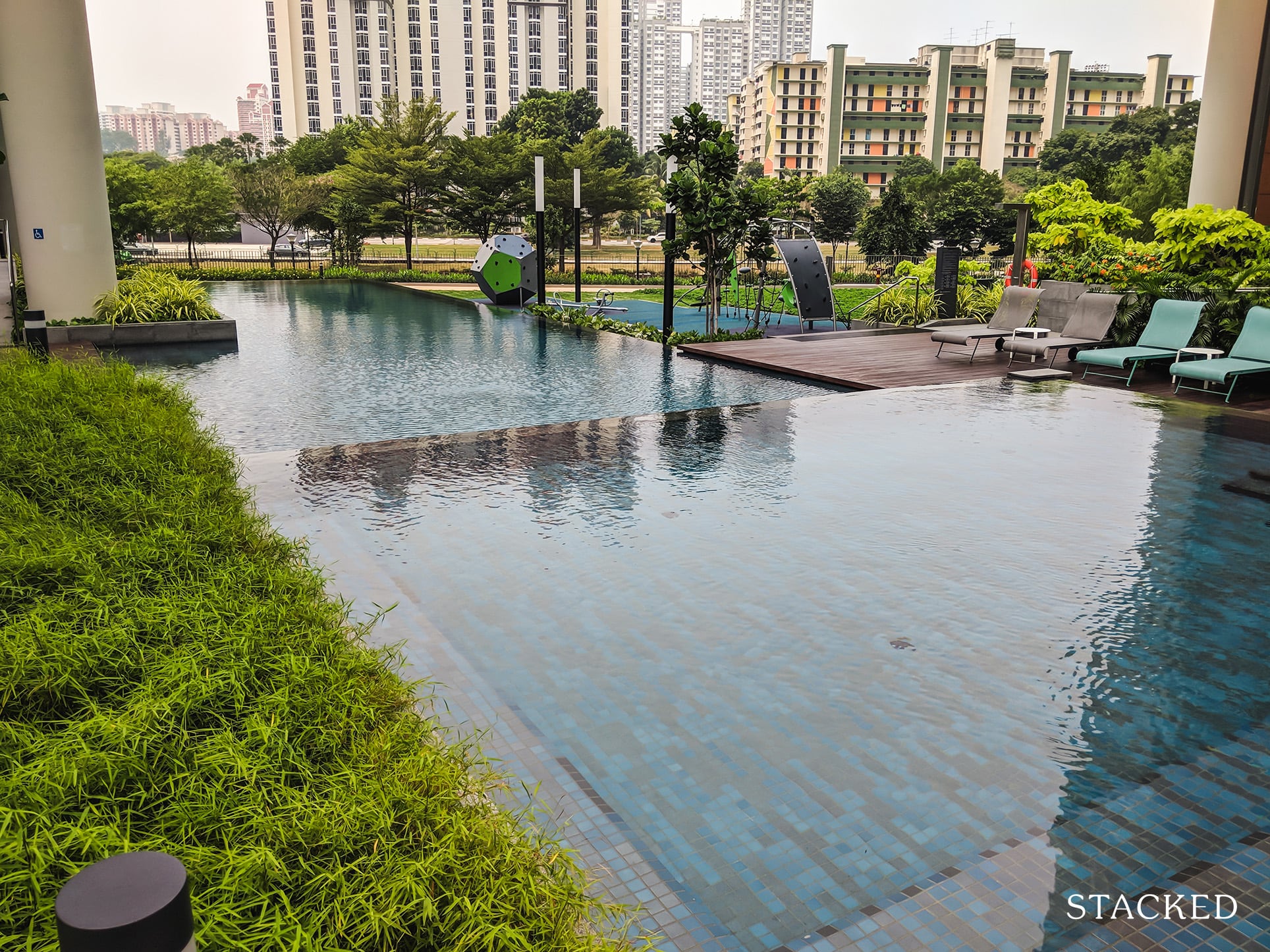 This 25m lap pool has the usual deck chairs by the wooden deck, but also has the distinction of having the playground right beside it.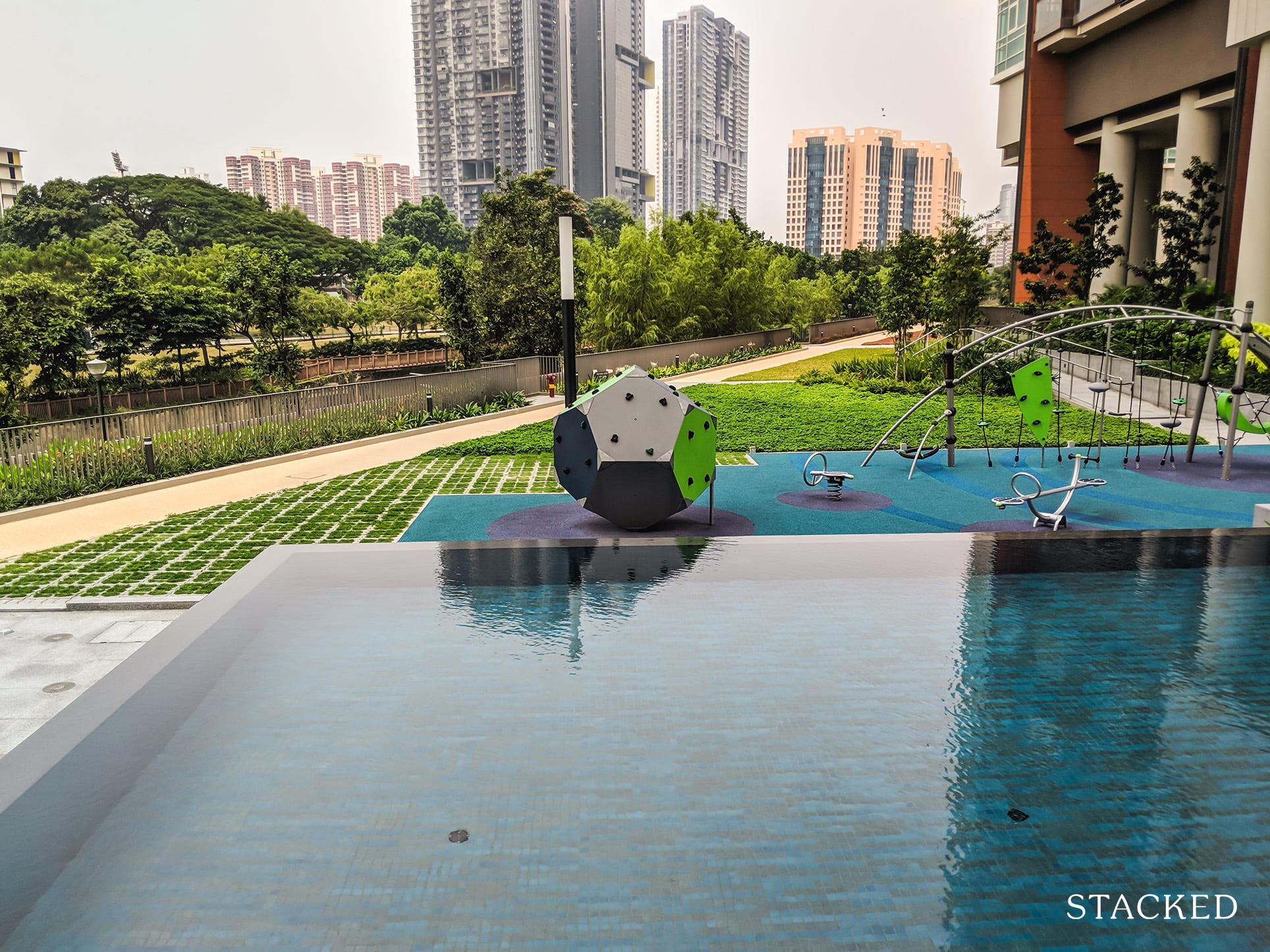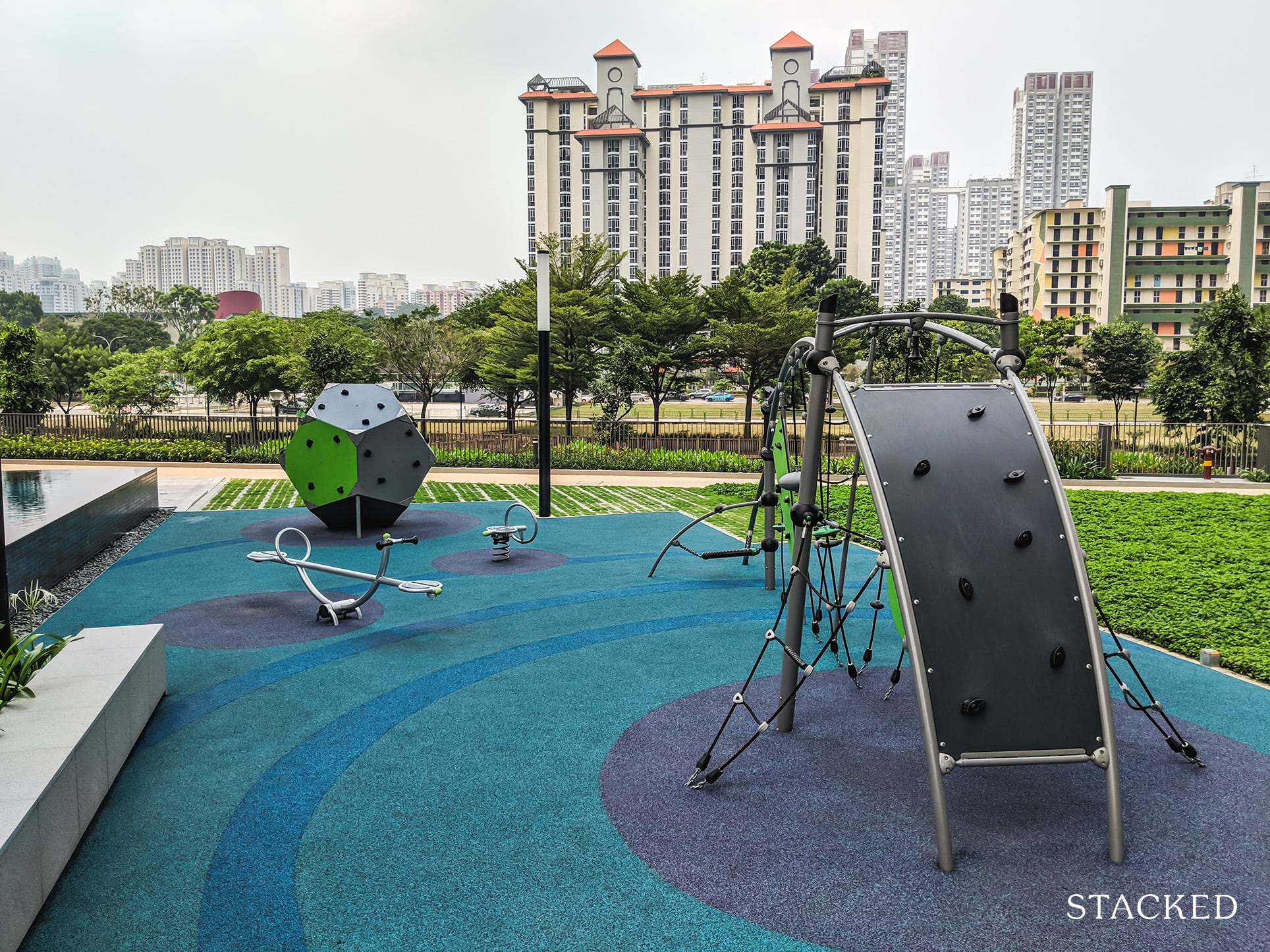 The usual children's playground.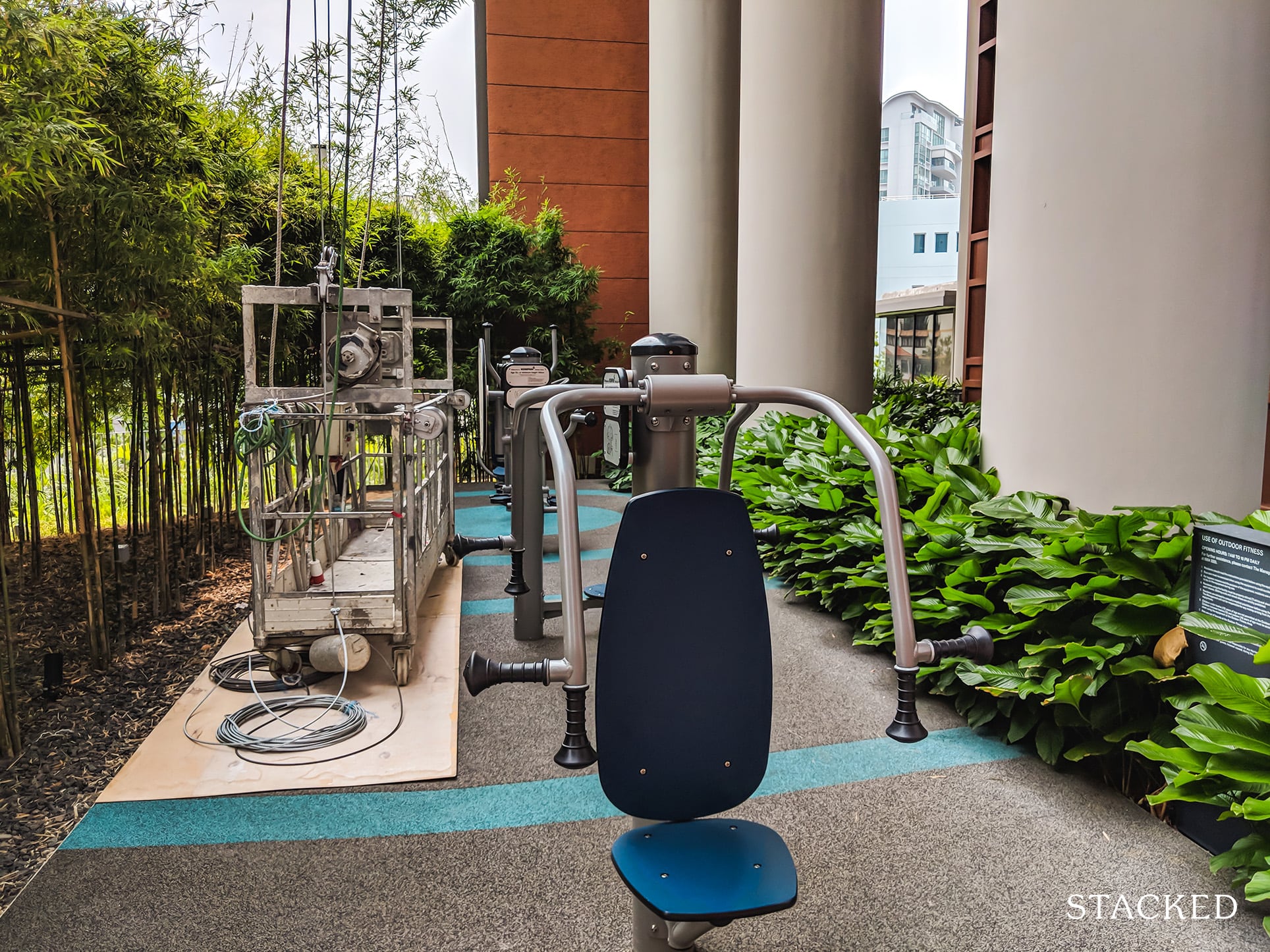 Beside the 25m lap pool is the outdoor fitness station.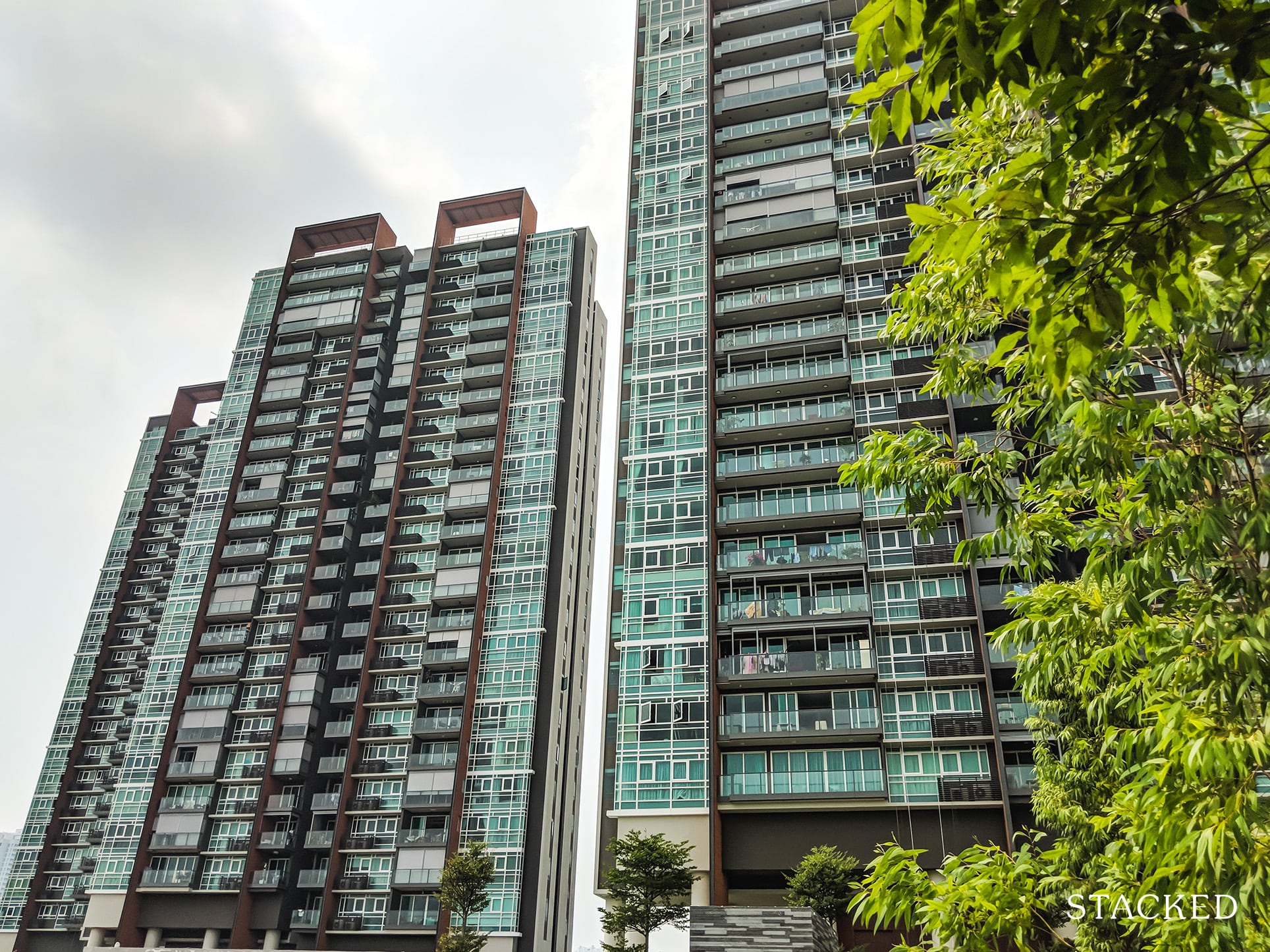 Let us now turn our attention to the main highlight of the Principal Garden, the rooftop facilities on top tower 99.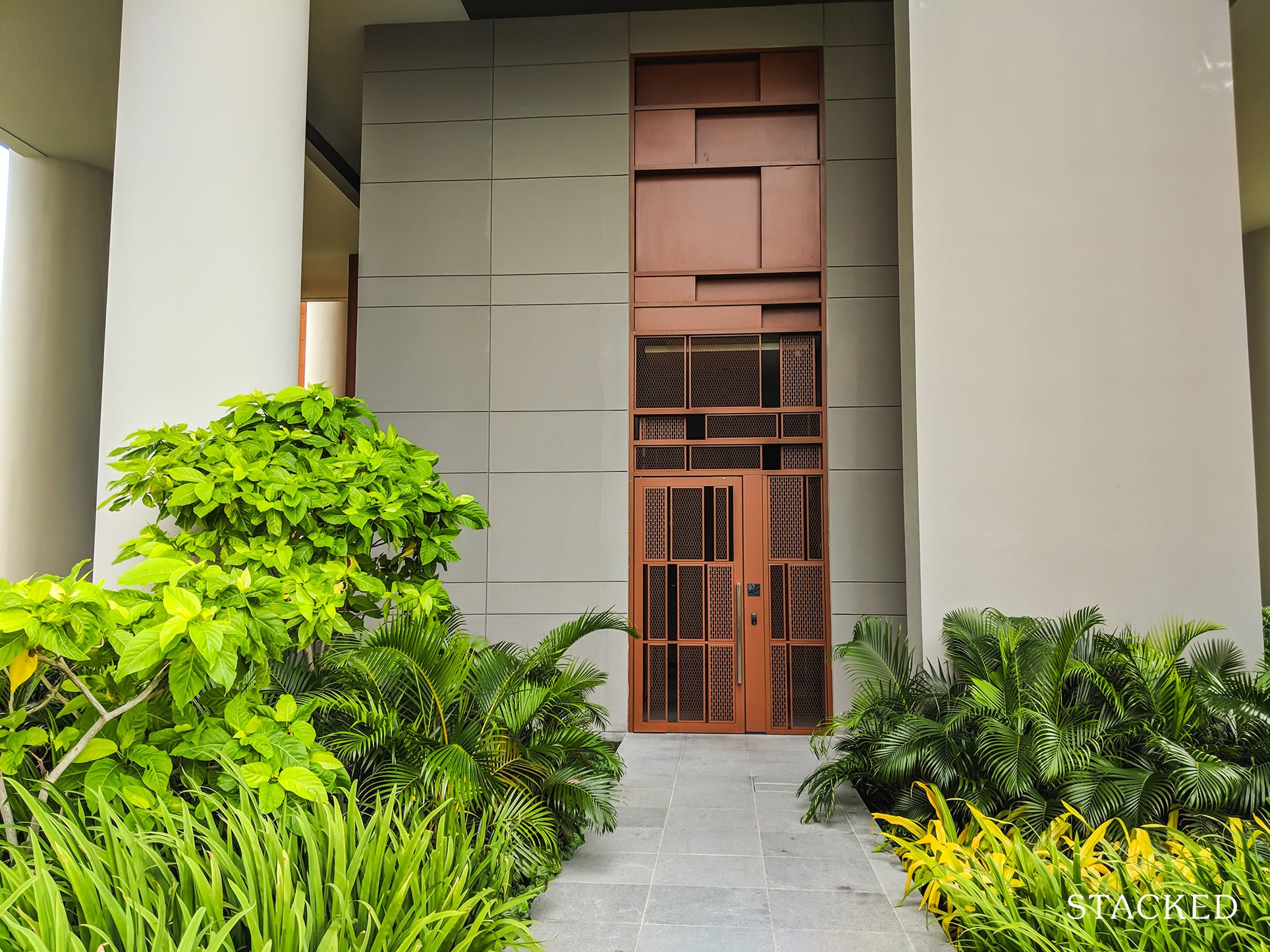 Each tower requires the usual keycard access. For guests visiting, you will have to dial in via the keypad. I like the design of the entrance, it is somewhat unique.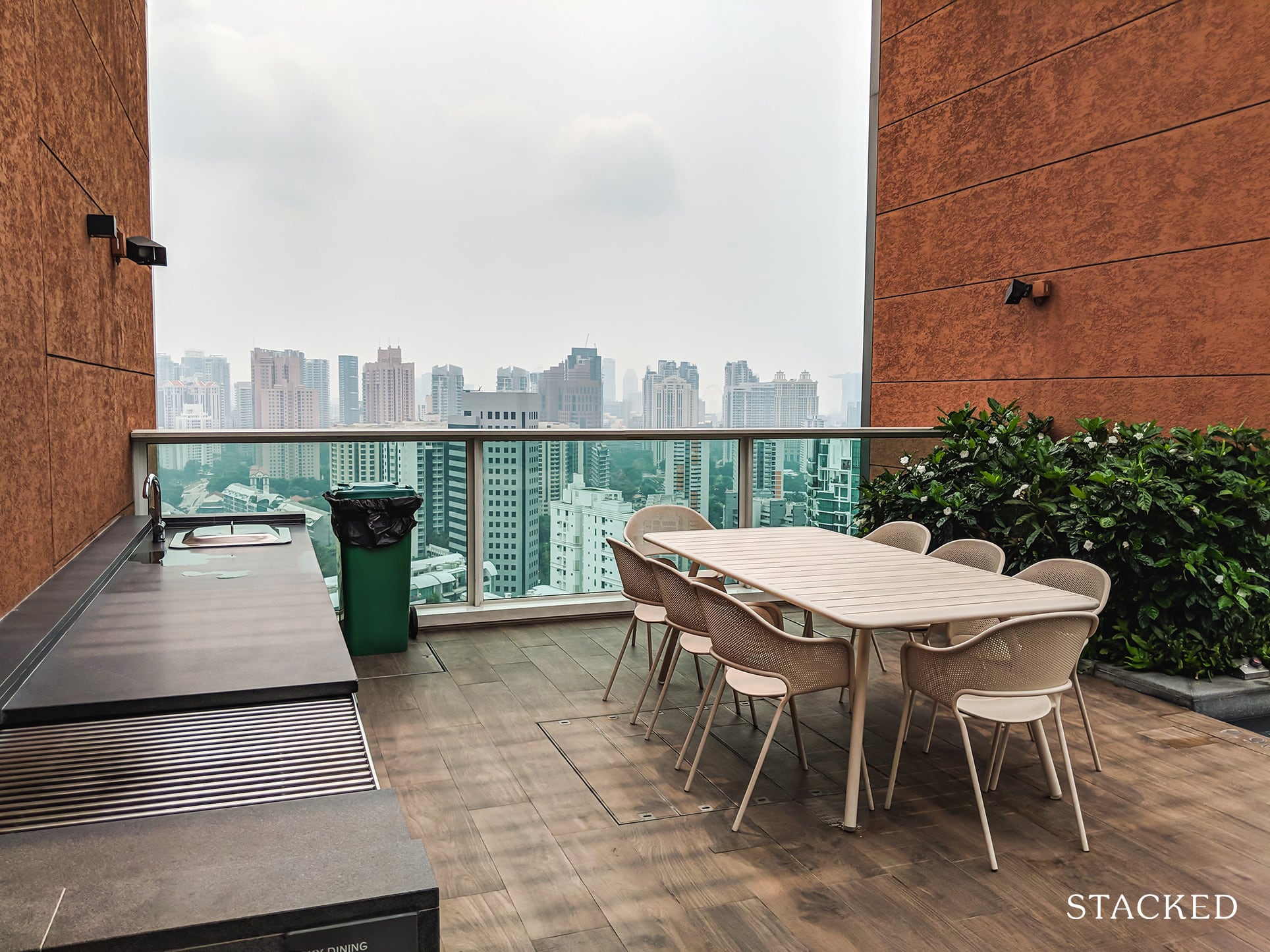 Once you get to the rooftop, you'll find a barbeque and dining area.
With a jacuzzi right next to it.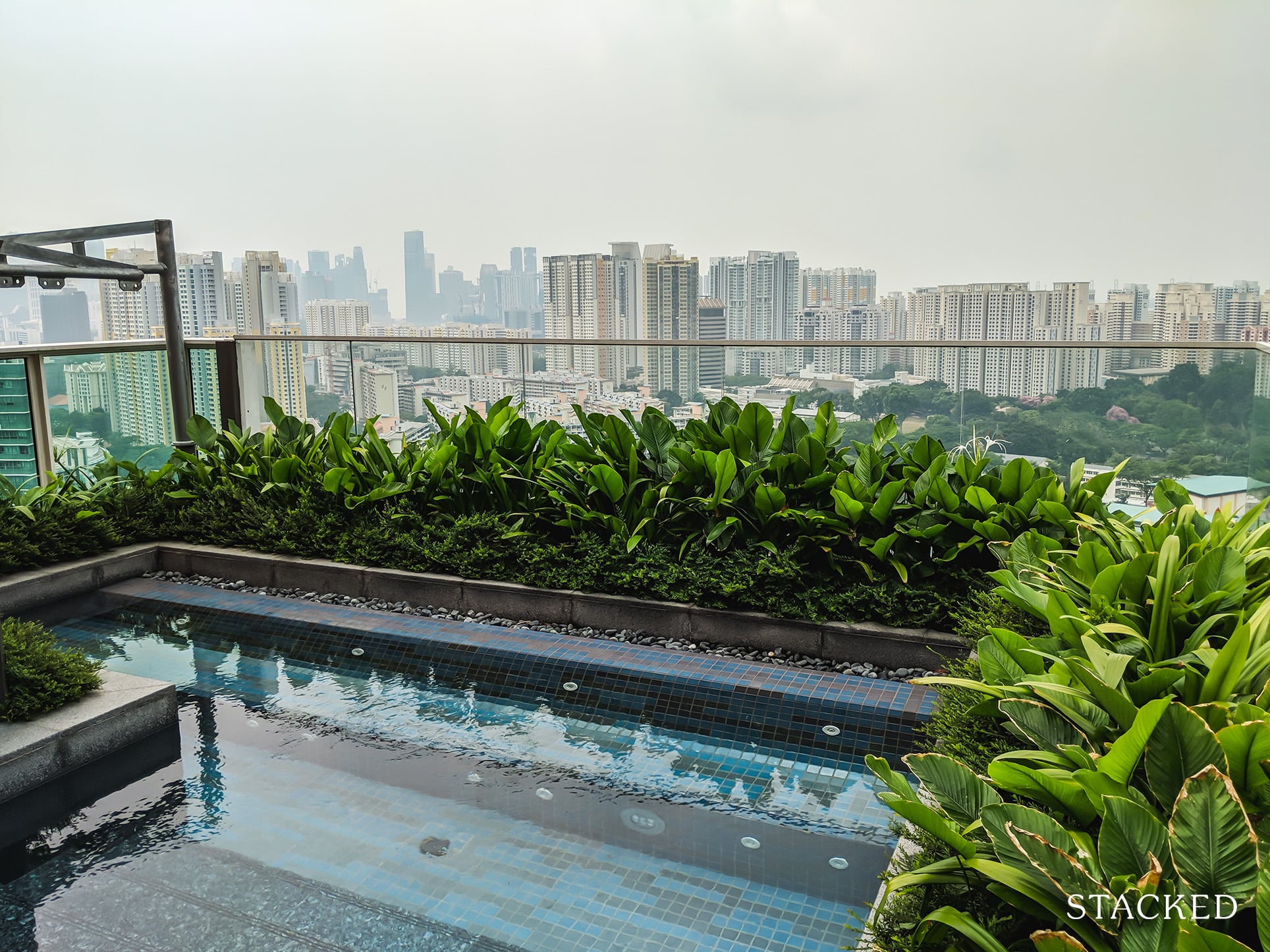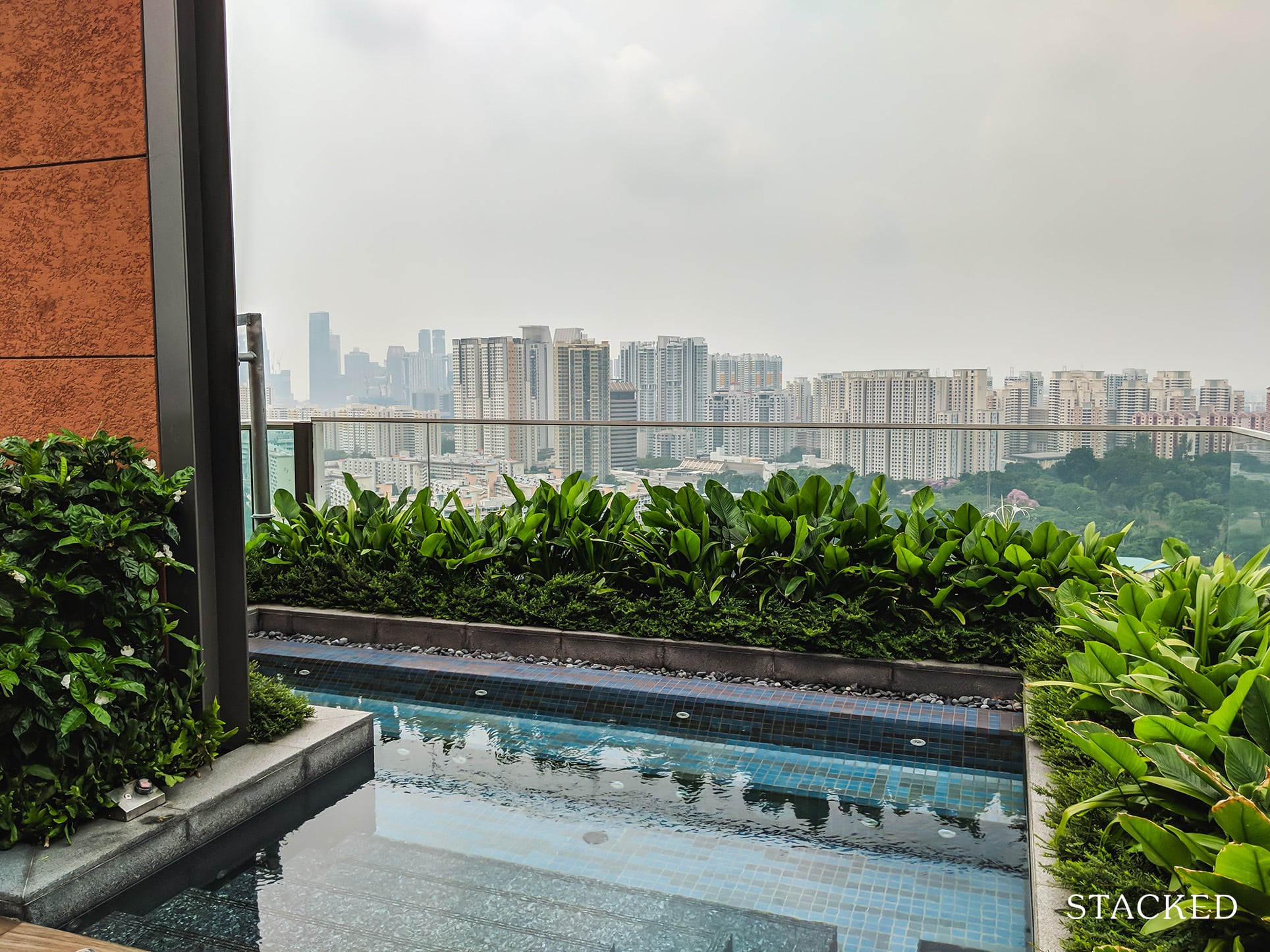 As you'd expect from this height, the views of Singapore are stunning all around.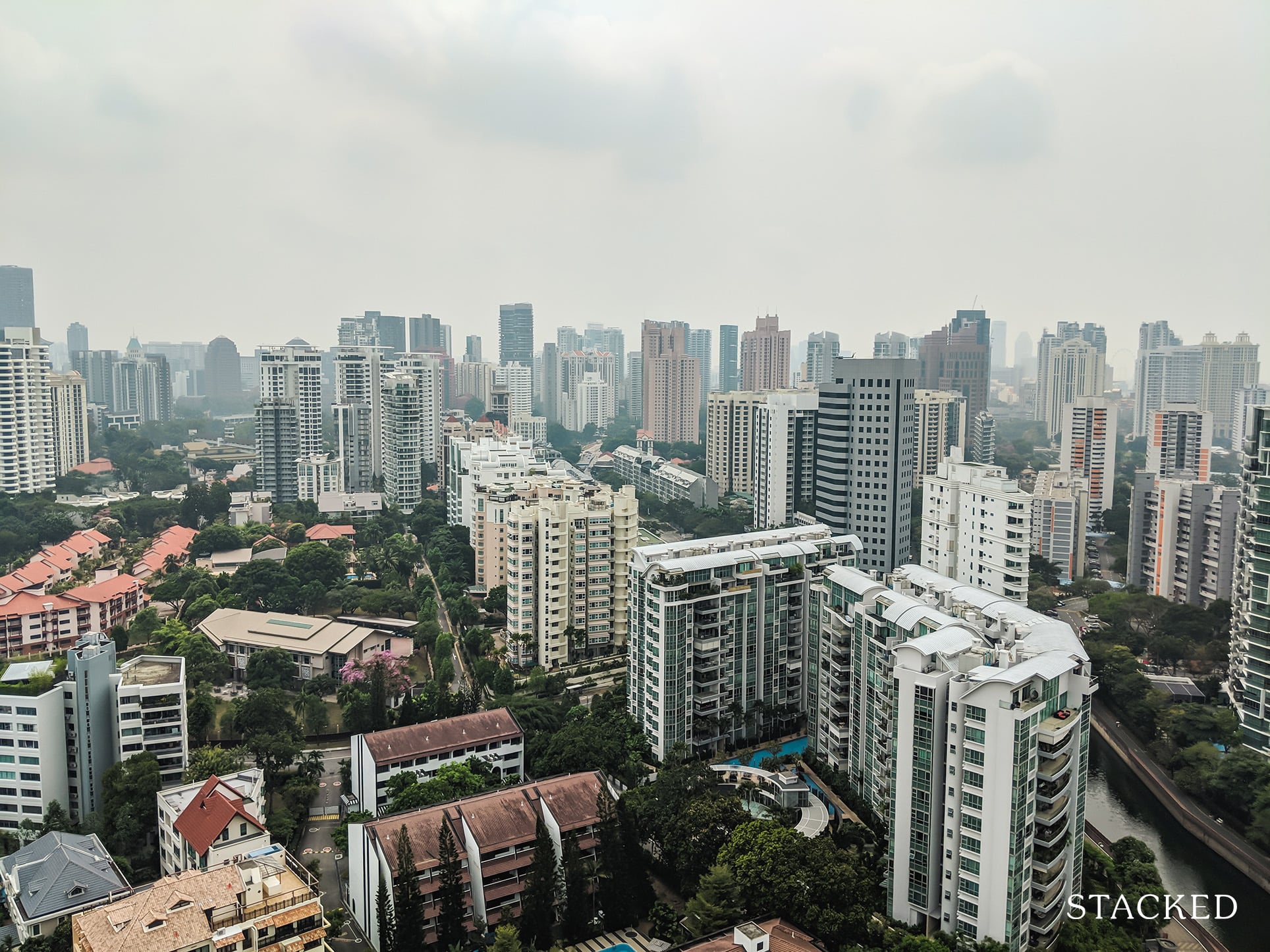 This wasn't taken on the sunniest of days, but it was still pretty awesome to be perched at this height. Do note that this facility is only on the one tower out of the four!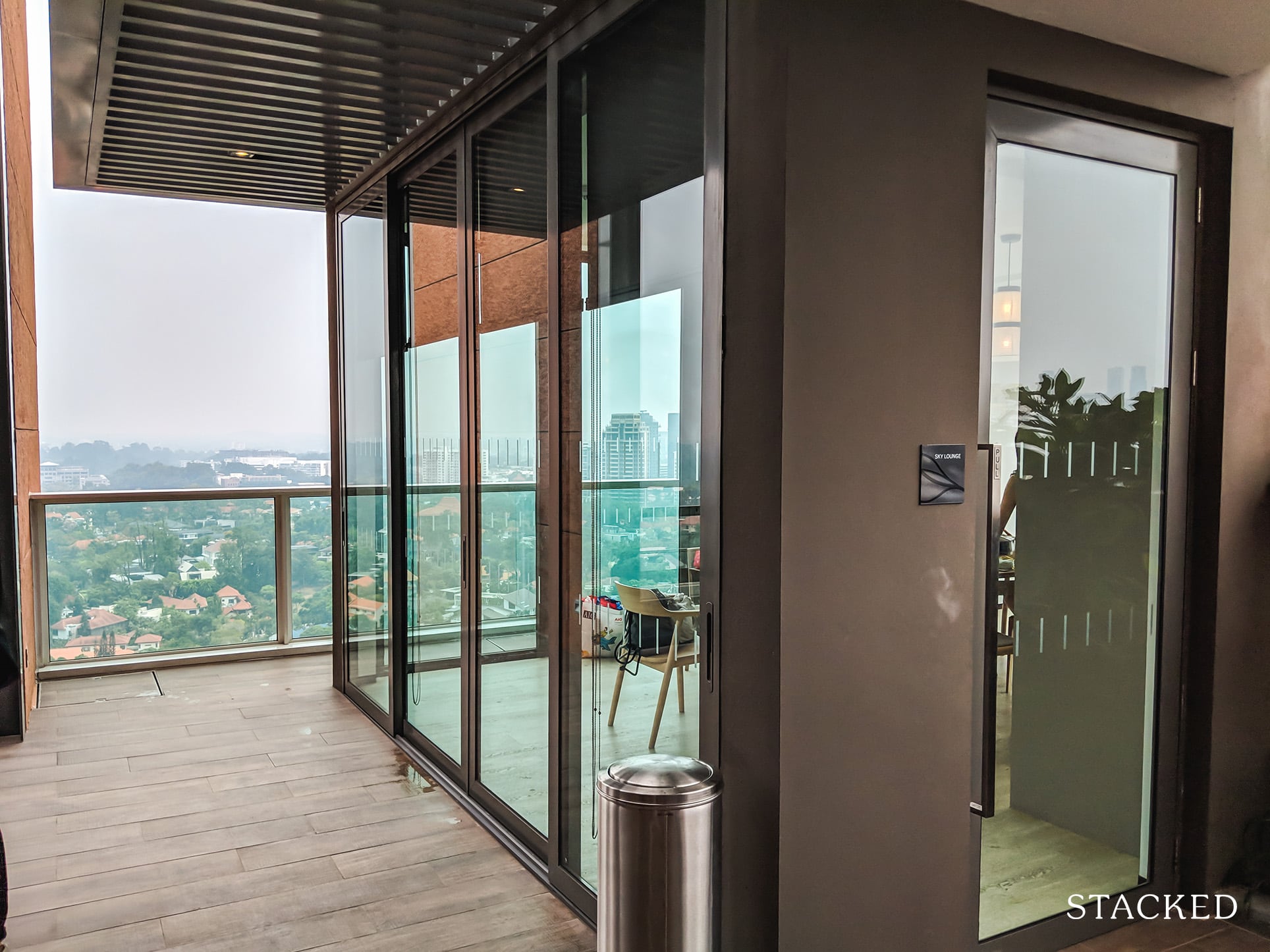 And that's not even it, there is still a function room on the other end. With the views this would probably make this the most in demand function room for sure.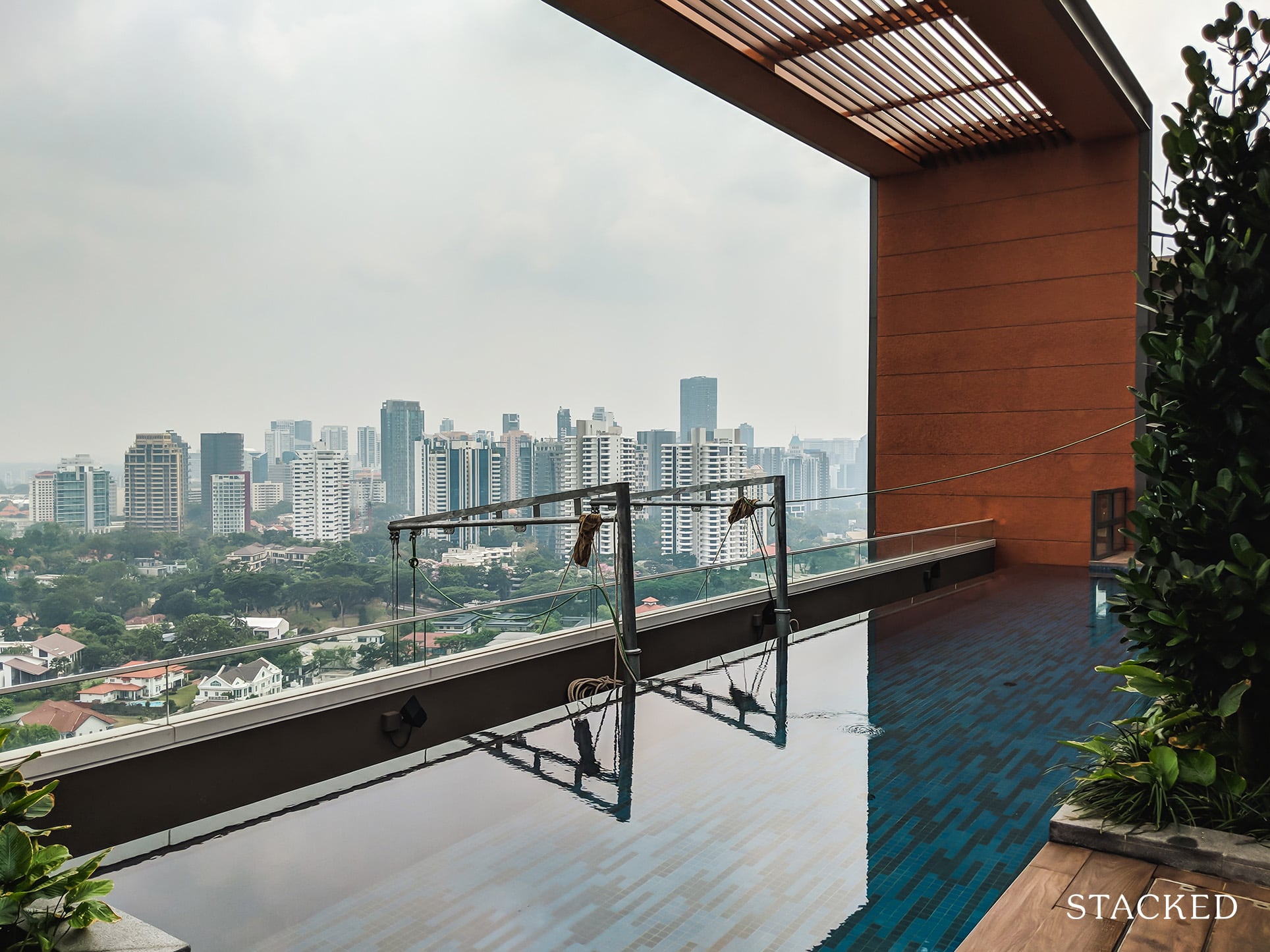 Next to it is what is probably the highlight of the Principal Garden for me, the rooftop infinity pool.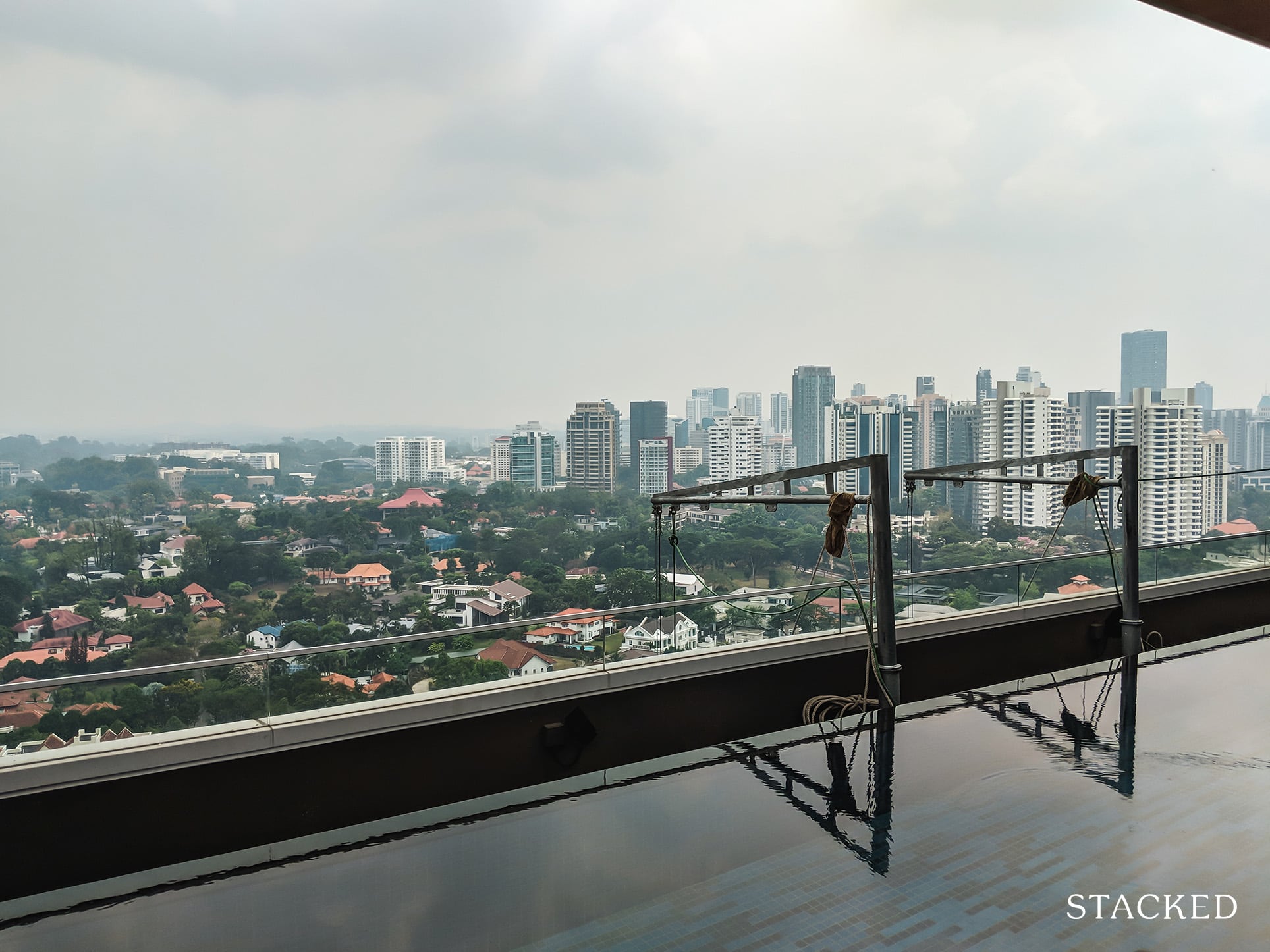 Pardon the scaffolding, and the hazy weather. It still makes for an incredible sight, being able to swim and relax in a pool at this height is a real standout feature for the Principal Garden.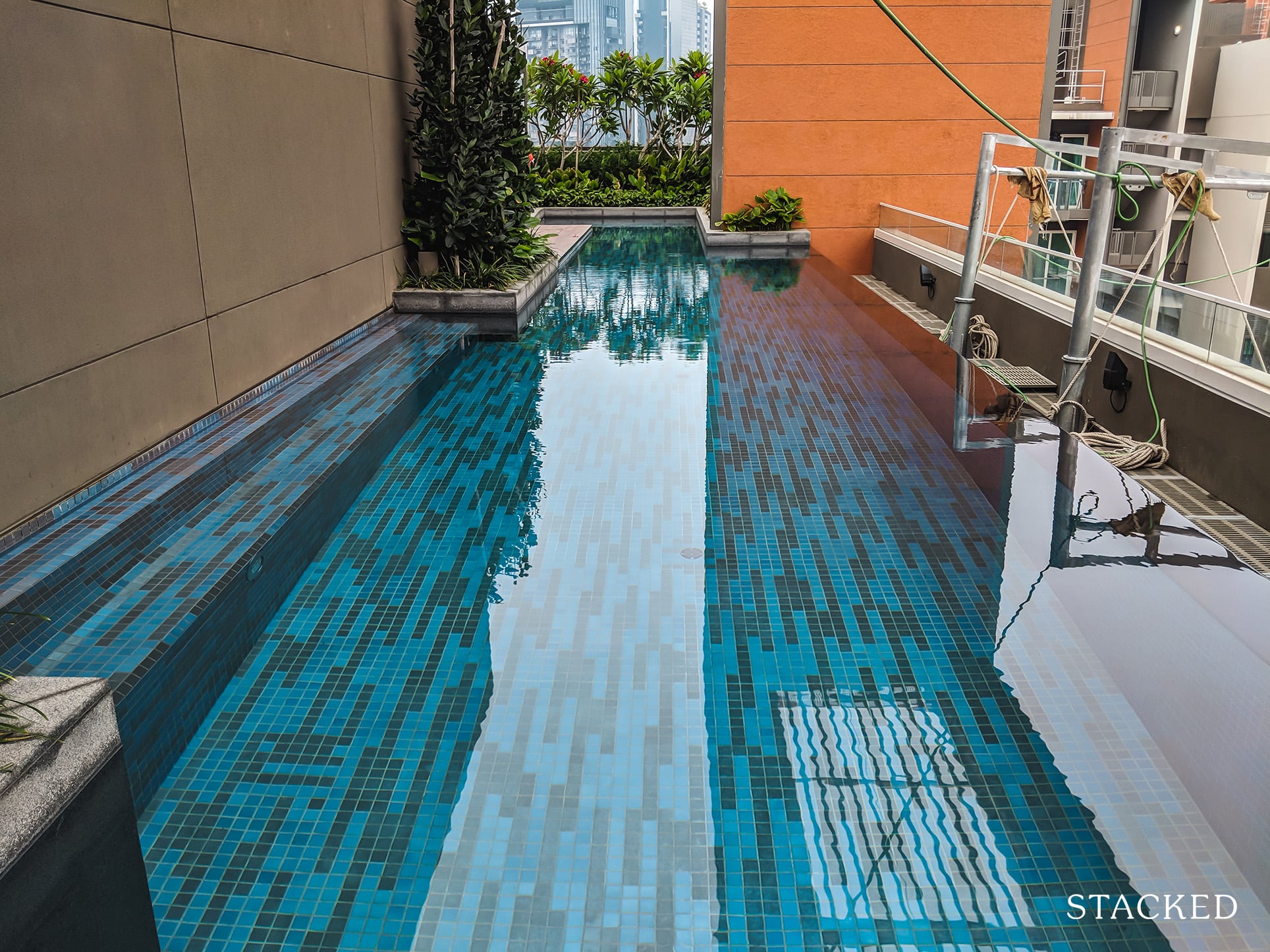 The rooftop infinity pool isn't the longest, but with so many other swimming pools in the development, it would be just cruel to even complain about it. Furthermore, this really is just the place to kick back and relax after a hard days work, you can always exercise at the three main pools below.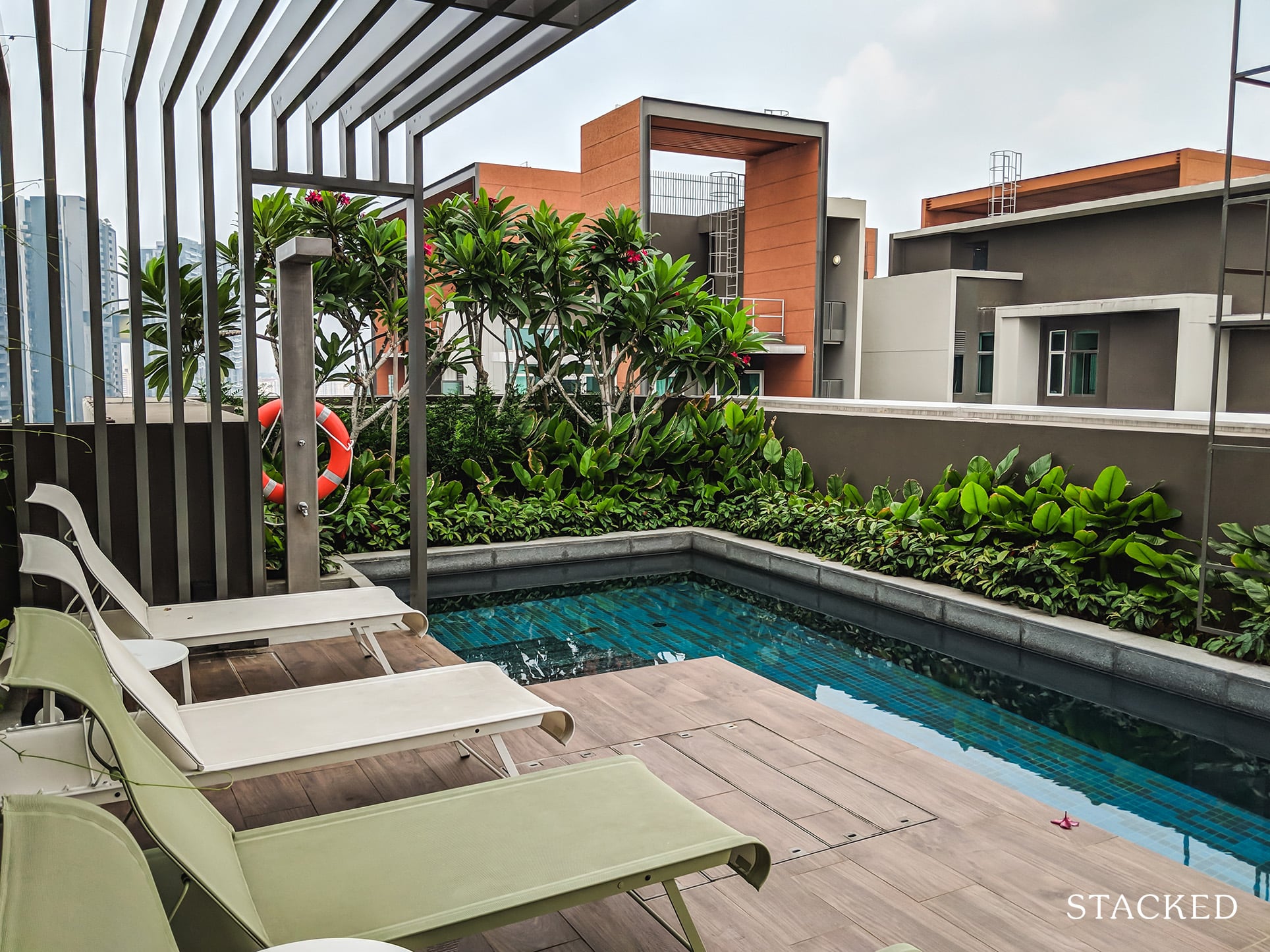 At the far end of the pool, there is space for some deckchairs and an area to wash yourself before you get into the pool.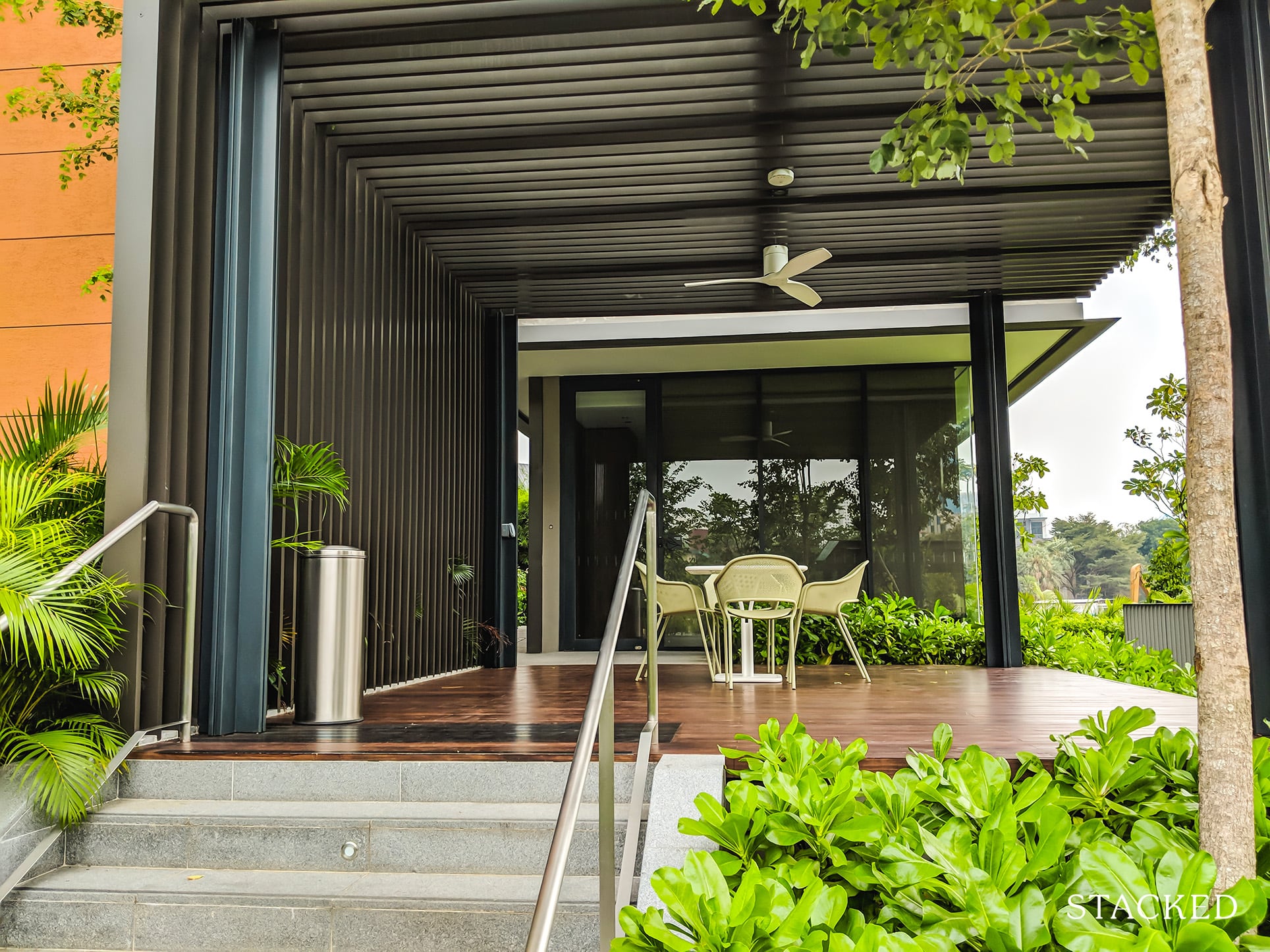 At the far corner of the development, you have an indoor reading room and outdoor seating.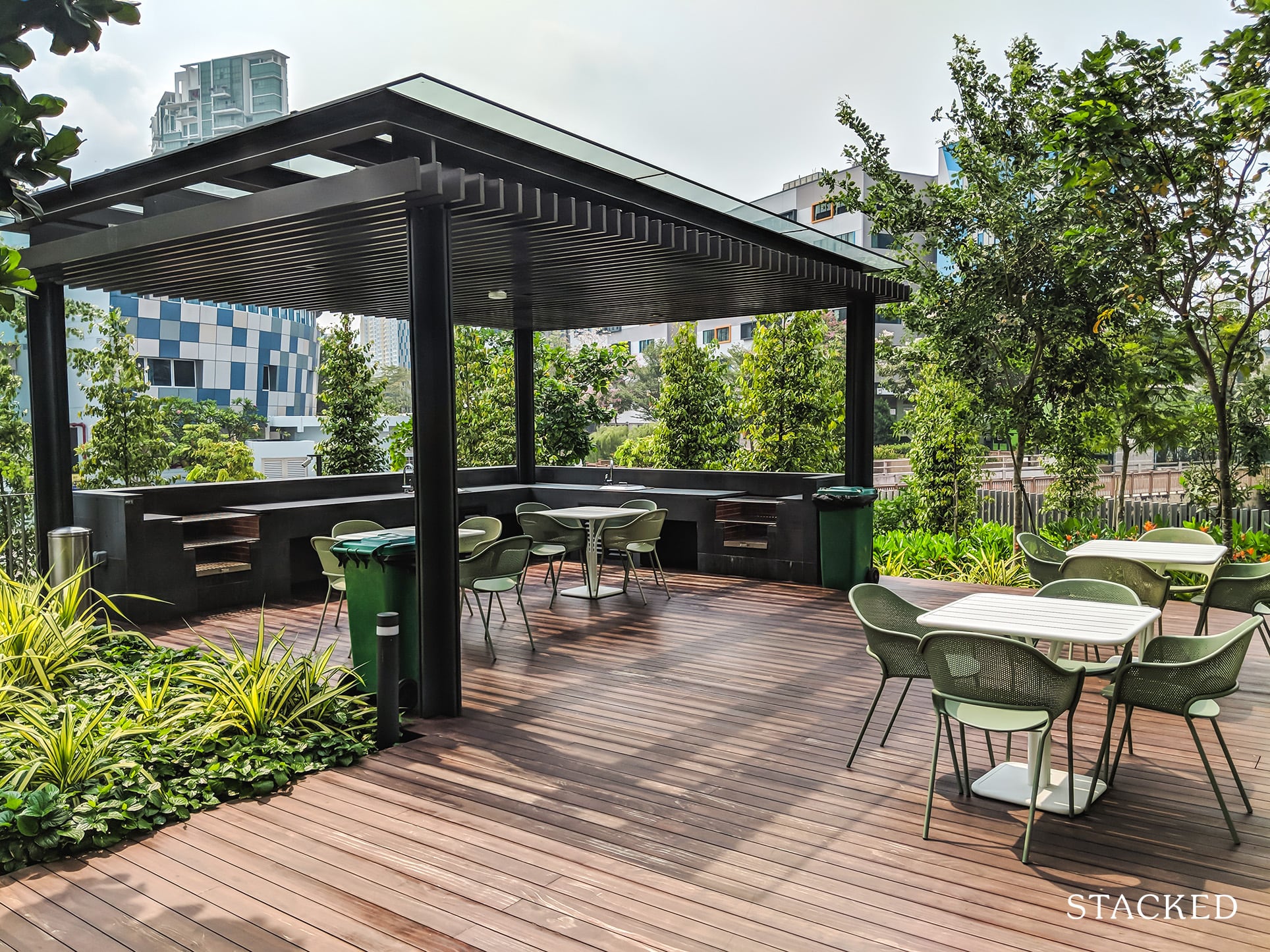 There is also another barbeque pit further in front. This one is actually the most spacious one, with ample seating for hosting your guests.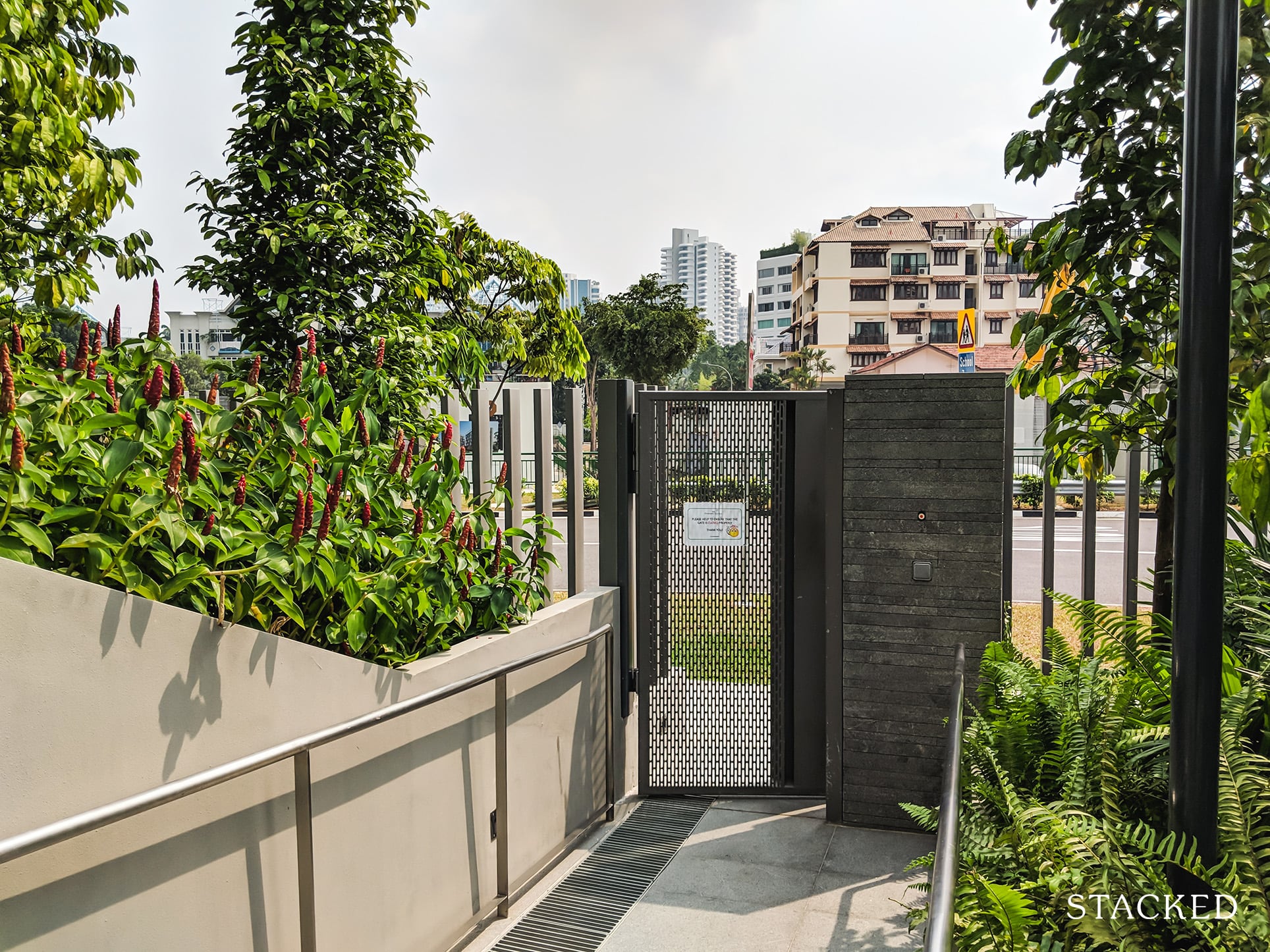 If you are wondering, there is a sidegate that will lead you out to Prince Charles Cres too.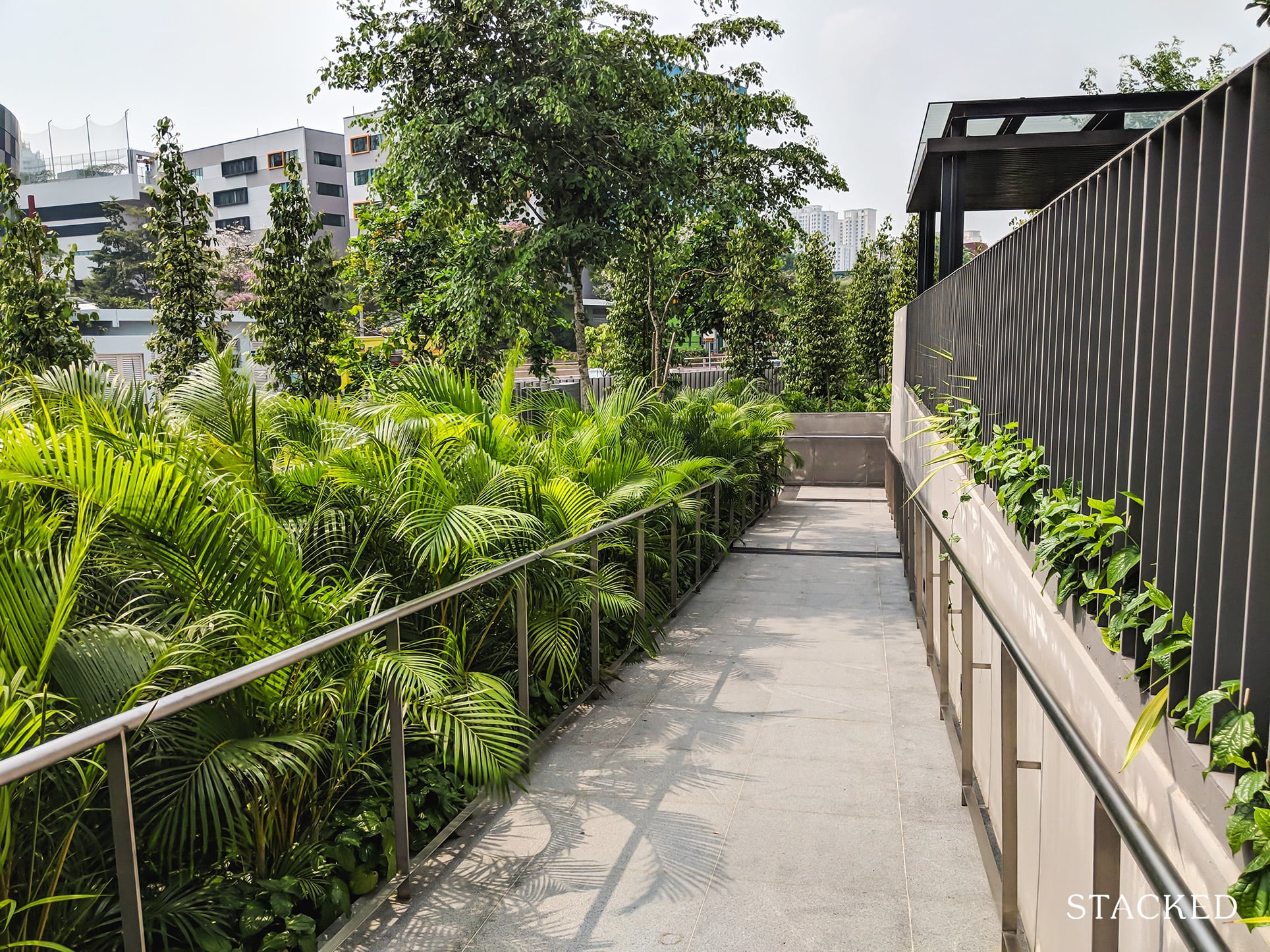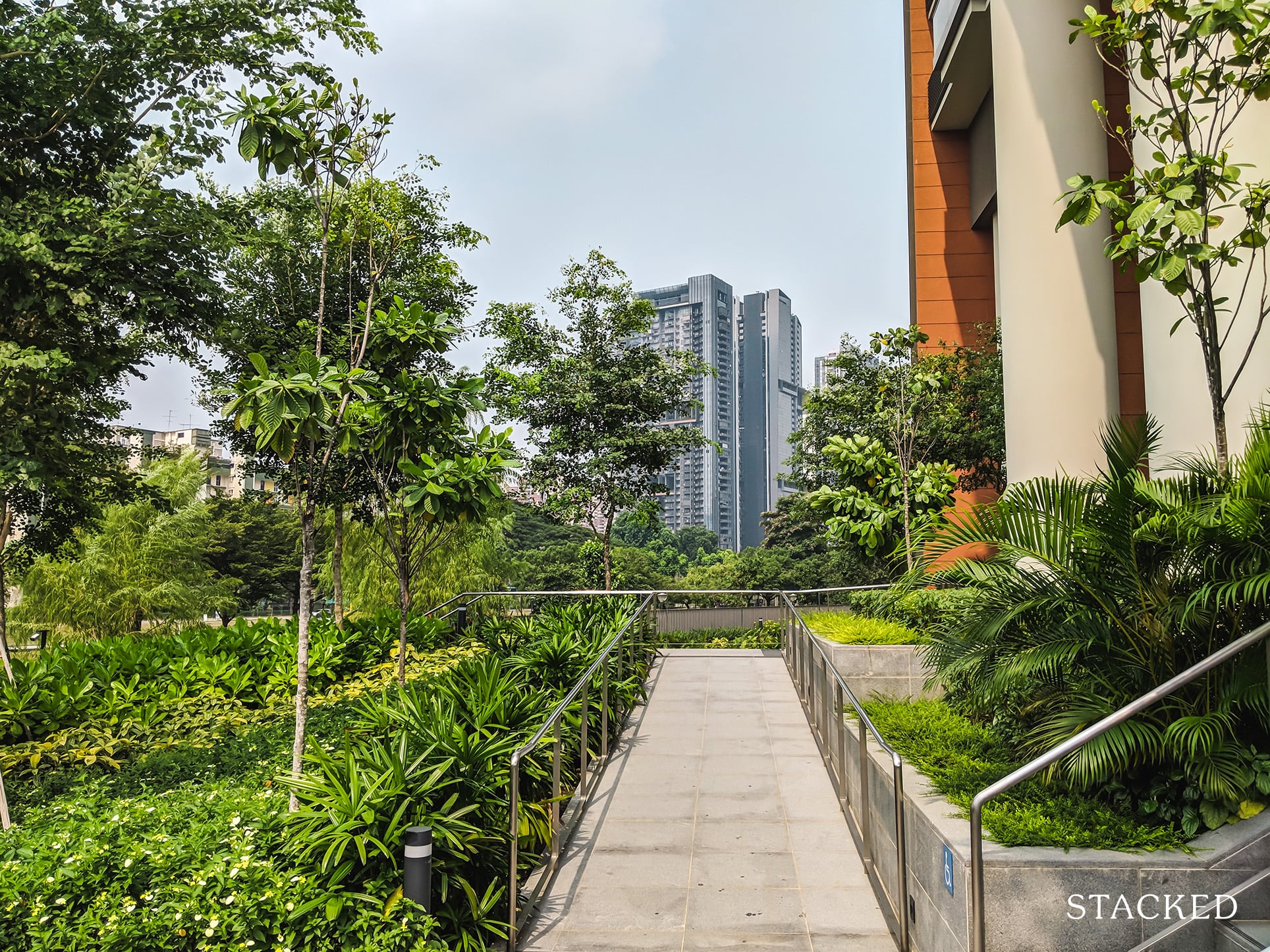 The pathways here are all wheelchair/bicycle-friendly, which is a great option to have.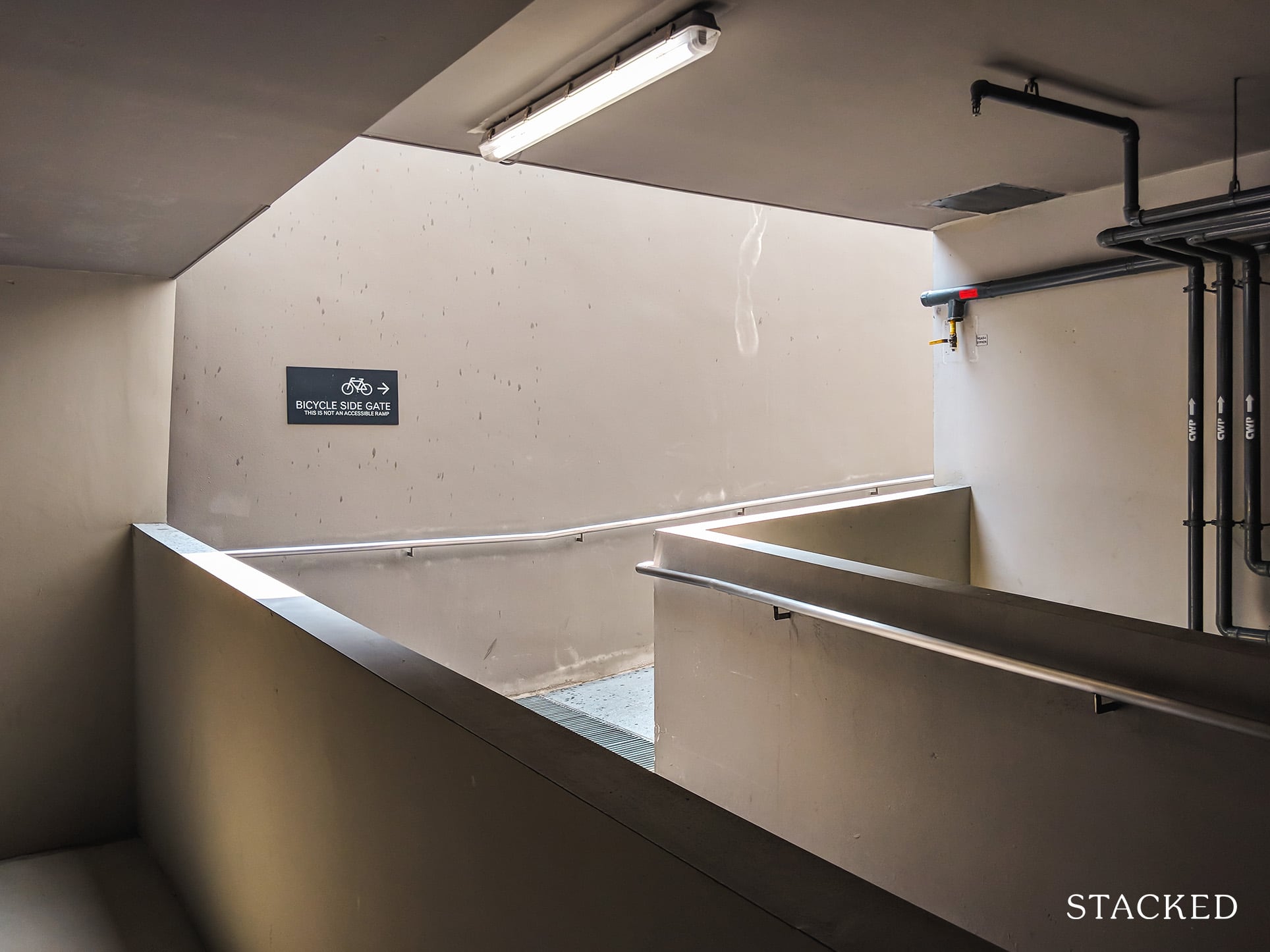 And it leads you right to the basement.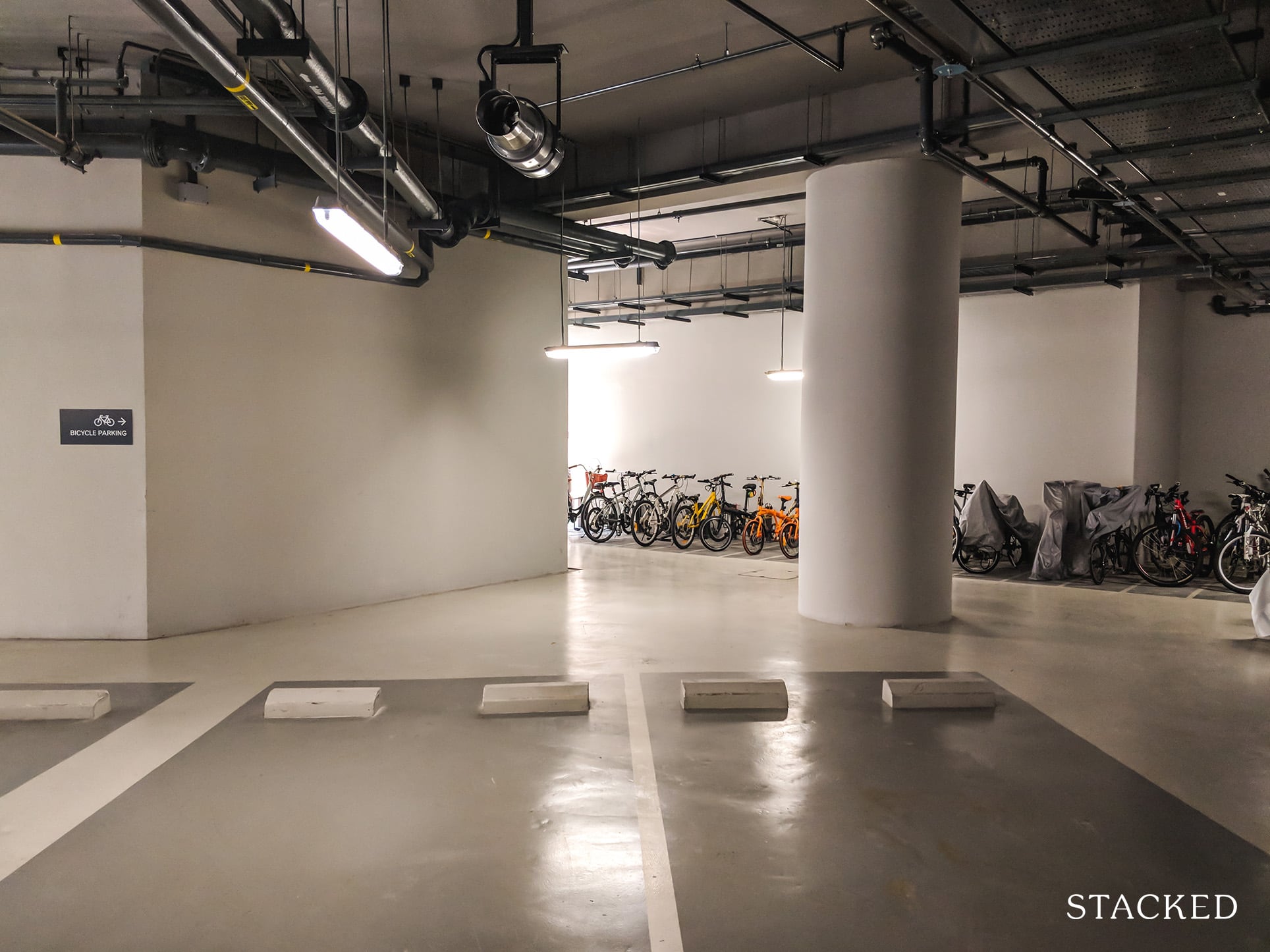 The basement at the Principal Garden has ample space for bicycle parking. They even offer bicycles for residents to rent, which is perfect to make use of the Alexandra Park connector to get to different amenities. This is really useful, plus the route is mostly scenic so I think this is something that residents will greatly appreciate.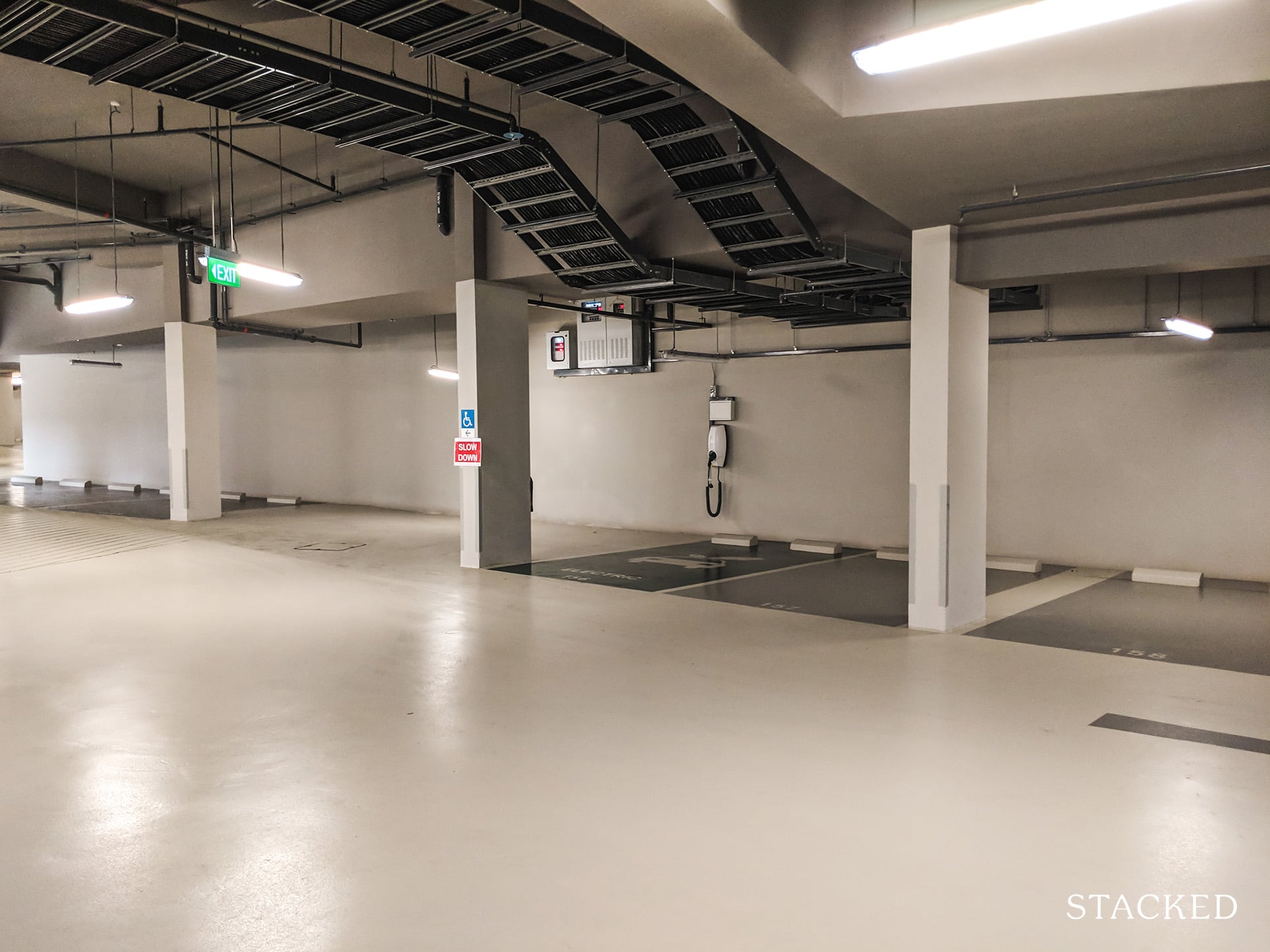 There is also provision for electric car charging.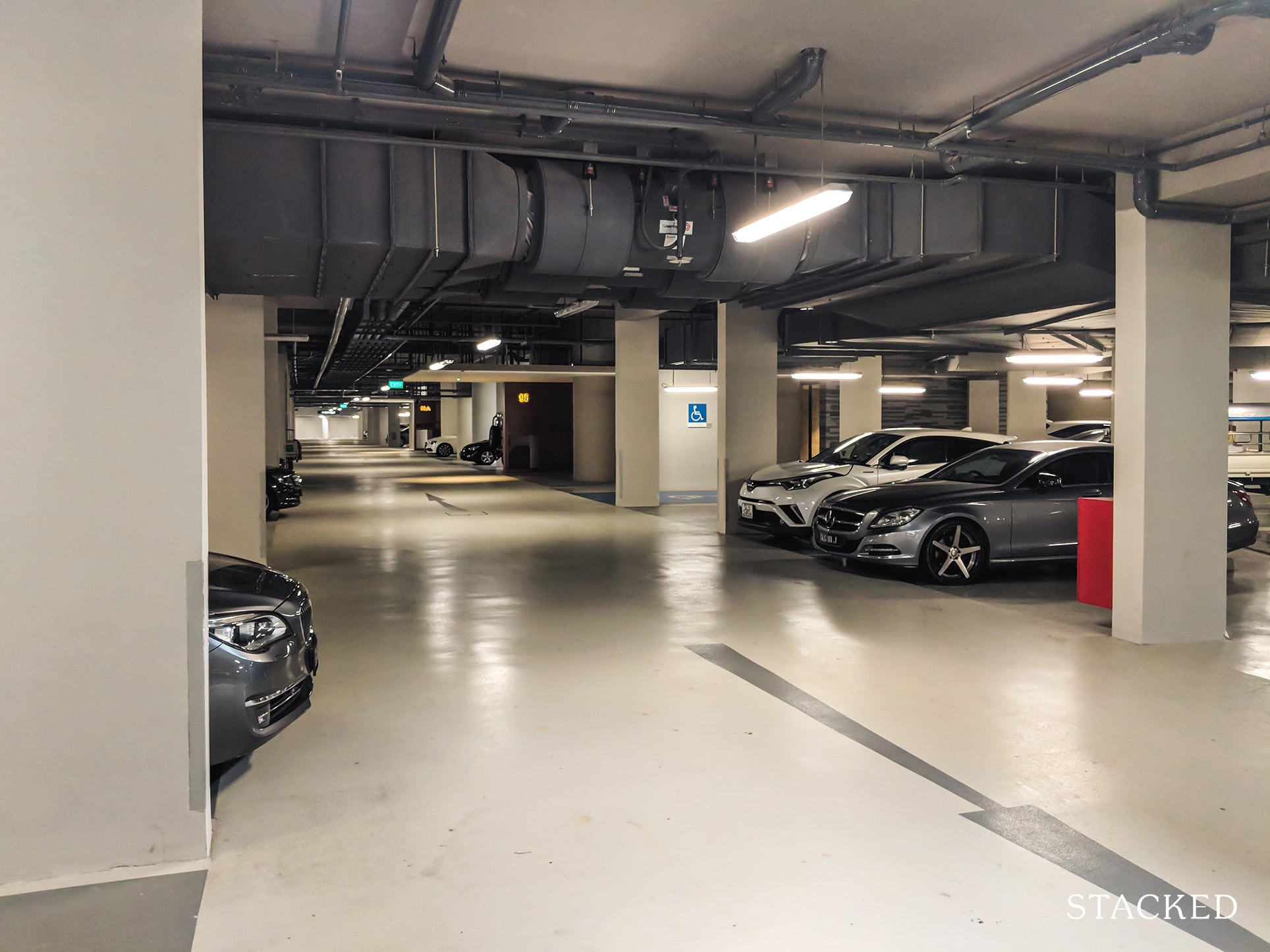 The carpark is terrific, it is well-spaced, brightly lighted up, and has a smooth premium coating on the floor.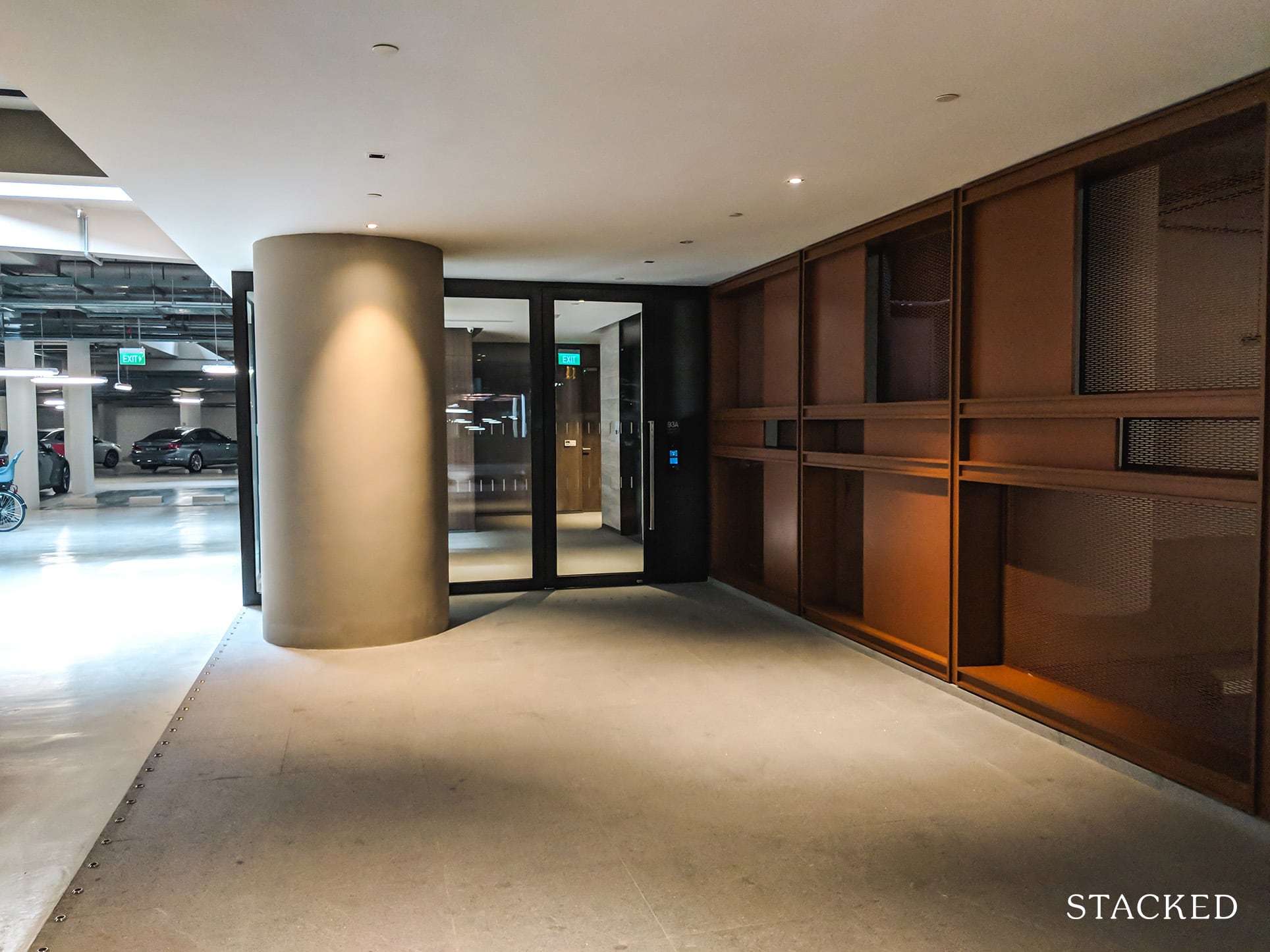 The lobby for each tower is superbly designed too. The lighting and design makes it look premium, and is a nice welcome home each day plus gives off a good first impression to visitors.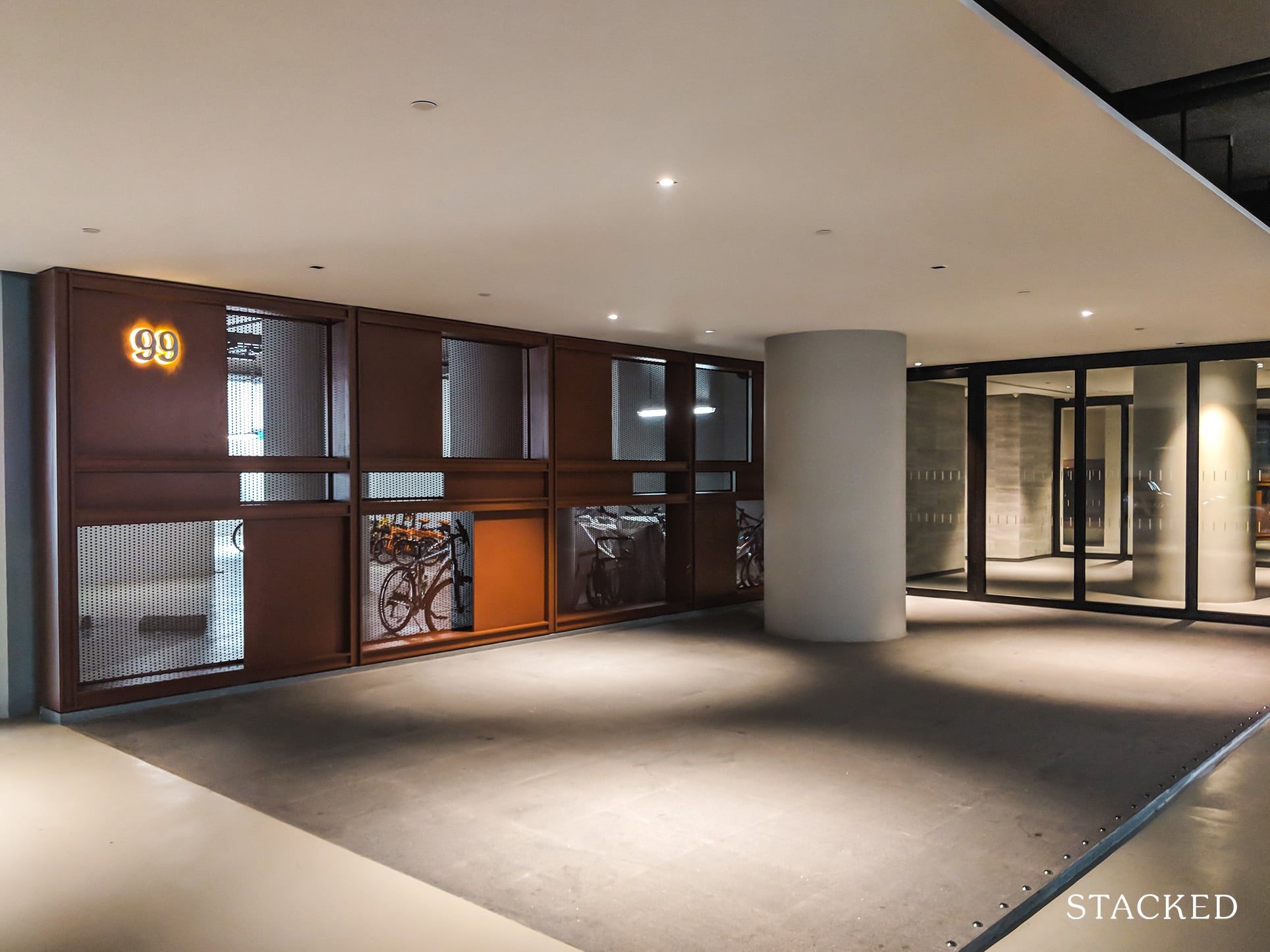 Each lobby area is also slightly different, and I am a big fan of the minimalist design. Plus, the inside is air-conditioned too, which is always a treat.
Principal Garden Location Review
Situated in between two contrasting yet incredibly well-developed estates, residents of Principal Garden will find that they have nearly everything at their disposal.
Ranging from the heartland options in Tiong Bahru to the uptown selections in Novena, there seems to be little fault in the condo's locale. Even the canal that runs alongside has relatively ceased its days of nasal terror after a thorough make-over in 2011 as part of the Active, Beautiful and Clean (ABC) Waters Programme initiative – courtesy of the Public Utilities Board (PUB).

Residents in the southern blocks can bask in an unobstructed view of this project (great for sunrises and sunsets) while their northern/north-west facing counterparts will have the Chatsworth GCB area to enjoy in its entirety.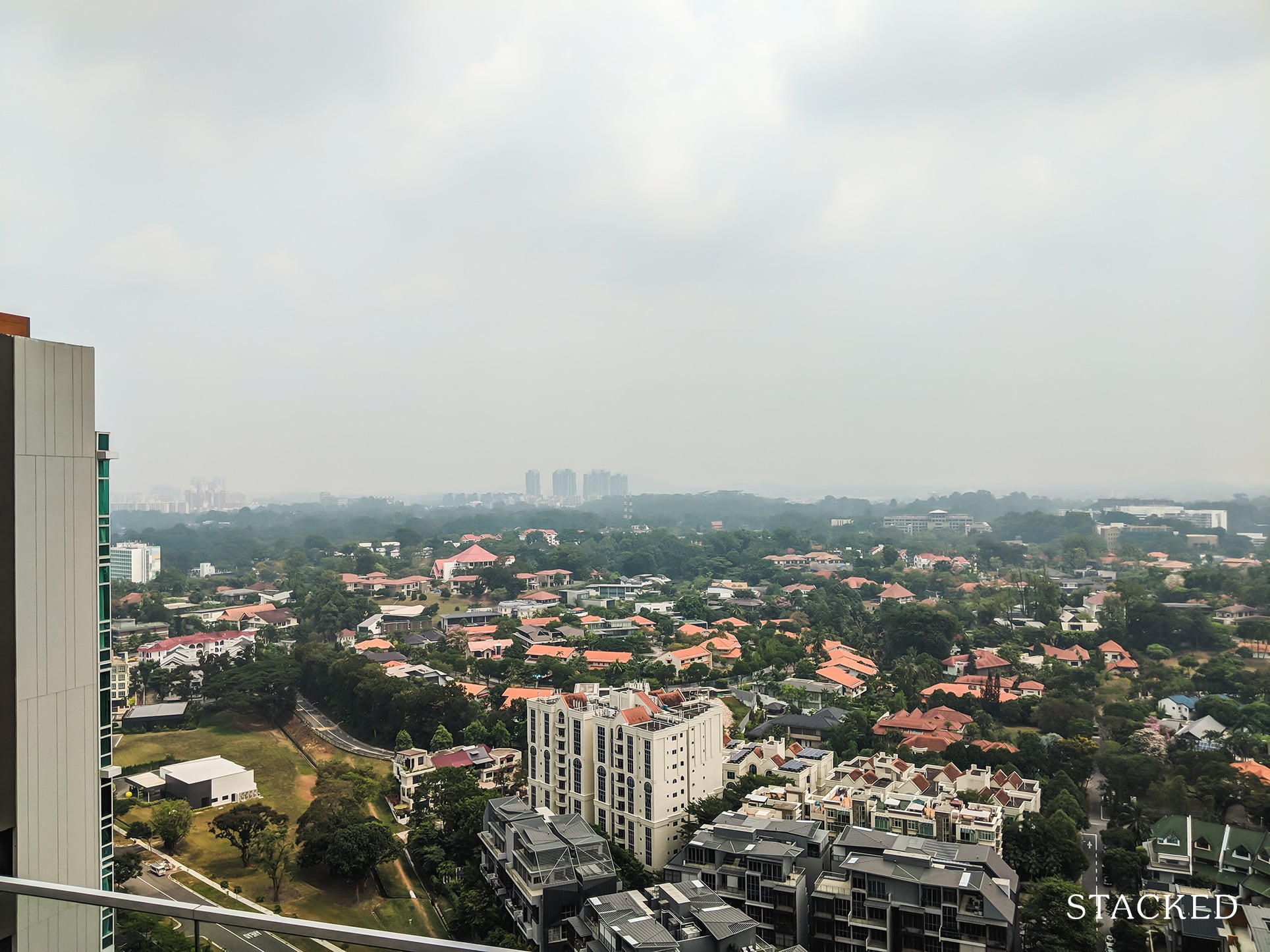 Does Principal Garden have a flaw then? Unfortunately, it does appear so.

The condo's Achilles heel comes in its proximity to the closest MRT Station (bummer). A 10-minute stride through a couple of alleyways, past a couple of roads and under the scorching sun isn't really anyone's idea of a nice afternoon's walk to Redhill MRT.

Then again, no one really dreams of walking to Redhill MRT.
What most (especially residents in the Eastern blocks) prefer, is a quick saunter down to the bus stop at Gan Eng Seng Secondary before hopping onto the 51 towards the MRT station.

Granted, it still takes an average of 12 minutes, but it does save you working up a sweat getting to that cooking class.
Fortunately, Principal Garden is only a 3-minute walk to the nearest bus-stop. Labelled as the 'Opp Gan Eng Seng Sec Sch' station, it services buses 51, 122, 139, 186 and 970. It is also opposite this station that you will find your ride to the Redhill MRT station.

With the dark clouds beginning to clear, another silver lining comes in the condo's easy access to major highways and central links such as the AYE and CTE as well as the Bukit Timah, Farrer, Jalan Bukit Merah, Havelock and River Valley roads. Not only does this appeal to car owners, but the relative contiguity (10-minute drive) to the downtown core will also sit well with those working in the CBD.

What about necessities then?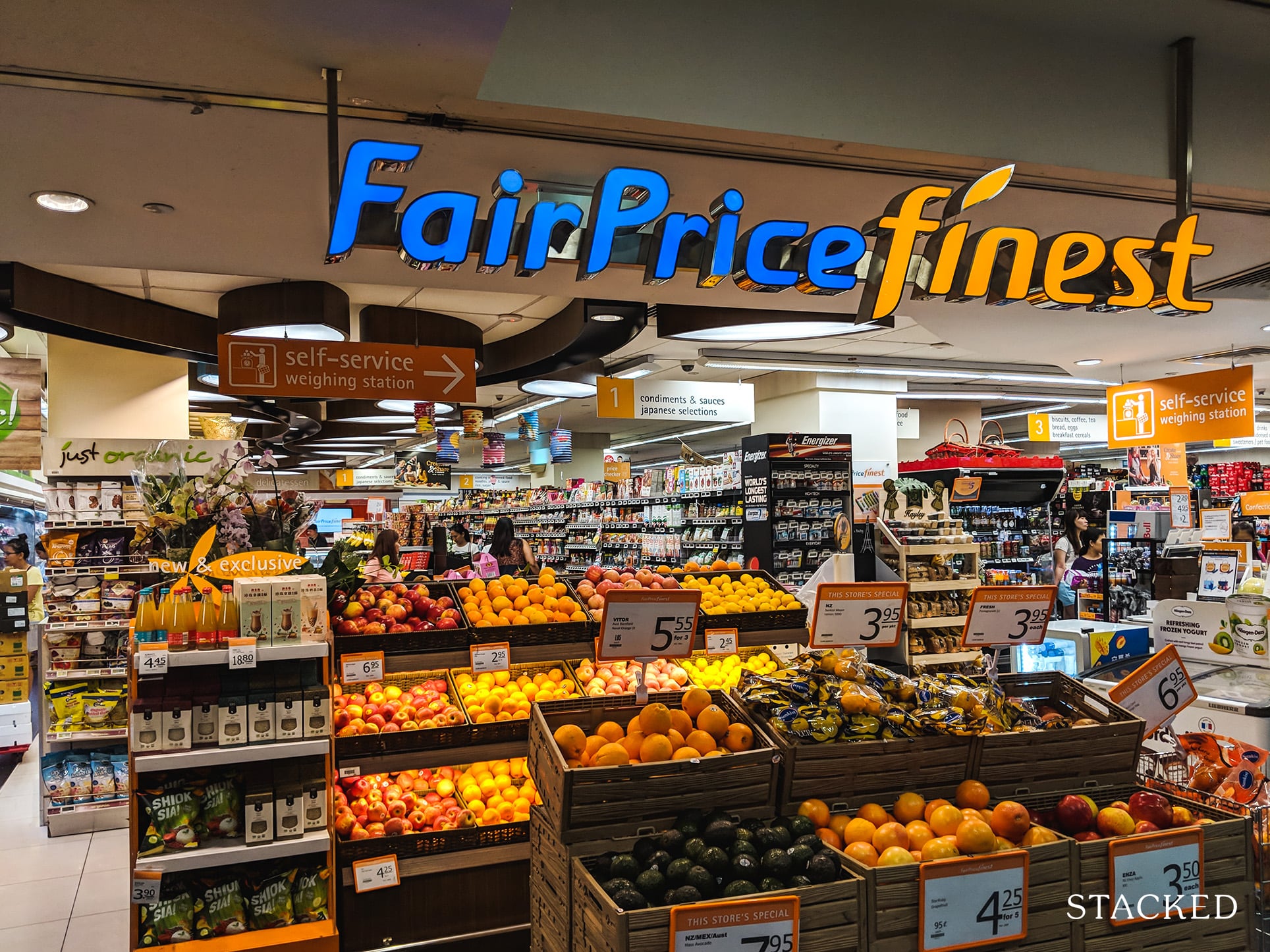 Beginning with our usual grocery-hotspots, the closest supermarket comes in the form of a FairPrice Finest at Valley Point. While it isn't the biggest supermarket and doesn't exactly have an incredible selection of overseas products, it is only a 7-minute walk along the canal from the condo – making it a great option for sudden cravings or simple (albeit urgent) endeavours.

If you do drive (or are willing to travel further via public transport), your options will multiply. A Cold Storage at Great World City and a Giant Express at Redhill Close, coupled with a string of FairPrices at Dawson, Havelock and Tiong Bahru Road are within 8-minute drives from Principal Garden amongst a couple of other local and expat grocery outlets.

The condo's location also plunges it into the middle of a shopping mall extravaganza.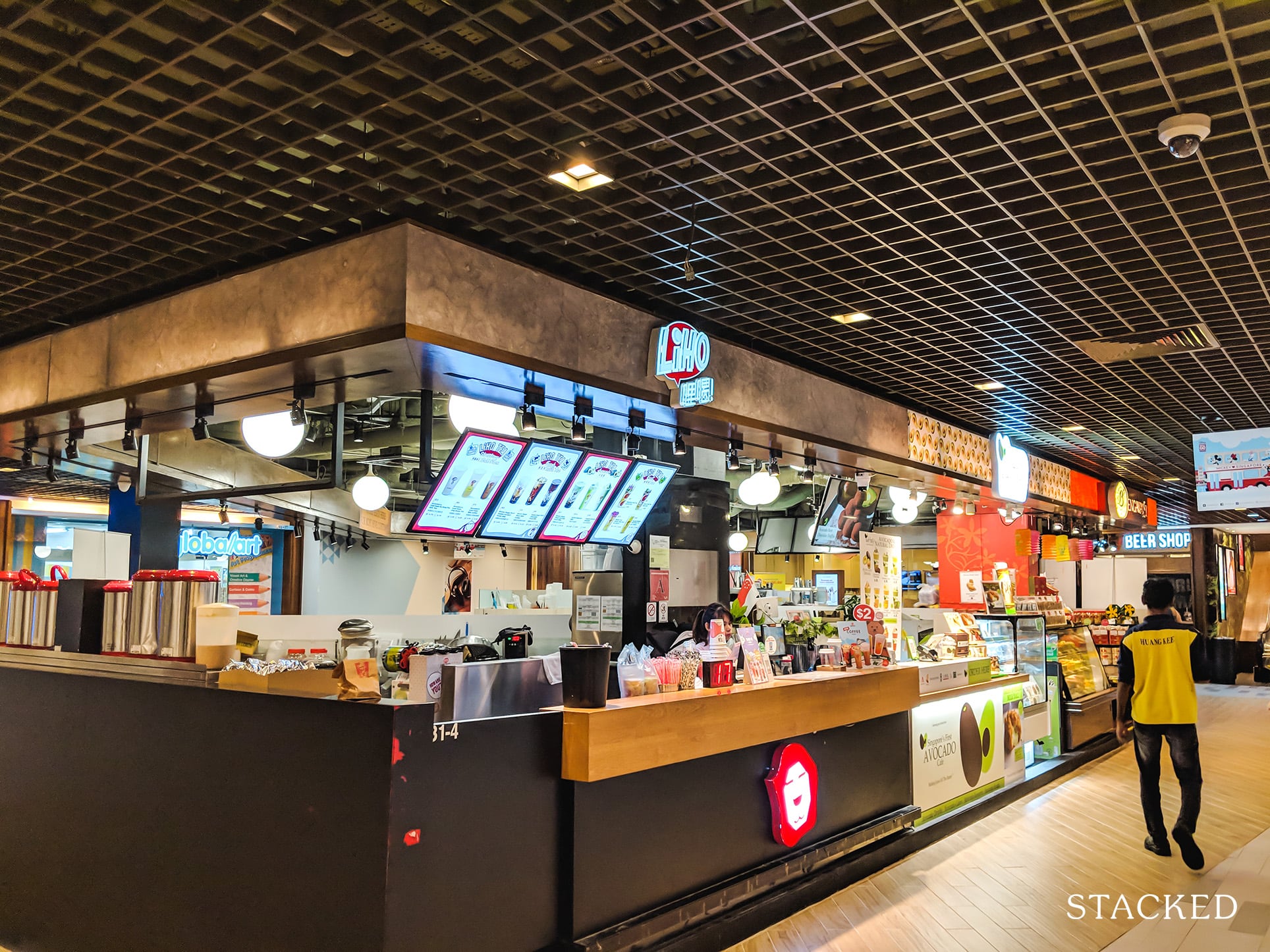 5-minute drive south-west and you'll reach the famous Anchorpoint, Queensway and Ikea shopping chain. Go east and you will immediately encounter Valley Point followed by Great World City. Head in the south-east direction, and both Tiong Bahru Plaza and Concorde Shopping Centre will pop up.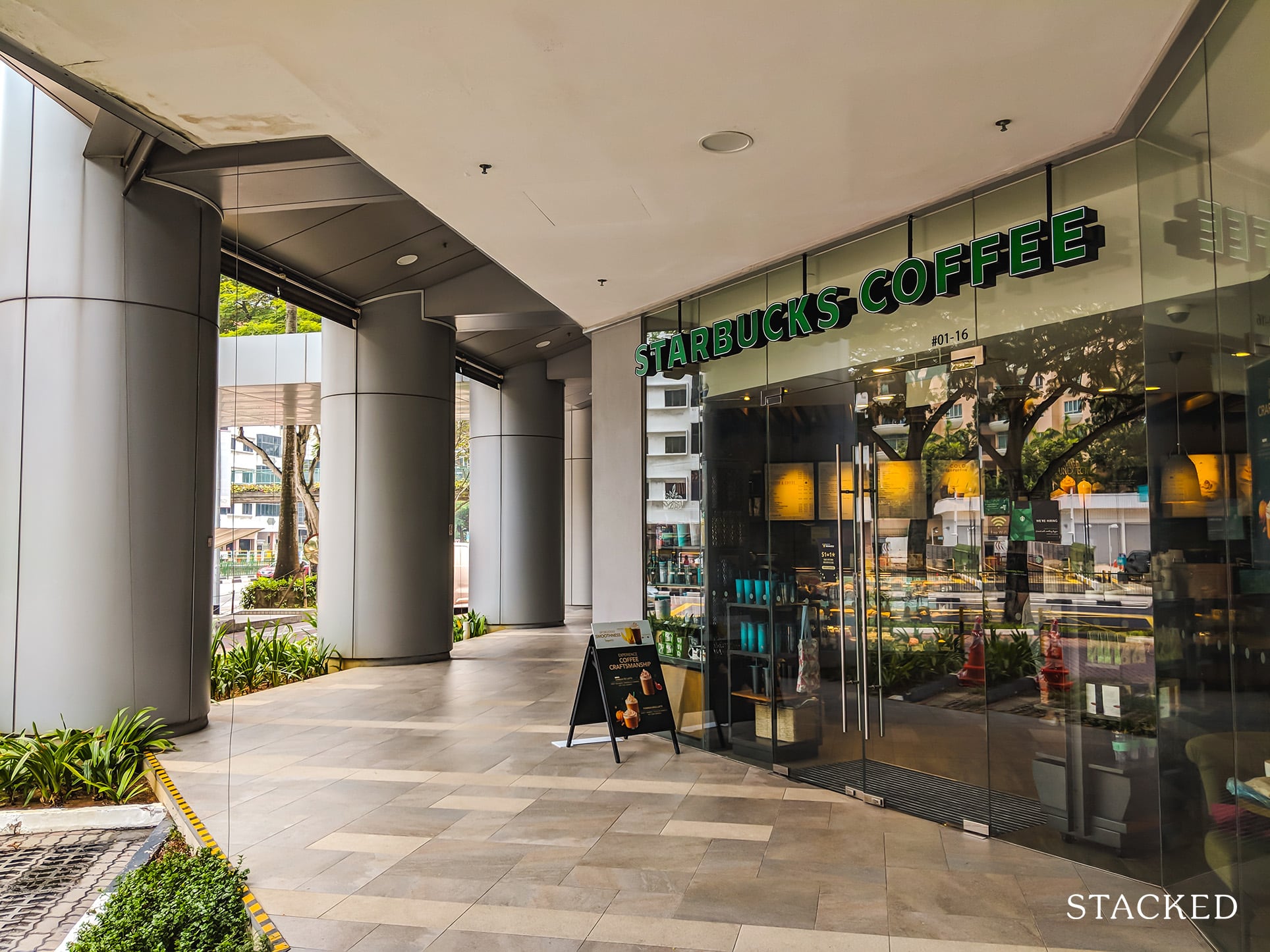 If all that isn't already mind-blowing, you still have the entire Orchard Road shopping belt at your disposal less than a 10-minutes' drive up north through Delta and Grange Road!
What's more, foodies will not need massive introductions to the numerous eateries in the vicinity. For economical, diverse selections, residents can choose from Redhill Food Centre (closest), Bukit Merah View Market, Beo Crescent Market as well as Zion Riverside Food Centre.
More than grocery, food and shopping-related convenience comes the condo locale's final pull – it's immediacy to a selection of schools which cater to every level of education.
Located a stone's throw away from the condo, you will find numerous preschools and kindergartens including JHS Montessori, PCF Sparkletots, Queenstown PCF, Pat's Schoolhouse, Chinese Kindergarten, Alora Preschool and Kindle Garden amongst many others.
As for primary schools, you can choose from Alexandra (1-minute walk), Gan Eng Seng, Queenstown, River Valley and Zhangde Primary – all less than a 10-minutes' drive from Principal Garden. Gan En Seng, Crescent Girls', Queenstown, Outram and Bukit Merah Secondary are also within a similar distance.
More than this, the condo has relative driving proximity to Anglo Chinese and Eunoia Junior Colleges as well as Singapore Polytechnic, Singapore Management University, the Duke-NUS Medical School, MDIS, Global Indian Foundation and the Singapore Institute of Technology.
With proximity to good schools fast becoming an increasingly prized asset amongst both current and future parents, this is truly a factor worth highlighting.
Principal Garden Development Site
UOL and Kheng Leong emerged top bidders of this plot of land along Prince Charles Crescent in 2014 amongst 6 other competitors. Spanning 268,715 square feet, the area houses four 24-storeyed towers which total 663 units.

As mentioned earlier, the developers emphasised an 8:2 open space to living quarters policy from the get-go. Fears of unused spaces have since been replaced by awe from its thorough sprucing.

Featuring a variety of extravagant (resort-like entrance and sky infinity pool) as well as minimalistic (spacious glass gym surrounded by water and 15m-tall single-coloured pillars) looks, it greatly appeals from the architectural stand-point.

The accessibility factor is also rather interesting given the wide-berth that the main drop-off/entry boasts. Unfortunately, the roads do not continue into the condo. While this reduces in-condo traffic noise/build-ups, it could prove a potential hassle for the disabled.

With over 4 pedestrian entrances and exits to the condo however, it does ensure that residents will have equal access to the condo regardless of their residential towers.
Let's move on to the unit mix:
Unit mix

| No. of Units | Unit Type | Size (sqft) |
| --- | --- | --- |
| 182 | 1-Bedroom | 484 – 506 sqft |
| 304 | 2-Bedroom | 764 – 807 sqft |
| 42 | 2-Bedroom Dual key | 861 sqft |
| 46 | 3-Bedroom | 1,076 sqft |
| 23 | 3-Bedroom Dual key | 1,195 sqft |
| 19 | 3-Bedroom Deluxe | 1,238 sqft |
| 38 | 4-Bedroom Deluxe | 1,572 sqft |
| 3 | 4-Bedroom + 1 Penthouse | 2,002 sqft |
| 6 | 5-bedroom + 1 Penthouse | 2,347 sqft |
As you can see, that's one hell of a list. Something worth mentioning is that the 3-bedroom Deluxe units and above are fitted with private lifts for easy access (and bragging rights). Similar to our recent review on Marina One Residences, most of the units here are centered around 1 and 2 'bedders'. These units are also just slightly above average in size. Not surprising given the developers' 8:2 open space to living quarters guidelines.

Families with kids also have options in the 3 and 4 bedroom units at a higher premium – though its residential space isn't really an eye-catcher.
Prices Review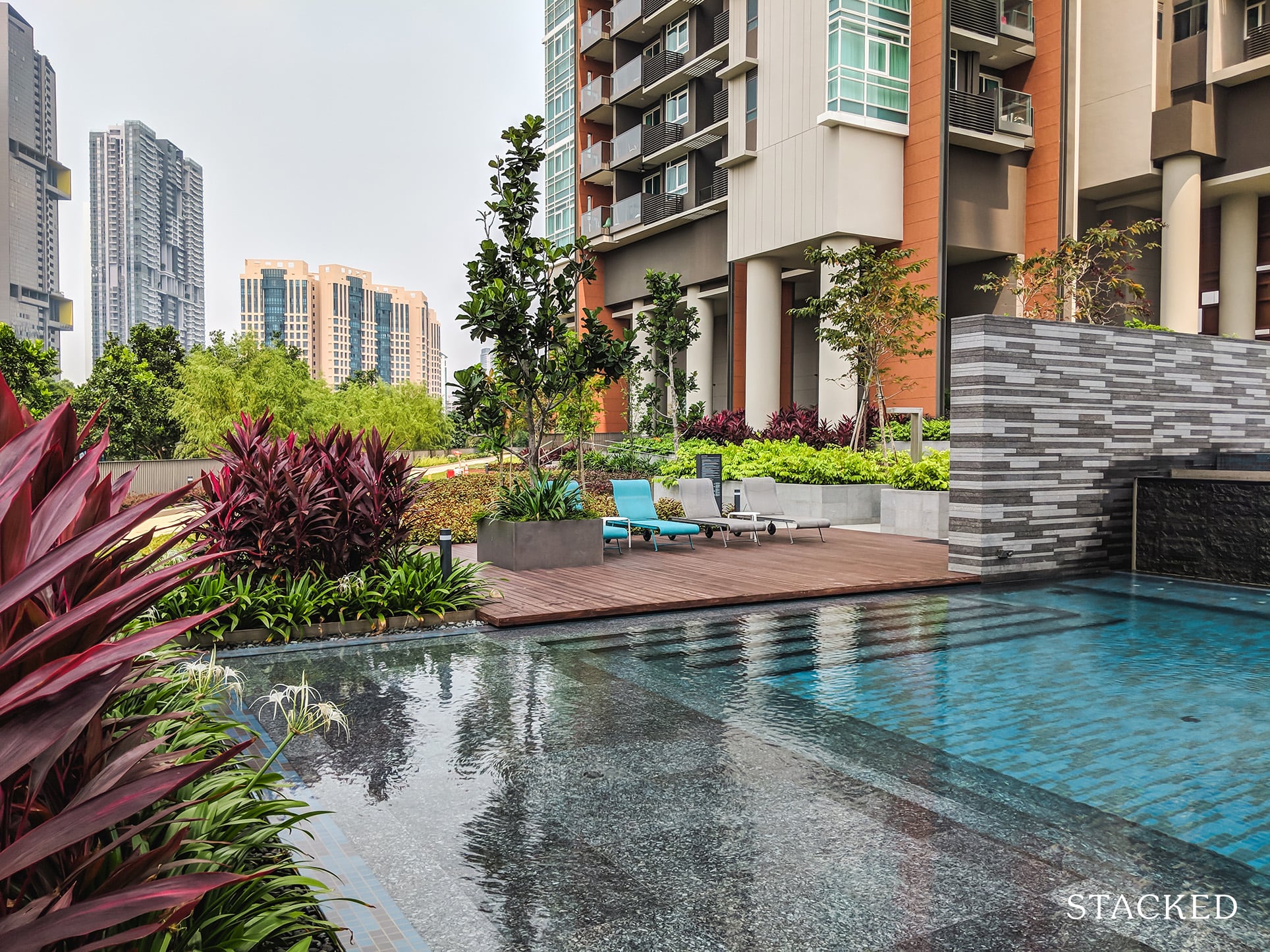 Surrounding developments

| Project Name | Tenure | TOP | Average Price (PSF) |
| --- | --- | --- | --- |
| Principal Garden | 99 years | 2019 | $1,860 |
| Mon Jervois | 99 years | 2016 | $1,916 |
| The Crest | 99 years | 2017 | $1,993 |
| Echelon | 99 years | 2012 | $1,896 |
| Alex Residences | 99 years | 2013 | $1,847 |
Compared with its immediate neighbours (Mon Jervois and The Crest), Principal Garden commands a relatively lesser premium despite its more recent TOP. One reason could be the fact that the aforementioned developments are low-rise condos as well as the fact that despite their proximity to Principal Garden, they are actually District 10 properties (Principal Garden fits into District 3).   
 
We also included the Echelon and Alex Residences given the fact that they are district 3 developments situated right next to an MRT. The price hike is evident here even with their respective TOPs in 2012 and 2013.
 
While the price differences are to a certain extent negligible, Principal Garden seems to be the go-to option in terms of price-TOP ratio at the above-mentioned tradeoffs.
 
What's more, with the impending arrival of the Artra in 2021 as well as potential new developments in the surrounding land, the condo is set to lose its 'newness' factor at a much faster rate and potentially its valuation in the coming years.
Our Take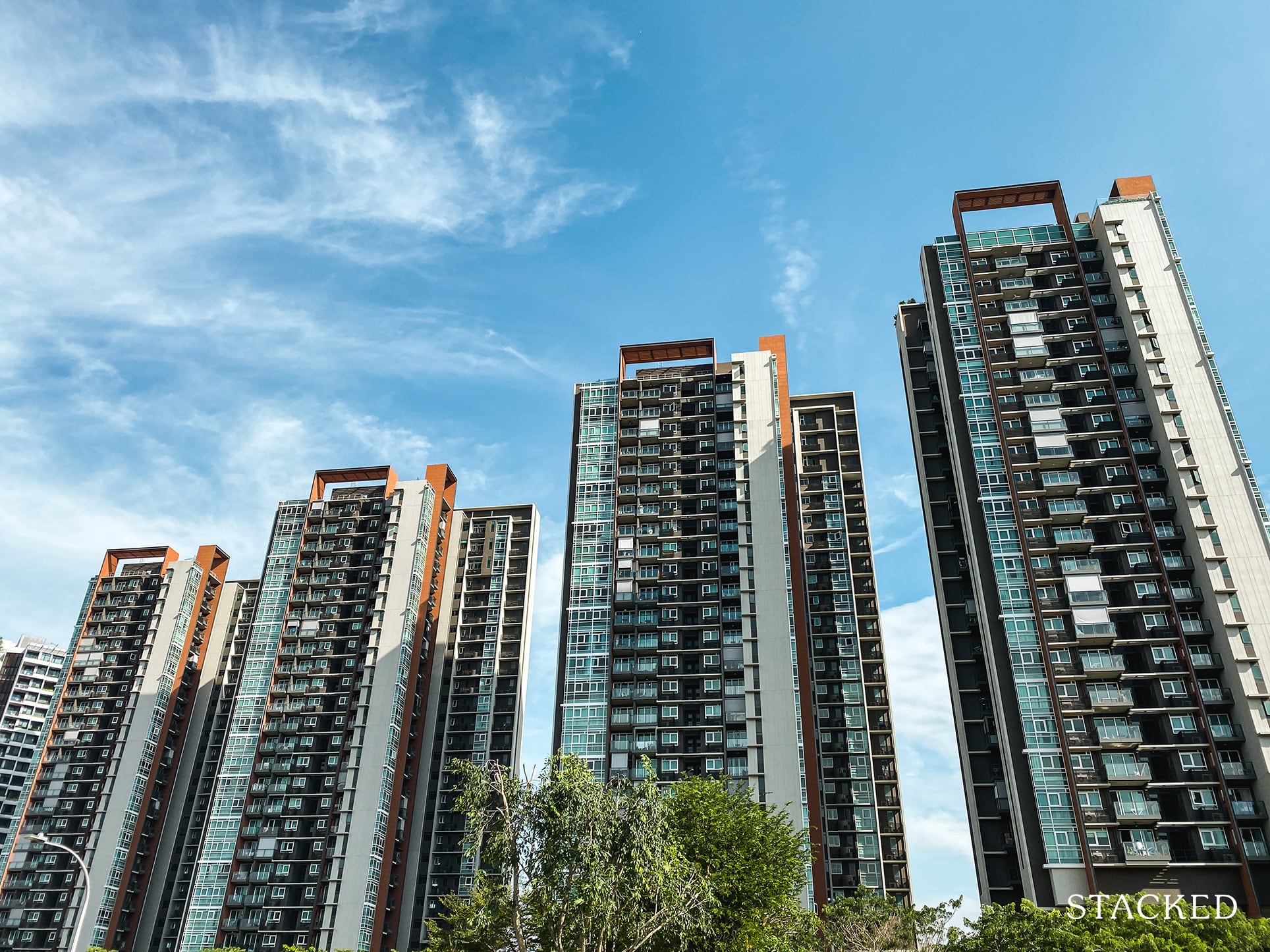 Yes, districts do matter, and so does proximity to train stations as well as competition from new surrounding developments.

They matter IF we're looking at it from an investor's standpoint.

As a homeowner, on the other hand, you begin to factor in other necessities and comforts based on individual and family preferences.

Personally, it ticks every single box (but two) as a homeowner… something even I am surprised by given my extreme 'picky-ness'.

Why does it check the boxes?

Firstly, the incredible open space to living quarters ratio. With this amount of space, you can enjoy a spectacle of family-related activities in the comfort of your 'own home'. A myriad of pools and jacuzzis also make for quiet retreats as the condo's infinity sky pool and elegantly crafted gym emits grandeur and allows for the occasional indulgence.

Personally, the condo's proximity to schools, malls, the CBD, town and a whole bunch of eateries coupled with easy access to highways adds the final allure to this already incredibly likeable development.

Yes, it's tenure only lasts for 99-years and the unit spaces here aren't the best in town – but these are things that I would be willing to trade-off for all the positives that Principal Garden has to offer.
What this means for you
You might like Principal Garden if:
• You have kids:The number of schools in the area, as well as the wide amount of green-filled spaces here, are brilliant for raising kids.
• You are looking for a long-term home:Zero worries of depreciation and the promise of solid amenities, lush open spaces and a good location make it a solid long-term home option.
You might not like Principal Garden if:
• You value easy access to public transport:For those who prefer public transport for various reasons, the relatively long walk to the MRT station could prove tedious.
• You are an investor:There are numerous other condos in the area that are either closer to the MRT or in a better district. Couple that with potential surrounding developments and an impending condo valuation drop could be on the cards.
End of Review