Our Verdict
Putting the quiet Ulu Pandan neighbourhood back into the residential spotlight, Pinetree Hill is the first major new launch in the neighbourhood in the past 14 years. Some project highlights include living in a tranquil environment with unblocked views of Clementi Forest and an abundance of nature spots. Residents also get to enjoy the convenience of a Rest of Central Region (RCR) location, accompanied by a list of renowned schools nearby. This, however, comes at the cost of being a distance away from the nearest MRT station and the lack of amenities (like groceries and food options) within the vicinity of the neighbourhood.
61
min read
| | |
| --- | --- |
| Project: | Pinetree Hill |
| District: | 21 |
| Address: | 30, 32, 36 Pine Grove  |
| Tenure: | 99 Years |
| No. of Units: | 520 |
| Site Area: | 242,561.5 sqft |
| Developer: | United Venture Development Pte Ltd (JV by UOL Group Limited and Singapore Land Group) |
| TOP: | Est. Q3 2027 |
Let me just start by saying that Ulu Pandan is not typically a place that would come to mind for most homeowners in Singapore.
(The word ulu isn't exactly a positive word either, for foreigners reading this who are unaware, it means a remote area).
So it may have been a surprise to some when there was keen competition for the Pine Grove GLS Parcel A (the former Nexus International School). This 242,561 square feet plot of land was clinched by a JV between UOL and Singapore Land Group at a price of $1,318 psf ppr, fighting off 4 other local developers. In fact, the difference between the top and second-highest bids was just a mere $800, which does signal a healthy demand for the location.
There are benefits of the location too, of course.
In addition to its walkability to several scenic green spaces, Pinetree Hill is marketed as a private and tranquil project with unblocked views of Clementi Forest and parts of Dover Forest. Not only that, it's the first major launch in Ulu Pandan in 14 long years, offering 520 units and a healthy division of space that is getting increasingly hard to find in new launches today.
Along with HDB's announcement last year to launch 3,000 BTO units in the Dover estate, this thrusts the neighbourhood into an unexpected limelight. Seeing that the surrounding projects are older and mature condominiums, it does provide some options for younger buyers looking to enter the area (or stay near their parents). Needless to say, Henry Park Primary School is a big draw here.
Now, let's take a look to see what Pinetree Hill has to offer.
Pintree Hill Insider Tour
Pinetree Hill is located in District 21, and for drivers, this might offer similar connectivity to the Bukit Timah neighbourhood, but those who rely on public transport might find it quite a far distance away from the nearest MRT station (which you'd see later).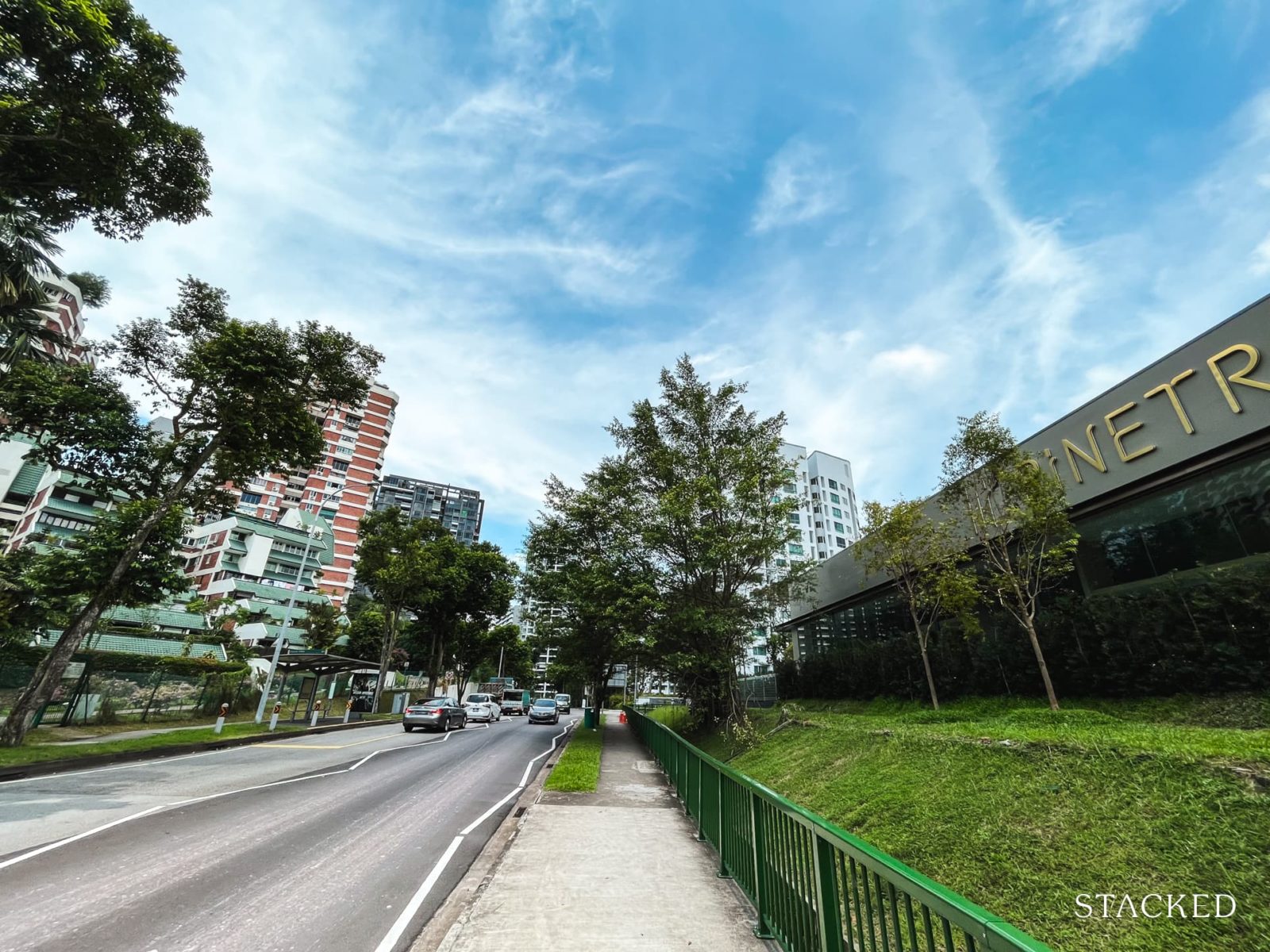 With 520 units, the project sits on a plot of land sized at 242,561 square feet and features three residential blocks that are each 24 storeys high.
For homeowners who prioritise having more space, this project definitely stands out from its newer competitors. It's quite impressive to know that 88% of its site is catered for landscaping and just 12% on residential blocks. This translates to about 466.5 square feet of space per unit, which is incredibly generous by today's standards.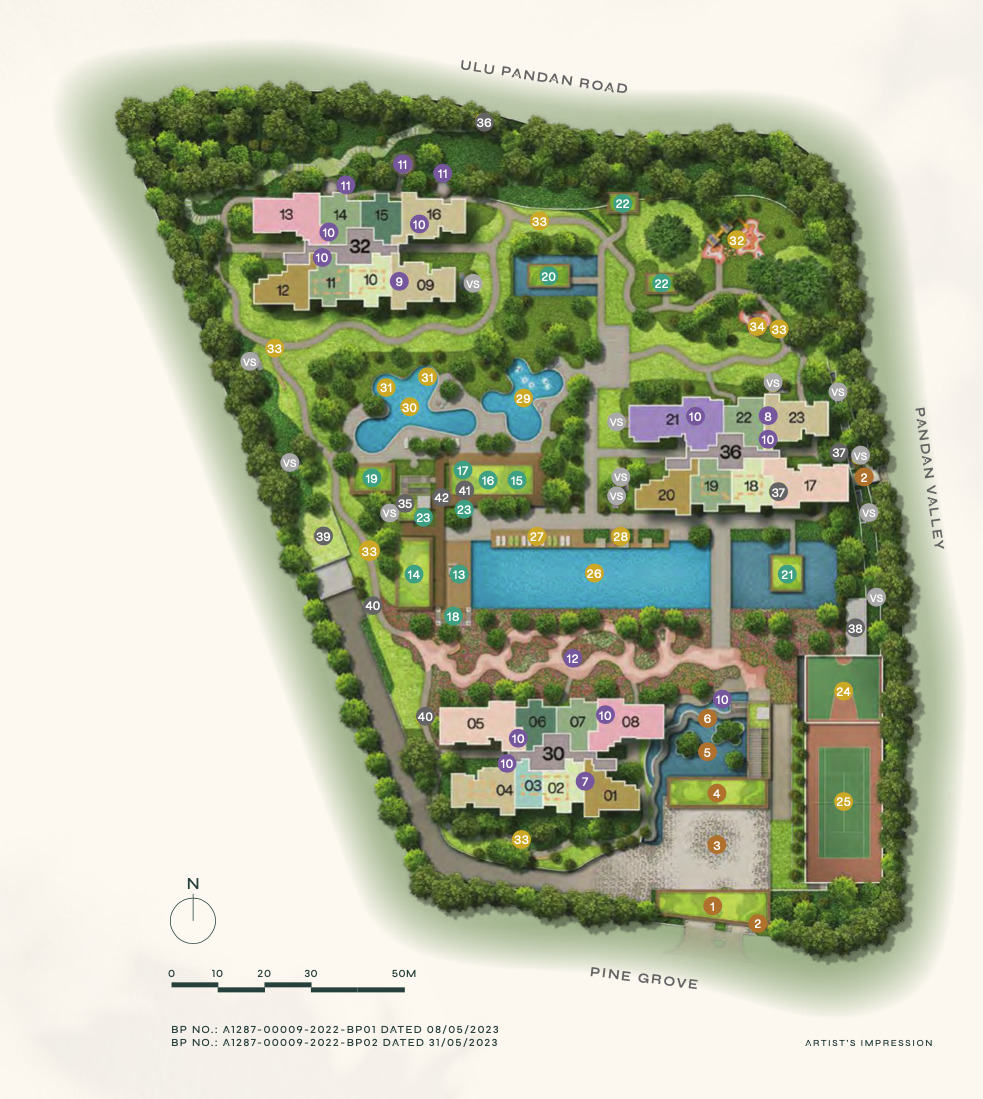 To give you some context, when compared to other new launches this year, Grand Dunman in District 15 has a similar land size of 271,620 square feet but with a whopping 1,008 units – roughing translating to 270 square feet of common space per unit.
On the other hand, Clavon, another UOL project somewhat nearby, has a site area of 178,065 square feet and 640 units. In which case, each unit would enjoy around 280 square feet of open space. For Pinetree Hill to offer more than 40% of space to other options in the market is quite an underrated highlight.
Notably, one of the key selling points of Pinetree Hill is that all units are able to enjoy unblocked views of its leafy surroundings and the developers have put in a considerable amount of effort to maximise these vantage points (which I will elaborate more later in the tour).
The catch? These are not views that would last forever. Although there are no concrete plans for these nearby plots yet, it should be expected that the views are not permanent since most of these spaces have been earmarked for future residential use.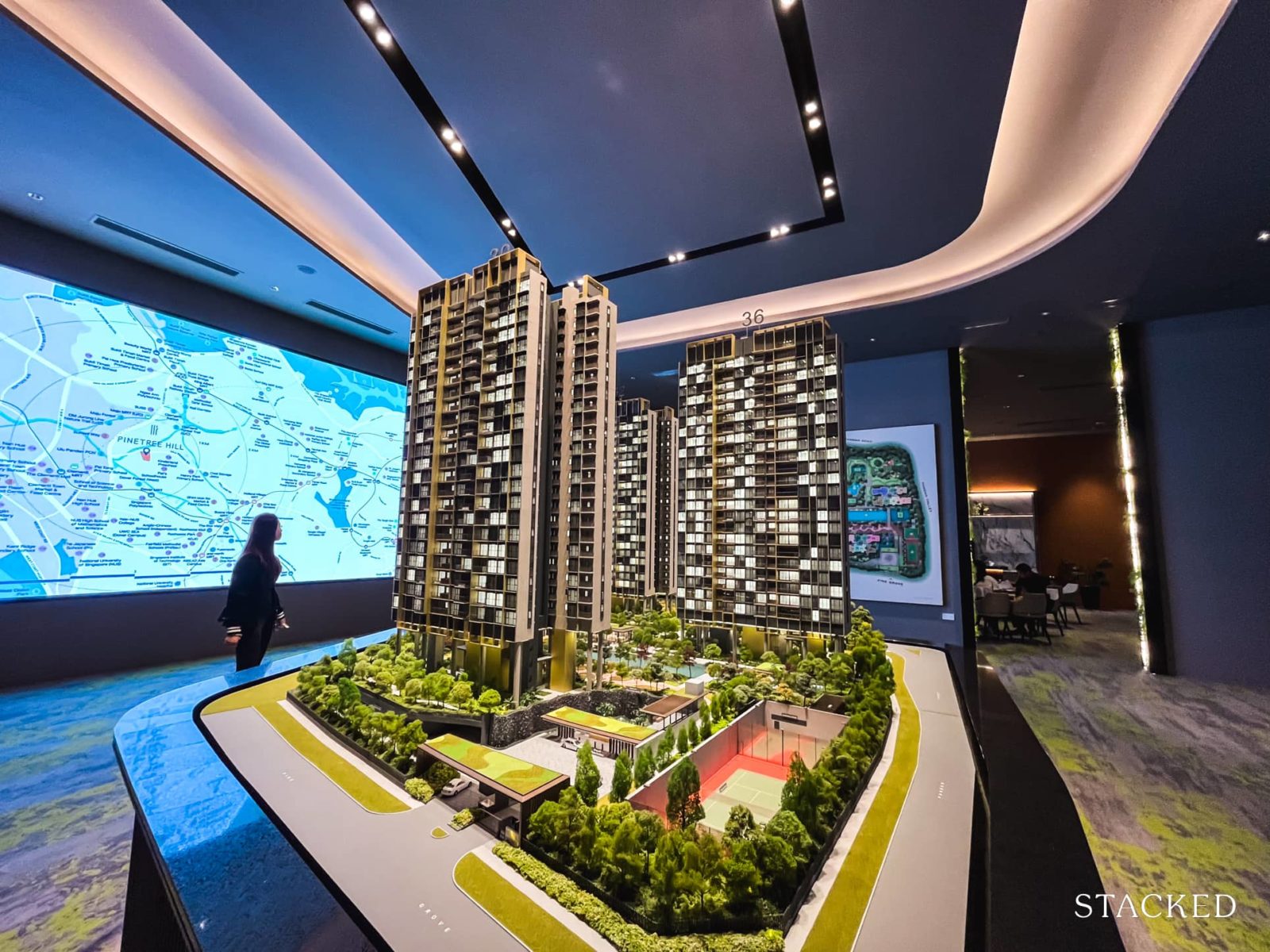 Let's start with the plot of land. As you can tell by its name, it is inspired by the nearby Clementi Forest, so Pinetree Hill was initially designed to blend in with its local topography. Interestingly enough, these three towers represent the pine trees growing from the site and are meant to be the beacons in the neighbourhood.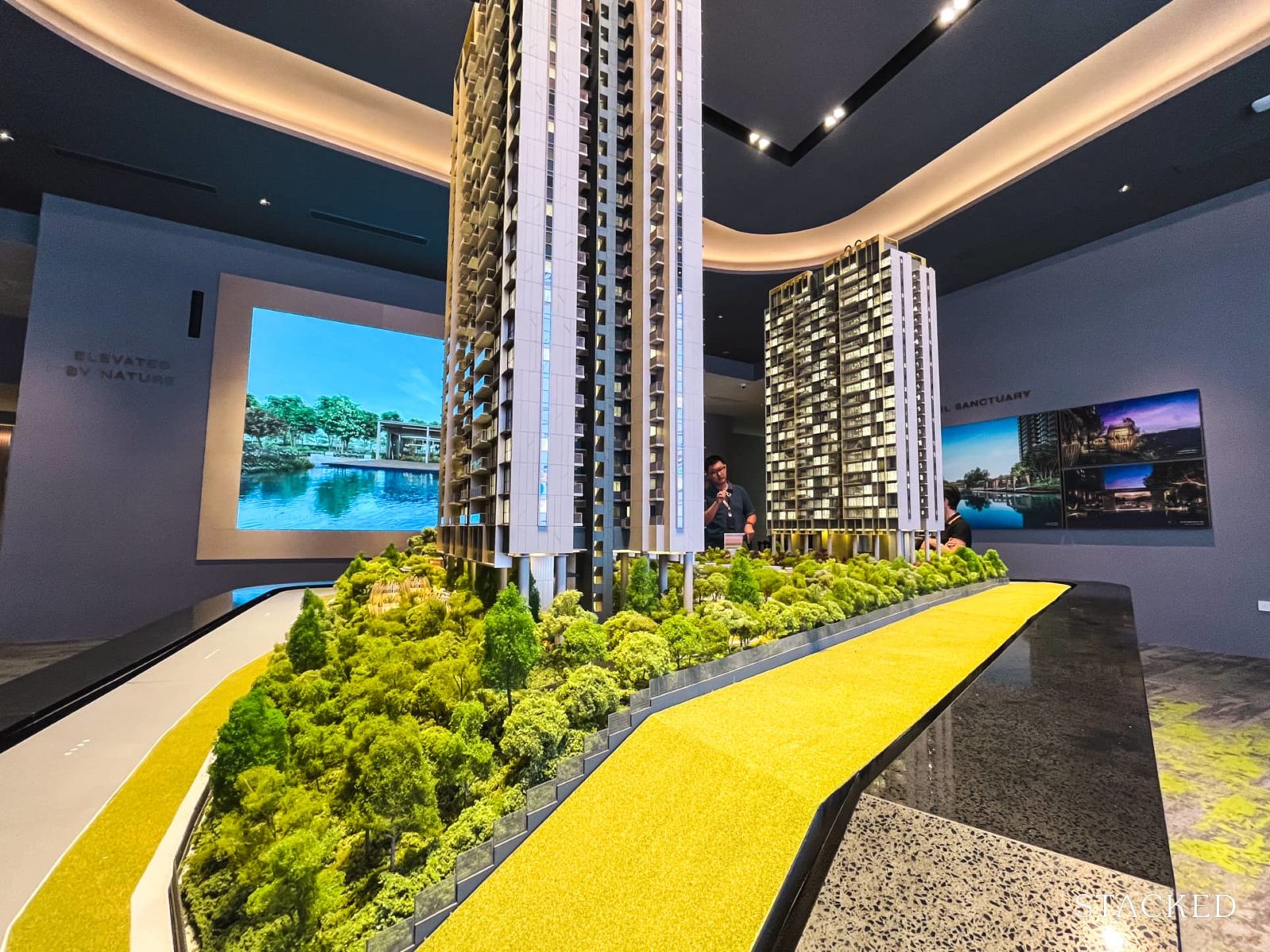 Its natural topography also played a huge part in its design process. Given the hilly inclines, I doubt that levelling the land was ever possible. Nevertheless, I think being on an elevated site is definitely a positive point.
Seeing that it is situated at the peak on hilly terrain (where the site is elevated almost 8.5m above ground) the developers wanted to use its height to its fullest advantage to maximise the surrounding views. You also get a better sense of privacy for those on the lower floors, and the ground floor facilities will have a good separation from the main road.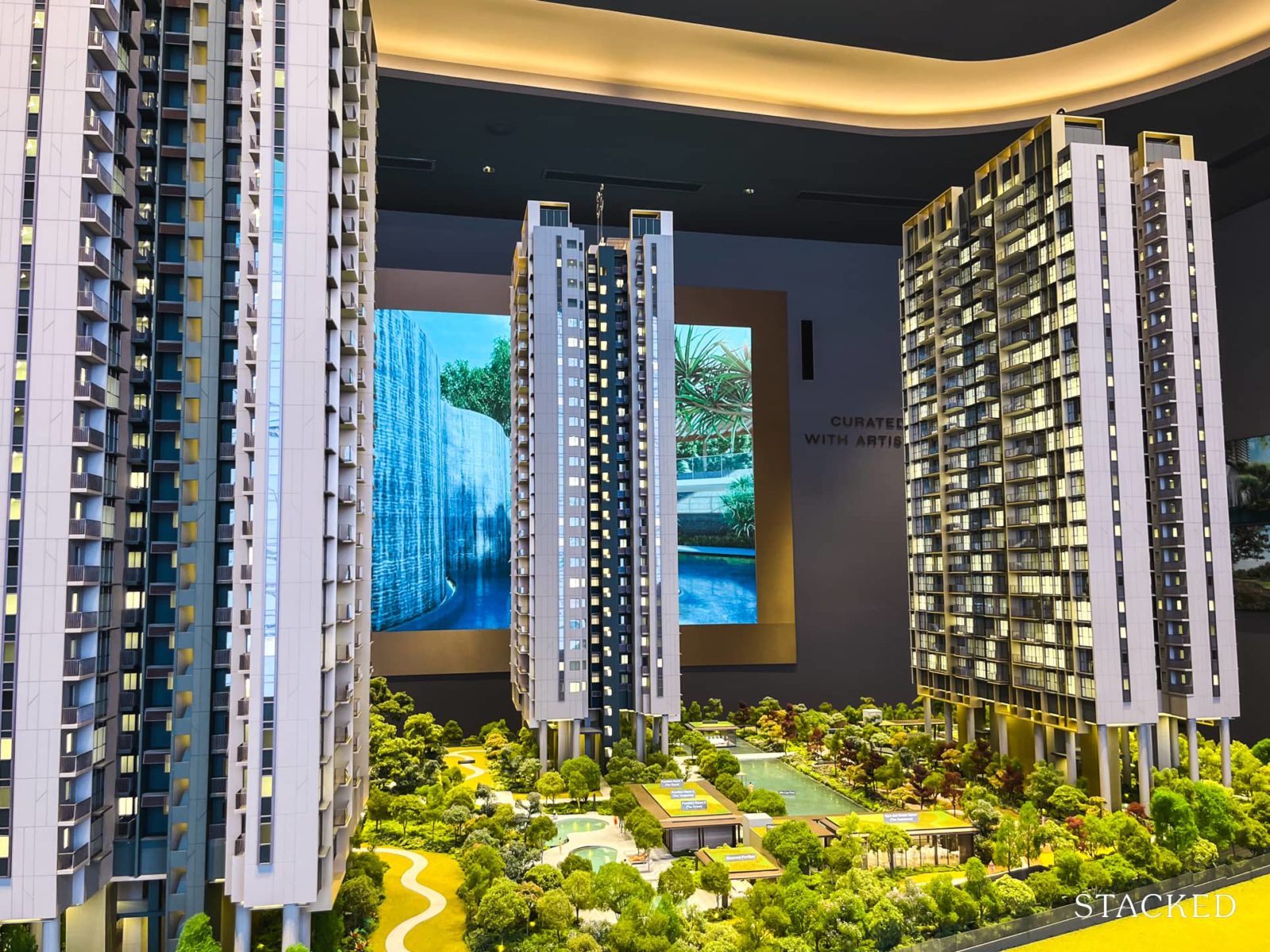 Besides the elevation of the land, another good thing to point out is how the residential blocks have been placed.
From this angle, it's quite apparent that the residential blocks were intentionally staggered to create as much space as possible – Blocks 30 and 32 are spaced almost 87m apart!
Not only does it make living at Pinetree Hill feel more spacious, but it also provides unblocked views (be it of Clementi Forest or the Dover neighbourhood) from all units.
Plus, all the residential blocks are propped up onto stilts with the first level units elevated at a height of about 12.5m high, which guarantees a good amount of privacy and views even for lower-floor units (and also for those using the facilities). This also allows for better wind flow throughout the development, so this is definitely my preferred choice.
Furthermore, Pinetree Hill is the last project in the neighbourhood that offers balcony space that is not included in the project's total GFA. Ryan has written about the changes that have taken effect from the first of June (which you can read more here), and there will certainly be an impact on the new development that will take be built on Parcel B.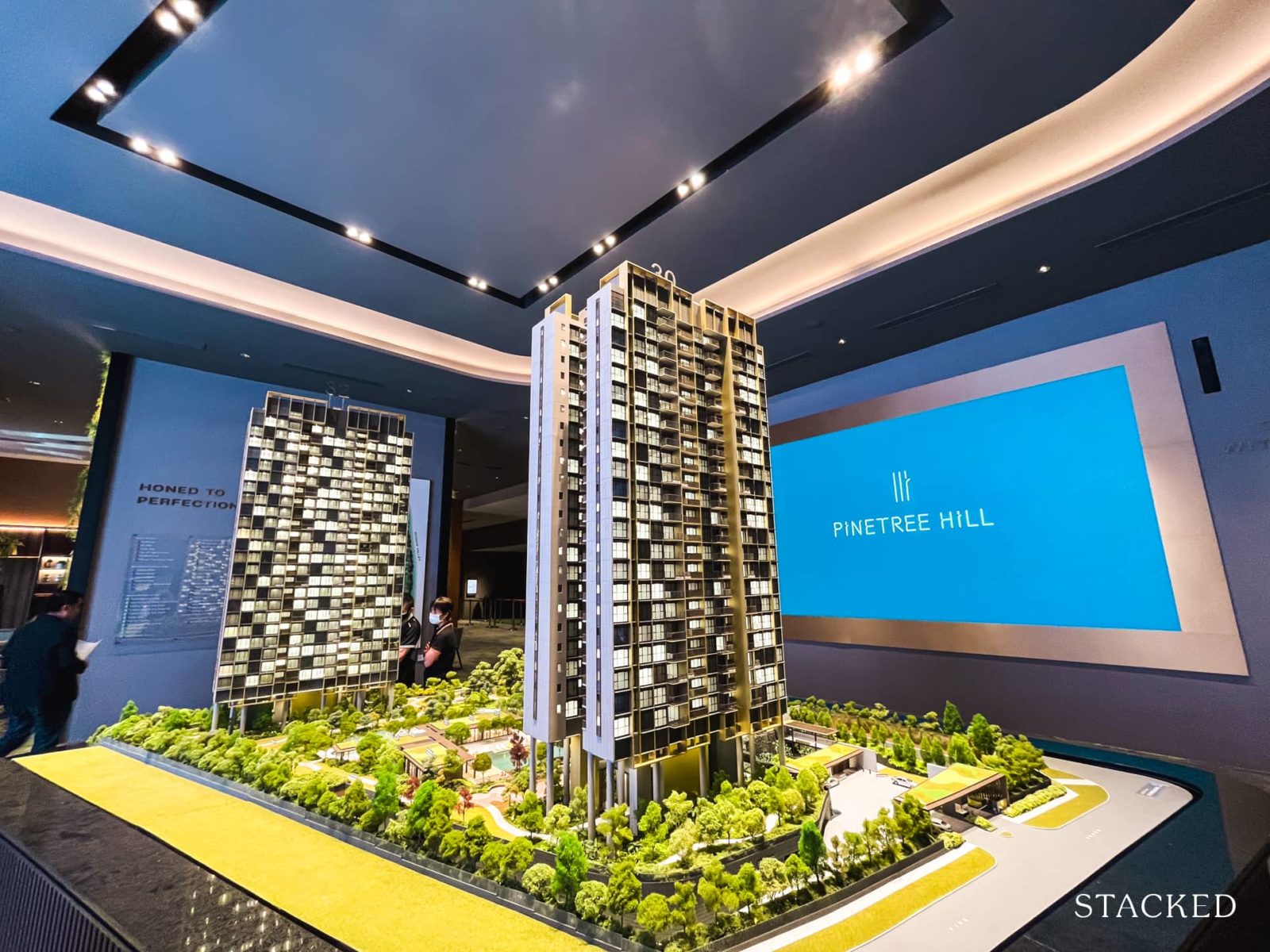 Apart from the modern touches when it comes to the design for Pinetree Hill, it offers a rather sleek and minimalist design that we typically see in most newer projects in Singapore. It's nothing terribly exciting or groundbreaking, but seeing as how Clavon and Clement Canopy have been so well-received, there's no real need to rock the boat here.
Bounded by a periphery of landscaping, the lush greenery would also be an attempt to create an extension of Clementi Forest.
Even so, I can imagine it to be quite an interesting contrast to the older condos (like Pandan Valley) when it is completed. The three towering blocks of Pinetree Hill would certainly be a striking contrast to the neighbourhood's skyline.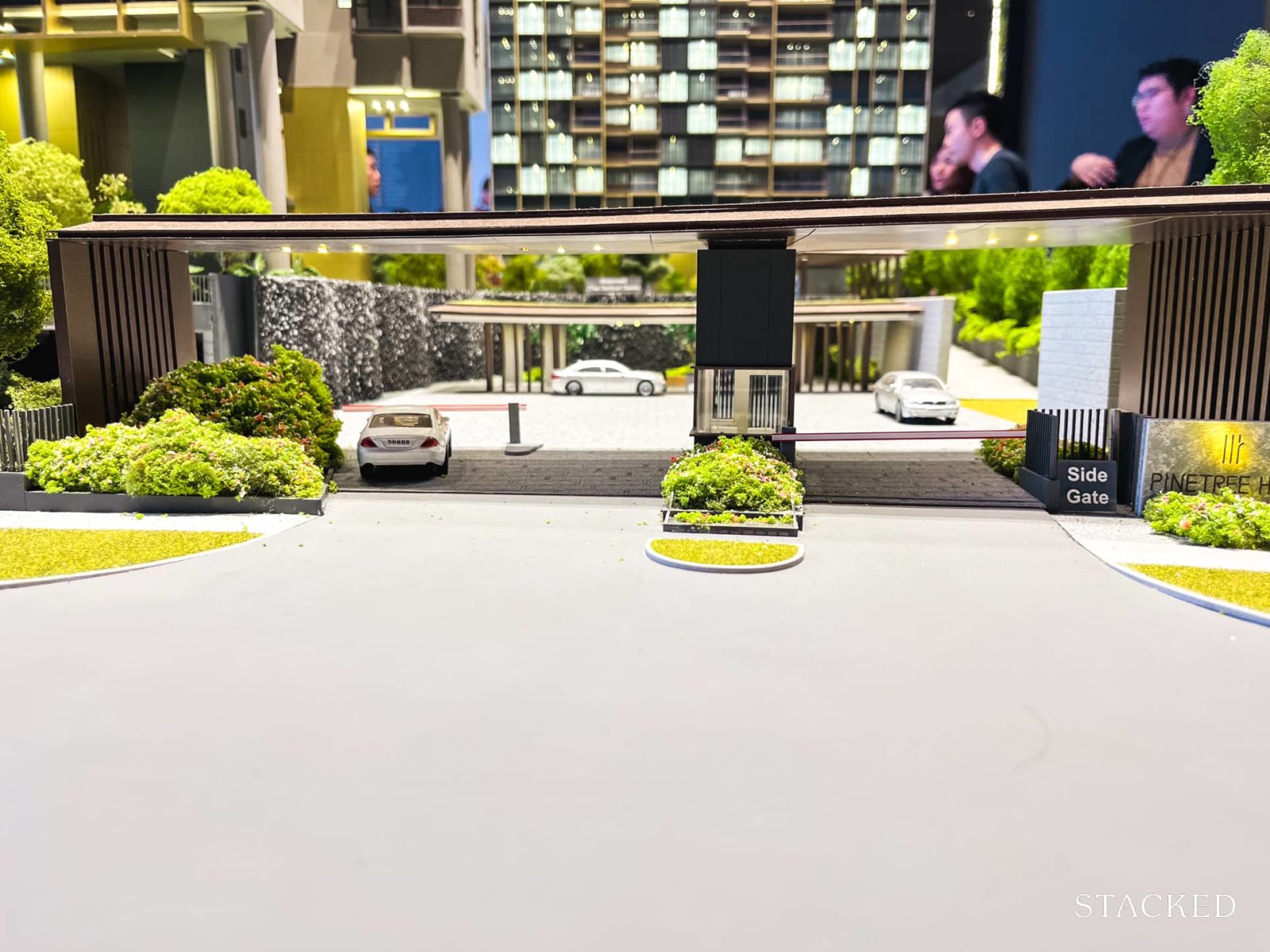 The entrance to the development is located along Pine Grove, which has always been quieter as compared to the busier Ulu Pandan Road. This allows you to access the development through the Mt Sinai route if the main roads are busy, so you can drive to areas like Ghim Moh or One North with relative ease.
The drop-off comes with a spacious area that would come in handy when bigger vehicles (a shuttle bus is provided for a year to Holland V/Buona Vista) have to manoeuvre and dock while waiting for residents.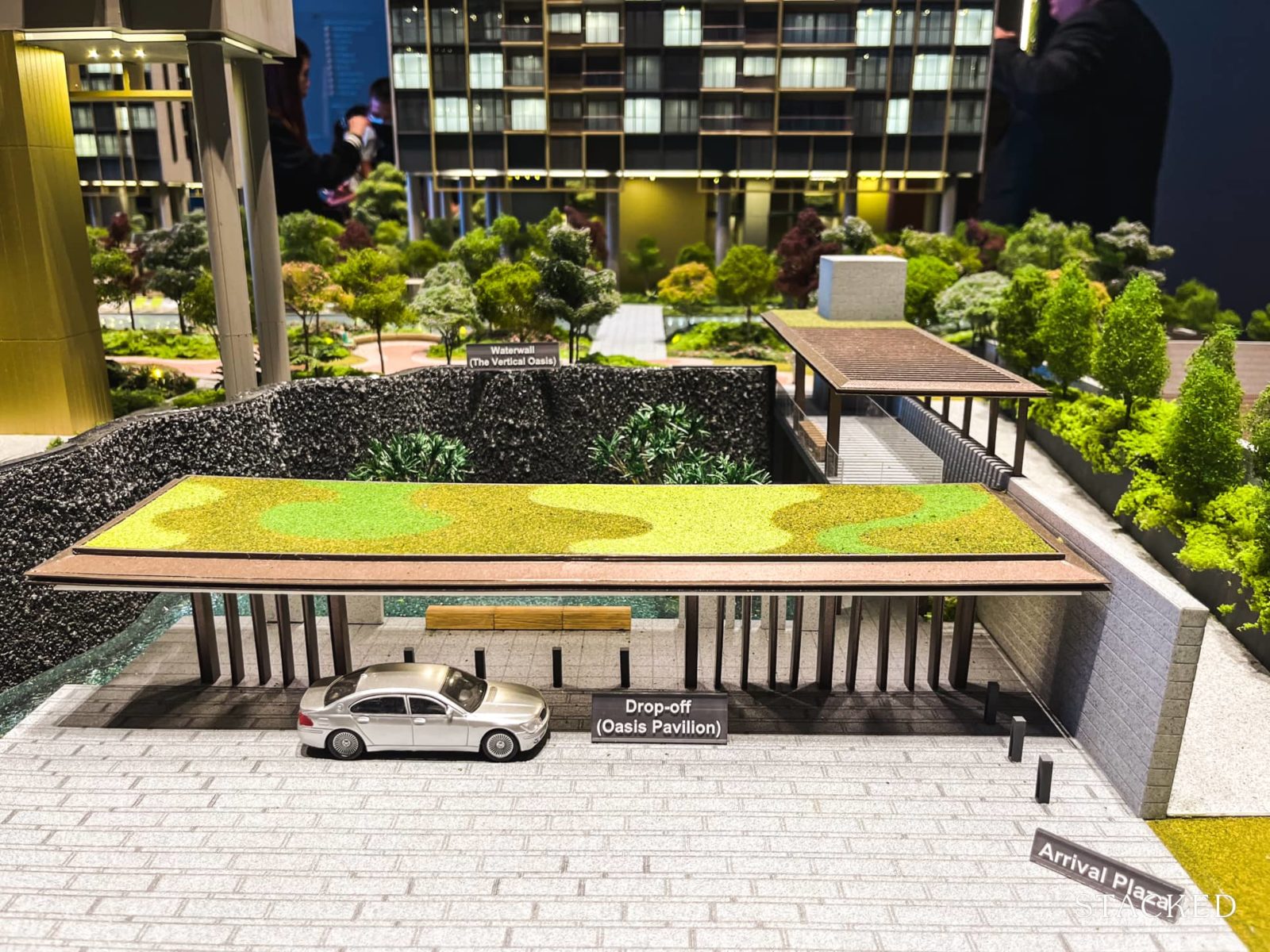 One of the key design features, the Oasis Pavilion at the drop-off point features a curvilinear shape to mimic the organic designs of its natural surroundings to create a better sense of arrival for residents and visitors.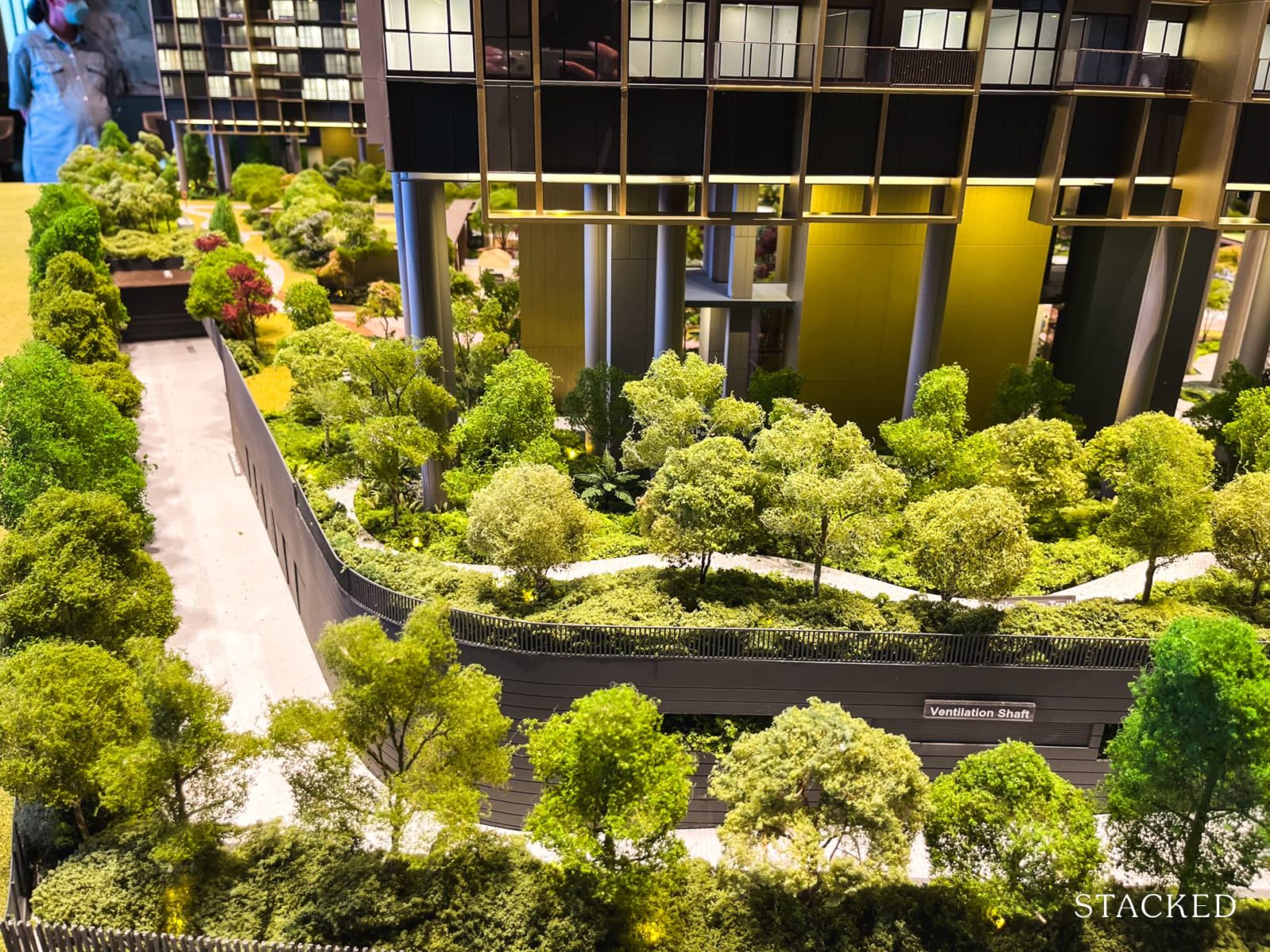 The basement car park is accessible through a long driveway from the entrance, which does give an elevated sense of luxury that I've also seen in several other luxury projects, like Martin Modern.
However, unlike the extravaganza of Grand Dunman, residents should note that only 420 car park lots are provided at Pinetree Hill (which makes up about 80% of the total number of units).
While this might be fine in most cases, this could be a point of consideration for some potential buyers of Pinetree Hill. Considering that the project is a distance away from the nearest MRT and that a fair number of units are 3 bedders and up, I reckon many of the residents would likely own a car. With high COE prices, it's hard to say how buyer habits would change – but for now, I can still see how this may be a concern for some.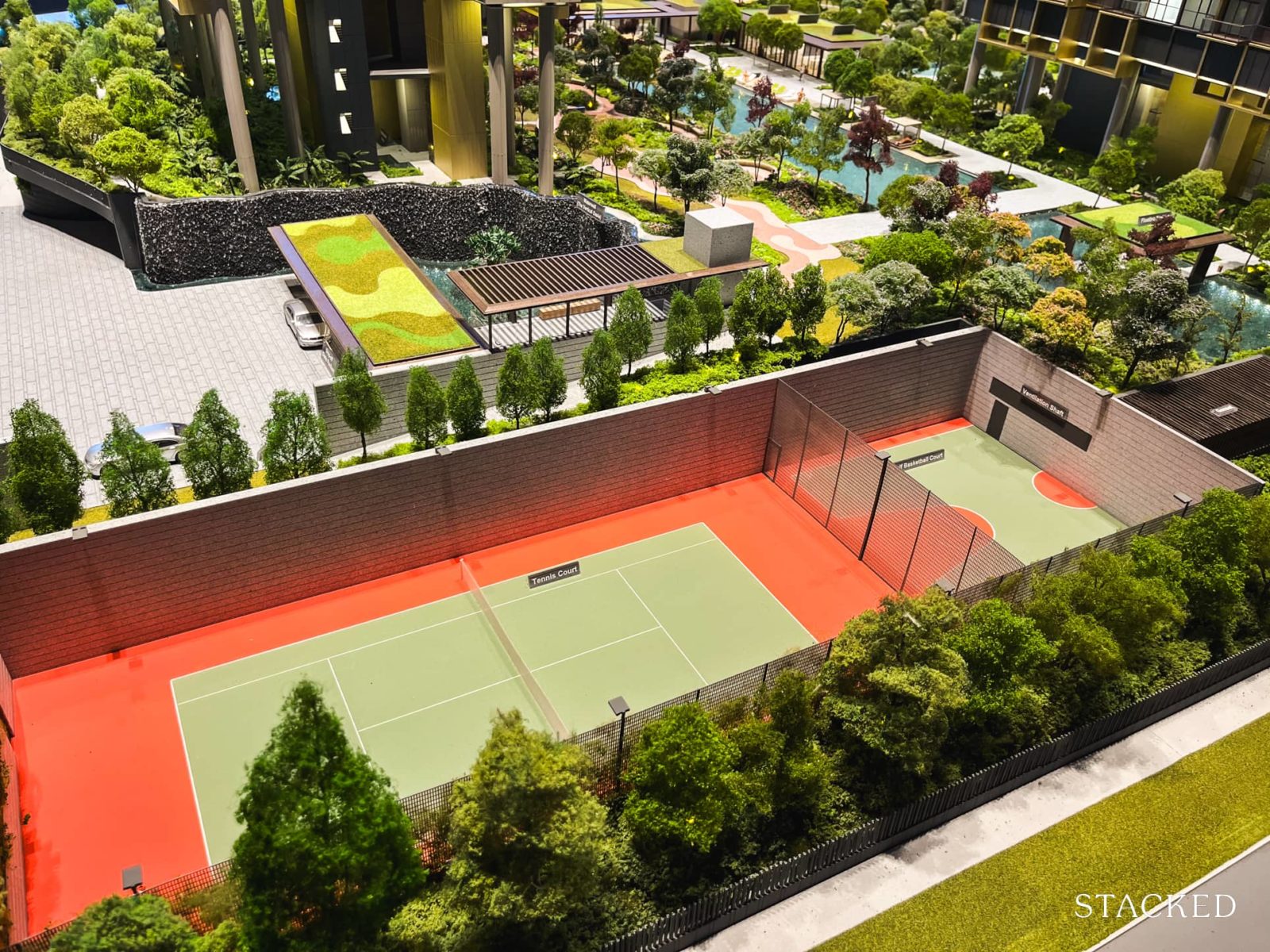 Let's take a look at some of the sporting facilities next. Starting off the tour is the tennis court and half basketball court, which is located right next to the drop-off point. I tend to associate basketball courts with older developments, so it was quite a nice surprise to see Pinetree Hill including one (albeit a half-court) in the project.
Again, given that much bigger developments like Grand Dunman or Parc Esta have over 1,000 units and just one tennis court, I'd say that this is a very fair ratio in today's context.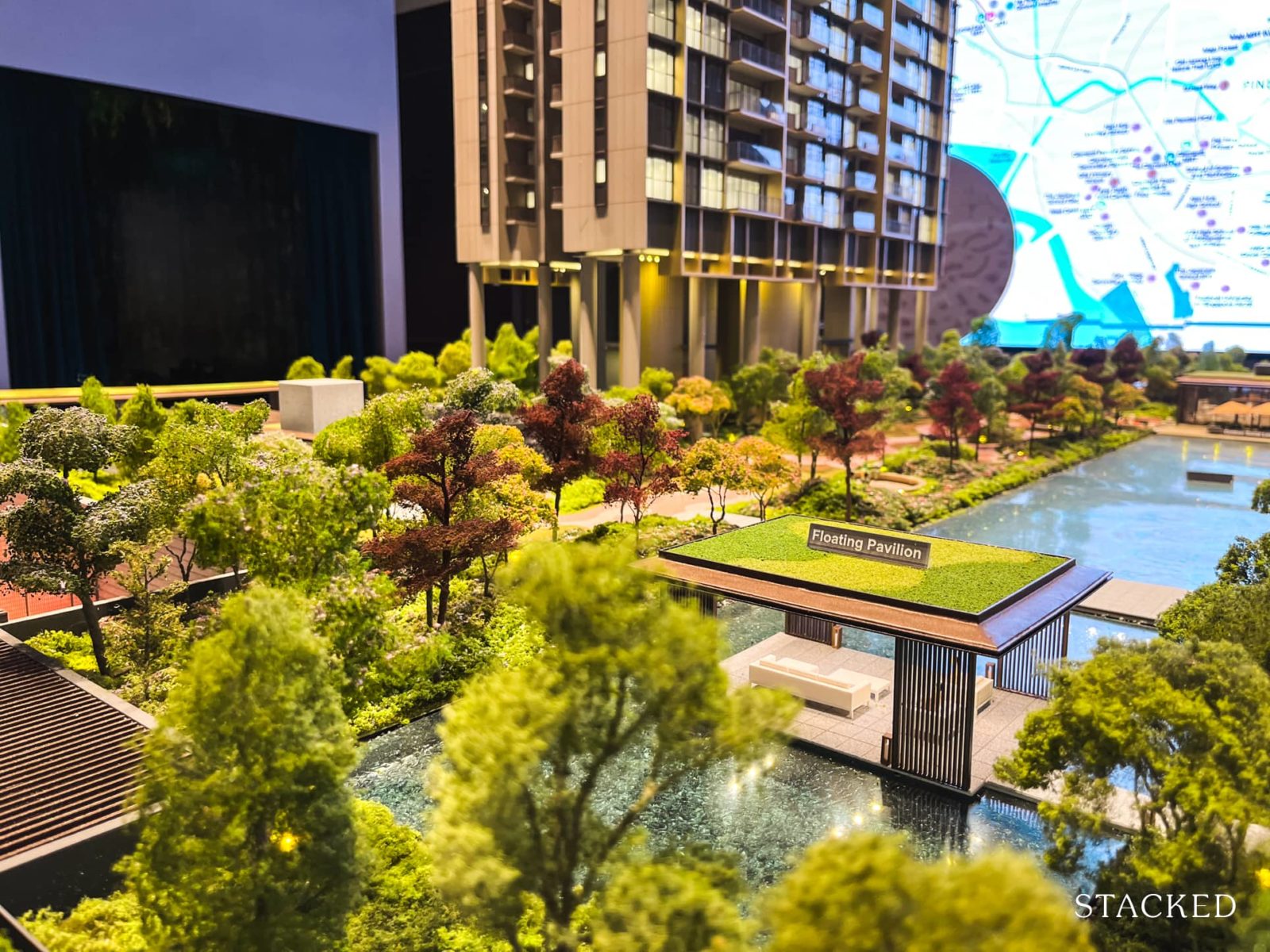 Before we move on to take a look at the heart of the development, I would like to highlight that Pinetree Hill has two main pavilions throughout the development, which include a forest pavilion and a floating pavilion (which we see in this shot).
I've noticed that many other condominiums have over-catered lounging spots that have eventually become white elephants. So instead of filling up the site with these lounging areas, Pinetree Hill seems to have taken a different approach by focusing on the landscaping and liveability of the space through the greenery.
In the case of this floating pavilion, it's located near the tennis court and overlooks the 50m lap pool while being surrounded by lush greenery.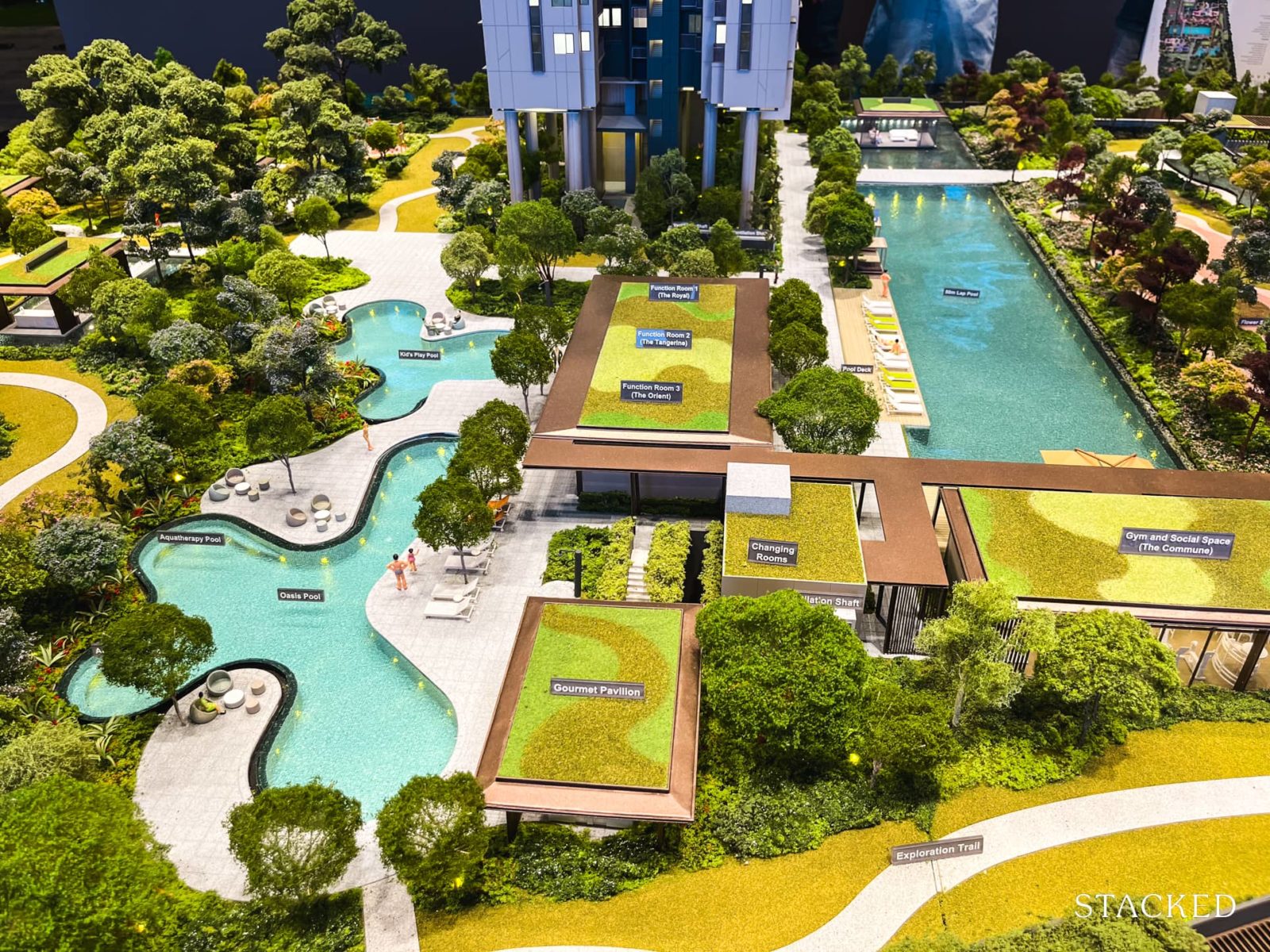 Here's a better shot of the overview of the space. Most of the facilities are located in the heart of the project, including the main 50m lap pool, oasis pool, kid's pool and other sheltered amenities. In comparison with the older developments nearby that typically have a simple lap pool, the variety of pools here makes it a lot more interesting for residents.
Personally, I quite like this site layout as it makes these amenities more accessible from every block. It also creates quite a nice internal view for units that look into the project.
Apart from that, the three function rooms and gourmet pavilion separate the lap pool from the oasis and kids' pool, making it ideal for hosting parties and events. You have your usual host of appliances provided, such as an induction hob, microwave, fridge, and wine chiller. All of the amenities are well-sheltered, making it useful even during rainy days.
There's a karaoke room here too, which has been relegated to the basement (presumably to keep the singing "noise" contained).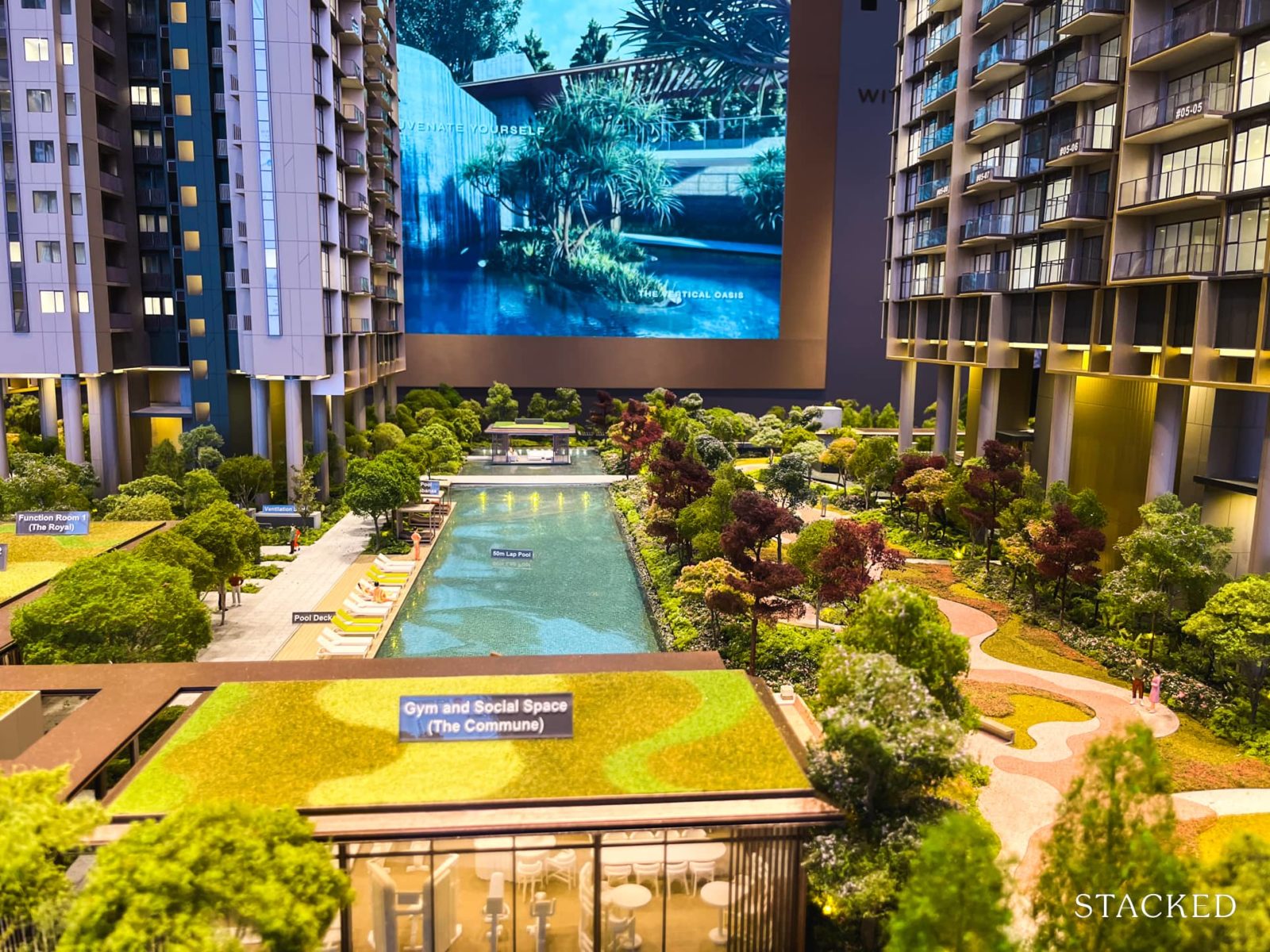 The only gym in the development is connected to a social space and is coined as 'The Commune' which looks over the lap pool, giving those working out in the gym a nice view.
On another note, I thought it was quite interesting to make the gym a social core for Pinetree Hill. I see that tables and chairs were added into a typical gym setting, which makes sense given the healthy lifestyles that many younger buyers are looking to adopt.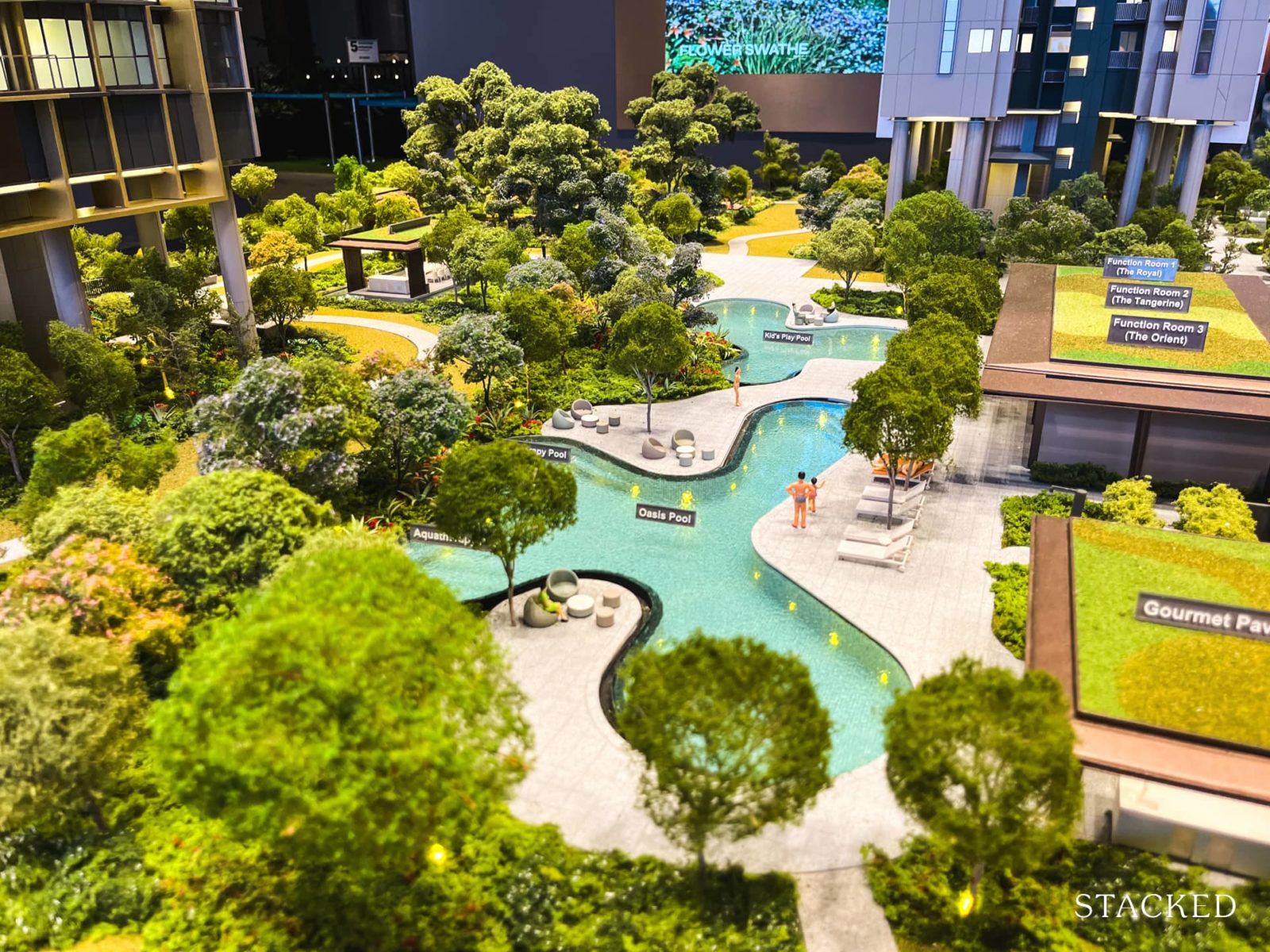 The Oasis Pool and Kids' Play Pool both come in an organic shape and are located side-by-side. Compared to the typical squarish pools that we see in older developments, the aesthetic touch does add a unique feature to the heart of Pinetree Hill.
This gives residents who just want a dip in the water a nice alternative to the typical lap pool for the more serious swimmers.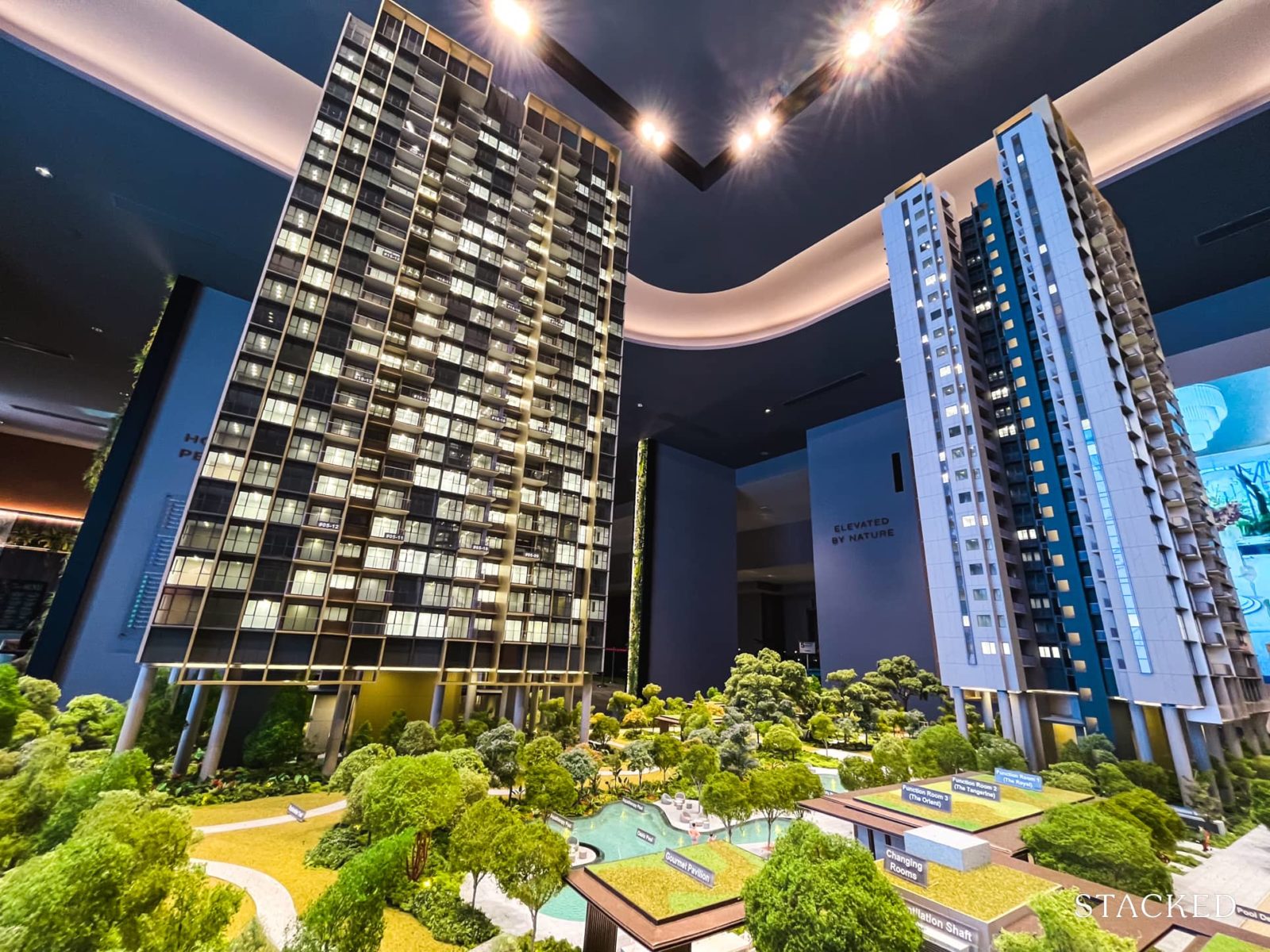 From this angle, you can really see how the ground units located on a higher elevation help to truly maximise the privacy of the space. In comparison to condos that have direct access to the pool, this is more suitable for homeowners who prioritise a tranquil space.
Also because it is on elevated land, the sense of openness should be quite good (although it remains to be seen how the development of Parcel B will play out).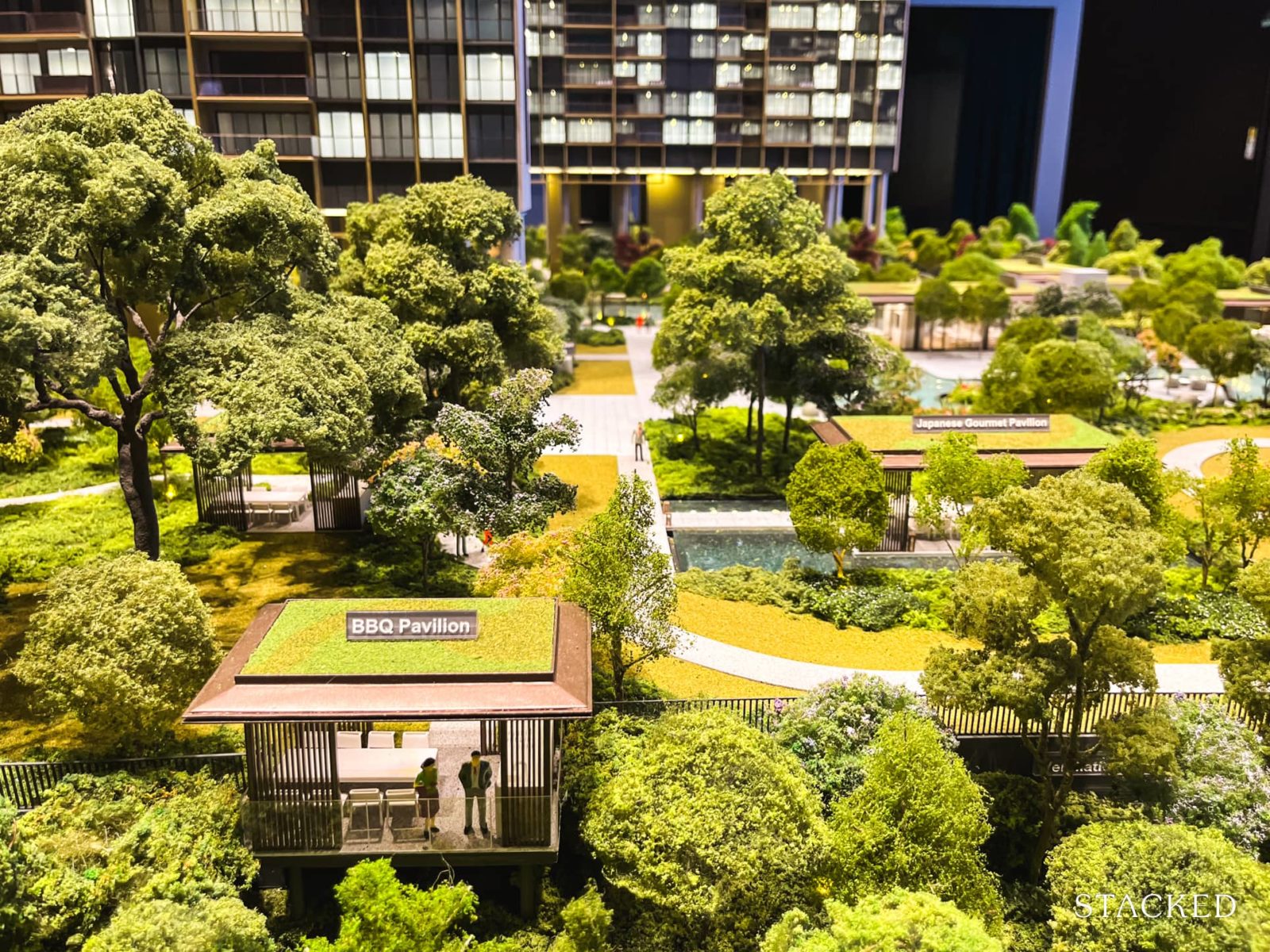 The other part of the condo that faces Ulu Pandan Road features more of a serene and green environment, including the Japanese Gourmet Pavilion and BBQ Pavilion, both of which are well-sheltered.
UOL has always been known for good landscaping in their developments, and this one is no different. Of course, while it does look beautiful, you can also imagine the amount of upkeep it would take to make sure the landscaping maintains well in the future, along with the issue of pests (like mosquitoes).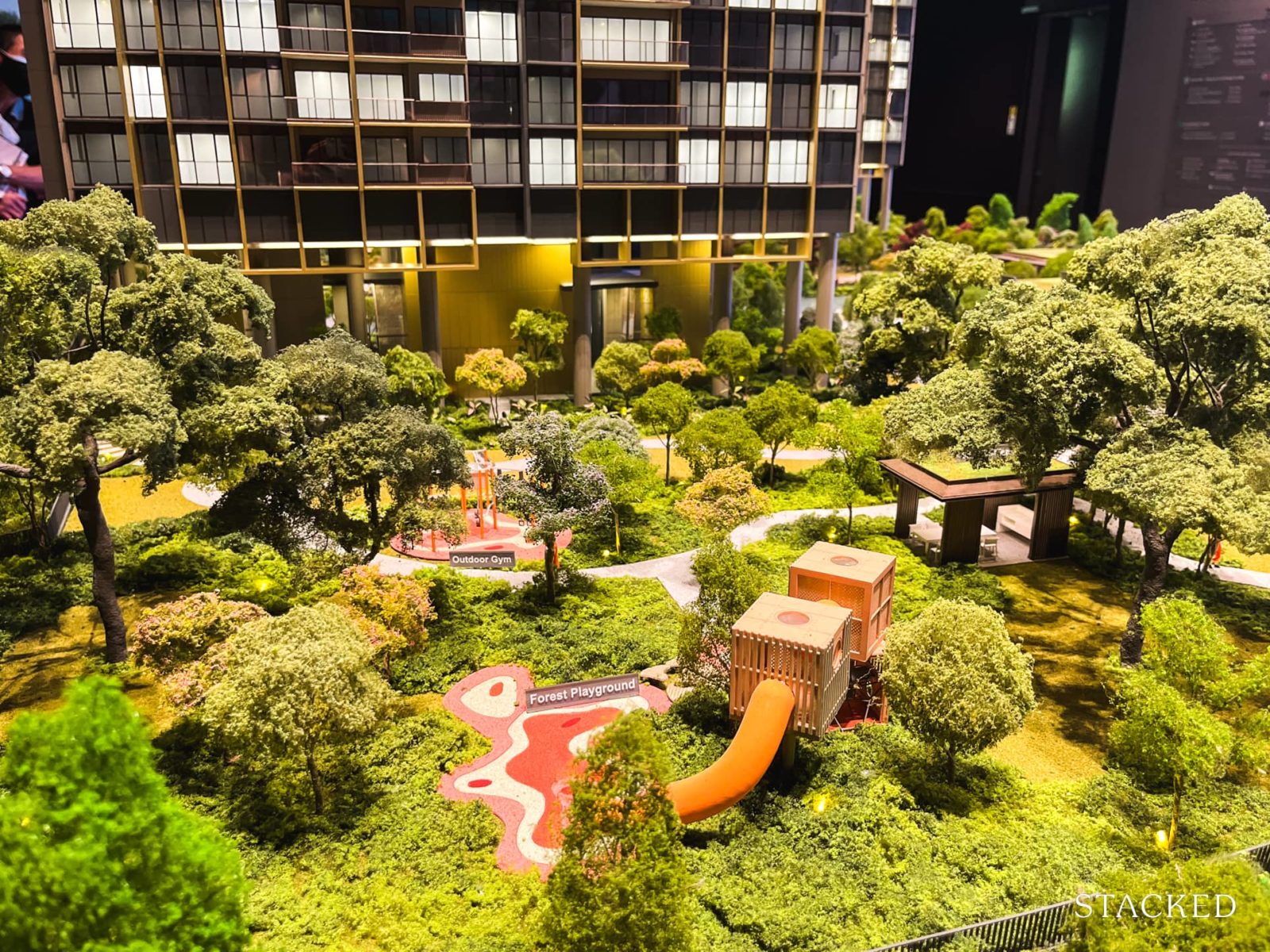 I also particularly like the design of the playground, which reminds me of a treehouse located in a forest. Unlike most modern playgrounds that are out in the open, this one at Pinetree Hill blends in the facilities well with the trees and organic shapes to create a dynamic spot for the children. It's apparent from here how thick and lush the landscaping is going to be.
This can also help to make it more cooling with the shade from the trees and a more welcoming spot to play and make friends with the other young neighbours.
Apart from the floating pavilion (as previously introduced), the Forest Pavilion offers residents an alternative to sit back and relax. Instead of the usual water features, the pods are nestled within large green spaces and don't take up much space in the overall site. However, it is overlooking the main road (Ulu Pandan Road) and might not be the most peaceful.
Here, you can also see the emergency exit, which leads to the relocated bus stop.
At first glance, it may seem to be quite strange to make this side gate accessible only during emergencies since it does lead to the nearest bus stop and would be convenient for those taking the bus.
There has to be a good reason for this, but one I can think of would likely be that it's too steep (you really have to go down for yourself to see how steep the land is), so it wasn't allowed to be a proper side gate.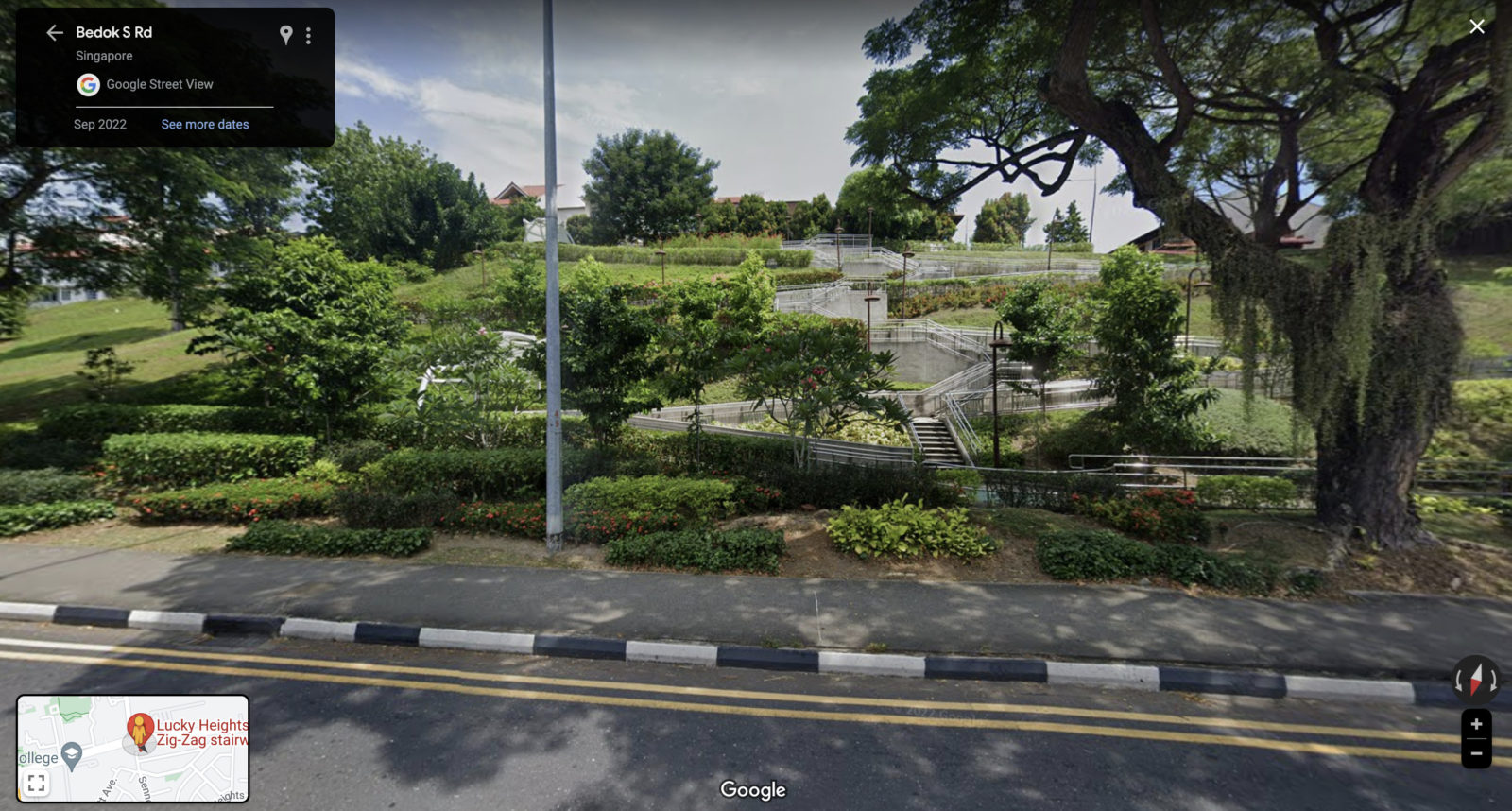 Even so, I thought that the issue could be easily negated by using multiple stairs instead – something similar to the Lucky Heights Zig-Zag Stairway along Bedok South Road. But the safety concern is definitely a valid one.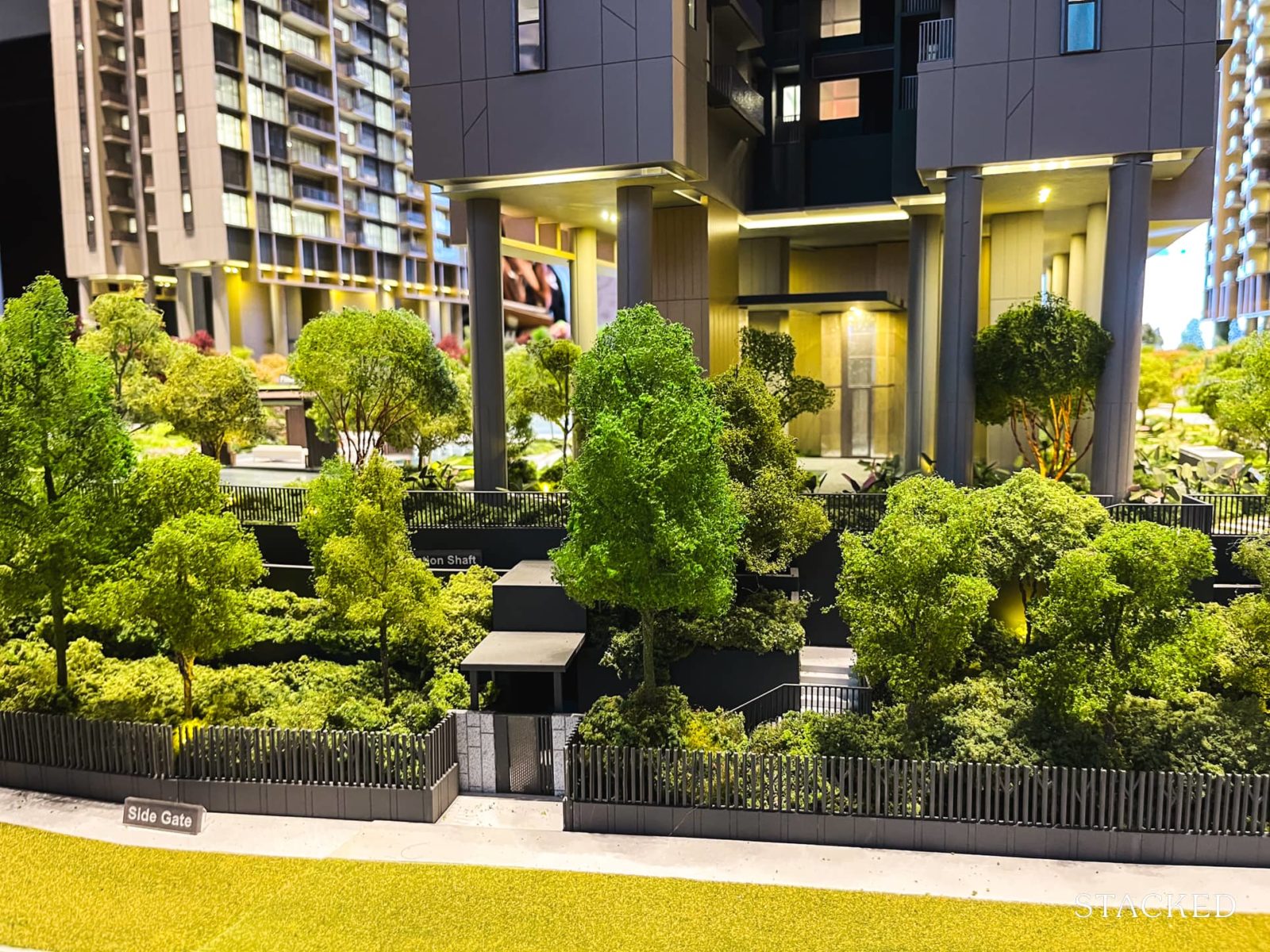 On the same note, there are two main side gates for pedestrians. One is found along the main entrance at Pine Grove and another (as seen in this picture) is located along Pandan Valley.
With that being said, the distance from this side gate to the bus stop along Ulu Pandan Road is approximately 100m, so it's not a deal breaker in any way.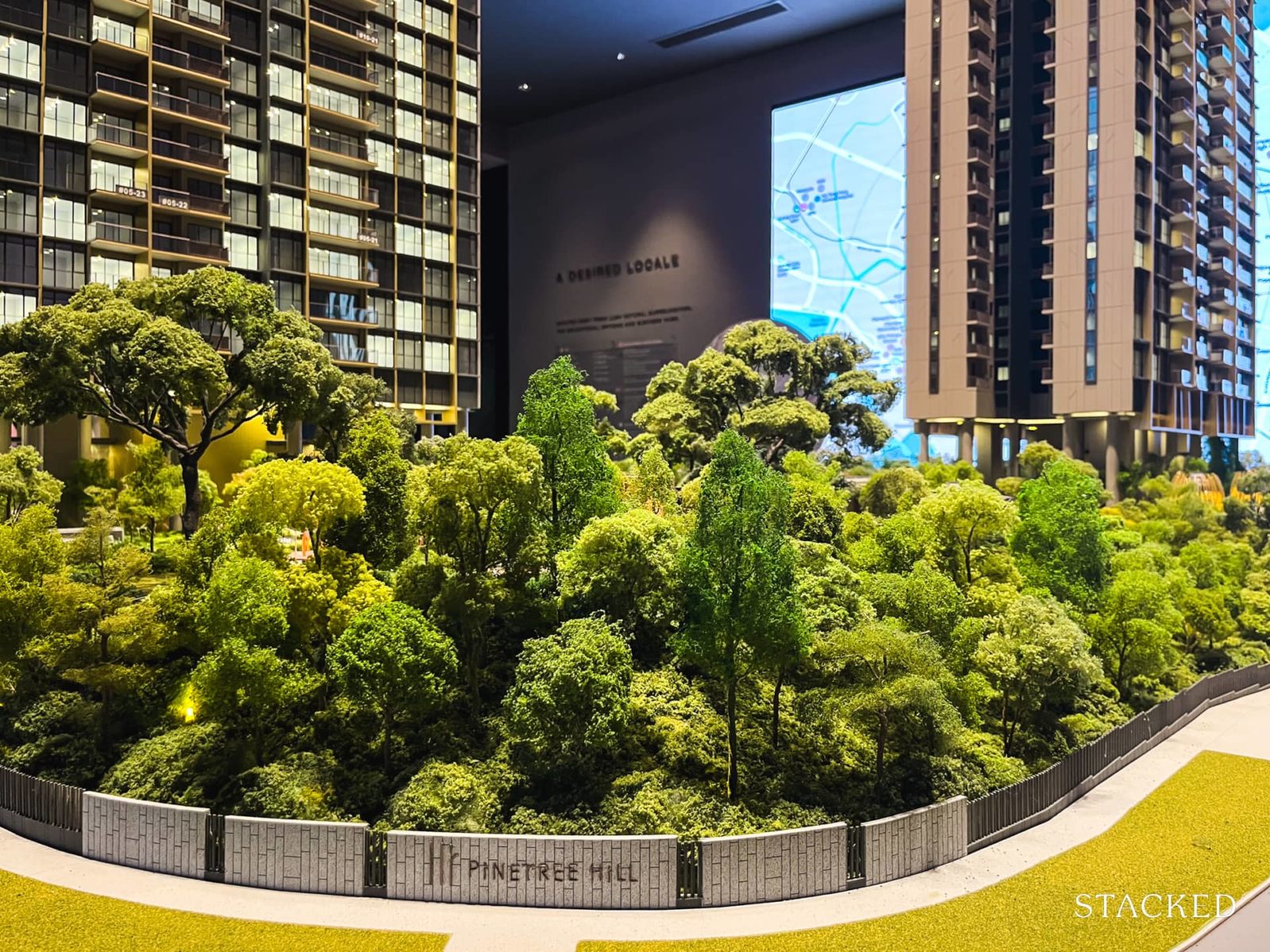 Overall, while there aren't any groundbreaking facilities to speak of, you can see that things are done to a high standard here. What was really apparent was the amount of space that residents could enjoy, the good separation between the blocks, and the less crowded surroundings – all of which are quite underrated plus points.
So with the main grounds done, let's take a look at how the actual units match up.
Pinetree Hill – 2-Bedroom Premium + Study Type 2BPS1 (74 sqm/797 sq ft) Review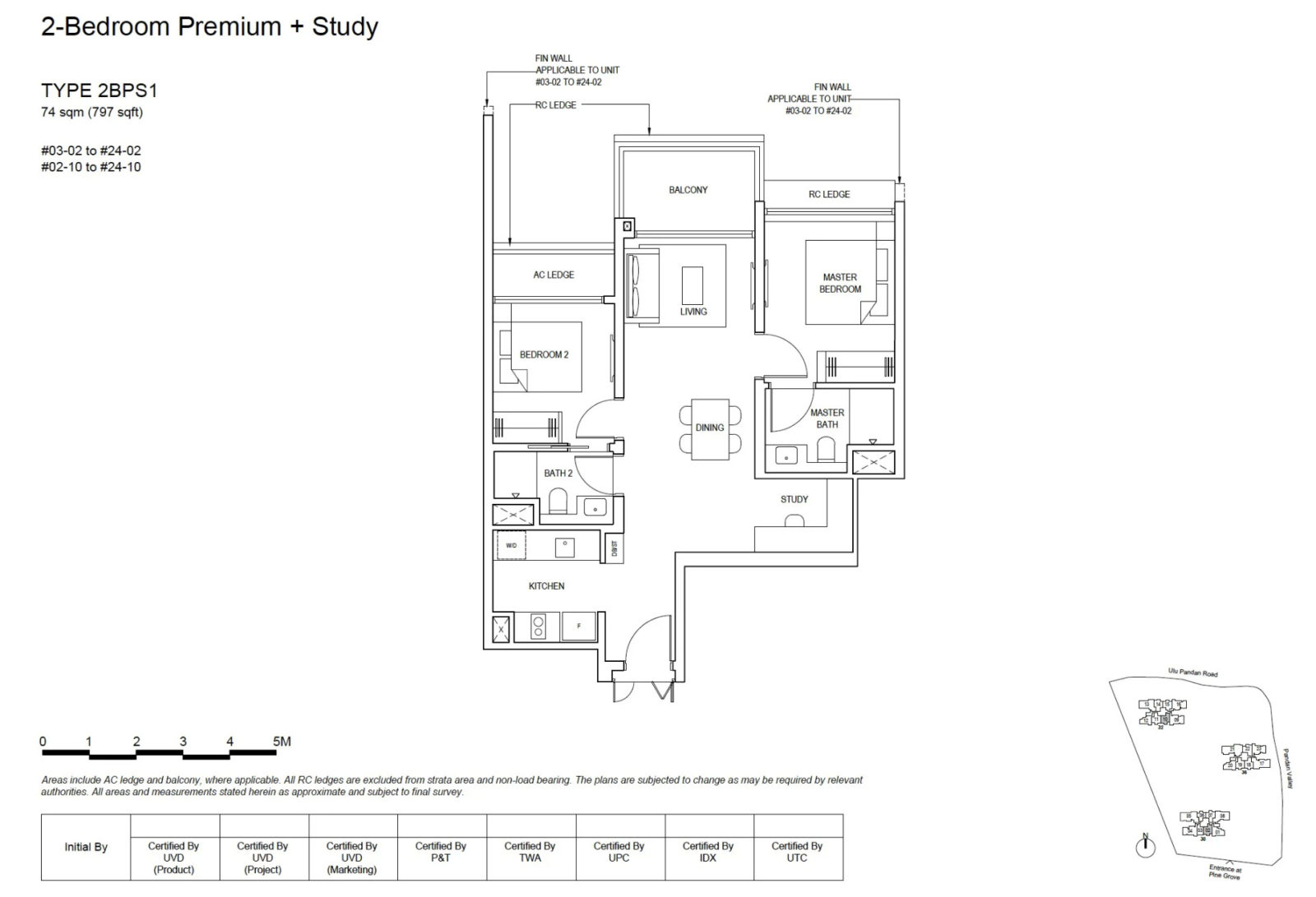 All the 2-bedroom units at Pinetree Hill have a dumbbell layout, which is definitely a more efficient choice when it comes to smaller-sized units.
There are three different options to choose from:
2-Bedroom type,
2-Bedroom Premium type and the
2-Bedroom Premium plus study type
The sizes range from 700 sq ft to 797 sq ft (excluding the top floor units which include the void space), with the 2-bedroom type having only 1 bath and both the premium types having two baths.
The show flat unit features the largest layout for a 2-bedder at 797 square feet and it comes with a study. As per the standard of most new launches today, all the common areas in the units come with porcelain tiles and vinyl flooring for the bedrooms. The ceiling height is at the standard 2.8m high.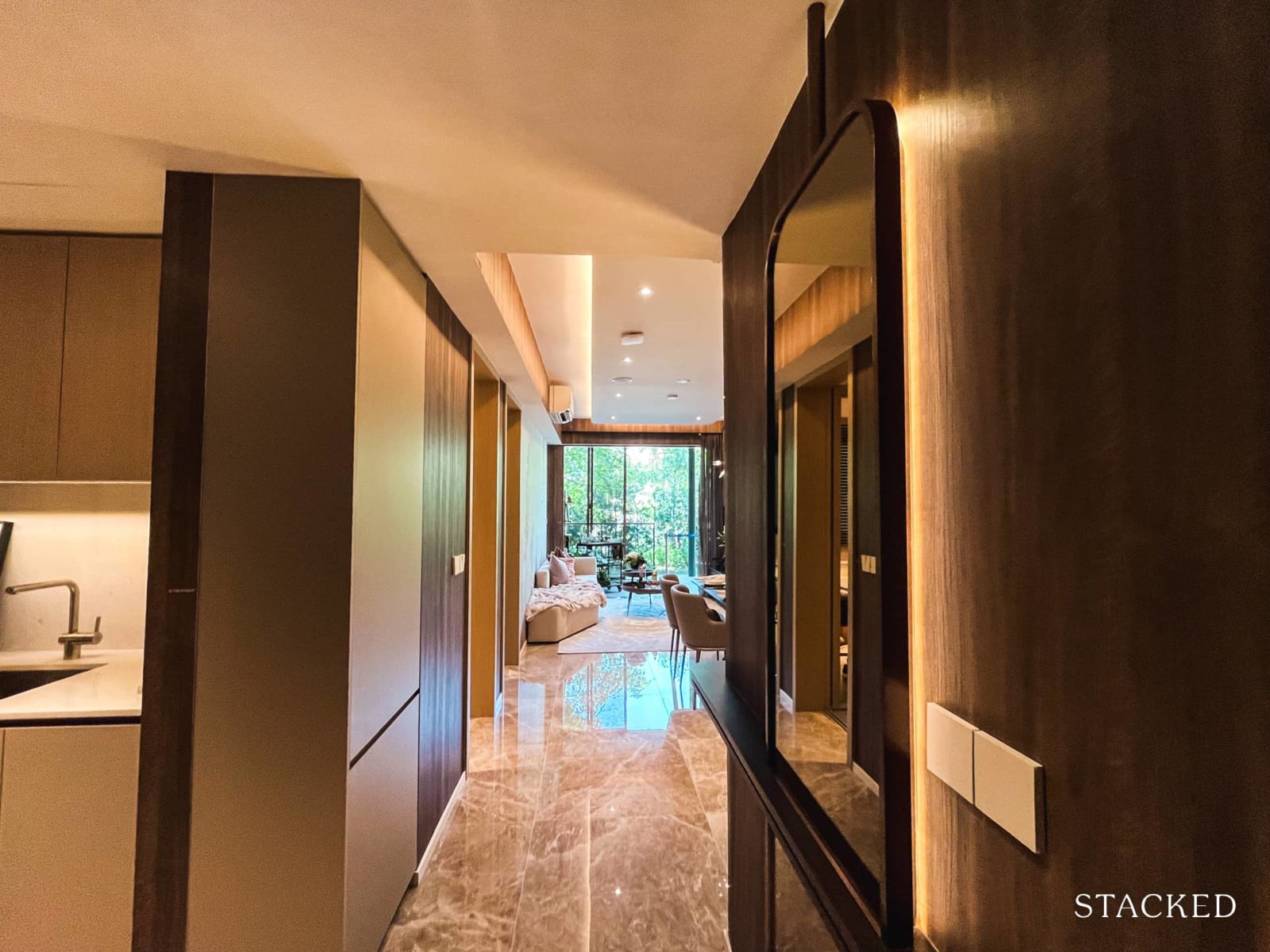 Upon entering the unit, you are greeted by a long entryway with the kitchen located on the left. It's not really wide enough to construct much storage, so a more feasible option would be a mirror (as shown in the show flat), and hanging hooks or ledges.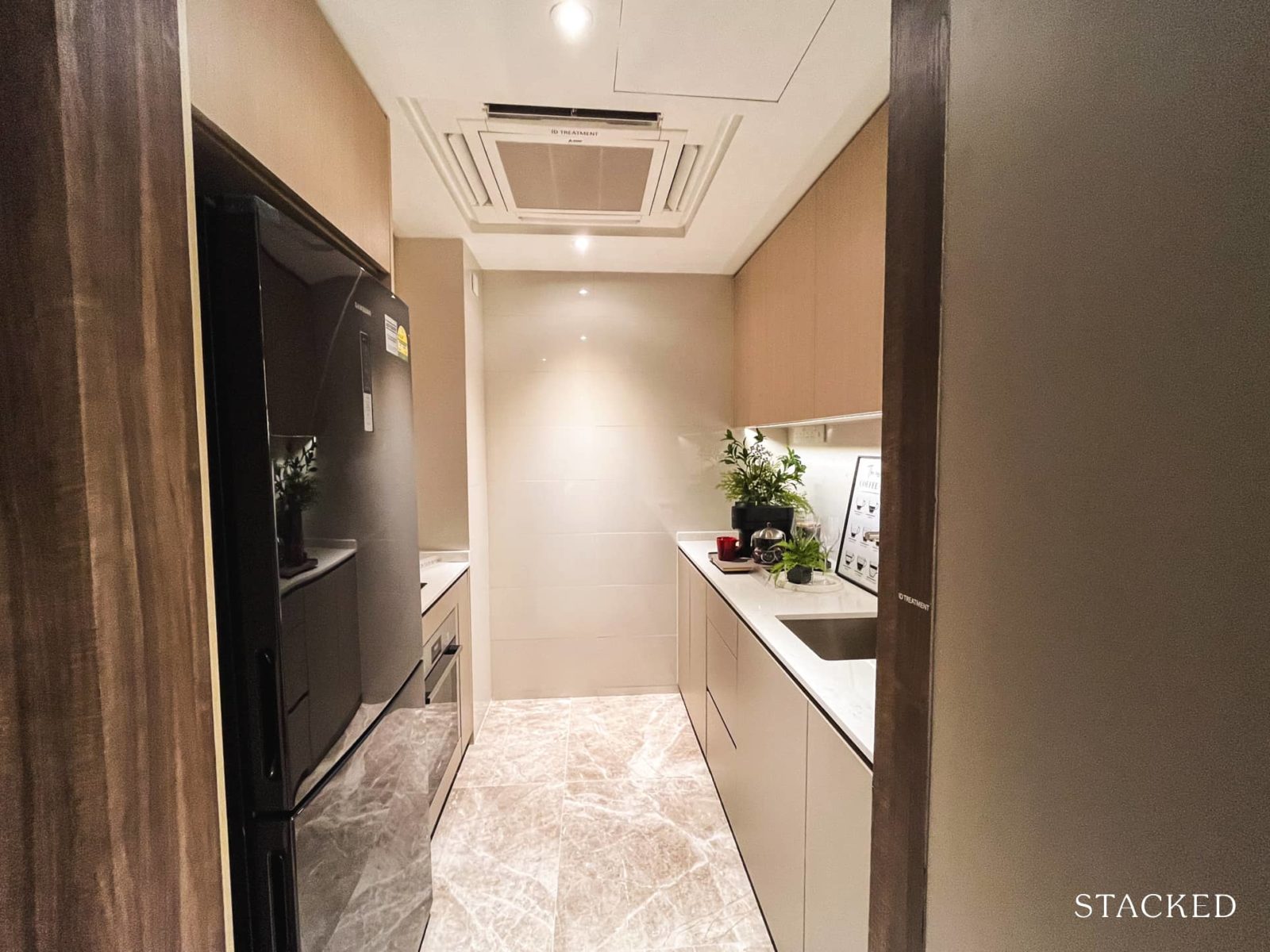 Taking a look at the kitchen, it's sized at 5.8 sqm and features two countertop areas – one for cooking and another for prepping and washing.
As part of the provisions, you get built-in high and low-level cabinets, along with a quartz countertop and backsplash for easy maintenance. While there sadly isn't a window for ventilation, homeowners have the option to install a door to enclose the area.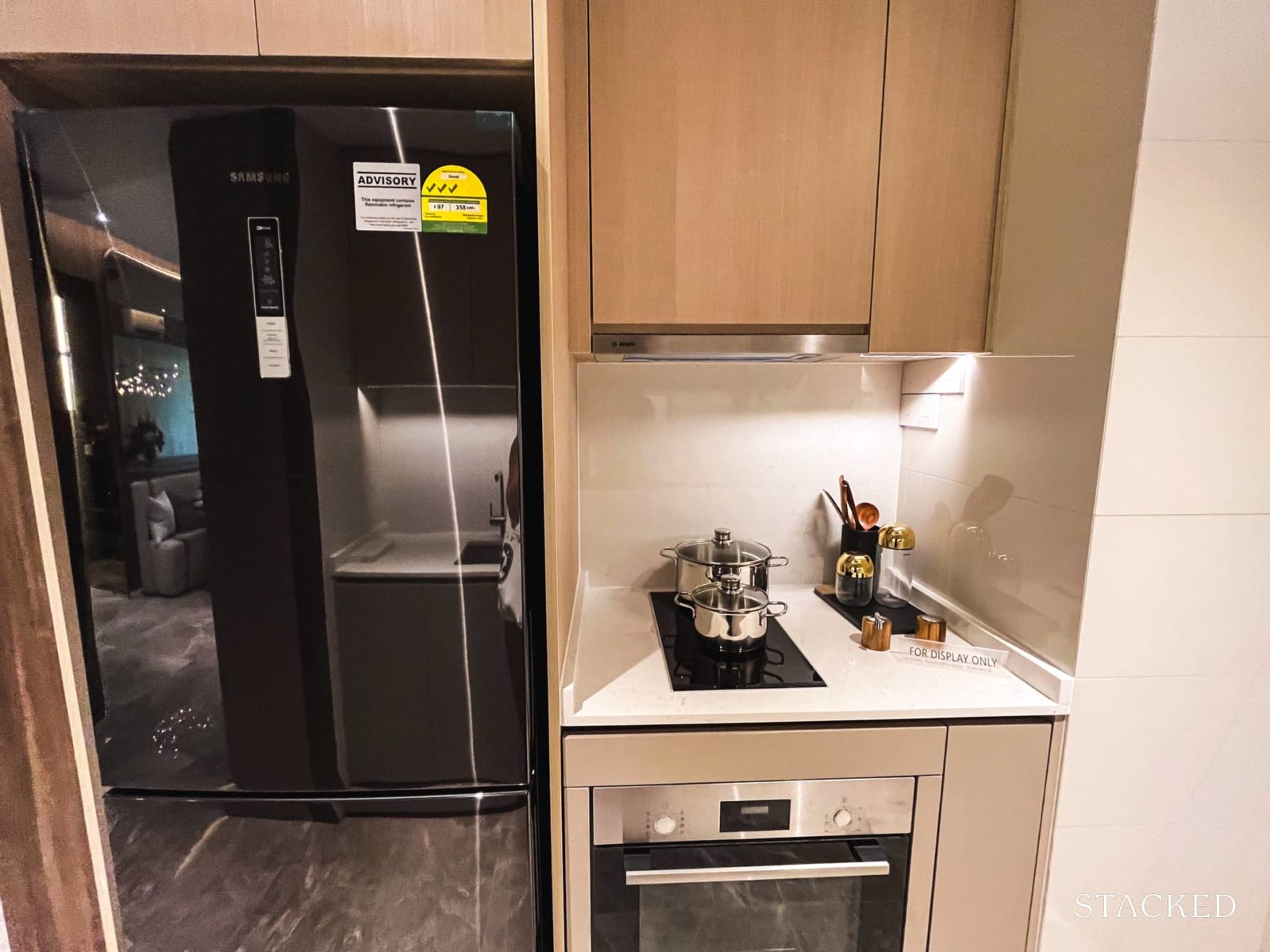 Part of the white goods include a Samsung fridge, a built-in oven, an induction hob and a cooker hood from Bosch, which is about par for the course for a development such as this.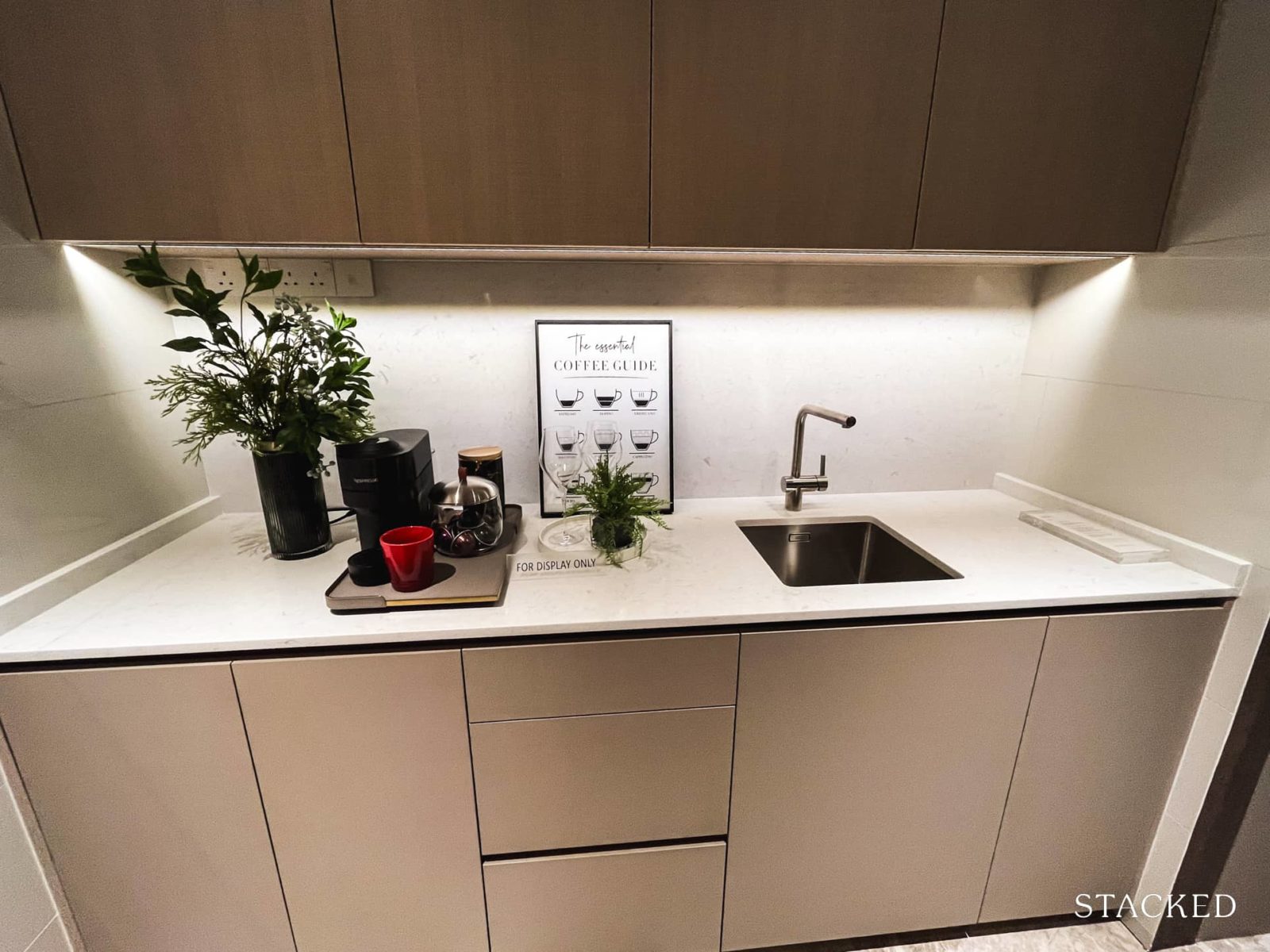 On the other side features a sink, plenty of cabinets and storage spaces as well as a more spacious countertop area.
Since there's no yard space in this unit, the washer cum dryer is also found in the kitchen (sorry that there's no photo of this!) and is also from the brand Bosch.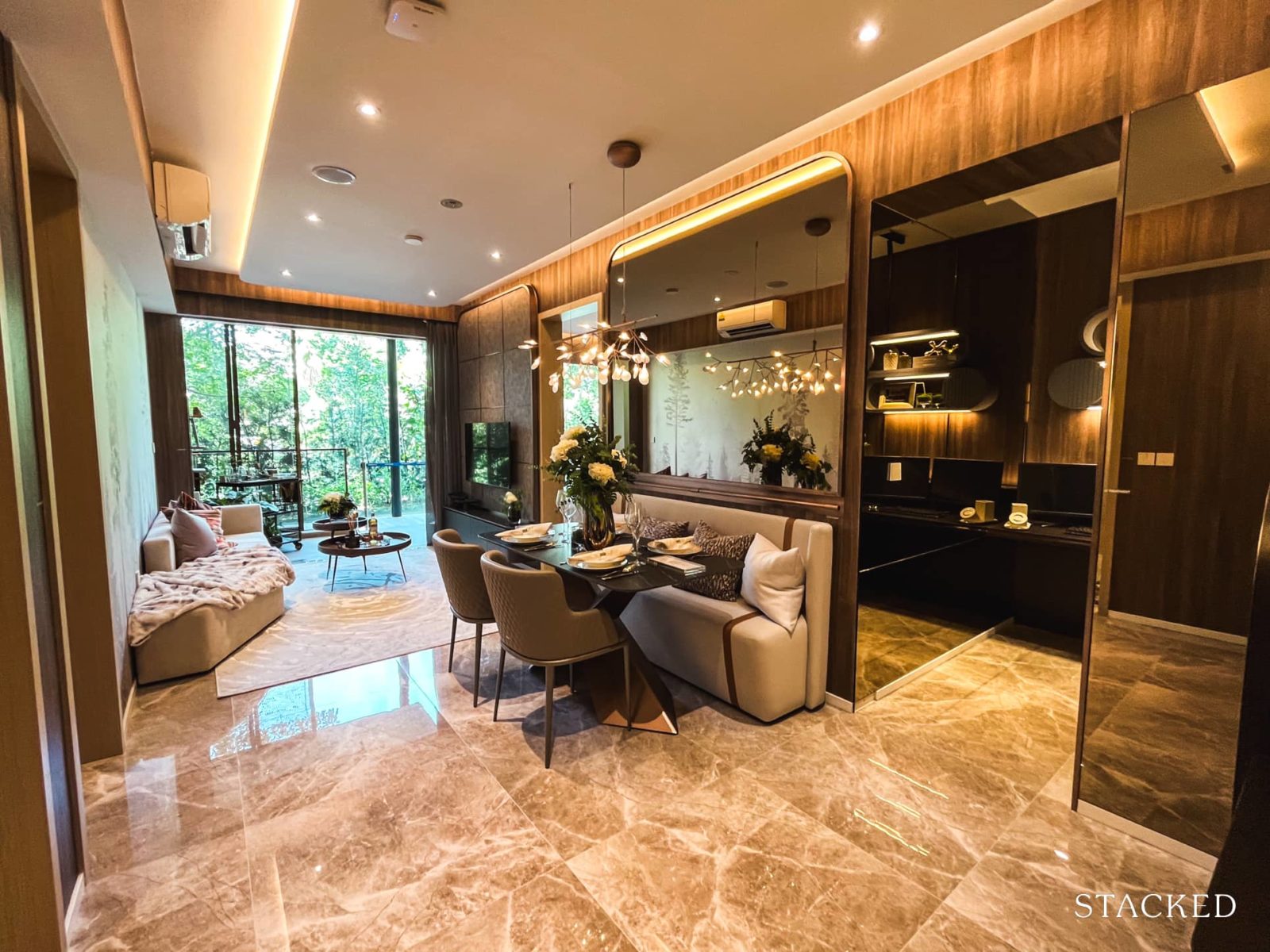 Before we move on to take a look at the common areas, let's first visit the study, which is located right beside the dining area and near the kitchen.
The study is sized at a quaint 3.8 sqm and is able to fit a full-sized working desk and cabinets for storage, which is standard for most new launches that we see today.
I do like the location of the study here instead of next to the bedroom, as you have the option of enclosing this for more privacy (there are some cases where you have to walk through the study to get to the bedroom).
Notably, there are no windows here, which means that proper lighting has to be done up for the space to be bright enough.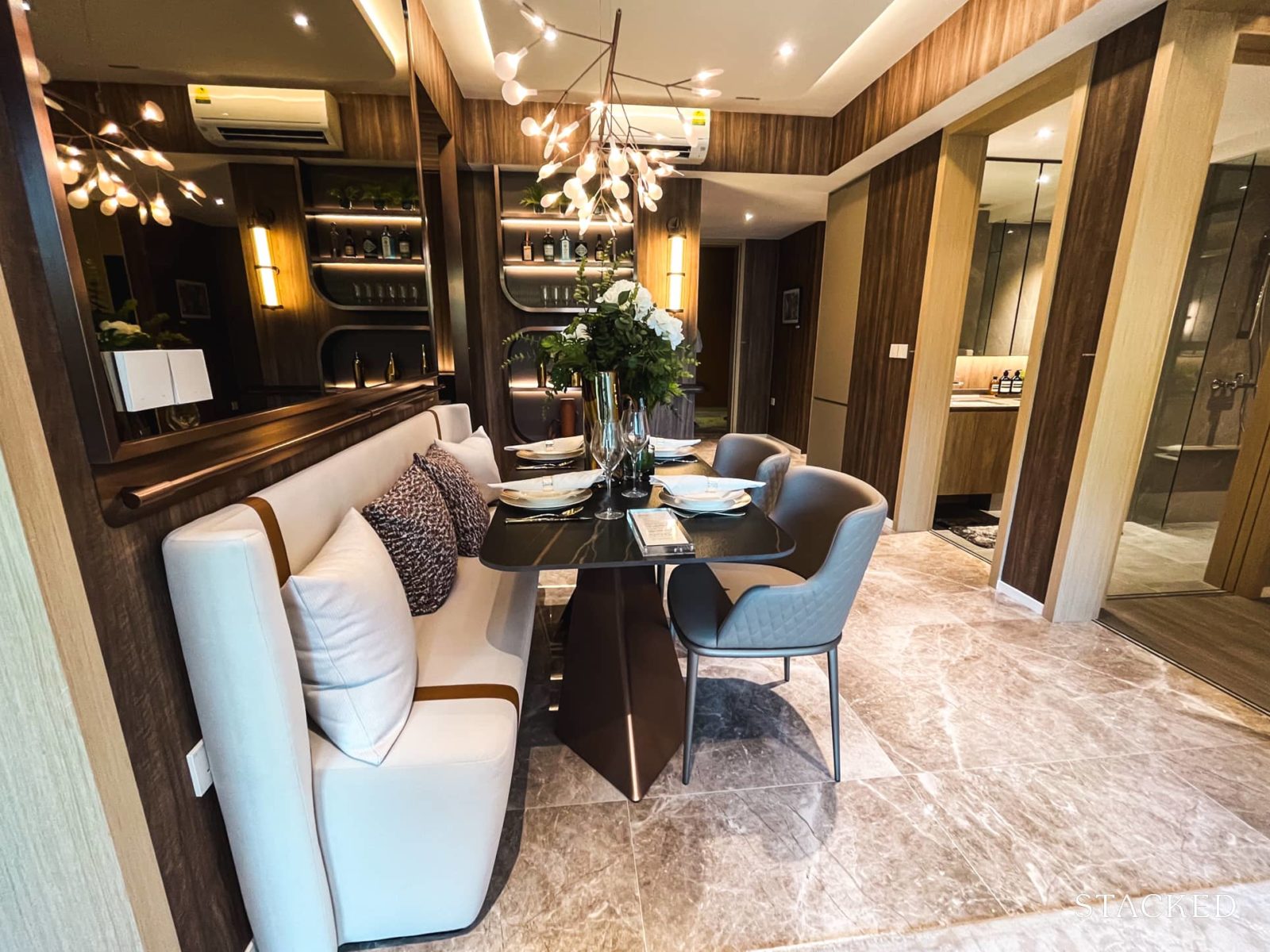 Before I touch on the bathroom and bedrooms, let's take a look at the dining and living areas first.
While the dining seems to be quite well-sized on paper, there are certain limitations that you have to note. Firstly, you are restricted by the length of the wall of the bathroom – anything too long and you would encroach into the entrance of the study and the bedroom.
So bench seating (like the above) is ideal, or a round dining table setup could work as well. The bench seating here is definitely designed to showcase more space, rather than on the practicality front.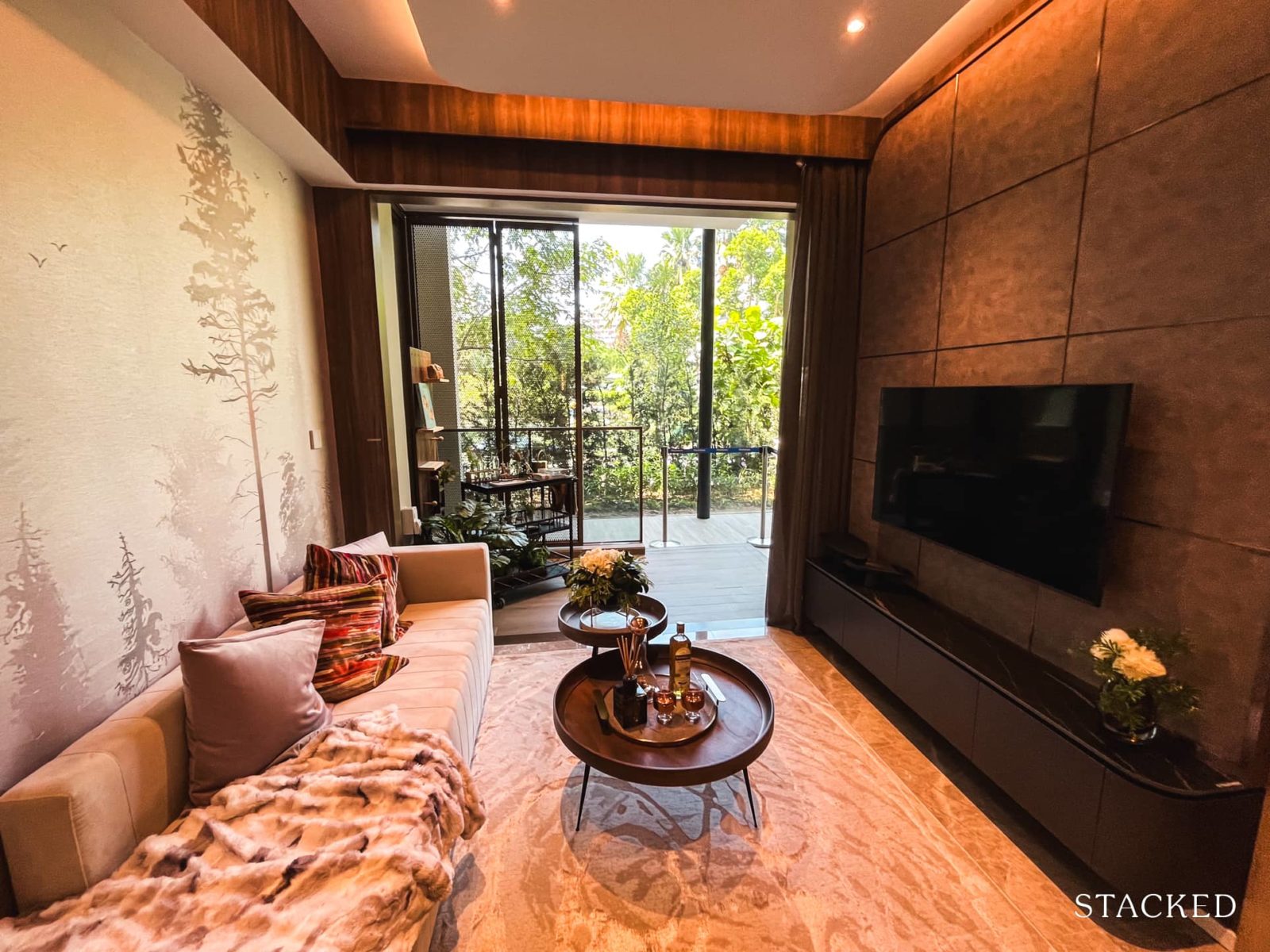 Along with the foyer and dining area, the living space is sized at 25.3 sqm and has a decent width. It can comfortably accommodate a three-seater couch and coffee table, along with a compact TV console set as seen here. The size is standard to many other new launches, so there's not much to delve into.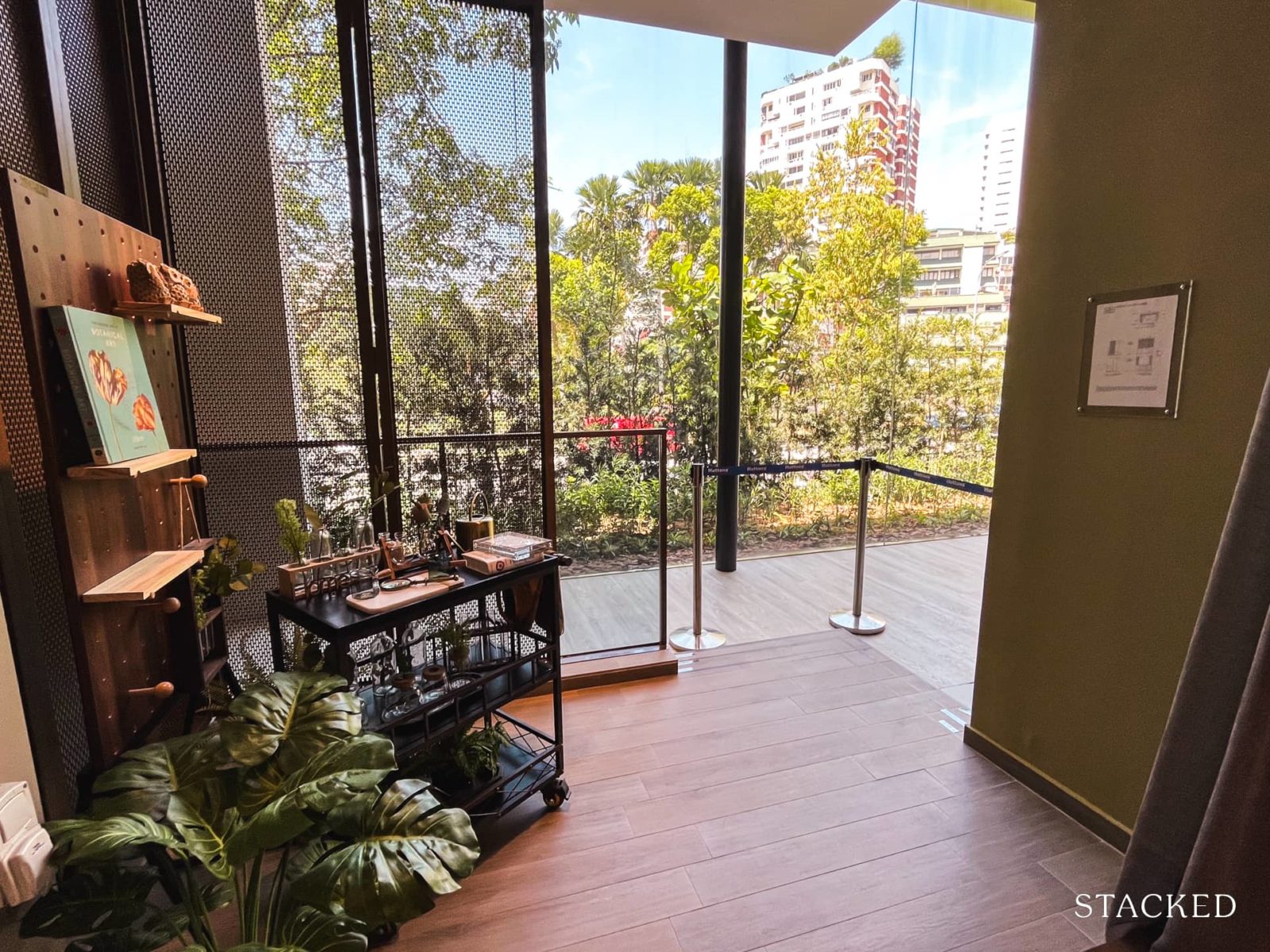 On the other hand, the balcony which is adjacent to the living room is sized at 6 sqm. In comparison to the overall size of the unit, it's quite spacious and it's certainly good to see that allowance here given one of the selling points would be the views.
On a similar note, Pinetree Hill is the last development in the neighbourhood that does not include its balconies in its total GFA, which explains why every single unit is able to accommodate one.
As a minor side note, the balcony will also come with both an electrical and water point – which is good given nowadays most only provide an electrical point.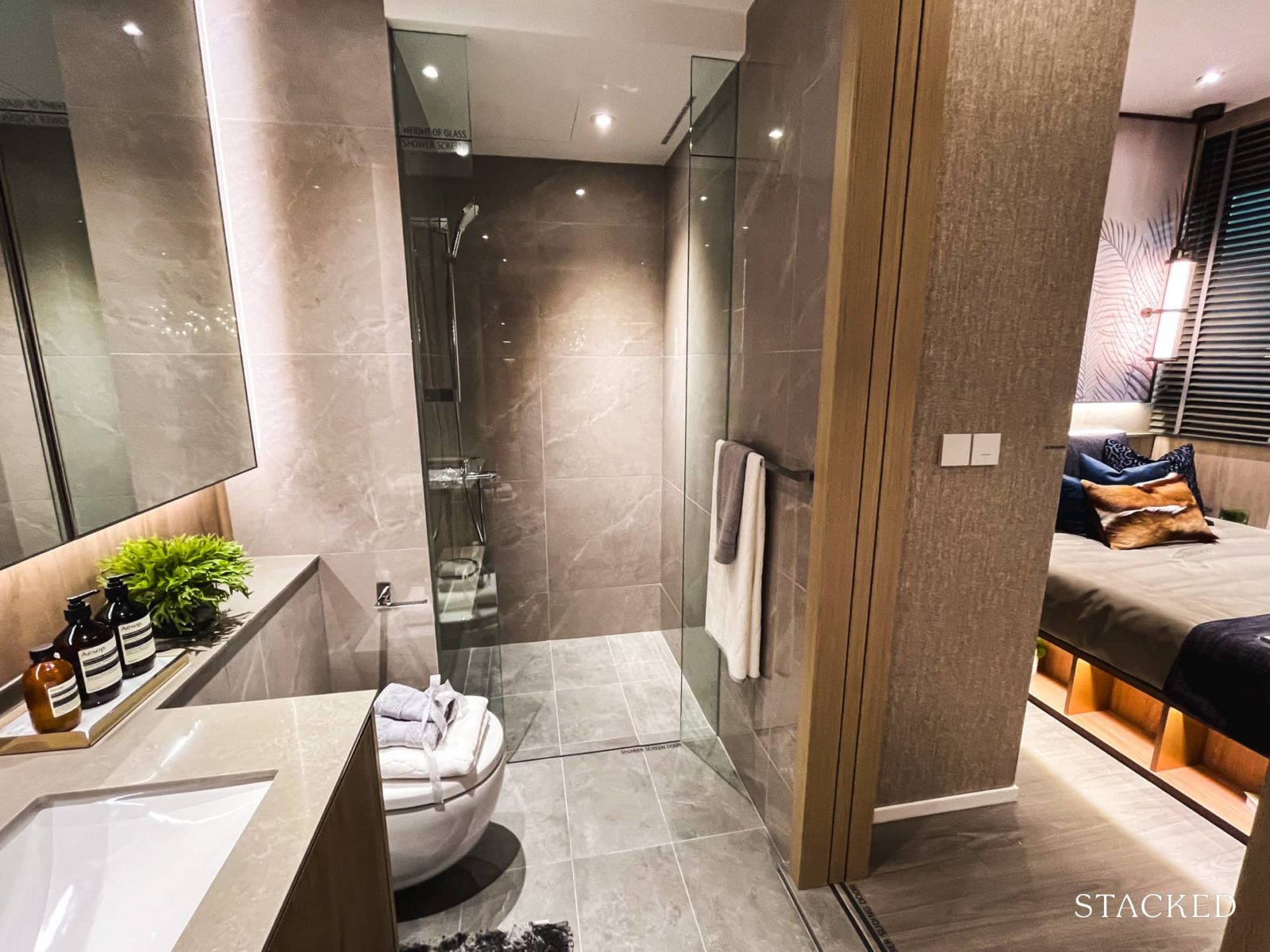 Moving on to take a look at the common bathroom, it's sized at 4.3 sqm, which is an average size. As expected, there are no windows here and the bathroom would have to rely on mechanical ventilation.
It is practically laid out though, as the bathroom comes with a set of jack-and-jill doors, making it accessible from the common bedroom (which essentially makes it ensuite) and the living area.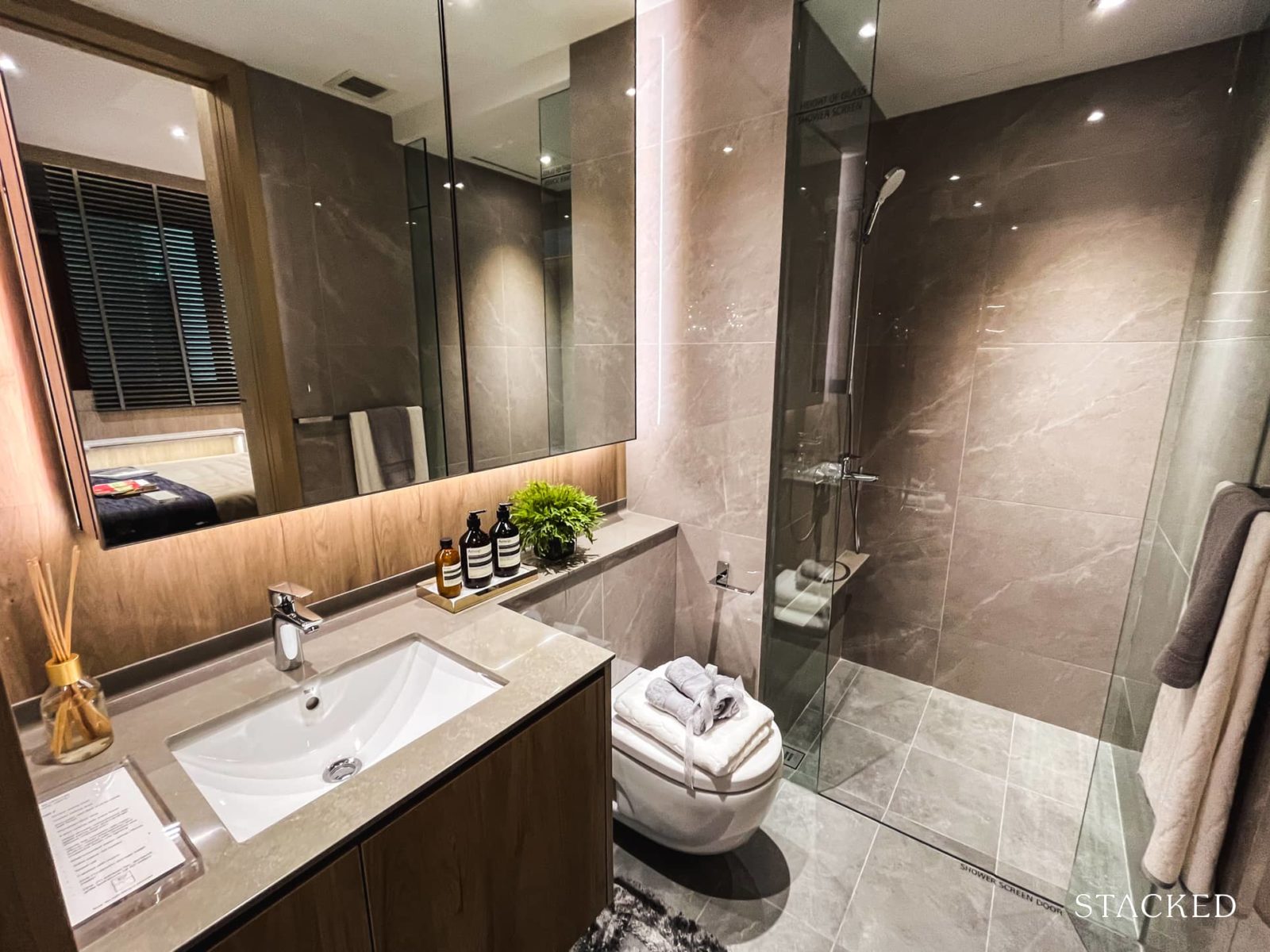 The built-in cabinets and mirrors above the sink and a wall-hung w/c are part of the standard provisions. Porcelain tiles are used here, too.
The wall hung w/c and sink are from Roca, and the basin mixer and shower set are from Hansgrohe.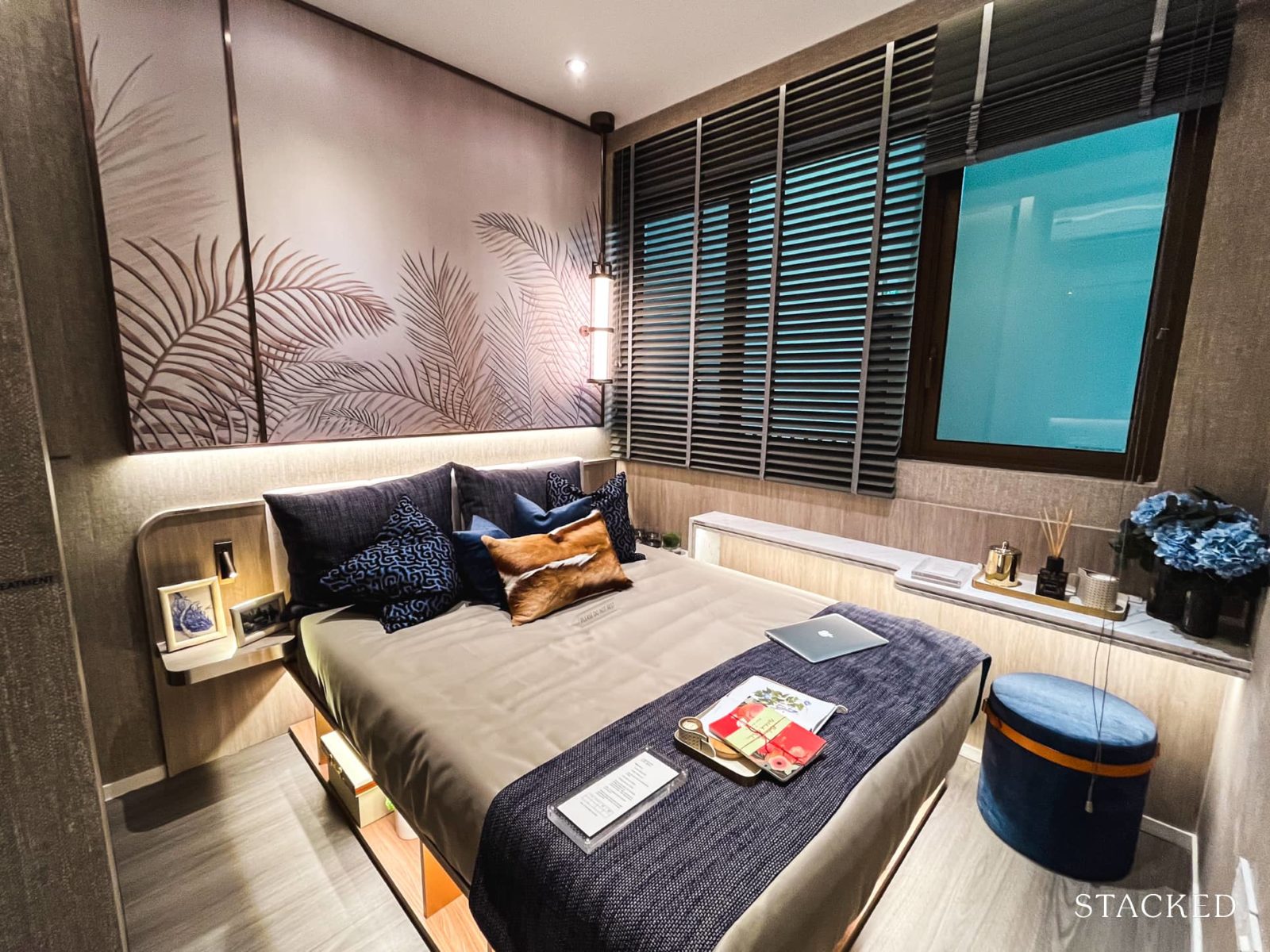 The common bedroom is sized at 8.8 sqm, which again is typical of the average bedroom standards for new developments. This means that you can fit a queen-sized bed, a single bedside table and a typical built-in wardrobe.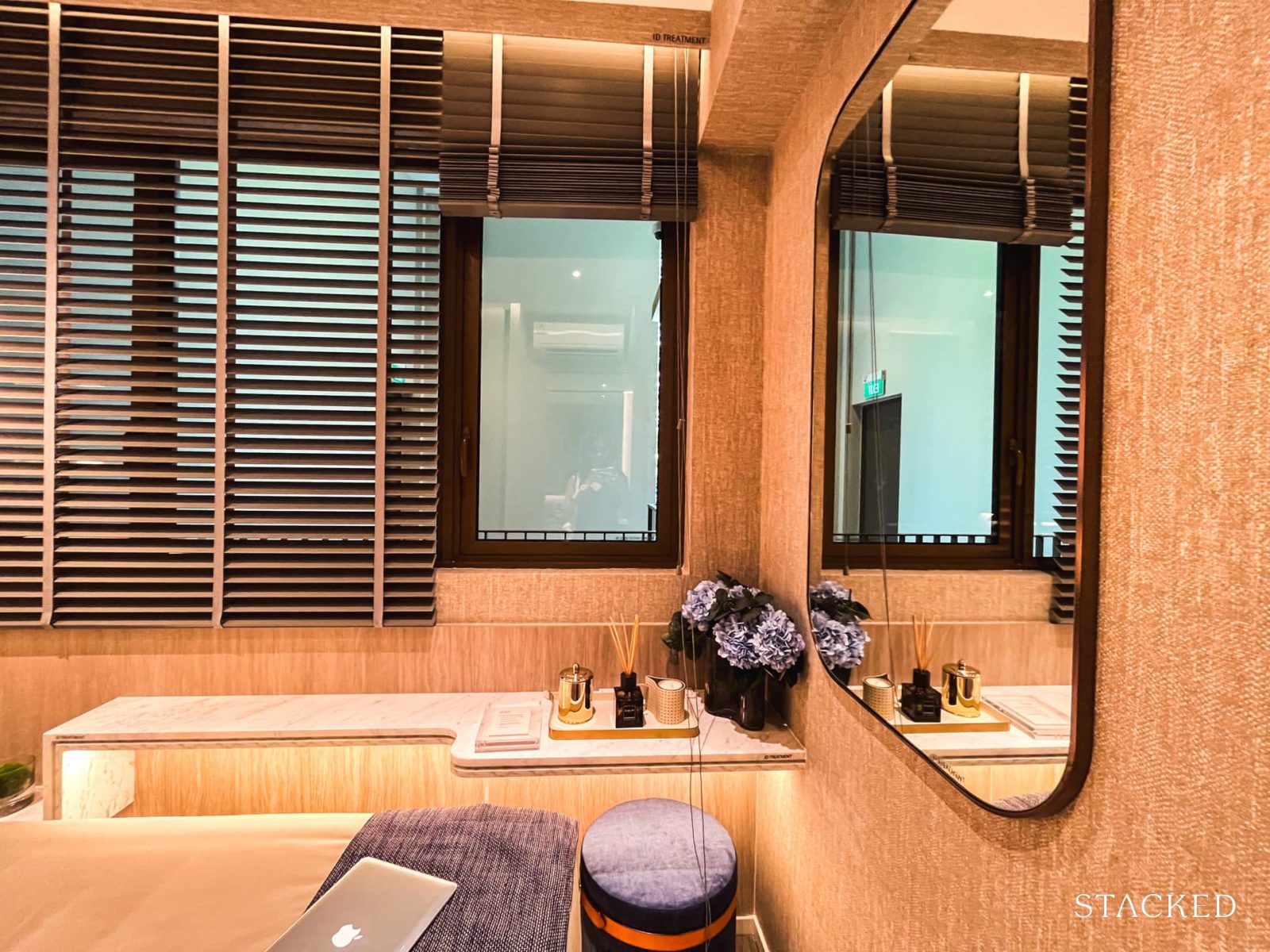 Since this bedroom is facing an AC ledge, the IDs chose to make use of the additional wall space by mounting a small vanity area. This is possible too because the windows are not full-length here, which is commonplace in the market today.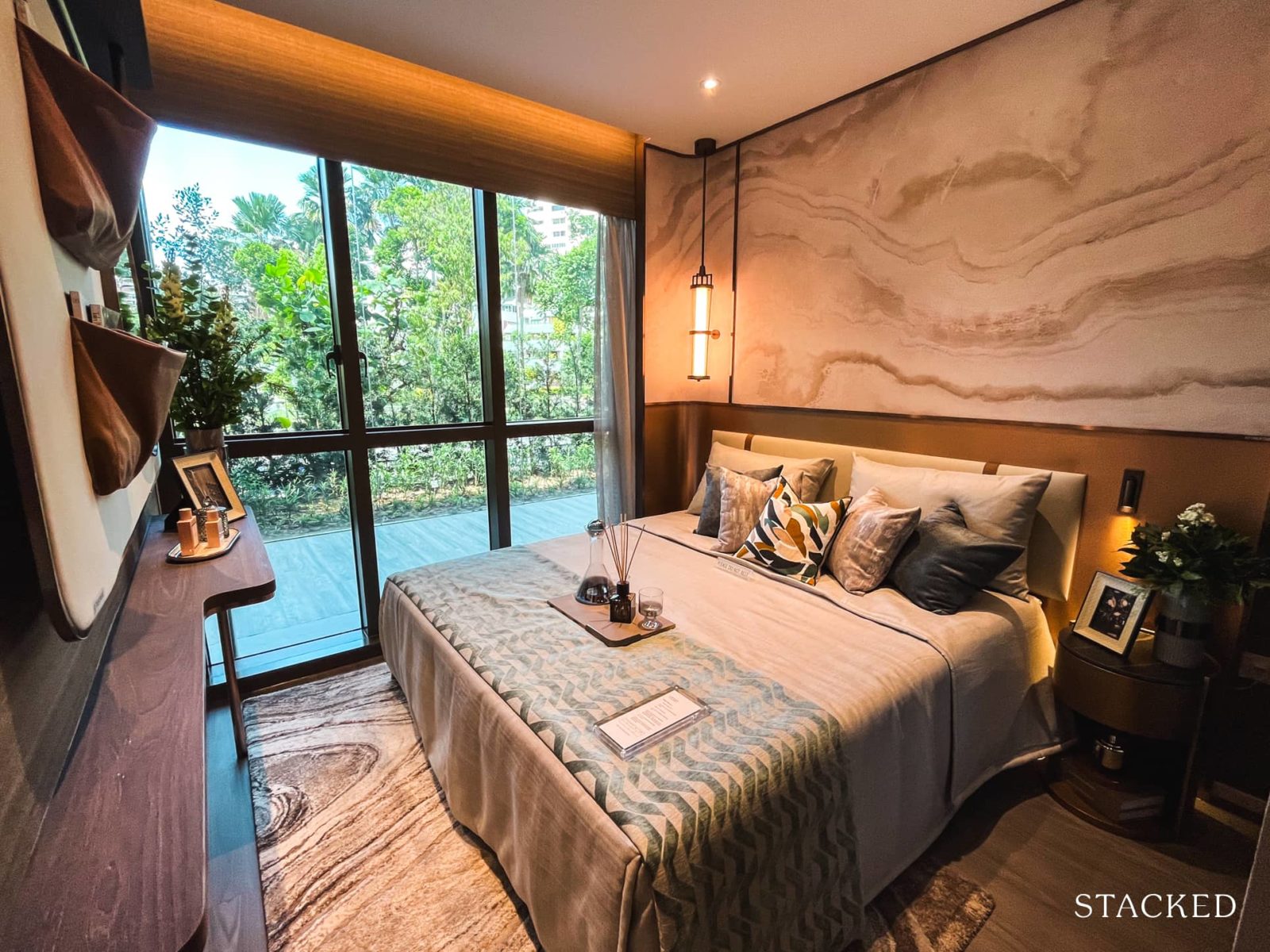 Last but not least, let's take a look at the master bedroom. It is sized at 16.5 sqm (including the master bathroom), which is quite in line with today's standards. Even with the king-sized bed and bedside table, there's still a decent amount of room to move around.
Apart from size, the main difference from the common bedroom is the floor-to-ceiling windows, making the room look brighter and spacious.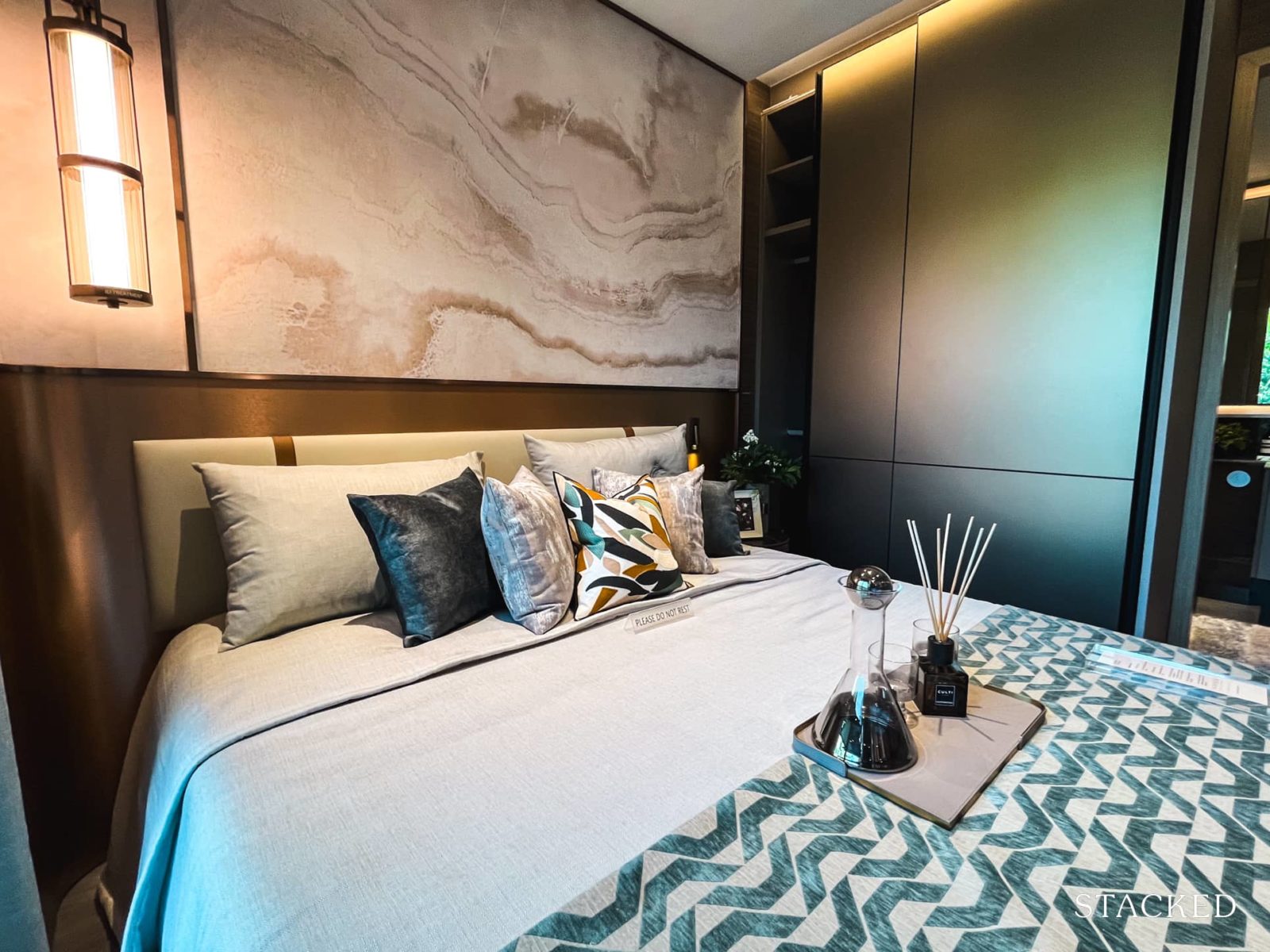 Just to highlight, the finish of the built-in wardrobe is also different from the common bedroom, since it does sport a chrome-like melamine finish to give it a more luxurious touch.
I did notice that there wasn't the usual accessories panel by the side too, unlike what you'd usually see in other new launch master bedrooms.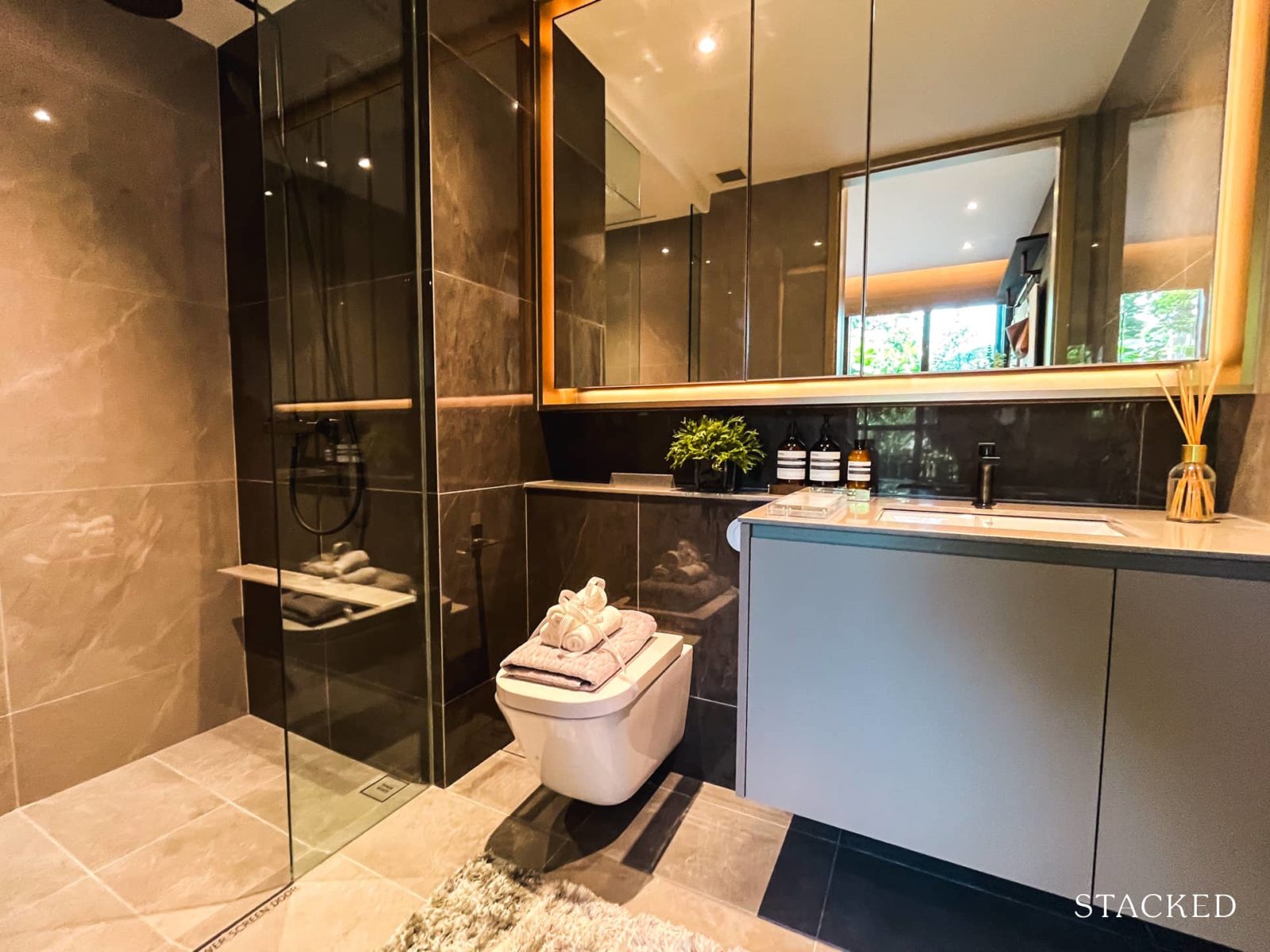 Likewise, the master bath too also does not come with windows and relies on mechanical ventilation. In terms of design and provisions, it features a darker tone with the difference here being the addition of a rain shower.
While the wall hung w/c and basin are both also from Roca, the mixer and shower set are from the more premium brand Gessi (instead of Hansgrohe, which is used in the common bathroom).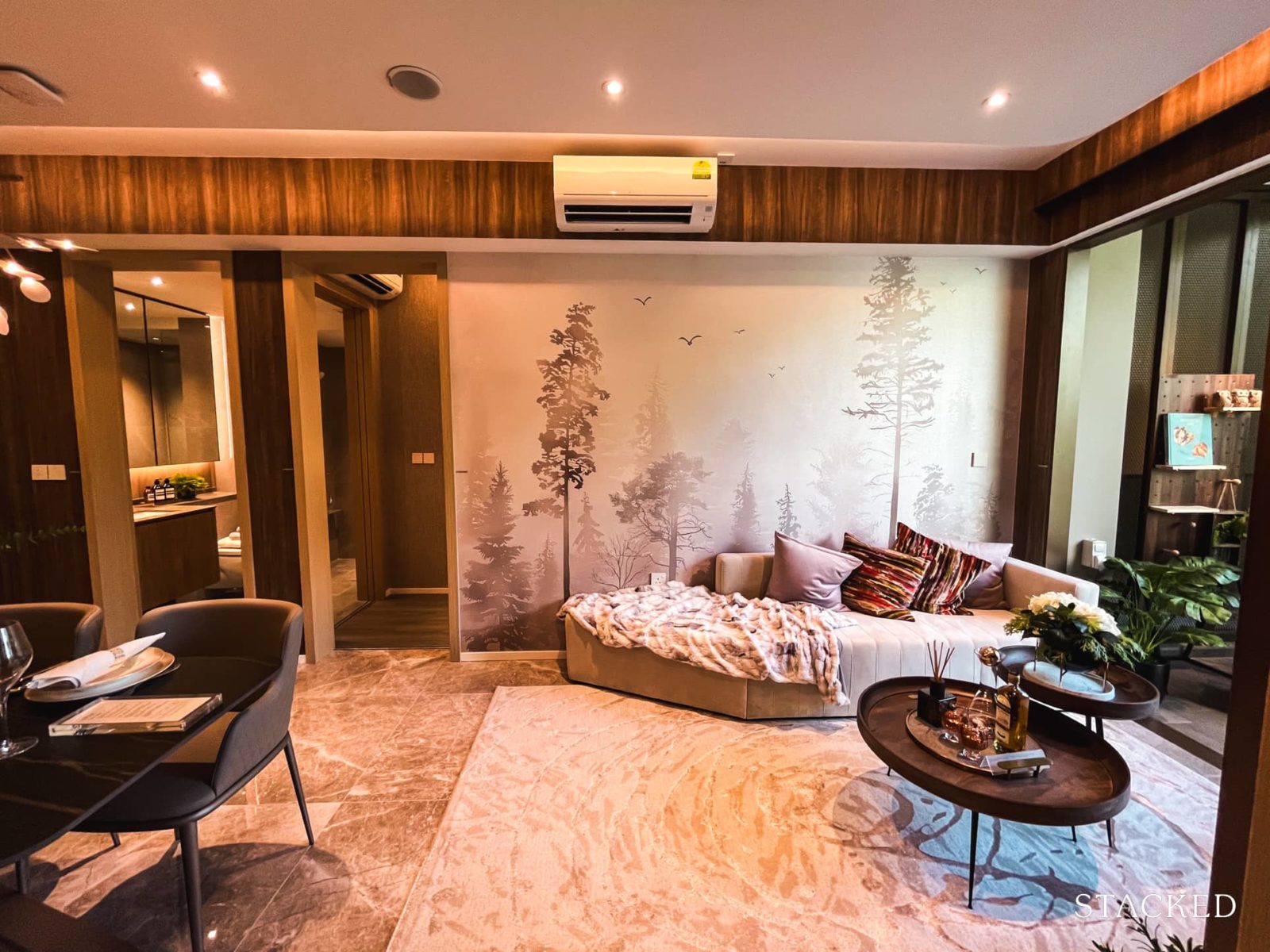 And here is the final shot of the living area from the master bedroom. Let's move on to look at the 3-bedroom units.
Pinetree Hill – 3-Bedroom Premium + Study Type 3BPS1 (113 sqm/1,421 sq ft) Review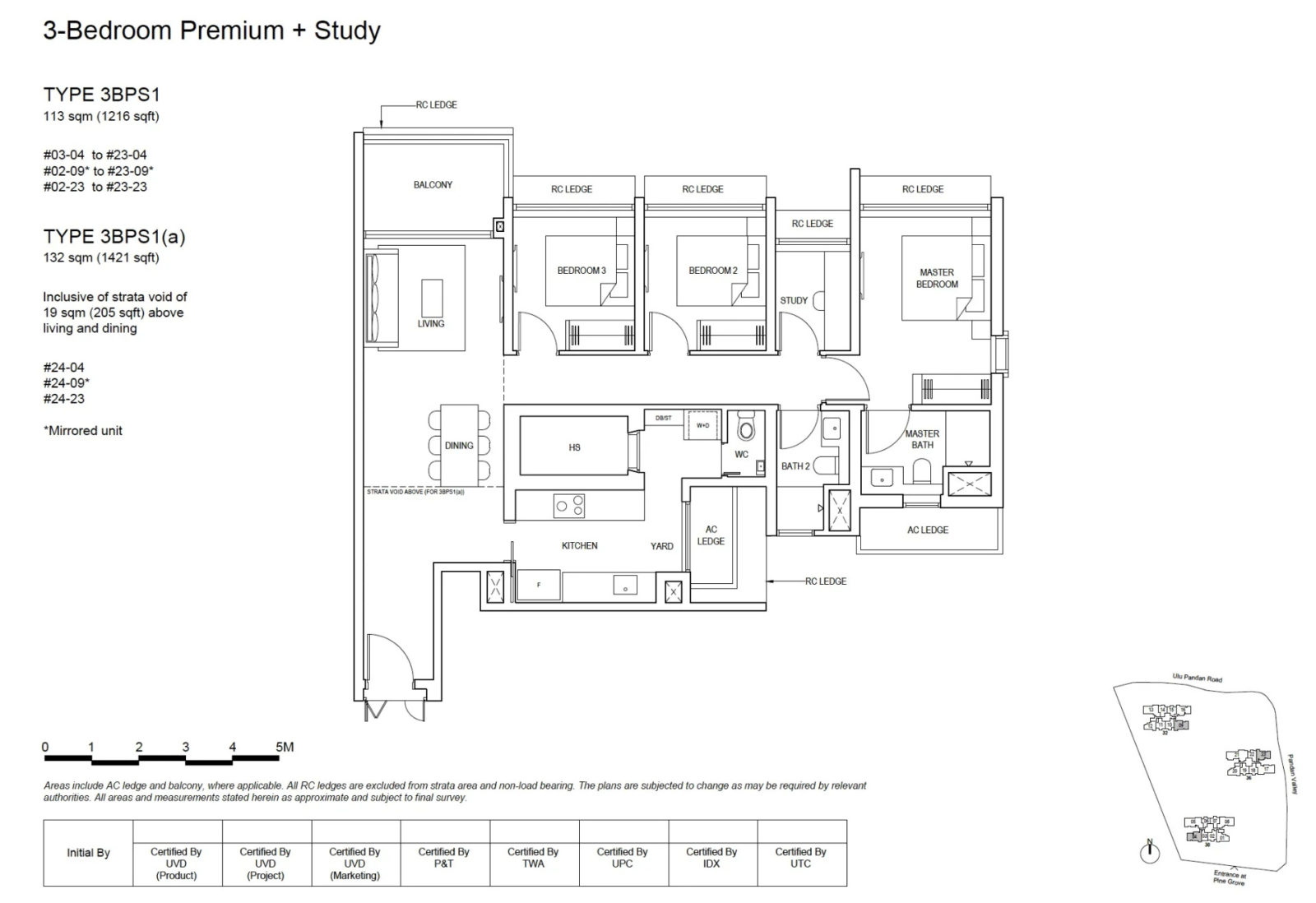 There are 159 3-bedroom units on offer at Pinetree Hill, and this range from 969 sq ft to 1,421 sq ft (including the top floor units with the added void space) and come with several variations.
For the 3-bedroom type units (which are sized at 969 sq ft), there are two variations and the main difference is in the foyer entrance, which results in a marginally smaller kitchen for one unit.
On the other hand, the 3-bedroom premium + study type units (which are sized at 1,216 sq ft) have a more noticeable difference. One variation has a bigger balcony and study but a smaller living area in comparison and vice versa, so it depends on your personal preference when it boils down to selecting a more suitable unit.
For a more luxurious touch, all the common areas in the 3-Bedroom Premium units come with marble tiles (instead of Porcelain) and timber flooring (instead of vinyl) for the bedrooms. The ceiling height is at the standard 2.8m high.
The one at the show flat is the biggest 3-bedroom unit on offer, it's the 1,421 sq ft unit that comes with the 205 sq ft strata void (so it is effectively the same size as the regular 1,216 sq ft unit in terms of ground living space).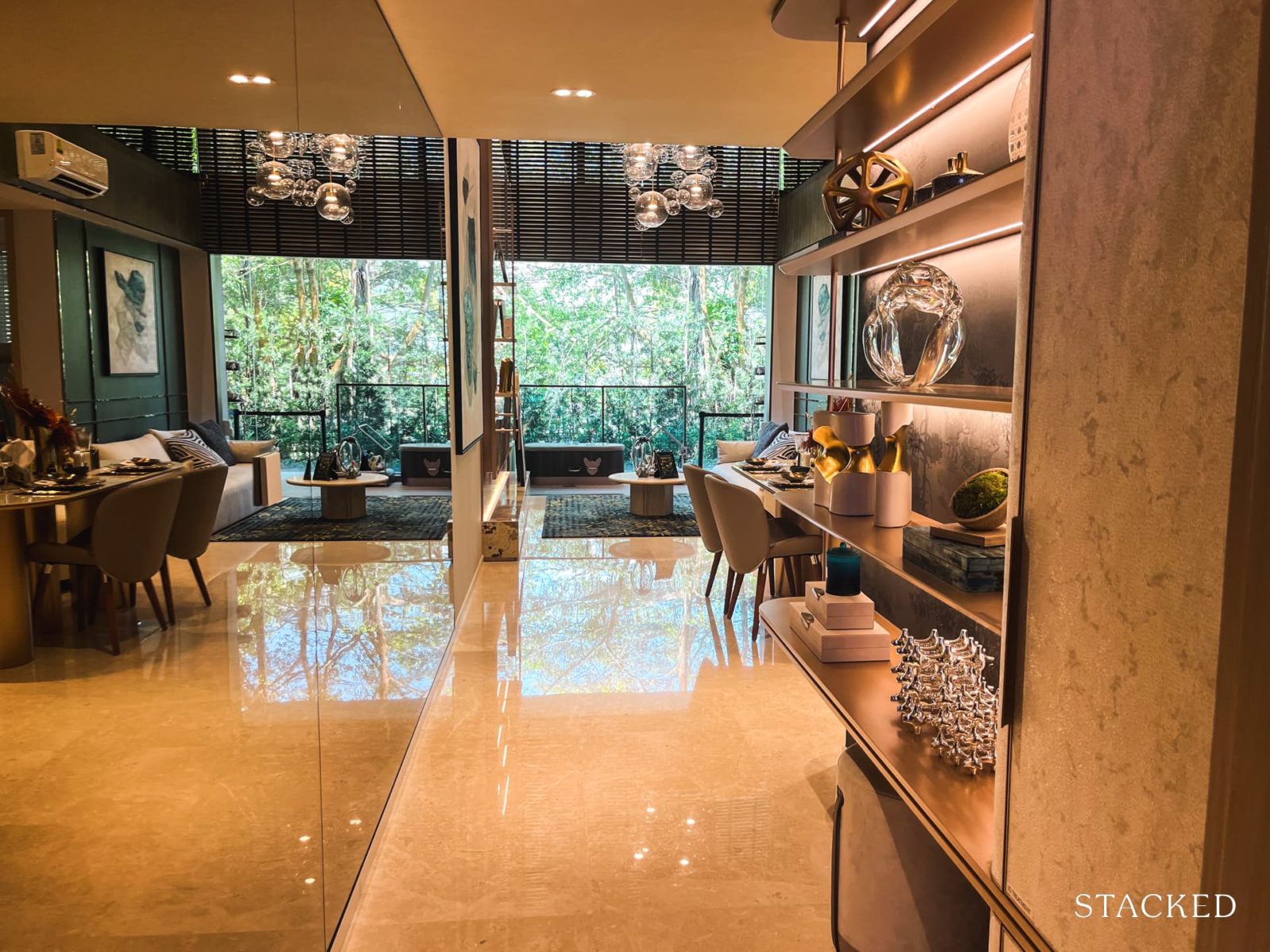 As you might expect, there is a long foyer that connects to the dining area and an enclosed kitchen on the right. I know there's always a conundrum between space efficiency and privacy, but I personally like that there's a separation between the outside of the unit and the common areas (particularly for the bigger units).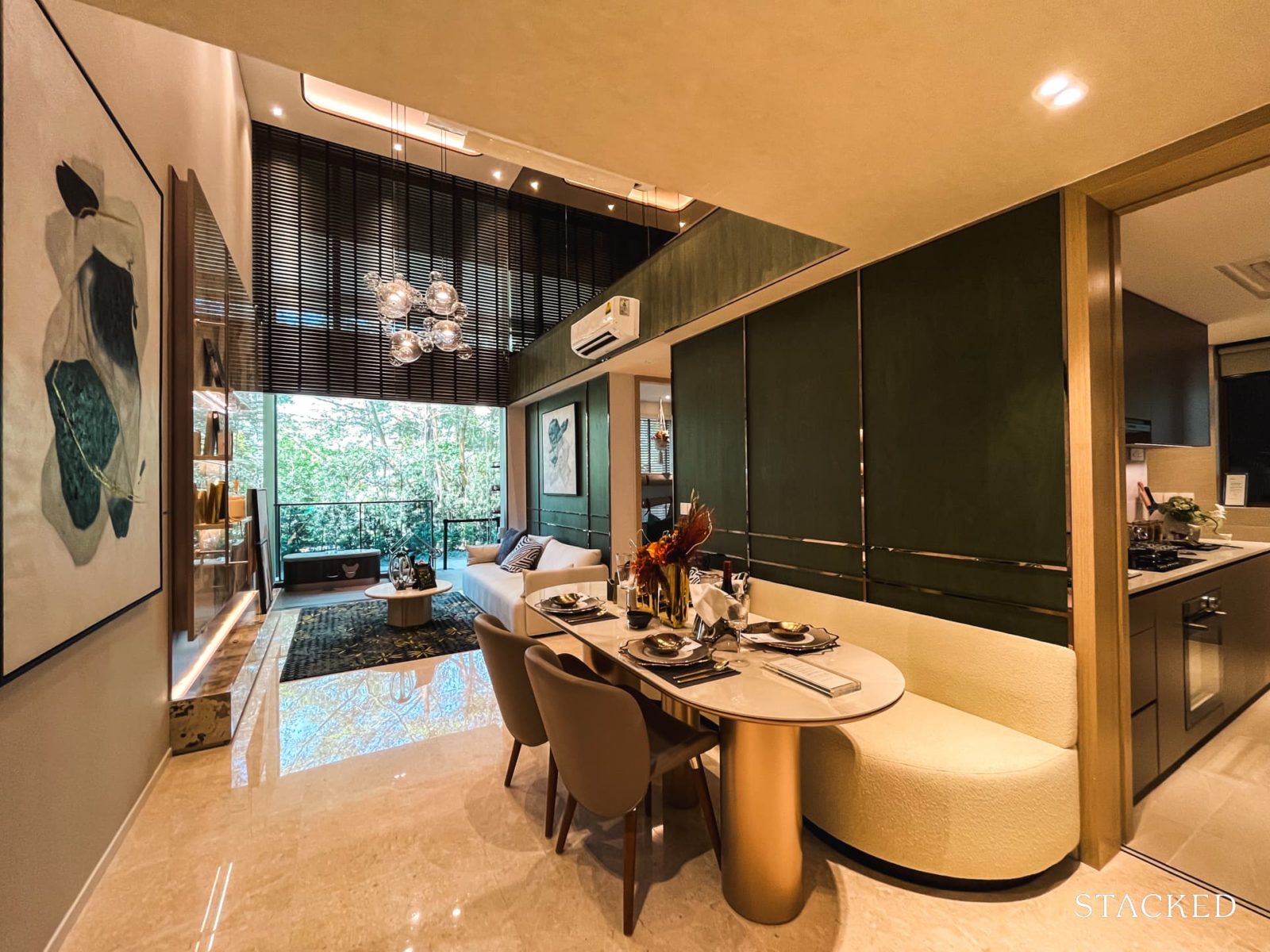 Here's the view of the living and dining areas, which have definitely been aided by the additional height of the living room.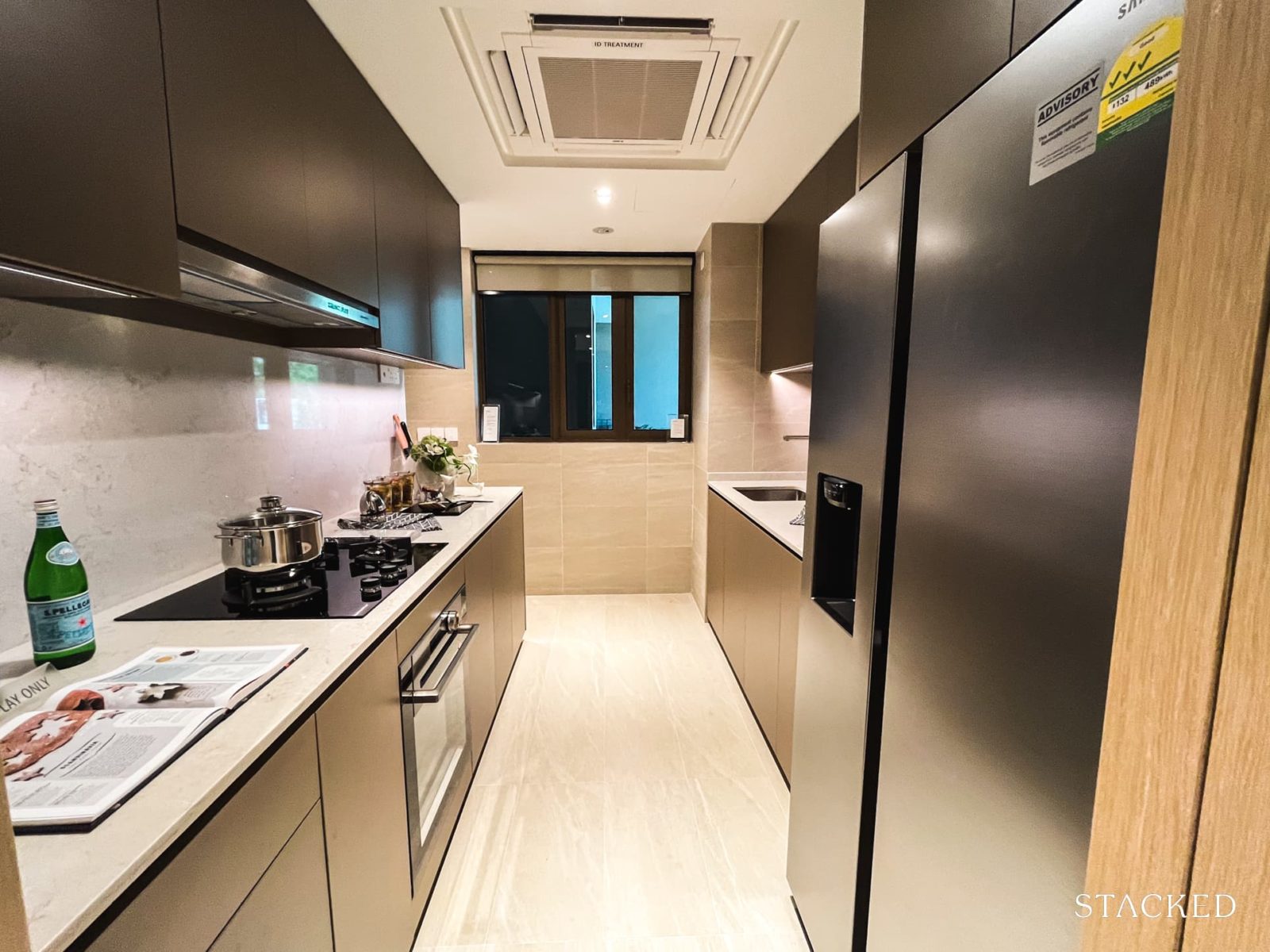 Sized at 12.9 sqm, the kitchen is connected to the yard area and shares a window for natural ventilation. The kitchen has countertops on both sides and overall there is a decent amount of space available to prepare your food and to store certain kitchen appliances, like the microwave.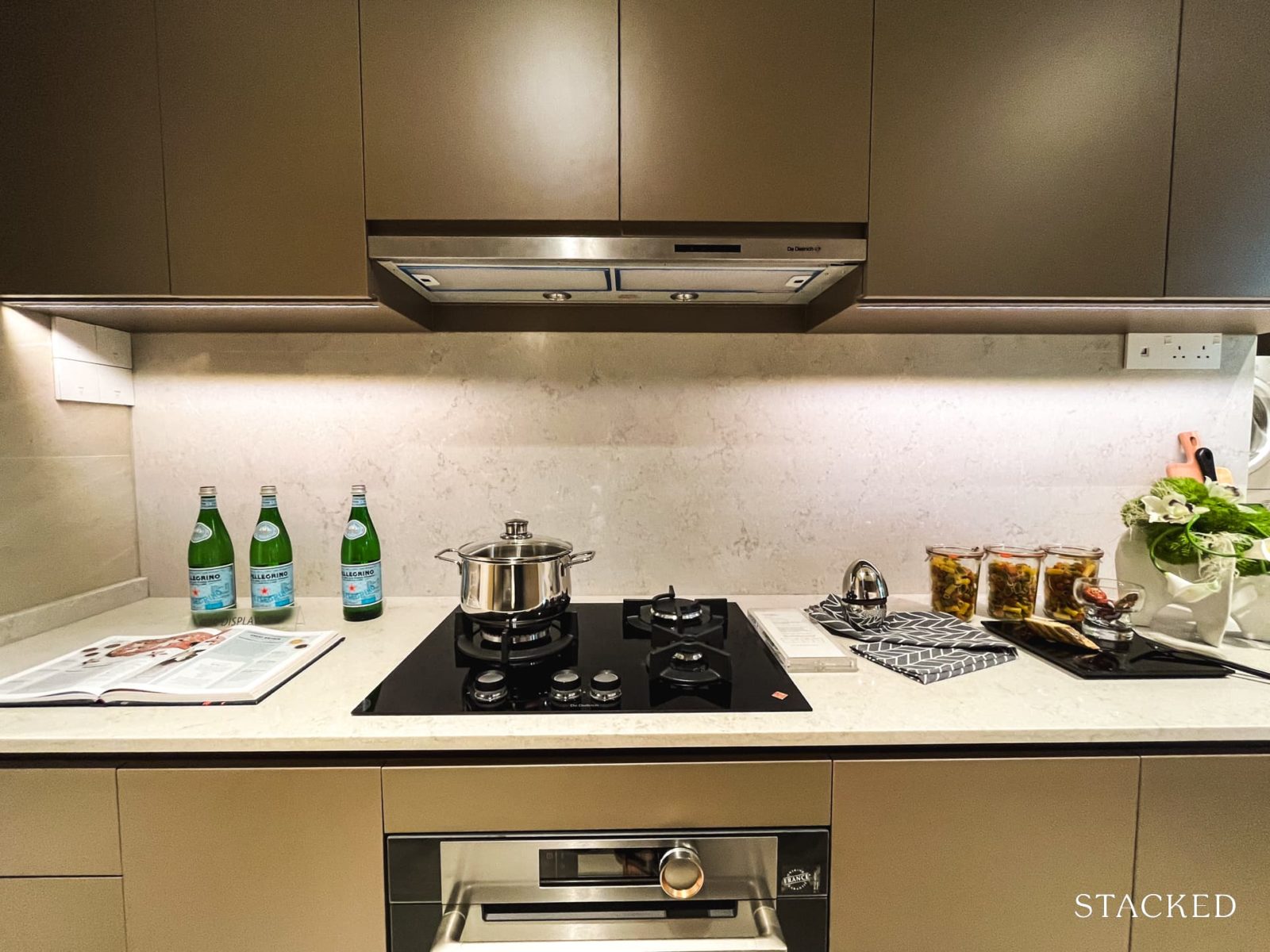 For the 3-bedroom premium units onwards, gas hobs are provided, which makes it a sensible choice for serious cooks.
As standard, the built-in oven, gas hobs and cooker hood are from De Dietrich (a more premium brand unlike Bosch for the smaller units) and the fridge is from Samsung.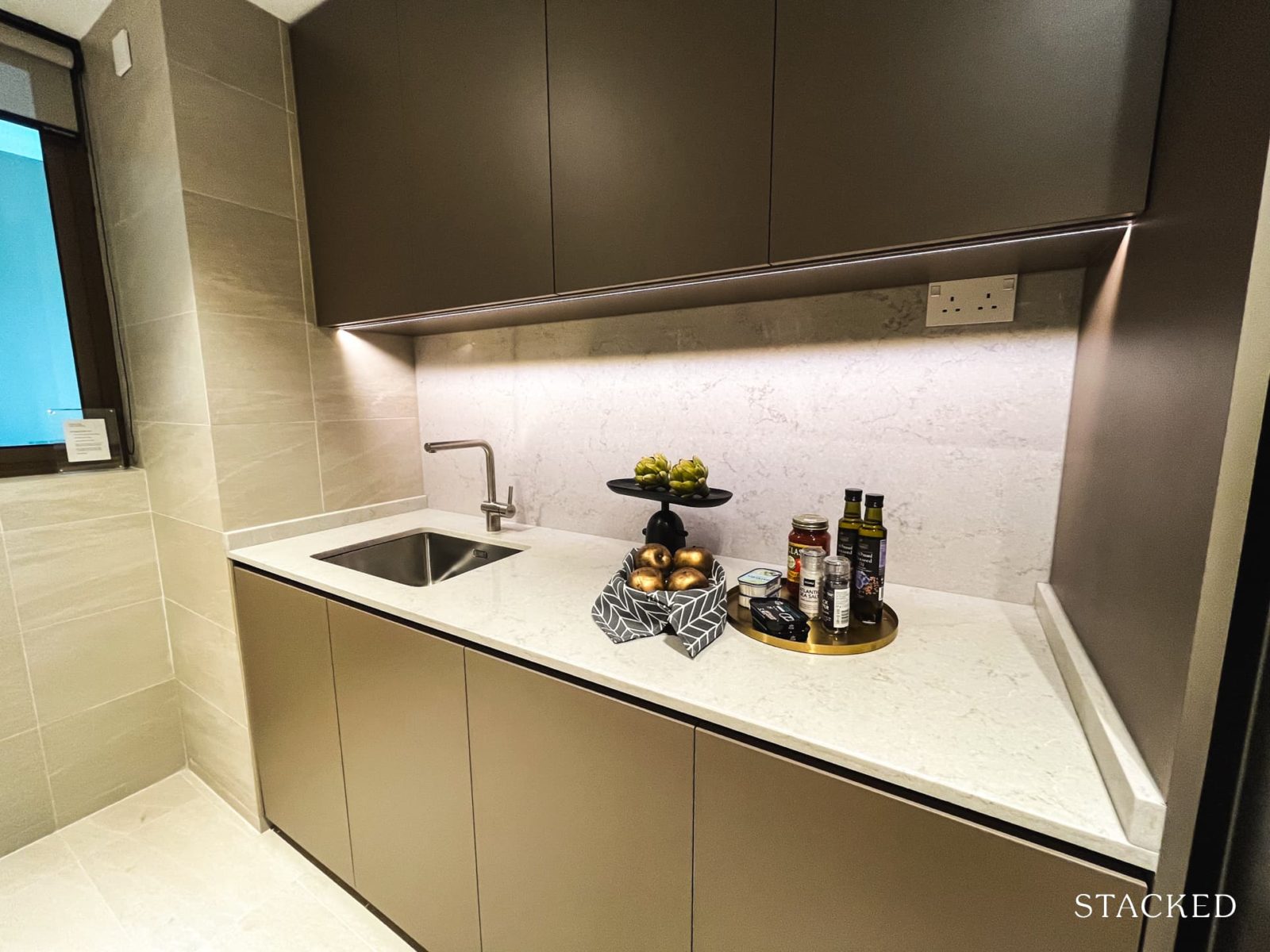 On the opposite end, it consists of a stainless steel sink and more useful countertop space. The backsplash and worktop are made of quartz, which is known to be a durable material.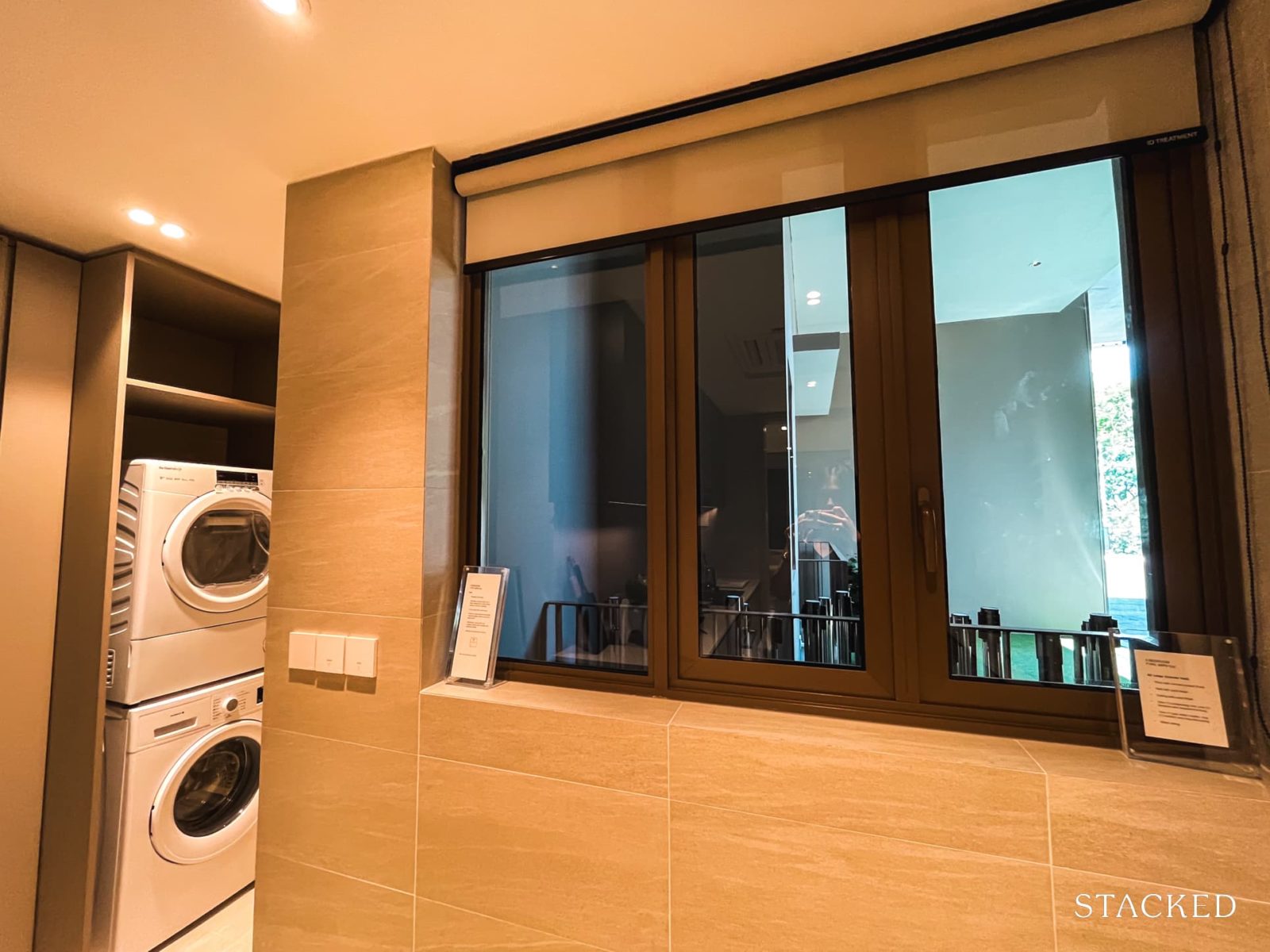 There's a designated yard at the end of the kitchen, but this is really just a walkway space towards the WC and a home shelter at the end. Nevertheless, having proper windows here will really help in terms of drying clothes or ventilation for the kitchen.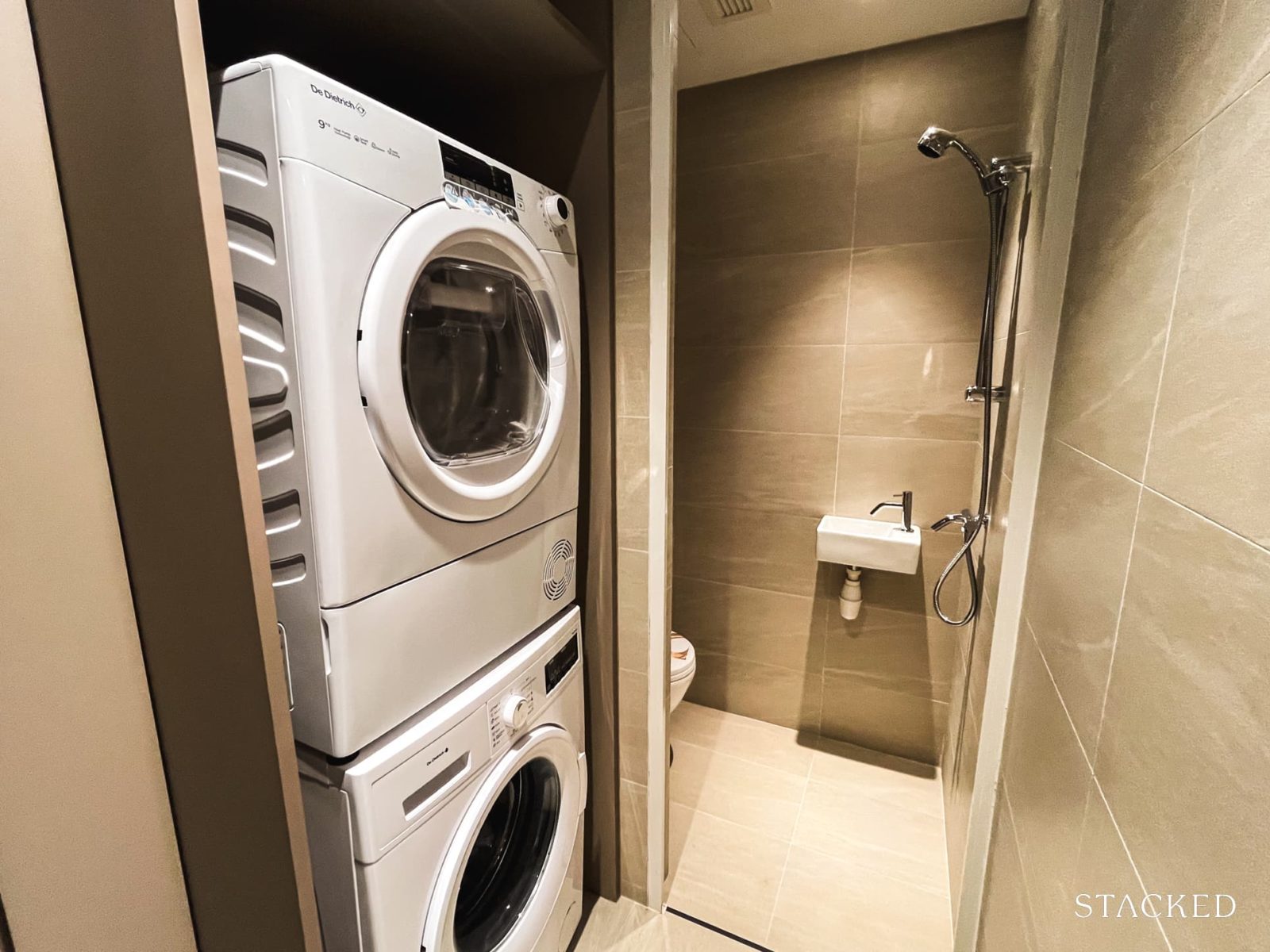 It's also here where you will find the De Dietrich washer and dryer, which is right next to the WC and home shelter.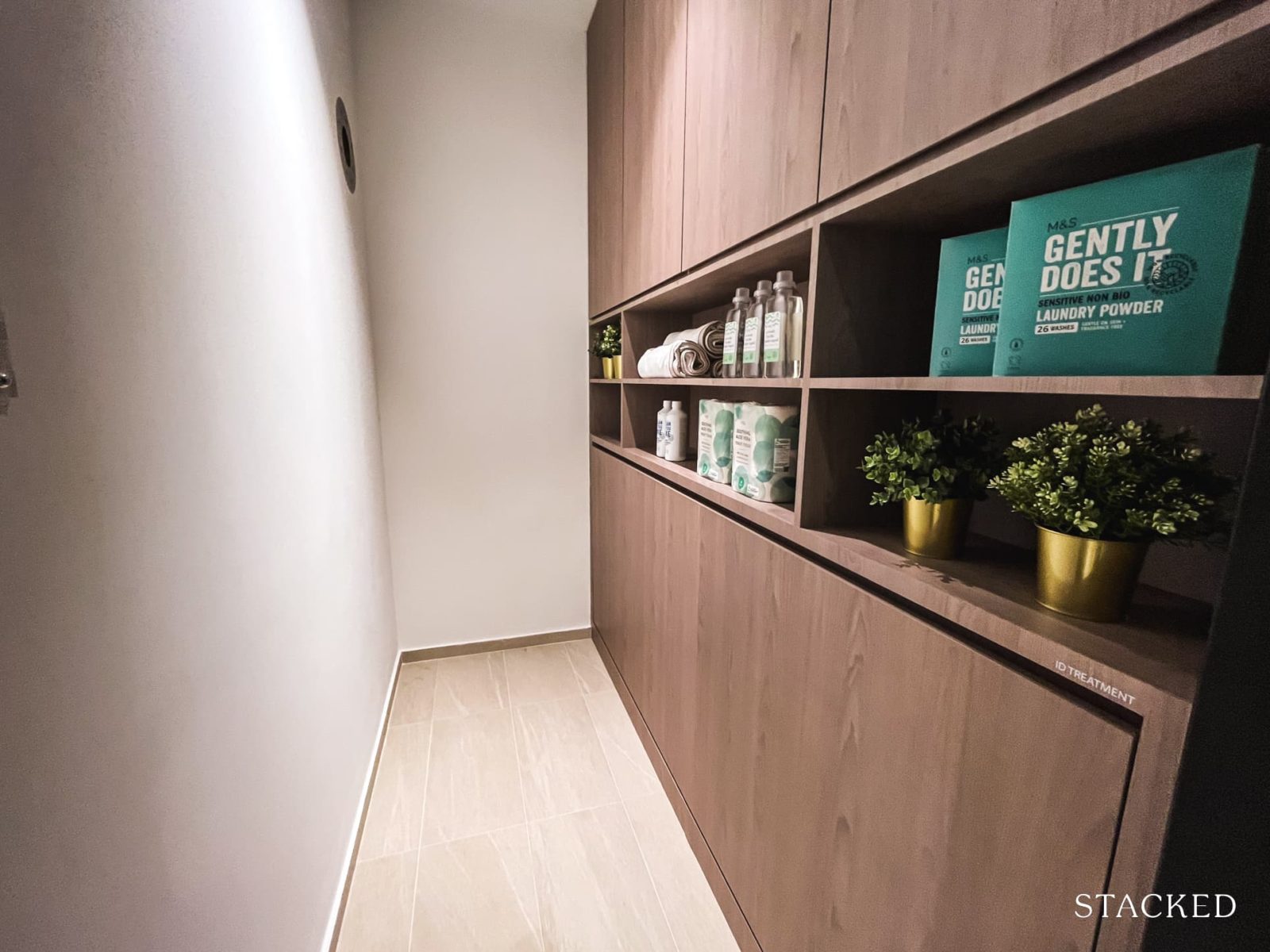 As always, the household shelter can be used as a storeroom or a helper's room or just set up as additional storage with racks.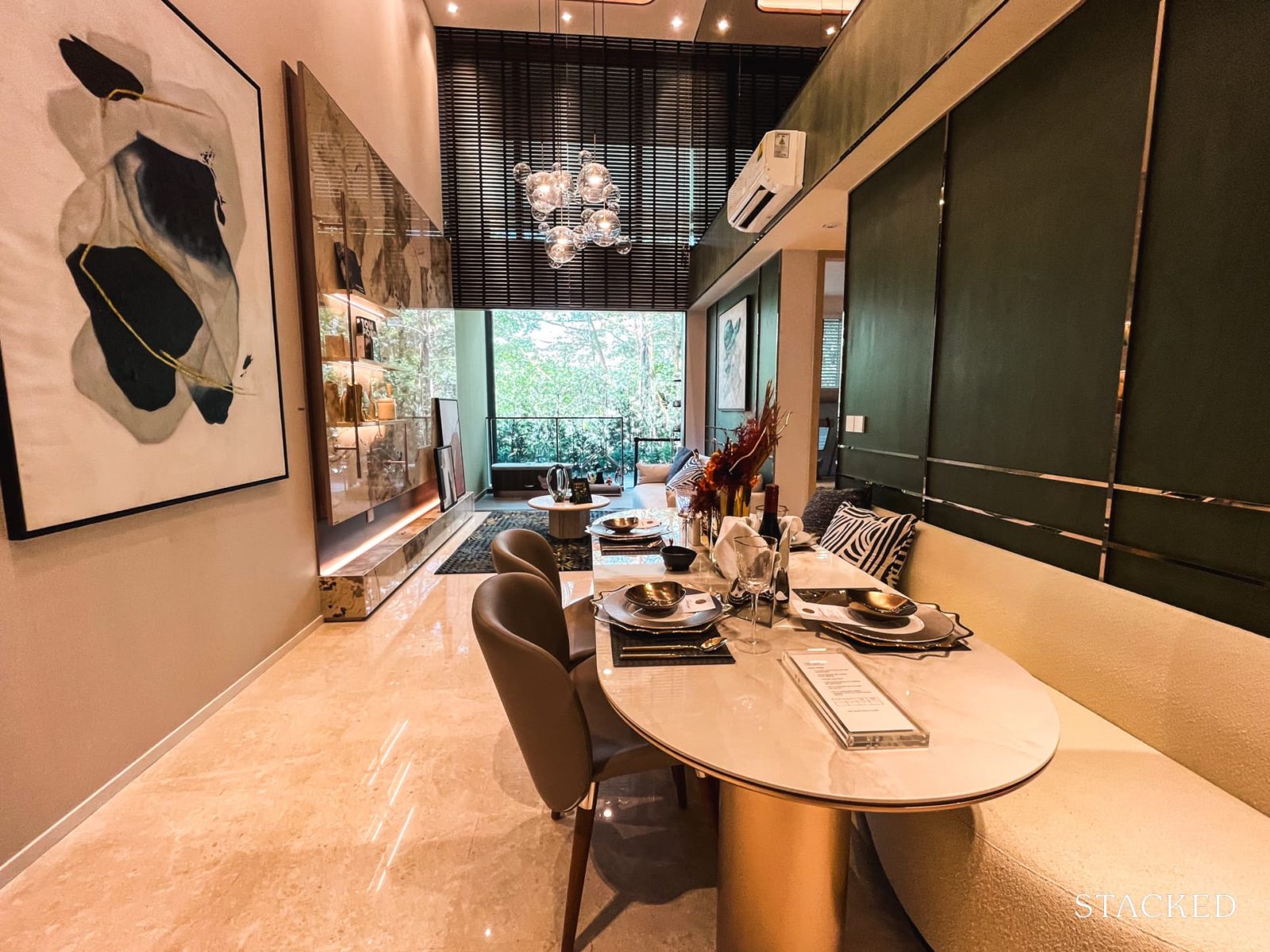 Moving back to the dining area, the area is reasonably sized and does not encroach into the walkway space even when the dining chairs are pulled out. The bench seating here definitely plays a part in maximising space, although you can still fit a traditional 6-seater dining set.
However, like the 2-bedroom unit, the placement of the wall means that you will need to be mindful of the length of the table as anything too long will block the entrance of the hallway or the kitchen.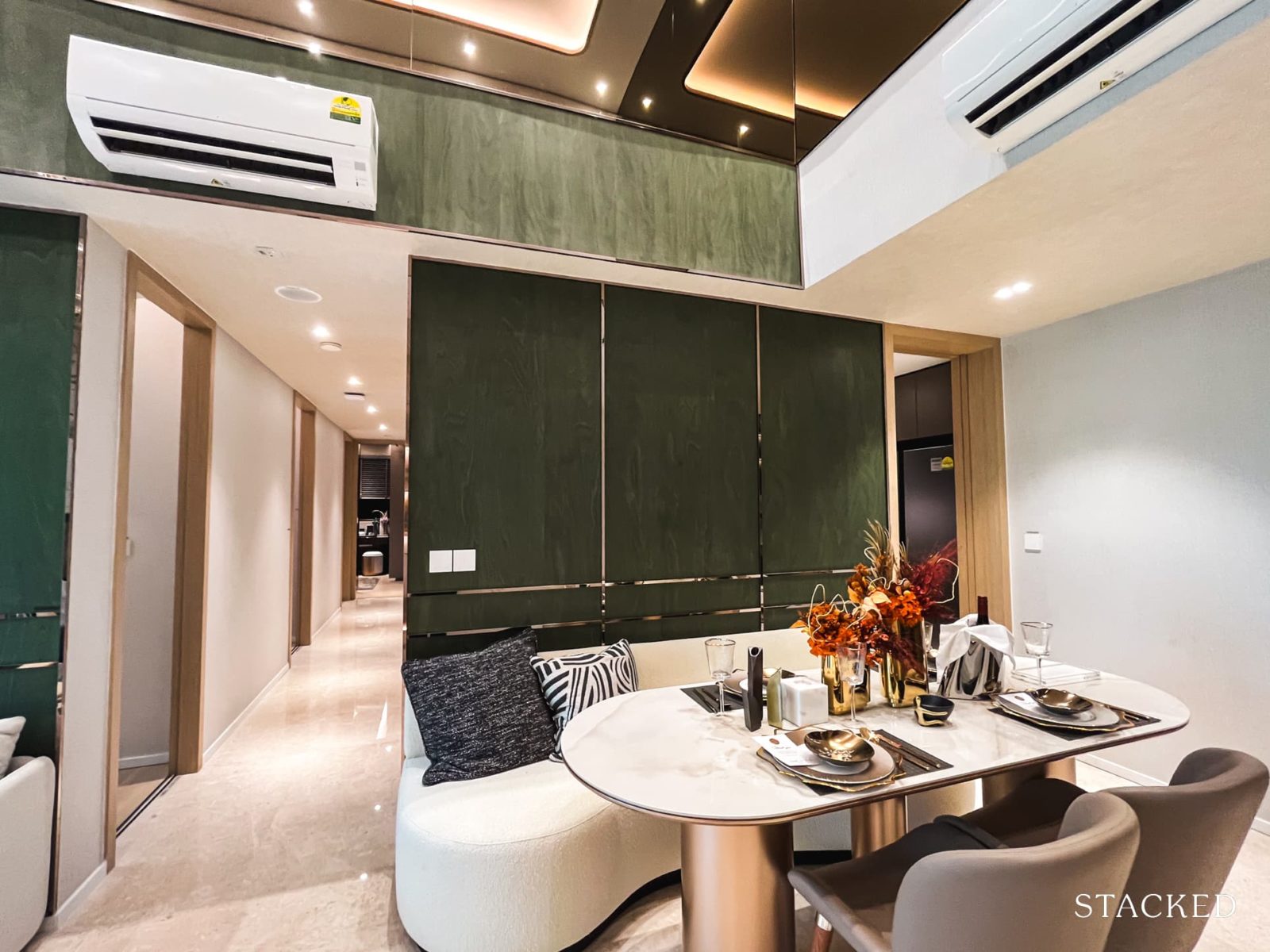 You could also take some cues from the dining area as inspiration, as the softer curves of the bench seat and the dining table will help to make the furniture pieces look less obstructive.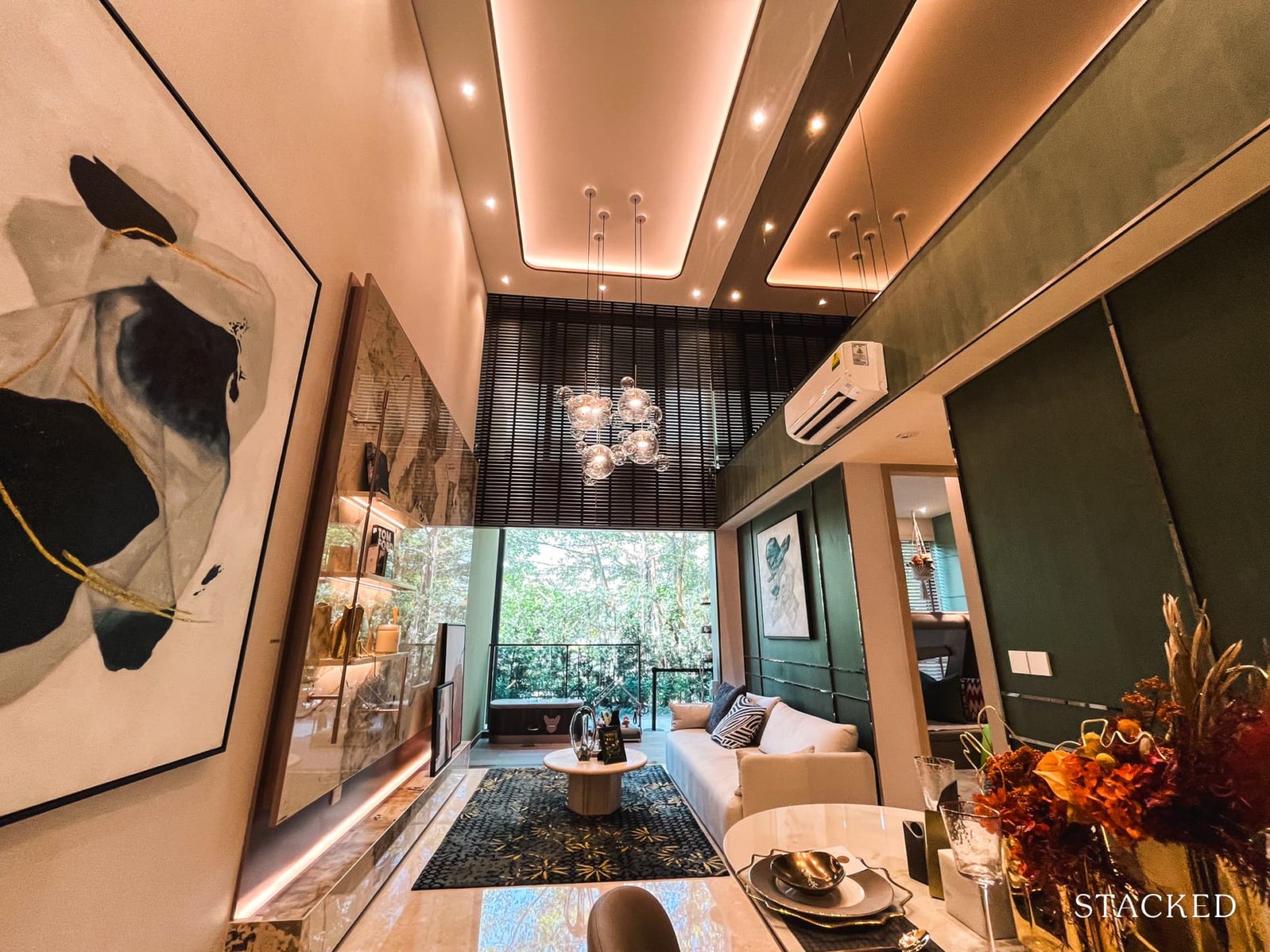 Moving on to take a look at the living area, the double volume ceiling complemented with the balcony does a great job in making the area feel much more spacious. Naturally, this comes at a premium, but this could be the clincher for some given the current views of the surrounding area.
All in all, the foyer, dining space and living area are sized at 35.8 sqm (not accounting for the extra ceiling space).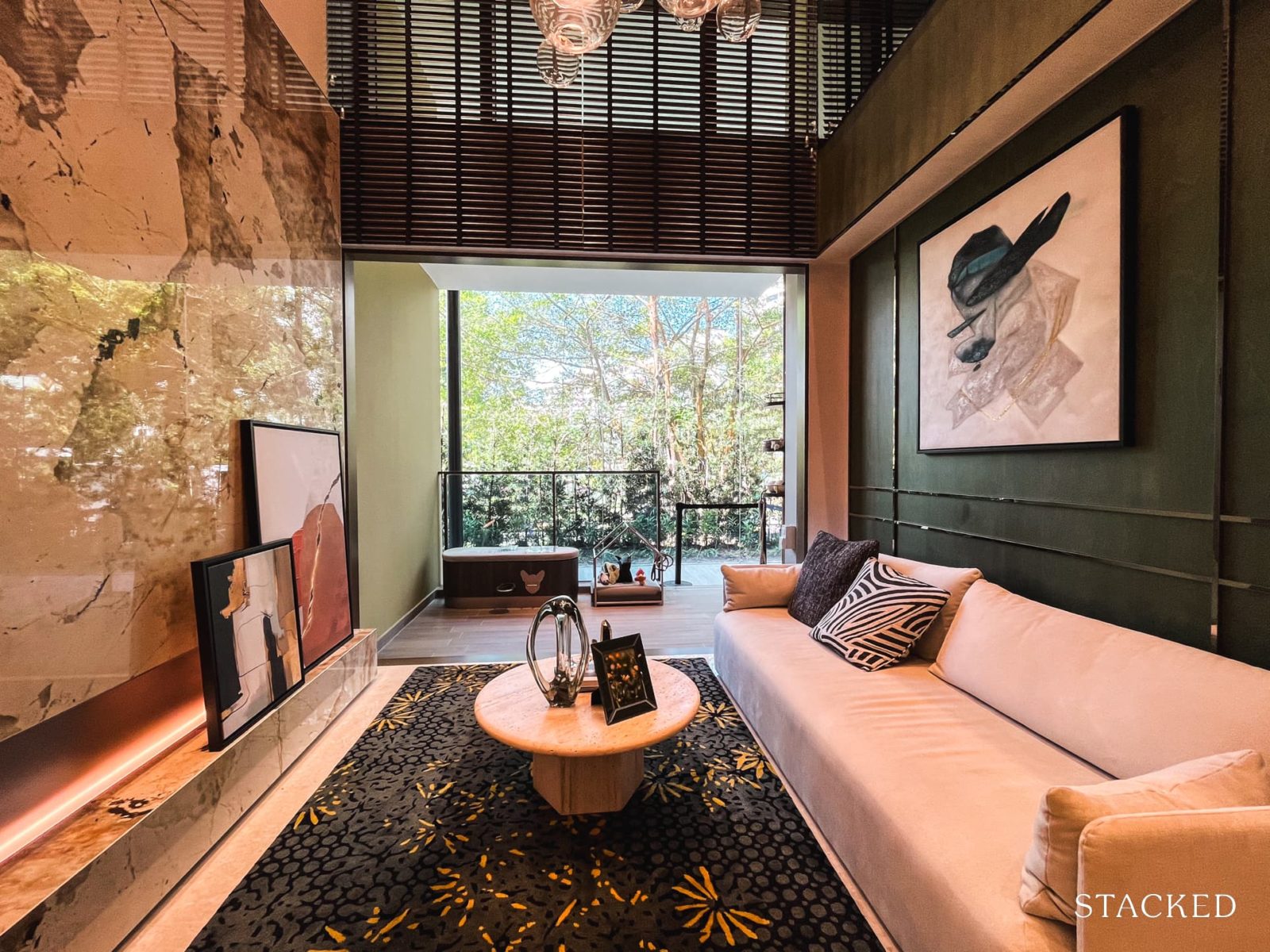 The living area has a good width and can comfortably fit a four-seater sofa, coffee table, and a slim TV console. Placing the sofa against the opposite wall could also work, given that you will be able fit in a longer sofa (as long as you aren't too concerned about proportions).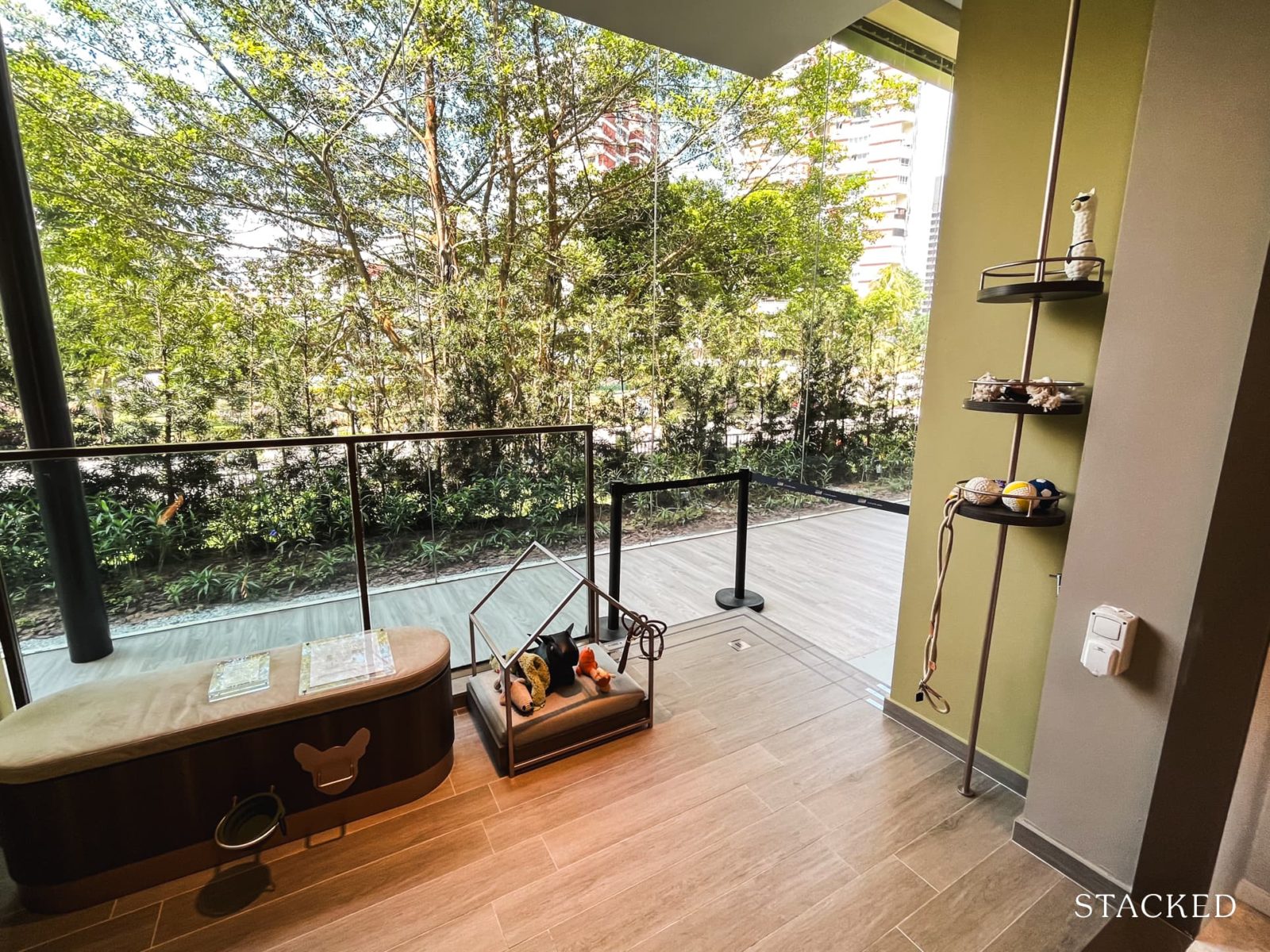 The balcony is sized at quite a generous 6.7 sqm, which is slightly bigger than the one at the 2-bedroom show flat unit. With the selling point that all units will have unblocked views or landscape views, having a balcony should be a plus point for most buyers anyway.
As a minor side note, the balcony will also come with both an electrical and water point – which is good given nowadays most only provide an electrical point.
Unlike the 2-bedroom dumbbell layout, the 3-bedroom unit has all the bedrooms located down a long hallway.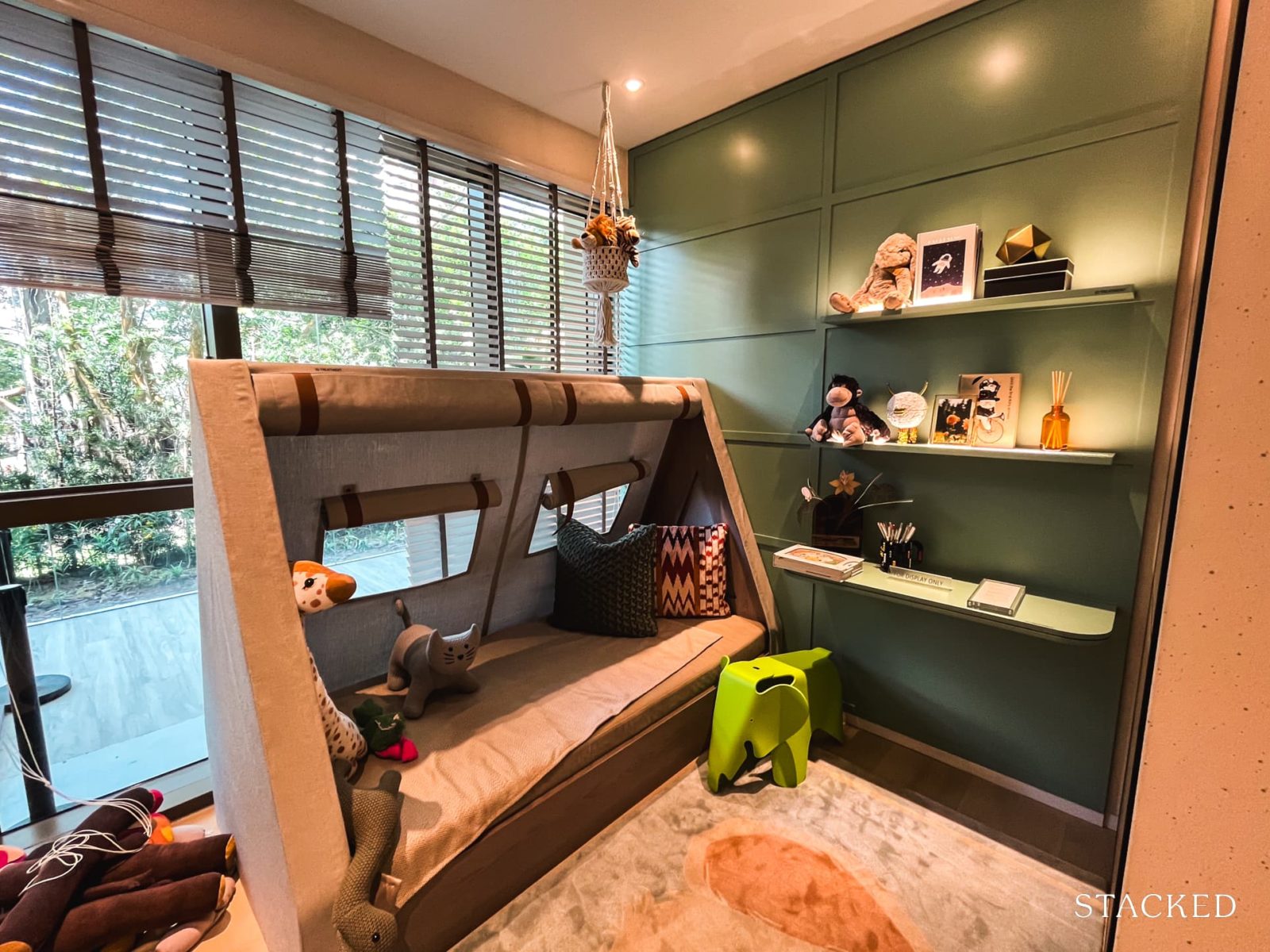 Bedroom 3 is sized at 8.8 sqm and has been done up as a kid's room. I always look forward to seeing how the IDs play around when designing the children's room and this one turns out to be safari-themed with a fun children's bed (which looks pretty cosy).
As always, the floor-to-ceiling windows here also help to make the space feel wider and more spacious.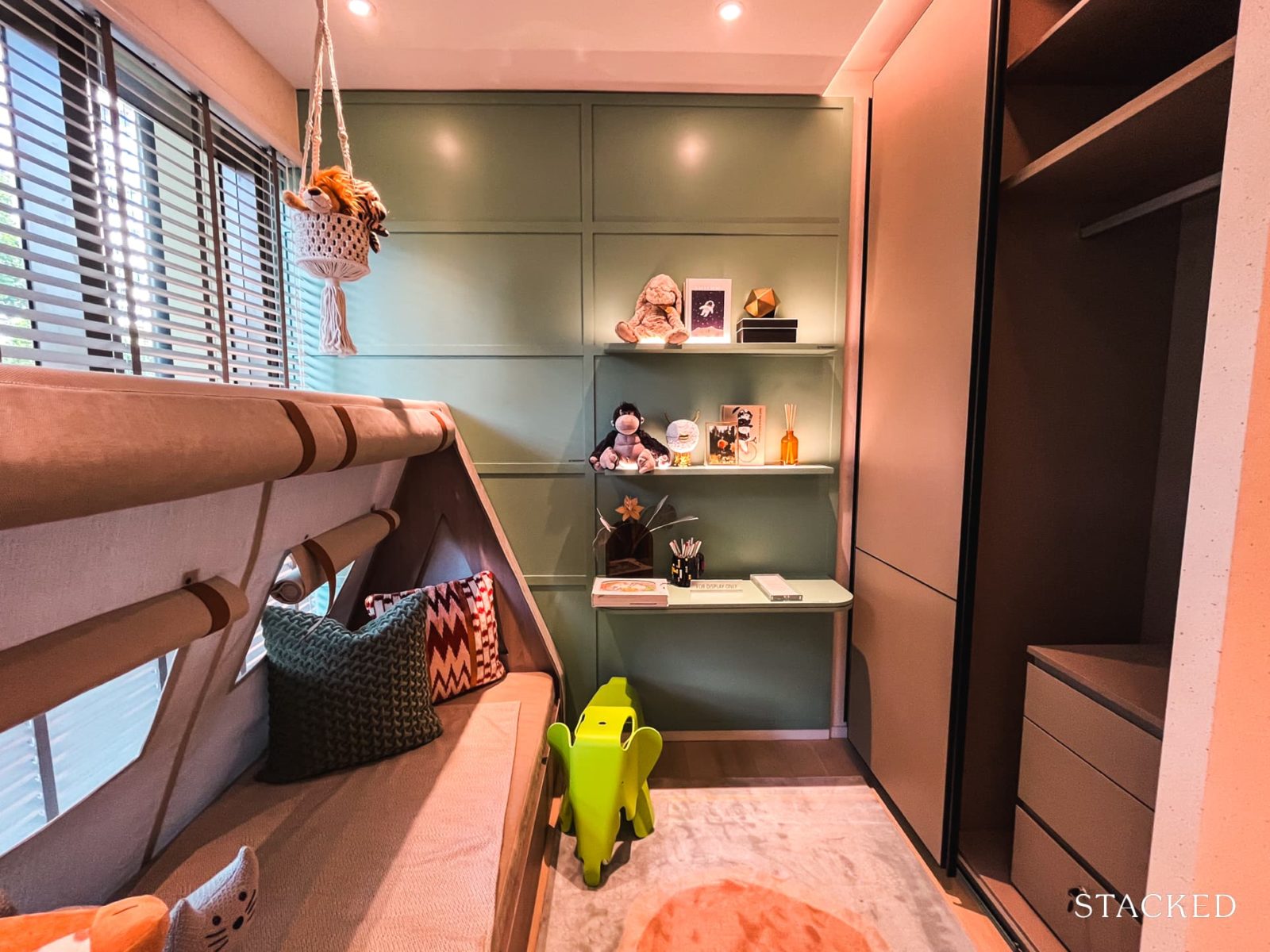 Here, the standard sliding 2-panel built-in wardrobe is also included.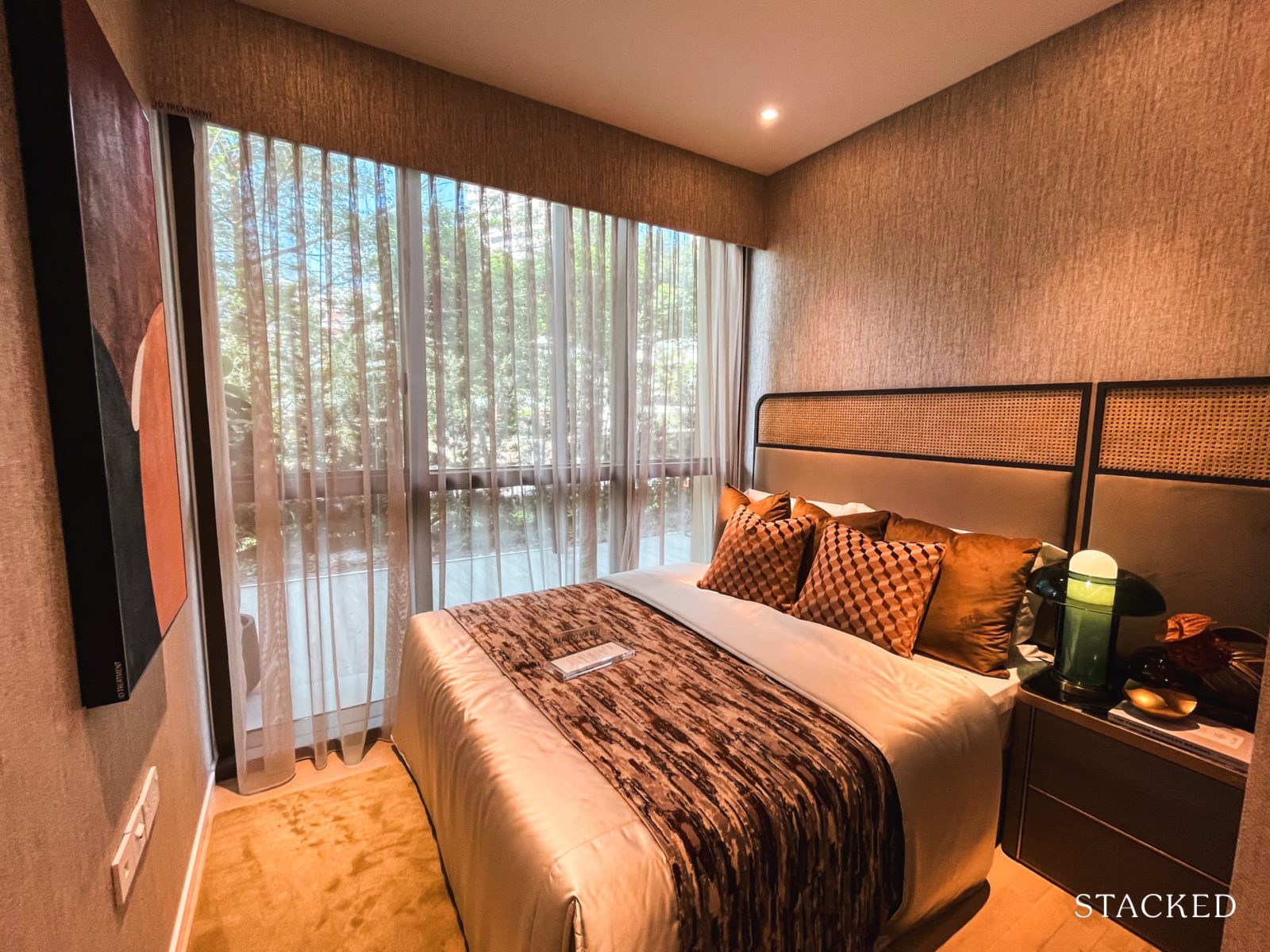 Bedroom 2 is similarly sized at 8.8 sqm and comes with full floor-to-ceiling windows as well. This time, it shows you the option of a queen-sized bed instead.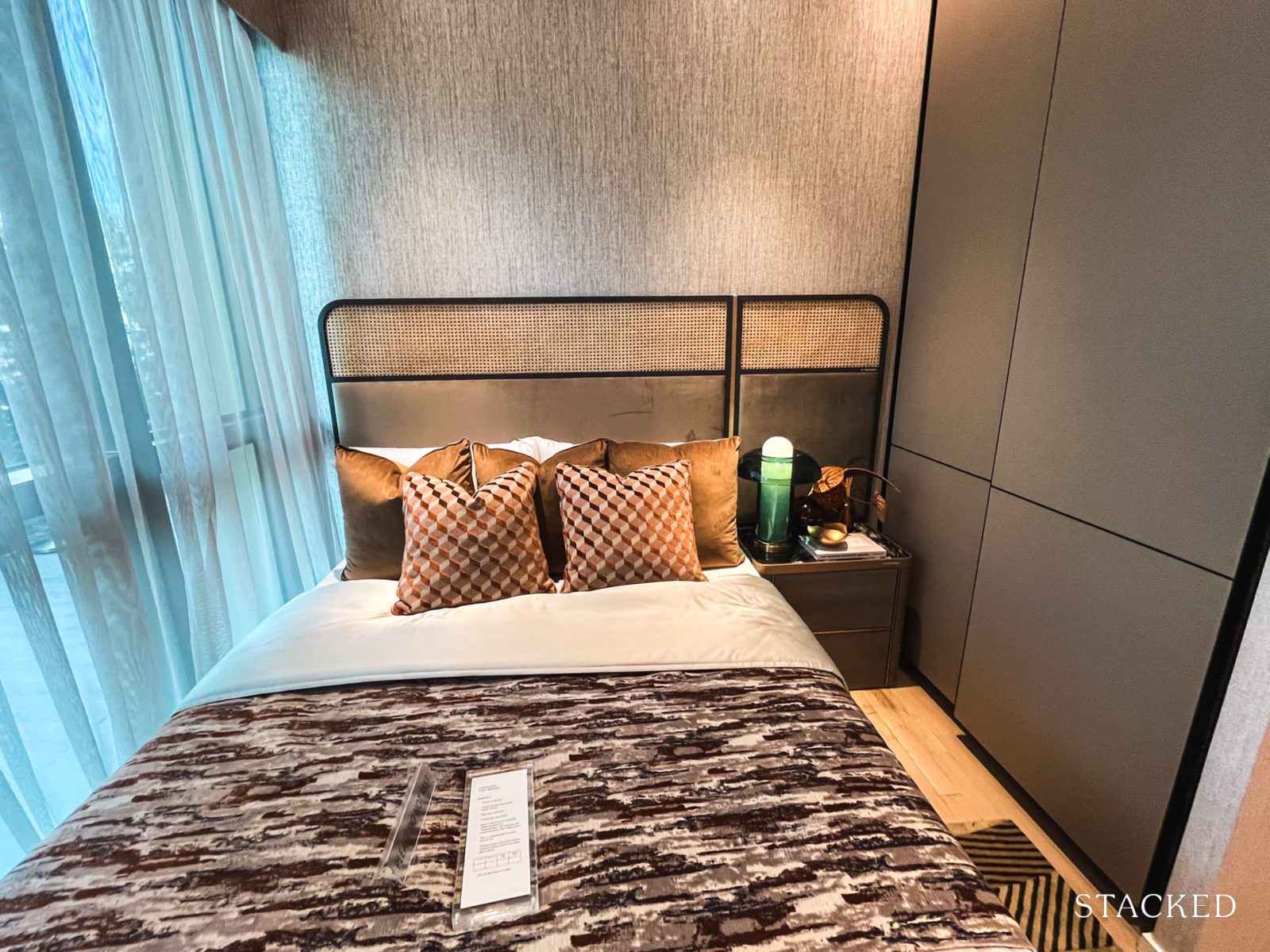 The difference in space left as compared to Bedroom 3 is quite stark, with the bedside table slightly infringing into the wardrobe space.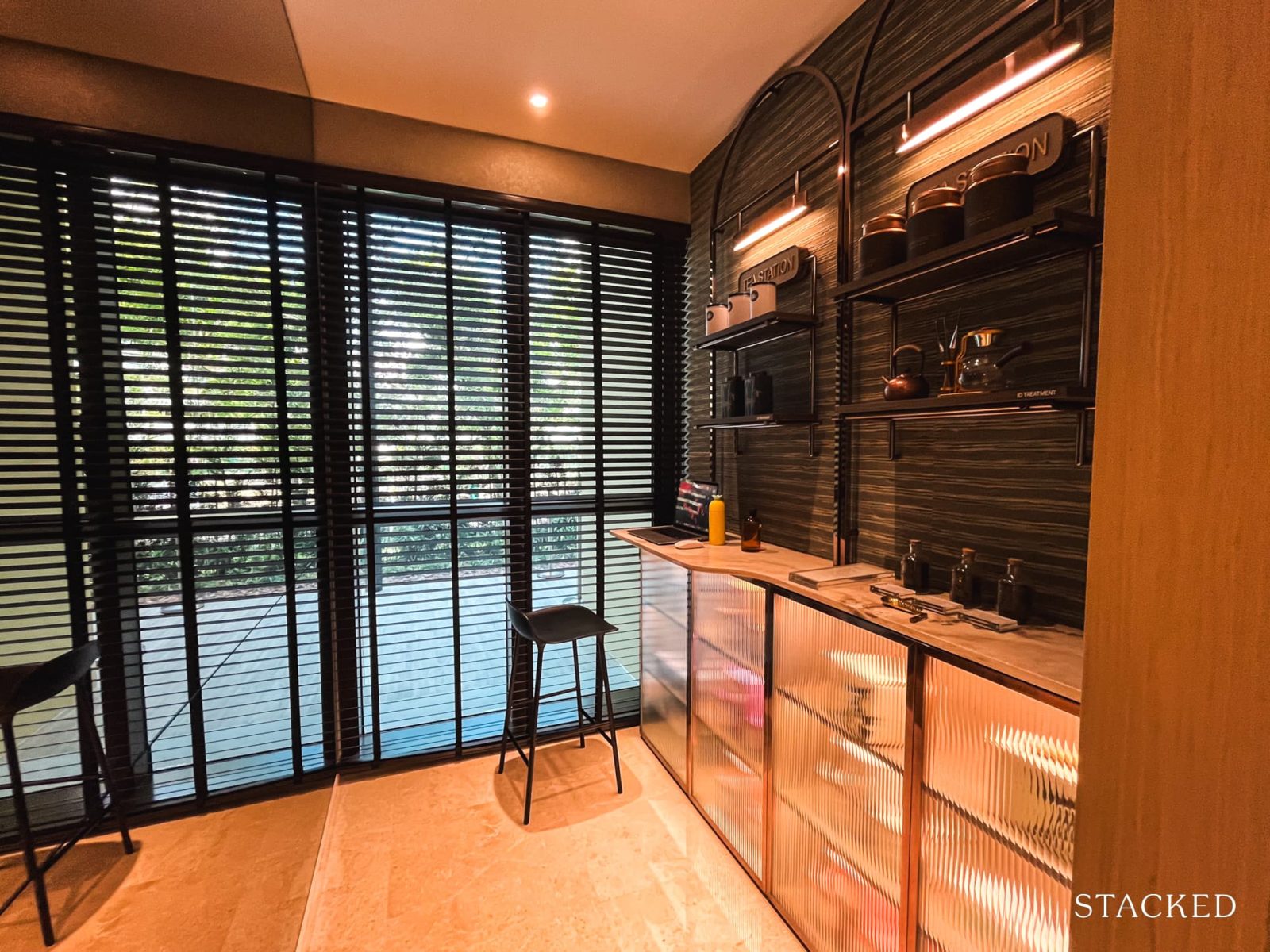 This study area is the larger one as compared to the other 3-bedroom premium + study variation at a size of 4.4 sqm. It comes with full-length windows, which is rather uncommon for study rooms in most other new launches.
I find this a very useful space since it can be used as a study or converted into a child's room. Personally, I'll probably use it as additional wardrobe space since I have quite a bit of clothes but don't want to carve out an entire bedroom just to fit my things.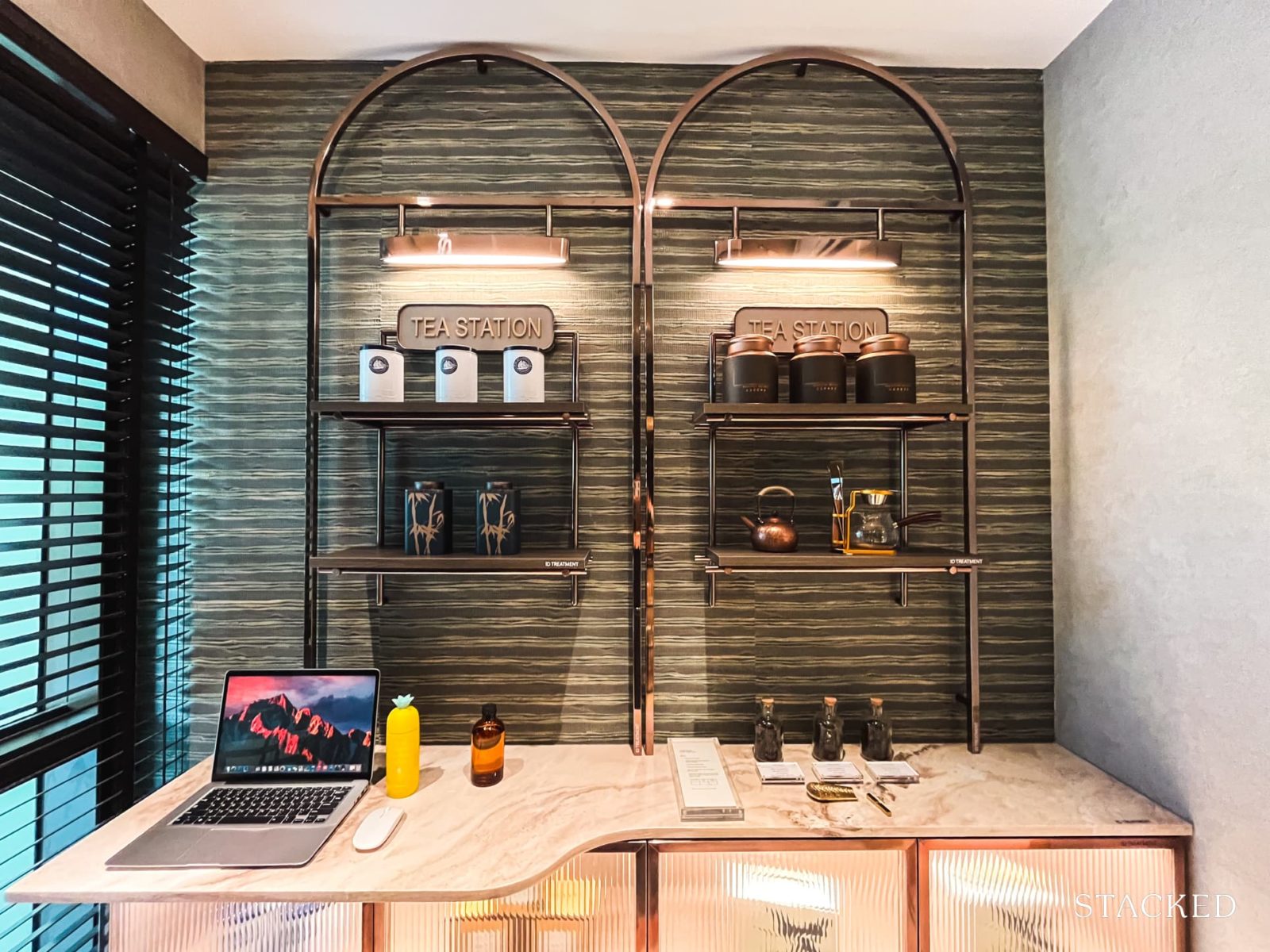 Otherwise, I thought what the IDs did here was quite pleasant since they came up with a simple work area and a tea station with cabinets.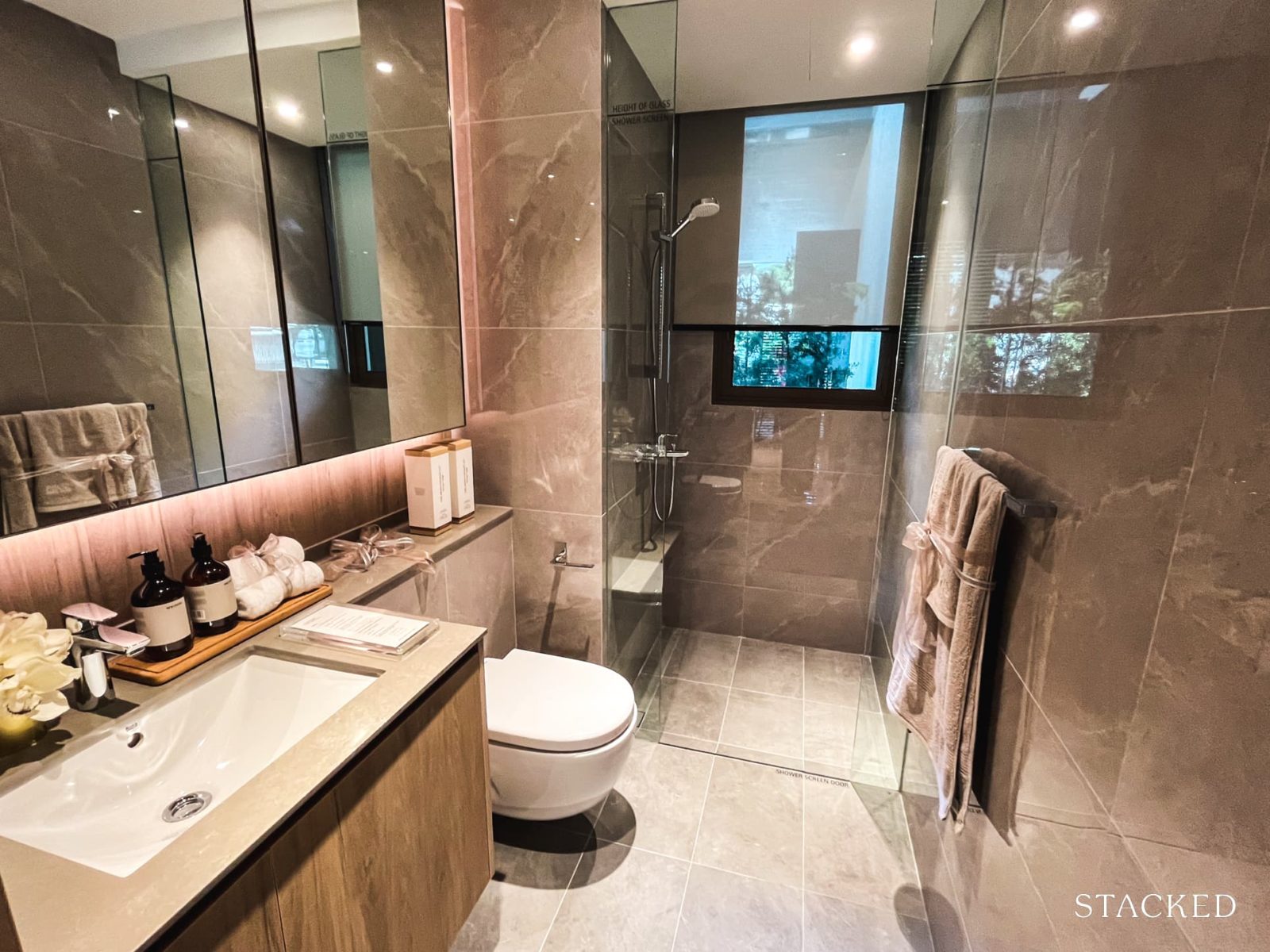 All the common bedrooms will share Bath 2, which is sized at 4.3 sqm. As these units are all corner stacks, it comes with a window which is always useful for natural ventilation.
As standard, porcelain tiles are used with the sink and wall hung w/c from Roca and the mixer and shower set from Hansgrohe.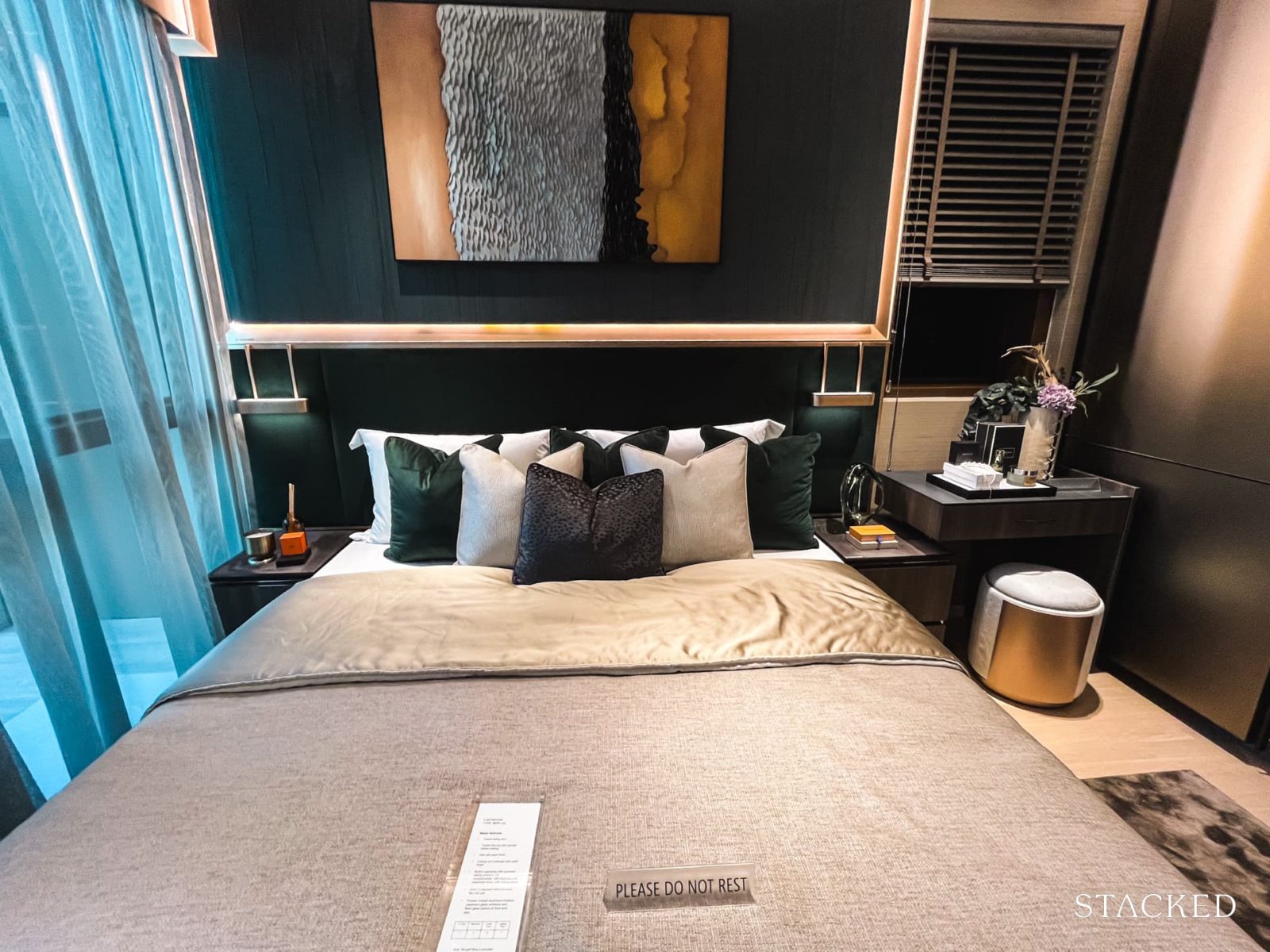 Last but not least, let's take a look at the master bedroom.
Along with the master bathroom, the size of the master bedroom is a comfortable 19.4 sqm. Even with a King sized bed, two bedside tables and a built-in wardrobe, there's still space left for a small vanity area without it feeling too cluttered.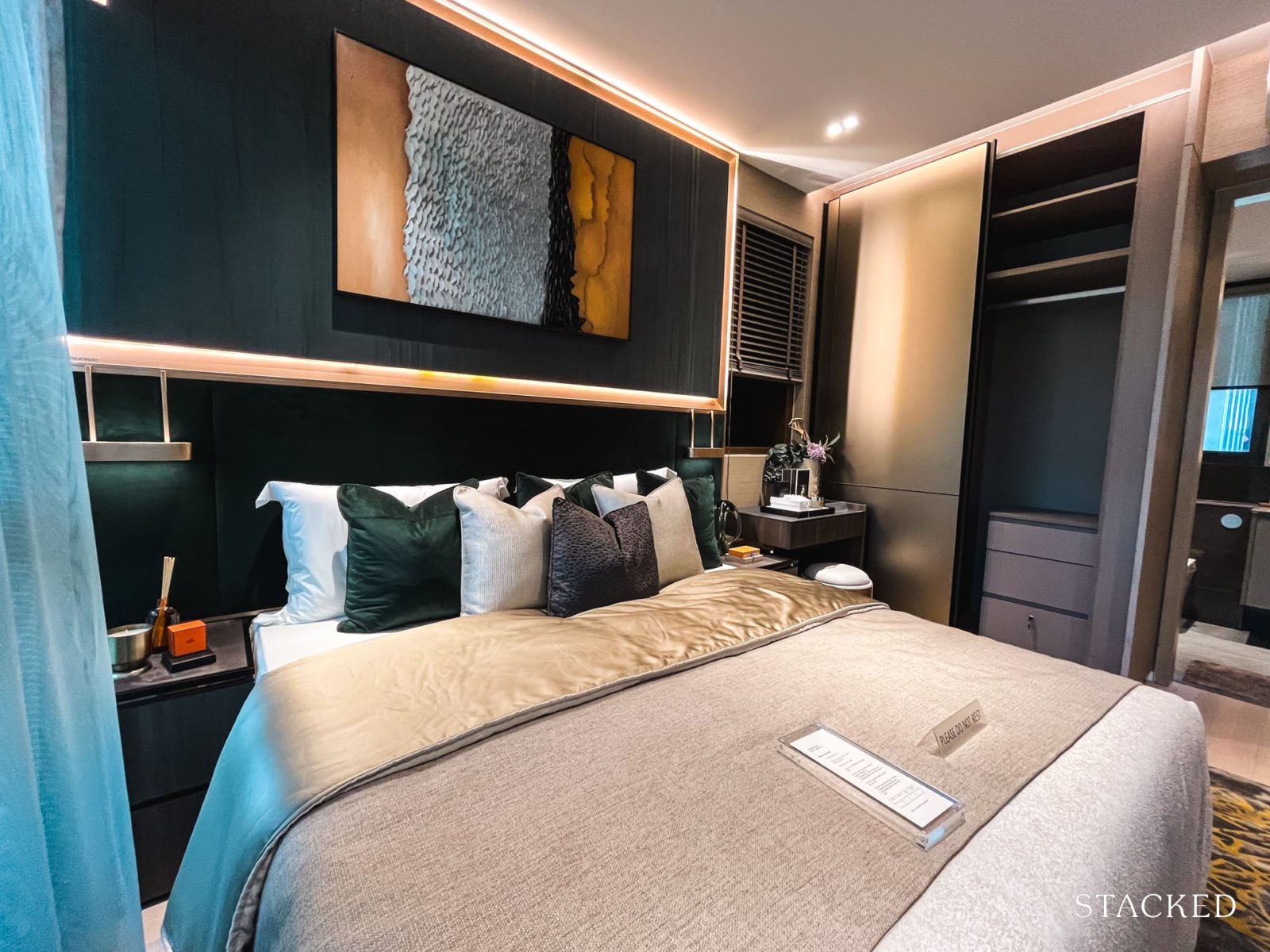 It also comes with a standard 2-panel built-in wardrobe, though it does have a more luxurious chrome finish as compared to the common bedrooms.
As usual, the amount of storage space is hardly enough for two, which is why it's great that there's the flexibility of the study to be turned into additional storage space.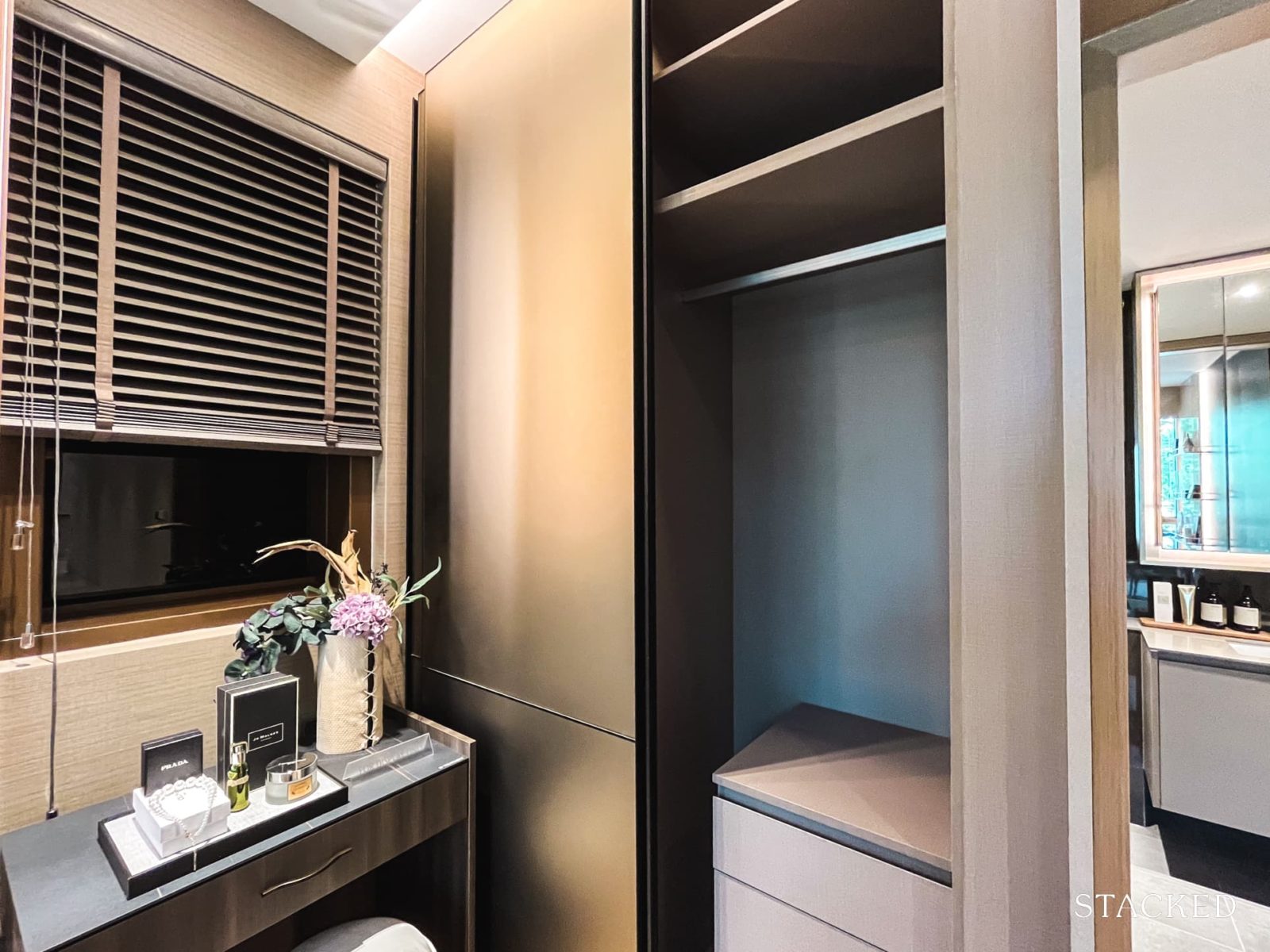 It's also worth pointing out that there's a small window that comes with this unit, which is always welcome for me – the more windows the merrier.
I did find the dresser table here a bit of a strange placement, given it does affect the opening of the wardrobe.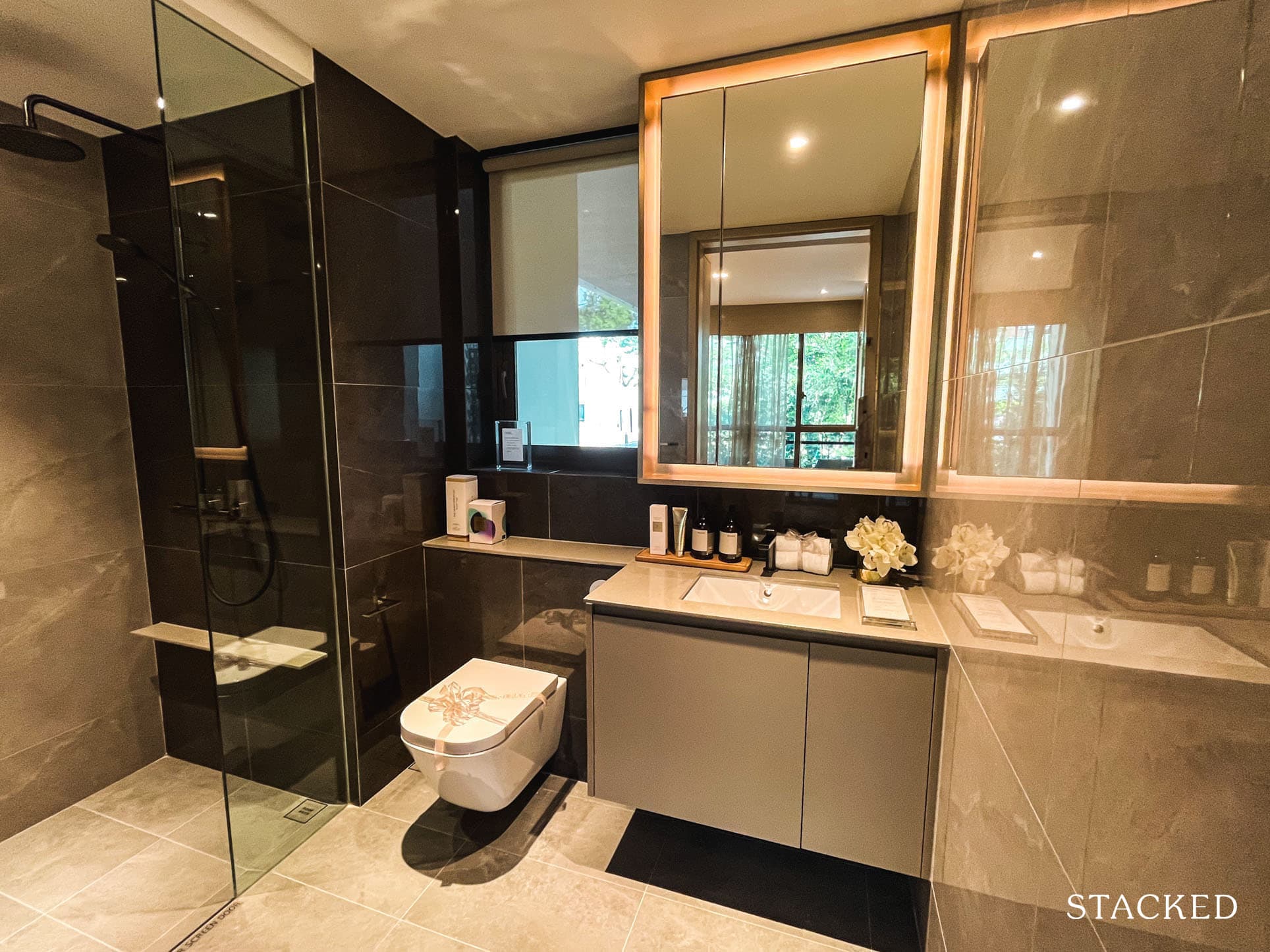 Finally, the master bathroom has a similar layout to the common bathroom. Surprisingly, the window provided here is slightly smaller as compared to the common bathroom, though it's probably something only more observant folks would notice.
The other difference is that the master bathroom comes with a rainshower for a more luxurious touch.
While the wall hung w/c and basin are both also from Roca, the mixer and shower set are from the more premium brand Gessi (instead of Hansgrohe).
Pinetree Hill – 5 Bedroom Premium (With Private Lift) Type 5BP (161 sqm/1,733 sq ft) Review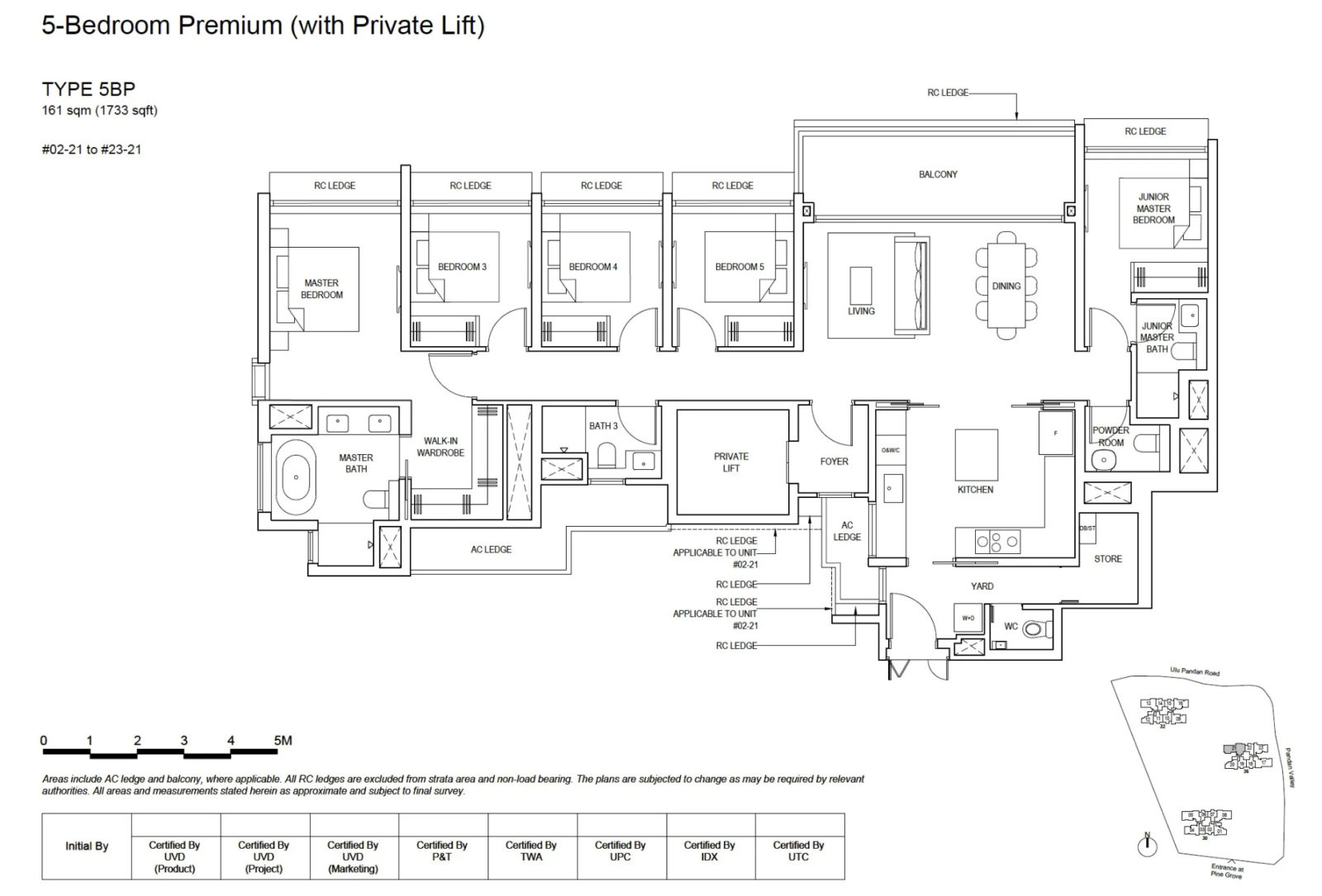 As there is only one variation of the 5-bedroom unit, this 1,733 sqft layout is the only choice for homeowners looking at the 5-bedders. For those wondering about the inclusion of private lifts, all 4-bedroom units and above are presented with one.
As a point of differentiation for the premium units, all the common areas in the 4/5 bedroom units come with marble floors (instead of porcelain tiles) and timber flooring (instead of vinyl flooring) for the bedrooms. The ceiling height is at the standard 2.8m high.
The biggest selling point? All the bedrooms and living /dining will enjoy unblocked views.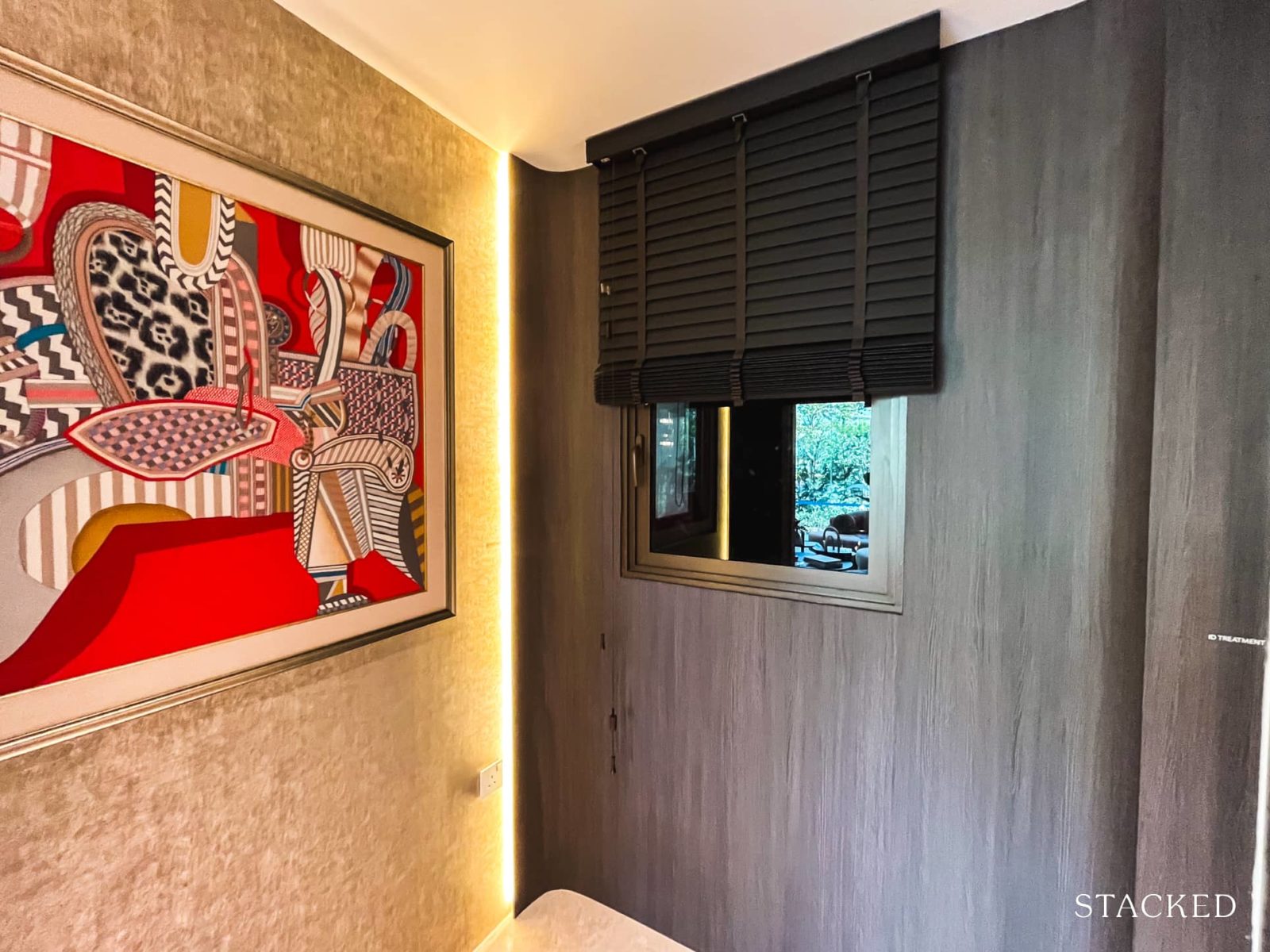 Stepping out of the private lift, homeowners would be welcomed by a rather quaint private lift lobby that is sized at 3.4 sqm. You do have some space here to erect more storage for shoes or a small console for your accessories.
There is a window here too, which helps to keep the place looking less claustrophobic. Nevertheless, you'd probably be distracted as you step out into the living/dining and the open views.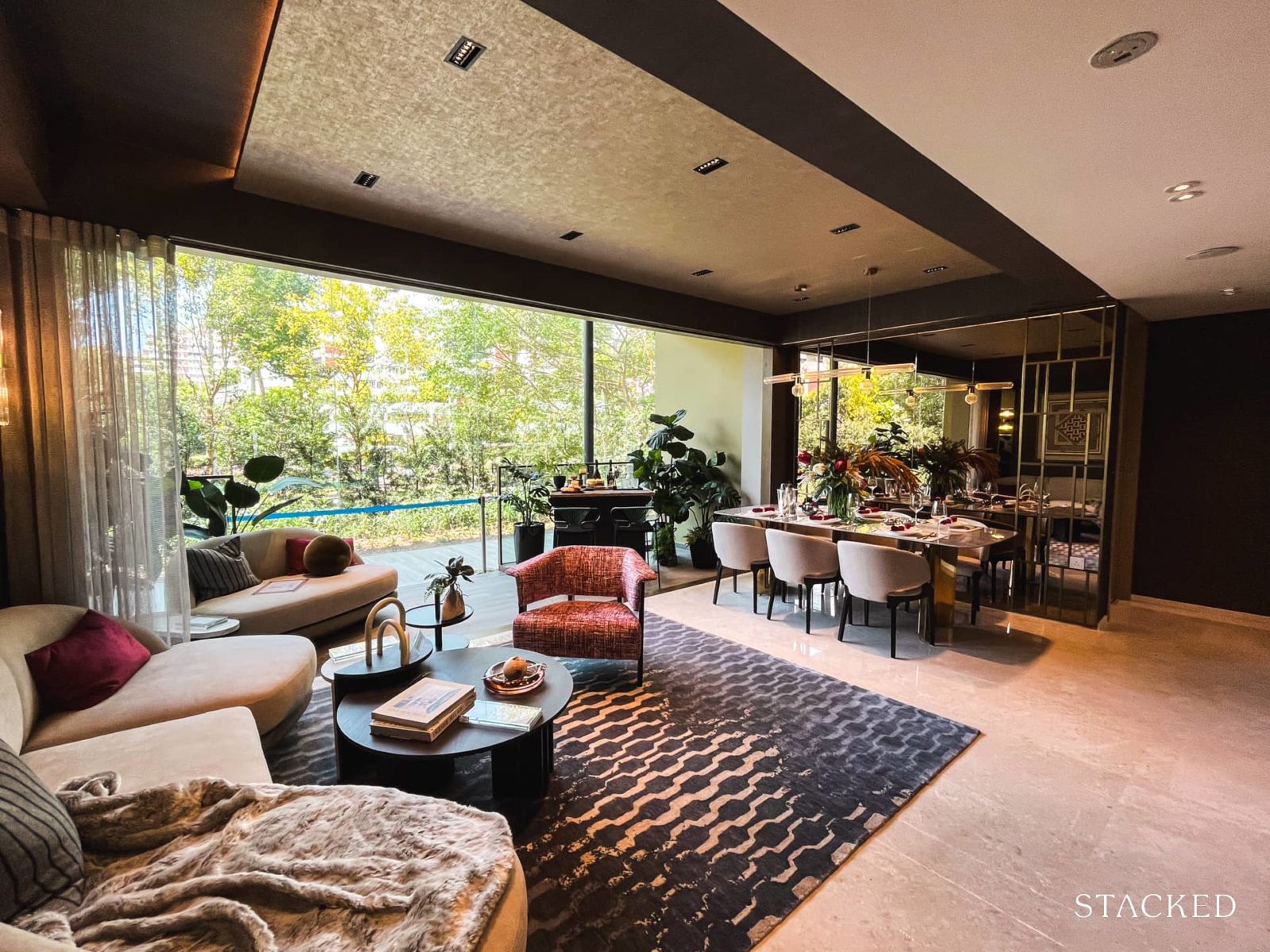 So upon entering the unit, the first thing that greets homeowners is the spacious living area (that is sized at 33.3 sqm.) which is presented in a landscape layout to create a grander sense of arrival.
Personally, I really like how the living room seamlessly blends along with the dining area and balcony, which really helps to create that sense of open space.
Another thing that I noticed different from typical layouts at new launches is that the kitchen (dry or wet) is not in sight – something that I'll touch on later.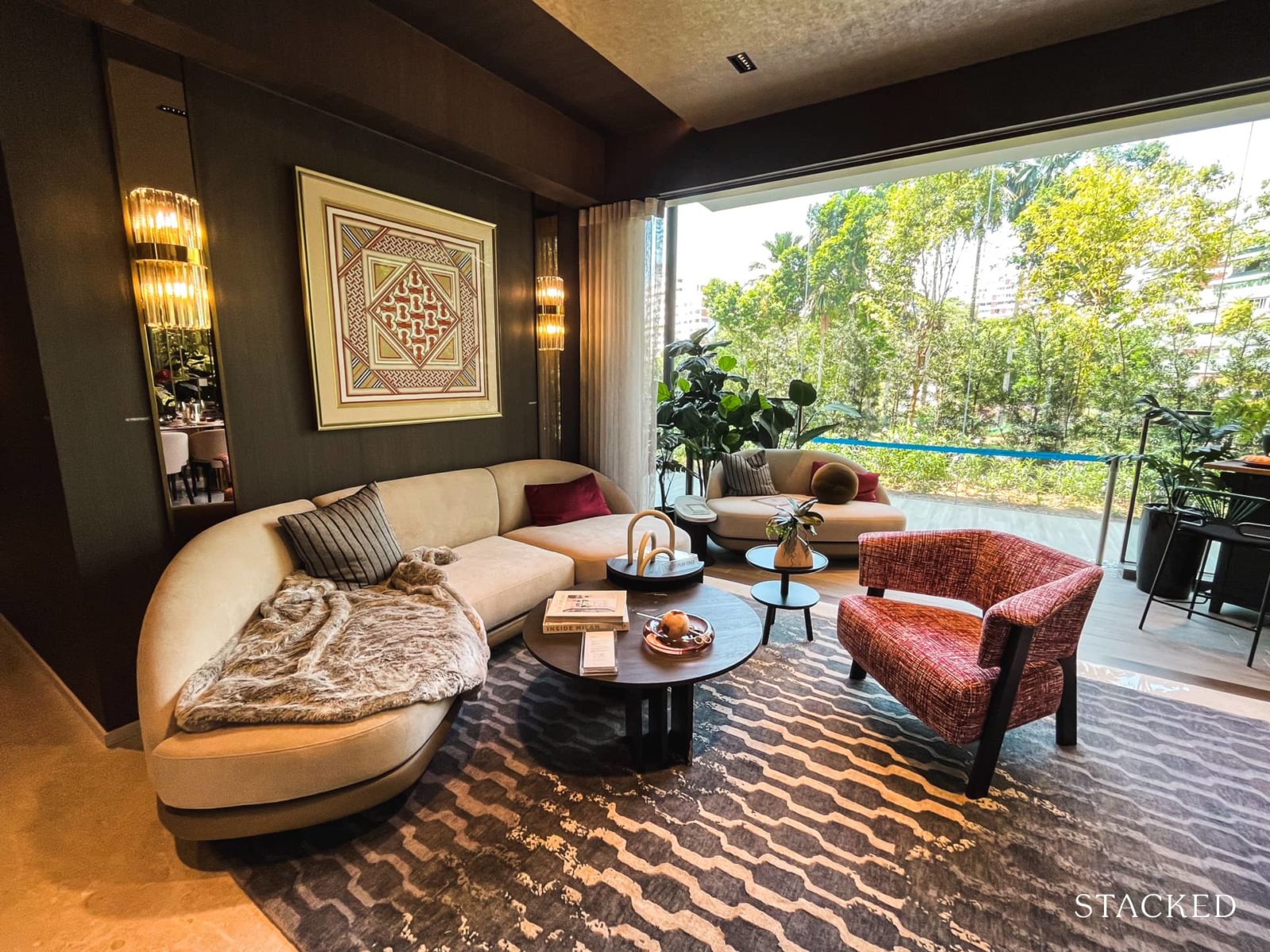 Turning our attention to the living area first, it is able to accommodate a four-seater sofa, complimentary lounge chairs and a big coffee table without infringing on the walkway space.
There are pros and cons to this. You are able to create a more open, harmonious space, but a layout such as this doesn't allow you to place a TV console. There are options out there in the market such as the Samsung Serif TV – if you do prefer to go with the above.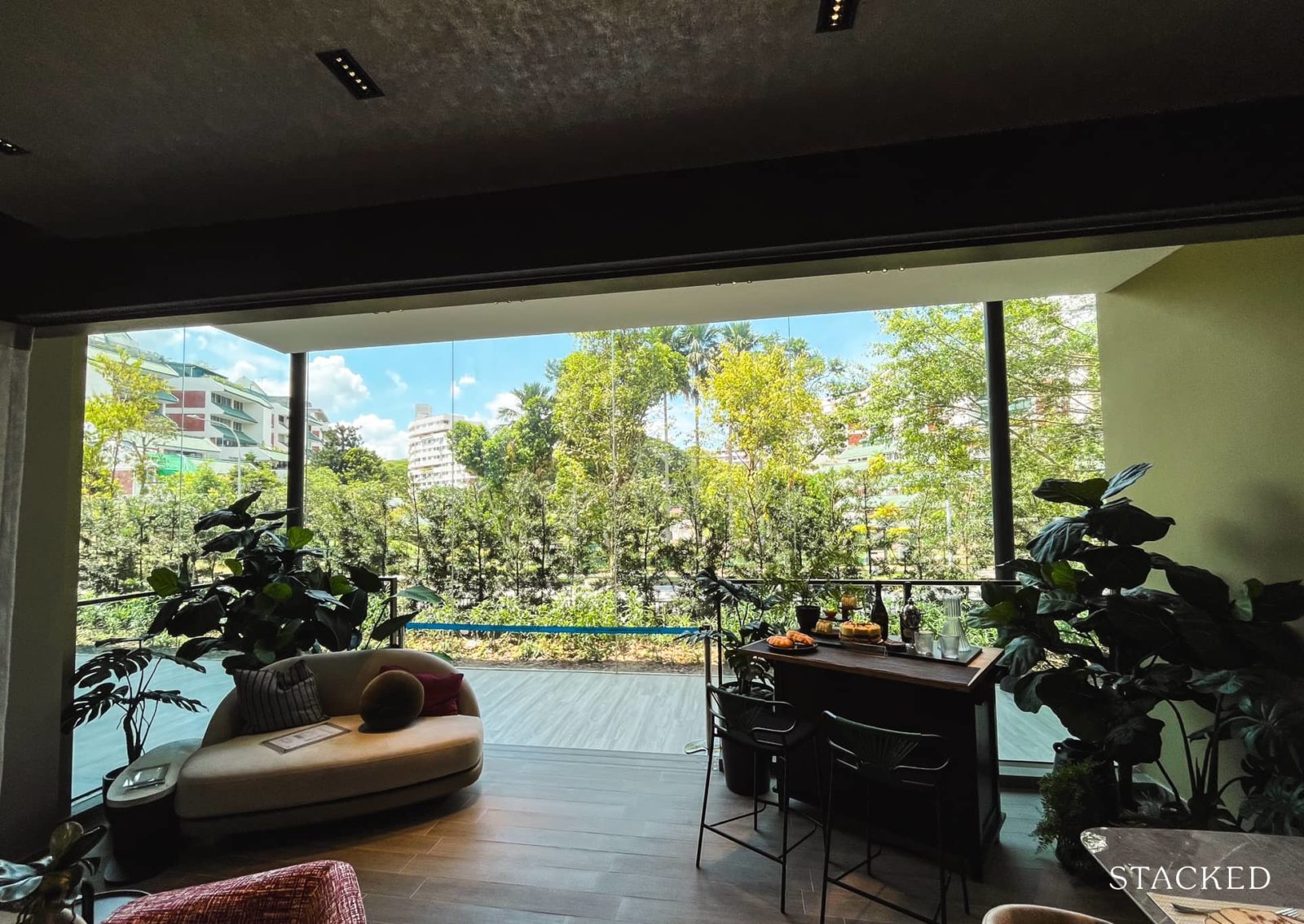 Occupying the length of the living and dining, the sheer size of the balcony (11.6 sq m) immediately caught my attention since it's almost twice the size of the balconies in the 1-, 2- and 3-bedder units. Since unblocked views are a big selling point for Pinetree Hill, this would probably be welcomed by many homeowners.
Another point worth highlighting, the balcony will also come with both an electrical and water point – which is certainly useful.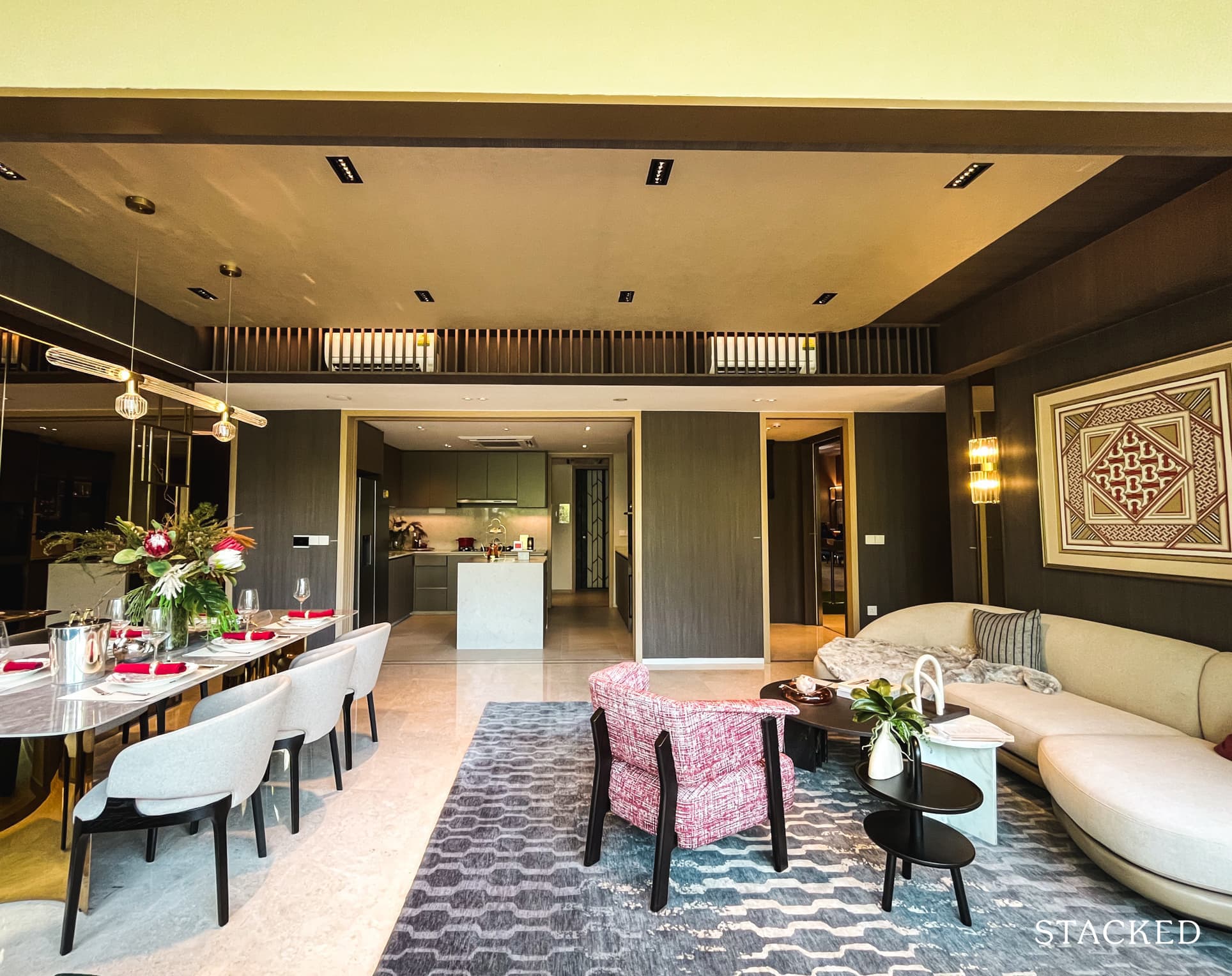 For those wondering where the kitchen is, this angle from the balcony shows that it's blended in quite seamlessly with the common areas.
Before we touch on the kitchen, let's take a look at the dining area.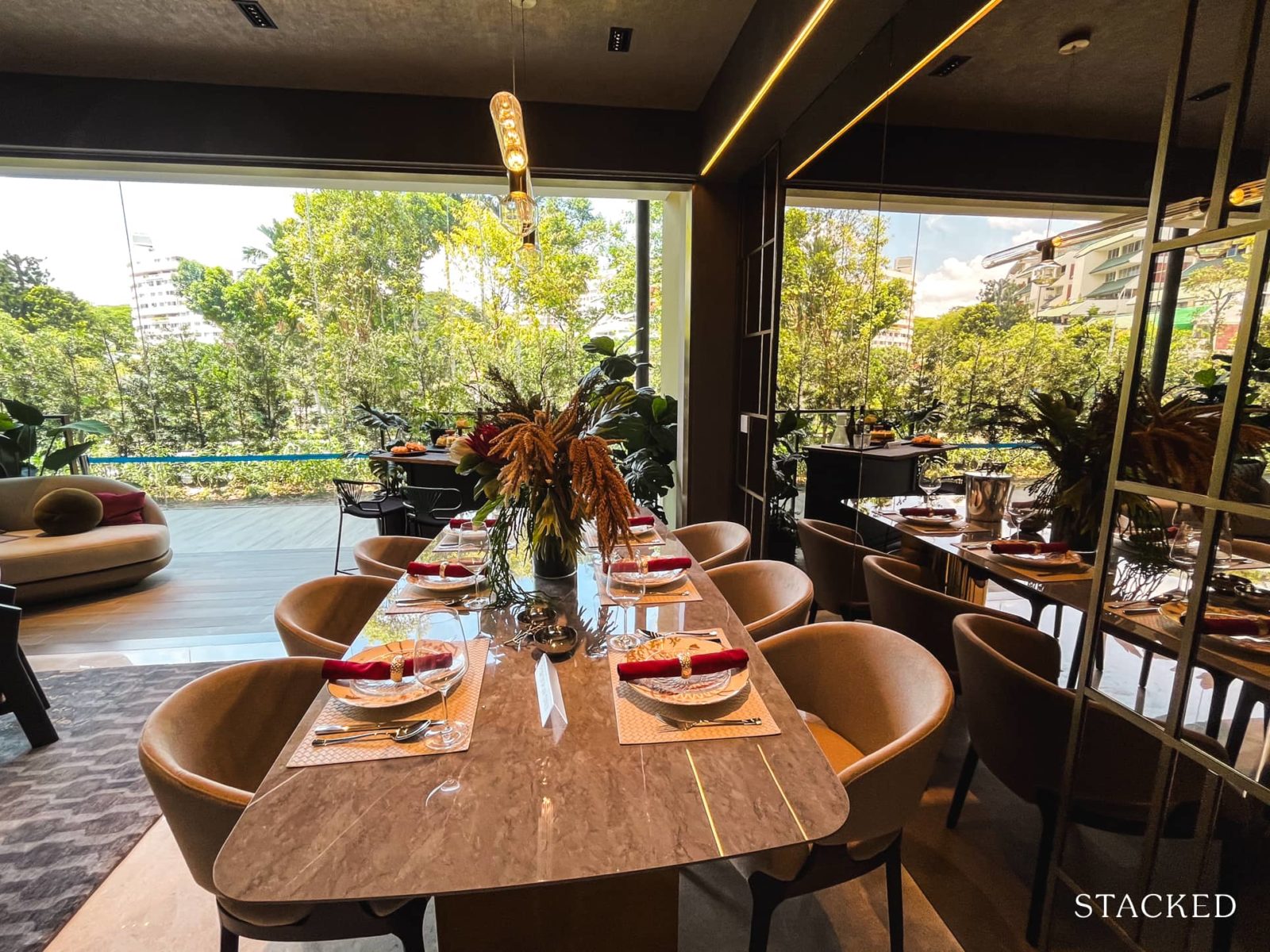 Here, it can comfortably fit a six-seater dining set, although you do still have some space on either end for an eight-seater too.
Alternatively, the balcony is big enough to accommodate a secondary dining space or perhaps even the only dining space as well. This gives you more space to have luxuriously sized living, which I've seen some people do with their homes.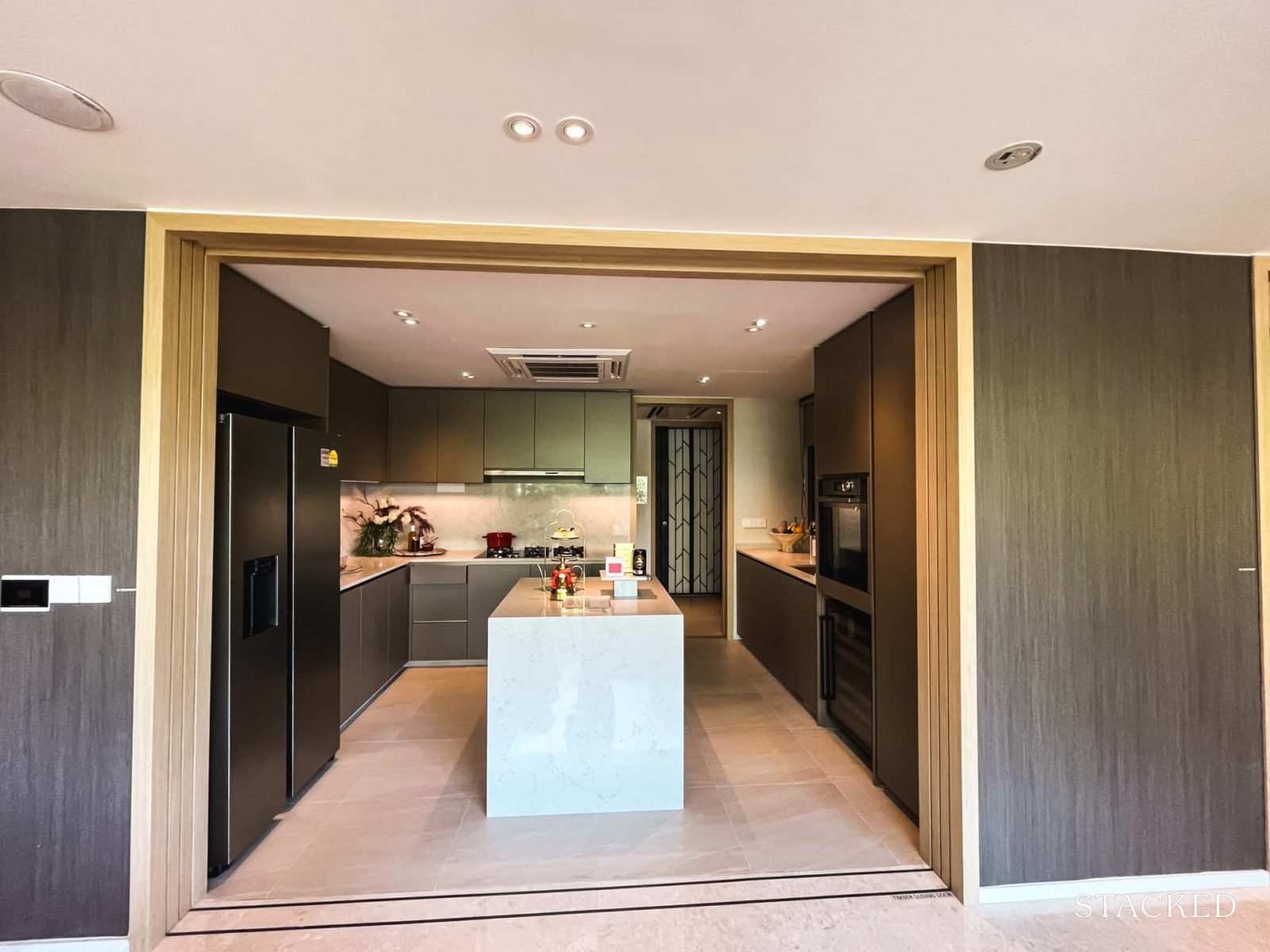 Now for the kitchen. It's sized at 14.8 sqm, and it features an eye-catching island located in the middle of the space while being surrounded by cabinetry and countertops.
Apart from the space and functional design, I do really enjoy the fact that it can be seen as a stand-alone area on its own but can also blend in seamlessly with the rest of the living area. The sliding doors are also a good way to enclose the kitchen when needed and open them up to brighten up the space.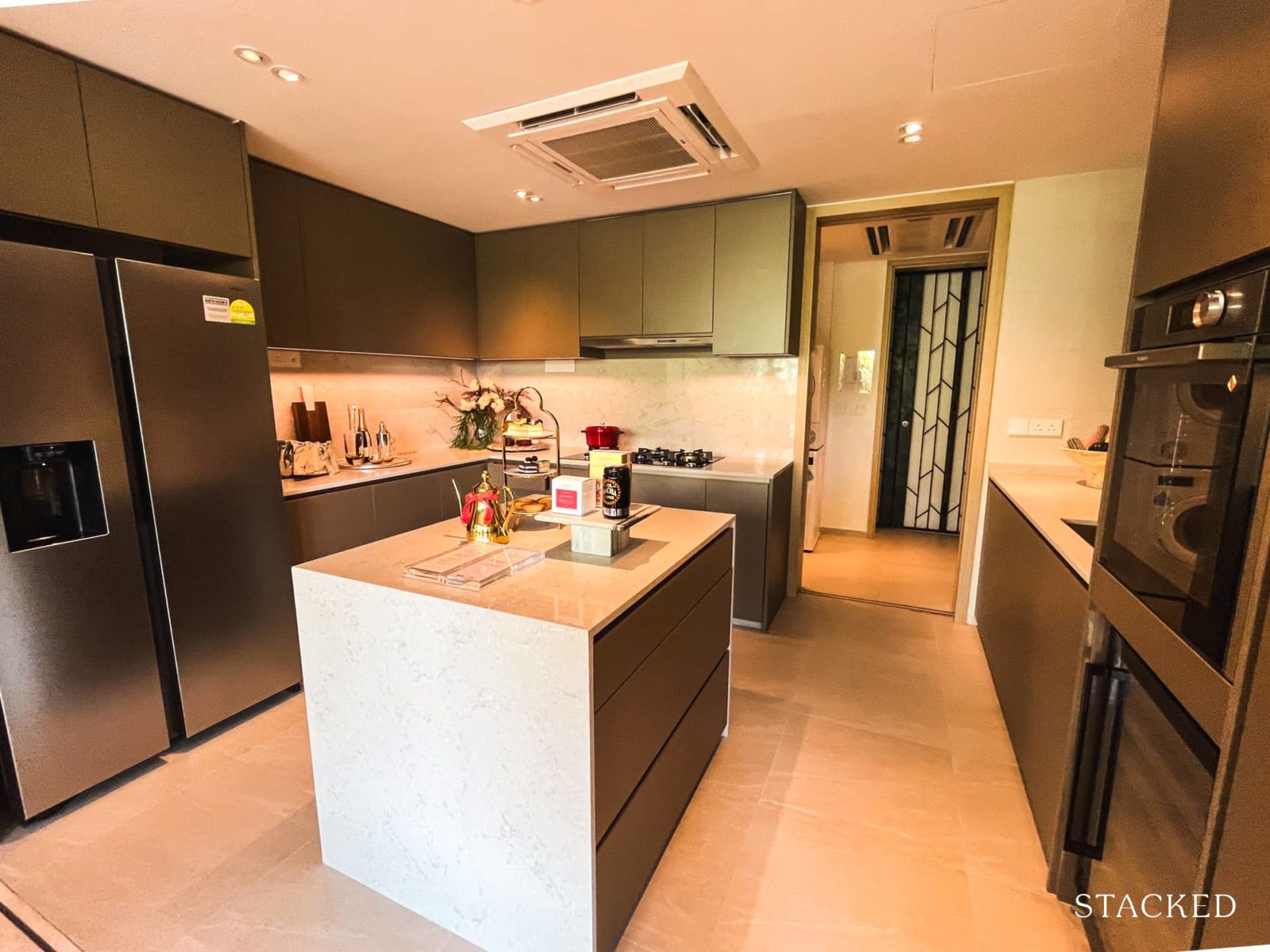 Some of the white goods provided include a Samsung fridge, a built-in oven, wine chiller, gas hob, wok burner and cooker hood from the higher-end brand, De Dietrich.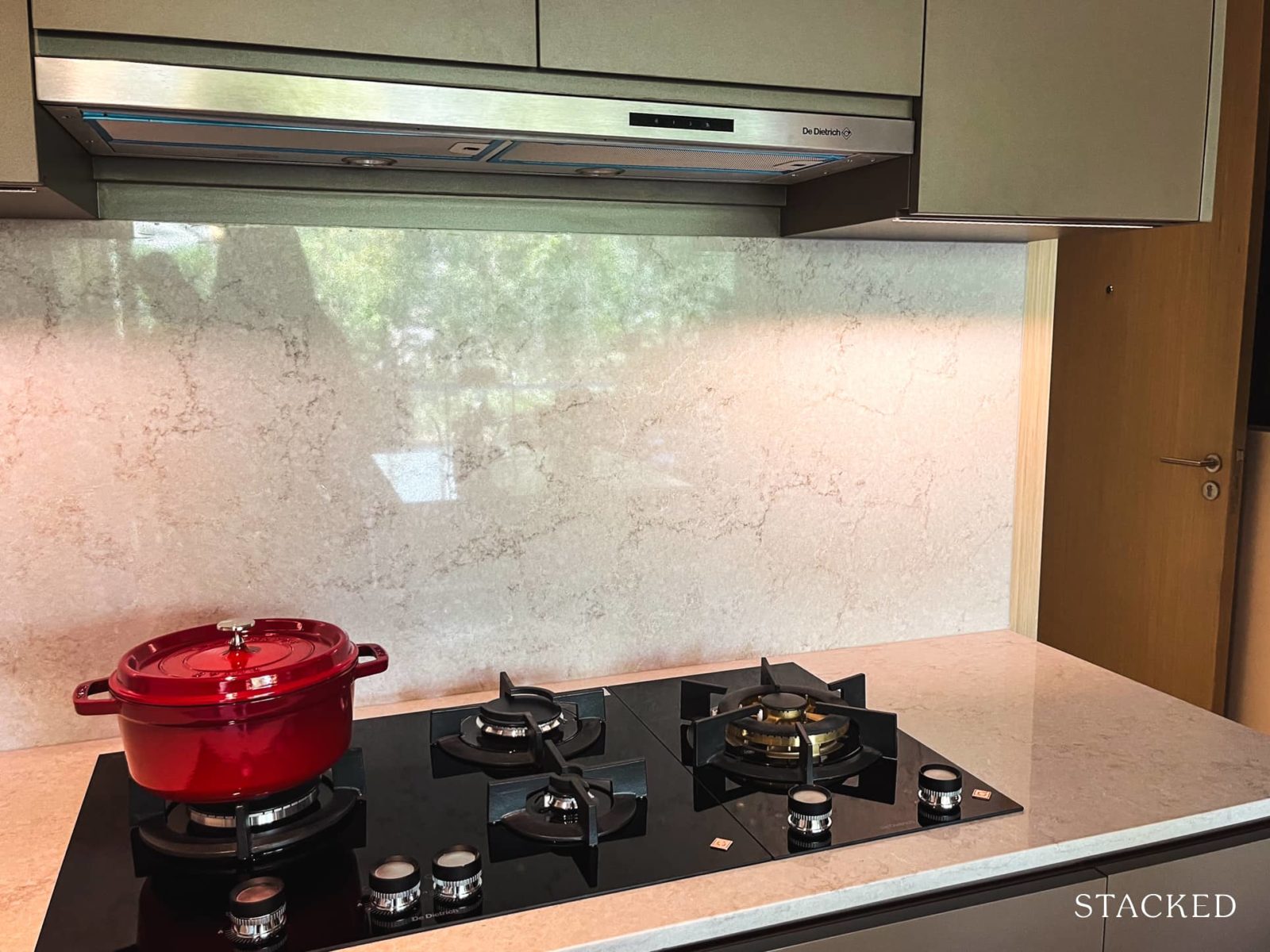 Seeing that this unit comes with gas hobs and woke burners, it's great for Asian households that appreciate open flame stoves. The countertop and backsplash are made of quartz for easy maintenance, too.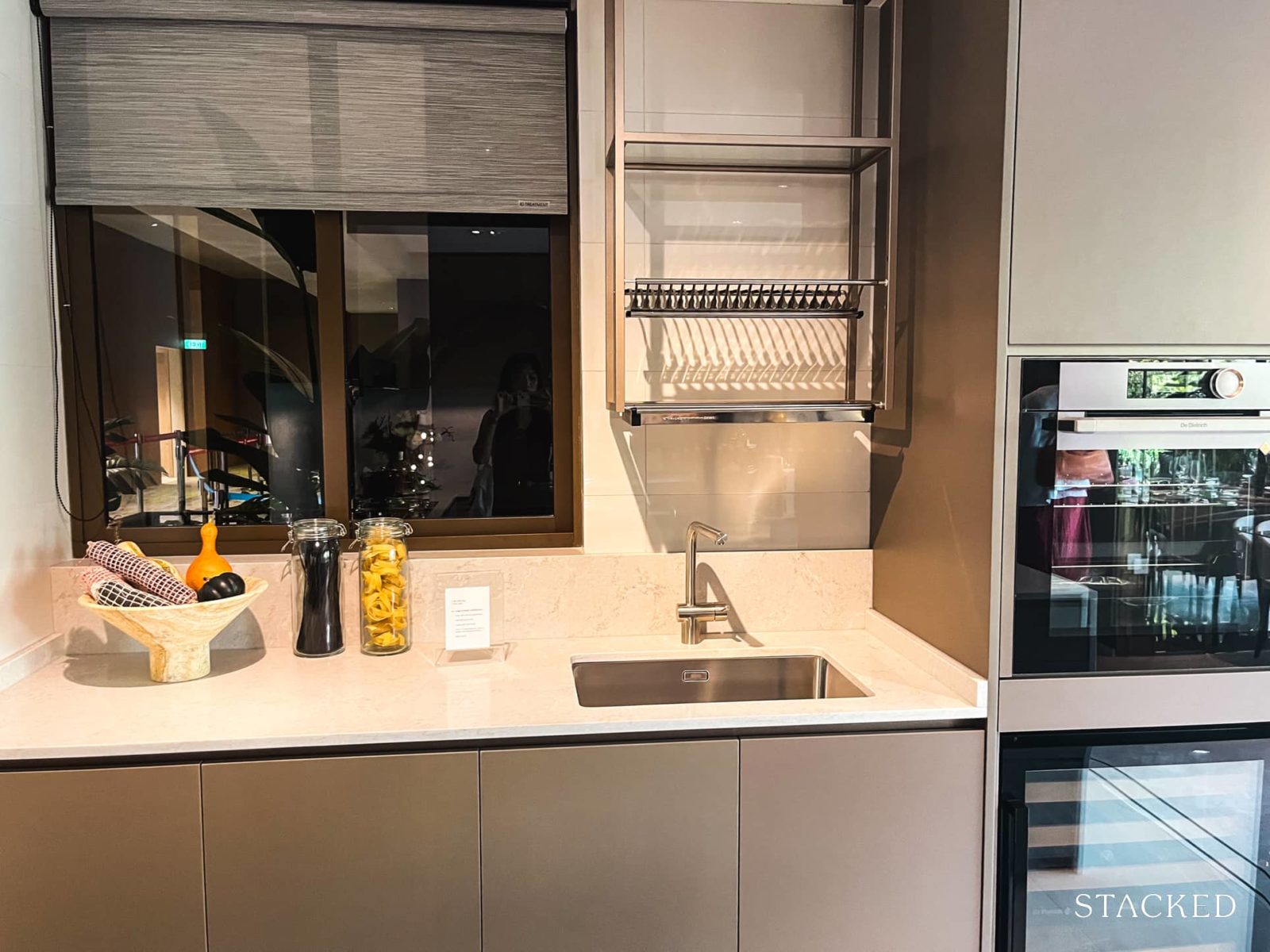 On the other corner of the kitchen is where the sink and other built-in appliances are located. It's great that a drying rack is placed conveniently at the top of the sink to dry your dishes.
Furthermore, there is a window available for natural ventilation to air out any fumes.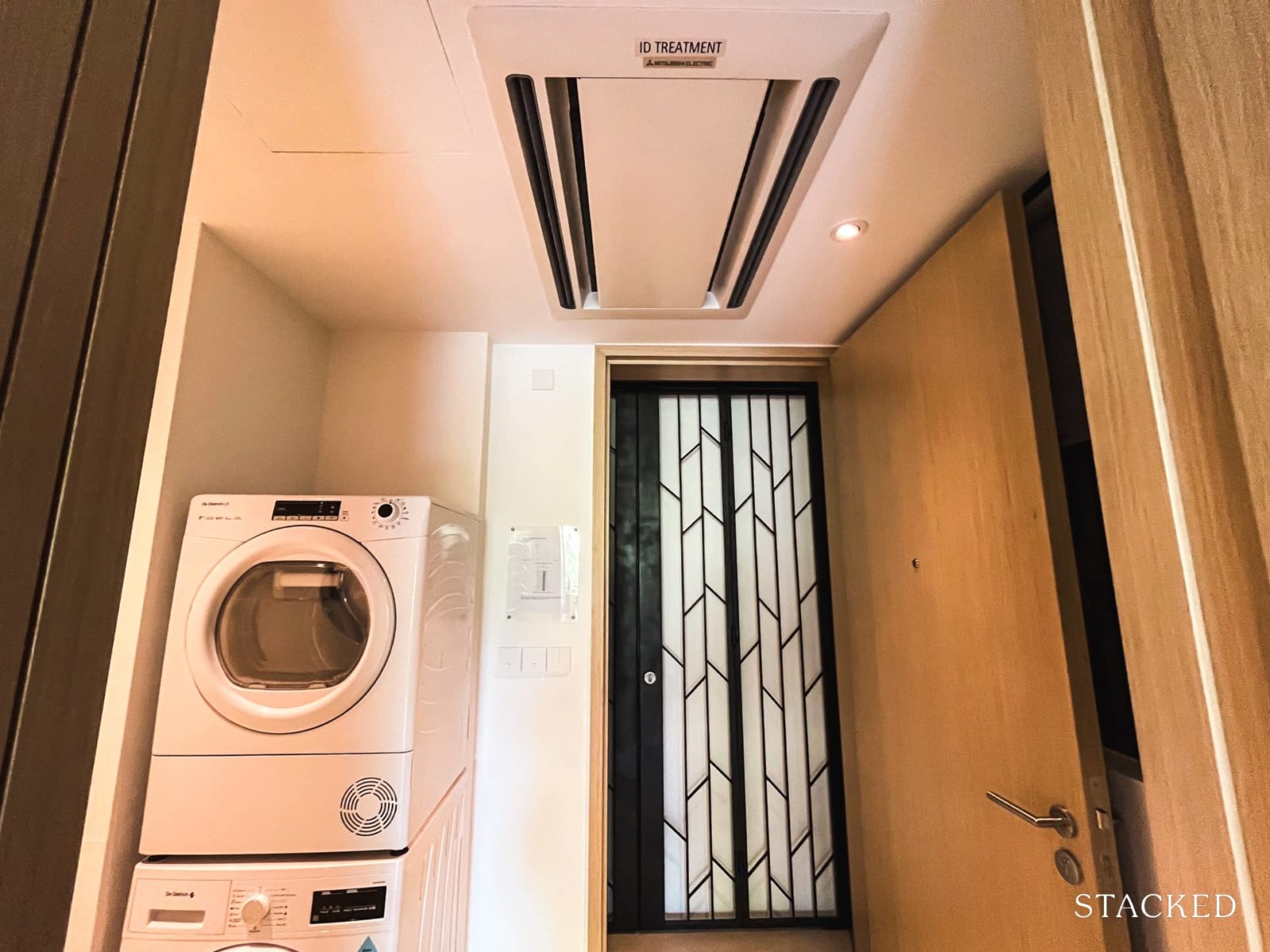 The back door is found in the yard area (5.7 sqm), which is meant for service staff and to collect deliveries.
Seeing that there's also another window in the yard area, homeowners can opt to dry their laundry naturally. Similar to the kitchen appliances, the dryer and washer are both from De Dietrich.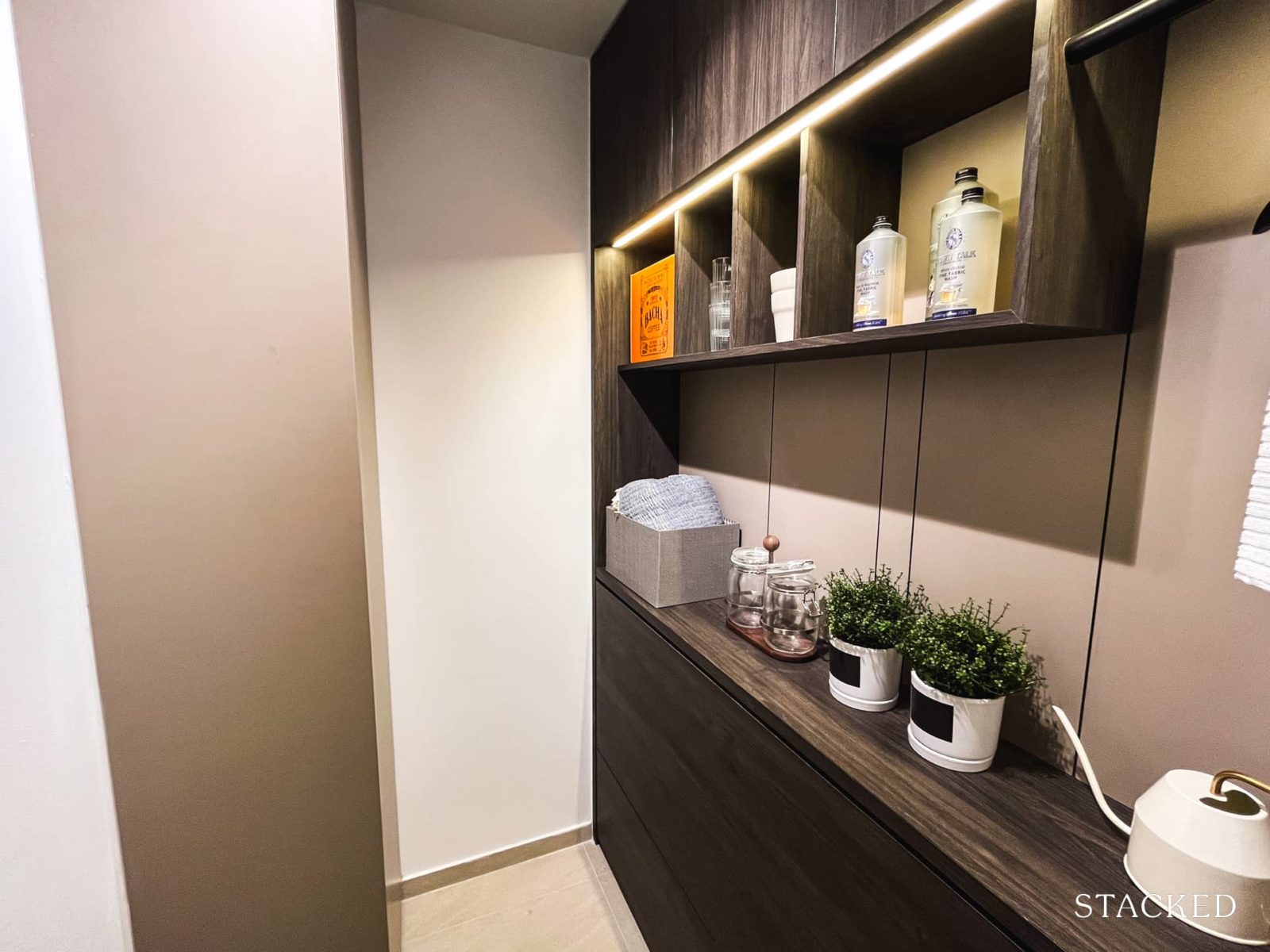 At the end of the yard is the store area, which is a flexible space for either the helper's room or additional storage. Given the type of homebuyer for a 5 bedder though, this would definitely be used as the former.
That said, it should be highlighted that the DB is situated here too, which is a little awkwardly placed.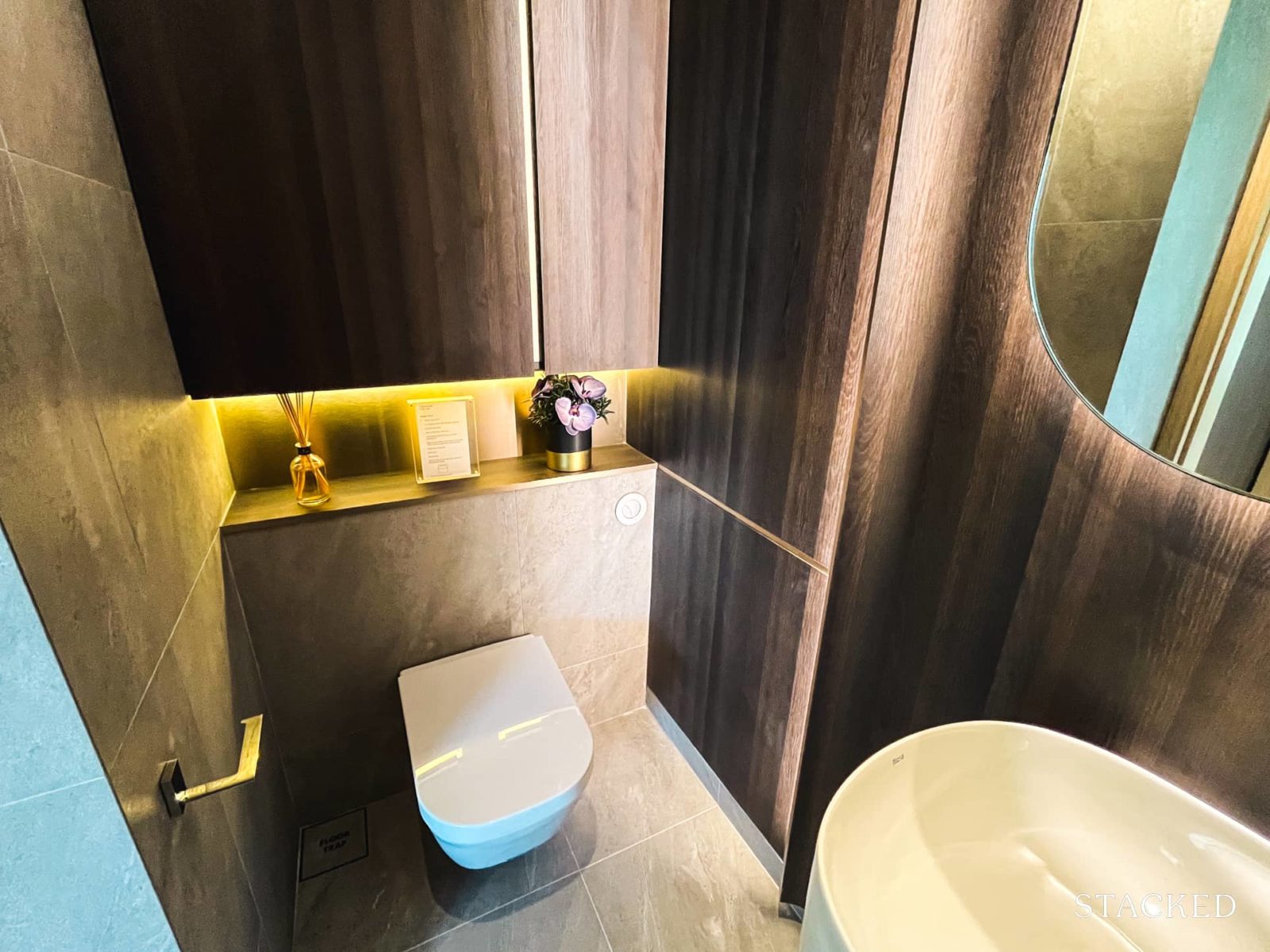 Moving back to the main area, let's take a look at the powder room (3 sqm), which is located near the dining area.
It comes with a simple and sleek w/c and sink, making it perfect for hosting guests without intruding on the homeowner's privacy. There's also storage space available to store any necessary sundries and keep clutter out of sight.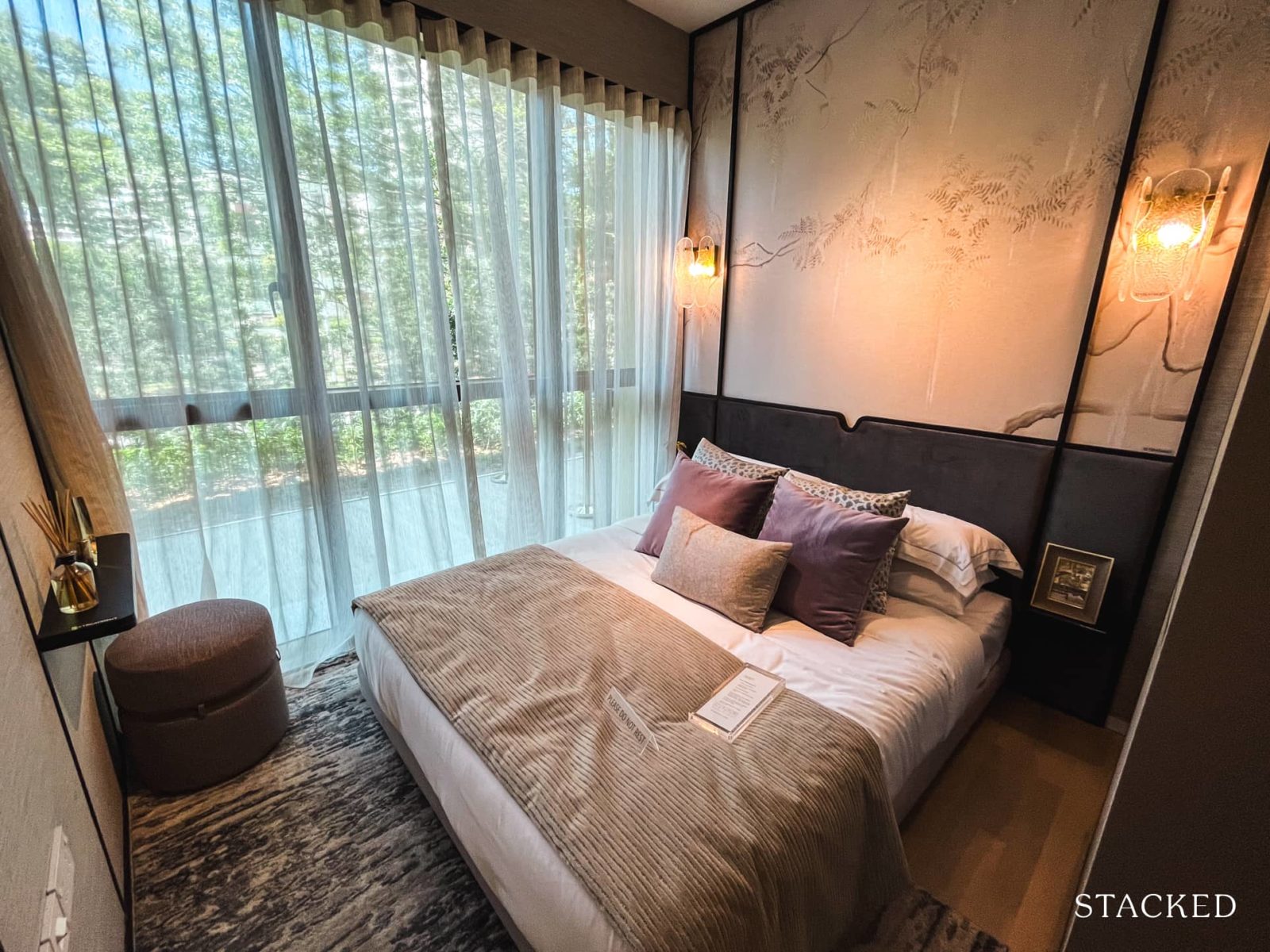 Near the powder room is the Junior Master Bedroom, which is furnished with a Queen sized bed, small bedside tables, a built-in wardrobe and a small vanity table. Even so, the space feels quite spacious, no doubt owing to the floor-to-ceiling windows.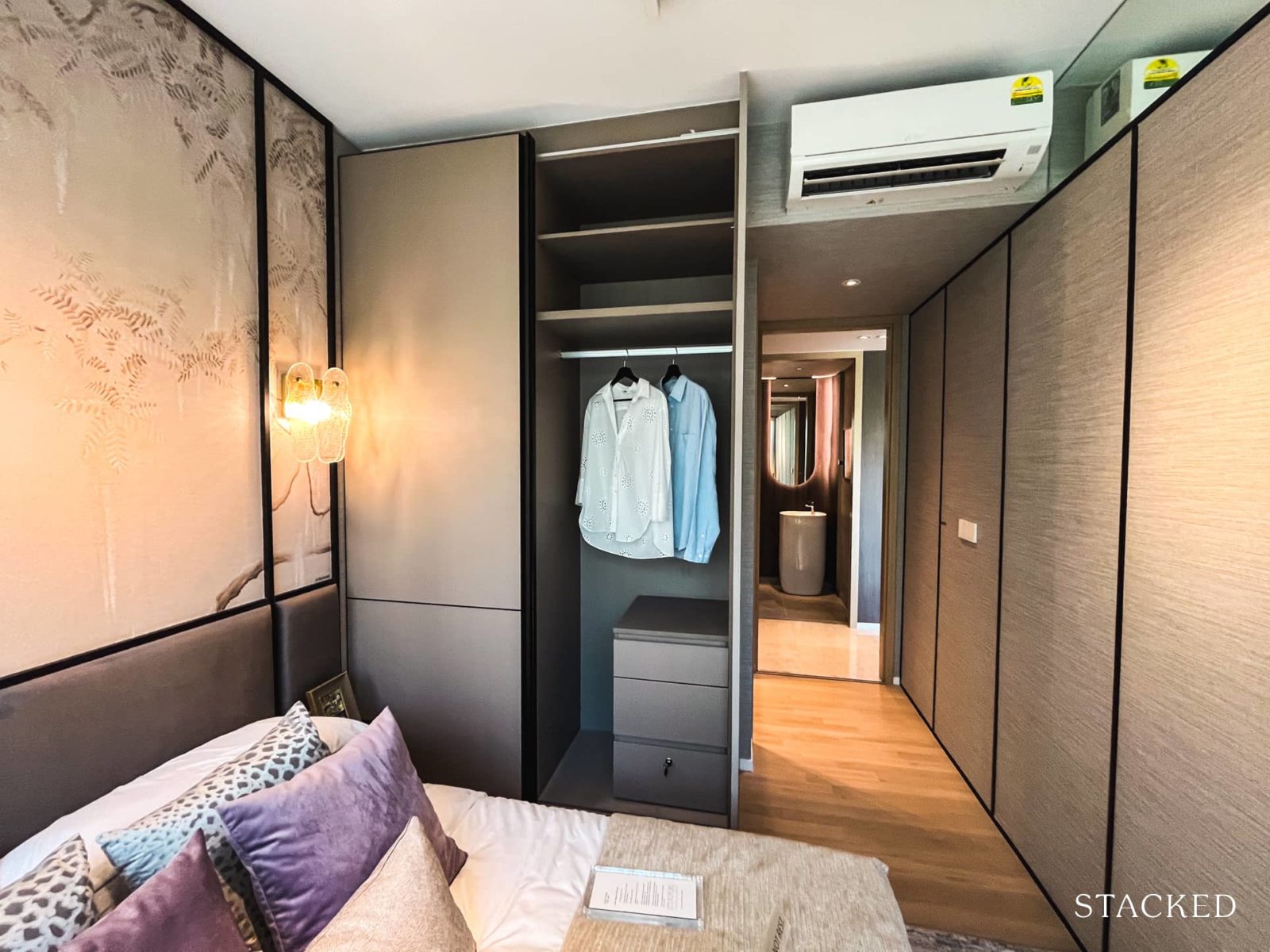 Along with the junior master bathroom, this room is sized at a comfortable 14.4 sqm, making it ideal for the elderly when it comes to multi-gen living. As standard, a 2-panel built-in wardrobe is provided in this room, too.
I like that this is placed away from the rest of the bedrooms, which helps when it comes to privacy.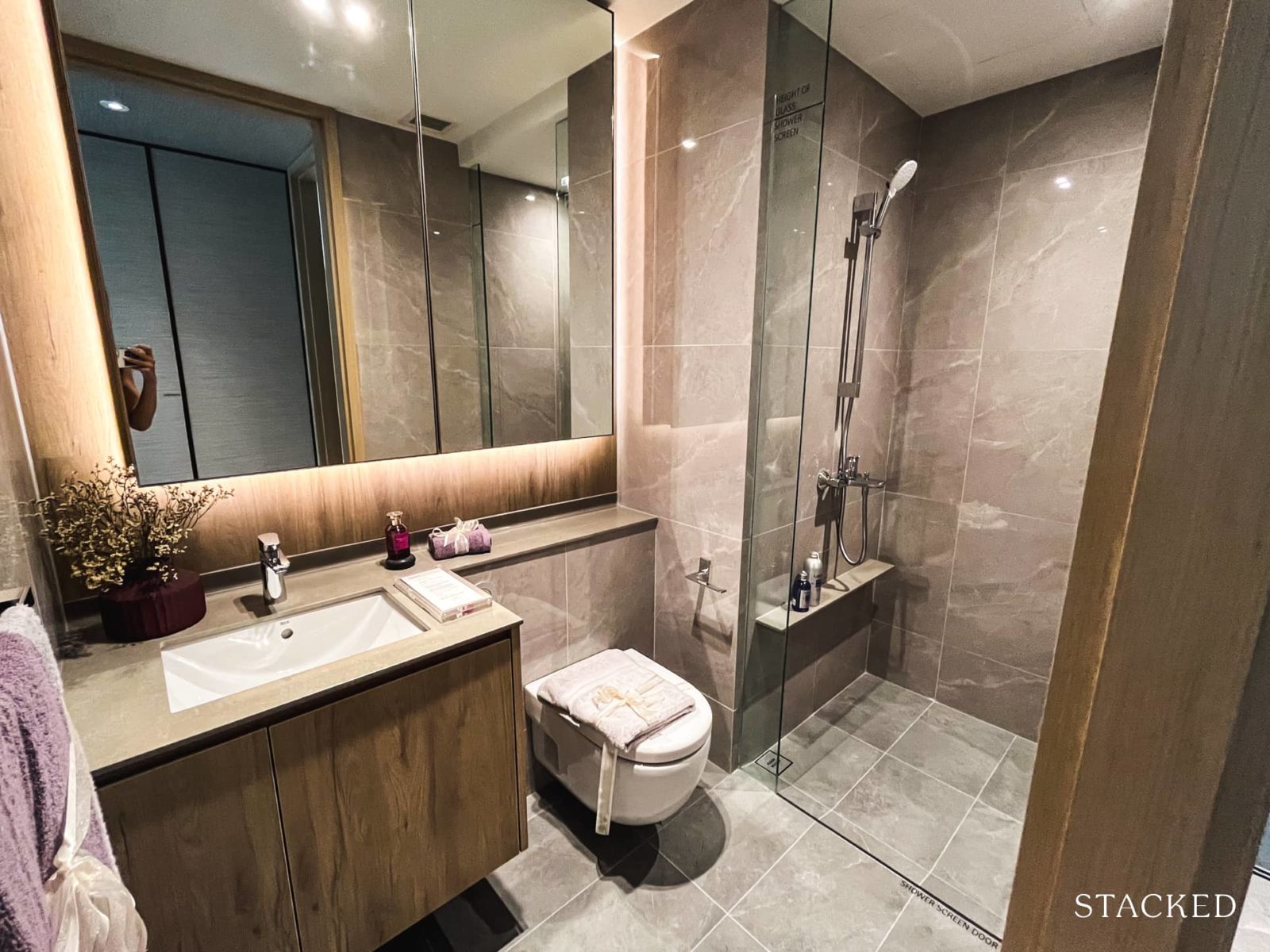 The Junior Master Bathroom has a typical design with cabinets of wood-like finish. Since it does not come with a window, this bathroom would rely on mechanical ventilation.
As standard, the wall hung w/c and sink are from Roca, whereas the mixer and shower set are from Hansgrohe.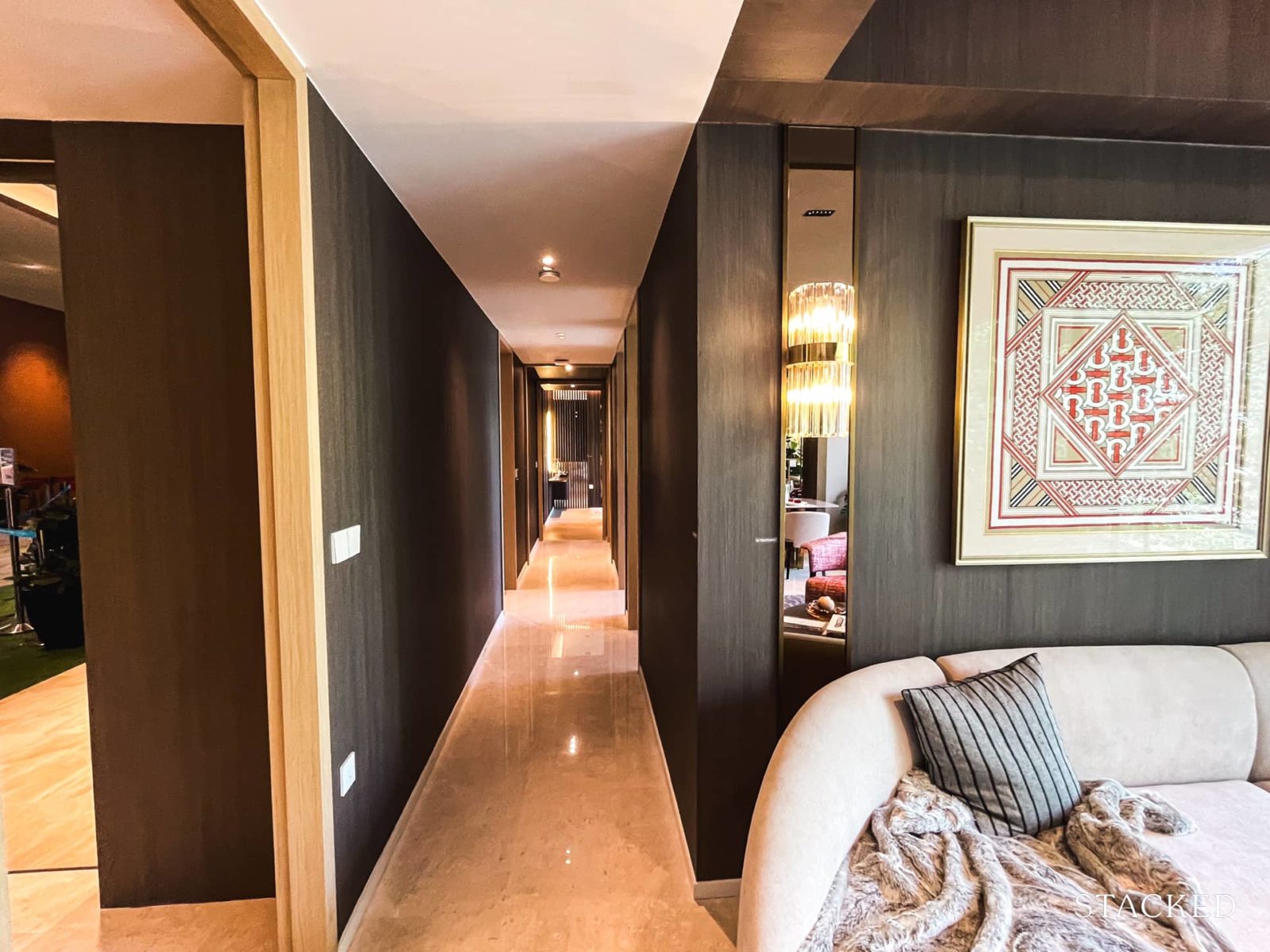 Let's move down to take a look at the other bedrooms down the long hallway.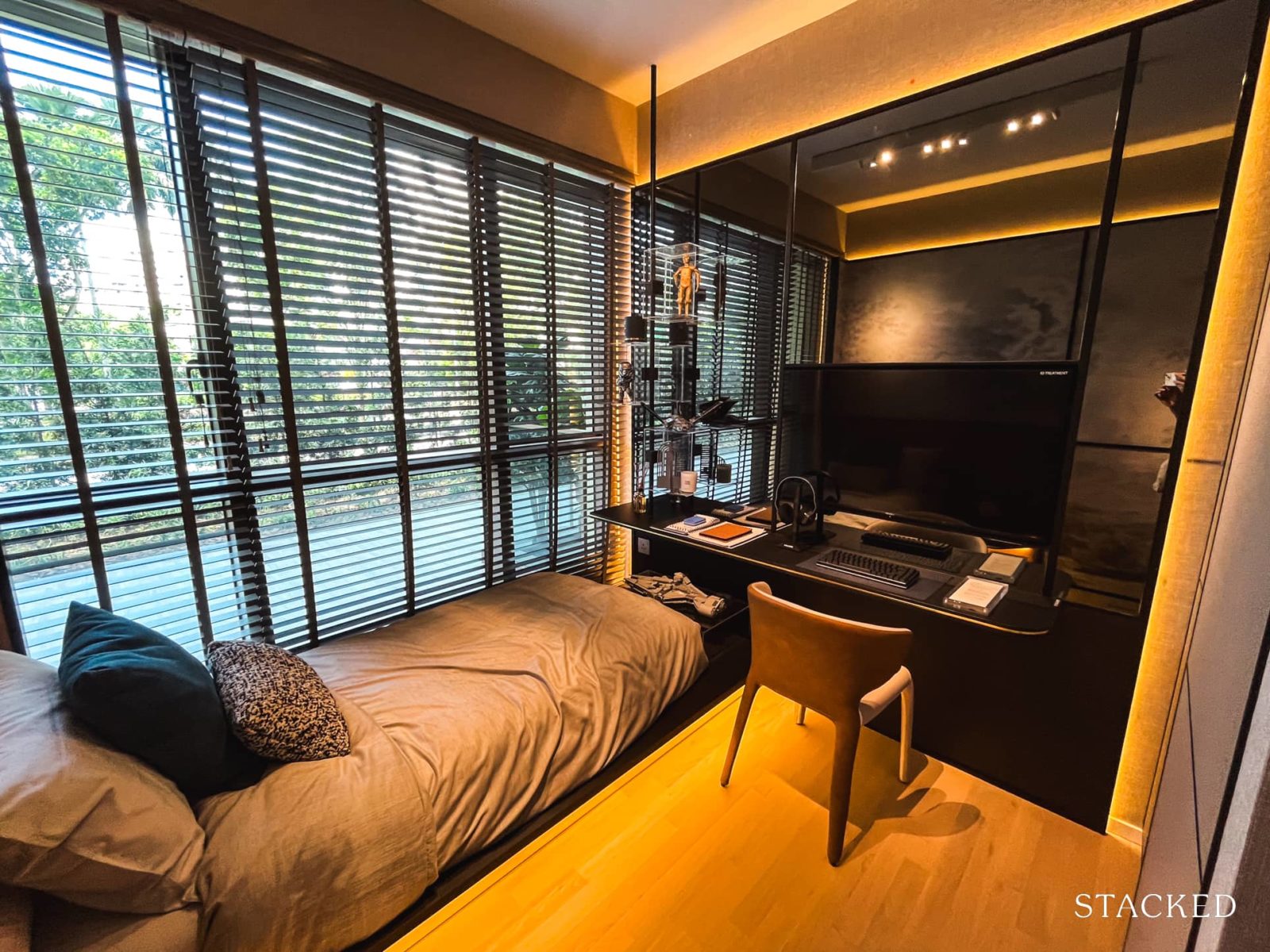 Bedroom 5 is sized at the typical 8.8 sqm and comes with floor-to-ceiling windows.
The IDs chose to furnish it with a single bed and a simple writing desk, which does have plenty of walkway space left over without infringing on the wardrobe area.
As standard, a 2-panel built-in wardrobe would also be provided.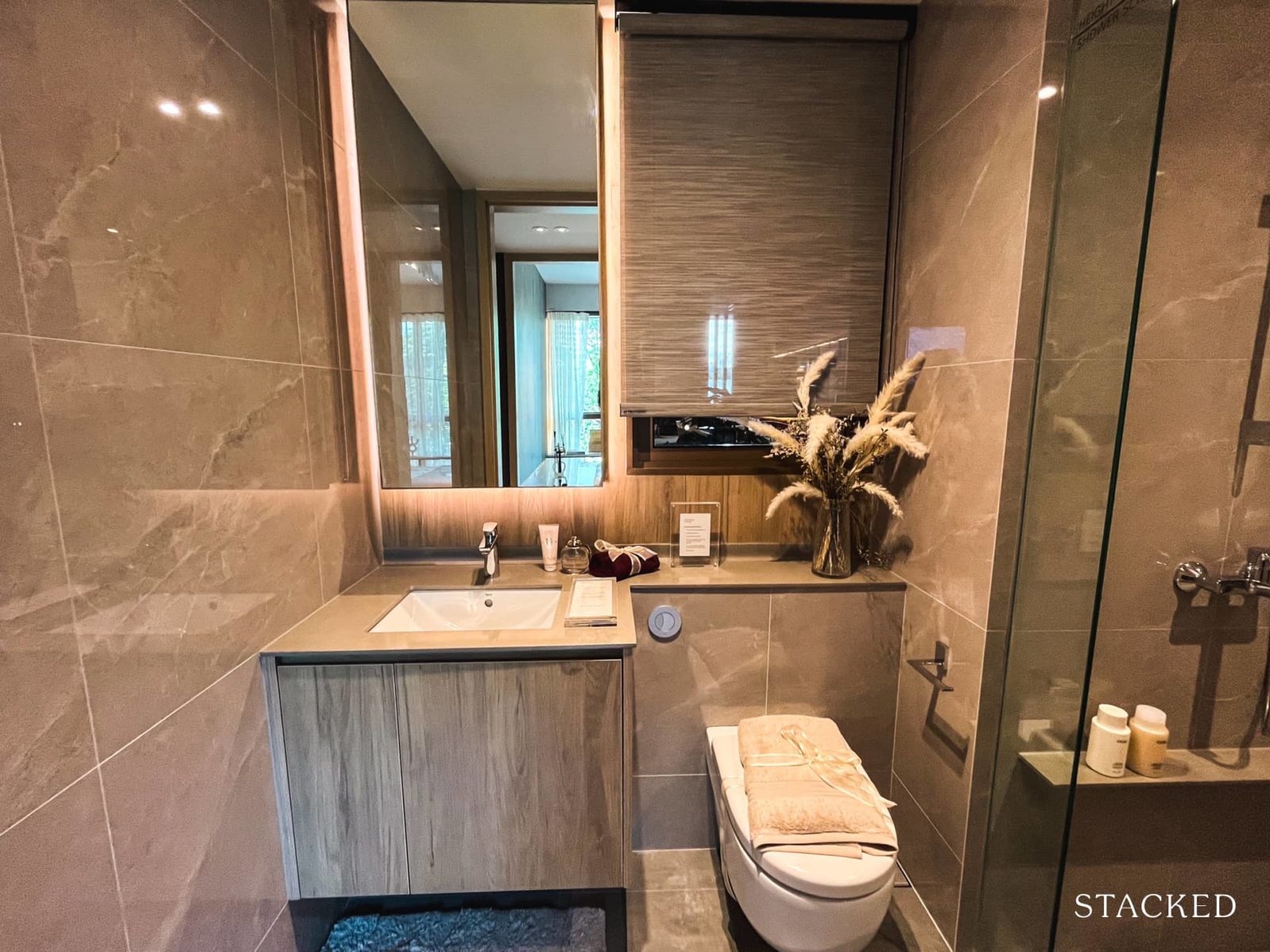 It's noted that bedrooms 3, 4 and 5 would be sharing common Bathroom 3 (although you do have the powder room to share as well). Sized at 4.4 sqm, it has a similar layout to the Junior Master Bathroom but comes with a window above the w/c, which is great for natural ventilation.
It also has cabinets of wood finishing and storage behind the mirrors. As standard, it's furnished with a sink and w/c from Roca, while the mixer and shower set are from Hansgrohe.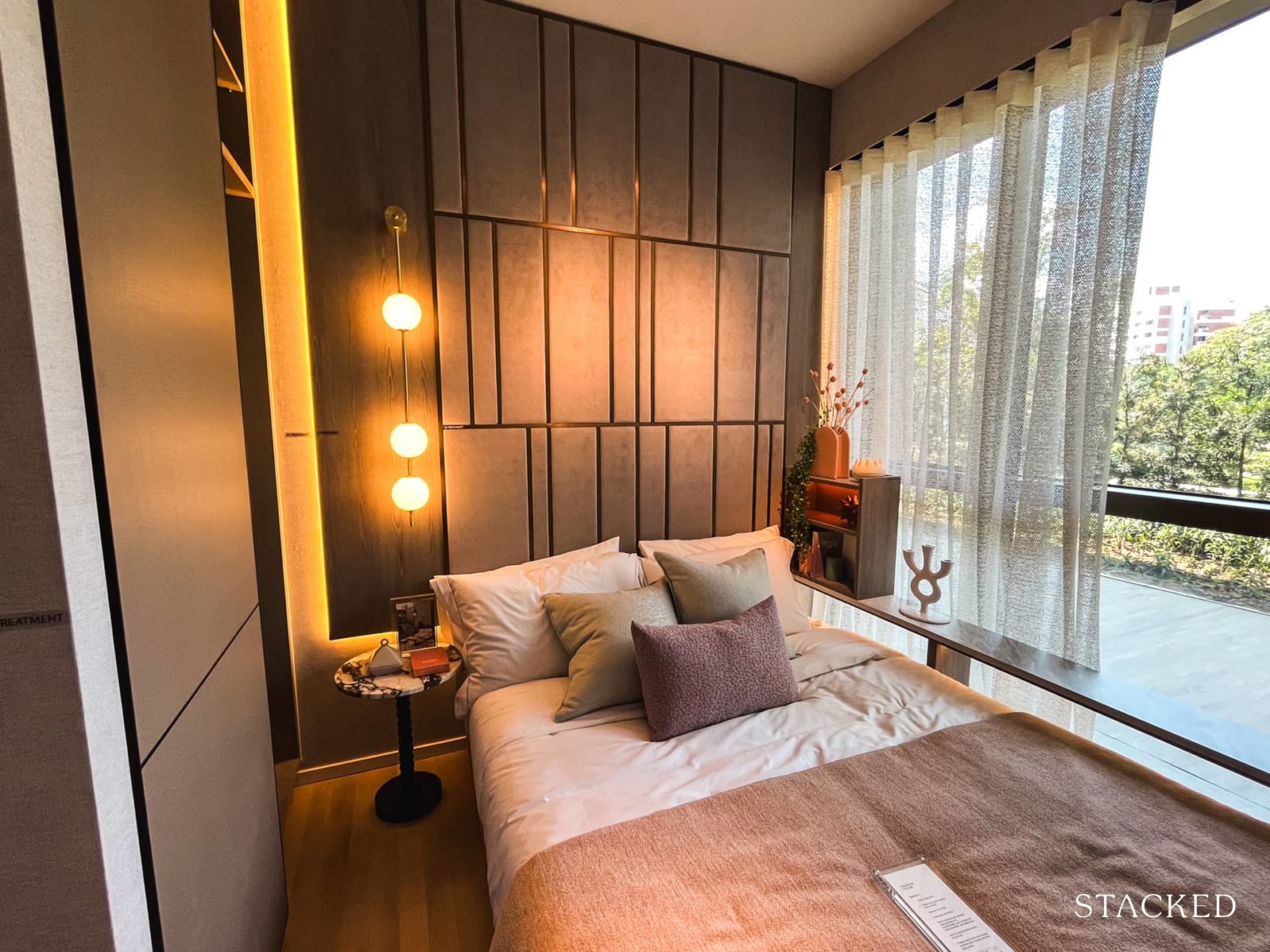 Taking a look at Bedroom 4, it's also sized at 8.8 sqm and is shown with a Queen sized bed. On top of the 2-panel built-in wardrobe, it can also fit a small bedside table and a simple shelving area near the windows.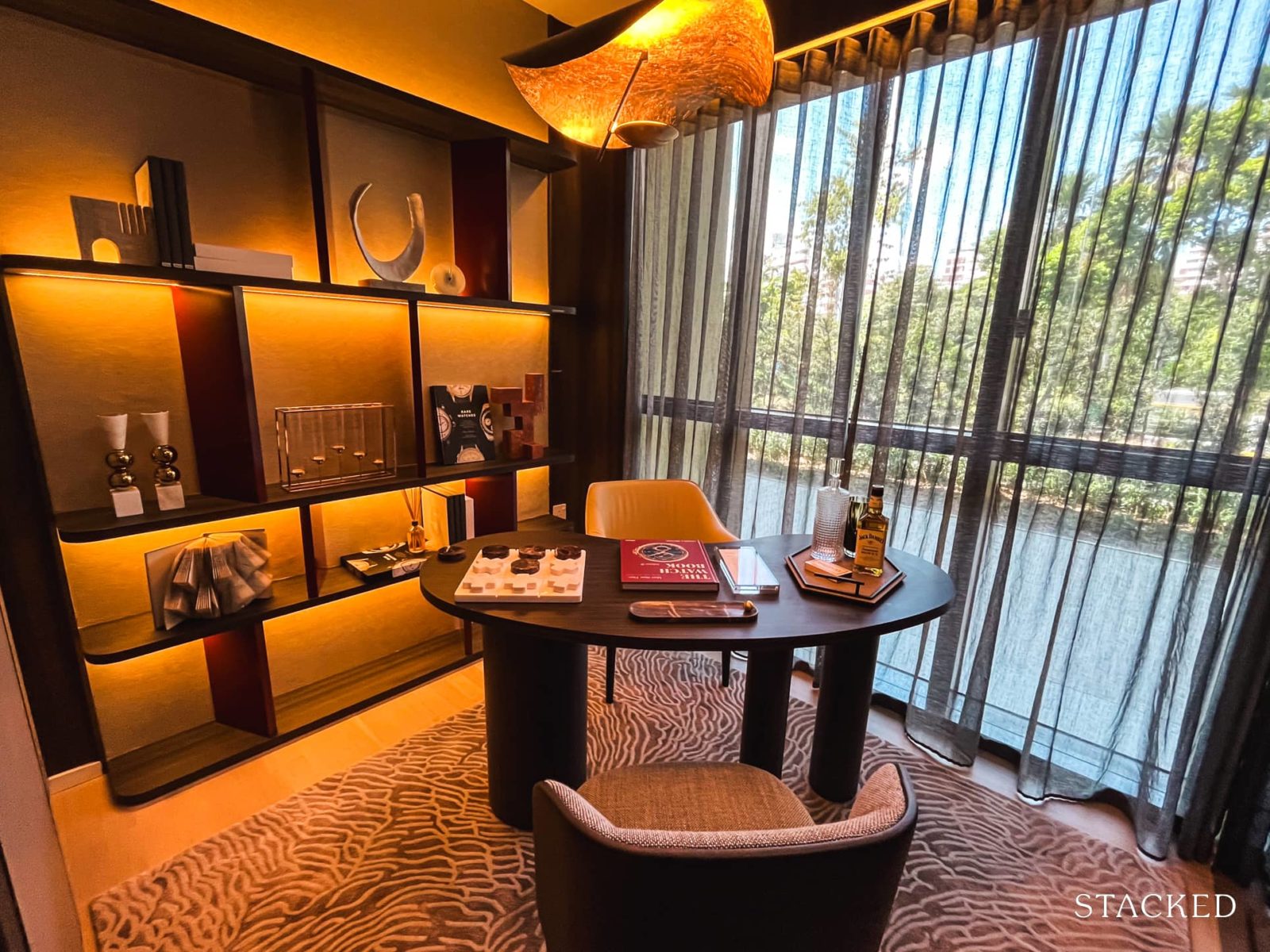 Bedroom 3, also sized at 8.8 sqm, has been converted into a study/office room and is furnished with shelving, a simple table and two chairs.
This is purely a creative demonstration of how the rooms can look if homeowners choose to use them for other purposes.
Last but not least, let's take a look at the master bedroom, which is one of the highlights of the space. It showcases a walk-in wardrobe and a pretty sizeable master bathroom.
Together, these areas make up a whopping 29.3 sqm, which is very generous in comparison with the Master Bedrooms in other layouts.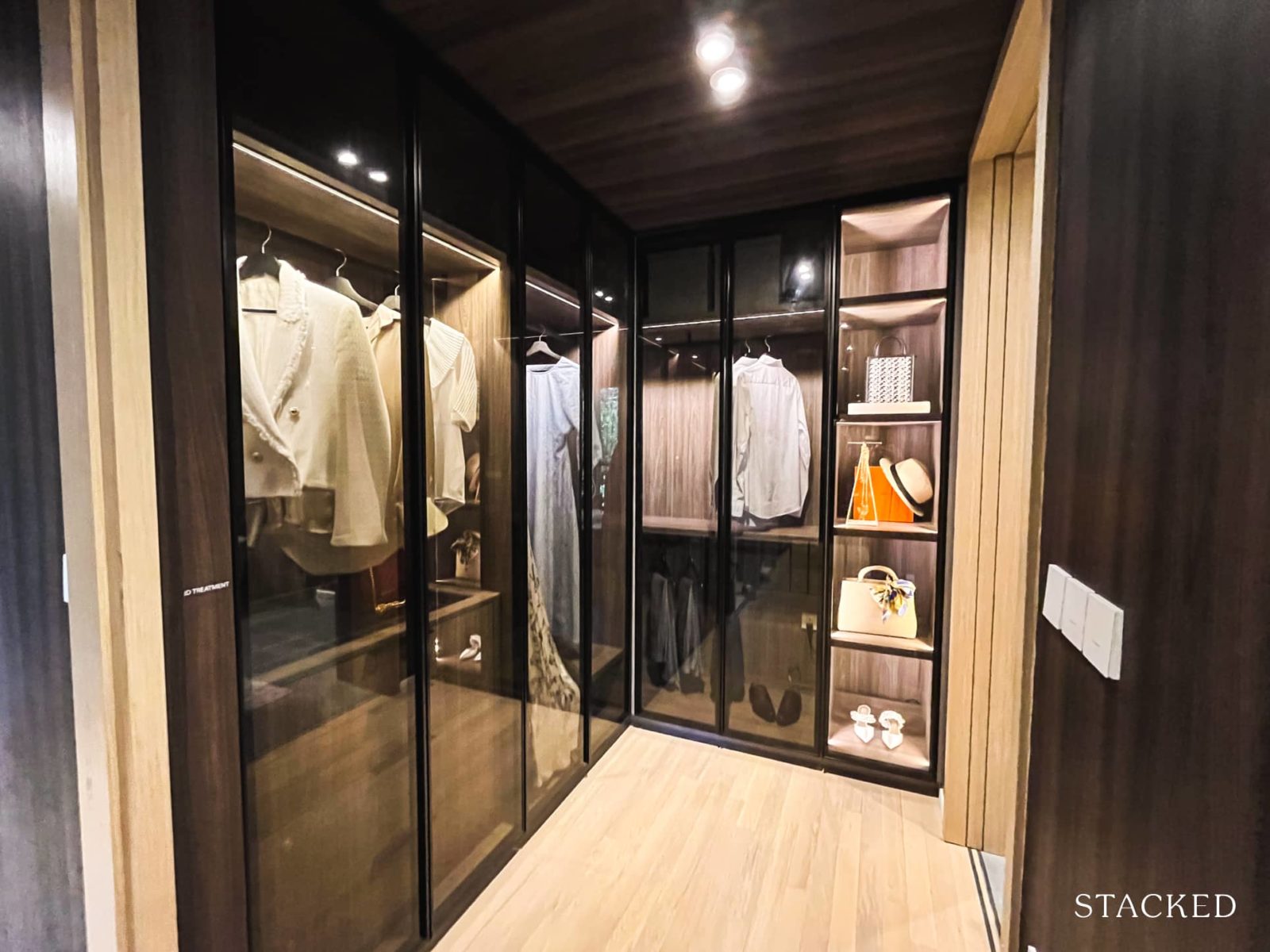 I was thoroughly impressed by the walk-in wardrobe space since there are six panels of built-in storage, accompanied by a single column of shelving area.
Unlike the other built-in wardrobes that have an opaque door, this variation comes in a see-through glass finish for a more luxurious touch. Furthermore, a built-in humidifier has been added to the wardrobe area for those concerned with mildew.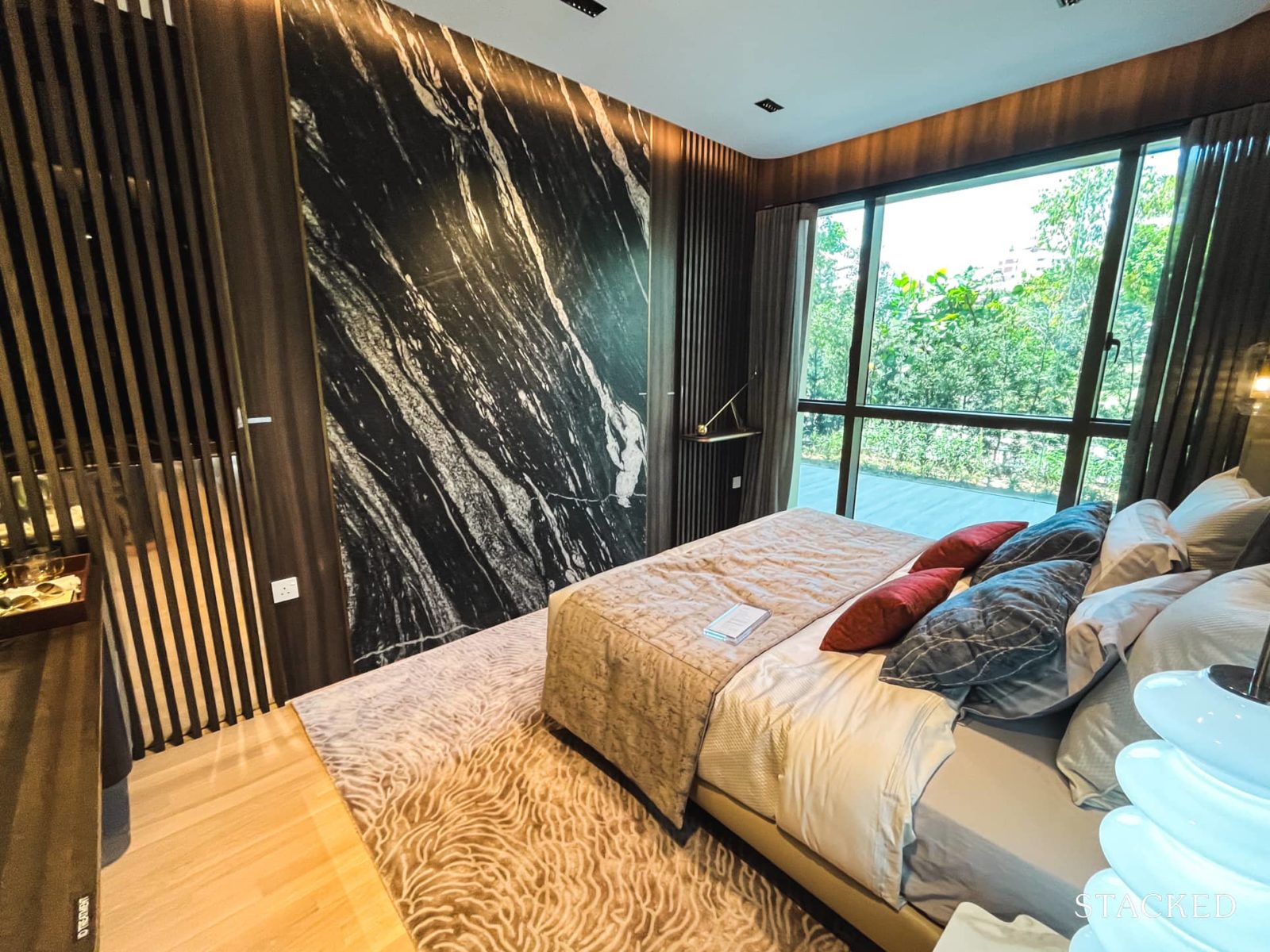 On the other hand, the main room is able to comfortably fit a King sized bed, two bedside tables and a vanity table with plenty of walkway space left.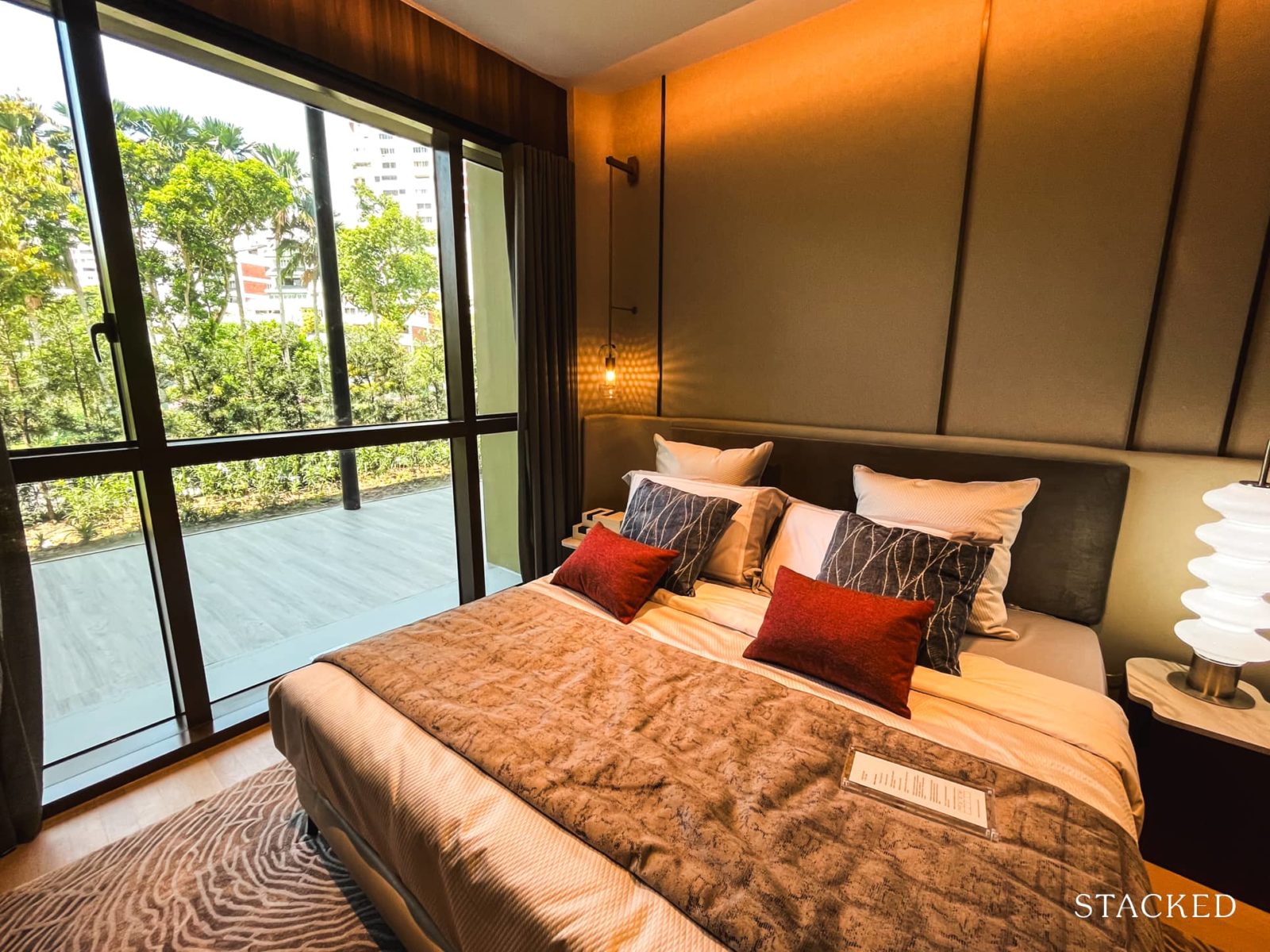 Of course, the floor-to-ceiling windows do play a role in making the room feel much bigger, too.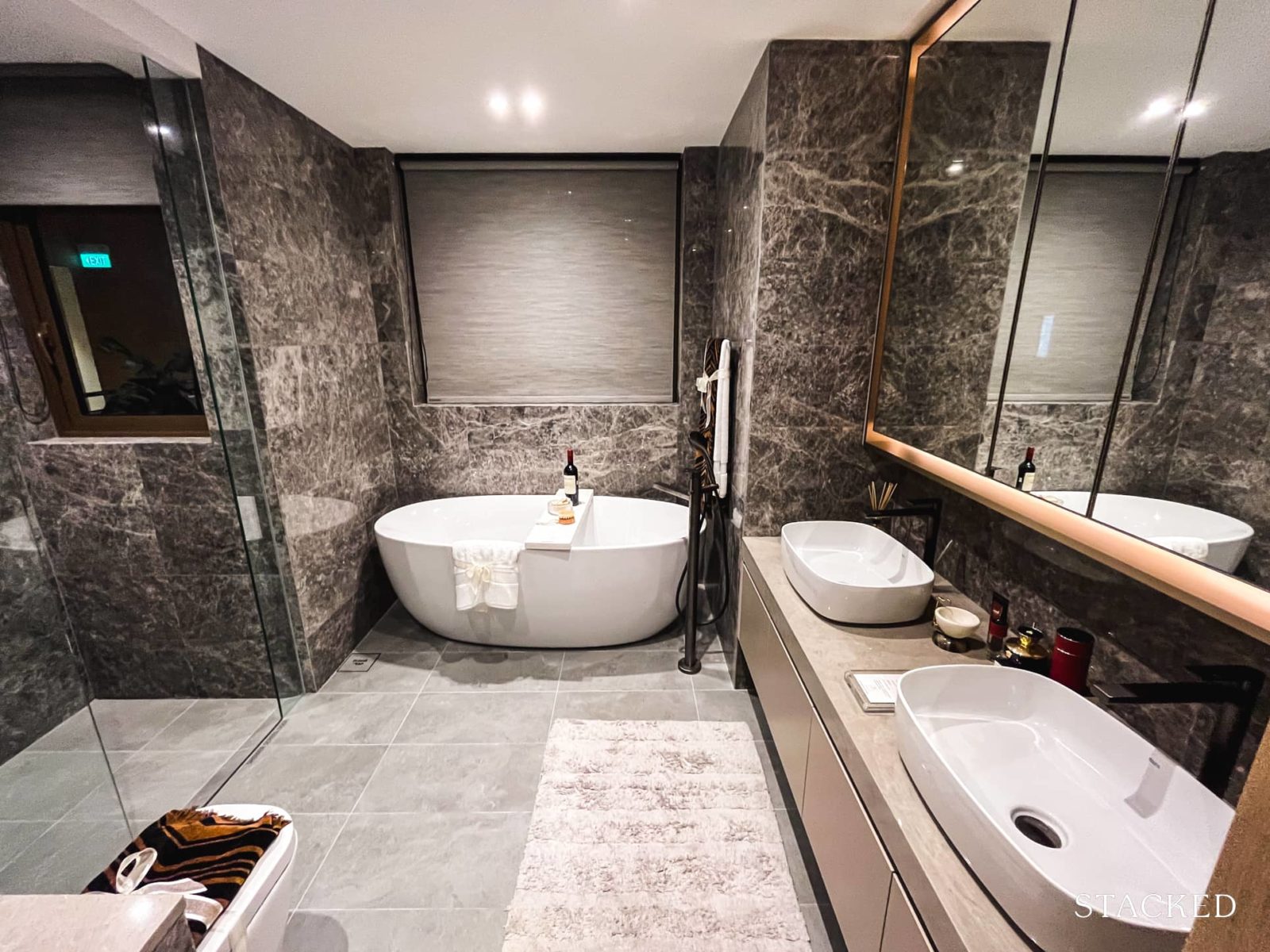 Next, let's take a look at the master bathroom, which is generously sized, to say the least. It comes with a walk-in shower, a bathtub, a his-and-hers sink, along with a wall hung w/c.
Apart from having two windows for natural ventilation, the amount of walking space is quite commendable and does bring out a much more luxurious touch in comparison to the common bathrooms.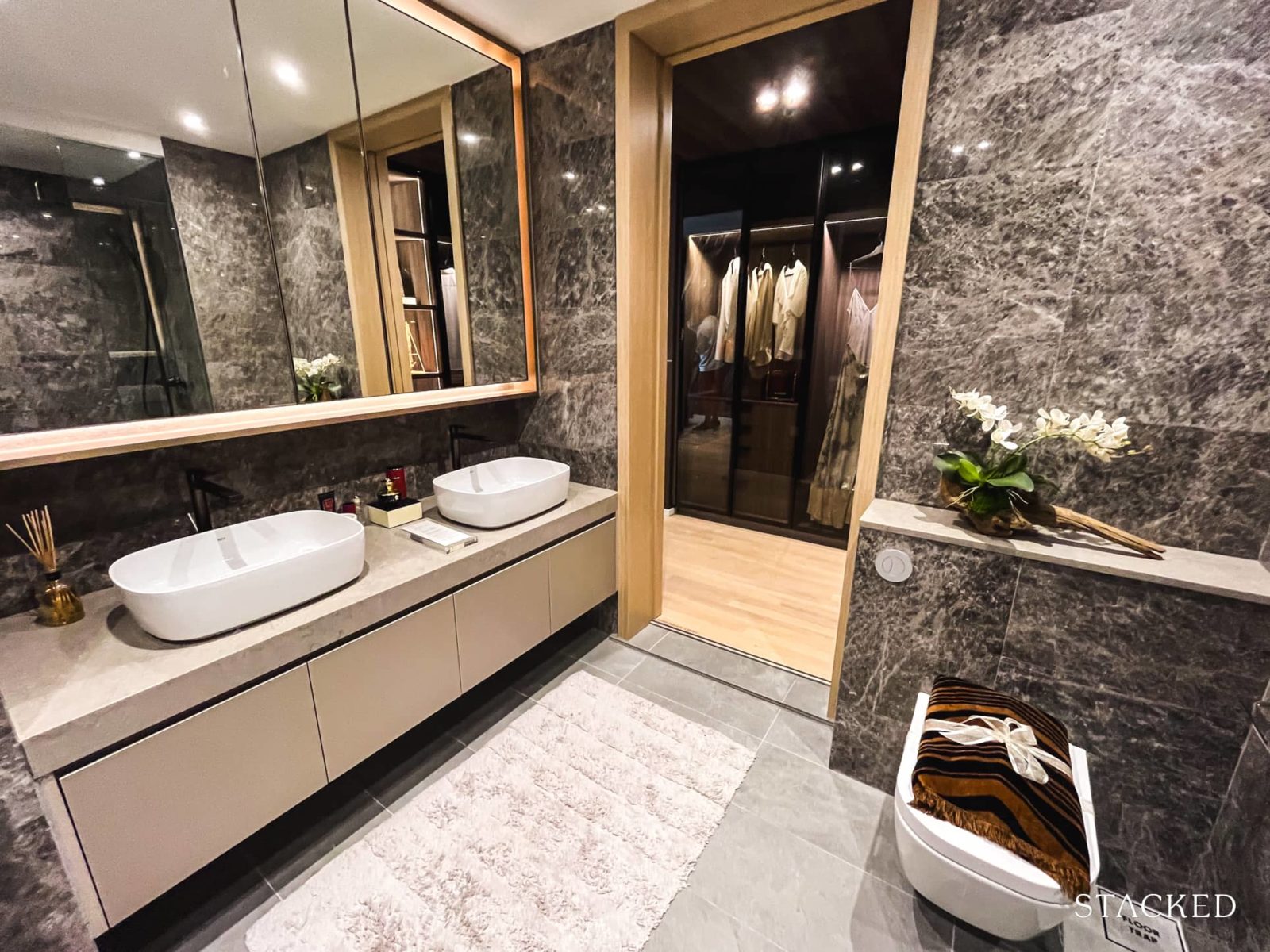 While the wall hung w/c and basin are both also from Roca, the mixer and shower set are from the more premium brand Gessi (instead of Hansgrohe).
Pinetree Hill Location Review
It's not uncommon for most homebuyers to assume that living in a leafy neighbourhood in Singapore typically means a compromise in connectivity to the rest of the city. Take a look at other similar neighbourhoods like Dairy Farm and Bukit Panjang – while there's an abundance of green spaces, it's often quite cloistered from the typical dense city life.
After all, living in a tranquil environment often means less traffic, less footfall and inevitably, fewer amenities.
However, Pinetree Hill's location might just hit the sweet spot for RCR living while still enjoying a lavish amount of greenery – something uncommon, yet increasingly sought-after in Singapore.
Admittedly, its location is not the most convenient for residents who largely rely on the MRT to commute (Dover MRT station is at least a 15-minute walk away), but taking the bus is still a rather accessible option.
Located just a few minutes walk away, the bus services connect residents to key several destinations like Holland Village, Singapore Botanic Gardens and Orchard Station.
Another solution to tackle this pain point of being far away from the MRT Station is that Pinetree Hill would be providing a shuttle bus service for the first year of commencement. It connects residents to Holland Village and Buona Vista, which are located quite close by.
Undoubtedly, its location is best appreciated by those with access to private transportation. Being just under a 10-minute drive to key nodes like Orchard Road, One-north and Botanic Gardens, Pinetree Hill is a great blend of centrality and nature.
With that being said, the downside to this project is that residents would still have to take a short bus ride or drive to the nearest malls to get groceries or food. Some convenient options under a 5-minute drive include Jelita Shopping Centre and Clementi Arcade.
Apart from overlooking the Clementi Forest, another observation is that it's located in a low-density area that is surrounded by older condos (such as Pandan Valley and Pine Grove) and the landed enclave at Mount Sinai. It's also noted that Pinetree Hill is situated on an elevated land of at least four metres high, which gives residents a more private and quiet environment. Still, there are plenty of upgrading works (such as Parcel B of Ulu Pandan) to be expected in the area, which might add a bit to the commotion and noise.
Last but not least, the neighbourhood is ideal for families who are looking for a long-term stay when planning their children's education timeline. There are plenty of superb schools across all education levels within the vicinity, including Henry Park Primary, Anglo-Chinese School (Independent), Singapore Polytechnic and NUS.
Public Transport
Bus Station
Buses Serviced
Distance From Condo (& Est. Walking Time)
Aft Pandan Valley
ID: 12041
7, 61, 75, 156, 165
107m
Opp Pandan Valley ID: 12049
7, 61, 75, 156, 165
145m
Nearest MRT: Dover MRT (East-West line), 980m, 15-min walk
Schools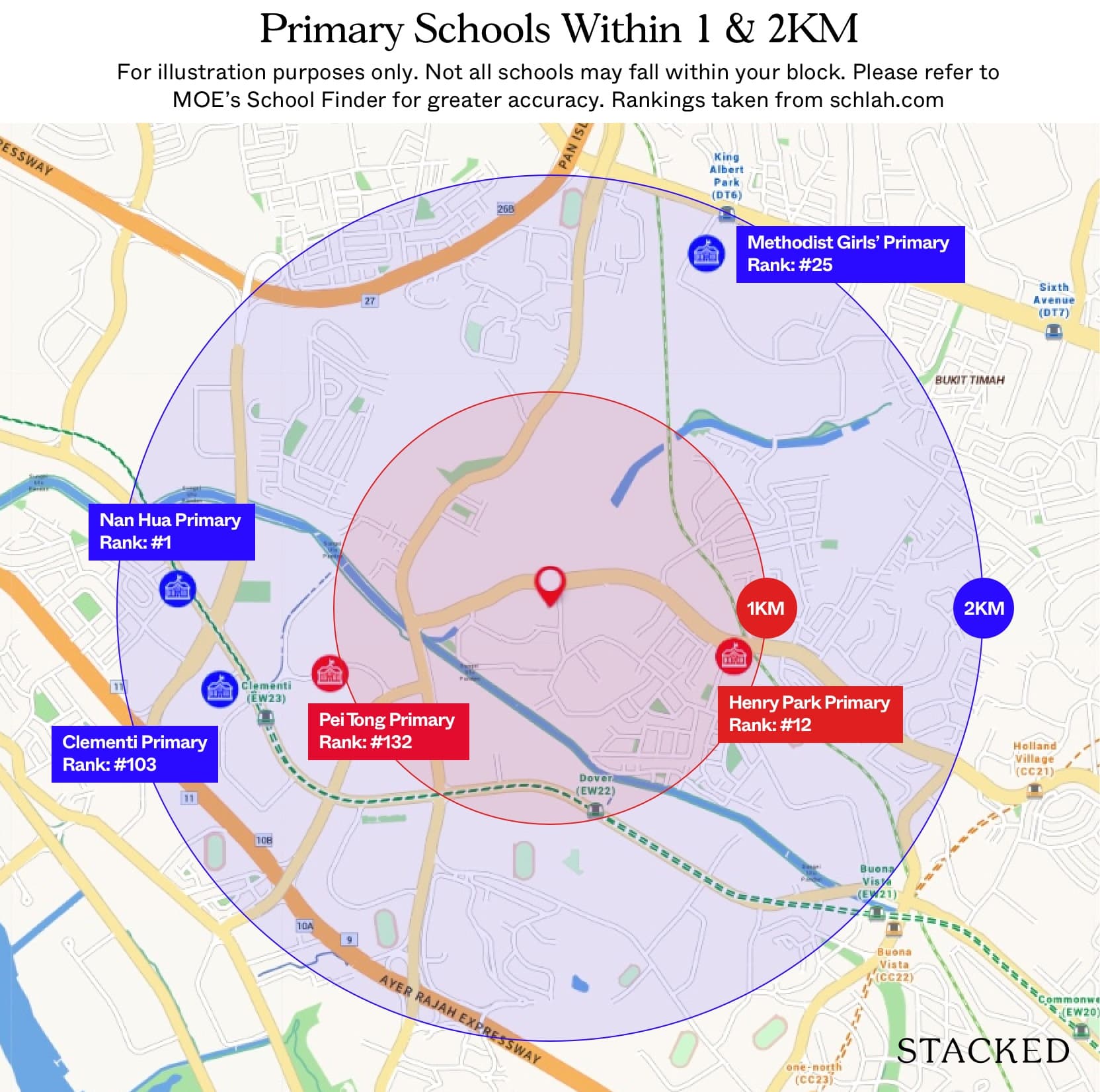 | | |
| --- | --- |
| School | Distance From Condo (& Est. Walking/Driving Time) |
| Henry Park Primary School | 1.4km, 3-min drive |
| Pei Tong Primary School | 1.9km, 5-min drive |
| Clementi Primary School | 2.6km, 8-min drive |
| Methodist Girls' School (Primary) | 3.2km, 6-min drive |
| Nan Hua Primary School | 3.4km, 9-min drive |
| Pei Hwa Presbyterian Primary School | 3.8km, 7-min drive |
| New Town Secondary School | 2.3km, 5-min drive |
| Clementi Town Secondary School | 2.5km, 7-min drive |
| Anglo-Chinese School (Independent) | 3.5km, 7-min drive |
| Fairfield Methodist School (Secondary) | 3.9km, 8-min drive |
| School of Science and Technology | 1.7km, 3-min drive |
| Singapore Polytechnic | 1.9km, 4-min drive |
| Singapore University of Social Sciences | 2.3km, 4-min drive |
| SIM Global Education | 2.5km, 4-min drive |
| Anglo-Chinese Junior College | 2.7km, 7-min drive |
| Nan Hua High School | 2.8km, 6-min drive |
| National University of Singapore | 3km, 6-min drive |
| NUS High School of Mathematics and Science | 3.5km, 7-min drive |
| Ngee Ann Polytechnic | 4.4km, 9-min drive |
| Hwa Chong Institution | 4.4km, 9-min drive |
Malls / Amenities
| | |
| --- | --- |
| Destination | Distance From Condo (& Est. Driving Time) |
| Jelita Shopping Centre | 1.6km, 3-min drive |
| Clementi Arcade | 1.8km, 4-min drive |
| Grantal Mall | 2.4km, 6-min drive |
| 321 Clementi | 2.9km, 8-min drive |
Private Transport
| | |
| --- | --- |
| Key Destinations | Distance From Condo (Fastest Time at Peak Hour [0830] Drive Time) |
| CBD (Raffles Place) | 13.7km, 16 – 40-min drive |
| Suntec City | 17.8km, 18 – 35-min drive |
| Orchard Rd | 7.2km, 10 – 26-min drive |
| Changi Airport | 31.1km, 26 – 40-min drive |
| Harbourfront Centre (Vivo City) | 10.4km, 14 – 35-min drive |
| Mapletree Business City | 8.5km, 12 – 30-min drive |
| One-north Business Park | 4.4km, 8 – 20-min drive |
| Tuas Port (by 2040) | 30.6km, 35 – 60-min drive |
| Paya Lebar Airbase (by 2030) | 18.8km, 22 – 45-min drive |
Immediate Road Exits:
Exit onto Pine Grove and turn left on Pandan Valley to exit onto Pandan Ulu Road
Pinetree Hill Developer Review
A product of the joint venture between UOL Group and Singapore Land Group, Pinetree Hill is the first major launch of 2023 with another project in Watten Estate in the pipeline.
For those unfamiliar, Singapore Land Group is the subsidiary of UOL Group and both developers are well-known for producing developments with superb landscaping and functional layouts. In fact, the JV have several highly successful projects under their belt, including AMO Residence, Avenue South Residences and The Watergardens at Canberra.
One of Singapore's most recognised developers, UOL Group has a diversified portfolio in the local and international scene. Some of its projects include Meyer House and Amber 45, along with a strong reach in the China and UK residential scene.
Singapore Land Group, on the other hand, has been around since the 1970s and has a large portfolio in the commercial, residential and hospitality scene. Some of its residential projects include the nearby The Trizon, Pollen & Bleu and V on Shenton.
Unit Mix
Unit Type
Size (SQFT)
No. of Units
Percentage
Estimated Monthly Maintenance Fee
1-Bedroom + Study
538 sqft
22
4.2%
$340
2-Bedroom
700 – 850 sqft
45
43.5%
$408
2-Bedroom (Premium)
764 – 915 sqft
113
$408
2-Bedroom Premium + Study
797 sqft
68
$408
3-Bedroom
969 – 1,173 sqft
68
30.6%
$408
3-Bedroom Premium + Study
1,216 – 1,421 sqft
91
$476
4-Bedroom Deluxe (with Private Lift)
1,292 – 1,485 sqft
45
17.3%
$476
4-Bedroom Premium (with Private Lift)
1,464 – 1,668 sqft
45
$476
5-Bedroom Premium (with Private Lift)
1,733 sqft
22
4.4%
$544
Penthouse
2,874 sqft
1
$612
Pinetree Hill offers a total of 520 units with a diverse mix ranging from 1 to 5-bedroom apartments. Considering the location and that the majority of the units offered are 2-bedroom and 3-bedrooms, Pinetree Hill seems to be catered mainly to families with a smaller nucleus. Additionally, considering that there are not many 1-bedroom units, this project might not appeal much to investors who are looking for low capital outlay opportunities.
Like most new launches, there are a few variations to each unit type, including the option to have a study alcove (to cater to those who largely WFH) and the choice of a premium or deluxe unit. Private lifts are available for 4-bedroom units and above, too.
As Pinetree Hill is the most recent addition to the neighbourhood in the past 14 years, its units are admittedly on the smaller side (as compared to the older projects).
Pinetree Hill Stack Analysis
Development Site Plan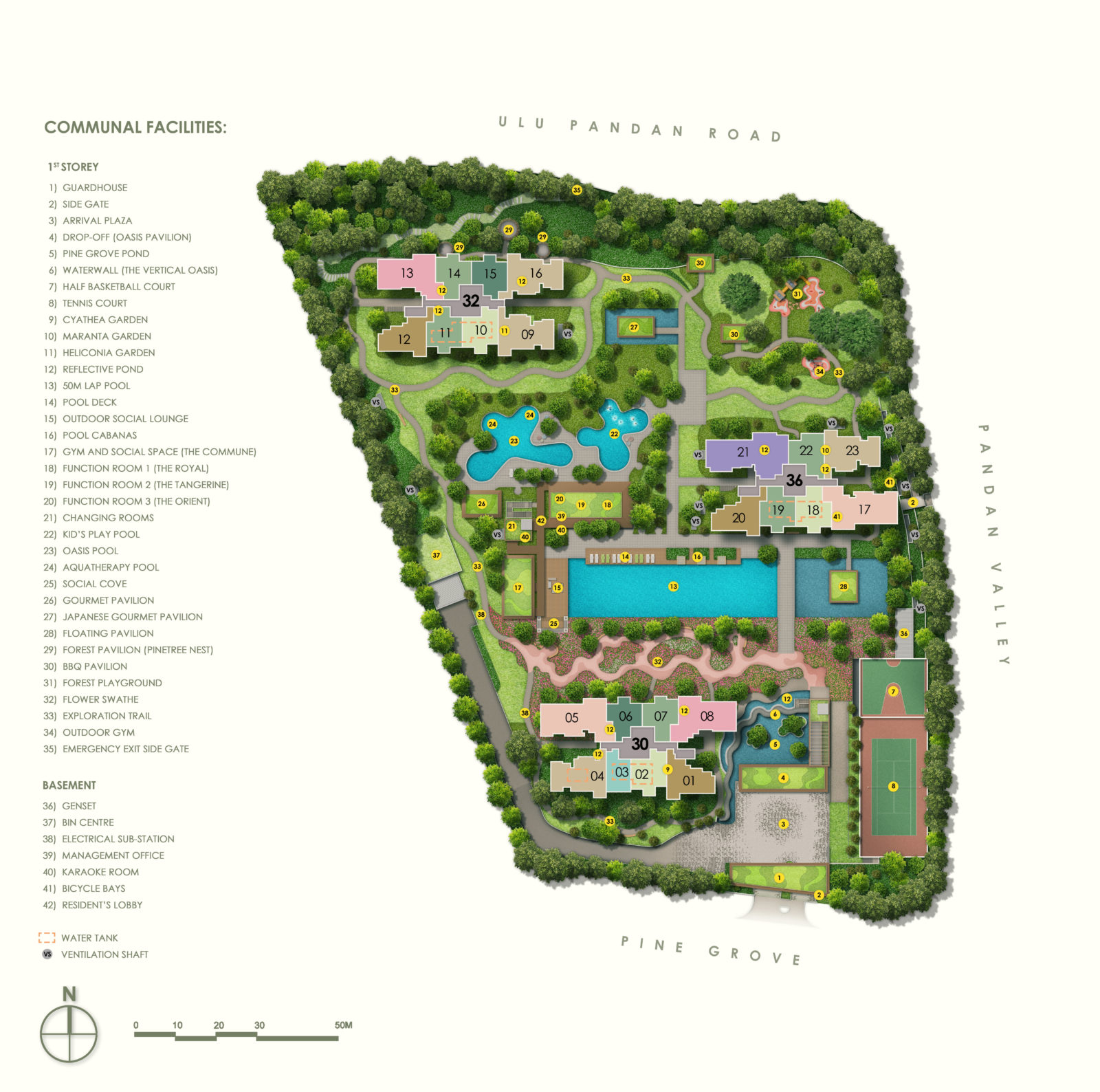 Pinetree Hill sits on Parcel A of the entire Pine Grove site and is sized at 242,562 sq ft, which features a shape similar to that of a trapezoid. The sole ingress and egress faces along the quiet Pine Grove, whereas the residential blocks look towards either Ulu Pandan Road (which faces Clementi Forest) or Pandan Valley (which looks towards the neighbouring residential blocks).
As previously mentioned, this project has 520 units and spans three residential blocks that are 24 storeys high.
UOL Group has been largely well-known for producing projects with good landscaping and Pinetree Hill aims to take a leaf out of the same book. With 88% of the site catered mainly to landscaping, residents would have plenty of open space to enjoy. It's also observable that the residential blocks are designed to maximise privacy and for residents to enjoy the lush greenery views, which does create a more tranquil environment for homeowners.
The facilities are also well-spread out to put as much space between the residential blocks and also from neighbouring projects. It's noted that there's a lush amount of greenery enshrouding the periphery of Pinetree Hill, which fits in perfectly with the concept of living in a 'green oasis'.
Riding on the concept of "a house on a hill", the entire site sits on an elevated ground that puts it 12.5m above the ground, which gives residents more privacy and separation from its external surroundings.
With three different blocks, each stack would feature a different view. Those that are overlooking Ulu Pandan Road would have unblocked views of the 85-ha Clementi Forest and units that look towards Pine Grove would enjoy views of Dover Forest.
Seeing that it does overlook several older developments nearby, it's approximated that the clearance level of the neighbouring Astor Green is about 14 storeys. However, do note that this is just a rough estimate and the actual clearance height might vary.
Regarding parking, this project features a basement car park with 420 lots, which is up to 80% of the total unit provision (there are 5 EV charging lots). Seeing that public transportation is not the most accessible, it's not far-fetched to assume all residents would like to have at least a car and a 1:1 parking ratio would be ideal to accommodate all units.
As previously mentioned, there are two side gates at Pinetree Hill, of which one is found along Pine Grove and another along Pandan Valley. For those looking to take the bus, it puts about a 100m distance between the bus stop and the Pandan Valley entrance.
Best Stacks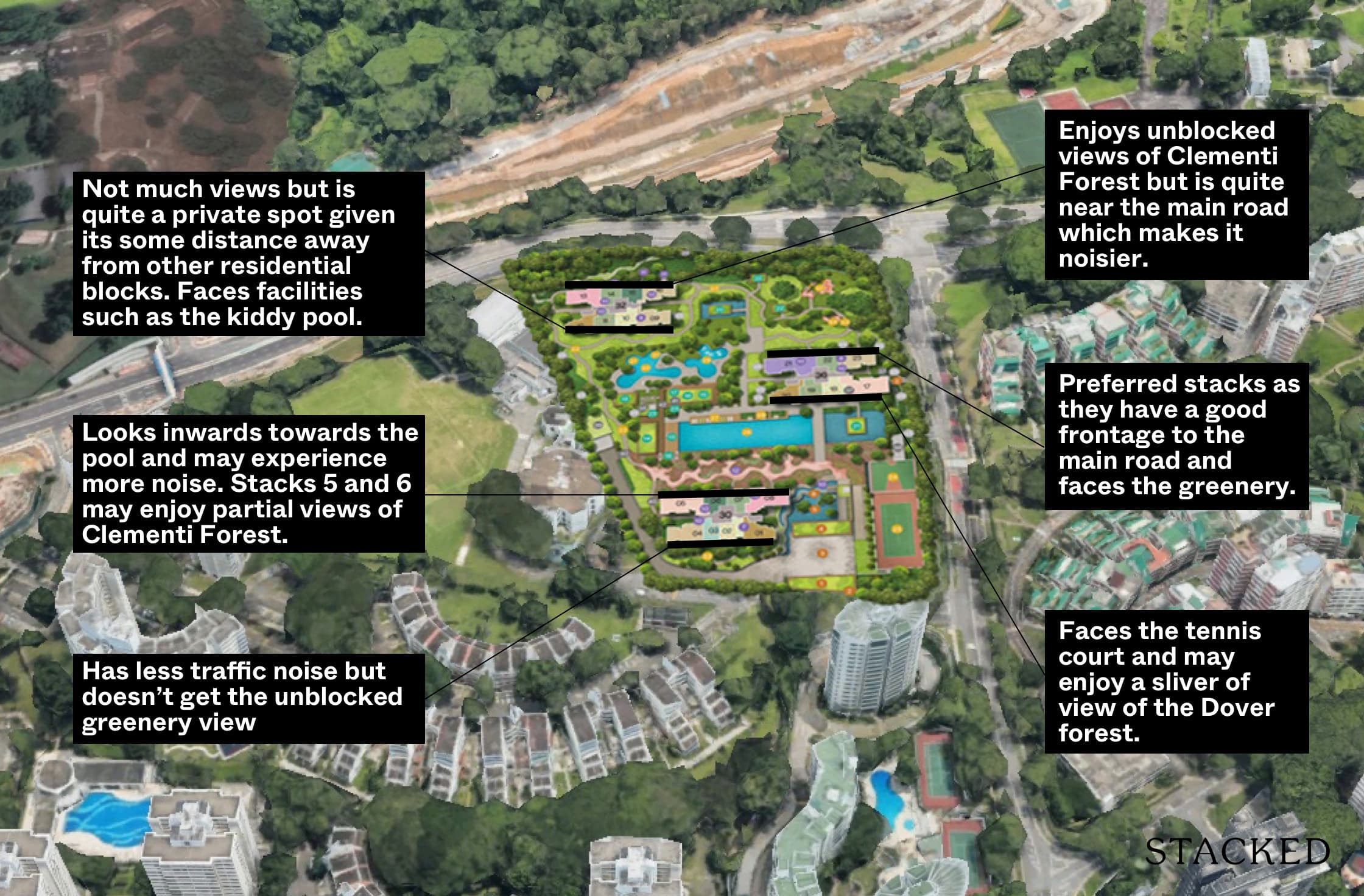 For homeowners interested in Pinetree Hill, the key selling points are usually the surrounding views and the tranquil environment. As such, it makes sense to choose the best stack according to these three variables – views, afternoon sun and privacy.
It's also noted that the Clementi Forest has been earmarked on the master plan for future residential use since 1998, though nothing drastic has changed since. Still, it's important to buy into the project with the expectation that views would likely change in the future.
Block 30 – Stacks 01 – 04
These stacks overlook into the South direction and face the ingress and egress along Pine Grove. One positive note of these stacks is that it has less traffic noise (compared to units facing the main Ulu Pandan Rod), which means a more tranquil environment. On the downside, it does not enjoy unblocked views of Clementi Forest, which is the focal point of many buyers.
However, considering that the neighbouring Alastor Green has a staggered design, privacy is not that badly compromised. In fact, these units might be able to enjoy views of Dover Forest, depending on the height and stack.
There's minimal exposure to direct afternoon sun, too.
Block 30 – Stacks 05 – 08
On the other hand, these stacks look inwards towards the facilities and pool in the North-direction. These stacks are unlikely to enjoy much views of the Clementi Forest (with the possible exception of stacks 6 and 7) and are probably going to experience more noise from the use of the pool or surrounding facilities.
Direct afternoon sun might not be that intense, but units in this direction will still be quite bright depending on the month of the year.
Block 32 – Stacks 09 – 12
Similarly, these stacks face inwards and overlook the general facilities (such as the kiddy pools). While there aren't as much views of the surrounding greenery, it is quite a private spot as it's located far away from the other residential blocks. However, there might be certain effects from the noise of the main roads nearby.
Since parcel B is still up for bidding, the neighbouring site isn't set in stone yet, but it should not affect these units that much.
Block 32 – Stacks 13 – 16
These stacks are located closest to the main Ulu Pandan Road and have a North orientation. Notably, these units would be able to enjoy unblocked views of the Clementi Forest nearby, which is probably the most highly sought-after stack. Privacy is also great, seeing that neighbours are not able to look into the apartment.
However, considering that they overlook the main road, these stacks might not be the most tranquil and are susceptible to traffic noise.
Block 36 – Stacks 17 – 20
These stacks look inwards towards the Tennis court in the South orientation and might enjoy a silver view of the Dover Forest. With that being said, Astor Gardens is located quite far away and I doubt that it would pose much of a privacy issue.
These stacks should also be quite quiet and tranquil for those sensitive to noise (save for noise from the tennis court). Direct afternoon sun should not be an issue either, and homeowners can expect a well-shaded home.
Block 36 – Stacks 21 – 23
Last but not least, these stacks can also enjoy unblocked views of the Clementi Forest and overlooks towards the North direction. I personally would pick these stacks as the best option (as compared to stacks 13 – 16) as it's located quite a distance away from the main road for a more tranquil environment.
Furthermore, these stacks are quite private with no neighbours looking into the unit. Exposure to direct afternoon sun would likely be minimal throughout the year, too.
Afternoon Sun Analysis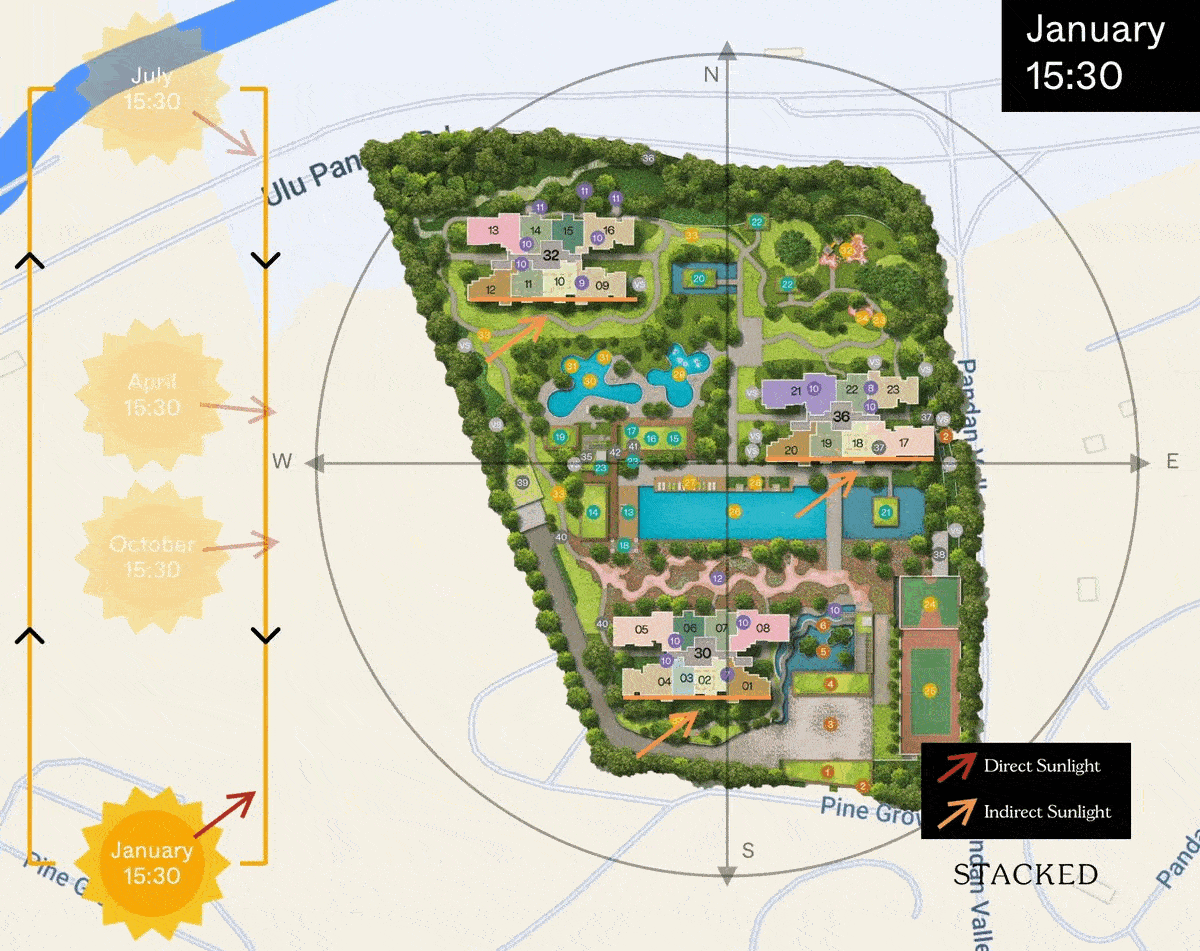 Pinetree Hill has the benefit of having a north-south orientation. As such, all units would not be getting any direct sunlight throughout the year.
Pinetree Hill Pricing Review
| | | | | | |
| --- | --- | --- | --- | --- | --- |
| Development | Units | Average Psf | TOP | Tenure | Price Gap |
| Pinetree Hill | 520 | $2,355 | 2027 | 99-year Leasehold | – |
| Pine Grove | 660 | $1,062 | 1984 | 99-year Leasehold | 54.9% |
| Astor Green | 170 | $1,318 | 1995 | 99-year Leasehold | 44% |
| Cavendish Park | 254 | $1,426 | 1996 | 99-year Leasehold | 39.4% |
| The Serenade @ Holland | 89 | $1,433 | 2004 | 99-year Leasehold | 39.1% |
| Montview | 115 | $2,036 | 2008 | Freehold | 13.5% |
| The Trizon | 289 | $2,057 | 2012 | Freehold | 12.7% |
| The Marbella | 239 | $2,160 | 2005 | Freehold | 8.3% |
| Parksuites | 119 | $2,348 | 2023 | 110-year Leasehold | – |
The Pine Grove neighbourhood is a rather mature one and it's dotted with projects on a smaller scale (as compared to Pinetree Hill). As a result, it's hard to compare apples to apples when it comes to the market performance of Pinetree Hill and its surroundings.
To no surprise, the biggest price gap comes from the older developments (TOP from 1984 – 2004) that have a 99-year leasehold, which includes Pine Grove, Astor Green, Cavendish Park and The Serenade @ Holland.
Here's a look at the indicative prices:
Indicative Prices
| | | | |
| --- | --- | --- | --- |
| Bedroom | Size (sq ft) | Est. Starting Price | Est. Starting $PSF |
| 1-Bedroom + Study | 538 | $1,248,000 | $2,320 |
| 2-Bedroom | 700, 850 | $1,588,000 | $2,269 |
| 2-Bedroom Premium | 764, 775, 915 | $1,733,516 | $2,269 |
| 2-Bedroom Premium + Study | 797 | $1,808,393 | $2,269 |
| 3-Bedroom | 969, 1163, 1173 | $2,190,000 | $2,268 |
| 3-Bedroom Premium + Study | 1216, 1421 | $2,757,888 | $2,268 |
| 4-Bedroom Deluxe (with Private Lift) | 1292, 1485 | $3,173,000 | $2,456 |
| 4-Bedroom Premium (with Private Lift) | 1464, 1668 | $3,595,584 | $2,456 |
| 5-Bedroom Premium (with Private Lift) | 1733 | $4,268,000 | $2,463 |
Indicative prices are subject to change. Several bedroom types were assumed to have similar $PSF as its other bedroom types for the sake of comparison.
On the surface, prices at Pinetree Hill look quite reasonable given the location and size. For starters, the smallest unit here is a 1-bedroom + study which is already over 500 sq ft. There are also no 2-bedroom units below 700 sq ft which is surprising given a 600+ sq ft unit is pretty much the norm.
To make sense of the pricing as a whole, we'll first take a look at the closest newly-built condo nearby, Parksuites (also within 1KM of Henry Park Primary), its place within the new launch environment today and finally at resale condos around the area.
Comparison with Parksuites
Parksuites is a 110-year leasehold new launch condo located at Holland Grove Road. The development is just a 15-minute walk away from each other: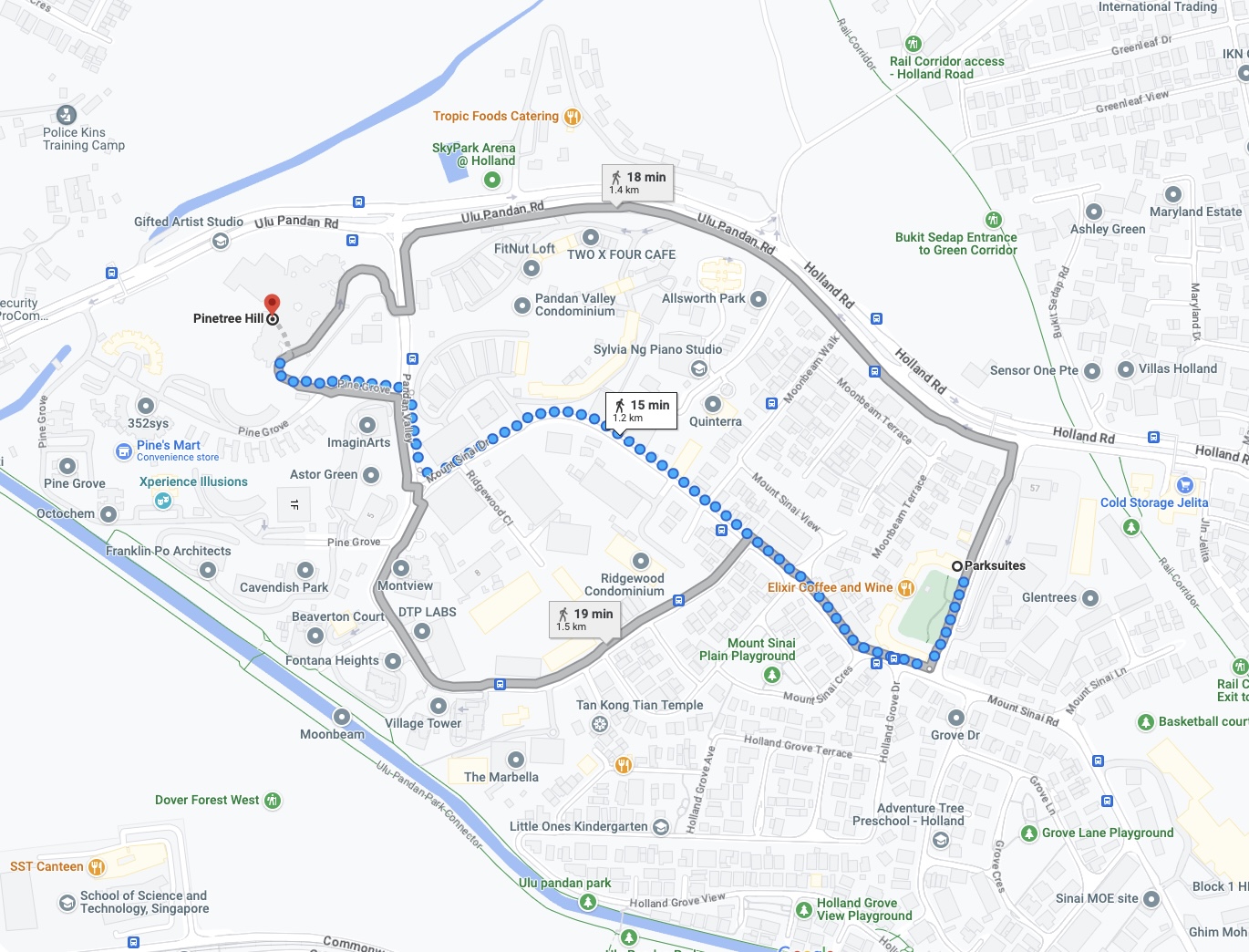 The development can't be considered a new launch anymore as it's fully-built. You can see the building has come up nicely on Google Streetview (April 2023).
First off, here are some notable points between both condos to put things into perspective:
Both project tenures only differ slightly with Parksuites having 11 more years compared to Pinetree Hill
Pinetree Hill has 520 units on 243,000 sq ft of land (467 sq ft per unit), while Parksuites is more private with 119 units sharing 101,202 sq ft (850 sq ft per unit) – almost double!
Pinetree Hill naturally has more facilities given its larger size, including a tennis court. Parksuites has the usual pool and gym, but no tennis court.
Pinetree Hill is elevated 8.5m from the main road whereas Parksuites has no elevation
Pinetree Hill goes up to 24 storeys high and offers panoramic views of the greenery around. Parksuites go up to 4 storeys only. This is one of the greatest differences between the two.
There are 119 units in total based on URA Developer Records, with 34 sold so far (as of this writing). Its take-up rate is just around 29% which is very low.
As at the time of writing, there are only 7 units available (there are other units that are unreleased that do not have prices):
| | | | | |
| --- | --- | --- | --- | --- |
| Type | Unit | Size | Price | $PSF |
| 1 Bedroom | #02-38 | 592 | $1,574,080 | $2,659 |
| 1 Bedroom + Study | #02-30 | 635 | $1,673,610 | $2,636 |
| 2 Bedroom + Study | #02-26 | 786 | $2,227,900 | $2,834 |
| 2 Bedroom + Study | #03-26 | 786 | $2,246,380 | $2,858 |
| 3 Bedroom Dual Key | #04-32 | 1,421 | $3,861,360 | $2,717 |
| 4 Bedroom Triplex | #03-40 | 3,068 | $8,531,650 | $2,781 |
| 4 Bedroom Triplex | #03-41 | 3,068 | $8,620,740 | $2,810 |
Our focus would be on the 2 and 3-bedroom units as these are the majority of the units on sale at Pinetree Hill.
2 Bedroom + Study Comparison
The 2-bedroom + study at Pinetree Hill is 797 sq ft in size which is quite respectable and is very similar to the 786 sq ft version in Parksuites. However, while their sizes are similar, their prices differ by a huge margin of 23% ($2,227,900 vs $1,808,303).
Pinetree Hill 2-bedroom + study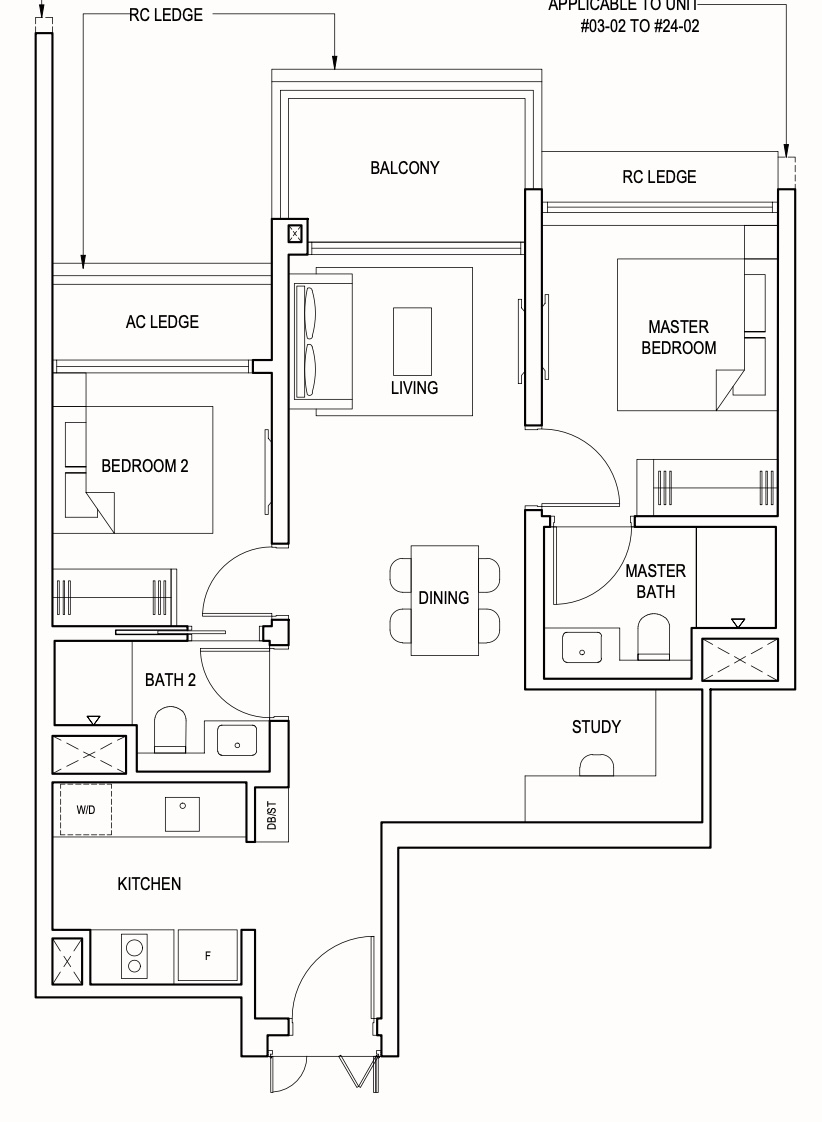 The layout is a dumbbell one which makes the most sense for this type of configuration since it's more efficient. It also comes with 2 bathrooms which are expected for this size.
Starting at the entrance, you'll find the kitchen on the left that does not come with natural ventilation. Further in, you have the study nook in the corner and the dining area. There is some space next to the study which can be used for extra storage (e.g. bookshelves). The living room is quite narrow but normal for a 2-bedroom unit. The AC ledge is pretty standard in size too – not too big.
Overall, the only complaint I have is the lack of ventilated windows. Cross-ventilation is not possible within such a unit as there is nowhere wind can pass through unless you open the main door.
Parksuites 2-Bedroom + Study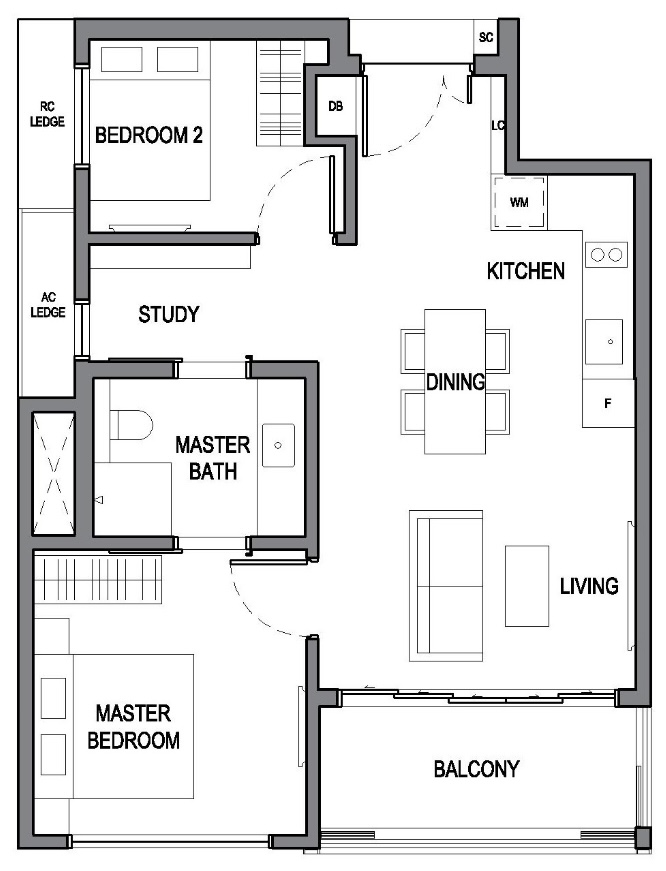 The 2-bedroom + Study at Parksuites has a layout that's not too common. Coming in, you have the kitchen on the left and the dining in the centre. Further down, there's the living room which is awkwardly placed in front of the master bedroom.
The biggest difference lies in the bathroom – there's only 1 bathroom here which is shared between both occupants. It's of a jack-and-jill variety which means lesser privacy too.
Imagine if you really had to go to the bathroom in the wee hours of the night to do loud business – but you share a door with someone in the master bedroom. Frankly speaking, it can make for an awkward situation, and it may not be the most attractive layout for tenants (granted, Parksuites was never really an investment product).
Strictly looking at the layout, it's safe to say that Pinetree Hill's 2-bedroom layout wins here. It's also more affordable, and on higher floors, the two stacks with this layout offer views of the low-rise Pine Grove and the resale condos around (some pockets of greenery can be seen too).
3 Bedroom + Study Comparison
Unfortunately, there's no direct 3-bedroom comparison. Parksuites has a 3-bedroom layout that's of a dual-key nature. It comes in at 1,421 sq ft in size. The closest 3-bedroom at Pinetree Hill is the 3-bedroom premium + study unit which is 1,421 sq ft in size.
Pinetree Hill's unit starts at an estimated $3,222,828 while Parksuites is asking for $3,861,360 for a unit on the 4th floor.
This translates to a premium of around 20%. First, let's take a look at Pinetree Hill's offering:
Pinetree Hill 3-bedroom premium + study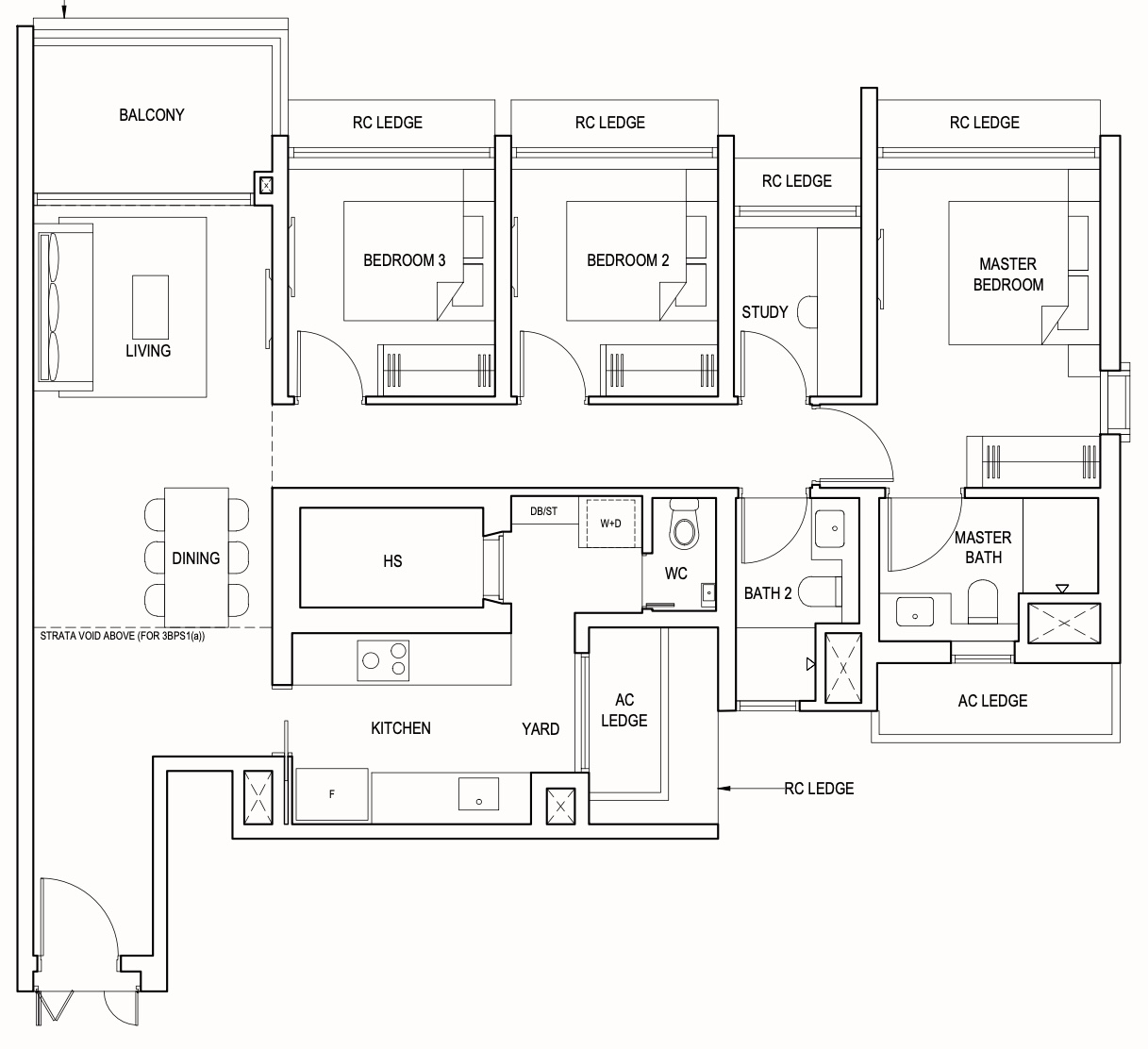 Pinetree Hill's 3-bedroom premium + study is a pretty standard and safe layout. You have the usual entryway with some space on the right for a shallow storage area, a kitchen, yard, household shelter and WC. The dining area is separate from the living room which could be seen as a negative since you can't configure both spaces flexibly. All 3 bedrooms are standard sizes for new launches today, and the study comes with windows. Both bathrooms are also naturally ventilated.
Parksuites 3-Bedroom + Dual Key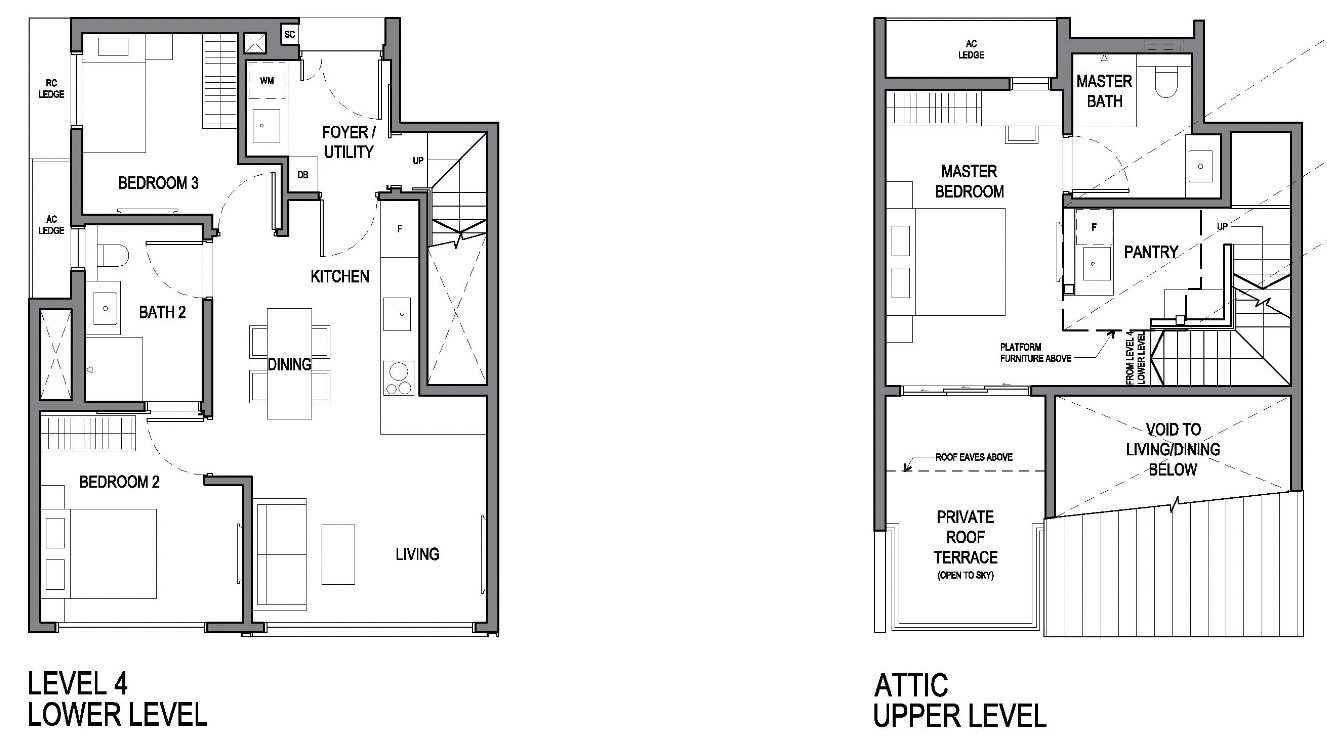 The 3-bedroom dual key layout at Parksuites is quite unique as it spreads over 2 levels. The first level is a 2-bedroom layout that only has 1 bathroom. The upper level is akin to a 1-bedroom/studio unit.
What's notable here is the living room which has quite a considerable length though the dining area is placed quite awkwardly.
Overall, this doesn't really look like the best for an own stay. The cost to purchase this layout is higher by at least 20% – yet you don't get the household shelter, WC and service yard which is extremely useful for families and something I would expect of this size.
If you consider the price and strictly the layout only, Parksuites loses out to Pinetree Hill if you were to consider family profiles. It costs more, and it's just less practical.
Of course, Parksuites was never going to be a neck-to-neck comparison despite being in a similar locale.
They're both very different types of properties – one is low-rise, and one is high-rise. One has less than 150 units, the other has over 500. Parksuites has the advantage of having some amenities located just below which does make it slightly more convenient.
It's also right next to Henry Park Primary School which could be the main reason why some people may opt for Parksuites Imagine being able to walk to school instead of having to take a bus or drive over.
And that pretty much sums up the advantage of Parksuites. For those who want the views from a high floor, don't need the exclusivity of a development like Parksuites and don't have to stay right next to Henry Park Primary, Pinetree Hill is seen as the more favourable pick with its better layout and lower price point.
Comparing with The Reserve Residences
For those with popular schools in mind but aren't too hard up on specifically Henry Park Primary, The Reserve Residences may have come under your radar.
This Integrated new launch condo has 124 units remaining, with most in the 3 and 4 bedroom category. As such, I'll focus my comparison with these layouts. Here's what the existing prices look like:
| | | | | |
| --- | --- | --- | --- | --- |
| Type | Size | Price (From) | $PSF | Level |
| 3 Bedroom | 1,313 | $3,016,054 | $2,297 | 6 |
| 3 Bedroom + Study | 1,216 | $3,169,558 | $2,607 | 27 |
| 4 Bedroom | 1,744 | $3,994,339 | $2,290 | 4 |
| 5 Bedroom | 2,347 | $6,125,333 | $2,610 | 4 |
| 5 Bedroom + Study | 2,809 | $8,442,095 | $3,005 | 32 |
The remaining 3 bedders are of the premium variety which explains its large size of 1,313 sq ft. There's no 3-bedroom that's close to this size (the largest is 1,173 sq ft), so I'll compare the 3-bedroom + study instead which comes in at 1,216 sq ft.
The Reserve Residences 3 Bedroom + Study
The lowest floor for this layout is on floor 18 which went for $2,973,929. Already, prices are not that far off from the estimated price of the 3 bedroom + study at Pinetree Hill.
If I assumed it does start from the ground level, I could estimate that it would cost about $90K less (~$5,000 per floor), or $2.88m. This is just around 4% more for an integrated development which is a whole lot more convenient than Pinetree Hill.
Here's what the layout looks like: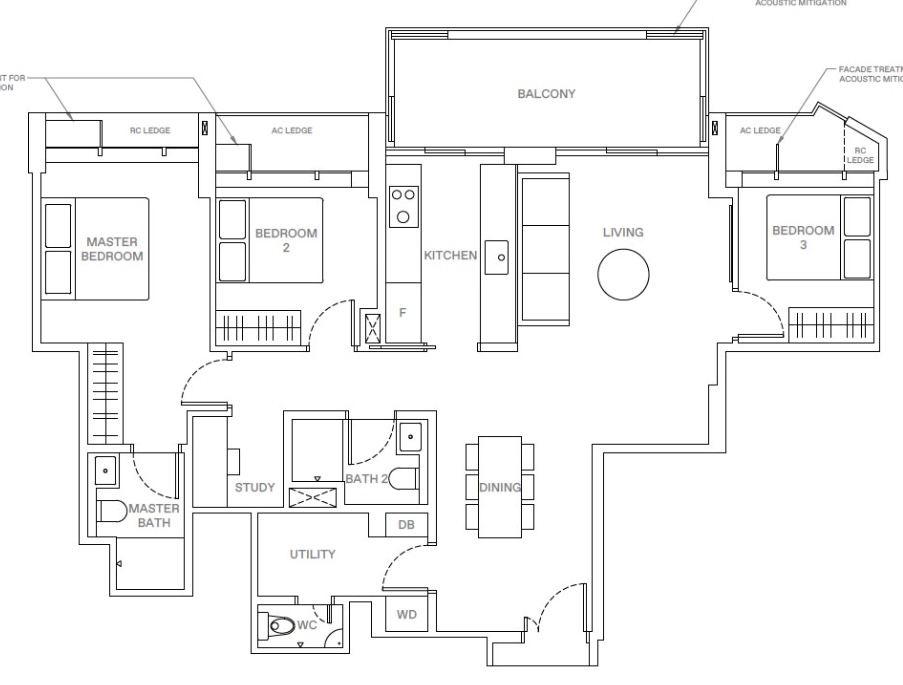 The layout here is a dumbbell one, with bedroom 3 separated from the other 2 bedrooms by the living area. The dining space is seen close to the entrance, and the utility/WC is separate from the kitchen. What's unique here is the kitchen is right next to the balcony so smells can escape there. However, cross ventilation isn't as good here as the study and bathrooms do not have natural ventilation which is a downside for a 3+study configuration given the price tag.
There are pros and cons between both Pinetree Hill and The Reserve Residences layout. Pinetree Hill has natural ventilation where it matters, and there's also a yard. The balcony in The Reserve Residences can also double up as a yard, but it can be quite unsightly and if you're someone who likes to leave a dining set outside, having to set up the laundry rack there can be quite inconvenient.
There's no entryway with The Reserve Residences – some might not like this as an entryway does provide some privacy. With The Reserve Residences, the dining is immediately seen upon opening the door. However, there's an extra space below the living area born out of this efficiency which can be utilised as a lounge area (or a play area for families).
Ultimately, there's no clear winner between the two – it just depends on what you want here. Considering how they're both priced, The Reserve Residences costs more but it is integrated – and the premium looks about right compared to Pinetree Hill.
The Reserve Residences 4 Bedroom
The smallest 4-bedroom here is 1,475 sq ft. The closest in size is the 1,464 sq ft unit which is the 4-bedroom premium (with private lift). Assuming a starting $PSF of $2,456, this would come to $3,647,160.
By comparison, the cheapest 1,475 sq ft 4-bedder at The Reserve Residences was on the 5th level and went for $3,468,417. This is about 5% lower. Let's take a look at the layout: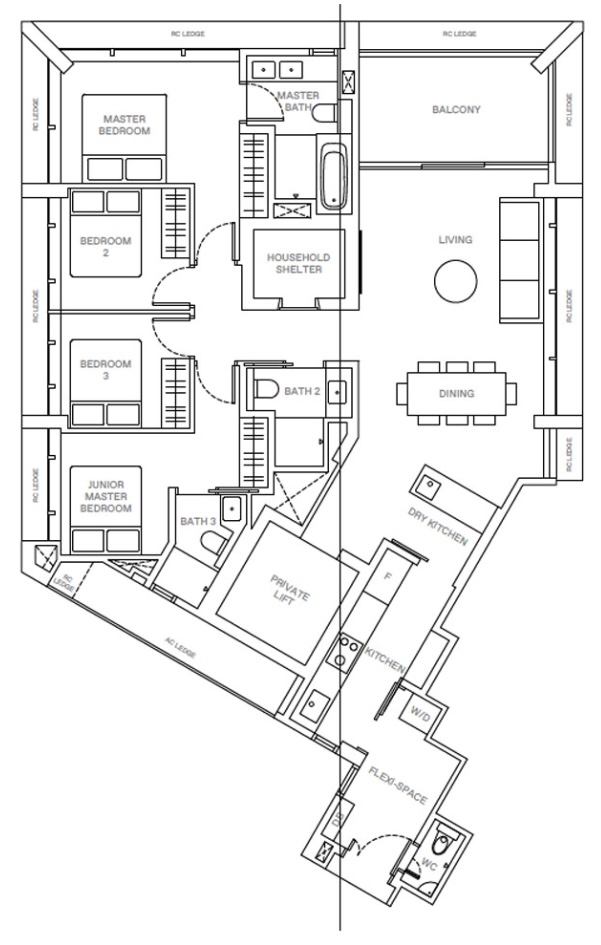 Firstly, this unit has a private lift, Coming out, there's the dry and wet kitchen which comes with a utility room and a WC. The flexi-space here can also double up as a helper's room which is also ensuite.
The rest of the space is quite decent, with 2 common bedrooms sharing 1 bathroom, while Junior and Master have their own bathrooms which are ventilated. There's even a household shelter opposite the bathroom which can double up as a study, or more likely a storage space which is useful for families. Overall, this layout is pretty efficient and very practical.
Pinetree Hill 4-bedroom
The 4-bedroom premium with private lift comes in at a decent size. It's got a large kitchen with an island countertop in the middle. There's also a yard that's connected to a WC and household shelter. The living and dining area has a flexible configuration which is more advantageous than The Reserve's layout.
Both common bedrooms share a bathroom via the Jack-and-Jill layout, while the master and junior bedrooms are ensuite.
Overall, I do have a preference for Pinetree Hill's layout. The kitchen is sizeable – given it's not the typical narrow layout, the living cum dining cum kitchen space would make the home look very spacious. The household shelter, yard and WC are together which is preferred and I like the master bedroom's wardrobe configuration right outside the bathroom on both sides. The Jack-and-Jill bathroom also makes it convenient for occupants here.
However, the price point of The Reserve Residences was lower in this case. While I wouldn't always compare old prices with new ones, the sale of The Reserve Residences wasn't that long ago. As such, its lower price point of $3,468,417 is quite attractive relative to Pinetree Hill given that it's an integrated development and surrounded by good amenities, as well as 2 popular primary schools (Pei Hwa Presbyterian and Methodist Girls' School).
In fact, you can still get a 1,475 sq ft unit at The Reserve Residences for $3,357,036 (on level 6) which is still cheaper than the estimated starting price for Pinetree Hill. Given that this estimate was made using the 4-bedroom starting $PSF, I could be wrong in that it could have a lower $PSF. But in any case, it would be hard to ignore buying an integrated development if it's priced the same as one that isn't integrated. The level of convenience is night and day, even with the better layout (arguably) at Pinetree Hill.
So when I compare Pinetree Hill to Parksuites, Pinetree Hill comes out on top in my opinion for the reasons above. But when compared to The Reserve Residences, it's not so clear as it's pretty competitive – with The Reserve Residences having quite a reasonably priced 4-bedder relative to Pinetree Hill.
Positioning among new launches today
For those who are interested in knowing how its starting prices compare to available new launches, here's a quick look at its positioning: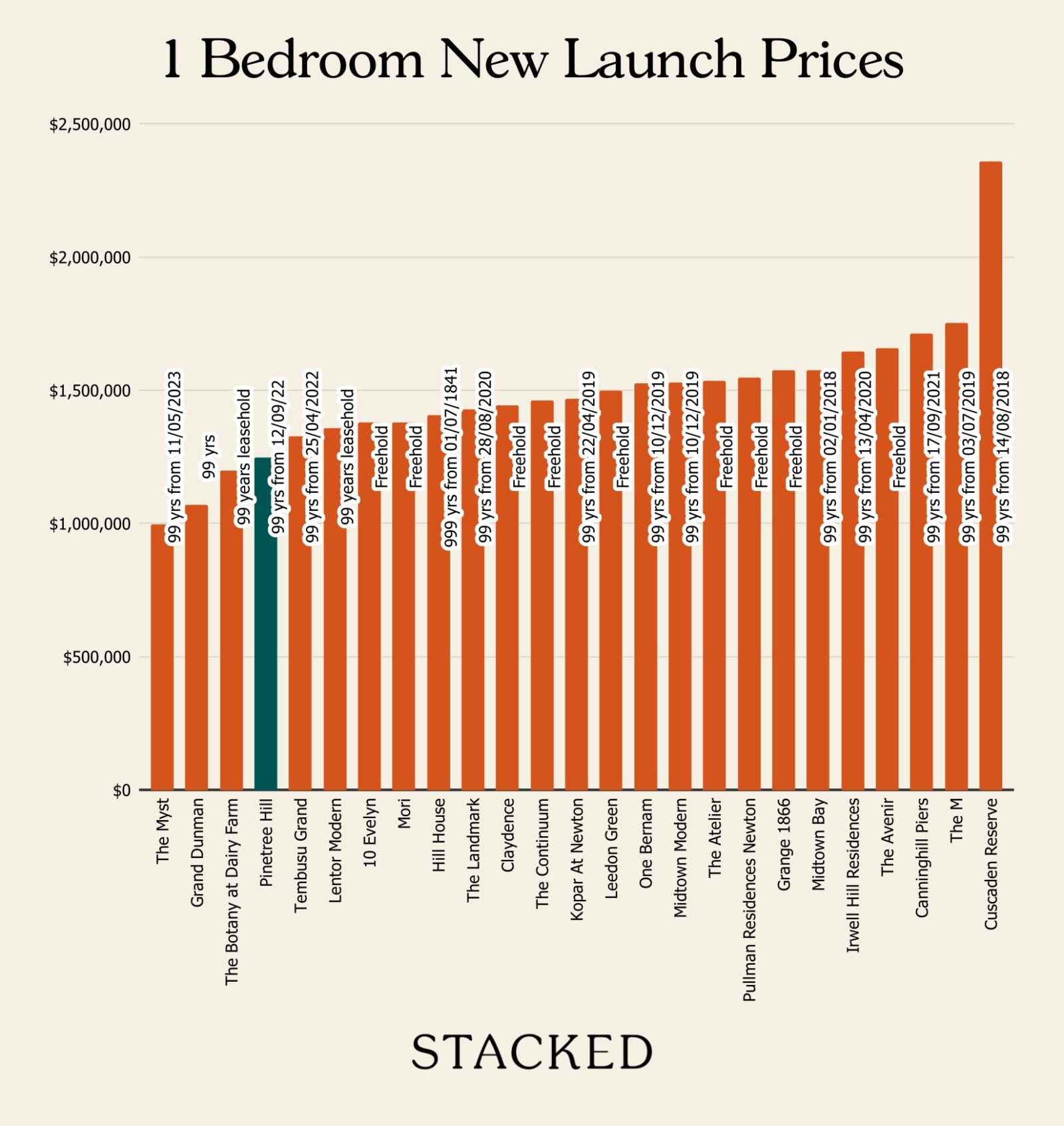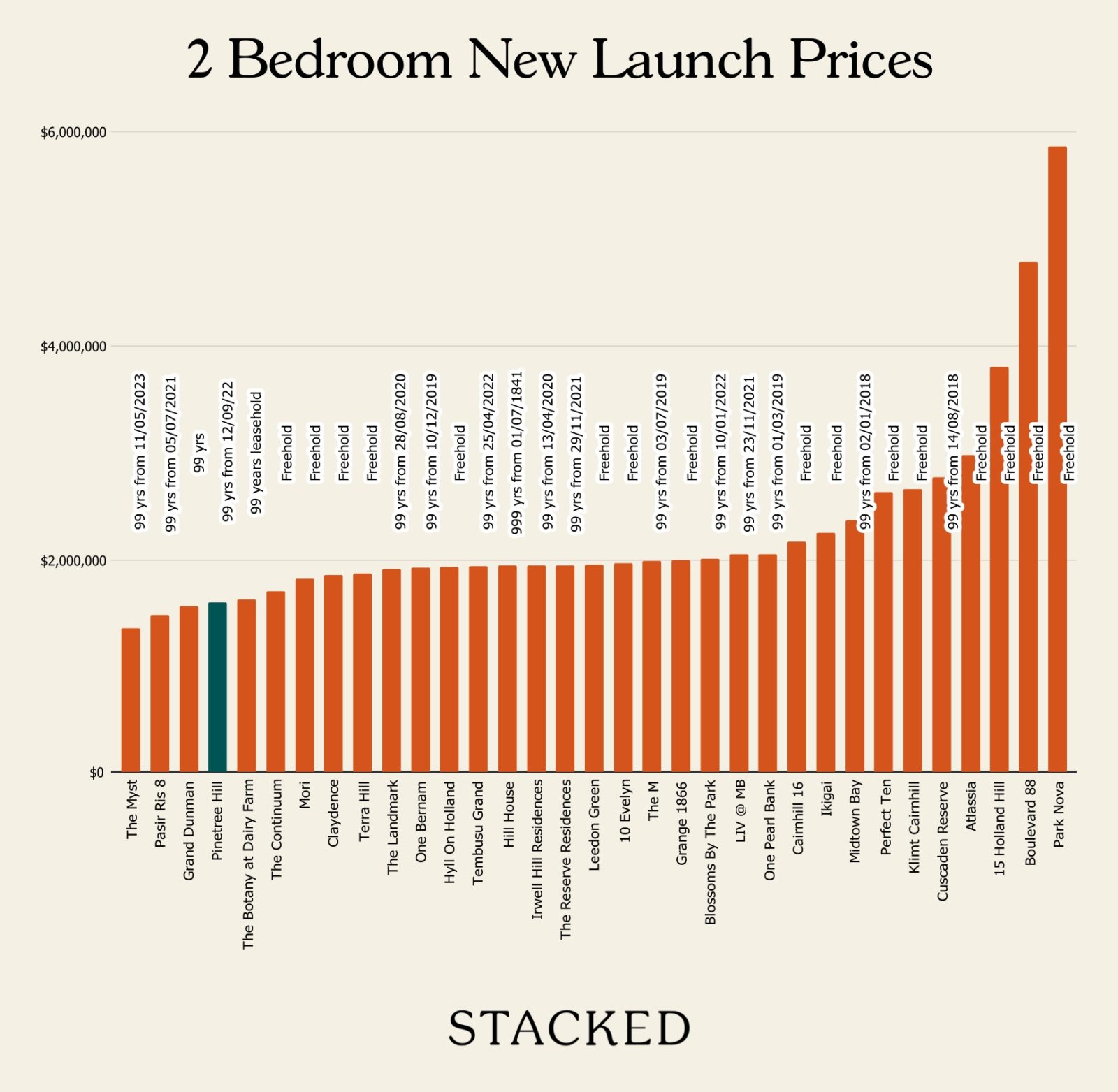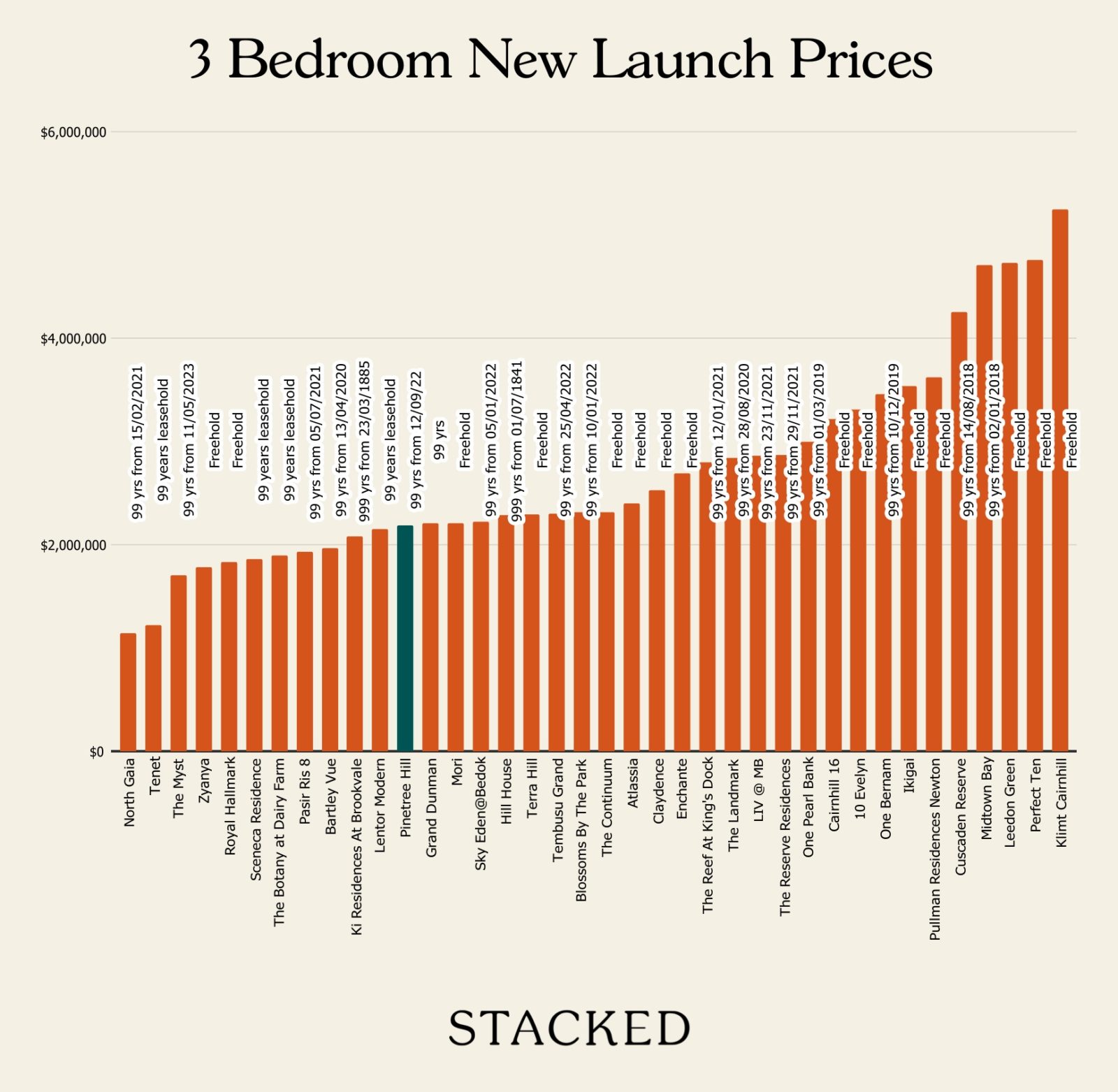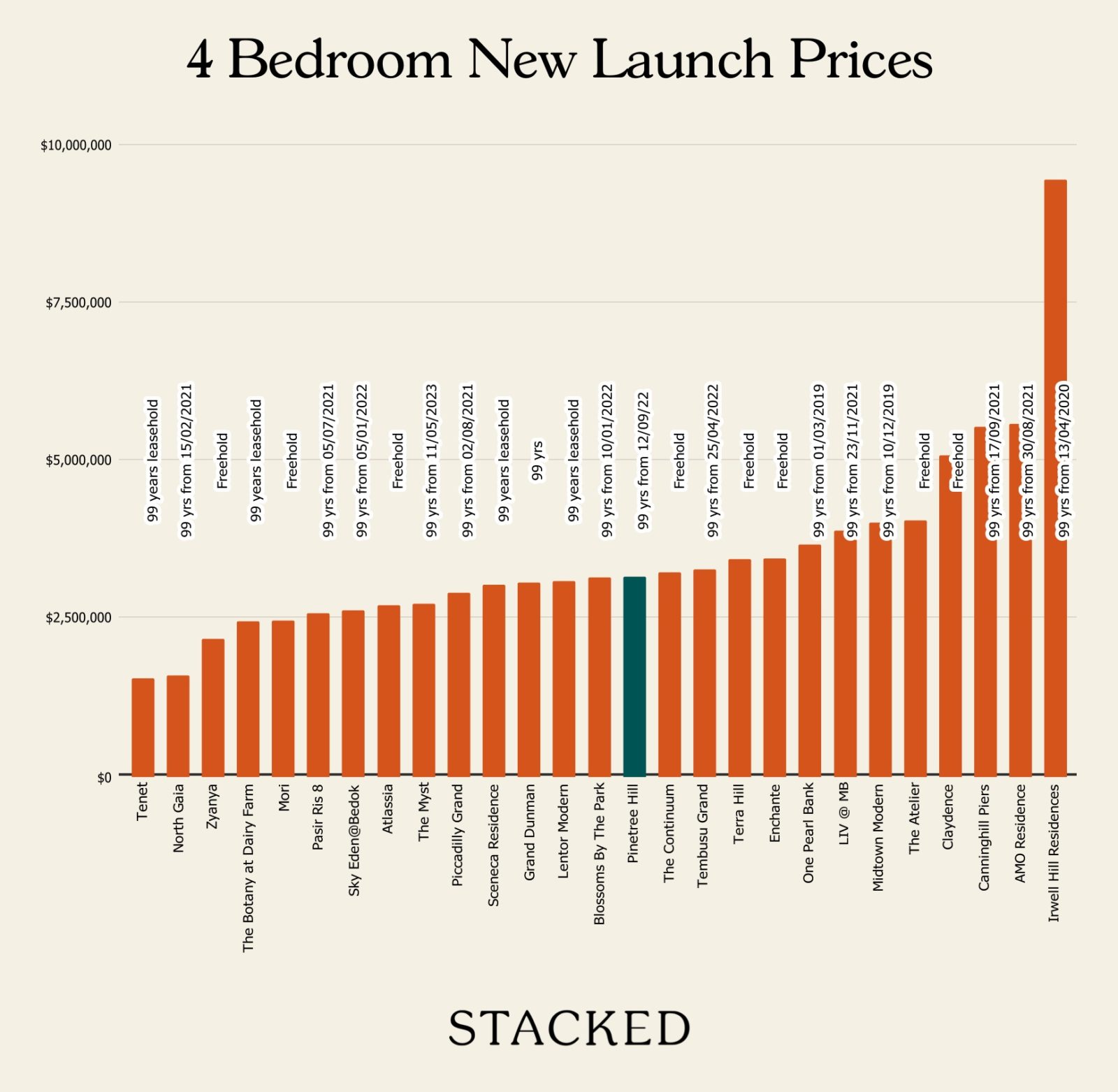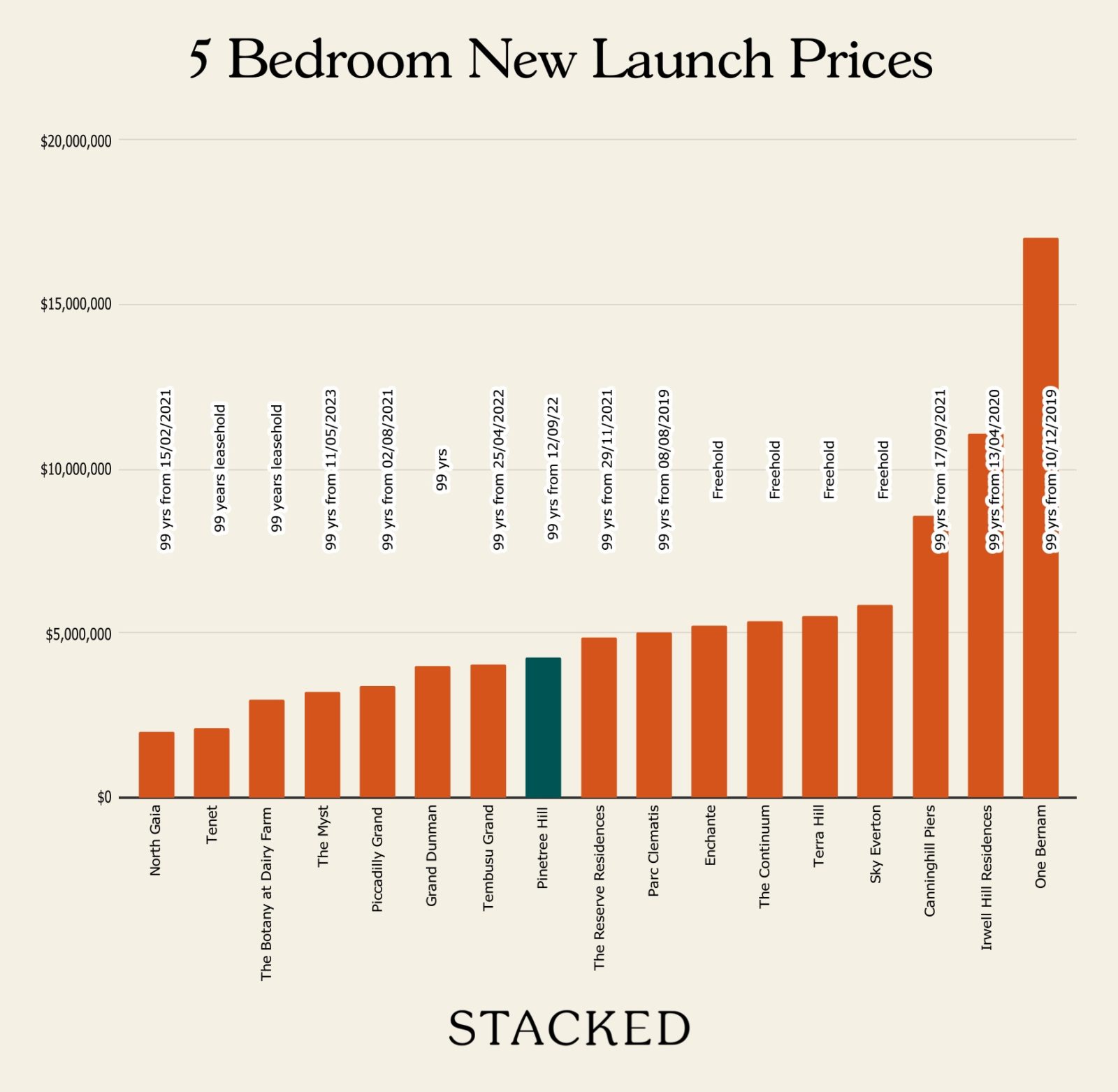 Pinetree Hill tends to be quite competitive in terms of the 1 and 2-bedroom units, likely because these are the ones that are fastest to go in new launches, making the newer ones that have not been sold quite attractive as those who missed out on the lower priced units can have a chance with newly-released new launches.
Do note that prices of The Myst are likely inaccurate as this was written over its launch weekend, therefore, its low prices may not be available when published.
If you actually see the supply of 1-bedders, you'll find that the majority of the units left on the market are in the CCR. You can see that apart from The Myst, Grand Dunman ranks lower because this is an indicative $PSF used, while The Botany at Dairy Farm is further out in the Outside of Central Region. As such, those looking to purchase a 1-bedroom new launch today would find Pinetree Hill very competitive.
It's also the same story for the 2-bedroom here. Pinetree Hill ranks in a pretty good spot. It's expected to cost more than Pasir Ris 8 as that's in the OCR. The starting price is cheaper than what's on offer at The Botany right now. This doesn't seem to make sense, as Pinetree Hill is in the RCR. The Botany isn't exactly located in a convenient location too, unlike Lentor Modern which is integrated.
If you look at the details, you'll find that the cheapest 2-bedroom at The Botany is for the premium variety that comes in at 829 sq ft for $1,620,000. This is why it's slightly more than the starting price at Pinetree Hill. Moreover, it's for the unit on the 15th floor, so height has to be taken into consideration here. The reality is that its $PSF is $1,916. Compared to Pinetree Hill's $2,269 starting indicative prices, that's 15% less which makes sense here. I must add though, that the extra square footage is simply for a higher ceiling which not many people are willing to pay for – and perhaps that's why it's still available.
The 3-bedroom is where prices start to look like it needs some justification. After all, the starting indicative prices at Pinetree Hill are already more than what you can buy at Ki Residences at Brookvale which is a 999-year leasehold new launch. So why's that?
Here's a look at the cheapest 3-bedroom unit at Ki Residences: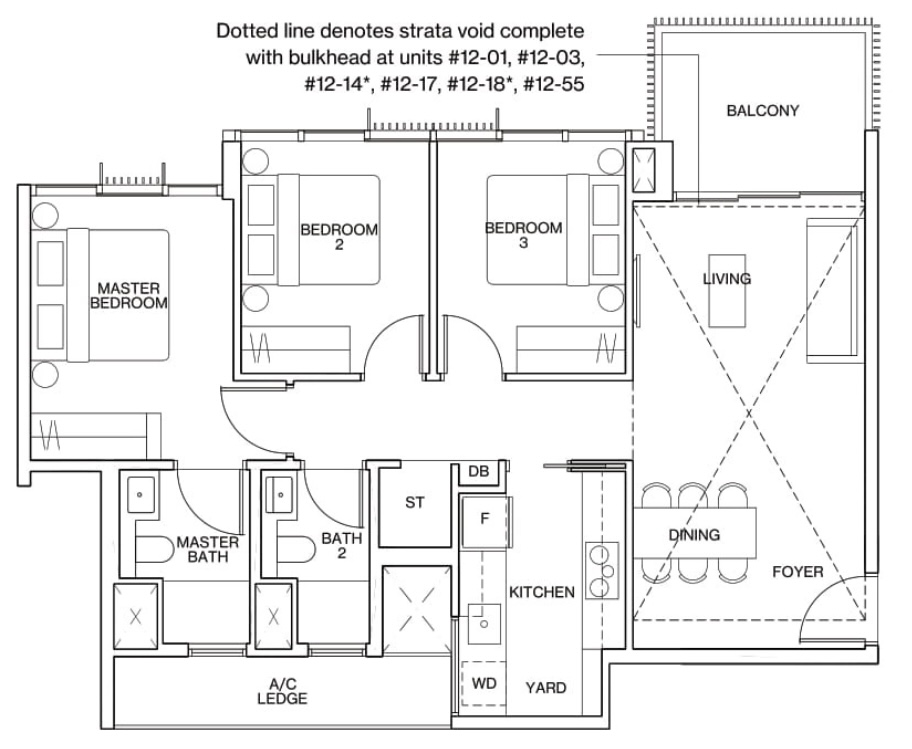 The unit here is on the ground floor, so that's the first reason why it's cheaper. Next is that this is the compact 3-bedroom layout so that means it doesn't come with the household shelter and WC. The floor plan mentions "yard" but it's really small. It's still better than some compact 3-bedders though that have kitchens akin to those found in 2-bedroom units.
For slightly more, here's what you get at Pinetree Hill: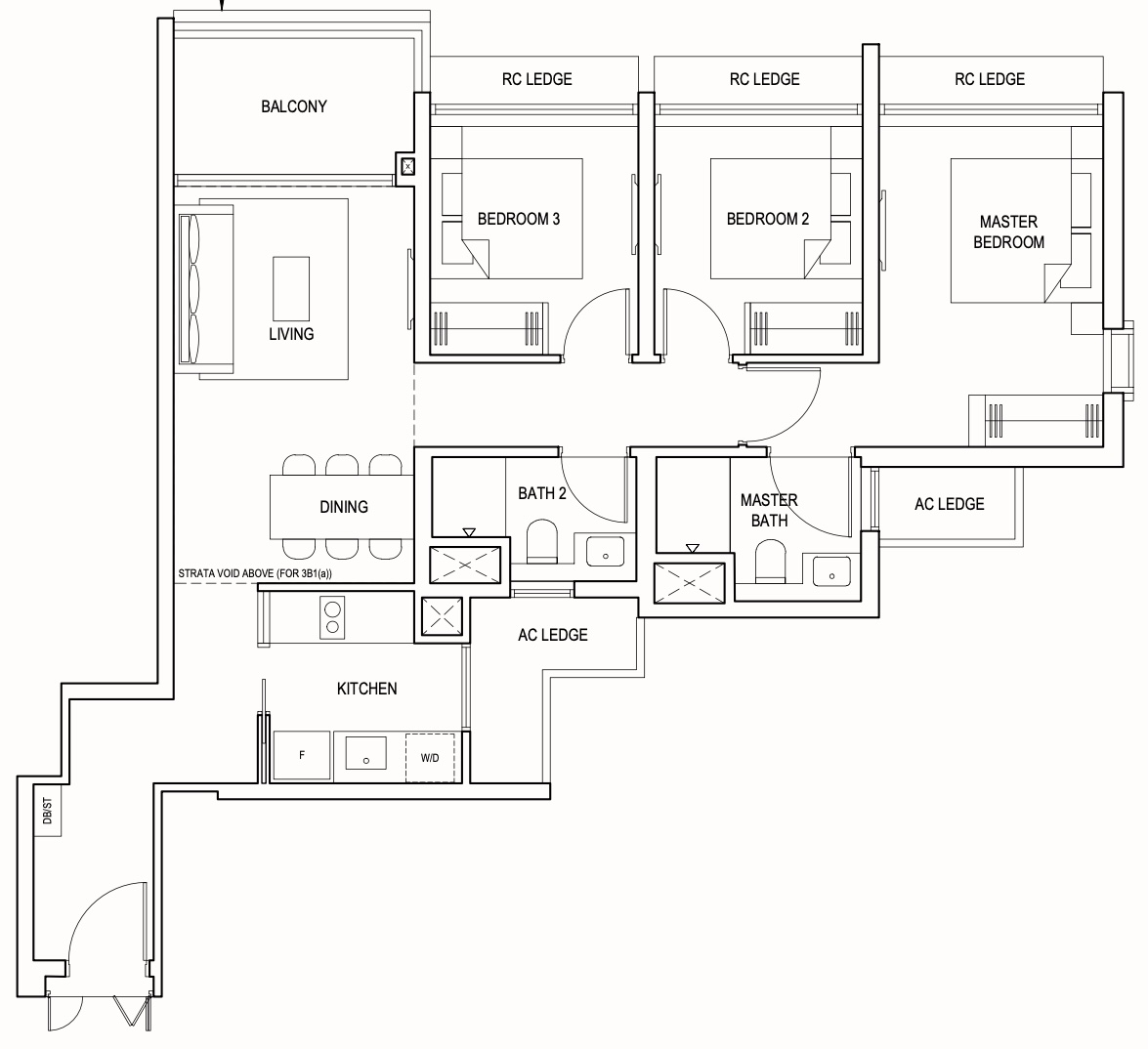 There really isn't much of a difference between this and the one that Ki Residences is offering. It's a typical compact 3-bedder, and at least Ki Residences has a small area dedicated to a yard. Between the ground-level unit at Pinetree versus the 999-year leasehold Ki Residences, Ki Residences seems to win here. After all, you are getting an almost freehold condo for less. There's even a small store room that Ki Residences has, thanks to its lack of an entryway which makes it more efficient.
Both developments are also quite close to each other. Ki Residences is just a 5-minute drive away from Pinetree Hill, and you can walk from one development to the other in 30 minutes. Of course, Ki Residences At Brookvale isn't close to any popular primary school (it narrowly misses Pei Hwa Presbyterian and Methodist Girls' School). It's also a further walk out to the main road. But if these are not your concern, Ki Residences does have pretty decent 3-bedders that can compete with Pinetree Hill.
In terms of 4-bedders, Pinetree Hill is starting to look less competitive. Its starting prices are already higher than what's left in Blossoms By The Park, another RCR condo. It also ranks higher than the integrated Picadilly Grand which is even more central as it's in district 08. The cheapest 4-bedroom on offer there now is for the 4-bedroom dual key unit that costs $2,919,000 on the 14th floor. This is around $250,000 less than the starting price of Pinetree Hill's 4-bedroom unit!
Here's what the dual-key unit looks like: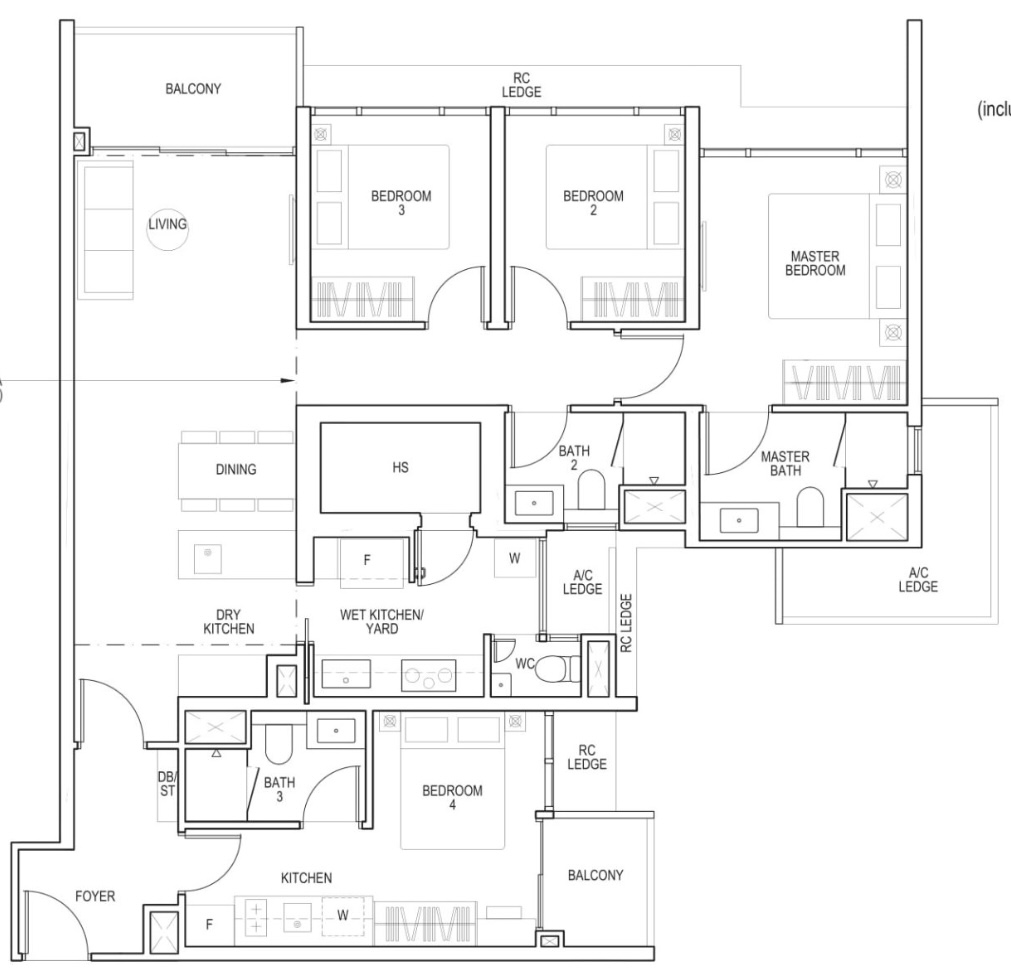 I generally don't find dual-key units to be attractive because they're not really a proper own-stay home given that some of the space is dedicated to things like an extra kitchen. They're useful if you really are looking to rent out the other portion, or wish to have greater privacy with another family member.
However, I do like the layout on offer here. Given the size of 1,389 sq ft, the developers managed to create a fully-functional 4-bedroom unit here that rivals the premium unit at Pinetree Hill. The one thing that's missing is the private lift which is what Pinetree Hill offers. If this isn't on your radar, the layout in Piccadilly Grand and its more affordable price point make for an attractive proposition.
Finally, let's consider the 5-bedroom units. At this size, there aren't that many options on the market. The closest competing new launch is Tembusu Grand.
Here's what the cheapest 5-bedder looks like: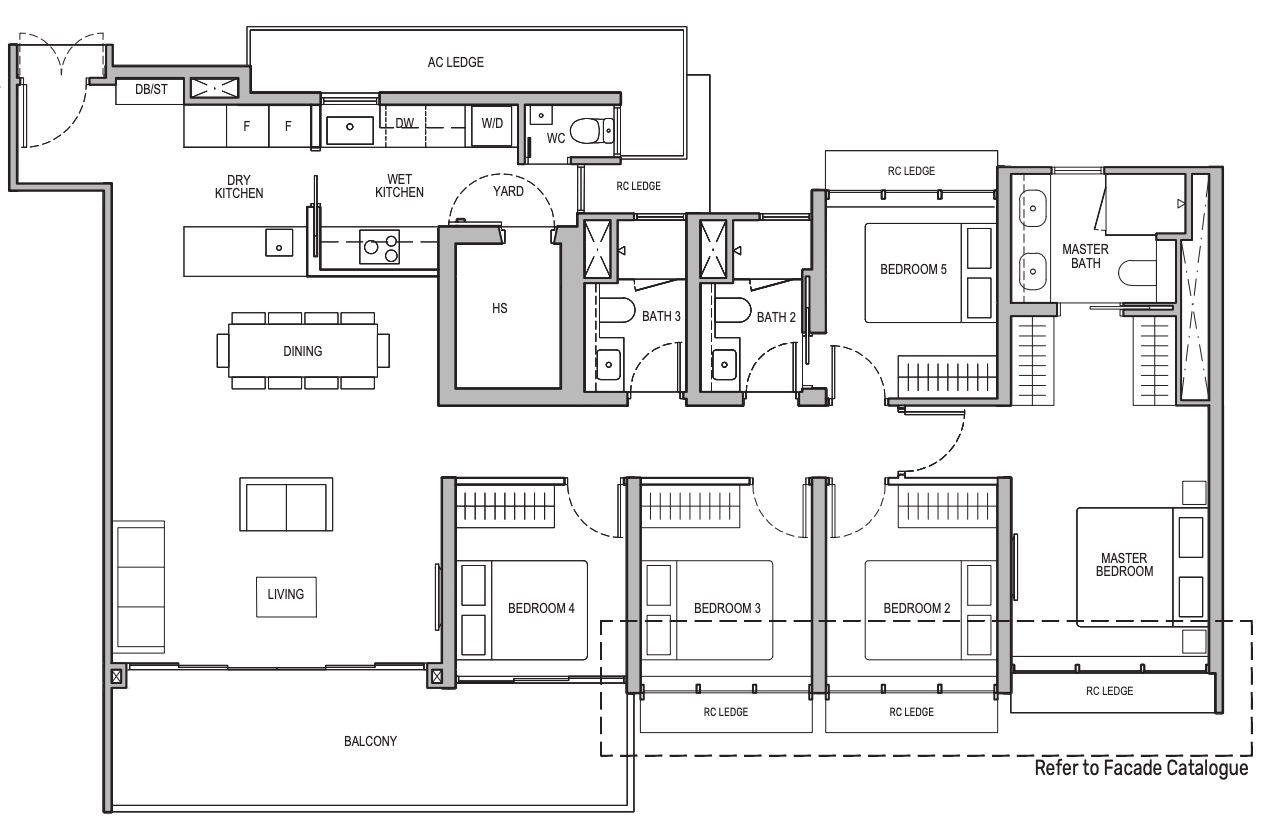 The layout for this 1,711 sq ft 5-bedroom unit is quite decent. It's got a separate living and dining area that's quite wide. It's also got a dry and wet kitchen, though I must say the yard is a little small for a unit this size. The balcony is huge – extending to one of the bedrooms which also makes it great as an alternative dining space.
There are only 2 common bathrooms here, so 4 bedrooms would need to share this which is acceptable. The master bedroom is of a good size and the bathroom comes with dual sinks too.
The asking price is $4,028,000 and it's also for the ground floor unit. This is less than what Pinetree Hill is asking for, so let's take a look at what the 5-bedroom at Pinetree Hill looks like: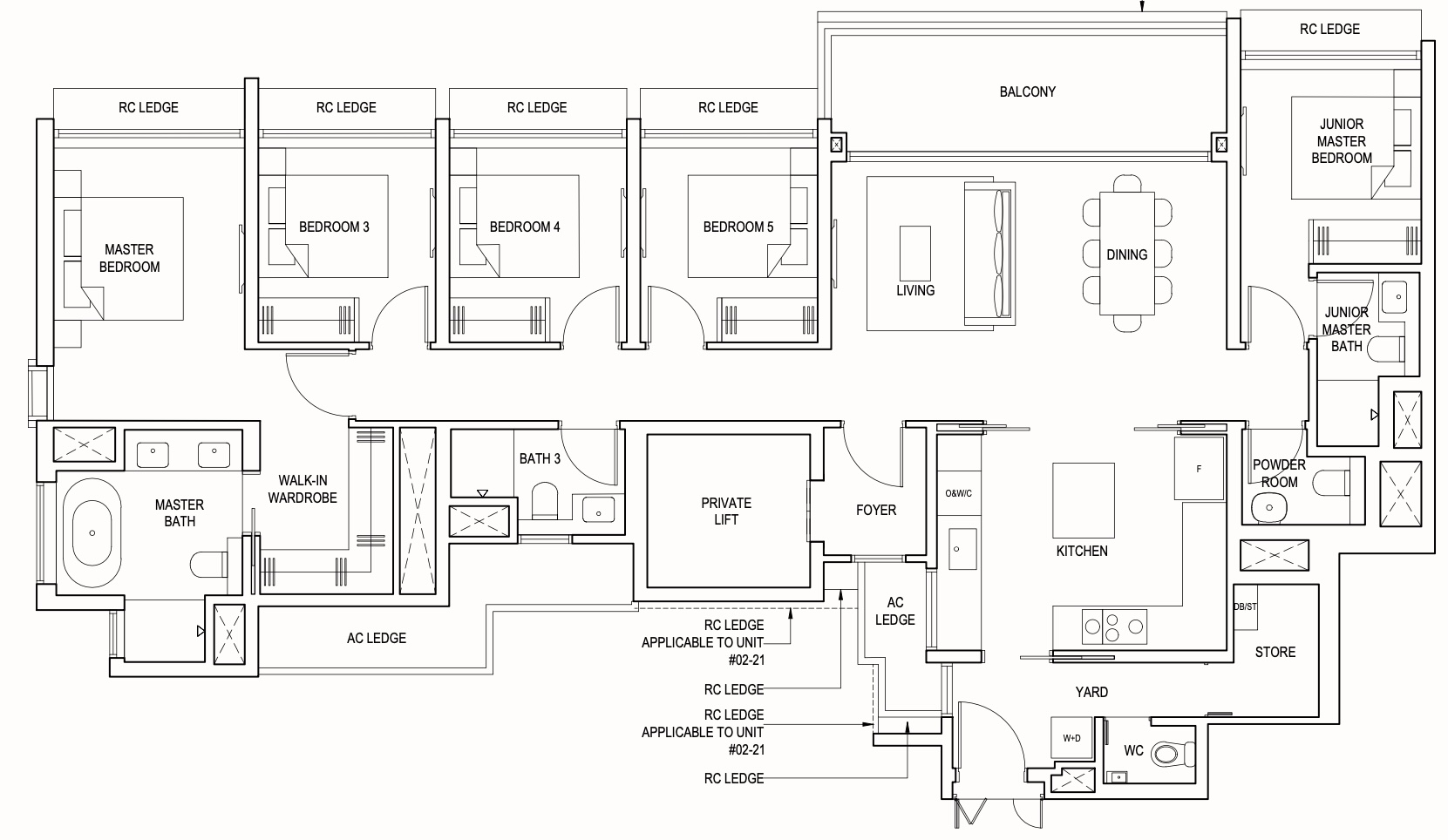 This unit is 1,733 sq ft in size which is just 2 square metres bigger. However, I do prefer the layout at Pinetree Hill. The kitchen layout is not narrow unlike the one at Tembusu Grand, thus, the space would appear very open. This is especially so when combined with the dining and living area. The yard is a lot longer, allowing you to install a longer clothes hanger. Moreover, this layout has a private lift. I do think that for this price point, having a private lift is expected – so this wins over Tembusu Grand. They've also managed to put a walk-in wardrobe and the master bathroom comes with a bathtub, dual sinks and a shower.
The only downside here I can see is that 3 common bedrooms would have to share 1 bathroom unlike with Tembusu Grand which is more evenly split.
Regardless, I do think the higher price at Pinetree Hill is justified if you consider the presence of the bathtub, private lift and open-space kitchen – these are pointers that those looking out for greater luxury would appreciate. And at this price point, you can bet that there are buyers who would appreciate this.
Resale Condo Comparisons
There's a saying that old condos are better due to their larger sizes and lower $PSF. So how would Pinetree Hill compare to the old developments in the Mount Sinai enclave? Let's find out!
Here's a look at resale transaction prices over the past 6 months for the Mount Sinai enclave:
| | | | | | | | |
| --- | --- | --- | --- | --- | --- | --- | --- |
| Project Name | Tenure | Completion | 1 | 2 | 3 | 4 | 5 |
| ALLSWORTH PARK | 999 yrs from 06/07/1885 | 1985 | | $1,750,000 | $4,050,000 | | |
| ASTOR GREEN | 99 yrs from 18/11/1991 | 1995 | | $1,466,667 | $2,057,500 | | |
| CAVENDISH PARK | 99 yrs from 18/11/1991 | 1996 | | $1,301,000 | $1,787,600 | | |
| LEIGHWOODS | Freehold | 1985 | | | $3,780,000 | | |
| MONTVIEW | Freehold | 2008 | | | $2,900,000 | $3,365,000 | |
| PANDAN VALLEY | Freehold | 1978 | | | $1,950,000 | $3,229,750 | |
| PINE GROVE | 99 yrs from 01/11/1984 | – | | $1,327,500 | $1,920,486 | | |
| QUINTERRA | 99 yrs from 08/03/2006 | 2009 | | $1,700,000 | | $2,930,000 | |
| RIDGEWOOD | 999 yrs from 06/07/1885 | 1981 | | $1,691,250 | $2,625,000 | $3,350,000 | $5,380,000 |
| THE MARBELLA | Freehold | 2005 | | | $3,271,000 | | |
| THE SERENADE @ HOLLAND | 99 yrs from 05/06/2001 | 2004 | | $1,670,000 | $2,380,000 | $2,580,000 | |
| THE SIERRA | 947 yrs from 15/05/1937 | 1998 | $1,155,000 | | $1,715,000 | | |
| THE TRIZON | Freehold | 2012 | | $2,352,000 | $3,921,200 | | |
Due to the lack of information, some units were excluded as I could not find any information on their size and bedroom types.
I'll also focus my attention on freehold condominiums. This is because 99-year leasehold condos here are either approaching the dreaded 21-year mark, or have gone way past it already. Buyers of Pinetree Hill would likely want to know if it's worth paying for a leasehold condo in an area where there are larger freehold alternatives. If you'd like us to do a comparison between Pinetree Hill and other condos in the area, feel free to reach out to us here.
Since most developments in the area saw units in the 2-4 bedroom category, we'll also be looking at these categories.
2 bedroom comparison
Pinetree Hill 2 bedders are priced to start from $1,588,000 – this is for the smallest 2-bedroom type which is 700 sq ft in size.
There's no doubt that this is small compared to the older resale condos around. You can typically expect sizes to be big for old developments. And in this case, the cheapest 2-bedroom already starts at $1,327,500 which is for the 99-year leasehold and very old Pine Grove condo.
Let's take a look at Trizon. The development is already around 11 years old but it's freehold. Its 2-bedroom prices are pretty high. The most recent and cheapest 2-bedroom was for a 1,044 sq ft in April 2023 which went for $2.18 million (level 08). Here's what it looks like.
The Trizon 2-bedroom layout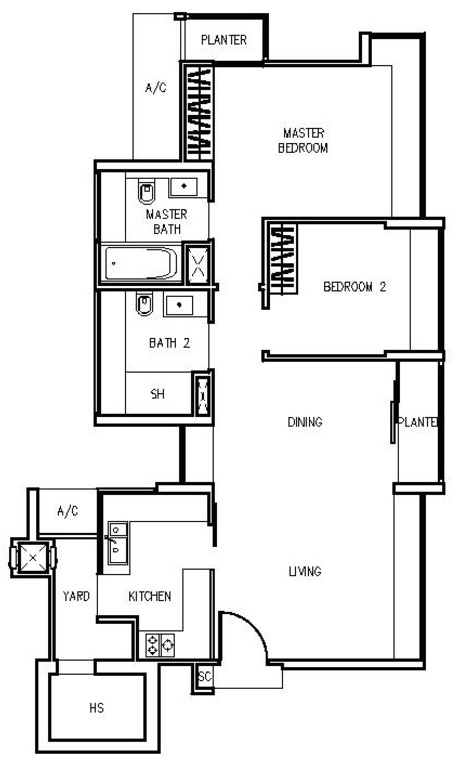 The hallmark of a larger 2-bedroom unit in an old condo is the presence of a yard and household shelter. That – and a bigger living and dining area. This mainly accounts for the difference in size between a 600-700+ sq ft new launch unit to a 1,000+ sq ft old condo.
And this is the case with The Trizon. The layout also features some planters and bay windows given it was completed in the early 2010s, and that takes up valuable space.
Fundamentally, I would compare this to the 2-bedroom unit rather than the +study. This is because there's no actual study in The Trizon's layout, so the comparison wouldn't make sense. The omission here is the yard, household shelter and the smaller living/dining space.
Pinetree Hill 2 Bedroom Layout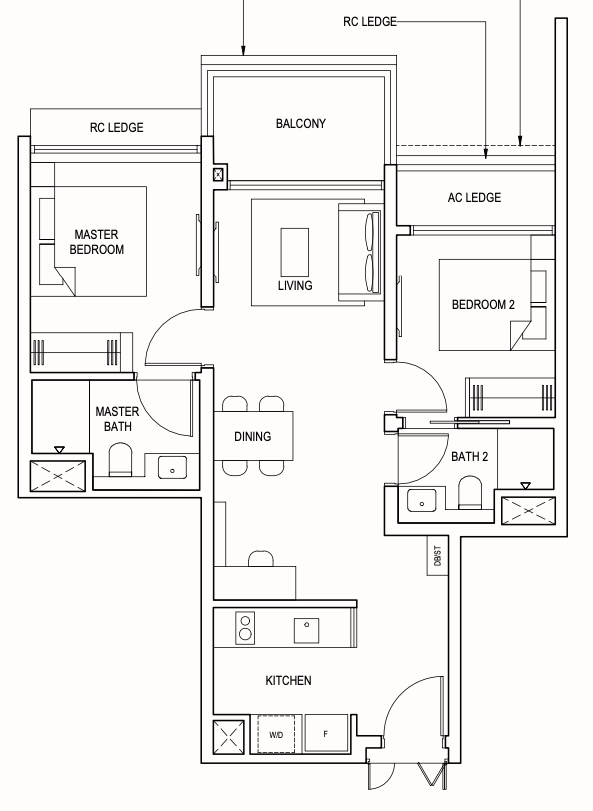 Much like the study, this layout is a dumbbell one. However, it does have an entryway which takes up space. What's great about this layout is that there is some space for a desk and chair – a study area of sorts. The dining and living area is pretty standard for a 2-bedroom unit. Neither the kitchen nor the bathrooms have natural ventilation which is unfortunate.
There's no doubt that The Trizon is much more practical given its size and the fact that it's got ventilation, a household shelter, a yard, and a larger kitchen.
But The Trizon is asking for north of $2.1 million dollars today whereas Pinetree Hill's 2-bedroom unit starts at $1,588,000. Even if it goes up to $1.7 million, that's still around 19% cheaper for a condo that's going to be about 16 years newer. Granted The Trizon is freehold – but when compared to a new leasehold development, this price gap is quite large.
As such, I can see the case for Pinetree Hill here. But perhaps The Trizon is an exception. Let's take a look at another 2-bedroom unit. This time, we'll look at Allsworth Park, a 999-year leasehold condo.
Allsworth Park 2-bedroom unit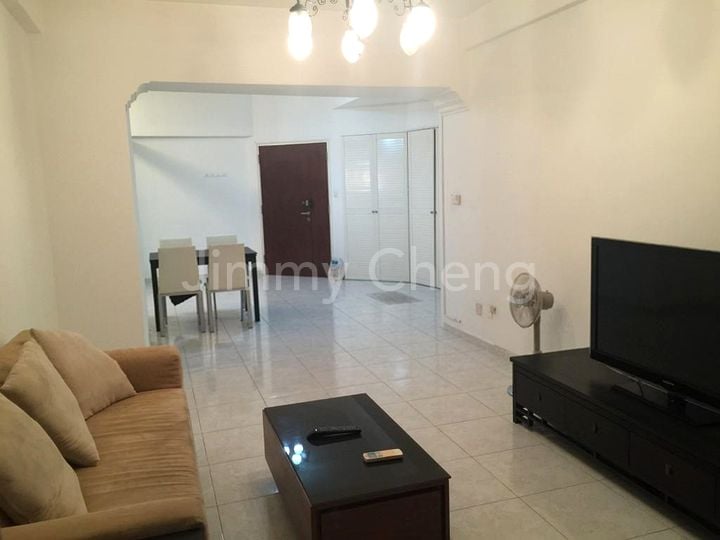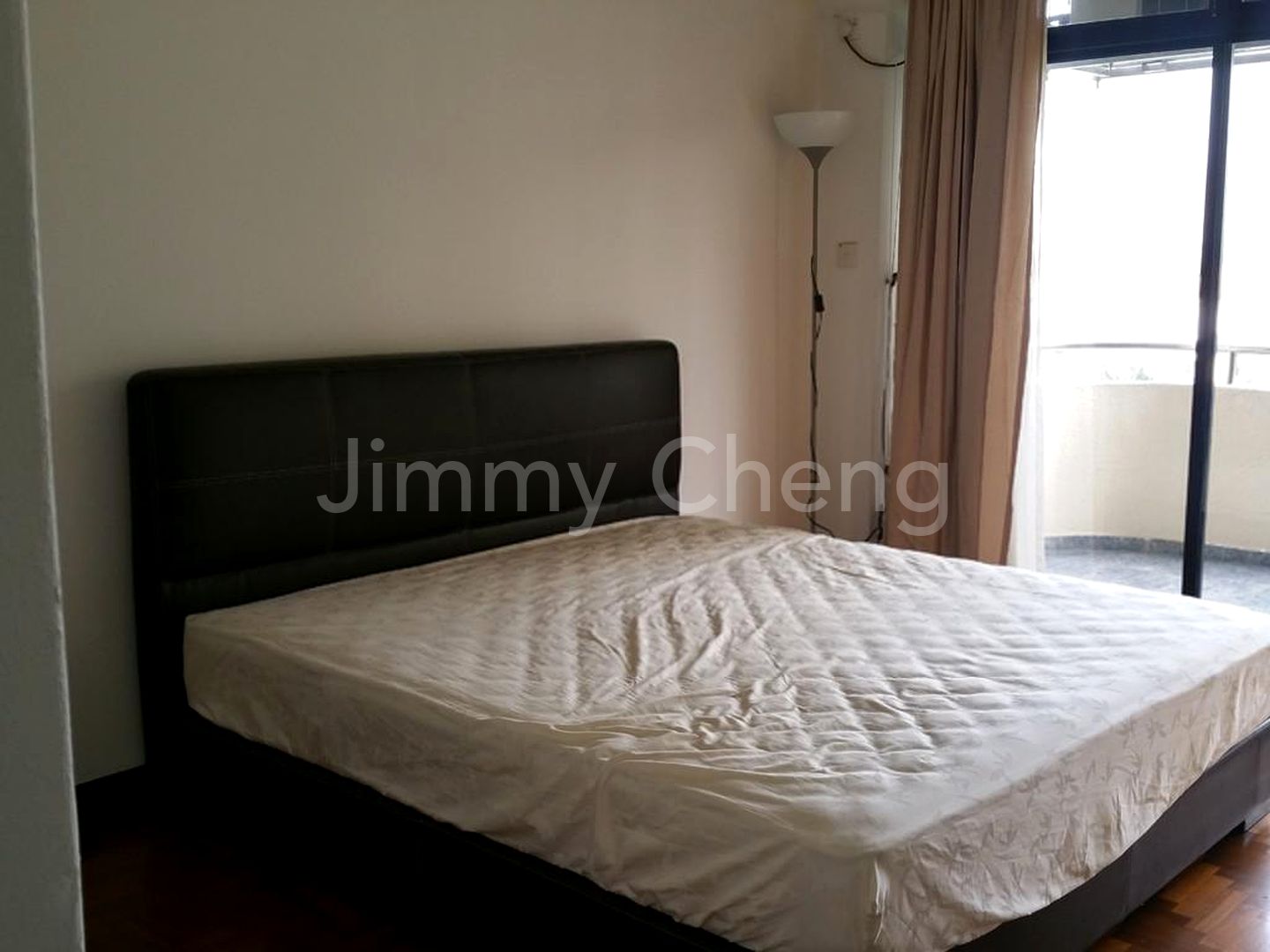 I wasn't able to get the floor plan for the 2-bedroom unit here given how old it was (it was completed in 1985). But here are some photos found on this listing.
I think it's pretty clear that despite its large size, you can really tell this is an old development. It may be 999-year and has a competitive price to Pinetree Hill, but it wouldn't look as modern/have modern facilities. You'll likely need to do a full-on renovation that would incur extra costs to renovate the place nicely or fix any outstanding issues that could cause more problems in the long run.
So far, all of this does indicate that its resale competitors in the area aren't really that appealing especially if I compare prices and what Pinetree Hill offers.
I've also only compared it to freehold/999-year condos because the 99-year leasehold properties may be big, but its prices are quite near what Pinetree Hill is asking for – except lease decay is an obvious factor. As such, those buying into developments like Pine Grove cannot expect the same price appreciation as Pinetree Hill.
3 bedroom comparison
Again, the same question can be asked – why don't I get a freehold resale condo that's bigger in the area? So let's now look at Ridgewood, a 999-year leasehold development built in 1981.
The 3-bedroom units at Ridgewood are huge. While there is a 1,367 sq ft unit that went for sale, I wasn't able to find photos or a floor plan for it. So to avoid speculating on the unit, I decided to pick out a 1,744 sq ft unit on PropertyGuru – and this particular unit is quite nice!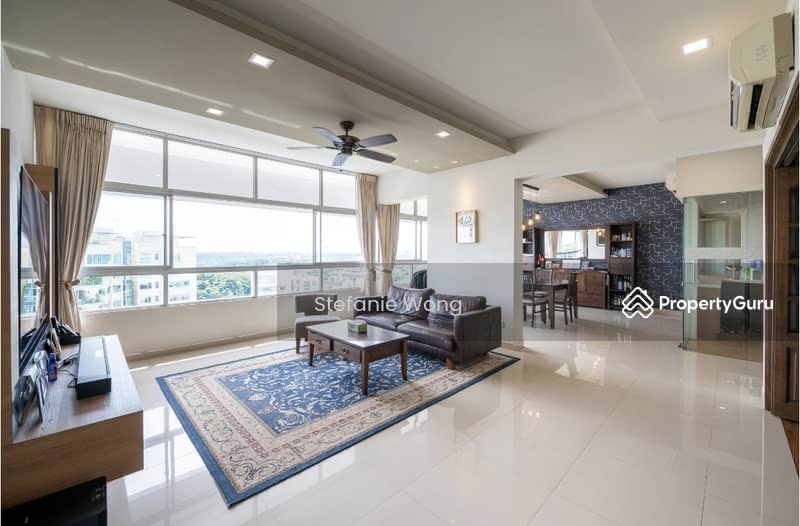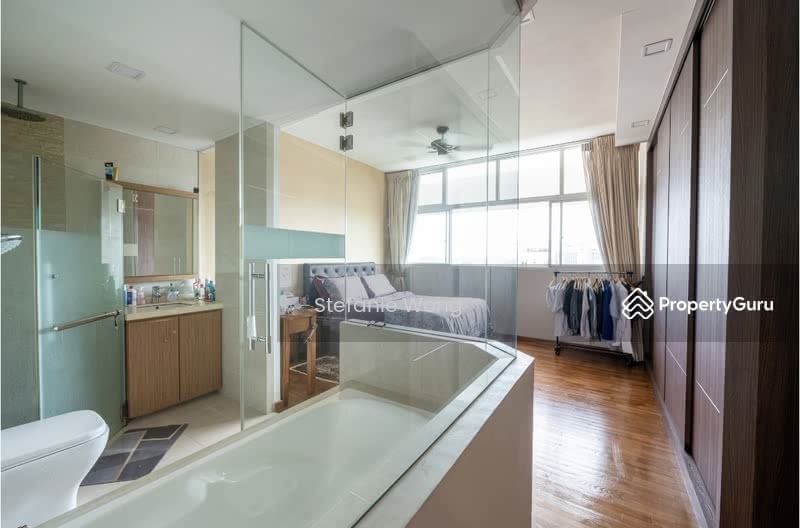 You can immediately appreciate just how spacious the home is. 1,700+ sq ft is even bigger than many 4 bedroom new launch layouts, so there's the luxury of space here. The last transacted unit of this size went for $2.85 million (level 05) which translates to a $PSF of $1,634.
By comparison, the biggest 3-bedroom at Pinetree Hill goes for 1,216 sq ft (the 1,421 sq ft layout is just a high ceiling). That's more than 500 sq ft less, however, since its $PSF is higher, the 1,216 sq ft unit would start from $2.7+ million.
As such, while the new launch $PSF is much higher, buyers of the 3-bedroom unit can expect to pay around the same between the 1,744 sq ft unit at Ridgewood, and the premium + study unit at Pinetree Hill.
In this case, there's really no right or wrong here. Both units are acceptable at that pricing. Given how new Pinetree Hill would be, the difference in tenure isn't a big deal now and for the next 10 years. We've done an analysis of leasehold vs freehold new launches and found that leasehold properties actually make more given they've more room to grow as they're naturally cheaper than their new launch peers. The concern is really when it gets older (past the 20-year mark).
Overall, I would go for Ridgewood if I value space, and think of the 999-year tenure as a way to preserve my capital for owning such an old development. However, those seeking a modern development would naturally turn to Pinetree Hill instead as the layout is quite practical and efficient. I wouldn't be so hard up on how much less space Pinetree Hill has. Consumer tastes and preferences have changed, and while everyone likes a bigger space, the question is whether it's worth paying for it
4 bedroom comparison
Finally, let's consider the 4-bedders around. Since we've looked at Allsworth and Ridgewood, let's now turn to Montview, a freehold condo built in 2008.
In the past year, there were two 4-bedroom units that were sold and they're also the same size as the Ridgewood unit I looked at earlier – 1,744 sq ft. The latest transaction was one that went for $3,550,000 ($2,036) in February 2023 (level 15).
In terms of $PSF, this is around 19% less than the estimated starting price of the 4-bedroom premium + study unit. Here's what the floor plan looks like: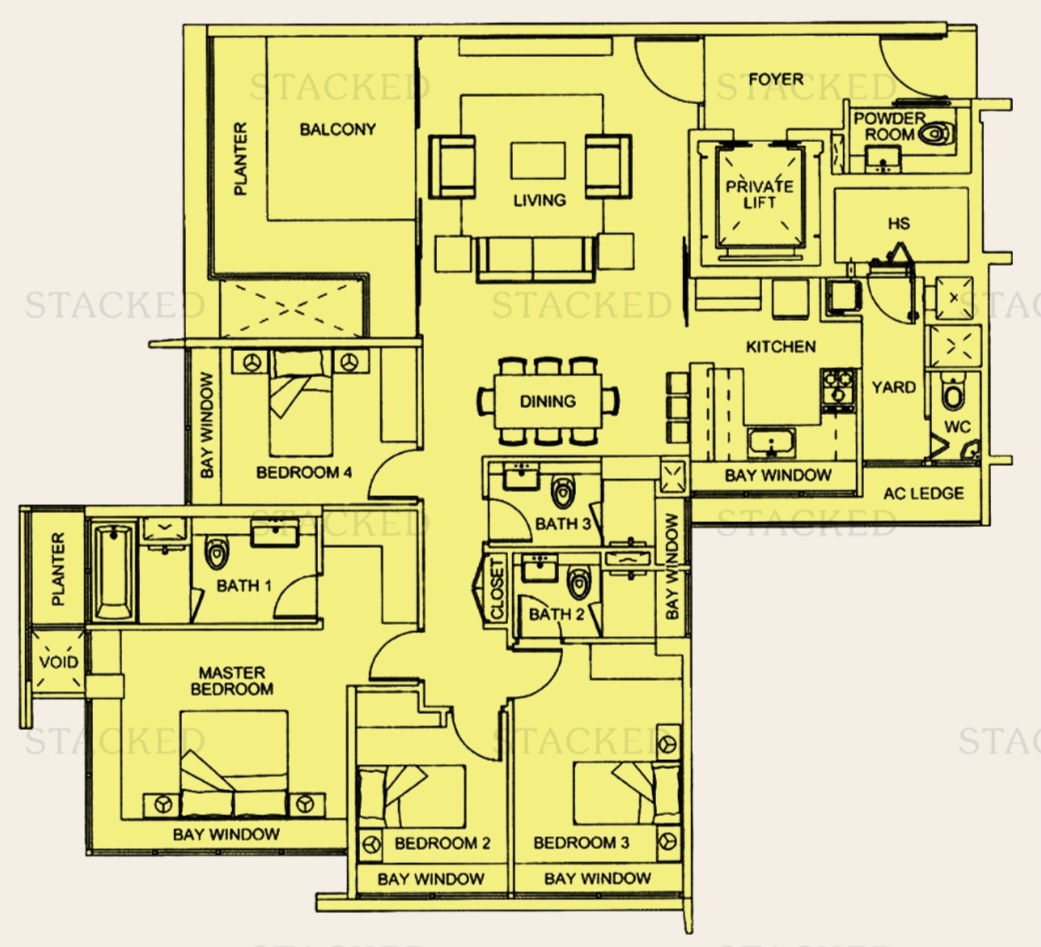 I'm actually quite surprised at the sizes of bedrooms 2 and 3. For a development that was completed in 2008, it could very well pass off as the size of a new launch today. This is due to the presence of bay windows – but this could be mitigated by building a platform bed so that it connects over the bay window itself.
The master bedroom is huge though, with allowances for two side tables and ample space at the front.
The unit also comes with a private lift, a decent kitchen/yard/WC/household shelter, and a spacious living cum dining area. I also like that there are two ensuite bedrooms here.
Compare this to Pinetree Hill's 4 bedroom premium (with private lift) that's smaller at 1,464 sq ft: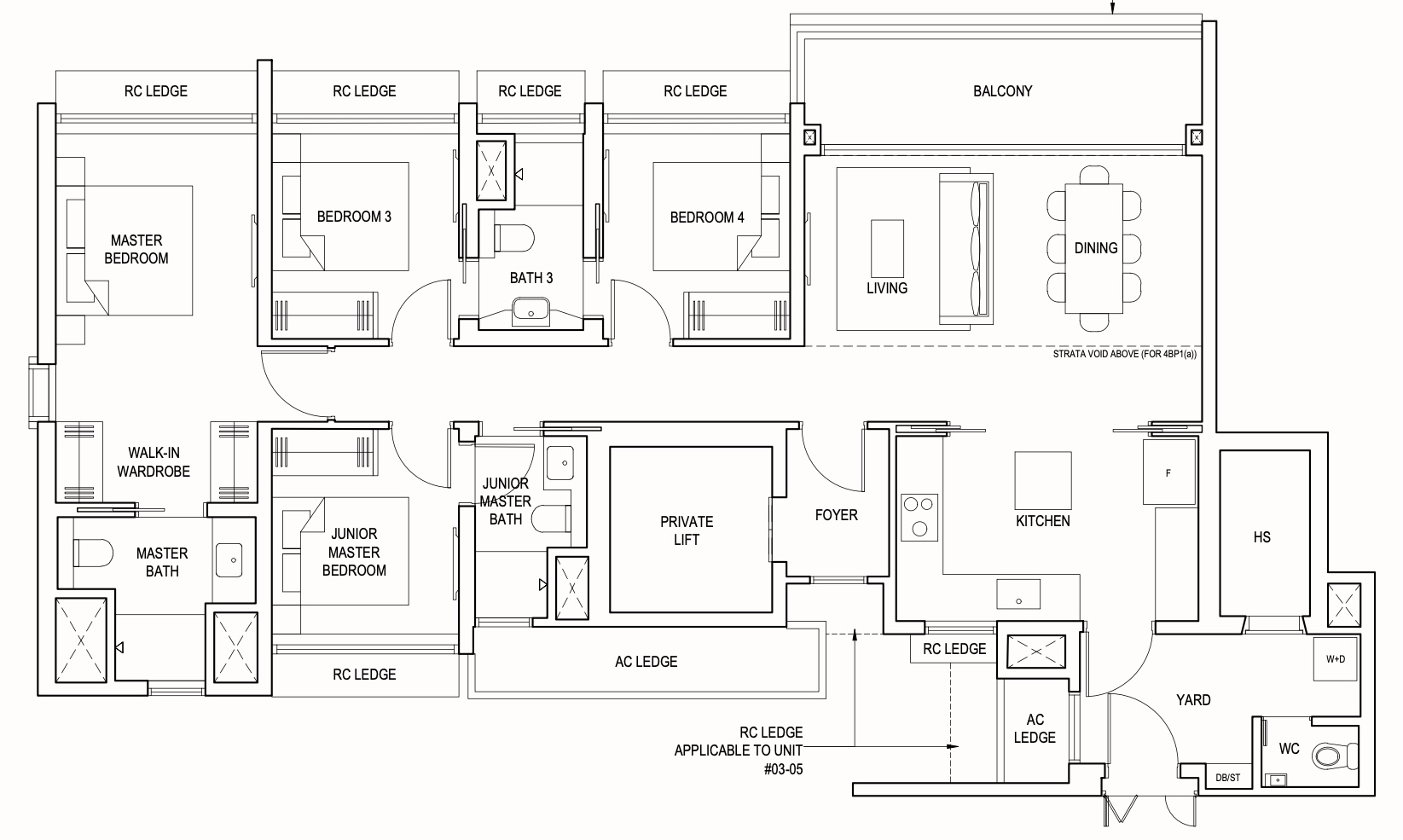 I've briefly mentioned this in my comparison to The Reserve Residences earlier, so I wouldn't go on about it again. But if you simply compare the features between both layouts, you'll find that they're very similar. You could argue that the kitchen is better in Pinetree Hill as it's very wide and has a counter in the middle. In this case, all 4 bedrooms are ensuite whereas this is only the case for 2 bedrooms in Montview.
So despite being 280 sq ft smaller, it seems that there isn't that big a difference between both units in my opinion. It could be the bay windows/planters in Montview, but I'd also credit Pinetree Hill's shrewd layout design here.
Now in terms of prices, the 4-bedroom premium is estimated to start from around $3.6 million which is around the same price as the 15th-floor unit at Montview. If I bring it up to $3.7 million to account for floor differences, then you'll find that Pinetree Hill is asking for around 4% more.
Is this price justified then? Why not just pay slightly less for a freehold condo?
Since the prices are quite close to each other, I'll argue that there's again no right and wrong here since the age difference would be around 20 years. If it were 20% different, I'd be singing another tune. And for just 4% more, you do get more varied facilities at Pintree Hill. Here's what the site plan of Montview looks like: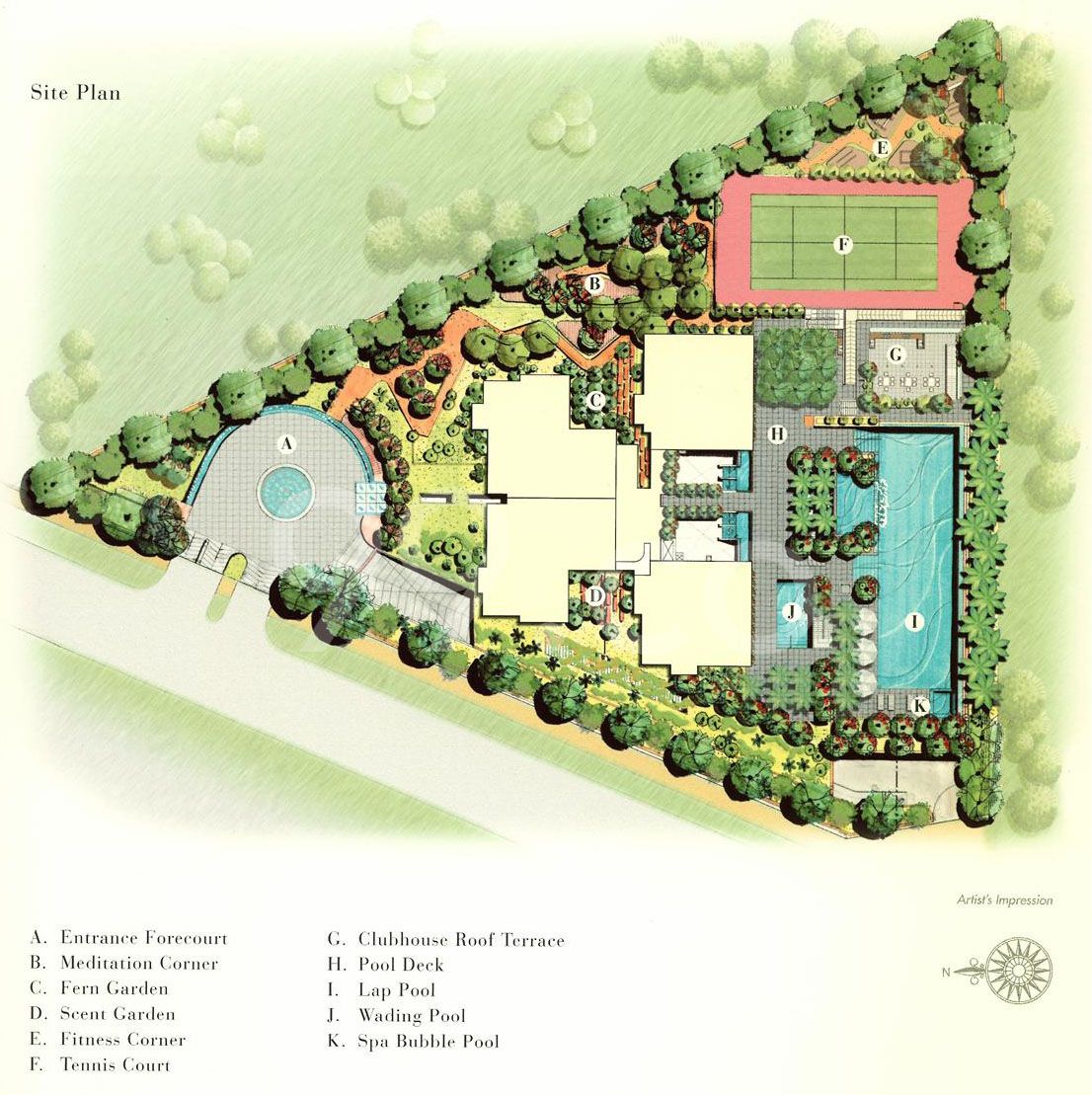 It's got pretty much everything – a tennis court, a fitness corner, a lap pool and a clubhouse. Don't let the dated look of the site plan fool you too – Montview's facilities are pretty modern. The fact that they have a lap pool is telling. Here are some pictures of the facilities: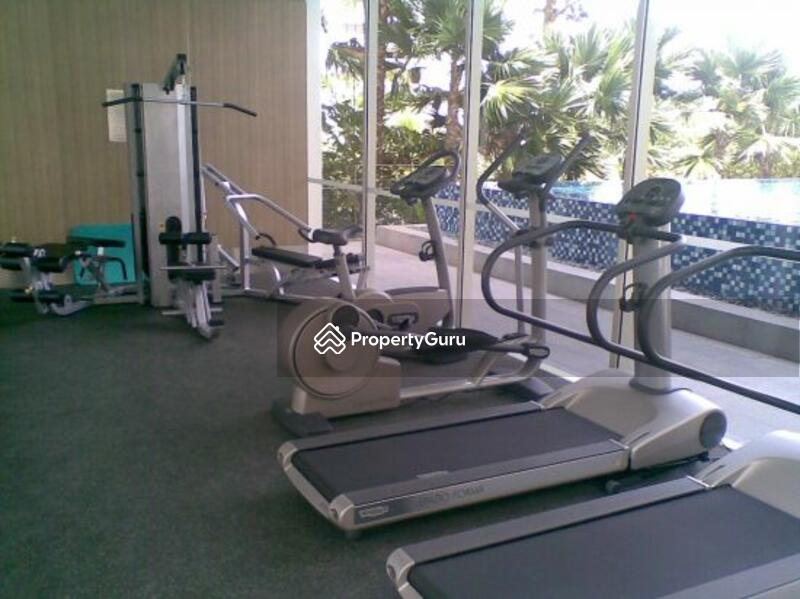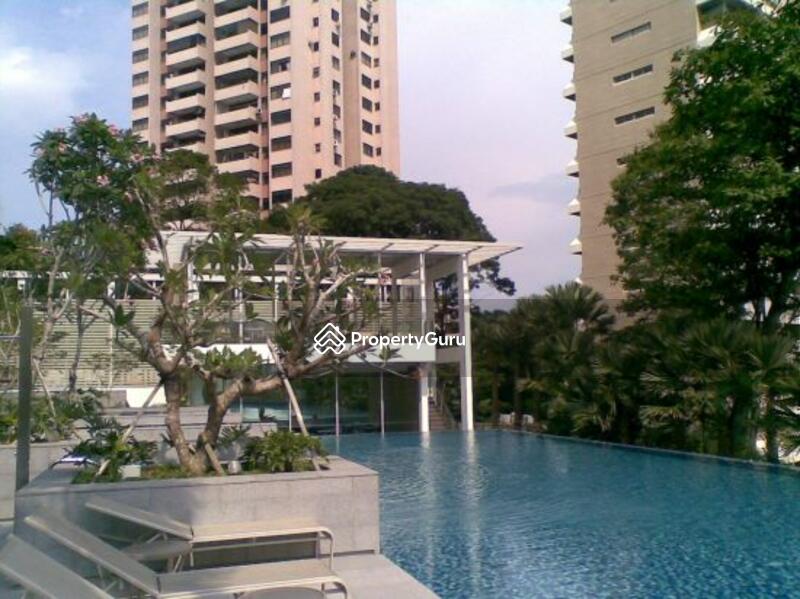 Considering the larger size at Pinetree Hill, you do get more facilities, but it's shared among more people: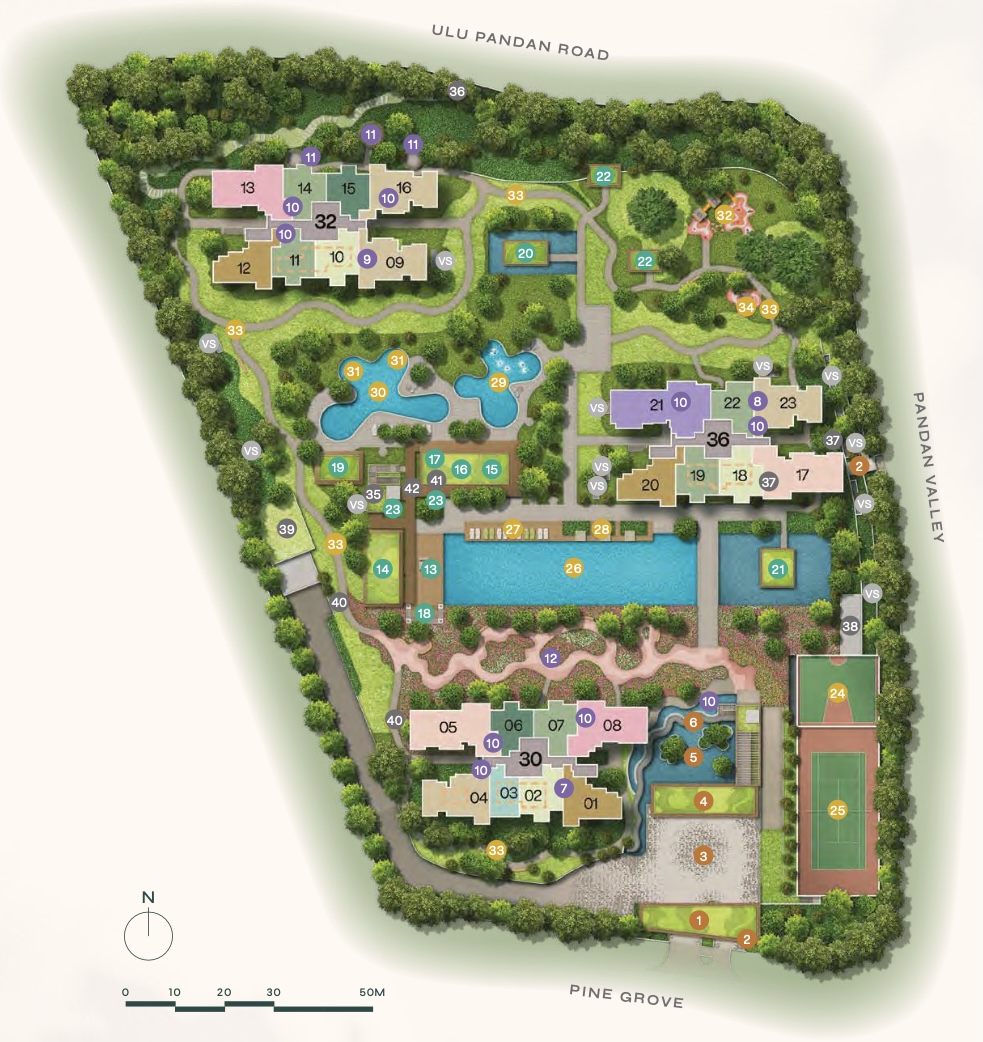 Ultimately, the price point for Pinetree Hill makes more sense now given how new it is, but my opinion of it would be different once the leasehold nature of it kicks in. For those who want to buy and not have to move ever again, I'd go for the freehold option.
So where does this leave us? Pinetree Hill makes a pretty good case when compared to its resale competitors. Given the larger unit sizes around, Pinetree Hill still manages to remain competitive in terms of overall pricing. Its newer and more modern facilities would attract those looking to stay in the area. However, I did recognise that the resale condos like Montview shouldn't be overlooked given it also has relatively modern facilities, a bigger unit and its freehold in tenure.
In terms of new launches, Pinetree Hill does make sense if you're gunning for the area, but at its asking prices, there could be other new launch units which may make more sense for you.
I've highlighted Ki Residences At Brookvale as an example given its 3-bedroom prices are quite competitive, and it is 999-year leasehold though it's not within 1 km of a popular school, and the walk to the bus stop can be a deterrence.
Another Rest of Central Region new launch, Piccadilly Grand, is more convenient and situated in an area chock full of amenities – and its 4-bedroom layout is pretty decent too. Of course, they're in completely different locations, but my advice is to always make a comparison to similarly-priced new launches in case the alternative could make more sense given their price point. And in the case of Piccadilly Grand, it may be so for some buyers.
Pinetree Hill Appreciation Analysis
Neighbouring Plots in Clementi Forest Earmarked for Future Residential Uses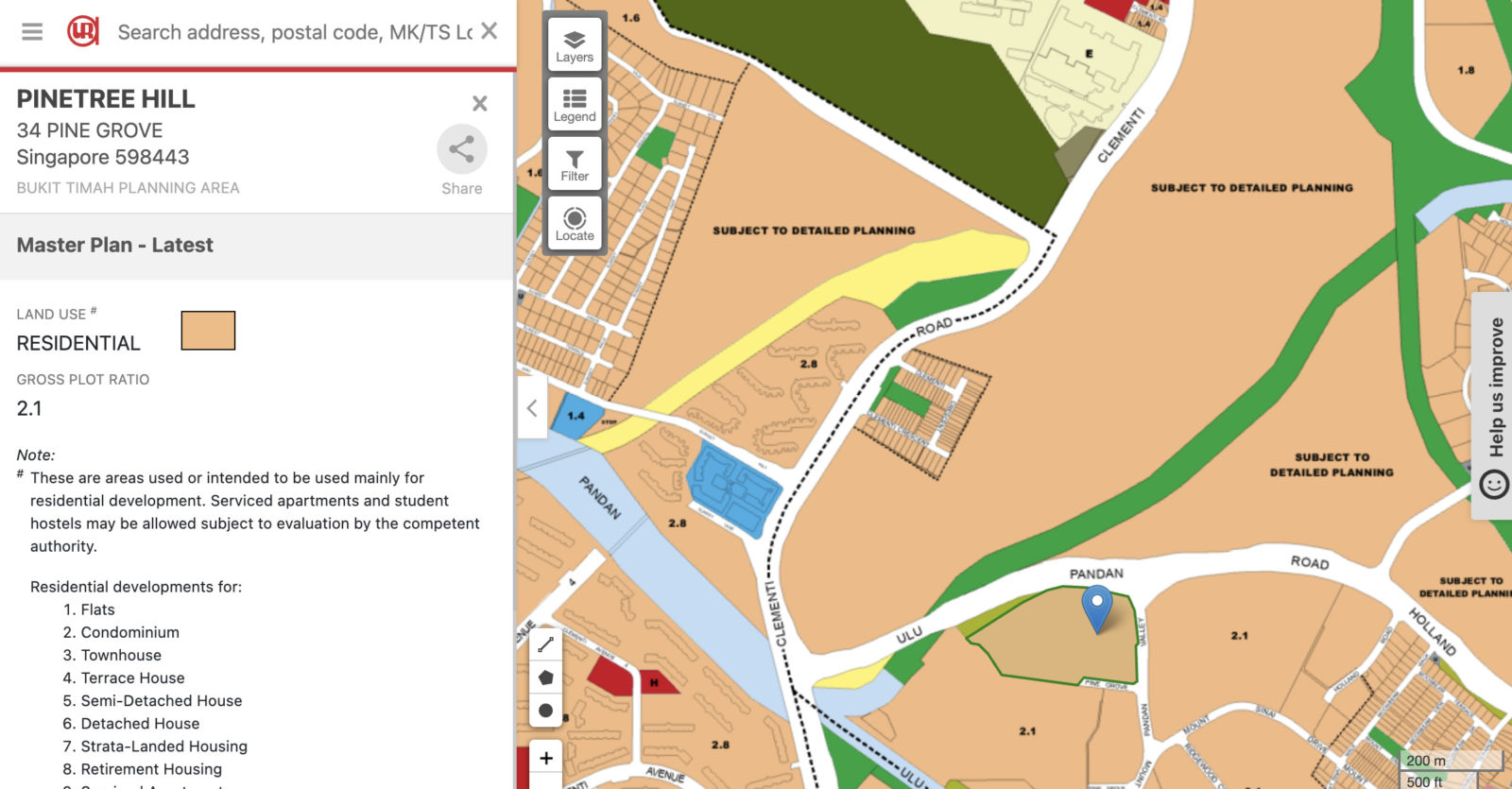 Image credits: URA
Since 1998, Clementi Forest has been zoned for residential uses in response to Singapore's burgeoning population. However, the parliament has announced that there's 'no immediate need' for more residential homes, which is the reason why Singaporeans are still able to enjoy the leafy forest trails.
Partly to future-proof housing demands in the later generations, these spaces would still remain zoned for residential purposes. With that in mind, it's important for buyers at Pinetree Hill to note that the skyline and views might be subjected to future changes, should there be high demand for housing in the area.
Nevertheless, a lot of residential housing is planned for the area, which could contribute to an uptick in prices further in the future.
Upcoming Maju MRT on the Cross Island Line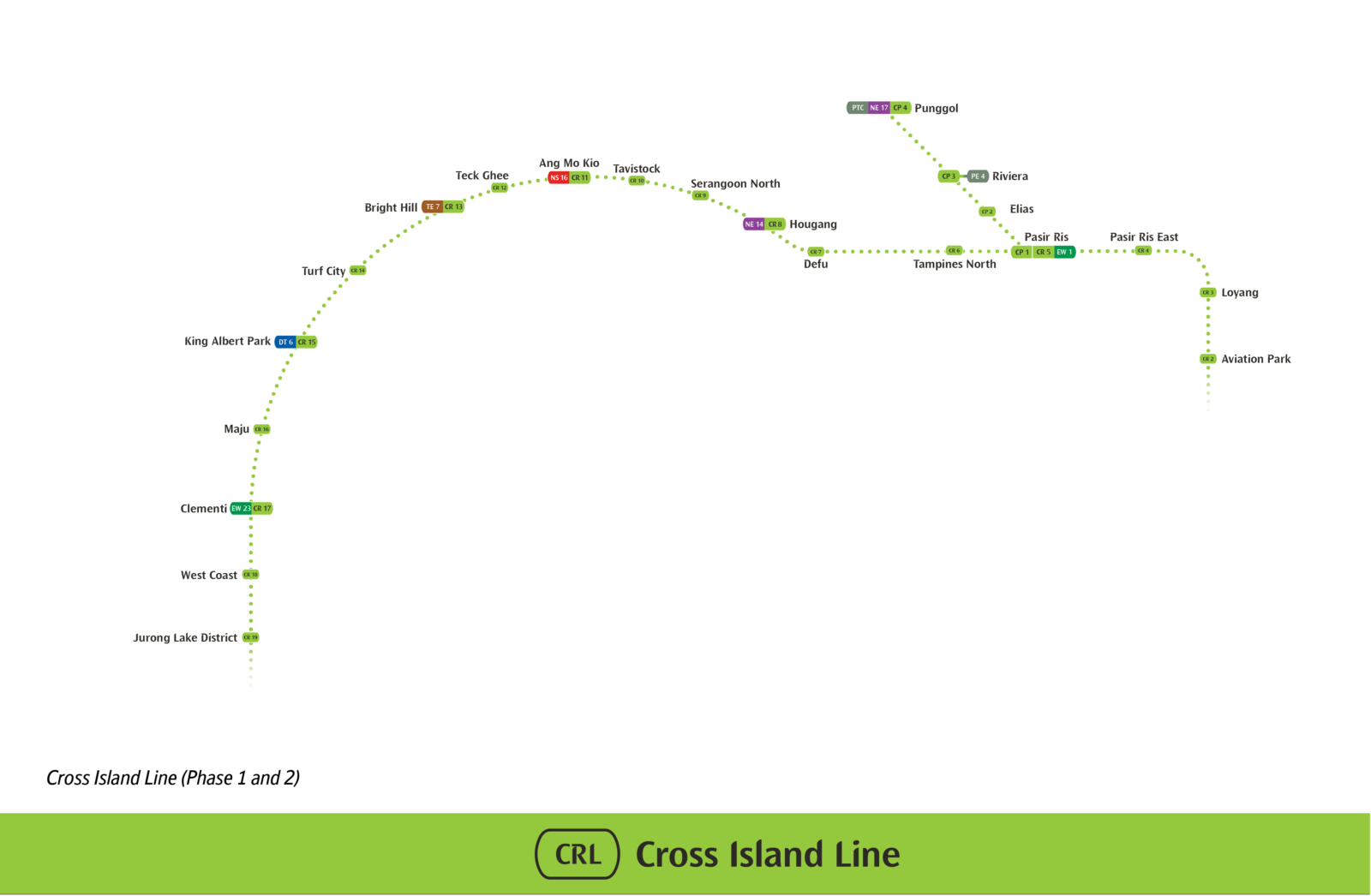 Image credits: LTA
Admittedly, Maju MRT Station isn't the nearest to Pinetree Hill (I personally don't think it's near enough to walk daily), but it still provides residents in the area an extra option when it comes to taking public transport. The Cross Island line, recently announced in 2022, would be expected to be completed in 2032 and connects commuters to other parts in the North-East and East of Singapore.
Keeping the timeline in mind, it also means that Pinetree Hill would be up and running for at least five years before the MRT station is completed.
Future Upgrading Plans in Holland Plain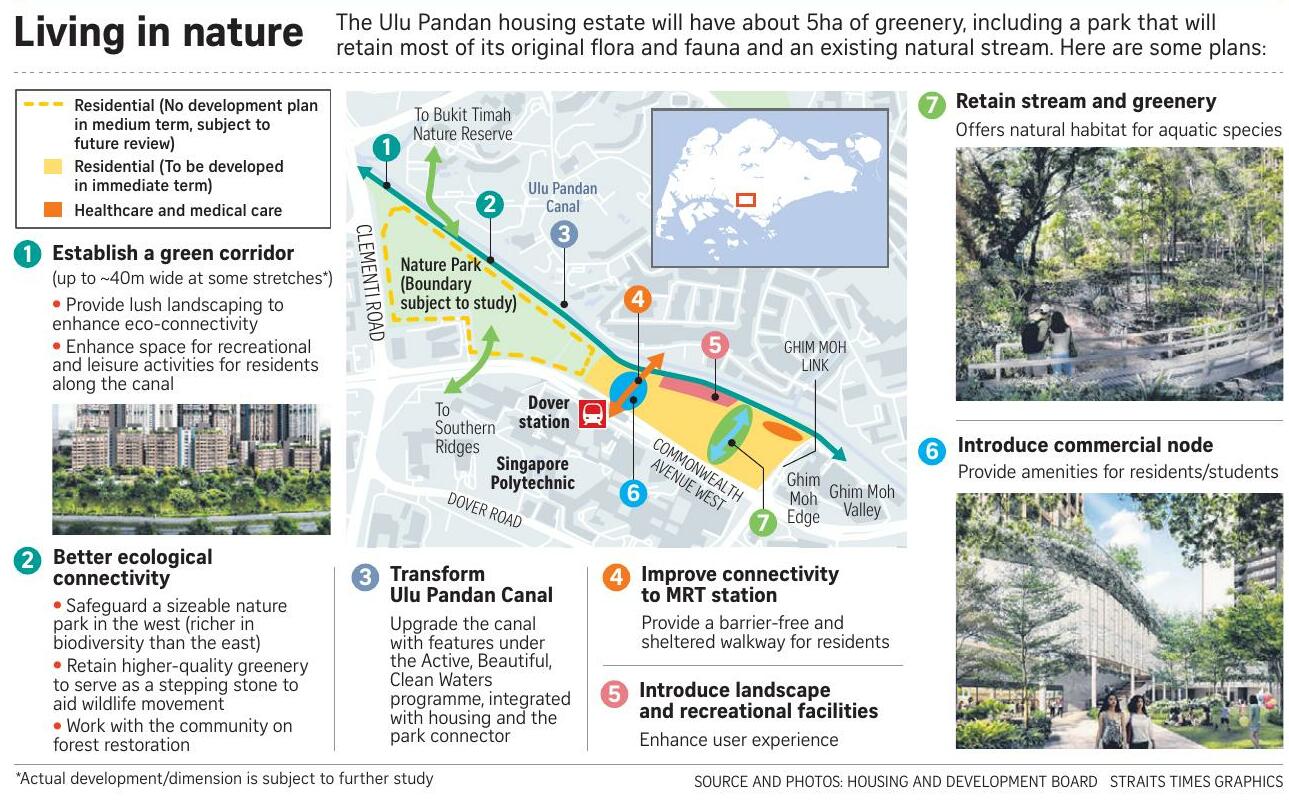 Image credits: HDB
Living in Nature – Car Lite Neighbourhood with Rich Biodiversity
Focusing on nurturing a neighbourhood surrounded by greenery and rich biodiversity, HDB has sensitive plans aimed at preserving the current greenery while making the space more liveable and connected.
Some plans include establishing a green corridor for a car-lite neighbourhood and preserving the current biodiversity in Dover Forest. Other plans include the transformation of the Ulu Pandan Canal, which is part of the ABC Waters Programme.
To make the space more liveable, residents can expect more sheltered pathways connecting to Dover MRT Station, more recreational spaces and a commercial node located at Dover MRT.
Upcoming BTOs and Future Developments at Ulu Pandan & Dover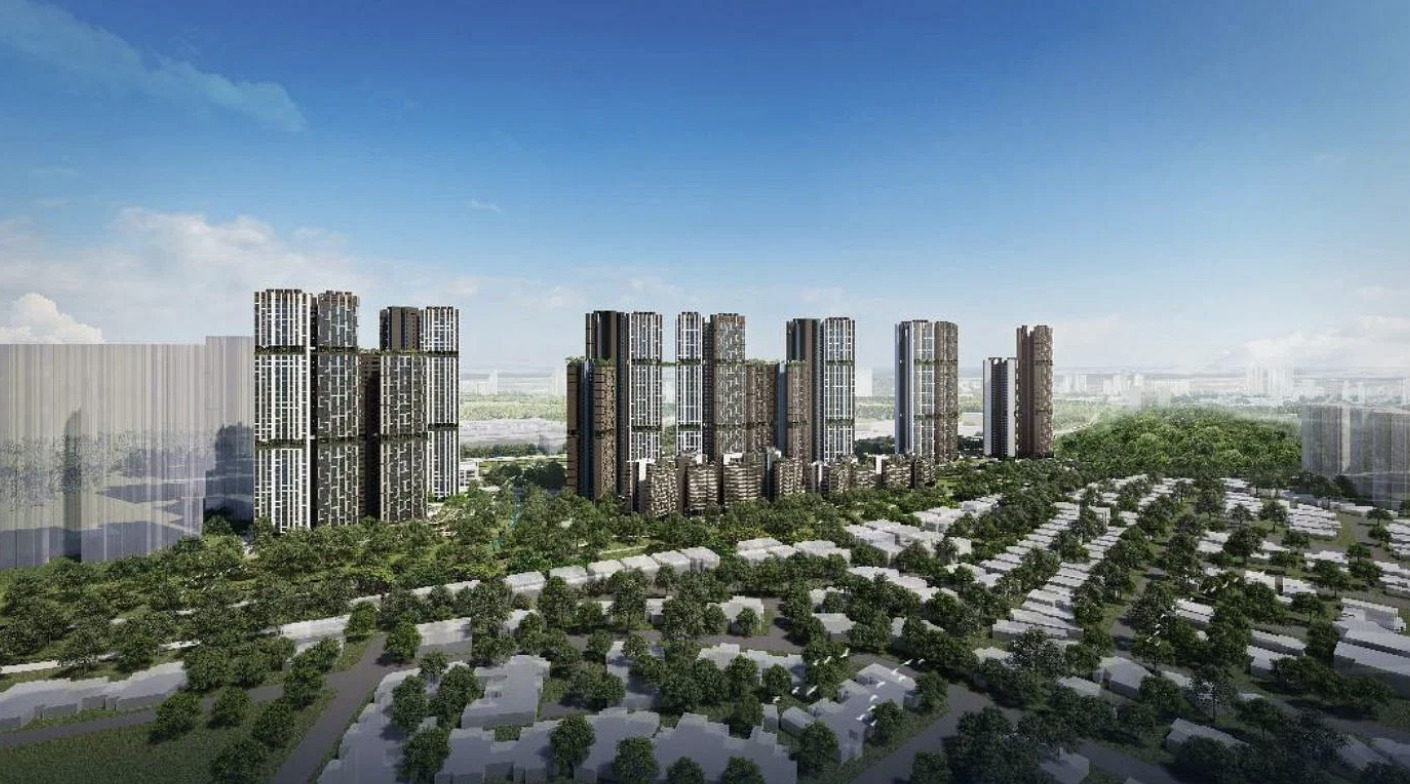 Image credits: HDB
Apart from making the neighbourhood a perfect blend of modernisation and greenery, the upcoming BTO project located in Dover Forest is a huge part of the project. It aims to include 3,000 flats and is being launched in three phases.
The first project aims to provide 1,330 three- and four-room flats with staggered heights to maximise views of the neighbouring Ulu Pandan Canal and Holland Grove landed enclave. Furthermore, it also includes sensitive plans to weave natural elements, such as the natural stream, into the new housing plans.
Not to mention, Clementi is already known to be one of Singapore's million-dollar HDB clusters, which does put the demand for housing into better perspective.
With that being said, the housing supply within the neighbourhood would see a spike, which would be helpful in bolstering the value of Pinetree Hill.
Parcel B – Site Pending for Additional Housing Supply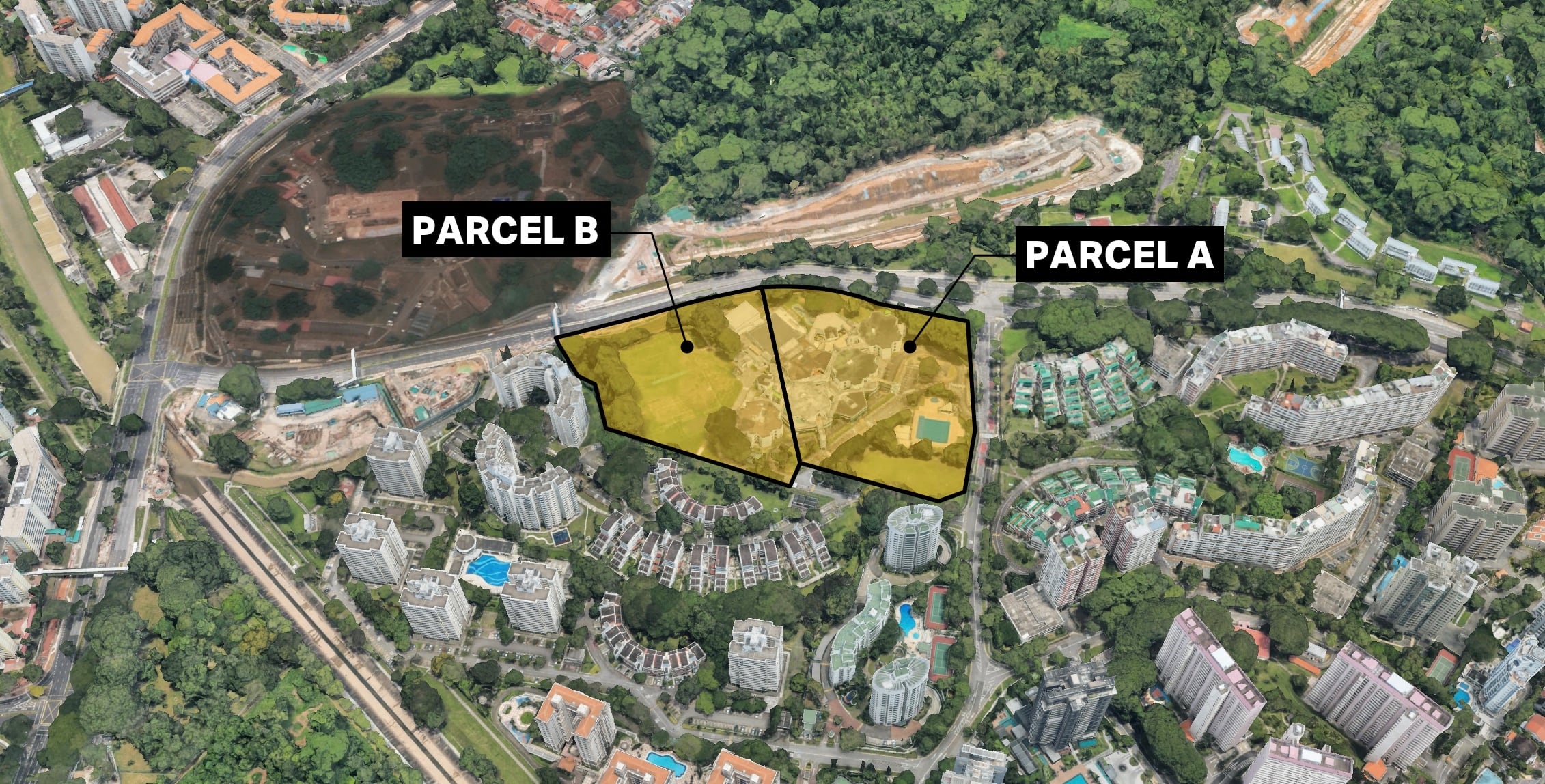 Last but not least, the Pine Grove site is notably split into two parcels.
Pinetree Hill sits on Parcel A, but depending on the response to Pinetree Hill, there could be a strong demand for Parcel B as well. If we take what happened with Clement Canopy and Clavon as an example, there would definitely be a positive effect (in terms of prices) for the early buyers at Pinetree Hill.
That said, this could also come at a downside in terms of construction noise and inconveniences once Parcel B is being built.
What we like
Near many good schools, such as Henry Park Primary School and NUS

Overlooking lush greenery (though earmarked for future changes)

Most units can enjoy the surrounding views
What we don't like
–

Not near the MRT station

–

Not many amenities nearby within short walking distance

–

Carpark ratio not 1:1
Our Take
Ushering in a resurgence for the serene, leafy locale of Ulu Pandan, Pinetree Hill stands as a (but certainly not final) significant augmentation to its skyline in over a decade.
I think that the developers have a winning formula in what they've done with Clavon and Clement Canopy, and Pinetree Hill looks to adopt much of that same format.
There's a diverse number of quality facilities, and it is within a sweet spot of 5-600 units, where maintenance fees can still be kept reasonable. Yet at the same time, you aren't going to face the sometimes overwhelming number of people that you may see in mega-developments (even if there are enough facilities to support it).
The grounds are also big enough, and the blocks are well-spaced that you don't have the issue of neighbours being able to peer into your unit.
My main concern, however, is the sparse local amenities within walking distance, a key factor impacting the neighbourhood's liveability. Given the expectation that most homeowners would need a vehicle, the non-1:1 car park to unit ratio could also be problematic.
The zoning of Clementi Forest for residential use also raises concerns that the current unobstructed forest views may not remain indefinitely.
All in all, I think that the product is strong, but in an area that is currently still not top of mind for most people. There should still be decent demand from those looking to enter the area, as the smaller but more efficient unit sizes mean that overall prices would be more affordable than the many older but bigger units in the area.
I do also believe that given the supply of potential residential units in the future, the amenities within the neighbourhood should see growth in order to support the growing demographics. This could see further upside and demand in the future.
What this means for you
You might like Pinetree Hill if you:
You prioritise green views and living in a leafy neighbourhood:

Understandably, having this amount of greenery in city-jungle Singapore is not a common trait, which makes projects like Pinetree Hill a real gem to those who enjoy the green spaces. Some of its stacks would be able to enjoy unblocked views of the Clementi Forest, which is a big selling point of the project. For those who like to be surrounded in greenery, Pinetree Hill is near to Dover Forest (though expected to clear up for future housing), Maju Forest, Clementi Forest and Greenleaf Forest.

Have schooling children looking to study in well-known institutions:

It's no surprise the Pinetree Hill is marketed and tailored heavily to suit a typical family in Singapore, seeing that there are so many excellent schools across all education levels nearby. Some options include Henry Park Primary School, Methodist Girls' School and NUS.

Prefer living in a low-density development:

Apart from having more common spaces and land to enjoy, the overall neighbourhood in Ulu Pandan is considerably low-density as compared to other parts of Singapore. For those who prefer that lifestyle, this could be a great option for you.
You may not like Pinetree Hill if you:
You want immediate access to surrounding amenities:

Most Singaporeans would rather have amenities to be immediately accessible right at your doorstep. However, Pinetree Hill doesn't offer that and the nearest MRT station, shopping options or grocery and food options require a short drive or bus ride away. To tackle this pain point, Pinetree Hill offers shuttle buses to Holland V MRT and Buona Vista MRT for the first year of its launch.
End of Review
Documents
Join our Telegram group for instant notifications
Join Now
Cheryl