Condo Reviews

The Palette Condo Review – A Good Family Condo In The East
Druce
September 6, 2017

12

min read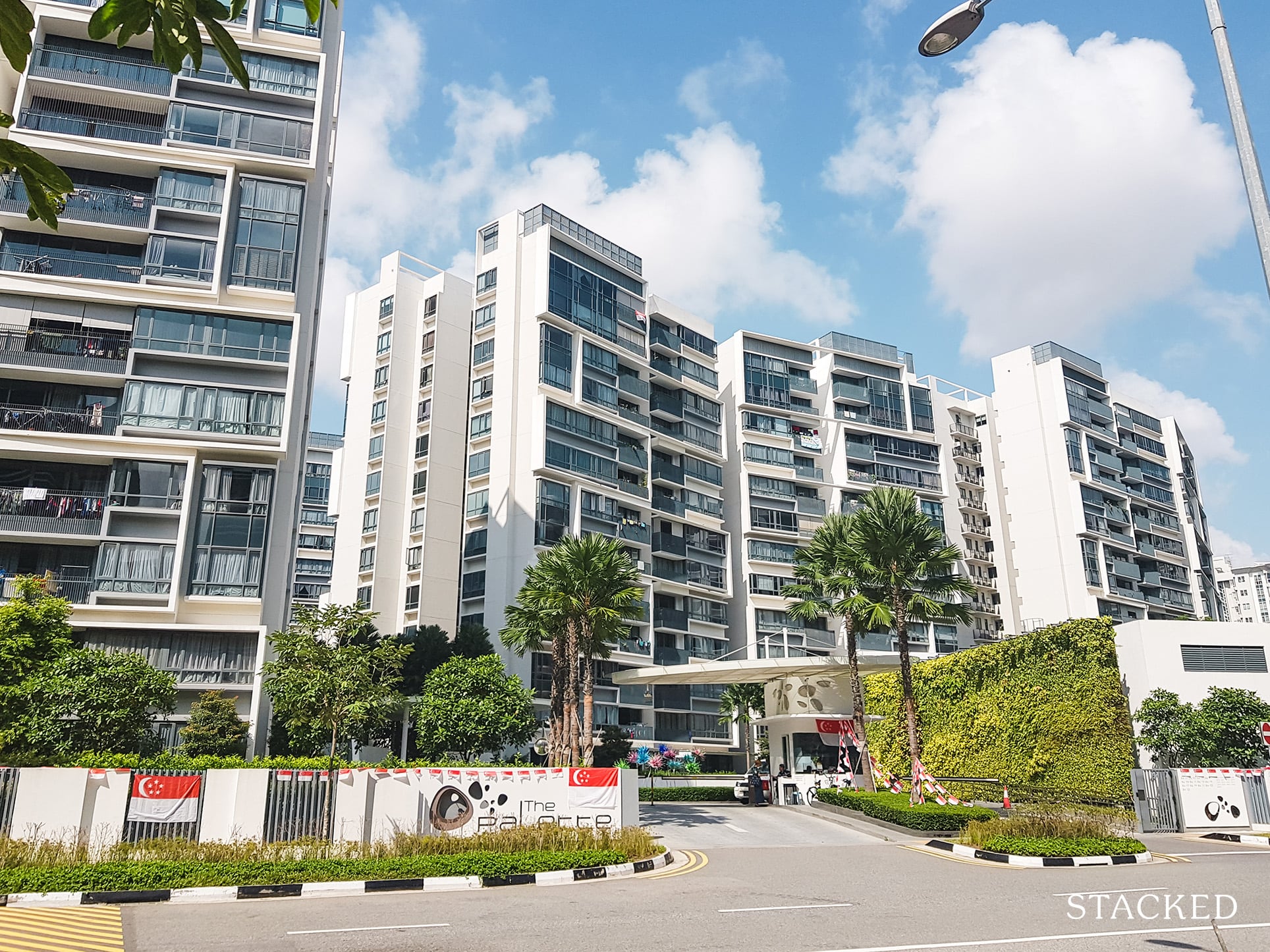 The Palette on the whole is a development very suitable for anyone looking for a place to live in Pasir Ris. It is well designed and constructed by a reputable developer, facilities are more than adequate and in some cases premium enough despite it catering more to the mass market.
Reviewed by Druce on September 06, 2017
What we like
Competitive price

Good facilities

Quite spacious despite no of units
About this condo

| | | | |
| --- | --- | --- | --- |
| Project | The Palette | District | 18 |
| Region | Outside of Central Region (OCR) | Address | 101 – 125 Pasir Ris Grove |
| Tenure | 99 Year Leasehold from Oct 2010 | Site Area | 461,315 sqft |
| No. of Units | 892 Units | Developer | Hong Realty (Private) Limited |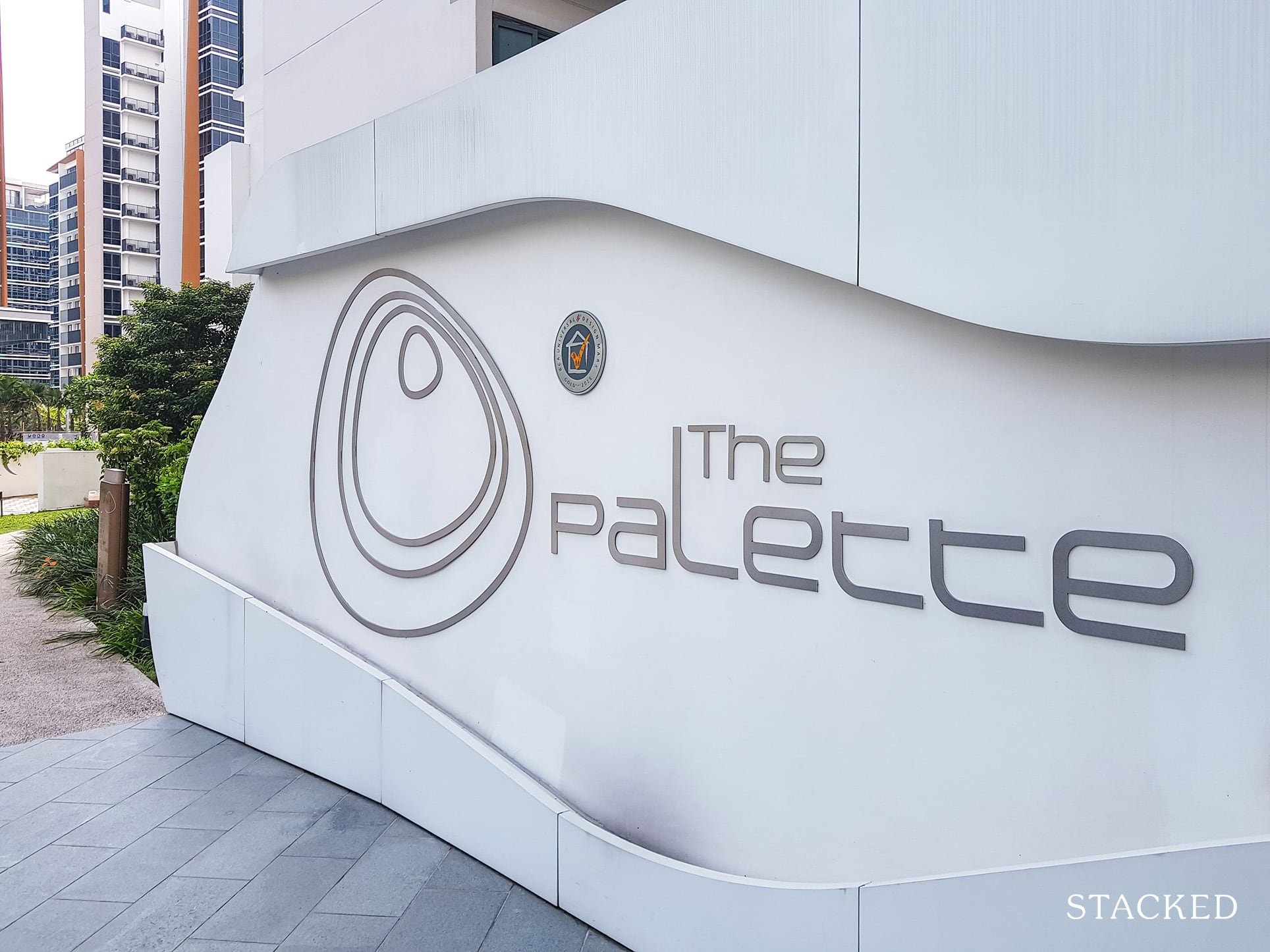 The Palette is located in Pasir Ris Grove amongst a nice enclave of private properties in Pasir Ris. One interesting thing in the area is that the five condos in the Pasir Ris Grove area, Coco Palms, D'Nest, Livia, NV Residences and the Palette are all built by a combination of Hong Realty/Hong Leong Holdings and City Developments Limited (CDL).
Since the whole area is effectively built by the same developer, in a way they are able to control the pricing of that mini enclave. This can be seen as a good thing because prices for the area can be stabilised and not affected as much by a new development.
The Palette Location Review
Pasir Ris is considered a coastal town, with its close proximity to the sea, hence the local name White Sands. Pasir Ris is also the only estate in Singapore where the town centre is located within 500m of the park and coastal beach area. So residents in Pasir Ris can enjoy much greenery, with the Pasir Ris Town Park, Pasir Ris Farmway and Tampines Eco Green offering an idyllic and cooling environment.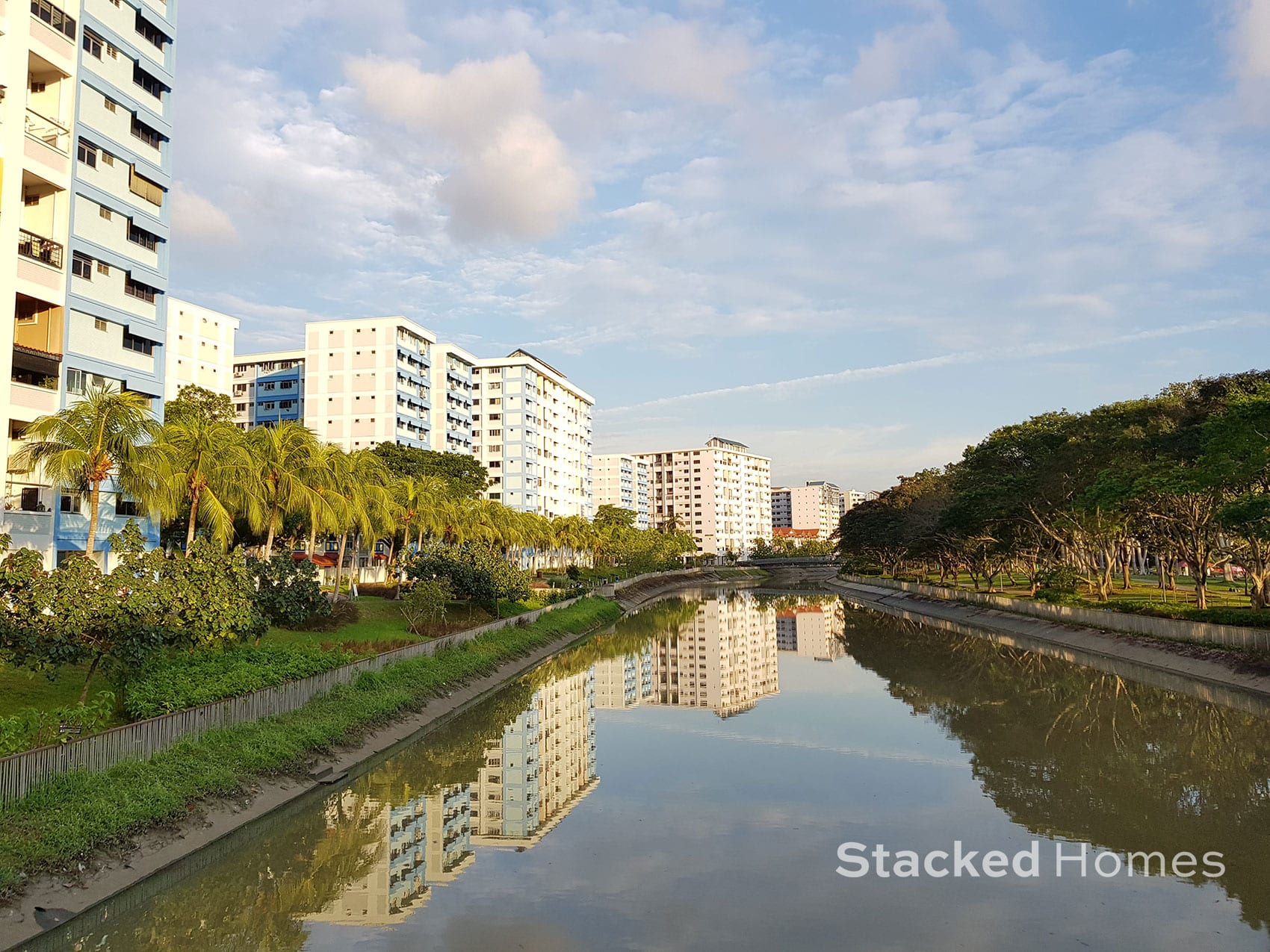 The main shopping area is the White Sands shopping mall, which is situated directly next to Pasir Ris MRT station. There are also several other entertainment options such as NTUC Downtown East, which offers chalet accommodation, bowling alleys and cinemas. You also get Wild Wild Wet, a water-based theme park which replaced the now-defunct Escape theme park.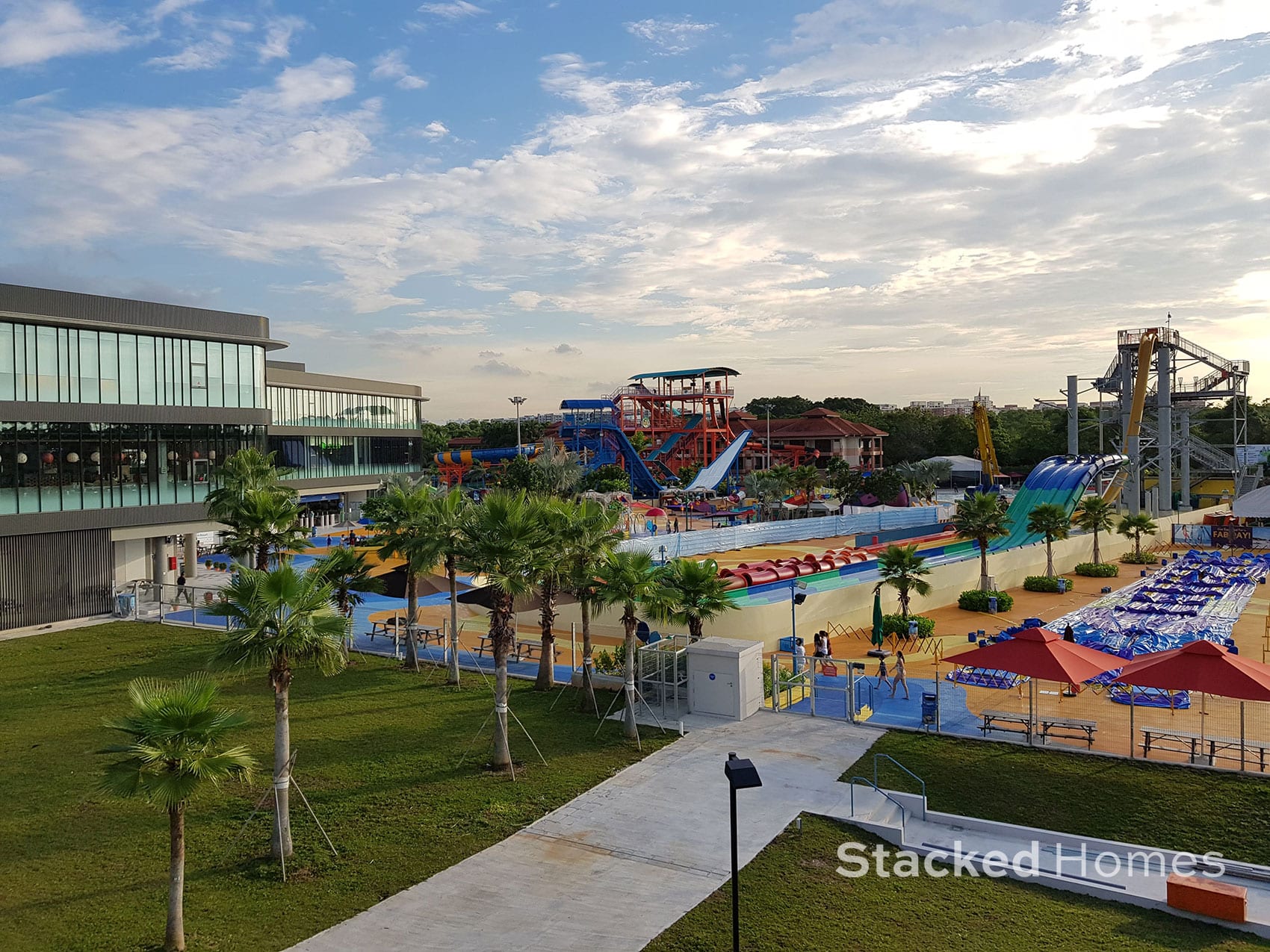 Pasir Ris Grove is a great location within Pasir Ris as it is in the centre of Pasir Ris. If you are looking for quick access to amenities, there are options available to you.
Located directly opposite Pasir Ris Drive 8, the HDB estate contains a Sheng Siong supermarket for your daily necessities and there is also an NTUC Food Fare that can solve any quick hunger pangs.
A quick drive down Pasir Ris Drive 1 will lead you to a huge all in one shopping area consisting of Ikea, Giant Hypermarket and Courts. Basically all your needs in one place! This is reminiscent of those humungous hypermarts in the US and provides a different shopping experience from the norm.
Looking at schools in the area, there are two primary schools that are really close by, Elias Park Primary School and Coral Primary School. They are both less than 1km away. In terms of secondary school's, the closest would be Meridian Secondary School. There is also Meridian Junior College and Overseas Family School in the nearby vicinity.
In terms of transport links, as mentioned earlier, the Palette is pretty well connected. It is right outside the main entrance to Pasir Ris via the Tampines Expressway (TPE) which can be a boon or a bane depending on your outlook. So from the moment you exit the expressway, the Palette will be located along the first exit on the left. This makes it extremely convenient for moving in and out of the estate.
On the other hand, during peak hours, the traffic conditions could possibly get quite busy as the TPE is the only expressway that currently serves Pasir Ris.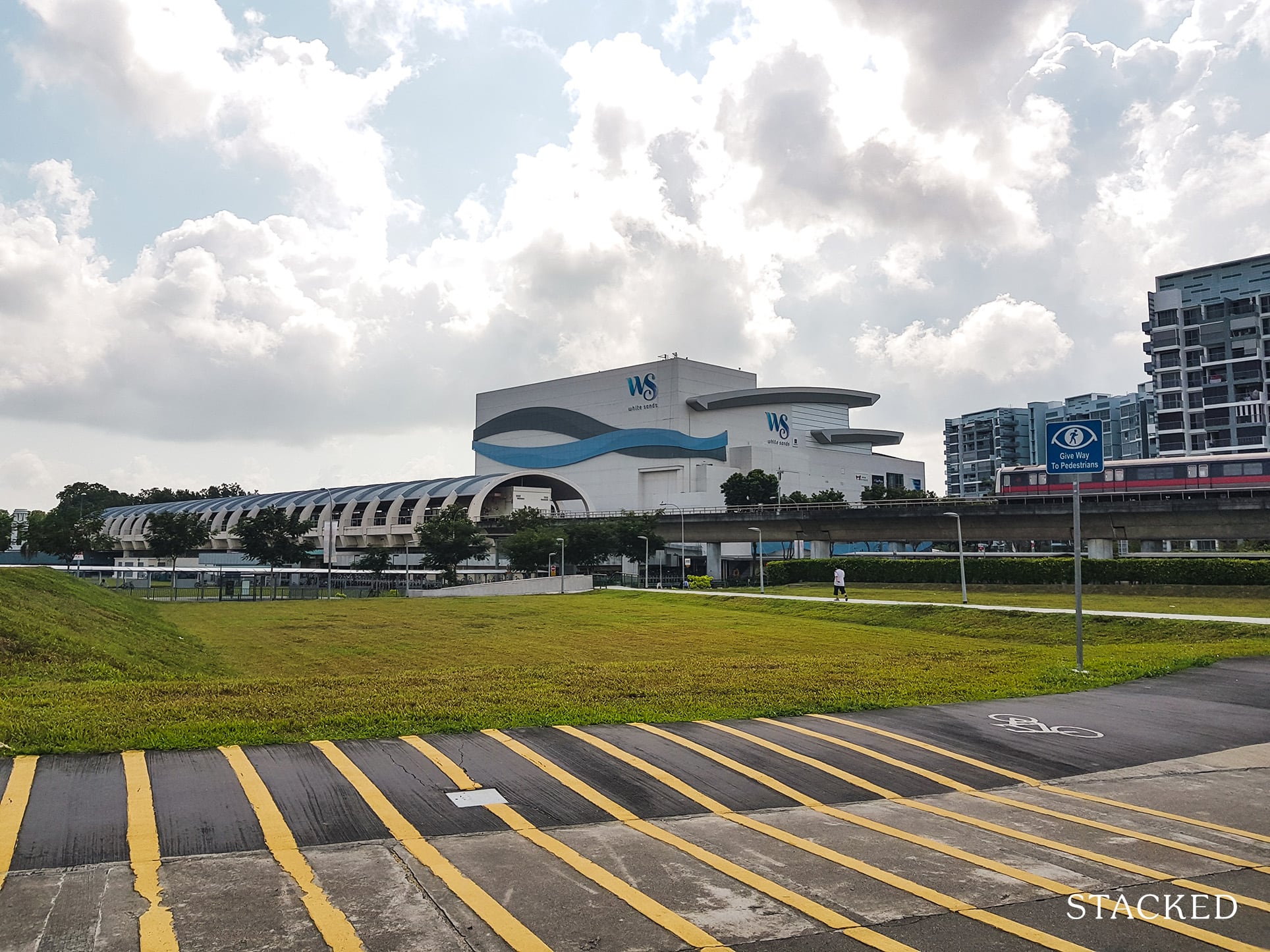 According to Google, the Palette is about a very short 6 min drive, 8 min bus ride of just 2 stops and a 13 min walk to the main shopping area of White Sands and Pasir Ris MRT station. However, do note that the vicinity of Pasir Ris MRT and White Sands can get quite congested during book out days and has even generated lots of online discussions. Also, although it is considered walkable to the MRT, the route is not sheltered so it will be useful to keep an umbrella at hand if you take the MRT a lot.
Future Plans for Pasir Ris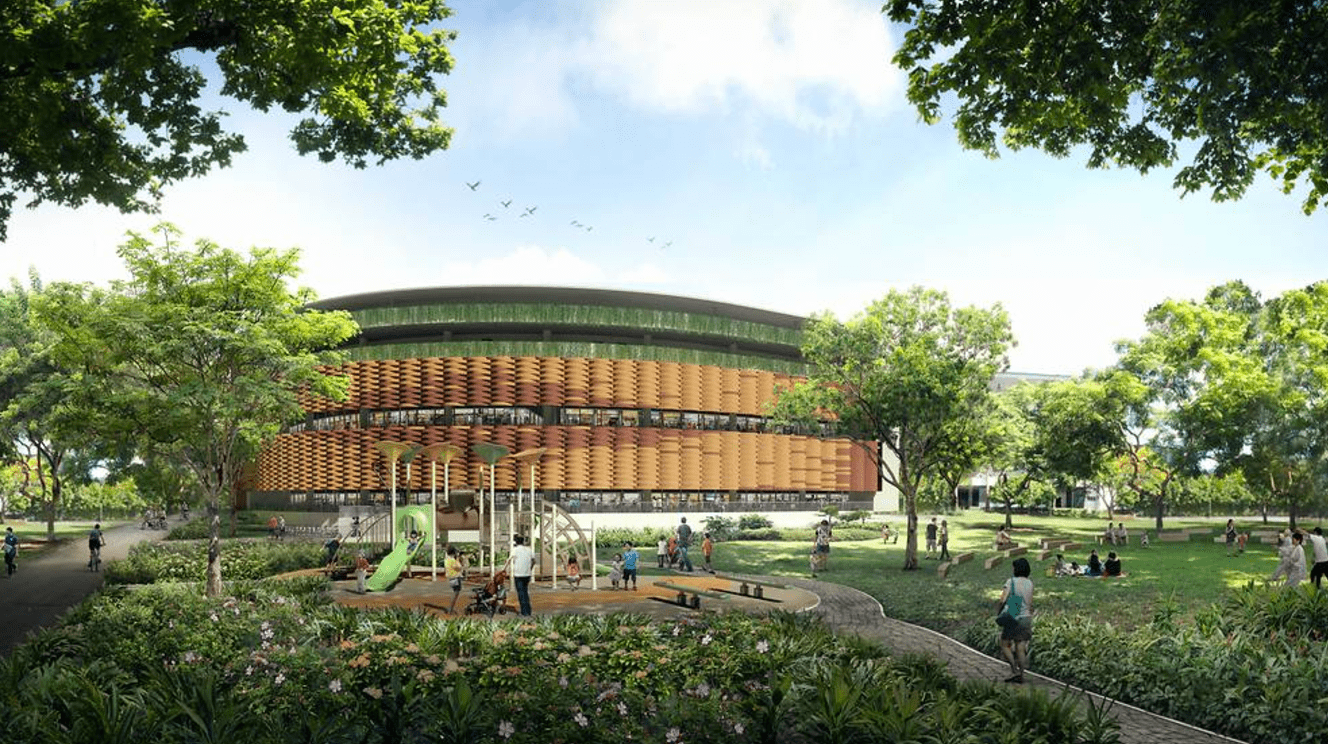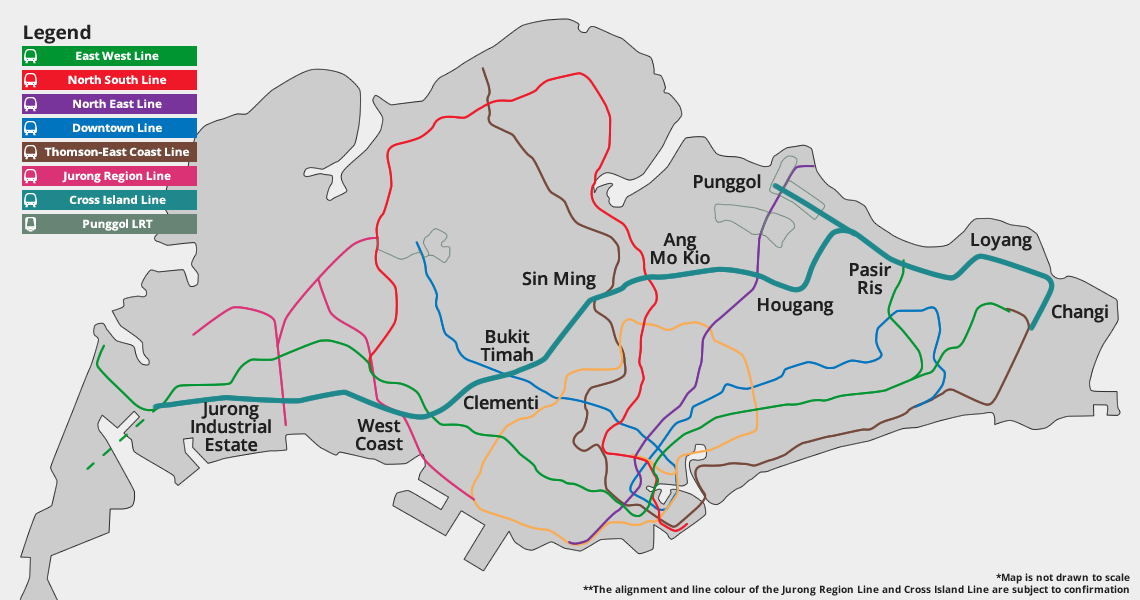 It is always important to research on the future plans for any area that you will be planning to stay, as these can drastically change particularly in a rapid ever-changing environment like Singapore. Earlier this year, it was mooted by the Government that Pasir Ris has been identified as one of the towns and estates that will be revitalised under the HDB's Remaking Our Heartland (ROH) program.
Part of the plans to revamp Pasir Ris will start with the town centre. Next to White Sands there will be a new mixed-use development that will consist of residential, retail and beverage outlets. The bus interchange will also be improved and come with a dedicated pick-up and drop-off point for National Servicemen, which will hopefully improve the traffic situation outlined earlier on. Another big additional feature would be the 1.2km Central Greenway, which will connect Tampines Eco Green to Pasir Ris Park. This will allow for quicker travel times for cyclists and pedestrians and is line with the Government plans for less reliance on cars as a means for transportation.
Pasir Ris is also slated to get its first hawker centre, which is scheduled to be completed later this year. The hawker centre will boast two levels of 41 stalls and more than 500 seating spaces. Upcoming in 2030 is the Cross Island Line that will link Pasir Ris all the way to Jurong Industrial Estate, this is great as the Government has been pushing Jurong as the second CBD of Singapore. Lastly, there are plans to upgrade the four existing neighbourhood centres in Pasir Ris, Loyang Point, Elias Mall, Pasir Ris West Plaza and Neighbourhood 4 NC. This is in addition to the proposal to build 2,000 public housing units that will be located adjacent to Pasir Ris Park.
Development Site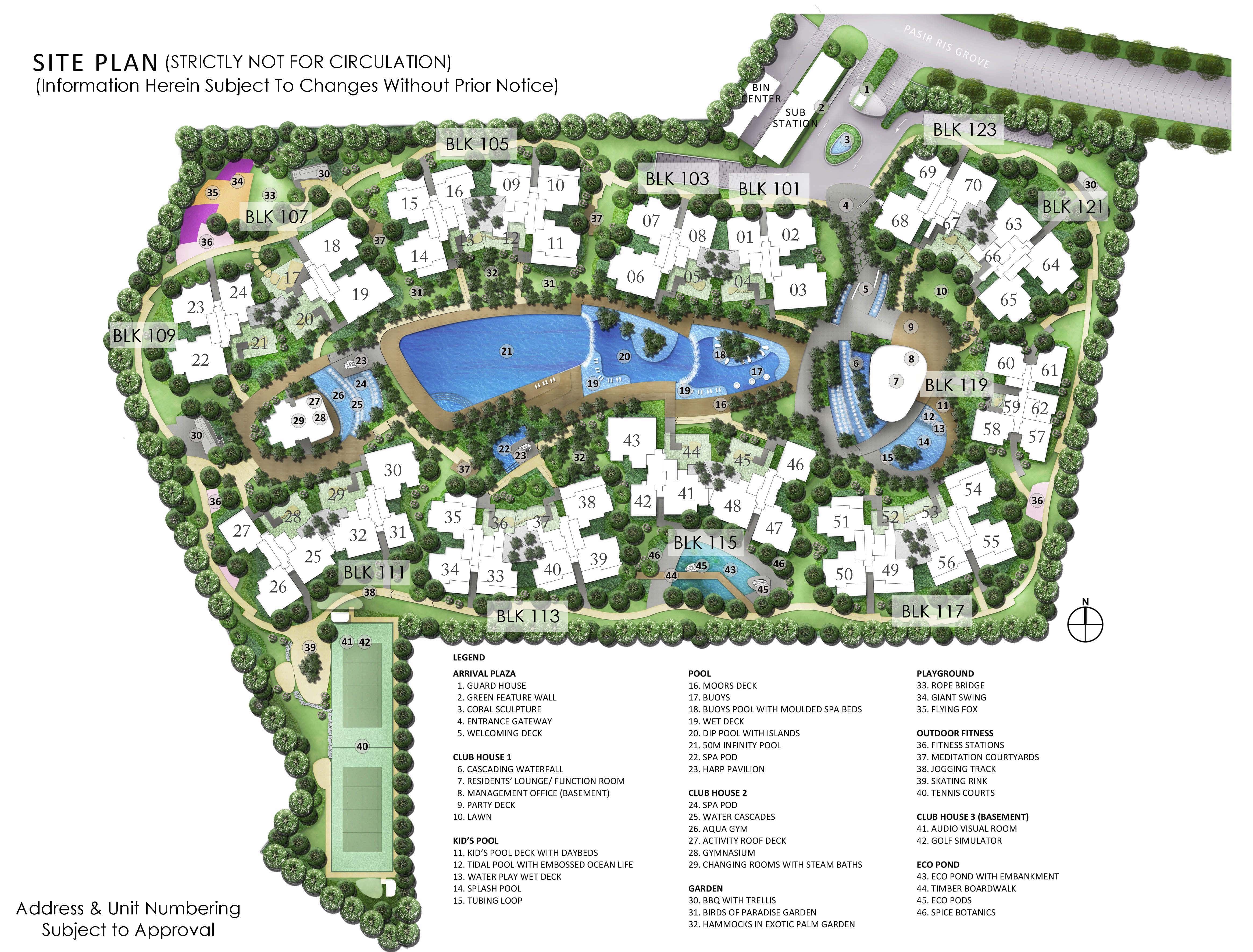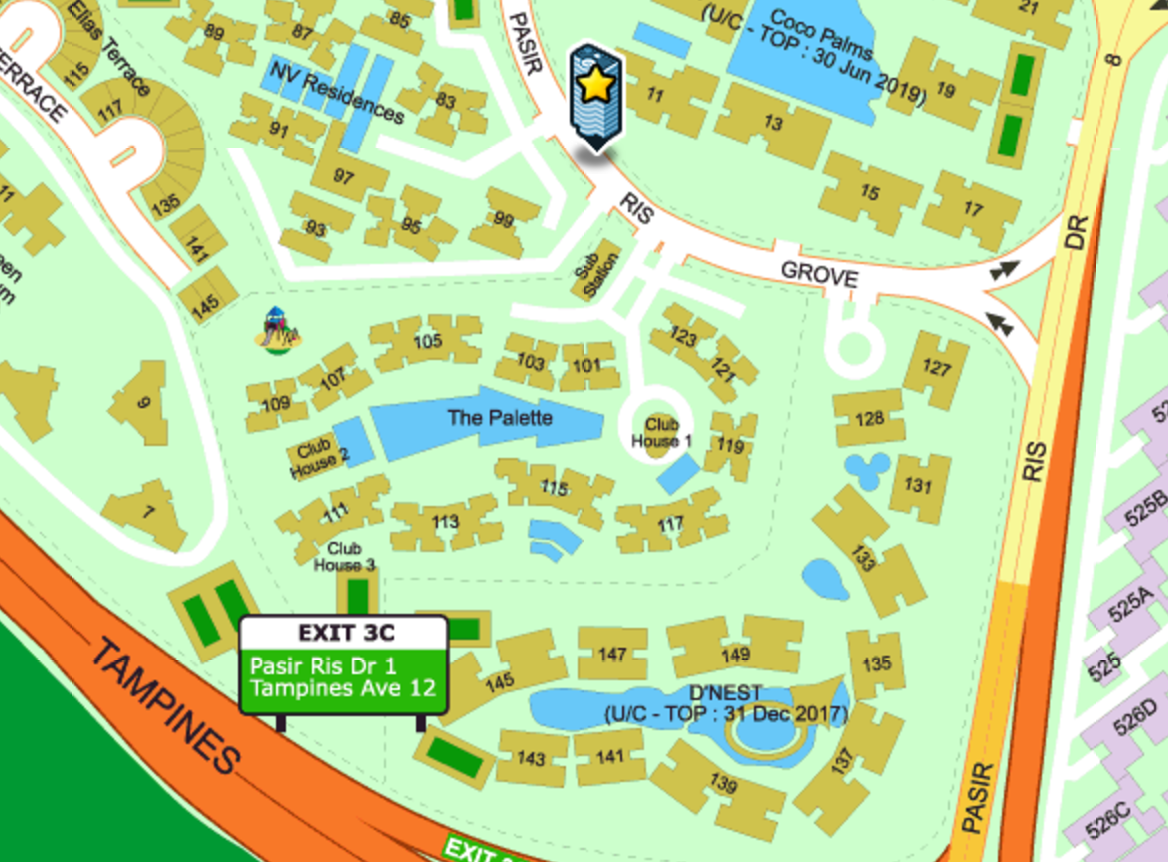 Looking at the site plan of the Palette, you can see that it is a huge plot of land, so just taking a slow walk around the estate can be quite a substantial exercise in the evenings. This has to house close to 900 units so the space needs to be big to prevent residents from feeling any sense of claustrophobia. There is only one entrance to the development through Pasir Ris Grove. It is a dual lane road so even when the surrounding developments are up and running, the traffic coming in and out should be manageable.
As D'Nest and Coco Palms are close to completion, you should not get much disturbance in terms of noise and pollution moving in at this point. If you look at the map you can see that the Palette is surrounded by three condominiums, NV residences, D'Nest and Elias Green Condominium. The disadvantage here is that for the outer blocks there will not be much of a view as they face their neighbours. However, the advantage is that the Palette is sheltered from the road noise so if you pay a visit, you will notice that it is quite a tranquil setting. As Elias Green and D'Nest front the intersection of the TPE and Pasir Ris Drive 8, they will bear the brunt of the traffic pollution.
The Palette Insider Tour
Facilities in The Palette
Resident's lounge/function room
Party Deck
Lawn
Kid's Pool
Tidal Pool
Water Play Wet Deck
Splash Pool
Tubing Loop
Dip Pool
50m Infinity Pool
Pavilion
Spa Pod
Aqua Gym
Gymnasium
Changing Rooms with Steam Baths
BBQ Pits
Garden
Hammocks
Playground
Outdoor Fitness Station
Jogging Tracks
Skating Rink
Tennis Courts
Audio Visual Room
Golf Simulator
Eco Pond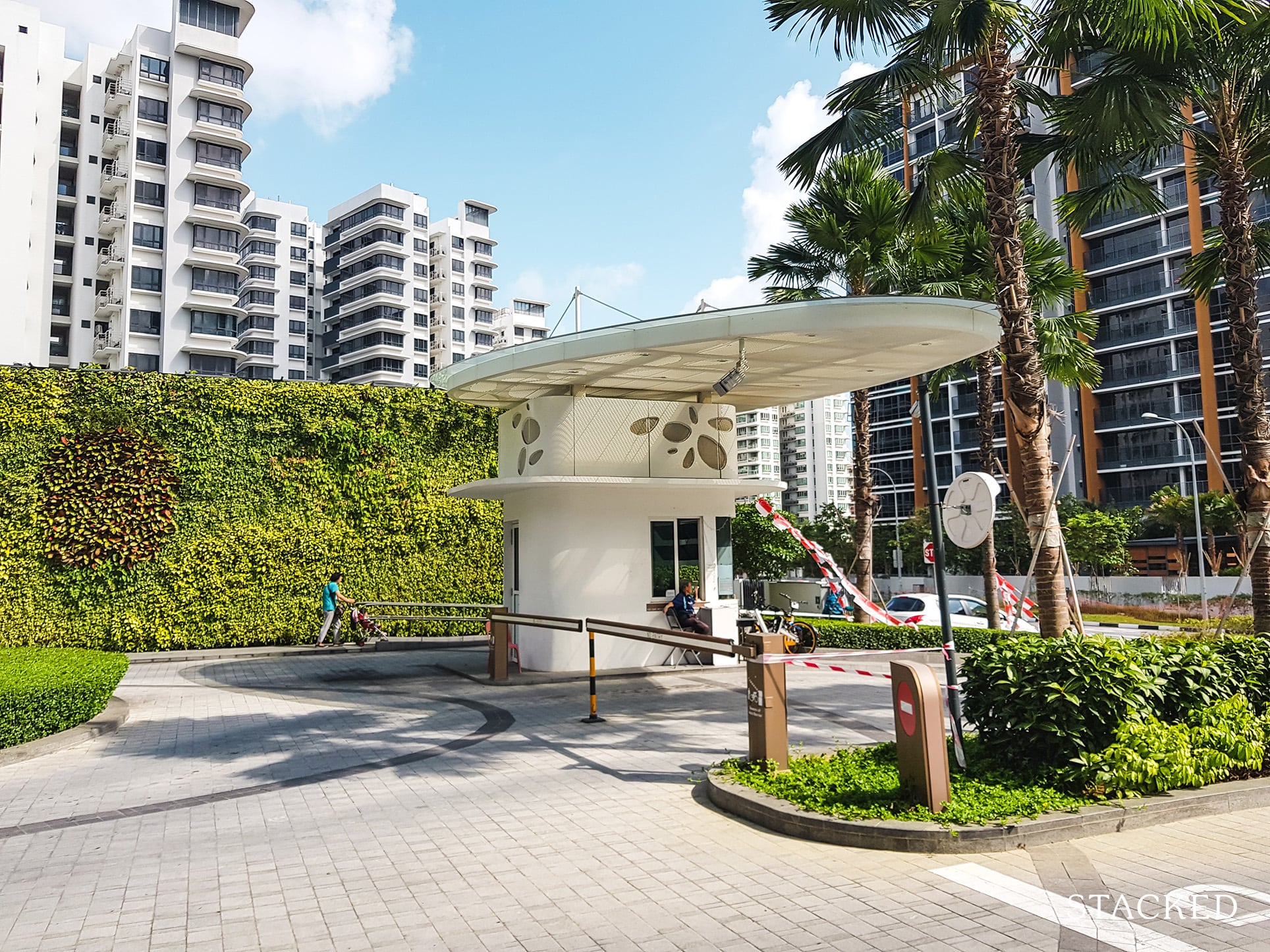 Guardhouse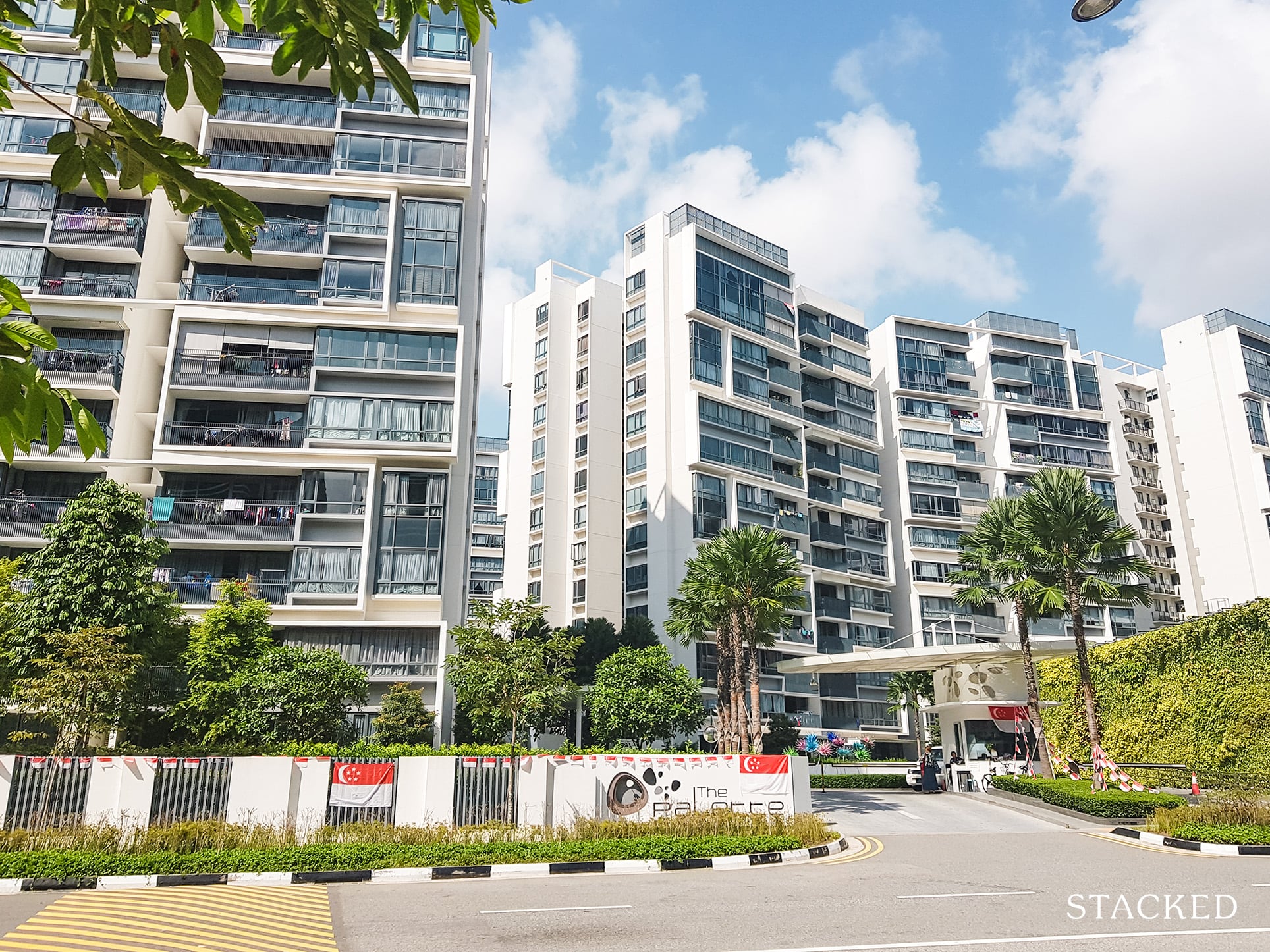 Entrance to the Palette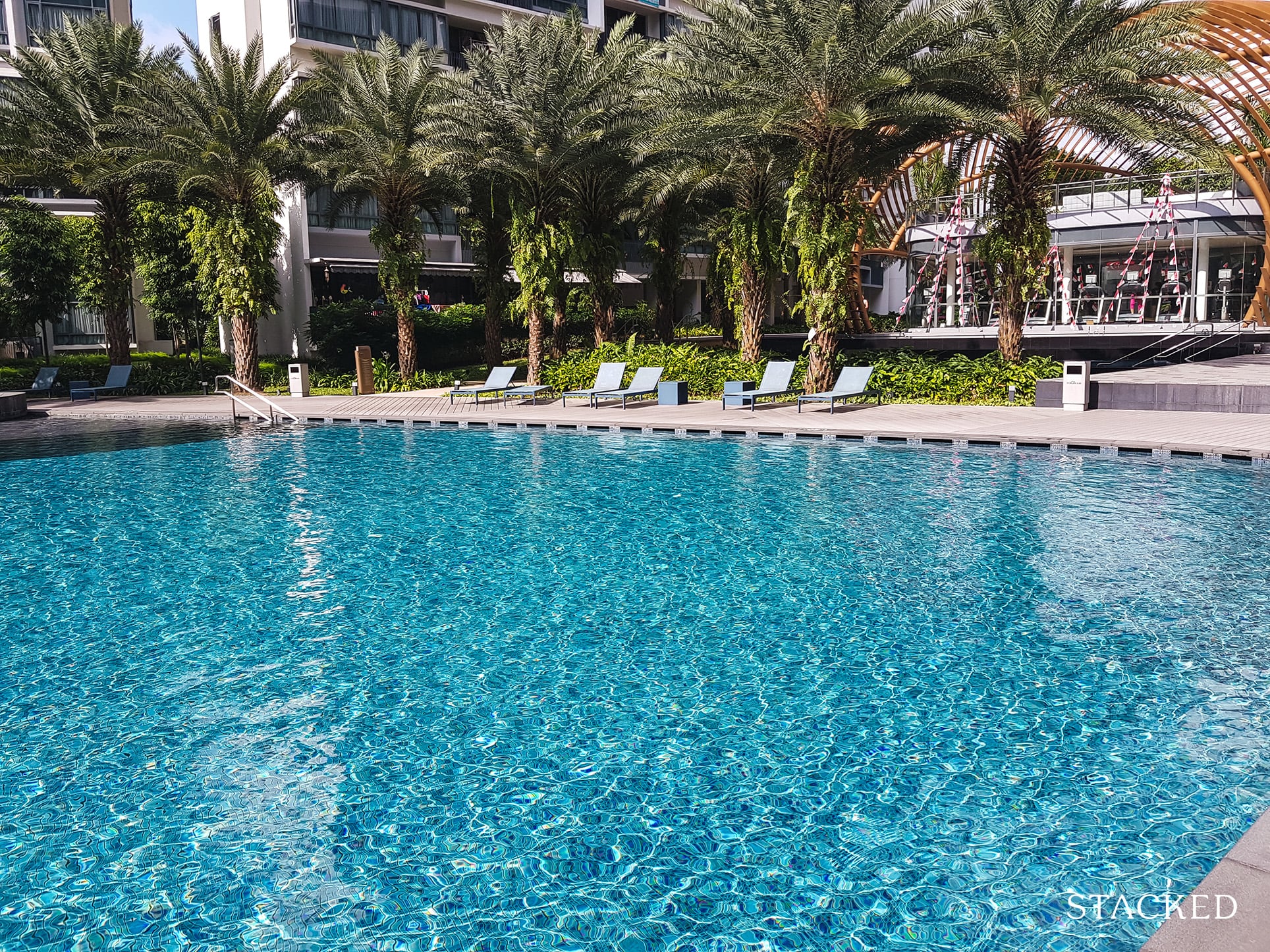 Huge 50m Infinity Pool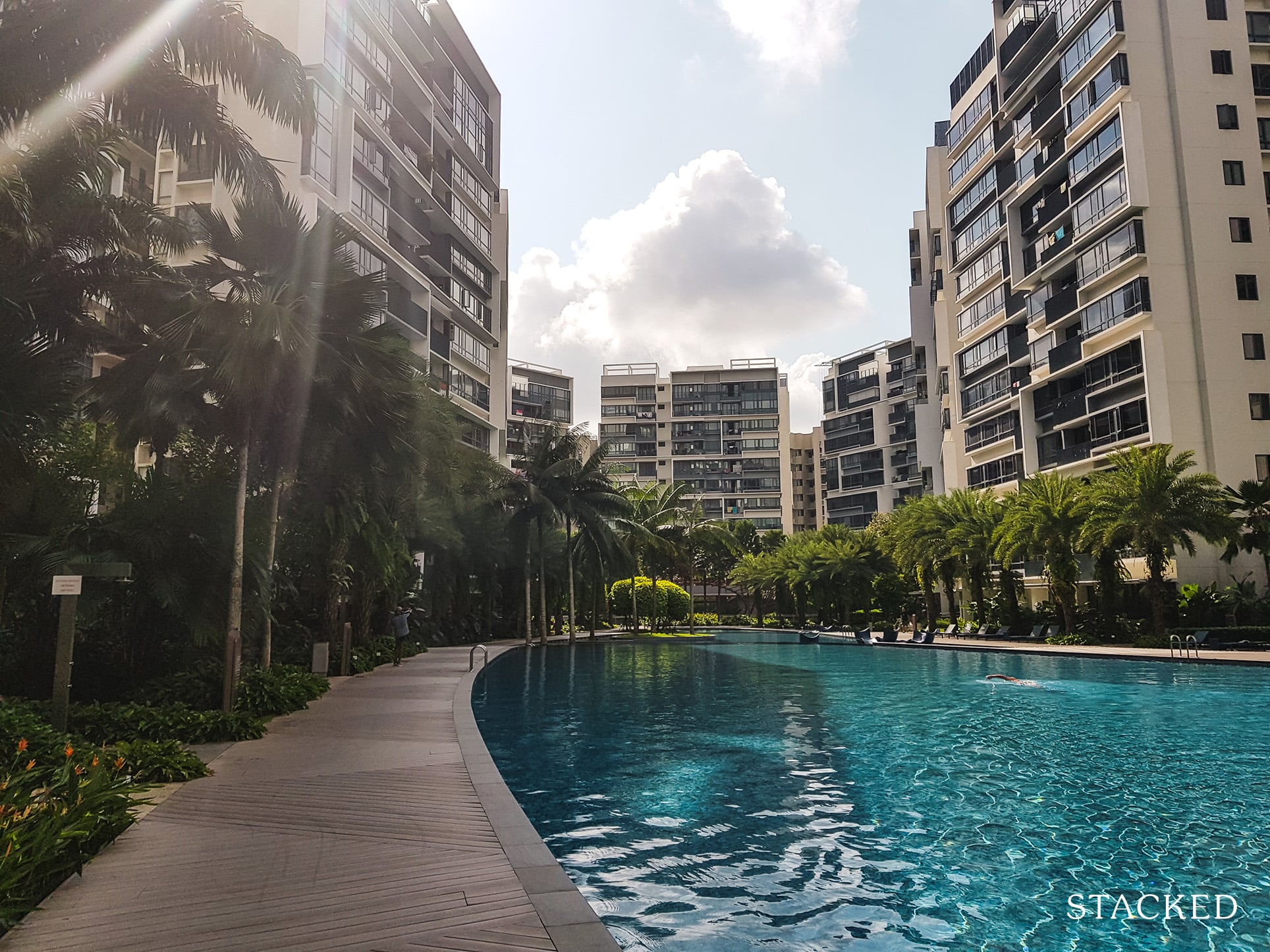 The pool is completely surrounded by the blocks but the well-manicured landscape is a welcome sight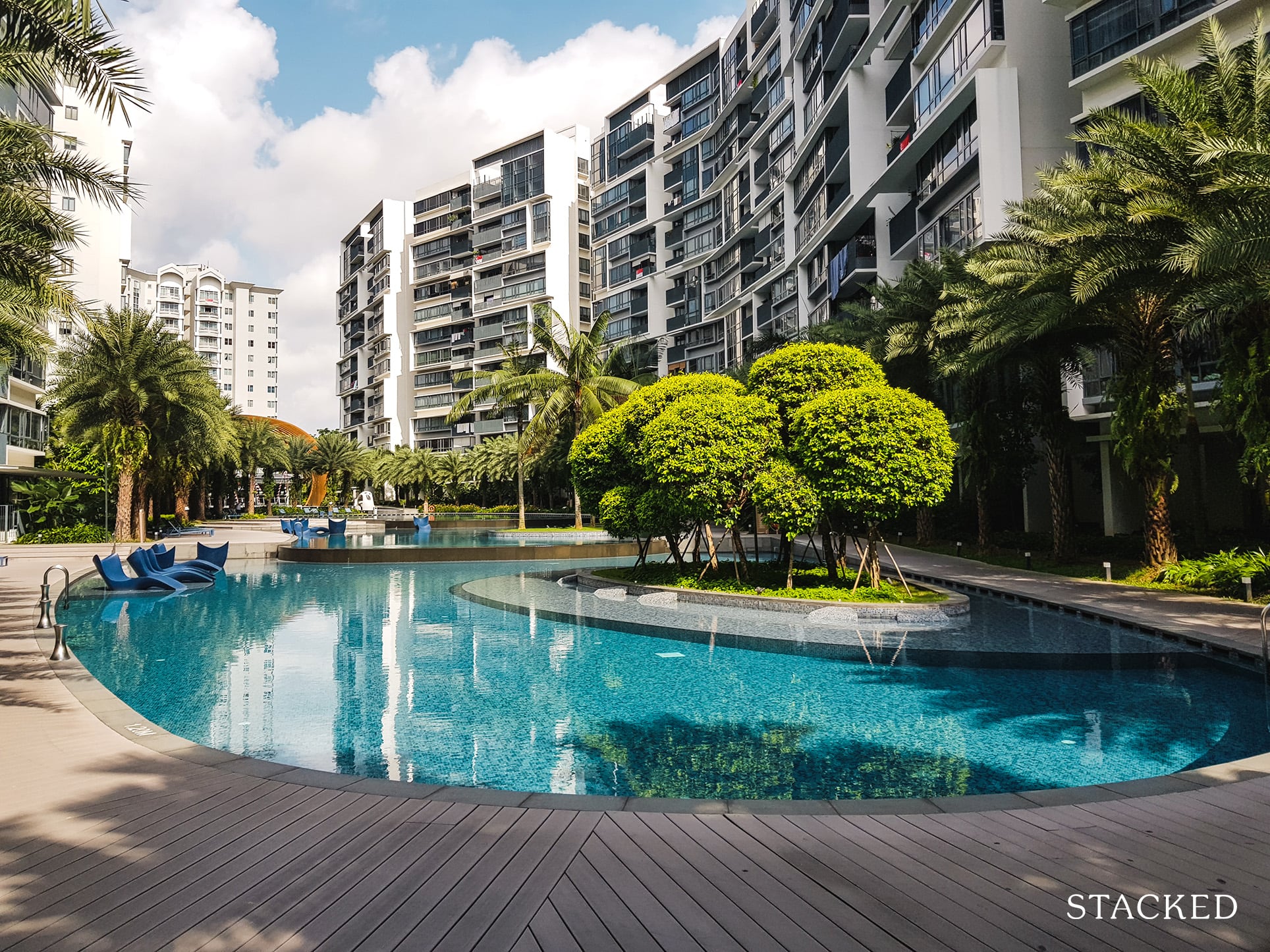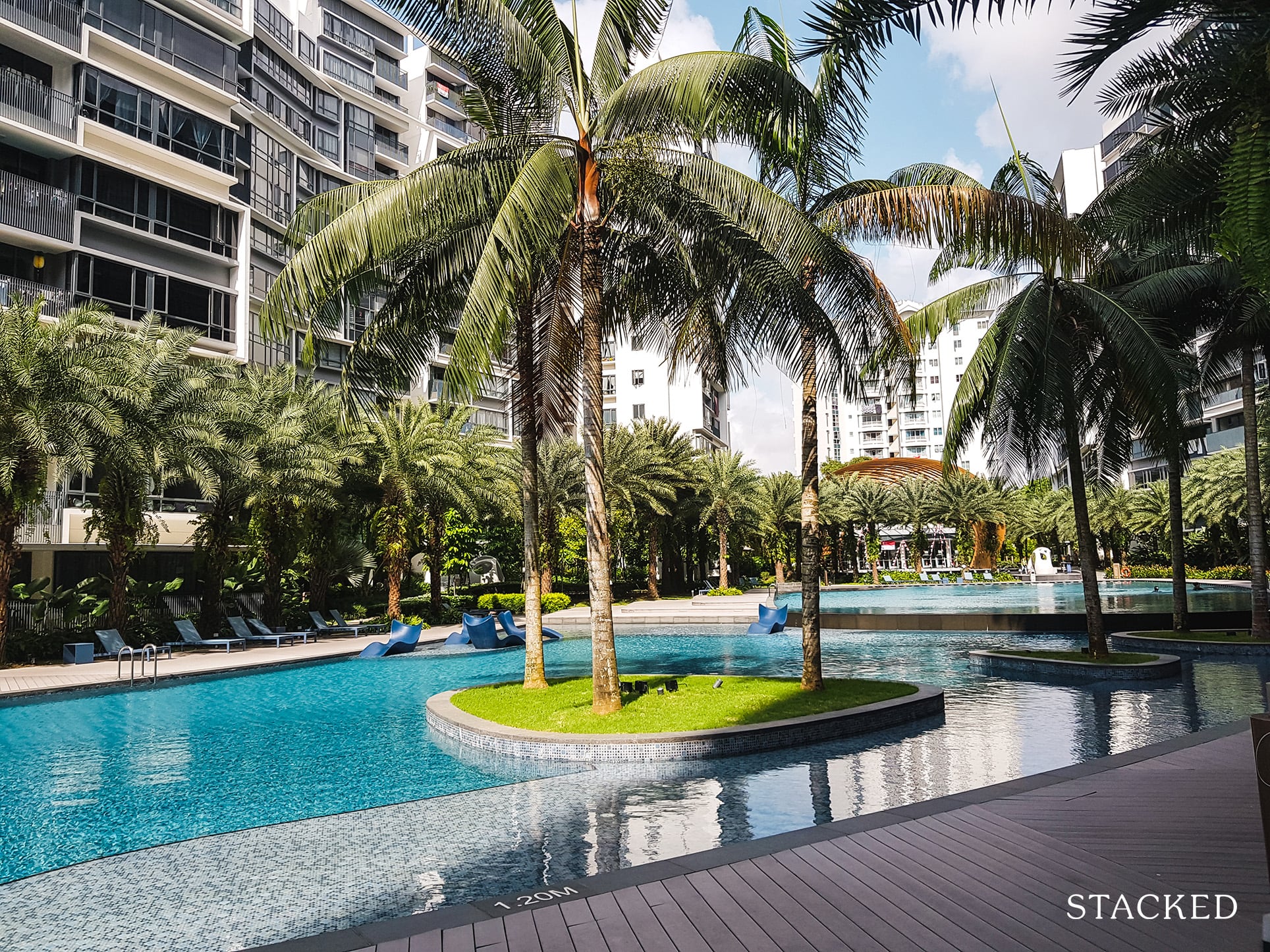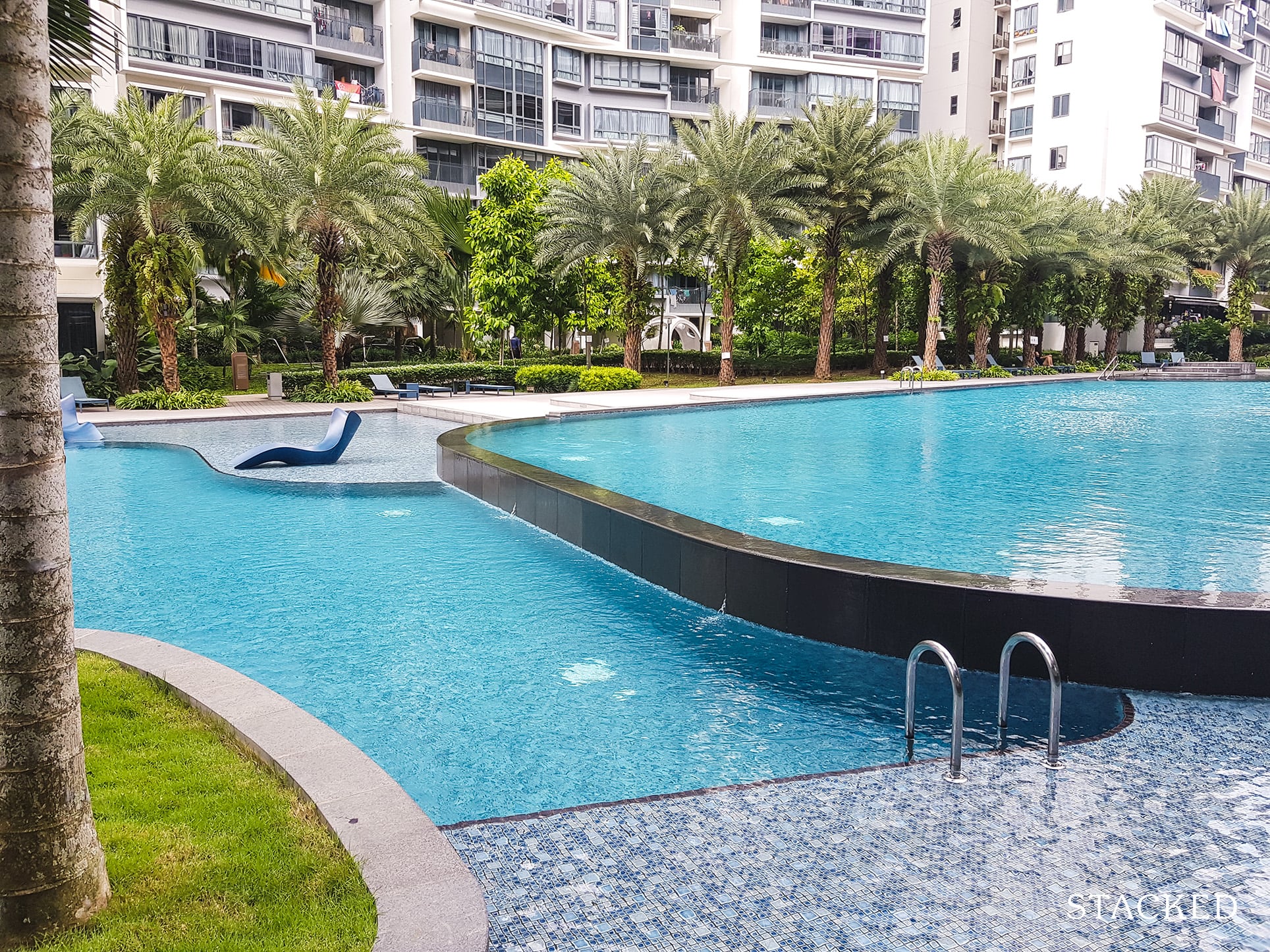 The different levels of the swimming pools are a nice touch and makes it look more upscale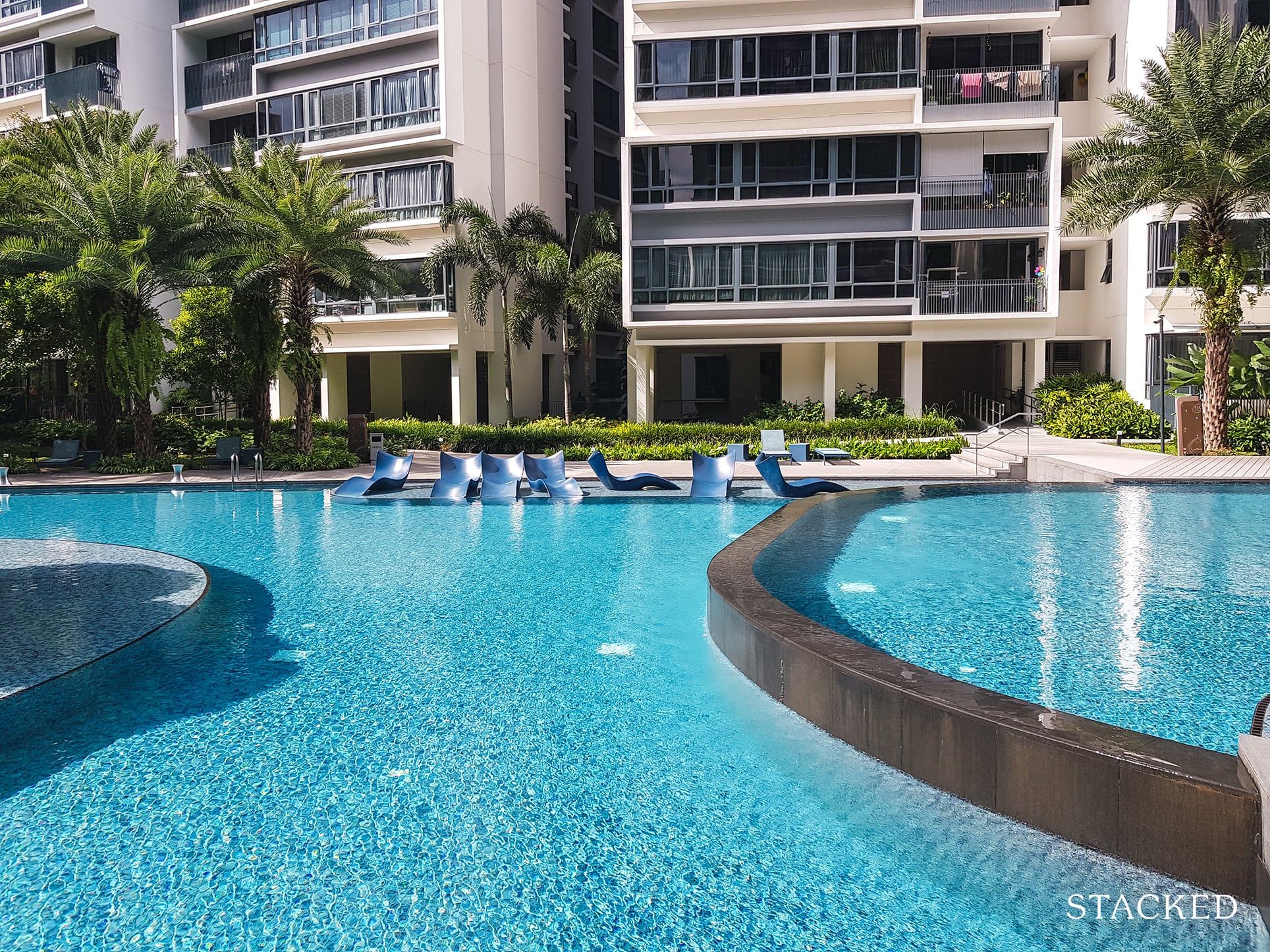 Multiple lounging chairs around the pool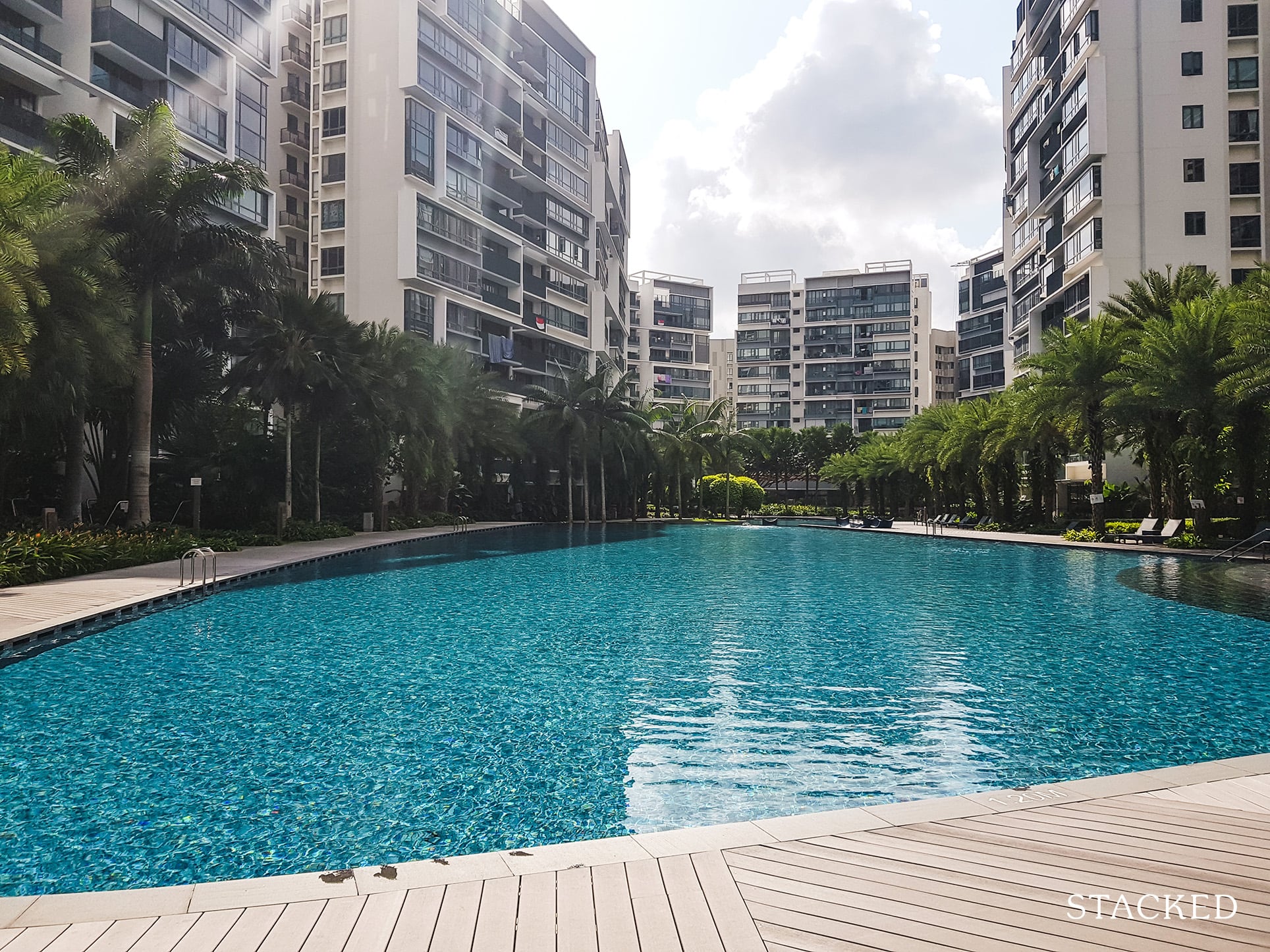 Here you can see the full length of the pool
2 clubhouses available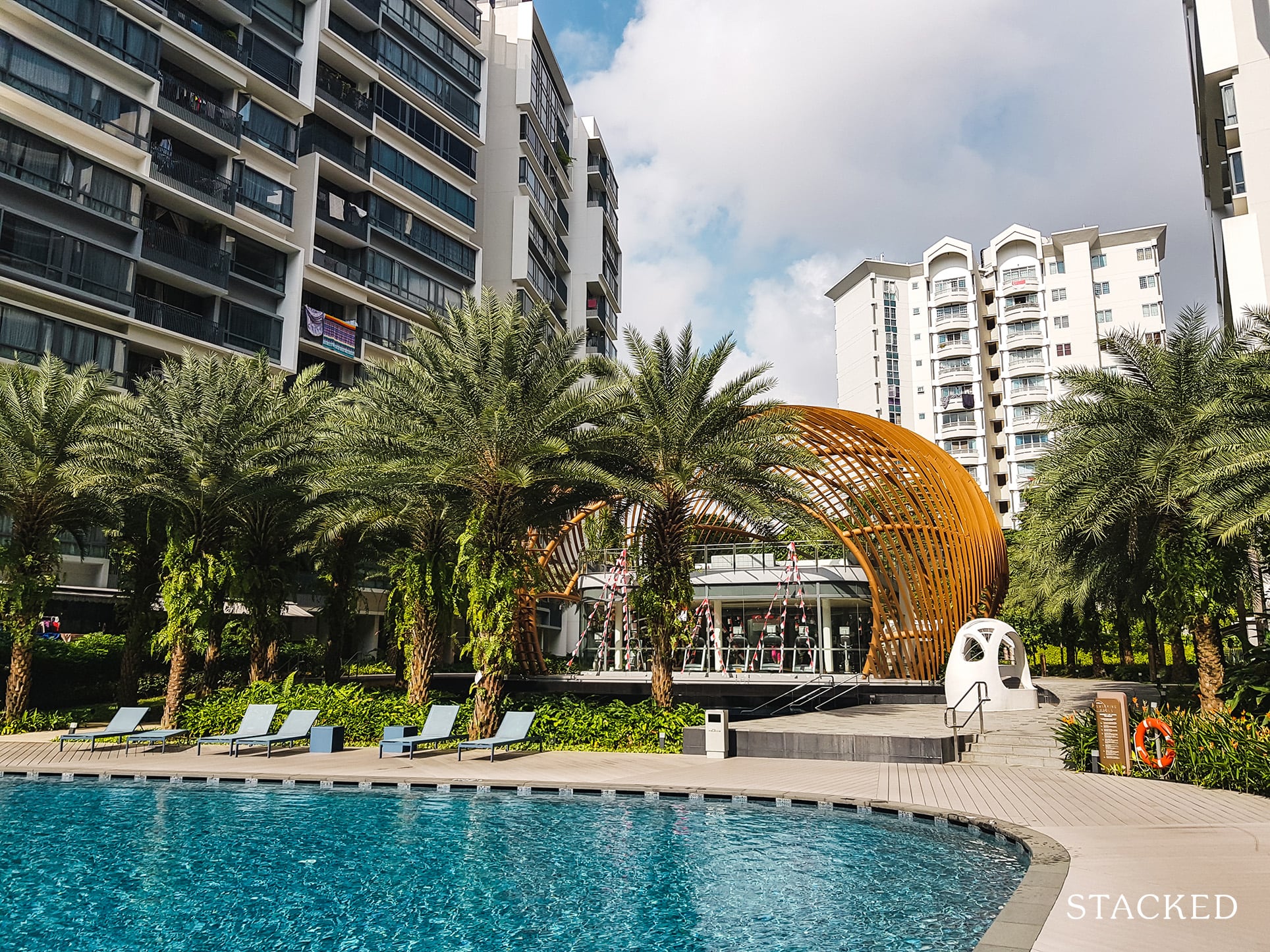 This structure houses the gym and the changing rooms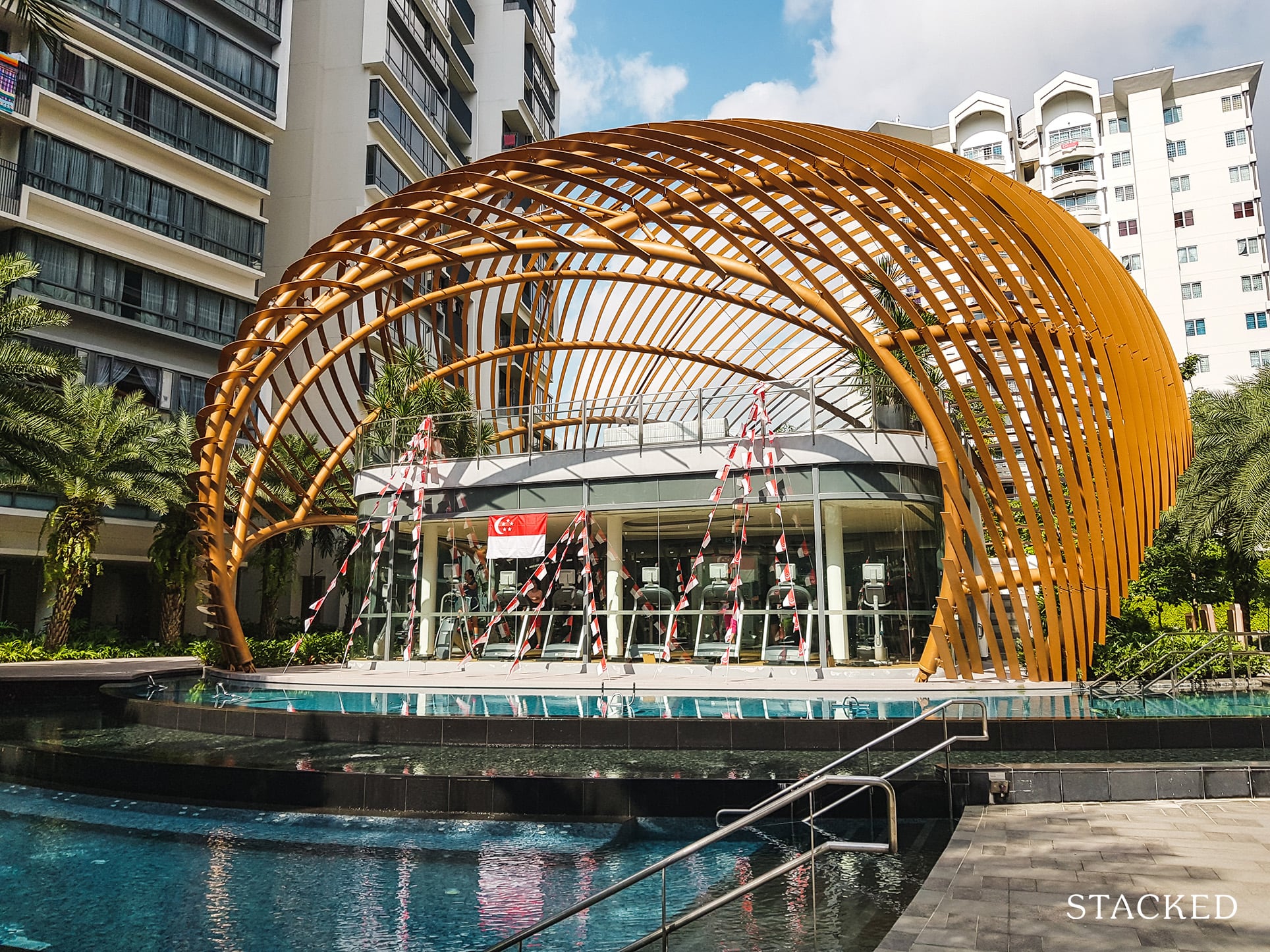 View of the pool while you gym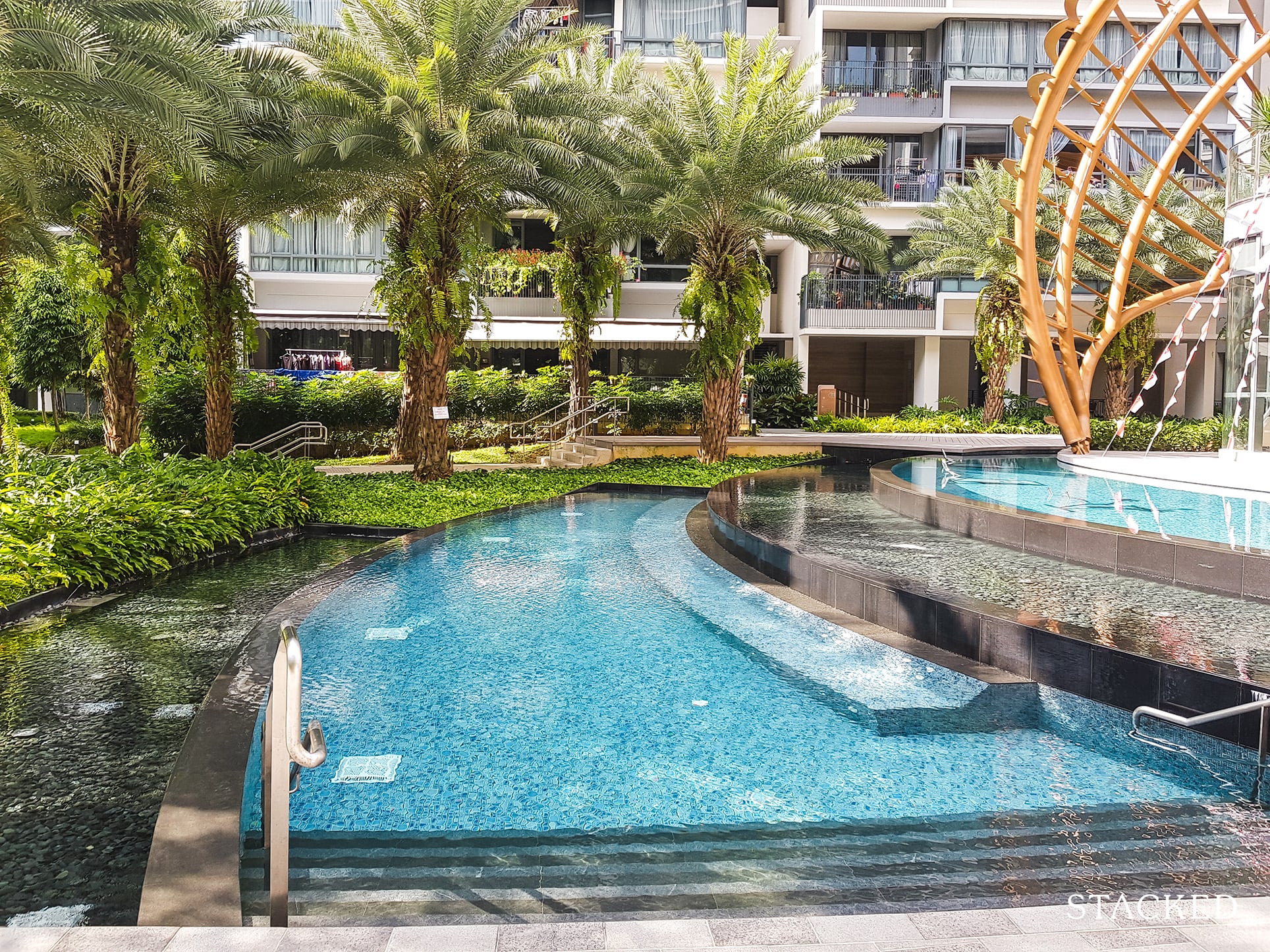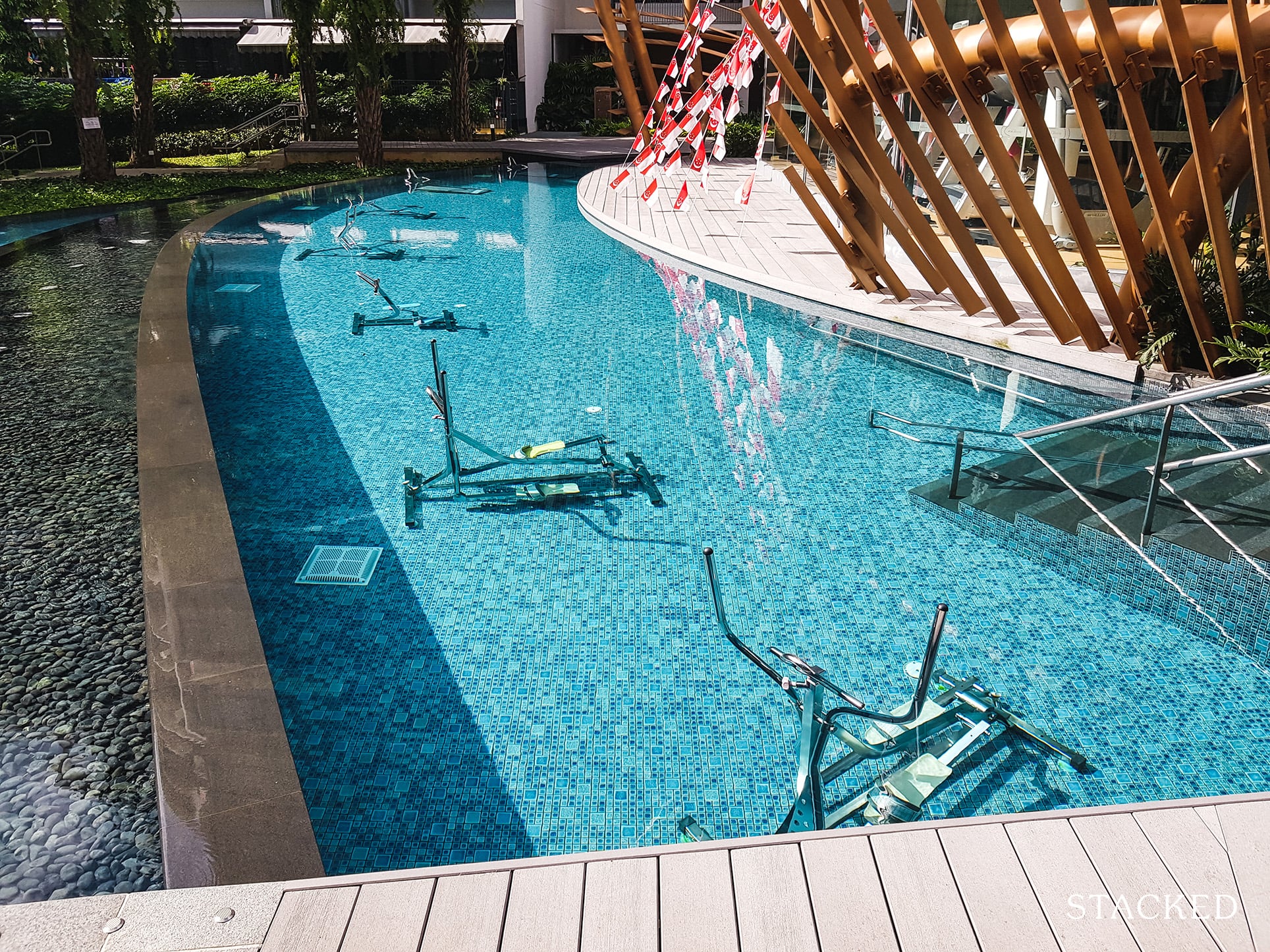 Aqua Gym, we have never been fans of these, usually more of a gimmick and after a few years, they require a lot of upkeep to maintain.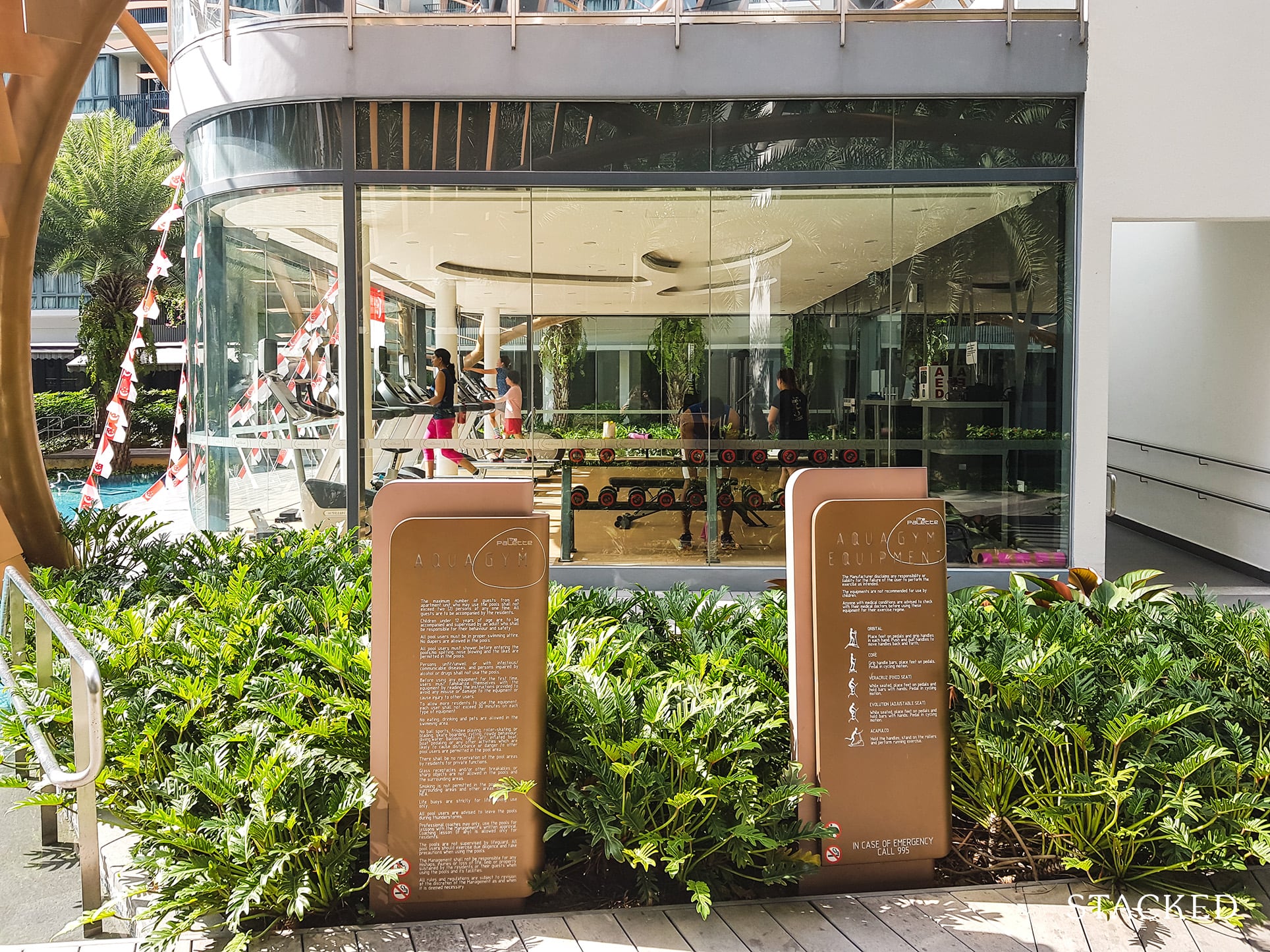 The gym is a little small for the number of units, there are multiple outdoor fitness stations around that you can utilise though. And the size of the development means that you can go for a scenic jog too if you like.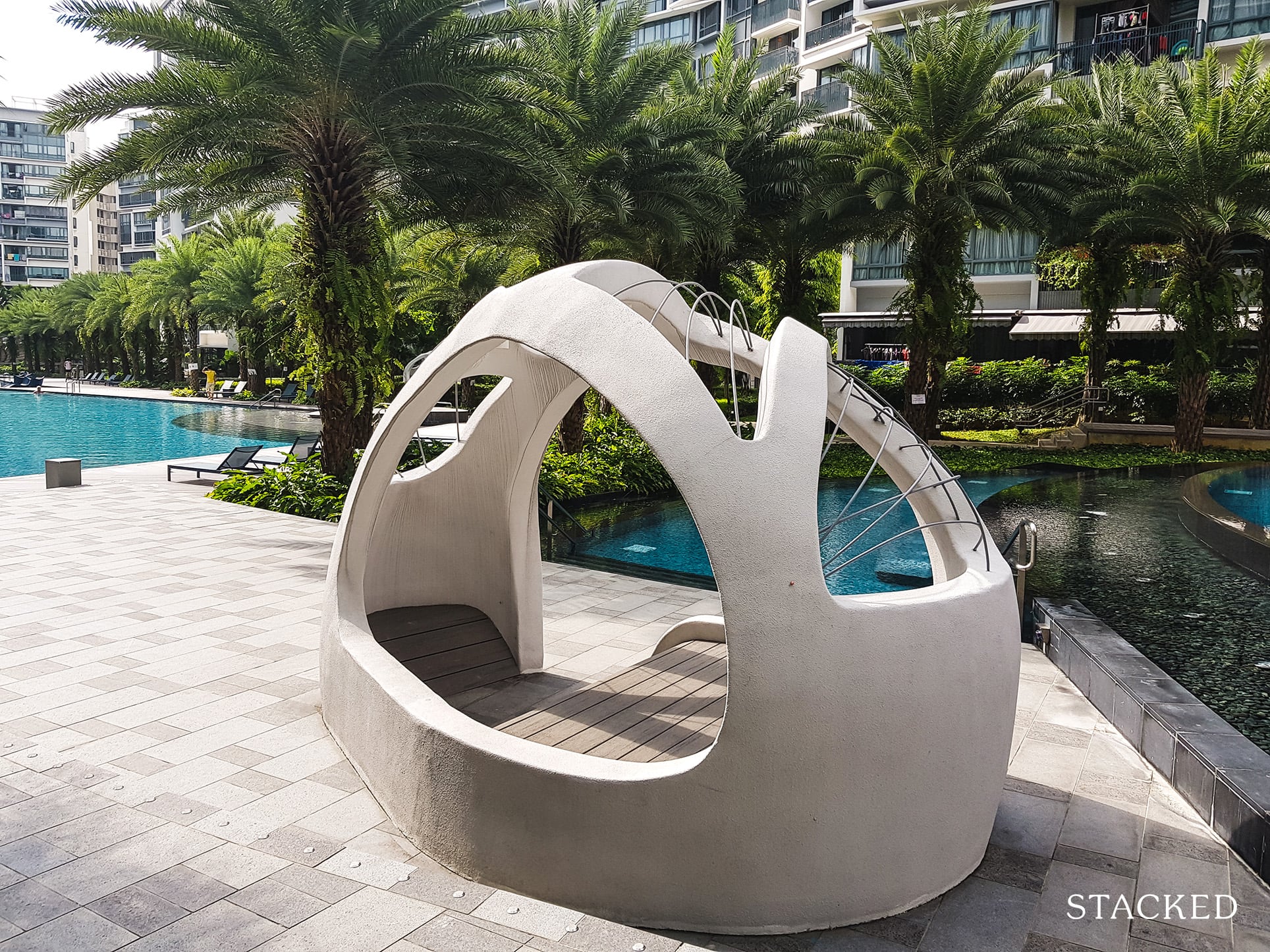 Pods for sitting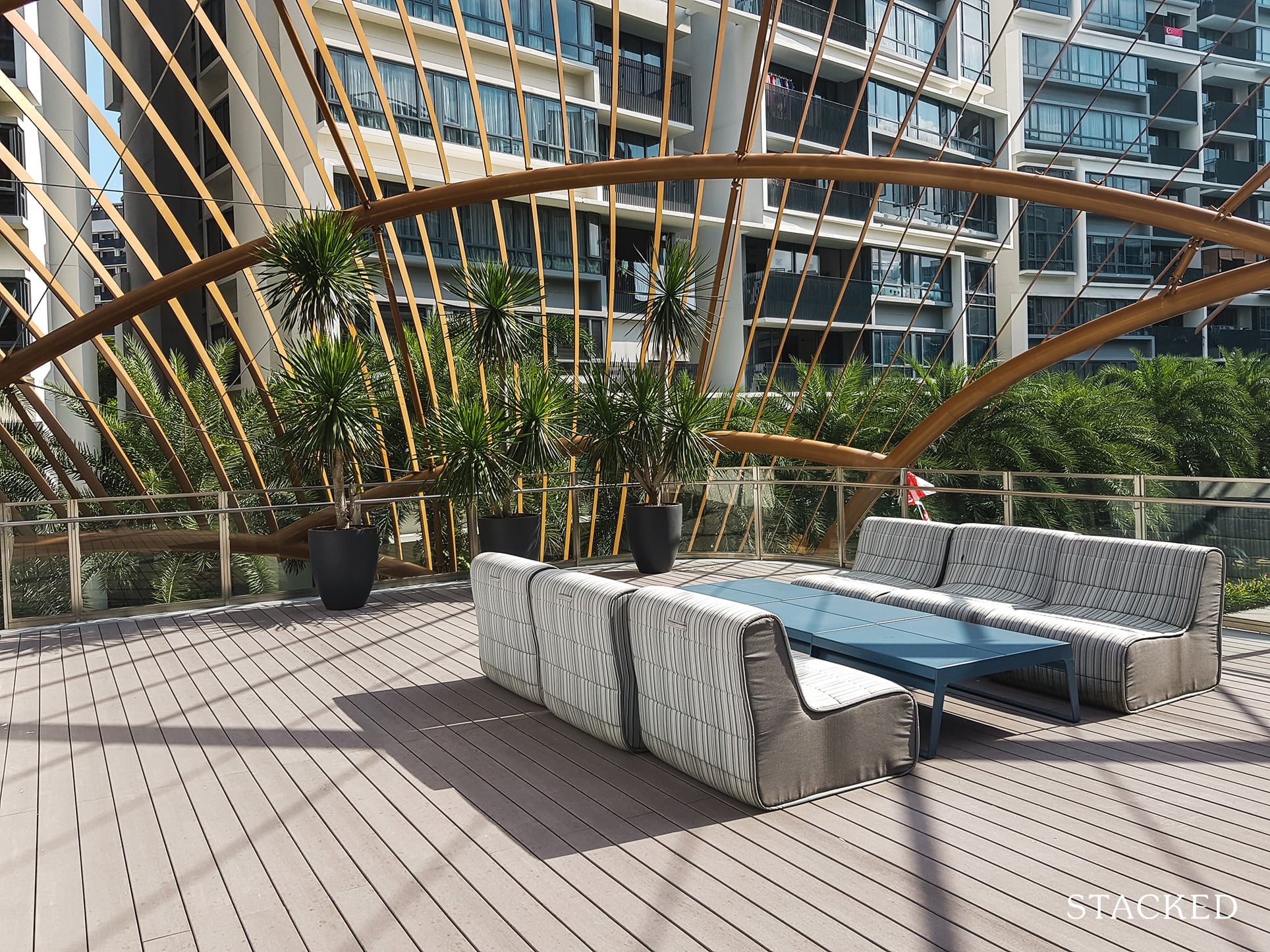 Read this next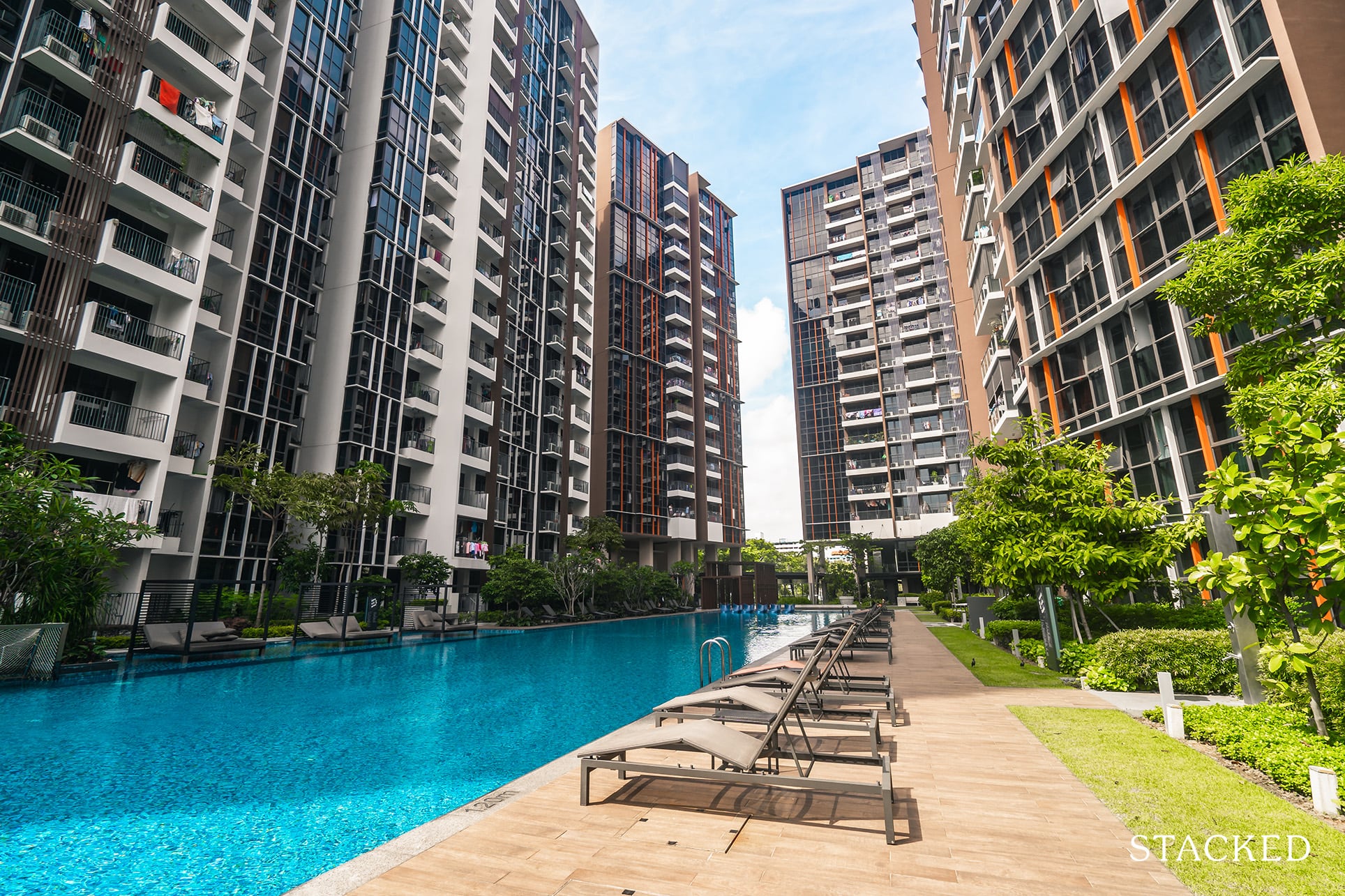 The viewing deck on the top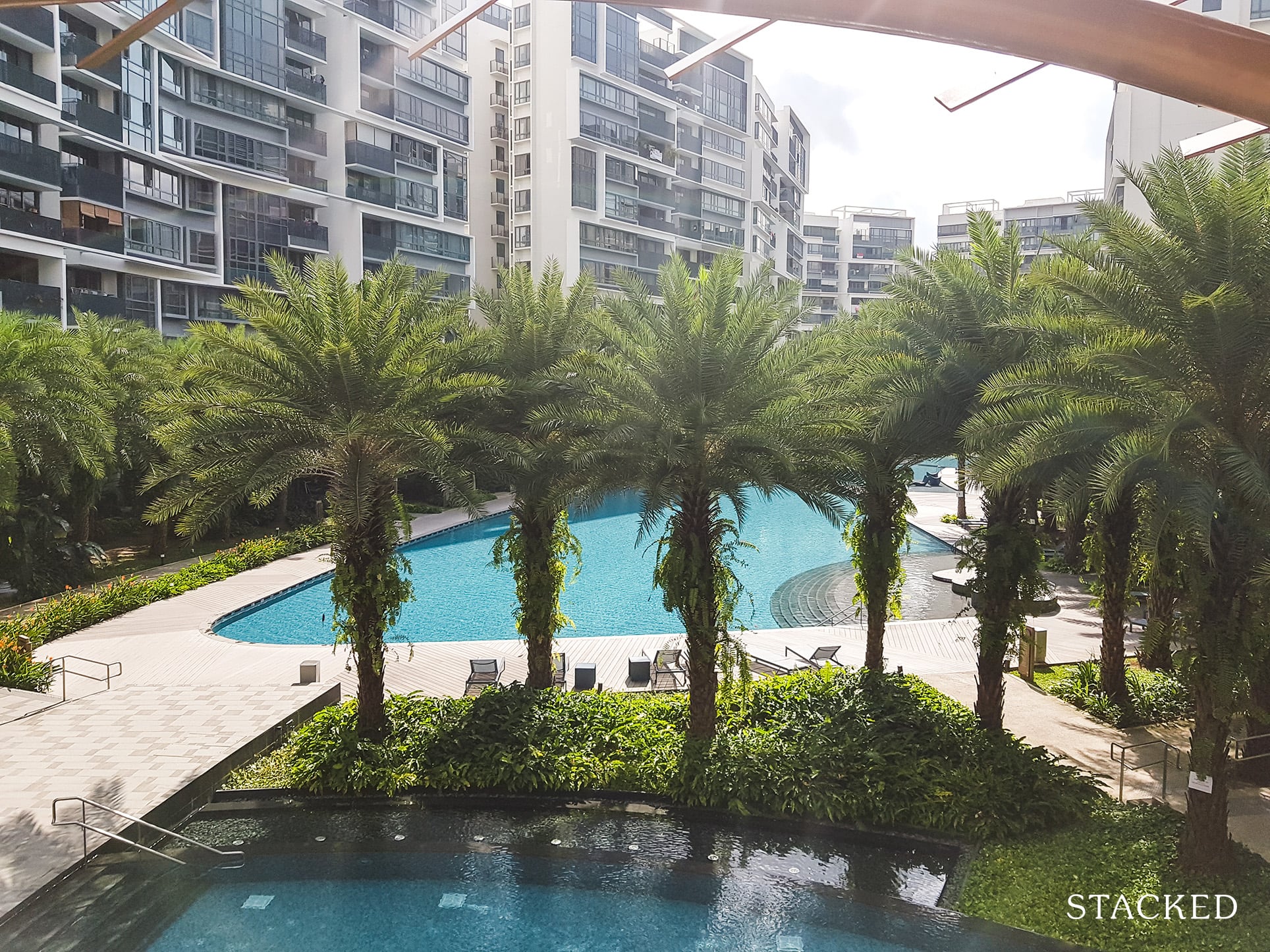 View from the top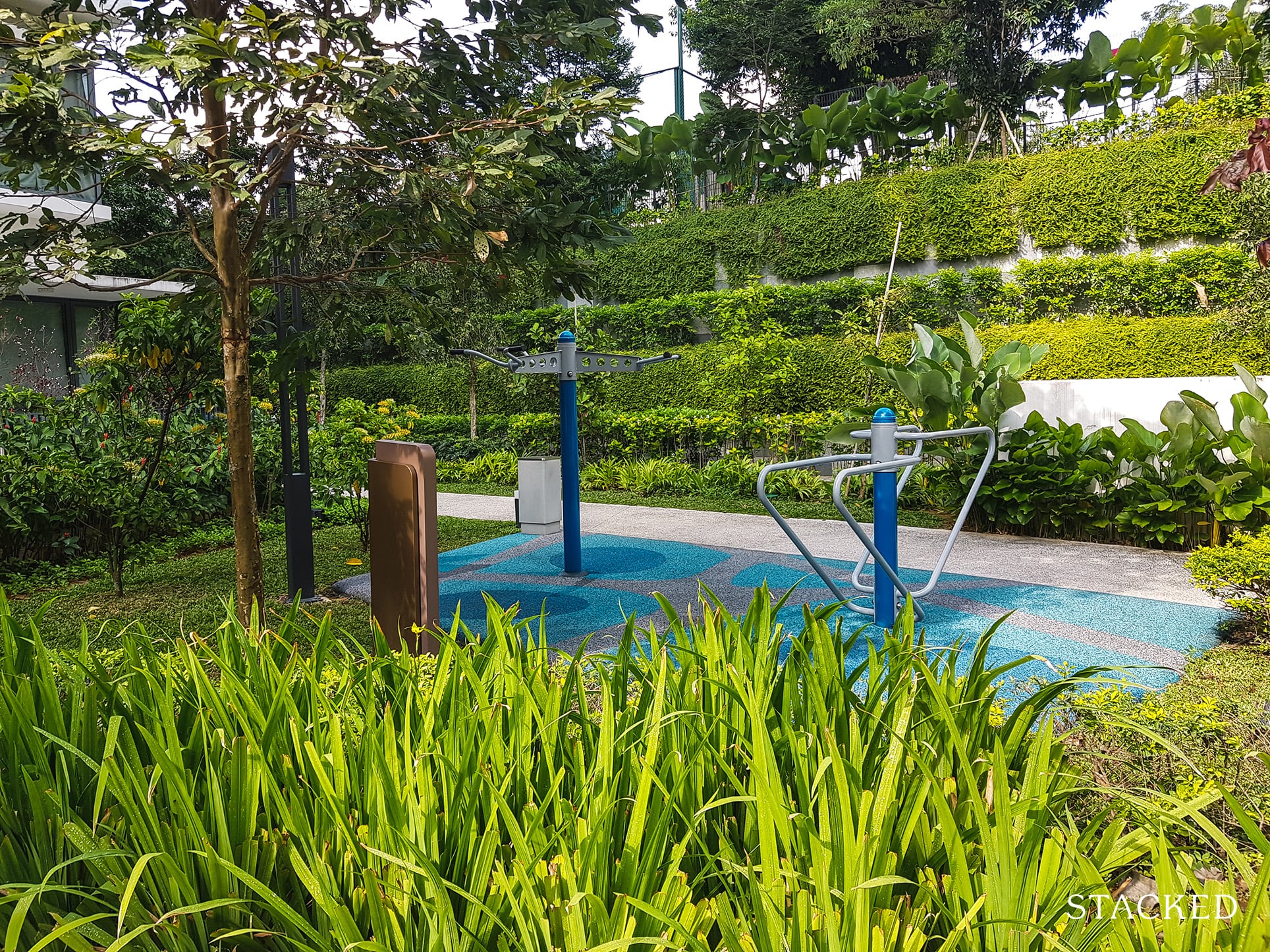 Outdoor fitness stations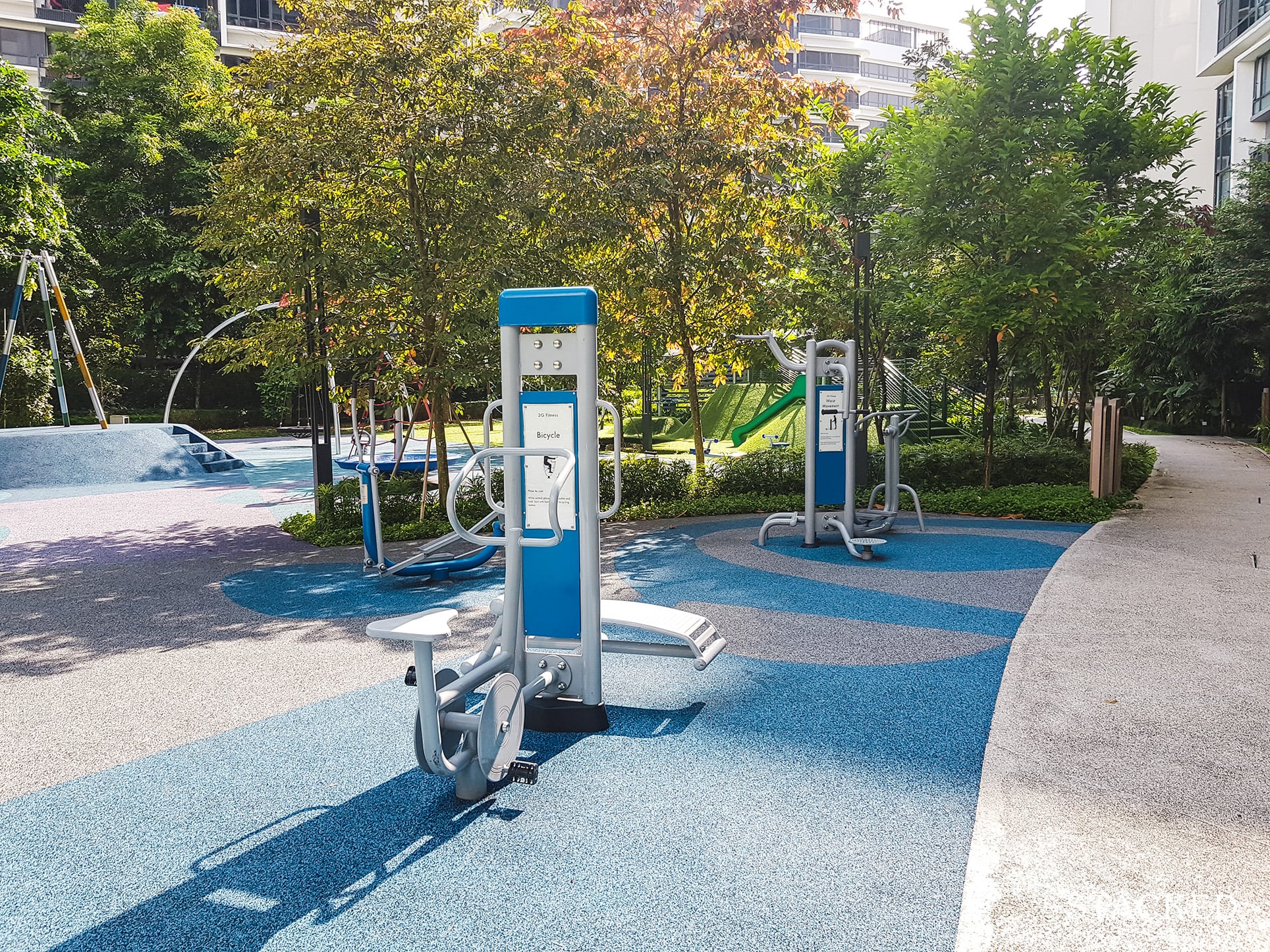 Another fitness station
Jogging track around the development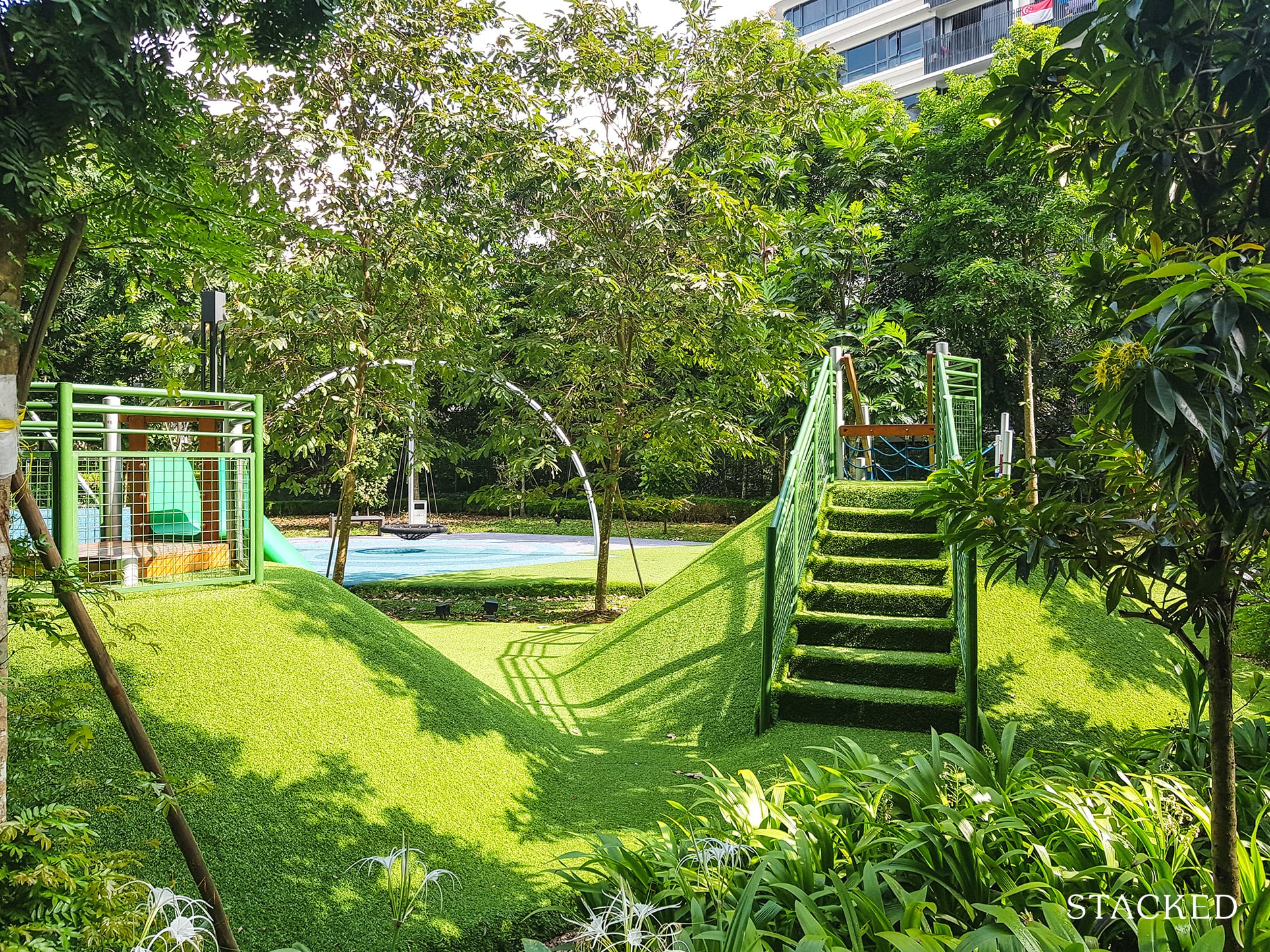 Quite a big playground, great for kids or to bring your dog to play.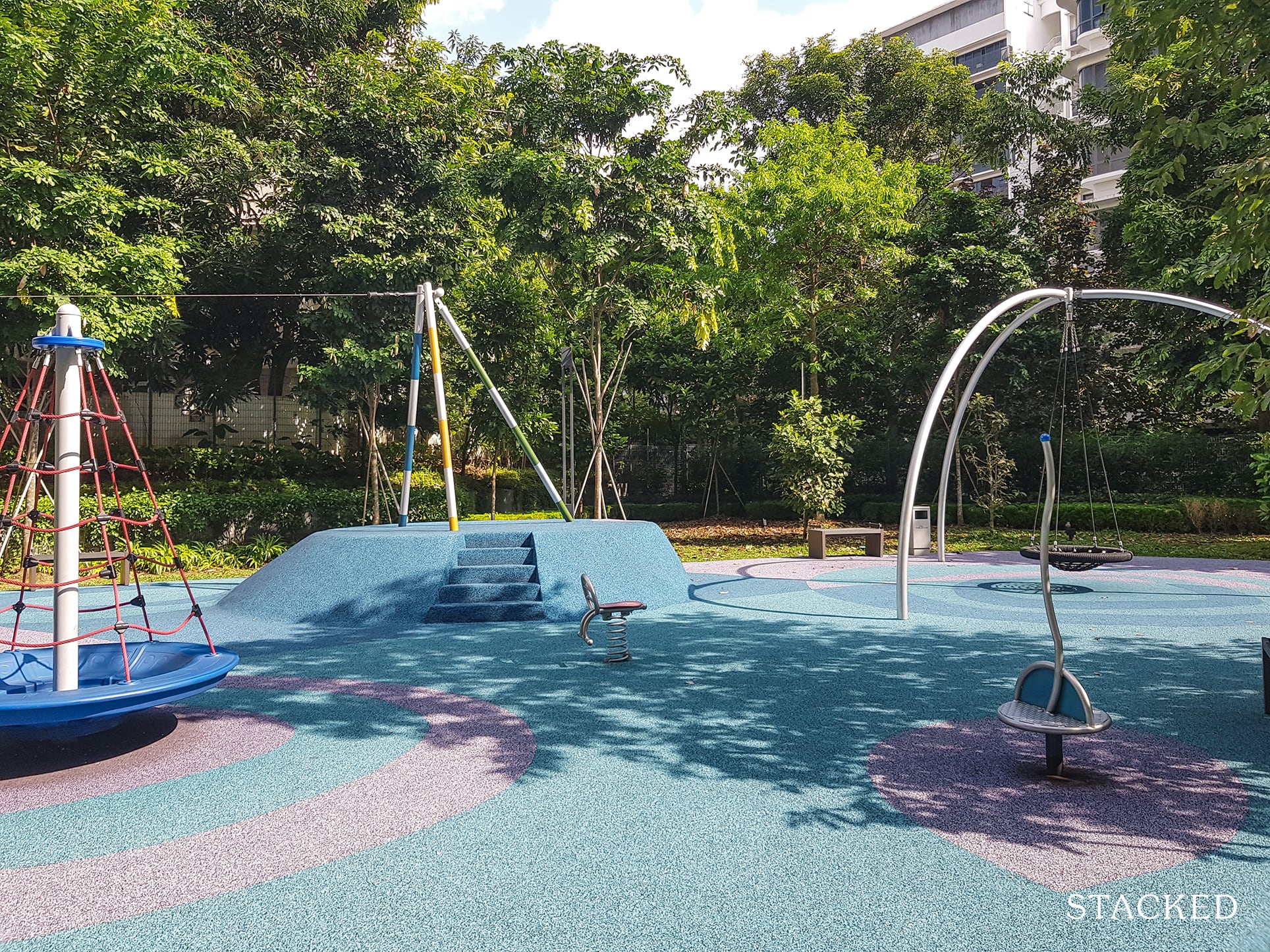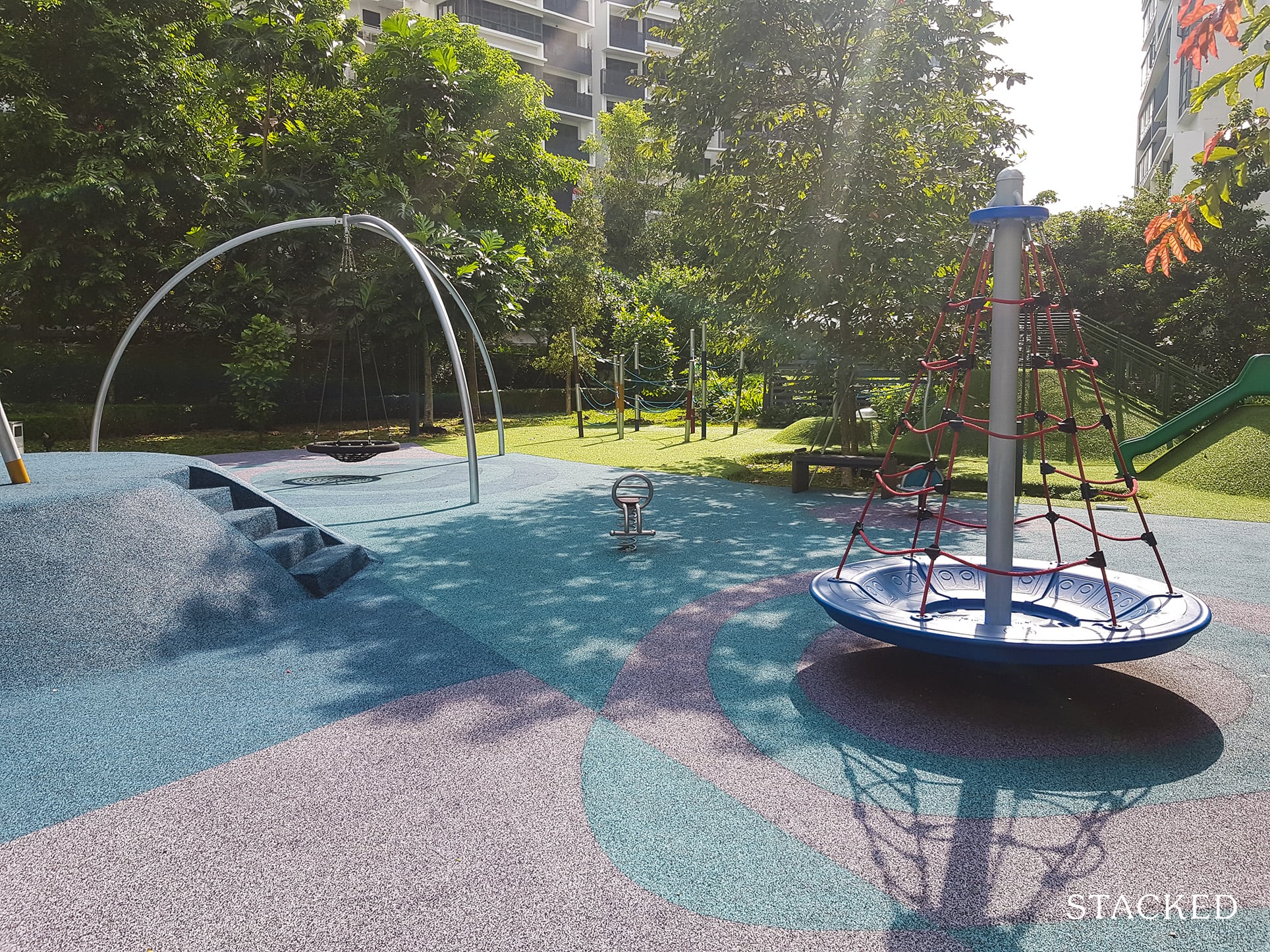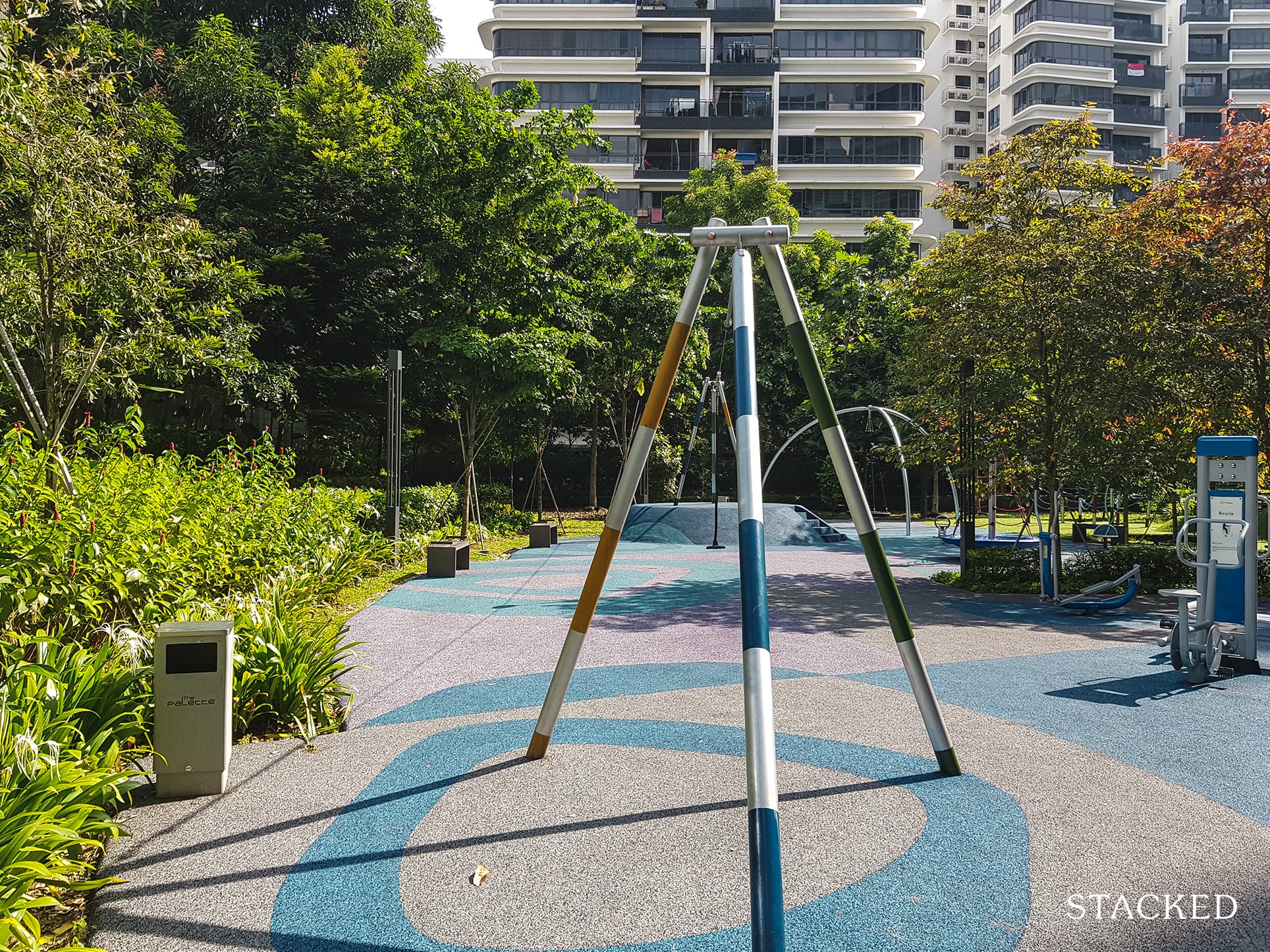 Different types of equipment, this is quite varied from the cookie-cutter ones you see in other developments. This area is really rather spacious and it is great that they have dedicated such a space for families with toddlers.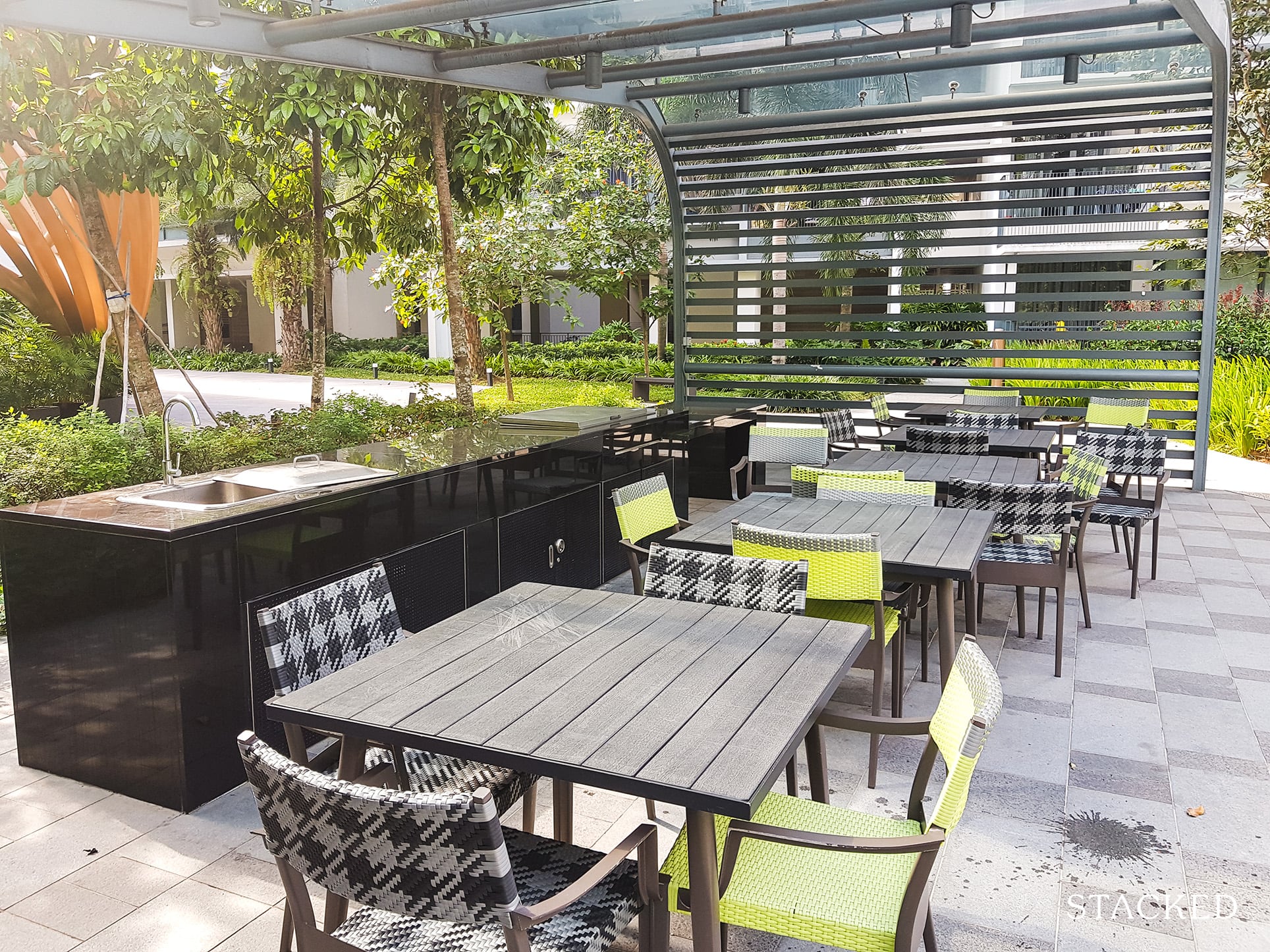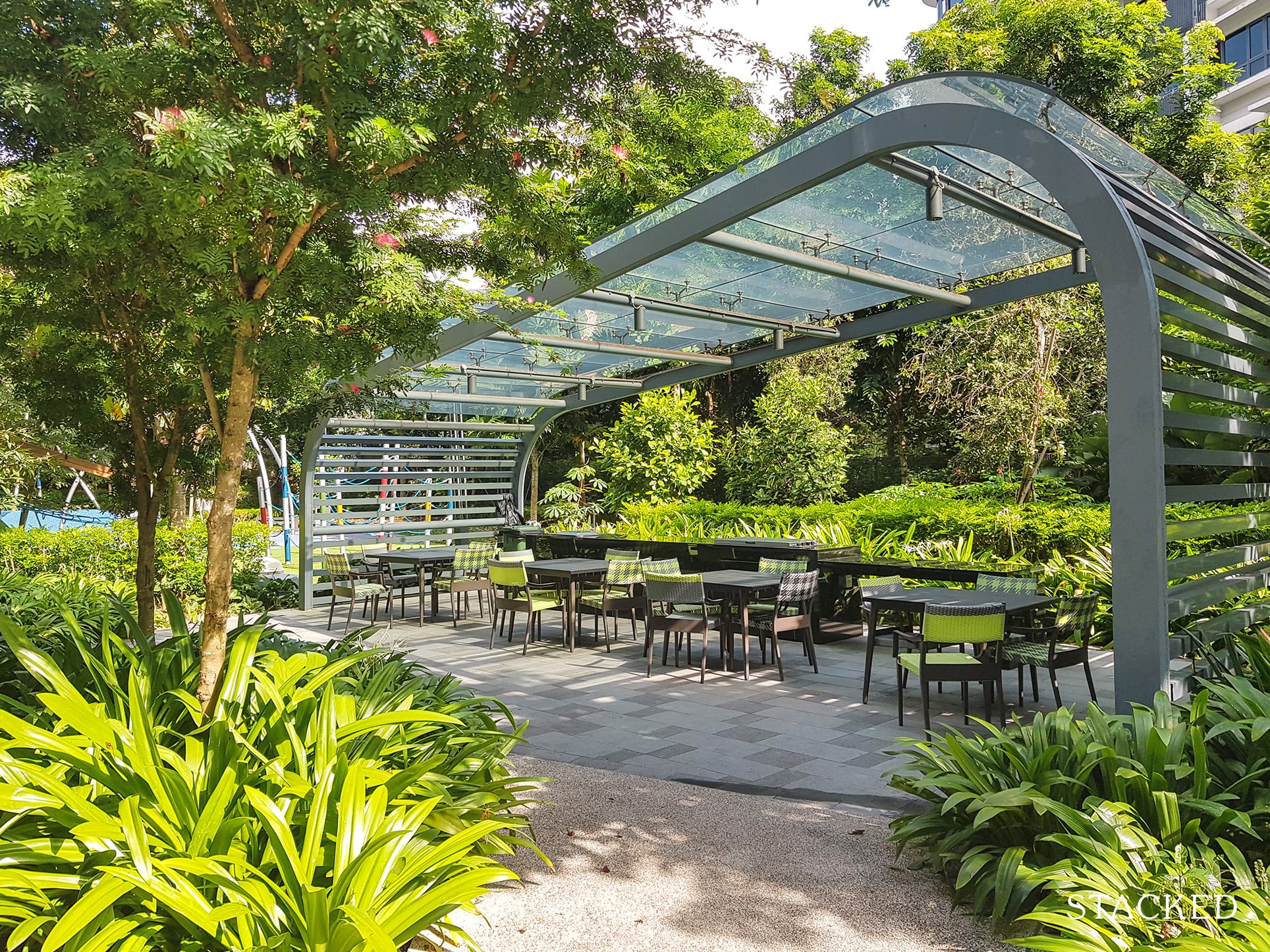 There are multiple barbeque pits dotted around the development. It's a great space to hang out for families, with a more than an adequate number of seating for guests.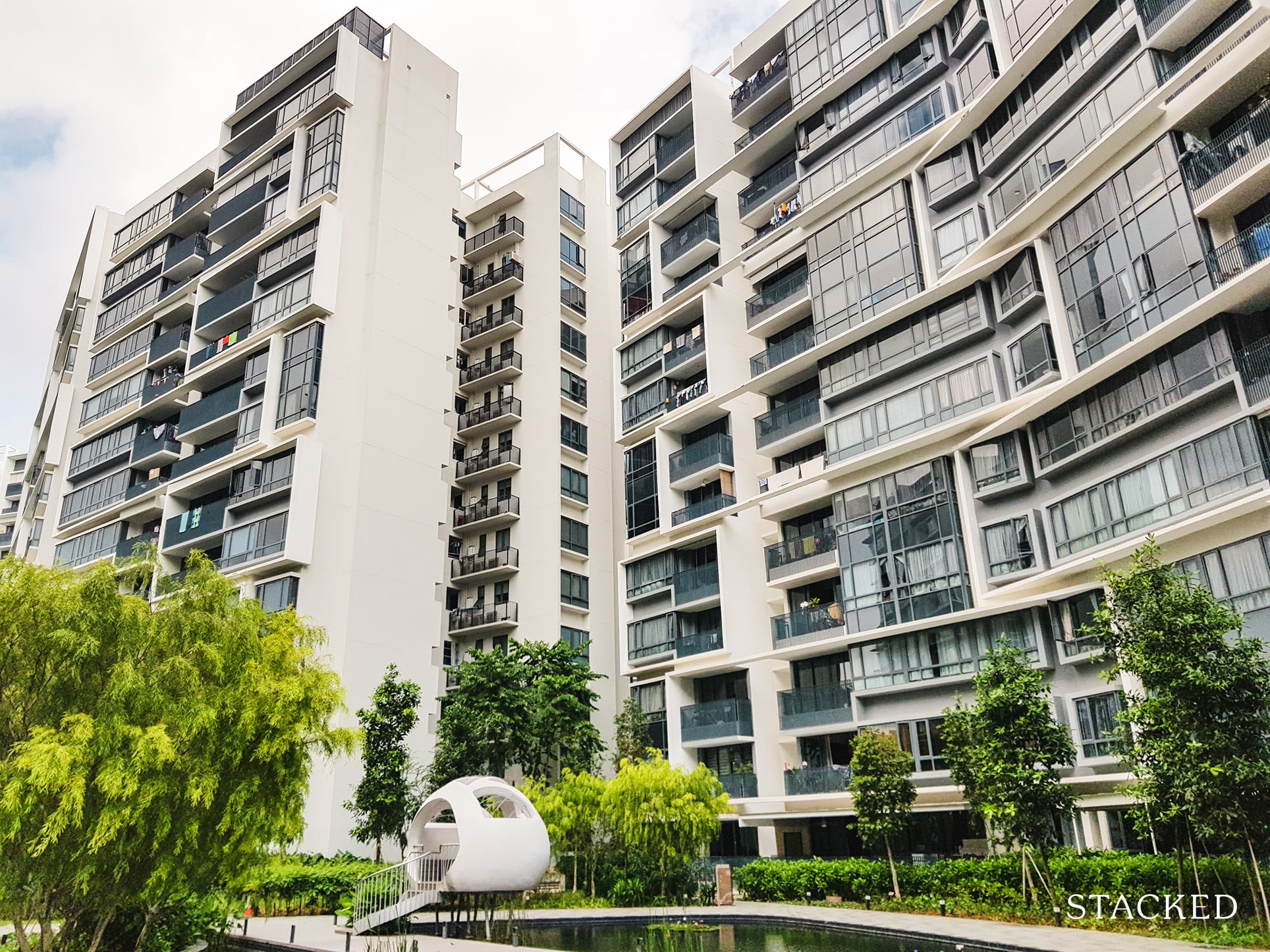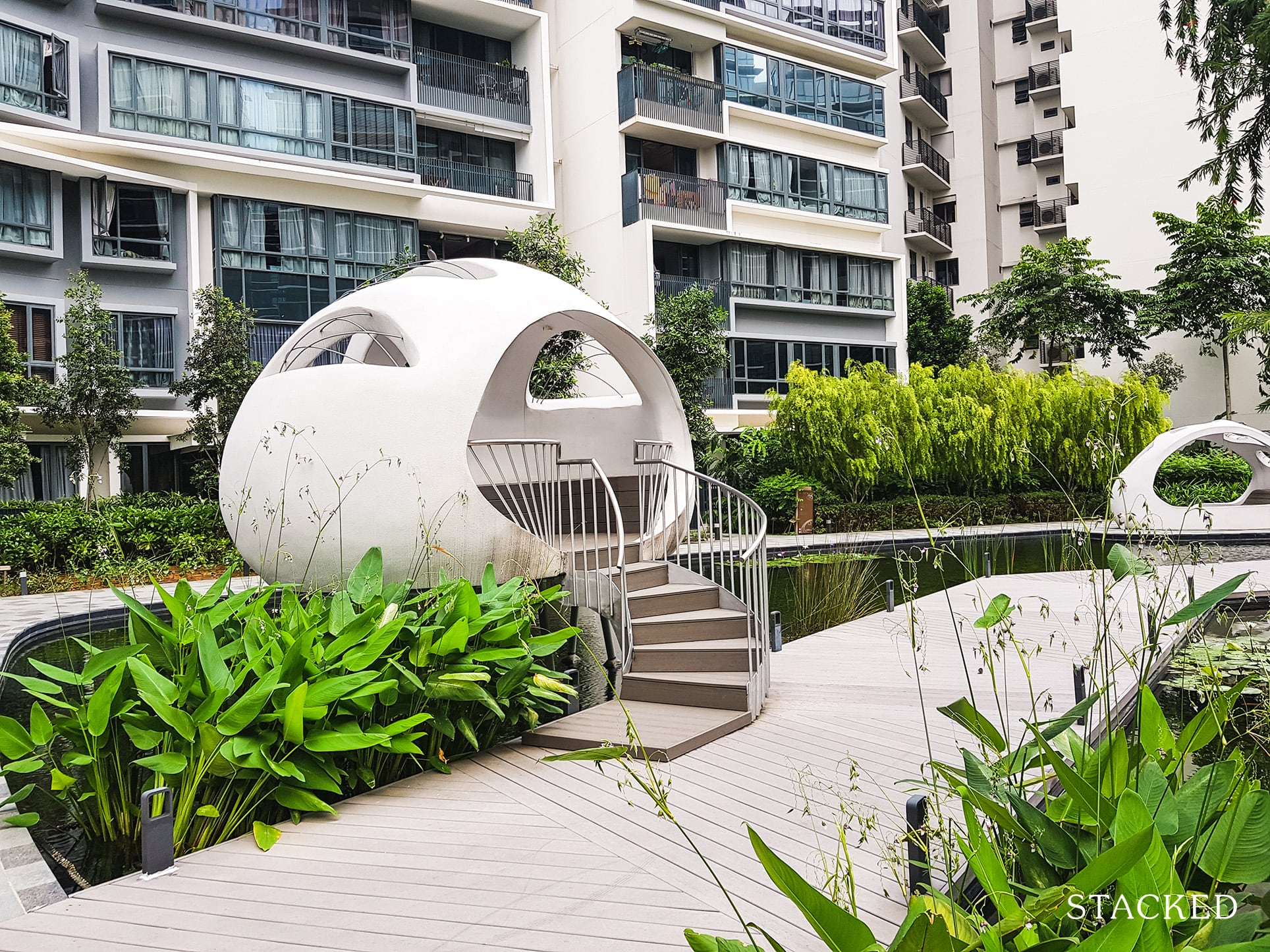 Around the back is a pond and pod seating around it. Looks nice and peaceful enough, but not too sure how useful this would be to residents.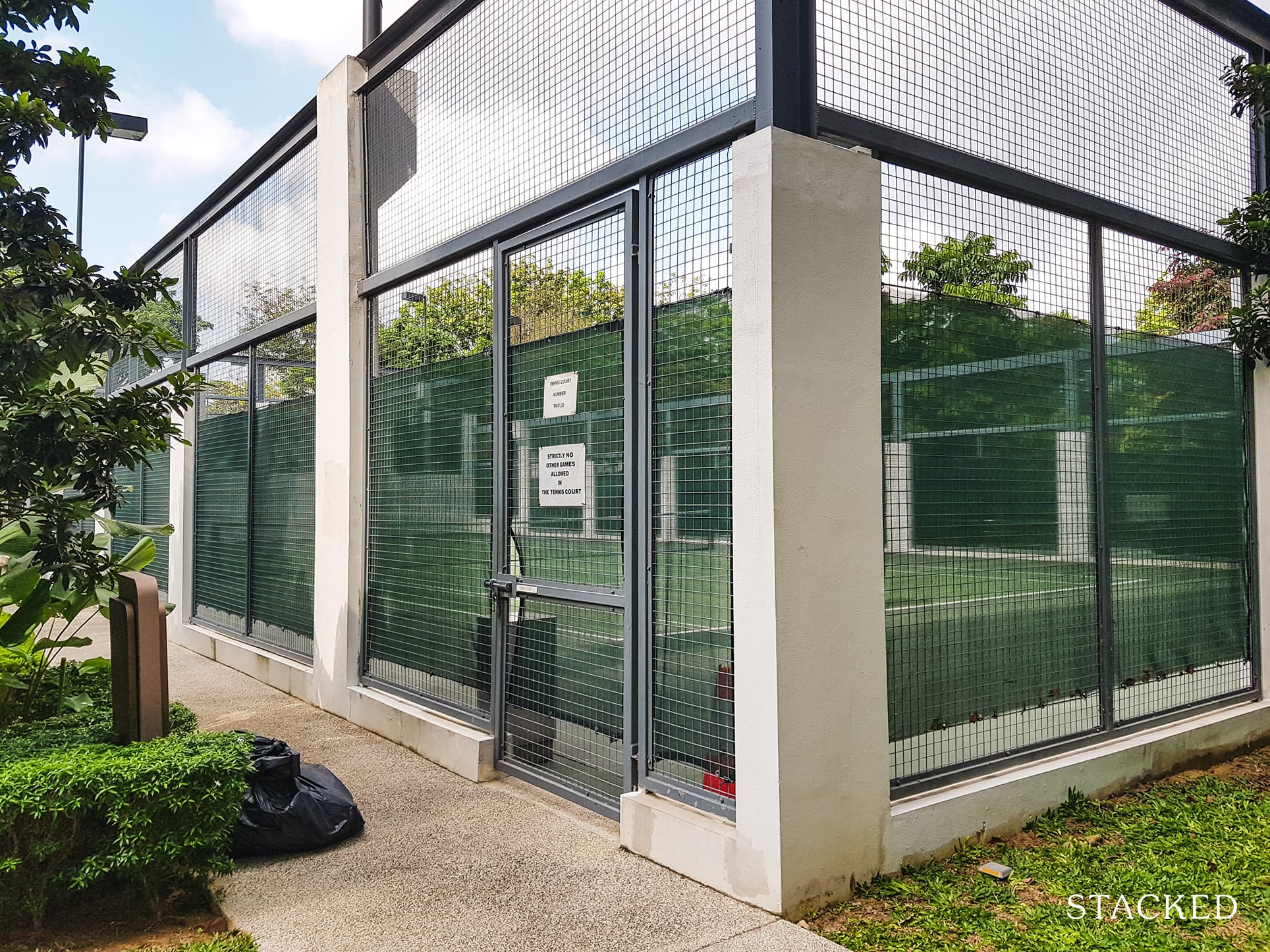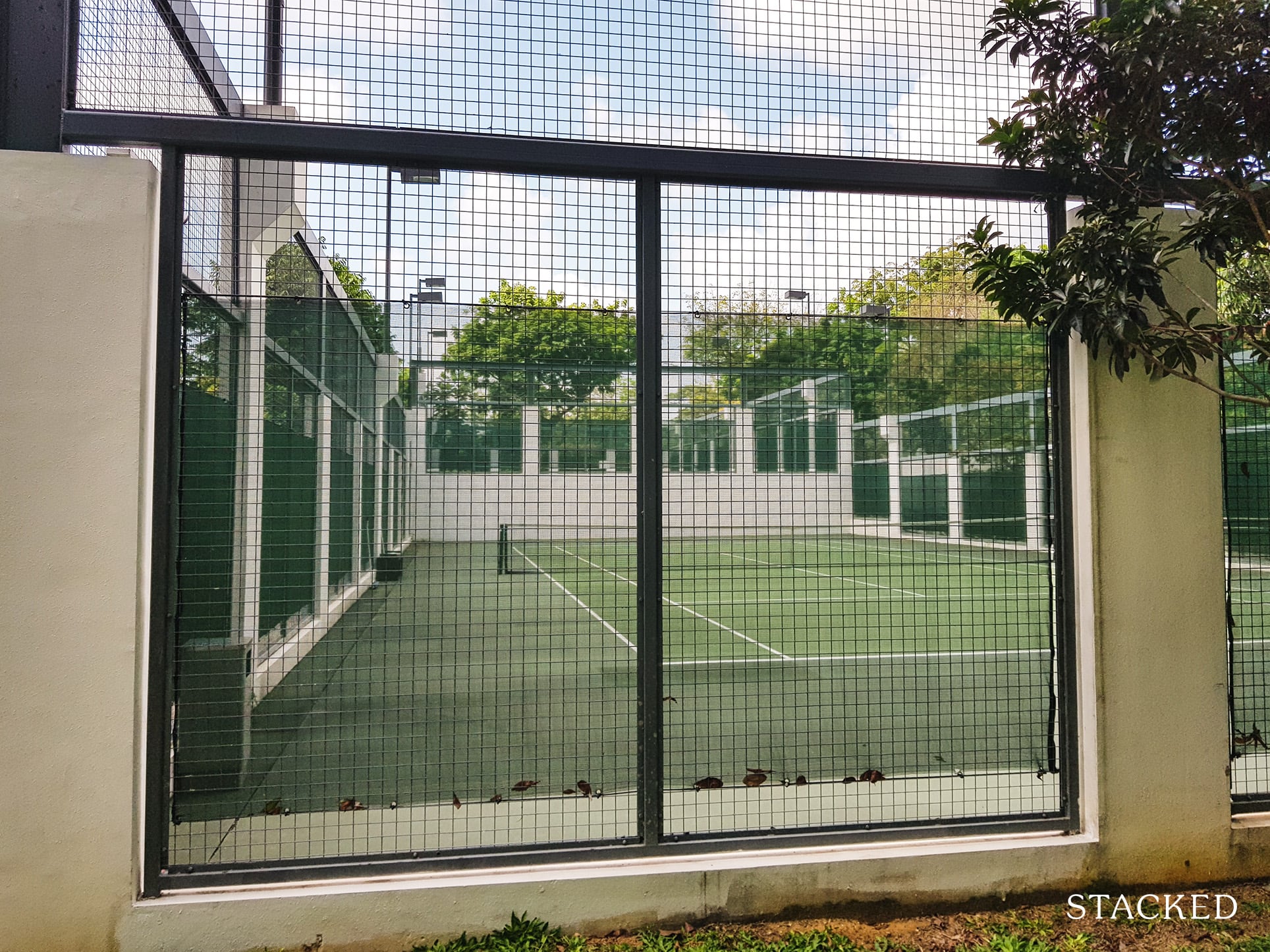 Two tennis courts are available, which is pretty good due to the number of residents living in the Palette.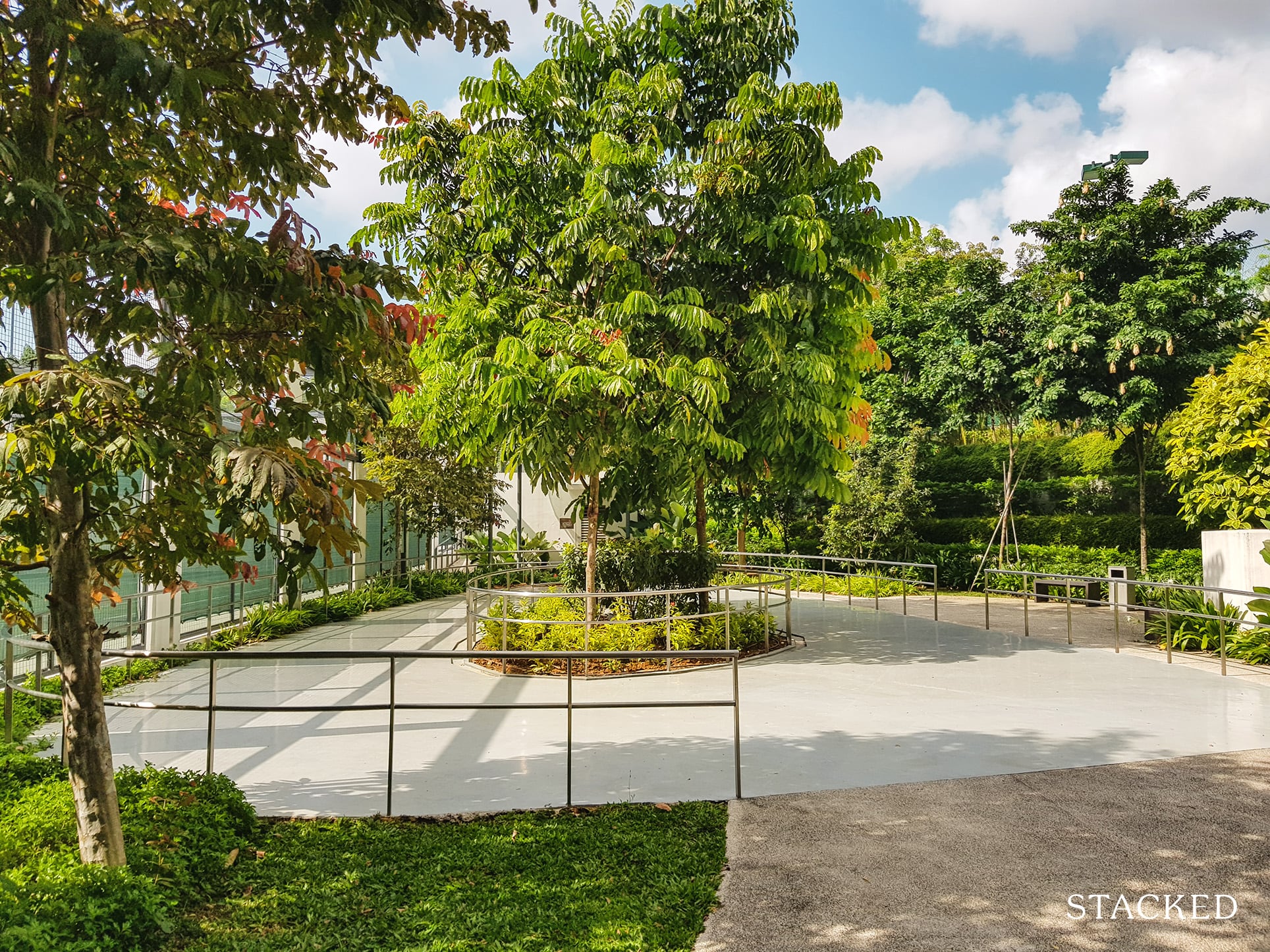 Skating rink next to the tennis courts. Again, not sure how much use this would be to residents, perhaps something like a basketball court would have been better.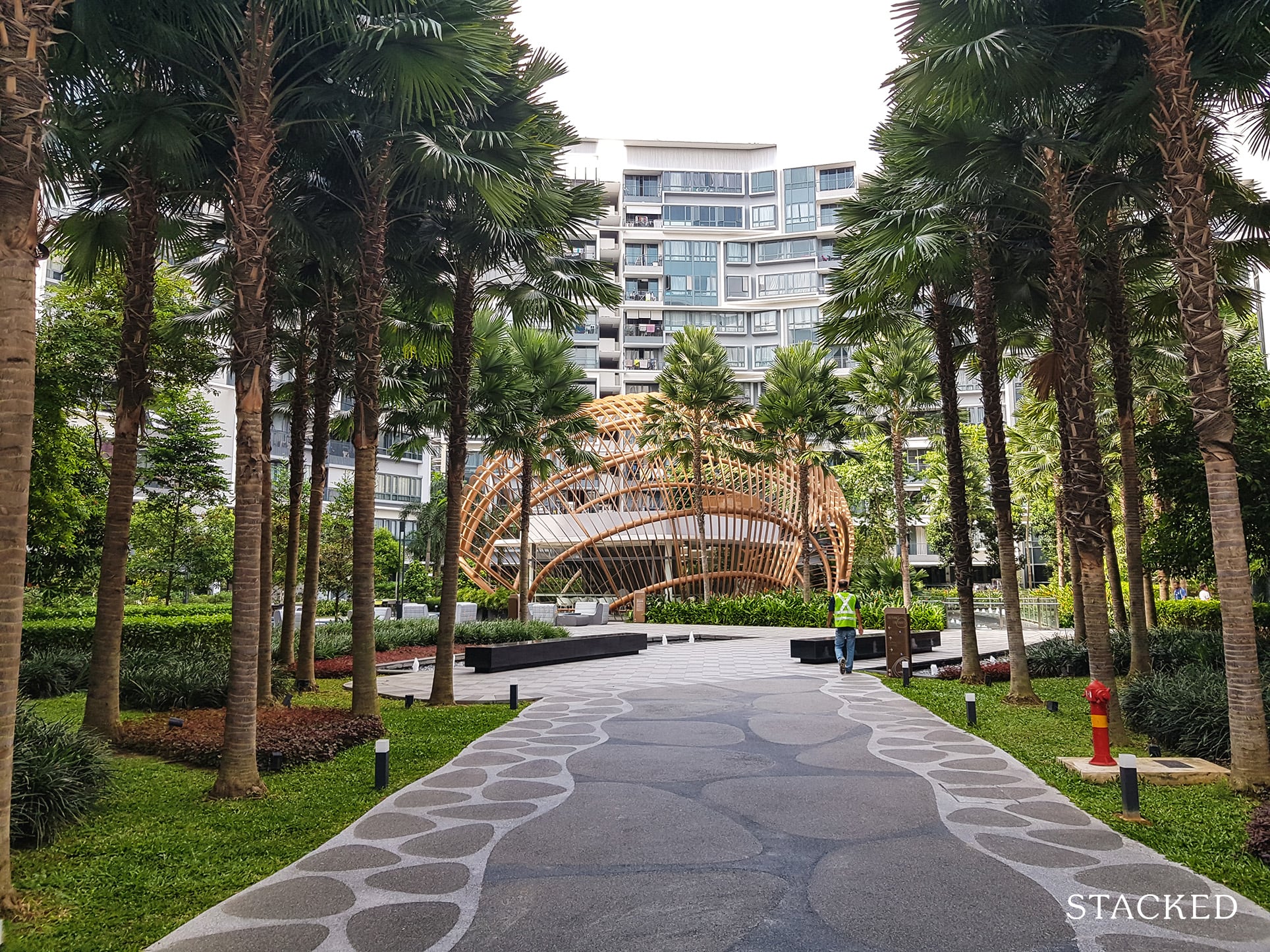 We like the entrance to the Palette looks really peaceful and inviting.
Lots of seating next to the second clubhouse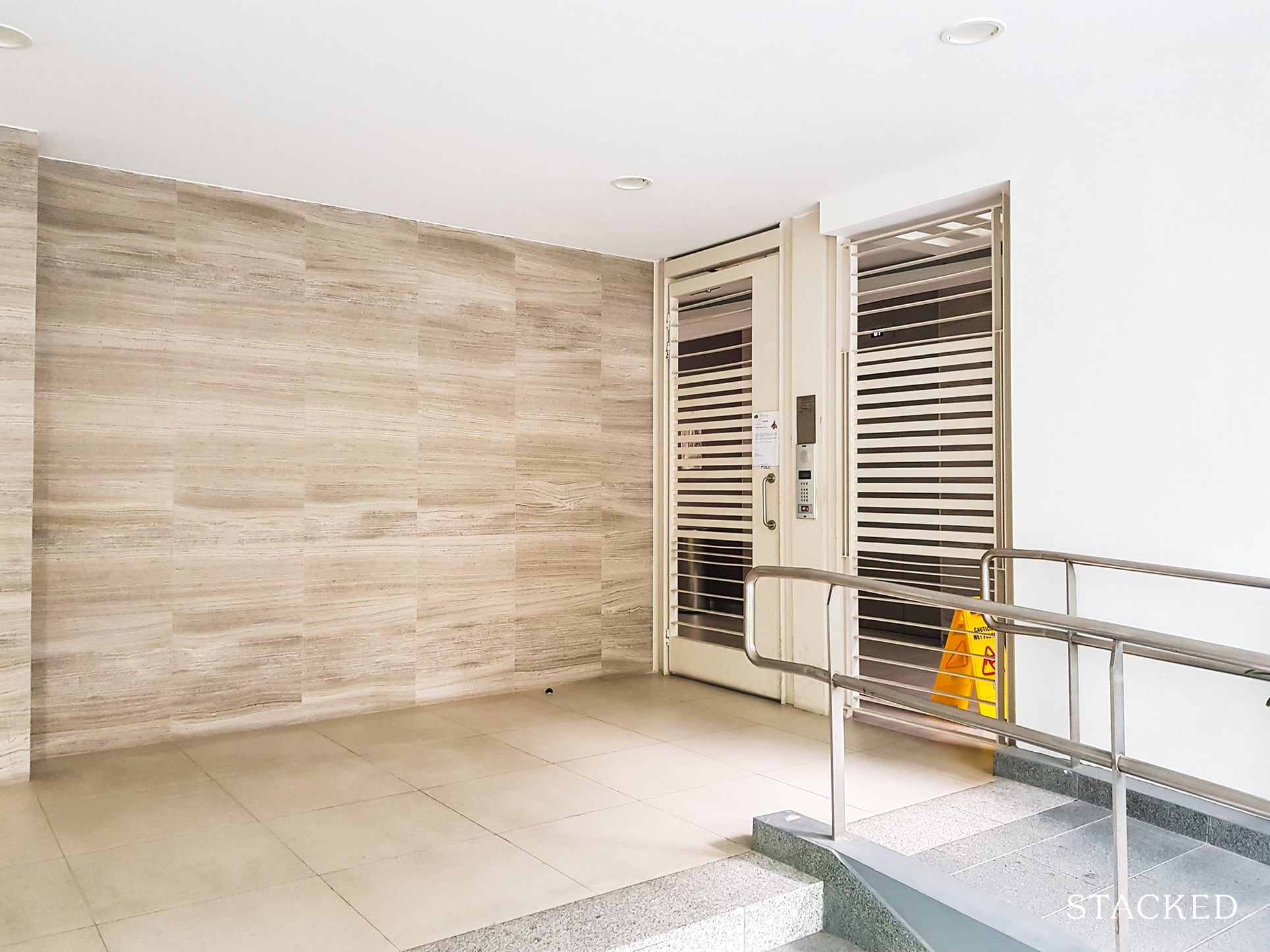 Gated access to the units for extra security
From the carpark, the lift lobby provides air-conditioned comforts from the hot weather in Singapore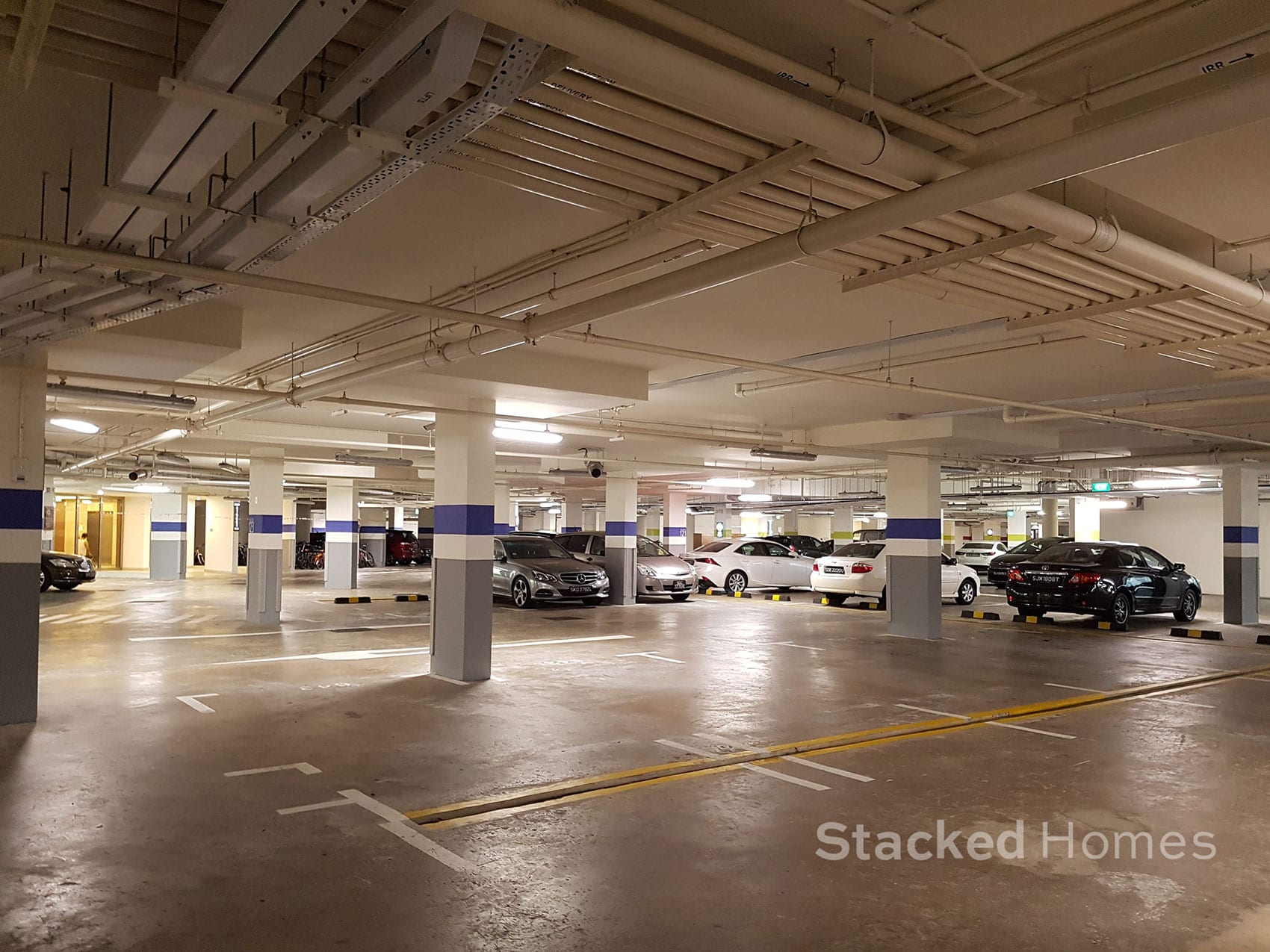 Carpark is big enough and adequate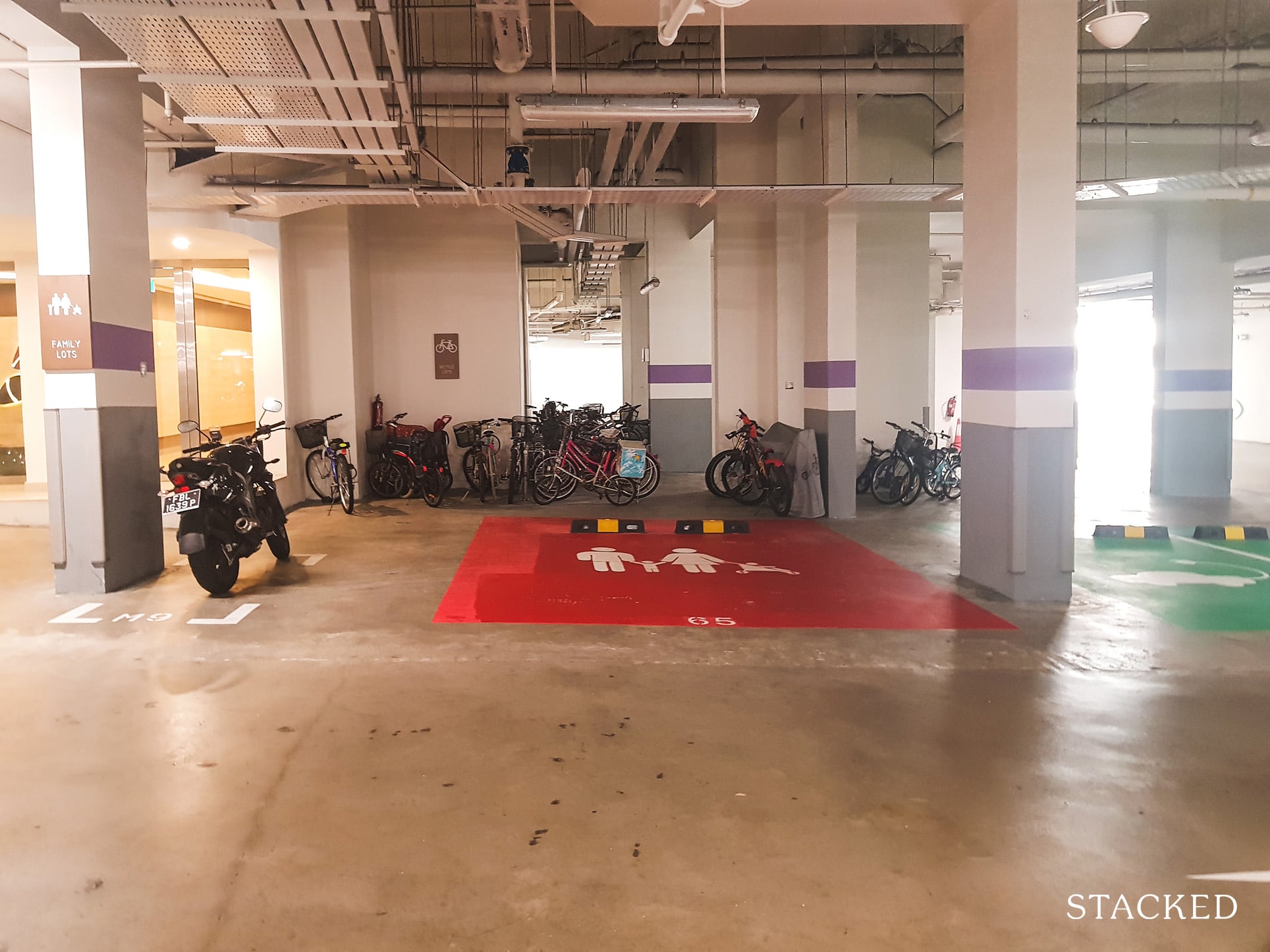 Marked out lots for families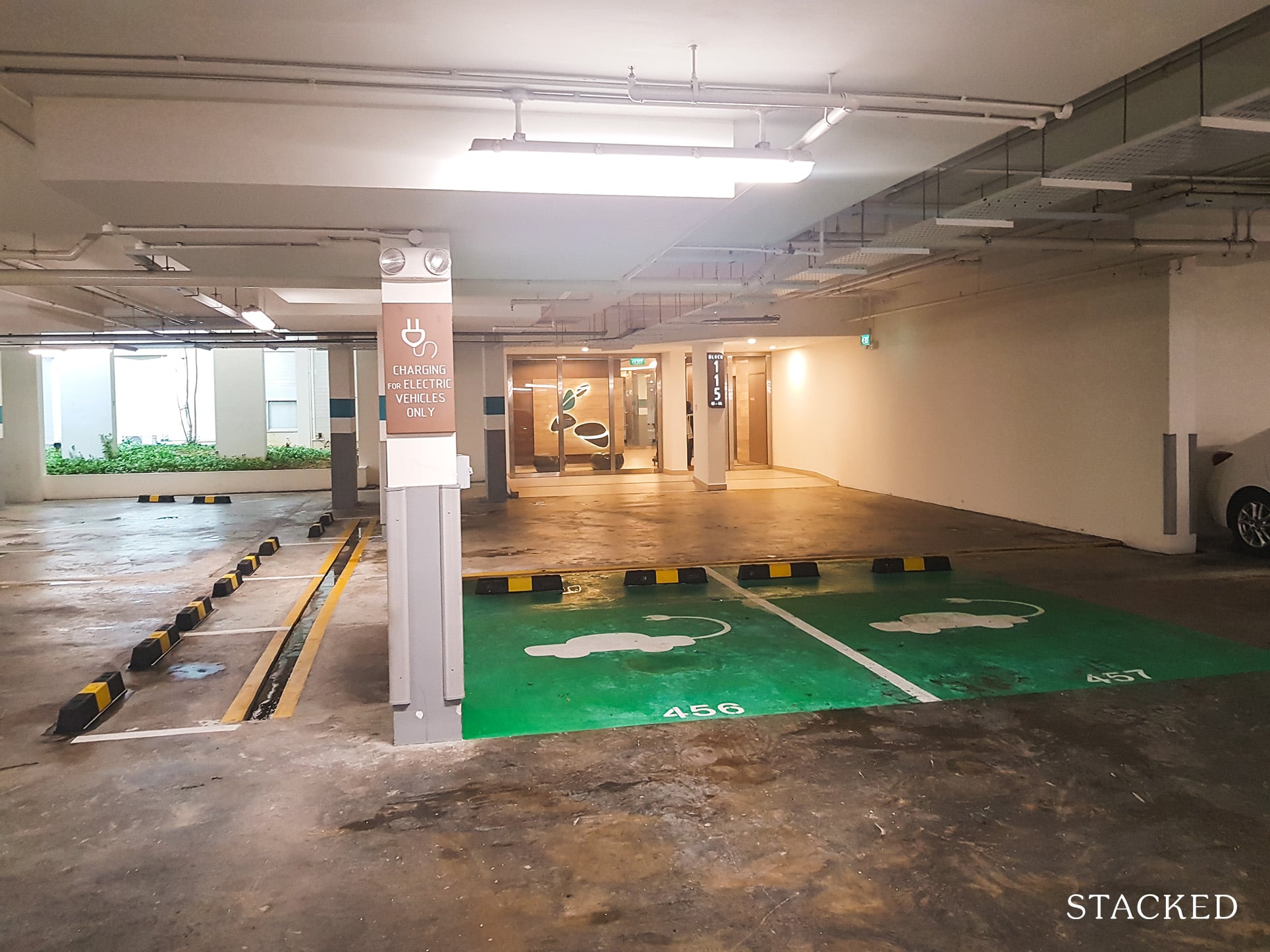 Charging area for electric vehicles, great future-proofing.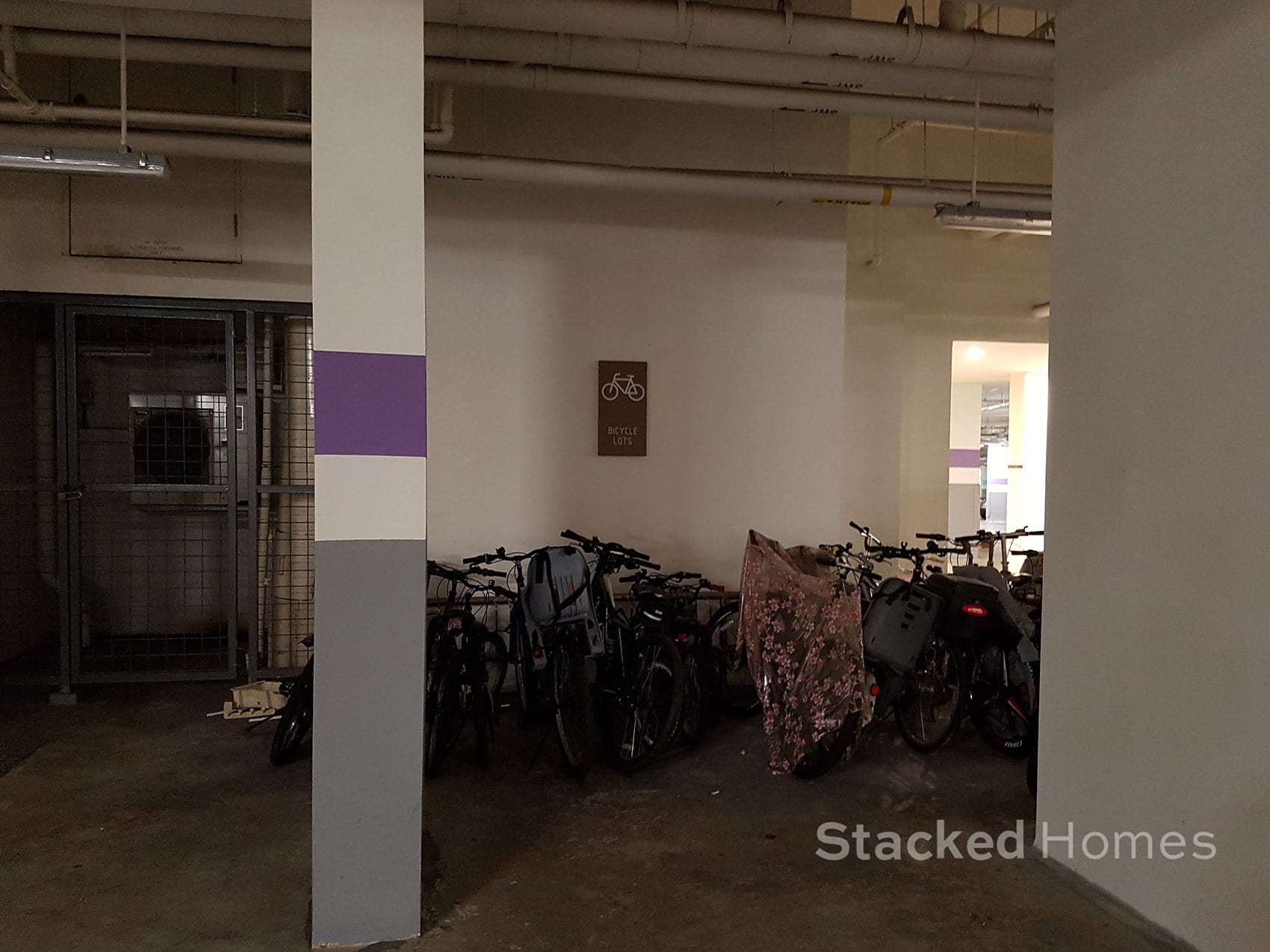 Of course not forgetting an area to park your bicycles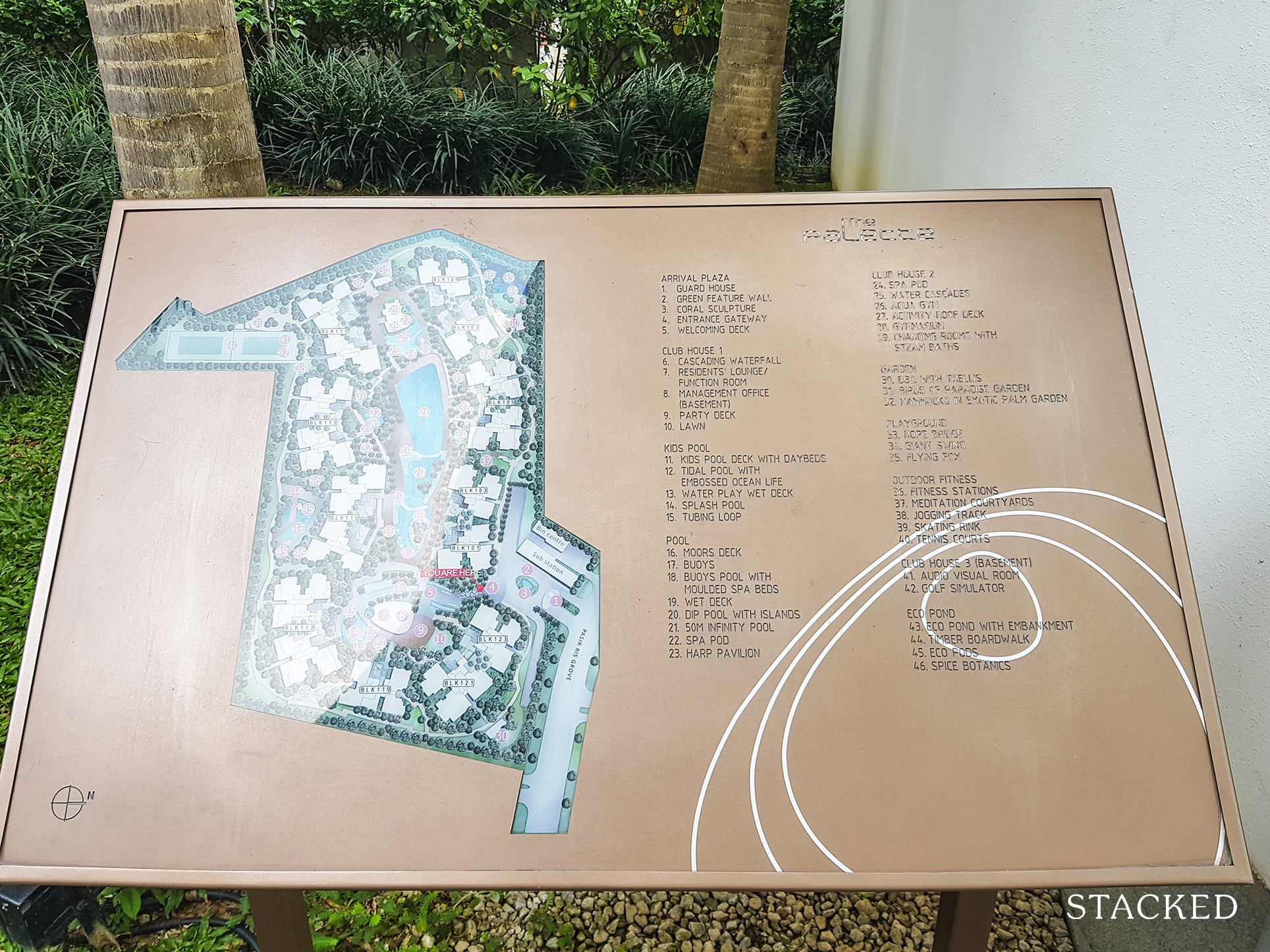 Last but not least, a site map for visitors in case they get lost in this sprawling development.
Pricing
Judging from recent sales from URA, we can see that the price in terms of PSF has not deviated much.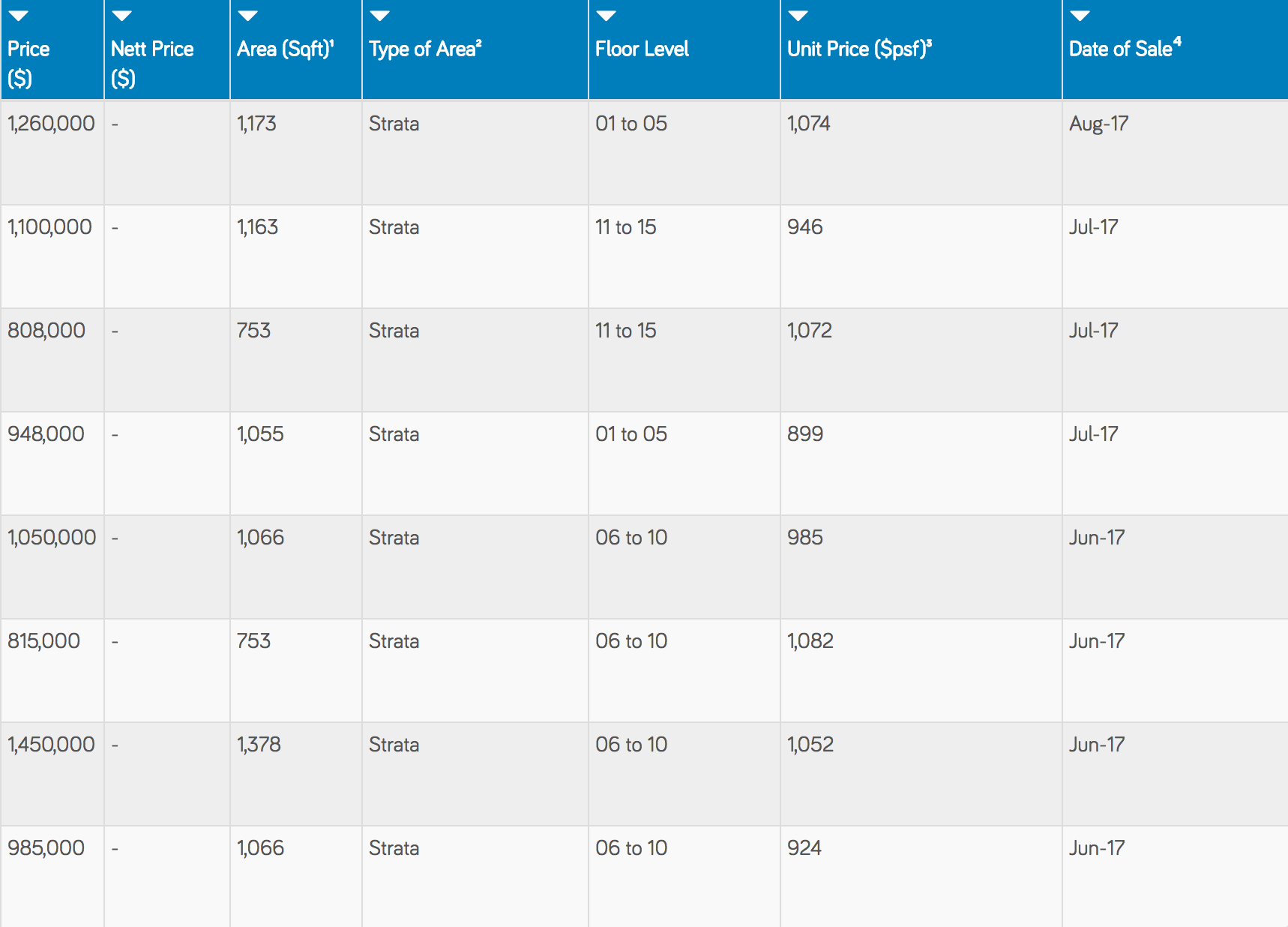 This year

2 years ago in 2015.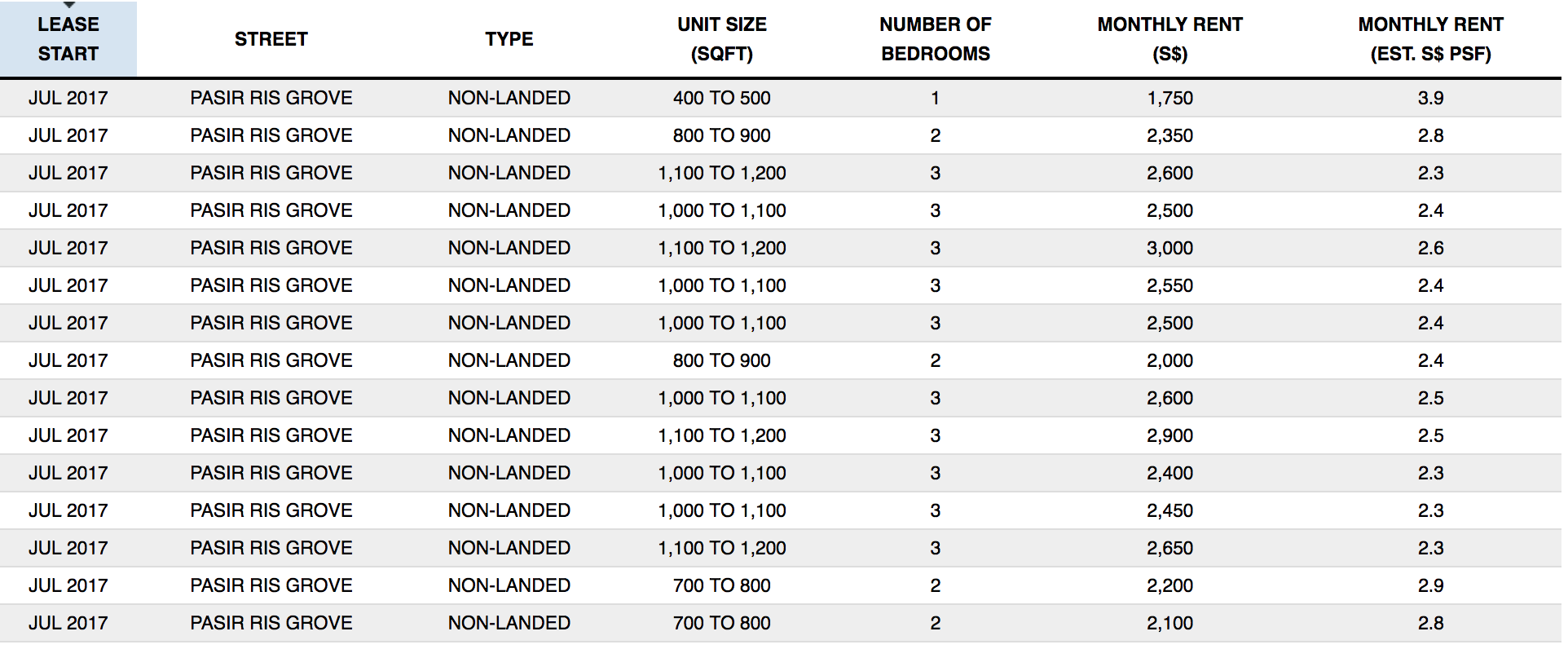 Source: Squarefoot
Rental contracts for the palette
Final Conclusions
The Palette, on the whole, is a development very suitable for anyone looking for a place to live in Pasir Ris. It is well designed and constructed by a reputable developer, facilities are more than adequate and in some cases premium enough despite it catering more to the mass market. Despite Pasir Ris being a bit further out in terms of location, its close proximity to the coast, as well as future updates by the Government will definitely boost this estate's attractiveness.
End of Review