Condo Reviews

OUE Twin Peaks Review: If A Luxury Brand Built A Condo This Would Be It
Reuben
November 11, 2019

28

min read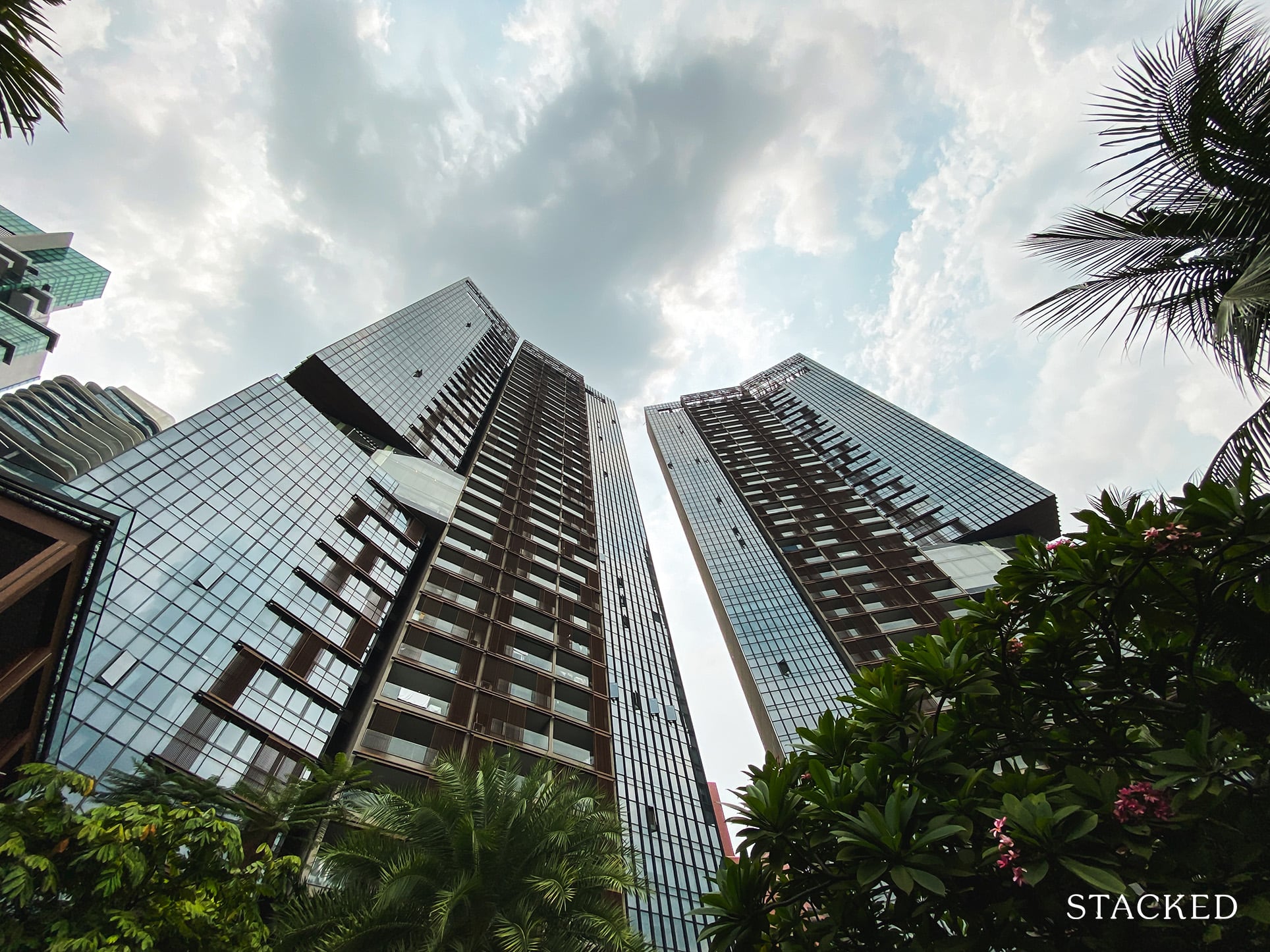 Consider the OUE Twin Peaks if you greatly value luxury with design and proximity to the Orchard Road shopping belt. However, units here could prove restrictive to those on a strict budget due to the high quantum.
Reviewed by Reuben on 11 November 2019
What we like
Upscale design

Lovely dining suites

Rooftop garden
What we don't like
—

Relatively small pool

—

Long term maintenance might be an issue
28
min read
| | | | |
| --- | --- | --- | --- |
| Project: | OUE Twin Peaks | District: | 09 |
| Address: | Leonie Hill Road | Tenure: | 99 years |
| Site Area: | 130,956 sqft | No. of Units: | 462 |
| Developer: | Cove Development Pte Ltd | TOP: | 2014 |
When you think lavish, what pops to mind? Perhaps an abundance of sinful indulgence that ranges from luxurious poolside deck chairs to elegant rooftop dining…
…Or maybe an expansive (read: expensive) sky gym alongside an array of beautifully polished stones and intricate sculptures scattered through a lush yet incredibly well-maintained canopy.
Well, whatever way your thinking lineates, you'll be delighted to know that OUE Twin Peaks has all that to offer and more.
A London Design and Skyrise Greenery award-winner, the condo offers 462 luxurious (and spacious) residential units spread across its 2 gorgeous 36-storeyed towers.
What's more, If you're a fan of centrality, you'll be elated to know that the condo lies in the very heart of the city (think high-end Orchard area).
An abundance of amenities here offer a glimpse of painstakingly engineered architectural beauties steeped with brilliant design prowess – all amidst a backdrop of pristine green areas in a city where space is so rare.
From a luxury standpoint, the OUE Twin Peaks can do no wrong. But what about its location, quantum, and neighbouring developments?
That's where we come in.
Here to cover all this and more in our latest review of the 'miracle condo' (hint: we had to choose from over 200 photos of the place), we'll provide you with an insightful and rewarding analysis of the Twin Peaks' various perks and peculiarities.
Let's hop to it!
OUE Twin Peaks Insider Tour
Facilities in OUE Twin Peaks
Swimming Pool
Jacuzzi
Children's Playground
Gourmet Dining Suites
Tennis Court
Entertainment Room
Laundry Rooms
The Sanctuary
The Pavilion
The Garden of Inspiration
Sky Gym
Viewing Terrace
Sky Bar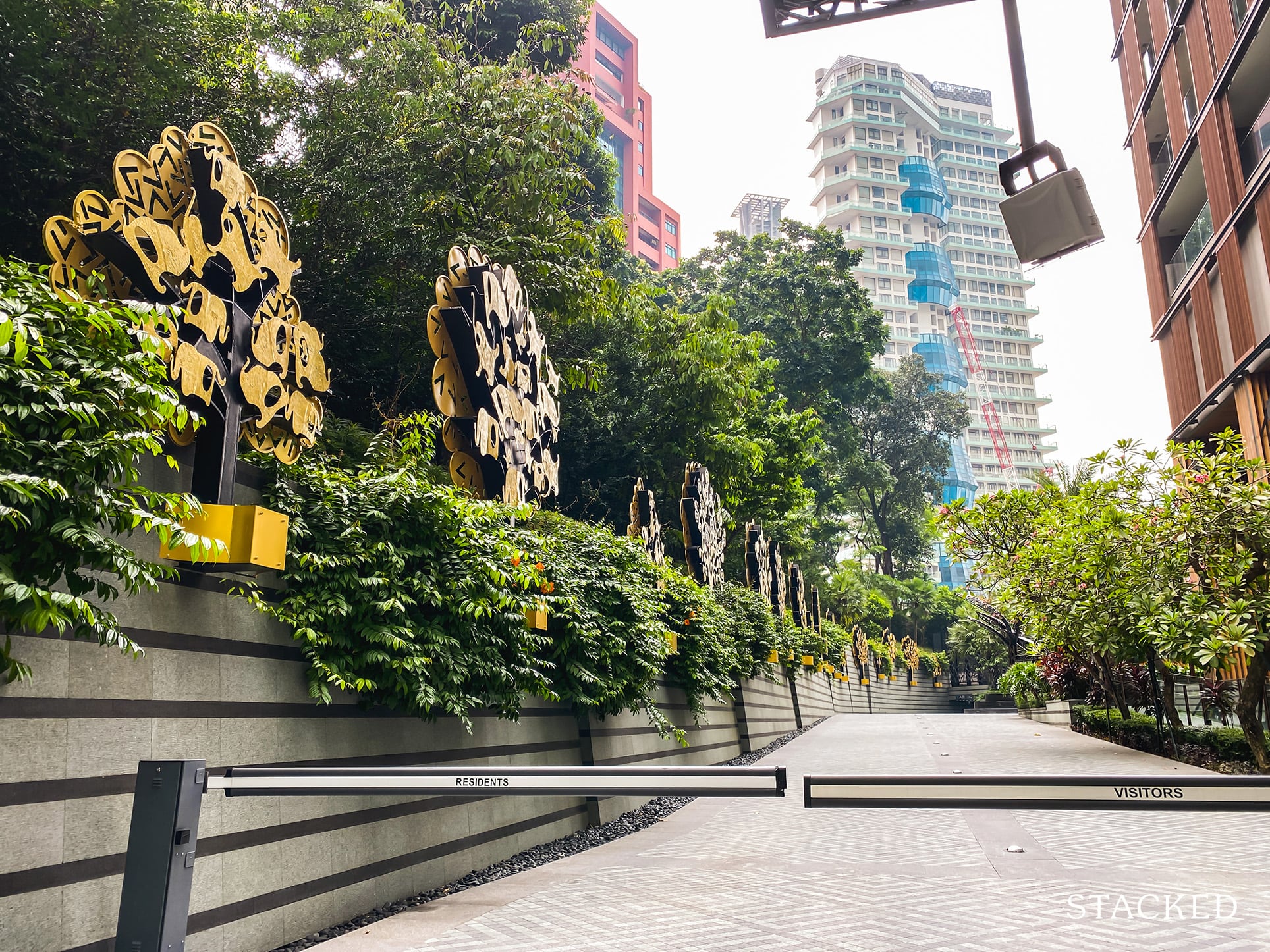 Not the best of days to review any condo, but if there had to be one that would still stand out in gloomy weather, that would easily be this one. Just from the entrance itself, you can already tell that the OUE Twin Peaks is something quite special. Some people might find it over the top, but the line of gold trees looks to be a welcoming sight home.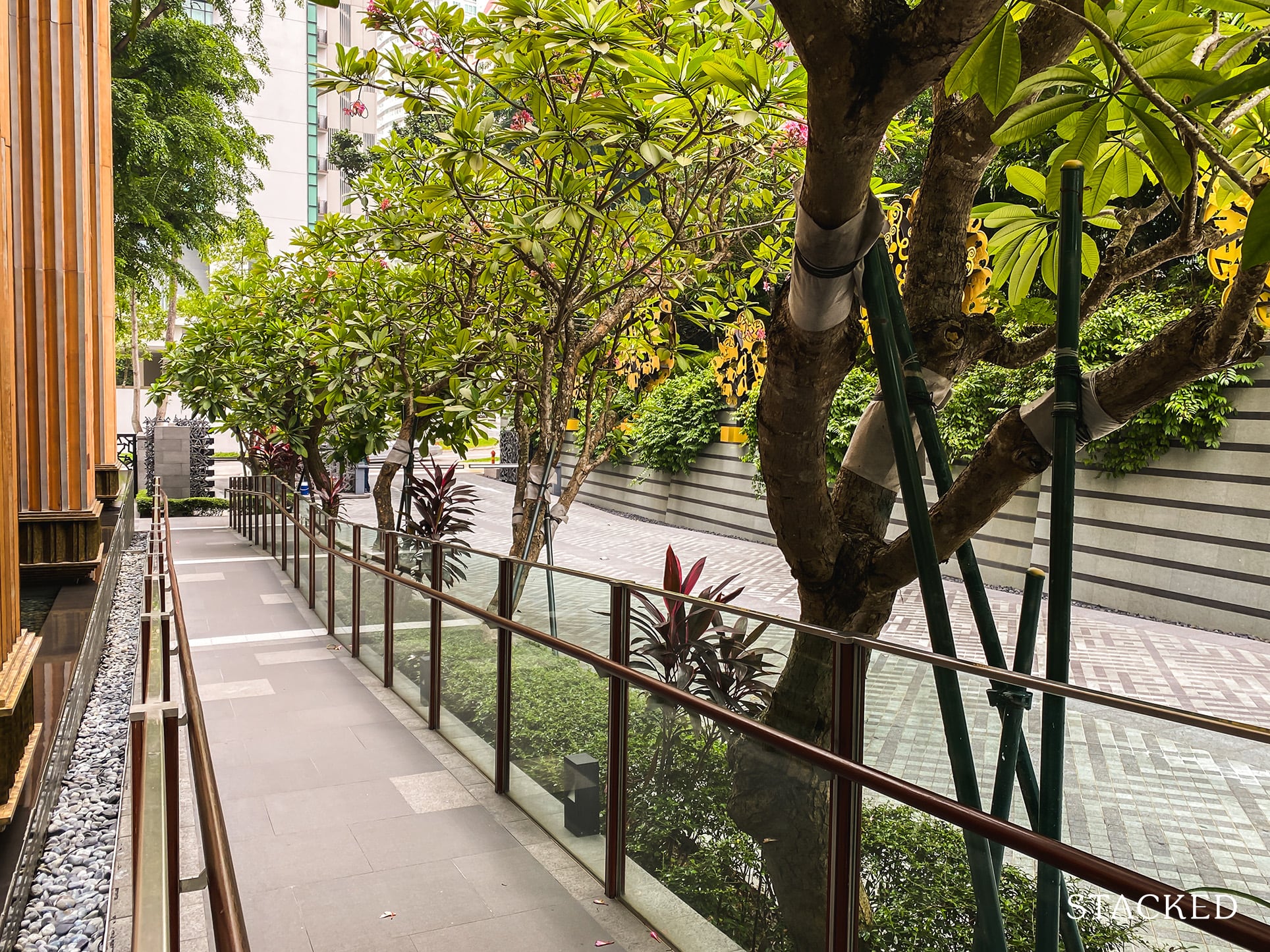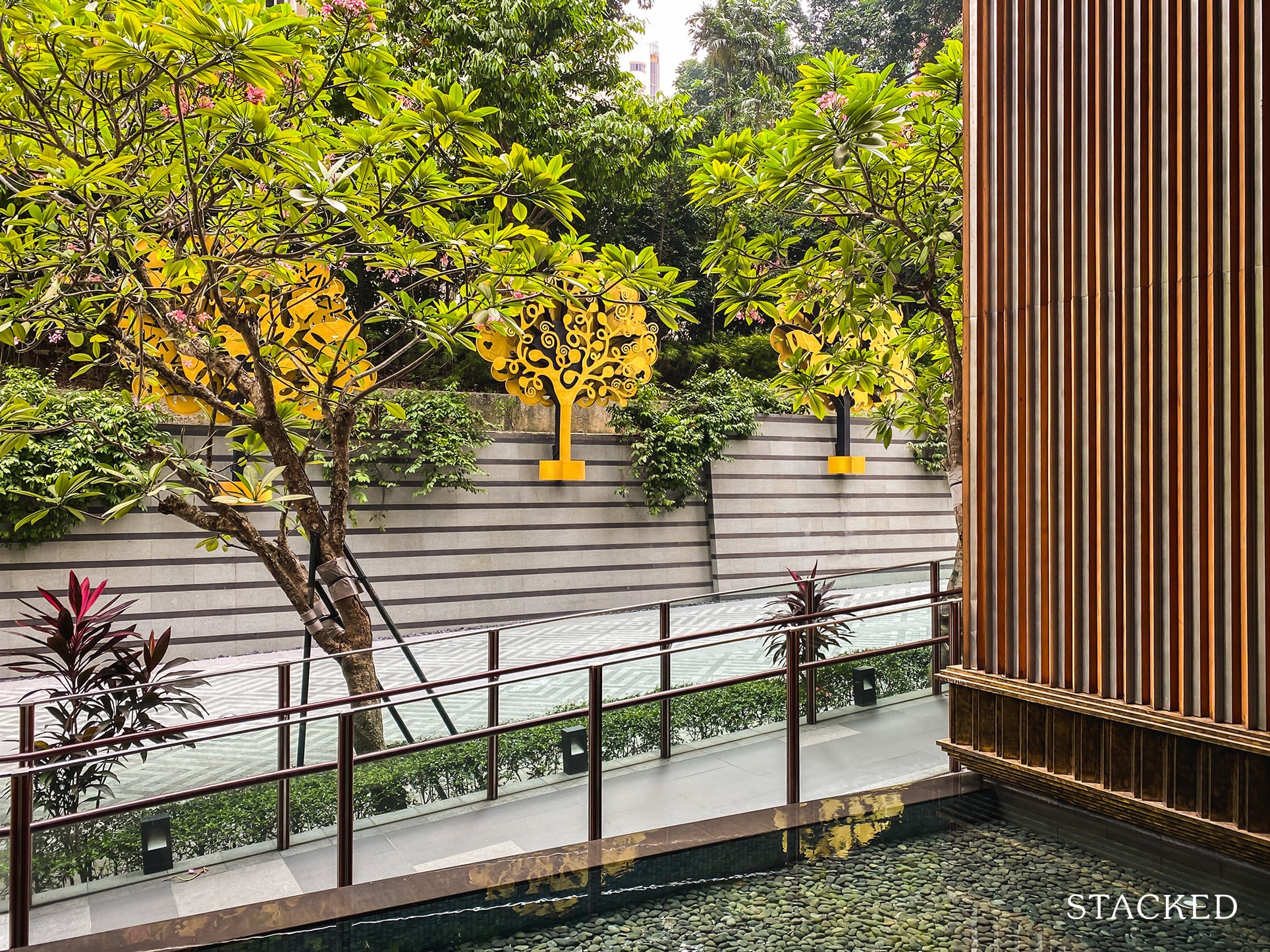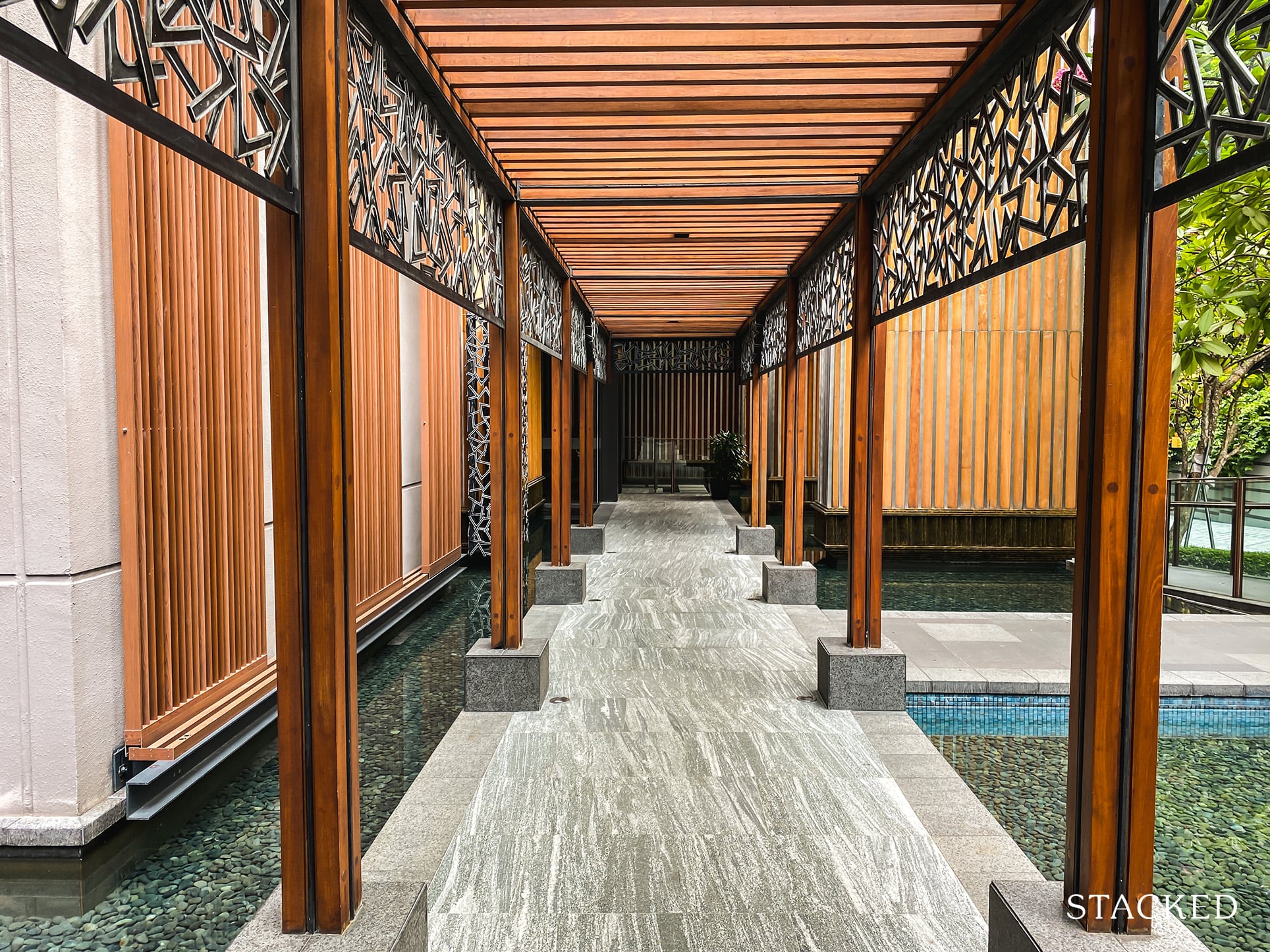 Once you get in, you are greeted by a sheltered walkway between both blocks. The resort vibes are clear to see from the water ponds surrounding the walkway, and you can see the attention to detail from the designed motif that lines the top of the walkway.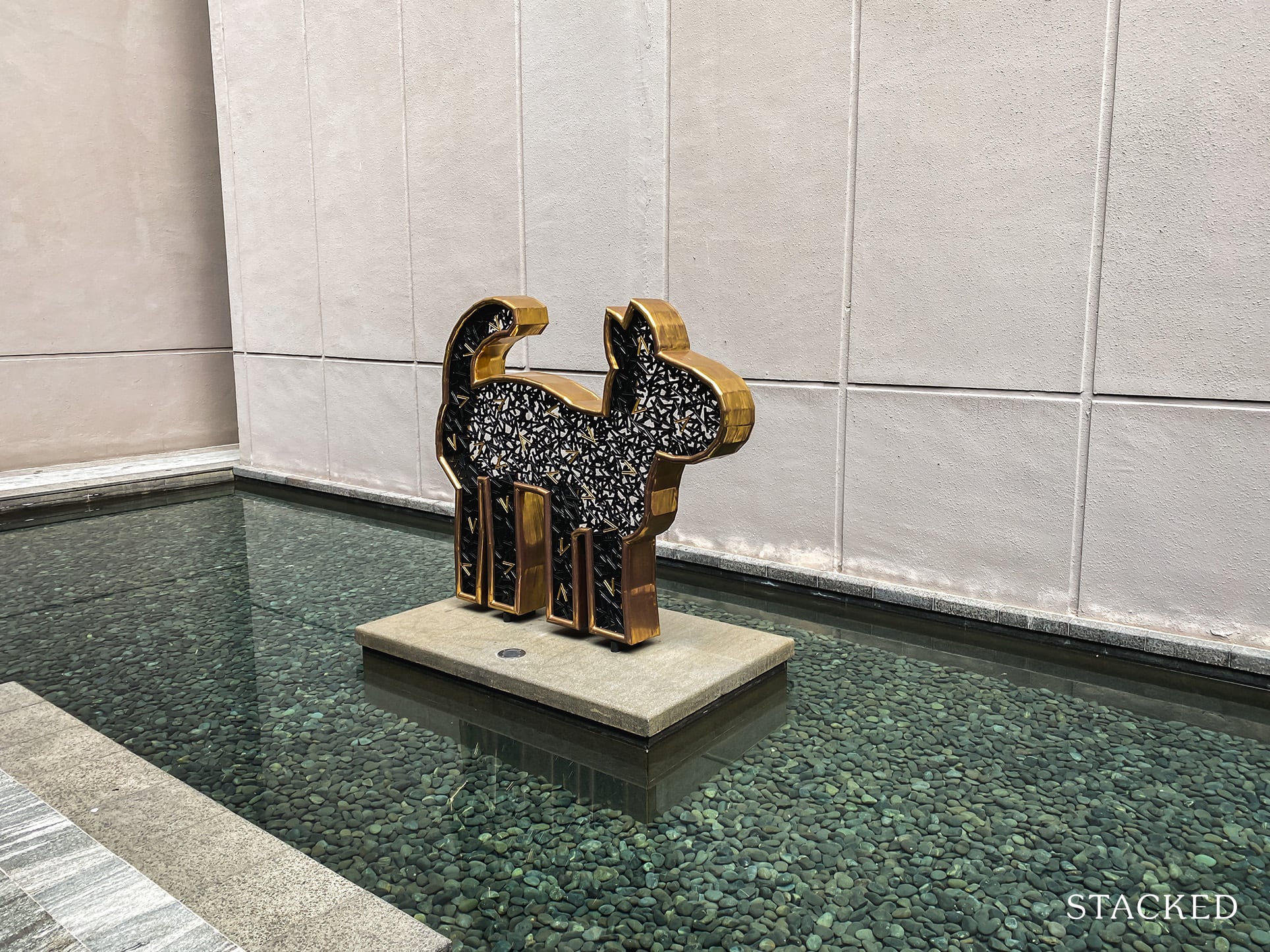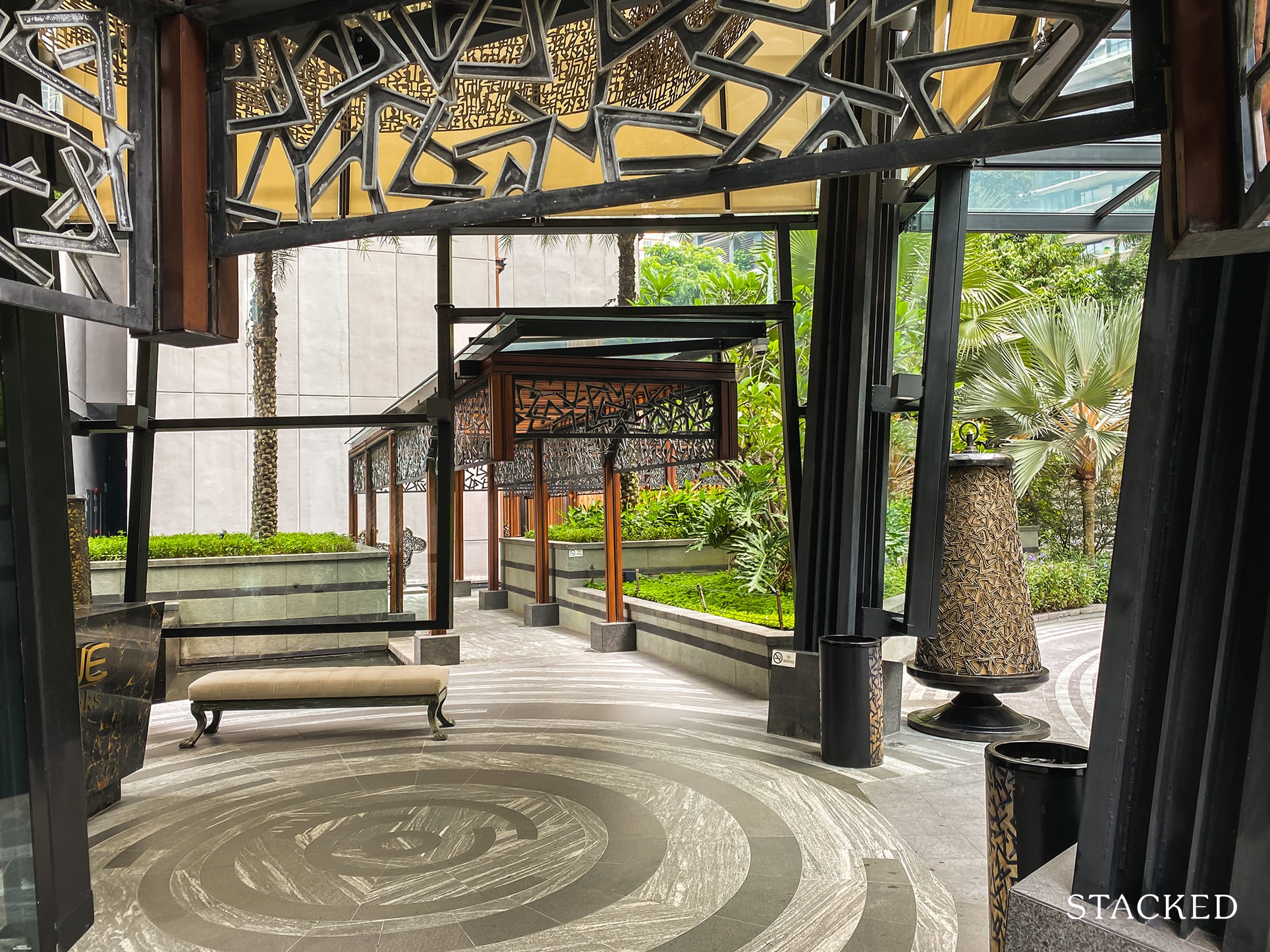 The walkway will lead you to the centre of the two towers, where the arrival court is located. This is where you'll find the concierge too, which is one of the main selling points of staying at the OUE Twin Peaks. You can use the concierge for tasks like booking a transport, holding delivery items, or even housekeeping services (provided by Mandarin Orchard)! From the concierge desk to the open high ceilings, on first impressions everything seems very hotel-like and that certainly is designed by choice.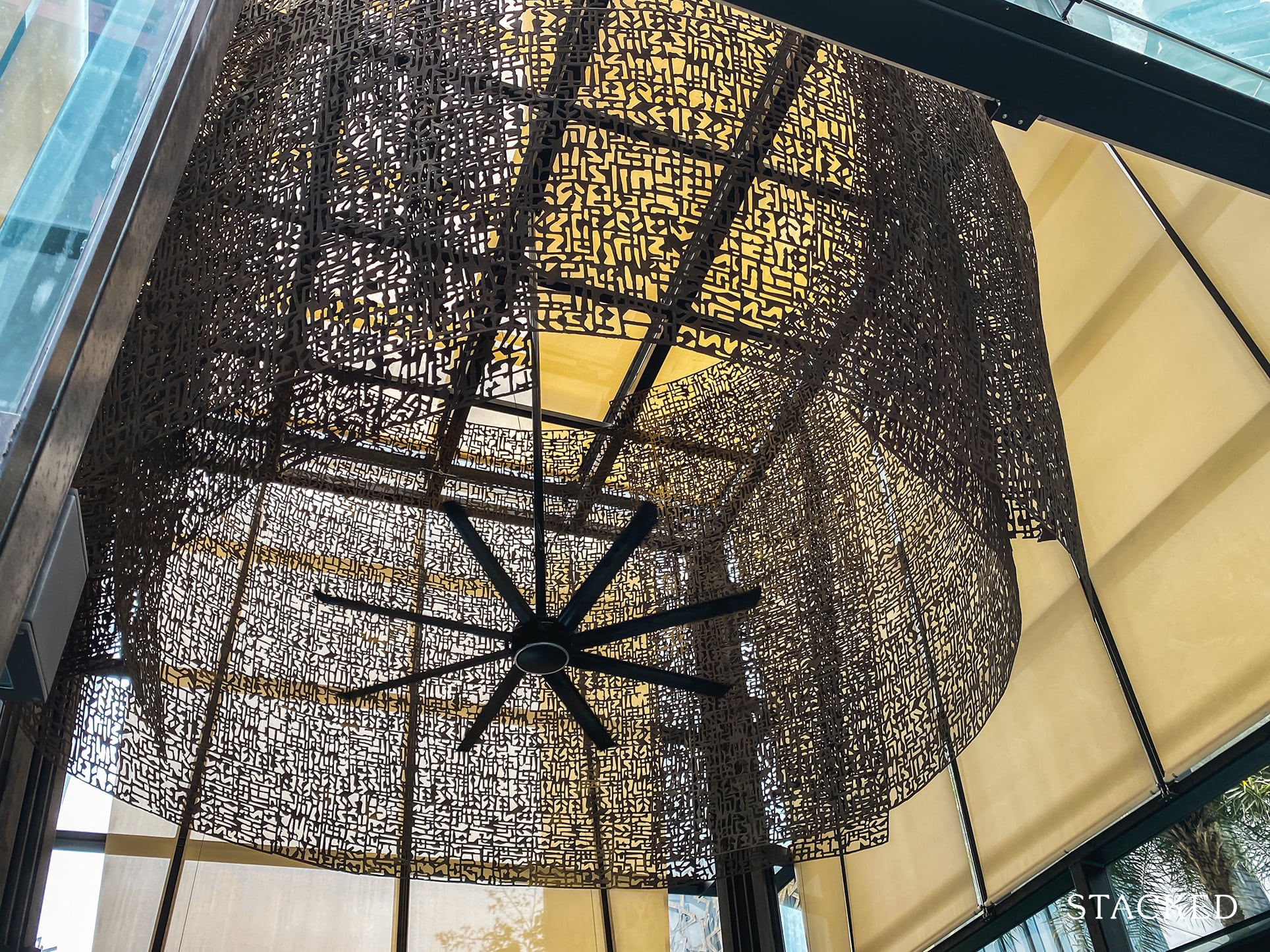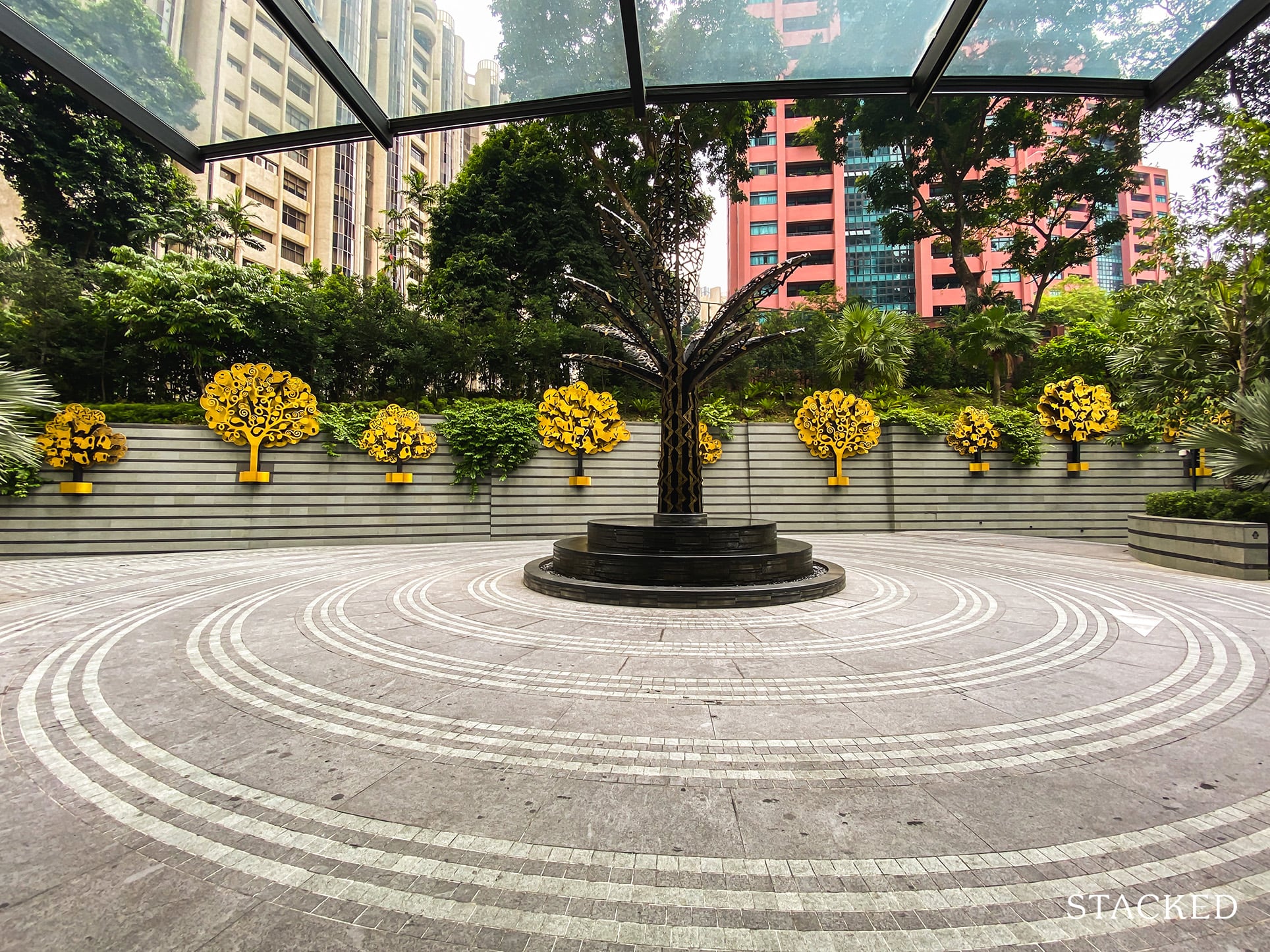 As far as arrival courts go, the one here at OUE Twin Peaks are as grand as they come, with a water fountain plus metallic leaf structure placed in the middle. The roundabout is spacious and provides a good sense of space.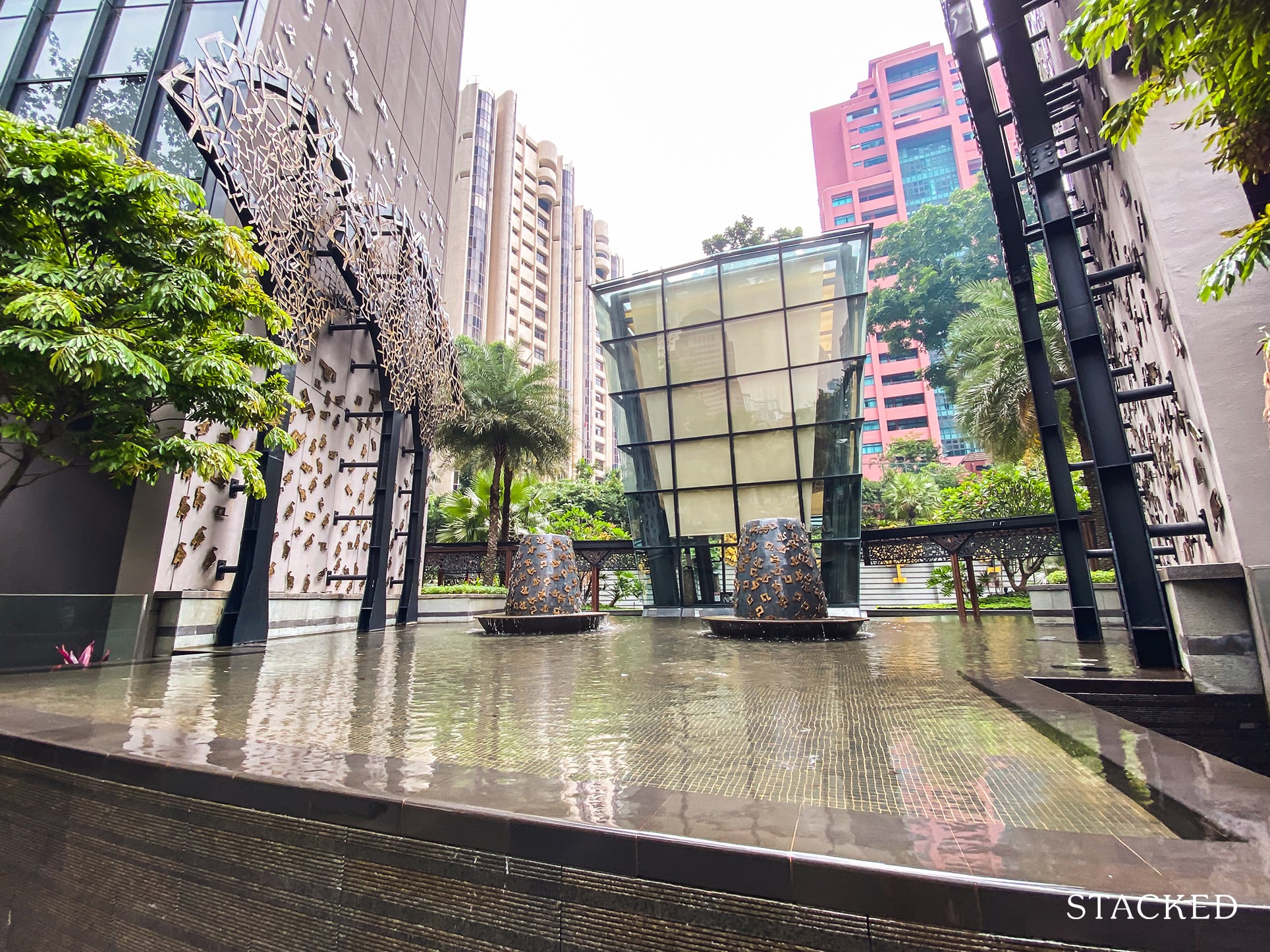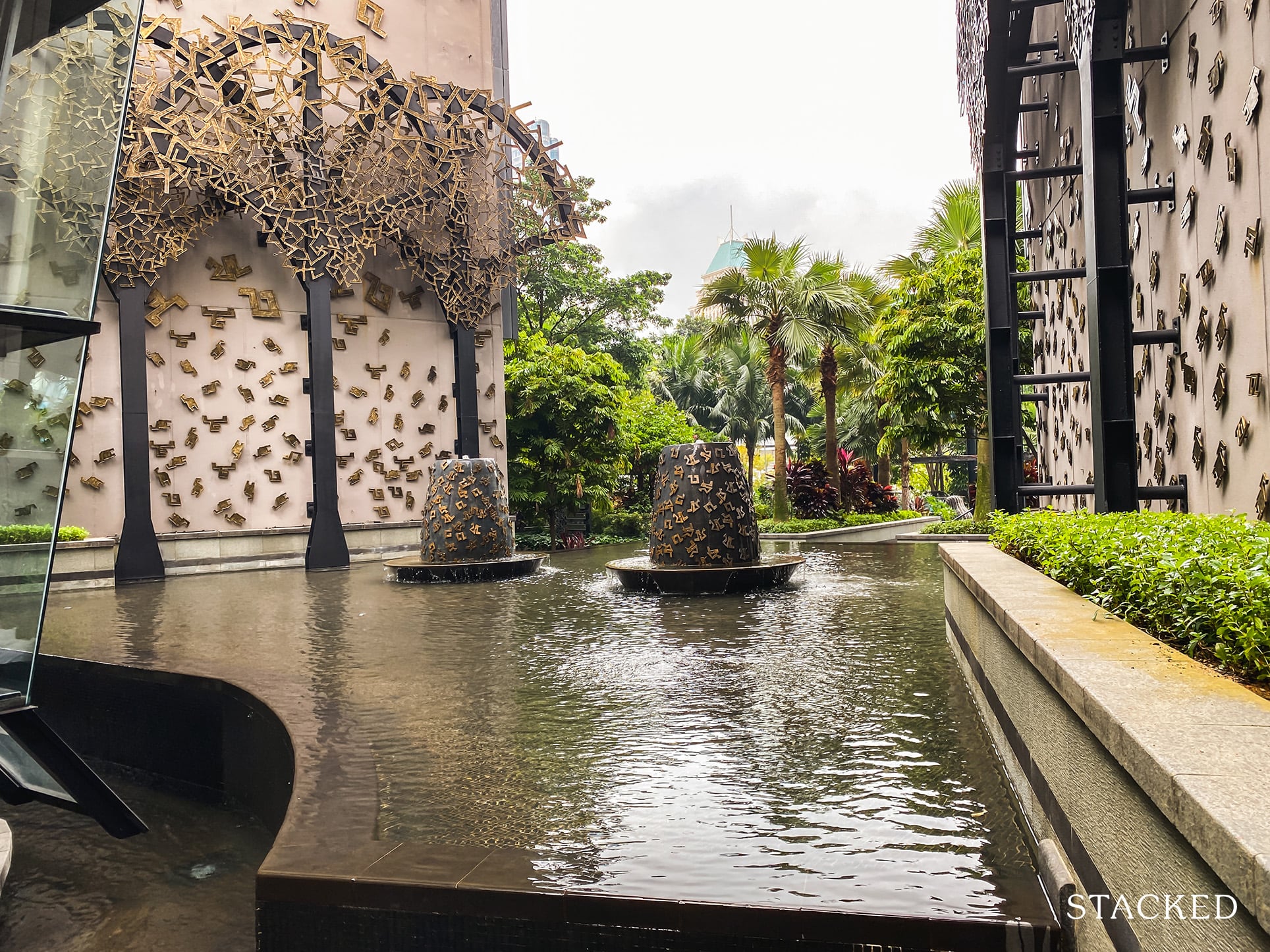 From behind the water fountains you can see the lush greenery peeking out where the swimming pool area is at.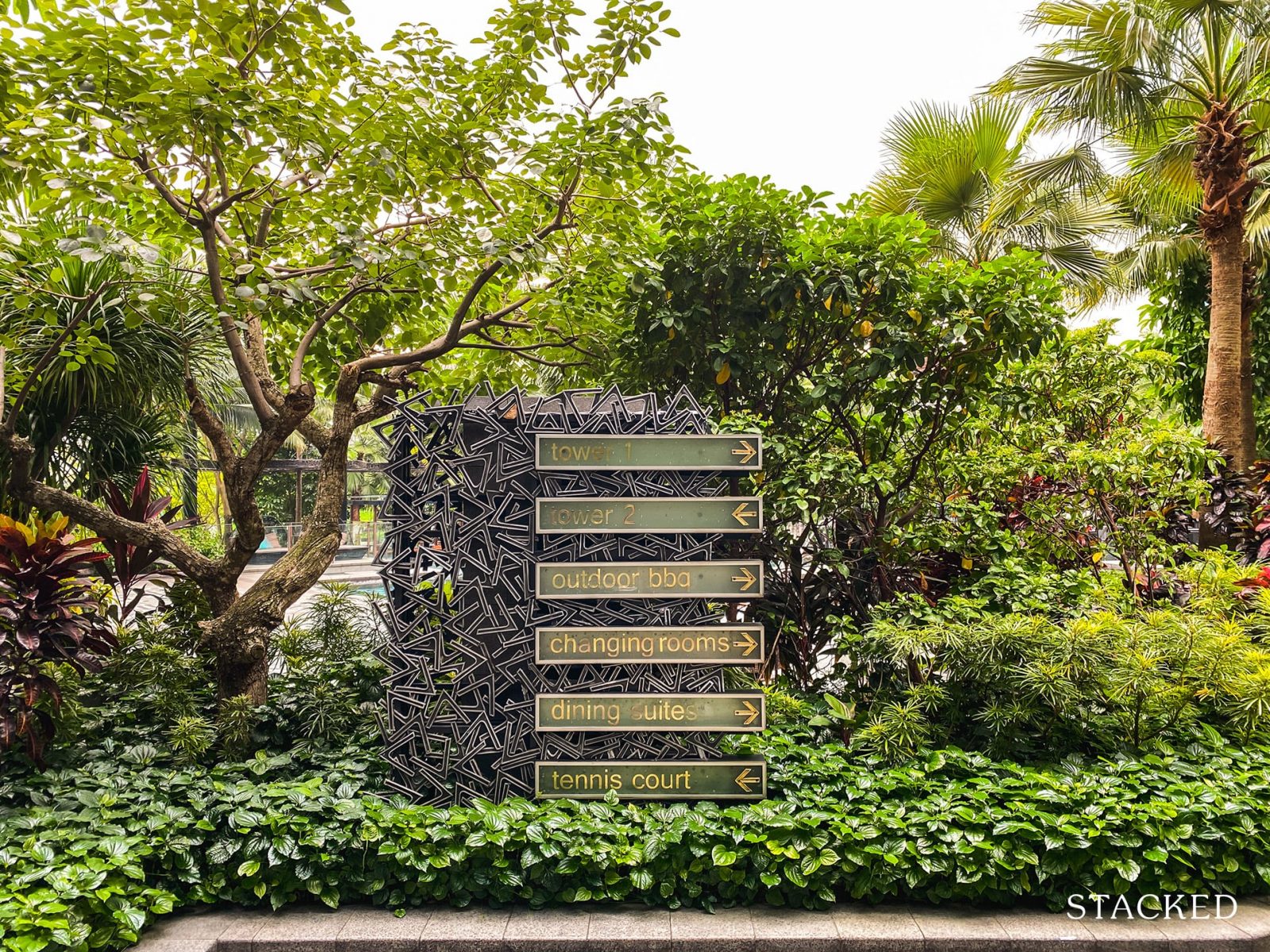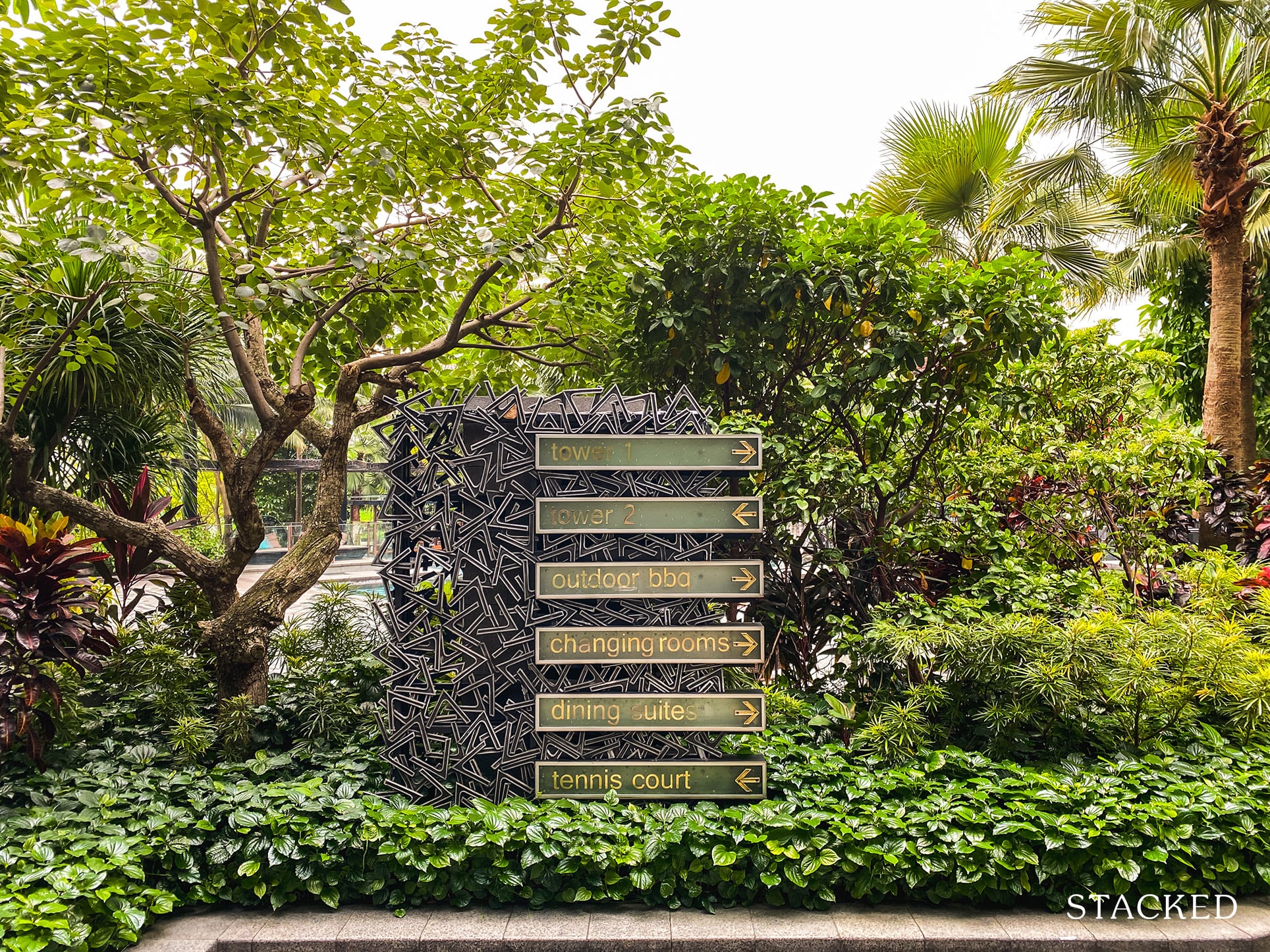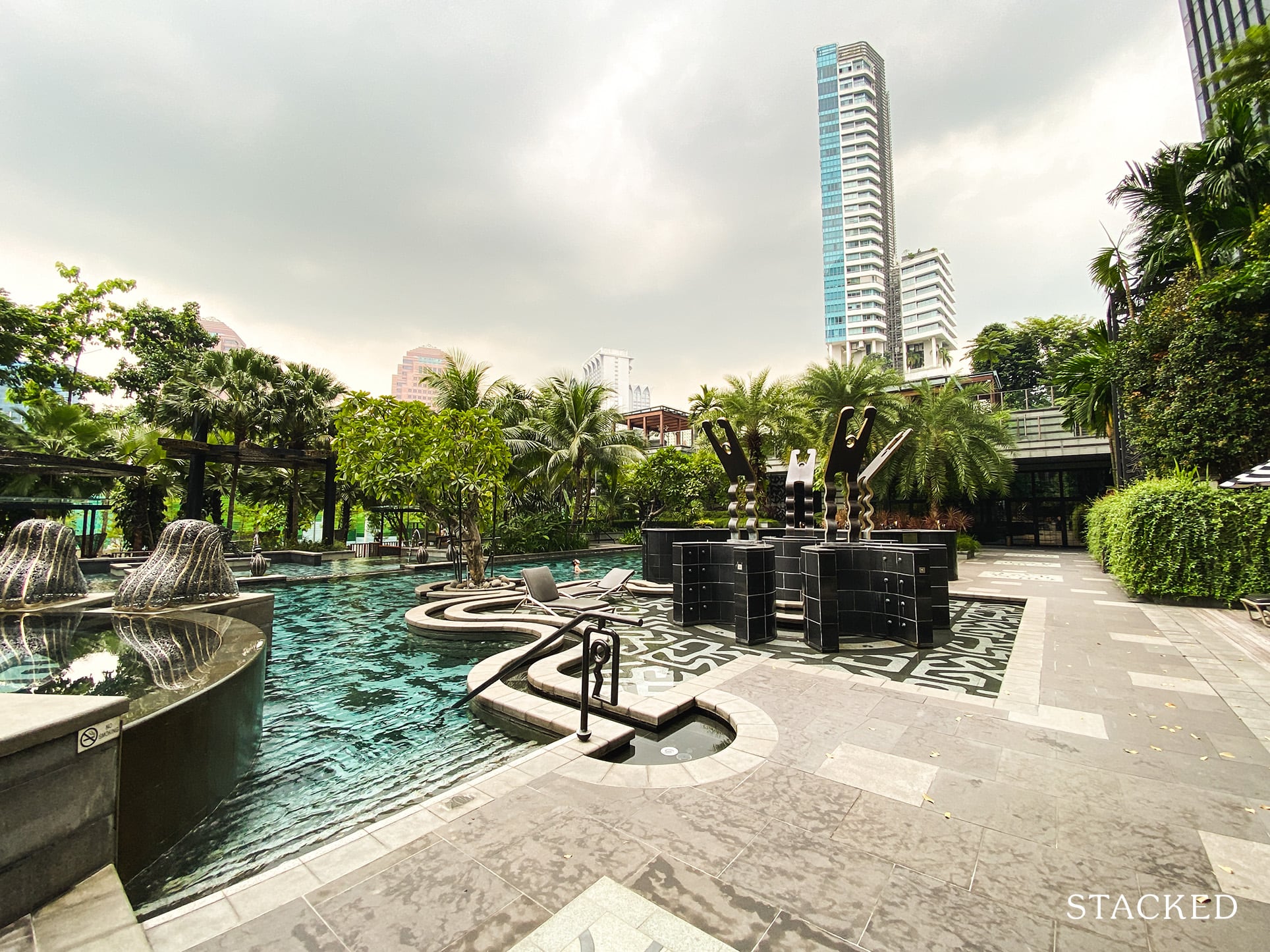 The tile patterns of the swimming pool will definitely be the first thing that catches your eye. It's bold and catchy, and the combination of bronzed metal and greenery create a luxurious atmosphere despite the gloomy nature of the weather.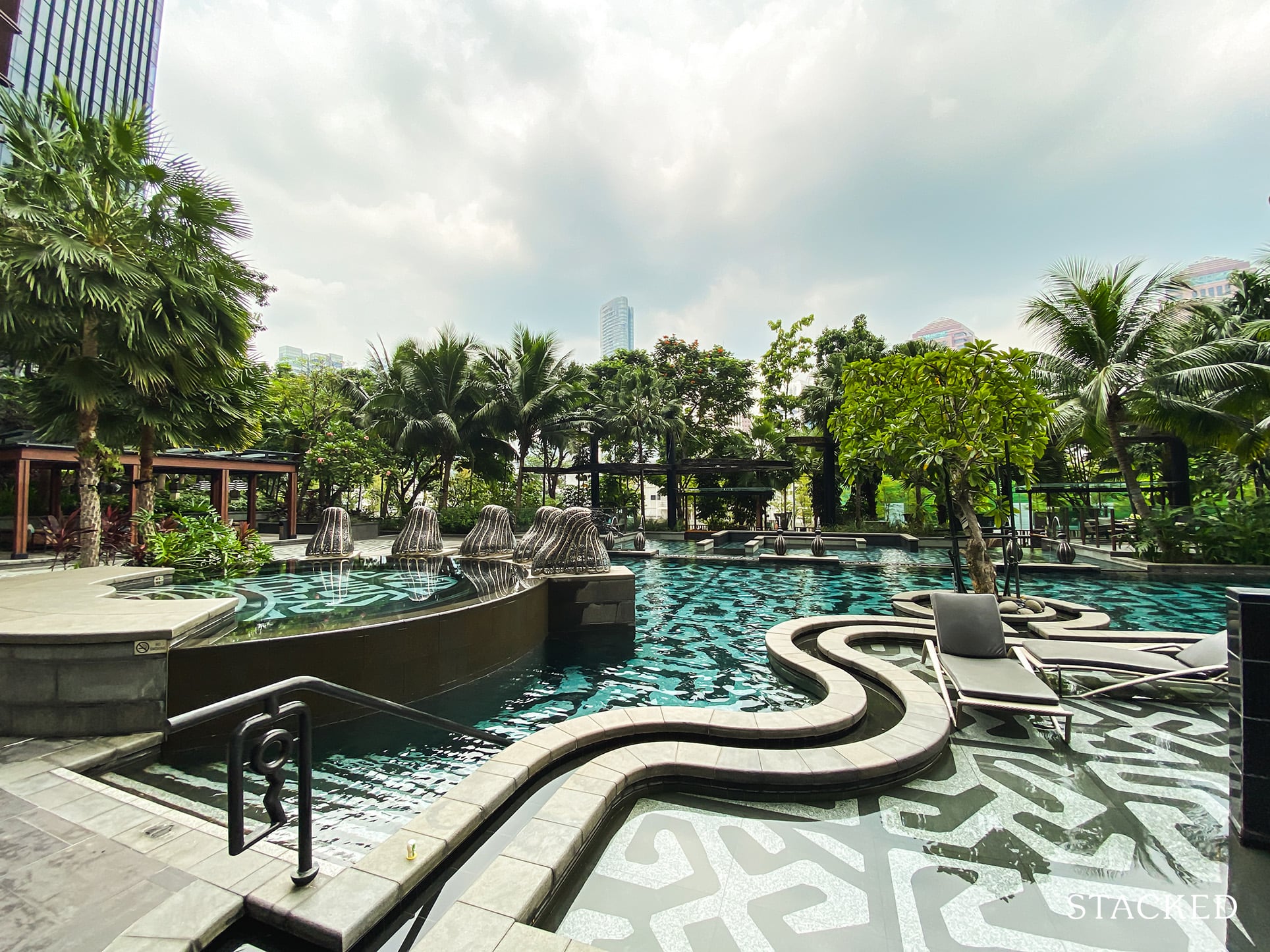 The swimming pool really reminds you of resorts in Bali, which isn't surprising at all given that Bill Bensley has designed esteemed resorts in Asia such as the Capella Ubud and the InterContinental Danang.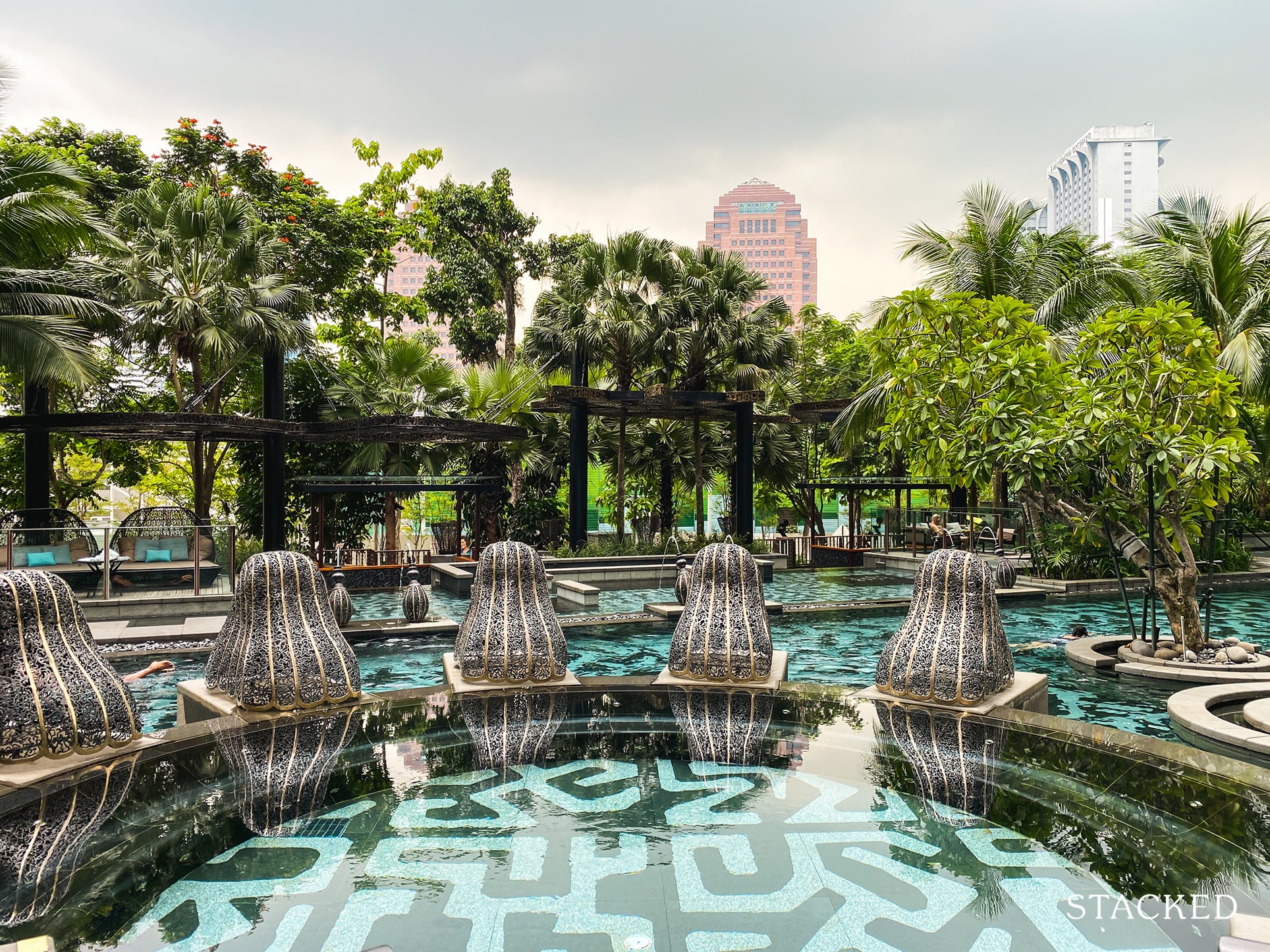 The jacuzzi is on a slightly elevated position over the rest of the pool.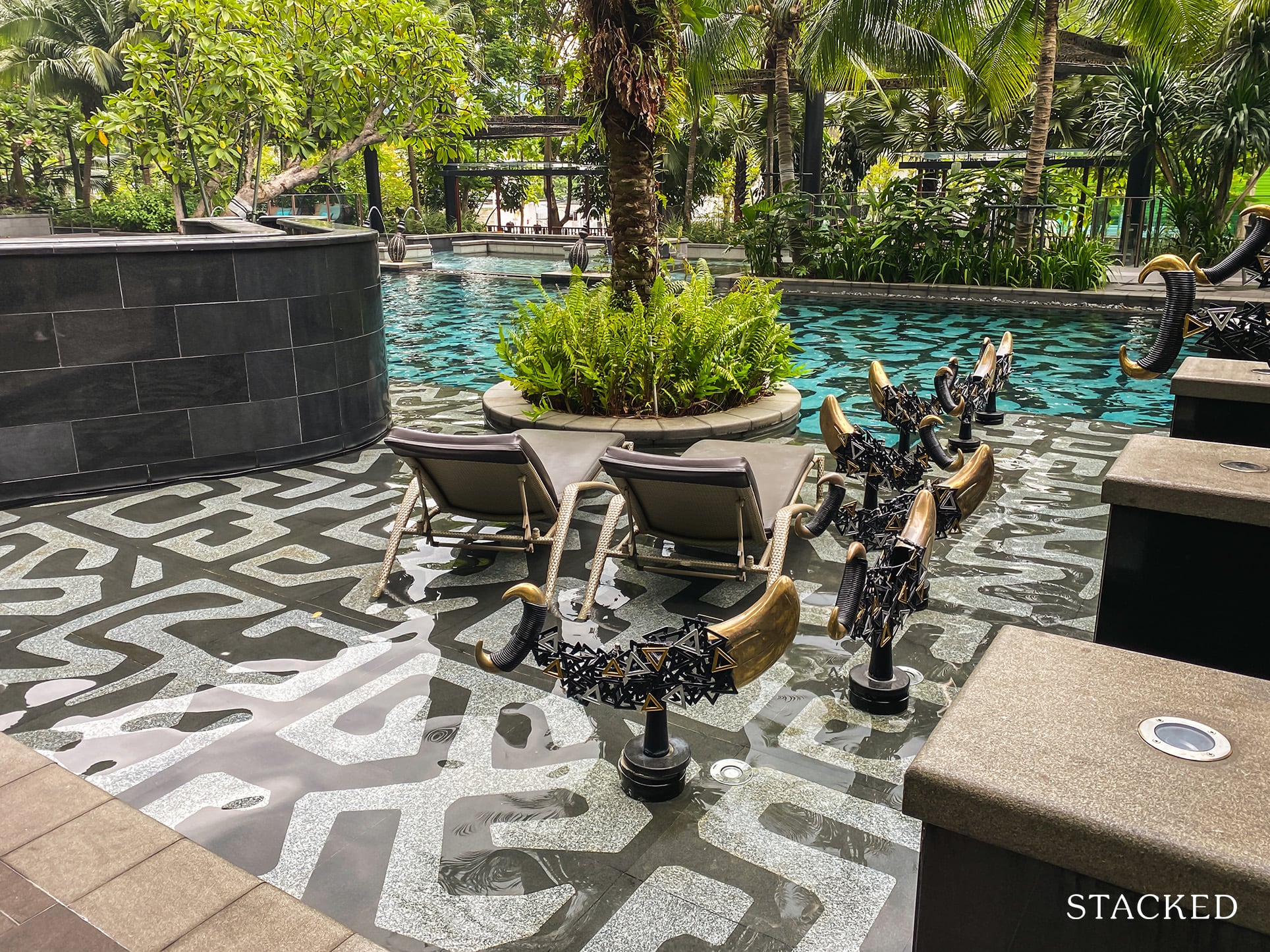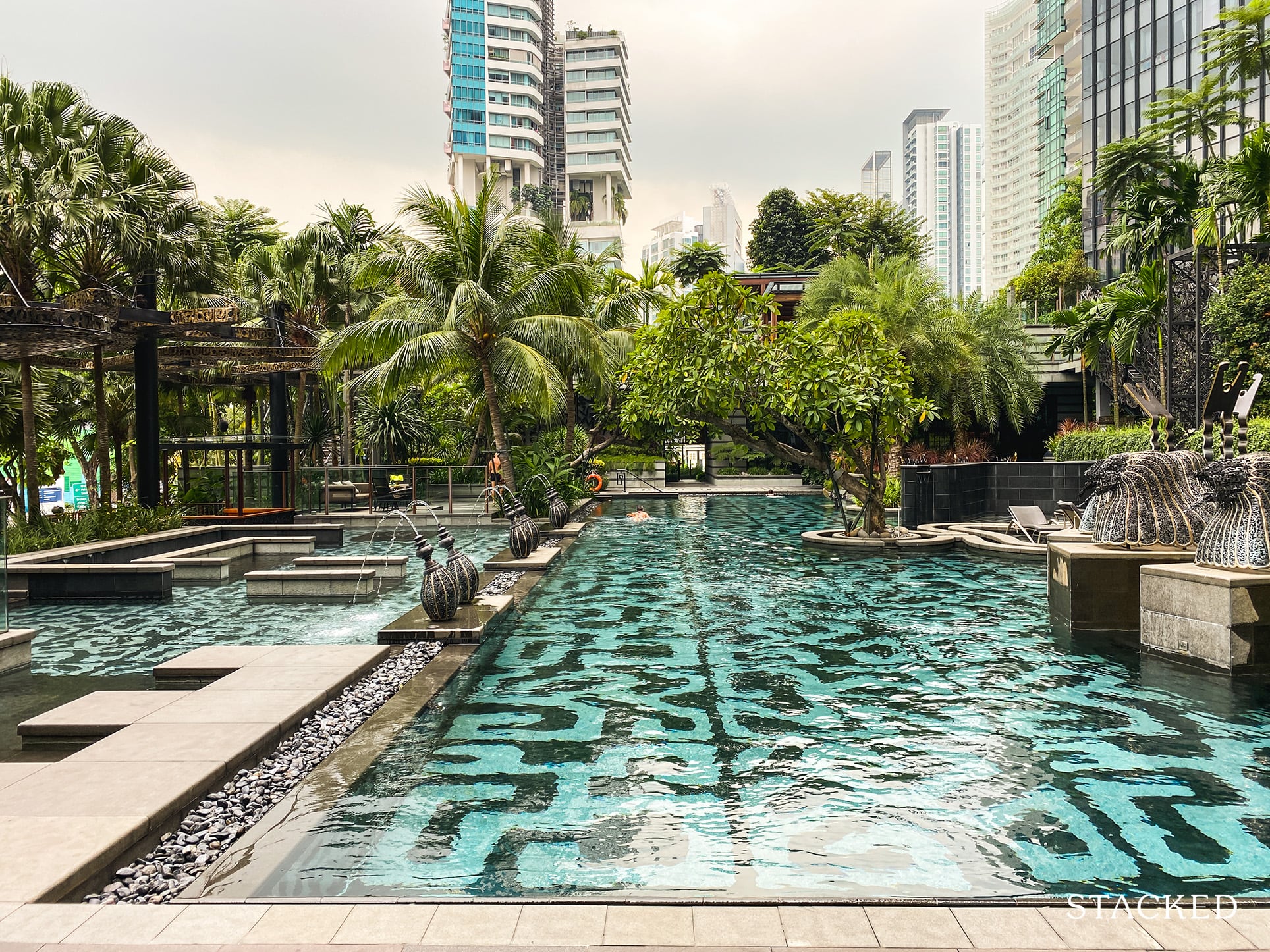 Personally, for me, the swimming pool is on the small side for its 462 units. With that said, this pool wasn't built for swimming laps as it is all about the lifestyle here. You can see from the different nook and crannies, water fountains and shallow areas everything is done purposefully to just rest and relax.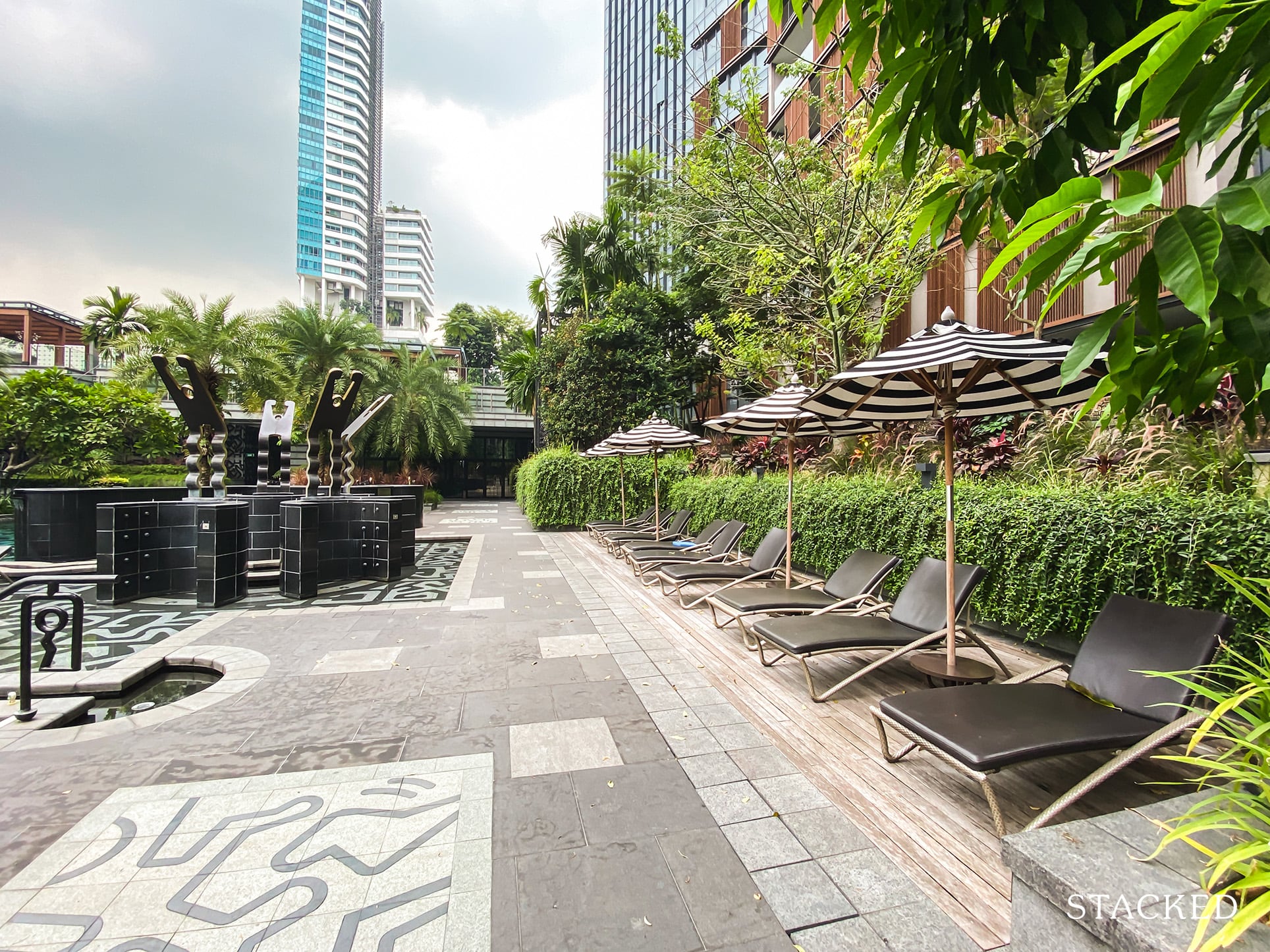 There's a whole line of deck chairs over on one side of the pool. Bear in mind these aren't your regular old plastic deck chairs. Made of soft leather material, these are infinitely more plush and comfortable. The only thing missing here is poolside service for towels and an ice-cold coconut!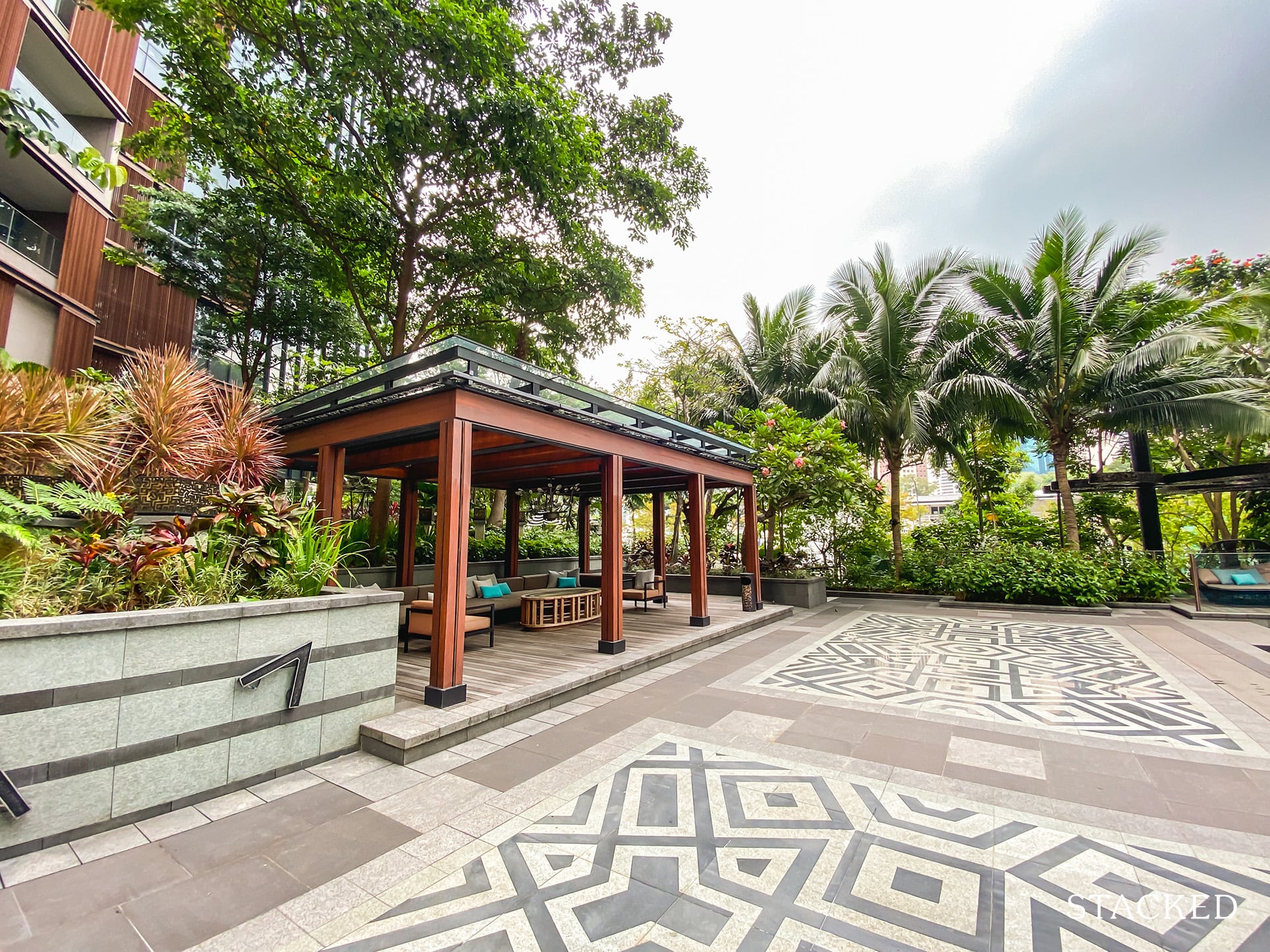 The starting point of the swimming pool also has a sheltered pavilion with sofas but I can't help but think poolside cabanas would have been more in line with the resort theme.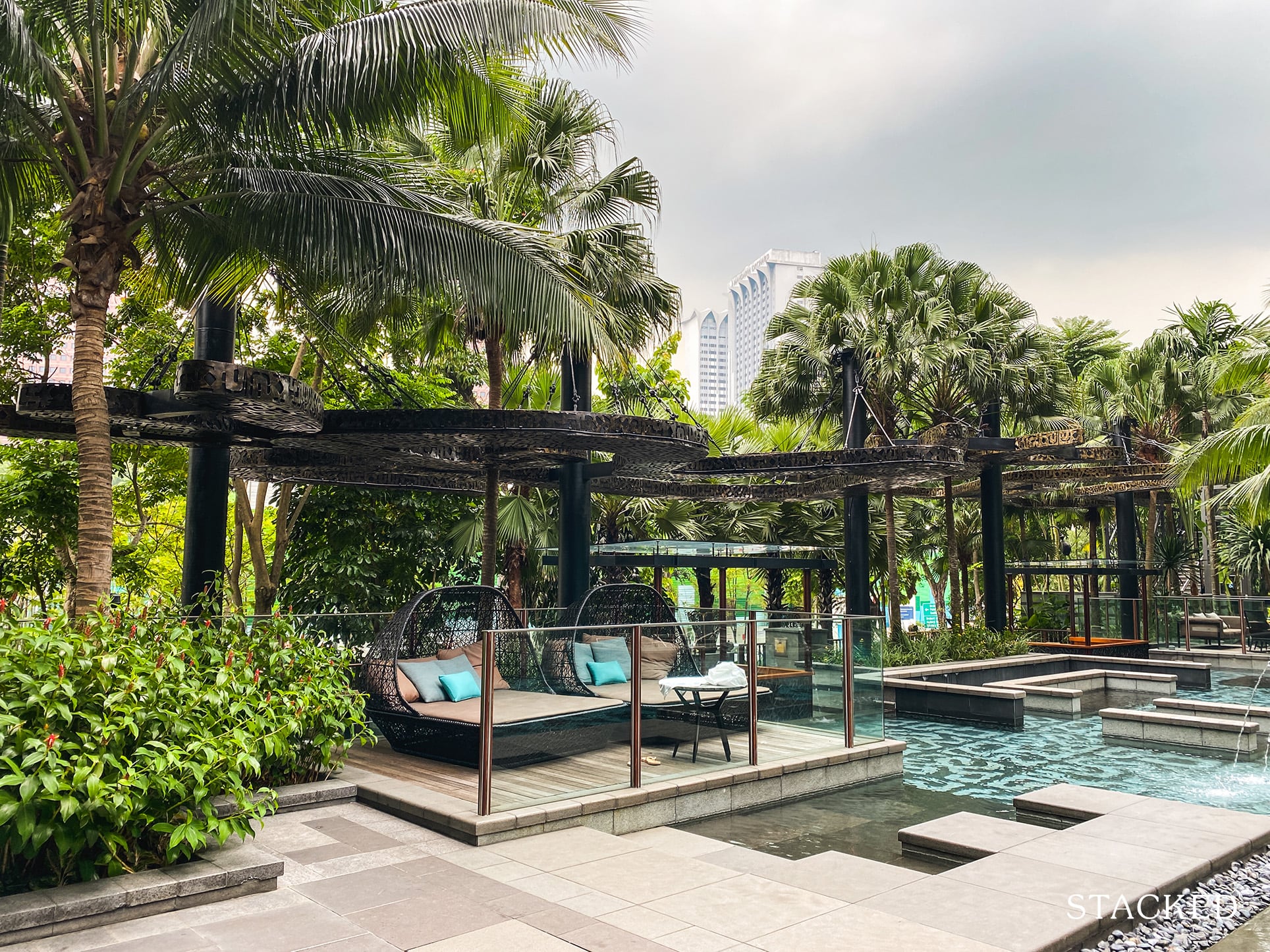 Although they do have some very comfortable looking couches by the side.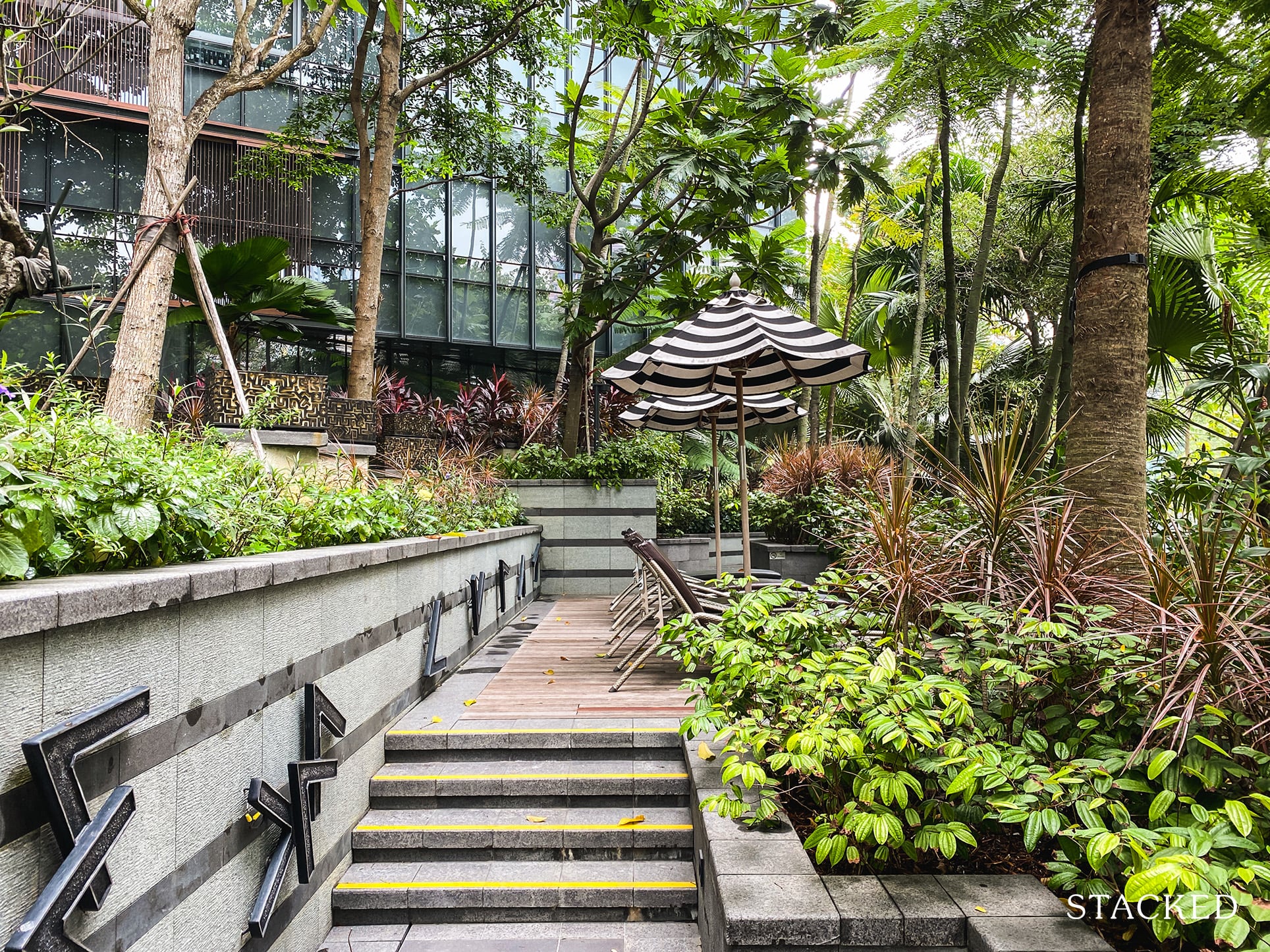 If you were wondering whether there were more private areas, there are more deck chairs over at the corner. These are much more personal as they are almost completely surrounded by trees and plants (let's just hope the mosquitos aren't making this their private corner too).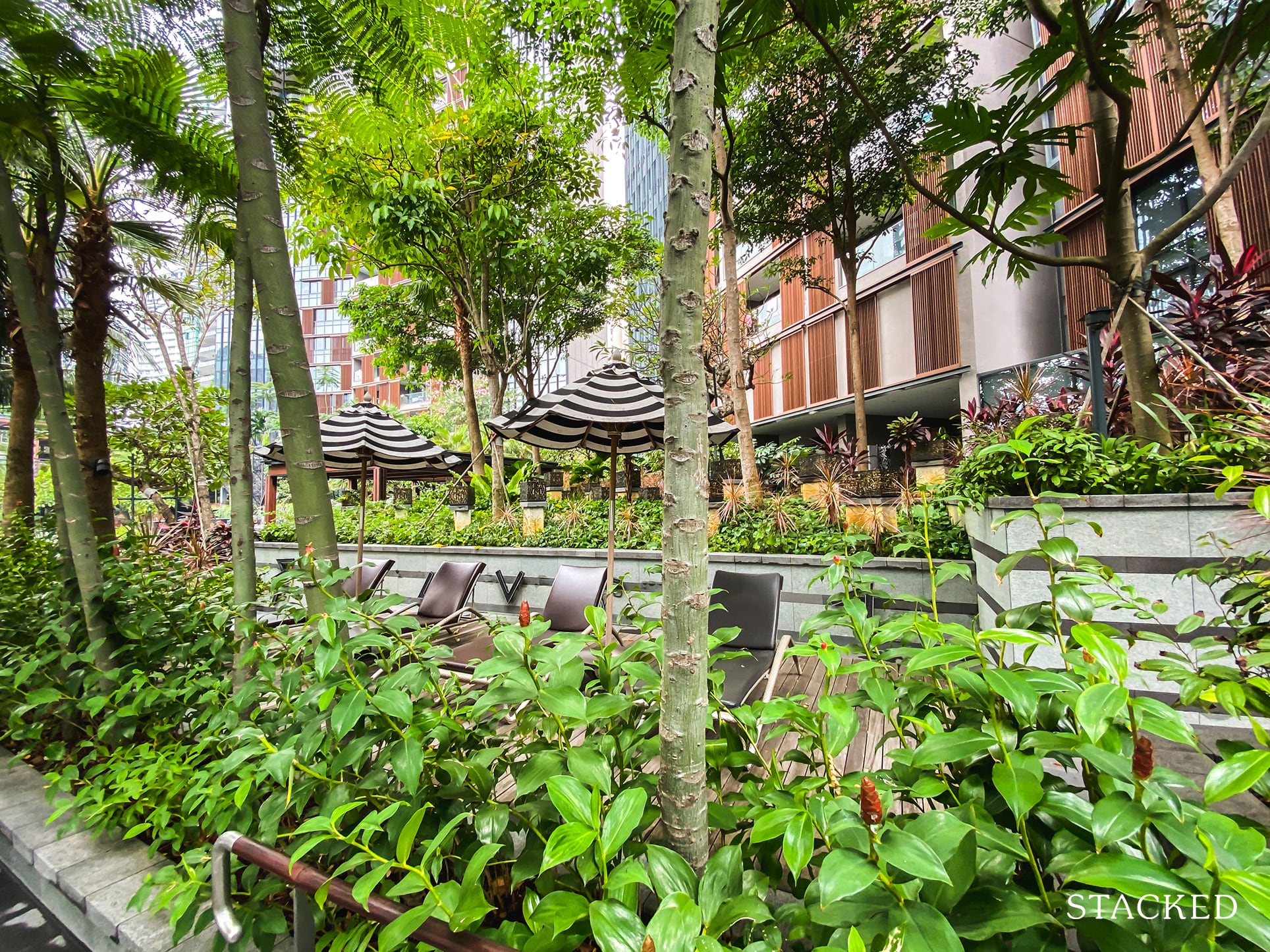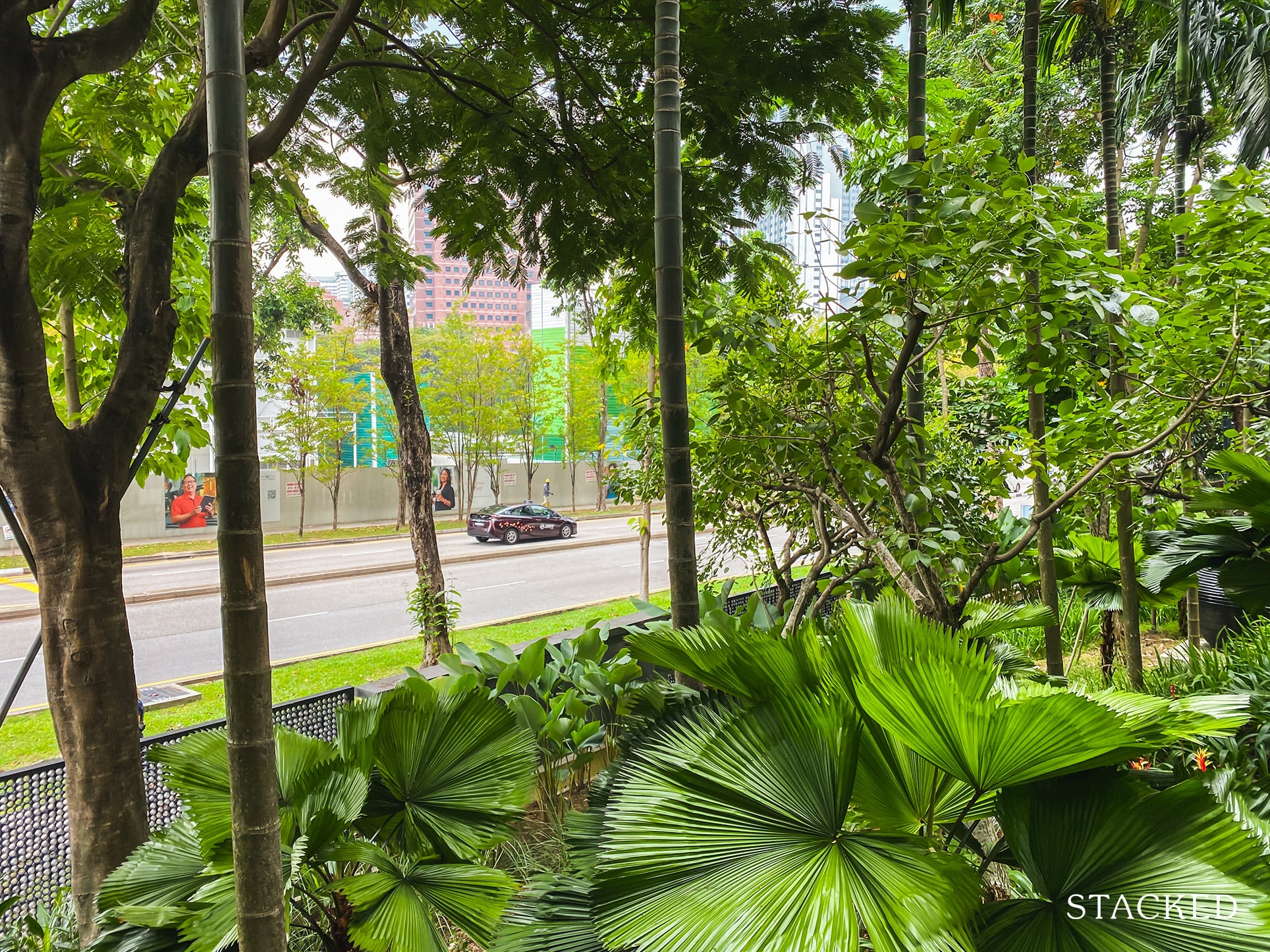 To be honest, the views from the private deck chairs aren't exactly inspiring as they are just of the main road. But it does make you feel as if you are in a hidden oasis in the city.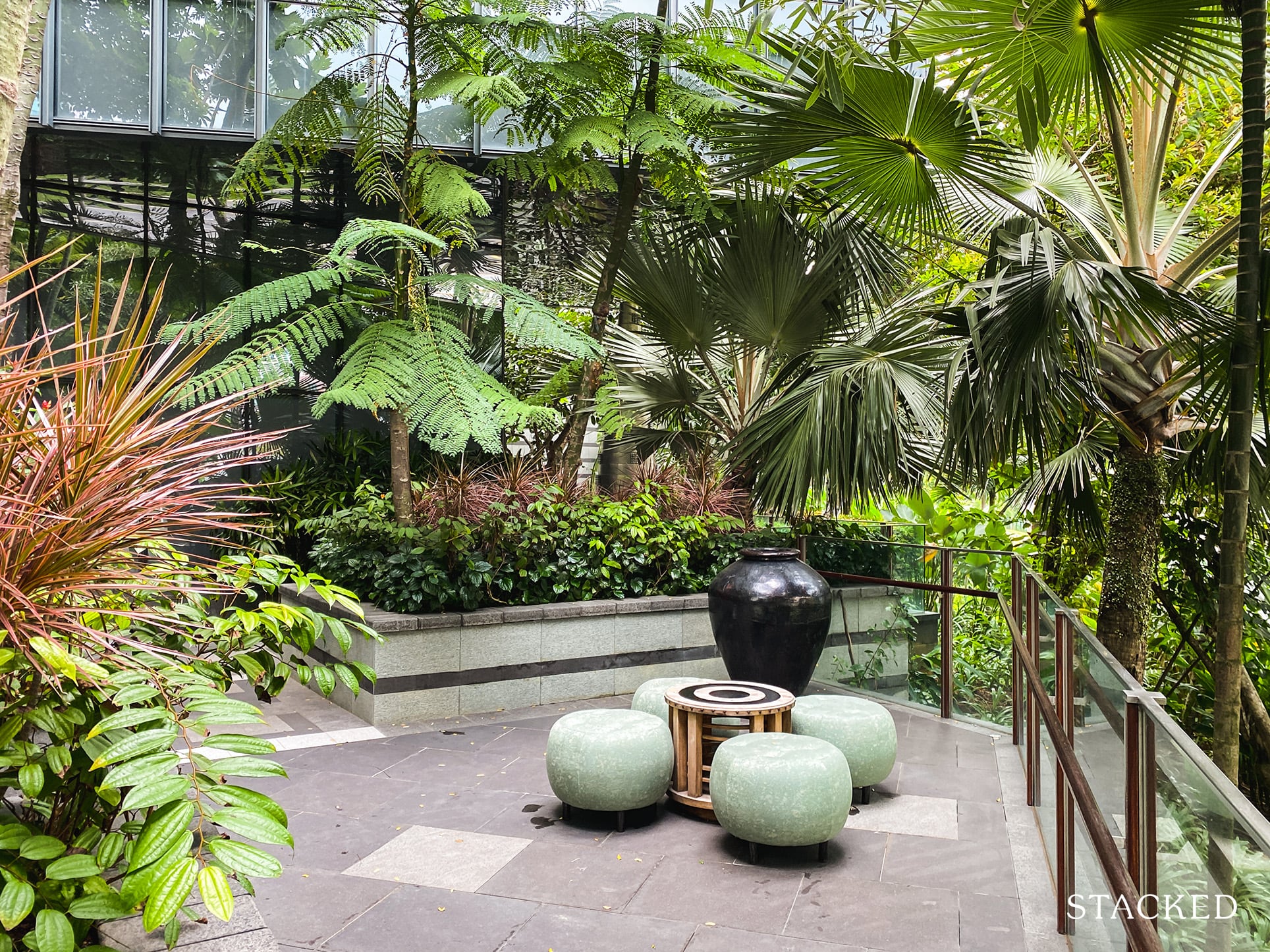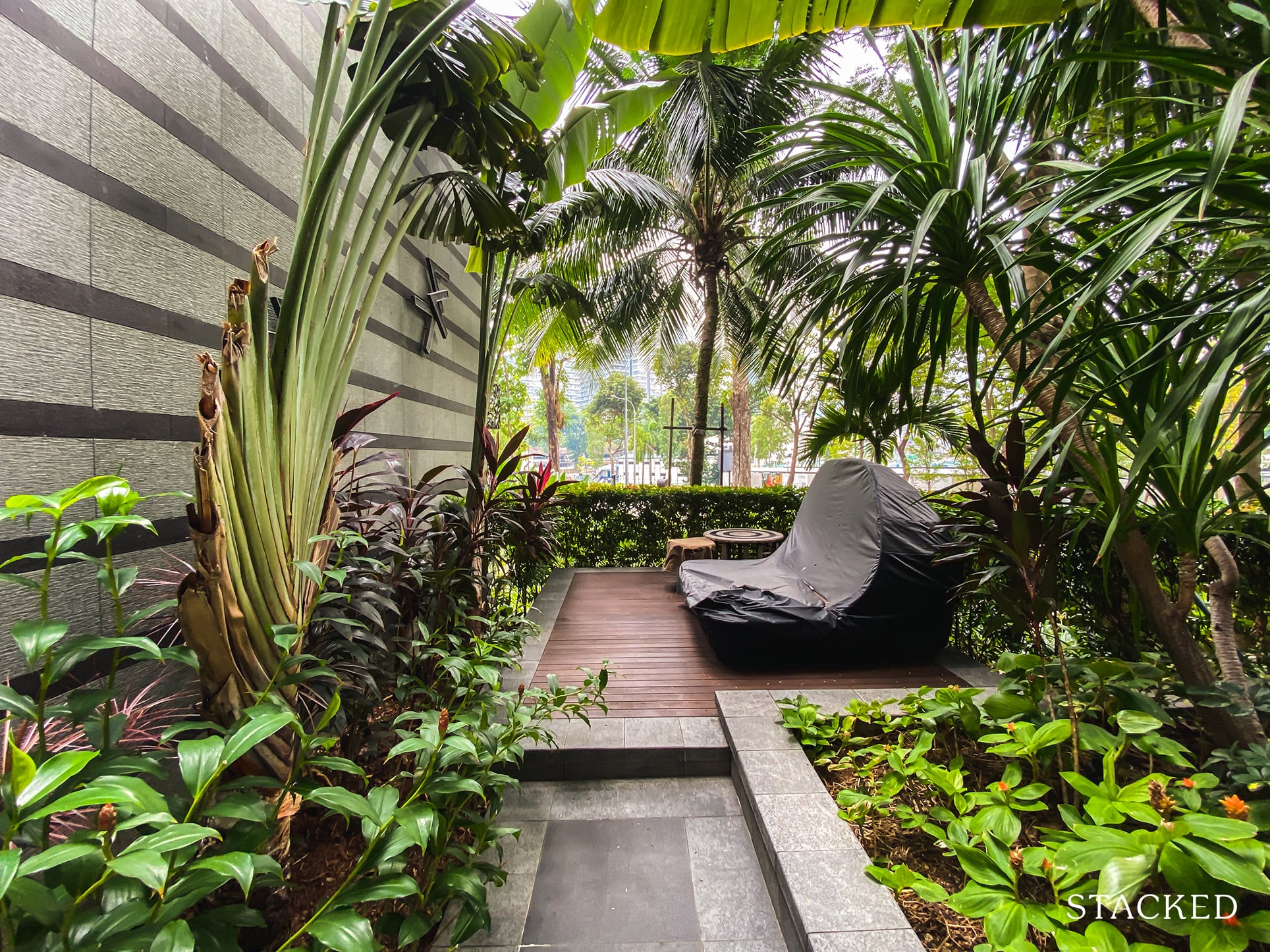 As you walk around the development, you'll find even more private corners with sofa seating. I like that they have covers on them in the event of a rainy day (like today). This means that they'll be kept dry and usable after the rain is gone, and there is a commitment to maintaining the furniture and quality of the estate.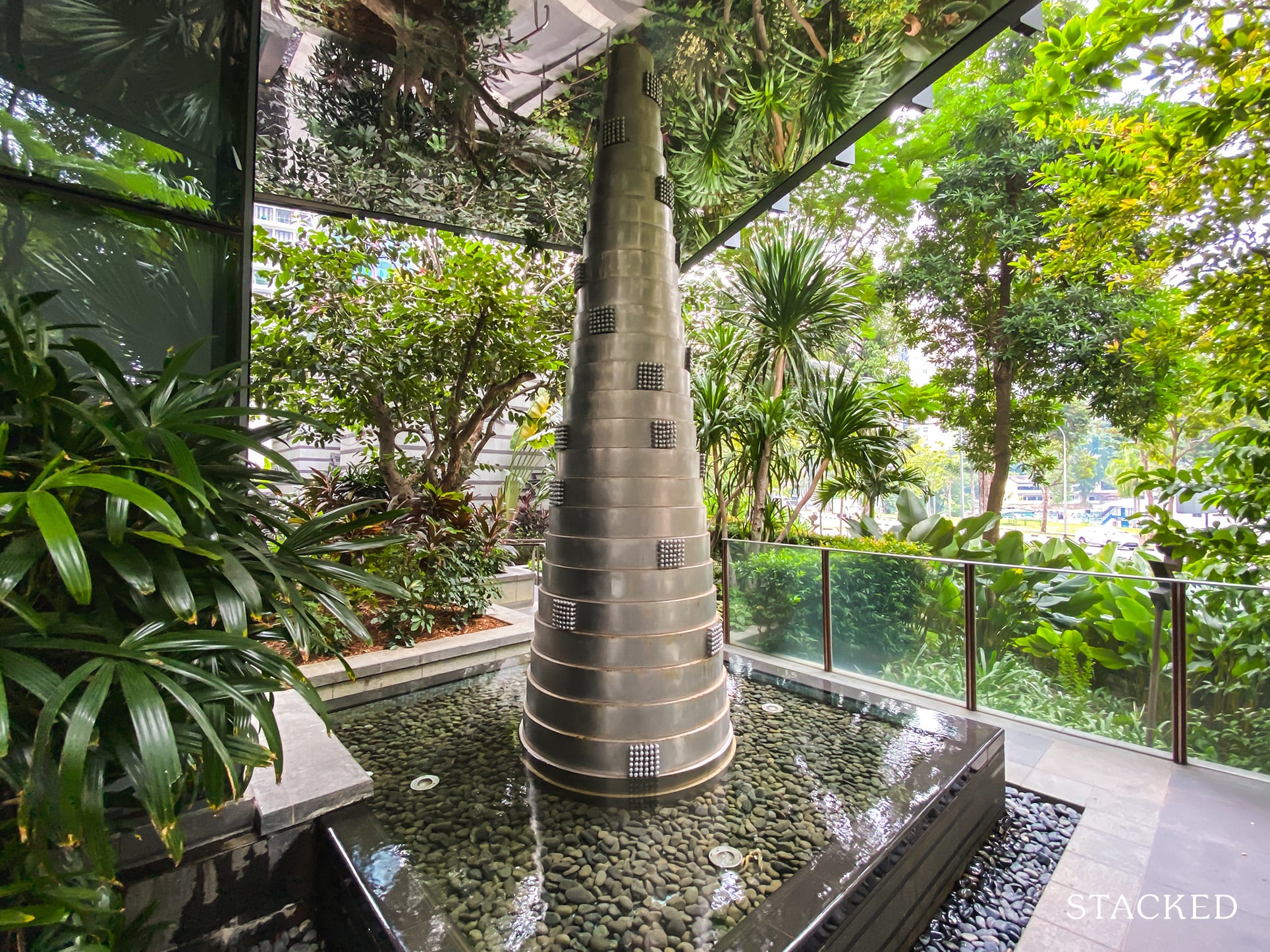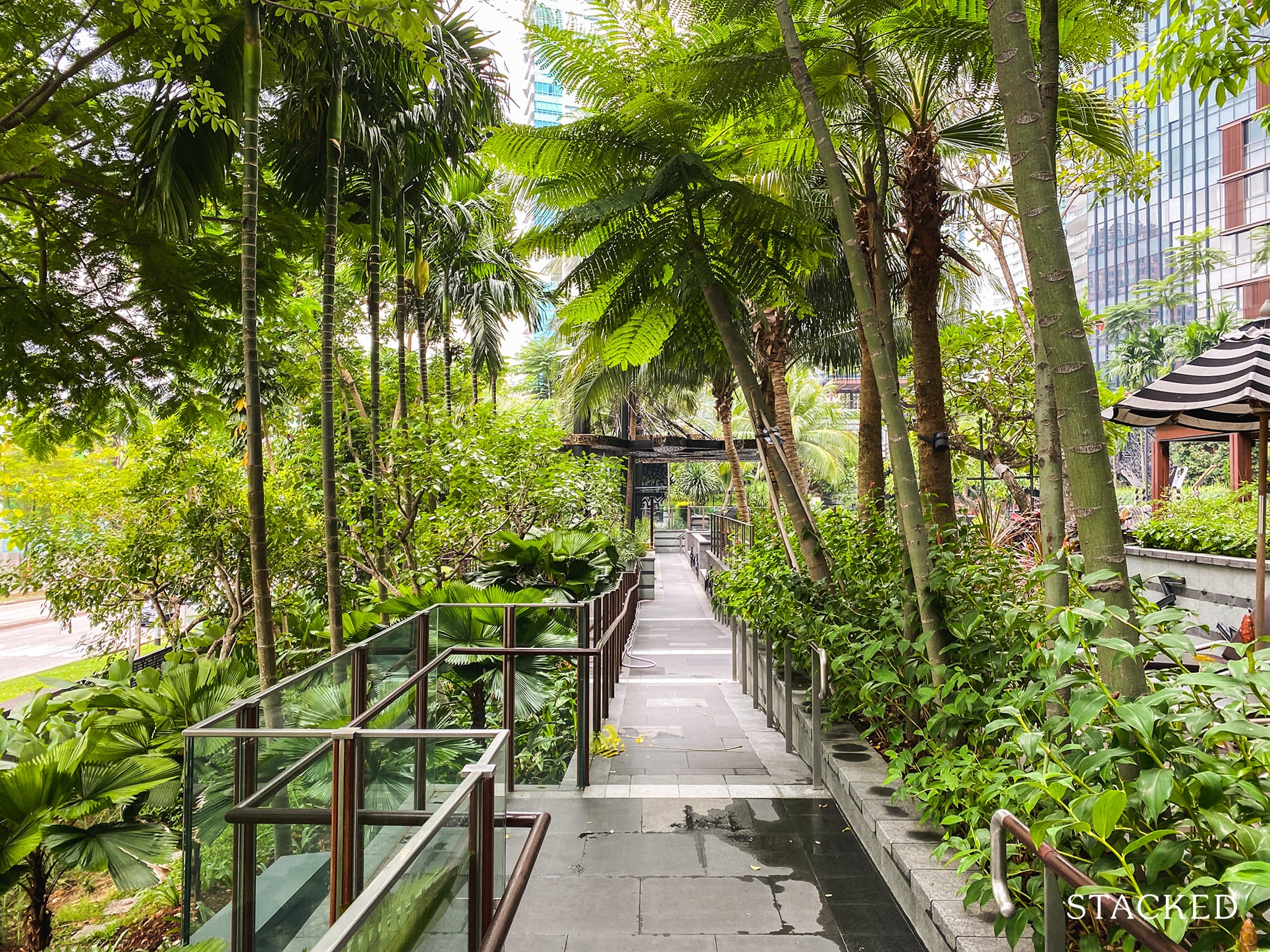 You can see from walking down the path back to the swimming pool, that the landscaping at the OUE Twin Peaks is really abundant as compared to most developments in the city.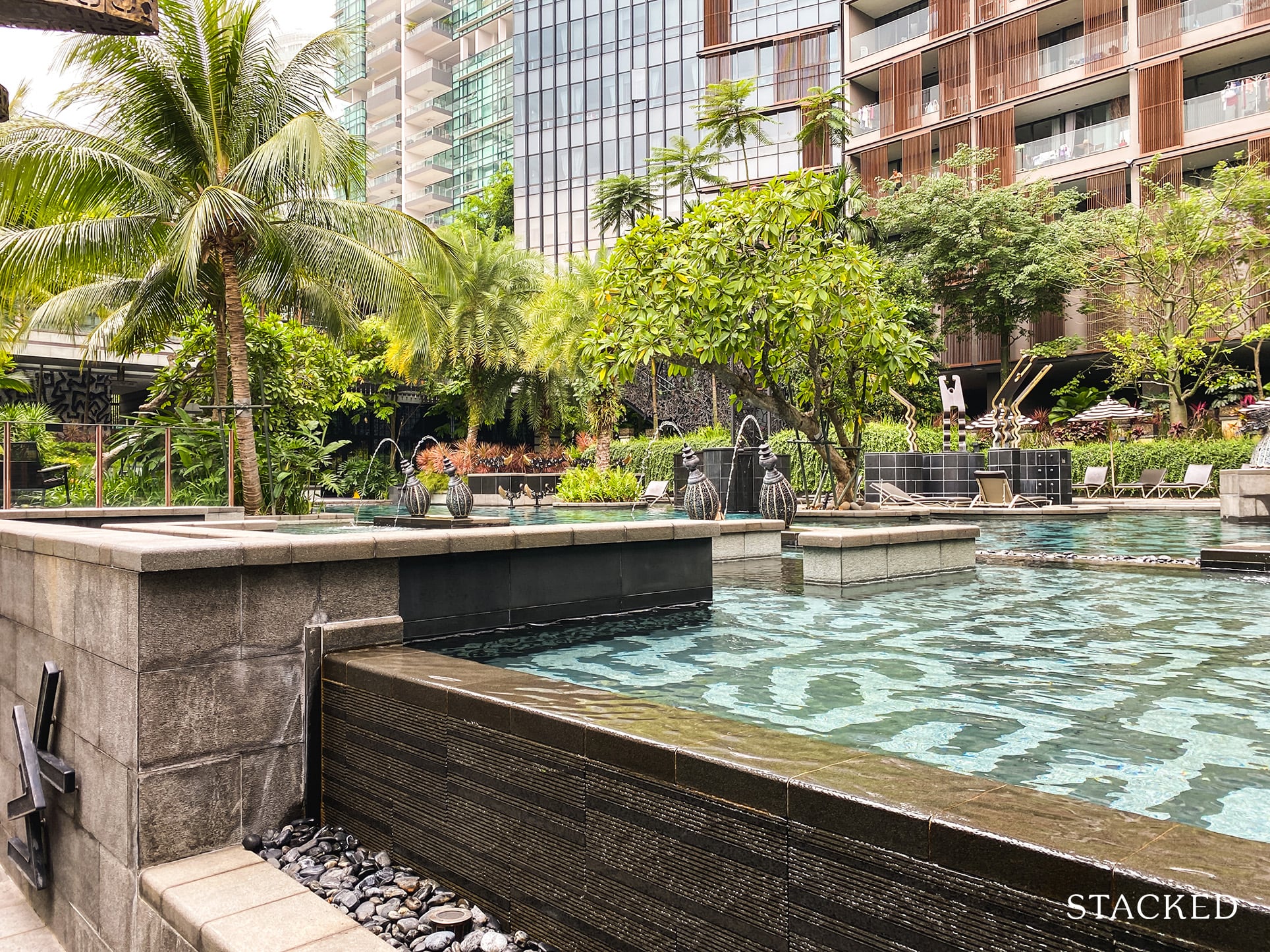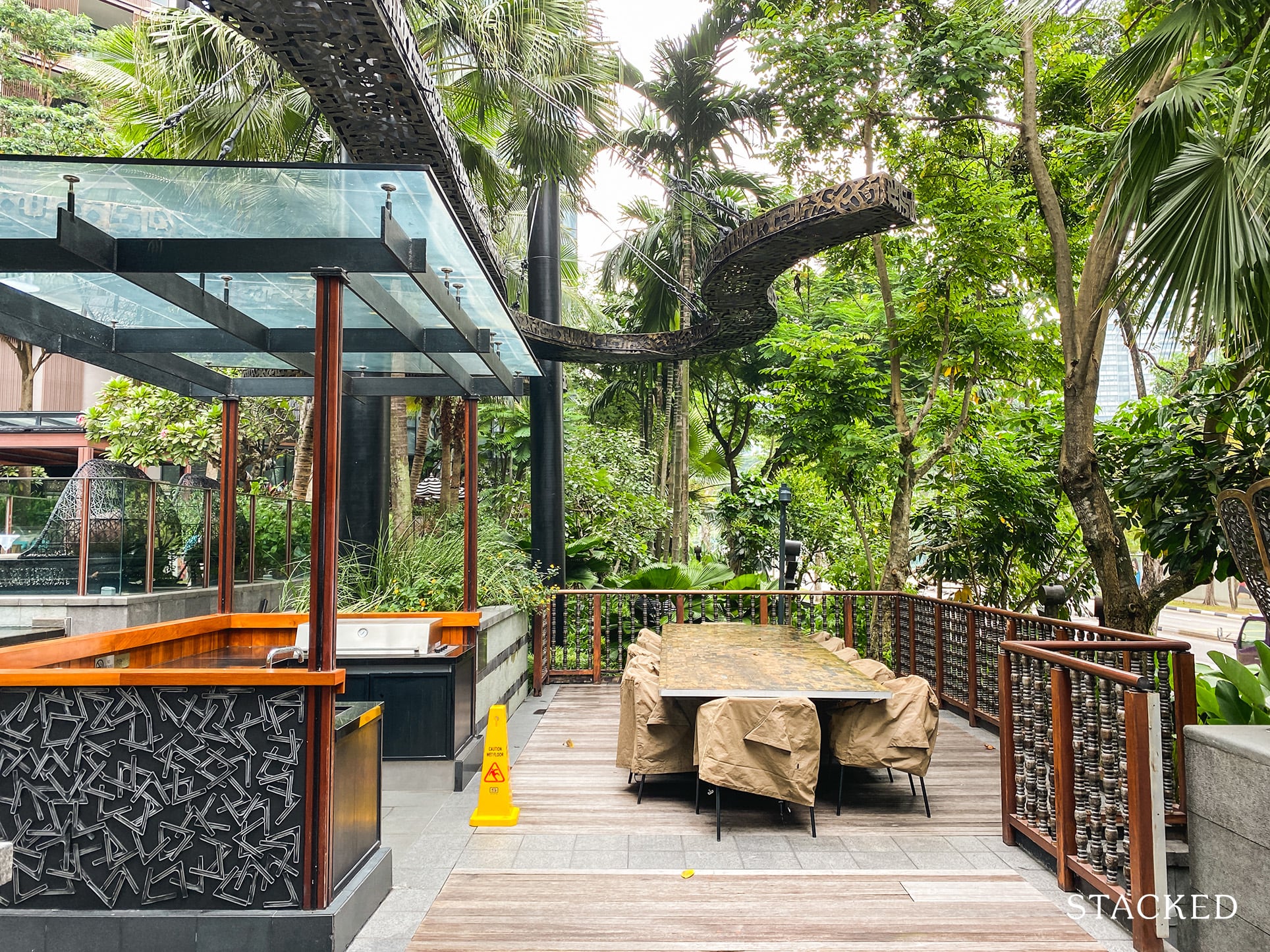 Right by the front of the swimming pool are two outdoor dining sections. Both feature a really big and wide dining table, and you can see how each chair is painstakingly covered with its very own chair cover.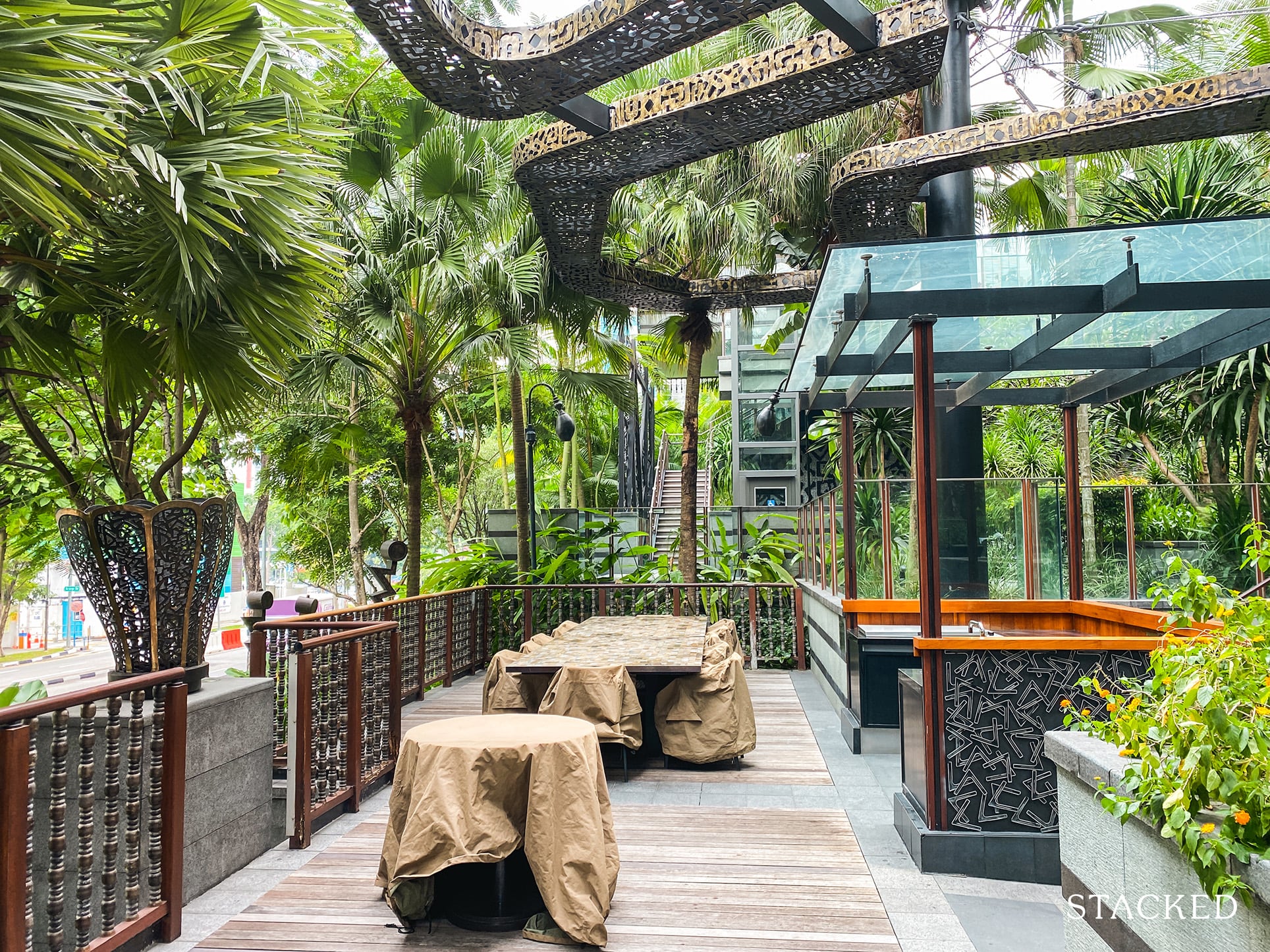 You can combine both sections into one huge party if you are expecting a lot of guests. Obviously, these sections are not covered as they are supposed to mimic a verdant resort-like dining experience. At the very least, the cooking sections are sheltered!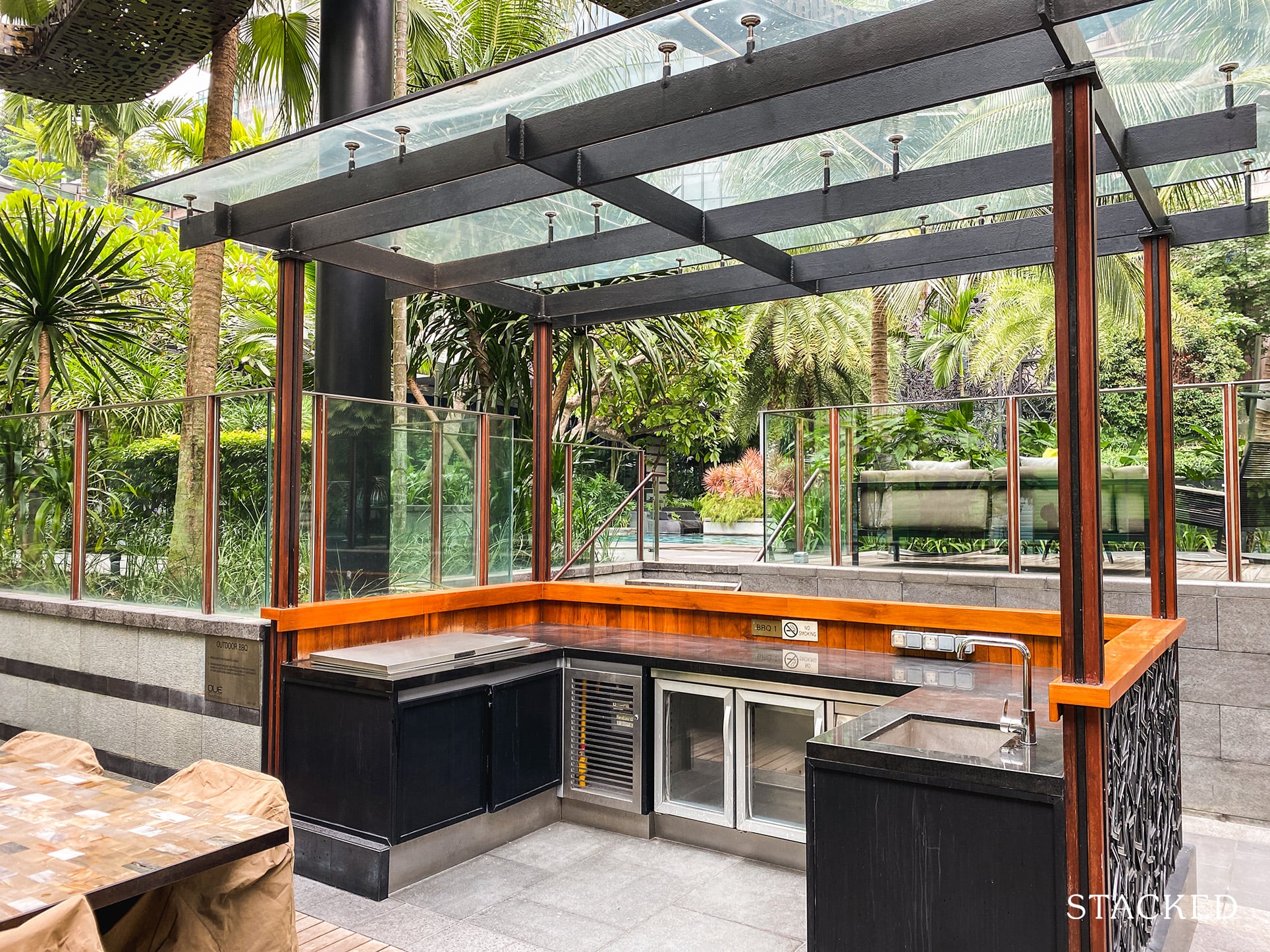 Both sides feature an identical teppanyaki grill, with a sink and chiller. The best part? Cutlery and utensils are all provided! They will even wash and clean everything for you after your party is over. Talk about convenience. I think this is a fantastic service to provide, and I can see people using these dining facilities a lot more because of how much easier it is. This really solves a hindrance for most people organising a get-together!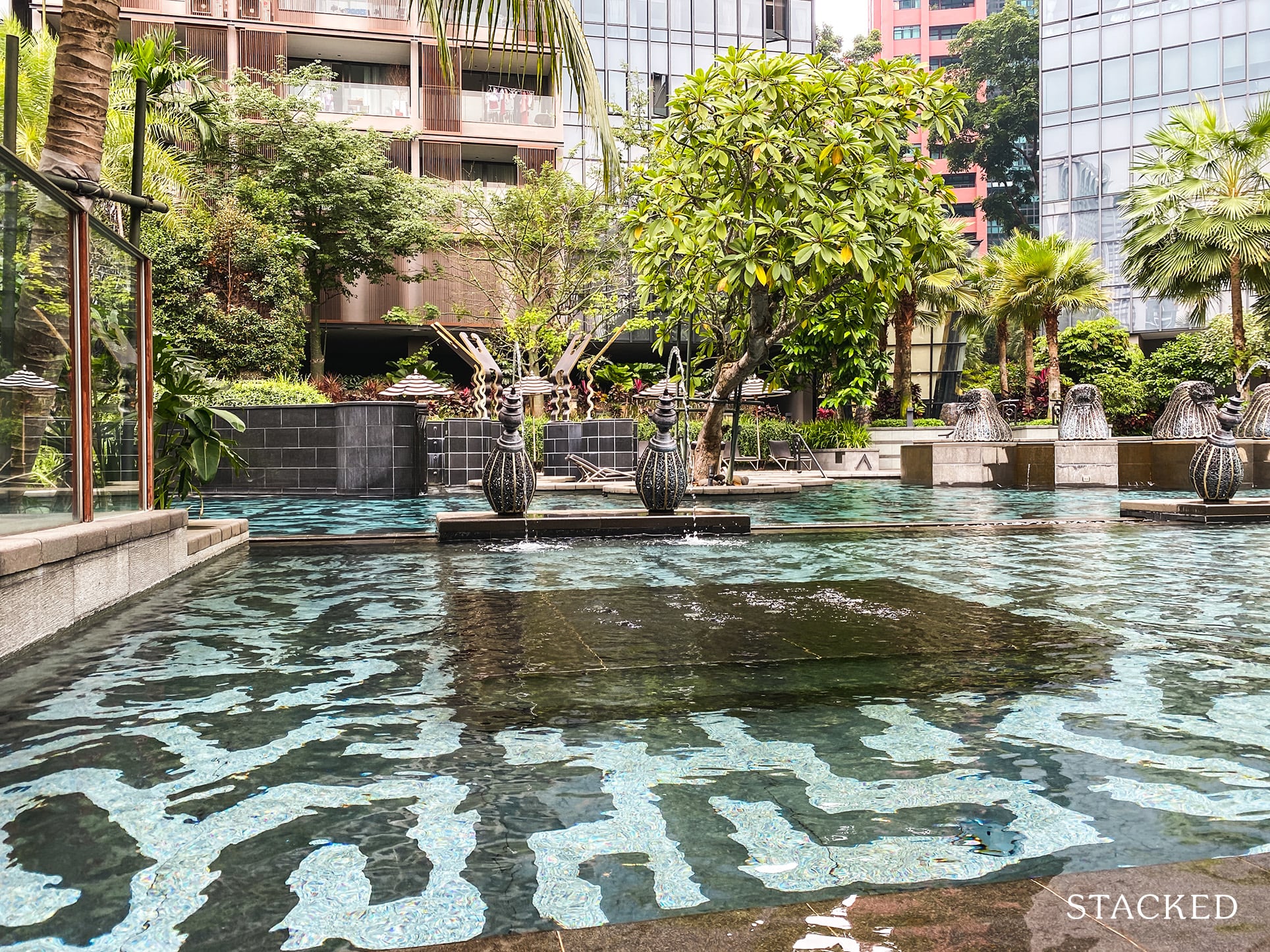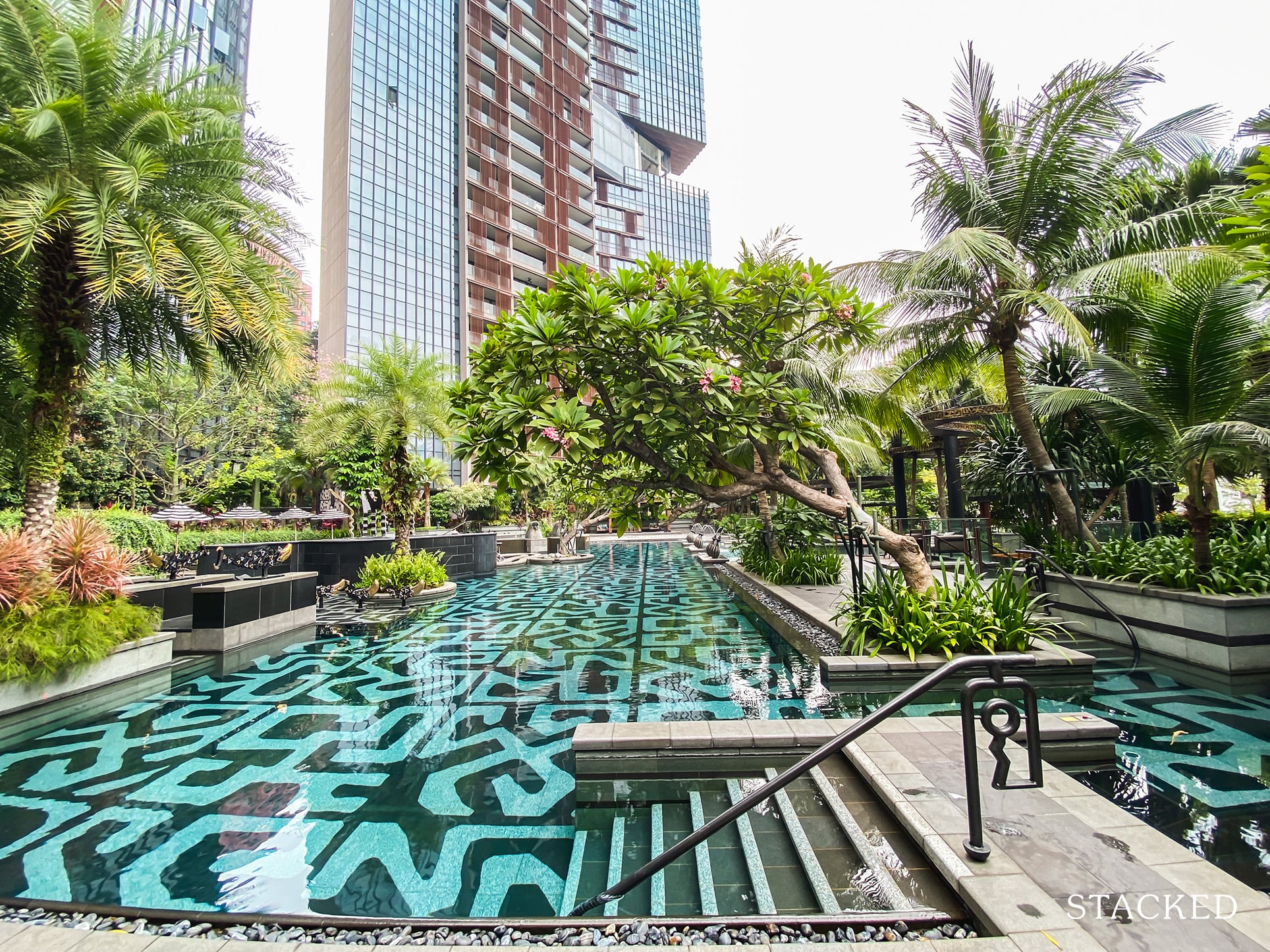 As you can see, careful planning was extended to the plants here to really curate that resort-like atmosphere. Certain species of plants that were chosen weren't native to Singapore and special attention had to be given to ensure that they could flourish in the tropical climate.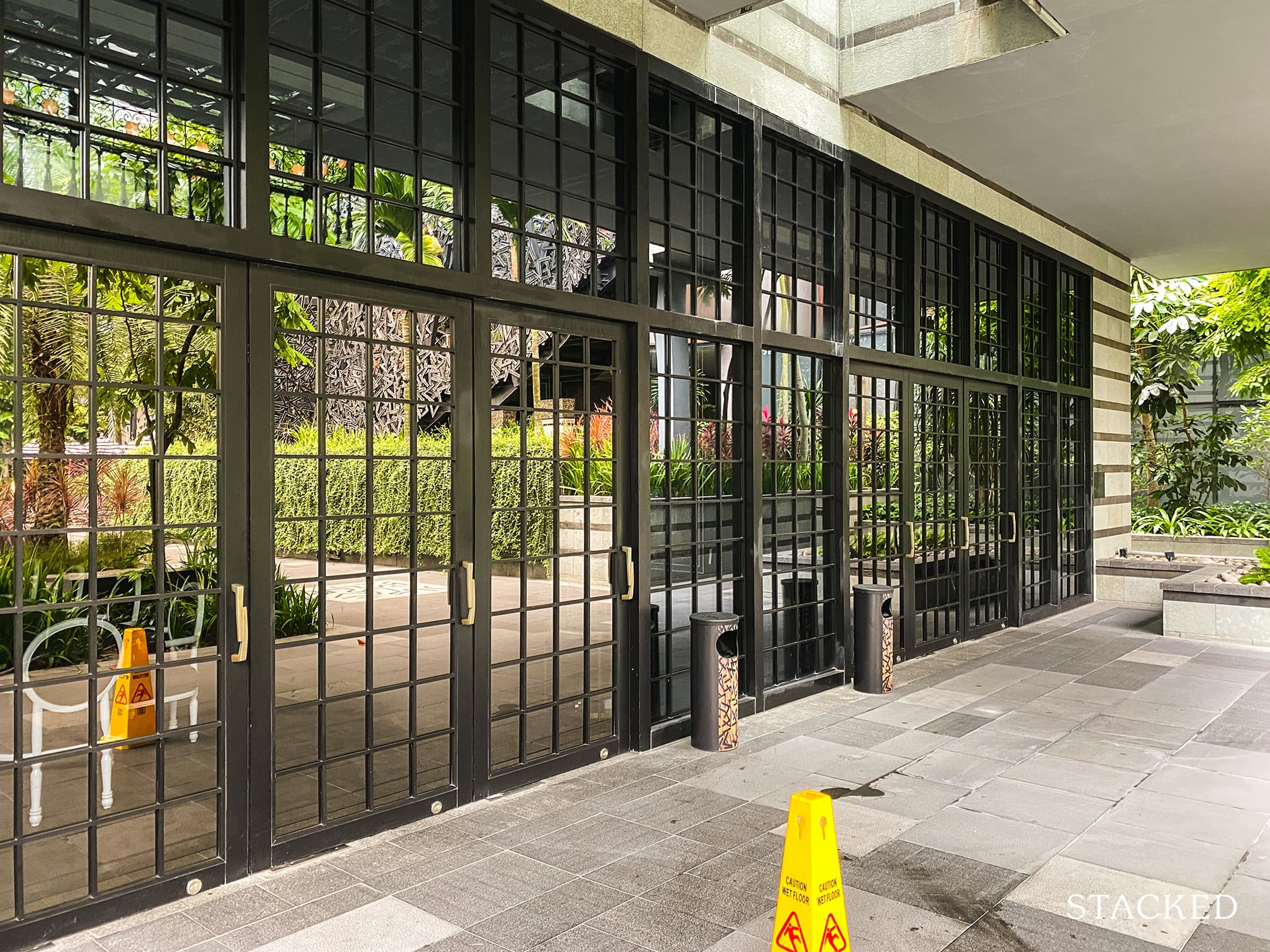 The indoor dining rooms are located at the clubhouse, and they are frankly quite spectacular.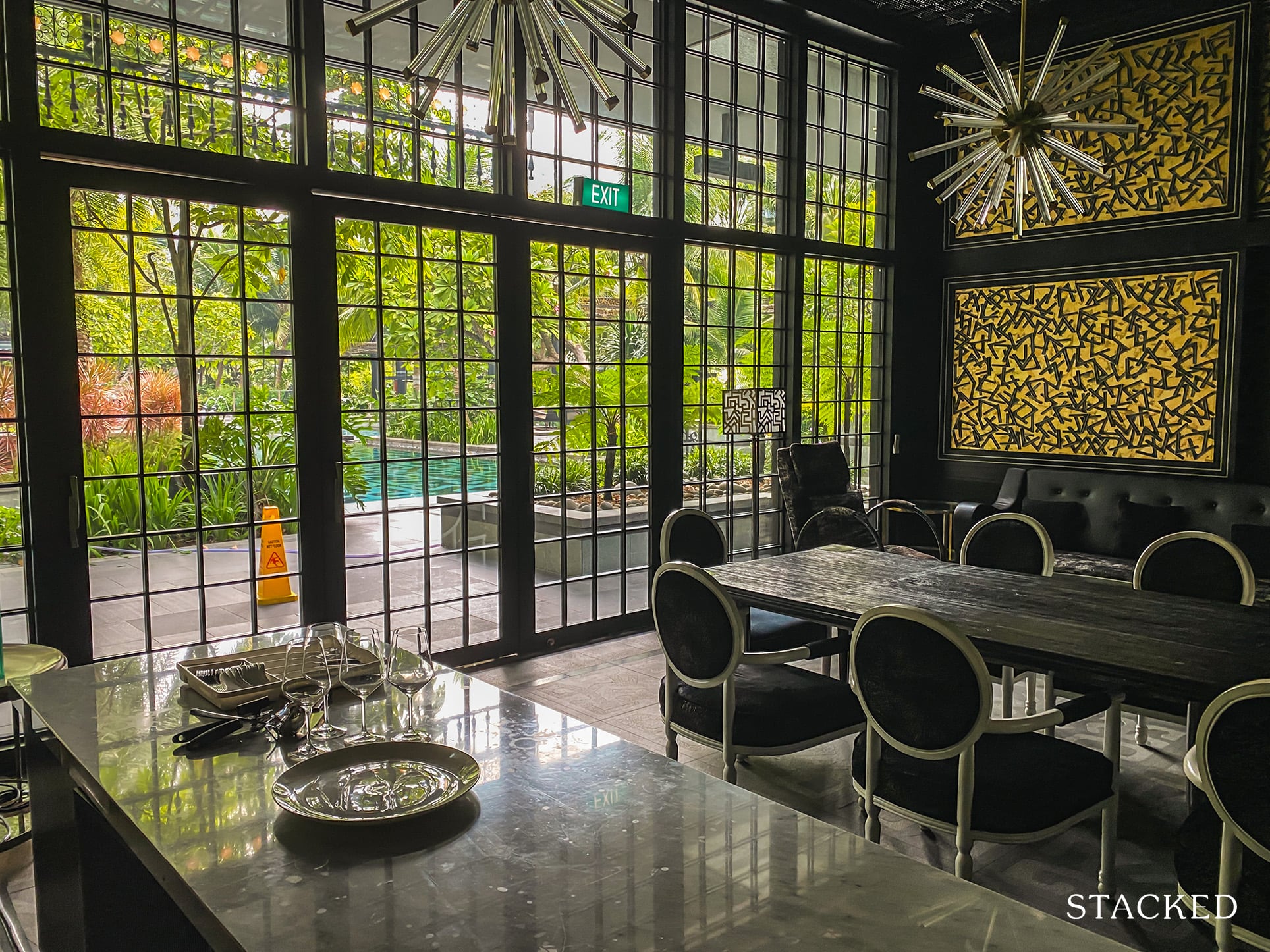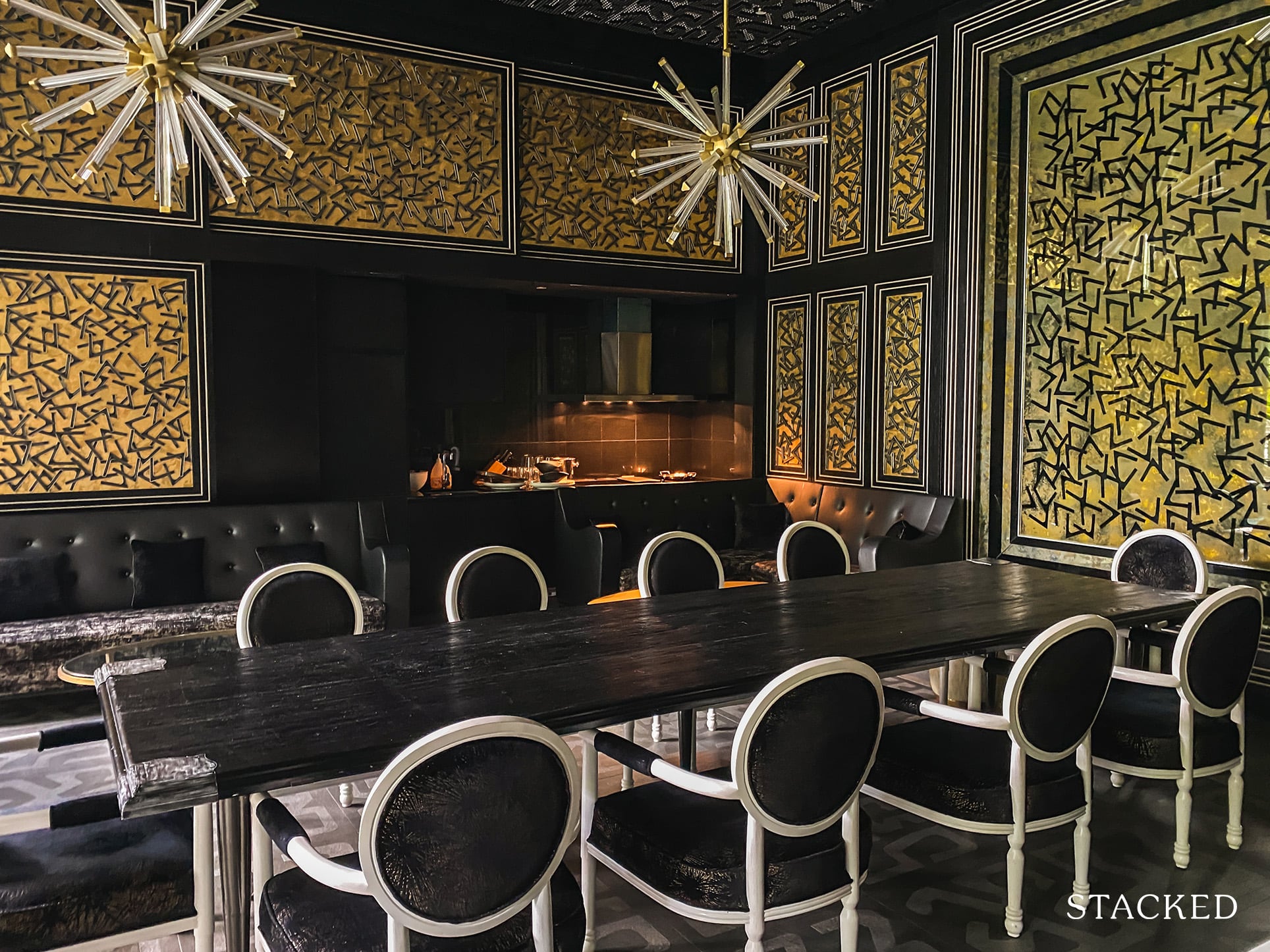 On the inside, it is a really lavish-looking dining area which is sure to impress your guests. With the lights and furnishings, I think it shows off best at night for dinner parties.
The dining suites come properly equipped with all the cooking facilities you might need.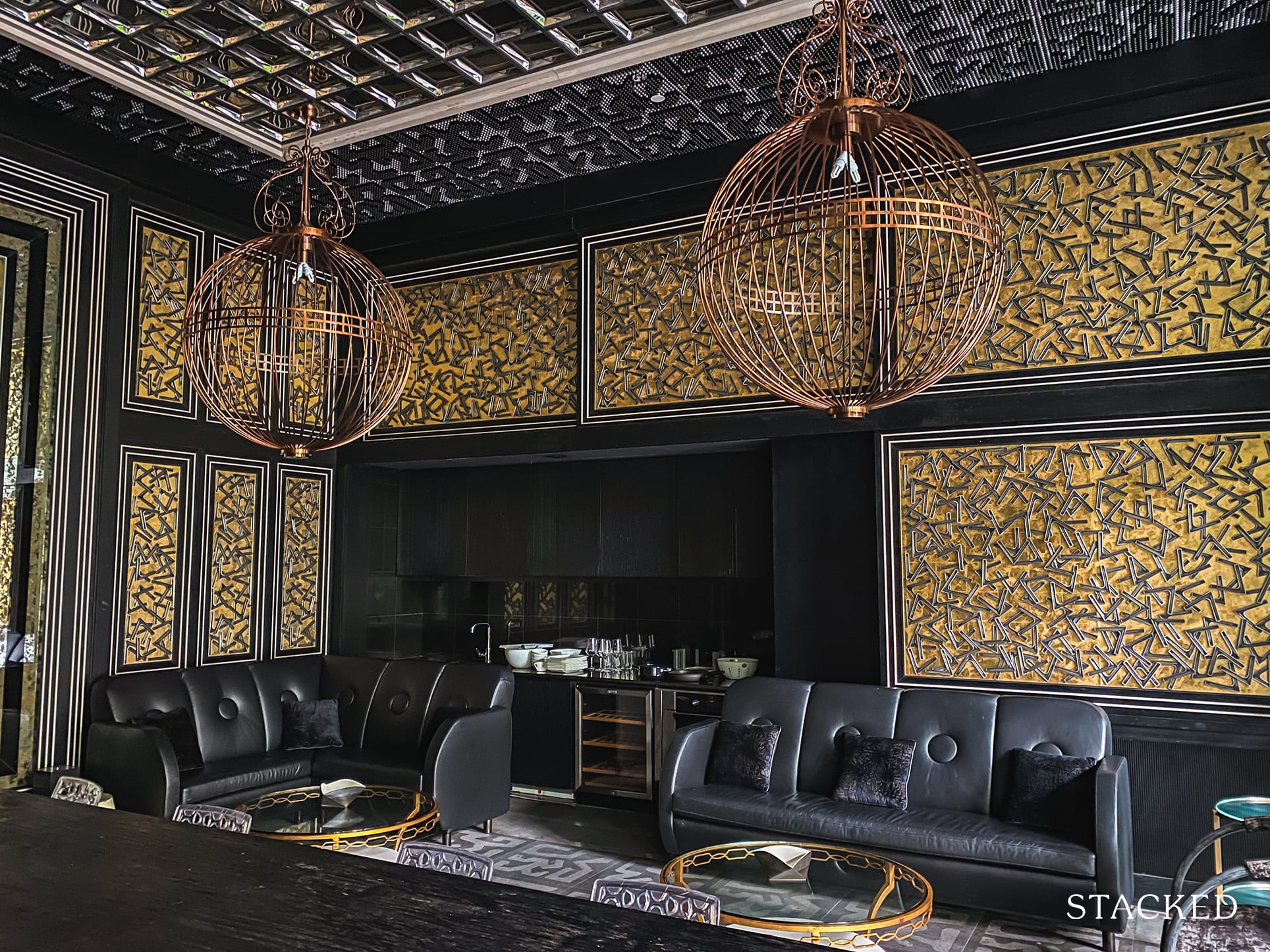 There is another dining suite next door, with slightly different decor and finishings. The really cool part – you can slide open the middle to combine both rooms into one big entertainment area. If you are after something more intimate, I think it could even be used for a luxurious wedding party!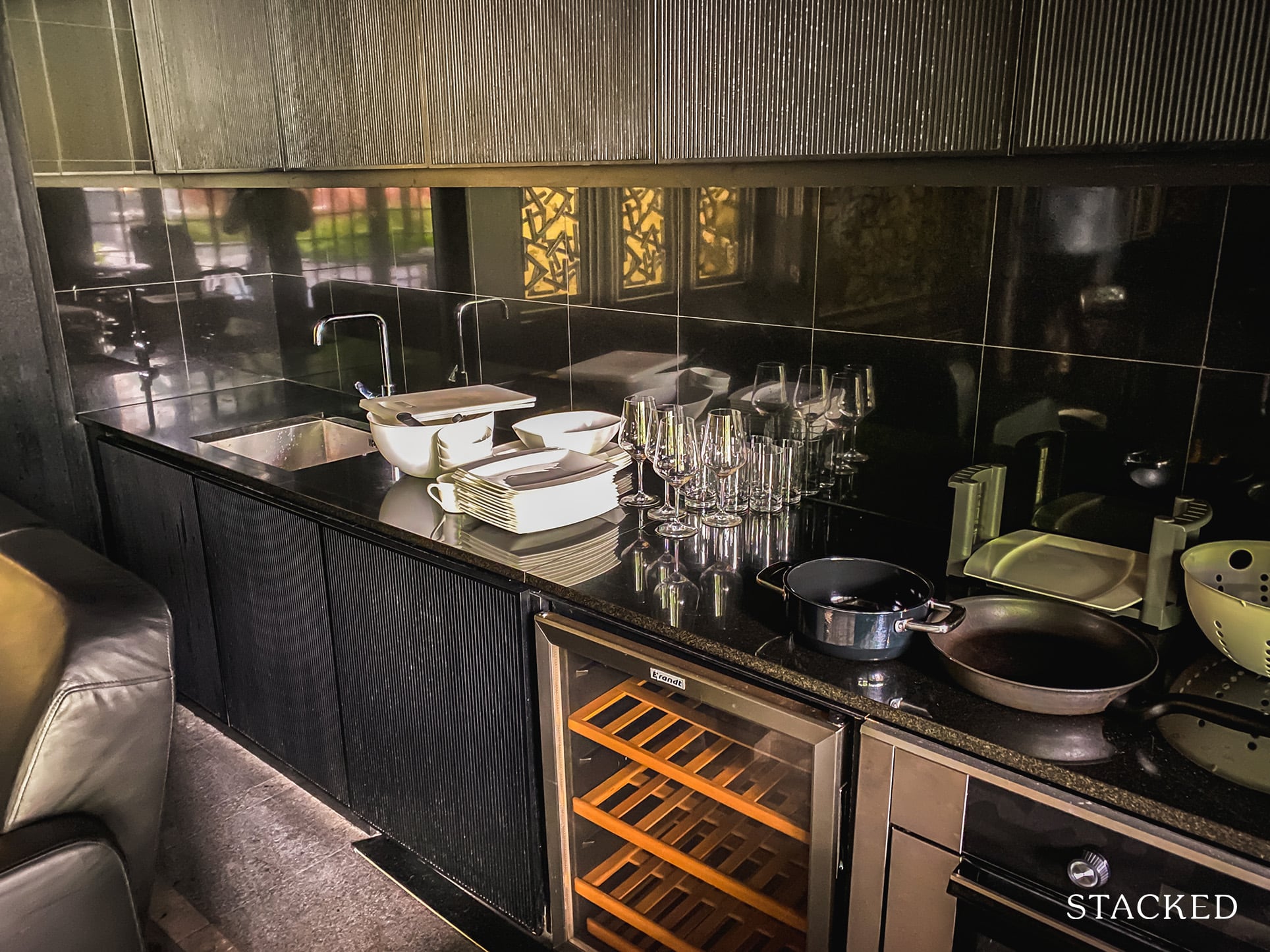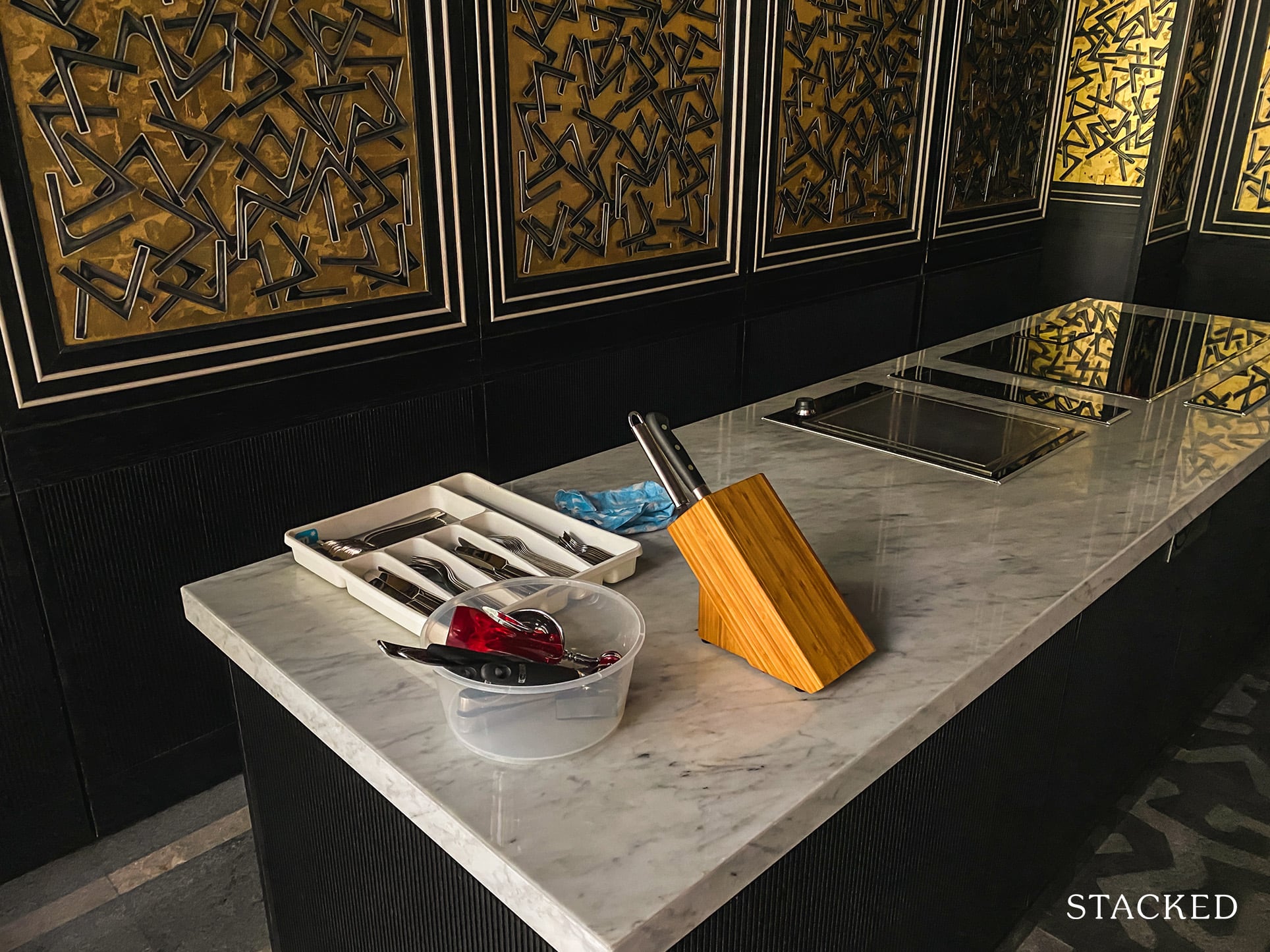 Likewise to the outdoor dining facility, the dining suites come with all the utensils and equipment that you could possibly need. So there is no need at all to transport your utensils up and down from your unit! And (it's worth highlighting here again if you've missed it) everything will be washed and kept for you after your party is over!
On the outside of the clubhouse, the walls are completely adorned with these metal nails. The varying lengths giving it it's distinctive patterned design. From this close-up view, you can appreciate how difficult it must have been to construct, plus the cleaning of this must be a real pain! With that said, the general maintenance of the place is quite good considering its age at this point. But moving forward, it will definitely be important for the estate to ensure that it has proactive management to take care of the place. Without proper maintenance, it is easy to see how quickly the place can lose its luster.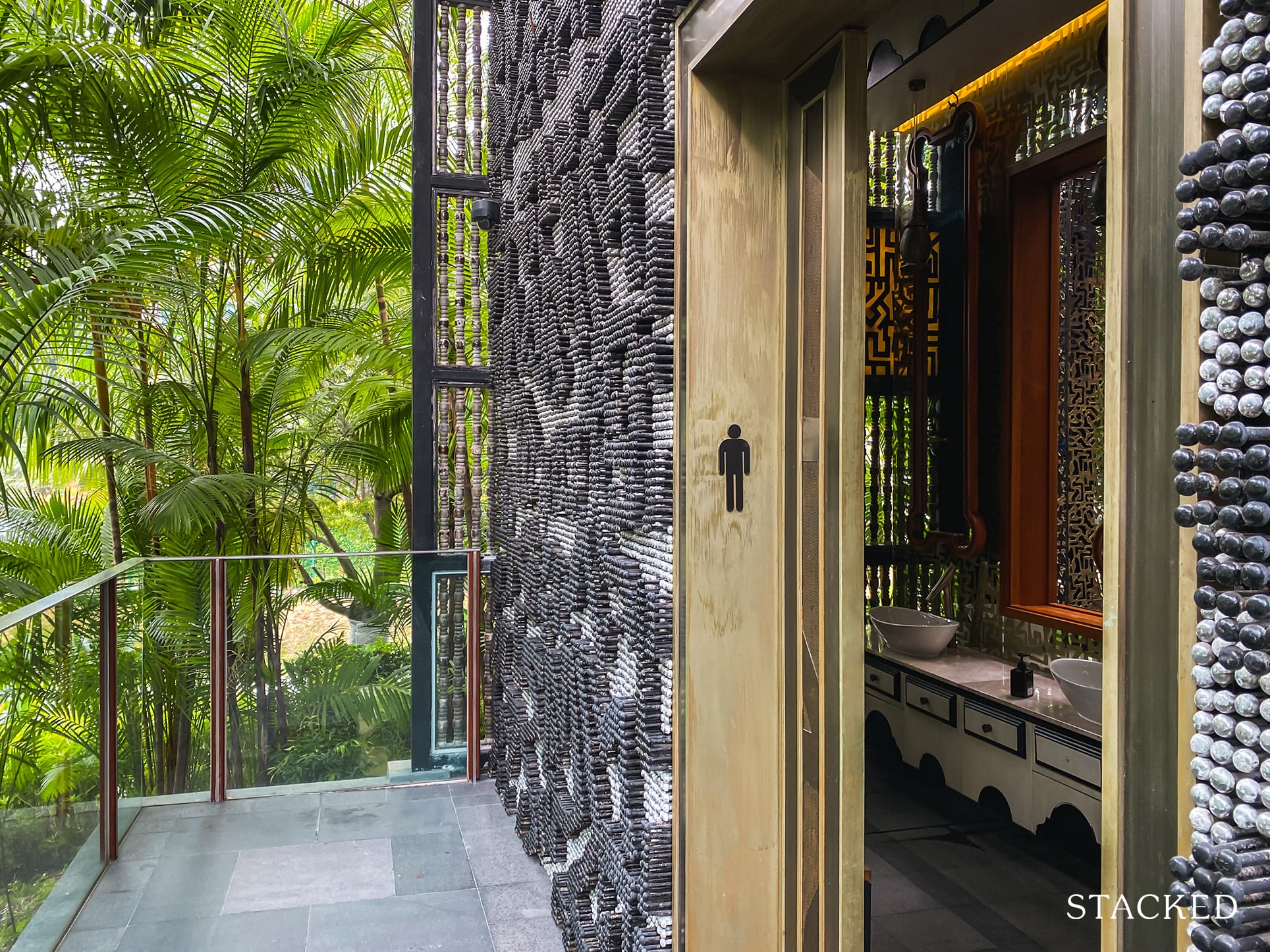 Normally, bathrooms in condos aren't something that I will feature, but even the bathrooms here are rather unique.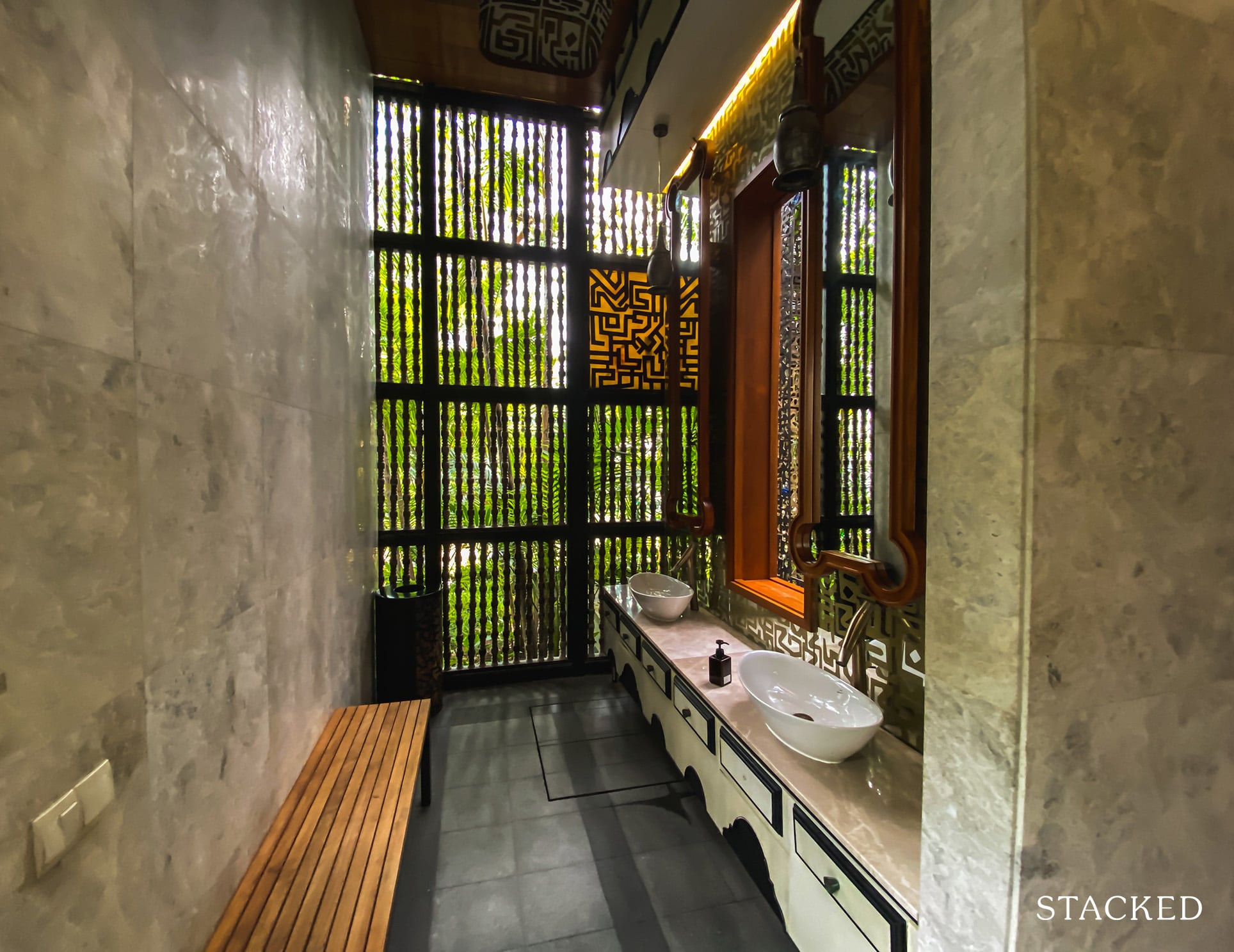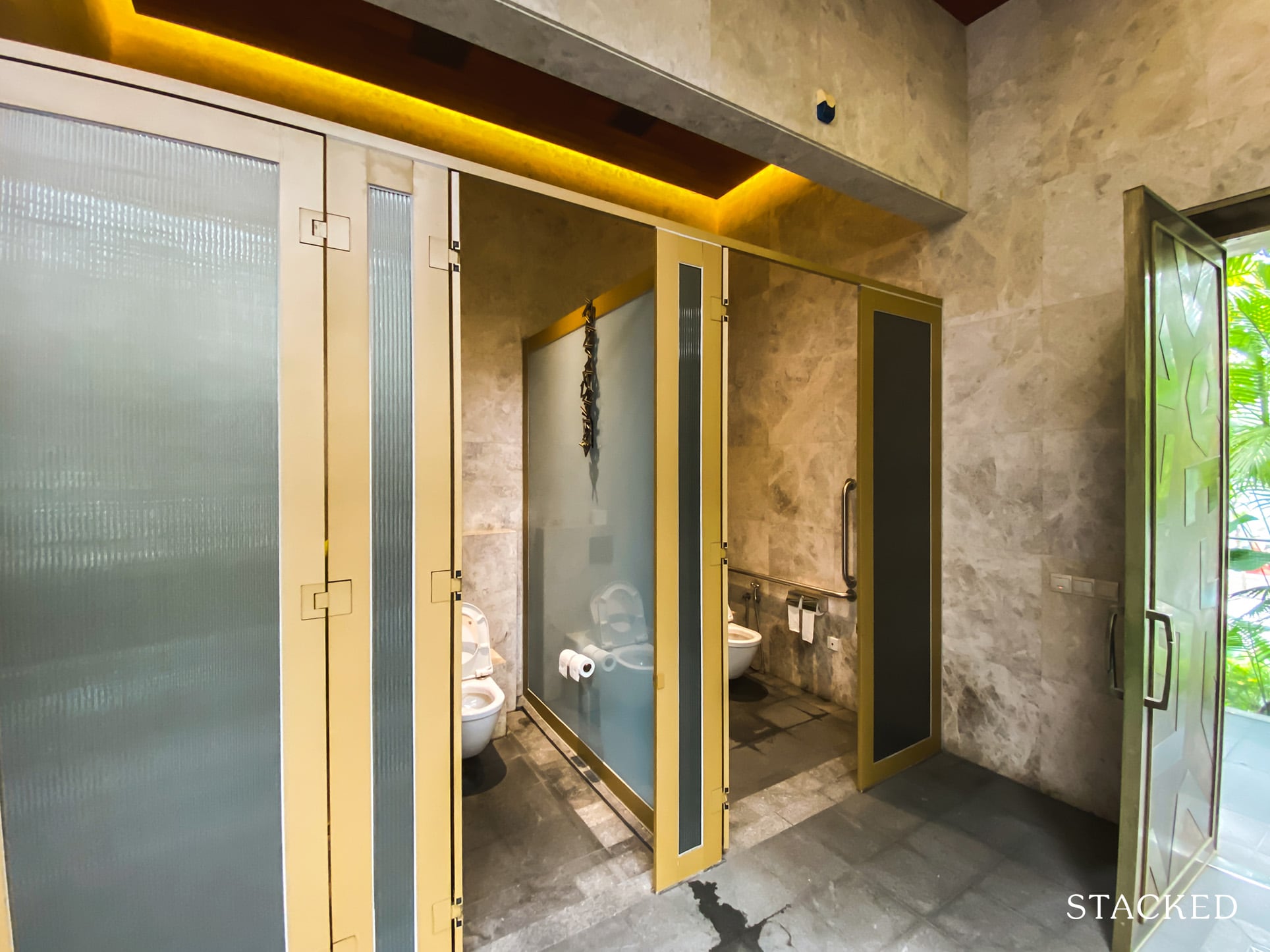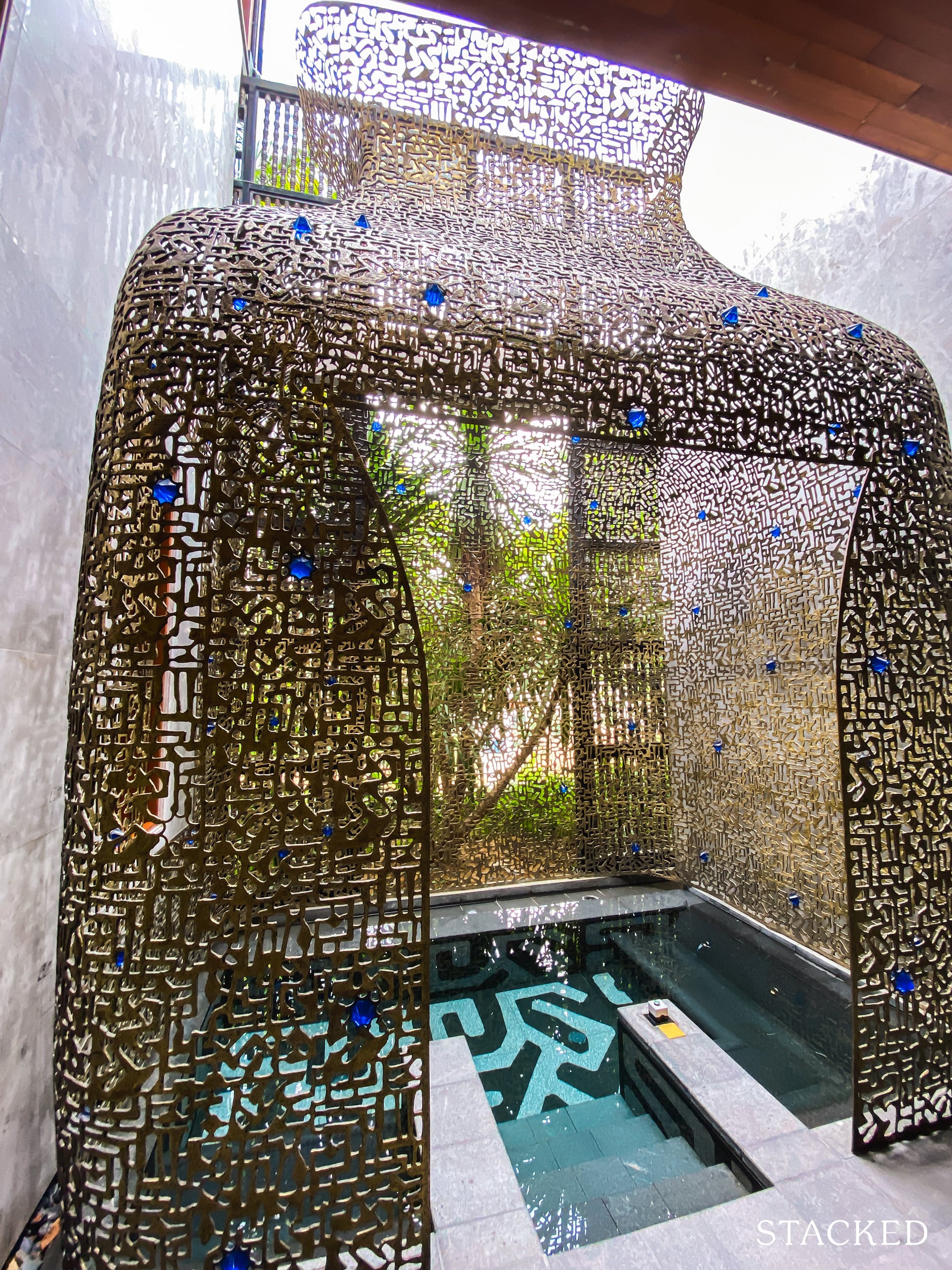 The most amazing feature of the bathroom is this caged ornament surrounding the spa pool! It's super over the top, but it surely adds to the luxury resort ambiance of the development.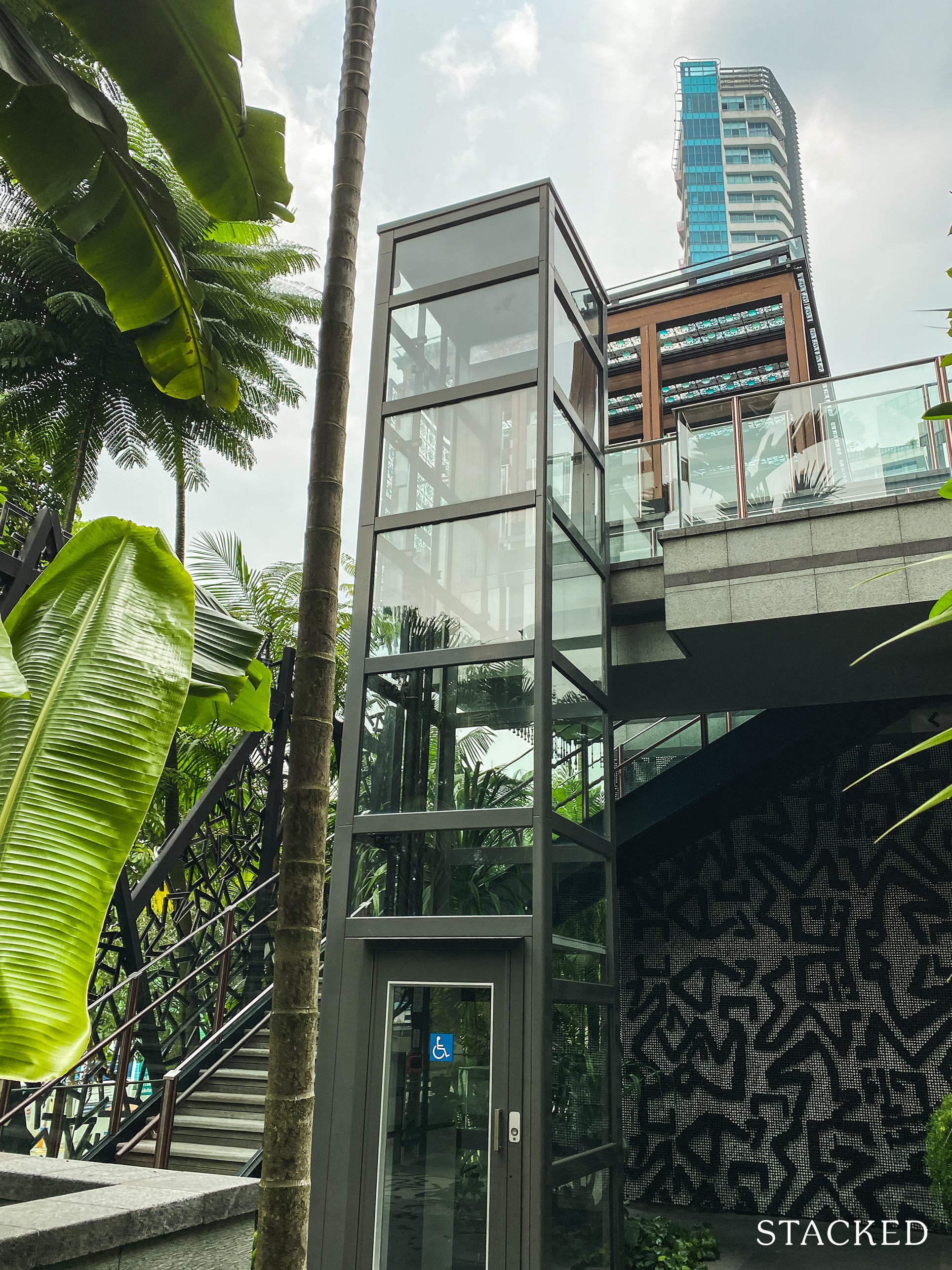 On the second level is a viewing deck with different areas for lounge seating. You can either get there by the stairs or with the transparent lift.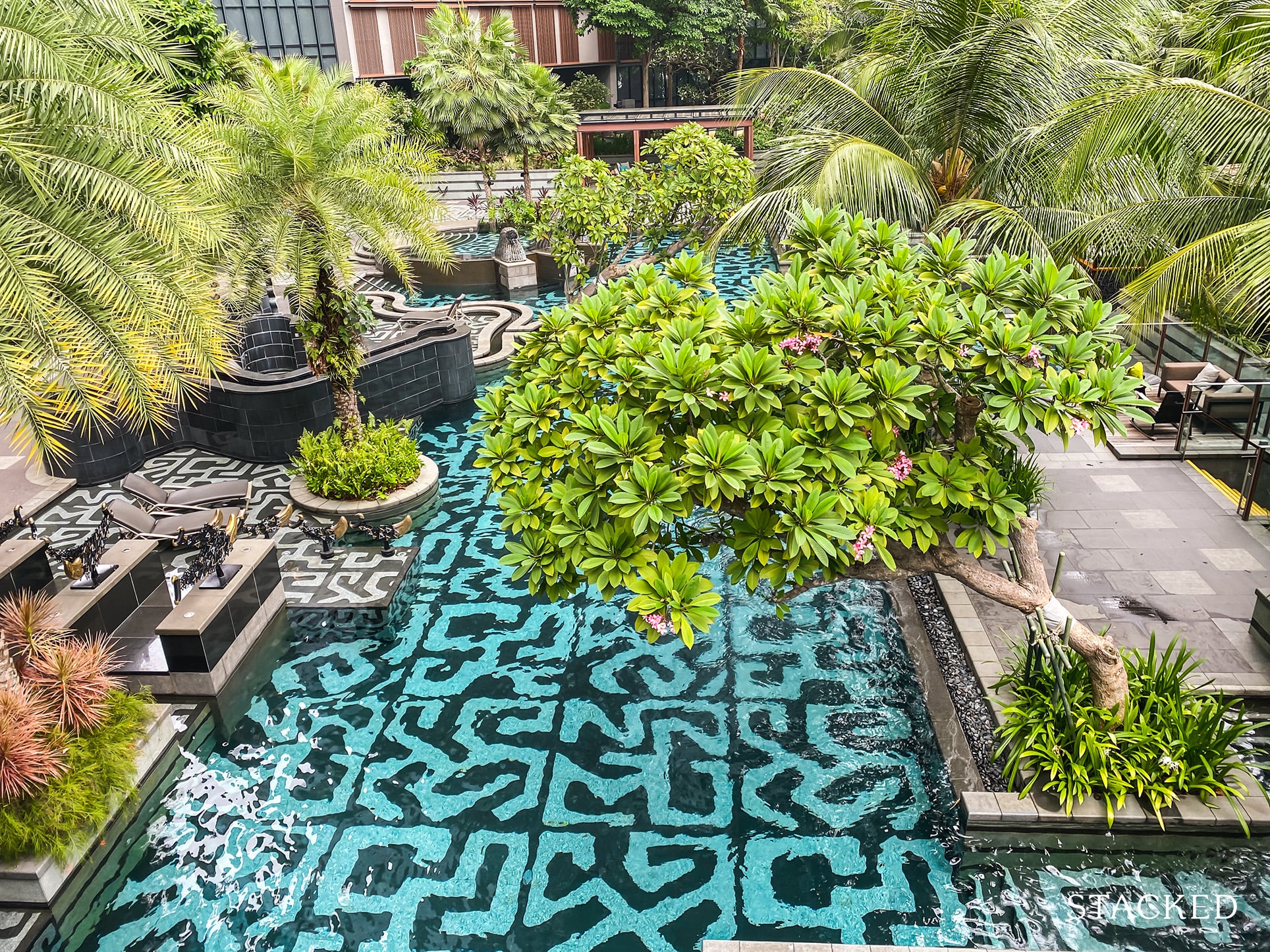 The deck overlooks the pool, where you can appreciate the intricate details of the design pattern of the swimming pool.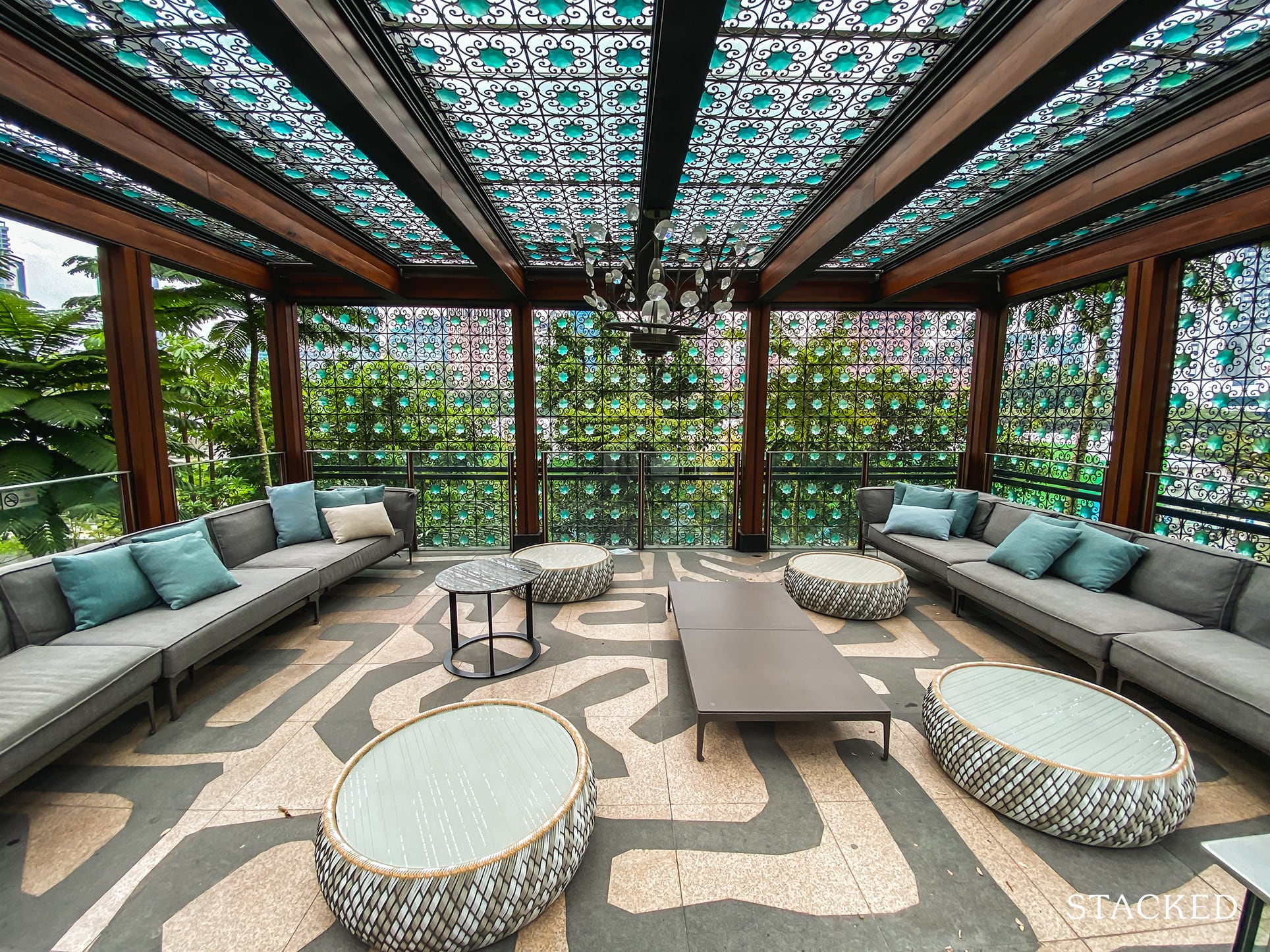 This is the highest pavilion that is facing Grange Road. On windy nights I'm sure it'll be a chill place to kick back and relax.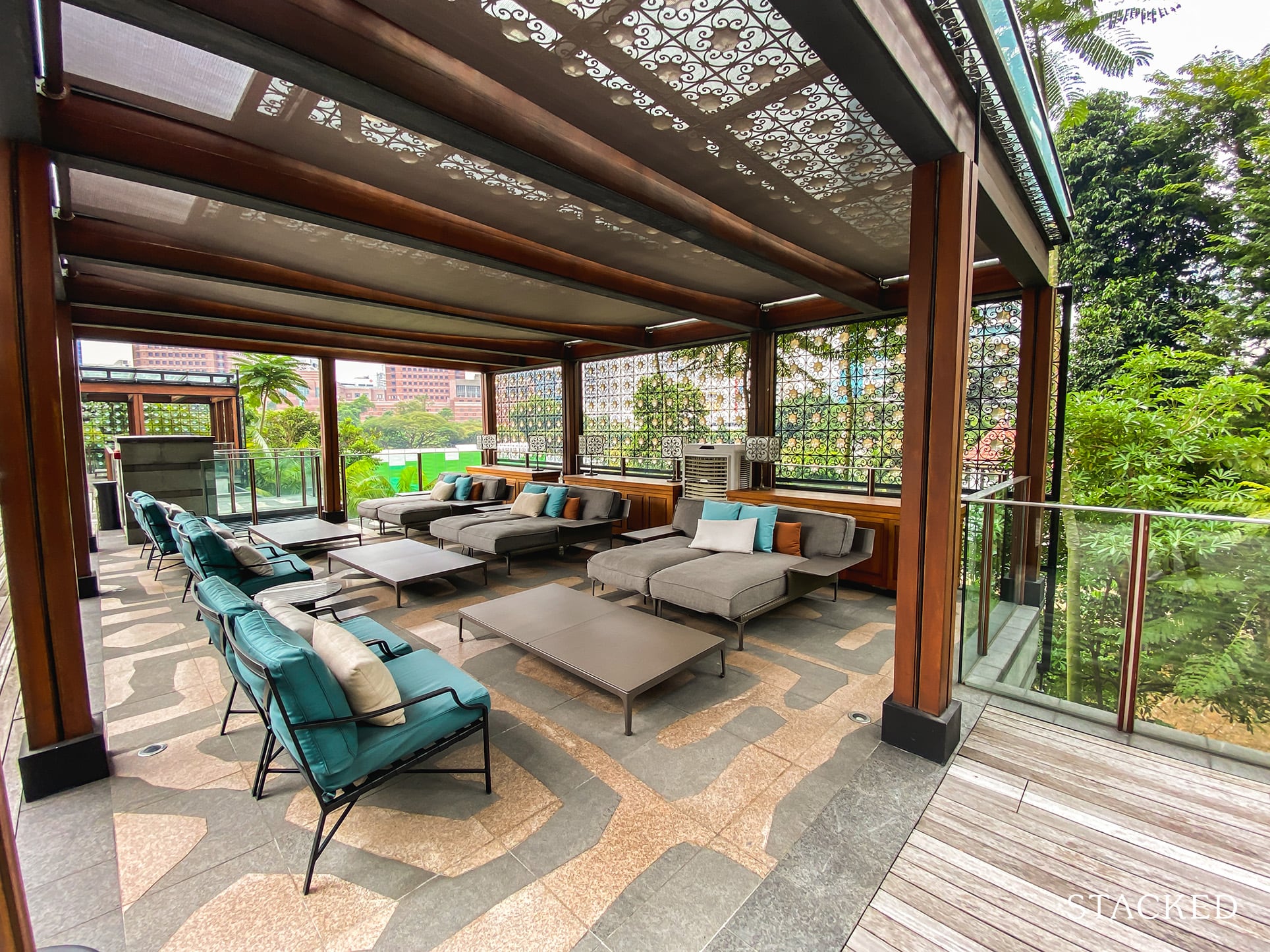 In the middle, there are even more lounges to laze around. There is also a standing fan/air cooler which would come in handy on hotter days.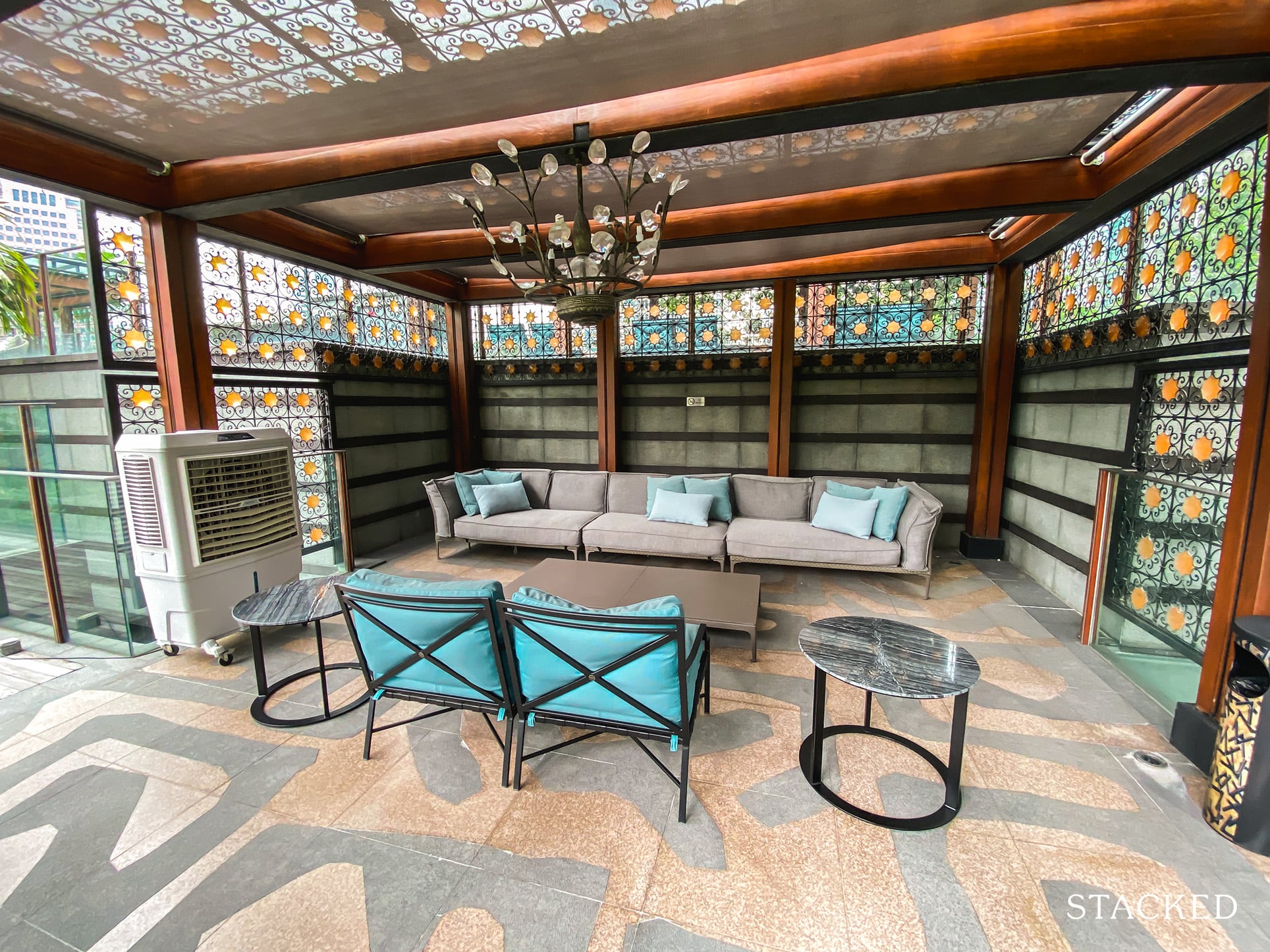 And on a slightly lower deck, you'll find another pavilion with even more seating.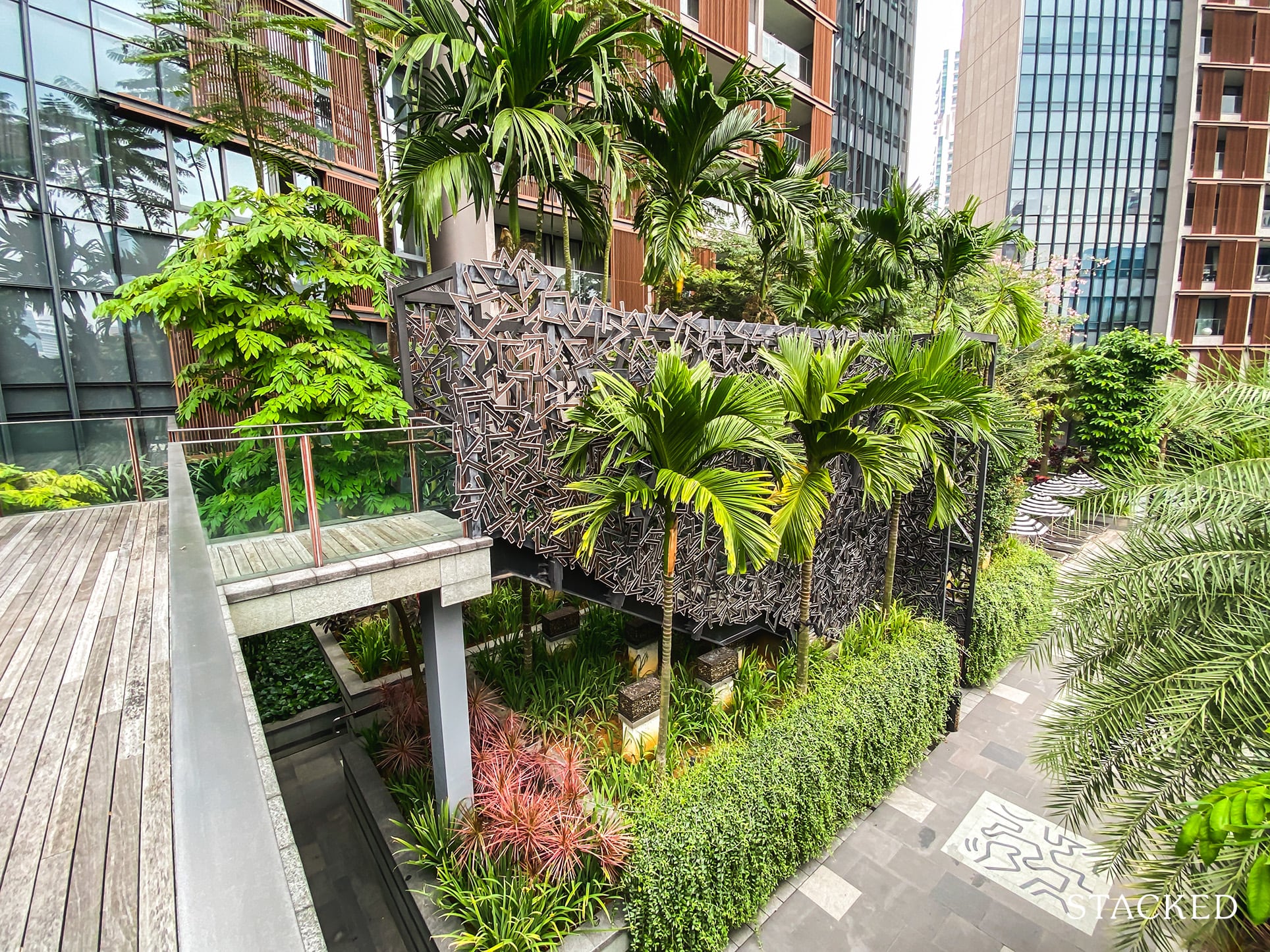 You can also enter or exit the deck through a very elaborately designed staircase.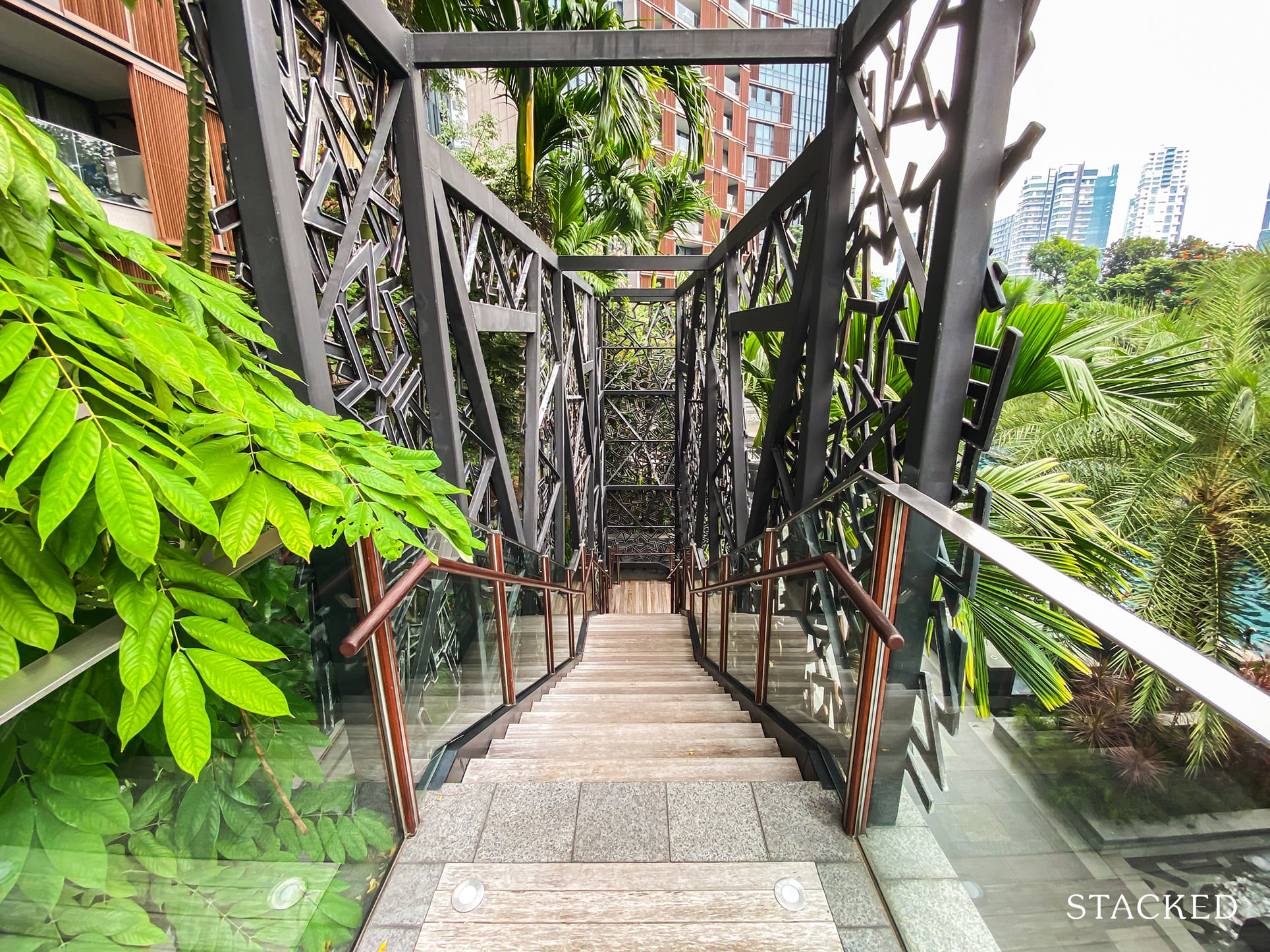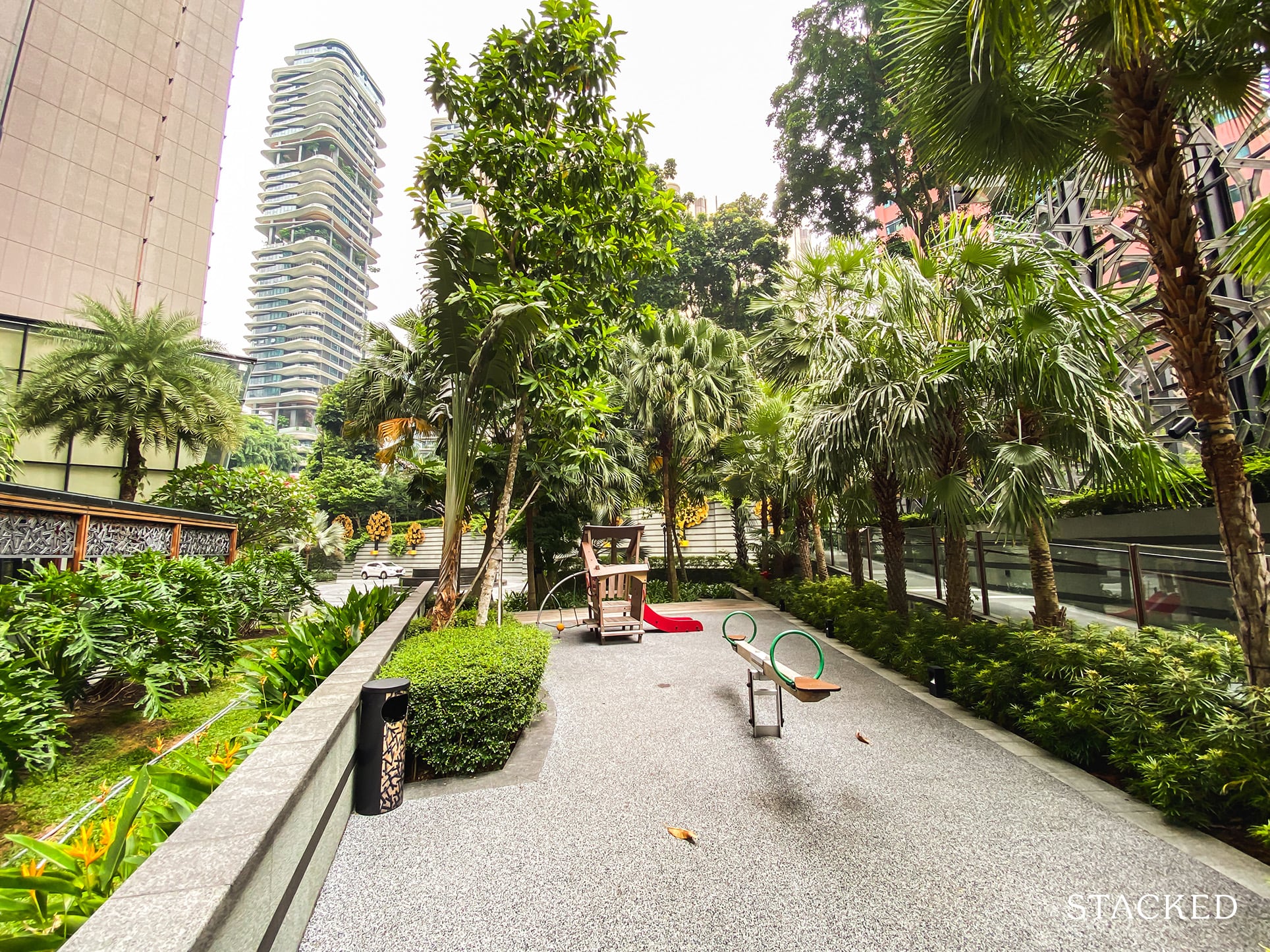 Before you get into the main towers, there is a tiny playground. The space itself is actually quite big but the actual playground is really small. You can clearly tell that this clearly isn't the condo for young children.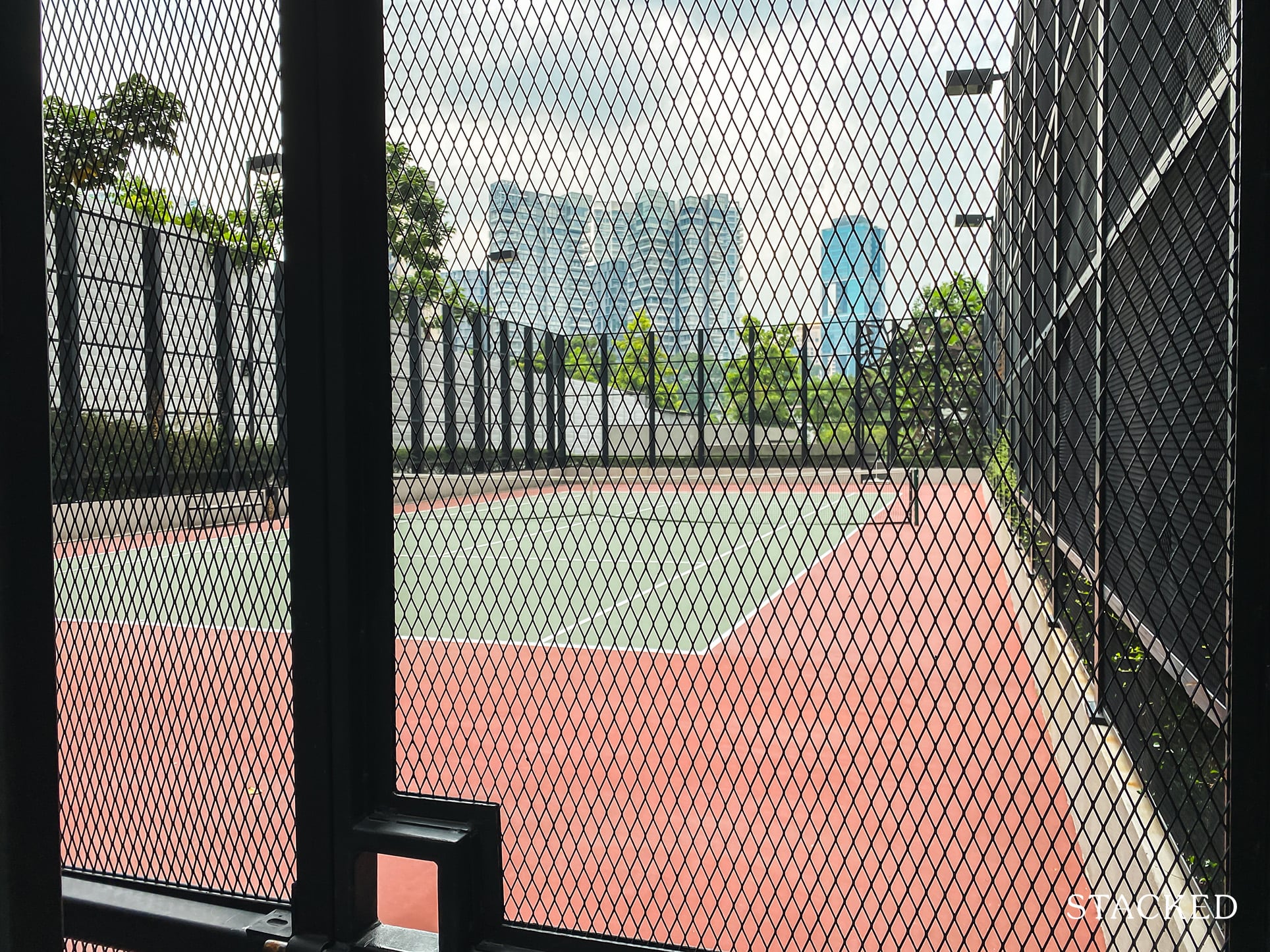 Right at the back corner of the OUE Twin Peaks is the tennis court. Interesting fact – this tennis court is actually named the Roger Federer Court! He actually made a trip down to officially open it in 2015!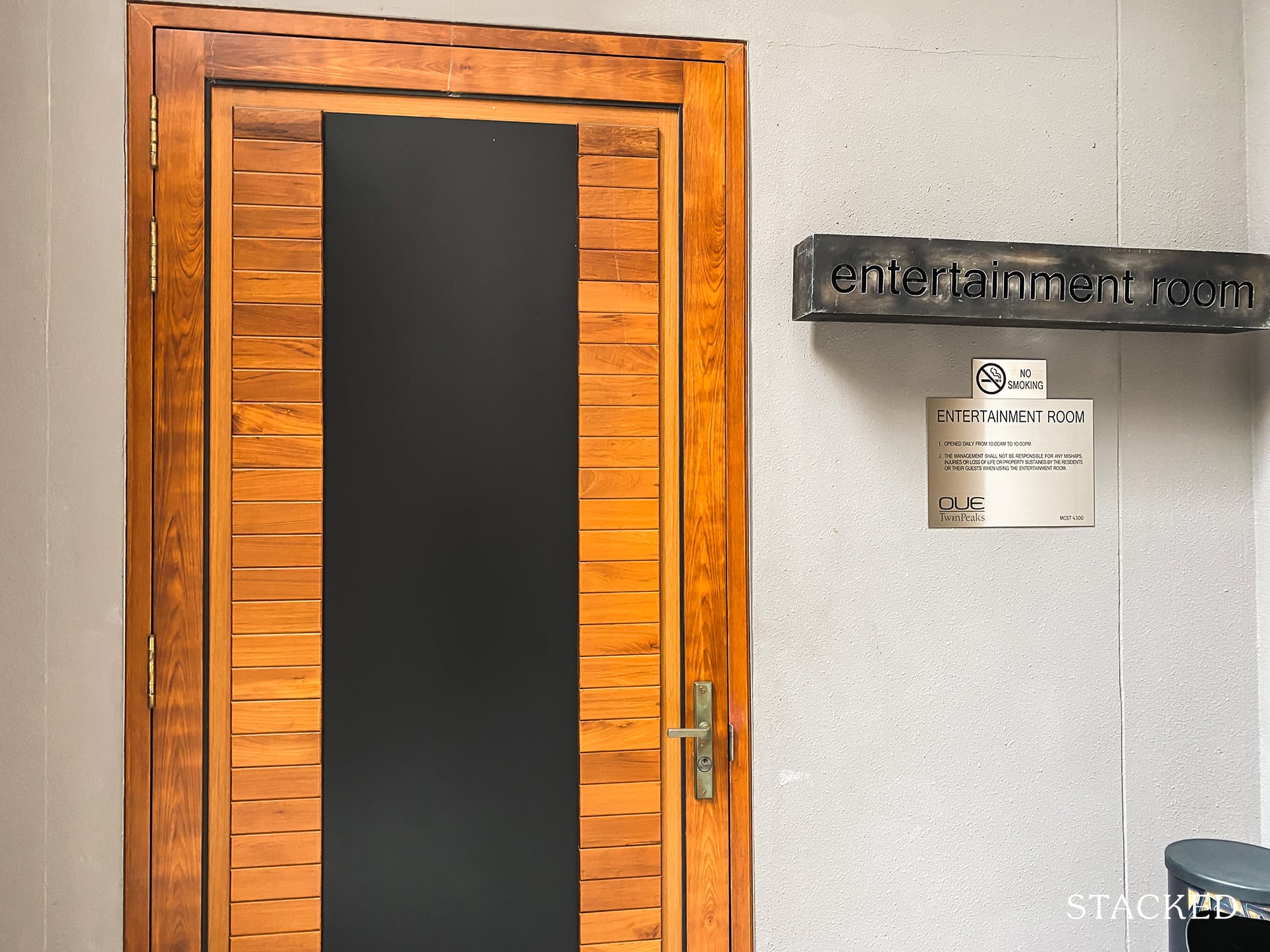 There is also an entertainment room.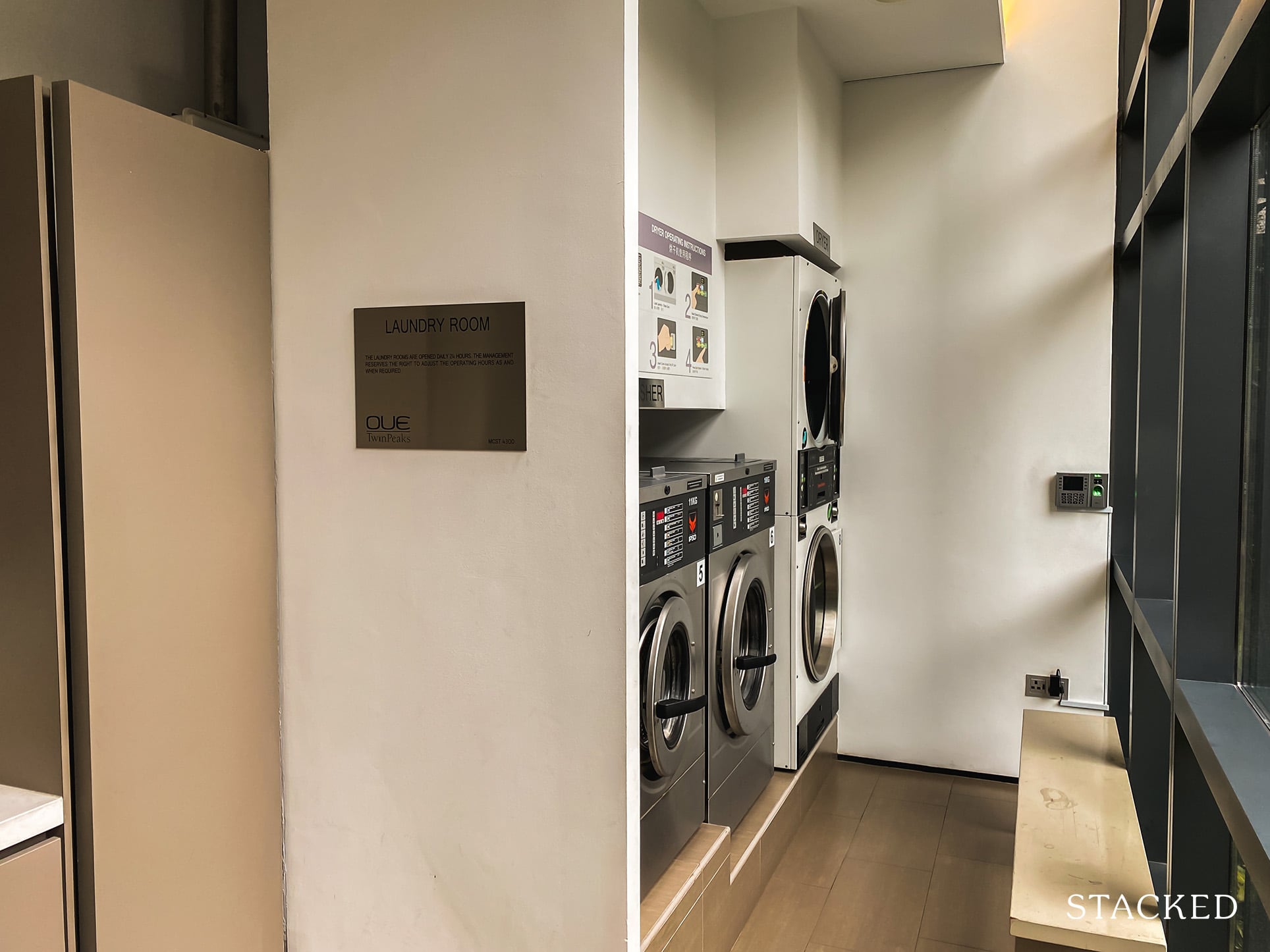 And even a laundry room! These are available in both blocks and are open 24 hours.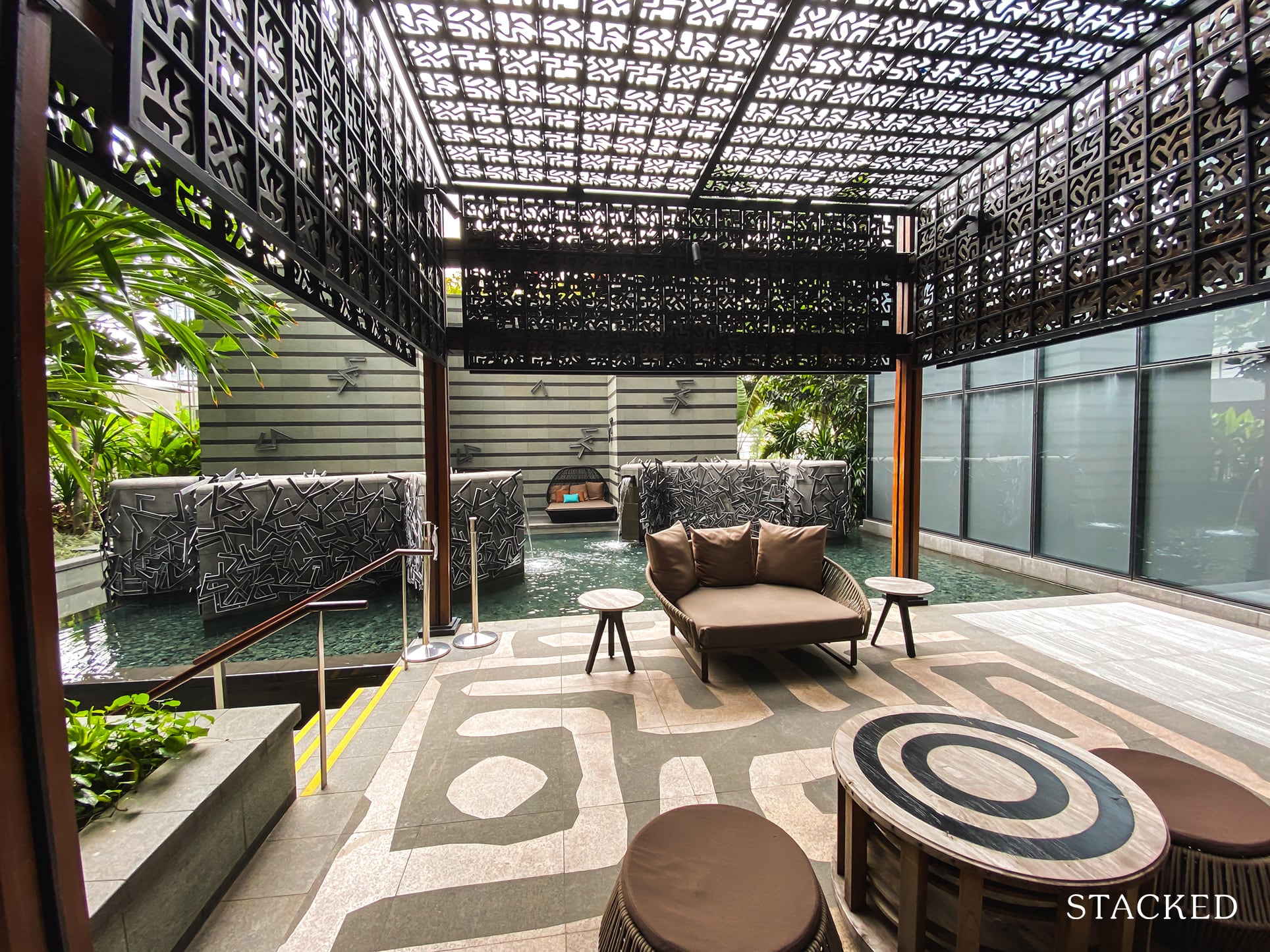 There's actually a "hidden" pavilion seating area just outside the laundry room.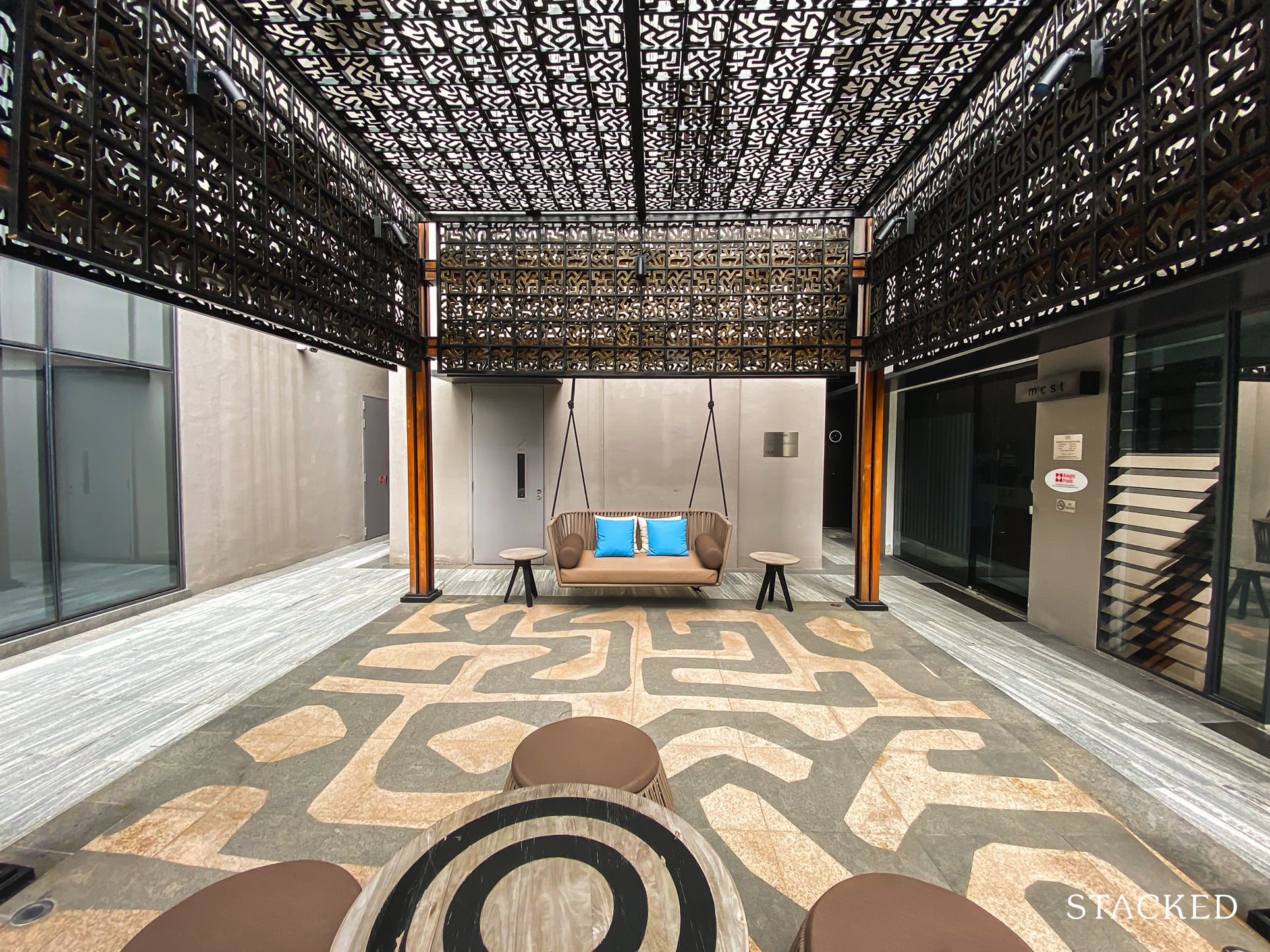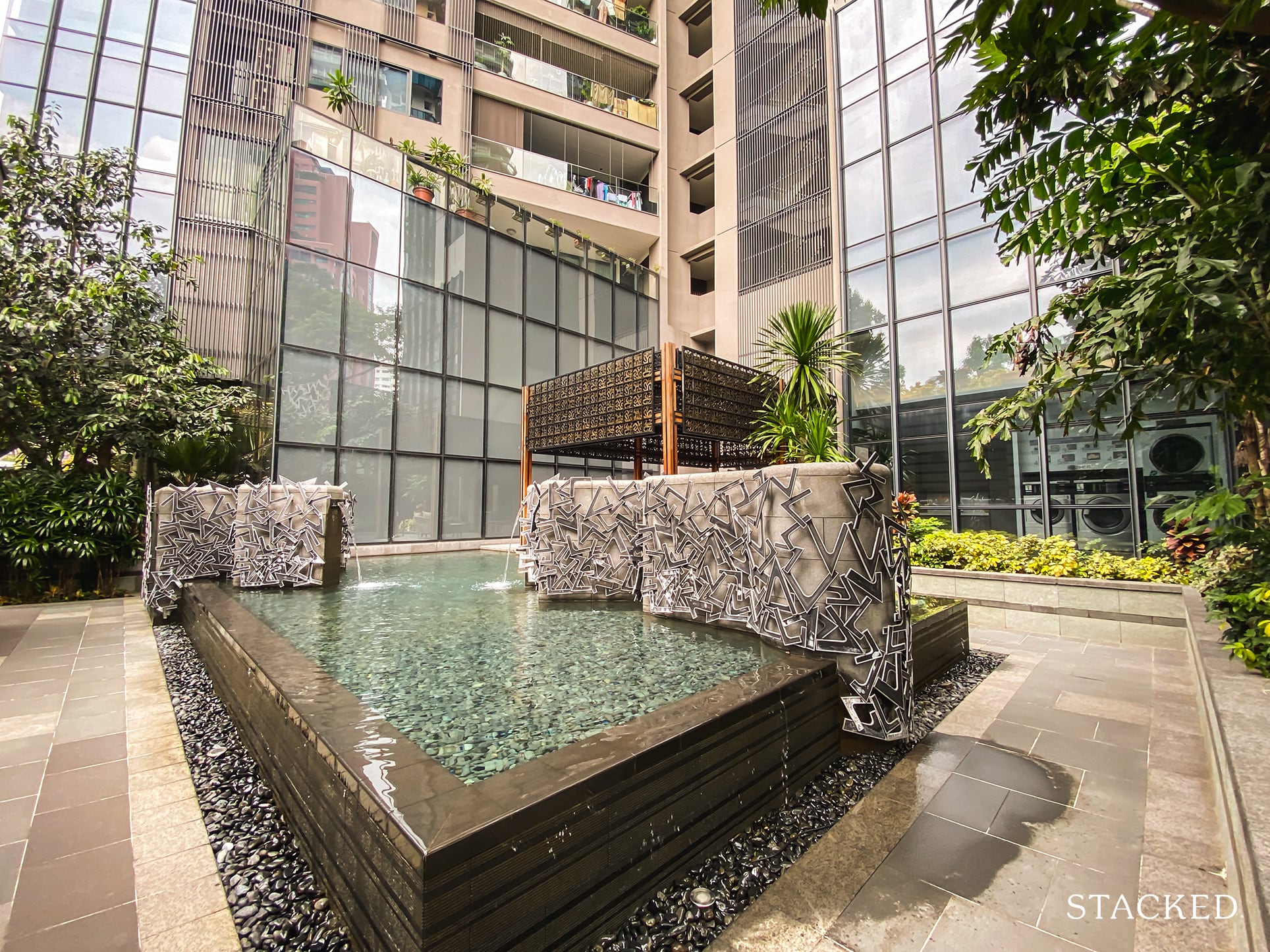 It's actually quite a large water feature just to be hidden at the corner.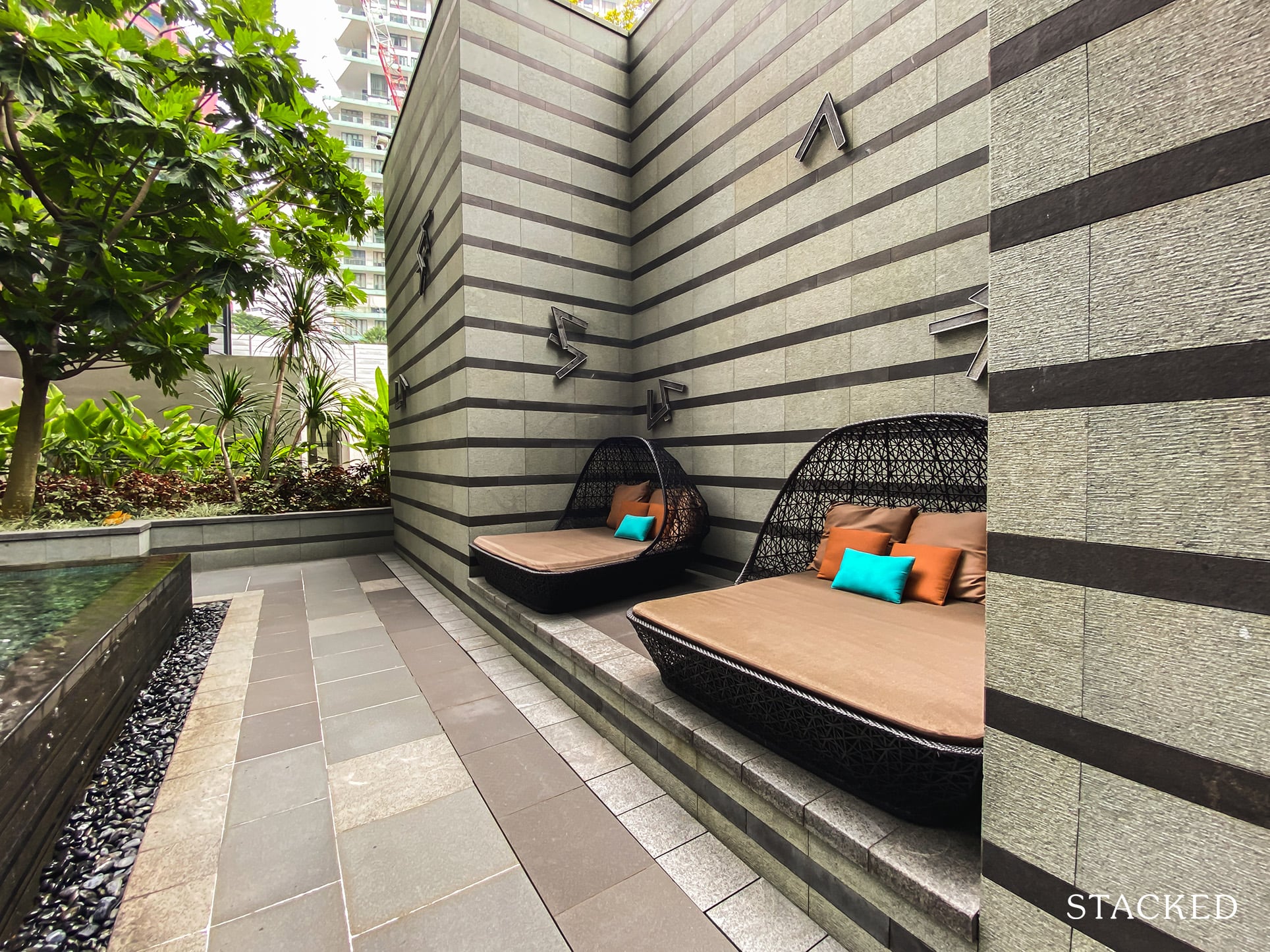 With large day beds over at the end.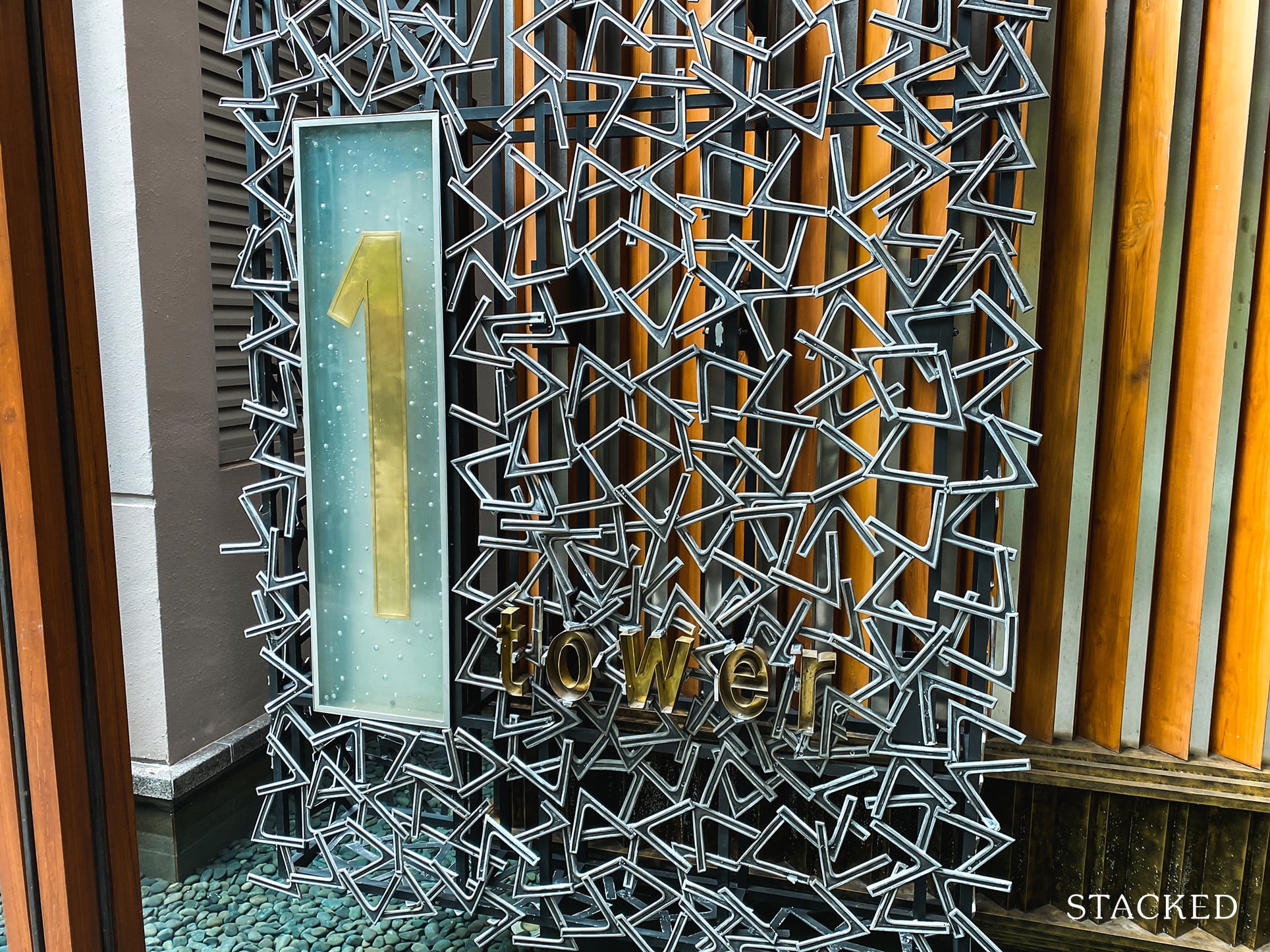 Let's take a look at the tower blocks itself.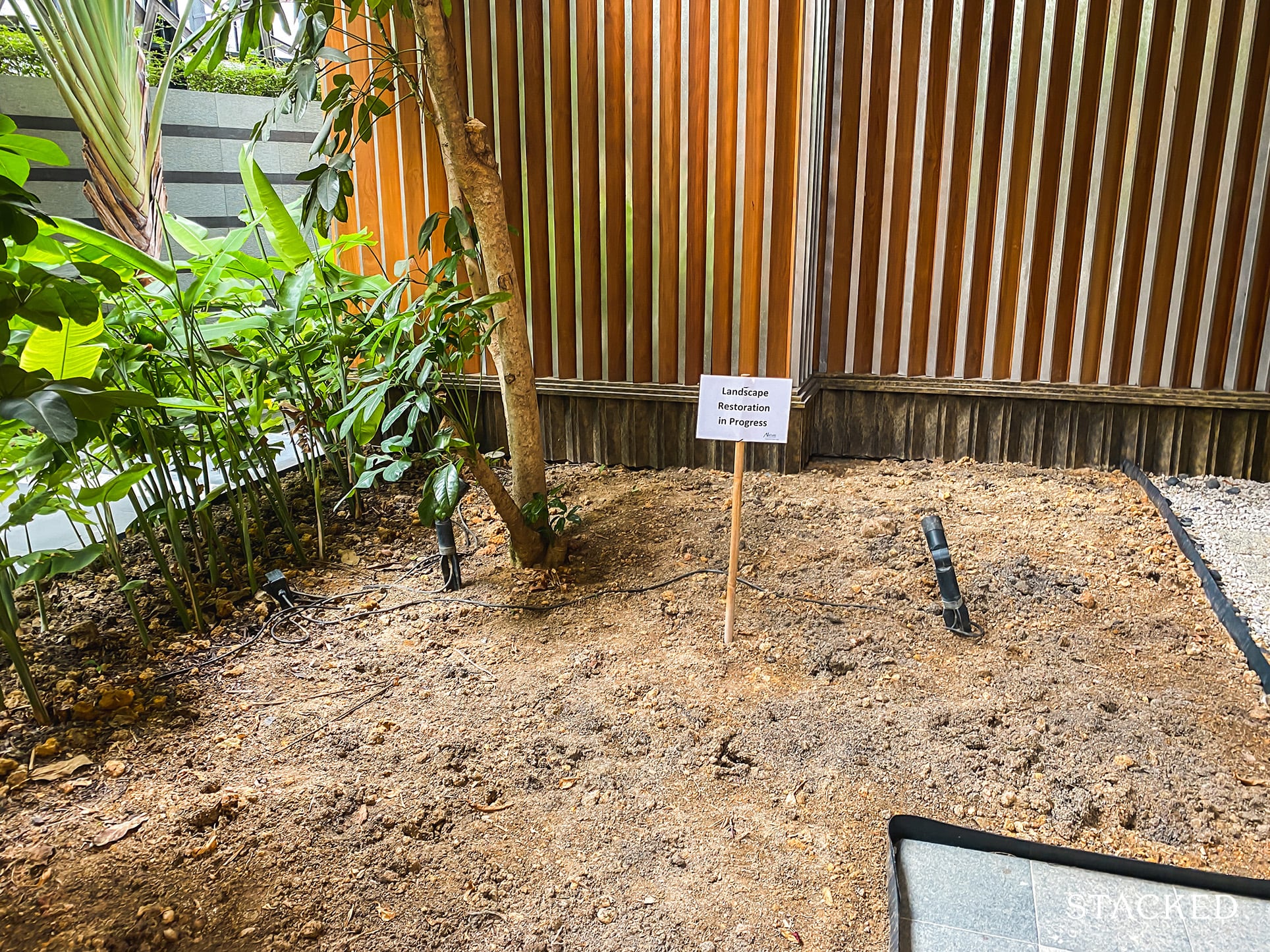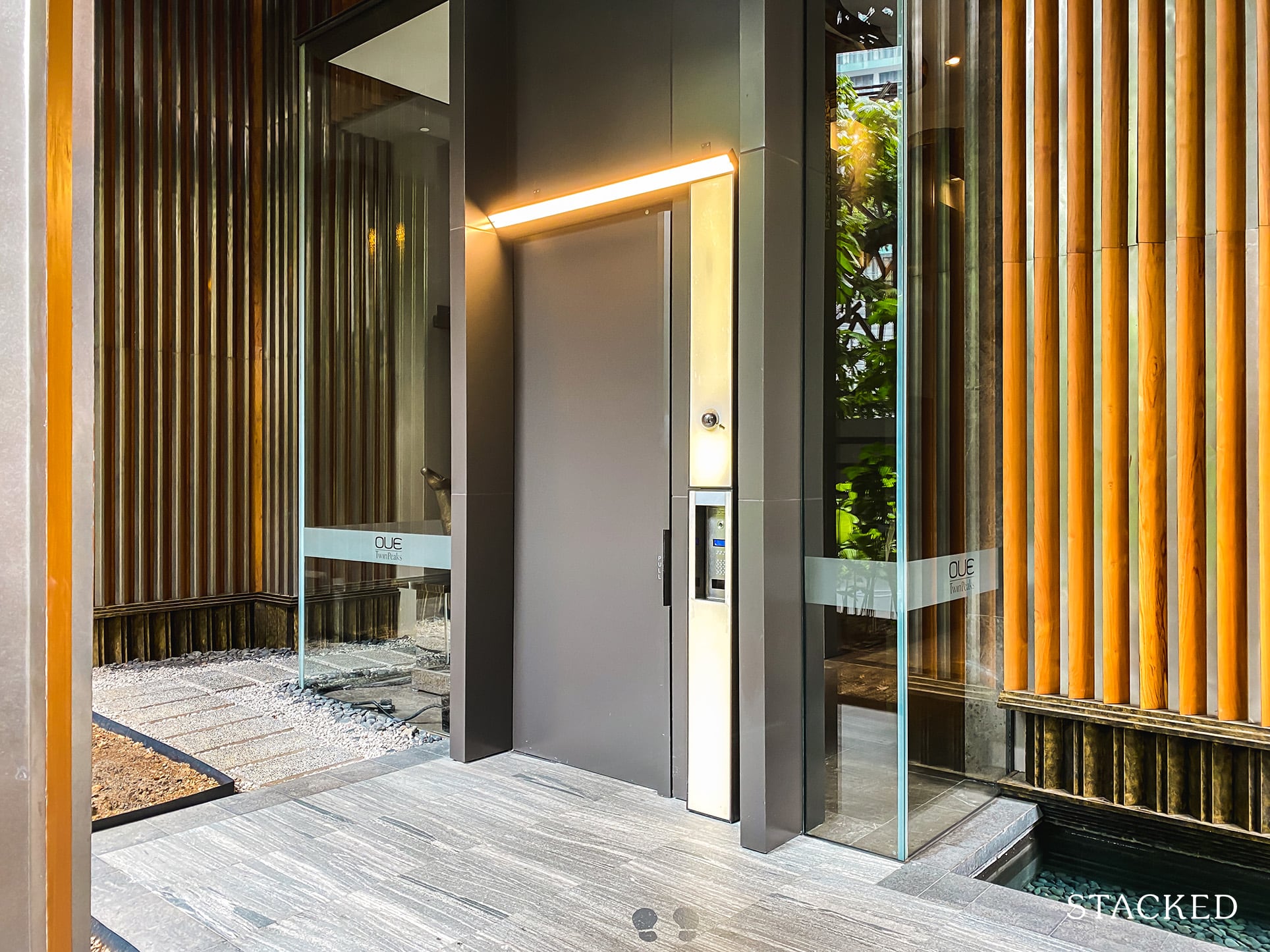 As you'd imagine, each tower has a form of security clearance to allow only residents to get in. Most condos would use a keycard, but what is special here is that they have facial recognition! It feels ultra-futuristic, and not to mention, really useful if your hands are full carrying groceries!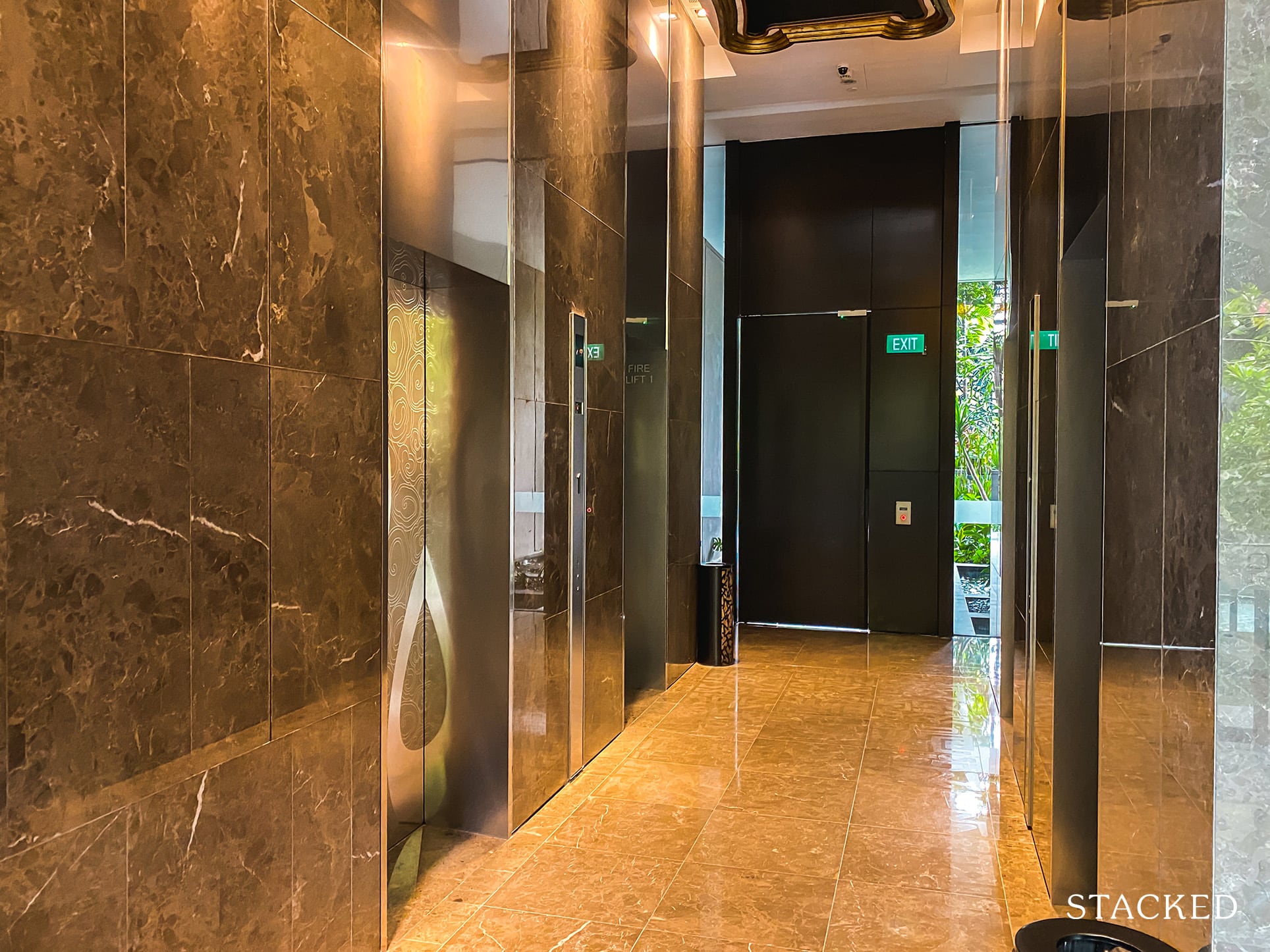 The lift lobby is air-conditioned, which is what you'd expect from a development of this class.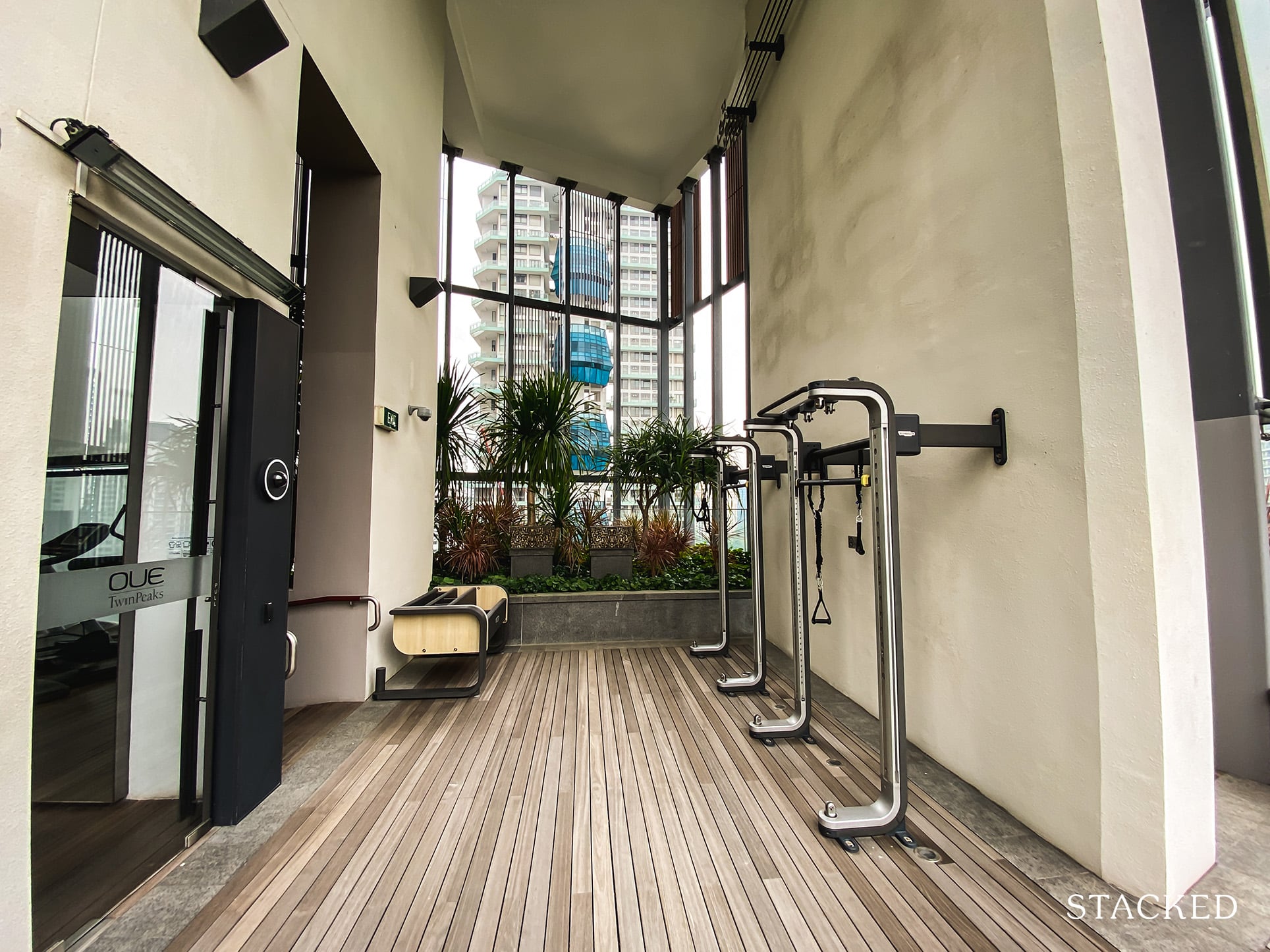 Both towers have their own separate gyms that start from the 13th floor. These actually take up the space of 4 levels so it's really spacious and open here. Plus, there is an indoor and outdoor gym.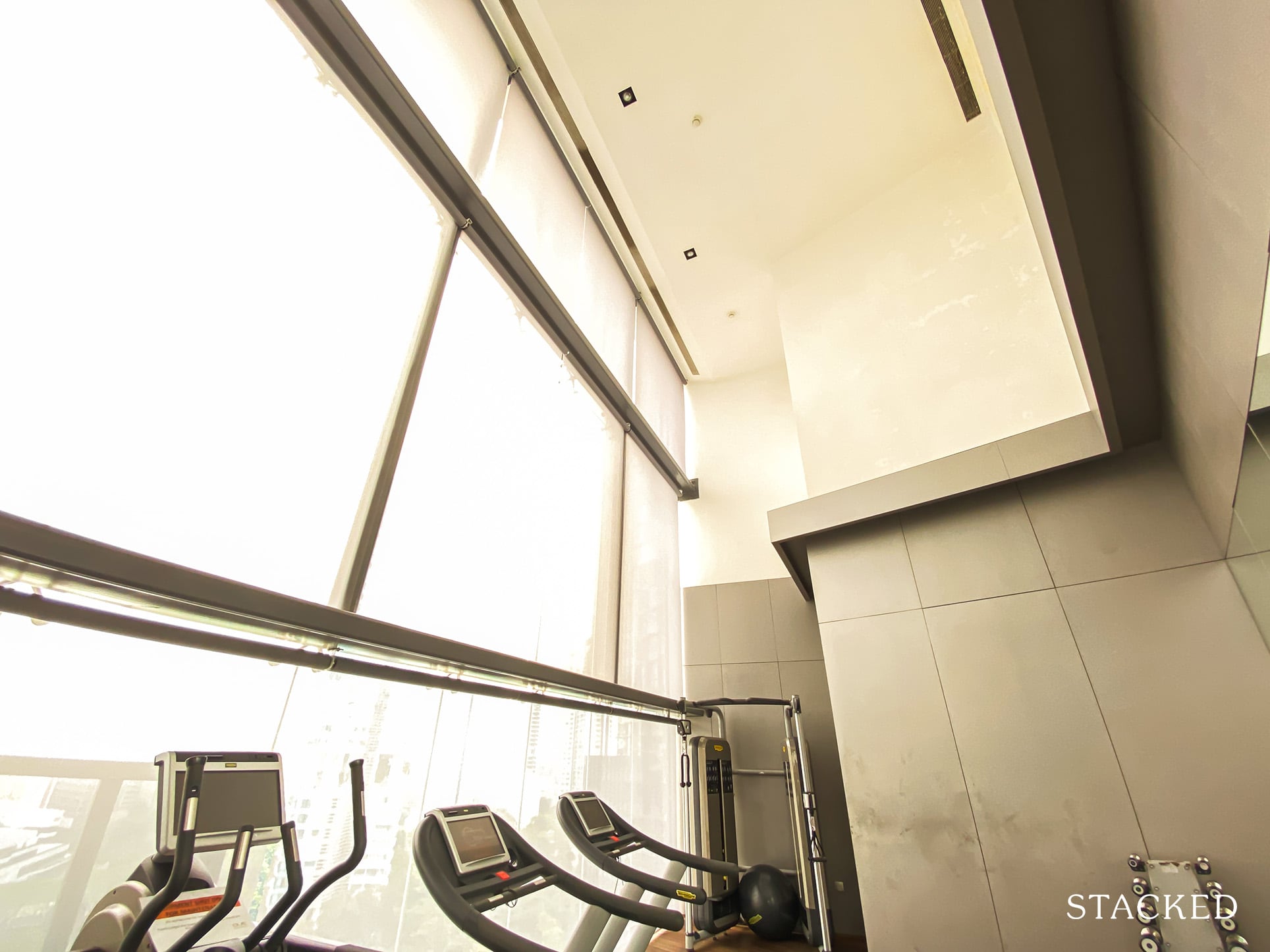 Who doesn't love a gym with a super high ceiling? With it's almost floor to ceiling windows the result is a space that feels expansive and open despite the floor size actually not being very big at all.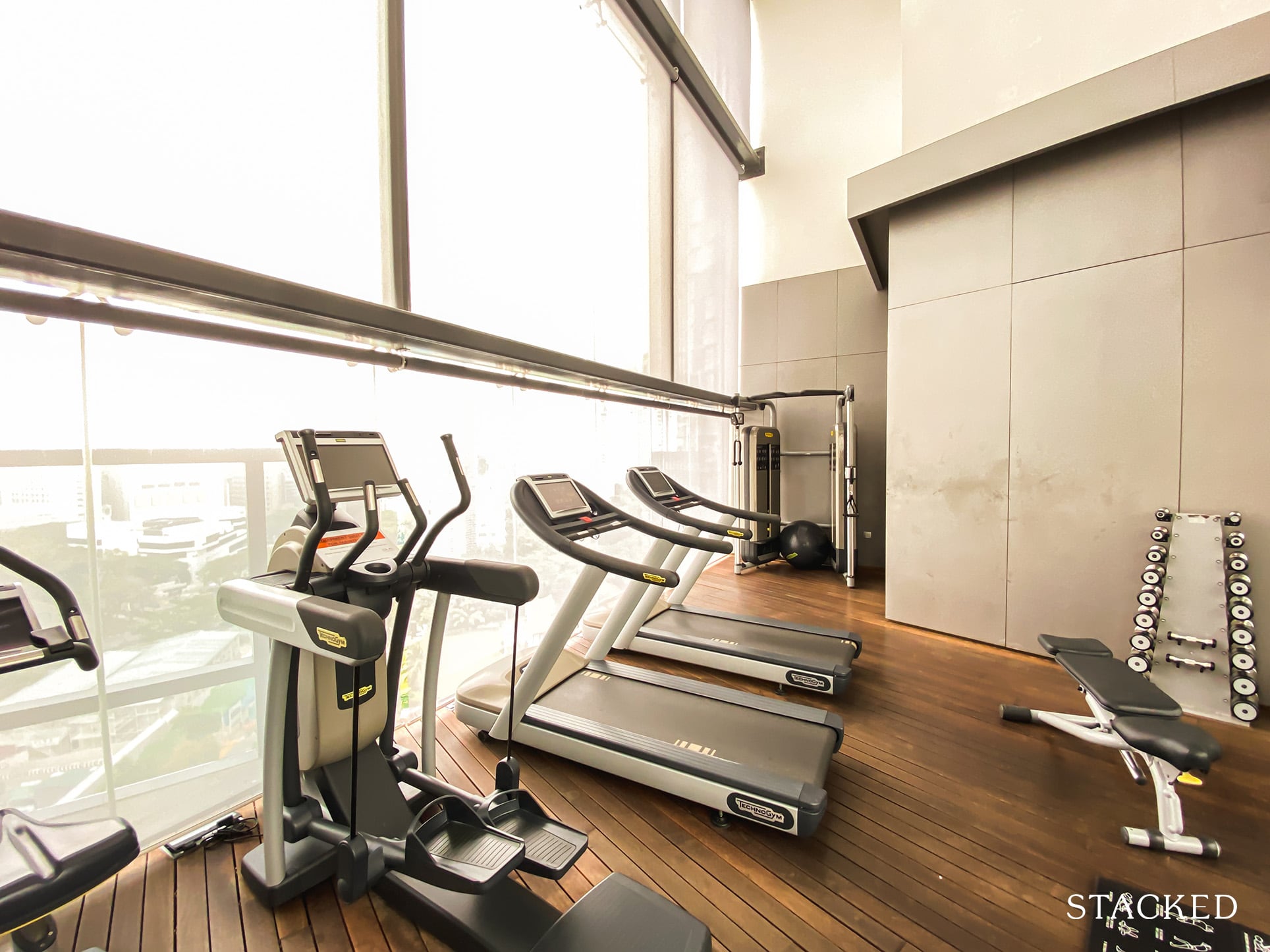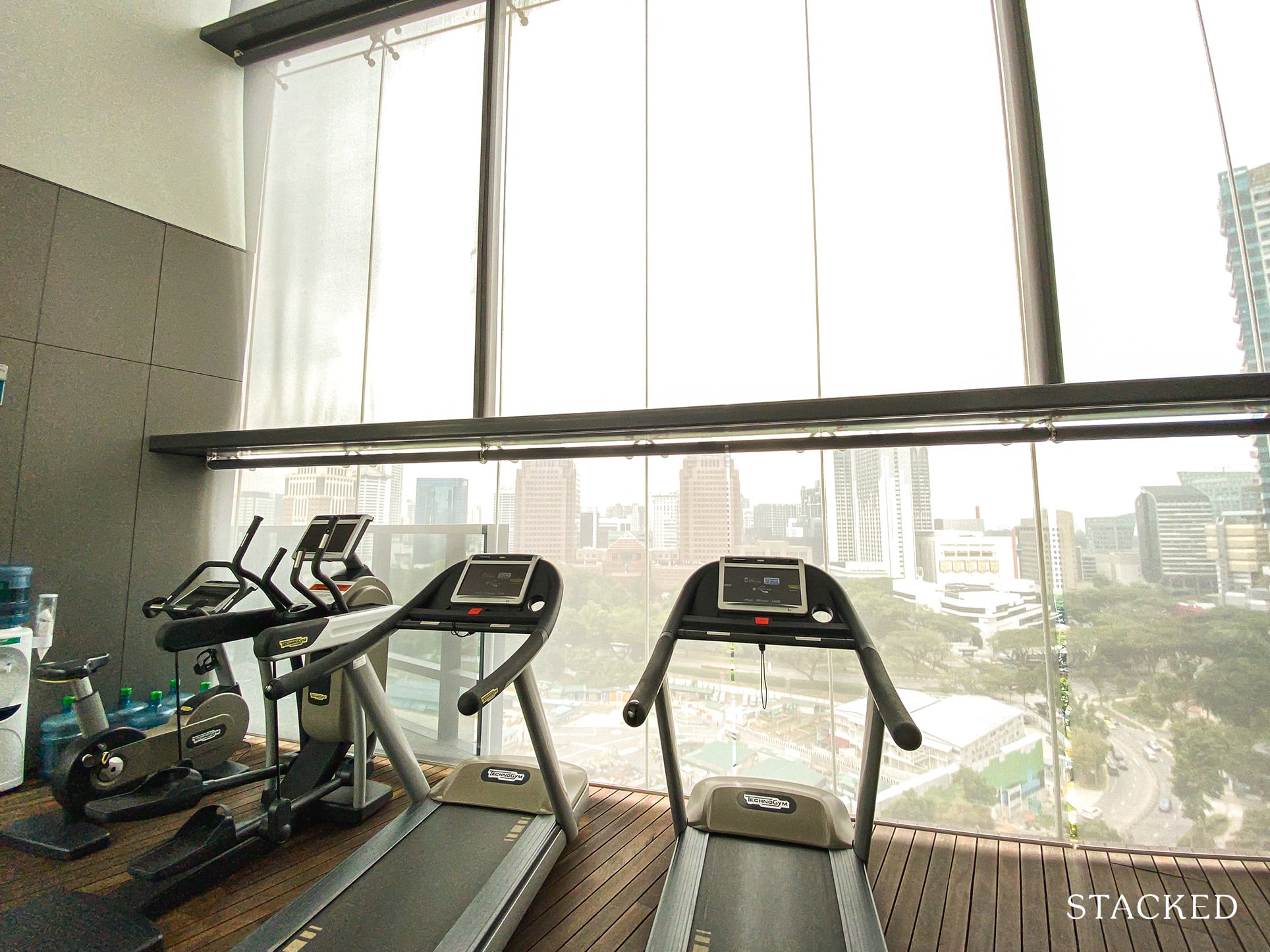 I've always liked gyms that are on a high floor that overlooks a city view, and this is no exception. It's just a pity it wasn't located on the highest floor!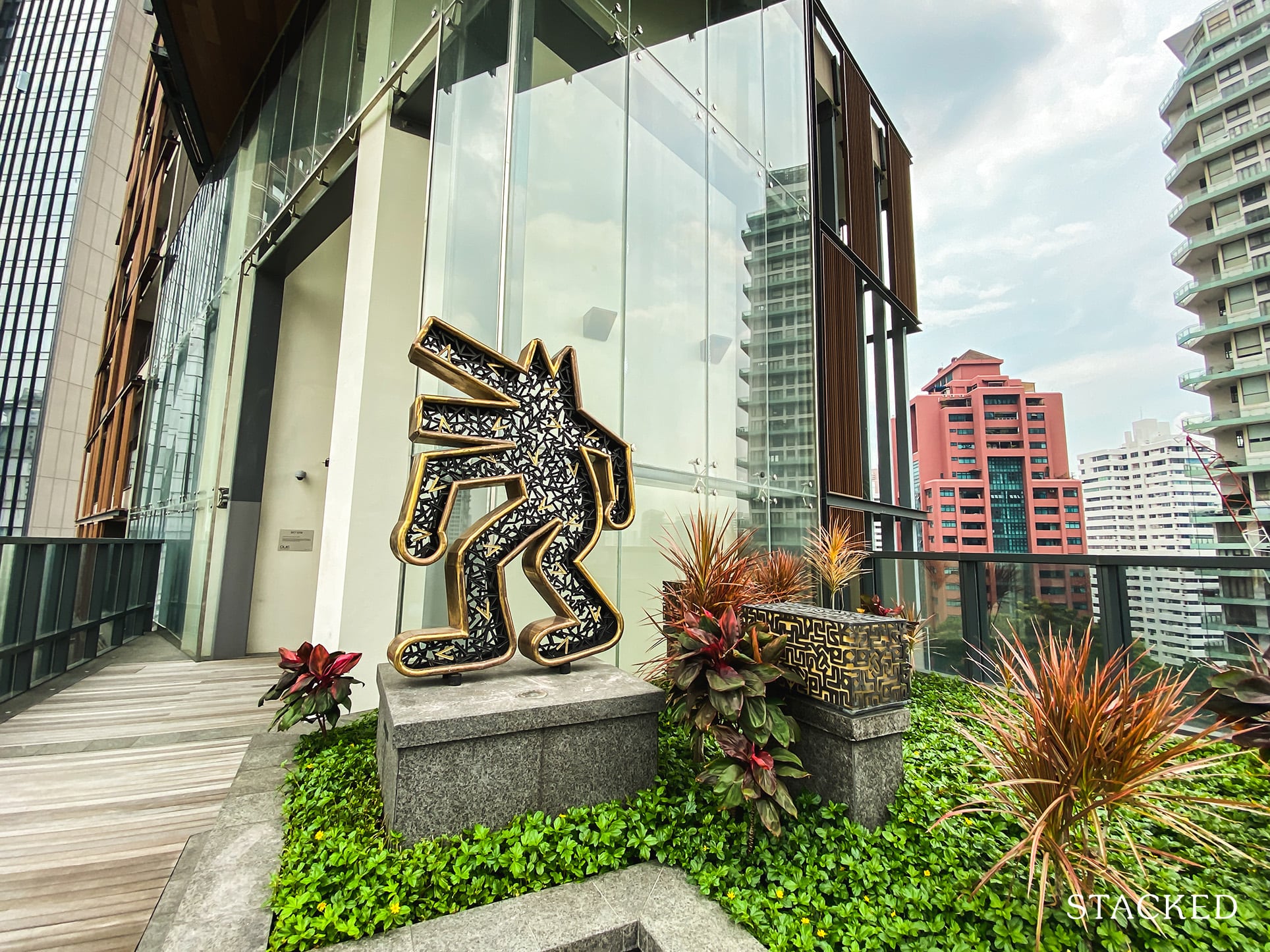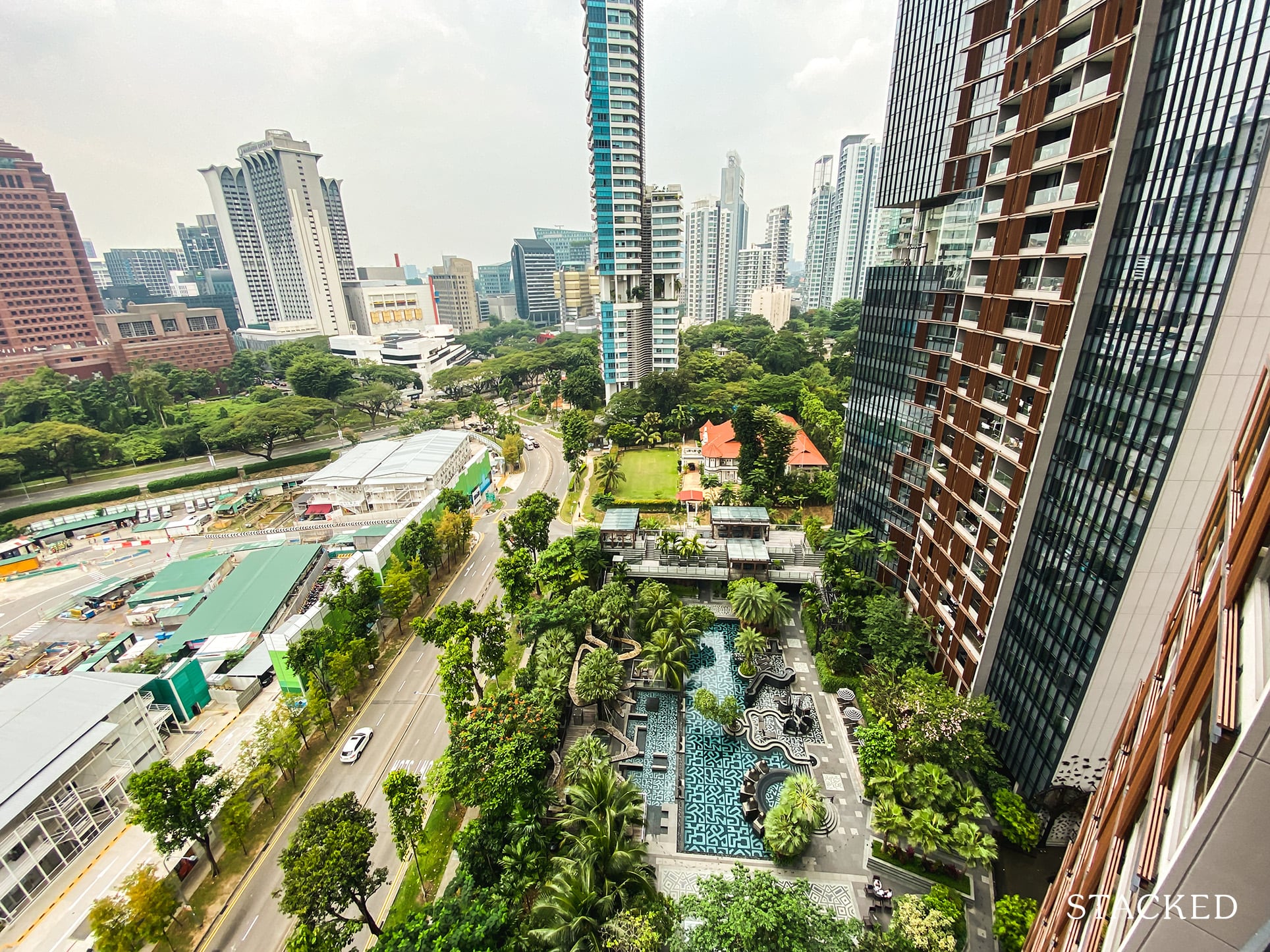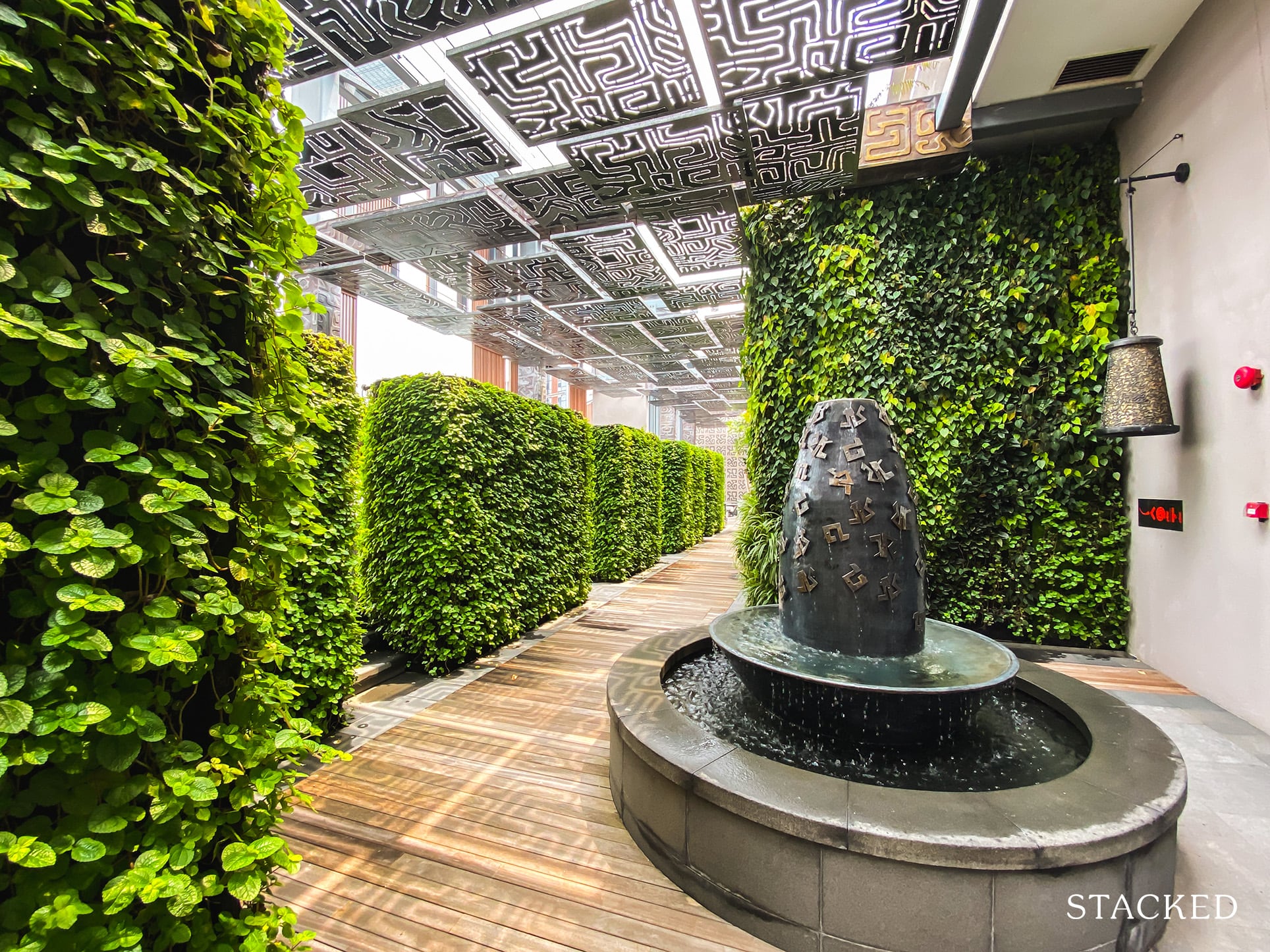 Finally, here is the much talked about top floor of the OUE Twin Peaks. The staggered ceiling tiles look cool and certainly brings about a different character to the place. As they are strung across with wire, they make for some interesting sounds on windy days !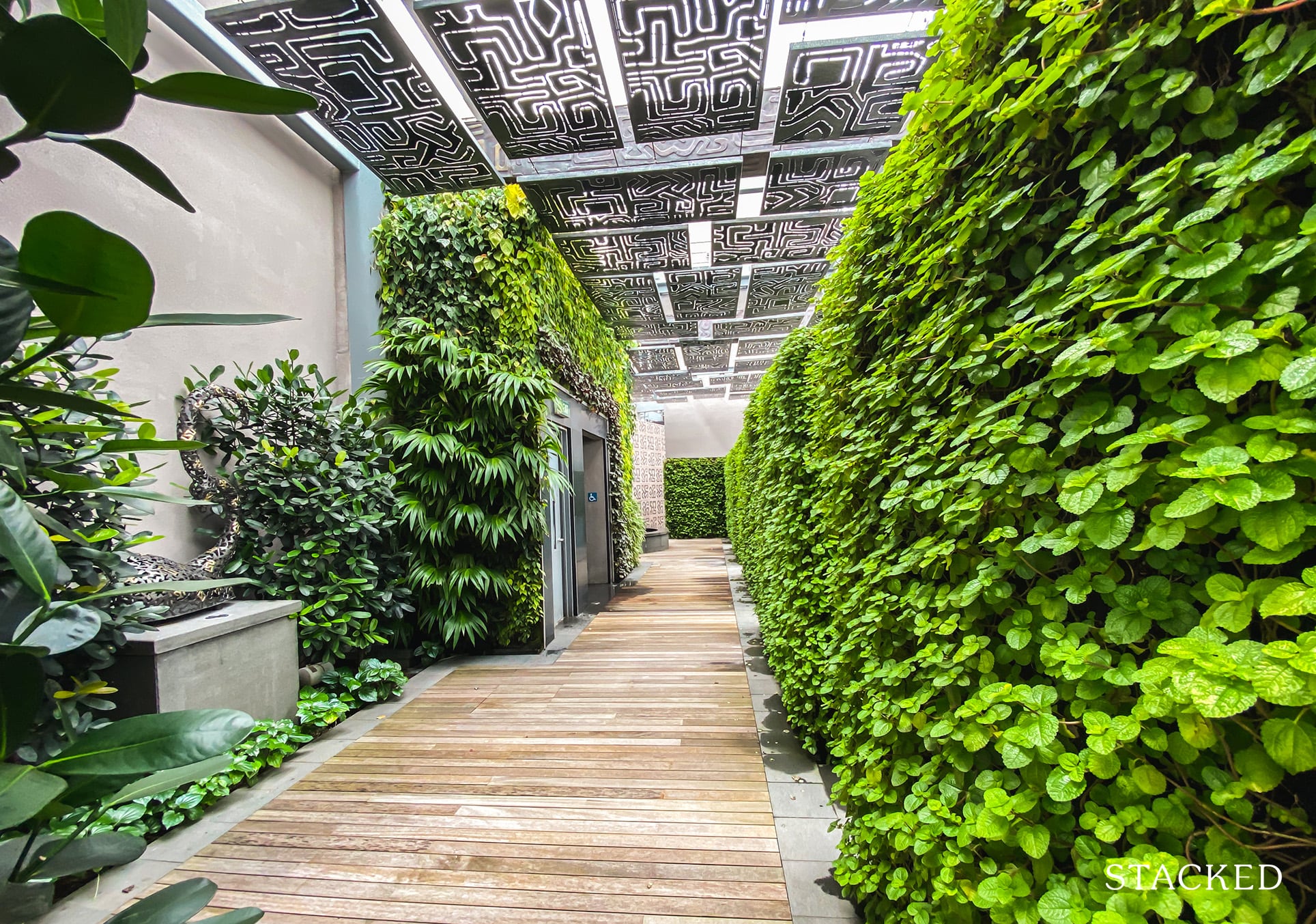 The ceiling was also purposefully designed to be semi-enclosed to allow for some shade during the afternoons as well. I really like the verdant greenery walls too as it softens the whole look of the place. In fact, the OUE Twin Peaks actually won an excellence award (by NParks). The main reason for this? A communal rooftop garden in place of would-be prime penthouse units! Talk about commitment to environmental friendliness and greenery aesthetics over revenue.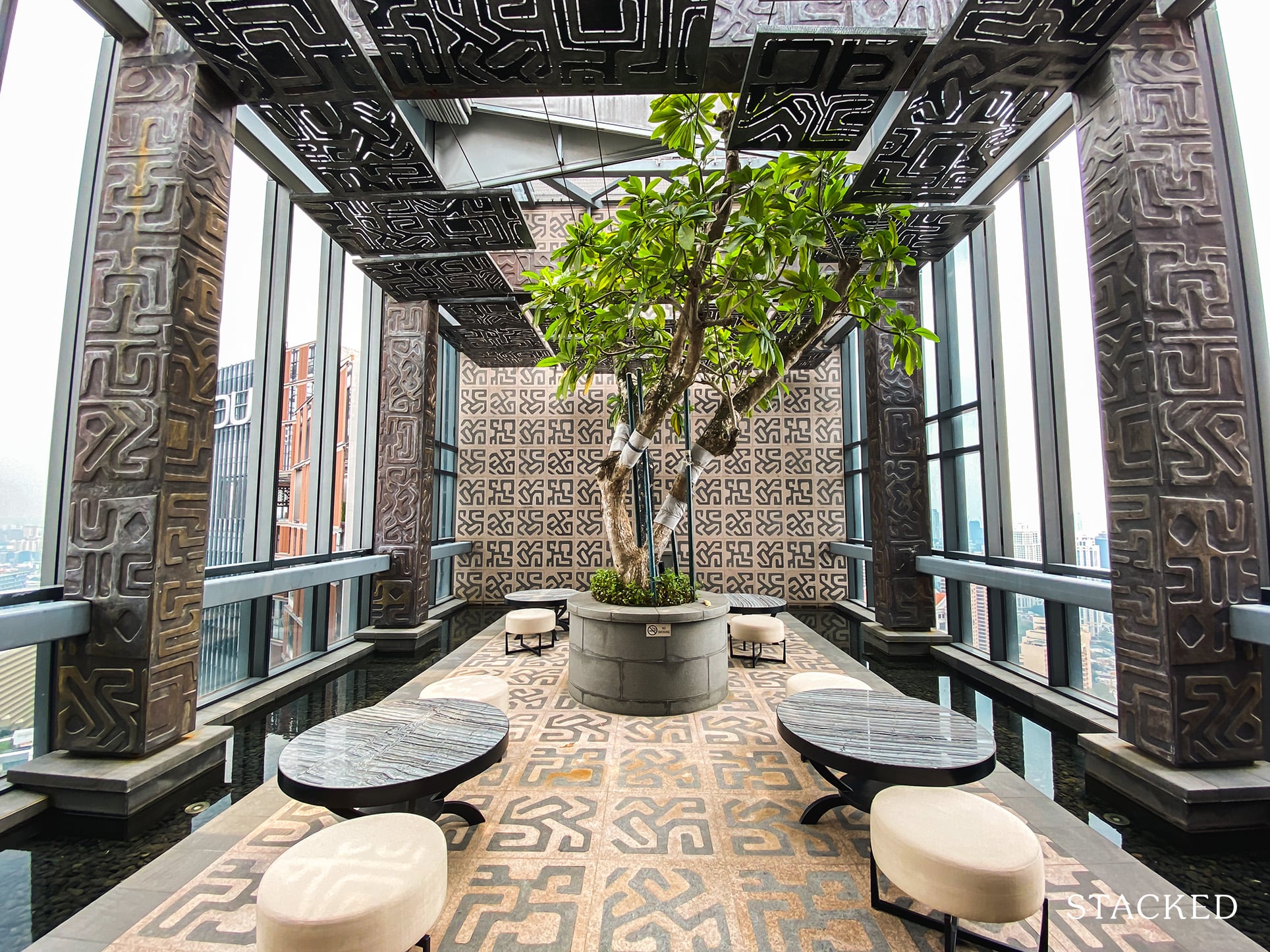 There is a seating gallery over at one corner that allows you to get a good view of both sides of the development.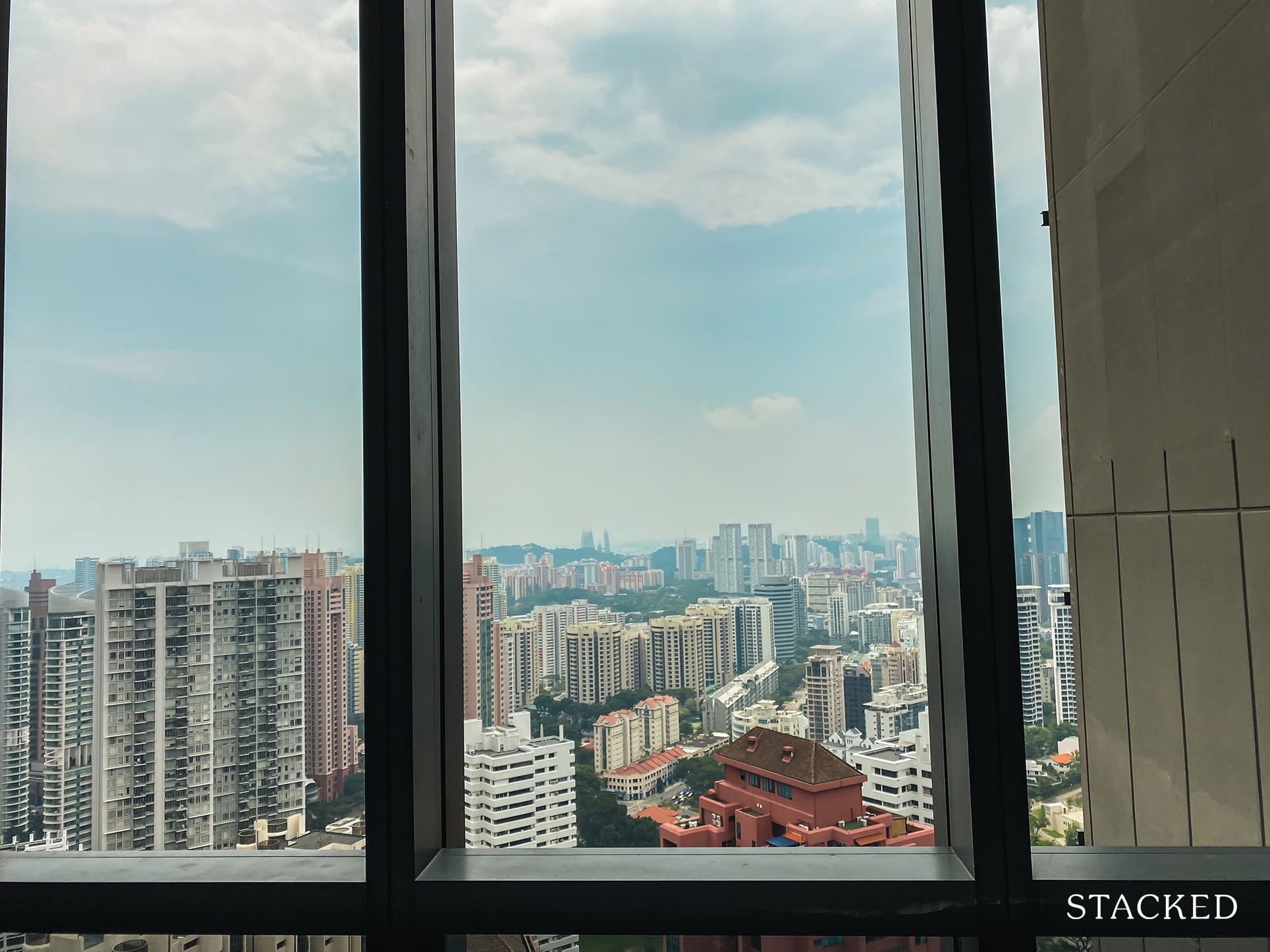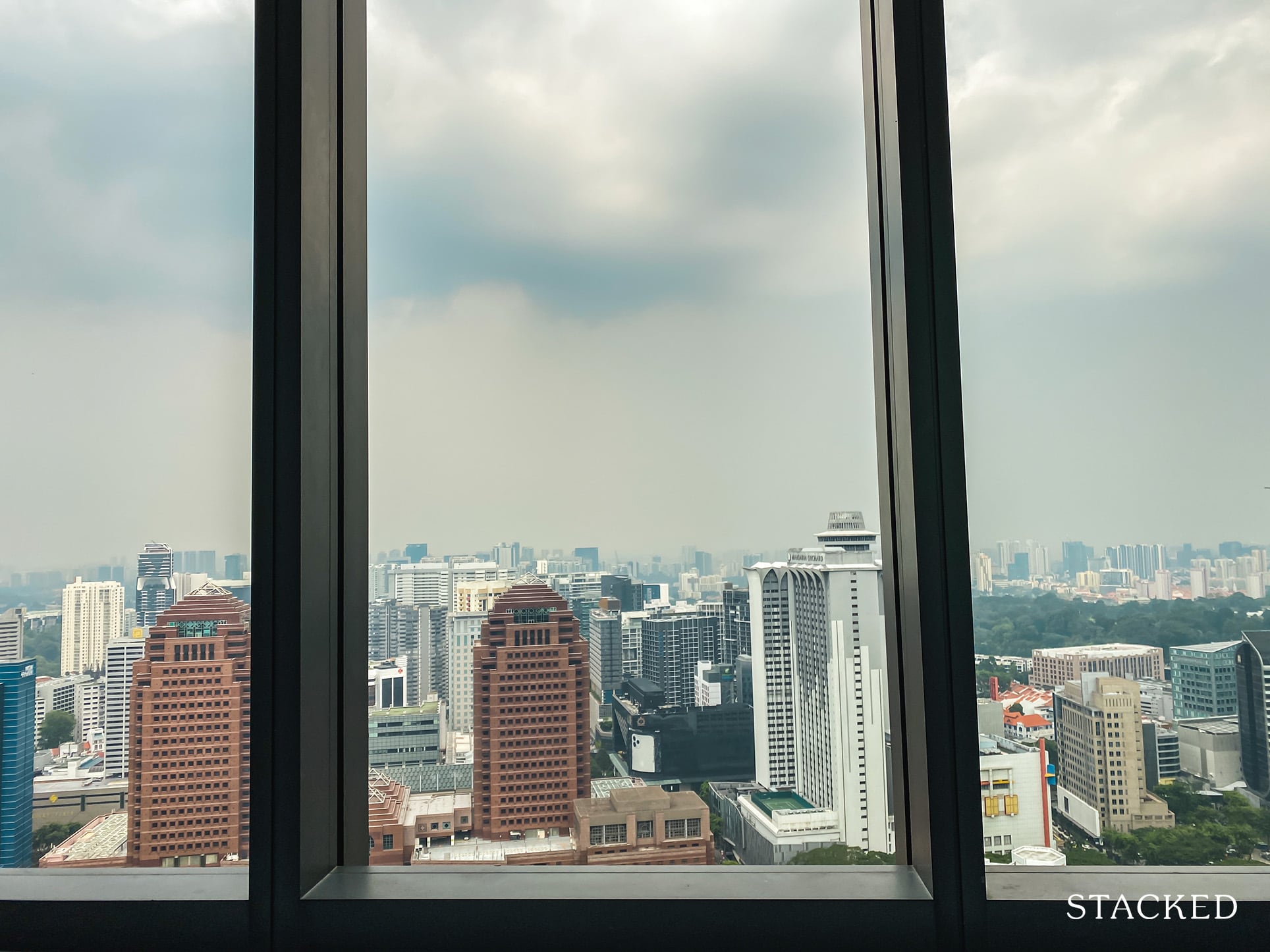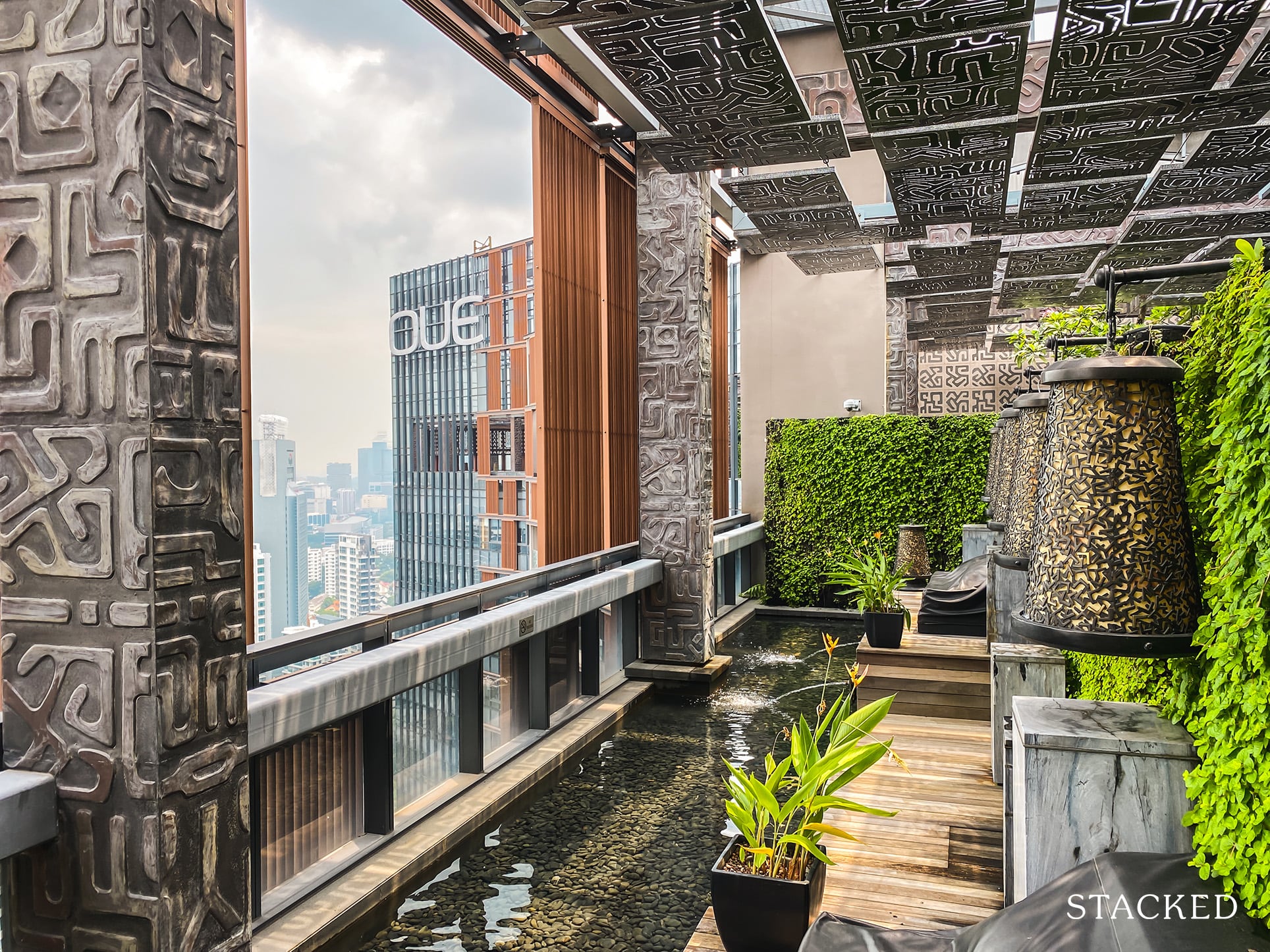 Behind the green plant-filled walls are actually private seating areas that allow you to relax and ponder over life while staring out at the cityscape.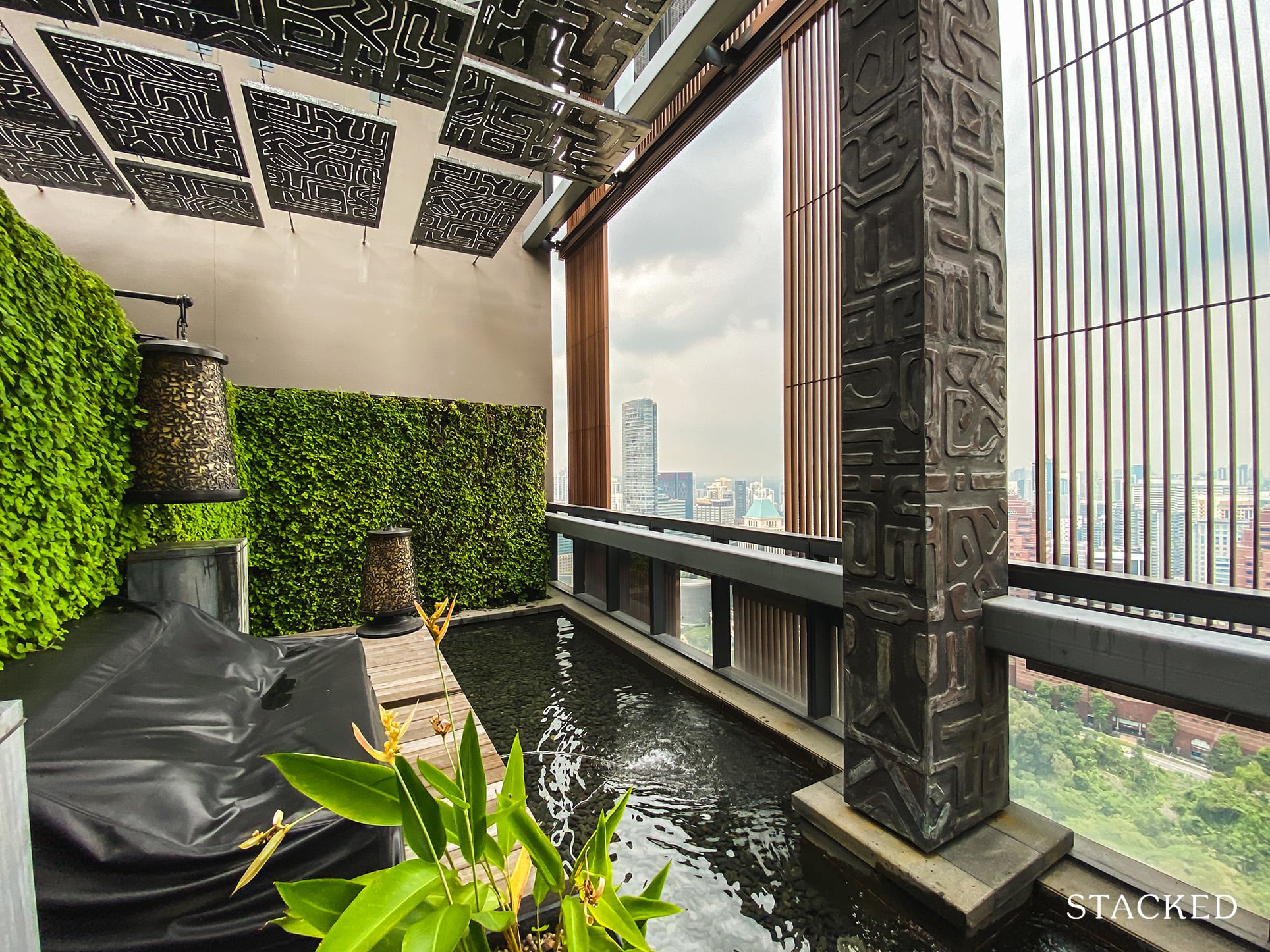 Right in front of the deck is basically just a water feature so you'd have to be careful if you are leaning forward for a closer look at the view!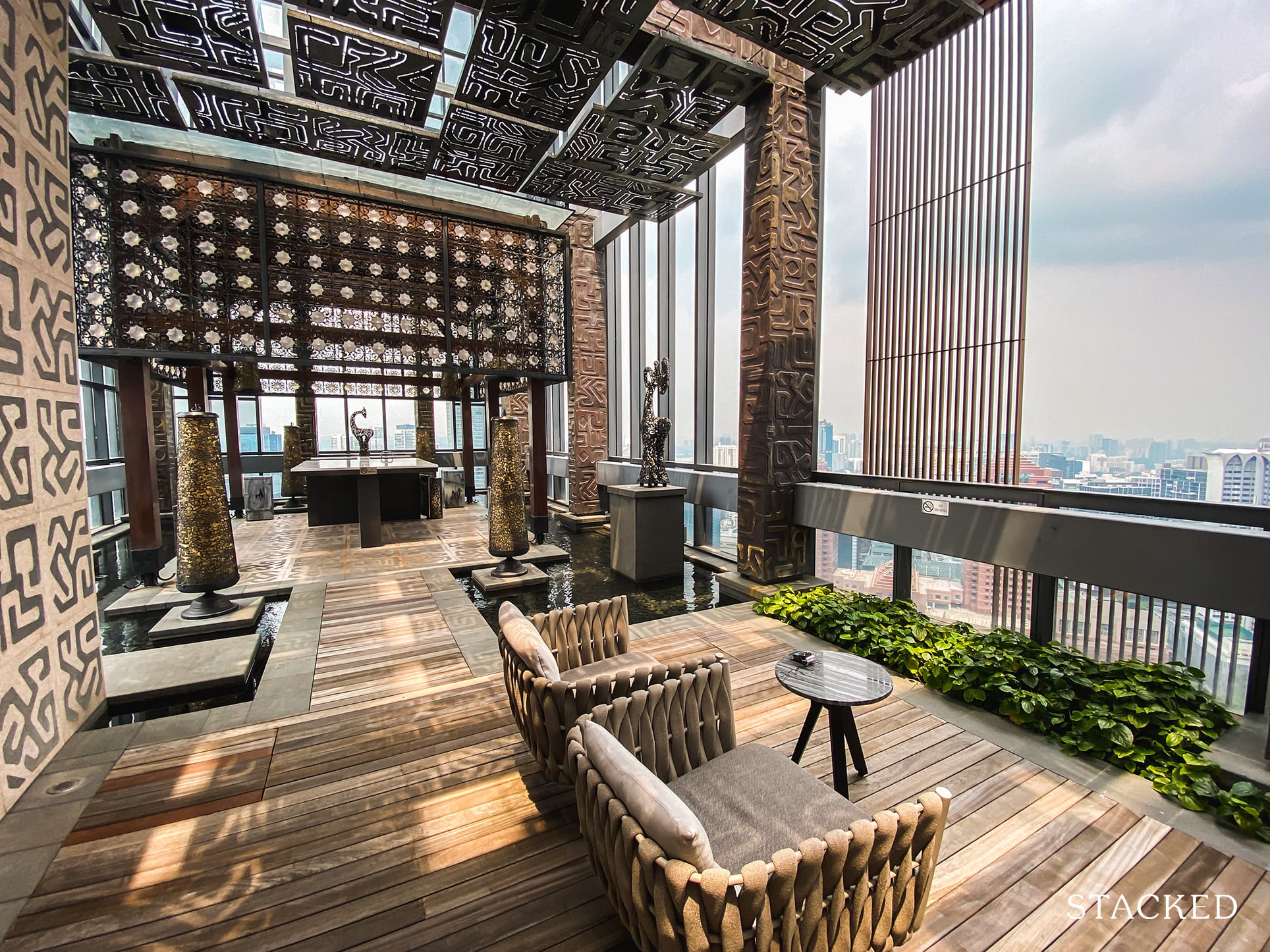 Over at the other corner, you'll find more comfy seating as well as a rooftop dining counter.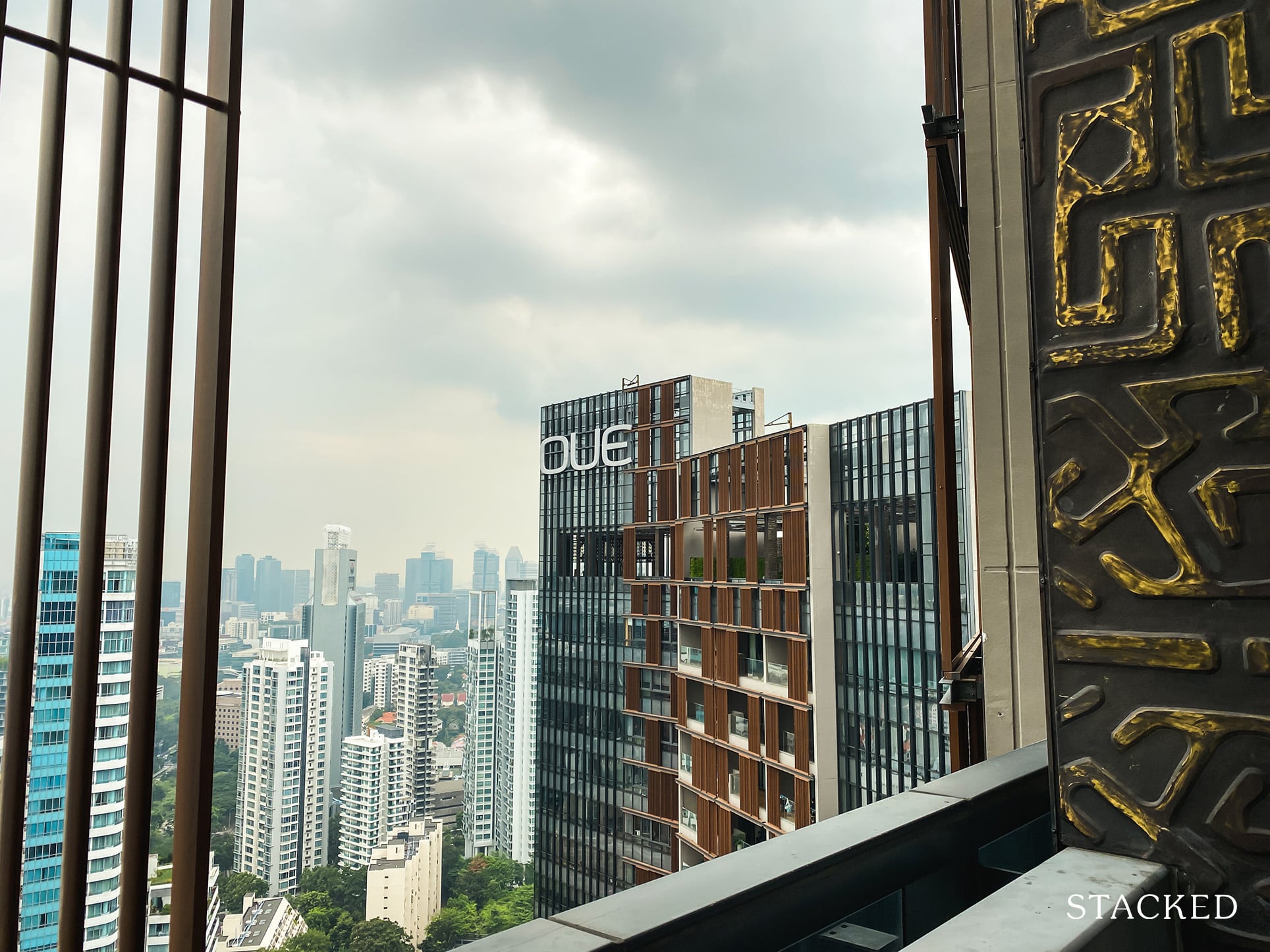 You can view the other tower from here too. Remember, the other tower has the exact identical rooftop garden!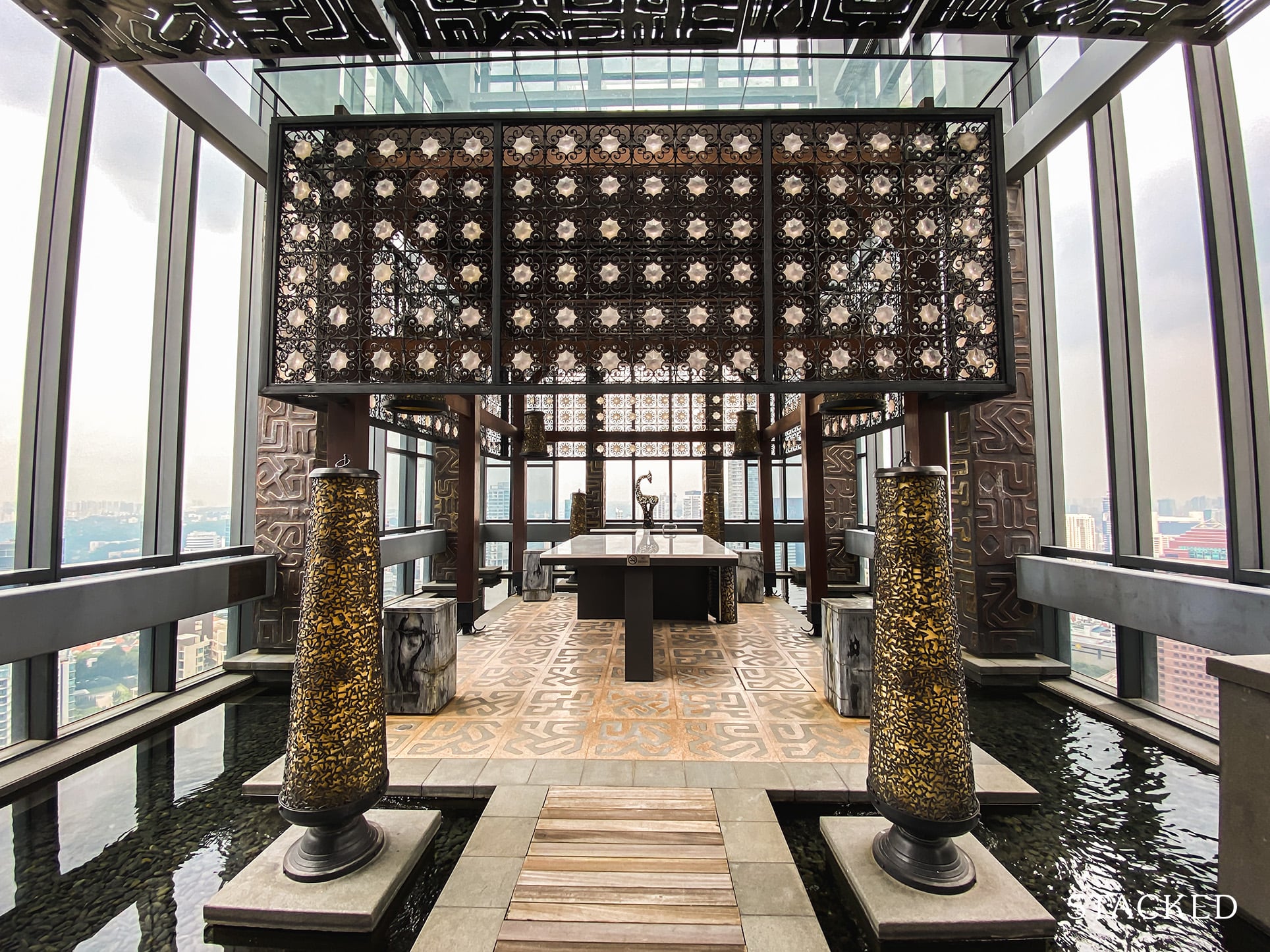 Some people might find the design here to be slightly ostentatious, but you cannot deny that it is truly eye-catching. It's almost as if you are entering a mountain top palace.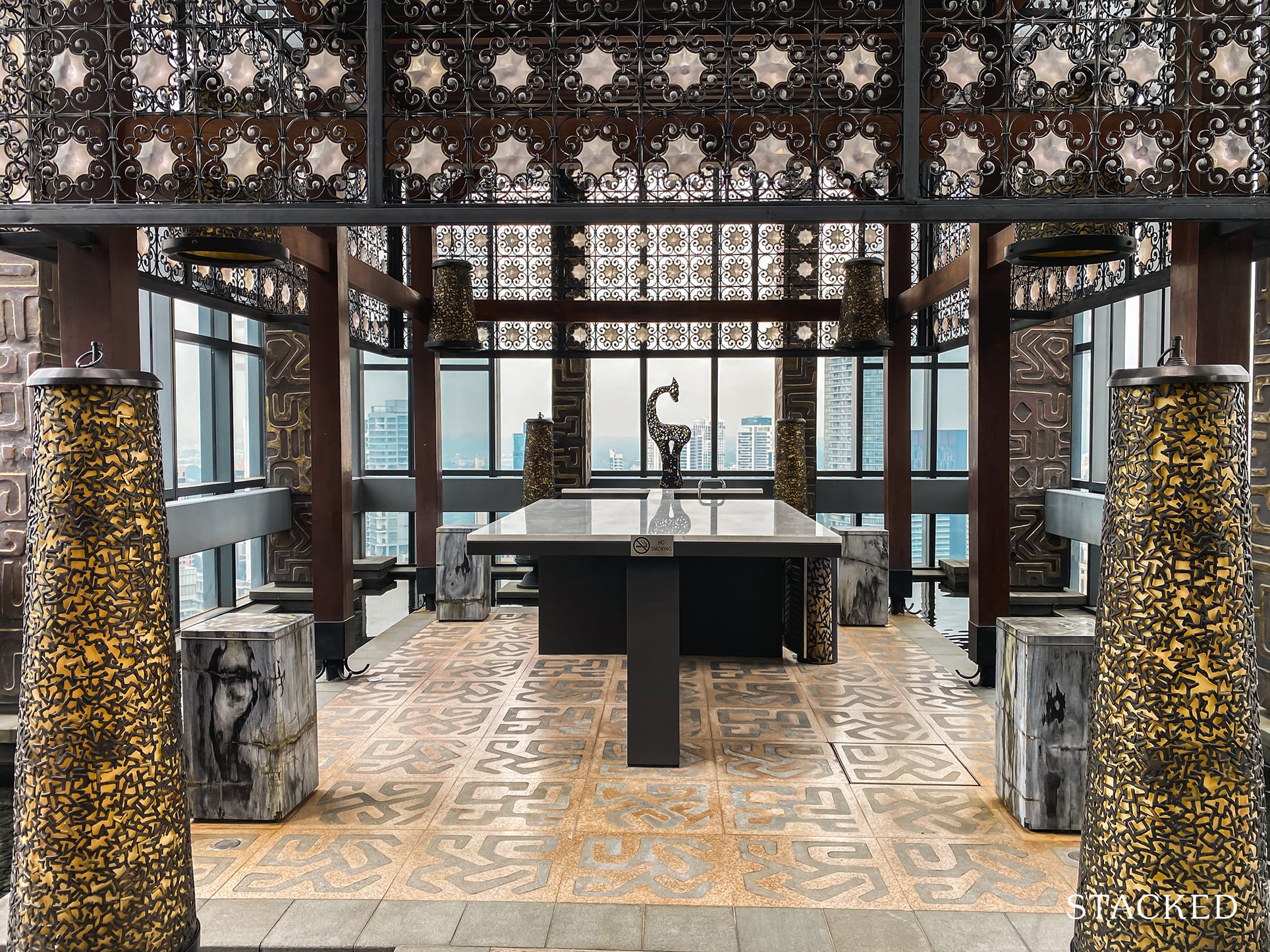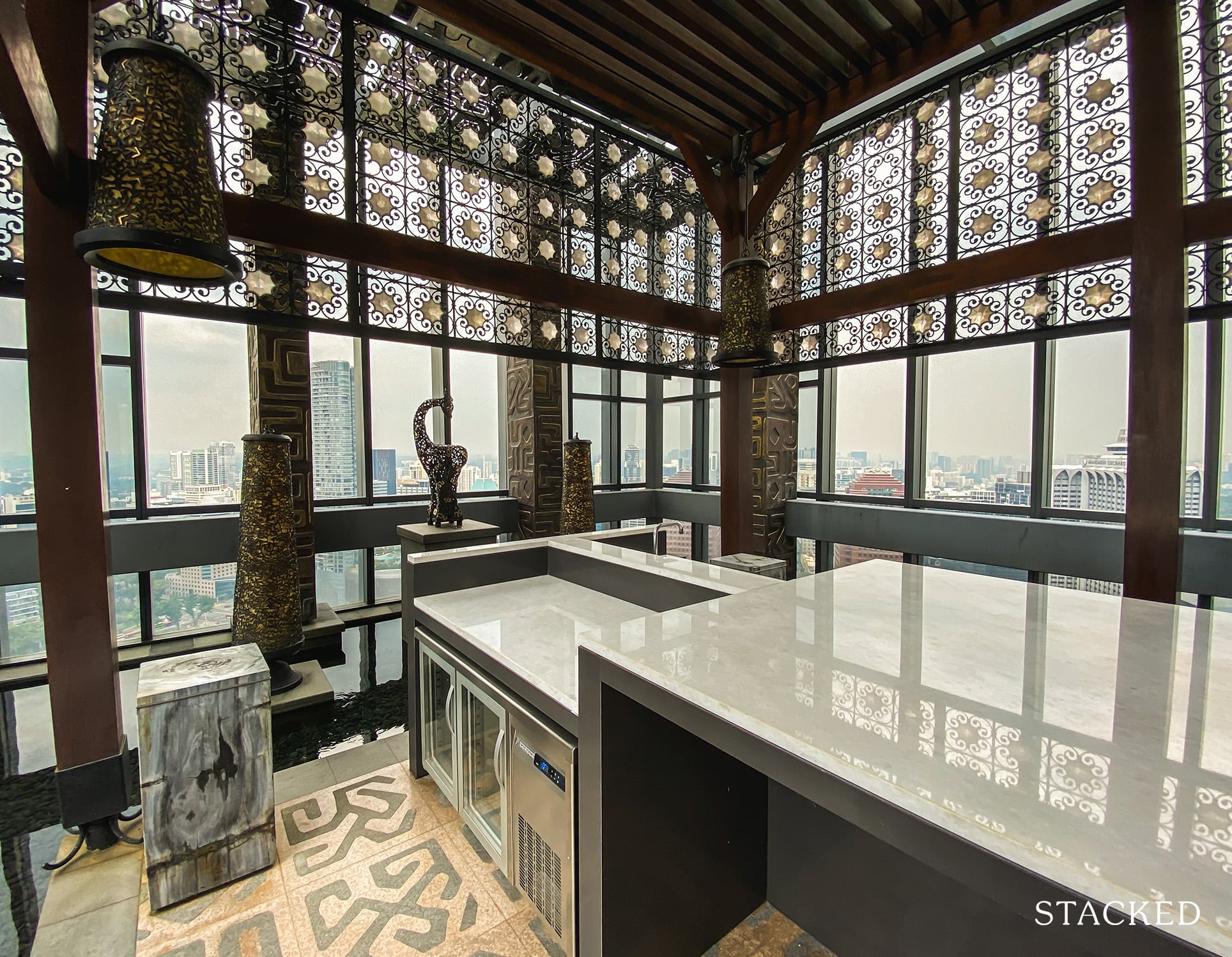 With this almost 360 rooftop view, there aren't many better places to dine in the Orchard area that's for sure! As with all the other dining locations, there's a full suite of cutlery available, with everything washed and tidied up for you after too.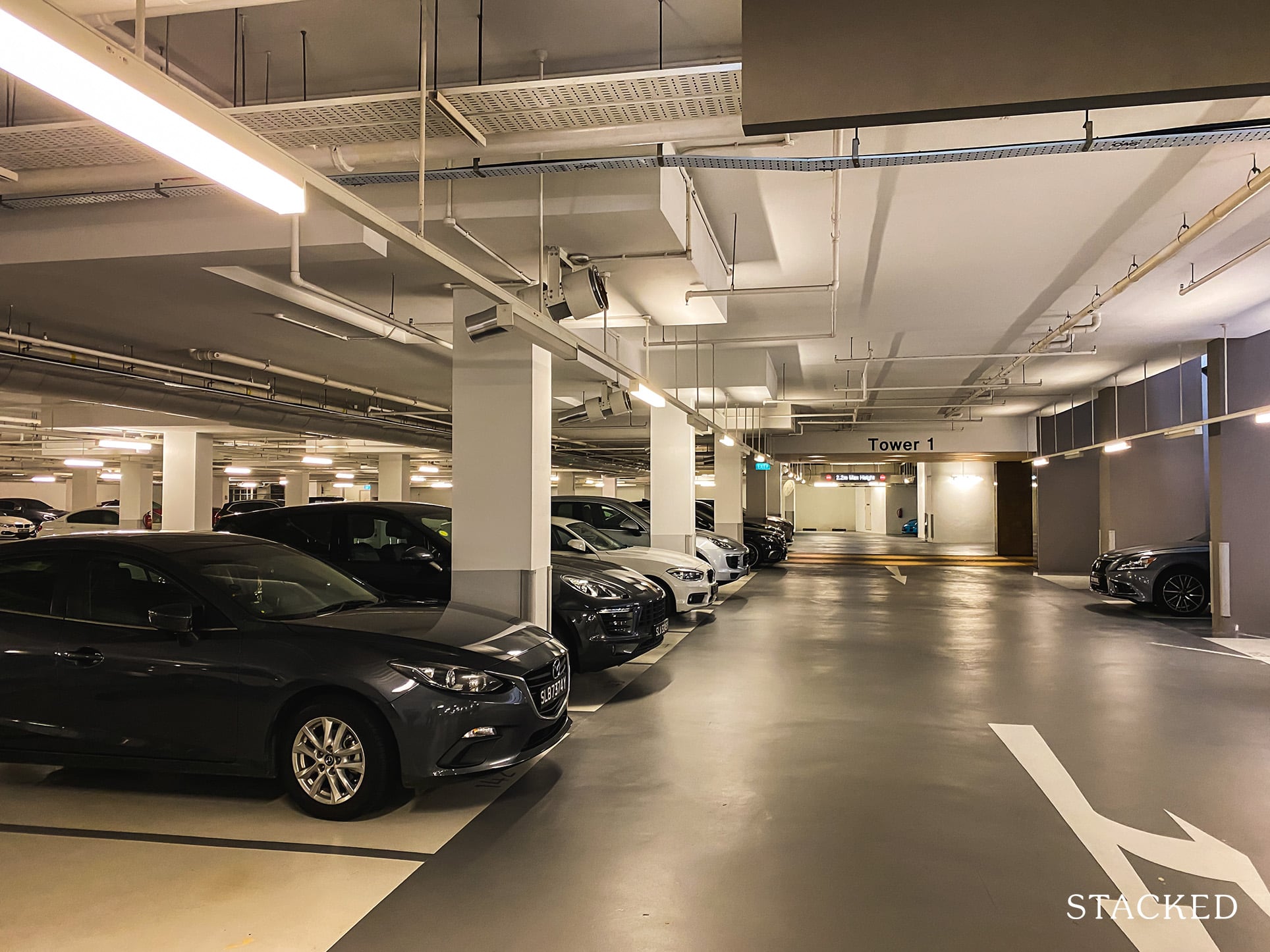 Finally, the tour of OUE Twin Peaks ends at the carpark. There's more than sufficient lighting, and as with most carparks nowadays, the smooth flooring does give it a high-end finish.
OUE Twin Peaks Location Review
Just a stone's throw from the glitzy Orchard Road shopping belt, you'll find the exclusive OUE Twin Peaks nestled alongside the cross junction of Leonie Hill and Grange Road.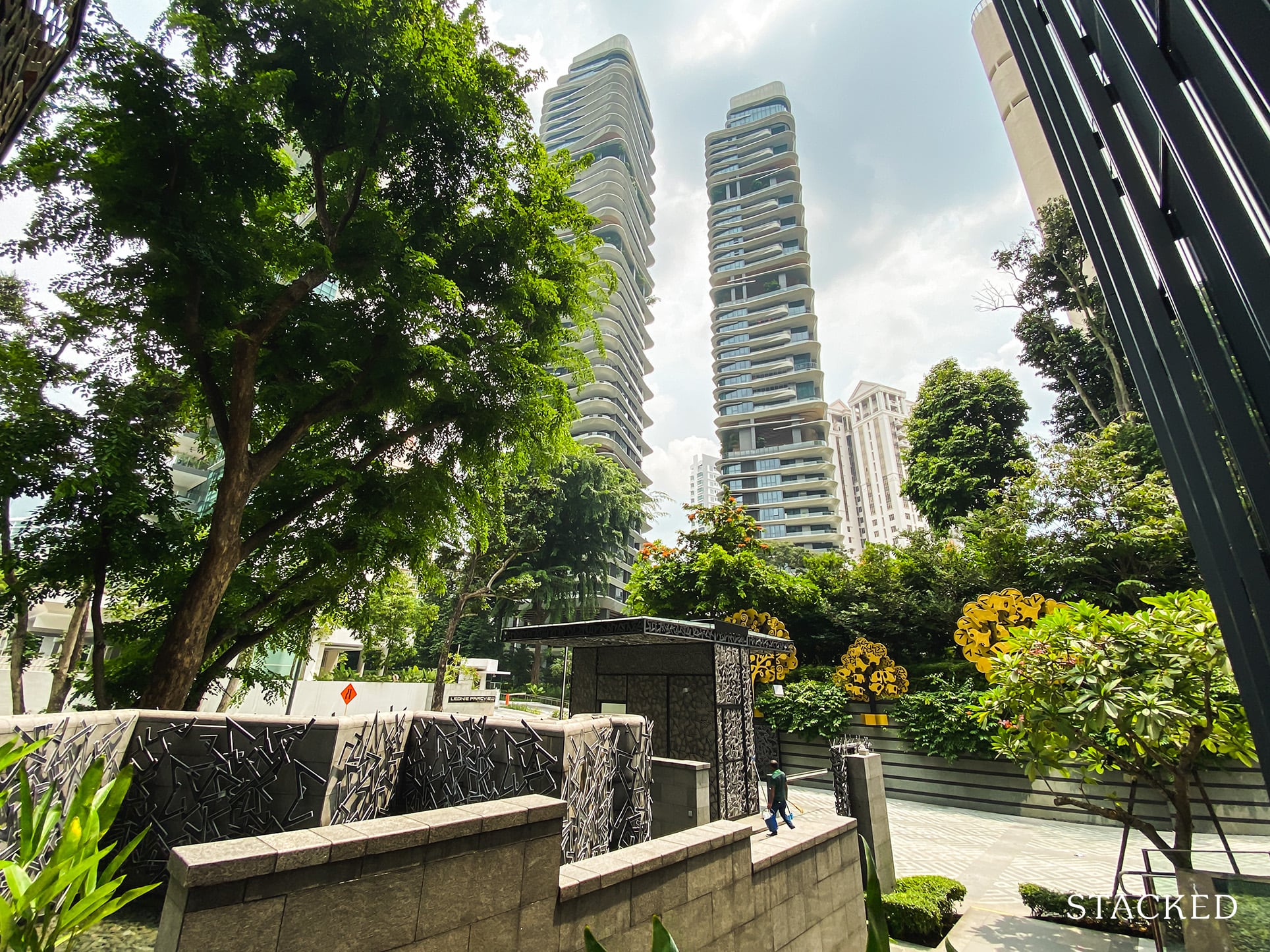 Its closest neighbours include Leonie Parcview, New Futura, The Lumos and Horizon Towers – other esteemed establishments also located in this prime District 9 spot. 
A variety of immediate entertainment and convenience options await residences – amongst which are relatively easy and central public transport access as well as a solid choice of grocery marts.
Transport
| | | |
| --- | --- | --- |
| Bus Station | Buses Serviced | Distance From Condo (& Est. Walking Time) |
| 'Natl Youth Council' | 7, 7A, 14, 16, 36, 36A, 36B, 65, 77, 106, 111, 123, 174, 174e, 175, 971E | 350m, 4-min walk |
| 'Opp Ngee Ann City' | 14e, 124, 128, 143, 162, 162M, 167, 167e, 171, 190, 700, 700A, 972, NR1, NR2, NR3, NR5, NR8 | 500m, 6-min walk |
| 'Bef Zion Full Gospel Ch' | 5, 14, 16, 54, 65, 75, 175, NR5 | 600m, 7-min walk |
| 'Aft Zion Full Gospel Ch' | 1N, 2N, 3N, 4N, 5, 5N, 6N, 14, 16, 54, 65, 75, 175, NR6 | 750m, 9-min walk |
Closest MRT: Somerset MRT – 600m, 7-min walk
For short-term expats (tenant) and those who prefer to save on a private vehicle, you'd be thrilled by the vast number of transport options available here.
Somerset MRT's centrality will also prove extremely convenient to most. For those familiar, it is located a stop from the Circle and North-East Lines (Dhoby Ghaut MRT) and 2 stops from the Downtown (Newton MRT) as well as East-West lines (City Hall MRT).
What's more, the wide availability of Night Ride buses here will cater to those working night shifts or those who are fans of the nightlife and simply don't want to splurge on car-hire services (big ups to you!).
Yes, reaching these stations will require some unsheltered walking time – but hey, working up a slight sweat never hurt anyone!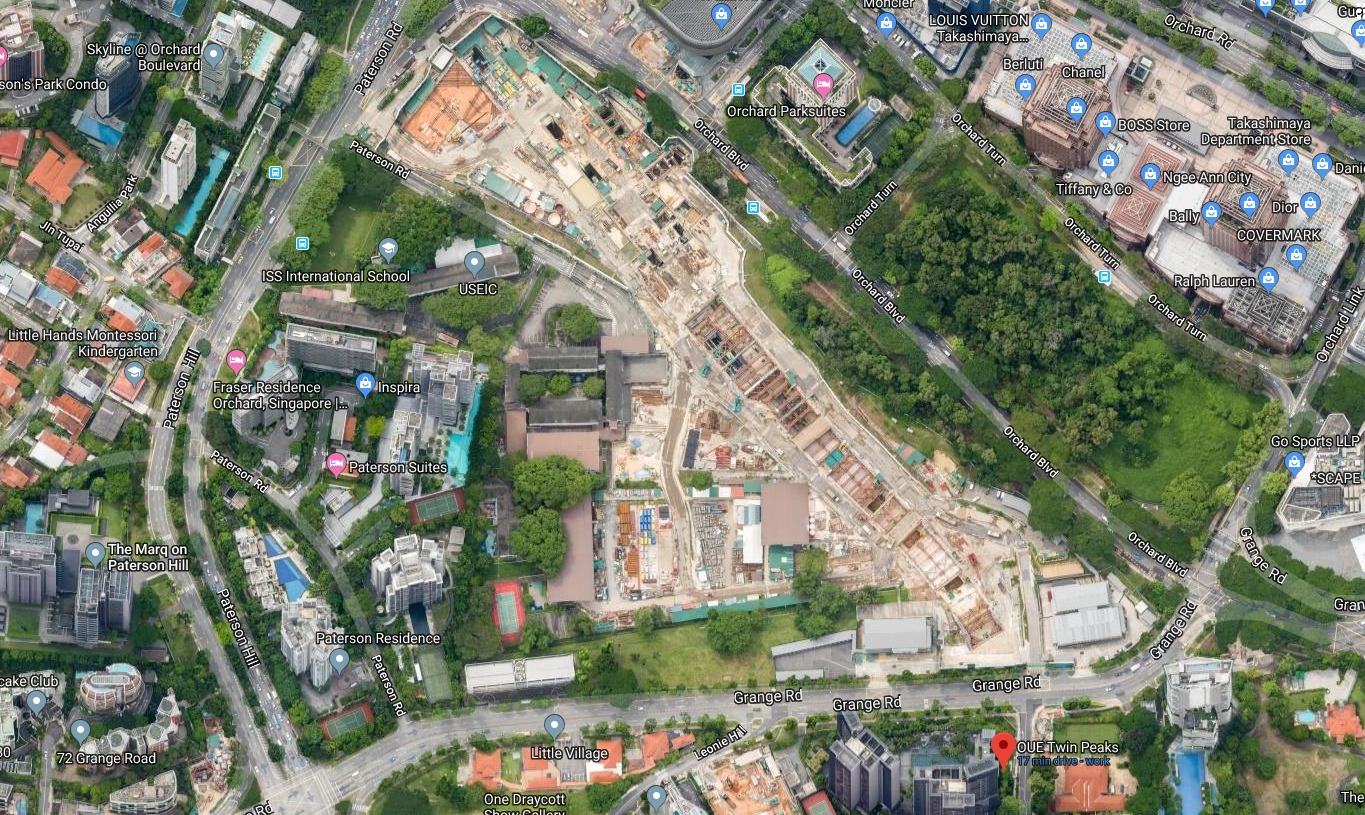 Perhaps the biggest news of all is the proximity of the extended Orchard station (as part of the upcoming Thomson East-Line) to the condo. Located a mere 2-minutes walk from Twin Peaks, it will bring with it a whole new avenue of convenience alongside an unsurprising increase in condo valuation.
Private transport accessibility: Good
| | |
| --- | --- |
| Highway/Major Road | Distance From Condo (& Est. Off-Peak Drive Time) |
| Hill Street | 2.2km, 4-min drive |
| Bukit Timah Road | 2.5km, 5-min drive |
| Jalan Bukit Merah | 2.9km, 6-min drive |
| Nicoll Highway | 3.5km, 9-min drive |
| Farrer Road | 4.1km, 7-min drive |
| CTE | 1.7km, 3-min drive |
| AYE | 4km, 6-min drive |
| PIE | 4.4km, 8-min drive |
| ECP | 5.9km, 10-min drive |
| KPE | 6.5km, 13-min drive |
| BKE | 9.3km, 12-min drive |
Having done some surveying and calculations, the roads that are near to the condo tend to fill up around midday and only ease out at about 10 pm at night.
Now if you've read enough of our reviews, you'll understand that most condos' 'neighbouring one-lane road jams' tend to occur during peak hours.
So why the difference here?
Essentially, the Orchard Road shopping belt is a place for lunchtime endeavours for both students and employees as well as numerous tourists who want to catch some shade from the afternoon sun post morning activities.
This usually results in a clog of car-hires (think Taxis, Grab, Gojack etc.) in the area. Given OUE Twin Peaks' proximity to the area, it naturally renders the condo's immediate roads unavoidable to this hubbub (the number of traffic lights here also tend to make things a tad worse).
To be fair, however, it is an extremely centralised location, and jams aside, it really does provide above-average access to destinations in either direction of the compass.
Groceries
| | | |
| --- | --- | --- |
| Name of Grocery Shop | Distance From Condo (Est. Off-Peak Drive Time) | Distance From Condo (Est. Walking Time) |
| Cold Storage Paragon | 1.5km, 5-min drive | 650m, 8-min walk |
| Cold Storage Takashimaya | 1.7km, 5-min drive | 650m, 8-min walk |
| Cold Storage Centrepoint | 2.1km, 8-min drive | 900m, 12-min walk |
| FairPrice Finest 111 Somerset | 1.3km, 3-min drive | 500m, 6-min walk |
| FairPrice Orchard Grand Court | 1km, 3-min drive | 750m, 9-min walk |
| FairPrice Finest Scotts Square | 2.5km, 7-min drive | 1.1km, 15-min walk |
While our model involves calculating driving times (off peak) to grocery options, it is worth highlighting that given the Twin Peaks' location, you could actually be better off walking to these grocery areas on occasion. Hence, we've also included walking distance and durations for the options above this time around.
It saves on the parking, and it sure as hell beats waiting in a jam!
Also, note that this area is the hotspot of many Singaporeans come the weekends or public holidays, so be sure to plan your trip to the groceries outside of these dates to avoid the crowd.
Shopping Malls
| | | |
| --- | --- | --- |
| Name of Shopping Mall | Distance From Condo (& Est. Off-Peak Drive Time) | Distance From Condo (Est. Walking Time) |
| Great World City | 1.1km, 3-min drive | 1km, 13-min walk |
| Ngee Ann City | 1.4km, 5-min drive | 650m, 9-min walk |
| Far East Shopping Centre | 1.4km, 5-min drive | 1.1km, 14-min walk |
| Paragon Shopping Centre | 1.5km, 5-min drive | 700m, 9-min walk |
| Lucky Plaza | 1.5km, 5-min drive | 800m, 10-min walk |
| Orchard Shopping Centre | 1.6km, 5-min drive | 600m, 8-min walk |
| 313 @ Somerset | 1.6km, 6-min drive | 600m, 8-min walk |
| Wisma Atria | 1.6km, 5-min drive | 750m, 10-min walk |
| Ion Orchard Mall | 1.6km, 5-min drive | 900m, 13-min walk |
| Mandarin Gallery | 1.7km, 6-min drive | 600m, 7-min walk |
| Orchard Central | 1.8km, 6-min drive | 800m, 10-min walk |
| UE Square | 1.8km, 5-min drive | 1.7km, 21-min walk |
| Concorde Shopping Centre | 1.9km, 4-min drive | 1.8km, 23-min walk |
| Tanglin Mall | 1.9km, 5-min drive | 1.8km, 23-min walk |
| Tanglin Shopping Centre | 2.3km, 6-min drive | 1.6km, 20-min walk |
| Forum: The Shopping Mall | 2.6km, 5-min drive | 1.2km, 16-min walk |
| Plaza Singapura | 2.6km, 9-min drive | 1.7km, 21-min walk |
| The Centrepoint | 3km, 8-min drive | 1km, 12-min walk |
There really isn't much need to list the malls here given that most people know what the Orchard Road shopping belt entails. Just out of formality, however, we've listed the fancy ones alongside some of the more major malls just outside the area (though you really don't need them unless your tastebuds fancy diversity – fair enough!).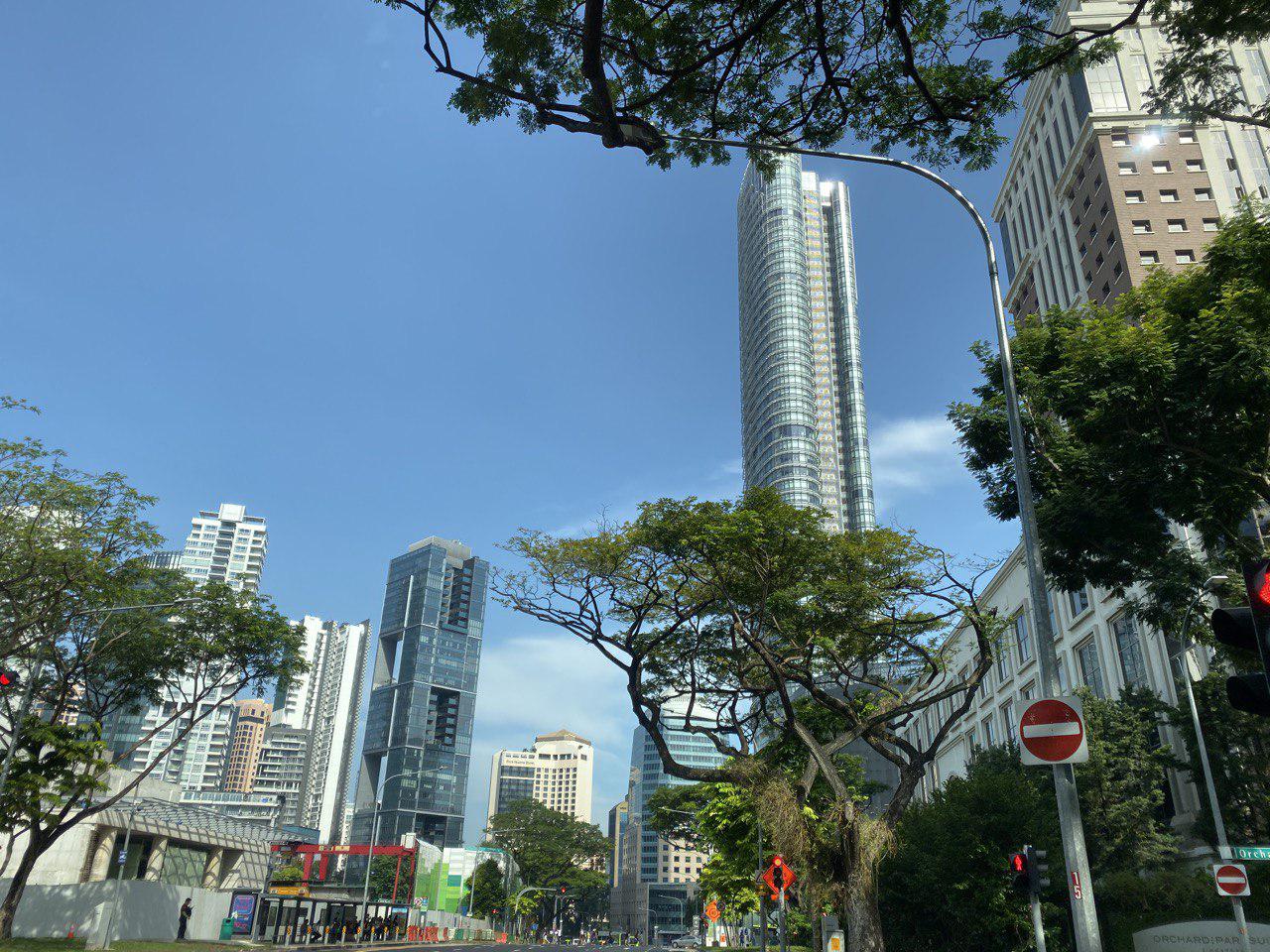 Oh, and we also included walking times to illustrate how walkable these places are (for the most part).
Schools
| | | |
| --- | --- | --- |
| Name of School | Education Level | Distance From Condo (Est. Off-Peak Drive Time) |
| Little Hands Montessori Kindergarten | Preschool | 750m, 2-min drive |
| Cocoro Learning House | Preschool | 1.1km, 3-min drive |
| Odyssey Global Preschool (Orchard) | Preschool | 1.1km, 3-min drive |
| Kay Poh Rd. Baptist Kindergarten | Preschool | 1.3km, 5-min drive |
| MindChamps Preschool (Paragon) | Preschool | 1.5km, 5-min drive |
| Brainy Child Montessori | Preschool | 2.5km, 7-min drive |
| River Valley Primary | Primary | 1.1km, 4-min drive |
| Alexandra Primary | Primary | 2.3km, 6-min drive |
| Zhangde Primary | Primary | 2.8km, 8-min drive |
| St. Margaret's Primary | Primary | 3.5km, 12-min drive |
| Radin Mas Primary | Primary | 3.7km, 10-min drive |
| Cantonment Primary | Primary | 3.8km, 9-min drive |
| Gan Eng Seng Primary | Primary | 4.2km, 12-min drive |
| Stamford Primary | Primary | 4.2km, 13-min drive |
| Anglo-Chinese School | Primary | 4.9km, 13-min drive |
| Farrer Park Primary | Primary | 5km, 14-min drive |
| Blangah Rise Primary | Primary | 5.2km, 14-min drive |
| Nanyang Primary  | Primary | 5.5km, 12-min drive |
| New Town Primary | Primary | 5.5km, 13-min drive |
| Raffles Girls' Primary | Primary | 7.4km, 14-min drive |
| Raffles Girls' School | Secondary | 2.8km, 7-min drive |
| Singapore Chinese Girls' School | Secondary | 4.2km, 10-min drive |
| Gan Eng Seng School | Secondary | 2.3km, 7-min drive |
| Crescent Girls' School | Secondary | 2.7km, 6-min drive |
| Outram Secondary | Secondary | 2.9m, 6-min drive |
| Queenstown Secondary | Secondary | 3.9km, 9-min drive |
| Bukit Merah Secondary | Secondary | 3.9km, 10-min drive |
| Queensway Secondary | Secondary | 4km, 8-min drive |
| Victoria University of Technology | Tertiary | 1.6km, 5-min drive |
| Boston Business School | Tertiary | 1.6km, 5-min drive |
| Duke NUS Medical School | Tertiary | 3.1km, 9-min drive |
| NUS Faculty of Law | Tertiary | 4.2km, 11-min drive |
| MDIS Campus | Tertiary | 4.8km, 11-min drive |
| Catholic Junior College | Tertiary | 5.3km, 12-min drive |
| Hwa Chong Institution | Tertiary | 5.9km, 12-min drive |
| Singapore Management University | Tertiary | 7.1km, 14-min drive |
| Anglo-Chinese Junior College | Tertiary | 7.1km, 14-min drive |
| Eunoia Junior College | Tertiary | 7.3km, 14-min drive |
| ISS International | International/Multi-level | 1.7km, 5-min drive |
| Chatsworth International (Orchard) | International/Multi-level | 2km, 7-min drive |
| Razum International | International/Multi-level | 2.5km, 6-min drive |
| Ascensia International | International/Multi-level | 2.5km, 6-min drive |
As you can see, there is a nice spread of education options across the levels here (pardon the lengthy list!)
We chose to include only the closer preschools given the abundance of them in the area – a relatively common scenario regardless of development.
Unlike the condos situated near these many primary schools, however (which is honestly quite the rarity), we opted to include those that were just outside the 10-min radius, especially given their relative proximity.
The longer drive times to distance ratio are a result of the frequent jams and traffic lights in the area.
Lastly, there are a number of international schools in the area – always a great option for expat parents looking to bridge the gap between Singapore and home. It also appeals to those who prefer that their kids progress through the various study tiers in the same educational organisation.
Additional Pointers
As always, if you're living in the central areas of Singapore, chances are you're close to an embassy. In this case, you'd be within walking distance of 7. An envisioned source of comfort and employment (which technically leads to comfort), they're really just intriguing and culturally quaint developments to have around if all else fails.
District 9/10 is famous for its uptown hotels. Some fancy ones that pop to mind include Mandarin Orchard, Holiday Inn and Concorde Hotel Singapore.
Now we highly doubt that you'd be looking to rent a room here. But if you're into fancy high-tea buffets, just know that they're at your fingertips!
Singapore has long been known as a Garden City – and while its ambitious plans to transform it into a City in a Garden is slowly taking shape, residents at the Twin Peaks can already rejoice in the proximity of the Botanic Gardens, Singapore River and Fort Canning Park to home.
What's more, there is an abundance of streets in the area lined with quaint cafe/bars which come to life at dusk, providing colourful walking content for those who find it up their alleys!
OUE Twin Peaks Development Site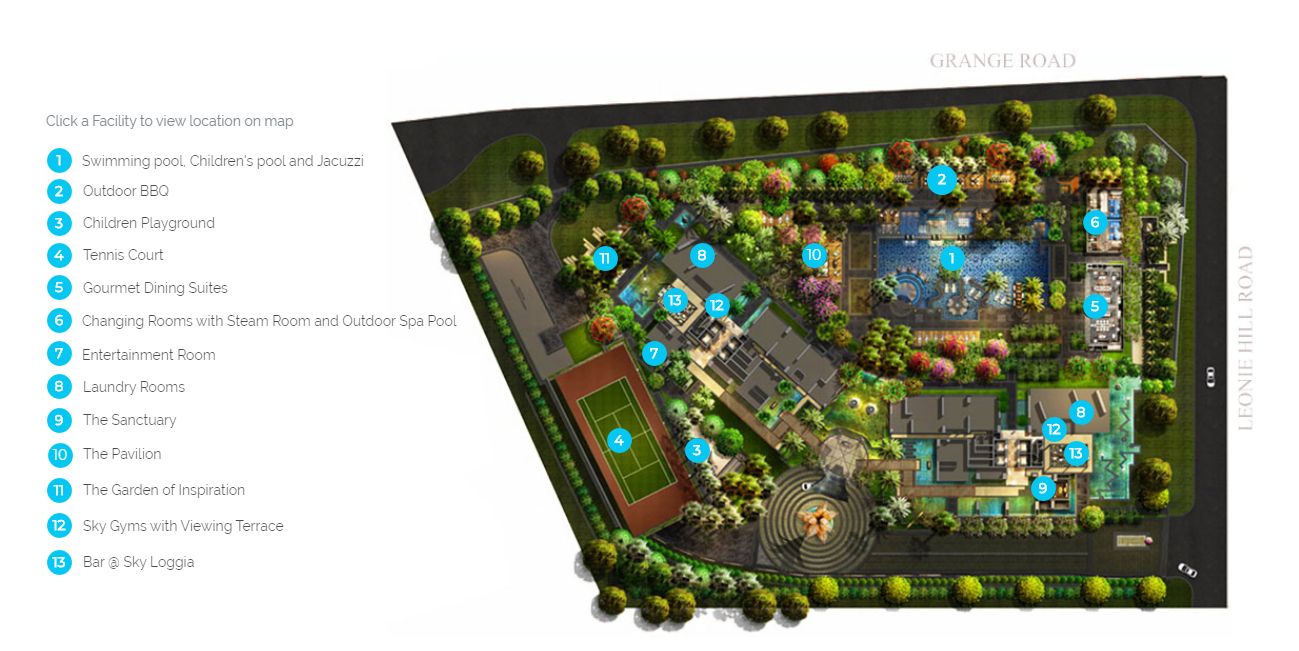 OUE Twin Peaks sits on 130,956 square feet on land. Not the biggest, but definitely way above average when you consider its prime location.
Its residential area to common space land occupancy ratio is also relatively balanced (even if the number of units here do seem somewhat over the top) – an important factor in most luxury establishments.
For those of you who are sharp enough, you'll also realise the single entrance/exit of this 462-unit luxury condo onto the single-laned Leonie Hill Road. Not the most jam-friendly even when you consider a possibly lower quantity of car-owning residents (private car-hires will ultimately substitute them).
Perhaps having the development located adjacent to a cross junction could result in some noise disturbances to the lower levels, though it was a smart move by the developers to position both residential towers more 'inland', behind the foliage shelter.
Best Stacks
Let's check out the unit mix (and cross-section):
| | | | |
| --- | --- | --- | --- |
| Unit Type | Class | No. of Units | Size of Units (sqft) |
| 1-bedroom | A1, A2 | 132 | 549 sqft |
| 1-bedroom | A3, A4 | 136 | 571 sqft |
| 2-bedroom | B | 66 | 1,055 sqft |
| 3-bedroom | C1 | 66 | 1,399 sqft |
| 3-bedroom | C2, C3 | 116 | 1,604 sqft |
| 4-bedroom | C4 | 4 | 1,895 sqft |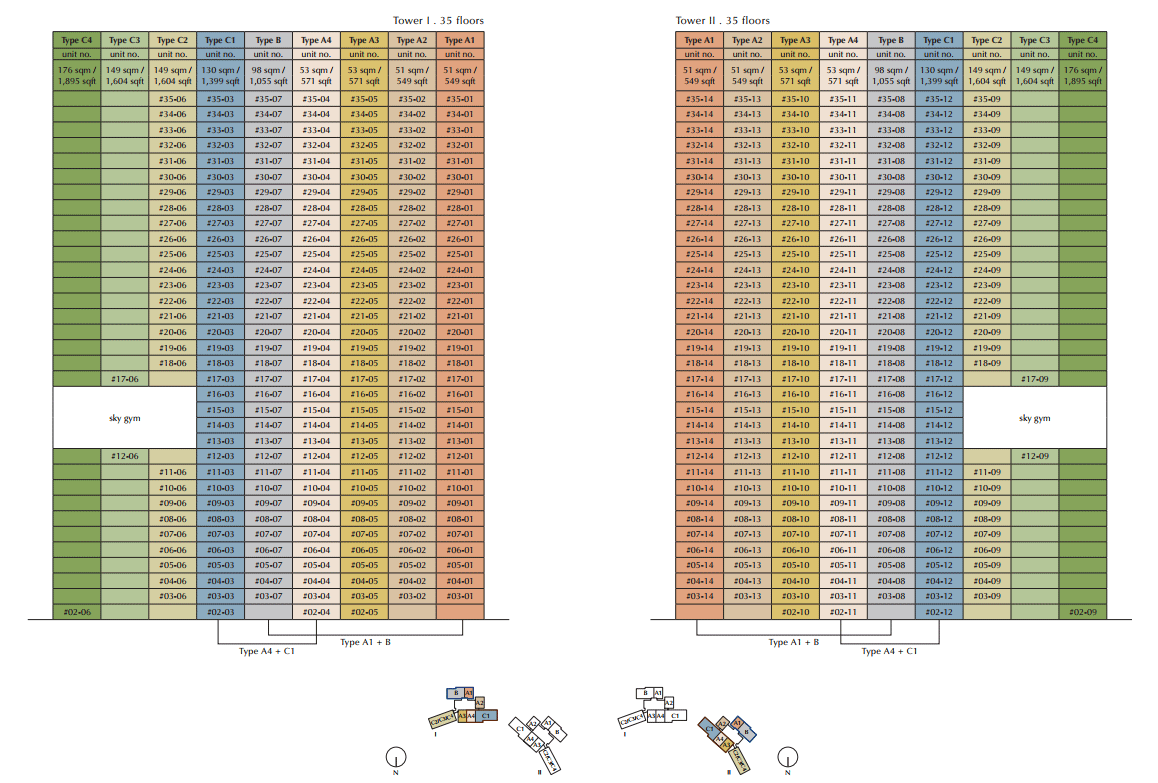 Unit sizes here are extremely attractive especially when you consider the condo's prime location.
The best stacks that we have identified are 3, 4, 5, 10, 11 and 12, with the simple reason that there is no west sun.
If you are looking for a 1 bedroom apartment, stack 10 and 11 would be your best bet seeing as they face down Grange Road towards Orchard Link. Plus because of the MRT extension, you'll always get a nice clear view. Stack 12 is pretty similar and at the same time, the South-West sun will hit the kitchen and toilets which is the most ideal!
For 2 bedroom apartments, stack 7 is one that can be considered despite it facing Horizon Tower as it is not directly opposite plus the distance is quite far.
Floor to ceiling windows are also a refreshing asset in each unit alongside luxury furniture (it's all been set up for you) from the likes of Foscarini, Herman Miller as well as Charles and Ray Eames.
Perhaps the downer in the larger units (2 and 3-bedders) are the bay windows and planter area which do cut out some free space. But at 1,055 square feet and 1,399 (minimum) square feet for 2 and 3-bedroom units, you can tell that we're really just nitpicking at this point.
That and the fact that the master bedroom offers an unfaltering view of the master toilet through its transparent glass outfits. Props to the developer for catering to the kinks of residents… but we're really not going to linger on this topic for much longer (as should you if you happen to be in someone else's master bedroom).
What's more, given the occasional grunts and clangs that come with most exercise enclosures, it could be in your best interest to avoid a unit adjacent to the sky gym.
OUE Twin Peaks Price Review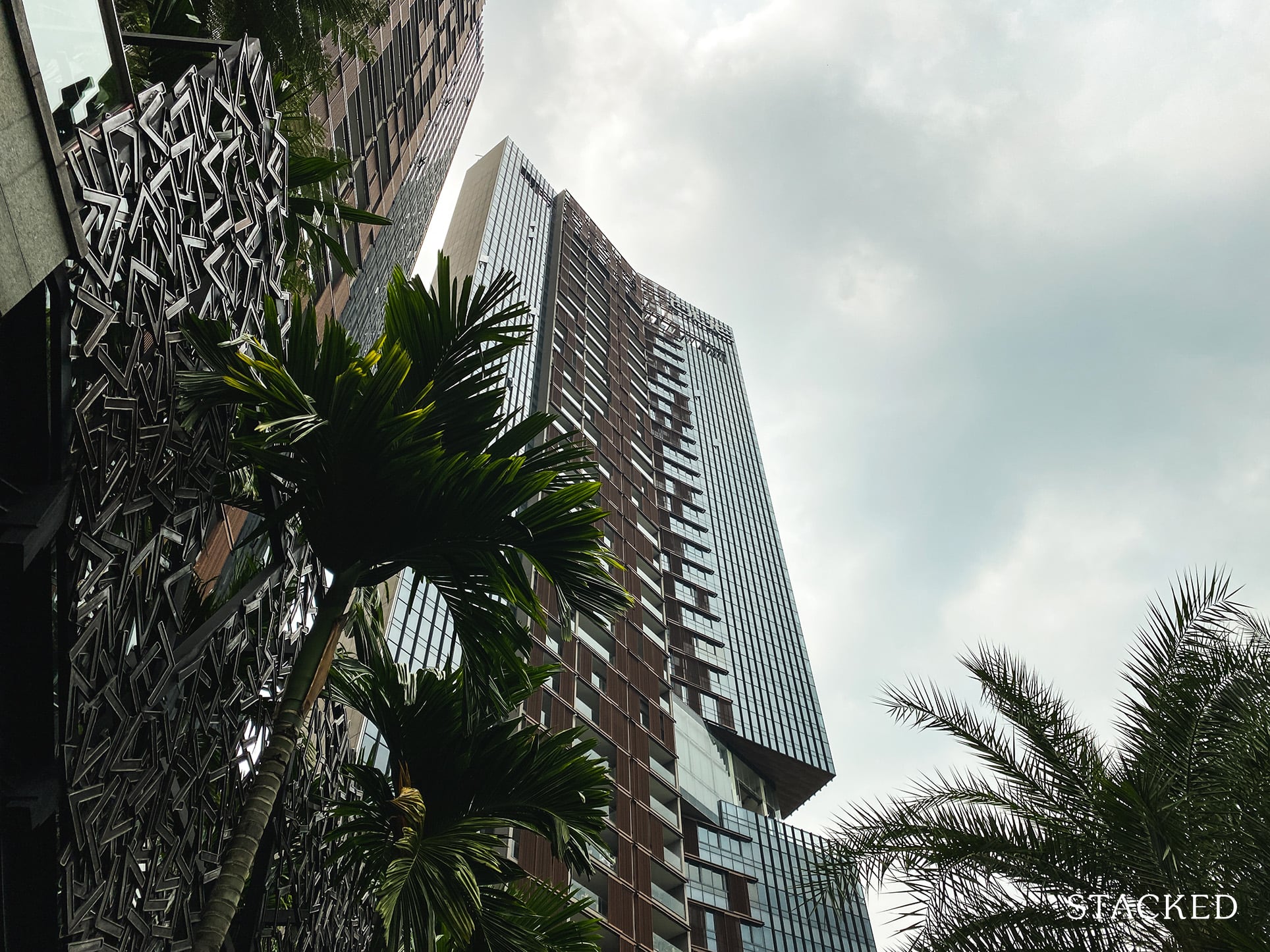 | | | | |
| --- | --- | --- | --- |
| Project Name | Tenure | TOP | Average Price (PSF) |
| OUE Twin Peaks | 99-years | 2014 | $2,341 |
| Horizon Towers | 99-years | 1984 | $1,220 |
| Leonie Gardens | 99-years | 1993 | $1,526 |
| Sophia Hills | 99-years | 2018 | $2,030 |
| Suites at Orchard | 99-years | 2015 | $2,689 |
| Ferra | 99-years | 2018 | $3,224 |
| The Lumos | Freehold | 2011 | $1,795 |
| Devonshire | Freehold | 2014 | $2,273 |
| Leonie Parc View | Freehold | 2009 | $2,332 |
| 8 St. Thomas | Freehold | 2018 | $3,142 |
| New Futura | Freehold | 2017 | $3,583 |
Given the number of freehold neighbours that Twin Peaks has, we decided to source a little further for leasehold condos in the general area with relatively similar TOPs. We've also thrown in a couple of these freehold and aged leasehold neighbours for scale.
As you can see from Horizon Towers and Leonie Gardens, age obviously plays a role in price distinctions. While it might not be noticeable yet, its impact will be increasingly substantial on Twin Peaks as the 99-years roll by… especially since a luxury condo tends to fade in value as its age increases. The abundance of freehold condos around the Twin Peaks will also contribute to its slight devaluation years from now.
For now, however, its relatively 'new' luxury status allows it to command a higher premium than freehold condos Devonshire and Leonie Parc View which happen to be closer to Somerset MRT. 
Furthermore, investors are also currently looking at a period of increased valuation with the Thomson East Line achieving fully functional status as of end January 2020.
In crux, prices in the general area for 99-year leaseholds range from $1,220 – $3,224 while freeholds range from $1,795 – $3,583 on average. OUE Twin Peaks sits right in the middle in terms of the 99-year leasehold quantum range.
*Remember – at the end of the day, age, tenure, luxury status and proximity to MRT are just some of the many factors that determine a condo unit's price-tag and possible appreciation/depreciation trends. It is therefore always important to consider as many of these factors as possible to make sure that:
You receive the best value on a property for the price you pay.
You are always in the know of trends related to your property's profit returns.
Our Take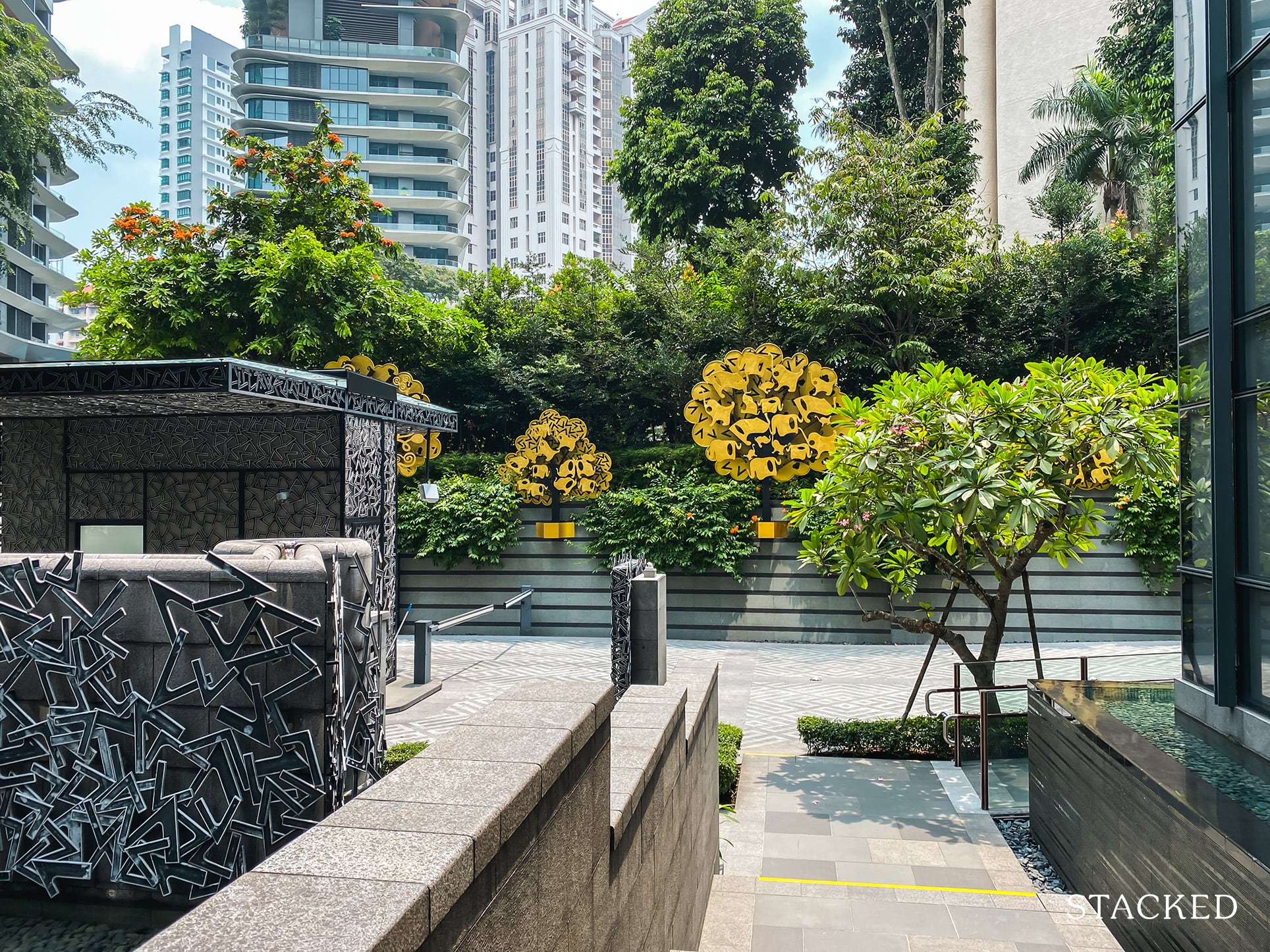 People love luxury, and I'm really no exception.
Still, I've always enjoyed the ability to customise these luxury options myself. For those who lack the time and effort however, OUE Twin Peaks is definitely for you with its already present luxury furnishings.
Admittedly, its location is hands-down incredible from the transport, education and entertainment sectors. The architecture of the towers and intricacies of the little statues and designs also very attractive at face value.
Considering the 99-year leasehold, its quantum also does seem relatively high. But really, if you think of the OUE Twin Peaks as a branded luxury development, you'll understand why it is at this certain price point. Just as how luxury branded goods from Prada have a price premium because of the brand, so does the OUE Twin Peaks (being designed by the famous Bill Bensley). Luxury buyers who value uniqueness and design are very willing to splurge, and this is one such development.
Whether it can stand the test of time however remains to be seen. With this amount of sculptures and fixtures, maintenance costs will definitely go up as it ages. For an icon such as this let's just hope it ages well!
What this means for you
You might like OUE Twin Peaks if you:
• Greatly value luxury with design:The incredible architecture on display here features works from renowned Bill Bensley so you can expect designs of elite standards.
• Frequent the Orchard Road Shopping Belt:The condo's prime location is one of the main factors to its high premium and rightly so for those who love the belt!
You might not like OUE Twin Peaks if you:
• Are on a strict budget:The Twin Peaks' high quantum is simply too unattractive for those who are not willing to splurge.
• Are looking for long-term investment potential:A 99-year luxury leasehold property surrounded by freehold condos is bound to devalue at a slightly faster rate past a certain time frame.
End of Review