46
min read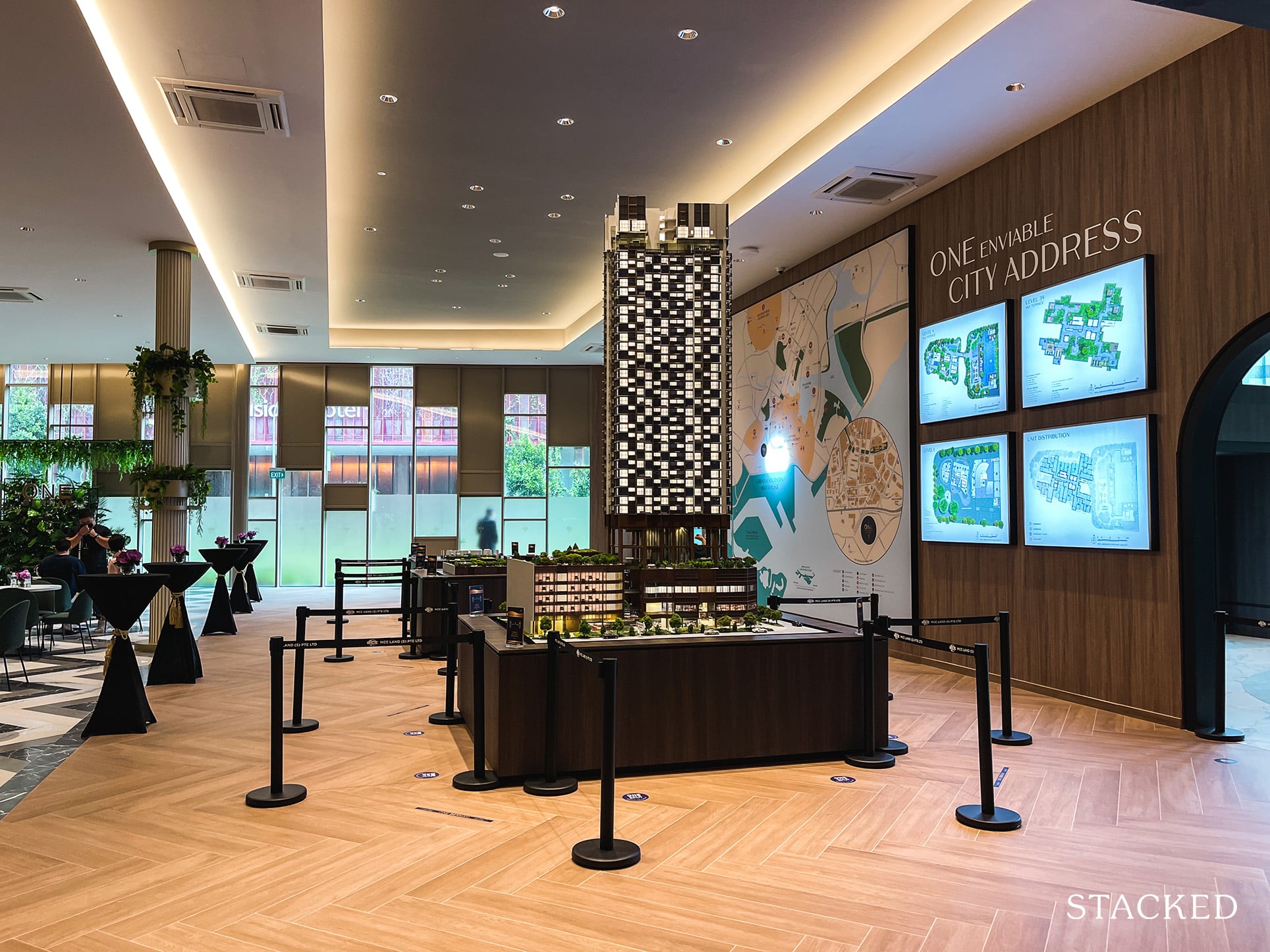 A CBD condo that's near both the MRT and a mall
One Bernam's strategic location in the CBD makes it a strong contender for those who work in the area, but not necessarily families looking for a tranquil place with varied schooling options.
| | |
| --- | --- |
| Project: | One Bernam |
| District: | 02 |
| Address: | Bernam Street |
| Tenure: | 99-year Leasehold |
| No. of Units: | 351 Residential + 13 Serviced Apartments |
| Site Area: | 41,400 sqft |
| Developer: | Hao Yuan Investments |
| TOP: | 31 March 2026 |
Unless you are a new launch condo aficionado, you may not quite be familiar with where our project of discussion today is located at.
So to kick things off, One Bernam is a 351 unit development located in District 2, Tanjong Pagar.
It was one of the 3 Government Land Sales (GLS) sites up for tender in September 2019 (the other 2 being the current Midtown Modern and One-North Eden). You could say that it wasn't a hotly contested site as it drew just 4 bidders, with the final top bid of $440.9 million by Chinese developer Hao Yuan Investments (MCC Land has a 30% stake in the development).
But therein lies its supposed attractiveness, as these 3 plots were all bought during a time where developers didn't seem too keen on expanding their land banks as it was just after the 2017/2018 en bloc frenzy.
And while there have been many recent new launches in the CCR recently, One Bernam does stand out as there has not been a new launch project in Tanjong Pagar since the Wallich Residence in 2013. Although you should know that the freehold Sky Everton is not too far away.
With its slightly bigger than average unit sizes (especially for the 2/3 bedroom units), will One Bernam be a good choice for those looking for an own stay option in the CBD?
Well, let's head to our usual Insider Tour to find out.
One Bernam Insider Tour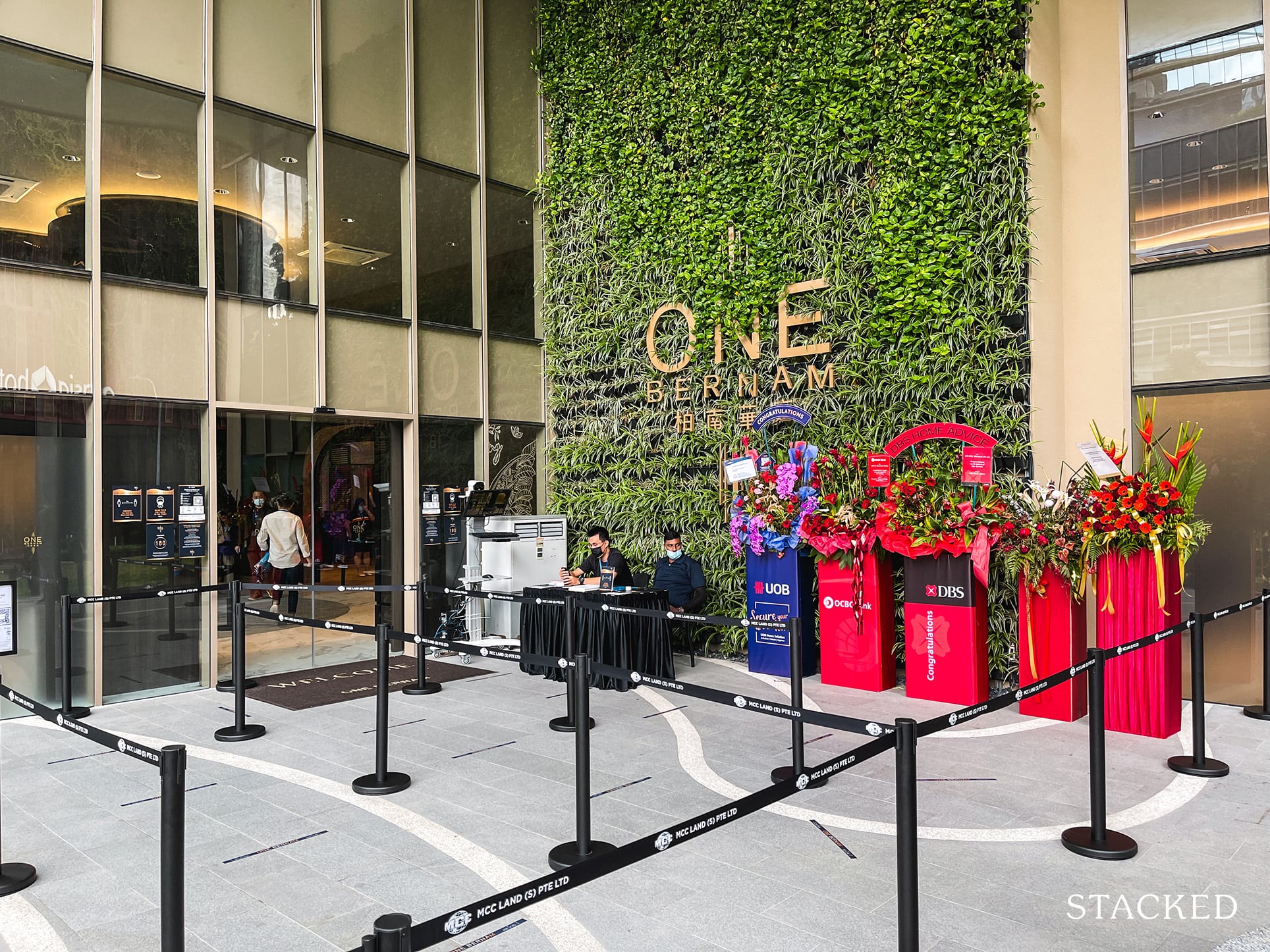 The One Bernam showflat is located not on the actual site, but just a short walk away as it is just opposite Guoco Tower (where Tanjong Pagar MRT is at).
While it's always preferable to be at the actual location, this is definitely the next best alternative. You are able to explore the walk to Tanjong Pagar MRT or to the upcoming Prince Edward Station on the Circle Line. It's certainly near, but neither would be a sheltered walk.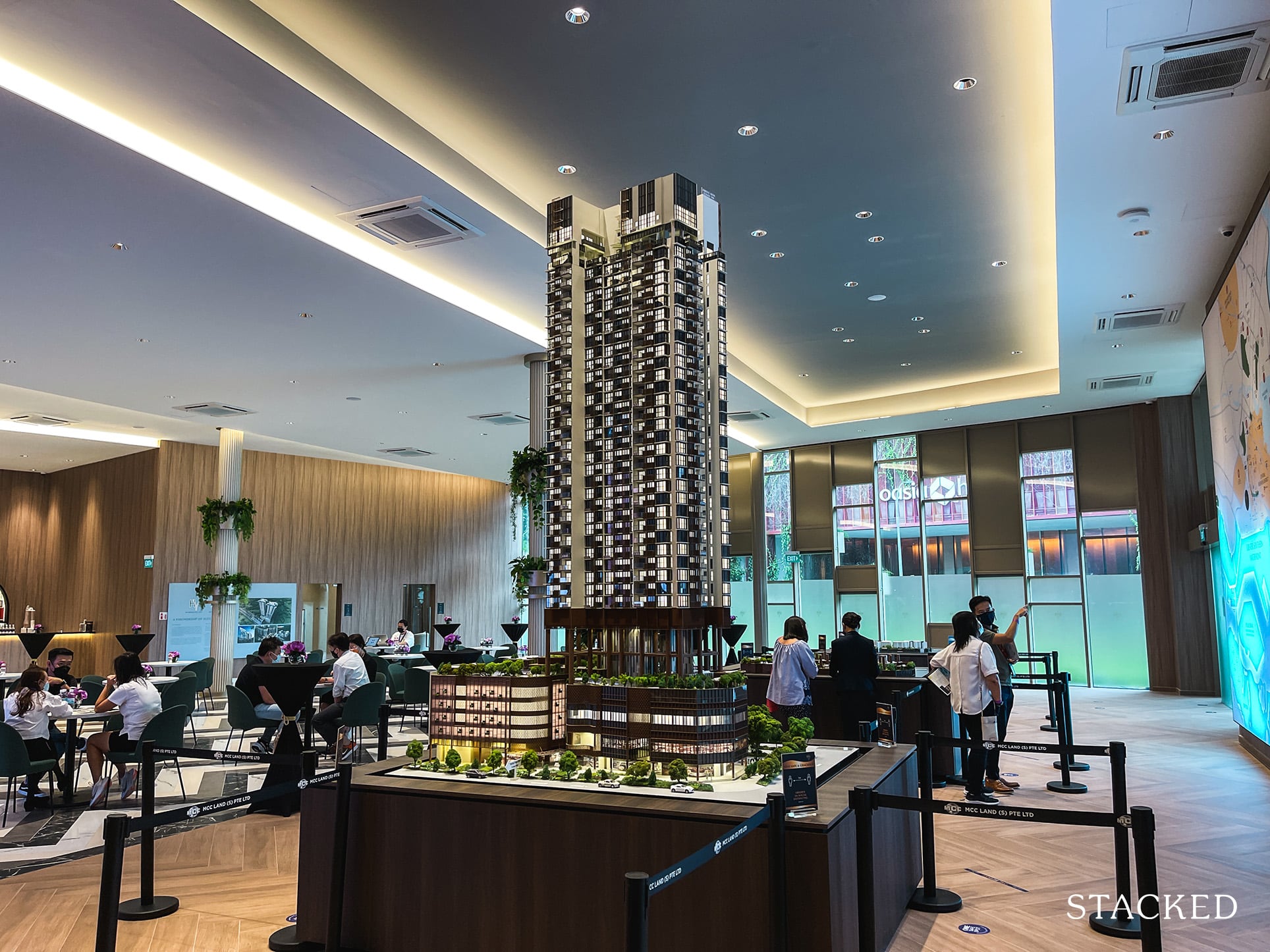 So One Bernam is located along Bernam Street (where its name undoubtedly came about). It is also situated along Enggor Street, but you can obviously see why Bernam was the pick of the two (One Enggor, anybody?).
And while One Bernam is in the CBD, it is actually in what I would define as the more residential area of Tanjong Pagar. 76 Shenton, Altez, Skysuites @ Anson, and Onze @ Tanjong Pagar are all its closeby neighbours. You do also have a number of hotels nearby too – Amara, M Hotel, Carlton City, and Oasia Hotel. So yes, nowhere near as corporate feeling as Raffles Place itself.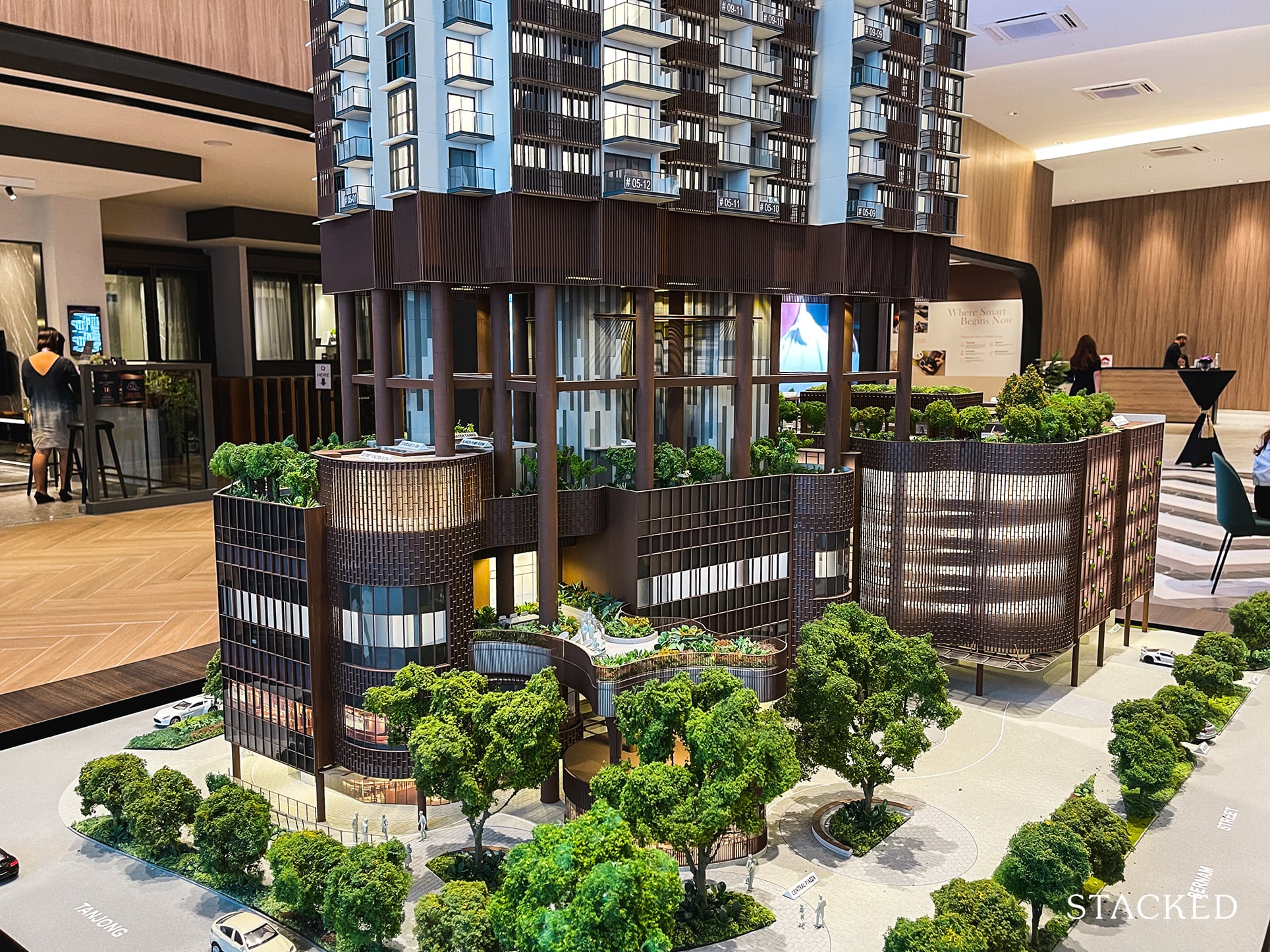 As I mentioned in my introduction, One Bernam was not a popular GLS site, with just 4 bids tabulated for the land. HY Realty won with a bid of $440.9 million, which is a nearly 9 per cent increase over the second bid of $405 million.
There are two ways to look at it here. Positively speaking, less competition means an overall lower than expected price – which could translate to a more affordable launch price.
So judging from such a price, the estimated breakeven would be around the $2,100 – $2,200 psf mark – hence the indicative starting prices of $2,3xx psf (for the 3 bedroom units).
On the other hand, if you want to be negative about it, it could be a sign that this plot isn't really that attractive as a whole.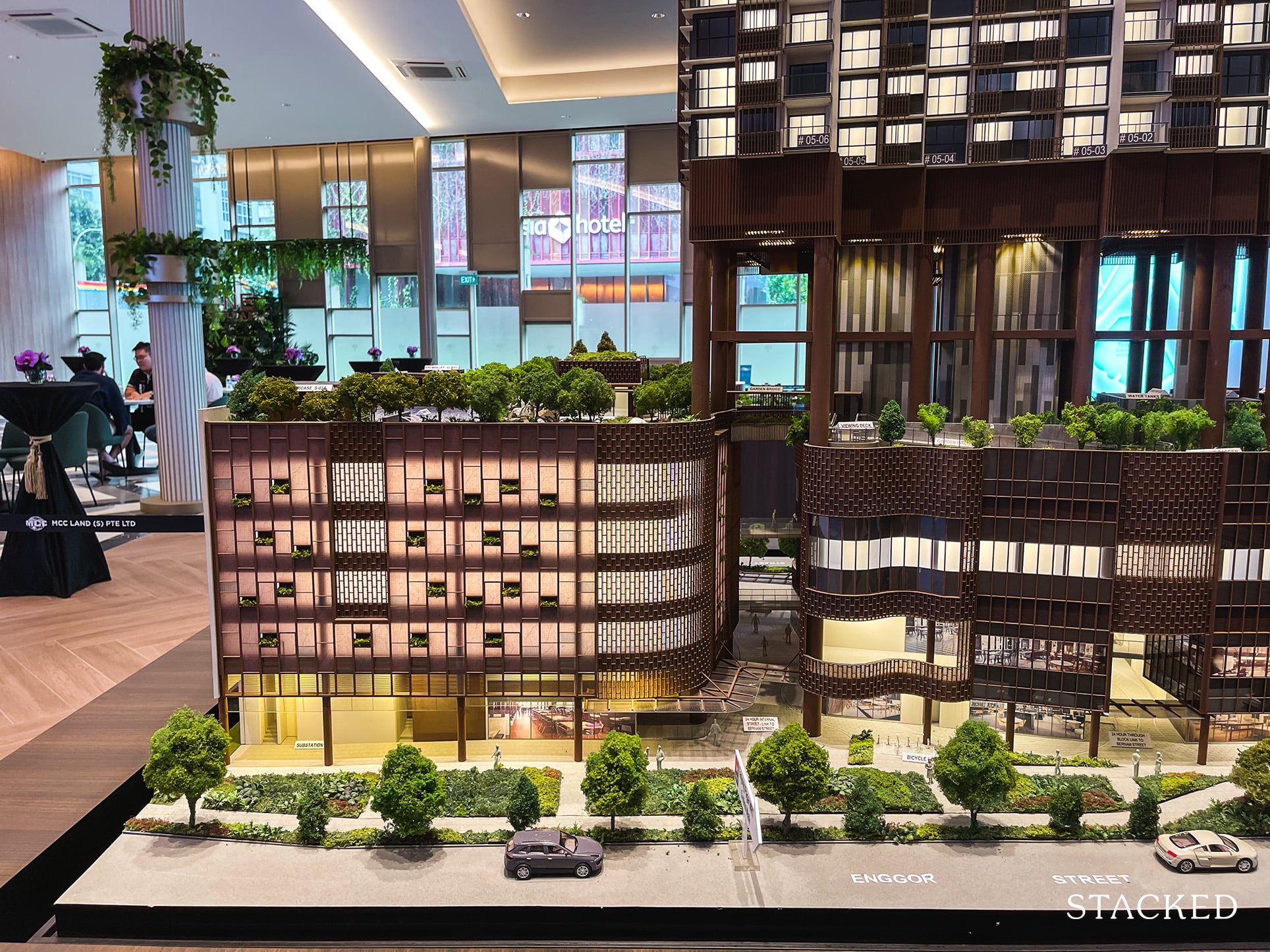 But there are a couple of things going for it, however, one of which is the introduction of the CBD Incentive Scheme. In a bid to encourage more of the live/work/play concept in the CBD, sites in certain areas are allowed to increase their previous GPR by up to 30 per cent if the development turns into a residential one with a commercial component on the first floor.
This means that One Bernam will now be a mixture of 351 residential units, 13 serviced apartments, and a retail component of 15,726 square feet in size.
And while the jury is still out on if the developer is able to curate a good mix of shops, this is without a doubt a much better option than if it was strata owned.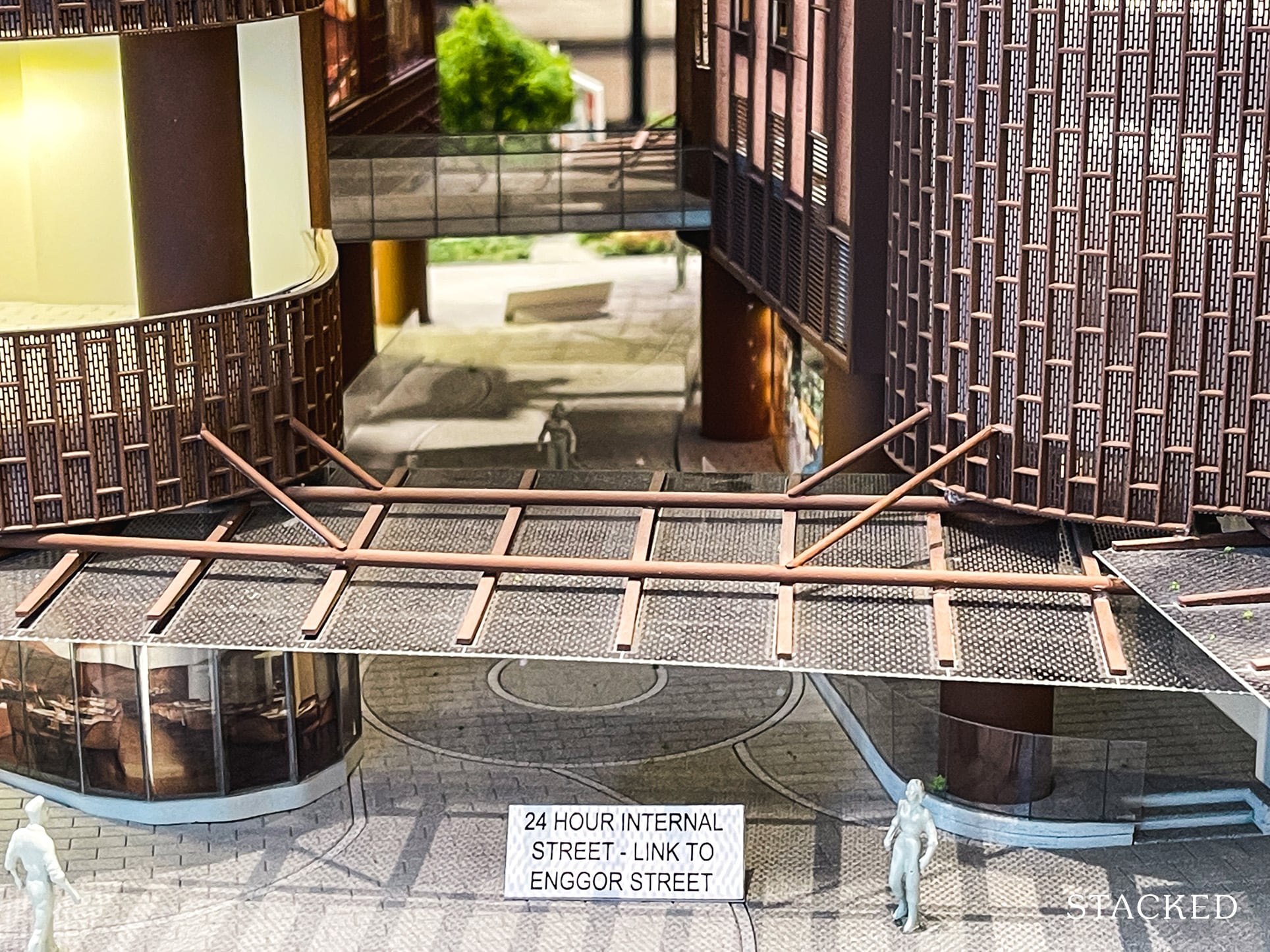 Much like what you've seen in similar concepts like One-North Eden or Midtown Modern with shops at your doorstep, anyone can walk in and about the first level of the development. Some people might feel a certain loss of privacy as it isn't your traditional gated compound with security, but I think in the context of the rejuvenation of the CBD to be a vibrant place even after office hours and on weekends – I do think it makes a ton of sense.
Note that Realty Centre next door was bought at $148 million in April 2019 (earlier than One Bernam). Along with plans from CDL to redevelop Fuji Xerox Towers (across from One Bernam) to a 51-storey mixed-use commercial, residential and serviced apartment tower, both neighbouring structures will certainly add even more lifestyle options in the future for residents.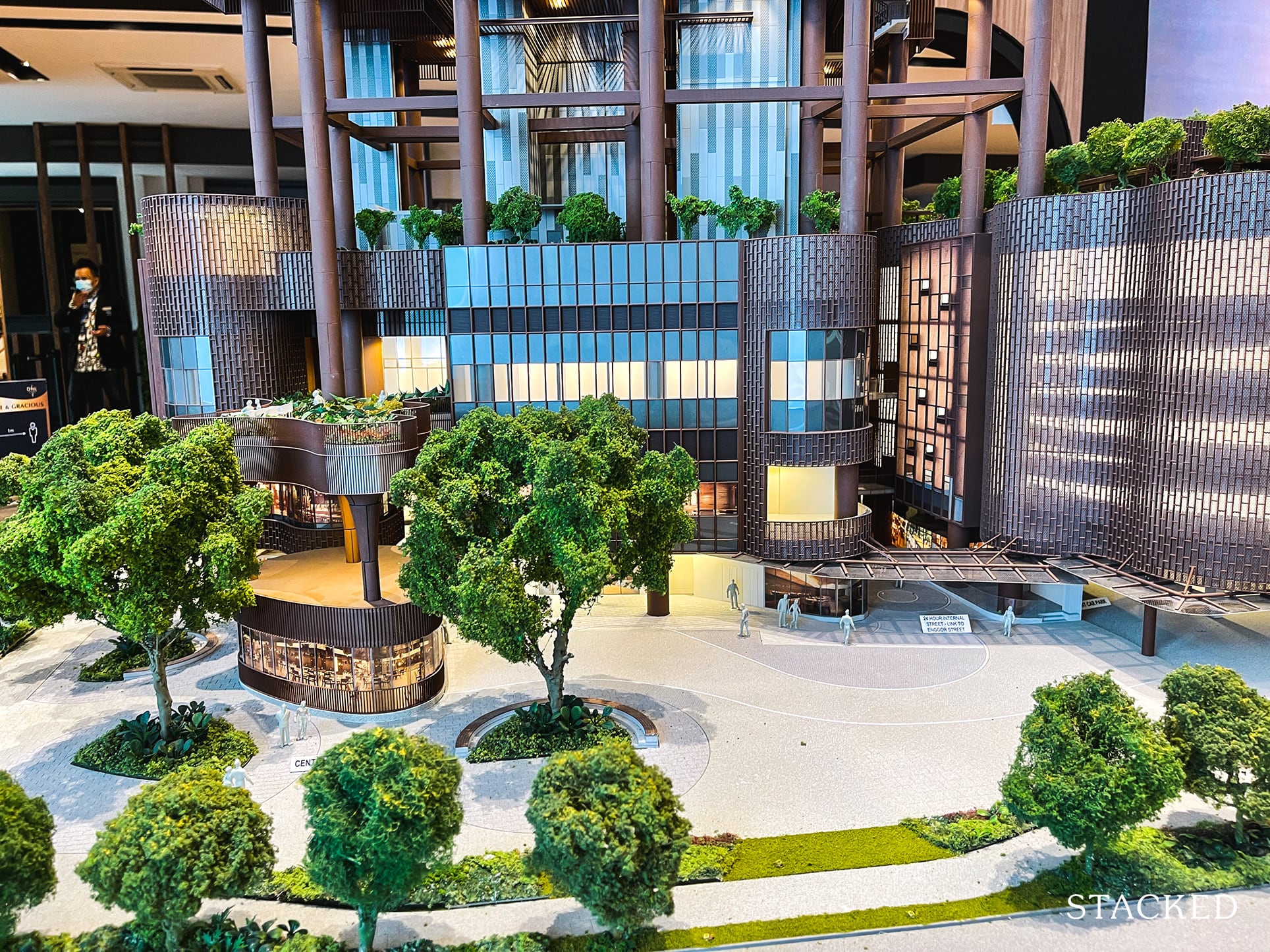 One Bernam sits on a land size of 41,400 square feet, which isn't big, but to be expected in an area such as this. One good point here is that the residential component starts from the 5th floor (which is already 40 metres up), so even the "ground" floor units will enjoy an elevated view over the area.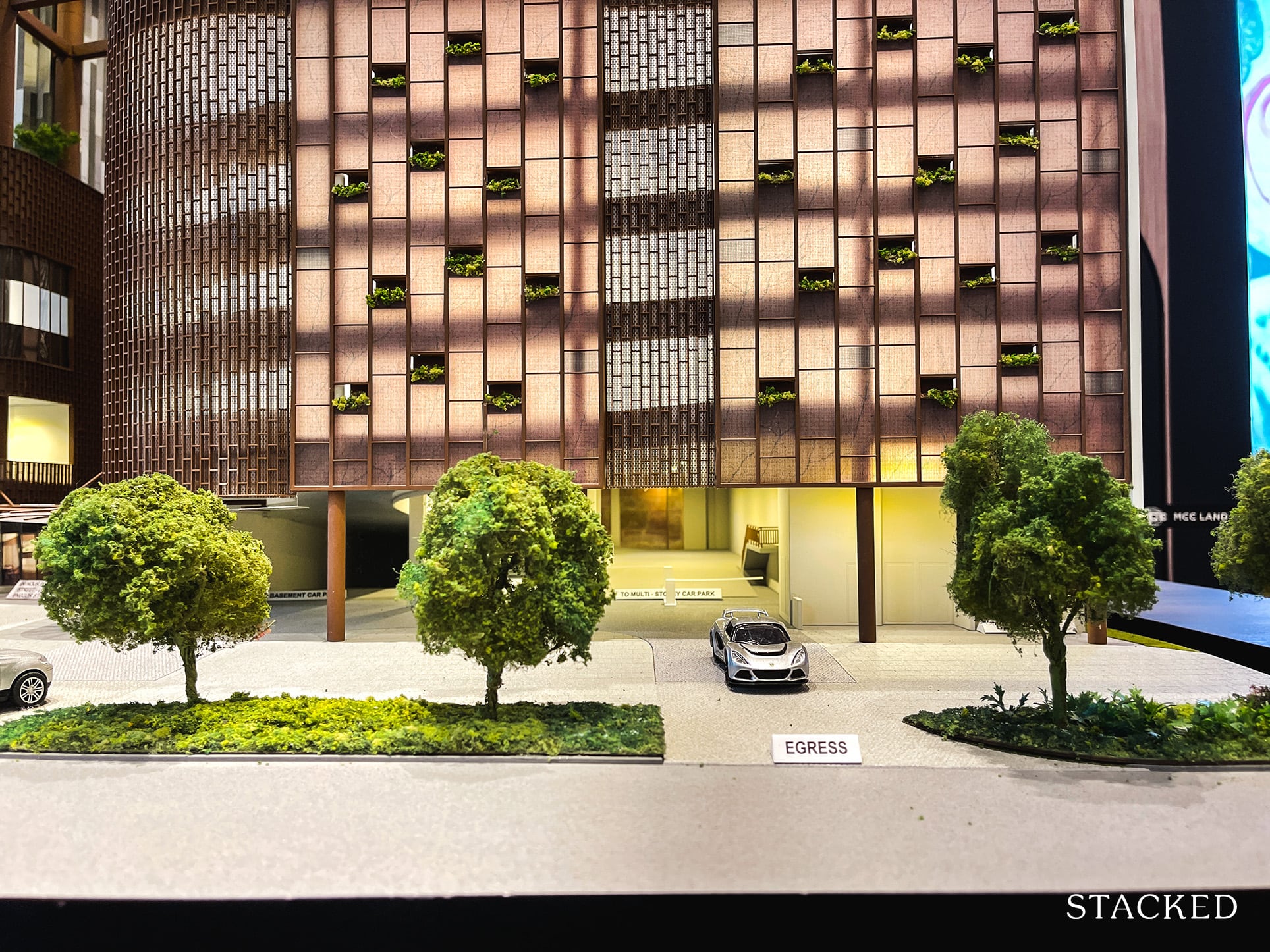 There will be both basement and multi-storey carpark available at One Bernam, but it does offer only 178 lots (6 are reserved for the penthouse units). While that doesn't reach the magical 1:1 ratio, I wouldn't worry too much given that the one and two bedroom units here make up 91% of the unit mix.
Plus its convenient location to 2 MRT stations and walking distance proximity to many offices – I sincerely doubt many opting to live in this area would even have a need for a car.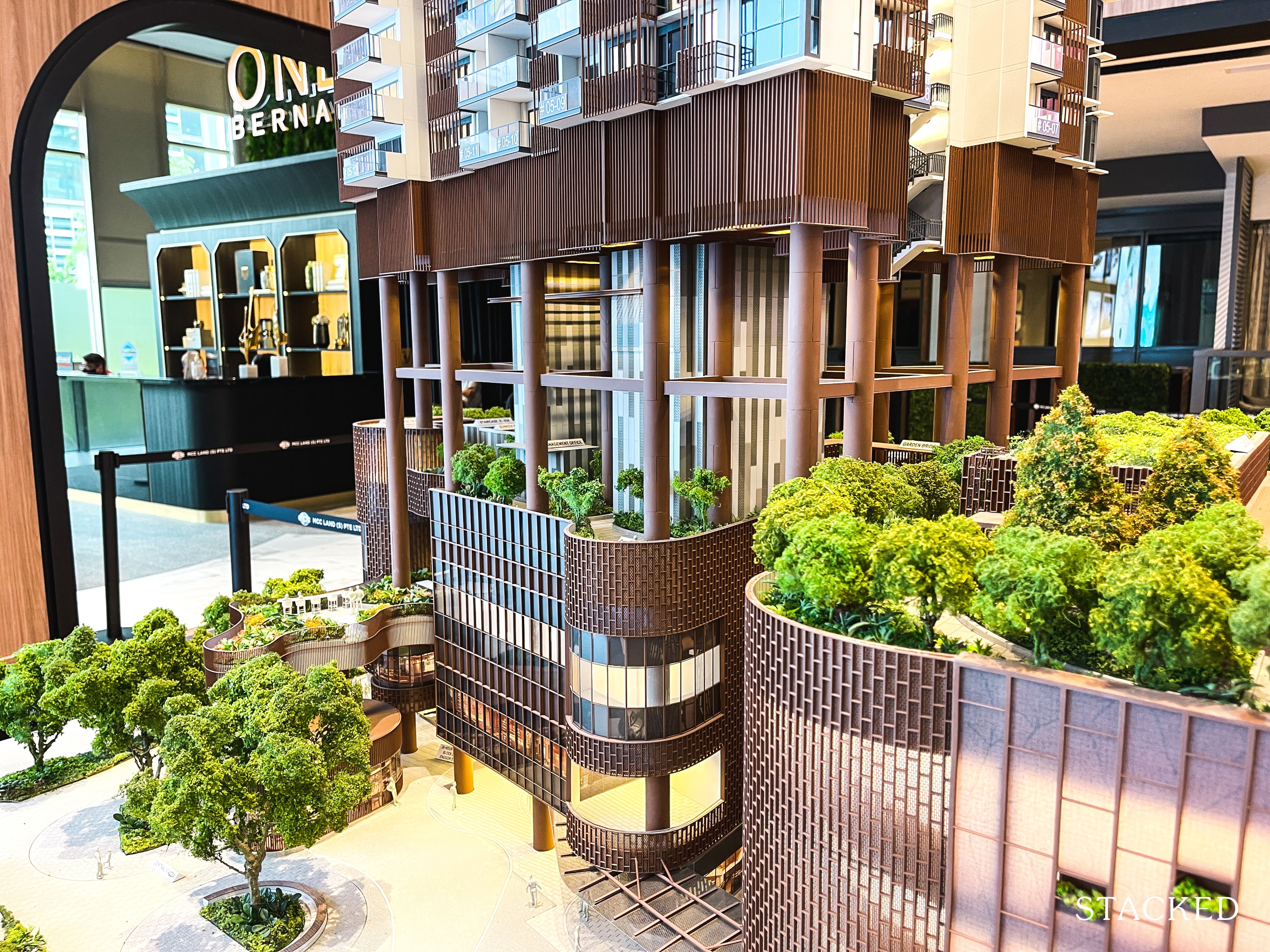 In what is probably 2020/2021's most overused colour palette, this bronzed brown combination is still a handsome looking one despite its lack of differentiation in the current market. It does give it a more luxe appeal, even if it still doesn't quite match up to the present-day luxury king in the area – Wallich Residence.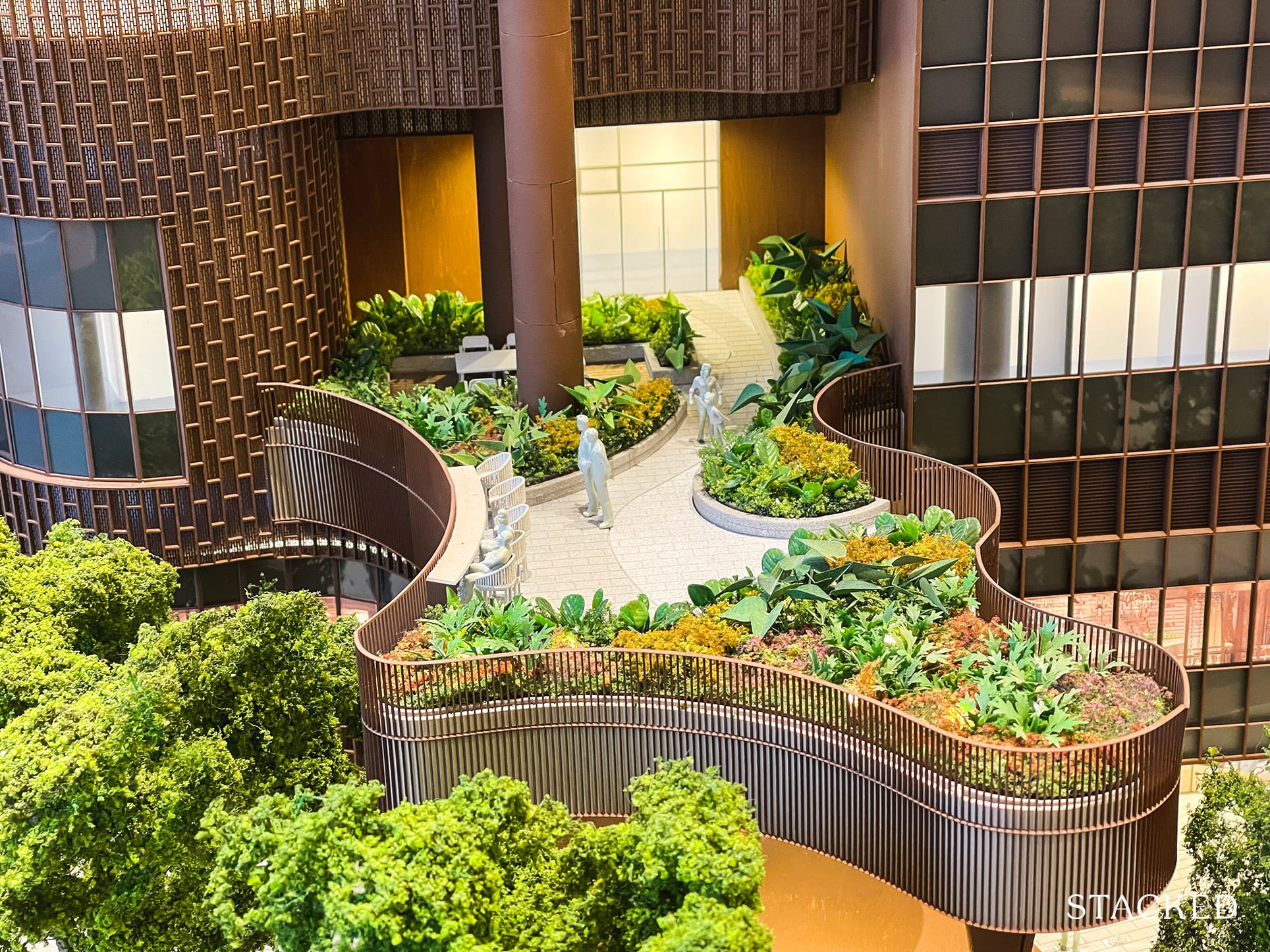 Among the facade of the front is a jutted out deck. This will only be accessible to residents staying at the service apartments.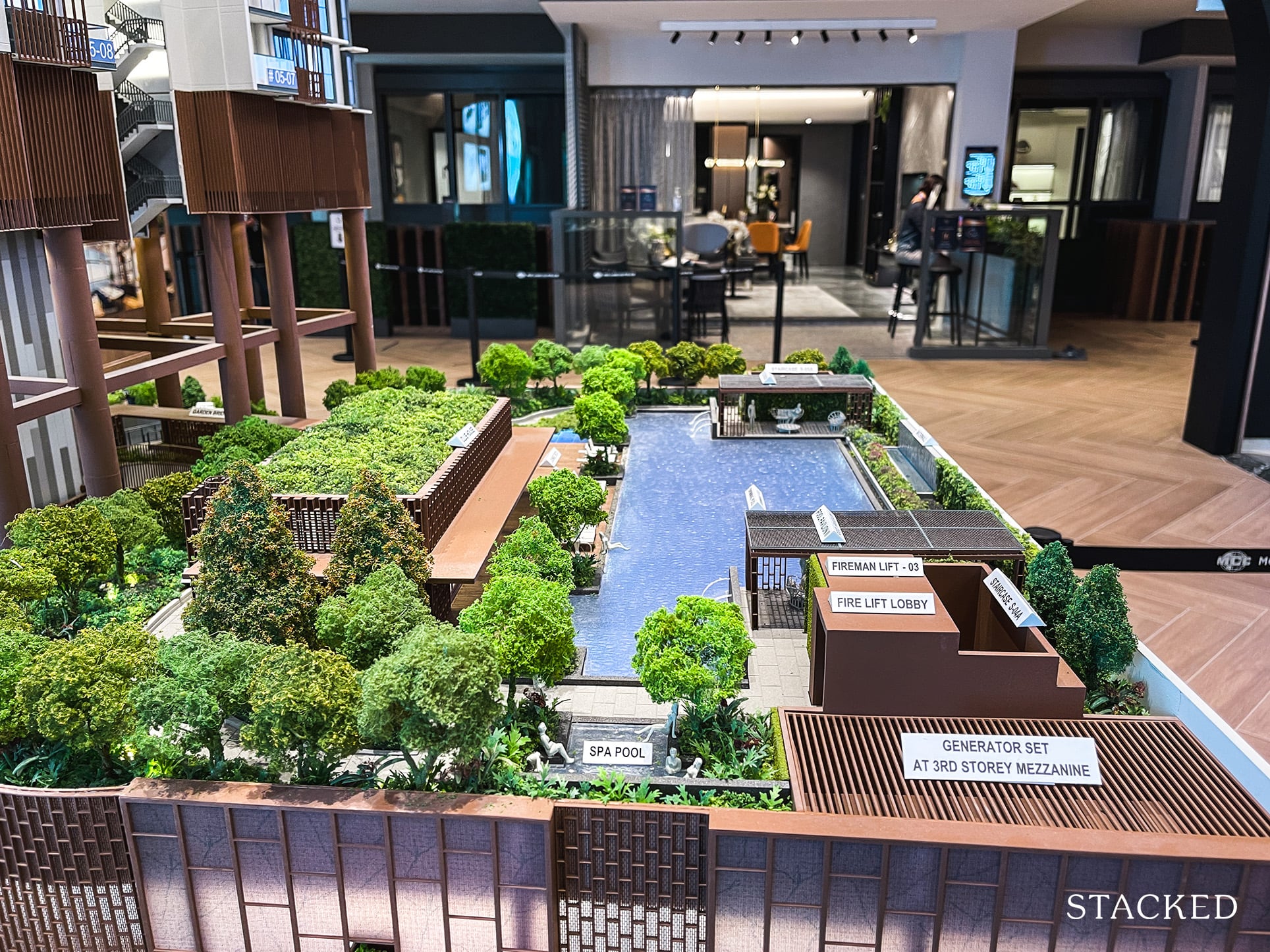 The bulk of the facilities are located on the 4th floor, where you'll see the usual suspects such as a lap pool, Clubhouse, and dining facilities.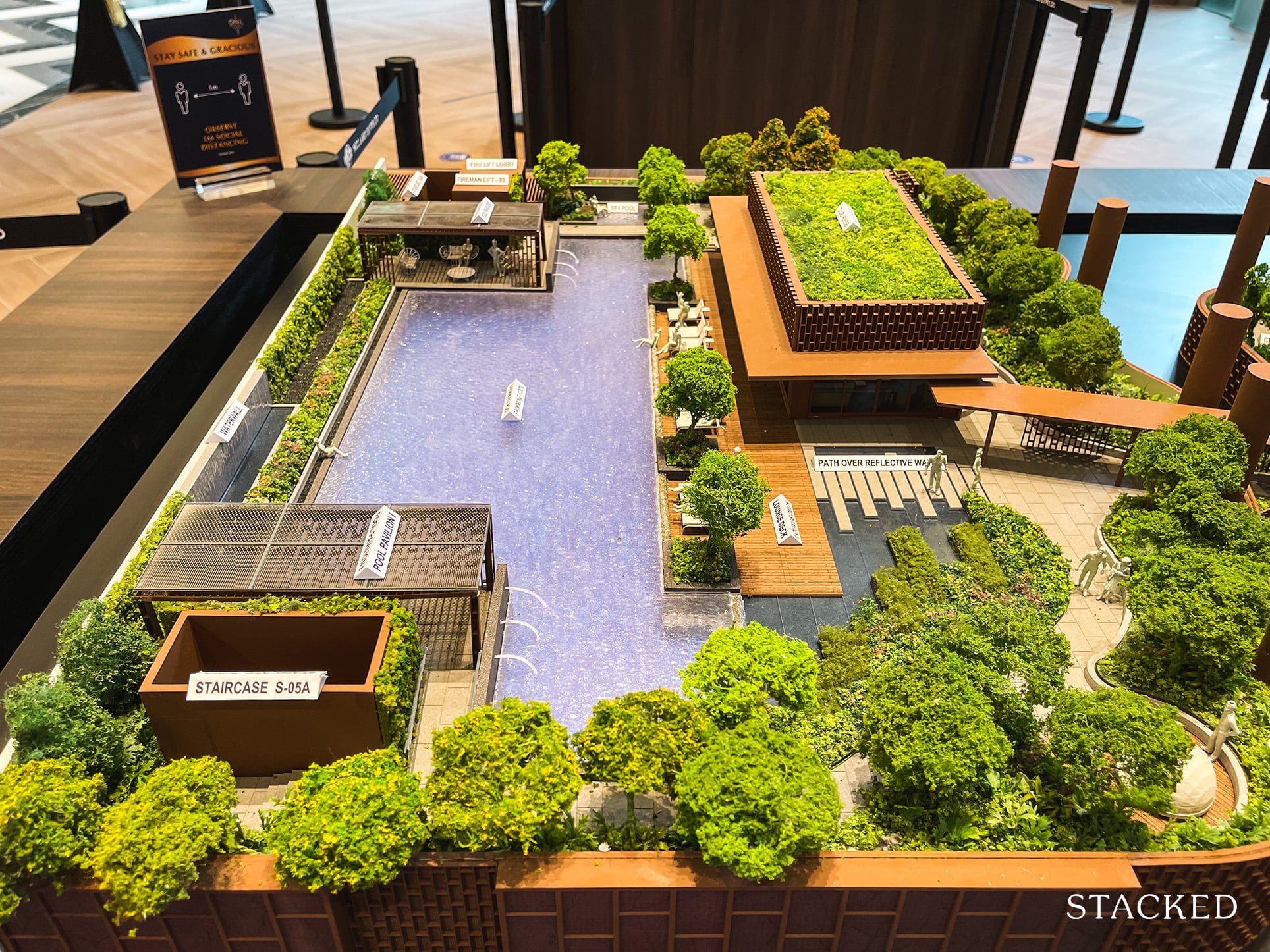 It's not a terribly big swimming pool, as it only spans 36 metres in length, and 12 metres at its widest point. For a development that is supposedly focused on attracting own stay clients I can't say that this is very impressive.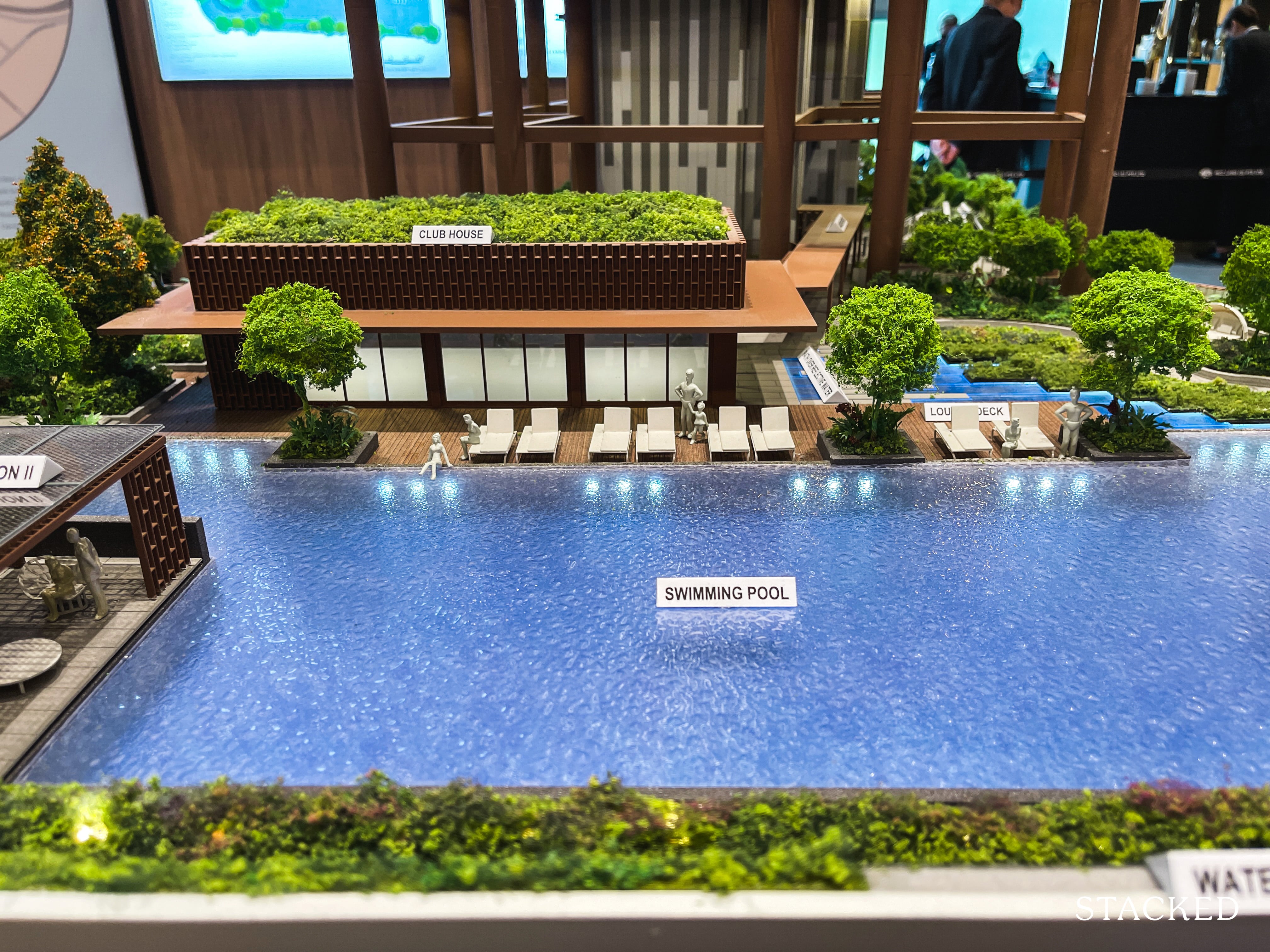 Not especially when its nearby competitors like Onze @ Tanjong Pagar has 2 swimming pools (admittedly small) or Sky Everton with 3 pools, I can't help but feel that they've missed a beat in providing a bigger oomph factor (rooftop pool etc). Both developments do have lesser units too, so there would be less of an overcrowding issue.
Plus you'll have to remember that the pool will directly face whatever the Realty Centre is developed into, which for some may be too close for comfort. That said, in an area as crowded as the CBD, this is always going to be the tradeoff for ultimate convenience.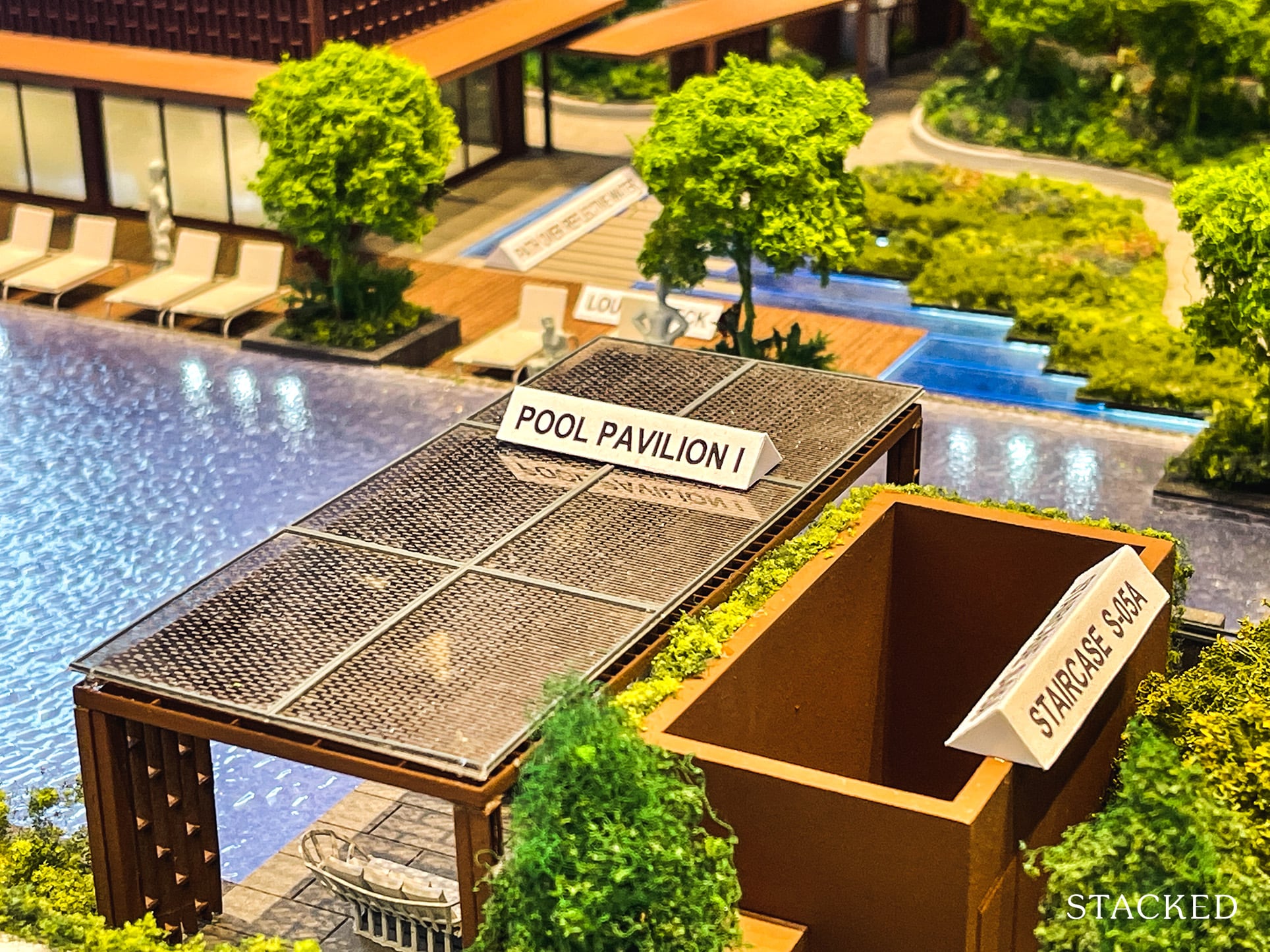 Of course, you do also get the few essentials here like the pool pavilions.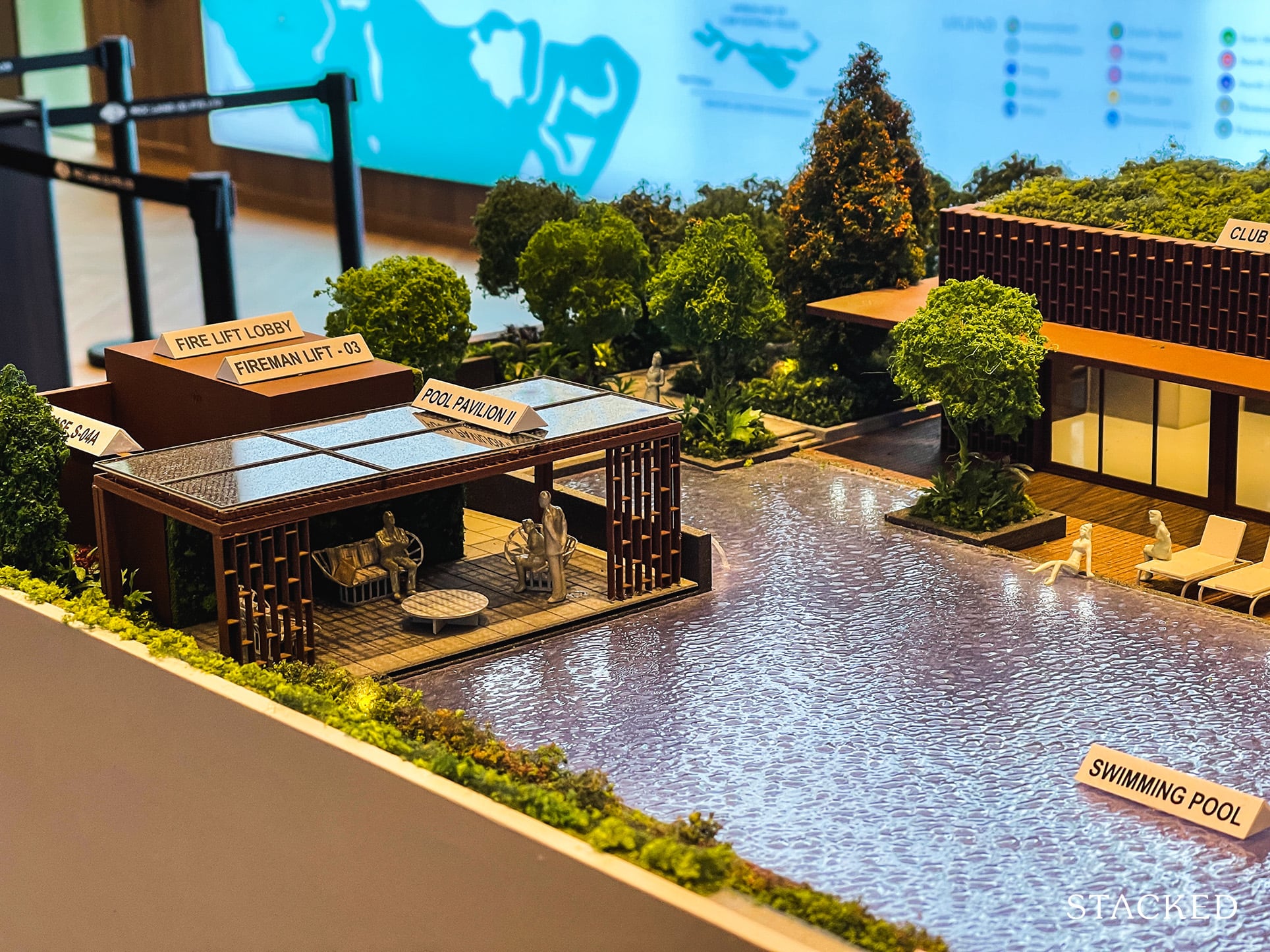 You might notice that there aren't any kid-related facilities such as a playground. This is not by accident, as the target clientele for a development such as this would definitely be working professionals.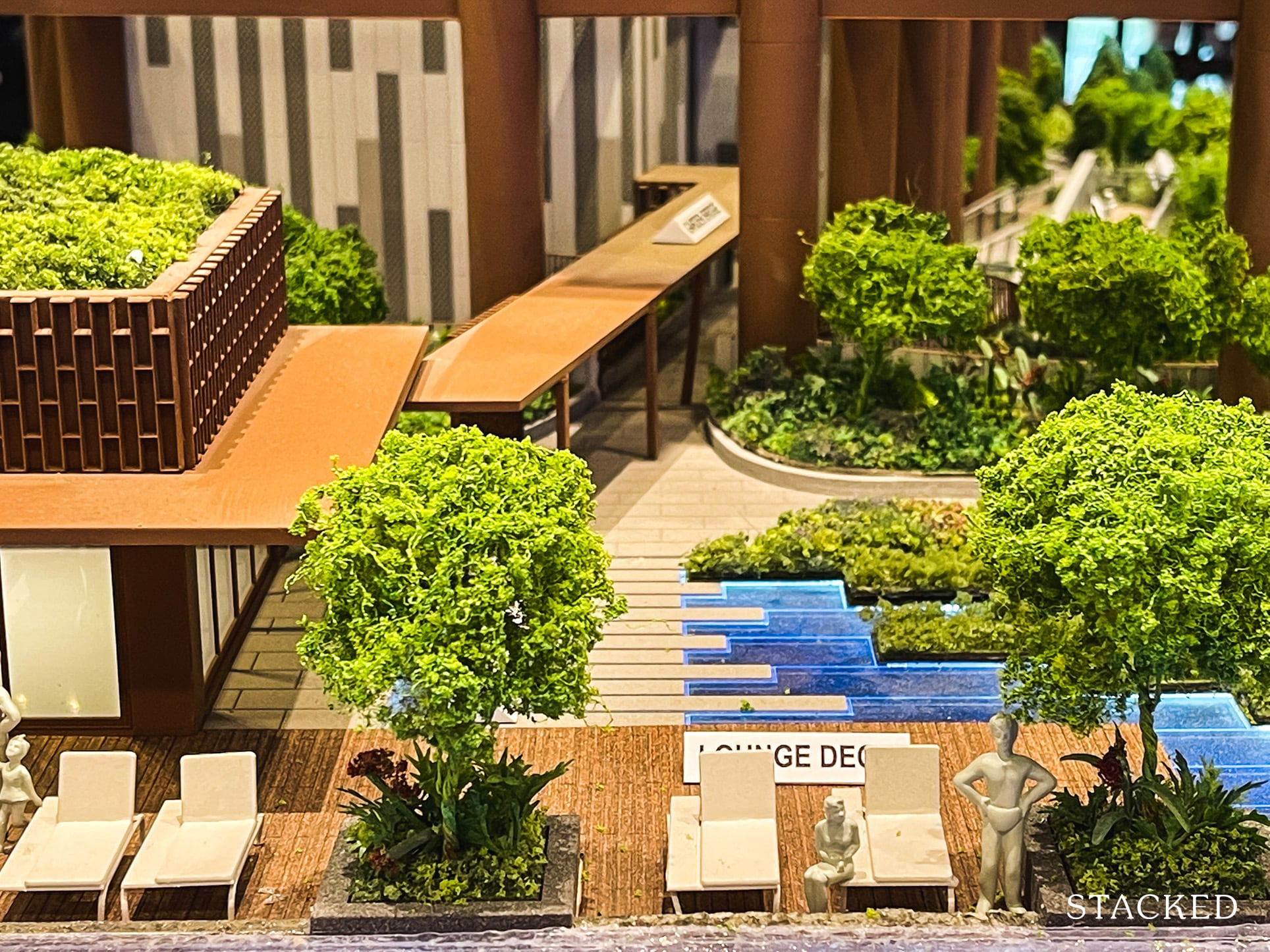 They have also tried to incorporate more much needed greenery into the project – especially important in the concrete jungle that is the CBD.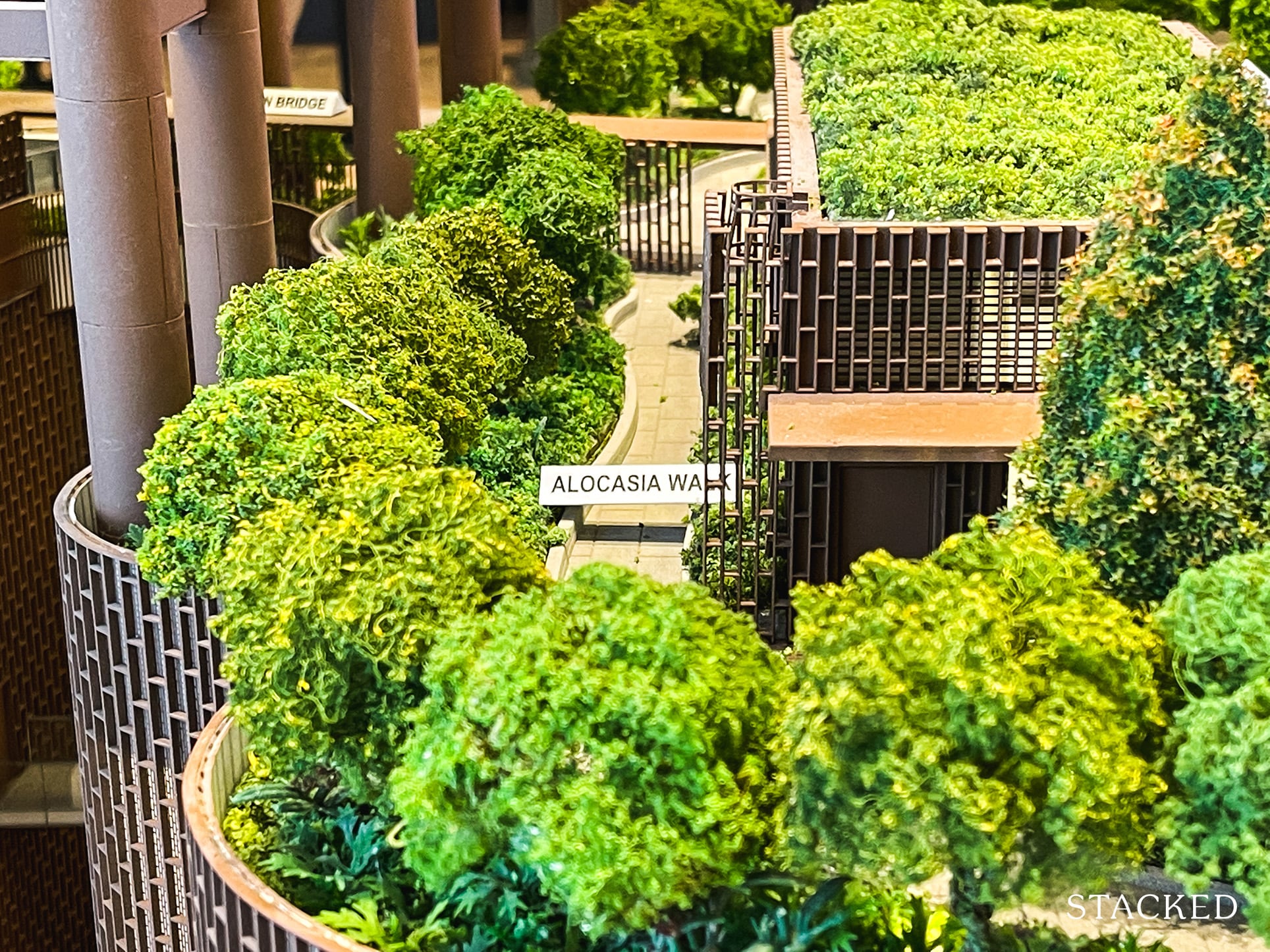 So parts of the walkway surrounding the Clubhouse will be almost nearly shrouded in lush greenery.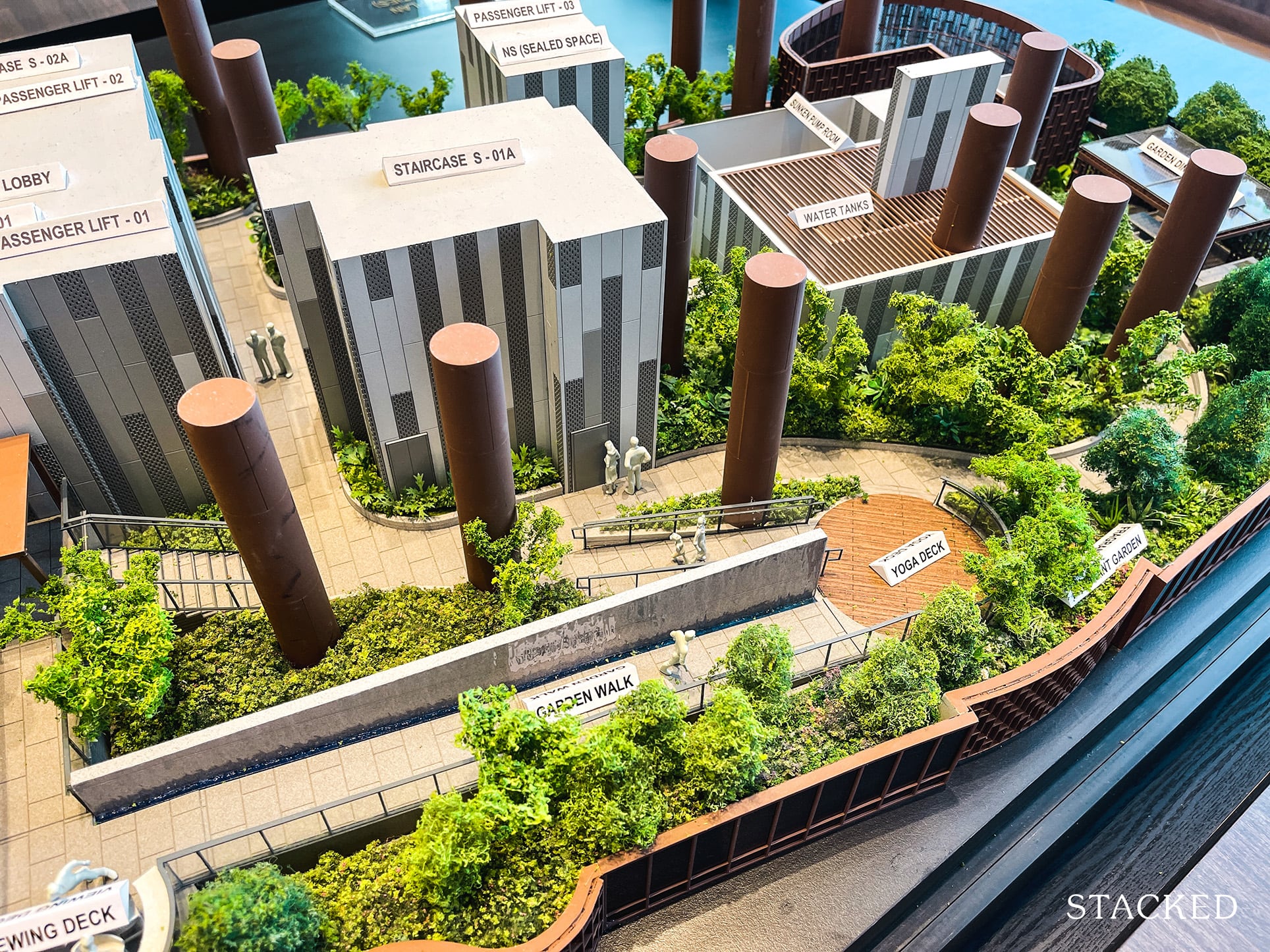 Moving on to the Level 4 Sky Terrace, you'll find the ever popular yoga deck.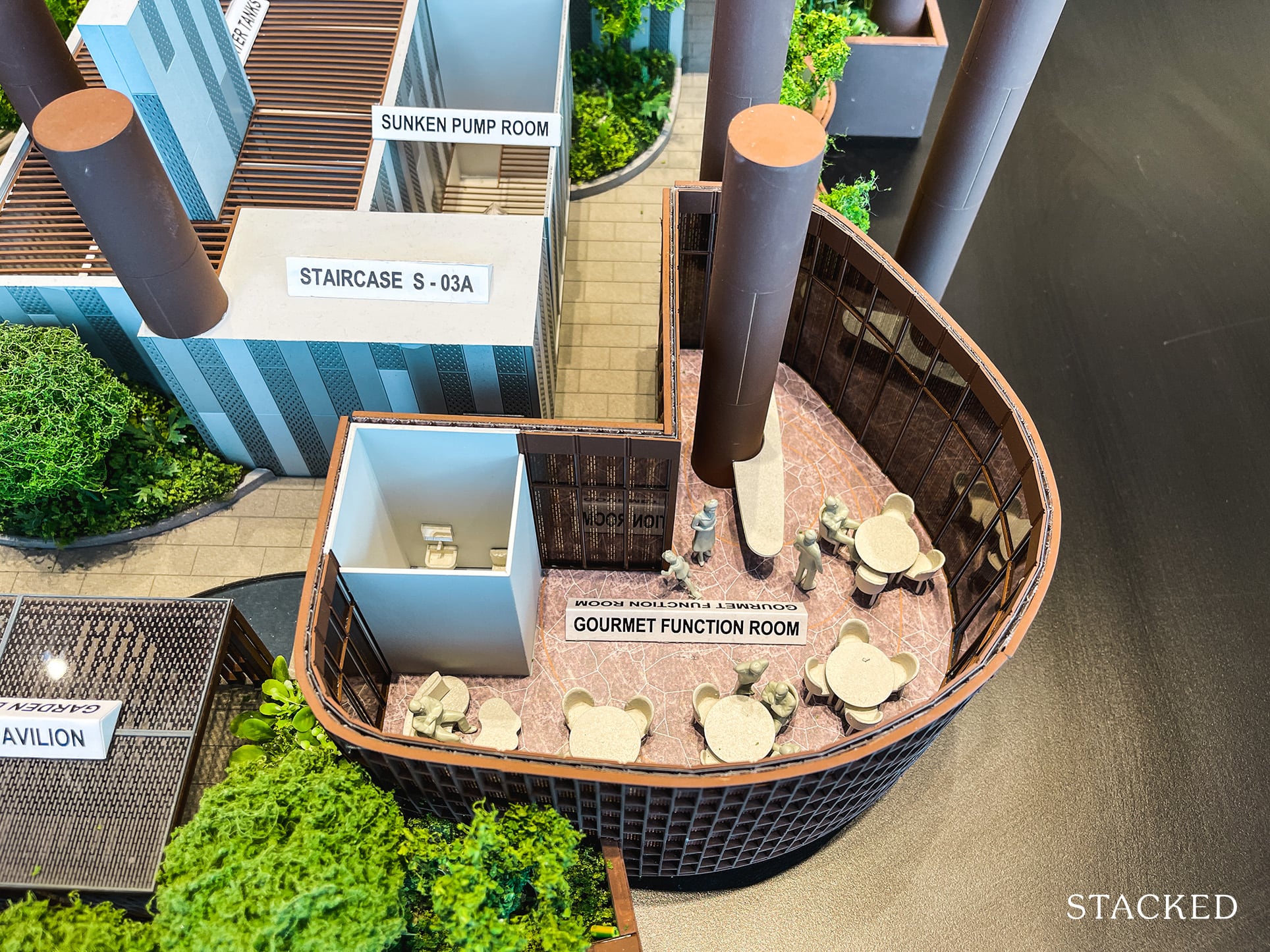 As well as a Gourmet Function Room, along with an outdoor Dining Pavilion.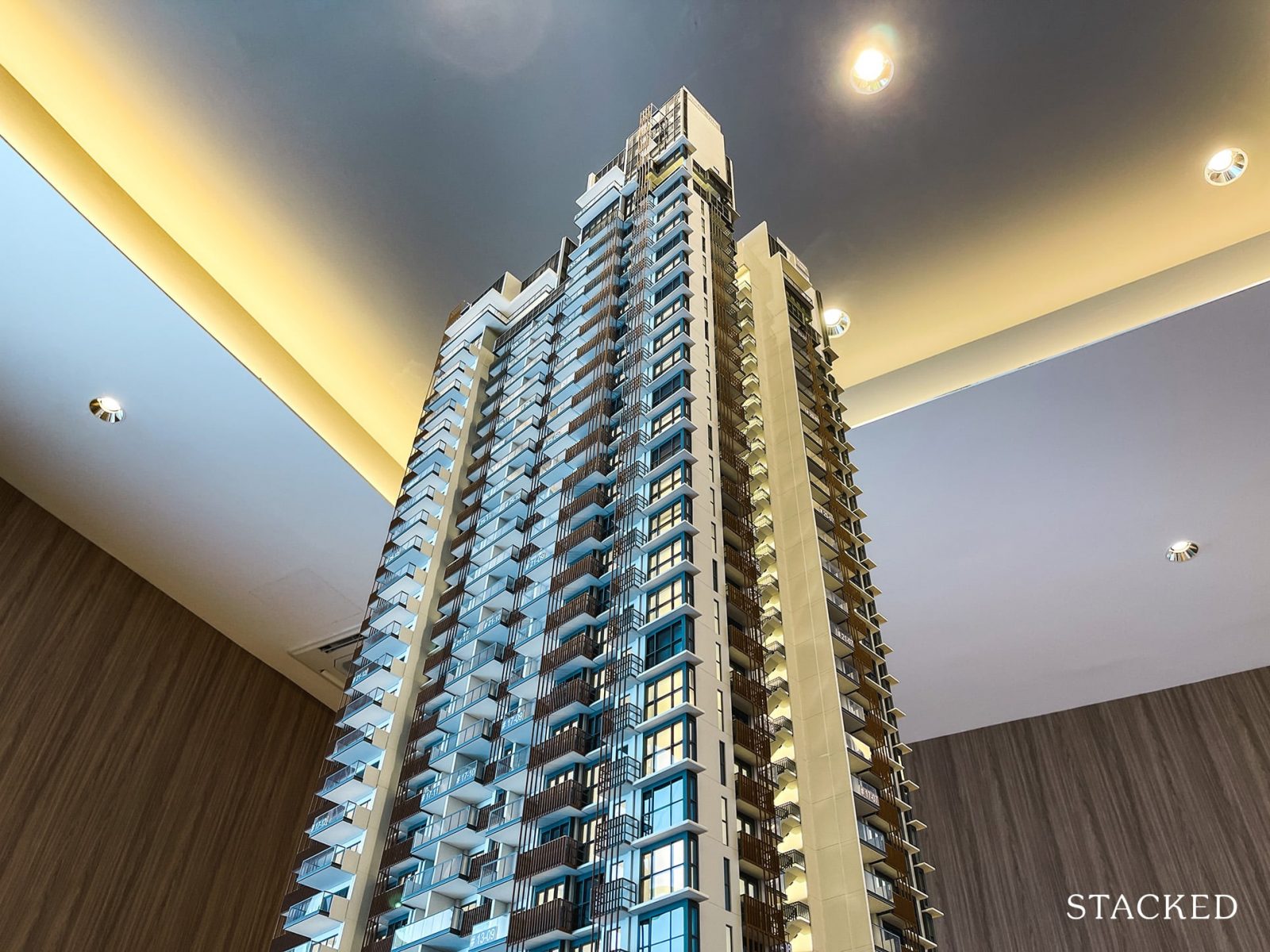 The next section of facilities will present itself at the level 34 Sky Terrace. I do always like when developers add in facilities at the (nearly) the top as it gives those residents who've purchased lower floors to still enjoy the views.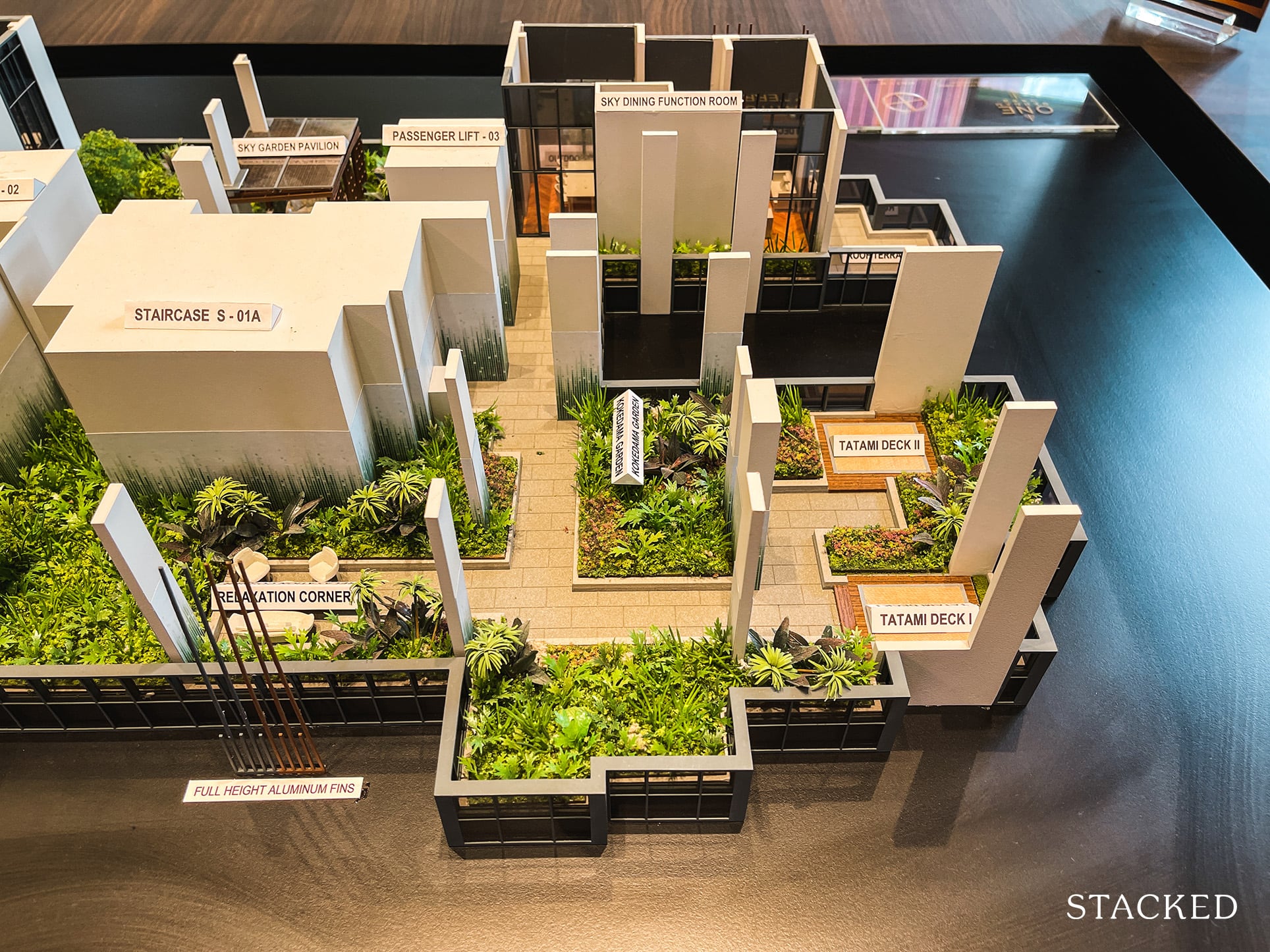 In what is quite a random move, the developers have decided to add in a Japanese component to the Sky Terrace, with the Tatami Garden. Here, you'll find 2 tatami decks, presumably to take advantage of the high view points. I can't speak for everyone, but I'm fairly skeptical about the actual usage of a tatami deck.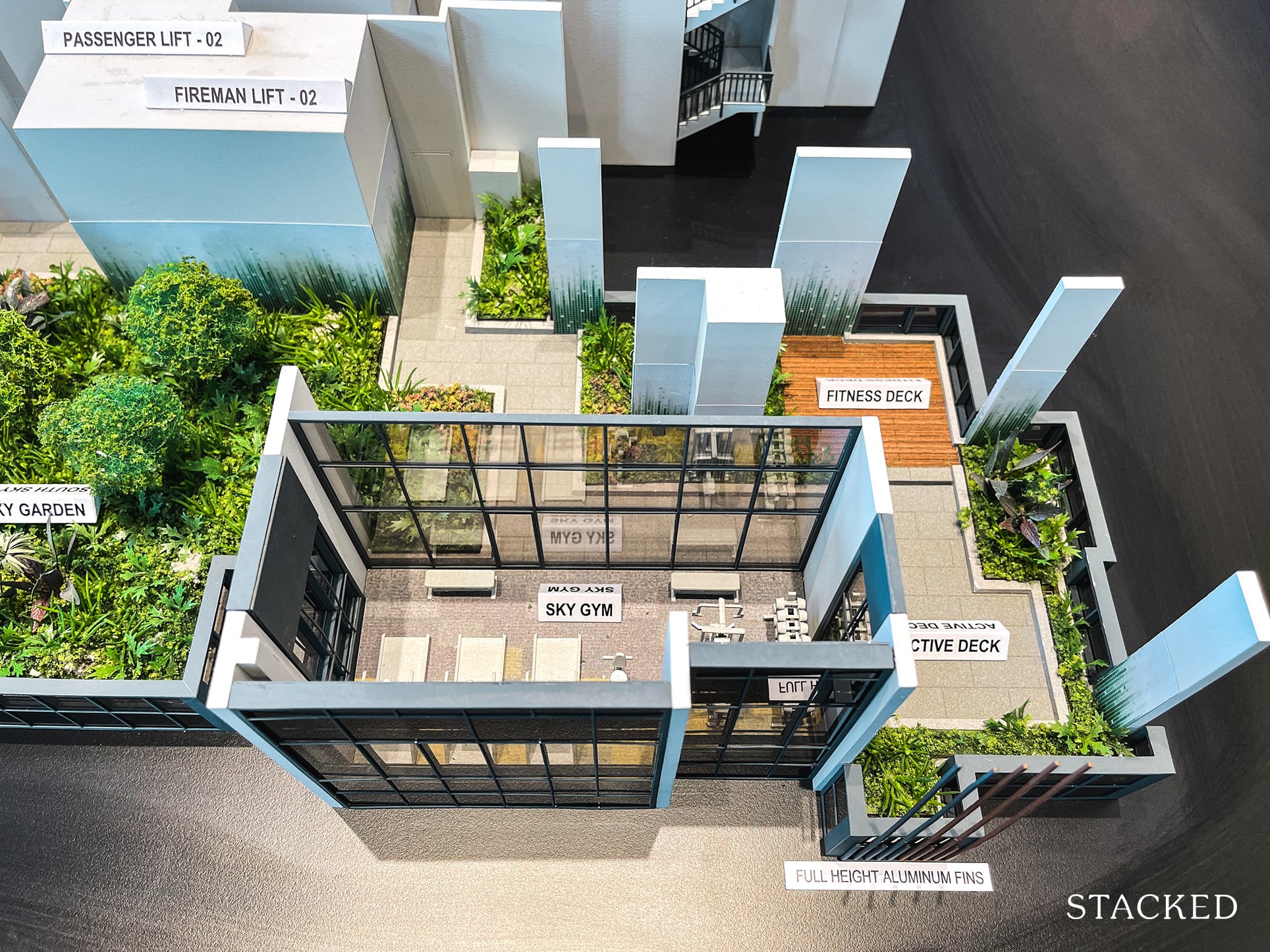 For the eagle-eyed among you that might have noticed that there wasn't a gym at Level 4. Well, I'm happy to report that it is at a much better spot on the 34th storey. It isn't the biggest gym around, but the views do go some way to make up for it.
There are also a good number of fitness gyms in the CBD anyway, of which those after that sort of lifestyle will not be relinquishing anyway.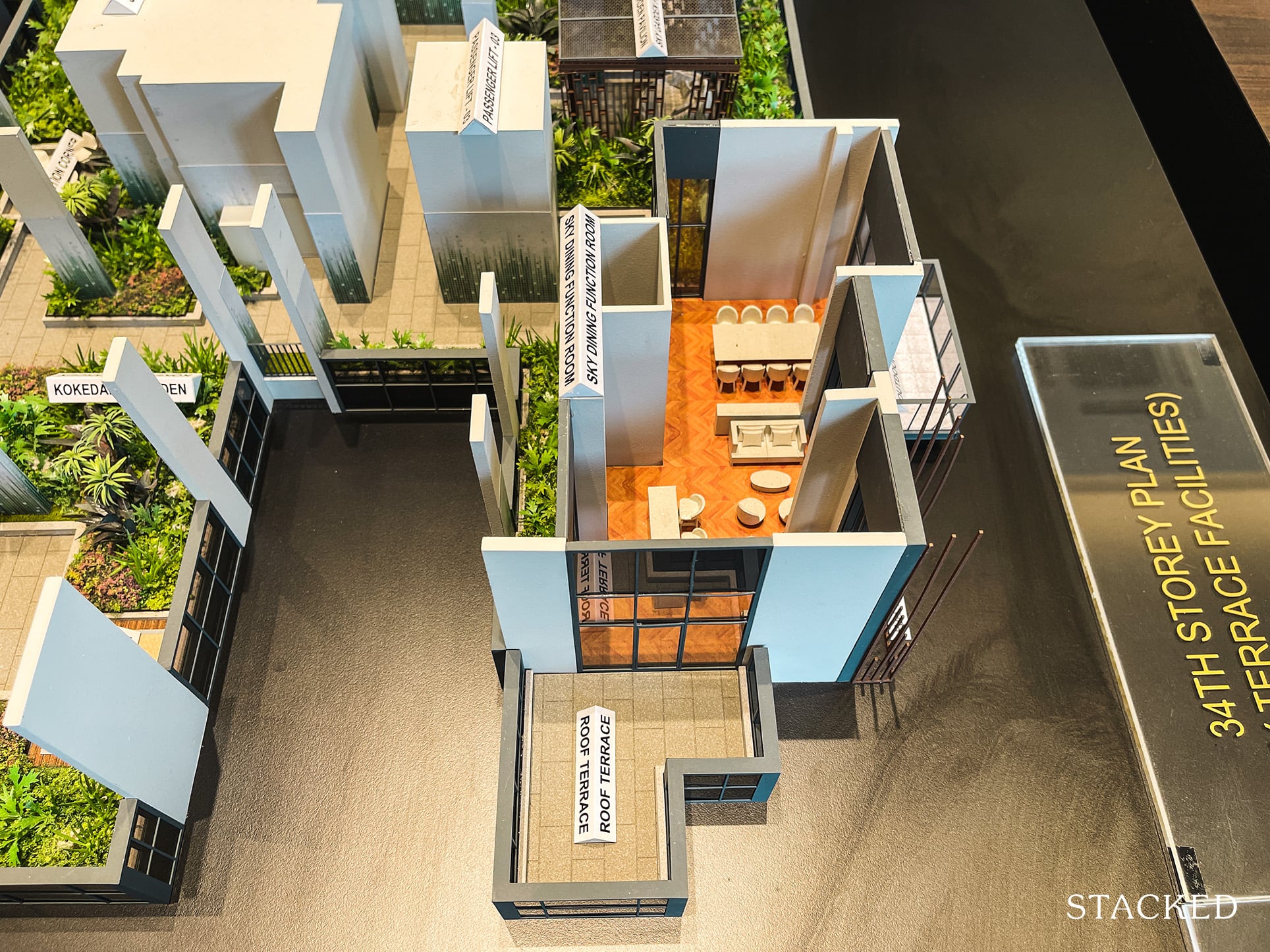 Last but not least, there is a sky dining option for those who have bigger groups to entertain. It's a good size, with a separate dining and lounging area – there's even an outdoor roof terrace to admire the views.
In a project with mostly smaller 1 and 2 bedders, this dining facility will definitely come in handy.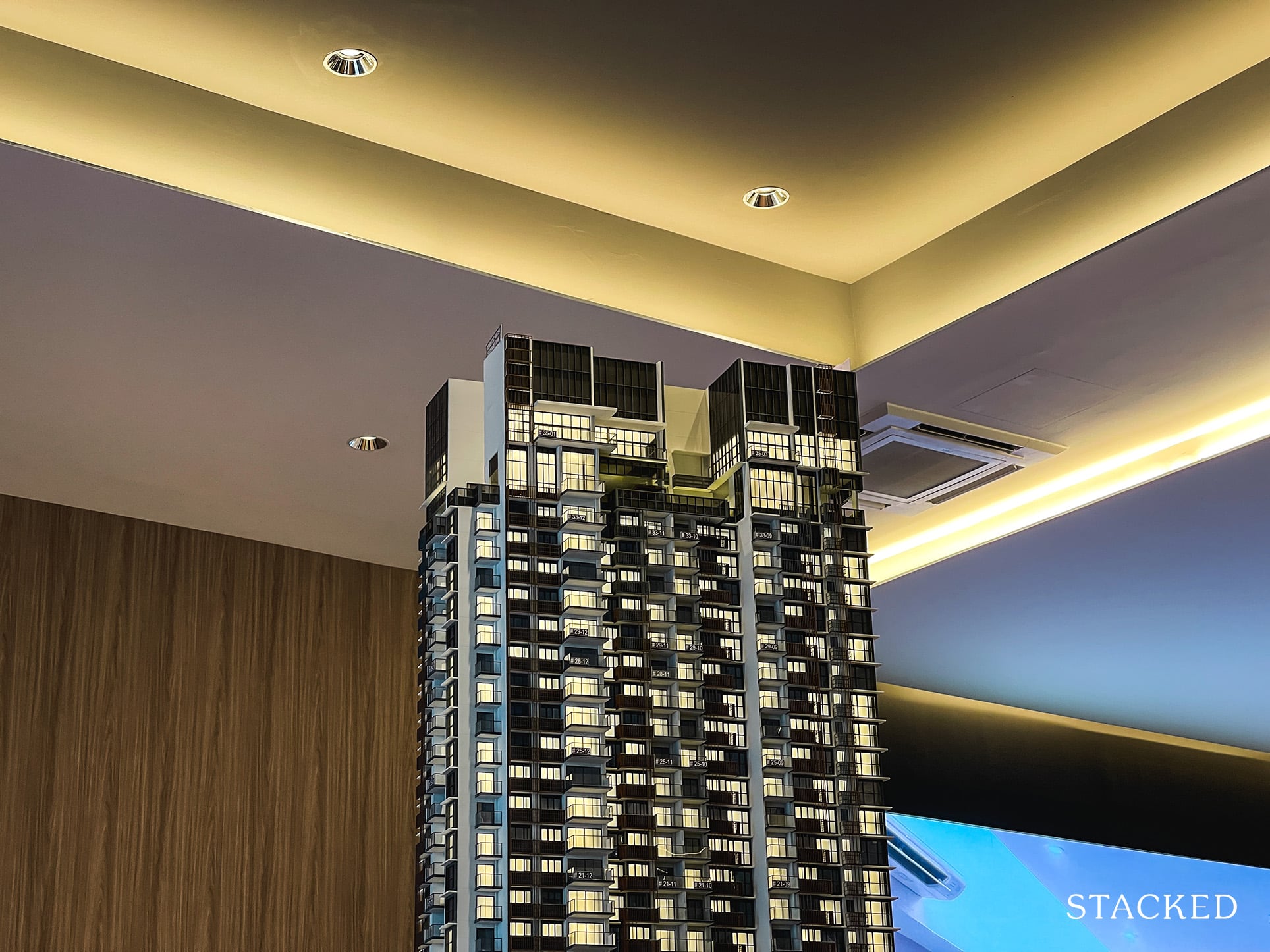 To wrap things up, One Bernam does come with 3 penthouses at the highest 35th floor. The 2 smaller ones are 3 bedroom penthouse units, with the biggest a 5 bedroom giant at 4,306 square feet.
Read this next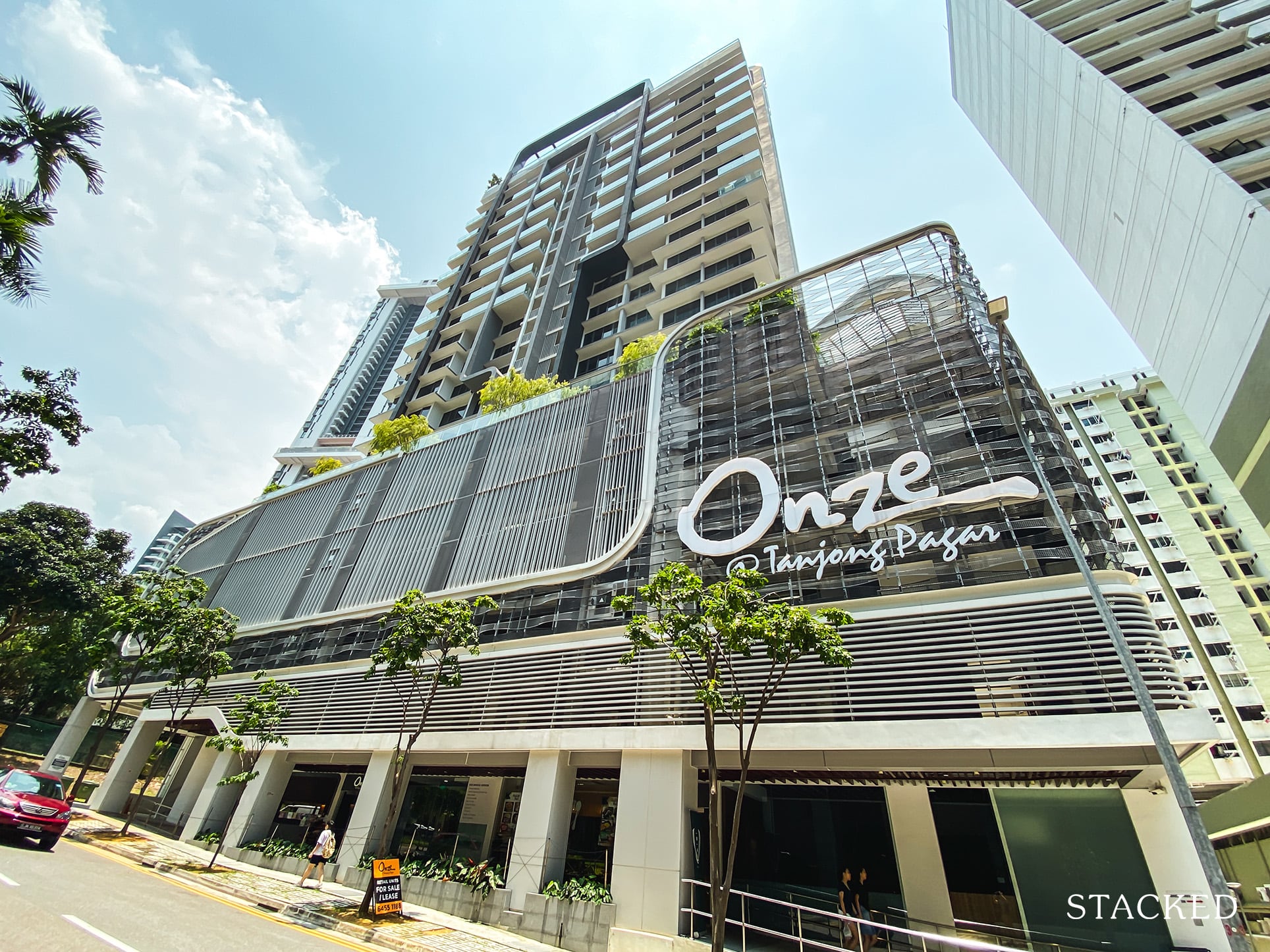 One Bernam 1 Bedroom Review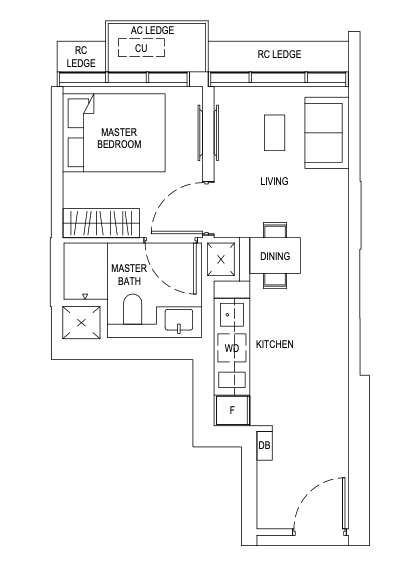 The showflat unit is a 1 bedroom unit that is sized at 452 square feet – which is roundabout average in today's market. While the developers have said that they are looking to create this as an own-stay product and hence bigger living spaces, this is really only more apparent in the 2 and 3 bedroom units.
There are 2 other layouts to choose from – a smaller one at 441 square feet, and a bigger one at 463 square feet. In terms of liveability, my pick of the bunch would be the bigger unit as its nearly squarish regular layout is a much more efficient layout.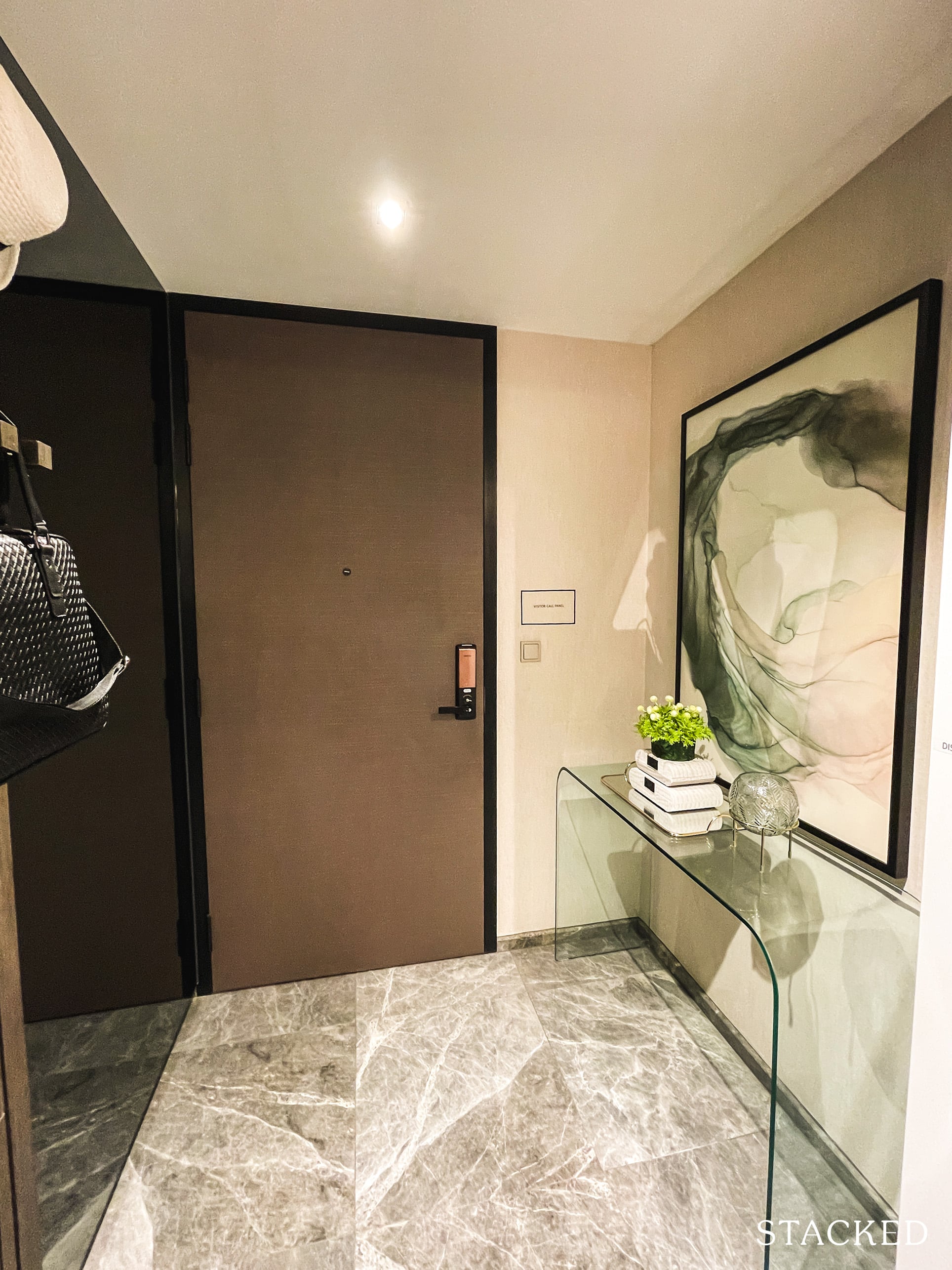 The 1 bedroom unit opens up into a square-sized entranceway, which is something I never like to see in units that are sub 400 sq ft in size. While you can always optimise it further with built-in storage at the side, it always makes much more sense when the entrance is combined with the kitchen.
You do get marble flooring throughout, even for the 1 bedroom units, so it's great to see that the premium fittings are standard here. In fact, you'll see much of the same even when it comes to the kitchen equipment and bathroom fittings so that's a definite thumbs up for me.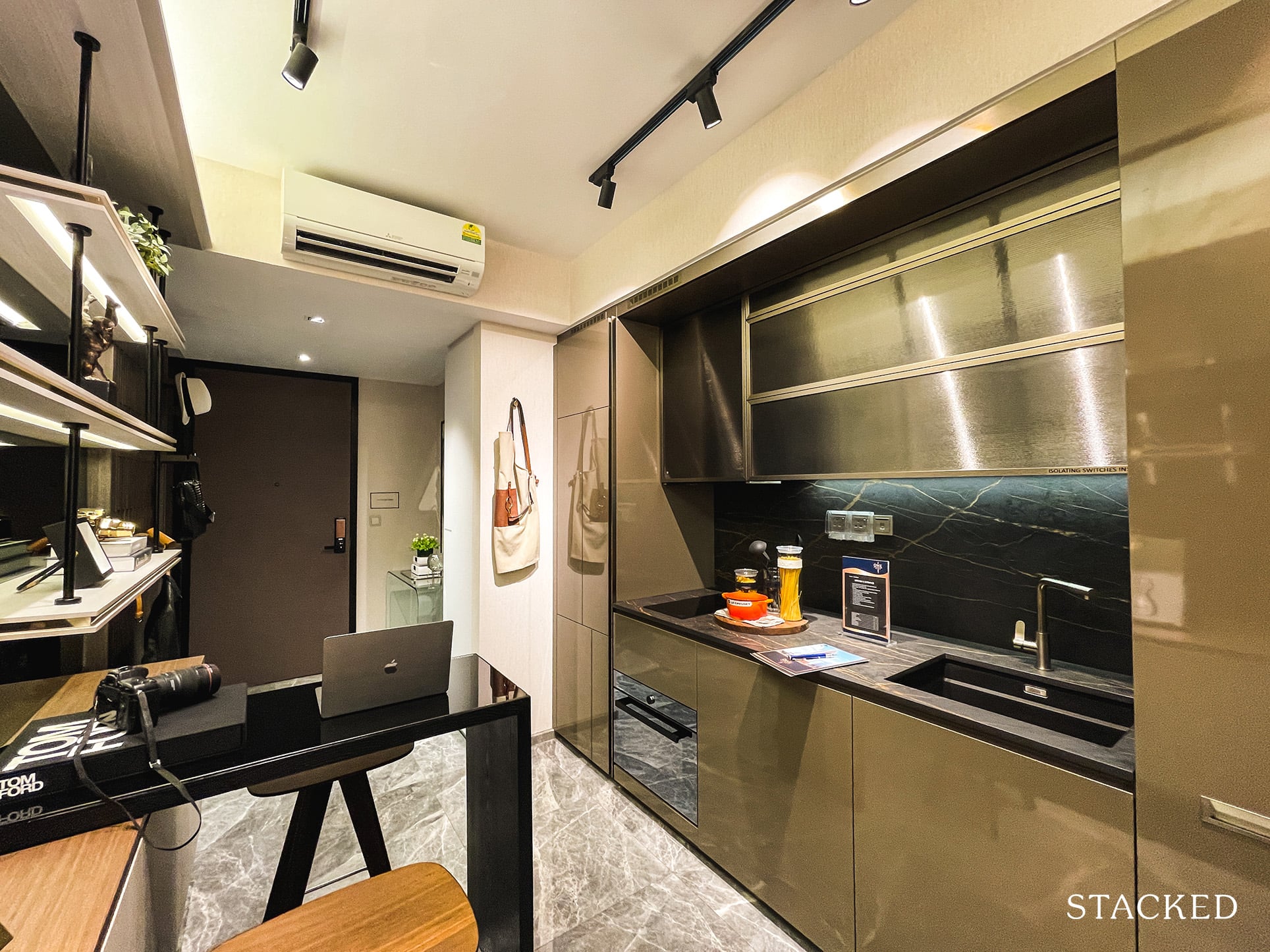 Stepping further into the unit is the kitchen/dining space. In terms of storage, it is quite good – especially because they have even taken the liberty of installing a Blum cabinet system above the sink. It's pretty nifty, just press a button and the entire frame would open up (I'll show it more in the next unit).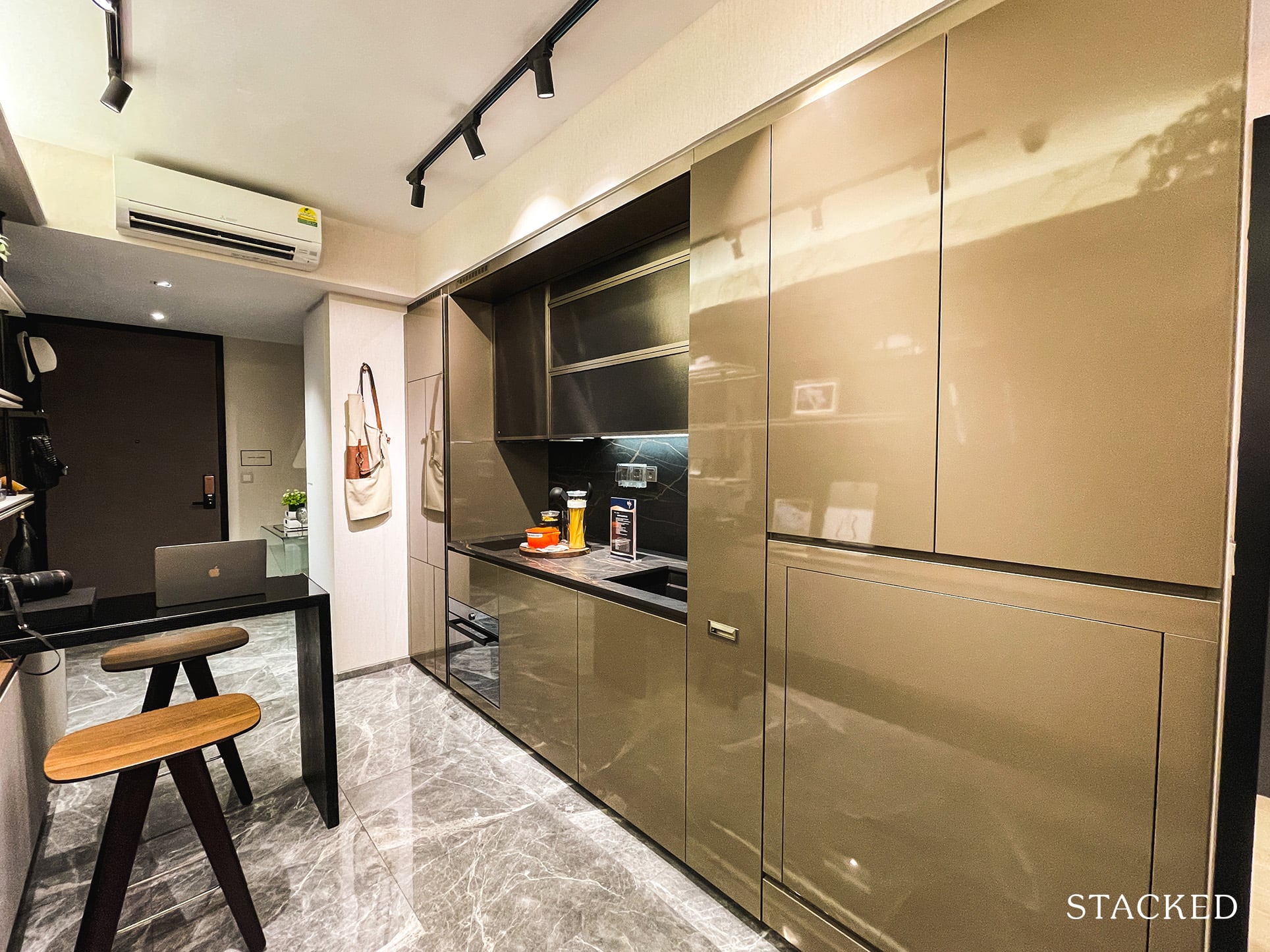 And well, for kitchen snobs you'll be happy to hear that the high-end brand associations don't just stop there. The sink is by luxe Swiss brand Franke (I really like that matte finish), and the oven and fridge is provided by V-ZUG.
So on the whole, a kitchen that comes with premium fittings. My only issue here would be the less than desirable counter top space.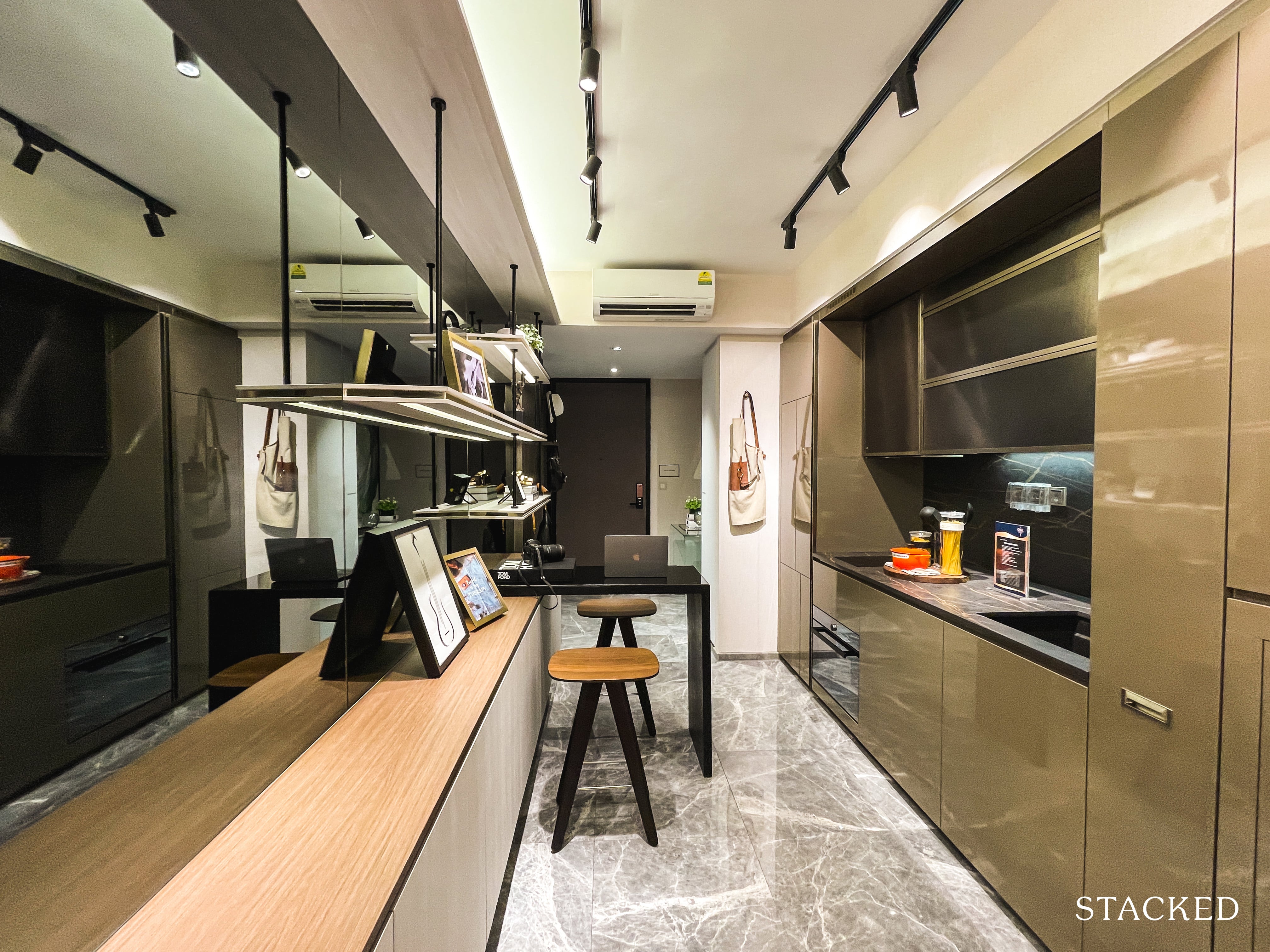 Interestingly enough, the showflat unit comes with storage on the left and a small dining table that rests atop of it. Note that these are all ID fittings, so the actual space that you get is certainly more spacious than it looks.
I am really curious though, as to why they've added another dining table when the unit actually comes with a clever built-in dining table (it is seamlessly locked away on the right).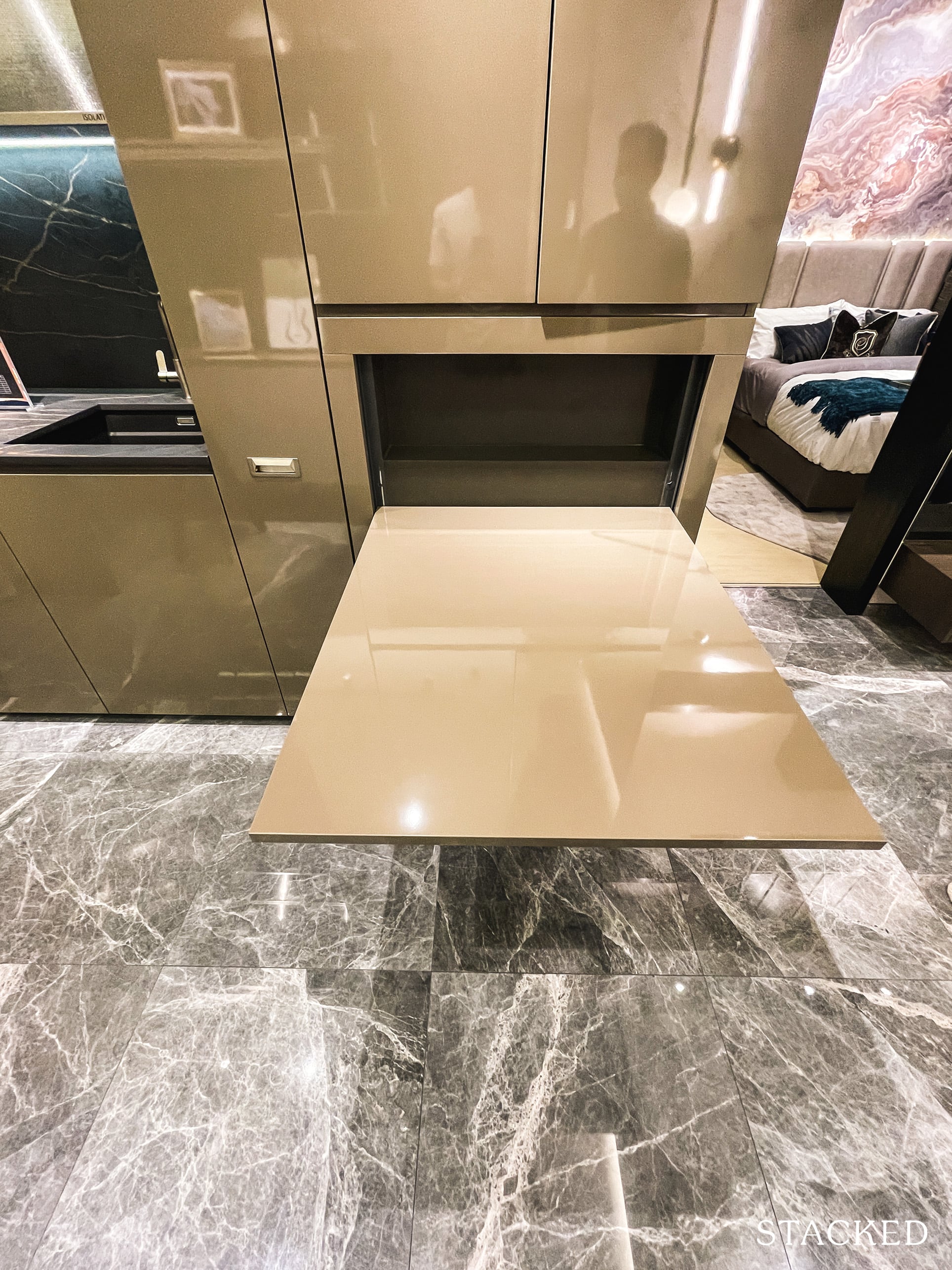 It isn't a big table, but it certainly is adequate for a 1 bedroom unit. Setting it up and stowing it away is easy enough, and the slight hassle is worth it in smaller apartments such as these for sure. Note that it doesn't come with a table stand, so at this point I wouldn't be vouching for how much weight it can actually hold.
If you've been following our reviews for some time, this wouldn't be the first you've seen of such a space-saving solution. The most recent being the one at Irwell Hill Residences.
I definitely welcome more of such smart furniture systems, especially as units get smaller and smaller – and it's a wonder that we haven't seen more of such solutions in new launch projects.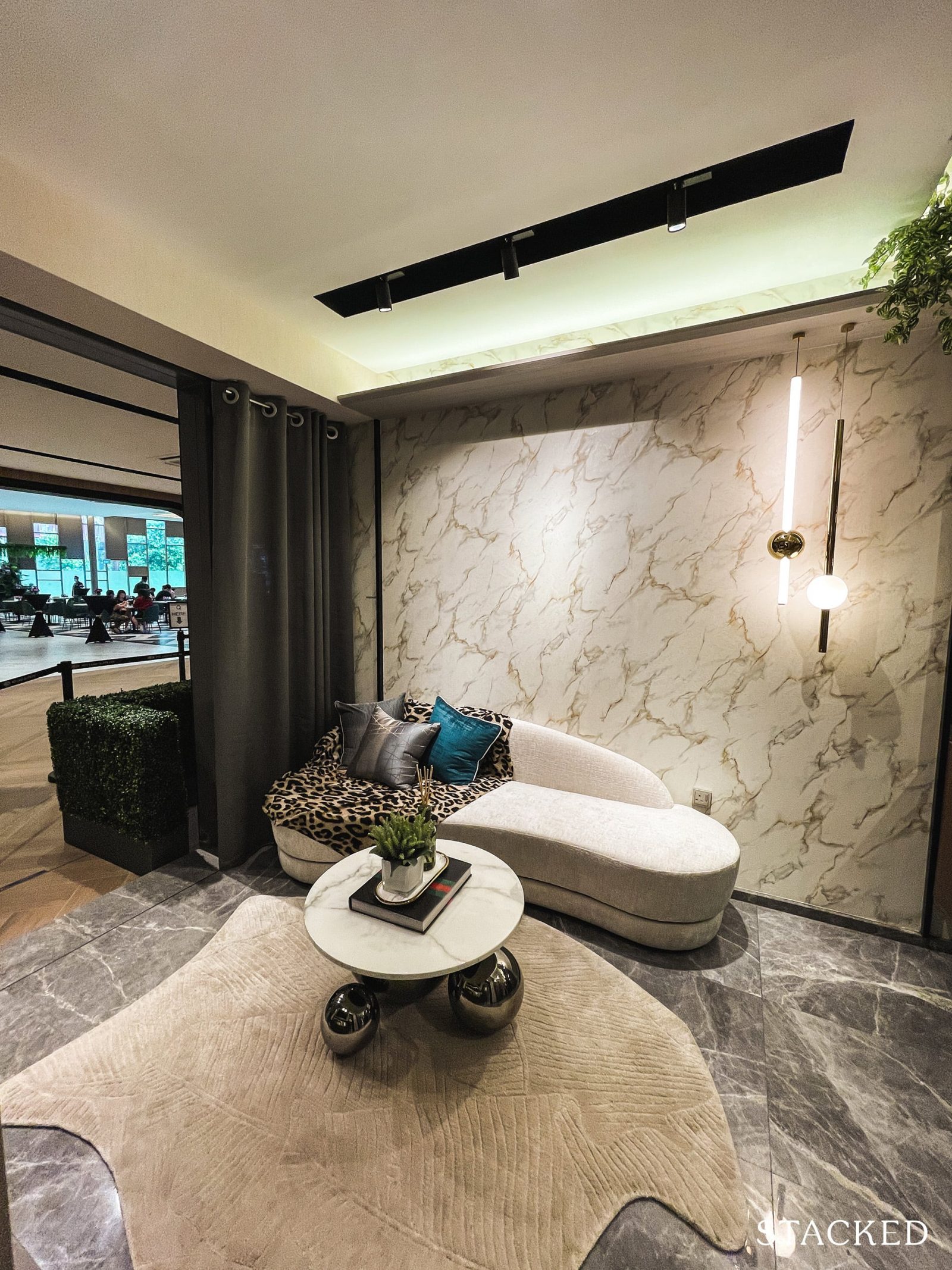 The living room is a decent size, all things considered. It does look quite spacious, but that's also partly due to the svelte sofa that they've chosen here. It's sleek, but it definitely isn't a comfortable setting for 2 people to sit for an extended period of time.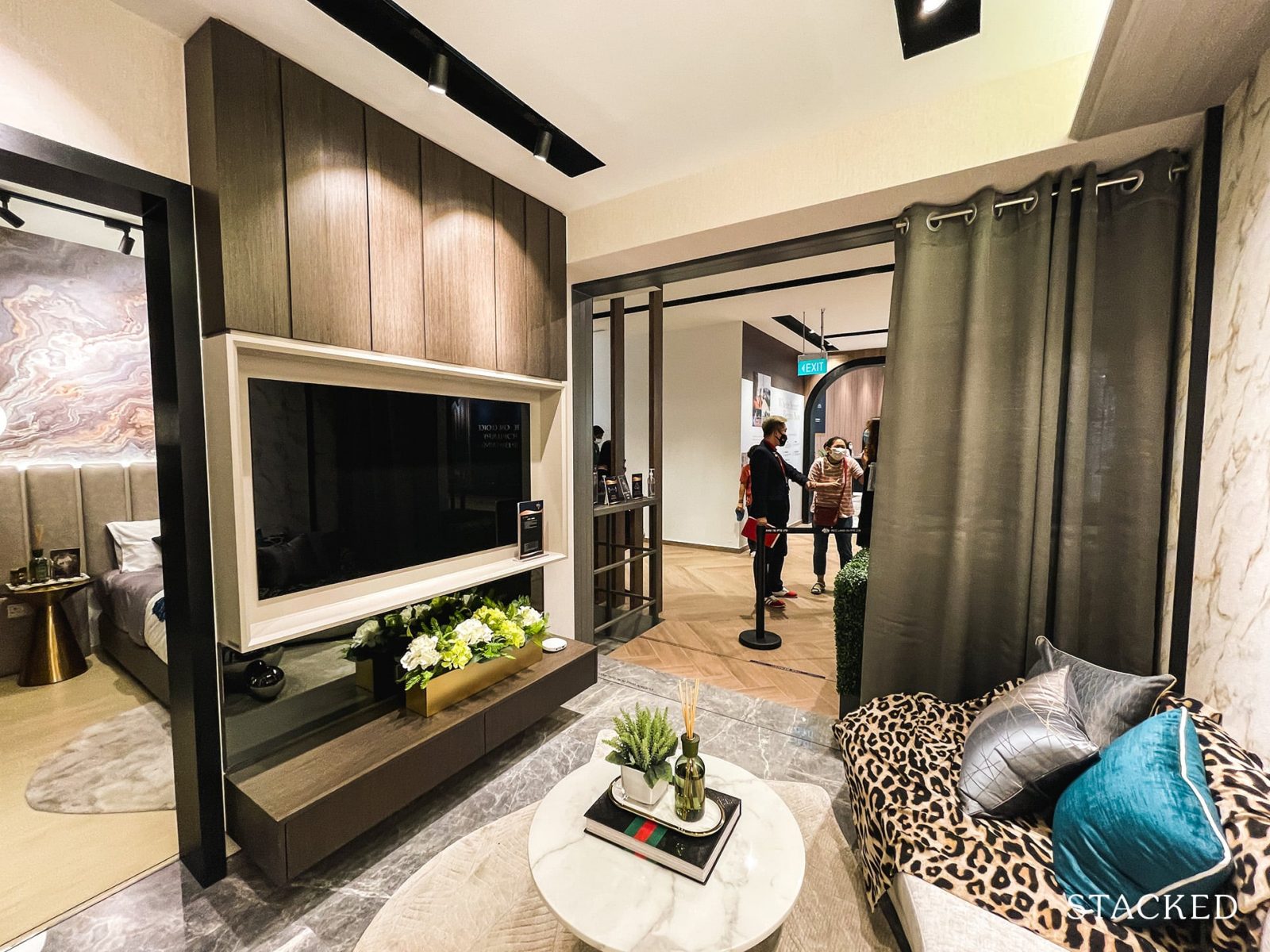 You do also have to be careful of the size of your coffee table (or just do away with one altogether). But the good thing here is you don't have a balcony to contend with, so you don't have to worry so much about blocking the walkway space.
Some people may find it a pity to have no outdoor space at all (it's the same case for all the 1 bedroom units at One Bernam), but I think the majority of buyers looking to live here would not find this a dealbreaker at all.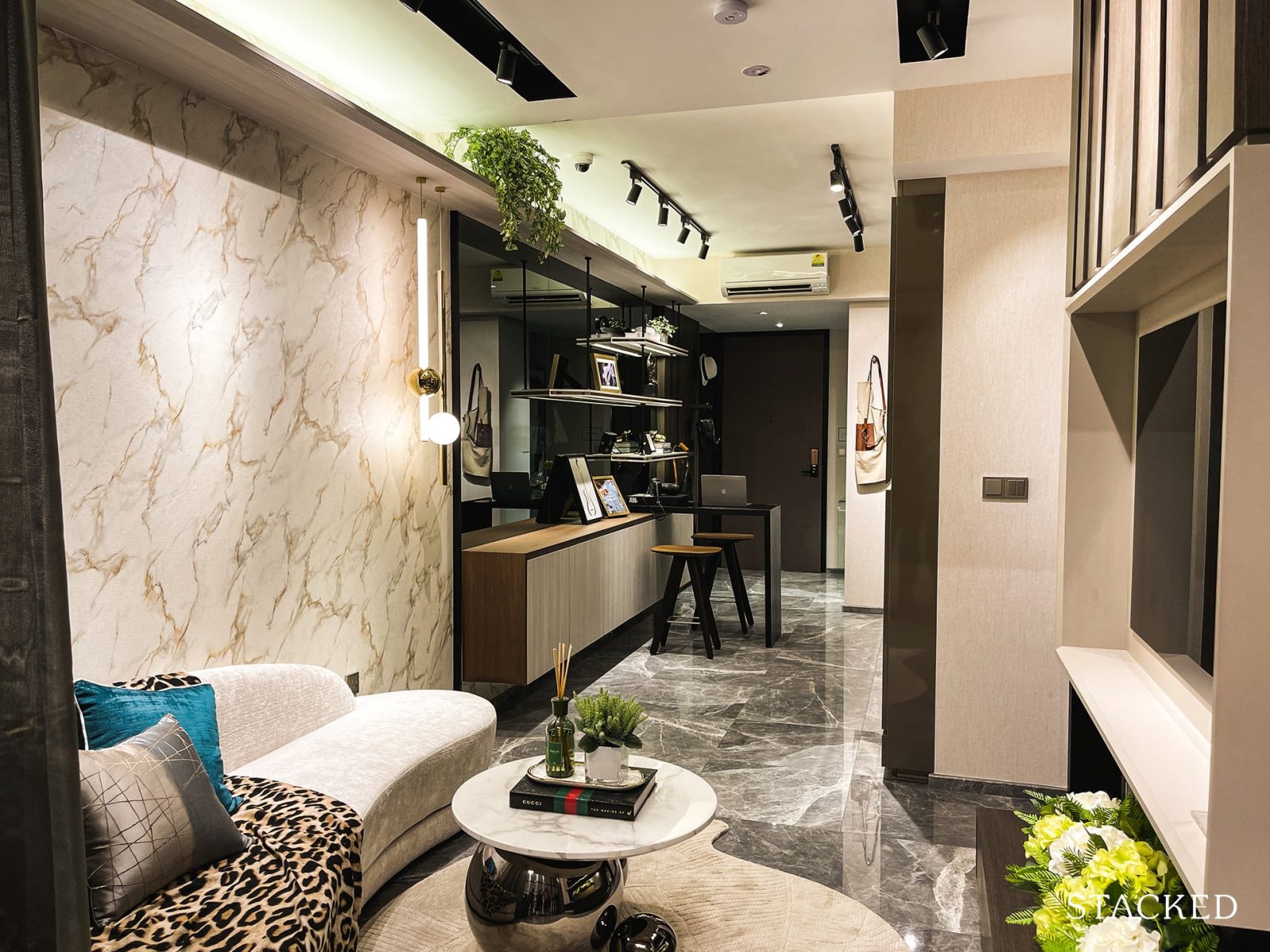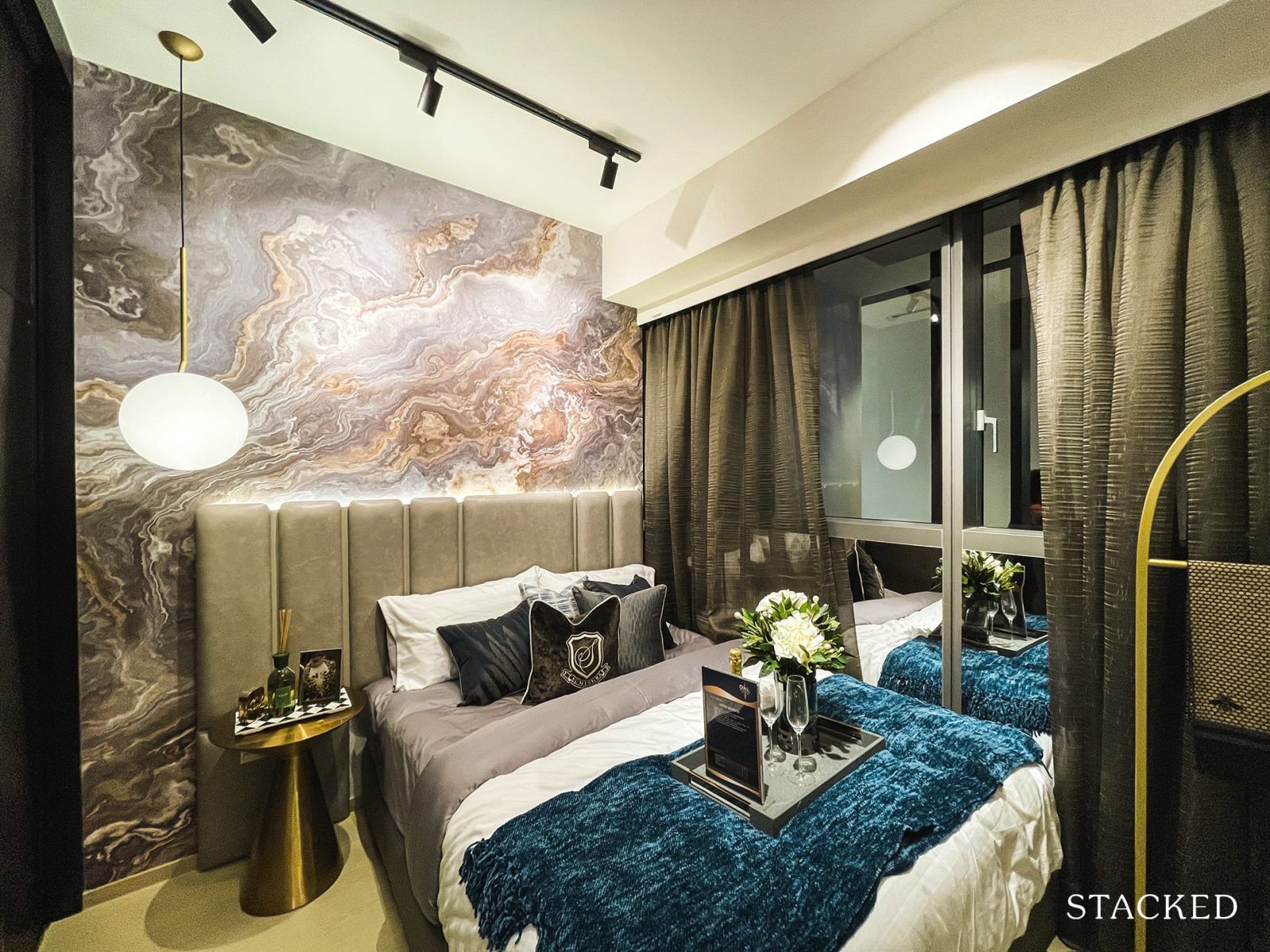 Correspondingly, the master bedroom is also not too bad of a size for its 452 sq ft unit area. Because the AC ledge is located on the outside, you aren't going to get full length windows here – which is always a disappoint to see, but you'll find that most 1 bedroom units in the new launch market will face the same issue.
As shown here, you could flush the bed all the way to the right, so it does make the bedroom feel slightly more spacious.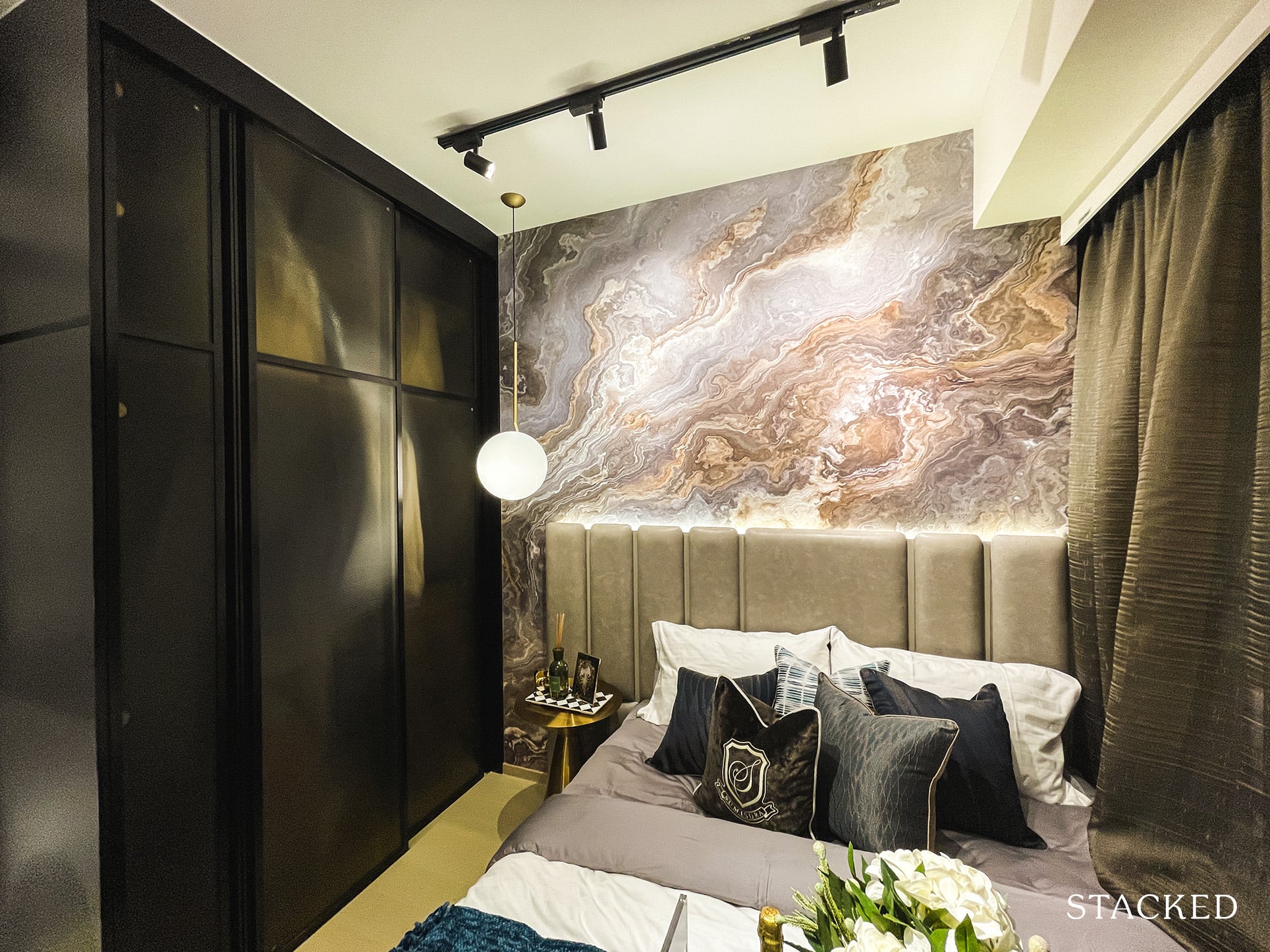 Storage is by means of the usual sized wardrobe. The finish of it is hard to describe, but to me, it doesn't really look very premium, and I think it would look dated quite quickly. That said, it does contain a number of interesting features which I'll show more of in the bigger units.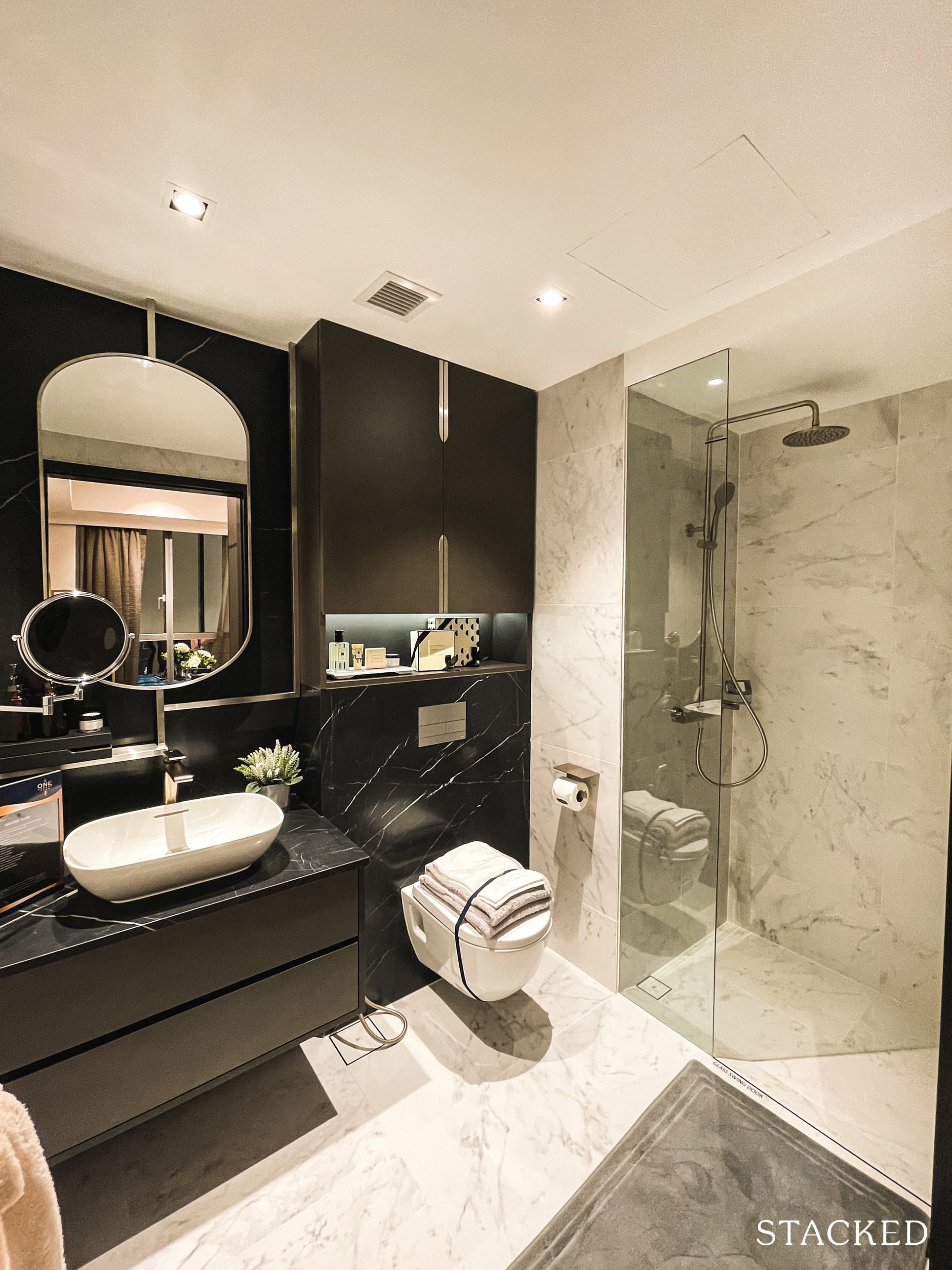 The bathroom is not a bad size too. I like the overall look and colours of it, and it does come with upmarket touches like Laufen sanitary wares and Gessi bathroom fittings.
Of course, having a rain shower is always welcome, but do note that there isn't a window in this bathroom – so there won't be any natural ventilation here.
One Bernam 2 Bedroom + Study Review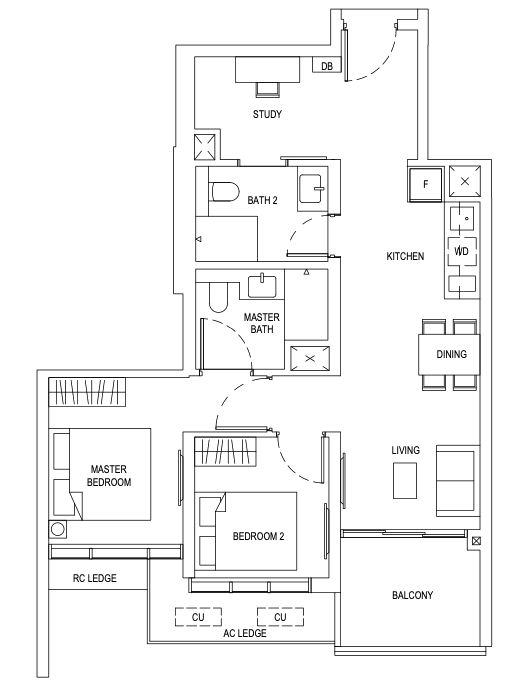 At 829 square feet in size for this 2 bedroom + study unit, it is a decent size in today's context. There are a number of quirks, however, of which I'll go through in the tour below.
Seeing as how there are 232 units total that are a mix of 2 bedroom/2 bedroom + study (66% of the 351 units), it is quite stunning to see that there are 116 2b1b units. It isn't the most popular unit type, and I'm surprised to see how many they've allocated to it.
Unfortunately for those looking for a 2 bedroom dumbbell layout, there isn't one available. In fact, Type BS4 the biggest 2 bedroom + study layout has one of the strangest layout I've seen – for those old school people around that have played Tetris – the layout is reminiscent of one of the shapes.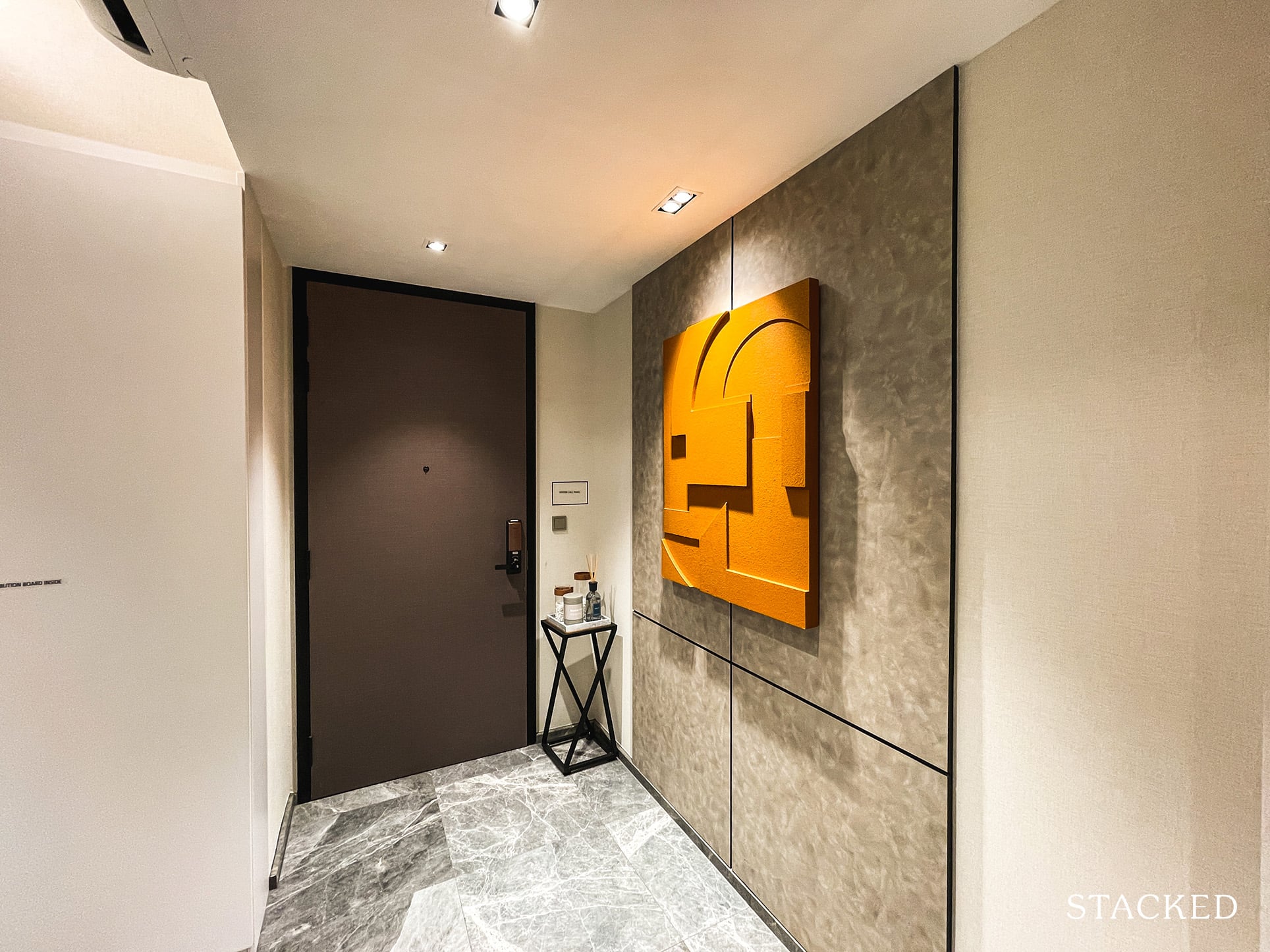 The smaller 700 sq ft 2 bedroom units open straight up into the kitchen, but this one has a regular entranceway. It is forgivable due to the bigger size (as compared to the 1 bedder), and you can install some built-in cabinetry for additional storage along the side.
And like the 1 bedroom unit, the floor will be marble, as is the standard at One Bernam.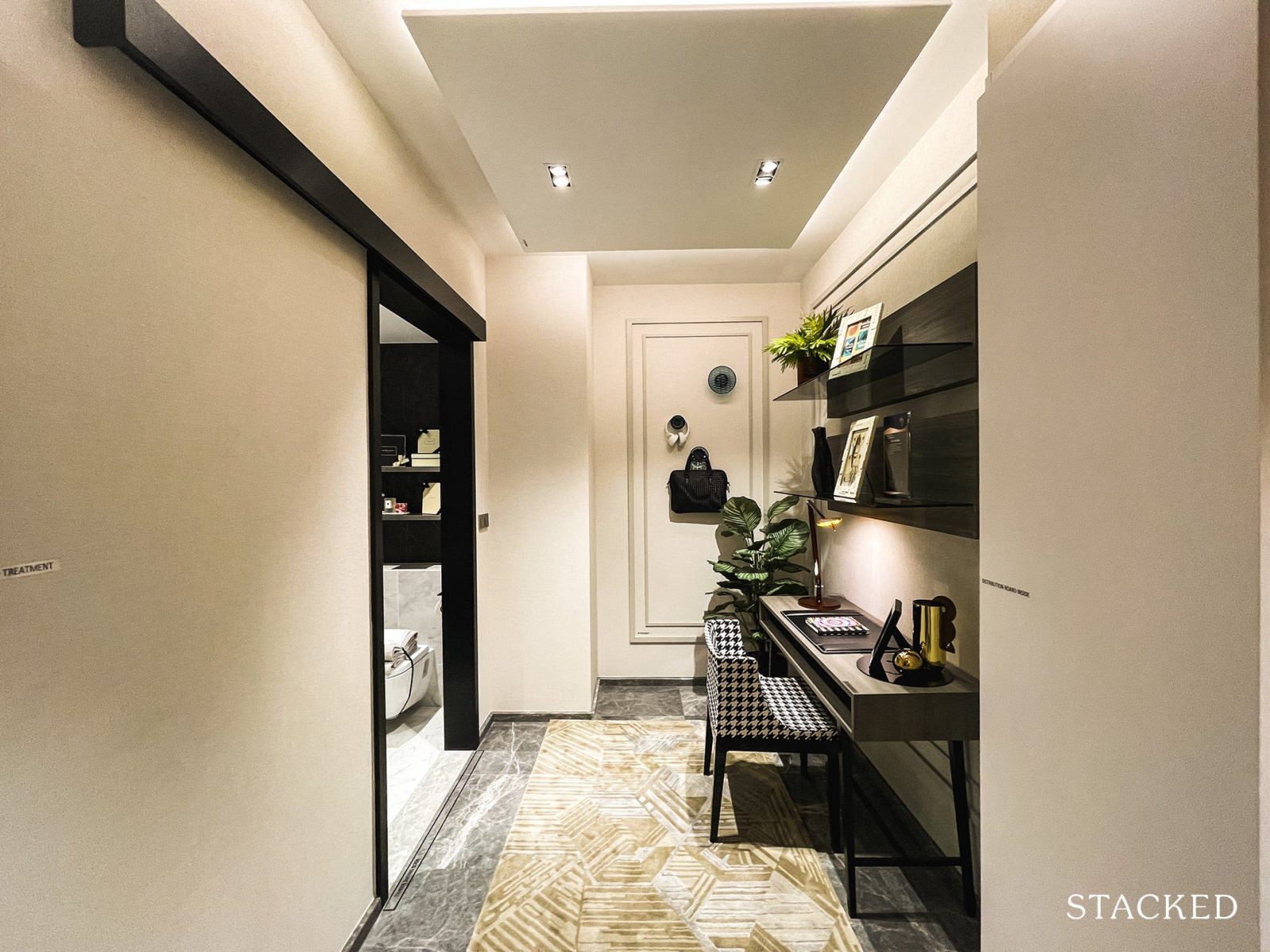 As far as study areas go, this one is definitely a very good size. You could even think about a single bed here for an additional room. Note that this room doesn't come with a door, but you could enclose it if need be.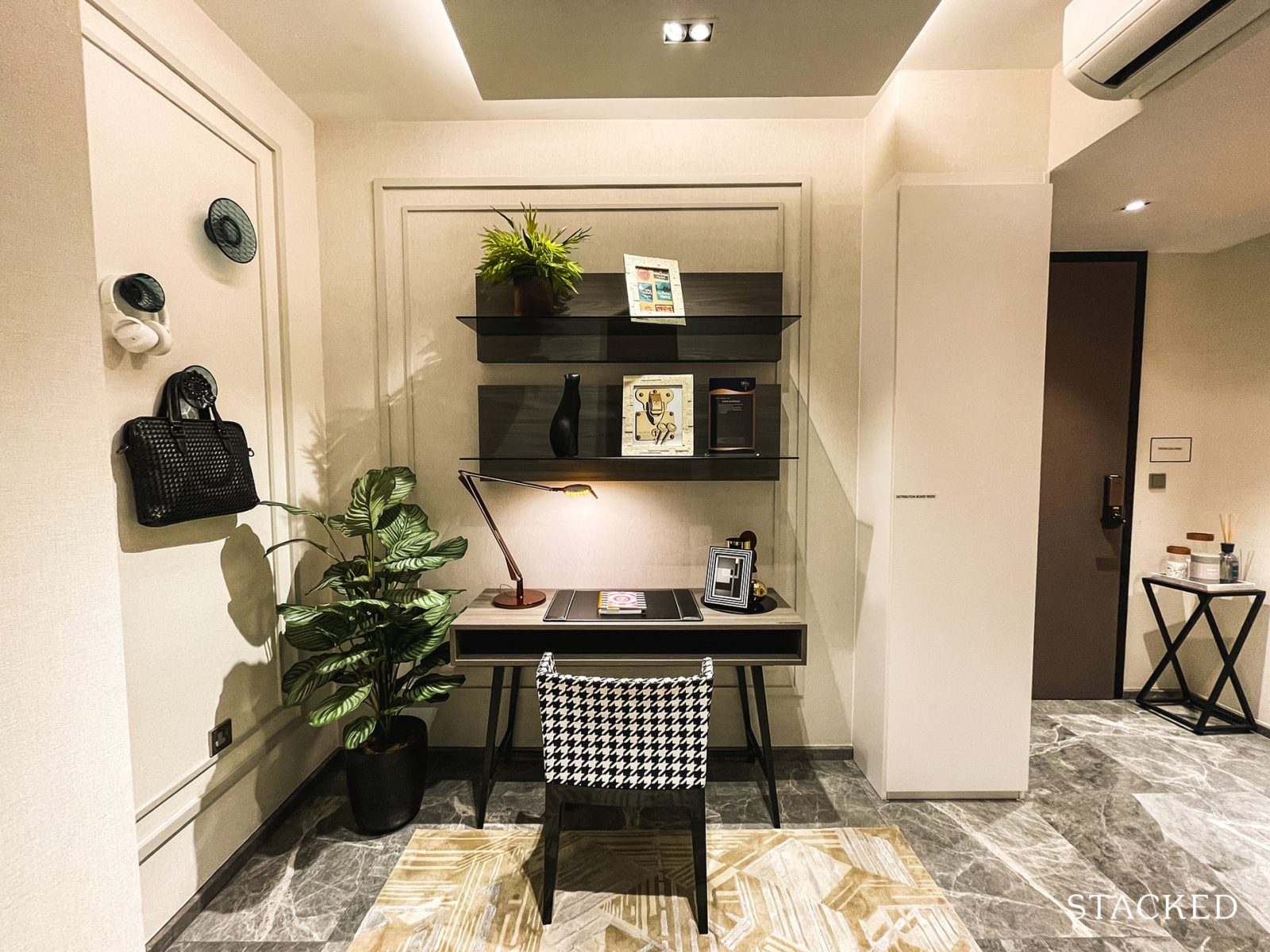 Also, there isn't any window at all here, so if you do love to have natural light this could pose a problem.
And while having a study area is good to have in the pandemic era, it obviously becomes a lot less useful in the CBD because you are essentially paying a premium to live right next to where you work.
I do like that the common bathroom is of the jack-and-jill variety – so you can access it from both the living as well as the study room.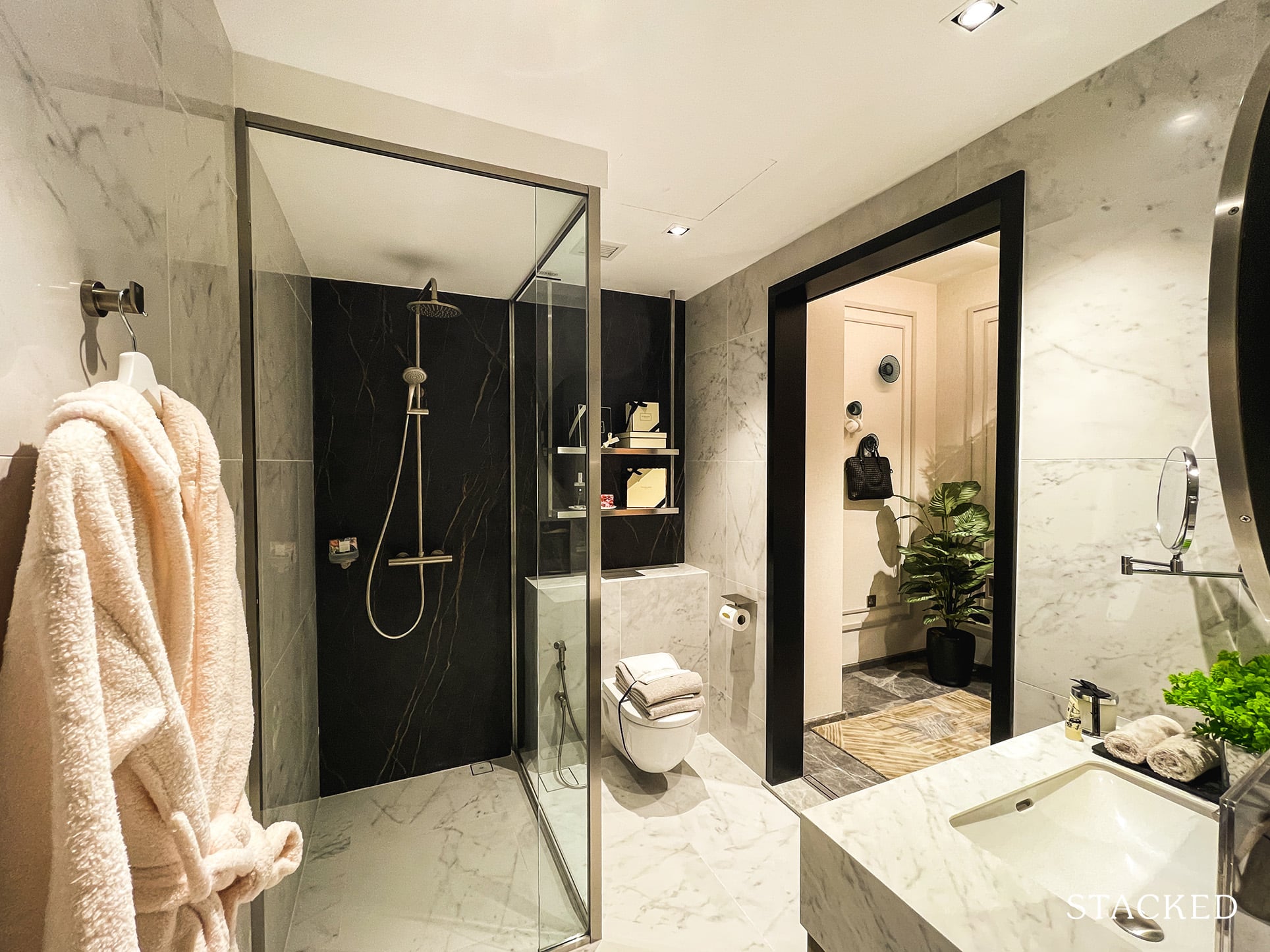 It's a rather well-sized bathroom too. Fittings are from Gessi and Laufen, and I really do like the mix of black and white used in the bathrooms – it looks like something you'd find in a luxury hotel. And yes, even the common bathrooms here come with a rain shower.
The one downside is the lack of a window here, so ventilation may not be as great.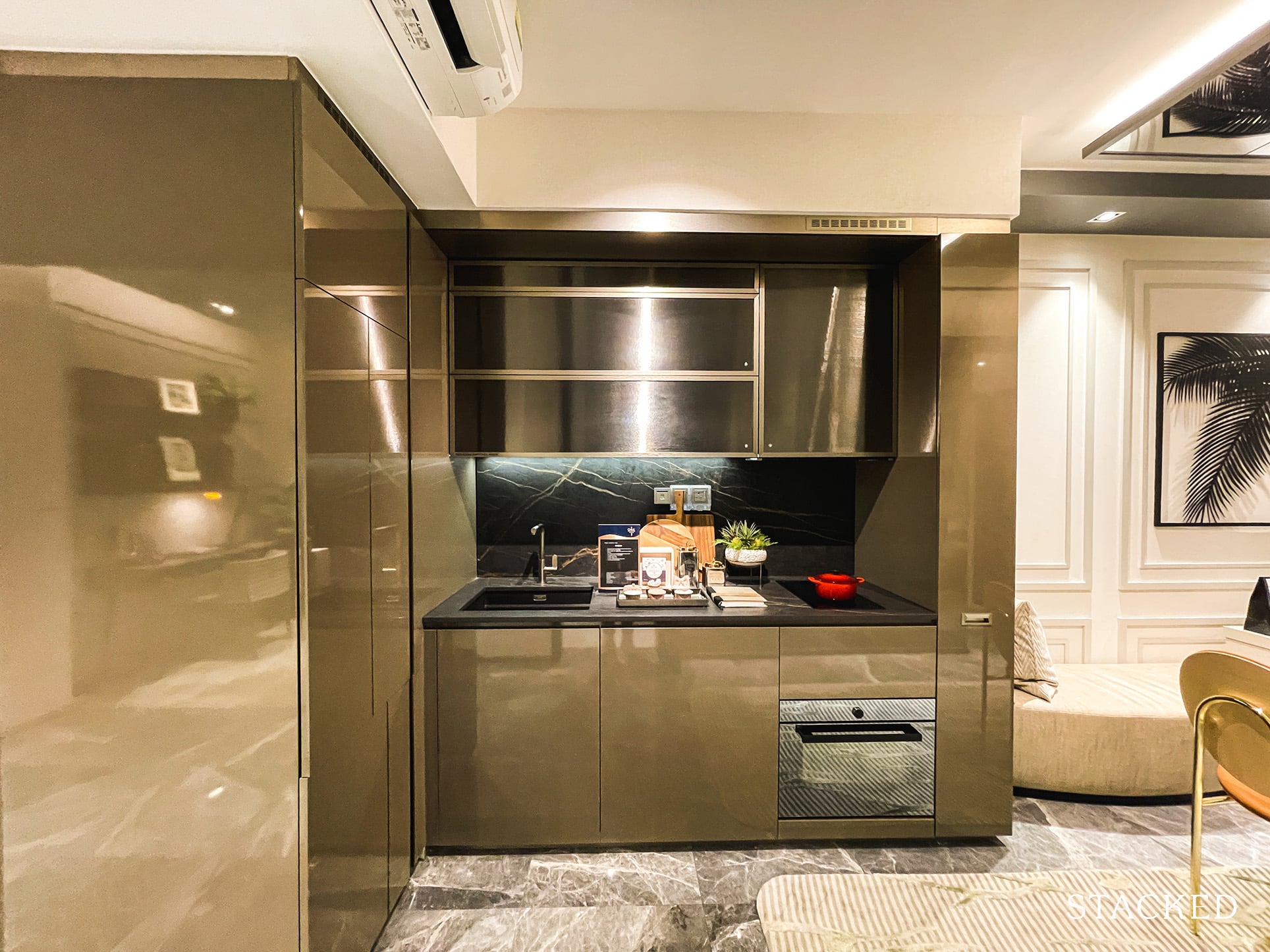 The kitchen is on the small side, with the same amount of countertop space as the 1 bedroom unit. If you are the type that likes to spend your weekends concocting new recipes or baking sweet treats, this layout may be less appealing to you.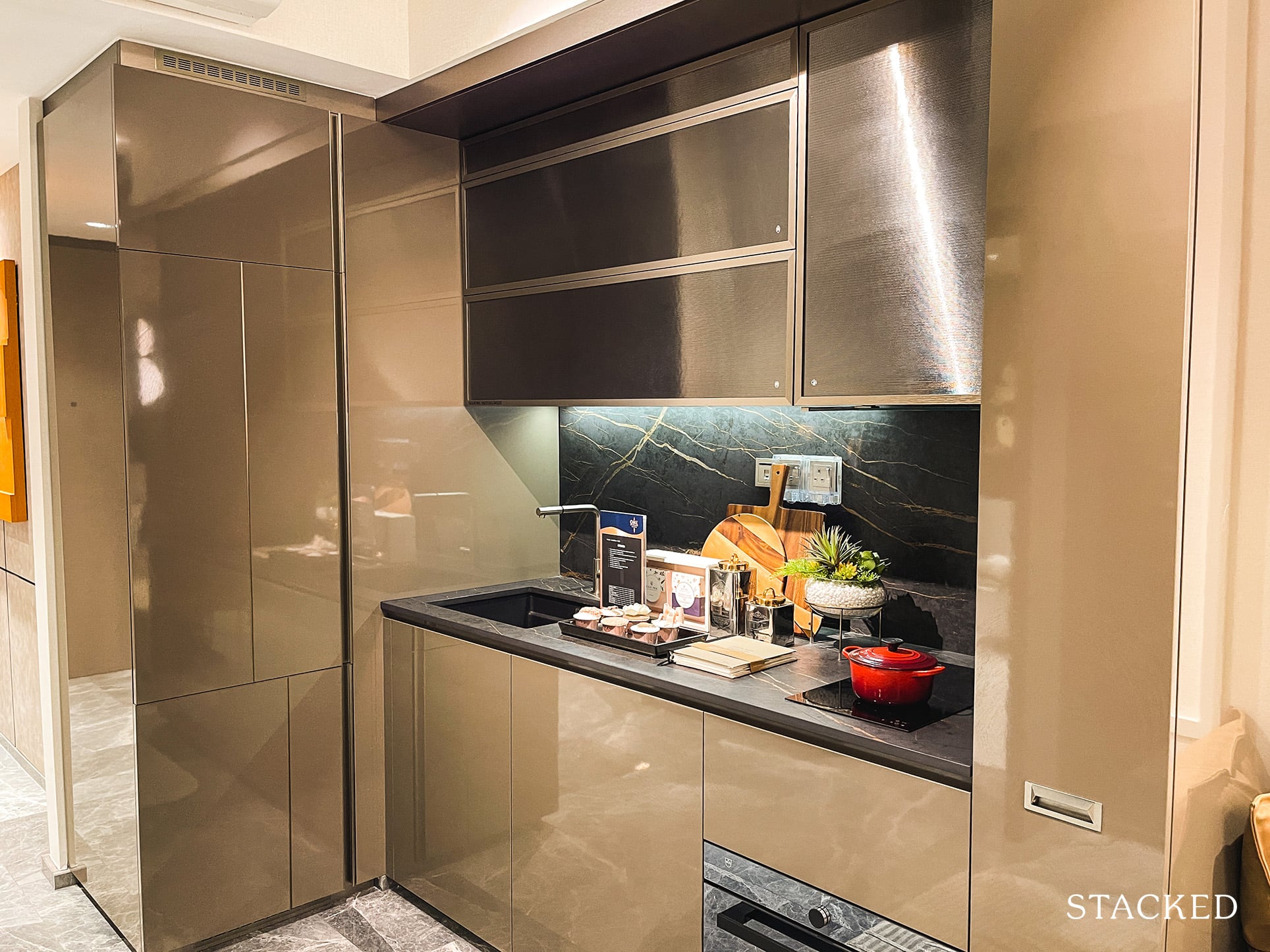 It's a pity, as the kitchen is chock full of high quality brands. Storage above the sink is provided by means of an easy to use Blum system. Kitchen equipment is supplied by V-ZUG, which is a premium Swiss brand.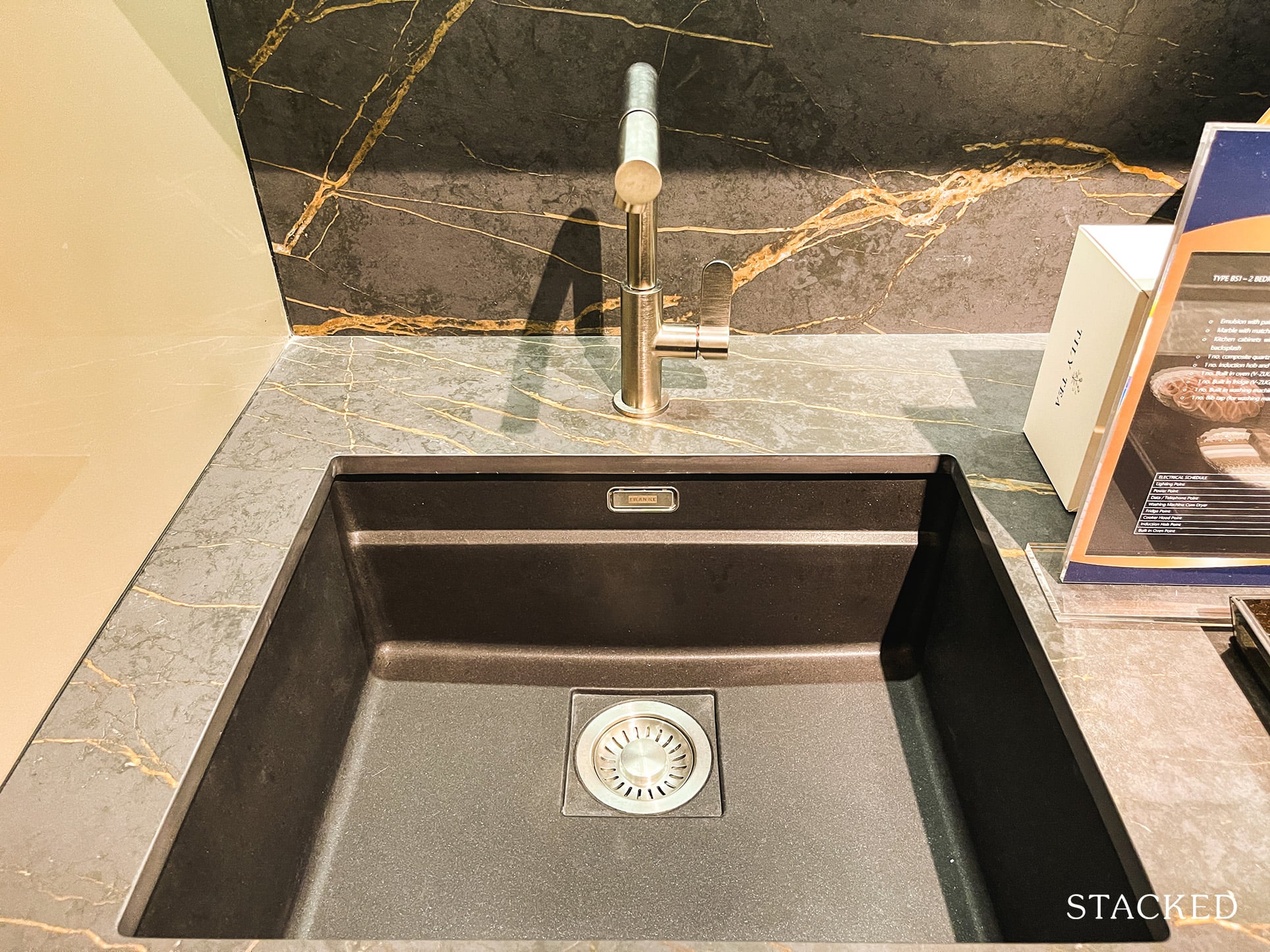 And yes, I definitely like the look of the matte finish sink by Franke.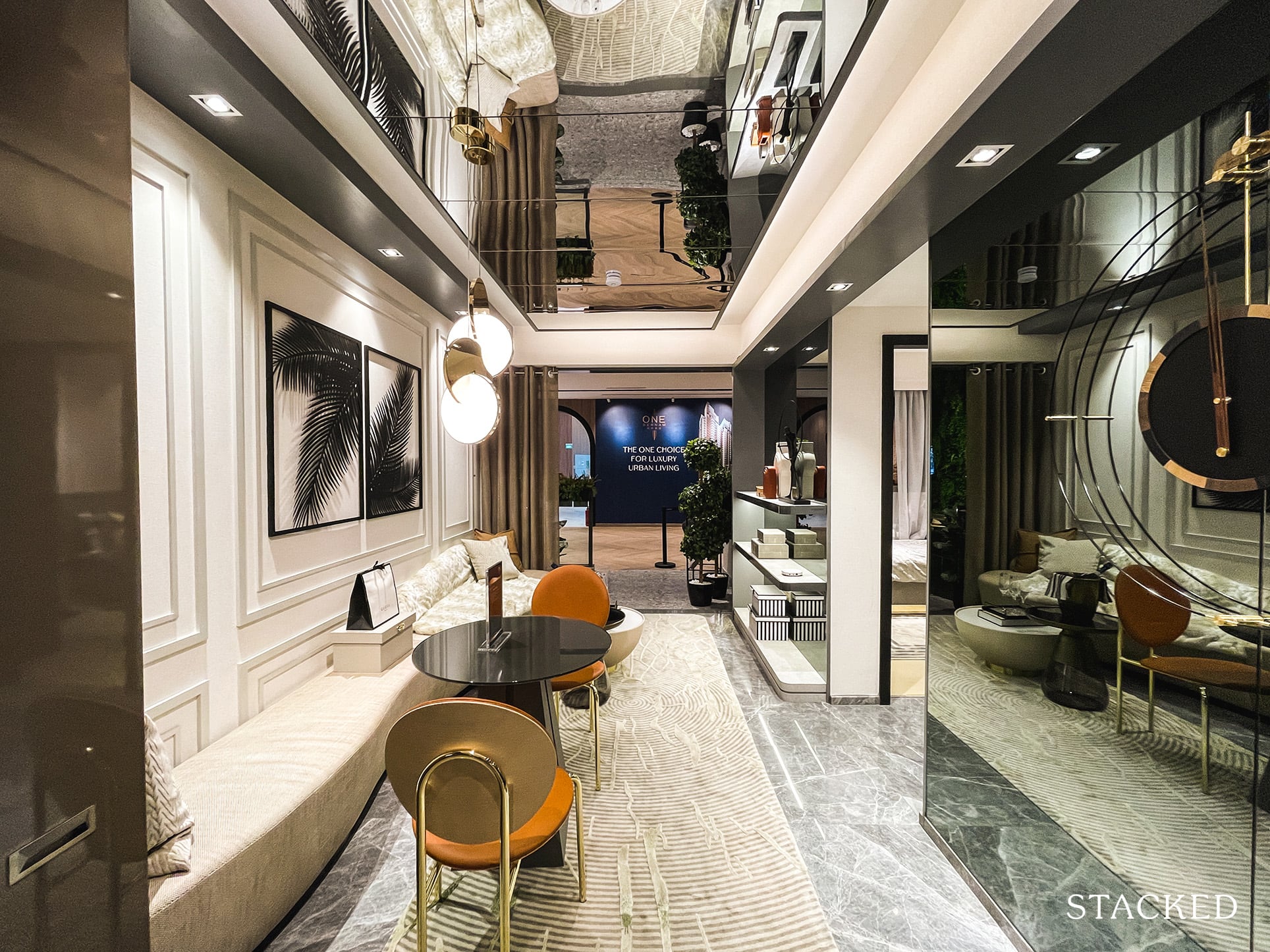 The living and dining are both in one seamless space (as per what you'd usually see today).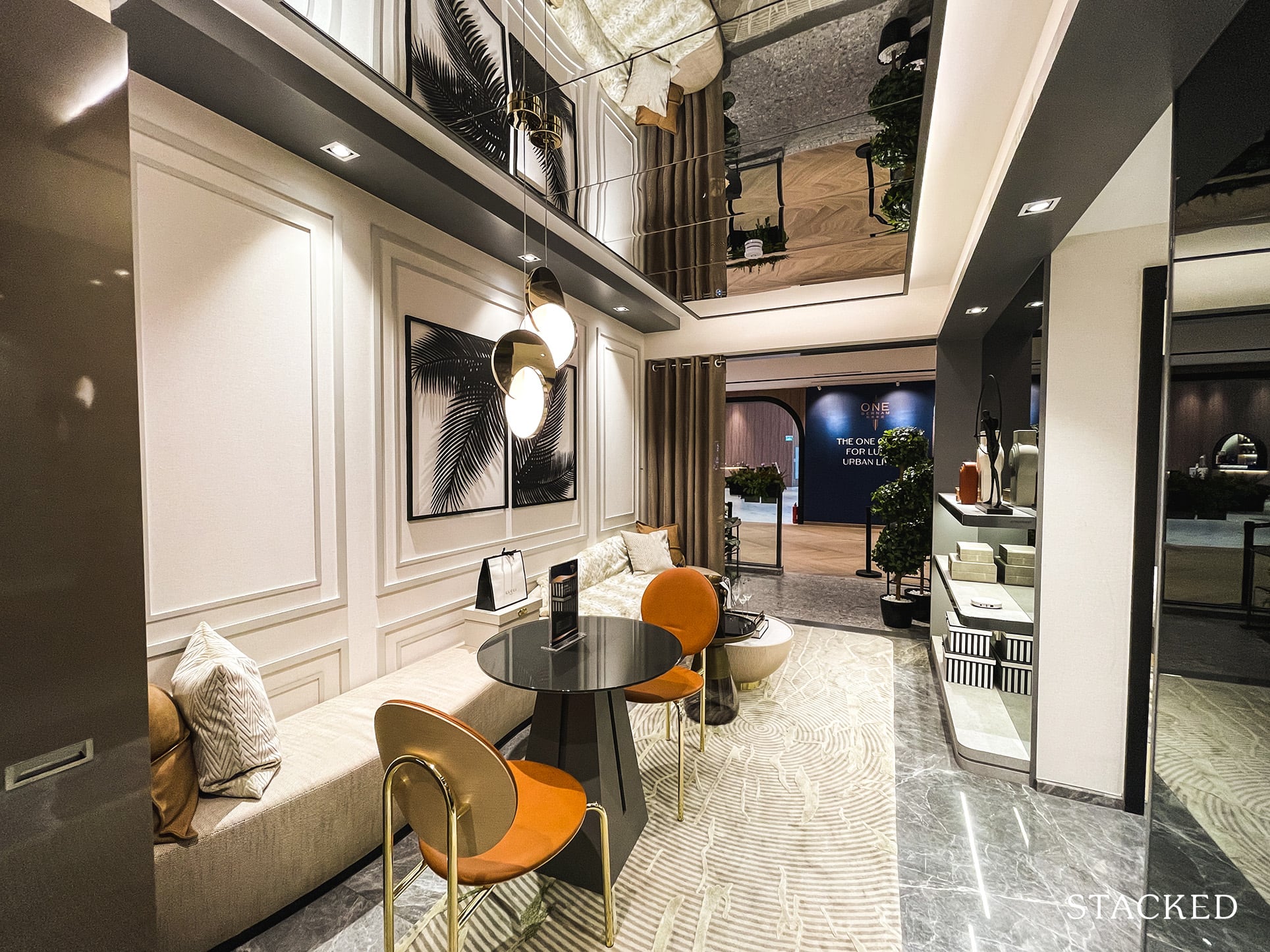 As you can see, the dining space is just okay. You could of course fit in a bigger table that can sit 4 people, but any bigger than that and it would not be the most comfortable of dining experiences.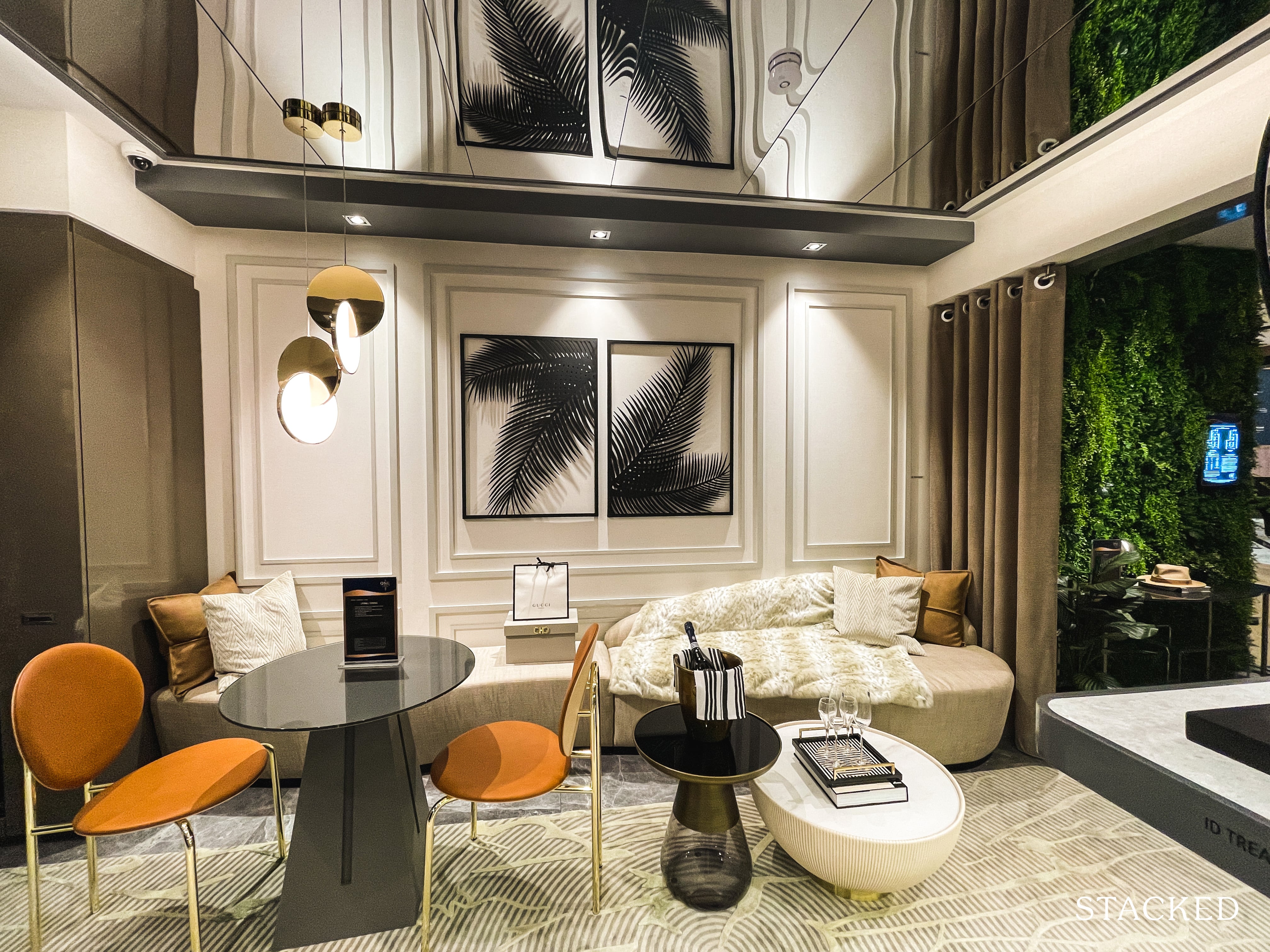 It's the same story with the living. You can at most fit in a 3-seater couch, with a small coffee table to boot.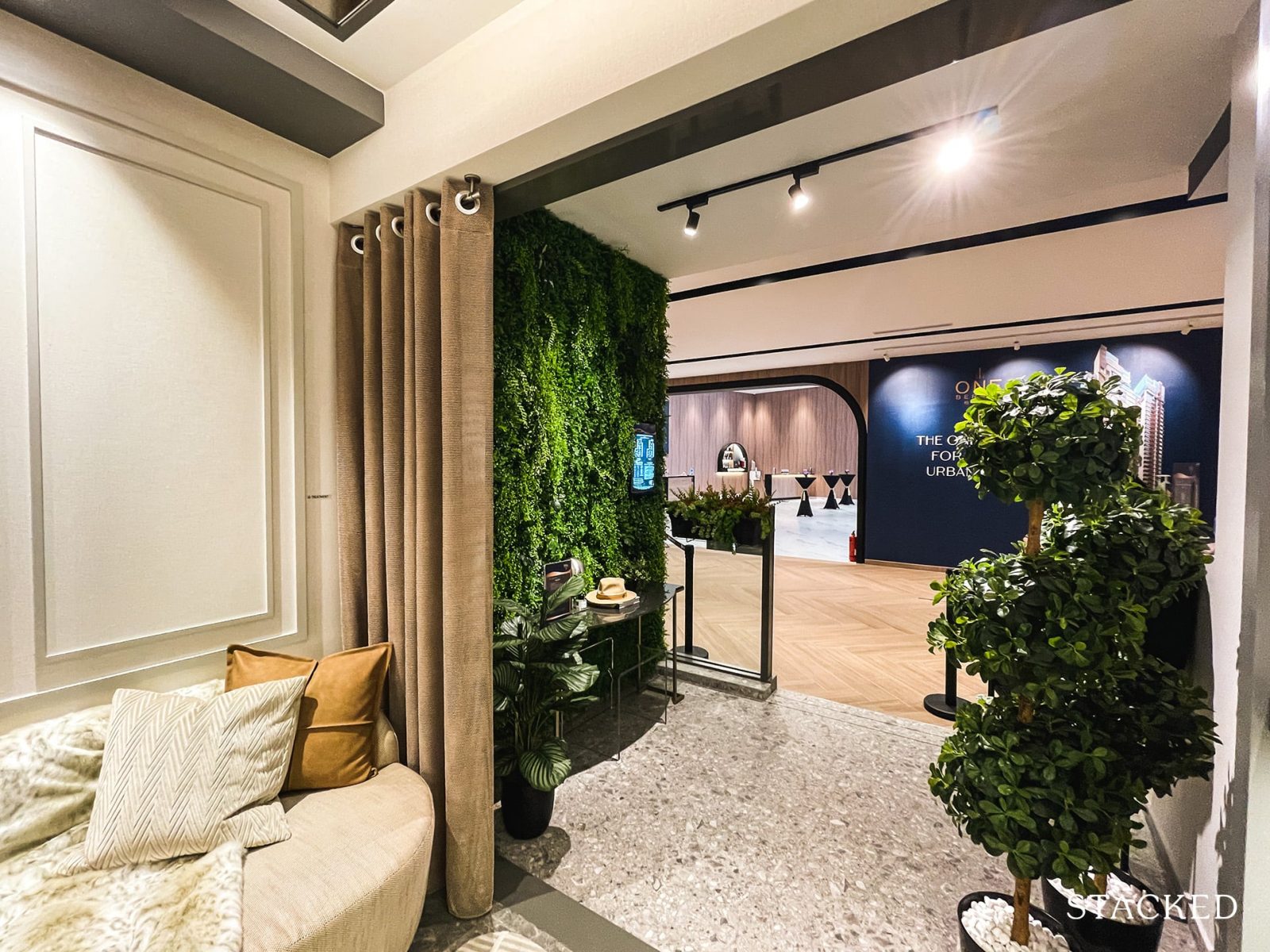 All the 2 bedroom units will come with a balcony. It's kept to a minimum, but there will still be enough space to fit in a simple chair and coffee table set up.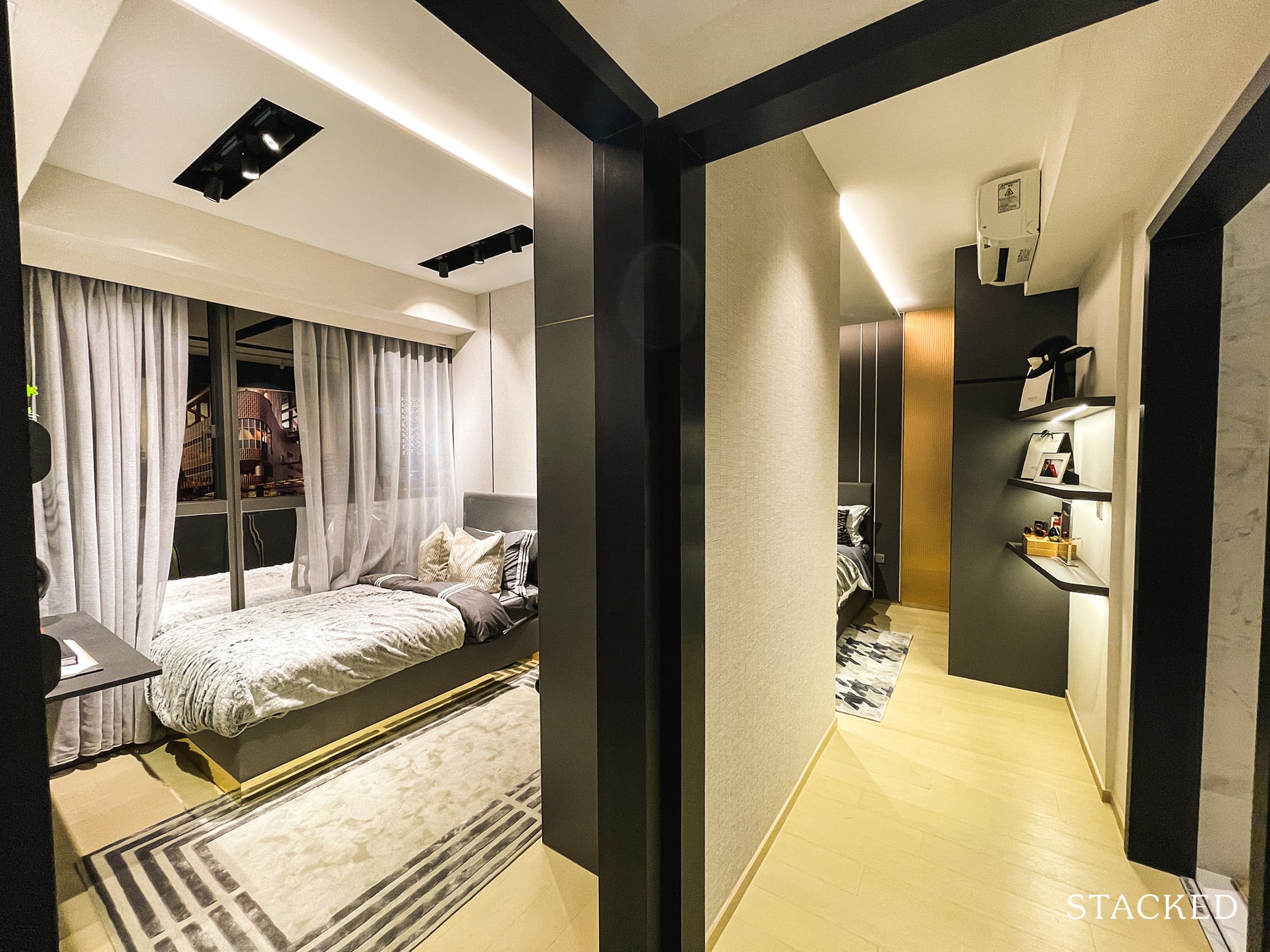 Next, there's a small hallway that leads to both the bedrooms.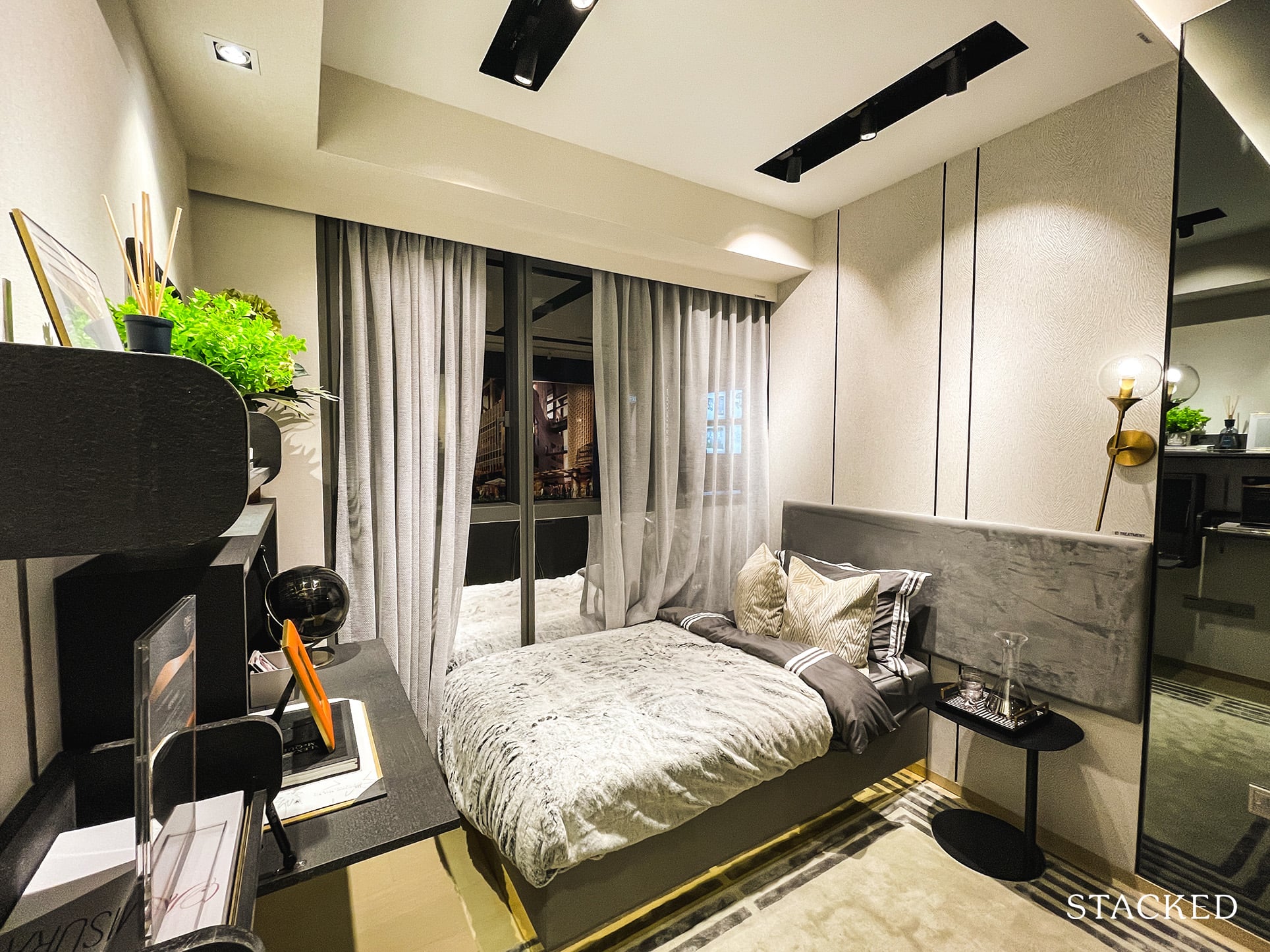 The common bedroom is an average size of 8.8 sqm. It can fit in a queen sized bed, and like the 1 bedroom unit previously, you can flush the bed all the way to the left because you don't enjoy full length windows here (the AC ledge is on the outside).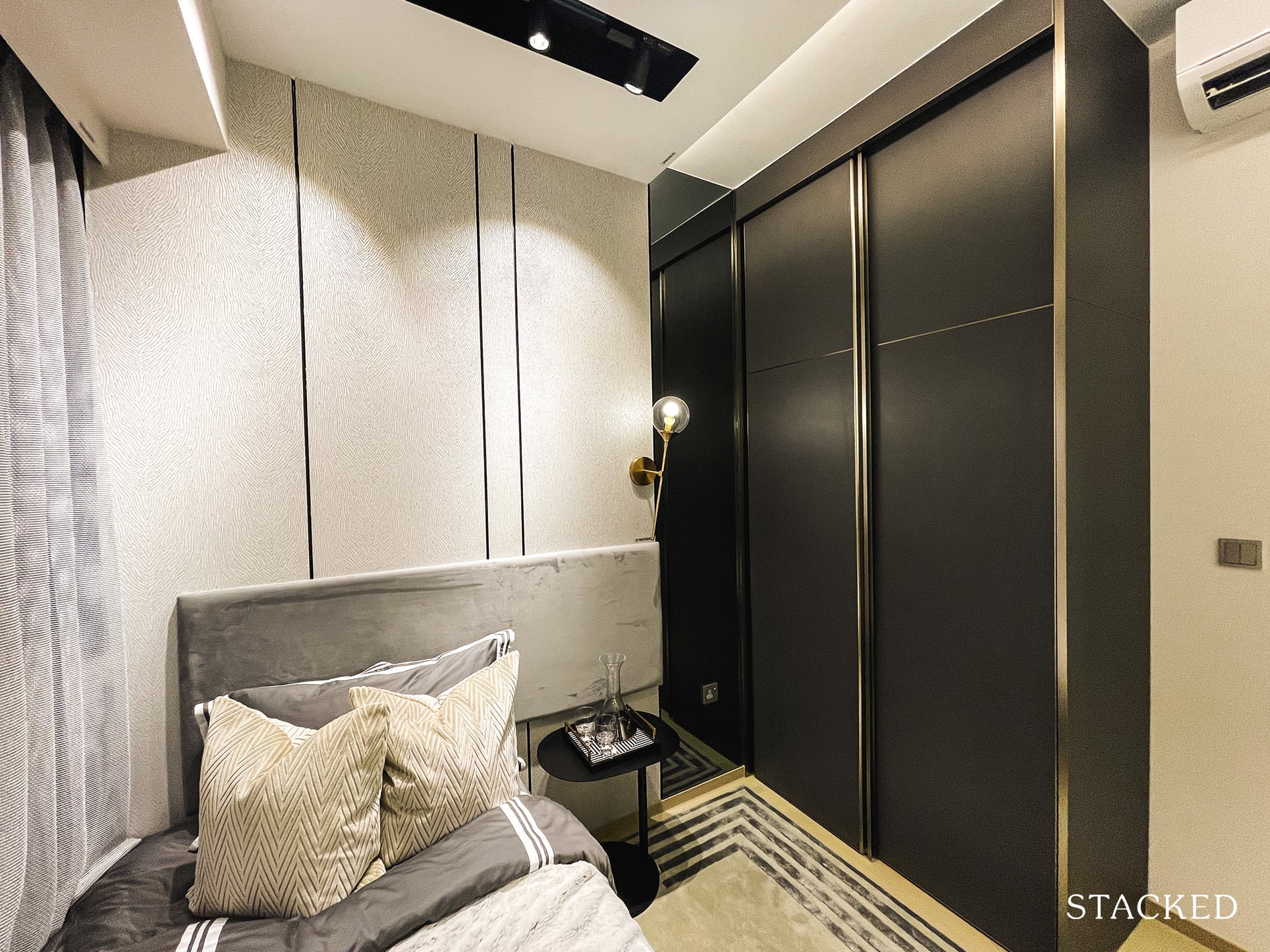 The common bedroom will come with the standard 2-panel wardrobe size. But it does come with a different finish to the master bedrooms (that plastic slated look is supposed to be the more premium one).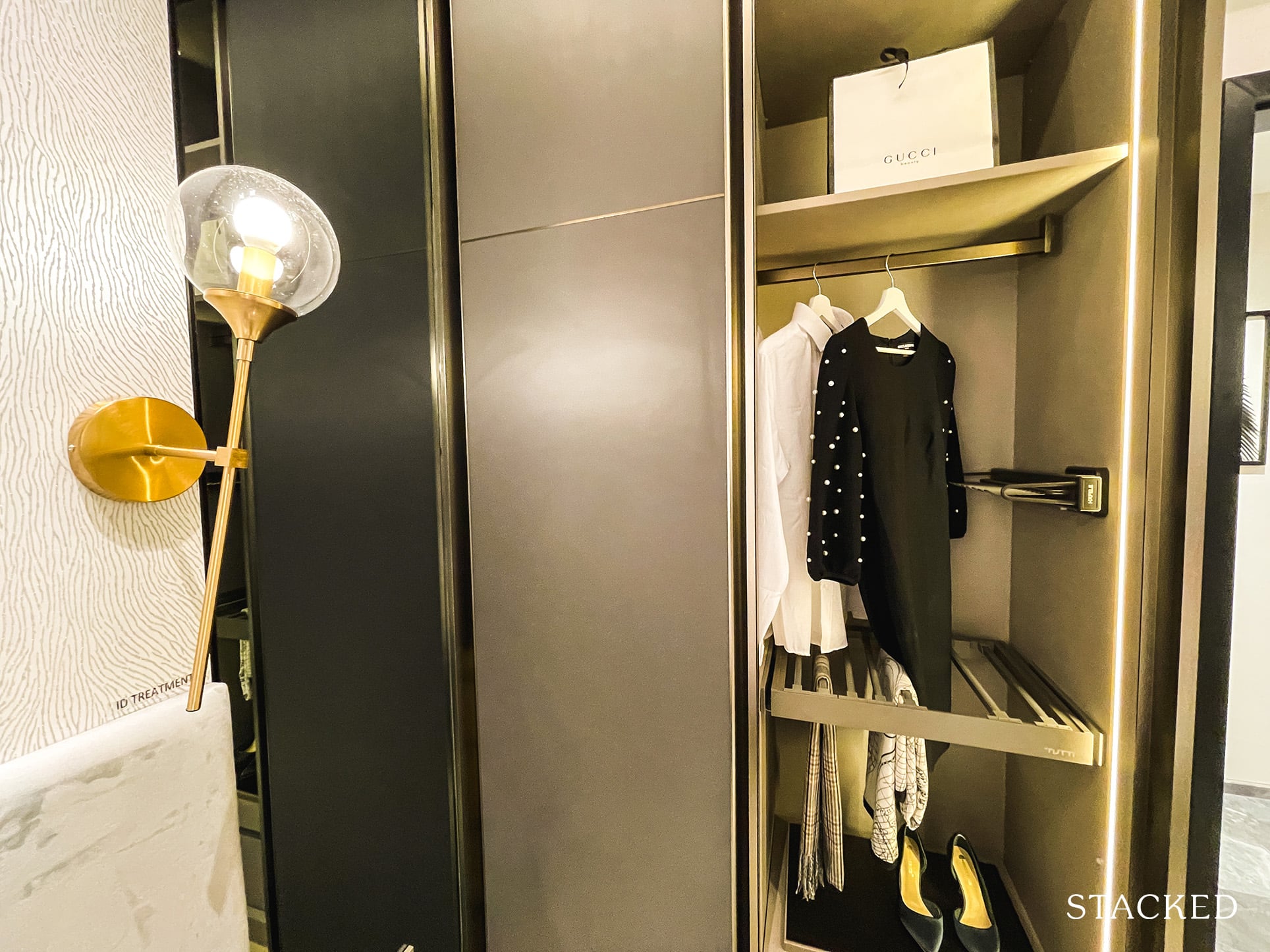 In keeping with the CBD theme, the developers have kept their ideal customer in mind. So the wardrobes will come with useful features such as a pants rack.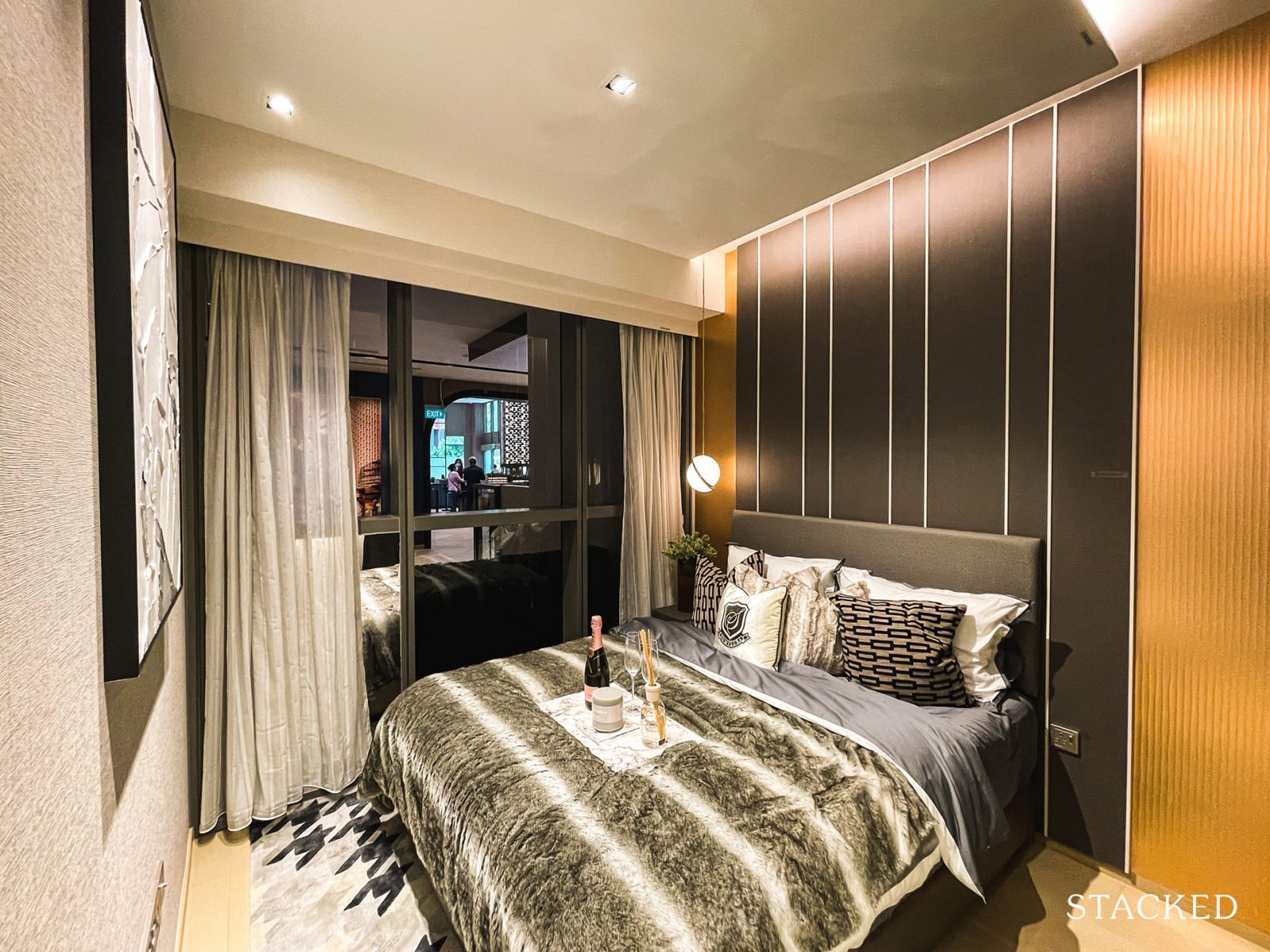 The master bedroom is decently sized. But it does have a weird quirk that most people would probably not noticed if they don't refer to the floor plan closely.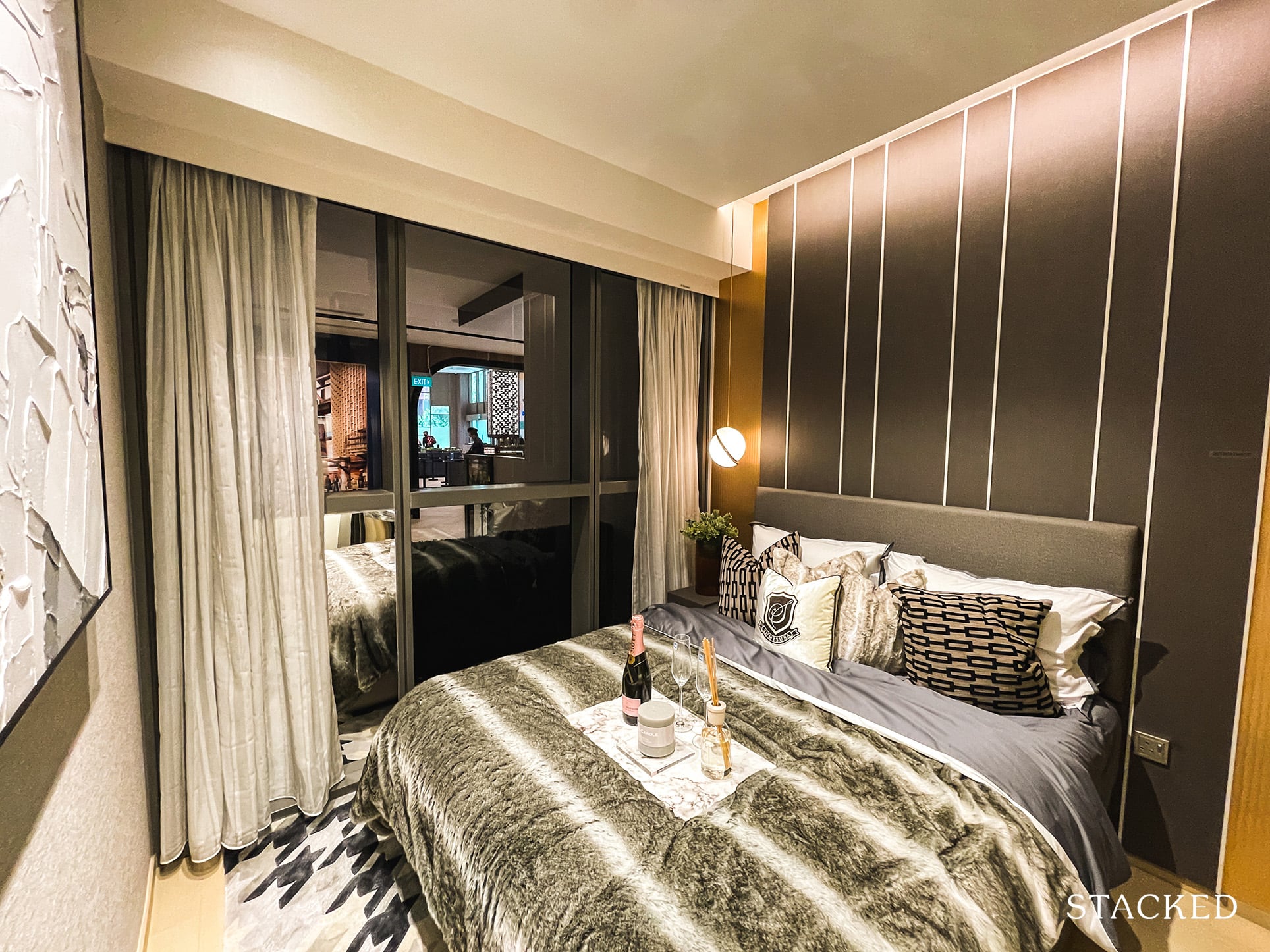 Partially hidden by the curtains – you'll find that the bottom left panel is actually covered because of the AC ledge that sticks out past the common bedroom.
While you do still get nearly full length windows, it is a bit unsightly to see. Plus I'm really not sure why the AC ledge has to be positioned in such a way either.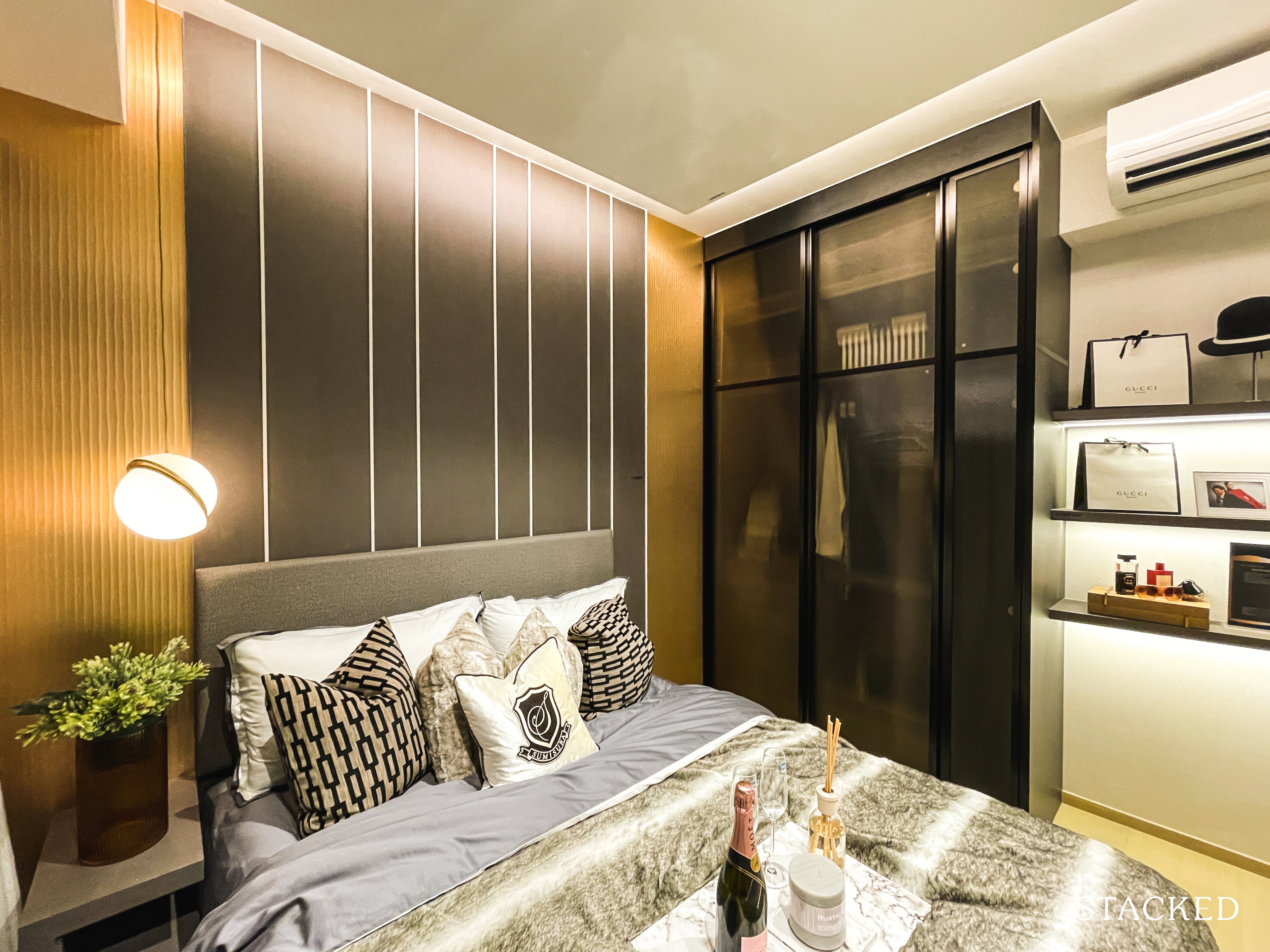 As for the storage, you have the supposedly more premium slightly translucent finish here. What I do like is the addition of a pull out mirror.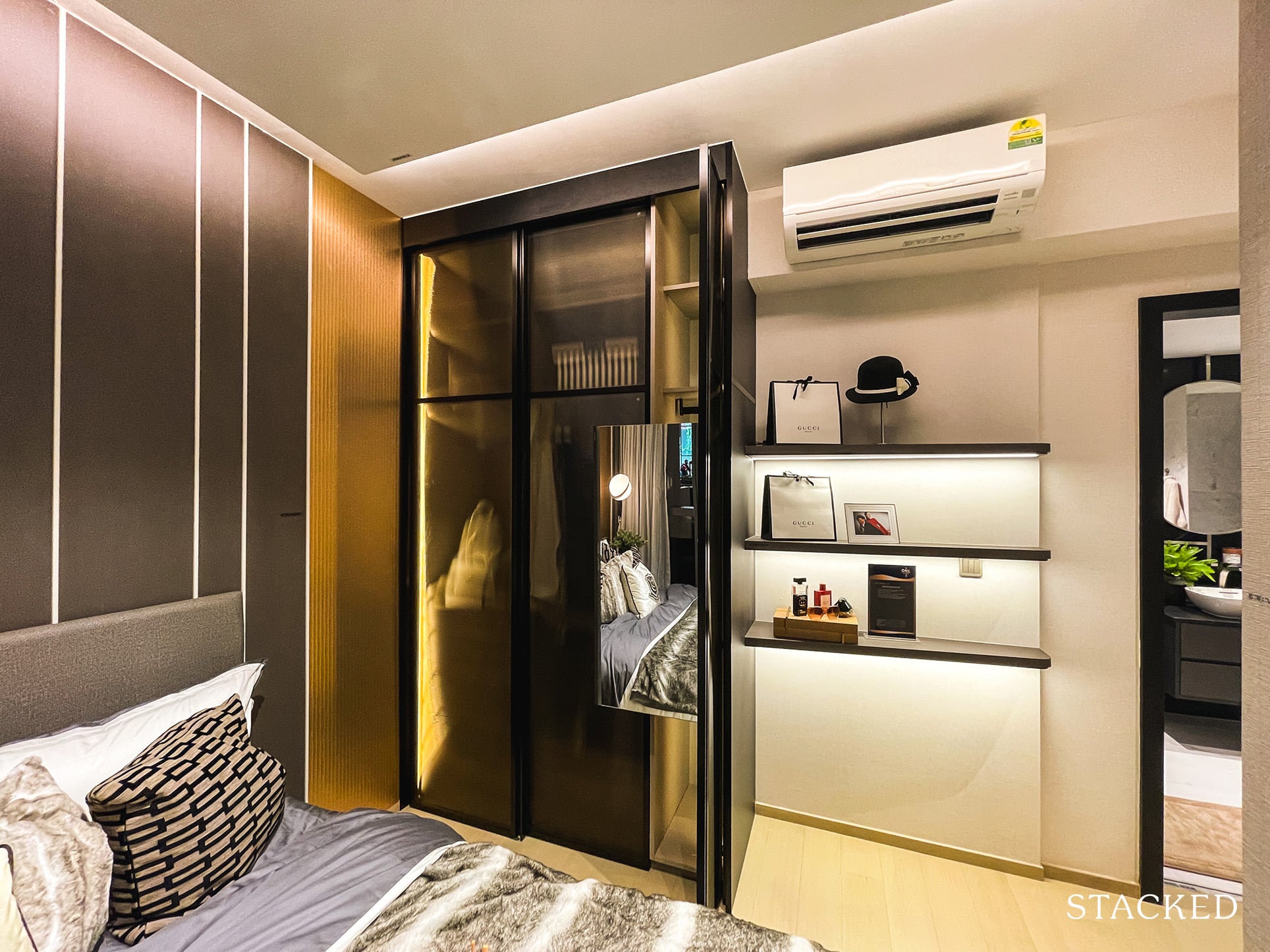 While you are limited by how far you can stand back because of the bed, it is a neat feature to have to get ready for work.
Also because of the entranceway, you do have quite a good sized space next to the wardrobe for an additional chest of drawers for more storage (which is always needed).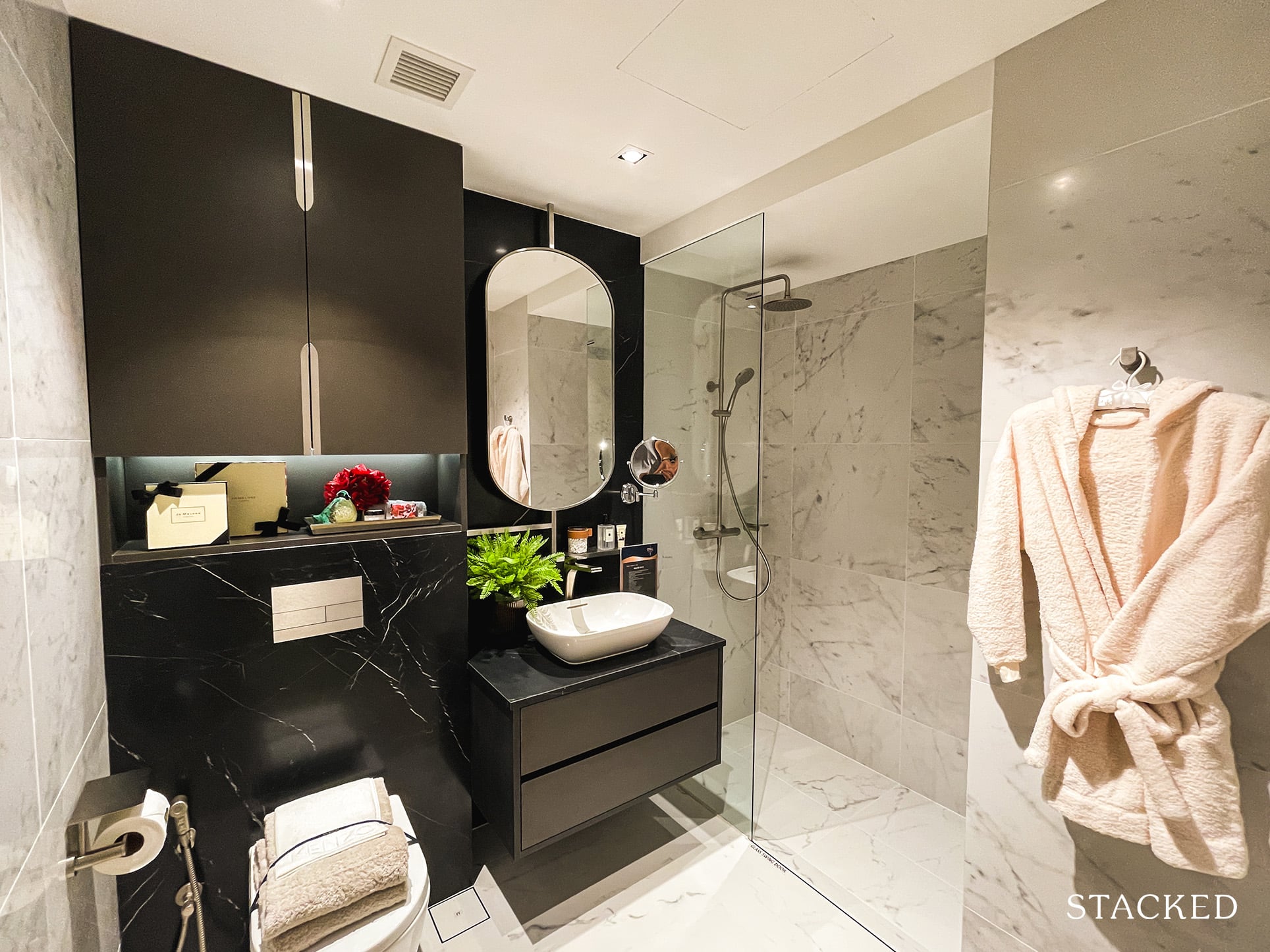 The master bathroom is a standard size, with the usual fittings from Laufen and Gessi. Again, because of its location, neither bathroom in this unit will have windows for natural ventilation.
One Bernam 3 Bedroom Review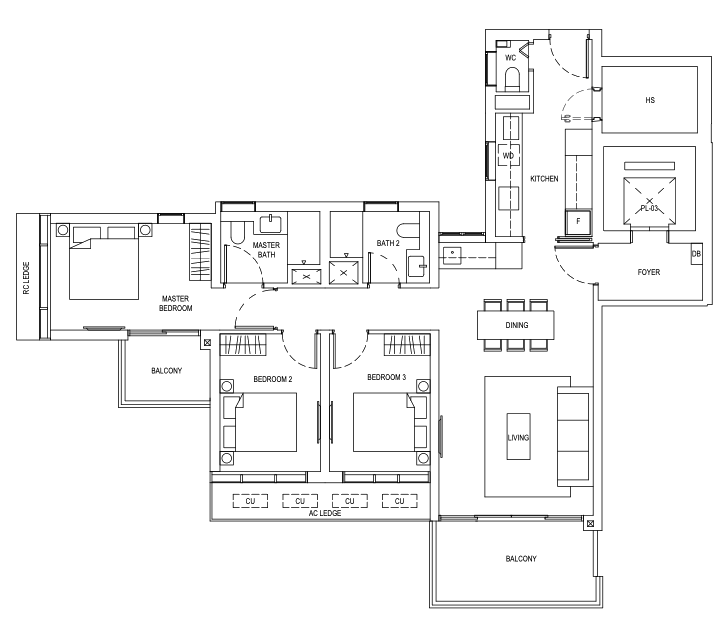 Probably the most impressive unit here (save for the penthouses) is this 3 bedroom unit sized at 1,421 square feet. That's large for a new launch product today, and this is really one for those looking at an own stay option in the CBD.
It is quite in keeping with what we've seen from competitors like Midtown Modern, where there is an increased emphasis on layouts that encourage more own stay clients to move in.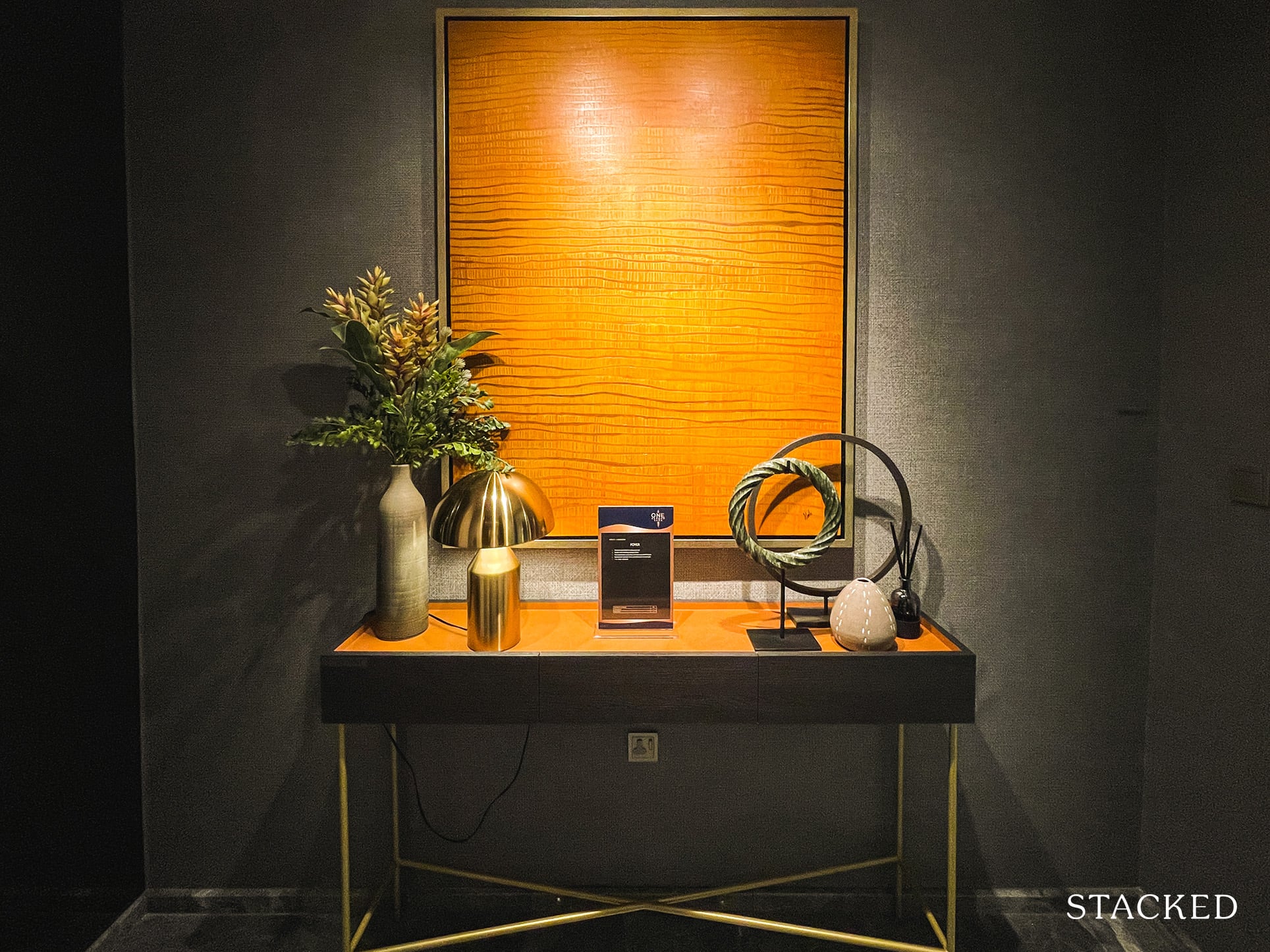 As with its more premium offering, you do get a private lift that opens up into a small foyer.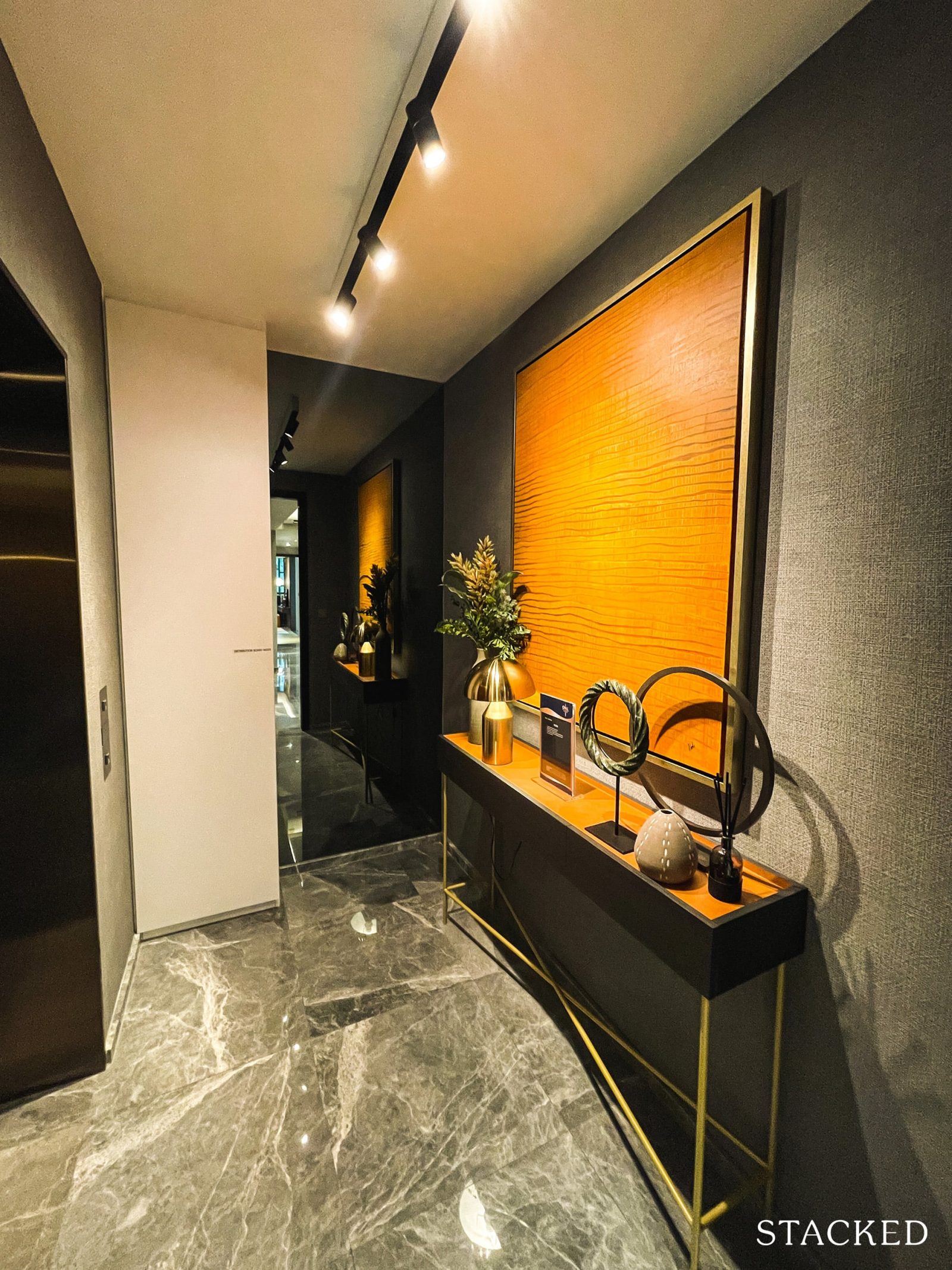 Interestingly enough, this luxury is only available to the 3 bedroom units, and the largest penthouse. The two 3 bedroom penthouses will just have regular entrances.
Once you step in, first impressions are generally quite positive. You do have an adequate amount of space for a 3 bedroom unit, but I wouldn't classify it as overly large either.
As with the rest of the units so far, marble flooring will come as standard.
While the dining shows that it can seat 6 people, frankly the table is much too narrow for 6 to dine comfortably – not especially if you are used to more Asian communal style dining.
So you definitely will need to take note if you are looking to entertain a fair bit.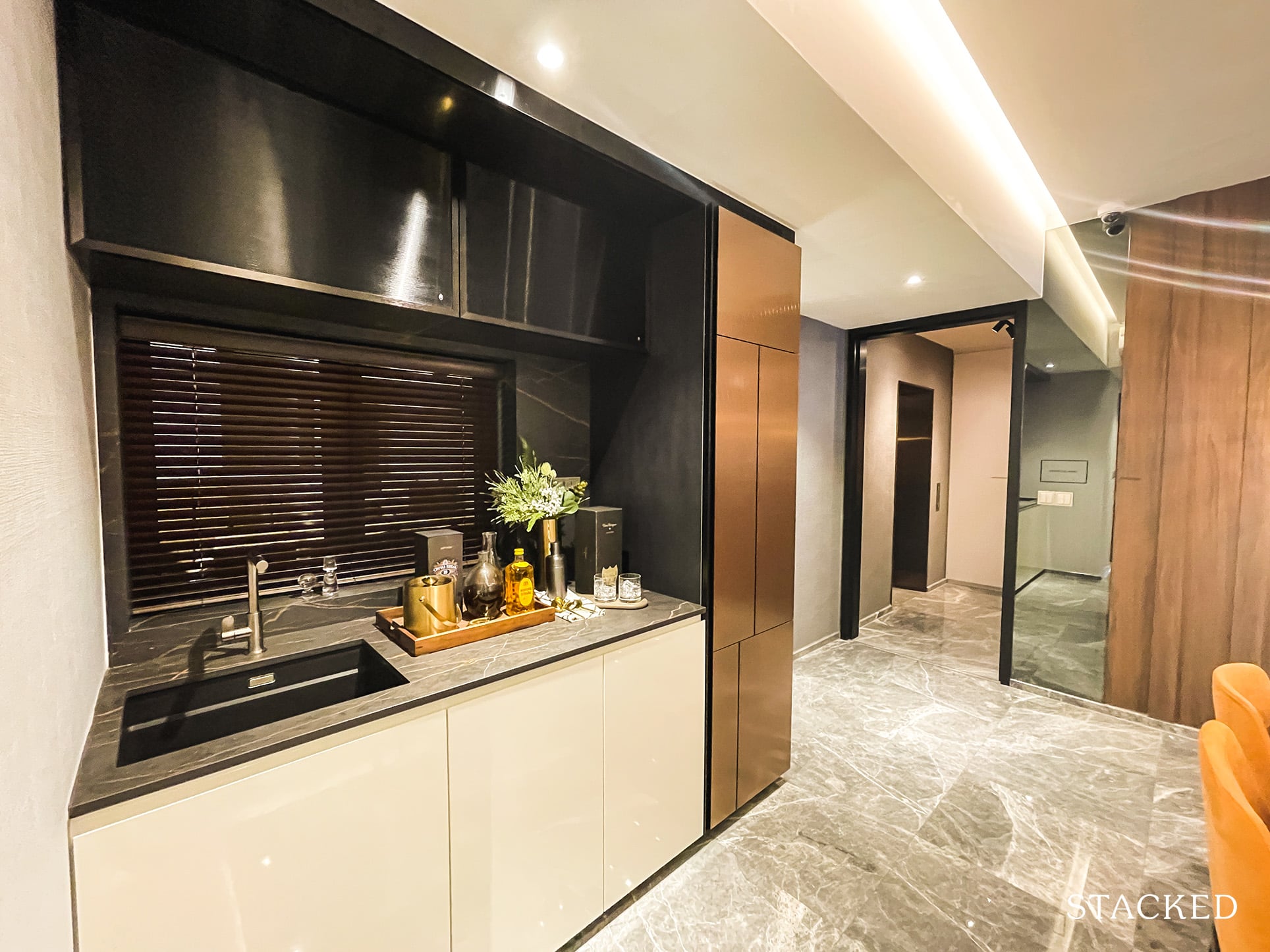 There is a dry kitchen section, that very usefully comes with a Franke sink. You get additional storage spaces here, along with a Blum system above the well-placed window.
Funnily enough, you don't get a separate fridge here, or at the very least, a wine fridge.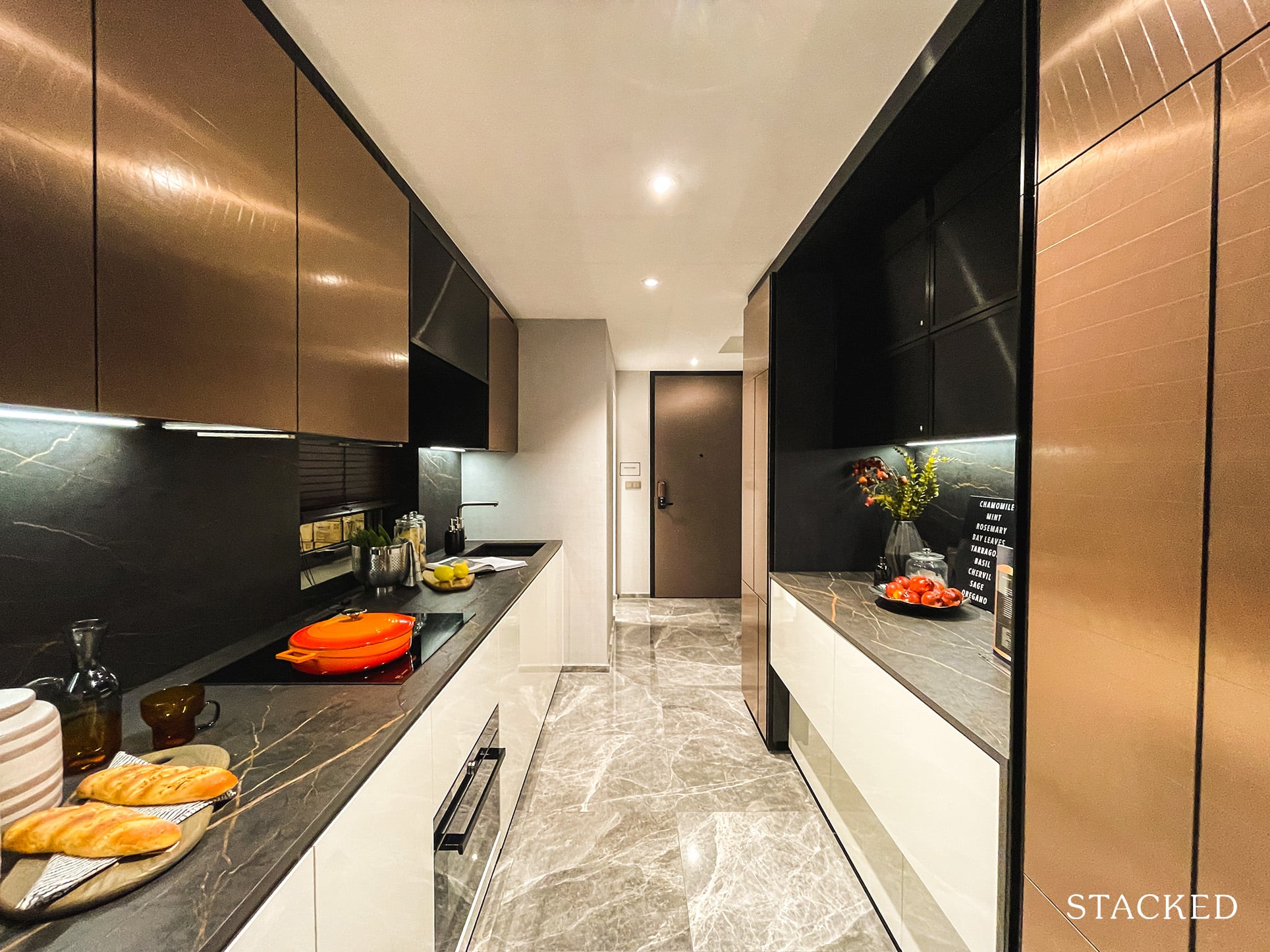 The wet kitchen doesn't look the biggest as it is an elongated shape, but it does encompass a good amount of countertop space on both sides.
As with the rest of the units again, you do get Franke sinks and V-ZUG for the kitchen appliances. Although it's worth noting here that it will be an induction hob instead of the gas hobs that you might normally find in the bigger units.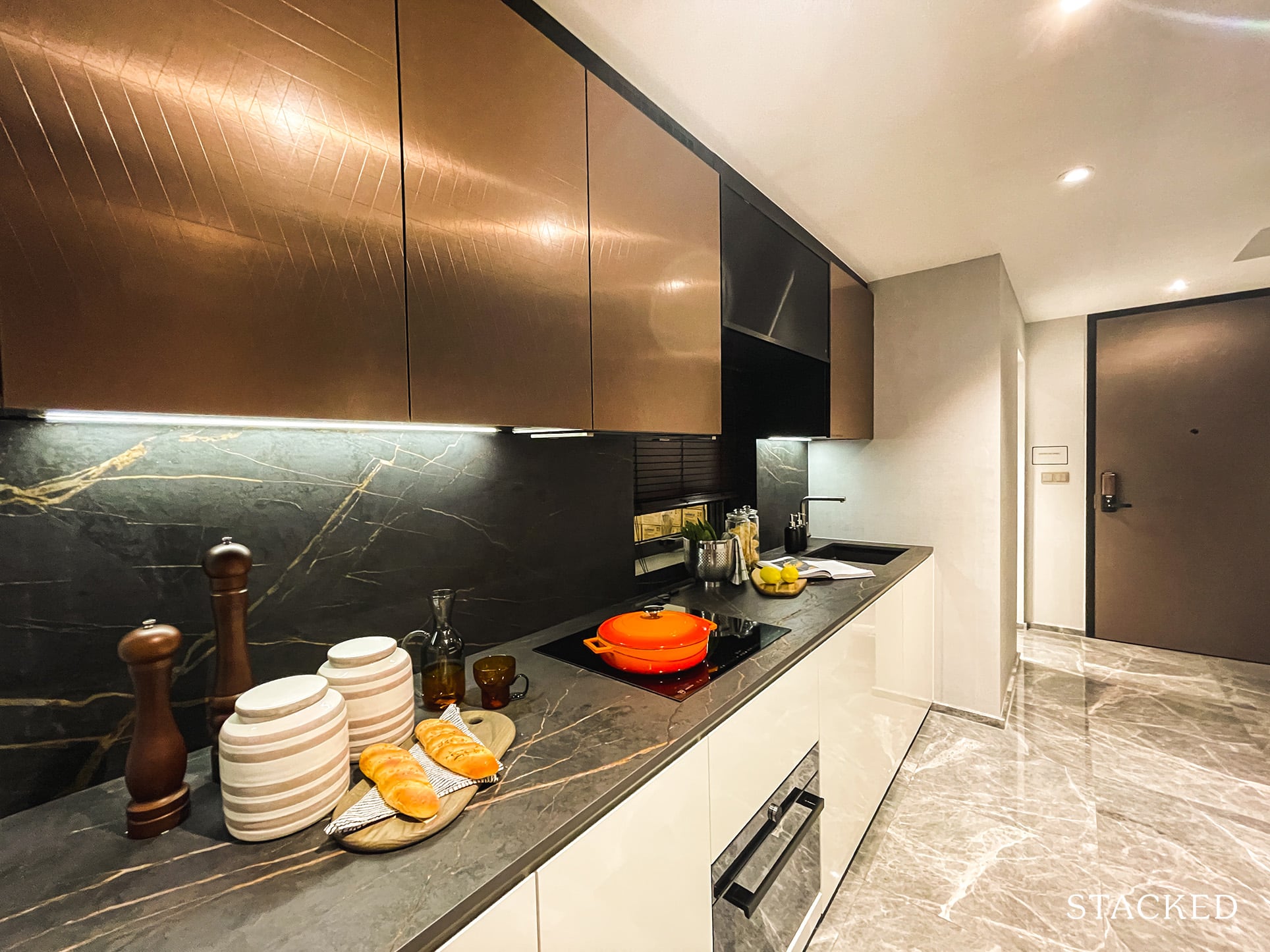 You might also have noticed here that the look and materials used in the kitchen are different from the 1 and 2 bedroom units. I definitely prefer the finish here, although more reflective, it looks more upscale as well.
And of course, it's a proper kitchen set up,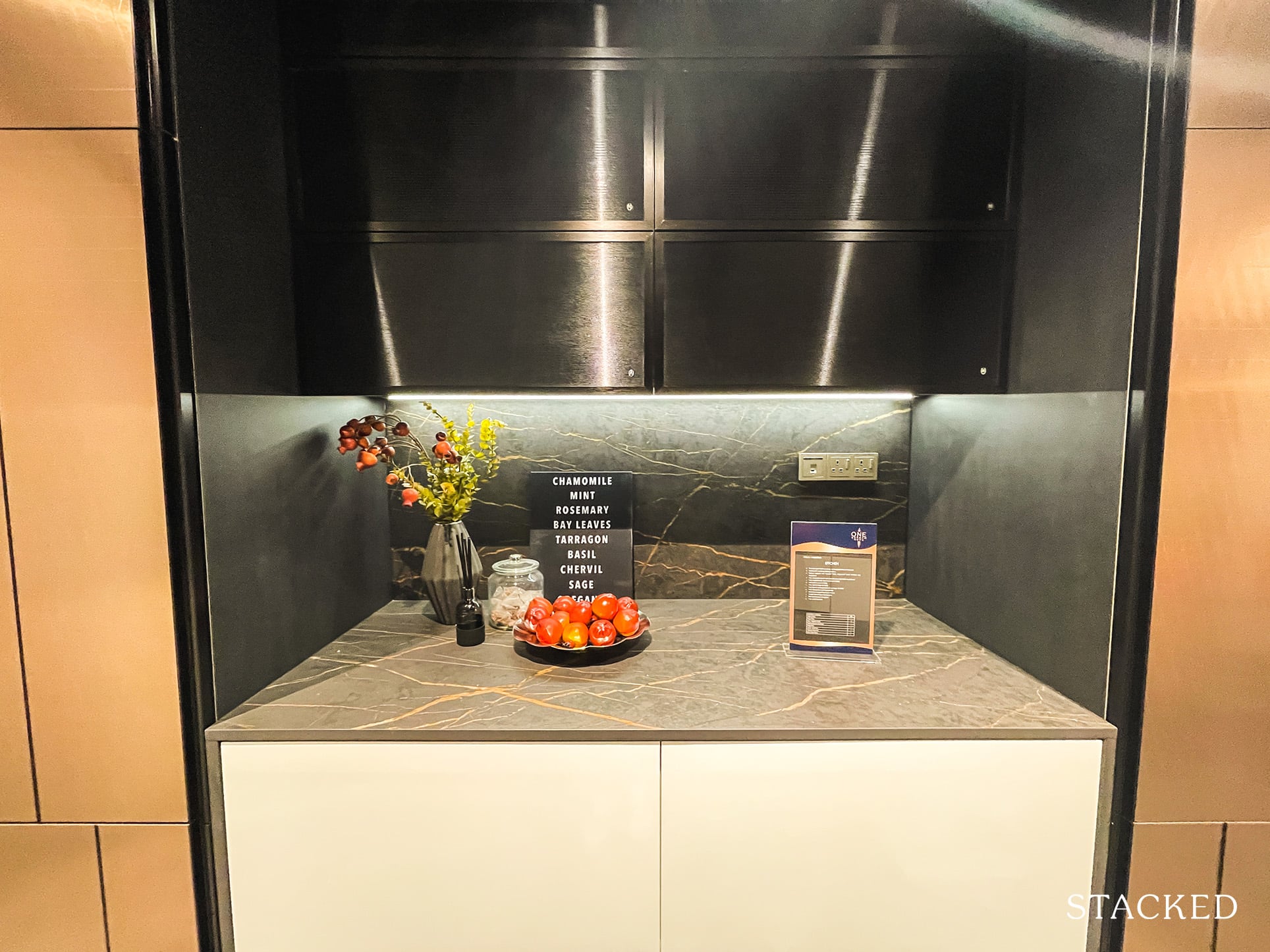 On the opposite end, you'll find the Blum system, where a press of a button easily reveals more storage space.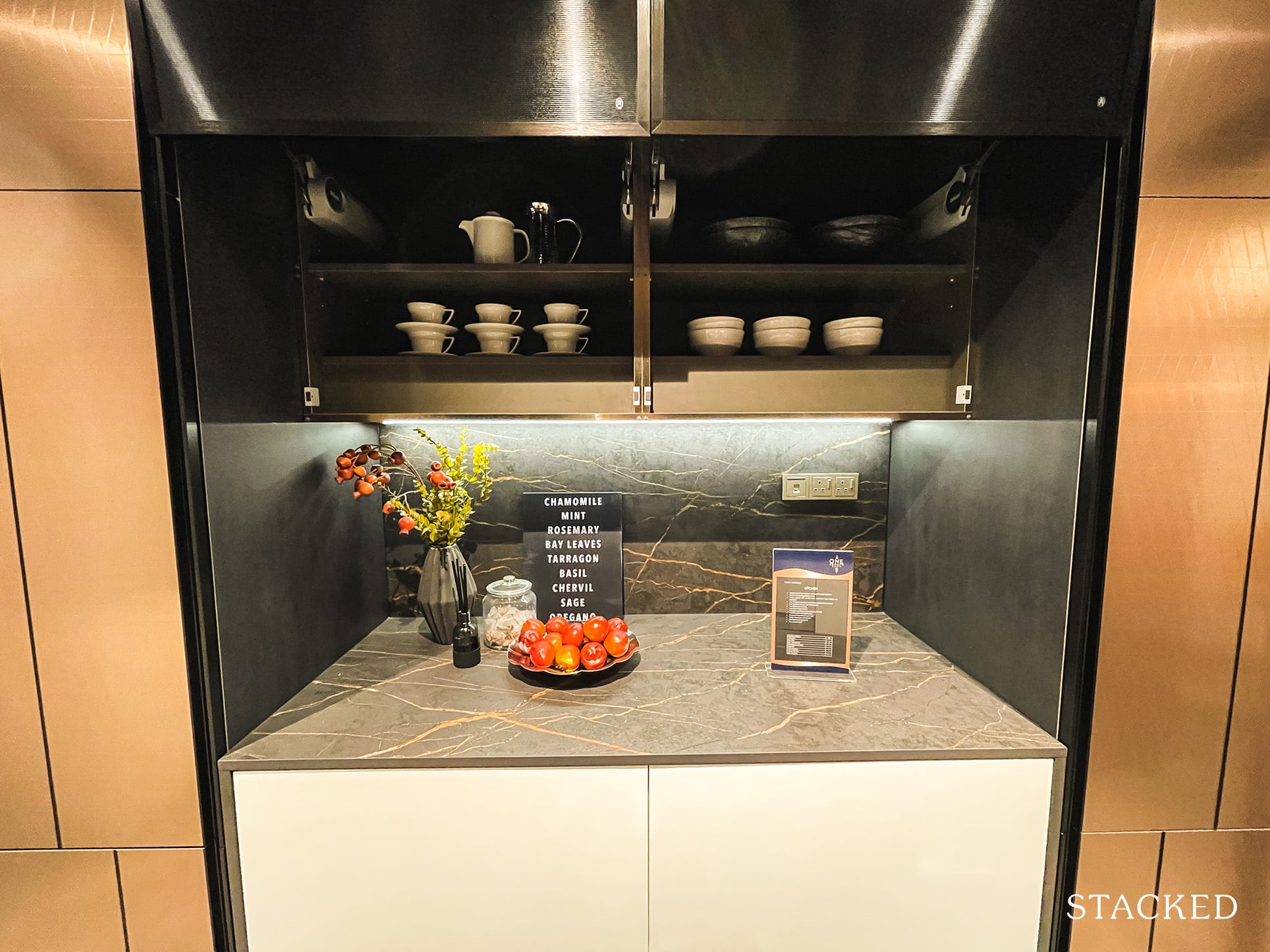 It's a seamless look, and really handy for those that prefer a clutter-less kitchen.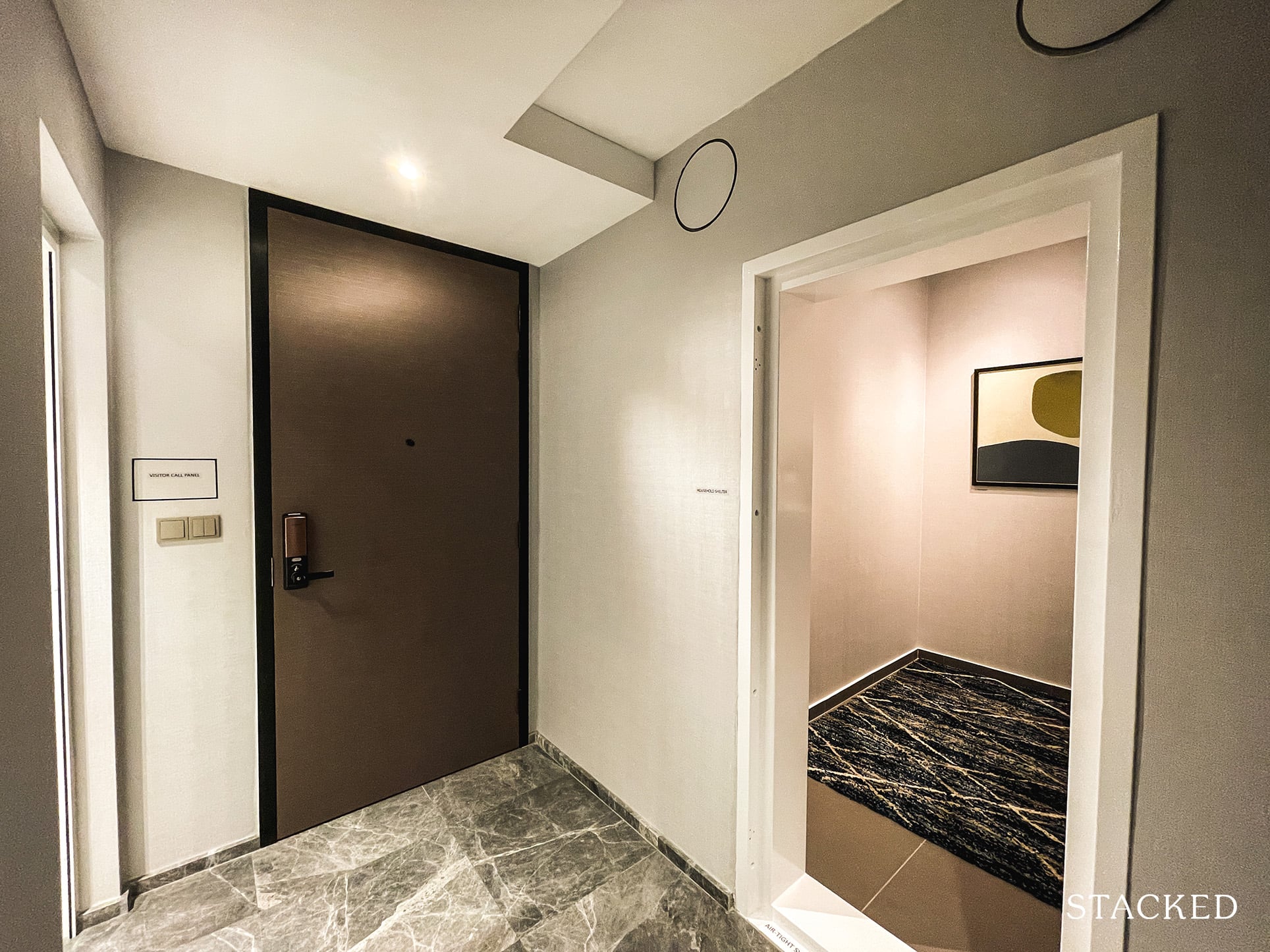 There's no proper yard area here, although you could use this foyer to the second entrance/exit as a space to dry clothes.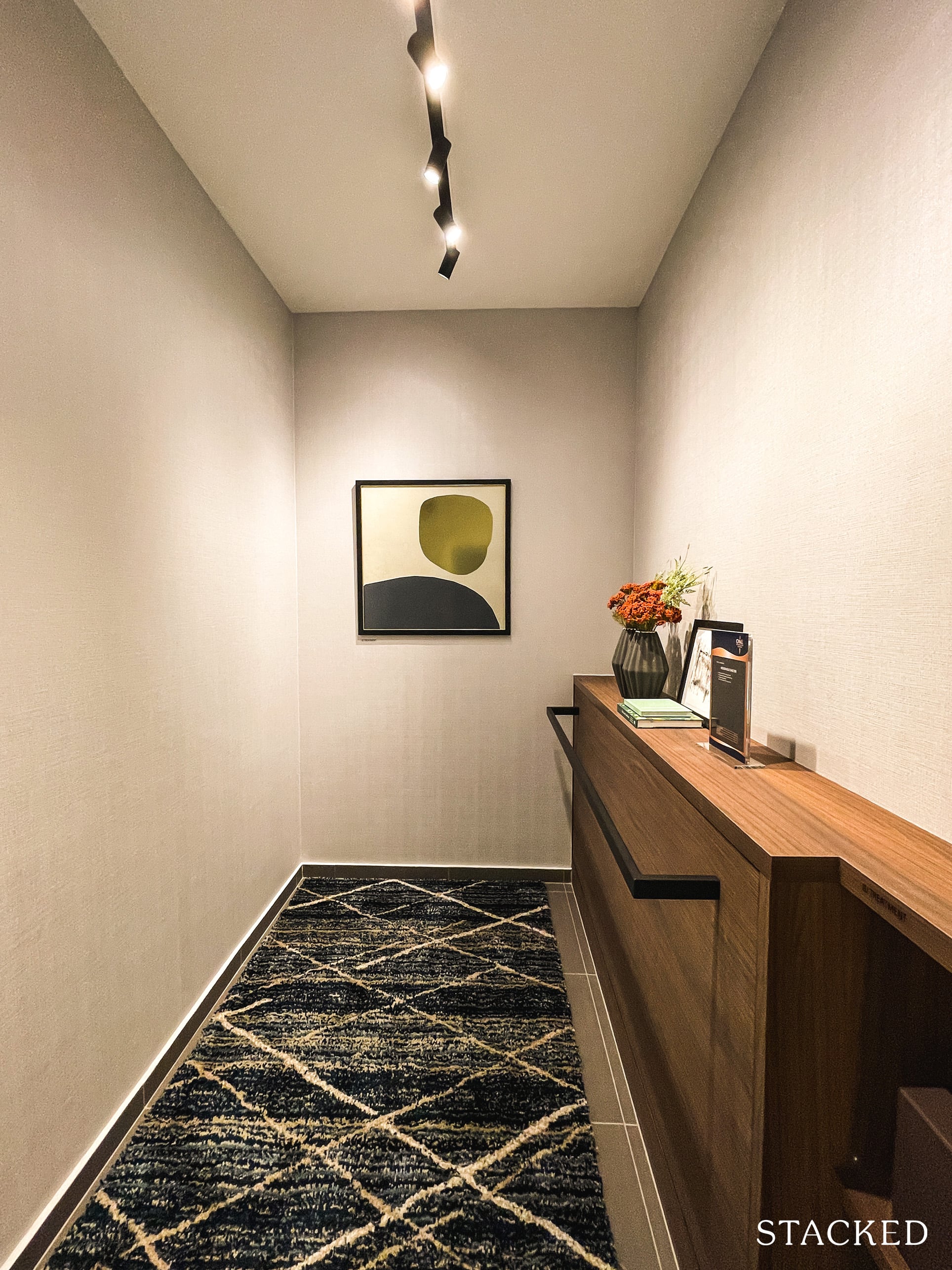 As always, the bomb shelter can be used as a helper's room or a utility space for additional storage.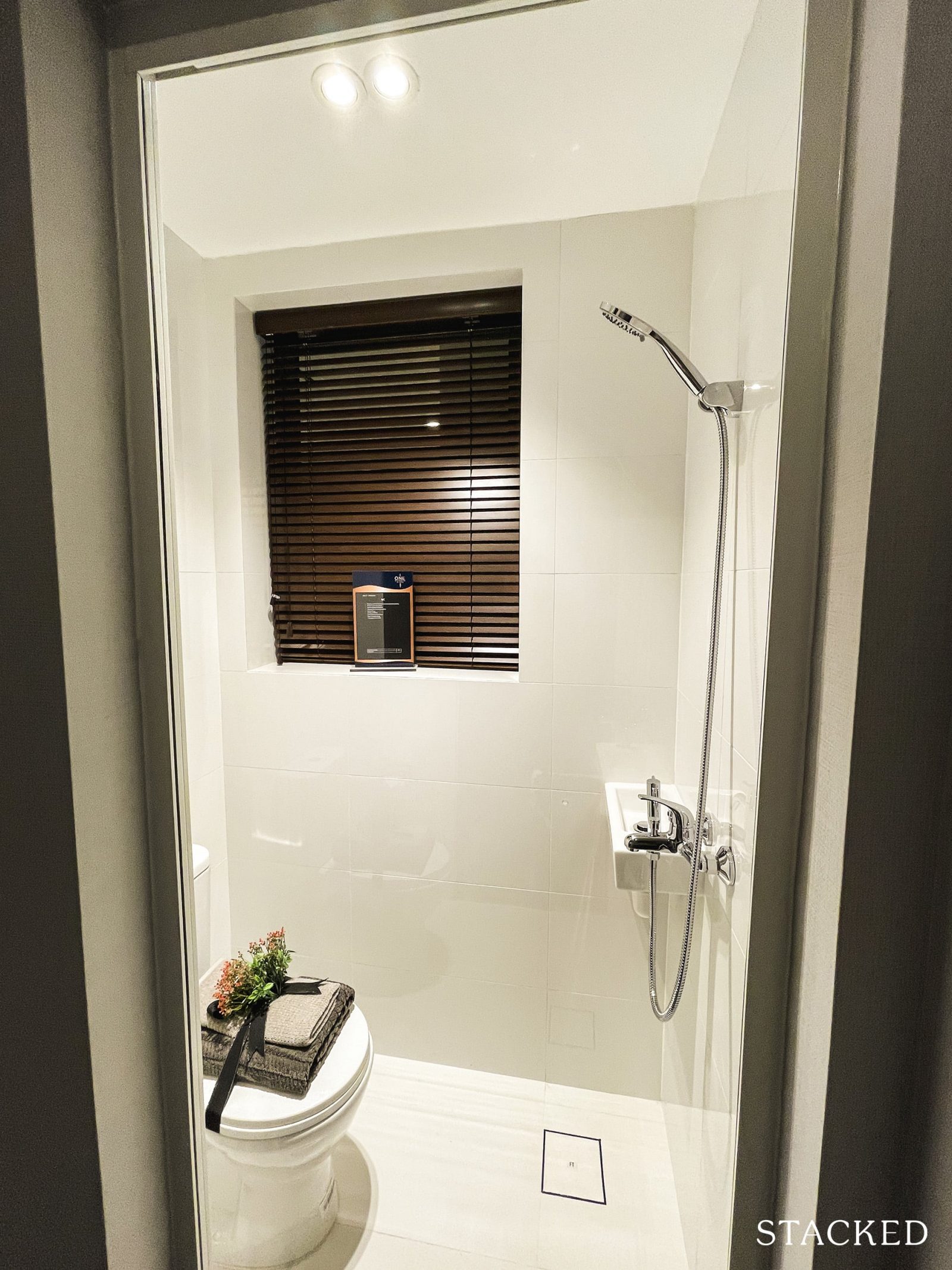 On the opposite side is a WC, that even comes with a window for better ventilation.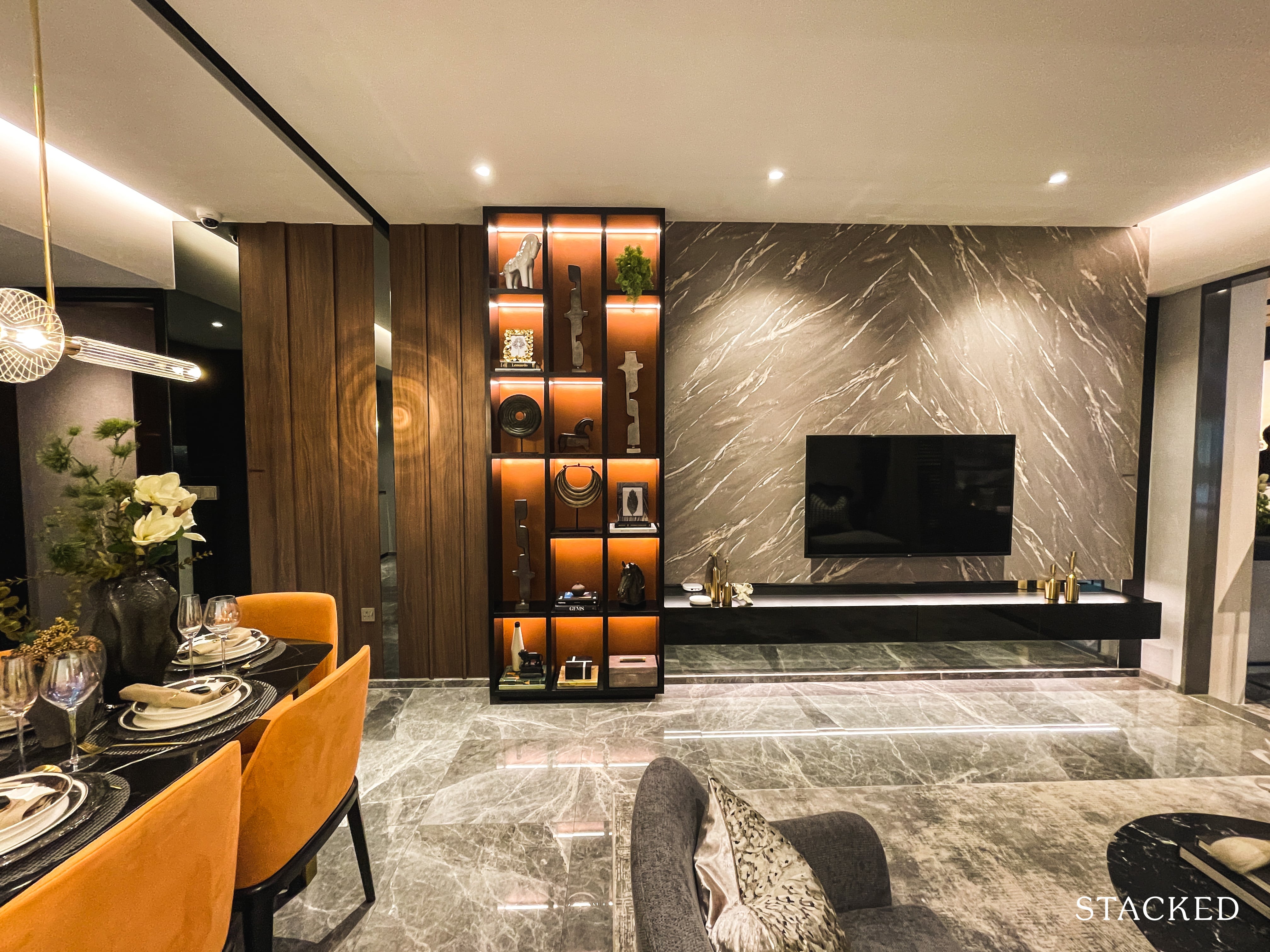 Now, let's head out to the living room.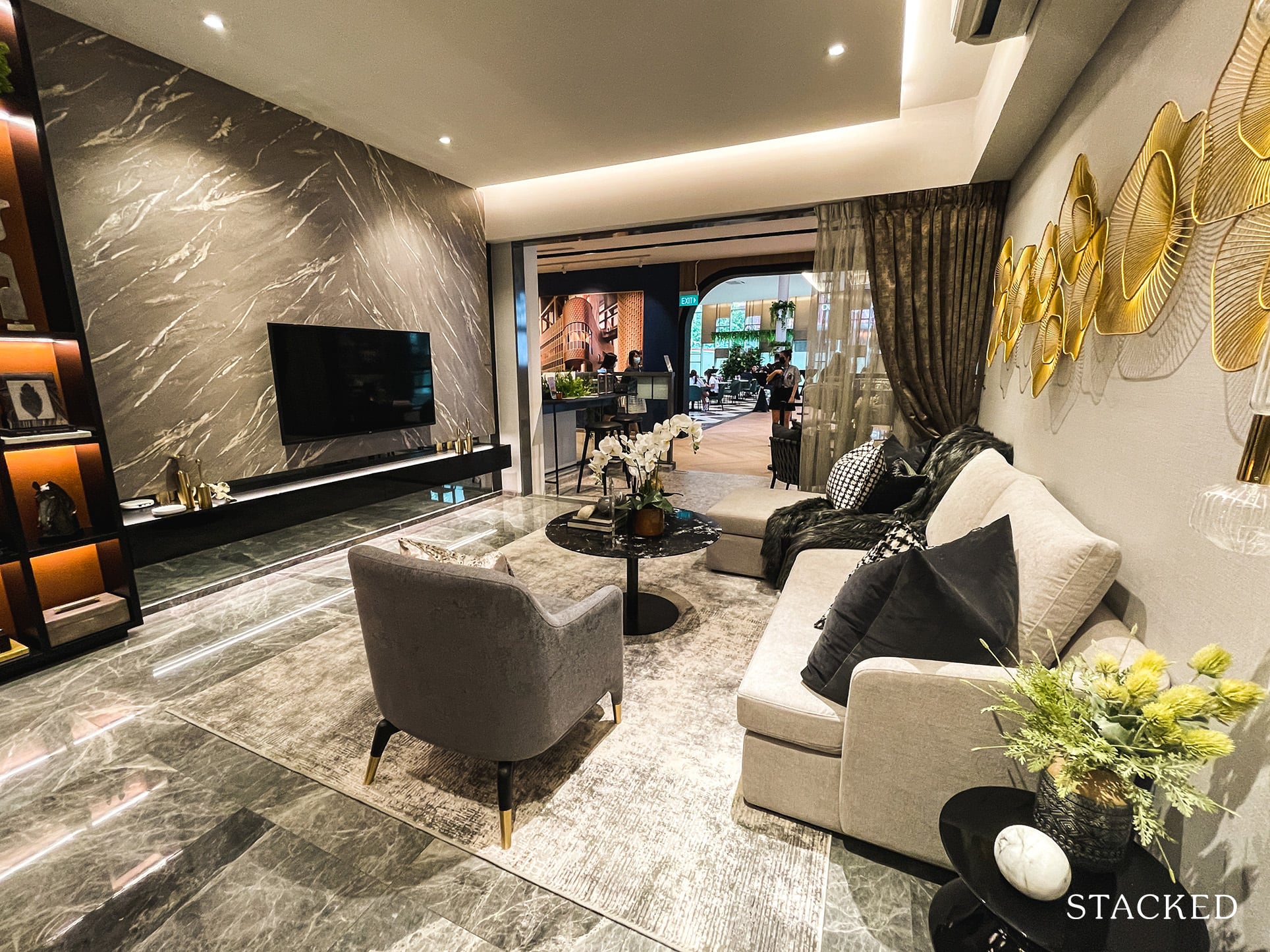 The living room is a good size, it's wide enough for a proper sized couch (and even an L-shaped one as seen here).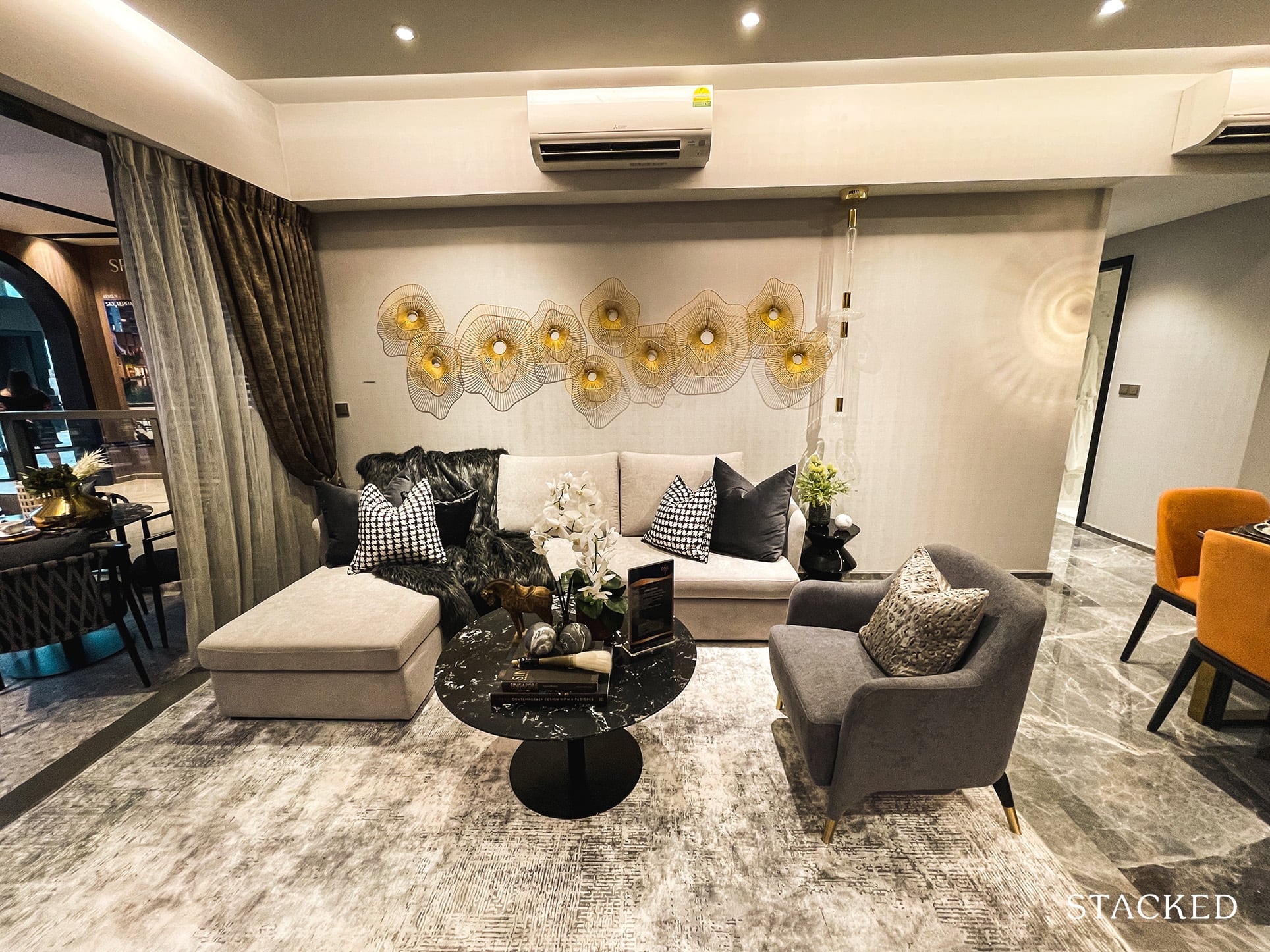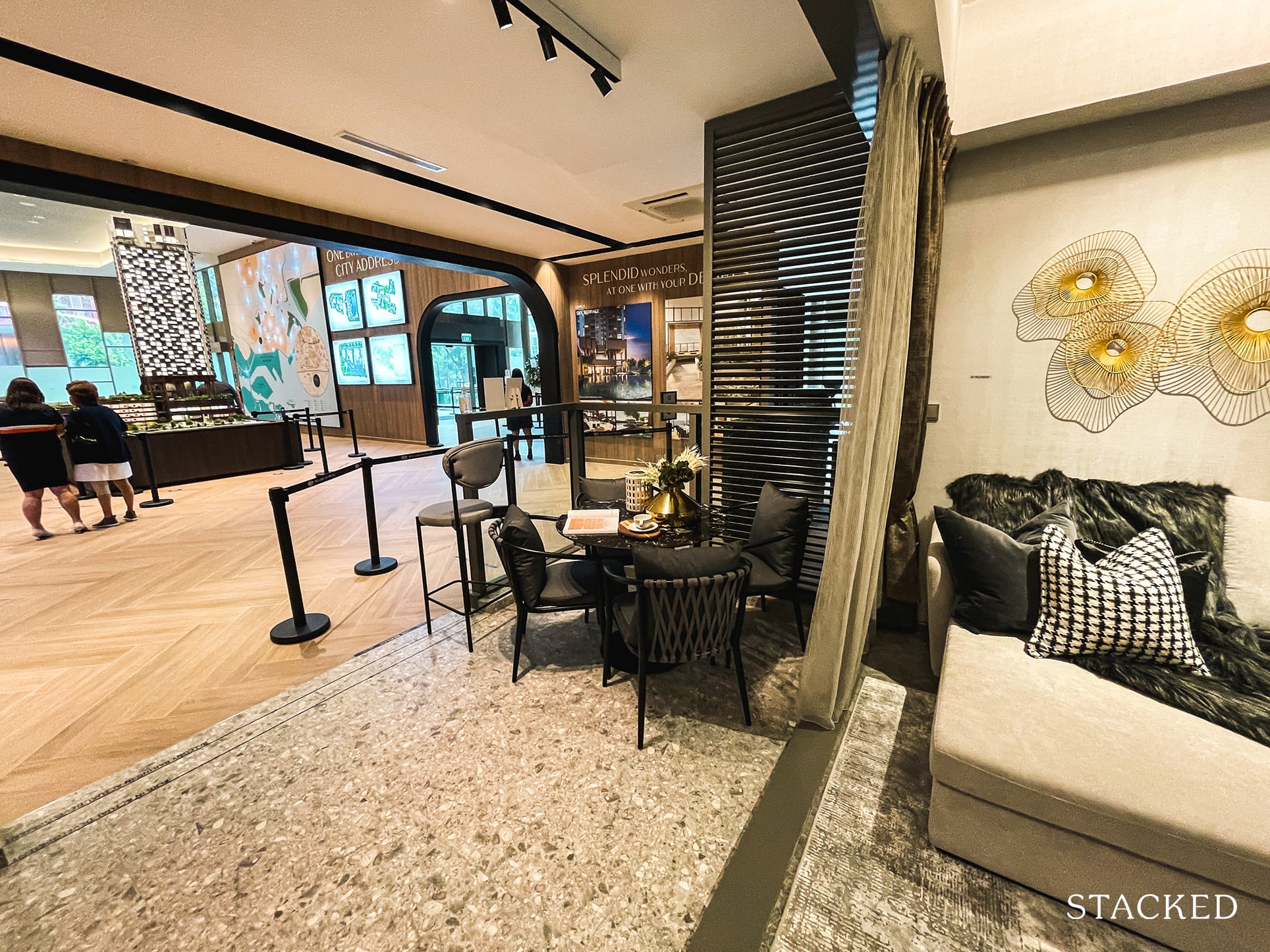 There is a balcony area that spans the width of the living room. It isn't too big in comparison to the indoor living space – which I'm sure most people would appreciate.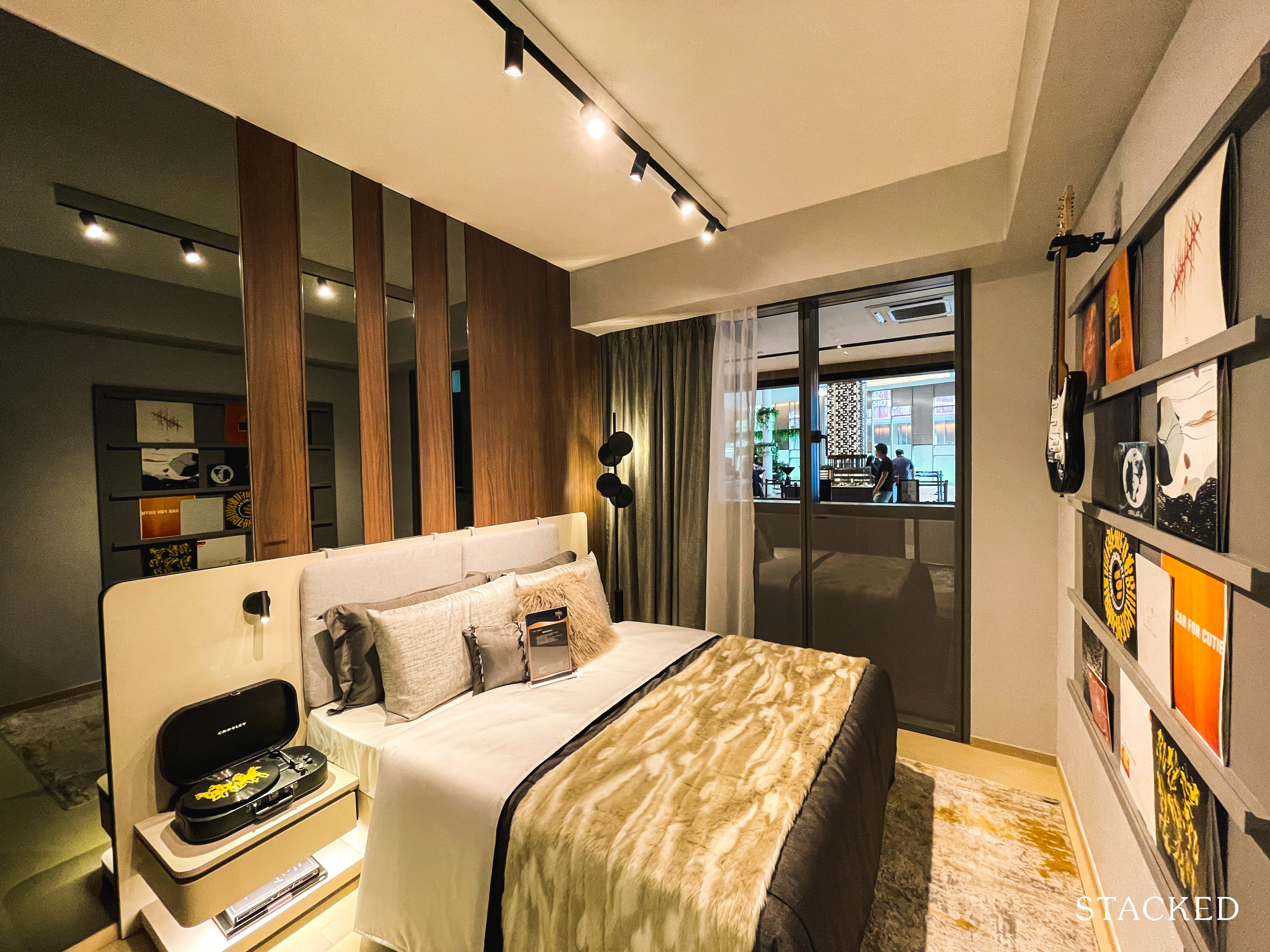 Both common bedrooms are of the same size at 11.2 sqm – which is very decent indeed. It's here that you'd really see that additional size come into play. Even with a queen size bed, the space to walk around is not bad at all.
On a less positive note, both the common bedrooms will not feature full length windows due to the presence of the AC ledge on the outside.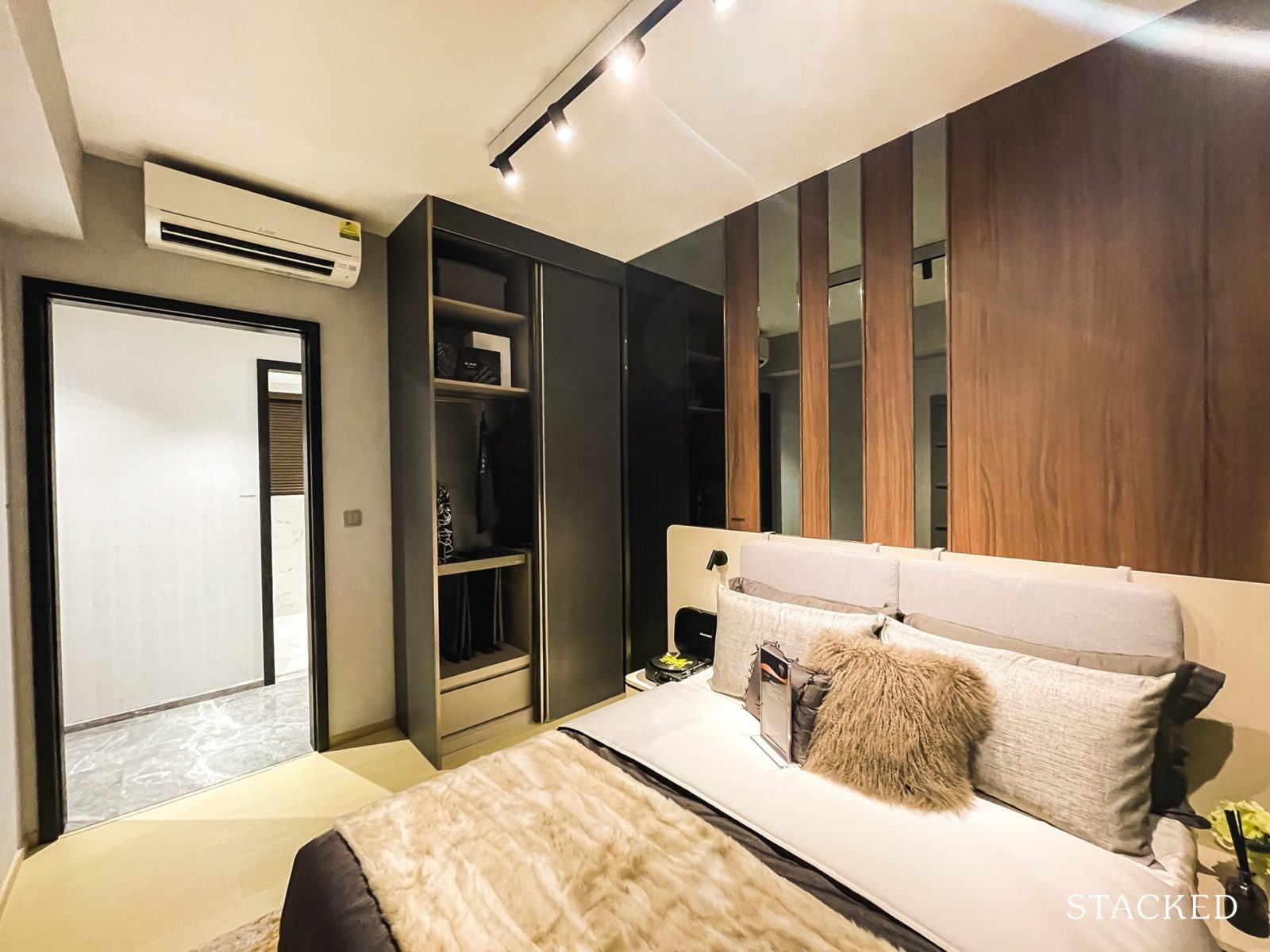 As for storage, that comes with the standard 2-panel wardrobe.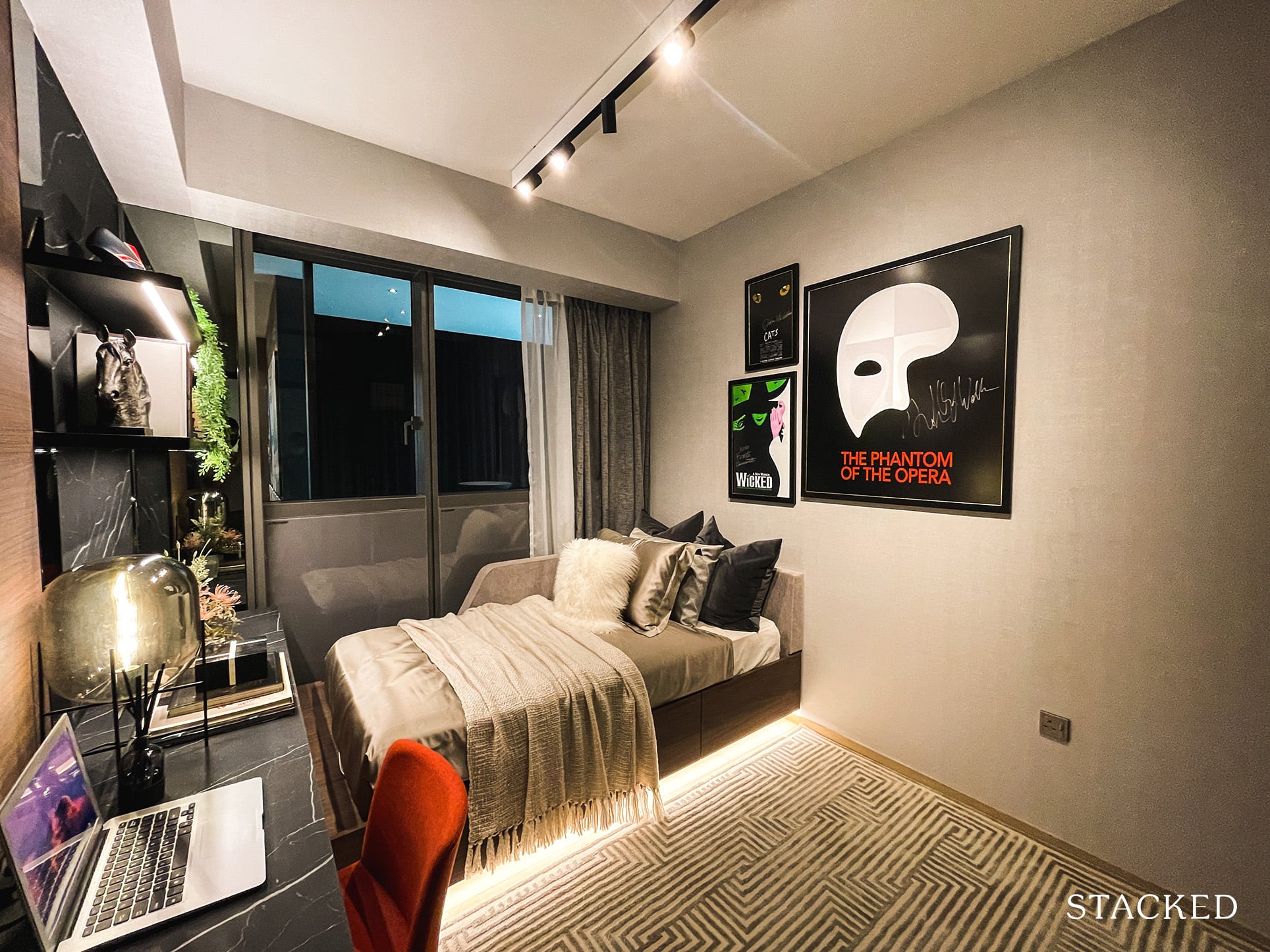 Likewise, the second common bedroom suffers from the placement of the AC ledge (which frankly has been a recurring issue throughout). It's shown here with a small single bed, and you can appreciate better the size of the bedroom.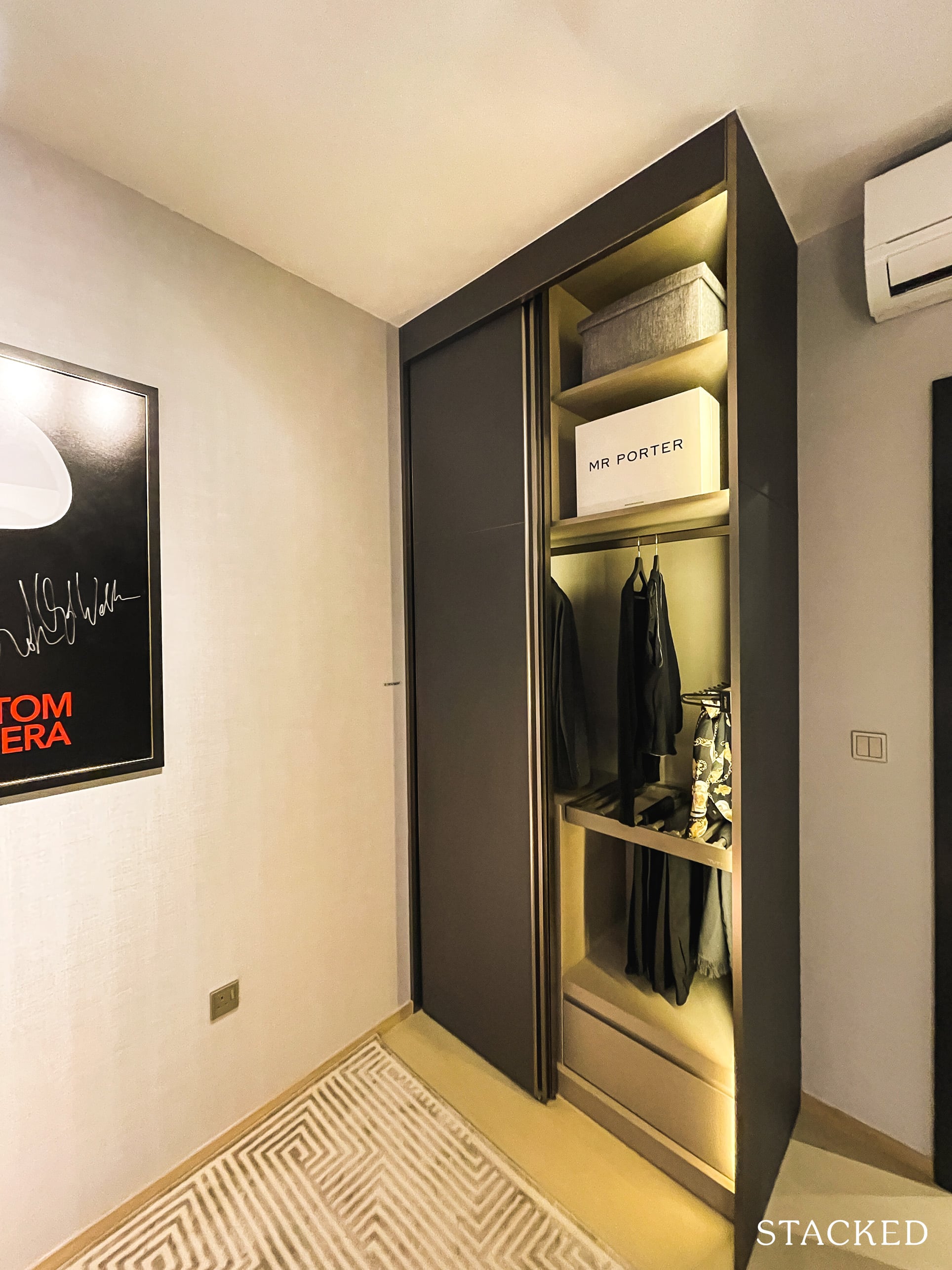 All the wardrobes will come with the useful pullout features to store your clothes neatly.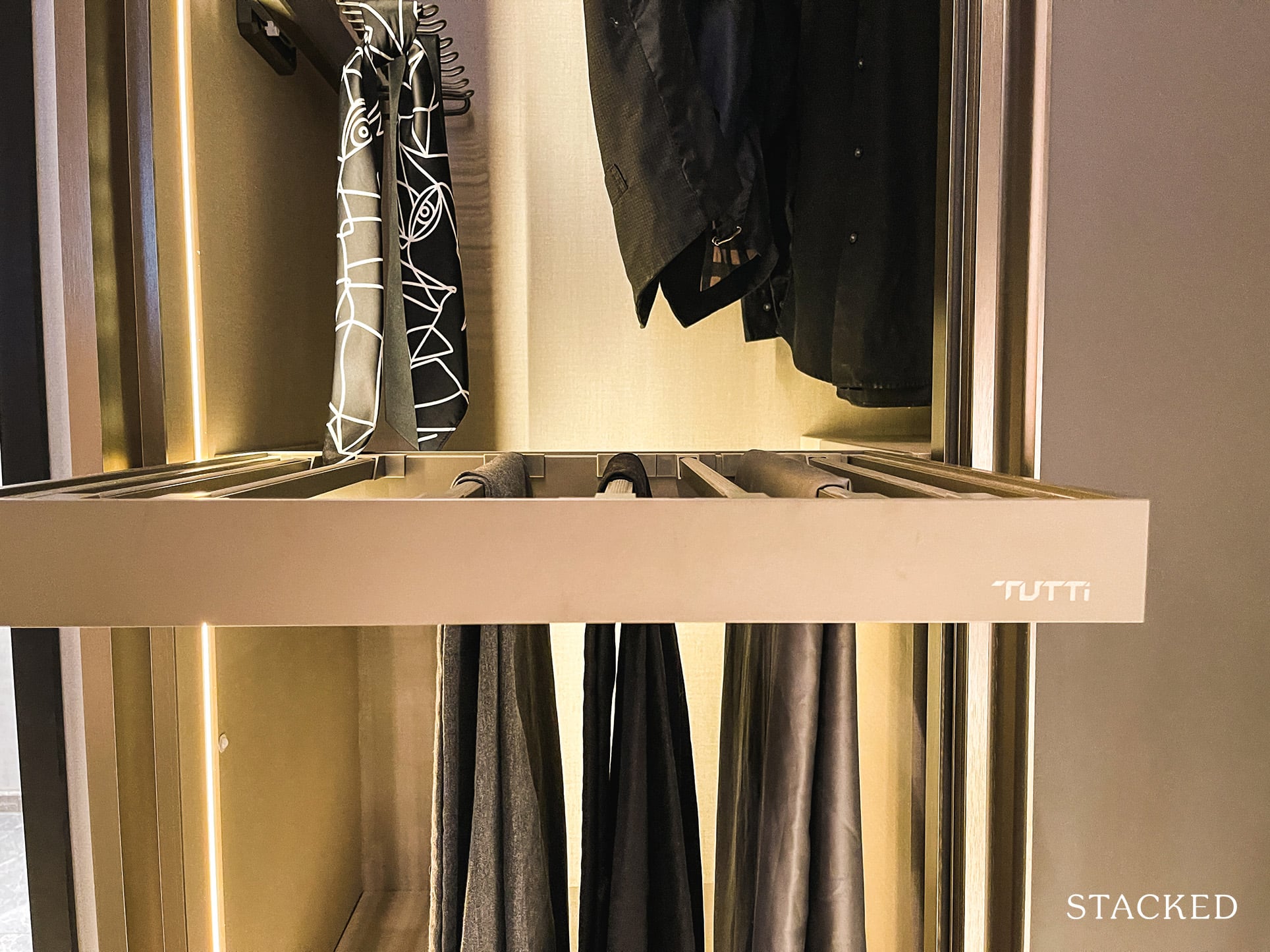 Also do note that neither of the bedrooms are ensuite due to the layout of the unit.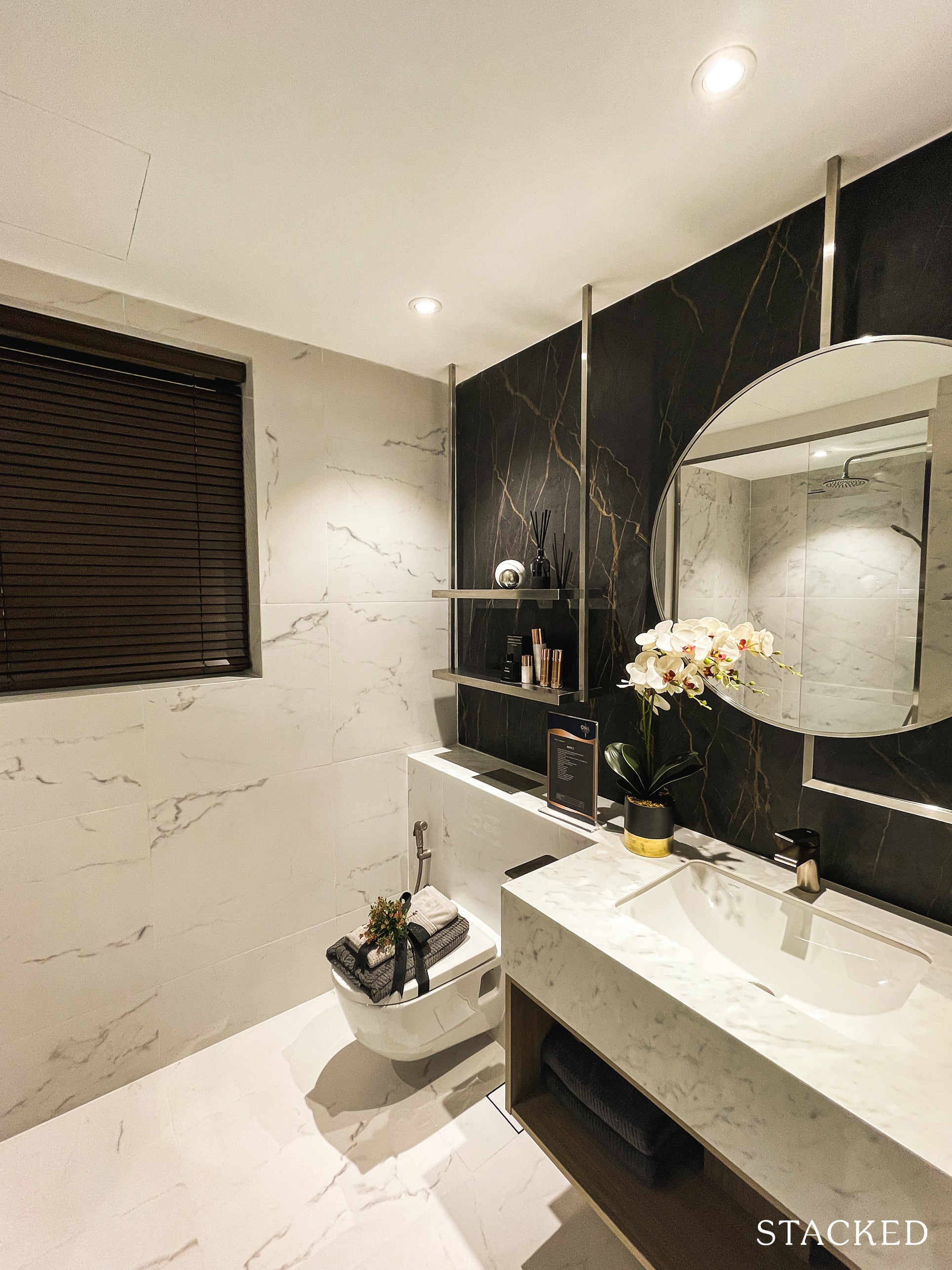 The common bathroom is averagely sized, but it is a high quality one with its finishings from Laufen and Gessi.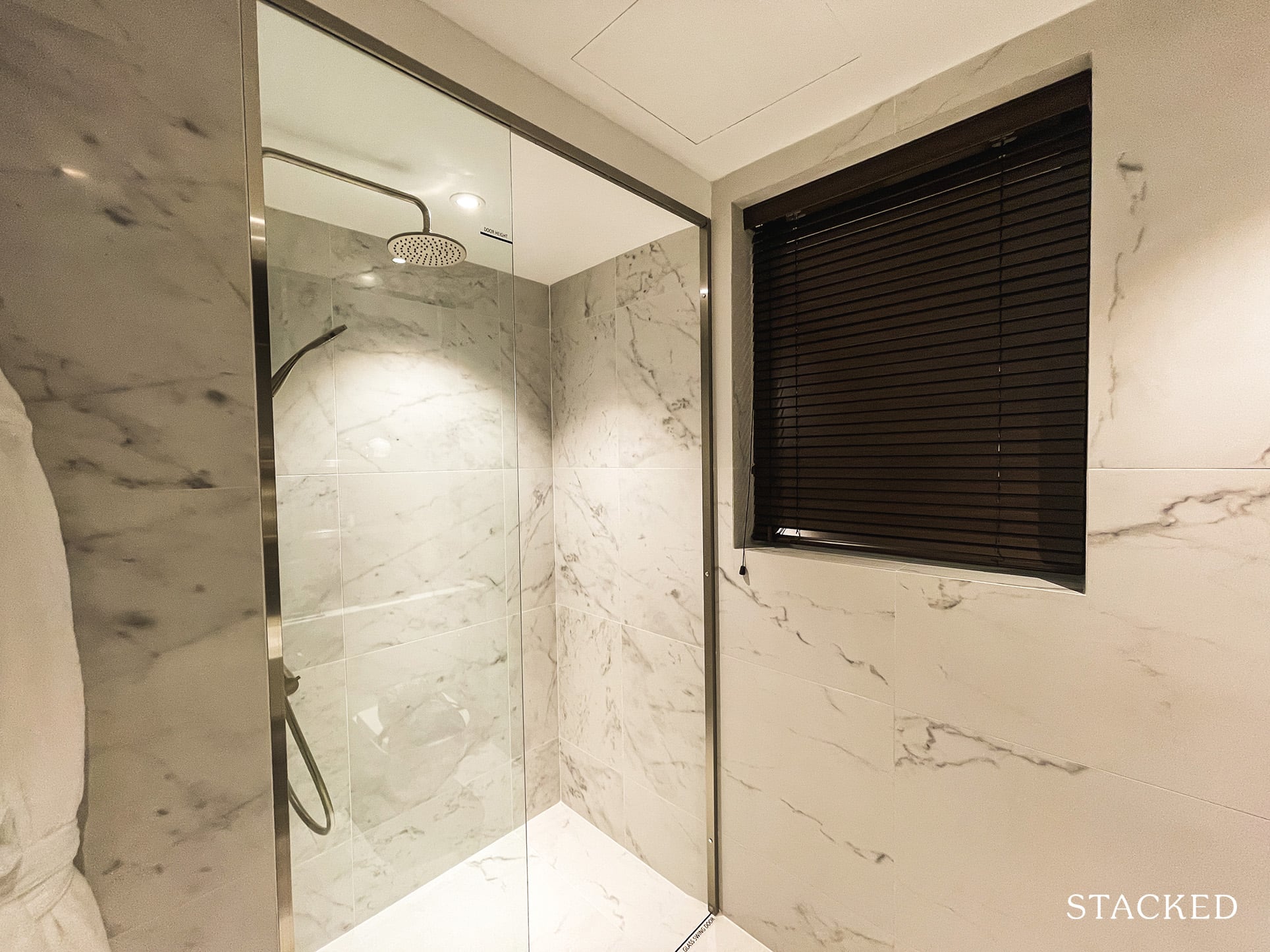 It comes with a rain shower, and a good sized window for proper ventilation as well.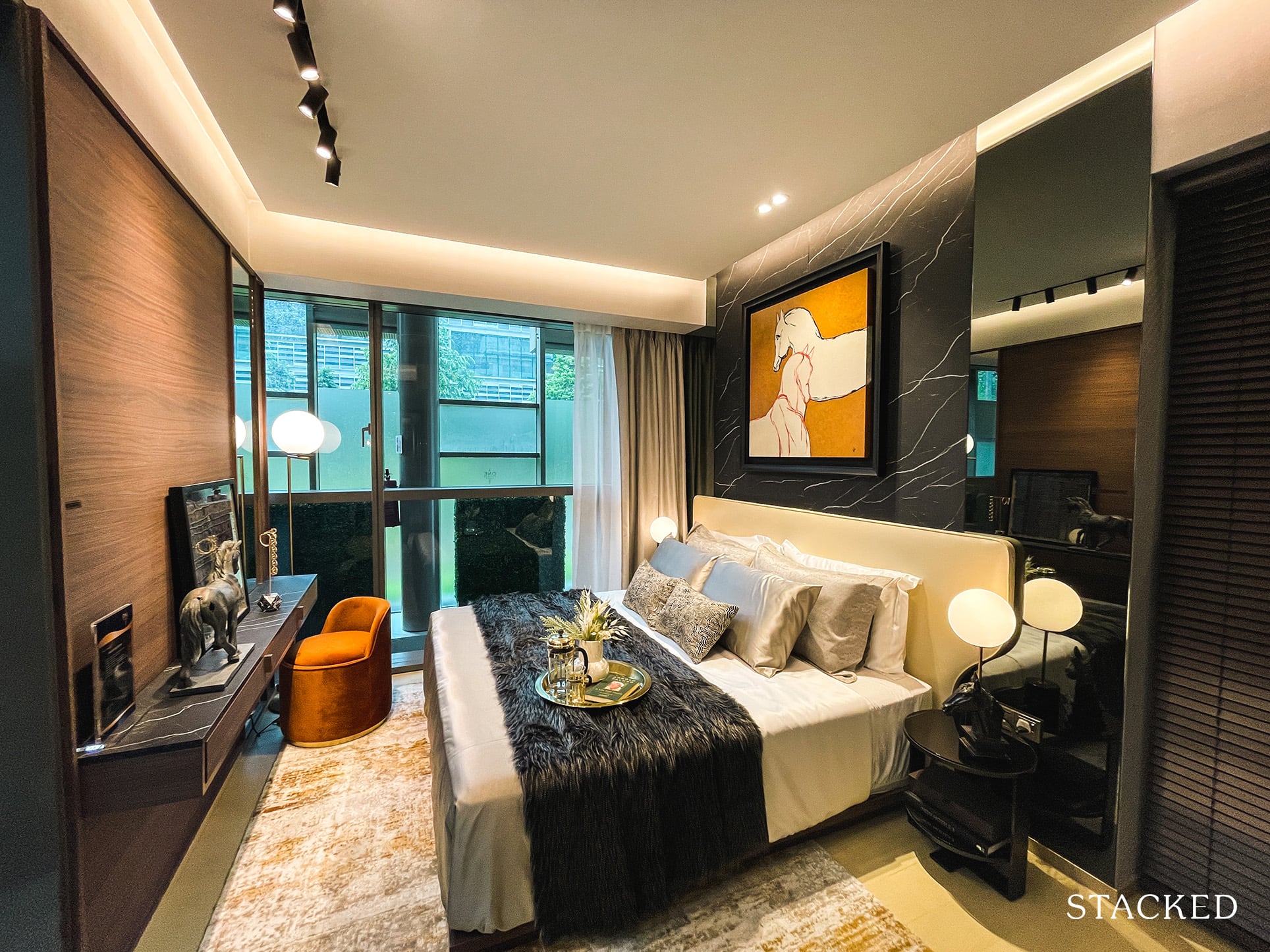 Last but not least, the master bedroom. Like what you've seen from the rest of the bedrooms so far, space wise it is definitely on the larger end of things. And thankfully, your windows here are unobstructed so you do get full length windows.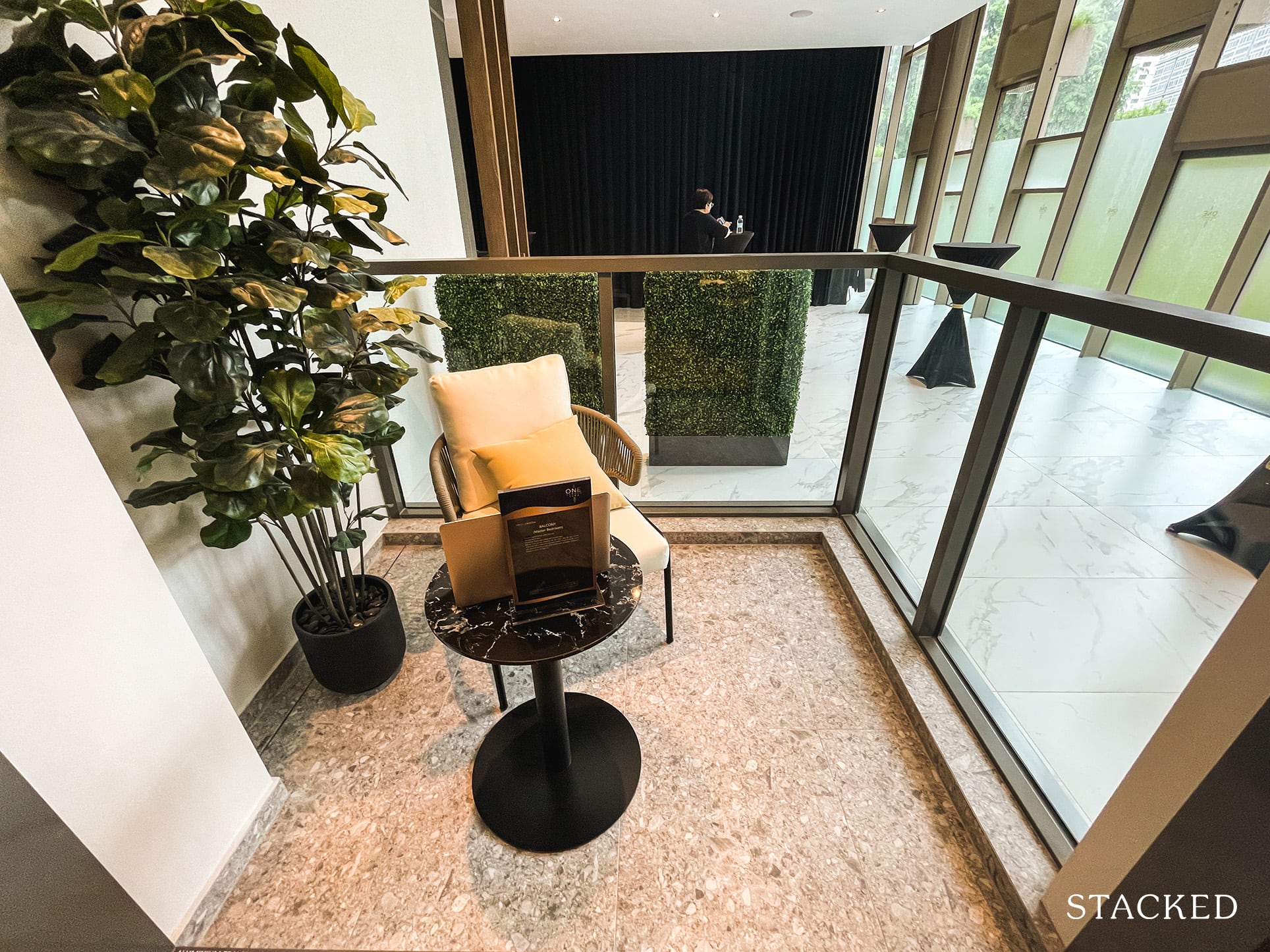 You even have a small balcony for your own private away time. It's not big, but it certainly does the trick with a small seat and coffee table.
It isn't all too often that you see a balcony in the master bedroom, so I like that addition here.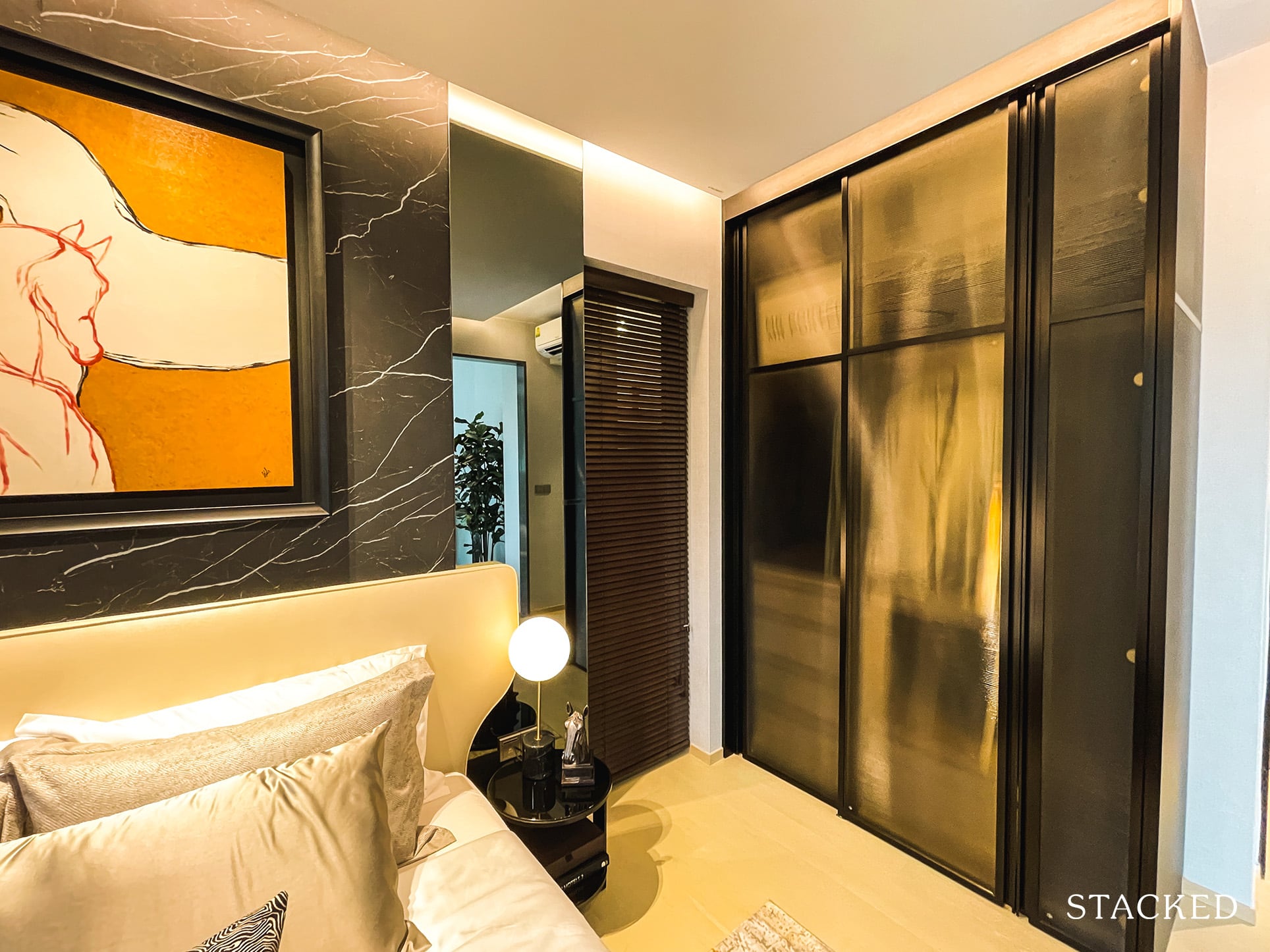 Frankly with the size of the unit, I did expect to see a walk-in wardrobe of sorts here. While there is none of that, the 2 and a half panelled wardrobe does contain the usual useful suspects.
Oh, and there is a tall slim window here which will be a good source to bring more natural light into the space.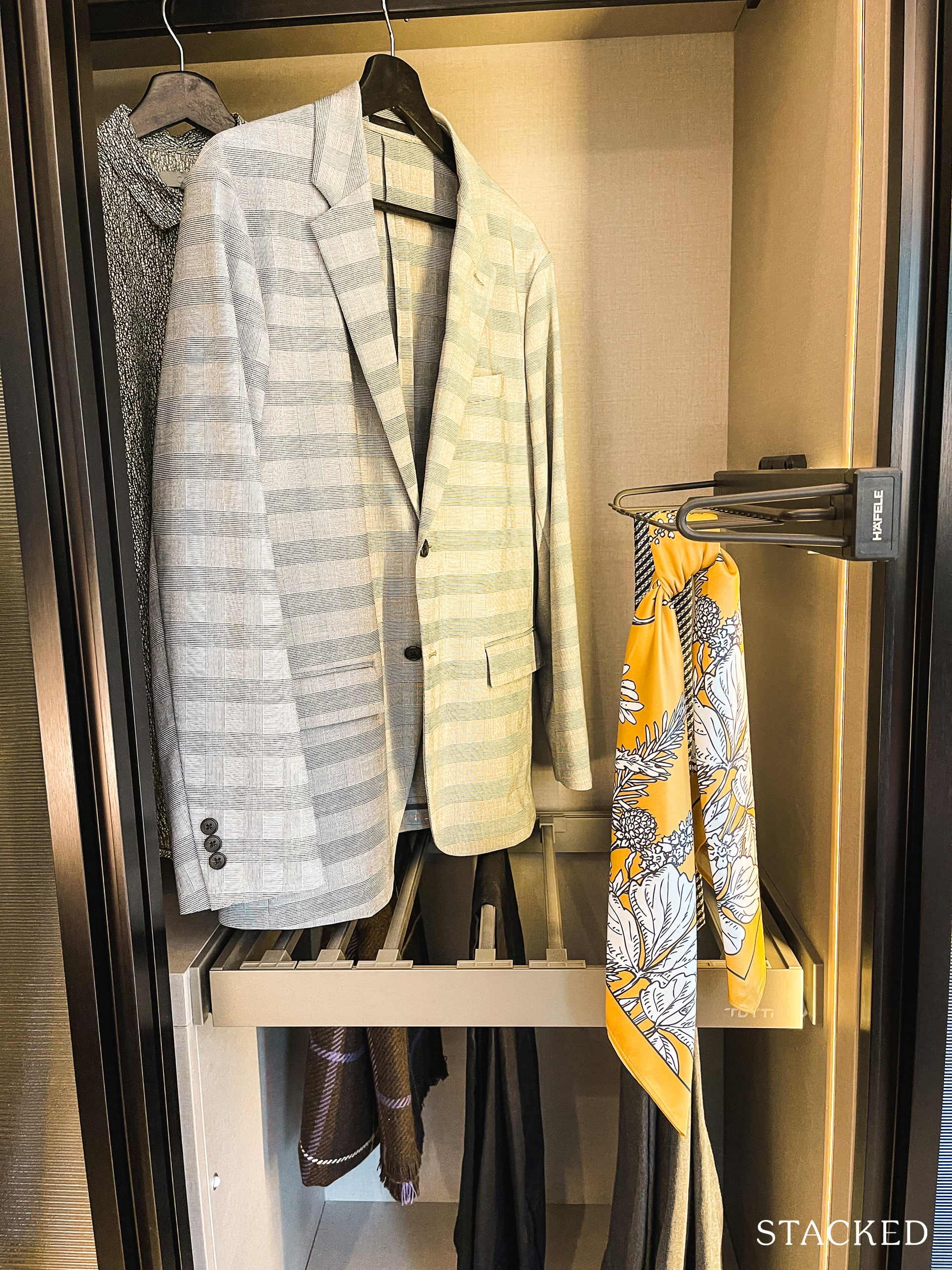 So yes, pull out clothes and accessories rack, along with a mirror.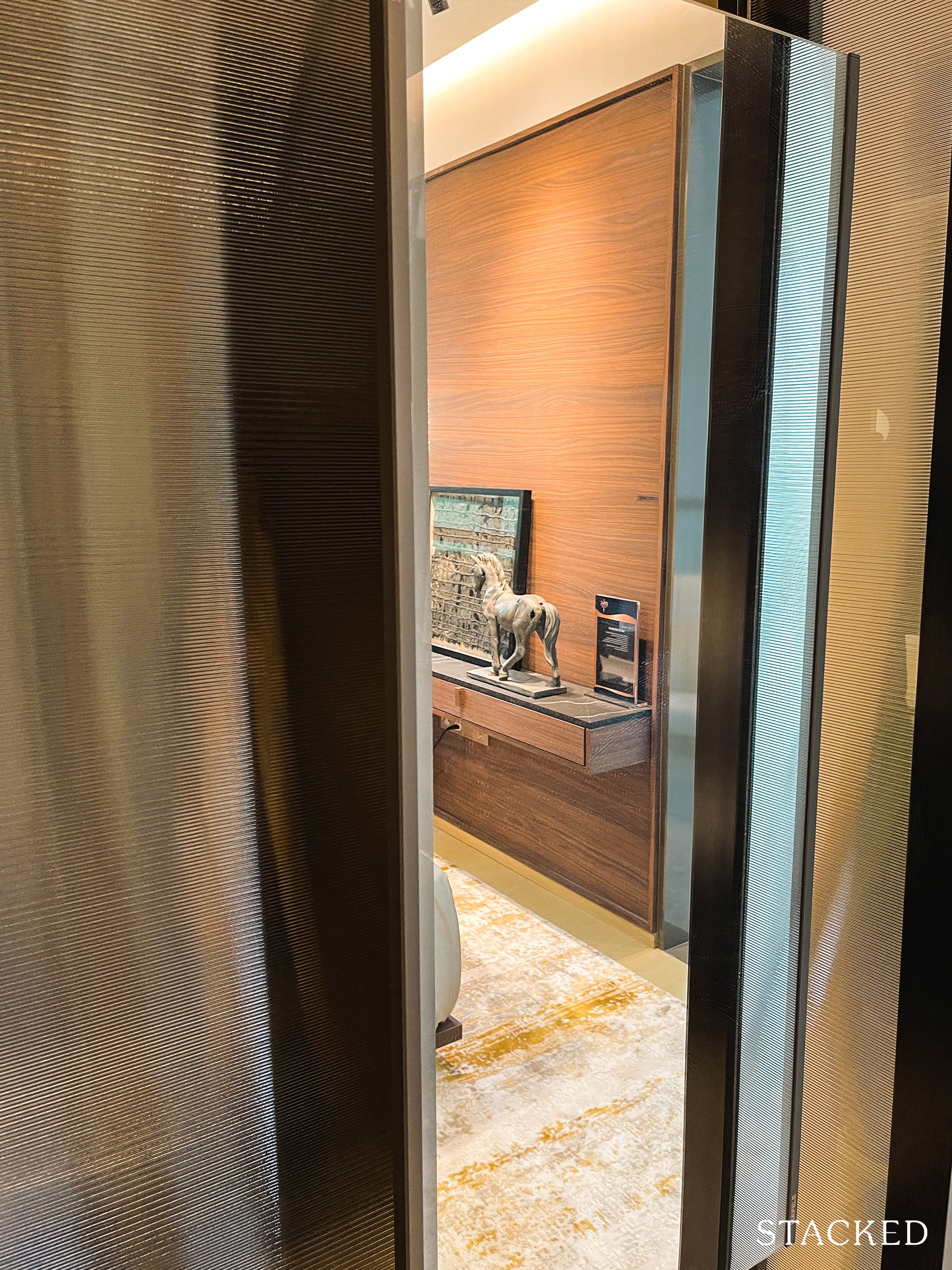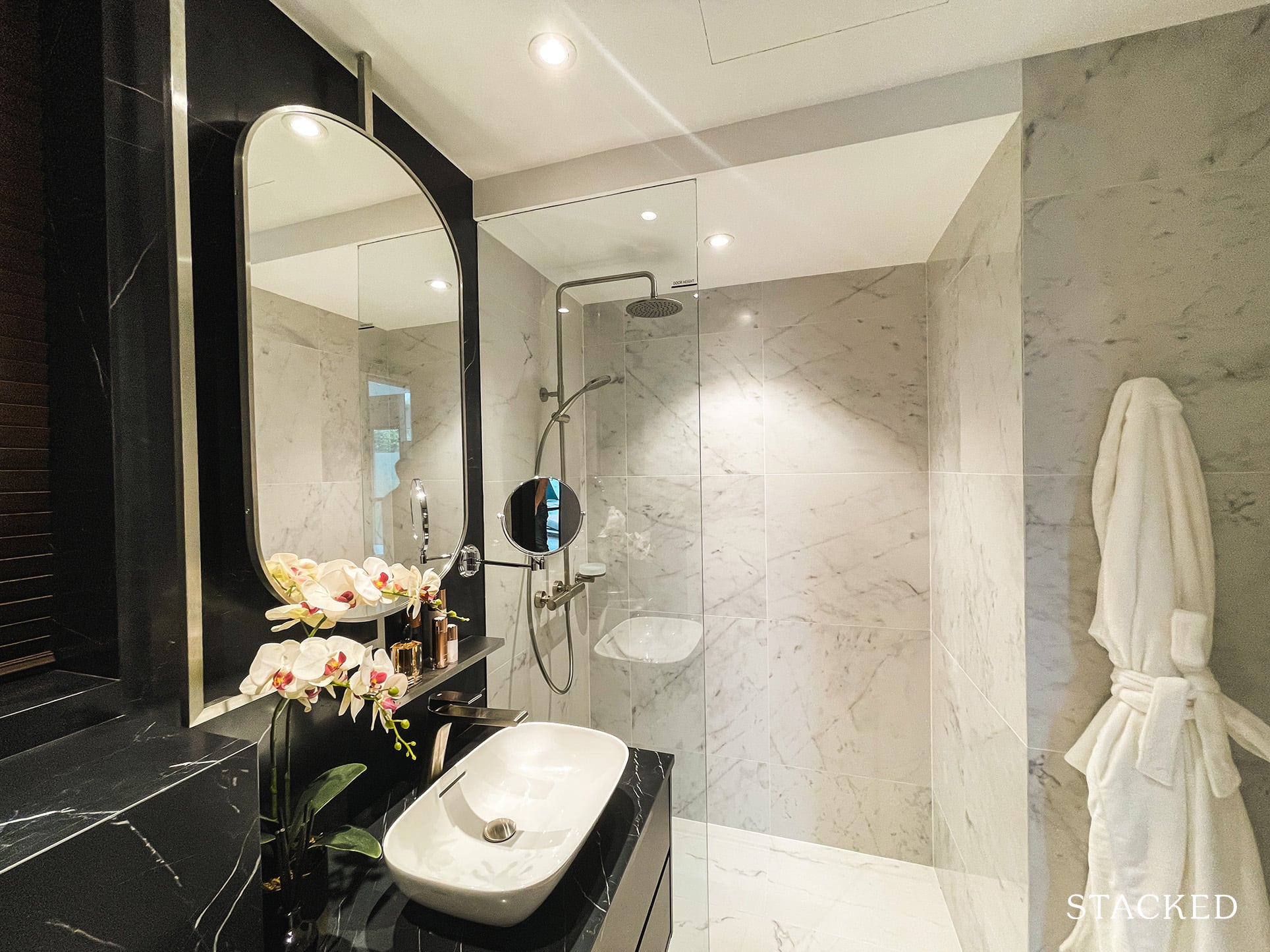 In comparison to the rest of the master bedroom, the master bathroom seems almost ordinary. While you do have the same fittings from Laufen and Gessi (and a rain shower), there's nothing else here that really differentiates it from the common bathroom.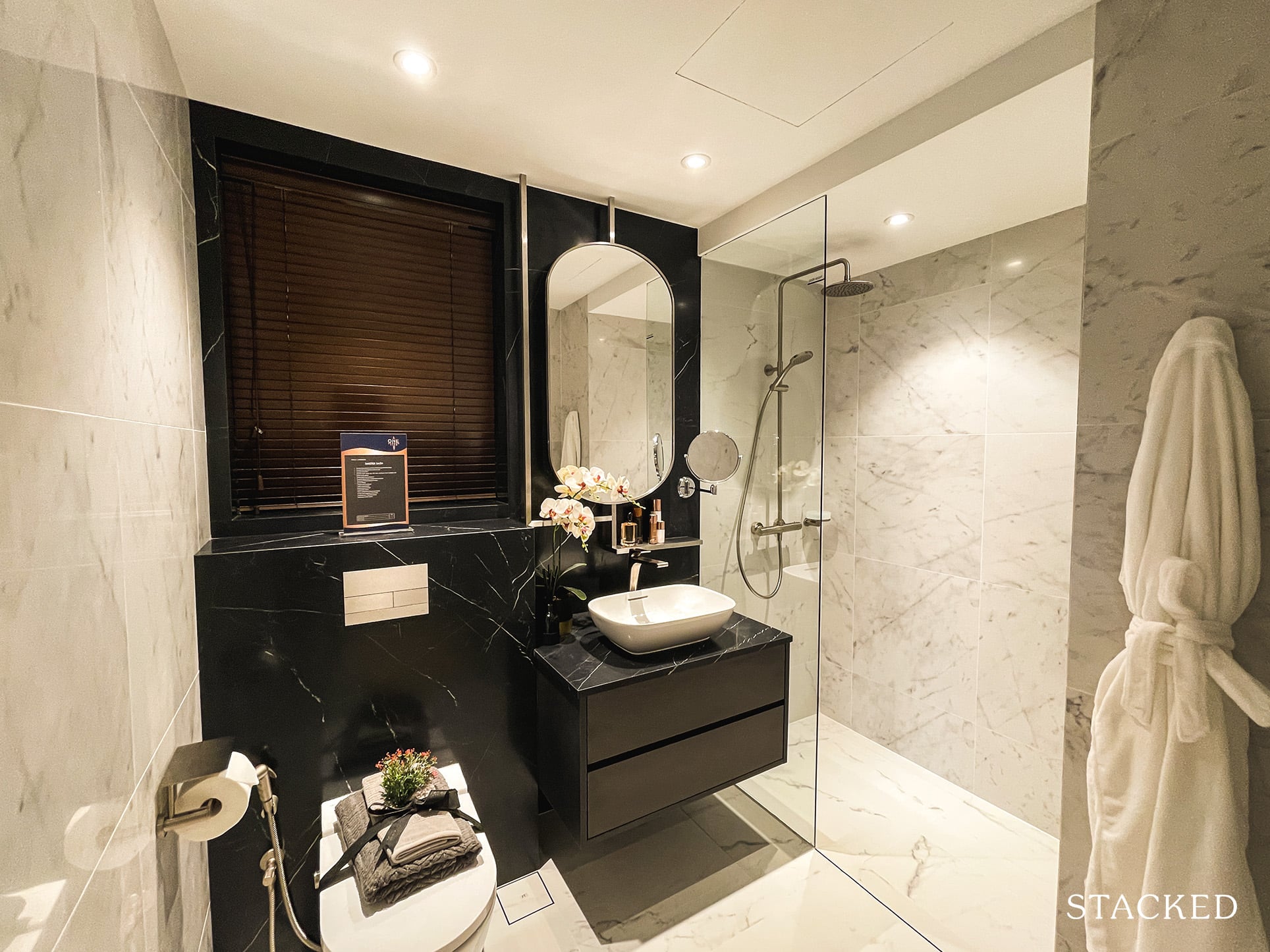 Lastly, there is a good sized window for natural ventilation – which is always a very welcome feature.
One Bernam Location Review
One Bernam is located just off Anson Road, just about a four-minute walk from 100 AM mall, and five minutes from Icon Village. If you work in the CBD, you'll probably know this area; it's a popular lunch spot for office workers.
This is the heart of the CBD, and it's one of the densest urban areas in Singapore. There are office towers looming in every direction, and traffic is inescapable. So right off the bat, I can tell you One Bernam is not the kind of condo where you can expect a lot of greenery, park connectors, etc. Glass and concrete dominate the view here, and traffic noises will hit you the moment you step outside. Although again, this is probably one of the more "residential" areas that you can get in the CBD.
In exchange, what One Bernam delivers is a convenient location, even when compared to other CBD residences. It's only around 500 metres, or a six-minute walk, to Tanjong Pagar MRT station. It's also in a spot with easy access to supermarkets, food, and retail (there's a Watsons and Don Don Donki in 100 AM). Personally for me, the addition of Don Don Doki is quite an attractive one too!
I should also point out that the CBD is currently being revamped by URA, and there are incentives to convert commercial to mixed-use buildings in this area. One Bernam is located within the target area of Anson and Cecil Road.
This means a higher possibility of other nearby residential developments in the future (which means competition), and a more balanced mix of amenities besides just office after office (and upside as it means a wider range of amenities).
Amenities
Groceries
| | |
| --- | --- |
| Grocery Shops | Distance From Condo (& Est. Walk Time) |
| Don Don Doki | 50m, 1-min walk |
| Fairprice Finest | 100m, 2-min walk |
| Cold Storage | 150m, 2-min walk |
One Bernam is fantastic for groceries, thanks mainly to Don Don Donki in the 100AM mall. This outlet is open till 11pm, so you can make supply runs long after working hours. The mall is about 260 metres, or just a four-minute walk away.
There's also a FairPrice Finest at Amara, just 100 metres away. Also nearby is a Cold Storage at Altez, at about a 120 metres walk.
Schools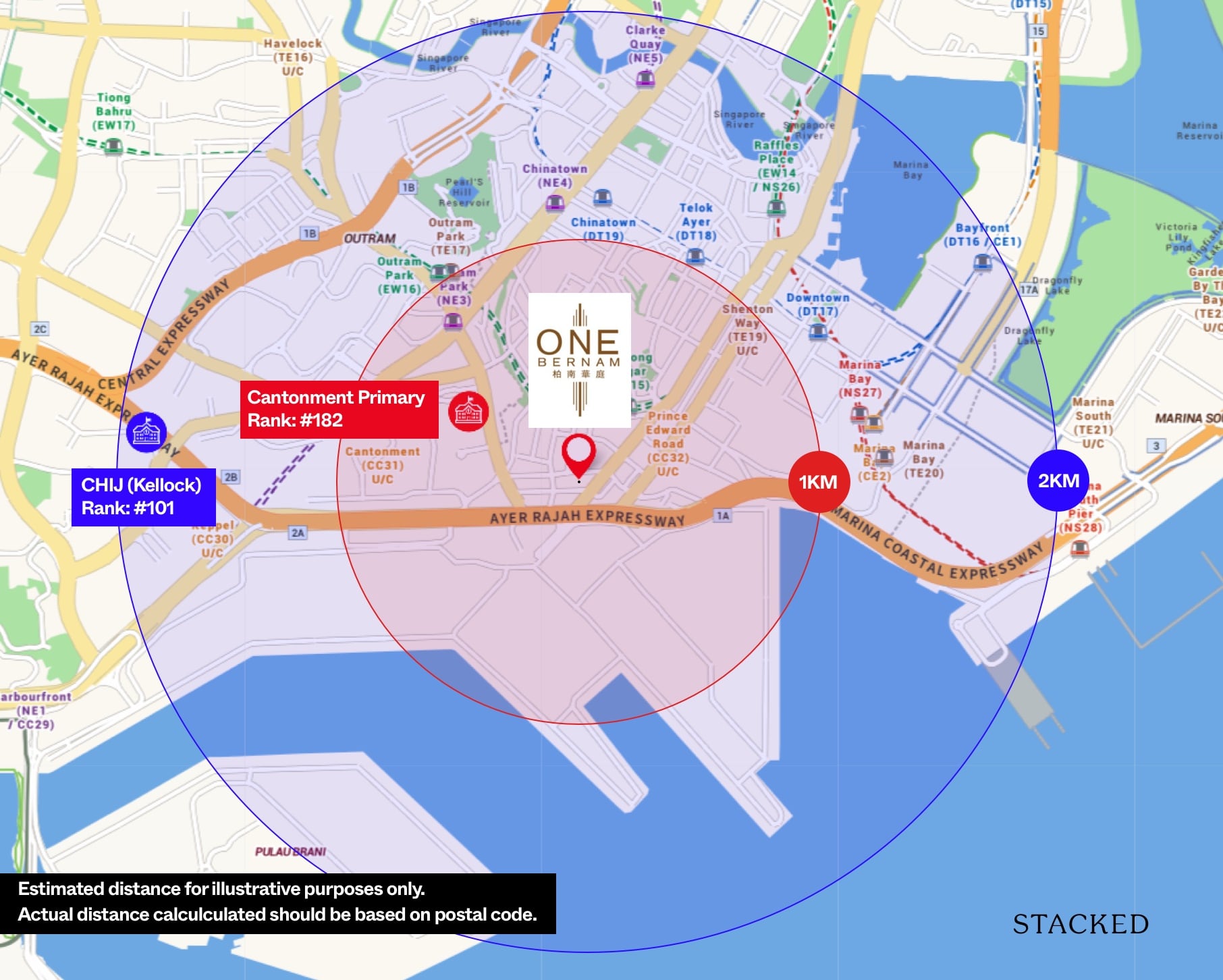 Educational Tier
Names of Institutes
Preschool
Mulberry Learning Centre at Tanjong Pagar (270 metres, or around three minutes' walk)

My First Skool at Block 2 Tanjong Pagar Plaza (270 metres, or around three minutes' walk)

Modern Montessori Preschool @ Pinnacle (450 metres, or around six minutes' walk)

Da Little Preschool at Cecil (900 metres, or around 11 minutes' walk)
Primary (within 3km-drive)
Cantonment Primary School
Secondary (within 3km-drive)
Outram Secondary School
CHIJ (Kellock)
Junior College (within 5km-drive)
University (within 5km-drive)
NUS Law Faculty (Botanic Gardens)
Polytechnic (within 10km-drive)
Singapore Polytechnic
Cantonment Primary is the only nearby school at 440 metres, or about a six-minute walk. Note that there are no other schools within a one-kilometre radius.
As you might expect for a CBD condo, One Bernam is not one for those with young kids, and so far they've been focused on that.
Public Transport
| | | |
| --- | --- | --- |
| Bus Station | Buses Serviced | Distance From Condo (& Est. Walking Time) |
| Opp Fuji Xerox Towers | 80, 45 | 90m, 2-min walk |
| The Amara | 80, 45 | 100m, 2-min walk |
| Hub Synergy Point | 70, 10, 10e, 75, 128, 130, 133, 100, 106, 107, 162, 97, 97e, 513, 982e, 196, 196e, 868, 915e, 850e | 150m, 3-min walk |
Closest MRT: Tanjong Pagar MRT station (500 metres, or around a six-minute walk).
This is an East-West Line (EWL) station, one stop from Raffles Place, and two stops from City Hall.
This will be a unsheltered walk, and there will also be an upcoming Prince Edward MRT station on the Circle Line at a similar distance away.
Private Transport
| | |
| --- | --- |
| Key Destinations | Distance From Condo (& Est. Peak Hour Drive Time) |
| CBD (Raffles Place) | 2.9km, 8-min drive |
| Orchard Road | 4.7km, 9-min drive |
| Suntec City | 2.8km, 7-min drive |
| Changi Airport | 20.2km, 18-min drive |
| Paya Lebar Quarters/Airbase (By 2030) | 11.7m, 15-min drive |
| Mediapolis (and surroundings) | 8.1km, 13-min drive |
| Mapletree Business City | 6.7km, 11-min drive |
| Tuas Checkpoint | 27.1km, 28-min drive |
| Woodlands Checkpoint | 37.5km, 44-min drive |
| Jurong Cluster (JCube) | 15.2km, 20-min drive |
| Woodlands Cluster (Causeway Point) | 27.9km, 32-min drive |
| HarbourFront Cluster (Vivo City) | 3.4km, 7-min drive |
| Punggol Cluster (Waterway Point) | 22.2km, 25-min drive |
Immediate Road Exit(s): The exit is into Bernam Street, which connects to Anson Road at the next turning.
The Developer Team
One Bernam is developed by MCC Land and HY Realty.
Hao Yuan (HY) Realty is a developer with roots in China. They're also behind Queens Peak, another condo in the Alexandra area.
MCC Land (Singapore) is part of MCC Group, a state-owned entity in China. MCC Land, specifically, incorporated in Singapore in 2010. They're the same developer behind The Alps, The Poiz, and The Santorini. Over the past decade, MCC Land has made forays into other parts of South East Asia; but Singapore has been their main entry point. So far, they've developed and managed 12 developments here, including a good mix of private condos, mixed-use developments, and Executive Condominiums.
Stack Analysis
Development Site Plan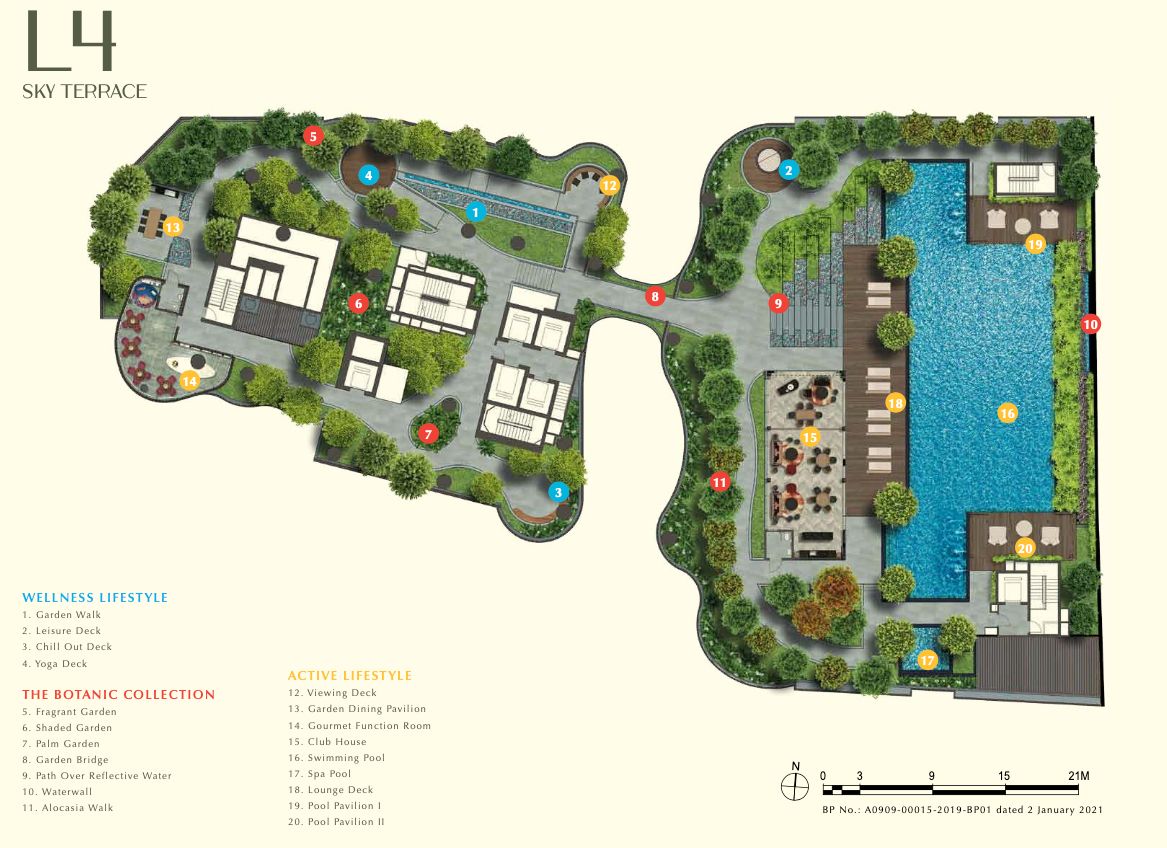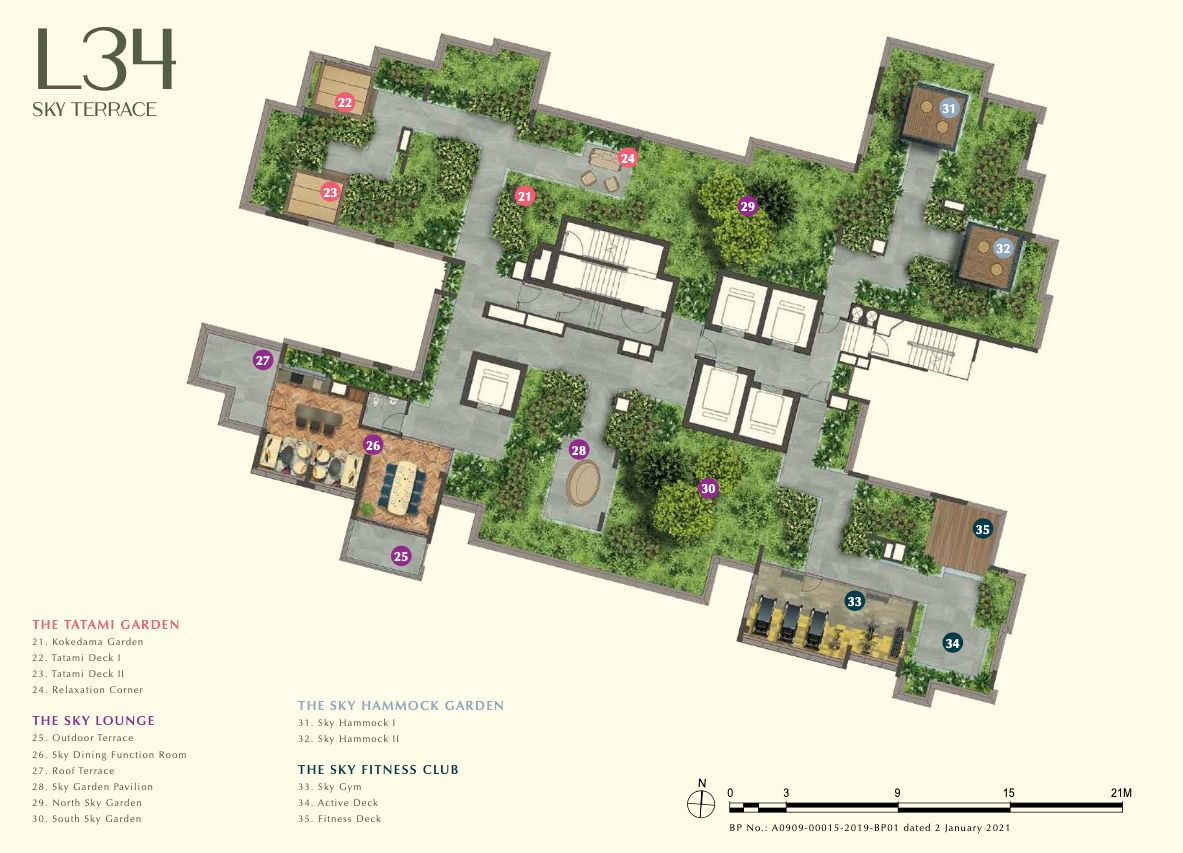 One Bernam sits on a regular shaped 41,400 square feet 99-year leasehold land. It will be a 35-storey development, along with a 2 storey commercial and 1 storey of 13 service apartment units.
Other than the shops on the first floor, the bulk of the facilities are on the 4th and 34th floor of the development. Level 4 is where you'd find the 36m lap swimming pool, the Clubhouse, and garden and dining facilities.
The level 34 Sky Terrace is where the Sky Lounge is located – indoor dining facilities, along with themed viewing decks and the gym.
Stacks 07 and 08 have the least afternoon sun, as these are the only ones that face the east.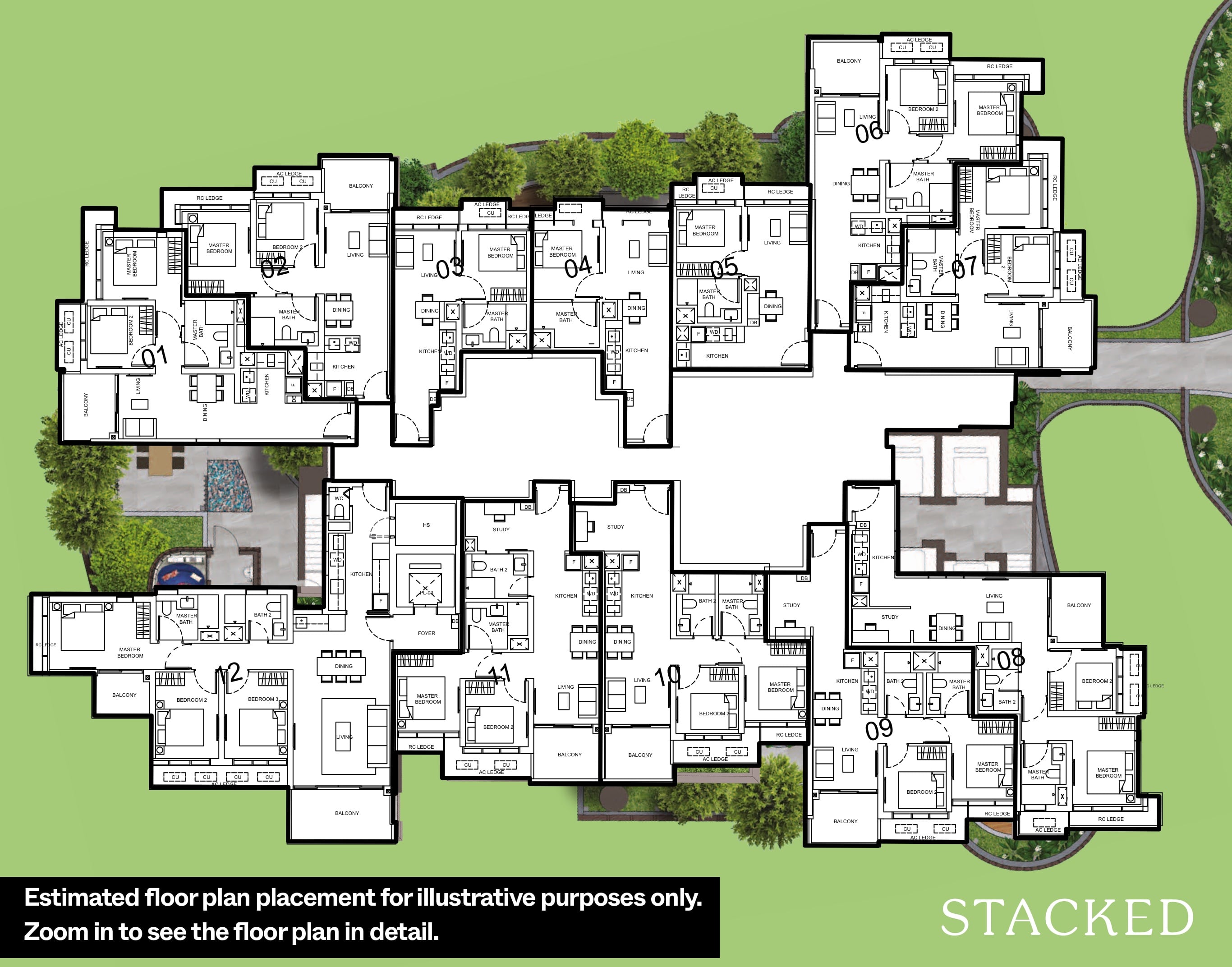 Unit Mix
| | | | |
| --- | --- | --- | --- |
| Unit Type | No. Of Units | Size of Units (sqft) | Est Maintenance |
| 1-Bedroom | 87 | 452 – 463 sqft | $350 – $390 |
| 2-Bedroom | 116 | 700 – 732 sqft | $430 – $480 |
| 2-Bedroom + Study | 116 | 807 – 872 sqft | $430 – $380 |
| 3-Bedroom | 29 | 1,421 sqft | $500 – $550 |
| Penthoouse | 3 | 1,744 – 4,306 sqft | $570 – $910 |
The majority of the units in One Bernam are two-bedders. These range from 700 to 872 sq. ft. (classified as 2+1 room, for the 807 to 872 sq. ft. units). These account for a total of 232 out of the 351 units.
Another 87 units are one-bedders, which are very much on the small side at 441 to 463 sq. ft.
There are only 29 three-bedder units, and these are huge (by today's condo standards) at 1,421 sq. ft. The remaining three units are penthouse units, from 1,744 to 4,306 sq. ft.
Overall, you can tell from the unit mix that the developer expects to draw investors/landlords despite the supposed draw for own stay clients. It's a move that makes perfect sense given the location. This part of Tanjong Pagar is not really a family area anyway, lacking schools and green space; but it has office workers aplenty, as well as more affluent foreign workers. Buyers focused on rental yield are likely to be the most interested.
The reason for keeping the one-bedders below 500 sq. ft. is probably to maintain an average quantum of $1.15 million or below. This will be attractive to new investors, especially compared to the potential rental income in the CBD.
The two-bedders seem sized to keep prices at $1.6 million, or $1.8 million for the larger units. This allows One Bernam to match overall prices against mass-market counterparts (even if said counterparts are going to be bigger at that cost).
Maintenance wise is what you'd expect for a higher end condo with just 351 units. Do note that carpark lots will come at an additional cost.
Best Stacks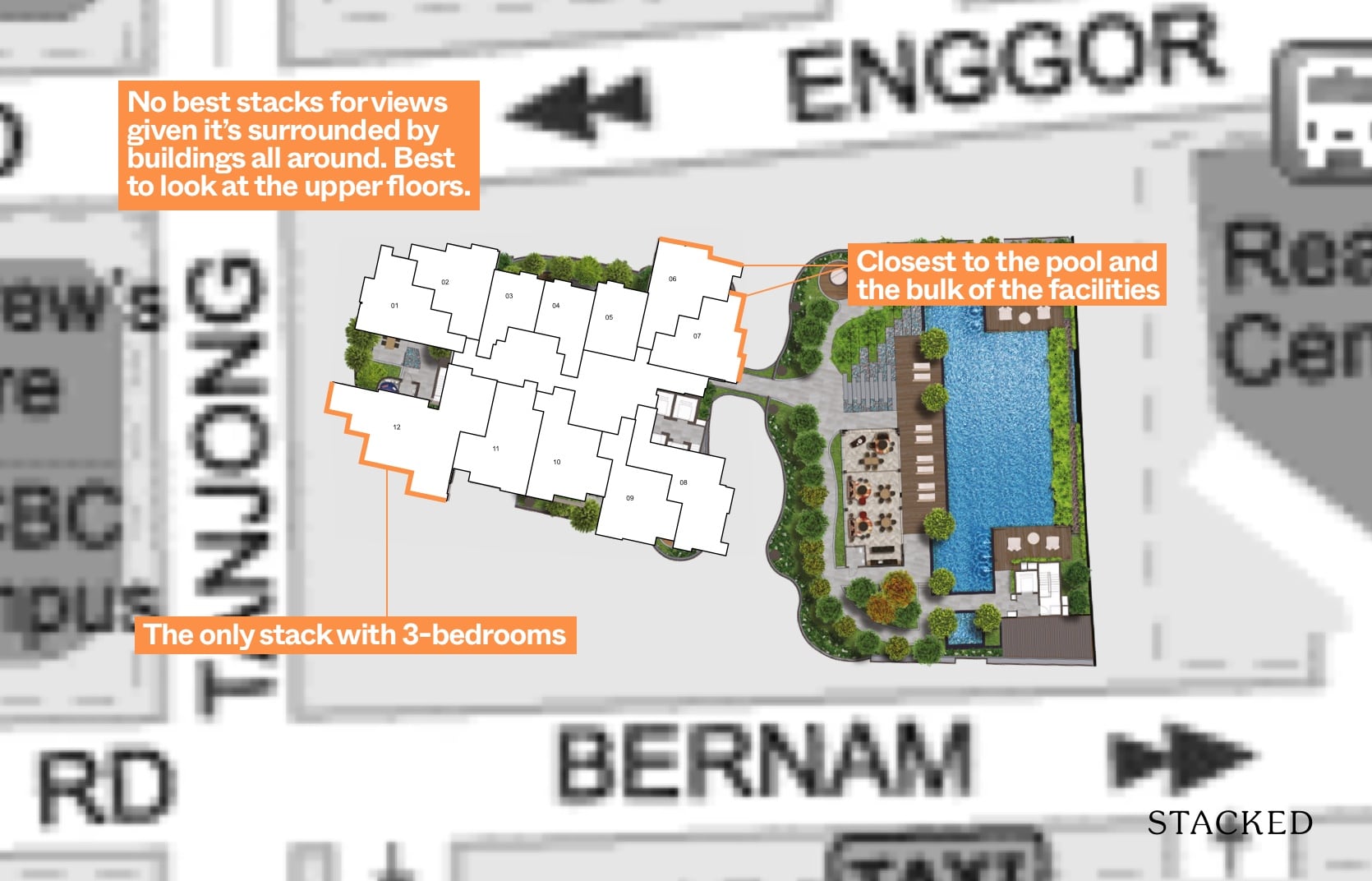 One Bernam is not a big development, and the stacks are relatively close. As such, the discrepancy between them is not as huge as you'd find in a bigger condo. However, do note that if you want a three-bedder, these are all in stack 12 only.
That said, the bulk of facilities – including the pool – are right next to stacks 6 and 7 on the level 4 Sky Terrace. Overall, these would be our two main picks for the added convenience offered.
As for the view, we can't fairly pick one stack over the others. This development faces buildings on pretty much all sides: Fuji Xerox Towers, Amara Hotel, Keppel Towers, etc. all cluster around it. No single stack is spared this; so I'd consider going for higher floors instead, where the view may be less impeded.
Afternoon west sun analysis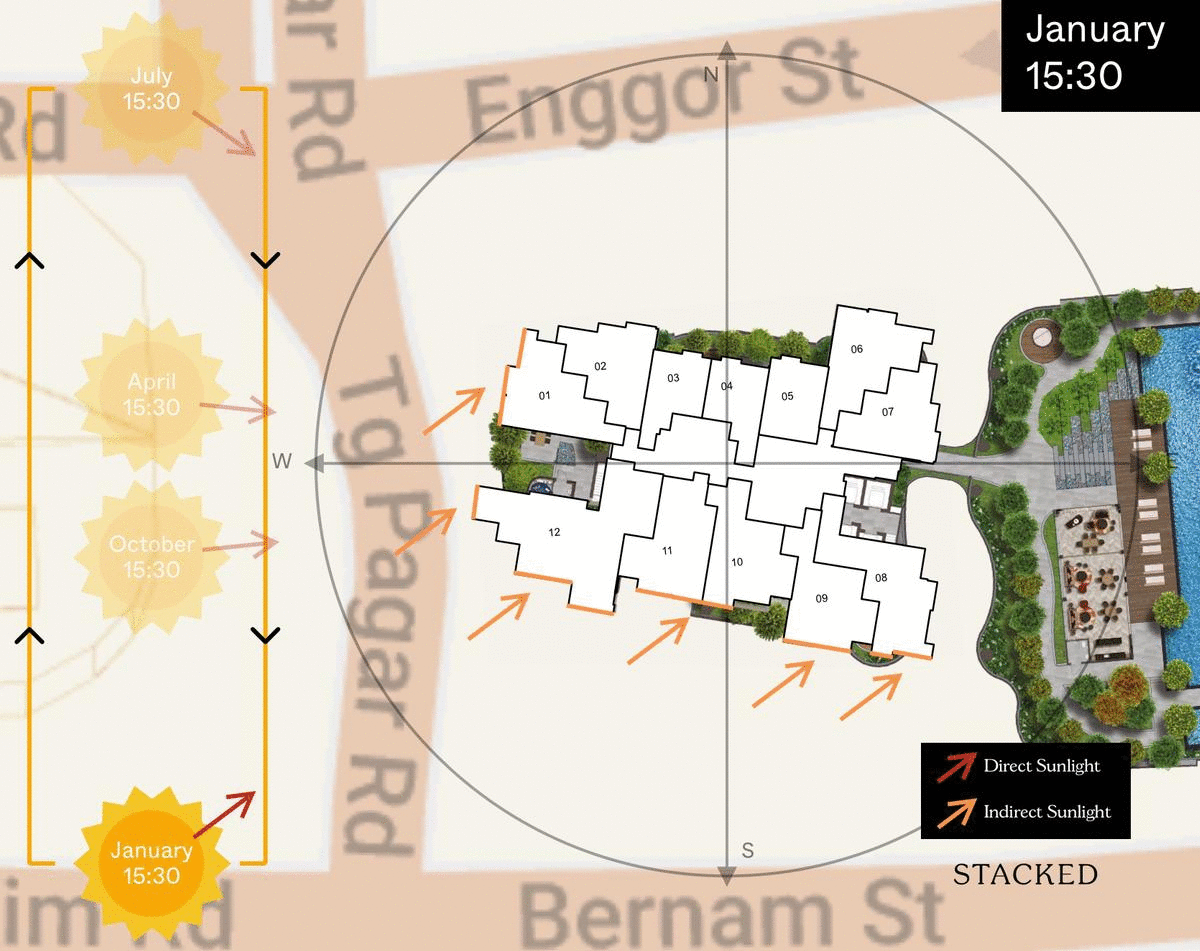 Stacks 1, 2, and 12 are closer to the west sun, while 6,7,8, and 9 and are the furthest. Due to the positioning of the windows and the angle however, none of the units are getting full, direct sun glare. As such, it's unlikely that residents will notice any significant impact, even in stacks 1, 2, and 12.
Stacks with the least afternoon sun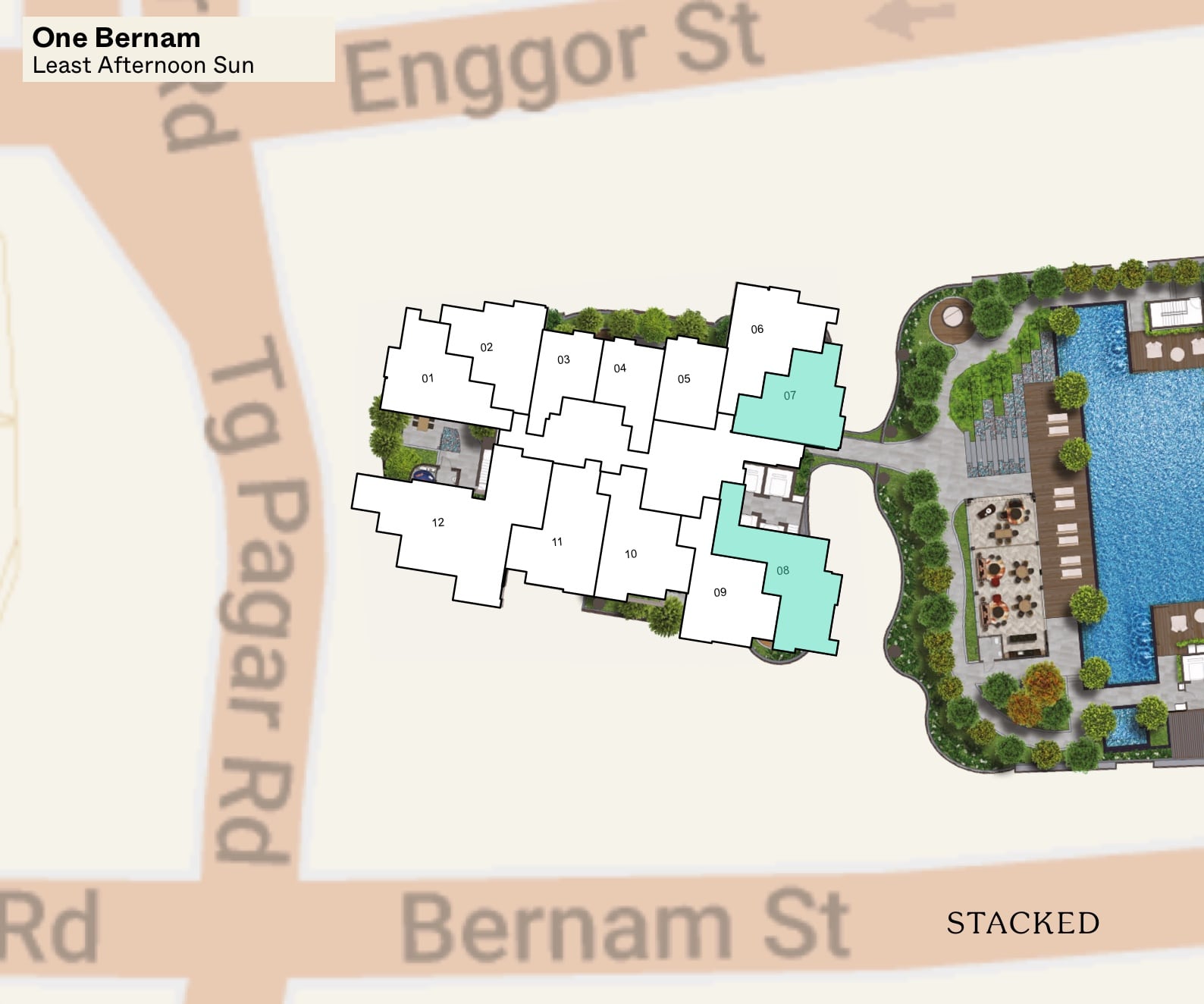 Stacks 07 and 08 are the only stacks that have an east facing, and so it has no exposure to the afternoon sun.
Price Review
At $2,3XX to $2,5XX psf, One Bernam is reasonably priced for a District 02 condo. As of end-April 2021, this district averaged $2,733 psf. A new launch is usually priced at or above the district's norm.
Comparing One Bernam with nearby units also underscores this. As a new launch, One Bernam is inexpensive next to neighbours like Icon, Altez, and Skysuites. New launches are always priced higher than existing counterparts, and often by a much higher margin than we see here.
On the downside, this lower pricing may reflect certain realities of the area. Icon, Altez, and Skysuites provide strong competition; tenants are unlikely to see much differentiation, and may just default to the cheapest. This is not a situation that landlords like, even if there's ample demand for all of them for now.
Also, the CBD rejuvenation incentive could mean even more developments to come. More on this below.
Development
Units
PSF
TOP
Lease
Icon
646
$1,670
2007
99-years
Altez
280
$2,004
2014
99-years
Skysuites @ Anson
360
$2,309
2014
99-years
District 02 Average
$2,733 psf
*Prices are an indicative only
Given the rental slant here, we decided to dive a little deeper and look at the completed projects surrounding One Bernam.
| | | | | | | | | | |
| --- | --- | --- | --- | --- | --- | --- | --- | --- | --- |
| Project | Tenure | 1-Bedroom | Size | Median Rent | Yield | 2-Bedroom | Size | Median Rent | Yield |
| 76 Shenton | 99-year from 2007 | $1,116,250 ($1,886 psf) | 592 sqft | 3,000 | 3.23% | $1,737,500 ($1,794 psf) | 969 sqft | 4,400 | 3.04% |
| Altez | 99-year from 2008 | $1,117,500 ($2,119 psf) | 527 sqft | 3,450 | 3.70% | – | – | | |
| Eon Shenton | 99-year from 2011 | – | | | | $1,305,000 ($2,425 psf) | 538 sqft | 3,250 | 2.99% |
| Lumiere* | 99-year from 2006 | $1,220,000 ($1,799 psf) | 678 sqft | 3,000 | 2.95% | $1,480,000 ($1,495 psf) | 990 sqft | 3,525 | 2.86% |
| Onze @ Tanjong Pagar* | Freehold | $1,210,000 ($2,121 psf) | 570 sqft | 2,750 | 2.73% | – | – | | |
| Skysuites@Anson | 99-year from 2008 | $872,500 ($2,384 psf) | 366 sqft | – | | – | – | | |
| The Arris** | Freehold | $1,230,000 ($1,843 psf) | 667 sqft | 3,600 | 3.51% | $1,870,000 ($1,888 psf) | 990 sqft | 4,250 | 2.73% |
| Icon | 99-year from 2002 | $1,040,000 ($1,789 psf) | 581 sqft | 2,850 | 3.29% | $1,510,500 ($1,671 psf) | 904 sqft | 4,200 | 3.32% |
| One Bernam *** | 99-year leasehold | $1,102,500 ($2500 psf) | 441 sqft | – | – | $1,680,000 ($2,400 psf) | 700 sqft | – | – |
*1-Bedroom transactions were not available. These were for 1-bedroom + study units, but were included due to similarity in size.
** Had no rental data for 1-bedroom in 2021, so data was taken from 2020.
Median rental taken between Jan 2021 to March 2021
*** Indicative only
Based on indicative prices, One Bernam is actually priced quite competitively if we look at it from a quantum perspective and compare this to leasehold developments.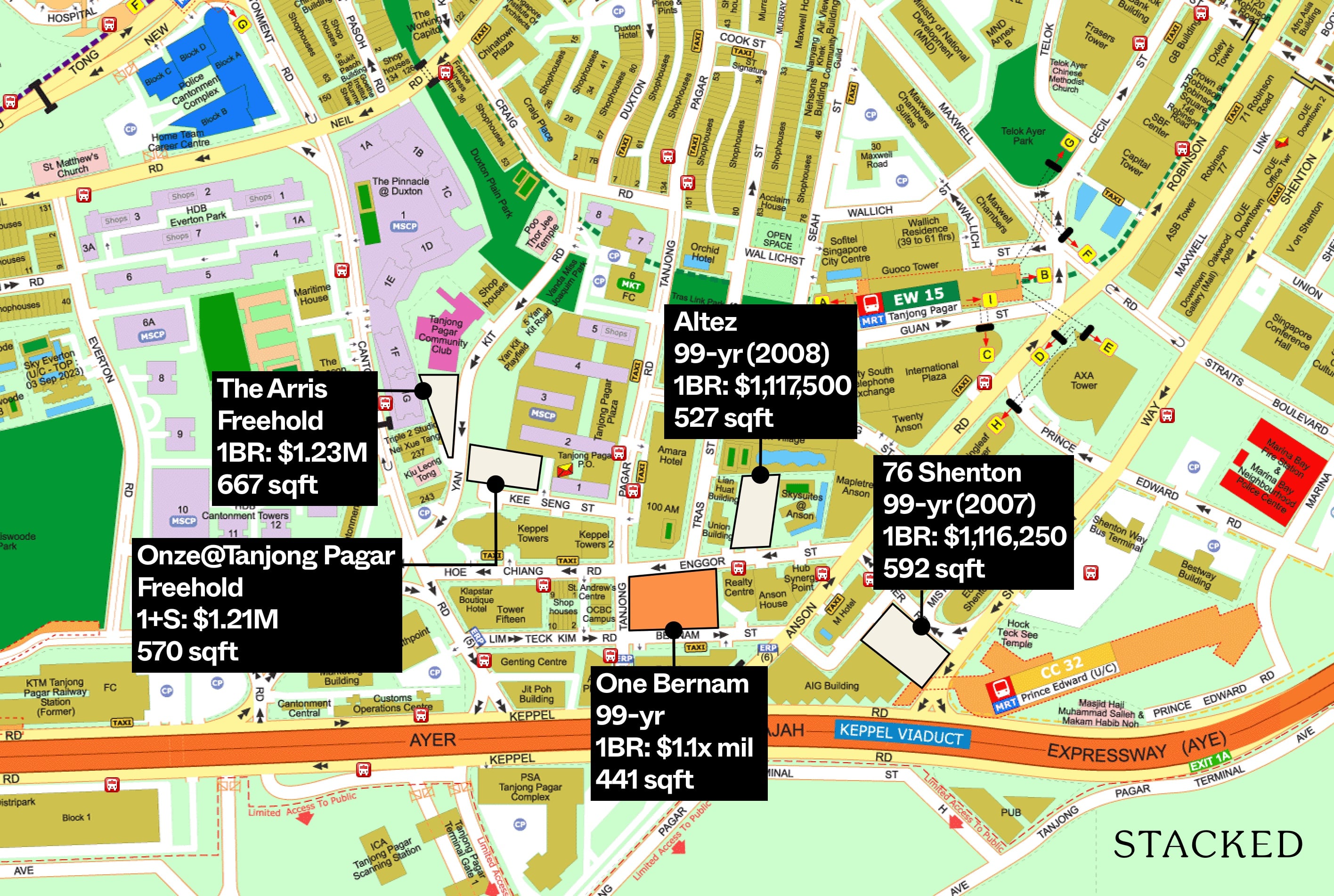 You will see that for a 1-bedroom unit selling for $1.1x mil, One Bernam is lower than Lumiere (which is older by about 15 years) and on par with other older leasehold developments like 76 Shenton and Altez.
Of course, as with most new launches, this is due to its smaller size at 441 sqft. As a result, it does command a higher $PSF of $2,500. Moreover, it is newer, so this pricing does make sense.
In terms of rental, the 1-bedroom around here commands a yield from about 3.2% to 3.7%. For One Bernam to match this yield, it should command a monthly rental of between $2,900 to $3,400.
So is One Bernam able to command such a premium? Let's take a look at its floor plan and compare it to Altez as it is very similar in location (just opposite).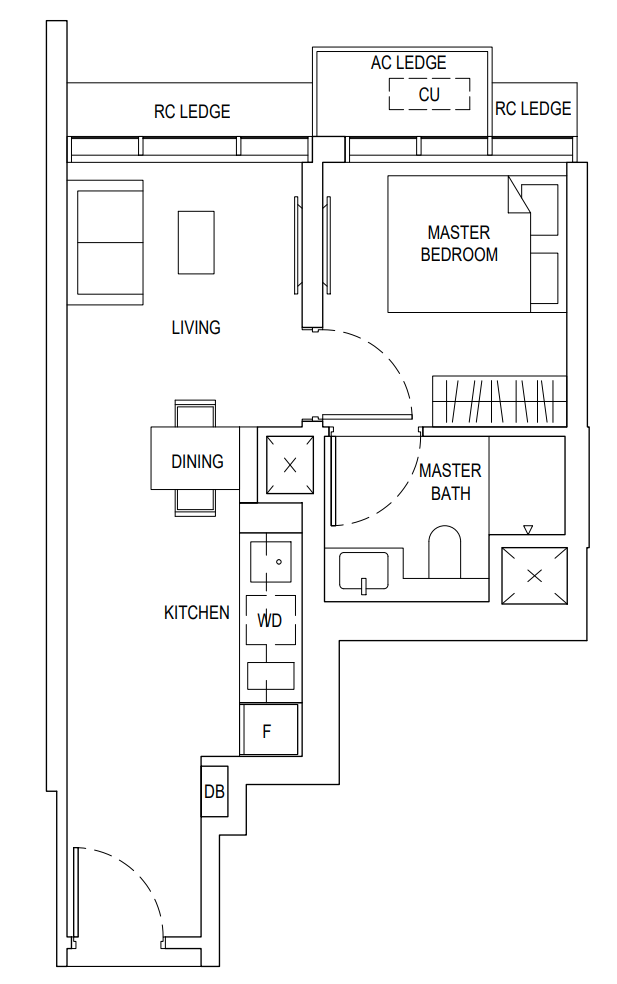 This is the 1-bedroom 441 sqft floor plan of One Bernam. Immediately you'll see that there is some wasted space at the entranceway (a shame for a 1-bedroom unit!), but other than that, the length of the unit is quite decent which opens up into the view from the living room. Tenants staying here wouldn't get to enjoy a full floor-to-ceiling window though.
Now what does the 1-bedroom at Altez look like?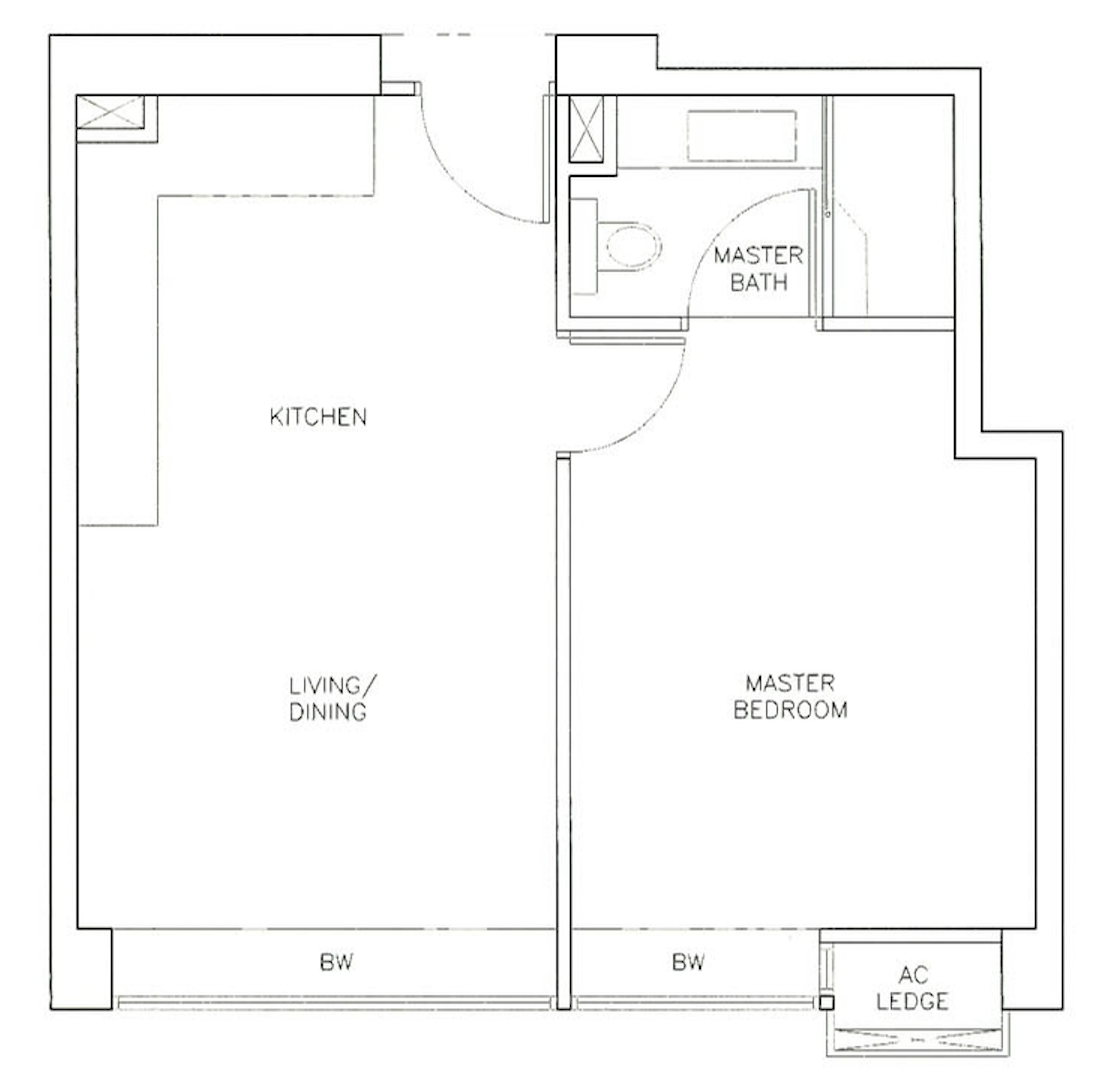 This 527 sqft unit at Altez is not just bigger, but appears to be more efficient. There is no entranceway, lots of kitchen countertop space, and quite a sizeable master bedroom too. The living/dining room comes in a regular layout that gives one more flexibility in configuring the space (e.g. more dining, less living and vice-versa).
The only issue is the presence of the bay windows, though with the amazing views that this development has, one could argue that it is a plus point if you consider it as a lounging area.
Perhaps this is one of the reasons why it manages to command a pretty good yield. With its relatively small size but efficient layout, tenants viewing Altez may be willing to pay more for a more spacious home, while landlords get to enjoy a lower quantum due to its size.
Judging from this, One Bernam does lose out. It would be a struggle to say that tenants would prefer One Bernam to Altez, and so I can't justify a monthly rental at $3,400 unless the newness is a crucial factor for tenants in the area.
But what about better facilities? While One Bernam has a bigger land area, Altez actually packs quite a punch. It not only has a swimming pool but a multi-purpose court (though small in size) and a tennis court. Yes, a tennis court in the CBD – a rather impressive feat!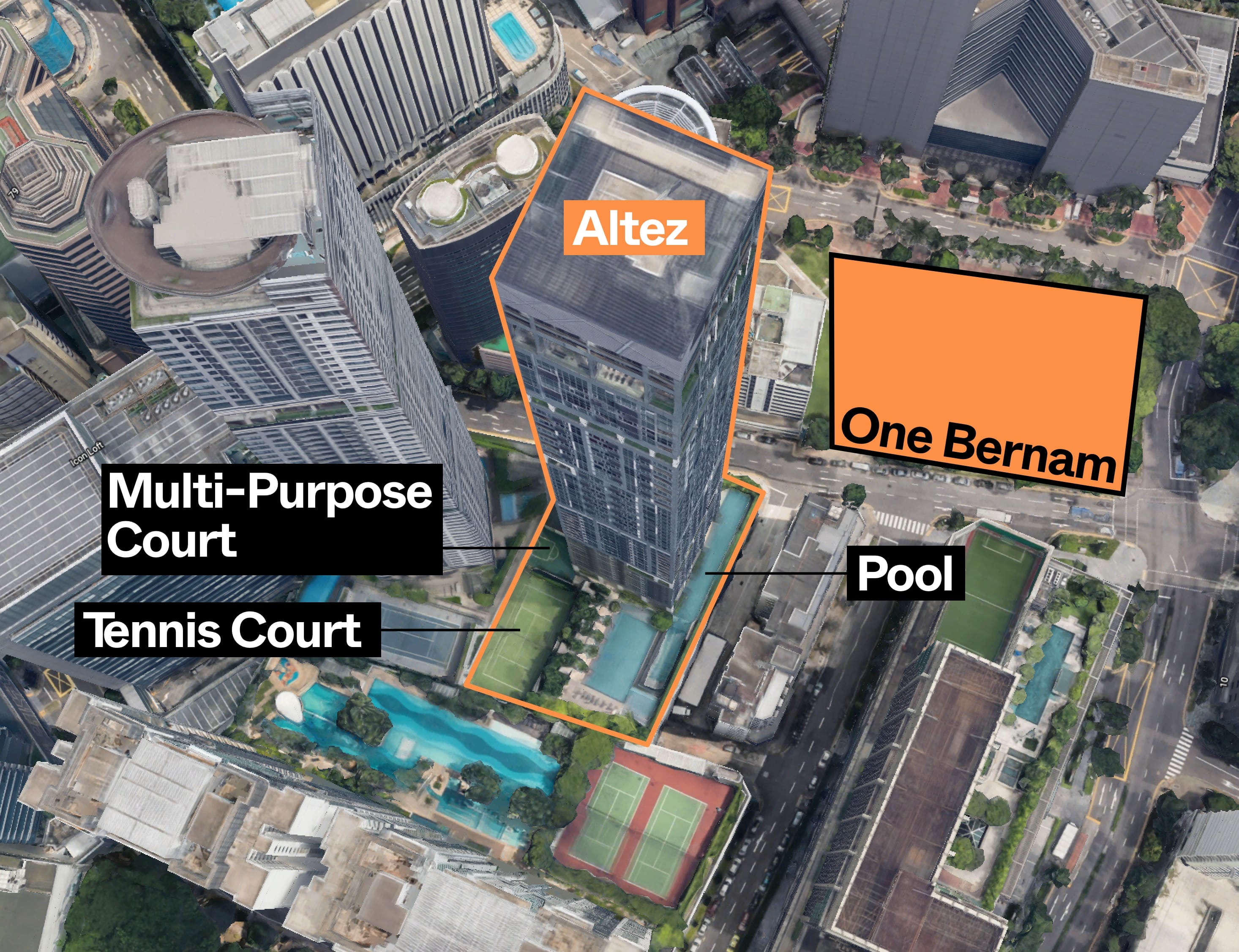 Perhaps I could be wrong, and somehow tenants are willing to pay for a more spacious common facility area, but it looks more likely that the monthly rental would be on the lower end of the $2,900 – $3,400 range. So if we assume it to command a rental of $2,900 per month, we're looking at a yield of around 3.2%.
This is actually quite average, but what you do get is a decent rental yield for a much newer project that would see less depreciation compared to its surrounding leasehold peers.
Now so far we have compared it to its leasehold peers, and it doesn't quite stand out.
But the more worrisome part is that there are freehold developments in the area – Onze @ Tanjong Pagar and The Arris.
Let's revisit Altez and see how its $PSF has shifted over time given it is a leasehold property in the CBD area.

Altez had its first sale in 2010, right in the middle of the property market pickup. Today, it trades around the same price or lower. This could be due to its high pricing upon its launch, and the resale market could not accept such pricing later on – especially when there are freehold alternatives.
What about another leasehold development? Let's see Icon, a 99-year leasehold (from 2002) condo along Gopeng Street. It has 646 units and comes with full-fledged facilities too.
Over the past 10 years, here's its $psf performance.

Despite the market hittings new highs today, Icon has shown to have decreased over time. As a leasehold development, it would be difficult for us to see it appreciate more than its freehold peers in the future.
Now let's compare these CBD leasehold properties to both freehold developments in the area. First, we have The Arris, a freehold project completed in 2002.
With steady appreciation over the years, The Arris has performed quite well with 63 profitable transactions since inception and 10 unprofitable ones.
Next up, Onze @ Tanjong Pagar that was completed in 2017.

Onze @ Tanjong Pagar had the misfortune of launching during the property market high of 2013, as such, prices have stagnated since. Its low volume of transactions also makes it more volatile, but overall prices have just fluctuated around a range.
If you were to consider both of these developments, you'll see that prices either stagnate or appreciate. Leasehold developments, however, are a cause for concern here. With the numerous leasehold supply mix, investors would find it difficult for their development to stand out apart from the fact that it's the newest on the block.
Moreover, the 1-bedroom quantum for freehold resale The Arris and Onze @ Tanjong Pagar is not significantly different considering its size.
The Arris has a 1-bedder at 667 sqft, that's 51% more than One Bernam. Yet based on indicative pricing, it is only about 11.5% more for the freehold option. Not to mention The Arris has managed to command quite a decent rental yield of 3.51%. It is after all situated closer to the Tanjong Pagar shophouses, and the environment around it seems more charming as it's near the Dover Plains Park as well as the smaller Yan Kit Road (so it feels more residential than commercial).
Based on our analysis so far, it seems to be average when it comes to rental considering how Altez has more facilities and an arguably better layout (and size), and it also loses out to its freehold peers in the longer term.
Now how does One Bernam compare to new launches in the area? Let's have a look.
| | | | | | |
| --- | --- | --- | --- | --- | --- |
| Project | Tenure | 1-Bedroom | Size | 2-Bedroom | Size |
| Avenue South Residence | 99-year (from 2018) | $1,198,286 ($2,272 psf) | 527 sqft | $1,431,700 ($2,181 psf) | 657 sqft |
| One Pearl Bank | 99-year (from 2019) | $1,357,250 ($2,573 psf) | 527 sqft | $1,786,000 ($2,553 psf) | 700 sqft |
| Sky Everton* | Freehold | $1,188,817 ($2,568 psf) | 463 sqft | $1,674,116 ($2,592 psf) | 646 sqft |
| The Landmark | 99-year (from 2020) | $1,096,000 ($2,213 sqft) | 495 sqft | $1,614,000 ($2,380 psf) | 678 sqft |
| One Bernam *** | 99-year leasehold | $1,102,500 ($2,500 psf) | 441 sqft | $1,680,000 ($2,400 psf) | 700 sqft |
Data taken from transactions between Jan – Mar 2021.
*Sky Everton's 1 and 2-bedroom had no transactions between Jan – Mar 2021. As such, its average price is taken into consideration here for the purpose of understanding how much buyers got into it.
***Indicative only.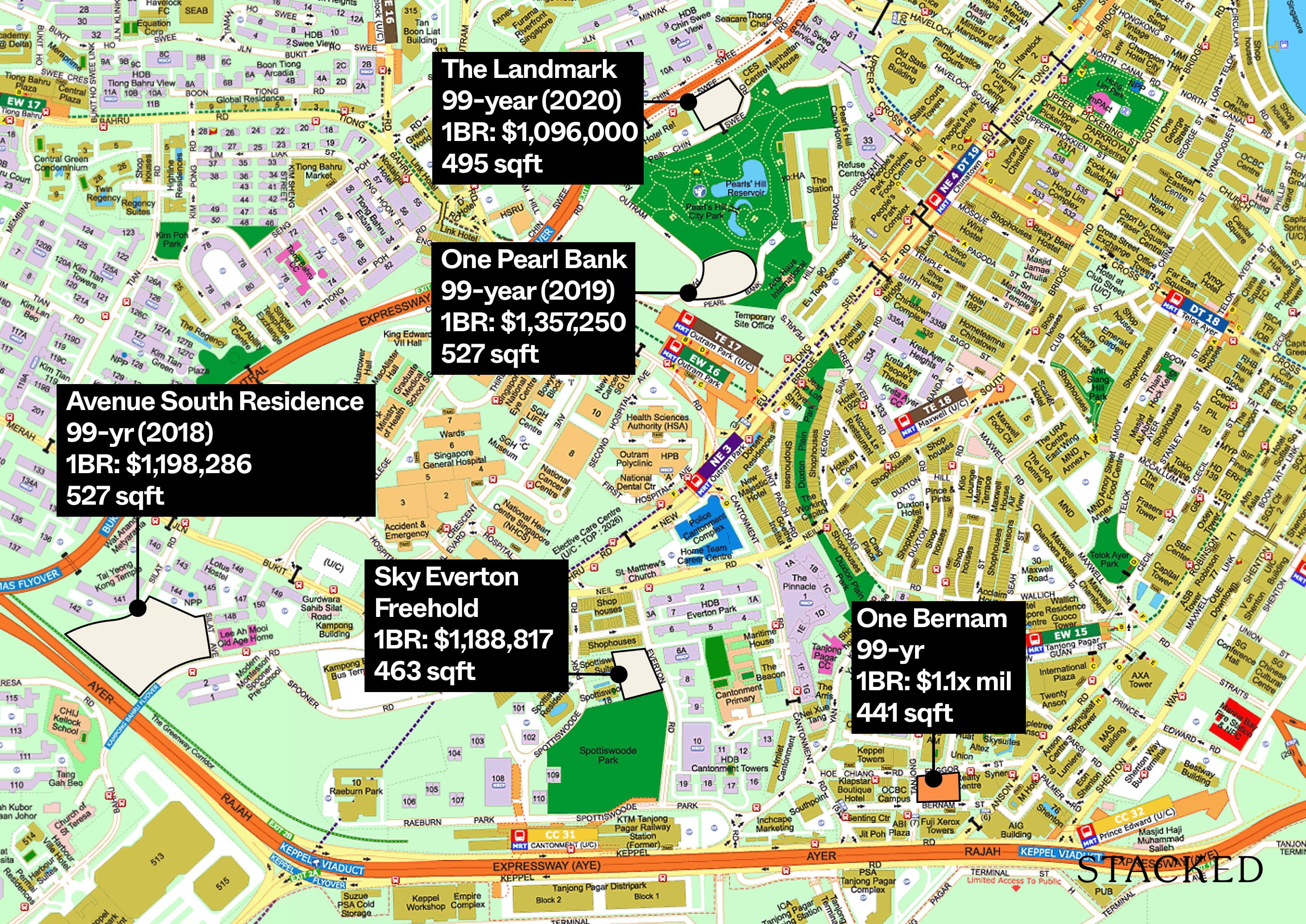 It's pretty obvious that the average buyer of the 1-bedroom at Sky Everton has gotten a pretty good deal, with leasehold new launch condos costing more in terms of quantum (on average).
Buyers looking to enjoy long-term rental gains with the possibility of capital appreciation in the long-run would be in a good position. It is also closer to the MRT that is already built, unlike the upcoming Cantonment MRT that's set to be completed only in 2026. It goes without saying that the one-bedrooms in Sky Everton are all sold out.
So how does One Bernam fare here?
In terms of capital appreciation, One Bernam would be competing with the pool of buyers who purchased Sky Everton at this price. While the price range is similar, future buyers would first consider how much more Sky Everton is compared to One Bernam.
Should the rental be similar, buyers would prefer the freehold Sky Everton instead as its downside is more limited than a 99-year leasehold development. This means that its pricing should deviate relative to each other, with Sky Everton appreciation more relative to One Bernam.
If you were to compare it to its leasehold peers (Avenue South Residence and One Pearl Bank), you'll see that it is actually quite competitive. One Bernam has the (arguably) better location as it's closer to the MRT and isn't too close to the 2 expressways (AYE & CTE) compared to Avenue South Residences.
On the other hand, One Pearl Bank has the locational advantage as it's located right opposite an MRT interchange with 3 lines passing through. However, that does come at a premium now for the 1-bedroom, with transactions between January – March 2021 averaging at $1,357,250, also owing to its larger size at 527 sqft. So in this regard, One Bernam buyers would be paying less to own a unit here compared to buying one at One Pearl Bank.
Buyers of the studio units at One Pearl Bank, however, have managed to snag the units at an average price of $1,086,065 ($2,523 psf) which is quite competitive in the area. This is no longer an option for buyers though.
So where does this lead us? At its indicative pricing, One Bernam is not too attractive considering the surrounding transactions of other resale and new launch properties. In terms of rent, it also looks like it's nothing to shout about here.
With the upcoming Greater Southern Waterfront (GSW) transformation and the rejuvenation of the CBD area, condos here may see some uplift in terms of appreciation, but it does also mean more competition in the residential supply (in the case of GSW).
Moreover, taking into account the Singapore General Hospital (SGH) redevelopment at Outram, new launches that are closer like One Pearl Bank, Avenue South Residence and Sky Everton are likely to benefit more given those are closer in terms of walking distance to the area.
So long as the leasehold-to-freehold price gap is large enough, and newer leasehold new launches like One Bernam can differentiate itself with tenant-offerings, it could see some upside potential.
But at the moment, with freehold developments and other new launches here don't seem all too much more different, One Bernam's main edge right now is really its newness.
Appreciation Analysis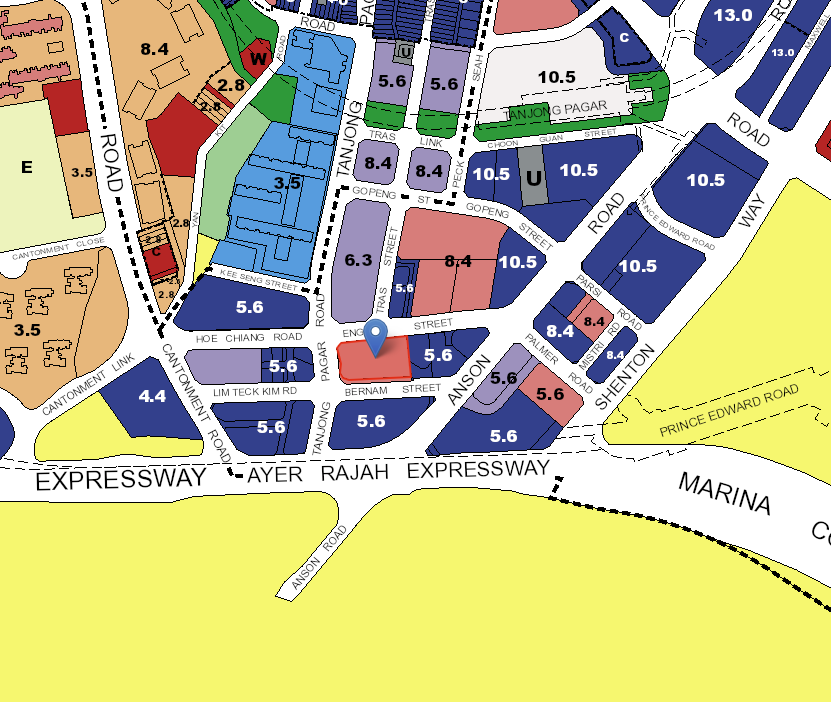 A check on the URA Master Plan shows the largest mixed-use plot nearby, between Enggor and Gopeng Street, is at a GFA of 8.4. The surrounding areas are mainly zoned (5.6) for commercial, with a few other mixed-use plots.
For me, the URA initiative to introduce more mixed-use developments is definitely a good thing if their vision for a work/live/play environment is to be realised. This suggests the future presence of even more service apartments and condos, which will go some way to helping the place be more liveable especially during weekends. Of course, the downside here is that it adds further supply in this already densely packed area.
But as with a lot of things that the Government does where rejuvenation is concerned, it does usually play out quite well. At present, the CBD is skewed: an overabundance of offices means the area is alternately overcrowded during work hours, but a ghost town at night or on weekends (the area around City Hall MRT is a prime example). URA's plans provide a long term positive for the area; but it's hard to tell still at this point how much it would impact its appreciation in the near future – especially with how the pandemic would play out. If WFH does become a lot more of a staple moving forward, the importance of somewhere like the CBD would be less of a draw to stay.
What we like
Located within six minutes of Tanjong Pagar MRT station

Convenient even compared to many other CBD locations, as it's within four minutes of a mall

Flexibility of 2 Bedroom+Study that can be converted to 3 Bedrooms
What we don't like
–

Lack of a wow factor besides the location

–

High density urban living, which may be off-putting to some
Our Take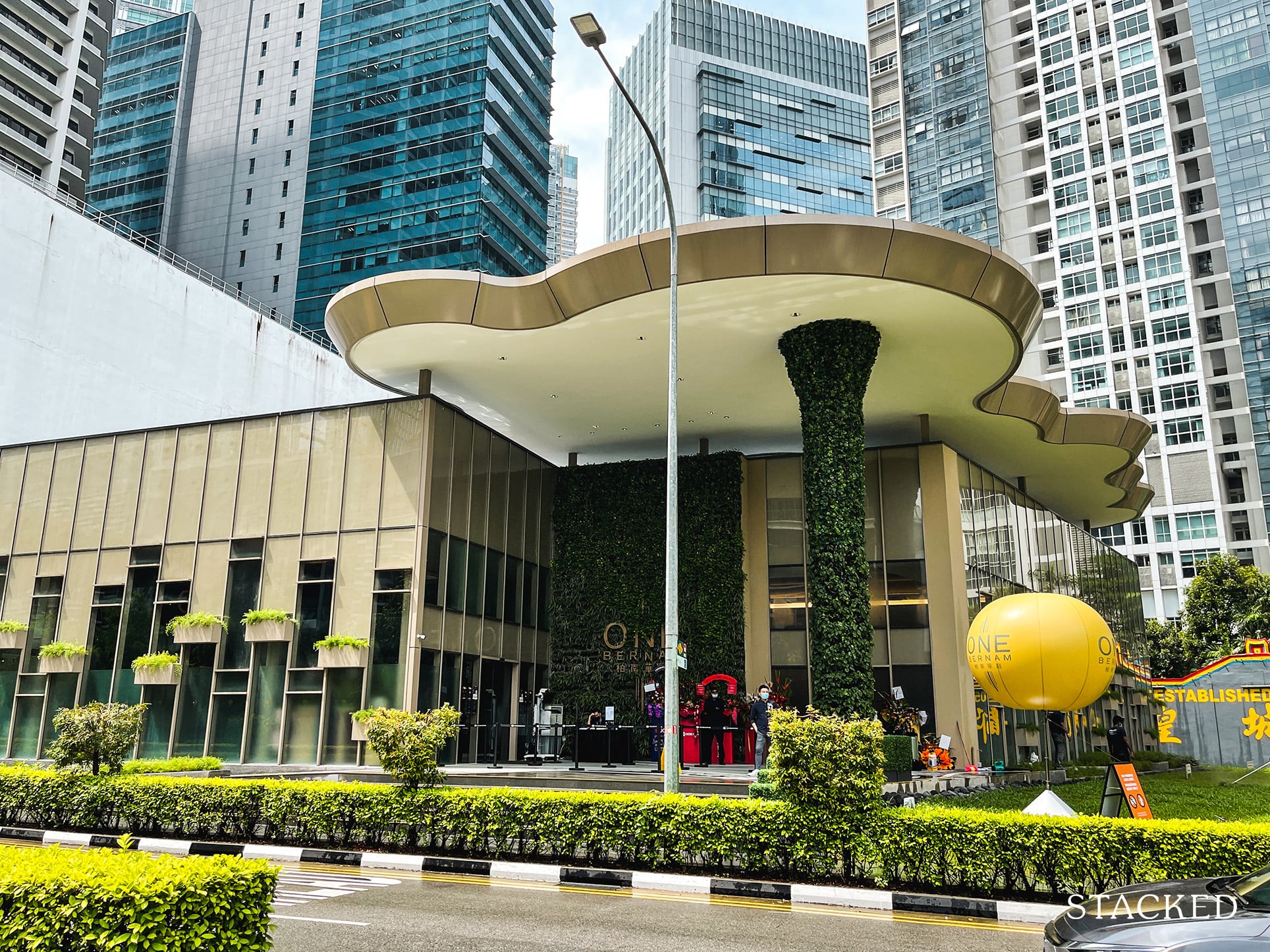 To me, One Bernam is sending out mixed signals. On one hand, its unit mix is a seemingly purpose-built condo for landlords. The indicative price is at a "sweet spot" for new investors, and rentability is always an attractive point: there's no shortage of people who want to rent within walking distance of Tanjong Pagar MRT. On the other, it does have slightly larger unit sizes when it comes to 2 and 3 bedroom units.
In terms of lifestyle and comfort, One Bernam delivers both the best and the worst of urban living. It's central, accessible, and almost any amenity you want is minutes – or two to three train stops – away.
It's also got views that feature other buildings in almost every direction, and major traffic congestion. (Traffic noise is mainly borne by the commercial units on the first two floors; but the elevated height of the residential units does go some way into helping).
This makes One Bernam a love-it-or-hate-it development for many, without much middle ground.
For new investors seeking yields, do contemplate the price. The single-bedders at One Bernam are a lower-risk prospect, for your initial venture into the CBD. One Bernam is also unlikely to see many vacancies: tenants who secure a location this good are often reluctant to leave. But you still have to be conscious of price competition at Altez, Skysuites, or other nearby developments, when trying to push your rental rates.
Ultimately for me, it's a bit of a mixed bag when it comes to One Bernam. Unlike Midtown Modern where it seems to give more of a compelling reason to actually live there, the overall package of One Bernam is quite typical – with the biggest draw being its location.
What this means for you
You might like One Bernam if you:
• Appreciate minimal travelling:

With its central CBD location, if you work in this area taking the MRT will be a thing of the past.

• Enjoy convenience:

While there still has some work to be done to make it a completely liveable place, there's no doubting the ease of food and grocery options in the area.
You might not like One Bernam if you:
• Prefer a tranquil environment:

With commercial shops on the ground floor, it will definitely be a noisy environment the minute you get down to the first floor.

• Have young children:

With no kid-focused facilities to speak of, and a lack of primary schools in the area, One Bernam is certainly not one for families with young children.
End of Review
Join our Telegram group for instant notifications
Join Now
Sean