Commentary

How Does Normanton Park's Former "No-sale License" Matter To Buyers?
Ryan J
January 16, 2021

7

min read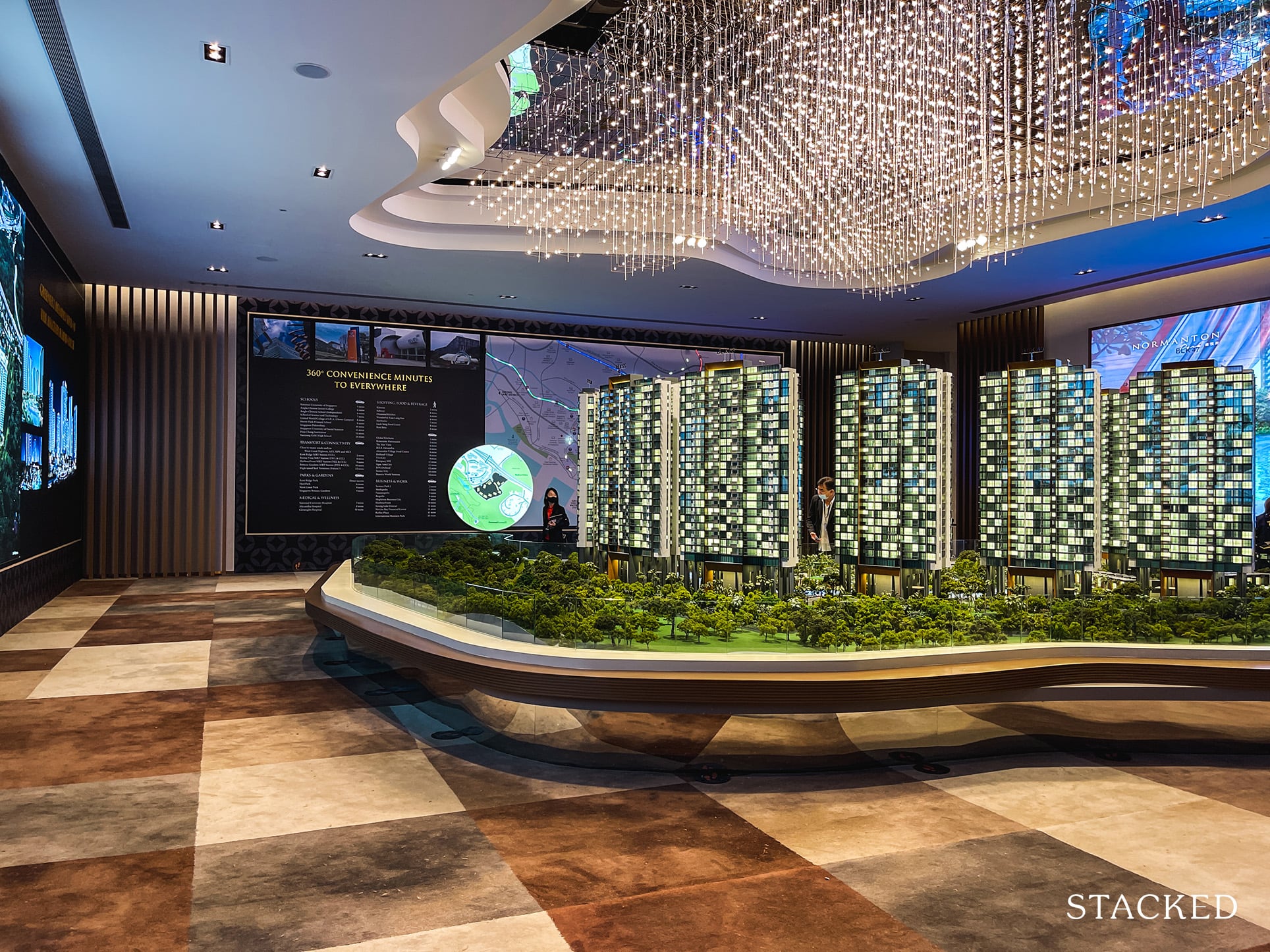 Normanton Park is shaping up to be one of the hot launches of 2021. It's close to the One-North tech hub, an area where housing options have been few to date; and we won't be too surprised if investors and home owners are both lining up. But by now, you may also have heard about previous "issues", and its former no-sale license. 
Should that matter to buyers at all? Let's shed some light on the issue, and you can make your own decision:
What is a no-sale license?
There are two kinds of license a developer can receive, with regard to sales. The first is the typical Sale License; this allows developers to start selling units as soon as the Building Development Plan is approved by URA. 
The second type of license, which is much rarer, is a no-sale license. This means the developer can start building, but cannot start selling units until after receiving the Temporary Occupancy Permit (TOP).
(Ps. If you ever see a condo web page declaring this is not an advertisement for sale, it could be because the developer has a no-sale license). 
A no-sale license is a significant risk to developers, due to the Additional Buyers Stamp Duty (ABSD) deadline: if a developer cannot complete a project and sell all the units within five years, they could end up paying a tax of 30 per cent of the land price. 
As you can imagine, it could be nigh-impossible to sell out every single unit of a large development, if a developer is forced to wait till TOP. If the condo takes four years to build, for example, that would leave just one year to fully sell every unit. 
A no-sale license is an even bigger risk to large developments. That's because the five-year ABSD deadline is unchanged, whether it's a boutique development with a dozen units, or a mega-project with 1,000+ units to sell.
Note that Normanton Park is the latter, as it consists of 1,840 units, with 22 villas (strata-titled landed units). 
Fortunately for Normanton Park, the developers were able to convert to a Sale License by December 2020. 
The estimated TOP date for Normanton Park is calculated from:
ABSD clawback is count based on date of approval from Strata Title Board (Oct 2017)
1 years of extension due to Covid
So the deadline is 6 years from Oct 2017 which is Oct 2023, which provides – probably – enough time to sell out before the deadline (Normanton Park received the no-sale license in 2019). 
Does this still matter to buyers, given that Normanton Park now has a Sale License anyway?
While it's not a big deal to all buyers, some might be a little more wary. The main cause for concern is why the developer received a no-sale license in the first place.
The Controller of Housing (COH) usually gives a no-sale license when they feel they need to protect the interest of home buyers. In the case of Normanton Park, this was because of two prior projects.
The first was Kingsford Waterbay, where buyers launched complaints of poor workmanship; although defect rectification works were taken. The second was Kingsford Hillview Peak, and we've discussed the issues in a prior article. 
We do expect some buyers are going to scrutinise Normanton Park more closely, due to these prior incidents. Normanton Park is very much an opportunity for Kingsford Huray to get back into buyers' good books, for those who decide to give it a chance. 
(We've included a quick look at the two previously troubled projects below). 
The other factor is buyers who are eyeing the ABSD deadline.
As we've mentioned above, there's a five-year deadline for projects; and Normanton Park has had slightly slower start in sales. Given the huge number of units to move, buyers may start pondering the possibility of discounts – they may be hoping that, as with Jervois 38 last year, we'll see a fire sale to beat the ABSD deadline. 
Going by word on the ground, more than one buyer has reminded us that the developer's been willing to slash prices before. This was with Kingsford Hillview Peak in 2015, when units were sold at discounts of 20 to 22 per cent. At the time, prices fell from a range of $1,300 to $1,400 psf, to around just $1,200 psf. 
Note that such actions may worry the first few buyers, who are often seeking early-bird discounts. Their intent is to realise profits when sale prices "normalise" later, so they won't take kindly to developers who later slash prices again. 
That said, Normanton Park is in an area with strong rental demand
Whatever the developer's past, Normanton Park is just 1.5 kilometres from Fusionopolis and the heart of One-North; in fact the bus stop outside Normanton Park is just about two or three stops away. This is definitely going to draw attention from workers in the area, as well as students of institutions like INSEAD. 
The One-North hub was launched in 2001, and transaction data shows good general appreciation in the area: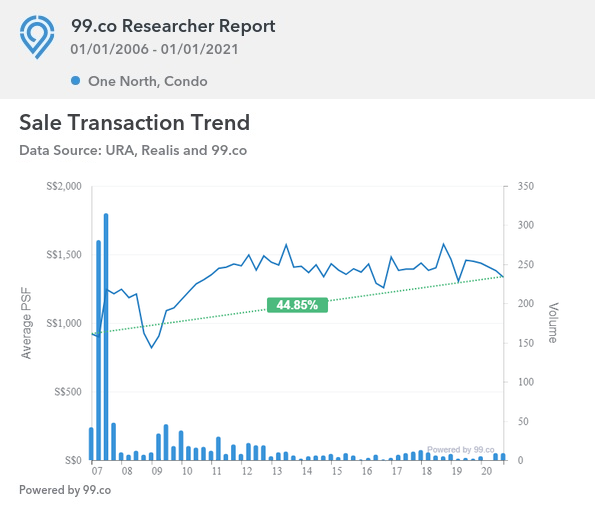 Prices here currently average $1,334 psf, with average rental rates being around $3.93 psf.  
There are also few developments in the One-North area, which helps prop up demand. Apart from One-North Residences, the most notable up-and-coming launch is One-North Eden; but this development has only 165 units. As such, Normanton Park is going to be the key residential development for this area. 
Normanton Park also benefits from being just a five to six minute drive from Holland Village and Buona Vista, which are both property hotspots. 
As such, the strength of the location may be enough to drive away past concerns. (As a matter of opinion only, we think units will move fast enough that ABSD discounts are improbable; despite Normanton Park's size). 
A quick look at Kingsford Huray's previous two projects
Both projects appear to be performing well, despite their initial hiccups:
Kingsford Hillview Peak

Address: Hillview Rise (District 23, Bukit Batok)
Lease: 99-years from 2012
TOP: 2017
Number of units: 512
The indicative price range from Square Foot Research is between $1,271 to $1,361 psf, with an average of $1,322 psf. This is a percentage increase of around 10.2 per cent, from $1,200 psf as mentioned above; it's an annualised return of about 1.96 per cent. 
To date, transaction records show 18 profitable transactions, with 5 unprofitable transactions. 
Kingsford Waterbay

Address: Upper Serangoon View (District 19, Hougang)
Lease: 99-years from 2014
TOP: 2018
Number of units: 1,165 units
The indicative price range from Square Foot Research is between $1,065 to $1,341 psf, with an average of $1,228 psf. Median developer prices at launch were around $1,169 psf, which is a percentage gain of around one per cent; this is an annualised return of about 5.05 per cent. 
To date, transaction records show 30 profitable transactions, with 3 unprofitable transactions. 
Be sure to examine more than just the show flat, for any property purchase 
This is neither condemnation nor endorsement of Normanton Park and Kingsford Huray; it's just to provide context to the situation. 
It's important to understand the developer and history of the project, in addition to just identifying the best stacks and units. This is especially the case with new launch condos, where you have nothing physical to inspect yet. 
Either ways at the time of publishing, we've heard that Normanton Park has sold 632 units on its launch day (final amount yet to be tabulated) – so it doesn't seem that the past troubles has fazed buyers too much.
We'll be providing more in-depth views on various developments in the Singapore private property market, for both new and resale units; so if you're looking for a new home in 2021, do follow us and let us keep you updated.